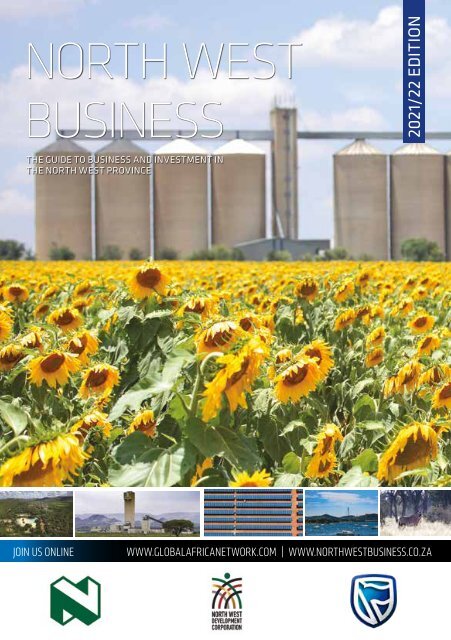 North West Business 2021-22
You also want an ePaper? Increase the reach of your titles
YUMPU automatically turns print PDFs into web optimized ePapers that Google loves.
NORTH WEST

BUSINESS

2021/22 EDITION

THE GUIDE TO BUSINESS AND INVESTMENT IN

THE NORTH WEST PROVINCE

JOIN US ONLINE

WWW.GLOBALAFRICANETWORK.COM | WWW.NORTHWESTBUSINESS.CO.ZA
---
Inspiring hope and enabling dreams

A brief history of Standard Bank in the North West Province.

Standard Bank has had an uninterrupted connection

of 135 years with the region now known as the North

West Province, created in 1994 by the merger of the

former Western Transvaal area with the homeland

territory of Bophuthatswana.

Although Standard Bank had initially opened a

branch in Potchefstroom in 1877, following the British

annexation of the then Zuid-Afrikaansche Republiek

(Transvaal), it had to close the branch again after the

Transvaal regained its independence in 1881 as it

could only, in terms of its original Memorandum and

Articles of Association, operate in areas under British

control. Rather than leaving the Transvaal completely,

the bank amended its Memorandum and

Articles of Association to allow it to operate in

areas outside direct British jurisdiction.

Until the establishment of the Nationale

Bank der Zuid-Afrikaansche Republiek in

1891 Standard Bank was also the banker of

the Transvaal government. By the late 19th

century, the Western Transvaal was primarily

a good farming area, especially known for

the high-quality wheat it produced. The

discovery of gold throughout the Transvaal

in the early and mid-1880s boded well for its

economic prospects and gold fever spread to

Business Leadership Team, North West

Rishaad Webster -

Head, Client Coverage Business

Clients North West

Yonash Naidoo - Head, Sectors

Specialist, North West and Head,

Business Centre, Rustenburg

Otto Lessing -

Head, Business Centre (Client

Coverage), Klerksdorp

Image by Caspar Camille Ruben on Unsplash
---
semi-tropical fruit-growing area. The soil was

also well-suited to the cultivation of cereals,

tobacco, sugar and coffee. After the end of

the Second Anglo-Boer War in 1902, reports

that the railway line was to be extended

from Krugersdorp to Rustenburg boosted

the area's prospects. Consequently, Standard

Bank opened a branch there on 11 February

1903. From the 1920s onwards the town and

district prospered further with the mining of

platinum, iron, nickel and other rare minerals.

The modern era

Following the 1994 general election the country's

four former provinces were split to create

the current nine provinces. In 1995 Standard

Bank restructured its operations to create nine

provincial structures, including one for North

West, whose geographic boundaries largely

corresponded to the country's new provinces.

Potchefstroom following discoveries at Zeerust

and Lichtenburg.

Many farms in the Potchefstroom area were

also gold bearing. Standard Bank recognised

that a small safe business could be undertaken

at Potchefstroom and duly reopened there on

21 July 1886.

Rustenburg potential

Standard Bank had been interested in the

development of Rustenburg; the second Dutch

Reformed parish established in the Transvaal

in 1851. The town was in the centre of a good

Proudly North West

Over the years Standard Bank has been the banker

to several municipalities in the province. The bank

has also partnered with the North West Provincial

Government to help provide mentorship and

funding for entrepreneurs and viable SMEs.

We at Standard Bank are highly invested in

the North West and committed to driving her

growth. We strive to create value for our clients

through our regional knowledge and industry

expertise. It's about more than just banking. It's

about being a trusted partner, understanding

your business and unlocking value. ■

Business Leadership Team, North West

Nqobile Zondi -

Manager, Enterprise Direct,

North West

Dawood Kabelo Seleka -

Manager, Entrepreneur,

Klerksdorp

Melvyn Edmunds -

Manager, Entrepreneur,

Rustenburg
---
Bank on Standard Bank Trade

to grow your business

Giving peace of mind to traders and exporters.

With Trade by Standard Bank, we aim to be a partner in

your growth journey and can help create a secure and

trusted environment for you to trade by providing an

end-to-end trade solution ecosystem.

This includes the following:

• Introductions to new vetted potential buyers, locally

and around the globe.

• Assistance with diversifying your supplier base and

products through access to new international, vetted

suppliers.

• The provision of working capital finance.

• Mitigation of risks of non-delivery and non-payments

and foreign currency fluctuations.

• A single point of contact to assist in all your importing

needs, including all-in costing, logistics facilitation,

product track-and-trace services, payments, foreign

exchange covers and customs clearing.

Banks play a critical role in helping small and medium

businesses trade both in the local and international

markets. The impact of Covid on trade in SA has

been complicated and layered. The restriction on the

movement on goods has taken its toll on various sectors.

What the pandemic has shown is the importance of

innovation from both an infrastructure and business

model point of view.

Digital transformation in trade creates efficiencies and

breaks down barriers to entry, linking suppliers and

customers and allowing for the creation of new supply

chains. Trade by Standard Bank has devised new and

differentiated solutions for customers:

Trade Club

The Standard Bank Trade Club is an innovative

networking platform to enable business customers

to find new opportunities both locally and globally

through exclusive access to an online networking

platform with over 15 000 pre-vetted members from 15

international banks and across 43 countries.

Trade Finance

Standard Bank's Trade Finance allows you to expand

and mitigate risks that could stand in your way. This

service will help to maximise your profit by bolstering

your cash flow, collecting outstanding payments, and

strengthening your working capital cycle.

Trade Suite

Local regulations and compliance issues can be

inhibitors to trade. The Trade Suite offering gives

Standard Bank the ability to advise a client on the

movement of their goods, manage the movement of

their goods and even calculate the landed cost of each

item imported.

These solutions allow Standard Bank to play a vital

strategic role in our clients' sustainable business

growth. Trade by Standard Bank is well positioned

to understand its clients' business and to assist them

in navigating the pathway of both domestic and

international trade. ■

Image by Ian Taylor on Unsplash
---
CONTENTS

North West Business Edition 2021/22 edition

Introduction

Foreword 7

A unique guide to business and investment in the North West.

Message 9

A message from the North West Development Corporation.

Special features

A regional overview of the North

West Province 10

Global prices are supporting rising production for miners and

farmers but governance issues at local level need to be addressed.

The North West has the metals and

minerals to help the world go green 14

Palladium is more valuable than gold, and not only in dollars.

Economic sectors

Mining 18

Many mining companies are thinking of expansion.

Agriculture 28

Training in agriculture is in the spotlight.

Water 32

A cross-provincial irrigation scheme is a national priority.

Manufacturing 36

An Integrated Manufacturing Strategy aims to stimulate the sector.

NORTH WEST BUSINESS 2021/22

6
---
FOREWORD

North West Business

A unique guide to business and investment in the North West.

Credits

Publishing director:

Chris Whales

Editor: John Young

Managing director: Clive During

Online editor: Christoff Scholtz

Designer: Tyra Martin

Production: Aneeqah Solomon

Ad sales:

Gavin van der Merwe

Sam Oliver

Jeremy Petersen

Gabriel Venter

Vanessa Wallace

Shiko Diala

Administration & accounts:

Charlene Steynberg

Kathy Wootton

Distribution and circulation

manager: Edward MacDonald

Printing: FA Print

DISTRIBUTION

North West Business is distributed internationally on outgoing and

incoming trade missions, through trade and investment agencies;

to foreign offices in South Africa's main trading partners around the

world; at top national and international events; through the offices

of foreign representatives in South Africa; as well as nationally and

regionally via chambers of commerce, tourism offices, airport lounges,

provincial government departments, municipalities and companies.

The 2021/22 edition of North West Business marks the 11th

publication of this highly successful journal that, since its

launch in 2009, has established itself as the premier business

and investment guide for the North West Province.

The boom in commodity prices that accompanied the international

slowdown that resulted from the Covid-19 pandemic was a boon to the

North West's mining companies and helped to offset some of the hardship

in the province during 2020 and 2021. This topic is covered extensively in

the mining overview and in a special feature on the new uses to which

platinum group metals (PGMs) are being put in the service of the rising

cleaner energy movement.

North West Business includes news and analysis of the most important

sectors. Best known for its platinum mines, grain and livestock farming

and tourism, the province is making a concerted effort to bolster its

manufacturing capacity through a dedicated new strategy.

To complement the extensive local, national and international

distribution of the print edition, the full content can also be viewed online

at www.globalafricanetwork.co.za. Updated information on the North

West is also available through our monthly e-newsletter, which you can

subscribe to online at www.gan.co.za, in addition to our complementary

business-to-business titles that cover all nine provinces, our flagship South

African Business title and the new addition to our list of publications, African

Business, which was launched in 2020. ■

Chris Whales

Publisher, Global Africa Network | Email: chris@gan.co.za

PUBLISHED BY

Global Africa Network Media (Pty) Ltd

Company Registration No: 2004/004982/07

Directors: Clive During, Chris Whales

Physical address: 28 Main Road, Rondebosch 7700

Postal address: PO Box 292, Newlands 7701

Tel: +27 21 657 6200 | Fax: +27 21 674 6943

Email: info@gan.co.za | Website: www.gan.co.za

Member of the Audit Bureau

of Circulations ISSN 1996-1022

COPYRIGHT | North West Business is an independent publication

published by Global Africa Network Media (Pty) Ltd. Full copyright to the

publication vests with Global Africa Network Media (Pty) Ltd. No part

of the publication may be reproduced in any form without the written

permission of Global Africa Network Media (Pty) Ltd.

PHOTO CREDITS | Aurecon; Bushveld Minerals; De Wildt Solar; Juanita

Swart on Unsplash (boats on Hartbeespoort Dam); Implats; Mafikeng

Digital Innovation Hub; North-West University; Pilanesberg Platinum

Mine; Sun City; Tourism North West; Vuselela TVET College; John Young.

DISCLAIMER | While the publisher, Global Africa Network Media (Pty)

Ltd, has used all reasonable efforts to ensure that the information

contained in North West Business is accurate and up-to-date, the

publishers make no representations as to the accuracy, quality,

timeliness, or completeness of the information. Global Africa Network

will not accept responsibility for any loss or damage suffered as a result

of the use of or any reliance placed on such information.

7 NORTH WEST BUSINESS 2021/22
---
CONTENTS

Energy 37

Solar plants are proliferating in the North West.

Tourism 38

Biodiversity protection is expanding.

Education and training 40

A new vocational stream is being introduced at schools.

Development finance and SMME support 43

The Mafikeng Digital Innovation Hub will assist small businesses.

Banking and financial services 44

Smartphone banking is catching on.

Reference

Municipal map 13

A guide to North West's district and local municipalities.

Key sector contents 26

Overviews of the main economic sectors of North West.

Locator map

Index

IBC

IBC

ABOUT THE COVER:

Credit: North West Provincial

Government. The North West is

responsible, together with the Free

State, for 80% of sunflower seed

production in South Africa. In 2018/19

the crop was 681 000 tons. The

Agricultural Research Council's oil and

protein seed research farm is located

in Potchefstroom. According to the

Southern African Grain Laboratory, there

are nearly 100 grain silos in the province.

NORTH WEST BUSINESS 2021/22

8
---
Key catalytic investment

projects are available

MESSAGE

The Musina-Makhado Special Infras

Economic Zone is a flagship project

drive

Limpopo Premier Chupu Stanley Mathabatha invites

private investors to work with the public sector in devel

The North West Province is the ideal place for commercial

ventures and the North West Development Corporation

guides building the infrastructure way a valuable and business growing partner. the economy.

MESSAGE

Iwant to start by thanking Global Africa Network for sustaining the

Limpopo Prem

The publication North of West this important Development magazine, Corporation Limpopo Business. The NWDC's I also wish strategic to join thrust is to drive an

in celebrating priorities in w

welcomes this the 12th publication edition of of what North I consider West a inclusive premier strategy business towards and economic growth and

investment guide for our beautiful Limpopo Province.

already receiv

Business 2021/22 and invites all potential transformation in the province in line with the

Indeed, investors Limpopo to engage Business with the is an NWDC important relating partner provincial the priorities. continued

to endeavour the myriad to opportunities market and which position our Limpopo province offers. as a leading and The most NWDC's attractive purpose is to contribute towards

business The North and investment West Development destination. Corporation the growth and transformation of the economy

We

by

(NWDC) This is informative an agency edition of the Provincial once again Government affords us an opportunity positioning the to take North you West Province as a competitor t

of through the North the West plentiful Province. business It was and investment established offerings to in of the our SADC province, region, from Africa A

Bela-Bela to Musina.

Premier

and the

Chupu

globe in

plan, finance, coordinate, promote and carry out the investment attraction.

a

Through this publication, you will also learn about great private-public Stanley Mathabatha

economic development of the North West Province The NWDC aims to demonstrate its leadership successful natio

and partnership its people. investments that are the pulse of our provincial by implementing economy. key programmes and providing general electio

The As you NWDC will focuses come to on learn, the commerce, Limpopo is finance, home to a support thriving mining for the development sector, of key sectors of election the which w

mining, tantalising tourism, tourism manufacturing, offerings and a agriculture, limitless potential retail for economy the agricultural in line with sector. the conventional economic and

enterprise-related The construction activities industry and is one other of the business booming sectors industrial of policies the Limpopo of the North West.

resulting economy, in the wealth inherited and legacy job of creation an infrastructure while backlog means that the

taking sector cognisance has a longer of future. aims and Investment objectives in this of the sector is Key an investment strategic programmes

in the

Reconstruction future. Limpopo and Province Development has also moved Programme to embrace of the new digital economy

• SMMEs and co-operative development (financial

the through Republic competitive of South Africa. support It is infrastructure.

listed a Schedule and non-financial support)

3D provincial The Musina-Makhado government entity Special in Economic terms of the Zone (MMSEZ) remains our

• Project management services

PFMA flagship of 1994, economic Act 01 development of 1999 and project. reports Through to the this initiative, and through

• Special Economic Zone (SEZ)

Provincial partnerships Department with the of private Economic sector, Development,

we hope to stimulate economic growth,

• Property development and management

Environment, create much-needed Conservation employment and Tourism opportunities (DEDECT). and reduce the ballooning

• Mining

gap of inequality.

• Agro-processing

Vision Business opportunities in this SEZ project are limitless. These opportunities

• Tourism

To range be the from cornerstone manufacturing, of promoting agroprocessing, trade, attracting automotives, steel, pharmaceutical,

• Trade and Investment

investment logistics and and many ensuring more. inclusive economic growth

and transformation What is even in more the North tantalising West Province. is the fact that this CONTACT project DETAILS enjoys the

overwhelming support of our National Government.

Head Office

Mission As the Limpopo Provincial Government, we have placed this Musina-

22 James Watt Crescent, Industrial Site, Mahikeng

To Makhado contribute SEZ to Project the inclusive at the economic apex of our growth priorities. and We

Tel:

believe

+27

that

18 381

the

3663

only

Chupu Stanley

transformation available option of the for us North is to West make Province this project through: a resounding Fax: success. +27 86 503 4391

Premier of Lim

Limpopo is open for business!

• Industrial development ■

Rustenburg branch and Trade Invest

• Commercial investment

209 Beyers Naude Drive, Rustenburg

• Property development and management

Tel: +27 14 594 2570

Fax: +27 86 559 6549

• Development of sustainable enterprises

Email: info@nwdc.co.za

• Trade and investment attraction

Website: www.nwdc.co.za

• Programme management.

9 7 NORTH LIMPOPO

WEST BUSINESS BUSINESS 2021/22

2020/21 LIMPOPO BUSIN
---
A REGIONAL OVERVIEW OF

NORTH WEST

PROVINCE

The North West has massive mineral resources. Credit: Implats

Global prices are supporting rising production for miners and

farmers but governance issues at local level need to be addressed.

By John Young

There was good news for South African

taxpayers in the first half of 2021:

expected income tax increases did

not materialise. This was because the

mining industry, many of whose key players have

operations in the North West, delivered R99.6-

billion more than expected to National Treasury.

With many global prices for commodities rising

to record levels in 2020 and 2021, mining companies

were able to pay down debt, reward shareholders

and dust off feasibility studies for expansion projects

that had previously been shelved. This also helped

to ameliorate the effects of the global pandemic in

terms of job losses in the North West.

The other sector in good shape – and in which

the North West excels for variety and quality – is

agriculture. The grain sector, one of the province's

strongest, experienced an unusual bonanza of nearrecord

harvests and good prices on the international

market. The good prices are driven by drought in other

parts of the world and increasing demand from China.

Logistical challenges, not all of which were

NORTH WEST BUSINESS 2021/22

10
---
SPECIAL FEATURE

related to Covid-19, somewhat hampered the

amount of product that miners and farmers were

able to export through the country's ports.

At local level, Clover announced in 2021 that it

was to close down its cheese factory in Lichtenburg

because of unreliable water and power supply.

The ability of local authorities to manage the

infrastructure of towns and districts has been under

scrutiny for some time and national government

has signalled its intention to intervene.

The African National Congress, the province's

biggest political party and the party of national

government, announced a new premier four

months before local government elections were

due to be held.

The North West Provincial Government

announced a series of steps taken within its

administration which showed that accountability

for bad behaviour was being implemented. Among

the measures were the firing of the head of the

Department of Health, the cancellation of an ICT

contract and a restructuring process undertaken in

conjunction with the National Department of Public

Service and Administration.

The establishment of the Mafikeng Digital

Information Hub, a co-working 4IR hub in the

centre of Mahikeng, is an indicator that the province

is intent of joining the digital movement. The hub

is led by Joseph Ndaba, who is serving on the

Presidential Commission on 4IR.

The aim of the hub is to unearth and cultivate

innovative solutions that will assist communities to

acclimatise to the digital world and to help incubate

new businesses.

Geography and economy

The North West is bordered on the west by the

Republic of Botswana and on the east by Gauteng,

the engine of the South African economy.

The North West province makes up 6.8% of the

population of South Africa (3.6-million), 8.7% of the

land mass (105 076km²) and accounts for 5.8% of

economic output in terms of gross value added.

The Vaal River runs along the province's southeastern

border with the Free State, and the province

also shares borders with the Northern Cape to the

south and Limpopo in the north.

AI 4 Rural Development at the Mafikeng Digital

Innovation Hub.

The mineral reserves in the province are

enormous. Platinum group metals (PGMs)

predominate but there are significant deposits

of gold, uranium, diamonds, copper, vanadium,

fluorspar and nickel. Stone and limestone are also

found in large quantities.

Mining beneficiation takes place at many

places, with Rustenburg being particularly strong

in this sector. The economy of the town is closely

linked to the fortunes of platinum mining, with the

sector contributing about 70% of the city's gross

geographic product.

Automotive components firms are clustered

in Brits, which in turn is close to the automotive

manufacturing hub of Rosslyn (Pretoria) in

Gauteng. Towns like Klerksdorp (agro-processing

and engineering) and Potchefstroom (food and

beverages) also have manufacturing capacity.

The North West is a major producer of maize

and sunflower seeds and many other agricultural

products. About 20% of South Africa's maize comes

from the province, as does 15% of its wheat.

The dry western part of the province is home

to beef cattle, game ranching and hunting. The

normally well-watered eastern and north-eastern

regions carry varied crops, many of which are sold in

Johannesburg and Pretoria.

The agricultural sector also generates largescale

storage and logistics operations, particularly

in Klerksdorp, Vryburg and Brits, together with a

number of agro-processing plants. Senwes is one of

the biggest with extensive silo infrastructure while

Suidwes has 17 retail outlets and MGK makes full-fat

soy at its manufacturing plant. Lichtenburg-based

NWK makes liquid fertiliser and animal feed, processes

sunflower seeds and runs 37 silos and three grain mills.

11

NORTH WEST BUSINESS 2021/22
---
The Valley of Waves at Sun City. Credit: Sun City

The province's three Technical and

Vocational Education and Training (TVET)

colleges and the well-respected North-West

University all have several campuses catering

to a wide range of educational disciplines.

The university has a strong reputation as a

research institution.

Major towns

Mahikeng

The capital city of the North West Province lies

on the banks of the Molopo River. Situated in

the north-west sector of the province near the

Botswana border, the city has a strong services

sector and a population of approximately 300 000.

The city's main sectors are financial services,

services, transport and trade. The Garona District

houses the North West parliament and government

buildings. The arts are promoted by the Mmabana

Cultural Centre, while the North West Institute

of Hotel and Tourism Management is one of

three tertiary institutions in the city. North-West

University's Graduate School of Business and

Government Leadership is located in the city, and

Unisa has a presence. Other institutions are the

Taletso TVET College and the International School

of South Africa.

The town is well served by hotels such as the

Mmabatho Palms, Hotel and Casino Convention

Resort. White rhino and giraffe can be found at

the Mahikeng Game Reserve.

Tlokwe

The city of Potchefstroom is administered by the

Tlokwe Local Municipality. A large campus of

North-West University and its business school is

located in the city, as is the Vuselela TVET College

and the Potchefstroom College of Agriculture.

More than 120 000 people regularly attended

the annual Aardklop Festival before Covid. The

city has a population of about 173 000.

The sports facilities of North-West University

are world-class and have been the base for

Spain's soccer team and Australia's cricket team

in world cups. Tlokwe is a hub for the strong

commercial agriculture of the region and has

several food and beverage manufacturers

including Nestlé. Some of the bigger enterprises

include fertiliser companies such as Kynoch,

munitions manufacturers, and food processors

like King Food. An army base contributes to the

economy, and the airfield formerly used by the

military is now run by the municipality.

The N12 Treasure Route passes through the

city and holds potential for further development

of tourist highlights such as Boskop Dam and the

Mooi River on which the town is located.

Rustenburg

Rustenburg is a local municipality within the

Bojanala Platinum District Municipality and the

headquarters of both bodies are in the city of

about 625 000 residents.

NORTH WEST BUSINESS 2021/22

12
---
an important regional centre and the town where

several important companies' headquarters are

located. These include Senwes, through whose silos

a large proportion of South Africa's grains move

every year, and a number of engineering enterprises

which serve the mining industry.

areas. The Bloemhof Bonanza is the biggest and

most lucrative inland-angling event in South

Africa, with more than 2 000 anglers trying to

win R1.5-million in prize money. SPECIAL The nearby FEATURESA

Lombard Nature Reserve has a fine herd of black

wildebeest.

Municipalities in North West Province

Limpopo

BOTSWANA

Ramotshere

Moiloa

Moses Kotane

Bojanala

Madibeng

Moretele

Molopo

Mafikeng

Kgetlengrivier

Rustenburg

Kagisano

Ratlou

Ngaka Modiri Molema

Ditsobotla

JB Marks

Gauteng

Dr Ruth Segomotsi Mompati

Tswaing

Dr Kenneth Kaunda

Naledi

Matlosana

Mamusa

Maquassi Hills

Northern Cape

Greater Taung

Lekwa-Teemane

Free State

Metropolitan/District Municipality

Boundary

Local Municipality Boundary

District Municipality

Local Municipality

Bojanala

Naledi

NORTH WEST BUSINESS 2019

Rustenburg straddles the N4 "Platinum

Highway" about 120km west of the cities of Pretoria

and Johannesburg in the Gauteng Province, the

economic hub of South Africa. The N4 stretches

across South Africa from Mozambique in the east,

to the Botswana border in the west and, as the Trans

Kalahari Route, ultimately to Namibia.

At the foot of the Magaliesberg Mountain

Range, Rustenburg is only 50km from one of the

country's premier tourist resorts, Sun City, which in

turn is adjacent to the 550km² Pilanesberg National

Park and Game Reserve which has a small airport.

Orbit TVET College has a campus in Rustenburg,

Unisa has a regional office and the Agricultural

Research Institute's Industrial Crops Division is also

located in the city. The Royal Bafokeng Sports Palace

hosted five group matches in the 2010 World Cup.

Platinum mining began in 1929 and has driven the

city's growth ever since. ■

30
---
SPECIAL FEATURE

The North West has the metals

and minerals to help the world

go green

Palladium is more valuable than gold, and not only in dollars.

Finding new uses for platinum is one of the

biggest priorities exercising the minds of the

leaders of the South African mining industry

as it moves to adapt to a world anxious to

distance itself from fossil fuels.

Among the innovators and investors looking

for new solutions and applications for platinum

group metals (PGMs) and other commodities are

companies operating in the North West.

A neat symbol of the shift in thinking can be

found in central Johannesburg where the head

office of the Minerals Council South Africa is

powered by 40 ounces of platinum and natural gas.

The fuel cell (pictured) of the national mine owners'

association is South Africa and Africa's first base

load installation.

While there is broad agreement that the world

needs to steer away from minerals that pollute

the environment, the supply of materials used in

electric car manufacture, such as nickel and cobalt,

is also finite.

Electric vehicles

A key reason for a surge in palladium prices at the

start of 2021 was increased demand for the metal

in the creation of catalytic converters on motor

vehicles. The price went past $2 000 per ounce,

surpassing the price of gold.

Stricter emissions rules in Europe and the

US are driving demand. China is planning

to impose similar rules. Hybrid cars also

need catalytic converters but the supply

of palladium is not able to keep up with

demand. One of the results of this is that car

manufacturers are looking at alternatives such

as rhodium or platinum.

Speaking at the 2019 Investing in African

Mining Indaba, Ford's head of Energy Storage

Strategy and Research, Ted J Miller, said that the

motor industry was "uncomfortable driving these

commodities". He noted that Ford has already

reduced cobalt production by two-thirds, but

the challenge is scale.

NORTH WEST BUSINESS 2021/22

14
---
SPECIAL FEATURE

hydrogen technology. What is true for Germany

will be true of other European nations as they

pivot from carbon.

An Atlas of Green Hydrogen Generation

Potentials in Africa already exists and areas

with good solar coverage and steady winds

have great potential. Many parts of South Africa

qualify. Germany's Federal Research Ministry will

fund the first phase of the partnership to the

tune of €40-million. If a kilogram of hydrogen

can be produced in Namibia for less than €2, as

is envisaged, it will be the cheapest hydrogen in

the world.

The editor of the respected Mining Weekly

publication, Martin Creamer, has published a

series of articles and editorials extolling the virtues

of what he calls the "best of two new carbonreducing

technology worlds".

Creamer notes that South Africa's abundant

supplies of platinum group metals and

manganese ore can make the country a leader in

battery electric vehicles (BEV) and fuel cell electric

vehicles (FCEV). He further points to the work

being done by Hydrogen South Africa (HySA) at

three universities and the Council for Scientific

and Industrial Research (CSIR). South Africa's good

supplies of sunshine and wind make it ideally

suited to generate hydrogen and if the country

could capture 25% of the world market, it would

be worth $600-million (Mining Weekly).

The German government is reaching out

to African countries in its search for sources of

"green hydrogen". PGMs can play an important

role in the creation and application of this

cleaner product and Germany has signed an

agreement with Namibia to partner on green

Cleaner processing

Platinum has proven benefits and applications as

a catalyst in the creation of hydrogen fuel cells but

if the method used to mine the platinum is itself

carbon-emitting and "dirty" then the processes

could be said to be cancelling one another out.

Pilanesberg Platinum Mines has introduced

a method of processing that itself is cleaner

than traditional methods. The result is that

sulphur dioxide emissions are eliminated from

the smelting process. The Kell plant also reduces

electricity usage (by more than 80%), improves

recovery rates and can extract cobalt, the chemical

element which is another important element for

batteries for electric vehicles. Sedibelo Platinum

Mines, which owns Pilanesberg, is a partner in

Kell South Africa with the Industrial Development

Corporation (IDC), together with another partner.

Credit: Bushveld Minerals

15 NORTH WEST BUSINESS 2021/22
---
SPECIAL FEATURE

In 2012, Anglo Platinum launched an

underground locomotive powered by a fuel cell.

Platinum coating greatly enhances the hydrogen

absorption capacity of fuel cells. In 2016 Impala

Platinum Refinery unveiled a fuel cell forklift and a

hydrogen refuelling station in Springs.

Bushveld Minerals has two arms: Bushveld

Vanadium, which mines and processes vanadium,

and Bushveld Energy, which is working on

Vanadium Redox Flow Batteries (VRFB). Energy

storage is the focus of much research across

the globe and Bushveld Energy intends its solar

installation at its Vametco mine, supported by

VRFB, to answer many questions.

Bushveld Vanadium is one of three vanadium

producers in the world. Vanadium has traditionally

been used mainly in steel production, but its newage

uses are becoming more and more important.

World supply is below 100 000 tons per annum.

Bushveld Vanadium has three assets: the

Vametco mine and processing plant, the Brits

vanadium project and the Mokopane vanadium

project where feasibility studies are underway (in

Limpopo Province).

Bushveld Minerals estimates that, when

energy storage applications in the electric

transport sectors are considered, total demand for

batteries is forecast to reach 4 584GWh by 2040.

The company believes that South Africa is well

positioned build an industry that will play a critical

role in Africa and beyond.

To that end, it is partnering with the Industrial

Development Corporation (IDC) to build a

$10-million plant in East London (Eastern Cape)

to produce vanadium electrolytes from the ore

mined in the North West. The electrolytes are a

vital component of the redox flow battery.

Lithium batteries need nickel sulphate and

nickel sulphate is a byproduct of platinum

production. A new company has been formed,

Thakadu Group, to buy and sell nickel offtake from

Lonmin. The deal will see Thakadu handle 25 000

tons of nickel offtake to sell to battery makers.

Sibanye-Stillwater, which started its life as a

gold company in South Africa and swiftly became

a global leader in mining PGMs, bought a share

in a Finnish mining and chemicals company

Keliber in early 2021 with the aim of producing

battery-grade lithium hydroxide in that country.

The partnership will invest in lithium mines, a

concentrator plant and a lithium hydroxide plant.

Sibanye-Stillwater is the world's largest primary

producer of platinum, second-largest primary

producer of palladium, third-largest producer

of gold and the world's leading global recycler

and processor of spent PGM catalytic converter

materials. Two of the company's three South

African PGM assets are in the North West, Marikana

and Rustenburg, and it is the majority shareholder

in the Platinum Mile tailings retreatment facility

near Rustenburg, which recovers PGMs from the

tailings of the Rustenburg operations.

Impala Platinum (Implats) has assets on both

limbs of the Bushveld Complex. Impala Rustenburg

near Rustenburg in the North West comprises a

multi-shaft mining complex and concentrating

and smelting plants. The base and precious metal

refineries are in Springs, east of Johannesburg.

Northam has invested heavily in a smelter

expansion project at its Zondereinde mine. ■

Green mobility. Electric cars need the minerals and metals that the North West has. Credit: John Young
---
Creating a better future

…through the way we do business

Developing and caring

for host communities

Caring for and

supporting

our environment

Bringing

long-term growth

and opportunity

Providing meaningful

employment

Creating value for

our stakeholders

This is our PURPOSE

To improve the lives of

future generations

Coolead 18725
---
SPECIAL FEATURE

Mining

Many mining companies are thinking of expansion.

SECTOR INSIGHT

Energy plants are being

constructed on mines.

Credit: Implats

Commodity prices buoyed the mining sector in 2021.

Impala Platinum (Implats) posted a 125% increase

in headline earnings in September 2021. The group

allocated 70% of free cashflow to shareholder returns

through convertible bond repurchases and cash dividends. This

came about because of record rand prices for the PGM basket,

increased sales and improved operations. Work has been done

at Implats' Rustenburg to

enhance mine flexibility and

the company expects this to

deliver further growth.

Pilanesberg Platinum Mines

has been active 80km north-west

of Rustenburg since 2009. Mining

operations are conducted by

contractors while PPM manages

the concentrator (screen, crush,

mill, float, thicken and dry). The

operation has annually achieved

an average of about 150 000

ounces of platinum group metal

(PGM) concentrate.

RBPlat declared an interim

dividend of R1.5-billion in August

of 2021 and was expecting to

have similar good news at yearend,

despite reduced production

volumes because of the Covid-19

pandemic. The four metals

that make up the bulk of Royal

Bafokeng Platinum's portfolio

increased in price by more

than 50% in the course of 2021.

Rhodium earns RBPlat 45% of its

income, followed by palladium,

platinum and gold.

Even though the Rustenburg

furnace 5 was put on care and

maintenance, Merafe Resources

reported a small improvement in

ferrochrome production for the

first quarter of its financial year.

The joint with Glencore, Glencore

Merafe Chrome Venture, apparently

NORTH WEST BUSINESS 2021/22

18
---
WWW.NORTHERNCAPEBUSINESS.CO.ZA

ONLINE JOIN S US ONLINE

WWW.GLOBALAFRICANETWORK.COM | WWW.NORTHERNCAPEB

| | 10 REASONS

WHY YOU SHOULD INVEST IN SOUTH AFRICA

01.

HOT EMERGING

MARKET

Growing middle class, affluent consumer

base, excellent returns on investment.

02.

MOST DIVERSIFIED

ECONOMY IN AFRICA

South Africa (SA) has the most industrialised economy in Africa.

It is the region's principal manufacturing hub and a leading

services destination.

LARGEST PRESENCE OF MULTINATIONALS

ON THE AFRICAN CONTINENT

SA is the location of choice of multinationals in Africa.

03.

Global corporates reap the benefits of doing business in

SA, which has a supportive and growing ecosystem as a

hub for innovation, technology and fintech.

05.

FAVOURABLE ACCESS TO

GLOBAL MARKETS

ADVANCED FINANCIAL SERVICES

& BANKING SECTOR

SA has a sophisticated banking sector with a major

footprint in Africa. It is the continent's financial hub,

with the JSE being Africa's largest stock exchange by

market capitalisation.

The African Continental Free Trade Area will boost

intra-African trade and create a market of over one

billion people and a combined gross domestic product

(GDP) of USD2.2-trillion that will unlock industrial

development. SA has several trade agreements in

place as an export platform into global markets.

07.

YOUNG, EAGER LABOUR FORCE

09.

SA has a number of world-class universities and colleges

producing a skilled, talented and capable workforce. It

boasts a diversified skills set, emerging talent, a large pool

of prospective workers and government support for training

and skills development.

04.

06.

08.

PROGRESSIVE

CONSTITUTION

& INDEPENDENT

JUDICIARY

SA has a progressive Constitution and an independent judiciary. The

country has a mature and accessible legal system, providing certainty

and respect for the rule of law. It is ranked number one in Africa for the

protection of investments and minority investors.

ABUNDANT NATURAL

RESOURCES

SA is endowed with an abundance of natural resources. It is the leading producer

of platinum-group metals (PGMs) globally. Numerous listed mining companies

operate in SA, which also has world-renowned underground mining expertise.

WORLD-CLASS

INFRASTRUCTURE

AND LOGISTICS

A massive governmental investment programme in infrastructure development

has been under way for several years. SA has the largest air, ports and logistics

networks in Africa, and is ranked number one in Africa in the World Bank's

Logistics Performance Index.

10.

SA offers a favourable cost of living, with a diversified cultural, cuisine and

sports offering all year round and a world-renowned hospitality sector.

EXCELLENT QUALITY

OF LIFE

Page | 2

19

SOUTH AFRICAN BUSINESS 2020
---
SPECIAL FEATURE

achieved efficiencies which helped it to increase production by 3% for

the three months to the end of March 2021, compared to the same

period in 2020. The total produced was 103 000 tons.

Platinum group metals (PGM) miner Sibanye Stillwater will spend

a further R3.9-billion on an expansion project at its Marikana mine, after

previous owners Lonmin spent more than R4-billion on it. The aim is to be

producing 250 000oz per year of platinum, gold, palladium and rhodium

in 2028.

It is not only PGMs that are sparking interest in expanded

operations. Harmony Gold is at an advanced stage of a feasibility study

to determine the viability of expanding the Kalgold open-pit operation

(Windmill zone). Kalgold is an open-pit gold mine situated on the

Kraaipan Greenstone Belt, 55km south-west of Mahikeng. In 2020, 1

153kg of gold was produced, against 1 249kg in the previous year.

Small business support

Pilanesberg Platinum Mines created Community Crusher as a nonprofit

enterprise but with 14 employees and a steady set of orders for

building projects run by the company, the small business is starting to

show signs of becoming a bigger business.

Many mines run similar programmes, sourcing goods and

services from local community-based companies and sometimes

providing mentoring and advice on how to improve as businesses.

Implats has a programme of procurement in which it supports

local business and black-owned businesses through enterprise and

supplier development programmes.

The Provincial Government of the North West is in talks with several

mining companies in the Matlosana Local Municipality area (which

includes Klerksdorp and Orkney) as some mines are being closed

down. One of the initiatives to extract more value from mining is the

proposed Platinum Valley Special Economic Zone. Creating a base

for companies to supply the mining industry is one of the key drivers

behind the scheme.

The SEZ is intended for Mogwase in the Bojanala District, north of

Rustenburg and east of Sun City. When fully developed, 200ha of land

will be taken up by three infrastructure facilities comprising Logistics,

Light Manufacturing and Heavy Manufacturing.

The Seda Platinum Incubator (SPI) is an initiative of the

Platinum Trust of South Africa and is funded by the Small Enterprise

Development Agency (Seda) through its Seda Technology Programme

(Stp) with the support of the North West Provincial Government and

private companies.

Mineral resources

The North West Province is aligned with the Western Limb of the

Bushveld Igneous Complex, a remarkably rich minerals formation.

Mines in the province produce 50% of the platinum produced in the

world, and 65% of South Africa's PGMs.

Laboratory testing being done at

Pilanesberg Platinum Mines. Credit: PPM

Chromite is the other major

mineral mined throughout the

province, and there are several

ferrochrome smelters and other

processing plants. South Africa

produces about 70% of the

world's chrome.

Gold and uranium are found

along the border of the province

with Gauteng and the Free State

(in Klerksdorp and Orkney).

Diamonds are mined at Christiana,

Bloemhof and Lichtenburg.

Other minerals include

fluorspar, vanadium, rhodium,

uranium, copper, limestone,

slate, phosphate, manganese,

coal and nickel. Limestone

quarries run by G&W Base and

Industrial Minerals in the Marico

District are located next to a PPC

cement factory.

One of the last economically

viable limestone deposits in

South Africa is mined and

processed by Sephaku Cement.

Sephaku runs a 6 000-ton-per-day

clinker plant near Lichtenburg.

AfriSam, PPC and Lafarge

are active in the Mahikeng/

Lichtenburg area, but Sephaku

is confident that its clinker and

cement-production facilities will

be supported by raw materials

for at least 30 years. AfriSam

has taken measures to reduce

carbon emissions at its Dudfield

cement plant. ■

NORTH WEST BUSINESS 2021/22

20
---
SPECIAL FEATURE

SPECIAL FEATURE

South African economy at a glance

Insight into the South African ecomomy.

SPECIAL FEATURE

ZIMBABWE

NAMIBIA

BOTSWANA

Limpopo

7%

MOZAMBIQUE

North West

6%

Gauteng

Mpumalanga

35%

7%

SWAZI-

LAND

Northern Cape

2%

Free State

5%

LESOTHO

KwaZulu-

Natal

16%

Western Cape

14%

Eastern Cape

8%

Percentage contribution of each province to national GDP.

SOURCE: STATS SA WWW.STATSSA.GOV.ZA

Credit: Impala Platinum

secured tens of thousands of new seats on direct

Trends Table: South African mining production

flights to and from the city).

• Companies are successfully trading into Africa.

Good Increased signs for the economy by 116.5% include: year-on-year • Niche in agricultural April markets 2021. are booming with

• Several provincial governments and investment macadamia nuts being the most successful.

agencies are establishing trade relations and Pecan nuts have done well and wine and grape

study Largest programmes contributors with BRICS countries. State % increase exports to China % contribution

are growing.

visits to and from China immediately before and • Private education at school and tertiary level is

after a major BRICS summit in 2018 gave an indication

that Ramaphosa holds high hopes for • New banking licences have been issued and

growing as a sector.

Platinum Group Metals 276.1% 39.2%

increased trade with the biggest of the BRICS several more are in the pipeline.

nations. Two-way trade between the countries in • New stock exchanges came on line in 2017 and

2017 was worth $39.1-billion. South Africa wants more are expected.

to Gold grow tourist numbers from China. South Africa 177.9% • Investment 16.6% in infrastructure (especially ICT and

became the first country in the world to export railways) is strong. Nedbank's report on capital

beef to China in 2017, to go with existing exports expenditure in South Africa stated that the

of

Manganese

iron ore, platinum

ore

and fruit and wine.

208.2%

29 large projects

14.2%

announced in the first half

• Tourists are visiting South Africa in record numbers

(Cape Town's Air Access programme has Mail). The renewable energy

of 2018 were valued at R63.9-billion (Financial

programme

Iron ore 149.1% 13.3%

Source: StatsSA.com

17 SOUTH AFRICAN BUSINESS 2019

Source: world exports.com

Table: South African mineral sales

Mineral sales increased by 152.7%

year-on-year in April 2021.

Largest contributors % increase % contribution

PGMs 465.9% 103

Iron ore 115.6% 19.5

Gold 40.9% 6.5

Source: StatsSA.com

Source: world exports.com
---
ADVERTORIAL

Money experts serving the

North West business community

additional support that is most needed in times

of change and uncertainty.'

'

We know that success in business is

about partnerships, so we put the

building of deep, lasting,

value-adding relationships at the

centre of everything we do.

'

Nedbank knows that navigating your business

through a challenging economic landscape is

hard enough, and that taking care of your daily

business-banking needs shouldn't add to that

load. 'With this in mind, we've designed the

Nedbank Business Hub with convenience,

security and control in mind. The Nedbank

Business Hub boasts 130 different services and

enables you to bank and transact, get finance,

invest and insure – it's hassle-free banking at

your fingertips,' says Swanepoel.

Johann Swanepoel, Regional Manager for

Business Banking, says that a deep commitment

to partnership is what governs the team's

personal and professional values.

'Our bigger-picture banking approach enables

us to not only offer solutions that our clients

need, but also a holistic view of how our

products are connected to create a framework

that yields maximum impact across every facet

of their businesses and beyond,' he says. 'We

know that success in business is about

partnerships, so we put the building of deep,

lasting, value-adding relationships at the centre

of everything we do. This means your goals are

our goals, your vision is our vision, and your

success is our success – while you rely on our

'Ultimately, our philosophy is to partner with our

clients to grow their businesses, so we're always

finding ways to support them in this quest. Our

aim is to use our financial expertise to do good

to help build a strong, resilient economy for the

betterment of all,' he says.

To take your business to the next level or for

more information about Nedbank's specialised

service offering, please email Johann Swanepoel

at JohannEu@nedbank.co.za or visit

www.nedbank.co.za/business.

NORTH WEST BUSINESS 2021/22

see money differently

22

Nedbank Ltd Reg No 1951/000009/06. Authorised financial services

and registered credit provider (NCRCP16).
---
ADVERTORIAL

Nedbank Business Banking

helps the public sector

see money differently

'

We understand that the various

spheres of government and their

agencies face unique challenges...

'

But the bank's role goes beyond offering

banking solutions to these vital entities. As

money experts who do good, Nedbank strives to

empower the people behind the public sector by

saving them time, money and helping them

manage their money better.

'We help them save time by offering on-site

help from dedicated teams and through our

market-leading Nedbank Money app and other

digital solutions. We also help them save money

through our preferential banking solutions and

our award-winning Financial Fitness and

Consumer Education Programme. The latter

helps them manage their money better by

providing budgeting and money management

training, equipping their employees to deal with

everyday money management challenges,' says

Seleho.

Nedbank is committed to delivering easy and

innovative banking solutions to government,

municipalities, state-owned enterprises and

academic institutions, including TVET colleges

and universities, throughout South Africa.

Monei Seleho, Nedbank's Provincial Manager for

the Public Sector in the North West, says that

given the strategic importance of the public

sector to the economy and the country at large,

Nedbank has a dedicated team to offer financial

solutions that enable the broader mandate of

service delivery. 'We understand that the

various spheres of government and their

agencies face unique challenges. They are ready

and able to draw on the bank's innovative,

seamless and hassle-free products to help build

a greater nation.'

To find out more about how Nedbank can

partner with your organisation to grow a

greater South Africa, please email Monei Seleho

on MoneiS@Nedbank.co.za or visit

www.nedbank.co.za/business.

see money differently

23 NORTH WEST BUSINESS 2021/22

Nedbank Ltd Reg No 1951/000009/06. Authorised financial services

and registered credit provider (NCRCP16).
---
ADVERTORIAL

Nedbank offers specialist

support for a post-Covid-19

world

informational access while not compromising on

security. For example, with the award-winning

Nedbank Money app, clients can manage

accounts and investments, make payments and

set savings goals and budgets, all from their

smartphones. They can also make instant

payments to anyone on their contact list, even if

the recipient isn't a Nedbank client,' he says.

'

This is all while staying true to

Nedbank's brand promise to use its

financial expertise to do good for

individuals, families, businesses and

the communities in which it operates.

One of the solutions the bank has added to its

portfolio, specifically with Covid-19 safety in

mind, is appointment banking. 'For your

convenience and to limit the time you spend in

public spaces, you can now make an appointment

with a dedicated relationship banker

directly via the Money app or Online Banking.

Just choose the date, time and branch that suits

you,' says Makinita.

'

Daniel Makinita, Regional Manager for Retail

Business Banking in the North West, says that as

South Africa progresses through the various

stages of Covid-19, Nedbank is working through

recovery scenarios with existing and

prospective clients. This is all while staying true

to Nedbank's brand promise to use its financial

expertise to do good for individuals, families,

businesses and the communities in which it

operates.

To find out more about banking from the

comfort of your home or for more information

about Nedbank's specialised service offering,

please email Daniel Makinita at

DanielMak@Nedbank.co.za or visit

www.nedbank.co.za.

'Throughout the pandemic, we have elevated

our client engagement and extended

tailor-made relief to many of our clients,

equipping and enabling them to benefit from

various digital and remote solutions. This

ensures uninterrupted transactional and

NORTH WEST BUSINESS 2021/22

see money differently

24

Nedbank Ltd Reg No 1951/000009/06. Authorised financial services

and registered credit provider (NCRCP16).
---
ADVERTORIAL

Small-business solutions aimed

at creating jobs and growing

the economy

Nedbank's Regional Manager of Retail

Relationship Banking in the North West,

Pieter Naudé, explains how brand values built on

the bank's expertise can benefit Nedbank

clients, especially during what is now considered

'the new normal'.

Naudé says that for small-business clients,

Nedbank continues to deliver end-to-end

solutions through a dedicated business

manager. 'Our bigger-picture business

approach enables us to have a holistic view of

each business by understanding the vision,

cashflow cycle, and transactional and capital

expenditure needs. This way, we become trusted

advisors to business owners who strive to grow

their businesses.'

Small businesses often lack formalisation, as

seen in many not qualifying for Covid-19

assistance because of outdated records and not

meeting regulatory requirements. Naudé says

that Nedbank's experts are available to offer all

the support small businesses need, which goes

beyond affordable banking solutions. 'We offer

value-added services to get and keep your

business going, like our free-to-join networking

portal, SimplyBiz.co.za, The Essential Guide for

Small-business Owners, business registration

services and free small-business seminars.'

'

Our bigger-picture business

approach enables us to have a

holistic view of each business by

understanding the vision, cashflow

cycle, and transactional and capital

expenditure needs.

Naudé adds that Nedbank's Professional

Banking solution is built on five pillars. 'We

provide our professional clients with banking at

their fingertips; benefits that matter; expert

savings and investment advice; and a unique

household banking approach that allows them

and their families to finance their dreams and

growth.

'With dedicated relationship bankers, tailored

financing options and 24/7 service, the banking

experience we offer is seamless, enables our

clients' financial aspirations and is flexible to

grow as your needs grow,' says Naudé.

If you want to tap into our small-business or

professional banking expertise to reach your

business goals, please email Pieter Naudé at

PieterN@Nedbank.co.za or visit

www.nedbank.co.za.

'

see money differently

25 NORTH WEST BUSINESS 2021/22

Nedbank Ltd Reg No 1951/000009/06. Authorised financial services

and registered credit provider (NCRCP16).
---
KEY SECTORS

Overviews of the main economic

sectors of North West

Mining 18

Agriculture 28

Water 32

Manufacturing 36

Energy 37

Tourism 38

Education and training 40

Banking and financial services 42

Development finance and SMME support 46

The South African National Roads Agency (SANRAL) opened the R512 Pampoennek road

in 2020, improving the interprovincial link between Brits in the North West and Randburg

in Gauteng. Credit: SANRAL
---
OVERVIEW

Agriculture and

agro-processing

Training in agriculture is in the spotlight.

With more agricultural subjects being offered in

schools and more spaces being created for students

of agriculture, it comes as no surprise to learn that a

large new agricultural farm school at is to be built at

Rysmierbult, near Ventersdorp.

The idea behind the institution (a "mega farm school") is that it

will provide support to smaller farm schools and not only raise the

numbers of young people educated in agriculture, but also raise the

quality of tuition. Existing infrastructure is also receiving attention, by

way of the construction of a 6km access road being built to serve the

Kgora Farmer Training Centre in Mahikeng.

Although cattle and maize crops feature strongly in any

discussion of North West agriculture, a black-owned company has

succeeded on the back of hard work in the citrus market. Batlhako

Temo Services, a former co-operative which started life cultivating

sunflowers, is now a Brits-based company exporting to the Middle

East and Taiwan. Over the years, the group of farmers has received

support from the Department of Agriculture, Rural Development and

Land Reform and from the Small Enterprise Development Agency

(Seda) which has enabled them to invest in equipment and expand

their workforce.

Another provincial government initiative will see 12 000ha of

fallow land that around the Springbokpan grain silos infrastructure

in Ditsobotla revived for the cultivation of grain.

For those who know the North West as a water-scarce region, it

may be surprising to learn that a priority in 2021 has been the repair

SECTOR INSIGHT

More than 20% of South

Africa's maize crop is produced

in the North West.

of earthen dams and fences

damaged by flooding.

As part of a drive to help more

farmers get connected to the

more profitable end of the value

chain, a beef beneficiation project

is under consideration. To be

located in the Dr Ruth Segomotsi

Mompati District, a feasibility

study is investigating whether

a public-private partnership for

constructing abattoirs and other

relevant infrastructure would work.

Various agro-processing

plants are under consideration

for the city of Mahikeng: a

feedlot and a meat-processing

plant, including an abattoir and

packaging facilities. In Taung the

plan is to establish an animal

NORTH WEST BUSINESS 2021/22

28
---
OVERVIEW

feed-manufacturing plant. A 10ha vineyard in Ventersdorp is to be

expanded to 40ha and a black-owned logistics co-operative has

been signed to distribute products from the farm.

Regional variety

The dry western region of the province is home to large beef-cattle

herds, and this is where the growing game-ranching and hunting

industry has its base. The eastern and north-eastern parts of the

province receive relatively good rainfall and are suitable for the

cultivation of crops.

The North West has approximately 1.6-million beef cattle,

representing 12% of South Africa's herd. Major breeds include

Simmental, Brahman, Bonsmara and Simbra, a cross between the

Brahman and Simmental breeds. Kalahari Red and Boerbok goats

are found in large numbers in the dry west. The number of goats for

the province is estimated at 701 587 which is 12% of South Africa's

total. There are estimated to be 318 843 pigs, which is 20% of South

Africa's total drove.

Nearly two-million hectares is planted with summer cereals,

with about 50 000ha given over to winter cereals. The North West

produces about 20% of South Africa's maize and about 15% of

its wheat. The central and southern sections of the province are

dominated by maize and wheat farming. When it comes to sunflower

seed, North West is responsible for 33% of South Africa's stock, and

23% of the nation's groundnuts. The North West supplies 5.4% of

South Africa's potatoes, but parts of the Kalahari are ideally suited to

the cultivation of seed potatoes.

The North West is sometimes called "The Texas of South Africa"

because of its superb cattle herds but the province also produces

good crops of onions and other vegetables. Proximity to the large

urban concentrations of Pretoria and Johannesburg are advantages

for the horticulture subsector.

Companies

Senwes has a strong grain division and it controls 68 silos. Its

headquarters are in Klerksdorp and in 2019 it increased its stake

in KLK so that it now controls 57.44% of the company most

strongly associated with the

Northern Cape.

Suidwes is based south of

Klerksdorp in Leeudoringstad.

More than 90% of the shares in

the company are held by farmers.

Grain handling is the main

business and there are divisions for

retail (17 outlets and one animalfeed

depot), mechanisation,

finance and research and

agricultural economics (Terratek).

Brits is the location of the

headquarters of the MGK

Group. The company runs five

divisions and a plant that makes

full fat soy, a component in

animal feed. NWK is another

company with manufacturing

capacity. The Lichtenburgbased

enterprise makes liquid

fertiliser (up to 10 tons per

month), animal feed (Opti

Feeds), processes sunflower

seeds (Epko), and runs three

grain mills. Another subsidiary,

Opti Chicks, has a capacity of

600 000 chicks per week.

NWK also deals in grain, runs

several retail outlets and has

a half-share (with Senwes) in

CertiSure Brokers. The company

has 37 silos with a capacity of

2.5-million tons.

AgriNW is the mouthpiece

of its affiliated farmers and

keeps an eye on policy and

laws affecting the sector. It also

acts as a supportive network

to help its members achieve

optimal results. ■

ONLINE RESOURCES

Agri NW: www.agrinw.co.za

Grain SA: www.grainsa.co.za

North West Department of Agriculture and Rural Development: www.dard.nwpg.gov.za

Red Meat Producers Organisation: www.rpo.co.za

29 NORTH WEST BUSINESS 2021/22
---
The future of smart

farming in South Africa

Standard Bank is finding innovative ways of funding agriculture.

Technology has completely transformed

agriculture. These days, farmers are integrating

everything from drones and satellite sensing

to genetic modification and Artificial

Intelligence to reduce costs and enhance yield.

In the South African context, a dualistic agricultural

economy exists with highly developed commercial

players on the one side and those that practise farming

for subsistence on the other.

Technology has already been successfully applied

in the commercial sector. The implementation of

smart-farming technologies has helped farmers and

growers to achieve the highest potential. Take South

African maize production. Back in the 1970s, the

country was producing an average of two tons of

maize per hectare. Fast forward to today and South

Africa produces more than four tons per hectare.

South African farmers now apply everything from

regenerative agriculture, which relates to the use

of smart technologies to improve efficiency, right

through to gene technology. Genetically-modified

maize now makes up about 80% to 90% of the total.

Meanwhile, GPS technology is making an impact in

livestock farming by making it possible to identify,

track and trace an animal through the value chain.

Standard Bank recently financed a citrus producer

that is now using robotics in its packhouse. There

are also technologies being applied to make sure

the quality and quantity of what is to be produced

for a specific market is at the correct standards.

Climate-monitoring technology is also being used

to ensure that produce for export markets meets

the relevant standards.

The application of technology across South

Africa's agriculture sector is at significant levels.

The challenge is to extract the data and integrate

it into other areas of the economy such as

financial services.

Technology and data in finance

Standard Bank is currently assessing the extent

to which we can better track and trace the

development of a crop. If treatment needs to be

given, we then know about it and can finance it.

Affordability is a barrier for emerging farmers, but

the cost factor could be addressed with greater

collaboration. The bank could find value in data

generated out of satellite technology. The same

would be the case for an insurance provider or a

pesticides provider. Joining forces can make those

technologies more affordable.

Standard Bank is currently enabling financing for

appropriate farming technologies while working

with its enterprise development unit to make

specialists available to small-scale farmers to prepare

farmers for a digital future. ■

Image by Jan Kopřiva on Unsplash
---
OVERVIEW

Water

A cross-provincial irrigation scheme is a national priority.

SECTOR INSIGHT

A Provincial Water Master

Plan is delivering projects.

Lush fields made possible by the huge Vaalharts-Taung Irrigation

Scheme. Credit: Aurecon

The revitalisation of the Vaalharts-Taung Water Irrigation

Scheme will double the land available to emerging farmers,

create more than 10 000 jobs during its implementation,

resolve water shortages in local municipalities and provide

certainty for producers of fresh produce.

The project was gazetted as one of the Strategic Integrated

Projects (SIPs) in July 2020 and falls under the Presidential

Infrastructure Coordinating Commission (PICC). The existing

Vaalharts Irrigation Scheme is one of the largest irrigation schemes

in the world, covering 39 000ha under irrigation, and extending it to

Taung in the North West will give it even greater reach. The scheme

currently has 1 000km of concrete-lined canals and more than 300km

of concrete drainage.

The Vaalharts Water User Association is headquartered in Jan

Kempdorp, a town in the Northern Cape right on the border of the

North West and at the centre of the scheme's area of operations.

Infrastructure development company Bigen Group is engaged

in the irrigation scheme upgrade and is also involved in treating and

recycling water for mining companies in the province. At the Bafokeng

Masimone mine local effluent resources are converted to a product

which is suitable for a variety of mine-water applications.

Municipalities

Large infrastructure has been the focus of national and provincial

initiatives in recent years. Municipalities are charged with delivering

water and handling wastewater

but many municipalities have

not been equal to the task.

Magalies Water is the Water

Services Authority (WSA) serving

two of the local municipalities

in the Bojanala Platinum District

Municipality, Moses Kotane and

Rustenburg. It also supplies water

to five mines in the province

and is active in the provinces of

Gauteng and Limpopo.

When a crisis situation

emerged in the neighbouring

municipality of Madibeng

(which includes the large

manufacturing town of Brits), the

National Minister of Water and

Sanitation called on Magalies

Water to tackle the problems.

The Brits Water Treatment Plant

was fixed and boreholes were

dug to service rural areas.

A new body has been

formed to help municipalities

deliver services. The Municipal

Infrastructure Support

Agency (MISA) falls under

the National Department of

Cooperative Governance and

Traditional Affairs and will assist

municipalities to plan for, provide

and maintain infrastructure.

The first action of MISA was to

commission 81 engineers and

town planners.

Municipalities in the North

West have been instructed

NORTH WEST BUSINESS 2021/22

32
---
OVERVIEW

to submit specific plans to feed in to the Provincial Water Master

Plan in an effort to get an overview of the sewerage and sanitation

problems facing communities. Several projects have recently been

completed. These include Dinokana Water Augmentation project,

the Ganalaagte Boreholes and Sewer Pump Station Refurbishment

project, the Naledi Water Augmentation Phase 1 and 2 projects and

the Tshing Cent Fall Sewer Line project. Various wastewater treatment

plants have been refurbished and the last phase of the Taung/Naledi

Bulk Water Supply project was tackled in the second half of 2021. This

will improve water supply to 55 villages in the Dr Ruth Segomotsi

Mompati District Municipality.

Progress has been made towards supplying water to the 79

schools in the province which were identified as having inadequate

water facilities. This includes the drilling of boreholes and construction

of storage tanks. All new schools built in the North West are supplied

with kitchens in line with the National Schools Nutrition Programme.

The province has 83 sewage-treatment plants, and the national

Blue Drop award system has found most of them need improvement.

JB Marks Local Municipality, which has Potchefstroom as its main

town, is one of only three municipalities in the country that acts as a

water-service authority and as a service provider. It has won awards

for its levels of service. The biggest service providers active in the

North West are:

• Rand Water.

• Magalies Water.

• Sedibeng Water (which has taken over the service area of

Botshelo Water).

• Midvaal Water Company, which supplies water to Matlosana

(Klerksdorp).

South Africa is a waterscarce

country and water

management is critical to

economic planning. The

western part of North West

Province is particularly dry.

In the eastern part of the

province, national government

has sent water tanks to some

parts, and has upgraded the

treatment plants upstream

from the Hartbeespoort Dam.

Three of South Africa's six

major catchment areas are

located in the province: the

Limpopo, the Orange and the

Vaal. Within these catchment

areas, only the Vaal River has

a strong-enough flow to

allow for significant amounts

of water to be taken from it

directly to support irrigation or

industry. There are four watermanagement

areas in the

province, three of which are

linked to the Vaal River. Water

is imported into the provincial

system through transfers

between water basins. ■

Credit: Unsplash

ONLINE RESOURCES

Blue Drop Awards: www.ewisa.co.za

National Department of Water and Sanitation: www.dwa.gov.za

South African Association of Water Utilities: www.saawu.org.za

Vaalharts Water Users Association: www.vaalhartswua.com

Water Research Commission: www.wrc.org.za

33

NORTH WEST BUSINESS 2021/22
---
FOCUS

Magalies Water responds to

urgent water needs

Infrastructure expansion projects will bring relief to

Rustenburg and the Royal Bafokeng Administration.

Magalies Water Chief Executive, Sandile Mkhize

Magalies Water, which is one of South

Africa's nine water boards, has

proved to be a worthy contributor

in the water sector. The water

utility, which services local municipalities in

the North West, Limpopo and Gauteng, also

supplies bulkwater to mining operations within

its area of service as well as other industries.

The Rustenburg-based state-owned entity has

over the last few years made an intentional and

targeted effort to address the bulkwater supply

challenges plaguing Rustenburg, the hub of

industry in the North West.

Even though the local economy of Rustenburg

has faced many challenges, mainly due to the

protracted mining sector industrial actions the

demand for bulkwater in Rustenburg and the

surrounding areas has been on a steady rise.

Mining, which is the economic backbone of

the town, also relies on the availability of water for

operations which run on a 24-hour cycle. Allied to

this is the region's expanding population growth

which increases through rural-to-urban migration

as people come to Rustenburg in search for

economic opportunities.

Small-to-medium scale farming and industries

have also been identified as some of the major

activities that influence migration of people to

Rustenburg. This movement of people has a direct

bearing on the municipality's ability to provide

clean drinking water to all communities.

All of this contributes to making Rustenburg

the economic hub of the province. The Rustenburg

Local Municipality's Integrated Development Plan

(IDP) reflects an urgent need for intervention on

water augmentation.

Rolling out Phase 2

Magalies Water Chief Executive, Sandile

Psychology Mkhize, says that Phase 2 of the

Pilanesberg South Bulkwater Supply project will

bring relief to Rustenburg and the Royal Bafokeng

Administration (RBA). Phase 1 of the Pilanesberg

project was completed in 2016.

He continued, "The proposed bulkwater

scheme is also in line with Magalies Water's

regional bulkwater master planning and the Royal

Bafokeng Nation's Water Services Development

Plan. As part of its Bulk Infrastructure Capital

Expenditure Programme, Magalies Water has

identified numerous extensions to the existing

NORTH WEST BUSINESS 2021/22

34
---
FOCUS

Bulkwater Supply Schemes from the Vaalkop

Water Treatment Works. This Pilanesburg Bulkwater

Supply System (PBWSS) project is anticipated to be

completed in early 2023," Mkhize remarked.

He also provided technical details on how the

second phase will be rolled out. "Phase 2 of the

PBWSS, which will cost about R900-million, will

be approached in three stages that will be funded

through multi-year funding by the Regional

Infrastructure Grant of the Department of Water

and Sanitation and the capital funding allocation

of Magalies Water."

Packages involve the following:

Stage 1: Construction of Tlhabane Reservoir. This

will involve earthworks where large excavation

will be done, concrete structures, pipe-work

comprising large-diameter steel/uPVC and

stainless-steel pipes and large-bore valves in

variable sizes.

Stage 2: Construction of Mafenya to Tlhabane

bulkwater pipeline, mainly of steel/uPVC to

withstand high pressures in the system.

Stage 3: Construction of the pumping station

next to the existing Mafenya reservoir to pump

water all the way to the Tlhabane reservoir with a

combination of gravity feed.

Some 55km east of the Vaalkop Dam, which

is home to the 270 megalitres-per-day (ML/d)

Magalies Water Treatment Works, another project

is at concept stage. This project, once completed,

is intended to increase the bulk capacity of water

to the communities of Bethanie and Modikwe

through an upgrade of the Kortbegrip pipeline.

Early financial expenditure projections are

estimated to the tune of R88-million and will make

use of the Modikwe reservoir in achieving the

increased water supply to the region.

CONTANCT DETAILS

Address: 38 Heystek St, Rustenburg 0300

Tel: +27 14 597 4636

Email: info@magalieswater.co.za

customerservices@magalieswater.co.za

Customer Care Line: 0860 000 720

Whatsapp: 060 966 7994

Website: www.magalieswater.co.za

Vaalkop water treatment works

The project will be co-funded with the

participation of Magalies Water and Rustenburg

Local Municipality as well as Rhoven Glencore

Mine through its social labour plan (SLP) as part

of the licence conditions where mining companies

are to implement social impact projects within

their host communities.

Currently four villages (Bethanie, Modikwe,

Berseba and Makolokwe) are experiencing water

challenges with their source of water coming

from boreholes and bulkwater supplied from

the Vaalkop Water Treatment Works through

the Kortbegrip pipeline to Modikwe reservoir.

While the project is still at its infancy stages,

small, micro and medium enterprises (SMMEs)

from the locality stand to benefit by way of skills

transfer through subcontracting opportunities.

This will help to achieve local economic

development objectives.

While the economy of Rustenburg and

the surrounding areas seems to be reviving,

Magalies Water remains steadfast in fulfilling its

important constitutional mandate, which seeks to

ensure that within its area of operation, through

existing relationships with local municipalities,

communities have access to clean drinking water

compliant to the SANS 241:2015 drinking water

standard. Local Municipality for the leasing of a

water-tank truck. ■

35 NORTH WEST BUSINESS 2021/22
---
OVERVIEW

Manufacturing

An Integrated Manufacturing Strategy aims to stimulate the sector.

SECTOR INSIGHT

North-West University

now offers mechatronic

engineering.

Credit: Bosch

A

provincial Integrated Manufacturing Strategy has

been compiled. The strategy notes the North West's

strategic location near to the industrial hub of

Gauteng and its low input costs and easy access to

busy trade routes.

Chemical processing would be a good proposition for investors. The

province also has easy access to natural resources, especially with regard

to the ingredients necessary for the manufacture of phosphate and

nitrogen-based fertilisers. As one of the country's biggest producers of

livestock, hides for car seats for the province's automotive industry could

profitably be sourced locally.

The Centre for Advanced Manufacturing (CFAM) at North-West

University specialises in extruder technology and the recent introduction

by NWU of a new qualification in mechatronic engineering will give

graduates a head start in a wide range of enterprises. A mechatronic

engineer is able to combine computer systems, electronics (such as

sensors) and precision mechanical engineering.

Bridgestone South Africa's investment in new technology at its plant

in Brits is allowing the company to produce 19-inch tyres for the BMW

X3 being assembled in Pretoria. These tyres would otherwise have to

be imported. Brits' proximity to Tshwane's Rosslyn automotive hub is a

competitive advantage for the city.

Bridgestone's factory is one of only four in the world that produces

runflat tyres. About 850 people are employed at the plant. Also in Brits are

Bosch and Dubigeon Body and Coach. SOS Tie & Die is a manufacturer of

precision pressings, components and press tools.

AVMY Steel Science is the largest supplier of small-quantity steel

in the SADC region. Chassis manufacturer KLT Group has acquired the

Brits plant which comprises a pressing, welding, assembly and e-coating

ONLINE RESOURCES

Automotive Industry Development Centre (AIDC): www.aidc.co.za

National Department Trade, Industry and Competition: www.dtic.gov.za

North West Development Corporation: www.nwdc.co.za

facility. The KLT Group has four

plants in South Africa and

employs more than 1 000 people.

In addition to Brits

(automotive components and

tyres), other concentrations

include mining equipment

and engineering (Klerksdorp)

and food and beverages

(Potchefstroom).

Rustenburg has a mixture of

enterprises, the biggest of which

are mining-related smelters.

Production of non-metallic

mineral products is concentrated

around Lichtenburg and

Mahikeng (cement), and

Rustenburg (stone). Tough Metals

Toys factory and Totpak are

located in Ventersdorp.

RCL Foods has a large

processing plant at Rustenburg

and Dairybelle (Bloemhof ) has

cheese factories in the province.

Clover's decision in 2021 to leave

Lichtenburg because of a lack of

reliable services was a blow for

employment opportunities in the

Ditsobotla Local Municipality.

About 30% of the country's

grain and oil-seed crop pass

through Senwes silos every year.

Sasko operates a white-maize mill

in Klerksdorp. The SAB Rosslyn

Brewery supplies the North West

with most of its beer.. ■

NORTH WEST BUSINESS 2021/22

36
---
Energy

Solar plants are proliferating in the North West.

OVERVIEW

SECTOR INSIGHT

Pilanesberg Platinum Mines

is installing energy-saving

technology.

When De Wildt Solar near Brits (pictured) started

commercial operations in January 2021, it became,

according to Engineering News, the "fourth

utility-scale plant that has come on line in the

North West in under five months". The province was lagging

somewhat in terms of projects undertaken in terms of the national

private producers' renewable energy programme, but

now it's making up for lost time.

With 169 140 solar modules, the South African-owned plant delivers

123 186MWh/year and will bring economic benefits to many residents

and businesses of the Madibeng Local Municipality and beyond. A

brickmaking co-operative was involved in the solar farm's construction

Pilanesberg Platinum Mines introduced its Kell processing plant

in 2021, a technology that reduces electricity usage and eliminates

sulphur dioxide emissions in smelting. With platinum group metals

(PGMs) attracting good prices partly because of the role they can

play in the hoped-for lower-carbon economy, cleaner and cheaper

methods of extraction and processing offer even sunnier projections

for the miners of PGMs.

Most of South Africa's energy requirements are met by Eskom's

coal-fired power stations but the drive to start producing renewable

energy is growing, and researchers and companies in the North West

are investigating several options. Big mining companies are among the

biggest users of energy and many belong to the Energy Intensive Users

Group of Southern Africa.

Bioethanol, biodiesel and methane gas from waste and

renewable resources are among the types of biofuels under

ONLINE RESOURCES

Credit: De Wildt Solar

Energy Intensive Users Group of Southern Africa: www.eiug.org.za

South African Independent Power Producers Association:

www.saippa.org.za

South African Photovoltaic Industry Association: www.sapvia.co.za

South African Renewable Energy Council: www.sarec.org.za

discussion. Sunflower seeds

and sweet sorghum are suitable

for converting into biofuel and

bioethanol. The South African

Energy Resource Institute

(Saneri) Chair in biofuel research

is held by a professor on the

Potchefstroom campus of North-

West University (NWU).

Silversands Energy is a North

West company that produces

ethanol fuel for an ethanolpowered

bus made by Scania

South Africa for the City of

Johannesburg.

South Africa's nuclearresearch

centre is located at

Pelindaba near Hartbeespoort

Dam and is run by the South

African Nuclear Energy

Corporation. The NWU Nuclear

Engineering Department is the

only one of its kind in the country,

and the National Department

of Science and Technology has

allocated a chair in Nuclear

Engineering to the university.

One of the key focus areas

for the planned Platinum

Valley Special Economic Zone

(PVSEZ) is the promotion of

renewable energy. The PVSEZ

is in the Mogwase industrial

area in the Bojanala Platinum

District Municipality and has

already attracted the interest

of several investors. ■

37

NORTH WEST BUSINESS 2021/22
---
OVERVIEW

Tourism

Biodiversity protection is expanding.

SECTOR INSIGHT

A new licensing act aims to

better regulate business activity.

ULT.X BMX and Skate Championship 2021, Sun City

An additional 24 000 hectares of land is to be conserved

through a biodiversity stewardship programme

that forms part of the North West Protected Areas

Expansion Strategy and Implementation Plan.

The North West Parks Board and the Provincial Government of

North West aim to protect representative ecosystems in ways that

make them resilient to climate change and create opportunities for

local communities to make a sustainable living. Finding a balance

between agricultural activities and tourism is not the only challenge

in an area that also frequently experiences droughts.

Although the reserve that lies just to the north of Sun City is known

as Pilanesberg National Park, in fact it falls under the North West

Parks Board and is one of many parks and reserves controlled by the

province. Both Pilanesberg and Madikwe have gained international

reputations for the diversity of flora and fauna they have to offer and

the high standard of accommodation at private concessions within

the boundaries of the parks.

The malaria-free Pilanesberg National Park, located in the ecologically

rich transition zone between the Kalahari and the Lowveld,

has more than 7 000 animals, 360 bird species, and more than 200km

of roads.

The North West Parks and Tourism Board (NWPTB) is investing in

the province's 12 smaller parks with the intention of creating jobs.

In partnership with the National Department of Tourism, work has

begun on the Manyane Game Lodge in Mahikeng, with a budget

allocation of R43-million. Another project envisages a mega-park in

the north-western sector of the province, the Heritage Park.

The impact of Covid-19 will be

felt for many months to come, and

the tourism sector of the North

West Province will be affected by

the restrictions on travel that were

put in place in 2020.

Provincial authorities are going

ahead with infrastructure projects

in the expectation that tourists

will return in numbers. Among

them are:

• Bloemhof infrastructure project

(R30-million). The second phase

will be completed in the 2021/22

financial year.

• Vaalkop Dam (R15-million): plans

approved.

• Borakalalo Tented Camp (R15-

million): plans approved.

A saving grace for the province is the

extremely wide range of activities

that are offered to a high standard.

This makes it more likely than one

or more of these subsectors will be

in a position to lead a recovery. Sun

City (golf, conferencing and hotels)

and several game lodges within

game reserves are world famous.

Birding, fishing, hunting and hotair

ballooning are among other

popular pursuits and Potchefstroom

has outstanding sporting facilities.

Australia and Spain won the cricket

and soccer world cups from their

NORTH WEST BUSINESS 2021/22

38
---
OVERVIEW

base in Potchefstroom and international athletes often visit the city

for training camps.

The Mahika-Mahikeng Cultural Festival continues to grow in

popularity. Arts and culture development centres (Mmabana Centres)

are found in three of the province's districts. Twelve public museums

have been identified together with 400 heritage sites as part of a

census on the province's cultural assets.

The NWPTB is unique in South Africa in that it is the only provincial

government entity that runs a hotel school. The Institute of Hotel and

Tourism Management (IHTM) has two campuses, one in Mahikeng and

one at Ga-Rankuwa outside Pretoria.

In addition to the provincial tourism authority, there are regional

tourism organisations which market special attractions:

• Harties Tourism Association

• Matlosana Tourism Association

• Mooinooi: Buffelspoort Valley

• N12 Treasure Route Association

• Potch Tourism Association

• Vredefort Dome Tourism Association.

• Taung is the site of the first discovered fossil of Australopithecus

africanus. The Vredefort Dome is a UNESCO World Heritage Site

for its significance as the landing site of a meteorite many millions

of years ago.

The North West Business Licensing Act No. 3 of 2019 has been passed

by the provincial legislature to ensure that business is conducted

ethically and in a way that promotes opportunities for historically

disadvantaged people to fully participate in business.

The Faculty of Economic and Management Sciences at the North

West University offers Tourism Management and the professors and

researchers are at the top of their profession.

Hotels and conferences

Sun City has a range of venues available for hire ranging from a

12-seater Council Room to the Superbowl which can accommodate

6 000, and just about everything in between. With six kinds of

accommodation, two outstanding golf courses, casinos and a choicefilled

entertainment complex, the Sun City Resort is a major tourism

ONLINE RESOURCES

Marico Tourism: www.marico.co.za

North West Development Corporation: www.nwdc.co.za

North West Parks Board: www.northwestparks.org.za

Tourism North West: www.tourismnorthwest.co.za

Pilanesberg National Park,

Credit: Tourism North West

asset and significant employer in

the province.

Sun City is far from being

the province's only conference

venue. Tourism North West lists

on its website a range of venues

from small guesthouses with

conference facilities in towns

such as Rustenburg and Brits

to lodges on the banks of the

Hartbeespoort Dam.

In the provincial capital,

Mahikeng, there are several

options: among them are the

Mmabatho Palms Hotel Casino

Convention Resort, part of the

Peermont group, which has hotels

and casinos in six of South Africa's

provinces. Mmabatho Palms offers

eight gaming tables and slot

machines. Gaming is controlled

in South Africa and licences are

restricted to certain operators.

Mahikeng is also home

to the Protea Hotel and the

Mmabatho Convention Centre

(the main auditorium can seat

3 000 people). The Hotel School

can accommodate up to 200

people. Most of the luxury

lodges in the province can

accommodate conferences,

albeit on a smaller scale. ■

39 NORTH WEST BUSINESS 2021/22
---
OVERVIEW

Education and training

A new vocational stream is being introduced at schools.

SECTOR INSIGHT

A Covid-19 vaccine candidate is

being tested at NWU.

Open Day at the Jouberton Campus of Vuselela TVET College.

North-West University (NWU) is working together with

Walter Sisulu University (WSU) on a new Covid-19

vaccine candidate. The results of preclinical trials in

June 2021 were described as "very promising".

Prof Markus Depfenhart, who holds extraordinary appointments

as a professor at both universities, developed the vaccine candidate,

the trials for which are being run at the Pre-Clinical Drug Development

Platform at the NWU.

NWU has ambitious aims with regard to accommodating students

in residence: 50% of contact students and 75% of first-year students

is the goal. There are 38 NWU-owned residences on three campuses

and one off-campus residence in Vanderbijlpark. There is also some

rented accommodation which amounts to more than 10 000 beds

managed by the university.

The CHE has announced that the NWU Bachelor of Laws (LLB)

programme has received full accreditation.

A new qualification, Mechatronic Engineering, has been added

to the courses offered by the Faculty of Engineering. The Bachelor

of Mechatronic Engineering programme has been approved by

the Engineering Council of South Africa (ECSA), enabling graduates

to compete internationally. The faculty now offers eight specialities,

including industrial and electromechanical and chemical engineering

(minerals processing). Partnerships include Sasol, Eskom, Denel

Aviation, Telkom and Sappi.

The Faculty of Engineering is a leading department in terms of

innovations and plays a role, together with the NWU Technology

Transfer and Innovation Support Office, in commercialising ideas

by creating companies.

The university and its

researchers are leaders in many

fields, including astrophysics,

tourism, solar energy and extruder

technology.

Among the research entities

at NWU, there are five chairs

allocated by the South African

Research Chairs Initiative (SARChI):

Astrophysics and Space Physics,

Coal Research, Biofuels and other

clean alternative fuels, Nuclear

Engineering and Early Detection

and Prevention of Cardiovascular

Disease in Africa.

The University of South Africa

(Unisa) has three branches in North

West, at Rustenburg, Potchefstroom

and Mmabatho.

Training and skills

A new, third, stream is being piloted

at 11 schools across the province. In

addition to the existing technical

and academic streams, vocational

will be offered. The new option

includes 13 new subjects and is

intended to widen the options

available to young people.

As part of this initiative,

three schools will increase their

enrolment of pupils wanting to

study agricultural subjects. Fifteen

NORTH WEST BUSINESS 2021/22

40
---
FOCUS

Education and skills training

are making an impact

Impala Rustenburg's local economic development

strategy boosts employment potential.

Impala Rustenburg is committed to

delivering a lasting positive contribution to

local communities and those affected by its

activities. Its local economic development

(LED) strategy focuses on collaborating with

government, the Royal Bafokeng and other

mining companies to identify and implement

high employment generating projects

through public-private partnerships.

Since 2018, Impala Rustenburg and the

Royal Bafokeng Nation (RBN) have collaborated

in developing a strategy and project plan to

identify projects that will support job creation

and create sustainable livelihoods beyond

mining. This strategic initiative actively pursues

partnerships with key players in sectors

that have the highest potential of creating

employment opportunities for youth living in

the region of Impala Rustenburg's operations.

To support this thrust, Implats' comprehensive

education and skills development programmes

span the entire education value chain, from early

childhood development through to higher levels

of schooling and continuous skills development.

In promoting quality schooling, Impala

Rustenburg supports 33 schools – 21 primary and

12 high schools – in the Bojanala Platinum District

Municipality. To mitigate the impact of months of

schooling missed due Covid-19 lockdowns, the

operation provided academic support to more

than 2 000 matric learners, who received catchup

classes in maths, biology, life sciences and

geography ahead of their final exams.

Impala Rustenburg also implemented a

teacher-mentoring programme, supporting

12 teachers in eight local schools to improve

their teaching skills. Impala Rustenburg

monitors the learners' performance, which

continues to be encouraging. During

2020, the Impala-supported schools in the

Rustenburg region achieved an average

matric pass rate of 85%, compared to 79%

achieved at other local schools. Platinum

Village and Sunrise View secondary schools,

both constructed by Implats together with its

social partners, achieved 100% and 94% pass

rates, respectively.

Impala Rustenburg also delivered several

infrastructure projects this year in support of

education. These include constructing a new

early childhood development centre, Phase 2

renovations of the Kutlwanong School for the

Deaf, renovating and equipping three libraries

in the Eastern Cape, which is a labour-sending

area for the operation, and constructing 12 new

National School Nutrition Programme kitchens

in Taung and Ganyesa. ■

41 NORTH WEST BUSINESS 2021/22
---
OVERVIEW

new schools are under construction in the province in 2020/21 with

a further 25 to enter the planning phase in the 2021/22 financial year.

In the annual State of the Province Address in 2021, Premier

Job Mokgoro acknowledged the contribution to school building

and upgrading of several companies: Glencore, Impala Platinum,

Samancor, Sibanye Gold, Northam Zondereinde Community Trust and

Sun International Limited.

The PPC Training Centre in Slurry near Mahikeng admitted

25 young people as part of the provincial government's Artisan

Development Programme in 2020. A further 10 were placed at the

Intelek Training Centre for assessment to resume their apprenticeships.

Another provincial programme, the Automotive Skills

Development Programme, aims to involve 200 young people in

learning all about repairing, welding, panel-beating and the workings

of engines at the Automotive Industry Development Centre (AIDC).

The provincial government has also been training people in

useful digital work. A group of 144 young people were trained and

hired as business regulations data capturers for the SMME Relief

Fund. They are also developing an online provincial database of

liquor traders in the province.

Another programme that has received young people for skills

training is the EPWP Waste Management & Biodiversity Economy

Programme and 100 beneficiaries will get work experience in

tourism businesses.

In an effort to incubate 135 new SMMEs and create 540 jobs over

the next three years, the provincial government is partnering with a

range of entities in manufacturing, engineering services, mine-water

rehabilitation and the reclamation of gold in existing mine tailings.

During the 2021/22 financial year, the provincial government will

partner with:

• Lepharo Incubator, a Seda Incubator (R22.3-million)

• Harmony Gold's Kraaipan Operations (R4.5-million)

• Rustenburg Local Municipality (R9.5-million)

• Department of Economic Development, Environment,

Conservation and Tourism, DEDECT (R14.5-million).

Technical Vocational and Educational Training colleges teach skills that

are relevant to the workplace. North West has three TVET colleges with

several campuses each. Vuselela TVET College has its headquarters

in Klerksdorp, where there is also an accredited trade test centre.

There are a further four campuses: Jouberton Centre for Engineering

ONLINE RESOURCES

Mining Qualifications Authority: www.mqa.org.za

North West Department of Education: www.desd.nwpg.gov.za

North-West University: www.nwu.ac.za

NWU Business School: www.commerce.nwu.ac.za

NWU aims to have 50% of contact

students and 75% of first-year

students accommodated in

residences. Credit: NWU

Studies; Matlosana Campus;

Potchefstroom Centre for ICT and

Taung Campus.

Orbit TVET College has three

sites, Rustenburg, Mankwe

and Brits, with about 15 000

students overall. The Rustenburg

campus of Orbit College hosts

a Microsoft IT Academy while

the Mankwe campus offers

automotive training, the result

of a partnership between the

Manufacturing, Engineering and

Related SETA (MerSETA), Lelethu

Training and Ford South Africa.

Orbit TVET College hosts an

electronics academy courtesy of

sponsors Samsung Electronics

on the Mankwe campus, and in

partnership with the MerSETA.

Mankwe also offers Automotive

Repair, Maintenance and Transport

and Logistics and is a Centre of

Specialisation in Diesel Trade.

The Taung Agricultural College

is accredited by the Council

on Higher Education (CHE) to

offer the NQF level 6 Diploma

in Agriculture specialising in

Irrigation Technology. ■

NORTH WEST BUSINESS 2021/22

42
---
Development finance and

SMME support

The Mafikeng Digital Innovation Hub will assist small businesses.

OVERVIEW

The North West Provincial Government is investing in

digital infrastructure. SMMEs will be able to use the

newly-established Mafikeng Digital Innovation Hub

(pictured) as a co-working environment and to get

support in using digital tools.

A Digital Covid-19 SMME Business Recovery training intervention

was carried out by the Hub in partnership with the Department of

Economic Development, Environment, Conservation and Tourism

(DEDECT). This resulted in more than 180 entrepreneurs from all

four districts of the province receiving training. A Youth Digital

Skilling programme aims to teach skills such as software and app

development, Artificial Intelligence and robotics.

R6-million has been allocated for the 2021/22 financial year by

the province to support women co-operatives and SMMEs. Support

includes mentoring, training and buying equipment. Most of the

Cooke's Lake Information Centre in Mahikeng (excluding the existing

office block) is to become a permanent flea market.

The South African National Roads Agency Limited (SANRAL)

currently has nine contracts covering more than 2 300km in the

province. A set of subcontracts is being negotiated for routine

maintenance such as the patching of potholes, fencing and the

cutting of grass verges.

ONLINE RESOURCES

Mafeking Digital Innovation Hub: www.mafihub.co.za

North West Development Corporation: www.nwdc.co.za

Small Enterprise Development Agency: www.seda.org.za

Tholoana Enterprise Programme: www.sabfoundation.co.za

SECTOR INSIGHT

An SMME and co-operative

support programme has a

budget of R6-million for 2021/22.

The National Department

of Small Business Development

(DSBD) has several programmes

to assist SMMEs and co-operatives.

These include the Black Business

Supplier Development Programme

and the Cooperative Incentive

Scheme, a 100% grant.

The Small Enterprise

Development Agency (Seda) is an

agency of the DSBD and gives nonfinancial

support to entrepreneurs

through training, assistance with

filling in forms, marketing and

creating business plans.

The Seda Technology

Programme helps potential

businesses become trading entities.

The Industrial Development

Corporation is a strategic lender and

plays a strong role in supporting

small and emerging enterprises.

The SAB Foundation Tholoana

Programme provides grant funding

and business support in the North

West. The programme invests in

entrepreneurs, particularly women,

youth, people in rural areas and

persons with disabilities. The

18-month programme provides

mentorship, business development

tools and workshops, access

to peer networks finance, and

support throughout the time spent

on the programme. ■

43 NORTH WEST BUSINESS 2021/22
---
OVERVIEW

Banking and financial services

Smartphone banking is catching on.

SECTOR INSIGHT

Financing is available to

mitigate climate change.

South African banking customers have a wider choice

since Tyme Digital received a licence in 2017 to run a

bank, the first time a new licence had been issued in

decades. By early 2019, TymeBank was available in 500

Pick n Pay and Boxer stores and more than 50 000 customers

had an account. Tyme stands for Take Your Money Everywhere;

the bank does not have a branch network. African Rainbow

Capital began as the venture's BEE partner but in 2018 bought

out the Commonwealth Bank of Australia.

Tyme reported in October 2020 that it had 2.4-million customers,

up from 1.4-million at the end of March. A 400% increase in the use

of services such as airtime and electricity purchases was also noted.

A recent addition to the market is Standard Bank's low-cost MyMo

account. With free electronic transactions, unlimited card swipes and

a low monthly fee, the MyMo account is ideal for low-income earners,

micro-entrepreneurs and the poor. Customers can sign up by taking

a selfie.

All of the big banks have agricultural desks where experts can

offer relevant advice. Nedbank is making a point of making funding

available for climate-change mitigation such as more efficient

irrigation and water-use technologies. All of the large agricultural

companies have finance divisions.

All of the country's major banks and financial institutions are

represented in the North West. Financial services are available in small

towns, although the bigger cities like Potchefstroom, Rustenburg

ONLINE RESOURCES

Association for Savings and Investment South Africa: www.asisa.org.za

Auditor-General of South Africa: www.agsa.co.za

Chartered Institute for Government Finance, Audit and Risk Officers:

www.cigfaro.co

and Klerksdorp have a greater

concentration and diversity.

Financial services extend

beyond advising rich people

on how to invest their assets

or balance their portfolio. In a

province where there has been

some real financial distress

programmes are in place to

assist people.

Long strikes, volatile global

markets and layoffs have created

tough conditions for some

workers in the platinum sector.

Anglo American Platinum

has teamed up with Summit

Financial Partners to help miners

manage their debt and plan

their finances better through

a scheme called Nkululeko.

Garnishee orders went down

among the Nkululeko group by

80% in a five-year period.

The Association for Savings

and Investment South Africa is

behind another initiative called

Project Qaphela, a financial

literacy programme aimed at

workers in the mining sector.

Partners in the programme

include the National Union

of Mineworkers, Sanlam and

Coronation.

Ubank is owned by a trust

that is managed by the Minerals

Council South Africa and the

National Union of Mineworkers

(NUM). It has several branches in

the North West. ■

NORTH WEST BUSINESS 2021/22

44
---
INDEX

INDEX

INDEX

INDEX

Africa Biomass Company (ABC) ...............................................................................................................................5, 9

Implats........................................................................................................................................................................17, ..................................................................................................................................................................................24-25 41

Magalies Water...................................................................................................................................................... 34-35

Nedbank ..............................................................................................................................................................................16-19

North West Development Corporation (NWDC)....................................................................................... 9

Pilanesberg Platinum Mines ........................................................................................................................................IFC

Nedbank.................................................................................................................................................................... 22-25

Pilanesberg Rustenburg Rapid Platinum Transit Mines...............................................................................................................................IFC

(RRT)..............................................................................................................12-15, OBC

Standard Bank.................................................................................................................................. 2-5, 30-31, OBC

Sibanye-Stillwater .........................................................................................................................................................26-27

SPECIAL FEATURE

NORTH WEST PROVINCE

NAMIBIA

Sishen Sishen

Northern Cape

Western Cape

Vorstershoop

Hotazel Hotazel

R31

R31

Kuruman Kuruman

Kathu Kathu

BOTSWANA

Postmasburg

NORTH North West WEST

Free State

Limpopo

KwaZulu-

Natal

Mpumalanga

Gauteng

SWAZI-

LAND

LESOTHO

ZIMBABWE

Sun Sun City/Lost City/Lost City City

Eastern Cape

N4

N4

Zeerust Zeerust

Moloporivier

Swartruggens

Brits

Brits

Groot-Marico

Mmabatho

Rustenburg

Hartbeespoort

Koster

Mooinooi

N1

MAHIKENG Koster

Mooinooi

N1

Magaliesburg

Gauteng

R49

Lichtenburg

R49

R30

R30

R52

R52

JOHANNESBURG

N14

N14

Westonaria

Coligny

Sannieshof Coligny

Ventersdorp

N3

Stella

Carletonville

N3

Stella

Delareyville

Potchefstroom

Vereeniging

4 9R

4 9R

N12

Ottosdal

Klerksdorp N12

Vryburg

Ottosdal

Vryburg

Sasolburg

Parys

Orkney Parys

R34

Orkney

R34

R59

N1

R57

Wolmaransstad

R59

N1

R57

Lykso

N18

Lykso

N18

R30

N14

R30

Schweizer-

R82

N14

R82 Heilbron

Reneke

Heilbron

Reneke

Taung Taung

Reivilo Reivilo

Northern Cape

Ulco Ulco

MOZAMBIQUE

N

BOTSWANA

Warrenton

N12

N12

Christiana

Bloemhof Bloemhof

Wesselsbron

Bultfontein

R49

R49

Welkom Welkom

Kroonstad

Thabazimbi

Ventersburg

Free State

Vaalwater

Limpopo

Bela-Bela Bela-Bela

Motorway Motorway

Main Main Road Road

Railway Railway

PRETORIA

Reitz Reitz

NORTH The Mahikeng WEST BUSINESS International 2020/21 Airport is served by SA 40Potchefstroom College of Agriculture. More than 120

Express. The city's main sectors are financial services, 000 people attend the Aardklop Festival every year.

Municipalities in North West Province

Limpopo

services, transport and trade. The Garona District houses The city has a population of about 173 000.
---
WITH MYMOBIZ, YOU'LL FIND

THE PERFECT PARTNER FOR

YOUR SMALL BUSINESS.

Get everything you need to run your small business with MyMoBiz. Keep track of your

finances, make and receive payments to suppliers and staff, save towards business goals

with a free MarketLink Savings Account and get access to dedicated business support,

all from just R5* per month. MyMoBiz. Simple, affordable banking for small businesses.

Visit standardbank.co.za/bankonus today.

SOUTH AFRICA BANKS ON BUSINESS.

BUSINESS BANKS ON MYMOBIZ.

*Terms and conditions apply. The Standard Bank of South Africa Limited (Reg. No. 1962/000738/06).

Authorised financial services and registered credit provider (NCRCP15).

It Can Be is a registered trademark of The Standard Bank of South Africa Limited.

GMS-18908 08/21