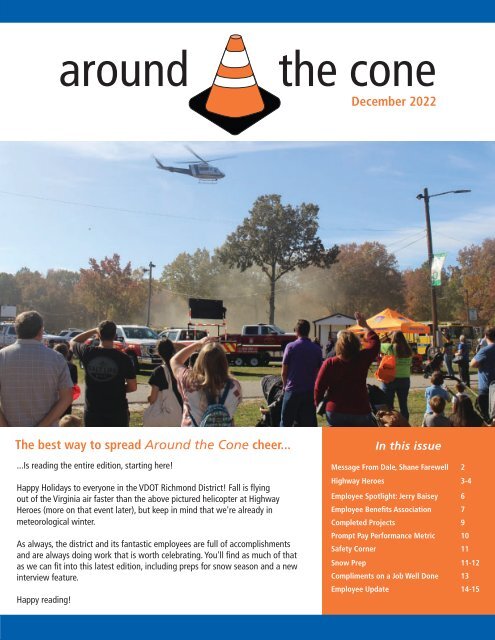 Richmond - Around The Cone - December 2022
Create successful ePaper yourself
Turn your PDF publications into a flip-book with our unique Google optimized e-Paper software.
around

the cone

December 2022

The best way to spread Around the Cone cheer...

...Is reading the entire edition, starting here!

Happy Holidays to everyone in the VDOT Richmond District! Fall is flying

out of the Virginia air faster than the above pictured helicopter at Highway

Heroes (more on that event later), but keep in mind that we're already in

meteorological winter.

As always, the district and its fantastic employees are full of accomplishments

and are always doing work that is worth celebrating. You'll find as much of that

as we can fit into this latest edition, including preps for snow season and a new

interview feature.

Happy reading!

In this issue

Message From Dale, Shane Farewell 2

Highway Heroes 3-4

Employee Spotlight: Jerry Baisey 6

Employee Benefits Association 7

Completed Projects 9

Prompt Pay Performance Metric 10

Safety Corner 11

Snow Prep 11-12

Compliments on a Job Well Done 13

Employee Update 14-15
---
Message from Dale Totten, P.E. - Richmond District Engineer

Change is all around us here in the Richmond District.

When you look out the office window, or your work vehicle's windshield, you can't help but

notice the leaves are slowly, but surely changing colors and starting to drop.

The number of active construction projects are starting to drop as well, as we shift from the

end of a well-executed construction season and focus on maintenance and, of course, the

threat of winter weather.

The last few days of 2022 and the start of 2023 give the Richmond District a great opportunity to show that, even though some

things change, our district remains a constant leader in snow response. Our leadership team and snow command structure has

been preparing for this opportunity for months now; from biweekly snow program meetings, to mock events both at Central

Office and at the JSOC with the residencies. Training has also been provided for our all-hands staff, making sure everyone

knows and understands their role.

It's important to remember that everyone at VDOT has a role when it comes to winter storm response. As a team, I am

confident that we will give the snow season nothing short of our very best effort. When the weather changes, our commitment

to the traveling public remains constant; this is when we are at our best and I'd expect our responsiveness this season to be no

different than previous years.

Another change you have more than likely noticed in our district is the change in leadership. I am honored and humbled to now

serve as your District Engineer. During my just under 20 years with VDOT, I have always felt that the work we do is very noble,

meaningful work - and I look forward to continuing to work with all of you in this new position. I would also like to thank

Shane Mann (who you'll hear from one more time in this newsletter below) for his leadership and stellar work in this role.

Shane and I have a long history of working together and I am grateful that we were able to continue that partnership over the

last 3 years.

Be sure to take some time to recharge over this holiday season. It can be a stressful time of year, both professionally and

personally. Spend some time with those people that are most important to you doing something you love to do. I wish you and

your families Happy Holidays, safe travels and many happy returns in 2023. -Dale

Message from Shane Mann, P.E. - Former Richmond District Engineer

I want to thank each of you for the support you have given me over the last three years in

the District Engineer role. Back on October 6, 2019 at my first staff meeting, I shared my

three focus points for the district: Customer service, integrity/fairness, and acknowledging

employees. I believe that we have made strides forward in each of those areas. Customer

service has improved both internally and externally as we continued the mantra of urgency

and purpose. Integrity and Fairness have always been high in Richmond District - our people

do the right thing even when no one is watching. We have acknowledged employees by

tangible (IBAs/Market adjustments/work anniversary celebrations) and intangible means

(saying thank you for a good job/listening to employee opinions and ideas).

As I move into my new role as Deputy Chief Engineer, I am well aware that my ability to compete for this position is based

on the assistance and knowledge each of you shared with me. I hope that I can represent you well and bring some of the

Richmond District culture to the Central Office.

Richmond District is where I started my VDOT career back in 2005 and I have interacted with most of you in one way

or another. I have developed friendships with many of you that I value tremendously. This may be the end of my time in

Richmond District, but it's definitely not the end of those friendships. My cell phone number and email remain the same, so

please reach out if I can be of any assistance or stop by and say hello if you are in the Central Office.

Thank you again and please stay safe! -Shane

Around the Cone 2
---
Governor Glenn Youngkin visits the JSOC building, tours TOC, SSP

The Richmond District complex received a special visitor shortly after Labor Day. Governor Glenn Youngkin visited the JSOC

campus and surveyed VDOT-related operations during a scheduled visit to the Virginia State Police Division I Headquarters on

September 8.

While he was on campus, the governor viewed equipment and received information about VDOT's Safety Service Patrol (SSP) and

Traffic Operations Center (TOC). Staff members from VDOT and AECOM, the SSP and TOC contractors, were on hand to answer

questions from the governor and his team.

Youngkin was joined by Virginia Secretary of Transportation Shep Miller III and Commissioner of Highways Stephen Brich.

Gov. Glenn Youngkin gets an overview of the SSP program from

SSP operator Roscoe Parker, while visiting the JSOC.

Highway Heroes educates, enterains the whole family at Chesterfield Fairgrounds

The VDOT Richmond District, its partner agencies and several first responder groups gathered at the Chesterfield County

Fairgrounds Saturday, November 5 for the second ever Highway Heroes event.

More than 1,000 attendees viewed, touched and climbed inside fire trucks, police cruisers and helicopters, while watching

firefighters rappel from a rope and troopers navigate an obstacle course by motorcycle. Guests also tried on "impaired" vision

goggles and navigated a set of cones on a tricycle at a tent hosted by DRIVE SMART Virginia.

Highway Heroes led up to Crash Responder Safety Week (Nov.

14-18), which means those in attendance also learned about

the crucial role that first responders and highway workers play

on Virginia's highways. That message was eloquently shared

by Melanie Clark (a highway safety advocate who lost her

husband, a Hanover County firefighter, in a 2018 crash on

I-295) and Deputy Brad Hughes (a Powhatan County deputy

who lost his legs responding to a crash while working with

Chesterfield County). Melanie and Brad shared their stories

before two live extrication demos, organized by Chesterfield

County Fire & EMS.

"Highway Heroes has been a huge success in both its years,"

said Christopher Rusk, a Highway Heroes organizer and

Petersburg Residency incident management coordinator (IMC).

"I'm proud of the important advocacy and education the

event allows us to do, while also delivering a family-friendly

atmosphere."

Other tour attendees include Secretary of Transportation W. Shep

Miller III, Commissioner of Highways Stephen Brich and former

Richmond District Engineer (now Deputy Chief Engineer) Shane

Mann.

Melanie Clark and Deputy Brad Hughes appear at Highway Heroes.

Thanks to all VDOT staff members and partners who helped organize this year's Highway Heroes! More photos from this year's

event can be seen on the next page.

Around the Cone 3
---
Highway Heroes (continued)

Around the Cone 4
---
Petersburg Residency Employee of the Quarter

Morris Prince, Prince George Area Headquarters maintenance supervisor, is

the Petersburg Residency's Employee of the Quarter for the fourth quarter of

2022.

Morris was hired at VDOT in February 2018 as a TOII at Prince George and

shortly thereafter promoted to the TOIII position at Prince George AHQ. Morris

left Prince George for a position in Emporia, but returned just a few weeks

later for a promotion as the TOMI Supervisor in Prince George.

Morris has been a great asset to the Prince George AHQ and the residency

hopes to keep him, now that he is back! Morris is well-rounded in his

knowledge and has trained many other employees on equipment and how to

perform detailed operations. He is very dependable and willing to help in any

way he can. He takes pride in his work and will always get the job done.

Kenny Hawthorne, Morris Prince and Aaron French

As a supervisor, Morris is a mentor and has high expectations of his crew

members and expects them to push themselves to grow and improve. Morris holds his staff accountable, but also appreciates the

hard work they do and compliments them when they do a great job.

Morris puts the safety of his crew and himself as his first priority. He goes above and beyond to promote a safe work environment

and sets an example to his staff. Morris is willing to sit down, draw diagrams, pull manuals and explain to the crew the what,

why, where, and how to's of jobs that may be difficult or new to some of the crew members. Morris is approachable and always

willing to listen to his staff.

Kenny Hawthorne, Prince George AHQ superintendent, said "Morris is always willing to take the reins when I am on vacation and

I am comforted to know that he is very capable and will steer the ship in the right direction until I am able to return. We are all

happy to have him as the Prince George area headquarters supervisor."

The Petersburg Residency and VDOT Richmond District is thankful for your hard work and leadership, Morris!

TOC handles action-packed day with excellence

The VDOT Central Region Traffic Operations Center (TOC) demonstrated its excellence in communications skills and incident management

during two separate calls on the same day in August.

On the night of Wednesday, August 17, a tractor-trailer crashed into a paving work zone on I-95 in Chesterfield County and did

not stop.

TOC operators and Virginia State Police (VSP) dispatchers and troopers worked together to locate and apprehend the suspect

using traffic cameras.

On the same day, TOC operators and SSP dispatchers jumped into action again, this time to aid a VDOT Safety Service Patrol (SSP)

operator suffering a medical emergency. The SSP operator activated an emergency button on their radio, which alerted VSP dispatchers,

who worked with the TOC to locate the operator and send first responders to help. Thankfully, the SSP operator was able

to recover quickly and return to work.

TOC operators and state police Division 1 dispatchers work side-by-side in the JSOC building, which helps to boost collaboration

between agencies.

"This is a great example of partnership between the agencies and the benefit of having VSP and the TOC in the same room," said

Chris Corcoran, regional operations manager for the program's contractor, AECOM.

Thank you to the TOC operators, SSP operators and the VSP dispatchers and troopers for all they do to keep Virginia safe and

moving!

Around the Cone 5
---
Employee Spotlight: Jerry Baisey

On Christmas Eve, Jerry Baisey will make the one mile drive from his home to the Burnt Store AHQ for the last time as an employee

of VDOT. Forty-six years ago Jerry was hired as an hourly Equipment Operator

at the Burnt Store AHQ and moved through the ranks before becoming the

Superintendent at the same location, where he has been for 34 years. "I don't

know that I would have done anything differently, I might have stayed as an

Operator because I really enjoyed operating equipment, but I got the opportunity

to be a Timekeeper and that was a good experience, too. Two of us applied for this

job and I am the one that got lucky."

Jerry and his wife, Sandra, raised their kids in the Burnt Store community, so the

work he did had special meaning because he was giving back to the citizens that

were also his neighbors, friends, and family. The team he works with is so close

they became family, they shared life's trials and tribulations with one another Jerry

said, "They've been good to me and I've tried to be good to them." Jerry's rule of

thumb for his team has always been, "Never get out on a limb where I can't come

get you. If you think you'd read about it in the paper, don't do it!"

Retirement is a well earned gift; a gift Jerry will use to spend time with his wife,

his children, and his granddaughter. Jerry is looking forward to getting out into

the woods to hunt as often as he'd like, without racing against the snowflakes to

get back to attend to the roads, and to taking trips with Sandra.

Jerry is about to embark on an adventure he's worked his entire career for, but

one thing is for sure, he will always be family.

Jerry at his desk, where a photo of his wife and

granddaughter are the background on his computer

monitor.

5 Questions with....

Chris Feggins, Chester AHQ Maintenance Crew

Leader

1. How many years have you worked at VDOT? 8

2. Favorite food? Sweet potato pie

3. What show are you currently watching? Hard Knocks: Detroit Lions

and Yellowstone

4. What is the first thing you are buying after winning the lottery?

A house with 10 acres

5. What do you like to do outside of work? Lift weights and

participate in car shows benefitting homeless veterans

Chris Feggins

Krina Patel, Richmond Distric Traffic Engineering

1.How many years have you worked for VDOT? Just hit 2

(December 10)

2. What is your favorite food? Tex-Mex (Chuy's in particular)

3. If you could compare yourself to any animal, which would it

be? Zebra

4. Would you rather be able to fly or be invisible? Fly (To avoid

traffic!)

5.What do you like to do outside of work? Gardening and Baking

Krina Patel

Around the Cone 6
---
Employee Benefits Association is here for you

As employees transition back to offices, remember that the Richmond Employee Benefits Association

(EBA) is here for your benefit needs. And it costs just $1 per paycheck to join!

The EBA is unique to VDOT. "There is a board that meets twice a year that oversees the District EBAs,

and the board is made up of the presidents of each active, local EBA," explained Lisa Lynch, Richmond District EBA president.

Lisa shared that the Richmond District EBA currently has 280 members.

Donald Logan has been a member of the Richmond District EBA since he first joined VDOT."At just $24 a year, it just seemed like

a simple way to help others at times when they may need a little help. As it turned out, I have been one of those people a few

times since then. Having had surgeries at four different times that required short term disability for recovery, I received disability

benefits. That little extra cash to help cover additional expenses sure did help a lot! Also, as we recently lost our father, the

memorial contribution benefit was also a nice added touch."

Below are benefits available to EBA members in good standing (current with dues and a member for six consecutive

months)

• Floral tribute or memorial contribution, up to $75, upon the death of a member or immediate family member.

• Flowers, fruit, gift or gift certificate (not to exceed $25) to a member who has been absent from work for more than 10

consecutive days due to illness or injury.

• Members out of work for 10 consecutive days after childbirth, sickness or personal injury are eligible to receive $4 per day

beginning on day 11 for a maximum of 60 days in any 12-month period.

• A death benefit of $100 paid upon the death of the member to the designated beneficiary.

• Engraved plaque, tray or other gift, up to a $40 value, upon member's retirement.

• Discounted Regal movie tickets (Paying by cash - $9 for EBA members and $10 for non-members; Paying by credit/debit

- $9.50 for EBA members and $10.50 for non-members), discounted offers on raffles and various other EBA-sponsored

activities.

*Please note that it is the EBA member's responsibility to promptly notify their EBA Trustee when an event occurs that results in a

member benefit, such as extended sickness/injury, death of a family member or pending retirement.

Have questions or ready to join? Reach out to a trustee or officer for more information:

EBA Trustees: Lydia Edwards, Marty Little, Debby Kinton, John Gouyer, Jerry Chavis, Tommy Johnson, Sharon Jones, Kim Ampy,

Cathy Berry, Nequea Jordan

EBA Officers: Lisa Lynch (President), Sharon Jones (Vice President), Debbie Bell (Treasurer) and Lydia Edwards (Secretary)

Traffic engineering's Ambrose honored by professional society

Congratulations to Niko Ambrose, EIT, a member of the Richmond District's

traffic engineering team, who was named the Centennial Engineer of the Month of

November by the American Society of Civil Engineers (ASCE) Virginia chapter.

ASCE presents the honor to "outstanding volunteers and prominent engineers

throughout the Commonwealth" who demonstrate excellence in their careers, are

leaders in the profession and are active in their communities.

Niko, who started at VDOT as a civil scholar, also serves as the chair of the ASCE's

Region 4 Younger member advisory council and on the Government Relations

committee for the organization's Richmond branch.

"I have been so fortunate to be a part of a diverse and welcoming professional

organization and I am thankful for the friends and mentors I have met along the way,"

Niko said.

Congratulations, Niko – and thanks for all you do to help Keep Virginia Moving!

Niko Ambrose

Around the Cone 7
---
Richmond District, Research Council complete more recycled plastic asphalt field trials

More recycled plastic is being paved onto more roads around Central Virginia.

The district materials section and the Virginia Transportation Research Council (VTRC) completed four

recycled plastic additive trials in asphalt paving projects across the district in 2022.

VDOT contractor Colony Construction mixed and laid two types of asphalt containing recycled plastic

(MR6 and High RAP MR8 from supplier MacRebur) onto River Road (Route 645) and Lamore Drive

(Route 630) in Prince George.

For the other two trials, VDOT contractor Allan

Myers (whose asphalt plant is pictured) paved

two types

of the asphalt (NVI Advanced Materials Group

NewRoad (pictured) and GreenMantra) on

Dorset Road

(Route 622) in Powhatan.

In 2021, the district completed the first

recycled plastic additive project trial in Virginia

– which made

headlines across the state. That trial was

completed on Old Stage Road (Route 732) in

Chesterfield.

The district will monitor these four trials for

pavement wear and possible "leeching," to verify no environmental concerns are created from its usage.

"VDOT continues to be at the forefront of finding innovative ways to implement recycled waste into paving and other projects," said

Tommy Schinkel, Richmond District materials engineer. "I am proud of this work and want to thank Doug Chappell (the district

asphalt quality assurance program manager, pictured above), Jhony Habbouche (a VTRC senior research scientist who has been

working on recycled plastic additives to asphalt for the last two years, pictured above), VDOT's environmental division and of course

our contractors forworking with the department as we try something new."

Thanks to everyone at VDOT who works to produce innovative solutions for paving and material sourcing.

Peer-to-Peer Compliments

Don't forget! See a coworker performing a job well done? Then consider recognizing

them by filling out a Richmond District High Five Form. Your recognition may be included in

the next newsletter issue. Here is the latest High Five!

"Wallace Boyter is a hard worker and our "Go To Guy" for minor mechanical issues at Chase City Area Headquarters. He takes

care of many issues with our equipment and corrects it, which saves the shop time and keeps us moving. Thanks Wallace for your

hard work!" – John Griles

"Thank you, Todd Shank for all your help during snow season and year-round! Todd is always so patient and understanding with

any questions or concerns anyone might have. He is always there to help out when he can and I appreciate all his help!"

– Shanley Heilman

"I just want to give a huge thank you to Connie Perkins. Since I have started my new role with the Petersburg Residency, Connie

has been a blessing. She is always so kind and patient. I could never thank her enough for all the knowledge and help she has

given me. Thank you so much Connie!" – Shanley Heilman

Around the Cone 8
---
Bridge over Nottoway River reopens to traffic following replacement

A new bridge now spans the Nottoway River at the Brunswick/Dinwiddie county line,

replacing an 85-year-old structure and improving safety in the process.

The bridge on Cut Bank Road (Route 609) was completed in September 2022. Work on

the $2.6 million project started in August 2021.

VDOT widened the one-lane bridge from 13 to 16 feet, providing a 12-foot travel lane

for both north and southbound traffic.

"The new bridge provides additional space for traffic traveling in both directions, thereby

improving safety," said Robert Poutier, P.E., Richmond District Construction Engineer. "VDOT would like to thank the citizens for

their patience with the detour during construction, the contractor Clearwater Construction, and the construction team for their

hard work on this project."

Intersection improvement project at Parham Road and Patterson Avenue is complete

A $14 million project to add turn lanes, sidewalks and crosswalks at the intersection of Parham Road and Patterson Avenue in the

western area of Henrico County is complete.

The VDOT Richmond District started the project in May 2021.

Specifically, two additional left turn lanes were added on Patterson Avenue

in each direction as drivers approach Parham Road from both the east and

west. Additionally, two left turn lanes were installed for drivers traveling north

on Parham Road, as well as a "right turn only" lane. Finally, the left turn lane

capacity was extended for drivers traveling south on Parham Road heading

eastbound on Patterson Avenue.

The newly-completed project includes crosswalks along Parham Road on the

east side, south of Patterson Avenue and on the west side, north of the intersection. Crosswalks have also been installed at the

intersection to cross both Patterson Avenue and Parham Road.

PD/PIM Hosts Annual Meeting in Hawthorne

The annual PD/PIM meeting was held Sept. 21 in the Hawthorne

Room at the JSOC building.

Each section reviewed the fiscal year 2022 metrics. Assistant

Richmond District Engineer Mark Riblett said the results are

impressive and PD/PIM had a successful year. "Our outcomes are

well documented and include many examples of very positive and

productive working relationships - both within and outside of our

group."

Breast Cancer Awareness

In honor of Breast Cancer Awareness Month in October, several employees from the Traffic Operations Center (TOC)

wore pink and decorated a tree with pink ornaments.

Anna Coghill,

Christina Shipley,

Fred Nausbaum,

Amanda Boykin,

Tiara Williams and

April Dabney

Cedric Walker,

Sharod Taylor, and

April Dabney

Around the Cone 9
---
District accounting tops VDOT for Prompt Pay Performance Metric

The Richmond District accounting office is number one for prompt pay compared to all other VDOT districts – we paid more

of our invoices and vouchers on time than any other district for fiscal year 2022. The icing? The team accomplished this

milestone while simultaneously implementing a brand new accounting system.

"Between August 2021 and 2022 we learned a new system and piloted it. We worked through bugs and issues and still

were number one," said Shavon Matias, former Richmond District accounting manager. "And to be first when approving

a new system is incredible. As long as I can remember, we've never been first for prompt pay before; we've always been

number two or three."

The Prompt Payment Act law states that all payments to non-governmental and privately owned businesses for the purchase

of goods and services must be due dated. Agencies should assign a payment due date of 30 calendar days after the receipt

of the goods, services, or invoice, whichever is later, or the due date specified in the vendor's contract. "Of course, we

strive to pay all of our vendors on time," Shavon said. "We are working with

budgets, procurement, distribution of projects, and more … there are so many

factors to take into consideration. So when all of our invoices are paid on time

in one fiscal year, it's kind of a big deal. It means everyone in the process did a

great job."

For fiscal year 2022, the Richmond District processed 8,546 vouchers including

5,893 "due date" vouchers, ending with a prompt payment percentage

of 99.576%. The district processed the fourth largest volume of due date

vouchers, and processed zero vouchers late four months out of the twelve (July,

November, March and June).

Shavon Matias explained that vouchers are one of many tasks under

Accounting, also known as financial services. They manage accounts payable

and receivable; payroll; the general ledger; they approve invoices from

vendors, and recoup money for damaged state property. There are currently

seven people in Accounting with two vacancies including Shavon.

Terri Green is the Accounts Payable Accountant who approves all invoices,

and makes sure they are on paid time. Crissandra Coleman is the Accounts

Payable/Receivable Supervisor. Both were instrumental in achieving the

number one status, according to Shavon.

During the year of being first in the district for prompt pay, the Accounting

Office implemented the Financial Document Management System (FDMS), a

new system to monitor and track invoices. "We worked hard together to learn

it," Shavon said. They created job aids, performed one-on-one training, and

answered a lot of questions.

Crissandra Coleman, Terri Green, and Shavon Matias

Crissandra and Terri (and Shavon, before she left) are now training other districts on FDMS. Hampton Roads and Lynchburg

have been trained so far. Shavon said FDMS allows users to track invoices throughout the entire accounts payable process,

making it easier to see if there are any issues. She called the system a central repository for document retrieval with

automated workflow.

Fiscal year 22 brought changes to the accounts payable process with the implementation FDMS. "During the pilot we

learned the new system, worked through issues, glitches, and updates. Through all of this, we still ended the fiscal year in

first place for prompt payment statewide," Shavon said. "This is a true testament to the employees of the Richmond District

and their dedication to paying our suppliers on time."

Around the Cone 10
---
10 Ways to Stay Safe as You Deck the Halls this Holiday Season

The holiday season is here, and the American Red Cross wants everyone to stay safe from home fires as they decorate their

homes for the upcoming festivities.

Decorations like trees, lights and candles increase the risk of home fires during the holidays—with Christmas, New Year's Eve

and New Year's Day being the top three days for home candle fires, according to the National Fire Protection Association.

The Red Cross wants people to stay safe from home fires—the nation's most frequent disaster—by testing their smoke alarms

and practicing their home fire escape plan with free resources at redcross.org/homefires. In addition, you can follow these 10

simple safety tips as you put up lights and ornaments:

1. Check all holiday light cords to make sure they aren't frayed or broken. Don't string too many strands of lights together—no

more than three per extension cord.

2. If are buying an artificial tree, look for the fire-resistant label. When putting it up, keep it away from fireplaces, radiators and

other sources of heat.

3. If getting a live tree, make sure it's fresh and water it to keep it fresh. Bend the needles up and down to make sure no nee

dles fall off.

4. If using older decorations, check their labels. Some older tinsel is lead-based. If using angel hair, wear gloves to avoid irrita

tion. Avoid breathing in artificialsnow.

5. When decorating outside, make sure decorations are for outdoor use and fasten lights securely to your home or trees. If

using hooks or nails outside, make sure they are insulated to avoid an electrocution or fire hazard.

6. If using a ladder, be extra careful. Make sure to have good, stable placement

and wear shoes that allow for good traction.

7. Don't use electric lights on metallic trees.

8. Don't forget to turn off all holiday lights when going to bed or leaving the house.

9. Keep children, pets and decorations away from candles.

10. If hanging stockings on the fireplace mantel, don't light the fireplace.

Richmond District Hosts Winter Preparedness Mock Event

Snow is out of most of the public's mind in mid-October, but that's when the Richmond District met to prepare for the return of

the white stuff.

District staff met Thursday, October 14 at the JSOC for a winter weather

preparedness mock event. The tabletop exercise included weather briefings that

residencies and sections used to create mobilization reports in real time. Staff

members then relayed their mobilization reports to district leadership on a

conference call, just like they would during real storm preparations.

The mock event also helped the district discuss best practices and the snow

command structure. "This exercise helped new members learn about the snow

response process a few months ahead of time," said Tanveer Chowdhury,

P.E., Richmond district maintenance engineer. "It also helped snow-fighting

vets to shake off the cobwebs before winter starts."

Richmond District team members review the

results of the mock event.

Tanveer said he wanted to thank the maintenance team, including Gary Jennings, Phillip Frazer and Todd Shank, along with

Traffic Operations Engineer Robb Alexander, for their help organizing the event.

Around the Cone 11
---
Snow Dry Runs Now Complete at District Area Headquarters

In mid-October, area headquarters across each of the Richmond District's four residencies held snow dry runs. During

the dry runs, the AHQs cleaned and checked snow response equipment, reviewed routes and competed to see which

headquarters was most ready for winter.

The winners by residency are listed as follows:

•Ashland: New Kent AHQ •Chesterfield: Amelia AHQ •Petersburg: Prince George AHQ

•South Hill: Clarksville AHQ

Around the Cone 12
---
To Whom It May Concern –

Compliments on a job well done!

I am a school bus driver on bus 29 with the New Kent County Public Schools.

Recently, I had cause to ask our transportation department to see about clearing

my line of sight at the corner of Cooks Mill Road and Elysium Dr. I was astonished

when within two days the site was completely cleared.

Our Superintendent of Schools, Dr. Brian Nichols, passed these cards out at a

meeting before the start of the year and asked us to use them to acknowledge an

act of kindness. I could not send this to anyone more deserving. My thanks to your

hard working crews for their remarkable response. My students and I have a much

safer ride.

Many thanks, Ms. B. – Bus 29

IMO

I wanted to thank Janice Smith for the assistance offered

during the overturned tractor trailer on the ramp from

SB Powhite to SB Chippenham earlier this week. I really

appreciate your willingness to help the RMTA when you

are able to. Thank you so much! - Richmond Metropolitan

Transportation Authority

Ashland Residency

Thank you for clearing the drainage ditch of the debris

and dirt from along the roadway!

-Luke D., Mechanicsville

Thanks so much to Phillip in the local residency. I greatly

appreciate his phone call today and his professionalism.

Thanks to him, I now understand all of the unique aspects

and background of this project that I was completely

unaware of as a local citizen who just happened upon the

new roundabout. I am thankful and appreciative of him

taking the time to call me with the information.

-Jeff L., New Kent

Danny has done a tremendous job. She very grateful as

she feels so much safer going to her mailbox, she can see

the cars and they can see her. Super Super Job!

- Carroll V., Hanover

Thank you to Jimmy Morris for the return call and for

getting the lines painted after paving on New Ashcake

Rd between Sliding Hill Rd and Cool Spring Dr. so quickly.

-Rhonda C., Ashland

Mechanicsville Citizen called to say Thank You for cleaning

the ditches, cutting the grass and grading the road.

Caller wanted to let you know they greatly appreciate all

you do. Thanks!

-Gladys B., Gum Spring

Chesterfield Residency

Citizen states that he is grateful that the work was done

so quickly and efficiently. Great job!

-Steve S., Richmond

The supervisor of the crew working my street today

and the entire crew are very professional, very helpful

and very knowledgeable. They went out of their way to

explain everything to me, told me how to call in an SR for

her issue - I didn't didn't even know she could call vdot!

They did everything with a smile. Kudos to them!!

- Crystal M., Chester

Caller states that on Sherman Rd, that VDOT did a great

job cutting the road and thank you.

-Adrienne W., Richmond

Thank you for cutting the grass along Judes Ferry Road.

Visibility around the curves is so much better.

-Lindsay T., Powhatan

Tony Branch came out to follow up on my complaint and

he was awesome! So helpful and informative about the

work that was done, how it originated, and what was left

to do. He patiently answered my questions. Thanks Tony!

- Midlothian

The Amelia County Board of Supervisors shared compliments

at a meeting about the crew that worked on the

Dykeland Road (Route 632) bridge repairs. Supervisor

Dexter Jones expressed that the quality of work was top

notch. Great work, team!

South Hill Residency

I would like to thank you for a job well done. The quality

of the work and materials were both excellent.

-Robert P., Ebony

Thank you for a great job on the North and South Farmington

Roads. The neighborhood really appreciates the

work done.

Around the Cone 13
---
Thank you, Veterans!

On Monday, November 14 the Richmond District celebrated our Veterans in honor of Veterans Day. The Veterans were treated

to lunch from Deep Run Roadhouse at Buster's Pond Pavilion. Guest speaker VDOT ACE-Traffic Operations Major Doug McAvoy

was introduced by Dale Totten and Doug shared his personal story of transitioning from full-time military service to being a VDOT

employee. In closing, a raffle was held and several guests were able to go home with new VDOT cooler totes and tumblers.

Everyone at VDOT would like to thank all of our Veteran employees for their service to our country.

Veterans

Jeffrey Augustine

George Burwell

Tyrone Butts

Blair Childs

Edward Correa

Jonah Cox

Jamie Craig

Bernard Dagner

Benjamin Dalton

Matthew Dickerson

George Drew

Ellis Dunivan

Richard Easter

Vincent Fogg

Robert Fortune, Jr

Jay Fread

Rebecca Greene

Derric Grimes

Adam Hairston

Aaron Hall

Marshall Hartless

Stephen Haskell

Anthony Haverly

Chad Hawthorne

Kenneth Hawthorne

Carlton Hill

Bryan Ives

Gary Jennings

Timothy Johnson

James Kitchen

Marcos Kocolis

Lewis Lafoon

Steven Lightfoot

Jesse Ling

Little Marty

Donald Logan

James Maiden

Daniel Matsey

Michael Mills

Jonathan Mobley

Marvin Moore, Jr

Brian Murphy

Dwayne Nikolaisen

Christopher Oglevee

Scott Ohrum, Sr

Reginald Patterson, Jr

Justin Piccin

William Powell, III

Ryan Rapp

James Rose

Oliver Rose

Cody Rumsey

John Russell

Louie Sabourin

Anthony Sanchez

Sharon Sanchez

Jerome Saunder, Jr

Kenneth Seward

Jonathan Shores

Gerald Stanley

Clayton Thomas, IV

Michael Thomas

Marco Verdone

Sherwood Washington, Jr

Nicholas Wenneberg

Theodore Wingfield

Jason Yallery

National Guard

Jimmy Barksdale

Albert Hutson

Active Reserve

Douglas McAvoy, Jr

Clayton Thomas

A fond farewell to our retirees September - December 2022

September

Larry Maitland, 10 years

October

Vincent Friend, 11 years

Charlene Reiser, 33 years

Rosalyn Richardson, 30 years

November

Carrol Roberts, 30 years

Douglas Kisamore, 15 years

Neil Ferrell, 39 years

James Woodfin, 14 years

Around the Cone 14
---
Richmond District Employee Update

Welcome to our new Richmond District employees August- November 2022

Andrew Adams, Operator Maintenance, Beach Area Headquarters

Cade Adenauer, Operator Maintenance, Bon Air Area Headquarters

Allen Adkins, Operator Maintenance, New Kent Area Headquarters

Austin Anderson, Infrastructure Manager, Richmond District Maintenance

Jeffrey Augustine, Operator Maintenance, Bon Air Area Headquarters

LaVar Briggs, Operator Maintenance, Pocahontas Area Headquarters

Matthew Dickerson, Operator Maintenance, Nottoway Area Headquarters

Clinton Browder, Operator Maintenance, Church Road Area Headquarters

Samuel Brown Operator Maintenance, Pocahontas Area Headquarters

Jeffrey Dilly, Inspector Apprentice, Central Region Construction

Rosalyn Frederick, Accounting Specialist, Richmond District Fiscal

Casey Green, Operator Maintenance, Richmond District Customer Service Crew

Joseph Gwaltney, Construction Manager, CRO Administration

Preston Hale, Operator Maintenance, New Kent Area Headquarters

Barbara Hatch, Fiscal Tech, Petersburg Residency

Quaman Hawkes, Operator Maintenance, Bethia Area Headquarters

Glenn Hinton, Operator Maintenance, Amelia Area Headquarters

Jonathan Humphries, Equipment Repair Tech, Richmond District Shop

Albert Hutson, ITS Maintenance Specialist, CRO Traffic Operations Management

Terry Johnson, Operator Maintenance, Charles City Area Headquarters

Evan Jones, Operator Maintenance, Sandy Hook Area Headquarters

Thomas Kendrick, Engineer Project Management, Richmond District Location & Design

David Lamm, Sign Fabricator, CRO Central VDOT Sign Shop

Kristen Luchynsky, CSC Representative, Ashland Residency

Bernard Lucy, Operator Maintenance, Sturgeonville Area Headquarters

Tyrell Luter, Operator Maintenance, Bon Air Area Headquarters

Victoria Marks, Senior Communications Specialist, Richmond District Communications

Angel Miller, Senior Benefits Supervisor, Richmond District Human Resources

Darryl Morris, Operator Maintenance, Baise Road Area Headquarters

Maureen Paciello, Senior HR Consultant, Richmond District Human Resources

Craig Ponte, District Engineer SB, Richmond Bridge

Angela Poole, Fiscal Tech, Petersburg Residency

Danny Purdie, Operator Maintenance, Richmond District Customer Service Crew

Robert Robertson, Operator Maintenance, Lawrenceville Area Headquarters

Cecilia Rosales, CSC Representative, Chesterfield Maintenance

Cody Rumsey, Operator Lead Fuel Truck Trailer, Richmond District Shop

Joshua Sanchez, Sign Fabricator, CRO Central VDOT Sign Shop

Todd Scheid, Planning Specialist, Program & Investment Planning

Michael Shepherd SR, Operator Maintenance, Baise Road Headquarters

Matthew Simmons, Operator Maintenance, Burnt Store Area Headquarters

Kevin Stotesberry, Maintenance Supervisor, Sturgeonville Area Headquarters

Danny Vance, Equipment Repair Tech, Richmond District Shop

Austin Wells, Operator Maintenance, McKenny Area Headquarters

Leonard Williams III, Engineer Tech Sr. Permits, Chesterfield Land Use

Philip Williams, Operator Maintenance, Burnt Store

Around the Cone is a newsletter written for, by and about the employees of the VDOT Richmond District.

Amelia • Brunswick • Charles City • Chesterfield • Dinwiddie •Goochland • Hanover • Henrico •

Lunenburg • Mecklenburg • New Kent • Nottoway • Powhatan • Prince George

We want to hear good news from you! Send your story ideas for the next issue of Around the Cone, the

electronic bulletin boards (EBBs) or DOTi News to VDOTRVA@VDOT.Virginia.gov.

Around the Cone 15