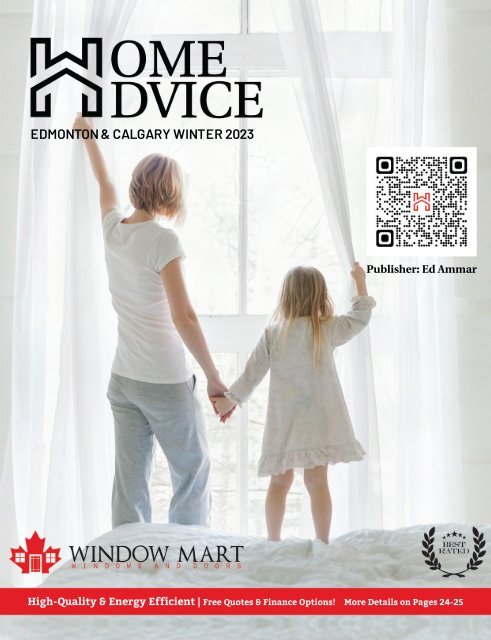 Edmonton and Calgary 2023
You also want an ePaper? Increase the reach of your titles
YUMPU automatically turns print PDFs into web optimized ePapers that Google loves.
EDMONTON & CALGARY WINTER 2023

Publisher: Ed Ammar

High-Quality & Energy Efficient | Free Quotes & Finance Options! More Details on Pages 24-25

HOMEADVICE

1
---
2 HOMEADVICE
---
The

Fireplace

Guy

@REALHOMEADVICE

When requiring services, whether it be realtors, builders,

contractors or more, we ask that you remember the businesses

featured in this publication are the best in the industry.

All rights reserved by Home Advice.

Reproduction or transmission of all or any part of this publication

by any means is strictly forbidden without the prior

written consent of Real Home Advice. Although great detail

and attention is taken to avoid any ad copy or editorial errors,

any errors or omissions on the part of the publisher are

limited and dealt with solely by printing a letter of retraction

and / or correction in the following editions.

OUR SERVICES:

Gas Fireplaces

Wood Fireplaces

Fireplace Mantels

Fireplace Surroundings

Wood Stoves

Competitive prices

780.974.7689

Edmonton, AB

DESIGNED AND PUBLISHED BY RHAMEDIA

CONTACT:

Phone: 1-780-406-6441

Email: adcopy@realhomeadvice.ca

Read Online:

HOMEADVICE

3
---
4 HOMEADVICE
---
REAL ESTATE AGENT

Year-End Check-In - Thoughts On The

Market

As 2022 starts to draw to a close(already!), I thought it might be valuable for some of you if I shared my thoughts about where the Edmonton

market is sitting now and where it's going.

While it finally feels that we're leaving the pandemic behind, there sure have been some bumps along the way! These last few years have been

some of the strangest in my career, and that doesn't seem to be going away anytime soon. As of November, the market is in a very interesting

phase. Even with inflation seeming stubborn and interest rates ticking higher, we will have demand in our local market. Some forecasters, including

BMO(Bank of Montreal), are predicting that the market is still undervalued by 5% or more, and that prices may actually rise in the near future

even as overheated markets like Toronto or Vancouver continue to correct. You may see a big "thaw" in our local market come late winter/early

spring!

Reading something like the above, it's only human nature to start thinking about timing the market. My advice- just don't! If you have your

ducks in a row and you feel it's time to buy or sell your home, I always recommend that you do it. Waiting on the sidelines may or may not get you

a better price in the end.

In the long run, however, I haven't met anyone who can predict the future. I don't think that even the Bank of Canada could have predicted that

in less than a year we would jump from historically low interest rates up to a normal level- with more hikes potentially on the way. When you are

ready, it's good to focus your energy and do everything possible to be successful. A lot of this comes down to working with a great Realtor.

It's easy to identify a great agent. First and foremost, look for someone that is going to be out for your interests 110% and with whom you have

good rapport. You should feel that your Realtor listens and understands what you're looking to do. A great Realtor will point you in the right

direction- even if you don't initially see it.

If you're interested in meeting with great Realtors; I'd love to put my experience to work for you.

HOMEADVICE

5
---
CLICK TO SAVE:

Home Influencers Share

Design Tips for 2023

As the adage goes, home is

where the heart is, but thanks

to thoughtful staging, curated

accents and careful colour

selection, a growing number

of home interior influencers

have amassed millions of

hearts—not to mention likes,

shares and saves—from

audiences across social

media seeking some style

inspiration.

Platforms like Instagram, TikTok and Pinterest have brought the latest

design trends to the masses by allowing interior stylists and designers to

connect one-on-one with homeowners and renters looking to transform

their spaces. And while most people know that Instagram does not

always equal reality, both the 2023 Calgary Renovation Show, running

January 13-15 and the Edmonton Renovation Show, running January

27-29, are gathering some of Alberta's most-followed influencers, DIY

experts and designers to bring their unique style and viral tips from the

screen to real life as part of the Reel Rooms show feature.

To help get you inspired, we've asked two Reel Rooms influencers to

share some of their favourite trends and timeless design tips to create

the home of your dreams.

Bringing the Living Room to Life

Relaxing, inviting and contemplative describes the living space created

by Calgary-based interior designer Brittany McNab (@fifteentwelvehome).

McNab, whose style trends toward a breathy mix of light neutrals,

textures and natural materials, showcases a living room design perfectly

referential to her commitment to sustainability. "Sustainable design

heavily influenced my decisions in this space. I wanted a living room that

felt tranquil, calm, personal and timeless," says McNab.

To create her design, McNab first focused on the bones of the room.

"This living room style is quite transitional, so I recommend classic

elements like white walls and wainscotting." To add more texture

and interest, McNab suggests introducing architectural elements like

arches and millwork to bring the feeling of timeless craftsmanship to

any home, no matter the age.

Once you have your primary elements in place, layering in furniture

and decor will help pull the design together. McNab recommends

choosing a cohesive colour palette that reflects your style. "Aim for

things that make your heart happy. Make an inspiration board of

everything you love and get to work hunting things down."

A mix of natural textures like wool, jute and linen reflects the focus on

sustainable and timeless design, while carefully chosen objects give

the room its unique sensibility. "I prefer a pared-back, but eclectic look

with my shelf and coffee table styling, and I change it as often as I feel

like to keep things fresh and fun."

While it can be tempting to gravitate to brand-new pieces to help

your home feel current, McNab suggests playing around with found

items and vintage pieces to create a unique space while saving a few

dollars. "I absolutely love second-hand finds," says McNab. "I will often

thrift things like frames, books and vases, shop Etsy for interesting

artwork and collect little decor objects at places like Goodwill and

Homesense. Don't be afraid to visit thrift shops and remember that

things like frames and vases can always be painted."

The Bedroom Oasis

If the kitchen is the heart of the home, the bedroom might very well

be the soul. One of the Reel Rooms features this year is a relaxing

primary bedroom designed by Ghalia Eltassi (@urban.homeology), a

DIY and style influencer based in Edmonton. "My goal was to create

a cozy and relaxing retreat where anyone can feel comfortable and

relaxed after a busy day," says Eltassi.

Her transitional design, which balances modern and traditional

elements focuses on clean lines and gentle curves to create a

space that feels entirely at home in 2023 and at the same time,

undeniably timeless. "In this space, I focused on classic pieces like

the platform bed and nightstands to give the space a modern feel.

The curved decor, including an arched mirror and light fixtures, brings

a contemporary look to the whole space, while the neutral palette of

cream, ivory and taupe brings it all together.

To recreate this look, Eltassi encourages her audience to look for ways

to elevate traditional items with modern accents and updates to create

a space that looks curated and original. "Change your bedding, paint

your walls a fresh colour or add some new knobs to your dresser to

get a new look without having to buy all new items." If you are even

more ambitious, the DIY enthusiast suggests getting creative with your

larger pieces. "If you don't like the look of your furniture, give it a fresh

coat of paint or sand it down and stain it to tie in with your new style."

What You'll See in 2023

While both our designers gravitate to timeless and sustainable design

practices, they are no strangers to embracing change and playing

with current trends. "For 2023, my top trend is warm browns," says

McNab. "The light beige, tan and camel shades we were seeing a lot

of have slowly morphed into moodier shades of brown/black, mocha,

and chocolate. You can use these in wood elements like flooring and

cabinets or introduce them through accessories like throw pillows,

vases and rugs."

As for Eltassi, she is looking forward to seeing more colour and drama

this year. "Rich, saturated hues will be gaining popularity in 2023.

Deep reds, greens and darker shades of brown will be taking the

spotlight this year."

To see these spaces IRL, don't miss the 2023 Calgary Renovation

Show at the BMO Centre, January 13-15 or the Edmonton Renovation

Show at the Edmonton Expo Centre January 27-29.

Visit www.calgaryrenovationshow.com or

www.edmontonrenovationshow.com for more information and to

get your tickets.
---
Jan 27 - 29

Edmonton

Expo Centre

Your Project. Our Experts.

Bring your ideas to life with trusted experts at the Edmonton Renovation Show, January

27 th - 29 th at the Edmonton Expo Centre. Discover the latest home renovation trends and

get practical advice from hundreds of experts. From kitchens and baths to flooring and

more, find great deals, new ideas and inspiration for all your home projects.

Sponsors:

.com

EDMONTONRENOVATIONSHOW.COM

Produced by

2-FOR-1

*On Regular Adult Admission Only

BUY TICKETS ONLINE

Promo Code: REALHOME

Courtesy of:

HOMEADVICE

7
---
8 HOMEADVICE
---
Need more Home Advice? Check us out online!

www.realhomeadvice.ca

HOMEADVICE

9
---
10 HOMEADVICE
---
12 HOMEADVICE
---
What to Do When Payments Stop: 5 Urgent Steps

Collecting debt has always been one of the most uncomfortable and delicate tasks in business.

In a time of crisis, it becomes infinitely more challenging.

Previously reliable customers no longer pay on time—if at all. Even the best ones have stopped taking your calls and their voicemail is

uncharacteristically full.

When they DO answer, it isn't good. Apologies, but they can't pay for an indeterminate period because of COVID-19.

It's not just you. Virtually all business models, both B2B and consumer-facing, healthcare providers and landlords, are in a similarly precarious

situation.

The customer in many cases has an impeccable history, making this an entirely new kind of problem. Good business is hard-won, cost of

sales is premium and customer relationships are precious. Most importantly, your brand reputation is priceless.

But here you are. Even the best customers are holding out, and you have growing obligations of your own.

It's painful and a source of tremendous stress.

Here's the kicker: the worst is yet to come.

The forced shutdown has only just begun to take its toll on businesses

and consumers. Many are sitting on a shrinking cash stockpile,

waiting for a turnaround that isn't coming soon enough. If they owe

you money, they are spending it on other things—until it the last of it

runs out.

And despite the rosy flourishes being painted by some politicians, the

crisis is worsening. The subsidies, stimulus packages and deferrals

must soon end. Buying habits and patterns have been massively

disrupted, in a lot of cases permanently.

If your business is already struggling to collect money owed to it,

it doesn't take a master economist to envision what's in store. And

the real economists concur it will be very bad, for longer than many

businesses can withstand.

So What to do?

There are 5 important steps every business owner needs to take in

order to minimize risk and be as proactive as possible.

1. Assess the current situation. Take a look at your accounts receivable

and flag everything past due. Contact all account-holders and

make them aware that for your business' continuity you must be firm

about due dates. They should respect this need and do the same. Alert

past-due accounts that collection action is imminent—give a specific

date.

2. Take immediate action. Send all non-responsive accounts and

any that are more than 60 days past due to MetCredit (as we remind

our clients, 60 is the new 90 in the critical post-COVID-19 era). Our

professional debt collection agents will treat your customers with

respect, and establish a high payment priority for future dealings.

3. Fortify business processes. The way people paid you in the past

is probably not reliable enough for the new normal. Risk reduction

should be top priority: sales are a dangerous liability when you can't

collect. Insist on full payment or substantial deposits—and make your

credit application mandatory whenever you grant credit (which is

anytime you are not paid in full upfront.) Be sure buyers understand

when payment is due and acknowledge their commitment to you.

4. Make it easy to pay—safely. We recommend Interac eTransfer or

debit payments because funds are immediate, fees are low and there

is little risk of chargebacks. If you offer financing for larger amounts,

partner with a leasing or finance company that is equipped to manage

the risks.

5. Embrace the new normal. If you have been patiently waiting for old

buying habits to resume, don't! Some business models, such as airline

travel, retail sales and buffet restaurants will surely never be the same.

Instead of praying for the good old ways to come back, find ways to

help customers with their new needs. And while you do it, protect

your own business' future.

This is a hard reset, not a speed bump. It is an opportunity to become better,

more efficient, and eventually more profitable than ever.

Many, many businesses are going to fail. The ones that survive to rebuild the

new economy will be the ones whose leaders are smart, bold, innovative and

proactive.

I hope the latter group includes yours. Get energized, call upon your most

inventive self, and take action!

Need more help? Reach out to me or one of my helpful debt collection experts.

Be safe and healthy—and the same goes for your business!

Brian Summerfelt

President and CEO of MetCredit, Canada's top-performing

consumer and commercial collection agency

metcredit.com

1-888-797-7727

Left out in the cold?

We'll collect those

receivables.

Since 1973 MetCredit has been Canada's go-to source for collecting

business debt. For businesses of all sizes Canada-wide, we

turn accounts receivable into accounts received—fast.

MetCredit. We get it.

HOMEADVICE

13
---
Shop. Donate. Volunteer.

Get ready for huge scores at ReStore! Find

great value on quality new and gently-used

building materials, furniture, appliances, tools,

and unique items to meet your renovation

needs. All proceeds help families access

affordable homeownership.

Open to the public!

20% OFF your next purchase!

Coupon has no cash value. Valid only at Habitat Edmonton ReStores: 8210 Yellowhead Trail NW, 16811 106 Ave NW,

4004 99 St NW, 7 Streambank Ave (Sherwood Park), and 10431a 96 Ave (Grande Prairie). Cannot be combined with

other offers. One time use only. Coupon must be surrendered to cashier at time of purchase. Does not apply to items

previously purchased at ReStore. Expires Dec 31, 2023. Code RHA20.

14 HOMEADVICE
---
The treasures you'll find

HFH.org

HOMEADVICE

15
---
16 HOMEADVICE

Come visit us at our brand new showroom

at 2828 Ellwood Drive SW,

Edmonton, Alberta
---
Stop by our showroom and Clearance Center located at

2828 Ellwood Drive SW, Edmonton, Alberta

780.457.DOOR (3667)

Support of Mustard Seed, Hope Mission,

Moms Canada, Little Warriors,

Edmonton Minor Soccer Association

and other local charities.

HOMEADVICE

17
---
SCAN ME

HOMEADVICE

19
---
20 HOMEADVICE

Proud Supporters of The Home

Advice Magazine
---
NOW BOOKING For Our Spring

2023 Edition!

@prairie_cedar_creations

@prairie_cedar_creations

HOMEADVICE

21
---
22 HOMEADVICE
---
Why Should We Care About Radon Gas?

For many, concerns about radon seem to have come out of the

woodwork. What exactly is radon gas and why is it so dangerous?

While naturally occurring and ubiquitous, radon concentration is a

significant health hazard as the second leading cause of lung cancer -

and its entirely preventable.

Radon comes from the breakdown of the naturally occurring element

radium in our soil. Most of us think of radium as an element relegated

to science fiction, we don't imagine it could affect our day to day lives

- and yet it can. Trace amounts of radium are found in the soil aggregate

beneath our homes. As radioactive radium decays into radon gas

it emits alpha particle radiation which is highly dangerous in elevated

concentrations to human health. To complicate matters even further,

radon gas is undetectable to the naked eye. It is invisible, odorless,

and tasteless. The only way to determine your radon exposure levels

is to test for it.

Current Health Canada guidance recommends mitigation action

be considered for homes determined as on average over 200 Bq/m3

within two years, within one year for homes determined as on average

above 600 Bq/m3. The National Building Code has also been updated

in consideration of radon reduction methods. A radon rough-in

pipe, aggregate requirements and vapour barrier specifications are

now required for new construction to facilitate a completed activated

radon mitigation system, should one be required.

Hiring a professional is not required to obtain a proper radon measurement

as a correctly placed radon test requires a long timeframe

to ensure accuracy. It is vital to test over an extended period of time

as radon fluctuates naturally, day-to-day, seasonally, and in response

to changing weather conditions. Average exposure is key as radon is

a long-term health hazard. Most often, radon is highest in the winter

months and as such Health Canada advises testing over the winter

heating season. It is best to test over a range of weather conditions to

obtain an accurate long-term average, either by a C-NRPP approved

alpha track test device or with a reputable digital radon monitor.

If your radon levels are elevated, don't panic. All homes can be effectively

mitigated by radon reduction techniques. A properly installed

professional radon mitigation system is customized to the unique

needs of the residence. Considerations for challenging building

characteristics such as grade beams, in-floor heating, ICF foundations,

sub-slab ductwork, large footprints, finished basements, crawl

spaces, extensive renovations and multiple concrete slab pours are

included, and all are suitable candidates for an energy efficient, effective

and quiet mitigation system. Our experienced C-NRPP certified

radon mitigation professionals are happy to offer our expert advice at

any time to assist you in your radon inquiries.

RadonCare proudly serves Central and Southern Alberta providing

residential and commercial radon testing and mitigation solutions.

RadonCare is a proud research partner with Evict Radon, a member of

C-NRPP and the Canadian Association of Radon Scientists and Technologists,

the Alberta Construction Safety Association and COR safety

certified. We are actively involved in many community initiatives with

members on the C-NRPP Policy Advisory Board and on the CARST

Board of Directors. Past clients have included school boards and

divisions, care facilities, private management companies and government.

Radon is our passion, and we take great pride in reducing

radon exposure to our clients and providing informed advice.

1-844-RADONCA (772-6622)

info@radoncare.ca

HOMEADVICE

23
---
24 HOMEADVICE
---
4 THINGS TO CONSIDER BEFORE

BUYING A NEW FRONT DOOR

The front door is arguably one of the most important entry points of

your home. A well thought out and designed front entry way can set

a welcoming tone for your home. The right door will balance out the

exterior aesthetic, boost curb appeal, and protect your home.

Not all front doors are made equal, which is why it is important for

you to consider these 4 things before you make your final decision.

STYLE

Your front door reflects your architectural preference and personal

style. You do not want to flippantly choose a front door for your home.

The wrong door could throw off aesthetic balance. Not only will your

home look better and more cohesive with the right front door, but it

will also improve its resale value. A new door is a relatively inexpensive

improvement that promises a strong return on investment.

MATERIALS

There are a variety of materials that doors can be constructed from.

Each type of door has its own benefits and drawbacks. When choosing

a front door for your home, you need to consider how the specific

characteristics of each material may influence their performance.

FIBERGLASS

Fibreglass doors are a great option if you are looking for energy

efficiency, low maintenance, and customizability. They come in a

wide array of colors, styles, and textures, so it is easy to blend into the

overall aesthetic of your home. The insulation they offer can also help

offset energy costs, which makes them more affordable in the long

run, despite the initial purchase price. The fiberglass doors offered

by Window Mart, for example, feature a polyurethane core free from

chlorofluorocarbons, delivering superior energy efficiency compared

to wood doors (up to 6 times more insulating, in fact). Fiberglass

doors are also exceptionally durable and are designed to resist corrosion

and deterioration.

WOOD

True wood adds a certain level of rustic beauty that is not achievable

with other materials. Wood doors can be stained or painted to achieve

the look you want, yet each one remains completely unique. Other

ways to customize wood doors include decorative glass inserts, stylish

hardware options or added embellishments. The downside to wood

doors is that they require continual maintenance to prevent warping,

swelling, or rotting. It is also often recommended that a storm door be

installed to protect the wood from the elements, which can take away

from the classic style you are looking for in a wood front door. Wood

doors are elegant, but high-maintenance.

improves their energy efficiency performance. Window Mart, for

example, carries several steel door products with a high-density polyurethane

foam filling that increases insulation and reduces thermal

transfer.

BUDGET

How much money are you comfortable spending? This is probably

one of the most important questions you need to ask before beginning

any home improvement project, and replacing your front door

is no exception. The initial investment versus long-term benefits,

such as reduced energy costs. High-quality materials, also require less

maintenance, which also results in long-term savings. Should also be

conscientious of hidden costs, such as extra finishing. Wood doors,

for example, may require additional painting or staining that is not included

in the purchase price. Choosing a reputable window and door

company will ensure that your new front door is installed properly

and save you from potentially costly mistakes.

SECURITY

When it comes to choosing a front door for your home the possible

security features are an invaluable consideration. Most of the doors

on the market are similar in terms of the strength of their basic construction.

If you are going to make any customizations, such as adding

glass inserts or side panels, you may want to consider options that

offer additional safety. Glazed glass, for example, is harder to break

into. You may also want to consider your desired level of privacy. Textured

or frosted glass makes it so passersby cannot see directly into

your home, but still allows for natural light to enter. Front Doors are

incredibly important assets of the safety and security of your home,

and in turn, your family.

CONCLUSION

Choosing a new front door for your home is an incredibly important

task. If you take all the things listed into consideration you are sure to

find a front door with the perfect balance of function and beauty.

Window Mart provides high-quality front door options and installation

services for homeowners in Alberta, Saskatchewan and Ontario.

Contact our friendly staff today to get your complimentary estimate

for your home's front door replacement.

STEEL

Steel doors are as stunning as they are durable. They provide a superior

level of security while still offering color and texture customizability

(though not quite as much as with fiberglass). Steel does have the

potential to rust over time, so it is important to choose a high-quality

option with protective coating like what is offered at Window Mart.

Some steels doors are also offered with an insulated core which

improves their energy efficiency performance. Window Mart, for

HOMEADVICE

25
---
Troubleshooting Why Your Snow

Blower's Auger Won't Turn

There's nothing more frustrating as a snow blower owner than when

you venture out into the cold to clear your property after a winter

storm and your machine doesn't work. Not only are you stuck with a

whole lot of snow to clear and nothing to clear it with, but now you've

got to figure out what's wrong with your once-trusty snow blower.

If the problem is that your snow blower's auger is no longer turning,

there are a few potential causes and we're here to help you troubleshoot

the issue. Thankfully, a few of the causes can be fixed if you have

the proper replacement parts on hand. Check out this list of snow

blower replacement parts so you know which ones you should keep in

your garage or shed, just in case.

Here are six parts that may be the cause of your snow blower's auger

trouble:

Belts

The snow blower's auger is driven by a belt that is engaged by the auger

control lever on the machine's handles. If the auger belt becomes worn

down or breaks, the auger will fail to turn when the control lever is

engaged, and the defective belt or belts will need to be replaced[1] .

Shear Pins

causing further damage to the machine if a chunk of ice or a rock

becomes lodged in the auger housing.

Found along the main auger shaft, shear pins attach the augers to the

shaft and when the shear pins break the affected augers will no longer

turn. If you find that one of your snow blower's shear pins is the cause

of your auger issues, you'll have to install a new pin or pins[2] to get

the auger working again.

Auger Assembly

If you've checked the shear pins on your snow blower and they appear

to be intact, then inspect the auger blades and auger assembly.

Your snow blower's auger blades can become damaged or bent and

may need to be replaced. On certain snow blower models, auger blades

are separate from the assembly and can be changed out individually

when necessary. However, some auger blades are attached to the

assembly, meaning if a blade is damaged then the entire assembly may

have to be replaced.

You might also need to replace the entire auger assembly[3] if it has

become worn out, so check the whole of the assembly for wear and

tear.

Snow blower shear pins are made to break (or shear) in half to avoid

26 HOMEADVICE
---
Gearbox

Your snow blower's gearbox is in the auger housing in the middle of the

machine's two auger blades and uses gears to power the auger shaft. If

the snow blower's drive shaft has power and the shear pins aren't broken,

then the gears may be causing the issue and should be inspected.

Other key indications of a problem with the gearbox are the sound of

grinding coming from the auger housing or the feeling of the augers

jumping while operating the snow blower.

Bearings

Your snow blower's bearings help the auger shaft spin properly and

smoothly within the auger housing. If the bearings become loose,

worn down or seized, the auger may not rotate correctly, and you'll

need to have new bearings installed where necessary.

Auger Cable

The auger drive cable engages the auger when the control lever is used.

If the auger cable stretches or breaks, then the augers won't turn.

In some cases, your snow blower's auger cable can be tightened if it's

just been stretched so it's worth giving that a try. However, if the cable

is broken then a new one is needed for the snow blower to work again.

Learn more at

realhomeadvice.ca

HOMEADVICE

27
---
28 HOMEADVICE

Proud Supporters of The Home

Advice Magazine
---
NOW BOOKING For Our Spring

2023 Edition!

HOMEADVICE

29
---
THE CITY OF CALGARY

This summer visit Tourism Calgary https://www.visitcalgary.com/ for

more information regarding the numerous events ranging from art

shows, concerts, sports events and other organized activities posted

for the summer months of July and August into September.

30 HOMEADVICE
---
Calgary's history goes back to 1787 with the first recorded European

to the area, cartographer David Thompson. Eighty-six years later

the first settler came to the Calgary area, and with that, the late 19th

century grew replete with much history in this region.

The Canadian Pacific Railway arrived in 1883, and the incorporation

and inauguration of Calgary and its first mayor took place in 1884. It

was not until 1902 that oil was first discovered in Alberta, and in 1947

when large oil reserves were found in the province, making Calgary

the centre of the oil boom. Growth has taken place exponentially

since then.

The centre of the city is situated in the south of Alberta and is the

largest city in Alberta. East of the Yoho National Park, Banff National

Part, the Elbow-Sheep Wildland and Peter Lougheed Provincial Park

in Alberta, Calgary lies in an area of foothills and prairie, and sits east

of the Canadian Rockies. Highway one connects the city to Banff and

Highway 2 heads north to Innisfail and towards Red Deer.

A greatly diverse city, Calgary can count over 200 well-planned, safe

and unique "communities" or neighbourhoods in the region. With

Calgary divided into four quadrants – Northwest, Northeast, Southwest

and Southeast Calgary, the Bow River on the north borders the

downtown commercial core; the Elbow River forms the boundary to

the east.

The downtown area is home to the Government, entertainment

districts and retail core along with other neighborhoods – such as the

Downtown West End, East Village and Commercial Core. Other neighborhoods

include Chinatown, Eau Claire and the Beltline – separated

with mostly residential and mixed-use neighborhoods.

The population of the City of Calgary according to its 2019 municipal

census is 1,285,711, a change of 1.4% from its 2018 municipal census

population of 1,267,344. There are a total of 469,874 households and

328, 583 families. The biggest demographic in age group is the 25 to

29 year olds and 30 to 34 year olds. The 35 – 39 year olds along with 40

– 44 year old age group form a large part of the demographics.

The 2019 age distribution estimates the greatest increase in the demographics

will come through the 35 to 44 years olds. Young families

are gravitating towards Calgary's way of life, and populations in other

towns in the region such as Canmore, Okotoks and Strathmore have

contributed towards the fast growing pace of these communities.

Calgary's economy includes energy, financial services, film and

television, transportation and logistics, technology, manufacturing,

aerospace, health and wellness, and retail and tourism sectors. The

region is a major transportation hub for Southern Alberta, Saskatchewan,

BC and parts of northern USA. Statistics Canada defines the

Calgary CMA as including nine municipalities: Calgary and Airdrie,

Rocky View County, Chestermere, Cochrane, Crossfield and Irricana,

the village of Beiseker, and First Nations Reserve – Tsuu T'ina Nation.

According to the Calgary Real Estate Board – CREB®

2020 opens with a slight gain in sales Housing market conditions continue

to follow similar trends to last year, with gains in sales.

At the same time, there have been further reductions in new listings,

inventory and more declines in prices.

January sales activity was 863 units, nearly eight per cent higher than

last year's levels. While sales remained well below January activity

recorded before 2014, they remain consistent with activity recorded

over the past five years.

"A persistent slowdown in the energy sector has resulted in a reset in

many aspects of our economy. This includes the housing market,"

said CREB® chief economist Ann-Marie Lurie.

"We continue to see the slow adjustment to more balanced conditions,

but it will take time before that starts to translate into price

stability."

Citywide unadjusted benchmark prices were $417,100 in January.

This is slightly lower than the previous month and nearly one per cent

lower than last year's levels.

Benchmark prices eased, but there were some modest improvements

in both the average and median prices. This is likely a reflection of

some changes in the distribution of sales.

HOMEADVICE

31