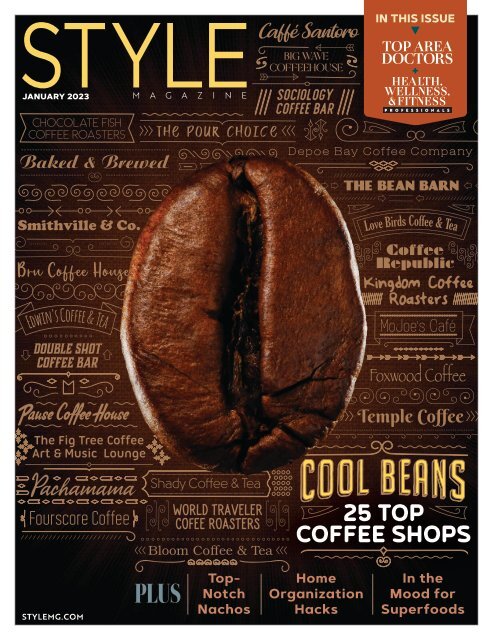 Style Magazine - January 2023
I'll forever be a café connoisseur. From the coffee (of course!) to the décor, and the people to the pastries, I have incredibly specific standards. Walking in, I want the ambiance to be lively but not too loud; music is a must, as are ample outlets and infinite nooks and crannies to cozy up at. Bonus points if they make their own baked goods, have strong Wi-Fi (and even stronger coffee), and stay open late. I won't disclose my favorites, but I will say they're all mentioned in this month's feature, "Cool Beans," where contributor Sharon Penny writes about our region's robust coffee culture. Read her roundup of the top spots and what makes each one buzzworthy—be it a primo patio, house-made syrups, or sustainably sourced beans— starting on page 62. In true new year's fashion, we also have plenty of healthy living content—both physical and mental—this month. Turn to "Get Fit" on page 20 to learn about three elite athletes who live locally, including a skilled cyclist, an Ironman (who was told he'd never run again after a debilitating auto accident), and a young soccer star. Their words of well-being wisdom and stories of stamina are sure to inspire. Finally, in "Clear the Cutter" on page 56, area experts tell us their top tips for "living a life you love to come home to, knowing where all your stuff is, and lessening the load of what's no longer serving you." As someone who lives in a small space with small kiddos (who make big, BIG messes), I can honestly say that having an organized home does indeed create a calming, less chaotic environment; and, like coffee, makes everything better. Cheers! —Megan megan@stylemg.com
I'll forever be a café connoisseur. From the coffee (of course!) to the décor, and the people to the pastries, I have incredibly specific standards. Walking in, I want the ambiance to be lively but not too loud; music is a must, as are ample outlets and infinite nooks and crannies to cozy up at. Bonus points if they make their own baked goods, have strong Wi-Fi (and even stronger coffee), and stay open late. I won't disclose my favorites, but I will say they're all mentioned in this month's feature, "Cool Beans," where contributor Sharon Penny writes about our region's robust coffee culture. Read her roundup of the top spots and what makes each one buzzworthy—be it a primo patio, house-made syrups, or sustainably sourced beans— starting on page 62.

In true new year's fashion, we also have plenty of healthy living content—both physical and mental—this month. Turn to "Get Fit" on page 20 to learn about three elite athletes who live locally, including a skilled cyclist, an Ironman (who was told he'd never run again after a debilitating auto accident), and a young soccer star. Their words of well-being wisdom and stories of stamina are sure to inspire.

Finally, in "Clear the Cutter" on page 56, area experts tell us their top tips for "living a life you love to come home to, knowing where all your stuff is, and lessening the load of what's no longer serving you." As someone who lives in a small space with small kiddos (who make big, BIG messes), I can honestly say that having an organized home does indeed create a calming, less chaotic environment; and, like coffee, makes everything better. Cheers!
—Megan
megan@stylemg.com

SHOW MORE
SHOW LESS
Create successful ePaper yourself
Turn your PDF publications into a flip-book with our unique Google optimized e-Paper software.
JANUARY 2023 M A G A Z I N E

Chocolate Fish

Coffee Roasters

Baked & Brewed

The Pour Choice

Caffé Santoro

BIG WAVE

COFFEEHOUSE

Sociology

Coffee Bar

IN THIS ISSUE

▼

TOP AREA

DOCTORS

+

HEALTH,

WELLNESS,

&FITNESS

P R O F E S S I O N A L S

Depoe Bay Coffee Company

THE BEAN BARN

Smithville & Co.

Bru Coffee House

Edwin's Coffee & Tea

Double Shot

Coffee Bar

Pause Coffee House

The Fig Tree Coffee

Art & Music Lounge

Pachamama

Fourscore Coffee

Shady Coffee & Tea

World Traveler

Cofee Roasters

Bloom Coffee & Tea

Love Birds Coffee & Tea

Coffee

Republic

Kingdom Coffee

Roasters

MoJoe's Café

Foxwood Coffee

Temple Coffee

25 TOP

COFFEE SHOPS

STYLEMG.COM

PLUS

Top-

Notch

Nachos

Home

Organization

Hacks

In the

Mood for

Superfoods
---
'22

stylemg.com
---
LIVE LIFE OUTSIDE

CREATE A WELL-DESIGNED SPACE AND CHANGE

YOUR RELATIONSHIP WITH OUTDOOR LIVING.

4467 GRANITE DRIVE, ROCKLIN CA 95677 I OPEN MONDAY - SUNDAY

TERRAOUTDOOR.COM 916.888.1641 NATIONWIDE SHIPPING
---
| contents |

JANUARY2023

62

74

16

IN THIS ISSUE

20

6 EDITOR'S LETTER

10 ONLINE

12 COMMUNITY

MATTERS

WHAT'S UP

News Around Town

16 THE 10 SPOT

New Year, New You Checklist

20 GET TO KNOW

Spotlight on Athletes

24 ARTS & CULTURE

ARTIST SPOTLIGHT

Masterful Musicians

28 CALENDAR

32 OUTTAKES

Event Pics

38 HEALTH & WELLNESS

In the Mood for Superfoods

42 TAKE A HIKE

UC Davis Arboretum

FOR MORE INFORMATION REGARDING SPECIAL ADVERTISING SECTIONS, CALL 916-308-2400.

4 stylemg.com | JANUARY 2023 | /stylemediagroup /stylemediagroup /stylemediagroup /stylemags

48 KEEP IT LOCAL

EDITOR'S PICKS

Winter Blues

50 COOL STUFF

Travel Gear

51 ASK THE EXPERT

SPECIAL ADVERTISING SECTIONS

43 68

TOP AREA

DOCTORS

HEALTH,

WELLNESS,

&FITNESS

P R O F E S S I O N A L S

52 INTRODUCING

Q&A with Local Companies

56 HOME & GARDEN

Home Organization Hacks

IN EVERY ISSUE:

58 STYLE HOME DESIGN

77 BEST FOOD + DRINK

85 SHOP LOCAL

86 STYLE SAVINGS GUIDE

62 FEATURE

25 Top Coffee Shops

74 EAT & DRINK

DINING OUT

Umami Ramen

76 FOODIE FIND

Pasty Pies of the World

78 SIP ON THIS

Booze Bucket List

80 THE HOT LIST

Top-Notch Nachos

82 RESTAURANT GUIDE

90 LAST LOOK

Where We Live

Cheers to a

healthy, happy new

year from all of us

at Style.
---
Discover Jesuit

GIVE YOUR SON A FOUNDATION FOR LIFE

JesuitHighSchool.org

APPLY NOW | CONTACT US ABOUT TOURS, SHADOW DAYS OR FINANCIAL AID
---
| editor's letter |

One of my first (and favorite!) jobs

was at a coffee shop. Sure, the 5

a.m. shifts were grueling, but I

quickly adapted and even started

to enjoy rising with the sun—

something I still savor today. The

smells (scones baking, coffee brewing) and

sounds (milk frothing, customers conversing),

mixed with all the regulars and their adjectivefilled

orders (medium, iced, sugar-free caramel,

oat milk, half-caf latte), made for mornings that

were full of both familiarity and fun.

Though my coffee shop career is over, I'll

forever be a café connoisseur. From the coffee

(of course!) to the décor, and the people to the

pastries, I have incredibly specific standards.

Walking in, I want the ambiance to be lively but not too loud; music is a must, as are

ample outlets and infinite nooks and crannies to cozy up at. Bonus points if they make

their own baked goods, have strong Wi-Fi (and even stronger coffee), and stay open

late. I won't disclose my favorites, but I will say they're all mentioned in this month's

feature, "Cool Beans," where contributor Sharon Penny

writes about our region's robust coffee culture. Read

"Live life her roundup of the top spots and what makes each one

today like buzzworthy—be it a primo patio, house-made syrups,

or sustainably sourced beans— starting on page 62.

there is

In true new year's fashion, we also have plenty of

no coffee healthy living content—both physical and mental—this

tomorrow." month. Turn to "Get Fit" on page 20 to learn about

three elite athletes who live locally, including a skilled

—Meik Wiking, cyclist, an Ironman (who was told he'd never run again

The Little Book after a debilitating auto accident), and a young soccer

of Hygge

star. Their words of well-being wisdom and stories of

stamina are sure to inspire.

Check out "In the Mood for Superfoods" on page 38 for 13 staples to keep stocked,

along with some palatable preparation ideas. One of the suggestions, lentil soup, is

one of my family's current favorites.

Finally, in "Clear the Cutter" on page 56, area experts tell us their top tips for "living

a life you love to come home to, knowing where all your stuff is, and lessening the

load of what's no longer serving you." As someone who lives in a small space with

small kiddos (who make big, BIG messes), I can honestly say that having an organized

home does indeed create a calming, less chaotic environment; and, like coffee, makes

everything better. Cheers!

—Megan

megan@stylemg.com

@meggoeggowaffle

Shop Local...Where it Matters.

#ShopLocal #SupportLocalBusiness #CommunitySupportingCommunity

Photo by Dante Fontana.

6 stylemg.com | JANUARY 2023 | /stylemediagroup /stylemediagroup /stylemediagroup /stylemags
---
WHAT MAKES

A GREAT

MATTRESS?

CHELSEA GLIDER*

European certified natural

and organic components

Ergonomic German

engineering

Handcrafted in California

Luxurious, lasting comfort

Exceptional value

GLIDER

The Relaxer recliner program from IMG offers unsurpassed comfort with high quality and space efficient design.

The Relaxer gives you glide, reclining, swivel as well as adjustable headrest support and integrated footrest. The

Come in for a personal fitting!

Expert staff- non commissioned

IMG Relaxers are made with Cold-Cure Molded Foam Cushioning. This unique space-age technology

ensures comfort, body correct support as well as durability. Our Relaxer gives you gliding, reclining and

swiveling functions, as well as new motorized neck, headrest and lumbar support functions.

Chelsea

Model

Now in!

Designed and Engineered in Norway

RG, RM, *RMS199 Chelsea compact size with chaise

RG, RM, *RMS299 Chelsea standard size with chaise

RG, RM, *RMS399 Chelsea large size with chaise

BENEFITS

NORWEGIAN QUALITY. All IMG products meet

the highest quality standards. The reclining

mechanism with integrated footrest is made by the

largest specialized mechanism supplier in the

world. The construction is based on a hard wood

and steel frame with IMG's unique molded foam.

IMG of Norway

MANY UNIQUE COMFORT FUNCTIONS.

The IMG Relaxers offer five different built-in

functions:

• Swivel

• Effortless reclining and adjustable back rest angle

• Foldable footrest

• Gliding / rocking function

• Adjustable head and neck support

Supremely comfortable,

Norwegian COLD-CURE MOLDED FOAM. engineered…

This spaceage

material encases the interior steel frame and

sinuous springs, allowing for body-friendly

personally curvatures to be covered with fit glove-fitted for upholstery. body

This guarantees absolute comfort and durability.

correct LUXURIOUS FEEL ergonomic

AND TOUCH. A layer of soft

high resilient polyurethane foam with fibers

ensures a luxurious feel and extra softness.

support. Recliners, sofa,

loveseat, lift chairs.

3 DISTINCT SIZES AVAILABLE – WITH THE

SAME DESIGN. All IMG relaxers are available in

different sizes to assure a perfect fit for your

comfort requirements.

ADJUSTABLE HEAD AND NECK SUPPORT.

Exclusive adjustment system that allows your head

and neck to rest in an infinite number of comfort

positions. It can easily be adjusted by a handgrip.

GLIDER/ROCKING LOCKER

IMG Relaxers can be delivered with a mechanism that

makes it possible for the user to lock the

gliding/rocking function.

WARRANTY. Ten years on steel frame and wood

frame breakage as well as moulded foam collapsing.

Five years on mechanisms and moving parts

breakage. Two years on leather and fabric covers.

Two years on motors, craftsmanship, other materials

and parts. See warranty policy for more details.

JANUARY 2023

PUBLISHERS

Terence P. Carroll, Wendy L. Sipple

EDITOR IN CHIEF

Megan Wiskus

ASSOCIATE EDITOR

Bella Nolen

CONTRIBUTING WRITERS

Kourtney Jason, Ryan Martinez, Caitlin McCulloch,

Heather L. Nelson, Sharon Penny, Emily Peter-Corey

ART DIRECTOR

Gary Zsigo

SENIOR DESIGNER

Ray Burgess

STAFF PHOTOGRAPHER

Taylor Gillespie

ADVERTISING DIRECTOR

Theresa Arnold, 916-308-2400

ADVERTISING SALES REPRESENTATIVES

JoAnn DeLise, 916-918-3822

Debbie Newell-Juhos/Newell & Associates, 916-365-3537

Lisa Wolf, 916-390-7761

ACCOUNTING MANAGER

Kathleen Hurt

OFFICE ADMINISTRATOR

Cathy Carmichael

WEB CONSULTANT

Ken White, Ixystems

CUSTOMER SERVICE ASSOCIATE

Jarrod Carroll

In Memoriam

Debra Linn

ASSOCIATE PUBLISHER 2005-2022

Printed on recycled paper.

Please recycle this magazine.

Owners,

Jill & Chip Huckaby

180-360° Swivel Gliding/

Integrated footstool Effortless reclining

Rocking function

Mattresses | Pillows | Furniture | Bedding

Adjustable headand

neck support

Lumbar support

6606 Folsom Auburn Road

Folsom, CA

916-989-8909

sleepdesign.com

Locally owned and operated since 2002

909 MORMON STREET, SUITE 104

FOLSOM, CA 95630

TEL 916-988-9888 • FAX 916-596-2100

©2023 by Style Media Group. All rights reserved. STYLE is a registered

trademark of Style Media Group. Material in this magazine may not be

reproduced in any form without written consent from the publishers. Any

and all submissions to STYLE become the property of Style Media Group and

may be used in any media. We reserve the right to edit.

Subscriptions to STYLE are available.

Email info@stylemg.com for more information.

8 stylemg.com | JANUARY 2023
---
?

What's

your

order?

Financing available

Luxury Fine Jewelry

Custom Design

Bridal Ring Specialist

Watch Battery &

Jewelry Repairs

Jewelry Appraisals

FREE

go-to

coffee shop

Now Open!

Come

Visit Us!

To celebrate Kevin's birthday,

come in for a

"A brewed coffee with oat milk; or, when

it's hot out, a cold brew. Not terribly

exciting, I know, but a delicious roasted

coffee can shine on its own!

—Gary Zsigo

"A half-caf latte with almond milk. Too

much caffeine makes me jittery, but

this gives me a small, but muchneeded,

kick!"

—Caitlin McCulloch

"I'm absolutely enamored with Chocolate

Fish Coffee Roasters' mango tango tea.

I know it's not 'coffee,' but it's from a

coffee shop…and is so good!"

—Wendy Sipple

"Any kind of coffee that's iced and

includes salted caramel is my go-to,

even in the winter months."

—Kourtney Jason

"A good ol' café Americano—or three!—

with no room for cream!"

—Ryan Martinez

GENERAL DERMATOLOGY

LASER TREATMENTS

Rosacea | Tattoos | Wrinkles

Brown Spots | Hair Removal

Clear and Brilliant ®

BODY CONTOURING

BodyTite

CoolSculpting ®

Emsculpt ®

Thermage ® Skin Tightening

COSMETIC DERMATOLOGY

Botox ® | Fillers | Kybella ®

EVOKE Facial Contouring

FaceTite Facial Contouring

Ultherapy ® Skin Tightening

Microneedling | RF Microneedling

Morpheus8 ® Skin Tightening

AESTHETICIAN SERVICES

Facials | Peels | Waxing

DermaSweep | Microdermabrasion

SKIN CARE BOUTIQUE

Watch Battery

OR

Jewelry Cleaning

Exp. 2/28/23

916-510-2130

618 E. Bidwell St. Folsom

VOTED #1 DERMATOLOGIST

ROSEVILLE/GRANITE BAY/ROCKLIN

"I love house-made syrups, and the

lavender latte from Love Birds Coffee &

Tea is fabulously floral and unique. When

I need a nosh, their gigantic breakfast

wrap never disappoints."

—Heather L. Nelson

JANUARY 2023 | stylemg.com 9

SCOTT B. HEARTH, M.D.

2009-2021

BOARD CERTIFIED IN DERMATOLOGY

UC SAN FRANCISCO FELLOWSHIP TRAINED IN COSMETIC DERMATOLOGY & LASER SURGERY

916.773.3376 • 1535 EUREKA ROAD, ROSEVILLE CA 95661 • GRANITEBAYDERMATOLOGYANDLASER.COM
---
| online |

Find More on the Web This Month

STYLEMG.COM

HEALTHY PANTRY

MAKEOVER

The first step to healthy eating is ensuring you have

healthy ingredients. Pantries, in particular, tend to be

stocked with sugar-laden, highly processed products,

as opposed to good-for-you, filling foods. Wondering

what to fill yours with? We asked Tasha Rosales, certified

nutritionist at Wellness Homemade (wellnesshomemade.

org), for 7 pantry staples to always have on hand. Read all

about 'em on our website.

"HAPPY" NEW YEAR

Raise your hand if you want to literally have a

"happy" new year. According to Lynn Lok-Payne, local

resident and author of Speak This Not That: Positive

Affirmations to Have a Better Day, it's possible (and

easier!) than you might imagine. Head online for her

5 steps to feeling more joyful today, and every day.

Joolies photo by Tyler Nix Creative. "Happy" New Year photo Carlos David - stock.adobe.com.

10 stylemg.com | JANUARY 2023
---
Picture Perfect photo by Jared Monez @monezmedia. The Road Beat photo by Mitchell Weitzman.

THE ROAD BEAT

WE'RE PRETTY SOCIAL.

CONNECT WITH US!

SIGN UP TO RECEIVE OUR E-NEWSLETTER

AT STYLEMG.COM

/stylemediagroup /stylemediagroup /stylemediagroup /stylemags

MISSED SOMETHING FROM A PREVIOUS ISSUE?

Go to stylemg.com and click on the "Digital Editions" icon at the very top to find an

archived collection of the print magazines.

CHECK OUT OUR SISTER PUBLICATIONS

In this month's "The

Road Beat" column,

auto aficionado and

local resident Mitchell

Weitzman takes the

2023 Genesis G90

for a spin and shares

his honest review. "A

theatrical device that

will satisfy anyone's

appetite for the finer

things in life" is just a

sneak peak of what he

has to say about it.

Picture Perfect

Attention budding photographers! Send us

a vertical photo of anything that represents

"Where We Live"—a local park,

hiking or biking trail, body of water, foodie

find, etc.—and tell us why, in 20 words or

less, this photo says it all. Our favorite pics

will appear in an upcoming issue. Send

your submissions to info@stylemg.

com. Ready, set, SNAP!

Real Weddings: start your vendor search here! Local resources (fashion, jewelry, etiquette,

beauty, and of course, real weddings) to entertain, inspire, and help you plan a perfect, stress-free

day. realweddingsmag.com, @realweddings, @realweddingsmag

The Planning Guide: packed with timelines, expert advice, and tips to help keep you on point for

your wedding planning. realweddingsmag.com/guides

Style Savings & Entertainment Guide: coupons, special offers, and information on

businesses in Folsom, El Dorado Hills, Granite Bay, Roseville, and Rocklin. stylesavingsguide.com,

@stylesavingsguide

JANUARY 2023 | stylemg.com 11

STEP INTO THE NEW YEAR

RELAXED & REJUVENATED

WITH ASANTE SPA!

JanuarySpaSpecials

BOOK ANY 80-MINUTE

OR MORE MASSAGE AND RECEIVE A

COMPLIMENTARY HOT STONE ADD-ON

(Regular $20 for stone add-on)

Hot stones allow you to get more from your massage.

The heat from the stones promotes deeper muscle

relaxation. The massage therapist is able to manipulate

deeper into the muscle tissue which leads to greater

relaxation, increased range of motion and reduced pain.

NEW YEAR! NEW SKINCARE SERVICE!

POWER C PEEL FACIAL

Perfect for all Skin Tones and Skin Types

Treatment includes Vitamin C, exfoliating alpha

hydroxy acids and fruit enzymes. These hydrating

ingredients and plant cell extracts will nourish and

brighten all skin types. Only $19.

Asante Spa now carries SkinCeuticals!

10% OFF this month only

MASSAGE • SKIN CARE • WAXING

MEDICAL ENHANCEMENTS • RETAIL PRODUCTS

916.933.8905 • asantespaedh.com

530 Post Court • El Dorado Hills

Asante Spa is open to the general public.

Sports Club members receive preferred pricing.

Specials good through 1/31/2023. Cannot be combined with any other special or discount.

Additional restrictions may apply. Please see Asante Spa for further details.

the

best

part

of

your

day

FOR
---
| community matters |

#What'sUp?

by MEGAN WISKUS

New Coming Soon

&

The Placer Wine Trail welcomed Smokin' Barrel Winery to 3700 Wise Road in

Lincoln. Known for their relaxed outdoor country ambiance and unique range of

varietals—from complex reds to well-balanced whites—they're open weekends

from noon-5 p.m. For more info, follow them on Instagram @smokinbarrelwinery.

Order from Folsom-based Something

Sweet (somethingsweetdough.com) and

receive frozen, ready-to-bake brown

butter chocolate chip cookie dough with

semi-sweet and milk chocolate chips.

Pick-up and delivery are available with

nationwide shipping beginning this month.

Started by the Cook family after their dad

unexpectedly passed away, the cookies

are meant to honor him and his legacy.

A new pastry shop is coming to 1490

Eureka Road, Suite 170, in Roseville.

Pastry Nouveau—owned by Julian

Perrigo-Jimenez of Julian's Pâtisserie

and Café (julianscafe.com) in Folsom—

will serve coffee and scratch-made,

French-inspired breakfast pastries.

Savor handcrafted, preservative-free

chocolate and bonbons at Choco de Bon

(chocodebon.com) in Roseville. The onlinebased

business uses high-quality ingredients

to create luxurious-looking treats with fillings

like pistachio, hazelnut, peanut, and caramel.

Diamond Tier Fitness (diamondtierfitness.

com)—a premier studio that offers

one-on-one and small-group classes

(including bodybuilding and CrossFit)

via varying membership packages, in

addition to customized nutrition programs

and an app that allows members to

take their trainer anywhere—opened

at 501 Vernon Street in Roseville.

A made-to-order, all-you-can-eat sushi

restaurant with over 200 choices, It's

Sushi, is slated to open soon at 5030

Foothills Boulevard in Roseville. The

eatery is owned by Fukumi Restaurant

Group (fukumirestaurantgroup.

com)—a locally based business

that also operates Fukumi Ramen

(locations in Roseville and Citrus

Heights) and Fukumi Chaya in Folsom.

Downtown Roseville is welcoming a

new speakeasy and steakhouse to 229

Vernon Street. Daniellos—owned by

Michael McDermott of The Place—

will operate as a penny candy store

from its façade, but behind a large

refrigerator door feature a speakeasystyle

bar serving unique cocktails and

tapas. Upstairs, a tasting-menu-style

steakhouse with one seating per night

(by reservation only) is planned.

Mode Brewing (modebrewing.com)—a

kid- and dog-friendly neighborhood

brewery with a 2,000-square-foot patio,

"the getaway," that's shaded by oak trees

and features picnic tables, a game area,

and koi pond—opened at 9110 Greenback

Lane in Orangevale. What's more, their

in-house food truck, Pasta a la Mode,

makes handmade pasta, paninis, and

pizza with a globally inspired twist.

Photos courtesy of their respective companies or organizations.

12 stylemg.com | JANUARY 2023 | /stylemediagroup /stylemediagroup /stylemediagroup /stylemags
---
Locally owned Palette Cakes (palettecakes.

com) is opening a retail bakery this spring

at 7901 Fair Oaks Boulevard, Suite C,

in Carmichael. Owner Kellie Velasquez

plans to serve treats like individual tarts,

cream puffs, cookies, cakes, and more, in

addition to expanding her pre-ordering

department to offer more custom cakes

and desserts for holidays, birthdays,

weddings, and other special occasions.

Red Hot Chilli Pepper (rhcpfolsom.com), a multicultural fusion restaurant founded

by chefs from India's renowned Taj Hotels, opened at 2791 East Bidwell Street, Suite

100, in Folsom. Their eclectic menu reflects the finest in Indo-Chinese cuisine

(specialties include chilli chicken, dry cauliflower manchurian, and hakka noodles)

alongside innovative cocktails like their lychee martini and spiced buddha margarita.

VOTED BEST

CARPET

CLEANING

SERVICE

2009 • 2010 • 2011

2012 • 2013 • 2014

2015 • 2016 • 2017

2018 • 2019 • 2020

2021 • 2022

Call Today For Your

FREE ESTIMATE

916 933-7807

www.CartersCarpet.com

Palette Cakes photo by Denise Apgar. Other photos courtesy of their respective companies or organizations.

Placer County-based coffee-shop-onwheels,

Dino Coffee Bar, serves the

community fresh-brewed java and specialty

espresso drinks at various events. The

recently refurbished 6'x10' cargo trailer is

a unique place for community, creativity,

and—of course—coffee! For more info,

follow them on Instagram @dinocoffeebar.

Rocklin has a new nail spa at 5424 Crossings

Drive, Suite 103. Lumi Spa specializes in

rejuvenating services—including manicures,

pedicures, gels, and waxing—using ecofriendly,

non-toxic products. For more info,

follow them on Instagram @lumi_spa_rocklin.

Expect "expertly crafted foot treatments,

fragrant regional products, and a beautifully

designed interior featuring comfortable

leather chairs, dark woods, tin ceilings, low

lighting, and old-fashioned saloon doors"

at Aquazona Pedicure Parlor & Mercantile

(aquazonapedicure.com). Sited in Historic

Folsom at 705 Gold Lake Drive, the

business is scheduled to open this spring.

JANUARY 2023 | stylemg.com 13

A CLEAN HOME IS A HEALTHY HOME

$ 30

OFF

10 %

OFF

$ 30

OFF

CARPET REPAIRS

OR

RE-STRETCHING

AREA RUG

CLEANING

RESTORATIVE STEAM CLEANING

SO MUCH MORE THAN JUST

CARPET CLEANING

Carpet• Tile & Grout • Hardwood • Upholstery

PET ODOR REMOVAL EXPERTS!

RESTORE ORIGINAL SHINE TO HARDWOOD!

*ask for details

TILE & GROUT

OR

CLEAN & SEAL CLEANING

*MIN. 300 SQ. FT ask for details

Min. charge applies.

Please present coupon at time of

service. Not valid with any other offers.

916 933-7807

Min. charge applies

Area Rugs Cleaned Off-Site.

Please present coupon at time of

service. Not valid with any other offers.

916 933-7807

10 %

$ 40

OFF

PET ODOR

REMOVAL

Min. charge applies.

Please present coupon at time of

OFF service. Not valid with any other offers.

81 916 933-7807 81

81

WOOD FLOOR

Please present coupon at time of service. No coupon redemptions

after work is completed. No coupon refunds mailed. Not good with

any other offer. Call today!. 916 933-7807.

DRY STEAM

CARPET CLEANING

Min. 1000 SQ FT OR

$25 OFF Min. 750 SQ FT.

Please present coupon at time of

service. Not valid with any other offers.

916 933-7807

2006-2013

2012

2006-2013

81

81
---
| community matters |

People & Places in the News

Folsom Lake College (flc.losrios.edu) broke ground on a nearly $65 million,

75,000-square-foot building that will house the community college's science

programs and include a 4,000-square-foot science center, six chemistry labs, and

six biology labs. Construction is expected to be complete in November 2024.

Join American River Conservancy

and welcome positive energy into

2023 on a New Year Cleanse Hike to

the South Fork of the American River

on January 14 from 11 a.m.-12:30 p.m.

Well-behaved children of all ages and

leashed dogs are welcome on the 2.5-

mile journey. Meeting location is in

the Pilot Hill area, and pre-registration

is required; visit arconservancy.

org/event/new-year-cleanse-hike.

Charm Photography (edhportraits.com),

owned by Charlene Lane—who has

been capturing professional images of

families, children, and weddings, along

with taking business portraits since

1988—relocated her brick-and-mortar,

Charm Studio Loft, to 4364 Town

Center Boulevard, Suite 215, in the El

Dorado Hills Town Center. Along with

her new location, which has triple the

space as the existing locale, comes new

offerings and video production services.

Congrats to Placerville and Folsom

for making MSN's list of the "Best,

Most Lively Northern California

Main Streets." Winners were chosen

based on walkability, access to

restaurants, cafés, shopping, and

historic buildings. Placerville took the

top spot, and Folsom came in seventh.

Folsom residents and business owners

whose properties have a history of

flooding are encouraged to avail of

complimentary sandbags and materials

at the city's two self-serve stations: next

to Fire Station 36 (9700 Oak Avenue

Parkway) and behind the Folsom City

Hall (50 Natoma Street). For more

info, visit folsom.ca.us/sandbags.

Congrats to this year's Folsom

Focus Photography Contest

first-place winners—Donna Ruiz,

Dayla Esrock, David Telfer, and

Lynn Meyer-Mountjoy—and "Best

of Show" winner, Lynn Sakai.

Selections were judged based on

visual appeal, pictorial composition,

originality, and consistency with

the contest category theme. Peruse

the winning pictures and all the

submissions through January 10

at the Gallery at 48 Natoma.

Those affected by cancer are invited

to join reiki masters Alison Clement

and Jennifer Fiterre on January 6

at Cameron Park's Marshall Cancer

Resource Center (3581 Palmer Drive,

Suite 400) for Tranquil Journeys—a

complimentary class where attendees

explore self-help stress-reduction

methods, such as acupressure, energy

healing, guided imagery, poetry,

mantras, and Tibetan singing bowls.

To register, call 530-672-7050.

The city of Roseville was named

18th among the "Top Boomtowns

in America" in a recent study by

SmartAsset. The financial technology

company analyzed data for 494

of the largest cities across topics

measuring growth of the population,

income, GDP, businesses, housing,

and changes in unemployment.

Folsom Lake College photo courtesy of Folsom Lake College. Best Most Lively Main Streets photo by Menka Belgal. Folsom Focus Best of Show, Bon Appetit by Lynn Sakai. Charm Photography photo by Charm Photography.

14 stylemg.com | JANUARY 2023 | /stylemediagroup /stylemediagroup /stylemediagroup /stylemags
---
The

10

Spot

Go for

the Goals

NEW YEAR, NEW YOU CHECKLIST

It's not too late if

you've yet to make your

new year's resolutions.

Here are 10 goals to set

your sights on—all with

a local recommendation

to help jump-start your

journey.

1

MAKE MUSIC

No matter your age,

picking up and learning how

to play an instrument is a

great way to challenge your

brain, be creative, and

boost your sense of self

and overall well-being.

Learn Here

Bach to Rock, 82

Clarksville Road, Suite 100,

Folsom, 916-265-2600,

bachtorock.com/folsom

2 EARN

YOUR

GREEN THUMB

Plants and flowers bring

peace and calm into your

by EMILY PETER-COREY

yard (or home), so invite that

same peace and calm into

your life by taking a

workshop in things like

"Floral 101" or "Kokedama

Design."

Learn Here

The Artisan Greenhouse,

702 Sutter Street, Suite

D, Folsom, 916-790-8696,

theartisangreenhouse.com

3 BECOME A

WINEMAKER

We live in an area ripe with

wineries, but you don't have

to own a vineyard to make

your own. Consult with

experts on how to blend the

perfect bottle for your

precise palate.

Learn Here

Willamette Wineworks,

824 Sutter Street, Suite

200, Folsom, 916-542-7417,

willamettewineworks.com

4 MAKE A

SPLASH

It's never too late to learn

how to swim or better your

backstroke and butterfly—

not to mention how

important water safety is.

Get a few lessons under

your belt before summer

comes and you start hitting

the water.

Goals checklist photo ©DedMityay - stock.adobe.com. Other photos courtesy of their respective companies or organizations.

16 stylemg.com | JANUARY 2023 | /stylemediagroup /stylemediagroup /stylemediagroup /stylemags
---
BROKEN

BACK

IN THE

GYM

CHOOSE THE CARE THAT

CHANGES YOUR STORY.

When an accident left Evan with a

broken back and an X-ray that showed

he may never walk again, his UC Davis

Health orthopedic surgeon and physical

therapists refused to give up on him.

Driven by an unfailing care plan and

nonstop determination, today Evan is

back on his feet and back in the gym.

EVAN

PATIENT – SPINAL

RECONSTRUCTION

Find a UC Davis Health doctor you

connect with today.

ChooseHealth.ucdavis.edu
---
NEW YEAR, NEW YOU CHECKLIST

Learn Here

Steve Wallen Swim

School, 1230 Glenhaven

Court, Suite 100, El Dorado

Hills, 916-939-7075; 10608

Industrial Avenue, Suite 150,

Roseville, 916-794-7977,

wallenswim.com

5

GET YOUR

GUARD UP

No matter your strength,

learning self-defense provides

you with the necessary skills

and knowledge to fight off

unwanted attacks. Plus it

imparts important values and

principles, such as hard work,

dedication, and perseverance.

Learn Here

THE STUDIO Martial Arts

& Fitness, 8200 Sierra

College Boulevard, Suite D,

Roseville, 916-258-5425,

trainatthestudio.com

6

TAKE FLIGHT

A goal not for the faint

of heart but for those looking

for a bit of a thrill, flying

teaches attention to detail

and critical thinking and is

available to all skill levels.

Learn Here

Adventure Flight,

1878 Flightline Drive,

Lincoln, 866-644-4072,

adventureflight.net

7

SAY YES TO

YOGA

If your life is constantly on

speed dial, it may be the

prime time to press pause and

pull out your mat. Yoga is

an excellent exercise for

calming your mind,

building strength, and

literally learning how to "go

with the flow."

Learn Here

Serenity Spa | Soul

Yoga, 350 Palladio Parkway,

Suite 1975, Folsom, 916-

542-7363; 3984 Douglas

Boulevard, Suite 150,

Roseville, 916-797-8550,

serenityspaonline.com

8

COOK UP A

STORM

Whether you need to start

from scratch with the

basics or hone your skills,

there's always something to

learn in a cooking class. It

may be a new-to-you

technique or dish, but

either way, your loved ones

will surely thank you.

Learn Here

Murer House & Learning

Center, 1125 Joe Murer

Court, Folsom, 916-413-9231,

murerhouse.org

9

LET'S DANCE

Regardless if you want

to learn for fun or a special

occasion, dancing—whether

solo, with friends, or a

partner—teaches you a

variety of skills and brings

plenty of joy and laughter.

Learn Here

Arthur Murray Dance

Centers, 220 Blue

Ravine Road, Suite 100,

Folsom, 916-895-5600,

arthurmurrayfolsom.

com; 4770 Rocklin Road,

Rocklin, 916-655-7733,

arthurmurrayrocklin.com

10

A HEART FOR

ART

With a variety of mediums,

taking up art offers ample

options for you to explore.

Whichever you choose—

watercolor, photography,

ceramics—make sure to

think outside the box and

put your own stamp on it.

Learn Here

Placerville Arts

Association, locations vary,

placervillearts.com

Photos courtesy of their respective companies or organizations.

18 stylemg.com | JANUARY 2023 | /stylemediagroup /stylemediagroup /stylemediagroup /stylemags
---
SPECIAL

KISSABLE 8 YEARS IN A ROW!

2015-2022

VOTED AS

BEST VETERINARY PRACTICE

AND BEST VETERINARIAN

BRAD CAHOON, DVM

$64

DENTAL CHECK-UP

NORMALLY A $74 VALUE - SAVINGS OF $10!

+ 20% OFF DENTAL SERVICES

CALL TO RESERVE TODAY! VALID THROUGH 1/31/23

LIMITED NUMBERS OF THIS SPECIAL OFFER ARE AVAILABLE

"Hands that Heal, Hearts that Care"

MEET OUR VETS

DR. HOLLY

DR. CAHOON

E L D O R A D O H I L L S 5 3 0 . 4 4 4 . 2 1 6 6

2222 FRANCISCO DRIVE, SUITE 150 VETHEALINGELDORADOHILLS.COM
---
get to know

Get Fit

Spotlight on

Athletes

by EMILY PETER-COREY

It's a new year, and we have a sneaking

suspicion that you may have made a

resolution to get fit. To help you stick

with it, we gathered advice from three

local athletes across myriad activities.

Although they may seem intimidating (in

a good way!), their advice is simple and

straightforward—and their stories inspiring.

Shawn Remy ‣

Shawn Remy, the store manager at Bob's Cycle

Center in Roseville, has been the "king of stoke" at

Giant Bicycles for the past four years. Cycling has

been his main discipline for the past 17 years; this

year, he's planning to go cross-country mountain

biking along with road and gravel racing—all while

being supported by his daughters, Torrance and

Tegan, and fiancé, Erin.

When did you first become interested in fitness?

I first showed interest in cycling when I was young

while watching my cousins race mountain bikes.

It looked so awesome! Although I participated in

many sports throughout childhood (roller hockey,

baseball, football, aggressive inline skating, and

skateboarding), it wasn't until my early 20s when I truly

picked up cycling as a lifestyle, followed by pursuing

mountain biking in 2019.

What aspects of fitness are you most interested in?

I love how fitness has been the truest form of therapy

over the years. Great music, paired with a great

workout, helps me tackle life's toughest challenges

with the most positive mental attitude possible.

What are your top fitness tips?

Listen to your body, eat healthy, and remember that

recovery is key.

What's the first thing someone can do to begin a

fitness routine?

Start small; building your way up to something big

makes all the difference!

Photo byKyle Thornhill.

20 stylemg.com | JANUARY 2023 | /stylemediagroup /stylemediagroup /stylemediagroup /stylemags
---
get to know

Devyn Chambers

Devyn Chambers may only be a freshman at Oakmont High

School, but she already has a lot of sports experience under her

belt. She started playing soccer when she was just five years old

and has competed competitively for the past seven. In February

of last year, she took up track and field; last summer, after just

mere months of practice, she placed fourth in long jump (in

her age group) at the 2022 National Junior Olympic Track &

Field Championships. When not competing, you can find her

spending time with friends or reading a good book.

When did you first become interested in fitness?

I've always been interested in it! My parents have always

encouraged me to try different sports to see which ones I like and

want to [pursue]. Besides track and soccer, I've also participated

in gymnastics, martial arts, lacrosse, basketball, golf, and softball.

What aspects of fitness are you most interested in?

The social part of working out and how it makes me feel. Most of

the activities I've participated in are team-oriented, and I enjoy

having friends who are interested in the same sport. We all push

each other to be better, and the friendly competition makes it

fun. I also like how working out makes me feel. I find it satisfying

knowing I've gone out on the field or the track and really pushed

myself.

What are your top fitness tips?

Just start! And then slowly interval your way up (for example,

slowly increase weights or reps and go for longer periods of

time). Also, find an activity you like so it doesn't feel monotonous.

What's the first thing someone can do to begin a fitness

routine?

Create a reasonable plan or objective and find something you

enjoy.

22 stylemg.com | JANUARY 2023

Bob Gitsham

Folsom resident and Ironman Bob Gitsham is a lifelong athlete

and credits it for saving his life. He was gravely injured in a serious

car accident just over three years ago and used his passion for

the sport as motivation to leave the hospital. At home, Gitsham

likes to spend time with his wife, Jennifer, two sons, Owen and

Cheyne, and daughter, Mia.

When did you first become interested in fitness?

I've always been active and played sports growing up, including

football in college. About five years ago, I took my fitness to

another level and got in triathlons—followed by Ironmans. After

my accident, I was in the hospital for 40 days, five of which were

in a coma, and I didn't walk for six months.

What aspects of fitness are you most interested in?

I like to see how far I can push myself, hence doing Ironman

events, which consist of a 2.4-mile swim, a 112-mile bike ride, and

a marathon (26.2 miles). Doing those races not only challenges

me physically but more so mentally.

What are your top fitness tips?

Eat clean, get good sleep, and be disciplined in being consistent

with working out.

What's the first thing someone can do to begin a fitness

routine?

Put your beer or wine down, get off the couch, and go for a walk

three or four times a week, and then build off that.

Photos courtesy of each athlete.
---
| arts & culture |

Pitch Perfect

SPOTLIGHT ON

MUSICIANS

by HEATHER L. NELSON

Our region is blessed with a plethora of

multifaceted musicians who truly delight

in bringing their passion for music to the

community. Here are four noteworthy

performers to watch.

P

icking up the violin for the first time

in middle school, Fara Elizalde's

talent led her to perform in community

orchestras throughout the Bay Area and

Sacramento; eventually, she became one

of the founding members of the Folsom

Lake Symphony where "the players have

fun and support one another while being

Fara Elizalde

INSTRUMENT: Violin

challenged to rise to higher

levels of musicianship."

What attracts you to the

violin?

The power that can

emanate from this small

piece of wood never ceases

to amaze me. As they say in

the Harry Potter series, "the

wand chooses the wizard."

The violin is versatile—it

reaches down to mellow,

warm tones yet can also

soar to much higher,

clearer notes.

What challenges have

you faced?

I knew music would

always be an important

part of my life, yet I

chose a corporate career

path. Finding a balance

between my professional

life and the time I'd like to

devote to practicing can

be challenging. At times,

I must compromise the

quality of my violin playing to keep up

with work and family life.

Any tips for beginning musicians?

Don't worry so much about the elusive

quest for perfection or how others will

judge your abilities. Smile while you play,

and practice, practice, practice!

Francesca Anderson

INSTRUMENT: Flute

C

onsidering accomplished

flutist Francesca Anderson's

teachers in high school and college

were major influences in her

music, it's fitting that she also

enjoys teaching. "My students make

me proud every year with their

accomplishments; many of them

have been accepted into local and

state honor bands and the

Sacramento Youth Symphony."

You learned to play the flute

when you were nine years old.

What do you love most about it?

From classical symphonic groups

and rock bands, to beat boxing and

jazz, the flute can do it all! Making

music with my colleagues is also

[incredibly] rewarding.

What has been a noteworthy

performance?

I feel blessed every time I can

perform. When the audience loves

a performance and reacts with

loud applause and a standing

ovation, it's the best feeling. I

hope everyone has a chance to

experience the power and magic of

a live musical performance.

Any advice for aspiring flutists?

Playing with peers is essential. Join

your school band, local orchestra,

a private youth symphony, or the

Sacramento Flute Club.

Fara Elizalde photo by Charlene Lane. Francesca Anderson photo by Taylor Gillespie ©stylemediagroup.

24 stylemg.com | JANUARY 2023 | /stylemediagroup /stylemediagroup /stylemediagroup /stylemags
---
| arts & culture |

C

ustomarily seeing

cellos in an orchestral

setting, Jennifer Yen has

had the esteem of

performing Tchaikovsky's

Symphony No. 5 at

Sheldonian Theatre in

Oxford, as well as

Beethoven's 6th Symphony

"Pastoral" at Carnegie Hall.

However, Yen has also

joined rock bands on stage,

bringing depth to their pop

melodies. "The cello can

produce a wide range of

rich sounds…you can play

it lyrically and

symphonically."

When did you begin

playing?

I started my first private

lesson when I was four and

a half years old. I come

from a musical family—

my mom is a classical

pianist, my dad is a

retired violinist, and my

sister an accomplished

cellist. Growing up, we

played music together

and performed at

local churches and

community centers.

What performance

are you most excited

about this year?

Alon Goldstein's Rite

of Spring performance

on April 22 at the

Harris Center. This

will be his second

time collaborating

with [the Folsom Lake

Symphony].

Jennifer Yen

INSTRUMENT: Cello

Greg Lamy

INSTRUMENT: Trombone

S

tarting with the piano

and trumpet in third

grade, Greg Lamy later found

his zeal for the trombone in

high school, where he was

one of two musicians from

California selected as a

member of the McDonald's

All-American High School

Band. "There's a thrill

making an inanimate object

'sing,' and it's pretty special

when you get that feeling of

really being locked in on a

piece or a specific section—

especially in an ensemble."

What attracts you to the

trombone?

I love that it's a constant

challenge to find the right

partials on the slide and

to make the sound what

I want it to be. Having no

fixed settings (like on the

baritone) ups the difficulty

level significantly, especially

on fast sections. Music is

an interesting combination

of both technical (reading

notes, instrument fingerings,

etc.) and artistic, which can

conflict with each other at

times.

You're a member of the

Folsom Lake Symphony.

What do you like most about

performing with them?

It's a perfect opportunity to

continue to play, learn, and be

a part of something special.

While most of the members

are still active with musical

careers (teaching, performing,

etc.) those of us who love to

play but have chosen different

paths can still participate.

Before I joined, I hadn't really

played my instrument for

about 20 years and really

missed what had been such

a big part of my life. With

the symphony, it's up to

me to be at the level of the

other musicians—a constant

challenge that I'm more than

willing to take on.

Jennifer Su Yen photo by Charm Photography. Greg Lamy photo by Taylor Gillespie ©stylemediagroup.

26 stylemg.com | JANUARY 2023 | /stylemediagroup /stylemediagroup /stylemediagroup /stylemags
---
Best Mortgage

Broker 2019-2022

MORTGAGE BROKER

Faster Easier More Affordable

JOHN ARNAZ

CA DRE #01314400

NMLS #350241

As a 30 year resident of Folsom, whether you need to purchase or refinance your home, I will

work directly with you and your family offering you access to the best rates nationwide.

"John has been handling our families' mortgage needs for more than 15 years. There is no

better mortgage provider and consultant in the business - he gets us the absolute lowest rate

every time." -Frank Visconti

CALL US

TODAY!

" There is no better mortgage provider…

916-496-1919

888 Farley Court | Folsom, CA 95630

arnazfinancial.com | NMLS #1803704/CA DRE #02077955

"

Arnaz-Financial-Best-Mortgage-Style-Half-1022.indd 1

9/16/22 2:10 PM
---
| arts & entertainment |

Crocker Kingsley

JANUARY

January is National Soup Month

CALENDAR

by BELLA NOLEN

1

Crocker Kingsley. Don't miss this

biennial national exhibition—a

collaboration between the

Crocker Art Museum and the

Kingsley Art Club—featuring 134

selected pieces chosen from over

2,000 submissions at Blue Line

Arts. Gallery hours are Tuesday-

Saturday from 11 a.m.-5 p.m. or by

appointment. bluelinearts.org

(THROUGH 14)

2

Bring on the Bubbles. Bring your

dog to Rocklin's Dogtopia from 7

a.m.-6 p.m. for a New

Year's photo shoot.

A $10 donation

to the Dogtopia

Foundation will

allow you to take

some festive photos

while using fun holiday

props. dogtopia.com/rocklin/

events/bring-on-the-bubblesnew-years-photoshoot

(THROUGH 5)

Stormy Weather. Visit the Gallery

at 48 Natoma for this beautiful

exhibit featuring watercolor

paintings by Juan Pena, pastels

by Marianne Woosley, and glass

Waves by

Barbara Grauke

works by

Barbara Grauke.

Admission is free.

folsom.ca.us/

government/

parks-recreation/

facilities/gallery-at-

48-natoma/exhibits

(THROUGH 12)

Tibetan Buddhist Monks Culture

& Arts Tour. Don't miss this

annual spiritual event where

Tibetan monks share their arts

and culture with the community.

El Dorado Federated Church will

host many of the events, including

dharma talks, meditation

Dogtopia of Rocklin photo by Maci Leitaker. Stormy Weather photo by the

Gallery at 48 Natoma. Crocker Kingsley photo courtesy of Blue Line Arts.

28 stylemg.com | JANUARY 2023 | /stylemediagroup /stylemediagroup /stylemediagroup /stylemags
---
workshops, blessings, and a children's story time. Admission

is free. placervillefriendsoftibet.org

(THROUGH 14)

A DEVELOPMENT BY

7

New Year's Duathlon and 5K Run/Walk. Start

the new year off by participating in this TBF Racing

event at Granite Beach in Folsom. Choose between

a duathlon course for individuals (or two-person

relay teams) or a 5K trail run. Start times vary.

totalbodyfitness.com/site/races

Tibetan Tour photo by Wendy Wood. TBF New Years Duathlon photo by Bill Driskill. Rising Stars photo by VITA.

8

Rising Stars of Chamber Music. The

Harris Center is hosting this group

of talented young musicians from

around the nation. Beginning

at 2 p.m., watch them perform

chamber music classics, such as

Nielsen's Woodwind Quintet and

Debussy's Sonata for flute, viola,

and harp. harriscenter.net

13

Cripple Creek Band. Experience a combination of Americana, bluegrass,

traditional country, and Southern rock at the Auburn State Theatre. Riding

the high of their 10th anniversary, the Cripple Creek Band will perform

their latest album, Last of a Dying Breed—a high-energy performance full

of original songs, rockin' guitar riffs, and more—beginning at 7:30 p.m.

auburnstatetheatre.org

14

IPA Beer 5K/12K Trail Run. Enjoy some boozy fun at this run beginning at

Folsom's Granite Beach. Registration fees come inclusive of a celebratory

brew (for racers 21+) at the finish line, hot food, and awards for each

division. The 5K begins at 8 a.m. and the 12K at 8:05 a.m. totalbodyfitness.

com/site/races

JANUARY 2023 | stylemg.com 29
---
| arts & entertainment |

Words + Music. Visit the

Auburn State Theatre to

experience three award-winning

songwriters—Laurie Lewis, Don

Henry, and Claudia Russel—

perform in a Nashville-style song

circle. With stunning voices,

thought-provoking lyrics, and a

rich variety of musical genres,

this exciting collaboration is one

to remember. The show begins at

7:30 p.m. auburnstatetheatre.org

Family Yoga. Bring the family to

the Roseville Sports Center for

a gentle yoga class meant to

improve balance and flexibility

at 11 a.m. Ages three and up

are welcome and mats will be

available. roseville.ca.us/residents/

city_events/be_well_roseville

Alexander and the Terrible,

Horrible, No Good, Very Bad

Day. This popular tale—

produced by the Roseville

Theatre Arts Academy—about

Alexander's worst day will not

only entertain but educate

young audiences, as they

identify with him and the

obstacles he encounters,

encouraging them to share their

feelings and realize that bad

days happen. Show times vary.

rosevilletheatreartsacademy.

com

(THROUGH 22)

18

It's in the Bag. Don't miss

this fundraiser from 6-8:30

p.m. at the Blue Goose Event

Center featuring dinner, table

games, drawings for designer

purses, and door prizes.

Proceeds support Soroptimist

International of Loomis Basin's

education projects, which lead

to economic empowerment

for women and girls.

soroptimistloomis.com/purse23

20

Keyboard Conversations with

Jeffrey Siegal. Enjoy the romantic

music of Chopin live at the

Harris Center at 8 p.m. The

brilliantly polished concertwith-commentary

format

features lively, captivating

remarks alongside

virtuoso performances of

piano masterpieces and

concludes with a fast-paced

Q&A. harriscenter.net

21

Preview of the Arts. Head

to Blue Line Arts from 4-8 p.m.

for a preview of the artwork

going into Lottery for the Arts,

a fundraiser that provides art

enthusiasts and collectors an

opportunity to acquire original

works by professional and

emerging artists—all while

raising money for art education

programs. bluelinearts.org/event/

preview-night-lottery-for-the-arts

Queen Nation. "Is this the real

life, or is it just fantasy?" Head

to Auburn State Theatre at 7:30

p.m. to celebrate the legend

of Queen with Gregory Finsley,

whose voice is an uncanny

match to that of Freddie

Mercury. auburnstatetheatre.org

Masterworks II: Symphonic

Journey. Celebrate the joys

of music with the Auburn

Symphony and guest violinist

Chase Spruill—who has gained

an international reputation as

a performer of contemporary

music—at Placer High School's

auditorium. Saturday's

performance begins at 7:30 p.m.

Family Yoga

with a special pre-concert talk at

6:45 p.m.; Sunday's show starts

at 3 p.m. with a pre-concert talk

at 2:15 p.m. auburnsymphony.com

(ALSO 22)

24

China Before Communism.

Witness the beauty of Shen

Yun—a world-renowned classical

Chinese dance company—live at

the Harris Center. The educational

performance is filled with

vibrant costumes and backdrops,

alongside classic stories of love,

faith, heroism, and resilience.

Tuesday's show starts at 7:30

p.m. and Wednesday's at 2 p.m.

harriscenter.net

(ALSO 25)

27

Commentaries in Cloth. Head

to the Gallery at 48 Natoma for

this exhibit featuring quilts by

the Pixeladies and sculptures by

Susan Else. Through April 3, small

art quilts from Quartz, a group

from the Folsom Quilt and Fiber

Guild, will also be on display.

folsom.ca.us/government/

Crossing Points by Susan Else

parks-recreation/facilities/

gallery-at-48-natoma/

exhibits

(THROUGH APRIL 6)

28

Folsom Jazz Festival. Listen to

some of the biggest talent in jazz

at this 34th annual competition

at Folsom High School. The

exciting, family-friendly day

of entertainment will include

hundreds of middle school and

high school jazz bands, vocal

jazz choirs, and jazz combos

from all over California and

Nevada. folsommusic.org/

folsomjazzfestival

Preview of the Arts photo by Blue Line Arts. Family Yoga photo by City of Roseville. Folsom Jazz Festival photo by Lisa Michele Photography. Commentaries in Cloth courtesy of the Gallery at 48 Natoma.

30 stylemg.com | JANUARY 2023 | /stylemediagroup /stylemediagroup /stylemediagroup /stylemags

Find more events at stylemg.com/calendar
---
Expires 7/2 023

General, Cosmetic,

Implant, & TMJ Specialty

Full Face Orthodontics

• Growth Appliances (ARA)

• Controlled Arch Braces (CAB)

• Sleep Apnea/Airway

• MicrO2 Sleep Appliance

• Clear Aligners

General & Family Dentistry

• Cosmetic Dentistry

• Porcelain Veneers/Crowns/

Bridges

• Implant Placement &

Restoration

• Partial/Dentures

Neuromuscular Dentistry

• Neuromuscular Orthotic

• TMJ/TMD

• CT Scan, EMG's, T-Scan, TENS

• Full Mouth Reconstruction

Cosmetic/Spa Dentistry

• Botox/Fillers

• Lasers for:

• skin resurfacing

pigmented lesions

• wrinkle removal

• acne treatment

• skin tightening

• hair removal

SAME DAY CROWNS

ACCEPTING NEW PATIENTS

Granite Bay Dental Spa

Call today to schedule

916-800-5001

Come see our

NEW LOCATION!

www.BabanMahalDDS.com

5280 Douglas Blvd., Granite Bay, CA 95746
---
| arts & culture |

Outtakes

FOLSOM WOMEN'S

CONFERENCE

Palladio, Folsom

NOVEMBER 17

At this sold-out event, whose theme was

"HER" (hear, empower, revive), hundreds

of women throughout the region enjoyed

an inspirational, empowering day full of

networking, dynamic speakers (including

best-selling author Christy Wright), pop-up

shopping, giveaways, an Arthur Murray

dance break, and a hosted happy hour.

PHOTOS BY JACOB CANTU OF VOYAGE CREATIVE AGENCY

FESTIVAL OF LIGHTS

Main Street, Placerville

NOVEMBER 25

An estimated 10,000 people attended

this annual holiday event that featured

street vendors, food trucks, a visit from

Santa, regional celebrity entertainment

(including performances by two past

stars from The Voice: Shane Q and Jaclyn

Lovey), Christmas songs by faith-based

musicians, and more.

PHOTOS BY STEVE MARTINEZ OF PLACERVILLE MARKETING

32 stylemg.com | JANUARY 2023 | /stylemediagroup /stylemediagroup /stylemediagroup /stylemags
---
| arts & culture |

Outtakes

HOLIDAYS IN THE HILLS

Placer County Wineries

DECEMBER 3-4

Attendees—many adorned in

"lumberjack Christmas" attire—sipped

and shopped their way around the

Placer Wine Trail while listening to live

music, enjoying food truck fare, festive

treats, and more. Ticketholders were

asked to donate a new, unwrapped toy

to Toys for Tots.

PHOTOS BY HEIRLOOM PHOTOGRAPHY BY ANNE

BARKTOBERFEST

Johnson-Springview Park,

Rocklin

OCTOBER 22

The Placer SPCA, in partnership with

the City of Rocklin, hosted this 10th

annual event featuring dog-friendly

vendors, a biergarten, food trucks, live

music, canine contests, and more.

PHOTOS BY NIKKI ALLEN

34 stylemg.com | JANUARY 2023 | /stylemediagroup /stylemediagroup /stylemediagroup /stylemags

If you know of any events happening in the area, or have photos you would

like to share with us, please submit them to info@stylemg.com. For more

Outtakes photos, visit stylemg.com.
---
Make Your Fitness

Resolution...

A REALITY

We've got you covered!

Keeping fitness resolutions can be hard. Sometimes

you need support and inspiration to accomplish

great things.

At Spare Time Sports Club, we help you achieve

your health and fitness goals with an amazing selection

of programs, led by the most talented and supportive

group of instructors and trainers.

JOIN TODAY

and make your

fitness resolution

come true.

UP

save $ /MO.

TO 20

FOR A FULL 12 MONTHS

Help me find my

happy face.

FREE FITNESS CONSULTATION AND SESSION

WITH A CERTIFIED TRAINER!

CARDIO • WEIGHT TRAINING • GROUP EXERCISE • BOOTCAMPS

PERSONAL & SMALL GROUP TRAINING • YOGA • PILATES • TENNIS • PICKLEBALL

LAP SWIMMING & AQUA CLASSES • SOCIAL EVENTS • CHILDREN'S SPORTS & FITNESS

CHILDCARE ...AND MUCH MORE!

the

best

part

of

your

day

FOR

BECOME A CASA VOLUNTEER

Children in foster care who have a CASA volunteer

are more likely to succeed in school and adjust to

change. And they're half as likely to re-enter the

foster care system later. As a volunteer, you can

make all the difference for a child who has

experienced abuse or neglect in your community.

Get involved today.

www.casaeldorado.org

Broadstone Sports Club

Folsom • 983-9180

Johnson Ranch Sports Club

Roseville • 782-2600

El Dorado Hills Sports Club

El Dorado Hills • 933-4929

Gold River Sports Club

Gold River • 638-7001

PLUS 3 OTHER AREA LOCATIONS!

sparetimesportsclubs.com

Offer expires January 31, 2023 and is a first visit joining incentive. Annual savings requires

12-month agreement. Other membership offers available. See Club for details. Requires a

one-time $29 initiation fee. Cannot have been a member in the past 31 days to be eligible.

Cannot be combined with other membership offers. Other restrictions may apply.
---
Photo by David Grenier

BROADWAY IS BACK!

Grease

Presented together with

La Mirada Theatre for the Performing

Arts & McCoy Rigby Entertainment

FEBRUARY 16-19

Bursting with hits including "Summer Nights,"

"Greased Lightnin'," "Hopelessly Devoted to You,"

and "You're the One That I Want," this exciting new

production reignites the energy and joy of the show for

a new generation.

Simon & Garfunkel Story

THURSDAY, JANUARY 19

A nostalgic multimedia experience with a full

live band performing all the hits including "Mrs.

Robinson," "Cecilia," "Homeward Bound," and

more.

The Marshall Tucker Band

FRIDAY, JANUARY 27

A typically rich MTB setlist includes hits like "Heard

It in a Love Song," "Can't You See," "Fire on the

Mountain," "Long Hard Ride," and "Ramblin'," to

name but a few.

TOWER OF POWER

Winter 2023

FEBRUARY 9

SOLD OUT!

SOLD OUT!

SOLD OUT!

Folsom, CA

HARRIS CENTER

FOR THE ARTS

CELEBRATING 55 YEARS

WWW.TOWEROFPOWER.COM

National Geographic Live!

Keith Ladzinski

Force of Nature

THURSDAY, March 9

Voctave

SATURDAY, MARCH 25

Voctave's 11-member a cappella ensemble is

known for its gorgeous performances of Disney

and Broadway hits and millions of

social media fans.

David Doubilet &

Jennifer Hayes

Coral Kingdoms and

Empires of Ice

THURSDAY, May 11

Rae Wynn-Grant

Secret Life of Bears

THURSDAY, March 30

Ladies Night with

Taylor Dayne & Sheena Easton

SUNDAY, APRIL 30

9 Grammy Award nominations, 2 Grammy Awards,

2 Billboard Music Awards, 1 American Music Award,

6 Platinum albums, 5 Gold albums, 39 Billboard top

20 singles, and 11 Billboard #1 singles.

Tickets on sale now! Available online or call the box office:

HarrisCenter.net (916) 608-6888
---
| health & wellness |

In the Mood for

Superfoods

Healthy Diet Essentials

by KOURTNEY JASON

While there's no universal definition of superfoods, typically they're

nutrient-dense foods that nourish our bodies, protect our cells, and

prevent us from getting sick. According to Michele Lites, RD, CSO, at

Kaiser Permanente Roseville Radiation/Oncology Department, "the

easiest way to pick a superfood is by the color. Vibrant hues (orange,

purple, green, deep red, etc.) indicate the fruit or vegetable is rich in

nutrients. While most superfoods are available year-round, shopping

when they're in season will offer the maximum flavor and nutritional

benefit." In addition to a well-balanced diet, eating superfoods on a

regular basis can help shield against heart disease, cancer, and many

other chronic medical conditions, [along with] strengthening the

immune system and decreasing inflammation, says Zachary Brewer,

MD, a cardiologist with Dignity Health Mercy Medical Group. Here are

13 healthy diet must-haves to add to your shopping cart.

ROOT VEGETABLES

"[Root] vegetables—like carrots, beets,

turnips, rutabagas, and parsnips—are

full of vitamins and minerals and can

be the star of many dishes," Lites says.

"Let your air fryer create colorful,

tasty fries; or roast [root veggies] with

extra virgin olive oil, sea salt, and

freshly ground pepper (and make

extra to purée and use as the base for

hearty soups)."

WINTER SQUASH

"Winter squash should be a staple on

your table, because they're versatile

when making soups, smoothies,

side dishes, and on-the-go snacks,"

Lites says. "They also make great

decorations because they don't

require refrigeration and can adorn

a table or porch before they're eaten.

Pumpkin, acorn, butternut, Hubbard,

and Delicata are just a few of the

winter squash varieties that can be

made into sweet or savory dishes.

All contain a plethora of nutrients,

including vitamins A and C, fiber,

and potassium. Try adding squash to

curries or stews for a unique flavor

and as a potato stand-in."

Photo © iMarzi - stock.adobe.com.

38 stylemg.com | JANUARY 2023 | /stylemediagroup /stylemediagroup /stylemediagroup /stylemags
---
DINING WITH US - Indoors or on the Patio

ONLINE ORDERING - Delivery or Take-Out

CATERING - for your special events

LARGE GROUP RESERVATIONS

We Help Build

Local Businesses

DECEMBER 2022

DIRECT MAILED TO 40,000 HOUSEHOLDS IN FOLSOM & EL DORADO HILLS

INSIDE THIS ISSUE:

• DINING OUT

• WHAT TO DO

WHEN YOU BUY FROM A

SMALL BUSINESS, YOU'RE

SUPPORTING YOUR

COMMUNITY.

#SHOPLOCAL

#SUPPORTLOCALBUSINESS

StyleSavingsGuide

Voted #1 Best

Swim School

in Folsom & El Dorado Hills!

erilian

Fine Jewelers

Your neighborhood jeweler offering

quality fine jewelry since 2003

Holiday Sale

25% to 60% oFF

Thank you for voting us

#1 BEST FINE

JEWELRY

STORE

Affordable

Core Vaccines

Rabies DHPP Bordetella

$33 $33 $33

AND MORE!

Happy Holiday Season

from THAI PARADISE

We are happy to serve you

in Folsom ThaiParadisefolsom.com in El Dorado Hills ThaiParadiseEDH.com

(916) 984-8988 2770 E. Bidwell St. #100 (916) 939-0389 4361 Town Center Blvd. #110

STEVE WALLEN SWIM SCHOOL , PAGE 4 BERILIAN FINE JEWELERS , PAGE 2 VETERINARY MEDICAL CENTER , PAGE 4

THAI PARADISE , PAGE 8

What's better than watching

your child laugh? Knowing that

very same smile is perfectly

healthy and well taken care of!

Our goal at Dimples Pediatric Dental

is to provide your child with excellent

oral health care throughout their

infant, child and adolescent years.

Learn more at:

DIMPLESPD.COM

40,000 Homes

At A Time!

The Style Savings &

Entertainment Guide is

mailed to 40,000 homes

in Folsom and El Dorado

Hills every month.

Tong Thai Bistro Owner, Thaweep

Suksakol, holding up the redeemed

coupons from his first ad in Style

Savings & Entertainment Guide!

Rohini Rattu, DDS

Board Certified Pediatric

Dental Specialist

(916) 260-5127

1665 Crekside Dr. Ste 103, Folsom

PRAIRIE CITY

LANDING

With our residents and staff

vaccinated, our Events,

Dining and Fitness programs

are now open and vibrant!

Truly Independent Living with Assisted

Living Services plus Memory Care

Spacious, light-filled 1 and 2 bedroom

condominium-style apartments

Fully equipped full-sized kitchens

Washer and dryer in every unit

Assisted Living Services are available

in every apartment

No second person fee for couples

COME

TOUR OUR

COMMUNITY

TODAY!

Want us to help you

do more business?

Call Theresa at

916-308-2400 or email her

at theresa@stylemg.com

645 WILLARD DRIVE

FOLSOM, CA 95630

SCHEDULE YOUR ON-SITE TOUR!

916-458-0303

www.prairiecitylanding.com

Please call us before visiting.

RCFE LICENSE # 342700370
---
| health & wellness |

LENTILS

"Lentils are a plentiful source of iron and

folate and contain ample amounts of

protein, fiber, and magnesium. Because

of their high protein content, they're a

great replacement for animal proteins. To

prepare them, make a one-pot lentil soup

with olive oil, garlic, onions, and turmeric

(plus broth and other seasonings); and

serve it with rice or your choice of bread

for dipping," Dr. Brewer says.

FIELD GREENS

"Field greens (collard, mustard, and/or

turnip greens) are abundant in winter

gardens, offer robust flavor, and can

become a hearty main dish. "Try blanched

greens as an appetizer or as a sturdy wrap

(similar to grape leaves used in Greek

dolmas); and don't miss out on the savory,

nutrient-rich broth (pot liquor) made

when the greens are boiled," Lites says.

BROCCOLI + BROCCOLI SPROUTS

"Like most high-performing greens,

broccoli is rich in carotenoids, which

help your body rid itself of harmful

compounds. It's also the only

green veggie with a high level

of sulforaphane, which flushes

cancer-causing chemicals from

the body, making it a champion

among superfoods. Other

benefits? Increased heart health,

possible increases in cognitive

functioning, reduction in tumor

growth, and improved digestion," says

Pamela Connor, functional medicine

nutritionist at Connor Wellness Clinic.

Kathryn MacLean, MS, RD, in Health

Food and Nutrition Services at UC Davis,

suggests adding broccoli sprouts "to salads,

sandwiches, wraps, stir-fries, and grain

bowls; using them as a garnish on things

like avocado toast; or putting a handful into

smoothies with, or instead of, other greens."

KALE

"Kale is high in vitamins A and C, iron,

quercetin, and kaempferol, but low in

calories. Looking for an easy way to

prepare this superfood? Make chips!

Drizzle the kale with olive oil, add a

sprinkling of salt, and bake until it's [crispy]

for a delicious snack," Dr. Brewer says.

KIMCHI

"Kimchi contains probiotics—healthy

bacteria that's present in the gut. And

gut health is important to overall health,

since over 70% of immune cells reside

there, meaning the health of your gut can

be directly tied to how well you fight off

infection. Kimchi can be added to eggs

or put on salads or sandwiches for extra

spice and crunch!" says Whitney Parkinson,

MPH, RDN, at Marshall Medical Center's

Diabetes and Nutrition Education Clinic.

GREEN TEA

"Green tea is another favorite superfood

of mine," Parkinson says. "It contains

flavonoids, which act as antioxidants in

the body and can fight cancer and lower

inflammation. I love having a hot cup of

green tea or a matcha latte on a cold day.

Beware of added sugar in matcha lattes,

however, and always ask for the no sugar

or half-sweet options."

GARLIC

"With an abundance of bioactive

compounds that have a variety

of benefits, garlic is antibacterial,

antiviral, and antifungal. It's also

been shown to be anti-inflammatory,

immune modulating, and

neuroprotective. What's more, it can

protect against cancer, lower blood

pressure and cholesterol, and aid in

better blood sugar regulation. It's also

rich in prebiotic fiber, which supports a

healthy gut microbiota," MacLean says.

"After chopping, mincing, or crushing it,

let the garlic sit for 10 minutes to allow

some of its beneficial compounds to

become more heat-stable. Use it to add

flavor and nutritional benefit to soups,

sauces, stir-fries, and other savory

dishes; or incorporate raw garlic into

homemade salad dressings, marinades,

pesto, hummus, and other dips."

GINGER

"Ginger is one of my favorite

superfoods and is often overlooked. It

supports our immune system, which is

imperative during cold and flu season,

and aids in digestion," Parkinson says.

"I love adding raw ginger to smoothies

or teas, but you can also use it as a

seasoning for meats like chicken or

duck."

TURMERIC

"Besides bringing a vibrant color to

curries and other dishes, turmeric

has been linked to numerous health

benefits, thanks to its active ingredient

of curcumin, which studies suggest

can help fight inflammation, stabilize

blood sugar levels, and prevent cancer

cell growth," Connor says. "Be sure to

pair turmeric with black pepper, as it's

been shown to enhance curcumin

absorption by up to 2,000%."

CHIA SEEDS

"Chia seeds are rich in fiber (four

grams per tablespoon), which

helps you feel full, keeps you

regular, assists with keeping

cholesterol in check, and can help

prevent large blood sugar spikes

after meals. They're also a

good source of omega-3 fatty

acids, which are beneficial

for cardiovascular health and

have an anti-inflammatory

effect in the body. In addition,

they're rich in a variety of

antioxidants," MacLean says.

She recommends adding a couple

tablespoons to a smoothie, oatmeal, or

yogurt bowl. Another option? "Mix one

tablespoon of chia seeds with three

tablespoons of water and let it sit for 10

minutes to make a 'chia egg,' which you

can use to substitute for all or some of

the eggs in baked goods."

WATER

"Water is usually not considered by

most as a food; however, it is critical to

survival. The FDA classifies a 'food' as

an essential part of one's diet that we

cannot live without," says Tracy Toms,

RD, and certified diabetes educator

at Dignity Health Heart and Vascular

Institute of Greater Sacramento. "Bottom

line: Make sure to consume adequate

amounts of water instead of juice, soda,

and sweetened beverages."

Photo © Andrii - stock.adobe.com.

40 stylemg.com | JANUARY 2023 | /stylemediagroup /stylemediagroup /stylemediagroup /stylemags
---
TOTAL VISION CARE

EYEWEAR

EYEWEAR

DR. SHAWN McDONALD

OPTOMETRIST

2802 MALLARD LN.

PLACERVILLE

www.drmcdonald.com

(530)626-8440

Board Certified in in in

Treatment and

Management of of of Ocular

Diseases. Member of of of

Both American and

California Optometric

Association

'22

stylemg.com
---
| health & wellness |

UC Davis Arboretum

by RYAN MARTINEZ

LOCATED IN:

Davis.

DISTANCE:

3.6-mile loop.

DIFFICULTY LEVEL:

Easy.

KNOW BEFORE YOU GO:

Avoid parking on the UC Davis

campus; instead, avail of the

free, 90-minute parking along

1st Street or other free parking

lots nearby. On weekends,

parking is free at the Garrod

Drive lot on the west end of

the trail. Many people run and

cycle the loop, so expect to

share the trail—or break out

your running shoes or bike

and join them! Dress in layers,

bring water and binoculars,

and Leave No Trace.

WHY WE LOVE IT:

When the temps are low

with lots of snow eastward,

a beautiful urban hike with

plenty of flora and fauna is a

great way for the whole family

to soak up some vitamin D.

FUEL UP:

Hit up one of several food

vendors or trucks at the

Davis Farmers' Market

(davisfarmersmarket.org)

on Saturdays (year-round,

rain or shine, from 8 a.m.-1

p.m.) and Wednesdays (3-6

p.m. through March; 3-7

p.m. beginning in April). One

of our favorite purveyors?

Kathmandu Kitchen—a

cornerstone in the community

known for their modern

interpretation of classic Indian

cuisine and insistence on using

high-quality, fresh ingredients.

For more information, visit

alltrails.com/trail/us/california/

uc-davis-arboretum-trail.

Take a Hike

1

4

5

7 8

6

Photo 1 by Tamika Cooper @mika1693. Photos 2, 3, and 8 by @ad_astra21. Photos 4 and 6 by UC Davis Arboretum and

Public Garden. Photo 5 by Sharon Hanks. Photo 7 by @yaninalucy.

2

3

BIRDING

101

How seriously you take

birding is up to you but

paying attention to the ones

around you will deepen

your experience outdoors,

relieve anxieties, and is

a fun game (how many

sightings can you count?).

Here are some tips.

1

Use shape to identify

family. While there are

many species of birds,

identifying its general

shape will help you

put it into a family of

species; for example:

accipitridae (hawks,

eagles, and kites) or

anseriformes (ducks,

geese, and waterfowl).

2

Check behavior. Is

it scurrying up a

tree, hopping on the

ground, or circling

overhead? These

behaviors will help you

identify.

3

Season. Some birds

look so similar that the

only way to identify

them is by knowing

which ones appear

during which season.

Local guidebooks

will give you this

information.

4

Field marks. Once

you've checked

the general boxes,

noticing specific

markings on the bird

—maybe a white

circle around the eye

or a striped pattern on

its tail—will help.

Do

you have a

favorite trail in the

region you'd like to see

featured? Tell us all

about it at

info@stylemg.com.

42 stylemg.com | JANUARY 2023 | /stylemediagroup /stylemediagroup /stylemediagroup /stylemags
---
SPECIAL SECTION

TOP AREA

DOCTORS

Advances in medicine happen at an astonishing speed, and thankfully, our community has highquality

health care providers who are helping to drive these medical advances forward. The

accomplished medical professionals on the pages that follow have made an impact through

education, leadership, innovation, and genuinely caring for their patients. Style invites you to

celebrate them for their achievements in medicine and in the community.

NUANCE COSMETIC

SURGERY

DR. KEN SUMIDA

COSMETIC SURGERY AND SKIN FITNESS

1641 Creekside Dr., Ste. 100 // Folsom

916-984-4242 // nuancecs.com

Dr. Ken Sumida and the staff at Nuance

Cosmetic Surgery aim to improve your

natural appearance and reverse some

signs of aging. Nuance offers surgical

and non-surgical procedures, including face lifts,

eyelid lifts, breast enhancements and tummy tucks,

Dysport, restylane, and chemical peels. If you're

not sure if cosmetic surgery is for you, Dr. Sumida

offers complimentary cosmetic consultations allowing

patients to explore the various methods of looking

younger. Dr. Sumida encourages first time patients to

seek out a number of plastic surgeons so they can find

the one where they feel most comfortable. Dr. Sumida

guarantees personal attention to all of his patients.

Dr Sumida added services that you need to

try. EMSCULPT NEO is the first and only noninvasive

body shaping procedure that provides

simultaneous fat elimination and muscle building.

Emsella helps to strengthen the pelvic floor to reduce

stress incontinence. Give Dr. Sumida and Nuance a

call today!

JANUARY 2023 | stylemg.com 43
---
SPECIAL SECTION

REVOLUTIONS NATUROPATHIC

HORMONE BALANCING, SPORTS MEDICINE,

INFECTIOUS DISEASE

254 Gibson Drive // Roseville

916-351-9355 // revolutionsdocs.com

2009-2022

Would you like a doctor who has time to

address all of your questions? Who

combines modern medicine with more

natural, science-based approaches? Who

can run the latest in advanced lab testing to maximize your

potential and increase your chances for prevention of

serious illness? Our team of naturopathic doctors has

helped thousands of people since 2009. While our doctors

use many of the same physical exams and laboratory tests

as medical doctors our intention is to take care of the whole

person, treating the cause of disease, not just the symptoms.

Our expertise covers a wide range of health needs including

gastrointestinal issues, sports injury, autoimmune disease,

detoxification, bio-identical hormones, peri-menopause,

menopause and weight loss. Revolutions Naturopathic is a

family clinic where you, as an individual, are respected in

the process of healing. We believe in a lasting doctor-patient

relationship so you have the knowledge to take charge of

your own health and receive the thorough medical care that

you deserve.

If you would like to meet one of our doctors and learn

more about naturopathic medicine, call 916-351-9355 to

schedule a free 15 minute coordination meeting.

DIGNITY MEDICAL AESTHETICS

NON-INVASIVE ANTI-AGING TREATMENTS

1200 Suncast Lane, Suite 5 // El Dorado Hills

916-939-3889 // info@dignitymed.com // dignitymed.com

The Dignity Team

Missey McCallum, RN,

CANS Certified Aesthetic

Nurse Specialist

Lacey Russo, Patient

Care Coordinator

Jennifer Thomas

RN

Alyssa Wik

Receptionist

Sherellen Gerhart

MD

Diana Zanoni-Potts

MD

Ashley Brown

RN

Sarah Spadavecchia

Receptionist

Haley Phelps

PA-C

Cate Borrego

RN

Carley Thetford

Receptionist

We're celebrating our

17th year of Excellence!

Joty Pabla

PA-C

Kristi McCallum

Medical Assistant

Gretchen Britt

Receptionist

This year marks the 17th anniversary of El

Dorado Hills' favorite medical practice for

treatments to slow the appearance of aging

on the face, neck and body. Dignity Medical

Aesthetics (DMA) was established in 2006 by Missey

McCallum, RN, and Sherellen Gerhart, MD. Dignity

Medical Aesthetics has been the premier medical aesthetic

practice in El Dorado Hills since 2006. They offer services

such as laser and IPL treatments for permanent hair

reduction, removing brown spots and redness, as well as treating

lines, scars and laxity to help provide younger, smoother

looking skin. They offer non-invasive treatments for lifting

the neck or brow and skin tightening. They have options

for Body Contouring, Radio Frequency Microneedling

and Vaginal Rejuvenation. Plus Platelet Rich Plasma

(PRP) injections are offered to naturally help with hair

loss and skin rejuvenation. They are national leaders in injections

of Botox and fillers for relaxing lines, adding volume,

and for lifting facial areas to lessen the appearance of

sagginess and jowls. All new patients receive a complimentary

45 minute consultation to carefully review their medical

history followed by a general overview of treatment

options that can best meet their personal needs for

enhancing their appearance.

By looking at their website (www.dignitymed.com), you

can see examples of most of their treatments and

services. CALL (916) 939-3889 TO SCHEDULE

YOUR COMPLIMENTARY CONSULTATION

AT DIGNITY MEDICAL AESTHETICS.

44 stylemg.com | JANUARY 2023 | /stylemediagroup /stylemediagroup /stylemediagroup /stylemags
---
SPECIAL SECTION

ARNOLD ALMONTE, D.O.

ALMONTE CENTER FOR FACIAL COSMETIC SURGERY

SURGICAL AND NON-SURGICAL

FACIAL COSMETIC PROCEDURES

1420 Blue Oaks Blvd., Suite 100 // Roseville

916-771-2062 // www.DrAlmonte.com

Dr. Arnold Almonte is a Board Certified Plastic Surgeon

whose practice is dedicated to cosmetic surgery of the

face. It is his goal to provide the highest quality in

patient care, with a strong emphasis on patient safety.

He is a gifted and compassionate surgeon, as well as a true artist.

What sets him apart is that he is one of the only plastic surgeons

who performs facial surgery completely under local anesthesia.

This significantly reduces the risk of cosmetic surgery, while still

keeping you very comfortable.

The Almonte Center offers a wide variety of facial cosmetic

procedures including the A-Lift (Dr. Almonte's signature lower

face and neck lift), Eyelid Surgery, Brow Lifts, Fat Transfers

and Renuvion Neck Tightening. The most popular non-surgical

treatments include Botox and Filler to the Cheeks, Under Eyes, and

Lips.

Dr. Almonte is a member of the following prestigious

organizations: the American Osteopathic Association, the American

College of Osteopathic Surgeons, the American Academy of Cosmetic

Surgery, the Osteopathic Physicians and Surgeons of California, and

the Greater Sacramento Osteopathic Medical Association. His business

affiliations include the Placer Business Network, the Better Business

Bureau, and the Roseville Chamber of Commerce. He has achieved

Top Doctor status on www.realself.com, the World's #1 site for

Cosmetic Surgery reviews.

In his spare time Dr. Almonte enjoys spending time with his

wife and three daughters. His interests include running, hiking,

traveling, cooking, playing the piano, and watching professional

sports. His favorite team is the 49ers.

JANUARY 2023 | stylemg.com 45
---
SPECIAL SECTION

ARTUR HENKE, M.D.

PLACER DERMATOLOGY

COMPLETE DERMATOLOGY CARE AND SKIN CARE CENTER

9285 Sierra College Blvd. // Roseville

916-784-3376 (DERM)

placerdermatology.com

Dr. Artur Henke, a board certified dermatologist,

has extensive experience in medical, surgical,

and cosmetic dermatology. He trained at UC

Davis Medical Center, where he was Chief

Resident. Dr. Henke has been a Northern California

resident for 35 years. In 2008, he realized his dream of

building Placer Dermatology & Skin Care Center, a state

of the art dermatology practice in Roseville, California.

Dr. Henke volunteers as Assistant Clinical Professor at UC

Davis, and is an active member of several medical societies,

including the American Academy of Dermatology.

Dr. Henke specializes in the recognition and management

of all types of skin cancer including melanoma, as well as,

pre-cancers, benign skin growths, acne, skin infections,

and skin diseases such as eczema and psoriasis. Dr. Henke

performs surgery on all areas of the body and offers

cosmetic procedures such as Botox. By addressing your skin

condition in a timely and expert manner, Dr. Henke can

alleviate many symptoms and prevent complications. Dr.

Henke looks forward to providing you with his expert care

while addressing your entire family's dermatologic needs in

a comfortable and friendly environment.

Dr. Henke and his wife, along with their two children are

active members of the community and enjoy living in the

area. Thank you for voting Dr. Henke as one of the Best

Dermatologists for 11 years in a row and as a Best Medical

Practice for five years in a row!

DENISE BOGARD, M.D.,

FAARFM, ABAARM

BOGARD HEALTH - WELL AGING MED

ANTI-AGING MEDICINE PRACTICE

508 Gibson Dr., Ste 290 // Roseville

916-781-4300

bogardhealth.com

Dr. Bogard has a long history in the health

field. From an RN to a nurse anesthetist

to an anesthesiologist, she spent almost

40 years in the operating room. She was

exposed to critical care, trauma, obstetrics, lots of on

call hours and sleepless nights. As she entered her 50's

she found her own health starting to decline and sought

out a healthy aging physician. After experiencing the

benefits she sought out the fellowship of regenerative

and healthy aging through the American Academy of

Anti-Aging Medicine.

She opened an office in 2014 and continues to grow

and expand her knowledge into this evolving field of

medicine. Rather than prescribing medications and

bandaging diseases she looks for the "root causes" and

integrates each system in the body together. She also

looks at environmental, genetic and lifestyle factors

which result in "dis-ease". Her continued and expanding

practice utilizes bioidentical hormone replacement,

thyroid and adrenal optimization, GI healing, testing for

heavy metals and IV nutrition and chelation, advanced

lipid testing, and advanced blood sugar testing.

46 stylemg.com | JANUARY 2023 | /stylemediagroup /stylemediagroup /stylemediagroup /stylemags
---
SPECIAL SECTION

Roseville Cardiology is

the premier independent

cardiovascular medical group

serving south Placer county and

surrounding communities

for more than 40 years.

Our goal is to provide our

patients with the full range

of care for heart disease.

Our physicians strive to help

you gain a better understanding

of your heart health.

But don't just take our word

for it—here's what our patients

say about our physicians

and our practice:

"Dr. Lingam is a great listener and very informative.

Couldn't be happier with his care."

"Dr. Fehrenbacher has always been there when my

heart needed him."

"Dr. Go is simply amazing. He makes sure I

understand everything and have all my questions

asked. He goes out of his way to provide an in depth

understanding of my heart issues."

"Dr. Sharma was incredible. She was genuine and

was a breath of fresh air for being another of the few

doctors that really make me feel has an interest in

my medical needs."

"Dr. Sepherdad showed compassion for the recent

loss of my parent and spent time talking through it

with me. I really appreciated his kind words."

"Dr. Ebenezer has gone above and beyond in

providing care for me and I feel truly blessed that he

is my doctor. Thank you Dr. Ebenezer!!!"

"Dr. Peters always very knowledgeable and

proactive… I felt seen and heard!"

Two Medical Plaza Drive, Suite 175 // Roseville

916-782-2146 // 916-742-1376 // rosevillecardiology.com

685 Twelve Bridges Road, Suite D // Lincoln

916-916-644-3148 // rosevillecardiology.com

11971 Heritage Oaks Place, Suite 7/8 // Auburn

530-368-8001 // rosevillecardiology.com

"Dr. Yadlapalli is always very thorough! Good bedside

manner. Very personable and easy to relate to."

"Dr. Garg is fabulous and I recommend her."

"Dr. Menon is great to work with. He was responsive

to my concerns and needs. I feel I will be well taken

care of."

About RCMA: "Best doctor's office by far. Excellent

service by all."

JANUARY 2023 | stylemg.com 47
---
| editor's picks |

Blue Line Arts Rockin' Logo T-Shirt, $25

at Blue Line Arts, 405 Vernon Street, Suite

100, Roseville, 916-783-4117, bluelinearts.org

WINTER

BLUES

by MEGAN WISKUS

Blues Hog

Original

Barbecue

Sauce, $8.99

at Emigh Ace

Hardware,

4560 Post

Street, El

Dorado Hills,

916-934-

5600, emigh.

com

C70 Ceramic Pourover Brewer, $26

at Chocolate Fish Coffee Roasters,

25055 Blue Ravine Road, Folsom, 916-

358-9950, chocolatefishcoffee.com

Orijen

Freeze-

Dried

Original

Dog

Treats,

$13.99 at

sBarkles,

850 East

Bidwell

Street,

Suite 150,

Folsom, 916-

984-0102,

sbarkles.

com

Holly Yashi Piper Earrings,

$70 at Rainbow Bridge

Jewelers, 721 Sutter Street,

Folsom, 916-985-7618,

rainbowbridgejewelers.com

We Are the Light by Matthew

Quick, $27.99 at Face in a Book,

4359 Town Center Boulevard, Suite

113, El Dorado Hills, 916-941-9401,

getyourfaceinabook.com

Pendleton Men's Plaid

Board Shirt, $174 at The

Clothes Mine, 60 Main

Street, Suite 2, Sutter

Creek, 209-267-0417,

theclothesmine.com

2023 Mercedes-Benz GLA 250, $49,930+ at

Mercedes-Benz of El Dorado Hills, 1000 Mercedes

Lane, El Dorado Hills, 916-741-4253, mbofedh.com

Dr. Bronner's Pure-Castile Soap,

$19.49 at Sunrise Natural Foods, 1950

Douglas Boulevard, Roseville, 916-789-

8591; 2160 Grass Valley Highway, Auburn,

530-888-8973, sunrisenaturalfoods.net

Rosemary + Wildflowers

Smudge Stick, $19 at Fig +

Ivy Collective, 307 Lincoln

Street, Roseville, 916-540-

7634, figandivycollective.com

HOKA Stinson

ATR 6 Trail-Running

Shoes, $170 at The

Aid Station, 927 Lincoln

Way, Auburn, 530-745-4153,

auburnaidstation.com

Johnnie Walker Blue

Label, $239.99 at

Rocklin Bottle Shop,

5060 Rocklin Road,

Suite A, Rocklin,

916-824-2726,

rocklinbottleshop.

com

Photos courtesy of their respective companies or organizations.

48 stylemg.com | JANUARY 2023 | /stylemediagroup /stylemediagroup /stylemediagroup /stylemags

Items subject to availability and prices subject to change.
---
Photo: Dry Creek Joint Elementary School District

In the modern world, being able to understand and engage with technology isn't

just good to have -- it's a necessity. The fastest-growing job sectors are related to

science, technology, engineering and math (STEM), and 60 percent of college

majors require a math background.

Rocklin State Preschool

Placer County schools lead the way when it comes to high-quality and robust STEM

education. Students master critical thinking, resilience, problem-solving,

collaboration and confidence -- vital 21st Century skills needed for our future

workforce. It's no wonder Placer County is #GoldinEducation.

Innovative STEM programs that prepare students for the future.

Placer County students outperform the state by almost double

in the California Science Test (CAST).

Yours in education,

Placer Union High School District

Gayle Garbolino-Mojica, Placer County Superintendent of Schools

WWW.PLACERCOE.ORG
---
NOW OFFERING

ONLINE VIDEO

LESSONS

MUSIC LESSONS

FOR ALL AGES

• Private Lessons

• Rock Band

• Group Classes

• Early Childhood

Classes

• Birthday Parties

• Full Recording

Studio

• Record a Demo

• Summer Camps

(916) 265-2600

82 Clarksville Rd.

#100, Folsom

folsom.b2rmusic.com

Kids that play music get

better grades in school.

COOL STUFF

Bon Voyage

Must-Have Travel Gear

by TERRY CARROLL

I've travelled enough in my lifetime

to circle the planet more than 100

times. Something I became keenly

aware of early on was the importance

of great carry-on luggage, as well as

other items that make travel easier.

Keep in mind this is coming from a

"man's" perspective, but these items

crossover to the feminine side quite

smoothly. Here are my must-haves.

Carry-On Luggage

Without a doubt,

the Tumi Alpha

Continental

Expandable

4-Wheeled Carry-On

is the Rolex of luggage.

I can travel for three

to seven days with this bag, and bring slacks,

a jacket, jeans, shoes, toiletries, socks, and

undergarments—well, pretty much everything.

It's perfectly compartmentalized and will last

forever, thanks to a great warranty and local

direct dealers for support. IMO, it's "the" bag to

have, and worth every penny. $925, tumi.com

Toiletry Bag

The Eagle Creek

Pack-It Reveal

Hanging Toiletry Kit

is my favorite. I've been

carrying one of their

older versions for more

than 25 years, and it's

all I need, whether it's an overnight or two-week

trip. It has a place for everything, is durable, and

a pleasure to use. $30, eaglecreek.com

Jeans That Fit

Just Right

I can't tell you how many

meetings I've attended

wearing black jeans

(jet black, of course),

a collared shirt, sports

jacket, and loafers. They're

not for every meeting, but work for many. The key

for me is having the right "jeans," and the ones

from Danish-based company Perfect Jeans are my

absolute favorite. I had no idea "stretch" jeans would

look and feel so great. You ladies have been holding

out on us! If you're looking for the perfect allaround

pair of travel pants, here they are. And their

marketing is inspiring. $92+, perfectjeans.com

Photos courtesy of their respective companies or organizations.

50 stylemg.com | JANUARY 2023
---
ASK THE

EXPERT

by BELLA NOLEN

~ BENNETT'S WESTSIDE OPENING SOON IN ROCKLIN~

• INDULGENCE BEGINS W/ MONDAYS •

~ WINE & DINE MONDAY~

~ 2 ENTRÉES & A BOTTLE OF WINE ~

Choose 2 entrées, 2 salads & a bottle of our selected wine.

**Excludes our market price entrées, & promotional offer not available on holidays.**

Photo ©freebird7977 - stock.adobe.com.

Q: How vital is stretching

before/after a workout and

what can it help with?

A: Dynamic stretching (a

moving stretch) is a great way

to begin a workout; it helps

loosen up muscles and joints

prior to strenuous exercise—

prepping the body for a

warmup. Static stretching at

the end of a workout tells the

body it's time to settle down

and relax. Holding a stretch for

a minimum of 30 seconds helps

improve flexibility, decrease

chances of injury, burn more

calories, and reduce soreness.

If you're looking for more of

a recovery stretch program,

holding postures for 3-5

minutes (yin yoga) is highly

recommended.

—Jamie Ellsworth, General Manager & Coach

FIIT Nation El Dorado Hills, 8200 Saratoga Way, Suite

140, El Dorado Hills, 916-542-1475, fiitnation.com

www.bennettsrestaurants.com

JANUARY 2023 | stylemg.com 51
---
| introducing |

Q & A

WITH

LOCAL

COMPANIES

photos by TAYLOR GILLESPIE

Full of Chic Boutique

THERESA DEL BIAGGIO & ROBYN STURGIS

594 Main Street, Placerville, 530-733-3100, dressyourheartout.com

@full_of_chic_boutique @fullofchicboutique

Services or products you offer: Expert bra fitting, in addition to

bras in sizes 30A-46K, post-surgery apparel, sleepwear, lingerie,

and everyday clothing and other specialty items for women.

This month, we're planning to bring custom and semi-custom

mastectomy and post-surgical bras, prosthetics, and intimates to

the store, too.

What you enjoy most about your profession: We truly value the

opportunity to bring confidence, beauty, and power to women

by providing a much-needed service. A bra that fits is a gamechanger,

which most women don't realize until they're wearing

one that fits like it was sewn just for them.

Fun fact about your company: We're an unconventional motherdaughter

team.

Customer service is: A lost art. In a digitized world, we're going

back to basics. We want to know the names of the women (and

men) shopping in our store and all about them.

Favorite local restaurants: Main Street Melters and Paco's

Mexican Cuisine.

Favorite small businesses: We adore Maddy & Coco and The

Market on Main.

When not working, you can be found: Spending time with family

enjoying the outdoors.

You love living here, because: It still has a sweet, slow-paced,

quaintness to it. El Dorado County is a real treasure!

52 stylemg.com | JANUARY 2023 | /stylemediagroup /stylemediagroup /stylemediagroup /stylemags
---
| introducing |

The Colour Chemistry

Salon & Spa

JENNIFER VASQUEZ

151 Iron Point Road, Folsom, 916-241-3137, thecolourchemistry.com

@colourchemistrysalon @thecolourchemistrysalon

Services or products you offer: Hair coloring and

haircuts for any and all textures using high-end Italian

brands like Davines, along with updos and blowouts for

special events like quinceañeras and weddings.

What you enjoy most about your profession: Making

connections with clients. My goal is to create long-lasting

relationships with them, so as their hair changes over

time, I can recommend the best coloring techniques and

routines.

Customer service is: Taking the time to understand what

every guest needs and wants before starting their service.

We practice the art of listening as we connect with

clients, ensuring the selected hair coloring technique is

the right one.

You started your business, because: I wanted to create

an environment that welcomed all types of hair textures

in a space where hairdressers receive ongoing education

to perfect their skills.

First job: A Hallmark store in Costa Rica.

Favorite food: My family's empanadas.

Favorite local restaurant: Casa Los Abuelos in

Placerville.

Last big purchase: Custom-made salon cabinets and

shampoo bowls.

Little Cheeky Shop

KATHERINE & PABLO AMADO

Rocklin, 510-410-0111, littlecheekyshop.com,

@littlecheekyshop

Services or products you offer: Baby and

children's clothing, accessories, and shoes.

Fun fact about your company: It's named after our

"little cheeky." We had a 4D ultrasound, and all we

could see were cheeks, so we started calling him

Little Cheeky.

Customer service is: A major part of any

successful business, and a priority at Little Cheeky

Shop.

You started your business, because: We were tired

of not being able to find stylish boy clothes.

Favorite food: It's a tie between pizza and pad see

ew.

Favorite local restaurant: Ruen Thai.

Favorite small business: Flores Munchies.

When not working, you can be found: Doing a

million and one things for our four sons!

You love living here, because: The community is

amazing; it's a wonderful place to raise a family.

DO YOU KNOW THAT OUR EDITORIAL IS NOT PAID FOR, NOR CAN IT BE PURCHASED?

In fact, our Introducing and Eat & Drink section reviews are not paid advertisements. If

you'd like your business profiled, please email info@stylemg.com. Once we determine when

your business will be featured, we will contact you to schedule a time to come out and take

a photograph. Thank you!

54 stylemg.com | JANUARY 2023 | /stylemediagroup /stylemediagroup /stylemediagroup /stylemags
---
Committed to

providing all of your

dermatological and

cosmetic skin needs.

Style readers voted

David No Best

Dermatologist!

in Folsom & El Dorado Hills, 2022

Vote for us again this year!

916.983.3373

norcaldermatology.com |

192 Blue Ravine Rd. Folsom, CA 95630
---
| home & garden |

Clear the

Clutter

17 HOME

ORGANIZATION

by KOURTNEY JASON

HACKS

Organizing is so much more than pretty baskets and bins. "It's about

living a life you love to come home to, knowing where all your stuff

is, and lessening the load of what's no longer serving you," says

Karlee Alves, owner of 2B Organized Sacramento & 2B Organized

(2b-organized.com). "The key to being organized is to have systems

in place that work for you, your family, and your lifestyle." If you're

looking to find peace and happiness in every nook and cranny of

your home—from the garage to your closet—don't miss these top

tips from area pros.

Know your why.

1

"Why do you want to get organized?

Is it because you want to be able to find the

things you need when you need them? Is it

because you want to live more peacefully?

Is it because you want more time with

your family and less time trying to sift

through clutter and manage stuff? Wanting

a picture-perfect pantry because Instagram

says it will make you happy isn't enough.

You need a strong why behind your reason

to want to get organized for long-lasting,

sustainable change," says Alves.

Organizing is a journey, not

2

a destination.

"Similar to health and fitness, habit and

lifestyle changes have to be made for

the changes to stick. You can do all the

things—hire a personal trainer, buy the

Peloton, go on a fad diet—but if you don't

make overall lifestyle changes your weight

will slowly creep back on. Organizing is

very similar in that maintenance and new

habits need to be made to create lasting

change," says Alves.

Start with one, small,

3

measurable area.

"Taking on an organizing project can

be very daunting. Many of us put off

projects like this because we believe

we shouldn't start it if we can't finish

the whole thing," says Dawn Cannon,

owner/operator of Finely Organized

(finelyorganized.net). Instead of looking at

the entire room and being overwhelmed

by the task at hand, start with one drawer,

one shelf, or do what is called 'batching'—

completing one task throughout the

whole area, such as carrying a trash bag

around the room and removing garbage

or putting all the items that don't belong

into a laundry basket."

Remove and look at

4

everything.

"Take the time to remove all the items

from a space (closet, cabinet, drawers, or

shelves) so you know exactly what is there,"

says Susan Mann, owner of So Organized

(soorganized.io). "This allows you the

opportunity to purge the items you don't

need so you can donate, recycle, or dispose

of them; and gives you a chance to look at

the empty space and reorganize it in a way

that is more useful and functional for you."

Purge and edit.

5

"Letting go of things that no longer

serve you is a crucial first step in any

organizing project," says Cannon. "Anyone

can shuffle things around and make a

room 'pretty,' but what have you really

accomplished? If you think about it, we

bring something new into our homes or

offices nearly every day, whether it's mail,

groceries, or something we picked up at the

store. If we're not letting go of things at the

same pace, at some point, it's inevitable that

we'll be overwhelmed with clutter."

6 Contain.

"By giving your belongings a physical

boundary, it helps to keep like things

together with less migration. Document

trays are a great example. How often do you

look at your desk, or the kitchen counter,

and your mail has multiplied into several

different piles from one end to the other?

Having one designated place will save you

Top photo sonyachny - stock.adobe.com. Other photos courtesy of their respective companies or organizations.

56 stylemg.com | JANUARY 2023 | /stylemediagroup /stylemediagroup /stylemediagroup /stylemags
---
time and space when you're searching for

something," says Cannon.

Label.

7

"Most of us, in fact 80%, are visual

learners—meaning we rely heavily on

visual cues to process information," says

Cannon. "By labeling containers, even when

we already know what's in them, it will help

solidify in our brains where these items are

and where they should be stored after use.

Since very few of us process information

the same way (even if we are visual learners),

labels significantly help when there is more

than one person accessing the items. In a

pantry, for example, everyone in the family

will know where to retrieve and store the

'chips' if they're contained and labeled."

File folders photo ©Delphotostock - stock.adobe.com. Kitchen cabinet photo © Pixel-Shot - stock.adobe.com.

Organize your food so you

8

see it.

"Put fruits and vegetables in clear

containers or mason jars so you can easily

see what you have. Use a turntable for

condiments so they don't get stuck behind

other items in the refrigerator. You're more

likely to eat the food that you can see, which

leads to a lot less waste," says Kristina Lewis,

owner of Blitz Organization (blitzedh.com).

Sunk-cost fallacy.

9

"The sunk-cost fallacy is the

phenomenon whereby a person is

reluctant to abandon a strategy or course

of action because they have invested

heavily in it, even when it's clear that

abandonment would be more beneficial,"

says Cannon. "Storing that dresser in the

garage under a pile of who knows what

will not get your money back and serves

you in no way. Remember, 'cost' is what you

give up for something, it is not only money.

Storing that dresser is costing you time,

space, energy, and stress."

10

Edit before you shop.

"I see it all the time: People buy

organizing products thinking it will solve

their problems, when in reality if they

took the time to edit out the things they

no longer need, want, or love, they might

not actually need to buy the countertop

makeup organizer because all the makeup

actually fits neatly inside the drawers once

they've pared things down," says Alves.

Collaborate with your

11

household.

"Think of your entire household and

how they also use the space you want

to reorganize," says Mann. "Discuss with

them how you envision the area looking

after you reorganize it and ask for their

input, so it works effectively for everyone

and stays organized over time."

Everything has a place.

12

"Designate a laundry basket for

each child in your home so they can put

backpacks, jackets, toys, schoolwork,

etc. in it, rather than leaving these items

scattered throughout the house," says

Mann. "At the end of the day, have your

child help with putting these items back

where they belong. It's a good routine to

teach them to be responsible for their

belongings and alleviate clutter from

building up."

One in, one out.

13

"Adhere to the 'one in, one out' rule.

Bought a new sweater? Great! Get rid of

one of your old ones," says Alves.

14

Utilize unused space.

"If you need more storage, consider

using shelves and hooks on your walls or

an over-the-door organizer for wrapping

paper, snacks, shoes, supplies, etc. The

possibilities are endless!" says Lewis.

Turn the page on paper.

15

"Create a system for all the

paperwork that comes into your home.

Paperwork can pile up quickly, so it's

a good idea to only file away what's

absolutely necessary and toss or shred

the rest," says Lewis. "Mount a document

organizer on the wall or have a file box

on top of an entryway table, counter, or

placed in a cabinet. Throw out junk mail,

put bills and any other action items into

a folder when you're ready to tackle them,

and file important paperwork right away.

Whatever system you plan to use, make it

an easy one!"

Do it daily.

16

"Organizing is a daily practice

that needs to be cultivated, reset, and

maintained," says Lewis. Give yourself time

and space to get started. The joy you'll feel

once you're done is indescribable!"

Just keep going.

17

"Rome wasn't built in a day and

overall sustainable change requires time

and dedication, but knowing where all

your items are and loving everything you

own is such a motivation to not allow

things in that won't serve you," says Alves.

"Once you're at a level of maintaining,

you'll realize the journey was well worth

it and the path forward is so much easier

because you've put in the work."

JANUARY 2023 | stylemg.com 57
---
10%

Off

On Any Full

Landscape Project

* Must present at initial consultation,

cannot be combined with other offers.

Expiration date 1/31/23

Drought-Tolerant

Design Pros

YOUR FALL PLANTING EXPERTS

LANDSCAPE DESIGN & BUILD / LANDSCAPE RENOVATION / ARTIFICIAL GRASS / OUTDOOR KITCHENS / FIREPLACES

FIRE PITS / SHADE STRUCTURES / WATER FEATURES / LANDSCAPE LIGHTING / XERISCAPING / STAMPED CONCRETE

call for free estimate

916-461-4182

capitallandscape.com

12 Years Won

Since 2011
---
STYLE HOME DESIGN

PG&E NEM 3.0 WILL INCREASE THE COST OF SOLAR

THE TIME TO GO SOLAR IS NOW!

With a 5-0 vote, the California Public Utilities

Commission passed the biggest setback to solar

energy the nation has ever seen.

• Cut average export rates 75 percent

• Adders to those export compensation values

• Requires residential customers to be on

electrification rates (E-ELEC, TOU-PRIME,

EV-TOU-5), which have monthly charges of

$14-$16.

NEM-2 eligibility will be based on complete

submitted application (without final building

permit) by 120 days.

SolarHut, LLC provides full-service solar solutions for

residential, commercial, and non-profit customers in

Northern California. As a leading El Dorado County solar

company, we've been designing and building solar panel

systems since 2008. We are committed to complete

customer satisfaction, which we achieve by offering quality

products,

professional

installation, and

outstanding value.

We are a part of your community and

are committed to our local customers.

Call us today to see how

we can help you

join the solar revolution!

www.solarhut.org

info@solarhut.org | 530-651-5111

6590 Commerce Way Suite C | Diamond Springs CA 95619

C46 Contractor | License #970970

Multi-year Award Winning Solar Contractor

See our website for a full list of our awards
---
YOU DESIGN

WE BUILD

Heirloom-quality furniture custom built for making memories

Bring us a picture and we will build it!

Tables • Kitchen Islands • Wine Cabinets

Bathroom Vanities • Bedroom Furniture

and more!

707 SUTTER STREET // FOLSOM // 916-747-9984

INSTAGRAM.COM/G_H_WOOD_WORKS_

GHWOODWORKS@ICLOUD.COM

GH-Woodworks-Custom-Furniture-Folsom-Ad-1022-Sixth.indd 9/18/221

1:33 PM

BEFORE

BOOK YOUR FREE DISCOVERY CALL

DesignsWithYouInMind.net

REMODELS · NEW BUILDS · FURNISHINGS

Granite Bay, Rocklin, El Dorado Hills, Folsom, & Roseville
---
STYLE HOME DESIGN

THE BIG SHOW AT CAL EXPO!

28 th

ANNIVERSARY

February 3 –5, 2023 • Cal Expo, Sacramento

Friday 11 am – 6pm • Saturday 10 am – 5 pm • Sunday 10 am – 5 pm

www.HomeandLandscapeExpo.com

Enjoy hundreds of exhibits featuring everything imaginable for your home and

garden, along with informative workshops, a themed landscape showcase,

and fantastic giveaways all in one location.

Home Office & Workspace Feature $15,000 Best in Glass Giveaway Modern European Kitchen Feature

Proud to Partner with:

N O R T H E R N C A L I F O R N I A
---
The Pour Choice

Cool Beans

25 TOP

COFFEE SHOPS

by SHARON PENNY

"How do you take your coffee?" Seriously though. Is

there anything better than a good cup of coffee? For

me, it's the definition of a simple pleasure. My idea of

happiness is a well-made, no-frills latte: two shots of

delicious espresso stained with milk foamed velvety

smooth. But it's also the coffee shop itself. The aroma

that lives in the very walls. And the sounds! The whooshing steam, the grinding beans, the

clinking of cups and glasses. It's always the warmest place in wintertime, all steamy and cozy.

Friendly faces of the baristas who sling those beans for you, your comfortable chair, the spot

by the window, the cool music, the baked goods, the artwork on the walls. Voila! A simple cup of

coffee becomes a religion. Café culture! With so many wonderful local spots, we thought we'd

run down the best of the best, perhaps shout out your current favorite, or introduce you to a

new love of your life.

The Pour Choice photo David Thuman @david.thuman.

62 stylemg.com | JANUARY 2023 | /stylemediagroup /stylemediagroup /stylemediagroup /stylemags
---
Pause Coffee House

Baked & Brewed

Downtown Loomis is getting a

glow-up thanks to Smithville & Co.!

There's specialty coffee, like the

iced Mexican mocha that is already

a local favorite, a Bavarian pretzel

charcuterie (swoon!), loaded toasts

and pastries aplenty, plus protein

smoothies. Along with live music, popups,

and the Instagramable décor,

there's really no reason not to fall in

love with this coffee shop newbie! 3637

Taylor Road, Loomis, 916-390-0877

Edwin's Coffee & Tea

Photos by Taylor Gillespie ©stylemediagroup.

Smithville & Co.

Located in Old Town Auburn, The Pour

Choice is a third-wave craft coffee bar

and taproom serving java, craft beers, and

wonderful wines. The coffee is killer (we

recommend the cortado: half espresso, half

velvety smooth milk), the loaded banana

bread is a must (hello, fresh banana and

peanut butter between two slices of banana

bread!), and the three levels of seating with not

one but two patios make it the perfect hang!

177 Sacramento Street, Auburn, 530-820-3451,

thepourchoice.com

Bru Coffee House in Loomis is a coffee shop

with purpose. As part of the nonprofit EveryONE

Matters Ministries (everyonemattersministries.

com), their profits go directly toward helping

those experiencing situational homelessness

in the community. And the coffee is, of course,

excellent. A low-key favorite is the midnight

mocha, a rich tasty drink that's as dark as a

winter's night. And make sure to grab a pastry

or a scone, too: They're baked locally! 3565

Taylor Road, Loomis, 916-251-7105, everybru.com

Auburn's Baked & Brewed has all

the reasons for you to keep coming

back: fresh-baked pastries seven

days a week, delicious coffee, a

rotating array of local artwork on

display, and a pretty patio. Dig into

their extensive breakfast and lunch

menu, and you'll find so much gold,

like their famous bail out bagel:

eggs and cheese with your choice of

ham, sausage, or bacon on any one

of their delicious bagels (we hear

great things about the jalapeño!).

958 Lincoln Way, Auburn, 530-889-1373,

auburn-ca.wixsite.com/baked-n-brewed

Pause Coffee House, the Fair

Oaks favorite, has expanded to

Rocklin. Their honey lavender latte is

well-loved for obvious reasons, and

we know in our hearts that the sweet

crêpe with Nutella will be everyone's

favorite eventually, because we're

personally going to drive around in

a van with a loudspeaker and let the

people know. Because WOW. 2168

Sunset Boulevard, Rocklin, 916-787-5676;

8121 Madison Avenue, Suite A-1, Fair

Oaks, 916-241-9483, pausecoffee.house

Edwin's Coffee & Tea is a

Rocklin mainstay. Between houseroasted

beans and Mom's housemade

pastries, locals are in love.

In addition to the always-great

coffee on offer, we have it on good

authority that their poppyseed

muffin is the one to beat. However,

the quiche gets a lot of raves as

well, so we're committed to trying

all the baked goods just to make

sure. 2600 Sunset Boulevard, Suite

108, Rocklin, 916-632-9753

JANUARY 2023 | stylemg.com 63
---
Cool Beans

MoJoe's Café

Bloom Coffee & Tea

Shady Coffee & Tea

Chocolate Fish Coffee Roasters

Abraham Lincoln's endorsement

of Roseville's Fourscore Coffee is

still pending, but the café's brown

sugar latte is truly presidential in

its greatness. And look closely at

the Lincoln Memorial statue: Is his

hand clutching one of Fourscore's

delicious jalapeño cheddar scones?

Who's to say? The important thing

is that he would be because they're

that good. 325 Lincoln Street, Roseville,

916-390-0367, fourscorecoffee.com

The Fig Tree Coffee Art & Music Lounge

West Roseville's MoJoe's Café

does it all: strong coffee, hearty

breakfasts, fresh-baked pastries,

sandwiches, and ice cream, not

to mention an ever-rotating array

of fun events and classes. With an

upstairs area and a shared patio

with kitchen747, there's really no

reason to stay at home. You can't

keep us away from their signature

snickerdoodle latte, and don't

blame us if you fall in love with their

homemade cinnamon roll or bestselling

bacon breakfast burrito.

Just invite us to the wedding. 2330

Pleasant Grove Boulevard, Roseville, 916-

742-4729, mojoesroseville.com

Roseville's Shady Coffee &

Tea is something of a hidden

gem. Between the great coffee,

the homemade pastries (we're

looking at you, apple turnover),

drive-thru, and the seasonal drinks

(peppermint white chocolate

mocha and gingerbread latte, to

name a few), they've earned the

devotion of their local customers.

Plus, they host regular open-mic

nights and are known for their

dog-friendly patio. 325 Douglas

Boulevard, Roseville, 916-742-4117,

shadycoffeeandtea.com

The "shakerato" at Roseville's beloved

Bloom Coffee & Tea is an exciting

pick-me-up with two shots of espresso

pulled long to bring out the bitterness,

shaken over ice, and balanced with

vanilla syrup—yes, it's better than

an alarm clock! And their breakfast

burrito is the bee's knees: applewood

smoked bacon, roasted potatoes, two

eggs, cilantro pesto, and jack cheese

(the vegan version is equally delicious,

too!). 1485 Eureka Road, Suite 100,

Roseville, 916-773-2332, bloomcoffee.com

Chocolate Fish Coffee

Roasters—which has

locations in Folsom, East

Sacramento, Land Park,

and inside select Raley's—

was recently honored as

a "2023 Roaster of the

Year" finalist in Roaster

Magazine (only three

roasters in North America

made the list!). In addition

to their award-winning,

house-roasted beans,

they make some pretty

good, and pretty to look at,

beverages, too: including

one of the Southern

Hemisphere's favorites: a

flat white (if you know, you

know). Espresso aside, you

can also settle in for some

delicious food: pastries,

breakfast sandwiches,

and avocado toasts, oh

my. 25055 Blue Ravine

Road, Folsom, 916-358-9950,

chocolatefishcoffee.com

Coffeehouse-aesthetic and

indie music is alive and well

at The Fig Tree Coffee

Art & Music Lounge

in Downtown Roseville,

thanks to live tunes from

local bands four nights a

week including open-mic

Saturdays. Plus, they serve

supremely good coffee

and tea. Try the bowl

of soul (chamomile tea

steeped in milk with honey

and chocolate drizzle)

and the individual fig pies;

both may just be the keys

to happiness. 222 Vernon

Street, Roseville, 916-771-7010,

figtreecoffee.com

Mojoe's Café photo by Mackenzie Hilton. Shady Coffee & Tea photo by Jayson Angove. The Fig Tree Coffee Art & Music Lounge photo by Patrick Sheehan. Bloom Coffee

& Tea photo by Mickey Baggett. Chocolate Fish Coffee Roasters photo courtesy of Chocolate Fish Coffee Roasters.

64 stylemg.com | JANUARY 2023 | /stylemediagroup /stylemediagroup /stylemediagroup /stylemags
---
HOT SHOTS

Barista Spotlight

Double Shot Coffee Bar

World Traveler Coffee Roasters

Kyla Whitney

Roaster at Pachamama

Top tip for brewing coffee at

home? Invest in a Burr grinder,

use fresh beans, and think

about what water you're using.

What are you looking for

in a good cup of coffee? For

me, coffee tastes best when it's

sustainable and the farmers are supported…

essentially a thoroughly balanced cup (with a

nice view)!

Favorite coffee drink? It's a toss-up between

an oat milk cappuccino and a pour over.

Favorite method for brewing coffee?

Aeropress. It's super simple, has a huge range

of what it can brew, and is portable.

Double Shot Coffee Bar photo by Kunlayakorn McCarthy. Temple Coffee photo by Justin Posey. World Traveler Coffee Roasters photo courtesy of World Traveler Coffee Roasters.

From humble beginnings in a garage, Kingdom

Coffee Roasters has been making Folsom's

coffee dreams come true since 2016. (Personal

anecdote: My trusted coffee-nerd friend was an

early adopter of Kingdom and from day one, he

raved about how good the coffee was. He was

right!). Minimalism is the key to the Kingdom:

great house-roasted beans, brewed to perfection

and crafted into the pearl latte (among others): a

sweetly cozy combination of espresso, sweetened

condensed milk, and steamed milk that you

won't soon forget. Plus, there's great breakfast

sandwiches and avocado toast, delicious pastries

from Estelle's Bakery & Pâtisserie, and the chillest

good vibes around. 305 Iron Point Road, Folsom,

kingdomcoffeeroasters.com

Sacramento favorite Temple Coffee has

expanded to Folsom—serving up finely crafted

coffees and teas along with house-roasted beans

and locally made pastries. The vibe is thoughtful

and delicious—no bells, no whistles—just good

coffee in cool environs. We're a fan of the

gibraltar (a delicate balance of espresso and

milk), and if the Samoa donut is on offer, shoot

your shot because you will not be disappointed.

2776 East Bidwell Street, Suite 500, Folsom, 916-293-

8305, templecoffee.com

Folsom mainstay Coffee Republic started

business way back in 1991 (remember 1991? Back

when customers carried Filofaxes instead of

iPhones.) They've come a long way baby! The

patio is as spacious as ever, and the tiramisuflavored

latte is still a fan favorite, along with

the innovative breakfast entrées, like their

signature "CR" avocado toast with everything

seasoning and Mike's Hot Honey on sourdough.

Welcome to the future, where we love hot honey!

6610 Folsom-Auburn Road, Folsom, 916-987-8001,

coffeerepublicfolsom.com

Temple Coffee

World Traveler Coffee

Roasters is spreading the

love far and wide, with three

locations—in Roseville, Folsom,

and El Dorado Hills—ensuring

that great coffee is always

nearby! The house-roasted

beans must be one reason

folks keep coming back, along

with the great handcrafted

espresso drinks (rose vanilla

latte, anyone?). And, we just

have to say it: The eclairs and

mousse cakes made by their

in-house chef are as beautiful

to behold as they are to put

into your belly. Straight from

a Paris window, these delights

are true works of art, so make

sure you visit in person. Pick a

location and move in! 603 East

Bidwell Street, Suite A, Folsom,

916-932-4563; 4364 Town Center

Boulevard, El Dorado Hills, 916-817-

1435; 106 North Sunrise Avenue,

Suite C7, Roseville, 916-297-7919,

worldtravelercoffee.com

El Dorado Hills' Double Shot

Coffee Bar is one of the newer

café kids on the block, opened

in August 2022. Family-owned,

they're serving up great craft

coffee, including the con panna:

a double shot of espresso

completed with the perfect

amount of whipped cream.

Delish! There's also home-made

pastries and cookies (we have

it on good authority that the

mixed berry scone is "the one")

and every Californian's favorite:

avocado toast. 3381 Bass Lake

Road, Suite 100, El Dorado Hills, 916-

468-6998, doubleshotcoffeebar.com

Tyler White

Barista at Sociology

Coffee Bar

Top tip for brewing coffee

at home? Consistency is key.

If you're going to change

anything, change one thing at a

time—whether dose, grind setting,

or water temperature—then give it a

try before changing another.

What are you looking for in a good cup of

coffee? I'm always looking for a tasty balance

of sweetness and acidity.

Favorite coffee drink? A cappuccino—full

flavor of espresso with just a few ounces of milk.

Favorite method for brewing coffee? The

Orea—a flat-bottomed brewer with a very

high flow rate that provides lots of flavor

clarity and intensity.

Emily Kane

Barista at World Traveler

Coffee Roasters

Top tip for brewing coffee at

home? Find something that

works for you (it doesn't have to

be expensive) and be consistent

with your brewing method. Make

small adjustments until you're able

to dial in what you like; you don't have to

have top-tier equipment to get a good result!

What are you looking for in a good cup of

coffee? I'm always looking for coffee that's

well-balanced with sweetness, acidity, and a

pleasant bitterness; I want to be able to detect

clearly defined flavor notes. I personally try to

find the sweetness first and work everything

else around that.

Favorite coffee drink? A cappuccino. The

balance of the small amount of milk and foam

with the espresso never misses.

Favorite method for brewing coffee? Pour

over (I usually use a Chemex). It's simple and

straightforward, and I can fine-tune each brew

to my preference.

JANUARY 2023 | stylemg.com 65
---
Cool Beans

Caffé Santoro

Foxwood Coffee

Love Birds Coffee & Tea

Depoe Bay Coffee Company

Caffé Santoro in Diamond Springs

is keeping the Foothill region warm

and toasty with handcrafted coffee

drinks and breakfast sandwiches

galore. And if you brew at home,

they've got the hookup: They roast

their very own coffee beans. On

the beverage front, we love their

Mexican mocha, made with Azteca

D'Oro 1519 spiced ground chocolate

and laced with cocoa liquor, real

vanilla, almond, and cinnamon. If

you're feeling fancy, try their "Big

S" premium mocha with Ghirardelli

dark chocolate. (Yum!) Food wise,

the choices are vast, but the "bre"

breakfast sandwich is a hot favorite,

with eggs, avocado, tomatoes, cream

cheese, basil pesto, and bacon on

your choice of bagel. And if you're still

hungry after all that, treat yourself

to a scoop of ice cream; don't miss

dollar scoop Wednesdays! 93 Pleasant

Valley Road, Diamond Springs, 530-350-

9335, caffesantoro.com

Depoe Bay Coffee Company has

been roasting their own beans in

Downtown Auburn for over 20 years.

Their peanut butter mocha is to die

for (do we really need to explain

why?) and among their many pastries

and sandwiches on offer, the sunrise

bagel is worth waking up for: melty

cheese and scrambled eggs on your

choice of one of their many delicious

bagels, with ham, bacon, or sausage.

893 High Street, Auburn, 530-889-1021,

depoebaycoffee.com

Foxwood Coffee has been holding

it down in Shingle Springs since 2016

with killer coffee and great food. Their

vanilla lavender latte will take the chill

off the Foothill mornings, and with so

much breakfast fare to choose from

you'll eat good in the neighborhood

for weeks! Our favorite is the Tuscan

sunrise burrito (scrambled eggs, spicy

sausage, feta, hashbrowns, salsa,

spicy aioli, and Southwest chipotle

pesto)—all lightly pressed on the grill

for extra crunch. 4068 Mother Lode Drive,

Suite A, Shingle Springs, 530-350-7393,

foxwoodcoffee.com

From their beginnings inside Smith

Flat House to their current Diamond

Springs' location, Love Birds Coffee

& Tea has been bringing a taste of

Italy to the foothills since 2016. Modeled

on a classic Italian coffee shop, their

baked goods are all made in-house

(never say no to their homemade

biscotti or cannoli), along with the

chocolate sauce, butter caramel,

spiced chai, and flavored syrups. The

breakfast menu is on-point, too: We're

all about the meat lover's wrap (eggs,

sausage, bacon, potatoes, spinach,

tomatoes, and green onions), but they

also kettle boil their own bagels, so…

um, good luck choosing between those.

In addition to their spacious courtyard

and huge restaurant, they also have

a convenient drive-thru for folks on

the go. Pronto! 4181 Highway 49, Suite

100, Diamond Springs, 530-300-9891,

lovebirdscoffeeandtea.com

Caffe Santoro photo by Tori A. Murphy. Foxwood Coffee and Depoe Bay Coffee Company photos by Taylor Gillespie ©stylemediagroup.

Love Birds Coffee & Tea photo by Laura Taber-Robbins.

66 stylemg.com | JANUARY 2023 | /stylemediagroup /stylemediagroup /stylemediagroup /stylemags
---
The Bean Barn

Pachamama

With two busy locations in

Placerville, drive-thru-only

The Bean Barn packs a lot of

flavor, fun, and friendly faces

into a small footprint. Favorites

include the toffee coffee, Aztec

mocha, and the black & white;

and don't pass up seasonal

hits like the caramel apple

cold foam. Between the great

service and delicious coffee,

they'll keep you moving! 4531

Missouri Flat Road, Placerville,

530-621-0602; 428 Placerville

Drive, Placerville, 530-622-2758,

beanbarn.org

In May, Sacramento's

Pachamama expanded to

Placerville in the location formerly

occupied by Totem Coffee; and

they've already won hearts, minds,

and stomachs. The farmer-owned,

organic coffee bar and roastery

serves up house-roasted beans,

handcrafted drinks (like their

popular honey bear latte made

with local wildflower honey), and

choose-your-own-adventure

bagels with everything from

herbed cream cheese to coconut

peanut butter, plus avocado,

banana, tofu, prosciutto—

anything your heart desires. Don't

miss the gluten-free muffins and

daily special donuts, too. 312 Main

Street, Suite 104, Placerville, 530-303-

3845, pachamamacoffee.com

The Bean Barn photo by Taylor Gillespie ©stylemediagroup.

Pachamama photo by Rosa Angelica. Big Wave photo by Dallas

Smith Photography. Sociology Coffee Bar photos coutesy of

Sociology Coffee Bar.

Sociology Coffee Bar

Big Wave Coffeehouse

Big Wave Coffeehouse is

bringing the aloha spirit to

what was formerly Cooper's

Coffee in Folsom, thanks to iced

matcha lattes with ube cold

foam (ube's a Japanese sweet

potato and an exciting trend

in coffee!), Hawaiian-themed

sweet treats (courtesy of Kalani

Kakes), and a delicious range

of ono soda blends if you're

veering off the caffeinated

path (add a sprinkle of li hing

mui for a taste that is pure

paradise). 189 Blue Ravine Road,

Suite 130, Folsom, 916-351-5889,

bigwavecoffeehouse.com

Just about a year ago, Historic

Folsom's Sociology Coffee

Bar was serving java inside

Escape Folsom; now, they

have their own sweet patio!

Their baker's tonic had us

at hello: espresso, sweet

potato casserole syrup (yep!),

condensed milk, sparkling

water, and ice. Hello, indeed.

They also serve houseroasted

beans, scratch-made

sourdough bread for killer

avocado toast, plus breakfast

tacos; in summary: There's

endless good vibes streaming

out of this place 24/7. 705 Gold

Lake Drive, Suite 390, Folsom,

sociologycoffeebar.com

JANUARY 2023 | stylemg.com 67
---
SPECIAL SECTION

HEALTH,

WELLNESS,

&FITNESS

P R O F E S S I O N A L S

Every new year is marked by

thousands of people swearing

off their vices and vowing

to "turn over a new leaf"

where their personal fitness,

health, and well-being are

concerned, and Style readers

are no different! That is why

we're proud to profile the best

health, wellness, and fitness

professionals the region has to

offer. Whether you're looking to

take better care of your skin, get

back to that fitness regimen, or

just want to be healthier overall,

the professionals featured here

are an excellent place to find

your new beginning this year!

Get A FREE

Comprehensive

Hearing Exam

Expires:

2/28/2023

HearingSense

Audiology

Gayle L'Etoile, Clinical Audiologist

4944 Windplay Drive Suite 215

El Dorado Hills, CA 95762

Not Hearing

as well as

You used to?

Call for an appointment

916-933-9700

THERESE

SORRENTINO, LMFT

916-396-4688

www.theresesorrentinomft.com

theresesorrentinomft@gmail.com

Health and wellness

includes Mental Health.

Your mental health affects

your physical health.

Reaching out for help and seeing a

therapist is a sign of courage, not

weakness. We all need help and

support at certain times of our lives.

I can help you explore solutions to your

problems by providing guidance, new

insights and tools for coping, so you

can live the best life has to offer.

68 stylemg.com | JANUARY 2023 | /stylemediagroup /stylemediagroup /stylemediagroup /stylemags
---
SPECIAL SECTION

BIGGEST SALE OF THE YEAR!

JANUARY 1-31ST STOCK UP NOW!

VOTED #1

BEST HEALTH FOOD STORE

7 years in a row

SUNRISE NATURAL FOODS

1950 Douglas Blvd. // Roseville // 916-789-8591

2160 Grass Valley Hwy. // Auburn // 530-888-8973

www.sunrisenaturalfoods.net

Sunrise Natural Foods is your go to store for all your

health and wellness needs and is especially proud of

the relationship we have built with our community. Our

expert and educated staff help customers understand

and use natural methods to prevent and heal illnesses and create

overall good health - at any age! We are committed to quality

and take pride in our relationship with not only our customers

but also with our vendors. No products are placed on our

shelves before being thoroughly researched and approved by

our staff to ensure products are safe and of the best quality.

Have a question or need assistance? Our staff is always

willing to go the extra mile and suggest supplements tailored

to your specific needs. For more than 30 years, Sunrise

Natural Foods has helped customers, families and the

community and we have always believed in giving back to the

community who has helped in our success.

During the pandemic we have gone to incredible lengths to

ensure the health and safety of both our employees and our

customers by not only following stringent cleaning protocols

but also all employees and customers are required to wear

a mask and we mark the floors to allow for proper social

distancing. We are concerned about our SNF family and

offer products to help build your immune system and to

keep you healthy.

Sunrise Natural Foods - full of life's best ingredients!

JANUARY 2023 | stylemg.com 69
---
SPECIAL SECTION

TIGER'S EYE SKIN CARE

8016 Folsom-Auburn Rd // Folsom

916-988-4973 // tigerseyeskincare.com

CANCER CARE PACKAGE

FOR PATIENTS DURING

CHEMO AND RADIATION

You may be wondering why a Native

American Clay Exfoliation from The Tiger's

Eye Skincare is different from a traditional

facial? Clay is versatile. It can be used on

almost all skin types. Some of the great minerals

in clay include magnesium, calcium and iron, all of

which help with the production of collagen in the

skin. As skin is exfoliated with clay, impurities from

the skin are surfaced; pores shrink and dead cells

become finer. We offer a variety of traditional Native

American skin care treatments for men, women

and children. Our team of aestheticism and skin

care professionals are licensed to provide facials,

exfoliation and clay masques, to help you to discover

your best self! Tiger's Eye Skincare specializes in

treating skin disorders such as rosacea, psoriasis,

acne, eczema and is especially effective in treating

conditions due to chemotherapy and radiation.

Customer Testimonial:

I was diagnosed with Anal Cancer and aggressive

radiation. I tried everything to relieve, pain,

burns, and blisters. After the first treatment

immediately felt relief. My burns and blistering

have completely healed. I would highly

recommend anyone going through radiation

look into this clay treatment from the first day you

start. —Lorena

70 stylemg.com | JANUARY 2023 | /stylemediagroup /stylemediagroup /stylemediagroup /stylemags
---
SPECIAL SECTION

INNOVATIVE

COMPOUNDING PHARMACY

820 Wales Dr., Ste. 3 // Folsom

916-984-9222 // www.icpfolsom.com

Sitting: Drs. Anna and Masoud Rashidi

I NNOVATIVE

COMPOUNDING PHARMACY

We are the only compounding

pharmacy in the region to offer

both sterile and non-sterile

customized medications for the

whole family, including your pets.

We offer:

Low Dose Naltrexone (LDN) for chronic pain,

Autoimmune disease and cancer

Hormone replacement therapy for both men

and women

Sterile and non-sterile customized medications

for the whole family, including your pet

Compounding for pain management

Veterinary compounded medication for your

pets

Pediatric dosage forms like lollipop, suspension

or topical cream

We pride ourselves on honoring our customers,

and our continued commitment is to provide

you with the personal, prompt and professional

service you deserve.

WE LOOK FORWARD TO SERVING ALL YOUR

MEDICINAL NEEDS!

JANUARY 2023 | stylemg.com 71
---
SPECIAL SECTION

ISI ® ELITE TRAINING

1007 E Bidwell St., #109 // Folsom

916-934-8210 // isielitetraining.com

MASSAGE HEIGHTS

230 Palladio Parkway suite 1229 // Folsom // 916-932-0399

761 Pleasant Grove Blvd // Roseville // 916-772-9555

ISI® unlimited membership holders via Elite membership are eligible for a

100% money back guarantee.

This 100% money back guarantee states that any Elite Membership holder who completes

12 sessions in the first 30 days of their membership agreement at their home facility are

eligible to receive a refund of their first month's dues if they are unsatisfied.

ISI® is a 50-minute, low-impact, high-intensity, strengthbased

workout. Each workout is designed and led

by a certified coach giving you one-on-one attention

within a team setting. We focus on simple but dynamic

movements that will help you burn fat, build muscle and

gain both confidence and strength. Through functional

movements, every ISI® workout is designed to target different

muscle groups, deliver measurable results and help you Train

For Life®.

WHAT ARE YOU TRAINING FOR?

Massage is considered part of integrative medicine.

Increasingly being offered with treatment for a wide

range of medical conditions. Massage has been

proven to reduce stress, ease pain and muscle

soreness, support improved circulation, energy, and alertness.

Additional benefits are lowering heart rate, blood pressure, and

improving immune function.

Beyond the benefits for specific conditions people enjoy massage

because it produces feelings of caring, comfort, and connections.

Massage Heights offers therapeutic cupping, CBD massages,

and dry brushing. These treatments performed by our licensed

therapists enhance and increase the benefits of massage.

Support your total commitment to health and well-being by

adding a customized facials to your routine.

VITALITY BOWLS

SUPERFOOD CAFE

3988 Douglas Blvd. Ste 130 // Roseville

916-771-4137 // www.vitalitybowls.com

••

•

•.•.

VITALITYBOWLS

•SUPERFOOD CAFE•

A«;AI BOWLS, SMOOTHIES, JUICES, WRAPS,

SALADS, GRAIN BOWLS, TOASTS, PANINI

We are open:

Mon-Sat 8-8 pm

Sun 9-7 pm

VITALITY BOWLS ROSEVILLE

3988 DOUGLAS BLVD. STE 130

ROSEVILLE, CA 95661

916-771-4137

Contact us for catering options!

••

Vitality Bowls is a superfood cafe specializing in making

delicious açaí bowls, a thick blend containing the açaí

berry topped with organic granola and a selection

of superfood ingredients. Additional antioxidantrich

menu items include smoothies, juices, salads and more.

No ingredient fillers such as ice, frozen yogurt, or artificial

preservatives are used, giving the purest taste possible to each

item. Vegan choices as well.

A perfect complement to Vitality Bowls signature açai bowls and

smoothies is our savory menu which includes toasts, paninis,

wraps, and grain bowls. Our hearty menu contains grass-fed

sirloin and all-natural chicken. There is great tasting, nutritious

choices for everyone at Vitality Bowls!

72 stylemg.com | JANUARY 2023 | /stylemediagroup /stylemediagroup /stylemediagroup /stylemags
---
SPECIAL SECTION

WELL BY AM NURSING

ALY JOHNSTON, FNP-BC

916-633-2030 // www.wellbyamnursing.com

aly@wellbyamnursing.com // /alyvjohnston

Aly Johnston,

FNP-BC

is a Nurse

Practitioner who

offers Mobile Concierge

Primary Care visits in the

comfort of your home.

Same or next day

appointments, 602-Form

completion, PPD and

COVID Tests, Medication

refills, and Urgent Care.

Also offering Medical

Weight and Hormone

Management visits in

person or via telehealth.

Whether you're sick or only

need some routine health

maintenance, we're here

for you!

Accepting new patients

for Direct Primary Care,

Weight, and Hormone

Management.

FIIT NATION

8200 Saratoga Way, Suite 140 // El Dorado Hills

916-542-1475 // fiitnation.com/fiit-nation-el-dorado-hills-ca

Nutrition, Functional Medicine, Functional Testing, Acupuncture.

Start Living

Your Best Life

CALL TODAY FOR A FREE CLASS

We hire experts for so many things, from medical

care to landscaping and car maintenance – it

should be a no-brainer to hire a fitness expert to

optimize your health through fitness and nutrition.

Our coaches tailor each workout to your individual abilities

and personalized goals by applying advanced knowledge of

anatomy, physiology, nutrition, and exercise science.

YOU BELONG IN FIIT NATION Strength in numbers is quite

literal here. Work out together, transform together. #FIITFam

Now!

Specializing in gut health,

Specializing in gut health,

autoimmune conditions,

weight loss, hormones,

and more.

"Pamela is kind, compassionate, and a great listener. Trust

her advice and you will see amazing results. I know she has

given me a much better quality of life!"

In-person and

telehealth services.

Schedule a free 15 minute discovery call today!

(916) 404-0886

connorlifecoaching

connorwellnessclinic

Gift Certificates Available

Monday — Friday 9am-5pm

1891 E Roseville Pkwy, Roseville

ConnorWellnessClinic.com

JANUARY 2023 | stylemg.com 73
---
| eat & drink | Dining Out

Umami

Ramen

by RYAN MARTINEZ | photos by TAYLOR GILLESPIE

Spicy Tonkotsu

74 stylemg.com | JANUARY 2023 | /stylemediagroup /stylemediagroup /stylemediagroup /stylemags
---
Green Tea

187 Blue Ravine Road,

Suite 160, Folsom,

916-358-9897,

umamiramenfolsom.com

@umamiramenfolsom

HOURS: 11 a.m.-8 p.m.

(Saturday-Sunday); 11

a.m.-2:30 p.m.; 4:30-8 p.m.

(Monday-Friday)

TRY THIS: Takoyaki, Black

Garlic Tonkotsu, Veggie

Ramen, Chashu Don, Katsu

Curry Rice, Chicken Karaage,

Green Tea Ice Cream

DRINKS: Beer & sake

TAB: $$

HEADS-UP: Kid-friendly;

self-service kiosk; online

ordering and delivery

available; additional ramen

toppings can be added;

choose from thick or thin

noodles; draft beer

Takoyaki

Black Garlic Tonkotsu

Sometimes all you want

is a tasty meal without

washing dishes, dressing

up, making reservations,

or tapping into decision

fatigue while perusing a

seemingly endless menu. Sometimes

you just want simple done right.

Enter Umami Ramen. Merging

two quintessential Japanese staples—

technology and simplicity—Umami

blends modern dining and traditional

Japanese flavors in a refreshingly

casual setting.

The menu is delectably small

with a few choices to satisfy all

spectrums of diners. Just walk up

to the touch screen menu (yes, selfserve

style, though a hard copy is

also available), grab a number, pick a

beverage (including beer and sake),

an appetizer, choice of ramen or ricebased

entrée, and a single dessert.

Insert your card and voila! Within

"

Often taking hours to make,

the broth at Umami was

magical: steaming and

fragrant with a rich texture.

"

minutes, your freshly made food will be delivered,

piping hot. If only they had one of those noodleserving

vending machines…

My partner and I started with hot green tea and the

takoyaki appetizer: a deep-fried, ball-shaped Japanese

snack made with flour-based batter and filled with

octopus. The sweet and savory flavors were delicious,

though we felt the takoyaki themselves could have

been a touch hotter. All in all, this Japanese street

food classic, though not a personal favorite, is so

unique I consider it a must-try.

For those new to the ramen scene, it's the king

of Japanese soups. There are restaurants in Japan

that focus solely on single styles of ramen, and the

masters spend years (if not a lifetime) perfecting its

art; there was even a documentary made about it

(Ramen Heads).

My favorite is typically tonkotsu, which features

pork bone broth. On this visit, we tried two versions

of it: spicy tonkotsu and black garlic tonkotsu.

Often taking hours to make, the broth at Umami

was magical: steaming and fragrant with a rich

texture. Take that amazingness and add thin noodles

topped with roasted pork chashu (a slow-braised

and meltingly tender pork belly), black mushrooms,

seasoned egg, bamboo shoots, bean sprouts, and

green onions.

Allow me to elaborate. The egg was amazing, and

I rarely marvel at eggs. Medium-boiled, the whites

were fully cooked but the yolk just barely set. It

was then seasoned, making it flavorful, creamy, and

delicate. The pork belly was fall-apart tender and had

the perfect touch of sweetness. The spicy broth was

just that, so be forewarned; the black garlic broth

was velvety with subtle notes coming through from

the black garlic oil that made me come back for

more—and more—and will probably

be my new go-to here.

Finally, they offer a single

scoop of green tea ice cream

for dessert, which we decided

to pack up and enjoy curled

up fireside at home—the

perfect ending to a simple,

comfort-food filled night.

Tell us about

your experience

and what you liked

by messaging us on

Instagram

(@stylemags), Facebook

(@stylemediagroup), or

emailing

info@stylemg.

com.

JANUARY 2023 | stylemg.com 75
---
| eat & drink |

Foodie Find

MORE

HANDHELD

DELIGHTS

— by BELLA NOLEN

We rounded up five savory

pies from across the region

that are sure to leave you

satisfied.

Pasty Pies of the World

374 Main Street, Placerville

530-777-7437

@savory_piesoftheworld

Tell us about

your experience

and what you liked

by messaging us on

Instagram

(@stylemags), Facebook

(@stylemediagroup), or

emailing

info@stylemg.

com.

We're all aware of the area's Gold Rush history, but did you know

that the miners searching for gold brought along a treasure of their

own? Pasty pies! Pasty Pies of the World (part of Enchanted Forest

Dining Experience) serves up the delicious hand pies that are each filled with

worldly flavors. My partner and I stopped into the cozy locale and decided to

take a quick trip to Europe with a France and Italy pasty to go. We patiently

waited while our pies heated up, but you can always order them pre-cooked

and bake them at your convenience. When we got home, we topped them

with the accompanying sauces: balsamic reduction for France and pesto for

Italy. The France pasty pie featured cubed black forest ham, gooey Brie, and

fresh rosemary. Italy was filled with Italian ground beef, marinara, provolone

cheese, sun-dried tomatoes, and fresh basil. Both pies were perfectly packed

in a crispy, golden brown pocket featuring a thick braided crust. Rumor has

it that the braid acted as a handle for the miners' dirty hands so they could

toss it without worrying about ingesting any unwanted germs. Luckily, we

got to enjoy the crispy crust but were both too selfish to share. I suppose

that just means we'll have to go back and take another trip around the

world to give the other flavors a go. Where will we end up? Japan? Ireland?

Any location is guaranteed piping hot and packed with flavor!

— by EMILY PETER-COREY

Ikeda's California Country

Market

13500 Lincoln Way, Auburn,

530-885-4243, ikedas.com

TRY THIS: Steak Pasty (smoky

bacon, savory ground beef, fresh

carrots, and potatoes)

Sanskrit

2776 East Bidwell Street,

Suite 300, Folsom, 916-817-4356,

sanskritindian.com

TRY THIS: Samosa (potatoes, onions,

green peas, and Indian spices)

BAD Bakers

1420 East Roseville Parkway,

Suite 180, Roseville, 916-883-2253;

195 Placerville Road, Suite 100,

Folsom, 916-790-8042,

badbakers.com

TRY THIS: Pork Empanada (pork,

carrots, peas, and potatoes)

36 Handles Public House

1010 White Rock Road, Suite 100,

El Dorado Hills, 916-941-3606

36handles.com

TRY THIS: O.G. Cottage Pie (ground

beef, peas, carrots, and onions

stewed in beef gravy and red wine;

topped with mashed potatoes and

provolone cheese)

The Market on Main

585 Main Street, Placerville,

530-303-3492

TRY THIS: Caprese Empanada

(tomatoes, fresh basil, and

mozzarella)

Ikeda's California Country Market Beef Pasty photo by Derek Ikeda. Sanskrit's Samosa photo by Sushil Kambil. BAD Bakers Pork Empanada photo by Blacktape Company.

76 stylemg.com | JANUARY 2023 | /stylemediagroup /stylemediagroup /stylemediagroup /stylemags

Photo by Taylor Gillespie.
---
H BEST FOOD AND DRINK H

AS VOTED BY THE READERS OF STYLE MAGAZINE

ITALIAN

FRENCH

Best Italian Restaurant in El Dorado

County- voted #1 for eleven straight

years! Our old world family recipes

are sure to delight. We invite you to

enjoy an Italian family style feast or a

romantic night out at Papa Gianni's...

your destination for an authentic

Italian meal. Buon Appetito!

Papa Gianni's Ristorante

3450 Palmer Dr., Suite 1

Cameron Park

530-672-2333

papagiannis.net

Voted Best Overall Restaurant

2020, 2021 AND 2022 in the

Roseville, Rocklin, Granite Bay Area!

Combining the flavors of France

and the Mediterranean regions, with

California fresh, seasonal, and locally

grown ingredients. The perfect

location for private dining, special

events, wedding celebrations, and

corporate dinners/presentations.

La Provence Restaurant

& Terrace

110 Diamond Creek Place

Roseville

916-789-2002

laprovenceroseville.com

THAI

DESSERTS

Voted "#1 BEST THAI RESTAURANT"

in Folsom and El Dorado Hills for the

past 14 years and "#1 BEST TAKE-OUT"

plus "a BEST CHEF" serving authentic,

healthy & delicious Thai food. Lunch &

Dinner daily. Indoor & Patio Dining.

Chef's Specials to make you happy.

Easy Online Ordering on our websites

for Take-Out and Delivery by Doordash,

Snaptown, UberEats and GrubHub.

Thai Paradise

Folsom 916-984-8988

ThaiParadiseFolsom.com

El Dorado Hills 916-939-0389

ThaiParadiseEDH.com

Icing on the Cupcake offers a wide

variety of cupcake flavors, including

gluten-free and vegan options that are

available every day at our three retail

locations. We also offer other sweet

treats, baked fresh daily including

brownies, pies, and cookie sandwiches

using the finest quality ingredients.

Icing on the Cupcake

3 locations to serve you

Rocklin. Folsom Palladio. Sacramento

916-303-4333

icingonthecupcake.com

AMERICAN

AMERICAN

The Independent presents an

outstanding American fusion menu

and a top-tier full bar. The scratch

kitchen uses only the freshest, finest

ingredients creating exceptional grill

and seafood entrées. The bar prides

itself on artisanal cocktails, freshsqueezed

juices, and house-made

mixers. Beautiful outdoor patio!

The Independent

Restaurant and Bar

629 Main Street, Placerville

530-344-7645

independentplacerville.com

At Smith Flat House Cellar & Grill, we

are committed to providing locally

sourced farm to fork cuisine in a

unique and inviting atmosphere.

We offer a fine dining experience

both in our Historic Cellar featuring

the original mahogany bar from the

1800s, restored to its original beauty,

and on our elegant patio.

Smith Flat House

Cellar and Grill

2021 Smith Flat Road, Placerville

530-621-1003

smithflathouse.com

PIZZERIA

CANDY STORE/CONFECTIONER

Family owned and operated, Pizzeria

Classico has been serving Folsom

for more than 37 years. We feature

hand-tossed, Chicago style deep dish

and stuffed pizzas, our famous garlic

chips, pasta salad and sandwiches.

Craft beers on tap and premium wine

by the glass or bottle. Come give our

award-winning cuisine a try!

Pizzeria Classico

702 Sutter Street, Unit A

Folsom

916-351-1430

pizzeriaclassico.com

A Family of Candy Makers since 1963.

With three generations of candy

makers, Snooks continues the tradition

of producing the finest freshly

made confections in Historic Folsom.

Thank you Folsom for your support.

Come Visit Us or Shop Online!

Snooks Candies

and Chocolate Factory

731 Sutter Street, Historic Folsom

916-985-0620

snookscandies.com

SPECIAL SECTION

JANUARY 2023 | stylemg.com 77
---
| eat & drink | Sip on This

1

4

Booze

Bucket List

6 MUST-TRY SIPS

Step out of your adult

beverage comfort

zone this year by

trying something

new (to you!). The

offerings here

aren't only unique

but crafted locally,

too. Enjoy—and

remember to always

imbibe responsibly!

2

5

3

6

1

CHEERS TO (SOUR) BEERS

Recently released from Burning

Barrel Brewing Co., Tart Pops

Double Jammer is a bold smoothie sour

that mimics everyone's favorite childhood

breakfast pastry. Each juicy sip is loaded with

blueberries, strawberries, cake batter, pie

crust, and cinnamon. As if it couldn't get any

sweeter, Burning Barrel makes all their

smoothie sours with 100% real fruit. 11210 Sun

Center Drive, Suite B, Rancho Cordova, 916-

382-4846, burningbarrelbrewco.com

2

BARRELS OF FUN

Can't decide between wine or

whiskey? Now you can savor the

flavors of both, thanks to this big, brawny

Bourbon Barrel-Aged Petite

Sirah from Bogle Vineyards

that combines luscious,

jammy flavors and a rich

mouthfeel with smoky, sweet

notes. Aged in whiskey

barrels, it's infused with

complexity, concentration,

and a unique finish—a primo

pick when you're looking to

savor something special

alongside good friends and

good conversation. 37783

County Road 144, Clarksburg,

916-744-1092, boglewinery.

com

3

GO ON A GRAPE

ESCAPE

In case you haven't

heard, canned wines are

what all the cool kids (21 and

up, of course!) are drinking.

Whether heading out on a

hike or hitting the slopes,

they're palatable and

portable—plus, they're good

for the planet. We're currently

crushing on the Canned

Pinot Noir from Wise Villa

Winery, which boasts flavors

of cherry, raspberry, clove,

vanilla, and dried roses, alongside a lush,

firm finish. 4200 Wise Road, Lincoln, 916-543-

0323, wisevillawinery.com

by MEGAN WISKUS

4

SHAKE YOUR BOOCH-Y

A buzzy beverage that's glutenfree

and good for your gut (thanks

to its plethora of probiotics), hard

kombucha is "the drink" for healthconscious

consumers. Grass Valley's

family-owned and operated Gold Vibe

Kombuchary makes some pretty fun

flavors. Our favorite? Lavender Lift, which

is made by brewing locally sourced,

whole-flower lavender in jasmine tea and

fermenting it with organic ginger and

lemon. 12615 Charles Drive, Grass Valley, 530-

802-7337, goldvibe.com

5

GO NUTS

Fans of beer and Almond Joy will

jump for actual joy over this

imperial stout from the talented team at

Moksa Brewing—known for their out-ofthe-bottle

offerings that are made using

high-quality ingredients alongside

exceptional quality control. Released

annually every winter, Happy Almonds is

brewed with almonds toasted in-house,

real coconut (over one pound per gallon!),

and Mexican and Congolese vanilla beans.

Pick up a bottle of the boozy, liquid dessert

while it lasts. 5860 Pacific Street, Rocklin,

916-824-1366 moksabrewing.com

6

TAKE THE HIGH ROAD

Out of life's many pleasures, red

wine and whiskey top the list. You

could concoct a New York Sour (a cocktail

that mixes fruity red wine and smokysweet

bourbon with lemon juice and

simple syrup)—or you could pour yourself

a glass of the Vintner's Road Bourbon

Cabernet Sauvignon Finished from J.J.

Pfister Distilling. After blending their

flagship High Rye Bourbon, they age it in

cabernet sauvignon wine casks for up to

six months. The result? A 100-proof, 100%

delicious spirit with allspice, dark caramel,

black pepper, and saddle leather on the

nose alongside layered notes of

boysenberry, plum, and black cherry. 9819

Business Park Drive, Sacramento, 916-672-

9662, jjpfister.com

Burning Barrel photo by Joe Matty. Other photos courtesy of their respective companies or organizations.

78 stylemg.com | JANUARY 2023 | /stylemediagroup /stylemediagroup /stylemediagroup /stylemags
---
H BEST FOOD AND DRINK H

AS VOTED BY THE READERS OF STYLE MAGAZINE

AMERICAN

ITALIAN

italian cuisine

FLB Entertainment Center is a whole

lot of flavor and fun, proudly serving

the Folsom community. We have 20

beers on tap, handcrafted specialty

cocktails, and an excellent wine

selection. Our menu has something

for everyone from delicious wings

and burgers to wraps and salads. Stop

in today and see why we've been

voted the best sports bar in the area!

FLB Entertainment Center

511 E. Bidwell St. , Folsom

916-983-4411

flb365.com

A restaurant dedicated to bringing the

flavors of Tuscany to our dining room.

Named after the Italian hometown of

2 of our founding partners, we offer

traditional cuisine of the Tuscany region,

as well as other recipes popular all over

Italy – simple dishes made to order with

the freshest of ingredients, and always

created and served with pride.

Vaiano Trattoria

7160 Douglas Blvd.

Granite Bay

916-780-0888

vaianotrattoria.com

AMERICAN

PIZZA

Celebrating our 16th year in business,

Heyday Café has been voted Best

Overall Restaurant, Best Salad Place,

Best Casual Restaurant, and Best

Wine Bar! Heyday Café presents fresh

California cuisine with international

influences. Lunch and dinner served

Tue-Sat. Pouring over 40 wines!

Reservations are encouraged.

Heyday Café

325 Main Street

Placerville

530-626-9700

heydaycafe.com

We're open every night for dinein

and takeout until 11. You can

also have each of your favorites

delivered right to your door by

visiting our website.

Order now at wallyspizzabar.com

Wally's Pizza Bar

4079 Cameron Park Drive

Cameron Park

530-677-5205

wallyspizzabar.com

STEAKHOUSE

WINERY/BISTRO

C. Knight's brings a classic approach

to the American tradition of the "old

school steakhouse" offering Prime beef,

craft cocktails, and local wines. We're

honored to be consistently voted one of

the best steakhouses in the region. Now

serving all the favorites from Ruffhaus

Hot Dog Co. daily for lunch.

Open for lunch and dinner, and

happy hour 3-5pm daily.

C. Knight's Steakhouse

2085 Vine Street, Suite 101

El Dorado Hills

916-235-1730

cknightssteakhouse.com

Wise Villa Winery is the only winery

in Placer County to feature a full

dining experience in our Tuscanstyle

bistro. We use only the highest

quality, locally sourced ingredients

that are hand crafted to perfectly

pair with our award-winning wines.

Wise Villa Winery

4200 Wise Rd.

Lincoln

916-543-0323

wisevillawinery.com

MEXICAN

ITALIAN

Mexquite Mexican Cuisine & Tequila

Lounge offers a lively, open, family

friendly environment. Catering and

special parties available. Enjoy your

meal inside our spacious dining

room or bar, or outdoor on our

gorgeous patio. Voted Best Mexican

Restaurant by the readers of Style

Magazine for Folsom and El Dorado

Hills for the past 10+ years!

Mexquite Mexican Cuisine &

Tequila Lounge

25095 Blue Ravine Rd., Folsom

916-984-8607

mexquite.com

At Visconti's Ristorante, we're honored

to cook for you as we cook for our own

family and we are proud to use only

the freshest ingredients and imported

meat, cheese, and wine. We welcome

you and look forward to serving you!

Visconti's Ristorante

2700 E. Bidwell St., Ste. 700

Folsom

916-983-5181

viscontisristorante.com

SPECIAL SECTION

JANUARY 2023 | stylemg.com 79
---
| eat & drink |

Hot

LIST

THE

Top-Notch

Nachos

by CAITLIN MCCULLOCH

Nachos are one of the most crowd-pleasing cuisines. Perfect

for sharing, and as an appetizer or a complete meal, they pair

best with football, friends, and a cold beer. From the classics

done right (fried chips and melty cheese) to more creative

preparations (smoked brisket and charro beans! ahi and

avocado!), they're fun to eat and hard to hate. If you don't feel

like making them at home, level up with this local roundup of

the most popular plates found 'round town.

On Dos Coyotes' opening day in January of 1991, their Santa Fe

Nachos were on the menu. They've stood the test of time and are

considered one of the café's most popular items. Everything on them is

made in-house, including the red chipotle sauce that's got both notes of

honey and spice. A hearty helping of jack and cheddar cheese top blue

corn tortilla chips, while whole black beans, sour cream, and guacamole

complete the masterpiece. If you want to pump up the protein, pulled

pork, chicken, or steak can be added as well.

13385 Folsom Boulevard, Suite 100, Folsom, 916-351-9750; 2030 Douglas Boulevard, Suite

4, Roseville, 916-772-0775; 1200 Athens Avenue, Lincoln, 916-408-7777, doscoyotes.com

If you can't decide between potato chips

or nachos—or if you simply adore potatoes

with cheese—head to Placerville Public

House for their Pub Nachos. A plethora

of the toppings are made in-house, including

the fresh beer cheese sauce that's crafted

daily. Green onions and a black bean corn

salsa add some freshness while shredded

carnitas bring a hearty balance. Topped with

spicy habanero sour cream, you get a hot yet

refreshing blast of flavor with each bite.

305 Main Street, Placerville, 530-303-3792,

placervillepublichouse.com

Barbecue-meets-nachos with a decadent order

of the Brisket Nachos at J. Wild's Livery &

Feed. The star of the show is the namesake brisket,

which is from Creekstone Farms and slow-smoked

to perfection. The smoky meat is cubed and blends

nicely with cheese sauce, which is house-made

daily. Charro beans (a barbecue bean with Hispanic

origins) brings a little kick and spice. You'll also find

delicious bites of onions, jalapeños, bacon, crema,

and guacamole.

614 Sutter Street, Folsom, 916-353-0140, jwilds.com

Dos Coyotes photo by Kevin Fiscus Photography. J. Wild's Livery & Feed photo by Yarcenia Garcia. Placerville Public House photo by Taylor Gillespie ©stylemediagroup.

80 stylemg.com | JANUARY 2023 | /stylemediagroup /stylemediagroup /stylemediagroup /stylemags
---
Crunchy tortilla chips truly get loaded

on the aptly named Loaded

Nachos from Bar 101. Fans of

classic nachos will be pleased with

this offering that features a blend of

jack and cheddar cheese alongside

familiar players like jalapeños,

refried beans, black olives, pico de

gallo, sour cream, green onions, and

house-made guacamole. Customize

your order by choosing between a

generous portion of carnitas, ground

beef, or shredded chicken.

101 Main Street, Roseville, 916-774-0505,

bar101roseville.com

Goose Port Public House photo by Dante Fontana ©styleme.diagroup. Nectar Cafe photo by Katie Schleder.

The Spicy Poke Nachos from Goose Port

Public House are the perfect shareable while

watching the big game on one of their flat screens

or listening to live music. Diners can expect

sashimi-grade tuna atop crispy wonton chips

with some tasty toppings to boot (spicy serrano

peppers, sweet chunks of pineapple, and green

onions). The grand finale? Creamy sriracha aioli and

sesame teriyaki sauce. And if you love tuna, it'll only

cost you a few bucks more for an extra helping.

316 Vernon Street, Roseville, 916-886-5080, gooseport.com

If you're a sushi fan, then the Ahi Tuna

Nachos from Sienna were made

for you. Traditional tortilla chips are

replaced with crispy wonton chips (so

you're still getting a good crunch) and

topped with sushi-grade ahi tuna, red

tomatoes, chunks of avocado, and a

sprinkling of cilantro. In lieu of cheese,

the dish is topped with sriracha mayo

for some creamy heat, accompanied

by a soy ginger glaze for a dash of

sweetness.

3909 Park Drive, El Dorado Hills, 916-941-9694;

1408 Eureka Road, Roseville, 916-771-4700;

siennarestaurants.com

Vegans, vegetarians, and carnivores alike

will love the Nachos Supreme from

Auburn's Nectar Café, whose mission

is "to help you and the planet thrive by

providing delicious, local, organic, healthy

food." House-made cashew cheese meets

a bed of corn tortilla chips before cilantro,

black olives, jalapeños, guacamole, and

vegan chorizo are piled on. A cilantro-lime

crema, also made with cashews, finishes

things off. Bonus: They can be made with

regular dairy cheese instead of the cashew

cheese, too!

948 Lincoln Way, Suite A, Auburn, 530-820-3314,

nectar-cafe.com

SENIORS MONDAYS, TRIVIA TUESDAYS, FUNDRAISER WEDNESDAYS, KIDS EAT FREE SUNDAYS

KIDS EAT

FREE

ORDER DElIVERy

OR TO-GO FOOD

All DAy SunDAyS FROM OuR WEBSITE OR FROM DOORDASH

Voted the Best

Burger & Fries

Joint & a Best

Outdoor Dining

in Folsom & El

Dorado Hills

RELISH BURGER BAR 1000 WHITE ROCK ROAD, EL DORADO HILLS, CA 95762 | relishburgerbar.com | 916.933.3111
---
| eat & drink |

Restaurant Guide

Featuring restaurants and eateries in Folsom, El Dorado Hills, Granite Bay, Roseville, Rocklin, and beyond.

= Outdoor Seating

= Full Bar

= Beer & Wine Only

= Happy Hour

M = Pick up a copy of Style here!

AUBURN

Auburn Alehouse

289 Washington St., 530-885-2537. American. Brewpub. From

weekly specials and craft beers to a bloody mary brunch

bar, you can have it all at this brewpub in Historic Old

Town. With their onsite brewery (beers are brewed in small

310-gallon batches), you're guaranteed the freshest of the

fresh. Hang out on the patio, grab a drink, and enjoy some

classic American fare, like the beloved cheese loaf and fried

chicken. B/L/D $$
---
Hisui Sushi

25004 Blue Ravine Rd., Ste. 107, 916-985-7778. Japanese.

Combining traditional Japanese cuisine with a creative and

contemporary flair, Hisui focuses on serving food made

using fresh, healthy ingredients. Closed Monday. L/D $$

Iron Horse Tavern

460 Palladio Pkwy., 916-618-4322. New American.

Grab a seat on the spacious patio with TVs at this

hip gastropub that serves up eclectic American fare,

including a Mac & Cheese Bar, Brandy Fried Chicken

Nuggets, and weekend brunch with Stuffed French Toast,

a Breakfast Board, and bottomless mimosas. Their craft

cocktails, myriad mocktails, and over 25 beers can't be

missed either. L/D $$

Julian's Pâtisserie and Café

6610 Folsom-Auburn Rd., Ste. 7, 916-936-4735. Bakery/Café.

Julian's Pâtisserie is full of European treats, creative crêpes

(both sweet and savory), and more—all of which are made

from scratch with nothing but the finest ingredients. Closed

Tuesday. B/L $

Karen's Bakery and Café

705 Gold Lake Dr., Ste. 340, 916-985-2665. Bakery/Café.

Bakery items here are based on European traditions and

feature seasonal ingredients with a creative approach. The

picturesque patio is perfect for catching up with friends

over coffee or lunch. Closed Sunday. B/L $$

Land Ocean New American Grill

2720 East Bidwell St., 916-983-7000. New American. Land

Ocean offers distinctive menus that include hand-cut

steaks, wood-fired rotisserie, fresh seafood, and delectable

desserts. Weekend brunch. L/D $$

La Rosa Blanca

402 Natoma St., 916-673-9085. Mexican. You're part of the

family at La Rosa Blanca. From fajitas and tostadas to tortas,

soups, and salads, you can expect great-tasting food,

generous portions, and a festive environment. L/D $

Lazy Dog Restaurant & Bar

300 Palladio Pkwy., Folsom, 916-378-4660. American. Enjoy a

sizeable, seasonal menu full of eclectic, gastropub-style

offerings that include salads, bowls, burgers, pastas,

desserts, and even an impressive kids' menu. Weekend

brunch. L/D $$

Lotus 8

199 Blue Ravine Rd., Ste. 100. 916-351-9278. Chinese. This

eatery serves authentic Chinese food with a modern twist,

such as orange chicken that manages to be both saucy yet

incredibly crispy at the same time. Lunch dishes come with

soup and your choice of chow mein or fried rice. L/D $$

Manderes

1004 East Bidwell Street, Suite 600, Folsom, 916-986-9655,

American. Serving favorites like burgers, ravioli, steaks, and

more, this lively spot prides themselves on hearty American

fare and good beer and wine. Closed Monday. L/D $$

Mas Taco Bar

450 Palladio Pkwy., 916-597-2929. Mexican.

From creative tacos that run the gamut from pork belly and

duck confit, to Korean fried chicken and fried oysters, Mas'

menu also features appetizers, bowls, and desserts. When

it comes to wetting your whistle, the cocktail menu—all

handmade with fresh ingredients—has you covered! The bar

also boasts over 50 types of tequila. B/L/D $$

Mel's Diner

13399 Folsom Blvd., 916-985-7337, American. Whether morning,

noon, or night, step into yesteryear at this local diner that

serves all-American family favorites like country fried steak,

burgers, fried chicken, milkshakes, and more. B/L/D $$

Mexquite

25095 Blue Ravine Rd., 916-984-8607. Mexican. Mexquite

provides mouthwatering Mexican cuisine, plus a lively

interior and spacious, dog-friendly patio. Patrons

particularly love their ceviche, margaritas, and carnitas.

Weekend brunch. L/D $$

Mikuni

185 Placerville Rd., Ste. 100, Folsom, 916-934-5250. Japanese. In

addition to sushi, traditional Japanese dishes, and modern

twists on classics, Mikuni offers a gluten-free menu, party

platters, and happy hour specials—all made using great

attention to detail and fresh ingredients. L/D $$

Mountain Mike's Pizza

25075 Blue Ravine Rd Suite 150, Folsom, 916-817-1207. Pizza. A

family-friendly favorite, Mountain Mikes promises the

crispiest, curliest pepperoni and the freshest ingredients on

their pizza. They also offer mouthwatering wings, an all-youcan-eat

salad bar, and pizza buffet lunch. L/D $$

Mylapore

1760 Prairie City Rd., Ste. 160., 916-985-3500. Indian. With South

Indian roots, Mylapore serves fresh, healthy, scratch-made

food that's entirely vegetarian. Their breakfast, daily specials,

and dosa happy hour are not to be missed. B/L/D $$

= Readers' Choice Award Winners

MUST HAVE WON RCA AWARD WITHIN THE PAST 2 YEARS.

Nash + Tender

2770 E. Bidwell St., Ste. 400., 916-673-9636. Southern. Bringing the

South's hot chicken staple to Folsom is Nash + Tender! Their

chicken is made fresh daily, with options of beer and soft

drinks to wash it all down. Be sure to check out the chicken

heat levels, which range from "country" (no spice) all the

way to "stupid hot" (waiver required; dine-in only). Whether

it's chicken & waffles, loaded fries, hot chicken sliders, or

something from their "secret menu," there's something to

satisfy every fried chicken fan.

L/D $$
---
| eat & drink |

The Breakroom

4131 South Shingle Rd., Ste. 7, Shingle Springs, 530-763-6761.

American. This full-service restaurant offers delicious

American food (juicy burgers, French dip, salads, mac &

cheese, etc.) and entertainment for the whole family,

from pool tables, dart boards, and an arcade, to cards

and dice. L/D $$

The Farm Table

311 Main St., 530-295-8140. New American. At this not-so-secret

Placerville gem, ingredients are sourced from local farms

and businesses, meaning plates change based on what can

be picked. Whether you're hungry for comfort food (Mini

Grilled Cheese & Heirloom Tomato Soup), classics done

right (311 Burger and Ravioli Bolognese), or more upscale

offerings (Duck Confit and Certified Angus Beef New York

Steak), you're sure to leave satisfied. L/D $$

The Independent

629 Main St., Placerville, 530-344-7645. New American. Step

into an urban dining establishment in the heart of

Placerville and savor American fusion favorites and

creatively mixed cocktails using fresh-squeezed juices.

L/D $$

Tom's Burger & Frosty

567 Placerville Dr., Placerville, 530-295-8199. American. Enjoy

freshly grilled burgers, piping hot fries, and thick milkshakes

that you and the whole family will love at this no-frills

dining destination. L/D $

Wally's Pizza Bar

4079 Cameron Park Dr., Cameron Park, 530-677-5205. Pizza/

American. This family-owned and operated eatery crafts

gourmet pizzas, pastas aplenty, and high-quality breakfast

dishes. Their happy hour is one of the best in town.

Weekend brunch. L/D $$

ROSEVILLE

Back Forty Texas BBQ

1201 Orlando Avenue, Roseville, 916-726-4040. American.

Serving up authentic Texas and finger-licking fare including

ribs, burgers, steaks and more, plus fresh made sides

alongside old-fashioned southern hospitality. L/D $$

Bar 101 Eats & Drinks

101 Main St., Roseville, 916-774-0505, American. Sometimes

you just want a comfortable neighborhood place to hang

out and get some good food and drinks. If Historic Roseville

is your destination, look no further than Bar 101. The

menu features traditional bar fare, a bevy of burgers and

sandwiches, street tacos, and more. L/D $$

Bennett's Kitchen Bar Market

1595 Eureka Road, Roseville, 916-750-5150. American. Choose

between fine dining or casual dining by the bar or on the

temperature-controlled patio. The menu offers comfort

food and elevated fare, while a full-service bar aims to

create a "Napa vibe" in Roseville. Gluten-free and vegetarian

options. B/L/D $$

BrickYard Counter & Bar

1475 Eureka Rd., Ste. 120, 916- 836-8406. American. BBQ.. Expect

good times (weekly events and live music), good eats

(burgers, BBQ, salads, sandwiches), and good drinks

(including regularly rotating craft taps) at this familystyle

locale that's perfect for a first date, birthday

celebration, class party, sporting event, or evening out

with friends. L/D $$

Chicago Fire

500 North Sunrise Ave., 916-771-2020. Pizza. Offering a variety

of menu items inspired by the Windy City, from meaty

Italian beef sandwiches and a "Chicago Dog" to the deepest

and cheesiest pizza in town. L/D $$

Eureka!

234 Gibson Dr., Ste. 100, Roseville, 916-864-9500. American. Serves

30 craft beers on tap, an extensive selection of small-batch

whiskeys, and regional wines, along with craveable dishes

like lollipop corn dogs, burgers, salads, and fried chicken

sliders. Brunch Saturday & Sunday. L/D $$

Fat's Asia Bistro

1500 Eureka Rd., Roseville, 916-787-3287, Asian Fusion/

Chinese/Seafood. Named the region's favorite Asian

restaurant for more than 10 years in a row, Fat's specializes

in handmade dim sum, banana cream pie (Frank Fat's

recipe), and other high-quality dishes. L/D $$

Flame & Fire Brazilian Steakhouse

963 Pleasant Grove Blvd., Ste. 100. 916-790-5750. Brazilian.

Steakhouse. Established in 2014, Flame & Fire offers a unique

dining experience where gaucho chefs carve succulent,

premium, unlimited cuts of beef, lamb, chicken, and pork

directly onto diner's plates in an upscale ambiance. Meats

are complemented with endless servings of fresh seasonal

salads, Brazilian favorites, hot sidebar specialties, and more.

Their specialty 32-ounce Tomahawk steak can't be missed

either! Vegetarian, vegan, paleo, and keto friendly. Live

music on Fridays; lunch served Sundays. D $$$

Four Sisters Café

9050 Fairway Dr., Ste. 165, Roseville, 916-797-0770. American/

Café. Mango-stuffed French toast, eggs benedicts, thicksliced

bacon (cured and smoked in-house), homemade

soups, specialty salads, and sandwiches are just a sampling

of this cafe's mouthwatering menu. B/L $$

Goose Port Public House

316 Vernon St., Roseville, 916-886-5080. American. Sports Bar.

This family-friendly eatery boasts fresh-made bites for

everyone, from an array of apps and salads, to burgers and

seasonal entrées. Vegan options. Big-screen TVs. Brunch

Saturday & Sunday. L/D $$

House of Oliver

3992 Douglas Blvd., Ste. 140, Roseville, 916-773-9463. American.

Wine and dine at this upscale bar that offers wine flights,

cheese and charcuterie boards, and pairing plates. There's

live music every Friday and Saturday night, various special

events, and late-night dining. D $$

Il Fornaio

1179 Galleria Blvd., Ste. 118, Roseville, 916-788-1200. Italian. Using the

freshest ingredients and traditional cooking techniques, Il

Fornaio creates high-quality Italian food paired with great

wines and cocktails in a beautiful setting. L/D $$

La Provence Restaurant & Terrace

110 Diamond Creek Pl., Roseville, 916-789-2002. French/

Mediterranean. Dining at La Provence is akin to being in a

little French villa. Topped with their consistently delicious

food and wine, cozy fireplace, and twinkle-lit patio, and you

have the recipe for a memorable meal. Saturday brunch.

Closed Sunday. L/D $$$

Land Ocean New American Grill

1151 Galleria Blvd., Ste. 241, 916-407-5640. New American. Land

Ocean offers distinctive menus that include hand-cut

steaks, wood-fired rotisserie, fresh seafood, and delectable

desserts. Weekend brunch. L/D $$

Lazy Dog Restaurant & Bar

238 Gibson Dr., Roseville, 916-727-6321. American. Enjoy a

sizeable, seasonal menu full of eclectic, gastropub-style

offerings that include salads, bowls, burgers, pastas,

desserts, and even an impressive kids' menu. Weekend

brunch. L/D $$

Mehfil Indian Restaurant

1605 Douglas Blvd., Roseville, 916-791-1199. Indian. Casual

eatery with a lunch buffet offering Indian food favorites and

many vegetarian options. L/D $

Mikuni

1017 Galleria Blvd., Ste. 160, Roseville, 916-780-2119. Japanese. In

addition to sushi, traditional Japanese dishes, and modern

twists on classics, Mikuni offers a gluten-free menu, party

platters, and happy hour specials—all made using great

attention to detail and fresh ingredients. L/D $$

My Thai Kitchen

1465 Eureka Rd., Ste. 140, Roseville, 916-781-7811. Thai. Enjoy

authentic, fresh-made fare in an open-concept kitchen at

My Thai Kitchen while receiving prompt, professional, and

friendly service. L/D $$

Nixtaco

1805 Cirby Way, 916-771-4165. Mexican.

Don't let the unassuming facade of this casual taqueria

fool you: Nixtaco's menu features chef-driven tacos

and quesadillas with farmers' market-sourced produce,

unconventional proteins, and freshly made tortillas (with

corn ground in-house). With a kids' menu, vegan offerings,

and Sunday brunch, it's a perfect pick for the whole family.

L/D $

Paul Martin's American Grill

1455 Eureka Rd., Roseville, 916-783-3600. New American.

Classic American fare in a sophisticated, convivial setting;

an energetic bar with communal tables and plush seating,

intimate booths and tables, and an expansive outdoor

patio. L/D $$

Platinum Wine Lounge

9050 Fairway Dr., Ste. 105, 916-780-9463. Wine Bar. New American.

For fans of carefully curated wine lists featuring Californiagrown

grapes and local craft beers, look no further than

Platinum Wine Lounge. Their menu features build-yourown

charcuterie boards, plus paninis, flatbreads, and other

shareables. Be sure to save room for their brown butter

cake alongside a glass of Port. Closed Monday. D $$

Range Kitchen & Tap

1420 E, Roseville Pkwy., Ste. 160, Roseville, 916-865-4317. New

American. Range Kitchen & Tap's menu is designed for

sharing and socializing, with a focus on serving locally

sourced and seasonal comfort food like bison meatball

sliders, fried chicken, and pizza. Closed Sunday. L/D $$

Ruth's Chris Steak House

1185 Galleria Blvd., Ste. P-120, Roseville, 916-780-6910. Steak/

Seafood. Sizzling plates and an award-winning wine list are a

perfect pairing for any occasion. Experience Ruth's Chris

elegant setting for a romantic dinner, business meeting, or

private party. D $$$

Sienna Restaurant

1480 Eureka Rd., 916-771-4700. American. This awardwinning

restaurant's specialties include wood-fired pizzas,

fresh fish, hand-cut steaks, and a large selection of

appetizers. Weekend brunch. $$ L/D

Tang's Sushi

1426 Blue Oaks Blvd., Ste. 100, Roseville, 916-781-0807. Japanese.

With so many inventive eats and modern environs to boot,

Tang's has mastered the art of Japanese fare with flair. The

chef is happy to customize orders and create off-menu

items. Closed Sunday. L/D $$

84 stylemg.com | JANUARY 2023 | /stylemediagroup /stylemediagroup /stylemediagroup /stylemags

Thai Basil

1613 Douglas Blvd., Roseville, 916-782-8424. Thai. This

cheerful, long-established eatery serves up an array of Thai

favorites in a light-filled, compact space. L/D $$

The Monk's Cellar

240 Vernon St., Roseville, 916-786-6665. American. The

Monk's Cellar has brought a little bit of Belgium to

Downtown Roseville, with their community-focused

brewery and restaurant that serves fine artisanal beer and

creative dishes. L/D $$

The Place

221 Vernon St., Roseville. 916-742-5447. Italian. Cozy

Italian restaurant and bar that specializes in artisanal,

wood-fired pizzas, paninis, pastas, and more. Closed

Monday. L/D $$

Zócalo

1182 Roseville Pkwy., Ste. 110, Roseville, 916-788-0303. Mexican.

Elegant restaurant and bar with modern Mexican dishes,

fresh-made margaritas, and Sunday brunch. Avail of their

monthly chef's dinner or private party room. L/D $$

GRANITE BAY

Dominick's Italian Market & Deli

8621 Auburn Folsom Rd., Granite Bay, 916-786-3355. Italian.

Namesake Dominick's dream was to have a unique place

that would provide customers with the finest and freshest

ingredients, large portions, fair prices, and the Italian

tradition of first-name friendliness. A decade later and his

dream is alive and well in Granite Bay. L/D $$

Farmhaus

8230 Auburn Folsom Rd., Granite Bay, 916-772-3276. New American.

This fresh, seasonal eatery tucked off Auburn Folsom Road

is a feast for the senses. The house-like building pumps out

plates that morph with the months. On balmy days, their

picturesque patio is a must. Closed Monday. L/D $$

Hawks

5530 Douglas Blvd., Granite Bay, 916-791-6200. New American.

Refined, high-end American cuisine, including tasting

menus, in a stylish, modern dining room and bar. Brunch on

the second Sunday each month; lunch weekdays; Closed

Monday. L/D $$$

New Glory Brewery & Taproom

5540 Douglas Blvd., Ste. 140 & 150, Granite Bay, 916-872-1721.

American. Delicious food (sandwiches, pizzas, salads,

shareables, and burgers), beautiful brews, and a

spacious patio await at New Glory's latest venture in

Granite Bay. L/D $$

Vaiano Trattoria

7160 Douglas Blvd., Granite Bay, 916-780-0888. Italian.

Offering traditional Tuscan cuisine and other Italian

favorites, Vaiano Trattoria prides themselves on preparing

simple dishes that are made to order with the freshest of

ingredients. Lunch served weekdays. L/D $$

ROCKLIN

The Blue Parrot Lounge

6848 Five Star Boulevard, Suite 5, Rocklin, 916-259-4029, Wine Bar.

Relax, socialize or network in an upscale lounge setting

with outstanding wine, craft beers, and sophisticated food

offerings. D $$$

Lucille's Smokehouse Bar-B-Que

6628 Lonetree Blvd., Rocklin, 916-780-7427. American. Serving

slow-cooked meats and other Southern-style eats that the

whole family will love, Lucille's is a Rocklin favorite for a

reason. L/D $$

Mezcalito Oaxacan Cuisine

5065 Pacific St., 916-701-4772. Oaxacan. Savor authentic flavors

from Oaxaca at this eatery known for their complex mole,

tlayudas, and other flavor-filled plates, including plenty of

vegetarian and seafood options. Don't forget to save room

for dessert: The churros and mezcal ice cream are a fan

favorite. Breakfast served till noon. B/L/D $$

Pottery World Café

4419 Granite Dr., Rocklin, 916-624-8080. American/Café. With

brioche French toast and buttery Belgian waffles, in

addition to an extensive lunch menu, and a high tea the

second Thursday of every month, this café is the prime

place to take out-of-towners. Their patio is one of the

region's best, too. B/L $$

The Chef's Table

6843 Lonetree Blvd., Ste. 103, Rocklin, 916-771-5656. New

American. The namesake chefs here pride themselves on

using local ingredients that are carefully handled, lovingly

prepared, and joyfully served to you for your culinary

enjoyment. Closed Sunday and Monday. L/D $$

Venita Rhea's

4415 Granite Dr., Rocklin, 916-624-2697. American. If you're

looking for a delicious breakfast to start off your day, Venita

Rhea's is the place to be. From benedicts, scrambles, and

sandwiches to soups, salads, and bottomless mimosas,

you'll find all your favorites. B/L $$

FOR MORE RESTAURANT LISTINGS IN THE

AREA, VISIT STYLEMG.COM AND CLICK ON OUR

EXTENSIVE RESTAURANT GUIDE.
---
Brenna-McGowan-Copywriter-Social-Media-Marketing-Rescue-California-SSGF-Super-Saver-0121.indd 12/20/20 3:46 1PM

SHOP LOCAL

Voted Best Local Business

4 years in a row!

916-983-9000 folsom-thaicuisine.com

2371 Iron Point Ste 100, Folsom

CUSTOM DESIGN | JEWELRY &

WATCH REPAIR | APPRAISALS

FINE ESTATE JEWELRY

UNIQUE GIFTS

Free WATCH BATTERY

Must mention ad. Limit one per customer. Expires 1/31/23.

START YOUR VALENTINES' SHOPPING EARLY

502 NATOMA STREET | FOLSOM

CORNER OF BRIDGE AND NATOMA ST.

916.260.5136

ADRIANBLANCOJEWELRY.COM

10% OFF

DINNER

Dine in or Take Out. Must present

coupon, not valid for holidays Exp. 1/31/23

Treat Yourself to our

award-winning spirits

We produce small-batch spirits including vodka, gin, absinthe, corn whiskey, California Bourbon, and the

world's first malted rice whiskey. We invite you to come to our tasting room to try our spirits for yourself!

Tasting Room Open

Wednesday by Appointment Only | Friday 4-7 PM

Saturday 11-3 PM | Sunday 12-4 PM

11460 SUNRISE GOLD CIRCLE, STE. C

RANCHO CORDOVA | 916-476-3868

GOLDRIVERDISTILLERY.COM

@GOLDRIVERDISTILLERY

MENTION THIS AD AND GET 15% OFF YOUR TOTAL PURCHASE!

brenna mcgowan

copywriter

Gold River Distillery-Shop Local-Single-Style-Magazine-0822-2.indd 1

7/20/22 8:33 AM

ArchitecturAl SpeciAlty SAleS co.

Only the very best fOr less. huge selectiOn and impeccable service

HIGH END WINDOWS

AND DOORS

Helping you write words for your website &

email marketing that set you apart from the crowd.

brennamcgowan.co

@brennamcgowanco

800-797-7412 • 530-626-1586

6051 EntErprisE Dr. stE 104 • DiamonD springs • assCo.BiZ

Photo: Element 79 tasting room. All doors and windows by Architectural Specialty Sales
---
SAVINGS

GUIDE

SPECIAL ADVERTISING SECTION

ROSEVILLE • ROCKLIN • GRANITE BAY

#

1Service

Make a Splash with the

Favorite

Pool

86 stylemg.com | JANUARY 2023 | /stylemediagroup /stylemediagroup /stylemediagroup /stylemags | stylesavingsguide.com | /stylesavingsguide / stylesavingsguide

Thanks again for Voting Us #1

AQUATIQUE

POOL SERVICE

PROFESSIONAL M AINTENANCE

AND EQUIPMENT REPAIR

(916) 797-1700

Contractor's Lic. # 1011354

www.aquatiquepoolservice.com

KIDS CLASSES COMPETITIVE CLASSES INDOOR, HEATED YEAR-ROUND FACILITY

ADULT CLASSES WATER SAFETY BABY & ME CLASSES

REGISTRATION IS NOW

OPEN THROUGH MAY 2023!

Classes fill quickly. Contact us today for availability

and to reserve your spot!

1230 Glenhaven Ct, #100

El Dorado Hills • 916.939.7075

6049 Douglas Blvd. #27,

Granite Bay

10608 Industrial Ave, #150

Roseville • 916.794.7977

www.wallenswim.com

Shop Posh Puppy Boutique at the Rocklin location!

NOW WITH 3 LOCATIONS TO SERVE YOU!

Rocklin • Granite Bay • Lincoln Del Webb

(916) 899-6770

PoshPawsGroomingSalon.com

Voted #1

Best Swim School

in 2013 - 2022
---
SPECIAL ADVERTISING SECTION

ROSEVILLE • ROCKLIN • GRANITE BAY

SAVINGS

GUIDE

THE STUDIO MARTIAL ARTS & FITNESS

TOTAL BODY WORKOUT

Let MARTIAL ARTS get you in

the best shape of your life!

A unique workout designed to

empower you to become:

• Fit

• Flexible

• Healthy and Happy

Don't wait. Sign up today!

THE STUDIO MARTIAL ARTS & FITNESS

916-258-KICK (5425)

www.TrainAtTheStudio.com

8200 Sierra College Blvd., Suite D,

Roseville (at Douglas Blvd.)

OTHER CLASSES INCLUDE:

• Cardio Kickboxing (ACKC)

• Ninja Obstacle Course

• Zumba

• Indoor Cycling (Spin)

• Kids' Ninja Fitness

• Boot Camp

• Dance Booty Camp

• Body Fusion (Pilates/Yoga)

• Personal Training

• Mobility Training

• Weight Training

• Cross Training

• Butts N' Guts

• TRX

• Strength & Cardio

• Yoga and Meditation

• BAM (Bad A** Moms) Women's

Self Defense, Fitness, and

Martial Arts

• BAD (Bad A** Dads) Men's

Martial Arts, Self Defense,

and Fitness

• Kids' Hip Hop Dance Fitness

• Mini Ninjas for Ages 3-5

• Circuit Training

• Fitness Yoga

• Taekwondo for Ages 3 to 50+

• Non-Contact Martial Arts

• Tai Chi

2010-2022

B U S H N E L L G A R D E N S N U R S E R Y

20% off Coupon

RECIEVE 20% OFF YOUR ENTRIE PURCHASE. MUST PRESENT THIS COUPON

AT TIME OF PURCHSE. CANNOT BE COMBINED WITH ANY OTHER

PROMOTIONS. COUPON EXPIRES 2/28/2023

5255 DOUGLAS BLVD GRANITE BAY 916-791-4199

87 stylemg.com | JANUARY 2023 | /stylemediagroup /stylemediagroup /stylemediagroup /stylemags | stylesavingsguide.com | /stylesavingsguide / stylesavingsguide
---
SAVINGS

GUIDE

SPECIAL ADVERTISING SECTION

ROSEVILLE • ROCKLIN • GRANITE BAY

SUPER SAVERS ....................................................................................................................................................................................

ONE MONTH

FREE!

88 stylemg.com | JANUARY 2023 | /stylemediagroup /stylemediagroup /stylemediagroup /stylemags | stylesavingsguide.com | /stylesavingsguide / stylesavingsguide

H H H H H

4.9 Stars – 1,000+ Reviews
---
SPECIAL ADVERTISING SECTION

ROSEVILLE • ROCKLIN • GRANITE BAY

SAVINGS

GUIDE

...................................................................................................SUPPORT LOCAL. SHOP LOCAL. BUY LOCAL.

Folsom in the Palladio

across from Kirkland's

230 Palladio Parkway suite 1229

RESOLVE TO

yourself

25 Licensed Therapists

Friendly, Knowledgeable Staff

IN 2023

Massage $79.99 Facial $79.99

Real therapy for real life.

Open 7 days - Extended Hours

Relaxing Spa Atmosphere

Roseville in the Nugget Plaza

next to Nugget Market

761 Pleasant Grove Blvd

916.932.0399 916.772.9555

EXPRESS MOBILE REPAIR

All Electronics

SACRAMENTO'S MOST TRUSTED TECHNICIANS

✓

✓

✓

✓

✓

✓

Screen, Battery & Charging Port Replacements

Software & Hardware

Computers, Tablets, Phones & Gaming Systems

Mobile & In Person

Sim Card And Phone

Warranty, Accessories, & Many More

Provide This

Coupon To Get

$20 OFF

Your Repair

Exp. 2/28/23

Folsom: (916) 705-9191

25004 Blue Ravine Rd #111

Rocklin: (916) 699-3679

5050 Rocklin Rd, Ste A-4

expressmobile.repair

expmrepair@gmail.com

express_mobilerepair

Passion.

Culture.

Food.

Voted Best

Thai Restaurant

in Roseville

Book your Galentine's Day Private

VIP Shopping Party with a Special

Discount, Champagne, FREE Gifts and

earn a FREE Gift Card for you!

Shop online now for FREE Shipping

www.onpointboutique.store

916-805-9941

onpointboutique.store

199 Blue Ravine Rd Suite 180, Folsom

(916) 781-7811

My Thai Kitchen - Stone Point Shopping Center

1465 Eureka Rd., ST 140, Roseville

Hours: Mon-Sun 11am - 9pm

www.eatatmythaikitchen.com

89 stylemg.com | JANUARY 2023 | /stylemediagroup /stylemediagroup /stylemediagroup /stylemags | stylesavingsguide.com | /stylesavingsguide / stylesavingsguide
---
| last look |

Where We

Live

5 STEPS

TO YOUR BEST

YEAR YET

1 » Regulate your nervous

system. When you feel

triggered, learn how to

slow down, focus on your

breath (exhale longer than

you inhale), and feel the

sensations in your body.

Having a regular yoga

practice is a great way to

strengthen this skill.

2 » Develop a healthy

attachment style. Your

attachment style is how

you connect in relationships.

Those with a positive

attachment style can

control their reactions,

are emotionally available,

able to express healthy

boundaries, and face conflict

directly and confidently;

they're dependable, trust

themselves and others, are

comfortable talking about

their feelings and having

difficult conversations, and

committed to growing and

staying curious.

3 » Have more hard

conversations. Learn how

to express your needs and

understand the needs of

others; this is one of the most

crucial life skills to have.

4 » Set boundaries and

stick to them. Communicate

your wants and needs; don't

assume others know what

they are.

5 » Learn something

new. This is one of the best

things you can do to build

confidence.

"The body benefits from

movement, and the mind

benefits from stillness."

—Sakyong Mipham

Photo by Stephanie Birch, stephbirch.com @stephynow

90 stylemg.com | JANUARY 2023 | /stylemediagroup /stylemediagroup /stylemediagroup /stylemags

Self-esteem coach Diana Vitantonio

teaches people how to build

authentic confidence; she's also a

certified yoga teacher with over 23

years of experience and the owner

of Yoga Nyla (formerly Zuda Yoga

Folsom). Learn more about her at

dianavitantonio.com.

What's Coming

Next Month?

Sizzling Steaks

Wonderful Watercolorists

Cool Cones

Subject to change

We Want to See Your Snaps!

Send your favorite seasonal photo of the region

(must be vertical!) to info@stylemg.com.

Our favorite pics will appear in an upcoming issue.
---
Voted

HOURS

Lunch 11:00-2:00pm | Dinner 4:30-8:30pm | Closed Sunday & Monday

916-985-7778 | WWW.HISUISUSHI.COM

25004 BLUE RAVINE RD., #107 | FOLSOM, CA 95630

Gift Cards Available
---
Happy New Year!

Treat Yourself. You Deserve It.

Age: 54

Procedure: A-Lift & Brow Lift

For our beautiful patient above, the A-Lift was the

perfect procedure to restore her youthful appearance.

Procedures combined for an excellent result. No

general anesthesia. All procedures are performed

comfortably under local anesthesia. Recovery

is 7-10 days. Final results at 2 months.

Readers Choice Award Winner 7 Years in

a Row for Best Plastic Surgeon and Best

Doctor for Cosmetic Procedures.

(916) 771-2062

Arnold Almonte, D.O., F.A.C.O.S.

Board Certified Plastic Surgeon

'19

stylemg.com

'20

stylemg.com

DrAlmonte.com • 1420 Blue Oaks Blvd., Suite 100 Roseville, CA 95747