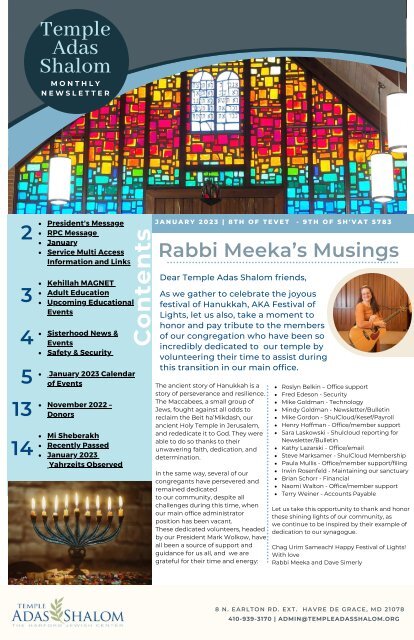 TAS January Newsletter 2023
You also want an ePaper? Increase the reach of your titles
YUMPU automatically turns print PDFs into web optimized ePapers that Google loves.
Temple

Adas

Shalom

M O N T H L Y

N E W S L E T T E R

2

3

4

5

13

14

President's Message

RPC Message

January

Service Multi Access

Information and Links

Kehillah MAGNET

Adult Education

Upcoming Educational

Events

Sisterhood News &

Events

Safety & Security

January 2023 Calendar

of Events

November 2022 –

Donors

Mi Sheberakh

Recently Passed

January 2023

Yahrzeits Observed

Contents

J A N U A R Y 2 0 2 3 | 8 T H O F T E V E T - 9 T H O F S H ' V A T 5 7 8 3

Rabbi Meeka's Musings

Dear Temple Adas Shalom friends,

As we gather to celebrate the joyous

festival of Hanukkah, AKA Festival of

Lights, let us also, take a moment to

honor and pay tribute to the members

of our congregation who have been so

incredibly dedicated to our temple by

volunteering their time to assist during

this transition in our main office.

The ancient story of Hanukkah is a

story of perseverance and resilience.

The Maccabees, a small group of

Jews, fought against all odds to

reclaim the Beit ha'Mikdash, our

ancient Holy Temple in Jerusalem,

and rededicate it to God. They were

able to do so thanks to their

unwavering faith, dedication, and

determination.

In the same way, several of our

congregants have persevered and

remained dedicated

to our community, despite all

challenges during this time, when

our main office administrator

position has been vacant.

These dedicated volunteers, headed

by our President Mark Wolkow, have

all been a source of support and

guidance for us all, and we are

grateful for their time and energy:

Roslyn Belkin – Office support

Fred Edeson - Security

Mike Goldman - Technology

Mindy Goldman - Newsletter/Bulletin

Mike Gordon - ShulCloud/Kesef/Payroll

Henry Hoffman - Office/member support

Sara Laskowski - Shulcloud reporting for

Newsletter/Bulletin

Kathy Lazarski - Office/email

Steve Marksamer - ShulCloud Membership

Paula Mullis - Office/member support/filing

Irwin Rosenfeld - Maintaining our sanctuary

Brian Schorr - Financial

Naomi Walton - Office/member support

Terry Weiner - Accounts Payable

Let us take this opportunity to thank and honor

these shining lights of our community, as

we continue to be inspired by their example of

dedication to our synagogue.

Chag Urim Sameach! Happy Festival of Lights!

With love

Rabbi Meeka and Dave Simerly

8 N . E A R L T O N R D . E X T . H A V R E D E G R A C E , M D 2 1 0 7 8

410-939-3170 | ADMIN@TEMPLEADASSHALOM.ORG
---
President's Message

Mark Wolkow

"May I have your

attention please!"

Sitting on a Southwest airplane

preparing for takeoff, the flight

attendant is going through her

usual spiel. Having heard this so many

times on countless flights, I'm only half

paying attention when I hear her

say "… we are here for your comfort

and safety. If anything during our

flight makes you feel unsafe or

uncomfortable, please let one of

us (the flight attendants) know".

Which made me think: this is what

Temple Adas Shalom is all about, too.

We are certainly about safety… our

primary job is to ensue the safety of all

members and guests at all times,

regardless of what is happening or

where it takes place.

We are also here for one another's

comfort. Think about the many ways

we experience discomfort… and how

being part of TAS can provide relief:

when physically ill, we provide a meal

or transportation; when emotionally

upset, a shoulder to cry on or a timely

prayer; if spiritually

RPC Message

Melissa Immel

It's Cold Outside, but it's warm at the Shul! While

unfulfilled, a rabbi to go to who will

help you on your personal journey.

When you start to peel the

onion a bit, there is even

more. You may feel

disconnected; TAS offers

programs and activities to

bring people together. You

may miss learning opportunities

that you cherished when younger; TAS

has a rich array of adult education. Or

you may simply feel the need to give

back and help others; TAS certainly has

you covered there. And the truth is,

this only scratches the surface.

So, on behalf of the pilot and the crew…

er… the Rabbi and the Board of

Trustees, I encourage each and every

member of the congregation to let us

know how we can make you feel safer

or more comfortable - any time or any

way.

Shalom,

Mark

Temple Adas Shalom President

winter is in full swing and it will be some time before we

see any signs of spring, we can take comfort in the fact that

the days will slowly become longer and there is still plenty to do at Shul!

January

Service Multi Access

Information and

Links

FRIDAY NIGHT SHABBAT SERVICE

https://zoom.us/j/85758681892 *

Meeting ID: 857 5868 1892

Password: Shabbat22

Friday, January 6th -

English Enhanced Torah Service

Live Streaming starts at 6:45pm

In-Person service starts at 7:00pm

Friday, January 13th -

Shabbat Torah & MLK Tribute Service

Live Streaming starts at 6:45pm

In-Person service starts at 7:00pm

Friday, January 20th

Family Shabbat Service

Live Streaming starts at 6:10pm

In-Person service starts at 6:15pm

Friday, January 27th

Shabbat Torah Service

Live Streaming starts at 6:45pm

In-Person service starts at 7:00pm

DO YOU KNOW? SECURITY FEATURES

https://zoom.us/j/89045106405 *

Meeting ID: 890 4510 6405

Password: 603082

Monday, January 16th

Live Streaming starts at 7:30pm

In-Person session starts at 7:30pm

QUARTERLY BOOK DISCUSSION

https://zoom.us/j/86414041247?

Meeting ID: 864 1404 1247

Passcode: 706416

Saturday, January 21st

Live Streaming starts at 10:00am

There's an English Enhanced Torah Service led by Mark Wolkow and David

Jaffe on January 6th, and you won't want to miss our MLK Tribute Service led

by Rabbi Meeka, with music by Mike Mullis on January 13th.

Join us for a lively Family Service on January 20th at 6:15, as Rabbi Meeka and

Mike Mullis lead a worship service where you will want to tap your feet and

sing and dance with children and young families. We conclude the month as Rabbi

Meeka and the TAS Choir lead us in an

eye-level STorah E L L I NService.

G H O M E S S I N C E 2 0 0 5

B'Shalom,

Melissa Immel

RPC Chair

PH: 123-456-7890

Did you miss a Shabbat?

Visit our Virtual Experience

page to view our recording

archive.

8 N . E A R L T O N R D . E X T . H A V R E D E G R A C E , M D 2 1 0 7 8

410-939-3170 | ADMIN@TEMPLEADASSHALOM.ORG
---
Upcoming

Educational

Events

FAMILY SHABBAT

DINNER & SERVICE

Friday, January 20

Dinner at 5:30pm

Service at 6:15pm

(see flyer)

QUARTERLY BOOK

DISCUSSION [ZOOM]

Saturday, January 21

10:00am - 11:30am

(see flyer)

TOT SHIRA

Sunday, January 29

11:15am - 11:45am

YOUTH GROUP MEETING

Sunday, January 8

Sunday, January 22

10:30am -11:30am

TU B'SHEVAT

COMMUNITY SEDER

Sunday, February 5

12:00pm

LUNCH & LEARN [ZOOM]

Tuesday, February 21

12:00pm - 1:30pm

PURIM CARNIVAL

Sunday, February 26

12:00pm - 2:00pm

Adult Education

Brian Folus

A continued thank you to everyone who helps support our

wonderful school!

Kehillah MAGNET is STILL growing with new registrants starting in January! If you have a child or

know of a family with children who would be interested in knowing more about their Jewish

heritage, Kehillah MAGNET might be the learning environment for them! Contact our principal,

Sarah O'Donnell, at principal@templeadasshalom.org, to discuss upcoming events and visit our

school!

REGULAR PROGRAMMING

FAMILY SHABBAT SERVICE: Each month, Rabbi Meeka and Mike Mullis, choir director and music

teacher, lead one Friday night service that is designed with families in mind. Family Shabbat nights

begin at 5:30 pm with a child-friendly meal, and the service runs from 6:15 – 7:00 pm. Meals cost $5

per person or $15 for member families who RSVP through their ShulCloud Account. Attending

Family Shabbat is a great way to enjoy the company of friends, relax after a long week, and provide

further understanding of Hebrew learning! Our next Family Shabbat Dinner & Service will be on

Friday, January 20, 2022. All are welcome!

TOT SHIRA: Each month, Kehillah MAGNET welcomes families with children 5 and under to attend

the Pre-K/K music class at our religious school. "Tot Shira" is a wonderful way to introduce little ones

to our dedicated teachers and fantastic students. Our upcoming Tot Shira will be held at the

synagogue on Sunday, January 29, from 11:15 to 11:45 am. We can't wait to see you there!

YOUTH GROUP MEETING: This meeting is held bi-monthly with teens in grades 9-12 and is designed

to build relationships and have an informative discussion on various Jewish-related topics.

Refreshments will be provided. This month's youth group meetings will be held on Sunday, January

8, 2023, and January 22, 2023, from 10:30-11:30 a.m.

ADDITIONAL UPCOMING FAMILY FRENDLY EVENTS (details to come!):

Tu B'Shevat Community Seder (Sun, Feb. 5, 2023): 12:00 pm

Purim Carnival (Sun, Feb. 26, 2023): 12:00 – 2:00 pm

Purim Dinner (Sun, Mar. 5, 2023): 6:00 – 7:30 pm

We look forward to seeing you all soon!

Joel Yoffee

Kehillah MAGNET Religious School Committee Chair

I hope everyone had a great Chanukah and a Happy

New Year. With the New Year your Adult Ed

Committee is looking at a new way of offering

programs.

You should, by now, have received a survey asking you what

programs and classes you would be interested in participating in or

even leading. I hope you will take the time to answer this survey so

that we may better serve you our fellow congregants. I would like to

thank David Dirlam for creating the survey and the entire Adult Ed

committee for working through the editing process to give us the

best survey possible.

Starting on January 21 at 10:00 am on Zoom we will have

our next Book Discussion. The book is "Unorthodox" and the

S E L L I N G H O M E S S I N C E 2 0 0 5

discussion will be led by Roz Spergel. Unorthodox: The

Scandalous Rejection of My Hasidic Roots is a 2012 memoir

PH: 123-456-7890

by Deborah Feldman. In the book, she documents her life

in an ultra-religious Jewish community in Brooklyn, New

York. The Netflix miniseries Unorthodox is loosely based on

the book

Kehillah MAGNET

Sarah O'Donnell & Joel Yoffee

Then on February 21 at noon, also on Zoom will be our first

Lunch & Learn of 2023, our guest speaker is our own Kevin

Bress Esq.

In March, in preparation for Passover, we are offering our

first evening presentation "Dessert & Discuss" with Diana

Wolkow who will share her baking skills showing us how to

make some tasty

Pesach desserts. You can find last year's video on the Adult

Ed page of our new website. This video should put you in the

mood for this delicious event.

April 22 will be our next in-person event with an Adult Ed.

Film Night. The film title to be announced soon.

We truly hope you will join us for these u pcoming events

and send us suggestions and requests for topics or movies or

programs you would like the Adult Ed. Committee to provide

for you.

As always feel free to sit in on a meeting, just click on the

link in the Calendar.

Looking forward to hearing from you!

Shalom,

Brian Folus

Adult Ed. Chair

Sarah O'Donnell

Kehillah MAGNET Principal

8 N . E A R L T O N R D . E X T . H A V R E D E G R A C E , M D 2 1 0 7 8

410-939-3170 | ADMIN@TEMPLEADASSHALOM.ORG
---
Sisterhood News

Pat Wolkow & Denise Gordon

December proved to be a fun and exciting month for the

women of Temple Adas Shalom.

It began on December 3 with Denise Gordon and her group of volunteers

setting up the Social Hall for one of the top events for the students of the

Religious School, shopping for Hanukkah! The Sisterhood gift shop had its

annual sale for students and parents during school hours on both December

4 and 11th. Thanks so much to all our volunteers. We could not have done it

without you. It is so nice to be able to shop for Hanukkah where there are

more than a few token Hanukkah items to buy.

December 11th was a very busy day since we also had our annual Hanukkah party following

the gift shop sale. Debbie Delaney, Ellen Farkas, and Denise Gordon planned and presented

a fun afternoon. We started with the Rabbi doing a motzi. There was a delicious buffet of 3

different quiches, latkes, tuna salad, tossed salad, fruit salad, drinks, and yummy desserts. We

played 3 games of Chanukah bingo where each of the winners was awarded a Dunkin

Donuts gift card. Debbie conducted a gift exchange game using 2 decks of cards. Everyone

had a very good time.

Sisterhood Cards Are Back!

Sisterhood is bringing back the Sisterhood greeting cards. Sisterhood will

send out a greeting card to virtually anyone for virtually anything. Simchas or

Sorrows, sisterhood has you covered. Let Pam know at

samuelmeyer@comcast.net or by mail at 17 N Earlton Rd Ext, Havre de Grace

MD 21078 with the occasion, individual's name and address, and your card will

be processed. The price is only $5.00 a card, and you can either pay by each

card or ask to run an annual account for billing. Your caring will be reinforced

by a mention in the HJC monthly bulletin. If you are forgetful, you can even

write out an annual list of birthdays, anniversaries, yahrzeits, and your cards

will be sent out in a timely fashion. Imagine- helping your sisterhood and

getting your cards out timely at once!

Sisterhood

Events

All our Sisterhood dates are posted

on the Temple Calendar and

appear in bright pink.

PURIM PROJECT starts in

JANUARY! Watch for an Email

from Sisterhood. EXTRA

SWEETS orders are back!!

SISTERHOOD BOARD

MEETING

Tuesday, January 17

7:00pm

SISTERHOOD SOCIAL ACTION

LUNCHEON

Sunday, January 22

12:30pm

Women's Advocacy Discussion

(see flyer)

CHICK FLICK DINNER & MOVIE

NIGHT

Saturday, February 4

5:30pm (see flyer)

We are BUSY, but not too busy to chat with you! Contact us at sisterhood@templeadasshalom.org

MEMBERSHIP:

Dues are $42 and $36 for new members. Pay via check, made out to TAS

Sisterhood and mailed to Denise Gordon or via PayPal (using Family &

Friends) to: "Ladies Auxiliary Harford Jewish CTR."

·

We are members of WRJ check out the regional activity offered by

visiting https://wrj/our-community/wrj-districts/mid-atlantic

Safety & Security

Pat Wolkow

Upcoming Security Activities:

Evacuation walkthrough – Postponed until January

GIFT SHOP HOURS

Fridays - After Services: By request.

Sundays – When there are multiple activities

Contact Denise & Pat at giftshop@templeadasshalom.org

SEE SOMETHING?

SAY SOMETHING!

SO, WE CAN DO

SOMETHING!

security@templeadasshalom.org

"DID YOU KNOW?"

Tuesday, January 16 7:30pm

a short virtual program, along with security updates, done the THIRD Monday of each month, from my home (you are welcome to

come by, and it will be Zoomed as well!) If you missed December's session, "Fire Gone Awry!" you can view it here:

https://us02web.zoom.us/rec/share/D5A9CaxKq87P42WrJCtT2mqw4YdcGGEccMJ7UwihMA7iwyYTJlyB8UH939ydxE5y.Js_jgWfvgt9cuIER

Passcode: h&owFWa2

Our ONE Question Survey will be presented at a very important session on Security after the winter weather calms. Stay tuned!

We have provided some basic information and specific safety & security procedures in the sanctuary prayer book racks. Please review

them regularly.

We are looking for additional help on our team to fine-tune policy and procedures as well as carry our new initiatives on the drawing

board. Meetings are mostly via Zoom!

8 N . E A R L T O N R D . E X T . H A V R E D E G R A C E , M D 2 1 0 7 8

410-939-3170 | ADMIN@TEMPLEADASSHALOM.ORG
---
Temple Adas Shalom's January 2023 Calendar of Events
---
410-939-3170 | ADMIN@TEMPLEADASSHALOM.ORG

November 2022 – Donors

BUILDING FUND

Allison & Barry Baker [L'dor V'dor]

Kevin & Lisa Bress [L'dor V'dor]

Rayna & David Richardson [L'dor V'dor]

Brett & Deborah Temple [L'dor V'dor]

Jill & Daniel Young [L'dor V'dor]

Julie Sang

Jill & Brian Schorr

Elise & Michael Woods

ELC DONATIONS

Denise & Arthur Gordon - IMO Elizabeth Oberdorfer Meyer

HJC GENERAL FUND

Wendy & Patrick Drabinski

Susannah & Brian Kolstad

Michele & Michael Mullis

Terry Weiner & Herb Abrams

Karen & Frederick Wood

Joanne Kassimir & Andrew Goldberg

Janice & Woodrow Grant Jr.

Jayne Klein - IMO Stan Getz, Ruth Wohl, Kurt Zion, Ralph Klein & Maurice Klein

Mark & Patricia Wolkow - IMO Elizabeth Oberdorfer Meyer & Arlo James Hutzler

KEHILLAH MAGNET RELIGIOUS SCHOOL FUND

Richard & Rhonda August

Roslyn & Fred Belkin

Alain & Caryn Chalmin

Justin Davis & Rachel Laskin

Cecilia Herman

Sarah & Niall O'Donnell

Ashira & Ashiq Quabili IHO Jaxon & Zander

RABBI'S COMPENSATION FUND

Mark & Patricia Wolkow

8 N . E A R L T O N R D . E X T . H A V R E D E G R A C E , M D 2 1 0 7 8
---
Mi Sheberakh * We Pray for Healing

Annette Dirlam

Barbara Chancey

Fred Belkin

Gerry Murphy

Glen McCain

Gloria Joslin

Harriet Colman

Recently Passed

Jordan Rice

Lisa Denrich

Marsha Robinson

Mike Gordon

Mindy Shipley

Natalie Litofsky

Philip Chancey

Robin Greely

Lynwood Milton Robinson, Jr.

Beloved Stepfather of Elise Woods

Brittany Adkins Centeno

Beloved granddaughter of Toby Merriken

January 2023 - Yahrzeits Observed

Abraham I. Glasser

Ann Tash-Porton

Pauline Hillman

Edward Singer

Sadie Weintraub

Jean Theis

Alice Goode

Paul Richardson

Solomon Getz

Charles Roseman

Joanne Levine

Joyce Graff

Morton Z. Schapiro

Rose Blackstone

Ruth Vogelhut

Sarah H. Miller

Abraham Baker

Etta Thayer

Joseph Newman

Paul Pressel

Jan-1

Jan-1

Jan-1

Jan-2

Jan-3

Jan-4

Jan-5

Jan-5

Jan-5

Jan-6

Jan-6

Jan-6

Jan-7

Jan-7

Jan-7

Jan-8

Jan-9

Jan-9

Jan-10

Jan-10

Beatrice Breitbart

Bessie Coplin

Frances Bress

Harry Samuels

Herman Hurwitz

Richard Alan Moss

Harry Boyer

Jayne Jennings

Julia Silver

Liliane Shapiro

Ben Hoffman

Ruth Hoffman

Clara Hirsch

Ida Babner

Nettie Baumgarten

Jennie Salmansohn

Jerome Schorr

Mendel Itzyk Schneier

Harry Salmansohn

Henri Diamant

Jan-11

Jan-11

Jan-11

Jan-11

Jan-11

Jan-11

Jan-12

Jan-12

Jan-12

Jan-12

Jan-14

Jan-14

Jan-15

Jan-15

Jan-15

Jan-16

Jan-17

Jan-17

Jan-18

Jan-19

David Newman

Ethel Duchin

Sarah Friedman

Samuel Schatz

Edward Rothenberg

Herman Duchin

Rose Gast

Bessie Newman

Mort Gordon

Naomi Goldblatt

Frantisek Jurcik

Harry Sadowsky

Arthur Salkovitz

Shirley Friedman

Dr. Alvin Louis Sirkis

Martha Sherman

Coleman Hamburger

Otto Freed

Ida Samuels

Jan-20

Jan-20

Jan-20

Jan-21

Jan-22

Jan-22

Jan-22

Jan-23

Jan-23

Jan-23

Jan-24

Jan-24

Jan-25

Jan-25

Jan-26

Jan-29

Jan-30

Jan-30

Jan-31

Caring Note

Caring is about both the simchas and healing through support and community.

Is there a moment you would like to share, privately or publicly?

We want to be there for you so please let us know.

Email the Caring Committee at caring@templeadasshalom.org

8 N . E A R L T O N R D . E X T . H A V R E D E G R A C E , M D 2 1 0 7 8

410-939-3170 | ADMIN@TEMPLEADASSHALOM.ORG