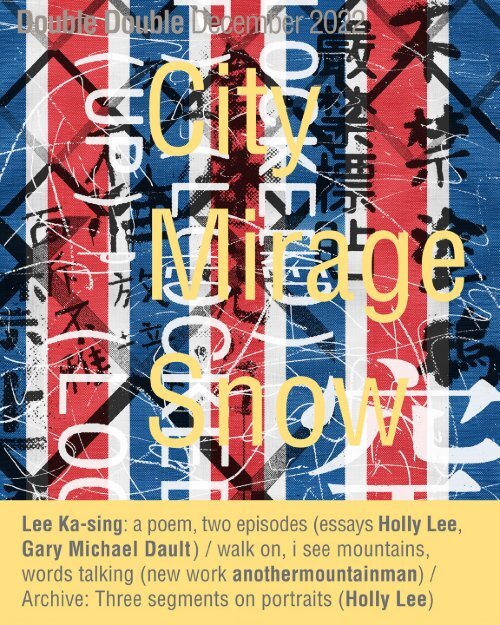 You also want an ePaper? Increase the reach of your titles
YUMPU automatically turns print PDFs into web optimized ePapers that Google loves.
Double Double 2022-12
---
DOUBLE DOUBLE 2022-12

City Mirage Snow

A Holly Lee and Lee Ka-sing Publication

First published in Canada by OCEAN POUNDS

December 2022

ISBN: 978-1-989845-56-1

Library and Archives Canada Cataloguing in Publication

Photography, Visual Art, Poetry, Literature, Culture

Authors: Lee Ka-sing, Holly Lee, Gary Michael Dault,

anothermountainman

Copyright © Ocean Pounds 2022

Individual Copyrights belong to the Artists and Writers.

All Rights Reserved.

For information about permission to reproduce material

from this book, please write to mail@oceanpounds.com

DOUBLE DOUBLE was published as a weekly webzine

from January 2019 to December 2021. 158 issues were

published. Full archives are available online:

https://oceanpounds.com/blogs/doubledouble

Some issues were re-packaged and published as

print-on-demand paperback editions.

Since January 2022, DOUBLE DOUBLE has become a

monthly publication, released in both paperback (POD)

and ebook versions. POD is available for orders at OCEAN

POUNDS in Toronto or online at BLURB (blurb.com).

City Mirage Snow

DOUBLE DOUBLE ebook edition is available for read-on-line at

Reading Room https://oceanpounds.com/blogs/rr

Subscribe and Support

https://patreon.com/doubledoublestudio

Design and Editorial by DOUBLE DOUBLE studio

www.doubledouble.org

Front cover image: anothermountainman

Back cover and lead-in pages: Lee Ka-sing

Some artwork featured in this publication might be available

at OCEAN POUNDS. Inquiry by email: mail@oceanpounds.com

OCEAN POUNDS

50 Gladstone Avenue, Toronto,

Ontario, Canada M6J 3K6

www.oceanpounds.com
---
Lee Ka-sing

a poem, two episodes

CODA (2020) Diary of a

Sunflower, Book Two (2022)

Seeing CODA (Holly Lee)

A Sunflower Memorandum

(Gary Michael Dault)

Lead-in pages: Fragments from

Diary of a Sunflower, Book Two

(Lee Ka-sing)
---
Seeing CODA

Holly Lee

When Ka-sing started to gather vocabularies from his past photographs, to compile and

portray a hefty volume of poetic images dedicated to Hong Kong, I was curious about

the weight of the project. Taking into consideration the present antagonistic climate

there, it would be, undoubtedly, not toward the light.

He calls it CODA, a visual poem.

CODA is a piece of original work in the format of a book by Lee Ka-sing (2020), inclusive of 227 photographs

in sequence. Published by OCEAN POUNDS in 2020, 480 pages, 8x10 inch, soft cover, and was released in

both paperback and ebook editions. More information about the book visit this link -

https://books.oceanpounds.com/2022/12/coda.html

CODA has a colour, or two. The word, first of all, is assigned the Pantone colour of a

slight reddish–the lighter grey 409. Actually, I would hesitate between 409 and the

deeper grey 410. I cannot pinpoint the exact hue because colours look inconsistent

under different light sources. I am now sitting underneath a narrow, long bank of

LEDs, which gives out a warm yellowish light. When I walk over to the big window,

greeting the large amount of daylight flooding in, I might have to choose another

number of grey, say 431. If we move on to consider the next part; the background

colour, where the alphabets CODA are set upon, I would call it a very dull dark blue.

How dull? The Pantone 539? No, it looks too primary. I would perhaps mix a slightly

purplish-blue 2965 with a medium grey 430. Again all these are just to give you an
---
idea of the cover design of the book Ka-sing calls CODA, which by this time, you

might have reached a conclusion–a sense of no matter how free-flowing and open the

work seems to be, still contains sentiments of fairly unbearable weight.

Ka-sing is the kind of person who talks little, but stays in focus. He could listen

to Beethoven's symphonies many times over without being bored. When I raised a

surprise look at him still listening to the same play list he picked up weeks ago, he

would say, "This is a version by another conductor, a different orchestra." I agree that

he will always find something new, or a different interpretation in the same piece of

music, but I also believe the emotion, rhythm, ebb and flow in the musical language

ought to have played an important role in influencing his vision, paving him the way

to compose the work. His photographs are beyond a single shot, or thought. CODA is

an unabbreviated visual experience; a tonal narrative, a sensorial form, a symphonic

poem that one listens with the eyes.

I had an indescribable feeling, almost overwhelmed with emotions when I first

saw CODA on the computer screen. A body of 227 images, set in a slow-moving

temple which would take about 20 minutes to sit through. A meditation. Slowing

down of a hurried life. For certain, having sat patiently and gone through the twenty

minutes visual epic, one could have felt, or been touched by one thing or the

other. Despite vastly different in context, some images are always more universally

understood and resonant with than others. That's the beauty of the work. You cannot

help but echo with some of the images you're drawn to. There is a sense of familiarity,

something long hidden in the secret corners of the mind prompting and luring you into

their shadows…

The first image in CODA is a stunning, fuzzy impressionistic black and white shot from

Kowloon overlooking to Hong Kong Island–vaguely visible as mountains of lights. It

starts with the celebration of the first night after the 1997 Handover in July. A night

drizzling with light rain but nevertheless fireworks were still shooting off to light up

the sky. The action was spontaneous, the photographer a wandering soul, following and

searching for the moods of the city. The image is elusive and faintly volatile, pulses

up and down with the photographer's heartbeat. Following promptly is an image of a

(opposite page) upper: the first photograph in CODA, below: the end shot
---
melt-down clock, which haunts me immediately as an object found after explosion.

The pursuing page shows a whirlwind, follow suit by a quiet round object with pencil

marks, then, a wreath of barbed wire twirled in the air, like a crown of thorns. The

poetics of the images are so strong; a labyrinth of hope and despair, we are led, one

page after another, into the dark woods. One moment quiet and gentle, next, complex,

dense and impenetrable.

Flipping the pages further, we're ushered in pictures showing old, rephotographed

negatives, perforated film strips that recorded images visually (and mentally) invoke

sound vibrations striking out from different cords. After pages of texturing and layering

we are slowly entering Hong Kong life in the 80s and 90s, the rose garden, memories

of the lives of glamorous celebrities and common folks, arrows always asking the

question come or go, this way or that way. And, trailing behind so many staircases,

steps, writings and layering of events, the city comes to reveal itself–a wet football

field, skyscrapers, trees, roads, grids in myriad forms. Sometimes it feels like a prison

one needs to break out. But there are more knotted roots, more entangled wires and

obstacles. Is that the state of mind of the artist?

Perhaps it means what it means. CODA is a soft sigh exhaled gently to something past.

A good-bye (again) to a close friend Ping-Kwan and the city they both left behind.

It is a dialogue and a funeral song–something that's so frequently heard in Mahler's

symphonies. The famous Adagietto in his Fifth, a love song replete with the yearnings

of living and the inevitability of having to walk away. In making CODA, Ka-sing

deliberately converted most of the colour photographs into black and white, with just

a few exceptions–the colours he still sees and ingrained in his memory. The colour

photograph "I promise you a rose garden" was an editorial assignment created for a

magazine in Hong Kong in 1990. Seven years before heading back to the hands of

China, the city was full of optimism and a number of mega constructions were being

proposed. They called it the Rose Garden Project. The future looked rosy, thus the title

Ka-sing gave to his picture, not without skepticism. Today we are still intrigued by the

thought and the photograph. The sky has already turned grey; the promise, like the

magnificent, breathtaking cloudscape, is but a fleeting scene flying past the window of

an aeroplane.

after the plane took off. Or, perhaps he was suggesting more? Forty years later,

Ka-sing responded with CODA, his jolts of feelings are largely expressed

through images; his love and memories of the city, the melancholic departure,

linger like a slow, at times turbulent tune that keeps looping itself–a mirage of

desire, a smoke screen to despair. This city, often considered as a city in transit,

has become indispensable; growing deeper roots, taking permanent residence in

the heart. Yet, CODA is not a conclusive chapter, it is a book made after another

book in the same year*. The end shot is a small Big Bang. The ending is another

beginning.

December 2021

*Lee Ka-sing's domestic-life-colour-book was made prior to CODA. It was made

during the lockdown months of Covid in 2020 (with touches of optimism and

a lot of colours). Unlike CODA, which recycled old images, all 227 images in

domestic-life-colour-book were new. The book has 480 pages, the same number

of pages and images as in CODA. Ka-sing calls the two books a duo.

Can you live in the clouds, beautiful as it is, asked Ping-Kwan in his poem. Ping-Kwan

was thinking about temporal, terrestrial and earthly matters at the time when he wrote

the poem in 1981. He was seeing his city distancing, disappearing under the clouds
---
A Sunflower

Memorandum

Gary Michael Dault

I was raised long ago in this earthly place,

But I do not care for my home.

I owe my very life to its bountiful moisture,

But the earth is not my sky.

----Muhammad Iqbal (translated from the Urdu by Mustansir Mir)

Here is the Sunflower or Helianthus Annuus: "helios" (sun) plus "anthos" (flower)

plus "annuus" (annual).

Diary of a Sunflower, Book Two is a piece of original work in the format of a book by Lee Ka-sing (2022),

inclusive of 176 photographs in sequence. Published by OCEAN POUNDS in 2022, 372 pages, 8x10 inch, hard

cover, and was released in both paperback and ebook editions. More information about the book visit this link -

https://books.oceanpounds.com/2022/12/ds.html

The dry, attenuated almost plaintive lyricism of the sunflower, the noble-grotty

heliotropic sunflower (in that its flower its always facing the sun), its rudimentary

petals, powdery with a light-scooping, moisture-holding, almost monastic attentiveness

required to nurture, develop and enshrine its payload of close-packed, geodesically

arranged seeds of shining jet, lends the plant a more-than-usual protective, almost

maternal quality.
---
The plant's relentlessly tall, rather rough-hewn stalk and its hairy, primordial leaves

seem unceasingly dedicated to the focused production and protection of this glistening

seed-bed core at the heart of each flower (called the plant's "chapter"), its powerful

engine of perpetuity.

What of the sunflower's look? Is the sunflower's vigorous roughness and raggedness

the result of its three-metre quest for extraordinary height—in its search for ever

more light and ever more air? Is the plant coarsened by a weariness earned in the

fulfilment of its elaborate botanical program (fecund all the time)? Does a sunflower

ultimately begrudge its own skyscraper growth? Does it inevitably grow leggy and

emptied in the course of carefully generating the florets on its flattened central

receptacle and is it poignantly post-partum in the demanding production of its throng

of shiny black seeds—which are actually small dry fruits, apparently referred to as

"pipes"? Certainly, much is expected of the sunflower.

The sunflower keeps working hours. It is, for example, diurnal. That is to say,

it springs to vigorous botanical life during the day and, exhausted, grows gratefully

somnolent at night. Just like the rest of us.

Lee Ka-sing's book, Diary of a Sunflower, Book Two, is beautiful and relentless,

attributes not often found together. The book is not a taxonomy, nor a life-cycle, nor

a mere progression of images. Ka-sing describes the book simply as "176 photos in

sequence." But a sequence is not (or need not be) a narrative, not a life-story.

For me, Diary of a Sunflower is virtuoso work of photo-conceptualism, a protracted

stutter of still lifes that claims meaning—eloquent meaning—from repetition and

accumulation and, in the course of that amassing, repeatedly offer, from photo to photo,

subtle differences, tonal variants, the rustle of sub-events and nudging revelations.

The book is an essay, in the original sense of "essayer," to try, to attempt.

Like many works of tireless, insinuating anatomization of a subject, nothing much

really seems to happen—at least not quickly or obviously: in the beginning there is

the flower, with its ragged, upstart petals. Sometimes the blossom hangs down, like

a sigh (p.16). Occasionally, the blossom is partly cradled in (and semi-occluded by)

a shrouding, protective leaf (p.52). Some of the photographs (p.58) are All Leaf and

nothing else. Page 144 offers a view of the sunflower in a sort of swoon or dying fall,

whereas, in contrast, p.158 gives the giant blossom the sudden, incoming power of a

fiery asteroid hurtling to earth. By p.220, there are serpentine stems and bulky leaves

weaving together into a bulwark of fortress growth, while suddenly, on p. 252, there a

momentary, inexplicable blackout—in which the mighty flower now hangs down into

the photograph as a silhouette—as if someone had pulled a plug.

But then a suite of brisk, steadfast blossoms follows (p.253ff), ending the book:

all passion spent, all faith restored, the seed-entrenched blooms baked, crisped,

windswept, the sunflower's essential, eternalizing story.

In William Blake's famous poem, "Ah! Sun-flower" (from his Songs of Experience,

1794), the rather Christ-like, sacrificial plant is "weary of time" and "countest the

steps of the sun," its whole wracked being seeking "that sweet golden clime" where

"the traveler's journey" comes finally to its end and finds fulfilment.

The other great sunflower poem is Allen Ginsberg's "Sunflower Sutra" from 1955.

In Ginsberg's poem, the sunflower is a wreck: "…corolla of bleary spikes pushed

down and broken like a battered crown, seeds fallen out of its face, soon-to-betoothless

mouth of sunny air, sunrays obliterated on its hairy head like a dried wire

spiderweb, leaves stuck out like arms out of the stem, gestures from the sawdust

root, broke pieces of plaster fallen out of the black twigs, a dead fly in its ear, Unholy

battered old thing you were, my sunflower O my soul, I loved you then!...."

This is unforgettable writing, but Ginsberg's betrayed, industrially-compromised

sunflower remains as remote from Lee Ka-sing's as Blake's touchingly martyred plant

is.

The sunflower of Ka-sing's Diary of a Sunflower is neither protagonist nor victim.

Therein lies its majesty. The plant's meaning comes in the fullness of time—like

breathing.

Gary Michael Dault

December 30, 2022
---
anothermountainman

hong kong walk on

hong kong walk on: a collaboration

between Tai Ping Carpets and

anothermountainman. Employing

the iconic red white blue colours

to construct two one-of-a-kind 3

metre x 6 metre handmade carpets.

Both pieces were unveiled at Art

Basel Hong Kong, in May 2022.

Photographs on the following pages,

by anothermountainman, featuring

the hong kong walk on #1, taken in

various locations of Hong Kong.

(images left to right: hong kong walk on

#1, hong kong walk on #2)

hong kong walk on

for everything in life

there is no

clear start point

and there will be no

absolute ending

it's a journey of

straight and winding

smooth and rugged

same for everything

same for our city

anothermountainman

palms together

/ 2022
---
anothermountainman

i see mountains.

they are mountains.

i see mountains. they are mountains.

anothermountainman / 1990-2022

anothermountainman's photo series on

'mountains' is not referring to real mountains,

but a collection of his over hundred photos taken in the city,

capturing water marks on wall, wire fence, wood bench,

plastic water hose, electrical wires and rusted metal plate...

in the new normal of covid-19,

people are adjusting the pace of living,

living invert rather than going out,

we got to have a peace-of-mind in the heart, to enjoy the world,

no matter what constraints and hurdles we are facing.
---
anothermountainman

words talking.

self talking.

10 silkscreens
---
how are you today

35"x47", silk screen painting on red-white-blue fabric, 1/1
---
stage

35"x47", silk screen painting on red-white-blue fabric, 1/1
---
elieve

35"x47", silk screen painting on red-white-blue fabric, 1/1
---
truth

35"x47", silk screen painting on red-white-blue fabric, 1/1
---
god is everywhere

35"x47", silk screen painting on red-white-blue fabric, 1/1
---
phenomenon

35"x47", silk screen painting on red-white-blue fabric, 1/1
---
hong kong _ your home

35"x47", silk screen painting on red-white-blue fabric, 1/1
---
to retrieve _ no goodbye

35"x47", silk screen painting on red-white-blue fabric, 1/1
---
open the gate

35"x47", silk screen painting on red-white-blue fabric, 1/1
---
Born in 1960, Stanley Wong ping-pui, better known as anothermountainman on

the art scene, is a renowned designer and contemporary artist based in Hong Kong.

As an artist, Wong is passionate in photography, and various creative mediums

focusing strongly on social issues. Over the past two decades, Wong gained

international awareness with his 'red, white and blue' series that promotes the

'positive spirit of Hong Kong'. In 2005, he represented Hong Kong at the 51st

Venice Biennale. Over the years, anothermoutainman has involved in many cross

culture projects. Most recently, in The Hong Kong House at the Echigo-Tsumari

Art Triennale 2022, he has created three thematic works based on nature. Another

prominent work is a collaboration project with Tai Ping Carpets, titled "hong kong

walk on", which premiered at Art Basel Hong Kong in May, 2022. The latter project

granted him the HKDC DFA Grand Award (2022).

In 2011, Wong was named the Artist of the Year in the Hong Kong Arts

Development Awards, and received the Hong Kong Contemporary Art Awards 2012

from the Hong Kong Museum of Art. Many of his works have been exhibited in local

and overseas galleries and museums. He had a solo show in Tokyo ggg in 2015,

and a full scale exhibition "TIME WILL TELL / anothermountainman x stanley

wong / 40 years of work" at the Hong Kong Heritage Museum in 2019. His work is

in public collections including M+ Hong Kong and the V&A Museum in London.

Currently his solo exhibition is on view at Lucie Chang Fine Arts in Hong Kong.

Along his career in the creative field, Wong has won over 600 international awards,

including golds at One Show from the U.S., D&AD Yellow Pencil from UK and TDC

Award in Tokyo. In 2007 he established 84000communications to advance even

further his multi channels creative career. In 2020, Stanley Wong was named DFA

World's Outstanding Chinese Designer.

graffiti not prohibited

35"x47", silk screen painting on red-white-blue fabric, 1/1
---
Holly Lee

Something

about Portraits

In three segments
---
Six portraits

(1993)

For the most of us who were born around the fifties, the nineties in Hong Kong were the

best of times. While worrying about the climate of the city's future, people, inevitably

had to move on. Everything was in motion; everybody worked enthusiastically toward

identifying one thing or the other; Chinese, Hong Kongese, pre-colonial, post-colonial,

and the degree of Britishness affecting and intervening ordinary people's lives. For a

moment, we did have a cultural identity crisis, and many cultural projects produced

around that period reflected just that issue–who we were, and how we could identify

ourselves as the people of Hong Kong. In 1993, I was invited to work on the third

phase of a project curated and directed by Wong Wo Bik, namely A Metropolis: Visual

Research into Contemporary Hong Kong 1990-1996. My contribution to the project

was to take portraits of selected artists from different areas. Basically, we knew each

other well because there weren't many working in the arts then and it was a small

and tight-knit circle. However, these artists represented certain aspects of Hong

Kong activities and creativity in the nineties, and were among the best in the field. I

photographed Mui Cheuk-Yin (choreographer/dancer); Zunzi (political caricaturist);

William Tang (fashion designer); Yank Wong (painter); Tong King-Sum (sculptor), and

Sunny Pang (dancer/choreographer). A little while ago, in the course of organizing

some old pictures, I came across these six prints again, but found the portrait of Sunny

Pang missing. But somewhere, I located that test strip. As a matter of fact, this series

of portraits had never been officially exhibited. The 8x10 prints that I found, and on

view here, were work prints for the publication documenting the Metropolis project–a

book published in 1996 chronicling the face of Hong Kong in the nineties by over

thirty photographers.
---
Mui Cheuk-Yin 梅 卓 燕

(Dancer, Choreographer)
---
Sunny Pang 彭 錦 耀

(Dancer, Choreographer, Performing artist)
---
William Tang 鄧 達 智

(Fashion Designer, writer)
---
Tong King-Sum 唐 景 森

(Sculptor)
---
Yank Wong 黃 仁 逵

(Painter)
---
Zunzi 尊 子

(Caricaturist)
---
The Shades of Portraits

Second Erasure

I took a portrait of Hong Kong once. A view of the city harbour at the end of the 20th

Century, with a Bauhinia in front of the splendid view. This particular flower, known

commonly as the Hong Kong Orchid Tree, Bauhinia Blakeana; the floral emblem of

the city, is an accidental hybrid discovered on the seashore in Hong Kong in 1908,

and named after Sir Henry Blake, the Governor of Hong Kong who ruled from 1898 to

1903. I did the portrait of Hong Kong a year before I left the city of my birth, in 1996.

When I think of Hong Kong now, it would be an evening portrait; a harbour jampacked

with crystal pillars; black clouds rolling in, carrying a whopping mass of

rain, threatening to wash down and flood the city below. When I think of home,

the thought always leads me back to childhood, jumps briefly to my teens (which I

remember vaguely), over to a period when I started working, fast forward to my career

in photography with Ka-sing, our family lives and the many hideous moving lives from

one apartment to another, though often in proximity. This city is a small big city; by the

time I left, it had a population of 6.5 million. After twenty three years, in 2020, it has

added another staggering million. I remember the life I led before I left, but it too, is

ebbing away. However, that memory is only present for me–the one who keeps it locked

inside the drawer; after all, that world has moved on, progressed, and transformed

into an another existence. There are difficulties in comprehending its evolving slang,

gestures, life, art, culture, and communication of all sorts. In short, I am just this

person of an era that has passed, a period forgotten and gradually, erased. My heart is

evermore laden today. Twenty-some years after my departure, despite being successful,

robust and brimming with luxuriant growth, my small big city still cannot be saved

from repression and subjugation. The city is still largely in denial, but the gradual

realization of the sad fact has already sunken in, and created vacuums for countless

activities. The recent implementation of autocracy inevitably speeds up the removal

of an autonomous society; it leads also, ironically, to the erasure of the twenty or so

opulent years after 1997.
---
The Snow White Queen 白 雪 仙

I was born in the days when culture and tradition were still strong in Hong Kong,

this included many colourful festivals, folk arts and performances, and most of all–

my beloved Cantonese opera. Since the 50s, Yam Kim-Fai and Bak Suet-Sin, both

Cantonese opera performers, partnered and rose to stardom. Yam always played

the cross-dressing principal male role known as 'Man Mou Sang', a scholar or a

fighting hero; and Bak Suet-Sin played the female role of Hua Dan, the maiden. The

pair worked together on stage, and later on big screens, with love stories usually

ended in tragedies, fairly similar to Romeo and Juliet, or Tristan and Isolde in Western

operas. I can still remember, very vividly, a scene from their opera "The Revival of the

Red Plum" ( 再 世 紅 梅 記 ), in which Bak Suet-Sin acting as a fair maiden presumedly

dead, rose from the coffin. The atmosphere was ghastly, her sharp singing/wailing was

chilling to the bone. Yet splendid theatre it was and stuck with me for the rest of my

life. That year, probably 1968 or 69 when I was around 15 or 16, my aunt took me to

the Lee Theatre to watch this opera–it was the only live opera I had seen Yam and Bak

performed. This charismatic, incredibly talented and inseparable couple, yin-yin in

real life, and yin-yang on stage, had created an image of the perfect lovers with such

spellbinding beauty and aura, that continues to infatuate and live in the collective

memories of the Hong Kong people today. Bak Suet-Sin is now 94, and Yam Kim-Fai

would have been 107. The heavenly couple broke apart when Yam died in 1989.

have been a disappointment to some people I photographed back then. I got into the

profession by accident, always wondering if I had the talent, or skill to settle in at

that rank. Questions on the notions of "beauty"; how to attain that quality, take the

portrait I like, and still be savoured by the sitter at the same time–still baffle me today.

Outstanding photographers like Richard Avedon and Annie Leibovitz know their trade

very well. They would set up certain parameters, either work within the frame structure

of a limbo background, or guide the sitters through the session in preconceived sets.

The result is always under control. Once broken out of that shooting paradigm, free

wheeling becomes free roaming, which means more difficulty for both parties to find

that meeting point. Most of the time, I feel awkward photographing people I know well,

or am too familiar with. Being too aware of their temperament, I would try not to overdirect

them. Perhaps it is exactly the lack of direction that causes my setback at this

side of the camera. Between us, there is always that ineffable, obscure space.

A disquieted thought

In 1996, I could not believe myself, when I had the opportunity to photograph Bak

Suet-Sin–the Snow White Queen. The opportunity, however turned into a disappointed

act, as my photographs seemed not pleasing enough, and her close friend and agent

had not shown any enthusiasm, nor interest to print them. These images were stashed

away in folders for many years. Perhaps the assignment was too challenging. I strived

to create my best shots but was timid at the time to cross the line. I was never able to

get close, to feel at ease, or make her feel comfortable. Or was that image, fine as I am

looking at it now, simply not up to her Goddess standard? I set aside the black and

white photographs and all my questions, but couldn't refrain to go back to them from

time to time.

In my early days in Hong Kong, regarded as a "people" photographer, I think I might

On beauty, and Eyes Wide Open

External beauty and internal beauty; we are carrying both temperaments, showing

that in every move of our lives. That quality is hardly visible and moves so fluidly,

that it is hard to capture in photography. Another imminent question is: can beauty be

measured, decided or even scrutinized by age? Do you grow wiser and more appealing

every day or simply wither with the years? Could the wrinkles on your face, that make

you look like a wilted orange, reflect the vigorous spirit at heart? Older people are

more reluctant to have their portraits taken, fearing the honesty of the camera revealing

too finely their time-ravaged faces, dodging the inward beauty that glows with age. The

great portrait photographer, here I am referring to Richard Avedon again, would have

no difficulty in persuading, or reminding senior sitters to reveal that inward quality,
---
acting with self-assurance, charging back gallantly at the photographer; eye to eye. His

large format camera would mercilessly reveal all the fault lines on their dreary faces,

eyes made tired and lustreless over the years, subjecting them all to open study and

ruthless scrutiny. These wondrous people; the courage and beauty of revealing their

experience and wisdom of a lifetime so confidently, with eyes wide open.

Eyes Wide Shut

No, never a single portrait could adequately represent a person. Eyes represent human

emotions and thoughts, and almost no one would accept a picture with eyes closed.

One would then raise the question of why are there so many portraits of famous people

captured with eyes closed? Avedon's Ezra Pound, Irving Penn's Truman Capote,

Horst P. Horst's Salvador Dali, Martin Schoeller's Phillip Seymour Hoffman, Chris

Floyd's Paul McCartney, Clive Arrowsmith's Dalai Lama, Philip Montgomery's Martin

Scorsese, and Michael Avedon, the grandson of Richard Avedon, photographed Jonas

Mekas, Warren Ellis, Ishmael Reed and John Lewis all with their eyes shut; giving the

viewer a sense of all doors closed. Could it be the photographer's idea or the sitter's

idea? Or is it a way to escape? By avoiding eye contact, things become indecipherable;

things go deeper, leave it to the viewer's imagination. The portrait becomes a selfportrait

of the sitter entering a state of trance, drenched in irreality and a transcendent

state. It is far more perplexing than refusing to communicate. The impossibility to

relate a full life in one single frame. Closing the eyes is a way to release the pressure,

to simply let everything go. Nothingness, eyes wide shut; to reach a state of nirvana, to

be free from entangled roots, to be free from the sense of self–even for a brief moment

of time.

career. To me, it's a marker of memory stretching from my teens to adolescence.

Perhaps, as I am reflecting now, my portrait of Bak is fine. The only failure is my

subconscious mind refusing the demise of that "idyllic" image, to bring it to closure, to

let it go.

There's another "idyllic" image I still couldn't let it go, and perhaps never could. The

"idyllic" image of what my small big city once was. They say time is the best medicine,

and in time, all openings, all wounds, will be closed; memories no longer haunt and

pain. Yet my city is not getting any nearer to that somewhere over the rainbow. The

great whitewash, the closing of more doors, losing all the colours attaining to the city's

past, and the many shades in between. What will the colour be in my next portrait of

Hong Kong, I wonder. Will it be the colour of Bauhinia, the bright pinkish purple; or

dim gray, a colour that describes my heart as it is now, a shade that appears closer to

the lower end of the achromatic value scale. Or, will it be just another unsettled

portrait–one that I cannot simply capture as a photograph. It exists only in the mind,

amorphous and cloudy, at certain points, lemon drops and bluebirds song.

August 2020

A colour question

In her recent public photographs, Bak Suet-Sin no longer wears tinted glasses.

She has, perhaps, at the age of 94, gotten closer to a state of profound peace and

happiness–a state nearing Nirvana. Her diva image, which had been ingrained in my

mind since a child, was but an idyllic image, non-existing, and no matter how hard

I tried, could never be recreated. In my quiet down mind, the portrait I took of Bak

twenty four years ago, was just a glimpse of her legendary, polychromatic life in neutral

black-and-white, some less-fanciful trimmings embellishing her long and colourful
---
Family portrait in four

large format negatives

(taken around 1990-91)

I have just read a statement by my artist friend Rupen on his own work. Intrigued

by his idea of sequential and chance formations, I re-examine my photographs,

taken with an 8x10 Sinar P in the early nineties–four black and white negatives that

were defectively developed, and had scarcely made their way to the positive side

of the light, that I'd kept inside the now dented, slightly deformed blue box marked

"Oriental Photo Paper"–a colour RPIII printing paper developed by the Japanese.

While my friend's recent work is "visually distilled", treading toward to "redefine the

Post minimalist, monochromatic and conceptual art practice", my poorly developed

negatives–I tease myself, might adopt the idea of chance formations to transcend their

aesthetic value, an act not uncommon in recent photographic history, such as Man Ray

and his Rayograph. By mistake he found solarisation in the darkroom, thus realizing

and using it to escape from calamity. In the same vein, I could also evade mistakes

made in the darkroom and satisfy myself with the "accidental beauty" those images

give me. The more I look, the more I enjoy the flaws; damages done to the negatives are

no longer eyesores but have become, lately, new elements, new additions to enhance

my family portraits. What's more, it reminds me that an image is constituted by at

least two complementary aspects: the positive side, which most of us can see, and the

negative part, the majority of us have lost our seeing ability.
---
Family portrait: Ka-sing, Iris and Holly
---
Family portrait: Holly
---
Family portrait: Iris and Holly
---
Family portrait: Iris

(following page) a positive image digitally reversed from the negative