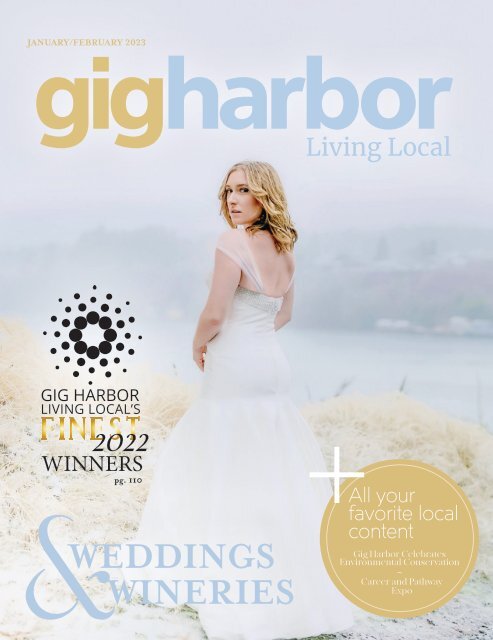 January/February 2023 Gig Harbor Living Local
January/February 2023 Gig Harbor Living Local
January/February 2023 Gig Harbor Living Local
SHOW MORE
SHOW LESS
You also want an ePaper? Increase the reach of your titles
YUMPU automatically turns print PDFs into web optimized ePapers that Google loves.
JANUARY/FEBRUARY 2023

gigharbor

Living Local

GIG HARBOR

LIVING LOCAL'S

2022

WINNERS

pg. 110

&

WEDDINGS

WINERIES

+All your

favorite local

content

Gig Harbor Celebrates

Environmental Conservation

~

Career and Pathway

Expo

GIG HARBOR LIVING LOCAL jan/feb 2023

1
---
Serving Gig Harbor

Since 1961

Olympic Pharmacy and Healthcare Services has grown into a

leading provider of medical supplies and equipment to the Puget

Sound area. Our mission is to provide our customers with the highest

quality products, exceptional customer service and to be an active

participant in our patients' healthcare and well-being.

HQAA

ACCREDITED

4700 Pt. Fosdick Dr. Ste. 120

Gig Harbor, WA 98335

253.858.9941

Home Medical Equipment | Full-Service Repair | Home Delivery | Exceptional Patient Care | Local

2 GIG HARBOR LIVING LOCAL jan/feb 2023
---
THE PREMIER LUXURY BROKERAGE

Beautiful, like new over 2700 Sq Ft no bank

waterfront home on Wollochet Bay with

community multi pier dock and boat launch.

OFFERED AT $1.7M.

MLS # 2016946

GIG HARBOR

LIVING LOCAL'S

2018

WINNER

GIG HARBOR

LIVING LOCAL'S

2019

WINNER

GIG HARBOR

LIVING LOCAL'S

2020

WINNER

CAROLYN WESTMORELAND

Designated Broker/Owner

253.961.5596

GIG HARBOR LIVING LOCAL jan/feb 2023

GIG HARBOR

LIVING LOCAL'S

2021

WINNER

3
---
GIG HARBOR

LIVING LOCAL'S

2020

WINNER

GIG GIG HARBOR HARBOR

LIVING LIVING LOCAL'S LOCAL'S

2021

WINNER

LUXURY SKIN TREATMENTS,

performed by Gig Harbor's most

experienced aesthetic team, INCLUDE:

Botox, Dermal Fillers, Dysport, Sculptra,

Broad Band Light, Microneedling, Diamond Glow,

Acne Treatments, Full Skin Rejuvenation and

Medical-Grade Skin Care

BEFORE AND AFTER WITH

MOXI+BBL

INTRODUCING

MOXI + BBL

THE UNBEATABLE TREATMENT PAIRING

FOR TOTAL SKIN REJUVENATION

Moxi & BroadBand Light (BBL) are two

advanced skin treatments that pair perfectly

for dramatic results. The ultimate in skin

rejuvenation, this treatment results in a

brighter and more radiant complexion,

smoother texture and incredible improvement

in redness and hyperpigmentation!

Gig Harbor's most experienced injectors

and skin rejuvenation specialists.

BOOK ONLINE TODAY!

253.514.6766 | GigHarborAesthetics.com

4 GIG HARBOR LIVING LOCAL jan/feb 2023

Laura Brougher, RN

18+ years experience

@thefaceangel

Serina Jones, LME

20+ years experience

@serinajones_aesthetics
---
AV8RS

Aviation Excellence from Sea to Sky

INTEGRITY, SERVICE, EXCELLENCE

WE STRIVE TO BE THE GO-TO DESTINATION IN THE PNW FOR ALL THINGS AVIATION.

CONTACT US FOR

BROKERAGE • APPRAISALS • PRE-BUY INSPECTIONS • MAINTENANCE • CONSULTING

FERRYING • HANGAR SPACE MANAGEMENT • DETAILING

AV8RS is owned and operated by 20+

year USAF Veteran Brandon Baimbridge.

FAA A&P/ IA/ PILOT

Av8rsLLC.com

Brandon@AV8RSLLC.com

Call or Text

Office 253.393.7546 • Cell 850.797.4071

GIG HARBOR LIVING LOCAL jan/feb 2023

5
---
6 GIG HARBOR LIVING LOCAL jan/feb 2023
---
Diamonds are forever~

Make every moment count

Locally Owned & Operated

Fine & Custom Jewelry • Repairs • Appraisals • Citizen Watches

GIG HARBOR

LIVING LOCAL'S

2021

WINNER

Open Monday - Saturday | 11AM-6PM

253.514.8478 | 4711 Point Fosdick Drive NW | Gig Harbor, WA 98335

Find Us

GIG HARBOR LIVING LOCAL jan/feb 2023

7
---
Healthy, Glowing, Fashionable?

Self.

Made.

.

new

Get the skin to match.

Artistic Plastic Surgery Center's Medical Esthetician can help.

Facial Rejuvination | SkinPen Microneedling | PRP | Acne/Acne Scar Treatments

Smooth Beam Laser Treatment | Rosacea | Spider Vein Treatment | Laser Hair Removal

Vbeam Laser Therapy | Radio Frequency Skin Tightening | Obagi ® Blue Peel

PCA Chemical Peels | Waxing Services

PCA, Skin Medica ® , Obagi NuDerm ® , Epionce ® , Jan Marini ®

KHASH A. DEHGHAN, MD, PHD, FACS

Board Certified Plastic Surgeon

3515 S. 15th St., Suite 101, Tacoma, WA

ArtisticPlasticSurgery.com

Call for a consultation: 253.756.0933

253.756.0933

Office of Khash A. Dehghan, MD, PHD, FACS

3515 S. 15th St., Suite 101, Tacoma, WA | ArtisticPlasticSurgery.com

8 GIG HARBOR LIVING LOCAL jan/feb 2023
---
Live Life

Smiling!

CALL TODAY TO SCHEDULE AN APPOINTMENT

WITH DR. BRIAN DANSIE & HIS STAFF

DR. BRIAN DANSIE

Pediatric Dental Specialist

ACCEPTING NEW PATIENTS!

3316 56th ST. NW, STE. 100 | Gig Harbor, WA 98335 | 253.329.KIDS (5437)

frontdesk@thekidsdentistgh.com | thekidsdentistgigharbor.com

GIG HARBOR LIVING LOCAL jan/feb 2023

9
---
Welcome Home ...

Luxury is

Standard

Dawn James

Sales Manager

NMLS# 487467

2727 Hollycroft St. Suite 360

Gig Harbor, WA 98335

C: 253.988.0425

F: 833-441-0942

10 GIG HARBOR LIVING LOCAL caliberhomeloans.com/djames

sept/oct 2022

10 GIG HARBOR LIVING LOCAL jan/feb 2023

PREFERRED LENDER
---
Welcome to The Cove,

Rush Residential's Newest

Luxury Community in Gig Harbor

The Cove in Gig Harbor offers an intimate

community setting of 13 beautifully appointed

new homes.

The Cove was designed to appeal to the "Level

Up" buyer who expects luxury finishes and

details that elevate their living.

Thoughtfully designed modern living spaces

that flow seamlessly to accommodate today's

lifestyle.

The latest in finishes to align durability

with luxury.

*Wide Plank Flooring on main floor (stairs too!)

*Quartz on all counters

*Milgard Windows

*DACOR Luxury Appliances

*Flush Mount Patio Heaters

*and so much more ...

The Cove is tucked away yet close to everything

that is lovely about Gig Harbor.

Conveniently located off Hwy 16! Uptown

shopping traffic backed up? Skip the Olympic

exit and take Wollochet Dr exit; either way, your

destination is just a couple minutes away.

As Rush celebrates 35 years in the community,

building homes for families, medical offices,

business suites and supporting our community

through its Rush Gives teams, Rush is committed

to bringing quality to Gig Harbor for all who live

and visit.

Learn More at www.rushresidential.com or call

Team Aro at 253-677-3500

TeamAro.com | 253.677.3500

2727 Hollycroft Street Suite 210 | Gig Harbor, WA

GIG HARBOR LIVING LOCAL jan/feb 2023

11
---
gigharbor

Living Local

marketing

WASHINGTON EXECUTIVE DIRECTOR

Julie Reed | 253.363.8832

julie@like-media.com

editorial

EDITOR

Jillian Chandler | jillian@like-media.com

STAFF WRITERS

Taylor Shillam | Rachel Kelly | Christian Weaner

design

CREATIVE DIRECTOR | Maddie Horton

DESIGN DIRECTOR | Darbey Russo

SENIOR DESIGNER | Kennedy Pew

GRAPHIC DESIGNER | Sam Stoke

DIGITAL CREATIVE DIRECTOR | Whitney Lebsock

accounting & operations

DIRECTOR OF OPERATIONS | Rachel Figgins

DIRECTOR OF MARKETING | Allyia Briggs

EXECUTIVE DIRECTOR | Steve Russo

MANAGING PARTNER | Kim Russo

contributors

Jennifer Hawkins, Felicia Soleil, Nancy Harris,

Christopher Stadtherr, Kandi Moller, Jennifer "Taz"

Vazquez, Paige Brougher, Marguerite Cleveland,

Zac Janssen

photography

PHOTOGRAPHERS:

In-Gear Media pg. 1,14, 72, 82, 84-85, 92-93, Lucy Zhou

pg. 35, 37, Arrow Ashlynn pg. 40, Brenna Kalmon pg. 41,

Tina Shoemaker of the Kiwanis Club pg. 42-45, Joe Lyoa

pg. 42, Alexa Shanafelt pg. 46, 48, Unique Moments

Photography pg. 52, Marguerite Cleveland pg. 98-99

COURTESY PHOTOS:

Permission to Start Dreaming Foundation,

City of Gig Harbor, Fairmont Empress

gig harbor living local

magazine is brought to you by Like-Media.com. If

you would like to advertise with us, please call 253.363.8832

or email julie@like-media.com. To submit articles, photos,

nominations and events, email us at info@like-media.com.

Advertising Agency

We specialize in small spaces & big dreams.

compact design, accessory dwelling units (ADUs), small footprint,

First consultation is complimentary.

253 376 7935 - brettmarlo.com - LICENSE # BRET TMD892QP

Living Local magazine is published bi-monthly and distributed

freely throughout the Pacific Northwest and Inland Northwest;

Gig Harbor, Edmonds, Bonners Ferry, Sandpoint, Dover Bay,

Coeur d'Alene, Hayden, Rathdrum and the Spokane Valley.

Opinions expressed in articles or advertisements do not

necessarily reflect the opinions of the publisher. Living Local

magazine is not responsible for omissions or information

that has been misrepresented to the magazine. Living Local

magazine is produced and published by Like Media, and no part

of this publication may be reproduced or transmitted without

the permission of the publisher.

GIGHARBORLIVINGLOCAL.COM

12 GIG HARBOR LIVING LOCAL jan/feb 2023
---
FAMILY OWNED

CLEANING

SERVICES

IN THE HEART OF GIG HARBOR

Looking for

Long Term Employees

With or without experience

Training available

Management Opportunities!!!

N A R R O W S

APPLY TODAY

CALL: GABBY

253-495-2844

REPLACE YOUR

WINDOWS WITH

AMPRO TODAY!

Replace your drafty windows with

beautiful, modern & energy-efficient windows.

Offering Roofing, Siding, Windows,

Sunrooms, Patio Covers & Kitchen

Remodels, with warranties you can trust &

easy financing.

Visit amprobuilders.net!

"We hop to it!"

Schedule a free consultation:253.590.4425

Satisfaction guaranteed - Manufacturer backed - Factory warranty

LIC#AMPROBL910LZ

GIG HARBOR LIVING LOCAL jan/feb 2023

13
---
Career and Pathway

Expo

GIG HARBOR LIVING LOCAL jan/feb 2023

1

Family First offers

compassionate,

quality, 24-hour care

in a comfortable home

setting.

• Caring and experienced

medical team.

• Home physician and

transportation to medical

appointments provided.

• Entertaining activities for

residents.

• Serving Gig Harbor and the

surrounding community

for 20 years.

GIG HARBOR

LIVING LOCAL'S

2020

WINNER

GIG HARBOR

LIVING LOCAL'S

2019

WINNER

GIG HARBOR

LIVING LOCAL'S

2018

WINNER

GIG HARBOR

LIVING LOCAL'S

2017

WINNER

A new year brings with it new

opportunities for growth, new

and exciting challenges, and change. January

1 lets us hit the reset button, looking to the

future, not to the past. 2022, the good and the

bad, is now behind us, and it's time to look

ahead at what we hope to see happen in our

lives throughout this new year.

We are proud to share with you our first issue

of Gig HarborLiving Local for 2023! You're

certain to find some inspiration while reading

through its pages.

If a wedding is in your or a loved one's future,

we have some wonderful articles to help get

you started on planning the big day. From

backyard weddings to weddings at a winery or

vineyard, to makeup and gown ideas, to tips

on how to get your mind and body wedding

ready, you'll find it all in the pages of Gig

Harbor Living Local. If you're looking to take

a romantic getaway, our travel article takes

you to Victoria, British Columbia.

Meet Steve Russo, Publisher

Executive Director

steve@like-media.com

A New Year of

Opportunity

In this issue, we highlight CAPE—Career and

Pathway Expo—an annual event to inspire

middle school girls in the STEM fields. We

celebrate, along with the rest of Gig Harbor,

the acquisition of North Creek Salmon

Heritage site, and the incredible addition to

Austin Park, "Our Fisherman, Our Guardian,"

a 14-foot statue honoring the history of Gig

Harbor's first people. In addition, there are

some exciting events coming up, including

Empty Bowls, a fundraiser to benefit Altrusa

in helping keep our community's students and

families fed. And of course, you'll find much

more as you flip through the pages of Gig

Harbor Living Local.

Thank you for letting us share the wonderful

stories and inspiring people of Gig Harbor

with you.

familyfirstafh.com

253.853.2033

julie@familyfirstafh.com

14 GIG HARBOR LIVING LOCAL jan/feb 2023

about the cover

Winter weddings can be a magical and memorable experience in Gig

Harbor. This photo, taken by In-Gear Media, halts a moment in time

on this wintry day, unveiling the beauty of the landscape. This captured

the newly fallen snow in its perfection by the Gig Harbor lighthouse just

before entering the beach. Simple and natural backdrops can be quite

sophisticated and elegant, just as we all encounter while exploring the

secret corners of our majestic little city.

Photo by In-Gear Media

Would you like to receive this issue and future issues in your

inbox? Visit GigHarborLivingLocal.com and sign up for our FREE

Digital Edition.

JANUARY/FEBRUARY 2023

gigharbor

Living Local

GIG HARBOR

LIVING LOCAL'S

2022

WINNERS

pg. 110

WEDDINGS

& WINERIES

+All your

favorite local

content

Gig Harbor Celebrates

Environmental Conservation

~
---
REMODELS & REPAIRS • CUSTOM HOMES & RENOVATIONS • GENERAL CONSTRUCTION

WE CAN FIX THAT

Honest craftsmanship in a tradition of quality

GIG HARBOR

LIVING LOCAL'S

2021

WINNER

PO Box 757, Gig Harbor, WA 98335

pat@kelleyhomeservices.com

www.kelleyhomeservices.com

GIG HARBOR LIVING LOCAL jan/feb 2023

15
---
contents

home & garden

18

A SIMPLE WEDDING VENUE AT HOME!

Transforming your backyard into a

wedding oasis

26

FLOWERS FOR YOUR WEDDING DAY

Adding that special touch

32

THERE IS NO 'RIGHT TIME' TO BUY OR SELL

Only the right time for you!

local scene

34

34

GIG HARBOR CELEBRATES

ENVIRONMENTAL CONSERVATION

Preserving land for future generations

42

FIRST AT THE TABLE

'Our Fisherman, Our Guardian'

unveiled at Austin Park Estuary

46

CAREER AND PATHWAY EXPO

Inspiring the minds of young girls

through STEAM

+ many more ...

feature

50

A WEDDING AT A WINERY

Northwest wineries and vineyards make

the ideal backdrop for that special day

health & lifestyle

58

CHEERS TO YOUR HEALTH IN 2023

Simple lifestyle strategies to boost your

health in the New Year

69

HEALTHY TIP

Gratitude: A year to be thankful

42

+ many more ...

16 GIG HARBOR LIVING LOCAL jan/feb 2023
---
january/february 2023

18

46

beauty

72

WHAT'S YOUR WEDDING STYLE?

Creating the perfect look for the

big day

your guide to local

84

AV8RS, LLC

A Life, and Business, Inspired by Passion:

Veteran continues his love for aviation

post-Air Force

86

LOCAL LISTINGS

Your guide to everything local

92

RUTH'S DOG WALKING

'Dog Adventures': Dedicated to caring for

your pup through exercise and enrichment

travel & leisure

94

ENJOY A COUPLES GETAWAY TO VICTORIA,

BRITISH COLUMBIA

Old-World charm sets the scene for romance

food & entertainment

100

DINING GUIDE

Gig Harbor's must-try eats

103

SEASONAL RECIPE

Satisfying Winter Recipe:

Cross Rib Roast

104

CALENDER OF EVENTS

All the events you won't want to miss

72

110

GIG HARBOR

LIVING LOCAL'S

2022

WINNERS ANNOUNCED

GIG HARBOR LIVING LOCAL jan/feb 2023

17
---
y RACHEL KELLY

home

A SIMPLE WEDDING VENUE AT

Transforming your backyard into

a wedding oasis

18 GIG HARBOR LIVING LOCAL jan/feb 2023

18 GIG HARBOR LIVING LOCAL sept/oct nov/dec jan/feb 2023 2022
---
GIG HARBOR LIVING LOCAL jan/feb 2023

19
---
So many fond memories take place in our yards. As children, we

climb the branches of our favorite trees, or run barefoot across the

cool grass. Having your wedding at home brings those memories

full circle. Truly, what could be more intimate and romantic? But as the

big day gets closer and closer, you might find transforming that space a

little more difficult than you originally thought. Don't sweat it! Here are

a few things to keep in mind when preparing your yard for the big day

to make it all you dream it to be, while not being too labor intensive.

The first thing to think about, before you even start setting up, is

the garden itself. Nothing really much has to be done in backyard

spaces that already have lots of green. No special color is needed. If

anything, the beauty of the grass or simplicity of the trees will speak

for themselves. The only real thing to do is to clean it up a bit. Clear

off dead foliage, put in new mulch, and trim flowers and hedges. Your

ceremony can be focused around your favorite spaces, such as the old

apple tree, and the ceremony itself can be held in between two large

flower pots. Nothing much has to be done to nature to make the effect

enchanting, so don't worry too much about perfection in the yard.

One of the problems that everyone experiences when holding events in

large open spaces is distinguishing space—where to gather, eat, dance,

and hold the ceremony. Pick a distinguishing factor from your yard.

Maybe it's a favorite tree or a patch of rose bushes. Maybe there's some

lovely ivy growing along the fence. Whatever it is, have that be the

backdrop to the ceremony. Here you can place an archway, two groups

of chairs to create the aisle, and an aisle runner. Rugs work well as aisle

runners because they sit well in the grass without shoes going through

them—and look stunning. Consider renting a dance floor for dancing,

and designate tables and chairs close by for the reception. Large white

tents (with heaters for evening weddings) or runner lights strung

across the yard and trees can both designate a reception space, or unify

20 GIG HARBOR LIVING LOCAL jan/feb 2023
---
WE SUPPORT LOCAL

BUSINESSES.

At American Family Insurance, we believe local businesses are what make the community so special.

That's why we're focused on protecting the hard work and commitment that keep these businesses running strong, day after day.

Let's talk about the business you've built and how I can help protect it.

Timothy Lopez, Agent

Certified Agency in

Customer Excellence

7512 Stanich Ln Ste 2

Gig Harbor, WA 98335

(253) 858-7200

tlope1@amfam.com

American Family Mutual Insurance Company, S.I. & Its Operating Companies, American Family Insurance Company,

6000 American Parkway, Madison, WI 53783 ©2016 011770 – Rev. 8/19 – 16611727

GIG HARBOR LIVING LOCAL jan/feb 2023

21
---
THE BEAUTY OF THE GRASS OR SIMPLICITY OF

THE TREES WILL SPEAK FOR THEMSELVES.

activities separated around the yard. Distinguishing space makes for natural gathering places for

friends and family to keep themselves happy as they wait for the main event, or keep themselves

occupied while the photographer takes family and wedding party photos.

If you have some space after deciding on your ceremony and reception, or if you've decided to

not do a reception at all, consider filling up the outer edges of the yard with transitory spaces.

This will be where people hang out as they transition from one activity to another, and where

they'll connect if they're not watching the dance floor. Things like cocktail tables and a bar would

go here. Other ideas for transitory spaces include couches and board games, yard games, a

picture booth, or a signature/gift table.

With all that's going on and a large yard full of people, the last finishing touch would be to

make sure your guests know where to go and what's going on there. Traditionally this might

mean handing out a schedule of sorts upon entry, placing friends at the entrance to guide guests,

and placing meal placards at the reception table(s). In a yard space, knowing what to do and

where to go is achieved by clever little signs and strategic placement of activities. The cake, for

instance, might be right beside the reception area, and the meal might be advertised by small

sandwich boards. Signs meant to direct could be as simple as chalkboards or as complicated as

22 GIG HARBOR LIVING LOCAL jan/feb 2023
---
A Northwest Tradition of quality homes designed

and built to reflect your lifestyle

BRINGING YOUR VISION TO LIFE

We are a local custom home builder celebrating 25 years of home building servicing the South Puget Sound. Our team and in-house

designer work directly with our custom-home clientele, offering a full-service home-building experience where we guide our clients

from start to finish throughout the entire process, from conceptual design all the way through completion.

www.HCHcustomhomes.com | 253.446.7645 | erin@highcountryhomes.us

GIG HARBOR LIVING LOCAL jan/feb 2023

23
---
arrows labeled and docked on lantern posts. There can be

a lot of formality at weddings, with very little or a lot of

activity. No guest will be in any way eager to offend, which

can make people hesitant. Clear communication, signs

with directions markers, and activities that clearly hedge

in the yard space will clear up this small snag in what will

otherwise be a clearly laid-out event.

Nothing much has to be done

to nature to make the effect

enchanting, so don't worry too much

about perfection in the yard.

Keeping these things in mind, do whatever makes this day

uniquely you! Allow it to be as relaxed, as organized, as

traditional or untraditional as you want it to be. The dance

floor and the ceremony space could be one in the same, as

they are both platforms. The reception space could be in a

separate long tent with seating arrangements, or organized

according to a smattering of circular tables on the outer

edge of the ceremony space. You could have a large meal

served at the tables or served buffet style. Or you could

scrap the meal entirely and serve small appetizers and

drinks. Whatever you feel comfortable with!

It's your wedding, and you should both be the happiest

people there. If you're having fun, then your guests will too!

24 GIG HARBOR LIVING LOCAL jan/feb 2023
---
We have special gifts

for that special

someone in your life

Shipping • Curbside pickup • Online shopping

Facetime shopping & private shopping parties

Come visit us!

dolly mama & DOLLY MAMA TOO

Sun and Mon 11-5 | Tues-Sat 10-6

dollymamaboutique.com | info@dollymamadesigns.com | 253.851.5113 | Follow us

Time for a

new roof?

REPLACE YOUR

WINDOWS WITH

AMPRO TODAY!

Professional.

Reliable.

Replace your drafty windows with

beautiful, modern & energy-efficient windows.

Trusted.

Manufacturer

Offering Roofing, Siding, Windows, Sunrooms,

Patio Covers Warranties.

& Kitchen Remodels, with warranties

you can trust & easy financing.

Easy Financing.

Visit amprobuilders.net!

SAME AS CASH! $0 DOWN,

$0 INTEREST 24 MONTHS OAC

Schedule a free consultation:253.590.4425

Schedule a free consultation:253.590.4425

Offering Roofing, Siding, Windows, Sunrooms,

Patio Covers & Kitchen Remodels.

Visit AmproRoofing.com

"We hop to it!"

"We hop to it!"

Satisfaction guaranteed - - Manufacturer backed backed - Factory - Factory warranty

LIC#AMPROBL910LZ

LIC#AMPROBL910LZ

GIG HARBOR LIVING LOCAL jan/feb 2023

25
---
flowers for your

wedding day

Adding that special touch

by RACHEL KELLY

F

inding the perfect bouquet and centerpieces

for your wedding can be a chore or a joy; it

really depends on how you look at it. But it goes

without saying that flowers add something special. They add

color, fragrance, personality and beauty. You don't need a lot

to make a big statement, and they can either provide a pop

of excitement or be an elegant accompaniment. Flowers bring

together disjointed spaces and make those not-so-attractive

spots unnoticeable. They fill up empty decorations, spruce up

glass jars, and provide personality to white tablecloths. They

hint of simplicity, dance of elegance, and speak of promises.

Most importantly, bouquets give your hands something to

hold on to as you walk down the aisle! Flowers are an absolute

must. Whether you assemble your own flowers, buy from a

florist, or pick your flowers from your garden, here are five tips

to make sure that your flowers have that special touch.

26 GIG HARBOR LIVING LOCAL jan/feb 2023

26 GIG HARBOR LIVING LOCAL jan/feb 2023
---
When picking a florist.

When picking a florist, go with someone you know. Usually this means

local, but sometimes it means choosing a friend with experience. If

you're asking for help with flowers, you probably don't know what you're

doing. This is why choosing someone you know becomes so important,

because you can trust them; a florist who knows you can pick out flowers

that are not only in season but that will work just right for you.

Go local.

Another good choice is to go with a local farm to provide your flowers.

These flowers are sure to be fresh, fragrant, and perfectly in season.

What's more, they'll most likely be full of color. This means that little

adornment or garnish will be needed. Holding a bouquet of bright

yellow daffodils is sure to provide a joyous air to any spring ceremony,

or a floating calla lily a simple beauty to any centerpiece.

GIG HARBOR LIVING LOCAL jan/feb 2023

27
---
Think ahead.

Think ahead when deciding and/or putting together your flower

arrangements. Flowers and décor are one of those things that

can be decided upon ahead of time. Ninety percent of the

arrangements should be done a day before the wedding. If the

flowers are refrigerated, they are still sure to be fresh and gloriously

aromatic on the day of. If it's not possible to do everything the day

before, then make sure to separate the flower bundles and decide

on the arrangements beforehand to reduce stress. The last thing

you want to do when you're getting ready is having to decide on

how the flowers should be arranged and displayed.

28 GIG HARBOR LIVING LOCAL jan/feb 2023
---
BEFORE PHOTOS

AFTER PHOTOS

Quality Craftsmanship that Passes

the Test of Time Since 1990

WHOLE HOUSE REMODELS.

CUSTOM HOMES.

KITCHEN AND BATHROOM.

REMODELS.

MAN CAVES AND MORE!

253.405.8109

Chris@gigharborcontractor.com

gigharborcontractor.com

GIG HARBOR LIVING LOCAL jan/feb 2023

29
---
Think small.

Think small when deciding on multiple flowers in one bouquet or

centerpiece. The accompanying flowers should be smaller than

the center flower, so as to complement rather than overwhelm

the overall presentation. Examples include heather blossoms and

baby's breath. Flowers don't take much to stun, and nor does it

take much to overwhelm the senses.

Less is more.

Less is more when deciding on flowers. Choose one overarching

flower and allow that to be the common theme in all your

arrangements. Flowers such as tulips, roses, hydrangeas,

chrysanthemums, calla lilies and dahlias are common vibrant flowers

that will really make a statement. This can mean that your bouquet

could be one color, and your table arrangements another, while all

being unified by the flower.

30 GIG HARBOR LIVING LOCAL jan/feb 2023
---
Tie it all together.

Tying it all together can be done using simple looped

grass, swatches of muslin, or wrapped lace or string. Any

material can be used to bring the flowers together, as long

as it's tight and holds them closely together. Sloping or

disjointed flowers are pretty much the only thing that will

ruin the effect. Pins are often put through the underside

heads of larger flowers to keep them from drooping,

while smaller flower bunches are trimmed of their lower

offshoots to allow them to be tightly tied. The last touch

is making sure all the stems are cut the same length at the

bottom of the bouquet.

GIG HARBOR LIVING LOCAL jan/feb 2023

31
---
There is No 'Right

Time' to Buy or Sell

Only the right time for you!

by JENNIFER HAWKINS, KEY2SEE TEAM

"Am I crazy to enter today's real estate market?" Do you feel like you are hearing a different answer

to that question from everyone? You are. Media, economists, REALTORS, lenders, and then of

course neighbors, friends, and the list goes on.

Do you know why you will continue to hear different answers to that broad question? Because real estate

is situational. There are, however, a few situations that I think make this a great time to list your home, as well

as there are a few situations I think make this a great time to buy—and I am here to break that down and help

be your guide.

BOOMERS! Hey you, Baby Boomers (a Baby Boomer was born between 1946 and 1964):

1. Are you still sitting on a ton of equity in your house, but you don't necessarily need all that space?

2. Have you been waiting to cash in, but you felt like you didn't have anywhere to go?

This is your chance. You are the largest demographic that owns your home outright or has very little debt, and

you are also the only demographic that will be downsizing and spending less on your next home than the home

you are currently in. This equates to two wins for you in this market:

1. The rates mean very little to you or nothing at all.

2. You may be able to negotiate your desired smaller footprint with less competition in the buying pool.

32 GIG HARBOR LIVING LOCAL jan/feb 2023
---
Pairing innovation with

communication to create long

lasting trust so you can enjoy home.

key 2 see team

Jennifer Hawkins

CJ Stewart

Whitney Johnson

The millennials are a larger demographic than you Boomers, and they are about to start growing

their families and need more bedrooms, yard space, bonus rooms, dining rooms … and guess

who has all of that? The Boomers!

Let me start this off by saying, we understand interest rates doubling in a year is not a good look.

It is difficult to imagine "what you could have had," but there are a few situations that might make

this the best time to buy.

FIRST-TIME HOME BUYERS … I am talking to you! Have you heard of:

1. A 2-1 buydown?

2. Seller-paid inspection repairs?

3. Seller-paid closing costs?

$826,703 $4,850,000

$939,362

$826,703 $4,8

You are the luckiest first-time home buyers in five years. This is the only time, in a long time, that

you can negotiate with the seller!

A 2-1 buydown is the seller paying to buy down your interest rate! Yes, I am serious. With others

getting out of the market because of fear, this has opened up an opportunity for you to capitalize.

$826,703 $3,850,000

$4,850,000

As a first-time home buyer, you likely won't have an abundance of cash to fix neglected

maintenance items found during your inspection (the inspection you would have likely had to

waive six months ago). Now's your chance to have the seller fix them for you!

$826,703 $4,850,000 6

Also keep more money in your pocket by asking the sellers to pitch in on closing costs. My

advice: Link up with industry leaders, a good lender and good REALTOR team, and talk about

$826,703 $4,850,000 6

options. I strongly believe a REALTOR should not be someone you hire a week or two before you

$826,703 $4,850,000 23.83 6 6

are ready to enter the market; your REALTOR needs to be in your corner at all times directing

and guiding you during an ever-changing market.

So, remember, real estate is situational. It will never be the perfect time for everyone. The question

is, is today the right time for you?

What's Your Home Worth?

www.Key2See.com

253.229.1414

GIG HARBOR LIVING LOCAL jan/feb 2023

33
---
Gig Harbor Celebrates

Environmental Conservation

Preserving land for future

generations

49 TH AVE C T

North Cre

Salmon H

0

North Creek

9 3 R D S T

B U R N H AM D R

North

P h a s e I I

Creek

Salmon

Phase III

Heritage

P h a s e I

Site

H AR B O R VI E W

by RACHEL KELLY

D R

D

Cre

Gig Harbor is celebrating the acquisition of

the North Creek Salmon Heritage site for the

purpose of preservation and conservation.

The property is located across the street from

Donkey Creek Park (8714 North Harborview Drive) and

north of the Water Treatment Plant (4426 Harborview

Drive). The land, which consists of pristine salmon

habitat and wetlands to which the salmon still return to

every year to lay their eggs, was acquired in a series of

three phases.

The idea of preservation of the heritage site began in

the 1980s. The land was noted by city officials as being

especially pristine on the edge of a growing Gig Harbor.

However, at the time, no action was taken to protect

the property from development, though the property

failed to disappear from the view of developers and city

organizers alike.

It wasn't until recently, with the rapid development of

Gig Harbor, that locals started to reach out to the mayor

S K AN S I E AVE

S R 1 6 W

S R 1 6 E

Artondale

Locator Map

Gig Harbor

man an C C Tr u Tr u s s h ai h ai m l l

The mayor and

city council stand

united in their

desire to preserve

The map features are approximate and are intended only

to provide an indication of said feature. Additional areas

that have not been mapped may be present. This is not a

and conserve

survey. Orthophotos and other

the

data may not align. The

City assumes no liability for variations ascertained by

actual survey. ALL DATA IS EXPRESSLY PROVIDED 'AS-IS'

AND 'WITH ALL FAULTS.' The City makes no warranty of

fitness for a particular purpose. The information on this

land within

map will change over

and

time without notice.

around Gig Harbor.

Legend

City Boun

Existing C

Existing C

North Cr

Stream

WA State P

NASA, USG

34 GIG HARBOR LIVING LOCAL jan/feb 2023
---
ek

eritage Site

S U TH E R L AN D

C

AN C I C H

T

250 500

C T

Feet

B E N S O N S T

Harbor Ridge

Middle School

F U L L E R S T

P R E N TI C E AVE

F R AN K L I N AVE

onkey

eek ek Park

N O R TH H AR B O R VI E W

D R

Tidelands in

txwaalqet

Estuary

Austin Park

dary of Gig Harbor

ity Park

ity Trail

eek Salmon Heritage Site

arks GIS, Esri, HERE, Garmin, SafeGraph, METI/

S, Bureau of Land Management, EPA, NPS, USDA

S HI RLE Y AVE

and city council with a plea that the development slow

to allow for some of the land to remain unclaimed.

Preservation of land, water and trees is essential to the

overall health of current and future generations. The voice

of the community didn't fall on deaf ears. The mayor and

city council stand united in their desire to preserve and

conserve the land within and around Gig Harbor. City

council decided to take steps today to ensure the health of

future generations through preservation of green space.

"We decided to put our money toward environmental

stewardship to highlight our priorities as a city," says

Katrina Knutson, Gig Harbor city administrator.

The first phase of acquisition began with the 11.5 acres

owned by the Lyons Family Trust; when approached, they

were willing to sell the land for conservation purposes.

To acquire the land, Gig Harbor was in need of partners.

The Puyallup Tribe of Indians partnered with the city to

add an additional $50,000 to the conservation fund. The

land across from Donkey Creek is of special historical

significance to the tribe as the ancestral homelands of the

Swift Water peoples, the original residents of the land.

Preserving the land in its entirety will benefit the key

salmon species that rely on its untouched state, in turn

caring for the generations of many peoples who live in

its vicinity.

The land across from Donkey Creek Park that was once

deemed pristine by past city organizers once again came

before the city council's purview, eventually leading to the

pursuit and acquisition of the land.

After Gig Harbor entered into negotiations for the property

from the Lyons Family Trust, the city council began to

hear talk of the surrounding land. City council started to

look into adjoining lands and talk to landowners, which

GIG HARBOR LIVING LOCAL jan/feb 2023

35
---
In need of creating a

Marketing Plan for 2023?

SPECIALIZING IN

SEARCH ENGINE OPTIMIZATION

ONLINE BRAND DEVELOPMENT

BRANDING AND CREATIVE SERVICES

We look forward to being part

of your healthcare team.

FULL-SERVICE MEDIA AGENCY

Let our team of experts develop a

customized strategy to meet your needs

and budget!

GIG HARBOR

LIVING LOCAL'S

2018

WINNER

GIG HARBOR

LIVING LOCAL'S

2021

REACH OUT TODAY:

julie@like-media.com | 253.363.8832 | like-media.com

36 GIG HARBOR LIVING LOCAL jan/feb 2023
---
it will be a place

where local nature can

thrive and the land can

rest. For us it will be

a place where we can

breathe in the forest

air and unwind.

resulted in phases two and three of acquiring land for

preservation. Eventually they entered into talks of buying

more property to the west. To purchase both the Lyons

Family Trust property and the phase 2 property, funds

were used both from the Pierce County Conservation

Fund and the Puyallup Tribe. The city acquired $430,000

through the Pierce County Conservation Futures Grant.

The City of Gig Harbor contributed $20,000. This

resulted in a conservation easement on both properties

to further protect the wetlands. The health of the salmon

habitat was ensured.

For phase 3, the council was aware that the property across

the street from Harborview Drive was being developed

into housing. Since this land adjoined the previous

two properties, the city approached the developers and

bought the land outright for preservation—ensuring

slower development. Because phase 3 was bought

outright with city funds, and without Pierce County

Conservation funds, the land didn't have a conservation

easement. Through the pro-bono work of the Great

Peninsula Conservancy, the conservation easement was

arranged and the property acquired.

In the future, we can look forward to a property with

light development of natural trails, and a very small

parking lot. The natural trail will eventually meet up with

the Cushman Trail. The North Creek Salmon Heritage

site will be a place where salmon and trout can continue

to procreate in the river and local native plants can grow,

providing nourishment for an entire ecosystem inland

and eventually out to the ocean. In short, it will be a place

where local nature can thrive and the land can rest. For

us it will be a place where we can breathe in the forest air

and unwind. It will be a place to wander and get lost, only

to find our way again back to downtown Gig Harbor. In

that way, the North Creek Salmon Heritage site will allow

us to come full circle.

GIG HARBOR LIVING LOCAL jan/feb 2023

37
---
SATURDAY, MARCH 4TH 2023 | 11:00AM-2:00PM

CHAPEL HILL CHURCH

7700 SKANSIE AVE. GIG HARBOR

100% OF NET PROCEEDS FROM THIS EVENT WILL

PROVIDE FOOD FOR HUNGRY KIDS AND FAMILIES IN OUR

GIG HARBOR COMMUNITY.

• PURCHASE YOUR HAND-CRAFTED BOWL. PRICES START AT $15.

• CHOOSE A DELICIOUS SOUP DONATED BY LOCAL RESTAURANTS AND CHEFS

• ENJOY THIS SIMPLE MEAL AND FEED OUR HUNGRY CHILDREN AND FAMILIES.

PRESENTED BY:

38 GIG HARBOR LIVING LOCAL jan/feb 2023
---
teacher in

the spotlight

by RACHEL KELLY

MAGGIE ANDERSON

Resource Teacher, Gig Harbor High School

Maggie Anderson has been a

resource teacher for 22 years, 16

years of which have been spent

at Gig Harbor High School. As

a resource teacher, she works with students

who have health or learning disabilities who

qualify for assistance in reading, language

and math. She also works with students who

have social, emotional or behavioral needs.

Her department consists of five teachers: four

resource teachers and one self-contained

special education teacher who works in the

special education classroom. As a resource

teacher, Maggie has the opportunity to work

with students throughout their high school

career. This allows her to know each student

and their families quite well. That close

connection is one of her favorite aspects of

being a resource teacher, as it allows her to tie

in all of their background experience to bring

about teachable moments.

"Seeing those moments when something

clicks for a student, and then understanding

those things that they've been struggling

with—all of this and more are exactly what

I do," says Maggie. She loves working with

the people at Gig Harbor High School;

from the teachers and paraeducators in her

department to the students and families, she

considers herself lucky.

As a teacher, Maggie is a role model for her

students, and if she were to choose one thing

to pass on to her students, it would be to

"Own it!"

"Seeing those moments

when something clicks

for a student, and then

understanding those things

that they've been struggling

with—all of this and more are

exactly what I do."

"When you do something that deserves

recognition, you should absolutely own that!"

she says. "But, when you make a mistake

or screw up, you have to own that too. …

Not only is it okay (and normal) to make

mistakes, but taking responsibility can help

build responsibility and trust with others."

3312 Rosedale Street, Suite 103

Bayview Plaza

INSURANCE SOLUTIONS FOR:

PERSONAL

BUSINESS

HEALTH

MEDICARE

LIFE

We work hard to find the best

rate through all the carriers

we represent. We are the local

agents you can trust.

When Maggie Anderson isn't at school

(though as a teacher her hours can often be

longer than what people would think), she

loves to spend time with her family. Her

husband Adam is a librarian at Minter Creek

Elementary. Her son Cooper is a junior at

GHHS. Her stepsons Charlie and James are

a freshman at SAMI and a senior at IDEA,

respectively. Her oldest stepson graduated

from SOTA and works at the Glass Museum.

When they all have a chance to be together,

they often play board games, watch movies,

or play with the dogs.

PERSONAL, BUSINESS & HEALTH INSURANCE SOLUTIONS

CONTACT US TODAY!

We work hard to find the best rate through all the carriers we

We are lucky to have teachers such as Maggie

represent, allowing us to be local agents you can trust.

253.858.9988 | www.SoundBiz.net

to watch over our students and help them as

they overcome their personal struggles so

that they can eventually find their place to

thrive in the greater world.

3312 Rosedale Street, Suite 103

GIG HARBOR LIVING LOCAL jan/feb 2023

39
---
STUDENTS IN

by RACHEL KELLY

"I believe that I

wouldn't be the

person I am today

without the

creative outlets

I've been given

throughout

my life."

Arrow Ashlynn Wehmeier

Henderson Bay High School

Arrow Ashlynn Wehmeier is a

senior at Henderson Bay High

School who is known for her art.

"I believe that I wouldn't be the

person I am today without the creative outlets

I've been given throughout my life," says

Arrow. Art has been a passion throughout

her life, and school has given her additional

opportunities to foster her creativity. She has

also thrived in the more traditional subjects

such as science, which is her favorite subject

next to art and music.

Arrow's focus on art has been the conduit from

which she has thrived in school scholastically,

as well as the natural point from which she has

found opportunities for service in the greater

community. She is a senior school board

representative, is involved in a community

mural project with Hillorie Isackson, and

volunteers with the Key Peninsula Logging

Show. She is known around school for her

art as well, as her work is hung in the school.

Her favorite mode of art is painting, a longtime

passion.

She has been encouraged by many teachers,

and it is hard for her to choose which has had

the greatest impact. However, when pressed

she thinks of Greg Brashear. He has taught her

that the way of growth is always up, regardless

of one's beginnings or circumstances. He

encouraged her to discover her passions and

gifts and made sure to greet her in the halls.

Teachers and school staff have the power

to make students feel seen and at home in

times where they might feel isolated or on the

outside. Mr. Brashear has been such a person

for Arrow, who reminds his students, through

his genuine care, that they are not invisible.

Looking forward, Arrow plans to attend

Northwest College of Art and Design or

Shoreline Community College. She will no

doubt thrive wherever she goes because of the

indomitable foundation she has built from her

time here at Henderson Bay. No matter what

life throws next, there's always growth. And

growth goes nowhere but up!

40 GIG HARBOR LIVING LOCAL jan/feb 2023
---
THE SPOTLIGHT

"Ever since I was

little, I've been

interested in

theater and the

dramatics of

Emily Williams

Peninsula High School

Emily Williams is a 17-year-old

senior at Peninsula High School,

and when asked about what she

loves, enjoys, and is thrilled to be

involved in, she didn't hesitate to answer

that she has a love for the dramatic arts.

She loves the expression, the creativity and

the challenge of it. Most of her community

efforts and spare time is spent in some

type of theater. This is her fourth year as a

member of the drama department and her

second year as a member of her school's

Theatre Council, of which she is currently

the president.

"Ever since I was little, I've been interested

in theater and the dramatics of it all,"

says Emily.

That interest hasn't waned in the least as

she's grown up. She's grown a lot in her

talents since she was younger, undaunted

by the opportunities presented to her. She's

performed in many plays and musicals

over the years, in which she's flourished.

it all."

Her favorite production was Roger and

Hammerstein's Cinderella, in which she

played the stepmother.

Outside of school and drama, she makes time

for her friends. With all the activity that she

keeps busy with, Emily knows it's important

to relax, and loves to keep entertained with

a good book. In school she pursues all kinds

of creative avenues while keeping up with

the academic ones. She is a part of the Show

Choir and Advanced Chamber Choir. She

also enjoys her English classes, which seem

to go hand in hand with her love of reading.

Unlike others her age, she doesn't mind the

essays. She even enjoys writing them.

Throughout her four years at Peninsula

High School, no teacher has inspired her

more than her director and teacher Mr.

Bullock, who has helped Emily to broaden

her creativity—which has pushed her to be

a better actor.

Looking forward, Emily is not only excited

to go to college but, more than anything, to

continue her career in acting. Drama has

been a joy and an aspiration for her and,

going forward, she hopes to hold on tight

to it. No doubt she will continue to broaden

her view and expand her talent in the arts,

taking along with her the skills she's picked

up through the opportunities she was given

at school. Break a leg, Emily!

Support Small

Local Alum

Owned Business

GET 15% OFF

your purchase!

*Excluding Cheese & Sale Items

7700 Pioneer Way #202

Gig Harbor, WA 98335

www.cougarwear.com • 253.224.1408

Open 7 Days a Week!

GIG HARBOR LIVING LOCAL jan/feb 2023

41
---
FIRST AT THE

TABLE

'Our Fisherman, Our Guardian' unveiled at

Austin Park Estuary

42 GIG HARBOR LIVING LOCAL jan/feb 2023
---
In September, on the edge of the Gig Harbor waterfront

at Austin Park Estuary, the 14-foot "Our Fisherman, Our

Guardian" was unveiled and blessed in a ceremony led by

tribal elders that included a verbal blessing of the finished

artistry, dancing, drumming, and the arrival of an ocean-going

canoe. The ceremony was a culmination of partnerships, the

most imperative being that of the Puyallup Tribe of Indians who

designed the blessing ceremony to honor the first inhabitants of

the Gig Harbor Peninsula.

The project began with the work of local anthropologist Dr.

Linda Pitcher, who worked extensively with the Puyallup Tribe

of Indians to document the history of the Squababsh Band. Her

extensive research on the lives of indigenous people here in

the Gig Harbor Peninsula, before the arrival of the white man,

sparked conversations between her and the Gig Harbor residents.

In 2014, retired school principal Gary Williamson assembled

and led a "honoring committee" in support of Pitcher's work. The

[honoring] committee consisted of Dr. Pitcher, Dawn Stanton,

who is the City Historic Preservation Officer, Nick Markovich

and Tina Shoemaker of the Kiwanis Club, and Charlee Glock-

Jackson of the City Arts Commission. "The (honoring) committee

worked with the City Works Department to secure the extensive

permitting required for the shoreline placement of the completed

work on Austin Estuary," says Shoemaker. Their hard work paid off

in a true partnership between Gig Harbor and the First Nation. To

truly honor the first peoples, it was essential that the voice of the

local tribal nations was consulted first. Throughout the process,

Dr. Pitcher worked closely with the Puyallup Tribe of Indians to

consult them on their wishes. The result was a commemoration

of the area's first peoples through the 14-foot carving of "Our

Fisherman, Our Guardian."

The carving itself was envisioned and carved by Quinault Nation

President Guy Capoeman, načaktuah. He responded to a request

for native carvers throughout the Northwest with a proposal.

His was chosen by the Puyallup Nation in conjunction with the

honoring committee for his vision. Capoeman is quoted by the

Puyallup Tribal News as speaking at the blessing ceremony: "The

ancestors that fished in these waters right here, and what they

saw and what they contributed to their families and this village.

I thought long and hard about that, that these folks were our

guardians. The fishermen were the ones that saw everything that

by RACHEL KELLY

GIG HARBOR LIVING LOCAL jan/feb 2023

43
---
THE HONOR BESTOWED ON THE FIRST PEOPLES

WILL NO DOUBT RESULT IN A RESPECT FOR THE

LAND AND THE

people who

carefully fostered

its health.

44 GIG HARBOR LIVING LOCAL jan/feb 2023

was going on, everything that was coming into this place.

I thought that that image would have to be a reflection of

what I saw."

The finished work is a realization of this vision.

Recognition, reclamation and education is a vital part of

restoration between two peoples. The active efforts on part

of the city and its residents to honor the native peoples

has not been previously done. The unveiling and blessing

of the carving is part of a larger effort of recognition

meant to honor the original inhabitants of ancestral

lands. As efforts continue to bring about reclamation,

communication is a key component. Restoration cannot

be achieved if everyone isn't at the table. Thankfully,

inviting the Puyallup Tribe of Indians was the first step of

the honoring committee. Jennifer Keating, a Gig Harbor

Land Use planner and Puyallup Tribe member was

reported by the Puyallup Tribal News as saying, "There's

been this old thought that when you teach tribal history

out there, you are replacing Scandinavian history, and

that's just not reality. Native history is Washington state

history. We can no longer look at it as an option to teach

that history—it is history."

Now that history is on full display in the form of a majestic

14-foot carving in front of the pristine waterfront.

As Gig Harbor makes continued efforts to honor the

ancestral peoples, it grows in a mindset of inclusion.

One that strives to listen to its neighbors and learn from

its past. The honor bestowed on the first peoples will

no doubt result in a respect for the land and the people

who carefully fostered its health. Land that isn't just a

source of income or sustenance but held in respect as

being a partner in our overall well-being. With respect

and honor of the original inhabitants, we open a door

to a greater understanding and community, one that

benefits everyone.

May the unveiling of "Our Fisherman, Our Guardian"

be one of many such efforts to bring the native peoples

first to the table to join in on the discussions concerning

ancestral lands and the environment in and around

Gig Harbor.
---
253.380.7554

www.YardsByPacific.com

Find us on Facebook!

Your connection to

the world of Luxury

Vacations

Hotels

Cruise Lines

Tours

A Veteran Owned Business Serving

Pierce County for 17 years

A+ rating with BBB and

Home Advisor (Angi)

• Cabinet Refacing

• Cabinet Redooring

• Cabinet Modifications

• Layout Reconfiguration

• New Cabinet Additions

13 Wood Species and 40+ door

designs with 30+ Standard Stain

Colors. Rigid Thermo Foil (RTF)

products also available.

BEFORE

AFTER

A passion for making your

travel experience a memory

of a lifetime

Exclusive Accommodations

World-Class Cuisine

Unmatched Service

Providing superior service, be it

land, sea or air.

Contact Becky today!

A new kitchen in about a week!

Call 253.381.3936 for an

in-home appointment and

Design Assistance.

Free Estimates

FiveStarCabinetRefacing.com

Becky Rencowski | Luxury Travel Advisor

Affiliated with Expedia Cruises

253.306.2729

BeckyBestTravel@gmail.com

GIG HARBOR LIVING LOCAL jan/feb 2023

45
---
Career and

Pathway Expo

Inspiring the minds of

young girls through STEAM

by JILLIAN CHANDLER

energy between participants at CAPE

always proves to be electric!" smiles Joy

Giovanini, CAPE and Highly Capable

coordinator. I am excited to visit the

"The

workshops where the students are so engaged

with the hands-on learning that they lose their sense of time and place."

CAPE—Career and Pathway Expo—is a one-day event that was inspired

by Joy's year's of teaching robotics and CSI forensics to middle-schoolers.

"My co-workers (Carol Rivera and Shira Stark) and I were intentional

about addressing the traditional underrepresentation of those

engineering and health science courses on multiple fronts—including

gender balance. Even though we got the classes to be around 50/50 with

girls and boys, we found that was not the case locally, as a state, and as a

nation, so I got curious about ways to address that concern."

She goes on to share that research from American Association of

University Women titled "Why So Few" and from Girl Scouts called

"Generation STEM" found that:

• Having it be relational focused with at least a few friends gets girls in

the door.

• Feeling invited and seen during the middle school years makes a lasting

impression.

• Representation matters, so seeing someone your gender and race doing

a job can make a big impact.

• STEAM with a purpose and mission especially appeals to girls.

It was these findings that would become the foundation for CAPE.

"There are other STEAM opportunities in the area, but creating one in

our community that taps into the incredibly talented local educators and

46 GIG HARBOR LIVING LOCAL jan/feb 2023
---
Delivering the most comprehensive

dentistry available using the latest in

technology and techniques.

NEW PATIENTS WELCOME

Cleaning & Prevention

Family & Cosmetic Dentistry

Same-Day Crowns

Root Canal Therapy

Invisalign Clear Braces

Tooth Replacement

Extractions & Preservation

Implant Placement and Restoration

Oral Appliances & Sleep Apnea

Full Sedation Options

Advanced Whitening Technology

State-of-the-Art Equipment in a

Newly Renovated Location

cedarbrookdental.com | 253.851.1190

Moving to New Location: 5501 Soundview Dr. Gig Harbor

Cameron Warner, DDS

Peter Elton, DMD

Douglas Clarke, DDS

Putting You & Your Family First

When it comes to family law matters, we are

here to serve you. No matter what you are going

through, Attorneys Chris Maharry, Anthony Zorich,

and Bryon Guymon have the skill and experience to

ensure you get the absolute best outcome possible.

253.260.4147 | HarborFamilyLawGroup.com

2615 Jahn Ave. NW, Suite E7, Gig Harbor, WA

GIG HARBOR LIVING LOCAL jan/feb 2023

47
---
professionals who are so willing to pour into our students really makes

for an inspiring and impactful event!" affirms Joy.

The first Career and Pathway Expo was held in spring of 2015. After

being put on hold the past few years due to COVID, its return marks its

sixth year, with the 2023 expo taking place 9am to 1pm on January 21 at

Harbor Ridge Middle School. It is open to all middle school girls from

the district.

"The goal of the event is to spark an interest and to fan any small flames

that exist so the students will keep the door open to future career

possibilities," shares Joy. "Ultimately CAPE is there to inspire and give a

'Why' to girls about the benefits of STEM pathways."

Each year, the event kicks off with a keynote speaker. For 2023, they're

honored to have Gig Harbor resident Stephanie Acierno, MD, MPH,

FACS, FAAP, a pediatric general and thoracic surgeon who has been

in practice at Mary Bridge Children's Hospital in Tacoma since August

of 2009.

Girls then get to explore learning with elementary through high school

teachers at expo tables. Students have a passport that they get stamped

as they visit the experiments, and there are STEAM raffle prizes. They

48 GIG HARBOR LIVING LOCAL jan/feb 2023

then get to experience career-focused workshops based on their interests.

Workshops this year are varied and exciting, according to Joy, and include

Harbor WildWatch, a veterinary radiologist, a structural engineer, a

project manager, a physician's assistant and a computer engineer.

As Joy reiterates, CAPE could not happen without the wonderful

community sponsors and amazing mentors. If anyone is interested in

getting involved in the future, she invites you to reach out to her via email

at giovaniinj@psd401.net.

"CAPE has some generous support and donations this year including

Peninsula Schools Education Foundation, Soroptimists of Gig Harbor,

and Tapco CU," she says. "All of the funds, including the $15 registration

fee, go directly to the girls." Items included in the day consist of CAPE

shirts, backpacks, learning kits, hands-on materials for workshops, and

Keep the Learning Raffle prizes.

As Superintendent Krestin Bahr states, "Peninsula School District's

partnerships with the Chamber of Commerce and local businesses have

driven home the importance of preparing our students for the future. The

Career and Pathway Expo event (CAPE) is a wonderful opportunity for

our middle school girls to get a glimpse of what they can become, and the

event incorporates all the goals of the district's strategic plan."
---
Serving Deaf, hard of hearing

and speech diverse clients

WWW.HSDC.ORG

Interpreting Services • Deaf & Hard of Hearing Advocacy Services • Deaf 101

Hearing, Speech & Deaf Center is a 501(c)3 nonprofit. Community support plays a

large part in ensuring that we can work to create an accessible, inclusive world. We are

sincerely thankful to our supporters and their commitment to the communities we serve

throughout Western Washington. Visit our Volunteer page to learn about volunteering

opportunities at HSDC.

WAYS TO GIVE:

DONATE & VOLUNTEER

GIG HARBOR LIVING LOCAL jan/feb 2023

49
---
A WEDDING

at a Winery

NORTHWEST WINERIES AND VINEYARDS MAKE THE

IDEAL BACKDROP FOR THAT SPECIAL DAY

50 GIG HARBOR LIVING LOCAL jan/feb 2023

by CHRISTIAN WEANER
---
Everything you could ever want ...

A

s they begin to plan, one of the

initial decisions that every couple

must make is where to hold the

ceremony and reception. With an abundance

of venues and options to choose from, any

newlywed will recall that this process can

make your head spin.

While every location has its positives and

negatives, one type of non-traditional venue

that might just be the least stressful—yet

most elegant—place to hold a wedding is

one of the picturesque wineries or vineyards

located right here in the Northwest. And

here is why.

Jaw-Dropping Scenery and Abundant

Natural Light

One thing is for sure, if you choose to hold

your wedding at a winery or vineyard, your

photographer will thank you.

Couples often spend copious amounts of

time decorating every inch of their wedding

venue to try and hide any areas that might be

less than picture friendly. But at a vineyard,

the scenery will speak for itself.

With ambient rays of sunshine in every

direction, rolling hills of grape vines and

charming architecture, you will not be

disappointed by the backdrop of your

wedding photos.

"A vineyard is the perfect setting for a

summertime wedding," Olalla Vineyard

& Winery's website states. "The natural

backdrop of our wine grapes along with our

beautiful gardens makes for stunning photos

and memories that you and your guests will

treasure for a lifetime."

Olalla Vineyard & Winery, located along

the shores of the Puget Sound in Olalla,

Washington, is one of the Northwest's many

wineries that could make the perfect setting

for your special day.

Great views and radiant sunshine leads to

awesome wedding pictures and memories

you will never forget.

Everything at One Location

Another perk of planning your wedding at

a winery is the all-in-one offerings of most

simply divine

GIG HARBOR LIVING LOCAL jan/feb 2023

51
---
eginning

ONE TYPE OF NON-TRADITIONAL VENUE THAT

MIGHT JUST BE THE LEAST STRESSFUL—YET MOST

ELEGANT—PLACE TO HOLD A WEDDING IS ONE

OF THE PICTURESQUE WINERIES OR VINEYARDS

LOCATED RIGHT HERE IN THE NORTHWEST.

52 GIG HARBOR LIVING LOCAL jan/feb 2023
---
Interested in booking an event with us?

Please email the Catering Staff directly

info@fondi.com.

BOOK YOUR LARGE GATHERINGS & WEDDING EVENTS WITH FONDI

HOW IT WORKS

You Choose from a set menu for your

event that's priced per head and based

on what you order.

Service options include Buffet Style,

Table Service or Event Take-out.

We can host your party of up to 50

people at our restaurant or up to 80 on

our private patio at Uptown. ***A booking

fee is applied.

You can choose to extend your event into our

garden space, which includes a canopy and

high-rise cocktail tables for extra mingling and

elbow room. ***Additional fee applies.

UPTOWN SHOPPING CENTER

4621 Point Fosdick Dr NW #200, Gig Harbor, WA 98335

253.851.6666 | www.fondi.com

Buyers were 95% more likely

to call on a home with a

virtual tour and virtual tours

can decrease time on

market by up to 30%.

*Not in 30 Days When Your House Is Still On the Market

253.242.2414

Gig Harbor, WA

www.IGM-RealEstate.com

MARKET AN

EXPERIENCE

GIG HARBOR LIVING LOCAL jan/feb 2023

53
---
GREAT VIEWS AND RADIANT SUNSHINE LEADS TO

AWESOME WEDDING PICTURES AND MEMORIES YOU

WILL NEVER FORGET.

wineries and vineyards. No need to stress over coordinating your ceremony and reception at separate locations

when you can have everything you desire without ever needing to leave the vineyard grounds.

Most wineries that host weddings have built-in packages to choose from that include everything from a day-of

coordinator and catering options to security personnel and guest transportation.

Many vineyards can easily accommodate large numbers of people and provide recommendations for nearby

hotel block packages and any other details that you would otherwise need to figure out on your own during the

planning process.

A perfect example of the versatile nature of a winery wedding venue is Spokane's Arbor Crest Wine Cellars,

which assists couples with every detail of the planning process to help make their wedding day go as smoothly

as possible.

A wedding in wine country will not only provide an alluring wedding day, but it will help streamline the planning

process to take the weight off the bride's shoulders while simultaneously giving guests a memorable getaway

experience that they will not soon forget.

54 GIG HARBOR LIVING LOCAL jan/feb 2023
---
GIG HARBOR

MEDICAL SPA

INTRODUCING OUR NEWEST SERVICE

Concierge Medicine

Concierge Medicine is membership-based health care that pairs exclusive, personalized care with accessibility and convenience.

Visit our website GigHarborMedicalSpa.com for more!

For a flat monthly fee, you get office and Telehealth visits as well as direct care from a nurse practitioner.

You also gain access to a nurse practitioner direct phone line for medical questions and simple diagnostic

and blood tests. And if you have a major health problem, I personally will coordinate specialist referrals

and/or hospital care as needed. With concierge medicine, there's no insurance or corporate health system

interference – just providers and patients.

• Telemedicine & Virtual Visits

• Health Coaching

• Basic Labs & X-Rays

• Nutritional Counseling

• Chiropractor Services

• Massage Therapy

• Aesthetics

• IV Therapy

Common issues addressed include Nausea and Vomiting, UTIs, Cough and Cold Symptoms, Lacerations,

Cuts and Abrasions, Ear Aches, Joint Pain or Sprains, Acute Back Pain, Minor Injuries, Health Coaching.

Now accepting patients for

Concierge Medicine

Offered By

Sharon Lemoine, ARNP

253.649.3916

sharon@ghconciergemedicine.com

STILL OFFERING YOUR FAVORITE AESTHETIC SERVICES

Specializing in home and business "spa parties," Botox, Dysport,

Juvederm and Restalyne Fillers, Plasma Pen Skin Tightening,

Vitamin B12 Injections, Hydroglow Facial,

Customized Facials, SkinPen Microneedling, Chemical Peels,

Clear & Brilliant Laser Treatments

Now offering IV Therapy

BOOK YOUR APPOINTMENT

ONLINE TODAY!

GIGHARBORMEDICALSPA.COM

Gig Harbor Medical Spa | 253.649.3916 | 11515 Burnam Dr., Ste. 105, Gig Harbor, WA

GIG HARBOR LIVING LOCAL jan/feb 2023

55
---
A TALE AS OLD AS TIME

Indoor and Outdoor Spaces

Brides often fantasize about outdoor weddings with eye-popping

floral displays and dazzling views of nature as they walk down the

aisle. However, planning events outside always comes with the

inherent risk of bad weather messing things up.

Fortunately, wineries and vineyards are perfect venues to host

weddings thanks to their ability to hold ceremonies and receptions

at numerous locations, including indoor options for when Mother

Nature decides not to cooperate.

With large tasting rooms, warehouses and bottling facilities onsite,

wineries can quickly pivot to move your special day indoors

while still allowing for the elegant look that every bride hopes for.

Plus, if you are okay with getting a little wet, you can still grab

that white umbrella and pop outside for some incredible photo

opportunities around the vineyard or winery grounds.

Located in downtown Spokane, a unique wedding venue that

provides adaptable outdoor and indoor spaces for your big day is

Barrister Winery.

Barrister offers a breathtaking urban garden courtyard for outdoor

ceremonies while also providing access to the winery's historic

brick and timber building that will blow your guests away.

While you cannot change what the weather will look like on

your wedding day, you can decide to hold your special event at a

location that gives you peace of mind, knowing that your day will

be as meaningful and magnificent as you always dreamed it would

be, rain or shine.

The Obvious One: Great Wine Selections (and Good Food!)

Finally, and arguably most importantly, one of the biggest reasons

to hold your wedding at a winery or vineyard is the extensive

selection of wines—grown, pressed and bottled on-site—that are

available for you and your guests. Oh, and not to mention that

wineries are known for their fantastic catering options as well.

While good wine is a given, what you may not realize is that

wineries have a solid reputation for their farm-to-table food

options that will pair nicely with your wine selections and impress

even the most prestigious of your wedding guests.

Also, many wineries provide the bride and groom with the

opportunity to taste test their wines ahead of time and pick out

what they would like served on their big day.

One Washington winery known for providing excellent food and

wine selections is Karma Vineyards in Chelan. Not only does

Karma have eye-popping views of the Chelan River, which adjoins

their spacious vineyards, but it also offers an added experience that

will give the bride and groom a memory to last a lifetime—custom

sparkling wine bottles to commemorate the big day.

Whether you are a wine connoisseur or a casual sipper, a winery

such as Karma Vineyards could be the ideal location for your

special day.

And lucky for you, because the Northwest is dotted with wellrespected

wineries and vineyards that can make your wedding

dreams come true.

56 GIG HARBOR LIVING LOCAL jan/feb 2023
---
GIG HARBOR LIVING LOCAL jan/feb 2023

57
---
Cheers to Your

HEALTH

i n 2023

Simple lifestyle

strategies to boost

your health in the

new year

by Taylor Shillam

58 GIG HARBOR LIVING LOCAL jan/feb jan/feb sept/oct 2023 2023 2022
---
4904 Point Fosdick Dr. NW

Gig Harbor, WA I 98335

Extensive framing

experience

in Beverly Hills

and Gig Harbor.

WHERE YOUR HEALTH IS OUR COMMITMENT.

What sets A2 apart?

We have a neurological

and holistic approach

to physical therapy

powered by Neufit

technology.

For a free 30-minute

consultation, give us

a call at

253-844-4137.

253.844.4137

www.a2pt.family

info@a2pt.family

4904 Point Fosdick Dr. NW

Gig Harbor, WA I 98335

MON-FRI

7:30am-6:30pm

CLEAN CALM CONSTANT

360.394.7702 | kimcoplumbing.com

25-50% OFF all unframed

non-consignment artwork

I look forward to being

your personal framer.

253-858-7449

7808 Pioneer Way, Gig Harbor

www.watersedgegallery.com

GIG HARBOR LIVING LOCAL jan/feb 2023

59
---
I

f

you're looking to make a health-related lifestyle change in 2023,

it could be time to think outside the box and allow your New Year's

resolutions to evolve.

It's no secret that the start of a new year is a perfect time to revamp your

wellness routine. Once the holiday buzz has settled down, the opportunity

to take a breath and reset your habits for the year ahead arrives.

While overhauling a nutrition and fitness routine is often at the forefront of

health-based goals for a new year, maybe 2023 is the year that sees you add

something more to that list: elements of mental health support, building

community, and small, simple lifestyle habits that can add up to a major

life change.

Start with these easy-to-implement habits and strategies

to level up your commitment to health in 2023:

Make time for digital detoxes. If you feel exhausted by

the pull of constant screen time, responding to messages,

and checking social media, making the conscious choice

to regularly "unplug" this year could be highly beneficial

for you. Disconnecting from technology and social media

is a welcome form of self-care for many, and it doesn't

have to be extreme.

Start by turning off notifications or implementing your

phone's "do not disturb" function for a set amount of

time each day. Start small and progress to an amount

of daily digital detox that works best for you. Taking

some technology-free time at night to wind down

before bed is also known to be highly beneficial—

set your goal time and stick to it for putting away

your devices.

Allowing yourself to release the constant availability and

stimulation that comes with being very active on your phone,

on apps and across social media can help you set healthy

communication boundaries and stay present in the current

(off-screen) moment.

Find your fitness community. Have fitness goals for

2023? Take them a step further by embracing what can

be one of the best added benefits of adopting a fitness

routine: community. With group fitness and studio

workouts in full swing, it's a perfect time to take advantage

of opportunities to both get your sweat on—and join a

healthy new community.

Chances are, you'll find a fun group or accountability

partner who will keep you motivated to show up. Whether

it's trying a new fitness class or joining a running club,

challenge yourself to break into a more social sweat scene

this year.

Incorporate small doses of movement. Physical fitness doesn't necessarily

all come from a gym, or from a single workout session in the day. More

often, fitness is being considered an all-day practice, and breaking up an

exercise routine into bites of movement throughout the day can be just

as effective.

Along with smaller bites of movement throughout the day come smaller

rushes of energy and endorphins—those after-effects of exercise that

provide a healthy, addictive rush.

It's likely you'll find enjoyment from small doses of mood-boosting

movement that you can do at your convenience, such as taking a short walk

60 GIG HARBOR LIVING LOCAL jan/feb 2023
---
MIGRAINES, HEADACHES

OR TMJ PAIN?

WHEN CHRONIC MIGRAINES OR HEADACHES AREN'T

RESPONDING TO TREATMENT, THEY DESERVE A CLOSER LOOK.

We use the latest diagnostic technology to closely examine the

musculoskeletal system of the head, neck and jaw to find any signs of

inflammation and tension that can lead to chronic headaches or migraines.

DON'T SUFFER ANY LONGER.

GIVE US A CALL TODAY!

With TruDenta therapy system and Myotronics, an

FDA-approved technology, we can provide a treatment

plan tailored to address your symptoms, which includes

the use of several tested technologies, including

ultrasound, microcurrent photo biomodulation,

muscle and appliance therapy.

RHONDA SAVAGE, DDS

253.857.0835 | 3519 56TH ST. #260, GIG HARBOR, WA

UptownDentalGigHarbor.com

GIG HARBOR LIVING LOCAL jan/feb 2023

61
---
at lunch time, standing for a few minutes every hour, taking the stairs,

or incorporating brief workout sessions during the day. It's also likely

you'll feel less pressure to get your workout in, if your schedule doesn't

always allow a long stretch of time to dedicate to fitness.

Treat yourself at home. Boost your mood and your outward glow

with at-home skin care. Self-care certainly includes caring for your

skin, and preserving your youthful glow can be as easy or as advanced

as you make it. Whether it's adopting a completely new, targeted skincare

regimen this year, or simply starting with a relaxing face mask

during the week, it's likely to boost both your mood and confidence to

pay more attention to your beauty routine. And with more innovative

beauty products constantly hitting the market, it's easier to have spaquality

treatments for less, all within the comfort of your own home.

Practice expressing gratitude. Experts have found an association

between expressing gratitude and improved feelings of happiness,

better sleep, and more manageable levels of stress and anxiety.

Working to maintain an attitude of gratitude and joy, even in the

smallest ways, can help balance your mental health. A quick tip: Keep

a gratitude journal and use it to take note of at least one item you're

grateful for each day.

Get outside. The benefits of time spent outdoors each day (for no

matter how long) are undeniable. Making time to go outside at some

point of your day to soak up some natural light can do wonders for

stabilizing your mood and energy levels throughout the day. The real

challenge? Implementing outdoor time daily, regardless of weather.

Even when it's cold in the early months of the year, challenge yourself

to make a habit of getting outdoors each day, even if it's for a quick

step and a few deep breaths outside.

Add nutrition (don't subtract). To boost your nutritional health for

the long-term future, focus on adding nutrients, rather than giving up

the foods you enjoy. Adding healthier foods to your diet releases the

feeling of deprivation and allows you more freedom to choose. Start

your nutrition cleanup by focusing on implementing more colorful

produce to your plate, rather than subtracting from it. The nutrients

and fiber within these natural foods will likely leave you feeling fuller

and more satisfied, while leaving less room for indulgences.

It's likely you'll

fInd enjoyment

from small doses

of mood-boosting

movement that

you can do at your

convenience.

62 GIG HARBOR LIVING LOCAL jan/feb 2023
---
LLC

Well-child checkups,

vaccinations, and sports physicals—

Specializing in

Cosmetic Skincare

Botox ®

Juvederm ®

Chemical peels

New Patients Only

Botox at $10 $9 a Unit

the care you need for

your growing child.

Karen Smith, ARNP

Stop in for our skincare

products:

SkinMedica ® , Glytone ®

& Avene ®

We are grateful for the chance to serve your family

and to learn from you as well, as we work together

for the best interest of your child.

For Appointments:

harborpeds.net | 253.530.8328 | Gig Harbor, WA

HarborHealthandSkincare.net

f Find us on Facebook!

4221 Harborview Drive

Suite 103

Gig Harbor, WA 98335

253.314.2618

GIG HARBOR LIVING LOCAL jan/feb 2023

63
---
Good Behavior

ANOTHER TIP TO HELP YOU NAVIGATE SEPARATION AND DIVORCE

by FELICIA SOLEIL, ATTORNEY/MEDIATOR

is not simply the ability to wait. It's how we

behave while we're waiting." - Joyce Meyer

"Patience

This philosophy couldn't be more true when

moving through the process of separation and divorce. In the new

year, if you find yourself with a resolution to make a transition out of

your intimate partnership, prepare yourself with the understanding

that good outcomes take time and careful consideration.

In my work as a divorce mediator and lawyer, I find many couples

often have very different versions of "readiness." Often, one party

has been thinking about leaving the relationship for a long time.

Sometimes these parties will share their feelings with their partner

as they work through mixed emotions. On the other hand, some

initiating parties will keep their thoughts to themselves and will have

worked out their version of the entire outcome before broaching the

subject with their partner, catching the other party totally off guard.

Everyone has their reasons for when to approach an intimate

partner with the idea of separating. However, an initiating party

has to be ready to accept their partner's response and understand

the process may take longer than hoped if that partner is blindsided

by the idea of the relationship ending. Even in instances when

discussions among partners precede the decision, one partner

may be reluctant to end the relationship and asks for "more time,"

sometimes requesting to participate in counseling and working on

the relationship and sometimes just to catch up with arriving at the

same place of acceptance as the initiating party.

What matters most during the phase between one party initiating

the idea of separating and the other partner either "taking their time"

or participating reluctantly is how both parties behave during the

interim until their legal case will ultimately be finalized. Behavior

not only can affect their individual financial outcomes but also their

post-intimate partner relationship in terms of co-parenting.

Lawyers and courts describe appropriate behaviors in terms of

financial and personal restraints, such as:

1. Don't conceal, transfer, sell, or otherwise expend assets without

the knowledge and consent of the other party.

2. Don't incur significant debt that could detrimentally impact the

other party or marital community.

3. Don't change the beneficiaries of any form of insurance policies,

retirements accounts or bank accounts.

4. Maintain the status quo with respect to income sharing and billpaying

until agreements to separate finances can be reached.

5. Maintain composure—don't harass, intimidate, or otherwise

engage in any form of abuse of the other party.

6. Do not bring the children into disputes, allow the children to

witness inappropriate behaviors, or speak disparagingly about the

other party to the children.

Emotions may be running high, and engaging in bad behavior as an

emotional outlet only leads to self-sabotage in the end. Try to respect

the other party's place in the timeline of emotional processing if it

is different from yours. Find good counsel to provide guidance and

support to help prevent your emotions from running away with you.

Don't let "bad behavior" lead to a bad divorce.

Felicia Soleil is a divorce mediator and family law attorney located

in Gig Harbor. She helps her clients in achieving resolutions that

foster both a compassionate ending to their union and a healthy

new beginning so they can focus on moving on, rather than simply

moving out. Felicia can be reached at 253.853.6940. All consultations

are strictly confidential and currently conducted by appointment via

videoconference or phone.

64 GIG HARBOR LIVING LOCAL jan/feb 2023
---
Building Better Solutions for Clients

With 30 years experience serving families in Gig Harbor and Pierce County,

Felicia Soleil provides more constructive alternatives to dissolving a marriage

outside of a courtroom. In addition to her family law practice, she also provides

mediation services, offering legal support, education and case management

- from simple to complex - for separation and divorce, parenting plans, child

support and prenuptial agreements.

Facing a divorce or separation? Felicia focuses on reducing and resolving

conflict, helping you transition by moving on, not just moving out.

Felicia A. Soleil, Attorney at Law and Mediator

253.853.6940 • FamilyLawResolutions.com • 6625 Wagner Way, Ste 260B, Gig Harbor, WA

GIG HARBOR LIVING LOCAL jan/feb 2023

65
---
SPECIALIZING IN SPINE

AND PAIN MANAGEMENT

Individualized Care • Top Tier Expertise • Results That Change Lives

At NeoSpine, we're dedicated to delivering best-in-class patient care that results

in reduced pain and discomfort so you can get back to feeling like yourself.

Dr. Neil Batta, MD

Gig Harbor, WA

Dr. Alex Mohit, MD

Gig Harbor, WA

NeoSpine.com

GIG HARBOR: 253.841.0842

4700 Point Fosdick Dr. NW, Ste. 205

Gig Harbor, WA

SILVERDALE: 253.841.8939

9615 Levin Rd., Ste. 300

Silverdale, WA

66 GIG HARBOR LIVING LOCAL jan/feb 2023
---
FINANCIAL PLANNING

529 Plans

How grandparents can help grandchildren with college costs

Article Courtesy of Nancy Harris, CMFC, CDFA

President, LPL Financial Planner

New Foundation Wealth Group

Helping to pay for a grandchild's

college education can bring great

personal satisfaction and is a

smart way for grandparents to

pass on wealth without having to pay gift and

estate taxes.

A 529 plan can be an excellent way for

grandparents to contribute to a grandchild's

college or graduate school education, while

simultaneously paring down their own estate.

Contributions to a 529 plan grow tax deferred,

and withdrawals used for the beneficiary's

qualified education expenses are completely

tax-free at the federal level. Participation in a

529 plan isn't restricted by income level, and

lifetime plan contribution limits are high.

A 529 savings plan is an individual investment

account where you direct your contributions to

one or more of the plan's investment portfolios,

similar to a 401(k) plan. Funds in the account

can be used to pay total qualified expenses (i.e.,

tuition, fees, room and board, books, supplies)

at any accredited college in the United States

or abroad. Funds can also be used to pay K-12

tuition expenses, up to $10,000 per year.

Grandparents can open a 529 account and

name a grandchild as beneficiary, or they can

contribute to an already existing 529 account.

Grandparents can contribute a lump sum

to a grandchild's 529 account, or they can

contribute smaller, regular amounts.

Regarding lump-sum gifts, a big advantage of

529 plans is that under special rules unique

to 529 plans, individuals can make a single

lump-sum gift to a 529 plan of up to $85,000

(in 2023), and married couples can make a

joint gift of up to $170,000, and avoid federal

gift tax. To do so, a special election must be

made to treat the gift as if it were made in equal

installments over a five-year period, and no

additional gifts can be made to the beneficiary

during this time.

Significantly, this money is considered

removed from the grandparents' estate, even

though in the case of a grandparent-owned

529 account the grandparent would still retain

control over the funds. There is a caveat,

however. If a grandparent were to die during

the five-year period, then a prorated portion

of the contribution would be "recaptured" into

the estate for estate tax purposes.

Grandparents who are considering opening

a 529 account should keep this in mind.

Withdrawals from a 529 account used for a

purpose other than college expenses—for

example, medical expenses or emergency

purposes—face a double consequence: the

earnings portion of the withdrawal is subject

to a 10 percent penalty and will be taxed at the

grandparents' ordinary income tax rate.

Securities and advisory services offered through

LPL Financial, a registered investment advisor.

Member FINRA/SIPC.

Prior to investing in a 529 plan, investors should

consider whether the investor's or designated

beneficiary's home state offers any state tax

or other state benefits such as financial aid,

scholarship funds, and protection from creditors

that are only available for investments in such

state's qualified tuition program. Withdrawals

used for qualified expenses are federally tax free.

Tax treatment at the state level may vary. Please

consult with your tax advisor before investing.

BUILDING SOLID

FINANCIAL FOUNDATIONS

We develop & review strategies,

plans & solutions, as well as

work to create a safe & caring

environment where everyone can

discuss their financial concerns,

dreams & goals.

NANCY HARRIS

President, LPL Financial Planner

253.358.3965 | NewFoundationWG.com

4423 Point Fosdick Dr., Ste. 208-2, Gig Harbor, WA

Securities and advisory services offered through

LPL Financial, a registered investment advisor,

Member FINRA/SIPC.

GIG HARBOR LIVING LOCAL jan/feb 2023

67
---
DIRECT CARE

The future of health care

AIM TO

REVERSE DISEASE,

RECLAIM YOUR HEALTH,

AND LOVE YOUR

BODY AGAIN

Now offering Direct

Primary Care

OPTIMIZE YOUR

Overall health • Body composition

Physical performance • Immune system

schedule your

metabolic

assessment today!

Obesity

Metabolic Syndrome

Diabetes/Pre-Diabetes

Cardiovascular Disease

Abnormal Lipids

Hypertension

Polycystic Ovary Syndrome

Erectile Dysfunction

Fatty Liver

Thyroid Disease

Low Testosterone

In modern health care, it's not uncommon

to have to wait several weeks to get an

appointment and then have only 10

minutes face-to-face to address your

health concerns. On top of that, it's the only

industry in which consumers don't know how

much they'll need to pay until after the fact.

A growing number of patients are seeking a

model of care that prioritizes easy access to

their physician with complete transparency

of pricing. They appreciate the ability to make

same-day or next-day appointments when

necessary and the convenience of seeing the

same physician at each visit.

The future of health care

Direct care aims to make health care simple and

affordable again, in both direct primary care

(DPC) and direct specialty care practices. This

approach to health care puts the power back in

the patients' hands by making concierge-level

care available for a low monthly fee, without

regard to insurance status.

For that monthly fee, individuals may access

their physician as often as needed, in-person or

virtual appointments, or by phone, text, email,

etc. In contrast, typical concierge practices

charge a monthly access fee just to be part of

the practice, while also billing health insurance

for each encounter.

Why direct care?

Rather than dealing with copays, deductibles,

coinsurances, etc. in addition to what you've

By Christopher J. Stadtherr, MD

already paid in insurance premiums, patients

in direct care value the transparency in

pricing. Health insurance is what makes health

care expensive.

Perhaps most importantly, the direct care

physician is incentivized to deliver the highest

quality care so that patients do not require

repeated visits, in contrast to the traditional

fee-for-service model of health care that

generates more revenue the more often you

visit. This alignment of incentives with the

patient's wishes can be found only in a direct

care practice.

Who is direct primary care (DPC) good for?

DPC is especially valuable for individuals who

have high-deductible insurance plans or are

uninsured. High-deductible plans typically

cover only an annual exam, with all other visits

requiring cash payment until such payments

exceed the deductible.

DPC can also be a valuable employer health

benefit by reducing employee health care costs.

Imagine the cost savings of preventing just one

urgent care or ER visit!

Individuals with premium insurance plans

find value in DPC because of the easy access

to their physician, face-to-face time during

appointments, and the personal connection

that is possible in this model.

There is profound value to be found in direct

care, driving it to be the future of health care.

CHRISTOPHER J. STADTHERR, MD

Physician/Owner phone: 253.256.1532

6625 Wagner Way NW, Suite 201

Gig Harbor, WA 98335

www.RevitalizeMetabolicHealth.com

68 GIG HARBOR LIVING LOCAL jan/feb 2023
---
Gratitude6718 144th Street NW • Gig Harbor, WA 98332 • (253) 857-6166

HEALTHY TIP

A year to be thankful

Looking forward to 2023:

Same Providers

Same Staff

Same Primary Care Services

Sound Clinical Medicin

6718 144th Street NW • Gig Harbor, WA 98332 • (253) 85

Sound Clinical Medicine PS

Did you know that focusing on the positive

things in your life may benefit your

mental and physical health?

Each day, make the time to express at least one thing

you are grateful for—this can be something from your

past, the present, or optimism for the future. It can be

as simple as recognizing the sun is shining and the

warmth it provides. Appreciating time in the kitchen

cooking a meal with your kids, focusing on the

laughter, not the mess. Despite the stress of your

job, acknowledging your talents and strengths.

As a new year is upon us, purchase a

special journal, or start a document on

your computer or phone, and pen or

type one gratitude entry (or more)

each and every day. Be sure to date

the entry as well.

Whenever you are

overwhelmed, or negative

thoughts and feelings

are taking control,

read some of your

entries. They're sure

to remind you that

there is much to be

grateful for.

It's time to

live a life

of gratitude.

Family Practice Clinic Providing

Comprehensive Primary Care

Services

Michael Wingren,

md, mph

Dr. Wingren has over

30 years of professional

service and emphasizes

accuracy in diagnosis

and treatment. In his free

time he enjoys riding a

tandem bicycle.

Julia Cathcart-Chang

Physician Assistant-

Certified

Julia Cathcart-Chang,

PA-C listens and enjoys

taking the time to

educate patients. In her

free time she enjoys

stand-up paddleboarding.

253.857.6166

6718 144th Street NW | Gig Harbor, WA 98332

www.soundclinicalmedicine.com | f

NOW AFFILIATED WITH:

prudentmedicalprovidersnw.com

GIG HARBOR LIVING LOCAL jan/feb 2023

69
---
Sweet

Treats For

YOUR EYES

Let's Talk Eyeballs

Are you suffering?

Annual Exams and

Nearsightedness Treatment

by KANDI MOLLER, OWNER OF EYE CANDY OPTICAL AND THE MYOPIA CONTROL &

TREATMENT CENTER IN UPTOWN, MOTHER TO @GUMDROPTHEPIG

Request Appointments

Online!

EyeCandy-Optical.com

Vision exams, medical exams,

Neurolens, & more

LEARN MORE

ABOUT MYOPIA

DR. KANDI MOLLER

@gumdropthepig

253.432.4303

Uptown Gig Harbor

4735 Pt. Fosdick Dr. NW, Ste 300

Gig Harbor, WA 98335

70 GIG HARBOR LIVING LOCAL jan/feb 2023

Americans are on computers, phones

and tablets at least seven hours a

day, and I would bet that most of us

are on devices much more. Think

about your kids. How many hours do they

stare at screens? Not only are they at increased

risk of nearsightedness as a result (which is

treatable now), but I'll bet many of them are

suffering and not telling you.

Fifty to 90 percent of us experience symptoms

as a result of all of this device usage. These

symptoms can be headaches, eyestrain,

dizziness, neck pain, motion sickness and

light sensitivity. It could be a mild feeling

of something being "off " to debilitating

migraines and neck pain, for which you seek

medical treatment.

Desperate for solutions, folks think three

things are the reasons:

1. Blue light. They snap up non-prescription

blue light-blocking glasses, thinking

potentially damaging blue light emitted by

devices is the cause. Jury is out on the science,

as you probably get more blue light damage

from walking out to your car on a sunny day.

2. Ergonomics. "Experts" recommend the

monitor be at eye level. I'd argue it should

be below your line of sight, but also watch

for lights reflecting off the monitors and the

distance of the monitor: farther is better.

3. Next on the list is to get an eye exam and

some glasses. No one wants lined bifocals these

days, so they elect for progressive lenses. The

problem is that most get regular progressive

glasses because they can do "everything," and

they don't want to get a pair dedicated for the

computer. That's like saying I only need one

coat for the entire year. Or one pair of shoes.

That coat may work half the year, but the other

half you are either sweating or freezing in it,

but you struggle to make it work because you

don't want to have to buy another coat when

one should do it all. Just break down and get

premium glasses designed for the computer.

Trust me.

In reality, for most of the folks, the actual

cause is eye misalignment. No type of bluelight

blocking technology, or arrangement

of your workstation, or type of progressive

glasses, is going to make a difference with

eye misalignment.

Stay tuned … My next article will discuss

eye misalignment and a simple life-changing

solution. In the meantime, take the quiz at

HS.Neurolens.com/the-test to see if this may

help you.
---
DITCH THE NEW YEAR

RESOLUTIONS

Practice reflecting on and living your virtues

by JENNIFER "TAZ" VAZQUEZ

New Year's resolutions can be a

challenge for many. While our

brains like to have long-term goals,

we also need to be focused on the

day-to-day process. Establishing daily routines

sets you up for success. Start with reflecting on

and living your virtues.

Virtues are traits that enable us to flourish

in alignment with our genuine self, feel

empowered, and live toward our highest good.

Try this daily Mindful Virtues Meditation

as a way of applying virtues in your life. Say

the virtue. Next, read and feel what you are

asking for. Lastly, reflect on how you want to

apply them:

Wisdom. May I have the courage to change

the things I can, the serenity to accept the

things I cannot, and the wisdom to know

the difference.

Self-Mastery. I am striving to be the best

version of myself, closing the gap between who

I am being and who I am capable of being,

living in alignment with my virtues so I may

flourish moment to moment.

Courage. I am willing to face my fears and

take action by stepping out of my comfort

zone, knowing endless possibilities lay just on

the other side. Obstacles make me stronger

and are the path toward my success.

Love. I am present, connected, a source of love

and self-acceptance. I AM able, willing, worthy

of deep love and abundance for myself, for

others in my life, and in my community.

Hope. I have faith in the future. I choose to

let go of control for a specific outcome. There

are multiple paths forward. I can focus on the

process as I work toward what I want to be,

do, create.

Gratitude. I appreciate the blessings in my

life. I fill my heart, mind, body with feelings

of gratitude. Three to five things I am grateful

for are ....

Curiosity. I am open to non-judgmental

awareness as I ask: What went well? What

needs work? What is one small thing I will

change? What small step forward will I take?

Zest. I choose to live with energy, vitality,

peace, calm, joy and playfulness.

Blessing. I ask for a blessing (based on your

belief system) and guidance on my journey as

I put my virtues into action, in alignment with

my best self.

If you want to be successful in your long-term

goals, focus on the daily process and live in

alignment with your virtues. You'll cultivate

a sense of "energized tranquility" and create

amazing possibilities in your life.

Here is to a successful and flourishing

2023, y'all!

Jennifer Vazquez

Life Coaching

Discover What Lights Up Your

Soul…Rediscover Your:

Passion (Love of Self, Others,

Community)…

Purpose (Your Why)…

Play (Zest, Gratitude, Hope)

Contact Me Today!

360.591.9256 • tazvazquez.com

dancingdogs2@hotmail.com

GIG HARBOR LIVING LOCAL jan/feb 2023

71
---
WHAT'S YOUR

WEDDING

STYLE?

Creating the perfect look

for the big day

by JILLIAN CHANDLER

First comes love. Then comes marriage. Okay, let's stop right

there. Marriage. It's not just the day two people madly in love,

who want to spend the rest of their lives together, say, "I do."

It also encompasses everything that leads up to that monumental

moment. There are many moving parts and a whole lot of planning

that go into creating the perfect backdrop in which you say your

vows in front of your closest friends and dearest family.

As the bride makes her first appearance down the aisle, all eyes

will be on her. From head to toe, each touch is a result of her own

vision, embracing her unique beauty and style. For those bridesto-be

who haven't already, it's time to start putting together the

look you wish to achieve for the big day.

72 | GIG GIG HARBOR HARBOR LIVING LIVING LOCAL LOCAL jan/feb

sept/oct nov/dec march/april 2023

2022

2022

72 GIG HARBOR LIVING LOCAL jan/feb 2023 2022
---
GIG HARBOR LIVING LOCAL jan/feb 2023

73
---
1Dress.

Sweetheart to scoop necklines. Leg slits. Ruching. 3-D lace and

floral. 2023 is the perfect time to be a bride in search of the perfect

dress to complement both your body and style—and show off

your best self. There are so many options to choose from. Simple,

feminine bow details are in this year, as are off-the-shoulder

gowns (with or without sleeves). If you're looking to add some

color, pastel blues and pinks are trending as background colors.

From mini dresses to full-skirted ball gowns, there's a dress to

match your personality and style.

2shoes.

From stilettos to flats, for some it's about pizzazz while for

others pure comfort. After all, you'll be in those shoes all ...

day ... long. Once you've found the dress of your dreams, it's

time to pair it with just the right pair of shoes. Your shoes

should complement, not clash with, your wedding dress.

Going vintage? Be sure your shoes match the style and era

of your dress. Spunky and casual? A fun sneaker might be

right for you. Also think about the location of your wedding

and reception. Sand and lawn aren't too friendly to heels. The

ultimate goal is to find something that provides both fashion

and comfort.

74 GIG HARBOR LIVING LOCAL jan/feb 2023
---
GIG HARBOR LIVING LOCAL jan/feb 2023

75
---
3hair.

If it's an outdoor ceremony, you might choose an updo to

avoid an unexpected wind from making your hair the center

of attention and taking away from the moment. You may

also opt for an updo if you want to show off the back of your

gown, so the beauty of your dress isn't covered by your locks.

If you have a simple gown, let that beautiful hair loose and

natural. Though clean, tight buns are still popular, soft, low

buns always stun. Or there's the chic elevated ponytail. Fresh

florals always add a beautiful touch when incorporated into

your hair. If you are wearing a headpiece or veil (or hat), be

sure that the style you choose for your hair will mesh with

the headpiece.

76 GIG HARBOR LIVING LOCAL jan/feb 2023

4Makeup.

It's your wedding day, and there will be a lot of photos taken

of you throughout the day, so it's important that you create

a timeless look that will never fade. There really is no right

or wrong—just don't overdo it. Find what works for you and

reflects who you are. If you're someone who doesn't usually

wear a lot of makeup, your wedding day doesn't need to be

the exception. You can maintain a natural look. From subtle

to sultry, romantic to glam, the goal is to enhance your

natural features.
---
Maritime Jewelers

Estate & Consignment | Fine Jewelry | Custom Designs | Expert Repair

Estate Diamonds | Rare Color Gems

Offering All- American Montana Sapphires

& large estate diamonds

•

Up to 1/2 off other retailers

•

Featuring "Daughter By The Sea" gem -Larimar

set in sterling silver designer jewelry

•

Maritime and sea life designer jewelry

•

Ancient Greek and Roman coin jewelry

Exceptional Collection. All at Estate Prices.

Master Jeweler and Graduate Gemologist

Winner

"Voted Finest Jeweler"

253.853.4579 • 866.346.GEMS | 3116 Harborview Dr., Gig Harbor, WA

Open Tuesday - Saturday, 11am - 5pm

GIG HARBOR LIVING LOCAL jan/feb 2023

77
---
PARTY CO.

Gig Harbor

Chiropractic

& Massage

www.GigHarborWellness.com

Dr. Greg Messer

Dr. Keri Messer

253.857.6500

11430 51st Ave NW Ste 101A

Gig Harbor, WA 98332

f gigharborchiropractic&massage

Visit our website to take

advantage of our

New Patient Special!

luxurybounce houses

The Seattle White House is ready to take

your party to the next level! The white

aesthetic is perfect for any event. Leave

it white or decorate it with a balloon

garland to match the decor of your event.

Perfect for weddings, birthday parties

and corporate events. Bounce in STYLE.

Throwing a party soon? We do all of the

entertaining for you! Reserve your rental today.

BOOK ONLINE

ToTheMoonPartyCo.com | 253.234.5589 | Ge

78 GIG HARBOR LIVING LOCAL jan/feb 2023
---
nails.

5No detail, no matter how small, should be overlooked

on your wedding day, and this is especially true when

it comes to your nails. If you prefer an understated

manicure with a light pastel polish, you can add simple

embellishments such as rhinestones or pearls, floral or

lace motifs, even foil decorations.

You may opt for a classic French manicure, gel or

acrylics. If your nails are where you're looking to add

that pop of color, red and purple are sure to make an

impression. Just remember, you want to schedule your

appointment to be as close to your wedding day as

possible to avoid anything happening to those beautiful

nails beforehand.

Jewelry.

6Remember that jewelry is meant to enhance your

look, not compete with your dress or headpiece/veil.

This can be something old, something new, something

borrowed or something blue! Whether you like to

keep with traditions or start your own, a simple piece

can truly make a statement. From classic pearls to

diamonds, you will want to keep it simple by choosing

just one piece of jewelry that can stand alone yet adds

the perfect touch to your wedding ensemble. Whether

a necklace, bracelet or earrings, choose a piece—or

pieces—that reflect your personal style. Less is more.

GIG HARBOR LIVING LOCAL jan/feb 2023

79
---
WANT BRIGHTER UNDER EYES?

PRF (platelet-rich fibrin) is your answer to

natural under-eye rejuvenation!

by PAIGE BROUGHER RN, BSN. AESTHETIC INJECTION

SPECIALIST AT GIG HARBOR AESTHETICS

HEALTHY SKIN

IS ALWAYS IN

Offering Botox, Dermal Fillers, Dysport,

Diamond Glow, Medical Skin Care,

Broad Band Light & Skin Rejuvenation

BOOK ONLINE TODAY!

253.514.6766

GigHarborAesthetics.com

3226 Rosedale St. Suite 100, Gig Harbor

The under eye or "tear trough" is

one of the first areas to show aging.

The lower eyelid skin is an area of

thin tissue, allowing for subdermal

features to be accentuated. Due to the thin

tissue and its involvement with underlying

muscle, aging changes frequently appear earlier

than other areas of the face and body. Collagen

and elastin loss due to the aging process leads

to skin laxity, discoloration, volume loss, and

development of fine wrinkles around the eyes.

Hyaluronic acid fillers have been used for

many years to treat under-eye volume loss.

Due to the complexity of the under-eye area,

filler can be problematic. The fillers have

a tendency to migrate and often can cause

unwanted swelling. Placing filler in the undereye

tissue will not address the collagen loss

that is experienced due to the aging process,

or quality of the skin. Thankfully, there is an

effective alternative to under-eye filler that

will not only help restore volume loss but also

thicken and brighten the under-eye tissue.

Platelet-rich fibrin (PRF) is a natural and

regenerative treatment that uses your body's

own platelets, fibrin, and stem cells. The

treatment is done by performing a blood

draw, centrifuging the blood sample, which

separates out the PRF. The PRF is then

injected into the under-eye area. There are no

additives in the blood collection tubes for this

procedure, meaning the substance injected is

entirely made up of the patient's own blood

components. Growth factors are released after

injection, leading to increased production of

collagen, elastin, and new skin cells.

After treatment, swelling will be present for

two to five days. Skin quality will gradually

improve over the one to two months following

treatments. To optimize results, a series of two

to three treatments four to six weeks apart

is recommended.

PRF has many uses in various medical

specialties, including medical aesthetics.

Outside of aesthetics, PRF has been used for

over a decade in oral and maxillofacial surgery,

orthopedics, plastic surgery, and more.

Platelet-rich fibrin is a natural and effective

way to address the discoloration, hollowing

and thinning of the under-eye tissue that is

experienced due to the aging process. For those

looking for a more youthful and refreshed

appearance, PRF may be the right option.

If you would like to discuss whether under-eye

PRF is the right treatment for your aesthetic

goals, set up a consultation with your aesthetic

provider today.

GIG HARBOR

LIVING LOCAL'S

2020

GIG HARBOR

LIVING LOCAL'S

2020 2021

WINNER

GIG HARBOR

LIVING LOCAL'S

2020

GIG HARBOR

LIVING LOCAL'S

2021

WINNER

Laura Brougher, RN

18+ years experience

@thefaceangel

Serina Jones, LME

20+ years experience

@serinajones_aesthetics

80

GIG HARBOR LIVING LOCAL jan/feb 2023
---
Shining where

the light is needed.

We serve current Heron's Key residents and others who treasure

life in beautiful Gig Harbor. A not-for-profit community wholly

focused on taking care of our own, we offer Assisted Living and

Skilled Nursing for residents at Heron's Key. If your loved one

has Alzheimer's or another form of dementia, we can provide

compassion, true friendliness and highly specialized Memory

Care at The Lighthouse.

4340 Borgen Blvd.

Gig Harbor, WA 98332

MEMORY CARE • ASSISTED LIVING • SKILLED NURSING • REHABILITATION

for generations, haven of rest has been

helping families achieve peace of mind

through pre-planning their funeral

and cemetery needs. call today to plan

for yourself or your loved one.

We now offer Aquamation, a new and

eco-friendly alternative to cremation!

253.851.9991

www.HavenRest.com

8503 State Route 16 NW., Gig Harbor, WA

GIG HARBOR LIVING LOCAL jan/feb 2023

81
---
Gig Harbor's

HOMETOWN

EXPERTS

CUSTOM PRINTS NW

Gig Harbor's premier shop for screen printing,

embroidery, signs and promotional items. Call

or email for a free design consultation today, by

appointment only. When you need orders on time

and looking great, contact Custom Prints NW!

Gig Harbor | 2801 Hollycroft St.

253.225.7725

Jessica@CustomPrintsNW.com

CustomPrintsNW.com

NEW LEAF HYPNOSIS

At New Leaf Hypnosis Center, they help people

reduce anxiety and stress, conquer fears and

phobias, heal past painful experiences, quit

unhealthy habits, stop unwanted behaviors,

improve sleep and low mood—faster than you ever

imagined! Book a free consultation to take the first

step to feel better today!

Gig Harbor | 253.617.4818

NewLeafHypnosis.com

2801 Hollycroft St, Suite B

ANCHOR BAY MORTGAGE

(MB-71863)

Locally owned and operated by Tracy Hacklin

Dennis (MLO-94066) with 16 years of

experience! They provide the personalized

attention you deserve. Their clients aren't just

customers, they're friends and neighbors. VA

Home loan specialist, Jumbo, Purchase, Refi,

2nd home and Non-Owner, get your FREE

no-obligation quote.

Gig Harbor | 7700 Pioneer Way #202

253.224.1408 | AnchorBayMtg.com

f/anchorbaymtg

82

82 GIG HARBOR LIVING LOCAL jan/feb 2023

JULIE REED

Gig Harbor Living Local Executive

Director of Marketing

Julie Reed brings years of marketing and creative

experience. She knows the Gig Harbor community,

and those who live, work and play here; how

business in the harbor operates; and what she can

do for you when it comes to your advertising and

marketing needs. Contact her today to get started!

Gig Harbor | 253.363.8832

GigHarborLivingLocal.com

julie@like-media.com

f GoGigHarbor
---
AMBROSE LOBATO DESIGN / BUILD

Our approach is to discover a design that reflects you and

your way of living. We are a full service design company

that can satisfy your architectural and building needs for

residential and commercial products from concept through

turnkey delivery.

Gig Harbor

253.303.1993 Office | 206.251.3983 Cell

AmbroseLobatoDesign.com

VALONA PAINTING COMPANY

We are your full-service painters for both residential

and commercial interior and exterior needs! Licensed,

bonded and insured VALONAPC853MS. Valona Painting

Company is your local home painting expert! Call us

today for a free estimate.

Gig Harbor

andrew@valonapainting.com

253.303.0359 | C: 253.985.0342

f Valona Painting Company

STEVE THE ARBORIST

An ISA Certified Arborist serving the Key Peninsula,

Gig Harbor and surrounding Olympic Peninsula, Steve

specializes in holistic plant health care and how your trees

are interconnected with other plant life on your property.

Services include general tree services, tree health and tree

risk assessments, consulting and recommendations, arborist

reports, pre-construction consulting and tree protection

zones, and eco remediation.

Gig Harbor | 253.858.5474

steve@steverarborist.com | SteveArborist.com

Making Members

Stronger in 30 Minutes,

Physically and Mentally

Full-Body Workout

Workout Changes Daily

Trainer Always Included

- NO CLASS TIMES -

TIMOTHY LOPEZ, AGENT

AMERICAN FAMILY INSURANCE

Tim Lopez has been an insurance professional since 2007

and has much experience protecting customers' dreams.

American Family Insurance is an agency offering auto,

home, life, business, farm/ranch, boat and umbrella policies

tailored to fit your unique needs. You can count on this

team to be honest and straightforward, and to put your best

interests first.

7512 Stanich Lane, Suite 2 | Gig Harbor

253.858.7200 | tlope1@amfam.com

Uptown Shopping Center

4793 Point Fosdick Dr. NW, Ste. 100

Gig Harbor, WA 98335

(253) 514-6670

www.9Round.com

@ 9RoundGigHarbor

WANT TO SHARE YOUR EXPERTISE

WITH YOUR COMMUNITY?

TAKE ADVANTAGE OF THIS RARE OPENING AND BECOME A

PART OF OUR HOMETOWN EXPERTS IN OUR NEXT EDITION!

Contact Julie Reed today!

253.363.8832 | Julie@like-media.com

GIG HARBOR

LIVING LOCAL'S

2021

WINNER

GIG HARBOR LIVING LOCAL jan/feb 2023

83
---
A Life, and Business, Inspired

by Passion

Veteran continues his love for aviation post-Air Force

by JILLIAN CHANDLER

I was 8 years old, my grandpa took me for my first

flight in an airplane. Ever since, I have loved all things

aviation," Brandon Baimbridge reminisces.

"When

This experience as a young boy would inspire him

throughout his life. Brandon enlisted in the US Air Force, where he

became an aircraft mechanic and qualified to work on heavy airlift

aircraft including the AC-130, MC-130, C-17 and C-5 aircraft. As a

Special Airlift Maintenance technician, his duties included: Flying Crew

Chief (flew with aircrew on board aircraft to fix any maintenance issues

encountered while at combat/austere locations); Quality Assurance

(oversaw aircraft maintainers' compliance with technical orders, rules and

regulations); Standardization and Evaluations (evaluated multi-national

aircraft maintainers in the performance of their duties); and Production

Superintendent (coordinated all maintenance activities).

Brandon is an FAA airframe and powerplant mechanic (FAA A&P)

with an Inspection Authorization endorsement (IA) and FAA private

pilot (licensed to operate single-engine land aircraft). He is qualified to

determine the airworthiness of aircraft by inspecting repairs or alterations

for conformity to approved data and assuring that the aircraft is in

condition for safe operation.

Throughout the years of his service, Brandon received numerous

awards and decorations, including: Meritorious Service Medal, Aerial

Achievement Medal, Air Force Level Maintenance Safety Award, Air

Mobility Command Maintenance Safety Award, and multiple Senior Non-

Commissioned Officer (SNCO) and Non-Commissioned Officer (NCO)

Maintenance Professional of the Quarter and of the Year awards.

During his 20 years in the Air Force, and 10 deployments, Brandon honed

his skills; developed discipline and safety-consciousness; refined and

expanded his technical knowledge; was provided real-world experiences;

was exposed to cultures around the world; and his love for aviation

was fostered.

"These experiences and attributes advanced my desire to continue

my career, post-Air Force, in aviation," he shares. "There is a need for

honesty, integrity and passion in the aviation consulting, brokerage and

maintenance fields. Hence, I was inspired to found AV8RS."

AV8RS, LLC

1080 Hangar 2 26th Avenue NW

Gig Harbor, Washington 98335

AV8RSLLC.com

84 GIG HARBOR LIVING LOCAL jan/feb 2023

Launched on May 1, 2022, the mission of AV8RS is to provide a personal

experience to customers, while upholding exemplary standards of safety

and integrity in aircraft maintenance, brokerage and aviation consulting.

Services offered include: certified aircraft appraisals, aircraft brokerage,

aircraft pre-buy inspections, aircraft maintenance, aviation consulting,

aircraft ferrying, aircraft hangar space management and aircraft detailing.

Although aviation is the primary focus of AV8RS, Brandon also offers

consulting and brokerage for classic cars.

As one of the only veteran-owned small businesses in the local community

that specializes in the services they offer, Brandon applies the same core

values of the US Air Force to AV8RS: Integrity First, Service Before Self,

Excellence in All We Do. "When a community member does business with

AV8RS, they can be assured that I will serve them with honor, honesty,

integrity and excellence; thereby sharing with and exemplifying these

values for and within our community," he affirms.
---
As a small business, Brandon guarantees his clients will receive a personal, honest,

exclusive experience, while supporting the local community and veterans.

"AV8RS is the culmination of my lifelong dream," he smiles. "I know that I am

making my family proud while also helping to ensure the safety of aviation in our

local community. I also love to connect with and inspire young aviators."

Though previously stationed at McChord during his Air Force career, Brandon

decided to make Gig Harbor home one year ago to be closer to family and because

of their love for the Pacific Northwest. "We also saw great potential and room for

growth for an aviation business at Tacoma Narrows Airport and within the greater

Seattle area," he adds.

Since opening AV8RS, Brandon has enjoyed building relationships and

friendships with community members, and sharing his passion for aviation with

fellow aviators. He is a regular volunteer at the Point Fosdick Aviation Museum;

his contributions help to restore and maintain aviation history.

He also volunteers his time as a Little League Baseball coach and is a Den Leader

for Cub Scouts Pack 27 on Fox Island. "My primary purpose in volunteering with

the Cub Scouts is to help develop and mold the character of our rising generation

of boys and girls. Additionally, Cub Scouts give back to the community in multiple

ways through community service projects and involvement."

Brandon and his family attend Harborview Fellowship Church. As Brandon

shares, "Having Christ-centered fellowship with other believers is foundational to

our values and family."

GIG HARBOR LIVING LOCAL jan/feb 2023

85
---
LOCAL GUIDE

WHERE TO STAY

WATERFRONT

SPA/SAUNA

POOL

RESTAURANT/BAR

FREE BREAKFAST

KITCHEN/ETTE

SUITES

PETS

FITNESS CENTER

MEETING SPACE

PRICING

The Inn at Gig Harbor

3211 56th St. NW, Gig Harbor, WA 98335

253.858.1111

InnatGigHarbor.com

$$-

$$$

Best Western Wesley Inn & Suites

6575 Kimball Drive, Gig Harbor, WA 98335

253.858.9690 • BestWestern.com

At this charming family run hotel, the team ensures each guest a memorable

stay. Cozy with stylish design, guest rooms and suites are designed to fit each

traveler's needs. Pet friendly, amenities include outdoor heated pool and hot

tub, patio with fire pit, and fitness center.

$$-

$$$

The Maritime Inn

3212 Harborview Dr., Gig Harbor, WA 98335

253.858.1818

MaritimeInn.com

$$-

$$$

Waterfront Inn

9017 N. Harborview Dr., Gig Harbor, WA 98332

253.857.0770

Waterfront-Inn.com

$$$

The Westwynd Motel

6703 144th St. NW, Gig Harbor, WA 98332

Pleasure Craft Houseboat Rentals

3215 Harborview Dr., Gig Harbor, WA 98335

Gig Harbor Marina & Boatyard Fleet Suites

3117 Harborview Dr., Gig Harbor, WA 98335

253.857.4047

WestwyndMotel.com

253.549.6639

PleasureCraftRentals.com

253.858.3535

GigHarborMarina.com

$-

$$

$$-

$$$

$$-

$$$

Aloha Beachside B&B

8318 State Route 302 NW., Gig Harbor, WA 98329

888.256.4222

$-

$$$

Beachside Bed & Breakfast

679 Kamus Dr., Fox Island, WA 98333

253-549-2524

BeachsideBB.com

$-

$$

Gig Harbor Marina & Boatyard Guest House

3117 Harborview Dr., Gig Harbor, WA 98335

253.858.3535

GigHarborMarina.com

$$$

HEALTH & BEAUTY

Salon Rivera Hair 253.858.2820 Salon-Riviera.com 8809 N. Harborview Dr. Ste. 201, Gig Harbor, WA 98332

Harbor Health & Skincare Skin Care 253.314.2618 Harborhealthandskincare.net 4221 Harborview Drive Ste. 101, Gig Harbor, WA 98335

Gig harbor Aesthetics

3226 Rosedale St. Ste. 100, Gig Harbor, WA, 98335

253.514.6766 • GigHarborAesthetics.com

Gig Harbor Aesthetics believes in renewing your youthful glow. Utilizing luxurious skin and body care services, let their talented team of professionals give

you natural-looking results. Specializing in injectables such as Botox and Dysport, be ready to leave feeling confident inside and out.

A2 We Physical look forward Therapy to being part

Health 253.844.4137 A2pt.family 4904 Point Fosdick Dr NW Gig Harbor WA 98335

of your healthcare team.

Gig Harbor Primary Care

4423 Point Fosdick Dr., Ste. 306, Gig Harbor, WA 98335

253.432.4437 • health@ghprimarycare.com • GHPrimaryCare.com

Gig Harbor Primary Care offers holistic primary healthcare to women and men of all ages. Being your primary care provider involves treating the

entire patient, starting with overall physical health while also considering other significant factors such as family, emotional, social, community and

environmental health. All of these play a substantial role in your overall well-being. *Welcoming New Patients*

Salon Rivera Hair 253.858.2820 Salon-Riviera.com 8809 N. Harborview Dr. Ste. 201, Gig Harbor, WA 98332

A Prima Salon & Extensions Hair 253.509.0726 APrimaSalon.net 2609 Jahn Ave. NW. Ste. F-6, Gig Harbor, WA 98335

GIG HARBOR

LIVING LOCAL'S

2018

WINNER

GIG HARBOR

LIVING LOCAL'S

2021

86 GIG HARBOR LIVING LOCAL jan/feb 2023
---
6

REAL ESTATE

Carolyn Westmoreland Westmoreland Properties 253.961.5596 carolyn@westmorelandproperties.net WestmorelandProperties.info

Jennie Wetter • Infinity Real Estate, LLC

5775 Soundview Dr. Ste. B202, Gig Harbor, WA 98335

253.225.5602 • jennie@infinityrewa.com • JennieWetter.com

Gig Harbor's local real estate professionals, led by owner and broker Jennie Wetter. Infinity Real Estate is dedicated to meeting clients' needs, whether

they are looking to sell or buy. Jennie and her dedicated team of professionals are committed to putting the client first, providing 100 percent dedication

and care from start to finish.

Infinity Real Estate Team Infinity Real Estate, LCC 253.693.4940 info@infinityrewa.com TheBoutiqueAdvantage.com

Jennifer Hawkins • Key2See Team - Hawkins-Poe

8815 N. Harborview Dr., Gig Harbor, WA 98335

253.229.1414 • jennifer@key2see.com • Key2See.com

Memories begin in the home and are enhanced by choosing a community you will thrive in. At Hawkins-Poe, they are passionate about establishing that

fit. The team's local knowledge will inspire your process, allowing empowerment for your success.

Gretchen L. Allen • RE/MAX Northwest Realtors

4411 Point Fosdick Dr. NW, Ste. 207, Gig Harbor, WA 98335

253.620.0028 • gretchen@homesbygretchen.com • HomesByGretchen.com

With 25 years as an experienced Realtor in our local real estate market, Gretchen takes great pride in working with her sellers and buyers consistently each

and every day. Your real estate business is her top priority! She provides a clear focus combined with personal care in understanding your most important

needs and with the highest level of integrity – second to none, delivers exceptional results!

Ed Aro & Team Aro Windermere 360.322.4017 edaro@windermere.com TeamAro.com

Jaclyn Harkson, Windermere Professional Partners

2727 Hollycroft St Suite #210, Gig Harbor, WA 98335

253.549.3332 • jaclynharkson@windermere.com • www.harksonhomes.com

A Gig Harbor local, Jaclyn has a passion for serving others, is well-versed in the market and delights in sharing her Maritime City. A contractor's wife, she is

not only devoted to helping people find home but uniquely understands all that new construction entails. Each real estate journey is special, and Jaclyn

seeks to come alongside you throughout the buying and selling process as a genuine friend with professionality and the utmost care.

Tiffany Place • Morrison House Sotheby's International Realty

3004 Harborview Dr., Gig Harbor, WA 98335

206.849.5425 • tiffany@tiffanyplacere.com • TiffanyPlaceRE.com

Your Gig Harbor and Tacoma area real estate specialist. Tiffany's "love of the hunt" for the perfect home, combined with her expert skills in negotiating

and reassuring presence, make her the perfect companion to guide you through the home buying process. Add in her background in design, Certified

Luxury Home Marketing Specialist Designation, and Sotheby's International Realty's incredible marketing and global reach, you can rest assured that

you are in the absolute best hands!

MARINAS & BOAT LAUNCHES

Arabella's Landing Marina 253.851.1793 ArabellasLanding.com 3323 Harborview Dr., Gig Harbor, WA 98332

Gig Harbor Marina & Boatyard Marina 253.858.3535 GigHarborMarina.com 3117 Harborview Dr., Gig Harbor, WA 98335

Jerisich Dock • Marina

3211 Harborview Dr., Gig Harbor, WA 98335

cityofgigharbor.net/187/Jerisich-Dock

Small half acre waterfront park in the heart of downtown that provides transient moorage for boaters and features a seasonal pump-out station, water

and power. Restrooms, showers and life jacket loaner station are available onsite. Boats moored past 8pm must register at kiosk. Maximum stay allowed is

three days in a 10-day period. First come, first served.

Lakebay Marina Resort Marina 253.884.3350 - 15 Lorenz Rd. NW, Lakebay, WA 98349

Eddon Boat Park • Boat Launch

3805 Harborview Dr., Gig Harbor, WA 98332

253.851.8136 • CityofGigHarbor.net/535/Eddon-Boat-Park

Historic boat yard listed on the Gig Harbor Register of Historic Places that includes the Gig Harbor BoatShop, a nonprofit organization that provides

traditional shipwright educational classes and programming to the public as part of the city's commitment to preserving the community's maritime

heritage. Restrooms, pier, float and kayake launch and life jacket loaner station are available for public use.

GIG HARBOR LIVING LOCAL jan/feb 2023

87
---
MAIN SIDING: Gray Owl OC-52 Aura® Exterior, Low Lustre; MAIN SIDING: Storm AF-700 Aura® Exterior, Low Lustre; WINDOWS AND DOORS: Witching Hour 2120-30

Aura® Grand Entrance®, Satin; PORCH CEILING: Marblehead Gold HC-11 Aura® Exterior, Satin

REFRESH your colors.

Nothing says refresh quite like a fresh coat of paint. Visit us

to ensure you get the product that is right for your project.

POULSBO

20530 Viking Way NW

360.779-6995

PORT TOWNSEND

315 Decatur Street

360.379-8025

BAINBRIDGE ISLAND

937 Hildebrand Lane

206.842-2227

GIG HARBOR

5500 Olympic Drive NW

253.858.6362

BREMERTON

5373 Auto Center Way

360.373.5999

Visit benjaminmoore.com

© 2022 Benjamin Moore & Co., and the triangle "M" symbol are

registered trademarks and Paint like no other are trademarks

licensed to Benjamin Moore & Co.

88 GIG HARBOR LIVING LOCAL jan/feb 2023
---
Horsehead Bay Public Boat Ramp Boat Launch - - 10999 36th St. NW, Gig Harbor, WA 98335

Fox Island Public Boat Ramp Boat Launch - - 203 3rd Ave., Fox Island, WA 98333

Joemma Beach State Park Boat Launch 253.884.1944

Parks.State.Wa.Us/524/

Joemma-Beach

20001 Bay Rd. SW, Lakebay, WA 98459

Vaughn Boat Launch Boat Launch - - 17999 Hall Rd. NW, Vaughn, WA 98394

Home Boat Launch Boat Launch - - 1922 A St., Lakebay, WA 98349

Wollochet Bay Boat Ramp Boat Launch - - 37th St. NW, Gig Harbor, WA 98335

Purdy Boat Launch Ramp Boat Launch - - 7726 WA-302, Gig Harbor, WA 98329

Gig Harbor Public Boat Launch Boat Launch 253.305.1000 - 8723 Randall Dr., Gig Harbor, WA 98332

Longbranch Boat Launch Boat Launch - - 15603 72nd St. SW, Longbranch, WA 98351

SHOPPING

Harbor General Store

Ship to Shore Marine & Kayak

Home Decor, Gift

Shop

253.358.3241 HarborGeneral.com 804 Pioneer Way, Gig Harbor, WA 98335

Waters Edge Gallery Art Gallery 253.858.7449 WatersEdgeGallery.com 7808 Pioneer Way Gig, Harbor, WA 98335

Clothing &

Tickled Pink Accessories 253.858.1751 TickledPinkStores.com 3026 Harborview Dr. NW, Gig Harbor, WA 98335

AR Workshop Craft Classes 253.844.3041 ARWorkShop.com/gigharbor 3208 Tarabochia St, Gig Harbor, WA 98335

Ebbtide Gallery Art Gallery 253.851.5293 EbbtideArt.com 7809 Pioneer Way, Gig Harbor, WA 98335

Boating

Merchandise 253.858.6090 ShiptoShoreMarine.com 3403 Harborview Dr., Gig Harbor, WA 98332

Clothing &

Dolly Mama Boutique 253.851.5113 DollyMamaBoutique.com 7700 Pioneer Way #103, Gig Harbor, WA 98335

Accessories

Weathered Cottage Home Decor 253.530.0818

Rainy Day Yarns

Mercantile, Yarns,

Classes

TheWeatheredCottage.

square.site

3306 Harborview Dr, Gig Harbor, WA 98332

253.514.6890 RainyDayYarns.com 7716 Pioneer Way Ste D, Gig Harbor, WA 98335

Maritime Jewelers Jewelers 253.853.4579 MaritimeJewelers.com 3116 Harborview Dr., Gig Harbor, WA 98335

Cougarwear Gift Shop 253.851.5395 ClarksJewelers.com 6946 Kimball Dr., Gig Harbor, WA 98335

CS Floors Flooring 253.676.9395 CsFloors.net 8803 WA-16, Gig Harbor, WA 98332

van der Veen Jewelers Jewelers 253.514.8478 VanderVeenJewelers.com 4711 Point Fosdick Dr. NW, Gig Harbor, WA 98335

Harbor Landing Indoor Shopping Mall Mall -

Uptown Gig Harbor • Mall

4701 Point Fosdick Dr., Gig Harbor, WA 98335

253.851.4557 • UptownGigHarbor.com

Facebook.com/Harbor

LandingMall

3226 Harborview Dr., Gig Harbor, WA 98335

Over 35 shops, specialty stores and restaurants all located within walking distance in a charming outdoor shopping center. Shoppers can choose from a

mix of national retailers and local merchants offering the latest fashions, or enjoy a bite at a wide selection of fine-dining or quick takeout restaurants and

cafes.

For the Love of Spice Spice Store 253.858.0272 LoveofSpice.com 3104 Harborview Dr., Gig Harbor, WA 98335

THINGS TO DO

Gig Harbor Beer Festival

Event

Spring - GigHarborBeerFestival.com

Cinco de Mayo Celebration Event Spring GigHarborFoundation.org

-

Madrona Links Golf Course Golf Course Spring / Summer / Fall 253.851.5193 MadronaLinks.com

Gig Harbor Golf Club Golf Course Spring / Summer / Fall 253.851.2428 GHGolfClub.com

Gig Harbor Gondola Water Activity Spring / Summer / Fall 253.432.0052 GigHarborGondola.com

GIG HARBOR LIVING LOCAL jan/feb 2023

89
---
Uptown Gig Harbor Summer Concert Series Event Summer - UpTownGigHarbor.com

Food Truck Feast At Sehmel Homestead Park Event Summer - PenMetParks.org

Summer Sounds at Skansie Event Summer - GigHarborGuide.com

Duffy Electric Boat Rentals at Gig Harbor Yachts • Boat Rental • Spring/Summer

3419 Harborview Dr. (Dockside), Gig Harbor, WA 98332

253.358.3491 • HarborKayaks.com

Enjoy a memorable experience on the water while you take in the sights. Don't forget to grab a coolor and picnic basket for the ride, and head aboard

with family and friends for the ultimate relaxing harbor cruise.

Gig Harbor Kayaks Water Activity Spring/Summer 253.358.3491 HarborKayaks.com

Pier into the Night Event Winter - HarborWildWatch.org

7 Seas Brewing Brewery Year-Round 253.514.8129 7SeasBrewing.com

Galaxy Luxury Theatres Movie Theater Year-Round 253.851.8300

GalaxyTheatres.com/Movie-Theater/

GigHarbor

Gig Harbor Film Festival 72-hour Film Compitiion Event Spring 253.851.3456 GigHarborFilm.org

OTHER SERVICES

Synergy electric + technology, inc.

253.234.5311 • SynergyElectricTech.com

Synergy electric + technology provides the most professional electrical, renewable energy, and technology services in the Gig Harbor area. Born and

raised in Gig Harbor, owner Matthew Molzan has more than 32 years of experience in the industry. Whether it's a new construction, remodel, residential

or commercial property, Synergy can install all electrical, solar systems, energy storage (batteries), generators, hot tubs, as well as Smarthome

equipment and home automation systems.

Peninsula Light Co. Electric Utility 253.857.5950 PenLight.org 13315 Goodnough Dr. NW, Gig Harbor, WA 98332

Coast Movers Moving 888.546.6820 CoastMovers.com 3621 Hunt St., Gig Harbor, WA 98335

Family First Adult Family Homes • Senior Care & Family Living

4700 Pt. Fosdick Dr. #312, Gig Harbor, WA 98335

253.853.2033 • FamilyFirstAFH.com

Family First Adult Family Homes has been a staple in the Gig Harbor community for the past 21 years. Here you can find 24-hour care with hands-on

owners, experienced caregivers, in-home doctor visits, semi-private and private rooms and family atmosphere.

Olympic Pharmacy Healthcare 253.858.9941 OlympicPharmacy.com 4700 Pt Fosdick Dr. # 120 Gig Harbor WA 98335

Narrows Cleaning Cleaning 253.495.2844 NarrowsCleaningServices.com 5823 Wollochet DR NW Gig Harbor WA 98335

Harbor Quality Painting Painting Services 253.310.7690 HarborQualityPainting.com 5823 Wollochet DR NW Gig Harbor, WA 98335

Spec German Auto Services 206.238.0565 SpecGerman.com 3621 Hunt St Gig Harbor, WA 98335

SBI Insurance Insurance 253.858.9988 SoundBiz.net 3312 Rosedale Street #103, Gig Harbor, WA

Family Law Resolutions Attorney 253.853.6940 FamilyLawResolutions.com 7191 Wagner Way, Suite 303 Gig Harbor, WA

90 GIG HARBOR LIVING LOCAL jan/feb 2023
---
upgrade your flooring to

the next level

this winter

Independent Retirement &

Assisted Living Community

Your Satisfaction is Our Priority

Carpet • Laminate • Vinyl • Tile • Stone • Hardwood

now offering design services and window coverings

f www.facebook.com/CSFLOORS

www.csfloors.net | 253.853.5833

8803 SR 16 NW, Gig Harbor, WA

It's not the good life,

it's the best life!

It's not the good life,

It's it's not the the best good life! life,

Welcome it's the best home life!

to Welcome Harbor home Place!

Welcome home

to Harbor

1016 29th Street

Place!

NW

to From Harbor morning to Place! night,

you've got friends to

From meet up morning with, activities to night,

From you've morning got friends to night,

to share and a beautiful to

meet you've up got with, friends activities to

environment

Gig Harbor,

around

WA 98335

you.

to meet share up and with, a activities beautiful

environment to share and around a beautiful

From fine dining, to sunny you.

environment around you.

courtyard lunches, our

From chef fine prepares dining, meals to sunny

From courtyard fine dining,

253.853.3354

lunches, to sunny

meant to be savored. our

courtyard chef prepares lunches, meals our

meant chef prepares to be savored. meals

Choose from a range of

meant to be savored.

active living options that

complement Choose from your a range personal of

active Choose living from options a range that of

requirements and lifestyle.

complement active living your options personal that

requirements complement your and personal lifestyle.

requirements and lifestyle.

Independent Retirement &

Assisted

Independent

HarborPlaceRetirement.com

Living Community

&

Assisted Independent 1016 Living 29th Street Community NW

&

Assisted Gig Harbor, Living WA Community

98335

1016253.853.3354

29th Street NW

Gig 1016 Harbor, 29th Street WA 98335 NW

HarborPlaceRetirement.com

Gig Harbor, 253.853.3354 WA 98335

253.853.3354

HarborPlaceRetirement.com

HarborPlaceRetirement.com

GIG HARBOR LIVING LOCAL jan/feb 2023

91
---
'Dog Adventures'

Dedicated to caring for your pup through exercise and enrichment

by JILLIAN CHANDLER

From a young age, Ruth MacIntyre has had a love for animals—

especially dogs for their individual quirks and personalities.

This love would turn into a passion, as she studied animal

care in college. "Whilst I loved—and still do—learning about

all animals, my interest was always around dogs in particular," Ruth

shares. "Dogs are so unique and diverse—at any point in time, you will

find a dog who is happy to sit in someone's handbag looking pretty and

a dog who is searching for criminals. A dog who is happy lazing on the

couch and a dog who is alerting someone that they are about to have a

seizure. There is no other kind of animal that is this varied within their

species, and it is this that is both wonderful and glorious about dogs."

This joy in observing dogs' behavior and learning more about them

would eventually inspire Ruth to open her own business—Ruth's Dog

Walking LLC. First opened in Woodinville in April 2018, she wanted to

continue that growth in her new hometown of Gig Harbor.

Ruth and her family moved to Gig Harbor in December of 2020. Not

only was Gig Harbor within commutable distance of her business in

Woodinville, and her husband's workplace, they fell in love with the

beauty of Gig Harbor, the location of the stores and the friendliness of

the people. "No other town or city felt as welcoming as Gig Harbor,"

smiles Ruth. "Plus, everywhere I looked, I saw dogs walking happily

along with their owners, and I could tell this was a dog-loving place and

somewhere I could fit in happily when walking my own dog."

Ruth's Dog Walking in Gig Harbor opened in September of 2022,

followed by Wenatchee the following month.

Ruth goes on two "dog adventures" a day. "Each pup is picked up

and taken to a local nature area where our adventure begins. At the

end of the adventure (either 90 minutes or 45 minutes, depending on

your pup's activity level), your pup is cleaned / dried off as necessary,

given fresh water and taken home. So the pups will be out for most of

the morning or most of the afternoon (depending on their session),"

she says.

Each dog-walking adventure consists of no more than four dogs, as

Ruth believes this is a good number, as it gives the dogs a good-sized

pack to walk in, though it is small enough that she can give each dog

individual care. Ruth seeks to take each pack adventuring to beautiful

places that are filled with great smells and experiences for the pups,

such as beaches, trails and wooded areas. "It is important to me that,

when we go on our adventure, I do not just exercise the dog's body but

also their mind too. Enrichment is so important for every animal, and

pet dogs are no exception. Enrichment keeps the mind active, young

and healthy. Dogs return home happy and tired, ready for a snooze."

RUTH'S DOG WALKING LLC

Serving Gig Harbor, Wenatchee and Woodinville

425.276.8555

RuthsDogWalking.com

She also addresses training needs during these sessions, such as

practicing trail etiquette and loose-leash walking. Ruth affirms that

we are our dogs' best advocates, and that it is imperative to treat them

with love, patience and care, and to understand and follow through on

their needs.

Each employee goes through an extensive background check,

both federally and locally. And Ruth doesn't hire based solely

on dog-walking experience; she looks for what cannot be

92 GIG HARBOR LIVING LOCAL jan/feb 2023
---
trained—honesty, reliability and trustworthiness. "I need to know, as a business

owner, that dogs and their owners are cared for, so this is my main focus

for employees."

When it comes to what she finds most rewarding about her job, it's happy dogs. "I get

such wonderful welcomes when I arrive at a house to walk a dog—the dogs are ecstatic

they are coming out on our adventure. A dog who is greeting me at the door ready to

go because I have treated them with love, care, patience and understanding—that is

extremely rewarding."

Ruth believes in giving back, so a percentage of her profits go to animal care charities.

This past Christmas, she also donated to an animal charity specific to each location of

her business.

"We all get a dog with a dream in mind. It may be playing at the park, taking nice long

walks together, or companionship. Sometimes these things are not always possible as

life or work gets in the way. I can help ease some of that stress."

If you would like your dog to go on an adventure with Ruth, contact her today.

"A dog who is greeting me at the door ready to

go because I have treated them with love, care,

patience and understanding—that is

extremely rewarding."

GIG HARBOR LIVING LOCAL jan/feb 2023

93
---
ENJOY A COUPLES GETAWAY TO

VICTORIA,

BRITISH COLUMBIA

Old-World charm sets the scene for romance

by MARGUERITE CLEVELAND

94 GIG HARBOR LIVING LOCAL nov/dec jan/feb 2023 2022
---
GIG HARBOR LIVING LOCAL jan/feb 2023

95
---
VICTORIA,

BC

The Old-World charm of Victoria, British Columbia, is the perfect setting for a romantic getaway.

The Coast Salish First Nations Peoples settled the area with communities up and down the

coast. Named for Queen Victoria, it is the capital city of British Columbia and was founded in

1843 as a British settlement. Over the years it has become a popular tourist destination and is

inundated with crowds during cruise ship season. In the winter months, crowds dwindle, making this low

season the perfect time of year to visit. Just 62 miles from Seattle, Washington, you can travel by airplane

from the Seattle-Tacoma International Airport, seaplane, or the Victoria Clipper fast ferry. It is just 25

miles from Port Angeles, Washington, on the Blackball Ferry.

Known as the "Garden City," Victoria is an easily walkable city with a section of Government Street

transformed into a pedestrian-priority zone. Completed during the COVID-19 pandemic, the zone

includes picnic tables, seating, planters, and artwork installations featuring local talent.

96 GIG HARBOR LIVING LOCAL jan/feb 2023
---
Where are YOU

headed in 2023?

Those who fail to plan, plan to fail.

Set up a time to meet with Like Media's Washington Executive Director of Marketing to build a targeted

marketing plan that aligns with your goals and positions you to grow your business this next year.

ENGAGE YOUR CUSTOMERS AND CLIENTS

BUILD YOUR REPUTATION THROUGH

BRAND RECOGNITION

BRIDGE A RELATIONSHIP BETWEEN YOU AND

YOUR CUSTOMERS

INFORM & EDUCATE YOUR LOCAL AUDIENCE

AND POTENTIAL CUSTOMERS

RELATE WITH YOUR COMMUNITY

Email me today, and let's get started!

JULIE@LIKE-MEDIA.COM | 253.363.8832

LIKE-MEDIA.COM

GIG HARBOR LIVING LOCAL jan/feb 2023

97
---
EAT

No trip to Victoria is complete without enjoying afternoon tea

at the Fairmont Empress. This luxury experience is extremely

popular, so reservations are a must. Sip your choice of teas

from a selection of over 20 premium teas. Afternoon tea is a

leisurely event. The atmosphere is set as you enter the lovely

Lobby Lounge and are seated in this historic space with a

modern refresh. Classical piano music from Fairmont's baby

grand piano fills the air, just adding to the ambience. The menu

changes with the seasons, but your tea tray will always include

freshly baked Empress Raisin Scones that are served warm with

house-made clotted cream and strawberry-vanilla preserves.

If you are unfamiliar with the food scene in a destination, take

a food tour. Off The Eaten Track offers a variety of tours—

both guided and self-guided—to experience the food scene

in Victoria. The Downtown Food and City Tour will take you

on a walking tour of downtown Victoria to discover culinary

gems. Guests will eat where the locals do as well as see some of

the historic sites such as St. Andrew's Cathedral and the Royal

Theater. Enjoy samples from seven local foodie stops, which

includes unique dishes, pastries, wine, cheese and macarons.

Tea at the Empress - TeaattheEmpress.com

Off the Eaten Track - OfftheEatenTrackTours.ca

STAY

If romance is the goal, there is only one choice: the iconic

Fairmont Empress. This stately building dominates the inner

harbor front and has been a favorite of visitors since its

founding in 1908. If you can swing it, book a harbor front suite

on the Fairmont Gold Floor, which is like a small boutique hotel

amid the larger hotel. It gives you the best of both worlds, a

separate check-in desk, concierge, and the use of the elegant

Fairmont Lounge, while still having use of the larger hotel's

restaurants, shops, fitness center, pool, and the luxurious Willow

Stream Spa.

When splurging on a luxury hotel, take time to enjoy all the

amenities. The Fairmont Gold Lounge is a fabulous perk. Enjoy

a scrumptious breakfast buffet each morning with delectable

hot and cold dishes as well as some of the best croissants in

North America. Enjoy great coffees from a high-end machine.

In the afternoon, pop back in for the Fairmont Empress' famed

scones and Lot35 Tea, Fairmont's proprietary brand sourced

from premium ingredients. Evening offers appetizers and an

honor bar for cocktails. Late evening, pop in for dessert. The

outdoor veranda is open, weather permitting. Keep warm with

outdoor fire pits and blankets while watching a romantic sunset

over the harbor.

The Fairmont Empress - Fairmont.com/empress-victoria

98 GIG HARBOR LIVING LOCAL jan/feb 2023
---
If romance is the goal, there is only

one choice: the iconic Fairmont

Empress. This stately building

dominates the inner harbor front

and has been a favorite of visitors

since its founding in 1908.

DO

Enjoy a Winter Wildlife Tour with Eagle Wing Tours. There

are plenty of wildlife viewing opportunities during the winter

months. Whale sightings are hit or miss in January or February,

but you won't miss seeing them when you head out to the Race

Rocks Ecological Reserve. Naturalists onboard will educate

your group on the different types of mammals living there.

Tours regularly include sightings of harbor seals, elephant

seals, and Steller and California sea lions.

The Willow Stream Spa at the Fairmont Empress is a lovely

oasis to enjoy some couple's time. Conde Nast Traveler ranks it

as one of the top spas in Canada. Book a variety of treatments

or a luxurious package. Arrive early to take advantage of the

Spa Ritual, which helps remove toxins from your body and

enhance your spa experience. Start with a traditional Finnish

Dry Sauna, then follow with the Steam Inhalation Room. These

are in the men and women locker rooms. Join your significant

other in the Thermal Mineral Pool. Afterward, you're sure

to be fully relaxed and ready for your treatments, such as an

opulent facial or a soothing massage.

Eagle Wing Tours - EagleWingTours.com

The Willow Stream Spa - Fairmont.com/empress-victoria/spa/

willow-stream-spa

GIG HARBOR LIVING LOCAL jan/feb 2023

99
---
YUM

your local dining guide

RECIPES

LOCAL FLAVOR

100 GIG HARBOR LIVING LOCAL jan/feb 2023
---
NOW OPEN

Over 300 loose leaf teas, herbals and wellness blends. Ask us

about our fun & interactive Tea Blending Classes

We are a family run locally owned business that has been serving the

Pacific Northwest for over a decade!

Please use this coupon for 20% off your purchase of loose leaf tea or

herbal blends. We can't wait to meet you!

We are located in Olympic Square across from Harbor Greens

5229 Olympic Drive, Suite B, Gig Harbor, WA 98335 | 253.432.4008 | everythingtea.net

northwest-style fish & chips · clam chowder

cioppino · bouillabaisse · steamers

New Location in Gig Harbor · 7806 Pioneer Way

Learn more and order online at KettleFish.com

Or visit us anytime at our flagship location 3607 NW Byron St, Silverdale · 360-692-9611

GIG HARBOR LIVING LOCAL jan/feb 2023

101
---
Dine

Out In

The

Harbor

BBQ2U

There's nothing like a plate of pure Southern comfort.

BBQ2U brings all the smoky flavors of Texas-style

barbecue right here to our backyard. Patrons are

treated just like family and will enjoy the unique dining

atmosphere. Open seven days a week from 11am to 8pm.

4814 Pt. Fosdick Dr. NW | Gig Harbor

253.313.5656 | TexasBBQ2U.com

LUNCHBOX LAB

Experience the world's best burgers and

shakes at LunchBox Lab Gig Harbor. Stop in

for their boozy shakes (using locally produced

ice cream), hand-pressed patties, organic fresh

buns and premium ingredients. And they're

always experimenting with new menu items—

come see their newest creations! Complete

your experience with an eclectic cocktail

from the full bar. Open for lunch and dinner

11:30am to close daily for dine-in, curbside

and delivery; private dining event space and

corporate catering are also available.

r

neer KETTLEFISH Way, Gig Harbor

Freshly hooked and perfectly cooked!

Opening in Gig Harbor in spring of 2022,

KettleFish is the place to go for fresh and

delicious Pacific Northwest seafood, featuring

Northwest-style fish and chips, clam chowder,

cioppino, bouillabaisse, steamers and more!

Focused not only on preparing a delicious

Fish.com

meal, with seafood sourced from sustainable

resources, their steam kettle cooking process

Byron St, Silverdale · 360-692-9611

is extremely energy efficient and fast. To

find out more and to order online, visit

their website.

7806 Pioneer Way | Gig Harbor

KettleFish.com | 360.692.9611

FKettleFishRestaurant

Instagram | KettleFishRestaurant

102 GIG HARBOR LIVING LOCAL jan/feb 2023

OCCASIONS COFFEE

& CREPES

Gig Harbor's home for coffee and crepes! Located in the

heart of Gig Harbor at the Franciscan Medical Building,

Occasions Coffee and Crepes offers premium, handcrafted

espresso drinks, smoothies, fresh salads, hot

paninis, fresh made deli sandwiches, soups and of course

made-to-order crepes!

4700 Pt. Fosdick Dr. NW, Ste. 109 | Gig Harbor

253.851.2576 | F OccasionsCoffeeAndCrepes

4901 Pt. Fosdick Dr. NW | Gig Harbor

253.432.4061 | ToastTab.com/

lunchbox-laboratory-gig-harbor/v3

F LunchBoxGigHarbor

Instagram | LunchBox_Lab

MILKVUE HANDCRAFTED

DONUTS + COFFEE

Experience inspirational donut creations and

the "happiest" customer service! Known for

fresh mochi donuts, raised, filled, fritters and

cake donuts, enjoy a variety of unique flavors

including horchata, blueberry lavender,

cookies and cream, maple bacon, raspberry

and more! Also enjoy Italian sodas, Bubble

Tea and Olympia Coffee. Takeout only. Stop

in Mon.-Wed. 8am-5pm, Fri. 7am-5pm, Sat.-

Sun. 9am-5pm.

4901 Pt. Fosdick Dr. NW | Gig Harbor

253.432.4529

Instagram | MilkVue

F MilkvueHandcrafted-Donuts-

Coffee-114242959995704
---
CROSS

RIB

ROAST

Recipe Courtesy of

Executive Chef Zac Janssen

of Skamania Lodge

You don't have to be an

executive chef to whip up

this main dish to impress

dinner guests. This recipe

keeps things easy with

ingredients you can find

at your local grocery store

and in your pantry. Serve

with mashed potatoes and

roasted vegetables.

INGREDIENTS:

• 1 cross rib roast

• 12 garlic cloves

• 4 sprigs of thyme

• 2 sprigs of rosemary

• ¼ cup red wine vinegar

• ½ cup canola oil

• Kosher salt, as needed

• Fresh cracked pepper, as needed

METHOD:

• Preheat oven to 450˚F.

• Mince garlic, pick thyme and rosemary (chop fine). Make a rub with oil, vinegar, garlic and herbs. Season the

meat with kosher salt and fresh cracked black pepper.

• Place meat on a roasting rack in a shallow roasting pan. Roast at 450˚F for 12 to 15 minutes, depending on size

of roast and oven.

• Reduce oven heat to 250˚F and slow roast for about 90 minutes. (Internal temperature should be about 120˚F.)

• Depending on how you like your meat, you can either cook less or more.

GIG HARBOR LIVING LOCAL jan/feb 2023 103
---
calendar

04

MARCH

calendar

of eventsjanuary/february

2023

EMPTY BOWLS

pg. 106

104 GIG HARBOR LIVING LOCAL jan/feb 2023
---
GIG HARBOR LIVING LOCAL jan/feb 2023

105
---
Save the Date!

04

MARCH

8th Annual Empty Bowls to raise funds

to fight hunger

by Jillian Chandler

When Altrusa completed its pledge to raise $100,000 to

equip a community kitchen at the Boys & Girls Club

in 2013, they moved on to finding ways to utilize that

kitchen for the community's benefit. "At that time, when schools

were in operation, kids from families who were struggling to put

food on the table depended on free and reduced-price lunch for

one or two meals a day," says Nancy Hohenstein, Altrusa board

member and past president. "But during the summer, there

A&H HIGHLIGHT

were no meals. Empty Bowls was first started to raise funds for

the Boys & Girls Club to provide a summer lunch program for

hungry kids."

This year marks the eighth year of the Empty Bowls fundraiser,

which is scheduled for Saturday, March 4, at Chapel Hill

Church (7700 Skansie Avenue). The event draws approximately

500 attendees each year, with 800 or more pottery glass and

sometimes wooden bowls, and soups from at least nine

participating restaurants.

membership as well as information from the groups who have,

in past years, received grants from the Altrusa Foundation of

Gig Harbor for their food and feeding programs: FISH Food

Bank, Food Backpacks 4 Kids, the Boys & Girls Club, Harbor

Hope, The Red Barn, among others," adds Nancy.

She encourages the community to attend this wonderful

event. "The people who come [not only] receive a simple

meal of delicious soup and bread … but they go home with an

artisan-created bowl knowing they are helping feed someone

else, maybe from their own neighborhood [who is] silently

experiencing hunger."

While Altrusa organizes the event, there are up to 38 potters in

the group who create the bowls. Members of Rotary and Kiwanis

volunteer to set up and serve, and at least nine restaurants

and bakeries contribute. "It is truly a community effort,"

smiles Nancy.

In addition to the beautiful handcrafted bowls and delicious

soups and bread, there will be a pottery demo by one of the

organizers of the potters group that has committed to creating

the bowls, and Peninsula Youth Orchestra will provide live

music. At the 2022 event, some of the kids who attended the

event had the opportunity to make their own bowls on a real

potter's wheel. This year there will be raffle items donated by

local vendors and craftspeople.

"Altrusa will have information on its opportunities for

For those who would like to attend, all you have to do is show

up and purchase a bowl (bowls start at $15). Kids under 12 eat

free. The full amount of the net proceeds is granted through the

Altrusa Gig Harbor Foundation to nonprofits to provide food

relief for children and families experiencing hunger within

our community.

For artists who would like to donate a bowl (or bowls), or

restaurants who would like to provide a soup, please reach out

through Altrusa's website, AltrusaGigHarbor.org.

07

JAN

10

FEB

12

FEB

106

106 GIG HARBOR LIVING LOCAL jan/feb 2023
---
GREATER GIG HARBOR FOUNDATION

PRESENTS

shamrock'n

the

Harbor

5K & 12K RUN/WALK

SATURDAY

18

MARCH

8AM-12PM

Gig Harbor, WA

Don your best Irish and jig o'er the hills and dales of the gorgeous Cushman

Trail St. Patrick's Day weekend. Proceeds benefit the Gig Harbor Senior Center,

a 501c3 nonprofit organization, working to enrich, engage and support our

peninsula's vibrant senior community.

gigharbor

Living Local

www.gghf.info/shamrockn

GIG HARBOR LIVING LOCAL jan/feb 2023

107
---
07

JAN

JAN

07

FEB

04

21

JAN

John Nilsen Live

Head to Gig Harbor BoatShop on January 7 to enjoy live music by John Nilsen, an accomplished pianist,

guitarist, composer, lyricist and vocalist. He tours nationally, having performed in all 50 states and on four

continents, and was selected Yahama Signature Piano Artist in November 2021. The in-demand pianist combines

elements of classical, folk and jazz. General admission is $25 per person, $20 for GHBS members. All ages

are welcome. Admission includes open seating and complimentary appetizers. Purchase your ticket online at

GigHarborBoatShop.org/music.

Pier Into the Night

Take an underwater journey of Gig Harbor Bay without getting wet (or needing special certification) through

the Pier Into the Night experience. While you stay warm and dry on the dock, Harbor WildWatch divers use

an underwater video camera to live stream what they encounter below the surface. Staff biologists and trained

volunteers identify the plants and animals that appear on the 10-foot screen in real time. This program takes

place on Jerisich Public Dock in Downtown Gig Harbor on the first Saturday of the month through March 4.

There is a suggested donation of $2 per person or $5 per family. Bring a chair and dress for the weather, rain or

shine! Find out more at HarborWildWatch.org.

Parents Night Out: Amazing Race

COE

Need to get some shopping done? Or maybe you have a good book you've been wanting to catch up on? Register

today for Parents Night Out: Amazing Race, which is scheduled for Saturday, January 21, from 4 to 8pm, at

Rosedale Hall. Send your learner on a trip around the world with the Snapology staff. Not only will your student

discover unique aspects of Chinese culture, they will be competing in fun challenges. This four-hour workshop is

$64 per child and will include a pizza dinner, juice box and snack. Visit PenMetParks.org/events to find out more.

03

FEB

Joel Gibson Jr. in Concert

Local country favorite Joel Gibson Jr. will be performing with his full band at Ocean5 on Friday, February 3. The

premier independent country and rock artist in the Pacific Northwest, Joel's engaging baritone vocals, humble

demeanor and charismatic stage presence sets this vibrant performer apart from the other conventional acts.

The concert begins at 7pm and continues until 10pm. Visit O5Social.com/events for additional details and to

purchase tickets, which are priced $20.

10

FEB

12

FEB

Night to Shine

The 2023 Night to Shine will be held 4 to 8pm on February 10 at the Gig Harbor YMCA. Night to Shine is

a prom for people ages 14 and older who have special needs, sponsored by the Tim Tebow Foundation and

hosted by Harbor Christian Center. Every guest of Night to Shine will enter their prom on a red carpet complete

with welcoming friendly paparazzi. Once inside, guests will receive VIP treatment including hair and makeup

stations, shoe shining stations, corsages and boutonnieres, a karaoke and, of course, dancing! The highlight of the

night will come when every one of the Night to Shine guests is crowned as a king or queen of the prom. Register

today at HCCToday.ChurchCenter.com/registrations/events/1493737.

Valentine's Paint and Sip

Come paint and sip on the waterfront at Heritage Distilling, where you will be guided through each step of

the painting and tap into your inner creativity! Participants will be creating the "Lovers Path" painting, which

will be painted on a single canvas. HDC will have its menu available during the entire event, including fun

cocktails, small bites and sodas (HDC is family friendly). Seating is limited, and pre-registration is required for

the event, which takes place February 12 from 1 to 4pm. For those with questions, please email info@artvana.

life. To register, visit EventBrite.com and search "Valentine's Paint and Sip at Heritage Distilling Gig Harbor."

* Please note, as of press time, these events were still scheduled to take place as planned. Due to the continuing pandemic, there is the possibility

108

that event schedules may change or events canceled completely. Be sure to visit event websites to stay up to date with current information.

108 GIG HARBOR LIVING LOCAL jan/feb 2023
---
great things for

a great community

Founded in 1925, Peninsula Light is your member-owned, not-for-profit

electric cooperative, providing reliable power throughout Gig Harbor and

the Key Peninsula. We are dedicated to continually improving the quality

of life in this great community through system reliability, helping you

conserve and use electricity more efficiently and rising to the challenges

of a rapidly changing industry.

253.857.5950 | 888.809.8021

13315 GOODNOUGH DR. NW | GIG HARBOR, WA 98332

WWW.PENLIGHT.ORG

GIG HARBOR LIVING LOCAL jan/feb 2023

109
---
Congratulations

GIG HARBOR'S FINEST

Winners

AESTHETICS/BEAUTY

Gig Harbor Aesthetics

BREWERY

7Seas Brewing Co.

BUILDER

Kelley Home Services

BURGER

The Gourmet Burger Shop

CHIROPRACTOR

Harbor Life Chiropractic

CUISINE

Il Lucano Ristorante Italiano

CUSTOMER SERVICE

Kimball Coffeehouse

DENTIST

Dr. Brian Dansie - The Kids' Dentist Gig Harbor

DINING EXPERIENCE

Green.House Restaurant

DRINKS

Heritage Distilling Co.

ENTERTAINMENT

Ocean5

GYM

Tom Taylor Family YMCA

HAIR SALON/SPA

Salon Riviera

HAPPY HOUR

Tides Tavern

HEALTH CARE

MultiCare

HOME SERVICES

CS Floors

INSURANCE AGENCY

Kent Cashman - State Farm

JEWELER

Ken Walker Jewelers

MORTGAGE LENDER SERVICES

Fairway Independent Mortgage Corporation Home Team NW

NEW BUSINESS

Gig Harbor Thai Cuisine

ORGANIZATION WITH A CAUSE

Gig Harbor Peninsula FISH Food Bank and Community Services

PERSON OF THE YEAR

Joe Kimball

PHYSICAL THERAPY SERVICES

PRO SPORT Sports Medicine Clinic

PIZZA

Fondi Pizzeria

PLACE TO STAY

The Maritime Inn

REAL ESTATE COMPANY/GROUP

Infinity Real Estate, LLC

REALTOR

Paige Schulte - Neighborhood Experts Real Estate

RETIREMENT HOME/ SERVICES

Heron's Key

SHOPPING

Uptown Gig Harbor Shopping Center

SMALL BUSINESS

Crumbl Cookies

TEACHER

Maggie Anderson - Gig Harbor High School

WEALTH MANAGEMENT/GROUP

New Foundation Wealth Group - Nancy Harris

WELLNESS SERVICES

Olympic Pharmacy & Healthcare Services

ongratulations

110

110 GIG HARBOR LIVING LOCAL jan/feb 2023
---
GIG HARBOR

LIVING LOCAL'S

2022

Thank You to Our Sponsors

TITLE SPONSOR

PLATINUM SPONSOR

GOLD SPONSORS

SILVER SPONSOR

GIG HARBOR LIVING LOCAL jan/feb 2023

111
---
You'll feel right at home.

3520 Kitsap Way, Bremerton

112 GIG 360.377.5582 HARBOR LIVING | arnoldshomefurnishings.com

LOCAL jan/feb 2023

Arnold's Home Furnishings has been serving the

Kitsap Peninsula and beyond for more than 70 years.

We offer a tremendous selection of furniture for the

living room, dining room and bedroom along with rugs,

lamps and everything that makes a home. Known for

our quality and superb customer service, Arnold's can

help you select your new furniture, mattress and home

furnishings purchase on any budget.
---
JENNIE WETTER

DESIGNATED BROKER + OWNER | INFINITY REAL ESTATE

AWARDED 5 STAR FIVE STAR PROFESSIONAL LEGEND | 700+ 2011-2021 SUCCESSFUL | 600+ SUCCESSFUL TRANSACTIONS TRANSACTIONS | 18 YEARS EXPERIENCE

| 17+ YEARS EXPERIENCE

200+ 5 STAR REVIEWS | CONSISTENTLY RANKED TOP 1% GIG HARBOR BROKER

Scan QR Code

For More Details

253.225.5602 JENNIE@INFINITYREWA.COM JENNIE@INFINITYPNW.COM JENNIEWETTER.COM 4221 HARBORVIEW DR, GIG HARBOR 98332

GIG HARBOR LIVING LOCAL jan/feb 2023 113
---
You need to get found on Google.

We will help you rank near the top without paid ads.

Learn more at www.searchmonster.io

114 GIG HARBOR LIVING LOCAL jan/feb 2023
---
Serving Olympic and Kitsap Peninsula Since 1974

SPECIAL

PRICING FOR

72 MONTHS

AVAILABLE

on qualifying equipment.

See dealer for details.

Subject to credit approval.

CALL OUR GIG HARBOR LOCATION (253) 525-4053

ActivePure Technology is scientifically proven to reduce SARS-CoV-2 novel coronavirus on

surfaces. ActivePure Technology was tested on live SARS-CoV-2 virus, not proxy or

surrogate strains.

The ActivePure Technology disinfection system is the safest, fastest and most powerful surface

and air-purification technology available that minimizes recontamination and cross

contamination in real time without the use of chemicals or ozone.

activepure technology

demonstrates a

99.98% Surface

kill rate

of sars-cov-2 virus

within 7 hours

Ventilation is an important factor in preventing the

virus that causes COVID-19 from spreading

indoors. Contact us for a consultation with a

heating, ventilation and air conditioning (HVAC)

professional.

3316 56th St. NW Ste. 103

Gig Harbor, WA 98335

LIC# AIRFL*1206DG

WWW.AIRFLOHEATING.COM

GIG HARBOR LIVING LOCAL jan/feb 2023

115
---
GIG HARBOR'S NEWEST LUXURY COMMUNITY

BY RUSH RESIDENTIAL

COME TOUR OUR MOVE-IN READY HOME

MODEL HOME OPENING

FEBRUARY 2023!

Historical Gig Harbor Waterfront just

minutes away!

• Covered outdoor living with Trex

decking

• Quartz countertops throughout

• Plank-style engineered flooring on

main floor & stairs

• Energy-efficient with heat pumps

• Electrical vehicle pre-wire in garage

• Dacor luxury appliances

• And so much more

116 GIG HARBOR LIVING LOCAL jan/feb 2023

TeamaAro.com

2727 Hollycroft Street, Suite 210, Gig Harbor, WA

253.677.3500

Dawn James

Sales Manager

NMLS# 487467

2727 Hollycroft St. Suite 360

Gig Harbor, WA 98335

253.988.0425

dawn.james@caliberhomeloans.com

caliberhomeloans.com/djames

PREFERRED LENDER

©

2022 Caliber Home Loans, Inc., 1525 S. Belt Line Rd., Coppell, TX 75019. 1-800-401-6587. NMLS #15622 (www.

nmlsconsumeraccess.org). This is not a commitment to lend or the guarantee of a specified interest rate. All loan programs

and availability of case proceeds are subject to credit, underwriting, and property approval. Programs, rates, terms, and

conditions are subject to change without notice. Other restrictions apply.