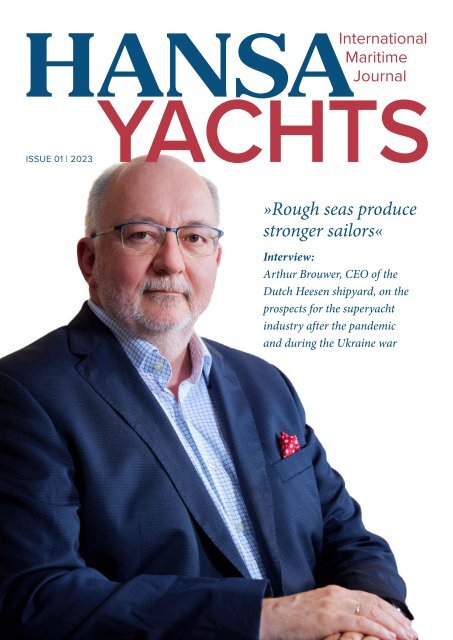 HANSA Yachts 01-2023
INTERVIEW WITH BENETTI PRESIDENT PAOLO VITELLI: »NOX REDUCED BY 80 %« | ENGINE ROOM WITH WALKWAY | ELECTRIC RECORD | INTELLIGENT ANCHORING | INTERVIEW WITH ARTHUR BROUWER, CEO OF SHIPYARD HEESEN YACHTS: »ROUGH SEAS PRODUCE STRONGER SAILORS« | HUISMAN: THE MASTER OF UNIQUENESS | ENGINE ROOM TALK: ALTERNATIVES FOR THE FUTURE | DAMEN YACHTING: WHAT A SONG! | ALTERNATIVE DECKING: GOING GREEN ON DECK | PROJECTS: FOUR-PACK FROM GERMANY | THE LEGAL CONSEQUENCE OF DELAY IN YACHT-BUILDING-AGREEMENTS
INTERVIEW WITH BENETTI PRESIDENT PAOLO VITELLI: »NOX REDUCED BY 80 %« | ENGINE ROOM WITH WALKWAY | ELECTRIC RECORD | INTELLIGENT ANCHORING | INTERVIEW WITH ARTHUR BROUWER, CEO OF SHIPYARD HEESEN YACHTS: »ROUGH SEAS PRODUCE STRONGER SAILORS« | HUISMAN: THE MASTER OF UNIQUENESS | ENGINE ROOM TALK: ALTERNATIVES FOR THE FUTURE | DAMEN YACHTING: WHAT A SONG! | ALTERNATIVE DECKING: GOING GREEN ON DECK | PROJECTS: FOUR-PACK FROM GERMANY | THE LEGAL CONSEQUENCE OF DELAY IN YACHT-BUILDING-AGREEMENTS
SHOW MORE
SHOW LESS
You also want an ePaper? Increase the reach of your titles
YUMPU automatically turns print PDFs into web optimized ePapers that Google loves.
International

Maritime

Journal

YACHTS

ISSUE 01 | 2023

»Rough seas produce

stronger sailors«

Interview:

Arthur Brouwer, CEO of the

Dutch Heesen shipyard, on the

prospects for the superyacht

industry after the pandemic

and during the Ukraine war
---
GD

GEORG DUNCKER

MARINE INSURANCE BROKERS

YACHT INSURANCE

Founded in 1870 by Georg Duncker, we are today one of the leading broking houses for

marine insurance in Europe. Well-recognized for its expertise and global reach, our marine

team offers a broad range of insurance services for yacht owners & managers.

HAMBURG

SINGAPORE

HOUSTON

ROTTERDAM

Alter Wall 20-22

+49 40 376004 0

hamburg@georg-duncker.com

80 Robinson Road, #16-03

+65 69163760

singapore@georg-duncker.com

1980 Poast Oak Boulevard, Suite 100

+1 786 577 4764

houston@georg-duncker.com

Westplein 12-14

+31 10 266 3842

rotterdam@georg-duncker.com
---
EDITORIAL

It's time for flexibility

Michael Meyer

Deputy Chief Editor

What is the course for yacht owners,

designers, builders and suppliers? Not

that there aren't regularly one or two

question marks in this industry. However,

several aspects seem to be culminating

at the moment. Inflation,

economic downturns, (still) supply

chain problems, (still) Corona restrictions

and, last but not least, the

turmoil resulting from Russia's war

against Ukraine are also casting their

shadows on the yacht industry.

So, there they are, the various uncertainties.

Not to mention the significant

environmental component: Decarbonisation

is no longer a strange

idea, not even in yacht building. As

with other shipbuilding markets, the

same applies here: Which card do you

play now, especially when it comes to

the choice of fuel or propulsion technology?

Who knows what will be

available when, how much and, above

all, where and at reasonably affordable

prices? At the moment, no one knows.

Therefore, flexibility is needed regarding

technologies, logistics and

customer groups – a task the yachtbuilding

industry must face.

But one thing is also clear: The industry

has already proven to be

relatively robust in the past. The market

has always reacted to the most diverse

shifts. It is likely to remain the

case in the future. As is well known,

the industry has no shortage of knowhow,

curiosity and creativity. That is

also necessary. When there are many

uncertainties, one must be prepared

for many potential opportunities and

markets.

The HANSA Yachts team has again

tracked down some interesting developments

and trends. Various shipbuilders

and suppliers are working on

innovative projects. Currently, of

course, the topic of »green yachting«

remains at the top of the agenda. This

issue focuses on hydrogen and methanol,

among other things.

This issue also takes a special look at

the Netherlands. In addition to a portrait

of the Royal Huisman shipyard,

there is also an exclusive interview

with Arthur Brouwer, CEO of the shipyard

Heesen Yachts. He talks about the

»post-Corona boom« from which the

entire industry will continue to draw

for some time to come, but also about

the consequences of the Ukraine war

and global economic trends.

He says that uncertainty is hard for

everyone to bear, »but although it

would be easy to fall into pessimism,

we are not yet on the edge of the cliff.«

Thanks to full order books, he expects

that most shipyards will be able to

bridge this period with relative ease

and absorb the drop in demand.

Heesen has orders for deliveries up to

2025, with twelve yachts currently

under construction. In competition,

the shipyard is counting on a certain

proportion of »speculative« builds for

which there is not yet a buyer.

Brouwer hopes this will bring advantages

in terms of shortened delivery

times and competitive prices.

He says it is necessary to be prepared

for various contingencies to keep future

viability ... True words – in these

times more than ever.

Enjoy the read!

HANSA YACHTS 01 | 2023

... you won't

find more!

Experience the history of seafaring

through the artefacts of the biggest

private maritime collection worldwide

at Hamburg's oldest warehouse in the

heart of the HafenCity.

KAISPEICHER B | KOREASTRASSE 1

20457 HAMBURG | PHONE: +49 (0)40 300 92 30-0

WWW.IMM-HAMBURG.DE

3

OPENING TIMES: DAILY FROM 10 AM TO 6 PM
---
HANSA YACHTS

3 EDITORIAL: IT'S TIME FOR FLEXIBILITY

6 YACHT INDUSTRY NEWS

11 INTERVIEW WITH BENETTI PRESIDENT

PAOLO VITELLI: »NOX REDUCED BY 80 %«

International

Maritime

Journal

YACHTS

12 ENGINE ROOM WITH WALKWAY

14 ELECTRIC RECORD

16 INTELLIGENT ANCHORING

18 INTERVIEW WITH ARTHUR BROUWER,

CEO OF SHIPYARD HEESEN YACHTS:

»ROUGH SEAS PRODUCE STRONGER SAILORS«

18

22

22 HUISMAN: THE MASTER OF UNIQUENESS

26 ENGINE ROOM TALK: ALTERNATIVES FOR THE FUTURE

30 DAMEN YACHTING: WHAT A SONG!

34 ALTERNATIVE DECKING: GOING GREEN ON DECK

30

38 PROJECTS: FOUR-PACK FROM GERMANY

42 THE LEGAL CONSEQUENCE OF DELAY

IN YACHT-BUILDING-AGREEMENTS

34

HANSA YACHTS

Responsible in the sense of the German »Pressegesetz«: Chief Editor Krischan Förster | redaktion@hansa-online.de

Editorial consultancy: Krall Media GmbH

Sales | Marketing | Advertising: Florian Visser | f_visser@hansa-online.de

Layout: Sylke Hasse

Schiffahrts-Verlag »Hansa« GmbH & Co. KG | Stadthausbrücke 4 | 20355 Hamburg | Germany

www.hansa-online.de | Phone +49 (0)40–70 70 80–0

4 HANSA YACHTS 01 | 2023
---
HANSA YACHTS

Joyful docking

To make the often arduous and errorprone

mooring process easier, engine

manufacturer Volvo Penta has now

launched a joystick docking system for

Aquamatic single drives. The device works

similarly to joystick controls on larger

vessels with multiple engines but is intended

as a simple one-handed control for

smaller boats with only one diesel engine

and the in-house Aquamatic sterndrive

system. With the push of a button on the

joystick control, all manoeuvring functions

– steering, gear shift, bow thruster,

throttle – can be controlled with just one

hand. A rotate function on the joystick

makes it easy to set a direction in which to

move the boat. It eliminates the need to

consider traditional factors such as

counterintuitive direction of travel, gear

selection and working with multiple controls,

replacing them with easy-to-learn

fingertip control. »By combining multiple

tasks into one easy-to-use system, we've

made it easy for people to avoid mistakes,«

says Jonas Welinder, product planner for

marine electronics at Volvo Penta. »Captains

have told us how this new control has

made them more confident – especially in

tight manoeuvres, crowded harbours and

strong currents. It's just more fun, relaxed

and comfortable to dock a boat with our

Volvo Penta joystick controls.« Volvo

Penta offers the Joystick Docking System

for new Volvo Penta Aquamatic Z-drives

with DPI or as a retrofit for existing Volvo

Penta DPI installations. The company also

plans to introduce the option without bow

thrusters in the coming months.

© Volvo Penta

Nobiskrug's »Miza« completes sea trials

Nobiskrug's 70 m project »Miza« has

completed technical sea trials in the Baltic

Sea. The superyacht is also known as

Project 795 and is scheduled for completion

in early 2023. She will be the first

delivery from the German shipyard

since it resumed operations following a

takeover in 2021. Project »Miza's« interior

and exterior design was created by

Winch Design. Prominent features include

a sweeping bow and angular

windows in the forward section of the

main deck. Onboard, a large sundeck

with a counter-current system, a

spacious swim platform and a beach

club with a spa area provide luxury.

»This superyacht is designed to provide

long-distance cruising with low noise

and vibration levels, which means exceptional

comfort for everyone onboard,«

explains Scott Wightman, who

represented the owner and construction

manager during construction. »In addition,

the vessel features extendable

azimuth thrusters with electronic anchor

function to maintain position in

areas where you can't drop anchor.«

Project Miza has a length of 70 m, is

12.4 m wide and has a draft of 3.6 m and

a volume of 1,900 GT.

New Managing Director at Lloyd Werft

The shareholders of Lloyd shipyard in

Bremerhaven, the Rönner Group and

the Gustav Zech Foundation, have appointed

Friedrich Norden as the new

Managing Director of Lloyd shipyard.

The previous project manager has

spent his entire professional career at

the German shipyard and has experienced

the company's ups and downs

from the beginning.

»I look forward to the challenges and

projects that await me at Lloyd and

thank the shareholders for their trust,«

Norden said. »I am certain that we will

be able to restore Lloyd shipyard to its

former glory despite the current difficult

conditions. To achieve this goal,

we have started dry docking and repair

work again for all ship types.«

Friedrich Norden started his career as

an industrial mechanic at Lloyd Werft

and later studied mechanical engineering

for two years. Since 2006 he has

been the project manager for major

newbuilds and conversions at the shipyard.

His grandfather Friedrich »Fiedel«

Norden, was already managing director

at Lloyd Werft for several years, and his

father held a position as project manager

until 1994. Friedrich Norden will

now continue the family tradition as the

third generation taking over the management

of Lloyd shipyard. Friedrich Norden

© Lloyd Werft

6 HANSA YACHTS 01 | 2023
---
HANSA YACHTS

Saving energy with electric stabilisers

In line with the ongoing electrification trend in the yachting industry,

SKF Marine has developed an electrically operated

stabiliser for superyachts that is versatile and actively saves

electricity.

Ship stabilisers have the task of preventing, or at least significantly

reducing, the rotational movement of a ship around its

longitudinal axis – rolling. The new type EFZ fin stabiliser

from SKF Marine offers effortless stabilisation for yachts over

50 m and is fed oil-free by a powerful and compact electric

drive. A gearbox with minimal moving parts ensures maximum

reliability and low maintenance. The fin is foam-filled

and consists of a single component, preventing water ingress.

Extremely smooth torque transmission provides precise fin

movement, providing increasing buoyancy and improved roll

reduction. The fin can be rotated 360°, which opens some

unique possibilities. For example, the unit offers an automatic

walkback function – without moving the vessel forward at zero

speed, and automatic heading assistance. The fins have an

adaptive start-stop operation for single or double fin mode,

allowing the stabilisers on each side of the vessel to operate

separately when required. »The future is electric – and so are

our marine stabilisers!« says Michael Christiansen, Sales and

The fin can be rotated 360°, which opens some unique possibilities

Project Manager at SKF Marine. »Our all-electric stabilisers

minimise noise and vibration and give yacht builders more options

to create space for yachting experiences beyond the traditional.

Increasing the stability of your yacht while stationary

and underway has never been so convenient.«

A special feature of the EFZ eStabiliser is the ability to save

power actively. The unit features an advanced energy recovery

system that uses the energy stored during cruising to power the

fin, minimising the vessel's power consumption. The stored

energy can be fed into the yacht's energy circulation system.

© SKF

When tradition meets innovation –

High quality gearboxes made in Germany since 1879

*equipped with

2 x REINTJES WAF 863

HANSA YACHTS 01 | 2023

www.reintjes-gears.com

7
---
HANSA YACHTS

One yacht, four modes

The »SeaCat« project emerged from a

collaboration between Rossinavi and

Fulvio de Simoni Yacht Design and is the

Italian shipyard's first multihull project.

The central theme of the project is solar

energy. »SeaCat« will therefore have four

different operating modes. The first is intended

for day trips, during which the

yacht can operate on just electric. The

second is for trips over several days, during

which some nights will also be spent

at anchor. On such trips, »SeaCat«

should be able to operate in »full-electric

mode« for 90 % of the time. On longer

voyages, such as an Atlantic crossing, the

Cat will still run in 80 % electric mode,

corresponding to a reduced CO 2

emission of about 40 t compared to a

traditional yacht of the same size. In the

last mode, nicknamed »wintering«, the

hybrid catamaran can be completely

energy self-sufficient in the harbour and

even feed excess energy into the marina

or private facilities.

»A sense of responsibility drives the

new generation of yachts,« says Rossinavi

Chief Operating Officer Federico Rossi.

»I wanted to set myself the goal of building

avant-garde products beyond the obstacle

that better express our meaning of

the cruising experience and increasingly

move in a more sustainable direction.«

Fulvio de Simoni Yacht Design is responsible

for the exterior design, which

has a sleek look that sets it apart from the

traditional image of catamarans.

The interior design, meanwhile, is

being created by New York-based design

firm Meyer Davis and is intended

to »complement the ultra-modern yacht

to bring relaxed luxury and sustainable

design to the fore,« according to a statement

from the shipyard. The decorative

elements will be inspired by nature, especially

the sun, the sea and the sand.

The interior design will focus on sustainable

materials to ensure the yacht

feels casual, light and warm. Highlights

on board include an expansive saloon,

spacious owner's suite and sundeck,

which are significantly larger than on a

monohull thanks to the Cat's width, and

the many relaxation areas. In addition,

»Sea Cat« has a sauna room in the beach

club area, a pool in the cockpit of the

main deck, a large forward outdoor

space with a Jacuzzi, fire pits and a cinema,

as well as an American bar on the

sun deck. The yacht accommodates up

to ten guests. The cabins are located in

the hulls and all are the same size, so

ideal for charter.

© Rossinavi

NextGen FUSION – the future of Internet on board

A reliable internet connection is a mandatory

feature on any superyacht these days.

Owners and passengers want to check their

mail, stream movies, or upload vacation

pictures to social media. But a stable Internet

connection is important not only for

the well-being and comfort of passengers

but also for navigation and safety aspects.

But depending on the yacht's location and

the number of people on board, it can be

difficult to ensure stable Internet access.

There needs to be more than the mobile

WiFi of end devices such as smartphones

or tablets is not sufficient here – especially

if the yacht is on the open sea, i.e., far away

from any transmission towers. In this case,

an Internet connection via satellite is often

the only solution. However, in most cases,

this is very expensive and has a severely limited

bandwidth.

OmniAccess, a company based in Mallorca,

specialises in Internet solutions for

superyachts and has introduced a new system

that is as effective as compact. With

the so-called nextGen Fusion technology,

the company can provide multiple network

connections simultaneously, ensuring

unrestricted connectivity on board.

»Fusion« combines global nextGen

broadcast VSAT (GEO) speeds of more

than 400 Mbps, 4G/5G mobile data connectivity,

local WiFi/WiMAX networks

and high-speed, low-latency Low Earth

Orbit (LEO) Internet into a single solution.

For example, LEO services covered by OmniAccess

include Starlink's recently deployed

high-speed broadband Internet access.

»Low Earth Orbit satellites orbit the

Earth at a distance of about 1,000 km,

while typical VSAT satellites fly in a geostationary

orbit of about 36,000 km. This

shorter distance reduces latency – the time

it takes for your data to travel back and

forth (RTD) from Earth to the satellite and

back again – by a factor of ten. This results

in a much lower price per Mbps and a

much better Internet experience,« explains

company founder Bertrand Hartman.

© OmniAccess

8 HANSA YACHTS 01 | 2023
---
HANSA YACHTS

Ocean Signal RescueME PLB3 wins DAME Design Award

The Ocean Signal RescueME PLB3 AIS

Personal Locato Beacon has been named

the overall winner of the DAME Awards

at METSTRADE 2022. The device is said

to represent a significant step in the evolution

of PLBs, combining an AIS manoverboard

device and GPS with a Cospas

Sarsat personal locator beacon, Galileo

return link service and integration of visible

and infrared signal lights. With its

blend of long- and short-range detection

technologies, the product offers the best

chance of survival in an emergency. In

naming the PLB3 the overall winner of

the awards, the jury recognised the impressive

combination of multiple technologies

in such a small device, and the

attention to design in every detail. In addition,

the judges highlighted Ocean Signal's

determination to produce worldclass

products capable of saving lives.

A total of 48 products in 14 countries

were nominated for the final round of the

DAME Design Award 2022.

Italian Sea Group reports strong increase in sales

The Italian Sea Group is a global player in

constructing and refitting motor and sailing

yachts up to 140 m. Recently, the

company published its quarterly annual

report from 2022 and, in the process, reported

a 65 % increase in sales and an

order backlog of nearly one billion euros.

The group reported total sales of over

210 mill. €, an increase of 64.6 % year-onyear,

and a gross order backlog in shipbuilding

and refit of 983 mill. €. »The results

of the first nine months of 2022 confirmed

strong and constant growth,

which allowed TISG to position itself at

the upper end of the 2022 revenue forecast.

With an EBITDA margin of 15.7 %

as of September 30, well above the target

already announced to the market,« said

Giovanni Costantino, founder and CEO

of The Italian Sea Group. »The soundness

of our strategy is also confirmed by the

success of our series projects, which have

already generated strong commercial interest

just a few months after their

launch, with the sale of two 50 m Admiral

Panorama motor yachts in the third

quarter of 2022.« Currently under construction

at The Italian Sea Group are 35

yachts, 19 superyachts and 16 Technomar

for Lamborghini.

and complete propulsion units

ACCURACY IS OUR KEY TO SUCCESS

made by

Schaffran HANSA YACHTS 01 | 2023

SCHAFFRAN Propeller + Service GmbH

Bei der Gasanstalt 6-8 I D-23560 Lübeck

Tel: +49 (0) 451-58323-0 I info@schaffran-propeller.de

www.schaffran-propeller.de

9

®
---
HANSA YACHTS

Superyacht under water

As the world leader in small submersibles,

Dutch manufacturer U-Boat

Worx has succeeded in developing a realistic

combination of luxury and safety in

a fully certified private submersible.

»Nautilus« is diesel-electrically powered,

has a diving depth of 200 meters, a cruising

speed of 9 kn on the surface and a

submerged speed of 4 kn. Above the

waves, »Nautilus« offers a huge sundeck

equipped with a freshwater pool, a bar

and a luxurious dining table. This facility

is retracted before the boat descends.

The interior of the »Nautilus« features

a 50 m2 dining and lounge area with four

circular windows, each nearly 4 meters in

diameter. This gives guests an unobstructed

view of the underwater world.

The proposed layout for the submarine

includes a master bedroom, four cabins,

and sleeping quarters for up to six crew

members. Also included is a fully

equipped galley.

The superyacht submarine can remain

submerged for up to four days. At

cruising speed, the endurance underwater

is six hours. When not in use, the

»Nautilus« can be docked at any quay

suitable for a draft of 6.5 m. A newly designed,

fully pressure-resistant electric

dinghy is stowed under the aft deck and

remains outside when diving. For

example, this tender, the »Aronnax,«

can transport up to five divers underwater

to the designated dive site. The

cost of the diving superyacht is around

25 mill. €. »People who have decided to

buy a conventional yacht now have to

ask themselves whether their vessel of

choice can also dive to depths of up to

200 m,« says Bert Houtman, chairman

and founder of U-Boat Worx. »Seasickness

in high waves is now history. When

the sea gets too rough, you dive and

continue your journey in comfort. With

the Nautilus, the yacht market will never

be the same.«

© U-Boat Worx

Separate yet connected

Dutch yacht builder Feadship recently unveiled

a new superyacht concept that

breaks completely new ground in terms of

accommodation. For example, the 87 m

EXPV concept, conceived by Harrison

Eidsgaard in collaboration with Feadship,

takes a completely new and unconventional

approach to large explorer

yachts. The most striking feature is the distinctive

split superstructure with the private

owner's area at the front of the yacht

and the guest area at the rear. The two

deckhouses can be reached via separate

staircases and lifts. The owner's and guest

accommodations are completely separated

from each other and connected only by a

floating glass bridge and the Ocean

Lounge, an expansive beach club on the

lower deck. »The glass bridge was a big

challenge and we worked closely with De

Voogt engineers to figure out how to make

it happen,« says Jan-Bart Verkuyl, Feadship

director and CEO at Royal Van Lent Shipyard.

»The bridge floating in the air is a

completely new idea and an engineering

feat.« The open deck above the Ocean

Lounge and under the glass bridge will

house the large tenders. Typical of an Explorer,

there is plenty of capacity for

tenders and dinghies – including space for

two 13.5 m long tenders with no height restrictions.

Additional tenders and toys can

be stowed in a side-opening garage under

the foredeck. Meanwhile, at the very front

of the bow, level with the bridge deck, there

is a cosy corner for sunbathing or al-fresco

dining. The owner's office is located aft of

the wheelhouse, while on the deck below is

a spacious and very private master suite. At

the top, the owner's area also features an

observation lounge with floor-to-ceiling

windows and a private terrace overlooking

the foredeck. The helicopter deck above the

observation lounge is fully certified and

has direct access to the owner's suite. There

are six guest suites in total, arranged on two

decks around the stern, all with sea views

and private terraces thanks to this unusual

layout. The guest deckhouse represents a

self-contained unit, with easy access to the

transport platform for swimming, accommodation

on the main and upper decks

and its own lounge and bar connected to

the owner's area via the glass bridge.

EXPV offers accommodation for up to

nine guests, 28 crew members and, of

course, the owner himself. A diesel-electric

propulsion system brings the Explorer

Yacht to a cruising speed of 14.5 kn. The

distance until the ship needs to be refuelled

will be around 6,000 nm.

© Feadship

10 HANSA YACHTS 01 | 2023
---
»NOx reduced by 80 %«

© Benetti

With the B.YOND, the Benetti shipyard developed an almost revolutionary model.

HANSA Yachts talked with president Paolo Vitelli about the project

The concept of the B.YOND has never before

been implemented on a yacht of this

size. Why has no one before you come up

with such a split-level layout?

Paolo Vitelli: Because no one has ever

asked such geniuses as Stefano Righini

– God rest his soul – and me (laughs).

But seriously, we have a lot of experience,

35 years of thinking about how to

optimise yachts – this B.YOND is perhaps

the essence of that. Just look at the

main deck. Flooded with light, with

hardly any interruptions and big

enough to host parties with 400 guests.

We've got an extreme amount of space

everywhere on board and made the

most of the 35 m in length and 12 m in

width.

How did the idea come about?

Vitelli: Back then, we were the first to put

a large GRP yacht on the water, and now

we are again the first to bring steel as a

material for yachts of this size. We dare

to leave the old familiar routes when it

makes sense. I wanted a stable yacht and

had customers like me in mind who

might want to spend a few months a year

on the yacht. Comfort, lots of windows

and a close connection to the outside

world were important guidelines. Stefano

was then instrumental in the design.

In addition, the yacht is exceptionally environmentally

friendly.

In what way is it environmentally friendly?

Vitelli:We're using exhaust gas purification

technology already used in the automotive

industry for Euro 6D diesel engines and

combining it with Siemens Energy's innovative

E-Mode hybrid system based on an

integrated add-on architecture. The result

is a straightforward management system

that allows switching from mechanical to

electric drive and vice versa. This innovative

solution offers the possibility to

choose between four different operating

modes. We arrive at an incredible range

that is almost double that of traditional navettas

of the same size – 8,200 nm at nine

knots in eco-transfer mode, in which the

two diesel generators are switched off, and

only one propulsion engine is running. Reducing

the fuel consumption and CO 2

emissions by up to 16 % and NOx

emissions by up to 80 % compared to traditional

propulsion systems.

Is the B.YOND an Explorer?

Vitelli:Yes, you can go almost anywhere

with the yacht. Owners should spend a lot

of time on board; that's what it's designed

for. In the meantime, we are already at a

double-digit sales figure shortly after the

launch. The exclusive furniture from

Giorgetti is worth mentioning here, as

well as the large tenders that allow you to

sail in areas that are too shallow for the

mother ship.

Paolo Vitelli

Is this yacht size currently in good

demand on the market?

Vitelli:Very much in demand, yes. Anything

under 500 GT is doing very well,

and anything under 40 m in length because

it can be used to access smaller

marinas. We have several models in this

size range – Oasis, Motopanfilo, and

B.YOND. Then above that comes the

Diamond, which is a real gem. If someone

is looking for a yacht between 30 and

50 m in length, he will find it with us.

HANSA YACHTS 01 | 2023

11
---
HANSA YACHTS

Engine room with walkway

With »Apho«, Lürssen put one of its latest

deliveries on this year's Monaco Yacht

Show which left a strong impression not only

by its design but also by some details hidden on

the lower decks. One of the yacht's most pleasantly

surprising areas is a glass walkway

through the engine room on the lower deck behind

a luxurious twelve-seater cinema and just

down the hall. This futuristic addition allows

the owners and guests to view the impressive

engines and mechanical spaces from above

whenever they like.

In the engine room, twin MTU 20V 4000

M73 engines propel the yacht to speeds of 18

knots and for up to 7,000 nm at 12 kn. Efficiency

and the desire to be as green as possible

was a key driver behind the engineering on

board. The yacht has an exhaust after-treatment

system that reduces nitrogen oxide levels

and generates less noise and vibration.

Similarly, every diesel generator set is

equipped with an additional heat exchanger,

which is used to heat an extra heat cycle connecting

the pool, jacuzzi and service water

systems. This helps reduce thermal energy

loss by repurposing it and reduces the need

for electric heating systems elsewhere on

board. »For Lürssen, the task was to build a

motor yacht for a repeat client, an upgrade

from his 86 m Lürssen, who had many years

of owning and chartering different types of

yachts behind him« says Peter Lürssen. »He

required top-notch design and engineering as

well as seagoing comfort for his family, guests

and crew. The launch of ›Apho‹ is a testament

to the excellent team of builders, designers

and engineers at Lürssen and the strong relationship

with the client. Lürssen prides itself

on meeting challenges, and this one was no

different.«

12 HANSA YACHTS 01 | 2023
---
HANSA YACHTS

HANSA YACHTS 01 | 2023

© Lürssen

13
---
HANSA YACHTS

© Sunreef

14 HANSA YACHTS 01 | 2023
---
HANSA YACHTS

Electric record

Sustainability is becoming increasingly

important even in super yachting,

which tends to be less than sustainable –

many owners, especially younger ones, demand

ecologically correct solutions. With

the Sunreef 43M Eco, the Polish shipyard

debuted what it dubbed the »ultimate ecocatamaran«

in January 2022, and the first

unit has been sold. Tim Quinlan, sales

broker at Ocean Independence, closed the

deal at the 2022 Monaco Yacht Show. He

comments, »After relatively long research,

we went to Sunreef with the proposal and

the client. This synergy between Sunreef 's

industry-leading experience in building

large superyacht catamarans and the

client's vision for their yacht meant that the

decision of which yard to use was made

very quickly.« Quinlan says the client, got a

taste for owning a large yacht by chartering

larger yachts. He first rented a format in

2017 and will now take delivery of his 43 m

long yacht in September 2025.

The 43M Eco's hull, superstructure and

other components feature integrated

solar panels that power the yacht with

green energy. At the same time advanced

hydrogenators generate clean electricity

for emission-free cruising, creating a virtually

infinite range.

Highlights of the 43M Eco include a

large »Ocean Lounge« aft that combines

the aft deck, swim platform and fold-out

balconies into a single space. The area

can be customised to meet each owner's

needs, including a massage room, bar

and fitness area. Dinghies and toys are

stored in the yacht's hidden aft garage; a

second sunbathing option is located on

the flybridge, complete with a spa pool,

oversized sun pads, a bar and dining area,

and outdoor cinema.

HANSA YACHTS 01 | 2023

15
---
HANSA YACHTS

Intelligent

anchoring

16 HANSA YACHTS 01 | 2023
---
HANSA YACHTS

Anchoring is part a yachts routine, but

numerous uncertainties can cause

headaches for the crew and skipper. The

grounds nature, the currents strength and

how the anchor comes to rest are among

the essential factors in anchoring, which

are often difficult to assess. Mistakes or inattention

can then quickly lead to catastrophes

– from collisions with other vessels

to running aground to damage to submarine

cables or pipes. The team at Swiss

Ocean Tech has therefore set itself the task

of making life on board easier and ensuring

increased safety when anchoring for boat

and environment alike. With the Anchor-

Guardian, the eight-person startup company

led by founder Thomas Frizlen has

developed an innovative piece of technology

that has the potential to become essential

equipment on private yachts and

boats as well as commercial vessels.

The device, inconspicuous at first

glance, consists mainly of a cylinder made

of SuperDuplex steel. Inside, however,

hides a lot of sensor technology and engineering.

The AnchorGuardian is installed as

a connecting piece between the anchor

and the anchor chain and is underwater

when used. There, the device collects a

wealth of information on bottom conditions,

anchor position, movement of the

anchor, force on the anchor and much

more. It then transmits the information via

ultrasound to a receiver on the ship's hull,

which in turn communicates with a Bluetooth-compatible

terminal and displays

the information clearly on the smartphone,

tablet or computer screen. This

gives skippers full visibility into all factors

of the anchoring process at all times. However,

the system provides not only information

but also concrete instructions

for action. A dynamic colour scale, for

example, provides information on how securely

the anchor is lying, taking all values

into account. If the display changes from

green to red, it is time to repeat the anchoring

process or look for another anchoring

location. In addition, the device

determines the ideal chain length for the

respective anchoring situation and provides

a corresponding recommendation.

According to company founder and

Managing Director Thomas Frizlen, the

environmental aspect also plays a crucial

role in anchoring. »A drifting anchor, for

example, causes considerable environmental

damage. Within minutes, the anchor

upsets the seabed and thus destroys

the sensitive ecosystem whose growth has

taken decades,« explains Frizlen. "AnchorGuardian

contributes to the protection

and preservation of the oceans,

seagrass and the animals living in them

by providing a wealth of information

when the anchor is being laid and raised

and during anchoring. For the first time,

smart anchoring is enabled by Anchor-

Guardian and will also minimise the risk

of drifting at anchor."

Currently, the AnchorGuardian is still

a prototype. After a successful sea trial,

the manufacturer is looking for more

captains willing to test the device on a

crossing. This is intended to optimise the

technology further before it is expected

to be launched on the market at the end

of 2023. The anticipated cost of the system

for superyachts of 30–50 m in length

is to be around 20,000–50,000 €.

© Swiss Ocean Tech

HANSA YACHTS 01 | 2023

17
---
HANSA YACHTS

»Rough seas produce stronger sailors«

Arthur Brouwer is the CEO

of the Dutch Heesen shipyard.

At the Monaco Yacht Show 2022,

we spoke to him about the latest

happenings in the market and

the impact of current crises

on the yachting industry

18 HANSA YACHTS 01 | 2023
---
HANSA YACHTS

© Heesen Yachts

Mr. Brouwer, in recent years more than

one crisis has had a global impact. To

what extent have these hard times affected

global wealth?

Arthur Brouwer: The Global Wealth Report

by Credit Suisse shows that by the

end of 2021, global wealth totalled an estimated

463.6 tn $. Showing an increase

of 9.8 % compared to 2020, far above the

average annual 6.6 % increase recorded

since the beginning of the century.

We are talking about an increase in global

capital. In which countries are most of

this global wealth concentrated?

Brouwer: At the top of the wealth pyramid,

the United States ranks highest by

far, with over 140,000 ultra-high-networth

individuals (those with wealth

above 50 mill. $), followed by China with

32,710 individuals. Worldwide, Credit

Suisse estimates that there were 62.5 milllion

millionaires at the end of 2021,

5.2 million more than the year before.

The number of millionaires worldwide is

on the rise. Is the same true for the

number of billionaires?

Brouwer: The SYBAss Economic Report

also tells us that the billionaire population

has risen 8 % annually over the last

two decades.

What does this mean for the superyacht

industry?

Brouwer: The superyacht market experienced

a boom after the Covid-19 crisis,

with record-breaking orders for superyachts

over 40 m in length: 134 in 2021

alone!

2022 became a memorable year, but unfortunately,

for the wrong reasons. Not

everything was positive: the invasion of

Ukraine by Russian troops triggered the

worst security crisis in Europe in decades.

What does this mean for the global

economy?

Brouwer: The economic damage from

the war in Ukraine has contributed to a

slowdown in global growth in 2022, and a

rise in inflation. In its July 2022 World

Economic Outlook update, the IMF

noted that global growth will slow from

an estimated 6.1 % in 2021 to 3.6 % in

2022 and 2023. That's 0.8 and 0.2 percentage

points lower for 2022 and 2023, respectively

than forecast in January. Following

the pandemic-related slowdown

in 2020, we experienced a surge in global

demand after the pandemic. Along with

supply chain disruptions due to closures

in China, increased raw material prices

and input costs. Russia's invasion of Ukraine

and its aftermath exacerbated the

problem. It also triggered a global cost of

living crisis and led to a humanitarian

disaster.

How badly has the yachting industry

been affected by economic instability?

Brouwer: Global economic uncertainty is

difficult for all of us to bear. But while it

would be easy to fall into pessimism, we

are not yet on the cliff 's edge. The post-

Covid boom for yachting is still creating

more demand than supply in our industry.

Thanks to full order books, I expect

that most shipyards, and certainly our

colleagues at the Superyacht Builders Association,

will be able to bridge this period

with relative ease and absorb the drop

in demand. That's not to say that everything

has been easy. At Heesen, we had to

deal with the consequences of the conflict

in Ukraine more than other players in our

sector. But overcoming obstacles is part of

our DNA. As most of you know, Heesen

has earned a reputation for finding sol-

HANSA YACHTS 01 | 2023

19
---
HANSA YACHTS

utions to design and technical challenges

to build some of the most extraordinary

and iconic yachts in history.

How is Heesen dealing with the current

situation, especially regarding the sanctions

against Russia and the resulting

seizures of yachts?

Brouwer: They say that rough seas produce

stronger sailors. Thanks to our solid

and reliable Dutch organisation, we

overcame the challenges and became a

100 % Dutch company. Today, our shipyard

is heading full steam ahead into the

second part of a stormy year. It goes

without saying that we will always respect

national and international laws and

comply with all international sanctions.

As for the yachts under construction for

Russian customers, this means that we

can continue building them, but we cannot

and will not deliver them for the time

being.

Has Heesen emerged stronger from the

crisis, all in all?

Brouwer: We have a strong workforce of

1,000 skilled and committed employees, a

full order book with deliveries until 2025,

and a healthy financial situation. So, we

can cope with the current hurdles, and we

are also ready to deal with whatever the

future may bring. Our shipyard in Oss

and our luxury outfitting plant in Winterswijk

are bustling with activity. Our

workshop is like a beehive of activity.

With twelve yachts under construction,

we have the perfect mix of full-custom

and fast delivery. We occupy a unique

position in the market – we are one of the

few Northern European shipyards with a

strong speculative program that shortens

delivery times and allows competitive

pricing for high-quality superyachts with

a proven track record.

So how many newbuilds have Heesen

been able to complete this year?

Brouwer: So far this year, we have delivered

three yachts. »Book Ends« and

»Ocean Z« are from our successful 50 m

© Heesen Yachts

20 HANSA YACHTS 01 | 2023
---
HANSA YACHTS

semi-displacement and 50 m fully displacement

series, and the unique Lusine

joins them. »Lusine« is an awardwinning

60 m, 1,079 GT motor yacht

with exterior lines designed by Omega

and the most complex interior ever designed

by Sinot. And she is on display at

this year's show!

These three yachts demonstrate the

exceptional capabilities of our shipyard.

We cater to customers who want to save

time without compromising on quality

and who want a unique yacht that is the

true expression of their personality and

lifestyle. We also offer Smart Custom

yachts to our clients. These are projects

that combine the best of both worlds.

Given these uncertain times, how is

Heesen Yachts going to position itself for

the future?

Brouwer: Recent times have forced us

to up our game. Contingency planning

will be critical to ensure success in the

years ahead. We are strengthening our

workforce by hiring new talent and

continually investing in our employees

through training. The people at Heesen

are our most important asset – it is

human capital that makes the difference

and enables our shipyard to deliver

yachts that are nothing but the best.

We are almost in our third year of

global logistical issues and shortages of

various components. To deliver our

yachts on time and on budget, we are

highly dependent on the reliability of

our supply chain. Our boats are made

from millions of parts. We have built a

good relationship with our suppliers

and partners to ensure that everything

is available on time. They have become

an integral part of our extended family

and contribute to our success. Without

them, none of this would have been

possible, and we are grateful for their

commitment and loyalty.

Finally, it should be noted that we are

constantly investing in research and development,

new technologies and design

to ensure a prosperous future for

our company.

HANSA YACHTS 01 | 2023

21
---
HANSA YACHTS

The master

of uniqueness

When it comes to complicated

custom projects, Royal Huisman

is considered one of the top

addresses in the world – not only

for sailing yachts

22 HANSA YACHTS 01 | 2023
---
HANSA YACHTS

Docks on the water, motoryacht »Phi« in front: Royal Huisman in Vollenhove

© Royal Huisman

They say that sometimes no choice is

the best choice. When deciding

where to build a custom sailing super

yacht over 50 m in length, it might be

true. This market niche is tiny compared

to the motor yachts sector and has been

barely active since 2008. However, in recent

years the increasing global wealth,

and trend to sustainable yachting, have

revived the attention to sailing super

yachts. Usually, clients set to build one

have vast experience in leisure yachting

and regattas. They know what they want,

and their expectations are high. They

often hire naval architects and designers

in advance to outline the future project

and then start looking for a capable shipyard

to build it. That is when the tricky

part comes. You can count the number of

yards with a solid financial position, sufficient

production capacity, required

skills and know-how on one hand. And

Royal Huisman is usually the first stop.

This typical Dutch family business

was founded in 1884 by Jan Huisman to

build small fishing and work boats.

Over the next hundred years, the company

switched to racing and cruising

yachts, changed from wood and steel to

light aluminium alloys, and moved to a

better location expanding facilities and

getting access to deeper water. By this

time, the brand developed a spotless

reputation and had been honoured

with the Royal warrant by the Dutch

government.

Every time I come to see what is going

on in Huisman's construction sheds on

the picturesque shore of the Vollenhoven

channel, I become convinced again and

again that the company's motto: »If you

can dream it, we can build it«, has a lot of

ground behind it. And here is why.

Driven by innovation

One should remember that there is no

such thing as a free lunch in engineering

and every design solution has its advantages

and price. Given that each of the

custom yachts is unique in engineering,

and equipment, it is wiser to establish a

solid holistic approach to designing and

project management to ensure optimal

results.

Based on years of experience Royal

Huisman has developed its smart engineering

framework, Featherlight. Its main

idea is to minimise the weight of the aluminium

structure, saving at least 10 %

without compromising strength characteristics.

As a result, the yard offers very

lite and high performance yachts with a

high level of luxury on board. Featherlight

allows Royal Huisman to build aluminium

yachts that are very close, if not equal, in

performance to more expensive and

sometimes less comfortable all-carbon

sailboats. One of the examples is Project

405, the luxury sloop (46,8 m) with high

racing capabilities that have recently entered

the final outfitting stage. It features a

carefully CNC milled and welded aluminium

hull, composite parts like carbon keel

trunk and deck house, and foam-cored interiors

with top-level finishing.

Jack of all trades

The sailing system is another crucial important

part of any custom super yacht,

and Royal Huisman also excels in this

department thanks to its sister company

Rondal. Located next door, Rondal develops

and supplies turn-key-ready solutions

making the shipyard selfsufficient,

cost-effective and more

profitable by executing contract work for

other brands, mainly Baltic Yachts. It

provides all the carbon composite production

for Royal Huisman, including

high-modulus single-section masts,

booms, spreaders, single-mold superstructures,

hatches, and various custom

components. Moreover, Rondal develops

and builds unique carbon captive

winches with electric or hydraulic engines,

smart electronic control, and

windup speeds up to 100 m/min. It is

worth mentioning that modern sailing

systems include numerous integrated

sensors to monitor load and stress. Royal

Huisman develops software for collecting

and analysing big data in-house to

improve future projects constantly.

The shipyard has all the primary skills

to build – not just assemble – very sophisticated

super yachts in one location and

HANSA YACHTS 01 | 2023

23
---
HANSA YACHTS

Lightweight sailing yachts made of aluminum are one of the shipyard's specialities

serves as a one-stop shop for the client.

This includes a complete furniture production

cycle according to the designer's

specifications. I am always amazed to see

all kinds of full-scale mockups made of

plywood in their carpenter's store. Sometimes

clients want to know how much

light will be in the bedroom (»Phi«), how

good the ergonomics of the steering

station (»Athena«) and the layout of the

lazarette (»Twizzle«); how spacious the

deck house is (»Aquarius«) or how steep

are the stairs. 3D modelling cannot

answer these questions, while mockups

help to make the adjustment at an early

stage to avoid surprises upon delivery.

Some years ago, Huisman built a small

custom sailing dinghy for one of their

clients and simulated various heeling

angles tilting it on the forklift! What a

meticulous approach!

Refit and pricing

Another important branch of the company

is the specialized Huisfit division. It

was set to provide refit and repair service

for sailing and motor super yachts of

major brands, including restoration of

historic vessels. However, bringing the

boat from Amsterdam to Vollenhove and

back is costly and makes small refits too

expensive. To solve this problem, the

company acquired the facilities of Holland

Jachtbouw in Zaandam after new

CEO Jan Timmerman stepped in. This

additional site with several sheds and

large quayside allows it to accommodate

yachts up to 100+ m and serves as a convenient

base for sea trials.

»For a long time, Huisman has been

building yachts on a cost plus price because

every next boat was more complex

than previous, explained Jaap Gelling,

technical director of the shipyard. – For

example, Jim Clark, the owner of »Hyperion«

(59 m, the largest sloop of its

time, that was delivered in 1998), requested

a system that would allow him to

log into his boat from the office in New

York via satellite connection and remotely

hoist the sails. Of course, at that

time, Huisman didn't have a ready solution,

so Jim sent IT professionals to help

us develop it for his boat. The first in the

world hybrid yacht (ketch »Ethereal«,

58 m, 2009) was also cost plus since it was

just not possible to quote for it. Nowadays,

it is different: fixed price and fixed

delivery time.

Since then, the company has managed

to master risk assessment and has increased

efficiency to the level that allows

it to deliver even more complex projects

while staying within the budget and remaining

profitable.

Not by sails alone

Although Royal Huisman is renowned for

its sailing boats, it also builds custom

motor yachts to diversify its order book.

When a very motivated, technologydriven,

and demanding client approached

the shipyard looking into building a sleek

and energy efficient 58 m vessel below

500 GT, they immediately jumped in. As a

result, the bespoke »Phi« designed by Cor

D. Rover and Van Oossanen Naval Architects

was delivered to the owner in 2021.

»We spoke with a lot of Dutch, German,

and Italian pedigree manufacturers

and every time got the response that

some of our ideas can't be done or shall be

implemented in a differently, – said »Phi«

owner's representative Guy Booth. – That

would seriously affect the boat's build

and philosophy behind it. We were very

frustrated and began thinking of sailing

boat builders since they got used to fitting

a lot of equipment into very tight

spaces. Royal Huisman was very responsive

and reassured us that they can build

such a yacht even though they have never

done something like this before.«

»Phi« is much closer to a sailing yacht in

terms of hull shape than one could think,

which is why the initial design brief fitted

very well for Royal Huisman. In fact, for

the yard, this project was more like a walk

24 HANSA YACHTS 01 | 2023
---
HANSA YACHTS

in the park since there was so much less

complexity than what they are used to.

There is another unique motor yacht

being built in Vollenhove at the moment.

Project 406 (52 m) will be the world's largest

and luxurious sportfish yacht upon

her delivery in 2023. Designed by Vripack,

this six-deck vessel has an Alustar

aluminium hull and superstructure to ensure

light weight and high construction

stiffness.

The current order book of Royal

Huisman looks very healthy. There are

six ongoing new build projects including

a 65 m ketch, »Aquarius II«, for returning

customer; the next world's largest

sloopProject 410 (85 m) designed

by German Frers, and a high-performance

sloop with retractable propulsion

(59 m). That is enough work for the next

few years; however, it seems that Royal

Huisman's team of bright professionals

is always eager to keep looking for more

complex tasks instead of resting on its

laurels. Inhouse expertise: Lots of systems and components are developed directly at the shipyard

© Royal Huisman

RESILIENCE at its most BRILLIANT

HANSA YACHTS 01 | 2023

www.jotun.com

25
---
HANSA YACHTS

Gaddafi's abandoned yacht to

become »Hydrogen Viking«

© Rory Coase

Alternatives for the future

The yachting industry is currently all about sustainability, decarbonization and alternative

fuels. Promising are propulsion technologies based on methanol or hydrogen – the first

projects dealing with these fuels are already underway

For example, engine manufacturer

Rolls-Royce and the Lürssen shipyard,

both big players in the yacht business,

recently announced at the Monaco

Yacht Show that the two companies intend

to work together to promote methanol

as an alternative fuel for yachts. The

aim of the joint venture is to establish

methanol as a fuel for yachts from 75 m

upwards.

As a synthetic fuel, methanol is produced

– ideally – using electrical energy

from renewable sources such as solar or

wind farms. During the production process,

carbon dioxide is extracted from

the atmosphere and converted. The

amount extracted is roughly equivalent

to the amount produced when an engine

running on green methanol is operated

– so this is a CO 2 -neutral propulsion

technology that also emits significantly

fewer particulates than a comparable

diesel engine and does not require any

SCR exhaust after treatment at all.

»Methanol is currently leading the discussion

on alternatives to fossil diesel,«

says Daniel Chatterjee, director of sustainability,

technology management and regulatory

affairs at Rolls-Royce's Power Systems

business. »Storage and use challenges

do exist because methanol is highly flammable.

But the fuel is liquid at normal ambient

temperatures, so similar to other

fuels, these challenges are safely manageable.«

Chatterjee and Peter Lürssen, shareholder

and CEO of Lürssen, discussed the

challenges and opportunities of methanol

as a fuel alternative together at the Monaco

Yacht Show. They also discussed the

fact that methanol has about 2.4 times the

volume of diesel for the same calorific

value. Accordingly, the fuel tanks on

board a yacht must be larger, which in

turn poses a challenge for naval architects

and marine engineers. »Our customers

want to use as little space as possible in

their hulls for propulsion and fuel storage,«

says Lürssen. »Methanol has disadvantages

in this regard compared to diesel,

but clear advantages over other fossil

fuel alternatives. We are now seeing that

today's prospective buyers of future yachts

are increasingly thinking about how they

can make the operation of their vessel as

climate- and environmentally friendly as

possible.« He said he is already registering

a growing willingness among future customers

to both invest in new technology

for climate protection and to provide

space for it in the ship.

Another issue is that the power output

of a methanol engine will be less than that

of a diesel engine for the same weight and

volume. »Despite increasing climate

awareness, we therefore first have to convince

our customers of methanol as a

26 HANSA YACHTS 01 | 2023
---
HANSA YACHTS

fuel,« says Justus Reinke, Managing Director

at Lürssen. In order to convince

customers already on land, Lürssen plans

to operate a stationary methanol cogeneration

plant together with Rolls-

Royce in one of the company's shipyards

as a demonstrator for customers. »At the

same time, the cogeneration plant will

serve as an additional energy source for

our shipyard, thus reducing our CO 2

footprint,« Reinke adds. Despite the adversity,

he is certain that the two companies'

venture will be a success: »Lürssen

and Rolls-Royce will write a piece of

yacht history together.« At Rolls-Royce, a

methanol engine based on MTU's successful

Series 4000 is already under development.

Sustainable propellers

Currently, »Che Guevara« is being converted

German to »Hydrogen propeller Viking.« manufacturer The Otto two Piening visual has design also taken of the a big zero-emission step towards yacht,

signer Rory Coase is responsible for the

MTU sustainability. 16V engines The and company the two was generators

pitch will be propeller replaced with by water e-motors, hydraulics a bat-

a few for years the ago. shipyard's The advantages refit customers of a PCP when

ahead of its which time will and serve introduced as a floating a controllable showroom

tery (Piening bank and Controllable fuel cells from Propeller) Toyota. with The water completed. hydraulics are »The manifold: vessel On will the serve one as a

pressurized hand, it is tanks of course for the cheaper required to use hydrogen

available will be everywhere located aft. and The comparatively direct hy-

inexpensive, pave the and way can for also further be easily projects. stock-

We

water instead technology of oil as a demonstrator lubricant, since and water should is

drogen ed. Unlike system oil, will there be is also made no risk visible of fire. But look probably forward the biggest to developing plus point is a the zeroemission

does not vessel cause that any will pollution. lead the Even way in

through sustainability a glass lazarette. aspect: The water spacious is regenerative saloon

in will the give event way of a to leak, a conference there would room be no environmental achieving global hazard. sustainability goals in

and

for up to 30 people. Bergen-based de-

the maritime sector,« Erichsen said.

Gaddafi yacht now H 2 showroom

A concrete yacht project using alternative

propulsion technology is being tackled by

the Norwegian shipyard Green Yacht.

The project is prestigious – not only because

of the innovative technology, but

also because it is a refit of a yacht whose

original owner was considered rather

controversial.

Indeed, the 28.75 m Sunseeker 95 Predator

with the illustrious name »Che Guevara,«

which is the subject of this project,

served for many years as a pleasure yacht

for the family of Libyan dictator Muammar

al-Gaddafi, who died in 2011. The

superyacht has a beam of 6.3 m, a draft of

1.6 m and a volume of 75 GT. Her exterior

design was penned by Don Shead Yacht

Design, while the interior was dreamed

up by Ken Freivokh Design. Superstructure

and hull are made of fiberglassreinforced

plastic (GRP). After the vessel

was beached in a Maltese shipyard in 2008

following reef contact, it was sold to

Green Yacht. The shipyard specializes in

developing zero-emission energy solutions

for the maritime sector. The former

Gaddafi yacht was ideal for the company's

purposes: designed for speed, with

a spacious engine room and a hull whose

size is perfect for a test project. She will

now be used to test an energy system on a

large scale, demonstrating the possibilities

that lie in using hydrogen as an energy

source for fast-moving yachts. »Our

goal is to be the first player in the world

with a multi-megawatt vessel about 100 ft

long that can reach high speeds without

relying on fossil fuels as a backup energy

source,« says Christian Erichsen, project

manager at Green Yacht.

environmentally friendly

becker products

SAFE LFP BATTERY

COBRA

• DNV Type Approval

• ESTRIN compliant (IEC 62619 & 62620)

• Superior energy density

• Compact and light-weight battery system

• Integrated Battery-Management-System

• Air or water cooling

• Scalable and modular rack system up to several MWh

• Inherently safe LFP battery chemistry for highest safety

• Environmentally friendly cobalt-free battery

Manoeuvring

Systems

Energy-Saving

Devices

Battery

Systems

478 kWh

COBRA Battery System

www.becker-marine-systems.com

HANSA YACHTS 01 | 2023

27
---
HANSA YACHTS

Sustainability – with safety

When it comes to alternative drive technologies,

battery systems are also often a

topic. After all, the energy generated by

methanol or hydrogen-fed electric motors

has to be stored somewhere. For

75 years now, the Hamburg-based company

Becker Marine Systems has stood

for innovative solutions in the maritime

sector. Specializing in commercial

vessels such as freighters and tankers,

the company has already equipped over

8,000 ships with its state-of-the-art maneuvering

and battery systems. However,

the yacht building sector has also

been increasingly moving into the company's

focus for some time. With the

Cobra system, Becker Marine Systems

now offers an innovative, safe and compact

battery system based on LFP cells

that has been specially developed for

maritime applications and is also ideally

suited for superyachts with electronic

propulsion technology.

The weak point of many battery systems

is a high flammability in case of

damage or short circuit. The nickelmagnesium-cobalt

compound used in

most batteries has a high thermal conductivity

and, once ignited, is very difficult

to extinguish. In contrast, LFP cell

technology, based on a lithium iron

phosphate mixture, is non-flammable,

non-explosive and can withstand even

extreme temperatures and damage.

»The safety of batteries for maritime

projects is being addressed on many levels

right now, and so the LFP cell technology

we use offers a clear advantage

due to its intrinsic safety,« says Jan

Kiehling, sales manager at Becker Mar-

Evolution from MTU

MAN XV12

Rolls-Royce's well-known MTU engine series is also evolving

in an environmentally friendly direction. The company plans

to offer its MTU 1163 and 8000 series as IMO III-compatible

variants soon. Rolls-Royce is developing the exhaust gas after

treatment with an SCR system required for compliance with

the IMO directive so that it can be specifically adapted to

MTU engines and customer requirements.

© Rolls-Royce

MAN, the engine manufacturer, based in southern Germany,

is also pursuing a sustainable strategy. Just recently, the

group unveiled its new MAN V12X engine series. For the

first time, the model offers an output of up to 2,200 hp from

30 l of displacement and several other innovations and improvements

over its predecessors. In addition, the engine

complies with current emissions regulations such as IMO

Tier III and is compatible with MAN's hybrid system, the

»MAN Smart HYBRID Experience«.

© MAN

Electronic propulsion technology

UK-based Ecomar Propulsion is launching a new range of

outboards that are both highly efficient and carbon neutral.

With a power range from 80 kW to 200 kW, the Årka engines

have a number of patented features and offer a unique modular

component. Årka outboard engines are designed to make

replacement and repair incredibly efficient and costeffective.

For example, the modular design allows drive heads

or lower sections to be replaced in hours. Each outboard

comprises individual modules, which can be quickly replaced

by two people using hand tools and minimal lifting equipment.

In addition, the units are made of 95 % recyclable materials.

Meanwhile, the high-voltage equipment is housed in the

drive head, an IP68 sealed unit. The covers are made of rugged,

impact-resistant recycled material. All Årka motors feature

integrated grab handles and quick-release power connections.

The mirror mounts and tilt-trim mechanisms are

designed to fit standard BIA templates, saving retrofit time

and cost.

28 HANSA YACHTS 01 | 2023
---
HANSA YACHTS

© Becker Marine Systems

ine Systems. »The most important issues

during development, in addition to the

highest possible energy density, were

safety, sustainability and low weight.«

Another advantage of LFP cell technology

is that no heavy metals, such as

cobalt, are used in the production of the

battery system. This, combined with an

extremely long service life and high

recyclability, makes the Cobra system a

high-performance and environmentally

friendly alternative. Thanks to its

modular design, the storage capacity of

the system can be adapted as required.

The individual storage modules are located

in standardized racks, forming

compact battery units that can hold up

to 1,000 V DC. Depending on the application,

Becker Marine Systems offers

the system with water or air cooling.

The technology is also DNV-certified

and complies with the ESTRIN standard

(European Standard of Technical

Requirements for Inland Navigation

Vessels).

The yachting industry is therefore

long past the point where hydrogen and

methanol were merely hypothetical

propulsion alternatives. Concrete projects

are already being built and the corresponding

equipment is being developed.

Whether the technologies will become

established in the future is another

matter: here, of course, it also

depends on the owners and customers,

who must bring along a certain degree

of openness and show willingness to invest

their money in the green alternatives.

HANSA YACHTS 01 | 2023

29
---
HANSA YACHTS

What a song!

Damen Yachting brought a new bestseller to

the market. For the propulsion of the Amels 60,

the shipyard took a holistic approach

S

howcasing »Come Together« in Monaco this fall was quite important for

Damen Yachting since she is the first hull of the Amels 60, which belongs

to the second generation of the Limited Edition series. You may be confused

by now, so let's explain briefly.

Being one of the leading Dutch superyacht builders, Amels is a part of the

renowned Damen Group. Its owner, Kommer Damen, recently honoured

with the Lifetime Achievement Award, is an apologist of standardised shipbuilding

and extends this approach to luxury yachts. That is why for many

years, Amels used to build semi-custom vessels providing solid engineering,

competitive prices and relatively short delivery times. Their Limited Editions

series had several models ranging from 55 to 83 m with an exterior design by

Tim Heywood. Their high sales proved the success of Damen's business

model and provided a broad community of loyal customers. When the time

to evolve had come, Damen Group decided to consolidate the Amels and

SeaXplorer (yacht support vessels) brands under the umbrella of the Damen

Yachting division, followed by updating the Limited Editions series to the

second-generation models. The first bird, Amels 60, was introduced at Monaco

Yacht Show 2019, and since then, six units have been sold.

30 HANSA YACHTS 01 | 2023
---
HANSA YACHTS

HANSA YACHTS 01 | 2023

© Damen Yachting

31
---
HANSA YACHTS

How could one explain such a success when

five contracts were inked before the first yacht

touched the water? Above all, Amels did their

homework listening to the owners of their bestselling

Limited Editions 180 and carefully considering

what should be significantly improved

and what should receive minor updates. As a result,

the new yacht became 5 m longer, gained

roughly 170 GT of volume, raised the level of

her main and upper decks, and the exterior design

became more appealing to the younger

clientèle. The credit for the latter goes to Monaco-based

Espen Øino International studio that

succeeded Tim Heywood. The uncluttered exterior

design of Amels 60 has several significant

eye-catchers, like trapezium-shaped panoramic

windows on the main deck, quite a distinct

teak-faced transom, and a gigantic two-level

sundeck with a black hardtop and radar mast.

Given that »Come Together« has a very specific

colour scheme where the caramel brown hull

contrasts with snow-white upper decks, teak

surfaces, and multiple black elements, I can assure

you that there is no other yacht like her.

Original Amels 180 is a truly sea-going vessel.

It was proved by Gene Machine, whose owner,

American scientist Dr. Jonathan Rothberg,

cruised around Svalbard reaching a latitude of

81°44' N. Amels 60 has fully inherited the ability

to cope with high seas and, according to the captain

of »Come Together«, he brought a brandnew

vessel from the Netherlands to the Mediterranean

over the lumpy Biscay with no sweat.

Thanks to the almost vertical bow and high bulwarks,

she does not experience slamming or take

too much water on her front deck when crushing

the waves. This well-protected deck serves as a

garage and can accommodate the largest tender

for a yacht of this size. The case of »Come Together«

is a nine-meter composite boat built by

Yacht werft Meyer. It is launched by a large crane,

and there is a second tender as well as a couple of

jet skis sitting next to it. This fleet of water toys

provides enough support in remote locations

and allows the guests to have a lot of fun. By the

way, the front part of the sun deck serves as a

touch-and-go helipad when the railings and

free-standing furniture are removed.

In terms of the available guest area, the sundeck

of Amels 60 surpasses its bridge deck and is

one of the main selling points of this yacht. It

boasts a large jacuzzi, bar, and dining table and

may serve as an open-air gym and superb party

stage. The client asked Amels to add glass windscreens

on three sides of the hardtop to protect

the dining from the elements. It turned out to be

a very nice optional feature that allows extending

the season and does not affect the exterior design.

The vessel named after the famous Beatles

song »Come Together« is a highly customised

yacht. Although her experienced owner down-

32 HANSA YACHTS 01 | 2023
---
HANSA YACHTS

graded from his previous Amels flagship,

he did not compromise on the personal

touch and luxury interiors. Famous British

Winch Design studio that knows his

habits and tastes very well has created a

fabulous interior decoration, bringing the

real home atmosphere on board. There is

a rich selection of natural materials, including

eel skin and Angel's hair marble, a

fine balance between wood and stone, and

an astonishing variety of shapes and textures

in the neatly zoned guest areas. Custom-designed

furniture nicely blends with

inlaid floors and tray ceilings. The wizards

of details, Andrew Winch and his team

managed to translate the luxury in that

special way when you feel the pedigree by

the sixth sense, and the interior never

seems boring. While some design elements

may seem to be simple, they are

not. For instance, it took a year for carpenters

to shape and install the twisted

wooden cage around the internally lit central

column of the main stair. Just try to

imagine playing a huge wood tower game

for twelve months!

There is also one crucial change in the

layout of the Amels 60 compared to its predecessor.

Four guest cabins on the lower

deck are now directly connected to the

beach club. Passengers will not need to go

up and down again to reach the sauna,

gym and swimming platform. While it is a

standard setup for much larger yachts,

there are not many 60 m boats around

with this setup. What is also significant is

that the Amels 60 has hybrid propulsion by

default. Being optimistically conservative

when talking about new technologies, the

shipyard joined the green trend quite late,

delivering its first hybrid boat, »Volpini 2«,

in 2018 when she became the world's first

IMO Tier III compliant super yacht. Instead

of simply following the fashion for

hybrids, Amels took a holistic approach

analysing the fleet data from operating Limited

Editions yachts and developing an

efficient yet economically feasible system.

After it was tried and tested, the company

decided to have it as a standard for secondgeneration

models.

This diesel-electric propulsion system is

quite typical and consists of main engines,

variable speed generators and a battery

bank for peak shaving and energy storage.

However, as usual, the devil is in the details

of the power management system that

minimises energy waste. For example, in

Eco mode (7–14 kn), the main diesel engines

provide propulsion and generate the

electricity to top up the batteries that return

it to the electric motors. Easy to say, but

hard to achieve! Full throttle mode involves

all available power sources, including generators,

to provide a top speed of 15.5 kn

and supply full hotel load.

However, paying a premium for hybrid

propulsion, owners want to feel its benefits

and not just look at the numbers on

paper. That is when the time comes for

silent cruising and serenity modes. The

first one allows the Amels 60 to glide

quietly at 5–7 kn using electric motors

powered by batteries and generators. The

extensive sound insulation prevents

noise and vibration from escaping the

engine room. As a result, the passengers

hear more of the water's melody than the

machinery's rumble. Finally, the batteries

alone can provide enough energy to

cover the main hotel load when the yacht

lays at anchor.

Specifications

Length overall

Beam

Draught (full load)

Displacement

Maximum speed

Range (13.0 kn)

Passengers

.................. 60.00 m

................................. 10.40 m

............ 3.35 m

.................... 839 GT

............... 15.5 kn

............. 4,500 nm

............ 12 in six cabins

Crew ............................................ 13

Exterior design .......... Espen Øino

Interior design ...... Winch Design

Shipyard ............. Damen Yachting

© Damen Yachting

HANSA YACHTS 01 | 2023

33
---
HANSA YACHTS

Going green

on deck

EcoTeak: made of recycled

teak and plastic bottles

© EcoTeak

34 HANSA YACHTS 01 | 2023
---
HANSA YACHTS

Teak is one of the most resistant woods of all, has a durability of at least 25 years and

acquires a beautiful patina over time. Soon, however, the billionaires of this world will

probably have to tick something else in the options list of their super yachts

Due to its water-repellent properties,

durability and robustness, and highquality

appearance, teak has always been

a popular raw material for producing

deck coverings on yachts. Hardly any

other wood can compete with it, there

was virtually no alternative to teak in

shipbuilding for a long time. With society's

growing environmental awareness,

however, it is becoming increasingly clear

that the use of teak is rarely sustainable.

After all, the teak tree only grows in

tropical areas such as Indonesia or Thailand's

warm, humid climate. Valuable

rainforests, therefore, have to be cut

down to produce teak. In addition, there

is a long and energy-intensive transport

route to Europe.

Various suppliers have now addressed

this problem and offer alternatives in the

form of unique woods, synthetic materials

or certified sustainably grown teak.

Specialising in marine decking, German

company Wolz Nautic has developed

a sustainable decking system designed

to function as a full-fledged alternative

to teak. The system uses a weightand

noise-reducing 3D cork as a levelling

material and a long-term tested, doublemodified

wood from sustainable forestry.

The so-called Tesumo wood has the same

properties as teak in almost all respects

but differs significantly from traditional

deck lumber in one key respect: it is

based on sustainably grown wood from

politically safe regions. It was developed

as part of a joint research project between

the Lürssen shipyard and the German

University of Göttingen. Tesumo is

manufactured in Germany from natural,

rapidly renewable wood and refined in a

three-stage modification process. The

wood has a rich, golden-brown colour

and high-quality texture and combines

technical properties such as dimensional

stability, weather resistance and natural

durability that rival those of teak.

A different approach is taken by the

company Flexiteek. By extruding

»planks« of PVC, the company, founded

in 2000, has created an innovative product

that is visually almost indistinguishable

from teak while offering significant

performance advantages. The synthetic

decking system has a shape-matching

underside that provides better adhesion

and adaptability to boats of all shapes

and sizes. According to the manufacturer,

the material cools 30 % faster than

conventional composite deck coverings

and is about 35 % lighter at 4.5 kg/m2.

This makes it ideal for performance

yachts and sports boats where every

gram counts. In addition, the material

requires much less maintenance than

teak – regular hard scrubbing or expens-

Areas like super yacht garages are ideally suited for artificial teak

© Benetti Yachts

HANSA YACHTS 01 | 2023

35
---
HANSA YACHTS

One of the most famous aft decks in the world. Will we see these areas

covered with alternative materials in the future?

© Nuvolari-Lenard

ive cleaning and sealing applications

are not necessary. Stains from oil, wine

or fish blood can be easily removed

with soap and water. Because it is a

synthetic material, Flexiteek can be

manufactured in various of custom designs

and colours – a distinct advantage

over teak. The system is already

used by more than 200 of the

world's leading boat builders.

EuroDesign, meanwhile, is on an

highly sustainable track. The company

manufactures teak decks from wood

harvested in Indonesia on FSCcertified

plantations. The FSC certificate

is the most globally recognised

and strictest certification program for

sustainable forest management. But it

gets innovative with EcoTeak – a deck

covering made from recycled teak and

old plastic bottles. More specifically,

EuroDesign uses the wood waste produced

in the manufacturing of teak

decks in conjunction with recycled

plastic bottles to create a luxurious alternative

to traditional teak decks. The

36 HANSA YACHTS 01 | 2023
---
HANSA YACHTS

material created by the recycling process

is extremely durable, long-lasting

and customisable, has similar anti-slip

properties to teak and requires significantly

less maintenance than tropical

wood. EcoTeak is available in three

colours as standard but can be supplied

in any colour upon request. It is an environmentally

friendly and less expensive

product than traditional teak

solutions.

Another environmentally friendly

alternative to teak is Esthec Nautical

Decking from the Esthec company.

The decking system is based on a patented

biobased thermoset material

that is different from any other decking

available on the market. While

most other solutions are based on

thermoplastic materials containing

PVC or wood, Esthec does not use

these two ecologically questionable

raw materials. It is a solid material

consisting of natural components,

fibres, colour pigments and fillers and

is relatively light at 7.8 kg/m2. Visually

and haptically, the decking boards are

in no way inferior to natural teak. In

terms of flexibility and adaptability,

the synthetic material is even far

ahead: Esthec's unique production

and application process allows designers

to incorporate any imaginable

design. From abstract patterns and

geometric motifs to text and logos –

there are no limits to the imagination.

Esthec was certified to the international

ISO 14001 standard for a sustainable

environmental management

system in 2002.

However, if you want to experience

the charm of real teak on your yacht,

you can also opt for sustainable solutions.

It is possible to grow teak in a

controlled, sustainable way, as the

company GreenTeak from Thailand or

the already mentioned company Eco-

Teak does. However, the supply chains

from Asia are not exactly reliable at the

moment – which is why the vanStyn

company is breaking new ground and

operating FSC-certified teak plantations

in South America.

Boat builders and owners are now

spoiled for choice with all these alternatives

to conventional, ecologically

problematic teak. Whether one

chooses real teak, a different kind of

wood, or a synthetic material is ultimately

a matter of individual taste –

and price. The decks of the 66 m »Okto« are covered with Esthec

© Esthec

HANSA YACHTS 01 | 2023

37
---
HANSA YACHTS

Four-pack from Germany

German yacht builders Nobiskrug, Lloyd Werft, Meyer Werft and Abeking & Rasmussen

plan exciting projects for the owner of tomorrow. Wind and solar power are on the agenda

as well as extravangt designs and the world's largest superyacht

With its catamaran concept »Albatross«,

the Lloyd shipyard from

Bremerhaven has presented a project that

is as spectacular as it is sustainable, with

which it aims to counter climate change

and rising energy prices.

The twin-hulled concept measures

125 m in length, 29 m in beam and has a

draft of 5.6 m with a measurement of

10,000 GT. The mega yacht is designed

to use free fuels such as wind, solar and

water as energy sources, reducing its CO 2

footprint and energy consumption by

about 40 %. This minimises the yacht's

environmental impact and significantly

reduces operating costs. This is achieved,

among other things, by what is probably

the most striking feature of the »Albatross«

– the rigid wing sails with a surface

area of 1,000 m2. These can be

folded in when not in use and support

the ship's propulsion with a free propulsive

power of about 1,200 kW in favourable

winds. The sails alone should

be able to propel the ship to a speed of

7 kn. Another power source will be the

solar panels, which measure 1,150 m2

and can harvest an average of 120 kW

per hour over 24 hours. Thanks to the

additional five vertical wind turbines installed

on the upper deck, »Albatross«

can generate up to 50 kW of electricity

per hour in good conditions, both during

the day and at night.

The concept also provides for a division

into two operating modes. In anchor

or port mode, energy is generated by six

methanol fuel cells, each producing

200 kW, with support from the wind and

solar generators. A lithium-ion battery

stores energy around the clock. If the methanol

fuel is ever unavailable – for

example, due to a tight market or because

the ship is in a remote location – the

required energy can be generated by one

of the two 1,000 kW shaft generators,

each located at the gearboxes of the main

propulsion system. In cruising and sailing

mode, the catamaran is powered by

four 1,800 kW main engines running on

conventional fuel – but consumption is

significantly reduced thanks to the fixedwing

sails. Economically, »Albatross« is

expected to cruise at 12 knots, with a top

speed of 15 knots.

The interior and exterior, designed by

Stay Star Design, are dominated by sustainable

and low-maintenance materials.

Amenities include a large gym, spa,

and multiple dining areas and lounges,

providing enough space for up to 14

guests on board. Outside, the yacht features

an infinity pool and beach club

near the stern swim platform. An area

of 2025 m2 is reserved for owners and

guests on board, and 1750 m2 are available

for a crew of up to 46 people. The

»Albatross' concept emphasises on details

in all interior and exterior areas,

using lightweight and sustainable materials.

At the same time, all materials

have been designed to be easy to maintain

so that the areas always look fresh

and new,« explains Friedrich Norden,

Head of Projects & Sales at Lloyd Werft.

Lloyd Werft's catamaran concept »Albatross«

© Lloyd Werft

38 HANSA YACHTS 01 | 2023
---
HANSA YACHTS

Nobiskrug's »Bullseye«-concept

© Nobiskrug

Nobiskrug with 80 m »Bullseye«

German shipyard Nobiskrug has begun

work on an 80-meter superyacht with five

decks. The contract was awarded by international

superyacht broker Cecil Wright in

July of this year and is scheduled for delivery

to the owner in 2025.

In close consultation with the future

owner, broker Cecil Wright & Partners

chose the internationally renowned Rensburg-based

shipyard to construct the custom

superyacht, which has impressed

with its recent builds such as »Artefact«.

The impressive exterior and elegant interior

design of the new superyacht project,

named »Bullseye,« were penned by

London-based Winch Design. The collaboration

between Winch Design and

Nobiskrug represents a proven synergy

that has already been used several times

in successful superyacht projects. »Bullseye«

features a spacious interior as well

as an expansive beach club and spa and is

very much in the tradition of exceptional

superyachts from Nobiskrug. »Winch

Design is delighted to continue its longstanding

partnership with Cecil Wright

and Nobiskrug to design and deliver another

incredibly exciting superyacht. The

project will be unique and tailored to the

owner's high expectations,« comments

Jim Dixon, Director of Yachts and Aviation

at Winch Design.

Nobiskrug will be responsible for all

engineering, ensuring the highest quality

standards and high standards of sound

and vibration. In addition, throughout

the design process, to keep energy

requirements as low as possible, the design

of all systems for the vessel's operation

will be strictly monitored. »We have

held our own in a high-demand market.

We won this contract because our goal as

a German shipyard is to combine the latest

technology with the highest quality

and we have the expertise to implement

the owner's unique wishes,« says Philipp

Maracke, managing director of Nobiskrug.

Handover of the ship to the owner,

who wishes to remain unnamed, is

scheduled for 2025.

Your reliable

propellershaft

seal solution

since 1995

HANSA YACHTS 01 | 2023

39
---
HANSA YACHTS

Extravagant Explorer

In Lemwerder by the Weser, Abeking &

Rasmussen has been building large firstclass

yachts for over a hundred years, and

their quality is well known in all parts of

the world. The cooperation with the design

studio Valentin Design from Switzerland

has now resulted in an explorer

yacht for which the title »unique« is unquestionably

appropriate.

As an explorer, the yacht named

»TIME« is suitable for cruising in cold

and warm waters and offers a vast living

space on seven decks. Externally, the Explorer

features an unusual design with an

axe bow and large glass areas that appear

to extend over several decks.

Valentin Weigand, founder of Valentin

Design, explains what makes »TIME« so

special: »This project is unique because it

opens up the possibility of making the

most of every single minute spent on

board.« One important element is the

yacht's exclusive features. »The equipment

of »TIME« will make for unique

moments,« continues the young designer.

»These include an extra-wide duplex

owner's suite, a certified helicopter platform,

a submarine as well as an observation

deck and other great elements.« The

extravagant Explorer is designed as a versatile

platform intended for adventurous

exploration in all climates. As such,

»TIME« is designed to be not safe and extremely

seaworthy and offer extreme luxury

indoors and outdoors.

The centrepiece is the maisonette-style

owner's suite, which spans 165 m2 on the

main and upper decks. It includes two

bathrooms, a discreet office and a private

terrace with a Jacuzzi in the bow. The interior

is coordinated to the smallest detail:

Wool and silk carpets, marble surfaces,

and warm, homey woods tell a

story of craftsmanship, comfort and freedom.

The concept is intended to create an

atmosphere of personal openness. The

remaining guest accommodations are divided

between two VIP suites and four

double cabins. Below the deck are berths

for 26 crew members.

Other standout features include a heliski

room, three swimming pools, a German

brewery, a gym, a sundeck cinema

and two Nemo lounges. Another lounge,

called the Gentleman's Retreat, is located

below the helipad and offers a more informal,

social space with darker colours

and a central fireplace and wine cellar.

From here, a corridor leads amidships to

a »sports club« with a pool table. A walkthrough

crow's nest that rises above the

yacht's superstructure provides unparalleled

and unrestricted views of the surrounding

area. As befits a superyacht,

there is, of course, an extensive fleet of

tenders on board.

»TIME« will be equipped with a dieselelectric

propulsion system and POD

drives, providing it with a range of

5,000 nm. The yacht will cruise at 14 kn

and will be able to reach a maximum

speed of 16 kn.

Explorer project »TIME«

by Abeking & Rasmussen

© Abeking & Rasmussen

40 HANSA YACHTS 01 | 2023
---
HANSA YACHTS

The »Two10« illustrating the capacities

of the Meyer Group »in every respect«

© Meyer Yachts

World's largest superyacht project

The Meyer Yachts brand has unveiled its

second superyacht project at the Monaco

Yacht Show. Last year, Meyer presented

the 150m long »One50«. Now the

shipyard's portfolio is being complemented

by the impressive 210 m

»Two10« equipped with green propulsion

technology: a project of superlatives

that will stand at the top of the

world's largest yachts when completed.

Highlights on board include a helipad at

the bow that can be converted into a

tennis court if required, a beach club

that extends over two decks and the largest

glass pane ever installed on a yacht,

through which guests can look out to

sea aft. The design of the Two10 also focused

on novel solutions. For example,

drones are also used on the helipad for

passenger transport and can be recharged

immediately with the green

electricity generated on board. Lars

Kruse, sales manager at Meyer Yachts,

says: »The Two10 illustrates the capacities

of the Meyer Group in every respect,

and we are currently very pleased

with the response to our yacht activities.«

Meyer Group has its roots in the

cruise sector and can build yachts up to

500 m in length at its Papenburg shipyard.

The shipyard aims to construct the

»largest and most environmentally

friendly mega yachts in the world.«

»The development of LNG propulsion,

for example, has cemented our position

as a technology leader in the construction

of cruise ships and is also a

great incentive for us to continue researching,«

said Jan Meyer, managing

director at Meyer Yachts. »Our goal is to

build climate-neutral yachts with alternative

and renewable fuels – we put all

our passion and courage into developing

new ideas.« For example, the

»Two10« will also feature a sustainable

methanol-based propulsion system. The

propulsion concept is based on fuel cells

that generate electricity and heat from

the combination of hydrogen and

oxygen. Hydrogen is obtained from methanol,

which can be produced sustainably

from renewable energy sources.

Fuel cells also operate completely without

harmful emissions – they produce

only harmless water vapour and cause

significantly less noise and vibration

than a conventional drive.

HANSA YACHTS 01 | 2023

41
---
HANSA YACHTS

The legal consequence of delay

in Yacht-Building-Agreements

Covid-19 and the war in Ukraine have caused severe disruptions

in supply chains worldwide. Not surprisingly, the

Yacht building industry is also affected. After all, yacht builders

often purchase their supplies from a many of the manufacturers

worldwide. Due to the complexity of a yacht building project, delays

of just one supplier often become a real issue. How can you

deal with delay legally?

In principle, the legal background is relatively simple: The parties

of a yacht building contract have to fulfil their contractual obligations

in time. If they do not do so, specific circumstances, as

well as the relevant clauses in the building contract, will answer

the question of the legal consequences.

The main contractual obligation of the buyer is to pay the instalments

in time. The main contractual obligation of the shipyard

is to deliver the yacht to the buyer without defects at the agreed

delivery date. Delays on the part of the shipyard can have a variety

of reasons. As a matter of principle, it is possible differentiate between

reasons caused negligently and those for which the shipyard

is not at fault. For the first category, the parties normally

agree that damages to be paid by the shipyard for the delay are

either excluded (for some time), limited, and/or capped.

Permissible delay and force majeure

It is not uncommon to include clauses in a building contract

which allow the shipyard, under certain circumstances, to postpone

the delivery – so-called »permissible delay«. For instance, a

delay caused by a change order request by the buyer would be

considered a permissible delay. However, not all delays can easily

be attributed to the responsibility of one party. When negotiating

and agreeing on a shipbuilding contract, special attention should

be paid to how delays caused by third parties, such as suppliers,

are dealt with under the contract. Additionally, the so-called acts

of God can interrupt the building process. Such events are typically

enumerated (exhaustively or not exhaustively) in so-called

»force majeure« clauses. Due to Covid-19, force majeure clauses

and related questions of interpretation have become the cause of

many disputes. Not only should the definition of a force majeure

event be carefully considered, but also the notification obligations

that fall upon the party intending to rely on it.

Consequences for non-permissible delay

If the delay does falls within one party's responsibility, it is normally

not considered a permissible delay. Consequently, the responsible

party has to bear the legal consequences of such delay.

As mentioned above, the parties often agree on a limitation of the

legal consequences. Three principal legal consequences can be

found in yacht-building agreements. They might apply exclusively

or simultaneously.

1. Liquidated damages: By agreeing liquidated damages, the parties

agree, before the event, the amount of damages is to be

paid by day or week in case there is a breach of the obligation to

deliver the yacht in time.

2. Contractual Penalty: Some parties agree that contractual penalties

are to be paid in case of delay. The concept is similar to

that of liquidated damages. However, it is only permissible in

some jurisdictions. Depending on the contract's wording,

further damages can be claimed in addition to the penalty.

3. Termination/ Recission of the contract: The ultimate consequence

of delay is the right to terminate the contract and/or

to withdraw from the contract.

In a nutshell:

• Factually, delays can never be ruled out. Legally, the consequences

of delay are manageable: By negotiating appropriate

compensation.

• However, pay attention to the applicable national law. Also,

plan ahead and agree under which circumstances extensions of

the delivery date are permissible. In addition, make sure that

the wording of the force majeure clause is appropriate.

SEA CLOUD SPIRIT

Eine Legende unserer Zeit

39,90 €

ISBN 978-3-7822-1510-7

Direkt bei uns bestellen auf

koehler-mittler-shop.de

oder telefonisch unter

040/70 70 80 322

42 HANSA YACHTS 01 | 2023

Maximilian Verlag GmbH & Co. KG | Stadthausbrücke 4 | 20355 Hamburg
---
Book

your stand

now

CREATING

DREAMS

Interior Design, Equipment and

Technology for the Cruise & Ferry Industry

Be there when the cruise industry's most innovative

protagonists present their ideas and meet the decision

makers of the world's leading cruise and ferry lines,

HANSA YACHTS 01 | 2023

Co-located

with

43
---
YOUR PARTNER FOR HYBRID SOLUTIONS

With our partners and in combination with own FPP and CPP systems,

Piening Propeller can realize Hybrid solutions for any kind of demand, with:

"OPV" equipped with systems from Piening Propeller

• Multi Mode, Electric Drive Mode,

Boost Mode, Generator Mode or

Recuperation Mode

• Hydraulic pitch control of the CPP,

using ordinary water

• High efficiency with low noise

and vibration

• Very low operational costs

MULTI MODE AS EXAMPLE

• E-Motor Port propulsion

• Thermal engine other side as propulsion

• E-Motor Stbd uses spare thermal capacity

as generator

• Hotel load by battery or E-Motor generation

Design and Manufacturing of complete Propulsion Systems

with Fixed-Pitch Propeller or PCP > 800 mm Ø

HANSA YACHTS 01 | 2023

info@piening-propeller.de

44