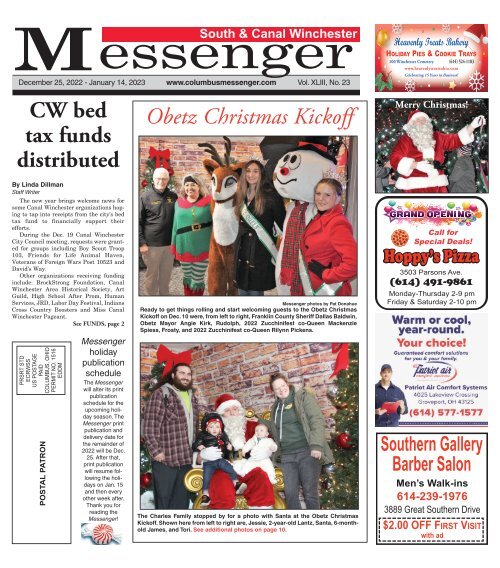 South & Canal Winchester Messenger - December 25th, 2022
You also want an ePaper? Increase the reach of your titles
YUMPU automatically turns print PDFs into web optimized ePapers that Google loves.
Messenger

South & Canal Winchester

December 25, 2022 - January 14, 2023 www.columbusmessenger.com Vol. XLIII, No. 23

Heavenly Treats Bakery

HOLIDAY PIES & COOKIE TRAYS

100 Winchester Cemetery (614) 524-1183

www.heavenlytreatsohio.com

Celebrating 15 Years in Business!

CW bed

tax funds

distributed

Obetz Christmas Kickoff

Merry Christmas!

By Linda Dillman

Staff Writer

The new year brings welcome news for

some Canal Winchester organizations hoping

to tap into receipts from the city's bed

tax fund to financially support their

efforts.

During the Dec. 19 Canal Winchester

City Council meeting, requests were granted

for groups including Boy Scout Troop

103, Friends for Life Animal Haven,

Veterans of Foreign Wars Post 10523 and

David's Way.

Other organizations receiving funding

include: BrockStrong Foundation, Canal

Winchester Area Historical Society, Art

Guild, High School After Prom, Human

Services, JRD, Labor Day Festival, Indians

Cross Country Boosters and Miss Canal

Winchester Pageant.

See FUNDS, page 2

PRSRT STD

ECRWSS

US POSTAGE

PAID

COLUMBUS, OHIO

PERMIT NO. 1516

EDDM

POSTAL PATRON

Messenger

holiday

publication

schedule

The Messenger

will alter its print

publication

schedule for the

upcoming holiday

season. The

Messenger print

publication and

delivery date for

the remainder of

2022 will be Dec.

25. After that,

print publication

will resume following

the holidays

on Jan. 15

and then every

other week after.

Thank you for

reading the

Messenger!

Messenger photos by Pat Donahue

Ready to get things rolling and start welcoming guests to the Obetz Christmas

Kickoff on Dec. 10 were, from left to right, Franklin County Sheriff Dallas Baldwin,

Obetz Mayor Angie Kirk, Rudolph, 2022 Zucchinifest co-Queen Mackenzie

Spiess, Frosty, and 2022 Zucchinifest co-Queen Rilynn Pickens.

The Charles Family stopped by for a photo with Santa at the Obetz Christmas

Kickoff. Shown here from left to right are, Jessie, 2-year-old Lantz, Santa, 6-monthold

James, and Tori. See additional photos on page 10.

Call for

Special Deals!

Hoppy's Pizza

3503 Parsons Ave.

(614) 491-9861

Monday-Thursday 2-9 pm

Friday & Saturday 2-10 pm

Southern Gallery

Barber Salon

Men's Walk-ins

614-239-1976

3889 Great Southern Drive

$2.00 OFF FIRST VISIT

with ad
---
PAGE 2 - SOUTH & CANAL WINCHESTER MESSENGER - December 25, 2022

We are the BEST community newspaper!

Need advertising?

Call 614-272-5422.

EXCLUSIVE LIMITED TIME OFFER!

20 % +

%

OFF

OFF

YOUR ENTIRE

PURCHASE *

FINANCING THAT FITS YOUR BUDGET! 1

1 Subject to credit approval. Call for details.

Promo Code: 285

10

SENIORS &

MILITARY!

FREE GUTTER ALIGNMENT + FREE GUTTER CLEANING*

The Gilmore Group

Office: 614-834-HOME (4663)

Cell: 614-774-4416

www.GilmoreGroupHomes.com

YEAR-ROUND

CLOG-FREE GUARANTEE

A FREE ESTIMATE

1-855-595-2102

www.columbusmessenger.com

Years later, woman earns CW diploma

By Linda Dillman

Staff Writer

Dec. 19 was special for Canal Winchester resident

Deidra Hudson when she became a graduate of Canal

Winchester Local Schools after interrupting her education

at the end of her junior year in the 1980s.

"Ms. Hudson earned her diploma this year through

the 22+ adult high school program," said Canal

Winchester Schools Superintendent Kiya Hunt during

the Dec. 19 Canal Winchester Board of Education

meeting. "The program is free to adults over age 22

and living in Ohio. As a young mom living in Cleveland

in 1980, Ms. Hudson left school after completing 11th

grade so she could work and raise her family. She had

a fulfilling career in health care as an STNA."

Hudson raised three daughters who all earned their

high school diplomas. Hunt said the new graduate

made a bucket list and put earning her high school

diploma at the top of the list.

"She took courses online and tonight we are thrilled

to present her diploma and congratulate her on this

accomplishment," said Hunt.

Hudson said she was proud of herself and said earning

her diploma was challenging because it's been a

long time since she was in school.

"I was boxing and I came out on top," said Hudson.

"I thank you all for having me. God bless you all and

live for today. I'm going to take it one day at a time

because I've been through a lot of things. I'm going to

keep moving forward."

Ohio's 22+High School Diploma Program is an

opportunity for Ohio residents age 22 or older with no

high school diploma or GED to earn a diploma at no

cost. Graduates receive a fully accredited high school

diploma from their local school district.

All classes are online. The Graduation Alliance

highly recommends prospective students have completed

at least some of their 10th grade year to enroll.

There are other options for adults who have not finished

ninth grade.

Your Schools, Your Voice survey

Canal Winchester Schools officials are asking community

members to add their voices to a survey to set

goals and create plans guiding education into the

future.

The Your Schools, Your Voice survey gathers input

from families, residents, community members, staff,

and students.

The anonymous survey takes about 10 minutes to

complete and is available online in English, Spanish,

French, and Nepali. The survey opened on Dec. 6 and

closes on Jan. 10.

Every student has the chance to take the anonymous

survey during school hours. Students spend a lot

of their time at school and have valuable insights the

district hopes they can provide on their experiences.

According to information provided by the district,

the survey data will be used to set goals and create

plans to meet those goals.

By collecting input from various perspectives and

experiences from community members, the information

provided in the survey will help ensure goals

reflect the values of the community.

The survey is anonymous and responses will not be

used to identify anyone. After the survey closes, the

data will be compiled to be used in the goal-setting

process and shared online for community members to

review.

For information about the survey, email communications@cwls.us

Resignations

The school board accepted the resignation of

Principal Eric Riddle and the resignation of high

school teacher Todd Phillips for retirement, both effective

after the end of the current school year.

"Todd Phillips has been in the district for over 30

years," said Hunt. "He has been a staple in the district.

He is very involved in music and has brought a lot of

different activities to our district that separate us a little

from the others."

America'

ica's s Fa Fa

av av

vorite Treasure ure e Hunts!

2022

Dec. 17 &

18

Antiques, Collectibles,

Jewelry, Vintage,

Home Decor, Militaria

and more!

2023

Jan. 28 & 29

Feb. 25 & 26

Mar. 25 & 26

FUNDS

Continued from page 1

Except for a $500 request from David Lutheran

Church for food and supplies for a Thanksgiving meal

and an application from the local Chamber of

Commerce received after the Nov. 30 deadline, all 13

requests for $2,000 were granted.

"Councilman Patrick Shea and I reviewed the applications

and didn't see anything wrong," said

Councilman Steve Buskirk.

The list includes the Boy Scout troop's request to

expand, replace, and repair camping gear and equipment;

a City Kitty Round Up event to trap-neuterreturn-adopt

program; supplies and advertising for the

2023 Veterans Day Celebration and basic needs kits

for 48 older adults at David's Way.

A Bed Tax Grant Committee previously reviewed

applications and made their recommendations as to

how the grants should be distributed.

CWAHS funding support

Council held a second reading on legislation providing

up to $20,000 in financial support to the Canal

Winchester Area Historical Society, which preserves

artifacts, buildings, etc. and provides education covering

Canal Winchester historic and cultural resources.

Society operations include the O.P. Chaney

Elevator —which is undergoing renovation–Queen of

the Line Depot, Prentiss Schoolhouse and the National

Barber Museum housed in the school district's education

center.

CWAHS President Bruna Brundige said the organization

is not asking for anything new because of a

$10,000 agreement already in place that expires at the

end of the year.

However, the historical society is asking council to

consider doubling the amount due to increasing insurance

and utility costs for all buildings.

"In 2023 we'll start paying for the utilities for two

floors in the school we'll use for the museums,"

Brundige said. "We'll pay $300 per month per floor.

The total will be for over $24,000 and we're asking for

$20,000 with the reapproval of the agreement. We did

a very quick count of how many visitors we had to the

historical complex and it's at least 10,000 a year."

The society is in the process of creating a Canal

Winchester Museum in the same wing and on the floor

above the barber museum, which will house a growing

collection of artifacts and provide community space for

meetings and programming.

"Right now, we are enjoying a $300,000 grant from

the state of Ohio that is for the renovation of the O.P

Chaney grain elevator," said Brundige when asked

about other funding sources. "Additionally, we have a

$300,000 donation from the Wood Foundation, which

was given to us last week."

Brundige estimated the total cost for renovating the

historic structure between $4 and $5 million.
---
www.columbusmessenger.com

Obetz's 2023 city budget approved

By Katelyn Sattler

Staff Writer

Obetz City Council approved the city's

2023 budget at its Dec. 19 meeting.

Obetz's general fund for 2023 is around

$15.8 million and can be spent on any legal

city expenses, while the rest of the budget

— which has a series of funds meant for specific

purposes only — adds up to more than

$26 million.

"Each year, we take an educated guess

of how much revenue we'll have and we

always guess conservatively," said Obetz

City Administrator Rod Davisson.

In 2020, the city had $13 million in revenue

and $11 million in spending, in 2021

the city had $16 million in revenue and $13

million in spending.

"This year, we estimated $16 million in

revenue and $15 million in spending, but it

looks like it's going to be a bit higher and

we'll end the year at $16.7 million, probably

closer to $7 million, in revenue," said

Davisson. "In order to get there, we've had

to make a Herculean effort. We had two

really bad quarters to start the year. We

had two really good quarters to finish the

year. As a consequence, we ended up with

the largest revenue year that we've ever

had, which is good. I don't know what that

means for next year. I can't tell you that."

The $41.9 million appropriations budget

only covers the city's expenses and does not

include revenue. For example, while the

city has appropriated $3.1 million for

water operations, $2.3 million for sewer

operations, $6.8 million for electricity operations,

$505,000 for refuse operations, and

$2.3 million for gas operations, they are all

offset by money coming into the city.

"Remember, the water fund pays for the

water, to fix the water, all those kinds of

things," said Davisson. "The electric appropriations

also includes the cost of buying

the electric and then reselling it. This doesn't

have anything to do with profit, for lack

of a better description, or net income. It's

just how much it costs."

The city budgeted $3.2 million in economic

development, the majority of which

is $2.8 million in payments to the Prairie-

Obetz Joint Economic Development Zone.

Because, per Ohio law, townships cannot

collect income taxes, an agreement was

passed by Prairie Township voters in

November 2011 and approved by Obetz

Council in July 2011 where Obetz collects

income taxes from employees working in

the West Broad Street corridor and pays 80

percent of it back to Prairie Township,

while retaining 20 percent of the money.

Davisson said, "It can be confusing

because you say, 'Why are we spending $3

million on economic development?' The

answer is, we're not. That JEDZ we're in

sends us a bunch of money and then we

have to send them back their cut. We have

to account for this income to us, even

though we end up giving it right back to

them. The JEDZ nets the city a million

bucks. The amount you're authorizing us to

spend this year is $41 million, which is up

$1 million from last year's $40 million that

we spent. We expect the revenue to obviously

outpace that. We had a surprisingly

good year for the way we started. It's tough

to predict what next year will look like.

There's still a threat for a recession. We

have enough cushion and we've done this

long enough to not be afraid of that. And

we run hyper efficiently here. Whatever

happens, we'll figure our way through it.

We're well positioned to withstand whatever

comes."

Tentative agreement with FOP

Council ratified and approved the memorandum

of understanding between the

city and the Fraternal Order of Police,

Capital City Lodge No. 9, authorizing back

pay and longevity pay payments for 2022.

According to Davisson, "We have

reached an agreement in principle with the

police union. We offered to back pay them

for this year. Obviously, we didn't plan for

that earlier in the year, so we have to do

some appropriations to back pay the

police."

This means $204,675 will go to the

police for back pay. The officers received

their back pay in their accounts within

days after council ratified and approved

the MOU.

In the same legislation, some overtime

from Christmas kickoff in the amount of

$1,118 will go to the Street Fund, $2,352

will go to the Water Fund, $1,278 will go to

the Sewer Fund, $2,509 will go to the Gas

Fund, all for overtime pay, and $12,000

will go to the Refuse Fund to cover Waste

Management Inc.'s contract to pick up the

trash.

Bonus for part-time employees

Council approved for the city's part-time

employees to receive a one-time bonus this

year.

"This is what it sounds like. It's a bonus

for all employees that we do at the end of

the year," Davisson said. "The full-time

bonuses come from the handbook. So what

we've done is changed our year end bonus

to a longevity bonus. And the longevity

bonus is included for full-timers in the

handbook. But for part-timers, we're still

debating the best way to work that out. So

we just went with the traditional year end

bonus for part-timers."

Correction

In the Dec. 11 edition of the

South/Canal Winchester Messenger, the

photo caption for the photo, "CW's

Christmas in the Village," incorrectly designated

Jill Amos as the event organizer.

The event was a city event that was organized

by several and various city officials.

The Messenger regrets the error.

December 25, 2022 - SOUTH & CANAL WINCHESTER MESSENGER - PAGE 3

Canal Winchester

Library Branch

The Canal Winchester Branch of the

Columbus Metropolitan Library, 115

Franklin St., is located in the rear portion

of the former school at 100 Washington St.

For information visit www.columbuslibrary.org

or call 614-645-2275.

The LARGEST SELECTION of IN-STOCK

Kitchen Cabinets

Home Outlet is your sourc

e for quality in-stock kitchen cabinets for your home.

Whether you need project ideas and inspiration or you' re ready to roll up your

sleeves and get started, our experienced store represen

ntatives are ready to help

with completely FREE Kit

chen Planning services

. Or, start your project online at

homeoutlet.com.

Two Convenient n Loc

ations to Serve You

Wagnalls Memorial Library

Wagnalls Memorial Library is located at

150 E. Columbus St., Lithopolis.

For information call (614) 837-4765 or

visit www.wagnalls.org.

Southeast Library

The Southeast Branch of the Columbus

Metropolitan Library is located at 3980 S.

Hamilton Road, Groveport. For information

visit www.columbuslibrary.org or call

614-645-2275.

North Columbus

2433 East Dublin Granville Road

614-794-9330

West Columbus

4117 West Broad Street

614-274-9842
---
PAGE 4 - SOUTH & CANAL WINCHESTER MESSENGER - December 25, 2022

www.columbusmessenger.com
---
www.columbusmessenger.com

As a kid I had a fondness for vintage metal

toys and today I maintain an appreciation for

these toys' combination of art, functionality,

and fun.

Editor's Notebook

Rick

Palsgrove

I still own nine die

cast metal cars made

by Tootsie Toy, a

Chicago company that

created die cast toy

cars and other toy

vehicles up until the

late 20th century. I

also have a couple of

Midgetoy die cast toy

cars.

I proudly display all

of them on the shelf of

one of my bookcases.

As a youth in the

1960s I occasionally took some nickels and

dimes to Ackerman's drug store on

Groveport's Main Street and picked out some

small Tootsie Toy die cast cars. I played with

these cars frequently both indoors and outdoors.

My boyhood home had a stone front

walkway where the mortar separating the

flat stones created the look of a streetscape

with the mortar being the roads and the

stones being imaginary buildings. I'd play

The joy of vintage toys

with the cars there or out in the yard in the

dirt or on the interior floors of our house.

These die cast metal cars seemed indestructible.

The metal gave them heft and

their rubber tires allowed them to roll

smoothly. They were also beautiful with

brightly colored paint and tremendous detail

on the grill work and car's body. Today much

of the paint is worn off of them because I

played with them so much.

I had not seen any other of these style of

toy cars in recent years. Old toys, like many

things, fade away.

Then I went on a recent trip to the

restored Ohio and Erie Canal town known as

Roscoe Village near Coshocton. There I came

upon a wondrous collection of vintage metal

toys of all kinds tucked into the lower level of

one of the town's historic buildings.

I was amazed at what I saw.

The Toy Cellar, operated by Richard

Hoover, has vintage metal toys he has collected

dating from the 19th century to the mid-

20th century. All sorts and sizes of brightly

painted metal cars, trucks, airplanes, spinning

gizmos such as carousels and ferris

wheels, doll houses, toy kitchens, toy guns,

pedal cars, and more. Plus there are all sorts

of wooden toys.

A great thing about it is that most of the

toys there look a bit worn, which means that

they once provided hours of fun for some

happy kids back in the day.

Hoover happily demonstrated many of the

toys and answered the many questions I had

about toys that caught my eye. The engineering

of these toys is masterful and the fact

that the mechanisms on them still function

perfectly is a testament to those who made

them. Plus the detailed appearance of the

toys looks beautiful. They are works of joyous

functional art. These toys are simple, yet

intricate.

Standing in the middle of the museum

among all the whirring, clanking, and

buzzing of the metal toys gives one a bit of

sensory overload.

But then I was transported from the

reverie of it all when I spotted something.

There, on a nearby shelf were a collection of

mid-20th century Tootsie Toy die cast cars,

two of which were the same models that I

have in my collection.

Plus there were a couple of Tootsie Toy die

cast metal airplanes like I used to have and

wished I still had.

It made me happy to see those

TootsieToys there and know that other kids

had enjoyed these toys like I had in those

days of our youth.

Visit roscoevillage.com for information

about Roscoe Village and the Toy Cellar.

Rick Palsgrove is managing editor of the

Messenger Newspapers

December 25, 2022 - SOUTH & CANAL WINCHESTER MESSENGER - PAGE 5

Obetz Ice Rink open

The Obetz Ice Rink is open for the season

on weekdays from 5-8 p.m. and from

noon to 7 p.m. on weekends. The rink,

located in Lancaster Park, is open to everyone

this year. Admission is free for Obetz

residents. Non-residents must purchase a

$5 day pass (cash only). You must bring

proof of residency (Obetz water bill or

recent pay stub with Obetz income tax)

with you on your first visit. Minors must

have a parent/guardian sign a waiver on

their first visit. Two-hour limits may be

enforced on Saturday and Sunday if the

rink is nearing capacity. On any given day,

the ice rink may shut down due to weather

to preserve the integrity of the ice. This

will be at the staff member's discretion and

can happen before or during a skating session.

All closures or delays will be posted to

the Obetz Facebook page. Visit obetz.oh.us

or call 614-491-1080 for information and

ice rink rules.

Obetz Christmas events

•The light display in downtown Obetz

will begin in December and remain up

through the holidays.

•Lighted Christmas figures and other

decorations will be on display throughout

Lancaster Park and Veterans Park.

•The Historic Church Light Display

will begin in December and remain up

through the holidays.

Medicare Annual Open Enrollment Period (AEP) is over for

- will I have to pay a penalty if I keep working after I turn 65, and decide to keep my

group plan?

- are there any 5 Star Medicare rated plans in my county, that I can enroll into

throughout the year?

-

review more than 2 or 3 plan options.

- I need help in paying my Rx copays, any assistance available?

Call today 614-460-0601

-$0 fee or $0 Consultation cost

Medicare Agent Ohio Lic. #43449

-Be confident in your plan selection, keep your doctors, and find the lowest

copays for your medications.

limited to those plans we do offer in your area. Please contact Medicare.gov or

1-800-MEDICARE to get information on all of
---
PAGE 6 - SOUTH & CANAL WINCHESTER MESSENGER - December 25, 2022

HEAP helps

The Ohio Department of Development

and The Central Ohio Area Agency on Aging

remind senior citizens assistance is available

to help with home energy bills. The

Home Energy Assistance Program (HEAP)

helps Ohioans at or below 175 percent of the

federal poverty guidelines pay heating bills.

Applied directly to the customer's utility

or bulk fuel bill, the benefit can help manage

heating costs. Senior citizens may go to

their local Area Agency on Aging office for

help with assembling the required documents

and completing their HEAP application.

Senior citizens may also visit

www.energyhelp.ohio.gov to apply online

or to download a copy of the application.

When applying, individuals need to

have copies of the following documents:

Most recent utility bills; A list of all household

members (including birth dates and

social security numbers); Proof of income

for the past 30 days for all household members

(12 months for certain income types);

Proof of U.S. citizenship or legal residency

for all household members; and Proof of

disability (if applicable).

HEAP benefits are applied to an individual's

energy bill after Jan. 1. Applications

for the HEAP program must be received by

May 31, 2023.

For information or assistance with

applying for a HEAP benefit, contact Andy

Haggard at 614-645-7186. To be connected

to your local energy assistance provider,

call (800) 282-0880 (hearing impaired

clients may dial 711 for assistance) or visit

www.energyhelp.ohio.gov.

Help for winter heating

The AEP Ohio Neighbor to Neighbor

Program is accepting applications for utility

assistance grants for the 2022-23 winter

heating season.

Through a partnership between AEP

Ohio and Dollar Energy Fund, the

Neighbor to Neighbor Program supports

families in need with a grant applied

directly to their AEP Ohio account to prevent

disconnection of, or to restore their

electric service. Heating assistance is available

once per program year on a first-come,

first-served basis. Eligible account holders

may apply through April 28, 2023, while

funds are available.

"We're committed to providing assistance

to those who may be struggling to

make ends meet whether it is due to job

loss or unexpected expenses," said Brian

Billing, energy efficiency consumer programs

manager for AEP Ohio. "Through

this heating program, we can help to

ensure our customers, especially the elderly

and those with health problems, can

maintain their electric service during the

cold winter months."

To apply, customers may contact one of

the AEP Ohio Neighbor to Neighbor

Program's network of more than 120 Ohio

community-based organizations, or apply

online using the link available at Neighbor

to Neighbor (aepohio.com). To qualify, an

applicant's total gross household income

must be at or below 300 percent of the

Federal Poverty Income Guidelines.

For example, a family of four earning up

to $83,250 per year is income-eligible for

the program. Households must have an

outstanding balance on their bill of at least

$50 and behind on bill payment 30 days or

more. Full eligibility guidelines and application

instructions can be found at

AEPOhio.com/helpaneighbor.

"Dollar Energy Fund is proud to maintain

its support for AEP Ohio and its

efforts to serve families who find them-

www.columbusmessenger.com

selves in a temporary financial crisis," said

Chad Quinn, chief executive officer of

Dollar Energy Fund.

The AEP Ohio Neighbor to Neighbor

Program is funded by public contributions

that are matched dollar-for-dollar by AEP

Ohio. Utility customers may make a contribution

through their monthly AEP Ohio

bill. Donations also can be made online at

www.AEPOhio.com/N2N or by sending a

check directly to The AEP Ohio Neighbor to

Neighbor Program, Box 42329, Pittsburgh,

PA 15203.

Every donation to the Neighbor to

Neighbor Program is used to assist eligible

families residing in Ohio. Every dollar

donated to the Neighbor to Neighbor

Program will be matched by AEP Ohio.

These matching funds and 100 percent of

your donation will assist limited-income

families residing in Ohio to afford utility

service. With AEP Ohio's match, your taxdeductible

donation will have twice the

impact.

For more information about Dollar

Energy Fund and how to apply for the

Hardship Program or donate to the organization,

visit www.dollarenergy.org.
---
www.columbusmessenger.com

Township looks for set electric rates

By Linda Dillman

Staff Writer

The Madison Township trustees

approved an agreement with Archer

Energy for electricity aggregation in hopes

it will help resident save on utility costs

later next year.

The agreement signed on Dec. 15

enables Archer to shop for a fixed 12-

month rate and present their findings to

the trustees no later than June 2023.

Purchasing electricity in the fall and

spring ensures savings versus utility company

default prices.

Treble LLC representative Scott

Belcastro said the township will have a

fixed rate determined by then.

"We are committing to Archer (now),

but we don't have the actual fixed rate,"

said Madison Township Administrator

Susan Brobst. "This gives both sides the

intent."

Other Madison Township news

•The trustees approved a fire department

purchase of a new 2025 aerial ladder

apparatus from the Sutphen Corporation.

The purchase price, minus a $38,940 prepayment

discount, is $1.18 million.

Fire Chief Derek Robinson said, by committing

to the purchase now, the township

can save between $300,000 to $400,000. He

said equipment like the 75-foot Quint style

ladder continues to escalate in cost and

build out time grows longer.

The purchase of the ladder truck is necessary,

according to Robinson, because

building heights–such as warehouses and

hotels/motels–are starting to exceed the

reach of current equipment, which forces

the township to rely on mutual aid

resources.

"Our ground ladders cannot reach the

Photo courtesy of Eastland-

Fairfield

Toy

donation

Students in the

Cosmetology program

at Eastland Career

Center collected more

than 200 toys and

books to benefit local

children during the holidays

through the

Afterschool Child

Enrichment program.

The toy drive benefits

students at multiple

local elementary

schools, including

Dunloe and Asbury elementary

schools in

Groveport Madison and

Taylor and Rosehill elementary

schools in

Reynoldsburg.

"We are committing to Archer

(now), but we don't have the actual

fixed rate. This gives both sides

the intent."

- Susan Brobst, administrator

Madison Township

roof of the warehouses," Robinson said,

"and we will now have the capability. Our

mutual aid partners might be caught up in

a call (delaying response times). It will better

serve our community."

Trustee John Pritchard said equipment

costs are escalating rapidly and supply

chain issues currently push the purchase

out three years.

"With this (ladder truck) we can take

care of our own," said Pritchard.

•Trustee Chairwoman Michele

Reynolds is stepping down at the end of the

year to serve as a state senator for District

3 beginning Jan. 1. She said her expectations

for her replacement is to fill the position

with someone not only good for the

township now, but who also intends to run

in the fall to keep the position.

"We have to lay out a timeline," said

Pritchard. "Thirty days will go by quickly.

I would like a robust process to determine

who the best candidate will be. We're going

to have an interview process. Give them

situations we deal with and see how they

analyze the process. A background check is

crucial. Hopefully this person will serve

the township for many years."

The official selection process for

Reynolds' replacement will not be

announced until January and the position

must be filled by Jan. 30.

Letters policy

The Messenger welcomes letters to the

editor. Letters cannot be libelous. Letters that

do not have a signature, address, and telephone

number, or are signed with a pseudonym,

will be rejected. PLEASE BE BRIEF

AND TO THE POINT. The Messenger

reserves the right to edit or refuse publication

of any letter for any reason. Opinions

expressed in the letters are not necessarily

the views of the Messenger. Mail letters to:

South/Canal Winchester Messenger, 3500

Sullivant Avenue, Columbus, OH 43204; or

email southeast@columbusmessenger.com.

eastside

Messenger

(Distribution: 10,000)

Rick Palsgrove................................South & CW Editor

southeast@columbusmessenger.com

Published every other Sunday by

The Columbus Messenger Co.

3500 Sullivant Ave., Columbus, Ohio 43204-1887

(614) 272-5422

Keep tabs on the news in CW,

Obetz, and Hamilton Twp.

Look for South & CW Messenger on

Become a fan!

December 25, 2022 - SOUTH & CANAL WINCHESTER MESSENGER - PAGE 7

Celebrate New Year's Eve

Starring

with ELVIS

Mike Albert

Prices Per Couple

Overnight Package - $319

Party Only Packages - $250

Single Overnight - $219

Prices include

Dinner, Drinks, Room,

Party favors, Full Breakfast

Make Your Plans NOW!

614-792-3135

Vince Payne's

Autism Shootout 2023

This year's Autism Shootout will be held

on Jan. 24 in the Hamilton Township High

School gymnasium during the junior varsity

and varsity girls basketball games.

This is a special event in Hamilton

Township as it is dedicated in memory of

Vince Payne. The Vince Payne's Autism

Shootout is named for Vince after his many

years of commitment and hard work surrounding

the Autism Shootout. The event

will be a "Blue Out", and there will also be

a districtwide "Blue Out" at school that

day.

The Big "E " Band

Crowne Plaza • 6500 Doubletree Ave. (formerly Marriott North)
---
PAGE 8 - SOUTH & CANAL WINCHESTER MESSENGER - December 25, 2022

Canal Winchester

Messenger

BEST COMMUNITY NEWSPAPER in Canal Winchester

FREE

Pick-Up At These Locations:

Walgreen's - Gender & Winchester Blvd.

BP Gas Station - Gender Rd. & Freeway

Aldi - Gender Rd. & Freeway (behind BP Station)

Kroger - Winchester Square

The Wigwam Restaurant - 4 South High St.

Marie Scramblers - 6402 Winchester Blvd.

Shade on the Canal - 19 South High St.

Canal Winchester Library - 115 Franklin St.

CW City Hall and Community Center – 45 E. Waterloo St.

Harvest Moon - 7 N. High St.

Rex Barber Shop - 1 W. Waterloo

Sunoco Gas Station - 501 W. Waterloo St.

Panzera - 685 W. Waterloo St.

Save & Smoke - 6211 Winchester Blvd.

Firestone - 38 W. Waterloo St.

Waffle House - 5755 Gender Rd.

Kroger - 3588 Gender Rd.

Speedway - 6399 Refugee Rd.

READ US ONLINE: www.columbusmessenger.com

Messenger

South

BEST COMMUNITY NEWSPAPER

FREE

At These

Locations:

Ponderosa Steak House - 3875 S. High St.

Turkey Hill - 3900 S. High St.

Dollar Tree - 3754 S. High St.

Speedway Gas Stattion - 3860 S. High St.

Columbus Library - High St. & Highview

CVS Pharmacy - High St. & Williams Rd.

Walgreen's - High St. & Williams Rd.

Kelly's Market - 3453 Parsons Ave.

K & M Market - 4305 Andy Groom Blvd.

Stoney's Market - 3517 Lockbourne Rd.

Kroger - S. High St.

READ US ONLINE: www.columbusmessenger.com

Dave Dobos

STATE REPRESENTATIVE

Ohio

House

Committees

The committee structure of the Ohio House of

Representatives is where the bulk of the legislative

work gets completed. When a bill is introduced,

it is referred to the committee that deals

with its particular subject matter. It is discussed

publicly by House members. Interested parties

will testify about the pros and cons of the proposal

so that House members understand better

its effects and ramifications. Often times, it will be

modified to accommodate the concerns brought

forward in the hearings. If it is voted out of committee,

it then can be considered by the entire

House chamber. Should it get approved by the

House, it is then referred to the Ohio Senate,

where it undergoes a similar process. Only once

a bill gains the approval of both legislative chambers

can it get considered by the Governor for his

approval.

There will be 24 committees in the House in the

135th General Assembly. The committees are as

follows:

Agriculture & Conservation

Armed Services & Veterans Affairs

Behavioral Health & Recovery Supports

Civil justice

Criminal Justice

Economic & Workforce Development

Elections & Apportionment

Energy & Natural Resources

Families, Aging, & Human Services

Finance

Financial Institutions

Government Oversight

Health

Higher Education & Career Readiness

Infrastructure & Rural Development

Insurance

Labor, Commerce, & Pensions

Primary & Secondary Education

Public Safety, Corrections, & State Security

Public Utilities

State & Local Government

Technology & Innovation

Transportation

Ways & Means

House members will get assigned to committees

at the beginning of the General Assembly in early

January. Members are designating their preferences

to the new House leadership. I have identified

three House committees that I feel will enable

me to contribute the most for our district: Finance,

Technology & Innovation, and Primary &

Secondary Education. Alternatively, there are

three additional committees with which I feel I

can be helpful: Economic & Workforce Development,

Higher Education & Career Readiness, and

Ways & Means. The Speaker determines, based on

his assessment of a member's expertise, experience,

and priorities and the needs of the entire

chamber, who will serve on each committee.

(Dave Dobos represents the new Ohio House of

Representatives 10th District, which consists of

most of the west and southwest sides of Columbus,

parts of the south side of Columbus, Grove

City, Urbancrest, and Franklin Township. He reports

to us regularly via this column, which is paid

for by Dobos for Ohio.)

Paid Advertisement

A festive time

www.columbusmessenger.com

Messenger photo by Dedra Cordle

The city of London's main thoroughfare was transformed

into a magical winter wonderland – albeit with rain and

wind instead of snow – when the 1811 Downtown District

hosted its annual Old Fashioned Christmas event on Nov.

27. Despite the inclement weather throughout the festivities,

smiles and merriment were found in abundance as

people shopped, made holiday crafts, chased after Santa

Claus and his reindeer, and listened to carolers. Displaying

his delight after artist Amy Likens turned his face into a

replica of the jolly man from the North Pole is Obetz resident

Jason Ellis, 9.

CW City Council meetings

Canal Winchester City Council meetings are held on the first

and third Monday of every month. Meetings begin at 7 p.m. The

meetings are open to the public.

Council meets in work session at 6 p.m. prior to each city council

meeting to discuss legislative items and other issues of the city

prior to being included on a city council agenda. The first work

session of the month focuses on finance/economic development

items and the second monthly work session focuses on

service/safety items. While each work session includes specific

areas of focus, other items may be brought before council as needed.

CW school board meetings

The Canal Winchester Board of Education meets on the third

Monday of each month at 7 p.m. in the Canal Winchester

Education Center, 100 Washington St. on the second floor in room

204/206. The public is welcome to attend.
---
www.columbusmessenger.com

Culture Pass expands access to the arts

Columbus Metropolitan Library has partnered with

BalletMet and the Columbus Symphony to make a

select number of passes available for library customers

to check out for free.

One BalletMet Culture Pass is available at each of

CML's 23 locations beginning two weeks before each

performance during the 2022-23 season. Each pass is

valid for up to two people (children or adults). Ten

Columbus Symphony Culture Passes will be available

at each library location beginning two weeks before

each performance during the 2022-23 season. Each

pass is valid for one adult (children under 16 are free).

Passes are valid for Masterworks performances only.

CML offers its cardholders free admission to select

central Ohio cultural institutions. The Culture Pass

program enables library customers to borrow passes

just as they would a book using their library card. This

one-time pass, which must be checked out in person,

grants customers limited free access to institutions

that would otherwise charge admission fees.

Visit columbuslibrary.org/culture-pass.

CML piloted the program in 2018, offering culture

passes to Franklin Park Conservatory and the Wexner

Center for the Arts. Since then, CML has worked to

expand the number of participating organizations.

"With the help of our community partners, we're

working to expose all central Ohioans to the many

renowned cultural gems we are fortunate to have at

our doorstep," said CML Chief Community

Engagement Officer Donna Zuiderweg. "As a public

library, our role is to ensure equal access to all, and

that goes well beyond books."

"I think our art deserves to be shared with as wide

an audience as possible," said Columbus Symphony

clarinetist Mark Kleine. "The arts have the ability to

strengthen and speak to all corners of society, regardless

of the repertoire or the venue."

Participating organizations include: BalletMet:

Passes available at all CML locations; Columbus

Clippers: Passes available at all locations; Columbus

Museum of Art: Passes available at all locations;

Columbus Symphony: Passes available at all locations;

Columbus Zoo and Aquarium: Passes available at

CML's Main Library and Barnett, Driving Park,

Franklinton, Hilltop, Karl Road, Linden, Marion-

Franklin, Martin Luther King, Northern Lights,

Northside, Parsons, Shepard and Whitehall branches;

Franklin Park Conservatory: Passes available at

CML's Driving Park, Martin Luther King and Shepard

branches; National Veterans Memorial and Museum:

Passes available at CML's Main Library and Barnett,

Franklinton, Martin Luther King and Parsons branches;

Ohio History Center: Passes available at CML's

Driving Park, Franklinton, Hilltop, Karl Road, Linden,

Martin Luther King, Northern Lights and Northside

branches; Pizzuti Collection of the Columbus Museum

of Art: Passes available at all locations.

The Culture Pass program offers each participating

institution the opportunity to select which specific

CML locations. Culture Passes are only available for

in-person customer checkout at the specific CML locations

listed above. Culture passes cannot be reserved

like traditional library items. However, customers can

check their availability at columbuslibrary.org by typing

"Culture Pass" into the catalog search bar.

Each participating organization offers their passes

to CML and its customers for free. CML does not purchase

passes as it does with traditional library materials.

Each organization sets its own rules for how many

individuals are covered under its passes and on which

days the passes will be honored. Partner organizations

also set the number of passes

allotted to each designated CML

location.

December 25, 2022 - SOUTH & CANAL WINCHESTER MESSENGER - PAGE 9

Dr. Hobbs

3700 Parsons Ave.

Columbus, OH 43207

New Patients & Emergencies Always Welcome

(614) 491-5511

www.ScottAKellyDDS.com

CONCEALING UNSIGHTLY TEETH

If your front teeth are so unattractive

that you try to hide

them with a closed-lip smile or

with your hand covering your

mouth, you may be interested

in one of the new advances in

esthetic dentistry: laminate veneers.

Veneers are customized, laboratory-produced

coverings

that fit over the front and sides

of the tooth. They can be used

to correct a variety of smilespoiling

imperfections, including

stains, cracks, or chips. With

veneers, your teeth can be

made longer or wider, and

Dr. Kelly

many spacing problems can be

corrected. By concealing unsightly

teeth, these naturallooking

veneers mean that you

need not cover up your smile

ever again.

Veneers offer certain advantages

over other, more involved

or time consuming cosmetic

treatments. Veneering is a relatively

conservative approach,

requiring just a slight

reduction in the tooth's surface.

From the office of:

SCOTT A. KELLY, D.D.S.

Phone 614-491-5511

pets of the week

Arctic is a 4-month-old

kitty who is looking to

start the year off with a

forever home, however

he wants to stay with his

bonded sibling, Glacier.

Arctic is very sweet and

cuddly. He is neutered,

vaccinated, and up for

adoption through

Colony Cats.

FYI: colonycats.org

Glacier is a sweet

kitty, who needs to

be with his sibling

Arctic. The bonded

pair of long-haired

kitties needs a

home together for

the holidays.

Glacier likes to

cuddle but may

need a little time to

adjust to a new home. The pair will bring

someone a lot of love and happiness. You can

meet them at the Colony Cats cage-free

adoption center.

FYI: colonycats.org

Betsy is a 4-month-old puppy. She came

from a shelter in West Virginia where her days

were numbered. Betsy is a sweet and loyal

girl that just wants to

be with her person.

She does great with

other dogs and is

respectful of cats.

Betsy is current on

vaccines. She is doing

great on house training

but not quite at 100

percent. She is

spayed, microchipped

and ready to find her

forever home. Adopt Betsy from Colony Cats

and Dogs.

FYI: colonycats.org

Georgio is a 10-yearold

pit bull mix who is a

little bit shy. He has

been quiet and

reserved at the shelter

and may need time to

adjust to a new home,

or he may relax immediately

and become

more social. Georgio needs a person who is

willing to let him come out of his shell at his

own time. He has been at the county dog

shelter for a while and is eager to find a loving

home.

FYI: franklincountydogs.com

DestinationOutlets.com

800-213-9083

8000 Factory Shops Blvd.

Jeffersonville, OH 43128

DOWNLOAD OUR

MEMBERSHIP APP
---
PAGE 10 - SOUTH & CANAL WINCHESTER MESSENGER - December 25, 2022

www.columbusmessenger.com

Obetz Christmas Kickoff

Messenger photos by Pat Donahue

The Obetz Church of the Nazarene Choir entertained visitors to the Dec. 10 Christmas

Kickoff in Lancaster Park.

Jeff Petercsak works on a huge chunk of

ice that became a Christmas penguin. He

is one of four carvers with Rock On Ice

who stay busy this time of year. He has

been at it for 15 years and was a great

attraction to watch at the Obetz

Christmas Kickoff on Dec. 10 at Lancaster

Park.

Four-year-old Teagan Kennedy and her

mom, Brittany, took to the Obetz ice rink

in Lancaster Park during the Dec. 10

Christmas Kickoff.
---
www.columbusmessenger.com

December 25, 2022 - SOUTH & CANAL WINCHESTER MESSENGER - PAGE 11

DAVID'S UNITED

CHURCH OF CHRIST

80 W. Columbus St., Canal Winchester

614-837-7734 www.davidsucc.net

Christmas Eve., December 24

Family Service 6:00 pm

Candlelight & Carols Service 9:00 pm

Christmas Day, December 25

10:00 a.m.

REDEMPTION

CITY CHURCH

11573 Lithopolis Rd NW

Lithopolis, Ohio 43136

Is moving to 3919 Brice Rd.

Canal Winchester, OH 43110

Our 1st Service at this new location is

CHRISTMAS DAY at 6:00 p.m.

Pastor Jeff Clay will be preaching

New pedestrian signal

Dog license renewal season

Franklin County Auditor Michael

Stinziano announced the dog license

renewal period runs through March 31.

The renewal period deadline, which is normally

Jan. 31, was extended two months.

Licenses may be purchased online at

doglicense.franklincountyohio.gov or at the

auditor's office license counter, 373 S. High

St., 21st floor in downtown Columbus. The

counter is open Monday through Friday,

from 8 a.m. to 4 p.m. The office also offers

licensing at expanded locations across the

county, including at pet vaccination clinics,

the Franklin County Dog Shelter, and at

other community events.

Owners can change addresses, download

forms, and update dog information via

the online licensing system.

One-year, three-year and permanent

dog licenses can be purchased without

Photo courtesy of the city of Canal Winchester

The city of Canal Winchester installed a

pedestrian activated Rectangular Rapid

Flashing Beacon along Groveport Road

near Thrush Drive. This new signal further

marks the crosswalk and increases

driver awareness. RRFBs consist of two,

rectangular-shaped yellow indications,

each with a solar-powered LED light.

RRFBs flash with an alternating high

frequency when activated to enhance

conspicuity of pedestrians at the crossing

to drivers. According to the U.S.

Department of Transportation Federal

Highway Administration, RRFBs can

increase motorist yielding rates up to 98

percent and reduce pedestrian crashes

up to 47 percent. This intersection was

selected due to the 35 mph roadway

speed limit; the unimproved roadway

conditions (no curbs/gutters); the minimal

lighting along the roadway; the

commercial nature of the area; and

because it is a bike path. These beacons

are not intended to be installed at

every intersection/crosswalk, as overuse

of RRFBs can diminish their effectiveness.

Pedestrians crossing

Groveport Road in this area can activate

the RFFB by pressing the marked button

on the signal post. The signal can

be activated from either side of the

roadway. Wait for traffic to stop before

entering the crosswalk and be aware of

motorists adjusting to the new signal

pattern. When activated, motorist must

yield to pedestrians until they have fully

crossed the street. Motorists should

check both sides of the roadway to

ensure more pedestrians aren't

approaching the crosswalk before proceeding.

For more information on the

beacon or other pedestrian safety

measures the city is implementing, contact

Matt Peoples, public service director,

at 614-834-7734.

penalty through March 31. After the deadline,

the cost to purchase a license doubles.

In addition to being required by state

law, dog licensing ensures that any lost dog

is returned quickly to their owners. License

fees help support the Franklin County Dog

Shelter and Adoption Center.

Lockbourne Council

Lockbourne Village Council meets the

second and fourth Mondays of each month

at 7 p.m. at the Lockbourne Municipal

Building, 85 Commerce St., Lockbourne.

Hamilton school board

Hamilton Local Board of Education

meetings are held at 6 p.m. at the

Hamilton Local Education Center, 775

Rathmell Road, Columbus. For information

on meeting dates visit www.hamiltonlocal.k12.oh.us.

Be a Part of Our Local Worship Guide

Our Worship Guide is geared toward celebrating faith and helping readers

connect with religious resources in our community. Make sure these readers

know how you can help with a presence in this very special section distributed to

more than 19,000 households in the South/Canal Winchester area.

Contact us today to secure your spot in our Worship Guide.

614.272.5422 • kathy@columbusmessenger.com

Canal Winchester

Messenger

MESSENGER SPECIAL

HEALTH & W

WELLNESS SECTION

Contac ct Doug Henry

--
---
PAGE 12 - SOUTH & CANAL WINCHESTER MESSENGER - December 25, 2022

Messenger

South & Canal Winchester

www.columbusmessenger.com

Cameron's lush and wonderful world

It has been more than a decade since director James

Cameron released his science fiction epic "Avatar" and

a question that has arisen throughout this time is

whether it has any relevance within the public sphere.

Despite fact-based evidence that it became the highest-grossing

box office hit of all time, revolutionized

the way computer graphic imagery was used within

the entertainment industry, and somehow made people

believe that 3D television was the way of the

future, film critics and pop culture commentators alike

came to the consensus that "Avatar" was but a blip on

the radar of the zeitgeist, having little to no cultural

impact on the hearts and minds of the masses.

As this debate was taking place, Cameron was toiling

away to make not just one sequel to "Avatar" but

four additional movies within this universe as well.

The caveat was that none of them would be filmed

until he believed that visual effect technology had

caught up to the vision he had for his creation.

When the announcement came nearly five years ago

that he would return to Pandora, film critics and pop

culture commentators began to question whether anyone

would even care to revisit the lush world that featured

nine-foot tall blue cat-like natives clashing with

humans as they tried to strip mine their planet for

resources. Most believed no one would care to revisit

that place, that it was a waste of money, and that the

public had moved away from this world and turned to

the Marvel Cinematic Universe, the streaming revolution,

and other kinds of entertainment game-changers.

What they have forgotten was that "Avatar" created

a quiet yet hardcore fanbase that had people trying to

learn the fictionalized language of the native Pandoran

tribe, making hundreds of trips down to Disney World

to experience the related attraction, and plunking down

even more money in this economy to see the original

film when it came back to theaters earlier this fall.

(Note: it even beat new theatrical releases.) But the

most egregious oversight from those wondering whether

people would pay to see this sequel, or any sequel thereafter,

was that it was helmed by Cameron. There is no

questioning the sheer spectacle of his movies. And if

there is anything the public wants to see, it is a visual

spectacle.

Ultimately, this is what "Avatar: The Way of

Water" offers to the public: A chance to be immersed in

a lush new world that is full of wonder, danger, and

unimaginable beauty. Describing this film can sometimes

come across like you are blowing smoke up the

tush, but in its 3D state it is one of the most visually

dazzling movies to ever come on the big screen. The

picture is crisper, the technology more advanced, and

the motion-capture aspect has improved by leaps and

bounds from the original film.

With all of that said, however, this film also displays

some of Cameron's worse traits, such as his flair

for reminding people that he is responsible for some of

the greatest movies of all time, his propensity to use

the same words repeatedly, and his lack of detail to the

story that is currently being told. He seems to forget

that the audience wants answers to the questions that

was raised in the first film, that they want answers to

some of the questions that are bubbling forth in the

second, and that they do not necessarily want to wait

for all the answers to be given to them in the slow roll

out of this franchise. My theory is that either he does

not care about answering them as some threads left in

the first film were cut completely out of the second or

he feels secure in the relevancy of his world, positive

that the masses will come out to see his vision regardless

of his fast and loose approach with the storylines.

Sadly, he is not mistaken as I know I am a part of that

segment that will come out and see it because I do love

this world that this

maddening man has

created.

The sequel is set

nearly two decades after the events

of the first film where we find former

Marine Jake Sully (Sam

Worthington), now fully transported

into his Na'vi avatar, living his

best life with his fierce warrior

wife Neytiri (Zoe Saldana) by his

side. Over the years, the pair has

welcomed three biological children

— eldest son Neteyam (Jamie

Flatters), second-oldest son Lo'ak

(Britain Dalton), and youngest

daughter Tuk (Trinity Jo-Li

The Reel Deal

Dedra

Cordle

Bliss) — and have helped raised two other children, the

Na'vi-human hybrid Kiri (Sigourney Weaver) and the

human-human Miles (Jack Champion) who was left

behind when Jake and the Na'vi banded together to

boot the humans back to whatever remained of the

world they had mined to near death.

Content with their growing family — although the

attitudes now coursing through their teenagers are

causing some strife — their happiness abruptly ends

when the humans (aka Sky People) come back with a

vengeance with several nine-foot tall Na'vi clones who

were implanted with the memories of the military men

and women who were killed near the end of the first

feature in tow.

Uninspiring twist aside, these scenes are particularly

affecting as it showcases the harm humans can

do to other worlds in the name of advancement. It also

serves to propel the story to another part of Pandora as

Jake and the Sully clan flee from the clones now hellbent

on their destruction. And what a new world the

place they land is.

After finding refuge with the Matkayina, a water

tribe, the Sully family set out to explore their new home

nestled on the shores of the ocean, meeting all sorts of

fantastic beasts along the way. Cameron spends much of

the 192-minute run time playing within these surroundings,

letting the audience get to know the new generation

of the Sully children as they bond with majestic

ocean animals and members of the new clan. Although it

can seem indulgent at times, as if we are playing in his

own personal bathtub full of his toys, the underwater

scenes are quite breathtaking to experience.

Less thrilling, however, is the written story within

this film, which is really just a retread of the previous

film minus the mineral that could have saved Earth.

While the sequel certainly has more depth than its

predecessor as the stakes are higher with children at

play now, some of the justifications for the military

Na'vi clones setting off around the Pandoran world just

to fight Jake and his family is nonsensical at times.

But that is the risk one takes when it comes to movies

that are directed and written by Cameron — more

attention is paid to the visual details rather than the

spoken word and its story. Individually, they can be a

powerful way to move a story, to move an audience, but

if they are created together in harmony within a film it

can be even more affecting to the mind and heart of the

masses. That unfortunately is not the case with

"Avatar: The Way of Water," raising questions once

again about its cultural relevance but it will still leave

quite an impression with its ability to captivate the

senses through its visual storytelling prowess.

Grade: Visually: A+, Story: B-

Dedra Cordle is a Messenger staff writer and columnist.
---
www.columbusmessenger.com

December 25, 2022 - SOUTH/CANAL WINCHESTER MESSENGER - PAGE 13

CLASSIFIED ADS

Deadlines: Grove City, Groveport & All editions - Mondays at Noon.

West, Canal Winchester, South & Madison editions -Tuesdays at 5 p.m.

xGreeting

The Classified Department

THE COLUMBUS MESSENGER

LEGAL NOTICE

Class Action against

Grant Hospital for

malpractice & negligence.

Free to join. 614-278-9498

Class Action against The

City of Grove City (2.5

miliion) & Grove City

Police (2.5 million) for

bodily harm & abuse of

power. Free to join. 614-

278-9498

INFORMATION

NEED SOMETHING

DONE THIS WINTER?

CHECK OUT OUR

CLASSIFIED SERVICES!

FOR

ADVERTISING

INFO. CALL

614-272-5422

THE COLUMBUS

MESSENGER

Greeting

ASSOCIATION ADS

Vivint Smart Security.

Professionally installed.

One connected system for

total peace of mind. Free

professional installation!

Four free months of

monitoring! Call to

customize your system. 1-

833-841-0737

Are you receiving

SSDI/SSI Benefits? You

may be eligible for

additional benefits. CALL

US TODAY Citizen

Disability 1-888-490-6616

Become a Published

Author. We want to Read

Your Book! Dorrance

Publishing Trusted Since

1920 Consultation,

Production, Promotion &

Distribution. Call for Free

Author's Guide 1-877-729-

4998 or visit

dorranceinfo.com/ads

2

0

2

23

ASSOCIATION ADS

The bathroom of your

dreams for as little as

$149/month! BCI Bath &

Shower. Many options

available. Quality

materials & professional

installation. Senior &

Military Discounts

Available. Limited Time

Offer - FREE virtual inhome

consultation now

and SAVE 15%! Call

Today! 1-877-540-2780

Don't let the stairs limit

your mobility! Discover

the ideal solution for

anyone who struggles on

the stairs, is concerned

about a fall or wants to

regain access to their

entire home. Call

AmeriGlide today! 1-844-

317-5246

Wesley Financial Group,

LLC Timeshare Cancellation

Experts Over

$50,000,000 in timeshare

debt & fees cancelled in

2019. Get free

informational package &

learn how to get rid of

your timeshare! Free

consultations. Over 450

positive reviews. 888-965-

0363

xPreschool/Daycare

advertise

YOUR DAY CARE

OR PRESCHOOL

Call Kathy

at The Messenger

For More Info

272-5422

Preschool/Daycare

ASSOCIATION ADS

FREE $20 Cash App

Everyone! Yes It's Real.

Very Limited supply until

we run out! Go to

Free20Now.com

Switch and save up to

$250/yr on talk, text &

data. No contract or

hidden fees. Unlimited talk

& text with flexible data

plans.

Premium

nationwide coverage.

100% U.S. based

customer service. Limited

time get $50 off any new

account. Use code

GIFT50. 1-855-903-3048

Switch and save up to

$250/yr on talk, text & data.

No contract or hidden fees.

Unlimited talk & text with

flexible data plans.

Premium nationwide

coverage. 100% U.S.

based customer service.

Limited time offer - get $50

off any new account. Use

code GIFT50. For more

information1-888-684-1169

Attention Homeowners! If

you have water damage

and need cleanup

services, call us! We'll get

in & work with your

insurance agency to get

your home repaired and

your life back to normwl

ASAP! 855-767-7031

Vivint Smart Security.

Professionally installed.

One connected system for

total peace of mind. FREE

professional installation!

Four FREE months of

monitoring! Call now to

customize your system. 1-

855-870-2073

ASSOCIATION ADS

Safe Step. North

America's #1 Walk-in Tub.

Compreshensive lifetime

warranty. Top-of-the-line

installation and service.

Now featuring our FREE

shower package & $1600

off - limited time!Call

Today! Financing

available. Call Safe Step

1-833-356-1954

Replace your roof with the

best lookng and longest

lasting material -- Steel

from Erie Metal Roofs!

Three styles and multiple

colors available.

Guaranteed to last a

lifetime! Limited Time

Offer - $500 Discount +

Additional 10% off install

(for military, health

workers & 1st responders)

Call Erie Metal Roofs: 1-

855-338-4807

Put on your TVEars &

hear TV w/unmatched

clarity. TVEars Originaloriginally

$129.95 - now

w/this special offer only

$59.95 w/code MCB59! 1-

888-805-0840

MobileHelp, America's

premier mobile medical

alert system. Whether

you're home or away. For

safety & peace of mind.

No long term contracts!

Free brochure! 1-888-489-

3936

Stroke & Cardiovascular

disease are leading

causes of death according

the American Heart

Association. Screenings

can provide peace of mind

or early detection! Call

Life Line Screening to

schedule your screening.

Special offer - 5

screenings for $149. 1-

866-518-8391

xPublic Notice

Assessment of Community

Interest in Establishing a

Restoration Advisory Board

for Former Lockbourne

Air Force Base

The U.S. Army Corps of Engineers (USACE) is conducting environmental investigations

at the former Lockbourne Air Force Base (AFB) located in Columbus, Franklin and

Pickaway Counties, Ohio. Multiple environmental restoration projects have been

identified within the FUDS property that require further environmental investigation to

identify potential hazards, define extent of contamination, where found, and mitigate

potential risks.

The former Lockbourne AFB is a formerly used defense site (FUDS) in Columbus, Ohio.

The property was used as a training base for B-17 and glider crews from 1942 to 1949,

and later became an Air Force Strategic Air Command Base and then a Tactical Air

Command Base. It was transferred to the Ohio Air National Guard in 1980 and renamed

the Rickenbacker Air National Guard Base. In 1984, approximately 1,640 acres (of the

original 4,370 acres) were conveyed to the Rickenbacker Port Authority, which renamed

the site Rickenbacker International Airport. The airport is now owned and operated by

the Columbus Regional Airport Authority.

As part of any environmental restoration activities, the Department of Defense (DoD)

encourages community involvement through Restoration Advisory Boards (RABs). A RAB

provides an interactive opportunity for stakeholders to have early involvement in the

environmental restoration process. There is currently no RAB at the former Lockbourne

AFB; therefore, the Louisville District periodically re-evaluates community interest in

forming a RAB while environmental restoration activities are ongoing.

USACE Louisville District welcomes public feedback regarding interest in re-establishing

a RAB for the former Kincheloe Air Force Base property. Inquiries should be directed to

Charles Delano, Louisville District Public Affairs Office, 600 Dr. Martin Luther King Jr. Place,

Louisville, KY 40202, FUDSLRLPublicComments@usace.army.mil (502) 315-6769 by 30

January 2023. If there is sufficient and sustained community interest, the Louisville

District will consider re-establishing a RAB for the former Lockbourne Air Force Base

property.

The information repository, which contains additional project documents, is housed at

the Columbus Metropolitan Library Southeast Branch, 3980 S. Hamilton Road, Groveport,

OH 43125.

Attention: Cities & Townships

ADVERTISE

YOUR LEGAL/

PUBLIC NOTICES

The South Messenger now covers

Obetz, Canal Winchester,

Madison Twp. and Hamilton Township

CALL KATHY at the

COLUMBUS

MESSENGER

NEWSPAPERS

614-272-5422

kathy@columbusmessenger.com

Public Notice
---
PAGE 14 - SOUTH/CANAL WINCHESTER MESSENGER - December 25, 2022

www.colulmbusmessenger.com

xEmployment

ASSOCIATION ADS

HughesNet - Finally, superfast

internet no matter

where you live. 25 Mbps

just $59.99/mo! Unlimited

Data is Here. Stream

Video. Bundle TV &

Internet. Free Installation.

Call 866-499-0141

Elminate gutter cleaning

forever! LeafFilter, the most

advanced debris-blockiing

gutter protection. Schedule

Free LeafFilter Estimate

today. 20% off Entire

Purchase. 10% Senior &

Military Discounts. Call 1-

833-610-1936

Safe Step. North

America's #1 Walk-in Tub.

Compreshensive lifetime

warranty. Top-of-the-line

installation and service.

Now featuring our free

shower package & $1600

off - limited time!

Financing available. 1-

855-417-1306

Internet &WIFI Starts at

$49 Call us Today to Get

Started. Find High-Speed

Internet with Fiber Optic

Technology No Credit

Check, No SSN Required.

Call us Today 866-396-

0515

ASSOCIATION ADS

Beltone Hearing Aids.

Voted @1 hearing Care

retailer. Rechargeable,,

weather & sweatproof.

Easily connect music,

audio & calls to your

hearing aids. Starting at

$799. Call today & get

25% off plus a free

cleaning kit with purchase.

Expires 3/31/2023. Call 1-

866-625-4985

Donate your car, truck,

boat, RV and more to

support our veterans!

Schedule a FAST, FREE

vehicle pickup and receive

a top tax deduction! Call

Veteran Car Donations at

1-877-327-0686 today!

WANTED!

MOTORCYCLES!

ANTIQUE AND CLASSIC.

Honda, Kawasaki, Suzuki,

Yamaha, Triumph, BSA

and other foreign models.

$$PAYING CA$H$$

717-577-8206

KRMiller1965@yahoo.com

ASSOCIATION ADS

Donate Your Car To

Veterans Today! Help and

Support our Veterans.

Fast - FREE pick up.

100% tax deductible. Call

1-800-245-0398

BUYING CLASSIC CARS,

TRUCKS, SUVs

**American and Foreign**

Any Condition. Buying

entire car collections.

$$PAYING CA$H$$

Please call 717-577-8206

KRMiller1965@yahoo.com

DIAGNOSED WITH

LUNG CANCER? You

may quliafy for a

substantial cash award -

even with smoking history.

NO obligation! We've

recovered millions. Let us

help!! Call 24/7, 1-888-

650-9135

Directv Stream - Carries

the Most Local MLB

Games! CHOICE

Package, $89.99/mo for

12 months. Stream on 20

devices in your home at

once. HBOMax included

for 3 mos (w/CHOICE

Package or higher.) No

annual contract, no hidden

fees! Some restrictions

apply. Call IVS 1-866-629-

6086

ASSOCIATION ADS

READER

ADVISORY

The National Trade Association

we belong to has

purchased the following

classifieds. Determining

the value of their service

or product is advised by

this publication. In order

to avoid misunderstandings,

some advertisers do

not offer "employment"

but rather supply the

readers with manuals, directories

and other materials

designed to help

their clients establish mail

order selling and other

businesses at home. Under

NO circumstance

should you send any

money in advance or give

the client your checking,

license ID or credit card

numbers. Also beware of

ads that claim to guarantee

loans regardless of

credit and note that if a

credit repair company

does business only over

the phone it's illegal to request

any money before

delivering its service. All

funds are based in US

dollars. Toll Free numbers

may or may not

reach Canada. Please

check with the Better

Business Bureau 614-

486-6336 or the Ohio Attorney

General's Consumer

Protection Section

614-466-4986 for more

information on the company

you are seeking to

do business with.

ASSOCIATION ADS

DENTAL INSURANCE

from Physicians Mutual

Insurance Company.

Coverage for 350 plus

procedures. Real dental

insurance - NOT just a

discount plan. Do not wait!

Call now! Get your FREE

Dental Information Kit with

all the details! 1-877-553-

1891

www.dental50plus.com/

macnet#6258

Free high speed internet if

qualified. Govt. pgm for

recipients of select pgms

incl. Medicaid, SNAP

Housing Assistance, WIC,

Veterans Pension,

Survivor Benefits, Lifeline,

Tribal. 15 GB Internet.

Android tablet free w/onetime

$20 copay. Free

shipping. Call Maxsip

Telecom! 1-833-758-3892

Become a Published

Author. We want to Read

Your Book! Dorrance

Publishing-Trusted by

Authors Since 1920

Book manuscript submissions

currently being reviewed.

Comprehensive Services:

Consultation, Production,

Promotion and Distribution. Call

for Your Free Author's Guide 1-

866-482-1576 or visit

dorranceinfo.com/macnet

The Generac PWRcell, a

solar plus battery storage

system. SAVE money,

reduce your reliance on

the grid, prepare for power

outages and power

your home. Full installation

services available. $0

Down Financing Option.

Request a FREE, no obligation,

quote today. Call

1-866-783-0292

Employment

"HELP WANTED" ANTED"

SIGN

NOT WORKING?

TO ADVER

VERTISE

Call Kathy at

The Columbus Messenger

ASSOCIATION ADS

Eliminate gutter cleaning

forever! LeafFilter, the

most advanced debrisblocking

gutter protection.

Schedule a FREE

LeafFilter estimate today.

20% off Entire Purchase.

Plus 10% Senior & Military

Discounts. Call 1-855-

791-1626

DISH TV $64.99 for 190

Channels + $14.95 high

speed internet. FREE installation,

Smart HD DVR

included. Free Voice Remote.

Some Restrictions

apply. Promo Expires

1/21/23. 1-866-590-5561

SELL YOUR ANTIQUE

OR CLASSIC CAR.

Advertise with us. You

choose where you want

to advertise. 800-450-

6631 visit macnetonline.

com for details.

AT&T Internet. Starting at

$40/month w/12-mo agmt.

1 TB of data/mo. Ask how

to bundle & SAVE! Geo &

svc restrictions apply. 1-

855-364-3948

614-272-5422

ASSOCIATION ADS

Looking for auto insurance?

Find great deals

on the right auto insurance

to suit your needs.

Call today for a free

quote! 866-924-2397

IMPORTANT

NOTICE

The following states: CA,

CT, FL, IA, IL, IN, KY,

LA, MD, ME, MI, MN,

NE, NC, NH, OH, OK,

SC, SD, TX, VT and WA

requires seller of certain

business opportunities to

register with each state

before selling. Call to

verify lawful registration

before you buy.

Want Faster & Affordable

Internet? Get internet

service today with

Earthlink. Best internet &

WiFi Plans. Call us Today

to Get Started. Ask

about our specials! 866-

396-0515

The Generac PWRcell

solar plus battery storage

system. Save money,

reduce reliance on

grid, prepare for outages

& power your home. Full

installation services. $0

down financing option.

Request free no obligation

quote. Call 1-877-

539-0299

ASSOCIATION ADS

Attention Viagra users:

Generic 100 mg blue pills

or generic 20 mg yellow

pills. Get 45 plus 5 free +

S/H. Call Today 1-877-

707-5518

BATH & SHOWER UP-

DATES in as little as

ONE DAY! Affordable

prices - No payments for

18 months! Lifetime warranty

& professional installs.

Senior & Military

Discounts available. Call

855-761-1725

READY TO BUY, SELL

OR RENT YOUR

VACATION HOME OR

HUNTING CAMP?

Advertise it here and in

neighboring publications.

We can help you. Contact

MACnet MEDIA @

800-450-6631 or visit our

site at MACnetOnline.

com

Dental Insurance -

Physicians Mutual Insurance

Comopany. Covers 350

procedures/ Real insurance -

not a discount plan. Get your

free dental info kit! 1-855-

.526-1060 www/dental50

plus.com/ads #6258
---
www.columbusmessenger.com

xCome & Get It!

COME AND GET IT!

Need to Get Rid of Something Fast - Advertise It Here For FREE!

Deadlines are Mondays by Noon

Call For Publication Schedule 614-272-5422

FREE Garden Straw for gardens or bedding. Call for appointment for pickup.

Circle S Farms, 9015 London-Groveport Road, Grove City, 43123

Grove City - 614-878-7980

FREE - Metal from old camper frame, Need a truck to pickup..

CC - Obetz - 614-632-1013

FREE - Children's Wooden Play Set - Good Condition w/Sand Box under it, Step Ladder up

Slide to go down & a rope swing. Also separate Swing Set w/4 swings.

190 Inah Ave., Cols, 43228 near the Fire Dept.

West Columbus - 614-878-1930, ask for Linda

FREE - Firewood - All you want! U cut U Haul. Text me if you want it.

Obetz - 614-519-7986

Come and Get It! is a bi-weekly column that offers readers an opportunity to pass

along surplus building materials, furniture, electronic equipment, crafts, supplies,

appliances, plants or household goods to anybody who will come and get them - as

long as they're FREE. NO PETS! Just send us a brief note describing what you want to

get rid of, along with your name, address and phone number. Nonprofit organizations

are welcome to submit requests for donations of items.

Send information to The Columbus Messenger, Attention: Come and Get It, 3500

Sullivant Ave., Columbus, OH43204. Deadline is Mondays at NOON for following

Sunday's publication. Messenger Newspapers is not responsible for any complications

that may occur. Please contact us when items are gone. 272-5422

Come & Get It!

xFocus on Rentals

WANT TO RENT THAT APARTMENT

BEFORE THE SNOW FLIES?

Advertise It!!

CALL KATHY

For Rate Information

at the Columbus Messenger

614-272-5422

ASSOCIATION ADS

!!OLD GUITARS WANT-

ED!! GIBSON, FENDER,

MARTIN, Etc. 1930's to

1980's. TOP DOLLAR

PAID. CALL TOLL FREE

1-866-433-8277

NEED IRS RELIEF

$10K-$125K+ Get Fresh

Start or Forgiveness.

Call 1-877-705-1472

Monday through Friday

7am-5pm PST

Rentals

ASSOCIATION ADS

Prepare for power outages

today with a GENERAC

home standby generator.

$0 Money Down + Low

Monthly Payment Options.

Request a FREEQuote--

Call now before the next

power outage. 1-855-465-

7624

Caring for an aging loved

one? Wondering about

options like senior-living

communities and in-home

care? Caring.com's

Family Advisors help take

the guesswork for your

family. Free, no-obligation

consult: 1-855-759-1407

ASSOCIATION ADS

Protect your home w/home

security monitored by

ADT. Starting at $27.99/

mo. Get free equipment

bundle including keypad,

motion sensor, wireless

door & windows sensors.

833-719-1073

Attention oxygen therapy

users! Inogen One G4 is

capable of full 24/7 oxygen

delivery. Only 2.8

pounds. Free info kit.

Call 877-929-9587

DISH TV $64.99 FOR 190

Channels + $14.95 High

Speed Internet. Free Installation,

Smart HD DVR

Included, Free Voice Remote.

Some restrictions

apply. Promo expires

1/21/23. 1-866-479-1516

VIAGRA and CIALIS

USERS! 50 Generic pills

SPECIAL $99.00. 100%

guaranteed. 24/7 CALL

NOW! 888-445-5928

Hablamos Espanol

Prepare for power

outages today with a

GENERAC home standby

generator. $0 Down + Low

Monthly Pmt. Request a

free Quote. Call before the

next power outage: 1-855-

948-6176

Thinking about installing

a new shower? American

Standard makes it

easy. FREE design consulation.

Enjoy your

shower again! Call 1-

833-769-0995 today to

see how you can save

$1,000 on installation, or

visit www.newshowerdeal.com/mac

ASSOCIATION ADS

See...

You Looked!

Newspaper

Ads Catch

The Eye!

Call

272-5422

For Info. &

Pricing

HELP WANTED

Kings Kids Daycare

in Grove City is hiring Fun,

Loving Teachers for PT &

FT shifts. Please email

sarragc@outlook.com or

call 614-539-0349

Licensed Barber Needed

to take over for retiring

barber. Full or Parttime.

located in Great Southern

Shopping Center. Call

Cindy for more info

614-239-1976

INSURANCE

Medicare New Benefit

Medicare-Zero Premium

Free Doctor visit, free ride,

free food card, free

prescrptions.614-805-1084

WANT TO BUY

We Buy Cars & Trucks

$300-$3000.614-308-2626

WE BUY JUNK CARS

Call anytime 614-774-6797

ANTIQUES

WANTED

Victrolas, Watches,

Clocks, Bookcases

Antiques, Furn.

Jeff 614-262-0676

or 614-783-2629

We Buy Junk Cars &

Trucks. Highest Prices

Paid. 614-395-8775

MISC.

FOR SALE

HP PRINTER

CARTRIDGES FOR SALE

HP 901 Color Cartridges (3);

HP 901XL and 901 Color

Multi Pack (1);

HP 901XL Black(1).

$15.00 each.

Columbus Messenger,

3500 Sullivant Ave.

Call Office 614-272-5422

OUT OF TOWN

PROPERTY

5.02 Wooded Acres for

sale near S. Pittsburg. TN.

No utilities. $40K. Can be

seen on Zillow.com.

Private owner.

yallgit1@yahoo.com

USED VEHICLES

1991 Cadillac - runs good

305 Chevy motor ?

1-740-973-3206

December 25, 2022 - SOUTH/CANAL WINCHESTER MESSENGER - PAGE 15

xClassified Services

CARPET CLEANING

CARPET CLEANING

Any 5 areas ONLY $75

614-805-1084

Specializing in Pet Odors

CARPET SALES

CARPET

Gray Saxony

270 sq.ft. w/6 lb Pad

$398.00

Other Carpet AvailableA

Phone or text Ray

740-927-3504

Delivery & Inst. avail.

CLEANING

Looking for Mrs. Clean?

For excellent cleaning serv

at reas. rates w/great refs,

dependable. 10% Seniorr

Disc. Also does Painting. Free

Est. Gwen 614-226-5229

DEEP CLEANING &

WALL WASHING

Call Judy 614-746-0273

INFORMATION

ONLY

$50.00

For This Ad In Our

South/Canal Winchester

& Groveport

For Info Call

614-272-5422

CONCRETE

AJ's Concrete,

Masonry

Good Work - Fair Prices

Block Foundations

Driveways • Sidewalks

Epoxy/Overlay Floors

Bonded-Ins. • Free Ests.

614-419-9932

www.hastingsnsons.com

Driveways & Extensions

Patio & Walkways,

Porches & Steps,

Garage/Basement Floors

Hot Tub/Shed Pads,

Stamped/colored concrete

Sealing of new &

existing concrete.

FREE ESTIMATES

Contact Adam

614-756-1754

hastingsandsons.

columbus@gmail.com

INFORMATION

1/8 e/se

12/18 A

HAULING

JUNK REMOVAL

AL

AND MORE LLC

• Junk Removal

• Demolition

• Hoarding

614-352-0442

10% OFF FOR

SENIORS & VETERANS

HEATING & COOLING

HVAC

HEATING & A/C

Fast Service - Licensed

614-633-9694

HOME

IMPROVEMENTS

C&JHandyman

Services LLC

Minor Plumbing & Electric

Install Hot Water Tanks,

Dishwashers & Disposals

All Interior Remodels

Also Fencing &

Interior/Exterior Painting

Free Est. ~ 18 Yrs. Exp.

CDC/EPA Approved Guidelines

614-284-2100

SINCE 1973

Phil Bolon Contr.

Windows & Siding

Decks, Kitchens, Baths

Room Additions,

Flooring, Roofing

Bsmt Waterproofing

Deal With Small Non-Pressure Co.

47 Yrs. Exp. - Refs. Avail.

Lic.-Bond-Ins.

12/18

A/M

Free Est. - Financing Avail.

Member BBB Of Cent. OH

O.C.I.E.B. ID #24273

614-419-3977

or 614-863-9912

INFORMATION

LOOK TO

THE PROFESSIONALS

IN OUR

SERVICE DIRECTORY

For Service

"That Is Out Of This World"

1/8 W

12/4 A

HOME

IMPROVEMENTS

CandC

Handyman Services LLC

"See The Difference"

l

614-378-7469

Remodels,

12/18

A

Water Heaters,

Plumbing, Fence,

Sidewalks, Decks,

Int./Ext. Paintng

& Electrical Work

Handyman - outdoor &

indoor. Reasonable Rates

614-634-2244

KLAUSMAN HOME

IMPROVEMENT

Siding-Windows-

Doors-Roofing-Soffit-

Fascia-Gutters-Trim

Earn FREE Seamless

Gutters with Siding Over

1000 Sq. Ft.

FREE Shutters with

Soffit & Trim

EPA Certified

Member of BBB

Financing Available

Over 20 yrs exp. • Free Est.

Licensed-Bonded-Insured

Owner & Operator

James 614-419-7500

HOME

MAINTENANCE

HANDYMAN SERVICES

614-235-1819

HOME

REMODELING

MultiCraft Const.

& Handyman Services

All Types Handyman Services:

Decks, Fences

Kitchen/Baths

Window/doors installed

Interior Painting

Drywall Repairs

All Types of Flooring

Call/Text 614-774-2923

multicraftconstruction@gmail.com

Charlies Handyman

Service

Over 40 yrs. exp.

Hot Water Tanks

Door Locks

Kitchen/Bath Remodels

Roofmg * Siding

Porches & Decks

614-319-6010

blantoncharles894@gmail.com

LAWN CARE

LET US MAINTAIN

YOUR LAWN & GARDEN

FOR YOU

Summer, Spring,

Winter or Fall

WE DO IT ALL!!!!

Lawn Cuts, Edging,

Trees & Shrubs, Garden,

Mulching, Hauling,

Garden Pond &

Home Maint.

Free Ests. Low Rates

$20 & Up

Kevin - 614-905-3117

Classified Services

1/8 A

1/22 A

PAINTING

Painter Over 30 Yrs. Exp.

Free Est. Reas. Rates

Daniel - 614-226-4221

PLASTERING

DRYW

YWALL &

PLASTER

12/18

A&M

REPAIR

AIR

Textured Ceilings

614-551-6963

Residential/Commercial

BIA

PLUMBING

All About Drains & Plumb.

Will snake any small drain

$145. 614-778-2584

MYERS

PLUMBING

Exp Expert Plumbing

New Const. & Fast Repairs

Lic. - Permit AVailable

Water * Sewer * Gas

614-633-9694

CHRIS'

PLUMBING

"Plumbing & Drain Professional

That You Can Count On"

24 Hrs., 7 Days/Week

No Overtime Charges

24 Yrs. Exp. in Plumbing &

Drain Cleaning Field

Call For A Free Phone Estimate

$100.00 For Any Small Drain

614-622-4482

30% OFF with AD

POOL/SPA

MAINTENANCE

K&L Spa Cleaning

Hot Tub Cleaning and

Weekly Maintenance

Keith 614-316-9809

SEWING MACHINE

REPAIR

REPAIR all makes 24 hr.

service. Clean, oil, adjust

in your home. $49.95 all

work gtd. 614-890-5296

SNOW REMOVAL

GOOD NEIGHBORS

SNOW REMOVAL

SNOW & SALT SERVICE

PLOWING

• Driveways

• Sidewalks

• Parking Lots

WE ALSO DO CHURCHES

Cell-614-937-0658

614-238-9237

Ask For Bob 12/18

E/SE

TREE SERVICES

Warren Brewer Tree Service

• Tree Removal

• Tree Trimming

• Stump Grinding

1/8

A&M

• Bucket Truck Services

Best Prices • Same Day Service

614-878-2568

BURNS TREE SERVICE

Trimming, Removal &

Stump Grinding.

614-584-2164

1/8 A
---
Kelly'sMarket 12.26.22.qxp_Layout 1 12/19/22 06:34 Page 1

PAGE 16 - SOUTH & CANAL WINCHESTER MESSENGER - December 25, 2022

www.columbusmessenger.com

OD GRO

O

C

R

HOO

FOR

ER OCE

ORH

R

EIGHB

YE

YEA

ARS •

3453 Parsons Av

ve

I

Y

YOUR NE

N

R

614-491-4221

Open Daily 8:30 am – 9:00 pm

...

..fr

.

.fr

fro

omal

m

all

a llof

l

fus

usat

tK

Ke

elly l ly' lys

's

s!

L

FRE

RES

ESH

QUALI

ITY

YM

MEAT

TS.

... YO

OUR

NEIGHBORHO

HOOD

GROCER

SERVING

Alway

ys Av

vailable:

Chec

A W k Cas

shing • Food Stamps

IC • Money Orders

ll Ohio Lottery Games

Utility Payments

Post

tage Stamps

LIKE US ON

FACEBO OOK AT

"KELLYS

MARKET"

GROCE SERVIN G TH

HE SOUTH HS

SID

DE

&BE

EY

YON

ND!

U.S.D.A.

CHOICE

Top

Quali

ity

F

B ESH

R !

EEF GROU

ND

CHUCK

$ 3 49

LB.

USD DA

CHOI

IC

CE

BEE

EF

BONELESS

NEW YOR

STRIP STEAKS

K

$ 10 99

LB.

F R

PS E

S PE

PA OH

ARE RK

RIBS

$ 2 69

LB.

14-OZ.

ITA

ALIAN OR ORIGINAL

ARMOUR

MEAT

TBALLS

2/ $ 6

28-32-OZ.

FA

AMI

IL

LY SIZ

ZE

6

MA

ACA

ARON

NI

& ESE

OR

BOB EVANS

MASHED CHEES POTA

AT

TOES

$ 4 99

EA.

FOR

NE

EW YEARS

S!

2-LB. BAG

2/ $ 5

F RESH

P

B

PORK OR

AB

LOI

Y

N

$

2 99

B

RAUT

R

A IBS

CK

LB.

GRO

ROC

OCE

ERYS

SPEC

CI

IALS

S. ...

SNOW FLOSS

SAUERKRA

K

'

C 48-OZ.

RISCO

COOKING OIL

$

3 99

15-OZ.

WI

ITH

BEANS

HORMEL CHILI

2

/ $ 4

4 .5-OZ.

ORIGIN

INAL ONLY

3/ $ 2

ON

NL

LY

ARMOUR VIENNA SAUSAGE

C

F RISP

4.8-5.57-OZ.

SE

LECTED VA

ARIETIES

PRINGLE

S POTA

ATO CRISPS

2/ $

4

7-OZ

C HEEZ-IT

.

SNACK CRACKERS

2/ $

5

FFFFFF

FRFFFF FRFRESHSHSHSH RFFRFFRFRE

RFRFF RESESESEEE REE

RESESSESSESHSH RESHSSHSH RESEESEESEESEEEEE

SSSSSSHPPRODUCC

HSHSSHSSHS

PRODU R O D UCCE

CE

EEE E..

.EE.EE

...

..

F

RESH

GREEN

CABBAGE

1 -LB.

BAG

P

B

EELED

ABY

CARROTS

79 ¢

LB.

4/ $ 5

1-LB.

PKG.

FLORIDA

RED RIPE

STRAW

WBERRIES

F RESH

GREEN

BEANS

BON

NELES

SSS CENTE

ER

CUT

P O RK LOIN ROA

ASTS

S,

CHOP

PS

OR

P OUNTRY

STYLE

P

12-PA

RODU

AC

C

K

T

PEPS

S I

3

/ $

1

2

$ 2 99

CR

ORK RIBS

LB.

12-OZ. CANS

ALL AVA

AILABLE VA

ARIE

K T IES

2/ $ 7

$

1 99

LB.

1

1

K 6-OZ.

ORIGINAL

2S RISPY SA

ALT

TINES

2/ $ 6

6 -OZ.

ALL AVA

AILABLE VA

ARIETIES

S3V

TOVE TOP STUFFING

3/ $ 5

OR

4.

.99

9 EA

ACH

14-OZ.

POLIS

SH

OR SMOKE

ED

HILLSHIRE FA

ARM

SAUSAS

AGE

2

99¢ PRE-PRICED -

ONLY 89¢

$ 3 9

9

E

A.

CORN OR GREEN BEANS

Y

/ $

9 2

HILLSHIRE FA

ARM

LIT'L SMOKIES 2/ $ 7

13-14-OZ.

/8

9

¢

HY-

VEGETA

-TOP

B

CANNE

LES

D

2 8

8-OZ. WHIPPED TOPPING

2-LITERS 7•UP PRODUCTS COOL WHIP

4/ $ 5 2/ $ 3

15-OZ.

ORIGIN

INAL ONLY

5-OZ.

SHAKERS

LUCK'S PINTO BEANS

HY-

-TOP SALT

& PEPPER

RESH.

R

E

S

H...

D

E

L I FRESH

O FF THE

$ B

$

6 99 9

LB.

HA

O

F

M

NE

LB.

DELIF

FRESH

.

FOR

NE

EW YEARS

S!

DELI FRESH

CORNED

OR ROAST

BEEF

BIG EYE

SWISS

CHEESE

89 ¢

8 99

89 ¢

Prices Effective Monday, December 26 thru Saturday, January 7,

2023 • Quantity Rights Reserved • We Reserve the Right

to Correct Pricing Errors.

DELI

FRESH

$

6 99

LB.

SE

ER

RVES

4!

S SE

DR

U

U

ELI

BS

PE

FRES

R

H

$

10 99

EA.