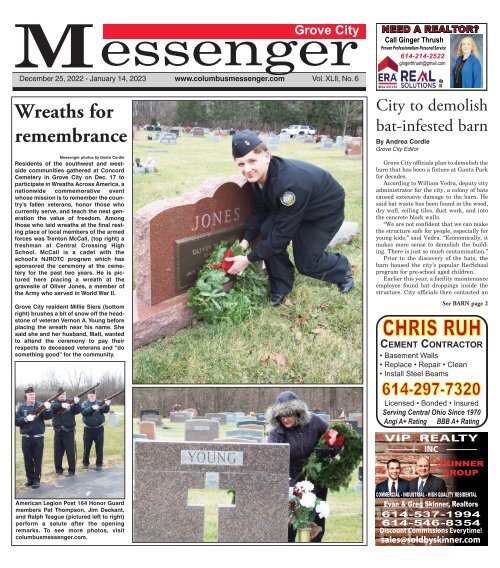 Grove City Messenger - December 25th, 2022
Create successful ePaper yourself
Turn your PDF publications into a flip-book with our unique Google optimized e-Paper software.
Messenger

Grove City

December 25, 2022 - January 14, 2023 www.columbusmessenger.com Vol. XLII, No. 6

NEED A REALTOR?

Call REALTOR? Ginger Thrush

Proven Professionalism-Personal Service

Call Ginger Thrush

614-214-2522

614-214-2522

gingerthrush@gmail.com

Wreaths for

remembrance

Messenger photos by Dedra Cordle

Residents of the southwest and westside

communities gathered at Concord

Cemetery in Grove City on Dec. 17 to

participate in Wreaths Across America, a

nationwide commemorative event

whose mission is to remember the country's

fallen veterans, honor those who

currently serve, and teach the next generation

the value of freedom. Among

those who laid wreaths at the final resting

place of local members of the armed

forces was Trenton McCall, (top right) a

freshman at Central Crossing High

School. McCall is a cadet with the

school's NJROTC program which has

sponsored the ceremony at the cemetery

for the past two years. He is pictured

here placing a wreath at the

gravesite of Oliver Jones, a member of

the Army who served in World War II.

Grove City resident Millie Siers (bottom

right) brushes a bit of snow off the headstone

of veteran Vernon A. Young before

placing the wreath near his name. She

said she and her husband, Matt, wanted

to attend the ceremony to pay their

respects to deceased veterans and "do

something good" for the community.

City to demolish

bat-infested barn

By Andrea Cordle

Grove City Editor

Grove City officials plan to demolish the

barn that has been a fixture at Gantz Park

for decades.

According to William Vedra, deputy city

administrator for the city, a colony of bats

caused extensive damage to the barn. He

said bat waste has been found in the wood,

dry wall, ceiling tiles, duct work, and into

the concrete block walls.

"We are not confident that we can make

the structure safe for people, especially for

young kids," said Vedra. "Economically, it

makes more sense to demolish the building.

There is just so much contamination."

Prior to the discovery of the bats, the

barn housed the city's popular RecSchool

program for pre-school aged children.

Earlier this year, a facility maintenance

employee found bat droppings inside the

structure. City officials then contacted an

See BARN page 2

CHRIS RUH

CEMENT CONTRACTOR

• Basement Walls

• Replace • Repair • Clean

• Install Steel Beams

614-297-7320

Licensed • Bonded • Insured

Serving Central Ohio Since 1970

Angi A+ Rating BBB A+ Rating

VIP REALTY

INC

SKINNER

GROUP

American Legion Post 164 Honor Guard

members Pat Thompson, Jim Deckant,

and Ralph Teague (pictured left to right)

perform a salute after the opening

remarks. To see more photos, visit

columbusmessenger.com.

COMMERCIAL - INDUSTRIAL - HIGH QUALITY RESIDENTAL

Evan & Greg Skinner, Realtors

614-537-1994

614-546-8354

Discount Commissions Everytime!

sales@soldbyskinner.com
---
PAGE 2 - GROVE CITY MESSENGER - December 25, 2022

America'

ica's s Fa Fa

av av vorite Treasure ure e Hunts!

2022

C.M.T

MOWER REPAIRS

614-875-5830

6446 HARRISBURG PIKE, ORIENT, OHIO 43146

Pick-up and Delivery

"We have the lowest price in town!"

Dec. 17 &

18

Antiques, Collectibles,

Jewelry, Vintage,

Home Decor, Militaria

and more!

2023

Jan. 28 & 29

Feb. 25 & 26

Mar. 25 & 26

exterminator, who found evidence of bat bugs inside

the barn. A consultant also observed the barn in the

evening and confirmed that a colony of bats were living

inside the structure. A colony can include hundreds of

bats.

The city had the roof of the barn removed so the

bats would fly out. The roof was then covered to prevent

the flying mammals from reentry, though it has

been reported that some have found a way back in.

According to city officials, the damaged barn is not

covered under the city's insurance policy.

Vedra said the city plans to have a contractor examine

the structure to give a price for demolition. He also

said the city will work with the EPA, the Ohio

Department of Natural Resources, and other state

agencies to complete all the necessary permits before

demolishing the barn.

"Most bat species are protected in Ohio, so we want

www.columbusmessenger.com

The City Beat

Officials discuss fireworks retail store

By Andrea Cordle

Grove City Editor

At a recent council meeting, Grove City officials

addressed a hot topic in the social media realm —

Phantom Fireworks and its interest in operating a

retail store in the city.

According to Deputy City Administrator William

Vedra, city leaders learned of the company's interest in

the facility at 1700 Buckeye Place this past summer.

The location is where the old HH Gregg store was

housed.

"Since that time, we have been trying to get our

head around the complex process of permitting and

licensing a fireworks retail establishment," said

Vedra.

Council members said they have been contacted by

citizens who are concerned about this type of establishment

in the city.

"We've had calls and emails from residents asking

how the city could allow this," said Roby Schottke. "We

do not approve leases for commercial spaces."

According to Stephen Smith, the city's law director,

Grove City is not permitted by law to get involved in

private leases.

"We don't have the ability to impair the contract

between two parties," said Smith. "All we do is set the

zoning in terms of what uses are allowed at this property."

City officials said they rarely know when property

changes hands unless it requires a building permit.

Vedra said licensing a fireworks retail store

involves the state fire marshal and the office on industrial

compliance. The Jackson Township Fire

Department would perform ongoing inspections.

Blood drives in Grove City

The American Red Cross will host a blood drive

from 10 a.m. to 4 p.m. Dec. 29 at Mount Carmel Grove

City, 5300 North Meadows Drive and from 10:30 a.m.

to 3:30 p.m. Dec. 29 at the Grove City Library, 3959

Broadway. To schedule an appointment, call 1-800-

448-3543 or visit www.redcrossblood.org.

BARN

Continued from page 1

community events

Vedra believes the change in the state law has

increased demand in the market and made it more

attractive for businesses like Phantom Fireworks to

find additional locations.

The new Ohio law, which went into effect in July,

allows individuals to possess consumer grade fireworks

and to discharge them on their own property on

the following days: New Year's Day, Chinese New

Year, Cinco de Mayo, Memorial Day weekend,

Juneteenth, July 3-5, and the Fridays, Saturdays, and

Sundays preceding Labor Day weekend, Diwali, and

New Year's Eve.

However, the state law enables local governments

to restrict the dates and times when an individual may

discharge fireworks or to impose a complete ban on the

use of consumer-grade fireworks.

"Local governments can determine if they want fireworks

to go off. A lot of cities allow it on certain days,

like July 4," said Smith.

Fireworks are still prohibited in Grove City.

Council president Ted Berry asked if the city could

require the fireworks establishment to hand out literature

with the sale of the products that would let customers

know that they are not permitted to set off the

explosives in the city of Grove City.

Smith said that is something that has been brought

up and that they are exploring. The law director said

the city does intend to work with Phantom Fireworks

and the surrounding businesses to inform them of

what is and what is not permitted.

The Messenger reached out to Phantom Fireworks

for comment, but as of press time has not heard back.

Vedra said there is no word yet on when the company

will move into the city. He said they are still in the

inspection process and have yet to file an occupancy

permit.

S.A.L.T. at Evans Center

The Grove City Division of Police host Seniors and

Law Enforcement Together (S.A.L.T.) meetings at 1

p.m. the second Tuesday of each month at the Evans

Center, 4330 Dudley Ave. Adults of all ages are welcome

to attend. If you would like additional information

on other crime prevention programs visit

police.grovecityohio.gov or call 614-277-1765.

to make sure we are not endangering anything," said

Vedra.

The demolition date has yet to be determined.

RecSchool, the nature-based preschool program

operated by the city's parks and recreation department,

was cancelled when city officials learned about

the bat colony. RecSchool operated from September

through May and could accommodate more than 100

children.

According to Vedra, the city has had a modified

hybrid program to replace the RecSchool offering. He

said it has been more of a program that is not tied to

the school year. The city has had a small group of kids

at the Kingston Center that take field trips to the local

parks.

As far as a permanent plan to replace RecSchool,

Vedra said, "We are exploring options."
---
www.columbusmessenger.com

In Education

Financial outlook remains

stable in South-Western

By Dedra Cordle

Staff Writer

The South-Western City School

District's annual financial review was presented

at the December board of education

meeting.

Although the district saw a decline in its

general fund revenues and an increase in

its general fund expenditures, officials say

the financial outlook of the district continues

to be strong.

According to Treasurer Hugh Garside,

fiscal year 2021-22 saw the overall revenue

decrease by almost 2 percent. He said the

panic button need not be hit by that news.

"Now, before you get shocked by our revenues

decreasing, overall in the state of

Ohio there was a pretty significant change

that happened in the state's biennial budget,"

he said.

Garside explained that the state will no

longer provide funds for districts to account

for students who are categorized as community

school students or scholarship students.

Instead, he said the state will cover

the cost rather than provide funds for the

districts as they have done in previous fiscal

years.

He added that the district received

roughly $15 million through the state for

its community school and scholarship students.

Garside said that while the state's decision

to fund the programs could have been

a big financial hit, the move will ultimately

be considered a wash as the district will no

longer have to include those programs in

their expenditures.

Some of the positive items of note in the

district's overall revenues, said Garside, is

that they have received a number of

Medicaid reconciliation payments to the

tune of $1 million each, they have received

a number of payment in lieu of taxes from

settlements with commercial properties,

and they have a healthy residential and

commercial tax base.

"Fifty-five percent of our property tax

revenues come from our residential and

agricultural tax base, but this district also

has a pretty strong commercial industrial

tax base as well," he said, noting that 45

percent of the district's revenue funds is

attributed to commercial and industrial

properties.

According to Garside, the district's total

general fund revenue for fiscal year 2021-

22 was $288 million, down $5 million from

the previous fiscal year.

On the expenditure side, the district

saw a slight increase of roughly 1.5 percent;

the total general fund expenditures

for the 2021-22 fiscal year was $277.37 million.

Garside said some of the rise in expenditures

can be attributed to an increase of

salaries and benefits for the district's certificated

and classified employees, the

"final push" of the Ohio Facilities

Construction Commission middle school

build project, and an overall rise in the cost

of materials and supplies.

He said he anticipates that the Capital

Projects Fund will go down in the next fiscal

year as the district has completed the

middle school build project. The 2021-22

fiscal year saw the district spend $86.54

million to cover the cost of its permanent

improvement projects.

Despite the slight decrease in the revenue

and the slight increase in expenditures,

Garside said the district's finances

are stable and he sees no need for the board

to request an operating levy at this time.

He added that the district has maintained,

and will continue to maintain, a positive

cash balance of roughly 5 to 10 months

throughout the next five-years, if not

beyond that duration of time.

Messenger holiday publication schedule

The Messenger will alter its print publication

schedule for the upcoming holiday

season. The Messenger print publication

and delivery date for the remainder of 2022

will be Dec. 25. After that, print publication

will resume following the holidays on

Jan. 15 and then every other week after.

Thank you for reading the Messenger!

December 25, 2022 - GROVE CITY MESSENGER - PAGE 3

SAV

VINGS RAT

Hid

ay

a TES y

for the

Season

Money Marke

et Special

3.65 %

1

APY

ee

on balances betw

Follow us on Facebook

6en $25,000 and $499,999

Website:Expert-hvac.com

Phone:614-946-8461

Experthvacllc@gmail.com

FREE ESTIMATES

on system installs

$100 Preventative Maintenance (tune up)

Expert service - affordable prices - Locally owned from Groveport

Mention this ad and get $20 off a $110 service call.

12 Month CD Special

4.00 %

2

APY

e

4w with minimum balanc of $5,000

Contact me today for details!

Josh McKee

Br anch Manager, Grov e City Office

(614) 875-1884

Josh.McKee@Heartland.Bank

1

Annual Percentage Yield (APY). Minimum opening deposit is $1,000. Minimum balance to earn interest is $0.01. Minimum balance to earn promotional APY is

$25,000.00. This is a tiered rate account. Th he promotional APY of 3.65% is available for the following tiers: $25,000 - $49,999.99, $50,000 - $99,999 and $100,000

- $499,999.99. Regular rates apply t o the f

ollowing tiers: $0.01 - $9,999.99 is 0.03% APY; $10,000.00 00 - $24,999.99 is 0.08% APY; and $500,000 + is 0.12% APY. The

promotional rate to applicable tiers is guaranteed for 180 days from the day of account opening. After 180 days, the rate may change at any time as the Heartland Bank

Money Market Savings Account is a variable

rate account. To qualify for the promotional rate, the op pening deposit must be from funds not currently on deposit with

Heartland Bank. Limit one (1) promotional Money Market Savings Account special per household. APY accurate as of 11/07/2022. Fees may reduce earnings. Accounts

closed less than 180 days from date opened will be charged an early close fee of $25.00. Personal accounts only.

2

Annual Percentage Yield (APY). Minimum balance to open and maintain the advertised 12 month APY of 4.00% is $5,000. APY is accurate as of 12/05/2022. Maximum

deposit is $250,000. Please see your local branch offic e for disclosur e information regarding terms and conditions. Penalty ma y be imposed for early withdrawa

al. Rates

are subject to change at any time. No brokers please. Limit ed time offer. Limited to one per household. Not valid with money currently on deposit at Heartland

Bank. Personal accounts only.

SHOP BREITLING PANDORA HEARTS ON FIRE TACORI EXTENSIBLE LE VIAN

CITIZEN SHINOLA

Diamond Stud Earrings or Necklace

Customize with Lab Grown or Earth Grown Diamonds

Huge GIA Loose Diamond Selection

WO-32938249

Holiday Hours:

Monday-Friday 10:30AM-6PM

Saturday 10AM-5PM Sunday 12PM-5PM

1494 Stringtown Rd, Grove City

OH 43123

(614) 594-0230

www.meyersjewelers.com
---
PAGE 4 - GROVE CITY MESSENGER - December 25, 2022

www.columbusmessenger.com

SENIORS — HELP IS HERE!

Celebrate New Year's Eve

Starring

Your Doorstep to Your Doctor!

We provide:

• Transportation • Personal Coordinated Team Care

• Concierge Service • Convenience of all services under one roof

• Superior Healthcare • We serve to 55+ Medicare-eligible Community

Call for more information:

Trae White, COS - Community Outreach Specialist

614-551-5367

trae.white@dedicated.care

Let's change the world together!

NORTH

2260 Morse Rd

Partnership with

3 LOCATIONS:

WESTSIDE

50 N. Wilson Rd.

with ELVIS

Mike Albert

WHITEHALL

5156 E. Main St.

The Big "E " Band

Messenger photos by Dedra Cordle

e "Signs" of Christmas

The "Signs" of Christmas were seen and heard at the Southwest Public Libraries. On

Dec. 11, the Grove City Library and the Westland Area Library were visited by the

Signs of Christmas, an all-volunteer group that spreads holiday cheer and awareness

of the deaf and hard of hearing communities through American Sign Language.

For more than a-half-an-hour, the performers from across the region entertained the

crowds with their own renditions of holiday classics such as "Jingle Bells," "Rudolph

the Red-Nose Reindeer," "Santa Claus is Comin' (In a Boogie Woogie Choo Choo

Train)," "I Pray on Christmas," and "Joy to the World." The group, which was created

in 1980, had nearly a dozen performances this season.

Prices Per Couple

Overnight Package - $319

Party Only Packages - $250

Single Overnight - $219

Prices include

Dinner, Drinks, Room,

Party favors, Full Breakfast

Make Your Plans NOW!

614-792-3135

Crowne Plaza • 6500 Doubletree Ave. (formerly Marriott North)

Emmitt Collins conducts a song for the group. Collins and Autumn Altizer shared coconducting

duties throughout the holiday performance season.
---
www.columbusmessenger.com

Government Focus

Livestock could be back

on the table in Urbancrest

By Dedra Cordle

Staff Writer

The village of Urbancrest could allow

eggs and poultry to come back to the table

next year.

At its meeting in December, the village

council discussed the merits of revisiting

legislation that prohibits the raising of

farm animals and livestock on residential

properties.

The call to reconsider the legislation

that was passed in 2021 was introduced by

councilman Lacy Wallace Jr., who also

serves on the health and safety committee.

According to Wallace Jr., a number of

residents have addressed the committee

seeking allowance to raise chickens in their

backyards. Wallace Jr. was not on the

council when the legislation was passed

last spring, but he said he did research

after hearing from the residents and

believes the topic should be revisited by the

entire council.

"I think there are several benefits to

having backyard chickens," he said. "One is

it helps kid get involved, socializing with

others, and it gets them off the gaming

(consoles)."

An additional reason the legislation

should be reconsidered, he said, is the current

state of the country's economy and the

soaring cost of groceries caused by inflation.

"Eggs and poultry are expensive," he

said in an interview after the meeting. "I

feel a family could go broke buying poultry

and eggs for their families because it is so

expensive right now.

"It is an economic issue for our constituents

and raising poultry and having

hens that lay eggs could be beneficial to

their financial situation."

When Wallace Jr. brought up the topic

to the full council, many who were active

members at that time expressed concern

over revising the legislation.

"It was a lot," said councilman Steven

Larkins. "A lot of time, a lot of back-andforth,

a lot of fighting over what was in the

legislation."

Councilwoman Shawn Moore said she

was hesitant to express support for the

idea because she has doubts that roosters

would not find their way back to the village.

Wallace Jr. said the council could still

Volunteers sought at food pantry

The Grove City Food Pantry is looking

for volunteers. The pantry is located at

2710 Columbus St. in Grove City. It serves

about 250 families each month in Grove

news and notes

prohibit roosters or any other farm animals

and livestock from being raised on residential

properties.

"I don't want to see or hear any of that

either," he said.

The council did not act on the request at

its regular meeting, primarily because

Wallace Jr. stated the committee would

ask the full legislative body to formally

reconsider the farm animal and livestock

prohibition legislation early next year.

Village code enforcement officer Randall

Bogue said in an interview after the meeting

that he did not have an issue with

Wallace Jr. calling for the reconsideration

of the farm animal and livestock prohibition

legislation.

"He is not asking that the council allow

residents to raise any and all livestock, just

backyard chickens," he said.

Bogue added that the council could

include new rules should residents be

allowed to raise chickens on their property,

such as a maximum allowance of poultry

on the lot, structural guidelines for the

coop, sanitary guidelines for the health and

safety of the community, and even a permit

fee.

"We'll see what the council wants to do

with Mr. Wallace's request in the coming

year and then go from there," he said.

The farm animal prohibition legislation

was passed in May 2021 after months of

debate. The action came on the heels of residential

complaints that roosters were

"waking them up in the early morning

hours" and that there were pigs walking

throughout the community, leaving waste

behind and posing health hazards to

humans and their pets.

According to a door-to-door survey conducted

by members of the health and safety

committee at that time, a majority of

residents approved of the move to ban farm

animals and livestock within the village.

Under the ordinance, farm animals

include, but are not limited to, bison,

camels, chickens, donkeys, ducks, emus,

fox, geese, miniature donkeys, miniature

horses, mink, mules, ostrich, pheasant,

pigs, and turkeys.

Under the ordinance, livestock is

defined as alpacas, cattle, goats, captive

white-tail deer, goats, horses, llamas,

mules, poultry, and any other animal that

is raised or maintained domestically for

food or fiber.

City, Orient, Harrisburg and Galloway.

Food donations are also needed. Those

interested in volunteering for the Grove

City Food Pantry or making a food or monetary

donation can email

managers@grovecityfoodpantry.org.

December 25, 2022 - GROVE CITY MESSENGER - PAGE 5

Lunch Specials Mon.-Sat. 11 - 3:30 pm

Save time--order online!

614-276-4395 • 614-272-9234

120 PHILLIPI ROAD • www.dingho.net

GIFT CERTIFICATES

In Any Amount Of Your Choice

Each Gift Purchase Over $50.00

And You Get

$

10.00 FREE
---
PAGE 6 - GROVE CITY MESSENGER - December 25, 2022

www.columbusmessenger.com

The LARGEST SELECTION of IN-STOCK

Kitchen Cabinets

Home Outlet is your sourc

e for quality in-stock kitchen cabinets for your home.

Whether you need project ideas and inspiration or you' re ready to roll up your

sleeves and get started, o ur experienced store represen

ntatives are ready to help

with completely FREE Kit

chen Planning services

. Or, start your project online at

homeoutlet.com.

Two Convenient n Loc

ations to Serve You

North Columbus

2433 East Dublin Granville Road

614-794-9330

West Columbus

4117 West Broad Street

614-274-9842

Messenger photo by Sarah Slayman

Grove City resident Brenda Mocarski has published the children's book, "Daddy Still

Loves Me." This book helps children process their feelings when dealing with divorce

and alcoholism.

Helping kids cope with divorce

By Sarah Slayman

Staff Writer

Brenda Mocarski, of Grove City, has

self-published a book that aims to help

children cope with divorce and alcohol

abuse.

Mocarski, author of "Daddy Still Loves

Me," is a retired pediatric nurse with a

degree in psychology. She is a child of

divorce herself, which she says, gives her a

unique perspective on just how wounding

the experience can be.

Mocarski didn't write the children's

book until her own grandchildren went

through a divorce. She said she struggled

to find the resources that would help them

cope with the family break-up. Her goal in

writing was to assure children that they

were not responsible for the divorce, the

parents did not divorce them, and they are

still loved. With encouragement from professional

counselors, she began to move

forward with publishing.

"Children rarely voice their fears or concerns,"

said Mocarski. "Reading this book

with the child opens the door for expressing

the feelings the child is experiencing

and assuring them they are still loved by

both parents."

Because divorce is traumatic for the

parents as well, often they don't see what

their kids are going through, said

Mocarski. She said they are usually too

young to verbalize emotions, or have not

been given the opportunity to do so.

The book is shared from a young child's

perspective of divorce, and the pages walk

through statements of their emotions, perhaps

sadness or anger, and transition into

breaking down why it could be dangerous

to trust an alcoholic parent to be your caretaker.

Real-life examples are shared

throughout the book.

"Daddy Still Loves Me" is available

through Amazon, Kindle online, and

Barnes and Noble for $16.95. Mocarski

also sells copies for $15 via inquiries at

Daddystilllovesme@gmail.com.
---
www.columbusmessenger.com

Energy assistance available

The Ohio Department of Development

and The Central Ohio Area Agency on

Aging want to remind senior citizens in

Ohio that assistance is available to help

with their home energy bills. The Home

Energy Assistance Program (HEAP) helps

Ohioans at or below 175 percent of the federal

poverty guidelines pay their heating

bills.

Applied directly to the customer's utility

or bulk fuel bill, the benefit can help manage

heating costs. Senior citizens may go to

their local Area Agency on Aging office for

help with assembling the required documents

and completing their HEAP application.

Senior citizens may also visit

www.energyhelp.ohio.gov to apply online

or to download a copy of the application.

When applying, individuals need to

have copies of the following documents:

• Most recent utility bills

Tax-Aide volunteers needed

AARP Foundation Tax-Aide, which had

to scale back operations at the Grove City

Church of the Nazarene because of the

pandemic, hopes to return to full strength

next tax season and is looking for volunteers.

The all-volunteer program provides free

income tax preparation to all comers, but

places a special emphasis on serving senior

news and notes

• A list of all household members

(including birth dates and social security

numbers)

• Proof of income for the past 30 days for

all household members (12 months for certain

income types)

• Proof of U.S. citizenship or legal residency

for all household members

• Proof of disability (if applicable)

HEAP benefits are applied to an individual's

energy bill after Jan. 1.

Applications for the HEAP program must

be received by May 31, 2023.

For more information or assistance with

applying for a HEAP benefit, contact Andy

Haggard at 614-645-7186. To be connected

to your local energy assistance provider,

call (800) 282-0880 (hearing impaired

clients may dial 711 for assistance) or visit

www.energyhelp.ohio.gov.

citizens. Before the pandemic, tax-aide volunteers

prepared tax returns for more than

800 Grove City area residents each year.

Volunteers come from all walks of life,

from accountants to warehouse workers.

No experience is required. Tax-Aide provides

training, a computer to work on and

mentorship throughout the tax season.

For more information, go to aarpfoundation.org/taxaidevolunteer

or call 1-888-227-

7669.

Medicare Annual Open Enrollment Period (AEP) is over for

- will I have to pay a penalty if I keep working after I turn 65, and decide to keep my

group plan?

- are there any 5 Star Medicare rated plans in my county, that I can enroll into

throughout the year?

-

review more than 2 or 3 plan options.

- I need help in paying my Rx copays, any assistance available?

On December 2, 2022, Grove City Police

were dispatched to the 3400 block of

Broadway. on a report of a disturbance

in the drive-through. The employee

stated the customer said they were done

with this, and they heard a firearm

being racked. Officers arrived and contacted

the vehicle and noticed open containers

in the car and a bullet on the

passenger floorboard. The passenger

then ran from the police for a short distance

before being caught. A search of

the vehicle discovered two firearms in

the vehicle. Charges were filed against

both suspects.

In other police news:

On December 2, 2022, Grove City Police

were contacted about the caller's father

being scammed over the phone. The father

received a phone call from a suspect

stating they were with the "federal reserve"

and he owed them $70,000. The

father made two withdrawals over two

days totaling $53,000 with instructions

to deposit the funds in the bitcoin atm

with a QR code that was provided.

On November 28, 2022, Grove City

Police were dispatched to the 2800 block

December 25, 2022 - GROVE CITY MESSENGER - PAGE 7

Grove City Police News

of London Groveport Rd on a report of

shoplifting. Upon arrival officers were

informed the suspect concealed items in

her purse and left without paying. The

total value of the items was $1,256.31.

The suspect was charged with theft.

On December 3, 2022, Grove City Police

were dispatched to the 4100 block of

Buckeye Pkwy on a report of shoplifting.

The caller stated the two suspects were

concealing jewelry in pockets and a

backpack. Officers stopped the suspects

as they left the store without paying. A

total of $616.56 in jewelry was recovered.

Both suspects were arrested for

theft.

On December 4, 2022, Grove City Police

were dispatched to a business in the

3000 block of London Groveport Rd on a

report of a robbery. The victim stated a

male entered the business brandishing

a silver handgun and demanding money.

The suspect was a white male wearing

black pants and a black hoodie. He wore

purple latex gloves and a blue medical

mask. The suspect left in an unknown

direction.

Call today 614-460-0601

-$0 fee or $0 Consultation cost

Medicare Agent Ohio Lic. #43449

-Be confident in your plan selection, keep your doctors, and find the lowest

copays for your medications.

limited to those plans we do offer in your area. Please contact Medicare.gov or

1-800-MEDICARE to get information on all of
---
PAGE 8 - GROVE CITY MESSENGER - December 25, 2022

www.columbusmessenger.com

Township Focus

Drainage and sewage issues

discussed in Pleasant Township

DestinationOutlets.com

800-213-9083

8000 Factory Shops Blvd.

Jeffersonville, OH 43128

DOWNLOAD OUR

MEMBERSHIP APP

By Hannah Poling

Staff Writer

Residents from the Community

Gardens Mobile Home Park attended a

recent Pleasant Township board meeting

to address concerns about water and

sewage.

According to the residents, this is a reoccurring

problem that affects everyone who

lives in the community. The problem has

been going on for the last several years,

first gaining attention when the park was

accused of dumping raw sewage into the

Darby River. The residents said now their

sewage problems are worse than ever.

Residents reported problems that

include pink water coming out of their

faucets, sewage backing up under mobile

homes, and a lack of water pressure. Some

residents reported that last year, they

went an entire week without water and

others said the sewer pumps do not support

the number of mobile homes in the

community.

Residents have reported the issues to

the park's manager and maintenance staff,

but they said no one has been able to find

the owner.

"We don't know who to report it to.

There is no one to call except the park

manager. Everyone drops off money somewhere

else. We already called the city and

the county," one resident said.

Other residents shared concern for their

children's safety with large sewer trenches

running through their backyards.

"We have tried to find the proper routes

to remedy this but the trailer park we stay

at is refusing to do anything," another concerned

resident said.

The trustees said that they would help

the community get some answers.

"We will start making phone calls

tomorrow and track down somebody higher

to deal with. There has to be someone to

get a hold of," board chairwoman Nancy

Hunter said.

The residents in the community wished

to keep their names out of print for fear of

retaliation.

Pet Corner

Pets of the week

These furry friends are available

for adoption at local

rescues and shelters

St. John

Lutheran Church

3220 Columbus St., Grove City, OH 43123

Christmas Eve Worship

4:00, 6:00 & 8:00 p.m.

Christmas Day Service 10 a.m.

Traditional Services

Sat. 4 p.m., Sun. 8:15 a.m. & 11 a.m.

Contemporary Service Sun. 11 a.m.

Be a Part of Our Local Worship Guide

Our Worship Guide is geared toward celebrating faith and helping reader connect with religious

resources in our community. Make sure these readers know how you can help with a presence in

this very special section distributed to more than 22,000 households in the Southwest area.

Contact us today to secure your spot in our Worship Guide.

614.272.5422 • kathy@columbusmessenger.com

Grove City

Messenger

Please visit the

Southwest Church

of your choice.

List your Worship

Services here.

For info. call 614-272-5422

Arctic is a 4-monthold

kitty who is looking

to start the year

off with a forever

home, however he

wants to stay with his

bonded sibling,

Glacier. Arctic is very

sweet and cuddly. He

is neutered, vaccinated,

and up for adoption through Colony Cats.

FYI: colonycats.org

Glacier is a sweet

kitty, who needs to be

with his sibling Arctic.

The bonded pair of

long-haired kitties

needs a home

together for the holidays.

Glacier likes to

cuddle but may need

a little time to adjust

to a new home. The

pair will bring someone

a lot of love and happiness. You can meet

them at the Colony Cats cage-free adoption

center.

FYI: colonycats.org

Betsy is a 4-monthold

puppy who is a

sweet and loyal girl

that just wants to be

with her person. She

does great with other

dogs and is respectful

of cats. Betsy is

current on vaccines.

She is doing great on

house training but not quite at 100 percent.

She is spayed, microchipped and ready to

find her forever home. Adopt Betsy from

Colony Cats and Dogs.

FYI: colonycats.org

Georgio is a 10-yearold

pit bull mix who is

a little bit shy. He has

been quiet and

reserved at the shelter

and may need

time to adjust to a

new home, or he may

relax immediately

and become more

social. Georgio

needs a person who is willing to let him come

out of his shell at his own time. He has been at

the county dog shelter for a while and is eager

to find a loving home.

FYI: franklincountydogs.com
---
www.columbusmessenger.com

December 25, 2022 - GROVE CITY MESSENGER - PAGE 9
---
PAGE 10 - GROVE CITY MESSENGER - December 25, 2022

Dave Dobos

STATE REPRESENTATIVE

Ohio

House

Committees

The committee structure of the Ohio House of

Representatives is where the bulk of the legislative

work gets completed. When a bill is introduced,

it is referred to the committee that deals

with its particular subject matter. It is discussed

publicly by House members. Interested parties

will testify about the pros and cons of the proposal

so that House members understand better

its effects and ramifications. Often times, it will be

modified to accommodate the concerns brought

forward in the hearings. If it is voted out of committee,

it then can be considered by the entire

House chamber. Should it get approved by the

House, it is then referred to the Ohio Senate,

where it undergoes a similar process. Only once

a bill gains the approval of both legislative chambers

can it get considered by the Governor for his

approval.

There will be 24 committees in the House in the

135th General Assembly. The committees are as

follows:

Agriculture & Conservation

Armed Services & Veterans Affairs

Behavioral Health & Recovery Supports

Civil justice

Criminal Justice

Economic & Workforce Development

Elections & Apportionment

Energy & Natural Resources

Families, Aging, & Human Services

Finance

Financial Institutions

Government Oversight

Health

Higher Education & Career Readiness

Infrastructure & Rural Development

Insurance

Labor, Commerce, & Pensions

Primary & Secondary Education

Public Safety, Corrections, & State Security

Public Utilities

State & Local Government

Technology & Innovation

Transportation

Ways & Means

House members will get assigned to committees

at the beginning of the General Assembly in early

January. Members are designating their preferences

to the new House leadership. I have identified

three House committees that I feel will enable

me to contribute the most for our district: Finance,

Technology & Innovation, and Primary &

Secondary Education. Alternatively, there are

three additional committees with which I feel I

can be helpful: Economic & Workforce Development,

Higher Education & Career Readiness, and

Ways & Means. The Speaker determines, based on

his assessment of a member's expertise, experience,

and priorities and the needs of the entire

chamber, who will serve on each committee.

(Dave Dobos represents the new Ohio House of

Representatives 10th District, which consists of

most of the west and southwest sides of Columbus,

parts of the south side of Columbus, Grove

City, Urbancrest, and Franklin Township. He reports

to us regularly via this column, which is paid

for by Dobos for Ohio.)

Paid Advertisement

It has been more than a decade since

director James Cameron released his science

fiction epic "Avatar" and the question

that has most often arisen throughout this

duration of time is whether it has any relevance

within the public sphere. Despite

fact-based evidence that it became the

highest-grossing box office hit of all time,

revolutionized the way computer graphic

imagery was used within the entertainment

industry, and somehow made people

believe that 3D television was the way of

the future, film critics and pop culture commentators

alike came to the consensus that

"Avatar" was but a blip on the radar of the

zeitgeist, having little to no cultural impact

on the hearts and minds of the masses.

As this entertaining, albeit rather pointless,

debate was taking place, Cameron

was steadily toiling away, stating his

intention to make not just one sequel to

"Avatar" but four additional movies within

this universe as well. The caveat, however,

was that none of them would be filmed

until he believed that visual effect technology

had caught up to the vision he had in

his head for the world of his creation.

When the announcement came nearly

five years ago that he would officially

return to Pandora, film critics and pop culture

commentators across the country

began to once again question whether anyone

would even care to revisit the lush

world that featured nine-foot tall blue catlike

natives clashing with humans as they

tried to strip mine their planet for

resources. Most believed that no one would

care to revisit that place, that it was a

waste of money, and that the public had

moved far away from this world and turned

to things such as the Marvel Cinematic

Universe, the streaming revolution, and all

other kinds of entertainment gamechanges.

What they seemed to have forgotten,

along with all that fact-based evidence presented

in the first paragraph, was that

"Avatar" created a quiet yet hardcore fanbase

that had people trying to learn the fictionalized

language of the native Pandoran

tribe, making hundreds of trips down to

Disney World to experience the related

attraction, and plunking down even more

money in this economy to see the original

film when it came back to theaters earlier

this fall. (Note: it even beat new theatrical

releases.) But perhaps the most egregious

oversight from those wondering whether

people would pay to see this sequel, or any

sequel thereafter, was that it was helmed

by Cameron. Say what you want about

him, but there is no questioning the sheer

spectacle of his movies. And if there is anything

the public wants to see, it is a visual

spectacle to the likes of which they have

not seen before on the silver screen.

Ultimately, this is what "Avatar: The

Way of Water" offers to the public: A

chance to be immersed in a lush new world

that is full of wonder, danger, and unimaginable

beauty. Describing this film can

sometimes come across like you are blowing

smoke up the tush, but in its 3D state

it is one of the most visually dazzling

movies to ever come on the big screen. The

picture is crisper, the technology more

advanced, and the motion-capture aspect

has improved by leaps and bounds from the

original film.

With all of that said, however, this film

also displays some of Cameron's worse

traits, such as his flair for reminding people

that he is responsible for some of the

greatest movies of all time, his propensity

to use the same words repeatedly, and his

lack of detail to the story that is currently

being told. He seems to forget that the

audience wants answers to the questions

that was raised in the first film, that they

want answers to some of the questions that

are bubbling forth in the second, and that

they do not necessarily want to wait for all

the answers to be given to them in the slow

roll out of this franchise. My theory is that

either he does not care about answering

them as some threads left in the first film

were cut completely out of the second or he

feels secure in the relevancy of his world,

positive that the masses will come out to

see his vision regardless of his fast and

loose approach with the storylines. Sadly,

he is not mistaken as I know I am a part of

that segment that will come out and see it

because I do love this world that this maddening

man has created.

The sequel is set nearly two decades

after the events of the first film where we

find former Marine Jake Sully (Sam

Worthington), now fully transported into

his Na'vi avatar, living his best life with

his fierce warrior wife Neytiri (Zoe

Saldana) by his side. Over the years, the

pair has welcomed three biological children

— eldest son Neteyam (Jamie Flatters), second-oldest

son Lo'ak (Britain Dalton), and

youngest daughter Tuk (Trinity Jo-Li

Bliss) — and have helped raised two other

children, the Na'vi-human hybrid Kiri

(Sigourney Weaver) and the humanhuman

Miles (Jack Champion) who was

left behind when Jake and the Na'vi banded

together to boot the humans back to

whatever remained of the world they had

mined to near death.

Content with their growing family —

although the attitudes now coursing

through their teenagers are causing some

strife — their happiness abruptly ends

when the humans (aka Sky People) come

back with a vengeance with several ninefoot

tall Na'vi clones who were implanted

with the memories of the military men and

women who were killed near the end of the

first feature in tow.

Uninspiring twist aside, these scenes

are particularly affecting as it showcases

the harm humans can do to other worlds in

the name of advancement. It also serves to

propel the story to another part of Pandora

as Jake and the Sully clan flee from the

www.columbusmessenger.com

In Entertainment

Welcome to the wonderful world of James Cameron

The Reel Deal

Dedra Cordle

clones now hell-bent

on their destruction.

And what a new

world the place they

land is.

After finding

refuge with the

Matkayina, a water

tribe, the Sully family set out to explore

their new home nestled on the shores of the

ocean, meeting all sorts of fantastic beasts

along the way. Cameron spends much of

the 192-minute run time playing within

these surroundings, letting the audience

get to know the new generation of the Sully

children as they bond with majestic ocean

animals and members of the new clan.

Although it can seem indulgent at times,

as if we are playing in his own personal

bathtub full of his toys, the underwater

scenes are quite breathtaking to experience.

Less thrilling, however, is the written

story within this film, which is really just a

retread of the previous film minus the mineral

that could have saved Earth. While

the sequel certainly has more depth than

its predecessor as the stakes are higher

with children at play now, some of the justifications

for the military Na'vi clones setting

off around the Pandoran world just to

fight Jake and his family is nonsensical at

times. But that is the risk one takes when

it comes to movies that are directed and

written by Cameron — more attention is

paid to the visual details rather than the

spoken word and its story. Individually,

they can be a powerful way to move a story,

to move an audience, but if they are created

together in harmony within a film it can

be even more affecting to the mind and

heart of the masses. That unfortunately is

not the case with "Avatar: The Way of

Water," raising questions once again about

its cultural relevance but it will still leave

quite an impression with its ability to captivate

the senses through its visual storytelling

prowess.

Grade

Visually: A+, Story: B-

Dedra Cordle is a Messenger staff

writer and columnist.

southwest

Messenger

(Distribution: 12,000)

Andrea Cordle...................................Grove City Editor

southwest@ columbusmessenger.com

Published every other Sunday by the

The Columbus Messenger Co.

3500 Sullivant Ave., Columbus, Ohio 43204

(614) 272-5422
---
The Franklin County Commissioners approved the

county's more-than $2 billion annual budget for 2023. As

the administrative division of county government, the

commissioners directly oversee 14 county agencies and set

the budget for all of county government, including agencies

that report to other elected officials. They held three

days of budget hearings in November at which agencies

presented highlights from 2022 and their budget requests

for next year.

"There is a saying in government, 'show me your budget,

and I'll tell you your priorities,'" said board of commissioners

president, Erica Crawley. "Our annual budget is

the best possible example of the board's values to support

and reflect our community's priorities. Everything we do

as county commissioners is centered around helping and

ensuring all of our neighbors in Franklin County have the

same opportunities to thrive, not just survive."

The 2023 budget includes continued funding for the

commissioners' RISE childcare initiative that provides $23

million to make high-quality child care available to more

Franklin County families, and to strengthen the commissioners'

ongoing diversity, equity, and inclusion efforts.

This year's budget fully funds a new 24/7 Rapid Resource

Center at the county's new jail to provide support,

resources, and referrals to residents exiting custody in

order to help them succeed and avoid further contact with

the criminal justice system, and it includes increased funding

for Franklin County Public Health, Children Services,

ADAMH, the Office on Aging, the Board of Developmental

Disabilities, and the Veterans Service Commission.

"We're pleased to be able to say that the county is in a

strong financial position again this year because of smart

December 25, 2022 - GROVE CITY MESSENGER - PAGE 11

www.columbusmessenger.com

County commissioners approve $2 billion budget for 2023

planning in years past," said commissioner John O'Grady.

"We pride ourselves on long-term planning and responsible

budgeting so that we're able to weather tough times

and support our residents when they need it most."

The 2023 budget includes general fund expenditures

of nearly $600 million and all-funds expenditures

of more than $2 billion. General fund revenue

comes mostly from sales tax and funds local justice

and public safety agencies, including the sheriff's

office, jail, and court system. The all-funds budget

includes state and federal passthroughs, and largely

funds social and human services, economic

development, and additional public safety initiatives.

The budget also includes nearly $82 million

in the county's "rainy day" fund and approximately

five months' worth of general fund cash reserves.

"This year's budget includes not only the basic

funding that county government needs to provide

the services upon which our residents rely, but

increases to help ensure that all Franklin Count

families are able to share in the success that our

community enjoys," said commissioner Kevin

Boyce. "Budgeting is among the commissioners'

most important responsibilities and the way in

which we can best support our residents throughout

the year."

In 2022, the commissioners made historic

investments in workforce development programs

and nutritional support via the Mid-Ohio Food

Collective as well as providing millions in grants to

small businesses and local non-profit agencies.

They funded an unprecedented number of affordable

housing units and strengthened the county's public

health infrastructure.

For more information about the budget, visit

Budget.FranklinCountyOhio.gov.

EXCLUSIVE LIMITED TIME OFFER!

20 % +

%

OFF

OFF

YOUR ENTIRE

PURCHASE *

FINANCING THAT FITS YOUR BUDGET! 1

1 Subject to credit approval. Call for details.

Promo Code: 285

10

SENIORS &

MILITARY!

FREE GUTTER ALIGNMENT + FREE GUTTER CLEANING*

YEAR-ROUND

CLOG-FREE GUARANTEE

A FREE ESTIMATE

1-855-595-2102

Messenger

Grove City

Village Municipal Building

3492 1st Ave. Urbancrest

Sheetz Gas Station - Broadway & Centerpoint

Turkey Hill - Broadway & Centerpoint

Speedway Gas Stateion - Boardway & I-270

Shell Gas Station - Broadway & I-270

United Dairy Farmers - Broadway & Southwest

CVS Pharmacy - Broadway & Southwest

Speedway Gas Station - Broadway & Southwest

Grove City Library - 3959 Broadway

Planks on Broadway - Broadway & Park St.

Mobile Gas Station - Broadway & Paul St.

Ernies Carry-Out - Broadway & Paul St.

BP Gas Station - Stringtown & Hoover

We are the BEST COMMUNITY NEWSPAPER in Grove City

FREE

Pick-Up At These Locations:

Krogers - Stringtown & Hoover

Walgreen's - Stringtown & McDowell

CVS Pharmacy - Stringtown & McDowell

Drug Mart - Stringtown & McDowell

Speedway Gas Station - Stringtown & I-71

Dollar General - 3065 Broadway

Southwest Community Center

3500 1st Ave. Urbancrest

Kroger - Hoover & Route 665

Meijer - 665 & Hoover

Circle K - 665 & I-71

CVS Pharmacy - 665 & Hoover

Dollar General - 665 & Hoover

READ US ONLINE: www.columbusmessenger.com
---
PAGE 12 - GROVE CITY MESSENGER - December 25, 2022

www.columbusmessenger.com

Opinion Page

Traditional decorations connect to the past

I am a hard-core, tradition-driven holiday decorator.

My love of Christmas dates back decades and many

of the knick-knacks and baubles that hung on my tree

as a child made the journey through time and space to

today and the house I call home.

A partially burnt candle in the shape of a fireplace

and chimney, adorned with a single strand of greenery

and a tiny Merry Christmas banner, has a special

place in a hutch once owned by my grandparents. The

red brick is now faded to a light pink, but a diminutive

faux fire decal still shines bright.

Next to the candle is a jumbo pine cone adorned

with a face crafted out of cotton and smaller pine cone

arms that hold a tiny, decorated candle. It was lovingly

given to me when I was six years old and spent a summer

visiting Vienna with my mother.

The pine cone was plucked from a forest in Austria

and, in the early 1960s when I received it, was already

decades old.

On top of my tree is a celluloid Santa face mounted

on an eight inch round pleated aluminum circle. It

crowned my childhood Christmas trees and when I got

married in the mid-1970s, my beloved tree topper was

passed on to me by my parents.

Santa once had a full curly beard, but over the

years the glue holding him to the metal circle dried

and his fiberglass curls fell off. Last year, the topper

got a makeover, but with modern materials, the beard

is not as curly and shiny as it once was.

Perched atop a hutch in another room is a sad little

18-inch tree that most people–but not me–would

have tossed in the trash years ago. Its 20 branches of

a green, cellophane-like material function as needles

mounted on thin wire branches, albeit noticeably thinner

as the years move on.

Pictorial Past

The high school Duck Pin League met

every Wednesday afternoon after

school at the Grove City Bowling Alley,

located in a two story building on the

south of Broadway. Under the supervision

of girls' gym teacher, Mrs. Betty

Trego, students participating could

earn a gym credit. Pictured are Bonnie

Schwarz, Eilene Trapp, Virginia Haag,

Mariam Weidenbein, Janice

Breckenridge, Maribel Breckenridge,

and Kathleen Trapp. Leanne Watkins,

from the Grove City Welcome Center

and Museum, provided the photo and

information.

A plain block of

green painted wood

serves as the base and

still bears the original

Grants (a long gone

South High Street store in the

Great Southern Shopping

Center) $1 price sticker. The

sticker is a reminder of my

seven-year-old self saving up

my chore money to buy the little

tree, which has since traveled

across America and the Pacific

Ocean to Japan before making

it back home to Ohio for good.

Gold garland is draped

Places

Linda Dillman

around the tree in our den–one that stands guard

over our presents until Christmas Day–and is another

childhood holdover. The garland, like the little tree

from Grants, has lost a lot of its original luster.

Sporting the patina of aged gold, it's been cobbled

back together over the decades as portions of the string

holding it in one piece become weak and break. It now

sheds more than our dog, but I would never replace the

garland (neither the dog). It is too precious and, even

in its state of disrepair, I continue to see its beauty.

Shiny new ornaments, sturdy modern faux trees,

tree toppers and garlands that don't shed are nice, but

there is nothing like looking at their older, aging counterparts

and taking comfort in knowing that they are

a link to the past and a keeper of memories for the

future.

Linda Dillman is a Messenger staff writer.

Showing appreciation for the Grove City

holiday displays and for local news

Linda and I have thoroughly enjoyed the Christmas lights in

and around Grove City this holiday season. The Town Center decorations

are spectacular and the best ever. Every time I drive by

the new downtown park, I slow down for a longer second look.

In years past, we often drove to other central Ohio communities

but last year we decided the best decorations could be seen in

our own town.

Even though there is so much turmoil in the world and societal

dysfunction, Grove City residents are looking to the bright side

and celebrate a season of inclusion. That's motivation to anticipate

better days in 2023.

I also want to express my appreciation for our local newspaper,

The Grove City Messenger. I miss it being a weekly publication

but look forward to its community articles when it arrives in my

driveway every other week.

Weekly newspapers are not out of date; they still play a critical

role in our everyday life. The Messenger editor and staff do a good

job providing accurate and informative information for local residents.

It's difficult to accept the fact that more than 2,500 newspapers

have ceased operation in the United States since 2005. I hope the

Messenger continues to represent both the residents and the business

community well into the future.

James F. Hale

Grove City

letter to the editor
---
www.columbusmessenger.com

December 25, 2022 - GROVE CITY MESSENGER - PAGE 13

CLASSIFIED ADS

Deadlines: Grove City, Groveport & All editions - Mondays at Noon.

West, Canal Winchester, South & Madison editions -Tuesdays at 5 p.m.

xPreschool/Daycare

advertise

YOUR DAY CARE OR PRESCHOOL

in the West and Grove City Messengers

and reach over 23,000 homes

Call Kathy For More Info

614-272-5422

Preschool/Daycare

xPublic Notice

The Urbancrest Community

Improvement Corporation (UCIC)

is holding a Public Meeting on

January 18, 2023 at 6:00 pm

This meeting will be held at

Union Baptist Church

3452 First Ave., Urbancrest 43123

Email info@urbancrestcic.org

for more information.

Public Notice

xGreeting

2

0

2

23

LEGAL NOTICE

Class Action against The

City of Grove City (2.5

miliion) & Grove City

Police (2.5 million) for

bodily harm & abuse of

power. Free to join. 614-

278-9498

Class Action against

Grant Hospital for

malpractice & negligence.

Free to join. 614-278-9498

CEMETERY LOTS

Double Lot - Sunset

Cemetery, Section 6. Value

$5,190, asking $4,000

OBO. Text 614-361-3803

INFORMATION

START THE

NEW YEAR RIGHT!

Come See Me At

My New Location!

Call Marilyn Weaver

For An Appt.

For a New Haircut/Color

614-348-6670

Relax Wellness

3663 Broadway, Grove City

NEED SOMETHING

DONE THIS WINTER?

CHECK OUT OUR

CLASSIFIED SERVICES!

FOR

ADVERTISING

INFO. CALL

614-272-5422

THE COLUMBUS

MESSENGER

ASSOCIATION ADS

HughesNet - Finally, superfast

internet no matter

where you live. 25 Mbps

just $59.99/mo! Unlimited

Data is Here. Stream

Video. Bundle TV &

Internet. Free Installation.

Call 866-499-0141

WANTED!

MOTORCYCLES!

ANTIQUE AND CLASSIC.

Honda, Kawasaki, Suzuki,

Yamaha, Triumph, BSA

and other foreign models.

$$PAYING CA$H$$

717-577-8206

KRMiller1965@yahoo.com

MobileHelp, America's

premier mobile medical

alert system. Whether

you're home or away. For

safety & peace of mind.

No long term contracts!

Free brochure! 1-888-489-

3936

Stroke & Cardiovascular

disease are leading

causes of death according

the American Heart

Association. Screenings

can provide peace of mind

or early detection! Call

Life Line Screening to

schedule your screening.

Special offer - 5

screenings for $149. 1-

866-518-8391

DIAGNOSED WITH

LUNG CANCER? You

may quliafy for a

substantial cash award -

even with smoking history.

NO obligation! We've

recovered millions. Let us

help!! Call 24/7, 1-888-

650-9135

ASSOCIATION ADS

Wesley Financial Group,

LLC Timeshare Cancellation

Experts Over

$50,000,000 in timeshare

debt & fees cancelled in

2019. Get free

informational package &

learn how to get rid of

your timeshare! Free

consultations. Over 450

positive reviews. 888-965-

0363

The bathroom of your

dreams for as little as

$149/month! BCI Bath &

Shower. Many options

available. Quality

materials & professional

installation. Senior &

Military Discounts

Available. Limited Time

Offer - FREE virtual inhome

consultation now

and SAVE 15%! Call

Today! 1-877-540-2780

Become a Published

Author. We want to Read

Your Book! Dorrance

Publishing - Trusted by

Authors Since 1920

Book manuscript submissions

currently being reviewed.

Comprehensive Services:

Consultation, Production,

Promotion and Distribution. Call

for Your Free Author's Guide 1-

866-482-1576 or visit

dorranceinfo.com/macnet

Are you receiving

SSDI/SSI Benefits? You

may be eligible for

additional benefits. CALL

US TODAY Citizen

Disability 1-888-490-6616

Best satellite TV with 2

year price guarantee!

$59.99/mo with 190

channels and 3 months

free premium, movie

channels! Free next day

installation! Call 844-842-

4469

ASSOCIATION ADS

Become a Published

Author. We want to Read

Your Book! Dorrance

Publishing Trusted Since

1920 Consultation,

Production, Promotion &

Distribution. Call for Free

Author's Guide 1-877-729-

4998 or visit

dorranceinfo.com/ads

Attention Homeowners! If

you have water damage

and need cleanup

services, call us! We'll get

in & work with your

insurance agency to get

your home repaired and

your life back to normwl

ASAP! 855-767-7031

Free high speed internet if

qualified. Govt. pgm for

recipients of select pgms

incl. Medicaid, SNAP

Housing Assistance, WIC,

Veterans Pension,

Survivor Benefits, Lifeline,

Tribal. 15 GB Internet.

Android tablet free w/onetime

$20 copay. Free

shipping. Call Maxsip

Telecom! 1-833-758-3892

Caring for an aging loved

one? Wondering about

options like senior-living

communities and in-home

care? Caring.com's

Family Advisors help take

the guesswork for your

family. Free, no-obligation

consult: 1-855-759-1407

Beltone Hearing Aids.

Voted @1 hearing Care

retailer. Rechargeable,,

weather & sweatproof.

Easily connect music,

audio & calls to your

hearing aids. Starting at

$799. Call today & get

25% off plus a free

cleaning kit with purchase.

Expires 3/31/2023. Call 1-

866-625-4985

ASSOCIATION ADS

Directv Stream - Carries

the Most Local MLB

Games! CHOICE

Package, $89.99/mo for

12 months. Stream on 20

devices in your home at

once. HBOMax included

for 3 mos (w/CHOICE

Package or higher.) No

annual contract, no hidden

fees! Some restrictions

apply. Call IVS 1-866-629-

6086

!!OLD GUITARS WANT-

ED!! GIBSON, FENDER,

MARTIN, Etc. 1930's to

1980's. TOP DOLLAR

PAID. CALL TOLL FREE

1-866-433-8277

Replace your roof with the

best lookng and longest

lasting material -- Steel

from Erie Metal Roofs!

Three styles and multiple

colors available.

Guaranteed to last a

lifetime! Limited Time

Offer - $500 Discount +

Additional 10% off install

(for military, health

workers & 1st responders)

Call Erie Metal Roofs: 1-

855-338-4807

Donate Your Car To

Veterans Today! Help and

Support our Veterans.

Fast - FREE pick up.

100% tax deductible. Call

1-800-245-0398

Donate your car, truck,

boat, RV and more to

support our veterans!

Schedule a FAST, FREE

vehicle pickup and receive

a top tax deduction! Call

Veteran Car Donations at

1-877-327-0686 today!

The Classified Department

THE COLUMBUS MESSENGER

ASSOCIATION ADS

Safe Step. North

America's #1 Walk-in Tub.

Compreshensive lifetime

warranty. Top-of-the-line

installation and service.

Now featuring our FREE

shower package & $1600

off for a limited time! Call

today! Financing

available. Call Safe Step

1-833-356-1954

Vivint Smart Security.

Professionally installed.

One connected system for

total peace of mind. FREE

professional installation!

Four FREE months of

monitoring! Call now to

customize your system. 1-

855-870-2073

FREE $20 Cash App

Everyone! Yes It's Real.

Very Limited supply until

we run out! Go to

Free20Now.com

Greeting

ASSOCIATION ADS

BUYING CLASSIC CARS,

TRUCKS, SUVs

**American and Foreign**

Any Condition. Buying

entire car collections.

$$PAYING CA$H$$

Please call 717-577-8206

KRMiller1965@yahoo.com

Don't let the stairs limit

your mobility! Discover

the ideal solution for

anyone who struggles on

the stairs, is concerned

about a fall or wants to

regain access to their

entire home. Call

AmeriGlide today! 1-844-

317-5246

Internet &WIFI Starts at

$49 Call us Today to Get

Started. Find High-Speed

Internet with Fiber Optic

Technology No Credit

Check, No SSN Required.

Call us Today 866-396-

0515

Safe Step. North

America's #1 Walk-in Tub.

Compreshensive lifetime

warranty. Top-of-the-line

installation and service.

Now featuring our FREE

shower package & $1600

off for a limited time!

Financing available. 1-

855-417-1306

ASSOCIATION ADS

Switch and save up to

$250/yr on talk, text &

data. No contract or

hidden fees. Unlimited talk

& text with flexible data

plans.

Premium

nationwide coverage.

100% U.S. based

customer service. Limited

time get $50 off any new

account. Use code

GIFT50. 1-855-903-3048

Vivint Smart Security.

Professionally installed.

One connected system for

total peace of mind. Free

professional installation!

Four free months of

monitoring! Call to

customize your system. 1-

833-841-0737

Put on your TVEars &

hear TV w/unmatched

clarity. TVEars Originaloriginally

$129.95 - now

w/this special offer only

$59.95 w/code MCB59! 1-

888-805-0840
---
PAGE 14 - GROVE CITY MESSENGER - December 25, 2022

www.colulmbusmessenger.com

xEmployment

HIRING WAREHOUSE

UP TO

$19/HR +

UP TO

$3K SIGN-ON

NO WEEKENDS • NO MANDATORY OT

OPEN INTERVIEWS

WEDNESDAY 10AM-1PM

1568 Georgesville Rd. Columbus, OH 43228

JOBS.MSCDIRECT.COM

Applicants must sucessfully pass a background check and drug screen.

Equal Opportunity Employer: Minority, female, veteran, individuals with disabilities, sexual orientation/gender identity.

"HELP WANTED"

SIGN

NOT WORKING?

TO ADVER

VERTISE

Call Kathy at

The Columbus Messenger

614-272-5422

ASSOCIATION ADS

DENTAL INSURANCE

from Physicians Mutual

Insurance Company.

Coverage for 350 plus

procedures. Real dental

insurance - NOT just a

discount plan. Do not wait!

Call now! Get your FREE

Dental Information Kit with

all the details! 1-877-553-

1891

www.dental50plus.com/

macnet#6258

Switch and save up to

$250/yr on talk, text & data.

No contract or hidden fees.

Unlimited talk & text with

flexible data plans.

Premium nationwide

coverage. 100% U.S.

based customer service.

Limited time offer - get $50

off any new account. Use

code GIFT50. For more

information1-888-684-1169

SELL YOUR ANTIQUE

OR CLASSIC CAR.

Advertise with us. You

choose where you want

to advertise. 800-450-

6631 visit macnetonline.

com for details.

Attention Viagra users:

Generic 100 mg blue pills

or generic 20 mg yellow

pills. Get 45 plus 5 free

$99 + S/H. Call Today 1-

877-707-5518

Elminate gutter cleaning

forever! LeafFilter, the most

advanced debris-blocking

gutter protection. Schedule

Free LeafFilter Estimate

today. 20% off Entire

Purchase. 10% Senior &

Military Discounts. Call 1-

833-610-1936

ASSOCIATION ADS

READER

ADVISORY

The National Trade Association

we belong to has

purchased the following

classifieds. Determining

the value of their service

or product is advised by

this publication. In order

to avoid misunderstandings,

some advertisers do

not offer "employment"

but rather supply the

readers with manuals, directories

and other materials

designed to help

their clients establish mail

order selling and other

businesses at home. Under

NO circumstance

should you send any

money in advance or give

the client your checking,

license ID or credit card

numbers. Also beware of

ads that claim to guarantee

loans regardless of

credit and note that if a

credit repair company

does business only over

the phone it's illegal to request

any money before

delivering its service. All

funds are based in US

dollars. Toll Free numbers

may or may not

reach Canada. Please

check with the Better

Business Bureau 614-

486-6336 or the Ohio Attorney

General's Consumer

Protection Section

614-466-4986 for more

information on the company

you are seeking to

do business with.

Employment

ASSOCIATION ADS

AT&T Internet. Starting at

$40/month w/12-mo agmt.

1 TB of data/mo. Ask how

to bundle & SAVE! Geo &

svc restrictions apply. 1-

855-364-3948

Attention oxygen therapy

users! Inogen One G4 is

capable of full 24/7 oxygen

delivery. Only 2.8

pounds. Free info kit.

Call 877-929-9587

Looking for auto insurance?

Find great deals

on the right auto insurance

to suit your needs.

Call today for a free

quote! 866-924-2397

VIAGRA and CIALIS

USERS! 50 Generic pills

SPECIAL $99.00. 100%

guaranteed. 24/7 CALL

NOW! 888-445-5928

Hablamos Espanol

ASSOCIATION ADS

DISH TV $64.99 FOR 190

Channels + $14.95 High

Speed Internet. Free Installation,

Smart HD DVR

Included, Free Voice Remote.

Some restrictions

apply. Promo expires

1/21/23. 1-866-479-1516

Want Faster & Affordable

Internet? Get internet

service today with

Earthlink. Best internet &

WiFi Plans. Call us Today

to Get Started. Ask

about our specials! 866-

396-0515

The Generac PWRcell

solar plus battery storage

system. Save money,

reduce reliance on

grid, prepare for outages

& power your home. Full

installation services. $0

down financing option.

Request free no obligation

quote. Call 1-877-

539-0299

Dental Insurance -

Physicians Mutual Insurance

Comopany. Covers 350

procedures/ Real insurance -

not a discount plan. Get your

free dental info kit! 1-855-

.526-1060 www/dental50

plus.com/ads #6258

ASSOCIATION ADS

Eliminate gutter cleaning

forever! LeafFilter, the

most advanced debrisblocking

gutter protection.

Schedule a FREE

LeafFilter estimate today.

20% off Entire Purchase.

Plus 10% Senior & Military

Discounts. Call 1-855-

791-1626

Prepare for power

outages today with a

GENERAC home standby

generator. $0 Down + Low

Monthly Pmt. Request a

free Quote. Call before the

next power outage: 1-855-

948-6176

READY TO BUY, SELL

OR RENT YOUR

VACATION HOME OR

HUNTING CAMP?

Advertise it here and in

neighboring publications.

We can help you. Contact

MACnet MEDIA @

800-450-6631 or visit our

site at MACnetOnline.

com
---
www.columbusmessenger.com

xCome & Get It!

INFORMATION

December 25, 2022 - GROVE CITY MESSENGER - PAGE 15

xClassified Services

COME AND GET IT!

Need to Get Rid of Something Fast - Advertise It Here For FREE!

Deadlines are Mondays by Noon

Call For Publication Schedule 614-272-5422

FREE Garden Straw for gardens or bedding. Call for appointment for pickup.

Circle S Farms, 9015 London-Groveport Road, Grove City, 43123

Grove City - 614-878-7980

FREE - Metal from old camper frame, Need a truck to pickup..

CC - Obetz - 614-632-1013

FREE - Children's Wooden Play Set - Good Condition w/Sand Box under it, Step Ladder up

Slide to go down & a rope swing. Also separate Swing Set w/4 swings.

190 Inah Ave., Cols, 43228 near the Fire Dept.

West Columbus - 614-878-1930, ask for Linda

FREE - Firewood - All you want! U cut U Haul. Text me if you want it.

Obetz - 614-519-7986

Come and Get It! is a bi-weekly column that offers readers an opportunity to pass

along surplus building materials, furniture, electronic equipment, crafts, supplies,

appliances, plants or household goods to anybody who will come and get them - as

long as they're FREE. NO PETS! Just send us a brief note describing what you want to

get rid of, along with your name, address and phone number. Nonprofit organizations

are welcome to submit requests for donations of items.

Send information to The Columbus Messenger, Attention: Come and Get It, 3500

Sullivant Ave., Columbus, OH43204. Deadline is Mondays at NOON for following

Sunday's publication. Messenger Newspapers is not responsible for any complications

that may occur. Please contact us when items are gone. 272-5422

Come & Get It!

xFocus on Rentals

WEDGEWOOD

VILLAGE

1, 2 and 3 BR Apts.

Rent Based on Income.

Call 614-272-2800 or visit us

at 777 Wedgewood Dr.

TTY/TDD 711

EQUAL HOUSING OPPORTUNITIES

ASSOCIATION ADS

BATH & SHOWER UP-

DATES in as little as

ONE DAY! Affordable

prices - No payments for

18 months! Lifetime warranty

& professional installs.

Senior & Military

Discounts available. Call

855-761-1725

The Generac PWRcell, a

solar plus battery storage

system. SAVE money,

reduce your reliance on

the grid, prepare for power

outages and power

your home. Full installation

services available. $0

Down Financing Option.

Request a FREE, no obligation,

quote today. Call

1-866-783-0292

Rentals

ASSOCIATION ADS

NEED IRS RELIEF

$10K-$125K+ Get Fresh

Start or Forgiveness.

Call 1-877-705-1472

Monday through Friday

7am-5pm PST

IMPORTANT

NOTICE

The following states: CA,

CT, FL, IA, IL, IN, KY,

LA, MD, ME, MI, MN,

NE, NC, NH, OH, OK,

SC, SD, TX, VT and WA

requires seller of certain

business opportunities to

register with each state

before selling. Call to

verify lawful registration

before you buy.

ASSOCIATION ADS

Thinking about installing

a new shower? American

Standard makes it

easy. FREE design consulation.

Enjoy your

shower again! Call 1-

833-769-0995 today to

see how you can save

$1,000 on installation, or

visit www.newshowerdeal.com/mac

Protect your home w/home

security monitored by

ADT. Starting at $27.99/

mo. Get free equipment

bundle including keypad,

motion sensor, wireless

door & windows sensors.

833-719-1073

Prepare for power outages

today with a GENERAC

home standby generator.

$0 Money Down + Low

Monthly Payment Options.

Request a FREEQuote--

Call now before the next

power outage. 1-855-465-

7624

DISH TV $64.99 for 190

Channels + $14.95 high

speed internet. FREE installation,

Smart HD DVR

included. Free Voice Remote.

Some Restrictions

apply. Promo Expires

1/21/23. 1-866-590-5561

INSURANCE

Medicare New Benefit

Medicare-Zero Premium

Free Doctor visit, free ride,

free food card, free

prescrptions.614-805-1084

CHILD CARE

OFFERED

Depend. Quality Child care

in loving hm. Exp. Mom, n-

smkr, hot meals, sncks,

playroom, fncd yd. Reas.

rates. Laurie at 853-2472

See...

You Looked!

Newspaper

Ads Catch

The Eye!

Call

272-5422

For Info. &

Pricing

HELP WANTED

Kings Kids Daycare

in Grove City is hiring Fun,

Loving Teachers for PT &

FT shifts. Please email

sarragc@outlook.com or

call 614-539-0349

Licensed Barber Needed

to take over for retiring

barber. Full or Parttime.

located in Great Southern

Shopping Center. Call

Cindy for more info

614-239-1976

WANT TO BUY

ANTIQUES

WANTED

Victrolas, Watches,

Clocks, Bookcases

Antiques, Furn.

Jeff 614-262-0676

or 614-783-2629

WE BUY JUNK CARS

Call anytime 614-774-6797

BUYING OSU & old sports

items, records, postcards,

old photos, jewelry & more

614-477-5590

We Buy Cars & Trucks

$300-$3000.614-308-2626

We Buy Junk Cars &

Trucks. Highest Prices

Paid. 614-395-8775

MISCELLANEOUS

FOR SALE

HP PRINTER

CARTRIDGES FOR SALE

HP 901 Color Cartridges (3);

HP 901XL and 901 Color

Multi Pack (1);

HP 901XL Black(1).

$15.00 each.

Columbus Messenger,

3500 Sullivant Ave.

Call Office 614-272-5422

Bedroom Suite - Bed frame,

dresser w/attached mirror.

All wood. Good cond.

$1900 OBO. 614-571-1997

OUT OF TOWN

PROPERTY

5.02 Wooded Acres for

sale near S. Pittsburg. TN.

No utilities. $40K. Can be

seen on Zillow.com.

Private owner.

yallgit1@yahoo.com

USED VEHICLES

1991 Cadillac - runs good

305 Chevy motor ?

1-740-973-3206

CARPET CLEANING

CARPET CLEANING

Any 5 areas ONLY $75

614-805-1084

Specializing in Pet Odors

CLEANING

DEEP CLEANING &

WALL WASHING

Call Judy 614-746-0273

CONCRETE

www.hastingsnsons.com

Driveways & Extensions

Patio & Walkways,

Porches & Steps,

Garage/Basement Floors

Hot Tub/Shed Pads,

Stamped/colored concrete

Sealing of new &

existing concrete.

FREE ESTIMATES

Contact Adam

614-756-1754

hastingsandsons.

columbus@gmail.com

AJ's Concrete,

Masonry

Good Work - Fair Prices

Block Foundations

Driveways • Sidewalks

Epoxy/Overlay Floors

Bonded-Ins. • Free Ests.

614-419-9932

FENCING

EAZY FENCE

Chain Link - Wood

No Job Too Big or Small

All Repairs ~ Free Est.

Insured. 614-670-2292

FLOORING

CARPET

INSTALLATION

SPECIAL

Starting At

$1.50 per sq ft

Installation

Services

also available for

Ceramic,

Hardwood

&Vinyl

740-803-0705

Special Expires 1/31/23

HAULING

DEAN'S HAULING

614-276-1958

DUMPSTER RENTAL

4 Days - $275 & Up

No Hazardous Materials

Tires - $10.00 each

Call 614-254-1131

JUNK REMOVAL

AL

AND MORE LLC

• Junk Removal

• Demolition

• Hoarding

614-352-0442

10% OFF FOR

SENIORS & VETERANS

12/18 A

1/22 A&M

1/8 W

HEATING & COOLING

HVAC

HEATING & A/C

Fast Service - Licensed

614-633-9694

INFORMATION

ONLY

$50.00

For This Ad In Our

West & Grove City

For Info Call

272-5422

HOME

IMPROVEMENTS

SLAGLE

HOME REMODELING

Baths, Kitchen,

Plumbing and Electrical.

All your Handyman needs

No Job too Big or Small

Over 30 Yrs. Exp. Lic.-Bond-Ins.

Jerry

12*18

SW/W

614-332-3320

CandC

Handyman Services LLC

"See The Difference"

l

614-378-7469

Remodels,

12/18

A

Water Heaters,

Plumbing, Fence,

Sidewalks, Decks,

Int./Ext. Paintng

& Electrical Work

Handyman - outdoor &

indoor. Reasonable Rates

614-634-2244

KLAUSMAN HOME

IMPROVEMENT

Siding-Windows-

Doors-Roofing-Soffit-

Fascia-Gutters-Trim

Earn FREE Seamless

Gutters with Siding Over

1000 Sq. Ft.

FREE Shutters with

Soffit & Trim

EPA Certified

Member of BBB

Financing Available

Over 20 yrs exp. • Free Est.

Licensed-Bonded-Insured

Owner & Operator

James 614-419-7500

C&JHandyman

Services LLC

Minor Plumbing & Electric

Install Hot Water Tanks,

Dishwashers & Disposals

All Interior Remodels

Also Fencing &

Interior/Exterior Painting

Free Est. ~ 18 Yrs. Exp.

CDC/EPA Approved Guidelines

614-284-2100

1/8 A

12/4 A

HOME

IMPROVEMENTS

SINCE 1973

Phil Bolon Contr.

Windows & Siding

Decks, Kitchens, Baths

Room Additions,

Flooring, Roofing

Bsmt Waterproofing

Deal With Small Non-Pressure Co.

47 Yrs. Exp. - Refs. Avail.

Lic.-Bond-Ins.

Free Est. - Financing Avail.

Member BBB Of Cent. OH

O.C.I.E.B. ID #24273

614-419-3977

or 614-863-9912

HOME

MAINTENANCE

HOME

REMODELING

LANDSCAPING

LAWN CARE

LET US MAINTAIN

YOUR LAWN & GARDEN

FOR YOU

Summer, Spring,

Winter or Fall

WE DO IT ALL!!!!

Lawn Cuts, Edging,

Trees & Shrubs, Garden,

Mulching, Hauling,

Garden Pond &

Home Maint.

Free Ests. Low Rates

$20 & Up

Kevin - 614-905-3117

PAINTING

Classified Services

12/18

A/M

HANDYMAN SERVICES

614-235-1819

Charlies Handyman

Service

Over 40 yrs. exp.

Hot Water Tanks

Door Locks

Kitchen/Bath Remodels

Roofmg * Siding

Porches & Decks

614-319-6010

blantoncharles894@gmail.com

MultiCraft Const.

& Handyman Services

All Types Handyman Services:

Decks, Fences

Kitchen/Baths

Window/doors installed

Interior Painting

Drywall Repairs

All Types of Flooring

Call/Text 614-774-2923

multicraftconstruction@gmail.com

ONYX

LANDSCAPING

614-407-5214

www/Pmux:amdsca[omg;;c/cp,

Full Service Lawn Care

Start With Trust!!

Painter Over 30 Yrs. Exp.

Free Est. Reas. Rates

Daniel - 614-226-4221

1/22 A

PLASTERING

DRYW

YWALL &

PLASTER

12/18

A&M

REPAIR

AIR

Textured Ceilings

614-551-6963

Residential/Commercial

BIA

PLUMBING

All About Drains & Plumb.

Will snake any small drain

$145. 614-778-2584

MYERS

PLUMBING

Exp Expert Plumbing

New Const. & Fast Repairs

Lic. - Permit AVailable

Water * Sewer * Gas

614-633-9694

CHRIS'

PLUMBING

"Plumbing & Drain Professional

That You Can Count On"

24 Hrs., 7 Days/Week

No Overtime Charges

24 Yrs. Exp. in Plumbing &

Drain Cleaning Field

Call For A Free Phone Estimate

$100.00 For Any Small Drain

614-622-4482

30% OFF with AD

POOL/SPA

MAINTENANCE

K&L Spa Cleaning

Hot Tub Cleaning and

Weekly Maintenance

Keith 614-316-9809

ROOFING

RETIRED

ROOFER

BBB "A+" Rating

All Types of Roof Repairs

• New Roof Installation

• Flashing

• Chimneys Rebuilt

• Flat Roof Specialist

• Roof Replacement

avail. upon request

All Work Guaranteed

614-352-7057

Free Estimates

SEWING MACHINE

REPAIR

REPAIR all makes 24 hr.

service. Clean, oil, adjust

in your home. $49.95 all

work gtd. 614-890-5296

TREE SERVICES

BURNS TREE SERVICE

Trimming, Removal &

Stump Grinding.

614-584-2164

Warren Brewer Tree Service

• Tree Removal

• Tree Trimming

• Stump Grinding

1/8

A&M

• Bucket Truck Services

Best Prices • Same Day Service

614-878-2568

1/8 A

1.07 W/SW
---
PAGE 16 - GROVE CITY MESSENGER - December 25, 2022

www.columbusmessenger.com

IMMACULATE LIKE NEW CONDO

Welcome to 1420 Cascade Drive. This immaculate condo is the rare one with the fully conditioned Sunroom. Almost totally

hard surface flooring the only carpet is in the master bedroom. New HVAC and water tank this home is well loved. Open floor

plan which offers a granite and stainless kitchen with an abundance of counter space and cabinetry. The open kitchen looks

directly into the vaulted Great Room with a gas log fireplace as well as the dining area. Large Owners Suite with a dual sink

bath and walk in closet featuring a handy closet organizer system. Second bedroom is also large with its own walk in closet.

If you are looking for a condo that is move in ready, you just found your new home! Fountainview is close to shopping, medical,

parks and transportation. Don't miss out! $299,900 MLS #222044729

VIP REALTY

INC

SKINNER GROUP

Evan & Greg Skinner, Realtors

614-537-1994 614-546-8354

Discount Commissions Everytime!

COMMERCIAL - INDUSTRIAL - HIGH QUALITY RESIDENTAL sales@soldbyskinner.com