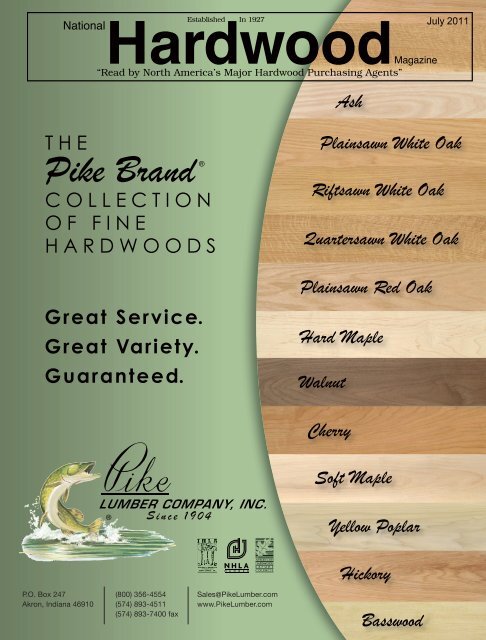 National Hardwood Magazine - July 2011
Check out the National Hardwood Magazine's latest issue and stay up-to-date on all the trends, news, and industry info you need.
Check out the National Hardwood Magazine's latest issue and stay up-to-date on all the trends, news, and industry info you need.

SHOW MORE
SHOW LESS
You also want an ePaper? Increase the reach of your titles
YUMPU automatically turns print PDFs into web optimized ePapers that Google loves.
National

Hardwood

July

"Read by North America's Major Hardwood Purchasing Agents"

Established In 1927

Ash

Magazine

2011

THE

Pike Brand®

COLLECTION

OF FINE

HARDWOODS

Great Service.

Great Variety.

Guaranteed.

Plainsawn White Oak

Riftsawn White Oak

Quartersawn White Oak

Plainsawn Red Oak

Hard Maple

Walnut

Cherry

Soft Maple

®

Yellow Poplar

Hickory

P.O. Box 247

Akron, Indiana 46910

(800) 356-4554

(574) 893-4511

(574) 893-7400 fax

Sales@PikeLumber.com

www.PikeLumber.com

Basswood
---
Contents:

Read each month's feature stories or

download the latest issue online @

www.nationalhardwoodmag.com

Features:

Cumberland Lumber & Manufacturing.............................................................16

Deer Park Lumber Inc. - Dedicated To Sustainable Forestry .........................18

Collins Introduces Cutting Edge Hardwood Sawmill Operation ...................20

ALC Members Discuss Current Market Conditions........................................22

Many Honored During NWFA Annual Convention ..........................................24

Inman Discussed Hardwood Lumber Markets At Penn-York Club................26

NHLA Welcomes Members At Reception.........................................................28

Western Alder Grades At NHLA Convention In Nashville..............................30

Departments:

Hardwood Calendar ................................................................................................4

U.S.A. Trends ...........................................................................................................6

Canadian Trends......................................................................................................7

News Developments ...............................................................................................8

NHLA News .........................................................................................................10

HMA & Solid Hardwood Promotion ..................................................................11

AHEC Update ......................................................................................................12

Hardwood Federation.........................................................................................13

WCMA Component Trends ................................................................................14

Who's Who ..........................................................................................................42

Trade Talk ............................................................................................................46

Obituary...............................................................................................................53

Classified Opportunities....................................................................................54

Advertisers Index ...............................................................................................56

The publisher reserves the right to accept or reject

editorial content and Ads at the staff's discretion.

2 Hardwoods...The All-Purpose Material
---
July, 2011 Vol. 85, No. 6

The Cover

For over 100 years Pike Lumber Company continues

to be a leader in the hardwood lumber

industry. We combine our vast knowledge of the

forest resource with the latest technology to produce

the finest hardwood lumber available anywhere.

Our broad product line consists of Ash,

Basswood, Cherry, Hickory, Hard Maple, Soft

Maple, Red Oak, White Oak, Poplar and Walnut.

Secondary species include Sycamore, Grey Elm,

Sassafras, Hackberry and Butternut. Thicknesses

include 4/4 through 8/4 in most species, and up

to 16/4 in some items. We also cut Rift and

Quartered in White Oak, Red Oak, Cherry and

Walnut.

Our commitment to sustainable forest management

practices is deeply engrained in our corporate

culture. We employ over 20 university trained

foresters throughout the company. From tree

plantings to forest management plans to timber

harvests, our team of foresters have the experience to manage forestland in a sustainable

manner to ensure a timber resource for future generations. To learn more

about Pike Lumber Company please visit our website at www.pikelumber.com.

Craig Brouyette, Sales Manager

1(800) 356-4554

G.F. Hardwoods, Inc.

"A Company You Can Depend On"

9880 Clay County Hwy.

Moss, TN 38575-6332

Phone: 1-800-844-3944

Fax 1-931-258-3517

Kevin Sweezy

kevin@gfhardwoods.com

Quality Appalachian

Hardwood Lumber

Species

Services

Facilities

• Red Oak

• Poplar

• Hard Maple

• White Oak

• Ash

• Cherry

• Own Trucks

• Cut 4/4

through 8/4

• Grade After Kiln

Drying

• Computer Tally

• 5 Length

Separations

• 800,000 B.F.

Kiln Capacity

• 500,000 B.F.

Predryer

Capacity

• Yates American

Planer

Founded in 1927 by:

O.L. MILLER - 1894 - 1963

Publisher: PAUL J. MILLER - 1963 - 2010

The National Hardwood Magazine is the product of a company and its affiliates that have

been in the publishing business for 84 years.

Other publications edited for specialized markets and distributed worldwide include:

Forest Products Export Directory • Hardwood Purchasing Handbook • Dimension & Wood

Components Buyer's Guide • Import/Export Wood Purchasing News • Imported Wood

Purchasing Guide • Green Book's Hardwood Marketing Directory • Green Book's Softwood

Marketing Directory • The Softwood Forest Products Buyer

Paul J. Miller, Jr.................................................................................................................President

Central States Editor

Terry Miller ...........................................................................................Vice President – Sales Mgr.

Northeast Editor

Wayne Miller..............................................................................................................Vice President

Canada & West Coast Editor

Gary Miller .................................................................................................................Vice President

Southeast Editor

Barbara King ...........................................................................................................Travel Manager

Virginia Sorensen....................................................................................................Finance Officer

Sue Putnam.............................................................................................................................Editor

Michelle Keller .......................................................................................................Associate Editor

John Gray, Jr .................................................................................................................Art Director

Walter Lee .....................................................................................................Associate Art Director

Tammy Daugherty...........................................................................................Production Manager

Charlene Jumper.................................................................................Green Book …Market Sales

Lisa Carpenter.................................................................................................Circulation Manager

Lexi Hardin ..........................................................................................Subscription & List Services

ADVERTISING OFFICES:

5175 Elmore Rd., Suite 23, Memphis, TN 38134

901-372-8280 FAX 901-373-6180

Reach us via the Internet at: www.nationalhardwoodmag.com

e-mail addresses: ADVERTISING: tammy@millerpublishing.com

EDITORIAL: editor@millerpublishing.com

SUBSCRIPTIONS: circ@millerpublishing.com

EDITORIAL CORRESPONDENTS:

Chicago, Los Angeles, High Point, Grand Rapids, Portland, Toronto

Controlled circulation postage paid at Memphis, TN

(USPS #917-760)

The NATIONAL HARDWOOD MAGAZINE (ISSN 0194-0910) is published monthly, except for

two issues in December, for $55.00 per year and $65.00 (U.S. dollars) per year for Canada

by National Hardwood Magazine, Inc., 5175 Elmore Rd., Suite 23, Memphis, TN 38134.

Periodicals Postage paid at Memphis, TN, and at additional mailing offices. POSTMASTER:

Send address changes to National Hardwood Magazine, P.O. Box 34908, Memphis, TN

38184. Publications mail agreement No. 40739074. Return undeliverable Canadian

addresses to: P.O. Box 503, RPO W. Beaver Cre., Rich-Hill, ON L4B 4R6.

Website: www.gfhardwoods.com

LUMBER FOR

SALE

FROM

HAROLD WHITE

LUMBER, INC.

Manufacturers of Quality Appalachian Hardwood Lumber

Harold White Lumber, Inc. features:

* Quality bandsawn lumber

* Excellent color and texture

* 500,000 bf of kiln capacity

* Planing mill facility

* Moulding facility specializing in paneling, flooring,

casing, doors and fingerjoint

* Individual package tally and

on-site container loading

PROMPT WORLDWIDE SHIPMENTS

CONTACT MIKE WHITE

For Moulding and Millwork requests

CONTACT LEE WHITE

Harold White Lumber, Inc.

2920 Flemingsburg Road • Morehead, KY 40351

Phone (606) 784-7573 • Fax (606) 784-2624

Email: mwhite@haroldwhitelumber.com

JULY/2011 3
---
HARDWOOD CALENDAR

JULY

Indiana Hardwood Lumbermen's

Association, 23 rd Annual Chuck Spry

Memorial Golf Tournament, Tippecanoe

Country Club, Monticello, Ind., Contact:

800-640-4452. July 16.

Penn-York Lumbermen's Club, Monthly

Meeting, Carl Rosenberry and Sons,

Chambersburg, Pa. Contact: 814-694-2311.

July 18.

AWFS Fair, Las Vegas Convention Center,

Las Vegas, Nev. Contact: http://awfs.org.

July 20-23.

Appalachian Hardwood Manufacturers Inc.,

The Nemacolin, Farmington, Pa. Contact:

336-885-8315. July 23-26.

AUGUST

Southern Forest Products Association,

Annual Meeting and Forest Products

Machinery & Equipment Expo, Atlanta, Ga.

Contact: 504-443-4464. Aug. 9-12.

Penn-York Lumbermen's Club, Monthly

Meeting, Deer Park Lumber, Findley Lake,

N.Y. Contact: 814-694-2311. Aug. 15.

SEPTEMBER

National Hardwood Lumber Association,

Annual Convention, Gaylord Opryland Hotel,

Nashville, Tenn. Contact: l.brown@nhla-

.com. Sept. 21-24.

OCTOBER

WCMA 2011 Fall Conference & Plant Tour

Event, Louisville, Ky. Contact: 770-565-

6660. Oct. 2 - 4.

Hardwood Federation Fall Fly-In, Phoenix

Park Hotel, Washington, D.C. For more

information: www.hardwoodfederation.net.

Oct. 4-5.

Penn-York Lumbermen's Club, host Coastal

Lumber, Hopwood, Pa. Contact: 814-694-

2311. Oct. 24.

•

WHAT

ARE

YOU UP

TO NOW?

Expanding your facilities, adding

personnel or equipment, holding a

meeting or convention?

The National Hardwood Magazine

would like to know so that we can

publish your announcement.

Send news items to:

editor@nationalhardwoodmag.com

Searching

for Service?

Bingaman Lumber

has the solution.

www.BingamanLumber.com

4 Hardwoods Have Versatility
---
Supplier news about sales, labor, prices, trends, expansions and inventories.

SOUTHEAST LAKE STATES WEST COAST

In recent months the

Mississippi River and its tributaries

have risen to historically high

levels. Many areas in the southeast

were affected by flooding.

Respondents in parts of the

region accounted for milder

weather conditions with heavy

rains subsiding. Some areas

reported that flooding aftermath

has created difficult logging conditions.

As a result many sawmill

operators are not able to work at

full capacity.

In Tennessee, a Hardwood supplier

noted that replenishing log

inventories continues to be a

challenge. "Our log deck was

already low and we scaled back

our hours to preserve inventory,"

he said. "While we weren't

affected directly by the flooding,

surrounding areas that were

include some of our logging contractors."

Because log supply shortages

have been ongoing, the source

said Red Oak lumber availability

is especially thin. "Many grades

and thicknesses of kiln-dried Oak

are in short supply. Pricing has

been pushed higher for 4/4 and

5/4 No. 1 Common because of

the limited supply." He also said

the same was true for Ash and

other species. "Green production

of No. 2 and Better is off and our

buyers are waiting in the wings."

A contact in Mississippi men-

Weather conditions are a primary

concern for the Lake States

region. According to sources,

many logging contractors have

been unable to complete existing

jobs or start new ones. Hardwood

sawmills who previously reported

working from limited log

decks are running at half capacity.

In Michigan a contact said his

green lumber production has

been affected, with the volume of

lumber output down considerably

in recent weeks. "Supply shortages

are actually minimal in relation

to current demand," he

noted. "Most items have moved

closer with buyers' needs, which

have eased price pressures.

"Our kiln dried inventory has

decreased along with many others

in our area, which is pushing

those prices higher for certain

species, grades and thicknesses,"

he continued. The source said his

sales indicate shipping total output

is easier, but admits supply

shortages rather than demand are

the cause.

"Many mills are running at less

than capacity, operating from low

log decks. Runs of any one particular

species are inefficient currently,

especially in the minor

species."

With low inventories and limited

market interest the supplier

has concerns for the remainder of

2011. "We have had a very wet

On the West Coast, Hardwood

suppliers are a mixed group. Some

suppliers are maintaining their

inventory but not gaining in sales

activity, while others account for

better than average conditions.

One source in California said,

"Business has been off for so long,

we don't know what to call 'routine'

anymore.

"Economy and housing are the

primary factors in the Hardwood

market," he continued. "Both of

them have been at historically low

levels in the past few years. We've

only seen modest improvement

this year and when and if they will

ever return to a 'normal' level is

anybody's guess."

The source said his Hardwood

flooring customers are staying

afloat by contracted production.

"Contract work is keeping them

'in-the-game' right now but mostly

they are operating at a fraction

of their capabilities."

He also noted that while the

Hardwood flooring sector has

responded to the three-year downturn

by contraction and attrition,

he doesn't believe it will be able to

withstand it in the years ahead.

"Early on, many companies calculated

moves to reduce size and

most replaced ideas of expanding

with survival modes," he said.

"Everyone's business objectives

have shifted to short-term, minimizing

overhead, offering flexibil-

NORTHEAST

According to sources in the

Northeastern region, the volume

of lumber is moving at a steady

pace. Many segments of the marketplace

are active—from resale

operations restocking inventory

for projected business, to export

yards making purchases to fill

future shipment commitments.

A Hardwood supplier in

Connecticut noted that prices

vary depending on the species,

grade and destination. "We are

seeing solid interest in green No.

2 A and Better Ash," he said.

"Prices are steady along with

activity. More interest is also

developing in Hard and Soft

Maple, but the supply/demand

balance is making pricing difficult.

We are feeling supply shortages

in those species, resulting in

price increases, particularly in the

5/4 No. 1 Commons.

"On the other hand, we are having

a difficult time moving our

Yellow Birch, mostly due to specific

length, width and color

requirements," he continued.

"With inclement weather derailing

logging activity in certain

areas, production has halted for

many of the eastern sawmills.

Supply pressures on Red Oak

have eased accordingly and green

No. 3A and Better pricing is

steady for that species."

Heavy rains over much of the

area in recent months have

Please turn to page 49 Please turn to page 49

Please turn to page 50

Please turn to page 50

6 Hardwoods...A Renewable Resource
---
QUEBEC

Lower production levels have kept Red Oak relatively stable,

since even those with excess kiln dried inventory feel it is only a

matter of a short time before it starts moving. With most mills

focusing on 4/4, 8/4 Red Oak supplies were less available. Mills

that had the option were cutting less Red Oak and more Ash and

Elm. Exporters said overseas White Oak demand has been improving,

but domestic sales were still lackluster. The overall Walnut

supply was adequate, but sellers found responding to very particular

customers' needs trying. Tie buyers have had a hard time

increasing their inventory and were still looking for additional supplies.

Truck flooring makers were competing with pallet manufacturers

for supply.

The Quebec Premier's announcement on the details of his government's

"Plan Nord" for the development of Quebec's territory

above the 49th parallel received mixed reactions. Some business

groups were supportive, as businesses anticipated a boon for exploration,

engineering and exploitation firms. Environmentalists,

however, were against the plan, stating the bar was far too low for

the conservation of intact forests, which were among the most precious

forests in the province.

The surprising reaction, however, was the endorsement from

Matthew Coon Come, grand chief of northern Quebec Cree, a

staunch defender of his people's interests who in the 1990s led the

successful battle to stop Hydro-Quebec's Great Whale power project.

"This is new era," he said in reference to the care the government

has taken to include northern aboriginal communities in the

planning of the project.

The undertaking has been compared to be on a par with the landmark

James Bay and Manicouagan northern power developments

of decades past. It calls for the investment of $80 billion in both

public and private funds over the next 25 years in energy development,

mining, forestry, transportation and tourism in the 1.2-mil-

News from suppliers about prices,

trends, sales and inventories.

ONTARIO

Ontario and Quebec continued to experience rainy weather in

recent months, thus extending the mud season, and impacting lumber

supplies somewhat. Some sawmills were running on reduced

hours or were shut down, according to regions contacted. Despite

struggles with Emerald Ash Borer quarantines and phytosanitary

certificates in some U.S. border states, numerous mills said they'd

like to have more Ash logs. As the industry heads through summer,

it is anticipated that business will pick up. With the July construction

break, things should see the normal slowdown and then it is

anticipated that August and September will start to see a climb as

the construction sector gets back to work.

Basswood sales were fair with some kiln dried prices edging

upward. Some contacts reported having difficulty finding Yellow

Birch, but those offering 10-foot lengths were able to move their

Select/Better stock. Demand from flooring manufacturers is still

poor, creating an excess of No. 2 and No. 3A Common grades of

this species.

Cherry was selling but in small quantities commented wholesalers.

There was sufficient product to supply the kiln dried demand

for green Hard Maple. Sales of Select and Better Hard Maple items

were described as better, with availability of most grades for this

species being low. Reports concerning Soft Maple varied according

to the region contacted. Comments ranged from orders being bad,

and almost having to give it away, to markets getting tighter.

The Ontario Forest Tenure Modernization Act (Bill 151) was

passed in the legislature on May 19, 2011, which according to the

provincial government will change the forest tenure system and

provide a more competitive market environment in the allocation

and pricing of Crown timber.

Ontario will introduce two new forest management models for

harvesting wood from Ontario's forests under the new system: 1)

Local Forest Management Corporations (LFMCs), will manage

Please turn to page 51 Please turn to page 52

JULY/2011 7
---
News Developments

News about North American industrial Hardwood consumers and overseas updates,

including mergers, plant expansions, association activities and personnel

NATIONAL WOOD FLOORING ASSOCIATION

PRESENTS GREEN FLOOR AWARD

The National Wood Flooring Association (NWFA) recently

announced that Woodwright Hardwood Floor Co., Dallas, Texas, has

received an NWFA Environmental Craftsmanship Award.

The Environmental Craftsmanship Award recognizes professionally

installed wood floors that exhibit creative and responsible environmental

stewardship in their methods of installation, raw material

sourcing, and/or contributions to human well being in the indoor built

environment. Members of the environmental design community conducted

judging for the contest. The contest is open to any professional

wood flooring company.

NWFA is a non-profit trade organization, with more than 3,100

members worldwide, dedicated to educating consumers, architects,

designers, specifiers and builders in the uses and benefits of wood

flooring. Located at 111 Chesterfield Industrial Boulevard,

Chesterfield, Mo., 63005, the NWFA can be contacted at 800-422-

4556, or online at www.nwfa.org.

FAIRMONT DESIGNS ACQUIRES N.C. PLANT

Fairmont Designs, based in Hickory, N.C., recently acquired a former

Thomasville upholstery plant. A company representative said the

firm would use the plant to manufacture upholstery for its East Coast

accounts.

Paul Savicki has been named Vice President of Manufacturing. His

responsibilities will include overseeing the 210,000-square-foot operation.

Savicki's previous experience comes from Bernhardt Furniture

where he was plant manager of the company's contract seating division.

According to Savicki, the company will produce fully upholstered

sectionals, sofas, loveseats and chairs. Initially he expects 45 jobs to

be created with a possible growth of up to 70 by the end of the year.

President of Fairmont Designs, Brian Edwards, said the company

realized it needed an East Coast manufacturing presence to be competitive

in servicing East Coast accounts. "You can make it efficiently

wherever you are, but the cost of freight becomes a dictating factor

in how well you can be a value in the marketplace," Edwards said. "If

we were going to service that part of the country and be competitive

in what we were offering, freight is a huge factor. That issue is being

resolved by having a facility in North Carolina." For more information

visit www.fairmontdesigns.com.

AWC STATEMENT ON REQUEST OF EPA

TO STAY BOILER MACT AND CISWI RULES

The American Wood Council (AWC), headquartered in Washington,

D.C., issued the following statement following a broad coalition of

manufacturers' requests to the Environmental Protection Agency

(EPA) to stay the Boiler MACT and Commercial Industrial Solid

CARL ROSENBERRY & SONS LUMBER, INC.

7446 Path Valley Road Fort Loudon, PA 17224 Phone: (717) 349-2289 FAX: (717) 349-2044

www.rosenberrylumber.com

Two automatic circle mills and line bar band resaw

Maintaining 700,000' K.D. inventory and 1,000,000 bd. ft. of Green and Air Dried lumber

300,000 bd. ft. Kiln Capacity

KILN DRYING FINE PENNSYLVANIA HARDWOODS

ANNUAL PRODUCTION 7,000,000'

75% Red and White Oak

Email inquiries to Jackie Kriner at jackie@rosenberrylumber.com

8 Hardwoods Have Workability
---
Waste Incinerator (CISWI) rules.

"AWC and its fellow coalition members believe strongly that EPA

should stay both in the Boiler MACT and CISWI rules, while issues

with them are addressed. EPA has within its power to stay the rules,

and we're requesting that they do so.

"EPA itself has identified several areas of the rules they plan to

reconsider, so companies trying to comply with rules that will certainly

change becomes a futile exercise. We feel that staying both rules is

in the best interest of everyone so that work can continue toward making

much needed improvements in the rules.

"Given the complexity of the rules with multiple control requirements,

including some that may not be achievable, competition for

qualified engineering firms and control providers, as well as lead time

for capital acquisition, permitting, and installation, will necessitate

that companies have three full years to devise and implement very

complex compliance plans.

"We look forward to working with the EPA and feel staying the rule

is an important next step in the process toward achieving the necessary

changes to it."

For more information visit www.awc.com.

BONA PRESENTED HARDWOOD FLOORING COURSE

Bona US recently presented a Continuing Education Unit (CEU) at

the National American Institute of Architects (NAIA) Convention in

New Orleans, La. Bona developed the program for architects and

designers to provide a greater understanding about the life cycle of a

Hardwood floor in a residential or commercial environment.

"Proper Hardwood floor care starts at the installation," Director of

Marketing for Bona US explained. "As more and more architects and

designers specify Hardwood flooring, they are asking how to extend

the life of this investment. Additionally, we are hearing more requests

for best practices on health and safety."

The course is intended to provide an understanding about the lifecycle

of a Hardwood floor in a residential or commercial environment.

Covering the basic benefits of specifying Hardwood flooring, each

step of the sanding and finishing process and the importance of

including the correct long-term maintenance program were specified

in the course.

2011 HARDWOOD MARKET SURVEY

PREDICTS RESIDENTIAL SEGMENT TO GROW

Over 140 floor covering dealers and contractors recently surveyed

agree that the 2011 residential wood business is expected to increase

for two-thirds of respondents, while 56 percent of respondents see the

commercial Hardwood segment remaining similar to 2010, and 32

percent see commercial wood jobs increasing.

The single most important issue facing the Hardwood flooring segment

today is competitive pricing according to panelists. Dominating

the residential replacement sector total annual flooring sales for survey

participants at 54 percent, followed by builder/new construction,

20 percent; contract/commercial, 17 percent; and main street commercial,

9 percent. An average of 10 Hardwood flooring sales per

month in 2010 saw an increase of two sales per month over 2009. The

average ticket amount per Hardwood sale decreased to $3,037 from

$3,764 the previous year.

•

Today you dry Green *

GreenKilns

■ no additional costs

■ guaranteed savings

*Our new drying system is for free!

Add more to your bottom line

and protect the environment from

day 1 on.

The HILDEBRAND Initiative

Immediate return on investment. www.brunner-hildebrand.com/GreenKilns

JULY/2011 9
---
NHLA News

"The Last Word Is Quality"

My last word to the Hardwood lumber business is "quality." The

Hardwood lumber business requires quality in many different ways,

and it is the one necessary ingredient to be successful. Hardwood

lumber products enter the marketplace with high expectations and a

premium price and suppliers must be committed to quality in a number

of different ways.

Quality in Product

Hardwood lumber issuccessful because it can provide a unique high

quality material to a demanding market. The importance of delivering

a properly manufactured product on an on-time basis is crucial. In

turn, failure to deliver that quality has been and will continue to be the

demise of the industry. Fortunately the Hardwood lumber industry

through NHLA has developed a voluntary system for assuring product

quality through the establishmentandtrainingof Hardwood lumber

grades.With more than 100 years of practice, the Hardwood lumber

grades are the surest way of delivering quality on a consistent

basis. Through the use of trained inspectors both buyers and sellers

will be able to share in the benefits of this unique program.

The industry also put into place safeguards to be sure that the lumber

inspection service will maintain its integrity that is crucial to success.

To date, more than 7,200 lumber inspectors have completed an

intense four month training process at the Inspector Training School

in Memphis, Tenn. This voluntary traininghasbeen expanded over

the years to include quality control of lumber production and handling

in addition to inspection training. Additionally, hundreds

of short courses held throughout the country and the world have

trained thousands of interested buyers and sellers, and production staff

on how to improve production techniques to ensure production of

lumber thatmeets high standards.

In addition, the industry decided when the rules where first put into

place that it needed to police itself.A staff of lumber inspectors is

employed located throughout North America, but with their

servicesavailable to the industry anywhere in the world. From the

beginning,there has been no government involvement in either the

development or enforcement of grading rules. Instead, NHLA

employs"national inspectors" who are specifically trained as the final

word in grading to monitor the industry's compliance.

In short, it is the consistent and measurable production of quality

material that provides for the success of the Hardwood lumber busiby

MARK BARFORD, CAE

Executive Director

National Hardwood Lumber Assoc.

Memphis, Tenn.

ness. In addition though, there are two other

ways in which quality is crucial to be sure

theindustrysurvives anever changing marketplace

-quality of service and quality of character.

Quality of Service

The quality and level of service in the Hardwood lumber business

is just as important as quality of product. Delivering a product on

time, on grade, when and where it is expected is crucial in the "justin-time"

manufacturing world that is so common today. Although

Hardwood is unique from other commodities, often the primary distinction

among producers is the amount of service they provide to a

customer.

Quality of Character

Often the most important need for quality gets overlooked in the

Hardwood business when we forget about the importance of character.

The Hardwood lumber business is a very personal business

where we count on individuals and strong relationships to meet needs

and solve problems. Much business is done by phone and email with

people we know and trust. Many business deals are still completed

without a contract and by word alone.Quality of character is often the

most important element of success in this wonderful business, and the

true measure of who we are.

I have had the fortune of serving this industry for 36 years now, and

am looking forward to many more. I remain dedicated to teaching the

lesson of the importance of quality not only in our business but in life.

Qualityremains one of the unique ways that the Hardwood industry

will remain distinct and frankly successful, and would certainly be

my last word to the industry.

Thanks for listening.

•

10 Hardwoods Have Resiliency
---
HMA & Solid

Hardwood

Promotion

The "Science" Behind www.HardwoodInfo.com

The experts tell us that at least 60 percent of Americans conduct

online research before making purchase decisions. But because there

are tens of billions of web pages on the internet, the clear challenge

is how best to connect inquiring minds with the information they

seek. It's an industry challenge. But "science" is providing direction.

As many of you know, Search Engine Optimization (SEO) is a

process of increasing traffic to a website by improving the website's

ranking in search engine results from services like Google, Yahoo,

MSN, Bing, etc. And the SEO process is intended to make a web

page as appealing as possible to Google, Yahoo and the like, so that

their "creepy little crawlers" will visit a sight often and for extended

periods of time.

SEO research also provides the direction for the proper development

of a website's technical features, site organization and key word

density guidance, all designed to result in effective, efficient ways to

approach online marketing and communications.

So what does ranking favorably in search engine results have to do

with promoting American Hardwoods? Quite a bit.

In conjunction with and as part of the Unified Hardwood Promotion

initiative to expand the industry's target audience and bottom line -

sell more American Hardwoods, this SEO process has been a key

component in the redesign of the American Hardwood Information

Center's website, www.HardwoodInfo.com. And from a Hardwood

promotion point of view, this is the avenue to connect more and more

internet information seekers to the good news about American

Hardwoods and the wealth of information available to them at

www.HardwoodInfo.com.

From where we sit, this facelift to www.HardwoodInfo.com is simply

making a good thing, even better.

Some of the changes will be obvious, especially the redesigned

Home Page that will "talk" to both the Consumer and Prosumer.

Other changes to the site will be taking place "behind the scenes,"

like condensing information and restructuring information flow. The

by LINDA JOVANOVICH

Executive Vice President

Hardwood Manufacturers Association

Pittsburgh, Pa.

bottom line is that these changes will result in ease of navigation,

improved search engine optimization and an almost immediate

increase in "quality" traffic to the website.

The "consumer-level" information seeker will find the American

Hardwood message and information delivered in a fashion to suit that

level of interest, while to the "professional" information seeker –

architect, designer, builder – the Hardwood information will be conveyed

in a more technical manner.

Rest assured that the website will continue its stellar performance

as the "Authoritative Resource for American Hardwoods." Our

industry has a magnificent message to shout and we're confident in

our information. Information seekers at all levels will continue to

"find the facts" and much, much more at www.HardwoodInfo.com.

The refreshed site will be going live, soon. So if it's been awhile

since your last visit, we invite you to take a look.

About the American Hardwood Information Center

The American Hardwood Information Center is the authoritative

resource for consumers and professionals looking for information

about American Hardwoods. The Center provides information on

how to select Hardwood species and build with American Hardwood

products and offers advice from industry experts on decorating, care

and maintenance and design trends. The Center's goal is to promote

the use of American Hardwoods in home and building products ranging

from flooring, cabinetry and millwork to furniture and building

materials. For more information on American Hardwoods, visit

www.HardwoodInfo.com.

•

JULY/2011 11
---
AHEC Update

AHEC's European Convention Heads To Poland

The American Hardwood European Convention is

firmly established as a key event in the "wood calendar"

across the European continent. The event draws

major players in the Hardwood industry from Europe

to meet with U.S. exporters and creates a unique

opportunity to discuss challenging topics and debate

current issues. This year, the AHEC Convention will

be held for the first time in Poland, at the Marriott

Hotel in Warsaw on Oct. 27-28, 2011.

The convention will include a strong focus on the

environmental issues that are increasingly shaping the

way the timber industry conducts business and trade.

The new EU timber regulation, the challenge of certification,

and meeting the demand for "green" building

and the role of Life Cycle Assessment (LCA's), will

also be on the agenda. AHEC's European director,

David Venables, said, "Far from being barriers to

trade, these developments present the best opportunity

we have had for decades to demonstrate the true environmental

credentials of American Hardwoods and to

actually grow the markets in Europe. As always,

debate and discussion will look at these issues in the

context of current Hardwood demand, fashion, and

promotion in the marketplace, and the convention will

again provide the opportunity to mix with friends and

colleagues to share our wood experience." As well as

the formal program, which will shortly be announced

in full, there will be plenty of time for networking and

informal discussion at the social events around the

convention.

Venables continued, "For the first time we are taking

the convention to Poland, an increasingly important

by MICHAEL SNOW

Executive Director

American Hardwood Export Council

Reston, Va.

player in the production and supply

of Hardwood products to European

markets, and we look forward to

meeting many new contacts as well

as welcoming back old friends." This event is specifically

aimed at the major players in the market, including

American exporters, Hardwood agents, European

importers and larger manufacturers who also import.

There is no convention fee for the European trade or

AHEC members, although there is a $300 registration

fee for U.S. exporters who are not AHEC members.

Places are limited so register early online at

www.americanhardwood.org or email europe@americanhardwood.org

for more information.

The American Hardwood Export Council (AHEC) is

the leading international trade association for the U.S.

Hardwood industry, representing the committed

exporters among U.S. Hardwood companies and all

major U.S. Hardwood product trade associations.

AHEC maintains offices in Japan, Europe, Southeast

Asia, China and Mexico, in addition to its Reston, Va.,

headquarters, to serve the needs of the global community.

For additional information on the Convention as

well as additional overseas activities, please contact

AHEC by phone at 703/435-2900 Ext. 114, or by

email at msnow@ahec.org.

•

12 Hardwoods...The All-Purpose Material
---
HARDWOOD

FEDERATION

HFPAC Provides A Strong, Unified Industry Voice

Sometimes public officials can't see the forest for the trees. In an

effort to promote "green" building, federal and state governments are

often guided by advocacy groups with an anti-forestry bias.

For example, the White House recently purchased a U.S. Oak conference

table that would have qualified had they followed the misguided

green building standards many federal agencies use. Another

example: imported bamboo was almost chosen over American Hard

Maple for a new gym floor at a major military base. Why? Because

they wanted a renewable material – despite the fact that American

Hardwoods have been lauded as renewable and sustainable by other

sectors of U.S. government.

These decisions, and thousands like them, increasingly threaten the

Hardwood industry and its proud tradition of stewardship and sustainable

forestry. This tradition provides economic security to millions,

while preserving forests for future generations.

When the Hardwood industry speaks with a unified voice, these

illogical and counterproductive policies can be stopped. For example:

• At the urging of the Hardwood Federation, Congress passed key

resolutions in 2009-2010 demanding U.S. Hardwoods not be discriminated

against in government purchasing and declaring

American Hardwood as an environmentally preferred resource.

• This paved the way for the U.S. Dept. of Agriculture's recent decision

to embrace wood in green building designs.

These success stories are a direct result of Hardwood Federation

PAC dollars at work. By helping elect leaders who understand the

Hardwood industry, HFPAC broadens the group of Congressional

allies willing to raise their voices and help achieve results on the

industry's behalf.

The Hardwood Federation is the voice of the Hardwood industry in

Washington, D.C., uniting historically fractured groups and constituents.

Issues we address include:

• Fighting to prevent anti-wood green building standards from being

promoted by the U.S. government;

by DEB HAWKINSON

Executive Director

Hardwood Federation

Washington, D.C.

• Working to lower taxes on small businesses

and boost the economic recovery;

• Getting action at the highest levels of government

on unique Hardwood issues such as

unfair increases in lumber inspection fees;

• Ensuring fair trade policies and keeping illegally sourced wood out

of the U.S.; and

• Engaging Congress to push for responsible U.S. Forest Service

policies.

The Hardwood Federation is the industry's best advocate for strong

public policy. HFPAC works district by district across the nation to

support Federal candidates for office who understand the industry and

support its public policy goals.

HFPAC, a non-partisan entity, was formed in 2004 to further the

Federation's efforts to educate candidates and lawmakers about the

Hardwood industry and its unique concerns and interests.

Specifically, HFPAC:

• Fulfills the Hardwood Federation's vision, values and beliefs by

being active in the political process;

• Identifies and supports members of Congress and candidates who

understand and support our agenda (especially those with

Hardwood facilities in their districts); and

• Voices support for or opposition to, policies that affect the

Hardwood industry.

For more information about membership to HFPAC, visit online at

www.HFPAC.com.

•

JULY/2011 13
---
Component Trends

The Wood Component Manufacturers Association (WCMA) will

hold its 2011 Fall Conference & Plant Tour Event in the Louisville,

Ky., area on Oct. 2 - 4. This is a very popular event for WCMA

Members and Technology Partners.

This year's Fall Conference will feature educational sessions

designed to help dimension and component manufacturers improve

their businesses. WCMA Members and Technology Partners will

participate in several educational sessions and roundtable discussions

planned for attendees to learn more about the proposed Hardwood

checkoff program and get an update on the WCMA's product costing

project.

The WCMA's Wood Technology Expo will be held in conjunction

with the Fall Conference and will connect WCMA Technology

Partners with WCMA Members. WCMA Technology Partners are

leading providers of woodworking machinery, equipment, supplies,

software, and business solutions. They help WCMA members adopt

new technologies, implement advanced wood processing methods,

and utilize improvements in tooling and equipment.

WCMA plant tours are designed to encourage an open exchange of

ideas regarding the latest woodworking production techniques.

Attendees are able to observe actual applications of new technology

and visualize how they might apply them in their own plants.

This year's Plant Tour Event will feature tours of several innovative

woodworking operations located in the Louisville, Ky., area. Among

the Plant Tour host companies are:

Anderson Wood Products Company; Louisville, Ky. WCMA

Member Anderson Wood Products Company provides a full scope of

component products from dimension blanks to fully machined parts.

Using lumber from environmentally responsible sawmills, they specialize

in the manufacture of stair components including handrail and

bending rail as well as institutional furniture parts. Their moulding,

tenoning, profile sanding, and mortising capabilities allow them to

produce many other types of components.

Northland Corporation; LaGrange, Ky. WCMA Member

Northland Corporation is a full service concentration yard producing

a wide variety of species from White Ash to their own freshly

steamed Walnut. Northland has been in business for over 50 years

providing solutions to customers' lumber needs. Their surfacing and

straight line ripping capabilities allow them to produce rough dimension.

Cox Interior, Inc.; Campbellsville, Ky. Cox Interior, Inc. is a manufacturer

of interior trim, custom interior and exterior doors, moulding

and millwork; stair parts and stair systems, crown columns, and

custom mantels. They provide high-quality products to their customers

through the implementation of high technology machinery

and the employee training needed to optimize this equipment. Their

newest equipment includes a stacker and grading system; automated

scanning rip saws and chopsaws, fingerjointers, and programmable

moulders. Their latest additions are programmable CNC machines

and a CNC bandsaw.

Independent Stave Company/Kentucky Cooperage; Lebanon,

Ky. Independent Stave Company is a family-owned, dynamic, global

company reaching customers in over 40 countries and cooperages

around the world. Kentucky Cooperage, a subsidiary of ISC, manufactures

barrels for spirits. They begin by selecting the highest quality

Oak with straight, very fine-grain. The Oak is then processed into

WCMA To Conduct Fall Conference & Plant

Tour Event In Kentucky

by STEVE LAWSER, CAE

Executive Director

Wood Component

Manufacturers Assoc.

Marietta, Ga.

staves and then into barrels.

Kitchen Kompact; Jeffersonville, Ind.

Kitchen Kompact is a nationwide manufacturer

of Oak and Maple cabinetry since 1937. Their

goal is to produce a quality product at a reasonable

price, and deliver these goods in the most

dependable lead times in the industry. They concentrate on efficiency

of production, labor, and financial stability. KK focuses their

resources on assembly and distribution of their kitchen cabinets.

Lebanon Oak Flooring Co.; Lebanon, Ky. Lebanon Oak

Flooring Co. is a long-time family business and is a manufacturer of

multiple wood products including Hardwood flooring, stair treads,

risers, handrails, mouldings, and edge glued panels. They use the

finest quality of Red and White Oak, Maple, Cherry, Hickory, Ash

and Walnut to produce their products.

VT Industries; New Albany, Ind. VT Industries was founded

more than 50 years ago and is an industry leader in the production of

architectural wood doors. They apply their company's principles of

craftsmanship, attention to detail, and service to meet their customer's

needs. They produce high quality and environmental friendly

solutions. VT Industries offers 5-ply wood veneer, high pressure

decorative laminate, stile & rail doors, and specialty doors. These

doors are available in a variety of wood species with standard or custom-matched

stains.

Maker's Mark Distillery, Inc.; Loretto, Ky. Maker's Mark is the

oldest operating distillery on its original site. From their antique

roller mill crushing the grain to the giant Cypress tubs full of sour

mash to the "white dog" (new whiskey) running through the "spirit

safe," this is where you can see Maker's Mark being made by hand

every step of the way. In the fermenting room, the sour mash ferments,

eventually becoming bourbon.

Collectively, these companies can produce a wide variety of wood

products from lumber and rough dimension and components to fully

finished cabinets, mouldings, millwork, flooring, and barrel staves.

In fine Kentucky tradition, we will also be touring Maker's Mark

Distillery. The most valuable part of these tours is seeing different

methods of manufacturing and observing what other companies are

doing successfully.

The WCMA represents more than 115 manufacturers of dimension

and wood component products for the cabinet, furniture, moulding &

millwork, flooring, building products, and related decorative wood

products industries. Member companies are located throughout the

United States and Canada. The WCMA also has over 30 Technology

Partners who are leading suppliers of machinery, equipment, tooling,

supplies, software, and business solutions to the woodworking industry.

For more information, contact the WCMA office at Tel: (770) 565-

6660. Fax: 770-565-6663. Email: wcma@woodcomponents.org.

Or visit the WCMA's website at www.woodcomponents.org.

•

14 Hardwoods Have Versatility
---
Ph. 812-636-7110 - Fax 812-636-0044

Rope Molding

We manufacture all types of

wood molding, rope molding,

embossed molding from all

species of wood!

We have interior 6 panel or

flush doors available in

Oak, Poplar, Pine, Birch,

Lauan & Painted

We prehang all types of

wood doors

We ship anywhere

JULY/2011 15
---
QUALITY HARDW

IT'S IN THE FAMILY AT CUMBERLAND LUMBER

McMinnville, Tenn.— Strategically located at the edge of the Cumberland Plateau, which

contains some of the largest stretches of contiguous forest in the eastern United States, Cumberland Lumber &

Manufacturing Company, Inc., based here, is swathed in the varied species it processes into quality Hardwood

flooring.

Primarily Red and White Oak, popularly chosen for its beauty, stability, and durability, arrives from various sawmills in the

Appalachian area, from across North Georgia, Northern Alabama, middle Tennessee and Southern Kentucky. After transformation into

3/4 inch solid Hardwood flooring, in 2 ¼", 3 ¼" widths, and on a

limited basis 4" and 5" widths, the product is shipped to

Hardwood flooring distributors and builder supply stores throughout

the Eastern United States.

The company has made the necessary adjustments over the years

due to the economic, market, and industry's peaks and valleys, yet

persists in yielding a consistent quality product, attributable largely,

said president, Ray "Buzz" Spivey, Jr. to longevity within a

longstanding family-run business.

Average seniority within the company's current 108 employees

and staff is 11.4 years, inclusive of the 27 whose tenures range

from 20 to 37 years and those who have acquired prior wood

industry experience.

The other part of the equation of the company's strength is in its

long-established ownership, passed along yet today, to descendants

of the founders. Observed Spivey, "Some mills change

owners several times and their personnel and personality as well.

As a small private company, we can address problems and make

changes relatively quickly." Though retired, Ray Spivey, Sr. still

Cumberland Lumber's President Ray

"Buzz" Spivey, Jr.

Vice President of sales Marty Johnson

on the skywalk.

Lumber graders are shown here at the firm's joystick grading operation.

Cumberland employees cutting for grade and loading the end matcher table.

16 Hardwoods...A Renewable Resource
---
OOD FLOORING:

& MANUFACTURING

BY CLARE ADRIAN

makes recommendations, added his son,

"And he's usually right."

Ray Spivey, Sr., and A.J. Ingle bought the

shares of the company in 1949 from Herman

Spivey and Floyd Martin, original founders

along with L.C. Gilley, and G.W. McGregor,

who relinquished his shares to the other

three, soon after they'd started out in 1944

as wood products manufacturers. Today

Tommy Gilley, grandson of L.C. Gilley,

helps manage the company along with Ray

Spivey, Jr.

Flooring has been the main product since

1949, though other products manufactured

over the years were Poplar bevel siding, Oak

mouldings such as base board, crown

mould, and shoe mould, door parts, cabinet

parts and Hardwood dimension. The company

operated one flooring production line and

another wood products line both on one shift

for many years, until hitting a snag in the

60's along with the rest of the Hardwood

flooring industry when government mortgages

began accepting carpeting as an alternative

to wood for residential floor coverings.

The company survived by cutting back

to a 40-person operation, running limited

amounts of flooring and other wood products.

By 1970, Cumberland was one of 13

companies that remained as members of

NOFMA (National Oak Flooring

Manufacturers Association) a collective at

one time of well over 100 manufacturers.

The flooring market slowly improved and

by the late 1970's, wood flooring regained

popularity.

In 1984, Cumberland added a second shift

to the flooring line, which doubled their production

to a 10 million board foot capacity

annually and demanded considerable capital

investment in additional dry kilns. The

rough lumber inventory on the yard doubled.

To further expand production in the

mid 1990's, an additional flooring production

line was installed and night production

moved to the day shift. Reviving the night

shift in 2001 increased capacity to 15+ mil-

Please turn to page 38

Ray Spivey, Sr. (photographed) and A.J. Ingle bought the shares

of the company in 1949 from Herman Spivey and Floyd Martin,

original founders along with L.C. Gilley, and G.W. McGregor,

who relinquished his shares to the other three, soon after they'd

started out in 1944 as wood products manufacturers.

An aerial view of Cumberland Lumber's facilities.

JULY/2011 17
---
Russell Redding, Pennsylvania

Secretary of Agriculture; and

Ron Andrews, HDC member

and President of Deer Park

18 Hardwoods Have Workability
---
Deer Park Lumber Inc. -

Dedicated To Sustainable Forestry

BY PAUL MILLER JR.

Tunkhannock, Pa.— Second generation family owned and operated Deer Park Lumber Inc. is

located here.

The Hardwood sawmill produces kiln dried Northern Appalachian Hardwood lumber. Hardwoods including Red and

White Oak; Cherry; Ash; Hard and Soft

Maple; Birch and Poplar are available in 4/4

through 8/4 thicknesses.

For more than twenty years, the firm has been

striving to produce the highest quality

Hardwoods possible. "We are constantly looking

to improve and stay on top of an ever-changing

global market," Joe Zona, domestic sales representative

and president of Deer Park's international

sales explained. "We understand that ownership

of forest property brings with it many

rewards and responsibilities, which is why we

have a staff of professional foresters to help

Please turn to page 39

A partial view of kiln dried lumber stored in the firm's warehouse.

An employee at Deer Park Lumber scaling logs.

Deer Park's sales team (L to R): Cam Koons, Joe Zona and Steve Fox.

At the firm's air drying yard 6-inch steel rod reinforced cement tops are placed on

the lumber, which follows the lumber through into the kilns keeping the top two layers

nice and flat.

The company recently installed two American Wood Dryers' kilns. Adding to the

five kilns they already had, Deer Park now has a total dry kiln capacity of 410,000

board feet and an annual production of approximately 12 million board feet.

JULY/2011 19
---
Collins Introduces Cut

Hardwood Sawmill O

SII dry kilns, loaded with Pacific Albus lumber.

Don Rice, Managing Director of Resource Management, Green-

Wood Resources and Lee Jimerson, Pacific Albus Product

Manager, Collins Companies, in the GreenWood Tree Farm.

Galen Smith, Quality Control Supervisor and José Sanchez,

Green-end Shipping Coordinator, Upper Columbia Mill.

20 Hardwoods Have Resiliency
---
ting Edge

peration

BY WAYNE MILLER

Pacific Albus ceiling grid and wall-of-wood—samples of

each grade produced.

Pacific Albus grading line, (from left to right) Mike

Hendrickson, Isaac Buck and Ian Rose.

Tray sorter—gentle on the lumber after surfacing and

during packaging.

Boardman, Ore.—

The Collins Companies, a "ground floor" name in Forest

Stewardship Council (FSC) certified Hardwood and Softwood

products, recently entered its latest venture with GreenWood

Tree Farm Fund (GTFF), to produce Pacific Albus® lumber

products.

A Hardwood species ideal for multiple uses including moulding

and millwork, cut stock, cabinet and furniture applications,

and edge-glued panels, Pacific Albus is plantation grown on the

Boardman Tree Farm in Boardman, Ore., three hours east of the

Portland headquarters for Collins. According to Lee Jimerson,

Collins Pacific Albus Product Manager, the quality of the product

is consistent, uniform, and always available. "These products

are FSC 'Pure' certified under the principles and criteria of

the FSC," he said.

The Collins Companies is an investor in GTFF and was hired

by GTFF to build and operate the state-of-the-art sawmill,

Upper Columbia Mill (UCM). As detailed in this unique agreement,

The Collins Companies also markets the lumber products

produced.

Collins Pacific Albus Hardwood lumber is available in 4/4

and 5/4 thicknesses, with lengths up to 13'. The kiln-dried lumber

is surfaced two sides with a Kimwood abrasive planer.

Cants are offered up to 6"x8"x13'. Pacific Albus' proprietary

western Hardwood grades include Superior, Superior 1 Face,

Custom Cabinet, Com Shop, Economy, Premium and Standard

Frame, as well as custom grades for specific applications. It is

available green, air-dried, kiln-dried and heat-treated.

Managing Director of Resource for Green Wood Resources

Don Rice said the Boardman Tree Farm, which consists of

approximately 25,000 acres, is continually planted and managed

on a short rotation basis, targeting around 12 years harvest

age. "The Upper Columbia Mill, which is managed by our partner,

The Collins Companies, is located in the middle of the

plantation," Rice said, "so we are an off-highway haul from the

farm to the sawmill and the average haul distance is three or

four miles."

The log yard at the mill is limited because when the trees are

cut, they normally go directly into the sawmill. "The tree is literally

cut down on day one and could be processed on the same

day or at the latest on the third day," Rice explained.

Managed by GreenWood Resources, the Boardman Tree Farm

utilizes 18 employees on site that are primarily irrigation specialists.

"Many of our activities are done by contractors so there

are about 60 full time contractor employees associated with the

farm," Rice said. "That total includes the farming site, site prep,

planting, crop care and harvesting activities."

Galen Smith, Quality Control Supervisor for the Upper

Columbia Mill,said current production for the sawmill,

which includesa board and timberline, is approximately

3.5 million board feet per month. "We'reaveraging about

125,000 feet through the board trimmer and usually

60,000 feet of timberseach day," he explained.

Please turn to page 36

JULY/2011 21
---
BY GARY MILLER

Myrtle Beach, S.C.–

Approximately 120 individuals attended

the Appalachian Lumbermen's

Club meeting held recently at the

Ocean Reef Resort in this city. This

figure included Hardwood lumbermen,

and their families.

Some members and guests of the club

attended cocktail parties on three consecutive

evenings where hors d'oeuvres

and various drinks were served. A

golf tournament was held on Saturday

where the format was each team member

got to use the best drive out of their

groups, and, then they had to hit and

use their own ball until they sank their

putt. The "one" lowest score on each

hole for each team was counted and

that determined what team had the

lowest score in the golf tournament.

The team with the lowest score with

three under par consisted of Chad

Please turn to page 33

Brad Pope, Industrial Timber & Lumber Corp., Connelly Springs, N.C.; Julie Harmon, Industrial

Timber & Lumber Corp., Marion, N.C.; Penn Cooper, John Rock Inc., Sadsburyville, Pa.; and

Bruce Griffith, Griffith Lumber Co. Inc., Woolwine, Va.

The winning golf team with a 3-under-par included: Chad Scott, Conover Lumber Co., Conover,

N.C.; Ray Turner and Linwood Truitt, Beasley Forest Products/Thompson Hardwoods,

Hazlehurst, Ga; and Rodney Lawing, Conover Lumber Co.

Brian, Eastyn, Stacy and Baine Ballard, AHC Huntersville,

Huntersville, N.C.

Jamie Straka, Vernon James Co., Hickory, N.C.; Kim Vollinger,

W.M. Cramer Lumber Co., Hickory, N.C.; and Ronald Mays,

Fitzgerald Lumber & Log Co. Inc., Buena Vista, Va.

22 Hardwoods...The All-Purpose Material
---
Michael, Florencia and Fabiola Hilburn, TMX Shipping Co., Morehead City,

N.C.

Robert Coleman, Robert S. Coleman Lumber Co. Inc., Culpeper, Va.; Gary

Miller, National Hardwood Magazine, Memphis, Tenn.; and Rick Jordan,

Associated Hardwoods Inc., Granite Falls, N.C.

Bill Varner, Denton Hardwoods Inc., Denton, N.C.; Jim Skiver, Liberty

Lumber Co., Liberty, N.C.; Emery Grimes, W.M. Cramer Lumber Co.,

Marlinton, W.Va.; and Robert Conner, Denton Hardwoods Inc.

David and Karen Kay, Forest Products Inc., Conover, N.C.; and Joanna,

Carson and Brandon Ferman, Meridien Hardwoods of PA Inc., Pittsfield, Pa.

Marijo Wood, Neff Lumber Mills Inc., Broadway, Va.; and Greg Pappas,

Wilderness NC Inc., Thomasville, N.C.

Judy Cramer, W.M. Cramer Lumber Co., Hickory, N.C.; and Ray Hunt,

Austin Hunt Lumber Inc., Statesville, N.C.

Jack, Allison, Winn, Cliff and Carolyn McKittrick, and Jack Meko and Janet

McKittrick Meko, J.W. McKittrick Lumber Co., Camden, S.C.

Karmin and Ken Matthews, SII Dry Kilns, Lexington, N.C.; and Jennifer

Mahan and Toby Cox, Marcus Cox & Son, Moneta, Va.

Additional photos on page 32

JULY/2011 23
---
Many Honored During

NWFA Annual Convention

San Diego, Calif.–

The National Wood Flooring Association (NWFA)

announced the winners of its 2011 Wood Floor of the Year

contest at its convention recently here. The winning

entries were announced during an Awards Dinner during

the convention.

The Wood Floor of the Year awards were developed to

encourage and recognize innovative craftsmanship and

design in wood flooring installations. Since the program

began in 1990, more than 200 awards have been presented

to NWFA member companies throughout the United States

and Canada, as well as in Russia and Finland.

This year's Wood Floor of the Year Contest yielded 85

entries from six countries, including the United States,

Canada, Russia, and Malaysia. All entries in the competition

featured flooring installations completed between

January 2010 and January 2011. Wood Floor of the Year

awards for 2011 are as follows:

Best CNC/Laser, Yantarnaya Pryad-Parquet, Khimki,

Russian Federation; Best Commercial, Archetypal

Imaginary Remodeling Corporation, Little Neck, N.Y.;

Best Limited Species, Precision Floorcrafters,

Please turn to page 41

PHOTOS BY ROBERT BRUNI

Wil Maxwell, Rose Mary Laster-Cummings and Tommy Maxwell, Maxwell Hardwood Flooring,

Monticello, Ark.

John Welch, Karolyne Chapados, Joel Eaton, and Stan Able, Appalachian

Flooring, Cowansville, Que.

Chadd Smith, Dean Hardwoods Inc., Leland, N.C.

Laura and Dave Graf and Michael Keating, Graf Bros. Flooring, South Shore, Ky.

Kevin and Bobby Cloer, Oakcrest Hardwood Flooring, Buena Vista, Ga.

24 Hardwoods Have Versatility
---
Johnny Xu, Dave Arntson, Moey Morrissey, Bill Schollmeyer and Louis Wang,

Johnson Premium Hardwood Flooring, City of Industry, Calif.

Pat Oakley, Janira Kremets and Brian Greenwell, Mullican Flooring, Johnson

City, Tenn.

Tim Thornburgh, Linden Lumber Co., Linden, Ala.

Drago Bozovich, Diana Belmont, Giannina Vick and Rafiael Tolmos, Bozovich

Timber Products, Santa Genoveva, Lurin, Lima

Chesty West, Don Finkell and David Giese, Anderson Hardwood Floors,

Clinton, S.C.

Paul Ostlund, Cherrybark Flooring, Hazlehurst, Miss.

Diane Pevy and Nicole Garrary, Shamrock Plank Flooring, Memphis, Tenn.

Harry Baker, Paul Stringer, Jerry Harrison, Steve Merrick and Scott Buregia,

Somerset Wood Products, Somerset, Ky.

JULY/2011 25
---
Inman Discussed Hardwood Lumber

Markets At Penn-York Club

PHOTOS BY STEPHEN WEST

Seven Springs, Pa. – Hardwood lumber markets in 2011 was the subject of the

recent meeting of the Penn-York Lumbermen's Club at the Seven Springs Resort, located here.

The meeting was hosted

by Babcock Lumber

Co. and the speaker was

Tom Inman, president

of the Appalachian

Hardwood Manufacturers,

Inc. (AHMI). He

began by explaining the

mission and work of the

regional trade association

before walking the

group through the current

status of eight

Hardwood lumber markets.

Please turn to page 34

Bill Bishop, Pennsylvania Lumbermens Mutual Insurance Co., Pittsburgh, Pa.; and Blair Walker, Amy Bartlett, and Katrina

Fedinatz, Babcock Lumber Co., Champion, Pa.

Phil Kerr, Pat Cannin and Mike Johnston, Babcock Lumber Co., Champion, Pa.

Current officers of Penn-York: Trevor Vaughan, vice president, Ron Jones

Hardwood Sales Inc., Union City, Pa.; Tom Johel, president, U•C Coatings Corp.,

Buffalo, N.Y.; and Joe Zona, secretary/treasurer, Deer Park Lumber Inc.,

Tunkhannock, Pa.

26 Hardwoods...A Renewable Resource
---
Rob Hasson and Mark McCall, Metzler Forest Products, Reedsville, Pa.; John

Wenturine, Wenturine Bros. Lumber Inc., Nicktown, Pa.; and Doug Davis, Gutchess

Lumber, Latrobe, Pa.

Brian Short, Clymer Quality Hardwood Inc., Marion Center, Pa.; Sharon

Clevenger and Carl Shaffer, National Industrial Lumber Co., Elizabeth, Pa.; and

Kennon Morris, Northern Neck Lumber Co., Warsaw, Va.

Bart Marshall and Dave McClelland, Equipco, Bridgeville, Pa.; and Bob

Rorabaugh, Rorabaugh Lumber Co., Burnside, Pa.

Kim Wenturine, Wenturine Bros. Lumber Inc., Nicktown, Pa.; Ron Jones, Ron

Jones Hardwood Sales Inc., Union City, Pa.; Jim Tanner, Tanner Lumber Co. LLC,

Elkins, W.Va.; and Steve Jones, Ron Jones Hardwood Sales Inc.

Bill Watson and Gary DiFrank, Babcock Lumber Co., Champion, Pa.

Melvin and Betty Miller, Bally Block Co., Bally, Pa.; Rob McCarthy, Industrial

Timber & Lumber Corp., Beachwood, Ohio; and Dave Lupsha, Associated

Hardwoods Inc., Granite Falls, N.C.

Mario Ferri, Satin Finish Hardwood Flooring, Toronto, Ont.; Brian Brown, Coastal

Lumber Co., Hopwood, Pa.; Vicki Ferri, Satin Finish Hardwood Flooring; and Rob

Kittle, McDonough Mfg. Co., Eau Claire, Wis.

Don Petersen, Interforest Lumber Inc., Shade Gap, Pa.; Jackie Kriner, Carl

Rosenberry & Sons Lumber Inc., Fort Loudon, Pa.; Rich Thompson, Tanner

Lumber Co. LLC, Elkins, W.Va.; and Chris Calhoun, Interforest Lumber Inc.

Additional photos on page 35

JULY/2011 27
---
NHLA Welcomes

Members At Reception

BY WAYNE MILLER

New Orleans, La.–

National Hardwood Lumber Association

members and their guests enjoyed a cocktail

reception recently in conjunction with the

International Wood Products Association's

(IWPA) 55 th Annual Convention, held here at

the Loew's Hotel.

NHLA's Mission is to serve NHLA

Members in the North American Hardwood

Lumber Industry by: maintaining order,

structure, rules, and ethics in the changing

Hardwood marketplace; providing member

services unique to the Hardwood lumber

industry; driving collaboration across the

Hardwood industry to promote demand for

North American Hardwood lumber and advocate

the interest of the Hardwood community

in public/private policy issues; and building

positive relationships within the global

Hardwood community.

The NHLA is located in Memphis, Tenn.,

and can be reached at 901-377-1818 and

online at www.nhla.com.

•

Eugenio Colao, Andrighetti Legnami Spa, Veneto, Italy; Chris Chalkley, Timber Products Co., Springfield, Ore.;

Karl Brown, Weston Premium Woods, Brampton, Ont.; and Chris Connelly, Wood Brokerage International, Lake

Oswego, Ore.

Tom Walthousen, National Hardwood Lumber Association, Memphis, Tenn.; Scott

Hilman and Roy Polatchek, Liberty Woods International Inc., Carlsbad, Calif.; and

Pat Bennett, American Pacific Plywood Inc., Solvang, Calif.

Judd Johnson, Hardwood Market Report, Memphis, Tenn.; and Norm Murray, U•C

Coatings Corp., Buffalo, N.Y.

28 Hardwoods Have Workability
---
Goh Chee Yew, Bakti Malaysia Sdn Bhd, Malaysia; David Cheng, Pio Hardwoods

Sdn Bhd, Kuala Lumpur, Malaysia; Raihan Rahman, Malaysian Timber Council,

Kuala Lumpur, Malaysia; Chew Lye Teng, Malaysian Timber Certification Council,

Kuala Lumpur, Malaysia; Tham Sing Khow, Malaysian Timber Council; and

Leonard Krause, Compliance Specialists, Eugene, Ore.

James McGuffin, Shamrock Trading, Portland, Ore.; and Tim Dunn, Specified

Components Co., Gurnee, Ill.

Alan McIlvain, Alan McIlvain Co., Marcus Hook, Pa.; and Craig Forester, Rex

Lumber Co., Acton, Mass.

Jim Summerlin, Robinson Lumber Co., Buellton, Calif.; and Garner Robinson,

Robinson Lumber Co., New Orleans, La.

Reggie Hubbard, Darlington Veneer Co., Darlington, S.C.; Alan Hubbard, Veneer

Technologies Inc., Newport, N.C.; and Chris Paras, current president of IWPA, Argo

Fine Imports, Virginia Beach, Va.

Carlos Segura-Behr, Fr. Meyer's Sohn North America, Sao Paulo, Brazil; Romel

Bezerra, Elof Hansson USA, Pembroke Pines, Fla.; and Carlos Garcia, Fr. Meyer's

North America, Newport Beach, Calif.

Christian Mengel, VM International, Greensboro, N.C.; Guy Goodwin, NHG

Timber Ltd., Surrey, England; and Will Thompson, Timberwolf Tropical

Hardwoods, Easton, Md.

Brian Lotz, Timber Holdings International, Milwaukee, Wis.; and Gilbert Schille,

Braswood, Brazil

JULY/2011 29
---
Western Alder Grades

At NHLA Convention

In Nashville

BY DAVID SWEITZER

Western Red Alder, the most prolific Hardwood in

the Pacific Northwest, moves East to make its presence

known at the 2011 NHLA Annual Convention

& Exhibit Showcase, September 21 – 24 in

Nashville. Although the Eastern domestic market

uses Alder extensively, there are many who don't

know about the several grades not shown in the

National Hardwood Lumber Association (NHLA)

grade rulebook nor appreciate its superb workability

characteristics. For these reasons, the Western

Hardwood Association (WHA) will be at the meeting

again this year to present its program on Friday,

September 23, from 10:30 a.m. to 2:00 p.m.

Highlighting the free luncheon meeting will be a

visual presentation of several grade descriptions,

cuttings, and applications for Alder. The more common

grades include Superior, Superior One Face,

Custom Jacket Board, Cabinet, Custom Shop, Jacket

Board, Com Shop, Premium Frame, Rustic,

Standard Frame, Economy, and Utility. Since selecting

the proper grade for a particular application is

crucial to the bottom line of any manufacturing business,

both the salesman and the customer need to be

familiar with the grades.

While proper selection of the grade is extremely

important, workability characteristics are equally

important. Alder scores very high in machining,

resistance to splitting, joint strength, gluing, sanding/polishing,

finishing, and dimensional stability.

Western Alder is a close or fine-grained Hardwood,

extremely uniform in its light tan or honey color

with no color difference between heartwood and

sapwood. Alder features a light pattern, which adds

to its popularity for printing and matching Alder

solids with many species of veneers without bleaching.

It is ideally suited for cabinets, fine furniture,

furniture frames, pallets, plywood, veneer, specialty

items and paper products. Alder is milled random

lengths, typically 8' and 10', random widths to 10",

and thicknesses of 3/4, 4/4, 5/4, 6/4, 8/4, 10/4, and

12/4. It is available in S2S, and custom millwork in

S4S, cut stock, turning stock and laminated stock.

David Sweitzer has been the Secretary/Manager of

the Western Hardwood Association since 1975.

Contact information: email – wha@westernhardwood.org

web – www.westernhardwood.org,

phone – 360-835-1600 fax – 360-835-1900.

•

30 Hardwoods Have Resiliency
---
ALDER: CUSTOM SHOP

CUTTINGS

ALDER: CUSTOM SHOP

ALDER: ECONOMY

CUTTINGS

ALDER: ECONOMY

ALDER: SUPERIOR

CUTTINGS

ALDER: SUPERIOR

JULY/2011 31
---
ALC MEETING PHOTOS - Continued from page 23

Stuart Deacon, W.R. Deacon & Sons, Lexington, Va.; Sylvia Church, Church &

Church Lumber, Millers Creek, N.C.; and Emery Grimes, W.M. Cramer

Lumber Co., Marlinton, W.Va.

Kendell Cockram, Griffith Lumber Co. Inc., Woolwine, Va.; Grace Ruan, Coco

Lumber LLC, Laurinburg, N.C.; and Caitlyn Priddy and Jesse Cockram,

Griffith Lumber Co. Inc.

Gavin, John and Kathie Varner, Denton Hardwoods Inc., Denton, N.C.; and

Mary and Kenneth Stephens, Associated Hardwoods Inc., Granite Falls, N.C.

Olivia, Scott, Stephanie, Jackson and Paige England, Mountain State Hardwoods,

Bancroft, Va.

Meridith and Bruce Church, Church & Church Lumber, Millers Creek, N.C.;

and Vicki and Kin Church, Select Hardwoods, Millers Creek, N.C.

David, Linda and Ashley McLean and Ethan Creech, Bruce & Jenkins Lumber

Co., Greensboro, N.C.

Tom and Rosemary Inman, Appalachian Hardwood Manufacturers Inc., High

Point, N.C.; and Janice Vance and Fred Harden, Gilkey Lumber Co.,

Rutherfordton, N.C.

Bruce, Teresa and Mark Church, Church & Church Lumber, Millers Creek, N.C.

32 Hardwoods...The All-Purpose Material
---
ALC MEETING PHOTOS - Continued

Steve, Leah and Claire Leonard, Lawrence Lumber Co., Maiden, N.C.; and

Libby and Larry Walker, Forest Products Inc., Conover, N.C.

Larry Cockram, Griffith Lumber Co. Inc., Woolwine, Va.; Gale Keener, Mullican

Flooring, Ronceverte, W.Va.; and Anne Vogler and Joe Lyle, WNC Dry Kiln Inc.,

Marion, N.C.

Chris Buck, Forest Products Inc., Conover, N.C.;

Ray Hunt, Austin Hunt Lumber Co., Statesville,

N.C.; and Jimmy Lee, Tides & Times Group USA,

Winston Salem, N.C.

ALC MEETING - Continued from page 22

Scott of Conover Lumber Co., Conover,

N.C.; Roy Turner and Linwood Truitt of

Beasley Forest Products/Thompson

Hardwoods, Hazlehurst, Ga.; and Rodney

Lawing, Conover Lumber Co.

The second place team with a two under

par was Cliff McKittrick, of J.W.

McKittrick Lumber Co., Camden, S.C.;

Mark Church, of Church & Church

Lumber LLC, Millers Creek, N.C.; and

Gary Miller, of National Hardwood

Magazine, Memphis, Tenn.

Gary Miller reported for National

Hardwood Magazine that, "On my way

from Memphis, Tenn., to Myrtle Beach,

S.C., I stopped and visited several

Hardwood sawmillers and owners of

Hardwood distribution/concentration

yards in the Appalachian region, and I

asked them about current business conditions.

Some of their comments follow:

"On a scale of one to 10, I think business

conditions are a six or a seven," said the

sales manager of a large sawmill operation.

"We have plenty of logs in our log

yard but we are concerned about how

we've lost many logging companies in our

Marsha and Linwood Truitt, Beasley Forest

Products/Thompson Hardwoods, Hazlehurst, Ga.

area. With the low prices we've been getting

for our lumber the last several

months, we've had to get our loggers to

take less money for their logs. They didn't

like it but they accepted it."

An owner of a Hardwood concentration

yard with dry kilns told me he thought

business conditions were a five on a scale

of one to 10. He explained, "The only saving

grace for the Hardwood lumber industry

is the fact that many parts of the eastern

seaboard of the United States have had

a lot of rain, therefore, many Hardwood

sawmill operations are very low on logs

and they are not running their mills at full

capacity. So there is not a lot of green or

kiln dried lumber available presently. But I

think the Hardwood lumber supply is balanced

with what the demand for lumber is

right now."

One of the owners of a sawmill operation

that exports both Hardwood logs and lumber

said, "We've had the best several

months of sales and profits from October

2010 through May 2011, and most of it is

due to our strong export markets. I like the

idea that we see Red Oak lumber prices

increasing, and our White Oak lumber

sales have been strong. But, of course,

Anna Getzinger and Brad and Martha Merry,

Merry Lumber Co., Augusta, Ga.

we'd like to see Poplar lumber prices

come up."

A buyer for a Hardwood flooring manufacturer

told me that, in his opinion, the

flooring market for his company was a

seven. He explained, "Lumber prices seem

like they stabilized last month. We're selling

a lot of Hardwood flooring, however,

we're not making any money."

Some interesting comments were made

from an individual who worked for a

Hardwood lumber company that has several

sawmills in the Appalachian region.

He mentioned that some of his firm's mills

were operating 50 hours a week a few

weeks ago, but several are now operating

only 30 hours a week because they are low

on logs due to all the rain we've had in the

Appalachian region recently. He said,

"Overall, prices on Appalachian

Hardwood lumber are stable, however, I

do see an increase on prices for Northern

Hardwood lumber because of the wet

weather that has occurred up there.

Furthermore, there's a shortage of lumber

in that area of the country; so I see lumber

prices increasing in the northern region. In

Please turn the page

JULY/2011 33
---
ALC MEETING - Continued

my opinion, counting the sales of the lower,

middle and high grades of lumber, the overall

market is a six."

Another lumberman who is the owner of a

Hardwood concentration yard with dry kilns

explained, "Our business is fantastic! We

changed the way we started doing business a

few years ago and so right now I cannot complain.

On a scale of one to 10, our business is

about an eight. We're selling lumber in both

the domestic and export markets, and, we're

doing well in both markets. We have all the

certification schemes – we're triple certified.

As far as prices of lumber goes, some species

are tight and moving up in price but there's

still a lot of cheap lumber out there. One way

we've changed is about three years ago, we

started buying a lot more kiln dried lumber

from lumber suppliers than green lumber."

The final comments obtained for this column as

far as what lumber conditions were like, presently,

came from an owner of a Hardwood concentration

yard who said, "I think most of your mills

are short on logs. Oak logs are not bringing the

higher prices that they once were, and so I'm concerned.

Landowners will tend to hold onto their

timber when prices for Oak logs are low like they

are now. So I think if Oak lumber prices improve,

the Oak timber prices will rise and mills will be

able to get more timber, weather permitting. He

also said, "2A and 3A Oak lumber is such a driving

factor for the sawmills, and, prices are low. So

they need to come up. I'd say on a scale of one to

10, our business is about a six."

In closing, Jamie Straka, of Vernon James Co.,

located in Hickory, N.C., who also serves as president

of the Appalachian Lumbermen's Club,

made several remarks at the last cocktail party in

Myrtle Beach recently. He thanked everyone for

attending the meeting and said that the turnout

was larger at this particular meeting this year over

last year, even though the club has a few less

members in 20l1 versus 2010. He mentioned that

the club means a lot of different things to a lot of

different people.

He commented, "This club means a lot to me and

it's a great social avenue for us to discuss business

conditions with other lumbermen. But above all, I

want you to remember that this is your club and

the way to grow it is to contact your business

friends and encourage them to join the club

because it's the best deal out there!"

After Straka announced where future meetings of

the club will be held, he handed the microphone

over to Cliff McKittrick to announce who was on

the first and second place golf teams, and what

prizes each team won.

•

PENN-YORK MEETING -

Continued from page 26

The U.S. Hardwood lumber production was

down to approximately 7 billion board feet of production

in 2010, Inman said. Most traditional markets

for lumber declined while railroad ties and

exports saw slight growth.

Inman discussed each market beginning with

pallets, which was down to approximately 3 billion

board feet of consumption. Pallet and industrial

crating material are directly impacted by the

economy and shipment of goods.

The furniture, cabinet, millwork and flooring

industries continue to purchase at lower levels

because demand for residential housing is low.

Flooring had a sales bump in 2010 with remodeling

gains but much of that has retreated in early

2011.

Export markets are a bright spot in 2011 as they

grew to almost 16 percent of Hardwood lumber

Please turn to page 36

Manufacturers and Wholesalers

of Kiln Dried Hardwood Lumber

Family Owned and Operated Since 1924

1535 E. U.S. Hwy 6 • P.O. Box 70

Brimfield, IN 46794-0070

(260) 761-3415 • Fax: (260) 761-3021

(800) 463-2259

fricklbr@ligtel.com • www.fricklumber.com

Ash 4/4 - 12/4 Red Oak 4/4 - 10/4

Hard Maple 4/4 - 8/4 Hickory 4/4

Ford Frick Jr., Vice President, and Ford Frick Sr., President

Also available Soft Maple, White Oak,

Walnut, Cherry, Beech and Poplar

34 Hardwoods Have Versatility
---
PENN-YORK PHOTOS - Continued from page 27

Scott Mabe, Forestry Systems Inc., Summerfield, N.C.; Rich Harden, Gutchess

Lumber, Latrobe, Pa.; and John Smith, Forest Products Inc., Corbin, Ky.

Tom Johel, U•C Coatings Corp., Buffalo, N.Y.; Tom Inman (guest speaker),

Appalachian Hardwood Manufacturers Inc., High Point, N.C.; and John

Merschat, Summit Forest Resources, Markleysburg, Pa.

Bart Marshall, Equipco, Bridgeville, Pa.; Ross and Sam Pringle, Homerwood

Corp., Titusville, Pa.; and Blair Walker, Babcock Lumber Co., Champion, Pa.

Trudy Burge, Gutchess Lumber, Cortland, N.Y.; Bruce Horner, Abenaki Timber

Corp., Kingston, N.H.; and Rich Thompson, Tanner Lumber Co. LLC, Elkins,

W.Va.

JULY/2011 35
---
PENN-YORK MEETING -

Continued from page 34

consumption in 2010, according to the American

Hardwood Export Council. Leading markets are

China, Europe and Southeast Asia.

There are a few positives in the marketplace.

More wood furniture manufacturing is returning

to the United States with the production planned

by Lincolnton Furniture, Linwood Furniture,

Thomasville Furniture and Hooker.

Another potential gain for American

Hardwoods is the recent announcement by

McDonald's Corp. to renovate 14,000 U.S. restaurants.

The chain plans to remove metal seating and

fiberglass tables and replace with wood as it

"greens" the dining experience.

AHMI is a regional trade association of

Hardwood lumber producers, distributors, secondary

manufacturers and foresters from throughout

the Appalachian region and world. The mission

of the group is to promote the logs, lumber

and other wood products from the region and the

Verified Sustainability of the resource. For more

information,

visit

www.appalachianhardwood.org.

The host of the meeting, Babcock Lumber Co.

of Champion, Pa., has offered a complete line of

Appalachian Hardwood species, shipped both

domestically and internationally for more than

120 years. The company's growing concentration

yards produce in excess of 12 million board feet of

quality, kiln dried lumber annually.

The next Penn-York meeting is set for June 20 in

Bolivar, N.Y., and will be hosted by RAM Forest

Products.

•

COLLINS - Continued from page 21

During a tour of the sawmill, Smith said Nelson

BrothersEngineering, using JoeScan scan heads,

programs most of the optimization centers at the

mill. These consist ofa Log Merchandiser, Board

Edger, Curve Gang Saw, and Board Trimmer.

"The only exception is the primary breakdown,

which is a Comact dual band mill, Optimized Log

Infeed, or OLI. Everything is in-line," he said.

"Theblock gets scanned as it is moving through

the machine, which is able to rotate and offset the

blockfor cutting as it approaches the canters and

bandsaws. In fact,in the whole mill only the trimmer

features a transverse scanner. Every other

machine center uses lineal scanning to

optimizethe piece on the way to thesaws, which

allows for very high through-put."

Operating currently with 70 employees with a

capacity for 100 on two shifts, Jimerson said the

operation includes two sorting systems, "one for

the timber side, cutting 3x4's, 4x6's and 3x7's,

and another for our boards, cutting 4/4 and 5/4."

Jimerson also said the green chain consists of

sixteen slanted sort bins, allowing them to sort by

thickness and length. From the sort bins, the lumber

heads down the green chain to the MoCo

stickering stacker, which makes 8' wide by almost

6' high units.

The mill also utilizes five dry kilns manufactured

by SII Dry Kilns located in Lexington, N.C.

"The kilns are SII side loading cross flow dry

kilns with five chambers, each holding 125,000

board feet per charge on a 4/4 basis," Jimerson

explained. "SII kilns are fantastic. However, you

don't see many SII kilns on the West Coast. They

give you very even air flow through the units, better

than most other kilns, in part, because the lumber

is stacked in 8 foot wide units and are only

stacked two units deep in the kilns."

"In the beginning the green lumber weighs in at

about five pounds a board foot," Jimerson continued.

"When it dries, it's about 1.6 pounds per

board foot."

The kilns and planer facility are located nine

miles from the sawmill at the Port of Morrow, due

to the pre-existing steam from the PGE Coyote

Springs Electrical Co-Gen facility. The steam is a

by-product of the co-gen operation, thereby eliminating

the necessity of installing a boiler.

Transportation doesn't get much easier for a

sawmill. "We have a Union Pacific rail siding at

the planer, and we are less than a mile away from

the Port of Morrow dock where the containers are

loaded on a barge that goes down the Columbia

River to the Port of Portland for export," Jimerson

25,000,000 BF of Quality Bandsawn Pennsylvania Hardwoods

1,000,000 BF Kiln Capacity

Export Packaging & Container Loading

SPECIALIZING IN ASH, RED OAK, HARD MAPLE, SOFT MAPLE and CHERRY,

"We welcome your inquiries and look forward to serving your needs."

Contact:

Mike Tarbell, Sales Manager

Rus Gustin

(814) 697-7185

FAX (814) 697-7190

Mailing Address

1716 Honeoye Road

Shinglehouse

PA 16748

E-mail: ramsales@frontiernet.net

We sell both green and kiln dried lumber.

36 Hardwoods...A Renewable Resource
---
COLLINS - Continued

said. In addition, we are right on highway I-84, so

we're on a terrific transportation hub."

Available at the mill's onsite conference room

and online at www.CollinsWood.com are photos

of each grade of the lumber with the grade specifications.

Jimerson went on to explain with staining,

Pacific Albus may be finished to look

like many other species because of its

light color. "You can make it look like

Maple, Alder, Cherry, Walnut or even

incense cedar."

Among the benefits, he said, the product

is great for resawing. "It sands really

well, embosses well and, because of

its low density, it's very good for applications

where weight is critical such as

snow boards, trade show booths and

pallet/packaging. The low density also

makes it ideal for thermal insulated

applications and acoustic applications,

such as wooden ceiling grids."

Collins' target markets for Pacific

Albus include the entire supply chain.

"We market to exporters, distributors,

retailers and OEMs Jimerson noted.

As for the distance the product travels, half of

the production is shipped overseas. "About 60

percent of our production is exported right now,

with Asia being the largest market," Jimerson

0

said. "We also export to Mexico, Italy and the

United Kingdom, to name a few."

In addition to Jimerson and Galen Smith, other

key employees are UCM Mill Manager Kerry

Hart, Sawmill Supervisor Tim Patton, Dry-End

Supervisor Rick Engebretsen, Western Lumber

Sales Manager Chris Bailey, and Western Lumber

Sales Representative Aly Kingsley. "Our outside

sales representatives also contribute to the Pacific

Logging Pacific Albus

Albus sales and marketing effort, more on the

specifying level," Jimerson explained. They'll

talk to architects, manufacturers and distributors

about Pacific Albus and initiate interest. Then the

inside sales staff will follow up with quotes, sam-

ples and placing orders." Collins covers the western

United States with outside sales representatives

strategically placed, including Stephanie

Bisignano in the southern states, Kate Clark in the

mountain states and Brian Hurdle in California,

Nevada and Utah.

The family-owned Collins Companies was

established in 1855, when T.D. Collins began timber

operations in Pennsylvania. By the turn of the

century, the family had expanded west

to manage 94,000 acres in northeastern

California. Today the firm's holdings

also include three forests, each with an

associated sawmill, including the

120,000 acre Collins Pennsylvania forest

with Kane Hardwood sawmill; the

91,000 acre Collins Lakeview Forest in

southern Oregon and northern

California with Lakeview Sawmill

(Fremont Sawmill); and the 95,000 acre

Collins Almanor forest in northern

California with Chester Sawmill

(Collins Pine). Additionally, Collins

owns Richwood Hardwood sawmill in

West Virginia. Collins Products LLC,

which manufactures TruWood® Siding

and Trim and Collins Pine

Particleboard®, are both available FSC certified.

For more information visit

www.CollinsWood.com.

•

Missouri-Pacific

Lumber Co., Inc.

Quality Hardwoods Since 1935

If you're wrestling with

trying to find a reliable

and consistant supplier

of Walnut, call...

SPECIALIZING IN WALNUT

Also producing Red Oak, Soft Maple, and other fine Appalachian Hardwoods

694 DD Highway • Fayette, Missouri 65248-9635 • Phone: 800-279-7997 • Fax 660-248-2508 • www.mopaclumber.com

JULY/2011 37
---
CUMBERLAND LUMBER - Continued from page 17

lion board feet annually.

Additional air-drying area, an improved boiler system, and installation

of more efficient dry kilns propelled production toward a 16 million

board feet peak in 2004 and 2005. Spivey recalled, "Market forces

required the elimination of a production shift in January of 2007. With

the addition of the automated nesting system, all production was shifted

to two shifts on one more efficient line."

The 60+ acre lumber yard currently holds approximately 8.2 million board

feet of lumber, the 10,000 square foot warehouse holds 200,000 board feet of

flooring, well under its 1 million board feet capacity, the dry kilns and cooling

shed operate at close to capacity, each at 500,000 board feet. The ripping

line and two flooring lines operate within the 60,000 square foot manufacturing

facilities.

The trail into flooring production starts in the yard as the green 4/4" lumber

received is graded into #1, #2, and #3 Common, and stacked for air drying,

which takes from four to six months, depending on weather and time of year.

Once air-dried, it's transported by Taylor Big Red forklifts to the manufacturing

facility for kiln drying. An assemblage of six Irvington Moore and two SII

dry kilns varying in size from 30,000 board foot to 80,000 board foot at a

500,000 board foot total capacity, dries the lumber to a target moisture content

of 6-9%, requiring one to two weeks before transfer to cooling sheds and entry

to the manufacturing process.

Use of a Lico optimizing rip system measures each board, determines the

best cutting pattern for each, and utilizing a moving arbor ripsaw, can cut any

combination of flooring blanks in the various widths the company produces,

increasing lumber yield considerably over cutting for one width at a time, said

Spivey. The strips are sorted by width manually into bins until transport to

one of two manufacturing lines, typically the automated nesting system which

handles a maximum 3 1/4" wide flooring, as the 4 and 5" wide flooring line

remains mostly idle, due to the flooring market of late.

At the manufacturing line, Industrial cut-off saws remove major defects such

as pointed ends and very large knots from the strips, which are then fed into a

Hasko "Matchmaster" planer/matcher to form the face and back of the flooring,

as well as tongue and groove edges. The flooring pieces are then defected

for the best value of piece with another set of Industrial cut-off saws and

placed into the slat table of the Doucet end-matching system which forms the

tongue and groove matched ends.

Graders record the grade of each piece as the slat conveyor carries each piece

through the Blue Valley Automation automated nesting system which measures

the length of each piece, tracks each by grade and length, and builds nested

bundles conforming to the minimum average length required for each

grade. Completed and bundled packages are automatically strapped, shrinkwrapped

and transported to the warehouse to await shipment by common carrier.

Maintaining a consistent amount of rough lumber inventory is a continuous

balancing act with several legs to it. The objective is to carry a six-month supply

of rough lumber in the yard, kilns, and cooling sheds at all times, with the

Use of a Lico optimizing rip system measures each board, determines the best cutting

pattern for each, and utilizing a moving arbor ripsaw, can cut any combination of

flooring blanks in the various widths the company produces.

WORMY CHESTNUT • TROPICALS • QTR & RIFT • CYPRESS • ELM

6 million BF KD

Inventory

West Coast

Sales

626-445-8556

Headquarters, Concentration Yard & Kilns in Hickory, N.C.

Phone (828) 397-7481 FAX: (828) 397-3763

www.cramerlumber.com

"The finest in Appalachian Hardwoods "

Orlando, FL

Warehouse

407-323-3740

"LIMBO"

The Lumber Rule

Atlanta, GA

Warehouse

770-479-9663

4/4 thru 16/4

thicknesses

Sawmill

Kilns

Marlinton, WV

Yard

Kilns

Millwood, KY

HICKORY • HARD & SOFT MAPLE • POPLAR • RED & WHITE OAK • WALNUT • ASH

WHITE PINE • BASSWOOD • BEECH • BIRCH • CEDAR • CHERRY

38 Hardwoods Have Workability
---
CUMBERLAND LUMBER - Continued

realization that that amount of lumber bought

must be ready for use six months down the road.

The grades and widths ordered is determined by

the needs at the time of the 50-strong customer

base shipped to regularly, considering their area

of the country. "Some want Select and Better, for

some it's a No. 1 Common market. So we try to

have a good mix and not just run one grade,"

noted Spivey.

From month to month, the amount of inventory

teeters between supply and demand. When the

market is slow, Spivey cuts back on purchases.

On the supply side, during some months the

amount of inventory depends on the weather. "If

loggers can't get in because of drought or rain, we

have to go with the flow of Mother Nature."

A slow and steady company growth pattern,

established early on by Herman Spivey and

marred only by market and economy conditions,

awaits a slow moving recovery to increase 4 and

5 inch flooring production and reinstate an idle

flooring line. Meanwhile, Spivey would like to

see an upgrade of the Lico rip system and the

Hasko planer/matcher, possibly including scanning,

and automated defecting and grading of

pieces. Until then, the Cumberland heritage, its

stamina and resilience, sustains a sound reputation

for producing high quality Hardwood flooring.

Contact Cumberland Lumber & Manufacturing

Company, Inc. at 931-473-9542

•

error message so it's brought back around and

regraded."

"It also helps train our new graders," Zona

added. "Our most experienced grader is the second

grader on the line and this equipment helps

him identify the grading mistakes of the junior

grader and he can stop and explain what the mistake

is." Manufactured by Kincaid Automated

Rough Mill Systems Inc., Hudson, N.C., Koons

said Weinig installed the software used to run the

equipment. "Control Logics is the software package.

Weinig has tied it right into our lumber track

system, so as a pack is finished, it goes right into

our inventory, so when the pack is complete, it

prints the pack with a barcode and automatically

updates our inventory system online."

At the firm's air drying yard 6-inch steel rod

reinforced cement tops are placed on the lumber,

which follows the lumber through into the kilns

keeping the top two layers from twisting and

warping. "It keeps the lumber nice and flat,"

Koons noted.

Offering customer pick up at the mill, flatbed

delivery and/or container loading for both railcars

and export shipping, Deer Park Lumber ships

globally. "We're marketing to distribution yards

and direct to furniture and kitchen cabinet manufacturers

both domestically and internationally,"

Zona said. "We're shipping into China, Italy,

Please turn the page

DEER PARK LUMBER -

Continued from page 19

from the beginning to the end."

The company recently installed two American

Wood Dryers kilns. Adding to the five kilns they

already had, Deer Park now has a total dry kiln

capacity of 410,000 board feet and an annual production

of approximately 12 million board feet.

The average lumber inventory available is 2.5

million board feet, log inventory is approximately

800-950,000 board feet to allow about a three

week turnaround to prevent defects and staining

in log form. The kiln-dried warehouse will hold

about 3.5 million board feet.

Sales and Purchasing Representative Cam

Koons said the company also installed a new dry

grading line. "After entirely removing our old

line, we installed a grading line that grades from

the end of the board, with two graders versus our

old waterfall system which had one grader. With

this new line our goal is to process 50 to 60,000

board feet of lumber daily."

Koons explained how the new grading line

operates. "The first thing it does is the lumber

goes through a reader to measure the board

footage, so the graders have a LED right in front

of them telling them the surface measure of each

board so they don't have to worry about surface

measure, all they have to think about is grade.

Next they push the button for grade and it has the

shark fin turners so they don't have to turn the

boards, they are automatically turned for them to

look at both sides. It's set up so if the first grader

misses a board, it flips it for the second grader to

grade. If it doesn't get graded it's printed with an

Augusta

Lumber

JULY/2011 39
---
DEER PARK LUMBER - Continued

Germany, Vietnam, Indonesia, Japan, Malaysia, South Korea, mostly in

Pacific Rim countries."

Deer Park's history of providing quality lumber dates back to 1965 when

John Davenport and Henry Kalinowski established D & K Lumber Co. on

Deer Park's current mill site. Cutting 8,000 board feet per day, a second

sawmill was installed in 1972, which increased production to 10,000 board

feet per day.

The Deer Park Lumber Construction Company purchased D&K in

August of 1972. The partnership incorporated in 1978 and became Deer

Park Lumber Inc. By 1982 the firm was purchased by Ronald Andrews,

who, according to the company history section of Deer Park's website,

would forever change the dynamics of the operation by leading the way for

it to become the prosperous business it is today.

The firm's merry-go-round deck with cants feeding the

line-bar resaw.

Andrews and his family manage the business

today by promoting self-growth, customer service

and quality. Because of his dedication to sustainable

forestry for both the state of

Pennsylvania and the rest of the country,

Andrews purchased and donated a truck and trailer

for the WoodMobile, which travels

Pennsylvania as an educational exhibit.

The company also added a forestry division that

helps individuals make informed decisions where

their woodlot is concerned thereby educating

Kiln dried lumber on Deer Park's green chain.

them about harvesting their forest resources.

Notably Deer Park Lumber is also one of the few

companies that has an educational coordinator

who hosts school tours of the sawmill and presents

a forest products educational program to students

in their classrooms.

"We are focused on keeping up with technology

in our equipment and sawing practices to

insure full utilization of all the logs processed,"

Zona explained. Attention to detail and changeable

specifications are an example of what we

offer, for example, our 4/4 lumber end sawn on

the plump side of 1 and 1/8-inch to give our customers

more to work with when machining. We

are focused on building lasting relationships and

will work hard to insure our customers' needs are

met. We know our success depends on our customers'

success!"

Deer Park Lumber Inc. is a member of the

National Hardwood Lumber Association, Penn-

York Lumbermen's Club, Northern Tier

Keystone Wood Products Assoc., Indiana

Hardwood Lumbermen's Assoc. and Northern

Tier Hardwoods Assoc. For more information

visit www.deerparklumberinc.com.

40 Hardwoods Have Resiliency

•
---
NWFA MEETING - Continued from page 24

Summerfield, Fla.; Best Manufacturer Finish

Finished, Jamie Beckwith Collection, Nashville,

Tenn.;

Best Reclaimed, H&M Flooring, Chicago, Ill.;

Best Residential, Fine Cut Wood Flooring, Derry,

N.H.; Best Restoration, Inex Floors, Richboro,

Pa.;

Designers' Choice, First Coast Flooring,

Jacksonville, Fla.; Members' Choice, Precision

Floorcrafters, Summerfield, Fla.; Honorable

Mention Best Residential, Inex Floors, Richboro,

Pa.; Best Residential, H&M Flooring, Chicago,

Ill.

The NWFA also announced its 2011 Board of

Directors at its recent convention. The NWFA's

Board of Directors is the governing body of the

NWFA and is responsible for its management and

operations. The Board consists of four officers

and 11 directors, each of whom is voted into office

by the NWFA membership to serve a three-year

term. Ex-Officio Directors may also be appointed

to serve one-year terms.

The National Wood Flooring Association

announced its 2011 Board of Directors at its convention

in San Diego, Calif. The announcement

was made during an Awards Dinner held on

Wednesday, April 27. The NWFA 2011 Board of

Directors is as follows:

Chairman, Rick Holden,

Derr Flooring Co., Willow Grove, Pa.;

Vice Chairman, John Lessick,

Apex Wood Floors, Downers Grove, Ill.;

Treasurer, Jeff Fairbanks,

Palo Duro Hardwoods, Denver, Colo.;

Secretary, Kim Holm,

Mannington Wood Floors, Salem, N.J.;

Past Chairman, Neil Poland,

Mullican Flooring, Johnson City, Tenn.;

Directors: Wayne Cotton, Wheeler Inc., a

Division of JJ Haines & Co., Pompano Beach,

Fla.; Mark Elwell, Bamboo Flooring Hawaii,

Honolulu, Hawaii; Enos Farnsworth, Basic

Coatings, Toledo, Ohio; Barry Gork, Timbermate

USA, Chicago, Ill.; Bob Hagard, Hassell &

Hughes Lumber Co., Collinwood, Tenn.; Jamie

Lupresto, Diamond Flooring, Elizabethtown, Ky.;

Sprigg Lynn, Universal Floor, Washington, D.C.;

Tommy Maxwell, Maxwell Hardwood Flooring,

Monticello, Ark.; Kevin Mullany, Benchmark

Wood Floors, Albuquerque, N.M.; Jim

Schumacher, 3M, Annandale, N.J.; John

Wooten, CMH Space Flooring Products,

Wadesboro, N.C.;

Ex-Officio directors: Peter Connor, WD

Flooring, Laona, Wis.; Craig Dupra, Installers

Warehouse, Rochester, N.Y.; Rick Jones, Swiff-

Train, Houston, Texas; Tony Robison, Consult

Inspect Design, Southern Pines, N.C.; and Joe

Rocco, Artistic Floors by Design, Parker, Colo.

NWFA also announced degree recipients during

its convention. These degrees recognize individuals

who have been members of the NWFA for a

minimum of three consecutive years, and who

reach specific levels of achievement in wood

flooring education, personal accomplishment and

service to the industry. A total of 35 members

earned NWFA degrees in 2011, bringing the total

since the program began to 730.

Two NWFA members achieved NWFA Golden

Mallet status. These awards are presented to individuals

who recruit four or more members during

a given year. This year's recipients of the award

are Blair Davies with Magna Hardwood Floors

International of Calgary, Canada, and Drew Kern

with Flooring Works in Milton, Ontario, Canada.

The National Wood Flooring Association is a

not-for-profit trade organization, with more than

3,100 members world-wide, dedicated to educating

consumers, architects, designers, specifiers

and builders in the uses and benefits of wood

flooring. NWFA members receive the best in

educational training, benefits, technical resources

and networking, to advance their professionalism

and success. The NWFA is located at 111

Chesterfield Industrial Boulevard, Chesterfield,

Mo. 63005, and can be contacted at 800-422-

4556 (USA & Canada), 636-519-9663 (local and

international), or on-line at www.nwfa.org.

•

Solve Global Warming:

MAKE

SOMETHING!

North American Hardwoods store carbon for

generations. They are abundant, renewable,

sustainable and legal. Congressional Resolutions 81 & 411

Get the whole story at obeymothernature.com

, and Northwest Hardwoods are registered trademarks of Weyerhaeuser.

© 2011 Weyerhaeuser Company. All rights reserved.

JULY/2011 41
---
WHO'S WHO

IN HARDWOOD PURCHASING

Cliff Benner is Production Manager for Twin

Oaks Cabinets located in Neosho, Mo.

Manufacturing custom residential cabinets as

well as commercial cabinetry, the firm purchases

approximately 420,000 board feet annually of

Alder, Cherry, Beech, Maple, Red Oak and Poplar

(FAS & Superior Grades, 15/16, S2S).

Twin Oaks also offers color matching, finishing

and installation of their custom cabinets.

Benner has been with the company for 21 years and in his current

position for 11. "I grew up around woodworking. I started out helping

my brother in his construction business at a young age," he said. "In

1998 I started a small side business named 'Woodworks.'"

Benner is a graduate of Living Heritage Academy located in Texas.

He and his wife of 18 years, Kristy, have two sons and two daughters.

Twin Oaks Cabinets is a member of the National Kitchen and Bath

Association.

•

• Top Quality Kiln Dried Hardwood

Lumber Rough/S2S

• Specializing in 5/4 thru 8/4 Red &

White Oak

• Also: Cherry, Hard Maple and Soft

Maple

• Shipping Mixed Trucks/Containers

Worldwide

S Sirianni Keith McPherson Jim Sirianni Tom Armentano

Hardwoods, Inc.

912 Addison Road

Painted Post, New York 14870

Telephone: (607) 962-4688

Fax: (607) 936-6237

www.siriannihardwoods.com

shwds@stny.rr.com

Glenn Farrell is President of YFI Millworks located in Cape

Neddick, Maine. A full service architectural millwork manufacturer and

installer, the firm purchases approximately 120,000 board feet annually

of Cherry, Chestnut, Hard Maple and Poplar.

A graduate of Fayetteville Manlius High School located in Manlius,

N.Y., he obtained his bachelor's in business administration and accounting

from St. Michaels College, located in Colchester, Vt.

YFI Millworks is a member of the National Association of Home

Builders, and the Architectural Woodworkers Institute.

Farrell is a member of the Green Building Council, Architectural

Woodworkers Institute, National Association of Home Builders, president

of Builder Zo Club, and a certified Green builder.

•

Charlie James is the lumber buyer for

Woodmart, based in Van Nuys, Calif. Woodmart

manufactures shutters and purchases approximately

600,000 board feet annually of Basswood,

Cypress and cedar (5/4 #1 Common KD RGH, primarily

4/4, 6/4, 8/4 #1 Common as needed). The

company offers interior and exterior shutters and

shutter components.

James has been with the company for 14 years.

He is currently the general manager. His first job in the industry was in

1977 as a lumber handler in a Hardwood distribution yard. He has also

been involved in sales, sales management, milling, purchasing and secondary

manufacturing.

He graduated from San Marino High School and attended Cal-State in

Los Angeles, Calif. He is a member of the Los Angeles Hardwood

42 Hardwoods...The All-Purpose Material
---
A brief sketch of the leading purchasing

executives in the Hardwood Industry

Lumberman's Club of which he served as past president.

James has two sons and a daughter. He enjoys woodworking and bicycling.

For more information visit www.woodmart.com.

•

Kevin Schlinkmann is President of Witmer

Furniture, located in Abbotsford, Wis.

Witmer Furniture manufactures residential furniture.

The company purchases approximately

800,000 board feet of Oak, Birch, Cherry, Aspen

and Poplar (15/16, No. 1 Common, Surfaced, dried

to 6-8%) annually.

Schlinkmann has been with Witmer Furniture for

19 years and in his current position for the past

eight years. He began his career in the Hardwood industry in sales and

purchasing in 1992.

He and his wife of 18 years have two daughters. Schlinkmann enjoys

skiing and outdoor sports in his spare time.

Witmer Furniture was founded in 1981. By 1995 the operation moved

to its current location and in 1999 the company received a Certificate of

Excellence from the office of the governor for manufacturing excellence.

Witmer was also nominated for Wisconsin Manufacturer of the

Year award in 2001 and 2004. For more information visit www.witmerfurniture.com.

•

Dan Walker is president and CEO of Elite Woodworking located in

Phoenix, Ariz.

Elite Woodworking purchases approximately 400,000 board feet of

Alder, Ash, Hickory, Walnut, Cherry, Maple, Oak, Mahogany and pine.

The company manufactures custom cabinet doors and drawer fronts.

Walker opened Elite Woodworking in 1989 working diligently to create

an exceptional custom cabinet door company which has been in business

for 22 years. He began his career in the forest products industry as

a cabinetmaker apprentice in 1982.

A graduate of Roxana High School in Roxana, Ill., he and his wife,

Kathy, have two sons, two daughters, one grandson and a granddaughter.

In his free time, Walker enjoys hunting, boating, riding quads, marlin

fishing, and watching his sons play soccer.

Elite Woodworking is a member of the Small Business Association,

National Federation of Business, and the U.S. Chamber of Commerce.

Street of Dream's located in Scottsdale, Arizona honored Elite

Woodworking (custom cabinet doors) and Adobe Concepts (cabinetmaker)

with the finalist award for the "Outstanding Kitchen" at the

Troon Ridge Estates.

•

Please turn the page

VALUE ADDED SERVICES

Color Sorting

Pulled to Width Sorting

Ripped to Precision Widths

SLR1E

S4S

Proprietary Grades

Devereaux Sawmill, Inc.

2872 N. Hubbardston Rd.

Pewamo, MI 48873

989-593-2552 • Fax: 989-593-2329

sales@devereauxsawmill.com

www.devereauxsawmill.com

JULY/2011 43
---
WHO'S WHO IN HARDWOOD PURCHASING - Continued

John Williams is in lumber sales for Gulf

Coast Shelter Inc., based in Laurel, Miss.

Gulf Coast Shelter has a concentration yard

which buys and sells Hardwood lumber and

frame stock, particleboard and southern yellow

pine. Hardwood species offered include

Red and White Oak, Ash and Poplar. The

company offers its goods nationally and

internationally with a niche in liquidations

and closeouts. The firm's sales are currently in excess of $30 million

annually.

Williams began his career in the forest products industry with

North Pacific in 2005.

A graduate of Waynesboro Central High School, Waynesboro,

Miss., he obtained his bachelor's degree from the University of

Southern Mississippi, based in Hattiesburg, Miss.

Williams and his wife of 20 years, Deana, have one son and one

daughter. He enjoys hunting, fishing, and watching his children

play sports in his spare time.

For more information visit www.gulfcoastshelter.com.

•

September 16 & 17, 2011

London, KY

Featuring the Latest Technology & Services for: Sawmill, Pallet,

Logging, & Secondary Equipment, Loaders, Chain saws, Trucks, Parts,

Safety Clothing, Accessories, New & Used Equipment, and Much More!

Free Drawings for Door Prizes—Family Friendly—Educational Exhibits

Tickets- Adults $3 ($5 at gate); Kids- $2 under six is free—Free Parking

Events:

Live Demonstrations of Machinery & Equipment– Inside & Outside Exhibits

Lumberjack Contests

Chain Saw Carving

Skidder & Knuckleboom Contests

Continuing Education for Loggers

Live Bluegrass & Country Music and much more.

For More Information On Exhibiting or Attending:

Kentucky Forest Industries Association

106 Progress Drive * Frankfort, KY 40601 * Tel: 502/695-3979

44 Hardwoods Have Versatility
---
SEARCHING FOR NEW BUYERS FOR YOUR LUMBER?

GREEN BOOK'S

HARDWOOD MARKETING

DIRECTORY ONLINE

lists over 6,200 firms with

• 1,909 RED OAK BUYERS

• 1,827 HARD MAPLE BUYERS

• 1,659 CHERRY BUYERS

➤ All your sales people can have simultaneous access to these leads from

anywhere Internet Access is available, whether at home, office, hotel, etc.

➤ You can plan your sales trips with the zip code search.

➤ Other options include searching by state, city, species, alphabetically by company name, product manufactured,

grades, etc.

The Hardwood Marketing Directory has 59 years of research helping firms discover new buying opportunities

and contains all North American species and also Imported Woods.

Contact Charlene Jumper toll-free at 800-844-1280 or 901-372-8280.

Access rate is $1,900.00 per year.

Also available as a printed edition which leases for $1,200.00 per year.

Miller Publishing - P.O. Box 34908 - Memphis, TN 38184-0908

Tel. 901-372-8280 Fax 901-373-6180

www.millerpublishing.com greenbook@millerpublishing.com

We specialize and manufacture

Northern Appalachian kiln dried

hardwoods such as Red Oak, White Oak,

Cherry, Ash, Hard and Soft Maple.

570-836-1133

Fax: 570-836-8982

Email: fox@deerparklumberinc.com

1301 SR 6E

Tunkhannock, PA 18657

www.deerparklumberinc.com

JULY/2011 45
---
DOWNES & READER

HARDWOOD CO., INC.

Wholesale Distributors

of Hardwood,

Softwood Lumber,

Mahogany and Plywood

IRON S ICK

Direct Exporters

Ash, Basswood,

Beech, Birch, Cherry,

Cypress, Hickory,

Hard Maple,

Soft Maple,

Poplar,

Walnut,

Red Oak,

White Oak,

Aromatic Cedar,

Sugar Pine,

SYP

® ®

Providing the following services:

4,000,000 BF Kiln Dried Inventory,

Planing Mill, Straight Line Ripping,

Gang Ripping, Mixed Container

Shipments, and Rail Siding

DOWNES & READER

HARDWOOD CO., INC.

Headquarters:

P.O. Box 456 - Evans Drive

Stoughton, MA USA 02072

Phone: 781-341-4092

Fax: 781-344-7110

Inside U.S.A.: 800-788-5568

North Carolina Office:

William von der Goltz

Steve Arnett

Tel: 336-323-7502

Fax: 336-323-2848

The most durable and cost effective

kiln stick on the market

Distribution Yard

P.O. Box 634

Commercial Blvd.

Blakeslee, PA USA 18610

Phone: 570-646-6724

Fax: 570-646-6628

Web Site: www.downesandreader.com

TRADE

TALK

Ellington, Mo.—Baker Products, based here, has just begun manufacturing

a new Stationary Band Sawmill—the BP Dominator.

The BP

Dominator

shares many of

the features of

Baker's Blue

Streak line of

sawmills,

including the

36-inch diameter

log capacity,

with additional

upgrades that

make the BP

Dominator productive

and

user friendly,

according to

Sales Manager

BP Dominator

Clyde Reed.

"There's a 50-horsepower electric motor driving two huge 36-inch steel

band wheels and a thin-kerf band blade, making log-to-lumber action

smooth and easy," he said. "The enhanced hydraulic system has

improved forward and reverse feed and log handling.

"The BP Dominator's frame is made of two large I-beams for superior

durability you can expect from Baker."

For more information contact Baker Products at (800) 548-6914 or (573)

663-7711.

•

St. Louis, Mo.—Long-time National Wood Flooring Association

(NWFA) Executive Director/CEO, Ed Korczak, has announced his retirement,

effective immediately. Korczak had planned to remain with the

NWFA until the end of 2011, working side-by-side with COO Michael

Martin to transition into the association's new leadership, but after the

NWFA's Convention in San Diego, Calif., he felt that he was able to hand

over the reins.

"It was a great convention in San Diego, and a wonderful roast,"

Korczak stated. "It was a lot of fun looking back on the many friendships

I've made in this industry, but the time has come for me to move on.

NWFA's leadership transition is well underway, allowing me the luxury

of retiring earlier than I had originally planned. I thank everyone for a

memorable 17 years with the NWFA. God bless you all."

NWFA Chairman Rick Holden recognized that Korczak's "contributions

to the NWFA and the industry have been significant" and that Korczak

"will be missed. We wish him well in his retirement."

With Korczak's announcement, Martin will take over as NWFA's CEO.

The NWFA is a not-for-profit trade organization, with more than 3,100

members worldwide, dedicated to educating consumers, architects,

designers, specifiers and the builders in the uses and benefits of wood

flooring. For more information visit www.nwfa.org.

•

Washington, D.C.—Executive Directors of the Wood Machinery

Manufacturers of America (WMMA), Harold Zassenhaus and Jim Beach

46 Hardwoods...A Renewable Resource
---
An update covering the

latest news about

Hardwood Suppliers.

recently commented on the state of the woodworking machinery industry.

They mentioned that inquiries are up and sales, while sporadic, are also

on the rise. The biggest challenges they see for members of the WMMA

include finding new customers inside and outside their traditional markets;

labor shortages when orders begin to rise steadily; and increasing

speed of product delivery. "Opportunities arise from the hopefully rising

economy in 2011 and 2012, where there is change-there is opportunity,"

Zassenhaus and Beach said. "Working closely with their customers to

understand and satisfy the end users needs will provide the greatest

opportunity."

As for regulations coming down the road that could impact sales of

machinery in the United States and globally they said, "In the United

States OSHA and wood dust will receive more attention. Outside the U.S.

is the constantly changing safety and environmental regulations to which

U.S. suppliers must adapt their products."

Both executives agree that many overseas economies are emerging quite

well and numerous opportunities for new markets are plentiful. "The key

to being successful in their opinion is working with customers to solve

end user needs and satisfy wants."

•

EXPERIENCE QUALITY DEPENDABLE

975 Conrad Hill Mine Rd.~Lexington, NC 27292

Phone 336-746-5419~Fax 336-746-6177

Web: www.kepleyfrank.com

To better serve our customers we have a 50

bay sorter and optimizing trimmer. Below is a

picture of our sorter that helps us provide

customized sorting and packaging.

Washington, D.C.—According to sources, landowners are beginning

to appreciate the economic and ecological benefits of western

Hardwoods, especially Alder and Maple.

Over 300 members of the Washington Farm Forestry Association

(WFFA) attended the 2011 annual meeting in Vancouver, Wash. Following

introductory presentations by panelists on the topic "Timber Markets-

Now, Next Year and Beyond," many questions were answered by Erick

Metcalf, Cascade Hardwood LLC, regarding Alder, Maple and Poplar.

Cascade Hardwood LLC is located in the Northwestern United States

and first began operations in 1961. Today, Cascade Hardwood is a thriving

company that provides high quality Alder, Ash and Maple Hardwood

lumber for the furniture and cabinet industries worldwide. Cascade also

produces Hardwood pallet stock and continues to supply pulp chips.

•

Washington, D.C.—In the past decade there has been a shift in the

amount of Hardwood lumber being consumed for pallet construction.

Statistics state pallet manufacturers used nearly 5 billion board feet of

Hardwoods in 2001. In 2011 the estimated total is closer to 3.1 billion

board feet.

Over the past 10 years there were some major changes in the pallet business,

which have appeared and could be a continuing trend of less

Hardwood use.

Changes in economics and pallet recycling have been the primary factors

affecting the use of new Hardwood lumber for pallet and packaging

production.

Industries with closed-loop systems, which limit the possibilities of loss,

have stated they will continue to use more plastic and metal pallets in the

future. The bigger threat to the Hardwood use however, may be wood

block pallets, which are generally used in managed pallet pooling.

•

This is a view of our 50 bay sorter.

Information about our sawmill, planer mill and lumber

inventory is below:

1.) Our three sawmills cut 15 million board feet a year of fine

Appalachian Hardwood lumber in 4/4 through 8/4 thicknesses in

mostly Red Oak, White Oak and Poplar as well as Ash and

Maple. Our crosstie mill manufactures about 100,000 board feet

per week of crosstie and tie sides in species such as Hickory,

Sycamore, Beech, Gum and Elm. In addition to the lumber we

cut from our sawmill we also process another 12 to 15 million

board feet of lumber per year through our Hardwood

concentration yard business. We purchase and process all

domestic species in all grades.

2.) Our modern planer mill runs two shifts to ensure on time shipments

of our lumber to customers. We deliver kiln dried or air

dried lumber and offer export preparation and on site container

loading.

3.) We offer 600,000 board feet of fan shed inventory at all times, to

provide efficient service to our customers. Kepley-Frank

maintains an air dried inventory of 5,000,000 plus board feet of

all species, to ensure back up inventory for our customers.

*Through Jimmy Kepley acquiring Lexington Home Brands'

plant #2 in Lexington, N.C., and naming the operation

Linwood Furniture, Inc., his company offers kiln dried lumber

from Linwood's eight dry kilns with a total dry kiln

capacity of 600,000 board feet per charge. The furniture

plant is also offering the service of contract furniture manufacturing

and the manufacturing of wood components for

other furniture manufacturers and other woodworking companies.

Please turn the page

JULY/2011 47
---
Keith D.

Peterson &

Company,

Inc.

Insurance

for the forest products industry

708 Milam Street, Suite 300

101 E. Grace Street

Shreveport, LA 71101-5499 Richmond, VA 23219-1741

(318) 221-0547

(804) 643-7800

708 Milam Street, Suite 300

101 E. Grace Street

FAX (318) 424-7516

FAX (804) 643-5800

Shreveport, LA 71101-5499 Richmond, VA 23219-1741

(318) 221-0547

(804) 643-7800

FAX (318) 424-7516 www.keithdpeterson.com FAX (804) 643-5800

TRADE TALK - Continued

San Marco Island, Fla.—According to preliminary results of a recent

industry study, 90 percent of companies are planning to hire. More than

half expect to make capital investments, the report stated. However,

many will pay cash or lease, avoiding banks and speeding the expansion

plans.

On a positive note, programs in both private wood industry association

conclaves and a series of public sessions were held during a recent Wood

Industry Conference. This annual gathering of woodworking equipment

and supplies manufacturers is sponsored by four associations:

Woodworking and Furnishings Suppliers, Woodworking Machinery

Industry, the North American Building Material Distribution and the Wood

Machinery Manufacturers of America. Among these groups some are also

operating sponsors of the AWFS Fair and IWF woodworking shows.

•

Clifton Forge, Va.—Dabney S. Lancaster Community College, based

here, allows students to mill wood with an LT300 industrial sawmill by

Wood-Mizer Industrial. The machine is central to the Forestry

Management Technology program, accredited through the Society of

American Foresters.

"Because of Wood-Mizers thin kerf technology, it has helped me to be

able to look at a log and maximize output while minimizing waste," one

student commented.

The forestry students use the LT300 during their second year as part of

a 15-week sawmilling course. This machine is from Wood-Mizer's AWMV

Industrial line and is primarily used in commercial operations, which

gives students a head start when they enter the labor force.

According to sources, students graduate from the program ready to go

to work in the industry. Recent graduate Grayson Duke said, "Using the

sawmill has helped me in estimating the board feet of trees while cruising

timber. It has also enabled me to get a better feel for how the trees are

going to be utilized once they arrive at the mill."

For more information visit www.woodmizer.com.

•

Reston, Va.—The Kitchen Cabinet Manufacturers Assoc. (KCMA)

issued a statement in support of the National Academy of Sciences (NAS);

critical review of the U.S. Environmental Protection Agency's (EPA) risk

assessment of formaldehyde.

The review of the IRIS risk assessment on formaldehyde, claimed the

EPA assessment does not prove that formaldehyde causes leukemia or

other serious health problems, including asthma. The NAS report also

alleged that EPA "overstated" its conclusions that formaldehyde damages

the nervous system and questioned the EPA link to reproductive effects.

"This long-awaited independent review by leading scientists confirms

that EPA's 1,000-page assessment does not prove that formaldehyde causes

leukemia or other serious health problems," KCMA's Executive Vice

President, Dick Titus said. "For years, materials essential to the construction

of affordable, durable and fashionable storage cabinetry sought by

consumers have been unfairly described as unsafe based on the same science

as was rejected by the NAS review. The report's finding supports

what the KCMA has been saying for years; that the low levels of

formaldehyde typically found in cabinets to which most people are

exposed are not high enough to cause harm. Further, the kitchen is the

best ventilated room in the home, which reduces any risk even further."

•

Washington, D.C.—The Hardwood Federation (HF) recently learned

the U.S. military was building a new gymnasium floor for a North

Carolina base and they were leaning towards a bamboo floor to help them

meet their renewability goals.

According to HF, once given the facts on renewablity and reliability of

Hardwoods, the DOD still opted for imported bamboo over American

Maple—in spite of the $30,000 higher price tag for the bamboo.

Congressman Larry Kissell (D-NC) sent a letter to the Deputy

Undersecretary of Defense for Installations and Environment demanding

an explanation. "We're hopeful we can change the DOD decision before it

is too late, and the attention Congressman Kissell is shining on this issue

is helpful."

•

48 Hardwoods Have Workability
---
SOUTHEAST TRENDS - Continued from page 6

tioned similar supply issues but said demand for green and kiln dried

stocks is not problematic yet. "We are getting steady numbers on our

green No. 2 and Better activity but kiln dried No.1 Common and Better

is stagnant right now, which is where our supply shortage is. At least for

now, we're not getting hit too hard," he said.

In Virginia a Hardwood supplier said renewed export markets have

increased demand, drawing inventory down. "Some of our international

customers scaled back earlier this year. Now they are picking back up

and our inventory is low.

As for domestic markets, the source said, "Supplies of kiln dried FAS

are satisfying demand, but pricing is off across the board. Air-dried material

has decreased by attrition from low sawmill production and poor drying

conditions due to the weather."

Among his customers, some furniture manufacturers are operating at

full capacity while others account for operating less than full workweeks.

"Some of our markets are absorbing supplies and some are ordering just

what they need."

Supplying most Hardwood species, the contact's customer base also

includes homebuilders, cabinet, Hardwood flooring and moulding and

millwork manufacturers. "We have clients that build homes, and many of

our customers install cabinets and Hardwood flooring."

Going forward, he looks to finish 2011 slightly better than 2010. "Last

year was a hard, hard year for most of us," he explained. "We've all seen

some improvements in the past six months. If the trend continues and if

housing picks up a little, we'll come out okay for 2011."

According to Fox News, the single-family home sales rose unexpectedly

reaching their second straight month of gains. Offering some hope

for the stagnant housing market, the Commerce Department said sales

increased by 7.3 percent to a seasonally adjusted 323,000 unit annual

rate, the highest level since December 2010.

The Commerce Department also reported the median sales price for

new homes rose 1.6 percent last month to $217,900. Compared to the

same time period in 2010, the median price increased by 4.6 percent.

•

LAKE STATES TRENDS - Continued from page 6

spring and that makes conditions difficult all the way down the chain,"

he said. "The loggers can't do their jobs which hinders us from doing

ours and that handicaps the end user."

A Minnesota Hardwood supplier noted reduced raw material purchases

from much of his customer base. "Some end-users are buying to fill

holes in their inventory, but demand remains limited. If we have seen any

increase in demand it would be on the Common grades. Even our export

customers who normally purchase the upper grades are seeking price

over quality."

He said his company's efforts are currently focused on diversifying

inventory and products. "We're implementing new methods that are

reducing our waste and also offering more sorts. It's extremely important

to cater to the needs of your customers right now many are buying just

what they need, when they need it. If you don't have it on the ground,

they'll shop around."

As for what lies ahead the market has been "spotty" all year and he

expects the trend to continue.

In Wisconsin an industrial Hardwood lumber supplier said markets for

pallets and containers have softened. "Competition for orders has grown

and pricing moved lower earlier in the year. Now that production has

decreased, prices of cants are reflecting it and end-users are controlling

their purchases."

He also mentioned as oil and gas prices continue to increase the surcharges

are difficult to absorb. "That issue will continue to be a challenge

Please turn the page

Increase your profits and lower your costs with

Northland Corporation's Lumber. We have been

providing Quality, Service, and Solutions to the

Hardwood industry since 1933. Give us a

Second, we'll give you Solutions.

Fax: 502-222-5355

2600 Highway 146 East LaGrange, KY 40031

Web: www.northlandcorp.com

E-mail: tagirardi@gmail.com

JULY/2011 49
---
The best choice for installing dust,

smoke, fume and/or

vapor systems is

• Trouble-shooting

• Written assessments

• Technical recommendations

• Conceptual and final design

• Manufacturing

• Custom installations

• New, used and

reconditioned equipment

• Sales and support

• On-site maintenance

Air Systems Mfg.

OF LENOIR, INC.

Turn-key Project Management Services:

• In Stock–

Extensive Inventory of

Reconditioned Equipment

• Maintenance Services

Available for Filtration

Equipment

2621 Hogan Drive

P.O. Box 1736 • Lenoir, NC 28645

(828) 757-3500 • Fax (828) 758-5178

Check out our new website at:

www.airsystemsmfg.com

• Dust Collection • Air Filtration • Ventilation Systems

• Custom / Standard / Reconditioned

When Quality Counts...

KITCHENS

BROTHERS MANUFACTURING

LAKE STATES TRENDS - Continued

for every industry," he said. "Now that drier weather conditions are ahead

of us, we should begin to see some type of increase in our activity. Just

how much or how little is undeterminable but we will see an improvement

throughout the warmer months."

•

WEST COAST TRENDS - Continued from page 6

ity and searching for new markets."

Handling Red and White Oak, Hard and Soft Maple, Oak, Maple and

Cherry, a source in Oregon said his inventory levels are down. "Our

inventory levels are off from last year but the prices we are paying are

consistent. We're buying from reload facilities and not full containers.

Reloads continue to serve our needs very well right now."

The source said he expects little to no change for the remainder of 2011.

"I think the next six to eight months will be more of the same. We've had

an improved year from 2010 by far, but nothing close to what we're used

to."

Another contact in California, which serves the remodeling, cabinetry

and construction markets reports improved conditions. "November

through January was slow for our business, but that is traditionally

expected in this industry," he explained. "When Spring arrived we saw

improvements and they are continuing into the summer months."

Supplying Hardwoods such as Maple, Madrone, Myrtlewood and

Tanoak he said his inventory levels are higher than the previous 90 days

and his prices are stabilizing.

"We serve the retail and commercial markets. The retailers are gaining

a little ground and so are we."

A source in Utah, said sales activity for his particular business has

improved by as much as fifteen percent. As for the factors involved he

said, "One of our largest competitors went out of business late last year,

which has of course opened more accounts for us," he explained.

Supplying all domestic Hardwood species along with a broad line of

imported Hardwoods, he said Walnut has picked up. "Other than the

Walnut, we're selling more Cherry, Maple, Poplar and even Mahogany.

We had problems moving the Oaks but that seems to have been resolved

now."

•

NORTHEAST TRENDS - Continued from page 6

990,000' Dry Kiln Capacity

1,900,000' Predryer Capacity

PRODUCING LUMBER, DIMENSION, RED & WHITE OAK STRIP FLOORING,

MOULDINGS

AND CUT-TO-SIZE FURNITURE PARTS

SAWMILLS AT: Utica - Hazlehurst, Mississippi

and Monroe, Louisiana

Sales Office:

John Clark - Sales Manager - E-mail: jlc1102@aol.com

Paul Ostlund - Sales Representative - E-mail: paulkbmc@aol.com

P.O. Box 111 Hazlehurst, Miss. 39083

Tel: 601-894-2021 Fax: 601-894-1069

Web sites: www.kitchensbrothers.com or www.cherrybark.net

impacted logging activity, log inventories and overall timber production.

However, with drier weather conditions now on the way, a source in

Massachusetts indicated his concern. "Sawmill output will improve

quickly and the supply stream will be flooded once drier weather

remains," he explained. "However, steady sales and shipments to our

export markets will continue to assist our particular operation with this

issue, regardless of our domestic activity."

As for the remainder of 2011, the supplier said he looks for a steady

pace throughout. "We picked up in January and we've continued to see

an increase in activity. I don't look for a drastic change either negatively

or positively. I believe business will stay at an even keel for the rest

of 2011."

In New York a source reported similar conditions. "Our international

accounts are currently more than 50 percent of our sales activity," he

said. "Off the cuff I would say they are at least 70 percent."

50 Hardwoods Have Resiliency
---
NORTHEAST TRENDS - Continued

Also indicating improved interest in Ash, he said pricing for No. 2C

and Better is firm. "Some mills are working from an inventory deficit

and processing whatever species are available. But we have also seen

an improved interest in this specie from our international markets."

Opposite from others he said activity in whitewoods is limited for his

operation. "Low log decks have impacted production of Soft Maple in

particular," he explained. "Kiln dried inventories have lowered over

time and buyers continue to purchase just what they need."

Going forward the contact expects moderate improvements. "We've

received more inquiries now that warmer weather is here. If it continues,

we'll see some gradual improvements."

•

QUEBEC TRENDS - Continued from page 7

lion-square-kilometer region.

The anticipated returns are expected to be huge, with the creation of

some 20,000 jobs a year, generating $162 billion in growth of the province's

gross domestic product and $14 billion in tax revenues.

As part of its first five-year phase of development will be the investment

of close to $400 million for housing, health, education, culture and costof-living

offsets for northern communities. The plan includes the

construction of 840 new houses and refurbishing another 480 in Inuit

communities where there is an acute shortage of adequate housing.

The plan does not yet detail which tracts of the territory will be left

undisturbed by development; the government has promised half the land

will be preserved in its virgin state. The challenge will be to balance and

satisfy the interests involved – those of the entrepreneurs, the aboriginal

residents of the region and the environment.

Canada Mortgage and Housing Corporation (CMHC) announced the

seasonally adjusted annual rate of housing starts was 179,000 units in

April, down from 184,700 units in March 2011.

"Housing starts moved lower in April mostly because of decreases in

multiple construction across the country and in rural starts," said the

Chief Economist at CMHC's Market Analysis Center. "The multiple segment

market in Ontario and Quebec contributed the most to the overall

decline in Canada."

The seasonally adjusted annual rate of urban starts decreased by 1.9percent

to 160,100 units in April. Urban multiple starts were down by

5.1percent in April to 96,000 units, while single urban starts increased

by 3.4percent to 64,100 units.

April's seasonally adjusted annual rate of urban starts decreased by

9.4percent in Quebec and by 8.0percent in Ontario.

According to reports, Canadian consumers are tightening their belts

wanting to paydown their debts, even as their American counterparts are

moving in the opposite direction.

According to recent statistical reports, Canadians are reining in their

shopping habits as a result of the recession, and are bargain hunting and

buying fewer non-essentials, even though they feel relatively optimistic

about the economy's future. Americans, on the other hand are more

confident about spending, but are more pessimistic about the fate of the

economy. The reasons Canadians are tightening their belts are due to

rising food costs, higher fuel prices which have risen in the past 3

months, and rising inflation rates, and the prospect of an interest rate hike

looming over the summer, are causing them to scale back.

Please turn the page

We enjoy providing fine

Appalachian lumber to customers

that demand the best.

We have experienced people

in every facet of our operation

that want to provide you

with quality lumber.

A view of some of

our lumber air drying in our shed.

3530 Jonathan Creek Road

Waynesville, North Carolina 28785 U.S.A.

Tel: (828) 926-1621 Fax: (828) 926-3383

E-Mail: mail@oaksunlimited.com

Website: www.oaksunlimited.com

Contact: Joe Pryor, Mark Taylor

or our other salesmen

White Oak • Red Oak

Yellow Poplar • Cherry

JULY/2011 51
---
When it comes to Hardwood or Southern

Yellow Pine Lumber, Eastern Lumber

Corporation gives you competitive prices,

and we stand tall on service.

For you at Eastern Lumber we offer:

• A Southern Yellow Pine concentration yard

in Orangeburg, S.C.

• Green and air dried Appalachian, Northern

and Southern Hardwoods; and green, air dried

and kiln dried Southern Pine.

• Export packaging & container loading.

• Experienced personnel.

Eastern Lumber Corporation

Headquarters:

338 St. Paul St. N.E.

Orangeburg, S.C. 29116

Tel: (803) 531-1887

FAX: (803) 533-0195

Sales:

Russell and Leonard Blanchard,

Ed Holley, Jim Shepherd

& David Turner

You'll like doing business with us because we follow

through on your orders and we do what we say we'll do!

Begley-Made

BAND SAWN

HARDWOODS

This is an aerial view of Begley Lumber Company's band mill operation

located in London, Kentucky.

At Begley, we...

• have a large band mill operation in both London and Hyden,

Kentucky

• have 740,000 board feet per charge of dry kilns and an additional

30,000 board feet per charge Walnut steamer

• produce 60 million board feet of lumber 4/4 through 16/4

thicknesses per year combined

• have a Newman 382 planer

• have several T-sheds that hold 4 to 5 million board feet of

lumber

• have an 80 bay sorter

We'd like to hear from you when you need quality

Appalachian Hardwoods!

P.O. Box 2800

London, KY 40743-2800

Phone: (606) 877-1228

FAX: (606) 877-1230

E-mail: jpatterson@begleylumber.com

Website: www.begleylumber.com

SALES: John Patterson and Matt Begley

QUEBEC TRENDS - Continued

Retailers reported first-quarter sales were weaker across Canada. The

outlook, they predict will not be much better. Rate hikes expected to start

in July could scare away shoppers. The rising costs of materials and

manufacturing products could force manufacturers to increase prices by

the fall, which could further dampen consumer spending.

•

ONTARIO TRENDS - Continued from page 7

Crown forests and oversee the competitive sale of timber in a given area;

and 2) Enhanced Shareholder Sustainable Forest Licences (SFLs), a

group of mills and/or harvesters that collectively form a new company

to manage Crown forests under the Sustainable Forest Licence that is

issued to them.

According to the announcement these new models will help make

Ontario's timber supply and prices more responsive to market demand,

make it easier for entrepreneurs to participate in the forest economy, and

facilitate greater Aboriginal and local involvement in the forest sector.

The plan, as laid out in Ontario's 2011 Budget – Turning the Corner,

designed to create and support 10,000 new and existing jobs for Ontario

families and strengthen local economies, will have as a key component

to build a stronger forest industry. Crown timber is currently harvested

from nearly 40 Sustainable Forest Licences spread across northern and

eastern Ontario. Since 2004, the Ontario government has committed to

investing $1.1 billion (CDN) available through various past and present

programs to assist the forest sector.

On the industry side, however, many Northern Ontario organizations

joined together to express their continued concern over the final content

of Bill 151. On May 4, 2011 the Standing Committee on General

Government met to vote on final amendments to the controversial Bill,

which due to a time allocation motion filed by the Ontario Government,

did not include an opportunity for discussion or debate.

The Thunder Bay Chamber of Commerce, the Northwestern Ontario

Associated Chambers of Commerce (NOACC), the Ontario Forest

Industries Association (OFIA) and the Northwestern Ontario Municipal

Association (NOMA) expressed disappointment that the Bill was fast

tracked through the legislative process without sufficient amendment to

resolve the problematic public policy implications.Extensive testimony

was given by impacted stakeholders at public hearings held in Toronto

in early April.

These organizations argue the Bill is not in the best interest of Northern

and rural municipalities. It remains flawed and will create uncertainty in

the forest sector and jeopardize investment and employment opportunities.

They say the Bill continues to provide the Government with the

arbitrary right to unilaterally cancel wood supply agreements and commitments,

and prevents anyone affected by such cancellations from

seeking legal recourse, damages or compensation.

The organizations still don't understand the need for such speedy passage

of the flawed legislation. In earlier meetings with members of these

organizations, there was no mention about cancelling existing wood

supply agreements without recourse or compensation. The forestry

organizations feel that basic issues of definition and clarity were dismissed

without discussion or debate, and are concerned about the level

of analysis that was done on the ramifications and serious consequences

of Bill 151 on Northern Ontario's economy.

The organizations also note that the Government has been trying to

draw attention away from the controversial Bill by announcing wood

supply allocations through the Wood Supply Competitive Process

(WSCP). The WSCP, which is a separate process from tenure reform

and which is supported by the organizations, will be undermined by Bill

151. Companies receiving allocations under the WSCP need to realize

52 Hardwoods...The All-Purpose Material
---
ONTARIO TRENDS - Continued

that they no longer have security of supply.

Many of the outstanding concerns consistently

expressed by the Chambers of

Commerce, OFIA and NOMA were reflected

in an April 13, 2011 submission to the

Standing Committee from the Ontario Bar

Association (OBA), an organization which

represents 18,000 lawyers, judges, law professors

and students in Ontario. The OBA

submission provided a detailed review of the

Bill's provisions and expressed numerous

concerns, including the statement that provisions

of Bill 151 "appear unfair to Ontarians

and potential investors and we suggest they

be redrafted to reflect a more balanced

approach to the forestry partnership."

•

OBITUARY

James Edward Downes Jr.

Weston, Mass.—James Edward Downes Jr.

recently passed away. He was a graduate of

the Country Day School for Boys located in

Newton, Mass. He obtained his degree from

Harvard in 1935 and a law degree from

Harvard Law School in 1938. A World War

II veteran, Downes served as Lieutenant

Colonel in Algeria, Italy, France, Germany

and Austria. By April of 1945 he became

Commanding Officer of the 93rd Armored

Field Artillery Battalion. Downes received

the American Defense Medal, six Campaign

Stars, and the European-African-Middle-

Eastern Service Medal with Bronze

Arrowhead; the Bronze Star with one Oak

Leaf Cluster; World War II Victory Medal

and the Army of Occupation in Germany

Medal.

After the war he joined Downes Lumber

Co., Boston, Mass., which was founded by

his father James Edward Downes in 1899,

and was vice president and treasurer before

his retirement in 1972.

Funeral services were held at the George F.

Doherty and Sons Funeral Home, Wellesley,

Mass. Donations may be made to the

Massachusetts Eye and Ear Infirmary, 243

Charles St., Boston, Mass., 02114 or to

Children's Hospital, 300 Longwood Ave.,

Boston, Mass. 02115.

•

Modern Cross Circulation

Kilns • Quality Millwork

10,000,000 BF Air Dried Yard

WOODWORKING PLANER PRACTICE

This 24 page booklet contains the answers to almost any Planer

problem. It tells you: How to handle uneven stock; How to produce

squares on a planer; How to reduce disfigurement of stock, and

the tearing of varigrained boards; How to prevent wear of center of

platen; How to handle grains in glued up panels; How jointed cutters

affect blower systems; How to make various thicknesses; How

to make proper forms for tapering long pieces evenly; How to

bevel and make forms for multiple operation, and many other

ideas for better planer performance. . . One woodworking machine

manufacturer stated, "This is the best book that has ever been

written on the subject of Planer Practice." ...........$20.00 per copy.

Send Check to:

NHM, Book Division P.O. Box 34908, Memphis TN 38184-0908

OUTSIDE SALES OFFICE:

Contact, Mike Hilburn

817 Hiawatha • Wilmington, NC 28412

Phone: 252.241.1660

E-mail: mhilburn@tmxship.com

P.O. BOX 909

LONDON, KENTUCKY 40743-0909

PHONE (606) 864-7375 FAX: (606) 864-7355

WEBSITE: www.chaneylumber.com

SALES: Jim Baker - Bryan Gentry

We'd appreciate your inquiries when you need quality

kiln dried Appalachian Hardwood lumber in the

species we specialize in which are: 4/4 & 5/4 Red

and White Oak; and 4/4 through 8/4 Poplar that are

all in #1 Common up through the higher grades.

ALSO OUR BUSINESS IS CUSTOM KILN DRYING

TMX Shipping Company, Inc.

Corporate Headquarters

727 Arendell Street

PO Box 747

Morehead City, NC 28557 USA

Phone: 252.726.1111

Toll Free: 800.631.7447

Fax: 252.726.9097

600,000 BF Kiln Capacity

2,500,000 BF Dry Storage

1,400,000 Air Dried Shed Capacity

SHIPPING

www.tmxship.com

Servicing U.S. Lumber and Log Exporters from

all U.S. Ports: East Coast, Gulf and West Coast

We're a detail minded company that provides individualized

service, custom designed to each customer's

requirements. We are committed to the best possible

service; utilizing our extensive experience and skills,

coupled with our sophisticated computerized traffic

management and documentation system.

TMX Shipping Company, Inc.

2020 General Booth Blvd, STE 220

Virginia Beach, VA 23456

Phone: 757.563.6200

Fax: 757.563.0300

JULY/2011 53
---
Profit Opportunities

Help Wanted • Business Opportunities • Used Woodworking Machinery & Sawmill

Equipment • Used Material Handling Equipment • Panel Production Equipment • Services

HELP WANTED

EXCELLENT SALES OPPORTUNITY

Gulf Coast Shelter, a subsidiary of Shelter Products,

Inc., specializes in the sale of all building material products.

As a nationally recognized company, we are constantly

buying and selling close-out, discontinued, and

liquidated inventories. Also, surplus, imported materials

from China and hardwood crane mat sales are all a

part of our successful business. GCS has two offices

located in Laurel, MS and Daphne, AL.

We are currently searching for career oriented sales

people to join both our Laurel, MS. and Daphne, AL.

offices. This is an excellent opportunity to build a high

income career with unlimited potential. We are looking

for someone with strong interpersonal, problem solving

and organizational skills. The ability to work in a fast

paced environment under pressure and deadline

demands while maintaining a customer service orientation

is important.

We are searching for:

• Some commission based sales experience a plus

• High energy with a strong work ethic

• Demonstrated customer development and relationship

skills

• Strong organizational skills and the ability to handle multiple

responsibilities

• Effective oral and written communication skills

• Thrive in a competitive environment

• 4 year college degree a plus

• Working knowledge of Microsoft software applications

and a math aptitude

We will support your career growth with:

• A results-driven winning team

• SPI's financial strength

• Custom designed trader information system

• Sales training program

• New trader bonus program

• Base plus commission

• Excellent benefit package

• 401(k) Plan with company stock option

For a comprehensive look at our company, view our

web site at

www.gulfcoastshelter.com. and www.shelter-products.com.

Send cover letter and resume to kaustin@shelter-products.com

or fax to 503.233-2515

We are an Equal Opportunity Employer

"Be A Part of One of Canada's 50

Best Managed Companies"

Sales Representatives

Weston Premium Woods is a 60 year old hardwood lumber

distributor who is adding to our existing sales team.

Offering outstanding earning potential and career

growth for the right individual.

You should:

• Have experience buying and selling lumber products

• Be highly motivated with a strong work ethic

• Be able to work independently as well as in a team

environment

• Be entrepreneurial, results oriented and resilient

• Be able to develop long lasting customer and supplier

relationships

• Have an existing customer base with a proven track

record

• Be confident in selling through price objections

If this is you please contact Nico Poulos,

npoulos@westonpremiumwoods.com

or at 866-385-7778

ALL CLASSIFIED ADS MUST

BE PAID IN ADVANCE.

$45.00 per inch

Fee for blind box number is

$10.00.

DEADLINE: 30 days preceding

publication month.

For information call:

901-372-8280

Classified advertising will not

be accepted for Hardwood

products such as lumber,

dimension, turnings, veneer,

carvings, new dry kilns or dry

kiln equipment, etc.

SALES REPRESENTATIVE

Weston Forest Products: The North American

Sales division of Weston Forest Products, located in

Mississauga, Ontario and named one of Canada's

50 Best Managed Companies for 2007 is one of

North America's leading full service distributors of

lumber products. We are looking for a Sales

Representative to help us expand our Industrial

market share in the U.S.A.

Weston Forest Products offers a competitive

compensation package comprised of:

• Competitive salary and bonus – dependent upon

experience

• Benefits Package

• Excellent opportunity for growth and development

Offering outstanding earning potential and an

opportunity for career growth, the Sales

Representative will be responsible for increasing

market share into the U.S.A. by generating and

maintaining new accounts, building strong customer

partnerships and making Weston Forest Products a

supplier of choice. The ideal candidate has/had

Industrial lumber sales experience, would work from

a home office, must be entrepreneurial, a team

player, a self starter and have exceptional work ethic

with a positive attitude, a university degree or college

diploma is an asset.

If interested please send a resume to: Michelle

Arthurs, Director of Human Resources, Weston

Forest Products, 7600 Torbram Road, Mississauga,

ON, L4T 3L8, Email: marthurs@ westonforestgroup.com,

Fax: 905-677-1639

DRY KILN OPERATOR

Carl Rosenberry and Sons Lumber Inc., Fort

Loudon, PA., is looking for an experienced dry

kiln operator to take over dry kiln operations.

Motivated candidate will be responsible for

wood fired boiler system, dry kilns, and

green/air dry yard operations. We offer a competitive

salary and benefits package. Please

email resume to Bill Rosenberry at bill@rosenberrylumber.com.

SERVICES

BUSINESS

OPPORTUNITY

For Sale or Lease

Very profitable Northern Ontario Hard

Maple Mill, 40 acres/Multiple buildings

55m per shift, Forest License included, 6

Dry Kilns, 3 Primary Breakdown, CN or CP

Service available

Financing available

Call Tom Fox at 406-375-4225

USED MACHINERY

FOR SALE

ESTERER BK 100

OPTIMIZED EDGER SYSTEM.

Complete 1994 two saw lineally optimized edger

can be seen in operation until October 2011.

$100,000.00

Contact Hunter McShan at

McShan Lumber Company.

hunter@mcshanlumber.com

205 375-6277

YOUR

AD

HERE

WILL

GET

RESULTS

54 Hardwoods Have Versatility
---
Miller

Publishing Corporation

Serving the Forest Products Industry Since 1927

www.millerpublishing.com

P.O. Box 34908, Memphis, TN 38184-0908

(800) 844-1280 or (901) 372-8280 • Fax: (901) 373-6180

Miller Publishing proudly serves the

woodworking industry

with the following publications and

online directories:

National Hardwood Magazine .....................................www.nationalhardwoodmag.com

Import/Export Wood Purchasing News ........................www.woodpurchasingnews.com

Softwood Forest Products Buyer...............................................www.softwoodbuyer.com

Imported Wood Purchasing Guide.........................www.importedwoodpurchasing.com

Forest Products Export Directory ..................................www.forestproductsexport.com

Dimension & Wood Components Buyer's Guidewww.dimensionwoodcomponent.com

Hardwood Purchasing Handbook.........................www.hardwoodpurchasinghdbk.com

Greenbook's Hardwood Marketing Directory......................www.millerpublishing.com

Greenbook's Softwood Marketing Directory........................www.millerpublishing.com

Forest Products Stock Exchange.................................www.forestproductsstockexc.com

~Please visit us online for more information

about our publications~

HOW TO SPECIFY AND

USE HARDWOODS

An easy-to-read, 40 page handy reference

booklet telling you how to handle

Hardwoods from beginning to end.

Covers such details as: Color, Grain,

Hardness, Bending, Gluing, Sanding,

Sawing, Boring, Staining, Filling,

Finishing, Weight, General Machinability,

etc. This is a practical booklet having

previously appeared in a series in the

National Hardwood Magazine........$20.00

Send Check to:

NHM, Book Division

P.O. Box 34908

Memphis, TN 38184-0908

No

limits.

Wood Products

Traders & Buyers

You're an experienced wood products trader or buyer trying to

increase sales in tough conditions. We're a financially strong,

global trading company selling a broad mix of hardwood and

softwood panels, lumber & boards, moulding & millwork,

flooring and more. And we're growing. Ready for a change?

• Unlimited earning potential

• Top-tier commission structure

• An entrepreneurial & flexible culture

• Financial strength to support

your potential

• Nothing to hold you back

Apply online.

BridgewellResources.com

Equal Opportunity/Affirmative Action Employer. All inquiries strictly confidential.

JULY/2011 55
---
INDEX

of Advertisers

Air Systems Mfg. of Lenoir, Inc. ...........................50

AJD Forest Products ...................................................

American Hardwood Industries, LLC.................39

ANCHORSEAL ...........................................................

Atlanta Hardwood Corporation ...............................

AWMV Industrial Products.......................................

Baker Products.........................................................40

Beard Hardwoods .......................................................

Beasley Forest Products, Inc......................................

Begley Lumber Co., Inc..........................................52

Bingaman & Son Lumber, Inc. ................................4

Bradford Forest Inc................................................BC

Bridgewell Resources LLC.....................................55

Brunner-Hildebrand Lumber Dry Kiln Co. ..........9

Buckman Laboratories Int'l., Inc...............................

Cascade Hardwood Group......................................1

Cersosimo Lumber Co., Inc.......................................

Chaney Lumber Co., Inc. .......................................53

Church, Bryant, Hardwoods, Inc..............................

Cole Hardwood, Inc. ..................................................

Collins Cos. ..................................................................

Corley Manufacturing Co. ..................................IBC

Cramer, W.M., Lumber Co.....................................38

Cummings Lumber Co., Inc. .................................48

Curtner Lumber Co. ...................................................

Custom Molding .....................................................15

Deer Park Lumber, Inc. ..........................................45

Devereaux Sawmill, Inc. ........................................43

Gulf Coast Shelter .......................................................

Hardwood Forest Foundation...................................

Hardwood Forestry Fund..........................................

Hardwood Manufacturers Assoc..............................

Hawkeye Forest Products, Inc. .................................

Hermitage Hardwood Lumber Sales, Inc. ..............

Holmes & Co., Inc.......................................................

House Of Rules, The...................................................

Hyster Company.........................................................

Indiana Wood Products, Inc. .....................................

Industrial Timber & Lumber Corp...........................

Inter-Continental Hardwoods...................................

Iron Stick...................................................................55

Irving, J.D., Limited ....................................................

ISK Biocides, Inc..........................................................

Jones, Ron, Hardwood Sales, Inc..............................

Kentucky Forest Industries Assoc. .......................44

Kepley-Frank Hardwood Co., Inc. .......................47

Kitchens Bros. Manufacturing Co., Inc................50

Lewis Controls, Inc...............................................IBC

Lewis, Dwight, Lumber Co., Inc...............................

Limbo ........................................................................38

Mars Hill, Inc. ..............................................................

Meridien Hardwoods of PA., Inc..............................

Midwest Hardwood Corporation.............................

Miller & Co...................................................................

Miller, Frank, Lumber Co., Inc..................................

Missouri-Pacific Lumber Co..................................37

Pennsylvania Lumbermens Mutual Insurance Co.

Peterson, Keith D., & Co., Inc................................48

Pierce Construction & Machine Co. .........................

Pike Lumber Co., Inc. ............................................FC

Pine Mountain Hardwood Lumber Co. ..................

Prime Lumber Company ...........................................

Quality Hardwoods, Ltd........................................35

Ram Forest Products, Inc. ......................................36

Rives & Reynolds Lumber Co., Inc. .......................5

Rosenberry, Carl, & Sons, Lumber, Inc. .................8

Shelter Forest International .......................................

SII Dry Kilns ................................................................

Simply Computing......................................................

Sirianni Hardwoods, Inc. .......................................42

Smithco Manufacturing, Inc......................................

Southern Forest Products Assoc. ..............................

Southern Pneumatics..............................................49

Stiles, A.W., Contractors, Inc. ....................................

Taylor Lumber, Inc......................................................

Taylor Machine Works Inc. ........................................

Taylor, Ralph, Lumber Co., Inc. ................................

Thompson Hardwoods, Inc.......................................

TMX Shipping Co., Inc...........................................53

U•C Coatings Corp. ...................................................

Weston Premium Woods Inc. ....................................

Downes & Reader Hardwood Co., Inc. ...............46

Eastern Lumber Corp. ............................................52

Evarts, G.H., & Co., Inc..............................................

Fields, Walter M., Lumber Co. ..................................

Mueller Bros. Timber, Inc...........................................

NAWLA Traders Market............................................

Neff Lumber Mills, Inc. ..............................................

Northland Corp.......................................................49

Weyerhaeuser Hardwoods ....................................41

Wheeland Lumber Co., Inc........................................

White, Harold, Lumber, Inc.....................................3

Williams, R.J., Inc. .......................................................

Frick Lumber Company, Inc..................................34

G.F. Hardwoods, Inc.................................................3

GEMPAINT ..................................................................

Granite Hardwoods, Inc.............................................

Granite Valley Forest Products, Inc..........................

Oakcrest Lumber, Inc..................................................

Oaks Unlimited .......................................................51

O'Shea Lumber Co......................................................

Parton Lumber Company, Inc...................................

Patrick Lumber Co..................................................51

Wilson Lumber Co., Inc. ............................................

Winston Machinery & Equipment Co., Inc.............

Wood-Mizer Products, Inc. ........................................

Yoder Lumber Company, Inc..............................IFC

Note: Advertisers with no page number carry an alternating Ad schedule.

56 Hardwoods...A Renewable Resource
---
For over a century, Corley has been

the most trusted name in the industry.

Since 1905, our family-owned business has been built upon a reputation for quality, integrity, and

old-fashioned business ethics. Today, our partnership with Lewis Controls brings you the best in

equipment and optimization software. From turnkey sawmills to individual machine centers and

retrofits, we're committed to providing maximum returns on your investment—year after year.

Our experienced professionals can help you realize a profit potential you may have never thought

possible. Call us today or visit our website to discover what lumbermen have known for over

100 years. Wood is Wonderful...and who knows that better than we do?

www.corleymfg.com

www.lewiscontrols.com

P.O. Box 471 | Chattanooga, Tennessee 37401 | tel: 423-698-0284 | fax: 423-622-3258
---
Whatever You're Making,

Start With The Best Cherries

In The World:

OURS

When your plans

call for the finest black

cherry available,

make Bradford Forest

your choice for

unsurpassed quality.

We've built our

reputation – and

rest our pride – on

delivering the best

cherry anywhere.

So include Bradford

Forest cherry in your

recipe for success.

"Ask for FSC certified products."

A Danzer Group Company

P.O. Box 369, Bradford PA 16701 • 814-368-3701 • www.bradfordforest.com

P.O. Box 369, Bradford PA 16701 814 368 3701 www.bradfordforest.com