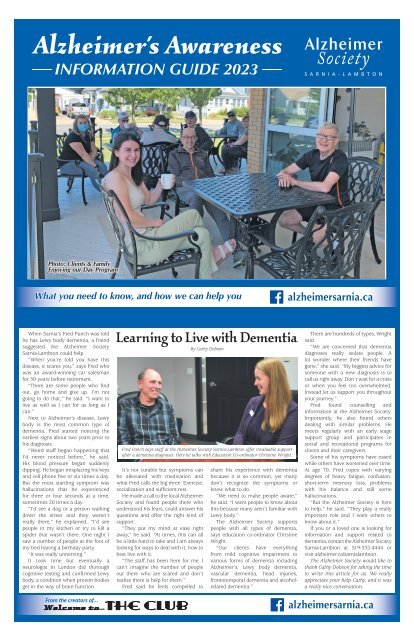 Alzheimer Society Info Guide Winter 2023
The Alzheimer Society is seen as a resource in the area for those living with dementia and caregivers. Our success is significantly due to the desire to work collaboratively with other organizations. We aspire to be a leader in the development of best practices in dementia care. Our programs and services promote wellness and social inclusion.
The Alzheimer Society is seen as a resource in the area for those living with dementia and caregivers. Our success is significantly due to the desire to work collaboratively with other organizations. We aspire to be a leader in the development of best practices in dementia care. Our programs and services promote wellness and social inclusion.
SHOW MORE
SHOW LESS
Create successful ePaper yourself
Turn your PDF publications into a flip-book with our unique Google optimized e-Paper software.
Alzheimer's Awareness

INFORMATION GUIDE 2023

Photo: Clients & Family

Enjoying our Day Program

What you need to know, and how we can help you

alzheimersarnia.ca

When Sarnia's Fred Punch was told

he has Lewy body dementia, a friend

suggested the Alzheimer Society

Sarnia-Lambton could help.

"When you're told you have this

disease, it scares you," says Fred who

was an award-winning car salesman

for 30 years before retirement.

"There are some people who find

out, go home and give up. I'm not

going to do that," he said. "I want to

live as well as I can for as long as I

can."

Next to Alzheimer's disease, Lewy

body is the most common type of

dementia. Fred started noticing the

earliest signs about two years prior to

his diagnosis.

"Weird stuff began happening that

I'd never noticed before," he said.

His blood pressure began suddenly

dipping. He began misplacing his keys

and cell phone five or six times a day.

But the most startling symptom was

hallucinations that he experienced

for three or four seconds at a time,

sometimes 20 times a day.

"I'd see a dog or a person walking

down the street and they weren't

really there," he explained. "I'd see

people in my kitchen or try to kill a

spider that wasn't there. One night I

saw a number of people at the foot of

my bed having a birthday party.

"It was really unnerving."

It took time but eventually a

neurologist in London did thorough

cognitive testing and confirmed Lewy

body, a condition when protein bodies

get in the way of brain function.

Learning to Live with Dementia

By Cathy Dobson

Fred Punch says staff at the Alzheimer Society Sarnia-Lambton offer invaluable support

after a dementia diagnosis. Here he talks with Education Co-ordinator Christine Wright.

It's not curable but symptoms can

be alleviated with medication and

what Fred calls the big three: Exercise,

socialization and sufficient rest.

He made a call to the local Alzheimer

Society and found people there who

understood his fears, could answer his

questions and offer the right kind of

support.

"They put my mind at ease right

away," he said. "At times, this can all

be a little hard to take and I am always

looking for ways to deal with it, how to

best live with it.

"The staff has been here for me. I

can't imagine the number of people

out there who are scared and don't

realize there is help for them."

Fred said he feels compelled to

share his experience with dementia

because it is so common, yet many

don't recognize the symptoms or

know what to do.

"We need to make people aware,"

he said. "I want people to know about

this because many aren't familiar with

Lewy body."

The Alzheimer Society supports

people with all types of dementia,

says education co-ordinator Christine

Wright.

"Our clients have everything

from mild cognitive impairment to

various forms of dementia including

Alzheimer's, Lewy body dementia,

vascular dementia, head injuries,

frontotemporal dementia and alcoholrelated

dementia."

There are hundreds of types, Wright

said.

"We are concerned that dementia

diagnoses really isolate people. A

lot wonder where their friends have

gone," she said. "My biggest advice for

someone with a new diagnosis is to

call us right away. Don't wait for a crisis

or when you feel too overwhelmed.

Instead let us support you throughout

your journey."

Fred found counselling and

information at the Alzheimer Society.

Importantly, he also found others

dealing with similar problems. He

meets regularly with an early stage

support group and participates in

social and recreational programs for

clients and their caregivers.

Some of his symptoms have eased

while others have worsened over time.

At age 70, Fred copes with varying

degrees of heavy fatigue, confusion,

short-term memory loss, problems

with his balance and still some

hallucinations.

"But the Alzheimer Society is here

to help," he said. "They play a really

important role and I want others to

know about it."

If you or a loved one is looking for

information and support related to

dementia, contact the Alzheimer Society

Sarnia-Lambton at 519-332-4444 or

visit alzheimer.ca/sarnialambton.

The Alzheimer Society would like to

thank Cathy Dobson for taking the time

to write this article for us. We really

appreciate your help Cathy, and it was

a really nice conversation.

From the creators of...

Welcome to ...

THE CLUB

alzheimersarnia.ca
---
Our Philosophy

The Alzheimer Society is seen as a resource in the area for those living

with dementia and caregivers. Our success is significantly due to the

desire to work collaboratively with other organizations. We aspire to be

a leader in the development of best practices in dementia care. Our

programs and services promote wellness and social inclusion.

Our Mission

To alleviate the personal and social

consequences of Alzheimer's disease and

related dementias and to promote research

with respect to such disease and dementias.

Our Role

The role of the Alzheimer Society of

Sarnia-Lambton is to offer support, information

and education to people with dementia, their

families and their caregivers, to increase public

awareness of dementia, to promote research

and to advocate for services that respect the

dignity of the individual.

Our Vision

We envision a world without Alzheimer's

disease and other dementias.

Our Values

C A R E E

Collaboration Accountability Respect Empowerment Excellence

What You Should Know About

Alzheimer's Disease

January is Alzheimer's Awareness

Month. Every year, the Alzheimer

Society takes the opportunity to raise

awareness about neurocognitive

disorders and the importance of

early diagnoses. Here's an overview

of what you should know.

What are neurocognitive

disorders?

Although neurocognitive

disorders are often associated with

memory loss, they can also affect a

person's mood, behaviour, thinking,

language skills and problem-solving

abilities. However, it's important to

note that neurocognitive disorders

are different from age-related

memory loss (ARML), which isn't

caused by an underlying medical

condition.

Who do they affect?

Alzheimer's disease most

commonly affects people over the

age of 65. However, some individuals

may start to show signs of cognitive

Welcome to ...

THE

CLUB

impairment in their 50s or 40s.

Additionally, certain medical factors

such as experiencing head trauma

or having cerebrovascular disease

can increase the risk of developing

a neurocognitive disorder. Early

diagnosis is important because

neurocognitive disorders are

progressive and worsen over time.

What can you do?

Although neurocognitive disorders

often affect a person's ability to

communicate and express themself,

it's important to continue to converse

with them to help them feel safe

and at ease. If you have Alzheimer's

disease or think you may have a

neurocognitive disorder, talk to your

doctor and contact the Alzheimer

Society of Canada.

To learn more about

neurocognitive disorders,

visit alzheimer.ca.

Sarnia-Lambton's

MAGAZINE FOR 55 +

LIKE NO OTHER!

Together, we can

end Alzheimer's.

to partner r

with the Alzheimer e

Society

y

in creating this important t

publication.

i

.

THANK YOU for all the work you

do to benefit our communities.

welcometotheclub.ca

519-491-1676

Volunteer Opportunities

Alzheimer Society Sarnia-Lambton provides help for

people living with dementia and their care partners.

We need people of all ages, skills, and interests to help

plan, coordinate, advocate, organize, lead and inspire.

We will do our best to match your skill set and interests

with our need for support.

LAMBTON AUDIOLOGY ASSOCIATES

SARNIA

519-542-0569

102-1433 London Rd.

PETROLIA

226-738-0401

4-4119 Petrolia Line

www.lambtonaudiology.com

How you can help:

• Individual and Group Supports

• Social Activation Programs: Minds in Motion,

Inspirational Moments, Forget Me Not Social Club

• Client Services Support

• Special Events and Fundraising Support

• Young Leader Collective

• Bingos

• Board of Directors

To get involved:

Call: 519-332-4444

Email: arand@alzheimersarnia.ca

Web: alzheimer.ca/sarnialambton

Page 2

alzheimersarnia.ca
---
A Message from our CEO

The Alzheimer Society

of Sarnia Lambton offers

support, information,

education, and system

navigation to people

living with dementia,

their families, and

their care partners. We

strive to increase public

awareness of dementia

and advocate for services

that respect the dignity of

the individual.

Our caring team of staff

and volunteers work diligently

to fulfill the Society's mission, to

alleviate the personal and social

consequences of Alzheimer's

disease and other dementias and to

promote research.

Support is available to anyone

affected by memory loss or

dementia, and our staff work with

healthcare professionals, and other

community agencies so that they

too can provide person-centred and

meaningful support to people living

with dementia.

The Society prides itself on

forward- thinking, collaborative,

inclusive, diverse, and equitable

practices and is recognized as a

leading resource in the community.

We were honoured this year to

receive an Outstanding Business

Achievement Award in the category

of Non-Profit of the Year from

the Sarnia Lambton Chamber of

Commerce.

Seniors

Save

Young @

Heart

Earn Free

Rewards

on almost

everything you

buy at Pharmasave.

We know that social

isolation is one of the most

difficult outcomes for

many people living with

dementia. The benefits

of active living programs

can help reduce

isolation and relieve

care partner stress.

Evidence demonstrates

that programs such

as day programs,

respite, social recreation,

education, support groups

and counseling assist people

to live well in our community. It also

eases the burden on our healthcare

system. In the testimonials included

in this publication, you can see the

wonderful feedback received from

clients participating in our services.

We hope this publication will be

helpful for you to learn more about

our services and programs and

how they can help you, your family

member, your neighbour or anyone

else in Lambton County living with

dementia. Clients have shared that

they wish they had connected with

the Alzheimer Society earlier to

help with navigation throughout

their journey. Early intervention has

proven to be helpful to everyone

involved.

(Melanie Bouck)

SLEEP HEALTH SERVICES

& CPAP SUPPLIES

Sleep apnea and Alzheimer's are directly linked. Many studies

show that sleep apnea can contribute to paents developing

Alzheimer's disease and many people with Alzheimer's do have

sleep apnea. Restwell would like to recognize Alzheimer's

disease by helping our community in any way we can. If you

think you have problems sleeping, give us a call today!

• Free CPAP Machine Consultaon & Assessment

• CPAP Supplies & Sleep Accessories

• Home Sleep Apnea Tesng

- In your home, no wait list, professionally

analyzed & sent to your doctor in 1-2 weeks

• Ambulatory Blood Pressure Monitoring

Joel Clarke

RPSGT, RCT

Execuve

Director

481 London Rd

Sarnia, ON

226-776-8891

RestwellSarnia.ca

Please contact us for more informaon - We are always happy to help!

20%

OFF

Regular Priced

Items In-Store

Every Thursday of every month!

FOOT ORTHOTICS

SLIPPERS, SHOES, BOOTS, SANDALS

www.soledecisions.ca

ASK ABOUT IN-HOME SERVICE

303 Davis St, Sarnia • 888-971-6345

395 FLETCHER ST. • PETROLIA

226-738-0665 • WWW.BLACKGOLD.BEER

GIFTWARE & UNIQUE HOME DÉCOR

SHOWCASING MANY LOCAL ARTISANS

Home of Just-A-Nuff Antiques

TUESDAY-FRIDAY 10-5 • SATURDAY 10-2

850 Colborne Street @ Exmouth Street

Northgate Plaza, Sarnia • 519-336-3838

VULNERABLE PERSONS REGISTRY

Do you know someone living with dementia?

3 out of 5 people living

with dementia will go

missing at some point, a

frightening experience,

and a dangerous one.

Julie Munday,

Certified Pedorthist

Each January,

the Alzheimer Society

supports and leads

Canada's Alzheimer's

Awareness Month.

During this month, we encourage everyone to learn more

about dementia and its impact on Canadians.

You can help build awareness on the supports available

through your local Alzheimer Society for persons living with

dementia and their care partners.

January is

ALZHEIMER'S

AWARENESS MONTH

Our new year's resolution

is to end dementia stigma!

Will you join us?

We are happy to support

Alzheimer's Awareness

Free consultations - 519-336-6580

www.feigedentureclinics.com

That's why the Alzheimer

Society of Sarnia-Lambton

is partnering with The

Sarnia Police Services and

OPP to provide an

opportunity for individuals living with dementia to be registered as someone

at risk of going missing. Critical information collected provides searchers with

quick access to key information to assist in locating the individual and

returning them home safely.

LONDON ROAD PHARMACY

Locally Owned and Operated

www.londonroadpharmacy.com

* Every surface & product is disinfected daily for your safety!

Tammy Maure

1249 London Rd

519-491-6778

Registration

is easy!

Let's all do our part to help individuals with

dementia live safely in our community.

Simply call Alzheimer Society Sarnia-Lambton

at 519 332 4444 to learn how.

alzheimersarnia.ca

Page 3
---
What We Do - Programs & Services in Sarnia-Lambton

Alzheimer Society of Sarnia Lambton has many programs including:

• Counselling Services

• Care Navigation

• Support Groups

• Social Recreation Programs

• Education Sessions for people living with dementia,

families, care partners and healthcare professionals

• Professional training programs

• Alzheimer Society Mindful Music project

• Peer-led support groups, and program support

• Fundraising and Events

• Online Programming (webinars, and social recreation)

• Inter-professional collaboration and building community partnerships

• Advocacy to support person with dementia to live well in our community

INFORMATION AND SUPPORT PROGRAMS

First Link Learning Series

First Steps Workshop for persons with dementia to understand and address

concerns about progression and changes they may experience.

Next Steps for Families Workshop for care partners to better understand

dementia symptoms and affects.

Care Essentials Workshop Workshop on middle stages of dementia and

understanding responsive behaviours, communication tips and best approach

for care partners.

Care in the Later Stages Workshop focusses on quality of life and end of life

care for person living with dementia and support for care partners.

Education for the Public that are open to anyone that would like to learn about

dementia throughout Lambton County. Locations and topics change throughout

the year. Can be booked for your organization. Some sessions we bring in

outside guest speakers and experts on dementia care. Included in this education

is Dementia Friendly Communities where you can learn how your organization

can help people with dementia thrive in our community. Find Your Way program

looks at safety for person living with dementia including our local Vulnerable

Persons Registry with the police services.

Topical Tuesdays are virtual session held weekly to help care partners to better

understand dementia, improve care and care for themselves. The topic changes

weekly and can be attended from the comfort of your home.

TEACH® and CARERs® programs are developed by the Reitman Centre, Sinai

Health Systems and our local facilitators lead this interactive group program

helping care partners develop skills and strategies in care for the person living

dementia.

Support Groups for care partners & person living with dementia occur

monthly giving and opportunity to share insights, concerns and support from

peers and group facilitators. These groups are designed for the interests of the

group including a support group specifically for care partners of someone with

a frontotemporal dementia.

Respite Services designed to provide in home activation, socialization and

support for the person living with dementia as the care partner can take a break

from daily care.

ACTIVE LIVING PROGRAMS

Minds in Motion®

A social recreational program that

incorporates physical and mental

stimulation for people with early to

middle stage dementia. This program

is designed for the care partner to also

take part. Options to attend virtually

or in person. Thank you to Strangway

Centre and Grace United Church for

partnering for these sessions.

Mindful Music

Provides personalized music

intervention to stimulate the long

term memory of persons living with

dementia while providing meaningful

engagement, supporting self

expression and identity.

Forget Me Not Social Club

A social networking opportunity for

people living with dementia and their

care partners to enjoy the company of

others, and to get into the community

to participate in planned activities

Inspirational Moments

An art based program that allows

participants to access a tour of our

newest exhibits and the Judith &

Norman Alix Art Gallery. Explores

art and conversation about specific

artworks and then the groups has the

opportunity to create their own art.

Armchair Travelogue

Sit back and enjoy traveling around

the world from the comfort of your

home. Virtual session take groups to

different countries around the work

to learn more, and discuss their new

discoveries.

For more information

on any of our programs

and services, call us at

519-332-4444.

Ways to reduce

dementia stigma:

Focus on what a person

with dementia CAN do.

Join in on our Active Living

Programs including excercise,

music, art, music, and travel

(from the comfort of home) for

persons living with dementia

and their care partners.

Contact Brooke at

519-332-4444

to learn more.

Page 4

alzheimersarnia.ca
---
"Members of my peer

support group are at every

step of the dementia

journey. We recognize each

other's challenges and can

provide understanding and

real life suggestions under

the expert guidance of

knowledgeable staff."

"I have found the support my

brother and I have received from

the society has been invaluable.

My brother wouldn't have coped

as well as he has with his dementia

and I wouldn't have been able to

provide the care and support he

needed without the expertise of

the society. As our needs changed,

the society staff knew next steps

and how to support us."

What Our

Clients

Have Shared:

"This group was there for me right

at the peak of our family's struggles

and I still get very emotional talking

about the bond that was created

with each of us in the group."

"My brother and I have received support and used the resources

of the society for approximately the last five years. The

knowledgeable, skilled staff have helped us understand the

challenges of dementia and find the other agencies and

resources we need. My brother's dementia's symptoms have

worsened and the staff have helped us every step of the way to

keep him safe and calm. The support I have received when

requested, and as part of a support group, has ensured that I can

be there for my brother as his primary care giver."

"I have been extremely impressed with everyone I have

encountered with the Society including yourself. You are

caring, empathetic, positive and hard working."

"….my first line of support,

even calling me to 'check in'

when I was at my worse,

somehow she always knew I

needed her calm, supportive

words to get me through.

Then I started educational

classes and I never realized

how the educational part

would be so helpful. She

gave me tools to use that

were a life saver."

"I felt like I was being welcomed with

warm hearts and experience that

was going to help me understand

the difficulties of living with

dementia in my life. My parents

were struggling and I didn't know

how to help them. I can't say

enough about the help I received."

"Since my initial connection with the ASSL about two and a half

years ago, they have been a constant support as my husband's

cognitive condition continued to decline. Telephone check-ins and

discussions, providing helpful materials and publications, and

recent in-person meetings have been important contributions to

my husband's care and my wellness. The staff of the ASSL are

consummate professionals whose work is consistently

characterized by kindness and a personal touch. The ASSL is a

valuable asset in our community, fostering cooperation among

relevant agencies and institutions, reaching out with public

education, and creating a hopeful outlook on dementia care."

PROUD TO SUPPORT

ALZHEIMER'S AWARENESS

BOB BAILEY

MPP - Sarnia-Lambton

CONSTITUENCY OFFICE

805 Christina St. North, Suite 102

Point Edward, ON N7V 1X6

www.bobbaileympp.com

Tel: (519) 337-0051

Email: bob.baileyco@pc.ola.org

alzheimersarnia.ca

Page 5
---
From Independent Living

to Comprehensive Care

TOWN NAME, TOWN NAME and another awesome TOWN NAME

Are you on track

to meeting n

your

retirement ent goals?

At IG Wealth Management, we go

beyond RRSPs to look at your whole

financial picture to forecast your monthly

income in retirement. So you get a clear

view of today and tomorrow.

Does your plan do that?

Let's start by reviewing your retirement goals.

ERIN POLLARD

Consultant

Investors Group Financial Services Inc.

Tel: (519) 542-9597

Erin.Pollard@igpwm.ca

Trademarks, including IG Wealth Management, are owned by IGM Financial Inc. and licensed to its subsidiary corporations.

© Investors Group Inc. 2019 RET2111MA_E (11/2019)

Dementia is a call for us all

to be more patient

in a busy world.

ilivewithdementia.ca | #ilivewithdementia

A plan for living

Ask about our

monthly seminars

on Tax Strategies,

Retirement and

Money Management

throughout 2023.

We're proud to

partner with the

Need A

Guest

Speaker?

Questions are

welcomed at

educational sessions,

and individual

educational sessions

can also be arranged.

519-332-8461 • www.vision74.com

We all know someone living with dementia,

but as a community it's important to learn more.

If your club or organization would like a

guest speaker for your virtual meeting,

contact Christine at 519 332-4444

or cwright@alzheimersarnia.ca

In September 2021,

ASSL launched our Young

Leaders Collective (YLC),

which is a community

of passionate and driven

individuals who want to

change the lives of those

affected by dementia

and are invested in their

own brain health. YLC's

core pillars are advocacy, networking,

education, and community

engagement.

Throughout the first year, Members

and Ambassadors networked with

Alzheimer Society Senior Leadership

and the Board of Directors at various

events. They had the opportunity to

participate in many fund development

events such as OktBorderfest and our

Worn and Buff It Custom Kitchen

Lottery. After one year, we have 7

inspiring Young Leaders.

One such Young Leader is Nick

Ravenhorst. Nick is 27 years old and

VISION74

NURSING & REST HOME

TOPICS CAN INCLUDE:

• Understanding Alzheimer's disease,

dementia and cognitive impairment

• How to help those with dementia

• Local supports & programs

• Warning signs

• Tips on Care

• How to reduce your risk of dementia

• or a topic of your choosing

Young Leaders Collective

'74 INC.

is in sales & marketing at

Bayview Chrysler Dodge.

We asked Nick about his

experience as a Young

Leader and this is what

he had to say: "I've had

the opportunity to work

side by side with other

Young Leaders at concert

events, participated in

the promotion, and volunteered

at big events. There has also been

an education and networking

component to this program. I've

lived in Sarnia my entire life except

for going to school in Toronto and I

was looking for a way to give back to

my community in a meaningful way.

I would encourage anyone who is

looking to give back to join the Young

Leaders Collective.

Our members are Kendyl Anderson,

Jade Ray, Hannah D'Andrea, Meghie

Smids, Sam Iaccino, Riley Smids and

Nic Ravenhorst.

Page 6

alzheimersarnia.ca
---
Our 2022 Events

TOWN NAME, TOWN NAME and another awesome TOWN NAME

SAVE THE DATE

Aug. 19, 2023

SAVE THE DATE May 27, 2023

Christmas

Celebrations

Chamber of Commerce OBAA Awards

The benefits that the Alzheimer Society programs

deliver to the community are truly wonderful.

With deep gratitude -

Chris & Sabrina Treftlin, Shine at Home

Seniors' Home Independence Network

Housekeeping

Companionship

and Care

Life is Better When

You're Home

Seniors live at home -

independently,

comfortably & happily.

It doesn't matter how old you are, life is always better

when you're home. There's a deep comfort that comes

from being in familiar surroundings, sleeping in your own

bed, and living under a roof that belongs to you.

Established in 2010, Shine at Home serves seniors who wish

to live in full independence. Since our earliest beginnings we

have learned that with just a little help, people can remain

in their homes for many years safe and free in the

knowledge that a dedicated team is there for them.

Call today to find out how we can help you:

519-336-9898 shineathome.com

alzheimersarnia.ca

Page 7
---
Our Case for Support

By Marie Marcy-Smids

You can help alleviate the

personal and social consequences

of Alzheimer's disease and other

dementias. Dementia is not a normal

part of aging.

Many people experience some

memory loss as they get older. But only

a portion of people develop dementia

that progresses from mild to severe

over several years. Dementia, like

any other health condition, requires

treatment and interventions to allow

the person affected to have the best

quality of life possible. Each year the

Alzheimer Society of Sarnia-Lambton

helps close to 1000 people live better

with dementia.

With few medical options to slow

the progression of dementia and no

cure, a diagnosis of dementia can feel

hopeless and isolating. The services

provided by the Alzheimer Society

help to reduce the stigma associated

with dementia and ensure people

living with this disease have a network

of support and the help they need to

live well. Supports and services are

provided to both the person living

with dementia and their care partner

to help them navigate the dementia

journey from the very beginning.

We have come a long way in the past

five years, introducing new programs

and services and doubling the number

of clients we serve. However, our

population is aging and the number

of people living with dementia is

expected to triple within the next 30

years. We are already experiencing

strain on our capacity to meet the

needs of our clients, and we know this

will only get worse.

Wait times result in unnecessary

hospital admission and early

admission to long-term care

Currently, our clients face waits of

up to three weeks for intake. This is

simply not acceptable. Many of those

who reach out to us do so in the later

stages of their dementia journey when

they have reached a point of crisis; a

time when they need service in that

moment. If supports are not accessible

at the time they are needed, the only

option is to access service through the

emergency department, resulting in

hospital admission or early admission

to long-term care. This situation

is avoidable. Family care partners

deserve better. People living with

dementia deserve better, and you can

help.

The Alzheimer Society of Sarnia-

Lambton is fortunate to receive

funding from Ontario Health, but it

is not enough. It is not enough now,

as we face a $250,000 deficit just to

maintain our current service levels;

and it will not be enough in the

coming years as the need for service

continues to grow. Your financial gift

and support can directly affect our wait

times for service and help us expand

programming. It will directly improve

the quality of life for both people living

with dementia and their care partners.

Our 2022 Home Improvement

Lottery WINNER!

WE SUPPORT

CANADA

663

United

Association of Journeymen

and Apprentices of the Plumbing

and Pipe Fitting Industry

of the United States and Canada

Page 8

alzheimersarnia.ca
---
Bring this i coupon n in to receive your

10% off any regular priced item!

Expires Dec 31, 2023

Caregiver Resolutions

Start by first telling yourself "I give myself

permission to not keep the following

resolutions or to keep them only partway."

& "I give myself permission to not be perfect."

• I will not try to maintain the impossible

• I will be realistic about the illness

• I will consider what can realistically change

• I will ask for help from others & share the load

• I will support myself like I am my own friend

• I will accept help from others

• I will ask for help from others

• I will understand that I may not feel in control

• I will look for humour in joy when I can

• I will take care of myself too

• I will contact the Alzheimer Society

for support and information

We were honoured to be

recognized as the

2022 Non-Profit

Organization of the Year

at the Sarnia-Lambton Chamber

of Commerce Business

Achievement Awards.

565 Murphy Road

SARNIA

shoeboxsarnia.ca

New Year

519-332-4444

alzheimersarnia.ca

Ways You

Can Donate

There are so many ways to

take action! Find out how to

make a difference in your

community and in the lives

of people living with dementia by making a donation today.

PLANNED GIFTS - By taking action and creating or updating your

Will and Powers of Attorney, you will protect your family, your

assets, save taxes and help in the fight against dementia. Your

planned gift could be a bequest, gift of securities, gift of life

insurance, major gift or other assets. Plan today for future

distribution. Talk to your advisor.

CORPORATE GIVING - We have many sponsorship opportunities

throughout the year for various fundraising events, as well as

in-office fundraising opportunities your team can participate in. Get

your business involved today by fundraising (i.e. dress-down days,

baked good sale, etc), Matching Gift program, Employee Charitable

Giving program, Corporate Sponsorship or Hosting a Fundraising

Event.

MONTHLY GIVING - Monthly giving is an easy and convenient way

to support the work we do, every month! It allows us to plan ahead,

so that any gift, makes an ongoing difference in the lives of those

living with dementia. Tax receipts are given annually.

SPECIAL OCCASION GIVING (Wedding/Birthday/Tribute) - Use an

event to help support people living with dementia and their families.

Many of our supporters choose to give to ASSL in lieu of favours,

gifts or flowers at special occasions. Our team can offer you a

unique way to help celebrate your special day, making it a

memorable, meaningful way to make a difference to the

community. Ask Marie about Special Occassion giving today

519-332-4444, mmarcy-smids@alzhiemersarnia.ca

MEMORIAL GIFTS - Memorial donations to the Alzheimer Society

Sarnia Lambton are a significant way to pay tribute to a relative,

friend or colleague who has passed away.

Alzheimer Society Sarnia-Lambton

Julie Dobson

on

Photo: SLCC

Melanie Bouck

Donations can also be made online at www.canadahelps.org, over the

phone (519-332-4444) with a major credit card, by mail or by dropping

by our office. Cheques to Alzheimer Society of Sarnia-Lambton, 420

East St North, Sarnia, ON N7T 6Y5. Receipts are issued for donations

of $20.00 or more.

alzheimersarnia.ca

Page 9
---
Memory loss that affects

Sign1

day-to-day abilities

It is normal to occasionally forget

appointments, colleagues' names or a friend's

phone number only to remember them a

short while later. However, a person with

Alzheimer's disease may forget things more

often or may have difficulty recalling

information that has recently been learned.

Difficulty performing

Sign2

familiar tasks

Busy people can be so distracted from time

to time that they may forget to serve part of

a meal, only to remember about it later.

However, a person with Alzheimer's disease

may have trouble completing tasks that have

been familiar to them all their lives, such as

preparing a meal or playing a game.

Problems with

Sign3

language

Anyone can have trouble finding the right

word to express what they want to say.

However, a person with Alzheimer's disease

may forget simple words or may substitute

words such that what they are saying is

difficult to understand.

Disorientation in time

Sign4

and space

It is common to forget the day of the week or

ones destination - for a moment. But people

with Alzheimer's disease can become lost on

their own street, not knowing how they got

there or how to get home.

10

Impaired

Sign5

judgment

From time to time, people may make

questionable decisions such as putting off

seeing a doctor when they are not feeling

well. However, a person with Alzheimer's

disease may experience changes in judgment

or decision-making, such as not recognizing a

medical problem that needs attention or

wearing heavy clothing on a hot day.

Problems with abstract

Sign6

thinking

From time to time, people may have

difficulty with tasks that require abstract

thinking, such as balancing a chequebook.

However, someone with Alzheimer's disease

may have significant difficulties with such

tasks because of a loss of understanding

what numbers are and how they are used.

Misplacing things

Sign7

Anyone can temporarily misplace a wallet or

keys. However, a person with Alzheimer's

disease may put things in inappropriate

places: for example, an iron in the freezer or

a wristwatch in the sugar bowl.

Is it Alzheimer's disease?

WARNING

SIGNS

Changes in

Sign

8

mood and behaviour

Anyone can feel sad or moody from time to

time. However, someone with Alzheimer's

disease can show varied mood swings - from

calmness to tears to anger - for no apparent

reason.

Sign Changes in personality

9

Personalities can change in subtle ways over

time. However, a person with

Alzheimer's disease may experience more

striking personality changes and can become

confused, suspicious or withdrawn. Changes

may also include lack of interest, fearfulness

or acting out of character.

Sign Loss of initiative

10

It is normal to tire of housework, business

activities or social obligations, but most

people regain their initiative. However, a

person with Alzheimer's disease may become

passive and disinterested, and require cues

and prompting to become involved.

In support of

CANADA

Sarnia Construction Association

www.sarniaconstructionassociation.ca

954 Upper Canada Drive, Sarnia, Ontario N7T 7J4

Page 10

alzheimersarnia.ca
---
The North Lambton Community

Health Centre provides primary

care, health promotion, community

development and volunteerism. We

work together with our system

partners to maximize our

resources.

Our team focusses on assisting

people to improve their wellbeing

through better health and

community inclusion. Our expertise

in rural health and serving

marginalized communities is one

of our core strengths.

SOME KEY HIGHLIGHTS INCLUDE:

• Zoom programs

• In person programs

(Indoor & Outdoor

in spring/summer/fall)

• Virtual appointments

• Outreach to various

community partners

• Harm Reduction and Hep C services

FOR INFORMATION ON PROGRAMS:

Forest at 519-786-4545 ext.307

Sarnia at 519-344-3017 ext.259

Check out our website

at www.nlchc.com

Follow us on social media:

northlambtoncommunityhealthcentre

westlambtoncommunityhealthcentre

northlambtonchc

SERVICES AVAILABLE

AT FOREST & SARNIA

MENTAL WELLNESS

• Opening Door Program

• Living through Depression

& Anxiety

• Start Overcoming Stress

• Sleep Happy

• Anger Management

• Alzheimers caregiver

support (Forest)

FITNESS PROGRAMS

• Low Impact Exercise

• Yoga • Shibashi

• Seated Chair exercise

• Trail Walking • Walking Fit

MASTER YOUR HEALTH

• Living with a Chronic Disease

• Living with Chronic Pain

SOCIAL

Coffee Time in Arkona, Forest,

Kettle Point & Sarnia

HEALTHY EATING

• Garden Fresh Box

• Teen Cuisine

KIDS PROGRAMS

• Cooking Buddies

• Afterschool Programs

NEW PARENTS

• Baby's First Foods

• Breastfeeding support

• Feeding supports

OTHER PROGRAMS AVAILABLE:

• Pulmonary Rehab Program

• Falls Prevention Program

• Cardiac Rehab Program

Common Feelings of Persons

Living with Dementia

• Don't point out my mistakes or

continuously correct me.

• Don't rush me, give me more time.

• Don't talk over me or about me to others.

• Remember my feelings can be hurt easily.

• Remember to still include me.

• Remember I am not faking my illness or

bothering you on purpose.

• Please don't say you forgot too…

it isn't the same.

When you are

frustrated with me

because of the

things I cannot do...

Just imagine how

frustrated I must be

because I'm not

able to.

Dementia "Don't miss me in the middle."

N UMB E R

I N F O R M

F A M I L Y

R E M I N D

Find the answer below

DEMENTIA

FRIENDLY

COMMUNITIES

O N T A R I O

The Dementia-Friendly Canada project is a partnership between

Alzheimer Societies across the country. Providing free tools and

resources towards building knowledge and confidence to support and

include people affected by dementia to live well in our community.

Would you like to support this cause?

If your group, business, club, or organization

would like to learn more about helping with

this goal, contact Christine at 519-332-4444.

Answer to

Puzzle above:

FRIEND

alzheimersarnia.ca

Page 11
---
TOWN NAME, TOWN NAME and another awesome TOWN NAME

Bottom Borders: Sunny days / Oh, sunny, sunny, sunny days