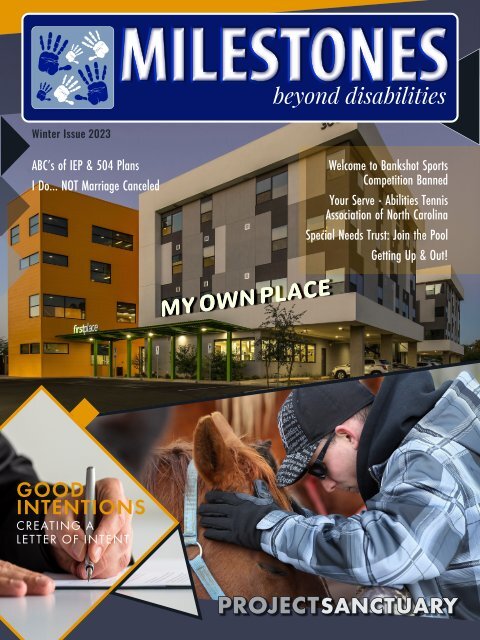 Milestones Magazine Winter 2023 Issue
Helping Individuals with Disabilities & their Families Achieve & Celebrate Events & Milestones in their Lives
Helping Individuals with Disabilities & their Families Achieve & Celebrate Events & Milestones in their Lives
SHOW MORE
SHOW LESS
You also want an ePaper? Increase the reach of your titles
YUMPU automatically turns print PDFs into web optimized ePapers that Google loves.
eyond disabilities

Winter Issue 2023

ABC's of IEP & 504 Plans

I Do... NOT Marriage Canceled

Welcome to Bankshot Sports

Competition Banned

Your Serve - Abilities Tennis

Association of North Carolina

Special Needs Trust: Join the Pool

Getting Up & Out!

GOOD

INTENTIONS

CREATING A

LETTER OF INTENT

PROJECT

PROJECTSANCTUARY
---
ON THE COVER

06 Your Serve -

Abilities Tennis

Association of

North Carolina

(ATANC)

09 ABC's of IEP & 504 Plans

13 I Do... NOT Marriage Canceled

16 Welcome to Bankshots

03

GOOD

INTENTIONS

Sports Competition

Banned

17 Special Needs Trust: Join the Pool

CREATING A

LETTER OF INTENT

21 Getting Up & Out!

23

PROJECT

SANCTUARY

Publisher

Susie Redfern is the parent of a young adult on the

Autism Spectrum.

She developed Milestones Magazine to help individuals

with disabilities and their families achieve and celebrate

25

events and milestones in their lives.

info@milestonesmagazine.net

WINTER 2023

MilestonesMagazine.net

1
---
MY OWN PLACE

First Place-Phoenix Apartments

For many young adults, getting out

on their own is a top priority goal.

For most, the biggest (and

sometimes only) obstacle is financial.

People with divergent abilities,

however, not only have the financial

obstacle, but issues of accessibility

and supports needed to accomplish

independent living. Here is a

sampling of projects across the

U.S. that address these issues for

First Place–Phoenix Apartments

"This 81,000-square-foot supportive housing property set in

the heart of the urban region offers 55 Studio, one-, two- and

four-bedroom units for 75 residents who can access a variety

of supports and amenities with all the benefits of communityconnected,

independent living. Vocational services include

volunteer work, internships and employment. Public

transportation is within walking distance. Residents can

participate in scheduled weekly health and wellness, social, and

other activities within the property and out in the Greater Phoenix

community, which has been recognized by PBS NewsHour as

individuals looking for supportive

housing (often rental apartments).

"

the MOST

autism friendly

3

city in the WORLD

WORLD

"
---
MY OWN PLACE

Wynne Watts Commons

"Wynne Watts Commons is a first-of-its-kind inclusive,

accessible, affordable, and sustainable housing community.

It is located in Gresham, Oregon's Wilkes East Neighborhood,

and is the largest net zero energy affordable housing

development in the Pacific Northwest.

The Crossings in Gaithersburg MD

"There, seven men with autism and other developmental

disabilities live in their own apartments. The building is not a

group home. It is a five-story complex with a fitness center and

a swimming pool that advertises itself to the general public as

"a brand-new affordable apartment community featuring

1-, 2- and 3-bedroom apartment homes."

Wynne Watts Commons offers 150 affordable units of studio,

1-, 2-, and 3-bedroom apartments.

But the men's families, through an organization called

Integrated Living Opportunities, have created a unique and

Because of Albertina Kerr's extensive Human Services history,

the building also has 30 universally accessible units with

state-of-the-art technology and rental subsidy for people with

intellectual and developmental disabilities (I/DD), allowing

them to live more independently."

intentional community for them. They have given them a way to

live on their own and yet never feel alone. The seven men get

together for activities, such as movie nights and workout

sessions. They have a life coach and a "community builder,"

which is a staff person who checks on each of them daily

and brings them all together weekly.

Home of Our Own ("HOOO")

Home of Our Own ("HOOO") is a 501(c)(3) nonprofit

established to create inclusive, affordable housing for disabled

adults through partnership with other community-based

nonprofits. HOOO began as a family-led grass roots group,

with Prairie Haus opening its doors in December 2020.

Prairie Haus provides 40 apartment homes for disabled adults,

seniors, and working adults and families struggling with the

Home of Our Own ("HOOO")

rising cost of housing. Prairie Haus is unique because it provides

affordable homes in an integrated setting for individuals with

a wide range of support and behavioral needs, along with

welcoming and adaptive community spaces.

4
---
HOOO Bases Everything it Does on

Five Core Principles

MY OWN PLACE

1

2

3

4

5

No matter how challenging the disability, disabled adults should be able to live in their own

homes. Barriers based on disability are artificial, and should not prohibit someone from living

independently in their own apartment, with the right supports.

Limited income should not be a barrier to living independently, even if a person's only

source of income is social security.

People with disabilities have the basic human right to live with all kinds of neighbors - those

of different ages, backgrounds, and family structures. They also should have the opportunity to

build friendships, develop natural supports, socialize, and engage in meaningful activities.

Disabled people should not have to leave their home community to live independently

unless they choose to.

With the right partnerships, any grassroots groups in any community in the United States

should be able to create a similar, inclusive community, so that the local need for affordable,

integrated housing can be satisfied.

M

5
---
Your Serve

Abilities Tennis Association

of North Carolina (ATANC)

Staying active is important for everyone, including individuals with challenges of

various kinds (physical, sensory, cognitive, etc.). Playing sports is an effective way

for people to maintain a healthy lifestyle, but people with disabilities often have

difficulty participating in sports. Adaptive sports are growing in popularity and

accessibility across the U.S. to help individuals meet these challenges. People

are often surprised to learn that tennis is a highly adaptive sport.

Tennis balls are flying all across North Carolina as more and more people embrace

the idea that tennis is for everyone. Forty-two-year-old Erin Cagle said she never

misses a chance to play tennis. "I just love to whack the tennis ball! I have been

practicing tennis every week, and right now I'm learning about hitting low to

high!" Erin is one of more than 500 athletes with intellectual disabilities who are

provided year-round tennis opportunities thanks to Abilities Tennis Association

of North Carolina (ATANC). Founded in 2007 by two parents and a tennis coach,

the goal was to create a year-round tennis program for athletes with intellectual

disabilities. Collaborating with the North Carolina Tennis Association, they

launched one clinic in the Raleigh area. Today, ATANC hosts seven tournaments

and offers free clinics and programs in almost 30 locations across the state.

Executive Director Lou Welch said the growth testifies to the important role

tennis can play in transforming the lives of individuals with intellectual disabilities.

"As with any sport, practice makes better. Abilities Tennis gives these special

athletes opportunities to practice a sport they love, improve their skills, and then

compete at their level throughout the whole year."

Rollie Olin, an ATANC coach and parent, said, "Tennis is such a great sport.

It's a sport for a lifetime. It's social. It's great exercise. The athletes truly enjoy it."

Abilities Tennis is unique from other programs that focus on a sport during a

6
---
I just enjoy getting to

"practice,

come out and watch my son

improve, and play.

seasonal time frame. "In two and a half months, you're

just getting going in a sport, whereas Abilities Tennis

takes it to a whole other level where you get to see

players and friends who you make throughout the year.

It's a 12-month cycle, which is great."

athlete with an intellectual disability is paired up with

a partner without an intellectual disability to play

doubles tennis. Olin said, "Unified is, I think, a step

up for the athletes because they love the opportunity to

play with folks who don't have a disability. This is a real

opportunity for them to get to show off their skills."

"This is our most active year yet," said Lou Welch.

"Just since January, we have added four new clinic

locations. We've also been able to partner with

Please sign up for the monthly newsletter to stay

updated on program offerings, www.atanc.org.

several of our state's college tennis teams to host our

clinics and tournaments, and we've engaged some of

North Carolina's top tennis coaches to provide

highly-skilled instruction at clinics for our athletes."

In September, ATANC hosted the state-wide Unified

Doubles Qualifier Tournament in Raleigh. The

winners of the Qualifier received an all-expenses-paid

trip to compete at the National Adaptive Tennis

ATANC also supports the inclusion of adaptive

tennis in school physical education classes through

Tournament held on the National USTA Tennis

Campus in Orlando, Florida.

its PE Abilities Tennis (PEAT) program. Initiated

in 2012 in the Wake County Public School System,

PEAT has expanded into other North Carolina cities

(most recently in Rocky Mount). The goal of PEAT is

to support each school's efforts to provide inclusive

programming for students with intellectual disabilities.

Playing unified doubles is another way ATANC works

to promote inclusion and provide an enhanced

experience for their athletes. In unified doubles, one

"Tennis is truly a sport for everyone, from a beginning

recreational player to the highly-skilled professionals

we watch on the biggest stages. The beauty of tennis

is that there's plenty of room in that range for athletes

with intellectual disabilities," Welch said. And ATANC

is always excited to showcase how tennis can be

adapted so everyone can participate in the sport. In

2019, ATANC was selected by Net Generation to take

7
---
Tennis is such a great sport.

It's a sport for a lifetime.

It's social. It's great exercise.

The athletes truly enjoy it.

"

25 Abilities Athletes to the biggest stage of tennis–the

US Open in New York City. The athletes were invited

to show off their skills and demonstrate how tennis can

be adapted for players with intellectual disabilities. It

was the first-ever such demonstration by an adaptive

program on Ashe Stadium at night.

accomplishment in having improved their skills. As

Dennis Thompson, whose son Chris has mastered a

wicked serve, said, "I just enjoy getting to come out

and watch my son practice, improve, and play."

Rollie Olin agrees. "We all need to feel good about

ourselves, and this gives my son that. It gives him

a sense of identity. He loves seeing his friends, his

ATANC also supports the families of their athletes.

peers. He looks forward to these events like none

Parents and caregivers get a chance to see their

children pursue their interests and feel the pride of

other. Abilities Tennis truly is a blessing."

M

8
---
's

of

&50

q & a format

Every family that enters the special education world starts with an

I.E.P., which stands for stands for Individualized Education Program).

It defines the services and accommodations to which the child is

legally entitled. It can be the source of conflict when there is

disagreement between the family and school district on what

services and accommodations are needed.

To elaborate on the topic, I am pleased to introduce Ona Krebs,

with highlights of her presentation to CHADD about ABCs of the I.E.P.,

written in a q & a format.

9
---
4

Question: What is an I.E.P.?

Answer: I.E.P. stands for Individualized Education Plan. An IEP

must contain information about the child and the specific

and unique educational program designed to meet their

needs. The document includes the child's present levels

of academic achievement and functional performance

(PLAAFP), which describes in the general education

curriculum. The I.E.P. specifies goals and objectives for

the child, and includes specialized instruction, measurable

annual goals; progress reporting; special education, related

services, and supplemental aids and services; program

modifications and accommodations supports; Least

Restricted Environment statement; participation in

district - wide state tests; description of service delivery;

postsecondary transitions components, and transition

services and activities.

Question: How do I go about getting my child (age 3 or

older) tested for special education services?

Answer: Write a letter to the Director of Special Education

of your district requesting an evaluation (keep a copy for

yourself). It will take up to 30 days for a response.

Note: Once a date has been scheduled for the eval it will take

up to 60 days for the diagnosis. If you do not agree with the

districts diagnosis you can go for an out of district

evaluation at school district expense.

10
---
Question: How do I know if my child should be evaluated?

Answer:

Look for difficulties with academic performance (poor grades,

problems completing homework, frequent notes from teachers, etc.);

and/or social/emotional/behavioral indications (outbursts, isolation

from peers, etc.). If a child is attending public school, the teacher may

flag possible problems and refer a child for testing (parental consent is

required). Most importantly, trust your instincts. If your spidey sense

tells you something is wrong with your child's development, it

probably is.

Question: What is a section 504 plan?

Answer: A 504 Plan, named after the Section 504 Rehabilitation Act,

ensures an individual cannot be discriminated against due to their

disability. These plans provide support and accommodations, but do

not include goals and objectives. 504 plans are reviewed periodically

based on their disability. Accommodations can include assistive

504 PLAN

technology, preferential seating, getting a list of instructions, receiving

class notes to the lesson and larger text, another set of textbooks to

keep at home, among many others. 504 plans also address

accommodations needed for health issues such as diabetes

and food allergies.

Question: What qualifies a child for special education services?

Answer: In accordance with IDEA, there are 13 categories (diagnoses)

qualifying a child for services: ADHD, Autism, Deaf-Blindness, Deafness,

Emotional Disturbance, Hearing Impairment, Intellectual Disability,

Orthopedic Impairment, Other Health Impairment (Lack of Services),

Specific Learning Disability (SLD), Speech or Language Impairment (SLI),

Traumatic Brain Injury (TBI), and Visual Impairment.

11
---
Question: What sort of testing/evaluation is done?

Answer: School districts typically perform a

Comprehensive Learning Assessment, which

addresses cognitive processing abilities (such as

memory, reasoning, attention, and executive

functioning). When autism is suspected, they may

do an ADOS (Autism Diagnostic Observation

Schedule) to assess communication, social

interaction, play, restrictive and repetitive behaviors.

They will also look at motor skills, social skills/

interactions, sensory processing, and

emotional/behavioral factors.

Depending on the situation, you can also

do one or more of the following: Find an

advocate, call your state Protection and

Advocacy group, find a support/parent

group for your child's disability, file a state

complaint (Different states offer different

kinds of complaints), call your state's

Department of Education, call the Office

of Civil Rights to make a complaint, hire

an attorney. call your local or state

governmental representative.

Question: What should a parent do when you

believe the school district is not acknowledging

your child's difficulties or diagnosis; is not

offering sufficient services; and/or is not

Ona Krebs is an IEP Coach, based in

New York. She can be reached by phone

at 516-316-6485, on the web at

Oneilconsult.com, and email at

complying with the I.E.P. as written?

Oneilconsulting1@gmail.com.

M

Answer: Keep your communication is factual and

professional (start with the teacher and work up the

chain of command as necessary). Make sure you are

documenting everything (don't forget to keep

a copy of each communication for yourself).

12
---
I Do . . .

NOT Marriage Canceled

Roughly half of all marriages fail, for many reasons.

Most divorcing parents assure their children the

marital break-up is not their fault, which of course

it isn't. However, when parents aren't on the same

page regarding their children (discipline, etc.)

that conflict, over time, can break up marriages.

Lynda has personal and professional experience

across a wide gamut of financial and estate

planning, including women undergoing divorce

and families needing to plan for their special needs

children. Her credentials include CFA®,

CDFA®, and ChSNC®,

Having a child with diagnosed medical or

congenital condition that has lifelong consequences

can cause much stress. Some parents come together

for these challenges; others do not. For amicably

divorcing couples who, despite their own

differences, are on the same page regarding

their children with special needs, a divorce can

be handled simply, often without the need for

lawyers and other major expenses.

Mistake #1 Accepting child support arrangements

that don't take into consideration the financial

costs of a child with special needs. In addition,

approximately 2/3 of all states require some form

of parental financial support after the age of 18 if

the child has profound special needs. Keep careful

records of the costs of therapies, medicines, tutors,

respite care providers, wheelchairs, etc., and plan

for those beyond the age of 18, even if child

For other divorcing couples, the consequences

support is not mandated.

can be devastating, both emotionally and

financially. The stress of living and dealing with a

child who has challenges, particularly mental health

issues, increases both the rate of divorce, and the

likelihood that the divorcing couple is not on the

same page regarding the welfare and future needs

of their child. Due to the contested state of affairs

for these folks, legal dissolution of the marriage

is usually necessary.

Mistake # 2 If your child is eligible for government

entitlements to support him, do not collect child

support in the child's name. This can make him or

her ineligible for government assistance, such as

Supplemental Security Income (SSI) or Medicaid

Waiver programs that provide services to, among

others, adults with developmental disabilities.

Instead, child supports should be directed to

the SNTs. (supplemental needs trusts)

To speak to this often-complicated situation.

I am pleased to introduce Lynda Kommel-Browne,

a financial planner, who has created a webinar titled

Divorce and the Financial Protection of Children

with Special Needs.

Mistake #3 Life Insurance snafus: If the

proceeds of a life insurance policy is intended for

the care and support of a child with a disability

(particularly after he or she turns 18), various

13
---
14
---
circumstances can derail that plan, including;

· The child with special needs is personally named as

the beneficiary. Name the SNT, not the child.

· If owner of the policy remarries, have an agreement

that the proceeds of the policy must still be for the

child with special needs, not for the new spouse.

· Whichever spouse is planning to take out the policy,

they need to confirm that they are insurable before

the divorce is finalized, not afterwards.

· Confirm that the owner and the beneficiary are the

same. The spouse taking out the insurance is the

insured. If the owner is the same person as the

beneficiary, they will be able to have visibility

around premium payments should the insured

stop making payments.

expenses" for the money (education, training, recreation,

nutritional supplements, therapy, etc. This account has

investment options. Current law specifies the age of

onset of the disability to be age 26 or earlier, Many

disabilities meet the criteria to allow an individual to open

an ABLE. (consult ABLENOW.com or Fidelity.com with

excellent ABLE account background reading) ABLE

investment accounts benefit not only from the magic of

compounded interest to grow the pot of money, but also

from their tax-free status. The money in an ABLE grows

tax free, and there are no taxes that need to be paid

upon withdrawal, as long as the money is used for a

"qualified disability expense." They also have a checking

account option, which allows a working individual with

a disability to earn (and most importantly, save)

significantly more money on a month-to-month basis

than one limited to the asset limits imposed through

SSI or Medicaid waiver programs.

Mistake #5 Improperly handling health insurance.

Divorce decrees can specify who pays the premiums for

a child's health insurance. Children can stay on their

parent's health insurance until age 26. There are a few

health-insurance plans that allow for a child to stay on a

parent's plan longer, if they are declared a "disabled adult

child" (provided premiums are paid on schedule) This

Lynda Kommel-Browne and her Family

process should be started 3-6 months before the child's

26th birthday.

Mistake #4 Not establishing/funding an ABLE Account,

to be used for the benefit of a disabled child (particularly

when he or she reaches age 18). While ABLE accounts

are in the name of the individual with a disability, the

investment account can hold up to $100,000 without

disqualifying individuals with disabilities from receiving

government benefits such as SSI and Medicaid Waiver

programs. There are specific allowed "disability

Lynda Kommel-Browne, CFA®, CDFA®, ChSNC®,

is a Special Needs Financial Planner with

RoundRock Advisors in their Wilton CT office.

She can be reached by phone at 917-374-6948 or

email at lkommelbrowne@roundrockadvisors.com.

You can also visit her on LinkedIn or watch a

Video Recording. M

15
---
welcome to

Competition

Banned!

People with divergent abilities often have a difficult (at best)

time participating in recreational activities on an equal footing

with peers. Team sports, with their competitive nature (not to

mention rules), are an especial "bridge too far" for people with

developmental, cognitive, and sensory challenges. One

approach to this dilemma is taken by organizations such as

Special Olympics; but the founders/organizers of Bankshot

Sports went a different route.

The court is designed to have players shoot at an angle. It also

has a series of uniquely shaped backboards and hoops placed at

Bankshot Sports came into existence 30 years ago. Protestant

Minister James Naismith and Rabbi Dr. Reeve Brenner were

instrumental in its founding. Bankshot Sports are characterized

as Total-Mix lnclusion based on Universal Design. Bankshot

Playcourts are unique as drop-in, walk-on family sports leaving

no one marginalized to the sidelines.

8 feet. The Bankshot court helps those who are playing with

confidence, self-competitiveness, and integration. Gary,

using a wheelchair, Larry's two kids with autism, Richard with

mobility limitations and a 90 year old grandfather are provided

with spontaneous "whenever" participation, challenging

for all ages.

Back in 2018, The National Association for Recreational Equality

hosted a non-competitive Bankshot shoot-around for those

with disabilities. This event took place in Rockville, MD, at the

Bankshot court at Mattie Stepanek Park, dedicated to those

with autism, ADHD and other challenges, along with their

References: www.dcnewsnow.com/news/local-officials-aimto-get-children-with-disabilities-more-involved-in-sports.

Contact information for Bankshot Sports:

330-U N Stonestreet Ave #504 Rockville MD 20852

800-933-0140 / 301-309-0260

families and friends.

www.bankshot.com / bankshotsports@aol.com.

M

16
---
Trust.

Special Needs Trust: Join the Pool

Creating a properly done special needs trust is a rather

The phrase "Trust Me" (often followed by the

sentence "What could possibly go wrong"), has

been used by people for ages, usually when they're

complicated process that requires a specialized lawyer

(a Special Needs Trust, if not done 100% correctly, can

plunge families into a world of trouble).

trying to get someone to do an (often dangerous)

stunt of some kind.

An additional complication, for many families, is that

the amount of their assets does not lend itself to them

In this instance, however, I'm using the phrase

"Trust Me" literally, in the sense of creating a legal

trust for people with disabilities (commonly

referred to as a Special Needs Trust).

being able to justify or afford an individual special

needs trust. For them, a pooled trust can be an option.

I am pleased to introduce Harry Margolis, a Special

Needs lawyer, to speak to this subject.

To Start: Some Special Needs Trust Classification

To put pooled special needs trusts in context, there are four basic types

of special needs trusts, each with its own rules and application.

They are the following:

A third-party special needs trust created by one or more people for

A third-party pooled trust. Numerous non-profit organizations provide

1

the benefit of an individual with disabilities. These are often created by

trustee services for beneficiaries with special needs. These can be less

2

parents or grandparents for the benefit of children or grandchildren.

expensive to set up because the grantor does not need to create a

brand-new trust. They often make sense when families do not have an

A self-settled special needs trust, also called a "(d)(4)(A)" or

appropriate individual to serve as trustee and the amount in trust is

3

"pay-back" trust. These trusts are created with the beneficiary's own

insufficient to justify the expense of hiring a professional trustee such

funds (and are sometimes referred to as the "oops" trust, if they are

as a bank, trust company, or lawyer.

used for funds coming from someone other than the beneficiary, since

such funds can go into trusts without a payback provision). To shelter

A self-settled pooled trust, also called a "(d)(4)(C)." Similar to a

funds in order that the beneficiary qualify for Medicaid or Supplemental

(d)(4)(A) trust, a (d)(4)(C) qualifies for a safe harbor in the Medicaid

4

Security Income (SSI), the trust must meet certain requirements set out

and SSI laws that permit a beneficiary to shelter their own funds and

in federal law, to which the name "(d)(4)(A)" trust refers. The name

continue to qualify for benefits. While (d)(4)(A) trusts are created for

"pay back" trust refers to one of these requirements, that upon the

individual beneficiaries, (d)(4)(C) trusts are created and managed by

beneficiary's death the state be reimbursed from the trust for any

non-profit organizations for numerous beneficiaries.

Medicaid expenditures made on their behalf.

17
---
This chart should help explain

the differences among these trusts:

Third-Party Trust

Funded by the Grantor

Self-Settled Trust

Funded by the Beneficiary

Individual Special Needs Trust (d)(4)(A) Trust

Pooled Third-Party Pooled Trust (d)(4)(C) Trust

In most instances, assets in trusts created by an

applicant for SSI or Medicaid (as opposed to trusts

created by others for the applicant's benefit) will be

counted as belonging to the individual and render

them ineligible for benefits. However, Congress

carved out two exceptions to this rule, one for

individual trusts and the other for pooled trusts

managed by non-profit organizations. The names,

(d)(4)(A) and (d)(4)(C) refer to these statutory

exceptions. While this is a federal law and each

state has its own Medicaid program, the state

Medicaid laws must comply with federal law in

order to qualify for federal cost sharing.

One main difference between (d)(4)(A) and (d)(4)(C)

trusts is that (d)(4)(A) trusts must be funded while the

beneficiary is under the age of 65 (though they

continue to be valid after the beneficiary passes that

age threshold). This is not the case with (d)(4)(C) trusts;

they can be funded at any age. However, the states

differ on whether they impose a Medicaid transfer

penalty for funding the trust after age 65. In those states

that do impose such a penalty, the fact that the trust

may be funded post-65 may be of little benefit. But in

other states that do not impose such a penalty, (d)(4)

(C) trusts are often used by nursing home residents

to shelter some funds for their needs while Medicaid

The main rules for (d)(4)(C) trusts to qualify for the safe

pays for their care.

harbor are:

a. The beneficiary must be disabled.

b. The trust must be managed by a non-profit

organization.

c. Upon the beneficiary's death, any funds remaining

(d)(4)(C) trusts vary in what portion of the funds they

retain upon the beneficiary's death, from none at all to

all the remaining funds. In some cases, state rules limit

the amount of funds the non-profit trustee may retain.

in trust must be paid to the state to the extent of its

Medicaid expenditures on the beneficiaries' behalf,

except to the extent they are retained by the

non-profit organization.

18
---
Trust.

the services available in their state or community. They also

Benefits of (d)(4)(C) Pooled Trusts

If you or a family member have assets and need to qualify

have extensive experience working with individuals with

disabilities and are sensitive to their needs.

for SSI or Medicaid, you have a choice of sheltering those

assets by transferring them into an individual (d)(4)(A) trust

or a pooled (d)(4)(C) trust. The benefits of the latter over

the former include:

Disadvantages of (d)(4)(C) Pooled Trusts

The main disadvantage of (d)(4)(C) pooled trusts is lack

of control. The beneficiary is subject to the decisions of the

trustees in terms of trust distributions and must comply with

No need to draft a trust. Each (d)(4)(A) trust must be

drafted individually, meaning legal fees and working with

an attorney to make sure its terms are what the grantor and

beneficiary want. With (d)(4)(C) trusts, there's a standard

trust document that governs all the individual accounts.

the trust's procedures and systems which are created to

enable the administration of numerous accounts. They

may not fit well with the situation or needs of individual

beneficiaries. They may also be more bureaucratic than

some beneficiaries find comfortable.

The individual beneficiary need only execute standard

documents to sign on to the trust.

In some cases, the trust's retention of funds upon the

beneficiary's death may be seen as a disadvantage.

Ready-made trustee. One of the most difficult challenges

when creating special needs trusts is choosing the

appropriate trustee, whether a family member or a

professional. With pooled (d)(4)(C) trusts, the non-profit

organization either serves as trustee or may appoint

a board that serves in this role for all the beneficiaries.

While the state is entitled to payback of its Medicaid

expenses upon the beneficiary's death, to the extent such

payback does not eat up all the remaining funds, they may

be distributed to family members or individuals named by

the beneficiary. If some of the funds are also kept by the

non-profit organization, it's less likely that any will remain

for successor beneficiaries.

Available for small trusts. It can often be difficult to find a

professional trustee for smaller trusts in large part because

their fees would eat up too much of the trust principal. This

is not the case with pooled trusts, most of which will accept

accounts of any size.

Third-Party Pooled Trusts

While most non-profits that offer pooled trusts started

exclusively offering (d)(4)(C) trusts to help the populations

they serve qualify for SSI and Medicaid under the law's

safe harbor; many have expanded to offer the same

Post-65 funding. In those states that don't apply a

Medicaid transfer penalty, (d)(4)(C) trusts may be funded

after age 65. This is not the case with (d)(4)(A) trusts.

services for third-party trusts. Unlike (d)(4)(C) trusts,

third-party pooled trusts do not have to reimburse the state

for its Medicaid expenses on the beneficiary's behalf upon

their death. However, the non-profit group may still require

Knowledgeable trustees. Since (d)(4)(C) pooled trusts work

with many beneficiaries with disabilities their staffs are very

a portion of the remaining funds go its coffers to help fund

the trust's administration or for other purposes.

knowledgeable about the rules of benefit programs and

19
---
It often makes sense for parents or grandparents

of individuals with disabilities to take advantage of this

service when they do not have family members who

might serve as trustee or the amount of funds they are

leaving in trust are too small to justify hiring a traditional

professional trustee. In addition, if the beneficiary already

pooled-trust. This is a great starting point. However,

ask other families about their experiences with the pooled

trusts in your community. Only beneficiaries and their

families will know what it is really like to work with

particular organizations and trustees.

has an account with the non-profit organization's (d)(4)(C)

trust, coordination may work better if the same organization

serves as trustee of the beneficiary's third-party trust.

Harry S. Margolis practices elder law, estate and

special needs planning at Margolis Bloom & D'Agostino

in Boston and Wellesley, Massachusetts, and is a founder

Finding a Pooled Trust

The Academy of Special Needs Planners provides a

comprehensive directory of pooled disability trusts

of the Academy of Special Needs Planners. He is author

of The Baby Boomers Guide to Trusts: Your All-Purpose

Estate Planning Tool and answers consumer questions

nationwide on its website at specialneedsanswers.com/

about estate planning issues at www.AskHarry.info.

M

20
---
UP OUT! &

An often-expressed piece of

advice given to individuals by friends and

acquaintances is "You need to get out more"

(usually in relation to their not seeming to know

what's going on in the world). Although being

Weller Day Boat Outings:

Individual, Small Group, Large

Group; for children/adults with life threatening

illnesses and/or disabilities, veterans and active

military personnel, and at-risk youth.

ignorant of the state of world affairs can assist

one's mental health in some ways; getting out

and doing things in your community or elsewhere

(whether work, recreation, or other activities),

can be crucial for an individual's physical and

mental health.

Freedom Waters Foundation has partnered with

Collier County Parks and Recreation to offer

Adaptive Sailing. The program meets at Sugden

Regional Park in Naples, weekdays on T-TH, and on

Saturdays, from Noon-3:00 PM, Oct. through April.

Program participants are invited to participate is the

The conundrum for individuals with divergent

annual Murdo Smith Adaptive Sailing Regatta.

abilities (whether due to injury, illness or a

congenital condition, meaning present at birth) is

how to do that. What supports and accommodations

are available? To speak to that, I am pleased to

introduce Freedom Waters Foundation, one of

hundreds (if not thousands) adaptive sports /

recreation programs across the country.

Freedom Waters Foundation provides free

marine-related programs for individuals with a

variety of challenges, including children with

cancer, veterans with PTSD, and people with

physical, sensory, or mental health issues.

21

18
---
Veterans Program: Freedom Waters Foundation

provides boating and fishing opportunities for

veterans and their family members. Veterans

Programs take place year-round in South Florida.

Annual events in Atlanta and in Indiana include

offering the opportunity for these at-risk youths to

enhance their life. At the Heels and Reels Fishing

Tournament female fishing mentors work with teen

girls; the Buoys and Bait Fishing Tournament allows

male fishing mentors to work with teen boys.

individual and small boat trips as well as Veterans

Meet-and-Greets aboard larger commercial vessels.

Freedom Waters Foundation can be contacted at

239-263-2377. Veterans who wish to participate

Fishing Programs: Freedom Waters Foundation

offers fishing opportunities for participants,

providing fishing tackle and bait. As with the

other programs, children/adults with life threatening

can complete a sign-up form online. Fishing

program participants can fill out a self-referral

form; potential fishing mentors can complete a

volunteer application.

illnesses and/or disabilities, veterans and active

military personnel can participate.

Freedom Waters Foundations depends on one-time

donations, corporate sponsorships, peer to peer

Naples, Florida Fishing Tournaments for At-risk

Youth: Fishing mentors are partnered with teens,

fundraisers, and more. You can visit the donation

page on the website for further info. M

22
---
GOOD INTENTIONS

CREATING A

LETTER OF INTENT

The path to a secure future

for a child with special needs

is mostly paved with financial

and legal documents and

investments, which can be

Without this otherworldly ability, how do we

convey all the intimate details required to allow

another individual to provide the quality of care

we as parents desire for our children should that

unfortunate need arise?

(sometimes must be) done

with the aid of a special-needs

lawyer or financial planner.

A Letter of Intent, sometimes called a Memorandum

of Intent, includes as much information about your

child as you can provide. This is the best way to

The Letter of Intent is

different. This one is totally

up to the parents. Basically,

ensure that the assistance and loving guidance your

child receives aligns with the standard of care you

would strive for.

it provides important details

about your child (Cliff Notes

Let's pause to think about when this letter becomes

GOOD INTENTIONS

CREATING A LETTER OF INTENT

version) to future caregiver(s)

and is something many parents

(including yours truly)

procrastinate on. For that

reason, I am pleased to

introduce Kevne Sharpe, a

financial planner with Mariner

Wealth Advisors, to enlighten

us on what to include in a

Letter of Intent, whom it

should be provided to, when

and how to update it and more.

Any "trekkies" out there?

Remember Spock's "mind

meld"? As a refresher, it was

a telepathic link that Vulcans,

from the original "Star Trek"

franchise, were able to create

relevant. You have recently passed, and everyone

you know is trying to process your loss. Your child

may be hardest hit. Who do they turn to? Who can

they trust? You want this important document in

the hands of that special person who is stepping up

to comfort your child and provide the support they

need. Not only would you want a new guardian to

have this letter but also other interested parties such

as siblings, grandparents, and close friends.

While not a legal document—directions in wills,

trusts and other legal documents take precedence—a

Letter of Intent will serve as the primary source of

information about your child, providing a road map

for the courts, guardians, caregivers, and others

involved in your child's life. Once it is completed,

make sure to keep a copy of your Letter of Intent

with your estate plan documents.

with other organisms. A mind

Consider your Letter of Intent a love letter to your

meld allowed a Vulcan to know

child. It can be the greatest gift you can provide the

the innumerable details of our

new caregiver as they attempt to fill your shoes.

lives, including those as

caregivers of our children,

When starting the process of creating your Letter of

with a simple scalp massage.

Intent, you begin to realize all you do for your child.

Alas, Vulcans don't exist, and

Don't let the magnitude of this task cause you to

so the mind meld simply

procrastinate. As Nike's ads advise, "Just Do It."

remains an interesting way

to forward a sci-fi plot.

23
---
The Basics: Provide vital information such as your

child's birthdate, Social Security number and

Medicaid and/or Medicare number. Indicate where

your child's birth certificate, Social Security card,

individualized education program (IEP) files,

psychological evaluations and medical records are

located. Explain what public benefits your child

The Future: What are your dreams and hopes

for your child? What is your vision for education?

Do you see them living independently? What steps

have already been taken? If not yet employed, do you

envision they will be? If your child is on a services'

wait list, share those details. What resource

opportunities may be available in the future?

qualifies for, both through Social Security as well

as from the state for Medicaid, their value and,

importantly, how to navigate the murky waters of

special-needs planning to maintain qualification.

Share the important elements of your child's health,

diagnosis, and medical, physical, and behavioral

therapy providers. Include where their immunization

history is, what medications are necessary, how to

obtain them and when to administer them. What

about the agencies you are aligned with that are

coordinating various support and services? Who

will be the new Social Security representative

payee? List contact information for everyone

There are no rules for this important task. Let it

take whatever form you like. (There are templates

available via a simple internet search for those who

prefer some structure in this effort.) Have this

information memorialized in writing or video and

update it periodically. Don't keep it a secret—but

do let the people who care for you and your child

know it exists and where to find it. Spending some

time creating your Letter of Intent for your special

child will allow your voice to be clearly heard by

that generous person assuming your vital role.

All involved will be forever grateful.

involved in your child's life and their role.

Kevne Sharpe, CFP®, ChSNC®, AEP®

The Day-to-Day: What school program and

teachers are involved? (Who is your child's

favorite?) Do they ride the school bus? If they

are working, provide their employer's contact

information. If you are reporting wages to Social

Security, share how that is accomplished. Do they

Wealth Advisor

Mariner Wealth Advisors

8871 Ridgeline Blvd., Ste. 100

Highlands Ranch, CO 80129

(303) 529-0024

Kevne.Sharpe@MarinerWealthAdvisors.com M

have a public transit pass and how is it renewed?

Do they find joy in having chocolate milk for

breakfast or viewing the most recent sci-fi movie?

What triggers a negative response and what has

been your calming remedy? What are your child's

favorite foods, toys, sports teams, and songs?

Share who their friends are and how to reach them.

Do you want your child to have their faith remain

a part of their life? What does that look like?

24
---
PROJECT SANCTUARY

Heather Ehle, a registered nurse, founded Project Sanctuary

in 2007 to help military families upon discovering

programs and services available to them focused on the

individual service member, rather than entire families.

Service Members, spouses and children are all affected

by the stresses of military life, especially if they have

additional medical, physical, sensory, or other challenges.

The core of the program are the therapeutic retreats.

"Project Sanctuary hosts therapeutic retreats in five states

across the country that are staffed and designed by the

Certified Therapeutic Recreation Specialists (CTRS) and

the licensed counselors and social workers on Project

Sanctuary's staff. Retreats are open to active-duty service

members and veterans of all branches of the military and

all eras. All types of families, including the LGBTQ+

community, are welcome at our retreats."

2023 - Available Family Retreats

"Believing that military families serve together,

and they should heal together, Project Sanctuary has

Location

Dates

become the authority in providing therapeutic retreats

and delivering critical support our families need and

Stanwood WA: Warm Beach July 21-25

deserve. The result? Generational transformations."

Jeanne Hastings, CTRS, a Milestones Magazine

contributor and creator of My Recreation Therapist,

is one of the recreation specialists who have been

involved with this organization.

M

Granby CO:

YMCA Snow Mountain Ranch

Marble Falls TX:

The Retreat at Balcones Springs

St. Simons GA:

Epworth by the Sea

Feb. 3-8, Apr. 14-19, May 12-17, June 2-7 & 9-14,

Aug. 18-23 & 15-30, Sept. 22-27, Oct. 13-18, Nov. 3-8

Mar. 10-15, Nov. 3-8

Apr. 28 - May 3, July 7-12, Oct. 20-25

NE Maryland: Sandy Cove Nov. 17-22

25
---
26
---
MILESTONES

Helping Individuals with Disabilities & their Families

Achieve & Celebrate Events & Milestones

in their Lives

Milestones Magazine – Participate with Us!

Milestones Magazine appreciates the support and participation of our partners in several ways,

including as magazine contributors. We support our magazine contributors with discounts on

advertising and the opportunity to reach our community by hosting online events and engaging in

recorded one-on-one Zoom conversations with Milestones Magazine publisher Susie Redfern.

Here are some of our articles from past issues in which the contributor voluntarily placed an ad.

(We have no requirement to advertise as a condition of becoming an article contributor).

Forest Preserve District of Will County: Nature Calls (Page 13)

Wilson's Garden of Hope, LLC: Play with Me (Page 11)

Color-Coded Chef: Let's Get Cooking (Page 6-8)

Color-Coded Chef: Supported Employment, Family Style

(Page 3-5)

Nancy Roach Wilder, It's My Money (Page 24-25)

Aspiritech, Matt Hemauer, I'm on the Autism Spectrum,

Let Me TEACH YOU How to Work from Home (Page 6-7)

HOST

AN

EVENT

Hosting for an Online Event in 2023

Milestones Magazine is gearing up for our

Online Events in 2023! Topics and speakers will be

announced as they are scheduled throughout the year.

Invitations will be sent through Eventbrite!

Virtual Event Hosting Opportunities

Please email Susie Redfern at info@milestonesmagazine.net

if you are interested in Hosting an Online Event.

You will be included in the Eventbrite Invite page with the title

and description of the event, and a picture of your choice

uploaded (within the parameters of the upload tool).

Check out our website:

milestonesmagazine.net

This invite will be emailed to the 2000+ people

on our invite list.