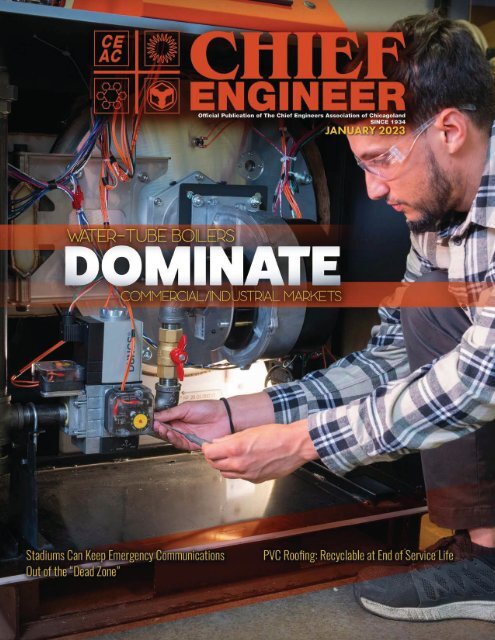 You also want an ePaper? Increase the reach of your titles
YUMPU automatically turns print PDFs into web optimized ePapers that Google loves.
DON'T LET YOUR BUSINESS GO UP IN FLAMES!

100% TAX DEDUCTIBLE

INSTALL OR RETROFIT FIRE

SPRINKLERS TODAY!

DEDUCT THE FULL COST OF QUALIFIED PROPERTY IMPROVEMENT!

CARES ACT

The Coronavirus Aid, Relief, and Economic Security (CARES)

Act closed a loophole that was included in the TCJA by

making QIP 15-year property. This change made businesses

of all sizes, regardless of the amounts spent on equipment,

eligible to deduct the full cost of commercial fire sprinkler

systems using bonus depreciation.

The time is now to upgrade your building's fire safety with a

fire sprinkler system or a sprinkler retrofit. Under the new

Section 179 guidelines, the one year deduction period

phases out after 2022. Any new sprinkler system or retrofit

completed between September 27, 2017 and December 31,

2022 will be able to be fully expensed in one year. After

2022, the allowed deduction percentage is as follows:

2021: 100%

2022: 100%

2023: 80%

2024: 60%

2025: 40%

2026: 20%

2027 and after: The depreciation schedule becomes

permanently set at 15 years.

WHAT IS QIP?

The Tax Cuts and Jobs Act (TCJA), passed in December,

2017, gave small businesses the ability to deduct the full

cost of Qualified Improvement Property (QIP) up to $1.04

million in the year of installation using Section 179.

QIP is defined as improvements to the interior of an existing

building that is not residential property. Commercial fire

sprinkler systems, including upgrades of existing systems or

retrofitting in existing structures, are considered QIP.

The Section 179 deduction is not phased out over time.

However, there is a phase out of the amount allowed as a

deduction based on a maximum spending amount of $2.59

million on equipment in a year. Businesses that spend over

that amount will see a dollar for dollar reduction of their

eligible deduction. So a business that spends $3.63 million

or more on equipment in a given year would not be allowed

any Section 179 Deduction.

WHAT HAS CHANGED?

Prior to the TCJA allowing Section 179 on qualified

improvement property, including sprinkler systems,

property of this type was only allowed a deduction on a

straight line basis over a period of 39 years. In other words,

a company spending $390,000 on a commercial sprinkler

system prior to the TCJA would only deduct $10,000 per

year for 39 years.

While many believe that the intention of Congress was to

make Qualified Improvement Property 15-year property,

which would have made this property eligible for bonus

depreciation, the TCJA left the life of this property at 39

years. So, a taxpayer who did not elect to use the Section

179 Deduction or who has that deduction phased out would

have been left to depreciate the remaining balance of the

assets over a 39-year period.

Neither of these deductions is currently available for fire

sprinkler systems installed in residential high rises. The

National Fire Sprinkler Association (NFSA) continues to fight

to obtain incentives for residential structures.

For more information on how these tax incentives might impact the business of your

contractors, we would recommend that they contact their tax professionals, as

situations differ based on the facts and circumstances for each business. As a general

rule, we would not recommend that the Local provide tax advice to the contractors.

CALL OR CLICK 708­710­1448 • FireProtectionContractors.com
---
January 2023

VOLUME 88 • Number 1

Official Magazine of

38

cover story:

Water-tube Boilers Dominate

Commercial/Industrial Markets

Advantages of water-tube boilers have many considering

their benefits in spite of their elevated cost.

Founded 1934

Dedicated to the Precept "That Anything Being

Done - Can Be Done Better"

Business and Editorial Office:

4701 Midlothian Turnpike, Ste. 4

Crestwood, IL 60418

Phone: 708-293-1720 | Fax: 708-293-1432

E-mail: info@chiefengineer.org

www.chiefengineer.org

Chief Engineer magazine

(ISSN 1553-5797) is published 12 times per year for

Chief Engineers Association of Chicagoland by:

Fanning Communications

4701 Midlothian Turnpike, Ste 4

Crestwood, IL 60418

www.fanningcommunications.com

13

29

Stadiums Can Keep Emergency

Communications Out of the "Dead

Zone"

State-of-the-art Emergency Responder Communication

Enhancement Systems (ERCES) ensure reliable two-way radio

communication at stadiums, preventing lost communication

in potential life-or-death situations.

PVC Roofing: Recyclable at End of

Service Life

PVC roofing membranes are the only commercial roofing

material that, after they run through their life cycle, can be

completely reprocessed into the same product, ready for use.

Publisher

John J. Fanning

john@chiefengineer.org

Editor In Chief

Karl J. Paloucek

karlp@chiefengineer.org

Editor/Graphic Designer

Rob Durkee

robertd@chiefengineer.org

Event Planner/Public

Relations

Alex Boerner

alexb@chiefengineer.org

Accounting/Billing

Leslie Johnson

lesliej@chiefengineer.org

Social Media Specialist

Jamal Mizyed

jamalm@chiefengineer.org

Subscription rate is $36.00 per year in the United States and Canada; $110.00

per year in all other foreign countries. POSTMASTER: Send address changes

to 4701 Midlothian Tpk, Ste. 4, Crestwood, IL 60418.

All statements, including product claims, are those of the person or

organization making the statement or claim. The publisher does not adopt

any such statements as its own, and any such statement or claim does not necessarily

reflect the opinion of the publisher © 2023 Fanning Communications.

5 president's message

6 in brief

8 news

48 member news

50 techline

56 new products

62 events

64 ashrae update

66 american street guide

68 boiler room annex

70 advertisers list

Volume 88 · Number 1 | 3
---
DON'T LET YOUR

BUSINESS GO UP

IN FLAMES!

The Fire Protection Contractors work on all aspects of fire protection

systems. Starting with the initial design of your system to the installation we

are with you every step of the way. Almost as important as installing a fire

sprinkler system is the routine maintenance. This includes inspection and

testing to ensure the system is working and, in most areas, required by law.

24 Hour Emergency Service

Inspection, Testing and

Maintenance

Fire Pump Testing

Design and Installation –

Residential, Commercial,

Industrial

Retrofit and Remodel

Fire Suppression Systems

CALL OR CLICK ANYTIME FOR

EMERGENCY OR ROUTINE SERVICE

708­710­1448 • FireProtectionContractors.com
---
PRESIDENT'S MESSAGE

Dear Members,

BOARD OF DIRECTORS

Dan Carey

Trustee

312-446-1967

Bryan McLaughlin

Doorkeeper

708-687-6254

Robert Jones

Warden

773-407-5111

Patrick Wawrzyniak

Warden

773-410-2326

OFFICERS

Ken Botta

President

708-952-1879

Douglas Kruczek

Vice President

312-287-4915

Laurence McMahon

Vice President

708-535-7003

Ralph White

Recording Secretary

708-579-0259

Brian Staunton

Treasurer

312-533-1575

Brendan Winters

Financial Secretary

773-457-6403

Barbara Hickey

Sergeant-At-Arms

773-350-9673

Kevin Kenzinger

Corresponding Secretary

312-296-5603

DIRECTORS

John McDonagh

Curator

312-296-7887

Brock Sharapata

Warden

312-617-7115

Michael Collins

Warden

708-712-0126

Sean Casey

Warden

312-890-9282

A new year is upon us, and before

we get down to business, let

me thank everyone who attended

the December meeting at

Maggiano's and gave so generously

to support the Raddatz-Kulak

family at their time of loss.

The Chief Engineers have always

been generous in such situations,

and it was good to see people

acting in the spirit of the season.

We also need to thank, as always,

our sponsors for the event,

including Air Comfort, BEAR

Construction and LionHeart, for

their generosity and helping our

Christmas event to successful as it

was. As always, we encourage everyone

to give them your support as they support us. And let's not forget

Alex Boerner, our longtime event planner who helped us to plan this and

so many other memorable Chiefs events, who is moving on to different

opportunities with the start of this new year.

Our January meeting will be held Wednesday, Jan. 18th, at the Embassy

Suites Hotel (Downtown, 511 N. Columbus Drive). We hope to see you

there. A note on sponsoring opportunities: With Alex's departure, those

organizations seeking to sponsor a Chiefs event can get in touch with me

via phone (number at left) or via email at kbotta@sbcglobal.net.

Even as we plan our January meeting, our popular February Skatefest

is coming together. If you're a sponsor or vendor and would like to get

involved in this family-friendly event, please don't hesitate to reach out.

We'll announce dates and times in due course, but in the meantime, get

those skates sharpened, practice your hockey skills, and we'll look forward

to seeing you out there.

In the meantime, this month represents a challenging time for us chief

engineers, as you well know, as we balance maintaining our tenants'

comfort levels and coping with the harsh conditions of winter on both

our equipment and our budgets. Remember that should you need them,

our Associate Member organizations are always just a phone call, text or

email away, and are reachable via our biannual Quick Shopper.

All Active members remember to renew your membership for the upcoming

year. If you are having difficulties, please call the office for any help

needed at (708) 293-1430.

As we welcome the new year, please let's all remember to keep in mind

our men and women of the military and our first responders, on whom

we depend for our freedom and safety.

Sincerely,

Pat Biesty

Warden

312-618-6864

Thomas Phillips

Past President

773-445-7423

Ken Botta

Volume 88 · Number 1 | 5
---
In Brief

Explosion Tears Through Russian Gas

Pipeline During Repairs

MOSCOW (AP) — An explosion during repairs on a section of

a Europe-bound natural gas pipeline in western Russia killed

three people on Tuesday, Dec. 20, but didn't affect export

supplies, officials said.

The explosion ripped through a section of the Urengoy-Pomary-Uzhhorod

pipeline in the Chuvashia region during

repair work. Three repair workers were killed and one was

injured by the blast, which sent a huge plume of burning gas

skyward, regional authorities said.

The pipeline that originates at a gas field in Siberia and

crosses Ukraine along its way to Europe is one of the main

routes for Russian gas exports to the EU.

Chuvashia's governor, Oleg Nikolayev, said in televised

remarks that it wasn't immediately clear how long it would

take to fix the section of the pipeline cut by the explosion.

The regional branch of Russia's state-controlled natural gas

giant, Gazprom, said volumes of gas transit weren't affected

by the blast as supplies were rerouted along parallel lines.

The pipeline crossing Ukraine has become the main conduit

for Russian natural gas supplies to Europe since an explosion

ripped through the Nord Stream 1 and 2 pipeline under the

Baltic Sea in September, causing extensive damage.

Investigators in Sweden have found traces of explosives at

the Baltic Sea site where two natural gas pipelines were

damaged in an act of "gross sabotage," but they stopped

short of apportioning blame.

West Virginia Poultry Farm Equipped

With 1,400 Solar Panels

OLD FIELDS, W.Va. (AP) — A West Virginia poultry farm is

now equipped with 1,400 solar panels, the largest such system

so far in the state, a company said.

Solar Holler said it installed the panels at Oak Tree Farm in

Hardy County. The company partnered with Davis Hill Development,

Skyview Ventures and West Virginia Poultry Partners

on the project, which will provide the farm with 941,371

kilowatt hours of energy per year.

Thirty-party power purchase agreements allow companies

like Solar Holler to own and operate a solar panel system

while the farm reaps the benefits of low-cost fixed utility

rates and clean energy.

The farm will see a 10-percent reduction in the cost of its

electricity and the solar panel system will allow for expanded

operations, Shepherdstown-based Solar Holler said in a Dec

20 statement.

"We are thrilled to have reached our latest milestone, building

and turning on the largest solar system in West Virginia

history." Solar Holler founder and CEO Dan Conant said.

Large Indiana Employers Asking

Utilities for 'Green Tariffs'

INDIANAPOLIS (AP) — Several of Indiana's major employers

want their local utilities to make it easier for them to buy

power generated by wind and solar farms so they can move

closer to their renewable energy goals.

Cummins, Salesforce, Roche and other companies recently

joined with the cities of Indianapolis and Bloomington in

signing a letter that asks Duke Energy and AES Indiana to

offer more options for large customers to source their electricity

through renewable energy.

They want what's often called a Green Tariff, which would

allow the cities and companies to buy locally produced renewable

energy, The Indianapolis Star reported.

The companies, including Walmart and Rivian, penned the

letter in conjunction with the Advanced Energy Economy

Indiana — the local chapter of a national association of businesses

working to accelerate the transition to clean energy.

Caryl Auslander, executive director of Advanced Energy Economy

Indiana, said large customers "want to choose renewable

energy, and we're asking Duke and AES to give them

more options."

All green tariff programs would need to be approved by

the Indiana Utility Regulatory Commission, the state's utility

regulator.

Brewery, Salisbury Pair to Rehab Union

Station

SALISBURY, Md. (AP) — Thanks to a landmark $500,000

grant, one of Salisbury's most iconic structures will finally get

much-needed rehabilitation as part of a bike trail project.

The grant was awarded through the state's Strategic Demolition

Fund, a program designed to catalyze projects and

activities that accelerate job production and economic development.

Union Station, located at 611 Railway Ave., was

one of 22 projects in the state awarded from this fund, and

the owners of the building, John and Thomas Knorr, have big

plans for the property.

"The initial plan is to stabilize the property by fixing roof

6

| Chief Engineer
---
window and door damage," said Thomas Knorr, co-founder

of Evolution Craft Brewing Co. "There are structural parts

of the building that need to be [repaired]. The initial money

will be going to replacing the roof and bring it back to its

condition from 1913 when it was originally built. We want to

separate the building into three different sections."

Salisbury's Union Station building will get much-needed

rehabilitation with a landmark grant of $500,000.

World's Coal Use Creeps to New High

in 2022

BERLIN (AP) — Coal use across the world is set to reach a

new record this year amid persistently high demand for the

heavily polluting fossil fuel, the International Energy Agency

said Friday, Dec. 16.

The Paris-based agency said in a new report that while coal

use grew by only 1.2 percent in 2022, the increase pushed it

to all all-time high of more than 8 billion metric tons, beating

the previous record set in 2013.

"The world's coal consumption will remain at similar levels

in the following years in the absence of stronger efforts to

accelerate the transition to clean energy," the agency said,

noting that "robust demand" in emerging Asian economies

would offset declining use in mature markets.

"This means coal will continue to be the global energy

system's largest single source of carbon dioxide emissions by

far," the IAE said.

The use of coal and other fossil fuels needs to be cut drastically

to cap global warming at 1.5 degrees Celsius (2.7

degrees Fahrenheit) this century. Experts say the ambitious

target, which governments agreed to in the 2015 Paris

climate accord, will be hard to meet given that average

temperatures worldwide have already risen by 1.2 degrees

Celsius since pre-industrial times.

Contested Natural Gas Pipeline

Granted Permanent Certificate

ST. LOUIS (AP) — Federal officials on Thursday, Dec. 15,

granted Spire Inc. a permanent certificate to operate a natural

gas pipeline in Missouri and Illinois, angering the environmental

group that had sued over the project.

concerns that the pipeline was approved without adequate

review. Last year, a three-judge panel of the U.S. Court of

Appeals for the District of Columbia ruled that FERC had not

adequately demonstrated a need for the project, vacating

approval of the pipeline.

For the past year, the pipeline had been operating under a

temporary certificate while FERC conducted a court-ordered

review.

Scott Smith, president of the Spire STL Pipeline, said in a

statement that he was pleased with the decision. He described

the review the project underwent as "thorough."

But Ted Kelly, an Environmental Defense Fund attorney,

disagreed, saying that FERC had "again failed to fulfill its

obligation," alleging that some landowners, ratepayers and

stakeholders were shut out of the review.

He said that FERC should reverse its decision to grant the permanent

certificate and reopen the process with a temporary

certificate in place so there is no disruption in service.

$698M Deal to End Monsanto PCB Pollution

Lawsuit in Oregon

PORTLAND, Ore. (AP) — Bayer, the German pharmaceutical

and biotechnology company, will pay Oregon $698 million

to end a lawsuit over PCB pollution associated with products

made by Monsanto, the agriculture giant it now owns.

It's the largest environmental damage recovery in Oregon's

history and "magnitudes larger" than any other state settlement

over PCB contamination by Monsanto, Rosenblum said.

The settlement stems from a lawsuit filed by Oregon against

Monsanto in 2018 for 90 years of pollution in the state until

PCBs were banned in the late 1970s.

PCBs are toxic compounds formerly used in coolants, electrical

equipment such as fluorescent lights, and other devices.

They still contaminate Oregon's landfills and riverbeds and

show up in fish and wildlife.

"Monsanto's toxic legacy unfortunately lives on in our lands,

rivers and other waterways — and poses ongoing risks to the

health of our people and our environment," Rosenblum said.

"This is all the more reason why this settlement is so vitally

important. Oregon and Oregonians will be the better for it."

The Federal Energy Regulatory Commission first granted

approval for the Spire STL Pipeline in 2018 and it became

fully operational in 2019. It connects with another pipeline in

western Illinois and carries natural gas to the St. Louis region,

where Spire serves around 650,000 customers.

But the Environmental Defense Fund sued in 2020, raising

Volume 88 · Number 1 | 7
---
News

EPA Investigating Colorado for

Discriminatory Air Pollution

By Michael Phillis and Brittany Peterson | Associated Press

DENVER (AP) — The Environmental Protection Agency is

investigating whether Colorado's regulation of air pollution

from industrial facilities discriminates against Hispanic

residents and other racial minorities, according to a letter

released Wednesday, Dec. 28.

That's a level of scrutiny long sought by Lucy Molina whose

daughter goes to school near Colorado's only petroleum

refinery. Three years ago Molina had just stepped outdoors

when she noticed a coating of ash on her Nissan Altima that

wiped off on her fingers. Then she received a message that

her daughter's school was locked down and panicked. She

later learned the refinery had malfunctioned, spewing a

clay-like material into the air. She'd heard of lockdowns for

shootings, but never for pollution.

Since then she's pushed for community air monitoring and

stronger protections, but says it all feels too late. She's lived

here for 30 years, and her kids are already young adults.

"If we would have known" years ago, she said. "We would

have moved."

Advocates say the Suncor refinery too often malfunctions,

spiking emissions. They say Colorado rarely denies permits

to polluters, even in areas where harmful ozone already

exceeds federal standards.

Federal investigators said in the letter they will scrutinize the

state's oversight of Colorado's biggest polluters including the

Suncor oil refinery in North Denver where Molina lives, and

whether the effect of that pollution on residents is discriminatory.

Suncor did not respond to a request for comment.

But it is already harder for oil and gas companies to get their

air permits in Colorado than in some other energy-producing

states, said John Jacus, chair of the Colorado Chamber of

Commerce board of directors and an environmental compliance

attorney. He said recent allegations that the state's

permit review process was faulty had the effect of slowing

air permitting, a blow to business.

"It would be really good for air quality to shut everything

down, but that's not good for society," Jacus said, adding

there needed to be a balance between environmental protection

and economic activity.

The EPA launched its investigation under Title VI of the Civil

Rights Act of 1964. It has been going on since March but

went little noticed until the letter, which explains its scope.

The Act allows the EPA to negotiate agreements with states

to promote equity. The Biden administration has stepped up

its enforcement of environmental discrimination.

Colorado officials said they welcome the EPA review, more

community participation and are reviewing their permitting

policies to ensure they are focused on environmental justice.

"We've always prioritized the health and wellbeing of every

Coloradan no matter their ZIP code, but we know we have

even more to do," said Trisha Oeth, our Director of Environmental

Health and Protection in a statement.

But the EPA has found those priorities lacking at times.

The agency scrutinized the state's handling of Suncor. Colorado's

only oil refinery is roughly 90 years old and is a major

emitter of greenhouse gas emissions in the state.

In March, the EPA objected to a key air permit for the facility

that state regulators were still reviewing 10 years after its

original expiration date. The agency raised "significant environmental

justice concerns" and said that the public wasn't

given enough opportunity to weigh in. The EPA didn't object

when the state issued a revised permit.

In July, the agency also said the state had issued permits

for a mine, oil and gas wells and other small polluters even

though they could contribute to violations of federal air

quality standards. Colorado said it would improve its reviews,

but balked at revisiting its permitting decisions.

There are some signs the agency chose Colorado because it

could prove a willing partner.

"Colorado has been one of the states that has been a leader

in addressing environmental justice in the legislature," said

KC Becker, the head of the EPA region that includes Colorado

and a former state legislative leader.

Colorado has strengthened air monitoring requirements.

It increased funding for air permit reviews. The state's

greenhouse gas reduction plan aims to reduce pollution in

overburdened areas. It also worked with the EPA to ensure

inspections target the most polluted areas and when companies

reach settlements for wrongdoing, they pay for projects

8

| Chief Engineer
---
A view of the Suncor Energy oil refinery in Commerce City, Colo., on Nov. 23, 2020. The Environmental Protection Agency is investigating whether Colorado's

regulation of air pollution from industrial facilities discriminates against Hispanic residents and other racial minorities. Federal investigators said in

a letter released Wednesday, Dec. 28, 2022, that they will scrutinize the state's oversight of Colorado's biggest polluters, like the Suncor oil refinery near

Denver. (Rachel Ellis/The Denver Post via AP, File)

that benefit communities.

The EPA may have an easier time convincing Colorado to

change than it would, say, Texas, said Jeremy Nichols, head

of climate and energy programs at WildEarth Guardians.

Family Foundation for coverage of water and environmental

policy. The AP is solely responsible for all content. For all of

AP's environmental coverage, visit https://apnews.com/hub/

climate-and-environment

Colorado's changes have "given EPA an opening to say, 'well,

if that is what you are committed to then let's really test this

out, let's see you prove your mettle here,'" said Nichols.

Nichols said Colorado is too deferential to industry. He wants

to see the state deny permits much more often.

Ian Coghill, an attorney with Earthjustice that is challenging

the Suncor permit, says the push and pull between the EPA

and state hasn't yielded major improvements. Revisions to

Suncor's permit, he said "didn't change a lot."

He is hopeful the civil rights investigation will force the state

to make changes and detail the cumulative effect of pollution

from industry on residents of North Denver.

"I'm definitely optimistic," he said.

The Associated Press receives support from the Walton

Volume 88 · Number 1 | 9
---
News

Retailers Find Daylighting Reveals

Product's True Colors for More Sales

Good lighting has always been the retailer's friend and

scientific research shows that natural light — sunlight — may

be their very best friend. A seminal study, Daylighting and

Productivity, from 1999, by the environmental consulting

firm the Heschong Mahone Group, found that retail spaces

lit with daylight had increased sales by more than 40 percent

over similar spaces selling comparable products.

Wal-Mart further confirmed this approach when it built

its first energy-efficient model store in Kansas in 1993. The

store was constructed with skylights on one half of the store.

Tom Scay, the company's vice president for real estate at the

time, told the Wall Street Journal in 1995 that the products

illuminated by the skylights sold much better than those

under fluorescent lights. To rule out other factors that might

explain the higher sales volume, Wal-Mart swapped the

products and when they were lit by the skylights, their sales

numbers went up significantly and the previously well-selling

products' numbers dropped.

Natural lighting or "daylighting" with skylights is also a winwin

generationally. Retailers can stand out in a crowd targeting

millennial shoppers with their sensitivity to energy usage

and climate change. Older customers are accommodated as

well. Studies by the Illuminating Engineering Society have

shown that after 55 people can need 2.3 times more light

and higher quality light than 25-year-olds. The high cost of

artificially providing the full spectrum light needed by older

folks is eliminated by intelligently placed skylights.

The cherry on top for retailers using daylighting, confirmed

by a study done at the Eneref Institute, is increased foot traffic.

Customers interviewed for the study said that the stores

felt more inviting. And having the checkout counters lit with

daylight made those customers feel more at ease. Salespeople

felt more approachable under skylights and overall, the

shopping experience was more pleasant. Customers are more

likely to spend more time in sunlit retail spaces.

Even retail staff working in sunlit environments are happier,

more productive and are absent less often than those working

for long hours under artificial lights.

Artificial light is also a problem for perceiving color accurately

— something that is crucial for selling many products. In

clothing stores, not only are the clothing colors more attractive

under natural lighting, but so are the customers when

they see themselves in mirrors. Paint, home goods, furniture

and flooring retailers similarly benefit from warm, natural

lighting that enables the true colors to shine through.

For these types of businesses especially, daylighting is crucial

because it provides the best color perception available. Sales

Harnessing renewable and free natural light not only cuts the cost of generating

artificial lighting but reduces collateral expenses as well.

go up because the product looks better and is seen more

accurately. Customers' color perceptions are directly affected

by the full light spectrum. In fact, the only way to see "true"

color is in full-spectrum light.

That is why when custom furniture producer and retailer,

Marlin Gingerich was planning his new showroom space, he

decided that letting the sunshine in was just good business.

"LEDs and fluorescent lighting really distort colors and it is

hard to discern exactly what the true colors of the furniture

pieces are," he says.

To remedy this, Gingerich installed daylighting skylights

when he built Midwest Woodworks' new Kalona, IA's 7,000

square showroom in 2009. These special sun gathering skylights

harvest and amplify sunlight to illuminate the space

below. The technique is called daylighting and its effect is

dramatic, flooding a space with bright light without any

harshness or glare.

For Gingerich, natural light is important because it highlights

the grains and colors in his furniture well.

"Our store was small, the lighting wasn't great, and we

determined we could probably do a lot more in sales [by

adding natural lighting]," he says, "People bring in wood

samples and ask us to match a specific color. In our previous

store, we always went out into the direct sunlight which was

not convenient especially in the winter. I discouraged doing

any matching in the store just because the colors weren't

accurate. With our new skylights, we can do accurate color

matching pretty much anywhere in the showroom."

Gingerich purchased the daylighting system from DayStar

(Continued on pg. 12)

Volume 88 · Number 1 | 11
---
(Continued from pg. 11)

News

Systems in Campbell Hill, Ill., after seeing their skylights in

local businesses. "There were other natural lighting systems,

but DayStar had the best overall design and appearance,"

Gingerich says.

DayStar engineers have developed high-performance skylight

systems that capture the sun's natural light and collect,

amplify and diffuse a broad, even pattern of indoor illumination.

This is accomplished using a four-part system. First, sunlight

is gathered and diffused through an ultra-clear outer dome

and inner collimation lens. The dome is supported by insulated

roof curbs of galvalume steel or aluminum continuously

welded for watertight seams. Then a light shaft made of insulated

panels with highly reflective interior surfaces amplify

light as it is captured. And finally, an attractive ceiling lens,

engineered to diffuse highly concentrated light into a broad

lighting pattern, is installed on the interior ceiling.

Each component can be customized for the building's specifications.

Gingerich worked with DayStar when he was designing

his new showroom to determine how many skylights he

needed, and their optimal placement.

"We wanted to display our bedroom furniture in individual

rooms," Gingerich says. "So, we had seven bedrooms along

one side of the showroom and each had its own DayStar

skylight. No one ever complained that there was too much

light in there."

Aaron Petersheim of Shade Mtn Countertops, in McAlisterville,

PA. also found that natural sunlight is his best salesman.

"Natural light is a full-spectrum daylight, where any artificial

lighting would also need to be the full spectrum, or it would

be a handicap," Petersheim explains. "Artificial light has

limited wavelengths. Lamps can be too yellow or too blue.

You really need the correct lighting for the countertops, and

natural daylight is perfect for it."

roofs. The DayStar skylights are easy to install and come with

detailed instructions and all the materials required. Petersheim

hired a local DayStar dealer to install the skylights

after an initial trial of seven in a separate fabrication shop in

2014. "The installation process took about a week," he says.

"They were installed well and are watertight."

Harnessing renewable and free natural light not only cuts

the cost of generating artificial lighting but reduces collateral

expenses as well. Some artificial light creates greater heat

loads, which must be offset by a building's cooling system.

Direct sunlight from standard windows can be an issue too.

One thing that Gingerich noticed immediately in the new

showroom was the light was even and diffused and illuminated

the entire showroom. "In the old showroom," he says

"On a nice sunny day, there was, what I would call a pool of

light inside every window. And the light did not extend very

far into the showroom."

With a good thermal designed daylighting system, energy

costs can be reduced.

Gingerich found that the skylights provided an additional

benefit even before they were installed. When asking the

bank for the loan he needed to construct the new showroom,

he explained that he expected to increase sales by

installing the DayStar System.

"I told the loan officer that based on what we were hearing

from our clients if we had more natural lighting that our

business would increase," says Gingerich. "Our sales ended

up higher than I initially projected. So, if you are retailer considering

bringing in more natural lighting, your sales have

nowhere to go but up."

For more information on natural daylighting systems, visit

www.daystarskylightsystem.com; email roman@daystar1.com

or call (618) 426-1868.

Petersheim has installed more than 40 daylighting skylights

on his countertop showroom and fabrication production

Equipped to Handle All your

Piping and Mechanical

Installation Needs

12

» Boilers - High & Low Pressure

» Deaerator Installations & Service

» Feed Water Systems

» Chillers

» Steam, Gas, Oil & Process Piping

» Steam Reheating & Sparge Systems

» Vacuum Condensate Return Systems

» And more...

24 HOUR EMERGENCY SERVICE www.ACSIgroup.com 773.737.9200

| Chief Engineer
---
Stadiums Can Keep Emergency

Communications Out of the "Dead

Zone"

At stadiums across the country, first responders including

police, fire and Emergency Medical Services (EMS) depend on

reliable two-way radio communication when lives and property

are at risk. In-building radio signals are often blocked or

attenuated by structures that are large and primarily constructed

of metal and concrete and with below grade areas.

When this occurs, weak or obstructed signals result in radio

communication "dead zones" that can jeopardize emergency

coordination among first responders.

Stadiums bring together thousands of spectators and participants

for games, concerts and other gatherings, making

real-time radio coordination among police, fire and EMS

services essential. This is not only necessary for routine

traffic, crowd control and medical services, but also to facilitate

response to the unexpected. Incidents can range from

transporting an injured player to the hospital to responding

immediately to a fire or other emergency on the premises.

When lives are on the line, a quick, coordinated response can

help de-escalate a situation before it intensifies.

"Stadiums often have one or two levels below grade, which

is a major problem for emergency communication," says

Deron Bone, president of RF DAS Systems, Inc., a national

provider of emergency responder radio coverage systems for

more than 30 years. "Pre-cast walls, pipes, rebar or structural

steel can also disrupt communication, which can be prevalent

in areas such as stairwells or tunnels. Signal failure in any

critical area will require installing an Emergency Responder

Communication Enhancement Systems (ERCES)."

ERCES are mandated by fire code in most places for the

construction of new stadiums and some existing stadiums.

These advanced systems boost the signal within all areas of

the stadium, providing clear, two-way radio communication

without dead spots.

"Basically, all stadiums from high school to college to pro

need an ERCES, since there can be communication dead spots

throughout. Many do not have these systems, so testing is

essential to support safety and compliance," adds Bone.

State-of-the-art ERCES are available that amplify and accommodate

all the necessary emergency signals required, even

in the largest stadiums. The approach facilitates meeting all

codes while reducing overall installation cost and complexity

— helping to expedite tight project deadlines.

A World-Class Stadium

Recently, RF DAS Systems installed an ERCES at a new West

Coast stadium with more than 30,000 seat capacity, that

hosts both professional and collegiate sports as well as large

festivals, concerts and events.

According to Bone, when RF DAS Systems initially conducted

a pre-test on the stadium, there was no signal in much of the

first floor and the entire lower level, so installing additional

antennas was required in the ERCES system throughout these

areas.

"Even though a radio transmission tower is close, there were

a number of weak points in coverage that needed to be

accommodated," says Bone.

ERCES were first introduced in the 2009 International Building

Code. The latest version requires all buildings to have an

approved level of emergency communication coverage for

first responders.

ERCES systems function by connecting through an over-theair

link that the installer optimizes to the public safety radio

communications tower network using a rooftop directional

antenna. This antenna is then connected via coaxial cable to

a bi-directional amplifier (BDA), which increases the signal

level to provide sufficient coverage within a stadium based

on life safety standards. The BDA is connected to a distributed

antenna system (DAS), a network of relatively small

antennas installed throughout the structure that serve as repeaters

to improve the signal coverage in any isolated areas.

In stadiums, multiple amplifiers are usually required to drive

an adequate signal level across the system.

Fire, police and EMS frequencies vary across the country. To

increase safety and compliance, the specific radio frequency

used must be customized to the stadium configuration,

the frequencies used by emergency services specifically in

the area, and the geographic topography, i.e., nearby hills,

mountains, etc. The design usually involves tuning the ERCES

to prevent signal interference with other frequencies and

avoid running afoul of the FCC, which can levy significant

fines when violations occur.

To streamline the process, Bone selected the Fiplex by Honeywell

BDA and fiber DAS system.

(Continued on pg. 14)

Volume 88 · Number 1 | 13
---
(Continued from pg. 13)

News

The compliant, FCC-certified system was developed to reliably

provide superior RF amplification and coverage without

noise, enhancing two-way radio signal strength inside buildings

including stadiums. The system is specifically designed

to meet NFPA and IBC/IFC code compliance with the UL 2524

Second Edition listing.

One vital aspect that sets the Fiplex ERCES apart is that Fiplex

can "tune" the device to the channels used before shipping.

The installer can further optimize the BDA's RF tuning onsite

to achieve the precise frequency required with channel

selective, software programmable or adjustable bandwidths.

This mitigates the issue of wideband transmission, which can

otherwise cause outside interference in highly congested RF

environments like stadiums and potentially lead to FCC fines.

Bone points out another aspect that distinguishes Fiplex

BDAs from other digital signal boosters: the availability of a

dual-band option for dedicated UHF or VHF models.

"One of the best features of the system is that it can incorporate

both UHF and VHF in one unit, which saves space

and simplifies installation," says Bone. "Previously, I had to

purchase separate units."

To meet tight deadlines, companies rely on OEMs to quickly

deliver ERCES system components.

"My customers cannot wait eight weeks, let alone 18 to 20

weeks, for an amplifier," Bone says. "Although this happens

in the industry, I don't have that problem with Fiplex. They

coordinate with us so we always have a ready supply."

For the stadium project, RF DAS Systems relayed the specific

fire, police, EMS and public service frequencies to Fiplex,

which programmed the RF signal band.

Bone appreciates how the ERCES system enhances design

flexibility. This can be particularly important after a stadium

project is complete if modifications are made or a certain

material is denser and more prone to blocking RF signals

than originally believed.

"With a BDA software upgrade, I can change the amplifier

At stadiums across the country, weak or obstructed signals result in radio communication "dead zones" that can jeopardize emergency coordination

among first responders.

14 | Chief Engineer
---
from a half-watt to a two-watt BDA," he says. "That flexibility

is key because it allows easy adjustment, so I don't need to

purchase and install another amplifier if a structure is denser

than I thought."

Additionally, the compact size of the BDA eases installation.

"Fiplex's BDA is much smaller than the industry norm, and

has its own mounting bracket, which streamlines field installation,"

Bone says. He notes that the system's DAS and fiber

components are much easier to install than the equipment he

previously used.

For Bone, installing a reliable system that works as expected

is the most important aspect of any project.

"When there's an incident at a stadium, like an injured player

who is taken off the field by ambulance, it is a communications

frenzy with RF signals flying everywhere — which is

tough on an ERCES system, but if you are installing a quality

system, then everything is OK," says Bone.

ERCES are mandated, advanced systems that boost the signal within all areas

of the stadium, providing clear, two-way radio communication without

dead spots.

This was put to the test when the final sign-off by the AHJ

(Authority Having Jurisdiction) was the day of the first game,

due to tight timelines for stadium completion.

The inspection went off without a hitch and the fire marshal

signed off on the ERCES.

"The Fiplex system passed with flying colors," concludes

Bone.

To avoid delays and technical challenges, stadium developers,

architects and engineering firms can benefit from an expert

contractor's familiarity with ERCES requirements. With quick

shipment of an advanced ERCES tuned by the manufacturer

to the required RF channel, a skilled contractor can install

and further optimize the device to the specific local band

frequencies. The approach expedites the project and compliance,

enhancing safety during an emergency.

For more information, contact Megan McGovern, Director of

External Communications at Honeywell Building Technologies,

email megan.mcgovern@honeywell.com or call

(404) 216-6186.

Volume 88 · Number 1 | 15
---
News

Industrial-Grade VIZZ Headlamps

Maximize Safety, Reliability

For professional trades like utilities, facility maintenance,

and construction, Princeton Tec's industrial-grade VIZZ

series headlamps are designed to provide powerful, lasting,

reliable, hands-free illumination to increase operator safety

and productivity in the many low-light work conditions that

require it. Whether the job starts before the sun rises or ends

after it sets, or operators are working in small or large dark

spaces, they need a light that is going to work as hard as

they do in whatever conditions that are thrown their way.

Princeton Tec designs and manufactures its headlamps in

the U.S. with durable thermoplastic material engineered to

withstand drops and rough handling. An IPX7 waterproof

rating means the headlamps are thoroughly protected from

moisture, providing waterproof integrity down to 1 meter

for up to 30 minutes. The U.S. military and numerous utilities

use these products, which offer a lifetime warranty.

Lightweight 3.2oz VIZZ series headlamps flexibly light up the

workspace with two separate modes that the operator can

easily switch between at the push of a button: flood, which

widely illuminates the surroundings, and spot, which focuses

a bright beam on the task at hand.

The operator can dim and adjust the light level to their

personal preference in both modes by holding down the

pushbutton to the desired setting. The dimming capability

also extends battery life. The raised button provides ease of

use when the operator is wearing gloves.

Since battery life is an important consideration for technicians

working 8-to-12-hour shifts, VIZZ series headlamps offers

consistent regulated LED illumination. Traditional lights

are very bright initially, but immediately begin to dim and

continue to dim until the batteries are drained.

These headlamps come with an industrial headlamp kit with

a nylon head strap, a rubber hard hat strap, and double-sided

Velcro to affix the light to a helmet, if preferred. Three

AAA batteries are included.

The VIZZ series is offered in two distinctive headlamp models,

the VIZZ II and VIZZ IND. Both appear in POP packaging

for facility managers that want to display the products in

their vending machines as all specifications are clearly listed.

The VIZZ II

For trades that work in potentially hazardous environments,

the intrinsically safe VIZZ II headlamp meets essentially all

safety requirements whether for OSHA, Zone 0, or state

standards (Classes I, II, III; Divisions 1,2; and Groups A-G). So,

there is nothing from the light that could spark a potential

fire or explosion in a work environment that could have

flammable gases, vapors, materials, or dusts present.

One Maxbright LED creates a powerful 200 lumen spot beam

for long-throw illumination, while 4 Ultrabright LEDs deliver

a dimmable flood beam. At close range, the wide beams simulate

normal daylight conditions, allowing technicians to use

their peripheral vision, while focused narrow beams provide

distance illumination. The smooth, white, wide-beam light

emitted by Ultrabright LEDs is ideal for close to mid-range

tasks. Ultrabright LEDs are usually grouped together to offer

a more powerful light source. The headlamp offers a burn

time of 102 hours.

VIZZ IND

The VIZZ IND headlamp is like the VIZZ II but provides even

brighter illumination with a 550-lumen spot beam. However,

it is not safety-rated for hazardous environments. The headlamp

offers a burn time of 100 hours.

Although professional industrial-grade headlamps cost a little

more up front, the overall cost of ownership is often lower

because the batteries typically last 5-6 times longer and do

not need to be replaced constantly during work shifts.

Since the rugged headlamps are designed to last for many

years in harsh conditions, frequent replacement also is not

necessary the way it is with more fragile consumer-grade

units.

For more info, call 1-800-257-9080; email

questions@princetontec.com; visit princetontec.com; or write

to Princeton Tec, PO Box 8057, Trenton, NJ 08650.

Princeton Tec's industrial-grade VIZZ

series headlamps provide powerful,

lasting, reliable, hands-free illumination.

Princeton Tec's VIZZ series

headlamps increase operator

safety and productivity in the

many low-light work conditions

that require it.

16

| Chief Engineer
---
All-Volunteer Firefighting Team at Point

Pleasant Fire Company #1 Now Trains on

The Fire Chief

SUN PRAIRIE, Wis. — Point Pleasant Fire Company #1 got

a truly great present for its 98th birthday this year — a

30-foot-tall training tower, The Fire Chief. The structure was

first put into service on May 22, 2022, by members of the

all-volunteer fire company to enhance their live fire training

skills.

"Fortunately, we don't have many structure fires in our

area," says Battalion Chief/Training Officer Will Dobron with

Point Pleasant Fire Company #1 in Point Pleasant, Pa. "That's

specifically why it's so important for us to have a building

where we can train for live fires. We need to continually

hone our skills so that we're prepared to make an aggressive

attack when a fire does occur, and our firefighters are called

into action."

Selecting Fire Facilities

The Fire Chief tower selected by the Point Pleasant Fire Co.

#1 features a residential-like design. There's a burn room on

the first floor with interior stairs leading to multiple floors.

The 60-foot-long structure features an interior ships ladder,

roof-mounted chop-out curbs, and parapet roof guard

with chain opening. The Fire Facilities structure is made of

all-American steel and designed for multiple training exercises,

including hose advancement, fire attack, search and

rescue, rappelling, laddering, confined space, and high-angle

rescue operations.

"We specifically invested in this Fire Facilities structure

because, after much research, it seemed to be the closest

building to a structure that you will see on the streets," says

Dobron, a fourth-generation firefighter. "The smooth walls

allow you to ladder anywhere on the building. We compared

this to competitor's buildings where they are corrugated and

need to have metal plates installed for a smooth surface for

ladders to be placed, which is inconvenient."

#1 was started. A group of concerned citizens formed the

volunteer department after a local fire destroyed a store because

area firefighters were too far away to help. Since that

time the department has relied on volunteers to keep Point

Pleasant safe.

"Our training in the past was on an old homemade tower,

along with a 40-foot overseas container for search and rescue

drills," says Dobron, a 14-year firefighter veteran. "When

available, we'd use acquired structures too, but they were

few and far between.

"With The Fire Chief, we're looking forward to the variety of

training scenarios we can perform in this building. From the

normal live fire training, search and rescue, ventilation and

laddering to rappelling, there's lots of options.

"We custom-designed the three-story tower to be 18-feet

long to give ourselves more room to work around the floor

door area in the tower. This will help us with confined space

rescue training. Every aspect of using The Fire Chief is dedicated

to helping make our volunteer firefighters more skilled

and prepared for handling real emergency situations on a

daily basis."

Fire Facilities, Inc. (FFI), founded in 1989 and an ISFSI corporate

sponsor, manufactures a full line of steel fire training

structures engineered to withstand real-life firefighting conditions.

From mobile units to burn rooms to high-rise towers,

FFI training models are available in a multitude of configurations.

For more information, visit www.firefacilities.com or

call 800-929-3726.

Dobron relates that the process to procure the structure took

about four years. From initial planning to completion included

many meetings with the township to gain approvals. "For

funding, we were fortunate that past members made wise

investments over the years," says Dobron. "That made it possible

for the fire company to purchase the training tower."

Preparing for Service

Getting to the point of having a new Fire Facilities tower all

began back in 1924 when the Point Pleasant Fire Company

Volume 88 · Number 1 | 17
---
News

Social Ventures and Innovators Around

the World Invited to Apply for the ASME

ISHOW Accelerator

NEW YORK — The American Society of Mechanical Engineers

(ASME) is currently accepting applications from social entrepreneurs

focusing on hardware innovations for the 2023

ASME Innovation Showcase (ISHOW). The prestigious global

hardware accelerator is open to individuals and organizations

taking physical products to market that will have a positive

social and/or environmental impact and that improve

the quality of life around the world.

Applicants should have an existing prototype and interest in

receiving financial/technical support and access to expert networks

that can assist in taking their product to market. ASME

ISHOW finalists receive product exposure, advice, and technical

insights through ISHOW's rigorous review methodology.

Finalist will have a chance to earn a share of $200,000 in seed

grants, in-kind support, design services, travel stipends, and

marketing and business development assets.

Eight finalists are chosen for each of three regional events

from hundreds of applications received each year. The deadline

for applications is Feb. 7 for entrepreneurs in India and

the Asia Pacific region seeking consideration for ISHOW India.

Finalists for ISHOW India will be invited to present their

pitches as part of ASME India Innovation Week, a weeklong

program of events for engineering educators, students, and

entrepreneurs April 1-4 in Bengaluru.

"We are proud to offer a forum for engineering problem-solving

that truly improves lives," said ASME Executive

Director/CEO Tom Costabile. "We are continually impressed

by the creative talent of ASME ISHOW participants and their

passion for helping underserved communities around the

world. We look forward to engaging in person with the

vibrant engineering community within India when we return

to Bengaluru this spring."

"Social enterprises, now more than ever, need the support of

the global impact community," says Iana Aranda, director of

ASME's Engineering Global Development sector that houses

ISHOW. "Social entrepreneurs around the world, including

many ISHOW ventures, are on the frontlines of crisis response

and the advancement of the United Nations' Sustainable Development

Goals. We are aggressively focused on providing

these innovators with accessible platforms for capacity building,

expert engagement and co-design of scaling strategies

suited for today's dynamic markets. Ensuring their success is

of paramount importance."

The 2023 ISHOW cohort will be invited to the annual ISHOW

Bootcamp in the fall to receive an extensive and customized

design and engineering review by experts recruited to guide

them as they scale to market. They will also have a chance

to earn a second round of seed grants from ASME. They

become part of the ISHOW alumni network, an international

community of hardware innovators and stakeholders with

exclusive access to experts and resources.

ASME ISHOW annually matches up to 24 carefully selected

innovators with appropriate engineering experts to ensure

that the proposed hardware solutions are technologically,

environmentally, culturally and financially sustainable.

ASME's panel of judges and experts includes successful entrepreneurs,

academics, engineers, designers, investors and

industry representatives from leading organizations in India,

Kenya, and the United States. These subject-area experts provide

technical and strategic guidance based on ISHOW's four

key pillars: customer/user knowledge, hardware validation,

manufacturing optimization, and implementation strategy.

Earlier this year, ASME launched the Idea Lab incubator,

extending the reach of the ISHOW hardware accelerator

platform.

The application deadline is April 14 for innovators in the

Middle East and Africa seeking consideration for ISHOW Kenya,

a virtual event to be held June 6-14; applications are due

June 1 for social entrepreneurs in the Americas seeking consideration

for ISHOW USA scheduled for July. Three companies

selected at each event will join the ISHOW 2023 cohort.

18

| Chief Engineer
---
Between ASME's and Idea Lab incubator and ISHOW showcase, the event covers the full spectrum of tech development, from idea inception to product

launch.

With Idea Lab, ASME moves "upstream" to aid budding

social entrepreneurs in developing and implementing their

social impact hardware concepts from the pre-prototype

stage. Applications for the 2023-2024 Idea Lab class will open

in summer 2023.

To date, ISHOW has enabled more than 200 startups from

30-plus countries to solve critical quality-of-life challenges

for vulnerable populations worldwide. ISHOW alumni have

developed affordable devices to address key issues related to

clean combustion, crop threshing, fetal health, food waste

prevention, health diagnostics, safe drinking water, and

many more that advance the U.N. Sustainable Development

Goals.

ASME is grateful to The Lemelson Foundation for its continued

support of the ISHOW with a three-year strategic

investment and to ISHOW implementation partners around

the globe. Learn more about ISHOW's global impact in this

dynamic dashboard.

Follow the journeys of ISHOW alumni including PayGo

Energy, PlenOptika, Himalayan Rocket Stove, SAYeTECH and

others here.

Volume 88 · Number 1 | 19
---
News

Steps to Follow for a Successful School

Renovation by Sam Cicero

PLAINFIELD, Ill. — Renovating a school offers an opportunity

for a community to invest in its own future and provide a

safe, welcoming environment for all students. More importantly,

renovation offers new possibilities to make the school

an academic environment in which children can thrive.

A community has one of two choices when it comes to

an outdated school: renovating the building or tearing it

down to start from scratch with a new facility featuring the

latest learning technologies. Of course, new construction is

considerably more expensive than renovation, and typically

requires a much longer timeline measured in years, rather

than months. Renovations, correctly planned by an experienced

contractor, can have excellent results much faster at a

vastly lower price.

If the community decides on a renovation, the final cost

will be largely dependent on the condition and age of the

existing building. A much older school may need new HVAC,

electrical and plumbing. One that has been in service for

only a decade or two, in contrast, will not need new mechanicals

but may require upgrades such as high-speed Ethernet

cabling to replace an aging coaxial network.

project team will need to address.

Here is a rough overview of the process that you can use for

your school renovation journey:

1. Data Collection: Your in-house project team should gather

all files on the original school design, its electrical, HVAC

and plumbing systems, and any other structural details.

It's essential to share this information with the renovation

team you've hired, including architect, interior designer,

mechanical engineer, and general contractor, to ensure

everything goes smoothly. No detail is too small.

2. Collect Input: Conduct a survey to gauge opinions about

the current state of the school and what changes those

most affected by a renovation — the school's students,

staff, neighbors — would like to see made. Meet with

school board members to collect ideas on what kind of

environment they believe students need to best succeed.

Renovation costs will also be determined by the goals set

forth by the district. Below are a few that renovation contractors

are often asked to meet:

• Improve student safety and building security

• Expand classrooms and administrative offices

• Redesign floor layouts including additions

• Update mechanical and technological infrastructures

• Reduce building energy consumption and improve sustainability

• Bring the school up to current building codes (fire, accessibility).

A school renovation project should not only enhance the

facility but also student academic performance and job opportunities.

For instance, upgrading the school's technology

will better prepare students for a life beyond the classroom,

especially where the school space reflects the modern workplace.

Multiple studies have shown that good school design

is a key factor in academic excellence and in improving the

wellbeing of pupils, as well as in helping to attract and retain

the best staff and teachers.

When undertaking a school renovation project, it's important

to create a plan or "roadmap" that takes you through each

step of the process — from initial planning and budgeting to

final construction and commissioning new equipment. Renovations

of this magnitude can be overwhelming, often filled

with hurdles and hassles the school district and your in-house

Preservation Services, Inc. is one of Chicago's most unique and capable

commercial roofing contracting companies, providing complete solutions since

1992. We are members in good standing with Local 11 United Union of Roofers,

Waterproofers, and Allied Workers.

815-407-1950

preservationservices.com

Preservation Services, Inc. Preservation Services, Inc. psiroofing_inc

20

| Chief Engineer
---
3. Initial Design and Layout: Now it is time to work with the

renovation team. Share your goals, structural information

and input so that an initial layout can be created, usually

by the architect and engineer, who are well-versed in local

safety and ADA requirements, community building codes,

and current material costs and availability. This first draft

will likely go through several revisions before being finalized.

4. Prepare the Budget: Establish a detailed budget for a

school board presentation that includes all architectural,

technology and furniture solutions, as well as a timeline

for construction. This budget will be carefully reviewed,

revised and approved by the school board before renovations

can begin.

5. Final Review: Next, it is the responsibility of your in-house

project team to review and approve all final contractor

quotes, construction details and schedule, and to generate

a purchase order.

6. Renovation Begins: School renovations often have a

narrow window to be completed, usually over summer

vacation or extended holiday breaks. Here is where the

renovation contractor's skills are crucial in areas such as

permitting, material deliveries and storage, scheduling subcontractor

work, and conducting inspections. Every phase

must be sequenced by the contractor to avoid delays. Communications

between your contractor and project team will

ensure problems are quickly resolved.

7. Project Delivery: Your school renovation is now complete

and delivered. Although the work is done, your general

contractor will continue to act as a liaison between the

school and the project's sub-contractors and material suppliers

should an issue arise.

Whether you're renovating a single classroom or constructing

a major addition to the school from the foundation up,

Cicero Construction Group can ensure a safe, quality-driven,

cost-effective project. Contact us at

www.cicero-construction.com.

Sam Cicero is president of Cicero Construction Group.

Cicero Construction Group renovating Chicago Math and Science Academy

in Chicago's Rogers Park neighborhood.

Volume 88 · Number 1 | 21
---
News

Scientists: Atmospheric Carbon Might

Turn Lakes More Acidic

By John Flesher | AP Environmental Writer

TRAVERSE CITY, Mich. (AP) — The Great Lakes have endured

a lot the past century, from supersized algae blobs to invasive

mussels and bloodsucking sea lamprey that nearly wiped

out fish populations.

Now, another danger: They — and other big lakes around

the world — might be getting more acidic, which could make

them less hospitable for some fish and plants.

Scientists are building a sensor network to spot Lake Huron

water chemistry trends. It's a first step toward a hoped-for

system that would track carbon dioxide and pH in all five

Great Lakes over multiple years, said project co-leader Reagan

Errera of the National Oceanic and Atmospheric Administration.

"If you change things chemically, you're going to change

how things behave and work and that includes the food

web," said Errera, a research ecologist with NOAA's Great

Lakes Environmental Research Laboratory in Ann Arbor,

Mich.

"Does that mean your favorite fish might not be around anymore?

We don't know that, but we know things will change.

Maybe where and when they spawn, where they're located,

what they eat."

Oceans are becoming more acidic as they absorb carbon

dioxide that human activity pumps into the atmosphere —

the primary cause of climate change. Acidification endangers

coral reefs and other marine life.

773-784-0000

Chicagoland's top HVAC, Boiler & Plumbing

Contractor

• Chiller Teardowns

• 24 Hour Service

• Boiler Re-Tubes

• Piping Repairs

• Combustion Tuning

• HVAC Projects

• HVAC Maintenance

• Plumbing Services

www.HayesMechanical.com

22

| Chief Engineer

Studies based on computer models suggest the same thing

may be happening in big freshwater systems. But few programs

are conducting long-term monitoring to find out — or

to investigate the ecological ripple effects.

"This doesn't mean the waters are going to be unsafe to

swim in. It's not like we're making super acid battery liquid,"

said Galen McKinley, a Columbia University environmental

sciences professor. "We're talking about long-term change in

the environment that to humans would be imperceptible."

A 2018 study of four German reservoirs found their pH levels

had declined — moving closer to acidity — three times faster

in 35 years than in oceans since the Industrial Revolution.

Researchers say Great Lakes also could approach acidity

around the same rate as in oceans by 2100. Data from the

Lake Huron project will help determine if they're right.

Two sensors have been attached to a floating weather buoy

at Thunder Bay National Marine Sanctuary near Alpena,

Mich. One measures carbon dioxide pressure in the water

column and the other pH. Additionally, crews are collecting

water samples at varying depths within the 4,300-squaremile

area for chemical analysis.

Besides disrupting aquatic life and habitat, acidification

could deteriorate hundreds of wooden shipwrecks believed

resting on the bottom, said Stephanie Gandulla, the sanctuary's

resource protection coordinator and a study co-leader.

Other monitoring stations and sampling sites are planned,

Errera said. The goal is to take baseline measurements, then

see how they change over time.

Data also is needed from lakes Erie, Michigan, Ontario and

Superior, she said. All are part of the world's largest surface

freshwater system but have distinct characteristics, including

water chemistry, nutrients and other conditions needed for

healthy biological communities.

Acidification from carbon dioxide overload in the atmosphere

is different than acid rain caused by sulfur dioxide

and nitrogen oxides from fossil fuel burning for electric

power generation or manufacturing.

While more potent, acid rain covers relatively small areas and

can be reduced with scrubbing equipment, as the U.S. Clean

Air Act requires. But the effect of carbon-related acidifica-
---
tion is worldwide and potentially more damaging because

there's no easy or quick fix.

"The only solution is a global solution," McKinley said. "Everyone

cuts their emissions."

Regardless of how well nations accomplish that, big lakes

probably will continue acidifying as they absorb carbon

dioxide already in the atmosphere, plus carbon-laden water

runoff from land, she said.

Less certain are effects on ecosystems, although initial studies

have raised concerns.

Based on laboratory tests, scientists who documented soaring

acidity in the German reservoirs found it can imperil a type

of water flea by hampering defense from predators. The tiny

crustaceans are an important food for amphibians and fish.

Scientists in Taiwan experimented with Chinese mitten crabs,

an Asian delicacy but an invasive species elsewhere. Increasing

water acidity in lab tanks to projected 2100 levels more

than tripled their mortality rates, according to a report last

year.

Other studies have found freshwater acidification harms

development and growth of young pink salmon, also known

as humpback salmon, an important commercial and sport

fishing species in Alaska and the Pacific Northwest.

But it's unknown how big such problems will get, said Emily

Stanley, a University of Wisconsin freshwater ecology professor.

"I honestly don't see this as a thing that we as lake scientists

should be freaking out about," Stanley said. "There are so

many other challenges facing lakes that are larger and more

immediate," such as invasive species and harmful algae.

Many lakes emit more carbon dioxide than they take in, she

said. But other scientists say even those could acidify because

their outflow will slow as atmospheric concentrations surge.

Either way, tracking lakes' carbon dioxide levels is a good

idea because the compound is fundamental to processes

including photosynthesis that algae and other aquatic plants

use to make food, Stanley said.

A crucial question is the effect of CO2-related acidification

on microscopic plants called phytoplankton, said Beth

(Continued on pg. 24)

Volume 88 · Number 1 | 23
---
News

In this photo provided by Thunder Bay National Marine Sanctuary, Michigan Sea Grant intern Cassidy Beach collects Lake Huron water samples aboard a

research vessel on July 13, 2022, near Alpena, Mich. Beach was assisting a multi-year project at Thunder Bay Marine Sanctuary to determine whether the

lake is becoming more acidic. (Thunder Bay National Marine Sanctuary/NOAA via AP)

(Continued from pg. 23)

Stauffer, a University of Louisiana at Lafayette biologist

studying the situation around river mouths where fresh and

ocean waters meet.

Studies suggest some of the tiniest phytoplankton may thrive

in acidic waters, while larger types — more nutritious for fish

— fade.

The potential upheaval in freshwater ecosystems is one example

among many of global warming's long reach, she said.

"Those greenhouse gases we're putting into the atmosphere

have to go somewhere," Errera said. "The oceans and large

freshwater bodies are where they're going, and acidification

happens as a result."

"It's like walking into a buffet and instead of having the salad

bar and roast turkey, you have just Skittles," Stauffer said.

Of particular interest for the Great Lakes are quagga mussels,

said Harvey Bootsma, a University of Wisconsin-Milwaukee

lake scientist. The prolific invaders have elbowed aside other

plankton eaters and fueled nuisance algae. Acidification

could weaken quaggas' calcium carbonate shells, as it has

with ocean mussels and clams.

But that's hardly a silver lining, Errera said. The same fate

could befall native mussels that conservationists are struggling

to protect.

24

| Chief Engineer
---
Derry Township, Pa., Takes Landmark

Step Toward Organics-to-Energy Vision

HERSHEY, Pa. — The Derry Township Municipal Authority

(DTMA) has taken a significant step on its journey toward

energy and nutrient recovery from organic waste at its Clearwater

Road Wastewater Treatment Facility (WWTF).

Ongoing upgrades at the five million gallons per day WWTF,

part of a $12 million biosolids facility improvements program,

will expand capacity and increase energy efficiency, boosting

the plant's sustainability.

Already accepting organic waste from industrial and municipal

sources, and with plans to receive future additional waste

streams, the Authority has a long-term vision to recover and

reuse resources, reduce landfill waste, and generate alternate

revenue sources to lessen the financial burden to customers.

In a landmark step, the Authority has purchased Ecoremedy®'s

Fluid Lift Gasification (FLG) technology. The full-scale

biosolids drying and gasification process is the world's most

advanced platform for simultaneous gasification and nutrient

and energy recovery from industrial residuals and municipal

biosolids. A major advantage of the state-of-the-art system

is its ability to reduce or eliminate emerging contaminants,

such as PFAS.

"This major investment aligns with our mission to provide

a cost-effective public service to protect and enhance the

water environment and quality of life for our community,"

said DTMA Executive Director William Rehkop. "By implementing

self-sustaining facility improvements and expanding

our hauled waste program, the Authority has generated

alternate revenue sources which have significantly subsidized

operation and maintenance costs to benefit our customers."

Leading environmental engineering and construction services

firm Brown and Caldwell is providing construction management,

design services, and permitting to accommodate the

new system and development of a biosolids receiving facility

at the plant. Once operational, the FLG system will process

higher amounts of biosolids into renewable thermal energy,

biochar, and concentrated minerals, thus keeping biosolids

out of landfill and creating a sustainable fuel source.

Derry Township, Pa., has moved toward enhanced resource recovery with a

revolutionary biosolids process investment.

As local manufacturer's representative, Kappe Associates, Inc.

played a pivotal role in developing the system's scope, performance,

throughput, and capabilities.

"We congratulate DTMA for their visionary approach to

recovering resources and reducing environmental impacts,"

said Brown and Caldwell Project Manager Colin O'Brien. "Our

team is honored to help transform the facility and position

DTMA as a waste-to-energy leader at a time when our industry

seeks innovative ways to manage biosolids."

Volume 88 · Number 1 | 25
---
News

Why Modern Electric Boilers Are Safer

Choice

In industry, gas-fired boilers have largely been the standard

for many decades to produce steam as well as heat process

water. However, not all boilers are created equal in terms

of safety. By definition, combustion-fueled boilers can emit

harmful vapors, leak gas, and even cause explosions and

fires.

In a recent example, a natural gas boiler was cited as the

cause of a massive explosion and fire at a food processing

plant in eastern Oregon that injured six and caused severe

damage to the facility's main building. Given the risks, many

processors are turning to a new generation of electric boilers

to dramatically reduce these hazards.

"With gas burning boilers, any gas leak can increase the risk

of an explosion wherever there are fuel lines, fumes, flames

or storage tanks. So, gas units must be continually monitored

or periodically inspected," says Robert Presser, Vice President

of Acme Engineering Products, who notes that state and

municipal safety guidelines vary depending on boiler type

and the expected frequency of inspection. Acme Engineering

is a North American manufacturer of boilers for large

industrial and commercial applications. The company is an

ISO 9001:2015 certified manufacturer of environmental controls

and systems with integrated mechanical, electrical and

electronic capabilities.

In gas-fired boilers, explosions can result in the ignition and

instantaneous combustion of highly flammable gas, vapor,

or dust that has accumulated in a boiler. The force of the

explosion is often much greater than the boiler combustion

chamber can withstand.

Minor explosions, known as flarebacks or blowbacks, can also

suddenly blow flames many feet from firing doors and observation

ports, seriously burning anyone in the path of a flame.

Natural gas-fired boiler emissions also pose potential hazards

in the form of emissions. This can include nitrogen oxides

(NOx), carbon monoxide (CO), nitrous oxide (N2O), volatile

organic compounds (VOCs), sulfur dioxide (SO2), and particulate

matter (PM), as well as the greenhouse gasses carbon

dioxide (CO2) and methane (CH4), which accelerate global

warming.

In addition, fossil-fuel-burning boilers can also face potentially

dangerous operational issues stemming from excessive

heat accumulation, particularly if the water is too low in the

system to properly absorb the heat. High heat conditions

can compromise the boiler, electrodes, and other equipment

essential to operation.

To dramatically improve operator and environmental safety,

industry is turning toward modern electric boilers that

eliminate many of these risks. The most advanced electrode

boilers not only match the capacity of large gas or oil-fired

boilers but are safer and more compact, maximizing energy

efficiency, improving reliability, and minimizing maintenance.

Although many facility engineers are familiar with gas-fired

boilers, many believe that electric boilers cannot match the

output of the traditional, fossil-fuel-burning units. Due to

considerable advances in electric boiler technology, however,

such technology can now match the capacity of large gas or

oil-fired boilers in a much smaller footprint.

Presser explains that electric boilers utilize the conductive

and resistive properties of water to carry electric current and

generate steam. An A.C. current flows from an electrode of

one phase to ground using the water as a conductor. Since

chemicals in the water provide conductivity, the current flow

generates heat directly in the water itself. The more current

(amps) that flows, the more heat (BTUs) is generated, and

the more steam produced.

As an example, in Acme's CEJS High Voltage Electrode Steam

Boiler, almost 100 percent of the electrical energy is converted

into heat with no stack or heat transfer losses. The

electrodes of the jet type electrode steam boiler are vertically

mounted around the inside of the pressure vessel. This

enables the unit to produce maximum amounts of steam in

a minimum amount of floor space, with boiler capacity from

6MW to 52MW. Operating at existing distribution voltages,

4.16 to 25 KV with up to 99.9-percent efficiency, the boiler

can produce up to 170,000 pounds of steam per hour. With

pressure ratings from 105 psig to 500 psig, the boilers are

designed to ASME Section 1, and are certified, registered

pressure vessels at the location of the boiler.

"With the jet-type electrode boilers, there are no combustion

hazards because there are no flames, fumes, fuel lines

or storage tanks, which minimizes the risk of explosions and

fires," says Presser. In case of an electrical short, the breaker

that protects the high voltage circuit trips in a matter of milliseconds,

protecting the boiler and the electrical network.

There is no chance of electrical mishap or fire from the boiler.

Since the design does not rely on combustion, it does not create

emissions that would endanger the operator or environment.

In addition, the design eliminates many environmental

issues associated with fuel burning boilers such as fuel fumes,

fly ash, and large, obtrusive exhaust stacks.

The approach resolves safety issues related to potentially

excessive heat accumulation with the system as well. Low

26

| Chief Engineer
---
water protection is absolute since the absence of water

prevents current from flowing and the electrode boiler from

producing steam. Unlike conventional electric boilers or fossil

fuel boilers, nothing in the electrode boiler is at a higher

temperature than the water itself. This prevents the risk of

dangerous heat buildup in the boiler, electrodes, and other

important components even if scaling should occur, and thermal

shock is eliminated.

"Electric boilers, and specifically the electrode units, are

inherently the safest boiler design today. These units do

not need an operator because if anything goes wrong, the

breaker trips, preventing further escalation of the issue,"

explains Presser.

The electric boilers also improve safety by reducing industrial

noise, which is an OSHA-regulated issue. Under OSHA's Noise

Standard, the employer must lower noise exposure through

engineering controls, administrative controls, or Hearing Protection

Devices (HPDs) to attenuate the occupational noise

received by the employee's ears to within levels specified.

In this regard, the electric units are also exceptionally quiet

compared to fuel-fired boilers. "Unlike gas-powered burners

that throttle like turbine engines almost continually, electric

boilers keep operational noise levels down," says Presser.

"Because the loudest boiler component is a circulating pump

motor, you can have a conversation next to one without the

need to elevate your voice."

As safer, more energy-efficient electrode boilers become more widely available,

companies can protect their people and processes more completely

while minimizing required maintenance.

While safety of the electrode units is superior, there are also

significant benefits in terms of reliability and maintenance.

The absence of excessive temperatures and burnout assures

longer operating life. The boilers have a minimum number

of components and electrical controls. With no fuel residues,

along with fewer parts and simple control systems, cleaning

and maintenance requirements are reduced, and reliability is

enhanced.

Processors have long sought to improve safety, yet options

have been limited. Now, as safer, more energy-efficient

alternatives become more widely available in the form of

state-of-the-art electrode boilers, companies can protect

their people and processes more completely while minimizing

required maintenance.

For more info, contact Robert Presser at Acme Engineering

via e-mail: rpresser@acmeprod.com, phone: (888) 880-5323,

or Web: www.acmeprod.com/.

Del Williams is a technical writer based in Torrance, Calif.

Advanced electrode boilers like those from Acme Engineering dramatically

reduce the risk of explosion, fire and noxious emissions associated with

fossil-fuel-burning units.

Volume 88 · Number 1 | 27
---
News

EPA to Tighten Nitrogen Oxide Limits

for New Heavy Trucks By Tom Krisher | AP Auto Writer

DETROIT (AP) — In a little over four years, new heavy truck

makers will have to cut harmful nitrogen oxide pollution

more than 80 percent under new standards released Tuesday

by the U.S. Environmental Protection Agency.

Some environmental and health advocates praised the

standards, but others said they don't go far enough to curb

nitrogen oxide, which can cause issues including respiratory

illness, cardiovascular problems and even death.

Problems are more acute in industrial and port areas, causing

health problems for low-income residents who live there.

The EPA says 72 million people live near freight routes in the

U.S.

The standards, coupled with greenhouse gas emission limits

coming next year, and government investments, eventually

will lead to zero-emissions electric and hydrogen fuel cell

trucks carrying most of the nation's freight, the agency said.

"This is just the first action under EPA's clean trucks plan to

pave the way toward a zero-emission future," Administrator

Michael Regan said in a prepared statement.

The standards, the first update in more than 20 years, limit

nitrogen oxide emissions from new semis and other heavy

trucks to 35 milligrams per horsepower hour. The current

standard is 200 milligrams, the EPA said.

One horsepower hour is the equivalent of energy consumed

by working at the rate of one horsepower for a single hour.

EPA officials say catalytic reduction technology is available

for truck engine manufacturers to meet the large reduction

when the standards take effect in 2027. The agency also says

the standards can be met at a reasonable cost. The stronger

standard will not change and will remain in place for multiple

years, the EPA said.

As the fleet of heavy trucks is replaced by newer vehicles,

it should reduce nitrogen oxide pollution by 48 percent by

2045, the EPA said.

The agency expects greenhouse gas standards and incentives

in the Inflation Reduction Act to bring the replacement of

all diesel trucks with zero-emissions alternatives, said Margo

Oge, a former director of the EPA's transportation and air

quality office.

Oge, now a volunteer with the Environmental Protection

Network, expects at least half of all new heavy trucks to be

powered by batteries or hydrogen fuel cells by 2030.

Tractor-trailers are stacked up along the eastbound lanes of Interstate 70

near East Airpark Road, Tuesday, Dec. 13, 2022, in Aurora, Colo. A massive

winter storm closed roads throughout northeast Colorado. (AP Photo/David

Zalubowski)

The Truck and Engine Manufacturers Association said the

new standards will be challenging to put in place, but its

members will work with the EPA.

"Ultimately the success or failure of this rule hinges on the

willingness and ability of trucking fleets to invest in purchasing

the new technology to replace their older, higher-emitting

vehicles," the association said in a prepared statement.

A group representing independent truck drivers, the Owner

Operator Independent Drivers Association, said small business

truckers won't be able to afford new trucks, so they'll

stay with older, less-efficient ones.

The new rule lets the trucking industry keep making vehicles

that pollute the air, the Natural Resources Defense Council

said.

"The agency missed a critical opportunity to slash soot and

smog and accelerate the shift to the cleanest vehicles," the

group said in a prepared statement.

However, the American Lung Association called the rule an

important step in reducing emissions that can cause lifelong

lung damage.

"Now, EPA must build on today's rule," the group said.

"These standards must dramatically reduce greenhouse gas

emissions from trucks to drive a nationwide transition to

zero-emission vehicles."

28

| Chief Engineer
---
PVC Roofing: Recyclable at End of

Service Life

For more than 50 years, durable PVC roofing membranes

have cooled and protected buildings in climates around the

world. Their long life cycle has helped earn them excellent

ANSI ratings for sustainability. (To date, PVC materials are

the only products to be rated gold or platinum.) But there's

more. PVC roofing is the only commercial roofing material

that is being recycled, at the end of decades of service life,

into the feedstock to make new roofing membranes.

PVC has an inherent advantage over many other roofing

materials when it comes to recycling. As a thermoplastic, it

can readily be heated and reprocessed without loss of key

physical properties. Thus, it has long been an industry best

practice to reintroduce production trimmings and scrap as

raw materials into the vinyl roofing membrane manufacturing

processes. In 2021, the member manufacturers of the

Chemical Fabrics & Film Association (CFFA) Vinyl Roofing

Division recycled a combined 20.5 million pounds of pre-consumer

materials.

The Vinyl Roofing Division has a new white paper covering

the topic, "Avoiding the Landfill: The Recycling of PVC Roof

Membranes," available for download on its website. Focusing

on post-consumer recycling, this paper examines the evolution

and current state of commercial PVC roof membranes

as a sustainable building product at the end of its service life.

According to the U.S. Environmental Protection Agency,

construction and demolition waste from buildings totals an

estimated 332 billion pounds annually. Skyrocketing raw

material costs, higher landfill tipping fees, legislation to

restrict disposal of construction materials, and an architectural

community that demands the lightest environmental

footprint that can be achieved, have led to the mainstreaming

of post-consumer recycling and a vision of the day when

specifiers will routinely call for post-consumer content in a

roof membrane.

In 2021, some participating manufacturers of CFFA's Vinyl

Roofing Division recycled a combined 758 thousand pounds

of membranes at the end of their service lives. These were

reprocessed into either new PVC roofing membranes (closed

loop recycling) or other non-roofing products such as flooring

(open loop recycling).

For more information on the benefits of cool PVC roofing,

visit https://vinylroofs.org/.

PVC is the only commercial roofing material that can be transformed into

feedstock and manufactured as the same product it previously had been.

Volume 88 · Number 1 | 29
---
News

Pasternack Celebrates Its 50th

Anniversary

IRVINE, Calif. — Pasternack, an Infinite Electronics brand and

a leading provider of RF, microwave and millimeter-wave

products, is celebrating its 50th anniversary this year.

Pasternack was established on Jan. 9, 1972, by its founder

Murray Pasternack, who ran the business out of his home

in southern California. His sole purpose was to address the

unique product needs of RF and microwave engineers.

From its humble beginnings in Murray's garage, Pasternack

has since grown to become a global leader in the RF and microwave

industry, providing its customers with an extensive

range of actives, passives and cable assemblies.

Many things have changed since the company's inception in

1972. However, one thing that has not is its customers' demand

for a reliable source of high-quality RF and microwave

products backed by superior technical and customer service.

Pasternack continues to thrive by aligning its products and

services with the needs of its customers. Its inventory of more

than 40,000 products is always available, granting customer

access to the broadest array of industry standards as well as

rare and hard-to-find specialty items. In addition to thousands

of off-the-shelf products, Pasternack is an expert at

building custom cable assemblies with same-day shipping.

"We are so proud to be celebrating Pasternack's 50th anniversary,"

said Penny Cotner, President and CEO of Infinite

Electronics. "Our success has come from listening to what our

customers need and by providing responsive, technical and

customer service as well as offering the industry's broadest

selection of in-stock products to address the urgent needs of

From the garage to the globe — Pasternack celebrates its 50-year legacy in

the RF/microwave industry.

our customers. As the flagship brand of Infinite Electronics,

Pasternack has set the standard of service for our company."

To commemorate this milestone anniversary, the company

recently interviewed Murray Pasternack to get all the details

on the company's inception and growth. To read the interview,

visit bit.ly/3YywQKO.

For inquiries, contact Pasternack at (949) 261-1920.

GOT A STORY TO TELL?

Call Chief Engineer at 708-293-1720 or email

editor@chiefengineer.org, and let us know

about your project, product, service, or other

industry news!

www.chiefengineer.org

30

| Chief Engineer
---
Purdue, Accenture Sign 5-year

Agreement in Support of Smart

Manufacturing

WEST LAFAYETTE, Ind. — Purdue University and Accenture

have agreed to a five-year commitment supporting Purdue's

mission to prepare a next-generation smart-manufacturing

workforce.

Accenture has committed to provide funding in support of

two strategic areas:

• The Accenture Smart Factory, which will meet the needs

of a growing College of Engineering and Purdue Polytechnic

Institute student population. Located in Dudley Hall,

the facility will provide instructional laboratories, design

studios and spaces where students from various disciplines

will collaborate on smart-manufacturing projects. The

Smart Factory will also serve as a central hub for joint innovation

among Purdue, Accenture and industry.

• The Accenture Smart Manufacturing Scholars Program,

which will provide funds for select qualified students to

receive the equivalent of in-state tuition every year for up

to four years. The program will include a Women in Manufacturing

scholarship designed to attract more women to

manufacturing fields and drive inclusion and diversity in

the industry.

"With the Accenture Smart Factory and the Accenture

Manufacturing Scholars Program, we can prepare more

students for exciting future careers in smart manufacturing,"

said Daniel Castro, dean of the Purdue Polytechnic

Institute, through which Purdue offers an undergraduate

major in smart manufacturing industrial informatics. "At the

same time, this venture allows Purdue to meet the needs of

our partners in industry who are desperately seeking career-ready

graduates with the skills we will teach in this new

facility."

Smart manufacturing uses digital technologies such as artificial

intelligence, the cloud, robotics and 5G to build products.

Industry experts believe the United States' need for a workforce

with core knowledge and skills in this field is growing

faster than the country's current ability to produce qualified

workers. Fast-track workforce training programs help fill

this gap, and Purdue — a proven leader in manufacturing,

engineering and innovation — is advancing several projects

to meet the long-term need.

"We are excited about this new partnership, particularly the

Women in Manufacturing scholarship, which will help drive

more inclusion and diversity in engineering roles," said Shiv

Iyer, Accenture's market unit lead for the U.S. Midwest. "By

Purdue University and Accenture have come together in an attempt to

inspire more students to consider careers in digital manufacturing.

partnering with Purdue, we hope to inspire more students to

pursue a career in digital manufacturing of the future."

Accenture is a global professional services company with

721,000 employees offering leading capabilities in digital,

cloud and security to clients in more than 120 countries.

"Companies are not just rebuilding manufacturing in North

America, they are reinventing it," said Aaron Saint, who

leads Accenture's digital engineering and manufacturing

service, Industry X, in North America. "Factories of the future

will rely on automation, data analysis and digital twin replicas

to enhance productivity, safety and quality. They need a

workforce with those skills. The Accenture Smart Factory will

provide the right platform for innovation in this next era,

and this collaboration with Purdue will equip tomorrow's

workforce with the skills they need for a successful career in

digital manufacturing."

Volume 87 · Number 11 | 31
---
News

California Approves Roadmap for

Carbon Neutrality by 2045

By Sophie Austin | Associated Press/Report for America

SACRAMENTO, Calif. (AP) — California air regulators voted

unanimously Thursday, Dec. 15, to approve an ambitious plan

to drastically cut reliance on fossil fuels by changing practices

in the energy, transportation and agriculture sectors, but

critics say it doesn't go far enough to combat climate change.

The plan sets out to achieve so-called carbon neutrality by

2045, meaning the state will remove as many carbon emissions

from the atmosphere as it emits. It aims to do so in part

by reducing fossil fuel demand by 86 percent within that

time frame.

California had previously set this carbon neutrality target,

but Gov. Gavin Newsom signed legislation making it a mandate

earlier this year. The Democrat has said drastic changes

are needed to position California as a global climate leader.

"We are making history here in California," Newsom said in

a Dec. 15 statement.

But the plan's road to approval by the California Air Resources

Board was not without criticism. Capturing large amounts

of carbon and storing it underground is one of the most

controversial elements of the proposal. Critics say it gives the

state's biggest emitters reason to not do enough on their

part to mitigate climate change.

In a meeting that lasted several hours, activists, residents and

experts used their last chance to weigh in on the plan ahead

of the board's vote. Many said the latest version, while not

perfect, was an improvement from earlier drafts, committing

the state to do more to curb planet-warming emissions.

Davina Hurt, a board member, said she was proud California

is moving closer to its carbon neutrality goal.

"I'm glad that this plan is bold and aggressive," Hurt said.

The plan does not commit the state to taking any particular

actions but sets out a broad roadmap for how California can

achieve its goals. Here are the highlights:

Renewable Power

The implementation of the plan hinges on the state's ability

to transition away from fossil fuels and rely more on renewable

resources for energy. It calls for the state to cut liquid

petroleum fuel demand by 94 percent by 2045, and quadruple

solar and wind capacity along that same timeframe.

Another goal would mean new residential and commercial

buildings will be powered by electric appliances before the

next decade.

The calls for dramatically lowering reliance on oil and gas

come as public officials continue to grapple with how to

avoid blackouts when record-breaking heat waves push Californians

to crank up their air conditioning.

And the Western States Petroleum Association took issue

with the plan's timeline.

"CARB's latest draft of the Scoping Plan has acknowledged

what dozens of studies have confirmed — that a complete

phase-out of oil and gas is unrealistic," said Catherine Reheis-Boyd,

the group's president, in a statement. "A plan that

isn't realistic isn't really a plan at all."

At the beginning of the Dec. 15 meeting, California Air Resources

Board Chair Liane Randolph touted the latest version

of the plan as the most ambitious to date. It underwent

changes after public comments earlier in the year.

"Ultimately, achieving carbon neutrality requires deploying

all tools available to us to reduce emissions and store carbon,"

Randolph said.

Transportation

Officials hope a move away from gas-powered cars and

trucks reduces greenhouse gas emissions while limiting the

public health impact of chemicals these vehicles release.

In a July letter to the air board, Newsom requested that the

agency approve aggressive cuts to emissions from planes.

This would accompany other reductions in the transportation

sector as the state transitions to all zero-emission vehicle

sales by 2035.

The plan's targets include having 20 percent of aviation fuel

demand come from electric or hydrogen sources by 2045 and

ensuring all medium-duty vehicles sold are zero-emission by

2040. The board has already passed a policy to ban the sale

of new cars powered solely by gasoline in the state starting

in 2035.

Carbon Capture

The plan refers to carbon capture as a "necessary tool" to

32

| Chief Engineer
---
Gen Nashimoto, of Luminalt, installs solar panels in Hayward, Calif., on April 29, 2020. California air regulators are set to approve an ambitious plan for

the state to achieve carbon neutrality by 2045. Doing so will require a rapid transition away from oil and gas and toward renewable energy to power

everything from cars to buildings. (AP Photo/Ben Margot, File)

implement in the state alongside other strategies to mitigate

climate change. It calls for the state to capture 100 million

metric tons of carbon dioxide equivalent and store it underground

by 2045.

Connie Cho, an attorney for environmental justice group

Communities for a Better Environment, called the plan's goal

of phasing down oil refining "a huge step forward" to mitigate

climate change and protect public health.

"Our communities have been suffering from chronic disease

and dying at disproportionate rates for far too long because

of the legacy of environmental racism in this country," Cho

said.

But Cho criticized its carbon capture targets, arguing they

give a pathway for refineries to continue polluting as the

state cuts emissions in other areas.

Agriculture

One of the goals is to achieve a 66 percent reduction in

methane emissions from the agriculture sector by 2045. Cattle

are a significant source for releasing methane — a potent,

planet-warming gas.

The plan's implementation would also mean less reliance by

the agriculture sector on fossil fuels as an energy source.

Sophie Austin is a corps member for the Associated Press/

Report for America Statehouse News Initiative. Report for

America is a nonprofit national service program that places

journalists in local newsrooms to report on under-covered

issues.

• Save Energy

• Save Water

• Protect Assets

hohwatertechnology.com

ONE-STOP

WATER CARE

Full-Service Water Treatment

Water Safety Management

Pretreatment/High Purity

Testing & Lab Analysis

New Construction Services

Over 50 Years

OF EXPERTISE

Volume 88 · Number 1 | 33
---
News

Regulators Grant Critical Approval for

Dominion Wind Farm By Sarah Rankin | Associated Press

RICHMOND, Va. (AP) — Virginia regulators granted a critical

approval Thursday, Dec. 15, for Dominion Energy's plans to

construct and operate a 176-turbine wind farm in the Atlantic

Ocean.

The State Corporation Commission effectively signed off on

an agreement Dominion reached this fall with the Virginia

attorney general and other parties, in which the company

agreed to implement several consumer protections in connection

with the Coastal Virginia Offshore Wind project.

"We thank the Commission for its approval and appreciate

the collaboration of the parties involved to reach an agreement

that advances offshore wind and the clean energy

transition in Virginia," the Richmond-based company said

in a statement. "Coastal Virginia Offshore Wind has many

benefits for our customers. It is fuel free, emissions free,

diversifies our energy mix and is a transformative economic

development opportunity for Hampton Roads and Virginia."

In its order, the commission also issued a warning about the

impact the project will have on the electricity bills of Dominion's

captive electric utility customers.

"The magnitude of this project is so great that it will likely

be the costliest project being undertaken by any regulated

utility in the United States. And the electricity produced

by this Project will be among the most expensive sources

of power — on both a per-kilowatt-of-firm-capacity and a

per-megawatt-hour basis — in the entire United States," the

order said.

Dominion filed its application to build and recover the costs

Two of the offshore wind turbines, which have been constructed off the coast of Virginia Beach, Va., are seen, June 29, 2020. Virginia regulators granted

a critical approval Thursday, Dec. 15, 2022, for Dominion Energy's plans to construct and operate a 176-turbine wind farm in the Atlantic Ocean. (AP

Photo/Steve Helber, File)

34 | Chief Engineer
---
of the project with the State Corporation Commission in

2021. That kicked off a lengthy process before the regulatory

agency, one that has included voluminous filings and an

evidentiary hearing last May.

The commission initially signed off on the project in August,

but it included a consumer protection provision — a performance

guarantee — that Dominion strenuously objected to,

saying it would kill the project.

Several parties to the SCC proceeding, including Walmart,

the AG's office and conservation groups, began to hash out

a compromise, announcing a proposed agreement in late

October that did away with the performance guarantee but

does include performance reporting requirements and provisions

laying out a degree of construction cost sharing.

The agreement now approved by the SCC calls for a

cost-sharing arrangement for any overruns beyond the

estimated $9.8 billion price tag. The company would cover 50

percent of construction costs between the range of $10.3-

$11.3 billion and 100 percent of costs between $11.3-$13.7

billion. If construction costs were to exceed $13.7 billion, the

issue would go back to the commission.

calls for an in-service date of late 2026 or early 2027. Dominion

expects the project to generate enough clean energy to

power up to 660,000 homes.

The Dec. 15 SCC order noted that while Dominion estimates

the capital cost of the project to be nearly $10 billion, total

project costs, including financing, are estimated to be approximately

$21.5 billion.

Clean Virginia, a clean energy and rate-reform advocacy

group, said in a statement that the approved compromise

would help hold Dominion accountable.

"With its final ruling today, the State Corporation Commission

demonstrated that consumer protection must go hand

in hand with Virginia's clean energy transition," Clean Virginia

Energy Policy Manager Laura Gonzalez said. "Absent

the Commission's leadership and pressure from environmental

groups, the Attorney General, and Walmart, Dominion

Energy would have zero incentive to actually produce clean

energy from its offshore wind project or keep costs reasonable."

The proposal would not require the company to guarantee

certain energy production levels, like the SCC had initially

ordered. Rather, Dominion will have to report average net

capacity factors annually and "provide a detailed explanation

of the factors contributing to any deficiency." Capacity

factor is a measure of how often a generating facility runs

during a period of time.

The commission will also have the continuing authority to inspect

Dominion's expenditures on the project to ensure they

are reasonable and prudent under state law.

The project, which will be located about 27 miles off the

coast of Virginia Beach, has drawn broad support from local

officials, policymakers, business groups and trade unions,

who say it will help fight climate change and create jobs.

The company already has a two-turbine pilot project up and

running. The 2.6-gigawatt, utility-scale project's schedule

Volume 88 · Number 1 | 35
---
News

Japanese Court Says 45-Year-Old Nuclear

Reactor Can Operate By Mari Yamaguchi | Associated Press

TOKYO (AP) — A Japanese court ruled Tuesday, Dec. 20, that

a 45-year-old nuclear reactor in central Japan can continue

to operate, rejecting demands by residents that it be suspended

because of safety risks, a decision supportive of the

government's push for greater use of nuclear energy because

of possible global fuel shortages and the country's pledge to

reduce carbon emissions.

The Osaka District Court's decision came just days before

Prime Minister Fumio Kishida's Cabinet is expected to approve

a new nuclear energy policy that would accelerate

restarts of reactors that were idled after the 2011 Fukushima

nuclear power plant disaster and extend the operating life of

aging reactors.

The Economy and Industry Ministry has drafted a plan to

allow extensions every 10 years for reactors after 30 years of

operation, while also permitting utilities to subtract offline

periods in calculating reactors' operational life beyond the

current 60-year limit.

The Dec. 20 ruling was the first on the safety of reactors that

have operated more than 40 years.

Chief Judge Naoya Inoue said the operator of the Mihama

No. 3 reactor, Kansai Electric Power Co., has taken adequate

steps to prevent equipment degradation to fulfil the requirements

of the Nuclear Regulation Authority and obtain an

operational permit. The ruling said the reactor's age doesn't

require more stringent safety standards than normal.

Nine residents — seven from Fukui prefecture and one each

from neighboring Kyoto and Shiga — filed a lawsuit against

Kansai Electric in June 2021 demanding the suspension of the

Mihama reactor, citing safety risks at the aging facility.

The court also dismissed other safety concerns raised by the

plaintiffs, including earthquake resistance and evacuation

plans, citing a lack of concrete proof of potential risk.

Lawyers for the plaintiffs said it was obvious that aging increases

risks for reactors and said they plan to appeal.

Most nuclear reactors in Japan are more than 30 years old.

While four reactors that have operated more than 40 years

have cleared the Nuclear Regulation Authority's safety standards

and have received permission to operate, the Mihama

No. 3 reactor is the only one that is currently in operation.

36

| Chief Engineer

Petitioners display banners in front of Osaka District Court in Osaka,

western Japan Tuesday, Dec. 20, 2022. A Japanese court ruled Tuesday that

a 45-year-old nuclear reactor in central Japan is safe to operate, rejecting

demands by local residents that it be suspended because of corrosion and

inadequate safety measures — a decision supportive of the government's

push toward a greater use of nuclear energy amid power crunch concern

and decarbonization obligation. The banners read "Unfair decision cannot

be permitted. Immediate appeal!" right, and "We'll settle at Osaka Hight

Court." (Kyodo News via AP)

Anti-nuclear sentiment and safety concerns rose sharply

in Japan after the Fukushima disaster, in which a massive

earthquake and tsunami damaged reactor cooling systems,

causing three to melt and release large amounts of radiation.

The government initially planned to phase out nuclear

power but has since reversed that stance.

Kishida said in August that Japan needs to consider all

options in its energy mix, including nuclear, to secure a

stable energy supply amid potential shortages resulting

from Russia's war on Ukraine, while strengthening its "green

transformation" to meet greenhouse gas emissions reduction

targets. Japan has pledged to reach carbon neutrality by

2050.

While maintaining a 20-22 percent target for nuclear energy

in its energy mix for 2030, the government previously insisted

it was not planning to build new nuclear plants or replace

aging reactors, apparently to avoid triggering criticism from

a still wary public.

Under the newly adopted nuclear policy, the government

will seek to develop and construct "new innovative reactors"

such as small modular nuclear reactors.

Some experts say extending the operational lifespan of reactors

is not desirable because utility operators would need

to invest in old equipment to keep it working instead of in

new technology or renewables. They also say developing

next-generation reactors involves huge costs and uncertain

prospects.
---
Company Starting to Recover Oil From

Kansas Pipeline Spill By John Hanna | Associated Press

TOPEKA, Kan. (AP) — The company operating a pipeline

that leaked about 14,000 bathtubs' worth of crude oil into a

northeastern Kansas creek is recovering at least a small part

of it from what was the largest onshore crude oil spill in nine

years.

The U.S. Environmental Protection Agency said Tuesday,

Dec. 13, that Canada-based TC Energy has recovered 2,163

barrels of oil mixed with water from the 14,000-barrel spill

on a creek running through rural pastureland in Washington

County, Kansas, about 150 miles northwest of Kansas City.

The EPA also said the company has recovered 435 barrels

from the ruptured pipeline, to bring the total amount of oil

and water recovered to 2,598 barrels, a figure also released

by the company. Each barrel is enough to fill a household

bathtub, and the total spill was 588,000 gallons.

The rupture in Kansas forced the company to shut down the

Keystone system, and it hasn't said when it will come back

online. It is using trucks with what essentially are large wet

vacuums to suck out the oil. The company said Dec. 15 that

the trucks are operating around the clock. The company and

the EPA say no drinking water was affected, and no one was

evacuated in the wake of the spill.

"Our commitment to the community is that our response

efforts will continue until we have fully remediated the site,"

the company said in a statement.

The company used booms, or barriers, to contain the oil in

the creek and also built an earthen dam to prevent it from

moving into larger waterways. The EPA said the company

built a second earthen dam to helps support the first.

It was the biggest onshore spill since a Tesoro Corp. pipeline

rupture in North Dakota leaked 20,600 barrels in September

2013, according to U.S. Department of Transportation data.

The agency's data also said it was the largest spill on the

Keystone system since it began operating in 2010 and bigger

than 22 previous spills on the system combined.

The spill prompted the U.S. Department of Transportation's

pipeline safety arm to order TC Energy to take corrective

action.

It said the company must reduce the operating pressure by

20 percent inside the 96-mile segment running from Steele

City, Neb., south to Hope, Kan. It also said the company cannot

restart operations in that segment without the permission

of the pipeline safety regulators.

The company also must identify the root cause of the spill

and submit a plan for finding similar problems elsewhere

and conducting additional tests by early March.

Bill Caram, executive director of the advocacy Pipeline Safety

Trust, said much of the order is standard "boilerplate," and it

would be possible for TC Energy to get the 96-mile segment

back online once it does a repair.

"They need to excavate the pipe in such a way that it's preserved

just for the investigation, for that root-cause analysis,

and that takes probably the most time," Caram said. "But

the actual repair can be pretty quick."

Concerns that spills could pollute waterways spurred opposition

to plans by TC Energy to build another crude oil pipeline

in the Keystone system, the 1,200-mile Keystone XL, which

would have cut across Montana, South Dakota and Nebraska.

Critics also argued that using crude from western Canada's

oil sands would worsen climate change, and President Joe

Biden's cancelation of a U.S. permit for the project led the

company to pull the plug last year.

Volume 87 · Number 12 | 37
---
WATER-TUBE BOILERS

DOMINATE

COMMERCIAL/

INDUSTRIAL MARKETS

by Greg Hughes

Three boiler types loom large among conventional (non-condensing)

commercial water boilers used for process or space

heat, with input sizes of 400 MBH and up: those with cast iron

sectional, fire-tube, and water-tube heat exchangers.

For a variety of reasons, the latter two have been most prevalent

in the commercial process heating market. Advantages

include relatively compact size, lower standby heat loss, and

the speed with which heat can be generated and delivered into

distribution piping.

First out of the gate for a wide range of uses was the fire-tube

boiler — with early design dating back centuries. Hollywood

gave great prominence to horizontal fire-tube boilers, though

few producers, actors or moviegoers were aware of it. Every

time a steam locomotive — aka the iron horse — blew its whistle

or raced across the great plains, an uncelebrated fire-tube

boiler was doing its part.

Still today, fire-tube boilers offer a wide range of uses. Within

these boilers, fire tubes are immersed in water; hot flue gases

produced by the combustion chamber flow inside them. The

hot flue gases transfer their heat to the outside water through

the conduction.

Water-tube boiler designs, introduced later, essentially invert

the fire-tube boiler construct: Water is contained within the

boiler's internal tubes.

WATER-TUBE ADVANTAGES

In water-tube boilers, combustion occurs within the shell that

surrounds the tubes, forcing combusted gas over the water

tubes for exceptionally fast, efficient heat transfer.

A Thermal Solutions AMP water-tube boiler is rated at 97% efficient.

Water-tube boilers offer quick startup and response time to

changing conditions with very little standby loss. By design,

38 | Chief Engineer
---
comparatively little water passes through the heat exchanger;

this translates into a smaller footprint and broader range of

capabilities and output ranges.

"Their ability to make steam, or hot water, very rapidly, from a

cold start, and without damaging the boiler is a beneficial asset,"

says Lane Blackwell, Sales Engineer, Service, for Peru, Ind.-based

Thornton & Associates, Inc., a manufacturer's rep firm. "This is

valuable in applications where the systems aren't running 24/7."

Because the burner in a water-tube boiler is located centrally,

most water-tube designs provide higher temperature outputs

and higher operational pressures than fire-tube boilers — key

advantages for process heating application. Another advantage

to the design of these systems is that, as a result of the requirement

for water to flow continuously during operation, hot spots

in the heat exchanger don't threaten the operation or lifespan of

the boiler.

A Thermal Solutions water-tube boiler is manufactured in Lancaster, Pa.

Water-tube heat exchangers also operate at higher pressures, a

capability that can — for steam-producing systems — produce

saturated or superheated steam depending on the design and

application they're required for.

Blackwell also points to the advantage of water-tube maintenance,

"Or, rather, lack of it. A surprisingly high number of

water-tube systems may go several years without more than

occasional attention to the water quality [within them]," he says.

"And, if there would be a need to replace individual tubes, that

can be accomplished with hand tools — no rolling or welding.

It's not uncommon for a well-maintained water-tube boiler to

last 40-plus years with little maintenance."

"A few years ago, we specified two non-condensing water-tube

boilers for a high school expansion project in Cass County

[Ind.]," Blackwell adds. "The boilers were 72 and 50 HP in size,

and it wasn't long before facility managers found that they

could provide heat for the rest of the school with them, so they

decommissioned two old, enormous — and way oversized —

fire-tube boilers. The following year, they added another 100 HP

water-tube system, and within a few years, they verified 30 to 40

percent annual fuel savings. I could reel off countless instances

where water-tube boilers have exceeded expectation."

Water-tube systems are designed to work with high-ash fuels

that, when combined with soot blowers, typically meet environmental

regulations. This also means that they're well-suited for

biomass applications and waste-to-energy plants.

The primary factor that determines heat transfer is the heat

transfer coefficient, based on the transfer fluid's flow pattern,

characteristics and chemistry (including density, conductivity

and viscosity), geometry of the flow passage, and surface conditions.

Of these factors, the most important to thermal efficiency

in a water-tube boiler is flow through the water tubes and the

fluid's velocity and density. When all of these variables are optimal,

water-tube boilers provide exceptionally reliable operation,

while offering performance and efficiency that is difficult to

match with any other heat exchanger design.

For these and other reasons, water-tube boilers are the equipment

of choice for many industrial process applications. Their

ability — in a steam boiler configuration — to handle greater

pressures and very high temperatures provides superior steam

generation in the millions of pounds/hr.

WATER-TUBE CAVEATS

Most advantages come with a counterbalance; water-tube boilers

are no exception.

The initial cost for a water-tube boiler is usually higher than that

of a fire-tube boiler of similar capacity. And, depending on size,

some water-tube boilers can be assembled onsite, which can add

to the cost and the time required for installation.

By design, the concern of heat transfer fouling — typically in

the form of accumulated mineral scale — is heightened. For that

reason, fill-water quality and the steady monitoring and maintenance

of water chemistry are essential to peak operation.

The accumulation of scale is by no means specific only to the

(Continued on pg. 40)

A technician handles a diagnostic check on a water-tube boiler.

Volume 88 · Number 1 | 39
---
(Continued from pg. 39)

water-tube design. Scale can accumulate faster because of the

water-tube boiler's lower water mass, but it's still a concern across

all heat exchanger types. "But reduced water volume also equates to

savings on chemical treatment," adds Blackwell.

Finally, the reduced volume of water affects the water-tube boiler's

ability to meet the call for sudden changes in heat demand. This

shortcoming is often remedied by the addition of an indirect water

storage tank.

FIRE-TUBE ADVANTAGES

Advantages to fire-tube boilers include their simple construction

and their ability to easily meet rapid fluctuations in the need for

heat. As a lower-cost alternative to water-tube boilers, they're often

used for smaller commercial or industrial facilities with lower

operating pressures.

Fire-tube boilers are designed with water in the unit's main vessel,

achieving higher mass. Because of their higher water volume, system

design also offers the benefit of a less urgent need to maintain

tight control of water quality. If water quality deteriorates and isn't

corrected quickly, there's less chance — when compared to water-tube

technology — that system performance will be affected.

Another advantage to fire-tube boilers may be lower upfront cost.

"However, said Blackwell, "In our market, there's very little, if any,

difference in pricing."

FIRE-TUBE CAVEATS

A fire-tube boiler's higher water volume and lower flow rates also

mean that they may offer less efficient heat transfer. Likewise, the

greater water volume requires a longer wait for system start-up, and

may also challenge the boiler's ability to meet demand for constant

water flow — and heat transfer — at peak conditions. Standby losses

are greater because of the boiler's higher volume of water.

The main disadvantage of fire-tube boilers is that they tend to have

smaller capacities and can't handle internal pressures over 250 psig.

(The steam capacity range of fire-tube steam boilers is approximately

5,000 to 75,000 pounds/hr.) Or, if configured as a hot water

boiler, hot water capacity is between 2 million to 100 million BTUs.

Traditional, horizontal fire-tube steam boilers may offer a capacity

as low as 690 pph — pounds (of steam) per hour. Traditional

fire-tube steam boilers in a vertical configuration will go smaller —

offering as little as 207 pph, for example.

BOILER SAFETY — BE WARNED

Operationally, water-tube boilers are known to be safer than firetube

systems. This is because of the much greater volume of water

40

| Chief Engineer

Thermal Solutions' stainless steel, modulating-condensing boiler line offers a

size range of 1,000-4,000 MBH.

held within fire-tube boilers — containing as much as 10 times the

volume of a water-tube boiler of similar capacity.

When fire-tube boilers are inadvertently operated with low water

volume, very dangerous risks can develop. Initially, the metal in the

boiler warps and contracts. Then, if cold fill-water enters the boiler

in a hot, low-water condition, the metal could rapidly expand,

causing an explosion.

Should a similar scenario take place in a water-tube boiler with

lower internal water volume, an explosion would be much less

severe. In most instances — should fill-water enter a hot water-tube

boiler with an insufficient fluid level — conditions would likely lead

to metal fatigue, a crack, and leakage.

SERVICE AND MAINTENANCE

Some boiler designs are built to facilitate ease of service and

maintenance. The assumption, however, is that a newly installed

boiler is ready for the rigors of duty, 24-7-365. Yet, all mechanical

equipment is not created equal. Service and maintenance work

ideally happens systematically to maintain optimal performance

and efficiency — not to deal with challenges that arise as a result of

faulty or compromised design.

Commercial boilers should be designed to ensure long-term durability

and optimal performance. Ideally, the burner is mounted

front and center, fully accessible and serviceable. Removable panels

around the boiler should provide access to the burner chamber

and entire heat exchanger. There should be no need to disconnect

blowers or gas piping.

COMMERCIAL CONDENSING SYSTEMS

As with all technology, improvements emerge to enhance operation,

durability or efficiency. The emergence of condensing capability

— often going hand-in-hand with "turn-down" (or modulation,

offering very efficient, partial firing) — constitutes the most

substantial enrichment to boiler systems in decades.

Condensing boilers are based on a remarkably simple concept.

They achieve higher efficiencies by condensing the flue gasses. In

contrast — in a conventional boiler, latent heat contained in the
---
complete access to the entire heat exchanger, byproducts of combustion

can be easily removed with a service brush. This is an

important facet to maintaining a boiler's original high-efficiency

rating.

Burnham Commercial Boilers offers a convenient solution with

efficient, easily portable, mobile boilers. (Image courtesy of

Burnham Commercial Boilers)

flue gas escapes through the flue vent. They're also quite effective

at reducing NOx, COx and other harmful emissions.

Modulating condensing boilers (AKA "mod-con" boilers)

earned "greatest achievement" recognition as a result of their

dramatic contribution — pushing fuel efficiency from 80 percent

for non-condensing boilers, and up into the 90-plus-percent

range for mod-con systems. Condensing water-tube boilers

achieve efficiencies of up to 98 percent, higher than most condensing

fire-tube systems — a result of their better heat transfer.

With modulation, they provide a range of firing rates to match

the variable heating load of the building.

However, mod-con boiler efficiency depends on the temperature

of the water returning to the boiler. The lower the return water

temperature, the higher the efficiency. Low boiler return water

temperature depends on the overall boiler system design, not

just the boiler.

Condensing boilers cost 40 to 50 percent more, on average, than

conventional systems. However, the difference in cost is typically

recovered in four months to four years, depending on a wide

range of variables. Substantial cost-saving incentives may apply.

After the initial cost recovery period, the fuel savings are quite

significant over the life of the boiler.

There are a few disadvantages. For instance, one fire-tube boiler

design change involved the arrangement of internal tubing

from a horizontal format, to vertical. The revision was warmly

welcomed by facility owners and installers alike because their

now-smaller size permitted movement through a standard door

frame. As a result, the products of combustion and condensate

were redirected: Rather than gradually absorbing heat as flue

gas passes through tubes, the contemporary vertical fire-tube

burner sits inches away, forcing heat directly on the tube sheet,

welds and tube tops. All materials expand and contract as they're

heated and cooled, and these internal components of the vertical

fire-tube boiler are no exception. The design tends to concentrate

too much heat on metal components.

CLEANINGS AND REPARABILITY

If a condensing boiler's panels are easily removed, providing

Should repair work be required, all components of the heat exchanger

should be easily accessible for service or replacement —

including even the possibility of changing one or more internal

tubes in the field.

With properly isolated equipment, service work could and

should be completed within hours, not days or weeks.

Systems that offer the greatest resistance to cleaning are those

with tight, top access and — when opened — may have many

welded tubes. Those that do typically require entirely new heat

exchangers, sometimes costing as much as 60 percent of the

original install.

KNOCKDOWN REWARDS

Knockdown condensing boilers were, for good reason, greeted

enthusiastically by the commercial market. Some of these systems

use no welds in securing tubing to the header.

The "knockdown" moniker stems from the ability to assemble

or disassemble a boiler of any size with relative ease and precise

repeatability. The systems arrive on jobsites, similar to old castiron

sectional boilers, or partially assembled, based on space

requirements.

Even elevator weight constraints pose no challenge to getting

the boilers in place. If there's a need to maximize mechanical

room space, some systems are available with reverse construction

models to optimize clearance space between units or to be

placed side by side, to be serviced from outside.

Greg Hughes is Internal Sales Manager at Thermal Solutions and

Burnham Commercial, and can be reached at ghughes@heatingsolutionssales.com.

Additional Sources:

Fire-tube merits: Jim Knauss – Engineer for Burnham Commercial.

(Retired, but now consulting.)

jknauss@burnhamcommercial.com

Water-tube merits: Joe Tinney – Internal Sales Manager for Bryan

Boilers. jtinney@heatingsolutionssales.com

Rick Constantino – Owner/COO Boileroom Equipment Company.

rconstantino@bresales.com

Theodore (Ted) Dreyer – Sales, Gardiner.

TDreyer@WHGardiner.com

Volume 88 · Number 1 | 41
---
News

Nevada Flower Listed as Endangered at

Lithium Mine Site By Scott Sonner | Associated Press

RENO, Nev. (AP) — A Nevada wildflower was declared

endangered at the only place it's known to exist — on a

high-desert ridge where a lithium mine is planned to help

meet growing demand for electric car batteries, U.S. wildlife

officials announced Wednesday, Dec. 14.

The Fish and Wildlife Service's formal listing of Tiehm's

buckwheat and its accompanying designation of 910 acres of

critical habitat for the 6-inch-tall flower with yellow blooms

raises another potential hurdle for President Joe Biden's

"green energy" agenda.

With an estimated remaining population of only about

16,000 plants, the service concluded that Tiehm's buckwheat

is on the brink of extinction.

"We find that a threatened species status is not appropriate

because the threats are severe and imminent, and Tiehm's

buckwheat is in danger of extinction now, as opposed to

likely to become endangered in the future," the agency said.

The proposed mining and mineral exploration poses the

biggest threat to the flower. It's also threatened by roadbuilding,

livestock grazing, rodents that eat it, invasive plants

and climate change, the service said. It said an apparent,

unprecedented rodent attack wiped out about 60 percent of

its estimated population in 2020.

Ioneer, the Australian mining company that's been planning

for years to dig for lithium where the flower grows on federal

land halfway between Reno and Las Vegas, says it has

developed a protection plan that would allow the plant and

the project to coexist.

But the listing under the Endangered Species Act subjects the

mine to its most stringent regulatory requirement to date.

It also underscores the challenges facing the Biden administration

in its efforts to combat climate change through an

accelerated transition from fossil fuels to renewables.

"Lithium is an important part of our renewable energy

transition, but it can't come at the cost of extinction," said

Patrick Donnelly, Great Basin director for the Center for Biological

Diversity, which petitioned for the listing in 2019 and

sued last year to expedite the plant's protection.

The mining company said the decision "provides further clarity

for the path forward" and is "fully in line with Ioneer's

expectations" for development of the mine site at Rhyolite

Ridge in the Silver Peak Range west of Tonopah, near the

California border.

"We are committed to the protection and conservation of

the species and have incorporated numerous measures into

our current and future plans to ensure this occurs," Ioneer

managing director Bernard Rowe said in a statement.

"Our operations have and will continue to avoid all Tiehm's

buckwheat populations," he said.

The service's final listing rule was published Dec. 15 in the

Federal Register.

The conservationists who sued to protect the plant insist that

Ioneer's mitigation plan won't pass legal muster. They pledge

to resume their court battle if necessary to protect the

buckwheat's habitat from the rush to develop new lithium

deposits.

The flowers are found on a total of just 10 acres spread

across about 3 square miles. Federal agencies are prohibited

from approving any activity on federal lands that could

HUDSON BOILER & TANK CO.

BOILER & PRESSURE VESSEL REPAIRS -- REFRACTORY REPAIR

STACKS -- BREECHINGS -- DUCTS -- STEEL PLATE FABRICATORS & ERECTORS

TANKS -- SHOP BUILT AND/OR FIELD ERECTED

ASME OR NON-CODE, STATE & CITY LICENSED AND INSURED

3101 S. State St. ---- Lockport, IL 60441

(312)666-4780 -- FAX (312)666-5145 -- Website: www.hudsonboiler.com

Info@Hudsonboiler.com

42

| Chief Engineer
---
In this Feb. 10, 2020, file photo, a plant ecologist at the University of Nevada, Reno, points to a tiny Tiehm's buckwheat that has sprouted at a campus

greenhouse in Reno, Nev. U.S. wildlife officials declared a Nevada wildflower endangered Wednesday, Dec. 14, 2022, at the only place it exists — on a

high-desert ridge where a lithium mine is planned to help meet growing demand for electric car batteries. (AP Photo/Scott Sonner, File)

destroy, modify or adversely affect any listed species' critical

habitat.

Donnelly said the company's latest operations plan for the

first phase of the mine proposes avoiding a "tiny island of

land" containing 75 percent of its population — surrounded

by an open pit mine and tailings dumps within 12 feet of the

flowers.

The Bureau of Land Management is reviewing the environmental

impacts of Ioneer's latest operations and protection

plans.

But Donnelley noted that USFWS estimated in the Dec. 14

final listing rule that the proposed scenario would "disturb

and remove up to 38 percent of the critical habitat for this

species, impacting pollinator populations, altering hydrology,

removing soil and risking subsidence."

"Ioneer's 'Buckwheat Island' scenario would spell doom for

this sensitive little flower," Donnelly said.

The mine is among several renewable energy-related projects

facing legal or regulatory challenges in Nevada. They include

another lithium mine proposed near the Oregon border and

a geothermal power plant where the Dixie Valley toad has

been declared endangered in wetlands about 100 miles east

of Reno.

"Now that the buckwheat is protected, we'll use the full

power of the Endangered Species Act to ensure Ioneer

doesn't harm one hair on a buckwheat's head," Donnelly

said.

Volume 88 · Number 1 | 43
---
News

Pennsylvania Lifts Ban on Gas

Production in Polluted Village

By Michael Rubinkam | Associated Press

One of Pennsylvania's largest drillers will be allowed to extract

natural gas from underneath a rural community where

it has been banned for a dozen years because of accusations

it polluted the water supply, according to a settlement with

state regulators.

The Department of Environmental Protection quietly lifted

its long-term moratorium on gas production in Dimock,

a small village in northeastern Pennsylvania that gained

national notoriety when residents were filmed lighting their

tap water on fire.

The agency's agreement with Houston-based Coterra Energy

Inc. is dated Nov. 29 — the same day Coterra pleaded no contest

in a high-profile criminal case accusing the company of

allowing methane to leak uncontrolled into Dimock's aquifer.

State officials denied that Coterra was allowed to plead to a

misdemeanor charge in exchange for being allowed to drill

for potentially hundreds of millions of dollars' worth of gas.

The agreement, which is public, was obtained by The Associated

Press.

Some of the residents, who have long accused the Department

of Environmental Protection of negligence in its

handling of the water pollution in Dimock, said they felt

betrayed.

"We got played," said Ray Kemble, the most outspoken of a

small group of Dimock residents who have battled the drilling

company and state regulators alike.

Coterra will be permitted to drill horizontally underneath a

9-square-mile area of Dimock and frack the gas-bearing shale

that lies thousands of feet down. That's been forbidden since

2010, when environmental regulators accused Coterra's corporate

predecessor of failing to keep its promise to restore

or replace Dimock's water.

The Department of Environmental Protection said it began

negotiations with Coterra in early 2022, shortly after the

company formed from the merger of Cabot Oil & Gas Corp.

— the driller deemed responsible for fouling Dimock's water

supply — and Cimarex Energy Co.

"When Coterra took over responsibility of the wells after the

Cabot merger, they actively engaged with DEP to address the

remaining issues in the area," said agency spokesperson Jamar

Thrasher. "Coterra committed to strict controls, monitoring

and evaluation, resulting in some of the most restricted

44 | Chief Engineer

conditions on any drilling in the commonwealth."

Cabot, the predecessor company to Coterra, was charged in

June 2020 with 15 criminal counts over allegations it drilled

faulty gas wells that leaked flammable methane into residential

water supplies in Dimock and surrounding communities.

Coterra pleaded no contest to a misdemeanor violation of

the state Clean Streams Law. Its plea deal with the state attorney

general's office requires Coterra to pay more than $16

million to fund construction of a new public water system

for Dimock and to pay affected residents' water bills for 75

years.

Attorney General Josh Shapiro, a Democrat who takes office

as governor next month, held a celebratory news conference

with Kemble and two other Dimock residents on the day

Coterra entered its plea. At the news conference, Shapiro

punted a reporter's question about whether Coterra would

be permitted to resume drilling in the moratorium area,

pointing out the administration of Democratic Gov. Tom

Wolf was still in charge.

"That's obviously a question for the regulators, not for the

attorney general's office," Shapiro said then.

Shapiro's spokesperson said the plea deal was not contingent

on DEP lifting the moratorium.

"Our office plays no role in DEP's regulatory decisions, and

we do not share confidential information about criminal

investigations," Jacklin Rhoads said.

325 EISENHOWER LANE NORTH LOMBARD, IL 60148

TELEPHONE (630) 261-1166 FAX (630) 261-1818

info@htareps.com www.htareps.com

Representing

Zoeller Pump Company

Mansfield Plumbing Products

Sioux Chief

Lenox Tools

Irwin Tools

Prier Products

Blanco

AK Industries

Magic Plastics

IPEX/Canplas
---
In an interview Friday, Dec. 12, Wolf said he was satisfied

with his administration's decision to allow Coterra to go back

into Dimock, "as long as they do what we need them to do

with the new water supply and the pipes." He said the company

had to abide by "some pretty stringent guidelines."

Coterra will continue to be prohibited from drilling new gas

wells inside the moratorium area itself. But shale gas drillers

like Coterra are able to drill horizontally for miles until they

reach the target, meaning that even though the company

will have to start their new wells outside of the prohibited

area, the gas is easily within reach.

Zacariah Hildenbrand, a Dallas-based biochemist who has

conducted testing in Dimock, said that technically speaking,

the horizontal portion of a gas well is "orders of magnitude

safer" than the vertical portion, from which most incidents

of drilling-related water contamination originate.

But he was incredulous that Coterra would want to risk it in

Dimock — and that regulators would allow it — given it was

at the center of one of the most high-profile contamination

cases to emerge from the U.S. drilling and fracking boom.

"Why even roll the dice for this to happen again? You've

already made a colossal mess of this region. It's already been

a black eye to the industry," Hildenbrand said. "Why not pick

up your tools and go somewhere else?"

The driller has long said the gas in Dimock's water wells was

naturally occurring, and over the years, it has periodically

requested permission from the state to resume drilling in the

community.

In a statement, Coterra spokesperson George Stark said

the agreement with DEP "resolves longstanding issues and

provides for the responsible and safe development of natural

resources located inside the nine-square mile area. It also

satisfies the desires of many of the landowners, who communicated

their support for such development over the years."

Pennsylvania is the nation's No. 2 gas-producing state after

Texas, and Susquehanna County, where Dimock is located,

produces more natural gas than any other county in the

state.

Alan Hall, vice chair of the Susquehanna County Board of

Commissioners, said many of his constituents in Dimock had

been clamoring for gas production to resume, having leased

their land to the gas company long ago.

"They know the gas in that area is very prolific, and there's

a lot of it there. And they'd been hoping a resolution would

come through, that their leases would be activated again

and they'd start being able to get royalties out of the process,"

he said.

Anthony Ingraffea, a retired Cornell University engineering

professor who has extensively studied gas well failures in

Pennsylvania, estimates Coterra could frack as many as 50

wells in the moratorium area, and produce as much as $500

Craig Stevens holds a bottle of brown water as he speaks with members of

the media outside the Susquehanna County Courthouse in Montrose, Pa.,

on Nov. 29, 2022. One of Pennsylvania's largest drillers will be allowed to

extract natural gas from underneath a rural Pennsylvania community where

it has been banned for a dozen years because of accusations it polluted the

water supply, according to a settlement with state regulators obtained by

The Associated Press on Thursday, Dec. 8, 2022. (AP Photo/Matt Rourke,

File)

million worth of gas. Energy companies use hydraulic fracturing,

or fracking, to capture natural gas locked in shale rock.

Ingraffea, a drilling industry critic who once testified on

behalf of Dimock residents who had sued Cabot in federal

court, said more methane leaks and more problems are

inevitable.

"This is groundhog day," he said. "These poor families, the

families that remain and families that are still to be impacted,

are right back to where they were in 2008. The state of

Pennsylvania, the governor's office and PA DEP, are washing

their hands."

The promised water line might not be operational until 2027,

according to the settlement agreement with DEP. Until then,

Coterra is supposed to install temporary treatment systems at

the homes of residents who want them. Some residents say

previous attempts at treatment have failed.

Dimock resident Erik Roos, whose well was fouled with

methane and who spent years fetching drinking water from

an artesian well miles from his house, said he was pleased

that he would finally be connected to a public water supply.

But he was surprised when a reporter told him about the

planned resumption of drilling.

"It's disturbing to me that they rewarded them so quickly,"

he said Monday, Dec. 12. "Seems to me they should wait at

least a year." He said regulators should have told Coterra: "'If

you show you're following this agreement, maybe we'll let

you do it.'"

Rubinkam reported from northeastern Pennsylvania. Associated

Press writer reporter Marc Levy in Harrisburg, Pennsylvania,

contributed to this report.

Volume 88 · Number 1 | 45
---
News

Buildings Big and Small Benefit from

Electrification, Decarbonization with

Updated Trane® Heat Pumps, Split and

Rooftop Systems

DAVIDSON, N.C — Trane – by Trane Technologies, a global

climate innovator — has announced updates to its trusted

Precedent®, Odyssey, and Foundation® lines of HVAC

systems that help customers with buildings of all sizes embrace

electrification and decarbonization. The company also

released version five of its essential system design software,

TRACE® 3D Plus, with new capabilities engineers can use to

design and validate projects with confidence and clarity.

"Whether modeling for decarbonization during design and

validation, reducing complexity on the day of installation,

or optimizing energy efficiency during operation, Trane's

updated software, all-electric systems, and updated unitary

models help to empower owners to create the right solution

for their building," said Dave Molin, Vice President of Trane

Product Management, Equipment, Controls, and Digital.

Trane Offers First Packaged Heat Pump Unit in 25-Ton

Capacity

Continuing its introduction of the next-generation Precedent

portfolio, Trane has released new standard and high-efficiency

Precedent heat pumps in 12.5- to 25-ton capacities. The

Precedent line meets the U.S. Department of Energy (DOE)

2023 energy efficiency standards. All next-generation units

released to date are now available in a high-efficiency model

that exceeds those standards by 25 percent or more.

Trane's all-electric Precedent heat pump is among the first

packaged rooftop heat pumps in the industry available in a

25-ton capacity. Convenient characteristics simplify service

and installation, such as hinged access to the control panel,

color-coded wiring, keyed connectors, and no fan belts to

adjust or replace. It arrives ready to install, and most replacements

don't require a curb adapter.

Trane has equipped all Precedent models with Symbio® 700

controls so owners can immediately enjoy the benefits of

digital connectivity. Symbio 700 is a user-friendly onboard

interface to optimize system performance, helps to improve

serviceability, and facilitate unit connectivity and future

enhancements. Its intuitive user interface displays system

alarms and diagnostic reports building owners can use to

troubleshoot. Use the free Symbio Service and Installation

Mobile App for simplified commissioning and troubleshooting.

Symbio integrates with common building automation

Trane's Foundation rooftop systems with capacities of 15 to 25 tons are

now updated to meet DOE 2023 efficiency standards.

systems (BAS) and open standard protocols.

In addition to these powerful benefits, all new Precedent

next-generation units:

• Offer several new options, including single- and multi-zone

variable air volume (VAV).

• Comply with ASHRAE® 90.1-2019.

• Include a three-year parts warranty, demonstrating Trane's

confidence in its quality.

Design Flexibility with Energy Efficient Performance

When rooftop installation isn't an option, a Trane Odyssey

split system is a versatile choice that delivers up-to-date

energy efficiency, meeting DOE 2023 standards. Split systems

provide the same high-performance heating and cooling of

a packaged rooftop system but allow engineers and contractors

to work around unique building designs such as glass

ceilings or pitched roofs or code and service limitations.

The Odyssey's exceptional energy efficiency is realized by its

Symbio 700 controller, now standard, and a new multi-speed

air handler that can be configured for two-stage or sin-

46

| Chief Engineer
---
gle-zone VAV or Variable Volume Zone Temperature (VVZT).

It's available with several indoor and outdoor compressor

and condenser options, including dual-compressor and dual-circuit

models, so technicians can service either compressor

without shutting down. The Odyssey split system also:

• Come standard with hail guards to protect the components

during shipping, inclement weather, or from vandalism.

• Meet new testing and material flammability requirement

UL 60335-2-40, which goes into effect in January 2024.

• Comply with ASHRAE 90.1-2019.

• Have easy-to-use colored-coded wiring, a low voltage terminal

board that's easy to access, foil-faced insulation, and

one power point.

Convenience, Cost-Efficient Retrofits and Replacements

Trane's Foundation rooftop systems are available in a broad

range of tonnages (3-25 tons) and have a footprint designed

for quick and easy retrofits or unplanned replacements without

the cost or hassle of a curb adapter. Foundation systems

with capacities of 15 to 25 tons have been updated to meet

the DOE 2023 efficiency standards, and 7.5 to 12.5 tonnages

will be released in the first quarter of 2023. Foundation units

in the smaller 3- to 5-ton capacities already comply with the

new standards.

With the simple, efficient Foundation line contractors, building

owners and facility managers operating small-to-medium

buildings can save up to $1,500 on installation without the

need for a curb adapter. In addition, mindful design touches

such as colored and numbered wiring and single-side service

doors keep service and maintenance quick and economical.

It can be configured in the field for horizontal or vertical

airflow.

Next-Generation Building Design Software Supports

Decarbonization Approaches

TRACE 3D Plus design and analysis software is now available

in version five, so engineers can quickly and precisely model

HVAC systems. Built on the U.S. Department of Energy's

EnergyPlus® engine, TRACE 3D Plus is enhanced with Trane's

industry-leading attributes.

With version five, engineers and specifiers can move from

the project plan to load design to energy and economic analysis,

all in the same project file and interface. For a complete

list of software features, visit www.trane.com/trace3Dplus.

Volume 88 · Number 1 | 47
---
Member News

Western Specialty Contractors Wins

Trimble 2022 Viewpoint Construction

Award for Best Use of Construction One

Technology

Western Specialty Contractors is proud to announce that it

has received a Trimble Viewpoint Construction Award for

the Best Use of Trimble's Construction One Technology — an

award recognizing contractors that have leveraged technology

solutions to create more data-driven, connected construction

businesses.

Held annually, the Trimble Viewpoint Construction Awards

honor the technological achievements of North American

contractors as exhibited through the growth and improvements

of their projects, people and processes over the past

year. Honors are given in three categories: Most Outstanding

Project, Most Impressive Human Resource Achievement, and

Best Use of Trimble Construction One Technology. The awards

were announced during the Trimble Dimensions+ Conference

on Nov. 9 in Las Vegas.

Western used Trimble's Construction One Technology to

centralize and streamline many of its workflows, including

the development of a custom Human Resources Information

System (HRIS) that supports everything from safety training

to performance management. This includes a compensation

dashboard that provides an accessible view of each employee's

salary history with built-in workflows and notifications

for approvals/rejections.

"Continuing to work with the right

partners and leverage the technology

platforms available provides a

benefit to all our employees and

drives ROIC. We thank Trimble for

partnering with us and recognizing

our efforts with this award."

— Tom Brooks, Chief Operating Officer

Western Specialty Contractors

The dashboard has helped streamline Western's merit increase

process and allows managers to see a consolidated

salary view as they prepare their budgets. A process that used

to take weeks to complete, now only takes a few minutes

with Trimble's Construction One Technology.

"What a great accomplishment and a team effort. First to

human resources for identifying a need and conceptual solution,

followed by our technology team working with Trimble

Viewpoint to create a turn-key solution. We could not be

more pleased with the outcome; definitely a win for Western's

employees," said Brooks.

48

| Chief Engineer

Western Specialty Contractors announced its having received the Trimble

Viewpoint Construction Award for Best Use of Trimble's Construction One

Technology.
---
Volume 88 · Number 1 | 49
---
Techline

HyperloopTT to Become First Public

Company Focused on Next Generation of

High-Speed Mobility

LOS ANGELES and NEW YORK — Hyperloop Transportation

Technologies ("HyperloopTT" or "the Company"), a leading

transportation and technology licensing company focused on

realizing the hyperloop, and Forest Road Acquisition Corp. II

("Forest Road"), a publicly traded special purpose acquisition

company, recently announced it has entered into a definitive

merger agreement ("Merger Agreement") that is expected

to result in HyperloopTT becoming a publicly listed company.

Upon the closing of the transaction, the newly combined

company will be named "Hyperloop Transportation Technologies"

and will continue to be led by Chief Executive Officer

Andrés de León and the HyperloopTT management team.

A Leading Developer of Hyperloop IP

Led by an experienced team of hyperloop business and technology

professionals, HyperloopTT relies on a global network

of technologists, scientists, engineers and expert contributors,

resulting in an asset-light technology development

business model. Through this partner network, the Company

is driving a suite of next-generation technologies to power

transportation in the future.

Since its inception in 2013, HyperloopTT has made significant

progress towards the adoption of hyperloop systems. The

Company developed a full-scale hyperloop test track in Tou-

HyperloopTT and Forest Road have merged with the expectation of becoming a publicly traded company, Hyperloop Transportation Technologies, with the

goal of redefining the future of transportation.

50

| Chief Engineer
---
louse, France, a hyperloop insurance framework model, and

model safety and certification guidelines.

With the deployment of the Company's test track, HyperloopTT

has built a robust technology portfolio relating to

patents across levitation and propulsion, low pressure tube

transportation, and passenger experience. These patents are

the basis of a technology that combines sustainability with

the ability to reach destinations faster, which can redefine

the urban landscape, create new economic opportunities,

and disrupt the $2+ trillion transportation industry.

PROBLEM?

SOLVED.

There's a reason why so

many prefer us.

What is Hyperloop?

Hyperloop is a vacuum tube-based system that moves people

and goods in levitating capsules at airplane speeds on the

ground. These speeds are achieved by using passive magnetic

levitation technology and a linear electric motor in a tube

with minimal pressure, reducing resistance. As a mobility

solution with transformative power, hyperloop is potentially

cleaner, safer, healthier and more efficient than existing

forms of transportation.

24/7 Emergency Service

HVAC Installation

Service & Preventative Maintenance

Agreements

Boiler Services

Chiller Services

Data Center Services

Building Automation, Installation

& Integration

Piping

Sheet Metal

Design/Build Solutions

Retrofit Solutions

Solutions are on the way.

708-345-1900 AIRCOMFORT.COM

Volume 88 · Number 1 | 51
---
Techline

Facebook Parent Meta Will Pay $725M

to Settle User Data Case

SAN FRANCISCO (AP) — Facebook's corporate parent has

agreed to pay $725 million to settle a lawsuit alleging the

world's largest social media platform allowed millions of its

users' personal information to be fed to Cambridge Analytica,

a firm that supported Donald Trump's victorious presidential

campaign in 2016.

Terms of the settlement reached by Meta Platforms, the

holding company for Facebook and Instagram, were disclosed

in court documents filed Dec. 22. It will still need to be

approved by a judge in a San Francisco federal court hearing

set for March.

The case sprang from 2018 revelations that Cambridge

Analytica, a firm with ties to Trump political strategist Steve

Bannon, had paid a Facebook app developer for access to the

personal information of about 87 million users of the platform.

That data was then used to target U.S. voters during

the 2016 campaign that culminated in Trump's election as the

45th president.

Facebook's Meta logo sign is seen at the company headquarters in Menlo

Park, Calif., on Oct. 28, 2021. Facebook's corporate parent has agreed to

pay $725 million to settle a lawsuit

Uproar over the revelations led to a contrite Zuckerberg

being grilled by U.S. lawmakers during a high-profile congressional

hearing and spurred calls for people to delete

their Facebook accounts. Even though Facebook's growth

has stalled as more people connect and entertain themselves

on rival services such as TikTok, the social network still boasts

about 2 billion users worldwide, including nearly 200 million

in the U.S. and Canada.

The lawsuit, which had been seeking to be certified as a class

action representing Facebook users, had asserted the privacy

breach proved Facebook is a "data broker and surveillance

firm," as well as a social network.

The two sides reached a temporary settlement agreement in

August, just a few weeks before a Sept. 20 deadline for Meta

CEO Mark Zuckerberg and his long-time chief operating officer,

Sheryl Sandberg, to submit to depositions.

The company based in Menlo Park, California, said in a Dec.

23 statement that it pursued a settlement because it was in

the best interest of its community and shareholders.

"Over the last three years we revamped our approach to

privacy and implemented a comprehensive privacy program,"

said spokesperson Dina El-Kassaby Luce. "We look forward

to continuing to build services people love and trust with

privacy at the forefront."

52

| Chief Engineer
---
Weil-McLain ProTools App Now

Features Real-Time Video Tech Support

BURR RIDGE, Ill. — Just in time for heating season, Weil-Mc-

Lain® has updated its ProTools App with enhanced features

to provide contractors and service technicians with the

support they need to streamline customer visits and provide

clients with a premium experience. Available for iOS and

Android devices, the app now allows heating professionals

to work virtually with Weil-McLain's Tech Support team to

problem-solve issues as they occur on the job site.

"Our goal is to continuously optimize this platform by adding

additional features that make service technicians' and installing

contractors' jobs easier — especially during the busy

heating season period," said David DeVries, Director of Product

Management with Weil-McLain. "The new Site-Call video

assistance opens new opportunities for service technicians to

receive instant support from our Tech Support team."

Service technicians who run into complications while on the

job can contact Weil-McLain Tech Support for Site-Call video

and receive immediate real-time assistance. After requesting

support, they simply accept the call from Tech Support on

their smartphone and share a live video of the issue they are

experiencing on the job site. Tech Support will then highlight

the issue on the service technician's screen and propose corrective

action to solve it.

"This new feature provides heating professionals with

immediate access to our support team and also allows them

the opportunity to learn new methods for troubleshooting,

maintenance and boiler setup," added DeVries. "As we prepare

for what could be another colder than normal winter,

we want to ensure service technicians have all the digital

tools and knowledge they need to help expedite customer

visits while providing homeowners a best-in-class service

experience."

The Weil-McLain ProTools App helps enhance service technicians'

hydronic expertise by putting a variety of Weil-McLain

boiler product information at their fingertips. From reviewing

fault codes for troubleshooting and accessing how-to videos

to viewing product manuals and schematics and quickly

finding parts, the app has become a one-stop resource for

boiler installation and maintenance.

Weil-McLain's ProTools app now features real-time video support for technicians,

ensuring the best and most streamlined service visit experience for

end consumers.

INDUSTRIAL & COMMERCIAL

FILTRATION

For more information on the upgraded Weil-McLain ProTools

App, visit www.weil-mclain.com or download the app via the

App Store or Google Play.

WE ALSO SUPPLY:

CALL TODAY FOR YOUR FREE ASSESSMENT!

847-616-8710

www.FilterServices.com

Volume 88 · Number 1 | 53
---
Techline

US Opens Probe of Cruise Robotaxi

Braking, Clogging Traffic By Tom Krisher | AP Auto Writer

DETROIT (AP) — U.S. safety regulators are investigating

reports that autonomous robotaxis run by General Motors'

Cruise LLC can stop too quickly or unexpectedly quit moving,

potentially stranding passengers.

Three rear-end collisions that reportedly took place after

Cruise autonomous vehicles braked hard kicked off the

probe, according to the National Highway Traffic Safety Administration.

At the time, robotaxis were staffed by human

safety drivers.

The agency also has multiple reports of Cruise robotaxis

without human safety drivers becoming immobilized in San

Francisco traffic, possibly stranding passengers and blocking

lanes.

The reports of immobilized vehicles came from discussions

with Cruise, media reports and local authorities, NHTSA said

in an investigation document posted Friday on its website.

was working to minimize collision severity and risk of harm,"

Pusateri wrote.

In the clogged traffic incidents, Pusateri wrote that whenever

Cruise technology isn't extremely confident in moving, it's

designed to be conservative, turning on hazard lights and

coming to a safe stop.

"If needed, Cruise personnel are physically dispatched to

retrieve the vehicle as quickly as possible," Pusateri wrote.

Such stoppages are rare and have not caused any crashes, he

wrote.

NHTSA said Cruise reported the three rear-end accidents

under a 2021 order requiring automated vehicle companies

to notify the agency of crashes.

Reports of Cruise robotaxis becoming immobilized in traffic

There have been two reports of injuries related to the hard

braking, including a bicyclist seriously hurt last March, according

to the NHTSA crash database.

NHTSA says it will determine how often the problems

happen and potential safety issues they cause. The probe,

which covers an estimated 242 Cruise autonomous vehicles,

could bring a recall. "With these data, NHTSA can respond

to safety concerns involving these technologies through

further investigation and enforcement," the agency said in a

statement.

Cruise CEO Kyle Vogt told The Associated Press that the

company is fully cooperating with the NHTSA. "I am happy

to help educate them on the safety of our products," Vogt

said during a Friday interview. "Regulators are doing their

job. They are scrutinizing things as they should, asking lots of

questions."

So far, Cruise vehicles have driven nearly early 700,000 autonomous

miles in San Francisco without causing any life-threatening

injuries or deaths.

"This is against the backdrop of over 40,000 deaths each year

on American roads," Cruise spokesman Drew Pusateri wrote

in a statement. "There's always a balance between healthy

regulatory scrutiny and the innovation we desperately need

to save lives."

He said police didn't issue tickets in any of the crashes, and

that in each case, the autonomous vehicle was responding to

aggressive or erratic behavior of other road users. "The AV

54

| Chief Engineer
---
came from the San Francisco Municipal Transportation Agency

and the San Francisco County Transportation Authority,

the agency said.

Cruise vehicles may strand passengers in unsafe locations,

such as travel lanes or intersections, increasing the risk to

exiting passengers. And they can become obstacles to other

road users, causing them to make unsafe maneuvers to avoid

collisions. "The vehicles may also present a secondary safety

risk, by obstructing the paths of emergency response vehicles

and thereby delaying their emergency response times,"

NHTSA said in the document.

The municipal transportation agency, in comments to NHTSA,

said that starting in May, the city began to notice 911 calls

from people who were inconvenienced by Cruise operations.

Some city police officers also saw Cruise vehicles disabled in

travel lanes. One incident in June involved 13 Cruise vehicles

stopped on a major road. Two other large blockages were

reported in August, the agency said.

The probe comes at an important time for Cruise, which in

June started charging passengers for autonomous rides without

human safety drivers in part of San Francisco at night. On

Thursday, the company got approval from a state agency to

carry riders citywide, around the clock. One more agency has

to sign off.

It's also a critical time for the autonomous vehicle industry,

with Google spinoff Waymo running a robotaxi service in the

Phoenix area with plans to expand to San Francisco. Other

companies also are moving toward services without human

safety drivers.

San Francisco-based Cruise plans to expand the service to

Phoenix and Austin, Texas. The startup owned by GM has

been testing autonomous Chevrolet Bolt electric vehicles for

several years.

In this Jan. 16, 2019, photo, Cruise AV, General Motor's autonomous electric

Bolt EV is displayed in Detroit. U.S. safety regulators are investigating

reports that autonomous robotaxis run by General Motors' Cruise LLC can

stop too quickly or unexpectedly stop moving, potentially stranding passengers.

(AP Photo/Paul Sancya, File)

Cruise told the National Highway Traffic Safety Administration,

that one of its vehicles was making an unprotected left

turn at an intersection when it was hit by an oncoming vehicle.

The Cruise vehicle had to be towed away from the scene,

according to the regulatory filing.

GM acquired a majority stake in Cruise when it was a startup

in 2016. The company invested to take 80-percent stake in

the company last May.

AP Technology Writer Michael Liedtke contributed from San

Ramon, Calif.

In September Cruise revealed that it recalled 80 of its driverless

vehicles for a software update after one of the cars was

involved in a crash that caused minor injuries.

Volume 88 · Number 1 | 55
---
New Products

Brass Knuckle®, Application-Specific

Protective Gloves Easy to Source

CLEVELAND — The hand is the leading body part injured at

work and treated in hospital emergency departments, with

acute hand and finger injuries sending more than 1 million

workers to the emergency room annually in the United

States. Brass Knuckle offers a complete line of gloves for

maximum protection along with comfort and dexterity —

and the company strives to make specifying gloves easier,

with robust selection tools that make narrowing down glove

choices a breeze.

In its effort to help make gloves fit better, Brass Knuckle

shines in the "construction of the glove." Gloves are tested

and measured against the following criteria: longer wear

life, maximum dexterity and defined flex points, plus a wide

range of protective features. Application-specific glove

construction is critical. Brass Knuckle leads in understanding

fibers, coatings, special features and other material construction

attributes that blend protection and value.

5 and from 12- through 18-gauge. The cut lineup includes

the company's SmartShell glove, a favorite for impact protection.

SmartSkin gloves keep hands dry from nasty and

sometimes dangerous liquid hazards without compromising

comfort. SmartFlex are superior general-purpose gloves

with construction that delivers unparalleled comfort. Clean-

Hand® disposable gloves are also available.

Brass Knuckle provides two ways to find the perfect glove.

An exclusive interactive tool allows you to choose gloves by

type, gauge, shell, and coating. Or, use the Hand Protection

Product Selector Guide and see the full line of Brass Knuckle

gloves at a glance, with 15 individual characteristics that

define each glove.

For more information, visit

https://www.brassknuckleprotection.com/.

Brass Knuckle offers three signature, application-specific

glove lines, with multiple gradient options within each line.

SmartCut gloves are cut-resistant from ANSI cut 2 through

When variable speed is

what you need.

Our qualified team assembles, installs, and

repairs a wide variety of programmable

controllers and drives.

• Retrofitting Pumping Systems to Variable

Frequency Drives

• Extended warranties up to ten years

• Base Mounted or In-Line Pumps

• Sensor-less or with sensors

• Energy savings analysis

Call us today for a complimentary, intelligent

estimate for retrofitting your pumping system to VFD.

(630) 455-1034

novatronicsinc@bornquist.com | www.novatronicsinc.com

56

| Chief Engineer
---
Pipe Beveler End Prep Tools Handle

Highly Alloyed Small Tubes

A family of right-angle welding end prep tools for highly

alloyed small diameter tubes that require precision beveling

prior to welding to assure high-integrity welds has been

introduced by ESCO Tool of Holliston, Mass.

The ESCO Ground MILLHOG® Beveler is a right-angle drive

I.D. clamping tool that features a push-pull clamp and release

mechanism that engages and disengages easily. Ideal

for beveling tubes and small pipes with a high percentage

of chrome, this tool produces precision welding end preps

without cutting oils and comes in pneumatic, electric and

battery-powered models.

The ESCO Ground MILLHOG Beveler is priced from $4,625.00

and is available for rental at $200.00 weekly, with overnight

shipment.

For more information contact:

For more information, contact Marketing Director Matt Brennan

at ESCO Tool, Holliston, MA 01746, call (800) 343-6926,

FAX (508) 429-2811, email matt@ESCOtool.com or visit

www.ESCOtool.com.

Enabling users to achieve X-ray-certifiable welds without

hand grinding, the ESCO Ground MILLHOG Beveler is suited

for tube and pipe from 0.5" I.D. to 2.25" O.D. with 0.5" thick

walls and only needs a 1.5" radial clearance. It has totally

sealed construction and can be used in any orientation.

The ESCO Ground MILLHOG® Beveler produces precision welding end

preps and is available in pneumatic, electric and battery-powered models.

Volume 88 · Number 1 | 57
---
New Products

Electrical Connectors and Terminals

Designed for Critical Robotic Medical

Devices

Custom-fabricated electrical connectors and terminals manufactured

to OEM specifications from virtually any alloy, and

that can be inlaid or edgelaid with precious metals, are being

introduced by ETCO Incorporated of Bradenton, Fla.

ETCO connectors and terminals for robotic medical devices

are manufactured to specification from virtually any alloy,

and can be inlaid or edgelaid with precious metals to achieve

specific properties. Permitting OEMs to meet design requirements

for critical robotic medical devices, they are supplied

loose or on reels for use with various automated attachment

systems.

Available in sizes from 0.008" to 0.090" thick with +0.002"

tolerances, depending upon materials and design requirements,

ETCO Connectors & Terminals can include discrete

over-molding and other special characteristics. Parts can also

be made for other medical equipment including mobility

units, monitors, hospital beds, MRI systems and CT scanners.

ETCO Connectors & Terminals for robotic medical devices are

priced according to configuration and quantity. Price quotations

are available upon request.

For more information contact Sean Dunn, VP of Marketing

at ETCO Incorporated, 3004 62nd Ave. East, Bradenton, FL

34203, call (800) 689-3826, email sdunn@etco.com or visit

www.etco.com.

ETCO connectors and terminals for robotic medical devices can be manufactured

to specification in virtually any alloy, and even inlaid or edgelaid

with precious metals as needed.

58

| Chief Engineer
---
Goodway Technologies Introduces Ultra-

Compact HEPA Industrial Vacuum

STAMFORD, Conn. — This is the industrial vacuum solution

when size, portability, and industrial design need to check all

the boxes. Goodway Technologies is releasing the latest addition

to its heavy-duty, powerful industrial vacuum cleaners

with the DP-E1-H Compact HEPA Industrial Vacuum Cleaner.

In response to customer demand for a more compact, powerful,

yet industrial grade solution, Goodway Technologies has

launched a versatile and portable solution weighing under

43 pounds, making it easier to transport throughout a facility.

Use it for dry or wet applications in industrial facilities,

food and beverage plants, commercial kitchens, and much

more.

The DP-E1-H Compact HEPA Industrial Vacuum is constructed

with stainless steel and features high-performance motors

and HEPA high-efficiency filters, filtering 99.97 percent of

debris to 0.3 microns. It can be used for various industrial

cleaning applications to remove dust, residues, and liquids.

The product features an external filter shaker that allows for

longer pickup times for dry powders and includes a 4-gallon

detachable collection drum that allows for easy disposal of

waste and debris.

Features of the E1 Compact Industrial Vacuum include:

• Ergonomic heavy-duty design

• Lightweight and durable

• Easy to operate

• Stainless steel construction

• 0.3 Micron HEPA Filter (Non-HEPA model available)

• Detachable collection drum

• External filter shaker

• Accessory kit

• The DP-E1-H Compact HEPA Industrial Vacuum is also

available in a standard non-HEPA model. Visit the DP-E1-H

product page for more information.

Visit www.goodway.com for more information.

Power and portability take center stage with the DP-E1-H.

Volume 88 · Number 1 | 59
---
New Products

Cable Tie Cutter Leaves Smooth Flat

Ends

A compact and lightweight, ergonomic cable tie cutter that

removes the tie ends after tightening and leaves a smooth,

flat cut to protect people from getting cut or scratched has

been introduced by Xuron Corp. of Saco, Maine.

The Xuron® Model 2275 Cable Tie Cutter features soft

Xuro-Rubber hand grips, a Light-Touch return spring, and

provides full cutting along the entire length of the blades.

Featuring bypass cutting that leaves smooth, flat, clean cuts

that are safer for people to handle, it is better than compression

cutters which can leave spikes that can cut or scratch

people.

Easy to cut and release, with no scissor-like finger loops, the

Xuron Model 2275 Cable Tie Cutter was originally developed

for electronics cable harness assembly workers. Comfortable

to hold in any size hand, left or right, this cutter is suited for

any cable tie application such as closing tote boxes, securing

signs to fences, and attaching portable chairs.

The Xuron Model 2275 Cable Tie Cutter sells for $24.25 (list).

A complete catalog is available on request. Distributor and

dealer inquiries invited.

For more information, contact Abby Robey in Marketing at

Xuron Corporation, 62 Industrial Park Rd., Saco, ME 04072-

1840, call (207) 283-1401, FAX (207) 283-0594, email

arobey@xuron.com or visit www.xuron.com.

POWER SYSTEMS SOLUTIONS

Altorfer is the only authorized Caterpillar Dealer in the Chicagoland area.

Altorfer Technicians

• Factory-trained and qualified to service all

major brands of equipment

• Dispatched 24 hours a day, 7 days a week,

365 days a year

• Spread throughout: SE Iowa, NW Missouri,

Northern Illinois and NW Indiana

Altorfer Power Rental

• Over 250 generators available to rent

• Is part of the largest rental network in

the United States.

• Seasoned industry experts ready to help

with your power emergencies.

• Carries a full line of power generation,

electrical distribution, temperature control,

and compressed air solutions.

Get Custom Preventative Maintenance

Agreements for:

• Engines

• Generators

• ATS

• Switchgear

• UPS

• Battery Systems

(Resistive & Reactive

Load Bank Testing)

SAME DAY EMERGENCY SERVICE CALL 877-891-4181

60

| Chief Engineer
---
Nortek Global HVAC Expands High-

Efficiency UEZ Unit Heater Line

ST. LOUIS — Nortek Global HVAC (NGH) announces the

release of three new capacities for the Reznor® UEZ condensing

gas-fired unit heater. This industry-leading model

supplies fuel-efficient heating to ensure cost-effective operation

while promoting the safety and comfort of building

occupants.

Features of the launch include:

• Three new sizes: 55, 85, and 110 MBH.

• Certifications for industrial/commercial use and residential,

non-living space applications (such as workshops and

garages).

• 93-percent fuel efficiency for cost-effective operation.

• Improved sustainability and reduced environmental impact.

• Outside air used for combustion, eliminating drafty infiltration

problems, and improving building performance

and comfort.

• Bright status light, hinged access door, and seven-segment

error code display on the control board for easier service

and maintenance.

• Appliance-grade finish that is attractive for residential

applications while robust enough for commercial and

industrial applications.

The line is expertly designed, tested, and backed by 134 years

of Reznor heating experience. The new sizes enable large

and small spaces to be heated efficiently while reducing

operating costs and the building's carbon footprint. These

additional capacities provide one-stop-shopping for all unit

heater needs.

Three new sizes round out Reznor's new high-efficiency UEZ unit heater

line.

achieve their financial and sustainability goals; all while supporting

their building occupants' safety, health, and productivity,

said Joe Patterson, Reznor General Manager.

For more information about NGH's products, contractors and

distributors should visit www.nortekhvac.com or

www.reznorhvac.com. Information regarding pricing, submittals,

and quotations can be found by contacting one of

the distributors in Reznor's 1400+ network.

"Expanding the portfolio of our most efficient products

helps homeowners, buildings owners, and facility managers

11uroCleaff

Water

-

£ llePariOldiaoflropertyDamage

Damage

Fire and Smo ke Damage

Mo ld Remova l

Bioh aza rd Cleanup

Reconst ruction

888-PUR0-911 • PDSLeads@PuroClean.com

Wood Dale, IL • Northbrook, IL • Chicago, IL • Orland Park, IL • Waukesha, WI • Dallas, TX

Water Fire Mold

Volume 88 · Number 1 | 61
---
Events

Associated Builders and Contractors

2023 Convention

March 15-17, 2023

Gaylord Palms Resort & Convention Center

Kissimee, FL

Associated Builders and Contractors (ABC) is bringing ABC

Convention 2023 to the No. 1 convention destination: the

greater Orlando area. Located a short drive from both of

Florida's coasts, Kissimmee is a great place for attendees to

mix business and pleasure and escape the winter blues.

The popular location isn't the only reason to register. ABC

Convention 2023 is the place for contractors to find content

designed to improve their businesses and bottom lines. Plus,

enjoy the celebrations and networking opportunities that

ABC members value and look forward to each year, from the

National Craft Championships and the Construction Management

Competition to the National Excellence in Construction®

Awards. This is THE event for the merit shop construction

industry, and you don't want to miss it!

All convention events take place at the Gaylord Palms Resort

& Convention Center, located a short distance to Walt Disney

World,® Universal Orlando Resort® and other Orlando

theme parks and attractions. There's something for everyone

at this four-and-a-half-acre upscale resort, including the Cypress

Springs Water Park and many family-friendly activities

and entertainment, nine award-winning restaurants, bars,

the world-class Relâche Spa, and a state-of-the-art fitness

center.

Opening General Session: "Life Is Magic" With Jon Dorenbos

Jon Dorenbos suffered a devastating family tragedy in his

childhood, but performing magic and playing pro football

saved him, leading him to appearances on America's Got Talent

and The Ellen DeGeneres Show, as well as playing 14 NFL

seasons. After a life-threatening heart condition, he developed

a road map for finding happiness. "Life Is Magic" is his

story about overcoming life-or-death challenges with grace,

persistence and a childlike sense of wonder.

The Construction Workforce Award winners — the Craft

Instructor, Craft Professional and Young Professional of the

Year — will also be honored during the opening session. In

addition, attendees will be introduced to the 2023 Chair of

the ABC National Board of Directors.

Additional Speakers:

Stephen M.R. Covey

Trust expert, executive thought leader and bestselling author

Stephen M. R. Covey is co-founder of CoveyLink and the

62 | Chief Engineer

FranklinCovey Global Trust Practice. He is a sought-after and

compelling speaker and adviser on trust, leadership, ethics

and collaboration. Covey is a New York Times and Wall Street

Journal bestselling author of The SPEED of Trust — The One

Thing That Changes Everything and recently released Trust &

Inspire: How Truly Great Leaders Unleash Greatness in Others,

which is a Wall Street Journal bestseller.

Duncan Wardle

Former senior executive at The Walt Disney Company and

design-thinking and innovation consultant

As head of innovation and creativity at Disney, Duncan

Wardle and his team helped Imagineering, Lucasfilm, Marvel,

Pixar and Disney Parks innovate, creating magical storylines

and experiences for consumers around the globe. As founder

of iD8 & innov8, he now brings his extensive Disney experience

to audiences around the world using a unique approach

to design thinking. Wardle is a frequent TEDx speaker, a

contributor to Fast Company and teaches master classes at

universities like Yale and Duke.

Early Bird registration deadline: Jan. 9, 2023.

For more information or to register, visit

abcconvention.abc.org

2023 ASHRAE Winter Conference/AHR Expo

Feb. 4-8, 2023/Feb. 6-8, 2023

Omni CNN Center

100 CNN Center NW, Atlanta, GA

ASHRAE is looking forward to returning to Atlanta — home

of the new ASHRAE Global Headquarters. The ASHRAE Winter

Conference will be held February 4-8, 2023, at the Omni

Hotel at CNN Center and Building A of the Georgia World

Congress Center. The AHR Expo will take place February 6-8

in Buildings B and C of the Georgia World Congress Center.

The 2023 ASHRAE Winter Conference technical program

comprises nine tracks selected to represent areas of focus

common among ASHRAE membership. The track focus areas

include Fundamentals and Applications, HVACR Systems and

Equipment, Refrigerants and Refrigeration, Grid Resilience

and Thermal Storage, Pathways to Zero Energy Emissions and

Decarbonization, Multifamily and Residential Buildings, Operations

and Maintenance, Building Simulation and Virtual

Design in Construction, and a mini track addressing Innovative

Responses to Supply Chain Challenges.

For more information and to register, visit www.ashrae.org/

conferences/2023-winter-conference-atlanta.
---
Volume 88 · Number 1 | 63
---
Ashrae Update

ASHRAE Commits to Developing an

IAQ Pathogen Mitigation Standard

ATLANTA — ASHRAE's board of directors recently announced

its commitment to support the expedited development of a

national indoor air quality (IAQ) pathogen mitigation standard.

The goal is to finalize the consensus-based, code-enforceable

standard within six months.

"The health and well-being of building occupants are crucial

factors that must be considered during the design, construction

and operation phases of the building process," said

2022-23 ASHRAE President Farooq Mehboob, Fellow Life

Member ASHRAE. "ASHRAE's long history of leadership in

IAQ science and technology, will provide broad-reaching

guidance through this standard to help ensure the use of

best practices for pathogen mitigation, which will assist in

creating safer indoor spaces for us all."

ASHRAE will set up a balanced team of internationally recognized

experts to work on an accelerated timeline to develop

the standard. Delivery of the standard will include:

• Both design and operation

• Alternative paths (prescriptive or performance), in which

equivalent clean air would be the goal

• Testing, verification, documentation (commissioning) and

periodic re-commissioning

The increased focus on IAQ by governments and the public,

along with the convergence of the flu, respiratory syncytial

(RSV) and SARS-CoV-2 (COVID-19) threatening public health,

makes ASHRAE's development of the pathogen mitigation

standard of even greater importance, as jurisdictions and

building owners look to a reputable and non-biased source

for guidance and science-based building standards.

Airborne transmission of pathogens is of concern to the

public writ-large and governments are responding. In March,

the U.S. government launched the National COVID-19 Preparedness

Plan, which included recommendations to improve

ventilation and filtration in buildings. The Clean Air in Buildings

Challenge was also launched this spring, along with a

Summit on Improving Indoor Air Quality in October.

The ASHRAE Epidemic Task Force responded to the COVID-19

pandemic with the release of extensive guidance, including

IAQ resources, referenced by governments, building owners,

and facility managers in the U.S. and internationally.

Conference 2023, May 11-12, 2023 in Mumbai, India. This is

ASHRAE's third Developing Economies Conference.

The conference theme is "Decarbonizing and Sustaining

Growth of Healthcare and Residential Infrastructure in

Emerging and Future Markets."

With a focus on healthcare and residential, the conference

will cover resiliency, indoor environmental quality (IEQ),

building decarbonization, policy making and digitalization

and other topics. Technical sessions will also address the challenges

of rapidly growing energy demand, epidemic effects,

fast-paced advancements, urbanization, sustainability and

the role to be played by the global HVAC&R industry to meet

the building decarbonization targets set during the 2021

United Nations Climate Change Conference, more commonly

referred to as COP26.

Presentation proposals to speak are requested on the following

program tracks:

Healthcare

• Decarbonizing healthcare sector

• Resiliency in healthcare buildings / infrastructure

• Working with nature in designing hospitals

• IEQ in healthcare

• Policies, standards, codes and certifications

• Role of digitalization in healthcare

Residential

• Decarbonizing residential ecosystem: engineering towards

net zero

• Retrofitting to a sustainable future

• New-age products and technologies

• Heating and cooling technologies

• Smart homes

• Policies, standards, codes and certifications

• Future proofing our homes (climate change)

Presentation abstracts (300 words or less) are due Jan. 15,

2023, and notifications will be sent by Feb. 28, 2023. If accepted,

final presentation submissions are due April 30, 2023.

For more information or to submit a presentation proposal,

visit ashrae.org/DevelopingEcon2023.

Call for Speakers Announced for ASHRAE Developing

Economies Conference

ATLANTA — ASHRAE announced a call for healthcare and

residential tracks speakers for the Developing Economies

64

| Chief Engineer
---
TAKE YOUR PUMP

CONTROL OPERATION

TO THE NEXT LEVEL

We took our already superior pump controller and made it

even better. The improved Ion IntelliPump, an advanced float

based pump controller, makes it easier to manage and control

your system with a new external LED display panel. This

screen provides end-users with crucial alerts and updates

on their system.

• Options to operate from 1–4 pumps based

on requirements

• Variety of enclosure options:

Steel | Stainless Steel | Fiberglass

Nema 1, Nema 3R , Nema 4X ratings

• Mountable NEMA 4x display

• Adjustable pump on/off and emergency pump run delay

• Pump up or Pump down functions

• External silence, reset and alternation control

• Dry contacts for seal fails, pump fails, float/sensor fails,

common alarms, and high & low alarms

• Integrates with any pump, including Metropolitan's

Self-Priming Pumps, a more accessible and efficiently

designed pump for sump and sewage applications. The

Self-Priming Pump sits on top of the basin cover, making

it more accessible for maintenance and repairs.

• Works with both traditional style float switches

or Ion sensors

Ion sensors use strain gauge technology to overcome

issues typical of mechanical float switches

View a 3D

Interactive

IntelliPump Model

815-886-9200

metropolitanind.com
---
American Street Guide

Former Student Moves, Will Restore

Historic Schoolhouse By Grace King | The Gazette

CEDAR RAPIDS, Iowa (AP) — Stony Point Schoolhouse, moved

recently from the land where it stood since the 1800s, will be

saved by a former student with plans to restore it.

Power lines were raised and the schoolhouse settled on a

new foundation on a 120-acre farm owned by Rae Jeanne

Kilberger, 85, at 6304 Ellis Rd. NW in Cedar Rapids. Kilberger

attended the school for two years as a 7th- and 8th-grader in

1948-50, and wants to see the historical building being given

new life.

Kilberger said she plans to restore the schoolhouse to how

she remembers it when she went to school there, including

replacing the windows, refinishing the floor and repairing

the water-damaged walls and roof.

"There's not many [one-room schoolhouses] around," Kilberger

told the Cedar Rapids Gazette. "I really believe kids

today need to learn how it was to have eight grades under

one teacher."

Stony Point schoolhouse was built on the corner of what is

now Stoney Point Road old Highway 94 (Covington Road and

F Avenue NW) on a farm later acquired in the early 1900s by

Frank and Ida Davis. The Davis family kept the school and

grounds in good condition, letting church and civic groups

use the property for meetings and social events.

The Davis family still owns the property where the schoolhouse

originally sat. Laurie Church, co-owner of the property

with her sister, Vicki Davis, said she hates to see the old

school move but is glad it will be restored.

Church said she painted the schoolhouse and put a new sign

out front years ago, but the building was constantly vandalized.

"I hope it's a little more protected now," she said.

Kilberger said she doesn't care about the expense of relocating

and restoring the school. "Fortunately, I have the money

to pay for it," she said.

Cindy Hadish, a board member for the historic preservation

group Save CR Heritage, which was not involved in the move,

estimates the cost of moving the schoolhouse to be about

$25,000. Other expenses would include hiring Alliant Energy

to raise power lines for the building to be moved, building

a new foundation for the school and hiring the Sheriff's

department to escort the building, she said.

"At one point in time, there were hundreds of these schoolhouses

dotting the landscape of Iowa, and now we're down

to the very last few," Hadish said. "It's important to save

what we have left."

Kilberger recalls walking to Stony Point for school. Every day,

a student would get a bucket of water that would be shared

by everyone and used all day for drinking and hand washing.

It wasn't until Kilberger went to Roosevelt High School,

where she graduated in 1954 — now Roosevelt Creative

Corridor Business Academy — that she had toilet paper for

the first time. At Stony Point, the students' restroom was an

outhouse and their toilet paper was magazines, Kilberger

said.

Kilberger was raised by her maternal grandparents, who

purchased the 120 acres on which she still lives off Ellis Road

NW from her fraternal grandparents in the mid-1900s. She

built the house she now lives in, along with her grandfather

and a few neighbors.

To prepare for the schoolhouse to be rehabilitated, Kilberger

has collected about 20 school desks from the early 1900s,

including a teacher's desk and recitation bench built in 1901

where students would sit and recite their lessons in front of

the class. She also acquired an 1876 brass bell from a oneroom

schoolhouse from Atkinson, Ill., that will be hung in

the Stony Point bell tower.

Stony Point schoolhouse was a site for political gatherings in

the 1870s, according to The Gazette's archives. When classes

weren't in session in the one-story school, it also served as a

church, a Sunday school and a place for community celebrations.

It was the last country school in Linn County when it

closed in 1959, and students began attending Cedar Rapids

schools, according to The Gazette's archives.

The school and its contents were sold at auction Dec. 7, 1959.

C. Russell Davis bought the building for $1,500, and the land

automatically reverted to Davis as its original owner. In the

days of one-room country schools, farmers often allowed

schools to be built on their land with the understanding the

land would revert to them when the school was no longer in

use, according to The Gazette's archives.

Somewhere along the way, the neighborhood that grew up

around the school added an "e" to the Stony name. The road

where the schoolhouse sat until Monday is now identified as

"Stoney Point."

Clark "Bud" Derhammer, 81, sat in his car Monday, Dec. 12,

watching the schoolhouse be towed down Ellis Road NW,

where he also once attended school.

Kilberger is "bringing this back to life," Derhammer said.

"Give her a little time. It'll take time to restore that, because

it's pretty well tore up."

66

| Chief Engineer
---
The historic Stony Point Schoolhouse is transported along Covington Road in Linn County, Iowa, Monday, Dec. 5, 2022. (Nick Rohlman/The Gazette via AP)

BULLOCK, LOGAN &

ASSOCIATES

SERVING CHICAGOLAND SINCE 1990

TRUST YOUR EQUIPMENT WITH THE

HEAT TRANSFER SPECIALISTS!

• Cooling Tower Repair

• Improve Efficiency & Performance

• Solutions for Ease of Maintenance

• Preventative Maintenance to Minimize

Emergency Shutdowns

Providing optimal

solutions and strategic

planning for:

All corrosion, paint, coating and

material selection processes

Owner-centric project management

and oversight

CALL FOR A FREE INSPECTION!

www.bullocklogan.com

847-434-1200

Call to find out more.

847.423.2167 www.chicagocorrosiongroup.com

Volume 88 · Number 1 | 67
---
ACROSS

1 Greenish-blue

color

5 Compass point

9 Compass point

13 Alack's partner

17 N.A. Indian

18 Hello!

19 Spring flower

21 Each

22 Manner

23 Green Gables

dweller

24 Defense

25 Split apart

26 Pickpocket

27 Metric weight unit

28 Dale

29 _____ arrest

31 Block

33 Violent thrower

35 African antelope

36 Pastor (abbr.)

38 Note of debt

39 Trigonometry

40 Boat movers

44 Czech

47 British thermal

unit

49 Western Athletic

Conference

50 Pull on loose

thread

51 Central processing

unit

52 Holler

54 Prig

56 Japanese selfdefense

57 __ Minor (Little

Dipper)

59 Den

61 Disrespect

62 Hear

63 Fast plane

64 Rank

66 City

68 All right

70 United Arab

Republic

71 Wise Man

72 Kind

75 Medication

amounts

79 What a doctor

gives

81 Zero

83 Howdy

84 Fire remains

87 Hovercraft

88 Gone by

89 Uh-uh

92 Foray

93 Show off

1 2 3 4 5 6 7 8 9 10 11 12 13 14 15 16

17 18 19 20 21

22 23 24 25

26 27 28 29 30

31 32 33 34 35

36 37 38 39 40 41 42 43

44 45 46 47 48 49 50

51 52 53 54 55 56

57 58 59 60 61 62 63

64 65 66 67 68 69

70 71 72 73 74 75 76 77 78

79 80 81 82 83

84 85 86 87 88 89 90 91 92

93 94 95 96 97 98

99 100 101 102 103 104 105

106 107 108 109 110

111 112 113 114 115 116 117

118 119 120 121 122 123 124 125 126

127 128 129 130 131

132 133 134 135

136 137 138 139

www.CrosswordWeaver.com

ACROSS

95 Waft

96 Streetcar

1 Greenish-blue color

98 School group

5 Compass point

9 Compass 99 Course point

13 Alack's 100 partner Cap

17 N.A. Indian

101 Genius

18 Hello!

19 Spring

104

flower

Useless

21 Each 106 Gawk

22 Manner

23 Green Gables dweller

24 Defense

25 Split 110 apart __ Lanka

26 Pickpocket 111 Disobey

27 Metric

112

weight

Clench

unit

28 Dale

115 Zeal

29 _____ arrest

31 Block 118 Eject

33 Violent 122 thrower Bang down

35 African antelope

36 Pastor (abbr.)

38 Note of debt

39 Trigonometry

40 Boat movers

44 Czech

47 British thermal unit

49 Western 131 Antelope

Athletic Conference

50 Pull on loose thread

51 Central

133

processing

Squeezeunit

52 Holler

54 Prig

56 Japanese self-defense

57 __ Minor (Little Dipper)

107 Mexican sandwich

108 In possession of

123 Serving of corn

125 Replace a striker

127 Assumed name

128 Gunpowder need

130 Negative (prefix)

132 National capital

134 Told an untruth

135 Colored part of eye

136 End of a loaf

137 Has

138 Land measurement

139 Not one

DOWN

59 Den

61 Disrespect

62 Hear

1 Bloke

63 Fast plane

64 Rank

66 City 3 Month

68 All right

70 United Arab Republic

71 Wise Man

5 Trickery

72 Kind

75 Medication amounts

79 What a doctor gives

8 Sadness

81 Zero

83 Howdy 9 Musty

84 Fire remains

87 Hovercraft

11 Blintz

88 Gone by

12 Sibling

89 Uh-uh

92 Foray 13 Eager

93 Show off

95 Waft

15 Location

96 Streetcar

98 School group

99 Course

100 Cap 21 Goofs

101 Genius

28 Stuff

104 Useless

106 Gawk 30 Fall mo.

107 Mexican sandwich

108 In possession

34 Hustle

of

110 __ Lanka

35 Take

111 Disobey

112 Clench

115 Zeal

2 Belonging to you

4 Famous falls

6 Winding tool

7 National capital

10 Swiss mathematician

14 Jacob's son

16 In __ (together)

20 Eat alfresco

32 Assembly

37 Bowed stringed

instrument

39 Duces

40 Furniture wood

41 Car rental agency

118 Eject

122 Bang down

team

123 Serving of corn

43 Gap

125 Replace a striker

127 Assumed name

128 Gunpowder flowers need

130 Negative (prefix)

131 Antelope

132 National capital

133 Squeeze

134 Told an (abbr.) untruth

135 Colored part of eye

136 End of a loaf

137 Has

138 Land measurement

139 Not one

DOWN

42 Cincinnati baseball

44 Small bunch of

45 Red-blooded

46 Communication

Workers of America

48 U.S. Department of

Agriculture

50 Middle East capital

51 Adorable

53 Capital of Peru

55 Final inning

56 Boat

58 Swiss mountains

1 Bloke

2 Belonging to you

3 Month

4 Famous

60 Big

falls

truck

5 Trickery 62 Digit

6 Winding tool

7 National capital

67 Jargon

8 Sadness

9 Musty 69 Not mine

10 Swiss mathematician

11 Blintz

12 Sibling

74 Devise

13 Eager

14 Jacob's 76 Cuffs son

15 Location

65 Hydrocarbon

71 I want my ___

73 Yang's partner

77 Elect

78 Cola

80 Halloween mo.

82 State

16 In __ (together)

84

20 Eat

Hairstyle

alfresco

21 Goofs

85

28 Stuff

Walk

86 30 Fall Draw mo.

88 32 Assembly Dog food brand

34 Hustle

90 Professional

35 Take

91 37 Bowed Grubstringed instrument

94 39 Duces Southwestern Indian

95 40 Furniture Dark beer wood

41 Car rental agency

97 Heavy mud

42 Cincinnati baseball team

100 43 Gap Skill

102 44 Small Pal bunch of flowers

103

45 Red-blooded

Dine

46 Communication Workers of

105

America

Waterproof

(abr.)

cloth

48 U.S. type Department of Agriculture

107 50 Middle Little East bitcapital

51 Adorable

109 Picturesque

53 Capital of Peru

111 55 Final Kissinning

112 56 Boat Bathe

113 58 Swiss Small mountains birds

60 Big truck

114 One who despises

62 Digit

116 65 Hydrocarbon Sporty car brand

117 67 Jargon Lowest point

118

69 Not

Curse

mine

71 I want my ___

119

73 Yang's

Colorpartner

120 74 Devise Fork prong

121 76 Cuffs Revile

77 Elect

122 Thick soup

78 Cola

124 80 Halloween Sit in a mo. car

126 82 State Hectic

129 84 Hairstyle The other half of

85 Walk

Jima

86 Draw

130 88 Dog Wing food brand

90 Professional

91 Grub

94 Southwestern Indian

95 Dark beer

97 Heavy mud

100 Skill

102 Pal

103 Dine

105 Waterproof cloth type

107 Little bit

109 Picturesque

111 Kiss

112 Bathe

113 Small birds

114 One who despises

116 Sporty car brand

117 Lowest point

118 Curse

119 Color

120 Fork prong

121 Revile

122 Thick soup

124 Sit in a car

126 Hectic

129 The other half of Jima

130 Wing

68

| Chief Engineer
---
dian

h

s

f

Boiler Room Annex

Top 25 Engineering Terms and Expressions (What they say

and what they really mean)

Source: http://www.jokesclean.com/Engineer

• Customer satisfaction is believed to be assured. (We're

so far behind schedule that the customer will settle for

anything.)

• Please see me/Let's discuss it. (I need your help. I've

screwed up again.)

• The project is in process. (It's so tied up in red tape that it's

completely hopeless.)

• We're trying a number of different approaches. (We still

guessing, at this point.)

• We're following the standard. (We've always done it this

way.)

• Close project coordination. (We met together and had

coffee.)

• Years of development. (It finally worked.)

• Energy saving. (Turn off the power to save electricity.)

•

• We'll have to abandon the entire concept. (The only person

who understood the thing just quit.)

• We had a major technological breakthrough. (It's boring,

but it looks high tech.)

• We're preparing a report with a fresh approach. (We just

hired a couple of kids out of college.)

• Preliminary operational tests proved inconclusive. (It blew

up when we flipped the switch.)

• Test results proved extremely gratifying. (Yahoo! It actually

worked.)

• Please read and initial. (We want to spread around the

responsibility.)

• Tell us what you are thinking. (We'll listen, but if it disagrees

with what we've already done or are planning to

do, forget it.)

• Tell us your interpretation. (Let's hear your bull.)

• We'll look into it. (Forget it! We've got so many other

problems already, we'll never get to it.)

• No maintenance. (If it breaks, we can't fix it.)

• Low maintenance. (If it breaks, we're no likely able to fix

it.)

• All new. (None of the parts are interchangeable with the

previous design.)

Solution:

A S E A D O D O F A M E S L O B

C O R N A D O B O H I R E R C O A L

T R I G M O T I F O F T E N O N T O

S T E L A R E E F P O S T A U G H T

O F F I W O A P R

S P A T O Y S C O N E E S T G A B

H E R R R E M A I N M A C H F U S E

O R E O L A M A O U C H R A I L

E T N A A L L L T M T O P O V A L

H A N D M A I D E A C H O R G A N

N E T U P E N D S K I

S Q U A B R O U T T A K E B A C K

G A L S A D O M H Z N A Y L O A N

A G U E E M M A W A T T M A Y O

G A B S S E P T T I D I E D A L A S

E S E M O P V O W E D R I G S K Y

P U N C O B M I L

A L K Y D T U F T A C R E N A A C P

R I N G L U C R E C Z A R S T S A R

I T E M E C L A T K A R M A H I R E

D E W Y O K A Y R E A P E A S Y

DECEMBER SOLUTION

• Rugged. (Needs major equipment to lift it.)

• Robust. (More than rugged.)

• Light weight. (A little less than rugged.)

• Fax it to me. (I'm too lazy to write it down.)

• I haven't gotten your email. (It's been days since I've

checked my email.)

The Six Phases of a Project

Source: anengineersaspect.blogspot.com

1. Enthusiasm

2. Disillusionment

3. Panic

4. Search for the Guilty

5. Punishment of the Innocent

6. Promotion of the Uninvolved

Volume 87 · Number 12 | 69
---
Dependable Sources

Addison Electric Motors & Drives 63

Restore Construction Inc. 9

Admiral Heating & Ventilating, Inc. 58

Rotating Equipment Specialists 15

Advanced Boiler Control Services 17

Sprinkler Fitters Local 281 Inside Front Cover, 4

Air Comfort Corporation 51

Syserco 21

Air Filter Engineers

Back Cover

United Radio Communications, Inc. 24

Airways Systems 57

Universal Lighting of America 18

Altorfer Power Systems 60

American Combustion Service Inc. 12

AMS Mechanical Systems, Inc. 47

Bear Construction 43

Beverly Companies 35

Bornquist, Inc. 56

Building Technology Consultants, Inc. 61

Bullock, Logan & Associates, Inc. 67

Chicago Backflow, Inc. 25

Chicago Cooling Tower 55

Chicago Corrosion Group 67

City Wide Pool & Spa 15

ClearWater Associates, Ltd. 58

Competitive Piping Systems 60

Door Service, Inc. 54

Dreisilker Electric Motors 29

F.E. Moran Fire Protection 49

Filter Services, Inc. 53

Glavin Security Specialists 30

Hard Rock Concrete Cutters 51

Hart, Travers & Associates, Inc. 44

Hayes Mechanical 22

HOH Water Technology 33

Hudson Boiler & Tank Co. 42

J & L Cooling Towers, Inc. 37

Kroeschell, Inc. 52

Metropolitan Industries, Inc. 65

MVB Services, Inc. 35

Neuco 23

Olympia Maintenance 19

Preservation Services 20

PuroClean Disaster Services 61

Reliable Fire Equipment Co. 59

70

| Chief Engineer

CA

TH

E

L

SC

THE

ADM

(CEA

STU

IF YO

WO

INFO

INFO

ALL

WE

AWARD

TO SUB

PRINCI

ENGINE

AWARD
---
CALL FOR APPLICANTS:

THE

ERNEST K. AND

LOIS R. WULFF

SCHOLARSHIP

THE ERNEST K. AND LOIS R. WULFF SCHOLARSHIP PROGRAM,

ADMINISTERED BY THE CHIEF ENGINEERS ASSOCIATION OF CHICAGOLAND

(CEAC), AIMS TO ASSIST WORTHY STUDENTS IN PURSUIT OF THEIR

STUDIES.

IF YOU KNOW OF A STUDENT — IN ANY FIELD OF STUDY — WHOSE HARD

WORK COULD BENEFIT FROM THE SUPPORT OF THE CEAC, CONTACT US AT

INFO@CHIEFENGINEER.ORG FOR AN APPLICATION FORM AND MORE

INFORMATION, AND VISIT HTTPS://CHIEFENGINEER.ORG/SCHOLARSHIP/.

ALL APPLICATION MATERIALS ARE DUE BY JULY 1ST, 2021.

WE LOOK FORWARD TO HEARING FROM YOU!

AWARDS ARE GIVEN THROUGH THE CHIEF ENGINEERS ASSOCIATION SCHOLARSHIP FUND COMMITTEE. THE POTENTIAL SCHOLARSHIP RECIPIENT WILL BE REQUIRED

TO SUBMIT AN APPLICATION, INCLUDING ACADEMIC RECORDS, NATIONAL ACHIEVEMENT TEST SCORES, LETTER OF RECOMMENDATION FROM A COMMUNITY LEADER,

PRINCIPAL OR COUNSELOR, AND A WRITTEN ESSAY ON THE FIELD OF EDUCATION THAT THE POTENTIAL SCHOLARSHIP RECIPIENT WISHES TO PURSUE. THE CHIEF

ENGINEERS ASSOCIATION SCHOLARSHIP COMMITTEE WILL EVALUATE ALL COMPLETED APPLICATIONS AND SELECT A MAXIMUM OF TWO (2) FOR THE SCHOLARSHIP

AWARD.
---
4701 Midlothian Turnpike, Suite 4 • Crestwood, IL 60418

708-293-1720

PRSRT STD

U S Postage

PAID

Pontiac, IL

Permit No. 592