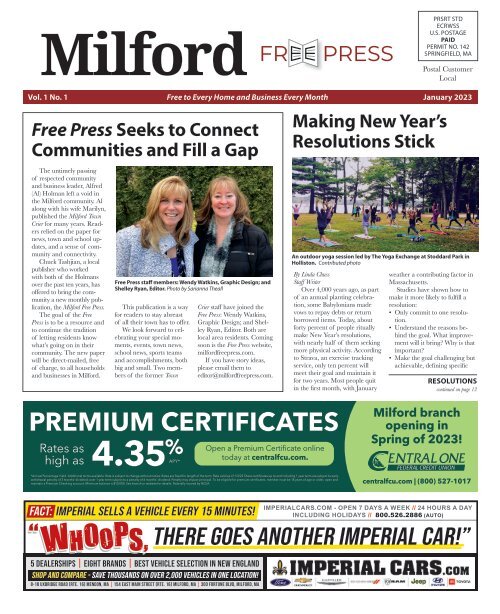 Milford Free Press January 2023
Milford Free Press January 2023
Milford Free Press January 2023
SHOW MORE
SHOW LESS
Create successful ePaper yourself
Turn your PDF publications into a flip-book with our unique Google optimized e-Paper software.
Milford

FR PRESS

PRSRT STD

ECRWSS

U.S. POSTAGE

PAID

PERMIT NO. 142

SPRINGFIELD, MA

Postal Customer

Local

Vol. 1 No. 1 Free to Every Home and Business Every Month January 2023

Free Press Seeks to Connect

Communities and Fill a Gap

The untimely passing

of respected community

and business leader, Alfred

(Al) Holman left a void in

the Milford community. Al

along with his wife Marilyn,

published the Milford Town

Crier for many years. Readers

relied on the paper for

news, town and school updates,

and a sense of community

and connectivity.

Chuck Tashjian, a local

publisher who worked

with both of the Holmans

over the past ten years, has

offered to bring the community

a new monthly publication,

the Milford Free Press.

The goal of the Free

Press is to be a resource and

to continue the tradition

of letting residents know

what's going on in their

community. The new paper

will be direct-mailed, free

of charge, to all households

and businesses in Milford.

Free Press staff members: Wendy Watkins, Graphic Design; and

Shelley Ryan, Editor. Photo by Sarianna Theall

This publication is a way

for readers to stay abreast

of all their town has to offer.

We look forward to celebrating

your special moments,

events, town news,

school news, sports teams

and accomplishments, both

big and small. Two members

of the former Town

Crier staff have joined the

Free Press: Wendy Watkins,

Graphic Design; and Shelley

Ryan, Editor. Both are

local area residents. Coming

soon is the Free Press website,

milfordfreepress.com.

If you have story ideas,

please email them to

editor@milfordfreepress.com.

Making New Year's

Resolutions Stick

An outdoor yoga session led by The Yoga Exchange at Stoddard Park in

Holliston. Contributed photo

By Linda Chuss

Staff Writer

Over 4,000 years ago, as part

of an annual planting celebration,

some Babylonians made

vows to repay debts or return

borrowed items. Today, about

forty percent of people ritually

make New Year's resolutions,

with nearly half of them seeking

more physical activity. According

to Strava, an exercise tracking

service, only ten percent will

meet their goal and maintain it

for two years. Most people quit

in the first month, with January

weather a contributing factor in

Massachusetts.

Studies have shown how to

make it more likely to fulfill a

resolution:

• Only commit to one resolution.

• Understand the reasons behind

the goal. What improvement

will it bring? Why is that

important?

• Make the goal challenging but

achievable, defining specific

RESOLUTIONS

continued on page 12

PREMIUM CERTIFICATES

Rates as

high as

4.35 %

APY*

Open a Premium Certificate online

today at centralfcu.com.

Milford branch

opening in

Spring of 2023!

*Annual Percentage Yield. Additional terms available. Rate is subject to change without notice. Rates are fixed for length of the term. Rate valid as of 1/3/23 Share certificates up to and including 1 year term are subject to early

withdrawal penalty of 3 months' dividend; over 1 year term subject to a penalty of 6 months' dividend. Penalty may impact principal. To be eligible for premium certificates, member must be 18 years of age or older, open and

maintain a Premium Checking account. Minimum balance is $10,000. See branch or website for details. Federally insured by NCUA. centralfcu.com | (800) 527-1017

FACT: IMPERIAL SELLS A VEHICLE EVERY 15 MINUTES!

5 DEALERSHIPS | EIGHT BRANDS | BEST VEHICLE SELECTION IN NEW ENGLAND

SHOP AND COMPARE - SAVE THOUSANDS ON OVER 2,000 VEHICLES IN ONE LOCATION!

8-18 UXBRIDGE ROAD (RTE. 16) MENDON, MA | 154 EAST MAIN STREET (RTE. 16) MILFORD, MA | 300 FORTUNE BLVD, MILFORD, MA

IMPERIALCARS.COM - OPEN 7 DAYS A WEEK // 24 HOURS A DAY

INCLUDING HOLIDAYS // 800.526.2886 (AUTO)

there goes another imperial car!"
---
Page 2 Milford Free Press | MilfordFreePress.com January 2023

Alzheimer's Support Group

Cornerstone at Milford

Assisted Living and Memory

Support Community, 11 Birch

Street, Milford, is pleased to

announce that they will now

host an in-person support group

every month at their facility.

Hearts, Hugs and Hope is the

name of the group which is

geared toward families and caregivers

dealing with Alzheimer's

disease or related dementias.

There are many challenges related

to a dementia diagnosis, so

it is helpful to share your concerns

and personal experiences

with others who completely

understand what you are going

through. This group will also

help attendees to learn about

proven strategies to help better

care for your family member.

The support group will be held

on the second Tuesday of the

month, at 6 p.m., at Cornerstone

in Milford. Light refreshments

will be served.

Call 508-473-0035 to RSVP

or please contact Director of

Compass Memory Support

Programming Jenn Hozempa at

jhozempa@cornerstonemilford.

com for more information.

GET NOTICED!

Contact Jen to find out how you can use this space

to reach more than 12,800 homes and business each month!

Milford Senior Center

The Milford Senior Center is open to the public for

monthly and weekly classes and activities for those interested.

Hours of operation are Monday through Thursday,

from 8 a.m. to 4:30 p.m., and Friday, from 8 a.m. to 1 p.m.

Closed Saturday and Sunday. Contact Senior Center staff

for more information at 508-473-8334.

Tuesday, January 17

Book Group, 10 a.m., free

Writers Group 11 a.m., free

Wednesday, January 18

Stillwater Movie of the Month, 1 p.m., free

Monday, January 24

Fortune Cookie Club, 11 a.m., free

Wednesday, January 25

Trivia, 1 p.m., free

Thursday, January 26

Men's Group, 10 a.m., free

Call 508-570-6544 or email jenschofield@localtownpages.com

Weekly Fitness Schedule:

Mondays

Gym/fitness equipment, 8:30 a.m. to 3:30 p.m.

Dance Fitness (Instructor Jenny Barrett), 9 a.m.

Strength & Fall Prevention (Instructor Andrea Longo),

10 a.m.

Low Impact Fitness (Instructor Shirley Areano), 1 p.m.

John C. Park, DMD

Cosmetic & Family Dentistry

Relaxed, Friendly Atmosphere

u Cleaning & Exams

u Fillings

u Invisalign ®

u Teeth Whitening

u Bridges

u One-Day Crowns

u Children Welcome

508-473-6500

parkplacedentalma.com

54 Hopedale St., Suite 8, Hopedale

Welcoming

NEW

Patients

Additional location in Hopkinton – HopkintonDMD.com

Tuesdays

Gym/fitness equipment, 8:30 a.m. to 3:30 p.m.

Pilates (Instructor Marcella Pannenborg), 8:20 a.m.

Step & Strength (Instructor Jean Gillis), 9 a.m.

Total Body Conditioning (Instructor Robin Johnston),

9:30 a.m.

Chair Yoga (Instructor Marsha Mancuso), 10:30 a.m.

Tai Chi (Instructor Jeanne McGowan-Boucher), 1 p.m.

Wednesdays

Gym/fitness equipment, 8:30 a.m. to 3:30 p.m.

Gentle Yoga (Instructor Jean Gillis), 9 a.m.

Strength & Fall Prevention (Instructor Andrea Longo),

10 a.m.

Groove & Sculpt (Instructor Andrea Longo), 11 a.m.

Muscle & Mat (Instructor Robin Johnston), 12 p.m.

Thursdays

Gym/fitness equipment, 8:30 a.m. to 3:30 p.m.

Barre (Instructor Marcella Pannenborg), 8:20 a.m.

Yoga (Instructor Marsha Mancuso), 9:15 a.m.

Fun & Functional (Instructor Christine Bositis), 10:30 a.m.

Low Impact Fitness (Instructor Shirley Areano), 1 p.m.

Fridays

Gym/fitness equipment, 8:30 a.m. to 12:30 p.m.

Cardio Strength Circuit (Instructor Jean Gillis), 9 a.m.

Groove & Sculpt (Instructor Andrea Longo), 10 a.m.

Fit Ball Strength & Stretch (Instructor Andrea Longo),

11 a.m.
---
January 2023 Milford Free Press | MilfordFreePress.com Page 3

Luncheon Helps Grieving Mothers Move Forward

By Grace Allen

Staff Writer

A yearly luncheon hosted

by Gilly's House attempts to

acknowledge and address the

profound grief mothers feel after

losing a child. Held each November,

the luncheon is an opportunity

for mothers to gather, reflect,

and learn how to move forward.

"Everybody grieves differently,

but I've met so many

mothers who have lost a child

and are stuck in their grief process,

even years later," said Barbara

Gillmeister. She decided to

hold the annual event as a way

to help local mothers shift their

approach to grief.

Gillmeister, along with her

husband David, founded Gilly's

House in memory of their son

Steven, who passed away from a

heroin overdose in 2016. Gilly's

House, located in Wrentham,

is a sober home for young men

who have completed treatment

but now need a place to continue

their recovery.

Eighty women attended this

year's event, which was held on

November 14 at the Chabad

Jewish Center in Milford. Mothers

who lost a child from any

cause were welcome.

The luncheon is free, with all

the food provided by the center's

leader, Rabbi Mendy Kivman,

and his wife Rochy. Mrs.

Kivman cooks the meal, while

beverages, goody bags, and door

prizes are donated by sponsors.

Each year, the luncheon features

speakers who demonstrate

how they have found new purpose

after losing a child. Becky

Savage, who lost two sons in one

evening to an oxycodone overdose,

spoke at the Nov. 14 lunch.

She and her husband started the

From left, Becky Savage of the 525 Foundation, with Barbara Gillmeister

and Maureen Cappuccino of Gilly's House. Contributed photo

525 Foundation, an Indianapolis-based

organization dedicated

to raising awareness about the

dangers of alcohol and prescription

drug abuse.

"We try to present people who

have done something in honor

and memory of their children,"

said Gillmeister. "It doesn't have

to be a big thing, but it hopefully

gives these mothers ideas on how

to find a purpose to help them

move forward."

The luncheon also provides

camaraderie for grieving mothers,

many of whom have lost a

child to substance use disorder.

The shared experience can be

very powerful, said Gillmeister.

"You're with a group of

people that totally understand

you," she explained. "Everybody

cries and laughs together and

there's no judgement of whether

you were a good parent or not.

It's comforting to be with other

people who you don't have to

explain your feelings to."

Gillmeister says the luncheon

is always held in November, before

Thanksgiving, for a reason.

"It's the beginning of the

holiday season, and the empty

chair at the table is really hard,"

she said.

Lynn Wencus lost her son Jeff

in 2017 to a drug overdose. The

Wrentham mother has attended

the Gilly's House luncheon the

past two years. It's comforting,

she said, to be around other

mothers who are going through

the same experience, and to

hear the inspirational stories of

the speakers.

"I think, for a mom, the

worst thing that can happen is to

lose a child," said Wencus. "You

carried them for nine months

and fell in love with them before

they even came into this world.

While it doesn't give you peace,

Rabbi Mendy Kivman, leader of the Chabad Jewish Center in Milford,

addresses the mothers. Contributed photo

it's nice to be around people

who get the grief and pain."

After Jeff died, Wencus became

involved in advocacy work

with Team Sharing, a national

organization of parents who

have lost a child to substance use

disorder.

Rae Finn, the owner of

Hogwash 'n Rhinestones, was

a special guest at the luncheon.

Her Metrowest-based organization

upcycles clothing and accessories,

providing used items with

new life. The theme "tattered

and relentless" was presented to

the mothers as a tangible way

to acknowledge they are not the

same persons they were before.

Like Finn's upcycled items, they

can reinvent themselves and find

new meaning in life. For an icebreaker

activity, Finn provided

the attendees with lapel pins and

letters they could personalize

with their child's name or a message

such as Strength or Hope,

for example.

Gillmeister says feedback

from the luncheon is uniformly

positive, despite how emotionally

difficult it can be for some

to even walk through the door.

The experience can be draining

yet cathartic, and she hopes the

yearly gathering can help mothers

find a purpose to help them

on their grief journey.

In her welcome address to

the mothers, Gillmeister said,

"Our children would not want

to see us stuck, unable to move

from that awful moment in time

that changed our lives forever.

We need to take our memories,

hold them tight, and move forward

with our lives."

For more information about

Gilly's House, or to be put on a

mailing list for next year's luncheon,

visit gillyshouse.com or

call 508-384-2251.

Brand Spankin' New

2023 TOYOTA

RAV4 LE SUV

ADV AWD - 2.5L

• Back-Up Cam • Bluetooth • Lane Departure

MSRP:

$31,140

BUY FOR AS LOW AS:

LEASE FOR AS LOW

$

309 *

AS:

$

30,640 + PER MONTH • PLUS TAX

#PC328037

save $ 500

12 RAV4s

AVAILABLE

*New 2023 RAV4 LE AWD with MSRP: $31,140. Lease requires approved credit; based on 10,000 miles per year.

$0.15 per mile excess. Lease for $309 per month for 39 months with $2,999 due at signing (including $2,040 cash or

trade down, first month's payment of $309, and acquisition of $650). Tax, title, registration, and inspection fees are additional.

$0 Security deposit. Lessee is responsible for insurance, maintenance, repairs, excess wear/tear, and $350

disposition fee where permitted by law. Example Stk# PC328037. Offer ends 01/31/2023.

Brand Spankin' New

2023 TOYOTA

HIGHLANDER

XLE - 2.4L FWD

• Back-Up Cam • Bluetooth • 3rd Row Seats • Alloys

MSRP:

$43,643

BUY FOR AS LOW AS:

$

43,143 + PER MONTH • PLUS TAX

*New 2023 Highlander XLE 2.4L FWD with MSRP: $43,643. Lease requires approved credit; based on 10,000 miles per

year. $0.15 per mile excess. Lease for $439 per month for 36 months with $3,199 due at signing (including customer capitalized

cost reduction of $2,110 first month's payment of $439, and bank acquisition of $650). Tax, title, registration, and

inspection fees are additional. $0 Security deposit. Lessee is responsible for insurance, maintenance, repairs, excess

wear/tear, and $350 disposition fee where permitted by law. Example Stk# TM23-69. Offer ends 01/31/2023.

IMPERIAL TOYOTA

+ SALE ENDS 01/31/2023. CANNOT BE COMBINED WITH ANY OTHER PROMOTION OR DISCOUNTS. PRICES NOT VALID WITH PRIOR SALES. SOME RESTRICTIONS APPLY. PRICE INCLUDES ALL

APPLICABLE REBATES AND INCENTIVES INCLUDING $1000 IMPERIAL TRADE ASSIST. SEE US FOR DETAILS. DELIVERY MUST BE TAKEN FROM DEALER STOCK. CUSTOMER'S FINAL PAYMENT

MAY BE HIGHER OR LOWER DEPENDING ON FINAL TRANSACTION PRICE. ADVERTISED PRICE DOES NOT INCLUDE TAX, TITLE, REGISTRATION AND $399 DOCUMENTATION FEE. THE BUY FOR

PRICE REQUIRES DEALERSHIP SOURCE FINANCING. 5 DAY OR 200 MILE RETURN EXCHANGE PROGRAM FOR YOUR TOTAL CONFIDENCE - IF YOU'RE NOT HAPPY WITH YOUR IMPERIAL CERTIFIED

USED VEHICLE, BRING IT BACK WITHIN 5 DAYS OR 200 MILES AND WE WILL GIVE YOU A CREDIT OF YOUR FULL PURCHASE PRICE TOWARD THE PURCHASE OF ANOTHER IN STOCK VEHICLE.

NOT RESPONSIBLE FOR TYPOGRAPHICAL ERRORS. PHOTOS ARE FOR ILLUSTRATION PURPOSES ONLY. CALL 1-508-488-2382 TO SET UP AN APPOINTMENT TO TEST DRIVE.

LEASE FOR AS LOW

$

439 *

AS:

#TM23-69

save $ 500

19 HIGHLANDERs

AVAILABLE

$

1,000

IMPERIAL TOYOTA

is New England's

LEASE RETURN HEADQUARTERS

FAST & EASY PROCESS

300 FORTUNE BOULEVARD | MILFORD, MA 01757

508-488-2382 • IMPERIALTOYOTAMA.COM

NOW SERVICING ALL MAKES AND MODELS | MON-TH 9-9, FRI & SAT 9-6, SUN 12-6

$

1,000

Drive in or Call Ahead to Schedule an Appointment

We gladly accept all Toyota Lease Returns

‐ even if your lease is not from us.

AND WE WILL PAY YOU $1000 ON THE

SPOT FOR TOYOTA LEASE RETURNS

CALL: 508-488-2382
---
Page 4 Milford Free Press | MilfordFreePress.com January 2023

The Milford Town Clerk's Office Update:

The Annual Street Listing/

Annual Town Census will be

mailed to households in January

2023.

It's important to return

your Annual Street Listing

every year even if there are

no changes to the form. Years

from now, you may need to

prove that you or your children

lived in Milford or resided in

Massachusetts during a certain

time period and the street list

for that year is the proof of

residency. You can return the

Annual Street Listing to our

office by using the enclosed

envelope, faxing your form

to 508-634-2324, or by email

to MilfordAnnualCensus@

townofmilford.com.

What do I need to do with

the form?

Please look over the names

FR PRESS

Published Monthly

on the 2nd Thursday

Mailed FREE to the

Community of Milford

Circulation: 12,800

households & businesses

Publisher

Chuck Tashjian

Editor

Shelley Ryan

Send Editorial to:

editor@milfordfreepress.com

Advertising Sales

Susanne Odell Farber

508-954-8148

sue@sodellconsult.com

Advertising Sales Manager

Jen Schofield

508-570-6544

jenschofield@localtownpages.com

Y EFFICIENT

Creative Design & Layout

Michelle McSherry

Kim Vasseur

Wendy Watkins

Ad Deadline is the Wednesday

8 days prior to publication date.

Free Press assumes no

financial liability for errors or

omissions in printed advertising and

reserves the right to reject/edit

advertising or editorial submissions.

© Copyright 2023 Free Press

listed on the form. If there are

no changes to the pre-printed

information, simply sign and

date the form and return it to

the Town Clerk's office. Add

any new people who reside at

your address and indicate with

a "M" (Moved) or "D" (Deceased)

if someone has moved

or passed away. Students living

away at school and residents

who are in a nursing home or

away in the military are still

considered residents of Milford

and can remain on the census.

Check to see that the date of

birth is correct for each person

and correct it if it is not. Please

list a contact phone number for

the household and indicate if it

is public or unlisted. Please add

or correct the "Occupations"

column listed on the form and

list what grade if a child is in

school. The "Voter" column

tells you what each person's

voter registration status is. "U"

stands for "Unenrolled" which

means not enrolled in any particular

political party. This is

what most people mean when

they say "Independent." Other

designations are: "D" for

Democrat or "R" for Republican

and if there is no letter in

the "Voter" column means the

person is not registered to vote

in Milford.

To make any changes to

your voter information on the

street list, you would need to

sign the bottom of the form

in order for the change to

be processed. No changes to

voter information can be made

without the voter's signature.

To register to vote you need to

complete a Voter Registration

Form. Please call the Town

Clerk's office if you need one,

or you can download one from

our website (www.milfordma.

gov).

What happens if I don't

return the form?

Registered voters who do

not return the Annual Street

List Form and do not respond

to a follow up mailing will be

designated an "Inactivate"

voter on the street/voter list.

Such persons will only be eligible

to vote after they fill out

an "Affirmation of Current and

Continuous Residence" the

next time they come to vote.

Every household that fails to

complete the form has to be

contacted a second time, which

takes additional time, paper

and postage.

POWERED BY PROPANE

HIGHLY EFFICIENT

Home Heating • Grilling • Generators

Pool & Spa Heating • Outdoor Kitchens

Fireplaces & Fire Pits • Patio Heating & Lighting

Call today to make your life better with propane!

508.533.6561

medwayoilpropane.com

Last year I indicated that

someone moved out, so

why are they are still on

the form?

A registered voter who

moves and does not register

to vote in another community

cannot be removed from our

street list until they have not

voted in two consecutive state

elections (which may be why

you may have told us someone

moved but they still appear

on your form). If you have a

forwarding or new address for

these individuals, please provide

their new address to us so we

can mail them paperwork to be

removed or you can tell them to

register in their new MA community.

When they do, their

name will be removed from our

records.

Who should complete the

street list/census form?

Any adult residing in the

home can complete and sign

the form.

Dog Licenses:

Dog licenses are issued at the

Town Clerk's office. Our licensing

period runs from April 1–

June 30 each year. If you return

the insert portion in the Annual

Street Listing to register your

dog, we will hold the form until

April 1 to do so. Please make

sure to send a valid rabies certificate

to our office by mail,

or email it to MLaughlin@

townofmilford.com. If you

have a new puppy/dog, please

register the puppy/dog after it

receives its rabies vaccination

(you will need to provide our

office a copy of the rabies certificate).

Copies of spay/neutering

certificates will also be

required for all new puppies/

dogs if applicable. Those pet

owners who are renewing their

dog licenses from the previous

year will only need to present

a spay/neutering certificate if

the surgery for spay/neutering

was done after you have registered

your dog in 2021. We will

also need a new/valid rabies

certificate if it has expired. If

you are unsure, you can always

call our office to verify what

documentation may be needed.

If you no longer have a dog at

your residence, you can call or

email the office so that we can

remove you from our dog list.

Town Election:

Nomination papers will be

available Tuesday, January

3, 2023 for all elected offices,

including Town Meeting Members.

The following people are

up for Re-Election in 2023:

Thomas J. O'Loughlin, Select

Board, three-year term

Amy E. Hennessy Neves,

Town Clerk, three-year term

Scott Crisafulli, Highway

Surveyor, three-year term

Steven L. Borges, Board of

Assessors, three-year term

Leonard A. Izzo Sr., Board

of Health, three-year term

Edward Bertorelli, Library

Trustee, three-year term

Ann Ragosta, Library

Trustee, three-year term

Paul J. Braza, Park Commissioner,

three-year term

Leonardo L. Morcone,

Sewer Commissioner, threeyear

term

Charles E. Reneau, Tree

Warden/Gypsy Moth Supt.,

three-year term

Jennifer Parson, School

Committee, three-year term

Michael Aghajanian, School

Committee, three-year term

Scott Crisafulli, Trustee

Vernon Grove Cemetery, threeyear

term

Robert E. Rogers Jr., Trustee

Vernon Grove Cemetery, threeyear

term

Other Offices on the 2023

ballot:

Planning Board seat, fiveyear

term

Planning Board seat, threeyear

unexpired term

Water Commissioner, threeyear

term

Water Commissioner, twoyear

term

Water Commissioner, oneyear

term

Town Meeting Members Precincts

1–8 (top 30 vote getters

will fill seats)

Please contact the Town

Clerk's Office if you are interested

in obtaining nomination

papers so we can get them prepared

in advance.

Vote by mail will be available

for this election, please

complete an application for

April 4, 2023 if you wish to

vote by mail at https://www.

milfordma.gov/town-clerk/

files/2023-vote-mail-application.
---
January 2023 Milford Free Press | MilfordFreePress.com Page 5

Special Delivery

Childbirth Education Classes

Resume at Milford Regional

Lyla Fasulo from Girl Scout Troop 65017 and Payton Fasulo from

Girl Scout Troop 65217 on Christmas helping CCC with their

Christmas dinner deliveries. Contributed photo

Milford Regional Medical

Center is pleased to announce

that in-person and virtual childbirth

education classes will once

again be offered to expectant

parents beginning in January

2023 and running through the

end of the year.

Each session will walk parents

through the last weeks of

pregnancy discussing discomfort,

exercise and nutrition.

Sessions will also focus on birth

plan options, stages of labor,

comfort measures during labor,

cesarean births, immediate

postpartum, newborn care and

much more.

Classes will be given by instructor

Laura Laird, a certified

and experienced Childbirth

Educator (BCCE) whose goal

is to help expectant parents feel

prepared and supported during

their last weeks of pregnancy,

labor and delivery and postpartum.

"We are thrilled to once

again be offering these very

informative childbirth education

classes at Milford Regional,"

said MRMC's Director

of Maternal Health Rose

Galimi-Hayes. "Laura comes

to Milford Regional as a highly

recommended childbirth educator

whose experience, knowledge

and warmth will help

parents through the final stages

of their pregnancy journeys,

as well as the beginning of life

with their newborns."

Milford Regional is offering

several childbirth class options

including an in-person, fourweek

session at Milford Regional

on Wednesday evenings,

from 7 to 9 p.m., a virtual

four-week session on Monday

evenings, from 7 to 9 p.m., and

in-person weekend sessions at

the hospital that cover everything

over a two-day period

on Saturdays, from 9 a.m. to 1

p.m. and Sundays, from 12 to

4 p.m. A tour of the Maternity

Center will be provided for inperson

sessions. Masks are required

for all in-person sessions.

Participants do not have to

be delivering at Milford Regional

to participate in these

classes. It is recommended that

participants register no later

than their 36th week.

The fee is $200 per session.

Space is limited. To register,

view milfordregional.org and

click on "Classes and Events."

For questions, contact Michelle

Sanford, Public Relations and

Community Benefits Manager,

at 508-422-2827 or msanford@

milreg.org.

In loving memory of

Al Holman

from all of us at

New England Steak & Seafood Restaurant

Need a warm coat?

The Sacred Heart Church

Coat Closet, 11 East Main

Street, will hold its next

Free Coat Giveaway day

on Saturday, February 4,

from 9 a.m. to 11 a.m.

Have a warm coat

you don't need?

Donations of coats in

good condition are accepted

in the collection

bins in front of the Parish

Center, 11 East Main

Street. No "dry clean only"

fabrics, please.

For more information,

contact ccdoffice@sacredheartmilford.org

or visit

https://bit.ly/3jEQ4P3.
---
Page 6 Milford Free Press | MilfordFreePress.com January 2023

Milford Seeks Combined

Economic Development

Director and Assistant

Town Administrator

Thanks to Yanks Gives Back

By Theresa Knapp

Staff Writer

At its meeting on Dec. 19,

the Milford Select Board discussed

hiring an Economic Development

Director who would

also serve as a part-time Assistant

Town Administrator.

"This individual could focus,

at the beginning, on downtown;

this position and this person

would be focused on that," said

Town Administrator Richard

Villani. "I think it's time to also

think about an Assistant Town

Administrator on a part-time

basis."

Select Board Chair Tom

O'Loughlin agreed downtown

should be a main focus.

"There's nothing better than

a vibrant downtown…This

is very, very important to this

community."

According to the three-page

job description in the Select

Board's Dec. 19 packet, the

previous draft of the Economic

Development Director job description

was revised on Dec.

15 to "Assistant Town Administrator/Economic

Development

Director" with the objective

of performing "administrative,

planning, and technical work in

the coordination and management

of Town government as

chief staff officer to the Town

Administrator."

A Bachelor's degree is required

with at least three years

of experience; a Master's degree

is preferred. There are

also numerous "mental requirements"

listed.

The job description was forwarded

to the town's Personnel

Board for approval.

For the full job description,

visit https://bit.ly/3YVXGg1.

Pictured are Jacob, Maggie, Ellie, Logan, and Connor McIsaac, as well as Mike Shain, founder and

president of Thanks To Yanks, a local charity dedicated to supporting, those who serve in our military.

Recently, the charity made a $500.00 donation to the Italian American Post # 40, in support of

their dedication of service to others. For more information on Thanks To Yanks, please like them on

Facebook. Photo by Gavin McIsaac

FORENSICS

SPORTS BROADCASTING

Franklin, Mass.

PROGRAM OPTIONS: FORENSICS AND SPORTS BROADCASTING

Enjoy an unmatched experience at Dean College this summer while earning college credit.

• Earn college credit for successful completion of course/program.

• Get advice on the college admissions process from a Dean College admissions counselor during a free one-on-one consultation.

• Get unmatched instruction by leaders in their respective fields.

• Find unique experiences and field trips embedded into each program with behind-the-scenes access to program-specific venues, including Gillette

Stadium and New England Patriots training camp. Tentative trips are planned to a science lab and police station for forensics, and a baseball stadium

for sports-specific programs, along with the opportunity to call live play-by-play and host talk show programs.

Attend one of our FREE virtual information sessions to learn more:

• Information Session I: April 11, 2023, 5:30–6:30 p.m.

• Information Session II: May 3, 2023, 6–7 p.m.

Dean College does not discriminate on the basis of race, color, religion, sex, sexual orientation, gender identity, national or ethnic origin, age, disability, protected veteran status, genetic information, or other protected classes under the law. For more information, visit dean.edu.

We offer two one-week sessions

for each program:

JULY 23–28, 2023

JULY 30–AUG. 4, 2023

DEAN.EDU/SUMMER

508-541-1626
---
January 2023 Milford Free Press | MilfordFreePress.com Page 7

Annual Mitten Tree

was a Great Success

Stockings for Seniors a Milford

Holiday Tradition

Nine years ago, Cornerstone at Milford Assisted

Living came up with a way to give back to

the community during the holidays. Stockings

for Seniors, is a program that joins together area

businesses and organizations to create holiday

gifts for Milford area seniors. "Each year, we

are inspired by the generosity of so many in our

community, who come together to help make

this tradition possible," said Jared Pearson Director

of Community Relations for Cornerstone

at Milford Assisted Living.

With the help of local businesses, organizations

and eldercare professionals, Cornerstone

was able to donate more than 250 stockings.

Each stocking was filled with items like socks,

mittens, beauty care products, stamps and gift

cards to the Milford Senior Center, who helped

distribute the stockings to seniors.

Cornerstone would like to say a special thank

you to the following individuals, local businesses

and organizations who donated time, funds and

materials: Milford Senior Center, Tri-County

Regional Chamber, Bellingham Senior Center,

The Enclave of Franklin, Countryside Health

Care of Milford, Franklin Senior Center, The

Aging Space, Edward M. Kennedy Community

Health Center, Legacy Office Solutions, Inc,

Local Business First, Suburban Lifestyle Real

Estate, Vivilicious Treats, The Wine House,

Staples, New Hope, Inc, Central One Federal

Jared Pearson, Kim Cookson, Marcia Lombardo,

and Courtney Riley. Contributed photo

Credit Union, Tri-Valley, Inc. AlcComply,

Aligned Nutrition Counseling, Inc., Bright

Insurance Agency, DaiNell Consulting & Bookkeeping,

Shawon Davis, LLC

"Stockings for Seniors brings together

families and friends, partners and vendors, coworkers

and neighbors, to bring joy to those in

need," Pearson added.

Any Room, Any

Home, Anywhere

Milford Town Library annual Mitten Tree. Contributed photo

By Theresa Knapp

Staff Writer

The annual Milford Town

Library Mitten Tree was handsdown

the most successful holiday

program in 2022.

"The big success of the

season was the Mitten Tree,"

reported MTL Information Services

Supervisor Anne Berard.

"The Children's Librarian said

we had over 200 items, mostly

mittens and gloves but people

also gave scarves, hats and some

socks."

Berard said some of the items

were purchased but many were

hand-knitted or crocheted and

donated by volunteers who work

on the project throughout the

year.

For more than 30 years, a

Christmas tree has been set up

in the Children's Room which

is "decorated" with donated

warm winter accessories that

are then distributed to local

charities.

This year, items were shared

with Children Across America,

Thanks To Yanks, and the Sacred

Heart Church Coat Closet

for its January and February

giveaways.

© 2021 Mitsubishi Electric Trane HVAC US LLC. All rights reserved.

Consider installing a Mitsubishi Electric Ductless System!

These systems provide year-round comfort and are up to

40% more efficient than traditional systems.

We offer 0% Financing and Rebates through Mass Save.

We are an Elite Diamond Contractor, offering the 12 &12

Warranty Program, as we have reached the highest level

of accreditation, training, and hands-on expertise.

Call us for a free estimate

508-473-6648

www.boucherenergy.com

In the ceiling, on the wall, ductwork or no ductwork.

We provide energy-efficient heating and air-conditioning.
---
Page 8 Milford Free Press | MilfordFreePress.com January 2023

Decades of Service to the Community Welcoming 2023

By Roger M. Kaldawy, M.D.

Milford Franklin Eye Center

Milford-Franklin Eye Center

has been providing excellent eye

care to the community for decades.

With much excitement,

we are happy to announce that

we have grown to a dedicated

group of 8 physicians and Optometrists

in our state-of-the art

medical offices in Franklin, Milford

and Millis. We are a group

of eye physicians/ surgeons and

optometrists offering the latest in

comprehensive and surgical eye

care for the entire family. 2023

is here and we would like to welcome

the entire community to

our offices and surgery center.

With offices located in Milford,

Franklin and our new office

in Millis, our own award-winning

surgery center in Milford

and a support staff of 50, we are

proud to be the leading medical

and surgical eye care center in

the area and one of the major

eye care centers in the State. We

are also one of the rare ophthalmology

practices to own and

operate our own surgical center,

the Cataract Surgery Center of

Milford. No longer need to travel

Shalin Zia, O.D.

Optical

Shop

On-Site

MILFORD - FRANKLIN

EYE CENTER

Roger M. Kaldawy, M.D. John F. Hatch, M.D. Bryan Hong, M.D.

Donald L. Conn, O.D.

Dr. Mai-Khuyen Nguyen, O.D.

SMILEFORVISION.COM

Michael R. Adams, O.D.

Saturday &

After Hours

Available

World-Class Eye Care & Surgery in Milford

New Patients Receive a Free Pair of Select Glasses

FRANKLIN OFFICE

750 Union St.

508-528-3344

MILFORD OFFICE

160 South Main St.

508-473-7939

MILLIS OFFICE

730 Main St.

508-528-3344

miles and hours to have cataract

surgery! Three experienced

eye physicians/ surgeons and 5

optometrists are here to provide

comprehensive and excellent eye

care for the entire family. If your

eyecare provider is still asking

you to travel faraway to secure

eye treatments, call us for a second

opinion.

Dr. Roger Kaldawy is an

experienced eye physician and

surgeon and the area's only

full-time specialist in corneal

diseases. Having completed

his training in Ophthalmology

at University of Rochester

and his fellowship in Cornea

and Refractive Surgery at the

prestigious Department of Ophthalmology

of the University of

Iowa, Dr. Kaldawy served as Assistant

Professor of Ophthalmology

at Boston University where

he was Director of the Cornea

and External Disease program

and trained fellows and residents

in Ophthalmology. Some of his

trainees are now in academic

and private practices in Massachusetts

and around the world.

Dr Kaldawy published research

articles in peer-reviewed academic

journals and has been invited

as a guest speaker to many

prestigious academic programs

in the US and around the world

including University of New

York, Stanford University and

University of Wisconsin, Madison.

Dr. Kaldawy is proud to be

the first surgeon in central Massachusetts

and among a handful

of surgeons in the State to have

performed DSAEK corneal

transplantation. With special

interest in cataract surgery, Dr

Kaldawy has performed over

30,000 procedures and surgeries

and was the first surgeon

in the area to offer the highly

advanced accommodating

implants. Dr Kaldawy was the

first surgeon in the area to offer

bladeless laser-assisted Femto

cataract surgery. This laser

procedure is offered locally at

the Cataract and Laser Surgery

Center of Milford.

Dr. John Hatch is the only

fellowship trained pediatric

ophthalmologist in the area and

is a skilled surgeon with training

in the latest techniques for

straightening misaligned eyes.

Dr. Hatch earned bachelors and

master's degrees in engineering

from Boston University

Dr. Purvi Patel, O.D.

SURGERY CENTER MILFORD

145 West St.

508-381-6040

and Dartmouth College. He

completed his medical degree

at the University of Massachusetts

Medical School in 1988,

followed by residency in Ophthalmology

at Yale-New Haven

Hospital and fellowship in Pediatric

and Neuro-ophthalmology

at Duke University. Returning

to his home state in 1993, Dr.

Hatch joined the Milford-Franklin

Eye Center where he focuses

on comprehensive pediatric and

adult ophthalmology and adult

strabismus.

Dr. Bryan Hong is our

practicing vitreoretinal specialist.

Dr. Hong is a graduate of

Yale College and Yale School

of Medicine. He completed

his ophthalmology residency

at the University of Southern

California Eye Institute and the

Doheny Eye Institute in Los

Angeles, CA. He then went on

to complete an intensive vitreoretinal

disease fellowship at the

Wills Eye Hospital in Philadelphia,

PA. Dr. Hong will be providing

retina care in our practice

starting September 2022, and

specializes in eye surgery, laser

surgery, and diseases of the

retina, including macular degeneration,

macular diseases, vitreomacular

interface abnormalities,

retinal vascular diseases, diabetic

retinopathy, trauma, retinal detachments,

uveitis, and cataract

complications. His research

interests include retinal imaging,

novel surgical techniques, and

medical cost-efficacy analyses.

Dr. Adams, graduated from

John Carroll University, Bachelors

of Science, summa cum

laude, in 1995. He completed

his Masters in Biochemistry

from The Ohio State University

in 1997. In 2003 he received his

Doctorate from the New England

College of Optometry. Dr.

Adams has advanced training in

corneal pathology, specialty contact

lenses, ocular disease and

laser refractive surgery.

Dr. Mai-Khuyen Nguyen

joined Milford-Franklin Eye

Center from the New England

Carpenters Benefit Fund – Vision

Center, where she served as

Head of Optometry. She has

over 10 years of experience in

comprehensive eye exams for

adult, geriatric, pediatric, and

special needs populations. Her

experience includes performing

contact lens fitting and managing

contact lens complications.

Dr Nguyen is also experienced

in glasses fitting and lens edging.

Her charitable activities include

participating in Boston Cares

program and the Boston Special

Olympics.

Dr. Donald L. Conn is a

comprehensive optometrist

offering the latest in comprehensive

eye care for the entire

family. Dr Conn earned his

Bachelor of Science from College

of the Holy Cross in 2016.

He then went on to earn his

Doctor of Optometry degree

from New England College of

Optometry in 2021. He has

completed a residency in ocular

Disease and Primary care at the

Bedford VA in June 2022. His

clinical experience also includes

clinical rotations at Lahey Hospital

& Medical Center, Boston

Medical Center and South

Boston Community Health

Center. Dr Conn will join our

team in August of 2022. He is

experienced in providing care

to patients of all ages including

adults, geriatrics and pediatric

populations. Outside of work

Dr Conn enjoys long distance

running and spending time with

friends and family.

Dr. Purvi Patel, OD originally

from the tri-state area, received

her bachelor's degree from The

College of New Jersey in 1996

and her Doctor of Optometry

from the State University of

NY College of Optometry in

2000 through a joint accelerated

B.S.-O.D. program. She then

completed a residency in Ocular

Disease and Special Testing. In

2003, Dr. Patel joined the New

England College of Optometry

as Clinical Assistant Professor.

Through her role as Director of

Eye Care Services at Whittier

Street Health Center and then

The Dimock Center, one of the

largest community health centers

in Boston, Dr. Patel brings with

her teaching and leadership experience.

She is a Fellow of the

American Academy of Optom-

EYES

continued on page 9
---
January 2023 Milford Free Press | MilfordFreePress.com Page 9

Thoreau Foundation Scholarship

Applications due February 1

The Henry David Thoreau Foundation is a

charitable trust that propels environmental leadership

across disciplines. Through scholarships

and grants, it strengthens the ability of undergraduate

students and professors to

pursue collective study of environmental

issues and promote more

creative action.

Applications are due Feb. 1.

Applicants must reside in Massachusetts

and be in their final year

at a Massachusetts high school;

plan to enroll in college in the year

the scholarship is awarded; and demonstrate

strong academic qualifications

and a commitment to an environmental field.

Since 1999, the Thoreau Foundation has

provided more than $7 million to support environmental

work. Each year we award scholarships

to outstanding Massachusetts high school

seniors – the next wave of environmental

leaders who will pursue interdisciplinary

environmental studies in college and

beyond. We also fund visionary

programs at U.S. colleges and

universities, forging alliances

with professors, strengthening

our environmental network, and

extending our impact.

For more information, including

the online application, visit

www.thoreauscholar.org/

Editor's note: Do you know a Thoreau

Scholar who would like to share their

story? If so, contact editor@milfordfreepress.

com.

Cradles to Crayons

Donations Being Accepted

Local bins nearby

Cradles to Crayons creates

KidPacks that are handselected

with great care to

meet children's specific wants

and needs. They accept a wide

range of new and like-new

items for children from birth

through age 12. Their mission

strives to provide every

child with the essentials they

need to feel safe, warm, and

valued. According to www.

cradlestocrayons.org, their

most-needed items include

clothing (youth sizes 0-20, and

adult sizes small and; medium),

winter coats and jackets, shoes

(infant/child sizes 5-13 and

adult sizes 1-10). They also accept

new socks and underwear;

new pajamas; books, especially

baby board books; new arts

and crafts/school supplies,

unopened diapers and training

pants, and new hygiene items.

They do NOT accept toys or

baby gear of any kind (stuffed

animals, play structures, strollers,

car seats), bathing suits,

costumes, bedding, bicycles or

ride-on toys, books and clothing

with family-related messaging

("I Love Mommy," "Daddy

and I"), cribs of any kind,

DVDs/CDs/VHS tapes/computer

games, electronics, furniture

and household goods/

items, and more.

For a full list (including what

to do with items C2C cannot

accept), visit https://bit.

ly/3Ie5aW6. Area bins can be

found in Bellingham, Wrentham

Village, Patriot Place, and

at the Auburn Mall. Please do

not leave donations outside of

donation bins even if the bins

are full. For more information,

including donation guidelines,

visit www.cradlestocrayons.org/

boston

EYES

continued from page 8

etry, with a history of publishing,

presenting and lecturing. During

the last 10 years, Dr. Patel has

transitioned to direct care and

worked in collaboration with

ophthalmology. Most recently,

Dr. Patel completed a postdoctoral

certificate for the treatment

& management of glaucoma.

Dr. Patel has clinical interests in

diabetes, glaucoma, communitybased

eye and vision care, public

health & epidemiology. Dr. Patel

currently lives in Dover, MA

with her husband and 3 daughters.

She enjoys traveling abroad,

reading and tennis.

Dr. Shalin Zia, O.D. received

her Bachelor of Science degree

from Purdue University in 2014

and her Doctor of Optometry

from Indiana University

in 2018. She moved to Massachusetts

from the Midwest

after getting married. She is a

comprehensive optometrist with

solid experienced in providing

optometric and medical eyecare

to patients of all ages. In her

free time, she enjoys working

out, listening to podcasts, and

spending time with family.

Milford-Franklin Eye Center

realizes you have choices when

it comes to eye care. We are

different. We focus on excellent

and advanced eye care and treat

our patients as if each and every

one is family. We have surgical

results that rival those of major

centers in Boston- we can prove

it. We are from the community,

most of us live in the community

and our focus is to serve the

community. You will see us in

the office, at the local supermarket

and in the ER at 1 AM if

there is a need for our care. Our

focus is you, your vision and excellent

results. We are available,

in your backyard and proud to

offer world class cataract surgery

closer to home: Here in Milford!

Our optical shop has its own

dedicated lab and can cut and

finish your glasses while you

wait. We offer after-hours, same

day emergency appointments

and Saturday appointments. We

have great management focused

on quality customer care. 90%

of our staff has been with us for

over 5 years! Excellent retention

of staff means outstanding loyalty

and training. Eight providers

dedicated to the best in eye

medicine and surgery closer to

home. Is your eyecare provider

still recommending you travel

hours to other practices and

remote surgery centers? Call

us: We are available to help and

again in 2023 like ever before.

For more details, see our ad

on page 8.

Sponsored articles are submitted by

our advertisers. The advertiser is solely

responsible for the content of this article.

Everything you

need to manage

your money.

Shop | Pay | Manage | Track

How you choose to connect with your money is

personal. That's why, at Charles River Bank, we offer

powerful solutions — including online & mobile

banking, mobile wallet, debit card control, and more —

with every checking account. So you can manage your

money how, when, and where you want!

Visit CharlesRiverBank.com

to learn more about our accounts or to get started today.

4

Gift Certificates Available

15 North Main St., Bellingham, MA 02019

www.chamberlainpines.com

(508) 966-2187 chamberlainpines@gmail.com

Medway • Bellingham • Mendon

Member FDIC

Member DIF
---
Page 10 Milford Free Press | MilfordFreePress.com January 2023

Recent Home Sales

Date Milford Amount

12/28/2022 14 Carroll Street $410,000

12/27/2022 8 Shadowbrook Lane #14 $210,000

12/23/2022 66 Mount Pleasant Street $480,000

12/22/2022 3 Y Street $480,000

12/21/2022 28 Haven Street $590,000

12/21/2022 74 High Street $433,115

12/20/2022 24 Woodridge Road $619,000

12/19/2022 49 Prospect Street $430,000

12/15/2022 16 S Main Street $401,500

12/15/2022 137 Beaver Street $540,000

12/14/2022 18 Stallbrook Road $435,000

12/09/2022 45 Jillson Circle $550,000

12/08/2022 15 Sumner Street $599,900

12/07/2022 42 Harding Street $495,000

12/06/2022 2 Manguso Court $489,900

12/02/2022 18 S Main Street $330,000

12/01/2022 21 Country Club Lane $353,000

Source: www.zillow.com / Compiled by Local Town Pages

24 Woodridge Road in Milford recently sold for $619,000.

Photo credit www.zillow.com

EVERGREEN

CENTER

WE'RE HIRING!

www.evergreenctr.org

The Evergreen Center is a residential school supporting children

and adolescents with autism and developmental challenges.

Direct Care Positions

Full-time & Part-timeAvailable!

Three Generations Dance

The Nutcracker

By Theresa Knapp

Staff Writer

Paula Cerulli Lock of

Hopedale has been dancing for

more than 60 years. She started

when she was seven years old

and has not stopped since.

Cerulli-Lock, 68, spent many

years sharing her love of dance,

both personally and professionally.

She has taught dance

at various levels and she has

danced in various productions

all over New England.

In December, she performed

once again in The Nutcracker, produced

by Miss Georgia Deane's

School of Dance in Milford,

along with her husband, daughter,

and grandchildren.

"My grandson Ryan Croeber,

age 9, played the Lead, Fritz,

and a Mouse; my granddaughter

Kailyn Croeber, age 12,

played a Party Girl, Soldier, and

Chinese Corps; my daughter,

Stacey Croeber, age 41, played a

Party Parent along with my husband

Douglas Lock, age 69, and

myself," said Cerulli-Lock.

"Having three generations on

stage at the same time in Act 1 is

a blessing for me. I have danced

since I was 7 and to have my

Three generations performed together in the 2022 production of The

Nutcracker produced by Miss Georgia Deane's School of Dance in Milford.

Pictured here are Paula Cerulli Lock and Douglas Lock of Hopedale,

and daughter and grandchildren, Stacey, Ryan and Kailyn Croeber

of Milford. Contributed photo

family share my love and passion

for ballet is a Christmas gift

in and of itself," she said before

the performance.

Her daughter danced in her

teens and in college, and her

grandchildren are both on the

dance team at Express Dance &

Acrobatics in Milford.

Cerulli-Lock says, "As a

mother and a grandmother, I

hope to leave a legacy for my

children and grandchildren,

and I have multiple things in

my life that I'd like to leave, but

most of all is my love of ballet,"

adding that her mother had

also been a dancer.

The 2022 production of The

Nutcracker was the 41st year Miss

Georgia's had performed the

classic ballet based on the 1816

short story "The Nutcracker

and the Mouse King."

BENEFITS

• Medical and Dental • Retirement Plan with Company Contribution

• Flexible Spending Plan • Voluntary Benefits

• Paid Holidays • Leave Benefits (Sick, Personal, Vacation)

Evergreen Center

345 Fortune Boulevard

Milford, MA 01757

(508) 478-2631

JOIN OUR TEAM

Scan QR Code to apply!

Equal Opportunity Employer

Our Partner in Education

Ph.D. in Applied Behavior Analysis with

Specialization in Autism Intervention Master's Degree

or Post Master's BCBA Course Sequence

PLEASE

Recycle Me!
---
January 2023 Milford Free Press | MilfordFreePress.com Page 11

Family-run Affordable Junk Removal Takes the Stress out of Cleanups

By Christie Vogt

Contributing Writer

Whether it's one old fridge

in the garage or an entire home

of unwanted goods, the team

at Affordable Junk Removal offers

a cost-efficient, stress-free

approach to waste management.

"You don't lift a finger,"

says owner Jason Schadler, who

started the company along with

his wife Christine in 2005.

The business offers same-day

service for both residential and

commercial clients across eastern

and central Massachusetts

and northern Rhode Island. In

addition to junk removal, the

company rents 15-yard dumpsters.

As a family-owned and operated

company, Schadler says

Affordable Junk Removal has

lower overhead costs and is

more accessible than national

competitors. "I answer my

phone 24 hours a day," he says.

"I was on vacation in Italy and

Portugal, and I was still answering

my phone on the beach.

When you call us, you get me —

not an automated machine!"

Schadler says the company

has an environmentally friendly

approach to disposal in which

it recycles items when possible,

properly disposes of non-recyclables

and resells many items

at the Schadlers' secondhand

store, Resellables. "We opened

that store in Bellingham because

we hated to see things thrown

away," Schadler says. "We have

four kids and sustainability is extremely

important to us."

During the business's early

days, Schadler provided junk

removal on nights and weekends

when he wasn't busy working at

a machine shop. Eventually, the

business grew into a full-time

endeavor, and the Schadlers

invested back into the company

with new equipment and techniques.

"When I first started,

for example, we didn't have

any tarps. I'm driving around

and things are flying out of

my truck," Schadler laughs.

"I'm like, 'Oh my god, I need a

tarp.'"

Schadler says his wife Christine

"was equally as involved"

in getting the business off the

ground. "She handled the backend

while I did the heavy lifting,

all while she was working at

EMC," he says. "Fast forward

17 years, and we both work full

time managing the company as

well as other endeavors. Business

is doing great; it has grown

tremendously to a fleet of trucks

and dumpsters, and we've also

been able to buy a pizza place,

The Corner Market in Holliston."

In addition to delivering an

in-demand service to the community,

Schadler is appreciative

that Affordable Junk Removal

has helped provide a work-life

balance that suits his family. "It

allows me to be able to do what

I like doing and spend time with

my kids," he says. "I'm home

to see my babies play softball

and do all that stuff. We are also

able to give back to the communities

we serve."

As for Milford, the Schadlers

have been residents for over 20

years. Their four kids have gone

to Milford schools. In addition

to living in town, they are proud

investors in the community.

They sponsor and coach several

sports teams, volunteer at the

schools, and own both commercial

and residential properties.

One of the best parts of his

job, Schadler says, is meeting

and getting to know new people

and developing relationships

with returning customers. "We

are really grateful for the repeat

business and the chance to

form connections with residents

across the MetroWest area," he

says.

To receive a free junk

removal estimate, call 774-

287-1133 or visit affordablejunkremoval.com.

PAID ADVERTISEMENT

Keeping families comfortably cozy in their homes year-round for over 76 Years!

Happy New Year!

Christine and Jason Schadler, shown here with their children and dog,

started Affordable Junk Removal in 2005. Contributed photo

Type III Funeral Director /Embalmer

CPR, AED, First Aid Training

Bloodborne Pathogen

On-Site Training

Companies • Schools • Private (in-home)

No Class Too Small • Any Time, Anywhere

Susan Tetreault

Licensed & Insured

CPR Etc.

Funeral Home, Inc.

David A. Consigli

www.consigliruggeriofuneralhome.com

Tel. 508-473-0513 • Toll Free 1-800-675-0513 • Fax 508-634-3662

Email: Dave@ConsigliRuggerioFuneralHome.com

46 Water Street, P.O. Box 513, Milford, MA 01757

508-473-3630

cpr_etc@comcast.net

HEATING & AIR CONDITIONING

Specialists in Home Comfort

& Energy Conservation

HEATING • AIR CONDITIONING • HOT WATER • INDOOR AIR QUALITY

Heating Service Plans, Heating Install and Repairs & More!

Coan Bioheat® Fuel Delivery

With significantly reduced greenhouse gas emissions &

lower carbon footprint, it's the most environmental friendly heat fuel, and the safest.

196 West Central St., Natick • 508-653-5050 • 800-262-6462 • coanoil.com

NEW ENGLAND REGLAZE

Don't replace

your old tub, reglaze it!

Tubs, tile sinks and

much more

We do any TUB!

CALL US NOW

617-895-7771

www.newenglandreglaze.com

Reg. $ 399

Color, travel, may apply.

NOW $ 299. 00

SAVE

$100

WITH AD

GREA

AN

FINA

INTE

7
---
Page 12 Milford Free Press | MilfordFreePress.com January 2023

RESOLUTIONS

continued from page 1

results to attain. For an exercise

resolution, choose something

enjoyable.

• Identify near-term steps to

take, including how to address

foreseeable obstacles.

• Rely on supportive resources.

• Don't give up, even after a

slip-up.

Following is an example that

anyone who wants to be more

physically active can draw from.

Chris wants to get back into

running. It will make climbing

stairs easier, decrease fatigue,

and set a good example for

Chris's children. Completing

Milford's Hot to Trot 5K race in

July is a realistic target. To make

time for the workouts, Chris

plans to run while the children

are at their own sports programs.

Chris will look for other

runners to get advice from and

sometimes run with. Through

the winter, Chris will use a

treadmill at the nearby gym,

starting with one mile three

times a week and increasing

the distance every week. From

April until the event, Chris will

instead run on the paved trail in

town. After the race, Chris will

set a new goal.

There are considerable local

resources for getting exercise.

Trails, for instance, are free,

scenic, and serene places for

walking, running, biking, crosscountry

skiing, and snowshoeing.

They can be even more

enjoyable with family, friends,

or a dog along. In Mendon,

the Town Forest offers easy,

thirty-minute walks and longer

routes that are also good for biking.

Milford boasts the Upper

Charles paved trail and the

renowned New England Mountain

Biking Association wooded

trails, named Vietnam.

In Upton, the State Forest

has many paths, ranging from

wide and flat to narrow and

hilly, with unique structures as

well. As Joyce Sandvik of Sutton

says, "The trails at Upton

State Forest have historical

significance. The park was built

by the Civilian Conservation

Corp (CCC) and is the last remaining

CCC headquarters in

Massachusetts." Remains from

structures built in the 1930s are

still visible from the trails. Trail

maps can be found online or via

free apps like Open Street Map.

For using the trails with others,

there are groups such as the

Hopkinton Trails Club and the

Upton Recreation Department,

which have Facebook pages

listing their events, and the

Mendon Senior Walking Group,

which follows different area

routes three times a week.

Taking classes at a gym can

make it easier to keep a commitment,

like those at CrossFit in

Mendon. While Planet Fitness

has a Milford gym, their thousands

of other locations can be

used with the membership, allowing

workouts near home and

work, and when traveling. There

are some businesses that provide

fitness facilities and classes on

site.

The Milford Community

School Use Program has classes

for fitness and yoga, plus a

pool for aqua aerobics and lap

swimming. Upton's Recreation

Department sponsors weekly

volleyball at the Nipmuc gym,

and later in the year has an

outdoor pickleball program.

Ponds can be used for ice skating

in winter, and for swimming

in summer, like at the town

Bill Taylor, President of Friends of Upton State Forest, points out a waterhole built nearly a century ago to a

hiking group. Contributed photo

Bike tracks and footprints in the snow show the trails at the Upton

State Forest are well used even in winter. Photo by Linda Chuss

beaches in Mendon and Upton;

plus there are two free public

pools in Milford.

Yoga, known for improving

strength while decreasing tightness

and stress, can be done

alone at home or in a class.

JTB in Uxbridge or The Yoga

Exchange in Holliston have

introductory rates and provide

options for more experienced

students. According to Melanie

Harrington, who owns and leads

classes at The Yoga Exchange,

"We help students practice yoga

with mindfulness, compassion,

and gratitude." Doing yoga at

home just requires floor space,

but is easier when following a

video, like on the "Yoga with

Adriene" YouTube channel.

Benefits from karate also extend

beyond fitness. In Milford,

American Karate aims to develop

discipline and instill confidence

through their classes. For

something daring, there's paintball

at Friendly Fire in Upton or

axe throwing at PiNZ in Milford.

With far more resources than

the Babylonians had and practical

tips to achieve goals, anyone

stands a good chance of fulfilling

their New Year's resolution

to exercise more.

WE WANT TO

HEAR FROM YOU!

Email us about

an upcoming event

or a concern about things

happening around town

editor@

milfordfreepress.com
---
January 2023 Milford Free Press | MilfordFreePress.com Page 13

Milford Families Supported

KEEP YOUR RESOLUTION!

All natural, no exercise,

no prepackaged foods, no drugs!

No shots needed with our homeopathic drops.

Start 2023 off right!

Call or book a free consultation today!

MassFatLoss.com

508-881-1002

274 Union Street, Ashland

More than 30 volunteers (some pictured here) contributed to the success of this year's food and gift distribution

at the Medway Village Church Food Pantry. Contributed photo

By Theresa Knapp

Staff Writer

On Saturday, Dec. 17, the

Medway Village Church Food

Pantry set a record when it fed

563 people (230 children, 310

adults, and 23 senior citizens)

from 146 households, and distributed

toys and gifts to more

than 250 children and teens.

Food Pantry Director Susan Dietrich

says that includes more

than 1,100 pounds of produce

from The Greater Boston Food

Bank (GBFB), Medway Community

Farm, and Broken Fork

Farm featuring Mel's Plant

Stand.

"We used to have 35 families

a week, 140 families a month;

we just had 146 families in one

day and that change has just

happened over the last 12 to

18 months, since the height

of the pandemic," Dietrich

said, noting clients are mostly

from Medway, Milford and

Bellingham, but they also serve

families from Hopedale, Millis,

Upton, and beyond. Toy and

gift donations came from Cub

Scout Pack 748, BSA Troop

367, Saint Joseph Parish's giving

tree, Vivint Home Security,

Dollar Tree in Franklin, and

several other private donors.

The Saint Joseph Parish Middle

School Youth Group also donated

Mason jar cookie kits for

food pantry patrons.

The food pantry also gave

out $6,000 in gift cards, each

valued at $40 for either Shaw's

or Stop & Shop. Dietrich said

the gift cards were provided

by the Greater Boston Food

Bank during previous months

but local organizers decided

to hold them until December

when they realized Christmas

fell on a Sunday, meaning the

food pantry would be closed

and their clients would have to

go two weeks without visiting.

She noted the GBFB was able

to give gift cards at Thanksgiving

but was not able to do so

at Christmas due to increased

costs. "We have seen tremendous

inflation in what we have

been spending in order to keep

our shelves stocked," she said.

Pre-pandemic, they would

pay approximately $700 for

2,000 to 2,500 pounds of food

from the GBFB twice a month;

now they pay approximately

$2,500 for 4,500 pounds of

food twice a month. Medway

Village Church Food Pantry

relies on private donations plus

state grants and programs to

stock its shelves. Dietrich said

some programs are ending at a

time when community demand

is increasing.

"For several families, it is a

devastating moment for them to

walk through the door because

they can't believe they're here,"

Dietrich said. "We work hard

to make them feel welcome and

comfortable, and that's one of

the reasons our pantry is set up

to be 100% choice. It is a 'shopping'

experience, it is not 'here is

a prepacked bag of goods;' they

get to choose what they need."

The Medway Village

Church Food Pantry is now accepting

donations to restock its

shelves, particularly personal

hygiene items (toothbrushes,

toothpaste, larger sized diapers,

baby wipes), paper towels, toilet

paper, laundry detergent, etc.

For more information, visit

them on Facebook @Medway

Village Church Food Pantry.

LOOKING TO ADVERTISE

YOUR BUSINESS?

Contact Jen

508-570-6544

jenschofield@localtownpages.com

When the right coverage counts

you can count on our

LOCAL, PERSONAL & KNOWLEDGEABLE

staff to take care of your

Home • Auto • Business • Life

*

nsen

heehan

Insurance Agency

711 1

J4Jright

Insurance Agency

6 Congress St, Milford • 54 Central St, Holliston
---
Page 14 Milford Free Press | MilfordFreePress.com January 2023

Keeping Watch

from High Above

SPORTS

Experience a Strength for

Milford Girls Hoops

Two bald eagles photographed in central Mass in the fading

twilight. Photo by local photographer Alice Gentili

By Chris Villani

Sports Writer

Over the past couple of seasons,

Milford High head girls'

basketball coach T.J. Dolliver

has had to rely on some of his

younger players to lead the way.

But this year, those younger

Scarlet Hawks are now in their

junior or senior seasons, and

Dolliver said the experience

will aid the team's success this

winter.

"I have a good group of

kids; the girls are great and I

have a mix of all ages," Dolliver

said. "My two senior captains

have been on varsity for

four years. We definitely have

experience, and experience can

take you a long way."

Emily Croteau and Brook

Ferreira anchor the Hawks as

team captains this winter.

"They bring a lot of experience

and a lot of leadership,"

Dolliver said. "They are great

kids and they do a great job as

captains in helping the younger

girls on the team."

Junior Erin Michelson

played a big role last season,

and is playing an even bigger

one this year. Dolliver said he

noticed from an early point in

the season that she had worked

hard during the offseason and

came in stronger and improved

in all facets of her game. She

proved him right with doubledigit

scoring performances

early in the schedule.

"She does a lot," the coach

said. "She is very versatile."

The Scarlet Hawks do not

have a lot of height on the

roster, but senior forward Aliza

Syed is the exception. At 5-foot-

10, she is the tallest player on

the team, and Dolliver said she

is primed to have a good senior

year and be an impact player.

Milford is also seeing contributions

from junior guard Maeve

Driscoll.

"She played off the bench

last year but she is a starter

this year," Dolliver said. "She

does a lot of good things on the

wing, she plays good defense,

and she is always in the right

spots on the court. She is also

a competitor. Day-in and dayout

in practice, she is focused

and ready to compete and she

gets better every day because of

that attitude."

Sisters Olivia Baglione, a

sophomore, and Ava Baglione,

a freshman, are two more rotation

players for Milford. Dolliver

praised their work ethic

and their desire to get better

and help the team win.

Dolliver is hoping the mix of

experience and skilled younger

players helps the Scarlet Hawks

get back to the postseason for

the first time since 2018. Back

then, 10 wins was enough to

qualify for the tournament. It

is unclear how many victories

it will take this year due to the

new statewide tournament and

the ratings system that factors

in strength of schedule —

something that should play to

the Hawks' advantage given

their position in the ultra competitive

Hockomock League.

"I think we can get there

this year, but we are going to

have to get better on a daily

basis and grind out some close

games," Dolliver said. "If we

do things the right way and follow

our principles offensively

and defensively, I think we have

a pretty high ceiling this year."

From the Milford

Town Library ...

SILENT

SATURDAYS

www.oliviasmarket.com

508.473.7920

Proudly serving the

Greater Milford Communities since 1961

We're reserving a room

at Milford Town Library

every Saturday through

January for quiet work

or study. Stop by the

Information Desk between

9:30 a.m.

and 3:30 p.m.

to get checked in!
---
January 2023 Milford Free Press | MilfordFreePress.com Page 15

SPORTS

MHS Boys Basketball Young, but Experienced

MHS Boys Basketball team. Contributed photo

By Chris Villani

Sports Writer

Milford had the youngest

boys' basketball team in the

Hockomock League a season

ago, and this year the Scarlet

Hawks may once again be

among the league's youngest

squads. But MHS has significantly

more varsity experience

this winter and head coach Paul

Seaver is hoping it will pay off.

"We are still super young but

we had a great offseason and

we have a lot of guys returning,

a handful of new guys in the

fray, and a big roster," Seaver

said.

Many of the Scarlet Hawks

were seeing their first varsity action

last winter for a team that

won only twice. But this year

Milford has enough experience

that Seaver refuses to use youth

as an excuse. Senior Wyatt Zagami

is a captain and one of the

top three scorers returning. He's

someone MHS is counting on

scoring again this year.

Junior Jake Soares is another

captain and was Milford's leading

scorer as a sophomore,

before an injury cut his season

short. Milford is also getting a lift

from Ryan Franklin, a 6-foot-3

forward who notched a doubledouble

in his first game of the

season.

Senior Joey Buckley, a

6-foot-5 senior, fellow senior

Guy Saintyl, and junior Nick

Araujo are three more veterans

who the Hawks are looking to

for leadership. Seaver took sol-

ace in Milford's start to the season,

which included a win and a

pair of single-digit losses against

strong league competition.

"Those types of things are

going to happen," he said. "We

are in the process of learning

how to rebuild and how to compete,

and we are doing a good

job of competing. We need to

turn that into learning how to

win and that's only going to

come with time and adversity

and some growing pains."

Sophomore Andrew Rivera

is a key offensive cog for the

Scarlet Hawks and has put up

multiple double-digit scoring

performances. Freshman CJ

Farrell is another skilled offensive

player who has also been

able to get into double figures

WE ARE things HIRING!

are encouraging," he

despite it being his first season.

"They are both guards who

are scoring and really pacing

¡estamos contratand

that's not an excuse."

GREAT PAY & MEDICAL BENEFITS!

Milford, MA

¡estamos contratand

WE ARE HIRING!

GREAT PAY & MEDICAL BENEFITS!

Restaurant Depot

is Now Hiring!

Milford, MA

NOW • Cashiers HIRING

• Receiving

• Stockers

• Hi-Lo Drivers

• Porters • Managers

• Receiving

• Hi-Lo Drivers

• Managers

• Cashiers

• Stockers

• Porters

us," Seaver said.

Sophomores Gus Coutinho,

Luca Testa, and Tyler Ballard

are also providing contributions

for MHS, and senior captain

Jacob Ligor is recovering from

an injury and aiming to be back

before the end of January.

"We are relying wholeheartedly

on a lot of guys who are

still young," Seaver said. "But

there have been some encouraging

signs."

The most encouraging sign

has been the uptick in offense

relative to last season. But

Seaver said his team is still turning

the ball over too often, but

he said the mistakes he is seeing

now are fixable.

"In the long run, I think

said. "We are the youngest team

in a very, very tough league, but

Apply online @

100 Dear Street,

Milford, MA 01757

100 Deer Street

Milford, MA 01757

Apply Online @ www.restaurantdepotcareers.com

or send resume to: tliberatore@jetrord.com

Jake Soares, Wyatt Zagami, Jacob Ligor (3 Capts) and Head Coach Paul

Seaver (who is also an MHS Alumni). Contributed photo

Serving the Community since 1980

Full Service

Tree Removal Company

FAST FREE ESTIMATES

Crane Service Available

Expert Hand Climbing Crews

Removals - Pruning - Stump Grinding - Cabling

Fully Insured - Workman's Comp

OWNER: Steve Stratton

508-366-7693 • 508-839-5961 • templemantree.com
---
Page 16 Milford Free Press | MilfordFreePress.com January 2023

Zoom Into

Health & Fitness!

Classes start in January

This winter, Milford Regional is offering live-streamed wellness

classes to enjoy from the comfort of your own home.

Class Options:

Therapeutic Qi Gong

Core & More

Ease into Fitness

Zumba Toning ®

Cardio, Core & Conditioning

Mindfully Mixed Yoga

Pilates Barre Fusion

Shape Up!

For More Information/To Register:

Visit milfordregional.org & select

"Classes and Events."

14 Prospect Street • Milford, MA • milfordregional.org

Milford Regional Medical Center is committed to providing exceptional healthcare services to our community with dignity, compassion and respect.

2,000 VEHICLES AT ALL TIMES

FIVE DEALERSHIPS // EIGHT BRANDS

SALES: M-TH 9-9, FRI & SAT 9-6, SUN 12-6

SERVICE: M-F 7:30-6, SAT 7:30-5 508-488-2382

8-18 UXBRIDGE RD. MENDON, MA 01756 // 154 EAST MAIN ST. MILFORD, MA 01757 // 300 FORTUNE BLVD. MILFORD, MA 01757

2016 JEEP

RENEGADE

#122-773A • 4X4, ALLOYS, TURBO

NEW RETAIL PRICE:

$36,165

As low

as

$56/wk

WHOLESALE PRICE:

$

18,677

2019 GMC

ACADIA SLE

#H03167 • AWD, APPLE CARPLAY

NEW RETAIL PRICE:

$37,865

As low

as

$87/wk

WHOLESALE PRICE:

$

27,677

CAR FAX

ONE OWNER

VEHICLES

630 One Owner Vehicles

IN STOCK!

2020 TOYOTA

TACOMA 4x4

#TP1542 • LIMITED TRIM, SUNROOF

NEW RETAIL PRICE:

$53,605

As low

as

$119/wk

WHOLESALE PRICE:

$

36,477

2021 TOYOTA

TUNDRA SR5

#P14966A • ALLOYS, 4X4, CREWMAX

NEW RETAIL PRICE:

$54,970

As low

as

$159/wk

WHOLESALE PRICE:

$

47,977

2021 CHEVY

EQUINOX LS

#43978L • ALLOYS, AWD, TURBO

NEW RETAIL PRICE:

$35,190

As low

as

$81/wk

WHOLESALE PRICE:

$

25,977

2020 DODGE

DURANGO SXT

#D12643L • 18" ALLOYS, AWD, V6

NEW RETAIL PRICE:

$48,595

As low

as

$108/wk

WHOLESALE PRICE:

$

33,477

2019 JEEP

CHEROKEE 4x4

#D12650L • LATITUDE LUX, ALLOYS

NEW RETAIL PRICE:

$38,400

As low

as

$99/wk

WHOLESALE PRICE:

$

30,977

2015 HONDA

PILOT EX-L

#H22523A • ALLOYS, AWD, SUNROOF

NEW RETAIL PRICE:

$34,220

As low

as

$57/wk

WHOLESALE PRICE:

$

18,977

2018 TOYOTA

SIENNA LE

#TP1890 • ALLOYS, THIRD ROW SEATS

NEW RETAIL PRICE:

$49,725

As low

as

$99/wk

WHOLESALE PRICE:

$

30,977

2019 HYUNDAI

TUCSON SUV

#H03468 • AWD, SPORT TRIM, CPO

NEW RETAIL PRICE:

$36,750

As low

as

$88/wk

WHOLESALE PRICE:

$

27,977

2019 FORD

F-150 XLT 4X4

#P15249LGG • NAV, MOONROOF

NEW RETAIL PRICE:

$50,950

As low

as

$136/wk

WHOLESALE PRICE:

$

41,477

2020 TOYOTA

CAMRY LE

#ST0432A • LANE DEPARTURE, CPO

NEW RETAIL PRICE:

$38,625

As low

as

$85/wk

WHOLESALE PRICE:

$

26,977

2019 NISSAN

SENTRA SV

#H03562 • 29/37 CITY/HIGHWAY MPG

NEW RETAIL PRICE:

$26,100

As low

as

$48/wk

WHOLESALE PRICE:

$

17,677

2021 FORD

EXPLORER 4X4

#H03188 • XLT, TURBO, LEATHER

NEW RETAIL PRICE:

$42,765

As low

as

$99/wk

WHOLESALE PRICE:

$

30,977

2022 CHEVY

SILVERADO 4X4

#43900R • LTD TRIM, 2.7L TURBO

NEW RETAIL PRICE:

$54,180

As low

as

$138/wk

WHOLESALE PRICE:

$

41,977

2020 CHEVY

TRAVERSE

#43741 • AWD, LT TRIM, ALLOYS, V6

NEW RETAIL PRICE:

$39,995

As low

as

$92/wk

WHOLESALE PRICE:

$

28,977

WHY PAY THE DIFFERENCE

IF YOU CAN'T TELL

THE DIFFERENCE?

BAD CREDIT?

DON'T SWEAT IT!

We finance your future

- not your past.

We work with over

60 Banks and Credit Unions

to get you the

best rate possible.

"We sell more -

because we

have more!"

Mike Penner

General Manager

SEVEN DAY VEHICLE

EXCHANGE PROGRAM

SALE ENDS 06/30 /22. SOME RESTRICTIONS APPLY. THIS OFFER IS NOT VALID ON PRIOR SALES AND IS BASED ON THE MSRP, AND NOT COMBINABLE WITH ANY OTHER DISCOUNT, PROMOTIONS, OR INCENTIVES. PRICE

LISTED INCLUDES ALL APPLICABLE MANUFACTURER REBATES (NOT EVERYONE WILL QUALIFY) AND IMPERIAL DISCOUNTS INCLUDING A $1,000 IMPERIAL TRADE ASSISTANCE BONUS FOR A QUALIFYING 2012 OR NEWER

TRADE. SEE US FOR DETAILS. ADVERTISED PRICE DOES NOT INCLUDE TAX, TITLE, REGISTRATION, DOCUMENTATION OR ACQUISITION FEES AND CANNOT BE COMBINED WITH ANY OTHER DISCOUNTS OR PROMOTIONS.

WEEKLY PAYMENTS CALCULATED WITH AN ESTIMATED DOWN PAYMENT OF $2,999 CASH OR TRADE. NOT RESPONSIBLE FOR TYPOGRAPHICAL ERRORS. CALL 1-508-488-2382 TO SEE WHICH REBATES YOU QUALIFY FOR.