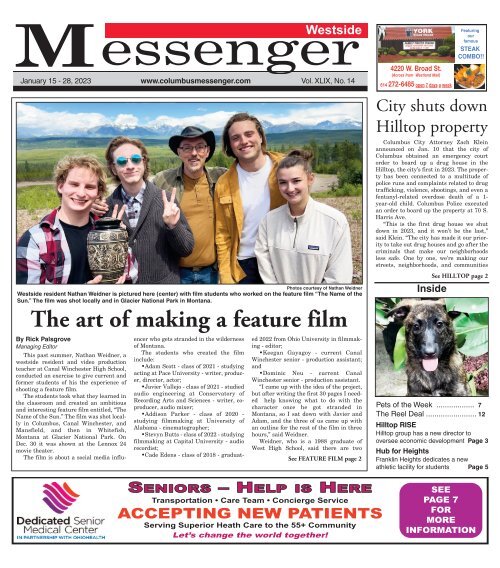 Westside Messenger - January 15th, 2023
Create successful ePaper yourself
Turn your PDF publications into a flip-book with our unique Google optimized e-Paper software.
Messenger

Westside

January 15 - 28, 2023 www.columbusmessenger.com Vol. XLIX, No. 14

Photos courtesy of Nathan Weidner

Westside resident Nathan Weidner is pictured here (center) with film students who worked on the feature film "The Name of the

Sun." The film was shot locally and in Glacier National Park in Montana.

The art of making a feature film

By Rick Palsgrove

Managing Editor

This past summer, Nathan Weidner, a

westside resident and video production

teacher at Canal Winchester High School,

conducted an exercise to give current and

former students of his the experience of

shooting a feature film.

The students took what they learned in

the classroom and created an ambitious

and interesting feature film entitled, "The

Name of the Sun." The film was shot locally

in Columbus, Canal Winchester, and

Mansfield, and then in Whitefish,

Montana at Glacier National Park. On

Dec. 30 it was shown at the Lennox 24

movie theater.

The film is about a social media influencer

who gets stranded in the wilderness

of Montana.

The students who created the film

include:

•Adam Scott - class of 2021 - studying

acting at Pace University - writer, producer,

director, actor;

•Javier Vallejo - class of 2021 - studied

audio engineering at Conservatory of

Recording Arts and Sciences - writer, coproducer,

audio mixer;

•Addison Parker - class of 2020 -

studying filmmaking at University of

Alabama - cinematographer;

•Stevyn Butts - class of 2022 - studying

filmmaking at Capital University - audio

recordist;

•Cade Edens - class of 2018 - graduated

2022 from Ohio University in filmmaking

- editor;

•Keegan Gayagoy - current Canal

Winchester senior - production assistant;

and

•Dominic Neu - current Canal

Winchester senior - production assistant.

"I came up with the idea of the project,

but after writing the first 30 pages I needed

help knowing what to do with the

character once he got stranded in

Montana, so I sat down with Javier and

Adam, and the three of us came up with

an outline for the rest of the film in three

hours," said Weidner.

Weidner, who is a 1988 graduate of

West High School, said there are two

See FEATURE FILM page 2

4220 W. Broad St.

(Across from Westland Mall)

614 272-6485 open 7 days a week

Inside

Featuring

our

famous

STEAK

COMBO!!

City shuts down

Hilltop property

Columbus City Attorney Zach Klein

announced on Jan. 10 that the city of

Columbus obtained an emergency court

order to board up a drug house in the

Hilltop, the city's first in 2023. The property

has been connected to a multitude of

police runs and complaints related to drug

trafficking, violence, shootings, and even a

fentanyl-related overdose death of a 1-

year-old child. Columbus Police executed

an order to board up the property at 70 S.

Harris Ave.

"This is the first drug house we shut

down in 2023, and it won't be the last,"

said Klein. "The city has made it our priority

to take out drug houses and go after the

criminals that make our neighborhoods

less safe. One by one, we're making our

streets, neighborhoods, and communities

See HILLTOP page 2

Pets of the Week .................. 7

The Reel Deal ........................ 12

Hilltop RISE

Hilltop group has a new director to

oversee economic development Page 3

Hub for Heights

Franklin Heights dedicates a new

athletic facility for students Page 5

SENIORS – HELP IS HERE

Transportation • Care Team • Concierge Service

ACCEPTING NEW PATIENTS

Serving Superior Heath Care to the 55+ Community

Let's change the world together!

SEE

PAGE 7

FOR

MORE

INFORMATION
---
PAGE 2 - WESTSIDE MESSENGER - January 15, 2023

America's Fa Fa

av av

vorite Treasure ure e Hunts!

2023

Call today and receive a

FREE SHOWER PACKAGE

PLUS $1600 OFF

With purchase of a new Safe Step Walk-In Tub. Not applicable with any previous

walk-in tub purchase. Offer available while supplies last. No cash value. Must present

offer at time of purchase. CSLB 1082165 NSCB 0082999 0083445

Jan. 28 & 29

Feb. 25 & 26

Mar. 25 & 26

1-855-417-1306

Antiques, Collectibles,

Jewelry, Vintage,

Home Decor, Militaria

and more!

Nov. 25 & 26

Dec. 16 & 17

SPECIAL OFFER

FEATURE FILM

Continued from page 1

things that influenced the writing of the film.

"The first was a list I made on my 40th birthday,

entitled '10 things I learned in my 30s,'" said Weidner.

"One of those was, 'Cities are places where it is difficult

to focus on God, because you are surrounded by things

made by the hands of man.' The second was when I

viewed the Marilyn Monroe film, "The River of No

Return," and the opening shot of the mountains of

Alberta took my breath away, as if nature itself was

declaring the glory of God. I wondered if someone who

has no thought of God were dropped in the middle of a

place like that - would it change his mind?"

According to Weidner, college film students study

feature films, but only get to work on shorts.

"This was an opportunity for them to create a feature

film from start to finish while on their summer

break," said Weidner. "Also, there are very few media

programs at the high school level that would ever

engage students in production work of this magnitude.

I have found that opening opportunities like this gives

high school students real-life exposure and experience

to feature filmmaking and helps them to determine

whether or not this is a field they might want to enter.

For the college students involved, it helps them to hone

their skills and to pinpoint those aspects of production

that they want to focus on in their career."

Weidner said Adam Scott took on a lot by asking to

help produce the film.

"We pulled meetings every Monday via video conference

to establish shooting locations, locate actors,

acquire props, and every other aspect of pre-production,"

said Weidner. "Most of the students had been

involved in some level of creating videos, but they had

never pulled the lengthy days required to shoot feature

films. Once we were in Montana, we were often up

before 5 a.m. hiking through the woods and setting

things up for the day. They were resilient, though, and

they faced the challenge with vigor. I am so proud of

what they accomplished."

Getting to the Montana filming site required a 29

hour drive by car.

"Once we arrived we were housed by a wonderful

HILLTOP

Continued from page 1

safer for children, families, and every Columbus resident."

According to court documents, Columbus police

were dispatched a number of times to the Hilltop property

beginning in 2021 on the reports of a wanted felon

on the premises, domestic disputes, shootings, and an

overdose.

On April 28, 2021, CPD responded to a report of a

shooting at the premises. The shooter was identified as

David Johnson, and the victim, Derek Ponder, was

taken to a local hospital where he was pronounced

dead hours later. Johnson was charged with murder.

In February 2022, CPD detectives made controlled

purchases of crack cocaine and fentanyl at the premises.

CPD INTAC detectives then obtained and executed

a search warrant at the premises, recovering fentanyl,

crack cocaine, powder cocaine, heroin, firearms,

firearm magazines, ammunition and more than $1,800

in cash. Later that month, CPD detectives contacted

the property owner, notifying them of felony drug

offenses occurring at the property. The owner filed an

eviction of the then-current tenants.

In August 2022, CPD responded to a report of a 13-

year-old male shot at the premises. The victim was

transported to Nationwide Children's Hospital.

www.columbusmessenger.com

Film students work on a scene from their feature

film, "The Name of the Sun."

couple, Bob and Pat Jepsen, who allowed us stay with

them free of charge," said Weidner. "Bob and Pat were

very instrumental in helping us to locate where to

shoot in Montana and they fed our crew every day. I

cannot thank them enough for their generosity."

According to Weidner, the film cost $17,000 to produce.

"We raised $10,000 of those funds through an

Indiegogo crowdfunding campaign, and I paid the balance

of what we didn't raise," said Weidner. "The students

each received a scholarship for their participation

in the project. Any money that the film makes will

go back into a fund to help produce another student

film. I do not take any money from these films."

Currently the film is being shown at private

screenings at local venues. Weidner said they are also

submitting it to be put on Amazon Prime Direct. They

plan to take the film to a number of student film festivals.

"I would like to shoot a student feature film every

summer during my break," said Weidner. "We are currently

in discussions about what the next project

would be."

Reports also indicate that Franklin County Children

Services had recently removed a 10-year-old child from

the home.

On November 18, 2022, CPD officers were dispatched

to the premises on report of an overdose of a 1-

year-old child, who was transported to Nationwide

Children's Hospital and pronounced deceased hours

later. Testing revealed the infant was positive for fentanyl.

The suspect in the two fatalities at the property,

David Johnson, was charged with involuntary

manslaughter for the overdose death of his 1-year-old

son. He was also charged with murder in the death of

26-year-old Derek Ponder, who he is accused of shooting

during a fight in the Hilltop neighborhood.

"Advancing safe neighborhoods begins with good

neighbors, people who reach out to say something

when they see something. We're thankful for the

reports of neighbors and the work of law enforcement,

which allowed us to build this case and take out a dangerous

drug house that has wreaked havoc in this part

of the Hilltop for too long," said Assistant City

Attorney Zach Gwin, the city's lead attorney for nuisance

property cases on the westside.
---
www.columbusmessenger.com

Hilltop Spotlight

Appointed seat filled in Hilltop

By Dedra Cordle

Staff Writer

A familiar face will be coming back to serve on the

Greater Hilltop Area Commission.

At its meeting on Jan. 3, the commissioners accepted

the nomination of James White to fill an open

appointed seat. His original term, which was also by

appointment, ended on Dec. 31, 2022.

"I haven't been away from the commission for very

long, but it is good to be back," he said.

White said when he moved to the westside nearly

six years ago, involvement in local politics was not at

the forefront of his mind.

"I have always had an active role in my community,

but I never gave that political aspect much thought,"

he said.

That mindset changed, however, when he started

attending these area commission meetings in order to

address the issues he saw rising in the community.

"I noticed a lot of blighted properties, a lot of criminal

activity, and even some prostitution," he said.

"They had my concerns in mind and I knew that, by

then being residents too, they were doing the best they

could and reaching out to organizations that could

help.

"I really liked what they were doing and I wanted to

get involved on an area commission too so I could try

to help out this community in any way that I could."

White added that he was happy to accept the nomination

and is excited to start his new term.

"I'm looking forward to the next three years and

making a positive impact on the Hilltop," he said.

White was nominated for the open appointed seat

by Rachel Wenning. She said she has been "proud to

serve alongside him" and believes he will continue to

make positive changes within the community as a

member of the area commission.

"He has done a really great job, especially with the

park (and recreation committee) by implementing new

processes and really advocating for changes to our

parks, which are really beneficial to our community,"

she said.

No commissioners expressed objections to his nomination,

nor did any other commissioner nominate an

individual to fill the open appointed seat. Area commission

bylaws state that only currently seated commissioners

can nominate an individual to fill an open

appointed seat.

In other news, the commission selected its officers

for the new year. Dan Fagan was selected to continue

serving as chairman while Victoria Bates-Frye was

selected to serve as vice-chair. Joseph Argiro will serve

as the secretary and Josh Paxton will serve as the

treasurer.

Assignments for the nine committees will be

announced at next month's full commission meeting. It

will be held on Feb. 7 at 6:30 p.m. at the Hilltop

Branch of the Columbus Metropolitan Library, 511 S.

Hague Ave.

Hilltop RISE names its

first executive director

January 15, 2023 - WESTSIDE MESSENGER - PAGE 3

Email story ideas to westside@columbusmessenger.com

SAVINGS RATES

Hid

ay

a y

for the

Season

Hilltop RISE announced that Morgan

DeBoth has been appointed as its first

executive director.

"The next chapter of Hilltop RISE

Economic CDC will be building from our

community's strengths, centering stakeholder

voices, and reimagining our impact

on the Hilltop," said Betty Jaynes, chair of

the Hilltop RISE board. "DeBoth's background

in the non-profit sector, along with

her experience in program design and

implementation, grant management, and

collaborative leadership style, make her

uniquely qualified to begin the work of

Hilltop RISE."

"I am excited to dig into the work by

developing new and established pathways

for current and upcoming business owners,

community investment, building trust, and

opportunity in alignment with the goals of

Envision Hilltop," said DeBoth. "I am committed

to the Hilltop and Columbus'

greater westside and look forward to

engaging groups, agencies, and Hilltop

stakeholders to drive economic development

along our commercial corridors."

The community is invited to an open

Morgan DeBoth

house to welcome DeBoth into her role at

Hilltop RISE. The open house will be held

from 6 to 8 p.m. Feb. 8 at The Third Way

Cafe, 3058 W. Broad St. in Columbus.

Hilltop Rise is a new non-profit

Economic Community Development

Corporation with a mission to expand economic

opportunities for The Hilltop.

Learn more at HilltopRise.org.

Money Market Special

3.65 %

1

APY

een

.6een on balances betw

$25,000 and $499,999

12 Month CD Special

4.00 %

2

APY

e

4with minimum balanc of $5,000

Contact me today for details!

Josh McKee

Branch Manager, Grove City Office

(614) 875-1884

Josh.McKee@Heartland.Bank

1

Annual Percentage Yield (APY). Minimum opening deposit is $1,000. Minimum balance to earn interest is $0.01. Minimum balance to earn promotional APY is

$25,000.00. This is a tiered rate account. The promotional APY of 3.65% is available for the following tiers: $25,000 - $49,999.99, $50,000 - $99,999 and $100,000

- $499,999.99. Regular rates apply to the follo

ollowing tiers: $0.01 - $9,999.99 is 0.03% APY; $10,000.00 - $24,999.99 is 0.08% APY; and $500,000 + is 0.12% APY. The

promotional rate to applicable tiers is guaranteed for 180 days from the day of account opening. After 180 days, the rate may change at any time as the Heartland Bank

Money Market Savings Account is a variable

rate account. To qualify for the promotional rate, the opening deposit must be from funds not currently on deposit with

Heartland Bank. Limit one (1) promotional Money Market Savings Account special per household. APY accurate as of 11/07/2022. Fees may reduce earnings. Accounts

closed less than 180 days from date opened will be charged an early close fee of $25.00. Personal accounts only.

2

Annual Percentage Yield (APY). Minimum balance to open and maintain the advertised 12 month APY of 4.00% is $5,000. APY is accurate as of 12/05/2022. Maximum

deposit is $250,000. Please see your local branch office for disclosure information regarding terms and conditions. Penalty may be imposed for early withdrawal. Rates

are subject to change at any time. No brokers please. Limited time offer. Limited to one per household. Not valid with money currently on deposit at Heartland

Bank. Personal accounts only.

Westside Messenger Ad

Heartland Bank

1/6 Vertic

x 5.75"

gin

Contact

Jonathan Heberline
---
PAGE 4 - WESTSIDE MESSENGER - January 15, 2023

By Christine Bryant

Staff Writer

For the first time in more than a decade,

Prairie Township has raised its fees for its

Alton and Galloway cemeteries.

At the Dec. 28 board of trustees meeting,

board members approved the new fee

schedule effective Jan. 1, 2023.

Township residents will now pay $750

$259.00

per grave, which is up from the previous fee

of $600. Non-township residents will now

pay $1,250, up from $1,000.

Other fees include:

●Opening and closing on weekdays:

$400 for township residents and $800 for

non-township residents

●Opening and closing on Saturdays

until noon: $500 for township residents and

$1,000 for non-township residents

Valentine Festivities

LOVE IS IN THE AIR FEBRUARY 14th

5 pm - 9 pm (COVID PROPER)

JPs BBQ BOLTONFIELD

$129.00 per couple

With Beverages * Appetizers * Dinner * Dessert

Music & Fun

per couple

Add on Discovery Flight - Includes instruction of flight and the above package

Call Cupid 614.878.7422 www.jpsbbq.com

Advance non-refundable ticket purchase required

●Opening and closing on holidays until

noon: $600 for township residents and

$1,200 for non-township residents

●Cremation on weekdays: $300 for

township residents and $600 for non-residents

●Cremation on Saturdays and holidays

until noon: $450 for township residents and

$750 for non-residents

Holiday rates will be in effect on the day

that the township designates as employee

holidays. A complete list of the township's

cemetery fees can be found online at

www.prairietownship.org.

Prairie Township road superintendent

Dave McAninch said the change in fee

structure is the result of rising maintenance

and other related costs. Resident

grave costs have not changed since 1999,

while resident opening and closing costs

have not changed since 2006, he said.

www.columbusmessenger.com

Government Focus

Prairie Township changes its cemetery fee schedule

Columbus Mayor Andrew Ginther

joined leadership from the city's public

safety forces to share 2022 crime data,

which shows a 33 percent drop in homicides

over 2021 as well as reductions in

burglaries, felonious assaults, robberies,

and rapes.

"This progress speaks to the effectiveness

of our updated Comprehensive

Neighborhood Safety Strategy," said

Ginther. "By leveraging a broad range of

prevention, intervention and enforcement

tactics to reduce violence and address its

root causes, we are making great strides

toward improving neighborhood safety

while strengthening trust and collaboration

between our officers and the public."

Columbus saw the biggest percentage

drop in homicides among the 20 largest

U.S. cities, in addition to Cincinnati and

Cleveland. The national average for murders

in big cities was a 5 percent reduction.

In addition to a dramatically reduced

homicide rate in 2022, several other categories

saw improvements when compared

Several other fees have not changed in

price since 2012.

In other news, at an earlier special

meeting at Prairie Township Fire

Department's Station 241 that evening,

township trustees performed the swearing

in of nine full-time firefighters. The new

positions are being funded through the

Staffing For Adequate Fire and Emergency

Response (SAFER) grant, which the

Federal Emergency Management Agency

(FEMA) established to help increase or

maintain the number of trained, front-line

firefighters in communities.

SAFER grant funds can only be used for

funding personnel positions and are provided

directly to fire departments and volunteer

firefighter interest organizations.

At the special meeting, trustees also

approved an automatic aid agreement

renewal with Washington Township.

City sees decrease in crime

Blood Drive

The American Red Cross will host a

blood drive from 8:30 a.m. to 2:30 p.m. Jan.

23 at OhioHealth Doctors Hospital, 5131

Beacon Hill Road in Columbus. To schedule

an appointment, call 1-800-448-3543 or

visit www.redcrossblood.org.

Hilltop Legal Clinic

The Legal Aid Society of Columbus will

host a Hilltop Legal Clinic every Monday

from 4 to 6 p.m. at the Columbus

Metropolitan Library Hilltop Branch, 511

S. Hague Ave. in Columbus. A legal aid

community events

to 2021:

•Robberies decreased by 32 percent

•Burglaries decreased by 21 percent

•Felonious assaults decreased by 16

percent

•Rapes decreased by 5.7 percent

"Nothing matters more to the Columbus

Division of Police than the safety of our

community," said Chief of Police Elaine

Bryant. "Last year (2022) was a year of

great progress for us, and we will continue

to work hard and protect our city in 2023."

Gun violence continues to have an outsized

impact on the city's homicide rate,

accounting for nearly 90 percent of homicides

in 2022. The Columbus Division of

Police, however, has demonstrated success

in reducing the number of guns throughout

the community, taking more than 3,300

firearms off city streets within the last year

alone — a record for the division.

"The safety of our community is on the

line," said Ginther. "We'll do everything

within our power to ensure that Columbus

becomes the safest big city in America."

attorney will be available to answer questions

regarding landlord and tenant issues,

public benefits, consumer debt, and family

law. To receive free advice, you must have

a gross household income below 200 percent

of the Federal Poverty Level. For more

information, call Legal Aid at 614-241-

2001.

Produce giveaway at YMCA

The Hilltop YMCA hosts a fresh produce

giveaway the third Wednesday of each

month from 4 to 6 p.m. at 2879 Valleyite

Drive in Columbus. For more information,

call the YMCA at 614-276-8224.
---
www.columbusmessenger.com January 15, 2023 - WESTSIDE MESSENGER - PAGE 5

Athletic hub celebrated

at Franklin Heights

Messenger photos by Dedra Cordle

The Franklin Heights High School community is celebrating

the end result of a year-long fundraising effort to update its

indoor training facility for student-athletes. On Jan. 10, dozens

of alumni, current students, district officials, and local business

leaders attended the public dedication of a new athletic

performance center located within the Falcon's Nest.

According to Kevin Mulvany, the head football coach who

spearheaded the fundraising effort, more than one hundred

donors raised $120,000 to build a new athletic hub at the

school's recreation center. "I am so thankful to this community

who put in so much time and money to help us create a new

era of health and wellness for our student-athletes for

decades to come," he said. Mulvany, shown here at the left celebrating

with members of the football team behind him, and

principal Tim Donahue and athletic director Brock Mullins at

the far right, said the new athletic performance center has 10

benches, five double-sided racks, more than 7,000 pounds of

weights and dumbbells for lifting, durable turf for speed training,

and stations for plyometric training and injury prevention

and recovery. "This is seriously nicer than the stuff I had when

I was at Kent State," he quipped.

Seth Byas, a senior at the

school, showcases some of

the exercises that can be

done at the interlocking

bench station. Mullins said

equipment outfitter Straydog

Strength helped set up the

design of the training hub in

such a way as to maximize

the performance for all student-athletes.

"There will be

no more standing around and

waiting for your turn to use

the equipment," he said.

Kevin Mulvany and alumni donor Roger Rawlins pose for a picture

near the new benches. Rawlins, a 1984 graduate who

played baseball and golf during his time at the school, said he

wanted to become involved in this fundraising effort as a way

to give back to the community he loves.

Dave Dobos

STATE REPRESENTATIVE

The Work

Has

Started…

By the time this issue of the Messenger is published,

I will have been sworn in as a member

of the Ohio House of Representatives. Our

first session of the 135th Ohio General Assembly

took place on January 3rd in the

House Chambers. The main orders of business

were to swear in members, vote for the

respective House leadership positions, and

approve various procedural resolutions so

the House can operate. The House reconvened

later in the afternoon in a joint session

with the State Senate to witness the formal

announcement of the popular vote results for

the state executive branch offices of Governor,

Lieutenant Governor, Attorney General,

Secretary of State, Auditor, and Treasurer.

Although the House meets in its chambers in

the State House, House Members are provided

offices in the Riffe Tower (NW corner of

High & State Streets—across from the State

House) to work individually and meet with

constituents. My office is on the 11th floor,

my office phone is 614-466-9690, and my

email address is rep10@ohiohouse.gov (I represent

the new 10th District). By the end of

the week, we should have learned our committee

assignments and begun to meet to

consider our respective agendas for the next

two years.

Each representative is allotted a legislative

aide. My aide is Bria Meisse (pronounced my'

see). She is a recent honors graduate of Ashland

University, did an internship research

project with the Federal Reserve Bank of

Cleveland, and played varsity soccer at the

university. Her areas of interest are economic

growth and education. So, our priorities

match up well. She also can be reached at the

number and email above and, in most cases,

probably will be the first of us to respond to

your questions and concerns.

In past years, the House of Representatives

has not convened much in January after the

first week. That would appear to be different

for this General Assembly. We have been

scheduled to meet throughout January, with

the exception of the week of January 16th.

The intent is to get a jumpstart on the work

and to complete some of the unfinished business

of the last General Assembly. In future

weeks, I will provide more details about portions

of that work.

(Dave Dobos represents the new Ohio House

of Representatives 10th District, which consists

of most of the west and southwest sides

of Columbus, parts of the south side of

Columbus, Grove City, Urbancrest, and

Franklin Township. He reports to us regularly

via this column, which is paid for by Dobos

for Ohio.)

Paid Advertisement
---
PAGE 6 - WESTSIDE MESSENGER - January 15, 2023

www.columbusmessenger.com

New officers selected for South-Western school board

By Dedra Cordle

Staff Writer

New officers have been selected to lead

the South-Western City Schools Board of

Education.

At its organizational meeting on Jan. 2,

the board approved by a majority vote the

nomination of Anthony Caldwell to serve

as its president and the nomination of Lee

Schreiner to serve as its vice-president for

2023.

Since joining the board three years ago,

Caldwell has served as an officer just once

during his elected term — that of vice-president

during the 2022 calendar year. Since

his original appointment in 2013,

Schreiner has served as the vice-president

of the board twice and its president in

2018.

Both board members said that they

were grateful for the opportunity to serve

in the highest leadership roles.

"I just want to continue to help support

the students and staff of the district and

help continue to deliver a quality education

for the 22,000 plus students we have in the

district," said Caldwell in an interview

after the meeting.

He added that as the individual in

charge of the operations at the public meetings,

he wants the students and parents to

be assured that they will continue to have

a "voice at the table."

"I think that we have always had a

board that listens to the community and I

want to continue on in that tradition by

making sure that everyone feels like they

have a voice to share what their vision is

for this community," he said. "I also believe

that students and parents should have an

expectation that we as a board are working

together to make the best informed decisions

for the students, staff, and parents in

our district."

Also receiving votes for the role as president

and vice-president of the board,

respectively, was Chris Boso, who was

nominated by Kelli Martindale. Boso has

been a member of the board since 2022.

In addition to the selection of its president

and vice-president, the board also

approved a fiscal action to set aside

$35,000 from the general fund to establish

a board service fund for the fiscal year

2023-24. Under the terms of the Ohio

Revised Code, the board service fund can

be used to pay expenses the board incurred

in the performance of their duties or for

those of their official representatives.

The board also adopted its calendar for

the 2023-2024 and 2024-2025 school years.

In the 2023-24 calendar year, the first day

of school will take place on Aug. 21 for

those in grades 4-12 and for those in grades

K-3 with the last names that begin with A-

G only. Students whose last names begin

with the letters H-O will have their first

day on Aug. 22 and students whose last

names begin with the letters P-Z will have

their first day on Aug. 23. The last day of

school for all students will be May 30. The

tentative high school graduation date is

slated for June 1, 2024.

During the 2024-2025 school year, the

first day of school will take place on Aug. 21

for those in grades 4-12 and for those in

grades K-3 with the last names A-G only.

Students in grades K-3 whose last names

begin with H-0 and P-Z will have their first

days on Aug. 22 and Aug. 23, respectively.

The last day for all students will be June 3.

The tentative high school graduation date

is slated for June 7, 2025.

Classes will not be held on any scheduled

Election Day during the 2023-2024

and 2024-2025 calendar year. When the

board discussed the calendar at a public

meeting last fall, members of the Council of

Parent Teacher Associations implored the

district to consider adopting a policy in

which all schools used as a polling location

be closed on all election days in subsequent

years.

The LARGEST SELECTION of IN-STOCK Kitchen Cabinets

Home Outlet is your source for quality in-stock kitchen cabinets for your home.

Whether you need project ideas and inspiration or you' re ready to roll up your

sleeves es and get started, our experienced store represen

esentatives are ready to help

with completely FREE Kitchen Planning services

es. Or

, start your project online at

homeoutlet.com.

Messenger photos by Pat Donahue

Local students compete in Comet Classic

Evan Montgomery of Bishop Ready matches up against Adam Robinson of Central

Crossing High School. When the dust settles, Montgomery will take win by a score

of 13-1 and will go on to claim the second place spot of the 165-pounders taking

part in the 10th Annual Comet Classic, held on Jan. 7 at Central Crossing High

School. There were 18 teams and over 200 wrestlers taking part in the tournament.

Central Crossing would finish second and Bishop Ready fourth, while Versailles

took the top spot. Other area high schools competing were Westland, finishing in

11th place, and Franklin Heights, finishing in 14th place.

North Columbus

2433 East Dublin Granville Road

614-794-9330

Two Convenient Loc

ations to Serve Y

ou

West Columbus

4117 West Broad Street

614-274-9842

Preston Tirey, of

Bishop Ready,

took first place in

the 157-pound

class at the 10th

Annual Comet

Classic. Tirey won

all five of his

matches and is

shown here on

his way to a pin

over Blake

Schmidtmeyer of

Versailles.
---
www.columbusmessenger.com

Pet Corner

Pets of the week

Mariam was found

as a stray in a storage

unit. She loves to

nap and enjoys attention.

Mariam will paw

at your hand or arm

until you pay attention

to her. She will

also lick or nibble

your fingers to get

your attention. Mariam is very sweet, but quiet

and would do best in a home without young

children. She does get along with other cats,

but not dogs. Adopt her from Friends for Life

Animal Haven

FYI: fflah.org

Betsy is a 6-monthold

who was rescued

from a shelter in West

Virginia. She is a

sweet and loyal girl

who just wants to be

with her person. She

is great with other

dogs and is respectful

of cats. Betsy is

spayed, microchipped,

current on vaccines and housebroken.

She loves to be outside no matter the

weather. If you are interested in adopting

Betsy, contact Colony Cats and Dogs.

FYI: colonycats.org

Dog license renewal runs through March 31

Dog license renewal season is under

way, and licenses are now available for

purchase without penalty at the auditor's

office.

The dog license renewal period will run

through March 31, an extension of two

months to increase the rate of licensing. As

in past years, licenses may be purchased at

doglicense.franklincountyohio.gov, or at

the auditor's office license counter, 373 S.

High St., 21st Floor in downtown

Columbus. The counter is open Monday

through Friday, from 8 a.m. to 4 p.m.

One-year, three-year, and permanent

dog licenses can be purchased through

March 31. After the deadline, the cost to

Breakfast at the Lodge

to benefit Special Olympics

The Westmeath Masonic Lodge #623 is

preparing breakfasts once a month to benefit

the Special Olympics. The public is

invited to have breakfast the second

Saturday of each month at 2925 West

Broad St. Adults eat for a donation of $6,

children age 3 and above pay $3. Serving is

from 9 a.m. to noon.

Free lunch at Hilltop Methodist

The United Hilltop Methodist Church

Cookie is a gorgeous

torti who is

about 5 months old.

She was rescued

from a life outside

and would love to find

a family of her own.

Cookie is spayed,

microchipped, and

up to date on her vaccines.

Meet her at the

Colony Cats cagefree

adoption center.

FYI: colonycats.org

community events

These furry friends are available

for adoption at local

rescues and shelters

Reid is all about having

fun. He loves

adventure and would

make a great running

partner. After joining

the shelter's Run

Club in October, Reid

quickly became a

favorite among Run

Club volunteers. He is

great on a leash, matches your pace and will

stay right by your side whether you are running

or walking. Reid recently went on a dogventure

with a volunteer, who also noted that

he was great in the car and was eager to

explore new places. Meet him at the Franklin

County Shelter.

FYI: franklincountydogs.com

purchase a license doubles. The office will

also offer licensing at expanded locations

across the county, including at pet vaccination

clinics, the Franklin County Dog

Shelter, and at other community events.

In addition to being required by state

law, dog licensing ensures that a dog has

been vaccinated against rabies, which is

required in Franklin County. It also

ensures any lost dog is returned quickly to

their owners. License fees help support the

Franklin County Dog Shelter and Adoption

Center.

Visit doglicense.franklincountyohio.gov

for more information.

will host a free community lunch every

Friday from 11 a.m. to 1 p.m. The church is

located at 99 S. Highland Ave.

Wellness and foot care

for senior citizens

Liberace Alliance provides a nurse at

the Prairie Township Community Center

weekly to provide free foot care and other

wellness services. To schedule an appointment

or for more information, contact the

wellness office at 614-437-2878.

January 15, 2023 - WESTSIDE MESSENGER - PAGE 7

Valentine's Show

Mike Albert

&

The Big E Band

Tickets - $ 58.00

(Includes dinner)

Sat., February 11th

Villa Milano - 1630 Schrock Rd.

Doors Open - 5:30pm | Dinner - 6:30pm

Show -7:30pm

CALL FOR TICKETS

(614) 792-3135

SENIORS — HELP IS HERE!

Your Doorstep to Your Doctor!

We provide:

• Transportation • Personal Coordinated Team Care

• Concierge Service • Convenience of all services under one roof

• Superior Healthcare • We serve to 55+ Medicare-eligible Community

Call for more information:

Gillian Sturm, MCG - Membership Growth Consultant

614-687-1116

gillian.sturm@dedicated.care

Let's change the world together!

NORTH

2260 Morse Rd

Partnership with

with ELVIS

3 LOCATIONS:

WESTSIDE

50 N. Wilson Rd.

WHITEHALL

5156 E. Main St.
---
PAGE 8 - WESTSIDE MESSENGER - January 15, 2023

ONLY $65.00

Messenger

Westside

We are the

BEST COMMUNITY NEWSPAPER

on the Westside

FREE

Pick-Up

At These

Locations:

Hilltop Library - 511 S. Hague Ave.

United Dairy Farmers - Hague & Sullivant Ave.

Alex Carry-Out - Binns & Sullivant Ave.

Dollar General - Kingsford & Sullivant

Dollar General - Georgesville & Atlanta

M & S Carry-Out - Georgesville & Atlanta

United Dairy Farmers - Georgesville & Parwick by Freeway

Thorton's Gas Station - Georgesville & Norton Rd.

Shell Gas Station - Georgesville & Norton Rd.

Kroger - Georgesville Square

Turkey Hill - Georgesville & Clime Rd.

United Dairy Farmers - Clime & Demorest Rd.

Walgreens - Clime & Demorest Rd.

Certified Gas Station - Briggs & Demorest Rd.

Kroger - Eakin Rd. & Harrisburg Pike

Speedway Gas Station - Eakin Rd. & Harrisburg Pike

Heartland Bank - Great Western Shopping Center

Walgreens - Harrusburg & Hopkins

Certified Gas Station - Broad St. & Orel

Walgreens - Hague Ave. & Broad St.

Marathon Gas Station - Georgesville & Industrial Rd.

La Plaza Tapatta - Georgesville & Hollywood Rd.

BP Gas Station - Georgesville Rd. & Broad St.

Westland Library - Lincoln Village Plaza

Giant Eagle - Lincoln Village Plaza

Thorton's Gas Station - 4990 W. Broad St.

Walgreens - Broad St. & Galloway Rd.

Kroger - Broad St. & Galloway Rd.

CVS Pharmacy - Norton & Hall Rd.

Circle K Gas Station - Norton & Hall Rd.

Dollar General - Norton & Hall Rd.

Marathon Gas Station - Broad St. & Murray Hill Rd.

Speedway Gas Station - Broad St. & Murray Hill Rd.

Dollar Tree - Broad St. & Murray Hill Rd.

Speedway Gas Station - Broad St. 7 Freeway

Sheetz Gas Station - Westland Mall

Speedway Gas Station - Broad St. & Wilson Rd.

Kroger - Consumer Square Shopping Center

Franklin Township Business Office - 2193 Frank Rd.

READ US ONLINE: www.columbusmessenger.com

www.columbusmessenger.com

Auditor seeks

input on reappraisal

process

As we approach 2023, your auditor's

office is completing a monumental undertaking

- the Mass Property Reappraisal,

during which the office reappraises every

property in the county to determine appropriate

current values.

As we conduct the reappraisal, as

required by state law, I am dedicated to

leading an office with programs and initiatives

that will help existing homeowners

afford to stay in their neighborhoods as

well as promote more affordable housing.

The auditor's office wants to engage residents

and make them an integral part of

the reappraisal process, ensuring their

voices are heard about their home values.

For the first time ever, the office is conducting

a Neighborhood Survey, where

residents tell us about their neighborhoods

to help appraisers assign more accurate

home valuations. No one understands a

neighborhood better than the people who

live in it, and in seeking the direct input of

residents before tentative value are established,

the auditor's office seeks to eliminate

bias in the reappraisal process.

After appraisers have determined tentative

values in the fall of 2023, the office

will again offer opportunities, both in-person

and virtual for Informal Value Review

sessions, where homeowners who feel their

values are too low or too high can have

one-on-one meetings with auditor's office

appraisers. You'll hear more about these

sessions throughout the year.

The auditor's office will continue to

serve Franklin County residents and businesses

with forward-thinking initiatives

and programs that help make our community

the very best place to live and work. I

look forward to engaging with the community

throughout 2023 and taking the

opportunity to help Franklin County residents

as we complete the reappraisal.

To participate in the survey, visit

franklincountyauditor.com/neighborhoodsurvey.

Michael Stinziano

Franklin County Auditor

westside

Messenger

(Distribution: 6,300)

Andrea Cordle...................................Westside Editor

westside@ columbusmessenger.com

Published every other Sunday by the

The Columbus Messenger Co.

3500 Sullivant Ave., Columbus, Ohio 43204-1887

(614) 272-5422

The Columbus Messenger Co. reserves the right to edit, reject or

cancel any advertisement or editorial copy at any time. The company

is not responsible for checking accuracy of items submitted

for publication. Errors in advertising copy must be called to the

attention of the company after first insertion and prior to a second

insertion of the same advertising copy.
---
www.columbusmessenger.com

January 15, 2023 - WESTSIDE MESSENGER - PAGE 9

CLASSIFIED ADS

Deadlines: Grove City, Groveport & All editions - Mondays at Noon.

West, Canal Winchester, South & Madison editions -Tuesdays at 5 p.m.

xEmployment

LOVE WHAT

YOU DO

JOB TITLE:

Head Start t - Te

eacher Aids, Assistant

Te

eachers & Lead teachers

BENEFITS:

$1,000 Sign On Bonus!

Free Family Membership

Discount Child Care & more

SCAN HERE

TO APPLY

Y!

HOU $14-2

R

0

HOURS:

MONDAY/

FRIDAY

WANTED

Host/Hostess • Back-Up Cooks

Grill • Servers • Dishwashers

You Can Work 29+ Hrs. Based on

Your Availability & Performance

Immediate Full/Part-time Openings

We Offer:

• Weekly Pay

• Paid Training

• No Tip Sharing

• Paid Vacation

• Employee Meal Discount

• Position/Salary Advancement Plan

• Discount Purchase Plan

Apply online at crackerbarrel.com/careers for

Hilliard Location 614-878-2027

JOB

FAIR

OR OPEN

INTERVIEWS?

CALL KATHY

TO ADVERTISE

272-5422

INFORMATION

START THE

NEW YEAR RIGHT!

Come See Me At

My New Location!

Call Marilyn Weaver

For An Appt.

For a New Haircut/Color

614-348-6670

Relax Wellness

3663 Broadway,

Grove City

ASSOCIATION ADS

Stroke & Cardiovascular

disease are leading

causes of death according

the American Heart

Association. Screenings

can provide peace of mind

or early detection! Call

Life Line Screening to

schedule your screening.

Special offer - 5

screenings for $149. 1-

866-518-8391

VIAGRA and CIALIS

USERS! 50 Generic pills

SPECIAL $99.00. 100%

guaranteed. 24/7 CALL

NOW! 888-445-5928

Hablamos Espanol

ASSOCIATION ADS

The bathroom of your

dreams for as little as

$149/month! BCI Bath &

Shower. Many options

available. Quality

materials & professional

installation. Senior &

Military Discounts

Available. Limited Time

Offer - FREE virtual inhome

consultation now

and SAVE 15%! Call

Today! 1-877-540-2780

Vivint Smart Security.

Professionally installed.

One connected system for

total peace of mind. FREE

professional installation!

Four FREE months of

monitoring! Call now to

customize your system. 1-

855-870-2073

Become a Published

Author. We want to Read

Your Book! Dorrance

Publishing Trusted Since

1920 Consultation,

Production, Promotion &

Distribution. Call for Free

Author's Guide 1-877-729-

4998 or visit

dorranceinfo.com/ads

Switch and save up to

$250/yr on talk, text &

data. No contract or

hidden fees. Unlimited talk

& text with flexible data

plans.

Premium

nationwide coverage.

100% U.S. based

customer service. Limited

time get $50 off any new

account. Use code

GIFT50. 1-855-903-3048

ASSOCIATION ADS

Caring for an aging loved

one? Wondering about

options like senior-living

communities and in-home

care? Caring.com's

Family Advisors help take

the guesswork for your

family. Free, no-obligation

consult: 1-855-759-1407

Attention Homeowners! If

you have water damage

and need cleanup

services, call us! We'll get

in & work with your

insurance agency to get

your home repaired and

your life back to normal

ASAP! 855-767-7031

Directv Stream - Carries

the Most Local MLB

Games! CHOICE

Package, $89.99/mo for

12 months. Stream on 20

devices in your home at

once. HBOMax included

for 3 mos (w/CHOICE

Package or higher.) No

annual contract, no hidden

fees! Some restrictions

apply. Call IVS 1-866-629-

6086

Replace your roof with the

best lookng and longest

lasting material -- Steel

from Erie Metal Roofs!

Three styles and multiple

colors available.

Guaranteed to last a

lifetime! Limited Time

Offer - $500 Discount +

Additional 10% off install

(for military, health

workers & 1st responders)

Call Erie Metal Roofs: 1-

855-338-4807

ASSOCIATION ADS

MobileHelp, America's

premier mobile medical

alert system. Whether

you're home or away. For

safety & peace of mind.

No long term contracts!

Free brochure! 1-888-489-

3936

DENTAL INSURANCE

from Physicians Mutual

Insurance Company.

Coverage for 350 plus

procedures. Real dental

insurance - NOT just a

discount plan. Do not wait!

Call now! Get your FREE

Dental Information Kit with

all the details! 1-877-553-

1891

www.dental50plus.com/

macnet#6258

Prepare for power

outages today with a

GENERAC home standby

generator. $0 Down + Low

Monthly Pmt. Request a

free Quote. Call before the

next power outage: 1-855-

948-6176

BUYING CLASSIC CARS,

TRUCKS, SUVs

**American and Foreign**

Any Condition. Buying

entire car collections.

$$PAYING CA$H$$

Please call 717-577-8206

KRMiller1965@yahoo.com

Employment
---
PAGE 10 - WESTSIDE MESSENGER - January 15, 2023

www.colulmbusmessenger.com

xEmployment

Join us as a Power Equipment Operator

LOVE WHAT

YOU DO

JOB TITLE:

School Support

BENEFITS:

$1,000 Sign On Bonus!

Free Family Membership

Discount Child Care & more

HOU $14- 15

R

HOURS:

MONDAY/

FRIDAY

Specialists/A

Assistant Te

eachers

SCAN HERE

TO APPLY

Y!

ASSOCIATION ADS

ASSOCIATION ADS

"HELP WANTED"

SIGN

NOT WORKING?

TO ADVER

VERTISE

Call Kathy at

The Columbus Messenger

272-5422

For More Info

ASSOCIATION ADS

Put on your TVEars &

hear TV w/unmatched

clarity. TVEars Originaloriginally

$129.95 - now

w/this special offer only

$59.95 w/code MCB59! 1-

888-805-0840

ASSOCIATION ADS

Become a Published

Author. We want to Read

Your Book! Dorrance

Publishing - Trusted by

Authors Since 1920

Book manuscript submissions

currently being reviewed.

Comprehensive Services:

Consultation, Production,

Promotion and Distribution. Call

for Your Free Author's Guide 1-

866-482-1576 or visit

dorranceinfo.com/macnet

FREE $20 Cash App

Everyone! Yes It's Real.

Very Limited supply until

we run out! Go to

Free20Now.com

ASSOCIATION ADS

DISH TV $64.99 FOR 190

Channels + $14.95 High

Speed Internet. Free Installation,

Smart HD DVR

Included, Free Voice Remote.

Some restrictions

apply. Promo expires

1/21/23. 1-866-479-1516

Switch and save up to

$250/yr on talk, text & data.

No contract or hidden fees.

Unlimited talk & text with

flexible data plans.

Premium nationwide

coverage. 100% U.S.

based customer service.

Limited time offer - get $50

off any new account. Use

code GIFT50. For more

information1-888-684-1169

Vivint Smart Security.

Professionally installed.

One connected system for

total peace of mind. Free

professional installation!

Four free months of

monitoring! Call to

customize your system. 1-

833-841-0737

Internet &WIFI Starts at

$49 Call us Today to Get

Started. Find High-Speed

Internet with Fiber Optic

Technology No Credit

Check, No SSN Required.

Call us Today 866-396-

0515

Wesley Financial Group,

LLC Timeshare Cancellation

Experts Over

$50,000,000 in timeshare

debt & fees cancelled in

2019. Get free

informational package &

learn how to get rid of

your timeshare! Free

consultations. Over 450

positive reviews. 888-965-

0363

ASSOCIATION ADS

HughesNet - Finally, superfast

internet no matter

where you live. 25 Mbps

just $59.99/mo! Unlimited

Data is Here. Stream

Video. Bundle TV &

Internet. Free Installation.

Call 866-499-0141

!!OLD GUITARS WANT-

ED!! GIBSON, FENDER,

MARTIN, Etc. 1930's to

1980's. TOP DOLLAR

PAID. CALL TOLL FREE

1-866-433-8277

Are you receiving

SSDI/SSI Benefits? You

may be eligible for

additional benefits. CALL

US TODAY Citizen

Disability 1-888-490-6616

DIAGNOSED WITH

LUNG CANCER? You

may quliafy for a

substantial cash award -

even with smoking history.

NO obligation! We've

recovered millions. Let us

help!! Call 24/7, 1-888-

650-9135

Safe Step. North

America's #1 Walk-in Tub.

Compreshensive lifetime

warranty. Top-of-the-line

installation and service.

Now featuring our free

shower package & $1600

off - limited time!

Financing available. 1-

855-417-1306

Don't let the stairs limit

your mobility! Discover

the ideal solution for

anyone who struggles on

the stairs, is concerned

about a fall or wants to

regain access to their

entire home. Call

AmeriGlide today! 1-844-

317-5246

Safe Step. North

America's #1 Walk-in Tub.

Compreshensive lifetime

warranty. Top-of-the-line

installation and service.

Now featuring our FREE

shower package & $1600

off for a limited time! Call

today! Financing

available. Call Safe Step

1-833-356-1954

Metal Roofing &Siding For

Houses, Barns, Sheds etc.

36" Coverage, Painted $2.35

LF, Bare $1.45 to $1.70 LF,

Rainbow $1.35 LF. Sold as

Seconds. Made in Ephrata,

Pa. 717-445-5222

Free high speed internet if

qualified. Govt. pgm for

recipients of select pgms

incl. Medicaid, SNAP

Housing Assistance, WIC,

Veterans Pension,

Survivor Benefits, Lifeline,

Tribal. 15 GB Internet.

Android tablet free w/onetime

$20 copay. Free

shipping. Call Maxsip

Telecom! 1-833-758-3892

Attention Viagra users:

Generic 100 mg blue pills

or generic 20 mg yellow

pills. Get 45 plus 5 free

$99 + S/H. Call Today 1-

877-707-5518

The Generac PWRcell, a

solar plus battery storage

system. SAVE money,

reduce your reliance on

the grid, prepare for power

outages and power

your home. Full installation

services available. $0

Down Financing Option.

Request a FREE, no obligation,

quote today. Call

1-866-783-0292

Employment

ASSOCIATION ADS

SELL YOUR ANTIQUE

OR CLASSIC CAR.

Advertise with us. You

choose where you want

to advertise. 800-450-

6631 visit macnetonline.

com for details.

Eliminate gutter cleaning

forever! LeafFilter, the

most advanced debrisblocking

gutter protection.

Schedule a FREE

LeafFilter estimate today.

20% off Entire Purchase.

Plus 10% Senior & Military

Discounts. Call 1-855-

791-1626

The Generac PWRcell

solar plus battery storage

system. Save money,

reduce reliance on

grid, prepare for outages

& power your home. Full

installation services. $0

down financing option.

Request free no obligation

quote. Call 1-877-

539-0299

Looking for auto insurance?

Find great deals

on the right auto insurance

to suit your needs.

Call today for a free

quote! 866-924-2397

NEED IRS RELIEF

$10K-$125K+ Get Fresh

Start or Forgiveness.

Call 1-877-705-1472

Monday through Friday

7am-5pm PST

Dental Insurance -

Physicians Mutual Insurance

Comopany. Covers 350

procedures/ Real insurance -

not a discount plan. Get your

free dental info kit! 1-855-

.526-1060 www/dental50

plus.com/ads #6258

WANTED!

MOTORCYCLES!

ANTIQUE AND CLASSIC.

Honda, Kawasaki, Suzuki,

Yamaha, Triumph, BSA

and other foreign models.

$$PAYING CA$H$$

717-577-8206

KRMiller1965@yahoo.com

DISH TV $64.99 for 190

Channels + $14.95 high

speed internet. FREE installation,

Smart HD DVR

included. Free Voice Remote.

Some Restrictions

apply. Promo Expires

1/21/23. 1-866-590-5561

Want Faster & Affordable

Internet? Get internet

service today with

Earthlink. Best internet &

WiFi Plans. Call us Today

to Get Started. Ask

about our specials! 866-

396-0515

Elminate gutter cleaning

forever! LeafFilter, the most

advanced debris-blocking

gutter protection. Schedule

Free LeafFilter Estimate

today. 20% off Entire

Purchase. 10% Senior &

Military Discounts. Call 1-

833-610-1936

BATH & SHOWER UP-

DATES in as little as

ONE DAY! Affordable

prices - No payments for

18 months! Lifetime warranty

& professional installs.

Senior & Military

Discounts available. Call

855-761-1725

Attention oxygen therapy

users! Inogen One G4 is

capable of full 24/7 oxygen

delivery. Only 2.8

pounds. Free info kit.

Call 877-929-9587

Protect your home w/home

security monitored by

ADT. Starting at $27.99/

mo. Get free equipment

bundle including keypad,

motion sensor, wireless

door & windows sensors.

833-719-1073

ASSOCIATION ADS

AT&T Internet. Starting at

$40/month w/12-mo agmt.

1 TB of data/mo. Ask how

to bundle & SAVE! Geo &

svc restrictions apply. 1-

855-364-3948

READER

ADVISORY

The National Trade Association

we belong to has

purchased the following

classifieds. Determining

the value of their service

or product is advised by

this publication. In order

to avoid misunderstandings,

some advertisers do

not offer "employment"

but rather supply the

readers with manuals, directories

and other materials

designed to help

their clients establish mail

order selling and other

businesses at home. Under

NO circumstance

should you send any

money in advance or give

the client your checking,

license ID or credit card

numbers. Also beware of

ads that claim to guarantee

loans regardless of

credit and note that if a

credit repair company

does business only over

the phone it's illegal to request

any money before

delivering its service. All

funds are based in US

dollars. Toll Free numbers

may or may not

reach Canada. Please

check with the Better

Business Bureau 614-

486-6336 or the Ohio Attorney

General's Consumer

Protection Section

614-466-4986 for more

information on the company

you are seeking to

do business with.
---
www.columbusmessenger.com

xCome & Get it!

COME AND GET IT!

Need to Get Rid of Something Fast - Advertise It Here For FREE!

Deadlines are Mondays by Noon

Call For Publication Schedule 614-272-5422

FREE Garden Straw for gardens or bedding. Call for appointment for pickup.

Circle S Farms, 9015 London-Groveport Road, Grove City, 43123

Grove City - 614-878-7980

FREE - Metal from old camper frame, Need a truck to pickup..

CC - Obetz - 614-632-1013

FREE - Children's Wooden Play Set - Good Condition w/Sand Box under it, Step Ladder up

Slide to go down & a rope swing. Also separate Swing Set w/4 swings.

190 Inah Ave., Cols, 43228 near the Fire Dept.

West Columbus - 614-878-1930, ask for Linda

FREE - Firewood - All you want! U cut U Haul. Text me if you want it.

Obetz - 614-519-7986

Come and Get It! is a bi-weekly column that offers readers an opportunity to pass

along surplus building materials, furniture, electronic equipment, crafts, supplies,

appliances, plants or household goods to anybody who will come and get them - as

long as they're FREE. NO PETS! Just send us a brief note describing what you want to

get rid of, along with your name, address and phone number. Nonprofit organizations

are welcome to submit requests for donations of items.

Send information to The Columbus Messenger, Attention: Come and Get It, 3500

Sullivant Ave., Columbus, OH43204. Deadline is Mondays at NOON for following

Sunday's publication. Messenger Newspapers is not responsible for any complications

that may occur. Please contact us when items are gone. 272-5422

Come & Get it!

xFocus on Rentals

WEDGEWOOD

VILLAGE

1, 2 and 3 BR Apts.

Rent Based on Income.

Call 614-272-2800 or visit us

at 777 Wedgewood Dr.

TTY/TDD 711

EQUAL HOUSING OPPORTUNITIES

APARTMENT MANAGERS

HAVE VACANCIES?

FILL THEM BEFORE

THE FLOWERS BLOOM!

ADVERTISE

IT!

Call The Messenger

For More Info and Rates

614-272-5422

Rentals

ASSOCIATION ADS

Thinking about installing

a new shower? American

Standard makes it

easy. FREE design consulation.

Enjoy your

shower again! Call 1-

833-769-0995 today to

see how you can save

$1,000 on installation, or

visit www.newshowerdeal.com/mac

READY TO BUY, SELL

OR RENT YOUR

VACATION HOME OR

HUNTING CAMP?

Advertise it here and in

neighboring publications.

We can help you. Contact

MACnet MEDIA @

800-450-6631 or visit our

site at MACnetOnline.

com

Prepare for power outages

today with a GENERAC

home standby generator.

$0 Money Down + Low

Monthly Payment Options.

Request a FREEQuote--

Call now before the next

power outage. 1-855-465-

7624

IMPORTANT

NOTICE

The following states: CA,

CT, FL, IA, IL, IN, KY,

LA, MD, ME, MI, MN,

NE, NC, NH, OH, OK,

SC, SD, TX, VT and WA

requires seller of certain

business opportunities to

register with each state

before selling. Call to

verify lawful registration

before you buy.

ASSOCIATION ADS

See...

You Looked!

Newspaper

Ads Catch

The Eye!

Call

272-5422

For Info. &

Pricing

CHILD CARE

OFFERED

Depend. Quality Child care

in loving hm. Exp. Mom, n-

smkr, hot meals, sncks,

playroom, fncd yd. Reas.

rates. Laurie at 853-2472

HELP WANTED

Kings Kids Daycare

in Grove City is hiring Fun,

Loving Teachers for PT &

FT shifts. Please email

sarragc@outlook.com or

call 614-539-0349

PETS

AKC St. Bernard puppies.

Born 7/29/22. Current Vet

checks. Please leave

message on phone

number 740-852-4167.

WANT TO BUY

WE BUY JUNK CARS

Call anytime 614-774-6797

ANTIQUES

WANTED

Victrolas, Watches,

Clocks, Bookcases

Antiques, Furn.

Jeff 614-262-0676

or 614-783-2629

We Buy Junk Cars &

Trucks. Highest Prices

Paid. 614-395-8775

We Buy Cars & Trucks

$300-$3000.614-308-2626

MISCELLANEOUS

FOR SALE

Bedroom Suite - Bed frame,

dresser w/attached mirror.

All wood. Good cond.

$1900 OBO. 614-571-1997

HP PRINTER

CARTRIDGES FOR SALE

HP 901 Color Cartridges (3);

HP 901XL and 901 Color

Multi Pack (1);

HP 901XL Black(1).

$15.00 each.

Columbus Messenger,

3500 Sullivant Ave.

Call Office 614-272-5422

RENTALS

Eakin-1 Br Apt, crpt, appls.

No Pets 614-560-3050

4 BR 2 STORY

Fenced Yard - West

614-530-8097

January 15, 2023 - WESTSIDE MESSENGER - PAGE 11

xClassified Services

CLEANING

DEEP CLEAING &

WALL WASHING

Call Judy 614-746-0273

CONCRETE

AJ's Concrete,

Masonry

Good Work - Fair Prices

Block Foundations

Driveways • Sidewalks

Epoxy/Overlay Floors

Bonded-Ins. • Free Ests.

614-419-9932

www.hastingsnsons.com

Driveways & Extensions

Patio & Walkways,

Porches & Steps,

Garage/Basement Floors

Hot Tub/Shed Pads,

Stamped/colored concrete

Sealing of new &

existing concrete.

FREE ESTIMATES

Contact Adam

614-756-1754

hastingsandsons.

columbus@gmail.com

FENCING

EAZY FENCE

Chain Link - Wood

No Job Too Big or Small

All Repairs ~ Free Est.

Insured. 614-670-2292

HAULING

DEAN'S HAULING

614-276-1958

JUNK REMOVAL

AND MORE LLC

• Junk Removal

• Demolition

• Hoarding

614-352-0442

10% OFF FOR

SENIORS & VETERANS

ZANE'S DUMPSTERS

Call 614-254-1131

INFORMATION

12/18 A

1/8 W

HEATING & COOLING

HVAC

HEATING & A/C

Fast Service - Licensed

614-633-9694

HOME

IMPROVEMENTS

SLAGLE

HOME REMODELING

Baths, Kitchen,

Plumbing and Electrical.

All your Handyman needs

No Job too Big or Small

Over 30 Yrs. Exp. Lic.-Bond-Ins.

Jerry

614-332-3320

KLAUSMAN HOME

IMPROVEMENT

Siding-Windows-

Doors-Roofing-Soffit-

Fascia-Gutters-Trim

Earn FREE Seamless

Gutters with Siding Over

1000 Sq. Ft.

FREE Shutters with

Soffit & Trim

EPA Certified

Member of BBB

Financing Available

2/5

SW/W

CandC

Handyman Services LLC

"See The Difference"

l

614-378-7469

Remodels,

12/18

A

Water Heaters,

Plumbing, Fence,

Sidewalks, Decks,

Int./Ext. Paintng

& Electrical Work

Handyman - Outdoor &

Indoor. Reasonable Rates

614-634-2244

Over 20 yrs exp. • Free Est.

Licensed-Bonded-Insured

Owner & Operator

James 614-419-7500

INFORMATION

LOOK TO

THE PROFESSIONALS

IN OUR

SERVICE DIRECTORY

For Service

"That Is Out Of This World"

1/8 A

HOME

IMPROVEMENTS

C&JHandyman

Services LLC

Minor Plumbing & Electric

Install Hot Water Tanks,

Dishwashers & Disposals

All Interior Remodels

Also Fencing &

Interior/Exterior Painting

Free Est. ~ 18 Yrs. Exp.

CDC/EPA Approved Guidelines

614-284-2100

SINCE 1973

Phil Bolon Contr.

Windows & Siding

Decks, Kitchens, Baths

Room Additions,

Flooring, Roofing

Bsmt Waterproofing

Deal With Small Non-Pressure Co.

47 Yrs. Exp. - Refs. Avail.

Lic.-Bond-Ins.

Free Est. - Financing Avail.

Member BBB Of Cent. OH

O.C.I.E.B. ID #24273

614-419-3977

or 614-863-9912

HOME

REMODELING

LANDSCAPING

ONYX

LANDSCAPING

614-407-5214

LAWN CARE

LET US MAINTAIN

YOUR LAWN & GARDEN

FOR YOU

Summer, Spring,

Winter or Fall

WE DO IT ALL!!!!

Lawn Cuts, Edging,

Trees & Shrubs, Garden,

Mulching, Hauling,

Garden Pond &

Home Maint.

Free Ests. Low Rates

$20 & Up

Kevin - 614-905-3117

Classified Services

12/18

A/M

HOME

MAINTENANCE

HANDYMAN SERVICES

614-235-1819

Charlies Handyman

Service

Over 40 yrs. exp.

Hot Water Tanks

Door Locks

Kitchen/Bath Remodels

Roofmg * Siding

Porches & Decks

614-319-6010

blantoncharles894@gmail.com

MultiCraft Const.

& Handyman Services

All Types Handyman Services:

Decks, Fences

Kitchen/Baths

Window/doors installed

Interior Painting

Drywall Repairs

All Types of Flooring

Call/Text 614-774-2923

multicraftconstruction@gmail.com

12/4 A

1/22 A

PAINTING

Moyer Construction LLC

Specializing in Painting

Insured - Free Estimate

614-378-3568

PLASTERING

Plaster & Stucco

NEW AND

REPAIR

Established 1917

Geo. F. Neff & Co.

614-274-5629

DRYW

YWALL &

PLASTER

12/18

A&M

REPAIR

Textured Ceilings

614-551-6963

Residential/Commercial

BIA

PLUMBING

All About Drains & Plumb.

Will snake any small drain

$145. 614-778-2584

MYERS

PLUMBING

Exp Expert Plumbing

New Const. & Fast Repairs

Lic. - Permit AVailable

Water * Sewer * Gas

614-633-9694

CHRIS'

PLUMBING

"Plumbing & Drain Professional

That You Can Count On"

24 Hrs., 7 Days/Week

No Overtime Charges

24 Yrs. Exp. in Plumbing &

Drain Cleaning Field

Call For A Free Phone Estimate

$100.00 For Any Small Drain

614-622-4482

30% OFF with AD

POOL/SPA

MAINTENANCE

K&L Spa Cleaning

Hot Tub Cleaning and

Weekly Maintenance

Keith 614-316-9809

SEWING MACHINE

REPAIR

REPAIR all makes 24 hr.

service. Clean, oil, adjust

in your home. $49.95 all

work gtd. 614-890-5296

TREE SERVICES

Warren Brewer Tree Service

• Tree Removal

• Tree Trimming

• Stump Grinding

1/8

A&M

• Bucket Truck Services

Best Prices • Same Day Service

614-878-2568

1/8 A
---
PAGE 12 - WESTSIDE MESSENGER - January 15, 2023

In Entertainment

"M3GAN" is a fun and thrilling film

www.columbusmessenger.com

Amused. Intrigued. Repulsed. Those are

the best words to describe the range of

emotions that were taking over my mind

when a low budget science fiction thriller

called "M3GAN" came to my attention.

Like most of the general public, my first

encounter with this oddity of a film came

via a genius social media campaign by

famed horror studio Blumhouse

Entertainment to drum up interest in their

property that was soon to be released. In

this short teaser trailer that was unleashed

onto the masses several months ago, it

showcased the titular character dancing

around in a manner that would make all

inflatable tube men curl up in a ball of

WESTGATE UNITED

METHODIST CHURCH

61 S. Powell Ave., Columbus,OH 43204

Come - Let's Worship Together!

Nancy Day-Achauer

Worship Service 9:00 a.m.

Sunday School 10:00 a.m.

westgateumc@sbcglobal.net

614-274-4271

GLENWOOD UM CHURCH

2833 Valleyview Dr.

(Corner of Valleyview & Hague Ave.)

(614) 274-8469

Pastor Dawn Trapp

Join us for In-Person

Sunday Worship at 10:45 a.m. or

Join us for Online Worship at

Glenwood UMC YouTube

http://tinyurl.com/GlenwoodUMC

everlasting shame. Bizarre as it was to

watch an individual gyrate as if they had

no bones in their body, it was made all the

more baffling and entertaining because the

person in question was a blank-faced AI

doll with ice-blue eyes that was designed to

look as if she were a demented child.

Although the teaser trailer that was

dropped sparked some outrage from certain

corners of the Internet, it largely set

off a whirlwind of memes from content creators

who were inspired to superimpose

those now iconic moves into classic music

videos and beloved pop songs throughout

the ages.

Fun as this was to witness, Blumhouse

HOGE MEMORIAL

PRESBYTERIAN CHURCH

2930 W. Broad St., Columbus, Ohio 43204

Sundays at 10:30 a.m.

In Person Worship

Live Streaming Sunday Worship Service

at 10:30 a.m. on Hoge Facebook Page

Worship & Free Meal

Saturdays at 5:00 p.m.

www.hogemempresby.org

Be a Part of Our Local Worship Guide

Our upcoming Worship Guide is geared toward celebrating faith and helping readers connect with

religious resources in our community. Make sure these readers know how you can help with a presence in

this very special section distributed to more than 25,000 households in the Westside area.

Contact us today to secure your spot in our Worship Guide.

614.272.5422 • kathy@columbusmessenger.com

Messenger

Westside

Please visit the

Westside Church

of your choice.

List your Worship

Services here.

For info. call 614-272-5422

ramped up the marketing for this film by

establishing social media pages for

M3GAN where she quickly began to pick

fights with other cinematic murder dolls

like Chucky and Annabelle. And as if that

were not enough, the studio then hired

actors and models to dress like the character

while attending sporting events, giving

vacant and bone-chilling stares into the

lens of the camera whenever it panned onto

their doll-like faces.

Although there was a genuinely brilliant

marketing campaign behind this upand-coming

film — if you have not seen the

clip of the film's human stars conducting

interviews at a morning show with dozens

of M3GAN clones catching from a window

in the public square, please do — one could

not help but get the sense that the overall

product would never be able to live up to

the hype that was generated pre-theatrical

release. After all, films rarely can live up to

that amount of buzz and it also had another

knock against it because it was set to be

released in January.

The first month of the year is notorious

because it has long been seen as the time of

year when studios release their complete

duds: It didn't get the reputation as being

the "graveyard for films" for nothing. But

this particular studio has changed that

narrative a bit by offering good, if not

decent, horror and thriller films for several

years now during the winter doldrums.

Their latest film is not just decent, it's pretty

great, actually.

"M3GAN" is the sort of film that people

will brush off as being too dumb. And it is,

truly, but it's the best kind of dumb film

because it is so entertaining. Despite having

roots in the horror genre — its writing

team of Akela Cooper and James Wan set

the standard with "Malignant" — it's not all

that violent despite the plot that revolves

around a killer AI child toy. Instead, the

film leans more on the satirical side of the

dangers of technology, the woes of parenting,

and how we busy ourselves with distractions

to mask our pain and emotions.

It's whip-smart and fun and just so amusingly

and unapologetically crazy.

At the center of the film are two

humans, a child named Cady (Violet

McGraw) and her aunt Gemma (Allison

Williams). Because of Gemma's heavy

work-load as a robotistic at a multi-billion

dollar toy company, the two rarely have

time to see each other but her aunt can

always be counted on to provide the latest

gadgets to her 8-year-old niece. While traveling

to a ski resort with her parents, Cady

and her family are involved in a tragic car

accident, leaving Gemma as her primary

guardian.

It is clear from the get-go that Gemma is

in no way, shape or form ready to care for a

child. Although she can provide for Cady

financially, she is admittedly in over her

head from the moment Cady walks into her

The Reel Deal

Dedra Cordle

tech-filled home. "I

can't even take care

of my plants," she

admits to a coworker.

Given the jarring

requirements of parenthood,

Gemma

sinks all of her energy into building an AI

named M3GAN, or a model 3 generative

android, to provide companionship for her

grieving niece. At first, M3GAN (voiced by

Jenna Davis and physically portrayed by

Amie Donald) lives up to her billing as "a

child's greatest companion and a parent's

greatest ally" but she soon begins to take

her responsibilities to protect Cady from

any physical or emotional harm a bit too

literally.

One of the things that make this film

work as well as it does is the audience can

see from the very beginning that M3GAN

is up to no good but the adults who are creating

this AI companion do not. It's actually

quite funny to watch how long it takes

Gemma, a brilliant engineer, to glom onto

the fact that M3GAN has a mind of her

own, and a malevolent one at that. But

whereas this is funny within the realm of

this film, it also offers a bit of pointed commentary

at tech CEOs and start-up companies

who are creating things to "make life

more convenient" while also putting other

people at risk through their creations.

Although the film does make those

observations from time to time, it is not too

tied up in those elements. Screenwriter

Akela Cooper and collaborating partner

James Wan put enough thought into the

world that they have built to make it make

sense, but they don't overplay their hand

and get too bogged down in the tech stuff

and how they could be both the savior for

and the downfall of our society. Instead,

the focus is more on being fun, making people

laugh, and allowing the audience to

have a great time with a cinematic murder

doll that reads stories, sings lullabies, and

rips the ears off of naughty boys who can't

keep their hands to themselves.

Genuine horror hounds may be a bit disappointed

by the lack of scares within (I

heard of a rumored R-rated director's cut

floating around) but there is a great balance

with the rest of the thrills to make

this movie live up to its pre-release hype of

being amusing, intriguing, and occasionally

repulsive.

Grade: B+

Dedra Cordle is a Messenger staff writer

and columnist.