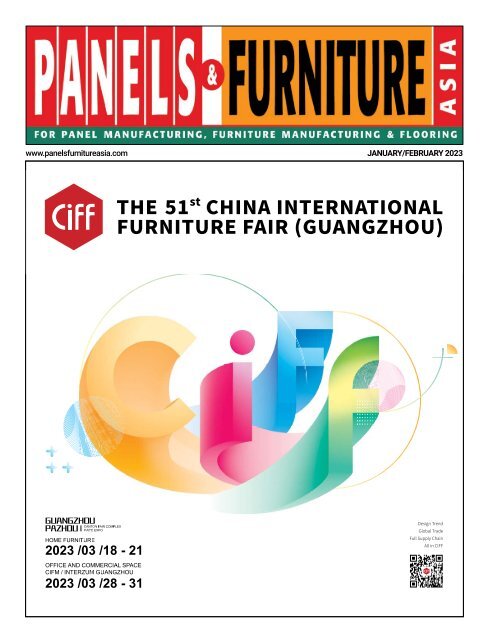 Panels & Furniture Asia January/February 2023
Panels & Furniture Asia (PFA) is a leading regional trade magazine dedicated to the woodbased panel, furniture and flooring processing industry. Published bi-monthly since 2000, PFA delivers authentic journalism to cover the latest news, technology, machinery, projects, products and trade events throughout the sector. With a hardcopy and digital readership comprising manufacturers, designers and specifiers, among others, PFA is the platform of choice for connecting brands across the global woodworking landscape.
Panels & Furniture Asia (PFA) is a leading regional trade magazine dedicated to the woodbased panel, furniture and flooring processing industry. Published bi-monthly since 2000, PFA delivers authentic journalism to cover the latest news, technology, machinery, projects, products and trade events throughout the sector. With a hardcopy and digital readership comprising manufacturers, designers and specifiers, among others, PFA is the platform of choice for connecting brands across the global woodworking landscape.
SHOW MORE
SHOW LESS
Create successful ePaper yourself
Turn your PDF publications into a flip-book with our unique Google optimized e-Paper software.
www.panelsfurnitureasia.com

JANUARY/FEBRUARY 2023
---
Canadian wood.

Versatile and durable.

Gỗ Canada.

Đa dụng và bền bỉ.

WESTERN HEMLOCK GỖ ĐỘC CẦN BỜ TÂY

TRY CANADIAN WOOD

HÃY DÙNG THỬ GỖ CANADA

canadianwood.com.vn

+84 (0)274 380 3609

A range of high-quality certified lumber from sustainably

managed forests of British Columbia, Canada.

Các loại gỗ xẻ chất lượng cao được chứng nhận từ nguồn rừng trồng

được quản lý bền vững của tỉnh bang British Columbia, Canada.
---
Photo Credit: LEITZ Tooling

18-20

JUNE

2023

MALAYSIA INTERNATIONAL TRADE

AND EXHIBITION CENTRE (MITEC)

KUALA LUMPUR, MALAYSIA

International

Wood & Woodworking

Machinery Expo

Jointly organised by:

Supported by:

For enquiry, contact us at:

Pablo Publishing & Exhibition Pte Ltd

+65 6266 5512

williampang@pabloasia.com

Ministry of Plantation Industries

and Commodities (MPIC)

Malaysian Timber Council

+603 9281 1999

info@malaysianwoodexpo.com.my

BUSINESS

MATCHING

EXHIBITION

POCKET

TALKS
---
CONTENTS

CONTENTS

PANELS & FURNITURE ASIA (ISSUE 1)

January / February 2023

06

Editor's Note

08

News

Market Report

16

Market performance is down, but consumer

demand? Not what you might think

Environmental Report

20

Sustainability matters for wood in furniture and

panelling

22

Climate financing: Connecting forest projects with

investors through Treevive

In Person

24

Global presence, localised solutions

27

Making customers the priority: An interview with

HOMAG

Panel Manufacturing

32

Automation amid a shortage of skilled workers

34

Compliance with North American composite wood

formaldehyde emission rules

36

How PotlatchDeltic creates value by automating its

panel repair line

Furniture Manufacturing

40

Material diversity in the furniture and

interior design industries

44

High-efficiency, quality and intelligent

SawTech solution

46

Continuous optimisation of value stream

Materials

49

Better returns of investment with mass timber

52

The new Kuantan lifestyle with TMT wood

Structural Elements

54

Växjö station and city hall

Columnists

56

Building business resilience and monetising

innovation

Show Preview

59

CIFF Guangzhou 2023

61

CIFM/interzum guangzhou 2023

63

Calendar of Events

64

List of Advertisers

Product Highlight

30

Making waves with new wooden wall cladding

solution

54

22

4 Panels & Furniture Asia | January / February 2023
---
Simple – we handle all the complexities that go into hardwoods to make

life easier for you. Natural – we manufacture and supply only sustainable, high-quality

products that breathe life into your work. Hardwoods – from harvest to delivery,

we set the standard for what the hardwoods experience should be.

nwh.com
---
FROM THE EDITOR

Time to gear up

A Happy New Year to all!

Last year might have ended a little quietly and

bleakly for those affected by inflation, rising

energy costs and lack of orders, among other

issues. If you are one of them, hang in there.

Don't think of this period of slowdown as a

period of zero opportunities. Take this time

to gear up.

As Daniel Schmitt, the CEO of HOMAG advises,

"what can [you] do in terms of productivity"

with the market slowed down (p.27)? Schmitt

goes on to talk about the importance of

customer service, and HOMAG tapping into

the growing mass timber industry. Peter

Fitch, CEO and founder of IOI Palm Wood,

also touched on business resilience, which he

declares is key to surviving tough economic

times (p.56). Profit orientation, disruptive

innovation, and building customer loyalty are

a few ways to achieve business resilience.

Speaking of disruptive innovation, it seems

like many companies are beginning to

pivot into automation in their production.

Raute's customer, PotlatchDeltic, is one

of them (p.36), and Paul Maschinenfabrik

also supplied an automatic rip scanner to

its customer (p.32). Besides technological

innovations to boost production efficiency

and output, you can also rethink your

business strategies. Udo Leiber, managing

director of Leuco Asia, touched on some great

points about being customer-oriented, about

catering to requirements of Leuco's customers

(p.24). Peter Hartmann, market responsible

South East Asia of Schuler Consulting, makes

a case for Schuler's own optimisation tool:

How can companies minimise blind spots

and traceability gaps in furniture production

chains (p.46)?

If you need a little inspiration on how to tide

through tough times, why not read these case

studies and interviews? Heading into the new

year, we are ever more committed to bringing

to you the latest industry news, stories, and

trends. We, like you, hope to see the market

flourish again. When that time comes, we will

be sure to report the news with gusto and

glee.

YAP SHI QUAN | EDITOR

PANELS &

FURNITURE ASIA

PABLO SINGAPORE

Publisher

William Pang • williampang@pabloasia.com

Editor

Yap Shi Quan • shiquan@pabloasia.com

Business Development Manager

Pang YanJun • yanjun@pabloasia.com

Graphic Designer

Goh Meng Yong • mengyong@pabloasia.com

Circulation Manager

Shu Ai Ling • circulation@pabloasia.com

PABLO BEIJING

General Manager

Ellen Gao • pablobeijing@163.com

PABLO SHANGHAI

Editor

Kresly Shen • pabloshanghai@163.net

HEAD OFFICE

PABLO PUBLISHING &

EXHIBITION PTE LTD

3 Ang Mo Kio Street 62, #01-23, Link@AMK,

Singapore 569139

Tel : +65 6266 5512

Email: info@pabloasia.com

www.panelsfurnitureasia.com

Company Registration No: 200001473N

Singapore MICA (P) No: 078/12/2022

REGIONAL OFFICES (CHINA)

PABLO BEIJING

Tel : +86 10 6509 7728

Email : pablobeijing@163.com

PABLO SHANGHAI

Tel : +86 21 5238 9737 / 36

Email : pabloshanghai@163.net

let's connect!

@panelsfurnitureasia

All rights reserved. Views of writers do not necessarily reflect the views of the

Publisher. No part of this publication may be reproduced in any form or by any

means, without prior permission in writing from the Publisher and copyright

owner. Whilst every care is taken to ensure accuracy of the information in

this publication, the Publisher accepts no liability for damages caused by

misinterpretation of information, expressed or implied, within the pages of

the magazine. All advertisements are accepted on the understanding that the

Advertiser is authorised to publish the contents of the advertisements, and in

this respect, the Advertiser shall indemnify the Publisher against all claims

or suits for libel, violation of right of privacy and copyright infringements.

Panels & Furniture Asia is a controlled-circulation magazine with two issues

a year. It is mailed free-of-charge to readers who meet a set of criteria. Paid

subscription is available to those who do not fit our terms of control. Please

refer to subscription form provided in the publication for more details.

Printed by Times Printers Pte Ltd

Scan to subscribe

to PFA's enewsletter

6 Panels & Furniture Asia | January / February 2023
---
ARCHITECTURE

UNLIKE ANY

OTHER!

Find out what's hot in

timber architecture now:

Successful ideas, trends,

and perspectives.

@wood.ia

Facebook.com/panelsfurnitureasia

Linkedin.com/company/panelsfurnitureasia
---
NEWS

MTC INKS MOU WITH THE PHILIPPINE

WOOD PRODUCERS ASSOCIATION

The Malaysian Timber Council (MTC) and

the Malaysian Wood Moulding and Joinery

Council (MWMJC) have signed a Memorandum

of Understanding (MoU) with the Philippine

Wood Producers Association (PWPA) in Manila,

Philippines, on 7 Nov 2022.

The MoU, which aims to promote timber trade

development and establish timber trade

standardisation between both countries, was

signed by Muhtar Suhaili, CEO of MTC, Ng Boon

Kuan, vice-chairman of MWMJC, and Ramon Y.

Uy, chairman of PWPA.

The collaboration was inked in conjunction with

MTC's market research visit to PHILCONSTRUCT

Trade Show 2022 in Manila with 12 Malaysian

timber-based companies.

The MoU signing between MTC, MWMJC, and PWPA (Image: MTC)

$11.3m respectively. The Philippines exported

wooden furniture to Malaysia worth $100,000

in 2021.

opportunities for timber industry players,

particularly for the interior panels, fittings, and

furniture sectors."

As one of Malaysia's important export

destinations in ASEAN, the Philippines

offers export opportunities. Malaysia and

the Philippines are traditional timber trade

partners.

In 2021, Malaysia was the largest exporter

of fibreboard to the Philippines, amounting

to US$23.1m, and was one of the top five

exporters of wooden furniture, particleboard,

and plywood worth $22.4m, $16.2m and

HOMAG:

COMPLIMENTARY

APP-PLUS PACAKAGE

FOR FREE USE OF

DIGITAL APPS

Buyers of new HOMAG machinery can now

enjoy the complimentary App-Plus Package

throughout the warranty period of their new

HOMAG machine, allowing buyers to test

the full version of various HOMAG digital

applications.

Users can therefore use these applications

without any obligations, according to

HOMAG.

"MTC is reaching out to its trade partners

within ASEAN to revive businesses and trade

relationships that were halted due to the

COVID-19 pandemic," said Muhtar, adding that

the Philippines' strong economic standing

among the ASEAN bloc nations as well as its

growing young population were major business

attractions.

"Its booming construction market, especially

for residential projects, offers much

As part of the App-Plus Package, users will

receive five selected apps for each new

machine: ServiceBoard, MachineBoard,

serviceAssist and twinio are free-of-charge

until the end of the machine's warranty.

But for MMR Mobile, the smartphone app

for easy analysis of HOMAG machinery will

reportedly "always be free-of-charge". With

this offer, HOMAG hopes to make it as easy

as possible for customers to try out the

digital assistants.

To further ease the process, HOMAG will

reportedly take over the full activation

of the user account with tapio, which

includes registering, connecting machines,

and setting up of the apps. Currently, the

The World Bank has also raised its growth

forecast for the Philippines this year, citing a

strong recovery in consumption. The country's

accelerated infrastructure development that

is planned through the "Build Better More"

agenda is anticipated to drive demand and

deliver infrastructure projects to sustain and

expand their infrastructure programme, to

support growth, as well as open new trade

opportunities for timber and timber-based

products. P

ServiceBoard, MachineBoard, serviceAssist, twinio,

and MMR Mobile are complimentary in the App-Plus

Package (Image: HOMAG)

offer is available in 43 countries across the

world, including Germany, Italy, the UK, the

US, Canada, Japan, Australia, India, Singapore,

Vietnam, Malaysia, Thailand, the Philippines,

among others. P

8 Panels & Furniture Asia | January / February 2023
---
NEWS

LEDINEK EQUIPS

STORA ENSO'S

CLT PLANT

Ledinek has delivered a third of the whole

equipment for Stora Enso's new and fourth

cross-laminated timber (CLT) line in Ždirec,

Czech Republic.

According to Ledinek, the plant consists

of the infeed equipment, which is the first

part of mechanisation, and delivers wood

to their machines for cutting out the defects

using Ledinek's X-CUT S400, and for finger

jointing using the Kontizink H 5000.

Ledinek and Stora Enso

teams (Image: Ledinek)

The second part of the mechanisation

belongs to the company's planer Superplan

4V-S250, and delivers wood to the machine

and after the planer to the press for singlelayer

panel production.

Both the mechanical and electrical

installation were completed according

to schedule. Ledinek thus started test

production on time, which was a milestone

for both Stora Enso and Ledinek teams.

This will be followed by the optimisation of

production and the training of the operators

at the plant.

Ledinek has also delivered to Stora

Enso two feeding machines, Powerfeed

70-S350 and the Superplan 6VR-S350

planing machine, for their sorting line. The

equipment is in the commissioning and

testing phase.

Despite challenges such as the pandemic

and the extended delivery time for material,

Ledinek reported that the project is

progressing well.

"As in many previous projects, Ledinek has

once again demonstrated its competence

and reliability in the supply of plant-areas

for our CLT plant in Ždirec," commented

Herbert Jöbstl, head of operations, wood

product, Ledinek.

The Ledinek team wishes Stora Enso all the

best with their new investment. P

Panels & Furniture Asia | January / February 2023 9
---
NEWS

NEW CUTTING-TO-SIZE PRODUCTION SOLUTION BY IMA

SCHELLING FOR LARGER SHIFT OUTPUTS

IMA Schelling has developed the hl 1 cutting

machine with a cutting performance of up to

6,000 parts per shift in batch-size-one.

The hl 1 concept enables efficient

cutting of parts at higher shift

outputs (Image: IMA Schelling)

According to the company, a rip-cut saw

for generating strips from the raw board is

combined with a cross-cut saw that generates

individual components from the strips. The

hogging unit is positioned before the rip-cut

saw, which saves one cutting cycle per strip

and relieves the strain on the cross-cut saw.

In contrast to conventional solutions, the hl 1

solution does not feature more processing

units, but rather more feeding components. In

up to four lanes, strips are fed to the cross-cut

saw independently of one another and cut

together.

In this way, four components can be produced

every 12 seconds with just one unit. This not

only reduces energy and tooling costs, but

also makes maintenance easier.

Furthermore, depending on the production

strategy and available setup space, the

modularity of the system reportedly

allows users to respond to any customer

requirement. The area after the rip-cut saw

can be provided with a buffer track or with a

strip buffer.

IMA Schelling reported that it does not matter

whether the transfer of the strips to the crosscut

saw is to be realised with a repositioning

gantry or with an industrial robot.

The cross-cut saw can be designed with three

or four lanes in different widths, depending on

the component spectrum. The saw lines can be

arranged relative to each other just as flexibly:

in line, at an angle, as a U, or even on two levels,

one above the other.

Workpieces that require re-cuts are returned

upright, thus saving space, and fed to the crosscut

saw again. For projects where an output of

up to 3,000 parts per shift is sufficient, strip and

part production can also be implemented on

one saw line.

David Schelling, product manager of

Cut-to-size division at IMA Schelling,

commented: "We have found that there

is a lack of suitable concepts in this

performance class. In the past, many

customers — when space was available

— made do with multiple plants of lower

performance classes. But that makes little

sense in our eyes.

"With the hl 1 high-performance unit for

cutting-to-size, our customers now have

the opportunity to make their automated

production processes even more efficient."

Several customers have ordered the hl

cutting solution. The first systems will be

delivered in the next few months. P

SIEMPELKAMP FULFILS THIN BOARD MDF

PLANT FOR BORG MANUFACTURING

The fourth Siempelkamp medium-density

fibreboard (MDF) production line has been

supplied to Borg Manufacturing, an Australian

wood-based panel producer.

In 1987 and 1995, the first two MDF plants at

the Oberon, New South Wales, Australian site

location were ordered from Siempelkamp. In

2017, this was supplemented by a plant for

the production of particleboard.

In 2019, Borg Manufacturing placed an order

for a MDF thin board plant with a ContiRoll in

the 8ft × 18.8m format, with the order fulfilled

in October 2022.

The plant produces boards in a thickness

range from 1-25mm. In particular, the

production of the 1mm-thin board was a

unique challenge for the commissioning

team.

Stefan Wolff, the project manager,

explained: "For us this was a special

success, considering that, in addition to the

technological challenge, the COVID entry

restrictions also influenced the work of our

project team.

"We are pleased that the work with

our customer's team in particular

The finished production line at Oberon location site

(Image: Siempelkamp)

could be conducted in such a result-oriented

and constructive manner regardless of [the

challenges]." P

10 Panels & Furniture Asia | January / February 2023
---
NEWS

ARGOS SOLUTIONS DEVELOPS LIGHTING SOURCES

FOR LAMINATE FLOOR GRADING SYSTEM

Argos Solutions has developed lighting

solutions for their laminate flooring grading

system to ensure that the detection of defects

on panel surfaces is accurate.

According to Argos, one of the strengths

of internally developing the lights for their

grading systems is they can offer light sources

that are tailor-made to fit their systems

and high requirements. They also benefit

customers by being more trustworthy and

cost-efficient.

One characteristic of laminate flooring is

the overlay manufacturers apply to protect

the panels against fading, wear and tear.

The grading systems must have advanced

light sources to detect defects in this

overlay. This specific light source is the only

one that can discover defects in this type

of foil.

Argos reported that the new light source,

which is adapted to the electronics and

hardware, has already been installed in

the new laminate floor grading solution

delivered to Kastamonu Entegre, and will be

implemented in future automatic grading

systems for laminate flooring and melamine

presses. P

Jan Sandok, technical director of Argos

Solutions is responsible for testing the new

light source: "For this system, we needed to

find the most powerful light diodes that can

be adjusted to our aluminium frame and that

are compatible with cameras, cooling, and

remaining technology.

"We have managed to develop a complete

lighting package that is essential in securing

the desired quality of the flooring panels."

2~3

2D scanner system equipped,

cutting 5~6 boards per minute

"When we cannot find components in the market that

meet our standards, we develop our own." – Jan Sandok,

Technical Director, Argos Solutions (Image: Argos)

Panels & Furniture Asia | January / February 2023 11
---
NEWS

EPLF: OAK AND NATURAL COLOURS

WILL TREND IN 2023

The Association of European

Producers of Laminate Flooring

(EPLF) has announced the laminate

flooring trends for 2023, revealing

that trends will lean towards more

durable and natural designs,

especially towards Scandinavian and

Nordic designs.

In particular, next year's trends will

prioritise natural colours, textures

and materials that will translate how

important sustainability has become

for customers who seek authenticity

and lifetime performance.

According to EPLF, manufacturers

tend to stay away from cold grey

tones homes and playful eye-catching

decors that consumers are leaving out

of their homes.

Designs remain very close to

the original wood patterns with

authentic, light, friendly, and fresh

decors, with natural matte texture as

well as subtle knots, that translate a

harmonious look.

Blond, natural brown, whitened oak

colours will please the customer's eye

and recreate a natural and warm cosy

cocoon at home. As for colours and

materials, raw oak is the consumer's

favourite, EPLF predicts.

The aim is to create calmer and

more harmonious decors from

light, pure natural tones through to

nutmeg brown tones. However, some

members already see the first signals

and interest in wood types beyond

oak.

With these in mind, EPLF members are

committed to come up with new original

design and technologies that will fulfil

the clients' expectations. They will also

strive to achieve noise reduction, water

resistance or sustainability in the quality

of their floors.

EPLF reported that their members have

produced an increasing number of waterresistant

products to meet customers'

desire to include more and more wood in

rooms that previously did not.

Sustainability is more than ever at the

heart of their members' concerns as they

contribute to building a more circular

economy. They focus on supplying

authentic, environmentally friendly, as

well as lifetime performant products.

This is captured in the EPLF's Made With

Wood campaign, which showcases the

environmental properties of laminate

flooring. P

DIEFFENBACHER SUPPLIES FINE-OSB

PLANT TO CHINESE PANEL PRODUCER

Chinese wood-based panel

producer A Beautiful Family Plate

Making (BFP) has contracted with

Dieffenbacher for a complete Fineoriented

strand board (OSB) plant in

Guangxi, China.

According to Dieffenbacher, they

will supply everything from chip

flaking to raw board handling.

The contract includes the dryer,

screens, particle preparation and

material recovery, glue preparation

and dosing, gluing system, forming

station and forming line, CPS+

continuous press system and

electrics and plant automation.

"Fine-OSB is increasingly popular in

China," said Matthias Rübsam, area

sales director at Dieffenbacher. "The

lower cost of the raw material makes

OSB an economical alternative

to plywood for almost every

application.

"Fine-OSB, however, overcomes

traditional OSB's poor laminating

capability, caused by its uneven

board surface."

In Fine-OSB, the OSB core layer is

covered at the top and bottom by

layers of particleboard to give a

better structure to the top surface.

This enables further processing,

including laminating or coating

on both sides with melamine or

phenolic paper in a short-cycle

press.

"Fine-OSB combines the excellent

mechanical properties of OSB,

including moisture resistance,

robustness, stable size and strong

screw-holding force, but with the

surface quality of particleboard,"

added Rübsam.

"That makes it the perfect product

for applications in home furnishings

and decor, flooring, custom furniture

making and many other areas."

Installation of BFP's new plant is

scheduled for Q2 2023. The first board

is to be produced in fall 2023. The plant

will reportedly be able to produce

500,000m³ of Fine-OSB per year. P

Contract signing

between BFP and

Dieffenbacher (Image:

Dieffenbacher)

12 Panels & Furniture Asia | January / February 2023
---
NEWS

AHEC AND HAWA REVEAL HOA MAI

FURNITURE DESIGN COMPETITION

2022 WINNERS

furniture making given its beauty, strength and

workability.

There were 268 entries this year and judging

panel narrowed this down to a shortlist of 22,

from which eight eventual winners were chosen.

The winners and their projects are:

1

The Handicraft and Wood Industry Association

of Ho Chi Minh City (HAWA) and the American

Hardwood Export Council (AHEC) have

announced the finalists and winners of the

19th iteration of the Hoa Mai Furniture Design

competition.

Through this competition, HAWA and AHEC

seek to inspire young Vietnamese designers

to unleash their creative design talent using

American hardwood species.

sustainable American hardwood to produce

beautiful and practical pieces."

According to AHEC, all design entries were

created from American red oak, the most

abundant species in the American hardwood

forest and which is particularly suited to fine

First prize:

Vu Dinh Nghiem with his Eastern Sofa

Second prize:

Tran Thanh Huyen with her Mantis Chair

Third prize:

Vu Phan Hoai Nhi with her Sevania

Honourable prize winner (Environmental):

Truong Kha Tu with her 20.22 Lights

Honourable prize winner (Functionality):

Nguyen Thanh Nam with his Nang Bench

Honourable prize winner (Marketability):

Luu Xuan Quynh with her Ngai Chair

Honourable prize winner (Technique):

Nho Minh Luat with his Horse Curve

Honourable prize winner

(Aesthetic and uniqueness):

Phan Van Tin with his SEN Chair

John Chan, regional director, Greater China

and South East Asia of AHEC, said: "As with past

iterations of the Hoa Mai Competition, we saw

a plethora of excellent designs this year. We are

delighted that these talented young designers

had the chance to learn about and use

2 3

Legend

1 The Hoa Mai Furniture

Design competition

winners and finalists

2 Eastern Sofa by Vu

Dinh Nghiem

3 Mantis Chair by Tran

Thanh Huyen

INDONESIA BUILDS RESILIENCE

IN FORESTRY INDUSTRY

IN FACE OF POSSIBLE RECESSION

Indonesia's Ministry of Environment and

Forestry (KLHK) is reportedly preparing a

strategic policy to strengthen the country's

forestry sector to face the threat of a possible

global recession in 2023.

Siti Nurbaya, the Minister of Environment

and Forestry, said to maintain the

productivity and sustainability of forestry

businesses, the government has provided a

number of incentives.

Among them is the facilitation of

postponing and paying in an instalment of

non-tax state revenue (PNBP) for forestry

business actors through Ministerial

Regulation Number 21 of 2021.

Indroyono Soesilo, chairman of the

Association of Indonesian Forest

Concession Holders (APHI) identified

incentives that would be helpful in a global

recession.

Among them is the implementation of the Job

Creation Law for the forestry sector, particularly

in relation to the implementation of multibusiness

forestry, and the implementation of

satellite imagery-based work to identify area

boundaries and solutions for solving of nonforestry

development.

In addition, APHI hopes that the government

will extend the Ministry of Trade Regulation

Number 19 of 2021 concerning export policies

and arrangements regarding the policy of

expanding the cross-section for commercial

wood species that can be exported. P

Source: ITTO

Panels & Furniture Asia | January / February 2023 13
---
NEWS

MUJI SINGAPORE DEBUTS

RUBBERWOOD FURNITURE SERIES

FOR ASEAN MARKET

Japanese retail company MUJI

Singapore has officially launched its

newest furniture series made from

sustainable rubberwood on 11 Jan

2023 during an event hosted at its Plaza

Singapura flagship store in Singapore.

This series debuts in the ASEAN region.

From desks and storage beds to dining

table, Singapore has one of the largest

selections available. MUJI Singapore

will reportedly debut more rubberwood

furniture at the end of January 2023,

which include shelves and cabinets.

This newest series embodies a timeless

and minimalist aesthetic that offers

diversity and versatility to adapt

seamlessly to interior spaces and

lifestyles in the ASEAN market.

The rubberwood used for this series

is derived from rubber trees grown

in South East Asia. Specifically, MUJI

Singapore sources the rubberwood

from Dong Nai province of Vietnam,

where there are plantations with more

than 100 million trees in total.

MUJI also has a set of oak and walnut

collection, with the material sourced

from China, Indonesia or Vietnam, as

MUJI Singapore told Panels & Furniture

Asia.

The design specifications and standards

of the rubberwood series are based on

the oak and walnut furniture collection.

However, by using an agricultural

by-product of the rubber industry,

not only does MUJI Singapore reduce

deforestation solely for furniture, but

also its abundance enables them to

keep agricultural costs lower while

retaining its quality standards.

"THINK LOCAL, ACT LOCAL"

The launch of this product series marks

the "first time" MUJI's headquarters

has authorised ASEAN markets to

independently develop products,

allowing subsidiary companies to

customise the design and manufacture

products tailored to the culture and

preferences of each market.

By allowing flexibility, MUJI aims to

recognise the differences in cultures

and lifestyles in the different countries,

and provide products that will suit the

locals better.

For instance, their dining tables and

storage beds are space-saving solutions

that cater to the ASEAN home living

conditions of limited space.

Yoshihisa Matsunaga, merchandising

manager of MUJI Singapore said:

"At MUJI, we prioritise sustainability

by sourcing local materials, like

the rubberwood in our South East

Asian-grown rubber trees, for our

production. We stay true to our

commitment to deliver an exceptional

customer experience with every

product.

"This collection is part of a 'think

local, act local' move where ASEAN

committees make ASEAN-centric

products, and how we bring the best fit

to respective local lifestyles and cater to

local needs.

"At the same time, by sourcing from the

rubber industry in the region, we focus

on supporting the local businesses

and farmers that make our collection

possible."

Furthermore, by developing

rubberwood furniture independently,

MUJI Singapore can control the

production and delivery of the

furniture without being "influenced by

circumstances of Japanese production",

since they have received customer

complaints of "long lead times for

furniture orders from Japan".

1

2

RUBBERWOOD

Known for its timeless strength and

durability, rubberwood is a tropical

hardwood timber which is also

sustainable and cost-effective. Its

lumber is coarse-grained and has

medium density, similar to ash and

maple wood.

Like oak, rubberwood is resistant to

mould, bacteria, and fungi, which thrive

in humid and tropical conditions. As

such, it is suitable for ASEAN climates.

Katsushi Onishi, managing director of

MUJI Singapore, commented: "MUJI is

strongly committed to providing our

customers with a vast and versatile

range of environmentally-friendly

lifestyle products. They are functional

daily necessities that support everyday

life.

"Our purpose is to deliver comfort and

practicality, where our products are

known for being 'just right'." P

Images: MUJI Singapore

Legend

1 MUJI Singapore's

new rubberwood

furniture series

2 The wooden bed

frames have

storage spaces

beneath, and are

thus more spacesaving

14 Panels & Furniture Asia | January / February 2023
---
MARKET REPORT

Market performance

is down, but consumer

demand? Not what you

might think

By Judd Johnson, editor,

Hardwood Market Report Publications

There is no question that business is

off for hardwoods and just about every

other material used to manufacture

consumer goods. And it is off in

essentially every country in the world.

The problem, in general, is the economy.

Depending on the expert offering

opinions at the time, conditions could

get worse before they get better. Digging

a little deeper, it is not difficult to find

that the root cause of today's economic

problem is inflation.

Disruptions from COVID-19 are broadly

responsible for runaway prices

experienced these past 18 months.

Compounding circumstances are the

Russia-Ukraine war and governments'

energy policies that further strain

petroleum supplies. Costs for goods and

services have been pushed ever higher.

Consumers are spending far more

money on the same basket of goods

purchased a year ago and incredibly

more than before the start of the

pandemic. Those who are unable to

spend more are buying fewer goods.

This is the reality of out-of-control

inflation. There come points in time

when some consumers are unwilling or

struggling to pay more, and when other

consumers are simply unable to pay

more. We have arrived at those points.

HARD EVIDENCE

United Furniture Industries and its

affiliates (UFI) closed all facilities on 21

Nov 2022 with no advanced notice given

to the 2,700 employees, corporate-wide.

This US company is headquartered in

the state of Mississippi, with additional

facilities in North Carolina and

California.

There is much more yet to be learned

about the manner in which UFI shut

down. However, it is known that the

company experienced financial strain

due, at least in part, to slower sales

of manufactured goods. Notably, UFI

manufactured consumer furniture

for the mid- to lower-end of the

marketplace, which is the portion of the

consumer sector hit hardest by inflation.

WalMart, the largest retail chain in the

world, downgraded its financial outlook

for 2022 early in the year, because

the corporation recognised its core

customers — which also included the

mid- to low-end of the economic scale

— would be spending more money on

food and other essentials and, therefore,

buying fewer total items.

Chances are better than not that anyone

reading this article at the time it is

published has experienced ill-effects

on business from inflation. Sales and

purchasing of hardwood lumber and

manufactured goods are down. Lumber

prices are lower — dramatically lower

is a better description, just as they were

dramatically higher last year. Profits

are elusive, if at all attainable. The

business image at this exact moment

in time is dismal for hardwood lumber

production, distribution, and finished

goods manufacturing. But things

change.

16 Panels & Furniture Asia | January / February 2023
---
MARKET REPORT

houses in the US has been below

what economists have identified as

static demand, which is 1.2 million

units per year. That estimate for static

demand was based on US population

demographics from the 2000 census.

Since then, the US adult population has

increased to a record-high number, with

most of the population at prime age for

homebuying. A recalculation of static

demand for new single-family housing

can easily be higher based on the size

and make-up of the current population.

CHANGE IN PROCESS

The first thing that is changing is

supply. US production of hardwood

lumber has decreased (Figs. 1 and 2).

Furthermore, sawmill production

has shifted more to industrial

products, including lumber and heart

dimension timbers for the pallet

industry, railway ties, and board road

or crane mats. Together, the industrial

market sectors account for 55% of

total consumption of US hardwood

lumber.

Ultimately, less grade-hardwood

lumber is entering the supply

stream. We are already seeing prices

for selective green lumber items

flattening out. There is an adage

that says falling prices must stop

decreasing before they increase.

It is premature to state that green

lumber supplies have reached that

point, but the lack of downward price

movement for any hardwood item is

notable.

MARKET PERFORMANCE VERSUS

MARKET DEMAND

A common assumption is these

two forces are one and the same,

that market performance is directly

correlated with market demand.

In this current situation of extreme

inflation, we see that is not the case.

Demand implies a desire or need.

Market performance is the fulfilment of

demand, or better stated, a measure of

demand being fulfilled.

In the US, there is strong demand for

single-family housing, particularly

detached units. Additionally,

construction of new single-family

There are two key points on new singlefamily

housing in the US that have

influence on the business for hardwood

lumber, fittings, furnishings, and

fixtures: First, the marketplace has been

underbuilt since the Great Recession

and is undersupplied. Second, static

demand for new single-family housing

in the US should be higher since the

adult age population is larger than it

was 20 years ago.

As an added note, COVID-19 and the

idea of health risk exposure from living

in high-density, multi-unit buildings

helped fuel demand for single-family

housing even more. People desire to

have their own space.

Contrary to increased demand, sales

of new single-family houses in the US

Seasonal disruptions to logging and

log inventories will be a hindrance

to sawmill production this winter

— no more than any other year, but

they are to be expected. But mostly,

sawmills will maintain control on

grade lumber production to the

extent possible until there are sound

reasons to do otherwise.

Panels & Furniture Asia | January / February 2023 17
---
MARKET REPORT

have decreased. The reason for the

decline is affordability. Escalated costs

of construction drove housing prices

substantially higher, and higher prices

were exacerbated by growing demand

pressures. Then came higher financing

charges. Eventually, the build-up in

costs for new single-family housing

prevented many potential buyers from

purchasing homes (Figs. 3 and 4).

SILVER LINING

Knowing there is strong underlying

demand for housing should be

encouraging for wood products

manufacturers. Prices for materials

and goods are coming down and

will eventually lower housing costs.

Mortgage interest rates will moderate.

Consumers will also adjust to housing

sales prices as they gain affluence or,

perhaps, make homeownership an

even greater priority. Importantly,

increased new single-family housing

construction leads directly to

increased market performance for

cabinets, flooring, moulding and

millwork, furniture, and household

fixtures.

As vital as the US construction of

new single-family houses might be

to business, refurbishing existing

single-family houses likely has a

greater impact. The amount of money

invested in remodelling projects for

owner-occupied houses has continually

increased, setting new record-highs

almost monthly since June 2020 (Fig. 5).

Importantly, these projects are

primarily for lifestyle enhancements,

not repairs and maintenances.

Furthermore, the rooms remodelled

most are kitchens and bathrooms,

both of which include a good deal of

cabinetry and associated mouldings

and millwork.

Hardwood flooring is also a popular

choice for remodelling projects. Some

manufacturers of hardwood flooring

and other interior wood products have

estimated as much as 75% of their

business relies on remodelling.

Despite higher costs for construction

materials and labour, remodelling

has been a more economical choice

for many homeowners compared to

buying a new house. Remodelling is

also viewed as a good investment for

homeowners.

But most of all, remodelling work

happens because consumers want

to update their homes with specific

designs and are willing and able to

pay the costs. Just like new residential

construction, almost all remodelling

projects stimulate increased sales

of interior furnishings and fixtures.

At this point, there is no evidence

the remodelling trend is slowing for

owner-occupied US single-family

housing.

Yes, the skies for hardwood business

are still cloudy after the fierce storms of

COVID-19 and 40-year high inflation. But

there are silver linings in those clouds,

and above the clouds is a bright shining

sun. P

Hardwood Market Report (HMR)

is the leading source of pricing

and market information for

North American hardwoods. It

has provided reliable, expert

analysis of pricing and market

trends to hardwood companies

throughout the world since 1922.

Sample copies and subscription

services for HMR and all other HMR

publications are available online at

www.hmr.com.

18 Panels & Furniture Asia | January / February 2023
---
ENVIRONMENTAL REPORT

Sustainability matters

for wood in furniture

and panelling

By Chris Egan, executive director,

Massachusetts Forest Alliance

All of this is great news, and should

be a reason for architects, builders,

companies, and homeowners to invest

more in wood panelling and furniture.

But there is still one big caveat, without

which the environmental benefits may

disappear: the sustainability of the

timber used in these wood products.

These days, climate change is on

top of everyone's minds with record

heat and severe droughts impacting

countries in recent months. Natural

climate solutions can be part of the

answer, particularly forests, which

can help sequester carbon emissions

produced from burning fossil fuels. But

to maximise the benefits, we must go

beyond simply ensuring forests are not

developed. Building more out of wood

— from lumber to panels and furniture

— can also be a climate solution.

Wood has the virtue of being low in

embodied carbon — the total amount

of carbon emitted to create the building

product, especially compared to

alternatives of steel or concrete. Plastic

alternatives are made from fossil fuels,

which is far from an ideal substitute.

Moreover, the carbon stored in the wood

by the original tree remains inside,

locked out of the atmosphere during the

wood product's life. As much as half the

dry weight of raw lumber can be stored

carbon.

If that was not enough, increasing new

studies point to yet another benefit

of wood: improving human health

through biophilic design. Studies have

shown that spending time in a forest

benefits mental health and reduces

cortisol, which is a marker for stress,

in the blood. But new research shows

the same benefits for those that spend

time in indoor spaces with exposed

wood, such as wood panelling and

furniture. There is even evidence that

workers are more productive, students

more focused, and retail stores more

successful with larger sales if their

facilities have a lot of exposed wood.

There are, of course, sustainable

certification programmes, such as the

Forest Stewardship Council (FSC), the

Sustainable Forestry Initiative (SFI), and

the American Tree Farm System (ATFS)

— the latter two approved as part of

the Programme for the Endorsement

of Forest Certification (PEFC). In fact,

the Massachusetts Forest Alliance

partners with the Massachusetts

Tree Farm Committee to run the Tree

Farm programme in Massachusetts.

These programmes are great, and we

encourage suppliers to consider buying

certified wood. But we have seen some

sawmills and landowners shift away

from these programmes — particularly

FSC, which changed ownership in

recent years — for an assortment of

reasons, and certification programmes

can be a challenge for smaller sawmills.

Beyond certification programmes, is

there a way to find timber that has

been responsibly and sustainably

harvested? We believe there is: By

buying Massachusetts-grown wood,

whether logs or lumber. That is

because Massachusetts has some of

the tightest regulations for timber

harvesting, more oversight of forest by

licensed foresters who create longterm

forest management plans, and

a natural landscape that sequesters

carbon.

20 Panels & Furniture Asia | January / February 2023
---
ENVIRONMENTAL REPORT

Unlike some other regions of the US,

Massachusetts forests are generally

natural second-growth forests,

not monoculture tree plantations

that can be less climate-friendly.

Our slower-growing trees produce

high-quality wood products. Forest

landowners here take pride in their

careful stewardship of the land, with

family ownership that in many cases

goes back generations.

Forest landowners here are

encouraged to place their land in

a current-use taxation programme

called Chapter 61 after the section

of Massachusetts law where it can

be found. This programme requires

them to hire a consulting licensed

forester to develop a long-term forest

management plan that they must

follow in exchange for a roughly

90% discount on annual property

taxes. The goal of the Chapter 61

programme is to protect forests

from development by lessening

economic pressures on forest

landowners, benefiting society as a

whole with ecosystem services such

as protecting water quality, reducing

impacts of flooding, and carbon

sequestration. But it also benefits the

forest products economy by bringing

more forestland under professional

management by foresters, helping to

grow quality timber while ensuring

sustainability.

If a timber harvest is contemplated

as part of meeting the goals of the

ongoing forest management plan, a

forest cutting plan must be submitted.

This plan details which trees will be

harvested, how skid roads and landings

will be laid out, plans for crossing any

streams on the property, and noting any

historic items such as stone walls that

need protection. The cutting plan is then

reviewed by the DCR service forester

and can be approved or returned for

recommended changes.

That is just the start — if the proposed

harvest overlaps with any estimated

habitat for any endangered or

threatened species, the plan is reviewed

by the Natural Heritage and Endangered

Species Programme of MassWildlife,

the state's wildlife conservation body.

They may recommend changes to

the cutting plan or, for some species,

require harvesting be done only during

periods when the threatened species is

not active.

If the company has satisfied DCR and

MassWildlife, is that the end of the

oversight of a timber harvest? Not at

all. During the actual harvest, the DCR

service forester will visit the site, often

multiple times, to make sure that the

cutting plan is being followed and the

harvester is applying best management

practices. If needed, they can call

for on-the-spot changes to the plan

based on their observations and site

conditions.

Massachusetts-grown timber products

are sustainable and climate-friendly

due to regulation, responsible

landowners, consulting foresters, and

careful professional timber harvesters.

Wood buyers in the Asia-Pacific region

can purchase Massachusetts-grown

wood with confidence. P

1

A forest management plan

describes the current condition

and structure of the forest and

sets out long-term goals that the

landowner wants to achieve, such

as improved resilience to climate

events, enhanced wildlife habitat,

higher-grade timber production,

and more. This forest management

plan must be approved by the

Massachusetts Department of

Conservation and Recreation (DCR),

under the oversight of their service

foresters, who are licensed foresters

themselves that enforce compliance

with the state's forestry regulations

and best management practices.

Legend

1 A forest cutting

plan must be

submitted if forest

landowners in

Massachusetts

wish to harvest

timber

2 Building more out

of wood can be a

climate solution

2

Panels & Furniture Asia | January / February 2023 21
---
ENVIRONMENTAL REPORT

Climate financing: Connecting

forest projects with investors

through Treevive

Forest managers need capital to fund their forestation projects,

while businesses face the challenge of balancing profits with meeting

net-zero targets. Climate financing can close this gap. By Yap Shi Quan

Climate change has become an urgent

and unavoidable issue that companies

must tackle. From internal processes to

their up and downstream value chain,

every company is urged by international

bodies, such as the Conference of the

Parties (COP), to cut carbon emissions

and become more environmentally

sustainable.

In particular, the Paris Agreement

signed during COP21 aimed to keep

global warming to 1.5°C. Forests can

deliver an estimated one-third of annual

mitigation needed to achieve this goal.

However, as forests worldwide face

deforestation and degradation practices,

forest managers need more money

than ever to fund forestation projects.

Conversely, for some companies, carbon

emissions are unavoidable.

1

To help both stakeholders, Treevive

was launched in September 2022 to

close the gap between tropical forest

landscape projects in need of financial

solutions and investors or companies

seeking such projects to off-set their

carbon emissions and meet carbon

commitments. In essence, Treevive acts

as a middleman.

As Liesbeth Gort, co-founder and CEO of

Treevive, explained to Panels & Furniture

Asia: "We support forest project owners

with co-funded technical assistance

to accelerate the development of the

carbon asset of their project. Then we

market the results of these projects —

including its biodiversity and the local

community's benefits — by offering

companies that want to off-set their

unavoidable CO2 emissions with

high-quality forest carbon credits and

investors with new investment ready

projects."

According to Gort, Treevive aims to

conserve, restore, and sustainably

manage two million hectares of tropical

forest landscapes by 2030 by developing

over 30 forest carbon landscape projects

that sequester 30 megatonnes of CO2.

The company sees sustainable forest

management (SFM), improved forest

management (IFM), and REDD+ projects

as part of the solution to deforestation,

and an immediate and low-cost climate

change mitigation option for long-term

climate change stabilisation efforts.

REDD+ is a framework developed

by the COP to guide forestry-related

industries in reducing emissions from

deforestation and forest degradation.

WIN-WIN SITUATION

All participants, be it local NGO

or businesses, government and

Legend

1 One of Treevive's

reforestation and

restoration project in

Ghana (Image: Melle

Meivogel)

2 Forest managers often

need capital to fund

landscape projects

like reforestation

3 Lowering the CO2

footprint of their

own operations by

purchasing carbon

credits can help

businesses become

profitable in a long

run (Image: Jace &

Afsoon/Unsplash)

22 Panels & Furniture Asia | January / February 2023
---
ENVIRONMENTAL REPORT

communities, involved in Treevive's projects

can benefit from the projects through

benefit sharing agreements, as Gort

declared.

When seeking carbon funding, forest or

forest project managers often face several

challenges. Aside from their own timber or

non-timber forest products revenue streams,

they often have limited access to finance,

while lacking quality forest projects that

generate carbon credits and high-end buyers

of their carbon credits. This lack can stem

from a knowledge gap in carbon market and

certification, and project development.

As such, SFM, IFM or REDD+ carbon projects

can be a viable way for them to receive

ecosystem payments for the maintenance

and enhancement of carbon in forests.

After all, like all kinds of businesses, forest

management relies on profit to sustain their

operations. Carbon projects are thus needed

to create a more robust business case for the

sustainable management and conservation

of forest landscapes, and to protect them

from conversion to other land uses.

Businesses or investors face a different set

of problems. Gort identified that they often

do not know the criteria and characteristics

of high-quality forest projects, and how

to certify carbon credits. Similar to forest

project managers, businesses and investors

have a limited network of forest projects.

Treevive therefore exists to plug these gaps

between investors and forest projects and

managers. Gort added: "Successful profitdriven

companies understand that looking

beyond the next quarter is key for long-term

success. This also means securing a license to

operate from investors, customers and other

stakeholders. Alignment with international

climate agreements is one of the elements in

that. This means lowering the CO2 footprint

of their own operations and value chain, and

compensating for their currently unavoidable

emissions via the purchase of carbon credits.

This will lead to more profitable business in

the long run."

COMPLIANCE AND TRANSPARENCY

Although the purchase of quality forest

carbon credits can potentially contribute

to forest conservation and restoration, Gort

emphasised that this should not divert a

company's attention and resources from

reducing its own emissions: "Quality forest

carbon credit purchases need to be part

of broader emissions reduction strategy of

the buyer where emissions are accounted,

reduced, avoided and off-set on the pathway

to a science-based net-zero target that is

aligned with the Paris Agreement. We view offsets

as a short-term option for relevant impact

and an effective tool to compensate remaining

emissions."

To that end, Gort asserted that Treevive

is strict in choosing the stakeholders and

projects they want to work with: "Our buyers

should not be involved in deforestation or

forest degradation activities. We assess whether

the purchasing company is in compliance

with our criteria. We are also committed to

engaging with investors that are actively and

transparently working towards realising the

Paris Agreement and that do not willingly

contribute to deforestation and the further

development of fossil fuels."

On the flipside, forest projects and their

management must comply with Treevive's

quality and performance indicators which

include sustainable management practices. For

projects with sustainable forestry elements,

the projects should be certified by or working

towards a third-party certification, such Forest

Stewardship Council (FSC) or its equivalent.

Thus far, Treevive has onboarded five projects

for development and sales, of which three are

restoration projects, including afforestation,

reforestation and revegetation (ARR) in Latin

America, and two conservation projects in

Africa, in collaboration with REDD+.

Gort concluded: "We hope to significantly

accelerate climate finance, increasing by

€150m, for the conservation, restoration

and sustainable management of tropical

forests with a group of committed long-term

buyers and investment partners. As forestry

is by nature long-term, so do we see our

relationships." P

2

3

Panels & Furniture Asia | January / February 2023 23
---
IN PERSON

Global presence,

localised solutions

Twenty-over years in Asia, twenty-over years of dialogue with

customers: Udo Leiber, managing director of Leuco Asia, tells

Panels & Furniture Asia what it means to be committed to

their customer's success, and tailoring solutions for the unique

circumstances of every customer. By Yap Shi Quan

With a combined population of about

668 million and a growing economy and

purchasing power, South East Asia has

seen — and will continue to see — the

increase in demand and spending for

products like floorings, wardrobes,

kitchens, and living room and other

types of furniture. However, the region is

home to various countries with diverse

needs; what the Vietnamese market

seeks may be different from what the

Thai, Malaysian or Indonesian markets

wants.

"South East Asia is not a homogenous

area," Udo Leiber, managing

director of Leuco Asia, affirmed.

"Every country is different, and

we must understand and accept

that." Realising this is one thing, but

incorporating it into a company's

business model is another —

something which Leuco works

towards by engaging in dialogues

with their customers, developing

solutions or improving existing

systems for their benefit.

"As the saying goes, we can only be

successful if we make our customers

successful," commented Leiber.

THE LEUCO DNA IN SOUTH EAST ASIA

Leuco is a developer and supplier

of industrial cutting tools for the

woodworking industry, including

circular saw blades, hoggers, bore- and

shank-type cutters, drill bits, turnover

knives, clamping systems, and more.

In 1994, the company first emerged in

Asia in Singapore, followed by Japan in

Leuco's global

headquarters in

Germany

24 Panels & Furniture Asia | January / February 2023
---
IN PERSON

1995, China in 1997, Malaysia in 1998,

Thailand in 2001, and more recently,

Vietnam in 2020. The company's main

service centre in South East Asia is in

Melaka, Malaysia, although in Malaysia,

it also customises diamond and

tungsten carbide tools for South East

Asian customers, shipping to countries

that do not have its establishment.

In Thailand, the company provides

resharpening services for diamond and

carbide tools.

According to Leiber, South East Asian

furniture manufacturers have been

exporting their production to various

countries across the world, while

diversifying their sources from other

countries due to competitive costs

and rising raw material prices. This,

in addition to the increase in demand

and spending on furniture, make South

East Asia an attractive region in which

manufacturers worldwide can invest

and relocate their factories.

1

Establishing a presence in multiple

South East Asian countries has allowed

Leuco to be close to their customers and

their business culture, thus displaying

their commitment to developing

their customers' businesses. But just

being close is not enough, as Leiber

elaborated: "The main challenge is to

find the best local people, well-trained

with skills, to establish the company,

provide the best customer service, and

handle on-site problems to Leuco's

quality standards. Unfortunately, there

is not a quick and instant solution to this

problem except continuous training and

exposure in the industry for the staff.

Therefore, we use existing key people

to transmit the Leuco DNA into new

establishments."

One such example is their recent

venture in Vietnam, which has been a

growing market for them for several

years. Leuco provides its full-service

portfolio for its product range, and

according to Leiber, they are reportedly

the "first German tool manufacturer"

to establish a diamond sharpening

service centre in Vietnam in December

2

2019 — right before the pandemic hit.

Although the pandemic lockdowns

and travel restrictions hindered their

progress, the company pulled through.

Things are reportedly running well

now, with Leuco providing support and

services to customers from north to

south of Vietnam.

As South East Asian customers

continue to develop higher awareness

for the importance of good-quality

tools, Leuco understands that it has to

provide optimal tools for its customers,

on top of offering new developments.

However, the variety of machines from

different machine manufacturers in

the region makes it more complex

for customers to select the best

tooling solution for their own specific

machines. "We trained our sales and

field specialists in the region to analyse

our customers' needs for our tools, and

work out solutions with the best priceperformance

ratio according to their

requirements," explained Leiber.

Legend

1 Leuco's automated

diamond joint

cutter production

facility

2 Leuco's P-System

tool

Panels & Furniture Asia | January / February 2023 25
---
IN PERSON

jointing of different materials, and

with an enhanced tool life.

"The large share angle is the main

difference between the P-System

and conventional tools. This

product has been on the market for

several years. Nowadays, most of

our worldwide competitors design

tools with higher share angles

and go as close to the limits set

by our patent. It tells us that our

innovations work and benefit the

whole woodworking industry."

Leuco Malaysia

GLOBAL FOOTPRINTS

Whether it is local or international,

Leuco strives to provide ideal

solutions for its customers. Leiber

revealed that beyond South East

Asia, China and Japan are markets

on which Leuco is focusing. Besides

countries with its set-ups, the

company is also active in countries

with authorised agents, such as

Singapore, the Philippines, South

Korea, Taiwan, Myanmar, and India.

Its industrial tools can reportedly fit

any type and brand of woodworking

equipment, such as edgebanders,

moulders, tenoners, and more, be

they from Japan, China, the US,

Germany, or other countries in which

Leuco is based in.

With this worldwide network of

suppliers, end-users and system

partners, Leuco can have early market

insights into industry trends, which

it uses to develop new products and

production methods, improve current

production processes and machines,

or even customise solutions for

projects with unique requirements.

For instance, Leiber revealed that

its industrial tools have been used

in projects like click furniture and

flooring technology.

To date, the company has patented

230 innovations. Leiber provided

one example: "One of our popular

innovations is our P-System, a woodcutting

tool. P-System tools are for

the chip-free jointing of veneered

boards, for long edge lives in the case

of high-gloss material with protection

foil, or for the easy milling and the

smooth cutting surface of lightweight

panels with fibrous frames made of

poplar or ceiba. The 'P' stands for

peeling. The system allows our

customers to produce a 'finishcut

quality' without postprocessing,

with chip-free

Leiber concluded: "If we see markets

growing, we consider setting up a

service centre or enabling our sales

partner to conduct services in our

stead. In the following years, we will

closely monitor each market in Asia,

invest in the subsidiaries there, and

we will invest in more capacities

and state-of-the-art technology

to ensure the best services and

precision of our products. Besides

equipment, we also invest in

facilities. For instance, we recently

opened an additional service centre

in Zhejiang province in China." P

"We can only be successful if we

make our customers successful."

Udo Leiber

Managing Director, Leuco Asia

26 Panels & Furniture Asia | January / February 2023
---
IN PERSON

Making

customers

the priority:

An interview

with HOMAG

Amid celebrations of their 40th

anniversary in Asia, HOMAG has no

intentions of resting on their laurels.

From the importance of customer service

to tapping into the growing mass timber

market, Daniel Schmitt, CEO of HOMAG,

shares what the company is currently

focusing on in times of economic slowdown.

How much has HOMAG Asia grown

over the last 40 years?

Daniel Schmitt: HOMAG was founded

60 years ago, and 20 years later we

already expanded to South East Asia.

That was a really clever move because

we wanted to be the global market

leader — we are the global market

leader — and South East Asia was an

important market for us.

Asia is a growing market. Our order

intake and installed base are nicely

growing, and I think today we have

around 5,000 machines in the market.

With that, we increase our sales

personnel, but also very much in service

to make sure that our customers are

up and running and can count on us on

short notice. As such, we have about 100

people in HOMAG Asia now, with a lot of

them joining in the last few years so that

we can clearly increase our presence in

Asia.

We have developed a really good

footprint in the industry, and we

are working with a whole customer

portfolio, from smaller carpentry shops

up to industrial customers. Regionally,

we are adding one country after another

— Indonesia, Taiwan, Malaysia, Thailand

— with Vietnam 11 years ago, and now

we have the Philippines. The team here

in HOMAG Asia is getting more and

more self-sufficient, which is important

to me so they will not rely so much on

German resources, but are able to help

the customers here themselves. For

instance, we have established a hotline

here recently to be in the right time zone

with our Asia-Pacific customers, and to

understand the installed base well.

HOMAG Asia celebrating their 40th anniversary with their customers in Singapore

Does the group have any plans

to expand into other countries or

strengthen its current assets?

Schmitt: Overall, we have a good

footprint across the world. We are

present in the most important countries,

so we are not necessarily looking into

new ones. But we will certainly increase

our service staff in countries where we

are present. On a global scale, last year

we added 180 field service engineers to

Panels & Furniture Asia | January / February 2023 27
---
IN PERSON

our business, be it in the US, Europe, or

here in Asia. All over the place we are

adding capacity as we grow.

South East Asia is a very important

market. Luckily, my predecessors

made the decision to come here early.

We have been expanding since then,

we are here to stay, and we are here to

further expand our business — it is not

a short-term thing.

What differences in woodworking

trends do you see between Europe

and Asia?

Schmitt: Probably the biggest

difference that I see is the level of

automation. If you go to a high-level

German industrial customer, like

a kitchen furniture producer, they

can be really automated. They try to

reduce labour to the lowest possible

amount for two reasons: One is cost,

the other is the availability of labour.

In Asia, we still have a lot of exposure

to manual work — which is, by the

way, probably the reason why Asia has

been successful in exporting furniture

to the rest of the world. But that might

change going forward. I do believe

that there are really large customers

that will need to make the first steps in

automation and digitalisation to stay

competitive on a global scale.

At the same time, there are different

levels of automation in every country.

If I look at Germany, for example, the

top customers are usually automated.

But there are also customers that

have maybe 100 personnel working

for them, so their level of automation

is not yet high. What is important

to HOMAG is that we can serve our

customers and offer them solutions

at every level, at where they are.

Particularly for Asia we need to bring

our manufacturing footprint a little bit

closer to the region. As such, we have

been expanding our manufacturing

footprint in China as well as in India,

making sure to follow their market

requirements. We also make machines

that are particular to the South East

Asian market in terms of price point.

1

From our portfolio, we want to have

the right price point for our customers

at their level, and then help them

grow with us to whatever level they

want to grow. We can provide them

sophisticated machines and first-rate

levels of automation, up to a fully

automated factory that we can lay out

for or together with them.

Amid global events like the Russia-

Ukraine war, rising interest rate, and

zero-COVID policy in China, can you

comment on the current and future

market outlook of the furniture

industry?

Schmitt: First of all, the field recession,

high inflation rates and so on affect

consumer confidence — do you buy

new furniture now, or wait a little bit?

If the end-user market is not strong

anymore, our customers start suffering,

and if they are not confident about

their own future, they will not invest

in our machinery. And we see that.

We had 24 months of extreme order

intake until around summer 2022, and

those were the most successful years

of HOMAG in history by far. Now we

see our order intake coming down to

a more normal level. Even so, I still

believe that the major trends are intact.

We have a growing population and a

growing wealthy population, and they

will spend more money on high-quality

furniture. Also, if you look at the history

of the woodworking industry over the

last 20 years, it has always worked in

investment cycles. We had a strong

cycle, then we came down a little bit,

but I am convinced it will go up again.

And now since we are a large enough

company, we can weather the current

cycle, and we will focus more on the

service side, helping customers be more

productive.

My advice to our customers would

be to use this time to think about

productivity. If there is high demand

from the market, you are busy managing

the growth. Now, with the volume

coming down, you can think, what can

I do in terms of productivity? Do I have

the right materials? And we can help you

with that.

Software solutions have become

indispensable in the woodworking

industry. How do HOMAG's software

solutions stay competitive?

Schmitt: We are competitive at different

levels. If you have an automated factory

that produces maybe €200-400m

Legend

1 The Construction

Elements Solutions

business segment

focuses on

prefabricated

and sustainable

construction

(Image: WEINMANN

Holzbausystemtechnik)

2 HOMAG's India

headquarters

28 Panels & Furniture Asia | January / February 2023
---
IN PERSON

worth of furniture, we have our controller

manufacturing execution system (MES)

software for such high-end projects. We have

long-term customers where their whole factory

runs on our software, and we make sure they

are up and running all the time. But that is for

the high-end portion. On the other end would

be digital apps: scalable digital helpers that

many can download from the application store,

customise a little bit, connect to their machine

through tapio, and the apps will be functional

for their use. For instance, productionManager

allows everyone access to all information on

every job in real time — from work preparation

to production to assembly. It makes the current

status of individual components transparent;

this means you always have an overview of

the status of your jobs. materialManager helps

users organise their panels and edges, and

informs them what they still have, where they

can find them, and how much they have in

stock.

We are still improving our apps. We are not

at the end of the journey here. Service is very

important to me. We need to understand

the production logic of our customers, their

product portfolio, whatever machines they

have installed, to come up with a proper

solution. We have also made a conscious

decision, on the software side, not to care what

equipment brand the customer is running.

They can use any brands, as long as it is

industrial level. For our sophisticated software,

you can even integrate a competitor's

machine. At the same time, our goal is to

make ourselves even more attractive by

providing equipment that combines our

software and hardware, and has additional

benefits the customer would not have with

their current equipment. But this is something

we need to develop.

Mass timber has been a growing movement

across the world. What is HOMAG's current

position in the mass timber market?

Schmitt: Can I expand it a little bit further

than just mass timber? We are looking

"What is important to

HOMAG is that we can

serve our customers and

offer them solutions at

every level, at where

they are."

2

Daniel Schmitt

CEO, HOMAG

at it from a different angle: the angle of

prefabricated sustainable house building.

We have a business unit called Construction

Elements Solutions. It has timber processing,

which is the first step when you do mass

timber, then you have mass timber itself,

and finally the element prefabrication —

which we do with WEINMANN, such as

prefabricated walls. But the market is not

mature yet. Our biggest growth area right

now is WEINMANN, but we have acquired

System TM and Kallesoe over the last two

years because we believe in the mass timber

market. System TM does all the sorting,

grading, cutting and cross-cutting, and

finger jointing, and Kallesoe does the laying

of the lamellas and the manufacturing of

high-frequency presses. Then we have our

cross-laminated timber (CLT) panels or

glue-laminated timber (glulam) beams. So,

with our in-house technology, we are able to

build complete CLT plants, which we already

do now.

For now, we see CLT plants coming up in the

US, and we are building a large one ourselves

for StructurLam, a manufacturer of mass

timber solutions based in North America. For

Asia-Pacific, we have projects in Australia,

Japan, and New Zealand, though not that

much in South East Asia. We believe that the

prefabrication of buildings is the next big

thing. It is what governments want, because

it is much more ecological [than traditional

concrete or steel] and you can prefabricate

it. Today, furniture is 85% of HOMAG's

business. But in the future, I think we will see

a different share, although we will not shrink

the furniture business aspect. P

Panels & Furniture Asia | January / February 2023 29
---
PRODUCT HIGHLIGHT

Making waves with

new wooden wall

cladding solution

Wood is now at the heart of current decoration

trends for its aesthetics and durability. Riding

on this trend is Bard 107 Texture, the latest

interior wall cladding solution by wood

processing company Ducerf.

cladding range, offering various

design possibilities with its textured

surface that is inspired by the

undulation of waves. Wooden interior

wall claddings can create an interplay

of light and shadow, and depending

on the orientation of the sun, the

atmosphere of a room changes

throughout the day. To achieve this,

the relief texture on Bard 107 catches

light and enhances the room it is

installed in, creating a tactile and

aesthetic effect. This allows users to

be creative in the way they install Bard

107, whether by delimiting a space

without partitioning it or by adding

a natural decorative touch to walls,

headboards, frames or ceilings.

MEETING CONSTRUCTION

REQUIREMENTS

Ducerf uses solid oak or hightemperature

treated (THT) ash and

poplar to produce Bard 107. According

to Thibault Chastagnier, manager

of Ducerf's second transformation

division, the wood used "has to resist

bad weather, insects, fungi", and other

factors capable of decaying wood:

"We have developed the hardwood

cladding with naturally durable

species and species such as ash or

poplar that we have enhanced with

THT. As these woods are less stressed

inside a building, they are perfectly

suited for these new uses."

Wood cladding is now increasingly

being used in interiors even though it is

typically reserved for exterior facades.

This trend, observed by wood supplier

and processing company Ducerf, is

driven by an increasing number of

architects who are looking to integrate

wooden wall cladding on an interior

wall, ceiling or staircase.

products has increased significantly,

multiplying by four. We realised that,

little by little, customers who were used

to using our cladding outdoors thought

that they could use it indoors. Through

this, we intuited that specifiers wanted

to create something unique," said

Carole Debize, marketing manager for

the Ducerf Group.

With THT, treated hardwoods can

not only offer an expanded range

of colours, but the treatment also

improves the dimensional stability

of the wood in wet environments.

Debize explained that a heattreated

poplar will take on a much

darker and warmer colour, like "a

chocolate shade". Used indoors,

the poplar wood will not grey as it

might outdoors, and used in wet

environments like bathrooms, the

high-temperature treatment will

boost the reliability of the hardwood

cladding in a long term.

"Since the beginning of the year, the

number of requests for interior design

To answer this demand, Ducerf has

developed the Bard 107 Texture oak

As for meeting fire-resistance

requirements of housing regulations,

30 Panels & Furniture Asia | January / February 2023
---
PRODUCT HIGHLIGHT

intumescent finishes have been

added to the boards to prevent fire

outbreaks. Interior wood cladding,

combined with other insulation

solutions, can also meet acoustic

needs. Chastagnier noted this for

ceiling applications: "What brings this

acoustic aspect is the combination

of insulation with cladding. The air

gaps let the sound escape into the

sound insulation. The rooms sound

different, with less resonance and the

impression of a relaxing space."

Ducerf also reported that the Bard

107 Texture is easy to install on

wooden battens. It is possible to

hand over finished spaces to a

client more quickly than with, for

example, traditional plasterboard,

where there are more stages in the

implementation. The prefabricated

aspect and faster speed of execution

of Bard 107 would therefore be

appealing to architects and project

managers. For indoors, wood cladding

requires minimal maintenance.

MEETING SUSTAINABILITY

REQUIREMENTS

The rising demand for wood in interior

design or as a construction material

in France can also be attributed

to the introduction of the new

environmental regulation, RE 2020.

Generally speaking, RE 2020 aims to

reduce the carbon footprint of new

buildings over their lifecycle, since

the construction industry is one of

the most carbon-intensive industry.

As such, it encourages constructing

with more environmentally friendly

materials.

Debize elaborated: "All of our

hardwood products benefit from the

dynamics of RE 2020. There is a real

trend towards natural, ecological

and bio-based materials. With

wood, projects gain in coherence

by associating aesthetics and

environmental approach. Today, it is a

strong trend in the development and

architecture markets."

Additionally, Ducerf uses wood that

is certified by the Programme for the

Endorsement of Forest Certification

(PEFC), and is sourced from local

forests to produce Bard 107. This

not only promotes the local timber

industry, but also lowers the carbon

footprint of the manufacturing

stage — the transportation of wood

is often carbon-intensive, and can be

mitigated by using locally harvested

timber and avoiding importation of

raw materials.

MEETING CUSTOMISATION

REQUIREMENTS

Ducerf can tailor their production

of Bard 107 to various project

requirements with different board

widths and lengths. For instance,

a solid oak ceiling cladding

had to be made without visible

fixings for a high school, and the

cladding needed to be removable.

Chastagnier recalled that "the

design office proposed a layout

with invisible fixings".

This customisation is possible

since Ducerf used a new moulding

machine to develop Bard 107.

According to the company, the

moulder allows for rapid changes of

series and pointing, thus profiling

the undulations onto the board

surfaces. Notched knives have

been developed to produce the

pattern and a unique surface finish.

There are also knives to plane and

calibrate the material, and knives

to also oscillate to structure the

surface. The moulder can also

be used to profile decking and

cladding boards, and a cutting

option has been added. The

cladding can be processed in

continuous boards or finger-jointed

boards, of lengths up to 6m. P

Legend

1 The relief texture

of Bard 107

plays with light

and shadow,

enhancing the

atmosphere of an

interior

2 Ducerf uses solid

oak or THT ash

and poplar to

produce Bard 107

1 2

Panels & Furniture Asia | January / February 2023 31
---
PANEL MANUFACTURING

1

Automation amid

a shortage of

skilled workers

As the demand for skilled labour

increases, automation is arguably

becoming more and more important

in modern woodworking.

Not only are machines and systems

increasingly taking over the handling

of often-heavy workpieces, but the

fully automatic quality evaluation

and optimisation of wood materials

is also gaining ground. Paul

Maschinenfabrik, a manufacturer of

woodworking equipment based in

Dürmentingen, Baden-Württemberg,

Germany, addresses these trends

with its scanner solutions for crosscutting

and ripping.

Paul has supplied a rip scanner to

Krauss, a birch processing company

based in Latvia. Krauss has been

involved in the production of

furniture parts, mouldings and

glued parts since 2001, and takes

care of the entire processing

from sawn timber to the finished

product, as well as the utilisation

of wood waste for the production

of wood briquettes. The company

32 Panels & Furniture Asia | January / February 2023
---
PANEL MANUFACTURING

1 The AB920_SPOT

automatic infeed

system detects

the position of the

workpieces and

positions them

in front of the

ripsaw according

to the scanner's

specifications

2 The Rip Scanning

System detects

workpieces from

above and below

as they pass

through

3 The scanner can

optimise with two

different cutting

directions on one

workpiece

2

was looking for an economical

solution to increase yield, quality

and performance. For Krauss's

application, Paul's designers

combined the newly developed Rip

Scanning System with a CGL Ripsaw,

which was equipped with four

movable saw bushes in telescopic

design.

The unedged and dried boards are

destacked, singulated and detected

from above and below by cameras as

they pass through the Rip Scanning

System in longitudinal direction.

The scanner software detects the

previously defined defects as well as

the board geometry and optimises

based on the stored cutting list.

Taking into account the turning and

positioning options of the board as

well as the adjustment of the saw

blades, the software calculates the

optimum cutting pattern. If required,

two different cutting directions

are possible on the same board

by means of a re-rip piece, which

increases optimisation. Furthermore,

the scanner can use the available

data to incorporate the optimisation

result for a subsequent cross-cutting

process.

3

Once a workpiece has been

detected and the cutting pattern

calculated, it is fed to the ripsaw.

The automatic, camera-supported

AB920_SPOT infeed system

detects the position and aligns the

workpiece according to the scanner's

specifications. The saw blades of

the CGL move into position before

the board passes through the saw.

The climb-cutting CGL technique

aims to achieve precise workpiece

guidance, ideal cutting quality and

minimal saw kerfs. It demonstrates

its strengths in the width-cutting

of dried hardwoods, but also for

other applications. With up to four

positioning units in telescopic design,

the CGL can offer maximum flexibility

and minimum saw blade spacing.

The scanner relieves the operator of

the formerly manual evaluation. In

addition, the Rip Scanning System

divides the workpieces faster and

more accurately than an operator can

do visually. Paul reported that Krauss

was satisfied after the installation

of the system, as the production

efficiency increased in a short period

of time. P

Panels & Furniture Asia | January / February 2023 33
---
PANEL MANUFACTURING

Compliance with

North American

composite wood

formaldehyde

emission rules

By Tsang HingWo, global information and innovation manager, SGS

WHAT IS COMPOSITE WOOD?

This term covers a range of fabricated

wood products. Fibres, sawdust and

wood veneers are bound together

using adhesives or plastics to create

a new material. Types of composite

wood include plywood, fibreboards

like medium-density fibreboard (MDF),

oriented strand board (OSB), and

laminated timber.

CONCERNS OVER FORMALDEHYDE

Formaldehyde is often used as the

binding agent in composite wood

products because it is effective and

inexpensive. However, formaldehyde

emissions higher than 0.1 parts per

million (ppm) in the air can cause

watery eyes, a burning sensation in

the eyes, nose and throat, coughing,

wheezing, skin irritation and nausea.* It

has also been shown that exposure to

formaldehyde can cause cancer.* This

has led to several countries introducing

legislation to restrict emissions from

composite wood products.

In an increasingly regulated market, how

can manufacturers and suppliers ensure

their products meet North American

regulatory standards for formaldehyde

emissions?

The market for composite wood

products is growing. Most homes

now contain several products

made from composite woods,

from furniture to laminate flooring.

According to Allied Market Research,

the North American composite wood

market is projected to rise from

US$736m in 2016 to around $1,876m

in 2023.* This popularity stems

from the fact that composite wood

materials are more sustainable, hardwearing,

and can be easily moulded

and shaped at lower temperatures,

making it cheaper to work with

and better for the environment. For

consumers, this means that one

material type can create a variety

of products with multiple looks and

designs.

NORTH AMERICAN REGULATIONS

In 2010, then-US President

Barack Obama signed into law

the Formaldehyde Standards for

Composite Wood Products Act. The

US Environmental Protection Agency

(EPA) then published its final rule in

December 2016 to reduce exposure to

formaldehyde emissions from certain

wood products. The EPA regulation

aligns with California Air Resources

Board (CARB) requirements.*

Under the terms of this legislation, all

composite wood products imported,

manufactured or sold in the US need

to conform to these requirements

since June 2018. The one exception is

laminated products that are not exempt

from the meaning of hardwood plywood

(HWPW), which must comply from 24

Mar 2024.*

34 Panels & Furniture Asia | January / February 2023
---
PANEL MANUFACTURING

In 2021, the Canadian Government

published 'Formaldehyde Emissions

from Composite Wood Products

Regulations' (SOR/2021-148), aligning

the country's standards with the US

Toxic Substances Control Act Title

VI 'Formaldehyde Standards for

Composite Wood Products' (TSCA Title

VI). Canada's regulations have come

into force on 7 Jan 2023, but with

requirements for laminated products

not applying until 7 Jan 2028.*

1

Both US and Canadian laws set

requirements for testing, recordkeeping,

reporting and labelling. In

the US, since 22 Mar 2019, importers

of all composite wood products,

whether as panels or incorporated into

component parts or finished goods,

have also been required to provide an

import certification.

2

The advantages of composite wood

materials mean that the market for

products made from them is growing.

To succeed in the competitive North

American market, manufacturers

and suppliers must ensure their

products conform to US, Canadian,

and if they operate in California, CARB

requirements.

To meet certification and CARB

requirements, manufacturers

can look towards certification

and inspection bodies like SGS, a

testing, inspection and certification

company that provides services to

help manufacturers and suppliers of

composite wood products successfully

access US and Canadian markets. They

can cover a range of product types,

including children's toys, composite

wood panels, flooring, countertops

and picture frames. Solutions

should conform to strict regulatory

requirements, using large chamber

(ASTM E1333) or small chamber (ASTM

D6007) methodologies with services

including US Formaldehyde Emissions

Certification and CARB Certification

Services. P

3

1 Composite wood

products like

plywood require

formaldehyde as

a binding agent

2 Wood

fibres bound

together using

formaldehyde to

create OSB

3 Too much

formaldehyde

can cause

damage to the

eyes, nose and

throat, and even

cause cancer

*References are available on request.

Panels & Furniture Asia | January / February 2023 35
---
PANEL MANUFACTURING

Raute's Panel

Repairing Line R7

at PotlatchDeltic's

St Maries facility

How PotlatchDeltic

creates value

by automating

its panel repair line

In response to the increasing cost of repair

chemicals and the shortage of skilled labour,

companies are researching ways to optimise

their plywood panel repair lines.

36 Panels & Furniture Asia | January / February 2023
---
PANEL MANUFACTURING

PotlatchDeltic is a lumber

manufacturer in St Maries, Idaho,

US, and is an owner and operator

of nearly 2.2 million acres of

timberland in seven states, six

sawmills, and a plywood mill of

approximately 150 million board

feet in capacity. With the installation

of an automated, data-driven panel

repairing solution from Raute, the

119-year-old company is looking

forward to benefitting from the cost

savings, enhanced panel quality, and

improved ergonomics the solution

delivers.

THE HUMAN ELEMENT

PotlatchDeltic also understood that

some of its recruitment and retention

challenges along the patch line could

be traced back to its manual qualitycontrol

processes. "St Maries is located

in a remote part of Idaho, so hiring

can be more challenging than in other

areas," said Gimbel.

Moreover, the physically demanding

nature of panel repair work contributed

to frequent turnovers. "Routing

1

Legend

1 The PotlatchDeltic management team.

From left: Don Gimbel, project manager;

Allen Shoemaker, plant superintendent;

Ashlee Cribb, vice-president, wood

products; Larry Branson, plant manager

2 With the installation of Raute's Panel

Repairing Line R7, PotlatchDeltic has

assigned several line operators to new

positions more suited to their talents

TECHNICAL CHALLENGES

Prior to 2022, PotlatchDeltic relied on

two repair lines staffed by a team of

up to 12 operators. These operators

identified panel flaws, routed

out defects and filled them using

applicator guns. But as Don Gimbel,

maintenance superintendent at the

St Maries facility, explained: "It was

tough to apply the exact right amount

of fill using these manual methods."

The search for a better solution

began in 2016. That was when plant

superintendent Allen Shoemaker

began analysing PotlatchDeltic's

processes. "We knew we needed

more data, and a lot of it," said

Shoemaker. "So we took panels off

the repair line and scraped out the

polyurethane. Then we measured

the defects and compared the total

volume of chemicals that we used to

what we should have used."

2

These efforts produced new insights

into inefficiencies. For example,

the data Shoemaker and his team

collected allowed them to quantify

the cost savings to be realised if they

could minimise repair material waste.

Furthermore, according to Larry

Branson, the plant manager, they

were "looking to provide improved

consistency for [their] customers".

The data also revealed how much

PotlatchDeltic's panel business could

benefit from adhering to a more

standardised panel repair process.

Panels & Furniture Asia | January / February 2023 37
---
PANEL MANUFACTURING

3

4

Legend

3 A wide shot of the Panel Repairing

Line R7

4 Features like multiple repair heads and

continuous panel flow were appealing

to the PotlatchDeltic team

5 The Panel Repairing Line R7 has an

accurate defect detection powered by

3D scanners and high-resolution colour

cameras

6 PotlatchDeltic's panels

and working a fill applicator require

repetitive motions that can put stress on

our team members' hands and wrists,"

acknowledged Gimbel.

"When your repair line operators only

have one or two years of experience, not

decades, you have to work especially

hard to ensure that repairs will be

performed safely and effectively," added

Shoemaker.

Ashlee Cribb, vice-president of the wood

products division at PotlatchDeltic, saw

that an automated panel repair solution

could not only help PotlatchDeltic

minimise the hazards associated

with operating patch line equipment,

but also place those operators in

positions more suited to their talents.

"Automation is a way for our team

members to focus on activities that

generate higher value," she said.

SEARCHING FOR AN AUTOMATED

PANEL REPAIR SOLUTION

Equipped with an understanding of

their plywood facility's capabilities,

PotlatchDeltic's leaders began the

search for an automated panel

repair solution that would help them

achieve multiple objectives: improve

ergonomics for team members,

phase out inefficient manual panel

repair and patching processes, realise

repair material cost savings, achieve

a uniform high quality of repairs,

regardless of wood species or end

product, and finally, put their team

members in the best position to

succeed — and more fully participate in

the enterprise's success.

This search eventually led them to

Chile. There, they visited an Arauco

mill to see how that manufacturer

leveraged several different Raute

solutions. "That sold us," said

Shoemaker. "Being able to see first-,

second-, and third-generation panel

repair lines in action, compare their

features, and track the evolution of

that technology — that experience was

invaluable."

Branson and Shoemaker were

particularly impressed by

Raute's defect analysers. "Raute

demonstrated to us that their

equipment could be fine-tuned to

handle the wood species, such as

Douglas fir, larch, and pine, that we

process," the latter explained.

RAUTE'S PANEL REPAIRING LINE R7

After completing its fieldwork,

PotlatchDeltic decided to invest in

Raute's Panel Repairing Line R7. This

solution appealed to Shoemaker

and team due to its high capacity,

continuous panel flow, multiple repair

heads, an accurate defect detection

powered by 3D scanners and highresolution

colour cameras, precise

application of repair materials,

and ease of operation. With the

potential to be supervised by a

single operator, the Panel Repairing

Line R7 can deliver up to 65% in

repair material savings, according

to Raute. Operators can also use

Raute's MillSIGHTS data-capturing

38 Panels & Furniture Asia | January / February 2023
---
PANEL MANUFACTURING

5 6

tool to automatically optimise

production and perform preventative

maintenance.

THE COLLABORATION

After visiting Raute's headquarters in

Finland to conduct factory acceptance

testing, PotlatchDeltic finalised their

purchase. Raute's technicians then

disassembled the entire R7-Series

panel repairing line and shipped it to

Idaho. Those technicians followed the

equipment to its final destination, and

worked with the PotlatchDeltic team

to set it up at their factory floor.

"It has been very rewarding to see

all our efforts come together," said

Gimbel. "Even though we had the

equipment come here from halfway

around the world, it arrived without

a hitch. And the team that joined us

from Raute worked very well with our

people."

Branson concurred: "The most

satisfying part of this whole

project was working with Raute. The

communication, the installation, the

testing, the training: Everything was

first-class."

Gimbel also revealed that the

installation of the Panel Repairing

Line R7 has created excitement at

PotlatchDeltic's St Maries plant: "We

have assigned four operators to work

the new line, but people across the mill

and the company are very interested in

getting involved in this project."

Cribb was one of those people: "I

joined PotlatchDeltic midway through

this project, but I have seen Raute's

equipment at work at other mills. When

I learnt that we would be installing

the Panel Repairing Line R7, I was very

excited. I knew it was going to make a

positive difference for our enterprise."

According to Shoemaker, PotlatchDeltic

is already reaping benefits. "We are

saving on repair materials, and we

have been able to reassign most of our

repair line operators to other roles. So

we have seen safety mitigation as well.

It is still early, but these wins prove that

automation is a key to our success now

and in the future."

For Cribb, that future is one in which

automation plays an increasing role

in helping PotlatchDeltic achieve

its mission: "We want to grow and

produce the forest resources that build

a foundation for our lives and improve

the communities in which we live and

work. To make those things happen, it is

critical that we find ways that continue

to automate and use accurate, consistent

data to drive better decision-making."

She concluded: "Raute has shown

themselves to be a vital partner in

these efforts, and we look forward to

strengthening that partnership as we

integrate the Panel Repairing Line R7

more fully into our operation." P

This article was first published by Raute and is

reproduced here with permission.

Panels & Furniture Asia | January / February 2023 39
---
FURNITURE MANUFACTURING

Material diversity in the

furniture and interior

design industries

By Christian Wimmer, manager,

furniture and interior design,

Leitz, and Zeljko Pekec, head

of application technology, Leitz

Riedau, Austria

or interior design. In the recent past,

modern, puristic designs with highgloss

and matte lacquer finishes were

trendy, but the end user realised that

fingerprints and grease residues were

visible after touching them, making

designer furniture unattractive. In

contrast, AFP finishes, which make

fingerprints invisible with a coating,

are becoming increasingly popular. In

addition to these finishes, solid wood

furniture or furniture with real wood

finishes are also in vogue.

In sizing, seemingly

simple things like

sawblade protrusion

or the position of the

visible side can be

decisive for quality

One's own home is the centre of one's

life. Not least due to the life-changing

events in the past years, people now

spend more time inside four walls than

ever before. This has increased the

desire for a relaxing and comfortable

home as well as high-quality interior

design. Natural materials, colours

inspired by nature, and a clear, reduced

design are popular.

The modern home is an oasis of wellbeing,

a workplace and a place of

retreat simultaneously, which means

that the functions of furniture pieces

sometimes blur into one another. To

ensure that a piece of furniture can meet

all requirements in terms of design,

materials, size and functionality, the

trend is moving away from a onesize-fits-all

look to individual, mostly

handcrafted solutions with a variety of

user properties. Furniture today must

be beautiful, multifunctional, and meet

several requirements at the same time,

without neglecting their cosiness.

For craftsmen, this opens up

design possibilities but also new

challenges. The number of materials

to be processed has increased, and

combinations of natural wood with

high-tech finishes have become the

norm. One example of such finishes

is anti-fingerprint (AFP) coatings.

Preferably used for kitchen furniture,

AFP finishes are now used more and

more in classic furniture construction

For craft businesses, therefore, the

question arises as to how such a range

of materials can be machined in the best

possible way while ensuring optimal

quality on the workpiece, and the

highest possible efficiency, productivity

and flexibility during the machining

process. Above all, however, users must

ask themselves which tool solutions

are suitable in order to produce

successfully.

SIZING WITH SCORING AND MAIN

CIRCULAR SAWBLADE

The most traditional processing method

is cutting with a sizing saw. Craftsmen

attach importance to the quality of

the cut, which should be as optimal as

possible with tear-free edges on both

sides and clean-cut areas in all panel

materials and decors to avoid timeconsuming

reworking. To achieve this,

it is recommended to use a new or just

reconditioned circular sawblade before

sawing panel material with sensitive

finishes, such as AFP materials. To

achieve an optimal top edge, the radial

40 Panels & Furniture Asia | January / February 2023
---
FURNITURE MANUFACTURING

projection of the circular sawblade

to the panel should be set at up to

10mm. For an optimal bottom edge,

the use of scoring circular sawblades

is highly recommended. In addition, it

is advisable to place the panel on the

saw table with the visible side facing

up. In this way, ideal work results can

be achieved and the lifetime of the used

circular sawblades can be maximised.

COMBINING DIFFERENT CUTTING

MATERIALS FOR PANEL SIZING

Panel sizing saws are becoming more

common in craft workshops. For an

ideal cutting edge without further

sizing steps, coated wood materials,

such as chipboard or medium-density

fibreboard (MDF) as a single board,

should first be pre-scored on the bottom

side with a scoring circular sawblade

and then sawn with a main circular

sawblade. To ensure that the main and

scoring circular sawblades function

optimally, it is recommended to match

the cutting widths of the two circular

sawblades and also to service them in

pairs after the end of the tool life.

Carpenters implement this utilisation

concept in their machining processes

on a daily basis. However, it is possible

to save costs, of which users are hardly

aware. If, instead of a carbide scoring

sawblade, a diamond-tipped variant

is used together with several main

circular sawblades, tool costs can be

reduced over longer periods of time.

Specifically, it is recommended to

use up to 10 carbide main circular

sawblades together with one diamond

scoring circular sawblade. Due to the

higher wear resistance of diamond

cutting materials, these scoring circular

sawblades achieve a longer tool life

than the main circular sawblades with

carbide tipping used at the same time.

Thus, the scoring circular sawblade

remains in the machine after the main

circular sawblade has reached the end

of its tool life. This means that only the

main circular sawblade needs to be

replaced and reconditioned, saving time

and additional tool costs. Furthermore,

the main circular sawblades with

carbide cutting edges can be

resharpened several times until the end

of the tool life of the diamond scoring

circular sawblade. The resulting loss

of cutting width can be compensated

without great additional expense

by changing the scoring depth. This

procedure allows the maximum tool life

on all tools and costs to be saved.

An example of how this works is the

combination of RazorCut PLUS circular

sawblades and DP scoring circular

sawblades from Leitz. With its cutting

geometry designed for finish cutting,

RazorCut PLUS ensures ideal, breakoutfree

edges as well as smooth and scorefree

finishes, even in delicate decors. In

combination with the diamond scoring

circular sawblades, users can save costs

and achieve the highest possible quality

when sawing.

STATIONARY TECHNOLOGY (CNC)

Computer numerical control

(CNC) technology has become a

manufacturing concept in many craft

businesses, and the trend continues

without interruption. Complex

workpieces and a variety of shapes and

designs can be produced quickly and

easily with the help of CNC machines.

It is now possible to machine almost all

coated and uncoated wood materials,

solid wood elements, compact panels or

plywood with shank or jointing cutters

and circular sawblades. However, the

quality of the machining result always

depends on the machining strategy

used and the tool systems used for this

strategy.

CNC sizing with shank or jointing

cutters: Sizing with jointing cutters

aims to achieve tear-free edges on

both sides of the panel. This is ideally

achieved with diamond-tipped tools

that have alternating shear angles, such

as inclined cutting edges. However, this

shear angle may only have a certain

minimum size to reduce the cutting

pressure. Tools with too large shear

angles produce rough and porous,

pitted finishes on chipboard with a

loose medium layer. Especially with

laser edging, this can lead to problems

with edge adhesion or water resistance

tests. Another argument against using

such tools is the higher purchase and

maintenance costs. This is because

tool systems with a high shear angle

are usually equipped with extra-long

cutting elements. The use of diamond

cutting edges therefore causes high

costs in terms of both purchase and

resharpening.

Studies over the years have shown that

optimal machining results in terms of

perfect edges and tear-free medium

Sharing diamondtipped

scoring

circular sawblades

and carbide-tipped

main circular

sawblades helps to

save money in the

long run

Panels & Furniture Asia | January / February 2023 41
---
FURNITURE MANUFACTURING

position are best achieved with tools

that have a shear angle of 50°. This is

the only way to produce an ideal cutting

result during jointing, preventing

process costs from rising — for example,

with the EdgeExpert cutting tools from

Leitz.

In addition to selecting the optimum

tool, the processing strategy also

influences the processing quality during

sizing. It is therefore recommended to

optimise the edge and straight cutting

strategies. Users dealing with this topic

for the first time are advised to have at

their side an experienced contact person

with knowledge of materials, tools and

machining processes.

Mitre cutting with CNC machines:

Mitre sawing is one of the most

demanding machining operations

in the furniture and interior design

industry. On five-axis machining centres

or with specific CNC sawing units,

inclined saw cuts at desired angles can

be produced efficiently. In practice,

circular sawblades designed for mitre

cuts are necessary for this application

field. The main difference of sawblades

designed for mitre cuts, compared

to conventional circular sawblades,

is their small cutting width and the

simultaneous high axial run-out quality.

These technical features help to avoid

break-outs on the pointed side of the

mitre. Especially with tapered mitres

such as 60°, the slightest inaccuracy

in the overall system worsens the

machining result.

Another important point is the use of

the right machining strategy. In this

case, it is recommended to score the

panel 2mm deep on the inside edge

with feed in a first cutting movement.

Subsequently, the cut-off is performed

in the counter-rotation. In this way, CNC

users achieve cuts free of tear-out on

both edges and in the cut area without

defects.

the WhisperCut diamond-tipped circular

sawblade from Leitz. Both Katana and

WhisperCut enable optimal cutting

results in all common materials with

their small cutting width and smoothrunning

characteristics.

The nesting process: Nested shapes

are cut from panel-shaped materials

with the help of shank tools. Especially

with delicate parts and high feed rates,

CNC users are regularly faced with the

challenge of milled parts displaced and

damaged by the high-speed cutter.

However, the machining table's vacuum

is insufficient to balance the resulting

forces and prevent the manufactured

parts from slipping. The use of small tool

diameters can help here. This reduces

the cutting forces, but more important

are the smaller cutting grooves created.

If, for example, the cutter diameter

is reduced from 16 to 12mm, this

corresponds to a 44% reduction in

the cutting volume. The less material

is removed during nesting and the

smaller the resulting cutting grooves

are, the less the vacuum performance

is weakened, with the workpieces held

firmly in place.

depending on the version, suitable for

feed rates of up to 35m/min, they are

optimal for delicate and, above all, fast

nesting — particularly for machining

plywood, compact laminate, chipboard

or MDF.

CONCLUSION

The variety of materials and the demands

on materials and end products are

constantly growing, but the machining

processes will hardly change in the

coming years. For this reason, universally

applicable tools with maximum

performance are becoming increasingly

important in the industry. After all, the

maxims "time is money" and "quality

pays off" will continue to apply in the

future, be it for manufacturing or tool

maintenance; higher efficiency, flexibility

and productivity help to save money or

increase output quantities. Craftsmanoriented

furniture manufacturers and

interior designers will take these into

account in their future business plans.

Ultimately, it is recommended to have a

tooling partner who can provide suitable

tooling solutions, demand-oriented

services and knowledge about processes,

machines and materials. P

When mitre sawing

on CNC systems, it

is important which

machining strategy

is used, and to

ensure the circular

sawblades used are

suitable for such

applications

Examples of such circular sawblades,

especially for mitre cuts, are the Katana

carbide-tipped circular sawblade and

With its nesting cutters, Leitz offers

a range of tools for such challenges.

With diameters starting at 10mm and,

This article was first published by Leitz and is

reproduced here with permission.

Images: Leitz

42 Panels & Furniture Asia | January / February 2023
---
FURNITURE MANUFACTURING

High-efficiency,

quality and intelligent

SawTech solution

Front feeding panel dividing saws

Rear feeding panel

dividing saws

Panel dividing saws for

long and narrow panels

The panel dividing saw enjoys multiple

features, including high precision, high

efficiency, easy operation and a range of uses.

The operator simply needs to input cutting data

into the machine, and the equipment will cut

out the required size accurately, thus saving

labour costs. The panel dividing saw has been

a featured product of Nanxing Machinery for

years. After more than 20 years of technical

experience, Nanxing has developed a variety

of SawTech solutions for the different needs of

furniture manufacturers. The new 120,000m 2

SawTech production centre in Shaoguan city,

Guangdong province, China, has been put into

production since 2021, aiming to provide the

foundation of high-quality and stable supply of

saw series production.

FRONT FEEDING SAW SOLUTION

The most common, universal panel dividing

saw uses the front feeding method, which is

applicable to both thin and common panels.

The operator feeds the panels from the front air

flotation table, and the gripper controlled by

the high-precision servo system automatically

pulls the panels according to the set sawing

size. The saw carriage runs on the linear

precision guide rail for accurate sawing before

discharging the panels from the front, which

not only ensures quality sawing on the end

face, but also improves the working efficiency.

Nanxing NPC330's pressure beam height will

automatically adjust according to the thickness

of the panel. The main saw and scribe saw's

lifting are independently controlled: The main

saw automatically adjusts the height per the

panel's thickness to achieve the ideal sawing

effect, while the top, bottom, front and back

movements of the scribe saw are electrically

adjusted to save time and improve efficiency.

According to Nanxing, the sawing height is

90mm. The saw carriage is driven by a 2kW

servo motor moving along an accurate rack

and pinion system. The main and scribe saws

use a quick-change design for the fast changing

of saw blade. Nanxing's software integrates

various functions including task management,

programme import, sawing editing, operation

guidance, fault display and troubleshooting,

processing simulation, and barcode

management, the machine performs optimally,

safely and reliably with a simple interface.

The equipment can also be docked with

most software designs to allow the intelligent

production of customised furniture.

REAR FEED SAW SOLUTION

The frame and saw carriage of the panel

dividing saw's rear feed are more heavy-duty.

This means the sawing efficiency will be

higher, making it ideal for production with

greater demand for bulk sizing. The maximum

sawing thickness is 120mm, equivalent to six

pieces of 18mm panels. Motors of the main

and scribe saws are independently driven on

the heavy-duty saw carriage structure using

a twin-programme fence design to preload

panels in stand-by positions. This saves labour

and waiting time. Customers can choose the

feeding direction from the central rear, left rear

or right rear, as per site conditions. Nanxing's

NPL380HG with a single pusher is ideal for

high-volume production mode. NPL440D with

double pushers is ideal for cutting large panels

of up to 4,300mm with a set of independently

driven powered grippers, with a total of two

auxiliary clamps and 11 main clamps. Two

groups of pushers can work together to cut two

different sizes of the panel simultaneously. The

NPL440D allows both single sawing and stack

cutting with an increased sawing efficiency of

40% compared to conventional back-feeding

panel dividing saws, suitable for batch-sizeone

and mass production. Tags can also be

manually labelled after cutting the material or

automatically labelled before feeding with an

automatic labelling device at the back.

In addition to the hardware, the panel dividing

saw increases the utilisation rate of the

panel, which is also a key factor for furniture

companies to save costs and improve their

competitiveness. The rear-feed panel dividing

saw adopts an Online Optimisation software

on the cloud server — a stronger version of the

online optimisation system based on the cloud

44 Panels & Furniture Asia | January / February 2023
---
FURNITURE MANUFACTURING

server. Compared to a local computing

optimisation software, the cloud

online optimisation software can select

optimal results by leveraging the cloud

server iterative algorithm. Featured

with a stronger computing power

and higher efficiency, this software

can optimise panel utilisation rate

and reportedly save more materials.

The core algorithm of the software

can also be updated online in time to

continuously improve the optimisation

results, including material utilisation

and equipment processing efficiency.

Field testing of the software has shown

that an average of 1-2% of the panel

can be saved, and more so in a longer

term. The information production line

can be upgraded to connect with the

enterprise resource planning (ERP)

data of the factory. The front end can

also be equipped with a bar code

printer to print bar codes, achieving

data-driven production.

ANGULAR SAW WITH TWIN PUSHERS

Angular saws are different from

general electronic saws in that they

comprise two saws: length-cut and

cross-cut saws. The cutting process

starts with the length-cut saw before

the cross-cut saw in the cross-cut zone,

thus achieving cutting and forming

in one feeding. NZH3825D, Nanxing's

new angular saw, can process panels

of up to 3,800mm x 2,500mm. By

using a double-pusher design and

an additional set of independently

driven powered grippers in cross-cut,

the NZH3825D can cut two sizes of

the panel at one time, enabling higher

sawing efficiency and more flexible

production.

CUTTING OF LONG, NARROW PANELS

AND LONG-STRIP CLADDING PANELS

Narrow panels such as top, bottom,

and shelf boards are one of the

most common materials in furniture

production that are arguably most

impacted by efficiency. Nanxing's

front feeding machine NPC150 uses

seven groups of closely distributed

clamps with a compact roller table. The

minimum and maximum sawing widths

are 35mm and 1,400mm respectively,

ideal for the bulk sizing of long and

narrow panels. Through-type panel

dividing saw NPL150HG, developed for

the cross-cutting of long-strip cladding

panels, can be connected with the

front and back of the conveyor table

for cladding line preparation. Seven

groups of double-finger clamping pliers

with the front and side positioning

and an encrypted roller will keep the

longitudinally cut panel still in the crosscutting

process. The off-cut handling

device at the end will discharge offcuts

directly, solving the problem of

residual material disposal, and ensuring

continuous efficiency and accuracy

during the processing.

SAWING WORKSTATION

A conventional panel dividing saw

requires one to two people to load,

unload and rotate the panel. Under

the batch-size-one production

mode, Nanxing provides the sawing

workstation which adds a double-pad

automatic fast labelling device at the

back end of the double-pusher panel

dividing saw NPL380D to label the

panel before feeding. The front end

is equipped with a robot with suction

cups, and the work path optimised

by the supervisor's algorithm works

with the panel dividing saw to rotate,

and stack panels without manual

intervention, avoiding errors caused by

manual operation. This is optimal for

batch-size-one production due to its

high flexibility. The manual operation

mode can also be switched freely

for panels with specific sizes. In the

mass production mode, Nanxing also

provides a gantry-stacking solution

to achieve the automatic loading and

unloading of the panel stack. The

clamp of the gantry-stacking machine

will catch and fix the stacked panels

cut with panel dividing saws, before

sorting into corresponding stacking

tables. Two to three cycles can be

achieved in a minute, according to

Nanxing, making it a labour-saving

solution for panel dividing saws to

achieve bulk sizing.

Most furniture manufacturers prefer

suitable, easy-to-use, stable and costeffective

equipment. With 20 years

of experience in the woodworking

machinery industry and advanced

production capacity, Nanxing is

dedicated to providing furniture

manufacturers with localised, costeffective

solutions for the overall

production process. P

Panels & Furniture Asia | January / February 2023 45
---
FURNITURE MANUFACTURING

Continuous optimisation

of value stream

By Peter Hartmann, market responsible South East Asia, Schuler Consulting

used Schuler Consulting's Digital

Value Stream Optimisation in

production. The aim was, as a first

step, to collect data in production

areas that previously provided no or

insufficient data. For this purpose,

the sensor kit of Digital Value Stream

Optimisation was used, enabling

the indoor localisation of part stacks

and the recording of machine states.

The technical set-up could be used

flexibly in any production area

and on machines of any age and

manufacturer type.

Data in complex

process chains, such

as in the area of

solid wood furniture

production, can

be optimised with

Schuler's tool

Schuler Consulting has developed

a consulting service that brings

transparency to production

processes and enables continuous

optimisation in complex production

environments. Digital Value Stream

Optimisation is a solution based

on value stream management. Its

difference from the classic, analogue

method is the use of modern

tracking technology which enables

permanent data collection and thus

continuous evaluation of this data

for the sustainable optimisation of

intralogistics and the entire value

stream.

BURGER KÜCHEN

German kitchen manufacturer Burger

Küchen has developed a maxim to

set itself apart from competition: Be

faster. A concept that follows this

maxim is the 12-day kitchen, which

Burger Küchen promises to deliver

a kitchen in as little as 12 working

days instead of the usual delivery

time of several weeks. Part of the

Baumann Group, the manufacturer

offers from entry-level models to

the premium segment kitchens,

and in Germany, produces around

650 kitchens a day with 1,200

employees at two locations.

Burger Küchen also pursues the

goal of being faster when it comes

to optimising production. Martin

Schockwitz, the technical manager,

sees the greatest potential for

optimisation in the production

intralogistics. To reduce throughput

times and lower process costs, it

The reason for the project was to

gain more transparency about

the manufacturing processes in a

simple way. Schockwitz reported:

"In recent years, it has become

increasingly clear that we already

have a lot of information for the

successful mapping of a value

stream, but it was not enough.

Without systemic support, we will

not be able to optimally design the

next optimisations. That is why we

have been looking for a tool that

makes value stream mapping easier

for years. With Schuler Consulting's

toolbox for collecting information on

value stream analysis, the analysis

becomes many times easier and

faster."

At Burger Küchen, the cabinet

line was permanently connected

to the value stream mapping

system. Production data from the

value stream recording, including

data from existing systems such

as enterprise resource planning

(ERP), manufacturing execution

system (MES), model-driven

engineering (MDE), flowed into

46 Panels & Furniture Asia | January / February 2023
---
FURNITURE MANUFACTURING

a value stream dashboard. In

regular optimisation workshops,

the Schuler team, together with

Burger Küchen, looked at historical

data from production to derive

optimisation measures and change

the future. The overriding goal of

value stream optimisation was to

increase the overall production

output and reduce and synchronise

throughput times. Whether an

implemented optimisation measure

was successful could be checked by

the sensor kit of the Digital Value

Stream Optimisation and readjusted

if necessary, thus continuously

optimising the value stream.

CONTINUOUS OPTIMISATION IN

COMPLEX ENVIRONMENTS

The basic starting situation at

Burger can be applied to almost

every company: Every company has

blind spots within its value stream

where the production processes

are opaque. These blind spots can

be larger or smaller depending on

the company. This is where Schuler

comes in with its Digital Value Stream

Optimisation tool and aims to create

transparency about production

processes so that manufacturers no

longer have to steer their production

as if flying blind, but know exactly

how to implement optimisation

measures. The Burger case shows

that even in a clear value stream like

kitchen furniture production with

melamine-coated materials, there

are traceability gaps.

as in solid wood furniture production

including lacquering, can be recorded

and optimised.

Let's take an interlinked production

line in batch-size-one production as

an example. A raw panel enters the

production line and a finished, edged

and drilled component comes out. The

processes and material transports in

the system are controlled and recorded

there. In solid wood production, where

various individual machines from

different manufacturers and years

of construction as well as 'chaotic'

material transports are the orders of

the day, this recording is usually not

given due to the lack of interfaces on

the machines. In addition, there is

often a system gap in the company's

software landscape in MES systems

that could record this data — that is,

if the machines provide interfaces.

Even if an MES system were in use

and all machines recorded data,

intralogistics would still be a black

hole. In this environment, no or

only insufficient data collection

might happen. Digital value stream

mapping and optimisation can thus

create transparency across the value

stream in this complex environment,

optimising it holistically.

JUST-IN-TIME PRODUCTION

Burger Küchen's 12-day kitchen

describes the problem of various

export-oriented companies in South

East Asia as well. There is time

pressure to complete orders for a

specific delivery date. The tension

here, on the one hand, is to ensure

deliveries by keeping large quantities

of material in buffer stocks and, on the

other hand, to cope with the resulting

high storage costs. The ideal solution

to resolve this tension is reliable

just-in-time production with minimal

buffers before loading.

For this purpose, Digital Value Stream

Optimisation provides the data basis

for optimised production planning.

The lead times of the individual

components and products are tracked

and can be used for future orders to

determine the optimal production

start. This start time can be defined

globally for the entire product or

individually for different component

groups within a product. In addition,

delays of individual components in

an order along the value stream can

be displayed and minimised. Once

the lead times along the value stream

are known, the main goal is to level

and optimise them to achieve the

The overriding goal

of value stream

optimisation was to

increase the overall

output of production

and reduce and

synchronise

throughput times

In complex and usually multi-stage

process chains, as is the case of solid

wood or veneer furniture production,

the gaps in data collection increase

due to the extensive processes.

The greater the optimisation

potential in these unrecorded

areas, the more can be addressed in

optimisation workshops. Schuler's

digital value stream mapping and

optimisation tool is scalable and

thus transferable to any production

process landscape. This means that

even complex process chains, such

Panels & Furniture Asia | January / February 2023 47
---
FURNITURE MANUFACTURING

shortest and most synchronous lead

time possible and thus reduce tied-up

capital.

In addition to the issue of lead

time, a major focus is on increasing

the production output. Here,

various approaches can lead to the

goal: Reasons for downtimes are

recorded with Digital Value Stream

Optimisation in the context of

machine data collection. After an

evaluation, targeted measures can

be taken on individual machines

to increase availability and output.

Subsequently, bottlenecks in

production can be identified and

the total production output can be

increased with targeted optimisations

or investments.

WHERE TO START?

Each application has to be considered

individually. In principle, however, it is

advisable to start with machine data

collection, to get to know the system

and to optimise individual workplaces

with the collected machine data.

Subsequently, the system can be

expanded with indoor localisation

to visualise, analyse and finally

optimise the value stream holistically.

Schuler accompanies the company

during the system implementation.

After the implementation and the

subsequent data collection, the

company supports the identification

of optimisation potentials. These

optimisation potentials can then be

realised in workshops, either on one's

own or with Schuler's support.

CONCLUSION

In all productions, various

optimisation potentials slumber in

the vast process landscape. The more

extensive the processes, the more

complex the inter-relationships — and

therefore, the greater the leverage

for optimisation. Digital Value Stream

Optimisation was developed to

uncover this optimisation potential by

creating comprehensive transparency

in the production environment. A

driving factor in the development

was to make these possibilities

possible with a plug-and-play

system away from a costly IT

infrastructure. This goal was realised

with the use of commercially

available smartphones, Bluetooth

transmitters and analysis tools in a

cloud environment in the sense of

anything-as-a-service (XaaS).

In addition to the potentials of

the system and the optimisations,

further extensive possibilities open

up the use of collected data. The

possibilities extend beyond the

shop floor. The data can be used,

for example, in quality assurance,

pricing, personnel planning or bonus

payment, serving as control variables

that contribute to the optimisation

of efficiency, output, quality and

delivery time. These parameters can

improve the company's results and

competitiveness:

Quality assurance: By recording

quality defects and production

errors, analyses can be carried out on

their causes and thus the sources of

rejects and rework can be minimised

or eliminated. This reduces costs

and eases the production planning

through less rework or additional

rework orders.

Pricing: By assigning machine

data as well as process times

to component level, the real

manufacturing costs of a product

can be determined via a space

cost calculation. This applies

to inventory products and

calculations for quick fixes of

requests from buyers or customers

via characteristic values and key

figures.

Personnel planning: Based on the

dispatching of orders to production,

it is possible to determine the

use of the various workplaces

and, based on this, to carry out

personnel planning per workplace.

Bonus payment: By assigning the

output performance combined

with the recording of the quality

rate, it is possible to assign the

performance at a workplace

over a certain period of time to

an individual worker, different

groups of people, or departments.

Through this evaluation, valid

and fair target times can be

determined and performance

targets can be set. The evaluation

of objective achievements can thus

be used for performance-oriented

remuneration. P

The Digital Value

Stream Optimisation

can also help to

optimise personnel

planning

48 Panels & Furniture Asia | January / February 2023
---
MATERIALS

Better returns of

investment with

mass timber

Quicker to build, lower

global warming potential,

better resistance to

earthquakes: Mass timber

buildings deliver better

structural, environmental,

and financial results

compared to steel or

concrete buildings.

However, more can be done

to standardise the use of

mass timber elements and

their connections,

said Kai Kruse, CEO of

Nelson Pine Industries.

By Yap Shi Quan

"A CLEARLY INCREASING DEMAND"

Brick and concrete buildings have been around for centuries

and steel buildings, at least, for the past century. In

comparison, the mass timber industry is very young, excluding

cabins, temples and buildings traditionally made with wood.

Mass timber can imbue a warm and welcoming atmosphere to the building's interior

But the industry is growing at an explosive rate. Across the

world, in Europe, Americas, and Asia-Pacific, multi-storey

mass timber buildings have been popping up left and

right. The drivers for its growing demand are clear: With

its environmental credentials, ability to be prefabricated,

resistance to seismic activity, and aesthetic properties,

mass timber will continue to gain momentum over steel and

concrete in costs and structural performance, although it has

ample room for improvement.

Panels & Furniture Asia | January / February 2023 49
---
MATERIALS

1

"We can see a clearly increasing demand for

multi-storey mass timber buildings," declared

Kai Kruse, CEO of Nelson Pine Industries.

"As more and more buildings are built using

engineered mass timber, we also observe the

design and construction aspects becoming

more efficient. Engineers and architects are

getting used to building with mass timber,

developing solutions that are becoming more

cost-efficient and faster to be constructed than

using steel and concrete."

NELSON PINE INDUSTRIES

Established in 1984, New Zealand-based Nelson

Pine Industries specialised in producing their

own brand of medium-density fibreboard

(MDF) called GoldenEdge MDF, before adding

laminated veneer lumber (LVL) to their portfolio

in 2002, the product being NelsonPine LVL.

GoldenEdge MDF is used to manufacture

interior products, such as furniture, doors,

mouldings and floorings, while NelsonPine LVL

is a structural material used for roofs, frames,

walls, or floors in residential and commercial

buildings. These engineered wood solutions are

made using equipment mainly from European

woodworking machinery manufacturers

like Dieffenbacher, Steinemann and Raute,

and using sustainably managed radiata pine

certified by Forest Stewardship Council (FSC)

sourced from New Zealand plantation forests.

Using LVL, as opposed to other forms of mass

engineered timber like glue-laminated timber

(glulam) or cross-laminated timber (CLT), was

the preferred option for Nelson Pine back then

when it decided to manufacture LVL, as it could

be produced in big, wide and long dimensions

with the appropriate machines.

"Glulam is a more traditional product, and has

been in existence for over 80 years now. It was

an option, but we had experiences in veneer

making and understand plywood from our

history," said Kruse. "As for CLT, at that time

it was not really on the radar, so to speak. It

existed in a much smaller scale, and was not

well-developed. CLT became more prominent

only in the last 8-10 years. As such, it was an

easier step for us to transition to LVL."

COST-COMPETITIVENESS

According to Kruse, the demand for mass

timber originated from Europe, who has

practised designing using mass timber for a

much longer time. In recent years this demand

has reached Asia-Pacific, in particular New

Zealand, Australia and Japan, and is also

strong in the US and North America. For

instance, Nelson Pine's LVL has been used

in various commercial projects, such as the

Nelson Airport Terminal, a regional airport in

New Zealand.

The drivers of this demand are, in part, due

to the environmental credentials of mass

timber. Mass timber buildings sequester

carbon dioxide and their global warming

potential (GWP) is only a 10th of what

concrete and steel buildings have. As

governments impose regulations like carbon

taxes to support more environmentally

friendly building processes and procedures,

the cost advantages of building with timber

become more apparent.

But perhaps more importantly, mass timber

buildings perform better in earthquakes

than steel or concrete buildings. The science

behind this, as Kruse explained, is because

timber is much more flexible than steel

or concrete. As multi-storey buildings go

higher, they are more susceptible to bending

due to higher wind velocity. Concrete and

steel are rigid, and are therefore more

vulnerable to cracks as they bend, whereas

for timber building, there is flexibility in the

joints and the timber itself.

Kruse has observed for a number of years

that building with mass timber can be

more cost-competitive than using steel or

concrete. In fact, building a multi-storey

building using timber is cheaper in parts:

"Timber buildings are lightweight, and the

50 Panels & Furniture Asia | January / February 2023
---
MATERIALS

sell a unit because timber has more appeal

to people in the society. Higher rent is also

possible. We have heard of companies

fetching a premium for the rent of 5-10% —

and people are obviously willing to pay for it."

Adding onto this cost-competitiveness

are the aesthetic qualities of mass

timber. Compared to the cold and sterile

environment of a steel or concrete building,

timber imbues a warmer and more

welcoming environment to a building.

2

Legend

1 Ashburton Civic

Centre in New

Zealand, made using

NelsonPine LVL

2 GoldenEdge MDF

used for kitchen

furniture

3 The interior of the

Nelson Airport

Terminal, the timber

structure made using

NelsonPine LVL

STANDARDISATION

With a global footprint, Nelson Pine often

provides advice to architects about specific

design requirements. This is because

buildings need to be designed in compliance

with country-specific building codes and

other regulations — Singapore will have

different building codes than New Zealand,

Australia, North America or China. To help

architects or designers, Nelson Pine provides

them with a range of information relevant

to the specific design requirements for a

particular building project.

"For instance, to ensure that a building can

last for 50-100 years, the structural engineer

will have to take into consideration aspects

like the dimensions of the LVL, so as to

connect to the different parts of the post,

beam, column, or rafter, or aspects like

the types of connections to fit the LVL, so

that it can meet load-bearing and -bracing

requirements in a building structure," said

Kruse.

building's foundation can be constructed

at a reduced cost as compared to building

with concrete and steel, which are naturally

heavier — meaning to say, they need a

bigger and costlier foundation. LVL and

other engineered mass timber are also

typically erected much faster, requiring

less of the expensive time for a crane.

They have performed much better when it

comes to earthquakes which is important

for countries with high risks of earthquake,

such as Japan and New Zealand in

3

particular, but also for other countries like

the Philippines and Indonesia, countries

within the Ring of Fire. Well-designed

timber buildings also often perform better

in high winds."

He added: "Also, if you look at the overall

building, for the investors and real estate

companies, it is a positive selling point

to construct a building using timber as

it often results in higher occupancy. It

becomes easier for them to rent out or

There is no question as to how each country,

with its own specific climatic, geographical

and demographical challenges, needs to

have its own building codes and regulations.

However, Kruse argued that there needs

to be standardisation about the uses of

connections — such as joints, dowels,

and nails — and also building codes and

regulations to reflect updates about using

LVL, CLT, or glulam, as well as to reflect

new design developments, such as in fire

resistance or acoustics. In doing so, the

regulations can give architects and engineers

a clearer idea of how to use and manage

mass timber resources efficiently, and in

turn, encourage them to use more mass

timber. P

Panels & Furniture Asia | January / February 2023 51
---
MATERIALS

1

The new

Kuantan lifestyle

with TMT wood

The KotaSAS development in the state

of Pahang in Malaysia features a central

American thermally modified ash floating

deck to bring the community together.

Planned as a township to promote

healthy living, the KotaSAS

development brings together mixed

housing, retail, business and leisure.

This centre offers what a family might

wish for a lifestyle. The key to building

a community is a space to gather, eat

and chat. Central to the residential

area is a vast lake with leafy surrounds.

A floating deck extending into the

water with open plaza seating is the

ideal spot for friends and neighbours

to meet.

Landscape architects Pentago and

Eddy Teh from Efish discussed how

best to achieve their vision of a

floating timber platform which was

structurally, environmentally and

aesthetically sound.

"We usually choose between

indigenous hardwoods, and

52 Panels & Furniture Asia | January / February 2023
---
MATERIALS

2

3 4

increasingly we are seeing artificial

timbers and plastic composites being

specified," Teh said. Artificial timber

and plastic composites survive the

humid weather in Malaysia. However,

aware of a growing drive towards more

sustainable design and materials,

Teh was offered another option for

consideration during a trip to Turkey.

It was there he met with the team at

TanTimber who introduced him to

thermally modified American ash.

According to the American Hardwood

Export Council (AHEC), thermal

modification is a process of heating

the timber to the point of combustion,

reducing the moisture content to

around 4-6%. This change is permanent

and means the timber does not react

as quickly to humidity as untreated

timber, and improves the timber's

stability. The timber is further improved

by removing hemicelluloses and

carbohydrates from the wood, which

are the two main food sources for

wood-destroying creatures. This means

the timber has durability equivalent

to tropical timbers such as Ipe which,

unlike American timbers, have been

overharvested for years. It is thus an

ideal choice for an outdoor community

space such as the one surrounding the

KotaSAS lake.

The floating deck of stamped concrete

and thermally modified timber (TMT)

American ash also adds a touch of

luxury to a functional space with its

rich, dark tones. As with all American

timber species, the pronounced

grain also signals quality. Teh added:

"Imported timber remains popular in

high-end developments, resorts and

hotels. It looks more expensive and lux

than regular tropical timbers." P

Legend

1 The humidity in tropical Malaysia presents

a challenge for timber structures

2 TMT American ash adds a touch of luxury

to the aesthetics

3 Thermally modified timber can withstand

high humidity levels

4 Thermally modified wood also improves

the durability and stability of the timber

Panels & Furniture Asia | January / February 2023 53
---
STRUCTURAL ELEMENTS

Växjö station

and city hall

Location:

Växjö, Sweden

Client and developer:

Skanska Sverige

Architects:

Sweco Architects

Size:

16,400m 2

Mass timber supplier:

binderholz

Photo:

Felix Gerlach

The facade of Växjö

station and city hall

Wood was the material of choice when

Sweco planned the city of Växjö's

16,400m 2 station, which also housed the

city hall. Växjö, which profiles itself as a

"modern wooden city", has invested in

constructing buildings and properties

made of wood. As such, it was clear that

the station would follow this pattern.

The construction has a timber frame

consisting of cross-laminated timber

(CLT) elements and timber beam

pillars. There are also various wooden

elements on display inside, such

as the suspended ceilings, the wall

coverings, floors and stairs. In the

middle of the building is a large and

open "living room", with the wood

creating a warm and welcoming

feeling. This is one of the largest

wooden buildings ever built in

Sweden, as claimed by Sweco.

Sustainability aspects permeated the

planning work. The new station and

city hall building has been certified

with the Swedish Green Building

Council's gold environmental

certification, also known as the

Miljöbyggnad Guld, which aims to

place high demands on materials and

energy consumption. From a lifecycle

perspective, timber is not only less

expensive, but it also has less climate

54 Panels & Furniture Asia | January / February 2023
---
STRUCTURAL ELEMENTS

Legend

1 The construction

has a timber

frame consisting

of CLT elements

and timber beam

pillars

2 The city of Växjö

profiles itself as a

"modern wooden

city"

3 Wood creates

a warm and

welcoming feeling

1

3

2

impact than a house built with a

traditional concrete frame. Using

timber also created a cleaner and less

noisy working environment while the

station was under construction.

Sweco was initially assigned to

prepare construction documents

for the project implementation,

but it gradually developed into full

project planning, including building

permit and various other planning

documents. In collaboration

with the client Skanska, Sweco

worked with the overall design

and detailed design, accessibility

issues and signage, while other

architectural firms have worked

with the city hall's interior and the

shops in the station. The building

was inaugurated in the autumn of

2021. P

Panels & Furniture Asia | January / February 2023 55
---
SUSTAINABILITY

Building business resilience

and monetising innovation

Beyond using palm

wood for furniture,

IOI Palm Wood

has ventured into

refineries and

oleochemical

industries to expand

their revenue

Inspiring the next "material

revolution" by creating sustainable

and high-performance materials

from oil palm waste, Peter Fitch,

together with IOI, have set up IOI

Palm Wood to commercialise this

untapped potential.

Business resilience is a company's

ability to adapt to disruptions: keeping

operations running, while safeguarding

resources and brand equity. How can

we develop business resilience on

profit orientation, customer loyalty

orientation, and innovation?

Since COVID-19, there have been

examples of companies filing for

bankruptcy, spanning across countries

and industry verticals. Businesses might

initially blame demand that suddenly

and severely broke away in these

industries. However, there is one factor

all these companies have in common:

inadequate profit orientation. No

company has ever gone bankrupt from

making profits.

This crisis that then led to inflation is

an ongoing stress-test for companies'

economic model. Yet, despite tough

times and dwindling demand, there

will be successful companies that

emerge as winners. The secret to

success? Business resilience. Profit

orientation is a core dimension

of economic business resilience.

Resilient companies not only have

a loyal customer base, but their

revenue model also extracts value and

56 Panels & Furniture Asia | January / February 2023
---
SUSTAINABILITY

profitability from customers. Disruptive

innovation is also another dimension.

Today, the economy is increasingly

defined by a customer-led market.

Therefore, it is crucial for companies

to think through the customer lifecycle

and provide value at every step.

Over-invested companies tend to be

customer loyalty-oriented, but not

profit-oriented. For example, large

particleboard or medium-density

fibreboard (MDF) companies can

become over-invested from all angles.

They invest in acquiring and retaining

customers. But if you ask them about

profit, you usually get the answer:

"That's the next step for us."

Conversely, under-invested companies

are profit-oriented, but not customer

loyalty-oriented. These businesses

tend to generate good profits with the

heritage and quality of their products.

But they still have a way to go in terms

of locking their customers in.

There is a risk in being neither customer

loyalty- nor profit-oriented, which is

how some businesses assessed their

company. Here, market share usually

trumps profit. It can also be difficult to

connect the loyalty dots if the business

is built around one-time transactions

and selling indirectly to the customer.

Resilient companies are the most

successful and build a loyal customer

base. They grow their margins with

product innovation and new revenue

models. The challenge is to stay there at

the top.

LEARNING FROM PROFIT-ORIENTED

COMPANIES

For all industries there are single

companies positioned in a different way.

Here are four key lessons from businessresilient

companies:

They instill a profit mindset: That

means focusing on profit over market

share, emphasising cash flow, and

managing costs. In my experience,

companies lacking profit orientation

typically focus on market share or

volume growth. Meanwhile, resilient

companies target specific profit

KPIs, such as the net retention rate

and recurring revenue rate. Effective

business resilience can take place if top

managers know the revenue targets

and actuals. Sales people carefully

consider profit impact when making a

deal. Everyone at all levels always has a

clear and current view on the company's

profit situation.

They protect the core business: What

steps are you taking to ensure your core

offering is and remains attractive in

the customer's eyes of the customer?

Business resilience requires regular

company investment and sensors on the

market. This ensures building products

around the price, and not the other way

around. Managers should also be aware

of low and unprofitable products and

services. They should conduct constant

reviews and discipline measures to

cease any offerings that fail to meet

profitability targets.

They protect their prices: Achieving

price generates profits, defending

price protects them, and cutting

prices without costs damages them.

That is why resilient businesses are

equipped with data before any price

move. Resilient businesses simulate

the impact on customers, the market,

and competitors. They understand

cannibalisation effects, make

differentiated price moves, and ensure

price increases are properly enforced.

Even when they have to give discounts

or run promotions, they still defend

profitability by first making "smart

concessions".

They eliminate cross-subsidisation:

Business resilience requires companies

to be rigorous when it comes to crosssubsidisation

between products and

business units. To axe the unprofitable,

the discipline must be strict. There may

be strategic cases where they decide

to go in at a loss with some customers

or products. But they ensure the whole

package is net positive and comes with

a bottom line. Not every product or

customer can be strategic; only maintain

those on a clear pathway to profitability.

DEFINING MONETISING INNOVATION

Innovation can be one of the most

powerful tools to ensure business

resilience: Nothing ventured, nothing

gained. Despite this, however, the failure

rate for innovations is shockingly high.

Seventy-two percent of innovations fail to

meet their financial targets or fail entirely

— which means companies are not quite

sure how to monetise their innovations

consistently. How can you make sure your

innovations succeed?

Monetising innovation successfully is

to meet or exceed the financial goals

a company sets for its new product. In

times of escalating downward pricing

pressures, many companies decide that

an innovative new product or service is

the answer to that pressure. However,

monetising it proves more difficult than

ever. R&D is expensive, start-ups disrupt

whole markets with their ideas since

they are able to take more financial risks,

and the overall rate of innovations is

accelerating.

What causes innovations to miss their

targets?

Feature shock: An over-engineered

innovation with too many, often

unwanted, features that do not stand

out, crammed in a product that will not

fully resonate with customers and is often

overpriced.

Minivation: An innovation that, despite

being the right product for the right

market, is priced too low to achieve its full

revenue potential. This is often because it

is not enough of an innovation to warrant

a higher price, which is caused by either a

real or perceived lack of differentiation.

Hidden gem: A potential blockbuster

product that is never properly brought

to market, generally because it falls too

far outside of the core competency of a

company.

Panels & Furniture Asia | January / February 2023 57
---
SUSTAINABILITY

Undead: An innovation that customers

do not want, but has nevertheless been

brought to market either as the wrong

answer to the right question or as the

answer to a question no one was asking.

KNOWLEDGE IS POWER

There are a couple of prevailing myths

around monetising innovations that

have been difficult to shake — that

customers are automatically willing

to pay the value or at least the cost of

a great new product, that an isolated

working innovation team should be

exclusively in control of a new product,

that it is completely normal to have

failures quite often when innovating,

among others.

Although these statements seem to be

common sense, they are actually myths

to successfully monetising innovations.

In fact, the majority of companies

accepting these myths are what leads

to the 72% failure rate for innovations.

A more promising approach is to find

out if customers are willing to pay for a

new product — and how much — before

committing resources to building and

launching it.

of clear goals, deciding how

aggressive pricing should

be, introducing price-setting

principles, and defining

promotional and competitive

reaction principles.

6. Build an outside-in business case:

Gather external input on value,

price, cost, and volume to make

the product design process useful.

7. Communicate the product's value:

Have a compelling story to drive

customers to buy and use it.

8. Use psychological pricing: People

make purchasing decisions based

on both rational and emotional

factors.

9. Maintain price integrity.

IOI PALM WOOD

A company that has achieved resilience

is IOI Corporation. It has been a

profitable plantation business for

more than 50 years. Only in the last

25 years has the company moved

towards property development. Even

more recently it entered new business

areas, which also meant new revenue

models. These included refineries and

oleochemical industries.

IOI's combination of selling profitable,

transactional plantation commodities

plus even more profitable recurrent

value-added and specialty products has

shaped its success story. Today, these new

areas, often based on a recurrent revenue

model, account for a big chunk of their

sales. We believe that IOI Palm Wood will

add to this business resilience and prove

to be a valuable recurrent revenue stream

for the company.

As IOI nears bringing our innovative

'OnCore' palm wood to market, we

are mindful of the above and believe

that the feedback "willingness-to-pay"

conversations we have had with potential

customers remains positive. We believe

that our products are high performance

materials able to complement the existing

timber products in the market. What

we will add to this value proposition is

sustainability, consistency and enhanced

properties such as fire resistance and light

weight strength.

I am very excited to be bringing this

innovative product to market, and looking

forward to working with new customers to

aid their business resilience. P

Palm wood can

complement the

existing timber

products in the

market

Here are some rules for monetising

innovations:

1. Have the "willingness-to-pay"

talk early: To find out the price

customers are willing to pay for a

product, companies have to talk to

them. We call it the "willingness-topay"

talk.

2. Do not develop a one-size-fits-all

solution: A general segmentation

strategy should also help guide

product development.

3. Decide on product configuration

and bundling: Decide what features

and functionality the new product

should deliver.

4. Find the ideal monetisation model:

How a company charges for a

product often has a bigger impact

on customer adoption and price

perception than how much it is

charging.

5. Pick the winning price strategy:

This should consist of setting

58 Panels & Furniture Asia | January / February 2023
---
CIFF Guangzhou 2023:

Innovation solutions to

meet new global challenges

SHOW PREVIEW

For its next edition in March 2023, the Chinese International

Furniture Fair (CIFF) Guangzhou is developing new formats to

welcome all the players in the furniture industry, Chinese and

international, offering new solutions and business opportunities.

The 51st CIFF Guangzhou in 2023

will respond to the major changes

and new challenges at play in the

global furniture market by creating a

new business model to conceive and

manage an international furniture

exhibition.

This model aims to promote the value

of design, the synergy between the

domestic market and the continuing

growth of exports, and the integration

of offline and online promotion

to optimise and complement the

exhibition offering. These therefore

offer a fuller representation of the entire

furniture industry while supporting the

exhibitors' and visitors' needs.

CIFF Guangzhou 2023 takes place in

two phases, reorganised by product

sector in the new exhibition concept

and layout:

The first phase, between 18-21 Mar,

is dedicated to the living space. The

Home Furniture sector showcases the

latest home furnishing products from

Chinese and international companies.

There will be an area dedicated to

companies offering original equipment

manufacturer (OEM) / original design

manufacturer (ODM) services and

one-stop solutions required by

international buyers. The Homedecor

and Hometextile sector focuses on new

trends in interior decoration: furniture

accessories, lighting, paintings,

decorative elements, and artificial

flowers. The Outdoor Furniture,

Sunshade and Leisure sector focuses on

the presentation of outdoor furniture

such as tables, chairs, and awnings

for the garden, as well as leisure

equipment and decor.

The second phase, from 28-31 Mar,

features office and commercial space,

exhibiting workplace systems and

seating, trends and solutions in the

smart office as well as public, school,

and commercial environments,

and furniture for healthcare and for

meeting the needs of older people.

At the same time, CIFM/interzum

guangzhou 2023 is hosting Chinese

and international brands, presenting

technologies, machineries, materials,

surfaces, and components essential

Panels & Furniture Asia | January / February 2023 59
---
SHOW PREVIEW

for the development of the furniture

industry.

Under the heading 'Design trend, global

trade, entire supply chain', CIFF aims

to promote companies and products of

interest to both the domestic market

and increasing export demands,

organising a number of design

exhibitions, seminars, and conferences

that will enrich the fair with cultural

content, as well as B2B meetings and

matchmaking activities both at the

fair at Canton Fair Complex in Pazhou

island, and online.

Legend

1 Home furniture

2 CIFF Guangzhou

will be held in

conjunction with

CIFM/interzum

guangzhou

3 Physical business

matchmaking

opportunities in

CIFF 2023

The integration and synergy between

the traditionally physical trade fair event

and online activities can be observed

in '8+365', a project launched by CIFF

in 2022 that has reportedly enabled

hundreds of international buyers to

meet virtually with various Chinese

manufacturers, creating business

relationships that would otherwise

have been impossible during a period

characterised by the inability to travel

overseas and meet physically.

1

In 2023, '8+365' will be further

developed and enriched by meetings

and negotiations, finally held in person

over the eight days of the 51st CIFF

Guangzhou, and by a service that will

be available online 365 days a year for

buyers, importers and distributors,

e-commerce companies, and decision

makers such as designers and buying

groups from the international furniture

markets. Furthermore, according to the

organisers of CIFF, an online matching

platform is being launched on the

CIFF website that will receive specific

requests from international buyers.

These requests will be processed by

CIFF's export-oriented exhibitors,

thus creating business relationships

facilitated and supported by the

furniture trade fair.

2

There are thus expectations for the 51st

CIFF Guangzhou 2023 to find solutions

to new market trends, understanding

furniture trends, and seize business

opportunities globally. P

3

60 Panels & Furniture Asia | January / February 2023
---
SHOW PREVIEW

CIFM/interzum

guangzhou 2023

The China-based furniture tradeshow will continue its

focus on innovation, spotlighting upholstery accessories

with an upgraded exhibition space.

China International Woodworking

Machinery and Furniture Raw Materials

Fair (CIFM)/interzum guangzhou will

take place once again in Guangzhou,

China from 28-31 Mar 2023 at the

Canton Fair Complex in Pazhou island.

Originating from interzum Cologne,

interzum guangzhou entered the

Chinese market in 2004 and since

then has joined forces with the China

International Furniture Fair (CIFF).

As one of the few international

platforms integrating technologies and

applications in the furniture industry

in China, CIFM/interzum guangzhou

aims to bring together furniture

manufacturers with global influence

and the Chinese and Asian furniture

markets, providing exhibitors with more

exposure, attention, and cross-regional

opportunities. It also strives to be the

weathervane of the furniture industry,

attracting more than 1,000 participating

companies every year.

As the industry celebrates positive

signals for development following the

recent release of an action plan by

the Chinese government to promote

high-quality development of the home

furnishing market, the upcoming

edition will continue its focus on

presenting furniture production

technologies and applications to

provide new momentum for industry

growth.

EXHIBITING COMPANIES

According to Koelnmesse, the

organisers of CIFM/interzum guangzhou

2023 and various tradeshows across

the world, the exhibition will cover

330,000m 2 of space and feature over

1,100 exhibitors, including about 200

international companies. More than

140,000 trade visitors are expected to

walk the exhibition halls.

Product exhibits cover hardware

accessories and components, interior

decoration materials and accessories,

upholstered furniture production

machinery and accessories, wood

products and panels, adhesives, coatings

and other chemical raw materials as well

as woodworking furniture production

machinery, equipment and accessories.

Companies to exhibit at

CIFM/interzum guangzhou 2023

reportedly include, but are not

limited to: From the woodworking

Winners of

interzum

Guangzhou

Award - 20 PLUS

20 Outstanding

Furniture

Accessories

Annual List 2022

Panels & Furniture Asia | January / February 2023 61
---
SHOW PREVIEW

machinery and equipment sector:

Freud, Hiteco, HSD, Paolino Bacci,

SCM, and Wemhoener; from wood,

wood products and panels segment:

American Hardwood Export Council

(AHEC), American Softwoods,

Decospan, Kronospan, and Quebec

Wood Export Bureau (QWEB); and

from the decorative papers and décor

surfaces segment: Ahlstrom-Munksjö,

impress, Interprint, LamiGraf, LX

Hausys, Rehau, Schattdecor, and

Senosan.

Legend

1 Visitors can

expect decorative

paper and decor

surface products

2 CIFM/interzum

Guangzhou 2023

is expected to

extract over

140,000 trade

visitors

Other sectors include: From the

adhesives and chemical products

industry: HB Fuller, Henkel, IWG,

Kleiberit, and Simalfa; from the

hardware and components segment:

FGV, King Slide, Reggar, Repon, and

Sugatsune; from the upholstery and

bedding material sector: Coolist, and

Love Home Fabrics; and from the

upholstery and bedding machinery

and equipment segment: Adler,

DewertOkin, limoss, LINAK, and

Timotion.

1

ANTICIPATING MARKET DEMAND

Participants can expect an expanded

and upgraded range of upholstery

accessories zone in Hall 14.2, Zone C

of Canton Fair Complex for the new

edition of CIFM/interzum guangzhou to

accommodate more new technologies

and products.

According to statistics from iResearch,

the post-80s and 90s consumer

segments have become the backbone

of the furniture market. Their

demands for variety, customisation,

and environmental sustainability in

furniture have been emerging, thus

presenting new business opportunities,

pushing traditional furniture makers to

think outside the box, and integrating

technologies and applications from

abroad to enhance competitiveness —

which, in turn, drives the recovery of

the industry.

The Vitality of Sustainable Innovation

to Life (VSIL) Forum to be held during

the exhibition will also launch a session

2

on furniture upholstery accessories,

featuring regional and international

specialists and scholars to discuss

and share their industry insights,

alongside opinion thinkers for hot

topics such as material innovation,

product R&D, and cross-border

technical integration.

CELEBRATING OUTSTANDING

FURNITURE ACCESSORIES

Based on the interzum Award,

which aims to acknowledge the best

products of the international supplier

industry for furniture and interior

design, the interzum guangzhou

Award - 20 PLUS 20 Outstanding

Furniture Accessories Annual List is

the Asian equivalent, attracting the

participation of furniture accessories

enterprises at the exhibition every

year. The winning list aims to serve

as a source for guidance to shape the

industry's development.

The award, now open for nomination,

boasts a jury comprising Dick Spierenburg,

a designer and the creative director of

imm Cologne, as well as Dr Sascha Peters,

a material specialist and member of

the Red Dot product design jury panel.

Selections will be made based on the

innovativeness, sustainability, safety and

functionality of the nominated products. A

demarcated exhibition area will showcase

the winning products throughout the

entire exhibition period, and winning

companies will also be honoured during

the 2023 awards ceremony.

Online visitor pre-registration for the

exhibition is also now available. P

62 Panels & Furniture Asia | January / February 2023
---
EVENTS CALENDAR

Events Calendar 2023

2023

FEBRUARY, 22 – 25

Hawa Expo

Ho Chi Minh City, Vietnam

MARCH, 28 – 31

China International Furniture Fair (Phase 2)

Guangzhou, China

imm Cologne 2023

Cologne, Germany

JUNE, 04 – 07

MARCH, 01 – 04

Malaysia International Furniture Fair 2023

Kuala Lumpur, Malaysia

MARCH, 28 – 31

Interzum Guangzhou

Guangzhou, China

JUNE, 18 – 20

DelhiWood

New Delhi, India

MARCH, 02 – 05

MARCH, 07 – 09

Dubai WoodShow

Dubai, United Arab Emirates

Salone del Mobile

Milan, Italy

APRIL, 18 – 23

Malaysian Wood Expo

Kuala Lumpur, Malaysia

AUGUST, 24 – 27

Wood Taiwan

Taiwan

APRIL, 20 – 23

Korean International Furniture & Interior Fair

Seoul, South Korea

MARCH, 07 – 10

Export Furniture Exhibition

Kuala Lumpur, Malaysia

MARCH, 08 – 11

VIFA Expo

Ho Chi Minh City, Vietnam

MARCH, 18 – 21

Photo: Jonathan Bernard / Unsplash

China International Furniture Fair (Phase 1)

Guangzhou, China

interzum Cologne

Cologne, Germany

LIGNA

Hannover, Germany

MAY, 09 – 12

MAY, 15 – 19

Photo: Thomas Tucker / Unsplash

IFMAC & WOODMAC

Jakarta, Indonesia

SEPTEMBER, 20 – 23

SEPTEMBER, 20 – 23

VietnamWood

Ho Chi Minh City, Vietnam

OCTOBER, 04 – 06

126th NHLA Annual

Convention & Exhibit Showcase

Ohio, US

Panels & Furniture Asia | January / February 2023 63
---
INDEX OF ADVERTISERS

PANELS & FURNITURE ASIA • January / February 2023

COMPANY PAGE COMPANY PAGE

American Hardwood Export Council

OBC

Lensaya Industriya Journal 19

Baillie Lumber 9

Malaysian Wood Expo 1

CIFF

Forestry Innovation Investment Ltd.

FC

IFC

Nanxing Machinery Co., Ltd 2, 3

Northwest Hardwoods 5

IMEAS spa 64

Technik Associates, Inc

IBC

Interzum Guangzhou 43

Kuang Yung Machinery Co.,Ltd 11

Wood In Architecture 7

Yalian Machinery Co., Ltd. 15

ai161597024816_EN_PFA_IMEAS_202105.pdf 1 17/03/21 09:37

Scan to download eBook

PFA January/February 2023

The new EvoL sanding machines from Imeas are the result of more than 50

years of know-how and evolution and offer State-of-the-Art technologies

for sanding of wood-based panels such as MDF and ParticleBoard. EvoL

sanders feature Minimal Costs, Excellent Calibration, High Speed,

Flexibility, Superior Quality, and Full Automation.

C

M

Y

CM

MY

CY

CMY

K

IMEAS S.p.A. via Pacinotti, 36 - 20020 VILLA CORTESE (MI) ITALY | Tel. +39.0331.463011 | Fax +39.0331.432311 | imeas@imeas.it | www.imeas.it

64 Panels & Furniture Asia | January / February 2023
---
TECHNIK ASSOCIATES, INC.

HIPOINT ASSIST CREATING PARAGON FURNITURE

APPROVED/

E-CLASS

DET-2000-E6

DOUBLE END TENONER

H-CLASS

DET-26-3200H

DOUBLE END TENONER

L-CLASS

DET-1300-L12MS

DOUBLE SIDED PROFILE

MOULDING &

SANDING MACHINE

SD-550P

AUTOMATIC EDGE BANDING MACHINE FOR SOLID WOOD

最 大 厚 度 : 25 mm 厚

HIPOINT ASSIST CREATING PARAGON FURNITURE

TECHNIK ASSOCIATES, INC.

NO. 288-3, Sec. 1, Dafong Rd., Tantzu Dist., Taichung 42756, Taiwan

Tel.: +886-4-2568-85552534-9000 Fax: +886-4-2534-9160

http://www.hipoint.com.tw

E-mail: hipointmachinery@gmail.com / hptmac@gmail.com