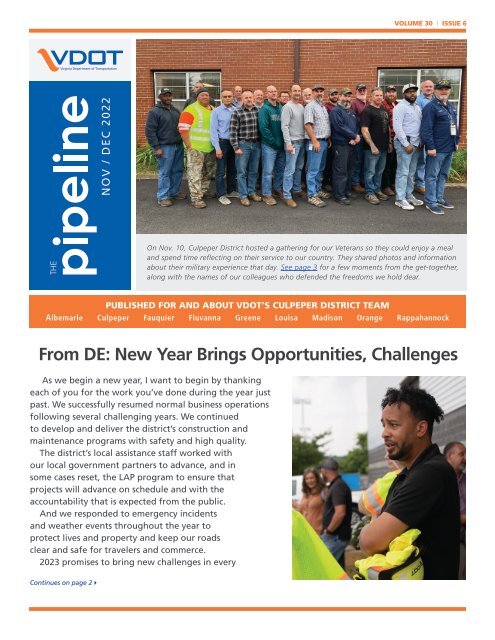 Culpeper - The Pipeline - Nov/Dec 2022
Create successful ePaper yourself
Turn your PDF publications into a flip-book with our unique Google optimized e-Paper software.
VOLUME 30 | ISSUE 6

NOV / DEC 2022

On Nov. 10, Culpeper District hosted a gathering for our Veterans so they could enjoy a meal

and spend time reflecting on their service to our country. They shared photos and information

about their military experience that day. See page 3 for a few moments from the get-together,

along with the names of our colleagues who defended the freedoms we hold dear.

PUBLISHED FOR AND ABOUT VDOT'S CULPEPER DISTRICT TEAM

Albemarle Culpeper Fauquier Fluvanna Greene Louisa Madison Orange Rappahannock

From DE: New Year Brings Opportunities, Challenges

As we begin a new year, I want to begin by thanking

each of you for the work you've done during the year just

past. We successfully resumed normal business operations

following several challenging years. We continued

to develop and deliver the district's construction and

maintenance programs with safety and high quality.

The district's local assistance staff worked with

our local government partners to advance, and in

some cases reset, the LAP program to ensure that

projects will advance on schedule and with the

accountability that is expected from the public.

And we responded to emergency incidents

and weather events throughout the year to

protect lives and property and keep our roads

clear and safe for travelers and commerce.

2023 promises to bring new challenges in every

Continues on page 2
---
PAGE 2 NOVEMBER/DECEMBER 2022

DE (continued)

aspect of our activities. A law enacted by the

General Assembly provided $87 million in

revenue from certain taxes and fees collected

within the district. That allocation provided

funding for 19 additional transportation

projects that are moving through preliminary

engineering. These long-awaited improvements

will provide great benefits, addressing safety

and mobility issues that have been requested

by communities, in some cases for years.

Some of these additional projects have been

expedited with accelerated schedules that will

ramp up during this coming year. We welcome

the opportunity to move these projects forward

more quickly, but we will need to maintain

unrelenting focus to ensure that we continue to

develop and deliver these projects with the high

level of safety, quality and accountability that

have always been hallmarks of our district's work.

These additional projects will require us

to utilize outside resources as well, including

design and construction firms in both traditional

design-bid-build and design-build projects. This

injects an additional level of complexity into

the process. The same is true of the locallyadministered

projects that several of our local

government partners have undertaken. I know

I can count on the district staff to continue to

work as willing partners with them, always

looking for constructive solutions to resolve issues

and solve problems while ensuring that we are

delivering our program on time and on budget

with safety, accountability and high quality.

Last year the district's Traffic Operations

section stood up and made immediate

technical improvements to our devices and

infrastructure. That work will continue this

year with additional signals brought online

with broadband connections that will enable

remote monitoring and adjustments to improve

traffic flow during normal operations as well as

managing traffic during emergency incidents.

Our field crews continue to perform their

jobs, day in and day out, no matter the weather,

to keep people and commerce moving. Their

dedicated work is critical to the district's success.

Finally, in this new year we will all be looking

toward the district's future with an emphasis

on strategic planning. Culpeper is known as

a high-performing district and our leadership

team is respected across the state for their

knowledge and experience and their willingness

to lend that expertise to help solve problems,

be they statewide or smaller in scope.

Continues on page 9

District Publishes 2022

Transportation Update

The district's annual publication, Transportation Update,

reports overall performance during the fiscal year as well as

an overview of the current, recently completed and proposed

projects. Produced by the district's Office of Communications,

the publication serves as a reference guide for state

legislators and local officials. Read the 2022 Transportation

Update on DOTi or by selecting the graphic at right.

2022 Culpeper District

Transportation Update
---
NOVEMBER/DECEMBER 2022 PAGE 3

Military Veterans Honored at District Event

Cecil Glenn Banks, West Culpeper AHQ

Peter Brennan, Charlottesville Residency Construction

John J. Brunette, District Equipment Administration

Jim Call, District Environmental

Corey Clinton, District Information Technology

Michael T. Eutsler, District Traffic Operations

Scott Garrett, District Traffic Operations

Joel Gooch, District Business Support

Willie Gordon, Jr., Louisa Residency Administration

Brandon Griffin, Traffic Engineering

Richard Jones, Warrenton Equipment Shop

Patrick Longerbeam, District Engineering

John Mayhew, Palmyra AHQ

Justin Maciejewski, Boyd Tavern AHQ

Wes Mason, District Maintenance

Mike McDaniel, District Equipment Administration

Ed San Nicholas, Charlottesville Residency Administration

Russell Sawyers, Warrenton Residency Administration

Greg Settle, Louisa Residency Administration

Mark Simmons, Keene AHQ

Michael Sprouse, Charlottesville Residency Administration

For more information on those who served, please visit VDOT HONORS ALL WHO SERVED.

See more photos from the district's Veteran's Day event on page 9.
---
PAGE 4 NOVEMBER/DECEMBER 2022

VDOTer Designs Guardrail App:

Clever Idea Saves Time in the Field

When John Mayhew is not supervising

the daily workload for the Palmyra

Area Headquarters, he is working on

innovative technology. "I enjoy looking

for ways to make the work that we do

here more efficient, safe, and more

streamlined."

The 43-year-old began his career

with the Virginia Department of

Transportation about five and a half

years ago, "When I first came here as an

operator, using technology in the field

was non-existent. The supervisors or the

superintendents that had state phones,

they may use them to take a picture

of something to record, an accident or

something like that, but using any apps to record

their work, that was pretty much non-existent."

Then, in 2020, VODT launched a Tech Fluency

pilot program to include eight proposed locations

across Virginia. Information Technology Manager

Corey Clinton says "Palmyra was nominated

as a pilot site for the Culpeper District, mostly

because of John Mayhew. He was seen as an area

headquarters champion and an innovative lead

among his peers."

The district passed out Surface Pros and iPads

to crews at Palmyra AHQ, and let them loose.

Mayhew flashes a quick smile as he remembers

the challenge, "They didn't know, they just said,

here's these devices. Use them and come up with

any idea you can think of. That was what I was

told directly. Anything you can think of. Try it and

see what you can do with these things."

Mayhew took it to heart and let his mind

wander, "there was quite a few ideas I had like

creating a digital log book for our trucks or using

thermal imaging to help us locate pipes. I was just

trying to figure out a way to make my life — and

everyone else's — easier."

The supervisor hit it out of the park when he

thought about the cumbersome job of recording

guardrail damage. "You had to go out to the

scene, you had to collect data, fill out some paper

forms, get your pictures, come back to the office,

upload your pictures, scan your document and

then send off the email, and it just seemed a little

time-consuming."

Mayhew then reached out to a tech savvy

friend at Central Office who guided him through

the Power Apps Program. VDOT offers it to

employees for just this purpose. Mayhew used

it to build the guardrail app which would allow

crews to take pictures of damage, and document

it from the field.

Just like that, no more traveling back to the

office. Crews no longer needed that desktop

computer to upload, scan, and email. The app is

saving valuable time, "I'm glad that it's helping

other people, or it's making other peoples' jobs

easier." Mayhew added.

His brain child even got an upgrade over the

Continues on page 6
---
NOVEMBER/DECEMBER 2022 PAGE 5

No Hassle Snow Days: Dennis Nicholson Retires

After 37 years with the Virginia Department of

Transportation, Bridge Engineer, Dennis Nicholson is

ready to sit back and relax, with a "snow day" view

he hasn't experienced for more than three decades,

"I'm going to have me a cup of coffee, and I'm going

to say, man that's beautiful, for the first time."

In mid-November, 2022, his team threw a

retirement party, with a big spread, and several

fond farewells, "I loved it, and I loved the people

that came, Teresa Gothard, Glenn Mcaninch, they've

been wonderful to work for, and I'm going to miss

them, but I'm not going to miss the hassle."

Nicholson knows the "snow hassle" all too well.

"When you get on a lot of these back roads, and

you've got a foot of snow, you don't know where

you're going, you have to be real alert. I've done

it for so long, I got tired of it. I've been doing

snow every winter and I've been all over the

district. We used to do it in Orange, then in the

last 10 years, I've been doing it on (U.S.) 29, which

is not too bad."

Even though Nicholson won't be following

work orders from VDOT, Nicholson points across

the room to his wife, Savilla Nicholson, who is the

Culpeper District Fuel Coordinator and says, "I got a

honey "do" list now, and then my wife's going to

retire next year. So I'm going to wait for her, and

we're going to do a little traveling. My mom lives

next door, I'll do some stuff for her, watch the

snow and just enjoy myself."
---
PAGE 6 NOVEMBER/DECEMBER 2022

Guardrail (continued)

holiday for crews who find themselves in areas

without cell service. Now they can document their

work, leave the app open, and record the guardrail

damage when they get to an area with service.

Infrastructure Manager, Travis Estes, says "Greatly

appreciate John Mayhew continuing to be the

technical expert behind the app. He worked directly

with Central Office IT to make these improvements

happen and has done all the testing to get us to

where we are now. I can simply say, we wouldn't be

where we are without him."

Mayhew said, "I'm thankful for people like Travis

Estes letting me bring that to him. Basically he

had the ultimate say whether or not it would be

used, and he said okay. Corey has been super about

providing me the necessary means for me to pursue

whatever crazy idea I might have."

The birth of the guardrail app is nothing

compared to another new beginning in Mayhew's

life. He and his wife Stephanie just welcomed their

first child, Julie, on November 30, 2022.

Mayhew says it's definitely an exciting time in his

life, and as far as future ideas go, "I'm here for the ride and as long as they want to keep letting me try

new and different things, then I'll just keep coming up with new and different things to try."

This app, developed

by Palmyra AHQ's

John Mayhew,

allows VDOT crews

to quickly document

and report guardrail

damage while

in the field.
---
NOVEMBER/DECEMBER 2022 PAGE 7

Compliments on Job Well Done

Diverging Diamond Project

"Albemarle County Board Supervisor

Gallaway and County Executive Jeff Richardson

expressed appreciation and amazement of

the management of the work considering the

complexity of the project and the volume of

traffic traveling through this intersection. They

both said the construction was going as well

as one could hope and the crew is doing an

excellent job keeping traffic moving through

the intersection while making progress on the

project."

— Comment shared by Charlottesville

RE Carrie Shepheard after a Board of

Supervisors meeting

Stanardsville AHQ

"We drive past the work being done on U.S. 33

East in Ruckersville twice a day (at the very least).

Whenever we drive by in the morning, my two

year old says 'hi' to all the trucks and workers,

says 'see you later,' and then blows kisses. On

our way home, she waves to them all again and

says 'night, night,' and blows kisses. Just wanted

to share because she really likes seeing all the

trucks and saying hi and goodnight to all of

them."

— Elizabeth Smith

"Awesome Job"

— Frank Coffman

"Thank you to the crew that came out to

remove the tree off the road. After a morning

phone call, the crew was out there within two

hours and that deserves a big thanks."

— Dianna Anderson

Gordonsville AHQ

"I want to say thank you to Anthony Ryder

and his team for the work they did on Montford

Road — the dirt/gravel portion. The leaf

collection was especially appreciated, as well as

the grading and work on the ditch beyond the

curve at the bottom of the hill. This is greatly

appreciated. Thanks!"

— Steve Holmes

"We just want to compliment the people

that cleaned up the intersection of Hardwick

Mountain and Tibbstown Road. It really looks

great! Thank you also for removing the roped

off area and downed tree that in in the island

between Route 20 and Tibbstown Road. We also

appreciate you cutting back the overgrowth on

the corner of Hardwick Mountain and Tibbstown

Road. This is a blind area and it has made the

access to Hardwick Mountain from Tibbstown

Road much easier. We greatly appreciate all of

your work in this area. Thank you again for a

fantastic job."

— Thomas Welch

"Thanks very much for your quick response

to a dangerous situation on Route 20 near

Somerset, Virginia. We drove back down Route

20 on our way home and noticed that the large

patch of ice was removed and salt was applied to

the area. We were impressed with VDOT taking

care of that danger so quickly! Thanks again!"

— Pam Norem, Somerset, VA

Continues on page 8
---
PAGE 8 NOVEMBER/DECEMBER 2022

Compliments (continued)

Boyd Tavern AHQ and

Free Union AHQ

Albemarle County Supervisor, Diantha McKeel,

passed on this compliment:

"It is glad tidings I share this night on Lambs

Road because today VDOT removed all of the

downed trees, cut lumber and brush from the

last bad storm we had. It is now safe again for

schoolbuses, cars, walkers, bikers, runners, mail/

package/food delivery vehicles, and puppy dogs

on Lambs Road!

"Thanks to hard-working VDOT and all who

made this happen."

— B. Bivins, a grateful constituent on Lambs

Road

Yancey Mill AHQ

"Thank you to Kevin and the crew who did

clean-up of all the limbs and debris along

Rockfish Gap Turnpike."

— Greenwood, VA

Zion Crossroads AHQ

"Thanks to Chris and his crew for a superb

job removing the tree and cleaning up the area

on Rock Quarry Road in Louisa County. Chris

Martin was very courteous and accommodating.

His manners were off the hook. He is a valuable

worker."

— Anonymous Citizen

Boyd Tavern AHQ

"Thanks for re-grading the road in front of our

home."

— Richard Vanderslice

Madison AHQ

"The team that maintains gravel roads are

excellent, hardworking and much appreciated.

VDOT workers are doing a great job. We

really appreciate them and commend their

work. Thank them and you all for your efforts

throughout the year."

— Stuart Mackintosh, Sperryville, VA

"Thank you for filling the pothole quickly on

Ridgeview Road in Reva with this report. The

spot looks great and rides great!"

— Lynn Henshaw
---
NOVEMBER/DECEMBER 2022 PAGE 9

DE (continued)

The district's challenge is to maintain our

current level of performance in the future

as agency directives change, technology

evolves, work priorities shift and individuals

move on from their current positions.

Succession planning is part of this but the

challenge goes well beyond people.

To address these challenges the district has

developed a strategic plan to guide us over the

next five years. Culpeper District's NExT (New

Experiences in Transportation) initiative will

provide the framework for the district's evolution

while identifying constraints and opportunities

to always improve our people and our services.

This is an opportunity for us to document

our processes and identify efficiencies. It will

involve developing strategies for recruitment

and retention while implementing a model

workforce that is composed of full-time

employees and consultants. We will define

clear measurable goals for performance

management in all areas to drive performance.

In all our work, no matter whether your job

takes you into the field or inside an office,

the most important duty we all have is to

safety -- for ourselves, our VDOT colleagues

and to everyone who uses our roads. I ask

each of you to recommit, every day, to

making safety your top priority. With that

commitment we can truly live the district's

safety message: "Safety takes no days off."

I wish each of you good health and

happiness, and I look forward to continuing

our work in the New Year.

Sean Nelson

District Engineer

Military (continued)
---
PAGE 10 NOVEMBER/DECEMBER 2022

New RMS Coming Soon

The Commonwealth of Virginia will be transitioning to

PageUp, a new recruitment management system (RMS)

on Jan. 24. Jobs that applicants apply to through Jan. 23

will continue to be processed in the current system. After

that date, applicants will need to complete a profile in

PageUp to apply for positions. If you need information

from applications and resumes in the current system,

login to jobs.virginia.gov and download copies before

Jan. 22.

Just Sayn' Spot Recognition Program

Did you think that was just a card you got? It's not —

it's a premium item! Go to the website listed on the card,

enter the code, browse the catalog, select your item, and

check out! Contact Susan Good, 540-829-7529 if you need

assistance. This VDOT program is a tool to be used by

supervisors to provide timely recognition for employees

who go above and beyond, consistently embody and

practice VDOT's core values and competencies, and/or

have made a specific positive impact or contribution to

the agency. And, remember, Human Resources always has

a selection of items on hand for your use in recognizing

your awesome staff!

New Leave Accrual Rate for Veterans

A new calculation to the annual leave accrual rates for

employees who are military veterans, active-duty military,

National Guard or Reserves takes effect with the new

leave year, Jan. 10. Visit the Human Resources page on

DOTi, or contact Susan Good at 540-829-7529 if you have

questions.

Check Your Address

W2s are mailed to the home address recorded in

Cardinal. Log in now and make any needed changes. A

current address on file isn't just important at "tax time."

Throughout the year documents are mailed using that

address. Employment documents, leave documents,

health insurance documents, VRS documents, mileage

calculations — all use this address. Make sure someone

else doesn't receive your information — keep your

address up to date to keep your information safe!

BENEFITS CONTACTS

Anthem Member Services

Medical, prescription drug, optional vision/hearing

1-800-552-2682

www.anthem.com/cova

Flexible spending accounts (FSA)

1-877-451-7244

www.benefitadminsolutions.com/anthem

Employee Assistance Program

1-855-223-9277

www.anthemeap.com

COVA HealthAware (Aetna)

Medical, dental, EAP, prescription drug, vision, hearing

1-855-414-1901

www.covahealthaware.com

Kaiser Permanente

Medical insurance

1-800-777-7902

www.kp.org/mida/commonwealthofvirginia

Delta Dental

Dental insurance

1-888-335-8296

www.deltadentalva.com

Securian Group & Optional Life Insurance

Group and optional life insurance

1-800-441-2258

www.varetire.org/members/benefits/life-insurance/

index.asp

ReedGroup

Disability insurance

1-877-928-7021

www.varetire.org/members/disability/vsdp/index.asp

reedgroup.com/vrs/vrs-employee-virginia-sicknessdisability-program/

MC Innovations (MCI)

Workers' Compensation Administrator

1-804-649-2288

www.covwc.com

MissionSquare Retirement (formerly ICMA-RC)

Defined compensation plans

1-877-327-5261

www.varetire.org/members/Benefits/definedcontribution/index.asp

Virginia Retirement System (VRS)

State retirement benefits

1-888-VARETIR (1-888-827-3847)

www.varetire.org