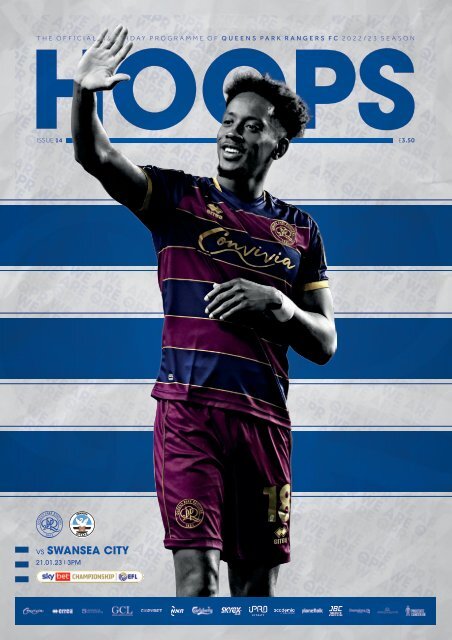 Queens Park Rangers v Swansea City
Hoops | Official Matchday Programme of Queens Park Rangers | Issue 14 Queens Park Rangers v Swansea City | Sky Bet Championship Saturday 21st January, 2023 | KO 3pm | Loftus Road
Hoops | Official Matchday Programme of Queens Park Rangers | Issue 14
Queens Park Rangers v Swansea City | Sky Bet Championship
Saturday 21st January, 2023 | KO 3pm | Loftus Road
SHOW MORE
SHOW LESS
You also want an ePaper? Increase the reach of your titles
YUMPU automatically turns print PDFs into web optimized ePapers that Google loves.
THE OFFICIAL MATCHDAY PROGRAMME OF QUEENS PARK RANGERS FC 2022/23 SEASON

ISSUE 14 £3.50

vs SWANSEA CITY

21.01.23 | 3PM
---
#QPRSWA

@QPR on Twitter

Contents

hoops

CLUB DIRECTORY

Queens Park Rangers FC

QPR Holdings Ltd, Loftus Road,

South Africa Road, London, W12 7PJ

Main Switchboard: 020 8743 0262

Commercial Sales: 020 8740 2560

Superstore: 020 8749 6862

Direct Mail Order Line: 0870 240 4547

Community Trust: 020 8740 2509

Official Website: www.qpr.co.uk

STAFF

QPR FC/QPR Holdings Ltd Chairman:

Amit Bhatia

QPR Holdings Ltd Vice-Chairmen:

Tony Fernandes, Ruben Gnanalingam

Board members:

Tony Fernandes, Ruben Gnanalingam,

Amit Bhatia, Richard Reilly

CEO: Lee Hoos

Financial Director: Ruban Ghandi

Director of Football: Les Ferdinand

Head Coach: Neil Critchley

Club Ambassador: Andy Sinton

Club Historian: Chris Guy

OFFICIAL TWITTER

Queens Park Rangers @QPR

QPR+ Pass @QPRPlusPass

QPR in the Community Trust

@QPRtrust

QPR Women @QPRWFC

PROGRAMME

Editor:

Ben Kosky

Contributors:

Tony Incenzo, Simon Cheshire,

Lennie Harvey

Designed by:

Thomas Ridge

This programme was produced on

behalf of Queens Park Rangers by

Ignition Sports Media.

04 14

25 48

04 HEAD COACH

Words from Neil Critchley

34 MAGIC MOMENT

Point seals Rangers' promotion

www.ignitionsportsmedia.com

Printed by: Stephens & George Print Group

The views of this publication are not necessarily the

views of Queens Park Rangers Football Club. Material

in this publication is copyrighted and may only be

reproduced with written permission of Queens Park

Rangers Football Club. All information correct at

time of print.

If you have any safeguarding concerns,

please contact us via our dedicated

email address: safeguard@qpr.co.uk

09 NEWS + MESSAGES

All the latest from W12

14 THE BIG READ

Interview with Jamal Lowe

22 ANDY SINTON

Our ex-winger pens his column

25 VISITING W12

A look at our opposition

36 THIRTY YEARS ON

Danny Maddix recalls 1992/93

48 ONE OF 'R' OWN

Focusing on our U18s

50 JUNIOR HOOPS

Test your knowledge

62 FIXTURES & RESULTS

Stay updated this season

OFFICIALQPRFC // @OFFICIALQPR // @QPR // WWW.QPR.CO.UK

3
---
hoops

OUR HEAD COACH SETS THE

SCENE FOR TODAY'S GAME...

Last time we played here at Loftus Road, we

showed what we're capable of and I think our

supporters appreciated the performance.

We were one kick of the ball away from beating

one of the best teams in the league and that's the

bar we've set – our task now as a team is to match

and hopefully exceed it. We need to start giving

our supporters more goals and points at home

and we know we'll have to play well to achieve

those against Swansea City this afternoon. The

stats tell you what type of team Swansea are – the

best possession team in the Championship. So

we're going to face players that are very good

on the ball and can cause problems, potentially

different problems to a lot of teams in this division.

What we're striving for is high levels of consistency

and concentration for 90 minutes. You could say

our 2-2 draw at Reading last weekend was the

classic game of two halves. Coming out at 2-0

down, our response was excellent – we showed

character and spirit in the second half to fight back

against a team that are hard to beat at home and

don't concede many goals. On the balance of play

and chances, it was a fully deserved point.

At the same time, we can't afford to give ourselves

mountains to climb. By conceding two goals,

you're always chasing the game and in this division

that's not an easy position to be in. We have to

learn from some of the basic fundamentals we got

wrong, create the right habits on the training pitch

and look for that to breed into consistency when

we're going into games.

It was a big boost for Tyler Roberts to score both

of our goals at Reading – and I actually preferred

the second one! Those are a proper forward's

goals, the kind that you've got to be in the six-yard

box to score. We've been saying we want our

attacking players to get into the box more often

4 WWW.QPR.CO.UK // @QPR // @OFFICIALQPR // OFFICIALQPRFC
---
hoops

OFFICIALQPRFC // @OFFICIALQPR // @QPR // WWW.QPR.CO.UK

5
---
hoops

errea.com

We stand for Clean sport.

Even for your skin.

Sport is the most beautiful thing in the world, and nothing must be allowed to pollute that beauty. That is why, besides developing

increasingly high-performance materials that have a low impact on the environment, we at Erreà are the first teamwear company in

Europe to have been awarded STANDARD 100 by OEKO-TEX ® certification. This certification sets extremely strict limits for

substances harmful to health, which is why our fabrics are highly safe in all conditions. With Erreà, sport and health run side by side.

6 WWW.QPR.CO.UK // @QPR // @OFFICIALQPR // OFFICIALQPRFC
---
hoops

and the good thing was there were another two

or three players inside the area who could have

scored if Tyler hadn't. It's been stop-start for him

in terms of injuries and so on but, if we can keep

building his fitness, you'll see more of that from

him in the second half of the season. He worked

his socks off, there was nothing left in the tank at

the end of the game and that's the level of work

that's required if you're going to win games.

I was delighted with Jamal Lowe's contribution

when he came on. First and foremost, he's a

really good guy and he's fitted into the group

straight away, but he also brings a calmness to

our attacking play in the final third. He's a good

decision-maker and he'll assist and score more

goals, I've no doubt about that. Our challenge is to

make sure we manage his match minutes because

he's not had a lot of football lately. But we've got

19 games to go and we'll try to make sure he's fit

and available for all of those.

Also, I'd like to wish Mide Shodipo good luck after

moving to Lincoln on loan. Mide's a good guy and

he was brilliant to work with in my first month

here. At the moment, however, I can't guarantee

him regular game time and he's at a stage in his

career where he needs to be playing every week. I

genuinely hope he gets that at Lincoln and there

are one or two more we hope may be able to go

out on loan before the end of the month.

Thank you for all your support.

OFFICIALQPRFC // @OFFICIALQPR // @QPR // WWW.QPR.CO.UK

7
---
#ANDYSMANCLUB

hoops

ALL OUR GROUPS

MEET MONDAY 7PM

SUICIDE IS THE BIGGEST

KILLER OF MEN UNDER 45

1 MAN EVERY 2 HOURS

TO FIND YOUR NEAREST

GROUP VISIT OUR WEBSITE

WWW.ANDYSMANCLUB.CO.UK

JOIN THE CONVERSATION

info@andysmanclub.co.uk

andysmanclub

WWW.ANDYSMANCLUB.CO.UK

andysmanclubuk

@andysmanclubuk

We are a peer to peer support group for men.

Come have a brew and a chat!

#ITSOKAYTOTALK

8 WWW.QPR.CO.UK // @QPR // @OFFICIALQPR // OFFICIALQPRFC
---
hoops

PAUL

Congratulations to QPR fan

Paul Moorcroft, whose dancing

skills raised over £2,000 for

Zoe's Place Baby Hospice in the

West Midlands.

Paul took part in Strictly

Christmas 2022 – an annual

charity event staged along

similar lines to the BBC TV show,

where amateur dancers are

teamed with professionals.

Well done Paul – and we love

the tan!

Fellow R's supporters who would

like to donate can go to www.

zoes-place.co.uk

WILLIAM

Happy seventh birthday to

QPR fan William Segers,

attending his first game

today. Let's make it a win!

Lots of love from Granny

and Grandad xx

GEORGE

Happy 15th birthday to

Loft Upper season ticket

holder George Sharp.

Mum and Dad are very

proud of you! Have a

great day x

HARRY

Hoopy birthday to Harry

Elliott, from mum, Brenda

and Paul and everyone in

the Loft Upper xxxxx

KYRAN

Best wishes to Kyran

Ashby-Ryall on his sixth

birthday, from all his

family, friends and Kath

and Mervyn in Wales

KIAN

Wishing Kian Smith a

happy 19th birthday! Kian

has been a season ticket

holder and Tiger Cubs

player for many years.

From Dad, Mum and Keira.

OFFICIALQPRFC // @OFFICIALQPR // @QPR // WWW.QPR.CO.UK

9
---
hoops

FRED

Congratulations to Fred

Felce, who turns 84 today.

Fred, a lifelong Rangers

supporter, has passed on

his love for the club

through another two

generations of the family!

Happy birthday to an

amazing dad and grandad,

have a great day. Love

Graham, Rachel & Jack.

ELLA

Happy 10th birthday

to Junior Hoop Ella

Jenkins, love from Mum,

Dad and Twitch.

FRANKIE

Happy 18th birthday to

season ticket holder

Frankie Reilly, with lots of

love from all your family

and friends (especially

those in Block HU in the

Loft Upper).

BOB, REBECCA

& ROB

It's a triple celebration

today for the Pratt family,

with Bob marking his 70th

birthday and twins

Rebecca and Rob turning

40! Lots of love from all

the family.

EDWARD

A big QPR welcome to

Edward Adcock. Edward is

attending his first ever

live football match today

at Loftus Road, with dad

Nick and big brother Tom.

Hope you enjoy the

game, Edward – and we

hope to see you again!

MORGAN

A shout out to Morgan

Orsmond, who will be

watching the Superhoops

for the first time this

afternoon. Grandad in

heaven would be very

proud. Love from all the

Ozzies xxx

10 WWW.QPR.CO.UK // @QPR // @OFFICIALQPR // OFFICIALQPRFC
---
DOMINIC

Happy 16th birthday to

Dominic Easton, in the

Loft Upper today. Dom

always supports the

Hoops, home and away.

Come on You R's! With

love from all the family.

MATTHEW

Congratulations to

long-time season ticket

holder Matthew Hindmarsh

on his retirement.

KIPPER RYAN &

CHRIS RYAN

RIP Kipper Ryan and Chris

Ryan, always in our hearts.

Love Julia and family xx

BRIAN ROWE RIP

QPR were greatly

saddened to learn of the

recent passing of Brian

Rowe at the age of 88.

Brian, a lifelong Rangers

supporter, was the club's

sales and marketing

director between 1987

and 2002.

He attended the first QPR

game when football

resumed after the Second

World War and maintained

his enthusiasm and

passion for the club

throughout his life.

Our deepest

condolences go to the

Rowe family.

SCOTT DAVIES

Scott Terence Davies

(1972-2022).

'Time passes by but

memories stay, you are

loved and missed every day'.

hoops

TODAY'S MASCOTS

LILY

KENNEDY

Age: 11

Favourite player:

Sam Field

RONNIE

WESTON

Age: 3

Favourite player:

Lyndon Dykes

NOAH

SIMS

Age: 7

Favourite player:

Ilias Chair

THOM

WILLIAMS

Age: 9

Favourite player:

Seny Dieng

OLIVER

DAVIS

Age: 9

Favourite player:

Lyndon Dykes

JUDE

DAVIS

Age: 5

Favourite player:

Ilias Chair

RILEY

PATRICK

Age: 11

Favourite player:

Ilias Chair

ARCHIE

PLEDGE

Age: 9

Favourite player:

Ilias Chair

CARMELO

ALEXANDER

Age: 9

Favourite player:

Ilias Chair

OFFICIALQPRFC // @OFFICIALQPR // @QPR // WWW.QPR.CO.UK

11
---
hoops

| SKY BET CHAMPIONSHIP | SATURDAY 14 JANUARY 2023

READING

2

QPR

SELECT CAR LEASING STADIUM | ATT: 14,186 | HT SCORE: 2-0 | REFEREE: DARREN BOND

TYLER Roberts grabbed a

second-half double as Rangers

fought back to retrieve a 2-0

deficit and secure a welldeserved

point at Reading.

The R's fell behind when Jeff

Hendrick drilled a low 25-yard

drive in off the post and the

former QPR loanee made it 2-0

just before half-time, tapping

home after Seny Dieng had

parried Andy Yiadom's effort.

But Roberts reduced the deficit

midway through the second half

with a deft turn and finish after

Jamal Lowe – who had only just

come off the bench for his QPR

debut – set him up.

Lyndon Dykes was unlucky not to

level soon afterwards when his

volley was kept out by another

ex-Ranger, Joe Lumley.

However, the R's continued to

press for an equaliser and gained

their reward with 10 minutes

left as Ethan Laird's attempt

was saved and rebounded for

Roberts to head across the line.

12 WWW.QPR.CO.UK // @QPR // @OFFICIALQPR // OFFICIALQPRFC
---
hoops

how we

lined up

1 Dieng

27 Laird

4 Dickie

3 Dunne

22 Paal

47 Iroegbunam

Dozzell 90+4'

15 Field

11 Roberts ""

Richards 86'

10 Chair

7 Willock

Lowe 64'

9 Dykes

Unused Subs:

2 Kakay

5 Clarke-Salter

13 Archer

37 Adomah

THE STATS

Possession:

REA: 37%

QPR: 63%

Shots/Shots on target:

REA: 10/3

QPR: 17/4

Corners:

REA: 5

QPR: 7

Fouls:

REA: 11

QPR: 9

Scan me to view the

match highlights

OFFICIALQPRFC // @OFFICIALQPR // @QPR // WWW.QPR.CO.UK

13
---
hoops

14 WWW.QPR.CO.UK // @QPR // @OFFICIALQPR // OFFICIALQPRFC
---
hoops

Looking to

INTERVIEW: BEN KOSKY

PROVE A

POINT

AS A YOUNGSTER, JAMAL LOWE

LEFT QPR TO PURSUE HIS FOOTBALL

CAREER ELSEWHERE – BUT THE 28-YEAR-

OLD FORWARD HAS COME FULL CIRCLE

AFTER SIGNING ON LOAN FROM

BOURNEMOUTH. LOWE REFLECTS ON

HIS RANGERS DEBUT, TODAY'S

OPPONENTS SWANSEA AND SOME

ITEMS ON HIS BUCKET LIST…

>

OFFICIALQPRFC // @OFFICIALQPR // @QPR // WWW.QPR.CO.UK

15
---
hoops

Jamal, you certainly made an immediate

impact on your QPR debut at Reading – how

did you enjoy that half-hour run-out?

It went pretty well. Coming on at 2-0 down,

you're just trying to affect it somehow. I'd have

liked to score a goal but I managed to get an

assist for Tyler Roberts, hopefully that changed

the momentum a little bit and we managed to

get the equaliser. Obviously there was pride

in bringing it back, but we still had chances to

make it 3-2, so there was also a feeling that we

could have come out of there with three points.

Having left the club at 14, did you think you'd

ever get an opportunity to play for QPR at

first-team level?

Honestly, no! But I'm buzzing to be able to do it

now. QPR was my local club when I was growing

up and I'm really looking forward to playing in a

home game now.

Earlier this season, you made your Premier

League debut for Bournemouth – presumably

it means even more when you've done it the

hard way, spending several years in nonleague

football…

Making my Prem debut was like a dream come

true, something that you dream about both as

a kid and an adult. It's something that hadn't

looked very likely at one stage in my career

– at times it wasn't looking promising that I'd

get another League Two game, let alone in

the Premier League or Championship. To be

able to say I've played in the Premier League is

something I'm proud of and I'll always cherish,

but I'm still pushing to hopefully make many

more appearances at the top level. I'm humbled

and grateful for every opportunity and I'll try

and grasp every chance I get.

16 WWW.QPR.CO.UK // @QPR // @OFFICIALQPR // OFFICIALQPRFC
---
hoops

Today's opponents, Swansea City, were part

of that journey. How do you feel that 20/21

season under Steve Cooper improved you as

a player?

It was a good season and a big learning

experience. It was the first time I'd played

up front in a very long while, so that meant

adapting to a new position and a new style of

play on top of moving to a different country

quite far away from my family. I managed to

score a decent amount of goals and we got to

the play-off final – it just wasn't meant to be in

the end but definitely a season I'm proud of.

Do you prefer playing that role up front or

are you more comfortable out wide?

Over the years I've got comfortable in numerous

positions, so it doesn't faze me too much when

people ask what my favourite one is! Honestly,

anywhere that I'm on the pitch in an attacking

role is my favourite position – it doesn't matter

whether I'm left, right, a 10 or a nine. As long as

I'm in one of those four, I'm happy.

During that season with Swansea, you scored

in this fixture – a 2-0 away win at Loftus Road.

What do you remember about the goal?

There were no fans there because we were still

behind closed doors, so it was a strange one. I

remember QPR were on the attack and I got a

through ball from about the halfway line, went

one against one with the goalie and managed

to slot it in. Hopefully there'll be another one

today, with the fans cheering this time!

Despite losing in the play-off final that season,

you've also experienced Wembley success

with Portsmouth in the past. A third trip to the

national stadium in May might be nice…

That is definitely the aim, that's where we all

want to be! I want another trip to Wembley

and another successful one, 100 per cent.

People always say it's the best way, the most

rewarding and exciting way to go up, through

the play-offs. Last season at Bournemouth,

we did have a trophy but you don't get the

euphoria of the presentation, lifting it in front

OFFICIALQPRFC // @OFFICIALQPR // @QPR // WWW.QPR.CO.UK

17
---
hoops

of the fans. At the end of the day, it's a final and

you get that big stage with the fans all there

– that's what you want and it'd be amazing to

experience it.

Having featured in Jamaica's World Cup

qualifying games during the last couple of

years, do you also have one eye on trying to

reach the next finals in 2026?

Obviously that's a massive target of mine, to

play in the World Cup. Potentially the fact that

the next one is in the USA, Canada and Mexico

combined helps us in the qualifying process,

because those are normally the three teams

that dominate and they'd be automatically in

now. As well as that, we've got a talented squad,

with a lot of experience but a lot of young

players as well and hopefully we can gel it all

together and make something happen. Paul Hall

was coaching the team, so I've worked with him

a lot and hopefully we can get to the World Cup

together, that'd be amazing.

Even further down the line, having worked as a

PE teacher when you were playing part-time –

do you fancy going into coaching one day?

You've always got to have a plan, haven't you?

It's definitely an option. I'd like to maybe study

something else and then see what my options are

at the end of my career. I've got a few coaching

qualifications and a few years of experience

already – and I would say I've got a certain amount

of passion for it. I wouldn't say being a PE teacher

was my dream job because I was trying to become

a professional footballer, but when – for instance –

you get the shyest kid or one with less confidence

to come out of their shell and get more involved,

that's quite rewarding.

18 WWW.QPR.CO.UK // @QPR // @OFFICIALQPR // OFFICIALQPRFC
---
hoops

OFFICIALQPRFC // @OFFICIALQPR // @QPR // WWW.QPR.CO.UK

19
---
hoops

STAND WITH US AND HELP THEM...

/STAY

Charity Reg No: 1110621 & Scot SC044347

20 WWW.QPR.CO.UK // @QPR // @OFFICIALQPR // OFFICIALQPRFC
---
hoops

RODNEY MARSH'S KEENLY-ANTICIPATED RETURN FROM INJURY

PROMPTED SOMETHING OF A RARITY IN NOVEMBER 1967 – THE

PRODUCTION OF A MATCH PROGRAMME FOR A RESERVE MATCH.

Marsh, one of the heroes

of QPR's Division Three

Championship and League

Cup double the previous

season, missed the start of

the 1967/68 campaign after

breaking a bone in his foot

during pre-season.

The talismanic Rangers

frontman was sidelined for the

first 15 games before making

his comeback in a secondstring

fixture away to Southend,

finding the net four minutes

from time.

That game attracted a

healthy attendance of 3,000

– which encouraged QPR to

publish a programme for

Marsh's first appearance of the

season at Loftus Road, another

reserve match with Southend

again the opposition on Tuesday

14th November.

R's supporter David Lummis,

who shared his copy of the

programme with us and is still a

South Africa Road stand season

ticket holder, said: "Such was

the anticipation of his return,

it is said there were 16,000

people attending.

"In the editorial, it states

3,000 were at Southend. For

the match at Loftus Road

the attendance was 5,500 -

still impressive but not the

rumoured 16,000. That's

folklore for you!"

Marsh was back in the first team

the following Saturday, hitting

the target in a 1-1 draw at home

to Middlesbrough.

He went on to feature in 25 of

the 27 remaining league games,

scoring a total of 14 times as

Alec Stock's team claimed their

second successive promotion.

Do you own a piece of

interesting or unusual

QPR memorabilia? If so,

we'd love to see some

photos and hear more

about it – please email

your contributions to us at

programme@qpr.co.uk.

OFFICIALQPRFC // @OFFICIALQPR // @QPR // WWW.QPR.CO.UK

21
---
hoops

SINTON

OUR CLUB AMBASSADOR'S

VIEWS ON ALL THINGS QPR…

Good afternoon everyone and welcome back

to Loftus Road for today's game against

Swansea City.

Swansea sit one place and one point above us in

the league table, so that in itself tells everyone

what a big game lies ahead this afternoon.

Swansea have a certain way and style of playing

and will prove tough opposition to overcome.

They ran out narrow winners in the reverse

fixture back in September and have a squad

that is full of experience and will look to impose

themselves on us in the way they play.

Since my last notes, we have had a real mixed

bag in terms of performances and results which

emphasise the need for consistency, whoever

you play against, wherever you play and whatever

competition you play in.

We put in an excellent performance against

high-flying Sheffield United in our last home game

a few weeks ago. Having been in front for the

majority of the game, it was tough to take when

we conceded a very late equaliser on the night.

That game showed that we are a good team, with

everyone playing somewhere near their potential.

Like everyone else, I was hoping we would take

that level of performance into the next game,

our FA Cup tie up at League One side Fleetwood.

Disappointingly, that was not the case as we put

in a very poor performance and were knocked

out. Having played in many cup ties in my

career such as this, you know what to expect.

You know the minimum that is required to get

over the hurdle in front of you and into the next

round and it's fair to say we were second best

in all departments, individually and collectively.

Fleetwood were the better side on the day and

we wish them luck in the next round. Neil had

some strong words to say after the game and I

do not think anyone would disagree with what

was said. After performances and results such

as that, there is no hiding place for the players

and staff. You have to front up, accept the

criticism that is rightly coming your way and do

all you can to put it right, both on the training

ground and next time you play. I have been in

the game long enough to know teams can and

will lose games against lower league opposition,

especially in the FA Cup. That is what makes the

competition so special, but it's how you lose

and the manner in which we lost the game was

a huge disappointment. Without brushing the

defeat to one side, the nature of football is there

is always the next game to go some way towards

putting it right.

That next game came at Reading and, in an

even first half in terms of general play, we found

ourselves 2-0 down and in a very uncomfortable

position. In times of adversity I think you find out

a lot about yourself and others around you. In

22 WWW.QPR.CO.UK // @QPR // @OFFICIALQPR // OFFICIALQPRFC
---
hoops

the second half we were a different team playing

with intensity, courage, passion, desire and

quality. The introduction of new on-loan signing

Jamal Lowe gave the team a spark and, once

Tyler Roberts scored an excellent goal to reduce

the deficit, you just sensed we could and would

go on to get something out of the game. That

indeed we did, with Tyler heading home from

close range to get us level and, if there was going

to be a winner in the game, it was going to be us.

We couldn't force a winner but the lads showed

what we are capable of in that second half. It was

a terrific comeback and, while it only gave us a

point, I hope it gives us something to build on in

the remaining 19 games of the season, starting

today. We have had a poor run over the past few

months in terms of points from games, but we

are still in the mix along with many other teams

who have a very realistic chance of getting into

that top six.

As a club, we were very saddened to hear that

former player Keith Sanderson had died over

the Christmas period. Keith will always be

remembered here at QPR, especially as part

of the history-making 1966/67 League Cupwinning

team that beat West Bromwich Albion

3-2 at Wembley, having been 2-0 down at halftime.

I had the pleasure of meeting Keith at his

home near Preston a few years ago and enjoyed

OFFICIALQPRFC // @OFFICIALQPR // @QPR // WWW.QPR.CO.UK

chatting with him and recalling the memories he

had of his time as a player at QPR. The thoughts

of everyone at the club are with Keith's family

and friends at this difficult time.

We were also saddened to hear that Brian Rowe,

our former commercial director and lifelong

fan had recently passed away. Brian really was a

fantastic man, someone I and my team-mates of

the early 90s were very fond of. You could spend

many an hour chatting with him in his office,

where his love for QPR always shone through.

Personally I remember and treasure the times I

spent with Brian, the fun we had and especially

the game of golf I had with him and his son Rob

a few years back near where we live. Again, the

thoughts of everyone at QPR are with Brian's

family and friends at this sad and difficult time

for them all.

Once again, I would like to thank all our fans for the

brilliant support you continue to show the team at

both home and away matches. We need you again

today and in the weeks and games ahead. Get

behind Neil, his staff and the team this afternoon

and help us to get the win we all want.

COME ON YOU R's

Andy

23
---
hoops

IS THERE

A BETTER

WAY TO

BUY YOUR

NEXT CAR?

CAZOO

YEAH!

Buy or finance a car online and we'll deliver it to

your door with a 7-Day Money Back Guarantee.

24 WWW.QPR.CO.UK // @QPR // @OFFICIALQPR // OFFICIALQPRFC
---
hoops

Visiting W12:

SWANSEA CITY

Stadium: Swansea.com Stadium - Opened: 2005 - Current Capacity: 21,088 - Club Colours: White & Black

IN THE CABINET:

FOOTBALL LEAGUE CHAMPIONSHIP

(LEVEL 2)

Play-off winners: 2010/11

FOOTBALL LEAGUE ONE (LEVEL 3)

Winners: 2007/08

FOOTBALL LEAGUE TWO (LEVEL 4)

Winners: 1999/2000

FOOTBALL LEAGUE CUP

Winners: 2013

FOOTBALL LEAGUE TROPHY

Winners: 1994, 2006

WELSH CUP

Winners 10 times

CLUB RECORDS:

RECORD ATTENDANCE:

20,526 (Swansea City v Chelsea 2012)

RECORD GOALSCORER:

Ivor Allchurch (166)

MOST APPEARANCES:

585 – Wilfred Milne (1919-37)

BIGGEST WIN:

12-1 v Sliema Wanderers (1982)

BIGGEST DEFEAT:

8-0 v Liverpool (1991)

RECORD TRANSFER

FEE PAID:

£15.5m (Borja Baston, Atletico Madrid)

RECORD TRANSFER FEE

RECEIVED:

£25m (Wilfried Bony, Man City)

OFFICIALQPRFC // @OFFICIALQPR // @QPR // WWW.QPR.CO.UK 25
---
hoops

Swansea City

OPPOSITION

OVERVIEW

IN common with most

of the other teams

currently crammed into

mid-table, Swansea will

have their sights set on a

top-six finish and a third

play-off appearance in

four years.

The Swans arrive at

Loftus Road positioned a

single point and a single

place above QPR in the

Championship table, with

both sides' campaigns

following a similar

trajectory so far.

Like Rangers, Russell

Martin's side put

together a run of mightily

impressive form during

September and October

as they won six games

out of seven, including

the scalps of West Brom,

Watford, Sunderland –

and, most importantly,

local rivals Cardiff.

However, stuttering

results since then have

left Swansea searching for

improvement and renewed

consistency if they are to

mount a serious push for

promotion back to the

top flight they left behind

in 2018.

They endured a winless

run of eight matches

towards the end of the

calendar year before

regaining form as they

completed a double over

Watford, thumping the

visitors 4-0 in South Wales

with a double from leading

scorer Joel Piroe.

Renowned for their

possession-based

approach, the Swans

also proved themselves

capable of mixing things

up when they ground out

a 1-0 victory over QPR in

the sides' first meeting

earlier this season.

The home side defended

their goal with real

purpose to protect their

single-goal advantage as

Piroe's 21st-minute strike

proved decisive.

26 WWW.QPR.CO.UK // @QPR // @OFFICIALQPR // OFFICIALQPRFC
---
hoops

The Gaffer

FORMER Norwich captain

Russell Martin was

appointed as Steve

Cooper's successor almost 18

months ago, guiding the Swans

to a 15th-place finish during his

first season in charge.

Martin, who won two

promotions to the Premier

League during his eight-year

stint at Carrow Road, also

turned out for Wycombe,

Peterborough and Glasgow

Rangers during his playing

career, as well as winning 29

Scotland caps.

He joined Walsall as playercoach

in 2018, but soon

moved to MK Dons and helped

the club secure promotion

to League One before being

handed the manager's role the

following season in the wake of

Paul Tisdale's departure.

The new boss successfully

steered the Dons clear of

relegation, implementing a

playing style that placed them

ahead of every club in Europe

apart from Manchester City

and Barcelona in terms of their

dominance of possession.

Martin, who led the Dons to a

comfortable mid-table position

during his only full season at

the helm, has been steadfast

in maintaining those principles

since his move to South Wales.

OFFICIALQPRFC // @OFFICIALQPR // @QPR // WWW.QPR.CO.UK 27
---
The Squad

hoops

Steven

BENDA

GOALKEEPER

Age: 24

Signed from:

1860 Munich

Andy

FISHER

GOALKEEPER

Age: 24

Signed from: MK

Dons

Joel

LATIBEAUDIERE

DEFENDER

Age: 23

Signed from:

Manchester City

Ben

CABANGO

DEFENDER

Age: 22

Signed from:

Academy

Nathan

WOOD

DEFENDER

Age: 20

Signed from:

Middlesbrough

Jay

FULTON

MIDFIELDER

Age: 28

Signed from:

Falkirk

Joe

ALLEN

MIDFIELDER

Age: 32

Signed from:

Stoke

Luke

CUNDLE

MIDFIELDER

Age: 20

Signed from:

Wolves (Loan)

28 WWW.QPR.CO.UK // @QPR // @OFFICIALQPR // OFFICIALQPRFC
---
The Squad

hoops

Harry

DARLING

DEFENDER

Age: 23

Signed from: MK

Dons

Ryan

MANNING

DEFENDER

Age: 26

Signed from:

QPR

Kyle

NAUGHTON

DEFENDER

Age: 34

Signed from:

Tottenham

Matthew

SORINOLA

DEFENDER

Age: 21

Signed from:

Union SG (Loan)

Cameron

CONGREVE

MIDFIELDER

Age: 18

Signed from:

Academy

Matt

GRIMES

MIDFIELDER

Age: 27

Signed from:

Exeter

Liam

CULLEN

FORWARD

Age: 23

Signed from:

Academy

Olivier

NTCHAM

FORWARD

Age: 26

Signed from:

Celtic

OFFICIALQPRFC // @OFFICIALQPR // @QPR // WWW.QPR.CO.UK 29
---
hoops

Danger Man

TOP scorer with 24

goals during his maiden

campaign for the Swans,

Dutch striker Joel Piroe

has been prolific again in

opposition penalty areas

this season.

Piroe, who featured at youth

level for NEC Nijmegen and

Feyenoord before joining PSV

Eindhoven as a 15-year-old,

worked his way up through the

ranks and made his Eredivisie

debut during a loan spell at

Sparta Rotterdam in 2019.

He went on to register

three goals in 14 appearances

for PSV's senior side, including

a brace in their Europa League

win over Omonia Nicosia

last season.

The striker represented

Holland at youth international

levels from Under-15 up to

Under-20, scoring a hattrick

against Germany en

route to a semi-final place

at the European Under-19

Championships in 2017.

Signed by Swansea for an

initial £1m fee in the summer

of 2021, Piroe found the net

on his debut, a 3-0 victory

against Reading in the Carabao

Cup, and is already into double

figures this season.

FORWARD

Age: 23

Nationality: Dutch

Signed from: PSV Eindhoven

30 WWW.QPR.CO.UK // @QPR // @OFFICIALQPR // OFFICIALQPRFC
---
hoops

Year on Year

1913:

Founded the previous

year as Swansea Town,

the club joined the English

Southern Football League

and won the first of their

10 Welsh Cups.

1970:

Reflecting Swansea's

new status as a city,

the club changed their

name accordingly and

celebrated by gaining

promotion to Division

Three at the end of the

season.

1981:

A 3-1 victory at Preston

sealed promotion to

Division One for the first

time in the Swans' history,

completing an incredible

rise from the bottom

division in just three years

under John Toshack.

2003:

James Thomas netted

a hat-trick as Swansea

beat Hull 4-2 in their

final game of the season

to save themselves

from relegation to the

Conference.

2011:

Another treble – this

time scored at Wembley

by Scott Sinclair – lifted

Brendan Rodgers' team

into the top flight with a 4-2

victory over Reading in the

Championship play-off final.

2013:

The Swans returned to

Wembley and crushed

Bradford 5-0 in the

League Cup final, securing

the club's only major

honour to date and

earning them a Europa

League place.

COMINGS

AND GOINGS

COMING IN

Harry Darling

(D) – MK Dons

Nathan Wood

(D) – Middlesbrough

Fin Stevens

(D) – Brentford (Loan)

Matthew Sorinola

(D) – Union SG (Loan)

Joe Allen

(M) – Stoke

GOING OUT

Ryan Bennett

(D) – Cambridge

Brandon Cooper

(D) – Forest Green

(Loan)

Nathanael Ogbeta

(D) – Peterborough

(Loan)

Korey Smith

(M) – Derby

Flynn Downes

(M) – West Ham

Yan Dhanda

(M) – Ross County

DID YOU

KNOW?

There are various

theories as to the

origin of Swansea

fans' nickname, the

Jack Army; sailors

from the city were

known as Jacks but

it is also thought

they are named

after a dog called

Jack who lived in

the city's docks.

He was reputed to

have saved as many

as 27 people from

the water.

OFFICIALQPRFC // @OFFICIALQPR // @QPR // WWW.QPR.CO.UK 31
---
HERE'S

A ST AT

I BET

YOU

DIDN'T

KN

W
---
OVER HALF A MILLION

SKY BET CUSTOMERS USE DEPOSIT LIMITS

TO MANAGE THEIR BETTING BUDGET.

THAT'S ENOUGH TO FILL:

6 WEMBLEYS.

201 ALLY PALLYS.

OR 8 CHELTENHAM GOLD CUP DAYS.

(THAT'S A LOT OF TWEED)

ALL GOOD BOOKMAKERS

HAVE DEPOSIT LIMITS.

SO WHOEVER YOU BET WITH,

SET AN APPROPRIATE ONE FOR YOU

AND THEN ENJOY THE SPORT.

DEPOSIT LIMITS

THAT'S BETTING BETTER.
---
hoops

QUEEN'S PARK RANGERS 0

SWANSEA TOWN 0

MONDAY 26TH APRIL 1948

FOOTBALL LEAGUE DIVISION THREE SOUTH

A JOYOUS pitch invasion at the end said it all!

Queen's Park Rangers had gained promotion for

the first time in their history.

The R's went into this fixture needing a point to

clinch the Division Three South title and a bumper

crowd of 27,500 packed into Loftus Road for the

6pm Monday kick-off.

Rangers dominated proceedings for long spells

but couldn't get past the impressive Jack Parry in

Swansea's goal. Cyril Hatton sent in a long-range

drive on 17 minutes which Parry gathered at the

second attempt.

After that, George Stewart sent a first-time shot

just past the post following a goalmouth scramble.

John Hartburn also had a series of fine efforts for

QPR – a thunderous half-volley over the top from

point-blank range, a header from Hatton's cross

which fell into Parry's arms and a fierce daisycutter

that skimmed beyond the upright.

Then at 7.40pm, the final whistle sounded and

hundreds of ecstatic fans poured on to the pitch to

chair their hooped heroes shoulder high. The crowd

then turned to face the centre of the old Ellerslie

Road Stand, where Rangers manager Dave Mangnall

gave a victory speech from the directors' box.

There were calls for the team to appear and they

were duly mobbed as they walked in front of

the stand. R's captain George Smith said a few

emotional words and Wales international Ivor

Powell also got a great ovation when – following

repeated cries – he climbed up on the directors'

seats to wave.

Eventually, the supporters began to drift away in

happy mood and the celebrations continued long

into the night at pubs around Shepherd's Bush.

RANGERS: Allen, Rose, Jefferson, Powell, Ridyard,

Smith, Adams, Stewart, Hatton, Mills, Hartburn.

Attendance: 27,500

34 WWW.QPR.CO.UK // @QPR // @OFFICIALQPR // OFFICIALQPRFC
---
hoops

OFFICIALQPRFC // @OFFICIALQPR // @QPR // WWW.QPR.CO.UK

35
---
hoops

36 WWW.QPR.CO.UK // @QPR // @OFFICIALQPR // OFFICIALQPRFC
---
hoops

INTERVIEW: TONY INCENZO

IT'S NOW 30 YEARS SINCE ONE OF

THE BIGGEST SHAKE-UPS IN ENGLISH

FOOTBALL – THE LAUNCH OF THE

PREMIER LEAGUE.

As founder members of the new breakaway division,

Queens Park Rangers made their mark on that inaugural

1992/93 campaign, finishing in fifth place as London's

highest-ranked team.

We take a wander through memories of that season with

the players and staff who made it happen… next it's

dominant central defender DANNY MADDIX.

OFFICIALQPRFC // @OFFICIALQPR // @QPR // WWW.QPR.CO.UK

37
---
hoops

Left: Danny

Maddix (right)

was a mainstay

of the QPR

defence both

before and

during the

early years of

the Premier

League

DANNY, the first season of the

Premier League was 30 years

ago now – does it only seem like

yesterday?

Well, it does and it doesn't. Some of the

lads who played have aged a lot since

then! But those 30 years have flown by –

we have all become grandparents and it

has moved on so quickly.

There was plenty of publicity at the

time, but did anyone realise how big

the Premier League was going to

become?

No, they didn't. It seemed like any other

season to begin with, just a different

name that came into effect. But it was

nice that we are all part of the early

history of the Premier League at QPR.

You didn't play in the first few games

back in 1992/93, but you began to

come into contention more as the

season wore on…

I did, although my memories are all

quite vague because it is such a while

ago. I can't recall who my first game was

against when I did get into the team.

38 WWW.QPR.CO.UK // @QPR // @OFFICIALQPR // OFFICIALQPRFC
---
hoops

Right: Maddix

spent 14 years

at Loftus Road

after joining

the club from

Tottenham in

1987

Actually, you featured as a sub on

two occasions before your first

league start that season, a 0-0 draw

away to Manchester United on 26th

September. As a defender, it must have

been very satisfying to keep a clean

sheet at Old Trafford?

Yes I do remember that now, it was like

the Alamo. They attacked and attacked

but we just defended with our lives. I

came up against Mark Hughes and it was

a testing first full game of the season

for me.

Looking back to 30 years ago, QPR

could compete with the very best

teams in the country…

Definitely. But we were quite fortunate

in that we had virtually two players in our

ranks for every position in the starting XI.

Back then, Queens Park Rangers were

blessed with a quality squad of players.

Your own speciality as a centre-half was

man-marking one-to-one, wasn't it?

Yes, I have already mentioned Mark Hughes

and I had my battles with him over many

years. There were other top forwards that

I had to mark like Ian Rush, Gary Lineker

and big John Fashanu as well. I did my

homework on individual players before I

went into those games because some of

them were world-class strikers.

We also finished as top London club,

which was a meaningful milestone

back then…

Everyone wanted to boast about being

the top London team at the time. Back

OFFICIALQPRFC // @OFFICIALQPR // @QPR // WWW.QPR.CO.UK

39
---
hoops

Maddix keeps

a watchful eye

on Crystal

Palace's Chris

Armstrong

then, money wasn't the be-all and endall

for footballers. We just played because

we had a pride in playing – you wanted

to get the better of those players you

came up against. So to beat the big clubs

and be the best team in London was

rewarding for us.

What was R's manager Gerry Francis

like to work under?

Gerry was hard at times but fair, he got

the best out of the players he had. We

could mix it with the top teams and Gerry

was a very good manager.

Les Ferdinand was the focal point of

our attacks. What was it like to play in a

team with Les up front?

Oh, brilliant! He was the best striker

and the best player that I played with

at QPR. Les was a top man, he had

everything. He had power, he had pace,

he was amazing in the air and he had the

physique as well. I thought he would go

40 WWW.QPR.CO.UK // @QPR // @OFFICIALQPR // OFFICIALQPRFC
---
hoops

The Rangers

centre-back

enjoyed a

keen tussle

with former

team-mate

Les Ferdinand

when he

returned to

Loftus Road

in a Newcastle

shirt

on to play a lot more games for England,

which he should have done really with the

attributes he had.

We had Ray Wilkins pulling all the strings

in midfield. He was a magnificent player

and a fantastic man…

Yes, we all looked up to Ray. We had a

great time when he was at QPR. He

wasn't just a footballer, though – he was

a gentleman and we all loved Ray. I was

at the Princess Grace Hospital in London

one day having a knee operation. They

said there was a phone call for me and I

was expecting it to be my wife. But it was

Ray on the line and he said: "We need

you back but don't rush back!" That was

incredible and it perked me up. Ray gave

the feeling that he wanted me to play in

the same team as him.

When Loftus Road was full back then,

the atmosphere was electric…

Oh gosh, yeah. The crowd were so close

to the pitch and always behind us. Then

obviously being in the top flight, the

opposition teams would bring plenty

of supporters down as well, so the

atmosphere was phenomenal. They were

lovely times for me and I am so grateful

that Rangers gave me the chance.

What are you up to nowadays?

I've been retired from football quite a

while. I did 'the knowledge' to become a

London taxi driver. It is quite convenient

as I can go out in the cab on those days

when I want to work or otherwise just

go off and play golf with friends, so the

situation is good overall.

Lastly, do you still keep an eye on

events at QPR?

I do. Sometimes I can get very frustrated

as I want to see QPR back in the Premier

League. There have been occasions

when we have been up towards the top of

the Championship and I've been looking

for a big push towards the end of the

season, but for some reason it hasn't

happened. However, with Les Ferdinand

behind the scenes working alongside the

management I am sure we can do it soon.

OFFICIALQPRFC // @OFFICIALQPR // @QPR // WWW.QPR.CO.UK

41
---
hoops

HALF A CENTURY HAS PASSED SINCE QPR WON PROMOTION

TO THE TOP FLIGHT FOR ONLY THE SECOND TIME IN THE CLUB'S

HISTORY. IN EACH EDITION, WE SHOWCASE SOME OF THE MATCH

PROGRAMMES FROM THAT CLASSIC 1972/73 CAMPAIGN:

DATE: Saturday 20th January

1973

RESULT: Middlesbrough 0

QPR 0

COMPETITION: Football

League Division Two

ATTENDANCE: 8,398

THE PROGRAMME: Sixteen

pages, price 6p

EDITORIAL SNIPPETS: An

article entitled 'INTRODUCING

Queen's Park Rangers' by

prolific programme scribe

Tony Pullein read: 'In the tough

world of modern football it

is the teams with character

that come through in the

end. Few clubs have shown

greater determination, against

heartbreaking odds, than

Queen's Park Rangers. They

have lost two outstanding

young key players, Martyn

Busby and Ian Evans, with

broken legs and more recently

lost the services of midfield

man Terry Venables with a

niggling leg injury. Despite

these crippling blows, Rangers

have continued to pull

away from their promotion

challengers…'

42 WWW.QPR.CO.UK // @QPR // @OFFICIALQPR // OFFICIALQPRFC
---
hoops

DATE:

Tuesday 16th January 1973

RESULT: Barnet 0 QPR 3

COMPETITION: FA Cup third

round replay

QPR SCORERS: Leach, Bowles,

Mancini

ATTENDANCE: 10,919

THE PROGRAMME: Eight

pages, price 5p

EDITORIAL SNIPPETS:

Summing up the excitement of

Southern League underdogs

Barnet taking QPR to a replay:

'So often in the FA Challenge

Cup competition there is one

non-league club that hits

the national headlines; it was

Barnet's turn last Saturday when

we earned a third-round replay,

and also for the first time in the

club's history our name goes

into the draw for the fourth

round.

'This is the third time we have

participated in the third round.

The first occasion was in 1965

when, still an amateur side, we

lost 2-3 at home to Preston

North End. The next time was

in 1971 when we went out by an

only goal scored by Colchester.

'Our goalless draw last Saturday

(at Loftus Road) was a crackling

performance and every

member of the Barnet Football

Club should be congratulated.

Our opponents Queen's Park

Rangers are having a great

season, lying second in Division

Two and appear to be certain of

gaining promotion at the end of

this season…In the FA Cup our

visitors have reached the sixth

round (or equivalent) on five

occasions – 1910, 1914, 1923,

1947/48 and 1969/70.

'..Whatever happens this

evening, nobody can take away

the magnificent performance

of our lads last Saturday. They

fought against all the odds,

never lost their composure

and came away from Loftus

Road with a draw. Towards the

end they looked more likely to

snatch a goal than Rangers…

We could well have a full house

this evening, so please help our

canteen staff by returning your

cups after use.'

OFFICIALQPRFC // @OFFICIALQPR // @QPR // WWW.QPR.CO.UK

43
---
hoops

HEROES

CHRIS KIWOMYA VS

CRYSTAL PALACE

SUNDAY 9TH MAY 1999

NATIONWIDE LEAGUE DIVISION ONE

A

MEMORABLE

hat-trick by Chris Kiwomya

helped QPR avoid relegation on the final day

of the 1998/99 season.

There was intense pressure on Rangers, but we

mastered the nerve-jangling occasion in some

style by romping to a 6-0 victory.

Our other goalscorers on that unforgettable day

were George Kulcsar, Tony Scully and Tim Breacker.

44 WWW.QPR.CO.UK // @QPR // @OFFICIALQPR // OFFICIALQPRFC
---
hoops

Kiwomya recalled: "(Manager) Gerry Francis tried

to keep everyone calm in the dressing room

beforehand. His team talk got us fired up and

gave us a lot of confidence.

"Gerry said to make sure we didn't concede a

goal early on as that would make the supporters

edgy. He stressed that the most important thing

was to keep a clean sheet and then our strikers

could do the rest.

"When we ran out on to the pitch, the

atmosphere was absolutely electric, like an FA

Cup final. The R's fans were really brilliant – they

had turned out in their thousands and were like a

12th man for us with a capacity crowd present.

"Fortunately we got an early goal by George

Kulcsar. He had never scored before so we knew

it had to be our day. We went on to hit Palace for

six and I was really pleased with my hat-trick.

"It was great to see all those happy faces of our

supporters when the final whistle sounded and

we had stayed up!"

In his match report in the The Guardian

newspaper, Martin Thorpe wrote: "Large gaps

have characterised Queens Park Rangers'

season: a debt of £8.6m, players on £100,000

salaries who are not deemed good enough

for the first team, a share price which has

plummeted from 72p to 8p, memories of being

fifth in the Premiership only six years ago.

"So yesterday's win was totally in keeping as

Rangers, with a Chris Kiwomya hat-trick, saved

themselves from the ignominy of relegation

to the Second Division in style, albeit on goals

scored.

"Four thousand fans were locked out but those

inside went delirious at Rangers' salvation."

RANGERS: Miklosko, Breacker, Baraclough,

Kulcsar, Linighan, Maddix, Scully, Peacock,

Rowland (Gallen 86), Slade, Kiwomya (Murray 86).

Sub not used: Plummer.

Attendance: 18,498

OFFICIALQPRFC // @OFFICIALQPR // @QPR // WWW.QPR.CO.UK

45
---
hoops

ANYONE WHO ENTERS THE PITCH WITHOUT

PERMISSION AND THOSE CARRYING OR USING

SMOKE BOMBS OR PYROS WILL NOW RECEIVE

AN AUTOMATIC CLUB BAN.

'LOVE FOOTBALL. PROTECT THE GAME'

A message about anti-social and criminal behaviour

To mark the new season, we want to

make you aware of new measures

being taken across all of football

to ensure everyone can have a safe

and enjoyable experience. We are

supporting strong action from the

FA, Premier League and EFL to tackle

anti-social and criminal behaviours

that put all of us at risk.

This reflects the seriousness of

the risks to fans and staff – pyros

can burn at 2000 degrees Celsius

and cause lifechanging injuries,

while entering the pitch endangers

players, managers and match

officials.

We know those who commit these

illegal acts do not represent the

majority of supporters.

#LoveFootball #ProtectTheGame

46 WWW.QPR.CO.UK // @QPR // @OFFICIALQPR // OFFICIALQPRFC
---
hoops

THE NEW MEDIA SUITE

THE new QPR media suite

was opened for the first time

at our home game against

Burnley last month.

It is located on the top floor at

the back of the South Africa

Road Stand and was previously

office accommodation.

Journalists now enter the

stadium via Alton House (next

to the ticket office) and take a

lift up to the new suite.

Facilities have been built

in line with modern media

requirements. In fact, the

design is Premier League

ready – if and when QPR win

promotion.

The suite is split into two

rooms. There is a working

space with ample desks,

power points, internet access

and television screens, plus a

kitchenette for refreshments.

Next to this is a press

conference area for postmatch

manager interviews.

OFFICIALQPRFC // @OFFICIALQPR // @QPR // WWW.QPR.CO.UK

47
---
hoops

IMAGES COURTESY OF: IAN RANDALL

INTERVIEW: LENNIE HARVEY

Kacper

Zapieraczynski

Position: GK

From: Willesden

Joined QPR: Age 13

Pre-match meal: It varies

Nickname: Kas

Pre-match song: Freestyle – Lil Baby

How did you get scouted?

I'd been attending these specific goalkeeper

sessions and a scout was walking by, he saw me

train and was impressed. He then gave me my

first trial which was at Wolves, but I wasn't ready

for academy football so I wasn't signed with

them. Then I started playing against academies

for showcase teams, a few months later I got a

trial at QPR and got signed after two weeks.

What are your strengths as a player and what

do you need to work on?

My strengths are shot-stopping and distribution

with my feet. I need to work on being more

dominant in the air.

When was the first football match you

attended?

It was England 2 Poland 0, at Wembley on 15th

October 2013.

Who's your favourite player or inspiration?

Wojciech Szczesny. At the age of 16 he left home

in Poland to go to England and play for Arsenal

and he broke into the first team at 18. He has

had a great career with many good games and

I'm aspiring to do things like him.

Where do you see yourself in five years' time?

I hope to be playing regular first-team football.

Which of your team-mates do you see as a

future coach or manager?

I would say Charlie McDonald because of how

wise he is. He's got great knowledge of the

game.

Which stadium in the world would you most like

to play in and why?

The Santiago Bernabeu because it's a beautiful

stadium and so many great matches have been

played there.

48 WWW.QPR.CO.UK // @QPR // @OFFICIALQPR // OFFICIALQPRFC
---
hoops

Sat Aug 20 Birmingham City W 2-1

Sat Aug 27 Peterborough Utd W 3-1

Sat Sep 3 PL Cup R1

Sat Sep 10 Coventry City PP

Sat Sep 17 Barnsley L 5-2

Sat Sep 24 Charlton Athletic L 7-1

Sat Oct 1 Reading L 2-1

Sat Oct 8 PL Cup R2

Sat Oct 15 Cardiff City W 2-1

Sat Oct 22 Watford L 5-2

Sat Oct 29 Bristol City W 3-1

Sat Nov 5 PL Cup R3

Sat Nov 12 Sheffield Wednesday L 2-1

Sat Nov 19 Colchester Utd W 6-1

Sat Nov 26 Millwall W 3-2

Tue Dec 20 Tottenham (FAYC R3) W 3-1 AET

Sat Jan 7 Cardiff City W 3-2

Sat Jan 14 Charlton Athletic L 2-1

Wed Jan 18 Luton Town (FAYC R4) 19:00

Sat Jan 21 Colchester Utd 11:00

Sat Jan 28 Swansea City 13:00

Sat Feb 4 PL Cup QF

Sat Feb 11 Bristol City/ FA Youth Cup R5 11:00

Sat Feb 18 Reading 11:00

Sat Feb 25 Millwall 11:00

Sat Mar 4 Watford/ FA Youth Cup QF 10:30

Sat Mar 11 Ipswich Town 11:30

Sat Mar 18 Wigan Athletic 11:00

Sat Apr 1 Burnley 11:00

Sat Apr 15 Hull City 11:00

Sat Apr 22 Crewe Alexandra 11:00

Sat Apr 29 Sheffield Utd/FAYC final 11:00

OFFICIALQPRFC // @OFFICIALQPR // @QPR // WWW.QPR.CO.UK

49
---
hoops

JUNIOR

HOOPS

FUN, GAMES, TRIVIA & MORE!

Hello everyone!

Hey guys, it's your

favourite feline friend

here! Over the next

couple of pages you'll

get the chance to

test your footballing

knowledge! Challenge

your family and friends

to see who comes out

on top!

Jude

SPOT THE BALL

Can you spot the real ball location below?

Follow me on Twitter

@QPRJudeTheCat

50 WWW.QPR.CO.UK // @QPR // @OFFICIALQPR // OFFICIALQPRFC
---
BIRTHDAYS!

Big birthday wishes to all

Junior Hoops celebrating

in January…

Teddy Disson – 1st

Alexander Frandsen – 1st

Ella Grant-Willett – 1st

Bertie Mills – 1st

Mason Savage – 1st

Taylor Arnett – 2nd

Sam Glenister – 2nd

William Hanman-Killick – 2nd

Martha Haran – 2nd

Finlay Reeves – 2nd

Harrison Cobb – 3rd

Joel McLellan – 3rd

Lawrence Woolacott – 3rd

Harry Brown – 4th

Daniel Emerson – 4th

Colby Farren – 4th

Abbie Foreman – 4th

Darcy Meade – 4th

Serenity Morrison – 4th

Jasmine Digweed – 5th

Ben McNiff – 5th

George Potter – 5th

Leo Hardy – 6th

Andrew Kassir – 6th

Zachory Lester – 6th

Archie Marsden – 6th

Danny O'Sullivan – 6th

Freddie Pleasant – 6th

Lillian May Tate – 6th

Aiden Thorpe-Owen – 6th

Max Wheeler – 6th

Joseph Dezzani – 7th

Nancy Charles – 8th

Grace Connor – 8th

Harvey Elliott – 8th

Niall Hanks – 8th

Harry Jagger – 8th

Thomas Jagger – 8th

Lennon MacDonald – 8th

James Rogers – 8th

Tommaso Sartore – 8th

Joshua Schwartz – 8th

Charlotte Segal – 8th

Leah Head – 9th

Theodore Macson – 9th

Naiya Marsh – 9th

Elias Milne – 9th

Ethan Milne – 9th

Jamie Townsend – 9th

Oscar Bass – 10th

Callum Jones – 10th

Rebecca Mannion – 10th

Cassius De Pear – 11th

Darcy Kennard-Wood – 11th

Luke Maberly – 11th

Bailey McGachan-Hannon – 11th

Charlotte Taylor – 11th

Sam Brinklow – 12th

Archie Kay – 12th

Rhiannon Midwinter – 12th

Miro Sarian – 12th

Bobby Turner – 12th

Mikey Wackett – 12th

Toby Woodthorpe – 12th

Isla Hardwick – 13th

Cameron Hibbs – 13th

Albert McCarthy – 13th

Blake Pike – 13th

Seren Wade – 13th

Archie Appleby – 14th

Amelia-Rose Cleveland – 14th

Cory Faust – 14th

Benjamin Gurney – 14th

Aimee Lovell – 14th

Katie O'Callaghan – 14th

Brooke Povey – 14th

Harriet Raven – 14th

Valur Gudmundsson

Goldstein – 15th

Frankie Reilly – 15th

Iris Tellem – 15th

Thom Williams – 15th

Ollie Edwards – 16th

Thomas Higney – 16th

Matthew Mackmurdie – 16th

Matthew Austin – 17th

Dominic Easton – 17th

Holly Hunt – 17th

Nedgebee Ali – 18th

Hanif Dryden – 18th

Ben Hart – 18th

Jack Kelly-Smith – 18th

George Sharp – 18th

Matthew Whate – 18th

Oscar Barnes – 19th

Gabriel O'Leary – 19th

Evie Sweetman – 19th

Archie Tester-Smith – 19th

Rishi Topan – 19th

Kyran Ashby-Ryall – 20th

Oakley Baverstock – 20th

Jude Kemp – 20th

Kiera Vickers – 20th

Oisin Egan – 21st

Thomas Jennings – 21st

Toby Murrison-Waller – 21st

Oliver Saragoussi – 21st

Brandon Tagg – 21st

Ethan Alexander – 22nd

Edward Atkinson – 22nd

Jack Beckenham – 22nd

George Guainiere – 22nd

Annie Lawrence – 22nd

Jack McDonnell – 22nd

Olivia Radley – 22nd

Honey Billing – 23rd

Lacey Harvey – 23rd

Ella Jenkins – 23rd

Jonathan Nolan-Caffrey – 23rd

Harrison Speirs – 23rd

Alexander Adaway – 24th

Oliver Baverstock – 24th

Samuel Benosiglio – 24th

Aiden Berryman – 24th

Laila Buckingham – 24th

Ayden Damani – 24th

Daniel Greene – 24th

Charlie Hackworth – 24th

Daniel Hope – 24th

Morgan Baldry – 25th

Freddie Clayson – 25th

Jude Cooper – 25th

Freddie Curd – 25th

Finlay Dickinson – 25th

Dan Hackney – 25th

Dan Hurdle – 25th

Lilly Nugent-Isitt – 25th

Jamie Power – 25th

Ted Hall – 26th

Oscar Ludewig – 26th

Callum O'Neill – 26th

Hardayne Puar – 26th

Freddy Carroll – 27th

Carter Ryan – 27th

Alec Gardner – 28th

Cillian Patrick Roohan – 28th

Ciciley Rowe – 28th

Louise Smith – 28th

Grace-Lily Wills – 28th

Henry Batchelor – 29th

Miles Connell – 29th

Ryan Deery – 29th

Jaimie Hayes – 29th

Daniel Masson-Smith – 29th

Fred Roberts – 29th

Phoebe Astaire – 30th

Landon Harvey – 30th

Lily Hey – 30th

Arthur Kay – 30th

Cameron Mulligan – 30th

Owen O'Sullivan – 30th

Isaac Tatam – 30th

Jake Caplan – 31st

Alfie Tucker – 31st

BACK IN

THE DAY

hoops

Which current Championship manager is

pictured during his playing days?

TEST YOUR

KNOWLEDGE

Q: Which winger won the Championship

title with QPR in 2011 before spending

the rest of his career at Swansea?

NAME THE

PLAYER

• I was born in Birmingham

in 2003

• I began my career at West

Brom but never made a

first-team appearance for

the club

• Last summer, I was part of

the England side that won

the European Under-19

Championships in Slovakia

• My QPR debut came

earlier this season,

against today's opponents

Swansea

Answers: Spot the Ball: B, Back in the day: Slaven Bilic (Watford),

Test your Knowledge: Wayne Routledge, Name the Player: Tim Iroegbunam

OFFICIALQPRFC // @OFFICIALQPR // @QPR // WWW.QPR.CO.UK

51
---
4

Rob

DICKIE
---
hoops

Columnist

DAN LAMBERT

'R' GENERATION WRITER DAN LAMBERT

DISCUSSES THE LATEST GOINGS-ON IN W12

It's been a really frustrating time following

the club in recent weeks, marred by

inconsistencies that are natural yet hugely

frustrating.

Our usual third round FA Cup exit, this

time against Fleetwood, which forced Neil

Critchley into some hard truths about the

players' desire, mentality and inconsistencies.

A coach who has been in for six games, and

his outlook didn't change from afar with

our slip-up last season, saying he 'wasn't

surprised'. That certainly tells you something.

Our results under Critchley have been the

textbook definition of inconsistent. We beat

Preston away with a good performance, draw

at Cardiff and lose to Luton – both turgid

performances – we match a Sheffield United

team for over 90 minutes and were frustrated

not to win and then we lose 2-1 to Fleetwood

in disastrous fashion.

Now I'm not saying that is purely down to the

head coach, far from it but it's pretty much

been the same XI across the six games under

him. That is in part down to injuries, with Stef

Johansen, Leon Balogun and Jake Clarke-

Salter among the injury list for a while now.

But this is the bulk of the XI that were flying

at the start of the season, top of the league

back in October, so what has changed?

Depth is definitely an issue, and something

that has naturally seen us slide, but as fans we

have witnessed this side at its best. We know

there is quality – that is the frustrating part!

The Reading game last weekend probably

epitomises the issue as a whole – a tale of

two halves that showed our inconsistencies

across the last six games, and to be fair

beyond that with our bad run of form under

Mick Beale.

First half, we lacked quality in the final third,

and in the second half we produced it. We've

added quality to the side with new signing

Jamal Lowe playing his part. Critchley

described him as having a calmness to his

game in the final third – which we severely

lacked, having scored four goals in our last 11

games prior to Reading, so that is certainly

something to look forward to in terms of

goals and overall creativity.

Someone who feels like a new signing is Tyler

Roberts after his return from injury, following

a frustrating first half to the campaign. Three

consecutive league starts have certainly

benefited Roberts, with a run of games

to get himself physically up to speed. Two

good finishes on Saturday, both for different

reasons, hopefully brings confidence to his

game alongside match sharpness. With him

the ability is there, he's athletic and has good

tactical intelligence similarly to Lowe.

If we can bring Lowe and Roberts up to full

fitness, rekindle Chris Willock's form and fix

our attacking woes – inconsistency may be

the least of our issues in weeks to come. That

is what we can hope for, at least.
---
hoops

QPR FC

QPR FC WOMEN 4

ENFIELD TOWN LADIES 1

KATIE Akerman, Kasha Petit, Milly Cutler and

Ellie Searle were all on target as Rangers swept

aside Enfield Town to advance to the next round

of the Capital Women's Cup.

The R's began strongly, with Laura Hennessy's

header hitting the woodwork inside the first

minute before Akerman's long-range drive

opened the scoring soon afterwards.

Alice Curr set up Petit to make it 2-0 before

the visitors reduced the deficit through Katie

O'Leary's penalty.

But Steve Quashie's side restored their twogoal

advantage on the hour mark when Cutler

weaved her way into the penalty area and

dispatched a low finish.

Cutler was involved again in Rangers' fourth

goal, collecting Jo Blodgett's pass and playing

the ball through for Searle to rifle home and

wrap up the tie.

The team return to league action on Sunday

when they travel to face Chesham United at

The Meadow, kick-off 2pm.

QPR: McLean, Curr, Searle, Carolan (Lewin 61),

Gunn, Jordinson, Hall (Moore 61), Hennessy

(Pope 69), Cutler (Stanley 79), Akerman

(Blodgett 56), Petit.

56 WWW.QPR.CO.UK // @QPR // @OFFICIALQPR // OFFICIALQPRFC
---
hoops

QPR FC

KATIE AKERMAN

SPONSORED BY:

AVAILABLE

GABBY BISHOP

SPONSORED BY:

MICK MCCARTHY

JO BLODGETT

SPONSORED BY:

CHRIS HEWITT

AILISH CAROLAN

SPONSORED BY:

AVAILABLE

TENI CHARLES

SPONSORED BY:

MELTWATER NEWS

ALICE CURR

SPONSORED BY:

ST ANDREW'S, WOKING

MILLIE CUTLER

SPONSORED BY:

AVAILABLE

MYA FRANCIS-POWNALL

SPONSORED BY:

PETER PAIGE

KASHA PETIT

ERIN POPE

ELLIE SEARLE

ELLEN WARDLAW

GEORGIE LEWIN

AMI MARTINS

KATIE MCLEAN

CHLOE GUNN

VICKY GRIEVE

MELANIE HALL

LAURA HENNESSEY

LAUREN JORDINSON

SUE KUMANING

SPONSORED BY:

SHARON DYER

SPONSORED BY:

LISA & MICHAEL BAGENAL

SPONSORED BY:

LONDON FITNESS

MAMAS

SPONSORED BY:

PETER PAIGE

SPONSORED BY:

SHARON DYER

SPONSORED BY:

AVAILABLE

SPONSORED BY:

AVAILABLE

SPONSORED BY:

AVAILABLE

BROGAN MOORE

SPONSORED BY:

LISA & MICHAEL BAGENAL

EMILIA NYGAARD-PARSONS

SPONSORED BY:

CL SOLUTIONS CONTROL

& AUTOMATION

SPECIALISTS

SPONSORED BY:

STEVE RUSSELL

SPONSORED BY:

AVAILABLE

SPONSORED BY:

AVAILABLE

SPONSORED BY:

RON HILL

SPONSORED BY:

AVAILABLE

Please email Sarah Holt at SarahH@qpr.co.uk for more information on how to get involved

OFFICIALQPRFC // @OFFICIALQPR // @QPR // WWW.QPR.CO.UK

57
---
"HAPPY

hoops

NEW YEAR!"

FROM EVERYONE AT GCL.

Let's make 2023 a year

to remember!

come on you

super hoops

Groundworks

Concrete Frames

Remediation

Tower Cranes

Demolition

020 8238 7000

info@groundconstruction.com

www.groundconstruction.com

GCL IS AN EMPLOYEE OWNERSHIP TRUST

Proud to be official

construction sponsors

of QPR FC

GROUND FOR CONFIDENCE. INTEGRATED CONSTRUCTION EXCELLENCE SINCE 1997.

58 WWW.QPR.CO.UK // @QPR // @OFFICIALQPR // OFFICIALQPRFC
---
hoops

Tel: 020 8740 2560 | E-mail: corporate@qpr.co.uk | @QPR_Corporate | www.qprcorporate.co.uk

# 1 Seny DIENG

SPONSORED BY:

Sindy Grewall

Apps: 29 Gls: 1

YC: 2 RC: 0

# 2 Osman KAKAY

SPONSORED BY:

Vivienne

Maclennan

Apps: 6+9 Gls: 0

YC: 2 RC: 0

# 3 Jimmy DUNNE

SPONSORED BY:

Trent Buhaj

Apps: 21+1 Gls: 2

YC: 4 RC: 0

# 4 Rob DICKIE

SPONSORED BY:

Jakson Buhaj

Apps: 17+5 Gls: 0

YC: 3 RC: 0

# 5 Jake SALTER-CLARKE

SPONSORED BY:

Deb & Marc

Buhaj

Apps: 11+1 Gls: 0

YC: 0 RC: 0

# 6 Stefan JOHANSEN

SPONSORED BY:

Nathan Hayes

Apps: 15+2 Gls: 2

YC: 3 RC: 0

# 7 Chris WILLOCK

SPONSORED BY:

Richie Dixon

Apps: 18+2 Gls: 6

YC: 0 RC: 0

# 8 Luke AMOS

SPONSORED BY:

Tyler Buhaj

Apps: 4+7 Gls: 0

YC: 2 RC: 0

# 9 Lyndon DYKES

SPONSORED BY:

Ron Hill

Apps: 24+4 Gls: 6

YC: 3 RC: 0

# 10 Ilias CHAIR

SPONSORED BY:

Riley Hayes

Apps: 26+1 Gls: 4

YC: 1 RC: 0

# 11 Tyler ROBERTS

SPONSORED BY:

David Hayes

Apps: 12+5 Gls: 4

YC: 2 RC: 0

# 13 Jordan ARCHER

SPONSORED BY:

Available

Apps: 0 Gls: 0

YC: 0 RC: 0

# 14 George THOMAS

SPONSORED BY:

Mark Mosselson

Apps: 2+2 Gls: 0

YC: 0 RC: 0

# 15 Sam FIELD

SPONSORED BY:

Amanda Dixon

Apps: 29 Gls: 2

YC: 7 RC: 0

# #

Marco 16 RAMKILDE Niko HAMALAINEN 27

SPONSORED BY:

Available

Apps: 2+1 Gls: 0

YC: 0 RC: 0

# 17 Andre DOZZELL

SPONSORED BY:

KS Roofing and

building Ltd

Apps: 13+10 Gls: 0

YC: 3 RC: 0

# 18 Macauley BONNE

SPONSORED BY:

Available

Apps: 1+7 Gls: 0

YC: 0 RC: 0

# 20 Taylor RICHARDS

SPONSORED BY:

Trish Phillips

Apps: 1+8 Gls: 0

YC: 2 RC: 0

# 22 Kenneth PAAL

SPONSORED BY:

Apps: 25+1 Gls: 1

YC: 1 RC: 0

# 23 Conor MASTERSON

SPONSORED BY:

Available

Apps: 0+1 Gls: 0

YC: 0 RC: 0

# 24 Charlie OWENS

SPONSORED BY:

Available

Apps: 0 Gls: 0

YC: 0 RC: 0

# 25 Olamide SHODIPO

SPONSORED BY:

www.llarn.com

Apps: 3+8 Gls: 0

YC: 0 RC: 0

# 26 Leon BALOGUN

SPONSORED BY:

Jo Byron-Thomas

Maxine Leeper

Denis Smith

Apps: 10+1 Gls: 1

YC: 3 RC: 0

# 27 Ethan LAIRD

SPONSORED BY:

David,

Charlie and Alfie

Loveland

Apps: 22+1 Gls: 1

YC: 2 RC: 0

# 30 Sinclair ARMSTRONG

SPONSORED BY:

David, Diane and

Nathan Smith

Apps: 2+11 Gls: 0

YC: 0 RC: 0

# 32 Joe WALSH

SPONSORED BY:

Phil & Harry

Newman

Apps: 0 Gls: 0

YC: 0 RC: 0

# 37 Albert ADOMAH

SPONSORED BY:

Martin & Keiran

O'Brien - True

Potential Wealth

Management

Apps: 6+16 Gls: 1

YC: 0 RC: 0

# 38 Murphy MAHONEY

SPONSORED BY:

Phil & Harry

Newman

Apps: 0 Gls: 0

YC: 0 RC: 0

# 47 Tim IROEGBUNAM

SPONSORED BY:

www.spanish

practiceclub.

com

Apps: 16+3 Gls: 0

YC: 5 RC: 0

OFFICIALQPRFC // @OFFICIALQPR // @QPR // WWW.QPR.CO.UK

59
---
hoops

PUTTING THE SPARK

INTO MATCHDAY

PROGRAMMES...

PROUD PROGRAMME

PARTNERS OF

QUEENS PARK

RANGERS

www.ignitionsportsmedia.com

60 WWW.QPR.CO.UK // @QPR // @OFFICIALQPR // OFFICIALQPRFC
---
hoops

2019-22

qprcommunitytrust.co.uk e: community@qpr.co.uk t: 020 8740 2509

@QPRtrust

REACH YOUR

GOALS WITH

FIT FANS

Looking to lose weight,

get fitter and lead a more

active life?

If the answer is yes

and you're aged between

33 and 65, why not give

FIT Fans a try? It's a free

health programme

taking place at Loftus

Road and you can join

fellow QPR fans to achieve

your goal of a healthier

lifestyle in 2023.

Email fitfans@qpr.co.uk

or call 07807 788 511 to

book your free place on

our next course.

OFFICIALQPRFC // @OFFICIALQPR // @QPR // WWW.QPR.CO.UK

61
---
hoops

2022/23

FIXTURES & RESULTS

DATE KO OPPOSITION RES. ATT POS. STARTING XI

JULY

Sat 30 15:00 Blackburn Rovers L 0-1 14,315 22 DIENG KAKAY DICKIE CLARKE-SALTER DOZZELL JOHANSEN

AUGUST

Sat 6 15:00 Middlesbrough W 3-2 15,796 8 DIENG KAKAY DICKIE DUNNE 1 PAAL FIELD

Tue 9 19:45 Charlton Athletic CC L 1-1* 5,629 n/a DIENG KAKAY DICKIE DUNNE HAMALAINEN THOMAS

Sat 13 15:00 Sunderland D 2-2 37,884 10 DIENG 1 KAKAY DICKIE DUNNE HAMALAINEN JOHANSEN

Tue 16 20:00 Blackpool L 0-1 12,575 15 DIENG LAIRD DICKIE DUNNE PAAL DOZZELL

Sat 20 15:00 Rotherham United D 1-1 12,230 17 DIENG LAIRD DICKIE DUNNE PAAL FIELD

Sat 27 15:00 Watford W 3-2 19,977 11 DIENG LAIRD DICKIE DUNNE PAAL FIELD

Tue 30 19:45 Hull City W 3-1 12,716 6 DIENG LAIRD 1 DICKIE DUNNE PAAL DOZZELL

SEPTEMBER

Sat 3 15:00 Swansea City L 0-1 15,935 9 DIENG LAIRD DICKIE DUNNE PAAL JOHANSEN

Wed 14 19:45 Millwall W 2-0 13,384 8 DIENG LAIRD BALOGUN DUNNE PAAL JOHANSEN 1

Sat 17 15:00 Stoke City D 0-0 14,174 6 DIENG LAIRD BALOGUN DUNNE PAAL DOZZELL

OCTOBER

Sat 1 15:00 Bristol City W 2-1 21,665 5 DIENG LAIRD BALOGUN CLARKE-SALTER PAAL IROEGBUNAM

Tue 4 19:45 Sheffield United W 1-0 26,636 4 DIENG LAIRD BALOGUN DUNNE PAAL AMOS

Fri 7 20:00 Reading W 2-1 16,656 3 DIENG LAIRD DUNNE CLARKE-SALTER PAAL IROEGBUNAM

Sat 15 12:30 Luton Town L 1-3 10,011 4 DIENG BALOGUN DUNNE CLARKE-SALTER PAAL AMOS

Wed 19 19:45 Cardiff City W 3-0 12,805 1 DIENG LAIRD BALOGUN CLARKE-SALTER PAAL 1 JOHANSEN

Sat 22 15:00 Wigan Athletic W 2-1 16,353 1 DIENG LAIRD BALOGUN 1 CLARKE-SALTER PAAL JOHANSEN

Fri 28 20:00 Birmingham City L 0-2 19,007 2 DIENG LAIRD BALOGUN CLARKE-SALTER PAAL JOHANSEN

NOVEMBER

Wed 2 19:45 Norwich City D 0-0 25,458 4 DIENG LAIRD DICKIE BALOGUN PAAL DOZZELL

Sat 5 15:00 West Bromwich Albion L 0-1 17,139 5 DIENG LAIRD DICKIE BALOGUN PAAL AMOS

Tue 8 19:45 Huddersfield Town L 1-2 12,769 6 DIENG LAIRD BALOGUN CLARKE-SALTER PAAL IROEGBUNAM

Sat 12 15:00 Coventry City L 0-2 23,201 7 DIENG LAIRD DICKIE DUNNE CLARKE-SALTER RICHARDS

DECEMBER

Sun 11 13:00 Burnley L 0-3 14,299 9 DIENG LAIRD DUNNE CLARKE-SALTER PAAL DOZZELL

Sat 17 15:00 Preston North End W 1-0 14,534 6 DIENG LAIRD DUNNE 1 CLARKE-SALTER PAAL DOZZELL

Mon 26 17:15 Cardiff City D 0-0 18,549 7 DIENG LAIRD DICKIE DUNNE PAAL DOZZELL

Thurs 29 18:00 Luton Town L 0-3 16,030 11 DIENG LAIRD DICKIE DUNNE PAAL IROEGBUNAM

JANUARY

Mon 2 20:00 Sheffield United D 1-1 14,151 12 DIENG KAKAY DICKIE DUNNE PAAL IROEGBUNAM

Sat 7 15:00 Fleetwood Town FAC L 1-2 3,151 n/a DIENG KAKAY DICKIE DUNNE HAMALAINEN DOZZELL

Sat 14 15:00 Reading D 2-2 14,186 12 DIENG LAIRD DICKIE DUNNE PAAL IROEGBUNAM

Sat 21 15:00 Swansea City

Sat 28 15:00 Hull City

FEBRUARY

Sat 4 15:00 Huddersfield Town

Sat 11 15:00 Millwall

Tue 14 19:45 Sunderland

Sat 18 15:00 Middlesbrough

Sat 25 15:00 Blackburn Rovers

MARCH

Sat 4 15:00 Rotherham United

Sat 11 15:00 Watford

Tue 14 19:45 Blackpool

Sat 18 15:00 Birmingham City

APRIL

Sat 1 15:00 Wigan Athletic

Fri 7 15:00 Preston North End

Mon 10 15:00 West Bromwich Albion

Sat 15 15:00 Coventry City

Wed 19 19:45 Norwich City

Sat 22 15:00 Burnley

Sat 29 15:00 Stoke City

MAY

Sat 6 15:00 Bristol City

All fixtures subject to change. * Lost 3-5 on penalties

62 WWW.QPR.CO.UK // @QPR // @OFFICIALQPR // OFFICIALQPRFC
---
hoops

KEY: GOALSCORER 1 - FIRST SUB - SECOND SUB - THIRD SUB - FOURTH SUB - FIFTH SUB - † OWN GOAL - YELLOW CARD - RED CARD

SUBSTITUTES

REFEREEE

FIELD PAAL SHODIPO CHAIR DYKES

|

THOMAS, ADOMAH, ARMSTRONG, RICHARDS, BONNE, DUNNE, WALSH BRAMALL

JOHANSEN | WILLOCK 1 AMOS CHAIR DYKES 1 ADOMAH, DOZZELL, BONNE, HAMALAINEN, MASTERSON, SHODIPO, WALSH SMITH

FIELD

|

CHAIR DOZZELL BONNE ADOMAH SHODIPO, ROBERTS 1, ARMSTRONG, JOHANSEN, DREWE, DYKES, MASTERSON, WALSH ATTWELL

ADOMAH CHAIR 1 FIELD

|

SHODIPO DYKES ROBERTS, DOZZELL, ARMSTRONG, BONNE, MASTERSON, GUBBINS, WALSH SIMPSON

JOHANSEN FIELD ROBERTS DYKES CHAIR ARMSTRONG, SHODIPO, ADOMAH, KAKAY, HAMALAINEN, MASTERSON, WALSH DAVIES

JOHANSEN ROBERTS CHAIR WILLOCK 1 DYKES DOZZELL |, ADOMAH, ARMSTRONG, SHODIPO, KAKAY, ARCHER, HAMAHLAINEN WOOLMER

| | JOHANSEN DOZZELL CHAIR 1 WILLOCK 1 DYKES ADOMAH 1, ARMSTRONG, MASTERSON, KAKAY, ARCHER, BONNE, SHODIPO STROUD

FIELD JOHANSEN CHAIR 1 DYKES WILLOCK 1 ROBERTS |, KAKAY, ADOMAH, ARMSTRONG, ARCHER, MASTERSON, BALOGUN MARTIN

FIELD DOZZELL WILLOCK DYKES CHAIR ROBERTS, IROEGBUNAM, ADOMAH, ARMSTRONG, BALOGUN, ARCHER, KAKAY LANGFORD

FIELD IROEGBUNAM CHAIR ROBERTS WILLOCK 1 DYKES, DOZZELL, BONNE, ADOMAH, KAKAY, ARCHER, MASTERSON ROBINSON

FIELD JOHANSEN WILLOCK ROBERTS CHAIR DYKES, IROEGBUNAM, ADOMAH, ARCHER, KAKAY, BONNE, MASTERSON DONOHUE

FIELD JOHANSEN 1 ROBERTS 1 CHAIR WILLOCK DUNNE, AMOS |, DOZZELL, KAKAY, DYKES, ARCHER, ADOMAH SIMPSON

FIELD DOZZELL ROBERTS CHAIR WILLOCK 1 DYKES, CLARKE-SALTER, IROEGBUNAM, ADOMAH, DICKIE, JOHANSEN, ARCHER LININGTON

FIELD JOHANSEN ROBERTS DYKES 2 CHAIR KAKAY, DICKIE, DOZZELL, AMOS |, ARCHER, SHODIPO, ADOMAH BRAMALL

IROEGBUNAM FIELD ROBERTS DYKES CHAIR KAKAY, JOHANSEN, DICKIE, DOZZELL, RICHARDS, ARCHER, RICHARDS, ADOMAH HARRINGTON

FIELD IROEGBUNAM CHAIR ARMSTRONG DYKES 2 DOZZELL, AMOS, KAKAY, RICHARDS, BONNE, ARCHER, DICKIE J LININGTON

FIELD 1 ARMSTRONG IROEGBUNAM CHAIR DYKES AMOS, DOZZELL, DICKIE, RICHARDS |, BONNE, ARCHER, KAKAY, D WHITESTONE

FIELD ROBERTS CHAIR IROEGBUNAM

|

DYKES DICKIE |, ARMSTRONG, AMOS, RICHARDS, KAKAY, ARCHER, DOZZELL T ROBINSON

| |

|

|

| |

FIELD AMOS CHAIR IROEGBUNAM DYKES WILLOCK, SHODIPO, ADOMAH, BONNE, KAKAY, ARCHER, HAMALAINEN A DAVIES

FIELD IROEGBUNAM WILLOCK DYKES CHAIR DOZZELL, ADOMAH, ARMSTRONG, DUNNE, ARCHER, THOMAS, SHODIPO T BRAMALL

FIELD ADOMAH CHAIR WILLOCK DYKES 1 DUNNE, BONNE, RICHARDS, SHODIPO, DICKIE, ARCHER, DOZZELL G WARD

FIELD DOZZELL CHAIR DYKES WILLOCK KAKAY, ARMSTRONG, SHODIPO, ADOMAH, THOMAS, ARCHER, HAMALAINEN K STROUD

|

|

|

FIELD IROEGBUNAM THOMAS DYKES WILLOCK SHODIPO, ADOMAH, ARMSTRONG, KAKAY, DICKIE, ARCHER, RICHARDS P BANKES

FIELD IROEGBUNAM ADOMAH DYKES WILLOCK SHODIPO, DICKIE, KAKAY, ARCHER, THOMAS, RICHARDS, ARMSTRONG O LANGFORD

FIELD IROEGBUNAM ADOMAH DYKES WILLOCK CHAIR, ROBERTS |, SHODIPO, AMOS, KAKAY, ARCHER, MASTERSON K STROUD

FIELD SHODIPO ROBERTS CHAIR DYKES WILLOCK, ADOMAH, RICHARDS, KAKAY, AMOS, ARCHER, MASTERSON G WARD

|

FIELD ROBERTS CHAIR 1 WILLOCK DYKES AMOS, ADOMAH, RICHARDS, MASTERSON, SHODIPO, ARMSTRONG, MAHONEY J SMITH

FIELD 1 ADOMAH CHAIR WILLOCK DYKES RICHARDS, ROBERTS, LAIRD, PAAL, ARMSTRONG, ARCHER, MASTERSON S MARTIN

FIELD ROBERTS 2 CHAIR WILLOCK DYKES LOWE, RICHARDS |, DOZZELL, KAKAY, CLARKE-SALTER, ARCHER, ADOMAH D BOND

OFFICIALQPRFC // @OFFICIALQPR // @QPR // WWW.QPR.CO.UK

63
---
*Effective against enveloped viruses **vs representative Gram-negative bacterium. Always practise good hand hygiene.

Use biocides safely. Always read the label and product information before use. 99.9% OF BACTERIA
---
hoops

CHAMP

LEAGUE TABLE

PACK

TONIGHT'S

# CLUB P W D L F A +/- PTS

1 BURNLEY 27 17 8 2 53 25 28 59

2 SHEFFIELD UNITED 27 16 6 5 47 24 23 54

3 WATFORD 27 12 7 8 33 28 5 43

4 MIDDLESBROUGH 27 12 6 9 42 33 9 42

5 BLACKBURN ROVERS 27 14 0 13 30 34 -4 42

6 WEST BROMWICH ALBION 27 11 8 8 37 28 9 41

7 NORWICH CITY 27 11 6 10 36 29 7 39

8 MILLWALL 26 11 6 9 32 27 5 39

9 LUTON TOWN 26 10 9 7 33 29 4 39

10 SUNDERLAND 27 10 8 9 39 32 7 38

11 SWANSEA CITY 27 10 8 9 39 37 2 38

12 QUEENS PARK RANGERS 27 10 7 10 30 33 -3 37

13 PRESTON NORTH END 27 10 7 10 24 30 -6 37

14 READING 27 11 4 12 31 38 -7 37

15 COVENTRY CITY 26 9 8 9 27 27 0 35

16 HULL CITY 27 9 7 11 33 43 -10 34

17 BRISTOL CITY 27 8 8 11 36 37 -1 32

18 BIRMINGHAM CITY 27 8 8 11 29 33 -4 32

19 ROTHERHAM UNITED 27 7 9 11 32 39 -7 30

20 STOKE CITY 27 8 6 13 29 37 -8 30

21 CARDIFF CITY 27 7 8 12 21 30 -9 29

22 HUDDERSFIELD TOWN 26 7 5 14 25 33 -8 26

23 BLACKPOOL 27 6 8 13 28 40 -12 26

24 WIGAN ATHLETIC 27 6 7 14 27 47 -20 25

LAST UPDATED: 16.01.2023

KICK-OFF 3PM UNLESS STATED OTHERWISE

VS

12.30PM

VS

VS

VS

VS

VS

VS

VS

GOALSCORERS

CHUBA AKPOM

MIDDLESBROUGH

OSCAR ESTUPINAN

HULL CITY

VIKTOR GYOKERES

COVENTRY CITY

CARLTON MORRIS

LUTON TOWN

ILIMAN NDIAYE

SHEFFIELD UNITED

13

12

12

11

10

ASSISTS

ILIMAN NDIAYE

SHEFFIELD UNITED

DANIEL BARLASER

ROTHERHAM UNITED

RYAN GILES

MIDDLESBROUGH

TEEMU PUKKI

NORWICH CITY

JOSH BROWNHILL

BURNLEY

7

7

7

66

CLEAN SHEETS

BEN WILSON

COVENTRY CITY

DANIEL BACHMANN

WATFORD

FREDDIE WOODMAN

PRESTON NORTH END

ARIJANET MURIC

BURNLEY

THOMAS KAMINSKI

BLACKBURN ROVERS

12

12

12

10

10

OFFICIALQPRFC // @OFFICIALQPR // @QPR // WWW.QPR.CO.UK

65
---
hoops

Media Voice

IAN MCCULLOUGH, SENIOR WRITER AT WEST LONDON

SPORT, SHARES HIS THOUGHTS…

With the winter transfer window fully open

for business, this is one of the few occasions

where managers, directors of football and

journalists share a common bond – the

desire for 11pm on 31st January to come

around as quickly as possible.

The first window of 2023 has been pretty quiet

so far at the upper end of the market, with

only Chelsea and Wolves spending with great

abandon in the hope of improving their dismal

first half of the Premier League season.

But as the opening month of the year creeps

on, fans desperate for that acquisition they

hope can transform their club's season start

to get twitchy – particularly on social media.

Every piece of clickbait that links a certain

player is treated as gospel.

Sky Sports News sets a daily record for use of

the word 'understands' and continues its long

quest to make the term 'done deal' a part of

the modern-day vernacular, all while a ticker

in the top right corner of the screen indicates

how many days and hours remain until the

window shuts.

Radio stations dedicate shows to discussing

who is 'winning the transfer window' and trawling

Twitter for rumours of who may be signing for

club A or club B and treating it as gospel.

For football reporters up and down the

country, it's the last few days of the window

that are the most fraught, with every rumour

of a club on your patch needing to be

checked out or simply dismissed out of hand.

Due to the very nature of clubs needing

to cover their own backs, there could be a

number of players potentially on their way in,

but until the figurative dominos fall into place

elsewhere, they don't know if they can get a

deal done in time, so phones understandably

go unanswered when enquiries are made.

Then the Twitter messages begin – 'anything

in the rumour about so and so signing?' or

'I am hearing so and so is joining, can you

confirm?'

All well-intentioned and unmalicious stuff, but

when you are asked the same question 40

times and the agent of the player in question

is either unwilling to speak, answer his phone

or tell the truth when he does, hours can be

wasted trying to stand something up that

never happens.

But deep down, we all love it really.

The adrenalin rush of a story you've written

that proves to be on the money when that

player signs at 22:59 on the last day of the

window is what we do this job for – and the

palpable relief of managers when they have

been able to strengthen their squads is

probably similar.

But roll on February!

66 WWW.QPR.CO.UK // @QPR // @OFFICIALQPR // OFFICIALQPRFC
---
Ashville is rooted in construction and our history has morphed

from boots on the ground to in house development and government

infrastructure projects. Ashville encompasses every element in

construction and is a fundamental part of all supply chains.

We're proud to have over 15 years' experience within the industry, which in

turn allows us to provide a responsive and reliable service for each of our

customers. Our team and process are completely in-house which allows us

to have control from initial concept to completion.

ashvilleaggregates.com
---
THE SQUADS

QUEENS PARK

RANGERS

HEAD COACH: NEIL CRITCHLEY

SENY DIENG GK ● 1

OSMAN KAKAY ● 2

JIMMY DUNNE ● 3

ROB DICKIE ● 4

JAKE CLARKE-SALTER ● 5

STEFAN JOHANSEN ● 6

CHRIS WILLOCK ● 7

LUKE AMOS ● 8

LYNDON DYKES ● 9

ILIAS CHAIR ● 10

TYLER ROBERTS ● 11

JORDAN ARCHER GK ● 13

GEORGE THOMAS ● 14

SAM FIELD ● 15

NIKO HAMALAINEN ● 16

ANDRE DOZZELL ● 17

JAMAL LOWE ● 18

TAYLOR RICHARDS ● 20

KENNETH PAAL ● 22

CONOR MASTERSON ● 23

CHARLIE OWENS ● 24

OLAMIDE SHODIPO ● 25

LEON BALOGUN ● 26

ETHAN LAIRD ● 27

JOE GUBBINS ● 28

AARON DREWE ● 29

SINCLAIR ARMSTRONG ● 30

RAY JONES ● 31

JOE WALSH GK ● 32

ALBERT ADOMAH ● 37

MURPHY MAHONEY GK ● 38

TIM IROEGBUNAM ● 47

SWANSEA

CITY

HEAD COACH: RUSSELL MARTIN

1 ● ANDY FISHER GK

3 ● RYAN MANNING

4 ● JAY FULTON

5 ● BEN CABANGO

6 ● HARRY DARLING

7 ● JOE ALLEN

8 ● MATT GRIMES

9 ● MICHAEL OBAFEMI

10 ● OLIVIER NTCHAM

12 ● JAMIE PATERSON

13 ● STEVEN BENDA GK

14 ● KYLE JOSEPH

15 ● NATHANAEL OGBETA

16 ● BRANDON COOPER

17 ● JOEL PIROE

18 ● LUKE CUNDLE

19 ● MORGAN WHITTAKER

20 ● LIAM CULLEN

22 ● JOEL LATIBEAUDIERE

23 ● NATHAN WOOD

26 ● KYLE NAUGHTON

28 ● LIAM WALSH

29 ● MATTY SORINOLA

31 ● OLLIE COOPER

37 ● DANIEL WILLIAMS

45 ● CAMERON CONGREVE

Referee:

John Busby

Assistant Referee:

Mark Pottage

Assistant Referee:

Andrew Dallison

Fourth official:

Paul Howard