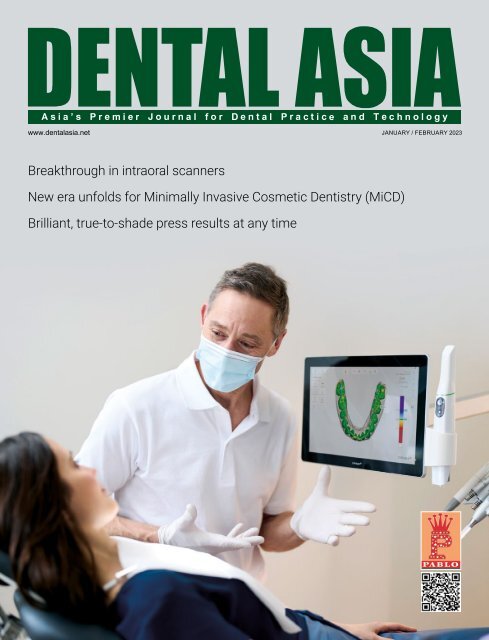 Dental Asia January/February 2023
For more than two decades, Dental Asia is the premium journal in linking dental innovators and manufacturers to its rightful audience. We devote ourselves in showcasing the latest dental technology and share evidence-based clinical philosophies to serve as an educational platform to dental professionals. Our combined portfolio of print and digital media also allows us to reach a wider market and secure our position as the leading dental media in the Asia Pacific region while facilitating global interactions among our readers.
For more than two decades, Dental Asia is the premium journal in linking dental innovators and manufacturers to its rightful audience. We devote ourselves in showcasing the latest dental technology and share evidence-based clinical philosophies to serve as an educational platform to dental professionals. Our combined portfolio of print and digital media also allows us to reach a wider market and secure our position as the leading dental media in the Asia Pacific region while facilitating global interactions among our readers.

SHOW MORE
SHOW LESS
Create successful ePaper yourself
Turn your PDF publications into a flip-book with our unique Google optimized e-Paper software.
www.dentalasia.net

JANUARY / FEBRUARY 2023

Breakthrough in intraoral scanners

New era unfolds for Minimally Invasive Cosmetic Dentistry (MiCD)

Brilliant, true-to-shade press results at any time
---
Torq Control®

Universal Torque

Wrench

Torq Control® is the Anthogyr universal

torque wrench offering the guarantee of

tightening precision, whatever the type

of implant connection or the difficulties of

access.

Precise tightening is a key factor to secure

implant treatment success. Torq Control®

has been specially designed by Anthogyr

to meet these requirements for all

prosthetic manipulations, in all safety

thanks to automatic declutching.

A must-have, especially for full-arch

restorations.
---
ANCHORING THE PRESENT,

ALIGNING FOR THE FUTURE

17-19 FEBRUARY 2023

Marina Bay Sands, Singapore

www.aoscongress.com

LEARN FROM 17

DISTINGUISHED SPEAKERS!

SCAN TO

REGISTER

Organised By:

Held In:

Supported By:

Managed By:
---
CONTENTS

TRENDS

12 World Diabetes Day reminds of the link

between chronic diseases and oral health

16 Pilot teledentistry programme incorporating AI

UNDER THE SPOTLIGHT

18 Enhancing treatment efficiency with AI

DENTAL PROFILE

21 Breakthrough in intraoral scanners

CLINICAL FEATURE

24 Navigated digital full mouth implant

rehabilitation

30 Treatment of Class II increased overjet by

Carriere 3D Motions

34 New era unfolds for Minimally Invasive

Cosmetic Dentistry (MiCD)

12

18

USER REPORT

38 Five benefits of prosthetic-driven implant

planning

42 Astounding new smile with direct

composite veneers

BEHIND THE SCENES

44 Digital dentistry is here to stay

46 Brilliant, true-to-shade press results at any

time

IN DEPTH WITH

49 ACTILINK Reborn: Enhancing

osseointegration and hydrophilicity of

dental implant

50 How Osteopore technology is used in oral

and maxillofacial surgery

SHOW PREVIEW

60 Hundred years of IDS: Shaping the dental

future

62 AOSC 2023: Anchoring the present,

Aligning for the future

REGULARS

4 Editor's note

6 Dental Updates

54 Product Highlights

63 Events Calendar

64 Advertisers' Index

21

34 44 60
---
TRIOS 5

simply.effortless

Great scans made easy

Precision scanning made

effortless, every time.

Sensory feedback guides you

as you go for a smoother and

faster scanning experience.
---
EDITOR'S NOTE

Success stories

continue

Happy new year, our dear readers! The Dental

Asia team is ecstatic to welcome 2023 as there

is a lot in store ahead of us — starting with the

40th edition of the International Dental Show

(IDS) concurrent with its centennial anniversary

happening on 14-18 Mar. Attendees can look

forward to a plethora of products and solutions

from over 1700 exhibitors as well as various

networking opportunities (p.60).

For instance, one of the key players in the

intraoral scanner market, 3Shape, will also

be present in IDS to showcase the recently

launched TRIOS 5 Wireless. Kasper Chaney

Sørensen, 3Shape's general manager of

International Markets, shares how this device

has once again redefined the standards of

intraoral scanning (p.21).

What's more, after the success of its

online edition in 2021, the Association of

Orthodontists (Singapore) Congress (AOSC)

returns this year in its established physical

format on 17-19 Feb, highlighting the current

technological advancements in the industry,

focusing on the niche of orthodontics (p.62).

On another note, Dr Selene Kuo (Taiwan)

presents a navigated digital full mouth implant

rehabilitation utilising BEGO Semados RSX

implant in combination with the components of

the MultiPlus concept, which won the 4th BEGO

clinical case award (p.24).

Dr Walter Lam (Hong Kong), on the other

hand, elaborates on the success of his

research on Artificial intelligence-designed

single molar dental prostheses: A protocol of

prospective experimental study that bagged

the IADR Neal Garrett Clinical Research

Prize and was the first runner-up in the 2022

IADR-SEA Hatton Award – Senior Category

(p.18).

The winner of Dentsply Sirona's annual

Global Clinical Case Contest — a

competition aimed at dental students with

less than two years of clinical practice

— Nanthiphorn Pongam (Thailand) also

shares her winning case performed

under the guidance of her professor, Dr

Munin Chaichalothorn (p.42). Indeed, we

can expect nothing less from the next

generation of dentists.

As we enter this exciting year, rest assured

that we will continue to bring you the latest

news and developments in the dental field —

so stay tuned!

Czarmaine Masigla

Assistant Editor

PABLO SINGAPORE

Publisher

Assistant Editor

Graphic Designer

Circulation Manager

Media Representative

PABLO BEIJING

General Manager

PABLO SHANGHAI

Senior Editor

Cover credit

William Pang

williampang@pabloasia.com

Czarmaine Masigla

czarmaine@pabloasia.com

Cayla Ong

cayla@pabloasia.com

Shu Ai Ling

circulation@pabloasia.com

Jamie Tan

jamietan@pabloasia.com

Ellen Gao

pablobeijing@163.com

Daisy Wang

pabloshanghai@163.net

3Shape

HEAD OFFICE

PABLO PUBLISHING &

EXHIBITION PTE LTD

3 Ang Mo Kio Street 62 #01-23

Link@AMK, Singapore 569139

Tel: (65) 62665512

Email: info@pabloasia.com

Website: www.dentalasia.net

Company Registration No.: 200001473N

Singapore MICA (P) No. 104/12/2021

Malaysia KDN: PPS1528/07/2013 (022978)

REGIONAL OFFICES

PABLO BEIJING

Tel: +86-10-6509-7728

Email: pablobeijing@163.com

PABLO SHANGHAI

Tel: +86-21-52389737

Email: pabloshanghai@163.net

ADVISORY BOARD

Dr William Cheung

Dr Choo Teck Chuan

Dr Chung Kong Mun

Dr George Freedman

Dr Fay Goldstep

Dr Clarence Tam

Prof Nigel M. King

Dr Anand Narvekar

Dr Kevin Ng

Dr William O'Reilly

Dr Wong Li Beng

Dr Adrian U J Yap

Dr Christopher Ho

Dr How Kim Chuan

Dr Derek Mahony

Prof Alex Mersel
---
STAY AHEAD

OF THE GAME.

+45

NEW FEATURES

DentalCAD 3.1 Rijeka

More than 45 new and over 85 enhanced features level up your journey to beautiful results. Faster

design of single-unit restorations, reuse of custom tooth setups, highly automated pre-op workflows,

a more intuitive Model Creator and more flexible denture design awaits you in DentalCAD 3.1 Rijeka.

Contact your reseller to upgrade.

Imagine the CADABILITIES
---
DENTAL UPDATES

Amann Girrbach to showcase end-to-end process chain for dental restorations

at IDS 2023

Amann Girrbach will showcase an optimised

and integrated end-to-end process chain

for dental restorations at the International

Dental Show (IDS) 2023 in Cologne, Germany,

happening on 14-18 Mar 2023.

"As 'the open workflow company' in the dental

industry, Amann Girrbach will introduce visitors

to digital workflows spanning the entire work

process. Our objective is to holistically connect

dental laboratories and dental practices for the

benefit of patients: the reason being, that in a

perfect dental (work) flow, everything is smart,

simple and seamlessly interwoven to allow

users to concentrate fully on their work. To

combine analogue and digital steps, products

and services in a safe and open system, to

ultimately make everyone's daily work easier

through high reproducibility of work and to

create better patient care," shared Wolfgang

Reim, CEO of Amann Girrbach.

At the newly designed, approximately

640sqm stand, new digital standards in

dental technology will be showcased and

demonstrated live on site together with

interested visitors. Room for an exchange

with colleagues and product experts is also

foreseen. Under the umbrella of the motto

"Connect to the (Work-)Flow", Amann Girrbach

would like to offer an invitation to become part

of a movement that connects and benefits

collectively from digital achievements.

"We are familiar with dental practice and all

its hurdles and see our task not only in

providing excellent products, but also in

optimising the entire workflow right through to

numerous service offerings," emphasised Reim.

With innovations such as the workflow

management platform AG.Live and the

interdisciplinary Ceramill DRS (Direct

Restoration Solution) system, the company

is consistent in pursuing this objective.

Reim added: "We enable users in dental

practices and laboratories to do something

that a single product alone cannot achieve: we

deliver an open overall system with established

analogue and innovative digital products that

ensures significant time and cost savings." DA

WHO and members of the WHPA sign new MoU on health workforce priorities

The World Health Organization (WHO) has

signed a memorandum of understanding (MoU)

with the five members of the World Health

Professions Alliance (WHPA): FDI World Dental

Federation (FDI), International Pharmaceutical

Federation (FIP), International Council of

Nurses (ICN), World Physiotherapy, and World

Medical Association (WMA). Together, these

five organisations represent more than 41

million health professionals worldwide and

assemble essential knowledge and experience

from the key health professions in more than

130 countries.

The signing ceremony represents an historic

event, bringing together the five global

organisations representing the world's dentists,

pharmacists, nurses, physiotherapists and

physicians with WHO to enhance their joint

collaboration on protecting and investing in the

health workforce to provide safe, quality and

equitable care in all settings.

the five organisations and the WHO. They

specifically commit to collaborate on priority

health workforce issues as well as universal

health coverage, noncommunicable diseases,

and ageing populations. The framework will

also contribute to reinforcing national and

regional health systems and services.

"The COVID-19 pandemic has shown us that

today's public health problems cannot be

solved by one country or one organisation or

one profession by itself," said Enzo Bondioni,

chair of the WHPA and executive director of FDI.

"Through collaboration between stakeholders

we can tackle interlinked global health

challenges by taking joint action to protect

and strengthen the health workforce and make

progress towards universal health coverage."

The WHPA and WHO have pursued common

goals prior to and through the pandemic.

Both have worked to ensure vaccination of

health and care workers across all countries

and continued advocacy with countries to

strengthen health systems, including by

providing better recognition, workplace

environments and decent working conditions

for health and care workers. DA

The new MoU reflects the importance of

investing in the health workforce through

a multi-stakeholder integrated approach. It

provides a framework for joint action between

6 DENTAL ASIA JANUARY / FEBRUARY 2023
---
DENTAL UPDATES

DentalMonitoring now offers Smart STL

DentalMonitoring now offers Smart STL*

powered by AI-driven technology. The company

brings the only platform in the oral healthcare

industry capable of creating updated STL files

100% remotely. This addition to remote oral

healthcare technology supports clinicians

in providing treatment in convenient and

cost-effective ways that have previously been

impossible.

DentalMonitoring is known for innovation in

dentistry and orthodontics and has expanded

that reputation with this new offering.

Previously, all STL file creation required a

patient to visit their doctor's office. However,

doctors can now request an updated STL

file at any stage of treatment through the

DentalMonitoring dashboard. This eliminates

the need for in-practice visits and delivers

convenience to patients and efficiency to

practices. Smart STL technology expands

remote solutions and can assist doctors with

efficient treatment progress.

This unique technology creates 3D intraoral

models with the sophistication of AI-powered

scans, ensuring the new STL file represents the

most up-to-date model possible based on a

patient's current smile.

"This achievement revolutionises practice

efficiency, saving chair time and time

previously spent on intraoral scans, all while

avoiding unnecessary visits to the practice

for the patients. In the future, this could also

help streamline management of mid-course

corrections, refinements, retention and relapse,"

said Philippe Salah, CEO of DentalMonitoring.

Since 2014, DentalMonitoring has taken the

industry by storm on its mission to make

dentistry smarter with solutions that help

enhance the quality of care, enable practice

growth and improve the patient experience.

This latest innovation comes amid a series of

impressive launches as the company bolsters

its suite of intelligent solutions, which range

from AI-powered remote monitoring to its

industry-first data analysis system. DA

*Product availability claims and regulatory status

may differ across countries depending on local

regulations.

VITA North America partners with Dental Direkt

VITA North America has announced its

exclusive distribution partnership with Dental

Direkt, supplier of dental products and the

biggest zirconia manufacturer in Europe.

This collaboration between two of the dental

industry's strongest brands extends VITA

North America's product portfolio to offer the

largest and broadest zirconia selections on

the market.

"We are excited to partner with a quality

material manufacturer, who completes

our consumable portfolio ideally to fulfil

all material needs of our customers," said

Patrick Bayer, vice-president of Sales and

Marketing for VITA North America. "With this

exclusive partnership, the US and Canada

will have access to the most expansive and

advance zirconia portfolio in the market today,

combined with accelerated distribution time

and superb customer service."

VITA's premium zirconia line, VITA YZ,

is available in a variety of sizes and four

different translucency levels, including white,

colour and multicolour variants. VITA is also

the only manufacturer to offer pre-coloured

and multicolour zirconia in all VITA classical

A1-D4 and VITA SYSTEM 3D-MASTER shades.

In addition to the VITA product line, customers

will now have access to Dental Direkt's

value-priced midrange zirconia product lines.

Its eight zirconia offerings are available in a

range of sizes in white, colour, multicolour

and multilayer, as well as all 16 VITA classical

A1-D4 shades and VITA Bleached Shades.

The non-shaded zirconia is accompanied by

the corresponding shade liquids for individual

characterisation. The newest addition to the

Dental Direkt Zirconia line is the industry

leading Nacera Pearl, a multilayer, multicolour

disc with different translucencies and colours

in one zirconia disc. In addition to a large

offering of zirconia, a complete product line

of high-impact thermoplastic polymers will

also be available.

With the exclusive partnership between

VITA North America and Dental Direkt,

customers now have greater access to the

largest zirconia portfolio available, expedited

turnaround times from a US warehouse,

exceptional customer service available in

three languages and a local, technical support

team comprised of trained dental technicians.

"Our exclusive partnership with VITA

North America allows us to partner with

an established dental manufacturer with

operations in the US. Dental Direkt is known

for always working in the best interest of

the customer and processing orders and

customer inquiries as quickly and as best as

possible. Due to the time difference between

the US and Germany, we weren't always able

to guarantee this and are pleased to have

found a partner in VITA North America to

support us here. By working together with

VITA North America, customers will benefit

from faster and easier processing of our

product orders and services," said Marcel

Brüggert, CEO of Dental Direkt. DA

DENTAL ASIA JANUARY / FEBRUARY 2023 7
---
DENTAL UPDATES

Dentsply Sirona's presence at IDS 2023 to highlight

the power of digital universe for best possible

connectivity in dentistry

Dentsply Sirona will have a significant presence

at IDS 2023, with all activities tied to the theme

"united for better dentistry" — recognising the

need for even more connectivity, collaboration,

and partnership to move the dental industry

forward and improve oral health globally.

Attendees are invited to experience the digital

universe at Dentsply Sirona's immersive

20,451sqft (1900sqm) booth. Situated in hall

11.2, the booth will feature the company's

entire portfolio of products and solutions,

which visitors will be able to see in action

through product demonstrations and live

presentations.

A key highlight on display will be DS Core

— an open, cloud-based platform powered

by a collaboration between Dentsply Sirona

and Google Cloud. DS Core is designed to

seamlessly integrate with Dentsply Sirona

devices, services, and technologies to improve

practice efficiency, foster collaboration with

specialists and labs, and support dental

professionals throughout the entire patient

journey. DS Core Create complements this

offering by providing easy access to expert

quality-designs for Primeprint. With DS Core

Care, users receive a comprehensive, integrated

equipment service and support solution.

Additional booth experiences include Dentsply

Sirona's intraoral scanner Primescan Connect,

as well as Primeprint Solutions which is

designed for dental practices and labs who

want to expand their treatment and service

offerings with medical-grade 3D printing.

"Dentsply Sirona is a pioneer when it comes

to digital dentistry, they truly invented it back

in the 1980s, and I am proud to partner with

them for IDS 2023," said Dr Gertrud Fabel,

dentist from Munich, Germany. "I have long

been impressed by the company's innovative

solutions and seamless workflows, which help

improve the treatment experience for both me

and my patients. I am excited to see what they

have in store for IDS 2023."

Dentsply Sirona will also bring together leading

voices for thought-provoking panel discussions

on crucial topics: How will the latest digital

innovations shape dentistry in the future?

How do cloud solutions drive practices and

labs forward? How do we collectively have

an impact on better treatment outcomes?

And also: What does sustainability mean for

dentistry and what actions can practice teams

take to become a more sustainable business?

With thought leaders from both inside and

outside the dental industry, the conversations

promise to deliver unique perspectives on how

these rapid societal changes are affecting the

dental world.

"IDS offers a fantastic moment to unite with the

global dental community and we are eagerly

looking forward to the next edition in 2023,"

said Gerry Campbell, group vice-president,

Commercial EMEA at Dentsply Sirona. "We

know that through close collaboration and

partnership, we can take dentistry to the next

level and ultimately help bring healthy smiles to

more people around the world."

Dentsply Sirona will implement a number of

sustainability measures to reduce its footprint

for the event, in line with the goals set out in

its BEYOND sustainability strategy. The booth

will be made mostly of reused furniture, while

European-based employees will be encouraged

to travel to IDS by train, local public transport or

do carpooling. The company will also prioritise

digital communications — adopting a paperfree

approach wherever possible, alongside

other measures and activities that customers

can learn more about at the IDS. DA

Curaden and ITI collaborate

Curaden, an oral hygiene company based

in Switzerland, has collaborated with the

International Team for Implantology (ITI),

an academic organisation promoting

evidence-based education and research in

implant dentistry. The partners have signed

a sponsorship agreement to make greater the provision of education materials to the ITI

advances in preventive dental care.

community in its field of expertise. Curaden

thus joins a select group of companies known

Curaden is one of the first sponsoring partners as industry partners of the ITI.

in a new ITI initiative aimed at building longerterm

relationships with a small number of "This global ITI initiative is based on a modular

companies in the industry. Curaden will work sponsorship approach that allows us to

more closely with the ITI for an initial period address the individual needs of our sponsors,"

of three years. The agreement will primarily said Charlotte Stilwell, president of ITI. "It

cover ITI congresses and symposia, as well as represents a mutually beneficial, longer-term

commitment made by carefully selected

companies that share similar educational and

scientific evidence-based principles as the

ITI. We are delighted to welcome Curaden on

board."

"For Curaden, this new collaboration is a

big step in the right direction," said Ueli

Breitschmid, owner and CEO of Curaden. "It

will further develop our global network and

strengthen the power we already have as

a unique player in the fight for prevention

thinking. Maintenance is an important topic,

also for the ITI — this is where we can put

a lot of our know-how. We will benefit from

each other especially in education and in

the area of appearances and recognisability

worldwide." DA

8 DENTAL ASIA JANUARY / FEBRUARY 2023
---
DENTAL UPDATES

Planmeca introduces new laboratory

milling unit

ids-cologne.de

Planmeca PlanMill 60 S is a dental milling unit specifically designed

for the needs of dental laboratories and technicians. Supporting

an even broader range of indications than chairside milling units,

Planmeca PlanMill 60 S is also a great tool for dentists willing to

produce more advanced dental restorations and applications in

house.

The five-axis milling unit can be used to mill discs and blocks as

well as prefabricated titanium and cobalt chrome abutments. The

milling unit is capable of both wet and dry processing of different

materials, including zirconium dioxide, glass ceramics, composites,

PMMA and wax. The unit produces various dental restorations,

custom implant abutments and bars, partial frames, bite splints, and

dentures precisely.

The milling unit can be used with a variety of material holders, which

extend the application possibilities of Planmeca PlanMill 60 S even

further. With a half-open blank holder, the milling unit can be used

for producing even the most demanding restorations for the anterior

area. The user can easily and quickly change the clamping holder in

the milling chamber, when needed.

"Planmeca PlanMill 60 S is a powerful milling unit for the varying

needs of dental laboratories, technicians, and in-house laboratories.

The platform-based design of Planmeca PlanMill 60 S allows

introducing new functionalities to the milling unit also in the future

with software updates and interchangeable clamping fixtures,"

shared Jukka Kanerva, senior vice-president at Planmeca.

The Planmeca PlanMill 60 S milling unit is used together with

Planmeca PlanCAM software, which calculates necessary milling

paths for selected materials and indications. The software supports

open STL files and guarantees a fast and easy workflow in the busy

laboratory environment. DA

SINCE 1923

COLOGNE

14. – 18.03.2023

14 March 2023: Trade Dealer Day

40 th International Dental Show

inclusive IDSconnect

SHAPING THE

DENTAL FUTURE

Koelnmesse GmbH · Messeplatz 1 · 50679 Köln · Germany ·

Tel. +49 1806 773577 · ids@visitor.koelnmesse.de

DENTAL ASIA JANUARY / FEBRUARY 2023 9

IDS_2023_Anzeige_Dental_Asia_91x234mm_Int_GB.indd 1 19.12.22 11:50
---
DENTAL UPDATES

Henry Schein partners with Biotech Dental Group

Henry Schein, provider of healthcare

solutions to office-based dental and medical

practitioners, has announced a definitive

agreement with the shareholders of Biotech

Dental, provider of clinical software and oral

surgery and orthodontic products based

in Salon-de-Provence, France, to acquire a

majority ownership stake in the company.

Henry Schein and Biotech Dental will partner

to bring Biotech Dental's full line of software,

products, and services, including dental

prostheses, clear aligners, dental implants,

regenerative solutions, and biomaterials, to

more dentists and dental laboratories as

well as new geographies. The closing of this

transaction is subject to certain regulatory

approvals.

Biotech Dental has several important solutions,

including Nemotec, a comprehensive,

integrated suite of planning and diagnostic

software using open architecture that connects

disparate devices to create a digital view of the

patient's oral health condition, offering greater

diagnostic accuracy and an improved patient

experience. Biotech Dental is also one of the

fastest-growing implant and custom abutment

brands in France, as well as the manufacturer of

the Smilers brand of clear aligners.

In addition, Biotech Dental has launched

LaGalaxy, a comprehensive, open, and secure

software platform where both clinical and

administrative tasks can be performed. Within a

single platform, dentists and dental laboratories

benefit from end-to-end integrated digital

solutions that help improve case outcomes

while speeding treatment time, shortening case

completion, and lowering the costs of implants,

orthodontic, and prosthetic treatments.

"Henry Schein and Biotech Dental are committed

to offering customers best-in-class, userfriendly,

customer-centric solutions based on

open architecture that help improve patient

outcomes," said Stanley M. Bergman, chairman

of the Board and CEO of Henry Schein. "Henry

Schein will, over time, incorporate Biotech's

Nemotec software as part of our solutions

offering, including integrating Biotech's

software solutions with Henry Schein One's

industry-leading practice management

software solutions to create a leading endto-end

clinical system and to help dental

practitioners streamline their clinical as well as

administrative workflow."

"We have continually grown to meet the

specialised and unique needs of dentists,

orthodontists, and dental laboratories," said

Philippe Veran, founder and president of

Biotech Dental. "For the past 35 years, the

growth of our business has been rooted in our

rich French heritage. This will remain as we

continue to manufacture our products in France

while bringing innovation and new technologies

to the global dental community. Together,

with Henry Schein, we look forward to helping

our customers enhance their surgical skills,

achieve better outcomes for their patients, and

maximise business success." DA

W&H will exhibit at IDS 2023

Bigger than ever before and with plenty

of products to discover — W&H will take

part in IDS 2023. True to the slogan "From

innovative products to sustainable solutions",

the company is presenting forward-thinking

and sustainable technologies for the dental

industry.

"We are taking our trade fair booth to a whole

new level for IDS 2023. Visitors can look

forward to fascinating topics, digital highlights

and a new look and feel," said Anita Thallinger,

director of Marketing and Market Service.

W&H has plenty to offer when it comes to

innovative products. One example of the

innovations referred to in its IDS slogan is the

new Piezomed module, the game changer in

piezosurgery. With this easy add-on solution

for the Implantmed, W&H is revolutionising

the surgical workflow and creating entirely

new treatment options for patients. Visitors

to their booth can also experience the Lara

XL, another product innovation in the field of

sterilisation.

But it does not stop there. The Assistina One

provides perfect processing and maintenance

of straight and contra-angle handpieces,

turbine handpieces, air motors and air-powered

scalers. This device automatically dispenses

the exact amount of W&H Service Oil and W&H

Activefluid required. This means instruments

can be sustainably maintained while also

saving on both resources and costs.

The OsstellConnect is another smart product

innovation from W&H, which takes the strain

out of day-to-day treatments in the dental

practice. This tool enables users to access data

at the push of a button to improve their dental

implant treatment.

W&H attaches particular importance to quality,

longevity, reparability, and reliability for its

products. Customers benefit from reduced

costs and save resources, modular solutions

and innovative technologies enable safe and

efficient treatments.

Visitors can expect an entirely new trade fair

look and engaging live demonstrations. The

medical technology company will also be

unveiling its first ever climate-neutral booth.

This will involve reducing emissions wherever

possible and offsetting them through a

selected climate protection project. W&H is

thereby setting the agenda for active climate

protection and underlining once more its

position as a pioneer in the dental industry. DA

10 DENTAL ASIA JANUARY / FEBRUARY 2023
---
Simplifying the complex challenge

Case Gallery

As of today, iTero scans have been used in more than 12.6 million restorative case scans, including crown,

bridge and custom implant cases*. iTero scanners have been helping to simplify the workflow of many complex

cases.

In this edition of the Simplifying the complex challenge, we are showcasing complex restorative cases for instance,

by Dr Shihjaw Tsai (Taiwan).

Smile makeover: Veneers

Dr Shihjaw Tsai

Esthetic Dent Dental Clinic, Taiwan

Chief complaint

Patient complained of discoloured front teeth and chipped filling

Medical history

The patient was healthy with no relevant medical history

Initial examinations and diagnosis

Chipped defective composite resin restorations with respect to tooth #11 and #21.

Secondary caries detected in tooth #11 #12 and #21 and were confirmed using X-ray.

Treatment plan

Caries excavation with respect to tooth #11, #12 and #21 followed by tooth preparation for veneers with respect to tooth #14, #13 #12, #11

,#21, #22, #23 and #24

Initial clinical status and treatment outcome

Before restoration

After restoration

Treatment workflow

• [Initial consultation]

Initial scan and consultation using iTero element TM 5D

imaging system.

• [Smile Design]

iTero scan was used for Digital Smile Design and digital

mock-up try in was done using exocad TM software to

adjust the form and shape of mock-up veneers.

• [Digital mock-up]

Exocad software allowed the patient to visualise what

the final smile would look like prior to restoration.

Initial scan

Final scan

• [Tooth preparation]

Tooth preparation was done for tooth #14, #13 #12, #11

,#21 , #22, #23 and #24 followed by iTero scan for

veneer fabrication.

Treatment progress images

Digital mock-up Prep image Prep scan

• [Provisional]

Clear silicone impression with flowable composite

using injection moulding technique was used to create

the temporary veneers via 3D printed mock-up using

iTero scan.

• [Final restoration]

Veneers were cemented on the next visit and

satisfactory results were achieved, and post-treatment

follow-up was done.

*Data on file at Align Technology, as of June 30, 2022.

Invisalign, the Invisalign logo, iTero, the iTero logo, among others, are trademarks and/or service marks of Align Technology, Inc.

or one of its subsidiaries or affiliated companies and may be registered in the U.S. and/or other countries.

© 2022 Align Technology, Inc. All rights reserved.
---
TRENDS

World Diabetes Day reminds

of the link between chronic

diseases and oral health

Diabetes is a chronic disease that affects millions

of people around the world. Self-diagnostics and

self-care play an important role in the management

of the disease — one part of this is thorough oral

healthcare.

By Nina Garlo-Melkas

In Finland, a country with a population of

about 5.5 million, there are about 450,000

people diagnosed and receiving treatment

for diabetes: about 50,000 type 1 and about

400,000 type 2 diabetics. In addition, there

are between 50,000 and 100,000 people with

type 2 diabetes left undiagnosed. Moreover,

gestational diabetes is diagnosed in

thousands of expectant mothers every year.

Type 2 diabetes is a national disease all over

the world, where living standards are rising.

Especially in the Western world, where obesity

is a common public health problem, said Dr

Timo Sorsa, professor of Oral and Maxillofacial

Diseases at the University of Helsinki.

Gum diseases such as periodontitis have

long been known to be linked to many

chronic illnesses. A large epidemiological

study conducted at the University of Helsinki

examined the predictive value of oral health

for the onset of various chronic diseases

through a 10-year follow-up 1 .

According to the study, a clear link between

periodontal disease and diabetes in particular

was found. No equally strong association

was found between gum diseases and

other common chronic diseases such as

rheumatoid arthritis, inflammatory bowel

disease or serious mental illness. However,

in addition to diabetes, periodontitis also

appears to exert less efficient association

with the risk of pre-diabetes, i.e., metabolic

syndrome.

Heart surgeon Tommi Pätilä is one of the one of the developers of the Lumoral method, which has

revolutionised Finnish preventive dental care. Used in addition to regular tooth brushing, Lumoral is

suitable for everyone, but is especially beneficial for those prone to cavities or gingivitis

Because the link between oral health and

diabetes is so evident, the study stated

that the general health and oral health of

patients diagnosed with diabetes should

be considered as a whole to achieve the

best possible treatment outcomes. In fact,

12 DENTAL ASIA JANUARY / FEBRUARY 2023
---
TRENDS

the research demonstrated that even latent

diseases have a harmful and long-term effect

on one another.

The mutual effects of various diseases also

increase costs for society and patients by

making it more difficult and expensive to

diagnose and treat each other. The effects are

significant in terms of both national health and

the national economy, the study continued.

TWO-WAY EFFECT — MULTIPLE COSTS

Diabetics are about three times more likely

to develop gingivitis and periodontitis. The

effect between periodontitis and diabetes

is two-way. Diabetes increases the risk

of periodontal disease, while the chronic

inflammatory condition associated with

periodontitis impairs blood sugar regulation.

Similarly, periodontal disease, whether at

an early stage or latent, exacerbates the

chronicity of diabetes and makes it more

difficult to diagnose and manage.

Successful treatment of periodontitis has a

positive impact on diabetes outcomes and

reduces the cost of its treatment. Similarly,

successful management of diabetes slows

the progression of periodontal disease,

while also reducing the cost of treatment 1 .

Researchers expect that more such two-way

effects between diseases are likely to be

identified in the future.

Prof Sorsa added that dentistry training today

already aims to encourage future dentists to

pay more and more attention to the general

health and well-being of their patients. For

example, if a dentist sees that his or her

patient has typical signs of a chronic disease

such as diabetes, he or she should be more

sensitive in referring the patient for further

tests. The same applies if a patient has skin

changes suggestive of cancerous melanoma,

for example. In this case too, it is the dentist's

duty to refer the patient for further treatment.

The same applies to any visible symptoms.

Failure to treat oral gum disease is a waste of

healthcare resources, Prof Sorsa stressed. It

is easier for both patients and society if the

link between oral health is better recognised.

If a doctor tries to balance diabetes with all

available medical interventions and following

existing treatment protocols, but ignores the

gum disease in the mouth, diabetes is harder

to "control". Insulin and money are wasted if a

person has a latent gum disease that may not

even be visible in the patient.

PREVENTION OF AGE-RELATED

DISEASES

A similar link applies to other chronic

diseases. As people live longer, their teeth

should stay in their mouths longer. Diabetes,

cancer, and various gum diseases increase

with age. It is important to invest in the

prevention of chronic diseases by maintaining

good oral health with thorough oral care and

maintaining good general health, for example

by regularly exercising.

Prof Timo Sorsa from the Department of Oral and

Maxillofacial Diseases at the University of Helsinki

Oral health has generally improved in Finland

since the 1960s and 1970s, but there is still

room for improvement. According to Prof

Sorsa, the ageing of the population has also

created new challenges, as the number of

implants in people's mouths has increased

accordingly. This creates new opportunities

for gum diseases such as gingivitis to

develop.

Earlier it was common to lose teeth as we

aged. Now implants are being put in their

place, creating a breeding ground for new

gum diseases and problems. If a patient

has four implants in their mouth, and the

The positive treatment effect by the Lumoral device and its active photodynamictherapy (aPDT) of four weeks reflected in the significant decrease in the (A)

active-matrix metalloproteinase-8 (aMMP-) levels in mouthrinse and (B) visible plaque index (VPI) levels in chronic adult periodontitis patients 3

DENTAL ASIA JANUARY / FEBRUARY 2023 13
---
TRENDS

gums surrounding each implant are infected,

bacteria have a constant connection to the

bloodstream.

The only way to avoid the challenges of gum

disease is to take good care of your oral

hygiene by keeping teeth and interdental

spaces free of plaque. This can be promoted

by careful self-care and further enhanced by

regular Lumoral treatment.

Lumoral is CE marked Class IIa medical

device that improves home care when used

in addition to mechanical cleaning. The

device that is developed by Finnish scientists

removes microscopic plaque, slows down the

formation of new plaque and thus slows down

the formation of tartar. It also has proven to

effectively prevents gingivitis, periodontitis

and tooth decay. Additionally, active

photodynamictherapy (aPDT) can reduce

gingivitis-related pathologically elevated

collagenolytic tissue destructive enzyme,

aMMP-8.

RAPID TEST FOR EFFECTIVE

DIAGNOSIS AND TREATMENT OF

DIABETES

Prof Sorsa believes that the current oral

healthcare protocol model could be significantly

improved by incorporating the aMMP-8 rapid

test, which is currently under development and

can easily identify periodontal disease as well as

diabetes and its precursors from oral enzymes.

The aMMP-8 enzyme test would also speed

up the diagnosis of gum disease in implant

patients. The bacteria causing the problems

can be screened for in patients' mouths by

culturing in laboratories before implants

are placed, but this can take days to weeks.

aMMP-8 enzyme testing can be done in a

dentist's office, and an answer about the

health of the gum tissue can be obtained

within five minutes of the test 2 .

The results of the studies are already promising

in terms of the test's effectiveness and a test of

this kind could be in general use in the next five

years. Successful rapid diagnosis, screening

and treatment of periodontal disease will

have a positive impact on diabetes treatment

outcomes in the future and is likely to reduce

treatment costs. Similarly, screening and

successful treatment of periodontitis will slow

down the progression of periodontal disease,

while reducing the cost of its treatment. DA

World Diabetes Day is celebrated on 14

November each year. World Diabetes Day

became an official United Nations Day in

2006. The theme day seeks raise awareness

of diabetes and to highlight the opportunities

to strengthen the prevention, diagnosis, and

treatment of diabetes.

REFERENCES

1.

Heikkilä Pia, Niskanen Leo, But Anna, Sorsa Timo,

Haukka Jari, Oral health associated with incident

diabetes but not other chronic diseases: A registerbased

cohort study. Frontiers in Oral Health

3/2022. DOI: 10.3389/froh.2022.956072.

2.

Sorsa T, Nwhator SO, Sakellari D, Grigoriadis A,

Umeizudike KA, Brandt E, Keskin M, Tervahartiala

T, Pärnänen P, Gupta S, Mohindra R, Bostanci N,

Buduneli N and Räisänen IT (2022) aMMP-8 Oral

Fluid PoC Test in Relation to Oral and Systemic

Diseases. Front. Oral. Health 3:897115. doi: 10.3389/

froh.2022.897115

3.

Lähteenmäki, H.; Pätilä, T.; Räisänen, I.T.; Kankuri,

E.; Tervahartiala, T.; Sorsa, T. Repeated Home-

Applied Dual-Light Antibacterial Photodynamic

Therapy Can Reduce Plaque Burden, Inflammation,

and aMMP-8 in Peri-Implant Disease—A Pilot

Study. Curr. Issues Mol. Biol. 2022, 44, 1273-1283.

14 DENTAL ASIA JANUARY / FEBRUARY 2023
---
The The perfect duo duo

BRILLIANT EverGlow ® ® &&

ONE COAT 77 UNIVERSAL

BRILLIANT BRILLIANT EverGlow EverGlow is a is universal a universal submicron submicron hybrid hybrid

composite composite of the of the latest latest generation generation and and a true a true all-round all-round

material. material. It has It has been been developed developed with with special special focus focus on high, on high,

long-lasting long-lasting gloss gloss and and shade shade aesthetics aesthetics and and handling handling

convenience. convenience. Meeting Meeting highest highest requirements requirements for "brilliant" for "brilliant"

anterior anterior and and posterior posterior restorations, restorations, it is it the is the ideal ideal modern modern

filling filling material. material.

ONE ONE COAT COAT 7 UNIVERSAL 7 UNIVERSAL is a is light-cured, a light-cured,

one one component component bonding bonding agent agent used used

effortlessly, effortlessly, for all for adhesive all adhesive restoration restoration

techniques. techniques. The The outstanding outstanding shear shear bond bond

strength strength ensures ensures excellent excellent adhesion adhesion to to

enamel enamel and and dentine. dentine.

More More information information about about

BRILLIANT BRILLIANT EverGlow EverGlow

More More information information about about

ONE ONE COAT COAT 7 UNIVERSAL 7 UNIVERSAL

007439 05.22

007439 05.22

COLTENE.AsiaPacific

COLTENE.AsiaPacific
---
TRENDS

Pilot teledentistry programme

incorporating AI

Capturing, storing, interpreting and comparing oral images using artificial

intelligence (AI) to detect the presence of tooth decay, gum disease and

abnormalities for timely intervention is a first for Singapore's dentistry.

The National Dental Centre Singapore (NDCS)

and Temasek Foundation are jointly piloting the

Tele-Dentistry Oral Care for Seniors (T-DOCS)

programme, the first tele-dentistry programme

in Singapore, to provide preventive oral care for

vulnerable seniors who are homebound or living

in nursing homes with mobility challenges.

In partnership with St. Andrew's Community

Hospital (SACH) and Vanguard Healthcare,

the T-DOCS programme is a new model of

care to improve the oral care of seniors in

the community through early detection and

regular monitoring. Temasek Foundation has

committed S$1.23m to the programme over

three years.

Oral health is a key indicator of good health.

Older adults may have poorer oral health,

which can affect their general health, wellbeing

and quality of life. A 2017 study found

that seniors in Singapore have relatively poor

oral health, of which 31% were found to be

edentulous or using dentures and 38% having

fewer than 20 natural teeth 1 . Thus, in addition

to teledentistry, the T-DOCS programme trains

SACH and Vanguard Healthcare nurses on oral

care procedures and use of oral hygiene aids

to build community capability in improving

and maintaining the oral health of vulnerable

seniors.

Cl A/Prof Christina Sim, principal investigator,

T-DOCS and senior consultant, Department of

Restorative Dentistry, Prosthodontics, NDCS,

said: "The T-DOCS programme leverages on

technology for teledentistry to provide regular

screening and monitoring of the seniors' oral

health. This enables early detection of oral

diseases and fills the crucial gap in preventive

oral care for our vulnerable seniors, of which

dental issues (such as dental caries and

gingival inflammation) were found among

80% of about 200 seniors recruited for the

pilot T-DOCS programme. This new model

of care provides timely oral care to seniors,

convenience to caregivers and our partners and

optimises resources for better community care."

Lim Hock Chuan, head, Programmes at

Temasek Foundation, said: "Many vulnerable

seniors have physical or cognitive disabilities

and need to depend on their caregivers or

healthcare aides for oral care. Some of them

are unable to communicate their oral care

needs; others require special arrangements

in order to access oral care in the community.

Recognising these needs, Temasek Foundation

is happy to support the T-DOCS programme to

bring preventive oral care to these seniors."

The T-DOCS programme piloted with SACH

and Vanguard Healthcare in early 2021.

16 DENTAL ASIA JANUARY / FEBRUARY 2023
---
TRENDS

Participating seniors are first examined by a

dentist and thereafter regularly screened and

monitored every six months by trained SACH

or Vanguard Healthcare staff using an intraoral

camera with fluorescence technology.

The intraoral camera can detect early signs

of tooth decay and gum inflammation and

is able to differentiate between existing

and newly formed dental plaque. The

intraoral scans along with the patients'

medical information are then uploaded to an

electronic system from which NDCS dentists

retrieve the patients' records for remote

assessment. The findings and recommended

treatment plan are then relayed back to SACH

and Vanguard Healthcare staff for followup

with the participating seniors and their

families, including oral hygiene education and

necessary referrals for dental treatment.

The electronically captured images also serve

as a repository of oral health information

which can be aggregated and analysed with

the use of AI software that is being developed

by this pilot programme to automate the

interpretation of the images. The AI will alert

the remote dentist on the problematic areas,

hence reducing the time taken to examine and

interpret the images. It can also provide the

home care nurse with a visual prompt on the

areas that require greater attention.

Mdm Teo, aged 89, is a patient of SACH Home

Care Services and participant of T-DOCS. She

is unable to walk and has lost the use of her

hands. Under the T-DOCS programme, a SACH

nurse visits her at her home every six months

to conduct health checks which include the

T-DOCS oral screenings. The oral health

information is then uploaded and sent to the

NDCS dentist for remote assessment.

Her son, Richard Lim, shared: "We discovered

T-DOCS through the home medical team, who

recommended the programme to us. After

we embarked on the programme, we found it

quite beneficial as the nurse was able to make

(oral hygiene care) recommendations and

make appointments, if needed, to the nearest

Community Health Assist Scheme (CHAS)

dental clinic on our behalf."

Dr Patricia Lee, head, Home Medical Services,

SACH, shared: "We saw T-DOCS benefiting

patients in SACH Home Care who participated

in the pilot programme. With one single visit

by the Home Care team, the patients can have

their medical and dental issues addressed.

For caregivers with loved ones constrained by

physical movements, this can help manage

or even reduce their stress in having to make

arrangements when their loved ones require

dental treatment."

The pilot T-DOCS programme currently has

199 participating seniors and has trained

more than 40 nurses in the nursing homes

and home care team to perform oral health

screenings with intra-oral imaging of seniors'

oral cavities and provide basic oral and

denture hygiene care. NDCS is looking to

expand the T-DOCS programme to more

seniors such as those in senior activity

centres and special needs centres. DA

DENTAL ASIA JANUARY / FEBRUARY 2023 17
---
UNDER THE SPOTLIGHT

Enhancing treatment

efficiency with AI

Artificial intelligence (AI) has made its way into dentistry.

In his award-winning research, Dr Walter Lam studied its

potential to streamline workflow and elevate the patient

experience.

By Czarmaine Masigla

A clinical assistant professor in

prosthodontics at the University of Hong

Kong (HKU), Dr Walter Lam Yu Hang is

the principal investigator of the study:

Artificial intelligence-designed single

molar dental prostheses: A protocol of

prospective experimental study.

In collaboration with the Department

of Computer Science of Chu Hai

College of Higher Education, Dr Lam

led the researchers from the Faculty

of Dentistry at HKU to develop a novel

approach automating the design of

individualised dentures using AI. The

study won the International Association

of Dental Research (IADR) Neal Garrett

Clinical Research Prize and was the first

runner-up in the 2022 IADR-SEA Hatton

Award — Senior Category.
---
UNDER THE SPOTLIGHT

The research team uses 3D GAN to learn the relationship of teeth in a dental arch on the 175 student participants.

After training, 3D GAN is able to generate a tooth (red) based on the feature of remaining teeth (dark grey).

Research team proposes further investigate the presence of opposing teeth helps the AI to generate a more

natural tooth (red)

Coming from humble beginnings, Dr

Lam shares more about this feat, his

inspiration in the field and his vision for

the digital future of dentistry.

What are your early influences in

pursuing a career in dentistry, and why

did you specialise in prosthodontics?

Dr Lam: My grandfather was a denture

wearer. He usually slept early and put

his complete dentures underwater in

his teacup. When I was a child, I would

check if his dentures swim (like his

goldfish) when my whole family is

asleep. I specialised in prosthodontics

as my hobby is building up Lego

and Gundam models. Likewise,

prosthodontics also allows me to build

up (re-construct) the missing oral and

facial structures.

What inspired you to focus your

research on digital dentistry and AI?

Dr Lam: I like to play computer games

when I was in high school. In fact, I once

considered studying computer science

when I went to university. I find it so

interesting that technology develops so

quickly. For instance, my smartphone

has much better computation power

than my old desktop computers.

Technology enables us to work anytime

and anywhere, which has changed our

lifestyle. The same thing is happening

in dentistry which I believe will

revolutionise the practice soon. I hope

that my research in AI can help dentists

to finish jobs quicker and easier, so

more patients can benefit from a dental

care with less waiting time and less

cost.

Can you briefly discuss your study

on Artificial Intelligence-Design

of Maxillary Single-tooth Dental

Prostheses and its potential long-term

implications?

Dr Lam: While making indirect

restorations and prostheses, I try to

capture as much information from

my patients and then I program my

articulator to simulate their masticatory

systems. However, there are some

limitations in our articulator and clinical

adjustment is still needed when I deliver

the prostheses.

Our current approach is a bit complicated.

We want a false tooth that fits into the

patient's mouth, but what we are doing

now is simulating the patient's jaw

movement. Therefore, I am thinking what

if we can directly do something about the

morphology of teeth? I believe natural

is the best and it will work well in the

patient's mouth for a long time. Hence, I

used AI to learn the features of teeth in

an arch and then use the feature of the

remaining teeth to design false teeth.

What other opportunities do you see in

extending your work in this research, and

what other topics you're interested in

tapping on?

Dr Lam: While my work is for a single

tooth at this moment, I am interested

in extending my research to multiple

missing teeth. Particularly, when there is

DENTAL ASIA JANUARY / FEBRUARY 2023 19
---
UNDER THE SPOTLIGHT

no adequate number of teeth to use as

a reference in designing the denture.

I am also interested in virtualising

patient information for diagnosis

and treatment planning, as well as

programming a virtual articulator. That

said, I am one of the first few dentists

who published a dental technique

combining 3D teeth to the 3D face

using a radiation-free method.

Can you provide an outlook on the

future of digital technology, particularly

in prosthodontics?

Dr Lam: Computer-aided design/

manufacturing (CAD/CAM) will

become the norm in dentistry and

prosthodontics. This will allow us to

select various high-strength tooth

coloured dental materials for various

clinical scenarios, as well as shorten

the time needed for the fabrication of

dental prostheses. The accuracy of

intraoral scanners is improving and can

be used for full-arch cases. Dentists

can plan cases with reference to the

3D face.

On the other hand, the development of

digital dentistry is so rapid that dental

education does not follow its pace and

we need to exert a huge amount of

effort to keep our knowledge updated.

Although digital equipment is now

more affordable and user-friendly, many

dentists may still stick to the approach

that works well for them already.

Hence, their preference and perception

are critical to the clinical use of digital

equipment.

What advice would you give to fellow

practitioners who are hesitant to adopt

digital technology in their practice?

Dr Lam: Most of us have already

adopted digital technology in our

practice, such as digital radiography,

electronic dental record and conebeam

computed tomography. The new

generation of the intraoral scanner is

getting cheaper, more user-friendly

with a minimum learning curve and

provides add-on value such as caries

detection. The benefits of adopting

digital technology outweigh the steep

learning curve.

What other trends do you foresee

happening in the dental field in the

next 5-10 years?

Dr Lam: Dentistry may become

more and more tailored and made

for an individual person, so-called

personalised dentistry. Early and

close monitoring of cases may stop

or even prevent dental diseases. The

identification of more and more risk

factors and their prevention may be

feasible in the near future, which

renders the future of dentistry to be

truly preventive and personalised. DA

(from right) Dr Walter Lam, Dr Khaing Myat Thu, Dr Reinhard Chau, Prof Colman McGrath and Dr Richard Hsung

20 DENTAL ASIA JANUARY / FEBRUARY 2023
---
Breakthrough

in intraoral scanners

With the launch of TRIOS 5 Wireless, 3Shape has

once again redefined the standards of intraoral

scanning. How will it affect the current IOS

market, and how will the company continue to

lead the digital future? Dental Asia spoke with

Kasper Chaney Sørensen, general manager of

International Markets, 3Shape.

By Czarmaine Masigla

In recent years, the demand for

intraoral scanners (IOS) has

skyrocketed, driving the adoption of

digital dentistry in practice. A reliable

tool in diagnosis and treatment

planning, IOS has made it possible

to create a digital impression to

streamline and optimise dental

treatment.

One of the key players in the IOS

market is 3Shape, which recently

launched the TRIOS 5 Wireless.

The result of perfecting over five

generations of scanners, TRIOS 5 sets

a new standard in intraoral scanning

with its intelligent scan technology.

Kasper Chaney Sørensen, general

manager of International Markets at

3Shape, shared that they managed

to make numerous improvements

in TRIOS 5 while ensuring that the

scanner is smaller and perfectly

balanced to fit comfortably in the

clinician's hand.

DENTAL ASIA JANUARY / FEBRUARY 2023 21
---
He explained: "Firstly, the hygiene

part which is even more important

now because of COVID-19. TRIOS 5 is

easy to clean because of its smooth

and closed design — it hardly has any

openings or crevices and has a closed

tip. It is also more ergonomic and

easier to handle, which is especially

beneficial for dentists who use it for

many hours. And then, we did a lot

on the service and connectivity side

which is much easier with the new

system. I think our R&D did a fantastic

job in making this device."

The 3Shape TRIOS 5 IOS digital

images are indicated for use

in restorations, orthodontics,

implantology, and assessment of

dental status.

GROWTH AND INNOVATION

By pushing the limits of innovation,

3Shape has influenced the strong

market growth of IOS globally.

Sørensen foresees that this positive

momentum will be sustained in the

years to come, attributing it to three

factors.

In fact, according to Sørensen, the

socioeconomic differences of the

countries particularly in South East Asia

are one of their primary considerations

as they continue to expand their

foothold in the region. Boasting with

a much broader portfolio, 3Shape can

address different parts of the market,

including premium users.

"We really try to make it relevant for all

dental practices with different models

and more flexible solutions," added

Sørensen.

Specifically, TRIOS 5 Wireless is 30%

smaller and 20% lighter compared

to TRIOS 4 and is 3Shape's smallest

and lightest scanner to date. It also

features an LED ring and haptic

sensory feedback guiding users

while they scan, and with ScanAssist

technology, which minimises

misalignment and distortion in 3D

models, users can scan their patients

in any direction they want.

First is the improvement of product

quality over the years — not just for

them but for scanners in general —

making it easier for more dentists

to use this technology; second is

the availability of more evidencebased

clinical protocols that support

adaptation to the digital workflow; and

lastly, the more competitive pricing

of the device as compared to three to

five years ago.

On top of it, Sørensen stated how vital it

is for 3Shape to participate in in-person

events such as the recently concluded

International Dental Exhibition and

Meeting (IDEM) because it gives them

the opportunity to connect with dental

professionals directly.

"In many markets, we sell through our

partners. We have a lot of fantastic

partners. But when we go to the

22 DENTAL ASIA JANUARY / FEBRUARY 2023
---
DENTAL PROFILE

exhibitions, we get that direct contact

and dialogue with the dentists. We get

to demo our software with scanners

and our team loves that we receive

direct feedback. We really appreciate

that," he said.

Five to 10 years down the road,

Sørensen believes that digital

penetration would continue as the

markets are accepting that this is

the new and best way of practicing

dentistry. And to that point, he

highlighted the need for integrated

solutions.

"We believe in an open platform and

open ecosystem because that will

benefit dental businesses by giving

them options to choose what is right

for them. So that's our philosophy and

we are dedicated to it," he emphasised.

This vision is reflected with the

launch of 3Shape Unite which aims

at connecting scanners, practice

management systems, laboratories,

clear aligner manufacturers, 3Shape

apps, and other dental companies all on

one single software platform.

He said: "I think there's a lot

technology companies like ours do to

improve to make the communication

between dentists and technicians

more seamless and much easier.

That's a major focus area for us."

Sørensen shared that he feels

privileged to be surrounded by likeminded

individuals and can discuss

with them how they can continue to

drive digital dentistry together.

SHAPING THE DIGITAL FUTURE

3Shape believes that every clinic and

laboratory should have access to

intuitive technology that will empower

them to confidently meet and exceed

patient expectations. By advancing

technologies and connecting dental

professionals with flexible options,

they can facilitate better outcomes and

experiences for all.

Before joining 3Shape back in 2017,

Sørensen accumulated two decades

of global healthcare and medtech

experience ranging from private/private

equity companies to large international

public-traded corporations. Venturing

into the dental field, he describes it

as being more dynamic because the

products are quicker to develop and

take to market.

Sørensen recalled being astonished

by the innovative spirit of the 3Shape

company and its commitment to

enabling dental professionals to unlock

the opportunities of digital dentistry.

Sørensen concluded with this advice:

"Let's be open to new ways. I believe

that we should start already in

dental schools and universities, and

incorporate digital workflows in the

curriculum. In fact, a lot of the young

dentists that we talk to say that they

would like to be taught both ways. This

is where we really see the opportunity

to change." DA
---
CLINICAL FEATURE

Navigated digital full mouth

implant rehabilitation

Impressing the international jury and bagging the 4th BEGO clinical case award,

Dr Selene Kuo presents her winning case using the BEGO Semados RSX implant

in combination with the components of the MultiPlus concept to rehabilitate fully

edentulous jaws.

A 65-year-old healthy male patient presented

with missing anterior teeth and lack of proper

posterior support which jeopardised his

mastication and aesthetics. The patient was

wearing ill-fitting removable partial denture

and wished to have a fixed dental treatment.

Upon thorough diagnosis and examination, it

was revealed that the remaining teeth were no

longer salvageable. Hence, implant-supported

fixed dental prosthesis would be provided as

treatment for both maxilla and mandible.

Figs. 1-2: Initial situation

TREATMENT PROCEDURE

Navigation system was incorporated into

the treatment workflow to achieve optimal

precision of implant and surgical procedures

as well as time control during surgery. Presurgical

plan was carried out utilising implant

design software (Navidant), predetermining

proper implant numbers, position, angulation,

depth and the potential intervention of

grafting procedures plus timing of implant

loading.

Fig. 3: Prototype design

Fig. 4: Printed PMMA prototype try-in

Fig. 5: Implants position planning

24 DENTAL ASIA JANUARY / FEBRUARY 2023
---
CLINICAL FEATURE

Fig. 6: Design of the provisional prosthesis

Fig. 7: Dynamic navigation approach

Information of available implant prosthetic

parts (MUA) were further incorporated to

the pre-surgical plan, designing on top of

the desired implant sites for ideal angulation

and tissue depth among implants. The aim

of the implant plan for definitive prosthetic

design was splinted screw-retained implantsupported

fixed dental prosthesis.

Figs. 8a-b: Upper jaw implants in position, using computer-aided dynamic guided surgical technique

Milled titanium alloy (Grade 5) framework with

design of splinted screw-retained implant

prosthesis and with the feature of individual

supporting structure for cementing additional

zirconia crowns will be adopted for the current

case achieving optimal biology, mechanics,

aesthetics and longevity.

Fig. 9: PS MultiPlus Abutments in position, fitting test of the provisional prosthesis and MultiPlus Healing

Post in position for suturing and graft procedures

Universal design file (STL) of implant and

abutment plan utilising Navidant software was

exported. Design of diagnostic wax up for

splinted provisional restorations were

superimposed with implant design file for

determining the relieved implantcorresponding

holes using 3Shape dental design software.

Milled pmma splinted provisional restorations

with the shade A2 were fabricated preparing

for the use of immediate loading procedures on

the surgical day.

Fig. 10: MultiPlus Titanium Abutment in position and then direct pick-up

technique using autopolymerised PMMA

Fig. 11: Upper jaw provisional prosthesis in position

DENTAL ASIA JANUARY / FEBRUARY 2023 25
---
CLINICAL FEATURE

Fig. 12: PS MultiPlus Abutments in position, fitting test of the provisional prosthesis and

MultiPlus Healing Post in position for suturing and graft procedures

Figs. 13-14: One week follow-up

Implants were placed with the assistance of navigation

system (Navidant, Claronav) following the registration and

calibration protocols recommended by the manufacturer.

Extraction of the remaining teeth was performed followed

by the implant placement and grafting procedures. Surgical

site was sutured with resorbable collagen suture material.

Implant position was verified using milled pmma provisional

restorations through the relieved corresponding holes

predetermined by implant plan. Full mouth provisional

restorations carried the feature of the extended palatal soft

tissue. Supporting structure was designed, fulfilling the

purpose of maintaining profile support, vertical dimension

and centric relationship.

Fig. 15: Six months after implant placement, osseointegration was accomplished

Transmucosal abutments (MUA, BEGO) were selected

with various angulation and collar height adapting to each

implant according to the plan and clinical judgement.

Transmucosal abutments were torqued to 30N/cm

according to manufacturer's recommendation.

Fig. 16: Abutment level closed-tray impression technique with MultiPlus Closed-tray

impression components for fabrication of the impression jig

SUCCESS IN OSSEOINTEGRATION

Six months after implant placement, osseointegration was

expected to be accomplished. Provisional restorations

were removed and implants were tested individually for

its success in both hard and soft tissue apparatus. Three

submerged implants were activated by connecting them

with MUA abutments.

Impression technique were performed according to

the recommended guidelines by American College of

Prosthodontics and the predominant current scientific

literatures for splinted screw-retained implant-supported

fixed dental prosthesis.

Fig. 17: Impression jig fabrication for open-tray impression technique with MultiPlus Opentray

impression components

26 DENTAL ASIA JANUARY / FEBRUARY 2023
---
CLINICAL FEATURE

Figs. 18-19: Accuracy of the impression jig with the MultiPlus Open-tray impression components checked with x-rays, splinting of the jig and abutment level

open-tray impression technique

Fig. 20: MultiPlus implant analogues connected to the MultiPlus Open-tray impression

components after impression taking, master casts poured with artificial gingiva and type

III stone, accuracy verified among implants and master cast with verification jig

Fig. 21: Articulation of master casts and vinyl index fabrication

FABRICATION AND DELIVERY OF PROSTHESES

Bench dual scan were performed for full-mouth

implant master casts and artificial teeth trial. Metal

framework were designed from the cut-back of teeth

position along with the position of all implants using

dental design software (exocad).

Fig. 22: Clinical trial of the artificial teeth set-up

Individual zirconia crowns were milled using gradient

monolithic zirconia (Prime, Ivoclar) through the autocomputerised

milling machine (PM7, Ivoclar), strictly

following manufacturer's recommendation. Highly

polished and glazed zirconia crowns were individually

cemented on mental framework with self-curing

resin cement (Multi-link, Ivoclar). Occlusion was

verified on the articulator achieving anterior

guidance.

Fig. 23: Final prosthesis metal framework design

Final torque of all MUA abutments were applied to

30N/cm according to manufacturer's recommendation

and the gingival apparatus were assessed. Splinted

screwed-retained implant-supported fixed dental

prostheses were delivered for maxilla and mandible.

The passive fit of the prostheses were achieved and the

preload of the prosthetic screw were applied by 15N/

cm according to manufacturer's recommendation.

DENTAL ASIA JANUARY / FEBRUARY 2023 27
---
CLINICAL FEATURE

Fig. 24: Metal framework finalised and in position

Fig. 25: X-ray images of the metal framework passive fitting

Fig. 26: Fabrication of the individual zirconia crowns

Fig. 27: Highly polished and glazed zirconia crowns were individually cemented

on metal framework with self-curing resin cement

Fig. 28: Artificial soft tissue was applied with heat processed pink composite

Fig. 29: Final prostheses clinical occlusal equilibration on the articulator

Fig. 30: Delivery of the final prostheses

Fig. 31: Final prostheses in position — two years follow-up

Occlusal equilibration was performed

achieving anterior guidance with proper

posterior disocclusion. Screw access holes

were sealed with PTFE tape and composite

resin. Oral hygiene instruction was given

and periodic follow up appointments for

maintenance was scheduled by three to six

months intervals. DA

ABOUT THE AUTHOR

Dr Selene Kuo received her dual degrees in prosthodontics from

Kaohsiung Medical University College of Dentistry (Taiwan) and

Columbia University College of Dental Medicine (New York, US).

She then continued her academic appointment as clinical assistant

professor in New York University College of Dentistry, Columbia

University College of Dental Medicine, and currently in Taipei Medical

University College of Dentistry. With her expertise in digital implant field,

she holds the position as KOL of multiple top notch dental companies.

28 DENTAL ASIA JANUARY / FEBRUARY 2023
---
CLINICAL FEATURE

Treatment of Class II increased

overjet by Carriere 3D Motions

Dr Kevin Ng and Dr Steve HC Law report the use of Carrier 3D Motion Appliance

(CMA) for correction of Class II malocclusion.

Functional appliances, mandibular

advancement by Invisalign were commonly

used for the correction of Class II

malocclusion in young children before peak

growth spur. This report demonstrates two

cases of using Carrier 3D Motion Appliance

(CMA) to correct Class II malocclusion with

satisfactory results.

The CMA was developed by Luis Carriere

in 2004, named Carriere Distaliser and

later renamed it as Carriere Motion 3D

Appliance. It has gained popularity over the

last decade. It consists of two metal bars

attached bilaterally to the upper canines

and first molars. Hooks at the canines were

designed for placement of inter-maxillary

elastics. This is bonded to the anterior third

of the clinical crown or to the first premolar

if the canines were not erupted yet. At the

first molar areas, the moulded pads with a

ball-and-socket joint were cemented at the

centre of its clinical crown to facilitate molar

distalisation and de-rotation.

The principle of CMA is to establish Class I

molar and canine relationship by activation

of the appliance with heavy inter-arches

force I,2 elastics (1/4"6oz and 3/16"8oz).

Class II elastics with anchorage is provided

by the clear retainer or fixed appliance at

the opposite arch. Full-time wear of Class

II elastics (22 hours daily) is required. It

is also recommended to change elastics

every four hours. Phase I treatment usually

takes six to eight months to complete. The

patient compliance and cooperation must be

high, and alignment of both arches must be

combined with the use of clear aligners or

fixed appliances after six to eight months 1 .

FIRST CASE

A 13-year-old male patient was referred

by other dentist to prescribe mandibular

advancement (MA) protocol by Invisalign.

The overbite was 100% deep and the lower

incisors were traumatising the upper soft

tissue. The overjet was 10mm with lower

face retruded and short. Previous patient

seen an orthodontist, who had suggested

to use Herbst appliance but the patient

declined.

From the lateral x-ray, we could expect

significant amount of adolescent growth

since there is concavities developing at the

lower border of C2 and C3. In addition, the

lower border of C4 is flat and C3 and C4 are

more rectangular in shape. Aligners with

mandibular advancement function design

were worn for 10 months without many

improvements.

Pre-operative extraoral photo

Post-operative photos after six months of Carriere

3D Motion distalisation

The Carriere Motion 3D appliance was then

prescribed using full day 6oz 1/4" Class II

elastics bilaterally together with vibration

accelerator for 5mins daily. Improvement

Pre-operative radiographs

Post-operative radiographs after 18 months of treatment

30 DENTAL ASIA JANUARY / FEBRUARY 2023
---
CLINICAL FEATURE

Pre-operative intraoral photo

Post-operative photos after six months of Carriere 3D Motion distalisation

was obvious after 2.5 months. After another

six months with slightly overcorrection,

the appliances were removed. Refinement

aligners were used to finalise the alignments

and the outcome was satisfactory. No root

resorptions and other pathology were

observed.

Cephalometric analysis before treatment

SECOND CASE

A 32-year-old female patient complained of

increased overjet. Patient is highly motivated

and compliant. Lateral cephalometric

radiograph confirmed Class II molars with

8mm overjet. Carriere Motion was prescribed

for seven months to improve the sagittal

discrepancy and the Class II canines. It

was followed by Invisalign to finalise the

alignment and improve the anterior overjet.

The case required 27 months to achieve

satisfactory outcomes.

Cephalometric analysis after treatment

Pre-operative extraoral photos

Post-operative extraoral photos

For the cervical maturation (CVM)

assessment, she belongs to post puberty

CVM stage 6 since the lower border of all

C2-4 vertebrate showed deep concavities;

at least one C3 or C4 was rectangular and

vertical in shape (height greater than width);

and peak growth should be over years ago.

DISCUSSION

The treatment objective for Class II Div 1

malocclusion is to improve the large overjet

and the deep overbite. Ideally, the molar and

canine relationship should be Class I at the

end of the treatment. In majority of Class II

cases, the upper first molars were rotated

mesio-palatally. This would exacerbate the

Class II situation by locking the mandible in a

regressive location. The MA of Invisalign only

works well if the wings were strong and rigid

enough so that it would work as a functional

appliance to correct the bite. It fails if the

wings were chew down or broken.

DENTAL ASIA JANUARY / FEBRUARY 2023 31
---
CLINICAL FEATURE

Pre-operative radiographs

Post-operative radiographs

Post-operative intraoral photos

The CMA creates a mesial out rotation

around the palatal roots of the first molars

and enhance the mandible to a forward

position as the molars were de-rotating. Also,

the lower teeth were extruded due to upward

vector pull from the elastics. Therefore, it

reduces overbite and promotes changes on

the occlusal plane. Stage I corrects sagittal,

and stage II corrects dental discrepancies.

Rodriguez in 2019 reported the long-term

sagittal stability of the treatment was good 9 .

Popowich in 2005 reported that for nonextraction

Class II patients, the average time

Class II elastic wear was about 10 months

and 25.7 months for fixed appliance. In the

CMA sample, the first phase averaged 5.1

months (±2.8 months), and the second phase

with fixed appliance was about 13.0 months

(±4.2 months). The total treatment duration

was 18.2 months (±4.8 months). Therefore,

the advantages of CMA treatment were the

reduced duration of elastic wear and overall

treatment time 8 .

McNamara et al. in 2012 traced 32 patients

with serial of cephalograms at three-time

intervals: T1 (initial), T2 (removal of CMA),

and T3 (post-treatment). The results were

digitised, and superimpositions were

constructed to compare the linear and

angular variables with untreated subjects

who were presented with normal facial

profile and occlusions. Variable of ≥2.0mm

or ≥2.0° was used as an indication of clinical

significance. They found the nature of

treatment effects of CMA are dento-alveloar

with only little skeletal changes 4 .

These findings were also investigated by

O'Brien and coworkers. They measured

skeletal and dentoalveolar changes and

used P value of
---
CLINICAL FEATURE

Cephalometric analysis before treatment

Cephalometric analysis after treatment

In summary, the following are the changes

observed from CMA treatment:

Sagittal changes in maxilla: There were no

obvious SNA changes for both cases. The

point A to nasal perpendicular were reduce

by 2mm for the first case while the distance

for the condylion to point A were increased.

The midfacial length was increased in both

cases.

Sagittal changes in mandible: SNB

increased slightly in the first case but

remained unchanged in the second case. The

mandibular length Go-Gn increased 4-5mm

for the first case and no increase for the

second case due to the age of the patient and

bone growth had completed. The pogonion

moved anterior slightly.

Maxilla and mandible relationship: The Wits

appraisal values were marked from 4-5mm to

zero in both cases. There were slight changes

of ANB values 1-2 degree. The maxillomandibular

differential, the differences

between Co-point A and Go-Gn, increased

and moved toward Class I relationship in

both cases.

Vertical skeletal assessment: The anterior

lower face height (ANS-menton) increased

for the first case without significant changes

in mandibular plane angles. A clockwise

rotation of FOP relative to Frankfort

horizontal was observed during phase I.

Dento-alveloar relationship: There were

net molar improvements for both cases. The

overjet improvements were obvious, from

10-0mm and 8-2mm. The overbites changed

from 90-10% and 50-20% respectively.

Proclination of lower incisors was also noted.

Skeletal relationship: There were reduced

forward movements of point A. The chin

point at the pogonion remained in the same

location, SNB decreased for both cases. Lower

anterior facial heights increased in the first

case (ANS-menton).

CONCLUSION

The Carriere Motion 3D distaliser is efficient

and effective for Class II malocclusion

correction with less discomfort. It also

increases patient's compliance and cooperation.

The effect is mainly dentoalveolar in nature,

with changes in molar relationship, overbite,

and overjet combined with some intrusion of

lower incisors.

There was obvious skeletal change and

increase in lower anterior facial height. This

is crucial for case selection since growing

child with mandibular growth helps the

treatment. It could be used for adults but it

provides better results for growing teenagers.

Mandibular length was not affected by

treatment. The pogonion chin point did not

move forward due to the increase in lower

anterior facial height. DA

REFERENCES:

1.

Carriere LA. New Class II distalizer. J Clin Orthod.

2004; 38:224–231.

2.

Kim-Berman H, McNamara JA, Jr, Lints JP,

McMullen C, Franchi L. Treatment effects of the

Carriere® Motion 3D appliance for the correction

of Class II malocclusion in adolescents. Angle

Orthod. 2019; 89:839–846.

3.

Carriere LA. Interview: Carriere explains facially

driven treatment of Class II and Class III. Ortho

Tribune US Edition. 2015;10(3):1–7.

4.

McNamara JA, Franchi L, Kowalski SE and

Cheeseman C. Evaluation of adolescent and adult

patients treated with the Carriere Motion Class

III appliance followed by fixed appliances Angle

Orthod, 2012

5.

Hamilton CF, Saltaji H, Preston CB, Flores-Mir C,

Tabbaa S. Adolescent patients' experience with

the Carriere distalizer appliance. Eur Paediatr Dent.

2013;14:219–224.

6.

Sandifer CL, English JD, Colville CD, Gallerano

RL, Akyalcin S. Treatment effects of the Carrière

distalizer using lingual arch and full fixed

appliances. J World Fed Orthod. 2014; 3:e49–e54.

7.

O'Brien K, Wright J, Conboy F, et al. Effectiveness

of early orthodontic treatment with the Twin-block

appliance: a multicenter, randomized, controlled

trial. Part 1: dental and skeletal effects. Am J

Orthod Dentofacial Orthop. 2003;124:234–243.

8.

Popowich K, Nebbe B, Heoc G, Glover K, Major P.

Predictors for Class II treatment duration. Am J

Orthod Dentofacial Orthop. 2005;127:293–300.

9.

Rodriguez H. Long term Stabilityo f two-Phase

Class II Treatment with Carriere Motion Appliance

JCO Vol LIII No 8: 481-485 2019

10.

Thurzo A, Urbanova W et al. Utilization of a 3D

Printed Orthodontic Distalizer for Tooth-Borne

Hybrid Treatment Class II Unilateral Malocclusion

Material 2022 15 1740.

ABOUT THE AUTHORS

Dr Kevin Ng is

a specialist in

community dentistry,

a visiting professor at

Guangzhou Medical

University, and was

a Hon a/clinical

professor at the University of Hong Kong

from 2017 to 2019. His qualifications

include: BDS (Adelaide), DDPH, MDS

(Sydney), MSc Orth (Jinan U), M Cl Sc

Implant (Leeds), FRACDS, FHKAM,

FCDSHK, D Implant Dent (RCS, England),

MFDS (RCPSG/Ed).

Dr Steve HC Law runs

a private practice

in Hong Kong and

holds the following

qualifications: BDS

(HK) MFGDP (RCS,

England) MFDS (RCS, Glasgow) MFDS

(RCS, Edinburgh).

DENTAL ASIA JANUARY / FEBRUARY 2023 33
---
CLINICAL FEATURE

New era unfolds for Minimally

Invasive Cosmetic Dentistry (MiCD)

Jointly organised by the MiCD Global Network and Shofu Dental Asia-Pacific,

MiCD expert workshop was held on 19 Sep 2022, at the EQ Hotel, Kuala Lumpur,

Malaysia. The expert panel comprising of MiCD advocates and clinical trainers

shared their knowledge and expertise to collectively develop a strategy and

framework for the next phase of MiCD in clinical practice.

MiCD concept and treatment protocols were

first conceptualised in 2009 by Dr Sushil

Koirala and a group of like-minded clinicians

with the support of Shofu Dental as the official

partner — at a time when the practice of

aesthetic dentistry which was more invasive,

and minimally invasive dentistry primarily

focused on prevention and management of

dental caries. MiCD was introduced as "a

holistic approach that explores the smile

defects and aesthetic desires of a patient at

an early stage and treats them using the least

invasive option in diagnosis and treatment

technology by considering the psychology,

health, function and aesthetics of the patient". 1

In February 2010, the MiCD Global Network

was formed to provide a platform for dental

professionals to adopt and learn about MiCD

and its applications in routine clinical practice.

Over the years, MiCD has gained popularity

as a treatment philosophy that encouraged

clinicians to provide holistic, patient-centric

treatment that integrates minimally invasive

treatment techniques with aesthetic dentistry

to enhance the patient smile while selecting

the most conservative restorative options that

preserve natural tooth structure.

The key benefits of MiCD includes:

preservation of natural tooth structure while

achieving the desired aesthetics; promotes

oral health, function and aesthetics with a

positive psychological impact; expands the

treatment options with BioSmart aesthetic

restorative materials; increases patient

confidence while reducing treatment fear and

anxiety; promotes trust, builds patient loyalty

and enhances the professional image; and

embraces the "less is more" strategy.

Dentistry has evolved at a rapid pace in the

past decade with new treatment techniques,

advances in dental material science and

increasing patient demand. To keep abreast

of recent changes, it became evident that

updates in the MiCD treatment philosophy

and protocols were needed. This new

framework is simple, comprehensive, easy

to implement and practical, to enable both

experts and new generation of practitioners

to better understand the essence of MiCD

and treatment protocols to incorporate the

guiding principles into daily clinical practice.

MICD EXPERT WORKSHOP DISCUSSION

With the expert panel — Dr Ronnie Yap

(Singapore), Dr Marcelo Lasmar (Brazil), Dr

Sonny Burias, Dr Kim Fajardo, Dr Cez Acero

(Philippines), Dr Amit Gulati, Dr Anand

Narvekar (India), Dr Hussein Naama (Iraq),

Dr Melvin Sia, and Dr Sonia Lee (Malaysia)

— the MiCD expert workshop started with

introductions and participants expressing

what MiCD meant to them. Some key words

that resonated with all participants were

"empathy, passion, value, health, preservation,

holistic, patient-centric, doing what's right,

less is more and phased treatment".

Keeping the momentum, Patrick Loke,

managing director of Shofu Dental Asia-

Pacific shared a presentation on "The Past,

Present and Future of MiCD" to highlight

34 DENTAL ASIA JANUARY / FEBRUARY 2023
---
CLINICAL FEATURE

the growth of the MiCD movement and the

integral role Shofu has played as the official

partner of MiCD in its global success, through

the MiCD Global Network with skill-based

training programmes and MiCD symposiums

over the years. Loke emphasised that Shofu

is committed to support the MiCD movement

through product developments, such as

Shofu's range of bioactive composites and

smart solutions for direct and indirect

restorations, and is looking forward to

supporting the next phase of MiCD.

Dr Ronnie Yap, advocate and clinical trainer

for MiCD, followed with a presentation on

the "MiCD Movement through the MiCD

Global Network and the Clinical Trainers'

role in taking MiCD towards the next

phase". The presentation highlighted how

the MiCD Global Network will drive the

MiCD movement with skill-based training

programmes and provide a common platform

for like-minded dental professionals to

network and share their MiCD experience.

Additionally, Dr Yap explained the importance

of providing personalised treatment that

meets the patient expectations often by

"doing what's right" and how MiCD has been

adopted into his practice philosophy.

The panel of experts then proceeded to a

brainstorming session moderated by Dr Cez

Acero on creating the framework for the

next phase of MiCD. The panel deliberated

collaboratively on the following areas:

• Identify and develop the key guiding

principles that define MiCD as a concept

that are practical and realistic to adopt in

clinical practice

• Establish MiCD practice philosophy and

create the treatment workflow principles

• Develop a blueprint for the

standardisation of MiCD training

protocols for direct restorations

strength, function and preserve natural tooth

structure. Logical treatment philosophy that

is practical, realistic predictable and patientcentric

to finally create Beautiful restorations

that provide natural, life-like aesthetics to

rejuvenate patient smiles and, in turn, change

their lives (Fig. 1).

LESS IS MORE

There should be a change in mindset when

applying the MiCD practice philosophy of

"less is more" in routine clinical practice. The

clinician should always focus on preservation

of natural tooth structure whenever possible

starting from the stage of diagnosis and

treatment planning which would lead to

selection of the least invasive and most

appropriate treatment option resulting in less

biological and financial cost to the patient.

Benefits of the MiCD "less is more"

philosophy

• Patient: Preservation of natural tooth

structure, less invasive treatment, more

comfort and minimised cost

• Dentist: Phased treatment approach that

is attainable, predictable and relevant to

the times, with more control over the

treatment outcomes and provide value to

the patient

• Dental practice: Increased service value,

patient acquisition and retention leading to

increased profitability

THE MICD TREATMENT WORKFLOW

BioConservation

• Diagnosis and treatment plan: The

MiCD concept promotes personalised

dental treatment strategy with a focus

on holistic patient-centric care where

communication with the patient is

crucial to better understand their needs,

expectations, behaviour and overall health.

During diagnosis and treatment planning,

MiCD advocates the change in mindset,

greater empathy and value to the patient

by selecting the least invasive and most

conservative approach that preserves the

maximum natural tooth structure.

• Aesthetic blueprint: The aesthetic

blueprint is developed with the end

goal in mind and acts as an indicator to

ensure predictability when proposing the

treatment plan to the patient. Important

elements in the blueprint are smile design,

restorative plan, material selection and

mock-up.

• Less biological cost: Preservation of sound

tooth structure by selecting non-invasive

or minimally invasive techniques within the

restorative plan is essential when adopting

the "less is more" practice philosophy and

Fig. 1: BioLogically sound principles to produce functionally predictable and beautiful restorations in the

best interest of the patient

OUTLINING THE NEXT PHASE OF MICD IN

CLINICAL PRACTICE

The panel highlighted that three key areas

should be addressed as part of the MiCD

guiding principles with Biology, which looks at

restoring the health, structure and function of

oral tissues, placing restorations with bioactive

restorative materials that provide adequate

Fig. 2: Treatment workflow: BioConservation, BioAesthetics, BioSustainability

DENTAL ASIA JANUARY / FEBRUARY 2023 35
---
CLINICAL FEATURE

Fig. 3: Class IV restorations

developing a phased treatment approach

with the best interest of the patient.

Fig. 4: Direct veneer

BioAesthetics

• Preventive treatment: Prevention plays

an important role in preservation of

sound tooth structure and ensuring

long-term success of the restorative

treatment rendered to the patient. The

phased treatment approach has an

important component which is "keep

in view" specially in the management of

dental caries and tooth wear. The final

restorations are placed only once the

patient oral conditions are stabilised.

• Restorative treatment: MiCD restorative

approach has a focus on selecting the

most appropriate and minimally invasive

treatment option based on the patient

needs. Therefore, non-invasive or

minimally invasive direct restorations are

considered first, and indirect restorations

should be considered only if needed.

The advantage of direct restorations is

that the dentist has more control over

the final restorative outcome and minor

modifications can be easily made in the

patient's mouth. However, if multiple

restorations are required, minimally

invasive indirect restorations would be

more suitable to reduce clinical chair time

and increase patient comfort.

BioSustainability

• Oral hygiene: It is known that suboptimal

oral hygiene affects the long-term success

of any restoration. MiCD treatment

workflow encourages all dentists to

educate their patients on the importance

of maintaining good oral hygiene to

protect their overall health and wellbeing.

• Maintenance of restorations: An oftenneglected

area in restorative treatment is

the maintenance of the restorations placed

over time. Most restorative materials

undergo wear and tear due to diet, habits

and oral hygiene of each individual.

Therefore, creating a maintenance plan

with periodic recall for each patient

is important where the dentist has an

opportunity to assess the restorations

placed, touch-up where required and

polish the restorations.

36 DENTAL ASIA JANUARY / FEBRUARY 2023
---
CLINICAL FEATURE

• Soft tissue management: Periodontal health is an

important aspect of oral health. Periodontitis is

becoming a common cause of restorative failure and

in many cases is linked to systemic conditions such

as diabetes. Soft tissue management is therefore

considered critical and dentists are encouraged to

consult periodontists when required to manage the

patient more holistically.

Fig. 5: Diastema closure

MICD DIRECT RESTORATIVE PROTOCOLS

The expert panel outlined the basic guidelines, unique

techniques and material selection for the following direct

restorations commonly placed in routine clinical practice

and smile modification procedures (Figs. 3-7).

• Class IV restorations (Anterior fracture)

• Direct veneer

• Diastema closure

• Management of erosive tooth wear

• Class II restorations

Fig. 6: Management of

erosive tooth wear

Biological layering technique with bioactive composites

As dental material science advances the aesthetic and

functional capabilities of direct composite provides

clinicians with more restoration options that can be

placed with increased predictability and longevity. The

Shofu range of bioactive direct composites provides

additional benefits of reduced plaque accumulation,

prevention of secondary caries and antibacterial

properties that increase longevity of the restorations.

The panel collectively agreed to recommend the use of

bioactive composites with the MiCD restorative protocols

and modify the MiCD composite layering technique. The

"BioLogical Layering Technique" was suggested as the

updated layering approach adapted to suit each patient

depending on the level of complexity and depth of the

restoration, to achieve natural life-like aesthetics that

match closely with adjacent natural teeth.

CONCLUSION

MiCD with its practice philosophy of "less is more" has

become more essential in this era where consumer

behaviour is driven by health and wellness, conservation,

sustainability and more bio-economics. The MiCD guiding

principle is based on BioLogical treatment goals that are

relevant tools in building a routine to a successful clinical

practice. Shofu remains committed to supporting the

dental community with future programmes and learning

events, through the MiCD Global Network while engaging

the Shofu-MiCD clinical trainers. DA

Fig. 7: Class II restorations

1

Dr Sushil Koirala, Minimally Invasive Cosmetic Dentistry-

Concept and Treatment Protocol, Cosmetic Dentistry 4-2009:

28-33

DENTAL ASIA JANUARY / FEBRUARY 2023 37
---
USER REPORT

Five benefits of prosthetic-driven

implant planning

The demand for implant treatments is on the rise and so are expectations.

Patients are now more informed about the procedure, and they demand

results that are both highly functional and aesthetic in the fewest number of

appointments possible. That's a real challenge for the dental professional — and

the pressure is on to improve the process.

In this increasingly cosmetic-focused

environment, there are also highly

experienced dental professionals who might

not immediately see the value in changing

anything about the way they place implants.

They are satisfied with their success and

their patient outcomes. Why should they

stray from their proven approach that they

find so comfortable and familiar?

The answer is time savings. That's the first

benefit that clinicians will find when they

embrace prosthetic-driven implant planning

and digital implant workflow, and the

implications of this time savings should not

be underestimated. This article examines

the value that prosthetic-driven planning

brings to the implant placement process —

benefitting the clinician and the patient.

extensions, custom abutments and other

compromises 1 when it is time to place the

restoration. Instead, the clinician has more

predictable — and often higher quality —

outcomes (Fig. 1).

The prosthetic-driven planning workflow

starts with taking a cone beam computed

topography (CBCT) scan of the patient.

The doctor uses this imaging to identify

anatomical obstacles and evaluate bone

structure, mandibular nerve and sinuses.

The next step is to create a digital model,

which can be accomplished in one of two

ways: The clinician can use an intraoral

scanner to create a digital impression;

or the clinician can take a traditional

impression and then scan the impression

using a CBCT system. Then, using implant

planning software, the data from the CBCT

scan and digital impression are merged

together (Figs. 2a-c).

ALL ABOUT THE OUTCOME

The traditional methodology behind an

implant workflow involves placing the

implant first in the available bone. At that

point, the clinician then determines where

the crown should be positioned. Prostheticdriven

planning, however, reverses this

process with a crown-down approach. With

prosthetic-driven planning, the outcome

lies at the heart of the workflow, driving

the process from start to finish. And by

taking this approach, there are no unwanted

surprises at the restorative end of the

process. There's no need to courageously

step in and salvage a situation with

Fig. 1: Standard implant

planning workflow

vs prosthetic-driven

planning workflow

Figs. 2a-c: Using virtual treatment planning software, the data from the CBCT scan and digital impression

are merged together

38 DENTAL ASIA JANUARY / FEBRUARY 2023
---
USER REPORT

At this point, the clinician can then begin

to plan the implant and abutment, taking

into account the form, fit and function

of the final restoration. The interactive

implant planning software provides multiple

views, enabling the clinician to evaluate

potential implant receptor sites with greater

accuracy. Through the software, bone can be

"removed" or displayed with transparency,

which helps in determining the precise

placement of implants, abutments and

translucent virtual teeth in proximity to the

natural tooth root structure. A virtual crown

is used to guide the placement of the virtual

implant for optimal aesthetics and function.

This allows for well-informed conclusions

to be drawn about crown-to-implant ratio,

implant diameter and length, and the design

of the restoration in terms of screw or

cement retention 3 (Fig. 3a-b).

The next step involves exporting the 3D

data into third-party software for the

design and fabrication of the surgical guide

by the treatment network. Thanks to the

prosthetic-driven planning workflow,

implants can be placed with a level of

accuracy and consistency that is hard to

achieve through conventional implant

placement 4 . With all of that upfront

information and planning, successful

outcomes are much more likely to be

delivered without unforeseen challenges

(Figs 4a-d).

about the clinician and the diagnosis. They

also want to understand the associated

costs. Co-diagnosis is an important step in

treatment acceptance, and having the tools

to clearly communicate and educate patients

are essential in building trust and assuaging

concerns. They are also key in obtaining

acceptance of the proposed treatment.

A clinician whose treatment plan includes

crystal-clear 3D images and a highly defined,

step-by-step approach is quite compelling.

It helps patients visualise their aesthetic

outcome. This treatment plan delivers the

message that the clinician has thoroughly

thought through the process and has

invested in the technology to ensure success.

In addition, with a complete understanding

of the patient's anatomy and clinical

situation — thanks to extraoral and intraoral

3D imaging — the clinician can confidently

estimate the costs. The prosthetic-driven

planning protocol removes surprises and

guesswork. This comprehensive treatment

plan engages patients and embodies the

peace of mind that they are looking for.

ENHANCED COLLABORATION

CAPABILITIES WITH TREATMENT

NETWORK

The clear, illustrative images obtained

through CBCT scanning and the digital

impression are excellent for communicating

with the referring doctor and all members of

the implant team 6 . They greatly enhance the

clinician's ability to collaborate across the

treatment network.

CBCT scanning produces DICOM, which is a

universal format and is supported by many of

the 3D viewers available on the market — and

also facilitates collaboration. There's no need

to worry that a member of the treatment

network will have difficulty reading the files.

Figs. 3a-b: Informed conclusions can be drawn about crown-to-implant ratio, implant diameter and

length and the restoration design

It is also important to highlight the strategic

role that the surgical guide plays. However,

the guide is only as good as the plan

that went into creating it, and it is not a

guarantee of a successful outcome but rather

a safety measure and facilitator. Greater

precision in the implant process is possible

only with the complete evaluation of the

receptor site, the implant dimensions, the

abutment type and the components required

to surgically complete the case. Obtaining

this insight upfront prepares all members

of the implant team for a no-surprise,

outstanding outcome.

IMPACT ON CASE ACCEPTANCE

Before patients agree to undergo implant

treatment, they need to feel confident

Figs. 4a-d: Exporting the 3D data into third-party software for the design and fabrication of the surgical guide

DENTAL ASIA JANUARY / FEBRUARY 2023 39
---
USER REPORT

As long as the files produced are in an

open format, the clinician can exchange

files quickly and easily with the treatment

network. Files with a closed format can also

be exchanged. However, those files require

users to stay within the closed environment,

which limits their flexibility in using other

partners.

Clinicians can create a digital impression

and — while the patient is still in the chair —

send that information to the lab for review. If

the lab wants an area to be rescanned or the

proposed design to be modified, the clinician

can do so immediately. There is no need

for an additional office visit, saving valuable

chair time and preserving the patient's

confidence in the clinician's methods.

The lab can also quickly evaluate and

anticipate the technical complications

and considerations in producing the final

prosthesis. Doctors can use this information

to more accurately estimate their cost and

patient pricing.

Digital technology plays a key role in

producing the final prosthesis. The intraoral

scanner enables the clinician to use a

scanbody, which is a post that attaches to

the implant fixture. The scanbody helps

the clinician acquire the implant position

and provides the information required to

design the restoration. Interactive software

typically enables the clinician to generate

an implant report to aid in the ordering of

the components needed for implantation.

The report can also be shared with labs and

referring clinicians.

INCREASED PATIENT SATISFACTION

Faster treatment: From the initial

appointment, the prosthetic-driven implant

workflow expedites the treatment process.

Digital impressions are significantly faster

to obtain than traditional impressions. They

eliminate the need for creating a physical

model or wax-up. The implant planning

software merges the files from the digital

impression and CBCT scan, and the clinician

can present the treatment plan to the

patient — all within the first appointment. If

the patient accepts the treatment plan, he/

she can schedule surgery. Because files are

sent electronically between each member

of the treatment network, there are no

shipping delays to factor in. The combined

use of 3D imaging technology and CAD/CAM

restoration promotes the immediate loading

of the restoration and saves significant time

in the post-operative phase (Fig. 5).

Greater comfort and higher quality

outcomes: Since prosthetic-driven planning

typically involves the use of a flapless

approach, the procedure is less invasive.

Patients experience less pain, swelling and

overall postoperative discomfort. Less invasive

procedures lead to better restorative outcomes:

"A recent study to assess prospective implant

sites using panoramic radiography versus

panoramic scans combined with CBCT imaging

revealed that CBCT increases the accuracy of

treatment planning in predicting the actual

implant dimensions required at surgery.

Performing a CBCT scan during the planning

phase increases the accuracy of predicting

implant length considerably, from 40% after the

initial 2D scan to 69.5%. The overall outcome

is a more predictable surgical and restorative

result 7 ."

Cost savings: Because prosthetic-driven

planning deals with digital files, there are

no shipping costs to factor in for impression

creation. With the extensive planning that

goes into the prosthetic-driven planning

workflow, there's less chance for unintended

events, which can set back the final

treatment plan and substantially increase

treatment costs and time.

CONCLUSION

With the insight obtained through CBCT

scanning, intraoral scanning and the

prosthetic-driven planning workflow, the

clinician can place implants with a level

of precision, accuracy and consistency

that is hard to achieve through traditional

implant placement. Efficiencies are built in

throughout the process, resulting in fewer

appointments from start to finish. Intraoral

scanners and CBCT imaging streamline the

digital workflow with images that facilitate

diagnosis, treatment predictability, patient

education and surgical accuracy. The

prosthetic-driven planning workflow also

eliminates guesswork and increases clinician

confidence. Through faster treatment times,

improved patient comfort, reduced cost, and

higher quality, more predictable outcomes,

the benefits to be gained by both the

clinician and the patient are considerable.

Outstanding outcomes are attainable without

prosthetic-driven planning. However, the

clinician will undoubtedly discover that,

when prosthetic-driven planning is part

Visit 1 Visit 2 Visit 3 Visit 4 Visit 5 Visit 6

Traditional

Take multiple

impressions;

Scan with CBCT

Get bite registration

Confirm functionality

and aesthetics with

wax model

Perform a dual

scan protocol

with CBCT

Place implant and

take impression

with implant

in place**

Insert prosthesis

Prosthetic-driven

planning method

Create HD 3D

digital impression;

Scan with CBCT;

Plan implant*

Place implant and

create new HD 3D

digital impression

with implant

in place**

Insert prosthesis

— — —

* Complex cases may require an additional appointment for case presentation to the patient

** Depending on the loading protocol, impressions may require an additional appointment

Fig. 5: Protocol comparison for implants using surgical guide and immediate loading

40 DENTAL ASIA JANUARY / FEBRUARY 2023
---
USER REPORT

of the process, those outcomes can be

delivered more quickly and reliably — and

likely at a lower cost.

WHY CARESTREAM DENTAL'S 3D IMAGING

SOLUTIONS?

Carestream Dental can cover much of the

entire treatment workflow, from imaging and

diagnosis, to the fabrication of the surgical

guide. Clinicians can obtain the precision

they need to confidently plan and place

implants — ensuring optimal outcomes each

and every time.

Four easy steps

• Scanning and diagnosis: Carestream

Dental's 3D imaging systems cover the

entire implant process. Clinicians can

see the complete picture of the clinical

situation with the CS 8200 3D or CS 9600

CBCT system, enabling them to evaluate

bone volume, mandibular nerves, and

sinuses. Then, the soft tissues and surface

detail of the teeth can be captured using

the clinician's preferred intraoral scanner.

3D data is then stored centrally in single

imaging software to facilitate and expedite

data management and retrieval.

• Merge data: Simply import the digital

impression STL/PLY format files from

the third-party intraoral scanners into CS

Imaging software. Then, the CBCT and digital

impression data are merged automatically in

the implant planning software with little-tono

manipulation required.

• 3D planning: User friendly and intuitive,

CS 3D Imaging software takes the process

of planning implants to a whole new level

of efficiency and precision. Clinicians

can add virtual crowns and select from a

comprehensive library of implants (from

more than 90 manufacturers) to virtually

place implants in the appropriate axis and

then add abutments. They can also create

their own implants and manage their own

library. Clinicians can view the location

of the proposed implant in relation to

the bone and restoration — on the same

screen — to ensure optimal positioning

and aesthetic results.

• Guide creation: To create the surgical

guide, clinicians — with just one click

— simply export the 3D data into their

preferred third-party surgical guide

software including SMOP, Blue Sky Bio

and 360imaging thanks to the open file

format. Clinicians can easily generate

implant reports — again, with a single click

— which helps them effectively prepare

for surgery and share information with the

treatment network, referrals and patients.

Unique collaborative capabilities

With Carestream Dental software solutions

clinicians can:

• Exchange files effortlessly with the implant

network to speed up workflow

• Enable the implant network to open 3D

files simply with the CS MeshViewer and

CS 3D Imaging software

• Integrate the implant network and CAD/

CAM workflow easily with versatile 3D file

format options: STL, PLY, DICOM

User friendly and highly intuitive software

• The software automatically aligns the

digital impression with the CBCT scan so

clinicians can obtain the virtual setup with

little-to-no manipulation

• Intuitive tools enable clinicians to make

alignment adjustments manually if needed

• Clinicians can generate an implant report

in one click to order the components

needed for surgery and share with labs

and referrals

Enhanced patient communication and

education

Prosthetic-driven implant planning module

enables clinicians to facilitate patient

communication and education. It can help

patients understand the entire implant

process from start to finish, address their

concerns and build their confidence in

the treatment plan. For example, using

Carestream Dental's implant planning

software, clinicians can show their patients

images of their crown build-up. Clinicians

can then assure them of the higher quality

outcome that results from using the

prosthetic-driven planning workflow: "If I

place a standard abutment, not an angled

abutment, you will have the strongest,

easiest and most cost-effective implant

option." DA

REFERENCES

1

Jansen, Curtis. "Restorative-driven implant

therapy," CAD/CAM, North America Edition, Vol. 4,

Issue 1, 2014, p. 21

2,3

Ganz, Scott D. "The Next Evolution in CBCT:

Combining Digital Technologies," https://

eliezerganon.wordpress.com/2014/08/02/

the-next-evolution-in-cbctcombining- digitaltechnologies/

4

Abai, Siamak and Dalmau, Zach. "Immediate Final

Restorations: A Comprehensive Digital Approach

to Implant Dentistry," http://glidewelldental.com/

education/ inclusive-dental-implant-magazine/

volume-4-issue-3/immediate-final-restorations/.

5, 6

Ganz, Scott D. "The Next Evolution in CBCT:

Combining Digital Technologies," https://

eliezerganon.wordpress.com/2014/08/02/

the-next-evolution-in-cbctcombining- digitaltechnologies/.

7

"Diagnostic imaging in clinical practice," Science

First, Volume 3, Issue 2, 2015, p. 12

DENTAL ASIA JANUARY / FEBRUARY 2023 41
---
USER REPORT

Astounding new smile with direct

composite veneers

Under the guidance of Dr Munin Chaichalothorn, Nanthiphorn Pongam wins

Dentsply Sirona's annual Global Clinical Case Contest demonstrating her passion

and skillset in restoring radiant smiles.

Since 2004, Dentsply Sirona has organised

the annual Global Clinical Case Contest

(GCCC). The competition is aimed at

dental students with less than two years

of clinical practice. Participants document

their successful treatment case in text and

images, and are supported by a tutor from

their university.

In 2022, more than 520 students from 73

dental schools participated. Nanthiphorn

Pongam from Mahidol University,

Thailand, wins the first prize for a

challenging maxillary restoration. Using

DS Prime&Bond universal, Neo Spectra

ST Effects composites, Enhance Finishing

System and Enhance Pogo Polishing System,

the following is her winning case —

showcasing the impressive talent of young

dentists today.

CASE DESCRIPTION

A 21-year-old male patient was presented

with a compromised maxilla, severe carious

lesions and enamel defect on the upper

anterior teeth. The requirement was to

restore the front teeth as minimally invasive

as possible and with direct restorative

materials. The GCCC award winner

Nanthiphorn Pongam was supported in

her work by Dr Munin Chaichalothorn at

Mahidol University.

The 2021/2022 Dentsply Sirona Global Clinical

Case Contest winner Nanthiphorn Pongam.

University: Mahidol University, Bangkok, Thailand,

DDS (2nd class honours), Naresuan University, MSc

(Operative Dentistry), Mahidol University

TREATMENT PROCEDURE

Fig. 1: Initial situation

— The pre-operative

conditions included

severe carious lesions

and enamel defect

on the upper anterior

teeth.

Fig. 3: Wax-up and a

silicone key on teeth 13

to 23 —The diagnostic

wax-up was performed

and a silicone index

was fabricated using a

putty addition silicone

material.

Fig. 2: Aesthetic criteria

were determined

based on Digital Smile

Design (DSD) concepts,

especially for the tooth

shape and width-toheight

ratio. Then,

diagnostic models were

fabricated following the

design from DSD.

Fig. 4: Shade selection

— After cleaning,

proper shades were

selected by using VITA

shade guide paired

with universal CLOUD

shades. The enamel

shade (E1) and dentin

shade (D1) were

selected.

42 DENTAL ASIA JANUARY / FEBRUARY 2023
---
USER REPORT

Fig. 5: Caries removal and cavity preparation — A

rubber dam isolation and gingival retraction cords

were applied. After that, caries were selectively

removed for preservation in a vital pulp tissue.

Minimally invasive preparations were performed on

teeth 13-23.

Fig. 6: Bonding procedure — The cavities were

selectively etched with 36% phosphoric acid, then

rinsed with water spray and air-dried. Adhesive

procedures were performed with a universal

adhesive (Prime&bond Universal, Dentsply Sirona).

Fig. 7: Palatal wall and proximal wall build up —

The Neo Spectra ST Effects composites (shade

E1) were placed to build up the palatal wall and

proximal wall using a silicone index and mylar strip,

respectively. Then, the dentin shade (D1) was used

to create a dentin lobe.

Fig. 8: Finishing and polishing — Morphological

characteristics were marked to specify the line

angle and developmental groove. Then, the

Enhance Finishing System and Enhance PoGo

Polishing System (Dentsply Sirona), were used

to mimic the natural micro texture and glossy

surface.

Fig. 9: Final result — The upper anterior teeth

revealed a natural smile line, which coordinates

with the lower lip line.

Fig. 10: Post-treatment — The final result not only

provides natural aesthetics but also restores

effective function. The patient is highly satisfied

with his new smile and the overall result.

Munin Chaichalothorn

(l.), tutor of Nanthiphorn

Pongam, DDS (2nd class

honours), Mahidol University;

MSc (Operative Dentistry),

Mahidol University,

Diplomate, Thai Board of

Operative Dentistry

CONCLUSION

The direct solution was done for

several reasons. First, the patient

wanted a minimally invasive

treatment. Furthermore, it also had

to be cost effective. This meant

that a restoration with ceramic

veneers was out of the question,

and crowning the teeth was also not

an option in view of the patient's

age and the loss of tooth substance

that would have been necessary.

The patient's poor oral hygiene at

the beginning of treatment also

had to be considered. In the end,

the patient was very compliant and

highly satisfied with his new smile

and the overall result. DA

DENTAL ASIA JANUARY / FEBRUARY 2023 43
---
BEHIND THE SCENES

Digital dentistry is here to stay

It is clear — digital dentistry is

widely accepted around the globe.

For more than four decades, the

practice strived and challenged

all the doubts given. In today's

practice, its value has become even

more undeniable, particularly on

the laboratory side, as Dr Kelvin

Tantono writes more.

We might remember the time when

experienced technicians doubted how digital

technology and workflow can reinforce or

make the world of dental technicians better.

It might be understood well why such doubt

rose because, at the early time of digital

dentistry, we were led to a dogma that digital

technology will only provide speed. On

top of it, early dental technicians who are

more hands-on in their procedures lacked

exposure to computer technology and found

it hard to adapt. In turn, the so-called "speed

technology" only slowed them down.

Over the years, as digital workflow became

more established, it has lured the attention

of the young generation who are more

technology savvy. By having them in the

field, the adaption of digital dentistry in the

laboratory accelerated. Today, we see many

new technicians fabricating high-quality

work in a short time by utilising CAD/CAM

technology to simplify their workflow. By

doing so, they can focus on improving their

skills in other essential factors like anatomy

and shade.

EFFICIENCY IS KEY

Digital technology reinforces the

communication between technicians and

dentists. Many factors that cannot be shown

and communicated well before in the era

of analogue, now can be presented clearly.

As we all agree, many times these are tiny

factors like undercuts that cause leakage and

lower the success rate of the restorations.

These are hard to analyse in analogue, but

with digital technology, we can scan and

zoom the models to see the details so both

dentist and technician can discuss and

solve the problem. Even before making an

impression, if the dentist is using a digital

intraoral scanner (IOS), the undercuts can

be analysed directly in the patient mouth.

Furthermore, digital technology lowers

the chances of redoing restorations in

several ways. By being able to communicate

problems like an undercut, lack of space,

and other possible risks, digital technology

improves the success rate of restoration.

By avoiding redo, the technician can save

much time to work on other cases and focus

on other issues, even having more time to

practice new skills. Digital technology also

enables a dental technician to show the

final result to the dentist and patient at the

very beginning of the case by utilising the

digital design. The design can be shown

in 360-degree view so both dentist and

technician can work together to analyse

the case.

Another significant way how technology

can help the technician to save time is by

simplifying the reproduction process. Since

the workflow is in digital form and involves

saving works in file format, then whenever

we need to remake the same restoration,

it is possible to simply reload the file and

reproduce the restorations without having

to start from scratch.

44 DENTAL ASIA JANUARY / FEBRUARY 2023
---
BEHIND THE SCENES

a digital system gradually. I recommend

starting with a laboratory scanner and

CAD software. By doing so, we can get

the benefit of model undercut analysis,

a better "zoomed" view of the margin,

better communication of the final result

with dentists and patients, and the

repeatability of production.

In the beginning, production can be

outsourced by simply sending the .stl file

to your local production or milling centre.

In this way, it will help you avoid several

start-up issues like raw material stock,

huge investments in milling machines and

sintering furnaces and switch "safely" into

the digital system.

UPWARD TREND

Various indicators are showing that the

dental laboratory world has accepted

the digital way of working. In fact, not

just accepted — but also nurtured its

development. A very obvious indicator of an

unavoidable emerging digital technology in

the dental laboratory is by looking at how

the manufacturers supply the market.

In every new technology or system,

manufacturers do surveys and predictions

about how ready the market is to adopt or

accept the new system. As we are witnessing,

manufacturers all over the world are

constantly launching and innovating both

premium and economical level products.

Moreover, we are also seeing more dentists

utilising IOS in their daily practice as

the improvement in product quality and

scanning speed over the years has made it

easier for them to adopt this technology.

There is also a notable drop in its price

making it more affordable. Hence, dentists

are more inclined to purchase even though

they might not have their own design

software or production centre. As a lab, if

we only have the CAD and a 3D printer, we

can have ourselves ready to receive digital

scans instead of impressions only.

Creating great results with an analogue

system might be no problem for masters

and experienced passionate ceramists. But

we all must admit that passionate ceramist

is now getting less and less in number. It is

now very rare to find a ceramist who still

understands and can perform the analogue

technique in proper ways, so when we

need to grow our lab or maintain our lab in

running daily tasks, we need to train new

employees. Digital systems and workflow

can help a laboratory to train the new

generation faster and easier.

FINDING THE BALANCE

So, will the digital erase the analogue?

The best attitude and point of view

regarding unavoidable digital technology

interference in the world of the

dental laboratory is to see digital and

analogue not as opposite things, but

as reinforcement of each other. See

analogue as our right hand; and digital

as our left hand. In our daily life, using

both hands have enabled us to do many

tasks effectively. By utilising digital and

analogue together, many benefits will be

sowed.

Instead of buying a whole digital system

at once, it is possible to switch and adopt

After getting comfortable with CAD, it

is possible to add CAM production into

your lab in the future. It is recommended

to use open systems to be able to adopt

digital step-by-step into your lab. There

is no right or wrong whether to stay in

the analogue style of an artist or embrace

the technology interference now. But

one thing is for sure, digital is here to

stay in the fascinating industry of dental

laboratory. DA

ABOUT THE AUTHOR

Dr Kelvin Tantono is

the founder and chief

dental technician at

Zirmon Dental Atelier.

He graduated from

Trisakti University

in 2012 and gained

clinical experience

in Jakarta and

Binjai followed by his private practice in

Medan, Indonesia. After more than five

years of clinical practice, he decided to

follow his heart and pursue the field of

dental ceramics and has not looked back

since. He completed the international

programme at the Osaka Ceramic

Training Centre and underwent various

training under international experts in the

ceramics field.

DENTAL ASIA JANUARY / FEBRUARY 2023 45
---
BEHIND THE SCENES

Brilliant, true-to-shade press

results at any time

A zirconia-reinforced lithium disilicate press ceramic system, VITA AMBRIA is

indicated for the production of delicate reconstructions, such as veneers and

inlays/onlays, as well as highly aesthetic, full/partial crowns and three-unit

bridges as Master Dental Technician Stephan Juckel shares more.

Press ceramics made from lithium disilicate

are a real success story and have secured a

permanent place in the dental laboratory.

Dental technicians love the ceramic press

technique because of the variety of aesthetic

possibilities it offers and its clear costeffectiveness.

That's true in theory; however,

in practice, things do not always go as well as

planned.

All the time and effort put into an anterior

restoration for it to look too grey in the

patient's mouth. The posterior crown

appears to be too bright, although the

correct shade was selected. Or the

frustration of the generally rather lifeless

appearance of a pressed restoration. Perhaps

you have experienced these or other

difficulties too.

Fig. 1: The wax-up is completed and the muffle system is prepared

One practitioner who no longer wanted to

accept these limitations is Master Dental

Technician Stephan Juckel (Neukirchen-

Vluyn, Germany). Find out how, in VITA

AMBRIA, he found a lithium disilicate press

ceramic that meets his high aesthetic

expectations, and why he says: "I finally feel

at home with the press technique".

THE ROAD TO SUCCESS IS SELDOM

SMOOTH

Juckel runs a dental laboratory in

Neunkirchen-Vluyn near Moers, Germany. A

likeable and genuine person, he shared that

"detail is very close to his heart".

Fig. 2: The waxed-up restorations are sprued

Fig. 3: The press ceramic pellets are selected in the

desired translucency and shade.

46 DENTAL ASIA JANUARY / FEBRUARY 2023
---
BEHIND THE SCENES

Fig. 4: The wax-up is embedded with VITA AMBRIA INVEST

Fig. 5: The selected VITA AMBRIA pellet before heating in the press furnace

Fig. 6: The embedded wax-up is burned out in the furnace

Fig. 7: Finishing of a pressed restoration with a fine rotary instrument

His love of detail is the reason why he

became a dental technician. He loves the

variety that his profession offers, and

always strives for perfection. In his work, he

focuses on patient-specific solutions and

close collaboration with dental surgeons.

He shared: "Our work touches people's lives!

That makes me happy and satisfied."

Juckel is a big fan of press ceramic

technology. What in hindsight almost began

with bitterness, has now become a real

stroke of luck: a modern lithium disilicate

press ceramic. Juckel's initial experiences

with the press technique were with press

ceramics from a variety of manufacturers.

"With our first attempts, we were practically

doing voodoo dances around the furnace,

praying that the objects would press

properly," he remembered, smiling.

Even the smallest changes in the process

were the difference between success and

failure. This unpredictability was a regular

cause for frustration. Despite an effective

shade system, the aesthetic results were

not always satisfactory. A grey sheen and, in

some cases, a dull appearance — the results

just were not true to life.

The dental technician stuck to the task and

broadened his horizons. He tested more press

ceramics, weighed up different methods,

and compared results. The differences in the

procedure were particularly noticeable.

"Some systems required special laboratory

equipment," a knock-out criterion for him. "I

want to be able to work with the equipment

I have (e.g., press furnace) and always get

the same good results; easily and without

complication."

The condition of the surface, the reaction

layer on the pressed object, the accuracy

of the fit, and of course, the photo-optical

properties were all compared.

He shared: "I wanted a brilliant true-to-life

appearance without any greyish hue."

Eventually, by coincidence, he discovered

VITA AMBRIA lithium disilicate (VITA

Zahnfabrik).

WHY VITA AMBRIA PRESS CERAMIC

OFFERS IMPRESSIVE AESTHETICS

VITA AMBRIA impressed from the very

first press. Juckel shared: "We followed the

working instructions and used our existing

press furnace. The result was perfect. The

pressed restoration surprised with incredible

photo-optics; a result that matched the

marketing brochure. Our first thought

was that this had to be a coincidence. Yet,

all subsequent tests showed equally good

results. Every surface was exactly the way we

wanted it."

"What was amazing was the almost complete

absence of a reaction layer. All that was

needed was a gentle once-over with glass

polishing beads, that was it. The fit and shade

are excellent. It was love at first sight," added

Juckel, thrilled.

During the test phase, Juckel completed

several restorations using VITA AMBRIA. It

was soon possible to say — tested and found

to be flawless.

He elaborated: "The results were always

equally good and we decided relatively

DENTAL ASIA JANUARY / FEBRUARY 2023 47
---
BEHIND THE SCENES

Fig. 8: The restoration made of VITA AMBRIA during the fit check on the model

Fig. 9: The finished restoration made of VITA AMBRIA on the model

Fig. 10: VITA AMBRIA during the individualisation with the veneering ceramic

VITA LUMEX AC

Fig. 11: The shade accurate restoration after individualisation and

characterisation

quickly to introduce VITA AMBRIA to our

laboratory. The switch went smoothly. An

introductory training was offered but was

not necessary. Pressing worked well right

from the start. The results were exemplary

and met all our requirements. After two

and a half months, the press ceramic

had established itself as part of our daily

laboratory routine. Although I am usually

critical in my evaluation of materials, I did

not have anything to complain about. That

might sound odd, but it's a fact."

Juckel highlighted that the biggest

challenge for ceramicists is the individual

front tooth, and this is where VITA

AMBRIA shows its strength. He explained

that in these situations, the cut-back

technique is used. For veneering, VITA

LUMEX AC (VITA Zahnfabrik) is also

utilised. The veneering ceramic is adapted

to the press ceramic so that aesthetics are

conveniently created that impress with

their internal play of colours and natural

appearance.

Brightness, translucency, opalescence — it

is all exactly as it should be. Monolithic

restorations made from the VITA AMBRIA

press ceramic can also impress with

exceptional vibrancy. He added: "Pressing,

devesting, polishing, placement and that's it."

According to Juckel, most dental surgeons

noticed the change immediately as the new

material has a very natural appearance. As

a master dental technician, Juckel really

appreciates this kind of feedback, which

validates his decision.

VALUABLE LIFE LESSON

For Juckel, the aesthetic appearance of the

ceramic is of primary importance.

"Today, we no longer get upset about

undesirable shade gradients, but benefit with

VITA AMBRIA from brilliant results with a

true-to-life appearance," he said.

Even without layered ceramic, the result is

restorations with the effect of depth. The

press technique also offers a simple,

efficient application.

"Since working with VITA AMBRIA, I have

more time again for other things," he said

happily.

The time saved is due to the wellorganised

process, the almost complete

absence of a reaction layer, and the

excellent results directly from the press

furnace.

Juckel is happy to have selected the VITA

press ceramic. It takes courage to begin

with to be open to something new. But the

courageous decision to approach things

differently was a significant step forward.

As a result, the dental technician has not

only discovered a new press ceramic but

also learned a life lesson. He concluded:

"The success gave me the confidence

to dare more often to question familiar

things and to try new approaches." DA

48 DENTAL ASIA JANUARY / FEBRUARY 2023
---
IN DEPTH WITH

ACTILINK Reborn:

Enhancing

osseointegration

and hydrophilicity of

dental implant

Even for implants with SLA surface

treatment that maximises biological

compatibility, hydrocarbons in the air cover

60-75% of the total surface area on the

implant surface after one month or more.

This phenomenon is a biological ageing

that hinders osseointegration between the

implant and bone.

Plasmapp, manufacturer and supplier of

solutions for sterilising medical devices and

regenerative activation of dental implants,

raised a fundamental question about the

removal of implant impurities constantly.

They studied plasma technology that can

improve osseointegration performance by

removing hydrocarbons formed in titanium

implants, and has recently launched

ACTILINK Reborn.

ACTILINK Reborn is a plasma regenerative

activator for implant utilising vacuum plasma

to maximise surface treatment performance.

The titanium surface has an electrostatic

negative charge, and after vacuum

plasma surface treatment through Bio-

RAP (Regenerative Activation by Plasma)

technology, the implant surface is changed

to a positive charge, and hydrocarbons and

impurities that deters osseointegration are

removed.

The vacuum plasma generates plasma

energy while strongly sucking air inside

the vacuum tube resulting to enhanced

hydrophilicity, blood wettability, and

increased protein adsorptions that attract

the factors forming the bone.

By having such dramatical

biocompatibility, the stabilisation period

of surgery can be greatly shortened

eventually, and the implant can be

regenerated and reactivated through

plasma treatment within one minute

before implant surgery.

ACTILINK Reborn key points:

• First universal plasma irradiator for any

implant

• Remove hydrocarbons, convert

hydrophobicity to hydrophilicity

• Faster healing and osseointegration

time in three to four weeks

• Excellent blood wettability, it promotes

superb hydrophilicity for increasing

bone to implant contact

• Increase initial fixation strength and

success rate

• More than three days surface retention,

with vacuum plasma surface treatment

technology

• Visible and reliable vacuum plasma

treatment process

• No occurrence of ozone and harmless

to the human body DA

DENTAL ASIA JANUARY / FEBRUARY 2023 49
---
IN DEPTH WITH

How Osteopore

technology is

used in oral and

maxillofacial

surgery

By Dr Nattharee Chanchareonsook and Dr Aileen Padilla

Tissue engineering is playing an increasingly

major role in reconstructive, cosmetic

and plastic surgeries for patients suffering

head, neck, facial and oral trauma, cancer,

congenital defects and even common oral

problems. These surgeries can be lifechanging

for people of all ages, and at

Osteopore, we are passionate about helping

patients recover in the best way available

to them. Our two decades of expertise in

bone regeneration means we can harness

our technological capabilities to assist. Our

products have been used successfully in

oral and maxillofacial surgeries — including

orbital floor reconstruction procedures and

mandibular bone reconstructions.

benign pathologies (e.g., cysts and tumours

of the jaws); oral cancer/head and neck

cancer; obstructive sleep apnoea; salivary

gland disease; and temporomandibular joint

disorders (TMD).

Within the scope of treatment, bone

reconstructive treatment in OMF surgery is

one of the most important fields. In complex

cases, defects of the jaw following tumour

resection or trauma may require bone

grafting all the way to microvascular free

flap surgery. In smaller defects, i.e., bone

reconstruction at dentoalveolar region,

autografts or alternatively bone substitutes

can be selected to graft at defect sites.

The type of graft used will depend on

factors including, but not limited to, the

type of surgery being performed, age,

medical history, and bone quantity/

quality 1 . Autografts are still considered

the gold standard due to the essential

combination of osteogenic, osteoinductive,

and osteoconductive properties. However,

autografts have some disadvantages on

donor site morbidity and limited amount of

graft tissue. In some cases, bone substitutes

such as allografts, xenografts, and alloplastics

are used as alternatives for autologous

bone grafts, but these bone substitutes lack

osteogenic, osteoinductive, and angiogenic

potential 2 .

OSTEOPORE TECHNOLOGY

Oral and maxillofacial surgery (OMF) is a

surgical specialty covering the diagnosis and

treatment of diseases, injuries and defects

involving both the functional and aesthetic

aspects of the oral cavity, jaw, face, and neck

regions. Training in medicine and dentistry

enables OMF surgeons to treat conditions

requiring expertise in both fields. These

include: common oral surgical problems

(e.g., impacted teeth, dental implants);

facial injuries/trauma/infection; jaw and

congenital facial disproportion; congenital

facial deformities including cleft lip-cleft

palate; oral and maxillofacial pathology;

Honeycomb microstructure of Osteopore's implant (a) top view (b) side view

50 DENTAL ASIA JANUARY / FEBRUARY 2023
---
IN DEPTH WITH

Tissue engineering evolved from the field of

biomaterials development and refers to the

practice of combining scaffolds, cells and

biologically active molecules into functional

tissues. The goal is to assemble functional

constructs that restore, maintain or improve

damaged tissues or whole organs 3 . In the

past decade, tissue engineering has become

a highly active field to develop products and

devices with all the required components

and following all principles of regenerative

medicine. This regenerated bone can be

used in small or large defects, in maxillary

cleft repair, maxillary and mandibular

ridge augmentation, and maxillary sinus

augmentation 4 .

The potential of our technology lies in the

application of bone in situ tissue engineering,

which improves on many of the limitations

of conventional reconstructive practices.

The technology harnesses the body's

regenerative capacity to rebuild lost tissues,

by leveraging on the natural healing process

to guide the functional restoration of tissues

at the defect site. Surgeons and dentists

can reduce treatment time as they are not

required to extensively manipulate/culture

cells and material outside of the body, unlike

in-vitro tissue engineering.

Osteopore has technology to produce

3D polycaprolactone (PCL) bioresorbable

scaffolds which are biocompatible, proven

and non-toxic. There are no animal tissue

concerns such as disease transmission or

cross reaction. Bone remodelling takes place

before complete degradation between 18

to 24 months. The scaffold is engineered

and designed with a lattice structure

constructed from interconnected triangles of

regular porous morphology which promote

osteoblast formation within the socket and

help to facilitate natural bone 5 . Satisfactory

bone growth has been recorded with

cranioplasty.

The printing offers a mesh structure

(different thickness), block (different

dimensions) and is an alternative to currently

available patient specific implants (PSI).

Surgeons can select the design to match the

type of defect.

PATIENT SPECIFIC IMPLANT (PSI) FOR

MANDIBULAR RECONSTRUCTION

Surgical reconstruction of mandibular

bone defects is a routine procedure for the

rehabilitation of patients with deformities

caused by trauma, infection or tumour

resection. The Osteopore PSI combined

with biological cells and biological factors

can replace or reduce the volume need of

autologous bone reconstruction. Therefore,

it helps reducing donor site morbidity and

hospitalisation periods. Osteopore's PSI

performed well for mandible defects with

little or no loss of soft tissue and when

placed in a well vascularised tissue bed. The

adjacent bone fragments can be stripped

off periosteum so that adequate bone to

bone contact is established. In the case of

significant soft tissue loss, the Osteopore

PSI can combine with vascularised bone

flap with the aim of regenerating bone. It

also helps to increase bone volume at the

reconstruction site and enhances bone

regeneration from surrounding blood vessels.

Osteopore PSI technology can assist in

this surgery, being a custom-made 3D

printed bone scaffold made from PCL

using CT scan data. The PSI is designed

alongside advice from the patient's surgeon

and modelled according to CT scans.

With the Osteopore scaffold structure,

the implant can be safely combined with

biologic (synthetic, autologous i.e., bone

marrow aspirate, cancellous particulate

bone) substances or materials to safely

regrow the patient's bones. The implant

is bioresorbable, biocompatible, and nontoxic.

The scaffold has an excellent track

record in the reconstruction of craniofacial

and maxillofacial bone defects 6 . The PSI

can be stabilised with reconstruction plates

and screws and gives soft tissue coverage

throughout the healing phase.

In the process of producing PSI, Osteopore

requires two-to-three weeks from the date

of design confirmation until the product's

delivery to surgeons. The detailed timeline

for PSI products:

• Request for PSI – surgeon fills in PSI

request form and submits CT scan data to

Singapore Osteopore Headquarters (HQ)

• Assessment – HQ determines if case

is accepted/rejected/pending more

information and informs surgeon

• Design – PSI is designed based on CT and

Osteopore bioengineer and surgeon case

discussion

• Approval – HQ finalises design for

surgeon's approval and indicates details of

pre-surgical planning

• Production of implant – production of

implant with 3D printed bone scaffold

in Singapore Osteopore HQ and quality

check

• Sterilisation – each implant produced is

sterilised with Gamma radiation (EN ISO

11137)

• Deliver to surgeon – PSI delivered to the

requested surgeon

Over the two and a half years, four cases

of mandibular PSI reconstruction have

been successfully implanted for patients

in Australia and Singapore. These cases

involved reconstruction for mandibular in

mandibular hypoplasia, second degrees

hemifacial microsomia, osteoradionecrosis,

recurrent squamous cell carcinoma (SCC)

at retromolar trigone and chin implant.

The mandibular hypoplasia patient case

was included in a case series published

recently and the findings reported no further

inpatient and postoperative complications.

A CT scan at three to four months showed

DENTAL ASIA JANUARY / FEBRUARY 2023 51
---
IN DEPTH WITH

regenerated bone adjacent to the scaffold.

The patient subsequently has good mouth

opening and improved facial symmetry 7 .

PSI FOR MAXILLARY BONE

RECONSTRUCTION

Apart from mandibular PSI, we believe the

same technology can be applied for maxillary

bone reconstruction and we are looking

forward to working with surgeons who are

interested in this technology.

Osteomesh for bone reconstruction:

Osteomesh is a biocompatible 3D-printed

scaffold implant made from PCL designed

to mimic the microarchitecture of natural

bone. Being semi-flexible, it is easy to handle

and enables sufficient strength to hold

particulate bone grafts without collapsing,

while retaining enough flexibility to be

curved and moulded to the desired shape.

Osteomesh compared to titanium mesh:

Titanium mesh has excellent mechanical

properties compared with other types of

materials. However, it needs a secondary

surgery for removal, and the cut edges

of this mesh sometimes cause mucosal

irritation. This can lead to exposure of the

membrane and possibly infection of the

titanium framework embedded inside the

membrane structure. Osteomesh slowly

resorbs into the body while it concurrently

supports bone in-growth and remodelling.

Since no permanent foreign object remains

in the body, infection rates are low, and the

need for follow-up appointments is reduced.

Osteomesh compared to present

techniques: From a clinical perspective, PCL

has a proven clinical history for maxillofacial

indications, and the interconnected microarchitecture

of Osteomesh facilitates

osteoblast proliferation and infiltration while

enabling bone graft stability and natural bone

regeneration. The Osteomesh predictable

resorption profile avoids the need for an

additional procedure, thus delivering clinical

ease and patient comfort.

Osteomesh has been carefully designed to

speed up procedures due to its semi-flexible

feel and easier cutting (with surgical blade

and surgical scissors) characteristics, which

is essential for the success of the treatment.

It works well with all types of graft materials

including autogenous bone and has an ideal

structure that can maintain its contour and

shape throughout the course of bone healing.

ORBITAL FLOOR RECONSTRUCTION

The aim of orbital floor reconstruction is to

restore the pre-injury shape of the fractured

floor to provide support of the globe

and prevent herniation of the periorbital

structures into the maxillary antrum.

Osteomesh is an integrating implant for

the repair of orbital fractures, leading to a

shift in orbital reconstructive surgery from

purely repairing bony defects to functional

regeneration of damaged tissues. It provides

structural stability throughout fracture

healing and bone remodelling. It is easy to

use as it is mouldable in warm saline and

shaped by surgical scissors 8 .

Osteomesh has more than two years follow

up showing host-implant compatibility

with no infection and migration of implant.

Its biomimetic design structure delivers

predictable bone regeneration while

providing structural support. The resulting

regenerated bone minimises complications,

such as orbit compartment syndrome of

permanent implants as evidenced by a 10-

year clinical series.

A 10-year retrospective review of all patients

who had undergone orbital fracture repair

with Osteomesh in a single tertiary trauma

centre from January 2005 to December 2014,

showed it is safe and clinically effective in

the reconstruction of orbital fractures. The

review supports that Osteomesh is a useful

alternative in the reconstruction of small

to large, simple or complex orbito-cranial

deformities 9 .

OSTEOMESH AND PRE-FORMED

OSTEOMESH FOR MANDIBULAR

RECONSTRUCTION

In a mandibular reconstruction with our

product, an alternative to a 3D PSI is using

Osteomesh as a bioresorbable bone tray.

Surgeons can shape and mould Osteomesh

intra operation to fit the reconstruction site

or can order a custom made pre-formed

Osteomesh (pre-surgical outline/shaped

and moulding base on patient CT scan).

Successful clinical cases resulted from

Osteomesh being combined with particulate

cancellous bone and marrow (PCBM).

Patients have had no signs of complications,

and CT scans are underway in around two

months' time. Osteomesh is moulded in

warm saline to fit the defect area and formed

as a tray wherein autogenous bone is well

packed inside with other biologics. It can be

secured with screws and plates, if required.

It is also compatible with permanent and

bioresorbable fixation systems 10 .

REPLACEMENTS OF BONE WINDOW

Maxillary sinus floor augmentation

also termed sinus lift, sinus graft, sinus

augmentation or sinus procedure is a

surgical procedure which aims to increase

the amount of bone in the posterior maxilla

by lifting the Schneiderian membrane

and placing a bone graft 11 . Post sinus

augmentation, the buccal bone window can

be covered by Osteomesh and secured with a

self-drilling screw before soft tissue closure 12 .

Similar procedures were applied to close

the buccal after large cystic enucleation.

The surgeon used Osteomesh to cover

52 DENTAL ASIA JANUARY / FEBRUARY 2023
---
IN DEPTH WITH

the top of the bone defect without filling

materials to prevent soft tissue in growth

in the cystic cavity and to allow proper

contour of bone healing. Mesh was cut into

shape and moulded to fit the anatomical

contour of bone with warm saline. With

periosteal vertical mattress sutures, the

mesh was maintained in a stable position.

Primary wound closure was performed using

interrupted sutures.

ALVEOLAR CLEFT SURGERY

Alveolar bone grafting involves alveolar

bone repair and closing of oro-nasal fistula

at the cleft site at the area of premaxilla

where there is discontinuation of alveolar

process and defect nasal base. The usual age

for alveolar bone grafting is between seven

and nine years old, before the eruption of

the anterior teeth at cleft site. Late repair

surgeries are possible in adult cleft cases

that missed surgery at younger ages. Alveolar

cleft reconstruction has historically relied on

autologous iliac crest bone grafting (ICBG);

however, the risk of donor site morbidity,

pain, and prolonged hospitalisation has

prompted the search for alternative bone

grafts.

Earlier this year, surgeons adapted the use

of Osteomesh with the combination of

autologous bone for first use in alveolar cleft

cases. The alternate layered between our

product and autogenous bone technique

was used to enhance biologic bone cells

and healing factors from autogenous bone.

The honeycomb structures of Osteopore's

product enhanced permeability blood

and bone factors which could stimulate

cells to produce mineralised extracellular

matrix (ECM). Surgeons ensured tight

packing at the grafted site for future bone

regeneration. According to surgeons, the

Osteopore product helped lessen the

amount of bone harvesting from the iliac

crest, hence the patients easily recovered.

The wound healing was reportedly

excellent. We are in the midst of reviewing

quality and quantity bone regeneration

from the upcoming CT-cone beam scan.

In future work, we aim to use Osteopore

products in combination with aspirated

bone marrow or other growth factors to

further avoid autologous bone harvesting

to establish a new chapter for cleft bone

regeneration.

OSTEOPORE PRODUCTS FOR

ORTHOGNATHIC SURGERY

Orthognathic surgery involves a spectrum

of surgical procedures on the upper jaw,

lower jaw and chin, to improve both form

and function. The Le Fort I osteotomy of

the maxilla is one of the core procedures in

orthognathic surgery for the management

of facial skeletal deformities13. Le Fort

I enables realignment of the maxilla

with the facial midline, correction of

the cant, and allows for advancement,

set back, increasing or decreasing the

vertical position. If large gaps are created

between the upper and lower part of

the maxillary bone in large inferior or

horizontal movements, bone grafts should

be considered to provide for more stable

movement 14 .

Osteostrip is an integrating implant used to

restore the gaps by promoting bone tissue

ingrowth. It was reportedly user friendly

for craniotomy cases. In OMF, Osteostrip

is an excellent alternative choice of using

autologous bone (i.e., facial bones, cranial

grafts, or from the iliac crest) on those gaps

between the upper and lower part of the

maxillary bone after Le Fort I Osteotomy. It

gives a perfect fit wherein the flanges are in

great position for screw fixation. DA

REFERENCES:

1.

https://www.medtronic.com/us-en/patients/

treatments-therapies/bone-grafting-dental/

bone-graft-options/o

2.

J. S. Vorrasi and A. Kolokythas, "Controversies

in traditional oral and maxillofacial

reconstruction," Oral and Maxillofacial Surgery

Clinics of North America, vol. 29, no. 4, pp.

401–413, 2017.

G. Fernandez de Grado, L. Keller, Y. Idoux-Gillet

et al., "Bone substitutes: a review of their

characteristics, clinical use, and perspectives

for large bone defects management," Journal of

Tissue Engineering, vol. 9, 18 pages, 2018.

Vivian Wu, Marco N. Helder, Nathalie Bravenboer,

Christiaan M. ten Bruggenkate, Jianfeng

Jin, Jenneke Klein-Nulend, Engelbert A. J.

M. Schulten, "Bone Tissue Regeneration in

the Oral and Maxillofacial Region: A Review

on the Application of Stem Cells and New

Strategies to Improve Vascularization",

Stem Cells International, vol. 2019, Article

ID 6279721, 15 pages, 2019. https://doi.

org/10.1155/2019/6279721

3.

https://www.nibib.nih.gov/science-education/

science-topics/tissue-engineering-andregenerative-medicine

4.

Rai R, Raval R, Khandeparker RV, Chidrawar SK,

Khan AA, Ganpat MS. Tissue Engineering: Step

Ahead in Maxillofacial Reconstruction. J Int Oral

Health. 2015;7(9):138-142.

5.

Dental Osteoplug brochure, https://www.

osteopore.com/sites/default/files/supportdocs/Dental%20Osteoplug%20Brochure%20

%28Feb%202022%29%20v2.pdf

6.

Schuckert KH, Jopp S, Teoh SH. Mandibular

defect reconstruction using three-dimensional

polycaprolactone scaffold in combination

with platelet-rich plasma and recombinant

human bone morphogenetic protein-2: de novo

synthesis of bone in a single case. Tissue Eng

Part A. 2009 Mar;15(3):493-9. doi: 10.1089/ten.

tea.2008.0033. PMID: 18767969.

7.

Regenerative matching axial vascularisation

of absorbable 3D-printed scaffold for large

bone defects: A first in human series George

Castrisos, MBBSa , Isabel Gonzalez Matheus,

MBBSa,b,d,j,∗, David Sparks, MBBSa,c,d, Martin

Lowe, MBBS, FRACS, FAOrthoAe, Nicola Ward,

MBBS FRACS FAOrthoAe, Marjoree Sehu, MBBS,

FRACP, FRCPAd,f , Marie-Luise Wille, MSc, PhDg,i

, Yun Phua, MD, FRACS (Plast)h, Flavia Medeiros

Savi, BBSc, PhDh,i , Dietmar Hutmacher, PhDg,i ,

Michael Wagels, MBBS, FRACS (Plast)a,b,d,h,

8.

Osteopore Orbital Floor Repair Brochure

9.

Use of bioresorbable implants for orbital

fracturereconstruction Stephanie M

Young,1Gangadhara Sundar,1Thiam-

Chye Lim,2Stephanie S Lang,3George

Thomas,4Shantha Amrith1

10.

Osteopore PSI Brochure

11.

Boyne, PJ. De novo bone induction by

recombinant human bone morphogenetic

protein-2 (rhBMP-2) in maxillary sinus

floor augmentation. J Oral Maxillofac Surg

2005;63:1693-1707

12.

"Sinus Lift Surgery - Sinus Augmentation |

Colgate". www.colgate.com. Archived from the

original on 2015-07-01

13.

Buchanan EP, Hyman CH. LeFort I Osteotomy.

Semin Plast Surg. 2013;27(3):149-154.

doi:10.1055/s-0033-13571

14.

Buchanan EP, Hyman CH. LeFort I Osteotomy.

Semin Plast Surg. 2013;27(3):149-154.

doi:10.1055/s-0033-1357112

DENTAL ASIA JANUARY / FEBRUARY 2023 53
---
PRODUCT HIGHLIGHTS

Axis Dental

Effective, risk-free teeth whitening

Axis Dental, a Swiss developer and

manufacturer of dental products,

has introduced flexible solutions

for tooth whitening treatment that

adjust to the patient's lifestyle and

the workflow of dental clinics.

Now available in Singapore and

South East Asia, the PURE whitening

system provides a long lasting

whiter and brighter smile. PURE

whitening system separates the

active ingredient from the sensitivity

solution to obtain a more effective

bleaching solution.

Each treatment includes a

PURE Care syringe that reduces

sensitivity before, during, and

after the treatment — thanks to

its potassium nitrate and sodium

fluoride composition. Additionally,

its concentration of 30% xylitol,

remineralises and strengthens enamel

and makes colour consistent.

The PURE range of whitening system

features two treatment modalities —

in-office or home bleaching — allowing

patients to choose the option that

best suit their rhythm and routines to

complete the treatment and achieve

the desired results:

Fast use

• PURE Pen with LED lamp makes it

possible to restore a bright shine

to the teeth for only 15 minutes

daily. It is easy to use and

manipulate thanks to its brush

applicator

Home bleaching

• PURE Day: PURE 22% carbamide

peroxide — the ideal formula for

patients wishing to obtain an

optimal result for only 45 minutes

(twice a day) for eight days

• PURE Night: PURE 10% and

16% carbamide peroxide —

suitable even for patients with

sensitive teeth, it can be used

approximately four hours daily for

16 nights

In-office bleaching

• PURE Express: A bright smile

in just one hour — the product

is applied directly on the teeth,

and soft tissues are completely

protected. This procedure is

risk-free and does not affect the

structure of the teeth

The teeth whitening market

continues to grow as aesthetics and

self-image are more important than

ever in society. PURE is committed

to working with professionals only

and offers various qualitative, safe

and reliable solutions for all types of

teeth and shades. DA

54 DENTAL ASIA JANUARY / FEBRUARY 2023
---
PRODUCT HIGHLIGHTS

DOF

Instantly convert patient's face into

3D data

One for

All Ceramics

and More

FREEDOM F Face Scanner from DOF aligns the patient's face

and teeth data to reproduce the exact location automatically.

Simple operation is all it requires to extract highly accurate

3D face data within just 10 seconds.

Users can get all the information they need for treatment by

utilising the face data obtained from FREEDOM F such the FH

plane, Camper's plane, eye line, lip line, and midline.

In addition, FREEDOM F Face Scanner dramatically reduce

the probability of remake. In particular, it significantly

decreases the remake probability when complicated

cases such as anterior prosthetic appliances or full mouth

restoration of upper and lower edentulous are involved.

This small device is combined with tablet PC to scan the face

of the patient quickly, and features a virtual facebow.

Dr Roman Nestor, dentist from Ukraine, shared: "The modern

dental clinics' trend is all about the 'digital solution', but there

was no device suitable for reproducing temporomandibular

joint movements in a virtual space. Since I earned a PhD in

gnathology, I'm well aware of the limitation of a virtual nonadjustable

articulator. Fortunately, we were able to overcome

such limitation by using DOF's FREEDOM F. It greatly

contributes to my digital work process and is an amazing

product that contributes to providing a quality treatment

to my patients. FREEDOM F is a micro scanner having a

weight of 70g and a length of 16cm and since it is used in

combination with a tablet PC, it is possible to scan a patient

sitting on a chair." DA

VITA LUMEX® AC

• For all frameworks

made out of ceramic and titanium

• For all techniques

from micro veneering to refractory veneers

• For all precise effects

stable in layering and firing

Find out more here:

www.vita-zahnfabrik.com/LUMEX_AC

DENTAL ASIA JANUARY / FEBRUARY 2023 55

3610E_LUMEX Anzeige_95x250_V01.indd 1 27.10.2022 16:14:32
---
PRODUCT HIGHLIGHTS

Orascoptic

Wide field, high resolution: Achieve the best of both

Designed for an ideal symmetry between

style and performance, the lightweight

magnesium bezel adds an aesthetically

pleasing style to this medical device.

The optical systems from Orascoptic are

made with Grade A fine annealed glass

lenses fused with anti-scratch and antireflective

coatings, and all carrier lenses

are made with high index polycarbonate

material.

Developed to assist healthcare professionals

view an operating site from multiple

perspectives, EyeZoom conforms to fit

the custom preference of each individual.

Whether for an endodontist performing

a procedure at 5x, or a cosmetic dentist

applying a veneer at 3x, the loupe maintains

a consistent working distance at each

magnification power level.

Co-engineered by Orascoptic and Konica

Minolta, the patent-pending EyeZoom

technology provides unprecedented edge-toedge

clarity and high-definition resolution.

Orascoptic is constantly pushing the

limits to provide clinicians with the latest

products that achieve superior visualisation

through enhanced ergonomics, improved

magnification and illumination. EyeZoom

is available on Orascoptic's Legend, Rave,

Rydon, and Victory frames and can be

configured as a through-the-lens (TTL)

loupe. DA

GC Dental

One component light cured universal adhesive

or clinical cases where moisture control is

challenging.

Clinicians can achieve optimal aesthetic

results with a 3µm film thickness with

no post-operative sensitivity. On top of

it, G-Premio BOND boasts immediate

chemical bonding and better visibility

during application.

G-Premio BOND is a one-bottle universal

bonding agent compatible with all etching

modes. It offers the advantages of a universal,

but with a top performance in all situations

thanks to the combination of three functional

monomers (4-MET, MDP, MDTP).

G-Premio BOND can be used for direct

bonding, repair cases and hypersensitivity

treatment, and its universal etching modes

are designed for fast and easy application.

Particularly, its 25 seconds self-etch

application is ideal for paediatric bonding

Ultimately, the silicone cover of G-Premio

BOND was designed to protect the liquid

from the heat transmitted by dentist's

fingers and to avoid evaporation of the

solvents. It also offers a better control

on the quantity dispensed: it is very easy

to dispense drop by drop, which ensures

reduction of waste, providing a premium

value of up to 300 applications per bottle. DA

56 DENTAL ASIA JANUARY / FEBRUARY 2023
---
PRODUCT HIGHLIGHTS

Medit

Magic made easy with a simple touch

The Medit i700 Wireless allows clinicians

to scan comfortably at any angle including

the proximal areas without constraints

in movement. It also features a scanning

speed of up to 70FPS, resulting to smooth

and fast scanning performance.

In addition, the Medit i700 Wireless is

compact and light weighing 328g, even

with a battery attached. It is designed

for all-day use, with a battery life of

one hour of continuous scanning, and

up to eight hours in standby mode. Its

intelligent power management function

automatically switches the device to sleep

mode when not in use, and it takes just

seconds to wake the device for scanning.

Medit i700 Wireless boasts powerful

hardware, optimised for convenience:

• Small tip: for easy application to the

posterior region for patients with small

oral cavity

• Reversible tip: no need to twist the

wrist for maxillary scans

• Wider scan area: enlarged scanning

window captures large areas at once

while maintaining the small size of the

scanner head

• Auto calibration: automatic tool makes

calibration a breeze

• Remote control: users can conveniently

check scan data from the scanner itself

and prevent cross-contamination

• Light and weight balanced: for stable,

comfortable use

• UV-C LED disinfection: lower risk of

contamination inside the handpiece

• 60 GHz wireless technology: for highspeed

wireless connection

• Battery: users can scan up to 30 cases

with one battery DA

Busch

Ceramic cutters for acrylics and pre-sintered zirconia

BUSCH has introduced the KERA series, the

cutter innovation made of white ceramic.

The KERA series features the characteristic

properties of the high-performance ceramic

used. The major advantages are that they are

up to 25% lighter than the carbide version,

and that they offer pleasant temperature

characteristics and smooth material surfaces.

The series includes eight different ceramic

cutters in "X" and "GQSR" cut designs. The

five ceramic cutters with the medium double

cut are optimal for processing/shape milling

all conventional dental acrylics, from biteguard

splints, prosthesis bases, and tray

acrylics to orthodontic work.

The three ceramic cutters with their coarse,

swift-cutting GQSR design are optimally

suited for processing soft and non-hardening

acrylics, such as deep drawn mouth guard

trays or non-hardening relinings.

Pre-sintered zirconia can be processed

with both cut designs, from separating,

contouring, to cleaning the points of

attachment and separating pre-sintered

zirconia from the blank.

The ceramic cutters are not suitable for use

on metal. All cutters are labeled on the shank

with the BUSCH logo and product name for

clear identification. DA

K424GQSR 060 and K429X 040

DENTAL ASIA JANUARY / FEBRUARY 2023 57
---
PRODUCT HIGHLIGHTS

DÜRR DENTAL

Foam-free cleaning concentrate for all types of suction system

Stubborn residues of prophylactic powders

or limescale deposits can lead to defects in

suction system components. Regular use of

MD 555 cleaner special detergent for suction

units prevents performance losses and

lengthen the lifespan of the suction system.

Introduced by DÜRR DENTAL, the MD

555 cleaner special detergent for suction

systems dissolves encrustations of lime

scale, prophy powder or prophylaxis pearl

products. It has highly intensive cleaning

effect against deposits and sludge with

certified material compatibility and is

recommended by leading equipment

manufacturers.

Made from organic and inorganic acids

and foam-free surfactants, MD 555

cleaner special detergent is best used

in combination with Orotol plus. This

coordinated dynamic duo is the ideal

solution for cleaning and disinfecting

suction system gently yet effectively. DA

Formlabs

The new standard for dental 3D printing

The Formlabs dental 3D printing ecosystem

is designed specifically to meet the

strenuous demands of dental professionals.

The versatile, reliable Form 3B+ desktop

3D printer and production-ready Form 3BL

large-format 3D printer take the guesswork

out of dental fabrication so faster

workflows are just a few clicks away.

Form 3B+: Dental and medical 3D printer

optimised for biocompatible materials

Rapidly fabricate accurate, high-quality

dental models, appliances, and prosthetics

with the Form 3B+, an advanced desktop 3D

printer developed for dental professionals.

Users can print a single model in 20

minutes or produce up to 60 models in a

single day.

The Form 3B+ is simple to set up and

maintain with no specialised training

required. Fully validated workflows remove

the need for trial and error, and give users

peace of mind.

Form 3BL: The dependable choice for highvolume

dental production

The Form 3BL is the large format dental 3D

printer that raises the bar for dependable

high-production dental 3D printing.

Designed to work day and night with

minimal intervention, users can print up to

120 models in a day on the Form 3BL with

only two printer interactions.

The Form 3BL is compatible with the

majority of Formlabs' SLA materials

library, including biocompatible

materials manufactured in Formlabs'

ISO 13485 certified facility. Users can

scale up their production operation

with the Form 3BL and print highquality

dental parts and biocompatible

appliances in bulk. DA

58 DENTAL ASIA JANUARY / FEBRUARY 2023
---
SHOW PREVIEW

Hundred years of

IDS: Shaping the

dental future

High number of exhibitors confirms the

international leader status of the most

important global dental show.

The International Dental Show (IDS) in

Cologne, Germany, is demonstrating all

of its strengths: At the coming event

from 14 to 18 Mar 2023, almost all of the

relevant key players have confirmed their

participation. The 40th edition of IDS,

which at the same time the celebration

of its 100th birthday, is currently

recording well over 1700 exhibitors as

well as 15 country participations with

over 400 companies represented.

"The global appeal of IDS as the most

important industry platform is the driving

force for both a successful present

and future of the international dental

family. The 100 years of IDS stands for

innovation and constant performance

at the highest level and is thus also a

synonym for the strength of the dental

industry. And together we will position

IDS as the leading international dental

trade fair over the next decades,"

said Mark Stephen Pace, chairman

of the Association of German Dental

Manufacturers (VDDI); and Oliver Frese,

chief operating officer of Koelnmesse, in

a joint statement.

Opening ceremony of IDS 2021 with Mark Stephen Pace, OB Henriette Reker, Dr Gerhard

Seeberger, Prof Christoph Benz, Gerald Böse, Dr Markus Heibach, Oliver Frese, and Lutz

Müller
---
SHOW PREVIEW

"

The 100 years of IDS stands for innovation

and constant performance at the highest

level and is thus also a synonym for

the strength of the dental industry. And

together we will position IDS as the leading

international dental trade fair over the

next decades."

Mark Stephen Pace, chairman of VDDI and Oliver Frese, COO of Koelnmesse

Once again, IDS will cover the comprehensive

spectrum of the dental world — from the

dental and dental technology section,

infection protection and maintenance, to

services, information, communication and

organisation systems as well as organisation

tools. An overview of all of the top players

registered to-date as well as the overall

preliminary list of exhibitors of IDS 2023 is

available at IDS Cologne website.

"We are delighted to take part in IDS 2023

and come together with dentists, laboratories

and specialised trade partners from all over

the globe again to engage in a knowledge

exchange and network for a whole week," said

Walter Petersohn, chief commercial officer of

Dentsply Sirona. "The diversified programme

at our stand aims to support our customers in

offering their patients the best possible dental

treatment. You will be excited to see which

product innovations we are going to introduce

next year."

"In its capacity as an industry association, VDDI

is indispensable because it assists its members

in dealing with the manifold, current and future

challenges: MDR and regulatory framework

conditions, export support and last, but not

least as organisers of the leading global dental

trade fair, IDS. If VDDI didn't exist, it would have

to be urgently invented," said Christoph Weiss,

chief operating officer of BEGO.

"The 100 years of IDS, i.e., 100 years of

world-class dental developments! There is

no better place to present new products

for the first time! We are looking forward to

an international audience of experts," said

Werner Slapnig, sales director at Erkodent.

"We are looking forward to participating at

IDS next year. Not merely because IDS is

considered to be the leading trade fair of the

worldwide dental industry and because we look

back on a long-term successful partnership,

but also because it offers the perfect platform

for an international exchange. This enables

us to present products and solutions and

engage in a targeted exchange with dentists,

dental technicians and dental hygienists at one

location," said Norbert Wild, managing director,

Ivoclar Germany.

"It really is a special honour to take part in

IDS again in the anniversary year 2023. Over

the past years we have always been able to

present our innovative technologies from the

professional world and engage in an intensive

exchange with the users at this international

trade fair. We are looking forward to sharing

our company's latest product developments

and their applications with our customers

and partners at the next IDS," said Carsten

Barnowski, head of Sales & Marketing DACH,

Kuraray Europe.

"As a founder member of the VDDI, IDS is an

indispensable, significant marketplace that

brings the dental professionals together. IDS

offers our trade, as a family-run business, a

platform where they can groom both national

and international business relationships and

establish new contacts," said Stefan Kreutzer,

chief operating officer of SPEIKO-Dr Speier

GmbH.

Numerous group stands have also applied

to take part at the jubilee event of IDS

2023. So far, groups from Argentina, Brazil,

Bulgaria, China, Israel, Italy, Japan, Hong

Kong, Korea, Singapore and the US have

registered. IDS 2023 will be staged in Halls

1, 2, 3, 4, 5, 10 and 11 of the Cologne fair

grounds on exhibition space spanning

around 180,000sqm.

The success story of the dental world is

inseparably linked with IDS, because the

leading trade fair is based on a system

of values that makes it unique. The 100

years of IDS stand for the depiction of the

industry in its entirety, for innovations and

market trends, for a consistent and open

comparison of performance in the sense

of the Olympic principle and last, but not

least for a leadership claim as the largest

international industry platform that has

been repeatedly confirmed for decades. DA

DENTAL ASIA JANUARY / FEBRUARY 2023 61
---
SHOW PREVIEW

AOSC 2023: Anchoring the

present, Aligning for the future

Association of Orthodontists (Singapore)

Congress (AOSC) will return as an in-person

event for the first time since the onset of the

pandemic. Expecting close to 800 attendees,

AOSC 2023 is set to take place at Marina Bay

Sands across three days from 17-19 Feb 2023.

Organised by the Association of Orthodontists

(Singapore), AOSC 2023 will host a total of

17 renowned speakers from the orthodontic

community including keynote speakers Dr

Ute Scheider-Moser, Dr Simon Littlewood, and

Dr Ravindra Nanda. Boasting a well-rounded

conference programme under the conference

theme of Anchoring the Present, Aligning for

the Future, attendees can look forward to an

exciting three-day conference programme

covering a wide variety of essential topics for

the modern orthodontist.

"This year, we are excited to welcome dentists

and orthodontic colleagues from around the

region, back for an in-person AOSC. We will

continue to bring the best AOSC experience

to our attendees, with a robust conference

programme and dedicated orthodontic

exhibition, to equip fellow orthodontists with

the latest innovations, while striving for

clinical excellence," shared Dr Koo Chieh Shen,

chairperson of AOSC 2023.

The well-established AOSC trade exhibition

will also be returning with a curated number of

companies within the speciality of orthodontics

exhibiting their latest products and services. A

total of 16 exhibiting companies representing

over 95 brands are set to participate in AOSC

2023. Attendees can also look forward to

discovering the latest products and solutions

from leading orthodontic companies including

Clearcorrect, Henry Schein, Invisalign and more.

After a four-year hiatus of physical events,

reconnecting in person is more appreciated

than ever before. The AOSC Gardens by the

Bay Run will return this edition on 18 Feb to

facilitate networking opportunities and elevate

the attendee's event experience.

The AOSC Scientific Poster Competition will

also make its return with an in-person event

with the vision that continued research is an

important pillar of orthodontics. Featuring

the best in the field of orthodontics, the 2023

Scientific Poster Competition will feature 30

submissions, competing for two awards: best

research project and best case study. DA

Some key highlights of the programme will

include a post-congress day for workshops

and a dedicated half-day programme

focused on obstructive sleep apnoea for the

orthodontist, presented through the lens of

experienced medical and dental speakers

Dr Dawn Teo, Dr Shaun Loh, Dr Lye Kok Weng

and Prof Lee Kee Joon.
---
EVENTS CALENDAR

2023

JANUARY

19 – 21 SIDC 2023 - The Saudi International

Dental Conference

Riyadh, Saudi Arabia

Venue: KSU Dental College

20 – 21 ITI Congress Switzerland

Engelberg, Switzerland

Venue: Kursaal Engelberg

26 – 28 Barcelona Dental Show 2023

Barcelona, Spain

Venue: Centro de Convenciones Internacional Barcelona

26 – 28 The 35th Annual Congress

of the Egyptian Orthodontic Society

Luxor, Egypt

Venue: Jolie Ville Movenpick Hotel

FEBRUARY

7 – 9 AEEDC Dubai 2023

Dubai, United Arab Emirates

Venue: Dubai World Trade Centre

17 – 19 Association of Orthodontists (Singapore)

Congress 2023

Singapore

Venue: Marina Bay Sands

23 AAOSH 2023 - Hot Topics in Oral Systemic Health

Chicago, IL, US

Venue: Fairmont Hotel Chicago Millenium Park Chicago

23 – 26 Dental South China 2023

Guangzhou, China

Venue: China Import and Export Fair Pazhou Complex

APRIL

20 – 22 ITI Congress Argentina & Uruguay

Buenos Aires, Argentina

Venue: GOLDEN CENTER

21 – 22 ORAL-TECH 2023

Madrid, Spain

Venue: IFEMA - Feria de Madrid

21 – 25 AAO Annual Session 2023 -

American Association of Orthodontists

Chicago, IL, US

Venue: McCormick Place

MAY

4 – 7 IDENTEX 2023 - 18th International Oral and

Dental Health Exhibition

Aksu/Antalya - Turkey

Venue: CANFAŞ Antalya Expo Center

12 – 13 ITI Congress Germany & Austria

Dresden - Germany

Venue: Maritim Hotel & International Congress Center

18 – 20 Expodental Meeting 2023

Rimini, Italy

Fiera di Rimini

25 – 28 IDEX 2023 - International Istanbul Dental

Equipment and Materials Exhibition

Istanbul, Turkey

Venue: Istanbul Expo Center

26 – 27 ITI Congress BeLux

Bruges, Belgium

Venue: Bruges Meeting & Convention Centre

MARCH

14 – 18 International Dental Show 2023 - 40th edition

Cologne, Germany

Venue: Cologne Fair Grounds

24 – 25 BDIA Dental Showcase - London 2023

London - United Kingdom

Venue: ExCeL Exhibition Centre

With the evolving COVID-19 situation, kindly check with

organisers for updates on the related events. Please refer to the

local airports' websites for the latest travel advisories too.

DENTAL ASIA JANUARY / FEBRUARY 2023 63
---
ADVERTISERS' INDEX

COMPANY

PAGE

3Shape A/S 3

Align Technology Inc. 11

Anthogyr France

IFC

Association of Orthodontists (Singapore)

Congress 2023

1

Carestream Dental 29

COLTENE 15

Dental Asia House Ad 64

Dental South China 2023 59

exocad GmbH 5

FOTONA

IBC

IDS Cologne 2023 9

For information, visit us at www.dentalasia.net or

contact us at sales@pabloasia.com

Shofu Inc.

0BC

VITA Zahnfabrik 55

@dentalasia

Company Registration No: 200001473N

All rights reserved. Views of writers do not necessarily reflect the views of the Publisher. No part of this publication may be reproduced in any form or by any means, without

prior permission in writing from the Publisher and copyright owner. Whilst every care is taken to ensure accuracy of the information in this publication, the Publisher accepts no

liability for damages caused by misinterpretation of information, expressed or implied, within the pages of the magazine. All advertisements are accepted on the understanding

that the Advertiser is authorised to publish the contents of the advertisements, and in this respect, the Advertiser shall indemnify the Publisher against all claims or suits for

libel, violation of right of privacy and copyright infringements. Dental Asia is a controlled-circulation bi-monthly magazine. It is mailed free-of-charge to readers who meet a set

of criteria. Paid subscription is available to those who do not fit our terms of control. Please refer to subscription form provided in the publication for more details.

Printed by Times Printers Pte Ltd

64 DENTAL ASIA JANUARY / FEBRUARY 2023