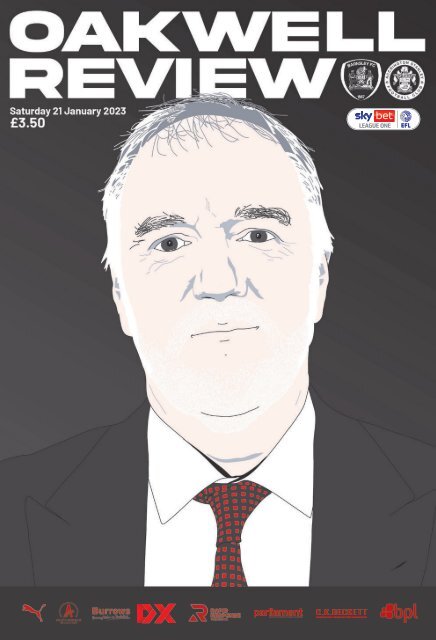 Barnsley v Accrington Stanley
Oakwell Review | Official Matchday of Barnsley | Barnsley v Accrington Stanley | Sky Bet League One Saturday 21st January, 2023 | KO 3pm | LNER Stadium
Oakwell Review | Official Matchday of Barnsley |
Barnsley v Accrington Stanley | Sky Bet League One
Saturday 21st January, 2023 | KO 3pm | LNER Stadium
SHOW MORE
SHOW LESS
You also want an ePaper? Increase the reach of your titles
YUMPU automatically turns print PDFs into web optimized ePapers that Google loves.
FEATURE SUBJECT

OAKWELL REVIEW 2 BARNSLEY VS ACCRINGTON STANLEY
---
JAM ES CARSON-LEE

James was a lifelong Barnsley fan and even though he moved to

Brighton in his later years, would proudly walk round there in his

Reds top. He is pictured here at Wembley at the "Flat Cap"

JPT final with his Dad, Grandad and brother. Happy Days!

The family of James Carson-Lee who sadly passed away recently

would like all Reds to join them in a moment of applause in the

36th minute of today's game.

Once A Red, Always A Red

OAKWELL REVIEW 3 BARNSLEY VS ACCRINGTON STANLEY
---
CLUB DIRECTORY

WELCOME TO

TODAY'S

MATCH SPONSOR

MAIN MATCH

SPONSOR

MATCH BALL

SPONSOR

Wishing Gaz a very happy

50th birthday, love from all

of his family and everyone at

Barnsley FC!

Happy 11th birthday

Lenny Robinson

THE BOARD OF DIRECTORS

CHAIRMAN:

NEERAV PAREKH

DIRECTOR:

JEAN CRYNE

DIRECTOR:

JAMES CRYNE

DIRECTOR:

JULIE ANNE QUAY

CHIEF EXECUTIVE OFFICER:

KHALED EL-AHMAD

FINANCE & OPERATIONS

DIRECTOR: ROBERT ZUK

WHO'S WHO

BEHIND-THE-SCENES

CLUB SECRETARY: ELEANOR DOBSON

SAFETY OFFICER: PAUL DAVIS

HEAD GROUNDSMAN: DAVE ANDERSON

DIRECTOR OF REVENUE: JON FLATMAN

MARKETING DIRECTOR: ANDREW CLARK

BUSINESS DEVELOPMENT EXECUTIVE: GEORGE JOHNSTON

MEDIA: ANDY WHITE & CHRIS WILDGOOSE

PRESS OFFICER: LEWIS ROBINSON

RETAIL MANAGER: DAVID BROADHURST

BOX OFFICE MANAGER: VICKY CAMPBELL

RECEPTION: BETH SEFTON

PHOTOGRAPHY: KEITH TURNER

MATCH COMMENTARY: MATT BAILEY & CALLUM COOPER

PROGRAMME COVER DESIGN: WILL WARD

FIRST TEAM

HEAD COACH: MICHAEL DUFF

ASSISTANT HEAD COACH: MARTIN PATERSON

FIRST TEAM COACH: MARTIN DEVANEY

DIRECTOR OF GOALKEEPING: THOMAS FAWDRY

DIRECTOR OF SPORT PERFORMANCE AND SCIENCE:

MATT COOK

PHYSICAL PREPARATION COACH: JAMES WALSH

HEAD OF MEDICAL SERVICES & LEAD

PHYSIOTHERAPIST: VIKKI STEVENS

PHYSIOTHERAPIST: GAVIN WALKER

TEAM DOCTOR: JOHN HARBAN

PERFORMANCE ANALYST: TOM YEOMANS

KIT MEN: MALCOLM MITCHELL & CHRIS LEE

MASSAGE THERAPIST: SUE WILLIAMS

ACADEMY

ACADEMY SECRETARY: ABBIE STENTON

ACADEMY MANAGER: BOBBY HASSELL

HEAD OF COACHING: TOM HARBAN

SENIOR PDP COACH: NICKY EADEN

HEAD OF ACADEMY GOALKEEPING: NICK COLGAN

PHYSIOTHERAPIST: NICHOLA MORELAND

PERFORMANCE ANALYST: ED DAVIES

SAFEGUARDING OFFICER: KELLY ROBINSON-WALTON

BARNSLEY FOOTBALL CLUB

OAKWELL STADIUM

GROVE STREET

BARNSLEY

SOUTH YORKSHIRE

S71 1ET

W: www.barnsleyfc.co.uk

E: administration@barnsleyfc.co.uk

Twitter: @BarnsleyFC

Instagram: @BarnsleyFC

Facebook: @BarnsleyFC

Main Switchboard: 01226 211211

Commercial: 01226 211182

Box Office: 01226 211183*

Academy: 01226 215123

Reds in the Community: 01226 211333

Oakwell Events: 01226 211555

Reds Superstore: 01226 211400

*During periods of high volume and out

of hours your calls may be diverted to our

Ticketmaster call centre

The views expressed by individual contributors are not necessarily the

views of Barnsley Football Club Ltd or the Editor of OAKWELL REVIEW.

© Barnsley Football Club Ltd

Designed & printed by

Ignition Sports Media

*Please be aware that Barnsley Football Club cannot be held

accountable for any human error contained within the content of

this match programme. Human errors do occur very occasionally

and any misleading or false information in this copy will be

corrected accordingly.

OAKWELL REVIEW 4 BARNSLEY VS ACCRINGTON STANLEY
---
CONTENTS

CONTENTS

ISSUE

15

10

PATRICK CRYNE

TRIBUTE

17

LIAM KITCHING

IN THE RED CORNER

26

ACADEMY UPDATE

45

ACCRINGTON STANLEY

TODAY'S VISITORS

56

BARNSLEY STATS

54

LEAGUE ONE STATS

OAKWELL REVIEW 5 BARNSLEY VS ACCRINGTON STANLEY
---
FEATURE SUBJECT

OAKWELL REVIEW 6 BARNSLEY VS ACCRINGTON STANLEY
---
HEAD COACH

The Head Coach

M ICHAEL

DUFF

Good afternoon, Reds, and welcome back to Oakwell.

The New Year hasn't begun how we had hoped. We started poorly

against Bolton Wanderers, then the red card killed us. Apart from the

opening exchanges, I thought we actually put in a decent performance

considering the circumstances, but we put that behind us and take the

positives from the game.

The performance at Derby County wasn't good enough, and we were

disappointed to exit the Emirates FA Cup so early. It has not been very

often said that a lack of desire can be labelled at this side so far this

season, but the effort levels that day were not up to standard. The

players knew that it wasn't acceptable, and it was a learning curve for

our young team.

On another note, during that game we also lost Tom Edwards to a

nasty knee injury. Everyone here at the Club wishes Tom all the best

with his rehab, and the door is always open for Tom to pop in and say

hello to the lads.

Charlton Athletic was, again, a different story to the aforementioned

games. When you have 23 shots on goal and have 65% of the ball,

you have to make the 'keeper work, and that is something we didn't

do enough of at the Valley. Encouragingly, we were getting in the right

areas and looking a threat; it's just a case of finding the final piece of

the jigsaw when going forward.

We are pleased to welcome Max Watters, Bobby Thomas and Barry

Cotter to Oakwell since I last addressed you in Oakwell Review. In

Max, we hope to have a player who can add a different dimension to

our attack. He's trained with us for almost a couple of weeks now, and

every day he is learning more about what we as a staff demand from

the strikers in our side.

Bobby is a player I know well, having worked with him whilst I was

a coach at Burnley. He's had a good season so far on loan at Bristol

Rovers – putting in good performances in this division – and we hope

he can bring that momentum to the Club with him. In Barry, he is

a player that possesses great athleticism and energy, and we look

forward to working with him on the training ground.

Today though, we focus on a tough opponent in Accrington Stanley.

We saw first-hand how solid and organised they were on Boxing Day,

and it's up to us to find a way around that. I would like to wish a warm

welcome to John, his staff and players from Accrington.

Thank you for all your support on the road in recent weeks. Let's hope

today is the game that helps us turn things around.

Enjoy the match,

Michael

OAKWELL REVIEW 7 BARNSLEY VS ACCRINGTON STANLEY
---
FEATURE SUBJECT
---
KHALED EL-AHMAD

The Chief Executive

KHALED

EL-AH MAD

Good afternoon, Reds.

Welcome back to Oakwell for today's Sky Bet League One clash with

Accrington Stanley. And on that note, I'll start by wishing our friends

from Accrington well on today's visit. We had a testing encounter

just a couple of weeks ago at the Wham Stadium and we're sure to

be challenged again on this occasion.

It's been a tricky period recently with three frustrating results but we

must not worry and continue working hard.

With the sustained injury we have decided to cancel our loan for Tom

Edwards whom I want to thank for his contribution this season. He's

been a true professional and he'll be missed by all at the Club. We

have added additional players and we'll continue to work to further

improve the squad.

Your support never fails to impress us, with over a thousand of you

in London with us last Saturday. We've some super long trips on the

road over the next few weeks too, but I've no doubt the Reds faithful

will be out in force regardless, cheering on the lads.

We are going to be trying a few new things, as I spoke about

recently, in terms of improving the atmosphere here at Oakwell.

Whether it's an increase in the number of flags, signage, the music

on a matchday or even introducing a drum in the Ponty End - we're

going to give it a go. There's a lot that we know, needs to improve.

And over time, we believe we'll get there. But we want to do so in

unison, with our fans - Together Red.

Which brings me onto a true Red, who this great Club lost on this

day five years ago now. I was never fortunate enough to work

with Patrick Cryne, but I know how much he meant to the people

of Barnsley, and particularly to his wife, Jean and his son, James

who continue to put their heart, soul and money into the Club. We

remember Patrick this afternoon.

All that's left for me to say today, is keep supporting the team, let's

get right behind them all and here's to getting back on track with a

big three points.

Go Reds!

Khaled

OAKWELL REVIEW 9 BARNSLEY VS ACCRINGTON STANLEY
---
PATRICK CRYNE TRIBUTE

patrick cryne

tribute

JEAN cryne

Five years and yet it doesn't feel like that. It gets

easier they say. Well, you get on with it because

you have to. Is that easier? I'm not sure. I am a

big believer in coincidences and this doesn't help.

When I went to replace my car for example, the

first time by myself, the music they were playing

in the garage was one of the tunes we had chosen

to play at Patrick's cremation ceremony. Is that a

sign? Who knows. The other day I was clearing out

some stuff and found a pen with his name on it - 'a

man with leadership qualities, always thinking

of new ideas'. These are the things you can't get

away from, they are here to stay.

New Year is a difficult time because Patrick was

in A&E on New Year's Eve and then in Christie's

cancer hospital until he died. How can you avoid

New Year? You can't. How can your memories not

flood with sadness? They can't. You just have to

put a brave face on it. I know many of you in the

football family will experience similar sadness,

and our thoughts are always with anyone facing

such trauma.

My son, James and I still have to face criticism

from some fans and I am sorry if you feel that way.

He did it by himself with no help financially from

anyone else and so hard decisions have to be made

sometimes. 'Young and hungry' is a phrase Patrick

used. I had to hear that from someone else for four

years being flung all over Europe. Well, we are

through that period. It's tough but we have a board

OAKWELL REVIEW 10 BARNSLEY VS ACCRINGTON STANLEY
---
PATRICK CRYNE TRIBUTE

Patrick was very brave in his work life. He used

to work for British Steel then Barnsley Council

followed by Huddersfield Polytechnic. He did all his

accountancy exams through part-time polytechnic

classes. He hated it. He always wanted to do

computers but of course, then they were in their

infancy so no school classes, no home computers.

He then decided to go to London. He worked for

City of London Polytechnic and so did I. One day he

took himself to KPMG - one of the big accountancy

firms - and had an interview with them and got

the job. We stayed in London and then KPMG

wanted him to move north, to Manchester. Here

he was made one of the youngest partners of the

firm and following on from this he took one of the

greatest risks and started his own company. It

could have gone badly wrong but with hard work

and no life, it was successful. Taking risks is hard

to do, but if you believe in yourself it can be done.

that are always trying to do their collective best

for the Club now. Again, choices have to be made,

the web of running a football club is massive. We

have a wonderful staff who think only of their

club. Yes, we make mistakes, but who doesn't?

Hopefully we can learn from them.

I am 70-years-old in March and I would have loved

to have reached that birthday with Patrick but it

wasn't to be. We met at school and got married

in 1975 so we were together a long time. We got

married on a Tuesday because my parents were

shopkeepers and it was their half day, if you

remember them. We didn't go on honeymoon and

we had just enough cash to get us through our first

Sunday dinner.

I will offer 70 free tickets to be used by any ticket

holder to bring someone new to watch a game in

the hope that they will love it and keep coming. I

would also beg of our fan base to try and do the

same and encourage their friends and relations

to come and see a game. We need fans, we need

noise. Our head coach and players need you to

raise the roof with noise and more noise. We can't

put everything right but we are trying. This is

something you can do for Barnsley Football Club -

YOUR CLUB.

We all quietly think of our loved ones we have lost,

but we have our memories - good and bad - but

we have them.

JEC

OAKWELL REVIEW 11 BARNSLEY VS ACCRINGTON STANLEY
---
PATRICK CRYNE TRIBUTE

patrick cryne

tribute

james cryne

I was very fortunate to have known my Dad for 24

years. There are many people who do not get that

privilege with their parents. Still I wish it had been

longer.

I wonder, if he had still been around, what

memories we would have created in the last five

years. So many high points have occurred since his

passing. He did not get to see the first automatic

promotion since my family's involvement. He didn't

get to see us make the Championship play-offs.

And he missed Barnsley becoming one of Europe's

best pressing teams for three years. I'm sure all of

those things would have brought him great pride in

Barnsley.

Many new people have been a part of the Club

that my Dad was never able to meet. I'm sure he

would have been inspired by Stendel's passion and

amazed by Ismaël's almost analytically perfect

playing style. Conversely, I'm sure many of the

people who have been involved in Barnsley in recent

times would've benefited from his mentorship.

I wonder which players would have become

his favourites? My guess, given his love for Neil

Redfearn, Craig Hignett and Conor Hourihane, is

that Adam Phillips might have been his current

preference. I imagine his immense pride that

players such as Ethan Pinnock, who he saw sign

but only briefly saw play, are representing Barnsley

alumni at the highest levels.

There are also things I'm unable to imagine. There

have been many lows during the last five years.

The 18-game winless streak during 19/20, luckily

followed by a great escape. Then of course last

season during which being able to speak with

him would've been a great comfort. Would these

events even have happened had he been around?

Perhaps his bravery and strong decision-making

could have somehow prevented the low points

from being so low. Perhaps his input would've

prevented decisions that led us there from

happening entirely.

The most important thing for my Dad as a custodian

of the Club was firstly its survival and secondly

that the town has a Club to be proud of. Results

can be up and down, however the way Barnsley

operates must be a way in which the hardworking

and honest people from the town can have pride in.

I think it's fair to say that at certain points since my

Dad's passing that hasn't been the case. It will take

time but now the Club is back on track to being a

reflection of the values of the town.

My Mum, my partner Farah and I will be making

our usual trip over the Pennines to support the

team today. And as usual we'll head home either

elated or deflated dependent on the result. The only

difference is we won't have Ocean Drive stuck on

repeat thanks to my Dad's poor DJ-ing skills.

James Cryne

OAKWELL REVIEW 12 BARNSLEY VS ACCRINGTON STANLEY
---
PATRICK CRYNE TRIBUTE

OAKWELL REVIEW 13 BARNSLEY VS ACCRINGTON STANLEY
---
FEATURE SUBJECT

HERE'S

A ST AT

I BET

YOU

DIDN'T

KN

W

OAKWELL REVIEW 14 BARNSLEY VS ACCRINGTON STANLEY
---
FEATURE SUBJECT

OVER HALF A MILLION

SKY BET CUSTOMERS USE DEPOSIT LIMITS

TO MANAGE THEIR BETTING BUDGET.

THAT'S ENOUGH TO FILL:

6 WEMBLEYS.

201 ALLY PALLYS.

OR 8 CHELTENHAM GOLD CUP DAYS.

(THAT'S A LOT OF TWEED)

ALL GOOD BOOKMAKERS

HAVE DEPOSIT LIMITS.

SO WHOEVER YOU BET WITH,

SET AN APPROPRIATE ONE FOR YOU

AND THEN ENJOY THE SPORT.

DEPOSIT LIMITS

THAT'S BETTING BETTER.

OAKWELL REVIEW 15 BARNSLEY VS ACCRINGTON STANLEY
---
FEATURE SUBJECT

GRAB AN ATHLETIC,

TAKE A SEAT.

BREWS, FIT FOR FOOTBALL.

AWARD-WINNING • GREAT TASTE • VEGAN-FRIENDLY

OFFICIAL EXCLUSIVE SUPPLIER OF ALCOHOL-FREE BEER OF BARNSLEY F.C.

UK.ATHLETICBREWING.COM | @ATHLETICBREWING

© Athletic OAKWELL Brewing Company. REVIEW Stratford, 16 CT and BARNSLEY San Diego, CA. VS Near CREWE ACCRINGTON beer
---
FEATURE SUBJECT

LIAM KITCH ING

IN TH E RED

CORNER

OAKWELL REVIEW 17 BARNSLEY VS ACCRINGTON STANLEY
---
LIAM KITCHING

OAKWELL REVIEW 18 BARNSLEY VS ACCRINGTON STANLEY
---
LIAM KITCHING

It hasn't been an ideal start to

the New Year for Barnsley, with

three successive defeats putting

a dampener on the way we ended

2022.

No goals scored and eight

conceded doesn't make for

particularly pretty reading, but

there is still reason to be optimistic

as we look to tackle the second half

of the campaign.

The Reds currently sit sixth in Sky

Bet League One and have games

in hand on those challenging for

promotion – whether automatically

or via the play-offs – and it's highly

unlikely that we will play as well

as we did against Charlton Athletic

in our last outing and not come

away with at least a point for our

troubles.

Reflecting on that trip to the Valley,

Liam Kitching feels the Reds need

to be more clinical in both boxes

and is confident of getting back to

winning ways against Accrington

Stanley.

"We're playing well," he stated.

"The performances are there, but

we just need to get that last bit of

ruthlessness – and that's everyone.

Even us defenders, we can chip in

with more goals, and I could have

scored at Charlton. So, it's frustrating.

"I think we're doing very well.

Obviously, we went unbeaten

for eight games and got a bit of

momentum, so you can see we're

doing the right things. At the

moment, it's just that final ball and

things aren't quite going for us, but

we're working hard on the training

ground every day to try and get it

right.

"We know we've been good

defensively this season, but we're

still working on it to continue to be

better. We just need to take every

game as it comes."

Our last home match was a

disappointing defeat against Bolton

Wanderers; an encounter that saw

Barnsley reduced to 10 men in the

opening stages as Mads Andersen

was dismissed, while the visitors

converted the resulting penalty.

The eventual 3-0 score line suggests

it was a mauling at the hands of

our fellow promotion hopefuls, but

the Reds put in a spirited display –

particularly in the second half – and,

on another day, perhaps could have

fought back for a draw.

"You've got to look at both sides; the

positives and the negatives, but I

think in that Bolton game we showed

a lot of character," asserted Liam.

"To go down to 10 men so early and

not give up – not curling up into a

ball and still fighting – I think in the

first 20 minutes of the second half

we had a few chances and put them

under a bit of pressure.

"They've not really hurt us; they've

just taken every chance they had.

So, it was frustrating, but it wasn't

a 3-0 game either.

"We stuck together as a team, and I

think that's been really obvious this

season that we're a very close group.

That helps on the pitch because you

want to run for your mates."

That collectiveness has shone

through frequently this term, and

it all boils down to the atmosphere

created by Michael Duff and

relationships being formed within the

dressing room and out on the pitch.

Kitch, as he is known by his

teammates here at Oakwell, has

developed a solid partnership with

our skipper, Mads, over the past

couple of seasons and admits he

sees the Dane as an inspiration.

"I think, from last year, we've

just slowly built and now we've

got a very good understanding of

each other, which is massive," he

continued.

"It helps so much when we're on

the pitch and played with each

other for a long time and have

that relationship now where we

know what one another is going to

do, and we can adapt to suit each

other's style of play.

"I do look up to Mads a lot and you

kind of almost want to be like him

in a lot of ways because of how he

is and the type of player he is."

That, too, is demonstrated in the

THAT HELPS ON THE

PITCH BECAUSE YOU

WANT TO RUN FOR

YOUR MATE.

OAKWELL REVIEW 19 BARNSLEY VS ACCRINGTON STANLEY
---
LIAM KITCHING

faith shown by the coaching staff

in Liam, who wears the captain's

armband in the absence of Mads.

Leadership skills can often be hard

to come by – especially in a team

as young as the Reds' – but Kitch

has demonstrated that he can also

be a player who others turn to

when things aren't going our way.

"Off the pitch, I try to help the lads

as much as I can and give them

confidence and have a laugh and

try to be a leader around the place,"

discussed the 23-year-old. "When

someone is like that, it does help a

lot – we're quite a young team, and

I do try to motivate the lads.

"Everyone is a different type of

leader, like Mads is more calm and

reassuring – you need different

types of leaders. Everyone looks up

to Mads, which is a good thing, and I

want to be like him in some senses."

With this understanding on the

pitch, you begin to see patterns of

play emerging – a lot of which start

from Kitch as he launches long

diagonal passes to the opposite

flank for an onrushing Jordan

Williams to scamper onto.

The defender is also granted

licence to roam forward by Duff as

he effectively becomes an extra

full-back, creating overloads on the

flanks and gaps for teammates to

be more creative.

"The gaffer always tells me to get

forward, so I like doing that and

creating overloads in the wide areas,"

he said. "I'm trying to get myself a

few assists or in good areas to break

the defensive line and give other

players more space to create.

"If I'm in those positions, I can try

and get a few more goals, too.

"The patterns we do – and we work

on them a lot – are an effective

bit of our play. We don't always

have to play short – we can mix

it up – and Jord's really good at

understanding it now when I get

the ball, if he makes the run, I'll

play the ball if I think it's on.

"It hurts opposition teams, and the

gaffer says to keep doing it, so I'll

keep doing it."

In that marvellous run of form at

the end of last year, it was only this

afternoon's visitors, Accrington,

who took points off us as we won

seven out of eight matches.

We led courtesy of James

Norwood's first half strike at the

Wham Stadium but were pegged

back after the interval having

conceded a somewhat controversial

penalty for handball against Liam.

"I don't think it's a penalty," insisted

Kitch. "My arm is across my body,

and it's hit it, so I'm not sure how

to move it out of the way or into

another position.

"It was a frustrating one at

Accrington. I think we did enough

to win the game, but it's just that

ruthlessness and cutting edge. It

didn't really help on the day that the

referee gave the penalty, but that's

football and we've moved on from it.

"We've taken the positives from

that game, and we can use those in

the game coming up to hurt them

at Oakwell, and I'm more than

confident that we can create the

same performance.

"If we play like that, then I'm sure

we'll win the game."

IF I'M IN THOSE

POSITIONS, I CAN TRY

AND GET A FEW MORE

GOALS, TOO.

OAKWELL REVIEW 20 BARNSLEY VS ACCRINGTON STANLEY
---
LIAM KITCHING

OAKWELL REVIEW 21 BARNSLEY VS ACCRINGTON STANLEY
---
UNIQUE EVENT EXPERIENCE

SUNDAY CARVERY

IN THE LEGENDS SUITE

Sunday 19th February

One Course

Carvery

£9.50pp

Two Course

Carvery

£12.95pp

Children

Under 12

£4.95pp

With views across the pitch, The Copier Systems Legends Suite is the perfect place for a relaxing Sunday with

family and friends. Why not join us for our carvery lunch, all locally sourced and freshly prepared by our team

of chefs and watch Sky Sports televised matches.

For more information or to view a sample menu visit:

oakwellevents@barnsleyfc.co.uk

To book, please call us on 01226 211 555 or email oakwellevents@barnsleyfc.co.uk
---
HOSPITALITY

Matc h day

Hospitality

COPIER SYSTEMS LEGENDS SUITE

Enjoy fine dining with a whole host of Reds legends throughout

the season in a vibrant and welcoming environment in the

Copier Systems Legends Suite.

With Oakwell Hall of Famer Barry Murphy on the mic and a

complimentary waitress drinks service, enjoy the perfect prematch

hospitality before taking your match seat either inside,

or from our executive, cushioned seating at the halfway point of

the East Stand upper tier.

When returning to the Legends Suite at half-time and full-time,

refreshments will be ready and waiting for you, as well as

our generously stocked cash bar. The Player of the Match will

then make their way up to join the suite, as our celebratory

presentation will get underway!

Match-by-match Legends Suite (three course) packages are

available from £80+VAT per adult

(one course) prices start from £60+VAT per adult.

Contact us on email: hospitality@barnsleyfc.co.uk or

telephone: 01226 211182

All Hospitality offers include:

• Complimentary car park pass

• Half-time refreshments

• Freshly brewed tea and coffee

• Waitress drinks service

• Half-time/full-time pre-ordered drinks

• Account bar and cash bar facility

• Executive seating

• Complimentary official matchday programme

• Complimentary teamsheets

• Flat screen plasma TV including stadium vision/

Sky Sports

DX CLUB 64 & PATRICKS LOUNGE

DX Club 64 and Patricks Lounge boasts an unrivalled view of

the Oakwell pitch. With exclusive access to the Player of the

Match presentations, superb pitch facing views, comfortable

lounge surroundings and the best outside match seats located

in the East Corner stand.

This hospitality offer truly provides the ultimate fan matchday

experience with the option to pre-order or purchase a one

course meal from our exquisite menu on the day!

A small number of seats are available on a match-by-match

basis starting from £55+VAT per person.

PREMIER LOUNGE

Our Premier Lounge membership provides a fantastic opportunity

for you to get closer to the action in one of our premium fan areas.

The Premier Lounge provides a very informal corporate

environment, ideal for the fan who wants a consistently good

matchday experience.

A small number of seats will be available

on a match-by-basis starting from £50+VAT per person.

OAKWELL REVIEW 23 BARNSLEY VS ACCRINGTON STANLEY
---
ANYONE WHO ENTERS THE PITCH WITHOUT

PERMISSION AND THOSE CARRYING OR USING

SMOKE BOMBS OR PYROS WILL NOW RECEIVE

AN AUTOMATIC CLUB BAN.

'LOVE FOOTBALL. PROTECT THE GAME'

A message about anti-social and criminal behaviour

To mark the new season, we want to

make you aware of new measures

being taken across all of football

to ensure everyone can have a safe

and enjoyable experience. We are

supporting strong action from the

FA, Premier League and EFL to tackle

anti-social and criminal behaviours

that put all of us at risk.

This reflects the seriousness of

the risks to fans and staff – pyros

can burn at 2000 degrees Celsius

and cause lifechanging injuries,

while entering the pitch endangers

players, managers and match

officials.

We know those who commit these

illegal acts do not represent the

majority of supporters.

#LoveFootball #ProtectTheGame
---
30% OFF

ALL REPLICA

GOALKEEPER

Kits

offer VALID until sunday 22 january 2023

Reds Superstore

www.barnsleyfcdirect.co.uk
---
U21

fixtures

09/08/22 L 2-3 Bristol City

16/08/22 L 4-0 Millwall (A)

23/08/22 D 2-2 Ipswich Town (H)

02/09/22 W 2-0 Charlton Athletic (H)

09/09/22 L 1-2 Hull City (H)

27/09/22 D 1-1 Peterborough United (H)

30/09/22 L 2-0 Coventry City (A)

07/10/22 L 1-2 Sheffield Wednesday (H)

17/10/22 D 1-1 Birmingham City (A)

21/10/22 L 1-2 Crewe Alexandra (H)

01/11/22 W 3-0 Sheffield United (H)

07/11/22 W 6-1 Wigan Athletic (A)

14/11/22 L 0-3 Burnley (A)

05/12/22 L 1-3 Crewe Alexandra (A)

13/12/22 P-P Watford (A)

06/01/23 L 1-2 Birmingham City (H)

17/01/23 P-P Burnley (H)

24/01/23 1:30pm Peterborough United (A)

31/01/23 2pm Wigan Athletic (H)

13/02/23 7pm Hull City (A)

21/02/23 1pm Coventry City (H)

24/02/23 12pm Sheffield Wednesday (A)

03/03/23 1pm Sheffield United (A)

04/04/23 7pm Colchester United (A)

18/04/23 1pm Swansea City (H)

25/04/23 7pm Cardiff City (A)

28/04/23 1pm Queens Park Rangers (H)

08/05/23 2pm Reading (A)

*Please note fixtures are subject to change

PLAYER

STAT S

Player Apps (sub) Clean

Sheets

COOPER, Paul 6 (0) 0

FLAVELL, Kieren 0 (0) 0

SEARLE, Jamie 4 (0) 0

WALTON, Jack 1 (0) 1

Player Apps (sub) Goals

ACKROYD, Joe 4 (0) 0

AITCHISON, Jack 1 (0) 0

ANAMAN, Alex 4 (1) 2

ARIELY, Amir 11 (1) 1

BENJAMIN, Mylan 4 (0) 0

BENSON, Danny 6 (2) 0

BLAND, Jonathan 0 (2) 0

BUTTERFILL, Jack 11 (3) 4

CHAPMAN, Theo 5 (3) 2

DYER, Josiah 1 (7) 0

HARTLEY, Keegan 11 (2) 1

HASSAN-SMITH, Kareem 4 (0) 1

HELLIWELL, Jordan 1 (0) 0

HICKINGBOTTOM, Charlie 2 (2) 0

HONDERMARCK, Will 3 (0) 1

JALO, Fabio 10 (0) 4

JOOF, Alex 0 (0) 0

LACEY, Luis 0 (1) 0

LANCASTER, Will 10 (0) 0

LARKECHE, Ziyad 1 (0) 0

MAKIESSI, Jean Claude 2 (4) 0

MARSH, Aiden 1 (0) 1

MCKAY, Josh 2 (0) 0

MONTEIRO, Rafael 0 (1) 0

MOON, Jasper 5 (0) 1

MURCHISON, Kynan 0 (1) 0

NEJMAN, Ha rrison 14 (0) 0

NZONDO, Emmaisa 1 (2) 1

ODUOR, Clarke 1 (0) 0

PHILLIPS, Adam 1 (0) 0

PICKARD, Hayden 9 (2) 1

SRAHA, Jason 0 (0) 0

TEDIĆ, Slobodan 2 (0) 0

WINFIELD, Charlie 1 (0) 0

YOGANATHAN, Vimal 1 (0) 0

ACADEMY

Academy

TABLES & R E S U LT S

U21S NORTH TABLE

Pos Team P GD Pts

1 Sheffield United 16 +11 31

2 Wigan Athletic 17 +4 24

3 Burnley 15 -2 23

4 Hull City 14 +8 20

5 Birmingham City 15 -4 19

6 Coventry City 14 -3 17

7 Peterborough United 14 -3 16

8 Crewe Alexandra 12 -6 13

9 BARNSLEY 14 -5 12

10 Sheffield Wednesday 17 -25 12

RESULTS

Barnsley 1-2 Birmingham City

Burnley 3-0 Sheffield Wednesday

Cardiff City 1-0 Bristol City

Charlton Athletic 1-1 Swansea City

Photographs courtesy of Dan Berry

U21S SOUTH TABLE

Pos Team P GD Pts

1 Bristol City 15 +20 35

2 Millwall 14 +25 32

3 Cardiff City 14 0 27

4 Swansea City 15 +15 24

5 Reading 13 +4 22

6 Ipswich Town 12 +2 21

7 Charlton Athletic 15 +2 21

8 Colchester United 12 -7 14

9 Queens Park Rangers 12 -3 13

10 Watford 12 -33 3

Hull City 1-1 Sheffield United

Sheffield United 3-3 Wigan Athletic

Sheffield Wednesday 0-1 Coventry City

Wigan Athletic 5-0 Birmingham City

OAKWELL REVIEW 26 BARNSLEY VS ACCRINGTON STANLEY
---
ACADEMY

TABLES & R E S U LT S

U18S NORTH TABLE

Pos Team P GD Pts

1 BARNSLEY 11 +15 25

2 Sheffield United 10 +5 19

3 Burnley 13 -1 18

4 Peterborough United 14 -10 16

5 Coventry City 12 +1 15

6 Sheffield Wednesday 10 +1 13

7 Birmingham City 11 -5 13

8 Hull City 13 -15 13

9 Wigan Athletic 12 -7 10

10 Crewe Alexandra 11 -7 9

RESULTS

Cardiff City 4-1 Watford

Crewe Alexandra 1-4 Barnsley

Hull City 4-1 Birmingham City

Photographs courtesy of Sam Eaden

U18S SOUTH TABLE

Pos Team P GD Pts

1 Charlton Athletic 13 +25 29

2 Cardiff City 12 +17 27

3 Millwall 13 +15 26

4 Queens Park Rangers 13 -2 21

5 Ipswich Town 11 -2 19

6 Bristol City 12 +6 16

7 Reading 12 -4 16

8 Watford 12 -2 15

9 Colchester United 14 -17 14

10 Swansea City 13 -13 12

Peterborough 0-1 Coventry City

Queens Park Rangers 1-2 Charlton Athletic

Reading 4-5 Ipswich Town

Swansea City 0-4 Colchester United

U18

fixtures

13/08/22 W 2-1 Swansea City

20/08/22 L 1-3 Millwall (A)

27/08/22 W 2-0 Bristol City (H)

17/09/22 W 5-2 Queens Park Rangers (H)

23/09/22 P-P Coventry City (H)

01/10/22 W 5-1 Hull City (A)

15/10/22 W 2-1 Sheffield United (H)

22/10/22 L 3-4 Peterborough United (A)

28/10/22 D 0-0 Sheffield Wednesday (H)

19/11/22 W 4-3 Burnley (A)

26/11/22 P-P Crewe Alexandra (H)

10/12/22 P-P Birmingham City (A)

16/12/22 P-P Wigan Athletic (H)

07/01/23 W 4-1 Peterborough United (H)

14/01/23 W 4-1 Crewe Alexandra (A)

21/01/23 11am Coventry City (A)

27/01/23 7pm Birmingham City (H)

11/02/23 11am Sheffield Wednesday (A)

18/02/23 11am Hull City (H)

25/02/23 11am Sheffield United (A)

04/03/23 11am Burnley (H)

11/03/23 12pm Wigan Athletic (A)

18/03/23 12pm Reading (A)

25/03/23 11.20am Colchester United (A)

31/03/23 3pm Ipswich Town (H)

15/04/23 2pm Cardiff City (A)

21/04/23 2pm Charlton Athletic (H)

29/04/23 1pm Watford (A)

*Please note fixtures are subject to change

PLAYER

STAT S

Player Apps (sub) Clean

Sheets

CARTER-ROGERS, Trent 5 (0) 0

RAVENHILL, Rogan 13 (0) 3

Player Apps (sub) Goals

ANAMAN, Alex 11 (2) 5

BENJAMIN, Mylan 8 (4) 2

BLAND, Jonathan 16 (1) 0

BRACE, Astin 6 (0) 0

CHAPMAN, Theo 9 (2) 7

DOYLE, Matty 0 (0) 0

DYER, Josiah 11 (2) 6

FARRELL, Leo 4 (11) 3

GRAHAM, Kieren 0 (1) 0

HICKINGBOTTOM, Charlie 10 (1) 1

HYDE, Cole 0 (1) 0

JALO, Fabio 5 (0) 6

JOOF, Alex 5 (0) 0

KOZLUK, Ziggy 3 (1) 0

LACEY, Luis 7 (3) 2

LINDOLOKI, Jeffrey 1 (0) 0

MAKIESSI, Jean Claude 16 (2) 0

MCKAY, Josh 11 (3) 1

MONTEIRO, Rafael 15 (2) 7

MURCHISON, Kynan 5 (2) 0

NZONDO, Emmaisa 5 (5) 6

OGBU, Chrysolite 0 (1) 1

PICKARD, Hayden 9 (0) 0

PROBERT, Elliott 1 (0) 0

REID, Kallum 0 (0) 0

SWIFT, Max 1 (0) 0

THOMPSON, Will 1 (0) 0

WARBURTON, Owen 1 (0) 0

WOODCOCK, Jack 0 (1) 0

WOODCOCK, Robson 0 (0) 0

YOGANATHAN, Vimal 10 (7) 3

OAKWELL REVIEW 27 BARNSLEY VS ACCRINGTON STANLEY
---
YARIS CROSS

H Y B R I D

COMPACT SUV

9.9% APR

REPRESENTATIVE* AND £1,750

TOWARDS YOUR DEPOSIT*

2022

Best True MPG

Toyota Yaris Cross

BURROWS TOYOTA BARNSLEY

Claycliffe Island, Barugh Green Road, Barnsley, S75 2RS

01226 280088

burrowsbarnsley.toyota.co.uk

Model shown is MY23 Yaris Cross Design 1.5 VVT-i Auto FWD £27,145 including optional Metallic paint at £615. Prices correct at time of being published. Official fuel

consumption figures in mpg (l/100km): combined 54.6 (5.2) - 62.8 (4.5). Combined CO 2

117-102 g/km. Hybrid electric vehicle. Figures obtained using a combination

of battery power and fuel. Figures are provided for comparability purposes; only compare fuel consumption, CO 2

and/or equivalent all-electric range figures with

other cars tested to the same technical procedures. These figures may not reflect real life driving results. Fuel consumption, CO 2

produced and equivalent all-electric

range can vary significantly depending on a number of factors, including the accessories fitted (post-registration), driving style, conditions, speed and vehicle load.

All models and grades are certified according to the World Harmonised Light Vehicle Test Procedure (WLTP). All mpg and CO 2

figures quoted are full WLTP figures.

More information can be found by visiting: www.vehicle-certification-agency.gov.uk/fcb/wltp.asp. *9.9% APR Representative and £1,750 Finance Deposit Allowance

only available on new retail orders of Yaris Cross between 13th December 2022 and 3rd April 2023 and registered and financed through Toyota Financial Services by

30th September 2023 on a 42 month AccessToyota (PCP) plan with 0%-35% deposit. Toyota AccessFlex payment breaks are not available. Toyota Financial Services is

a trading name of Toyota Financial Services (UK) PLC; registered office Great Burgh, Burgh Heath, Epsom, Surrey, KT18 5UZ. Authorised and regulated by the Financial

Conduct Authority. Indemnities may be required. Finance subject to status to over 18s. Other finance offers are available but cannot be used in conjunction with this

offer. Offer may be varied or withdrawn at any time. 8,000 miles per annum, excess miles over contracted charged at 9p per mile. Toyota Centres are independent of

Toyota Financial Services. Participating Toyota Centres. Affordable finance through AccessToyota (PCP). Terms and conditions apply.Toyota Financial Services may pay

the Toyota Centre a commission for introducing you to them. Commission may be calculated based on either a fixed amount relating to the vehicle you are financing, a

percentage of the amount you borrow, or a combination of both. Toyota Financial Services may also make other types of payment to the Toyota Centres for introducing

you to them. Any such amounts will not affect the amounts you pay to Toyota Financial Services under your finance agreement.
---
CELEBRATING 50 YEARS OF BUSINESS IN BARNSLEY
---
JUNIOR REDS

Junior

REDS

SPOT THE BALL

Can you find where

the ball is?

Y S R E G D O R P P

C E A D J P Y D N F

F O L Q E H X H O U

Z C Y T N X E L Y S

L Z D L S O Q E L F

D K V L E A L O L Z

D R Q K N L A A K H

D A K J A N Z W N V

O L J H E A F Y A E

L C W P L W S F G D

WORD

SEARCH

Can you find eight Accrington

Stanley players in our

wordsearch?

ASTLEY

WHALLEY

CLARK

JENSEN

COYLE

SLOANE

RODGERS

NOLAN

OAKWELL REVIEW 30 BARNSLEY VS ACCRINGTON STANLEY
---
ALL MIXED UP

JUNIOR REDS

Toby is struggling to work out some of the

Premier League's top scorers. Can you help

him to unjumble the letters?

Handrail Angel

Rare Hanky

Vanity One

Indoor

Groomer

NUMBER CRUNCHER

Can you work out who the player is

from this maths puzzle?

GROUND TRACKER

Can you help Toby find where these three

clubs are in the country?

C

A

B

OAKWELL REVIEW 31 BARNSLEY VS ACCRINGTON STANLEY
---
09
---
jam es

norwood
---
JUNIOR REDS

MATCH REPORT

Can you help Toby Tyke with your match report?

BEFORE KICK-OFF:

1) What do you think today's score will be?

Barnsley ■■ Accrington Stanley ■■

2) Who do you think will be Man of the Match?

■■ ■■ ■■ ■■ ■■ ■■ ■■ ■■ ■■ ■■ ■■ ■■ ■■

3) Guess how many people will be at the game

■■ ■■ ■■ ■■ ■■ ■■ ■■ ■■ ■■ ■■ ■■ ■■ ■■

AT HALF-TIME:

4) What was the half-time score?

Barnsley ■■ Accrington Stanley ■■

5) What do you think the full-time score will be now?

Barnsley ■■ Accrington Stanley ■■

6) Who has impressed you most in the first half?

■■ ■■ ■■ ■■ ■■ ■■ ■■ ■■ ■■ ■■ ■■ ■■ ■■

AFTER THE MATCH:

7) What was the final score?

Barnsley ■■ Accrington Stanley ■■

8) Who scored the goals?

■■ ■■ ■■ ■■ ■■ ■■ ■■ ■■ ■■ ■■ ■■ ■■ ■■

■■ ■■ ■■ ■■ ■■ ■■ ■■ ■■ ■■ ■■ ■■ ■■ ■■

■■ ■■ ■■ ■■ ■■ ■■ ■■ ■■ ■■ ■■ ■■ ■■ ■■

■■ ■■ ■■ ■■ ■■ ■■ ■■ ■■ ■■ ■■ ■■ ■■ ■■

9) Was the best player in the first half just as good in the

second? Yes ■■ No ■■

10) Who was your Man of the Match?

■■ ■■ ■■ ■■ ■■ ■■ ■■ ■■ ■■■ ■■ ■ ■■ ■■

OAKWELL REVIEW 34 BARNSLEY VS ACCRINGTON STANLEY
---
JUNIOR REDS

SPOT THE DIFFERENCE

Can you find the five changes in these nearly identical photographs?

ANSWERS: SPOT THE BALL: Purple Toby.

ALL MIXED UP: Erling Haaland, Harry Kane, Ivan Toney, Rodrigo Moreno.

NUMBER CRUNCHER: 30+7-10=27 Jack Aitchison

OAKWELL REVIEW 35 BARNSLEY VS ACCRINGTON STANLEY
---
IS THERE

A BETTER

WAY TO

BUY YOUR

NEXT CAR?

CAZOO

YEAH!

Buy or finance a car online and we'll deliver it to

your door with a 7-Day Money Back Guarantee.
---
*Effective against enveloped viruses **vs representative Gram-negative bacterium.Always practise good hand hygiene.

Use biocides safely.Always read the label and product information before use. 99.9% OF BACTERIA
---
FEATURE SUBJECT

FOLLOW THE REDS

HOME AND AWAY

THIS SEASON

24.01.23

KO 19:45

01.02.23

KO 19:45

04.02.23

KO 15:00

11.02.23

KO 15:00

SCAN THE QR CODE BELOW TO GET

TICKETS FOR OUR UPCOMING FIXTURES

www.eticketing.co.uk/barnsleyfc

OAKWELL REVIEW 38 BARNSLEY VS BOLTON FLEETWOOD BURTON WANDERERS

ALBION TOWN
---
FEATURE SUBJECT

OAKWELL REVIEW 39 BARNSLEY VS BOLTON FLEETWOOD WANDERERS TOWN
---
FEATURE SUBJECT

OAKWELL REVIEW 40 BARNSLEY VS BOLTON FLEETWOOD WANDERERS TOWN
---
FEATURE SUBJECT

For more information about the 1887 Business Club or to become

a member, please contact the commercial department at:

hospitality@barnsleyfc.co.uk or 01226 211182.

OAKWELL REVIEW 41 BARNSLEY VS BOLTON FLEETWOOD WANDERERS TOWN
---
PLAYER SPONSORSHIP

SHIRT SPONSORSHIP

Show your support for your favourite Barnsley FC player

by sponsoring them for this season.

Call 01226 211182 or email hospitality@barnsleyfc.co.uk

JACK WALTON

JORDAN WILLIAMS

LIAM KITCHING

MADS ANDERSEN

1

HOME

AWAY

2

5

6

NICKY CADDEN

HERBIE KANE

JAMES NORWOOD

JOSH BENSON

7

HOME

AWAY

THE BARNSLEY

FC BBS FANS

FORUM

8

HOME

Always

Secure

Always

AWAY

Networks

Always

Secure

9

JAMES

NORWOOD

10

HOME

AWAY

BOBBY THOMAS

Always

Hosting

Always

Hosting

JOSH MARTIN

LUKE THOMAS

BARRY COTTER

Always

Always

12

14

HOME

AWAY

16

HOME

AWAY

17

AVAILABLE

OAKWELL REVIEW 42 BARNSLEY VS ACCRINGTON STANLEY
---
PLAYER SPONSORSHIP

AIDEN MARSH

JAMIE SEARLE

CONOR McCARTHY

WILL HONDERMARCK

19

HOME

AWAY

20

HOME

AWAY

21

23

HOME

AWAY

AVAILABLE

AVAILABLE

AVAILABLE

AVAILABLE

AVAILABLE

AVAILABLE

ROBBIE CUNDY

JORDAN HELLIWELL

ZIYAD LARKECHE

JACK AITCHISON

24

HOME

AWAY

25

HOME

AWAY

26

HOME

AWAY

27

AVAILABLE

AVAILABLE

AVAILABLE

AVAILABLE

AVAILABLE

FABIO JALO

ADAM PHILLIPS

MATTY WOLFE

BRAD COLLINS

29

HOME

AWAY

30

33

40

AVAILABLE

AVAILABLE

DEVANTE COLE

MAX WATTERS

LUCA CONNELL

MICHAEL DUFF

44

47

HOME

AVAILABLE

AWAY

AVAILABLE

48

BFC SUPPORTERS

TRUST

OAKWELL REVIEW 43 BARNSLEY VS ACCRINGTON STANLEY
---
#BigGreenQ

www.gqaqualifications.com

– GQA Qualifications –

Delivering Quality through Qualifications

Mick Clayton

CEO

At GQA

we have a passion for

developing people. With

over 200 industry relevant

qualifications covering 16

industrial sectors, why not

speak to us about how we can

support you to be better

qualified and better able

to fulfil your potential.

Over 200 industry relevant qualifications

Accredited employer training programmes

Bespoke employer qualifications

We are proud supporters of Barnsley FC

and are delighted to be sponsors of the

Barnsley FC Academy.

GQA works in the following

sectors :-

Automotive Glazing | Engineering

Chemical, Pharmaceutical and Petro Chemicals

Construction | Downstream and Hydro Carbon

Fenestration, Glass and Glazing

General Qualifications

Laboratory Operations and Science

Laundry and Dry Cleaning | Meteorology

Nuclear | Paper | Polymer Operations

Print | Transportation and Warehousing

Sign Making | Water Treatment

Follow us..

@GQAQuals @GQAQuals @gqa-qualifications

0114 272 0033 | Unit 1, 12 O'clock Court, Attercliffe Road, Sheffield S4 7WW
---
Our Visitors

ACCRINGTON

STAN LEY
---
ACCRINGTON STANLEY

LUKAS JENSEN

POS: G

AGE: 23

TOBY SAVIN

POS: G

AGE: 21

MITCH CLARK

POS: D

AGE: 23

01

40

02

HARRY PERRITT

POS: D

AGE: 21

DOUG THARME

POS: D

AGE: 23

BABA FERNANDES

POS: D

AGE: 22

21

34

50

TOMMY LEIGH

POS: M

AGE: 22

JOE PRITCHARD

POS: M

AGE: 26

SEAN McCONVILLE

POS: M

AGE: 33

08

10

11

SEAMUS CONNEELY

POS: M

AGE: 34

MATT LOWE

POS: F

AGE: 26

NATHAN DELFOUNESO

POS: F

AGE: 31

28

09

18

OAKWELL REVIEW 46 BARNSLEY VS ACCRINGTON STANLEY
---
ACCRINGTON STANLEY

JAY RICH-BAGHUELOU

POS: D

AGE: 23

RYAN ASTLEY

POS: D

AGE: 21

HARVEY RODGERS

POS: D

AGE: 26

03

05

16

ETHAN HAMILTON

POS: M

AGE: 24

LIAM COYLE

POS: M

AGE: 23

SHAUN WHALLEY

POS: M

AGE: 35

04

06

07

ROSAIRE LONGELO

POS: M

AGE: 23

MO SANGARE

POS: F

AGE: 24

DAN MARTIN

POS: F

AGE: 20

14

15

22

KOREDE ADEDOYIN

POS: F

AGE: 22

AARON PRESSLEY

POS: F

AGE: 21

JOSH WOODS

POS: F

AGE: 22

19

20

39

OAKWELL REVIEW 47 BARNSLEY VS ACCRINGTON STANLEY
---
ACCRINGTON STANLEY

MANAGER

Joh n

Coleman

A striker in his playing days, Coleman

made a name for himself as a prolific

goal scorer on the non-league circuit

in spells with Kirkby Town, Burscough,

Marine, Southport, Runcorn, Macclesfield

Town, Rhyl, Witton Albion, Morecambe,

Lancaster City and Ashton United.

He was player-manager for two years

at Ashton, before swapping Tameside

for Accrington Stanley in 1999, who

were competing in the Northern Premier

League First Division.

The 60-year-old guided Accie to three

promotions and helped the club to the

Football League for the first time since

being re-established in 1968.

His success at the Crown Ground didn't

go unnoticed and caught the attention of

Rochdale, who were struggling in League

One after a poor start to the campaign.

However, Coleman was unable to keep

them in the third tier and ultimately

departed midway through the following

season.

After stints with Southport and Sligo

Rovers, he made a heroic return to Stanley

in September 2014 and guided them to

the League Two play-offs the following

term – losing out to eventual winners AFC

Wimbledon at the semi-final stage.

Two years later, though, a sensational

run of form from January onwards saw

Accrington claim the fourth tier title,

reaching League One for the first time

where they have remained ever since.

MANAGERIAL

H ISTORY

1997 – 1999 Ashton United

1999 – 2012 Accrington Stanley

2012 – 2013 Rochdale

2013 – 2014 Southport

2014 Sligo Rovers

2014 – Accrington Stanley

OAKWELL REVIEW 48 BARNSLEY VS ACCRINGTON STANLEY
---
ACCRINGTON STANLEY

OAKWELL REVIEW 49 BARNSLEY VS ACCRINGTON STANLEY
---
ACCRINGTON STANLEY

Accrington stan ley

Stat s

last 10 gam es

22/11/22 Grimsby Town 0-1 Accrington Stanley

26/11/22 Accrington Stanley 1-0 Barnet

03/12/22 Accrington Stanley 1-1 Oxford United

13/12/22 Burton Albion 2-4 Accrington Stanley

26/12/22 Accrington Stanley 1-1 Barnsley

29/12/22 Morecambe 2-0 Accrington Stanley

02/01/23 Derby County 4-0 Accrington Stanley

07/01/23 Boreham Wood 1-1 Accrington Stanley

10/01/23 Lincoln City (1) 2-2 (3) Accrington Stanley

14/01/23 Accrington Stanley 2-0 Bristol Rovers

last 10 seasons

1

2

3

4

5

6

7

8

9

10

11

12

13

14

15

16

17

18

19

20

21

22

23

24

12/13 13/14 14/15 15/16 16/17 17/18 18/19 19/20 20/21 21/22

Record appearances:

Jimmy Armstrong, 260 (1927 – 1934)

Record goal scorer:

George Stewart, 136 (1954 – 1958)

Biggest win:

8-0 v New Brighton

(17 March 1934)

Biggest defeat:

1-9 v Lincoln City

(3 March 1951)

Notable

Honours

CONFERENCE

Winners: 2005/06

LEAGUE TWO

Winners: 2017/18

OAKWELL REVIEW 50 BARNSLEY VS ACCRINGTON STANLEY
---
ACCRINGTON STANLEY

Last tim e out

ACCRINGTON STANLEY 2-0 BRISTOL ROVERS

Leigh (51), Astley (79)

STARTING XI

40 T Savin

4 E Hamilton ■

5 R Astley

6 L Coyle ■

7 S Whalley

11 S McConville

14 R Longelo (Off 78)

16 H Rodgers ■

20 A Pressley (Off 39)

22 D Martin ■

28 S Conneely (Off 62)

SUBSTITUTES

1 L Jensen

8 T Leigh (On 39)

27 A Touray Sisay (On 78)

34 D Tharme (On 62)

39 J Woods

42 L Adekoya

50 B Fernandes

16

40

JOHN

COLEMAN

28

4

6

5

22

11

20

14

I'm delighted with the result but devastated with the injuries,

they are massive blows for us. There will be conjecture about the

first goal, whether it's handball, but I think if it hits the hand of

the person who scores then it's automatically disallowed. I think

because it has come off another part of Harvey's body before it hit

him on the arm, that means it's unintentional.

7

OAKWELL REVIEW 51 BARNSLEY VS ACCRINGTON STANLEY
---
ACCRINGTON STANLEY

1954/55

ACCRINGTON STAN LEY

Football historian LEIGH EDWARDS selects ten post-war Accrington Stanley 'Classic Campaigns'

Walter Galbraith guided Accrington

Stanley to Third Division (North)

runners-up in 1954/55. After gaining

just one point from their opening two

matches, Accrington soared up the

table with eight wins in their next

nine games. Centre-forward George

Stewart arrived from St Mirren in

October and Accrington held a five

point lead by the end of March. A

crowd of 19,843 saw Stanley's 1-1

draw at FA Cup giantkillers York

on Good Friday but they suffered

heavy defeats by Hartlepools and

Chesterfield during the closing weeks

and finished four points behind

Barnsley. The reserve team achieved

the Lancashire Combination 'double'.

classic

cam paigns

1955/56

George Stewart was leading

marksman with 35 goals as

Accrington Stanley finished third in

the Third Division (North) in 1955/56.

'McStanley' fielded 11 Scottish

players in the 1-1 draw at Rochdale

in August and Archie Wright grabbed

a hat-trick in Accrington's 7-0

demolition of Bradford PA. John

Ryden moved to Spurs but Stanley

maintained their title challenge and

48,385 saw their FA Cup third round

defeat at Liverpool. George Stewart

scored hat-tricks against Wrexham,

Workington and Scunthorpe. Other

stars were Armour Ashe, Wattie

Dick, Jimmy Harrower, Eddie Hunter,

Norman McCredie and Charlie

Sneddon.

1957/58

OAKWELL REVIEW 52 BARNSLEY VS ACCRINGTON STANLEY

George Stewart was top scorer

with 27 goals as Accrington Stanley

finished Third Division (North)

runners-up in 1957-58. Walter

Galbraith's side won only four of

their opening 12 matches, including

three straight wins, but soared up

the table with just two defeats

in 23 games. They hammered

Bradford PA 5-2 at Peel Park in

December and scored 17 goals

during a run of six successive wins.

Overcoming consecutive defeats at

title rivals Scunthorpe and Hull City

in March, they dropped only one

point in eight matches during the

closing weeks. Full-back partners

Bob McNicol and Jimmy Harrower

were both ever-present.
---
ACCRINGTON STANLEY

1973/74

Jimmy Hinksman managed the

'new' Accrington Stanley to a

Lancashire Combination 'double'

in 1973/74. They trounced Nelson

7-0 in their second home match

and lost only four Lancashire

Combination matches all season,

finishing with a terrific unbeaten

run of 18 games which included 14

clean sheets. Accrington pipped

Bacup Borough to the title with

a 2-0 victory at Wren Rovers in

their penultimate match. Stuart

Illingworth and Dave McDowell

scored 30 goals between them.

Stanley won the Lancashire

Combination Cup for the third

successive season after beating St

Helens Town 3-2 on aggregate in

the two-legged final.

1999/00

Gary Williams was top scorer with

17 goals as Accrington Stanley

won the Northern Premier League

First Division title in 1999/2000.

They failed to win any of their

opening four matches under new

manager John Coleman before

beating Netherfield Kendal 4-1 at

the Crown Ground. Gary Williams

scored four times as Accrington

annihilated Lincoln United 10-1 in

October, then they drew 0-0 with

leaders Witton. Despite the sale of

Gary Williams to Doncaster Rovers

in January, Accrington remained

unbeaten in their final 19 games,

including a 7-1 win at Eastwood

Town, to pip Burscough and Witton

to the title on goal difference.

2002/03

Lutel James and Paul Mullin

scored 57 goals between them as

Accrington Stanley stormed to the

Northern Premier League Premier

Division title in 2002/03. They

started with nine straight wins to

open up a seven-point lead and the

team, strengthened by the addition

of Mike Marsh and Mark Sertori,

would have made it ten but for a

last-minute penalty equaliser for

Wakefield & Emley. After a few

inconsistent results, Stanley rattled

off six straight wins and clinched

the title with a 3-1 victory over

Altrincham watched by 2,263 at

the Crown Ground. Defender Steve

Halford was ever-present as Stanley

won the title with 100 points.

2003/04

Accrington Stanley made headlines

as they reached the FA Cup third

round for the first time in 43 years

in 2003/04. They began life in the

Conference with a 2-1 defeat at

Aldershot Town, screened live on

Sky TV, and a ten-match unbeaten

run lifted them to sixth place in the

table. Accrington defeated Leigh

RMI 2-0, Huddersfield Town 1-0 and

Bournemouth on penalties in the

FA Cup before holding Colchester

United to a 0-0 draw in the third

round, watched by a record 4,368 at

the newly-named Interlink Express

Stadium. They lost 2-1 in the

replay but reached the Lancashire

Challenge Trophy final, losing 3-1 to

Morecambe.

2005/06

John Coleman managed Accrington

Stanley to the Conference title in

2005/06. They started with two

wins but just one point was gained

from the next three matches before

five straight victories lifted Stanley

to second place in the Conference.

A 2-1 win at leaders Grays in

November was quickly followed

by a 2-0 victory over Forest Green

Rovers that took Accrington top

of the table. They pulled away

with a 20 match unbeaten run and

clinched the title with a 1-0 win

at Woking in mid-April, finishing

11 points ahead of runners-up

Hereford United. In a final twist,

Accrington replaced Oxford United

in the Football League.

Conference title winners in 2006

2006/07

Accrington Stanley returned to the

Football League after 44 years'

absence in 2006/07. They kicked

off in League Two with a 2-0

defeat at Chester City, recording

their first victory 2-1 at home to

Barnet. Another early highlight was

a memorable 1-0 League Cup first

round victory at home to Nottingham

Forest. Gary Roberts scored twice

in Stanley's 5-0 win over Wrexham

that sparked a seven-match

unbeaten run and Roberts moved

to Ipswich Town initially on loan

in October. Top scorer Paul Mullin

and Andy Todd were ever-present

as Accrington preserved Football

League status, winning five of their

final nine matches.

2017/18

Accrington Stanley won the League

Two title with 93 points in 2017/18.

John Coleman's side lost just four

of their opening 19 games before

suffering four straight defeats over

Christmas. Stanley responded with

four successive wins including a

4-0 demolition of Chesterfield.

Following a 2-1 defeat at Crawley,

they stormed to the top with a 15

match unbeaten run including a

club record seven straight wins.

Accrington secured promotion with

a 3-1 victory at home to Forest

Green Rovers, then clinched the

League Two title with a 1-0 win over

Lincoln City in their penultimate

match. Billy Kee was leading scorer

with 25 goals.

OAKWELL REVIEW 53 BARNSLEY VS ACCRINGTON STANLEY
---
LEAGUE ONE

league on e

HOME AWAY OVERALL

POS P W D L F A W D L F A W D L F A GD Pts

1 Plymouth Argyle 27 12 0 1 25 9 5 7 2 22 18 17 7 3 47 27 20 58

2 Sheffield Wednesday 26 8 4 1 30 11 8 3 2 16 7 16 7 3 46 18 28 55

3 Ipswich Town 26 7 5 1 23 10 7 4 2 25 16 14 9 3 48 26 22 51

4 Derby County 25 8 2 2 23 10 4 6 3 13 9 12 8 5 36 19 17 44

5 Bolton Wanderers 26 8 4 2 19 8 4 4 4 14 12 12 8 6 33 20 13 44

6 BARNSLEY 24 7 1 4 17 13 5 3 4 13 10 12 4 8 30 23 7 40

7 Peterborough United 25 8 1 3 24 9 4 1 8 17 22 12 2 11 41 31 10 38

8 Wycombe Wanderers 26 6 3 4 19 13 5 2 6 14 14 11 5 10 33 27 6 38

9 Bristol Rovers 27 5 4 4 21 22 5 3 6 21 23 10 7 10 42 45 -3 37

10 Exeter City 26 5 4 4 19 17 4 4 5 20 20 9 8 9 39 37 2 35

11 Port Vale 25 5 3 4 13 13 5 2 6 14 21 10 5 10 27 34 -7 35

12 Charlton Athletic 26 6 5 3 26 17 2 5 5 14 19 8 10 8 40 36 4 34

13 Oxford United 25 4 3 5 16 13 4 5 4 15 15 8 8 9 31 28 3 32

14 Shrewsbury Town 25 5 2 6 13 17 4 3 5 14 12 9 5 11 27 29 -2 32

15 Portsmouth 23 3 7 2 17 15 4 3 4 12 15 7 10 6 29 30 -1 31

16 Lincoln City 25 2 10 0 13 10 4 2 7 11 20 6 12 7 24 30 -6 30

17 Fleetwood Town 25 2 5 5 11 12 4 6 3 18 15 6 11 8 29 27 2 29

18 Cheltenham Town 25 5 1 6 13 16 3 3 7 8 14 8 4 13 21 30 -9 28

19 Accrington Stanley 24 3 5 4 16 18 3 2 7 7 20 6 7 11 23 38 -15 25

20 Morecambe 25 4 5 4 16 16 1 4 7 10 19 5 9 11 26 35 -9 24

21 Cambridge United 25 5 2 6 12 16 2 1 9 10 25 7 3 15 22 41 -19 24

22 MK Dons 25 2 3 8 10 20 4 1 7 13 16 6 4 15 23 36 -13 22

23 Burton Albion 26 3 4 6 14 23 2 3 8 18 31 5 7 14 32 54 -22 22

24 Forest Green Rovers 26 4 0 9 10 23 1 6 6 12 27 5 6 15 22 50 -28 21

OAKWELL REVIEW 54 BARNSLEY VS ACCRINGTON STANLEY
---
LEAGUE ONE

league on e stats

VICTOR ADEBOYEJO

TOP SCORERS

PLAYER CLUB GOALS

AARON COLLINS BRISTOL ROVERS 13

JONSON CLARKE-HARRIS PETERBOROUGH UNITED 13

SAM NOMBE EXETER CITY 11

VICTOR ADEBOYEJO BURTON ALBION 11

JEVANI BROWN EXETER CITY 10

R e s u lt s

Accrington Stanley 2

Bristol Rovers 0

Bolton Wanderers 3

Portsmouth 0

Burton Albion 0

Shrewsbury Town 4

Cambridge United

Morecambe

P

P

MORGAN WHITTAKER

TOP ASSISTERS

PLAYER CLUB GOALS

AARON COLLINS BRISTOL ROVERS 10

JEVANI BROWN EXETER CITY 9

MORGAN WHITTAKER PLYMOUTH ARGYLE 7

LEIF DAVIS IPSWICH TOWN 7

SAM NOMBE EXETER CITY 6

Charlton Athletic 2

Barnsley 0

Cheltenham Town 2

Derby County 3

Exeter 1

Forest Green Rovers 1

Fleetwood Town 1

Oxford United 2

Ipswich Town 1

Plymouth Argyle 1

Milton Keynes Dons 0

Lincoln City 0

Port Vale 0

Peterborough United 2

Wycombe Wanderers 0

Sheffield Wednesday 1

MAX STRYJEK

GOLDEN GLOVE

PLAYER CLUB CLEAN SHEETS

JAMES TRAFFORD BOLTON WANDERERS 13

JOE WILDSMITH DERBY COUNTY 12

DAVID STOCKDALE SHEFFIELD WEDNESDAY 11

MICHAEL COOPER PLYMOUTH ARGYLE 11

MAX STRYJEK WYCOMBE WANDERERS 9

BRAD COLLINS BARNSLEY 9

aroun d th e groun ds

Barnsley v Accrington Stanley

Bristol Rovers v Wycombe Wanderers

Derby County v Bolton Wanderers

Forest Green Rovers v Milton Keynes Dons

Lincoln City v Burton Albion

Morecambe v Port Vale

Oxford United v Ipswich Town

Peterborough United v Charlton Athletic

Plymouth Argyle v Cheltenham Town

Portsmouth v Exeter City

Sheffield Wednesday v Fleetwood Town

Shrewsbury Town v Cambridge United

OAKWELL REVIEW 55 BARNSLEY VS ACCRINGTON STANLEY
---
BARNSLEY STATS

Barnsley fc

Stat s

PLAYERS

AGE APPEARANCES CLEAN SHEETS

CAREER 22/23 (SUB) CAREER 22/23

COLLINS, Brad 25 195 22 (0) 54 9

SEARLE, Jamie 22 4 1 (1) 2 2

WALTON, Jack 24 62 9 (0) 16 2

AGE APPEARANCES GOALS ASSISTS

CAREER 22/23 (SUB) CAREER 22/23 CAREER 22/23

AITCHISON, Jack 22 148 15 (7) 18 2 13 0

ANDERSEN, Mads 25 213 28 (0) 11 1 7 0

BENSON, Daniel 19 2 1 (1) 0 0 0 0

BENSON, Josh 23 76 18 (8) 7 5 5 2

BUTTERFILL, Jack 19 3 1 (2) 1 1 0 0

CADDEN, Nicky 26 273 20 (2) 31 0 59 3

CHAPMAN, Theo 17 1 0 (1) 0 0 0 0

CONNELL, Luca 21 80 23 (3) 11 1 15 3

COLE, Devante 27 295 26 (2) 66 8 23 1

COTTER, Barry 24 59 4 (0) 3 0 2 0

CUNDY, Robbie 25 120 20 (6) 6 2 3 0

EDWARDS, Tom 23 132 12 (3) 2 1 4 0

HELLIWELL, Jordan 21 9 3 (0) 0 0 0 0

HONDERMARCK, Will 21 36 2 (5) 0 0 0 0

JALO, Fabio 17 12 2 (10) 2 2 0 0

KANE, Herbie 24 148 19 (4) 10 1 20 3

KITCHING, Liam 23 151 28 (0) 4 1 12 3

LARKECHE, Ziyad 20 14 4 (9) 1 1 0 0

MARSH, Aiden 19 14 5 (4) 1 0 0 0

MARTIN, Josh 21 70 6 (13) 8 3 8 3

MCCARTHY, Conor 24 183 8 (3) 14 0 5 0

NEJMAN, Harrison 19 4 1 (3) 0 0 0 0

NORWOOD, James 32 468 16 (10) 172 5 70 1

ODUOR, Clarke 23 71 10 (8) 2 1 4 2

PHILLIPS, Adam 25 134 12 (8) 28 5 19 1

PICKARD, Hayden 17 3 0 (3) 0 0 0 0

SRAHA, Jason 19 15 0 (0) 0 0 0 0

TEDIĆ, Slobodan 22 125 5 (4) 24 0 7 2

THOMAS, Bobby 21 48 25 (1) 4 3 1 1

THOMAS, Luke 23 160 12 (1) 9 1 19 1

WATTERS, Max 23 61 8 (4) 23 0 1 0

WILLIAMS, Jordan 23 139 23 (1) 5 2 8 5

WOLFE, Matty 22 53 45 (10) 1 0 2 1

OUT ON LOAN

ACKROYD, Joe 20 16 1 (1) 1 0 0 0

DYER, Josiah 18 1 0 (1) 0 0 0 0

HARTLEY, Keegan 18 2 0 (2) 0 0 0 0

LANCASTER, Will 20 2 1 (1) 0 0 0 0

LEYA ISEKA, Aaron 25 176 6 (3) 27 2 3 1

MOON, Jasper 22 34 4 (0) 0 0 0 0

STYLES, Callum 22 193 16 (9) 11 2 10 1

OAKWELL REVIEW 56 BARNSLEY VS ACCRINGTON STANLEY
---
There's no doubt we've all dreamt

of leading out the Reds here at

Oakwell, and very few of us have

done it. So, here's your chance to

give your child an unforgettable day

as an executive mascot!

Open to kids aged from 5 to 13, our

executive mascot packages are the

perfect way for young Reds to enjoy

a unique experience and meet their

footballing idols!

Package includes:

• Photograph in the matchday

programme

• A one-course meal prepared on

site by our team of chefs using

locally sourced ingredients

• Behind-the-scenes tour

• Dressing room visit with

autograph opportunity

• Barnsley FC branded football and

bag

• Exclusive matchday activities

within the Reds in The Community

indoor centre

• Official matchday photo with the

team captains (sent digitally postmatch)

MASCOT

PACKAG ES

ARE BACK!

• Lead the Reds team out onto

Oakwell

Please note that all mascots must

attend the game in the full replica

kit, which can be purchased in

advance from the Reds Superstore.

Each mascot must be accompanied

by a parent/guardian.

All mascots are cared for on

matchdays by our fully qualified,

experienced Mascot Coordinators

who are DBS-checked and whose

goal it is to make sure the children

have the most amazing day at the

home of Barnsley Football Club.

Our executive mascot packages

are priced at just £180 (mascot + 1

accompanying adult). Further guests

can be added at extra cost.

Additional guest tickets can be

purchased at standard Premier

Lounge pricing, detailed below:

Seating

Adult: £60

Seniors Over 65: £54

Juvenile Under 19: £54

Juveniles Under 14: £24

Food

Adult one-course meal: £14.95

Juvenile under 14 one-course meal:

£6.95

TODAY'S

MASCOT

FINLEY MCLEOD

Age: 6

Favourite players:

Liam Kitching and Devante Cole
---
REDS IN THE COMMUNITY

OAKWELL REVIEW 58 BARNSLEY VS ACCRINGTON STANLEY
---
REDS IN THE COMMUNITY

OAKWELL REVIEW 59 BARNSLEY VS ACCRINGTON STANLEY
---
FIXTURES & RESULTS

FIXTURES &

R E S U LTS 22/23

SPONSORED BY

DATE KO OPPONENT RES COMP POS ATT STARTING XI

JULY

Sat 30 3.00PM PLYMOUTH ARGYLE A 0-1 LEAGUE 21 14,624 (932 away) COLLINS ANDERSEN CUNDY KITCHING WILLIAMS BENSON

AUGUST

Sat 06 3.00PM CHELTENHAM TOWN H 1-0 LEAGUE 15 10,289 (413 away) COLLINS McCARTHY ANDERSEN KITCHING WILLIAMS BENSON

Wed 10 7.45PM MIDDLESBROUGH A 1-0 EFL CUP - 9,361 (336 away) WALTON ANDERSEN CUNDY McCARTHY ❚ HELLIWELL STYLES

Sat 13 3.00PM DERBY COUNTY A 1-2 LEAGUE 19 26,123 (1,363 away) COLLINS McCARTHY ❚ ANDERSEN KITCHING WILLIAMS BENSON 1

Tue 16 7.45PM BRISTOL ROVERS H 3-0 LEAGUE 9 9,689 (443 away) COLLINS ANDERSEN CUNDY KITCHING WILLIAMS 1 BENSON 1

Sat 20 3.00PM WYCOMBE WANDERERS H 0-3 LEAGUE 16 9,978 (283 away) COLLINS ANDERSEN CUNDY KITCHING WILLIAMS ❚ CONNELL

Wed 24 7.45PM LEEDS UNITED A 1-3 EFL CUP - 35,472 (2,695 away) WALTON ANDERSEN 1 McCARTHY KITCHING ❚ HELLIWELL STYLES ❚

Sat 27 3.00PM IPSWICH TOWN A 2-2 LEAGUE 16 25,001 (638 away) COLLINS WILLIAMS ANDERSEN ❚ KITCHING HELLIWELL BENSON

Tue 30 7.45PM LINCOLN CITY H 0-3 EFL TROPHY - 3,121 (332 away) WALTON KANE NORWOOD ❚ MOON ❚ MARSH McCARTHY

SEPTEMBER

Sat 03 3:00PM SHEFFIELD WEDNESDAY A 2-0 LEAGUE 10 27,939 (2,500 away) COLLINS CUNDY ANDERSEN McCARTHY WILLIAMS BENSON

Tue 13 7:45PM PORT VALE H 1-1 LEAGUE 11 9,552 (597 away) COLLINS CUNDY ANDERSEN McCARTHY WILLIAMS KANE

Sat 17 3.00PM CAMBRIDGE UNITED A 3-0 LEAGUE 6 6,138 (1,224 away) COLLINS CUNDY 1 ANDERSEN WOLFE WILLIAMS KANE

Tue 20 7.00PM NEWCASTLE UNITED U21 H 2-0 EFL TROPHY - 1,664 (45 away) SEARLE MOON CADDEN McCARTHY ❚ HONDERMARCK ❚ PHILLIPS

Sat 24 3.00PM CHARLTON ATHLETIC H 3-1 LEAGUE 5 10,234 (588 away) WALTON CUNDY ANDERSEN CADDEN WILLIAMS KANE

OCTOBER

Sat 01 3.00PM FLEETWOOD TOWN A 1-0 LEAGUE 5 4,024 (1,115 away) COLLINS CUNDY ANDERSEN KITCHING WILLIAMS KANE ❚

Sat 08 3.00PM EXETER CITY H 0-2 LEAGUE 5 10,384 (486 away) COLLINS CUNDY ANDERSEN KITCHING WILLIAMS BENSON

Tue 11 7.00PM DONCASTER ROVERS A 4-2 EFL TROPHY - WALTON EDWARDS MOON LARKECHE BENSON MARTIN 2

Sat 15 3.00PM BOLTON WANDERERS A 0-0 LEAGUE 6 18,415 (1,756 away) COLLINS CUNDY ANDERSEN KITCHING EDWARDS BENSON

Sat 22 3.00PM MORECAMBE A 0-1 LEAGUE 9 5,270 (1,756 away) COLLINS CUNDY ❚ ANDERSEN KITCHING EDWARDS ❚ BENSON

Tue 25 7.45PM LINCOLN CITY H 0-1 LEAGUE 9 10,397 (1,231 away) COLLINS CUNDY ANDERSEN KITCHING EDWARDS KANE ❚

Sat 29 3.00PM FOREST GREEN ROVERS H 2-0 LEAGUE 8 9,551 (189 away) COLLINS WILLIAMS ANDERSEN KITCHING ❚ EDWARDS BENSON

NOVEMBER

Sat 05 2.00PM BOLTON WANDERERS A 2-1 FA CUP R1 - 5,999 (630 away) WALTON ❚ WILLIAMS ANDERSEN ❚ KITCHING ❚ EDWARDS PHILLIPS 1 ❚

Sat 12 3.00PM SHREWSBURY TOWN A 1-0 LEAGUE 8 6,285 (917 away) COLLINS ❚ WILLIAMS ANDERSEN KITCHING EDWARDS PHILLIPS 1

Sat 19 3.00PM MK DONS H 3-1 LEAGUE 6 9,994 (391 away) COLLINS WILLIAMS 1 ANDERSEN ❚ KITCHING ❚ EDWARDS PHILLIPS 1

Wed 23 7.30PM PORT VALE A 1-2 EFL TROPHY - 1,306 (207 away) WALTON MOON CUNDY KITCHING MARTIN PHILLIPS

Sat 26 3.00PM CREWE ALEXANDRA H 3-0 FA CUP R2 - 3,967 (416 away) WALTON BENSON 1 ANDERSEN ❚ KITCHING EDWARDS PHILLIPS 1

DECEMBER

Fri 02 7.45PM PETERBOROUGH UNITED A 2-1 LEAGUE 4 7,046 (743 away) COLLINS WILLIAMS ANDERSEN KITCHING EDWARDS PHILLIPS 1 ❚

Sat 17 3.00PM BURTON ALBION H 2-0 LEAGUE 4 9,423 (172 away) COLLINS WILLIAMS ANDERSEN KITCHING WOLFE NORWOOD

Mon 26 3.00PM ACCRINGTON STANLEY A 1-1 LEAGUE 4 4,791 (1,999 away) COLLINS WILLIAMS ANDERSEN KITCHING NORWOOD 1 PHILLIPS

Thur 29 7.45PM FLEETWOOD TOWN H 2-1 LEAGUE 4 10,219 (222 away) COLLINS WILLIAMS ❚ ANDERSEN ❚ KITCHING NORWOOD 1 ❚ PHILLIPS

JANUARY

Mon 02 3.00PM BOLTON WANDERERS H 0-3 LEAGUE 6 13,913 (3091 away) COLLINS WILLIAMS ANDERSEN ❚ KITCHING NORWOOD PHILLIPS

Sun 08 12.30PM DERBY COUNTY A 0-3 FA CUP R3 - 11,512 (1131 away) WALTON WILLIAMS NORWOOD KITCHING WOLFE EDWARD

Sat 14 3.00PM CHARLTON ATHLETIC A 0-2 LEAGUE 6 13,266 (969 away) COLLINS WILLIAMS ANDERSEN KITCHING BENSON PHILLIPS

Sat 21 3.00PM ACCRINGTON STANLEY H LEAGUE

Tue 24 7.45PM EXETER CITY A LEAGUE

FEBRUARY

Wed 01 7.45PM OXFORD UNITED A LEAGUE

Sat 04 3.00PM PORTSMOUTH A LEAGUE

Sat 11 3.00PM CAMBRIDGE UNITED H LEAGUE

Tue 14 7.45PM PORT VALE A LEAGUE

Sat 18 3.00PM CHELTENHAM TOWN A LEAGUE

Sat 25 3.00PM DERBY COUNTY H LEAGUE

MARCH

Sat 04 3.00PM BRISTOL ROVERS A LEAGUE

Tue 07 7.45PM PORTSMOUTH H LEAGUE

Sat 11 3.00PM PLYMOUTH ARGYLE H LEAGUE

Sat 18 3.00PM WYCOMBE WANDERERS A LEAGUE

Tue 21 7.45PM SHEFFIELD WEDNESDAY H LEAGUE

Sat 25 3.00PM IPSWICH TOWN H LEAGUE

APRIL

Sat 01 3.00PM MORECAMBE H LEAGUE

Fri 07 3.00PM BURTON ALBION A LEAGUE

Mon 10 3.00PM SHREWSBURY TOWN H LEAGUE

Sat 15 3.00PM FOREST GREEN ROVERS A LEAGUE

Tue 18 7.45PM LINCOLN CITY A LEAGUE

Sat 22 3.00PM OXFORD UNITED H LEAGUE

Sat 29 3.00PM MK DONS A LEAGUE

MAY

Sat 06 3.00PM PETERBOROUGH UNITED H LEAGUE

OAKWELL REVIEW 60 BARNSLEY VS ACCRINGTON STANLEY
---
FIXTURES & RESULTS

GOALSCORERS IN BOLD - BENSON 1 = 1 GOAL SCORED BY JOSH BENSON. YELLOW CARD ❚ | RED CARD ❚ | HOME GAMES ARE HIGHLIGHTED RED.

1ST SUB: GREEN | 2ND SUB: BLUE | 3RD SUB: RED | 4TH SUB: PURPLE | 5TH SUB: ORANGE | EXAMPLE - MOON (65) - 65TH MINUTE SUB.

SUB 1 SUB 2 SUB 3 SUB 4 SUB 5 UNUSED SUBS

CONNELL STYLES ❚ CADDEN ❚ COLE AITCHISON McCARTHY (45) THOMAS (61) NORWOOD (61) MARSH (71) WOLFE (78) WALTON, MOON

THOMAS 1 STYLES CADDEN NORWOOD AITCHISON CONNELL (37) COLE (61) MARSH (61) HONDERMARCK (88) WALTON, MOON, CUNDY

CONNELL ODUOR ❚ AITCHISON COLE MARSH THOMAS (59) LEYA ISEKA (59) BENSON (69) HONDERMARCK (77) JALO (77) COLLINS, KITCHING, MOON, ACKROYD

CONNELL STYLES THOMAS AITCHISON NORWOOD COLE (63) MARSH (72) ODOUR (84) CUNDY (84) WALTON, HONDERMARCK, WOLFE

CONNELL STYLES THOMAS AITCHISON COLE 1 NORWOOD (62) McCARTHY (72) WOLFE (72) MARSH (83) WALTON, ODUOR, HONDERMARCK

BENSON ❚ STYLES THOMAS COLE AITCHISON WOLFE (59) NORWOOD ❚ (59) HONDERMARCK (77) WALTON, CADDEN, MARSH, McCARTHY

BENSON ODUOR THOMAS COLE NORWOOD WILLIAMS ❚ (63) WOLFE (63) TEDIC (63) CONNELL (80) HONDERMARCK (80) COLLINS, MARSH, CUNDY, AITCHISON

CONNELL STYLES ❚ 1 THOMAS COLE AITCHISON 1 ODUOR (15) WOLFE ❚ (41) TEDIC (65) NORWOOD ❚ (65) WALTON, MCCARTHY, CUNDY

ODUOR HONDERMARCK ❚ CUNDY TEDIC WOLFE ACKROYD (32) NEJMAN (62) PICKARD (62) JALO (74) BENSON (74) COLLINS, LANCASTER

CONNELL ❚ KITCHING THOMAS ❚ COLE 1 AITCHISON WOLFE (32) ❚ MARTIN (74) NORWOOD 1 (74) ❚ TEDIC (74) KANE (86) EDWARDS, SEARLE

CONNELL ❚ KITCHING 1 ❚ THOMAS COLE ❚ AITCHISON MARTIN (70) WOLFE (70) NORWOOD (81) ❚ PHILLIP (81) WALTON, EDWARDS, TEDIC

EDWARDS KITCHING 1 ❚ THOMAS ❚ COLE 1 ❚ AITCHISON SEARLE (59) CADDEN (70) NORWOOD 1 (75) BENSON (75) MARTIN, McCARTHY, HONDERMARCK

ACKROYD LARKECHE 1 JALO MARTIN TEDIC LANCASTER (45) NEJMAN (45) BUTTERFILL 1 (71) HARTLEY (75) PICKARD (90) COOPER, BENSON

BENSON 1 EDWARDS THOMAS COLE 1 NORWOOD 1 PHILLIPS (59) McCARTHY (66) LARKECHE (66) MARTIN (85) MARTIN, SEARLE, HONDERMARCK, TEDIC

BENSON CADDEN THOMAS COLE NORWOOD MARTIN (69) PHILLIPS (69) LARKECHE (81) AITCHISON 1 (86) WALTON, EDWARDS, CONNELL

KANE CADDEN AITCHISON COLE NORWOOD PHILLIPS (38) EDWARDS (45) LARKECHE (62) MARTIN (63) CONNELL (70) WALTON, TEDIC

LANCASTER PHILLIPS CONNELL ❚ JALO 2 TEDIC PICKARD (60) NEJMAN (60) HARTLEY (78) DYER (78) BUTTERFILL (89) SEARLE

CONNELL LARKECHE ❚ AITCHISON COLE NORWOOD ❚ CADDEN (45) MARTIN (66) KANE (81) PHILLIPS (81) WALTON, MOON, JALO

CONNELL CADDEN PHILLIPS COLE MARTIN KANE (45) AITCHISON (59) JALO (72) LARKECHE (85) WALTON, MOON, TEDIC

BENSON ❚ CADDEN MARTIN COLE NORWOOD PHILLIPS (65) AITCHISON (75) LARKECHE (88) JALO (89) WALTON, MOON, CONNELL

KANE CADDEN CONNELL COLE 1 NORWOOD CUNDY (78) PHILLIPS (78) TEDIC (78) MARTIN 1 (79) JALO (86) WALTON, LARKECHE

KANE ❚ CADDEN CONNELL COLE TEDIC BENSON (70) MARTIN (70) LARKECHE (78) HONDERMARCK (79) CUNDY (90+1) COLLINS, MOON, AITCHISON, JALO

KANE CADDEN CONNELL COLE TEDIC ❚ BENSON (74) CUNDY (85) AITCHISON (85) WALTON, MARTIN, HONDERMARCK, LARKECHE

KANE 1 CADDEN CONNELL ❚ COLE AITCHISON NORWOOD (63) BENSON (76) JALO (83) WALTON, MARTIN, CUNDY, LARKECHE

NEJMAN BENSON LARKECHE BUTTERFILL AITCHISON EDWARDS 1 (45) KANE (45) COLLINS, COLE, CONNELL, CADDEN, ANDERSEN

KANE CADDEN CONNELL COLE 1 NORWOOD JALO (61) CUNDY (61) MARTIN (71) LARKECHE (72) CHAPMAN (86) COLLINS, NEJMAN, AITCHISON, MOON

KANE ❚ CADDEN CONNELL 1 COLE AITCHISON BENSON (60) CUNDY (77) WALTON, MARTIN, LARKECHE, JALO

KANE CADDEN CONNELL ❚ COLE 2 CUNDY AITCHISON (58) JALO (74) MARTIN (89) WALTON, MOON, ACKROYD, LARKECHE

KANE ❚ CADDEN CONNELL ❚ COLE CUNDY ❚ WOLFE (45) MARTIN (75) WALTON, MOON, LARKECHE, AITCHISON, JALO

KANE ❚ CADDEN CONNELL COLE CUNDY 1 WOLFE (65) JALO (84) MARTIN (84) WALTON, MOON, ACKROYD, LARKECHE

KANE CADDEN CONNELL COLE WOLFE BENSON (66) JALO (66) MARTIN (76) LARKECHE (77) WALTON, MOON, ACKROYD

KANE CADDEN CONNELL COLE CUNDY BENSON (45) MARTIN (62) PHILLIPS (62) AITCHISON (76) Collins, Lancaster, Larkeche, Ackroyd, Moon

KANE CADDEN CONNELL COLE AITCHISON LARKECHE (39) WATTERS (64) NORWOOD (64) MARTIN (64) WOLFE (79) WALTON, THOMAS

OAKWELL REVIEW 61 BARNSLEY VS ACCRINGTON STANLEY
---
A message from the

safety officer

I am pleased to report that over the last few weeks we have seen

a decrease in poor behaviour at home and away matches. The

work on this continues and whilst the number of incidents have

reduced, they haven't been completely eradicated and so follow

up work has been progressing from the away fixtures at Bolton

Wanderers and Shrewsbury Town.

I'd like to ask all supporters to continue to report any suspicious

incidents and make us aware of anything that doesn't look

right. It is always easier for us to deal with these reports at the

time rather than a few days later as we have a better chance of

identifying the person(s) involved. There have been two crimes

reported to us this season where we could have taken more proactive

action, but because the reports came in a few days after

the match, it has made it incredibly difficult to make positive

identifications.

The National Counter Terrorism Threat Level is currently

SUBSTANTIAL which means an attack is likely across the UK

although there is no known threat to Oakwell. Please assist us

in keeping everyone safe by reporting any unusual behaviour to

a steward no matter how insignificant you think it may be. The

likelihood is that there will be a justified reason, but we welcome

as much information as possible.

For home fixtures you can report any incident to a steward, or

you can do it anonymously by texting 'ALERT' to 60777, stating

what you witnessed followed by the row, seat number, stand and

general description of the person involved.

Paul Davis, Safety Officer
---
FIT

Adaptive FUZIONFIT360 upper

combines dual mesh, stretchy knit,

and PWRTAPE to lock down the foot

into a snug, supportive fit, letting you

play with or without laces

CREATE

Engineered 3D textures at key

contact zones are optimized to

enhance ball grip and control during

passing, dribbling, and finishing

AGILITY

Stable at the heel and flexible at the

forefoot, the dual-density Dynamic

Motion System outsole enhances

stability, agility, and traction

SUPPORT

PWRPRINT on the upper for enhanced

stability and PWRTAPE at the heel for

lightweight support

LIGHT

Minimum weight for maximum speed

with high-performance ULTRAWEAVE

upper material

SPEED

Blaze past opponents with

dual-density SPEEDPLATE outsole

for next-level traction and propulsion

TOO FAST FOR THEM
---
BARNSLEY

HEAD COACH

MICHAEL DUFF

ACCRINGTON

STANLEY

MANAGER

JOHN COLEMAN

GK

JACK WALTON

JORDAN WILLIAMS

LIAM KITCHING

MADS ANDERSEN

NICKY CADDEN

HERBIE KANE

JAMES NORWOOD

JOSH BENSON

BOBBY THOMAS

JOSH MARTIN

LUKE THOMAS

BARRY COTTER

JOE ACKROYD

AIDEN MARSH 19

GK

JAMIE SEARLE 20

CONOR McCARTHY 21

WILL HONDERMARCK 23

ROBBIE CUNDY 24

JORDAN HELLIWELL 25

ZIYAD LARKECHE 26

JACK AITCHISON 27

FABIO JALO 29

ADAM PHILLIPS 30

SLOBODAN TEDIĆ 31

JASON SRAHA 32

MATTY WOLFE 33

GK

BRAD COLLINS 40

DEVANTE COLE 44

MAX WATTERS 47

LUCA CONNELL 48

1

2

5

6

7

8

9

10

12

14

16

17

18

NEXT UP AT OAKWELL

CAMBRIDGE UNITED

SATURDAY 11TH

FEBRUARY 2023

KICK-OFF 3PM

■

■

■

■

■

■

■

■

■

■

■

■

■

■

■

■

■

■

■

■

■

■

■

■

■

■

■

■

■

■

LUKAS JENSEN GK

MITCH CLARK

JAY RICH-BAGHUELOU

ETHAN HAMILTON

RYAN ASTLEY

LIAM COYLE

SHAUN WHALLEY

TOMMY LEIGH

MATT LOWE

JOE PRITCHARD

SEAN MCCONVILLE

MICHAEL NOTTINGHAM

ROSAIRE LONGELO

MO SANGARE

HARVEY RODGERS

JACK NOLAN

NATHAN DELFOUNESO

KOREDE ADEDOYIN

HARRY PERRITT

DAN MARTIN

JOE HARDY

RHYS FENLON

ALHAGI TOURAY SISAY

SEAMUS CONNEELY

DOUG THARME

BAILEY SLOANE

DAVID MORGAN

JOSH WOODS

TOBY SAVIN GK

LESLIE ADEKOYA

BABA FERNANDES

MATCH OFFICIALS

REFEREE

CARL BROOK

ASSISTANT REFEREE

DECLAN FORD

ASSISTANT REFEREE

KEVIN MULRAINE

FOURTH OFFICIAL

OLLIE WILLIAMS

SPONSORS OF THE BARNSLEY FOOTBALL CLUB OFFICIAL TEAM SHEET

■

■

■

■

■

■

■

■

■

■

■

■

■

■

■

■

■

■

■

■

■

■

■

■

■

■

■

■

■

■

■

1

2

3

4

5

6

7

8

9

10

11

12

14

15

16

17

18

19

21

22

24

26

27

28

34

35

37

39

40

42

50

Barnsley FC

Barnsley FC

Accrington Programme

One Size Multi

Accrington Programme

One Size Multi

£ 3.50

2108000044371

£ 3.50

2108000044371