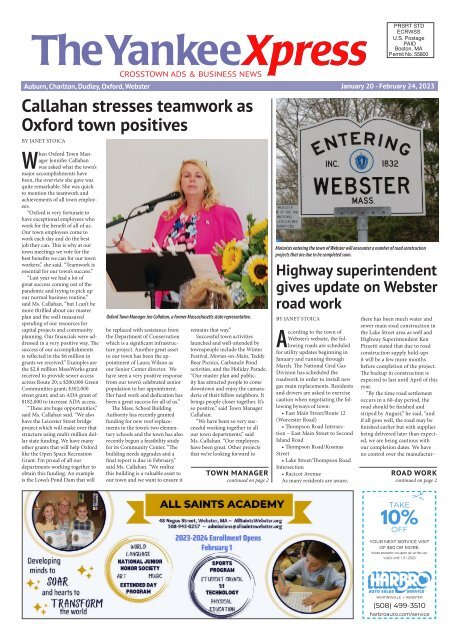 The Yankee Xpress January 20, 2023
The Yankee Xpress January 20, 2023
The Yankee Xpress January 20, 2023
SHOW MORE
SHOW LESS
You also want an ePaper? Increase the reach of your titles
YUMPU automatically turns print PDFs into web optimized ePapers that Google loves.
PRSRT STD

ECRWSS

U.S. Postage

PAID

Boston, MA

Permit No. 55800

Auburn, Charlton, Dudley, Oxford, Webster

Callahan stresses teamwork as

Oxford town positives

BY JANET STOICA

CROSSTOWN ADS & BUSINESS NEWS

January 20 - February 24, 2023

When Oxford Town Manager

Jennifer Callahan

was asked what the town's

major accomplishments have

been, the overview she gave was

quite remarkable. She was quick

to mention the teamwork and

achievements of all town employees.

"Oxford is very fortunate to

have exceptional employees who

work for the benefit of all of us.

Our town employees come to

work each day and do the best

job they can. This is why at our

town meetings we vote for the

best benefits we can for our town

workers," she said. "Teamwork is

essential for our town's success."

"Last year we had a lot of

great success coming out of the

pandemic and trying to pick up

our normal business routine,"

said Ms. Callahan, "but I can't be

more thrilled about our master

plan and the well-measured

spending of our resources for

capital projects and community

planning. Our financials were addressed

in a very positive way. The

success of our accomplishments

is reflected in the $6 million in

grants we received." Examples are

the $2.8 million MassWorks grant

received to provide sewer access

across Route 20; a $200,000 Green

Communities grant; $302,000

street grant; and an ADA grant of

$182,000 to increase ADA access.

"These are huge opportunities,"

said Ms. Callahan said. "We also

have the Leicester Street bridge

project which will make over that

structure using multi-million dollar

state funding. We have many

other grants that will help Oxford

like the Open Space Recreation

Grant. I'm proud of all our

departments working together to

obtain this funding. An example

is the Lowe's Pond Dam that will

Oxford Town Manager Jen Callahan, a former Massachusetts state representative.

be replaced with assistance from

the Department of Conservation

which is a significant infrastructure

project. Another great asset

to our town has been the appointment

of Laura Wilson as

our Senior Center director. We

have seen a very positive response

from our town's celebrated senior

population to her appointment.

Her hard work and dedication has

been a great success for all of us."

The Mass. School Building

Authority has recently granted

funding for new roof replacements

in the town's two elementary

schools and the town has also

recently begun a feasibility study

for its Community Center. "The

building needs upgrades and a

final report is due in February,"

said Ms. Callahan. "We realize

this building is a valuable asset to

our town and we want to ensure it

remains that way."

Successful town activities

launched and well-attended by

townspeople include the Winter

Festival, Movies-on-Main, Teddy

Bear Picnics, Carbuncle Pond

activities, and the Holiday Parade.

"Our master plan and publicity

has attracted people to come

downtown and enjoy the camaraderie

of their fellow neighbors. It

brings people closer together. It's

so positive," said Town Manager

Callahan.

"We have been so very successful

working together in all

our town departments," said

Ms. Callahan. "Our employees

have been great. Other projects

that we're looking forward to

TOWN MANAGER

continued on page 2

Motorists entering the town of Webster will encounter a number of road construction

projects that are due to be completed soon.

Highway superintendent

gives update on Webster

road work

BY JANET STOICA

According to the town of

Webster's website, the following

roads are scheduled

for utility updates beginning in

January and running through

March. The National Grid Gas

Division has scheduled the

roadwork in order to install new

gas main replacements. Residents

and drivers are asked to exercise

caution when negotiating the following

byways of town:

• East Main Street/Route 12

(Worcester Road)

• Thompson Road Intersection

– East Main Street to Second

Island Road

• Thompson Road/Kosmas

Street

• Lake Street/Thompson Road

Intersection

• Racicot Avenue

As many residents are aware,

there has been much water and

sewer main road construction in

the Lake Street area as well and

Highway Superintendent Ken

Pizzetti stated that due to road

construction supply hold-ups

it will be a few more months

before completion of the project.

The backup in construction is

expected to last until April of this

year.

"By the time road settlement

occurs in a 60-day period, the

road should be finished and

striped by August," he said, "and

if all goes well, the road may be

finished earlier but with supplies

being delivered later than expected,

we are being cautious with

our completion dates. We have

no control over the manufactur-

ROAD WORK

continued on page 2

TAKE

10%

OFF

YOUR NEXT SERVICE VISIT

OF $50 OR MORE.

Must present coupon at write-up.

Valid until 1.31.2023 03.31.2021

WHITINSVILLE | WEBSTER

(508) 499-3510

harbroauto.com/service
---
2 The Yankee Xpress • www.theyankeexpress.com • January 20, 2023

TOWN MANAGER

continued from page 1

include grant funding

for the French River Bike

Trail by having discussions

with adjoining towns, our

Visitor Center on Charlton

Street, and our Store Front

Enhancement Program

that will offer assistance

to our local businesses for

their façade improvements

in the areas of signage and

landscaping. We hope to

work on unique storefront

enhancements. We are also

looking forward to the

Orchard Hill improvement

and expansion project. This

looks like it could be several

hundred million dollars of

new investment in Oxford

that includes beautiful

townhouses. I am very excited

about the work we do

here. I said when I came to

Oxford four years ago that

I wanted to make sure we

improved the town for all

residents and I believe with

the hard work and great

accomplishments of all our

town employees we are well

on our way to achieving our

goals."

"Teamwork is the ability

to work together toward

a common vision. It is the

fuel that allows common

people to attain uncommon

results"

– Andrew Carnegie

Contact Janet: jstoica@

TheYankeeXpress.com

BIG KAHUNA

•BIG KAHUNA CARNUBA WAX

•UNDERCARRIAGE WASH W/ROCKER BLASTER

•X2 PASS FOAMING PRESOAK

•HIGH PRESSURE WASH

FOAMING POLISH

SHIELD "HIGH GLOSS

TOTAL PROTECTANT"

•SPOT FREE RINSE

•LASERDRI

ROAD WORK

continued from page 1

ers. So much depends upon

the winter weather which is

so unpredictable. Temperatures

could be 30 degrees

for three days and then 50

degrees for the next three

days delaying the supplier's

manufacturing process."

National Grid's nineyear

new gas main project

is nearing its end in the

Webster area. Webster's gas

main replacement project

is most likely in its seventh

year. "National Grid has

the capability to dig and

complete their projects

through the winter," Mr.

Pizzetti said. "This will

allow us to pave in the

spring and summer. With

a decent winter, we might

$

18

Signage tells the story of ongoing

road work in the town of Webster.

have three of their street

projects finished soon. We

have to allow the road to

settle first and then paving

can begin. We're definitely

ahead of the curve based

on their timeline. The rest

of Granite Street is on the

schedule too. We hope to

begin the remainder of the

Granite Street project by

April 1st."

The old steel gas pipes

were more susceptible

to leakage. The new gas

main material is rated to

have a 100-year life and

is manufactured using

a high performance, bimodal,

medium density

polyethylene resin which

exceeds industry standards

and provides excellent

environmental stress crack

resistance and outstanding

long-term stress rupture

performance and the

trenching is cleaned and

packed well once the new

mains are installed.

When asked about

how the highway department

treats the local roads

in winter, Mr. Pizzetti

explained that pre-treated

salt is used. "All road salt

is EPA-rated," he said, "it's

safer for the environment

and is just a better product.

Road materials are much

better too. When treating

the roads during the

winter you just don't put a

cost on the material used

as it's a public safety issue.

Webster was one of the first

towns in the area to use

pre-treated salt resulting in

neighboring town highway

departments visiting us

and observing the product

usage and its better results.

It saves us money in the

long run and is much better

for road cleaning too.

There's no use for sand

anymore which also saves

money on road cleaning.

There's a lot of planning

that goes into the clearing

of our roads when snow

and ice hits. We keep our

snowplows in great shape

and are well organized

with a great crew. They are

a very talented group. We

hold monthly meetings for

updates and for obtaining

feedback from our staff."

Contact Janet: jstoica@

TheYankeeXpress.com

89 Southbridge St.

Auburn, MA

(across from Sword St.)

Vacuums

always 75¢

DELUXE WASH

•UNDERCARRIAGE WASH W/ROCKER BLASTER

•X2 PASS FOAMING PRESOAK

•HIGH PRESSURE WASH

FOAMING POLISH

SHIELD "HIGH GLOSS

TOTAL PROTECTANT"

•SPOT FREE RINSE

•LASERDRI

$

15

SUPER WASH

•UNDERCARRIAGE WASH W/ROCKER BLASTER

•X2 PASS FOAMING PRESOAK

•HIGH PRESSURE WASH

SHIELD "HIGH GLOSS

TOTAL PROTECTANT"

•SPOT FREE RINSE

•LASERDRI

BASIC WASH

•X2 PASS FOAMING PRESOAK

•HIGH PRESSURE WASH

SHIELD "HIGH GLOSS

TOTAL PROTECTANT"

•SPOT FREE RINSE

•LASERDRI

$

12

- Commercial and Residential -

Experienced

Visit our display

Adult

by appointment

Day Health Many new Program

styles and colors

to choose from.

Sales • Service • Installation

serving your community since 1985

$

9

430 Main St., Oxford, MA

We repair all makes and

models of Garage Doors and

Electric Openers

800-605-9030 508-987-8600

Family Owned and Operated

www.countrysidedoors.com

Renew your home's appeal

with a new garage door.

email: countrysidedoors@aol.com

Published on 2nd and 4th Fridays of the month. Direct mailed to 63,000 unique homes

and businesses each month and available on news stands throughout the region.

2nd Friday: Auburn, Charlton, Dudley, Oxford and Webster, 1/2 all addresses.

2nd Friday BLACKSTONE VALLEY South: Douglas, Northbridge and Uxbridge.

4th Friday: Auburn, Charlton, Dudley, Oxford and Webster, other 1/2.

4th Friday BLACKSTONE VALLEY North: Grafton, Millbury and Sutton.

DIRECTORY

Rod Lee, Editor • rodlee.1963@gmail.com

Submit business news and community events to news@TheYankeeXpress.com

Request advertising information: ads@TheYankeeXpress.com

TESTIMONIAL:

Billing and advertising information Laura Gleim lgleim@TheYankeeXpress.com

•Case "When Management my mother's •Recreation dementia progressed •Homey, to Fun the & point Secure that

(Auburn, Charlton, Dudley, Oxford, Webster) ads@TheYankeeXpress.comshe was no longer able to live by herself; I was in desperate need of help and

•Nutrition and Transportation Services

Bill Cronan, Sales (Blackstone Valley) bcronan@TheYankeeXpress.comfound it with the folks at Accord.

-Marcia T

The Newspaper Press, LLC / contents copyright 2023

Kim Vasseur, Production Manager

Sally Patterson, Graphic Artist Carol Kosth, Graphic Artist

Contributing writers and columnists: Tom D'Agostino,

Christine Galeone, Amy Palumbo-Leclaire, Janet Stoica

168 Gore Road, Webster, MA 01570 PHONE: 508-943-8784 FAX: 508-943-8129

Adult Day Health Program

serving your community

Proven and reliable partner in assisting

families with their individual situations

Offering Skilled Nursing, Personal Care,

Case Management, Recreational

Programming, and Transportation Services

in a secure facility.

TESTIMONIAL: "When my mother's

10 Cudworth dementia Road progressed • Webster, to the MA point 01570 that

she 508-949-3598

was no longer able to live by herself;

www.accorddaycenter.com

I was in desperate need of help and found

it with the folks at Accord."

--Marcia T

Family Owned and Operated

Stay healthy, socialize, make friends!

Structured Programming

Cognitive and gross motor recreational programming including:

Baking Club, Bowling League, Live Entertainment

For Spring/Summer: Garden Club

•Reliable Partner Assisting Families

•Offering Skilled Nursing •Personal Care

•We Follow CDC/MA COVID-19 Guidelines

10 Cudworth Road, Webster, MA 01570

508-949-3598

www.accorddaycenter.com
---
January 20, 2023 • www.theyankeexpress.com • The Yankee Xpress 3

Xpressly Yours ... a letter from the editor

The Oxford Free Public Library and bank robbers?

Dan Prouty of the Oxford

Business Association

and the new "Gateway

Park" in town is one of

those people any journalist

would appreciate for the tips

they pass along that turn

into good story material.

Recently, Mr. Prouty sent me

this email.

"Try to read this about

Oxford bank robbers from

the 19th Century. When I

was a kid, old-timers told me

that the $$$ for the library

came from the Larneds who

were infamous bank robbers.

Thus the Larned library in

Oxford. Several years ago

I came across a short story

about an 1850 bank robbery

in Charlestown, NH (boyhood

home of Carleton Fisk).

The Larneds were supposedly

tied to other robberies in

NH, VT and NY State. Clara

Barton's brother Stephen was

an accomplice and a biography

about Clara included in

her correspondence about

Clara having to reimburse

an insurance company after

the Larneds and her brother

were accused of burning

down a textile mill…They

were evidently great entrepreneurs…."

A separate email,

forwarded to me by Mr.

Prouty and headed "Monadnock

Moments No. 34:

The Bungling Bank Robbers—Historical

Society of

Cheshire County," describes

an incident that occurred

the evening of June 11,

1850, when "Abijah Larned

and an accomplice broke

into the bank at Charlestown,

New Hampshire. By

midnight they had loaded

nearly $12,000 in gold, silver

and bills into their carriage

and drove peacefully out of

town." The report goes on to

say that eleven miles to the

south they came to a long

hill between Drewsville and

Marlow and got out of the

carriage so their horse would

have less weight to carry.

They somehow managed to

lose the horse and the carriage,

which were discovered

by Horace Gee of Marlow,

who returned the money to

claim a reward.

"Abijah Larned was later

arrested and agreed to return

to Charlestown to stand trial,

probably in part so that he

could learn what happened

to his carriage of riches. He

asked to be taken before

the bank officers where he

confessed to the crime and

apologized for the trouble

he had caused. It was also

discovered that the horse

had turned off on a side

road halfway up the hill and

wound up at Mr. Gee's house.

"Larned's apology so

impressed the local officials

that they returned his burglar's

tools and allowed him

to leave Charlestown after

posting a small bail. Needless

to say, Larned jumped bail

and never returned to stand

trial. He did continue to use

his burglar's tools, however,

and was later arrested and

jailed for robbing the bank at

Cooperstown, New York."

In trying to pin this down,

NEW ENGLAND REGLAZE

Don't replace

your old tub, reglaze it!

Tubs, tile sinks and

much more

We do any TUB!

CALL US NOW

617-895-7771

www.newenglandreglaze.com

Fred D. Giovaninni

HANDYMAN SERVICE

ALL TYPES OF REPAIRS

IN & OUT

NO JOB IS TOO SMALL

• FREE ESTIMATES

• GENERAL CARPENTRY

• DRY WALL REPAIR

• RENOVATIONS

Reg. $ 399

Color, travel, may apply.

NOW $ 299. 00

• ITEMS ASSEMBLED

• INTERIOR PAINTING

• ETCETERA....

MA# 155844 INSURED

CALL (508) 904-9728 DUDLEY, MA

SAVE

$100

WITH AD

and Clara Barton's brother's

actual role, I could find no

mention of the Larned family

in a "Centennial Celebration"

report written by Gilbert Asa

Davis for Windsor County,

Vermont. The information

was voluminous, however, so

I might have missed it.

In an effort to clear the

matter up, Mr. Prouty sent

me another email with

a photo of the cover of a

biography of Clara Barton

entitled "Clara Barton/Professional

Angel," written by

Elziabeth Brown Pryor.

Mr. Prouty wrote: "This is

the book that I learned of the

Larned Bros. and Stephen

Barton's involvement in arson

fraud. Also the first source

that I came across (about)

the Charlestown bank [robbery]

was from a book of

short stories, 'It Happened in

New Hampshire,' published

by the Pequot Press. In that

story, the authorities found a

coat with an owner's tag on

the inside that said Stephen

Barton, North Oxford.

Oxford authorities told their

NH counterparts that Barton

was at a public function that

weekend but he 'runs with

the Larned Brothers!'" That

was the connection and of

course one of them landed

in Sing Sing for the Cooperstown

job. He died in prison

according to the NH story."

The only reference to

the Larned family I initially

found came from The Oxford

Free Public Library's own

website, which states that

Charles Larned, a former

resident, donated money in

memory of his mother, Clarissa

Larned, for construction

of what was called the

Larned Memorial Library

"on the former Hyde lot." The

building opened in 1903 and

featured a stained glass window

at the top of the stairs in

the front foyer, depicting the

arrival of the Pilgrims with a

caption "Let there be light."

Jacob Lotter (I misidentified

him in a previous

column) was good enough

to send me information he

obtained that corroborates

much of what Dan Prouty

has discovered. Brittany Mc-

Dougal Bialy, director of the

Oxford Free Public Library,

describes Jacob Lotter as "a

history buff " and said he

"knows a good amount of

Oxford history." Mr. Lotter is

the library's cataloging and

technology person.

Mr. Lotter sent me clips

from "Oxford, Massachusetts:

300 years of history

We do NOT add biofuel

to our product

DELIVERY AREAS

MASSACHUSETTS: Auburn, Brimfield, Brookfield, Charlton,

Cherry Valley, Dudley, East Brookfield, Fiskdale, Holland, Leicester,

North Brookfield, North Oxford, Millbury, Oxford, Rochdale, Spencer,

Southbridge, Sturbridge, Sutton & Webster.

CONNECTICUT: N. Grosvenordale, Quinebaug, Thompson & Woodstock.

Monday-Friday 7:30am-5pm

Saturday 9:30am-2pm

1713-2013" published by the

Oxford Business Association.

Included in this book is

an item entitled "1859 How

Not To Rob A Bank" and a

reference to Governor Henry

Hubbard (who served as the

Charlestown bank's president)

dispatching lawmen

to "Oxford, Massachusetts

when it was discovered that

the 'S. Barton Jr.' who owned

a buffalo robe that was

among clothing discarded

after the robbery was "a

well-known bank robber

who lived there. Barton had

a good alibi for the time, but

the two Larned brothers,

who also lived in town and

who were known for their

criminal activity," were both

missing."

Given Clara Barton's

sterling reputation, which is

enshrined at the Clara Barton

Birthplace Museum in

Oxford, it is hard to believe

she had a brother who was

up to such no good. The museum's

website lists as family

members her father, Capt.

Stephen Barton (1774-1862),

"a prosperous businessman,

captain of the local militia

and a selectman in Oxford;"

her mother, Sarah Stone

Barton (1983-1851), "an independent

woman who was

known for her thrift, eccentricity

and volatile temper;"

and siblings Dorothea Barton

(1804-1846), Stephen Barton

(1806-1865); Capt. David

Barton (1808-1888); and

Sarah "Sally" Barton Vassall

(1811-1874).

Which leaves Stephen

Barton as something of a

mystery man, in the scheme

of things.

Contact Rod Lee at

rodlee.1963@gmail.com or

774-232-2999.

BOOK A DETAIL ON LINE!

MICKEYSCARWASH.COM • 508-917-8363

•24 Hour Emergency Service

•Automatic Delivery

•Fuel Assistance Accepted

•Licensed in House Technicians

(NO subcontracting)

•Burner Service

•Oil Tank Installations

(Free Estimates)

5 ¢ OFF

PER GALLON

OF OIL

OF 175 GALLONS OR MORE

Must present coupon.

Offer cannot be combined.

OFFICE LOCATION: 34 NEWMAN AVE., SOUTHBRIDGE
---
4 The Yankee Xpress • www.theyankeexpress.com • January 20, 2023

BUYING

•Coins & Currency

•Gold & Silver

•Diamonds •Comics

•Action Figures

•Vintage Sports Cards

•And Many Other Items

Call for an Appointment:

Mike 774-280-4333

Whitinsville, MA

CNECAMike@gmail.com

Webster's Anglo Fabrics area

to undergo redevelopment

BY JANET STOICA

Yes, it's really happening.

The former Anglo

Fabrics mill buildings

are on the verge of a renaissance

right here in Webster.

After a major clean-up effort

by former owner, Chris

Robert, the properties were

recently sold to an investment

firm of local business

partners from the greater

Worcester area. The plans

sound fascinating and will

be a definite positive for

the North Village section of

the town.

Rita Flagg of Meadow

View Realty in Harvard

brokered the transaction

and is also scheduled to

present the upcoming

construction facts to the

Webster/Dudley/Oxford

Chamber of Commerce at

the organization's January

meeting.

"It will be a four-phase

development project," said

Central New England

COLLECTIBLE AUTHORITY

BARRELS OF

FIREWOOD

DEEPLY DISCOUNTED OVER

PACKAGED FIREWOOD!

$

30/brl*

$

25/brl

The former Anglo Fabrics buildings in Webster are soon to become the focus on a major redevelopment project.

SIMPLY THE BEST

CORD-WOOD!

"Your seasoned and kiln-dried hardwood "We really enjoyed your wood and

is really fantastic - Thank you!" great customer service last year."

— Anne L., Worcester

"This stuff burns like a dream!"

— Kristin S., Grafton

"Bought your wood there

(at Julios) and now I must

have my own supply!"

— Chris K., Southborough

The same wood sold in retail stores.

*1 - 55-gallon barrel contains about 10 bundles of West

End Firewood Hearth Warmer firewood, similiar to those

sold at retail stores. Save 50% or more over packages.

"If you get a barrel of WEF Firewood,

you're saving a bundle!"

(Barrels of Firewood are pick-up at WEF only. Loading help is available.

Online ordering not necessary, but helpful. Pick-up weekdays only, M-F, 7AM - 6PM)

Not sold in stores.

Perfect For... ANYTHING!

Chilly Weekends, Ice Rinks, Sledding, Toasting Marshmallows,

Winter Campfires, Roasting Chestnuts, Smoking/Grilling Food...

• For Consumers & Restaurants • Discounted Barrels

• 3-Types of Cord-Wood,

of Firewood †

Delivered*

• Packaged Firewood ‡

• Always Seasoned –

• Special Chunk Barrel Wood

Air Dried or Kiln-Dried

for Grilling/Smoking:

> Hickory > Cherry > Sugar Maple

* There may be a delivery fee depending on your distance/location. † Barrels of Firewood are pick-up at WEF only. Loading help is available.

"Always more than you expect!"

Inquire or Order Cord-wood &

Barrels of Firewood online.

"We are a small family owned mobile

brick oven business. Your wood is the best!

We enjoy your product! It is top-notch."

"Love the kiln dried wood!

...the wood burns so cleanly..."

— Patrick M., Upton

years! Great KD product. Thanks!"

— Kevin O., Grafton

"I saw wood you delivered to my neighbors.

They had good things to say about your

company and your wood"

— Kevin M., Millbury

"We sell retail at our family business

...yours is the best and we would like

a delivery if possible."

— David F., Chepachet, RI

West End Firewood.com

496 Purgatory Rd, Whitinsville, MA 01588
---
January 20, 2023 • www.theyankeexpress.com • The Yankee Xpress 5

Ms. Flagg, "the buyers who

were interested in the area

are developers who saw the

future for the former Anglo

Fabrics property. Mr. Chris

Robert of Webster had

done a major clean-up of

the area and upgraded the

buildings to make them

suitable for development."

"In the 1980's I had lived

at 13 Pearl Street with my

mom," said Rita, "I had an

affection for the area and

when this parcel fell into

my lap I was only too eager

to see it brought to a great

opportunity for the town of

Webster. The buyers have a

long-term commitment to

see this project come to a

great conclusion."

The new owners worked

with Edgewater Construction,

a design/build corporation

that caters to the

needs of developers. Their

strengths are in the areas of

conversion of older buildings.

Epsilon Consulting

also plays a role in assisting

to qualify the buildings for

state and federal tax credits

that then allow these monies

to be re-used for refurbishing

the projects they

are involved with. Epsilon

will help with loans and

other needs as the project

moves forward.

Phase One of the project

is quite simple, a walking

path that will take a route

along the French River

and around two sides of

the development. The path

will be animal friendly and

offer the use of clean-up

bags for those who choose

to walk their furry friends.

The walkway will wind

along with river views and

present a relaxing environment

for all walkers. There

will be beautiful landscaping

and shade structures

like pergolas for a peaceful

respite.

Phase Two will consist

of the major construction

of 46 apartments to

be leased at market rates.

Two-bedroom apartments

will encompass 70% of the

construction, 20% will be

one-bedroom apartments,

and 10% will be threebedroom.

"Hopefully, a

bakery will be a major part

of the project," said Ms.

Flagg, "I want to bring the

aromas of what I knew in

my childhood. A bakery

would be a wonderful addition

to the neighborhood.

We are looking forward

to seeing a few attractive

and appealing cafes and

restaurants pop up along

the riverfront.

"In Phase Three there is

discussion of a small hotel

to cater to the local area

of Webster, Dudley, and

Oxford. It's very exciting to

have such a project in this

area. It will be a great asset

to Webster and the local

towns.

Phase Four, which

involves a cluster of smaller

buildings, will include

shops and, hopefully, more

apartments. Perhaps a

small shopping district.

These buildings will be

no more than two stories

with apartments above the

shops."

The general public will

surely get a good review of

the new Webster development

plans at the next

Webster/Dudley/Oxford

Chamber of Commerce

meeting this month when

Rita Flagg will be the keynote

speaker.

Contact Janet: jstoica@

TheYankeeXpress.com

SSE to host Open House for Dudley residents

Samuel Slater Experience,

Webster's

museum dedicated to

the "Father of the American

Industrial Revolution," will

host an Open House for

residents of neighboring

Dudley on Sunday, January

29, from noon to 4 p.m.

"We have been open for

nearly a year and have had

many visitors from Dudley.

We now want to invite our

neighbors who have not

had a chance to tour the

museum to come to our

Dudley Open House Day

with free admission for

two people," said Barbara

Van Reed, museum director.

Proof of residency is

required.

Described as "Disneylike,"

the Samuel Slater

Experience employs

state-of-the- art 4-D digital

technology to tell the story

of Samuel Slater and covers

two time periods: the early

1800s and the early 1900s.

The museum is both

educational and entertaining,

encouraging visitors

to experience history in

a new, immersive way as

they climb aboard the ship

that carried Samuel Slater

to America, learn about

life in the early 1800s with

interactive exhibits and ride

a trolley through downtown

Webster a century later.

Visitors should plan for

an hour to an hour-and-ahalf

to tour the museum.

Self-guided tours begin every

eight minutes. The last

admission is at 3:00 p.m.

Samuel Slater Experience

is located in the former

National Guard Armory

at 31 Ray Street, Webster,

Massachusetts, and open to

the public year-round. Yearround

daily schedule: Fridays

& Saturdays: 10 a.m. to

VIDEO

SURVEILLANCE

SYSTEMS

• Free Mobile App

• No Monthly Fees

Call for details!

Visitors to the Samuel Slater Experience in Webster enjoy a tour of the museum,

which is open Friday and Saturdays from 10:00 a.m. to 4:00 p.m. and

Sundays from noon to 4:00 p.m. Private tours and events are also available.

COMPUTER REPAIR

We'll diagnose and repair

any problem!

DON'T

THROW OUT

THAT OLD

COMPUTER -

CALL US

FIRST!

STOP PAYING

FOR CABLE!

Weeks

FREE TRIAL

Call for details!

2

4 p.m. and Sunday: Noon to

4 p.m. The museum is also

available for group tours

and events.

For more information

and tickets, visit samuelslaterexperience.org,

email

admin@samuelslaterexperience.org

or call 508-461-

2955.

Come in and Enjoy Prestige Salon & Day Spa's

Sip & Soak Sundays

Starting January 22nd

Booking appointments between 2-4pm

Relax in a comfy chair while soaking in our

beautiful copper bowls filled with your choice of

one of 10 aromatherapy salt blends. All while

sipping on an herbal tea or specialty coffee.

Finish with an extended foot and leg massage

to ease the stress away. You can also add on a

hand and arm massage or a neck and shoulder

massage to complete your experience.

MONITOR YOUR HOME

OR BUSINESS FROM

ANYWHERE RIGHT

ON YOUR PHONE!

www.insationtech.com

email: info@insationtech.com

COMPUTER SERVICE, NETWORKING AND SECURITY

MANAGED I.T., VOIP AND NETWORK SERVICES

31 Thompson Road,

Nipmuc Plaza, Suite 2

Webster, MA 01570

508.422.0477

Call

us for

Details!

Hours: Monday through Friday 9am-5pm
---
6 The Yankee Xpress • www.theyankeexpress.com • January 20, 2023

The Trades: From styling/barbering to plumbing, masonry, and …

BY JANET STOICA

You just love your

haircut and style you

say? Did you ever

think about all the training

and schooling it took your

hair fashionista to reach

that level of their professional

cutting and styling?

Whether it's barbering or

hair styling or any other

tonsorial name, your hair

designer has spent many

hours fluffing and buzzing

manes and pates. Do you

think you can cut like they

do? Well then, you missed

your calling.

As I sit in my hair stylist's

chair studying my hair and

what other style it might be

trimmed in, my hair fashionista,

Nanette Tetreault

of Elite Hair Design in

Thompson CT, gets to work

snipping and clipping my

multi-colored locks. I watch

her intently in the mirror as

she measures and cuts each

section of my hair by holding

each portion and then

using her wicked sharp

scissors to cut across those

sections. "How does the

front section look to you,"

says Nanette, "do you want

it trimmed more or less?"

I tell her the length is just

right and there's no need

for an extra shortening.

The end result is always just

right and in two weeks my

style always seems to receive

the most compliments

from people I know. You

know, that "just right" look

in between regular trims.

Ms. Tetreault has been a

stylist for many years and

I've been visiting her every

four weeks for quite some

time. Her training must've

been excellent as she truly

is a perfectionist. Not too

many perfectionists around

these days!

If you've ever had

plumbing services then

you know it's a craftsman

who has visited your home.

Who could even think of

doing their own plumbing

with all the new and innovative

products out there

now to save time, trouble,

and headaches? One of

the latest money-saving

technologies is a combination

heat pump and airconditioning

unit made by

a leader in that technology

area: Mitsubishi. According

to Vic Waskiewicz of

J.V. Mechanical of Webster,

these reliable and energyefficient

units are becoming

one of the most-requested

installation products for

his company. "Mitsubishi is

definitely the leader in this

area," says Mr. Waskiewicz,

"we've installed hundreds

of these wall-mounted

ductless units that not only

provide air-conditioning

but heat as well. The units

are 36" wide by 12" high

and come in white, stainless

steel, and black. Their

outside compressor is the

heat pump which reverses

its function for cooling."

J.V. Mechanical employs

a crew of fifteen plumbers

who are graduates of

local trade schools like Bay

Path Regional Vocational.

"We actively recruit, train,

and continuously educate

our employees," Vic said.

"Currently, we have two

of our plumbers in classes

learning the latest technologies.

We also have a new

young lady who is a recent

graduate of plumbing trade

school who is honing her

plumbing skills with us. We

are proud of the fact that

our employees are wellversed

in their trade and

courteous to our customers."

Vic's father, Joseph

Waskiewicz, was a plumber

and took Vic on many jobs

with him to learn the trade.

"Although I didn't go to

trade school, I appreciated

the work that I saw my father

do," Vic said. "My dad

taught me to diversify. We

do basic plumbing, both

commercial and residential,

and have also advanced to

higher levels for all heating

systems like oil, electric,

and gas. Even the lost art

of steam heating systems is

part of our skill set."

Masonry. A tough and

very physical job that is

likened to all the famous

sculptors of history: Rodin,

Michelangelo, Bernini,

Bourgeois. If you've ever

watched a mason at work

perhaps building a brick

wall, you may observe their

repetitious movements

slapping the mortar onto

the brick layer and then

gently pushing each brick

into the muck. It's an art,

a science, a well-honed

skill to ensure each brick

is aligned to the previous

brick. To me, watching

their craftsmanship is

mesmerizing. From brick

to stone, block, veneer,

gabion to composite and

reinforced masonry, the

true artist of these various

forms of creativity has

learned skills that cannot

be measured but for their

finished beauty. If you've

ever needed a mason, you

know darn well how difficult

it is to find someone

who works with the highest

degree of finesse.

Don't touch that circuit

breaker board for Pete's

sake! Dealing with electricity

is dangerous and I'm

sure you don't want to

suffer the consequences

of being electrocuted and

lighting up like a cartoon

skeleton. That's when you

call in an electrical expert.

Brian Wood of Brian Wood

Electrical has been honing

his skills for many years

and recently has completed

extensive training in solar

panel installations with

SunRun, one of the largest

solar panel distributors

and installers in the United

States. "I'm a graduate of

Bay Path Regional Vocational

High School," says

Mr. Wood proudly, "and I

owe my trade choice to the

advice of my grandfather,

Hiram Wood. He was an

electrical engineer at Heald

Machinery in Worcester.

I was very close to him

and when I was exploring

the different trades at

Bay Path, he advised me to

take the electrical courses

and I haven't looked back

except to think about how

right my grandfather was in

steering me in this direction.

"I've always had my own

business after completing

my apprenticeship on Nantucket

then I spent twentyeight

years in Worcester

learning even more."

Mr. Wood worked as the

head electrician for a large

swimming pool installer

for fifteen years and presently

works for American

Custom Builders. Additionally,

he has done electrical

work for the Samuel Slater

Restaurant in Webster as

well as phase one work

at the new Samuel Slater

Museum in Webster. His

specialties are in the residential

and light commercial

areas. Accent lighting,

backup generator installation,

EV charging stations,

circuit breaker installations,

electrical panel upgrades,

and outdoor lighting installations

are just some of

Mr. Wood's many areas of

expertise.

Contact Janet: jstoica@

TheYankeeXpress.com

SCRAP METAL

FREE

DROP-OFF!

NO CHARGE

FOR DROP-OFF!

ACCEPTING ALL METALS!

Washing Machines • Dryers

Water Heaters • Dishwashers

• Air Conditioners •

Cars & car parts - NO tires

Phone Equipment •Much More!

FARRAR AUTO BODY, INC.

204 Main Street • Oxford, MA

508-987-0022
---
January 20, 2023 • www.theyankeexpress.com • The Yankee Xpress 7

Webster Five steps up for African Community Education

Webster Five recently

donated $25,000

to African Community

Education (ACE),

a Worcester organization

dedicated to assisting

African refugees and immigrant

youth and families

in achieving educational

and social stability. The

donation will go towards

ACE's campaign to renovate

the new ACE Center and

expand program access.

ACE's programs include

after-school and family

education programs, mentorship

opportunities, community

outreach and more.

ACE currently serves 6.3%

of African-born immigrants

and their children living

in Worcester within 200%

of the poverty line. With

their 2022 move to a larger

headquarters, ACE looks

to expand its programs and

grow its reach to serve even

more families.

"Webster Five is proud to

support the important work

African Community Education

is doing to increase

access to resources promoting

personal growth and

stability in our community,"

Don Doyle, president and

CEO of Webster Five, said.

"African Community

Education is extremely

Pictured in front of ACE's new building are Biodun Akande, board chairperson, and Kaska Yawo, executive director

and co-founder of ACE. (Photo courtesy of the organization).

grateful for Webster Five's

generous contribution to

our organization," Kaska

Yawo, executive director

and co-founder of ACE,

said. "This gift will have

a tremendous impact as

we renovate the new ACE

Center and expand access

to education, outreach and

workforce development

programs for thousands

of African refugees and

immigrants in Central Massachusetts.

We are thankful

Mr. Doyle and the Webster

Five leadership team recognize

the important role

this project has in our local

community and believe in

our work at ACE enough

to be an early supporter of

these efforts."

To learn more about

ACE's mission and programs,

visit https://www.africancommunityeducation.

org. To learn more about

Webster Five's charitable

giving, visit https://www.

web5.com/about-us/ourstory/our-news/.

HEARING AIDS

We help you bring your hearing back to life

Jim & Ralph - CT Licensed and Board Certified

Hearing Instruments Specialists

Call today to schedule your Hearing Evaluation

and FREE Better Hearing Test Drive.

HEARING CARE CENTERS

800-835-2001 • PUTNAM, CT

Let us check your Medicare supplement

for hearing aid coverage. We are a provider

for most major insurance companies.

www.amplisound.com

Call us!

508-987-9829

•Drop-off Service

•Day, Night & Weekend

Appointments available

•Great Rates

Has your preparer

retired? Unable to

help you this year?

Robert Rea & Associates

68 Years of Tax Preparation Experience

Payroll • Tax Preparation • Bookkeeping

244 Main Street, Oxford, MA 01540 •www.robertreaandassociates.com
---
8 The Yankee Xpress • www.theyankeexpress.com • January 20, 2023

Samuel Slater Experience to

host a basic weaving workshop

in February

The Samuel Slater Experience museum

will host a three-session rigid heddle

loom weaving workshop in Webster on

Saturday, February 4, 11 and 18, from 1 to

4 p.m.

Local fiber artist Sharon Geyer will lead

the workshop, which is structured for

beginners and those who need a refresher

course. In the first session students will

warp their loom and start weaving a table

runner. In the next session, they will plan

another project and warp the looms again.

In the last session, students will design their

Ready to go for 2023

The Webster-Dudley

Veterans Council held

its installation of officers

for 2023 on January 4th.

Pictured in front from

the left are Senior Vice

Commander Ronald

Prest, Commander Victor

Jankowski and Junior Vice

Commander Randy Snow.

Standing are Meeting

Chaplain Kevin Kozdzal,

Funeral Chaplain Joseph

Sendrowski, Sergeant at

Arms James Brinker, Adjutant

Andrew Kozlowski

and Treasurer Robert Guenther.

own weaving project.

Students will learn all basic weaving

skills: how to do a project planning sheet to

calculate yarn requirements, how to use a

warping peg, how to use the direct warping

method, and weaving tips and techniques

that will lead to success.

Fee for the course is $150, payable in

advance. The fee includes yarn for the first

project. For more details and to register,

email admin@samuelslaterexperience.org

or call 508-461-2955.

NEW CABINETS, COUNTERS,

CABINET PAINTING, REFACING...

298 Boston Tpke., Suite #5, Shrewsbury

508.842.6677 | nufacekitchens.com

Studio Hours By Appointment Only

Sheila@nufacekitchens.com
---
January 20, 2023 • www.theyankeexpress.com • The Yankee Xpress 9

Booklovers' Gourmet calls artists for Winter Light show

Deb Horan of Booklovers'

Gourmet, 72 E.

Main St., Webster, has

issued a "Call to Artists" for

the store's February group

show "Winter Light."

Work must be submitted

by Thursday, January 26th to

be considered. Entries must

include the following details:

January 31st between 10:00

a.m. and 5:00 p.m.

Show dates are February

1-28, on view during regular

business hours: Tuesday-

Saturday, 10-5, Wednesday,

10-6. The reception date is

Saturday, February 4 from

1:00 to 3:00 p.m.

Work must be original

preferably with a wire.

Each artist may submit

one to three pieces.

There is a $10 submission

fee due at drop off of

accepted work.

PEOPLE CHOICE AWARDS

RETURN

Booklovers' People

Choice Awards are back.

Money prizes will be

awarded for the top three

picks voted on by viewers

during the month.

All work must be for sale.

Price is at the sole discretion

of the artist. A 30% commission

will be taken on any

sales during or as a result of

the show.

Artists will be notified

of acceptance via email by

Friday, January 27th.

Webster Lake "Winter Mist" photograph by Deb Horan.

-Artist's name

-Work title

-Medium

-Price

-Size (including frame).

Submission information

is available via a link on the

store's website, bookloversgourmet.com.

Accepted work can be

dropped off on Saturday,

January 28th or Tuesday,

and reflect the theme of the

show. Think winter sunrise/

sunsets; long shadows on

snow; glittering ice; light

behind bare trees, etc.

Media may include painting,

photography, drawing,

fiber, collage or other mixed

media that can hang on the

wall Work must not exceed

16"x20" and should be

framed and ready to hang,

Shipping made easy!

• Packing

• Shipping

• Packaging

Materials

• Fax, Copies & Printing

• Document Scanning

• Mailbox Rental

• Office Supplies

Monday-Friday 10am-5pm

Saturday 9am-1pm • Closed Sunday

626 School St., (Rte. 44), Putnam, CT 06260

860-963-7815

ExpressShippingPutnamCt.com

A Vibra Transitional Care Facility

Short-Term Rehabilitation • Long-Term Care

Hospice Stays • Respite Care

Getting You

Back to Better.

111 Huntoon Memorial Highway • Leicester, MA 01542

Phone: 508.892.6800 • www.vhmeadows.com

PAYING $150-$600 CASH
---
10 The Yankee Xpress • www.theyankeexpress.com • January 20, 2023

What happened? Did you break your hand?

BY JANET STOICA

I had no idea what was

happening as I flew through

the air on my way down onto

the floor. It was the fastest

of milliseconds as my head

bounced off the floor (thank

goodness for a nice thick

carpet to cushion my recoiling

tete). Then, to add insult

to injury, the ladder upon

which I had stood moments

before crashed down on top

of me. It was a comedy, right?

At first, I laughed to myself

about my unfortunate and

truly ridiculous situation but

then, the pain came racing

in to laugh back at me. There

It's

Happening

in

was no way I could even

un-crumple myself as I lay

there on the attic floor in

shock. I thought "I should've

taken my cellphone with

me like I'd planned in case I

needed it for an emergency."

Then, I groaned, cried, and

yelped with pain. Just awful.

I'd never broken any bones

Now is the Time to Experience Nature

Over 100 choices beckon you outside in the fresh air!

Blossom with friends & family on guided walks, hikes, pedals

paddles, runs, events, and more.

www.thelastgreenvalley.org

before and wondered if I was

going to experience my first

such event at my now mature

age.

After chastising myself and

trying to analyze what had

just happened, I managed

to sit up and scoot over to

one of my grandmother's

antique chairs that lived in

the attic. The high-back chair

was stately and beautiful

and made with some sort of

seat styling that looked like

it would collapse as soon as

I put any pressure on it with

my elbow to help me stand

up. However, that 100-yearold

chair kept its testament

to the strength and durability

of things made well from

days gone by. I was able to

rise and un-shine myself to

walk gingerly towards the

attic stairs and to make my

way down to my own living

quarters. Things seemed just

fine. Didn't feel as if I had any

broken bones, just broken

pride.

Within 15 minutes I saw

and felt that I was sorely

mistaken to think that I had

escaped my acrobatic maneuver

unscathed. The back of

my left leg was sore and turning

a lovely shade of purple as

was my left hand and wrist.

My hand was shading purple

on both the top and on my

palm. Ice packs to the rescue.

They helped to numb the

pain. Tylenol seemed to help

a little too. I retired early that

night but woke at midnight

to excruciating pain in my

left hand and wrist. I rolled

from one side of the bed to

the other thinking the pain

was temporary. It was not.

Early the next morning

I decided to drive myself to

the local ER but then a friend

volunteered. As we all know,

whether you go to the ER for

a hang-nail or a heart attack,

you will be there for a good

part of your day and I was.

My head was CAT-scanned,

even though I saw not one cat

in the radiology department,

and my hand was x-rayed,

very painfully I might add.

"Here, hold your hand like

you're making the letter C,"

said the technician. "Easy for

you to say," I muttered to myself

trying to keep my fingers

fanned out per his request.

After watching daytime TV

for several hours back in my

ER cubicle, something that

I rarely do and now I know

why more than ever, I began

to receive dribs and drabs of

info from the ER doctor regarding

my wrist and hand's

x-ray results. "Well you don't

have anything broken in your

wrist or hand," he said, "we're

still waiting on the CAT-scan

results." (Dang those cats, I

thought.)

More time passed and then

the nurse came into my room

with a splint, an ace bandage,

and an arm sling. "We're going

to fix your hand and arm

up right now," she said, "then

once you get your CAT-scan

readings, you'll be good to

go." The brace immediately

brought a little relief to my

hand as it became stabilized.

"Your head and neck scans

are fine," the ER doctor said

as he briefly popped into my

ER room and then breezed

right out. I phoned my friend

who arrived to drive me

home.

I visited my primary

care doctor a week after my

accident as my hand was

still swollen like a blown-up

surgical glove. She gave me

instructions to ice my hand

all weekend and to keep it in

an upright position as much

as possible while still wearing

my brace. I was to phone

her on Monday to advise

her if my hand swelling and

pain had decreased. When

Monday arrived, I phoned

my doctor's office with the

message that my hand was

still swollen, my pain was

still horrific, and none of my

knuckles were visible.

I now await my radiology

appointment for a CAT-scan

of my hand and wrist. What

news will I receive? To be

continued……..

Contact Janet: jstoica@

TheYankeeXpress.com

Yankee Xpress 4.75x4.5

OPEN HOUSE

*Sunday, January 29th from 10:30 AM to 12PM

Wednesday, February 1st from 5:00 PM to 6:30PM

Accepting Applications for 2023-2024

Pre-School Programs through Grade 8

Welcoming Students of All Faiths and Cultures

NEASC Accredited

Affordable Tuition, Parish Assistance, Military

Discounts, Scholarships, and Financial Aid available.

We want your family to be part of our family!

*Please join our students at 9:00 AM Mass at Saint Joseph Basilica as

we kick off Catholic School Week and celebrate the cultural diversity

of our families. Witness our students' Catholic Identity in action.

Main celebrant will be Bishop Robert McManus.

Open House and Refreshments following Mass.

47 Whitcomb Street | Webster, MA | 508-943-0378 | email: info@sjs-webster.com | www.sjs-webster.com

CHALLENGING MINDS AND FORMING HEARTS FOR OVER 130 YEARS
---
January 20, 2023 • www.theyankeexpress.com • The Yankee Xpress 11

CHIEF'S CORNER

New Adventures Ahead

BY CHIEF

STEVEN J. WOJNAR

DUDLEY POLICE

DEPARTMENT

This is one column I

never anticipated I

would be writing.

After 34 years with the

Dudley Police Department,

including 20 of them as the

Chief, my time has come to

retire and move on to new

adventures in life. Change

is never easy; however, I

have the good fortune of

being surrounded by great

people, both personally

and professionally, and

I am looking forward to

what lies ahead. Since this

is my last official "Chiefs

Corner," I wanted to take

the time to simply say

thank you.

In the spring of 2003,

a new Police Chief approached

two local

newspapers, The Webster

Times and The Patriot,

and presented an idea of

a weekly question and answer

column. Both papers

took a chance on a young

police chief and embraced

this new idea. Social media

and on-line services were

in their infancy. Most

people got their news from

the print media. Articles

were faxed in each week

and the staff members did

a great job re-typing them

and putting the entire

paper together. When my

first column appeared in

the Patriot, a typo got the

article off to a hilarious

start. When my opening

line said, "Hello to citizens

of Dudley," one missing

letter wished them "Hell"

by mistake. This certainly

got everyone's attention

and got the column off

to a flying start. Early on,

getting questions, finding

the time to research the

answers, and putting it

together each week was a

bit of a challenge. It quickly

became popular and part of

my weekly routine. Twenty

years later, it is still hard

for me to believe the impact

this column had on so

many people. I hear from

many, and I truly appreciate

the positive feedback

I have received over the

years. I am approached at

places such as the grocery

store, with comments from

many who look forward to

reading this column. Probably

most satisfying was

providing people who were

not comfortable speaking

to a police officer, the opportunity

to do so without

being a "bother." Many

have wondered about a

particular issue, and they

were pleased to receive

some information that was

helpful. It gives me great

satisfaction knowing they

saw me as someone approachable

to speak with.

Never hesitate as a citizen

to reach out to your local

police department. We

have all taken an oath to

protect and serve. The job

is certainly more challenging

than ever with outside

factors and the demands

placed upon the profession.

Good people have stepped

up to take on this difficult

job and I have the greatest

respect for those who

choose the profession that

has been so good to me.

Knowing we have the support

of the community is

crucial. Dudley is very fortunate

to have some great

men and women working

for the department and

I know the community

is in good hands moving

forward with Chief Marek

Karlowicz. He is a great

person and police officer

and I have full confidence

he will do well moving the

department into the future.

He will be introducing his

own style of community

awareness soon.

Thank you to the many

people who have contributed

to my career and the

success of this column. I

have been very fortunate.

First and foremost is my

wife Christine, who has

been a tremendous supporter

and asset in my

life. My children, the rest

of my family, friends, and

community members have

constantly been there to

help whenever needed.

The community has

always been supportive

of the department and

me. Whether it was early

on in my tenure as chief

when certain individuals

were trying to fire me for

their own personal gain or

when I faced the challenge

of cancer, the outpouring

of support that I received

was beyond anything I

could have possibly imagined.

You will never know

the impact this had on my

life and career. Everyone

from the children, schools,

community groups, seniors,

and people from all

walks of life have in some

way made my job easier.

BOGO FREE!

Higher Price Prevails

Collectibles Excluded

Exp. 2/11/23 with this coupon

NO LIMIT!

I thank you all for being

there for these many years.

It has been quite a ride

and certainly has been a

privilege and honor to have

served as the Dudley Police

Chief.

ALWAYS THE BEST SERVICE

AT THE LOWEST PRICE

Lawn Mowers & Tractor Service

Tune-Ups & Repairs

Pickup & Delivery

Lawnmower Repair

508-987-2775

492 Main St., Oxford, MA 01540

WWW.WORCESTERCOUNTYLAWNMOWER.COM

Try a Toasted

Marshmallow

Latte

$1 OFF

with this coupon

Exp. 2/11/23

Books • Coffee • Gifts

72 East Main Street, Webster (near CAP Auto & The Flower Garden)

Hours: Tues.-Sat. 10-5, Wed. 10-6 • www.bookloversgourmet.com • 508-949-6232

Shop online: bookshop.org/shop/bookloversgourmet
---
12 The Yankee Xpress • www.theyankeexpress.com • January 20, 2023

BY ROD LEE

Today, more than ever,

the Quirk family's

New England Steak

and Seafood in Mendon

is not just about the fare

in its name by which the

restaurant has thrived for

almost sixty years. Famous

for its old-fashioned

atmosphere, New England

Steak and Seafood is

also becoming known for

NE Steak and Seafood evolves and grows

with the times

such things as partnering

with the Mendon Police

Department on a "stuff

the cruiser" campaign to

benefit struggling families

in the Blackstone Valley.

And, recently, "Christmas

dinner to go," featuring

Roast Prime Rib of Beef,

pumpkin bread, cinnamon

rolls and onion rolls.

Whitinsville Realtor Jack

Walker is among those

who regularly frequent

New England Steak and

Seafood for lunch or dinner.

Strong patronage is

not uncommon!

• Anticipation continues

to build for the opening

of Reunion Tap & Table's

second location, in the

Whitinsville Plaza, in a

spot formerly occupied by

Jube's. Described by the

Phantom Gourmet as "a

big, fun eatery," Reunion's

first restaurant in North

Grafton was started by

brothers Josh and Sean

Briggs, Sargon Hanna

New England Steak and Seafood has become a go-to source for holiday takeout meals.

and "lots of family and

friends." The new Reunion

site will be a smaller version

of the first store but

with many of the signature

elements including

the popular Pork Belly

Poutine, Grilled Chicken

Wings tossed in a housemade

garlic parmesan

sauce and French Onion

Soup. Look for a launch

this month or next; hiring

for staff positions is ongoing.

addition to such staples as

Fried Chicken and Short

Rib Shepherd's Pie, Samuel

Slater's Restaurant at

Indian Ranch in Webster

also plays host to events,

like a celebration of Elvis

Presley's 88th birthday on

January 7th—and Comedy

Night fun, which will

resume the evening of

January 26th.

• The Villatico family

has a good thing going

at J Anthony's Italian

Grill in North Oxford

and part of the reason for

that is the lounge where

"Game Day" including the

Patriots' regular seasonending

game in Buffalo

on January 8 will attract a

throng—as will Red Sox

games just around the

corner. With a Garden

Room, a Deck Room and a

Terrace Room, J Anthony's

is a popular choice for

private events.

• Many area residents

may not be aware that in

• Nowhere is "Yankee

hospitality" on better

display than at the Publick

House Historic Inn in

Sturbridge, where outstanding

cuisine can be

accompanied by an overnight

stay. The Publick

House is also a favorite

jumping off point for

sightseeing, shopping for

antiques, golf and skiing.

Restaurant and food-industry

news is welcome for

this column. Please submit

material to rodlee.1963@

gmail.com, or call 774-

232-2999.
---
January 20, 2023 • www.theyankeexpress.com • The Yankee Xpress 13

Happenings!

Club presents the Rhode Island

Rednecks at the Progressive Club,

18 Whitin St., Uxbridge. Doors

open at 12:15 with dancing and

live entertainment from 1:00 to

5:00 p.m. www.facebook.com/

NECountryMusicClub.

JANUARY 24 & FEBRUARY 21

• "Take a Hike" with the Plummer

Place Walking Club, 10:00 a.m.,

weather permitting, call the

Northbridge Senior Center at 508-

234-2002 for locations.

Senior Center, 20 Highland St.,

Whitinsville, from 10:30 to 11:30

a.m. Coffee, tea and light refreshments

will be available. Sign up in

the main office.

SUNDAY, FEBRUARY 5

• A New England Country Music

Club dance will be held at the

Progressive Club, 18 Whitin St.,

Uxbridge, featuring the band

"Crossfire." Doors open at 12:15

p.m. with live music from 1:00 to

5:00 p.m. www.facebook.com/

NECountryMusicClub.

THURSDAY, FEBRUARY 9

• "Going for the Goal," a Super Bowl

party and luncheon, will be held

at the Northbridge Senior Center,

20 Highland St., Whitinsville,

from noon to 2:00 p.m. Come

hear about the historic first Super

Bowl from Philip Vandersea, a

former Northbridge High football

player who played in the inaugural

AFL-NFL championship game as a

member of the Green Bay Packers.

A welcome and introduction will

be offered by Ken LaChapelle,

current head football coach of

the Northbridge High Rams. This

event is sponsored by FINE and the

HAPPENINGS!

continued on page 14

NOTE: Community bulletin

board-type items are welcome

for inclusion in the Happenings!

section of the Xpress newspapers.

Please allow enough lead time for

publication. Email your calendar

or event notice to rodlee.1963@

gmail.com.

THROUGH FEBRUARY 24

• ValleyCAST, the arts and culture

arm of Open Sky Community

Services, is partnering with the

New England Sculptors Association

for the second annual Inside and

Out Exhibition. Seventeen sculptors

from around New England

have created over thirty works that

will be on display in the Spaulding

R. Aldrich Heritage Gallery, 50

Douglas Road, Whitinsville, and

outside on the grounds of the

Whitin Mill complex at the same

address. The inside exhibit opened

with a wine and cheese reception

on Friday, January 13th. The

public is encouraged to attend

the closing reception, which will

include announcement of three

People's Choice Awards, on Friday,

February 24th from 5:30 to 7:30

p.m. Voting ends at the end of the

day on Friday, February 17th and

the exhibit will end right after

the closing ceremony on February

24th. For more information visit

opensky.org. To schedule a visit to

the gallery, call 508-234-6232 or

email Cristi.Collari@openskycs.org.

THROUGH JANUARY 31

• "Lights and Icons: A Study in

Acrylics," paintings by Jim Wilton,

will be on display and for sale

at Booklovers' Gourmet, 72 E.

Main St., Webster, during regular

business hours, Tues.-Sat., 10:00

a.m. to 5:00 p.m. and Wednesdays,

10:00 a.m. to 6:00 p.m. in the café

gallery.

Artist's Statement: "I have been

Standing tall at Shop Small…Joan Nydam, Kathy Tonry, Keegan Tonry

and Lauri Young represented Ms. Tonry's Katalina's Boutique at this year's

edition of Shop Small 01588 in downtown Whitinsville. "We are the shop

for every beautiful woman there is…" Ms. Tonry says of her store, which

recently celebrated another anniversary.

photographing and painting for

years, in fact all my life. I'm mostly

self-taught. I have photographed

lighthouses as well as other

subjects for inspiration for my

art. I spent many years painting

portraits but have switched it up

to trying lighthouses after a hiatus

to raise children but also found

myself return to portraits. I began

photography of outdoor scenes

and wildlife in 2008 after finding

digital photography, making it

more accessible. A few years ago I

began painting again after a friend

painted from one of my photos,

thus inspiring me to try again. I

haven't stopped but also got into

crafts such as seashell jewelry

boxes, Christmas trees and lighthouses.

I hope folks enjoy my work

as much as I enjoyed painting it."

FRIDAY, JANUARY 20

• Comedy Night at Samuel Slater's

Restaurant, 200 Gore Road, will

feature Frank Santorelli from "The

Sopranos" with special guests Chris

Zito and Mitch Stinson. Doors open

at 6:30 p.m. and the show starts at

7:30 p.m. This is a 21+ event.

SUNDAY, JANUARY 22

• The New England Country Music

WEDNESDAY, JANUARY 25

• A Blackstone Valley Partnership

Open House will be held at the

shared offices of the Blackstone

Valley Education Foundation,

the Hub, and the Blackstone

Valley Chamber of Commerce,

670 Linwood Ave., Whitinsville,

at 5:00 p.m. RSVP to kkearnan@

blackstonevalley.org.

THURSDAY, JANUARY 26

• An "Alzheimer's Association

Lunch & Learn" program will take

place at the Northbridge Senior

Center, 20 Highland St., Whitinsville,

from 11:30 to 12:30 p.m. "The

10 Warning Signs of Alzheimer's

& Understanding Alzheimer's and

Dementia" will be discussed. Sandwiches

and salad will be served.

Sign up in the main office.

SUNDAY, JANUARY 29

The Samuel Slater Experience,

31 Ray St., Webster, will host an

Open House for residents of Dudley

with free admission for up to two

people from noon to 4:00 p.m.

Proof of residency is required.

THURSDAY, FEBRUARY 2

• "Taxes and Retirement," how to

optimize your tax strategy and

gain control of your taxes in retirement,

a seminar, will be presented

by Greg Lavelle, CEO of Retirement

Advisors, at the Northbridge

HAPPY HOUR

AT SAMUEL SLATER'S RESTAURANT

1/2 PRICE APPS

WEDNESDAYS & THURSDAYS (4PM-6PM)

**ONE PER PERSON MAX. CANNOT BE COMBINED WITH OTHER

OFFERS OR SPECIAL EVENTS. PORTIONS MAY VARY.

BAR

$5 BEER • $6 WINE • $7 COCKTAIL

THESE PRICES ARE ALWAYS AVAILABLE. BAR OPTIONS ARE ROTATING.

UPCOMING EVENTS

COMEDY NIGHT AT SLATER'S

FEATURING FRANK SANTORELLI

PLUS GUESTS CHRIS ZITO

AND MITCH STINSON

JANUARY 20 7:30PM

WINTER LANTERN PAINT & SIP

JANUARY 25 6PM - 8PM

THE DELOREANS: 7 PIECES OF

BRASS KICKIN' 70'S & 80'S

FEBRUARY 11 8:30PM

COMEDY NIGHT AT SLATER'S

WITH STEVE SWEENEY

PLUS GUESTS GRAIG MURPHY

AND CHRIS D

FEBRUARY 17 7:30PM

JON STETSON:

PSYCHIC MIND-BLOWING

COMEDY SHOW WITH AMERICA'S

MASTER MENTALIST

FEBRUARY 25 7:30PM

MUSIC WITH CROSSFIRE

MARCH 11 8:30PM

ST. PADDY'S DAY

O'STRAVAGANZA COMEDY NIGHT

FEATURING MIKE DONOVAN

PLUS GUEST SEAN SULLIVAN

HOSTED BY DAVE RATTIGAN

MARCH 17 7:30PM

JOANNA THE PSYCHIC MEDIUM

MARCH 31 7:00PM

RESTAURANT HOURS:

WEDNESDAY - FRIDAY: 4PM-9PM | SATURDAY: 12PM-9PM | SUNDAY: 12PM-8PM

OVERLOOKING WEBSTER LAKE • 200 GORE ROAD, WEBSTER, MA

TICKETS & RESERVATIONS AT WWW.SAMUELSLATERS.COM
---
14 The Yankee Xpress • www.theyankeexpress.com • January 20, 2023

HAPPENINGS!

continued from page 13

Northbridge Police Association.

Cost is $10 per ticket, two-ticket

limit. FINE will be raffling off a 65"

TV during this program. Obtain

raffle tickets upon signing up at

the main office, or at the luncheon.

WEDNESDAY, FEBRUARY 15

• Enjoy a BVT buffet breakfast that

includes waffles, pancakes, bacon,

sausage, home friends, scrambled

eggs and toast, 65 Pleasant St.,

Upton. Cost is $7.50 per person

plus gratuity. Doors open at 8:30

p.m. Sign up on the main office no

later than February 1st. This is a

self-drive, self-pay program.

THURSDAY, FEBRUARY 16

• A "Women's Health Forum

with Dr. Maggie Lunch & Learn"

program will be held at the Northbridge

Senior Center, 20 Highland

St., Whitinsville, from 11:30 to

12:30 p.m. Lifestyle choices impact

the aging process. Come and learn

about diet, nutrition, exercise,

cognitive activity and social engagement

for older adults. Space

is limited. Priority will be given to

those who have not yet attended

one of Dr. Maggie's health forums.

Sign up with Amy Wednesday-

Friday to attend.

WEDNESDAY, FEBRUARY 22

• "The Violin Kat," music by Violinist

Kathryn Haddad, will be presented

at the Northbridge Senior Center,

20 Highland St., Whitinsville, from

1:00 to2:00 p.m. Kat is an eclectic

freelance violinist based in the

Worcester area. She has performed

to many crowds. Light refresh-

QUALITY BUILDING MATERIALS

FOR ALL YOUR NEW CONSTRUCTION AND REMODELING NEEDS!

PROFESSIONAL SERVICE • FREE DELIVERY • ESTIMATING

Lumber & Plywood • Windows • Doors • Millwork • Roofing • Insulation • Decking

Rail Systems • Siding • Hardwood • Fasteners • and Much More!

Java King…Jim Hogan of Hogan Brothers Coffee Roasters addresses a

meeting of the Webster Dudley Business Alliance at Booklovers' Gourmet

in Webster on December 6th. Mr. Hogan has been Store Owner Deb Horan's

coffee provider for years and once operated out of a location at 55 E. Main

St. in Webster. He has been in business since 1995.

ments will be served. Sign up at

the main office.

THURSDAY, FEBRUARY 23

• A CPR, AED and Epipen Training

Class will be held at the

Northbridge Senior Center, 20

Highland St., Whitinsville, from

9:00 a.m. to noon. Instructor Scott

Celikbas from the Northbridge Fire

Department will train participants

in these important lifesaving techniques.

A heart-saver certification

will be awarded at the end of the

course. The cost is $55 per person,

check or cash due to the instructor

on the day of training. Sign up at

the main office.

Family Owned And Operated Since 1952.

124 Main St., Millbury

cslumberco.com • 508-865-4822

508-865-4288

Mon. - Fri. 7:30 a.m. - 5 p.m. • Sat. 7:30 a.m. - Noon

HOMEOWNERS

WELCOME!

VISIT US FOR YOUR NEXT PROJECT!

GET NOTICED!

Contact Laura at 508-943-8784 or by email at

lgleim@theyankeexpress.com to learn how you can reach

153,0000 households and businesses each month!

CALL TODAY

508-796-1807

800-297-9760
---
January 20, 2023 • www.theyankeexpress.com • The Yankee Xpress 15

TALES FROM BEYOND

Peter Rugg's eternal search—Part II

BY THOMAS D'AGOSTINO

The stage made it to

Polly's Inn just as the

storm hit and soon

a wet peddler entered

and sat by the fire. When

conversation turned to

the phantom chaise, he

admitted that he had seen

the spectral carriage and

its occupants four times

in four different states in

the last few weeks. Each

time, a serious storm

followed the sighting. He

then, half jesting, remarked

how he needed to

take out marine insurance

on his merchandise if

this was going to keep up.

Dunwell would encounter

the wraith one more time

some years later in Hartford,

Connecticut while

on a business trip. He

immediately recognized

the glowing countenance,

commenting to the

alarmed throng that the

ghost was further from

Boston than ever.

A toll operator on the

Charles Street Bridge in

Boston had many run-ins

with the ethereal carriage.

On several occasions,

around midnight, the

wagon raced through the

booth never even slowing

to pay the crossing fee.

At one point the operator

got so angry he threw

his stool at the speeding

rig. Imagine the look on

his face when the stool

passed right through

the manifestation and

bounced off of the guardrail

on the other side of

the road.

Mrs. Betsey Croft, who

later owned the Rugg

home, claimed that a

man once came to her

door soaking wet with a

scared, pale looking child

by his side. The sight gave

her a start, as she knew

he was not of the present.

His clothes were at

least a century old and he

spoke in an old English

dialect. As she glanced

over his shoulder in the

moonlight, she saw a

decrepit antique carriage

at the curb with a massive

black horse harnessed

to it. When the man

asked for Mrs. Rugg she

told him Mrs. Rugg died

many years ago at a very

old age, and that she has

owned the house for a

half a century. The oddlooking

man told her he

was in haste and needed

to get to Boston. She

told him that he was in

Boston, but he did not acknowledge

her insistence

on the matter. He spoke

of roads and people from

years past and maintained

his need to get home. As

she looked them over intensely

she knew beyond

any doubt by their eerie

shade that they were not

of this world, but instead,

ghosts of the past revisiting

their former home.

William Austin wrote

the accounts of Peter

Rugg from 1824 to 1826

and claimed to have met

the ghost himself when

Rugg flagged down his

carriage. The man identified

himself as Peter Rugg

and asked for directions

to Middle Street in

Boston. When told he

was near Hartford, Connecticut,

Rugg became

irritated and argued with

Austin before speeding

off in furious skepticism

at Austin's statement. The

rig, horse and riders all

vanished before the road

turned.

Solid proof of Rugg's

eternal journey exists

in North Kingstown, RI

where Route 1 crosses

over Route 403, also

known as Devil's Foot

Road. It is there where

Reverend Samuel Nickles

encountered the wraith of

Peter Rugg while returning

to Providence from

the village of Wickford.

Near dusk, the preacher

and his old nearsighted

nag, Romeo, were caught

in a sudden thunderstorm

as they rode through

2007 SATURN

2 seat Convertible Sky, 65k miles. $13,000 BO

508-868-6157.

Quonset. As they entered

a narrow passage

between a steep hill and

a rock ledge, he heard

the thunderous sound of

hooves in front of him.

He looked up and saw a

man frantically pulling at

the reins of an immense

horse and a frightened

child gripping his arm for

dear life. The horse drawing

the speeding chaise

had eyes glowing red like

coals from a blacksmith's

fire.

The reverend's nag became

spooked and threw

him from his saddle onto

the great ghost bay. The

preacher let out a scream

of mercy and the horse

bolted up the rock ledge

in a flash of lightning,

throwing the priest to the

ground, unconscious.

When the preacher

awoke, the sun was shining

and Romeo was grazing

in the grass nearby.

As he glared at the rock,

he saw cloven hoof

prints embedded into

the edifice. He sped from

the sight but for years

to come, people from all

over flocked to see the

rock with its footprints

that still sits behind a

row of trees near a gravel

parking lot immediately

after the bridge on Route

1 South.

What holds Rugg

eternally bound to wander

the earth? A tavern

keeper once suggested

that Heaven has a way

tomdagostino.com

of setting trial or judgment

on a man for his

actions or words. Peter

Rugg, when he failed to

fulfill his oath, cursed

himself and his daughter

to eternally ride the New

England roads searching

in vain for home.

NO EXPERIENCE NECESSARY

RELIABLE 2003 F250

166k miles, recent sticker, Michelin, running

boards, catalytic converter, muffler, very good

plow with joystick. 508-868-6157. $5,900 BO.
---
16 The Yankee Xpress • www.theyankeexpress.com • January 20, 2023

BY AMY LECLAIRE

Christmas shopping

2022 has been interesting,

especially alongside

a puppy named Luke

Valentino. The retail industry

is short staffed, short

fused, and short on certain

sizes. Not enough help.

Not enough patience. Not

enough hours in the day to

curb long lines of shoppers

who sneeze into their

elbows, yet still leave us

suspicious. Which variant

might she be carrying? Tis

the season to stay home, I

thought to myself one Tuesday,

December afternoon,

despite managing a To Do

list that seemed do-able.

1. Return an oversized

rug purchased at Amazon

at Kohl's.

2. Shop for a few Christmas

gifts.

3. Vacuum my car. (I've

found the process of sucking

up dirt and washing

windows to cleanse my

attitude as well).

Like most zealous Christmas

shoppers, I wanted to

Get Things Done. Little did

I know that a series of unfortunate

events were about

to foil a well-laid plan.

"We can't take that rug

back. You'll need to bring it

to Michael's for the return.

The label is for UPS." The

LIVING WITH LUKE

Luke finds the Merry in Grinchmas

Kohl's Sales Associate wore

a nametag claiming her

title. She stated the rule

with knowledge, though I

couldn't help but notice the

glimmer of smile at her lips.

Perhaps, she secretly didn't

want to help me. Truthfully,

who could blame her?

My fixation with area rugs

(buying and changing) was

becoming a problem.

"Okay," I sighed. The

rug sagged heavily on my

shoulder, compromising a

reserve of energy I typically

have for shopping mayhem.

I felt like a scrawny Santa

carrying a sack, and who

was soon to ride in a dirty

sleigh. Others waiting in

line gazed up from their

phones to eavesdrop. Their

concern, I knew, lay in being

first in line.

I hauled the rug back to

the car, popped the trunk

and stuffed it back in. Luke

popped his head out of the

sunroof and smiled. "I'm so

glad you're back!" My puppy

found joy simply upon

seeing me. "We have to go

to Michael's now, Luke."

Keys in ignition; I backed

up and made my way to

Michael's. Slow-moving pedestrians

crossed the street.

I waved them by and found

a snug parking spot.

The 6' x 9' sack hung

tiredly over a weakened

shoulder. "I was just sent

here from Kohl's," I huffed.

"Apparently you're able

to take returns with UPS

labels?"

The employee, as one

might guess, did not come

with the softness of her

store's silk flowers. "We can't

take a rug without a box."

My eyes settled on her

grey roots. My upper body

slouched to the dead weight

of an unwanted rug. More

productively, my mind

wandered to the Michael's

storage room, where I

imagined castles and castles

of cardboard boxes stacked

wide and high amongst

spools of satin ribbon. The

sales associate did not read

my mind. Instead, she said,

'I can't take that."

"You don't have one

cardboard box to spare in

this entire store?" With my

free arm, I gestured to the

store's abundant decorations.

Hadn't these items

been delivered to the store

in boxes?

"Unfortunately we don't,"

she spat back. "You need

to bring it to UPS and have

it fully taped up. There's a

UPS in Auburn," she added,

as though traveling to a

third location was helpful.

I contemplated a third trip.

Then I was struck by an

ironic memory—that of my

puppy attacking the missing

box as would a lion his prey.

He enjoyed every moment

of dominating that box as it

popped and bounced about

the floor like a geometric

cartoon. Back then it was

funny, but now—

"Thank you," I said, and

hauled the rug back to the

car. Luke popped his head

out of his box and smiled.

"Hi there! It's such a nice

day outside! Love you,

Momma!"

It still was funny.

"Guess where we're

going, Luke?" I needed to

Let the Sun SHINE

If you want to increase natural lighting and improve the

energy efficiency and curb appeal of your home,

skylights are a great tool. Skylights come in many

shapes and sizes, and can be customized to fit the

unique dimensions and slope of your roof. Shine

Construction Inc. is an experienced skylight expert,

so for help finding the perfect skylights for your home,

don't hesitate to call our knowledgeable specialists.

Fully Licensed and Insured

align my attitude with my

puppy's optimism. His head

squared. He smiled and

listened intently.

"We're going to get Lukey

a present!"

"No way!" He did a

puppy dance on the floor of

his crate. He understood

the majority of my message.

"We're going to get Luke"

was a phrase he knew, as

was "going to get." Lastly,

he knew his baby name. "I

can't believe this is happening!"

I drove to the opposite

side of the Mall, parked,

and walked my puppy to

the Mall's sidewalk. The

Cookie Crumb'l storefront

sign sailed into view. We

followed the warm aroma

of freshly baked cookies to

an outdoor bench and sat

down.

"What's your puppy's

name? Can I pet him? Oh

my gosh, this puppy just

made my day!" Person

after person came over to

SHINE In!

Roofing • Siding • Skylights • Gutters • Chimneys • Windows

shineconstructioninc.com

508.278.3300

pet Luke. I broke off warm

pieces of a peanut butter

cookie to share with my social

pup. We told dog stories

and laughed. Holiday music

filled the air. Luke listened

to every person, and lifted

his paw. He understood.

He validated. He loved

unconditionally. The bitter

edges of shopping turmoil

crumbled away like pieces

of cookie. Luke Valentino

had offered the public a

special dog's gift, that of

Presence.

Then came a Christmas

miracle.

There, across the street,

in front of Longhorn Steakhouse

to be exact, I saw it

with my very own eyes—a

massive, brown UPS truck.

My legs wobbled as I

grabbed Luke's leash. Within

seconds, the two of us

floated towards the truck.

The UPS driver, amused by

us, rolled down his window.

"That is the cutest pup I've

ever seen."

"Thank you." I struggled

to breathe. "I'm so happy

to have found you." Luke

looked up at me, then at the

driver. "We're so happy to

have found you!"

"I have a rug," I huffed.

"In my car. That way," I

gestured. "We have a rug!"

Luke said, sitting proudly

at my heels. "I brought it to

Kohl's, then to Michael's," I

went on. "Wrong size. I was

told I'll need a box in order

to return it to you." My

amyleclaire@hotmail.com

Luke Valentino is perfectly fine with a photo op; here he poses for the

camera while on a Christmas shopping spree.

problem spilled from me.

He nodded to the back of

his truck. "I don't have a ton

of room back here."

My heart sank.

"Wanna' play chase?"

Then the driver chuckled

like Saint Nick and his

cheeks became rosy. "I can

make room for your rug.

Where are you parked?"

"Seriously? That is so

kind of you!" I said. "I have

a stuffed cherry pie in the

car!" Luke added, trying to

keep up.

Minutes later, the three

of us congregated at the

trunk of my car, where we

fumbled to squish the rug

into a well-behaved square

and seal the deal. "You

know what? I can do this

in my truck." The driver

seemed skeptical of my

packing ability. Nonetheless,

the Saint Nick of UPS

hopped back up into a tall

seat and waved good-bye.

Meanwhile, Luke and I

made one last stop. Shopping

wouldn't be the same

without a present for Luke

Valentino.

The PetSmart sweater

fit him perfectly, and the

inscription said it best.

"Merry Grinchmas!"

Thanks to my puppy, I

was able to put the Merry

back in Christmas that day.

Write to Amy at amyleclaire@hotmail.com

Find Luke on Instagram

@livingwithlukevalentino
---
January 20, 2023 • www.theyankeexpress.com • The Yankee Xpress 17

THE CAR DOCTOR

Timing chain in VW engine should last the life of the car

BY JOHN PAUL

reading your

recent article, I was

Q.After

wondering whether

my car has a timing belt

or a timing chain. I own

a 2017 Volkswagen Passat

SEL Premium with a 1.8

Liter Turbo. It is an absolutely

great vehicle and has

been a joy to own.

the years

Volkswagen has

A.Over

gone back and forth

between timing belts and

timing chains. In your

vehicle with the 1.8-liter

engine it uses a timing

chain. Volkswagen did have

some issues with timing

chain failure in earlier years

due to the timing chain

guides. With your car if the

engine is well maintained,

there is no reason to think

the timing chain shouldn't

last the life of the car.

Q.I have 1986 Dodge

Aries that is running

poorly. I am

trying to get a scan tool for

this engine, but all I find is

the OBD 1 (on-board-diagnostics)

to OBD 2 adapter

wire. Can use that with the

OBD2 scanner for 1996-

2022 cars on my Dodge?

My mechanic already

changed the computer and

cap, rotor and spark plugs.

Although, that did not fix

the running condition, it

has a high idle, and bad fuel

milage.

cars had pretty

good on-board

A.These

diagnostics that

didn't require a scan tool.

Cycle the ignition key ON-

OFF-ON-OFF-ON within

five seconds. Then count

the number of times the

"check engine" lamp flashes

on and off. The number of

flashes represents the code.

A code of 55 is the end of

the code string. If you only

get a code 55 there are no

hard error codes stored in

the computer. It has been

my experience that if there

are no vacuum leaks and

the idle speed control motor

is operating normally,

the issue is a poor electrical

ground. The main grounding

point is near the thermostat

housing and over

time these connections get

corroded and cause a host

of drivability problems.

looking for a

big SUV for my

Q.I'm

growing family, not

something quite as big as

a Chevrolet Suburban or

Ford Expedition XL. I have

narrowed my choices to

the Nissan Armada, GMC

Yukon or Tahoe and Toyota

Sequoia, any thoughts on

these?

are all good

choices if a large

A.They

SUV is what you are

looking for. In the spirit of

full disclosure, I only have

driven the 2023 Sequoia a

short distance, the hybrid

drive seemed to work

smoothly but I found the

ride a bit stiff. The Armada

is a good choice and a bit

cheaper than the competition.

Recently I evaluated

the 2023 Chevy Tahoe

which is very similar to the

GMC Yukon. I found the

performance from the big

V-8 engine impressive and

10-speed transmission was

a great match to the engine.

There is seating for up to

eight and even in the thirdrow

adults can be comfortable.

The second and

third rows fold flat, and the

cargo space is cavernous.

Fuel economy was with the

6.2-liter V-8 was according

to the EPA 14 MPG in the

city and 18 MPG on the

highway. My road test was

mostly city driving and I

averaged 15.2 MPG according

to the on-board computer

and premium fuel

is recommended. Like all

new vehicles it is important

to road test the tech and

I found all of the controls

simple and easy to use. Of

the vehicles you are looking

at I would put the Chevy

Tahoe/Yukon, first, Toyota

Sequoia second and Nissan

Armada in third place.

Q.I own a 1991 Ford

Mustang ragtop,

with only 91,000

miles on it which is garaged

in my winter home in

Florida. I installed four new

Cooper Cobra tires about

3000 miles ago. I returned

once in summer and once

in Fall to check on things.

When I got there two tires

were flat. I went to two

different tire shops to check

for leak and northing was

found. Could the original

rims be the problem. Can

I add a sealant to stop the

leak?

tire sealant

may work it

A.Although

would be my last

resort. I would rather the

tires were removed from

the wheels, then the wheels

cleaned, and a bead sealer

used to get a better seal.

Corrosion on the wheels

can over time can be the

problem and sometimes the

cleaning and sealing solves

the problem. But yes at 32

years old the wheels could

even be starting to get

porous or are beyond the

point of sealing and may

need replacement.

Q.I brought my car

into the garage,

and they replaced

the two front wheel bearings

and hub assemblies.

When I picked the car up it

seemed okay then I started

hearing a slight whistling

sound, didn't think much

of it so I just shut my window

and continue to drive

within 10 minutes I was

slowing to a stop to take a

right hand turn I was going

very slow as a residential

neighborhood I slightly

pressed on the brake as I

was taking my right hand

turn and it just started

clanging and rocking really

loud with the lightest

pressure on the brakes I

never had any issues of that

nature prior to bring my

car into the garage. What

should I do?

drive the car

and have it towed

A.Don't

back to the garage

to be inspected. From your

description it sounds as

if the mechanic may have

not secured a brake caliper.

When the brakes are applied

the caliper may be

jumping off its mount and

jpaul@aaanortheast.com

hitting the inside of the

wheel.

John Paul is an AAA

Northeast's Car Doctor. He

has over forty years' experience

and is an ASE-certified

master technician. He will

answer readers' questions

each week. Email your questions

to jpaul@aaanortheast.com.

Follow John on

Twitter @johnfpaul and

friend him on Facebook,

jrjohnfpaul.

Payments as low as $60 per week

Come Pick Out Your Car!

Bad Credit

No Credit

No Problem

WE FINANCE

EVERYONE!

Ron Moscoffian

Appr. #9537

Scott Milner

BUY PAY

HERE

M&M Auto Body

7 Industrial Park West, Bldg. 2

Oxford, MA 01540

508-987-7070

R.S. #3926

"Guaranteed Fast Service, No Matter How Long It Takes"

Come Check Out Our Prices!

FARRAR AUTO BODY, INC.

204 Main Street • Oxford, MA

508-987-0022

HERE

Landscaping & Construction

Millbury, MA

COMMERCIAL AND RESIDENTIAL

SNOW PLOWING/SANDING

EXCAVATION, DRAINAGE,

LAND CLEARING

Eben Thompson

508-523-7790

FALL CLEANUPS

Ebthompson36@gmail.com

Complete Auto

GlAss speCiAlists

• Chip & Crack Repair

• Windshield Replacement

• FREE Mobile Service

moBile Auto GlAss speCiAlist

Insurance Company Preferred Shop.

• Certified technicians to your location

• Foreign & domestic auto, truck, bus,

motor home, windows & sunroofs

• Construction equipment, heavy duty vehicles

• Fabrication of flat glass

• Vehicles equipped with convertible or vinyl roof

• In-shop service • Free mobile service

• Saturday service

• Free pick-up and delivery within a 10 mile radius

• Quality workmanship guaranteed

• Customer safety and satisfaction is our first priority

• Servicing customers for over 25 years

201 W. Main Street, Dudley, MA 01571

800-479-7697 • 508-949-1327

Monday-Friday 8am to 5pm • Saturday 8am to 12pm

Visit Us at roysautoglass.net
---
18 The Yankee Xpress • www.theyankeexpress.com • January 20, 2023

TIPS ON FINANCIAL PLANNING

Watch out for tax-season scams

BY DENNIS ANTONOPOULOS

It's that time of year

when we do our taxes

— but it's also the same

time that tax scammers

go to work. What scams

should you watch for —

and how can you avoid

being victimized?

Sadly, the list of scams

is pretty long, including

demands for payment or

requests for "additional

information" pertaining to

your tax refund, in which

the sender asks for your

Social Security number

and other personal information.

These scam emails

can look quite official,

often incorporating the

IRS logo. You might also

receive scam text messages

FIREPITS

50" Hisense................

KAYAKS

$ 299 .99

(Regularly $549.99)

55" Hisense................

KIDS POOLS

$ 329 .99

(Regularly $549.99)

65" Hisense................

DEHUMIDIFIERS

$ 449 .99

(Regularly $649.99)

IN STOCK!

containing bogus links

claiming to be the IRS

website or an online "tool"

that can help process your

refund faster.

But keep these points in

mind:

• The IRS generally won't

contact you by phone and

won't contact you by email,

text messages or social

media channels to ask for

personal or financial information.

The IRS begins

most correspondence to

taxpayers through regular

mail delivered by the U.S.

Postal Service.

• The IRS won't call to

demand you make an immediate

payment through

a prepaid debit card or

wire transfer. If you owe

taxes, the IRS generally will

mail you a bill. And the

IRS won't threaten to bring

in the police or another

law enforcement group to

arrest you for not paying

your taxes.

In general, be extremely

skeptical about any type of

communication purporting

to be from the IRS

that sounds bullying or

over-inquisitive — and

certainly don't give out

any personal or financial

information. But these fake

messages aren't the only

tax-season scams out there.

You might even receive a

direct deposit from what

appears to be the U.S. Treasury

Department — but

if you weren't expecting

it, something's likely not

right. This payment could

be a sign that a fraudulent

tax return was filed in

your name, and it might

be followed by a communication

from a supposed

IRS agent requesting this

overpayment be sent to

them. If this happens to

you, you'll want to contact

the IRS right away, and you

could also ask your bank

to return the deposit to the

government.

Other scams don't claim

to originate directly from

the IRS, as scammers

pretend to be from real or

imaginary tax organizations.

For example, you

could get a message from

the Taxpayer Advocate

Service, an independent

organization within the

IRS, but this agency won't

contact you without a legitimate

reason. Or you could

receive a message from the

nonexistent "Bureau of Tax

Enforcement." Your best

bet is to delete these messages

immediately or send

them to your spam folder.

Not all tax season scams

originate from fraudulent

IRS representatives or fake

agencies. You also need to

be careful about whom you

hire to prepare your taxes.

If possible, get a recommendation

from a trusted

friend or family member.

And keep in mind that

a legitimate tax preparer

must have a valid Preparer

Tax Identification Number

and must sign your tax

return. If someone doesn't

have this number or is reluctant

to sign your return,

it may well be a sign that

this individual is a "ghost

preparer" who only wants

to pocket your fee.

Tax scammers are, unfortunately,

here to stay —

but remaining vigilant can

help you keep them from

causing problems for you

dennis.antonopoulos@edwardjones.com

in this tax season and all

the ones in the future.

This article was written

by Edward Jones for use by

your local Edward Jones

Financial Advisor. Please

contact Dennis Antonopoulos,

your local Edward Jones

$1799 $699 99 99

WAS $2299.99 $799.99

Compare our CD Rates

Bank-issued, FDIC-insured

6-month

4.20

9-month

4.35

1-year

4.65

WINTER SALE

DON'T BUY UNTIL YOU SEE US!

GIANT TOY CLEARANCE!

SNOWBLOWERS

IN STOCK!

85" Samsung............ $ 1399 .99

(Regularly $1599.99)

FRIGIDAIRE

SIDE-BY-SIDE

REFRIGERATOR

$1199 99

WAS $1,599.99

$499 99

SAMSUNG

WASHER

Call or visit your local financial advisor today.

Dennis Antonopoulos

Financial Advisor

5 Albert St

Auburn, MA 01501-1303

508-832-5385

Advisor at 5 Albert Street,

Auburn, MA 01501 Tel:

508-832-5385 or dennis.

antonopoulos@edwardjones.com.

Edward Jones

Member SIPC

% APY*

% APY*

% APY*

FDI-1867L-A © 2022 EDWARD D. JONES & CO., L.P. ALL RIGHTS RESERVED. AECSPAD

> edwardjones.com | Member SIPC

* Annual Percentage Yield (APY) effective 01/11/2023. CDs offered by Edward Jones are bank-issued and

FDIC-insured up to $250,000 (principal and interest accrued but not yet paid) per depositor, per insured

depository institution, for each account ownership category. Please visit www.fdic.gov or contact your financial

advisor for additional information. Subject to availability and price change. CD values are subject to interest rate

risk such that when interest rates rise, the prices of CDs can decrease. If CDs are sold prior to maturity, the

investor can lose principal value. FDIC insurance does not cover losses in market value. Early withdrawal may

not be permitted. Yields quoted are net of all commissions. CDs require the distribution of interest and do not

allow interest to compound. CDs offered through Edward Jones are issued by banks and thrifts nationwide. All

CDs sold by Edward Jones are registered with the Depository Trust Corp. (DTC).

$699 99 $699 99

MAYTAG GE FRENCH

DOOR BOTTOM

DRYER

FREEZER

$2399 99

WAS $699.99

WAS $2,699

FRIGIDAIRE

$649 99

$849 99

WAS $999.99

Y

Counter Depth

HUMIDIFIERS

NOW IN

STOCK!

$

799 99

END OF

SEASON

TOBOGGANS

ICE SKATES

SLEDS

BIKE

SALE

$229 99

Store Hours: Mon. through Fri: 10am-8pm • Sat: 9am-8pm • Sun: 12 Noon-7pm
---
January 20, 2023 • www.theyankeexpress.com • The Yankee Xpress 19

REAL ESTATE

BY MARK MARZEOTTI

If you're thinking about

retirement or have already

retired this year, you may

be planning your next steps.

One of your goals could be

selling your house and finding

a home that more closely fits

your needs.

Planning to retire? It could be time to make a move

Fortunately, you may be

in a better position to make a

move than you realize. Here

are a few things to think about

when making that decision.

Consider how long you've

been in your home. From 1985

to 2008, the average length of

time homeowners typically

stayed in their homes was

only six years. But according

to the National Association of

Realtors (NAR), that number

is rising today, meaning many

homeowners are living in their

houses even longer.

When you live in a home

for a significant period of

time, it's natural for you to experience

a number of changes

in your life while you're in that

house. As those life changes

happen, your needs may

change. And if your current

home no longer meets them,

you may have better options

waiting for you.

Consider the equity you've

gained. Also, if you've been

in your home for more than

a few years, you've likely built

up significant equity that can

fuel your next move. That's

because the longer you've

been in your home, the more

likely it's grown in value due to

home price appreciation.

While home price growth

varies by state and local area,

the national average shows

the typical homeowner who's

been in their house for five

years saw it increase in value

by over 50%. And the average

homeowner who's owned

their home for 30 years saw

it almost triple in value over

that time.

Consider your retirement

goals. Whether you're looking

to downsize, relocate to a

dream destination, or move

so you live closer to loved

ones, that equity can help you

achieve your homeownership

goals. NAR shares that

for recent home sellers, the

primary reason to move was

to be closer to loved ones.

Plus, retirement played a large

role for those moving greater

distances. Did you know that

Marzeotti Group was licensed

in Florida!

Whatever your home goals

are, The Marzeotti Group

or a trusted REALTOR can

work with you to find the best

option. They'll help you sell

your current house and guide

you as you buy the home that's

right for you and your lifestyle

today.

43 East Main Street

Webster, MA 01570

Office: 508.943.4333

Fax: 860.935.5624

Cell: 508.525.0611

Web: hope2own.com

Email: lsullivan@hope2own.com

Laurie Sullivan

REALTOR ®

Licensed in MA & CT

REAL ESTATE ON THE RISE!

Retirement can bring about

major changes in your life,

including what you need from

your home. Connect with

us or a trusted REALTOR to

explore the opportunities.

RE/MAX

Advantage I

Diane Luong

CBR, SRES, MBA

774-239-2937

JoAnn Szymczak

GRI, SRES, CBR

774-230-5044

Together, We're

Working For You!

Reviewing your Situation

Diane & Jo-Ann are specialists in

the Senior Housing Market.

There may come a time when you

consider selling and moving on—

we can help.

Call for a FREE consultation.

Looking for friendly, responsive, easy to talk to Realtors? You found us!

Happy New Year!

Let me help you find the house to call HOME this year.

Victoria Virgilio • 774-696-4120

Victoria.Virgilio@commonmoves.com

VictoriaVirgilioRealtor.com

A member of the franchise system of BHH Affliliates, LLC.

BERKSHIRE

HATHAWAY

HomeServices

Commonwealth

Real Estate

25 Union Street, 4th floor

RESOURCE DIRECTORY

home

ads@TheYankeeXpress.com

automotive

CAPITOL SIDING &

HOME IMPROVEMENT

COMPANY, INC.

Septic Tank Pumping • Septic Systems Maintenance and Repairs

Sewer & Water Service • Grease Trap Pumping • Excavation Service

508-278-9924

Custom Exteriors • Vinyl Siding

Replacement Windows

Roofing • Seamless Gutters

MARK SARKISIAN, JR.

markjr@capitolsiding.com

www.capitolsiding.com

A.P. Mandella Landscaping

STUMP GRINDING

Chip Removal

LOAM & SEED

Small Backhoe services

Call Anthony @ 508-340-1640

Auburn, MA

Prayer

30 Auburn Street

Auburn, MA 01501

Tel 508-832-5981

Fax (508) 832-0464

Fully Insured

Free Estimates

Our Father, who art in heaven, hallowed be thy

name, thy kingdom come, thy will be done on

earth as it is in Heaven. Give us this day, our

daily bread, and forgive us our trespasses as we

forgive those who trespass against us, and lead

us not into temptation, but deliver us from evil

(intention), Amen.

If you pray three times a day, three consecutive

days, you will receive your intention, no matter

how impossible it may seem. Praise and Thanksgiving please

the Heart of God. Believer

MILLBURY

774.276.6970

BLACKSTONESEPTICSERVICE.COM

Economy Canvas & Awning Co.

Retractable & Stationary Awnings

Boat & Truck Covers and Related Products

Pool Cover Repairs

Over 34 years of service in the community

508-765-5921

www.EconomyCanvasAndAwning.com

115 Hamilton St., Southbridge, MA

13 Cook Street

E. Douglas, MA

508-476-2278

FUEL OIL - PROPANE - KEROSENE

SALES • SERVICE • INSTALLATION

Serving: WHITINSVILLE, UXBRIDGE, DOUGLAS, SUTTON,

MILLVILLE, MENDON, UPTON, MILLBURY, WEBSTER,

GRAFTON, OXFORD, DUDLEY, HOPEDALE

• Full Awning Service - Installation, Removal & Cleaning

• Manufacture & Repair All Canvas Products

www.SochiasOil.com

Heating - Air Conditioning

24 Hour Burner Service

& Truck Trailer Repair

& Truck Trailer Repair

508-278-9924

U-KNIGHTED

AUTO & TRUCK REPAIR

"We perform all your car care needs"

45 East Hartford Ave., Uxbridge

508-526-3169

January Battery Special: 10% off (ask for details)

Custom Exhaust Experts

Engines • Transmissions • Tires

Oil Changes • Brakes •Converters

Welding & Fabrication Services

FOLLOW US ON

FACEBOOK AT

FACEBOOK.COM/

THEYANKEEXPRESS
---
20 The Yankee Xpress • www.theyankeexpress.com • January 20, 2023

FOR ALL YOUR FUEL NEEDS

NEW BOILER INSTALLS

• Crown Boilers

•Williamson Furnaces

• Oil Tank Installs

Central air conditioning

and ductless mini splits

ALL NEW

INSTALLS COME WITH

A 3 YEAR PARTS

AND LABOR WARRANTY,

AS WELL AS THE

MANUFACTURERS

WARRANTY.

We do NOT

Sell Biofuel!

Which will help prevent

system breakdowns.

HELP WANTED -

Class B CDL driver with air brake, tanker and hazmat

endorsements. Must have DOT Medical Card.

THERE'S A SMARTER

WAY TO HEAT ANY

ROOM THIS WINTER.

Heat the rooms you live in …

without wasting energy on

the rooms you don't.

Uses 25-50% less energy

to heat your home.

Employs allergen filtration

to reduce germs, bacteria

and viruses.

Provides year-round

comfort that keeps you

cool in the summer too.

Requires no ductwork,

so installation is quick

and easy.

A Full Service Oil Company

24-Hour Emergency Service

WWW.LMTOIL.COM • WE DO ONLINE ORDERING

© 2013 Mitsubishi Electric © 2015 Mitsubishi Electric

Choose Morrissette & Son as your installer, and receive:

-Upgraded Diamond Dealer Parts & Compressor Warranty to 12 years

(from standard 5 years parts/7 years on compressor)

-Finance through MassSave with 0% HeatLoan

-Rebates through MassSave & Processing on Your Behalf

-Extended Labor Warranty Available

-Highly Trained Technicians with Installation & Service

Looking to replace your electric heat? Ask us about additional

rebate opportunities through MassSave!

AMERICA'S #1

SELLING BRAND OF

DUCTLESS

HUGE REBATES AVAILABLE FOR

DISPLACEMENT OF ELECTRIC, OIL

AND PROPANE HEAT!

Contact us today for a no cost in-home

assessment!

Scan QR to see

website.

Experience winter of 1944

North America's finest tank, armor, aircraft and military artifact

collections exhibited in the most extraordinary ways.

568 Main Street

Hudson, MA (978) 562-9182

www.AmericanHeritageMuseum.org

Open: Wed. - Sun., 10 AM to 5 PM