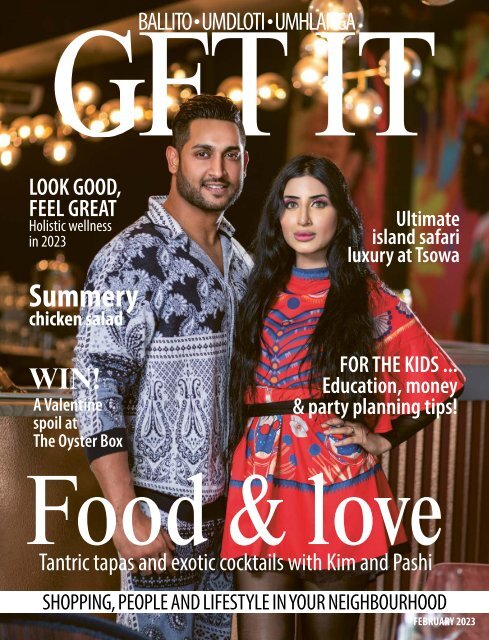 You also want an ePaper? Increase the reach of your titles
YUMPU automatically turns print PDFs into web optimized ePapers that Google loves.
BALLITO • Umdloti • UMHLANGA

LOOK GOOD,

FEEL GREAT

Holistic wellness

in 2023

Summery

chicken salad

Ultimate

island safari

luxury at Tsowa

WIN!

A Valentine

spoil at

The Oyster Box

FOR THE KIDS ...

Education, money

& party planning tips!

Food & love

Tantric tapas and exotic cocktails with Kim and Pashi

SHOPPING, PEOPLE AND LIFESTYLE IN YOUR NEIGHBOURHOOD

FEBRUARY 2023
---
GET IT

Editorial

Phone 032 946 0276

Email leah@getitnc.co.za

Ballito Business Centre • Ballito Drive

Ballito • KwaZulu-Natal

Like our Facebook page:

Get It Magazine Ballito.Umhlanga

Follow us on Twitter: @GetItMagNC

Follow us on Instagram:

@getitmagnc

www.getitmagazine.co.za/ballito

Editor Leah Shone

leah@getitnc.co.za

Layout and Design

Jessmica Depalal

ads@northcoastcourier.co.za

Advertising

Natalie Bertram

Natalie@getitnc.co.za | 082 434 3442

Janine Nyce

janine@getitnc.co.za | 072 709 6673

Online Content Co-ordinator

& Sales Support

Lisa Smith| lisa@getitnc.co.za

GET IT NATIONAL

National Group Editor and Sales

Kym Argo

082 785 9230 | kyma@caxton.co.za

Distribution

12 000 copies monthly

Get It Ballito • Umhlanga is distributed

free of charge in Ballito, Salt Rock, Umhlali,

Umdloti, Umhlanga Rocks, Umhlanga

Ridge and Gateway

Published by The North Coast Courier

Competition rules

The judges' decision is final. Prizes cannot be

transferred or redeemed for cash. Competitions

are not open to the sponsors or Caxton

employees or their families. Get It Magazine

reserves the right to publish the names of

winners, who will be contacted telephonically

and need to collect their prizes from Get it Ballito

branch within 10 days or they will be forfeited.

Prize winners' names are published on our

Facebook page monthly.

contents

Wish List

4 Love, lust and longings . . . here's our Feb wish list

People

8 Summer dinner club and new stores opening on the social front . . .

10 Flavours of love . . . meet our cover stars Kim and Pashi

14 Work and marriage? We meet three North Coast

couples who work together

18 Umhlanga model Karusha is heading off to New York to compete in an

international talent and modelling showcase

health & beauty

20 Start your year off right with these holistic health specialists

22 New year, new health regime!

food

25 Try this delicious, summery Greek-inspired roast chicken salad

kids

31 Meet the first Miss Teen Ballito

34 Affordable family vehicle

36 Educational psychologists ... what do they do?

40 Five great money habits to pass on to your kids

TRAVEL

31 Sheer safari island luxury at Tsowa in Victoria Falls

Cover details:

Pashi Reddy and Kim Naidoo

Photos: Elana Schilz Photography, ​

hello@elanaschilz.com, 076 971 6736,

www.elanaschilzphotography.com

Shoot location: Kali Restaurant and Tapas Bar,

Umhlanga, @kali_umhlanga, 063 665 3099

Feb 2023

Tsowa Safari Island's exquisite pool area

overlooking the mighty Zambezi River.

Full review on page 31.

11962 copies distributed (July - September 2022)

February 2023 Get It • Ballito • Umdloti • Umhlanga 01
---
16

YEARS

R 5 300 000

SHEFFIELD BEACH I STUNNING LIFESTYLE OPPORTUNITY

Well appointed secure family and pet friendly home with ocean views and

great appeal. Got to be seen to be appreciated. An invertor is installed

however no load shedding.

4

3.5

2

293m 2

WESTBROOK | EXQUISITE, WELL APPOINTED SECURE GEM

You will know you've arrived as soon as you enter this delightfully appointed

beachfront masterpiece close to Ballito yet far enough for tranquility, peace

and privacy.

3 3 2

310m 2

EXCLUSIVE MANDATE R 8 450 000

EXCLUSIVE MANDATE R 14 500 000

SIMBITHI ECO ESTATE | SURE TO IMPRESS

Contemporary family home offering awesome entertainment spaces and privacy.

An added benefit is a R500k solar system with the latest technology, Lithium

battery pack etc. Goodbye to load shedding.

4 3.5 2

680m 2

Fiona Crago

082 551 2607

Duncan Parsons

082 456 4977

Tania Evert

Rental Specialist

073 106 6010

rentals@fionacrago.co.za

Invest. Intelligently.

032 946 1439 | www.fionacrago.co.za
---
A hot date!

Live, love and shop to your heart's content this February

If you have an entry you'd like included on the Get It diary page, email info to leah@getitnc.co.za (at least a month in advance)

04

Shop to your heart's

content at the fabulous I

Heart Market at Sugar Rush Park

just outside Ballito this month!

Especially exciting is the fact that

this is one of only two annual 'sale'

markets … so you're in store for

some serious beginning-of-the-year

bargains! Definitely a market not

to be missed (especially if you're

looking for some romantic spoils

for a loved one!). Other market

activities include eating, drinking

and having loads of fun! Details:

Sugar Rush Park, Ballito, 8.30am to

2pm, @iheartmarket

14

11

Get the perfect Valentine's

gift at Gateway Theatre

of Shopping - and they'll even

wrap it up for you with love!

Gateway is offering a free giftwrapping

service for patrons

spending R350 or more between

11 and 14 February during

trading hours. Find out more

on their social media pages, @

gatewayumhlanga. T's & C's apply.

If you're looking for good food and great vibes this Valentine's Day,

then Eat Street at Lifestyle Centre Ballito is where you need to be.

With live music from local acoustic jazz band, Beat-Route from 6pm to 9pm,

and an array of fantastic restaurants to choose from, be sure to book your

table soon! Details: @lifestylecentreballito

14

win

We can't think of a better

place to spend Valentine's

Day than the always-luxurious

Oyster Box Hotel. Nothing says

'fabulous romantic spoil' quite like

a visit to this legendary Umhlanga

destination. Whether you book

a 'be my valentine' rose quartz

massage at the spa, sushi for

two (including a glass of bubbly

on arrival) or go big and enjoy a

five-course plated dinner at the

Valentine's dinner & dance (R1 490

per person), you are sure to have

a memorable Valentine's Day this

year. Details: @theoysterbox, www.

oysterboxhotel.com, 031 514 5000.

WIN! We've got a 'sushi for two'

prize, valued at R980, to give to one

lucky reader! Enter on this post on

our social platforms, @GetItMagNC.

The winner will be announced on

10 February 2023. T's & C's apply.

February 2023 Get It • Ballito • Umdloti • Umhlanga 03
---
Book club

First book club of the year ... wine with a story, romance, thrillers, and,

it being Valentine's month ... how to recognise a cad!

Oh ... bliss. A new Taylor Jenkins Reid.

In Forever, Interrupted we meet Elsie

Porter, an average twentysomething

who, one rainy New Year's Day, heads

out to pick up a pizza for one. She

isn't expecting to see anyone else in

the shop, much less the adorable and

charming Ben Ross. Their chemistry is

instant and electric. Within weeks, the

two are head over heels in love. Within

months, they've eloped. Only nine

days later, Ben is out riding his

bike when he is hit by a truck and

killed on impact. Elsie hears the sirens

outside her apartment, but

by the time she gets downstairs, he

has already been whisked off to the

emergency room, where she must

face the mother-in-law she has never

met, and who doesn't even know Elsie

exists. Simon Schuster

Journey's End ... wines with a story on every label

We love a wine with a story, and Journey's End, the boutique estate on the

mountain slopes above Sir Lowry's Pass Village in the Helderberg basin, have

released their rebranded new-vintage Tales Series range of wines ... new classic

labels but still with the tales behind the wine. This February we'll be trying

Journey's End Weather Station Sauvignon Blanc 2022. The Tale .... This wine is

named after the famed SB11 Weerstasie Kloon (Weather Station clone) which is

one of the core components used in this wine. First propagated in Stellenbosch

in the 1920s, it made a huge resurgence in the late 1970s. The clone is nicknamed

'The Weather Station' as the original plantings were made beside an old weather

station, which proved invaluable in enabling the farms to spot upcoming

changes in the weather and thus pick their fruit at its optimum condition.

The vegan-friendly wine is a refreshing aperitif but also enjoy with fresh oysters,

asparagus, smoked salmon, mussels, tempura prawns or seared tuna.

You'll find it for between R100 and R120 from shop.journeysend.co.za

04 Get It • Ballito • Umdloti • Umhlanga February 2023
---
One minute Lou is happily employed, with a perfect flat. The next, her home and

job have gone. The last thing she wants is to move to a tiny Cotswolds village,

and she certainly doesn't intend to work for curmudgeonly eighty-year-old

Edgar Allsopp. But Edgar is about to make her the kind of promise nobody could

ignore. In return, she secretly vows to help him fall in love with life again. Then

there's Remy, whose charm and charisma are proving hard to ignore. But Lou

hasn't recovered from the last time she fell for a charmer. She needs a distraction

and luckily one's about to turn up. Promise Me is Jill Mansell's latest chick-lit read.

Headline • Every day, The Housemaid (by Freida McFadden) cleans the Winchesters'

beautiful house. She collects their daughter from school, and cooks a delicious

meal for the whole family before heading up to eat alone in her tiny room

on the top floor. She tries to ignore how Nina Winchester makes a mess just to

watch her clean it up, how she tells strange lies about her own daughter, and

how her husband seems more broken every day. It's hard not to imagine what it

would be like to live Nina's life. The walk-in closet, the fancy car, the perfect husband.

But she reassures herself that the Winchesters don't know who she really is.

They don't know what she's capable of. Little Brown

Nobody sits us down and teaches us

how to love. We're often thrown into

relationships with nothing but romantic

movies and pop culture to help us

muddle through. Until now. In 8 Rules

of Love, instead of presenting love as

an ethereal concept or a collection

of cliches, Jay Shetty lays out specific,

actionable steps to help you develop

the skills to practice and nurture love.

He shares insights on how to win or

lose together, how to define love,

and why you don't break in a breakup.

Inspired by Vedic wisdom and

modern science, he tackles the entire

relationship cycle, from first dates to

moving in together to breaking up

and starting over. And he shows us

how to avoid falling for false promises

and unfulfilling partners. Harper Collins

Are you dating Boring Bert (he wears

quilted anoraks and his mancave has

a trainset from his boyhood). Or a

Tradie Ted (he drives a bakkie, calls

you his woman and slaps your arse

as he walks past you). Are there red

flags in your relationship ... he asks to

borrow money, delays and evades,

sulks, withdraws and stonewalls you.

If there's a resounding yes anywhere

here, it's probably time to pick up a

copy of Caroline Hurry's Flow - 21

secrets to refresh your relationship.

Full of hysterical descriptions

of Drunken Duncans, Stingy Steves

and Slobber Stans (his breath is beery,

and feels damp), Caroline doesn't shy

away from nasty truths ... manipulation

and gaslighting, blame shifting

and abuse. She talks about dating

duds (don't overinvest, or stalk him on

social media) and relationship flows.

All very tongue-in-cheek ... which

doesn't mean she doesn't get it spot

on! It's not, she firmly points out,

another find-a-husband book (she did

that in Handbook for the Huntress),

but 'more of an outstretched hand to

those who slipped on the treacherous

rocks of romance and need a little

help getting up again'. Hygge Books

Compiled by: KYM ARGO

February 2023 Get It • Ballito • Umdloti • Umhlanga 05
---
Wish list

Love. Lust. Longings. Here's our list!

Longing, after the hectic festive season, for some quiet time and a cup of tea?

Let's hear it for the (tea) girls. Tlou Tea is a 100 per cent female owned business ...

making hand-blended teas that aid mental and physical well-being. Herbs, spices

and carefully selected adaptogens (plants, herbs and functional mushrooms

which are known to assist the body's natural performance against daily stress

and fatigue) ... the Tlou (Sepedi for elephant) range includes half a dozen options.

We're drinking Sweet Sleep - with ashwagandha, chamomile, passionflower root,

blue butterfly pea flowers and lavender. Available from tloutea.co.za

The first locally-inspired

Birkenstock summer campaign

blends German heritage with

South African flair ... resulting in a

sizzling collection. If you haven't yet

embraced this iconic global brand,

it's time! Details: bashafrica.com

Have your little darlings discovered

JoyJoys? Interchangeable sneakers

that allow them to swap out their

looks at a whim. There's a starter

box with a pair of white sneakers,

three velcro snaps of your choice,

and two mystery snaps. Then you

can add extra snaps as you find

more you love. R799 for the starter

box, then R179 for extra snaps sold

in sets of three. Details: joyjoy.co.za

06 Get It • Ballito • Umdloti • Umhlanga February 2023
---
Shake. Strike a pose. Raise a glass!

Step into the sparkling streets of Hollywood

and be transported back in time with Michael

O'Mara's Hollywood Cocktails, a gorgeous

collection of more than 200 classic cocktail

recipes from the 1930s. Discover the exclusive

rendezvous frequented by the biggest stars of

the silver screen, from The Embassy Club to the

Zanzibar, the Clover Club to the Palm Springs,

and learn how to mix the perfect nightcap and

master classic recipes, such as the Old Fashioned.

No gimmicks here ... great cocktails stand the

test of time and this is the essential collection.

Entertain, impress, shake well, strike a pose and

raise a glass to the golden age of glamour.

30 Valentine kisses ... in 30 shades of beautiful

It's been top of beauty's

wish list for years ... the

L'Absolu Rouge lipstick

by Lancôme. Now

reimagined as L'Absolu

Rouge Cream and

L'Absolu Drama Matte,

infused with extracts

from roses harvested by

hand, freshly picked early

mornings in late spring,

there are 30 shades with

pure pigments that dress

your lips in intense, crisp

colour. R530 from Edgars,

Woolies, Truworths,

Foschini and Superbalist.

Compiled by: KYM ARGO

February 2023 Get It • Ballito • Umdloti • Umhlanga 07
---
Summer

dinner spoils

David and Cindy Rynhoud

Around 70 people gathered around beautifully decorated tables for a

stylish and intimate dinner at The Manor House at the first of their quarterly

dinner club events recently. The three-course Mediterranean dinner,

which was themed around the celebration of summer, was catered by

the incredibly talented Ray Friedman of Ray's Kitchen and drinks were

sponsored by Campari. Keep a look out for the next dinner club event!

Candice Morphew

and Nikita Gouveia

Carin Ellis, Vicky Rawlins, KJ Hewitt, Haydn Rawlins,

Heidi Mitchell and Lee-Ann McEwen

Justine Langford

and Shan Fourie
---
Retro

vibes

We celebrated with bubbles and

cupcakes with the lovely ladies

of Ladi B Body Art Studio at their

launch in December. The funky,

retro studio is situated at The

Odyssey Shopping Mall in Ballito

and their services include tattoos

and piercings, as well as a fun

retail area.

Tannith Olivier, Bianca Ferrara and Jessica Wiseman

Cindy Hartley

Kelby Metior and Marcele Tyers

Tarryn Mackenzie and

Michelle le Roux
---
Flavours

LOVE

of

Text: Leah Shone I Photographs: Elana Schilz Photography

Soulmates, business partners and passionate foodies. Umhlanga celebrity couple

Kamisha (Kim) Naidoo and Pashi Reddy tell us about their journey towards

opening the trendy, fusion tapas restaurant, Kali.

10 Get It • Ballito • Umdloti • Umhlanga February 2023
---
When Kim and Pashi met by chance at the Durban

July 10 years ago, it quickly bloomed into what

they say became a 'soulmate relationship' that has

allowed them to manifest their dreams into reality.

The couple made it to the finals of reality television

series My Kitchen Rules South Africa (MKRSA) in

2018 (even getting engaged on television!) and

are now following their passion with Kali - their

Umhlanga-based, pan-Asian fusion restaurant and

bar, specialising in 'tantric tapas and exotic cocktails'.

The couple's food journey began 10 years ago, says

Kim, who has a bachelor's degree in educational

and counselling psychology. "What started off with

simple dates in our home kitchen soon became

a shared passion and golden thread that tied us

together," she says.

The couple began selling food in food markets in

Durban, always dreaming of one day opening a

restaurant chain and food manufacturing company.

Kali is the first step in this dream.

"Over the years we have worked on our skills,

overcoming obstacles and challenges by pushing

each other to be better and do better to achieve our

goals."

Both Pashi, who is the grandson of the late Dr JN

Reddy, and Kim are passionate about upskilling

local communities, youth and women through

empowerment and skills development and are

determined to help inspire people to find a way to

follow and monetise their dreams.

Asked about their MKRSA experience, Kim says it was

one of the greatest and most challenging adventures

they have been on.

"It allowed us to demonstrate what we love in

front of the whole world, while teaching us to be

vulnerable and grow as a couple as we overcame

challenges and faced our own personal fears. We

realised we are stronger and work better as a team.

The highlight, not only of the show but of our lives

so far, was getting engaged on the show. We always

knew we wanted to get married, but MKRSA helped

us realise that together we can overcome anything

… and that our love is greater than any win."

Opening Kali was the realisation of this long-time

dream for the couple. The casual, pan-Asion fusion

tapas restaurant pays homage to the strong women

in both Kim and Pashi's lives. "The restaurant is

somewhat of a tribute to the powerful generation

of women who came before us and it is a legacy we

want to continue by feeding others and challenging

old mindsets. We wanted to create a beautiful and

inclusive space where people come together and

share their similarities rather than their differences."

Fun, bold, unapologetic and 'for everyone', the Kali

experience is colourful, exciting and unexpected

with wonderful flavour fusions and fragrances.

In terms of their roles in the business, Kim says she

is the structured, organised and level-headed one,

taking on the role of operations management to

ensure objective are met and plans implemented.

Pashi brings the creative element, developing menus

and recipes, training

staff and ensuring

consistency and building

the brand by creating a

sound business model

for future growth and

expansion.

When they are not

working, they spend

time together and with

their families and enjoy

cooking together. "We

are grateful for the

simple things in life and enjoy finding adventures wherever we are

and living in the moment."

The secret to working together as a couple, they say, is being able

to be vulnerable with each other and communicate – both when

things are going well and when they aren't.

"Celebrate the good days and remember that challenges are

temporary but your relationship is forever."

Kim and Pashi are excited to be getting married this year and hope

to be able to expand not only their business but also their family in

the near future.

Details: Kali Restaurant, Chartwell Centre, Chartwell Drive Umhlanga

Rocks, info@kali-group.co.za, @kali_umhlanga

February 2023 Get It • Ballito • Umdloti • Umhlanga 11
---
Promotion

FEEL THE LOVE AT LIFESTYLE

With decadent

chocolate spoils,

breath-taking floral

delights and unique

gift ideas for both

him and her...

Lifestyle Centre

Ballito is where you'll

feel the love this

Valentine's Day.

Treat that someone

special with a beautiful

bunch of flowers from

their wide variety at

Love Laugh.

Nothing says it's Valentine's

Day like the pop of a

freshly opened bottle of

bubbles! The romantic

Valdo Paradise Rosé Brut is

a delicious sparkling wine

with intense and pleasant

fruity undergrowth

aromas, imported from

Italy. Available from Tops

at Lifestyle for R239.99.

Spoil her with a

bottle of unique,

artisanal perfume!

Nectar, from

RAIN (R629)

has a delicate

scent of florals

which grows in

complexity as

sensuous jasmine,

rose and lily assert

their sweetness.

Chocolate speaks the language of love! You will find a

mouth-watering range of locally-made sweet delights

at Chocolate & Fudge in The Market.

12 Get It • Ballito • Umdloti • Umhlanga February 2023
---
Make this Valentine's Day meaningful and memorable with a romantic

cake from Chateau Gateaux. Download their app and get R100 off any

large cake for this Valentine's Day!

Plan the perfect date night on Eat Street with a variety of fine restaurants

to choose from. Visit www.ballitolifestylecentre.co.za/eatstreet for details.

Looking for a fun and creative way for

couples or friends to celebrate their love?

Enjoy an evening of pottery painting this

Valentine's Day at The Pottery! 6.30pm - 9pm.

WhatsApp 079 659 9914 with keywords

"Valentine's Booking". Complimentary

champagne and snacks available.

Treat yourselves

to a facial for him

(45 mins) and her

(60mins) and enjoy a

complimentary glass

of bubbles and gift

for R990 at Esse.

Spoil the man in your life with a luxurious hamper of

essential muscle oil, balm, muscle therapy hot bean

bag and muscle relief crystals. Valued at R920 from

The Gentry.

Win an assortment of spoils from the stores featured in this article.

Follow Lifestyle Centre's social media for competition details.

IG: @lifestylecentreballito l FB: @ballitolifestylecentre I T's & C's apply

February 2023 Get It • Ballito • Umdloti • Umhlanga 13
---
Work

&love?

It might sound like a terrible

idea to some, but there are

a number of couples who

successfully manage to work

together, keeping their family-work-life

balance carefully

intact! We caught up with three

such North Coast couples …

BRETT & DOMI

Brett and Domi Roux have been married for six years. They

met in Cape Town in 2014 and decided to move to KZN

that same year to start a business and be closer to family,

the bush and warm water. Brett and Domi have a beautiful

little boy named Roan and are also parents to two French

bulldogs, Bijou and d'Artagnan.

Tell us about your job and what you each do.

"We initially launched health a food café and yoga space

called Tree in Umhlanga and Ballito. It was a brilliant time

and the café was successful with a very special community

and vibe. When we closed that chapter in our story, we

dived into our lifelong passion in the safari and tourism

industry," says Brett. The couple are now bespoke travel

specialists with a deep love of Africa, conservation and

travel. Their company, African Footprints Travel, focuses

on all-Africa travel, including major cities and the beautiful

Indian Ocean islands. "We love sharing our intimate

knowledge of locations and understanding of the industry

to curate memorable and unique experiences for both the

local and international market."

Domi's role is to handle and curate travel experiences

into Africa and the surrounding African islands, and she

manages all the business' admin. Brett focuses on business

development, marketing and the event side of the business.

"There is, however, a huge amount of crossover between

our roles. Domi is a qualified yoga instructor and Brett a

professional photographer, which both add value to our

experience-based itineraries."

Pros and cons of working together?

"The pros are being able to structure our days around our

personal lives and parenting with flexibility, being able to

show up for our family, for each other and really be present

for all of life's 'little and in between' moments. The cons

are that we often 'take the office back home', which isn't

always healthy as it's vital to switch off at times. Definitive

boundaries do help, but the nature of our business means

we don't always have true time 'off', even when we are

visiting and exploring partner properties or on 'holiday'.

Our advice for couples who work together would be to

remember to step away and reconnect as husband and

wife as often as you can. Keep it light and fun as much as

possible and support each other wholeheartedly. The job is

not your relationship and will never be more important than

it, but it can be an exciting adventure that allows a deeper

connection for both of you as partners."

Details: Our African Footprints Travel: @africanfootprints,

www.ourafricanfootprints.com

14 Get It • Ballito • Umdloti • Umhlanga February 2023
---
SHAFIQUE & AYESHA

Dr Shafique Sayed and Dr Ayesha

Seedat met as medical students at

Wits Medical School and got married

in their fifth year. They have been

together ever since and will this

year celebrate their 25th wedding

anniversary! After studying together,

the couple survived a gruelling two

years of internship and community

service together. After specialising,

they began working together

again, which they have done for

the past 15 years. Shafique and

Ayesha have two children, Suhail

(21), who is currently a third-year

student in mechatronic/mechanical

engineering at UCT, and Nabila (17),

who is currently in matric at Ashton

College. They moved to Ballito from

Johannesburg 16 years ago to enjoy

the sun, sea and a child-friendly

town.

Tell us about your job and what you

each do.

Shafique has been a gynaecologist in

private practice at Alberlito Hospital

for the past 15 years.

The biggest pro has

been the effect on our

family life with our

kids.

"I stopped delivering babies

seven years ago to focus solely on

female gynae care. My passion is

laparoscopic and minimally-invasive

vaginal surgery."

Ayesha, who has a Master's degree

in public health, is Shafique's fulltime

surgical assistant and manages

the practice. "I joined Shafique

temporarily at Alberlito to help him

get his practice up and running

and just never left! In addition,

I periodically assist a few other

surgeons at Alberlito Hospital as

well."

Pros and cons of working together?

"The biggest pro has been the effect

on our family life with our kids. The

flexibility of me being available for

our kids, especially when they were younger, was a huge advantage," says

Ayesha.

"We tried to structure work so I was available for all parent meetings and

extracurricular activities, and was just across the road if ever they were sick.

We could also structure our cases so we'd both be there for important events."

One of the cons, Shafique says, is that being together all of the time can be

challenging. "Over the years we've learnt to respect one another's skills and

personal space, though. Taking work home is another struggle. Given the

nature of my work it's unavoidable at times, especially if I need to operate afterhours

and Ayesha is assisting. But we've tried to separate non-urgent work and

home life where possible," he says.

Details: Dr Shafique Sayed, Alberlito Hospital, www.ballitogynae.com, sayedpractice@

gmail.com, 032 946 6979, 067 822 0543

February 2023 Get It • Ballito • Umdloti • Umhlanga 15
---
CHRIS & EMILY

Top class photography and videography team Chris and

Emily Allan have been married for 14 years, the past 12

of which they've spent working together. They have two

awesome kids and moved down to Ballito from Joburg

12 years ago, 'almost before it was fashionable to do so',

they say. "We are still high-fiving each other for that great

decision," says Chris. "We arrived with a camera, a laptop,

and a whole lot of ideas about a glamourous life as a

photographic couple, which we quickly adapted as we

scratched around for work and shared two-minute noodles

and spicy samoosas on camping chairs in our newly rented

apartment."

Tell us about your work and what you each do.

"We are photographers, videographers and storytellers

with a smattering of the skills that accompany creativity

of that nature. Emily is a whizz at transforming a chaotic

timetable into well-produced, useful, high-end projects,

juggling bookings, weather forecasts, client requests, kids'

school lifts and a painfully neurotic photographer husband

and his many requests! She is also the video powerhouse

with editing skills and a TV background that have made

the introduction of moving images to the studio offering

an easy one. Chris has developed calluses on his (smallerthan-normal

people's) hands from wielding Japanese digital

image-making equipment over the last 20 years and still

gets great joy out of creating good-looking pictures and

videos. He lives for the odd compliment from his clients and

openly admits that photography is more fun and successful

when shared with a team, especially if that team includes his

blonde, blue-eyed and bubbly wife!"

Pros and cons of working together?

"On the pro-side, teamwork is easy and we have developed

a flow that results in a stress-free, efficient shooting style.

Being able to overlap in both skills and understanding the

different roles we play is important and possible. Ego and

selfish aspirations need to be put aside for immediate goals

and keeping each other in check is part of the package. It

is also super fun working with your best mate and postwork

sushi/cocktail sessions are great! We do struggle to

leave work in the studio, often talking work while making

fish fingers, packing school lunches and trying to help with

surprisingly difficult maths homework. Also, it is tricky to call

in 'sick' when your only other work colleague woke up next

to you. Our advice for couples working together would be

to figure out early on what you are trying to achieve. Don't

forget that just like any work colleague your wife/husband

will appreciate being trusted, thanked, encouraged and

given space to achieve their own goals. For the guys:

wash your coffee mugs and, even if client meetings are via

Zoom, don't get into the habit of going to work in a smart

shirt and your underpants!" Details: Chris Allan Photo: www.

chrisallanphoto.co.za, @chrisallan; Peppermint Pix: www.

peppermintpix.co.za, @peppermintpix

16 Get It • Ballito • Umdloti • Umhlanga February 2023
---
HALF PRICE

ON ALL

EVERY FRIDAY FROM 4PM

Half price cocktails is a limited time offer. Promotion is subject to change and/or end without prior notice.

FLORIDA ROAD

Opening SSn

UMHLANGA ROCKS

2 Lagoon Drive

031 942 3401

HootersSA

www.Hooters.co.za

Not for Sale to Persons Under the Age of 18.
---
Flying high!

Determined to reach her dreams and inspire others to fulfil theirs, 39-year-old

Umhlanga corporate supply chain specialist Kerusha Chetty will this year travel to

New York City to participate in an international modelling and talent competition.

When Kerusha was approached to be an ambassador for an

exclusive Umhlanga bridalwear shop in 2021, the modelling

dreams of her youth were reignited.

Since then, she has gone on to compete in various

pageants, joined a modelling agency and worked with

several top brands. She has also started pursuing another

goal of becoming an actress.

Originally from Pietermaritzburg, Karusha has lived on the

North Coast for 15 years. She began modelling in her early

teens and completed a course at the School of Fashion Design.

18 Get It • Ballito • Umdloti • Umhlanga February 2023
---
Modelling took a back seat while she was at university, with

her focus on working hard to finance her studies. "It was a

proud moment for me when I graduated with my Bachelor

of Commerce degree in supply chain management and

business finance in 2017," she says.

Having worked as a corporate supply chain specialist for

the past 15 years, it was during lockdown that Karusha

stumbled into modelling again. "I'm an extrovert, so

working at home had quite a negative impact on me.

I turned to social media for interaction and that's how

I ended up being asked to be the ambassador for La

Principessa Bridal Shop in Umhlanga Rocks. I was thrilled."

In 2021, Karusha responded to a casting call by Roberta

Alessandri Models for models up to the age of 35.

Although she was older than the required age, she was

accepted and, a few months later, she took part in the

televised It's Arts Africa 'Live Your Dream' auditions in

Durban.

"I was delighted to be among the performers who

received exclusive call-backs to attend the 11th annual

International ARTS Talent Showcase (IATS) at Silver Star

Casino in Johannesburg," she says.

The IATS is South Africa's largest talent and model

platform for aspiring and established actors, singers,

dancers and models, offering opportunities for both local

and international career and casting opportunities.

Karusha says her experience at IATS was 'surreal' and,

when she received a call-back phone call in her hotel

room from the CEO of '33 and Me' talent agency

Elsubie Verlinden at 11pm that night, she sobbed. "I

was overwhelmed with excitement and emotions. It

was such an honour to get approval from so many top

international modelling, acting and fashion judges."

Over the past few months Karusha has been working

hard on her modelling and acting, participating in various

fashion shows with Roberta Alessandri Models, taking

part in numerous photoshoots and attending online

acting classes.

In June, she will head to the 'Big Apple' to represent

South Africa as a model and actress at the International

Modelling and Talent Association (IMTA) showpiece. "At

the age of 40, I am excited to have the opportunity to

showcase top South African talent on a global stage in

front of hundreds of fashion and talent agents, personal

managers, casting directors, network representatives and

music producers."

Passionate about helping and inspiring others to reach

their dreams, irrespective of their age or circumstances,

Karusha says her advice to other women wanting to

pursue similar dreams is to love themselves, embrace

their authenticity and be real.

"Internal beauty is more important than appearances,

so be kind and show compassion always. Prioritise and

invest in yourself."

Looking towards the future, she says she hopes to have

booked both local and international campaigns and have

worked and networked with the best performers around

the world. "I also hope to always be a devoted wife and

loving mother, creating precious memories with my family."

Photos: Roberta Alessandri Models, Photographer: Hannes

Danzfuss. MUA: Shannon Bern.
---
Promotion

Healthy start

Forget New Year's resolutions and fad diets.

Instead, take a holistic look at your health and wellness in 2023 and get your

mind, body and soul in the right place for the year ahead . . .

1Sharon Castle,

Mindfit Academy

Without a good state of mind, no

2

amount of exercise or dieting will bring

peace. How you feel about yourself is

more important than how you look.

Eating well and moving are important,

but without psychological fitness,

you'll never feel satisfied. Mindfit

Academy helps you peel off layers of

unworthiness and unhappiness and

reach a place inside yourself where you

already are whole and well.

Details: sharon@sharoncastle.co.za

www.mindfitlifecoaching.com and

www.sharoncastlecoaching.com

Dr Kate Dinkelmann,

Chiropractic

Ballito chiropractor, Dr Kate, believes

chiropractic care is an important part of

healthy aging and should be encouraged

from the start. "It's never too early or too

late to take your health seriously. As we age,

our bodies go through changes that can

affect our spine and health. Chiropractic

care helps address these changes and

maintain good spinal health, which in

turn can help promote the meeting of

milestones, easier feeding and sleep,

improved behaviour and learning and a

shorter healing time from injuries."

Details: 087 460 0437, drkatechiropractic@

gmail.com, Wellness Workspace, The Well,

Ballito

20 Get It • Ballito • Umdloti • Umhlanga February 2023
---
3

079

Dr Megan Medina

Homeopathic and functional medicine

practitioner Dr Megan Medina encourages

us to change our health views at the start

of the year. "Instead of hardcore, shortterm

resolutions, approach your health

holistically and sustainably." Megan finds

the root cause of chronic conditions and

restores balance for her patients using

genetic testing, nutrition, supplements,

counselling, mindfulness, exercise and

homeopathy.

Details: Dr Megan Medina,

881 7199, www.drmeganmedina.co.za

4

Lianca Dookran Physiotherapy

Lianca Dookran Physiotherapy celebrated 10 years of practice

in Ballito last year. Lianca's team of passionate physiotherapists

provide hands-on, evidence-based care and aim to optimize

health and movement through various techniques with a

special interest in sports injuries. They also won the Best of

Ballito 2022 for Physiotherapy. Details: The Well, Ballito, 032 586

3240, https://calendly.com/lianca-physio/1hour (book online)

5

TashB Pilates

At TashB Pilates the goal is to change lives through the art

and science of Pilates. Offering Pilates classes, private and

semi-private appointments (and virtual), the BASI Pilates®

studio has year-round teacher training programs and

education for instructors. With state-of-the-art equipment

and passionate instructors, TashB is a safe, inspiring space

to find healing, strength and stability.

Details: TashB, Linc Campus, Salt Rock,

tash@tashbpilates.co.za, www.tashbpilates.co.za

The Frozen Bistro

Everything starts with the fuel that we

choose to put into our bodies so why

not start it right this year with The Frozen

Bistro - calorie conscious frozen meals

that are high in protein, low in fat & have

just enough carbs to get you through

your day. Low calorie, convenient & tasty

meals that are made with your health &

wellbeing in mind.

Details: FB: The Frozen Bistro

IG: @thefrozenbistrodbn,

www.thefrozenbistro.co.za, 082 370 5156

6

February 2023 Get It • Ballito • Umdloti • Umhlanga 21
---
The holidays are over, the Christmas tree is down and the 'New Year's resolution'

pressure is mounting. Homeopathic and functional medicine practitioner, Dr Megan

Medina, shares some useful, sustainable health tips.

new beginnings

The holidays are over and the New

Year's resolution pressure is mounting.

Homeopathic and functional medicine

practitioner, Dr Megan Medina, shares

some sustainable health tips that will

positively impact your life the whole year.

22 Get It • Ballito • Umdloti • Umhlanga February 2023
---
1. SELF LOVE

Be kind to yourself. Focus on what you love about

yourself and how you can bring more joy into your life. I

read a post the other day that said 'a resented body will

never heal', and I thought it was very apt as we transition

out of the holiday festivities and into the new year. Why

not look at the new season as an opportunity to focus

on loving our bodies, feeding them with nourishing

wholesome food, moving them with joy and gratitude?

2. MOVEMENT

Find one exercise that makes you feel alive and engage

in it wholeheartedly, every day. (For me, it's the gentle,

mindful movement of yoga, but it could be anything

from a run to a walk, a swim or a bike ride).

3. NOURISHMENT

Know where your food is coming from and try your

best to avoid overly-processed foods. Find ways to

support your local farmer. We are blessed with beautiful,

regenerative local farms and it makes sense to support

them. Their produce is organic, free-range and supportive

of our eco system. It's also delicious and free from nasty

pesticides, chemicals and GMOs!

4. FIND YOUR TRIBE

In the era of online meetings and social media

bombardment, now is the time to connect with your

community. Make this your year to engage in real

relationships with real people - even if it is just coffee with

a friend once a week. Real social connections strengthen

the immune system and bring feelings of connection

and joy.

5. MINDFULNESS

In a world where multi-tasking and productivity drive us,

taking time each day to check in with yourself can do

wonders for your nervous system and mental health. Do

a little body scan - from head to toe – to assess areas of

tension or discomfort. Spend a few minutes outside on

your own, simply listening to your breath. You hold the

power for a happier, healthier new year by simply being a

little more present.

"In short, my goals for a positive, healthy start to the new

year is to focus on meaningful relationships, enjoy your

local community and farmers markets, get to know your

neighbours and small, local businesses and find ways to

appreciate your body through mindfulness, exercise and

enjoying the fresh air and sunshine we are so blessed to

experience here on the North Coast!"

About Dr Megan Medina:

Megan is a homeopathic and functional medicine

practitioner who works to find the root cause of

chronic conditions with the goal of restoring balance

and helping her patients find holistic wellness in their

lives. She uses genetic testing, guidance through

nutrition and supplements, as well as counselling,

mindfulness techniques, exercise, homeopathy and

herbals. Megan has a Master's degree in homeopathy,

is a qualified yoga instructor, a hypnobirthing

practitioner and childbirth educator and has a

postgraduate degree in education.
---
Promotion

What's your love potion?

Looking for the perfect spoil to gift your Valentine?

Not only does TOPS at Lifestyle Centre Ballito have a

wide selection of high-quality liquor

and unrivalled wine offerings ... you

can also pick up a little something

extra like flowers, chocolates and

other gifts and goodies! Here

are Amanda's top picks for this

Valentine's Day.

Pierre Jourdan Belle Nectar Cap Classique

Inspired by South Africans who enjoy a little

added sweetness, The Belle Nectar takes all

the delights of Pinot Noir and celebrates

a sweeter palate. This Cap Classique is

the youngest member of the family and

is certainly the trendsetter as far as Cap

Mirari Pink Damask

Rose Gin

This delightful

pink gin is crafted

from a meticulous

selection of

natural botanicals

including Damask

roses, chamomile,

grapefruit, cubeb

berries and green

cardamom. The

gin is then gently

infused with

rose water. An

absolute treat for

sundowners during

Valentine's month!

Jean Roi Cape Provincial Rosé

This premium rosé is made in the same dry style as the great rosé wines

of Provence, France. Pale blush pink hue. Red fruit aromas with upfront

raspberry and strawberry, mingle with appealing stone fruit aromas.

Juicy, fresh and lively in the mouth, the raspberry and strawberry

flavours mingle with bright, nectarine and zesty citrus notes. Crisp and

vivid, the wine is light bodied and refreshing. Ideal for summer romance!

24 Get It • Ballito • Umdloti • Umhlanga February 2023
---
Greek-inspired chicken salad

We are all about delicious salad vibes in these warmer months, and this

Greek-style roast chicken salad ticks all the boxes.

Greek-style Roast Chicken Salad

(Serves 4)

You'll need: 4 medium size chicken

breasts, skin on (bones removed);

Olive oil for drizzling (plus

extra); Salt and pepper; 250g small

mixed tomatoes, halved; 1 large

red pepper, roughly chopped;

300g courgettes, sliced into bitesize

chunks; 2 red onions, peeled

and cut into wedges; A handful

of baby salad leaves (optional);

2 rounds of feta, sliced or kept

whole; ½ cup of kalamata olives;

A handful of fresh origanum

leaves (or basil or mint); 1 teaspoon

dried origanum; Red wine

vinegar for drizzling (or fresh

lemon juice).

To make:

Preheat the oven to 200°C. On

a large baking tray lined with

baking paper, arrange the chicken

(skin side up) next to the tomatoes,

peppers, courgettes and red

onions. Drizzle all over with olive

oil, then season generously with

salt and pepper. Roast for about

20 minutes until the chicken is

just cooked through and the vegetables

are slightly charred, then

remove from the oven and leave

to rest. Slice the chicken and get

ready to plate. On a large platter,

arrange the baby leaves, then

top with the sliced chicken

breast, roasted vegetables,

feta, olives and fresh origanum.

Sprinkle with dried

origanum, drizzle with more

olive oil all over and a touch

of red wine vinegar, then

serve at once (with some

crusty bread on the side).

Details: Spier Good Natured Organic

wines: shop.spier.co.za.

Pair it with a red …

If you were under the impression

that red wine can't play nice with

poultry, the juicy Spier Good Natured

Organic Shiraz 2021 will make you

reconsider. With intense mulberry and

sweet spice leading to a soft, smooth

finish, this certified organic Shiraz

is the perfect partner to this

wonderful Greek-inspired

chicken salad.

February 2023 Get It • Ballito • Umdloti • Umhlanga 25
---
A passion for decor

We're passionate about our homes, about unusual and beautiful pieces, and

about quality. So it's no surprise we're having a love affair with Ethos - an online

interior and homeware store with a focus on high-end quality and an eclectic

mix of carefully curated homeware and bespoke decor (with some jolly stylish

extras - think bags, ponchos and darling baby accessories - thrown in, too). We

have our eyes on these Galangal wooden bowls, the coconut-inspired Assam

set of white-enameled bowls with a tray, and textured scatters. Ethos delivers for

free across South Africa, and all products are wrapped in beautiful earth-friendly

packaging with a gift card. Details: ethos-store.co.za

An effortless combination of two opposite styles

Leroy Merlin has just launched their 2023 decor trends,

and right up there as a favourite is this new Contemporary

Authenticity trend - which effortlessly combines two opposite

styles ... modernity and authenticity. Simply called Nature,

the trend highlights contemporary lines and raw

surfaces, showcasing colour palettes and materials

that are natural and globally warmer and a little

darker than last year. The natural materials add rustic

elements but it's balanced with contemporary

architecture. Incorporating the Japandi trend of

slat panels, the lines are clean and the surfaces

raw. Nature continues with the previous

season's interest in the Wabi-Sabi aesthetic,

which appreciates beauty that is imperfect

and incorporates matte and slightly rougher

textures. The contrast between hand-crafted

decorative shapes and minimalist objects is

the signature look in this trend. Shapes are

curvy and smooth, yet geometric, with a touch

of irregularity. Why we love it ... It brings to our

living area a physicality and a connection to nature

which balances our technologically immersive daily

lives. Details: leroymerlin.co.za

February 2023 Get It • Ballito • Umdloti • Umhlanga 27
---
Kids

Choosing the right school, party

planning and some great money

habits for your kids ...
---
Photographs: SAM'S Photography

Meet Miss

Teen Ballito

Beautiful, bubbly and ambitious, 15-year-old

Emily Arthur was crowned the first Miss Teen

Ballito at the end of last year. Here's a little more

about the lovely inaugural pageant winner ...

Tell us about yourself and your family

We are a close, busy, active and energetic family

of three exuberant females and Tim. My sister

Kimberley is 10 months older than me, and even

though we are similar in many ways, we do have

our fundamental differences, which contributes

to our spicy family life. We have grown up on

the North Coast and are very involved in the

family tourism and holiday letting business,

where we help checking guests in and out of our

beachfront properties.

What prompted you to enter Miss Ballito Teen?

I participated in my very first pageant, the KZN

Miss Ambassador Contest, at the age of 6. I

entered Miss Ballito Teen to make a difference

through community service.

What was the Miss Ballito Teen experience like?

Thanks to the great organisers, Karen Landman

and Heidie Smith, the experience was fantastic.

The pageant was well-organised and included

workshops, seminars, training, interviews and

community projects, which proved to be most

beneficial and empowering.

What do you hope to achieve as the first Miss

Ballito Teen?

I want to show teenagers that going into the

community and making a difference is more

important than gravitating towards their

addictive social media devices.

Who do you look up to, and why?

Although most girls would immediately say their

mom (and yes, I am instinctively driven to say 'my

amazing mom'), a true inspiration in my life is my

87-year-old grandpa. He has been my mentor, role

model, guide and a true example of a Christian

who walks-the-talk and eloquently talks-the walk!

What do you hope to do after school?

I'm still quite undecided, but right now I'm

aiming towards architecture. Who knows though

… in a few years' time there may be a new job

description which doesn't exist yet.

What are three things not many people know

about you?

I am truly a spicy variation of Caucasian, Asian,

Lebanese and Mediterranean. I could sing perfectly

in tune and remember the words of songs from the

age of two. I rescue abandoned puppies/dogs and

look after them until they are re-homed.

If you could meet one celebrity in person, who

would it be and why?

The one celebrity I would love to meet is Neymar

Jr. the Brazilian professional footballer. His talent

is superb, he's got all the tricks in the book, can

dribble well, has good speed and even better

acceleration. He can shoot with precision, take

free kicks with ease and displays his unmissable

swagger when celebrating his goals. If Messi is

the Gift of God and Ronaldo the brute machine,

Neymar really is the rockstar of football!

February 2023 Get It • Ballito • Umdloti • Umhlanga 31
---
luxury

Affordable family

Text: Leah Shone

With easy-to-navigate technology,

comfort and affordability,

we recently test-drove the zippy new

Suzuki Baleno hatchback and can

confirm that we are officially fans!

34 Get It • Ballito • Umdloti • Umhlanga February 2023
---
It is amazing what you can get from an 'entry-level' vehicle

nowadays. From parking sensors and climate control to

touch-screen audio and smartphone connectivity, the

stylish Suzuki Baleno delivers on all these fronts, and more.

Whether you're a busy mom looking for a combination of

both affordability and style, or a young student wanting a

trendy, urban drive, this bold hatchback is a great option.

We admit we are in no way car experts … but we do a lot

of driving around the North Coast, and when it comes

to comfort and luxury, we just can't fault this impressive

vehicle.

Priced around the R230 000 mark, the Baleno is as lovely

looking as it is advanced, with an elaborate front grille and

coupé-inspired shape and an interior that will be the envy

of many in any school parking lot!

After picking up the keys from the friendly team at the

Suzuki Salt Rock dealership, we jumped in, familiarised

ourselves with the interior … and then hit the road.

The modern 7-inch 'infotainment' HD touchscreen is super

easy to use. We didn't feel intimidated at all. It shows you

only what you need to know – such as the radio and your

fuel consumption – and then doubles as a reverse guide

camera, which, of course, we love!

On the topic of fuel consumption (very important to all

drivers these days), the 1.5l Baleno is super fuel-efficient,

promising an average consumption of only 5.1l/100 km.

This is probably due, in large part, to the fact that the car

is super lightweight. Lightweight yes, but flimsy? Not at all.

Safety is of utmost importance to moms and dads driving

their little ones around, but also to parents considering a

vehicle for their young student.

The Suzuki Baleno offers leading safety technology as

standard on all models, including rear parking sensors, ABS

braking, airbags, ESP (electronic stability programme that

detects wheel slippage on wet roads and automatically

adjusts torque and brakes), and hill hold control.

Of course, we had to test-drive the cruise control, and

after jumping on the highway it was effortless and great

for long trips. The climate control is also an absolute

blessing, especially in these ridiculously hot summer

months.

Speaking of trips, although it is small, the Baleno is

deceptively spacious. The boot is bigger than most of the

other vehicles competing in this class and you could easily

pack up the kids and luggage (there is a removable luggage

shelf ) and head off to the Drakensberg or game reserve for

a night or two.

After zooting around Ballito and Salt Rock, we had to (sadly)

return the Baleno back to the dealership. It's easy to see

why this vehicle is so incredibly popular though, and if you

are looking for a stylish car that offers true value-for-money,

then it's definitely worth popping in and giving it a whirl!

Details: Suzuki Salt Rock, 032 648 0090, www.suzukisaltrock.

co.za

February 2023 Get It • Ballito • Umdloti • Umhlanga 35
---
A helping hand

Being told that your child needs to see an

educational psychologist can feel quite

overwhelming. But it doesn't have to be.

We asked North Coast educational psychologist

Felicity Tonkinson for some insight into exactly

what she does.

"An educational psychologist works with children and

teenagers in educational settings. The main role is dealing

with challenges such as learning, developmental disabilities

and social, emotional and disability issues that interfere with

learners' education," says Felicity, who has almost 22 years'

experience in the field.

"We look at what is happening with the learner in any

learning environment at any level. This includes early

childhood, primary, secondary and tertiary education.

We gain a comprehensive view of the varied settings in

which they are living (home, school, boarding school) and

use a number of qualitative and quantitative tools (home,

school, one-on-one testing observations, interviews and

assessments) to understand what is going on in the child's

life, thereby gathering comprehensive, diverse perspectives

to identify patterns."

Once the information has been gathered, Felicity says, they

then analyse it to design a support plan. "We inform the

instructional process and advise on the best approaches

and provisions to support learning and development for

students to succeed."

Educational psychologists research innovative ways to

help those who work with children and adolescents and

new ways to help children learn more effectively. They also,

very importantly, help resolve high-risk situations working

with learners, teachers and parents to address issues such

as bullying, suicide threats, teacher threats and so on by

providing guidance, advice and support.

"An educational psychologist will have trained in child

development, the psychology of learning and teaching,

children and adolescents' emotional well-being and the

psychological aspects of educating children with special

educational needs. Training includes how groups function,

how people communicate and maintain relationships as

well as assessments, report writing, counselling, research

and training others."

Common cases seen by educational psychologists:

* Difficulty concentrating

* General and specific learning difficulties

* Appropriate grade and school placement

* How to study effectively and read and write test and exam

papers

* Autistic spectrum disorder

* Separation, school anxiety, generalised anxiety and stress,

low self-esteem/self-confidence and friendship issues.

36 Get It • Ballito • Umdloti • Umhlanga February 2023
---
They also, very importantly, help resolve high-risk situations working with

learners, teachers and parents to address issues such as bullying, suicide

threats, teacher threats and so on by providing guidance, advice and support.

"An educational psychologist will have trained in child development, the

psychology of learning and teaching, children and adolescents' emotional

well-being and the psychological aspects of educating children with

special educational needs. Training includes how groups function, how

people communicate and maintain relationships as well as assessments,

report writing, counselling, research and training others."

Common cases seen by educational psychologists:

* Difficulty concentrating

* General and specific learning difficulties

* Appropriate grade and school placement

* How to study effectively and read and write test and exam papers

* Autistic spectrum disorder

* Separation, school anxiety, generalised anxiety and stress, low selfesteem/self-confidence

and friendship issues.

About Felicity:

With a degree in social science, bachelor of education degree and masters

in educational psychology, Felicity is a highly qualified and passionate

educator and educational psychologist.

She was a teacher for two decades and ran her own swimming business

for 20 years. Felicity also worked at a remedial school, taught at a school

for autistic children in London and worked at the Children's Assessment

and Therapy Centre in Sherwood consulting and assessing learners from

diverse backgrounds for 11 years. She trains teachers on pertinent topics,

mentors intern psychologists and continues to be involved with the

disadvantaged community. She has offices on the Berea, Umhlanga and

Ballito. Details: Felicity Tonkinson, 082 487 2674, ftonkinson@mweb.co.za

Educational psychologist

Felicity Tonkinson
---
Promotion

Plan that

party

Whether your little one

is adventurous and loves

swinging from the trees, or

is more of an arts and crafts

enthusiast, make sure you

plan his or her party well in

advance so you too can relax

and celebrate as they turn

another year older.

Liliko Kids

Come celebrate your little one's

1special day with Liliko Kids, an

on-the-go sensory play studio

just for kids! If you're looking for

child-centric messy play fun for

your kiddies, Liliko Kids has got

you covered. This leading sensory

play company offers educational

messy play workshops, events,

and themed birthday parties that

are tailored to suit all ages and

interests. So if you're looking to

hold a special event or want to

give your little one a memorable

birthday party, get in touch with

Liliko Kids. You pick the theme,

they create the magic.

Details: kaylee@lilikokids.co.za,

079 827 3141,

www.lilikokids.co.za

Tree Trails at

Sugar Rush

Looking for a different sort of party

to keep the kids entertained? Tree

Trails offers just the thing. Parties

at Tree Trails are unique, fun and an

experience not quickly forgotten.

Set amidst the Sugar Rush forest,

the course winds its way above

shaded picnic areas below,

pathways to explore, a big tyre

swing to play on and the bungee

trampolines, if you choose!

Details: 071 050 2396,

climb@treetrails.co.za,

www.treetrails.co.za,

@tree_trails21

2

38 Get It • Ballito • Umdloti • Umhlanga February 2023
---
3

The Jump Park

Looking for a trampoline park

that is a whole lot of fun for

kids and offers a wholesome

party option where children

entertain themselves and

have a blast? Visit The Jump

Park at Sugar Rush. No need

to worry about the weather

(it's indoors!), and you can

bring your own decor and

catering or order from the

restaurant! Budget friendly

mini parties are also available

on weekdays. Details:

www.thejumppark.co.za,

info@thejumppark.co.za,

071 137 0285

The Pottery

If you're looking for a party

that will be both special and

memorable, book at The

Pottery. This unique option

combines delicious food and

creative fun. After selecting a

pre-made item, kids get to pick

out paint colours and design

their creations! The menu

includes milkshakes, waffles and

fresh pressed juices.

Book a party during February

or March and receive 20% off

painting items. T&Cs apply.

Details: ballito@thepottery.co.za

4
---
Five money habits

for your kids

Of all the lessons we teach our kids and the habits we pass on, teaching

them to manage their finances is certainly among the most important.

Here are five great money habits to pass down to your kids …

1

Don't live beyond

your means

These days it is far too easy

to spend more than you

earn. Loans, credit cards and

store cards all offer temptations that

are difficult to resist. Kids are also

exposed at a very young age to the

idea of 'keeping up with the Joneses',

when their friends wear expensive

brand name clothing, for example,

or have the latest game console.

Teach your children the value of every

rand, help them realise how their

money can quickly run out and their

debt speedily spiral if they cultivate

expensive tastes.

40 Get It • Ballito • Umdloti • Umhlanga February 2023
---
2

Save, save and save some more

Children should understand the concept of

saving for expenses that they can't anticipate

(such as a broken mobile phone or a stolen

pair of shoes). Emphasise the importance of

saving up for things they want, rather than going into

debt to get them. The old-fashioned piggy bank is a

great tool to cultivate a savings attitude in children.

Children are master negotiators, so encourage them to

develop their negotiation skills and put them to good

use in managing their future finances. Teach them to

seek value and opportunity.

ENROLL WITH

US TODAY!

3

Avoid the debt trap

Owing money can be one of life's biggest

worries. A good way to emphasise how

debt drains your finances is to show your

children concrete, visual examples of how

the monthly interest paid on debt is a waste of their

hard-earned cash with absolutely no return. However,

if they should get into debt when they are older,

teach them how important it is to pay off those highinterest

debts first.

4

Anticipate the worst

You never know what life may throw at you,

which is why needs-matched life cover is

important. Teach your kids about having

enough cover in place to protect their assets

and liabilities, and by doing so yourself, you will be

able to provide your children with financial security in

the event of a serious illness, disability or death. Get

cover that is able to change as your life changes. Try

to instil in your kids a strong sense of responsibility so

that they protect their income from the day they start

earning. Also encourage them to continually review

their financial plan as their needs change, and not just

put the money away every month and forget about it.

5

Stick to your budget

Budgeting is probably one of the most

important pieces of knowledge that you can

pass on to your children. They need to be

very familiar with the concept of planning

ahead and limiting unnecessary expenditure. Teach

them the difference between luxuries and necessities

and how they should approach what they spend

their money on. Ensure they know that any money

they have left over at the end of the month should

immediately be put into savings.

Details: Article supplied by Clyde Parsons, Chief Innovation

Officer for life insurance provider BrightRock, www.brightrock.

co.za

TAKING ENROLLMENTS UNTIL

26 FEBRUARY 2023!

CONTACT OUR BRAND AMBASSADOR TODAY

NOMPILO.ZUMA@INSCAPE.CO.ZA OR 082 755 0733

& YOU DONT CAN MISS FIND US OUT, ON COME INSTAGRAM STUDY WITH @IN_DURBAN US

AT THE DURBAN CAMPUS IN 2023.

CONTACT OUR BRAND AMBASSADOR

NOMPILO.ZUMA@INSCAPE.CO.ZA OR 082 755 0733

& YOU CAN FIND US ON INSTAGRAM @IN_DURBAN
---
GET IT DIRECTORY
---
African island

paradise

Nestled on the banks of the mighty Zambezi,

we explore the beauty, tranquillity and luxury wilderness

adventure that is Tsowa Safari Island.

The sound of the birds and the

rustle of our feet trampling on

fallen leaves and branches seems to

quieten as we turn the corner and

come face-to-face with a majestic,

hundreds-of-year-old baobab

tree. It's an extraordinary feeling,

standing in front of one these

beauties for the first time in your

life. Even more so when it's on a

little paradise island nestled on the

banks of the mighty Zambezi River.

Text: Leah Shone

February 2023 Get It • Ballito • Umdloti • Umhlanga 43
---
There are a number of activities to choose from,

including guided game walks and canoeing.

A WILDERNESS ADVENTURE

As we continued to walk, mesmerised, around the

enormous trunk of this 'tree of life', we were delighted

to see a table set up with champagne and orange

juice, especially for us, to toast this special occasion.

This island bush walk was just one of the many

activities we experienced while visiting Isibindi Africa

Lodge's remarkable Tsowa Safari Island near Victoria

Falls in Zimbabwe.

True safari luxury, Tsowa is a little piece of heaven

and by far one of the most carefully thought out and

sustainably designed lodges we've ever visited.

With eight, beautifully appointed luxury tents, Tsowa

is the perfect retreat for modern day adventurers who

enjoy immersing themselves in the

surrounding wilderness.

Our hosted group had arrived the

day before after quick flights from

Durban to Joburg and then Joburg

to Victoria Falls airport, followed by a

one-and-a-half-hour trip (including

road transfer, a 4x4 game drive and a

10-minute boat ride).

It didn't take long for us to unwind

and embrace the tranquillity and

solitude this exclusive getaway offers

and the intermittent cell phone

signals soon started to feel like a

blessing as we sipped our ice-cold

sundowners alongside the Zambezi

while watching a large bloat of hippo

play and honk nearby.

44 Get It • Ballito • Umdloti • Umhlanga February 2023
---
SUSTAINABLE DESIGN

After dinner on our first night, sitting under magnificent stars

with the fire crackling and eerie sounds of leopard calling in the

distance from the mainland just across the water, lodge manager

Eric Maruhwa shared a bit about Tsowa's interesting history.

The true magic of this luxurious wilderness lodge, it seems, is the

passion and heart that went into its design and creation. Isibindi

Africa Lodges founders Brett and Paige Gehren took their time

deciding where to place the lodge on this private uninhabited

island, even 'bush camping' on various sites before deciding

where each luxurious tent would be placed.

Of utmost importance to them was that the property be built

with respect to nature and that it blended in as much as possible

with the natural environment. There are no cement foundations.

The riverbank was not disturbed during construction and trees

were built around, preserved and incorporated into the lodge's

architecture. You really feel like you are engulfed in the heart of

this natural habitat.

SHEER SAFARI LUXURY

Each incredibly comfortable (and sizable) tent is a luxurious

safari haven hidden under the tree canopy with all the amenities

you would expect from a lodge of this calibre. Think indoor and

outdoor showers, bar fridges, stylish finishes and fabulous views.

Absolute heaven.

The packages are almost entirely 'all-inclusive', with delicious

meals, snacks and drinks included. Every night we dined like

kings … three-course meals (cooked in front of us), served with a

selection of top South African wines.

Because it is small and intimate, Tsowa also offers incredible

flexibility in terms of meal times and activities … you can be as

busy or as 'slow' as you would like to be. And alluring as lazing

around the sparkling pool with a book sounds, the activities

available are well worth exploring!

Included in each stay are guided island bush walks, game drives,

bird watching, river cruises and fishing. Additional charges apply

for guided game walks and canoeing (no kids under 16 allowed),

as well as day trips to Victoria Falls or Chobe National Park.

We enjoyed a magnificent game drive in the Zambezi National

Park, as well as a thrilling canoe adventure on the Zambezi

(complete with crocs and hippo all around us!).

The birdlife, both migratory and indigenous, is prolific and Tsowa

has become a popular destination for birders who are looking to

tick off some 'firsts' on their sightings list.

After a few nights spent on this remarkable piece of paradise, the

lovely staff waved us off as we jumped into the boat and sailed

towards the mainland to catch our transfer back to the airport.

Needless to say, it was hard to integrate back into the 'real world'

after spending a few days on this exquisite, remote African island

... but that is all the more reason to start planning a trip back soon!

Safari luxury at it's absolute finest

There are both indoor and outdoor

showers in all of the luxury tents

Things you need to know before you book your stay…

Minimum stay of two nights (three-night stays include a trip to Vic

Falls). No children under 12 years. Guests are transferred from the

airport in closed, air-conditioned vehicles to a private entrance

to the Zambezi National Park, and then in an open 4x4 vehicle to

the river's edge, followed by a quick boat trip across to the island.

Rates (which are around $485 - $580 US, per person, per night)

exclude flights, road transfer, park fees and Isibindi Foundation

levies. Details: res@isibindi.co.za, www.tsowasafariisland.co.za

February 2023 Get It • Ballito • Umdloti • Umhlanga 45
---
Promotion

Book that holiday

We think the best way to face the new year and all the challenges ahead, is to book a holiday

so you have something to look forward to from the get-go! In fact, why not book a few

weekends in advance, and start counting down the days now?

Umngazi Hotel & Spa

Take advantage of Umngazi's Chasing

the Sun promotion (stay for 4, pay for

3) in May and June and escape with

your family and friends for a welldeserved

break from reality on the

Wild Coast, Eastern Cape.

You will be treated to crisp clear

mornings, warm autumn sunshine,

breathtaking sunsets, a wide range of

activities, and deliciously wholesome

food. Umngazi – where the accent is

on personal service – is the perfect

destination to take time out to

unwind and reconnect with your

loved ones.

The promotion is valid from 1st May –

22nd June 2023 (Sunday – Friday).

Details: requests@umngazi.co.za,

047 564 1115/6/8/9, @umngazi

1

2

Hluhluwe Bush camp

Take the hack out of camping and

'glamp' at Hluhluwe Bush Camp for an

authentic safari camping experience.

Watch the setting sun glisten off the

surrounding wild grasslands as you sip a

sundowner on the patio of their luxury

tented camps and, on hot days, lounge

by the pool and snack on refreshments

from the camp's rustic café.

Hluhluwe Bush Camp has diverse

accommodation options, for couples,

a tranquil retreat for one or an

adventurous family vacation. From

splendid Teepee Tents to cutesy Camper

Vans, the new Glamping Village offers

an array of unique, bohemian stays.

Details: 078 396 9391, 079 107 5273,

info@hluhluwebushcamp.com

www.hluhluwebushcamp.com

46 Get It • Ballito • Umdloti • Umhlanga February 2023
---
3

Kingfisher Lakeside

Retreat

A slice of paradise on the KwaZulu-Natal

South Coast in South Africa, Kingfisher

Lakeside Retreat is situated in the village

of Trafalgar on the border of the Mpenjati

Nature Reserve and a mere five-minute

walk to a pristine, unspoiled beach. An

exclusive, upmarket tented camp and

cottage for those who enjoy a luxurious

outdoors experience, Kingfisher Lakeside

Retreat offers guests the freedom and

closeness to nature of a camping trip,

with the convenience of luxurious, selfcatering

facilities.

Details: Malissa, 074 170 4242,

kingfisherlakeside@gmail.com,

www.kingfisherlakesideretreat.co.za

Montusi Mountain Lodge

A peaceful haven in the northern

Drakensberg … welcome to Montusi

Mountain Lodge. After an easy threehour

drive from Durban, you will be

engulfed in care and peace. Individual

suites are thoughtfully spaced

throughout the indigenous gardens

offering guests privacy and stunning

mountain views. There are a number

of adventure activities available, giving

guests ample reason to indulge in the

sumptuous cuisine on offer at each

meal! Montusi is a magical treat and

you deserve a break here!

Details: info@montusi.co.za,

036 438 6243, 072 591 1210,

www.montusi.co.za

4

5

KOSI FOREST Lodge

Tucked away in a unique wetland world

of lakes and forests and surrounded by

ancient sand forests, Kosi Forest Lodge

is situated within the iSimangaliso World

Heritage Park.

The eight rustic, yet comfortable thatched

forest rooms on raised wooden decks,

provide an authentic 'back to nature'

experience. Explore the pristine wetland

environment by vehicles and guided

canoes and boats, taking in the pristine

natural scenery and animal and birdlife,

relax by the pool or go on a Raffia forest

walk. Check out their 'February Friend for

Free Forest Hideaway Special!

Details: www.kosiforestlodge.co.za/

package-special/forest-hideaway

www.isibindi.co.za

February 2023 Get It • Ballito • Umdloti • Umhlanga 47
---
Spoil

February

Get into the

CIRCA fragrance zone

Our Feb spoil ... to win a Circa candle, simply pop over

to GetItmagNC on Instagram or Facebook and follow

the prompts. Entries close Feb 20.

No matter how chaotic your day may be, the ritual

of lighting a candle gives you back a moment of

peace. Allowing your breathing to slow down, your

senses to recharge, your soul to calm. Circa, the

Australian home fragrance brand, is an artisanal

range of simple, uncomplicated products to elevate

your every day. We're besotted with the Soy Candle

in a luxurious faceted glass jar with gold lid ... 70

hours of glorious burn time. Exclusive to Dis-Chem.

48 Get It • Ballito • Umdloti • Umhlanga February 2023