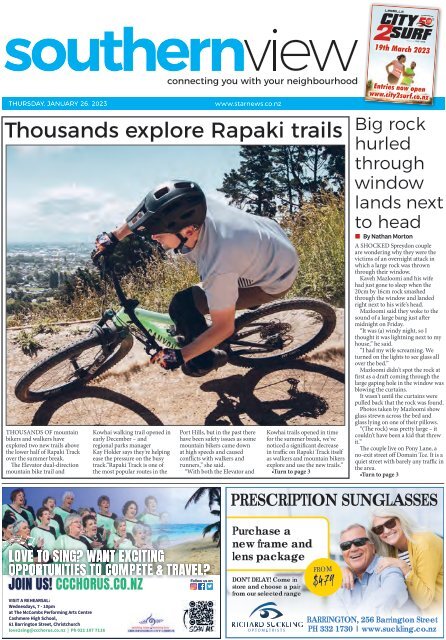 Southern View: January 26, 2023
You also want an ePaper? Increase the reach of your titles
YUMPU automatically turns print PDFs into web optimized ePapers that Google loves.
Social icon

Rounded square

Only use blue and/or white.

For more details check out our

Brand Guidelines.

19th March 2023

THURSDAY, JANUARY 26, 2023

connecting you with your neighbourhood

www.starnews.co.nz

Thousands explore Rapaki trails

THOUSANDS OF mountain

bikers and walkers have

explored two new trails above

the lower half of Rapaki Track

over the summer break.

The Elevator dual-direction

mountain bike trail and

Kowhai walking trail opened in

early December – and

regional parks manager

Kay Holder says they're helping

ease the pressure on the busy

track."Rapaki Track is one of

the most popular routes in the

Port Hills, but in the past there

have been safety issues as some

mountain bikers came down

at high speeds and caused

conflicts with walkers and

runners," she said.

"With both the Elevator and

Kowhai trails opened in time

for the summer break, we've

noticed a significant decrease

in traffic on Rapaki Track itself

as walkers and mountain bikers

explore and use the new trails."

•Turn to page 3

Entries now open

www.city2surf.co.nz

Big rock

hurled

through

window

lands next

to head

• By Nathan Morton

A SHOCKED Spreydon couple

are wondering why they were the

victims of an overnight attack in

which a large rock was thrown

through their window.

Kaveh Mazloomi and his wife

had just gone to sleep when the

20cm by 16cm rock smashed

through the window and landed

right next to his wife's head.

Mazloomi said they woke to the

sound of a large bang just after

midnight on Friday.

"It was (a) windy night, so I

thought it was lightning next to my

house," he said.

"I had my wife screaming. We

turned on the lights to see glass all

over the bed."

Mazloomi didn't spot the rock at

first as a draft coming through the

large gaping hole in the window was

blowing the curtains.

It wasn't until the curtains were

pulled back that the rock was found.

Photos taken by Mazloomi show

glass strewn across the bed and

glass lying on one of their pillows.

"(The rock) was pretty large – it

couldn't have been a kid that threw

it."

The couple live on Pony Lane, a

no-exit street off Domain Tce. It is a

quiet street with barely any traffic in

the area.

•Turn to page 3

PReScRIPTION SuNGlASSeS

Purchase a

new frame and

lens package

DON'T DelAY! come in

store and choose a pair

from our selected range

From

$479

BARRINGTON, 256 Barrington Street

PH 332 1730 | www.suckling.co.nz
---
2

Thursday January 26 2023

DELIVERERS WANTED!

Are you honest, reliable and over

the age of 11? Why not earn money

and get fit doing it. Get in touch

with your interest today:

deliveries@alliedpress.co.nz

029 983 2293

Your local community newspaper connects

neighbours in the following suburbs

Spreydon • Hoon Hay • Hillmorton • Cracroft

Cashmere • St Martins • Somerfield

Sydenham • Addington • Waltham • Opawa

Beckenham • Huntsbury • Woolston

22,300 readers every week

NEWS

Natalie Pham

natalie.pham@starmedia.kiwi

ADVERTISING

Mark Sinclair

Ph: 021 913 566

mark.sinclair@starmedia.kiwi

GENERAL INQUIRIES Ph 379 7100

CLASSIFIED ADVERTISING Ph 379 1100

www.starmedia.kiwi

Nielsen Media NRS

what's on

this week

Lunar New Year Bilingual Wā

Kōrero-Storytimes

Tuesday, 11-11.30am

South Library

Celebrate the Year of the Rabbit with

special bilingual storytimes. Meet

others in our community when you

and your pre-schooler join us for a fun

variety of stories, songs and rhymes

which foster children's literacy. All

whānau and caregivers welcome. Free,

no bookings required.

Tutti Frutti Bookmarks

Monday, all day

South Library & Spreydon Library

Keep track of your summer reading.

Free, no bookings required. This is an

unsupervised activity.

Photovoice Exhibition

Monday, all day

South Library

The Photovoice process involved a

group of people who have experienced

homelessness – taking a range of

photos of things that hold significance

to them, and reflecting their lives,

interests and surroundings in visual

form. Video stories accompany the

photos to share the meanings behind

the images.

Brick Your Book –

International LEGO Day

Monday, all day

South Library

Do you love Lego? Go to South

Library to build and play, and

celebrate International Lego Day at

the pop-up Imagination Station. Not

Book Discussion Group, Thursday 6-7pm, South Library. For those

who love reading and want to share in discussion with other friendly book

lovers. We subscribe to the Book Discussion Scheme so there is a cost

involved. Places are limited, so please phone 03 9417932 or email library@

ccc.govt.nz to ask about availability and cost.

sure what to build? Why not Brick

Your Book and be in to win! Get the

whānau together, use our Lego or

yours to recreate a scene or character

from your favourite book. Take a

photo of your creation, and enter

online or at the library.

JP Clinic

Spreydon Library - Friday, 10.30-11am

South Library - Tuesday, 10am-1pm

A justice of the peace will be

available to witness signatures

on documents, certification of

document copies, taking oaths,

declarations, affidavits or affirmations,

applications for the dissolution of

marriage or civil union, citizenship

applications,sponsorship applications,

and rates rebate applications. This

is a free service. No appointment is

required.

Technology Help Drop-In

Session

Tuesday, 10.30-11.30am

Spreydon Library

Do you need help using your smartphone,

iPad, or tablet? Go along to

drop-in sessions for help with email,

searching the internet, using the

library catalogue, eBooks, and general

computer queries. Take your laptop,

tablet, or smartphone for help with

anything digital. Free, no bookings

required.

South – Libraries FC – 10-12

years

Friday, 9am-noon

South Library

Iconic clubs with countless league

titles and champions league trophies,

but now it is your turn to create

history. Create your own club badge,

personalise your jersey and create

your own trading card using the

technology at the library. Bring your

own sports shirt and we will supply

the rest. Special information: Bring

your own sports shirt. Ages: 10-12

years; cost: $31.99. Visit https://events.

humanitix.com/south-libraries-fc-10-

12-years-hsf for more information.

Not-for-profit organisations can

send their What's On listings to

southern@starmedia.kiwi

Do you suffer from

dizziness, vertigo or BPPV?

These issues can be treated with vestibular physiotherapy.

Vestibular rehabilitation therapy is a specialised form of therapy,

in which physiotherapists work to improve symptoms of dizziness

and the balance problems that can occur with vestibular

dysfunction. Balance problems and dizziness can all be treated

very effectively.

Do it

with your workmates

New Start • New CourSe • New FiNiSh

6km or 12km ChooSe your diStaNCe

Our team of experienced physiotherapists have all completed

internationally recognised competency courses in Vestibular

Rehabilitation.

Contact our

Dizziness Clinic:

Nicole Vercoe,

Clinical Lead,

Physiotherapy

Nicole.vercoe@lfbit.co.nz

or on 03 335 0541

Dizziness

Clinic

Get your team together, enter and be the

first to run the new C2S course.

Have you been working from home or

remotely? Then get your workplace involved

and re-connect, or are you maybe a group of

mates looking for a goal to achieve?

Two new distances to choose from 6km or

12km so all ages and fitness can join in.

(Teams can split entries over both distances)

Team sites are also available at the finish.

SuNday 19th marCh 2023

Enter your team at www.city2surf.co.nz

Contact Lisa Lynch to book your site

Email lisa.lynch@starmedia.kiwi or call 021 800 809
---
Thursday January 26 2023 3

'You don't expect this to happen'

•From page 1

Mazloomi said the couple do

not have any enemies and have

been living in the city for the past

two years.

He had no idea how or why the

rock was thrown through their

window.

"I can't emphasise enough, the

window they threw it through

was the most impractical window

to target," he said.

"If you wanted to break into a

house or check out what's inside,

it's the last window you would

choose. I have no idea why it

happened."

The couple called the police

Landmarks

by artist Grahame Sydney,

fiction writer Owen Marshall

and poet Brian Turner

A handsome, landmark book celebrating

the work of three of our literary and

artistic heavyweights.

The complementary work to the hugely

successful Timeless Land. Now twenty-five

years later, this lavish new volume from

these three long-time friends showcases

a rich selection of their subsequent work,

including recently written, previously

unpublished pieces. Through their own

marks about the land and its people, be it

in ink or paint, they offer a love song to the

South Island, in particular Central Otago.

and submitted a report on the

incident.

Mazloomi and his wife are

both working professionals and

say they have not spent enough

time in the area determine

whether it is safe or not.

"I hear and read stuff, but you

don't expect this to happen to

you," he said.

"I'm probably going to need to

do something – I just don't know

what to do. I can't stop people

from throwing things at my

window so something needs to

be done, I just haven't thought it

through yet."

– NZ Herald

SMASH: The large 20cm-long rock

was thrown through Kaveh Mazloomi

bedroom window and landed right next

to his wife's head.

GREAT SUMMER READS AT TAKENOTE FERRYMEAD

VErY

sPECIaL

PrICE

$

49 95

Trails prove

popular

with walkers

and riders

•From page 1

Said Holder: "We're really

pleased with the positive response

we've received to these new trails

and to see thousands of people

enjoying them over the Christmas

holiday period."

Both trails begin on the lefthand

side of the track, about

100m above the end of the

tarsealed road.

The intermediate-level Elevator

trail climbs and joins the existing

Taramea mountain bike loop

track. The Kowhai track leads to

the top of Montgomery Spur.

Both trails then rejoin Rapaki

Track about halfway up near the

stockyards. The two new trails

were built by contractors and

volunteers over winter and spring.

A public consultation process

and a hearings panel held before

the trails were created saw more

than 300 individuals and groups

provide their feedback on the

plans.

1005 Ferry rd Ph 384 2063

CLOSED SUNDAY

While stocks last

(see instore

for terms and

conditions)

Barry &

kerry

We started today very wet and anxious but you made it great by lunchtime.

It has been a traumatic time but you and your team have made it so much

easier. We have been helped all along the way and it has finished very

positive for us.

We cannot thank you enough and will sleep well tonight. We enjoyed

your staff and will try to keep in touch.

Thank you, Thank you, Thank you.

- John -

Phone or text 027 555 7079

REINZ Residential Salesperson of the Year* 2020 - 2022

cameron.bailey@harcourts.co.nz No.1 Harcourts Canterbury 2012-2022

No.1 Harcourts New Zealand 2017-2022

www.cameronbailey.harcourts.co.nz Licensed Sales Consultant REAA 2008

*Residential Salesperson of the Year across all brands in New Zealand.
---
4

Thursday January 26 2023

Richmond

Discount

Furniture

The Best

Little

Furniture

Shop in

Town

Duchess

with

Mirror

5 Dr Chest

Queen

Headboard

ONLY $999

ONLY $799 ONLY $349

Foundry

Entertainment

Unit

(1900 x 450 x 600H)

ONLY $799

2 Dr

Bedside

Cabinets

ONLY $299

5 Dr

Tallboy

ONLY

$599

Foundry Coffee

Table

(1200 x 600 x 400H)

ONLY $499

Lowboy 6 Drawer

1130 x 410 x 820.

Tallboy 4 Drawer

600 x 400 x 900.

7 Drawer

TV/DVD

Chest

760 x 1140 x 410.

(Gap 150)

Towerboy

6 Drawer

1260 x 460 x 410.

With metal

runners.

Also available

in Black.

Duchess

with

Mirror

1090 x 410 x 820

NZ made.

Bedside Cabinet

With metal runners.

ONLY $539 each

Midi 7 Drawer Scotch Chest

975 x 760 x 410. With metal runners.

ONLY

$259

ONLY

$359

Jumbo 4 Drawer Chest

1140 x 800 x 400. NZ made. Metal runners.

ONLY

$275

7 Drawer Scotch Chest

1140 x 800 x 410.

Also available in black.

Single

Foam

Mattress

100mm,

1900x900

ONLY

$59

ONLY

$699

Padded

Headboards

1500H - Zinc, Lead,

Pearl & Black colours

avail, while stocks last

Small

510H x 460W x 410 D

$150each

Large

690H x 460W x 410 D

$199each

ONLY

$329

each

ONLY

$329

each

ONLY

$359

King/Super King only

$499

Ther-a-pedic Mattress & Base

Reversible pillowtop innersprung.

Single

$599

King Single/

Double/3/4

$699

Queen

$799

3piece

Dining Suite

(750 x 750)

ONLY

$499

5 Piece

Dining Suite

(1200 x 750)

ONLY $699

7 Piece

Dining Suite

ONLY

$999

Gladstone Bedroom

Furniture Range

Colours available Oiled Oak (light)

& Smokey Oak (dark)

5 Drawer Chest

1170Hx400x760

$499

Bedside

530Hx400x480

$249

Towerboy

1170Hx400x480

$399

Gladstone Road

Coffee Table

1000W x 800 x 500H

ONLY $399

Coffee

Table

1060w x 550x 420

ONLY

$149

Gladstone

Road Ent/Unit

1100W x 400 x 480H

ONLY $399

Foundry Hall

Table

1500 x 420 x 810

ONLY $599

Tri-Pillow special

ONLY $10 EACH

Student Desk

Available in black or white. 1000w x 690h x 500d

Entertainment Unit

1100 x 400 x 480.

White 2 Drawer

Entertainment Unit

1115 x 480H x 400D

ONLY

$349

Glass Ent/Unit

1000w x 410 x 510H

ONLY $249

3 Dr Ent Unit

Available in

Black or White

ONLY

$449

ONLY

$349

ONLY

$349

233 STANMORE ROAD • PHONE 03 389 0536 • OPEN MON-FRI 10AM–4.30PM SAT 10–1PM

WE ACCEPT EFTPOS, VISA AND MASTERCARD... PARKING AT REAR
---
Thursday January 26 2023 5

$60k to make sure youngsters

'reach their potential' on court

TENNIS Canterbury has been

granted $60,000 to get more

people playing the sport.

General manager Bevan

Johns said the grant will allow

the organisation to focus on

participation and development

initiatives to ensure young

talented players "reach their

potential at all levels."

"Tennis Canterbury delivers

services to over 7000 members

and a further

30,000-plus

participants

in various

programmes

and casual

participation

Bevan

opportunities."

The funding

from New Zealand

Johns

Community Trust aims to keep

participation costs down and

remove barriers to participation,

Johns said.

"Tennis Canterbury is about

making it easy for everyone to

discover or re-discover tennis

and to help our players find

enjoyment through tennis for

life."

The grant will help the

organisation run its beginner

hotshots programme and

get juniors to national and

international competitions.

"During the current season we

trialled the first iteration of the

Canterbury player development

programme in preparation for

the annual national teams event.

The region's top six girls and six

boys in the 12U, 14U and 17U

age groups got together weekly

to practice and prepare for the

event. Training included doubles

strategy, mental preparation,

fitness and nutrition planning."

The grant will help Canterbury

players like Lucia Gale who

won the national under-14 title,

beating fellow Cantabrian Dallas

King-Ehau in the final. Lucia

also took out the doubles title

and competed at the under-16

nationals where she won the

doubles.

Alvin Na won the under-12

boys singles and doubles final,

while Aliyah Daly won the

under-12 girls doubles.

TALENT:

The grant

will help

young tennis

players,

including

Lucia Gale

(above) who

won the

national

under-14 title.

Five Canterbury players,

including Lucia, took part in the

national teams competition in

Australia last year.

The funding will go towards

the New Zealand regional

programme for 11 to 14-yearolds,

run by coach Stuart

Chalmers at Wilding Park.

It brings the best players in

Canterbury together to train

with experts in strength and

conditioning and other aspects

of the game. Said Chalmers:

"This programme ensures

opportunities for our junior

players to train together. We

are now looking to extend it

for players in the 15-plus age

bracket. We need to keep these

young talented players in the

game."

Tennis Canterbury also has

a strong wheelchair tennis

community. Travis Moffat won

the recent national singles title

and Glenn Barnes was runnerup.

The two went on to win the

doubles championship. Seniors

tennis is also strong in the region

and there are programmes for

players in the Tongan tennis

community.

With more than 500 juniors

and 550 adults competing in

summer interclub across the

region, Tennis Canterbury relies

on its small number of staff and

network of clubs, coaches and

volunteers to grow the game.

Hot pools closing for maintenance

HE PUNA Taimona is closing

temporarily so scheduled

maintenance work can be carried

out.

From Thursday, February 16 the

New Brighton hot pools will be

closing its doors to the public to

allow improvements to be made in

and around the pools.

It is expected to re-open on

Friday, March 31, 2023.

He Puna Taimoana manager

Merryn Skipper said the closure

was part of a two-yearly planned

maintenance schedule to ensure

the facility was fit for purpose.

"We'll be using this six weeks

to carry out improvement work

onsite, particularly maintaining

and replacing pool equipment to

ensure they continue to run well."

Skipper thanked visitors for

their patience while the work was

carried out.

"We know how much people

love visiting He Puna Taimoana,

and while there is never a good

time to shut our doors, this is our

quietest period. It is important

to give this well-used facility the

maintenance it requires to keep it

running efficiently and safely for

customers and staff to enjoy. The

team looks forward to welcoming

you back soon."

Bookings will be available for

the reopening date onwards the

end of January.

PHOTO: NEWSLINE

Let's use water

like we oughta

Watering is fine in the morning time

Know and reduce your water use:

ccc.govt.nz/WaterReporter
---
6

Thursday January 26 2023

$20K

Cash

BACK

6

Months

TO SELL

Think

a new

outlook

Retirement isn't for retiring,

it's for new adventures.

With more freedom to

pursue your hobbies and

passions, you can live the

active, fulfilling retirement

you've worked hard to

achieve. Plus, with a $20k

cashback and six months to

sell your current home, it has

never been easier to make

the move.*

Think this sounds like you

or someone you love?

Summerset Prebbleton

03 353 6312

summerset.co.nz/prebbleton

on life.

*Terms and conditions apply.

SUM4463_FP
---
Thursday January 26 2023 7

Wrap up summer's best in a sandwich

Nigel Slater whips up a

slow and easy focaccia

for summer, and a

dreamy vegan filling to

complement it

Olive and rosemary

focaccia

Serves 4

Ingredients

400ml warm water

2 tsp easy-bake dried yeast

1 tsp sea salt

1 tsp caster sugar

500g strong white bread flour

6 Tbsp olive oil, plus a little

extra

125g green or lemon-marinated

olives, stoned

1 Tbsp rosemary leaves

Sea salt flakes to finish

A high-sided baking dish

Directions

Put the water and yeast into a

large mixing bowl and add the

salt and sugar. Mix in the flour

either by hand or with a wooden

spatula. Add 2 tablespoons of

the olive oil and mix loosely into

the dough. Cover the bowl with

a cloth and refrigerate overnight.

(The dough will need a good

eight hours.)

Next day, when the dough has

risen somewhat (don't expect it

to be as high as if you had proved

it in a warm place) halve the

olives and chop the rosemary

leaves and mix them into the

dough along with another 2 tablespoons

of the olive oil. Lightly

oil the baking tin and turn the

dough out into the tin. Push the

dough out to fit the tin with your

fist, gently pushing it almost

into the corners – it will swell

during second proving – then

wrap the tin in a cloth and place

in a warm spot for a good hour,

perhaps two, until it has risen to

twice its size.

Set the oven at 220degC.

When the oven is ready, use a

floured finger to push several

hollows into the dough, then

scatter the surface lightly with

sea salt flakes and bake for 30

minutes until golden. Remove

from the oven, pour the remaining

oil over the surface, then

release from its tin with a palette

knife.

Roast aubergine and

preserved lemon

sandwiches

Serves 4

Ingredients

3 medium to large aubergines

(about 800g)

4 Tbsp olive oil

3 cloves garlic

PHOTO: GETTY

1 small preserved lemon

12 basil leaves

1 focaccia (see recipe)

2 handfuls rocket

Directions

Warm 4 tablespoons of oil in

a shallow pan over a moderate

heat. Add the aubergines scoredside

down, tuck the unpeeled

garlic cloves around them, then

let the aubergines fry for 4-5

minutes until the cut sides are

starting to take on a pale golden

colour. You may need to do this

in two pans or in relay. Turn the

aubergines over, using a palette

knife then pour 100ml of water

into the pan. (Keep a lid handy

to deal with the spluttering.)

Cover with a lid, lower the

heat and continue cooking for

10 minutes until the aubergine

flesh is soft and silky. Check it is

cooked right through by prizing

the flesh apart with a spoon.

Remove from the heat and

allow to cool. Lift the cloves of

garlic from the pan, scrape their

flesh from the skins and put it

in a bowl. Crush the cloves to a

paste with a spoon or fork. Using

a tablespoon, slide the aubergine

flesh from its skin into the garlic

bowl. Pour in any juices from the

pan – there won't be a lot – then

mash together with a fork.

Remove and discard the flesh

from inside the preserved lemon,

then chop the skin very finely.

Add to the aubergine. Shred the

basil leaves and stir in. Taste for

seasoning. You may need a little

black pepper.

To fill the focaccia: using a

long, sharp bread knife, slice the

bread in half vertically to give

two rectangles then cut each in

half horizontally. Remove the

top half of each, then cover the

bottom half with the mashed

aubergine and rocket leaves.

Place the upper halves on top

and press gently down. Leave for

a good half hour, for the juices

to soak in to the bread, then cut

into slices at the table.

– ODT/Guardian News &

Media

Halswell Honey

9 Kokoda Street, Halswell

Having purchased their next home, this Halswell Honey must be sold! Permanent

materials construction, a crisp modern aesthetic and convenient proximity to

local amenities make this two-bedroom, two-bathroom home a perfect prospect

for investors and first-home buyers. Situated on a quiet side street within walking

distance of Knight's Stream Park and Knight's Stream Primary School, the location

is peaceful and offers the benefits of an established neighbourhood with mature

greenery and trees. A modern wraparound kitchen with a tiled floor, wall oven

and separate cooktop anchors the open-plan living and dining area and flows

through to the spacious tiled dining area with external access and an adjoining

private study. Painted throughout in crisp neutrals the living space is bright, airy,

and kept toasty warm by a ducted heat pump system and double-glazed windows.

Large sliding doors open to the sheltered patio area where mature trees and grass

offer privacy. Both bedrooms are well-sized, with generous windows and built-in

storage. With a tiled ensuite and walk-in wardrobe for the master bedroom, and

an additional family bathroom, there is space for all the family to enjoy privacy.

Inspect today, you will be impressed!

GRENADIER

Grenadier Real Estate Ltd MREINZ Licensed Agent REAA 2008

500 sqm

2 2 2 2

Auction 02 Feb 2023 (Unless Sold Prior)

View harcourts.co.nz/BE194088

Debbie Pettigrew

M 027 777 0411

WiShIng everyone a

fabulous 2023

Small batch made from scratch, Coffee to go!

I Spy Food 78 Barrington Street, Somerfield | Phone: 03 337 0422
---
8

Thursday January 26 2023

Beckenham Loop
---
Thursday January 26 2023 9

CHRISTCHURCH

CREMATORIUM

FUNERALS

CROSSWORD

1 2 3 4 5 6

7 8 9

10 11

12 13 14

15 16 17

18

280

SUDOKU

Every row, column and box should

contain the digits 1 to 9.

WordBuilder

WORDBUILDER

180

6

N T S

A U N

words of three or more letters,

How

including

many

plurals,

words

can you

of

make

three

from

or

the

more

six

letters, using each letter only once? No foreign

words or words beginning with a capital are

allowed. There's at least one six-letter word.

once?

TODAY

Good 13 Very Good 16 Excellent 20

letters, including plurals, can you make

from the six letters, using each only

No words beginning with a capital are

allowed. There's at least one six-letter

Solution 179: abut, alb, art, bar, bat, blat, blur, blurt,

bra, brat, brut, BRUTAL, bur, burl, but, lab, lat, rat,

word. rub, rut, tab, tabu, tar, tau, tub, tuba, tubal, ultra.

Good 13 Very Good 17 Excellent 21

19 20 21 22

23 24

25 26

Across

7. Unflagging (8)

9. Quantity (6)

10. Exist (4)

11. Resonant (10)

12. Soft felt hat (6)

14. Spice (8)

15. Fuss (6)

16. Whitewater (6)

19. Delight (8)

21. Livestock (6)

23. Unbeaten (10)

24. Partiality (4)

25. Downpour (6)

26. Tin (8)

Decoder

Down

1. Separate (6)

2. Give up (4)

3. Wheedle (8)

4. Hesitate (6)

5. Reporter (10)

6. Notorious (8)

8. Reek (6)

13. Scandalous (10)

15. Poised (8)

17. Chance event (8)

18. Infected (6)

20. Lopsided (6)

22. Heavy (6)

24. Shrub (4)

E I H K L J A Z M S V X U

14 15 16 17 18 19 20 21 22 23 24 25 26

T F O P R N G W Q Y C D B

1 2 3 4 5 6 7 8 9 10 11 12 13

14 15 16 17 18 19 20 21 22 23 24 25 26

R

Y A

All puzzles copyright

T H E P U Z Z L E C O M P A N Y

A B C D E F G H I J K L M N O P Q R S T U V W X Y Z

1 2 3 4 5 6 7 8 9 10 11 12 13

www.thepuzzlecompany.co.nz

SOLUTION

No.180

10 13 17 2 4 26 2 23 20 1 2 4

Crossword

Across: 7. Tireless, 9.

Amount, 10. Live, 11.

Stentorian, 12. Fedora, 14.

Cardamom, 15. Bother,

16. Rapids, 19. Pleasure,

21. Cattle, 23. Undefeated,

24. Bias, 25. Deluge, 26.

Canister.

Down: 1. Divide, 2. Cede,

3. Persuade, 4. Falter, 5.

Journalist, 6. Infamous, 8.

Stench, 13. Outrageous,

15. Balanced, 17. Accident,

18. Septic, 20. Uneven, 22.

Leaden, 24. Bush.

WordBuilder

ant, ants, anus, aunt, aunts,

nan, nans, nun, nuns, nut,

nuts, san, sat, stun, sun,

SUNTAN, tan, tans, tau, tun,

tuna, tunas, tuns.

Sudoku

Each number in our DECODER grid represents a different

letter - there is a number for all 26 letters of the alphabet.

DECODER

Enter the given letters into all squares with matching numbers.

The challenge now is to work out which letters are represented

Each by the number other represents numbers. a As different you get letter the of letters, the alphabet. enter them Write into the

given the main letters grid, into all and squares the reference with matching grid. numbers. To keep Now track work of out the

which letters letters you are have represented found, cross by them other off numbers. the alphabet provided.

4 14 12 15 11 20 13 23 3 20

5 14 16 26 13 14 7 15 6

G I N

15 6 2 18 26 14 6 21 20 5 3

22 5 7 17 6 14 18 22

14 5 20 23 23 26 14 12 14 23 20

26 22 22 23 18

13 14 12 18 20 22 19 20 18 3 4 10

20 5 13 8 5

15 18 15 9 26 3 5 22 20 25 15

1 15 14 26 6 15 1 23

15 20 15 6 23 15 12 15 3 26 23

6 20 24 14 23 20 14 5 26

7 14 7 15 7 20 13 10 1 14

A B C D E F G H I J K L M N O P Q R S T U V W X Y Z

1 2 3 4 5 6 7 8 9 10 11 12 13

N G

14 15 16 17 18 19 20 21 22 23 24 25 26

I

SOLUTION

No.179

180

1 2 3 4 5 6 7 8 9 10 11 12 13

Q K R H O A P D M N Y G V

W B X L E Z U J C F S T I

14 15 16 17 18 19 20 21 22 23 24 25 26

25 13 12 2 14 18 22 20 4 11 23 18

23 21 3 11 10 2

2 26 4 11 4 23

11 13 12 11 8 20 2 14 18 13 12 1

20 2 21 7 14 21

23 3 20 5 3 21 4 4 21 18

7 21 23 24 23 16 2

14 2 19 14 13 4 21 23 9 13 4 21

R A Y

20 2 7 14 12 14

21 14 14 21 18 16 3 7 15 6

14 1 16 1 20 26 13

CHRISTCHURCH

CREMATORIUM

FUNERALS
---
10

Thursday January 26 2023

Sunday 19th March 2023

Choose your distance

6km or 12km!

The City2Surf is all about bringing people

together to achieve a goal of active

participation. Anyone can do it, you can walk

or run it and choose the distance that suits you.

Enter now at www.city2surf.co.nz

Proudly supporting

our charitable partner

the New Zealand

Flying Doctor Trust
---
Thursday January 26 2023 11

Classifieds Contact us today Phone our local team 03 379 1100

Trades & Services

PAINTING & PlAsTerING

• PAINTING • TILING

• PLASTERING

• WALLPAPERING

Phone Kevin Steel

• Interior/Exterior

• New Homes & Repaints

• Quality workmanship assured

• Correct preparation always undertaken

• 20+ years experience

• Earthquake repairs

(Painting/Plastering/Wallpapering/Tiling)

Ph 027 216 8946

www.facebook.com/kevinsteelpainters&decorators

Email: kpsteel@xtra.co.nz

PLUMBER

Need your

hot water fixed

quicksmart?

Call your

specialist

for a FREE

quote!

0800 468 928

hotwatershop.co.nz

TREE SERVICES

CRAIGS

TREES

Our services include:

Tree felling

Branch chipping

Trimming and pruning

Crown reduction

Stump grinding

P: 027 2299 454

E: craigstrees@xtra.co.nz

www.craigstrees.co.nz

Fully insured

Trades & Services

HALSWELL

GLASS & GLAZING 2017 LTD

THE PET DOOR SPECIALIST

• PET DOORS

• NEW GLAZING

• FRAMELESS SHOWERS

• MIRRORS

• INSURANCE CLAIMS

• RETRO GLAZING

• BALUSTRADING

ALL SUBURBS COVERED FOR

ALL YOUR GLAZING NEEDS

PHONE GAIL ON

322 7999 OR 021 CAT DOOR

(228 3667)

Trades & Services

Trades & Services

FOR ALL YOUR

★Garden Clean-ups

★Pruning

★Lawn Mowing

★Garden Maintenance

Call us today for a FREE quote

PH 0800 4 546 546

(0800 4 JIMJIM)

Trades & Services

ROOF

PAINTING 24/7

Rope & harness

a speciality,

no scaffolding

required,

30 years of

breathtaking

experience.

FREE QUOTES

20% OFF other

roof quotes

Exterior staining,

exterior painting,

water blasting.

Moss and mould

treatment $300.

Phone Kevin

027 561 4629

CARPET LAYING

Exp. Repairs, uplifting,

relaying, restretching.

Phone John on 0800

003181, 027 240 7416

jflattery@xtra.co.nz

ELECTRICIAN

A Prompt & reliable

registered electrician

with 24 years experience

for all residential and

commercial work, new

housing and switch board

replacements. Phone Chris

027 516 0669

PAINTING

Indoor / Outdoor, over 30

yrs exp, same day quotes,

ph Steve 021 255 7968

PAINTING

Indoor / Outdoor, over 30

yrs exp, same day quotes,

ph Steve 021 255 7968

Trades & Services

PLUMBER

Do you need a reliable

plumber? Quality and

timely services. No job

too big or small. Phone

V Plumbing Ltd. 022 351

4125

STUMP GRINDING

Best price guarantee Tony

0275 588 895

Wanted To Buy

AAA Buying good quality

furniture, beds, stoves,

fridge freezers, house

lots .Gold jewellery

& antiques. Same day

service. Selwyn Dealers.

Phone 980 5812 or 027

313 8156

TOOLS, Garden garage,

saw benches, Lathes. Cash

buyer Phone 355-2045

ADD SOME

COLOUR

TO YOUR ADVERT!

Sunday 19th March 2023

Choose your distance 6km or 12km!

The City2Surf is all about bringing people

together to achieve a goal of active

participation. Anyone can do it, you can walk

or run it and choose the distance that suits you.

Enter now at

www.city2surf.co.nz

Proudly supporting our

charitable partner the New

Zealand Flying Doctor Trust

OUR bUSInESS IS gROwIng...

here's how we can help grow yours too!

Deliver your mailers to your

customers with us:

.

We can deliver your mailer targeted locally to the customers most

likely to buy from you or offer you mass reach via our South Island

network.

Your mailer can be delivered as an insert in our paper or separately

in the letterbox.

Contact us today for

a plan to suit your

business.

DELIVERERS WANTED!!

IMMEDIATE START

We have delivery rounds available

across all areas of Christchurch.

EARN EXTRA CASH! GET FIT EARNING IT

If you are aged 11 or older, join our

dynamic team and deliver

The Star Newspaper to local homes

every Thursday.

SUPERVISORS wanted across the South Island

To be a supervisor you will need:

• A suitable van, mobile phone and computer with internet access

• Ability to handle deliveries of large quantities each week

• Ability to manage your own team of deliverers

Contact Cathy Mark Payne Kelly South Distribution Island Distribution Manager Manager

P: P: 021 029 340 983 7712293 | E: cathy.payne@mainlanddistribution.co.nz

| E: mark.kelly@mainlanddistribution.co.nz
---
12

Thursday January 26 2023

All new X-TRAIL

Electrified experience,

now unplugged

e-POWER is a unique electrified technology

available on selected all-new X-TRAIL models,

which includes two electric motors, a petrol

engine and a lithium-ion battery to achieve

an EV-like driving experience. The result is

almost instant acceleration response and

quiet driving sensation without the need

to plug in to recharge. Just exhilarating

and stress-free driving.

The All-new X-TRAIL e-POWER is in stock

and ready to test drive today.

CHRISTCHURCH NISSAN, 380 Moorhouse Avenue, Christchurch

Ph: 03 595 6820

www.christchurchnissan.co.nz

christchurchnissan.co.nz

CHRISTCHURCH MITSUBISHI

386 Moorhouse Avenue, Christchurch

Ph 03 379 0588 | christchurchmitsubishi.co.nz

10 year / 160,000km Powertrain Warranty (whichever comes

first) (non transferable). 5 year / 130,000km New Vehicle

Warranty (whichever comes first) (non transferable).