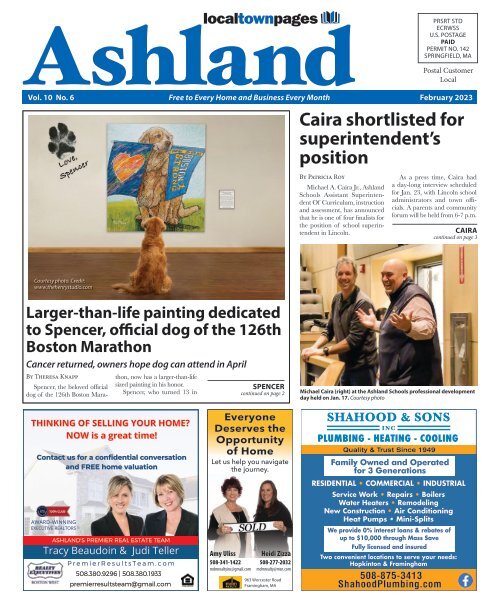 Ashland February 2023
Ashland February 2023
Ashland February 2023
SHOW MORE
SHOW LESS
Create successful ePaper yourself
Turn your PDF publications into a flip-book with our unique Google optimized e-Paper software.
localtownpages

Ashland

PRSRT STD

ECRWSS

U.S. POSTAGE

PAID

PERMIT NO. 142

SPRINGFIELD, MA

Postal Customer

Local

Vol. 10 No. 6 Free to Every Home and Business Every Month February 2023

Caira shortlisted for

superintendent's

position

By Patricia Roy

Michael A. Caira Jr., Ashland

Schools Assistant Superintendent

Of Curriculum, instruction

and assessment, has announced

that he is one of four finalists for

the position of school superintendent

in Lincoln.

As a press time, Caira had

a day-long interview scheduled

for Jan. 23, with Lincoln school

administrators and town officials.

A parents and community

forum will be held from 6-7 p.m.

CAIRA

continued on page 3

Courtesy photo. Credit:

www.thehenrystudio.com

Larger-than-life painting dedicated

to Spencer, official dog of the 126th

Boston Marathon

Cancer returned, owners hope dog can attend in April

By Theresa Knapp

Spencer, the beloved official

dog of the 126th Boston Marathon,

now has a larger-than-life

sized painting in his honor.

Spencer, who turned 13 in

SPENCER

continued on page 2

Michael Caira (right) at the Ashland Schools professional development

day held on Jan. 17. Courtesy photo

THINKING OF SELLING YOUR HOME?

NOW is a great time!

Contact us for a confidential conversation

and FREE home valuation

AWARD-WINNING

EXECUTIVE REALTORS®

ASHLAND'S PREMIER REAL ESTATE TEAM

Tracy Beaudoin & Judi Teller

P r e m i e r R e s u l t s T e a m . c o m

508.380.9296 | 508.380.1933

premierresultsteam@gmail.com

Everyone

Deserves the

Opportunity

of Home

Let us help you navigate

the journey.

Amy Uliss

508-341-1422

mdmrealtyinc@gmail.com

Heidi Zizza

508-277-2032

mdmrealty@msn.com

963 Worcester Road

Framingham, MA

PLUMBING - HEATING - COOLING

Quality & Trust Since 1949

Family Owned and Operated

for 3 Generations

RESIDENTIAL • COMMERCIAL • INDUSTRIAL

Service Work • Repairs • Boilers

Water Heaters • Remodeling

New Construction • Air Conditioning

Heat Pumps • Mini-Splits

We provide 0% interest loans & rebates of

up to $10,000 through Mass Save

Fully licensed and insured

Two convenient locations to serve your needs:

Hopkinton & Framingham

508-875-3413

ShahoodPlumbing.com
---
Page 2 Ashland Local Town Pages | www.ashlandtownnews.com February 2023

SPENCER

continued from page 1

July, had been fighting cancer off and on in recent years and owner Richard Powers of Holliston

says the cancer has returned and it is terminal.

"We learned in the fall that Spencer's cancer had returned and we wanted to create something

to immortalize him, and have something to inspire at the Marathon this year to mark the

10-year anniversary of the tragedy," says Powers, referring to the marathon bombings of 2013.

Spencer, and his now 10-year-old sister Penny, both Golden Retriever therapy dogs, rose

to fame during the coronavirus pandemic when Powers was posting near-daily "pupdates"

on his "Spencer & Penny" Facebook page @Spencerpowrs and other local town pages. The

pupdates continue today.

Spencer has been cheering on Boston Marathon runners at his post in Ashland since 2015.

The rendering entitled "Celebrating Spencer" depicts the pup in the center of the frame

wearing a Boston Marathon medallion around his neck and holding a pole in his mouth.

On the left side of the pole is a flag with a heart on it and on the right side hangs a "We Are

Boston Strong" flag.

The painting is 5 feet wide and 5.5 feet tall and hangs in Powers' home though he plans to

loan it out during the week of the marathon "to be displayed to continue to inspire and give

hope to runners and attendees."

Powers commissioned the painting from artist Tom Mosser Design based in Pittsburgh. It

took about two months to complete and was unveiled in January at Boston's Fairmont Copley

Plaza where Spencer is the hotel's "honorary canine ambassador."

A video of the ceremony can be found on Holliston Cable Access at https://bit.ly/3ZSbysu

Powers hopes Spencer can attend this year's marathon in April, where he and Penny typically

greet thousands of runners, but it would be a short visit.

"It is our hope he will be with us but, even if he is with us, he would not be able to attend in

his traditional role, it would be too much for him," says Powers. "But we would love to bring

him for a quick moment so could feel the energy one more time."

In the meantime, Powers reports his "angel on earth" has been "comfortable and relatively

active."

"Sadly, he's terminal and there is nothing more we can

do with any treatment. We are just managing his care and

comfort. His days have been mostly good so far but we

localtownpages

Published Monthly

Mailed FREE to the

Community of Ashland

Circulation: 7,884

households & businesses

Publisher

Chuck Tashjian

Editorial

Susan Manning

Send Editorial to:

editor@ashlandtownnews.com

Advertising Sales

Susanne Odell Farber

508-954-8148

sue@sodellconsult.com

Advertising Sales Manager

Jen Schofield

508-570-6544

jenschofield@localtownpages.com

Creative Design & Layout

Michelle McSherry

Kim Vasseur

Wendy Watkins

Ad deadline is the

15th of each month.

Localtownpages assumes

no financial liability for errors

or omissions in printed

advertising and reserves the

right to reject/edit advertising

or editorial submissions.

© Copyright 2023 LocalTownPages

are monitoring him very closely as we know it can change

very quickly."

As for his owners, Powers says, "We are taking it day

by day. Anyone who has lost a dog understands that he is

not just a dog, he is a family member and they know the

emotional roller coaster we are experiencing. Every day

is a gift with him. He is an amazing dog and has beaten

the odds so many times, and we are thankful for the extra

time we have had."

Powers thanks everyone who has supported Spencer

over the years. They have raised more than $4,000 for canine

cancer research and he encourages others to donate

to the cause at https://bit.ly/2InCwzJ.

OPEN 24 HOURS • PERSONAL & GROUP TRAINING • HYDRO MASSAGE BED

GET HEALTHY TOGETHER

$0 ENROLLMENT FEE

2 FREE PERSONAL TRAINING SESSIONS

1 MONTH FREE HYDRO MASSAGE

JOIN

Shaws Plaza

NOW!

309 Pond St • Ashland, MA

508-881-4900

Anytimefitnessashland@gmail.com

NEW YEAR

NEW VISION

DR.LAUREN LAPAGLIA, OD

THE PERSONALIZED EYE CARE

YOU NEED TO START THE NEW

YEAR WITH CLEAR VISION.

508-928-7300

ASHLANDFAMILYEYE.COM

25 WEST UNION ST

ASHLAND, MA
---
February 2023 Find us on Facebook | Ashland Town News Page 3

CAIRA

continued from page 1

on that day and will be available

as a Zoom webinar.

The position Caira is applying

for oversees schools from

pre-kindergarten through eighth

grade, a "unique structure that

matches my skill set," he said in

a letter to Ashland parents and

school community.

"I am eager to draw from my

experiences to face new opportunities

and challenges that present

themselves if I am afforded

the chance to serve as the superintendent

of the Lincoln Public

Schools," he said.

Caira's candidacy was put

forward by a Lincoln superintendent

search committee with

guidance from the Edward J.

Collins, Jr. Center for Public

Management at UMass Boston

which assists municipalities in

managing governance including

hiring.

Caira has been assistant superintendent

since 2020. He was

attracted to the Lincoln position

because of its dedication to anti-racist

education and its stress

on the importance of diversity,

equity and inclusion, he said.

"I share this commitment

and during my time as assistant

superintendent in Ashland, we

have made tremendous strides as

a district in the area of anti-racist

education and equity-driven

practices," he said.

This included using outside

consultants to offer training for

district leaders, high school and

middle school staff. An equity

audit was also completed.

While serving as the principal

of the David Mindess School

and Henry Warren School from

2012-2020, Caira was part of an

assessment of educational programming

and the group discovered

that the dual programming

model was inequitable, he said.

"Students with disabilities,

English learners, low-income

students and minority students

were disproportionately represents

in one of our programs.

We made necessary changes to

our programming to ensure this

was no longer the case," he explained.

As principal of the Henry

Warren Elementary School,

Caira served as the chairperson

of the Full-Day Kindergarten

Task Force which led to

tuition-free all day kindergarten

beginning in the 2018-19 school

year.

The two schools comprised

over 600 students and 90 staff

members in a K-second and

third-fifth grade school facility.

While there, he served as a

member of the district technology

committee, safety committee

and English Language Arts

program.

And of course, the pandemic

figured heavily into his career.

Caira termed the challenges

of helping to develop a remote

learning model that addressed

consistent learning for social

studies and science instruction

as "immense." He cites staff

collaboration and creative programming

as the key to its success.

Teachers and support staff

learned to adapt to the pandemic's

changing circumstances over

the past few years, he said.

"One of my proudest

achievements revolves around

my works as a member of

the Mindess School Building

Committee," he said. "While

I served as the principal of the

Mindess School I was charged

with authoring the educational

program, which is an integral

component of the project."

He enjoyed the collaboration

with teachers, parents and fellow

administrators and is pleased to

report the building committee's

work was praised by the Mass.

THE CLOCKER CLUB 12 TH ANNUAL

& Raffle

Sunday, February 12, 2023 | 8:00am – 11:00am

Ashland High School

School Building Authority. The

new school will open in the fall

of 2023.

Prior to his employment in

Ashland, Caira was assistant

principal of an elementary

school in North Middlesex Regional

school district and as

a special education coordinator

and a dean of students in

Leominster.

He has also attained state and

local educational grants.

Caira's education credentials

include a doctorate of Education,

Educational Leadership

from Boston College, a Master's

in Education, Elementary Education

from Fitchburg State

University and a Bachelor of

Arts in English with a concentration

in Elementary Education

from Assumption College.

Caira stressed his commitment

to the town throughout the

interview process and beyond, if

called for.

"I am fully committed to the

Ashland public schools during

this process and will communicate

with the community as I

learn more," he wrote. "Ashland

is an amazing place to work,

learn and live and I am lucky to

serve this community."

The other three finalists for

the superintendent's position

are Annette Doyle, principal of

Peter Noyes Elementary School,

Sudbury; Frank (Parry) Graham,

assistant superintendent

Wayland Public Schools and

Jessica Rose, assistant superintendent

Lincoln Public Schools.

The interview process is due

to be completed in February.

Pancake Breakfast

ADVANCE TICKETS (prices will be higher day of event)

Adults $10 | Seniors $6 | Students $6 | Children 5 & Under $5

Family Package for up to five people $30

Purchase Tickets at

https://www.clockerclub.org/shop

Music * Clocker Mascot * Raffle Prizes * More

Town Meeting

and Town

Election

All voting is held at the Ashland High School, 65 East

Union St. The next scheduled Annual Town Meeting

is Wednesday May 3, at 7PM in the High School Auditorium.

The next scheduled election is the May 16 Annual

Town Election. Polls will be open from 7am-8pm.

Please remember to visit our website at www.AshlandMass.com

for frequent updates. We try to keep you

informed as rules and or regulations change.

As always, you may contact the Town Clerk's office

with questions at 508-881-0100, ext. 7127 or

TownClerkOffice@AshlandMass.com.

WE ARE YOUR RELIABLE

INSURANCE NEIGHBORS

Work with people you can trust: Christine, Brian, Sandra

Our family-owned and operated independent

agency offers only competitively priced and

time-tested insurance products designed

to fit your individual needs. Specializing in home,

auto, business, condo and renters insurance since

our establishment in 1987, our agency is deeply

rooted in the communities we serve and committed

to providing the very best of value for your hard

earned dollars. Whether new to the area or a lifelong

resident you will benefit from the sound advice

provided by our professional service advisers.

Contact us today!

508-881-7800

25 West Union St., Ashland

MyAshlandIns.com

MENU

Pancakes | Sausage | Maple Syrup | Orange Juice | Coffee | Gluten Free Options

HOME • CONDO • RENTER • AUTO • BUSINESS
---
Page 4 Ashland Local Town Pages | www.ashlandtownnews.com February 2023

Nomination Papers 2023

If you are interested in running

for Town Office in the May

16, Annual Town Election, nomination

papers are now available

and due back in March.

You will need a minimum of

50 valid signatures in order to be

placed on the ballot. We suggest

you obtain at least two full pages

which is 64 signatures.

Office seats available for the

May 16, Annual Town Election

are listed on the town's website

at ashlandmass.com under Town

Clerk – Elections. Please contact

the Town Clerk's office for further

information.

ASHLAND HOME IMPROVEMENT

• Kitchen and Bathroom Remodeling

• Basement Finished

• Window & Door Replacement

• Wood Flooring Installation & Refinishing

• Deck Replacement and Repair

• Siding - Roof

• Masonry – Walk Way & Patio

• Power Washing

• Painting • Carpentry

Detailed & Meticulous

Reasonable Rates

Call Mauricio

508.202.8602 FULLY INSURED MA HIC.#169427

Before

Open Seats Available:

Select Board - 3-year term - 1

seat on ballot

Term expires 2026

Assessor - 3-year term - 1 seat

on ballot

Term expires 2026

School Committee - 3-year term

- 1 seat on ballot

Term expires 2026

Library Trustee - 3-year term - 2

seats on ballot

Term expires 2026

Board of Health - 3-year term - 2

seats on ballot

Term expires 2026

Planning Board - 5-year term - 1

seat on ballot

Term expires 2028

Achieve Clear Skin

after

ACNE CLINIC FOR ALL AGES

Take control. Manage your acne with a customized

treatment program designed to clear your unique skin.

Education. Coaching. Support.

90% of my clients clear in 12-16 weeks

Lisa Massimiano - Licensed Aesthetician, Acne Specialist

Certified by the National Face Reality Acne Clinic

Schedule your acne consultation today!

508-881-1180

SkinSmartSalon.com

SkinSmartSalon@aol.com

44 Front Street, 2 nd Floor • AShlAnd

Students Receive

Superintendent Awards

Each year Superintendent of

Schools Jim Adams gets to honor

three current Ashland High

School seniors for their dedication

to academics and leadership

and who consistently embody the

core values of the district and

high school. The award recipients

are selected with help from

the AHS leadership team and

counseling department. They

look for students who not only

excel in a specific academic area

but also demonstrate a high level

of involvement and contribution

to the school community.

Superintendent Adams was

pleased to award the following

recipients for the 2022-23 school

year with this distinction.

Massachusetts School

Superintendents

Certificate of Academic

Excellence

Jennifer Pickett

Hardworking, respectful and

compassionate are just a few

words to describe Jenny Pickett.

She is a highly motivated, intelligent

and driven individual who

always puts forth her best effort

and consistently strives to achieve

her goals. Jenny was the recipient

of the Clarkson University Award

for Achievement and is also a

National Merit Commended

student. She is the President of

the Leos Club and has been an

active member of the Student

Council and the Yearbook Club

for several years. She has also

contributed to her community in

a meaningful way by volunteering

countless hours at the Ashland

Public Library and through her

church's Youth Ministry. Jenny

has been admitted to Syracuse

University for the fall to major

in Film Production and Business

Administration.

National School

Development Council

Award for Academic

Growth and Student

Leadership in Learning

Christopher Bialzik

Leader, analytical, respectful

and focused describes Christopher

Bialzik. Christopher sets an

example of integrity and respect

among his peers and is a powerful

role model. He is a National

Merit Commended student and

Rensselaer Medal Award recipient

who takes advantage of all opportunities

presented to him and

goes beyond expectations in all

he does. He has earned his Eagle

Scout designation within the Boy

Scouts and exemplifies all the

scouts represent in character and

civic responsibility. Christopher

is a youth baseball umpire and

coach and values his contribution

to mentoring young players. He

is active on the AHS varsity baseball

team and junior varsity golf

team while volunteering his time

readily for community service.

Christopher has been admitted to

Northeastern University to study

BioEngineering.

April Wang

Since freshman year, April

Wang has challenged herself

with the most rigorous course

load possible and now ranks in

the top 5% of her class. She is

one of the most conscientious,

diligent and optimistic students

at AHS, and many teachers wish

they could duplicate her motivation

and intrinsic curiosity in all

their students. April is thoroughly

involved in the AHS community

through her work in student

council, as editor-in-chief for the

yearbook, robotics club member,

the School Committee Advisory

Council and volleyball, to name

a few. April has recently been accepted

into Cornell University's

freshman class of 2027, where

she hopes to major in engineering,

which allows her to continue

what she loves, creating tangible

products through design and creativity.

"Our district is honored to

have such a diverse and wellrounded

group of distinguished

students," said Superintendent

Adams. "I could not be more

proud of their accomplishments,

and I wish them the best as they

take the next step in their education."

The district offers its deepest

congratulations and respect to

these three outstanding students

for a job well done.

About Ashland Public

Schools

Ashland Public Schools is a

forward-thinking district located

in Ashland, Mass., serving nearly

3,000 pre-K through grade 12

students in five schools. For news,

updates and announcements, follow

Ashland Public Schools @

AshlandClockers on Twitter or

visit ashland.k12.ma.us.

Looking to advertise your business?

Contact Susanne: 508-954-8148 or sue@sodellconsult.com
---
February 2023 Find us on Facebook | Ashland Town News Page 5

Ashland's Hidden Gem - Sha'arei Shalom

By Linda Chuss

Contributing Writer

An aspect of Sha'arei Shalom

that makes it unique also means

it's less visible to the community:

the congregation holds its services

in public buildings rather

than in a permanent synagogue.

"Because there is no physical location

with a sign, many locals

don't even know we're here," explained

Rabbi Eric Gurvis. "People

are pleasantly surprised to

find out about us at community

events like the annual Hanukkah

Lighting," which many residents

have enjoyed participating in with

Sha'arei Shalom for years.

Friday evening Shabbat services

are held in the Ashland

Community Center, its excellent

Hebrew School conducts lessons

at the Ashland Middle School,

and High Holidays are celebrated

at the High School. The lack of a

permanent facility is intentional:

constructing and maintaining a

synagogue adds a significant expense

that can make membership

unaffordable and exclusionary.

This choice reflects the congregation's

values: member driven,

welcoming, affordable, and supportive

of a diverse constituency.

Founded nearly thirty years

ago, the congregation has endured

because of its special

approach. Longtime member

Jennifer Gordon said, "At this

point, the public facilities are part

of our congregation's fabric and

feel like home to the family that

is Sha'arei Shalom." Gurvis has

been with the congregation for

four years; previously, he served

for over thirty years at more traditional

congregations with synagogues.

When he discovered

the hidden gem that is Sha'arei

Shalom, its values drew him to

become the spiritual leader. Like

many members, Gurvis is not an

Ashland resident; congregants

come from many MetroWest

communities including Holliston,

Hopkinton, Southborough,

Framingham, Sherborn, and of

course, Ashland.

While Sha'arei Shalom, which

translates to "Gates of Peace,"

incorporates traditional Jewish

values, it's also flexible, such as

intentionally adapting to the busy

lives members lead. "Shabbat is

typically held every other Friday

rather than weekly, and in February,

there's just one service to accommodate

the school vacation

week schedule," shared Carolyn

Fertig, the congregation's president.

She added "We are also

known for embracing people

from any background, including

interfaith families, individuals,

and seniors."

"It's a fairly intimate congregation,

with one benefit being

that Rabbi Gurvis and the students

really know each other,"

adds Gordon. "Our size also

means whenever there's a need

for people to help out with an

event, everyone jumps right

in." Gurvis says that with fewer

members, the congregation can

more readily pivot, as was helpful

during the COVID pandemic.

Nonetheless, Sha'arei Shalom

is still seeing some of the effects

from that time. Members were

not able to be as active in community

events as had been typical

and participation with the

public is still being reestablished.

For example, in February 2020,

Gurvis led a well-attended community

discussion about rising

antisemitism at the town's public

library, but nothing similar could

be done for the past few years.

Federated Church of Ashland

118 Main Street, Ashland

February 2023

Thrift Shop

Wednesdays - 10 a.m.–6 p.m.

AND

Saturdays – 9:00 AM–2:00 PM

Please Note: Masks are Required

to Enter our Thrift Shop - Thank

you!

Lots of Hidden Treasures

Clothing - Jewelry - Books - Toys

Household Goods - Vintage

Items

In-Person Worship Services

Sundays @ 10:00 AM

All are Welcome!

Also available Live on YouTube

FCOA

Sha'arei Shalom Hebrew School students, teachers, and parents along with Rabbi Eric Gurvis visited the New

England Holocaust Memorial in Boston.

Excursions, like taking students

to Boston's Holocaust Memorial

were curtailed, but are resuming.

"We're looking forward to returning

to Ashland Day and more direct

community engagement, like

when our students led services for

seniors in elderly housing," said

Gordon.

"Sha'arei Shalom is welcoming

to new members," says

Gurvis. "For anyone looking to

explore a different way of practicing,

we invite you to attend a

service and get a sense of us, visit

the Hebrew School, and talk

with some existing members. We

are celebrating Purim on Sunday

March 19 with a festive carnival

at the Middle School, which is

a great opportunity for anyone

from the public to meet us." Fertig

adds, "Rabbi Gurvis and the

congregation are very approachable.

Even as the congregation

has grown and will continue to,

Sha'arei Shalom is committed

to maintaining our values, most

importantly providing a warm

environment for all."

PAID ADVERTISEMENT

Holliston, MA

The Corner Market

Not your father's Pizza Place

Hungry?

Try our Mr. Potato Head Pizza!

774-233-1966

CornerMarketHolliston.com

PLEASE RECYCLE

Matt Gamache

Realtor

Serving Ashland for over 10 years

Call for a market analysis

508.561.2757

www.MattGamache.com
---
Page 6 Ashland Local Town Pages | www.ashlandtownnews.com February 2023

Community Ties and a Commitment to Customer

Service: Affordable Junk Removal

There are plenty of reasons

to call a junk removal service.

Maybe you're planning to move

and need to clear out the basement

and attic before your open

house. Maybe you've spent way

too much time at home lately and

are feeling the need to declutter.

But figuring out who to call

can be a pain. If you contact one

of the big haulers, they route you

to a phone center where they've

never even heard of your town,

plus their pricing seems vague

and full of extra fees. No wonder

you've let the stuff pile up—it's

too much of a hassle to get rid

of it!

Or you can call Affordable

Junk Removal and let a local

small business with deep community

roots take care of everything.

Jay Schadler started his business

in 2003. Back then, it was

just him and a beat-up pickup

truck taking small jobs and working

nights and weekends when he

could. As the years rolled on, his

business grew, but his commitment

to customer service never

wavered. Now he's got a staff of

ten, along with ten trucks, servicing

eastern and central Massachusetts

and northern Rhode

Island.

Affordable Junk Removal

specializes in house and estate

cleanouts. If your garage, attic,

or office is overflowing with stuff,

take back your space and let the

pros do the heavy lifting.

DISCOUNT HEATING OIL

CALL FOR PRICES

Same Day Delivery

Senior Discounts

150 Gallon Minimum

508-620-6251

WWW.SAMEDAYOIL.COM

Join Us for Our PURIM CARNIVAL!

Everyone is invited

Games, Food, Crafts, Face Painting,

Costume Contests

Jay and his team have handled

it all. They've dismantled aboveground

pools, hauled away ancient

hot tubs, taken down old

fencing, and stripped away worn

carpeting. They'll come for a single

item, or they'll clean out an

entire house. And they can take

almost anything. They can't accept

hazardous materials, brush,

dirt, or concrete, but everything

else is fair game for them to take

away.

Not everything ends up in a

landfill—not if Jay can help it.

He first tries to either recycle or

donate items. Only after he tries

to repurpose items do they end

up at the transfer station.

Working with Affordable Junk

Removal is simple. First, you can

load stuff yourself if you want by

renting a 15-cubic-yard dumpster

for a week and chucking up

to a ton of your unwanted stuff.

If you need to get rid of more

weight, then Jay prorates that

tonnage—you never pay for what

you don't use.

If you don't want to be bothered

with the dumpster, they've

also got a driveway special where

they'll take away a truckload of

your unwanted things if you pile

it up. Or if you don't want to lift

a finger, then you can point at the

items, and the team will fill up

their truck and haul away your

unwanted things. However you

do it, you're left with more space

and more peace of mind.

Jay and his team beat the big

waste haulers on both price and

customer service. When you call

Affordable Junk Removal, you aren't

connected to an anonymous

call center. Your phone call goes

right to Jay.

And speaking of pricing, Jay

is upfront about it. His website

shows the truck sizes and prices,

so you can save time knowing

your costs before you call for an

appointment. There aren't any

hidden costs or surprise fees with

Affordable Junk Removal.

Affordable Junk Removal is

fully licensed and fully insured,

and they'll treat your property

with care and respect.

They also have a thriving commercial

business, working with

contractors and roofers to clear

away debris and keep the job

site clean. They can even handle

commercial and residential emergencies

with same-day service.

Jay and his family are deeply

involved in the community. He

and his wife, Christine, run the

Corner Market restaurant in

Holliston as well as Resellables,

a thrift store in Bellingham. It's

not uncommon for someone to

reach Jay at the restaurant, order

a sandwich, and then schedule a

junk removal appointment. Yes,

the local small business really can

handle everything!

For more information, contact

Jay Schadler at (774) 287-1133

or visit Affordable Junk Removal

online at www.takeawayjunk.com.

PAID ADVERTISEMENT

March 5, 10-11:30 am - Ashland Middle School

K-5th Grade: $5/child by 3/3 or $7 at the door

FREE for pre-K

For details and payment contact Lisa Brown

school@shaareishalom.org

please join us for

High Holiday Services

th

19 th

shaareishalom.org

Town Clerk's Office Updates

Dog License Registration

Please register your dog before April 15. A $50

fine will be added to each dog license after this date.

The fee for intact dogs is $20 per dog. The fee for

spayed or neutered dogs is $15 per dog but if you

(the owner) are seventy (70) years of age or older

then the tag is no charge.

Don't forget to bring an updated rabies certificate

with you. Please note that the free license does not

apply to kennels.

You may license your dog using the Town of

Ashland's online system, or by dropping off the form

and payment to Town Hall.

If you no longer reside in Ashland, or your dog

is deceased, please contact the Town Clerk's Office

by email, townclerkoffice@ashlandmass.com, or call

508-881-0100 ext. 7127 so records are updated.
---
February 2023 Find us on Facebook | Ashland Town News Page 7

A Heat Pump – Is It the Right Choice for You?

John Szolomayer

REAL ESTATE INSIGHTS

Fortunately, when it comes

to heating and cooling your

home there are many options

on the market, and with so

many choices, it can be hard to

know which one is right for you.

Your home's heating and cooling

choices do not have to be

difficult or expensive. Years ago

people thought of heat pumps

Board of Health

Childhood Vaccine Clinic

The Ashland Board of Health

is hosting a weekly childhood vaccine

clinic. This regional clinic

was created to provide vaccines

required by the state for school

aged children who are uninsured

or underinsured. Our Public

Health nurse is present at every

clinic to provide the following

vaccines for children and teens:

as being most useful in the

southern states. However, they

have become more common

in a wider variety of places,

including colder climates like

ours. Many homeowners now

in Massachusetts have chosen

heat pumps as their preferred

year-round home comfort system.

If it is time to replace your

home's air conditioning system,

you have many choices. Two of

the most popular types of AC

systems are ductless mini-split

systems and central air conditioning

systems. Both have their

own advantages and drawbacks,

so how do you know which one

is right for your home?

A Comparison of Ductless

Mini-split vs Central Air

Conditioners

Central air units are typically

less expensive upfront but

may not be as energy-efficient

in the long run. On the other

hand, mini-splits are typically

the most expensive to purchase

DTap, HPV9v, HepB, IPV (Inactive

Polio Virus), MCv4 (Meningococcal),

MMR, Td (Tetanus

and Diphtheria), Tdap (Tetanus,

Diphtheria and Pertussis) and

Varicella.

The clinic has vaccinated

more than 237 children so far

and is available to the following

municipalities: Ashland, Framingham,

Hopkinton, Hudson,

Greater Ashland Lions Club

Have a Happy St. Valentine's Day!

We thank all who donated to

this year's Coats for Kids and

Adults drive! 170 coats were generously

donated.

A Winter Wonderland afternoon

of fun is being planned on

February 26th for kids up to 12

years old at the VFW, 311 Pleasant

Street, from 12-2pm. Children

are free; adults are $5 each.

This is not a drop-off event.

Come and enjoy a delicious

St. Patrick's Day Dinner at the

VFW, 311 Pleasant Street, on

March 17th at 6pm. Tickets are

$25/person and on sale soon.

Mark your calendars for another

Quiz / Trivia Night! Form

a team (8 people maximum) for

this friendly trivia competition

and win a Cash Prize. Held

on April 14th at 6:30pm at the

VFW, 311 Pleasant Street. There

will also be a 50/50 Raffle, Basket

Raffles, Dessert Table, and

a Cash Bar. Contact Lion Ro at

508-881-4743 or Lion Nicole at

781-718-6478 for tickets ($20/

per person).

Do you have any used eyeglasses

hanging around? We'll

take them! Please bring them

to the Police Station (located

and install, but they can be very

efficient and effective. Minisplits

tend to be less expensive

to operate because they don't

lose as much energy through

ductwork. They do not require

ductwork to distribute the cool

air. Instead, they use a series of

small, whisper-quiet blowers

that deliver conditioned air directly

to different areas of your

home. What type is cheaper to

run depends on a number of

factors, including the size of

your home, and your personal

preferences. A ductless minisplit

system might be the more

cost-effective option if you live

in a small home, have multiple

rooms to cool, and live in a climate

with extreme temperatures

like we have.

A central air system might

be your best bet if you have a

large home. Ultimately, the best

way to decide which option is

right for you is to speak with a

qualified HVAC installer who

can help you assess your specific

needs.

Maynard, Milford, Millis and

Natick. Our Community Health

Worker is also available during

clinics to translate (for Portuguese

speakers) if needed, and to connect

clients with resources. Please

call: 508-733-3005 (for the Public

Health Nurse) or 978-875-5384

(for Community Health Worker)

if you would like your child to attend

the next clinic.

on Main Street), Market Basket

(Pond Street / Rte.126), the VFW

(at 311 Pleasant Street), or the

Town Hall (Main Street).

Wanting to get involved in the

community? We're a low-pressure

group of service-oriented folks always

looking for new members.

If you'd like to learn more about

the Lions and our club, please

contact Lion Alexis at cvarnie@

hotmail.com.

For more club information,

please check us out on Facebook:

Greater Ashland Lions Club.

#weserve #kindnessmatters.

Submitted: Lion Rosalie

Porter, 2nd VP

Should I Replace My

Central Air with a Mini-

Split?

If your central air conditioner

is an older model, it may

be time to consider replacing it

with a ductless mini-split which

takes up less space in your

home, and is generally more

energy efficient than central

air systems. A mini-split system

will consist of an outdoor

unit connected to one or more

indoor units. The indoor unit

can be placed anywhere and allows

you to cool specific rooms

you use most often rather than

cooling your entire home. As a

result, you can save money on

your energy bills by only cooling

the rooms you are using.

Ductless mini-splits can also

heat and cool multiple rooms at

different temperatures, which

central air cannot do.

Information provided

by John Szolomayer, RE/

MAX Executive Realty and

Energy Monster. Myenergymonster.com

- For more information,

John Szolomayer can

be reached at 508-259-4788 or

Johnszolomayer.com

Sponsored articles are submitted

by our advertisers. The advertiser is

solely responsible for the content of

this article.

Experienced. Professional. Trustworthy.

John Szolomayer ABR, CBR, AWREP, LMC

RE/MAX Executive Realty

508.259.4788

johnszolomayer@gmail.com

johnszolomayer.com

Looking to advertise your business?

Contact Susanne: 508-954-8148 or sue@

sodellconsult.com

Attention

Skiers!

Call to schedule an appointment today:

Call to schedule an appointment today:

508-881-6750

508-544-1540

Looking for rehab with

professionals who understand

the movement demands

of your sport?

Let us help you get back

to the sport you love sooner!

1 Lumber 15 West Street, Union Suite Street, 201, Ashland Hopkinton

1

196

Lumber

E. Main

Street,

Street,

Suite

Milford

201,

(in

Hopkinton

The Gym)

196 E. Main Street, Milford (in The Gym)

15

www.platinumptma.com

West Union Street, Ashland

www.platinumptma.com
---
Page 8 Ashland Local Town Pages | www.ashlandtownnews.com February 2023

Ashland Lions Club February Update

Welcome New Members!

Ashland Lions welcomes its

newest members Lion Chris

Frederick and Lion Cissy Seeto

to the club! If you're interested

in becoming a member of the

Ashland Lions, please reach out

to us via email at membership@

ashlandlions.org for details.

Ashland Lions Meat

Raffles

Ashland Lions will continue

its tradition of meat raffles at

TJs Food and Spirits in Ashland.

Come join the fun on Saturday,

Feb. 4, 12-4pm. Early bird tickets

before 12:30pm. As always there

will be great food, fun people

and great meat to choose from.

For more dates and times, check

out our Facebook page. See you

there!

Senior Breakfasts

Seniors, why not join us and

other members of the community

for breakfast? Senior Breakfasts

are on the first Thursday of

each month, held at the Ashland

VETERINARY CARE

for your companion

Our veterinarians

provide

personalized,

compassionate care

Senior Center, 162 West Union

St. in Ashland. This event runs

through May.

Eyeglasses and Cellphone

Collection

Eyeglasses and cellphone collection

is a yearround

project with collection

of used

prescription and nonprescription

eyeglasses,

sunglasses, hearing aids and

cell phones. Since September, we

have collected over 800 pairs of

eyeglasses!

Collection boxes are located at:

Ashland Post Office

Ashland Senior Center

Old train station - Ashland

Moody Optical - Ashland

Middlesex Bank – Ashland

Fayville, MA Post Office

Studio Optics – Framingham

Southborough Senior Center

Southboro Post Office on Rt.85

TJ's Food and Spirits

The Residence at Valley Farm

PREVENTATIVE MEDICINE, VACCINATIONS,

SPAY & NEUTER, EXAMS AND CONSULTATIONS,

PUPPY AND KITTEN CARE, SURGICAL CARE

Call us today to schedule an appointment!

FREE First Visit

for Dogs and Cats

Dogs 12 months or older,

cats 6 months or older

New clients only with this ad.

Expires 2/28/23

508-231-1223

300 Eliot Street, Ashland

www.thefamilypethospital.com

Medicine • Surgery • Exotics • Retail • Cat Friendly Certified

Doggie Daycare • Dog Training • Grooming • Medical Boarding

Some lucky meat raffle entrants won some high-quality cuts of meat.

Congrats to our Youth

Speech Contest winners!

The Ashland Lions and

Greater Ashland Lions held

their annual combined club-level

Youth Speech Competition on

Nov. 17. The contest was open to

all students grades 9-12 provided

they were sponsored by a Mass

Lions Club or Leos Club. Judges

not familiar with the contestants

were selected to score each contestant

on delivery, effectiveness

and the content of their speech.

This year's topic was "Environmental

Crisis: Fact or Fiction?",

and each contestant had to prepare

and present a speech 5-8

minutes long on the topic. All

the contestants did an excellent

job. Our first-place winner this

year was sophomore Ragav Iyer,

and first runner up was freshman

Hasini Reddy. Since the

contest was sponsored by both

Lions Clubs in Ashland, the top

two contestants both moved on

to the Region/Zone competition

to compete at the next level, held

on Saturday, Jan. 14. Mr. Iyer and

Ms. Reddy should be very proud

of their accomplishments. Special

thanks to our judges, timekeeper,

scorekeepers, text reader

and other volunteers who made

Simple Recycling Returns

Simple Recycling provides residents with a free,

convenient way to dispose of unwanted clothing

and other household goods. Although collection was

suspended during the pandemic. It resumes with a

few key differences:

• Residents no longer have to wait for their scheduled

recycle day to put their unwanted clothing

and household goods out for pickup.

• Pickups must be scheduled online at www.

SimpleRecycling.com or call 866-835-5068. A

reminder email will be sent the day before the

scheduled pickup.

• Residents no longer need to use the dedicated

pink Simple Recycling bags for collection. Items

must be placed in any waterproof bag(s) or box-

(es), clearly marked Simple Recycling.

this event possible. Due to the

contest rules, we were unable to

share these results until now.

Stay up-to-date on Lions

happenings

To see the latest status of our

events, please visit our Ashland

Lions Facebook page. Click the

Like button and you will be automatically

notified of changes or

cancellations. While you're at it,

be sure to follow Ashland Town

News too!

Lion Dan Mitchell

With pickup no longer tied to a resident's recycling

day, the placement of items for pickup has

changed as well. Clearly marked waterproof bag(s)

or box(es) can be placed on the front porch or in

front of the garage door by 7:30 a.m. on the scheduled

pickup day.

Residents can set out items such as clothing,

shoes, accessories, and other household discards

such as kitchenware, tools, toys, and books or other

small household goods in working condition.

If you have any questions please contact David

Miller at 508-532-7943 or dmiller@ashlandmass.

com.

Looking to advertise your business?

Contact Susanne: 508-954-8148 sue@sodellconsult.com
---
February 2023 Find us on Facebook | Ashland Town News Page 9

Your Money, Your Independence

Secure Act 2: Electric Boogaloo?

Glenn Brown

Sometimes it's best to not

have a sequel.

Still, Congress delivered us

one with "Secure Act 2.0" in

December.

The original Secure Act

was released three years ago. It

began with 417-3 House vote

in May 2019, advanced by the

Senate cramming into the 2020

budget and concluded with

Congress cheerleading the delay

of Required Minimum Distributions

(RMDs) by 18 months

to age 72 and providing greater

access to 401(k) for part-time

employees.

Those are good things, but

hidden in plain sight was the dismal

plot - the death of 'stretch'

IRA and creation of the 10-Year

Rule, which included liquidating

inherited non-spousal (children)

Roth IRAs.

See Congress had wanted to

speed up tax revenues. What

better way than forcing a 25

year old, regardless of financial

situation, to liquidate mom

or dad's inherited IRA or Roth

IRA by age 35 instead of during

their retirement years.

How does this help secure retirement

for future generations?

Or benefit hardworking Americans

who sacrificed, saved,

planned and proactively paid

taxes years, in some cases, decades

sooner than needed?

So, with this precedent, how

does their latest Secure Act 2.0

look?

In a word: better.

Here are some early awards:

Most Widespread Impact

- RMDs from retirement accounts

increase to age 73 from

72 beginning January 1, 2023. It

will increase to age 75 in 2033.

That said, just because you can

delay doesn't mean you avoid

being required to take greater

amounts later. In fact, it can

accelerate and put some into

higher tax brackets without

planning.

Most Significant Benefit -

Roth, Roth, and more Roth.

These changes all appear to

be good news for those seeking

planning opportunities.

Creation of SEP Roth IRAs

and SIMPLE Roth IRAs as well

as employer contributions (aka

401(k) match) will be permitted

to deposit matching and/

or nonelective contributions

to employees' designated Roth

accounts. There is a caveat, the

match would be included in the

employee's income in the year

of the contribution. Ditto for

amounts deposited into SEP

Roth IRAs and SIMPLE Roth

IRAs. Still, great to have choice.

Surprising 2024 Newcomer

- In 2024, "high wage earners"

will be required to use Roth option

for catch-up contributions

to 401(k), 403(b), and 457(b)

plans, but not for IRAs.

What's Congress's definition

of a high wage earner here?

$1,000,000?

$400,000?

Nope, here it's $145,000.

A caveat if you're self-employed

individual (sole proprietors

and partners) it is specific

language of wages (which you

don't earn), thus it appears

can still make pre-tax catch-up

contributions if income

from self-employment is over

$145,000.

Future Star - After 15 years

of a 529 plan being opened, unused

assets can be rolled over to

a Roth IRA for the beneficiary

(child). Now, it is subject to annual

Roth contribution limits

and an aggregate lifetime limit

of $35,000. Still, this is a great

idea, as you can help a young

adult grow a Roth IRA, while

they use funds for other savings

or pay off liabilities.

Closing Credits - Secure Act

2.0 has dozens for nuances and

benefits for student loans, emergency

savings in DC plans, automatic

enrollment, annuity

options, qualified charitable distributions,

solo 401Ks, surviving

spouse benefits and more. Best

to consult your Certified Financial

Planner to learn more.

The opinions voiced in this

material are for general information

only and are not intended

to provide specific advice

or recommendations for any individual.

Glenn Brown is a Holliston

resident and owner of Plan-

Dynamic, LLC, www.PlanDynamic.com.

Glenn is a fee-only

Certified Financial Planner

helping motivated people take

control of their planning and

investing, so they can balance

kids, aging parents and financial

independence.

Sponsored articles are submitted by

our advertisers. The advertiser is solely

responsible for the content of this article.

PREMIER IMAGE GALLERY

Specializing in Museum Quality Framing

Finest Selection of Original Artwork by Local Artists

20% OFF CUSTOM FRAMING

when you mention or bring in this ad

Celebrating 32 years as a family-owned business

290 ELIOT ST., ASHLAND 508-881-4730

MON - FRI 9 AM TO 12 PM WWW.PREMIERIMAGE.COM

Black Earth Compost

For the last few years, Ashland

and Holliston have had a partnership

with Black Earth Compost.

Black Earth Compost is a curbside

compost service that allows residents

and businesses to reduce the

food waste that they send to landfill.

The more residents that subscribe

to the service the less the cost of the

service will be.

How it works:

Put all of your kitchen scraps in a counter top

bin. They accept all produce scraps, diary, meat,

paper towels, napkins, bones, pet food, pet waste,

cotton balls, fireplace and stove ash, and much

more. When your bin gets full put it into the larger

curbside bin. This will be collected like trash and

recycling once a week.

Cost:

The current cost of a weekly composting pick up

service is $69.99 for 6 months. This breaks down to

$2.96 a week. In adding this service to your weekly

waste pick up you are not only reducing food waste

going to landfill but can also cut

down on your cost for trash pick up.

Currently the cost for a small Ashland

trash bag is $1.05 each and the

cost for a large Ashland trash bag is

$1.80 each. If you are using more

than two large bags a week, bringing

in a compost service or backyard

compost will lead to savings.

The more residents that sign up the

more the rate will be reduced.

Why composting is important:

Food waste is one of the leading forms of waste.

Annually in the US 119 billion pounds of food

waste is created. When put in landfills it does not

break down as easily and when it does it produces

methane gas. Methane gas has more than 80x the

warming power of CO2. By composting your extra

food waste you allow the waste to decompose and be

made into compost soil. For everyone that subscribes

to the service they receive a bag of compost each

spring that they can use in their own yards.

To sign up go to https://blackearthcompost.com

Want financial independence?

Are you building with:

■ Fee-only Certified Financial Planner

■ Strategies for budget, cash flow & debt

■ Low-cost investments ■ Growing income streams

■ Maximizing work, government & health benefits

■ Tax planning ■ Insurance analysis ■ Estate planning

■ College savings for kids ■ Care for elderly parents

We help you take control of planning and investing,

so you can balance kids, aging parents

and financial independence.

Glenn Brown,

CFP®, CRPC

508-834-7733

www.PlanDynamic.com

PlanDynamic, LLC is a registered investment advisor. Please visit our website for important disclosures.
---
Page 10 Ashland Local Town Pages | www.ashlandtownnews.com February 2023

Annual Town Census 2023 –

IMPORTANT REMINDER TO

RETURN YOUR FORM!

The Annual Town Census

Forms were mailed to each

household in the Town of Ashland

in early January. Each form

has a special barcode printed on

the form just for your address.

It is mandatory to complete the

census form and the process

is very easy. Simply make any

changes, sign the form and return

it to the Town Clerk's office

as soon as possible. Be sure to list

everyone in the household including

children. If you do not return

your Census Form, you risk being

made inactive on the voting list

per Massachusetts General Law.

This is a reminder that the

Census form does not register

you to vote nor does it change

your name. You must re-register

to vote under your new name for

the changes to be made. If for

some reason you do not receive

your census form, please visit the

Town Clerk's office and they will

be happy to assist you.

Free-Throw Competition

The Knights Of Columbus

free-throw championship competition

will be held on Tuesday,

Feb. 7, at the Hopkinton High

School after the Hopkinton/Ashland

varsity boys basketball game.

The game starts at 7pm and registration

will begin in the High

School Gym at 7:30pm. Please

go to: bishopricekoc.org/events

for more information and to obtain

a registration form. Forms

will also be available on the day

of the contest. All boys and girls

ages 9-14 can participate regardless

of disabilities!

The Knights of Columbus

free-throw competition is an annual

event sponsored by the Ashland/Hopkinton

Council(Bishop

Rice council #4822) The event

is open to all boys and girls aged

9 to 14 in the local communities.

Trophies will be presented to first

and second place winners and a

medal is awarded to the thirdplace

winner in each age category.

The event brings the youth

of the community together for a

friendly competition and all can

participate regardless of disabilities.

Since 1972 The Knights of

Columbus have sponsored a basketball

free-throw competition

for boys and girls between the

ages of 9 and 14. The Knights of

Columbus, founded in 1882, is an

Organization of Roman Catholic

men whose charter is to support

both their parishes and communities.

Based upon the founding

principles of charity, unity, fraternity,

and patriotism, the Knights

of Columbus provide numerous

services to their local communities.

The Bishop Rice Council

#4822 conducts numerous charity

events in support of the parishes

of St.John the Evangelist in

Hopkinton and Saint Cecilia's in

Ashland.

For more information contact: Joe

Altman, 508-380-0163. joealtman@

verizon.net.

DPW Reminders

Please Remember to

Recycle Old Mattresses

Mattresses and textiles are not

allowed in the trash.

State rules require mattresses

and textiles be kept out of the

trash so they can be recycled or

donated for reuse.

In order to comply, the Town

of Ashland has changed the way

they collect mattresses and textiles.

Waste management no longer

picks up old mattresses and box

springs.

Here is what you should do

with your old mattress and box

spring:

• You can donate mattresses in

good condition (we recommend

a quick google search to

find donation sites).

• If you are buying new, you can

check with the retailer to see if

they will recycle your old one.

• You can recycle it by utilizing

the drop off times at the

Department of Public Works,

(DPW) at 20 Ponderosa Road

on the first Saturday of every

month between the hours of

9am-noon or every Friday

between 6:30am-2:30pm.

Please note that proof of Ashland

residency and participation

in the town's contracted curbside

solid waste removal program are

required for mattress/box spring

disposal.

If you have any questions,

contact David Miller at 508-532-

7943 or dmiller@ashlandmass.

com.

Ashland Business Association News

From the President, Adam

Sachs: "The ABA is dedicated

to increasing visibility and profitability

for its members and advocating

for a healthy business

environment within the town of

Ashland. We have expanded our

outreach of networking with surrounding

business associations

and chambers.

"As a member of the ABA,

your business will be promoted,

and you will be regarded as an

involved, local community asset."

There are many ways you

benefit from being a member of

the ABA including:

• Regional Connections – Partnerships,

like the MetroWest

Chamber of Commerce, extend

your business' reach

• ABA Member Promotion

and Milestone Opportunities

• Ribbon Cutting Ceremonies

• Listing in the ABA Online

Directory which enhances

your searchability

• Professional Education with

programs such as the recent,

"Understanding the New Retirement

Legislation".

• Networking Opportunities

• Participate and/or give to

the ABA to Give Back to

the Community. The ABA

supports The Ashland Emergency

Fund, Ashland High

School Reality Fair, Internship

Opportunities, ABA

Scholarships and more

Bakery

Gaetano's

Cakes | Pastries | Yogurt

412 Washington Street, Holliston

412 Washington Street, Holliston

774-233-0289

Follow Us! gaetanosfinecakes | www.guyscakes1.com

Gaetano Arria, Owner

• Advocacy

• Promotion of ABA Members'

events

In ABA Board News, William

Gath, of Realty Executives Boston

West, was recently appointed

as the newest Board Member of

the ABA. Many know Bill from

his many years as a successful

Real Estate Agent and was one

of the founders of the ABA. The

Board welcomes Bill and looks

forward to working together in

2023 to increase the visibility

of the ABA and offer increased

value and benefits to its members.

A big thank you to board

member Paul Netopski. Not only

has Paul made wonderful impact

on the board, he has been extremely

generous contributor to

our scholarship fund.

Regarding programming, the

ABA plans to present many interesting

and educational programs

in 2023! These include, "A Vision

for Ashland", a panel of speakers

with information regarding

the future of Ashland - projects

currently underway as well as

future endeavors; a Regional

Chamber/ABA Evening of Networking

; Route 126 Celebration;

the Regional Chamber/ABA

Annual Barbeque at the YMCA;

a Networking Event at 126 Storage;

a repeat of the spectacularly

successful Movie Night at The

Corner Spot; Comedy Night;

An Evening of Thanks/Holiday

Party; The Holiday Stroll,

in partnership with the Town of

Ashland; and several other Educational

Events! Information

about these events is in the final

planning stages and the full 2023

Calendar of Events will be available

soon!

The first 2023 event, a Virtual

Education Session entitled

"Understanding the New Retirement

Legislation", was held on

January 31 and speaker Adam

Sachs shared valuable and timely

information on retirement strategies

and new issues that everyone

needs to know.

Membership in the ABA is

more valuable than ever! Member

services have been increased

and the ABA is constantly looking

for new ways to support the

membership. Programming is

Bill Gath

Sales & Rentals

meaningful due to its educational

content and the networking opportunities

that allow members to

meet and form relationships creating

mutually beneficial business

alliances with other members. If

you are interested in information

about how the ABA could be of

benefit to your and your business,

please reach out via the Ashland

Business Association web page

and a Board Member will contact

you to answer your inquiry.
---
February 2023 Find us on Facebook | Ashland Town News Page 11

The b.LUXE beauty beat

Galentine's Day - February 13th

By Gina Woelfel

February 13th is National

Galentine's Day! Ok, ok…not

officially, but UNOFFICIALLY,

Galentine's Day is celebrated on

February 13th, the day before

Valentine's Day.

February is the month of love

and Galentine's Day fits right in!

We shower our significant others

with gifts and cards on the

14th, but 24 hours earlier is all

about our equally important relationships:

our girlfriends! Galentine's

Day brings together the

ladies in our lives we love and

lean on the most - our ride or die

BFF's (you know who you are…)

You may recall that last year's

Beauty Beat focussed on selfcare.

Well, we've made the executive

decision that hanging with

your besties is the best self-care

there is!

We were actually inspired to

write a Galentine's Day Beauty

Beat when two best friends recently

booked a facial day together

at our b.LUXE studio.

Estheticians, Colleen and Monique

took such great care to

pamper and beautify these two

lovelies, the smiles on their faces

said it all. They'd thoroughly

enjoyed a day of self-care made

all the more amazing by doing

it together.

This holiday is the perfect

opportunity to indulge in the

YOU-time you need with the

people who always have your

back, the people who keep you

laughing and who never let you

down. Whether you're single or

in a relationship, the best things

in life are better with friends,

and isn't that worth celebrating?

As much as we'd love to, not

all of us are in the position to

book a crazy girls trip to Paris

(sorry SJP) or even a weekend

away, but there are many fun

and unique ways to celebrate

your friendship that, with a little

planning, can be almost as fabulous

as Paris!

Here are a few ideas for you

and your queens to kick up your

heels and celebrate!

• Mimosas and pancakes -

Have all the toppings and

break out the crystal!

• Slumber party - Tell the

gents they need to scoot and

queue up your favorite films.

• Plan the perfect hike - Map

out a new and exciting route

and pack a lunch of your favorite

munchies to snack at

the summit.

• Zoom Happy Hour - No

time to go out? Put the kids

to bed and dial in!

• Friends Facial Day - Well, of

course this is a b.LUXE favorite!!

Our spa loves when

friends book together! Facials

are so great, why not

bring a friend?? Tandem facials

are a double shot of fun

and leave you feeling like

you're taking care of yourself,

as well as your bestie!

POP UP PROMO ALERT!

On February 13th, for one

day only, get a $50 Galentine's

Day Spa Gift Card for only

$40! 12 hours only, from 9AM -

9PM, online purchases only. Buy

as many as you like, but only one

Galentine's Spa Gift Card per

appointment. Scan QR code to

be brought to our website and

click "E-Gift Cards" from the

menu to purchase.

Read on about our other spa

special that's happening for this

month!

The Red Envelope Event!

For the entire month of February,

every client with a booked

facial or spray tan will receive a

red envelope at their appointment

and surprise…

EVERY ENVELOPE'S A

WINNER!

Prizes include b.LUXURY

Facials, facial add-ons, spa products,

spray tans and coupons!

There's even a grand prize,

golden ticket winner! Don't miss

out and book today, space is limited.

RECYCLE THIS NEWSPAPER

(*Red Envelope prizes must

be used on the same day as

your booked service, they're

non-transferable, and have no

cash value.)

Now, of course we haven't

forgotten about you, February

14th! Our gift cards are always

available for easy purchase online

and are the perfect way to

say Happy Valentine's Day to

all your special someone's. You

all know how much your wives,

mothers and significant other's

LOVE them! So, grab your

honey the gift they really want.

Hint! Hint!

We hope Galentine's/Valentine's

Day finds you celebrating

with all the people and things

that you love and wish you a joyfilled

February filled with love,

light and magic! (And pancakes

and mimosas…)

PAID ADVERTISEMENT

Sponsored articles are submitted by

our advertisers. The advertiser is solely

responsible for the content of this article.

Place your Inserts today!

Contact Susanne: 508-954-8148

sue@sodellconsult.com

Interested in installing central AC? Ask about our preseason discounts!

Call TODAY!

Beat the rush and long supply lines.

HEATING & AIR CONDITIONING

Specialists in Home Comfort & Energy Conservation

HEATING • AIR CONDITIONING • HOT WATER • INDOOR AIR QUALITY

Heating Service Plans, Heating Install and Repairs & More!

Coan Bioheat® Fuel Delivery

With significantly reduced greenhouse gas emissions &

lower carbon footprint, it's the most environmental friendly heat fuel, and the safest.

196 West Central St., Natick • 508-653-5050 • 800-262-6462 • coanoil.com
---
Page 12 Ashland Local Town Pages | www.ashlandtownnews.com February 2023

Community Center News

Senior Community Center Survey:

We are looking for YOUR input on how we

can better serve YOU at the Ashland Senior-Community

Center. Please participate in our survey to

help us! Hard copies can be found at Ashland Senior-Community

Center.

link: https://docs.google.com/forms/d/e/

1FAIpQLSehfg52jW6k5NTJXXS8flXsWW-

P1os2HGgjYF0982QLiCpn6LQ/viewform

Senior Center Programs & Activities:

Join us for a fun filled February to beat the Winter

Blues!

EVERY Monday @ noon Join us for a delicious

Lunch! sign up by Thursday before!

Mon, Wed & Fridays @ 9:30 - Exercise with Joni!

Tuesdays @ 1 - Chair Yoga

Wednesdays @ 10:30 - Blood Pressure Clinics

Wednesdays @ 12:30 - Movies with Popcorn

Thursdays @ noon - Line Dancing with Lisa!

Thursdays @ 12:30 - Cribbage

Thursdays @ 1 - Mindful Meditation

Feb 1st & 15th @1:30 - Parkinson's Boxing

Feb 2nd 2 9:00- FREE Breakfast hosted by the

Lions

Feb 6th at 12:30 Home Safety Awareness with

our NEW Deputy Chief, Lyn Moraghan

Feb 7th & 21st - BINGO

Feb 8th @ 1:30 - Parkinson's Support Group

Feb 9th & 23rd @ 9 - Sewing Class - Clothes

making. Bring your fabric and patterns and learn

how to make clothes with Tobi Hoffman

Feb 10th: 10-12 - 20 min Legal Advice with Arthur

Bergeron

Feb 13 - Lunch with Music by Howie Newman

Feb 15th @ 10:00 - Town Manager Coffee Hour

with Michael Herbert

Feb 16th 5-7 PM - Valentines Dinner with Music

- Limited space available sign up now!

Feb 16th @ 10 - Hearing aid cleaning with Hopkinton

Audiology

Feb 28th @ 11 - Some Forgotten Black Women of

the Civil Rights Movement presentation by Professor

Donna Halper

Call for More Information at 508-881-0140

Message from

the Ashland Fire

Department

Outside Burning began

Jan. 15.

Residents are required to

go to the Ashland Fire Department

Website www.ashlandfire.

com to obtain a permit. This

permit will be valid for the entire

burning season. Each subsequent

time a resident wishes

to burn, they must activate

their permit on that day on the

website. There is no fee for this

permit. Burning Season ends

on May 1.

Burning will begin at 10 am

and fires must be extinguished

completely by 4 pm.

Fires must be at least 75 Ft.

away from any dwellings and

there must be a water source

readily available. There must

be an adult present with the

fire at all times.

Permits are for BRUSH

ONLY!

Burning of: Construction

Materials, Leaves, Paper Products,

Sawn Lumber, Stumps

are prohibited.

Burning for land clearing is

prohibited. Burning commercially

is prohibited.

No person shall burn brush

which has been generated from

a different location.

There is no burning allowed

on the 3rd Monday of April

due to the Boston Marathon.

The Duty Officer, The Fire

Chief, or District Fire Warden

may restrict outside burning

due to weather or air quality

conditions.

RECYCLE THIS NEWSPAPER

21 Main street, Suite 102, Milford MA 01757

(508)377-3743

milforddentalgroup.com

MINI DENTAL IMPLANTS

Dr. Peyman Beigi, DMD

General and Emergency Dentist

Dr. Beigi completed his undergraduate

studies in California and earned his

doctorate from Tufts University, School

of Dental Medicine . He completed his

residency at the New England Medical

Center. He is certified in Invisalign,

implant dentistry, and oral sedation. He

focuses on oral surgery, root canal

treatment, and gum surgeries. Dr. Beigi,

too, is an FBI-trained forensic dentist.

Dr. Peyman Beigi is a pioneer in the field of MINI IMPLANTS

New Patient Special

$125

Regularly priced at $437

Same day

dental service

Teeth Whitening

$320

Regularly priced at $599

Invisalign ® Consultation

FREE

General & Cosmetic Family

Dentistry

• Same day dental services

• New patients welcome

• 0% APR financing

• Most insurance plans accepted

It's possible to replace LOOSE dentures and MISSING teeth in just one visit!

MINI DENTAL IMPLANTS are a fast, affordable and permanent solutionto replace missing teeth or

stabilize dentures in just one visit, for half the cost (and size) of conventional implants!
---
February 2023 Find us on Facebook | Ashland Town News Page 13

Sports

Jack Rossi Looking To Carry His Team To The Garden

By Christopher Tremblay,

Staff Sports Writer

Ashland High School goalie

Jack Rossi is hoping he can lead

the Clockers hockey team all the

way to the Boston Garden to

have a shot at capturing a Division

4 State Championship.

Last winter Ashland qualified

for the tournament, but were sent

home in the Round of 16.

Rossi and his teammates are

hoping to avenge that loss this

season.

"This season I feel that I am

ready to have a good year and

would like to be named to the

Tri-Valley All Star team and possibly

put up an MVP season,"

the senior captain said. "While

the individual awards would be

great, most importantly I want to

get the team to the Garden while

having the best season that we

can possibly have."

Rossi recalled his mom was

iffy about him playing ice hockey

and when some friends asked him

to try out with them she was on

a business trip to California, his

dad let him go to the tryouts.

Things worked out in his favor as

he made the Framingham Youth

team as a right winger, but one

year later he was switching positions

for the better.

"The following year our team

didn't have a goalie, so I stepped

up and took control of the position,"

Rossi said. "As a right

winger I really never liked coming

off the ice; as a goalie I don't have

to and as a baseball catcher I was

familiar with the glove."

After playing in Framingham,

he moved over to the Minuteman

Flames out of Marlborough, in

the fifth grade and was there right

up until high school.

Rossi was lucky to have won

the Championship his first season

with the Flames and would love

to bring that feeling back with the

Clockers capturing a championship.

As a freshman he found himself

as the varsity back-up while

playing in all the junior varsity

games. During that freshman

campaign he did get to start his

first varsity game during a tournament

where he posted a shutout

for the win. Covid made

things difficult during his sophomore

year, so he just continued to

work out and perfect his game for

the following season.

Last winter Rossi found himself

starting 22 games, helping get

Ashland to the Sweet 16 of the

Division 4 State Tournament,

where they lost to Assabet Valley

5-3.

According to Ashland Coach

Mike Roman, the then-junior

earned his way as the varsity

starter that season and had himself

a good year with a goals

against average in the low 3

range.

"Jack was ready to take over

the position when the season

began last year," Roman said.

"He worked extremely hard

during the off-season and attending

some goaltending clinics. He

wanted to come into the season

focused and ready to do well. I

expect him to continue to be that

solid positional goaltender once

again this season."

Despite putting up good numbers

and having a rather successful

season last winter, Rossi feels

that he could have played better.

"It was great making the tournament

for the first time and

playing in front of the entire

school and town is something that

I will always remember," he said.

"There was a lot of disappointment

in not getting to the Garden

last year, but it is definitely a priority

this year."

Preparing for his senior season,

Rossi found himself on the

ice five or six days a week during

this past off-season. The captain

began renting ice in early July

right up until the beginning of

the season.

Playing in the TVL Ashland

finds themselves skating against

a lot of higher divisional teams

throughout the season, making

it that much tougher on the

Clockers to pick up wins. However

with their hard work and the

new strength of schedule rules

they should once again be able

to qualify for the Division 4 State

Tournament and hopefully get

past the Round of 16, where they

faltered last season.

NEW ENGLAND REGLAZE

Don't replace

your old tub, reglaze it!

Tubs, tile sinks and

much more

We do any TUB!

CALL US NOW

617-895-7771

www.newenglandreglaze.com

"I am looking to keep the

pucks out of the net while keeping

Ashland in the games so that

we can pick up some wins. Rossi

believes that if the Clockers can

get their offense going then the

sky's the limit this winter.

"I love being a leader and that

vocal guy in the locker room," he

said. "I want to provide what my

captains did for me: to be a good

teammate, have them look up to

me in the way I play the game

and to answer any questions that

they might have."

As Rossi and his Ashland

teammates are working toward

that ultimate goal of winning a

State Championship this season,

the senior captain will get to continue

playing hockey next year at

Bridgton Academy, a prep school

in Maine. At Bridgton he will get

the opportunity to play some of

the top contenders in the Northeast

as well as in Canada, but

while that is on the horizon, Rossi

is looking to stay focused this season.

Reg. $ 399

Color, travel, may apply.

NOW $ 299. 00

SAVE

$100

WITH AD
---
Page 14 Ashland Local Town Pages | www.ashlandtownnews.com February 2023

Ashland Library's Recurring Programs

Check our calendar for details

and registration: https://www.

ashlandmass.com/calendar.aspx?CID=64,38

Children's Room:

Mom's Club - Little Crafters

*infants thru age 5

Fourth Monday of the month @

10:15am

Monday Afternoon Story and

Craft

*For Ages 4-7

Mondays @ 4:30pm

YMCA Play, Learn, and Grow

Group

*Ages 0 to 5

Every Tuesday at 11am

PJ Story Time with Ryan

*Ages 3 and Up

Tuesdays @ 6pm

(Hybrid) Lapsit for Infants and

Toddlers

Timothy Daniels House

Exceptional Short-Term Rehab & Skilled Nursing Care

Physician on Site

24 Hr Nursing Coverage

Wednesdays @ 10:30-11am

Read to a Dog:

*For kids reading on their own

(walk-in, sign up for 15 minute

increments):

"Knives and Machete"

Every Other Thursday @ 6-7pm

Friday Afternoon Story and Craft

*For Ages 4-7

Fridays @ 4pm

Crafty Saturdays

Saturdays from 10am-3pm

Stop in anytime for a different

craft every Saturday!

Teen Room:

Saturday Video Games

1st Saturday @ 1:30pm

Afterschool Video Games

3rd Friday @ 3:30pm

Teen Crafts

4th Saturday @ 2pm

Adults:

Book Clubs:

Virtual - Environmental Book

Club

1st Wednesday @ 6:30pm

Hybrid - Romance Book Club

1st Thursday @ 6:30pm

Mystery Book Club

2nd Wednesday @ 6:30pm

Cookbook Club

2nd Saturday @ 12pm

Bio/Memoir Book Club

3rd Wednesday @ 11am

Virtual - LGBTQ+ Book Club

4th Monday @ 7pm

Front Street Readers

4th Tuesday @ 6:30pm

Short Term Rehab

Respite Stays Welcome

(508)429-4566

Physical Therapists On Site

Hospice Services

84 Elm Street, Holliston, MA

www.rehabassociates.com/timothydaniels

Other Adult Programs:

Nature Photography with Steve

McGrath

Field Session - 1st Saturday of the

month @ 10am

Virtual Discussion/Critique Session

- 4th Tuesday of the month

@ 7pm

Virtual - Friday Night Film Discussion

2nd and 4th Friday @ 7pm

Card Making with Jan Poppendieck

2nd Monday @ 6:30pm

Art for Adults with Nancy Atkinson

2nd Thursday @ 6:00 pm

Half-Past Crafts

3rd Wednesday @ 6:30pm

Great Decisions Discussion

Group

3rd Thursday @ 6:30pm

Write Your Stories: A Writing

Workshop

3rd Friday @ 10:30am

Dinner and a Book

4th Wednesday @ 6pm

Knitting:

Mondays @ 6pm

Saturdays @ 2pm

Beginners ELL at the Hopkinton

Library

In person – every other Thursday

@ 2pm

Virtual – every other Thursday

@ 2pm

Advanced ELL at the Hopkinton

Library

In person – every other Friday @

11am

Virtual – every other Friday @

11am

Friends of the Ashland Public Library Book Sales and

Donation Days

The Friends of the Ashland

Public Library Book Sales and

donation days have moved to the

FIRST Saturday of the month

for 2023. Our next Mini Book

Sale will be held from 10 am

to 1 pm on Saturday, Feb. 4, at

the Ashland Public Library, 66

Front St. Donations of gently

used books and DVDs will be accepted

in the library parking lot

where Friends will be available

to assist donors with larger donations.

Book donations may also

be brought to the bin located just

inside the parking lot entry door

any time the library is open.

If you are unable to make it

to the February Mini Book Sale,

the Corner Book Sale, located on

the main floor of the library near

the fireplace is open for shopping

all library hours. The collection is

frequently replenished with fresh

selections for adults and kids and

features some of our most recent

titles. Payment is welcome in

cash, check, or Venmo.

When you come in to shop or

donate books, remember to bring

in the Friends postcard everyone

in Ashland received in the mail in

December. The postcard coupon

may be redeemed for a FREE

book at any of our 2023 book

sales!

Book Sales and memberships

in the Friends pay for so much,

including:

• Library programs at NO

charge for all ages – Children,

Teens and Adults

• Museum passes

• Summer Reading Program

• Stocking Little Libraries all

over town

• Supplementing classroom

shelves in Ashland Public

School
---
February 2023 Find us on Facebook | Ashland Town News Page 15

53 Braeburn Lane in Ashland recently sold for $725,000. Source: www.zillow.com / Compiled by Local Town Pages

Ashland Recent Home Sales

Date Ashland Amount

01/10/2023 43 Sudbury Road $780,000

01/10/2023 3 Howe Street $612,000

01/06/2023 185 America Blvd $575,000

12/30/2022 2 Queen Isabella Way $580,000

12/29/2022 42 Frankland Road $561,000

12/22/2022 11 Burnham Circle $1.10 mil

12/21/2022 53 Braeburn Lane $725,000

12/19/2022 22 Cutler Drive $535,000

Pre-TargetingTM: The New Way

to Buy Online Display Ads

Looking to

advertise in our

Real Estate Corner?

Contact

Susanne Odell Farber

at 508-954-8148

or by email at

sue@sodellconsult.com

100% REACH

100% VIEWABILITY

100% TRANSPARENCY

Pre-Targeting selects the sites by the concentration

of audience interest rather than specific content.

Want to reach your target audience?

Contact Susanne Odell Farber at 508-954-8148

or by email at sue@sodellconsult.com

today for more information.
---
Page 16 Ashland Local Town Pages | www.ashlandtownnews.com February 2023

Reach more than 96,000

homes with our 2023

Spring Home

& Garden

Reach thousands of local

readers focused on enhancing

their indoor & outdoor

living spaces when you

advertise in our Spring Home

Improvement & Garden Guide.

Coming April 2023

Reservation deadline:

March 8, 2023

Reserve your space today by contacting

Susanne Odell Farber at 508-954-8148

or by email at

sue@sodellconsult.com

localtownpages

Ashland | Bellingham | Franklin | Holliston

Hopedale | Medway/Millis | Natick

Norwood | Norfolk/Wrentham

PREPARE NOW FOR THE SPRING MARKET!

157 Lumber Street

Sold at $1,110,000

9 Monument Drive

Listed at $875,000

5 Turnbridge Lane

Listed at $479,900

592A Main Street

Listed at $699,000

Call Kim for a no-obligation market analysis & home consultation.

Kim Foemmel

(508) 808-1149

FoemmelFineHomes.com