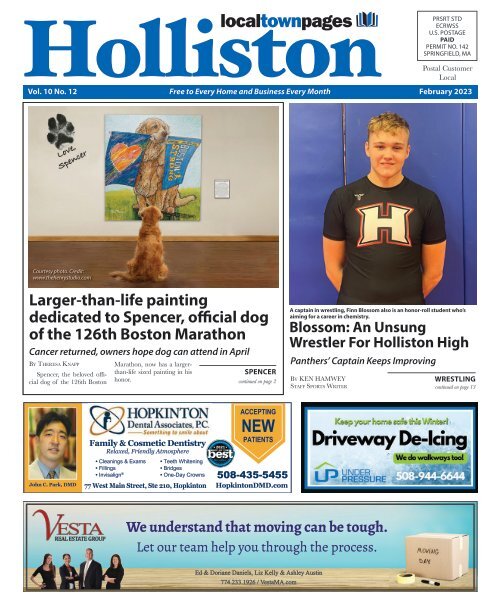 Holliston February 2023
Holliston February 2023
Holliston February 2023
SHOW MORE
SHOW LESS
You also want an ePaper? Increase the reach of your titles
YUMPU automatically turns print PDFs into web optimized ePapers that Google loves.
Holliston

PRSRT STD

localtownpages

ECRWSS

U.S. POSTAGE

PAID

PERMIT NO. 142

SPRINGFIELD, MA

Postal Customer

Local

Vol. 10 No. 12 Free to Every Home and Business Every Month February 2023

Courtesy photo. Credit:

www.thehenrystudio.com

Larger-than-life painting

dedicated to Spencer, official dog

of the 126th Boston Marathon

Cancer returned, owners hope dog can attend in April

By Theresa Knapp

Spencer, the beloved official

dog of the 126th Boston

John C. Park, DMD

Marathon, now has a largerthan-life

sized painting in his

honor.

Family & Cosmetic Dentistry

Relaxed, Friendly Atmosphere

• Cleanings & Exams

• Fillings

• Invisalign ®

• Teeth Whitening

• Bridges

• One-Day Crowns

77 West Main Street, Ste 210, Hopkinton

SPENCER

continued on page 2

Blossom: An Unsung

Wrestler For Holliston High

Panthers' Captain Keeps Improving

By KEN HAMWEY

Staff Sports Writer

April 21, 2018

9 am to Noon

At the Holliston high School parking lot

ACCEPTING

NEW

PATIENTS

508-435-5455

HopkintonDMD.com

A captain in wrestling, Finn Blossom also is an honor-roll student who's

aiming for a career in chemistry.

WRESTLING

continued on page 13

Happy Holidays!

Let our From team all of help us at Vesta you Real through Estate Group the process.

Ed, Doriane, Liz & Ashley

Ed & Doriane Daniels, Liz Kelly & Ashley Austin

774.233.1926 774.233.1926 / / VestaMA.com
---
Page 2 Holliston Local Town Pages | www.hollistontownnews.com February 2023

SPENCER

continued from page 1

Spencer, who turned 13 in

July, had been fighting cancer off

and on in recent years and owner

Richard Powers of Holliston says

the cancer has returned and it is

terminal.

"We learned in the fall that

Spencer's cancer had returned

and we wanted to create something

to immortalize him, and

have something to inspire at the

Marathon this year to mark the

10-year anniversary of the tragedy,"

says Powers, referring to the

marathon bombings of 2013.

Spencer, and his now 10-yearold

sister Penny, both Golden Retriever

therapy dogs, rose to fame

during the coronavirus pandemic

when Powers was posting neardaily

"pupdates" on his "Spencer

& Penny" Facebook page @

Spencerpowrs and other local

town pages. The pupdates continue

today.

Spencer has been cheering on

Boston Marathon runners at his

post in Ashland since 2015. The

localtownpages

Published Monthly

Mailed FREE to the

Community of Holliston

Circulation: 5,967

households & businesses

Publisher

Chuck Tashjian

Editor

Susan Manning

Send Editorial to:

editor@hollistontownnews.com

Advertising Sales

Susanne Odell Farber

508-954-8148

sue@sodellconsult.com

Advertising Sales Manager

Jen Schofield

508-570-6544

jenschofield@localtownpages.com

Creative Design & Layout

Michelle McSherry

Kim Vasseur

Wendy Watkins

Ad Deadline is the

15th of each month.

Localtownpages assumes

no financial liability for errors

or omissions in printed

advertising and reserves the

right to reject/edit advertising

or editorial submissions.

© Copyright 2023 LocalTownPages

rendering entitled "Celebrating

Spencer" depicts the pup in

the center of the frame wearing

a Boston Marathon medallion

around his neck and holding a

pole in his mouth. On the left

side of the pole is a flag with a

heart on it and on the right side

hangs a "We Are Boston Strong"

flag.

The painting is 5 feet wide

and 5.5 feet tall and hangs in

Powers' home though he plans

to loan it out during the week of

the marathon "to be displayed to

continue to inspire and give hope

to runners and attendees."

Powers commissioned the

painting from artist Tom Mosser

Design based in Pittsburgh. It

took about two months to complete

and was unveiled in January

at Boston's Fairmont Copley

Plaza where Spencer is the hotel's

"honorary canine ambassador."

A video of the ceremony can

be found on Holliston Cable Access

at https://bit.ly/3ZSbysu

Powers hopes Spencer can

attend this year's marathon in

April, where he and Penny typically

greet thousands of runners,

but it would be a short visit.

"It is our hope he will be with

us but, even if he is with us, he

would not be able to attend in his

Advertise your business!

Call Susanne: 508-954-8148

or email sue@sodellconsult.com

traditional role, it would be too

much for him," says Powers. "But

we would love to bring him for a

quick moment so could feel the

energy one more time."

In the meantime, Powers reports

his "angel on earth" has

been "comfortable and relatively

active."

"Sadly, he's terminal and

there is nothing more we can do

with any treatment. We are just

managing his care and comfort.

His days have been mostly good

so far but we are monitoring him

very closely as we know it can

change very quickly."

As for his owners, Powers

says, "We are taking it day by

day. Anyone who has lost a dog

understands that he is not just a

dog, he is a family member and

they know the emotional roller

coaster we are experiencing.

Every day is a gift with him. He is

an amazing dog and has beaten

the odds so many times, and we

are thankful for the extra time we

have had."

Powers thanks everyone who

has supported Spencer over the

years. They have raised more

than $4,000 for canine cancer research

and he encourages others

to donate to the cause at https://

bit.ly/2InCwzJ.

Achieve Clear Skin

Before

after

ACNE CLINIC FOR ALL AGES

Take control. Manage your acne with a customized

treatment program designed to clear your unique skin.

Education. Coaching. Support.

90% of my clients clear in 12-16 weeks

Lisa Massimiano - Licensed Aesthetician, Acne Specialist

Certified by the National Face Reality Acne Clinic

Schedule your acne consultation today!

508-881-1180

SkinSmartSalon.com

SkinSmartSalon@aol.com

44 Front Street, 2 nd Floor • AShlAnd

RECYCLE THIS NEWSPAPER

OPEN 24 HOURS • PERSONAL & GROUP TRAINING • HYDRO MASSAGE BED

GET HEALTHY TOGETHER

$0 ENROLLMENT FEE

2 FREE PERSONAL TRAINING SESSIONS

1 MONTH FREE HYDRO MASSAGE

JOIN

Shaws Plaza

NOW!

309 Pond St • Ashland, MA

508-881-4900

Anytimefitnessashland@gmail.com
---
February 2023 Find us on Facebook | Holliston Town News Page 3

Need for Fuel Assistance on the Rise

By David Dunbar

As the colder weather arrives,

folks with low income – particularly

seniors – are having trouble

paying the oil, gas, and electric

costs of heating their homes and

apartments.

Sometimes, it comes down to

a choice between heating and

eating. There are government

programs and local organizations

that can help.

One of the most popular

is the fuel assistance program

offered by SMOC, the South

Middlesex Opportunity Council,

which is available in local

communities including Bellingham,

Hopedale, Medway, and

Millis. Senior Centers in these

and other area towns are intake

sites where people can get help

signing up. SMOC reports that

in the fiscal year 2021, 195 clients

were served in Bellingham

at an average of about $1,500

each; in Hopedale there were

68, Medway had 67, and Millis

had 59.

Through SMOC's Home

Energy Assistance Program

(HEAP), individuals and families

who qualify from 37 communities

across the MetroWest can

receive assistance with a portion

of their home heating bill paid

directly to their heating vendor.

The heating season runs from

November through April.

To be eligible, annual household

income cannot exceed

60% of the Massachusetts estimated

state median income.

For example, a household of

one person would have a maximum

income of $42,411. For

two people, $55,461; for three

people, $68,511; for four people,

$81,561. Benefits, which

increased in December, range

from $800 to $2,200. More information

is available about fuel

assistance at www.massgov.org

"The Millis Council on

Aging (like many COAs) is an

intake site for SMOC," explains

Patty Kayo, Millis COA Director.

"We gather the necessary

documentation for the application

and send it to SMOC. We

ensure that the proper paperwork

is submitted so there are

no unnecessary delays in procedure.

So far this fiscal year, we

assisted 73 residents with recertifications

or new applications for

assistance."

"Each town deals with different

area agencies," says

Carole Mullen, the director

of the Hopedale Senior Center.

"SMOC is the agency for

Hopedale. We have very robust

activity regarding fuel assistance

applications and re-certifications.

Yes, SMOC is about three

months behind from clients'

date of applications. However,

we can expedite 'emergency'

situations."

"SMOC is extremely backed

up this year," confirms Kayo.

"There is a long wait for approval.

SMOC's website is a

great source of information and

outlines their services clearly. I

would suggest if someone needs

help to go directly to their website,

www.smoc.org."

Kim Cookson has been working

at the Medway Senior Center

for seven years and is seeing

"greater demand now than ever

before" for fuel assistance. She

points out that all prices are way

up for "heat, rent, groceries and

more."

"My office is aware of the

backup in cases," reports State

Representative Mike Soter. "We

have been receiving many calls

and emails regarding fuel assistance

applications that have

been in the queue. We are doing

everything that we can to expedite

applications for everyone

that reaches out to our office.

Please do not hesitate to reach

out to the office at Michael.

soter@mahouse.gov, Curtis.

boucher@mahouse.gov, or at

(508) 657-4688. We would be

more than happy to help in any

way we can."

"So far this year," explains

SMOC's Amanda Foster, Division

Director of Financial Assistance

Programs, "we have

processed about 5,000 applications

and found about 2,000

eligible." Last year, SMOC processed

about 3,700 applications.

"The high prices of fuel are

driving demand," says Foster,

"and we're working our hardest

to meet the demand." If your

situation is an "emergency,"

then your application will be

processed sooner. "Emergency"

is defined by having less than

1/8 tank of oil, a "shut off notice,"

or an inoperable heating

system according to Foster.

Across Massachusetts, SMOC

reports serving 134,000 individuals

and families in fiscal year

2022. Fifty-four percent were elderly

(60 years of age or more).

Holliston, MA

Here are some other sources

of fuel assistance:

The Corner Market

Not your father's Pizza Place

Hungry?

Try our Mr. Potato Head Pizza!

774-233-1966

• Good Neighbor Energy Fund

by the Salvation Army. (508)

473-0786

• Financial Assistance by the

Edith Stewart Chase Foundation.

(508) 422-0109

• Supportive Services for Veteran

Families. 800-482-2565

• Also check out local churches

and Catholic Charities.

• You might also visit www.

findhelp.org to explore additional

sources.

CornerMarketHolliston.com

Join Us for Our PURIM CARNIVAL!

Everyone is invited

Games, Food, Crafts, Face Painting,

Costume Contests

March 5, 10-11:30 am - Ashland Middle School

K-5th Grade: $5/child by 3/3 or $7 at the door

FREE for pre-K

For details and payment contact Lisa Brown

school@shaareishalom.org

please join us for

High Holiday Services

th

– 19 th

shaareishalom.org
---
Page 4 Holliston Local Town Pages | www.hollistontownnews.com February 2023

Have you read the new

Town Administrator's

newsletter?

The Town Administrator Newsletter recently debuted

under the moniker, "Holliston Hometown Newsletter."

Town Administrator Travis Ahern told the Select Board at

its March 7 meeting that the quarterly newsletter already had

857 people subscribe as of that date.

The eight-page electronic document includes information

for town meeting, updates on town projects, important deadlines,

lists seasonal jobs, and much more. To subscribe, visit

www.townofholliston.us/subscribe

NEW ENGLAND REGLAZE

Don't replace

your old tub, reglaze it!

Tubs, tile sinks and

much more

We do any TUB!

CALL US NOW

617-895-7771

www.newenglandreglaze.com

VETERINARY CARE

for your companion

Our veterinarians

provide

personalized,

compassionate care

Reg. $ 399

Color, travel, may apply.

NOW $ 299. 00

SAVE

$100

WITH AD

Annual Troop 14 Holliston BSA

Pancake Breakfast Feb. 2

Boy Scout Troop 14's annual

troop pancake fundraiser is back!

The event is all-you-can-eat

pancakes and sausages, from 8

AM to noon, on Sunday, Feb. 2.

The cost is $5 per person –

max $20/family. Any Scout in

uniform eats free.

The breakfast will be held at

St. Mary's Parish Hall, Washington

Street.

Proceeds from the event are

used to fund both troop activities

and equipment used for those activities.

There are approximately

40 active scouts in the troop.

One Book One Holliston, a Town-wide Read

This year's book is Travels

with George, by Nathanial Philbrick.

Join us for a town wide reading

of Travels with George, by

Nathanial Philbrick.

Travels with George is an account

of his retracing Washington's

footsteps — and carriage

tracks — accompanied by his

wife, Melissa, and their Nova

Scotia duck tolling retriever,

Dora. The book is a hybrid: part

history and part travelogue.

We will be hosting a live online

author talk with Nathaniel

Philbrick here at the library on

Wednesday Feb. 8, at 6:30pm.

You can also sign up to attend the

talk virtually at the library's website

https://hollistonlibrary.org/.

Additionally, we will have

local historian Joanne Hulbert

and friends talk about Nathaniel

Philbrick, George Washington,

and the local legends that made

it into the book! In person at the

Library Wednesday Feb. 22, at

2:30pm.

PREVENTATIVE MEDICINE, VACCINATIONS,

SPAY & NEUTER, EXAMS AND CONSULTATIONS,

PUPPY AND KITTEN CARE, SURGICAL CARE

Call us today to schedule an appointment!

FREE First Visit

for Dogs and Cats

Dogs 12 months or older,

cats 6 months or older

New clients only with this ad.

Expires 2/28/23

508-231-1223

300 Eliot Street, Ashland

www.thefamilypethospital.com

Medicine • Surgery • Exotics • Retail • Cat Friendly Certified

Doggie Daycare • Dog Training • Grooming • Medical Boarding

Roselyn Jeun O.D.

We

your eyes!

Schedule your annual eye exam today!

• Comprehensive Eye Exams

• Specialized Contact Lens Fitting

• Orthokeratology & Myopia Progression Control

• Fashion Eyewear and Safety Glasses

Holliston Vision Center

508-429.1330 • HollistonVisionCenter.com

841 Washington St., Holliston
---
February 2023 Find us on Facebook | Holliston Town News Page 5

A Heat Pump – Is It the Right Choice for You?

John Szolomayer

REAL ESTATE INSIGHTS

Fortunately, when it comes

to heating and cooling your

home there are many options

on the market, and with so

many choices, it can be hard

to know which one is right for

you. Your home's heating and

cooling choices do not have to

be difficult or expensive. Years

ago people thought of heat

pumps as being most useful in

the southern states. However,

they have become more common

in a wider variety of places,

including colder climates like

ours. Many homeowners now in

Massachusetts have chosen heat

pumps as their preferred yearround

home comfort system.

If it is time to replace your

home's air conditioning system,

you have many choices. Two of

the most popular types of AC

systems are ductless mini-split

systems and central air conditioning

systems. Both have their

own advantages and drawbacks,

so how do you know which one

is right for your home?

A Comparison of Ductless

Mini-split vs Central

Air Conditioners

Central air units are typically

less expensive upfront but may

not be as energy-efficient in the

long run. On the other hand,

mini-splits are typically the

most expensive to purchase and

install, but they can be very efficient

and effective. Mini-splits

tend to be less expensive to operate

because they don't lose as

much energy through ductwork.

They do not require ductwork to

distribute the cool air. Instead,

they use a series of small, whisper-quiet

blowers that deliver

conditioned air directly to different

areas of your home. What

type is cheaper to run depends

on a number of factors, including

the size of your home, and

your personal preferences. A

ductless mini-split system might

be the more cost-effective option

if you live in a small home, have

multiple rooms to cool, and live

in a climate with extreme temperatures

like we have.

A central air system might

be your best bet if you have a

large home. Ultimately, the best

way to decide which option is

right for you is to speak with a

qualified HVAC installer who

can help you assess your specific

needs.

Should I Replace My Central

Air with a Mini-Split?

If your central air conditioner

is an older model, it may

be time to consider replacing it

with a ductless mini-split which

takes up less space in your home,

and is generally more energy efficient

than central air systems.

A mini-split system will consist

of an outdoor unit connected to

one or more indoor units. The

indoor unit can be placed anywhere

and allows you to cool

specific rooms you use most

often rather than cooling your

entire home. As a result, you can

save money on your energy bills

by only cooling the rooms you

are using. Ductless mini-splits

can also heat and cool multiple

rooms at different temperatures,

which central air cannot do.

Information provided by

John Szolomayer, RE/MAX

Executive Realty and Energy

Monster. Myenergymonster.com

- For more information, John

Szolomayer can be reached at

508-259-4788 or Johnszolomayer.com

Sponsored articles are submitted

by our advertisers. The advertiser is

solely responsible for the content of

this article.

Experienced. Professional. Trustworthy.

John Szolomayer ABR, CBR, AWREP, LMC

RE/MAX Executive Realty

508.259.4788

johnszolomayer@gmail.com

johnszolomayer.com

116 Main St, Medway

(508) 533-6655

32 Hasting St, Rte 16. Mendon

(508) 381-0249

43 Main St, Hopkinton

(508) 625-8100

325 N. Main St, Natick

(508) 647-0500

MUFFIN HOUSE

CAFE

Don't stand in line!

ONLINE ORDERING

NOW AVAILABLE!

muffinhousecafe.com

NOW OPEN!

RECYCLE THIS NEWSPAPER

H

Open Daily

Bakery with Fresh Muffins/Pastries

Receive 10% off any cake

with this coupon

All our cakes are made from scratch on the premises

Expires 2-28-2023

296 Washington St

Westwood, MA

Muffinhousecafe

Breakfast and Lunch Sandwiches

Best Blueberry Muffins Since Jordan Marsh

FREE SMALL COFFEE

with a purchase of a muffin with this coupon

Expires 2-28-2023

H
---
Page 6 Holliston Local Town Pages | www.hollistontownnews.com February 2023

Community Ties and a Commitment to Customer

Service: Affordable Junk Removal

There are plenty of reasons

to call a junk removal service.

Maybe you're planning to move

and need to clear out the basement

and attic before your open

house. Maybe you've spent way

too much time at home lately and

are feeling the need to declutter.

But figuring out who to call

can be a pain. If you contact one

of the big haulers, they route you

to a phone center where they've

never even heard of your town,

plus their pricing seems vague

and full of extra fees. No wonder

you've let the stuff pile up—it's

HOLLISTON HOME IMPROVEMENT

• Kitchen and Bathroom Remodeling

• Basement Finished

• Window & Door Replacement

• Wood Flooring Installation & Refinishing

• Deck Replacement and Repair

• Siding - Roof

• Masonry – Walk Way & Patio

• Power Washing

• Painting • Carpentry

Detailed & Meticulous

Reasonable Rates

Call Mauricio

508.202.8602 FULLY INSURED MA HIC.#169427

John's

family owned and operated for 45 years

too much of a hassle to get rid

of it!

Or you can call Affordable

Junk Removal and let a local

small business with deep community

roots take care of everything.

Jay Schadler started his business

in 2003. Back then, it was

just him and a beat-up pickup

Birkenstock

repair center

Superior Shoe & Boot Repair

21E CharlEs strEEt, holliston, Ma 01746

839a Main strEEt (rt. 20), WalthaM, Ma

CErtifiED in PEDorthiCs/orthoPEDiC shoE MoDs

sPECializing in laDiEs high hEEl tiP rEPlaCEMEnt

tall Horse riding Boot Zipper specialist

www.superiorshoerepair.com

John ElhiloW, C.PED, o.s.t. (508) 429-2038

508-429-2535

Neil Lazzaro

ASE Technician

1292 Washington Street,

Holliston

Propane open Mon-Sat

Gas Grill Tanks Filled

Tires & Alignment

Suspension & Steering

Exhaust & Brake

Air Conditioning

Factory Scheduled Maintenance

Mass. State Inspection Station

truck taking small jobs and working

nights and weekends when he

could. As the years rolled on, his

business grew, but his commitment

to customer service never

wavered. Now he's got a staff of

ten, along with ten trucks, servicing

eastern and central Massachusetts

and northern Rhode

Island.

Affordable Junk Removal

specializes in house and estate

cleanouts. If your garage, attic,

or office is overflowing with stuff,

take back your space and let the

pros do the heavy lifting.

Jay and his team have handled

it all. They've dismantled aboveground

pools, hauled away ancient

hot tubs, taken down old

fencing, and stripped away worn

carpeting. They'll come for a single

item, or they'll clean out an

entire house. And they can take

almost anything. They can't accept

hazardous materials, brush,

dirt, or concrete, but everything

else is fair game for them to take

away.

Not everything ends up in a

landfill—not if Jay can help it.

He first tries to either recycle or

donate items. Only after he tries

to repurpose items do they end

up at the transfer station.

Working with Affordable Junk

Removal is simple. First, you can

load stuff yourself if you want by

renting a 15-cubic-yard dumpster

for a week and chucking

up to a ton of your unwanted

stuff. If you need to get rid of

more weight, then Jay prorates

that tonnage—you never pay for

what you don't use.

If you don't want to be bothered

with the dumpster, they've

also got a driveway special where

they'll take away a truckload of

your unwanted things if you pile

it up. Or if you don't want to lift

a finger, then you can point at the

items, and the team will fill up

their truck and haul away your

unwanted things. However you

do it, you're left with more space

and more peace of mind.

Jay and his team beat the big

waste haulers on both price and

customer service. When you call

Affordable Junk Removal, you

aren't connected to an anonymous

call center. Your phone call

goes right to Jay.

And speaking of pricing, Jay

is upfront about it. His website

shows the truck sizes and prices,

so you can save time knowing

GET NOTICED!

Contact Susanne to find out how you can use this space to reach more than

153,000 homes and businesses each month!

508-954-8148 (call or text) orsue@sodellconsult.com

your costs before you call for an

appointment. There aren't any

hidden costs or surprise fees with

Affordable Junk Removal.

Affordable Junk Removal is

fully licensed and fully insured,

and they'll treat your property

with care and respect.

They also have a thriving

commercial business, working

with contractors and roofers to

clear away debris and keep the

job site clean. They can even

handle commercial and residential

emergencies with same-day

service.

Jay and his family are deeply

involved in the community. He

and his wife, Christine, run the

Corner Market restaurant in

Holliston as well as Resellables,

a thrift store in Bellingham. It's

not uncommon for someone to

reach Jay at the restaurant, order

a sandwich, and then schedule a

junk removal appointment. Yes,

the local small business really can

handle everything!

For more information, contact

Jay Schadler at (774) 287-1133

or visit Affordable Junk Removal

online at www.takeawayjunk.com.

PAID ADVERTISEMENT
---
February 2023 Find us on Facebook | Holliston Town News Page 7

Your Money, Your Independence

Secure Act 2: Electric Boogaloo?

Glenn Brown

Sometimes it's best to not

have a sequel.

Still, Congress delivered us

one with "Secure Act 2.0" in

December.

The original Secure Act

was released three years ago. It

began with 417-3 House vote

in May 2019, advanced by the

Senate cramming into the 2020

budget and concluded with

Congress cheerleading the delay

of Required Minimum Distributions

(RMDs) by 18 months to

age 72 and providing greater access

to 401(k) for part-time employees.

Those are good things, but

hidden in plain sight was the dismal

plot - the death of 'stretch'

IRA and creation of the 10-Year

Rule, which included liquidating

inherited non-spousal (children)

Roth IRAs.

See Congress had wanted to

speed up tax revenues. What

better way than forcing a 25

year old, regardless of financial

situation, to liquidate mom

or dad's inherited IRA or Roth

IRA by age 35 instead of during

their retirement years.

How does this help secure

retirement for future generations?

Or benefit hardworking

Americans who sacrificed,

saved, planned and proactively

paid taxes years, in some cases,

decades sooner than needed?

So, with this precedent, how

does their latest Secure Act 2.0

look?

In a word: better.

Here are some early awards:

Most Widespread Impact

- RMDs from retirement accounts

increase to age 73 from

72 beginning January 1, 2023. It

will increase to age 75 in 2033.

That said, just because you can

delay doesn't mean you avoid

being required to take greater

amounts later. In fact, it can

accelerate and put some into

higher tax brackets without

planning.

Most Significant Benefit -

Roth, Roth, and more Roth.

These changes all appear to

be good news for those seeking

planning opportunities.

Creation of SEP Roth IRAs

and SIMPLE Roth IRAs as well

as employer contributions (aka

401(k) match) will be permitted

to deposit matching and/

or nonelective contributions to

employees' designated Roth accounts.

There is a caveat, the

match would be included in the

employee's income in the year

of the contribution. Ditto for

amounts deposited into SEP

Roth IRAs and SIMPLE Roth

IRAs. Still, great to have choice.

Surprising 2024 Newcomer - In

2024, "high wage earners" will

be required to use Roth option

for catch-up contributions to

401(k), 403(b), and 457(b) plans,

but not for IRAs.

What's Congress's definition

of a high wage earner here?

$1,000,000?

$400,000?

Nope, here it's $145,000.

A caveat if you're self-employed

individual (sole proprietors

and partners) it is specific

language of wages (which you

don't earn), thus it appears can

still make pre-tax catch-up contributions

if income from selfemployment

is over $145,000.

Future Star - After 15 years of

a 529 plan being opened, unused

assets can be rolled over to

a Roth IRA for the beneficiary

(child). Now, it is subject to annual

Roth contribution limits

and an aggregate lifetime limit

of $35,000. Still, this is a great

idea, as you can help a young

adult grow a Roth IRA, while

they use funds for other savings

or pay off liabilities.

Closing Credits - Secure Act

2.0 has dozens for nuances and

benefits for student loans, emergency

savings in DC plans, automatic

enrollment, annuity

RonsTire.com

635 Waverly Street, Rte 135

Framingham, MA 01702

options, qualified charitable distributions,

solo 401Ks, surviving

spouse benefits and more. Best

to consult your Certified Financial

Planner to learn more.

The opinions voiced in this

material are for general information

only and are not intended

to provide specific advice

or recommendations for any individual.

Glenn Brown is a Holliston

resident and owner of Plan-

Dynamic, LLC, www.PlanDynamic.com.

Glenn is a fee-only

Certified Financial Planner

helping motivated people take

control of their planning and

investing, so they can balance

kids, aging parents and financial

independence.

Sponsored articles are submitted by

our advertisers. The advertiser is solely

responsible for the content of this article.

Ron Saponaro

Tel: 508-872-2266

Fax: 508-872-2011

Email: ronstire@rcn.com

RECYCLE THIS NEWSPAPER

adore

F loors

CORK

Your resource for beautiful floors

YOUR

SAVE BIG

3 Rooms

of Waterproof LVP

$

3600

Materials & Installation

12 Months*

No Interest!

Buy

Today,

Install

Tomorrow!

• HARDWOOD • CARPET • TILE

AREA RUGS • LUXURY VINYL PLANK

Price Protection Guarantee

Lifetime Installation Guarantee

*based on 360 sq. feet. Subject to credit approval

950 Chestnut Street, Franklin

1276 Worcester Street, Rte 9, Natick

508 520 2632 • FlooringAmerica1.com

Want financial independence?

Are you building with:

■ Fee-only Certified Financial Planner

■ Strategies for budget, cash flow & debt

■ Low-cost investments ■ Growing income streams

■ Maximizing work, government & health benefits

■ Tax planning ■ Insurance analysis ■ Estate planning

■ College savings for kids ■ Care for elderly parents

We help you take control of planning and investing,

so you can balance kids, aging parents

and financial independence.

Glenn Brown,

CFP®, CRPC

508-834-7733

www.PlanDynamic.com

PlanDynamic, LLC is a registered investment advisor. Please visit our website for important disclosures.
---
Page 8 Holliston Local Town Pages | www.hollistontownnews.com February 2023

The History of St. Mary's Book Talk

Talk about the Newly Published

St. Mar's Anniversary History

Book Feb. 26, at 2 PM.

Three years in the making,

the book is now finally published:

a new history of St. Mary's Parish

written for its 150th anniversary

in 2020!

Come join St. Mary's Parish

Librarian and Historian Betty

Febo as she describes the research

and writing process that

was involved in the book's creation.

Betty will present a slide show

of highlights from the first fifty

years of St. Mary's Parish and

offer two mysteries that are yet

to be fully solved.

The program will be held in

the Holliston Historical Society's

Asa Whiting House, 547 Washington

St., Holliston.

The talk is free and open to

the public. Refreshments will follow.

All are welcome!

Black Earth Compost

For the last few years, Ashland

and Holliston have had a partnership

with Black Earth Compost.

Black Earth Compost is a

curbside compost service that allows

residents and businesses to

reduce the food waste that they

send to landfill. The more residents

that subscribe to the service

the less the cost of the service will

be.

How it works:

Put all of your kitchen scraps

in a counter top bin. They accept

all produce scraps, diary, meat,

paper towels, napkins, bones, pet

food, pet waste, cotton balls, fireplace

and stove ash, and much

more. When your bin gets full

put it into the larger curbside bin.

This will be collected like trash

and recycling once a week.

Cost:

The current cost of a weekly

composting pick up service is

$69.99 for 6 months. This breaks

down to $2.96 a week. In adding

this service to your weekly waste

pick up you are not only reducing

food waste going to landfill but

can also cut down on your cost

for trash pick up. Currently the

cost for a small Ashland trash bag

is $1.05 each and the cost for a

Timothy Daniels House

large Ashland trash bag is $1.80

each. If you are using more than

two large bags a week, bringing

in a compost service or backyard

compost will lead to savings. The

more residents that sign up the

more the rate will be reduced.

Why composting is important:

Food waste is one of the leading

forms of waste. Annually in

the US 119 billion pounds of

food waste is created. When put

in landfills it does not break down

as easily and when it does it produces

methane gas. Methane gas

has more than 80x the warming

power of CO2. By composting

your extra food waste you

allow the waste to decompose

and be made into compost soil.

For everyone that subscribes to

the service they receive a bag of

compost each spring that they

can use in their own yards.

To sign up go to https://

blackearthcompost.com

Exceptional Short-Term Rehab & Skilled Nursing Care

Physician on Site

24 Hr Nursing Coverage

Short Term Rehab

Respite Stays Welcome

(508)429-4566

Physical Therapists On Site

Hospice Services

84 Elm Street, Holliston, MA

www.rehabassociates.com/timothydaniels

TO

ADVERTISE

IN THIS PAPER

Call Susanne

at

508-954-8148

or email

sue@sodellconsult.com
---
February 2023 Find us on Facebook | Holliston Town News Page 9

Creating Creative

Collaboration

The Senior Center announced a new intergenerational program

with older adults from the Holliston Senior Center and a wonderful

class of fourth-grade students from Miller Elementary School.

All seniors who sign up will be paired with an elementary student

to create a small project that bridges the generational divide.

This collaborative project will focus on cherished and joyful moments,

important places, positive childhood experiences and challenges

overcome.

"Creation Sessions" will be held at Miller Elementary School on

the following Tuesdays from 12:30pm to 1:45. (Seniors will leave at

2pm, after school dismissal)

• Tuesday, Feb. 7

• Tuesday, Feb. 14

• Tuesday, Feb. 28

The Final Showcase where everyone will present what they made

with their Elementary "teammates" will be held on Monday, March

6, from 9:30 to 11am at the Holliston Senior Center.

Call the Senior Center for more information: 508-429-0622.

Water Rates On

Agenda For Feb. 27

Notice is hereby given that

the Select Board will hold a public

hearing on Monday Feb. 27, ,

at 7:30 p.m. in the Select Board

Meeting Room, Room 105 at

Town Hall, 703 Washington St.,

to determine the water rate for

fiscal year 2024.

For remote participation instructions,

see website at https://

www.townofholliston.us/selectboard/events/137256

once the

Select Board Agenda is posted.

Lunch and a Movie Celebrates

Black History Month,

LGBTQ+ Stories

Thursday, Feb. 23, noon, Sandwiches and

Soup or Salad will be served along with movie

snacks!

"Kinky Boots" PG-13 2019 Musical 2h 2m

Break out your favorite dancing boots and join

us for this heartwarming and hilarious Tony-winning

musical written by Cyndi Lauper and Harvey

Fierstein! Kinky Boots is based on the true story of

a young man who inherits his family's struggling

shoemaking business. As he searches for some way

Hiring all techs, all trades!

FLEXIBLE

SCHEDULE

TECH

SUPPORT

MODERN

TRUCKS

EXPERIENCE

& GROWTH

Extensive Benefit Package including health and 401k plans

PLUMBING • HEATING • A/C • ELECTRIC • REMODELING

Enjoy your career!

To learn more, scan the code or visit

Rodenhiser.com/Careers

Master Plumber: #10961 | Corporate Plumbing: #2288 | Master Electrician: #21982A

Master Sheet Metal (Unrestricted): #5867 | Corporate Sheet Metal: #641

Home Improvement Contractor: #188806

INTEGRITY - QUALITY - CREATIVITY

to save the factory and his friends' jobs, he finds

unexpected inspiration when he meets Lola, a

fabulous and wise drag artist. KINKY BOOTS:

THE MUSICAL filmed live onstage with the

original London Cast .

Julie Novak, BayPath Elder Services' LGBTQ+

Initiative Coordinator will be joining us!

$3 donation requested. You must sign up by

Feb. 16. Please call 508-429-0622.

Annual Town Meeting Warrant

Open Until March 13

The Town of Holliston's Select

Board voted to open the

Warrant for the Annual Town

Meeting to be held on Monday,

May 8.

Articles are to be submitted to

the Office of the Select Board by

Monday, March 13, by 4 p.m.

Any questions about how to

submit an Article for consideration

should be directed to Travis

Ahern, Town Administrator

at ahernt@holliston.k12.ma.us.

Call us today to schedule a consult!

WWW.AHRONIAN.COM

508.429.3844

MAINTENANCE - SEASONAL CONTAINERS -

NEW INSTALLATIONS
---
Page 10 Holliston Local Town Pages | www.hollistontownnews.com February 2023

Senior Center Lunch Menu

Wednesday, Feb. 1

Rosemary Roast Chicken,

Vegetable Soup, Home Fries,

Corn, Banana Bread

Monday, Feb. 6

Club Sandwich, Tossed

Salad, Carrot Sticks, Oatmeal

Raisin Cookies

Wednesday, Feb. 8

BAKED HAM, Macaroni

And Cheese, Brussel Sprouts,

Apple Pie

Monday, Feb. 13

Beef Stroganoff, Egg Noodles,

Waldorf Salad, Mixed Vegetables,

Pudding

Wednesday, Feb. 15

Valentine's Luncheon —

Baked Stuffed Shrimp, Tossed

Salad, Baked Potato, Vegetable,

Rolls, Cake (Suggested Donation:

$7.00)

Monday, Feb. 20

Pork Cutlet, Tomato Soup,

Roasted And Seasoned Potatoes,

Green Beans, Cupcakes

Wednesday, Feb. 22

Shepherd's Pie, Garden

Salad, Peas, Chocolate Cake

Monday, Feb. 27

Stuffed Chicken, Caesar

Salad, Mashed Potatoes, Carrots,

Jell-O

Would you like to receive

your Holliston Senior Center

newsletter digitally?

The Senior Center is happy to send you

our newsletter to your email inbox, if you

prefer. It is good for the environment and

you will receive it sooner since you do not

need to wait on the mail!

If you would like to join our email

list, please email our Assistant Director,

Amanda at boralessaa@holliston.k12.

ma.us or call us at 508-429-0622

SHINE – Serving the

Health Needs for Everyone

With Medicare Plans, does it matter

which pharmacy you use?

YES, the pharmacy you use

could make a big difference!

All Medicare drug plans

and Medicare Advantage plans

(HMOs, PPOs) have network

pharmacies. Most pharmacies

accept most plans. However,

if you go to a pharmacy that is

not in your plan's network, your

drugs will not be covered, and

you will pay full retail price.

For 2022, all the 21 Medicare

drug plans have preferred pharmacies

as do several Medicare

Advantage plans. You should

check that the pharmacy you

currently use is the best one to

use with your plan; plans can

change their preferred pharmacies

from year to year. By using

a preferred pharmacy, you may

save money!

Trained SHINE volunteers

offer free, confidential counseling

on all aspects of Medicare

and related health insurance

programs. To schedule a SHINE

appointment, call our Senior

Center at 508-429-0622. For

other SHINE related matters,

call 1-800-243-4636. Once you

get the SHINE answering machine,

leave your name, number

and town. A volunteer will call

you back, as soon as possible.
---
February 2023 Find us on Facebook | Holliston Town News Page 11

The b.LUXE beauty beat

Galentine's Day - February 13th

By Gina Woelfel

February 13th is National

Galentine's Day! Ok, ok…not

officially, but UNOFFICIALLY,

Galentine's Day is celebrated on

February 13th, the day before

Valentine's Day.

February is the month of love

and Galentine's Day fits right in!

We shower our significant others

with gifts and cards on the

14th, but 24 hours earlier is all

about our equally important relationships:

our girlfriends! Galentine's

Day brings together the

ladies in our lives we love and

lean on the most - our ride or die

BFF's (you know who you are…)

You may recall that last

year's Beauty Beat focussed on

self-care. Well, we've made the

executive decision that hanging

with your besties is the best selfcare

there is!

We were actually inspired to

write a Galentine's Day Beauty

Beat when two best friends recently

booked a facial day together

at our b.LUXE studio.

Estheticians, Colleen and Monique

took such great care to

pamper and beautify these two

lovelies, the smiles on their faces

said it all. They'd thoroughly

enjoyed a day of self-care made

all the more amazing by doing

it together.

This holiday is the perfect

opportunity to indulge in the

YOU-time you need with the

people who always have your

back, the people who keep you

laughing and who never let you

down. Whether you're single or

in a relationship, the best things

in life are better with friends,

and isn't that worth celebrating?

As much as we'd love to, not

all of us are in the position to

book a crazy girls trip to Paris

(sorry SJP) or even a weekend

away, but there are many fun

and unique ways to celebrate

your friendship that, with a little

planning, can be almost as fabulous

as Paris!

Here are a few ideas for you

and your queens to kick up your

heels and celebrate!

• Mimosas and pancakes -

Have all the toppings and

break out the crystal!

• Slumber party - Tell the

gents they need to scoot

and queue up your favorite

films.

• Plan the perfect hike - Map

out a new and exciting

route and pack a lunch of

your favorite munchies to

snack at the summit.

• Zoom Happy Hour - No

time to go out? Put the kids

to bed and dial in!

• Friends Facial Day - Well,

of course this is a b.LUXE

favorite!! Our spa loves

when friends book together!

Facials are so great, why not

bring a friend?? Tandem facials

are a double shot of

fun and leave you feeling

like you're taking care of

yourself, as well as your bestie!

POP UP PROMO ALERT!

On February 13th, for one

day only, get a $50 Galentine's

Day Spa Gift Card for only

$40! 12 hours only, from 9AM -

9PM, online purchases only. Buy

as many as you like, but only one

Galentine's Spa Gift Card per

appointment. Scan QR code to

be brought to our website and

click "E-Gift Cards" from the

menu to purchase.

Read on about our other spa

special that's happening for this

month!

The Red Envelope Event!

For the entire month of February,

every client with a booked

facial or spray tan will receive a

red envelope at their appointment

and surprise…

EVERY ENVELOPE'S A

WINNER!

Prizes include b.LUXURY

Facials, facial add-ons, spa products,

spray tans and coupons!

There's even a grand prize,

golden ticket winner! Don't miss

out and book today, space is limited.

RECYCLE THIS NEWSPAPER

(*Red Envelope prizes must

be used on the same day as your

booked service, they're nontransferable,

and have no cash

value.)

Now, of course we haven't

forgotten about you, February

14th! Our gift cards are always

available for easy purchase online

and are the perfect way to

say Happy Valentine's Day to

all your special someone's. You

all know how much your wives,

mothers and significant other's

LOVE them! So, grab your

honey the gift they really want.

Hint! Hint!

We hope Galentine's/Valentine's

Day finds you celebrating

with all the people and things

that you love and wish you a joyfilled

February filled with love,

light and magic! (And pancakes

and mimosas…)

PAID ADVERTISEMENT

Sponsored articles are submitted by

our advertisers. The advertiser is solely

responsible for the content of this article.

Interested in installing central AC? Ask about our preseason discounts!

Call TODAY!

Beat the rush and long supply lines.

HEATING & AIR CONDITIONING

Specialists in Home Comfort & Energy Conservation

TO ADVERTISE IN THIS PAPER

Call Susanne at 508-954-8148 or

email sue@sodellconsult.com

HEATING • AIR CONDITIONING • HOT WATER • INDOOR AIR QUALITY

Heating Service Plans, Heating Install and Repairs & More!

Coan Bioheat® Fuel Delivery

With significantly reduced greenhouse gas emissions &

lower carbon footprint, it's the most environmental friendly heat fuel, and the safest.

196 West Central St., Natick • 508-653-5050 • 800-262-6462 • coanoil.com
---
Page 12 Holliston Local Town Pages | www.hollistontownnews.com February 2023

Big Brothers Big Sisters Of Central Mass & Metrowest

Celebrating 60th Anniversary In 2023

Big Brothers Big Sisters of

Central Mass & Metrowest

(BBBS) is turning to the community

for help in matching 60

boys (Littles) who are currently

on the waitlist for a mentor (Big).

BBBS hopes to match those 60

Littles with their Big by April 1,

to coincide with their 60th Anniversary

Big Celebration Gala.

The 60 boys on the waitlist

reside in Worcester and will

benefit from a mentor. The reasons

for why these young kids,

ages ranging from 8-16, are in

need of a mentor varies. Some

are coming from single-parent

households and are lacking a

male role model. Others have

experienced difficulties in life

and need that extra connection

that a Big provides. After being

matched with a mentor, it has

been found that children gain

confidence, do better in school,

and are overall happier.

BBBS has garnered the support

for the 60 Men to Mentors

initiative from Worcester Mayor,

Joe Petty, and Worcester City

Manager, Eric Batista. Mr. Petty

and Mr. Batista have been important

advocates in connecting

BBBS with people throughout

New England

Inc.

Ballistic Services

Instant cash paid for

your valuable firearms.

Call today for a confidential consultation

508-381-0230 • www.neballistic.com

the Worcester community who

will play a role in making the

initiative a success.

BBBS CEO, Connie Askin,

explained, "with 100 children

on the waitlist, Mayor Petty is

helping us put out the call: Big

Brothers Big Sisters needs caring

adult volunteers to sign up as

volunteers! The commitment is

just 1 hour a week- if you sleep

8 or 9 hours a night, 1 hour is

less than 1% of the time you're

awake. Worcester, you can

change a child's life for the better

with 1% of your time!"

Once a match is made between

a Big and a Little, they

are supported by one of BBBS'

professionally trained, Match

Support Specialists. The Match

Support Specialists conduct

monthly check-ins with both the

Big, the Little, and the parent/

guardian to make sure the relationship

is a healthy and productive

one.

BBBS Board Chair, Jack

Hoehlein, further emphasized,

"Boys tend to sit on the wait-list

longer than girls, especially boys

of color. They are looking for

someone who looks like them to

be their special Big. A coach, a

mentor, a friend. We are calling

this campaign 60 Men to Mentors,

because we need 60 men to

sign up as volunteers, to spend

just 1 hour a week with children

who need a Big Brother."

To learn more about the initiative

visit: https://bbbscm.

org/60-men-to-mentors or call

508-752-7868.

21 Main street, Suite 102, Milford MA 01757

(508)377-3743

milforddentalgroup.com

MINI DENTAL IMPLANTS

Dr. Peyman Beigi, DMD

General and Emergency Dentist

Dr. Beigi completed his undergraduate

studies in California and earned his

doctorate from Tufts University, School

of Dental Medicine . He completed his

residency at the New England Medical

Center. He is certified in Invisalign,

implant dentistry, and oral sedation. He

focuses on oral surgery, root canal

treatment, and gum surgeries. Dr. Beigi,

too, is an FBI-trained forensic dentist.

Dr. Peyman Beigi is a pioneer in the field of MINI IMPLANTS

New Patient Special

$125

Regularly priced at $437

Same day

dental service

Teeth Whitening

$320

Regularly priced at $599

Invisalign ® Consultation

FREE

General & Cosmetic Family

Dentistry

• Same day dental services

• New patients welcome

• 0% APR financing

• Most insurance plans accepted

It's possible to replace LOOSE dentures and MISSING teeth in just one visit!

MINI DENTAL IMPLANTS are a fast, affordable and permanent solutionto replace missing teeth or

stabilize dentures in just one visit, for half the cost (and size) of conventional implants!
---
February 2023 Find us on Facebook | Holliston Town News Page 13

Sports

WRESTLING

continued from page 1

Finn Blossom is a captain on

Holliston High's wrestling team

who knows a thing or two about

overcoming adversity and understanding

the value of playing

an unsung role for the Panthers

A senior, the 6-foot-3,

200-pounder didn't have much

success during his sophomore

season, finishing with a winless

record at 0-10 during a covidshortened

schedule. A year

later, as a junior, he elevated

his record to 11-21, earning the

team's most-improved wrestler

award.

But, adversity lingered at the

conclusion of that junior campaign

— he missed qualifying

for the state tourney when he

lost two of three bouts at the

sectional playoffs.

Blossom, however, deals with

setbacks and challenges in a

classy manner.

"When I lost all my matches

as a sophomore, I decided to get

stronger physically,'' he said. "I

also relied on a strong work ethic

and staying mentally tough. The

winless record was a fire under

my feet and I wanted to put it in

my past.''

Blossom obviously was disappointed

when he fell one victory

shy of advancing to the state

tourney. "I was a bit crushed,''

he said. "I look back at it now

and it was difficult not being

with my teammates to compete.

But, I've used that situation as

motivation this year.''

Blossom's goals at the start

of the season speak volumes

about his desire to meet challenges

head-on and to develop

resilience.

"My team goals are to improve,

compile a winning record,

for many of us to get to

the state tourney, and strive to

be competitive in the Tri Valley

League,'' he emphasized.

"My individual objectives are

to qualify for the states and aim

to advance, improve all season

long and for my win-loss record

to reach 20 victories or beyond.''

At Local Town Pages deadline,

the Panthers were 3-8 and Blossom's

record was 8-5.

The sectional tourney is less

than two weeks away (Feb. 11)

and that'll be the starting point

in determining if Blossom's

goals are reached. "I'm optimistic

and I believe all the goals are

realistic,'' he said.

A native of Holliston, the

18-year-old Blossom gets rave

reviews from head coach Alex

Strum — for his ability to lead

in unsung fashion.

"Finn is the first to arrive at

practice and he's quick to roll

up all the mats after practice,''

said Strum, who's been elevated

to head coach after serving as an

assistant to Mike Capobianco

last year. "He's not our most

accomplished wrestler but his

teammates thought enough of

him to elect him as a captain.

"He's got no ego, he just

shows up and does his work.

He's coachable, asks the right

questions and pays attention. Always

on an even keel, Finn has a

good wrestling IQ, he's strong,

mentally tough and relies on

sound technique.''

A leader by example, Blossom

is a captain who's also supportive,

always quick to assist

a teammate. "I try to lead in a

behavior-wise fashion,'' he said.

"On the mat, when I get passionate

about wrestling and win,

I hope my enthusiasm is on display.''

Why Strum refers to Blossom

as "unsung'' is easy to understand.

He's all about putting his

team first.

"I give 100 percent on the

mat at all times.'' Blossom said.

"I try to be supportive of everyone

and I'm a team-first competitor.''

Blossom began his wrestling

career as a freshman and started

out on the jayvees. Now, he's in

his third year as a starter and

he's a captain driven to excel.

"I enjoy wrestling because

it's an individual sport and also

a team sport,'' he noted. "I like

striving to score points for the

team but I also enjoy the oneone-one

challenge. It's personal

because you know you gave 100

percent when you win. I'm not

Baker-Polito Administration

Announces Nearly $2M in Fire

Education Grants

Record Number of S.AF.E. and Senior SAFE

Grants Awarded in FY 2023

The Baker-Polito Administration

announced that 266

municipal fire departments will

receive $1.9 million in grants

to fund fire and life safety education

for children and older

adults, setting a new record for

the Student Awareness of Fire

Education (S.A.F.E.) and Senior

SAFE programs. The previous

record of 253 communities was

set in FY 2018.

"For more than 25 years, the

S.A.F.E. grant program has provided

hundreds of thousands of

Massachusetts students with fire

and life safety lessons that last a

lifetime," said Governor Charlie

Baker. "We are glad that this

year's awards will support consistent,

statewide, professional

safety education in a record

number of communities."

The average number of children

who die in fires annually

has dropped by nearly 80% since

the S.A.F.E. program began in

FY 1996, and Massachusetts

recently went nearly three years

without losing a child to fire.

The Senior SAFE program was

launched in FY 2014, funding

fire safety education for another

vulnerable population – seniors,

who face a disproportionate risk

FIRE

continued on page 14

great at focusing on strategy but

wrestling gets my brain going to

execute what I want to achieve.''

Blossom relies on a cradle

move that involves getting an opponent's

arm, head and a leg in

a bear hug and striving for a pin.

He also relies on and admires

Holliston's other three captains

— seniors Michael Derubeis

and Anthony Touchette and

junior Zak Robinson. "They're

contributors, quality competitors

and technically sound,'' he

emphasized. "They're also vocal

leaders.''

Blossom also likes Strum's

coaching style. "He recruited

me for wrestling,'' he said. "He's

a motivator who teaches the

sport effectively, knows strategy

and is supportive of his players.''

Calling former Holliston

wrestler Thoren Berg a role

model for his support and encouragement,

Blossom's competitive

philosophy is all about

"enjoying your sport and the

moment and reaching your potential.''

Winning, he believes,

"will follow and be the by-product.''

Valuable life lessons can

often be learned from athletics

and Blossom has indeed learned

many. "I've learned how to lead

and how to overcome adversity,''

Same Day Service Mon-Fri (In by 9:00 a.m.)

lc

Gould's Plaza, 74 Main St., Rte. 109

Medway, MA 02053

508-533-6641

Mass Lottery Tickets sold here!

CLEANERS, INC.

Family-Owned since 1985

Eco-Friendly

For all your dry cleaning

and alteration needs

www.tlcdrycleaners1.com

he noted. "I've also learned that

when aiming to achieve a goal,

it's imperative to go all out to

make it happen. Sports also help

to teach us the value of commitment.''

An honor-roll student who

has a 3.89 GPA, Blossom hopes

to attend Dartmouth College

and eventually focus on a career

in chemistry. He likely will stay

involved with wrestling at the

club or intramural level. Worcester

Polytech and the University

of Colorado are also potential

collegiate venues.

Achieving goals is important

for Blossom. He's fulfilled some

of his early-season objectives but

a berth in the state tourney will

not be determined until the sectional

playoffs conclude.

Blossom's determination

should lead to a slot in the states

because that attribute so often

leads to success.

Holliston has something

called 'the G-Club,'' and there's

only eight wrestlers in the history

of the program who've gained

membership. It focuses on takedown

drills and if a competitor

compiles 1,000 in practice for an

entire season, he's in the club.

Last year, Finn Blossom became

the eighth member.

GROW YOUR BUSINESS

with Local Town Pages!

Call Today!

Susanne 508-954-8148

Medway Food

Pantry is in

need of Food!

Donate today at

our Drop Off !

$5 OFF

$30 or more Dry Cleaning

Laundered Shirts, Leather, Suede,

Furs & Alterations excluded.

Incoming Orders only

Expires 2/28/23

H
---
Page 14 Holliston Local Town Pages | www.hollistontownnews.com February 2023

Recent Home Sales

Date Holliston Amount

01/13/2023 124 Prospect Street $455,000

01/06/2023 48 Mohawk Path $1.13 mil

01/05/2023 2317 Washington Street $495,000

01/04/2023 114 Jennings Road $562,750

12/30/2022 401 Underwood St (2.62 acres) $195,000

12/30/2022 380 Underwood Street $765,000

12/30/2022 45 Green Street $725,000

12/29/2022 30 Gretchen Lane $425,000

12/29/2022 9 Day Road $805,000

12/29/2022 30 Gretchen Lane $425,000

Source: www.zillow.com / Compiled by Local Town Pages

45 Green Street in Holliston recently sold for $725,000. Image credit: www.zillow.com

FIRE

continued from page 13

of dying in a fire at home.

"The Senior SAFE grants

support home visits, smoke and

CO alarm installations, and fire

safety presentations delivered by

firefighters in partnership with

service providers," said Lt. Governor

Karyn Polito. "Theis valuable

program gives older adults

the tools, knowledge, and strategies

to stay safe and independent

at home."

This year's awards will provide

$1,103,488 in S.A.F.E.

funding for 262 fire departments;

$562,194 in Senior SAFE funding

for 265 fire departments;

and $252,783 for regional trailer

props used by multiple fire departments

to teach and demonstrate

fire safety skills. Every

department that applied for a

grant received funding.

"The S.A.F.E. and Senior

SAFE grants represent a smart

investment in fire safety," said

Secretary of Public Safety and

Security Terrence M. Reidy.

"Youngsters and older adults

are historically at greater risk

in house fires, but that risk can

be reduced through the targeted

outreach, education, and awareness

programs like these."

"The S.A.F.E. and Senior

SAFE programs bring trained

firefighter-educators together

with children and older adults

to deliver age-appropriate fire

and life safety lessons," said

State Fire Marshal Peter J. Ostroskey.

"Fire service programs

like these are part of the reason

Massachusetts is one of the most

fire-safe states in the nation, and

I'm very glad that more communities

than ever applied for this

year's grants."

The S.A.F.E. and Senior

SAFE grant programs are

funded through legislative earmarks

to the Executive Office

of the Public Safety & Security,

and they are administered by the

Department of Fire Services. A

full list of recipient departments

and their awards is attached. For

more fire service grant opportunities,

visit https://www.mass.

gov/info-details/grants-for-firedepartments.

DISCOUNT HEATING OIL

CALL FOR PRICES

Same Day Delivery

Senior Discounts

150 Gallon Minimum

Call Susanne at

508-954-8148

to run in our Real Estate Corner

508-620-6251

WWW.SAMEDAYOIL.COM
---
February 2023 Find us on Facebook | Holliston Town News Page 15

We would love to sell

your house!

Lynn Rossini

508-259-2100

lynnrossini18@gmail.com

TEAM RICE - Carl, Kristen, Ellie, Adam

508-330-0281

teamrice@remaxexec.com

Lydia Rajunas

617-901-1275

thedeeve@remaxexec.com

Melissa Kaspern

508-333-4670

melissaKaspern@gmail.com

Katie McBride

508-277-9600

katemcbride@remaxexec.com

Kerry Peterson

508-380-3595

kerry@remaxexec.com

401 Underwood Street

Holliston

104 Summer Street

Medway

12 Fern Crossing

Ashland

SOLD

LAND

$625,000

SOLD

MELISSA KASPERN

TEAM RICE

KERRY PETERSON

4 Treasure Island Road

Plainville

50 Stark Road

Worcester

17 Brigham Farm Lane

Bolton

SOLD

KATIE MCBRIDE

SOLD

LYDIA RAJUNAS

SOLD

KATIE MCBRIDE

115 Dalton Road

Holliston

1 John Drive

Grafton

14 Sanford Street, #9

Medway

9 Azalea Drive

Medway

SOLD

SOLD

SOLD

SOLD

LYNN ROSSINI

LYDIA RAJUNAS

KATIE MCBRIDE

LYNN ROSSINI

Call one of our award winning realtors today

for a complimentary market analysis!

404 WASHINGTON STREET, HOLLISTON, MA 01746 | 508-429-6767
---
Page 16 Holliston Local Town Pages | www.hollistontownnews.com February 2023

Reach more than 96,000

homes with our 2023

Spring Home

& Garden

Reach thousands of local

readers focused on enhancing

their indoor & outdoor

living spaces when you

advertise in our Spring Home

Improvement & Garden Guide.

Coming April 2023

Reservation deadline:

March 8, 2023

Reserve your space today by contacting

Susanne Odell Farber at 508-954-8148

or by email at

sue@sodellconsult.com

localtownpages

Ashland | Bellingham | Franklin | Holliston

Hopedale | Medway/Millis | Natick

Norwood | Norfolk/Wrentham

Smile

Invisalign (clear braces)

20% OFF

Adult New Patient

$ 95

Does not include periodontal gum disease treatment.

Not to be combined with insurance coverage.

• Full set of X-rays

• Professional cleaning & polishing

• Comprehensive dental exam

• Personal consultation $ 337 .00 Value

Holliston Dental

Associates

746 Washington St. • Holliston

Dental Care for a Beautiful & Bright...

• Family & Cosmetic Dentistry

• Ceramic Veneers

• Complete Smile Makeovers for All Ages

• Removable Dentures (Partial & Complete)

• Implants & Root Canals

• Evening Appointments

• Same Day Emergency Care

• Most Insurances Accepted

• Senior Discounts

• Sedation Dentistry

Zoom Whitening $150.00 OFF! (Reg $500.00)

GENTLE. COMFORTABLE. AFFORDABLE

508-429-4445

www.hollistondentalassociates.com