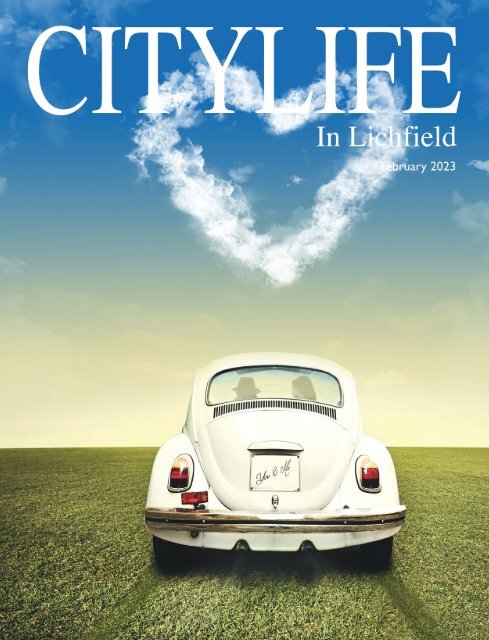 Citylife in Lichfield February 2023
After the cold and dark nights of January, February brings brighter, longer days and the prospect that Spring is on its way...well...we can hope can't we! Our February edition magazine is full of our usual mix: local news, what's on events, history features, Q&A's with local people, competitions and, as it is the month of love, a gift guide dedicated to the special person in your life and historian Lesley Smith tells us all about the story behind Valentine's Day! So have a look at our bright blue front cover, read through our friendly, community magazine, and dream of those Spring days which are just around the corner - enjoy!
After the cold and dark nights of January, February brings brighter, longer days and the prospect that Spring is on its way...well...we can hope can't we! Our February edition magazine is full of our usual mix: local news, what's on events, history features, Q&A's with local people, competitions and, as it is the month of love, a gift guide dedicated to the special person in your life and historian Lesley Smith tells us all about the story behind Valentine's Day! So have a look at our bright blue front cover, read through our friendly, community magazine, and dream of those Spring days which are just around the corner - enjoy!
SHOW MORE
SHOW LESS
Create successful ePaper yourself
Turn your PDF publications into a flip-book with our unique Google optimized e-Paper software.
3
---
Welcome to

CITYLIFE

Welcome to CITYLIFE in Lichfield, a monthly magazine

bringing you our pick of the city's news, events and stories.

Each month CITYLIFE in Lichfield is delivered to

businesses and homes in Lichfield, Kings Bromley, Fradley,

Alrewas, Hill Ridware, Whittington, Stonnall, Shenstone,

Hammerwich, Burntwood and Longdon, completely free

of charge; bringing you the best that the city has to offer.

Each issue features heritage stories exploring the rich

history of our area, plus competitions, interviews and the

latest in fashion and style.

Got a story or charity event you want to share with our

readership? Think you've snapped an image that captures

the spirit of the city? We want to hear from you!

Our business is bringing you Lichfield's city life.

CITYLIFE Contacts

Editor - Kristen Lackajis 07885 380632

kristencitylife@gmail.com

Features - Jono Oates 07785 757201 jonocitylife@gmail.com

Advertising -

Steve Brown 07740 166497 stevebrowncitylife@gmail.com

Rebecca Hill 07970 513144 rebeccahillcitylife@gmail.com

Mike James 07900 982456 mikejamescitylife@gmail.com

Design - Helen Smith 07967 154187 helencitylife@gmail.com

Citylife In Lichfield Ltd

PO Box 7126 LICHFIELD WS14 4JS

CITYLIFE in Lichfield and CITYLIFE in Rugeley and Cannock Chase

magazines are not connected to any other publication or publisher, and

are wholly owned by CITYLIFE in Lichfield Ltd.

Citylife In Lichfield

@citylifelichfield

@lichfieldcity

www.citylifeinlichfieldltd.co.uk

Citylife in Lichfield Ltd does not endorse any business or organisation

appearing in these pages, and the publication of any advertisement,

editorial, event listing or advertising editorial does not constitute an

endorsement by Citylife in Lichfield Ltd.

Your Local

Magazine

Inside...

14 Five Minutes With...

We catch up with local singer, Rosie Tee

20 Lost Pubs of Lichfield

Jono Oates explores the past of another longgone

public house

28 From Lupercalia to Valentine's

Lesley Smith looks at the history of Valentine's

Day

44 Valentine's Gift Guide

Treat your loved one to something special!

..................................

Competition Winners!

Congratulations to C Smith who won a Festive Hamper from Merkur

Slots, and C Deakin who received a Date Night Sharing Box from

Indulgence at Barton Marina! Well done!

..................................

Valentine

By Carol Ann Duffy

Not a red rose or a satin heart.

I give you an onion.

It is a moon wrapped in brown paper.

It promises light like the careful undressing of love.

Here.

It will blind you with tears like a lover.

It will make your reflection a wobbling photo of grief.

I am trying to be truthful.

Not a cute card or a kissogram.

I give you an onion.

Its fierce kiss will stay on your lips, possessive and faithful as we

are, for as long as we are.

Take it.

Its platinum loops shrink to a wedding ring, if you like.

Lethal.

Its scent will cling to your fingers, cling to your knife.
---
5
---
LOCAL NEWS

6

Former LDC Chair's

Donation

A former Chair of Lichfield District Council has

presented money raised during his year in office

to a district support group for people with

Parkinson's Disease and their carers.

Councillor Barry Gwilt, who was Chair in

2021/22, raised £436 through a civic lunch at

Bishop's Palace in The Close in November last

year and other fundraising activities.

In December he visited a meeting of Parkinson's

UK Lichfield and District Branch at Martin

Heath Hall on Christchurch Lane and presented

the money to members.

Parkinson's UK Lichfield and District Branch

meets on the second Thursday of every month

from 2pm to 4pm at Martin Heath Hall in

Christchurch Lane, Lichfield. There is no charge,

but a raffle is held to cover the cost of the hall

and guest speakers. For more information about

the group call Margaret Davies on 01543

264465.

......................................................................................

New Playground at

Burntwood Park

Cllr Sue Woodward, Cllr Steve Norman, Lyn

Hammant, Rvrd Matt Wallace, Cllr Colin Greatorex,

& Donna Greatorex

Christmas came early for youngsters in

Burntwood in December as new play

equipment was installed at a Chase Terrace

Park.

The children's play area in the park on High

Street, now features items including an inclusive

roundabout and a spinning seesaw.

The Swirl Roundabout is suitable for children of

all abilities, with a seat on one side and easy

wheelchair access on the other, ideal for all

children to enjoy together without

compromising on fun. And the spinning seesaw

is a unique piece of equipment which enables

children to spin and bounce.

The new equipment has been delivered at a

cost of £20,617 through a £10,617 contribution

from Lichfield District Council, £5,000 from

Burntwood Town Council and £5,000 from St

John's Community Church.

.......................................................................................

New Venue for

Memory Café

Lichfield Memory Café now has a new home!

All sessions will now be hosted every week

from the Methodist Church at 30 Tamworth

Street, Lichfield.

The Lichfield Memory Café provides a safe

space free from judgement where you can

come for a cuppa and a chat with an

experienced professional who understands

dementia or speak to others in your position.

The Memory Café also provides advice and

information for someone caring for a loved one

with dementia, as supporting family members

and carers is an important function of the cafés.

If you are worried about your own memory or

that of a loved one, you can always just drop in

for a chat and get the information regarding

support networks, that can make a difference.

The Memory Café runs every Thursday 10-

12noon. For more details contact Karen

Wilkinson on 01542 625 002 or email

karen.wilkinson@Tamworth.homeinstead.

co.uk

.......................................................................................

Local MP

Opens Film Fest

Michael Fabricant & Caroline Koziol

Michael Fabricant, the Conservative MP for the

area, officially opened the Lichfield Film Festival

at The Garrick Theatre on Saturday 21st

January.

The event, which has been organised by

Caroline Koziol in conjunction with the British

International Film Festival, is something new to

the City and the theatre is expecting not only

locals to attend, but also visitors from the US

and Canada who have come to see their films

shown on the screen.

With a new multiscreen cinema coming to

Lichfield in the near future too, the City will

soon become a hub for cinema entertainment,

something which is very welcomed by Michael.

.......................................................................................

Toy Donation to

Pathway Project

£2,000 worth of toys were donated to

Pathway Project

Lichfield Social Club teamed up with Town and

Country Meats in December to make a

Christmas toy donation to the Pathway project

in Lichfield, giving more than £2,000 worth of

toys for the charity's annual Christmas appeal.

The worthy cause was suggested by Lichfield

Social Club Secretary, Paul Wright, who was

delighted to be able to give something back to

the community.

Got a story or charity event you want

to share with our readership? Think

you've snapped an image that captures

the spirit of the region? We want to

hear from you!

Contact Citylife at

kristencitylife@gmail.com

To Advertise call:-

Steve Brown 07740 166497

stevebrowncitylife@gmail.com

Rebecca Hill 07970 513144

rebeccahillcitylife@gmail.com

Mike James 07900 982456

mikejamescitylife@gmail.com
---
Advertising Feature

Financial Advice will cost you money, but I aim to

show you the value of good quality Financial Advice.

Have you got cash sitting in the Bank or Building Society earning you very little interest?

Are you concerned about inflation eroding the value of your savings?

We could discuss setting up a well-diversified investment portfolio for you.

What do you know about your pensions and your pension options?

Would you like a free one-hour initial chat with an experienced local Financial Adviser?

Our first meeting will be at no cost to you, without any obligation to proceed any further. If you do decide to

proceed then the fees for initial and ongoing advice will be clearly explained and agreed with you before any further

work is done. Financial Advice will

cost money, which can come from

the investment, but I hope to be

able to demonstrate to you the

benefit of good quality professional

advice.

If you do decide to become a

client then you will get a

personalised service that matches

your needs, whatever they may be,

as we are all individuals. I will carry

out a full fact find of your

circumstances, look at your current

plans and policies and discuss with

you your priorities, where you want

to be financially in the future and

how I may be able to help you get

there. I will speak in clear terms and

do my best to try and help you

achieve your goals.

As an experienced local Financial

Adviser I work with clients at all

stages of their life to help them

achieve their financial goals,

whatever they may be.

You can find me on the

Independent rating sites Unbiased

and Vouchedfor, via my website -

www.financialadviser.me.uk or the

Four Oaks website –

www.fouroaksfs.com

I hope to hear from you soon.

Robin Place DipFA, CeLTCI, MLIBF

Financial Adviser

0121 323 2070, 07968 504805

robin@fouroaksfs.com

7
---
LOCAL NEWS

8

Vote for New

School's Logo

Lichfield's newest school will open its doors in

September this year!

Anna Seward Primary School, part of the highlyrespected

Arthur Terry Learning Partnership

(ATLP), will welcome nursery and reception

children through its doors at the start of the

new academic year under the leadership of

Head of School, Richard Storer.

ATLP has been working on a logo which will

feature on the school's uniform and branding

and has whittled down the options to two

designs. It's now down to the public to choose

which one should be chosen to move forward

with as excitement builds!

The school has been named after romantic

poet Anna Seward. Known as the 'Swan of

Lichfield', she was an early feminist and

successful writer with an influence beyond what

was considered normal for the time.

Both logos feature a swan motif formed from

the letter 'S' for Seward, which represents a

visual link to her skillful and creative ability with

words. The designs are based on three colours

– lunar blue, superpower purple and sky blue –

which link closely to the romantic poet and

novelist that the school is named after.

Visit @AnnaSeward_pri on Twitter to cast your

logo vote in the online poll.

......................................................................................

Waterworks Art

Competition &

Exhibition

To celebrate its 150th Anniversary, Lichfield

Waterworks Trust is launching an Art

Competition and Exhibition, which is open to all

residents of Lichfield and surrounding areas.

There are three categories of entry: Adult (over

16 years); Children & Young People (8-16 years);

and Adults with Disabilities (physical or

learning).

The paintings or drawings must be about water,

including rivers, canals and associated buildings

and people.

The closing date for entries is 31st March 2023

and application forms and further information

can be found at

www.lichfieldwaterworkstrust.com or by

contacting Robin Taylor on 07738 939271.

......................................................................................

LFF Seeks New

Members

Last year, Lichfield Festival celebrated 40 years,

as did Lichfield Festival Friends (LFF), which was

set up in 1982 as a supporters' club to raise

funds for the Festival, and to provide practical

help. It's still doing so – in fact, last year it raised

a record sum.

The start of the year is a busy time for LFF as

subscriptions are renewed, but it's an ideal time

to join as members receive priority booking for

the forthcoming years' events, which include

the Literature Festival in March; the multi-arts

summer Festival in July; and a Chamber Music

Weekend in October. Plus, "one-off" events

such as the Grimethorpe Colliery Band

Concert at the Cathedral last December.

The Friends run fundraising events too. A

recent Call My Bluff Wine Quiz saw those

attending sample several wines and are regaled

each time with information from three

'experts', two of whom are making it up! The

aim was to identify the liar and it provided

excellent entertainment, with plenty of laughs.

For further information, email:

lff@lichfieldfestival.org.

......................................................................................

Voters Need Photo ID

For the first time,

residents in Lichfield

District will need to

show photographic ID

to vote at this year's

local elections. Residents

are being urged to make

sure they are ready to vote in May by checking

they have an accepted form of ID.

Accepted forms of ID include a UK, European

Economic Area (EEA) or Commonwealth

passport; a UK, EEA or Commonwealth drivers'

licence; and some concessionary travel passes,

such as an older person's bus pass. Voters will

be able to use expired ID if they are still

recognisable from the photo.

Anyone who does not have one of the accepted

forms of ID will be able to apply for free ID

online at voter-authoritycertificate.service.gov.uk/.

The requirement to show photo ID at the

polling station is a new requirement, introduced

by the UK Government's Elections Act which

was passed last year and comes into effect for

the first time this May.

......................................................................................

Family

Notices

Readers are now able to place

a notice in Citylife in Lichfield

magazine to let others know

of an important event,

occasion or celebration that is

taking place. If you would like

to place details of any births,

deaths, marriages or other

occasions, please contact

Rebecca Hill at

rebeccahillcitylife@gmail.com

or on telephone

07970 513144.

Notices will consist of a

maximum 50 words, plus an

image, at a cost of £24

(inclusive of VAT).
---
9
---
LOCAL NEWS

10

Cathedral Bells Ring

for Ukraine

Lichfield Cathedral took part in a national

initiative to ring the bells on Saturday 21st

January 2023 in solidarity with the people of

Ukraine.

Bells rang out across Lichfield for 20 minutes

from 12 noon, along with other bells around the

country, to mark Ukrainian Unity Day (a day the

celebrates the unification of East and West

Ukraine in 1919).

Since the start of the conflict in Ukraine

Lichfield Cathedral has held 'Prayers for Peace'

at 12 noon every Thursday. Anyone is invited to

attend to spend a moment in quiet reflection,

light a candle and pray for peace around the

world.

......................................................................................

Giant Carbon Bubble

Tours County

People across Staffordshire will have the chance

to learn more about climate change when a

huge bright orange 'carbon bubble' tours the

county.

The 10-metre bubble installation, due to tour in

summer 2023, will help people to visualise how

their daily activities can impact carbon

emissions.

Staff from local council climate change teams

will also be on hand to offer advice and tips to

help residents understand what they can do to

reduce their own carbon footprint. People will

also be asked to pledge to do one small thing to

help Make Staffordshire Sustainable.

Earlier this year, the County Council and

Staffordshire's eight district and borough

councils formed the Staffordshire Sustainability

Board to develop and deliver joint carbon

reductions initiatives across the county. This

initiative is being brought to life as part of the

Staffordshire Sustainability Board.

The carbon bubble will be transported to

locations using electric vehicles and inflated

using generators which run on 100 per cent

renewable materials.

.......................................................................................

Spring/Summer

at The Hub

Joshua & Me

The Hub at St Mary's has launched a new treatpacked

season of arts and culture ahead. As

usual, there's a little something for everyone –

here's just a taster of what's in store this

season.

There are two family shows lined up – perfect

for a first introduction to the theatre for babies

and young children.

There are hot picks for theatre fans from the

2022 Edinburgh Fringe Festival, such as Joshua

and Me (23rd February), written by Rachel

Hammond, which explores being a sibling of

someone who is autistic – giving a voice to

young people with responsibilities of care.

We've got side-splitting jokes for comedy lovers

with three more Alter Comedy Clubs (on 8th

February, 29th March and 17th May). With

relaxed vibes, reserved seats and some of the

best of the UK's award-winning acts, The Hub

has quickly become Lichfield's finest

establishment for Stand-Up Comedy.

There's also an eclectic mix of music to keep

those toes tapping throughout the spring and

summer.

Information and tickets for all events are

available online at www.thehubstmarys.co.uk or

pop in and visit The Hub to book and find out

more!

.......................................................................................

Pancake Day Fun!

Lichfield's exciting Pancake Races are back on

Tuesday 21st February. Spectators can expect

to see all the usual races including Ladies,

Gentlemen, Mascots and Under 10s.

Participants will be on their marks in Bore

Street from 12 noon.

The races will be followed by the traditional

opening of the Shrovetide Fair on the Market

Square by the Civic party, supported by the

Town Crier who will give a shout to announce

the occasion.

All entrants must pre-register anytime up to 12

noon on Friday 17th February.

If you would like to take part, please complete

the coupon below and return to Lichfield City

Council Offices in Bore Street. Alternatively,

you can download the application form from

the Lichfield City Council website at

www.lichfield.gov.uk/news

.......................................................................................

Charity Fund Holds

Open Event

A community fund which has distributed more

than £300,000 to groups in Lichfield and

Burntwood in the past decade is staging an

information event to connect with more

supporters.

The We Love Lichfield 'Connect With Your

Community' event will be held at The Hub at St

Mary's on Market Square, Lichfield on Thursday

9th February, and is inviting interest from

residents and businesses alike. The free, informal

event runs from 4.30pm to 6pm to enable

people to drop in after work and includes a free

welcome drink.

Companies and individuals are welcome to

donate or fundraise and all money is invested

through a permanent endowment fund by

registered charity The Community Foundation

For Staffordshire in line with charity

commission guidelines.

The interest and dividends earned on the

invested money is then distributed by the We

Love Lichfield Fund as small grants across the

district. The beauty of this model is that it will

provide a source of on-going funding that can

be used for small grants, and larger grants as the

fund grows, for many years to come.

For more information visit

https://welovelichfield.com/.
---
11
---
New Kid

on the Block

Business

of the Month

Erase UK

An independent record shop selling new and used vinyl, CDs

and cassette tapes has got music fans in a spin after opening

in the City.

The arrival of Stylus Records has been received extremely positively by

shoppers who have been flocking to the new shop to stock up on their

favourite tracks.

The new business has signed a five-year lease on a retail unit at Minster

Pool Walk. The 647sqft former yoga studio is located just off the

pedestrianised Bird Street, fronting the access road to one of Lichfield's

main car parks serving the city centre, and overlooking Minster Pool and

the cathedral beyond.

Tim Balderstone, owner of Stylus Records, had been looking for the

right space for his business for some time, and was delighted when his

dreams of opening a record shop in Lichfield came true.

Opening its doors on 1st December 2022, feedback has been very

positive and Tim is looking forward to an exciting future.

12

Tim Balderstone outside his new shop, Stylus Records

Local Artist

Spotlight

Jackie Roberts is a Staffordshirebased

artist, living in Lichfield.

It was during lockdown that

Jackie rediscovered her love for

art which subsequently led to her

leaving her job 18 months ago

and setting up her own business,

Love2dream.

Jackie's distinctive line drawings of

local landmarks were originally

inspired by the beautiful buildings

she noticed around the City during

her lockdown walks. However, it wasn't until she drew a picture for her

intern as a leaving gift that the idea of turning her talent into a business

came to her.

Erase UK, based in

Tudor Row in

Lichfield, was

established in 2012 by

Gemma Richards.

The clinic offers an array of

aesthetic treatments to its

customers, including IPL Hair

removal, Radio Frequency

Skin Tightening, ST Tropez

Express Spray Tans and

aesthetics procedures (which

are carried out by registered

nurse, Denise Horsley).

Gemma started the

business as there was nothing

of its kind in Lichfield at the

time, and she longed to work

in an environment where she

could interact with her

clients. After 11 successful

years, the clinic has built

some fantastic long-term relationships with returning customers.

Despite finding things difficult during the Covid-19 pandemic due to

the clinic having to shut down for a period of time, Erase UK bounced

back and now Gemma is planning to add some brand new treatments

to her repertoire!

Her advice for anyone looking to start their own business? "Just be

passionate about whatever you're doing. It's not easy to start a

business but worth it with hard work!"

Find out more by visiting Erase UK on Tudor Row, or online at

www.erase-uk.co.uk.

Having always been quite

creative at school, it wasn't long

before Jackie had reignited her

passion and her now recognisable

style (simple black and white line

drawings, sometimes peppered

with a splash of colour) can now

be seen in various locations

throughout Lichfield, including the

shop in The Hub at St Mary's on

the Market Square, and adorning

the walls of Pom's Kitchen and

Deli on Bird Street.

Making ideal gifts for the home, Jacke had a fantastic festive season in

2022, attending many local craft fayres where her drawings were very well

received. She even raised £500 for charity through the sales of her

Commemorative Buckingham Palace print.

Now, as a finalist in the Ladies First Award for the title of Sandra Godley

Outstanding Woman in Creative Arts, Jackie is excitedly anticipating

another successful year ahead!

You can see more of Jackie's work, and buy her art online, by visiting

www.love2dream.co.uk. Alternatively, follow Jackie on Facebook and

Instagram @love2dreamdesigns.
---
13
---
Five Minutes

With… Rosie Tee

Photo credit Jess Whitty

This month, we chat to Rosie Tee, a

local composer, performer, and

event producer about her work and

what inspires her!

Photo credit Broaden

• To begin with, could you tell us

a little bit about yourself. For

example, are you a local lady? If

not, when did you move to the

area?

Hello! I'm very much a local lass! I grew

up in Burntwood, but spent most

weekends and evenings of my teenager

years in Lichfield playing in bands with

friends, whether that be in the 20+ youth

ensemble Wildfire Folk founded by

Lichfield Arts, or indie-folk quartet The Offbeat.

I moved down the road to Birmingham in 2015 when I started uni,

studying Music Composition at the Royal Birmingham Conservatoire, and

now live in South Birmingham where there's a thriving creative scene!

• Can you tell us, in your own words, what it is you do?

A whole mix of things! As a composer I write music for my four-piece

band who perform around the country with a line-up of vocals &

glockenspiel, offkilter synths (Piera Onacko), swarming bass (Dan Cippico)

and textural drums (Kai Chareunsy).

I also create atmospheric music for sound installations (if you're ever in

Coventry War Memorial Park, check out Sound Seat!) and even

occasionally write for orchestras and larger ensembles. I'm an

independent artist which means I self-release all my own music, plan all my

own tours/shows and promote it too!

When I'm not making wonky, electronic sounds with my band I work as

Programme Coordinator for the internationally renowned Supersonic

Festival, based in Digbeth – we received a 5* review in The Guardian last

year and they described us as the "UK's best small festival" – not bad eh!?

Making a festival happen is one of the most rewarding experiences!

• How did you get into the industry? Has music always been

a passion of yours?

I grew up in a household where music was playing non-stop, as my

parents are both musicians - so I suppose you can say it's in my blood!

Having had a background of learning piano and drums, there was definitely

a light bulb moment sat at my parent's piano when I decided I would

rather write my own music than play other people's. So that's why I went

to study Composition, and have built a whole lifestyle and community

around it.

Then my love for making music expanded into wanting to create

immersive events too, as I've always been quite visually led and interested

in how art forms cross over. And where better than at Festivals for an allencompassing

experience?! Hence my work now with Supersonic Festival

and producing colourful, multi-disciplinary shows with my band. I love

playing shows in unconventional spaces too. Last year, the Rosie Tee band

performed in the incredible 1800's Sandfields Pumping Station in Lichfield

(there's a great video of it online called 'The Waterworks Session'), and

there's talk of a show at the stunning Moseley Baths later this year!

• Can you describe your musical style for us? Has this

changed or evolved at all over time?

This has always been a tricky question for me! The honest answer is

that it's ever evolving. With composing music that is completely across

genres it means you can kind of dabble where you like – the band and I

played jazz shows in the early days, but now feel more comfortable in the

electronic/experimental gig scene. Alongside live shows with the band I

also score orchestral music or create electronic ambient soundtracks for

installations - so I try and see this freedom and flexibility in my practice

and genre as a massive positive, but sometimes it can feel like you don't

"belong" in anyone place. As I say, still working it out as I go along! But if

I had to shoe-horn it, at the moment it's somewhere between psychedelic,

electronica and avant-pop.

Ultimately, I don't fear the idea of 'weird' anymore. 'Weird' is something

to be proud of. It means you can write a song with no chorus, mess

around with technology without understanding the nuts & bolts and learn

as you go along. I'm really content with the experimental approach I take

to music making.

• What motivates you to create your music?

Being able to play music with others is definitely a huge motivation.

Once I've mapped out a song at home, I'll take it to a band rehearsal

where we fine-tune the details or complete the song structures – this is

one of the parts I enjoy the most about being a musician. Bouncing off

your fellow bandmates and sharing in that joy of bringing an idea to life is

addictive! Especially when everyone is so proficient in their area of

musicianship, they deliver so much more to the tracks than I could do on

my own and I'm always so grateful for that.

• How important do you feel that music as an art form is to

society?

Essential! It's the soundtrack to our lives, our happiest moments and

our lowest. I think the value of music as emotional sounding board and as

a communicative tool is invaluable. The world would be a very dull place

without it.

• And finally, what does Lichfield mean to you?

Lichfield! I suppose with hindsight now, I see it as the place that shaped

much of who I am as a person now. I met Bryony Simcox, my friend and

most frequent artistic collaborator there (she's the collage artist for all my

EP covers and has filmed my music videos!), I gained invaluable gigging

experience from a young age with opportunities Lichfield Arts provide,

busked outside the Guildhall, sang in the cathedral, and I even had my very

first Saturday job in the city. All things that have informed where my life

and career is at now, so I'd say Lichfield has been my springboard.

Find out more about Rosie Tee from her website www.rosietee.uk or

follow her on social media!

14
---
15
---
Community Fitness

on Your Doorstep

By Doug Pullen, Leader of Lichfield District Council

Like many of you, I started 2023 with a renewed focus on my

physical and mental health. As well as joining in with the

excellent 'Ranuary' challenge (walk or jog every day during

January), I also turned up to my 13th ParkRun in Beacon Park one

crisp Saturday morning, and joined 250 or so people walking,

jogging and running a 5k route as part of this brilliant free

community event.

I know how important regular activity is, not only for our physical

health, but for our mental health too, whether through the release of

endorphins from a brisk walk, or from the social connections formed

as part of a group-based activity.

While Covid-19 got many of us exercising outdoors, indoor leisure

centres are a great way that councils can ensure a warm, safe

environment for physical activity. The national picture is pretty bleak at

the moment; swimming pools are expensive to heat, and leisure centre

visitor numbers still haven't recovered fully from the Covid period.

That's led to more than 350 leisure centres across the country either

closing, altering their opening hours, or making other severe

operational changes to attempt to stay afloat.

With two leisure centres in Lichfield District, I'm adamant that we

will find a way of protecting these vital civic amenities. Because they

have such a powerful impact on increasing activity levels and reducing

social isolation, we are intent on building a replacement for Friary

Grange Leisure Centre. While

Whitehall didn't smile favourably

upon our Levelling Up Fund bid,

we've identified another way of

financing a leisure centre with no

external borrowing. We expect

that a planning application will go

in this March, with contractors

starting on site later this year,

and doors opening in late 2024.

We're also busy looking at

how we can invest even more

money into leisure facilities

which will not only open up new

types of activities, but also provide a small and steady income stream

for the council to help invest back into our community fitness

initiatives right across the District.

In the meantime, I'd highly recommend taking a visit to our

swimming pools in either Burntwood or Lichfield, get booked in to one

of the many fitness classes available across our parks and leisure

centres, join Parkrun on a Saturday morning (9am at Beacon Park or

Chasewater), or play a round of golf at Beacon Park - and even better,

take someone else along too!

Got a story or charity

event you want to share

with our readership? Think

you've snapped an image

that captures the spirit of

the region? We want to

hear from you!

Contact Citylife at

kristencitylife@gmail.com

16
---
17
---
Your Garden in December

By Byron Lewis

Early Spring marks the start of the gardening season, and there's

plenty to be done in your garden to get ready for the long summer

days ahead... it's been a mild winter so far (great for us and our

heating bills, and also the plants too!) but there is still the chance of

a cold snap. Be prepared by protecting more tender shrubs like

palms, camellias and others with horticultural fleece. This is

breathable, but also insulates the plants from severe cold. You can

generally buy this by the metre or pre-packed. You may also want to

think about wrapping your pots in bubble wrap if it gets really bad!

It's time to take an early look at the vegetable garden. Seed potatoes

are now available – buy them early for the best selection and keep

them somewhere warm and dark (like an airing cupboard). This will

encourage small shoots, or chits, to grow. When these are around an

inch long they will almost be ready for planting into the garden.

If you're lucky enough to have a heated greenhouse, you could also

start sowing some salad crops later in the month. Things like lettuce,

radish, spring onions and others don't take too long to mature and

can give you some fresh tasty home-grown crops by late spring.

Herb seeds like parsley and chives can also be sown.

Out in the garden, and particularly in pots or window boxes, replace

any tired looking patio plants with spring colour in the form of

primroses, polyanthus and ready potted spring bulbs such as crocus

or daffodils. These will be coming into flower now, through to late

spring.

* Handy tip - instead of properly planting potted bulbs into

containers, just 'plunge' them in, pot and all. Once they have finished

flowering, you can then remove them from their temporary home

and put them straight into the garden and fill the gap with something

else in flower.

If you need to move shrubs around, now can be a good time to do

it. As the plants are mainly dormant, they shouldn't suffer too much

if moved now. A few things to remember – dig the proposed hole

first and enrich with some fresh compost and a little bonemeal (a

good root encourager). Then water the shrub you want to move, dig

it out with as big a root ball as possible and pop it straight into the

new planting hole.

We celebrate our 10th year in business this year at the Garden

Centre – keep an eye on our social media channels and also in store

for details of our celebratory events!

18

Byron Lewis runs Lichfield Garden Centre at

Curborough Countryside Centre,

Lichfield. Tel: 01543 254306. Visit

www.lichfieldgardencentre.co.uk or find the centre on

Facebook, Instagram and Twitter.
---
19
---
Lost Pubs of Lichfield

The Prince of Wales

By Jono Oates

At the end of Bore Street, close to the junction of St John Street and the Friary,

stands a dilapidated and crumbling building which has lain empty for many

years. It was however, in its heyday, a bustling and popular city centre pub

known to many Lichfeldians – the Prince of Wales.

Over the years the pub has had several names, both before and after it was the Prince of

Wales. It started life as the Queen's Head in the early 1800s when it was one of the many

coaching inns in Lichfield. In August 1807, J Tibbles and Company announced that the

Wolverhampton and Lichfield coach would be travelling, via Walsall, on every Sunday,

Wednesday and Friday morning. It left the Peacock Inn, in Wolverhampton, at 'precisely'

6.30am and arrived at the Queen's Head Lichfield at 9.30am. In December 1826 the 'Paul Pry'

coach departed from the Queen's Head as a day coach to London on Tuesday, Thursday and

Saturday morning, starting at 6am. They provided a coach that was 'superior, safe, elegant,

cheap and fast' and boasted that it was the first day coach ever to run between Lichfield and

London. It arrived at the Golden Cross Inn at Charing Cross, London, at 9pm, a journey of

fifteen hours.

In 1835 a new pub was opened on Queen Street and took the name of the Queen's Head,

at this point the inn on Bore Street was renamed as the Turf Tavern. In July 1837 George

Callaway, a long-standing landlord of the Old Crown at the other end of Bore Street, hosted

a housewarming event at the Tavern for his patrons and friends. They paid one guinea (£1 and

one shilling) for their tickets which included dinner and wine.

By 1868 the inn was renamed yet again, this time becoming the Prince of Wales. The first

landlord of the Prince of Wales was Thomas Ffrench, who had been a Sergeant in the

Staffordshire Militia, based at the Militia Stores on the Birmingham Road. When Thomas died,

aged just 41 in 1874, his widow, Catharine, became the landlady, a role she was to hold for

nearly 20 years. Not all of her customers were honest however and in October 1878 Francis

Green, a carpenter from Whittington Heath, was taken to court accused of stealing 7 shillings

from the till at the Prince of Wales. When challenged at the time he flatly denied it, however

when a Police Constable arrived and searched him, he discovered a number of coins

totalling… 7 shillings! At court he continued to deny the allegation, however the judge clearly

believed he was guilty, sentencing him to 14 days in prison with hard labour.

Members of the 2nd Volunteer Battalion North Staffordshire Regiment held a farewell

dinner at the Prince of Wales in March 1900, just before they set sail for South Africa to take

part in the 2nd Boer War. Forty members of the regiment, who had volunteered to go to the

front, were hosted by the landlord of the inn, Charles Buckley, and his wife. During the

evening, toasts were made and several songs were sung, some with the theme of the recent

surrender of the experienced Boer General Piet Cronje, to the British Commander-in-Chief,

Field Marshall Lord Frederick Roberts.

After World War One RAF Sergeant John Ings, based at Whittington Barracks, was accused

of assaulting Mrs Rose, wife of landlord Edwin Rose, at the pub in August 1919. However, after

several witnesses came forward to confirm that the sergeant had been singing at a concert

at the Church Army Hut at the Barracks on the night in question, the judge quickly dismissed

the allegation as a case of mistaken identity.

In the 1960s and 70s the Prince of Wales hosted a number of clubs, societies and

performers. In February 1969 singer/songwriter Gerry Lockran performed at the Rectangle

Blues Club at the pub. He had produced several albums and had toured with Blues legends

Long John Baldry, Alexis Corner and Joe Cocker. The pub hosted the inaugural City of

Lichfield Ladies Open Darts Championship in August 1970, sponsored by the Lichfield

Mercury, and Mrs Jean Maddox became the first champion, beating Cynthia Pendleton in the

final.

Prince of Wales Bore Street

Pipers Bar September 1998

Chameleon Bar March 2006

By the 1990s the Prince of Wales had become

Pipers Bar, then the Chameleon Bar and finally the

Feria Tapas Bar. For many years the building has

remained empty, boarded-up and derelict. For me, this

is the saddest of the Lost Pubs of Lichfield – let us

hope that one day it will re-open its doors and

become a bustling pub once again.

Sources: The British Newspaper Archive; Lichfield

Pubs by Neil Coley, The Old Pubs of Lichfield by John

Shaw; Trades of a City by JP Gallagher.

20
---
21
---
All You Need is Love

By Charlotte Benton

It's the most romantic time of year, Valentine's Day. The one day

a year where a dozen red roses and a box of your favourite

chocolates cost three times the price they do on any other day!

This year as we each try to tackle the rising cost of living, you may be

wondering how to show your special someone just how special they are

but without breaking the bank.

Write a letter to the one you love

Restaurant bills and flower deliveries can soon mount up, but fear not.

It is all about spending time with the one you love. So, it's time to get

creative. Look no further for just a few affordable Valentine's Day ideas

for you and your loved one.

Enjoy breakfast in bed

The old ones are the best. It may be soppy but it is also super sweet.

Setting aside some time to write down how you feel about your loved

one, letting them know just how much you appreciate the small things

they do and noting down the special memories you have shared together

is sure to be just as, if not more, romantic than anything money could buy.

It really is the thought that counts. Be sure to read them aloud to one

another toasting to the future.

Snuggle together for a romantic movie night

Rather than heading to a flash, expensive restaurant after a long day at

work, why not wake up a little earlier to enjoy some quality time with

your beloved. Prepare your favourite breakfast treats and head back to

bed to start this special day together. A coffee may be needed later in the

day, but thankfully that won't break the bank.

Take a trip down memory lane

Take some time to look through old photographs of you and your

loved one. Whether that be printed photos, that you of course spent

hours deciding which ones to print, or simply scrolling through your

photo album on your phone, reminisce on your cherished times. Our

memories are at our fingertips. There is sure to be an old embarrassing

photo thrown into the mix too. Don't forget to take a new photo to add

to your memory box, or should I say your iCloud!

Create a Valentine's playlist

We cannot underestimate the power of a certain song to transport

you straight back to a special moment. Putting together a playlist of you

and your special someone's favourite songs, both romantic and

memorable, is sure to remind of the wonderful times you have shared

together.

You can pop this playlist on whilst you make dinner, get ready for work,

or even dance around the house. Whenever you hear those certain songs

you are sure to relive all those cherished memories.

Whether it be an old classic or the latest romcom added to Netflix,

dig out your fluffy socks and your favourite cosy blanket as you snuggle

up to enjoy a romantic movie with your special someone.

Take a raincheck

If all else fails, the chocolates and flowers will be cheaper on the 15th

February. You can always celebrate a day later, unconditional love is

omnipresent, not just for Valentine's Day!

Rest assured, you don't have to break the bank to show that you care.

After all, you can't put a price on love.

22
---
23
---
Here at Just Granite Ltd, we pride ourselves on being the experts for any worktop needs you may have.

Be it a beautiful bespoke and unique kitchen worktop, a bar, bathroom or even a barbecue area, we have

an extensive in-house range ready to be chosen by you! We stock a varied range, in a variety of materials,

such as our own competitively priced quartz, granite, marble and porcelain, as well as all the top brands

from around the world.

There really is no reason to go anywhere else!

Win a Granite Chopping Board

If you require our services please do not hesitate

to call us on 01785 711096 or email your quote

request to stef@justgranite.ltd.uk

With the largest variety of natural stones in the Midlands, the

solid slabs are kept on-site and are available for a virtual viewing

from 9am-5pm on Monday to Friday. Located at The Stone

Works, Pillaton Hall Farm, Penkridge, ST19 5RZ.

We've got a bespoke Chopping Board (in the

colour of your choice) to give away! To be in

with a chance of winning this magnificent prize,

simply answer the following question correctly:

Where does the supply

of granite come from?

a) Spain

b) Italy

c) Germany

To enter, just send your name, contact details and answer to Just

Granite Competition at competitioncitylife@gmail.com or post your

entry to Citylife in Lichfield Ltd, PO Box 7126, Lichfield WS14 4JS by

the closing date of 17th March 2023 One entry per household.

Multiple entries will be disqualified. No cash equivalent. Please note

you must be 18 or over to enter. All entrants' information is

processed in line with GDPR Data Protection Regulations and our

Privacy Policy (available at citylifeinlichfieldltd.co.uk).

Full t&cs on page 50.

24
---
25
---
Tales From The Saleroom

By Richard Winterton, Richard Winterton Auctioneers

The medals of a brave

Staffordshire soldier who made it

home from WW1 despite being

gassed in the trenches have sold

at auction just yards from where

he was born.

Private William J Richards of

the North Staffs Regiment was

awarded the Distinguished

Conduct Medal for "conspicuous

gallantry and devotion to duty

Richards pictured in a

family photograph in the

1930s.

during an enemy attack… utterly regardless of

personal danger".

His DCM, 1914-1915 trio of medals and archive

including a Princess Mary Christmas tin sold for £1,400

with Richard Winterton Auctioneers last month.

The collection was described by our militaria

specialist Jeff Clark as "an exceptional set of medals".

The oldest British award for gallantry, the DCM was

a decoration established in 1854 by Queen Victoria for

gallantry in the field by other ranks of the British Army.

Only ranked below the Victoria Cross – which was

introduced in 1856 – the DCM was discontinued in

1993 when it was replaced by the Conspicuous

Gallantry Cross.

Pte Richards

was born at a

house in

Aldergate,

Tamworth, at the

end of the 19th

century – just a

few minutes' walk

from The

Tamworth

Auction Rooms

in Church Street.

Private William Richards' medals archive

sold at £1,400.

He survived the horrors of the trenches and

returned home, marrying at St Edith's Church and

living a simple life as a carpenter.

Sadly, he died in his early 50s from lung

complications – probably caused by being gassed in

WW1.

Our next Collectors Sale featuring medals and

militaria, stamps and vintage toys takes place on

February 22, starting at 9.30am.

Catalogues can be viewed online via

https://www.richardwinterton.co.uk/auction-dates.

The Alabaster & Wilson sapphire and diamond

spray brooch.

Auction is the perfect place to buy or

sell fine and vintage jewellery.

A good example is this beautiful mid-

20th century Alabaster & Wilson

sapphire and diamond spray brooch,

estimated at £700-£900.

It's Lot 5 in Richard Winterton

Auctioneers' next Lichfield Fine Art Sale

at Fradley on Wednesday, February 15.

To book a free valuation, telephone

01543 251081 or email

office@richardwinterton.co.uk.
---
From Lupercalia to

Valentine's Day

By Lesley Smith, Curator of Tutbury Castle

Ihave written over the years about St. Valentine, whose

anniversary is this month, as the evidence of this elusive and

romantic saint is somewhat vaporous to say the least. I can tell

you what we do know though, both from the historical record and

religious traditions, and then you can arrive at your own

conclusions.

In the third century AD, a Christian priest called Valentine was

supposed to have performed an illegal marriage ceremony and, as such,

was executed for his beliefs. This Valentine came to be regarded as a saint.

For formal canonisation of saints, miracles have to be associated with the

person, and tested, and later tradition mentions Valentine miraculously

healing a child.

A similar tale of Christian marriage and miracles performed by a

Roman Christian bishop called Valentine is also mentioned. This tale was

reputed to be circulating in the late medieval period.

Again the bishop is executed, but sends the young bride a comforting

note 'From your Valentine' which from my perspective is a highly

entertaining way to explain Valentine's cards.

I can think of a couple of top academics who are much irritated by

these apocryphal tales of romance and martyrdom as there doesn't seem

to be any evidence whatsoever these tales are true. The first we hear of

St. Valentine and his romantic links to lovers comes from the writings of

Geoffrey Chaucer, writing in the late 14th century. So, the link between

Valentine is early but apparently not Roman. However, the name Valentine

is a genuine Roman name. There are no fewer than three Roman

emperors by that name, which in its original Latin form is Valentinianus,

two in the fourth century and one in the fifth century. Imperial freemen

(freed slaves) often took the name of their emperor as a family name so

no wonder that name was popular, although that wouldn't explain a

martyr of that name in the third century.

There is one other highly relevant note worth considering which was

that a priest did not have to be present at a wedding until 1446 as it was

not a sacrament until then. The Council of Florence had sat for fifteen

years before announcing this new sacrament of marriage. Priests were

only present to a small number of royal or aristocratic weddings as a rule.

So that's the end of the Roman link except for the name – or is it?

The date of Valentine's Day is interesting to me as it is so close to the

Roman Festival of Lupercalia which falls on the 15th February. This, as the

name suggests, is linked to the wolf and fertility rites. The Romans liked

fertility rites and fitted in many in the enormously long and involved

round of religious festivals they enjoyed, and in many cases they enjoyed

them far too much! So, the feast involved the animal sacrifice of goats and

a dog by a flamen (senior priest) – not a happy thought. Then young noble

men would run almost naked, except for the goat skin, through the

streets of Rome smeared in blood and milk and slap passers-by with an

extra skin which was supposed to bring fertility to the slapped individuals.

The goddess of breastfeeding comes into this too and also a fig tree. The

number of goddesses goes beyond counting in imperial Rome with

individuals having devotion to a favourite for whatever reason. Religion

was a complicated business in the eternal city. So, I can see how the 15th

February is a small step backwards to the 14th, and how a Roman fertility

ritual could become a celebration of romantic love.

So, the name of Valentine is appropriate for a Roman and from this,

legends have sprung. Whatever the true origin, it is not a canny Victorian

greetings card manufacturer in a top hat who invented the valentine card,

as the story can be found in English literature in the fourteenth century.

Many of Chaucer's stories can be traced back to earlier origins, so

although we don't have firm evidence that the tradition of St Valentine

was already old by his time, it is certainly possible. So that postman – if

he or she is not on strike – staggering up your garden path clutching a

pile of admirers' cards, is arriving at your door because of a legend that

certainly dates back many hundreds of years Whether in togas, or

medieval tunics or modern clothes (or none at all!) love has existed

across the ages, and in many forms, so take heart and be joyful!

28
---
29
---
A Day Out…

Blists Hill

Victorian Town

Fancy seeing an old-fashioned printing press in action, listen to

tales of olden day cures for ailments, or discover why you should

never be caught with green candles at home? Read on…!

This month, Citylife in Lichfield stepped back in time and experienced

the sights, sounds (and smells!) of Victorian life in the late 19th and early

20th century, when we paid a visit to the open-air museum that is Blists

Hill Victorian Town in Ironbridge.

Recreated and decked out like it would have been more than a century

ago, Blists Hill marks a time when traditional life and industry sat side by

side at the dawn of the modern era.

Built on an old industrial site, the town is laid out in three very distinct

areas, or districts: a fully working residential town of the time, with shops

and cottages to go inside to see craftspeople demonstrating their trades,

as well as a bank, bakery, butcher, bicycle shop and post office; an industrial

district that provided various employment to local townsfolk, such as a

blast furnace and wrought iron works; and a countryside district with

buildings such as a squatters cottage and the tin roof church.

The entire site is staffed with a full cast of costumed demonstrators who

have been specifically trained in the trades they are re-enacting, in order to

provide an authentic experience, such as the lady who runs the sweet shop

and will give you a taste of what Victorian children used to enjoy as sweets,

or the pharmacist who will tell you all about the weird and wonderful

potions and lotions that are on offer at his chemist.

To make the experience even more convincing, you can even exchange

your pounds and pennies for shillings and pence and try to get to grips with

an entirely new currency – at an exchange rate of 40 new pence to one

old penny, it really takes some working out!

There's a fairground packed with olden day rides and games of skill, such

as the coconut shy, a train to take you into the mines, and plenty of places

to eat, such as the old-fashioned fish and chip shop. You can dress up in

Victorian attire and pose for a picture in the photographic studio, that a

visit to Blists Hill makes a great day out for all the family.

Find out more by visiting www.ironbridge.org.uk.

Did you know…?

• Due to its authenticity, Blists Hill has been used as a venue

for various TV shows, such as Doctor Who, Blue Peter and The

Antiques Roadshow!

• The museum is actually built on the site of an old Victorian

working industrial area which operated brick and tile works,

blast furnaces and coal, iron and fire clay mines in the 18th and

early 19th century.

30
---
31
---
Sign-Up for Garden

Waste Collections

Residents across Lichfield District have signed up for this

year's garden waste service in their thousands.

Registration, or subscription renewal, will see their garden

waste bins emptied fortnightly, with the charge again held at the

2021 level so it will continue to cost just £36 per bin for a

maximum of 23 collections between January and December.

Green waste includes grass cuttings, plants and weeds, flowers,

prunings, hedge clippings, leaves and bark, pot plants, and pond

plants.

The council wants as many residents as possible to benefit

from the collection service which saves them from arranging

removal themselves.

Where residents don't generate enough waste to fill a bin, they

are encouraged to sign up and share with a neighbour, splitting

the cost.

Last year saw more than 9,980 tonnes of garden waste

collected across the Joint Waste Service area, and it was disposed

of sustainably through processing into compost, improving the

environment.

Now the council is encouraging residents to join the thousands

who have already signed up to have their garden waste bins

emptied this year.

It is also offering, for the first time, a direct debit facility that

can be set up ready for payment of the subscription in 2024.

To sign up for garden waste collection fill in the online form at

www.lichfielddc.gov.uk/mygardenbin or call the Tamworth and

Lichfield Joint Waste Service on 0345 002 0022.

Help Bring Johnson Home!

Local Lichfield historian and tour guide, Jono Oates, has started

a campaign to return a historic artefact to its rightful place!

Here, he tells us more about what he is trying to do, and why.

One of the iconic images of Lichfield was the bust of Samuel Johnson,

Lichfield's most famous son, protruding from the front of the shop at

number 10 Bird Street. For many decades the shop was Lomax's, a

family-run printer and publisher, firstly owned by Thomas Lomax, and

then by his son, Alfred. Later the shop was owned by two businessmen,

but they kept the original family name and called it Lomax's Successors,

and many Lichfield locals knew the shop as 'The Johnson's Head.' In the

early 1970s they closed the printing business and the Johnson bust, above

the shop doorway, was removed. Recently it has been purchased at an

auction and the new owner has offered to return it, free of charge, as a

gift to the city and people of Lichfield on the understanding that it is

placed in its exact original location above the shop doorway, which is

now the Viking E-Cigs vape shop. There are, however, costs associated

with the installation of the bust: scaffolding, potential repairs to the bust,

installation cost, structural engineer's fees, materials and consumables

etc.

The project aims to raise the funds to allow for the installation of the

Johnson's Head to its original location, with an estimated project total of

£6,000, to cover all of the current costs, with contingency for any

additional costs and inflation etc.

Please help us bring the Johnson Head back to Lichfield, by donating as

much as you can, and we will hopefully be able to see our Samuel looking

out over the City once again!

You can donate to this project online by searching for Return of the

Lichfield Johnson Head on website www.gofundme.com.

32
---
Charity Valentine's

Sunday Lunch

The Mayor of Lichfield,

Councillor Jamie

Checkland, and Sheriff

of Lichfield, Councillor Janice

Greaves will be hosting a

Charity Valentine's themed

Sunday Lunch on 12th

February from 2pm in the

Guildhall.

You are warmly invited to

dine with them in the historic

Guildhall with all its grandeur

whilst enjoying a traditional two-course set Sunday Lunch and light musical

entertainment, followed by a raffle.

Prior to the luncheon a civic Church service will be held at Wade Street Church

at 11am and all are welcome to attend.

All proceeds from the event are in aid of the Mayor and Sheriff's chosen charities,

The Sebbie Hall Kindness Foundation and Pathway Project.

Tickets are priced at £30 per person which includes a welcome drink, two-course

set meal, and light musical entertainment. This is a popular event and places are

limited so an early application is advised. Closing date to purchase tickets is Friday

3rd February 2023. Contact Harriet Chatwin at Lichfield City Council on 01543

250011 or email civic@lichfield.gov.uk.

33
---
A Romantic

Valentine's Day Meal

By Simon Smith

34

Make money by

delivering magazines in your

local area!

Citylife is looking for

distributors to deliver its

high quality

magazines in and around

Lichfield and our sister

publication in Rugeley &

Cannock. Applicants must

be aged 16 or over.

If you're interested in

finding out more, please call

Rebecca on

07970 513144.

Many restaurants are offering a

Valentine's Day menu but nothing quite

beats an intimate meal for two at home.

This doesn't need to be complicated and

should be something that can be prepared

in advance so you can spend the maximum

time with your partner. Of course, if you

both enjoy cooking and want to spend

time together in the kitchen, all the better!

This month I'm going for an easy twocourse

meal, starting with surf and turf

with a garlic butter followed by a rum and

sultana cheesecake, which can be made a

couple of days in advance.

Surf and Turf with Gratin

Potatoes

4 x 3ozs beef fillet

medallions

8 x king prawns

1x clove garlic

½ glass white wine

4ozs butter

2x tbsp. chopped

parsley (it keeps the

breath fresh, in

theory!)

2x large Maris Piper potatoes

4ozs double cream

2ozs grated cheddar

Grated nutmeg

Olive oil

Method

The day before you need them, boil the

potatoes in their skins until cooked. Leave

to cool overnight in the fridge.

Peel the potatoes and slice thickly. Lay in

an ovenproof dish and season with grated

nutmeg, salt and pepper. Top with double

cream and grated Cheddar. These will need

25 minutes in a preheated oven at 180

degrees to cook and brown off.

Skewer the king prawns and brush with

olive oil. These can be cooked either in the

oven or under the grill.

Peel and finely chop the garlic.

To cook the steak, heat a frying pan with a

dash of olive oil until it starts smoking.

Season the steak just before it goes into

the pan and then place into the hot oil.

Cook to your liking and then take out,

keep it warm and rest it for two minutes

while you make the sauce.

In the pan you used for the steak, pour the

wine, add the garlic and reduce by half.

Whisk the butter in and add the parsley.

Serve the king prawn skewer on the fillet

steak and top with the garlic butter.

Serve the potatoes on the side.

Rum and sultana cheesecake

1x shot of rum

1x orange zest and

juice

3ozs sultanas

5ozs Philadelphia

cream cheese

5ozs mascarpone

2ozs sugar

4x chocolate Hob

Nobs

1ozs butter

Method

Put the sultanas in a small dish with the

rum, orange juice and zest and cook in the

microwave for 1 minute so the juice

becomes hot and the sultanas become

soft. Allow to cool.

Mix together the Philadelphia, mascarpone

and sugar. Add the sultanas and stir

together to create the cheesecake mix.

Crush the Hob Nobs and add the melted

butter, stir together.

Pipe the cheesecake mix into a cocktail

glass and sprinkle with the biscuit crumb.

This can be done the day before and kept

in the fridge.

For the chocoholics amongst you, a good

portion of chocolate sauce on the bottom

makes a lovely addition. Garnish with a few

edible flower petals for a romantic

flourish.

Chocolate sauce

4ozs dark chocolate 74%

2ozs full milk

2ozs double cream

Method

Melt together gently in the microwave and

stir until fully blended.

Find out more about Lichfield-based

private chef, Simon Smith, from his website

at www.simonsmith-chef.com.
---
J HOWELL &

DAUGHTERS

FUNERAL DIRECTORS LICHFIELD

LICHFIELD'S LONGEST ESTABLISHED INDEPENDENT,

FAMILY RUN FUNERAL DIRECTORS.

SECOND GENERATION BUSINESS HERE TO ASSIST YOU

AND YOUR FAMILY.

24 hours a day

We are proud to be Lichfield's longest established family run funeral directors offering a wide range of

choices to suit all requirements. Horse drawn hearse, non religious ceremonies, floral tributes and

memorials are but a few of the services we offer.

Pre-paid funeral plans are also available.

For a truly personal service please call

01543 255776

Private Chapel of Rest 116 Netherstowe,

Lichfield, Staffs. WS13 6TS

35
---
Mobile Phone/Glasses Pouch

By The Fabric Vault, Tudor Row

You will need:

Fabric - 15cm x 100cm

Iron on (fusible) wadding - 13cm x

48cm

Sew on velcro – 5cm x 2.5cm

Optional - Tape or string – 1.5m

Roller cutter, cutting board and

ruler

OR fabric scissors, tape measure

and taylor's pen or chalk

Iron and ironing board

Clips or pins

Thread and sewing needle or sewing machine

5) Fold 1.5cm of the fabric inside the opening and press with hot iron.

Making sure that both sides of the fabric are matching. Place one side of

the velcro on the edge and clip or pin in place. Sew the velcro all around.

Finished Mobile phone or glasses pouch

How to:

1) Take the fabric and iron on wadding. Unfold the strip of fabric and place

the wadding on the wrong side of the fabric, leaving 1cm gap from three

sides. Hold fabric and wadding together and flip the fabric right side up.

Press with hot iron (follow manufacturer's instructions)

6) Fold the long end of the pouch towards the corners of the start of the

angle. Fold the flap with velcro over and measure where you need to

place the opposite side of the velcro. Pin in place. Unfold the fabric to

long strip and sew the velcro all around in place.

2) Fold the fabric

in half. Place the

velcro in the

middle of side

with two ends,

measure 5cm

from each corner

on the short side

and 10cm from

each corner on the long side. Cut the corner of the fabric diagonally

between these two point on each side.

3) Place the fabric nice sides together and pin or clip along the long sides

and the cut sides. Sew both sides together, leaving the small opening at

the top unsewn.

7) Fold the pouch again, with one end finishing where the angled flap is

starting, but make sure you fold the velcro inside the pouch. Position the

long sides of fabric on top of each other and clip or pin in place. Sew

along the long sides. Turn the pouch inside out, so the velcro is on the

outside of the pouch.

OPTIONAL

You can add a string or tape to allow your pouch to be carried over your

shoulder or around your neck.

4) Turn the pouch inside out through the top opening. Press with hot

iron

36
---
37
---
David Garrick

A Lichfeldian Legend

By Jono Oates

The Garrick Family Home, Beacon Street

On 19th February, one of Lichfield's greatest sons will celebrate his 306th

birthday, a man who was one of the best actors of his day, a man who changed

the way actors performed on the English stage and a man who reinvigorated

British theatre in the 18th century – Mr David Garrick.

Garrick was born on in 1717 at the Angel Inn – however not the one on Lichfield's Market

Street, but the one on Widemarsh Street in Hereford, many miles from the family home on

Beacon Street. The reason he was born there was that his father, Peter Garrick, was a

recruiting office in the army and was stationed at Hereford when baby David was born. His

mother, Arabella, was the daughter of a cleric at Lichfield Cathedral and the family were

descendants of a French Huguenot family, who left France following religious persecution in

the 17th century.

The family home on Beacon Street was a modest two-storey Georgian property, which

was demolished in 1856. A plaque on the wall of the Probate Court (next to the Lichfield

Register Office) denotes where the building originally stood. Young David made his first

appearance as an actor at the age of 8 or 9, in a performance of George Farquhar's play The

Recruiting Officer in the drawing room of the Bishop's Palace in the Cathedral Close, where

he played the role of Sergeant Pike, a big burly middle-aged soldier, and young David

undoubtedly used his father's experiences in the army to help him get into the part.

Garrick was educated at Lichfield Grammar School on St John Street, where another

Lichfield legend, Samuel Johnson, was educated. Although Samuel was David's senior by eight

years, the two young students became friends, a friendship that lasted for life and, when

Samuel opened a short-lived school of his own at Edial, just outside Burntwood, Garrick was

one of the handful of pupils that attended the school.

Following the collapse of the school, Samuel decided to leave Lichfield and make his

fortune as a writer in London and when he made his way to the capital in March 1737 his

former pupil, Garrick, joined him. Garrick was intending to become a wine merchant in

London but he became distracted when he caught the acting bug. His early performances

took place at the unfashionable Goodman's Fields theatre, in the rough East End of London,

where his innovative acting style, which was much more dramatic than his contemporaries,

soon brought him to the attention of the public and the larger theatres. He then joined the

prestigious Drury Lane Theatre where he became noted for his Shakespearean roles,

particularly in the titular role of Richard III. He reprised the role several times and it became

his 'tour de force'.

Garrick also showed a masterly talent for producing performances and became the

manager of the Drury Lane and later its owner. He changed the way the theatre operated,

introducing a revolutionary (for the time) gas lighting system and also forcing the actors to

become more professional. He fined them for being late, for missing rehearsals and for not

knowing their lines. The theatre, and Garrick, became so well-known that he was one of the

highest-paid men in the country, allowing him to build a magnificent house close to the river

Thames by Hampton Court. David married Eva Maria Veigel, in 1749, who was a dancer with

the Italian Opera Company in London. She was very well-known in London and they quickly

became a celebrity couple and the talk of the town. Garrick, by now, was so successful that

he caught the eye of the King, George III, who was a lover of the arts and a huge admirer of

the actor and King George attended performances by Garrick at the Drury Lane Theatre.

In later life Garrick started to suffer from illness and withdrew from acting, concentrating

on running the theatre, with help from his younger brother, George. David died on 20th

January 1779, at the relatively young age of 62. He was laid to rest at Poets Corner in

Westminster Abbey, where he was later to be joined by his great friend, Samuel Johnson, in

December 1784.

Lichfield Garrick

David Garrick as Richard III (photo Samuel Johsnon

Birthplace Museum

Garrick's legacy was to influence the British

stage for many years to come, with leading actors

being inspired by his performances and stage

presence. There are several Garrick theatres

around the country, including our very own

Garrick Theatre which opened in 2004.

Garrick was undoubtedly one of the most

successful actors and theatre owners in the

history of British theatre and, although he was

not born in Lichfield, we can definitely claim him

as 'one of our own' - a true Lichfeldian legend.

Source: Garrick by Ian McIntyre

38
---
39
---
Great Start for

Local Camera Club

Members of Lichfield

Camera Club were

given an inspirational

start to the new year by guest

speaker, David Lowe.

Worcester based David is an

Associate of the Royal

Photographic Society and has

won both national and

international acclaim for his

outstanding images. He is an

expert in the genre long

exposure photography and

captivated members with his

beautiful, minimalist

monochrome images.

In an entertaining lecture

David shared the techniques and

equipment necessary to achieve

his stunning images, which are

shown here. For more

information

see

www.davidlowepics.com.

If you would like to learn how to produce images like these or to

generally develop your photographic skills to a higher level, come

along to Lichfield Camera Club. The club meets in the Lichfield

Methodist Centre, Backcester Lane each Wednesday from 7:45pm to

10 pm. Anyone can come to meetings as a guest and if you later decide

to become a member, you will be given lots of opportunities to share

your work with a wider audience by participating in competitions and

exhibitions. The next Spring Exhibition can be viewed in the Hub at St.

Mary's Centre from to 6th March to 3rd April. For more information

visit lichfieldcameraclub.org.

Lonely Hearts

By Lauren Hirst

February is the month to celebrate love and there is nothing

purer than the love we share with our dogs. Every day is

Valentine's Day if you share your life with a dog! You know

what they say, "no-one loves you like your dog!"

If you own a dog – you have already given him or her the best gift ever

– you! But other dogs are still waiting for their special someone. A dog

like Tommy.

Tommy has been unlucky in love. He will be "celebrating" Valentine's

Day in the care of Greyhound Trust Hall Green having been here for 376

days on February 14th. Fortunately, the volunteers will shower him with

love, cuddles, and treats but what Tommy would really like is a family of

his own to love. It's heart-breaking that he's waited so long.

One of the reasons Tommy has had such a long wait is due to his age.

Tommy is 7 years old and many people are looking for a younger dog.

The second reason Tommy has been unlucky in love is that many looking

for an older dog usually want something more sedate. Tommy doesn't

know he's getting on in years except for the few grey hairs on his brows.

He's always eager to go out and walks well with other greyhounds but

would be happiest in a home as an only dog so he doesn't have to share

your love.

If Tommy was on a dating site, it would look something like this:

Handsome older but active gent looking for a long-term partner. A

little reserved to start but loyal and loving once I get to know you. Likes:

travel in the car, walk in the country, cuddles by the fire, but Ok with own

40

company. Dislikes: Cats and squirrels and sudden loud noises. Looking

'fur' someone to love!

If you could love Tommy, or one of our other 40 hounds looking for

their fur-ever family, please have a look on our website at

www.greyhoundtrusthallgreen.org.uk, phone 0121 426 4810, or email

hallgreen@greyhoundtrust.org.uk.

Adopting one greyhound won't change the world but the world will

surely change for that one greyhound.
---
41
---
COSMIC+ Investigation

at Catholme Neolithic site

By Dr Mark Knight

Balancing the requirements

between food production and

looking after a scheduled

monument is a difficult one for any

landowner but when your site is of

national significance and there's

nothing visible on the ground, it

takes a leap of faith.

Near to Alrewas, along the very

busy A38 trunk road, lying quietly

between the road, the railway, quarry

and the Amazon warehouse, is one of

Britain's most remarkable Neolithic

sites, the Catholme Ceremonial

Complex. Discovered from aerial

photography and only first excavated

in the early 2000s, this site is

Sunburst monument at

Catholme

(by Dr Mark Knight)

something of an enigma: cursuses, which were created some 5,500 years

ago. Cursuses are very rare and little understood. The remains are

usually just a set of parallel ditches, ranging in length from 50m to more

than 3km. The Catholme cursus is 45m wide and runs for 110m before

being lost under modern farm buildings. Their function is unknown

although they always have an astronomical alignment (often east-west)

and the ones in the Trent valley are associated with the river, perhaps as

a buffer zone between the secular world and sacred sites. They may be

connected with ritual and sacred purposes themselves.

Next came the Sunburst Monument, a series of radiating pits with a

central near-circular ditch and bank with a 57m overall diameter. This is

the only known feature of this type and its purpose is unknown. A later

beaker period pottery vessel was discovered during the investigation in

2004. The final phase of Neolithic activity was the erection of a massive

'Woodhenge' style monument to the

east of the Sunburst, and offset from

both it and the cursus. Solar

alignments with a range of hills to the

south for the winter solstice have

been suggested. This 50m diameter

monument has a series of 19 radiating

post holes, 64 in all, with a central

circular space of 21m diameter. The

post holes are 1.2m across and 1m

deep and would have held huge tree

trunks.

Individually these monuments

represent something very special but

taken together it would be hard to

overstate the importance of this site,

despite there being nothing at all to

see on the ground now.

The Transforming the Trent Valley

project team, Historic England and our

Northernmost edge of the

Woodhenge monument

(by Dr Mark Knight)

archaeological specialists are undertaking an investigation of the

Sunburst Monument in January using the COSMIC+ method

(Conservation of Scheduled Monuments in Cultivation) to assess the

current state of the archaeology of these nationally important

monuments. This will also help and support farmers in preserving our

precious heritage. We look forward to updating Citylife readers on our

findings in a future issue.

Dr Mark Knight is Cultural Heritage Officer for Transforming The

Trent Valley.

Paul Weller Announces Forest Live Gig!

Paul Weller has

announced

dates as part of

Forest Live 2023, the

summer concert

series presented by

Forestry England

which takes place on

Cannock Chase.

Paul Weller has

enjoyed an incredible

50 years making music.

From his era-defining

breakthrough with The

Photography by Derek D'Souza

Jam, reinvention via The Style Council, and formidable career as a solo

artist, Paul has scored a string of number one albums and singles.

Constantly creating forward-thinking music, the ever-changing Weller has

connected with fans across the generations and is regarded as a cultural

icon of British music. A Forest Live stalwart, Paul has made a recordbreaking

25 appearances as part of the concert series since his debut in

2004, the most by any artist and all to sold-out crowds.

Forest Live is a major outdoor live music series that introduces forests

to new audiences in unique, natural woodland arenas around the country.

Over two million people have attended a Forest Live gig in the last

twenty-two years, enjoying great music and supporting the nation's

forests when buying a ticket. Going to a concert helps Forestry England

create beautiful places for people to enjoy, run important conservation

projects and keep growing trees. Last year they planted some 6.8 million

trees, caring for the nation's 1,500 woods and forests sustainably and

welcoming 363 million visits annually.

Commenting on the dates, Paul Weller said: "I am very happy to be

playing the Forest Live gigs again as they are always such great shows

with such a great audience! See you there."

Paul Weller will be playing on Friday 9th June at Cannock Chase

Forest, near Rugeley, Staffs. Tickets are on sale now at

www.forestryengland.uk/music.

42
---
TASTING EXPERIENCES

AT THE SPIRITS LAB!

GIN MASTER TASTING

INTRODUCTION

1-1½ HRS

Enjoy a gin & tonic on arrival. Discover the history

of gin and, using our very own Mercia gin as a

base gin, learn the secrets of how to taste and

match botanicals. Upgrade your experience to

take away your unique Mercia gin with your

chosen added botanicals for an additional £35.

TASTING EXPERIENCE - £25 EACH. BLENDING

EXPERIENCE - £35 EACH.

IMMERSIVE GIN BLENDING

'EXPERIMENT'

1½-2 HOURS

We're bringing you back to school with a more

immersive gin-blending experience, starting with

your very own science kit to create your perfect

gin. If you can't decide then extra bottles can be

made up for £25 per bottle. A range of nibbles will

be available during the tasting or order one of our

food platter.

£65 EACH OR £120 PER COUPLE

WHISKY MASTER TASTING

EXPERIENCE

1-1½ HRS

Tasting three drams from the Highlands, Lowlands

and Campbeltown. You can also add Speyside

and Islay too for an extra £20. We will teach you

not to trust your memory, but use your nose and

taste, by laying our certain 'tasting notes' to help

you identify the region. A range of nibbles will be

available, or a food platter for £13 per person or

£24 per couple.

£35 EACH

The ideal choice for private parties or corporate events. Max party booking size is 24 people.

You can book online at www.merciawhisky.co/spiritlab or

visit Mercia Spirit Lab at Bishton Hall in Rugeley. Tel: 01889 529 291.

43
---
Valentine Gifts

Jewellery With Life

Emily Jane is passionate about creating her pieces

as much by hand as possible; making each piece

truly unique, just like you. This silver pebble heart

pendant is beautiful, delicate and the perfect gift for

your loved one this year! Priced at £35 and

available from www.jewellerywithlife.co.uk or join

the Instagram community at @emilyjanedesigner

Needwood Living

This 'Dancing Storks' coral lidded jar is a great,

vibrant addition to the home and perfect as a

present for a loved one. Priced at £93, it is

available from Needwood Living at 136 Main

Street, Alrewas, or 7a High Street, Tutbury.

www.needwoodliving.co.uk

Indulgence

Italian Prosecco or Rose Vino Spumante in a

presentation bag with a choice of 4, 8, 12 or 16

chocolates. Prices for the chocolates start from

£3.99. Other Italian wine selections are available.

Indulgence, Barton Marina, Barton-under-

Needwood.

Michael's Menswear

The perfect Valentine' gift - treat your partner

with a lovely pure cotton shirt with a design filled

with romance. Claudio Lugli is well-known in the

trade for exquisite Italian designs and prints.

Priced at £69.95 in the sale, available from

Michael's Menswear, Market Street, Lichfield.

If you're after a gift for

your loved-one then

look no further - we've

put together a few of

our favourite items from

local retailers, artisans

and producers to ensure

that your Valentine's Day

is extra special this year.

City Jewellers

If you're looking to pop the question to your

loved one on Valentine's Day, it doesn't get much

better than this stunning Platinum Certificated

Diamond Solitaire Ring. Priced at £11,000.

Available from City Jewellers,

Bore Street, Lichfield.

Paul Martyn

Treat your true love to this gorgeous, fused glass

kitten for all the cat lovers out there. Also

available with lilac hearts, it's something to

treasure forever. Priced at £35.99. Available from

Paul Martyn Furniture, Heart of the Country

Shopping Village, Swinfen, WS14 9QR. Tel: 01543

481592. www.paulmartyninteriors.co.uk

44

Artisan Upcyclers

A collective of artists, designers and crafters who

make their work wholly or in part from recycled,

reclaimed or repurposed materials. This beautiful

orange leather, purchased from a recycling site, is

now a stunning handmade backpack. Priced at

£110, this is truly one-of-a-kind. Available from

Artisan Upcyclers, Tudor Row, Lichfield.

Allen Brown Jewellery

Danish Design Watch, the Koltur Chrono II in

Grey, is priced at £185 and available from Allen

Brown Jewellery, Heart of the Country Shopping

Village, Swinfen, WS14 9QR. Tel: 01543 481 948.

www.allenbrownjewellery.co.uk
---
Valentine Gifts

Tippers

Light and portable, the Kamado Joe - Joe Junior is

perfect to cook a quick, flavourful meal for two

wherever you are this Valentine's Day. The Joe

Junior is the ideal sidekick to travel with you for

every adventure, rain or shine. Priced at £499 and

available from Tippers, Europa Way, Lichfield,

WS14 9TZ. www.tippers.com

Victoria Lowe

British Designer Chris Lewis produces amazing

handmade jewellery pieces at affordable prices,

making this range perfect for a stunning Valentine's

Day present. For a vast array of both men's and

ladies' Valentine's gift ideas, visit Victoria Lowe

Interiors, Dam St, Lichfield. Tel: 01543 262581.

Mercia Spirits Lab

Mercia Spirits Lab offers fantastic gin or whisky

tasting events and workshops where you can even

make your own unique spirit! There's also a range

of Valentine's Hampers available, with prices

ranging from £25-£60. Visit Mercia Whisky, Bishton

Hall, Wolseley Bridge, or www.merciawhisky.co.

Arthur Price

This silver-plated picture frame is perfect to

display a photo of your loved one in! It comes in

three designs (art deco, bead and plain) as well as

three sizes (6"x4", 7"x5" and 10"x8"). Priced from

£9.95 for the smaller of the three, and available

from Arthur Price Factory Shop, Britannia Way,

Lichfield, WS14 9UY.

Eden Gallery

This framed limited edition entitled Dance With

Me 'til Dinner Time by artist Sam Toft makes the

ideal Valentine's gift. Priced at £220 and available

from Eden Gallery, The Hexagon Centre,

Curborough Countryside Centre, Watery Lane,

Lichfield, WS13 8ES. Tel: 01543 268393. Open

Weds-Sun:10am-4pm (Tues by appointment only).

www.edenartandframing.co.uk

Arthur Price

Pre-order this limited edition Coronation Spoon

to commemorate the crowning of King Charles III

in May 2023. Priced at £12.95. Available to order

for March delivery only at Arthur Price Factory

Shop, Britannia Way, Lichfield, WS14 9UY.

Framework

Superb open edition book by Doug Hyde. A fine

collection of paintings combined with revealing

narrative that gives insight into the inspirations

and creative processes of one of the country's

most collected artists. Priced at £75 and available

from Framework, Tamworth Street, Lichfield.

www.theonlineartshop.com

Clive's Wines

Try something a little different this Valentine's Day

with Rhubling – a delightfully refreshing sparkling

rhubarb wine from local wine merchants, Clive's

Wines. Made using the traditional method to

create bubbles, Rhubling is the perfect fizz for

your romantic meal!

Available from Clive's Wines of Burntwood. Tel:

07972 269 620.

www.cliveswines.co.uk

ES Jewellery

United forever – the intertwined rings of this

Thomas Sabo collection represents the

inseparable bond of two lovers. The engraving

'Forever Together/Together Forever' strengthens

its symbolic power. Prices: necklace £98, earrings

£39, bracelet £89. Available from ES JEwellery,

Tamworth Street, Lichfield.

45
---
The Month in

Pictures

We take a look at the events and

activities over the last month, bringing

you a round-up of the city in

pictures...

We Love Lichfield Fund Awarding, the

George Hotel

Volunteers' evening, the Hub at St Mary's

The Santa Dash, Stowe Fields

Sing Choirs of Angels illuminations,

Lichfield Cathedral

Saxon Hill Academy, Tesco Lichfield Foodbank

collection

The cast of Snow White & The Seven Dwarfs, Lichfield Garrick panto

St Giles Hospice with the Lichfield Rotary

Santa sleigh

Victorian late night shopping, Tudor Row

Shops

Lichfeild and District Soroptomists, Volunteer Fair at Lichfield Cathedral

Opening of Glazerite Lichfield Showroom,

Upper St John Street

Samuel Johnson Museum Family Christmas -

with Georgian Jono!

46

Lichfield Cathedral School carol singers, Tudor Row Shops
---
47
---
What's On

Promote your event in our What's On guide and reach over

16,000 homes and businesses for only £20 for businesses and £10

for charities. Entries must be 50 words maximum. To book contact

Rebecca Hill 07970 513144 rebeccahillcitylife@gmail.com

Please clearly mark your email 'What's On Lichfield'.

February

Sunday 5th February

Floristry Workshop & Afternoon Tea

Enjoy a fun and creative floristry workshop at

The George Hotel and take home your very

own creation. Afterwards, indulge in a delicious

afternoon tea which includes three tiers of

finger sandwiches, scones and cakes all served

with a pot of tea or freshly brewed coffee.

Venue: The George Hotel, Lichfield

Time: 12pm

Price: £65 per person

Visit www.thegeorgelichfield.co.uk to book.

Tuesday 7th February

Lichfield Ladies' & Men's

Probus Club

A talk on the National Memorial

Arboretum by Margaret Bullock.

Members of the Club meet on the first

Tuesday of every month.

Venue: St Matthew's Social Club, Burntwood,

WS7 9EP.

Time: 12.30 pm for an optional buffet lunch

followed by the talk at 2.15pm.

New members always made welcome. Contact:

peter.hitchman44@gmail.com, tel: 07971

113505, or jenny_hodgkins@yahoo.co.uk, tel:

01543 305522.

48

LICHFIELD TEXTILE &

STITCH GROUP

3rd Weds each month

A variety of creative activities and speakers

From 2pm to 4pm at Martin Heath Hall, Christchurch

Lane, Lichfield, WS13 8AY.

Sat 4th February

LichStitch 10am – 12 noon

An informal opportunity to chat and stitch

Weds 15th February

Maria Thomas Textiles: RELATIVE

Exploring family history and belonging. Maria shares

her personal view of family relationships through a

series of contemporary patchwork garments and

artefacts.

Weds 15th March

Helen Waite - Upcycling & Recycling

The background of making something from nothing.

Contact: mandyjgriffiths@gmail.com

8th February

Engineer John Robinson Maclean

Over 55? Looking for something new? Join

Lichfield u3a's low-cost local interest groups,

from art to walking. We hold FREE talks on the

second Wed of each month.

Venue: The Guildhall

Time: 2pm

Email lichfieldu3a@gmail.com or call 07510

634476 to find out more.

Thursday 9th February

We Love Lichfield Community Event

A free, informal event for local businesses and

residents to drop in after work and find out

more about the We Love Lichfield Fund and

the charities it supports. Includes a free

welcome drink.

Venue: The Hub at St Mary's, Market Square,

Lichfield.

Time: 4.30pm - 6pm

Friday 10th February

Valentine's Ball

This love-themed black-tie ball aims to raise

funds for We Love Lichfield and features a

three-course meal and live music.

Venue: The George Hotel, Lichfield

Time: 7pm

Tickets are priced at £40 and available from

Arthur Price Factory Shop.

Tuesday 21st February

Pancake Day Races & Shrovetide Fair

Spectators can expect to see all the usual

races including Ladies, Gentlemen, Mascots and

Under 10s. The races will be followed by the

traditional opening of the Shrovetide Fair on

the Market Square by the Civic party,

supported by the Town Crier who will give a

shout to announce the occasion.

Venue: Bore Street & Market Square

Time: 12 noon

Thursday 23rd February

Half Term Fun: Dragons & Daffodils

Hands-on arts and crafts activity session for

the start of spring, inspired by Wales and St

David's Day.

Venue: The Samuel Johnson Birthplace

Museum

Time: 11am and 12 noon

Price: £3.50 per child, accompanying adults

free.

To book call 01543 264 972, email

sjmuseum@lichfield.gov.uk or visit the

Museum.

Thursday 23rd February

Joshua & Me

From the 2022 Edinburgh Fringe Festival,

Joshua and Me, written by Rachel Hammond, is

a one-woman show which explores being a

sibling of someone who is autistic – giving a

voice to young people with responsibilities of

care.

Venue: The Hub at St Mary's, Market Square

Price: £14 per ticket

More info, and booking, at

www.thehubstmarys.co.uk

Promote your event in our

What's On guide and reach over

16,000 homes and businesses for

only £20 for businesses and £10

for charities. Entries must be 50

words maximum. To book

contact Rebecca Hill 07970

513144

rebeccahillcitylife@gmail.com

Please clearly mark your email

'What's On Lichfield'.
---
49
---
CLASSIFIED

DO YOU HAVE

LEAFLETS THAT

WANT

DELIVERING?

Call REBECCA

07970 513144

50

To Advertise call:-

Steve Brown 07740 166497

stevebrowncitylife@gmail.com

Rebecca Hill 07970 513144

rebeccahillcitylife@gmail.com

Mike James 07900 982456

mikejamescitylife@gmail.com

Competition and Prize Draw Terms and Conditions

1.Entrants' details will be held and processed in line with Citylife in Lichfield

Ltd's Privacy Policy, which in turn adheres to GDPR Data Protection

legislation. For a copy of our Privacy Policy please email

kristencitylife@gmail.com

2.By entering the prize draw/competition, you agree to the terms and

conditions stated.

3.The closing date is stated on each individual prize draw or competition.

4.Entrants' details will be securely held by Citylife in Lichfield Ltd in

accordance with our Privacy Policy. Details will be held only until the closing

date of the competition. After this date entrants' details will be securely

destroyed/deleted. Winners' contact details will be securely stored only until

the winner has been informed of their win/prize. After this details will be

securely deleted/destroyed.

5.Entrants' details will never be shared with any third party. The only exception

to this is the name (and if the prize is to be posted) address of

Competition/Prize Draw winners that will be communicated to the competition

partner to allow winners to securely claim their prize, after which all details will

be securely destroyed. The initial and surname of winners will be printed in

our magazines – no other details will be published.

6.By entering the competition/prize draw, entrants agree to Citylife in Lichfield

Ltd using or publishing materials provided by the entrants (but not address or

contact details apart from initial and surname) in any of their publications and

online.

MAGAZINE

DISTRIBUTORS

WANTED

Earn extra money delivering

Citylife magazines. Must be over

16 and reliable,

call Rebecca

07970 513144

7.Citylife in Lichfield Ltd accepts no responsibility for any breach of copyright

or breach of any other legislation entailed by entrants in their creation or

submission of materials.

8.Only one entry per prize draw/competition, per reader.

9.Except in the case of cash prizes, no cash equivalent will be offered and the

prize is non-transferable.

10.All prizes are subject to availability and the prize suppliers' terms and

conditions.

11.No purchase necessary.

12.Prize draws and competitions are only open to UK residents aged 18 years

or over (unless otherwise stated).

13.Competitions and prize draws may not be entered by any employee of

individual associated with any employee, agent or third party of Citylife in

Lichfield Ltd.

14.Winners will be selected at random in the case of applicable prize draws

and competitions, or by an independent judge in the case of photographic/art

competitions from all entries received.

15.Winners will be notified by Citylife in Lichfield up to 28 days after the

closing date of the competition/prize draw by the contact details provided by

the entrant. Winners have 28 days to respond if contact cannot be made

initially. If no response is forthcoming after 28 days, Citylife in Lichfield

reserves the right to redraw the competition and select a new winner.

16.A list of the surnames and county of residence of the winners will be

available by writing to Citylife in Lichfield Ltd no earlier than six weeks after

the competition closing date.

17.When the prize draw/competition winner has been selected, this decision is

final and no correspondence will be entered into.

18.Citylife in Lichfield Ltd accepts no responsibility for the prize being lost,

damaged or delayed in transit. When the prize is provided by a third party,

Citylife in Lichfield Ltd accepts no responsibility for any change to the prize, or

for the quality of the prize provided.

19.Competitions may be amended or withdrawn at any time.

20.By entering the competition or prize draw, you agree to having your name,

(photograph, where stated) and city or county of residence published in any of

Citylife in Lichfield's publications and online.

21.Unless otherwise stated, the promoter is Citylife in Lichfield Ltd, PO Box

7126, Lichfield, WS14 4JS.

22. Citylife in Lichfield Ltd do not express any warranty or endorsement of any

competition prize, information, service or product provided in connection with

a competition by printing or otherwise publicising any competition.

23.To the full extent of the law, Citylife in Lichfield Ltd shall not be liable for

any loss, claim, punitive, indirect, incidental or consequential damages of any

kind incurred as a result of entering this prize draw or competition.

24.By submitting photos, text or artworks as part of competition/prize draw

entries you agree that you own these photos text or artworks, that it is your

original work to which you own all rights to distribute, and that your entry is

accurate, moral and legal.
---
51