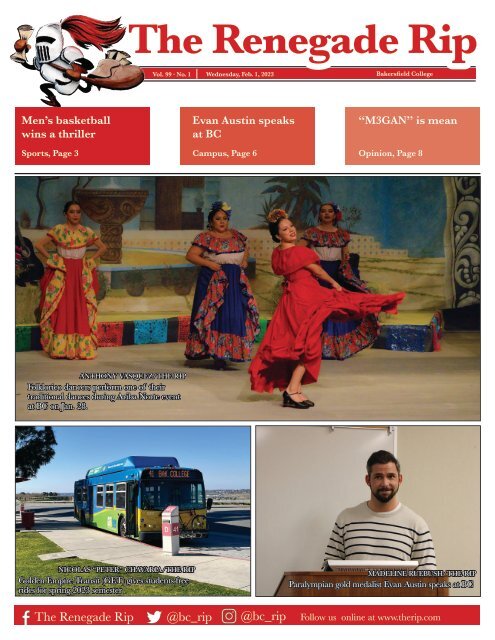 Renegade Rip, issue 1, Feb. 1, 2023
Bakersfield College student news publication
Bakersfield College student news publication
SHOW MORE
SHOW LESS
You also want an ePaper? Increase the reach of your titles
YUMPU automatically turns print PDFs into web optimized ePapers that Google loves.
The Renegade Rip

Vol. 99 ∙ No. 1 Wednesday, Feb. 1, 2023

Bakersfield College

Men's basketball

wins a thriller

Evan Austin speaks

at BC

"M3GAN" is mean

Sports, Page 3 Campus, Page 6 Opinion, Page 8

ANTHONY VASQUEZ/THE RIP

Folklorico dancers perform one of their

traditional dances during Ariba Norte event

at BC on Jan. 28.

COURTESY OF DAVE SEY-

MOUR

Drone footage from BC's

first Light up the night on

NICOLAS "PETER" CHAVARIA/THE RIP

Golden Empire Transit (GET) gives students free

rides for spring 2023 semester

MADELINE RUEBUSH/THE RIP

Paralympian gold medalist Evan Austin speaks at BC

The Renegade Rip @bc_rip @bc_rip Follow us online at www.therip.com
---
Page 2

News

The Renegade Rip www.therip.com

Wednesday, Feb. 1, 2023

GET free bus services for all

By Nicolas "Peter" Chavaria

Reporter

Following a recent grant, Golden Empire Transit is now

providing a free pass for students to use for the Spring 2023

semester.

The pass can be used by students from kindergarten through

college, including private and vocational schools. The pass

is valid for any GET Bus Fixed route and the On-Demand

Paratransit; it lasts from January until the end of May, and

isn't limited to only traveling to and from a student's campus.

In order to receive this pass, students have to go to their respective

offices of administration. For students of Bakersfield

Colleges' main campus, head to the Office of Student Life,

take a quick survey, and receive your pass from the front desk.

The pass works like any other GET transit card by swiping

the free pass into the fare box. Something worth noting for

students in 7th grade and over, whenever they go to use a

route, they need to present their student ID card.

Interestingly enough, this free pass comes at the perfect

time for students who rely on GET busses for transportation.

Usual GET Bus patrons would know the regular 31-day

passes are $45, and the express passes are $60. But now, as of

January 1st, the amount has been increased to $57 and $70,

respectively. This followed a public hearing held by Golden

Empire Transit back in early November of last year.

Bakersfield College student, Adam Biezad, said how he felt

about this, and his response echoed a common feeling shared

by other students.

"That's insanity; while I don't use the bus myself, I can definitely

see how this can affect someone a lot. $57 can almost

pay for two tanks of gas for my car. If you aren't on financial

aid, 60-70 dollars is the same for a textbook, if you're lucky."

While the price increase is very unfortunate for bus users

not in school, this goes to show just how invaluable this free

price is for students, especially those in situations where every

dollar matters.

The Bakersfield Art Museum

celebrates social themes

By Amanda Hernandez

Digital and Sports Editor

The Bakersfield Museum of Art held a

winter exhibition, which opened on Jan.

26 for public viewing.

The exhibition featured many different

works of art including abstract, and

a special collection titled "Of Rope and

Chains her Bones are Made," which will

be on display until May 6.

This was created by artists Lavialle

Campbell, Sydney Croskery, Pamela

Smith Hudson, Taylor Kibby, Christy

Mason, Blue McRight, Brittany Mojo,

Claudia Parducci and Diane Silver.

The collection used ropes, chains, vessels,

and fabrics, which signified and

represented identity, femininity and sociopolitical

concerns.

The gallery was a hit amongst the community

as people gathered with friends

and family to view the different pieces

of art that were creatively made and displayed.

Most visitors spent about an hour viewing

the art.

This is a smaller gallery compared to

others located in other parts of the world;

however, it houses some of the most creative

pieces by local artists.

There was also quite a bit of fascination

occurring in the abstract room.

Families and friends gathered together

to take photos in front of the hanging abstract

art.

There were complimentary drinks offered,

and those working the event extended

kindness toward the guests.

Art is becoming more discovered as

time passes, and more individuals are

learning how to understand and view art

regardless of the way some pieces are first

perceived.

The museum holds many events

throughout the year and you can find

more information related to your interests

on the website at bmoa.org.

AMANDA HERNANDEZ/THE RIP

An extremely unique art piece

located at the Bakersfield Museum

of Art winter exhibition.
---
Page 3

Sports

The Renegade Rip www.therip.com

Wednesday, Feb. 1, 2023

BC wins thriller vs LA valley

By Steven Kertis

Reporter

The Bakersfield College Renegades

won an incredible double overtime

thriller against the Los Angeles Valley

Monarchs 75-71 on Jan. 25.

The Renegades started out slow and

flat footed as the Monarchs jumped

out to an early 17-12 lead in the first

10 minutes of the first half. The Renegades

then kicked it up a notch by going

on a 22-4 run of dominance that lasted

for nine minutes.

That run was led by Eloy Medina

and Terrin Dickey who scored 20 of

the Renegades 36 points in the first half

as they led by nine over the Monarchs

at halftime.

The Monarchs made adjustments in

the second half and held the Renegades

to just 21 points in the second half. The

Renegades got into foul trouble early in

the second half which let the Monarchs

come back to tie the game with five

minutes to go. Back and forth the lead

swapped between the two teams however,

no one could get an edge to claim

the victory in regulation so we headed

into overtime with the score all tied up

at 57.

Overtime began and the lead continued

to swap between the Monarchs and

the Renegades. As soon as the Renegades

would score, the Monarchs would

answer back very quickly. Less than a

minute to go when the shot clock was

winding down, Eloy Medina knocked

down an incredible 3-pointer to put the

Renegades up 68-63 with 50 seconds to

go in overtime.

The Monarchs would not go away

quietly as they made a quick jump shot

to put them down 68-65. The Monarchs

would have one more opportunity

to tie the game and they did not let

that chance go to waste as Nikko Rodriguez

made an incredible buzzer beater

to tie the game at 68 and force double

overtime.

The Renegades jumped out to an

early five point lead thanks to Eloy

Medina making his eighth 3-pointer

of the game that put him at a total of

24 points on the night as the Monarchs

never took the lead again for the rest of

the game.

"This game should have been finished

in regulation," Bakersfield College

assistant coach Jonathan Glover

said after the victory.

STEVEN KURTIS/THE RIP

Renegades Guard Sean Fry lays the ball in the

net after a fast break opportunity.

STEVEN KURTIS/THE RIP

Renegades Guard Eloy Medina attempts to pass the

ball to a teammate
---
Page 4

Sportss

The Renegade Rip www.therip.com

Wednesday, Feb. 1, 2023

BC Women's

team falls to

Valley College,

64-33 on Jan. 25

By Amanda Hernandez

Digital and Sports Editor

The Bakersfield College Women's Basketball lost to LA Valley

Jan. 25 night in a home game with a score of 64-33.

LA Valley began the game in motion scoring 20 points within

the first couple of minutes of the game, putting themselves in a

good position of taking the win against Bakersfield College.

During the first half of the game, the Renegades struggled to

get the ball down low as LA Valley dominated them on defense.

Cynia Scott, from Bakersfield College led her team throughout

the game, attempting to make a comeback before fouling out

in the fourth quarter.

The Renegades

fell short by 31

points and they now

stand 8-15.

The team plans

to put more methods

into play during

practice to make a

turn around and

change the rhythm

of their season.

Coaches Paula

Dahl, Kel Dean,

Emre Ozoral, and

Rosebrooke Check

are working together

to prepare the

girls for what the

rest of the season

has to offer.

The team's next

home game is Feb. 4

where they will face

West LA .

AMANDA HERNANDEZ/THE RIP

Womens Basketball player Tori Robertson looks for a clear

path to the basket.

Controversies

All Things Sports

By Steven Kertis

Reporter

This week of sports led to

some very critical ref calls

that won and lost games

for certain teams. Also, we

now know the two NFL

teams who will be playing

in Super Bowl 57.

NFL

It was Championship

Sunday in the NFL as we

had our final four teams

left with a trip to the Super

Bowl on the line.

In the afternoon game,

it was a cold sight out in

Philadelphia as the Philadelphia

Eagles took on the

San Francisco 49ers in the

NFC Championship game.

49ers quarterback Brock

Purdy was hit on the first

possession of the game for

the 49ers and was knocked

out for most of the game.

The Philadelphia Eagles

offense absolutely bullied

the 49ers top defense

scoring four touchdowns

running the football and

cruising to a 31-7 trouncing

victory.

In the evening game, it

was a rematch of last season's

AFC Championship

game between the Cincinnati

Bengals and the Kansas

City Chiefs. The Chiefs

and Bengals went back and

forth for much of the game.

With 15 seconds left to play,

Chiefs quarterback Patrick

Mahomes scrambled to the

sideline and got pushed out

of bounds by Bengals defensive

end Joseph Ossai

late on the play, which resulted

in a 15-yard penalty

for unnecessary roughness.

The Chiefs would go on to

win the game with a field

goal 23-20.

Steven Kertis

The two teams that will

play in Super Bowl 57 will

be the Kansas City Chiefs

and the Philadelphia Eagles.

NBA

Controversy was the

main topic in the NBA on

Saturday night as the Los

Angeles Lakers played the

Boston Celtics.

The game was tied at

105 when Lakers shooting

forward LeBron James

drove the ball towards

Celtics power forward

Jayson Tatum. James

missed the layup and time

expired sending the game

into overtime however,

James was clearly fouled

by Tatum as Tatum's hand

hit LeBron James's wrist.

James expressed his reaction

as he was enraged by

the no call on the court.

Lakers guard Patrick

Beverley grabbed a camera

to show the ref to get the

foul called, instead he was

called for a technical foul at

the beginning of overtime

which let the Celtics shoot

free throws to take the lead

in overtime. The Celtics

won the game 125-121.
---
Page 5

Campus

The Renegade Rip www.therip.com

Wednesday, Feb. 1, 2023

"Ritmo y Sabor" brings fresh

folklorico to BC's campus

By Anthony

Vasquez

Editor-in-Chief

Bakersfield College

has expanded

more programs on

the campus in recent

years, and one

of these programs is

known as the Folklorico

program Ritmo

y Sabor. The

program was created

back in September

2022, by advisor

Cynthia Zamora,

but it wasn't until

last year that they

were able to introduce

themselves to

BC and the rest of

Kern County.

Ritmo y Sabor

aims on expanding

the art of traditional

dance that Folklorico

is known for.

The group focuses

on representing the

culture that lives

through the history

of Mexico, and several

other regions of

the world. Through

their representation,

they also hope

that they could become

a safe space

of culture for BC

students. Their most

recent event, Arriba

Norte, occurred on

Saturday night, Jan.

28, and presented a

show that had over

80 dancers perform

their choreographed

dances alongside

other partnered

groups that are similar

to theirs from

Kern County.

These different

groups of performers

ranged from

presenting cultural

dances and cultural

music.

One of the groups

that were present

at the event was

a three-girl band,

known as "Las

Damas Del Valle."

They opened up

the event with a few

songs that originated

from the region of

Northern Mexico,

that ranged from

traditional cumbias

to romantic classics,

and more.

The three band

members ranged

from the ages of

17 to 19, and they

came to support

Ritmo y Sabor with

their event that night

by coming in from

Porterville. Yadria

Lucatero had said,

"We're here to support

Cynthia, with

this big, beautiful

event, and her colleagues."

Other groups such

as Teocalli Culture

Academy from Fresno,

Calif., who came

to perform several

cultural dances, had

also come in to support

Zamora and

the Arriba Norte

event that night.

ANTHONY VASQUEZ/THE RIP

A folklorico dancer performs during the opening dance at the Ariba

Norte show at BC on Jan. 28.
---
Page 6

Campus

The Renegade Rip www.therip.com

Wednesday, Feb. 1, 2023

Paralympic gold medalist

speakes about perseverance

By Madeline Ruebush

Reporter

The first Distinguished Speaker

event of the spring semester, hosted

by BC's Office Student of Life took

place on Jan. 19 where paralympic

gold and bronze medalist speaker,

Evan Austin spoke about his disability

and how he was able to "get back

up" and become the accomplished

swimmer he is today.Austin's number

one message to the crowd was

to "get back up" just as he had to.

According to him, Austin was diagnosed

with spastic paraplegia, a

neurological and genetic disorder

affecting his legs, at age 3. He spoke

of how, at such a young age, he had

to learn the lesson that "getting back

up" was not a measure of motivation,

but of discipline saying, "You

have to get up, both metaphorically

and physically."

He also spoke of his able-bodied

brother, Adam. He explained

that both he and his brother were

"born with a competitive spirit", but

Adam was able to be good at everything

Austin could not do. Austin

expressed how much this irked him

as a kid, that his brother was able to

be good at all the things he wished

he could be good at. At 10 though,

First place nationally for two year college Websites at

the Associated Collegiate Press 2020 midwinter conference.

Fifth place newspapers. First place for newspaper

in 2011, third place in 2013, 2014, 2015 for CNPA General

Excellence

Fourth place nationally in 2019 for website publication

by Associated Collegiate Press

The Renegade Rip is produced by Bakersfield College

journalism classes and is circulated on Thursdays

during the fall and spring semesters. The newspaper is

published under the auspices of the Kern Community

College District Board of Trustees, but sole responsibility

for its content rests with student editors. The Rip is

a member of the California Newspaper Publishers Association,

Associated Collegiate Press, and California

Colleges Media Association.

Austin revealed, that he found the

one thing his brother was not good

at; swimming. He had found his passion

he explained saying it was," the

first environment I ever felt safe".

And he noted that he had decided

that swimming would become his

whole life.

Austin went on to describe how he

started trying out for the US team in

high school. The first time he tried

out he explained, he did not make

it. He said that he never wanted to

feel that way again, like a failure. He

finally revealed that in 2012, his senior

year he made the team and later

noted that "failure is fuel – it is like

gold". He said that he would go on

to compete in the paralympic and

eventually he won both a gold and

bronze medal. He said that "comfort

is the enemy of success" and that is

how he is where he is today.

Austin now is a coach and a

philanthropist as well as an accomplished

athlete. He wants people to

understand that his success came

from perseverance and those that

surrounded him. He ended the talk

by letting everyone know that they

could also achieve success, just as he

did.

The Renegade Rip

EDITORIAL BOARD

Editor-in-Chief.................Anthony Vasquez

Editor........................................Blake Burton

Digital &Sports Editor..Amanda Hernandez

Opinion Editor.......Eduardo "E.J." Martinez

STAFF

Reporters/photographers:

Samantha Britt

Nicolas "Peter"Chavaria

Steven Kertis

AJ Manalili

Nadeen Maniord

Madeline Ruebush

Essiah Torres

Emily Urias

Adviser.........................................Erin Auerbach

MADELINE RUEBUSH/THE RIP

Evan Austin tells audience at BC how he

was able to "get back up" and become

an accomplished swimmer despite his

disability.

Write The Rip

Letters should not exceed 300 words,

must be accompanied by a signature

and the letter writer's identity must be

verified.

The Rip reserves the right to edit

letters, however, writers will be given

the opportunity to revise lengthy or

unacceptable submissions.

If an organization submits a letter as a

group, it must be signed by only one person,

either the leader of the organization

or the letter writer. Anonymous letters

will not be published.

How to reach us

-Address: Bakersfield College,

1801 Panorama Drive, Bakersfield,

CA 93305

-Phone: (661) 395-4324

-Email: ripmail@bakersfieldcollege.edu

-Website: therip.com
---
Page 7

Opinion

The Renegade Rip www.therip.com

Wednesday,Feb. 1, 2023

Bakersfield's

chewable air

issue

By Nadeen Maniord

Reporter

Bakersfield Calif– Due to the recent flooding in California,

Bakersfield residents have been given a chance to breathe

the air rather than chew it. Unfortunately, most residents are

used to wheezing through the hazardous air, and it doesn't

seem to be improving anytime soon despite the efforts to create

clean energy.

According to the Bakersfield Air Quality Index, "Bakersfield

is frequently reputed to be the most polluted city in the

United States." Finally, Bakersfield is number one at something.

Bakersfield continues to dominate in their poor air

quality, by continuing to add to fuel emissions.

There is no doubt that location should be taken into consideration,

when thinking of the poor quality. Bakersfield, located

within the Central Valley of California, has the Sierra

mountains that surround it. Therefore, when industries such

as oil or crop burning, emit chemicals like nitrogen oxide,

a chemical that harms the ozone layer in the Earth's atmosphere,

it continues to swirl around like a vacuum seal, according

to the AQI.

This is not just applicable to major companies, however,

but how residents also add to the poor quality. Accountability

should be held to those who reside in Bakersfield. For example,

according to Data for Portal Cities, residents who take

any type of transportation create up to 49% of emissions.

This can be thanks to the lack of efficient transportation.

Bakersfield has also been ranked an F multiple times because

of the amount of smoking that occurs, according to

KGET. Having these types of ranks should be alarming to all

residents inhaling smoke, whether first or secondhand.

People of all ages should be worried about the poor conditions

of their city. According to Spare the Air, poor air quality

like Bakersfield's, can aggravate asthma, cause itching in

sinuses, affect the cardiovascular system, etc. Despite known

causes of health problems, not much has been done to help.

There is no easy solution to fixing the current state of Bakersfield's

air. However, there are things that can be done

to perhaps lessen the gravity of the issue. For example, one

could not drive, and instead ride their bike to things that are

close by. Another solution would be for residents, who do

smoke to quit it or even take baby steps toward smoking less.

Residents of Bakersfield, although it isn't easy, creating a

better environment can not only help us breathe resulting in

better quality of life, but also to sustain our planet. If not for

yourself, think of others, let's stop chewing air for 2023.

Bookworm talk

An Instant New York

Times Bestseller "The Stories

We Tell" by Joanna

Gaines made headlines on

the Today show in 2022.

The book is a memoir detailing

Gaines' experiences

and how important each

piece was to create the story

that she tells today.

Throughout the book, she

speaks boldly about memories

from her past and how

those moments created fear

within her while growing up.

This is a relatable concept

for most individuals.

I think we can all say that

there were moments in our

childhood so profound that

we still deal with the internal

messages they left behind.

For some, this book can

spark a sense of self-awareness

and motivate them to

begin healing parts of the

past to come to terms with

their own story.

Significantly, Gaines normalized

what adulthood,

growth, and change are like.

She wrote "I certainly

don't have all the answers."

That statement highlights

her authenticity as an author.

It allows readers to connect

with her and understand

that even though she

embarked on a journey of

change, self-discovery, and

healing, she still does not

have all the answers.

That is the most important

takeaway of the memoir.

You don't have to be perfect,

have all the answers, or

even pretend as though the

past didn't occur because it

is all part of the story that

The Bookworm

By Amanda Hernandez

Digital and Sports Editor

Amanda Hernandez

you will one day tell.

Throughout the book, she

emphasizes fear, bridges,

paying attention, holding

on, letting go, your roots,

growing, untethering, piecing

things together, and just

having fun.

You'll likely begin uncovering

your strengths, weaknesses,

lies you've been told,

hurts, pains, things that anger

you and so much more.

Regardless of your own

experiences ,and how different

they may be from

Gaines', there is something

you can relate to on just

about every page.

In addition, her style of

writing is very easy to comprehend

and so conversational,

you'll feel like she's

speaking directly to you.

This is a memoir that

sparks ideas, understanding,

and a whole lot of conversation.

If you haven't already, go

grab yours today, so you can

begin piecing together each

part of your own story.
---
Page 8

Opinion

The Renegade Rip www.therip.com

Wednesday, Feb. 1, 2023

"M3GAN," The

new killer doll in

stores now

By EJ Martinez

Opinion Editor

Watch out Chucky, there is a new

killer doll entering cinema and her

name is "M3gan" directed by Gerard

Johnstone and starring Allison

Williams, Violet McGraw and

Amie Donald.

This movie succeeds in everything

that other artificial intelligence

and doll horror films have

failed to achieve in recent years

exploring themes surrounding the

evolution of tech upon future generations.

The flick centers on the character

Cady (McGraw) after being gifted a

protype A.I. doll, M3gan, from her

aunt, Gemma (Williams), while the

doll takes every measure to make

sure Cady will never be hurt again.

The movie is an interesting take

on toys and artificial intelligence

within children's devices.

The flick questions the dangers

that come from children being

raised on technology that is actively

replacing the role of parents and is

damaging to the emotional development

within children.

While the film is rated PG-13, it

does have interesting deaths that

sadly never have a chance to play

out often having the camera panning

away or cutting to something

else beforehand which may be a

turn off for audience members

accustom to more graphic horror

scenes from other films.

However, that does not detract

from the danger that M3gan imposes

on the characters within the

film with her titanium body, voice

mimicry and her connections she

has with smart devices presenting

her as an unkillable killing machine.

This flick has a clear understanding

of its goals and what it seeks

out to do for its audience with its

campy tone surrounding the commercialization

of toys and products

for kids and the difficulties faced by

Silicon Valley engineers and higher-ups.

The effects and makeup for the

film were spectacular, especially for

M3gan design and graphic scenes;

some scenes appear to have fun

with the prosthetics and props used

during horrific scenes.

Overall, while the film may not fill

in the need for blood and gore for

some audience members "M3gan"

does provide an interesting take on

A.I. horror genre that was gladly

needed.

GOOGLE IMAGES

Renegade Events

Campus Events

.

Feb. 1: Deadline to apply for scholarships:

https://www.bakersfieldcollege.edu/finaid/

scholarships

Feb. 8: The Gadfly Cafe, Topic: Artificial Intelligence,

Levan Center,12:30 - 1:30 p.m.

Feb. 9: Dr. Eddie Cole Jr. , Professor of

Higher Education and Organizational Change

at UCLA, speaking at the Levan Center at 2:00

p.m., and at the Indoor Theater, PAC building

at 7:00 p.m.

Feb. 14: Deep Cuts and Conversations: an

informal discussion of music, with Josh Ottum,

Kris Tiner, and Reggie Williams, Levan Center,

1:30 - 2:30 p.m.

Feb. 17 & 20: BC will be closed on Friday

Feb. 17 and Monday Feb. 20 in observance of

Presidents' Day weekend

Feb. 22: Art, Architecture, and Archetypes:

a faculty panel on art, architecture, and mythology,

featuring Rae Ann Kumelos, Nan Gomez-Heitzeberg,

Krista Moreland, and Ronnie

Wrest, Levan Center, 6 - 7:30 p.m.

Feb. 22: Kwame Anthony Appiah, NYU

Professor of Law and Philosophy, speaking on

Race and Cultural Criticism., Ball Room, 3rd

floor of Campus Center, 6:00-7:30 p.m.

March 2: Dr. Rosemarie Zagarri, author,

historian, and professor speaking at BC at the

Levan Center at 2:00 p.m., and at the Indoor

Theater, PAC building at 7:00 p.m.

March 23: Will Gadd, professional top adventure

sports athlete speaking at BC at the

Levan Center at 2:00 p.m., and at the Indoor

Theater, PAC building at 7:00 p.m.

March 13: Dr. Melanie Lundquist, philanthropist

speaking at BC at the Ball Room, 3rd

floor of Campus Center, 2:00 P.M. & 7:00 p.m.