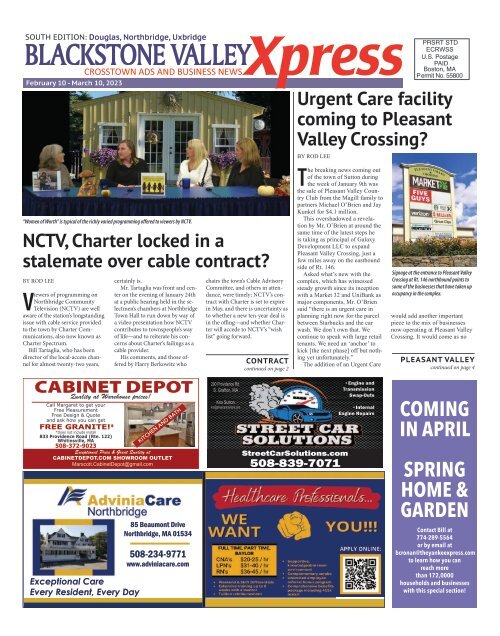 Blackstone Valley February 10, 2023
Blackstone Valley February 10, 2023
Blackstone Valley February 10, 2023
SHOW MORE
SHOW LESS
You also want an ePaper? Increase the reach of your titles
YUMPU automatically turns print PDFs into web optimized ePapers that Google loves.
NORTH EDITION: Grafton, Millbury, Sutton, Upton

SOUTH EDITION: Douglas, Northbridge, Uxbridge

BLACKSTONE VALLEY

February 10 - March 10, 2023

CROSSTOWN ADS AND BUSINESS NEWS

formerly The Yankee Xpress

PRSRT STD

ECRWSS

U.S. Postage

PAID

Boston, MA

Permit No. 55800

INSIDE

Urgent Care facility

coming to Pleasant

Valley Crossing?

BY ROD LEE

"Women of Worth" is typical of the richly varied programming offered to viewers by NCTV.

NCTV, Charter locked in a

stalemate over cable contract?

BY ROD LEE

Viewers of programming on

Northbridge Community

Television (NCTV) are well

aware of the station's longstanding

issue with cable service provided

to the town by Charter Communications,

also now known as

Charter Spectrum.

Bill Tartaglia, who has been

director of the local-access channel

for almost twenty-two years,

certainly is.

Mr. Tartaglia was front and center

on the evening of January 24th

at a public hearing held in the selectmen's

chambers at Northbridge

Town Hall to run down by way of

a video presentation how NCTV

contributes to townspeople's way

of life—and to reiterate his concerns

about Charter's failings as a

cable provider.

His comments, and those offered

by Harry Berkowitz who

CABINET DEPOT

Quality at Warehouse prices!

Call Margaret to get your

Free Measurement

Free Design & Quote

and ask how you can get

FREE GRANITE!*

*Does not include install

833 Providence Road (Rte. 122)

Whitinsville, MA

508-372-9023

Exceptional Price & Great Quality at

CABINETDEPOT.COM SHOWROOM OUTLET

Marscott.CabinetDepot@gmail.com

Exceptional Care

Every Resident, Every Day

KITCHEN AND BATH

85 Beaumont Drive

Northbridge, MA 01534

508-234-9771

www.adviniacare.com

chairs the town's Cable Advisory

Committee, and others in attendance,

were timely; NCTV's contract

with Charter is set to expire

in May, and there is uncertainty as

to whether a new ten-year deal is

in the offing—and whether Charter

will accede to NCTV's "wish

list" going forward.

290 Providence Rd.

S. Grafton, MA

Kris Sutton

kris@streetcarsolutions.com

CONTRACT

continued on page 2

The breaking news coming out

of the town of Sutton during

the week of January 9th was

the sale of Pleasant Valley Country

Club from the Magill family to

partners Michael O'Brien and Jay

Kunkel for $4.1 million.

This overshadowed a revelation

by Mr. O'Brien at around the

same time of the latest steps he

is taking as principal of Galaxy

Development LLC to expand

Pleasant Valley Crossing, just a

few miles away on the eastbound

side of Rt. 146.

Asked what's new with the

complex, which has witnessed

steady growth since its inception

with a Market 32 and UniBank as

major components, Mr. O'Brien

said "there is an urgent care in

planning right now for the parcel

between Starbucks and the car

wash. We don't own that. We

continue to speak with large retail

tenants. We need an 'anchor' to

kick [the next phase] off but nothing

yet unfortunately."

The addition of an Urgent Care

StreetCarSolutions.com

508-839-7071

•Engine and

Transmission

Swap-Outs

•Internal

Engine Repairs

Signage at the entrance to Pleasant Valley

Crossing at Rt. 146 northbound points to

some of the businesses that have taken up

occupancy in the complex.

would add another important

piece to the mix of businesses

now operating at Pleasant Valley

Crossing. It would come as no

PLEASANT VALLEY

continued on page 4

COMING

IN APRIL

SPRING

HOME &

GARDEN

Contact Bill at

774-289-5564

or by email at

bcronan@theyankeexpress.com

to learn how you can

reach more

than 172,0000

households and businesses

with this special section!
---
2 The Blackstone Valley Xpress • www.theblackstonevalleyxpress.com • February 10, 2023

CONTRACT

continued from page 1

The rub comes in Charter's

seeming unwillingness to engage in

any sort of dialogue with the town.

That is worrisome as NCTV looks

for an increase in both the amount

of money Charter forks over for

programming and for equipment.

Whether you're building or buying a new home,

want to make improvements to your current

home or looking to refinance, we have

the loan you need.

Our experts have been serving the financial

needs of the community for over 152 years!

Call or email Karen for

competitive rates for

conventional and jumbo

mortgages today!

"We are at 3.5% of what Charter

grosses in Northbridge, and that's

in the millions," Mr. Berkowitz

said. "For us to stay in business

we have to see that increased to

5 percent. For equipment, we are

asking for $130,000. The only

money NCTV gets is from cable.

Charter owns the fiber and we have

no control over it; and Verizon is

Karen Beane

VP, Mortgage Consultant

Karen.Beane@unibank.com

508.769.3816 • NMLS #485228

Connecting all offices: 1.800.578.4270 • www.unibank.com

UniBank NMLS #583135 • Member FDIC/Member DIF

not interested in coming in (as a

replacement cable provider)."

Over the years, NCTV has

consistently upgraded both its

equipment and the content it offers

viewers—with a staff of just a few

employed individuals, and "active

volunteers." As Mr. Tartaglia noted,

everything from Tai Chi to Days

of Vinyl, Board of Selectmen and

School Committee meetings and

Memorial Day exercises are available—along

with an App store,

Google play, ROKU, live stream,

video on demand and archives, for

example.

Mr. Berkowitz, fighting a cold

but fully engaged, said "the last

contract allowed us to upgrade to

where we are today."

Charter is an often unresponsive

partner, Mr. Tartaglia, Mr. Berkowitz

and Town Manager Adam

Gaudette said.

There is not much the town can

do, Mr. Tartaglia said, echoing the

thoughts of a woman in attendance

who said "they have us over a barrel."

Charter was invited by certified

mail to the public hearing, but was

The political-discourse show featuring Harry Berkowitz as host has been a fixture on NCTV

for years.

a no show. Charter's community

rep doesn't return telephone calls,

Mr. Gaudette added.

Compounding the situation is

that Charter is losing subscribers,

which means the cost for the rest

of its customers goes up; and with

more and more people switching to

streaming, Northbridge faces the

dilemma of how to recoup those

funds for regular cable.

One of NCTV's biggest complaints

about Charter is that the

company "changed our channels"

from low on the dial to the 190s

"without our input," Mr. Tartaglia

said.

That happened a while ago

despite strong protest from local

access.

Charter is a huge company with

32 million customers in 41 states

and more than 93,000 employees.

Charter has an iron grip on

its relationship with the town of

Northbridge.

"It's a monopoly," Mr. Gaudette

said, just before the public hearing—the

first of two—ended.

Contact Rod Lee at rodlee.1963@

gmail.com or 774-232-2999.

Personalized Approach to Achieving Your Educational Goals

Helping students with

• Secondary School Admission

• College Admission

Hourly services and comprehensive packages available

Schedule a Consultation to discuss

your student's needs

Contact Christine

Christine@chapmaneducation.org • 617.823.5403

Published on the 2nd and 4th Fridays of the month. Direct mailed to nearly 65,000

homes and businesses each month and available on news stands throught the region.

2nd Friday: Auburn, Charlton, Dudley, Oxford & Webster - 1/2 of all addresses

2nd Friday: Blackstone Valley South: Douglas, Northbridge & Uxbridge

4th Friday: Auburn, Charlton, Dudley, Oxford & Webster - other 1/2 of all addresses

4th Friday: Blackstone Valley North: Grafton, Millbury & Sutton.

Contact us:

Rod Lee, Editor: rodlee.1963@gmail.com

Submit business news and community events to news@theyankeexpress.com

Request advertising information: ads@theyankeexpress.com

Bill Cronan, Blackstone Valley Sales: bcronan@theyankeexpress.com

Laura Gleim, Billing & Sales: lgleim@theyankeexpress.com

Diane Galipeau, Advertising Sales Manager: dgalipeau@theyankeexpress.com

Kimberly Vasseur, Production Manager

Sally Patterson, Graphic Artist / Carol Kosth, Graphic Artist

Contributing Writers and Columnists: Tom D'Agostino, Christine Galeone,

Amy Palumbo-Leclaire, Janet Stoica

89 Southbridge St.

Auburn, MA

(across from Sword St.)

BIG KAHUNA

•BIG KAHUNA CARNUBA WAX

•UNDERCARRIAGE WASH W/ROCKER BLASTER

•X2 PASS FOAMING PRESOAK

•HIGH PRESSURE WASH

FOAMING POLISH

DELUXE WASH

•UNDERCARRIAGE WASH W/ROCKER BLASTER

•X2 PASS FOAMING PRESOAK

•HIGH PRESSURE WASH

The Newspaper Press, LLC/©2023

168 Gore Road, Webster MA 01570 • 508-943-8784 • www.theyankeexpress.com Vacuums always 75¢

$

18

•SPOT FREE RINSE

FOAMING POLISH •LASERDRI $

15

SUPER WASH

•UNDERCARRIAGE WASH W/ROCKER BLASTER

•X2 PASS FOAMING PRESOAK

•HIGH PRESSURE WASH

SHIELD "HIGH GLOSS

BASIC WASH

•X2 PASS FOAMING PRESOAK

•HIGH PRESSURE WASH

SHIELD "HIGH GLOSS

SHIELD "HIGH GLOSS

TOTAL PROTECTANT"

•SPOT FREE RINSE

•LASERDRI

SHIELD "HIGH GLOSS

TOTAL PROTECTANT"

TOTAL PROTECTANT"

•SPOT FREE RINSE

•LASERDRI

TOTAL PROTECTANT"

•SPOT FREE RINSE

•LASERDRI

$

12

$

9
---
February 10, 2023 • www.theblackstonevalleyxpress.com • The Blackstone Valley Xpress 3

Xpressly Yours ... a letter from the editor

Women's Success Network, BV Chamber spread a little love

February may be a short

month, but it is also one

of substance thanks to the

Women's Success Network and its

parent organization: the Blackstone

Valley Chamber of Commerce.

The first

day of

February

marked

the start

of the

Women's

Success

BY ROD LEE

NEW ENGLAND REGLAZE

Don't replace

your old tub, reglaze it!

Tubs, tile sinks and

much more

We do any TUB!

CALL US NOW

617-895-7771

Network's

"New

Mother Collective Drive," with

donations of such items as baby

formula, diapers, wipes, baby toiletries,

new clothes (size newborn-4T),

new baby equipment

(car seats, bouncy seats, pack and

plays, etc.), gift cards, handmade

items (blankets, hats, toys, etc.)

and items to pamper mom being

accepted at a number of convenient

drop-off locations.

Homefield Credit Union is one

of those and pleased to be a participating,

according to President

and CEO Karl Moisan and his

managers and staff.

"This is our first time," Mr.

Moisan said, of the second annual

event, which runs right

through the 28th. But giving back

is nothing new for Homefield

Credit Union, whose employees

engage with community through

such activities as the Frosty stop

with the Grafton Fire Department,

the Grafton PD's annual

toy drive and night out initiatives,

the UMass Cancer Walk

and Family Night at the Bandstand

in Milford.

This past fall, Homefield

worked with the Grafton PD

to collect seventy-five toys for

the "fill-a-cruiser" campaign,

and with the Post Office Pub to

arrange for sixty meals for local

senior citizens—complete with a

slice of apple pie.

Homefield has been involved

with the Chamber's Women

Success Network for just under a

year. The New Mother Collective

Drive coincides with the start of

www.newenglandreglaze.com

the credit union's "twelve months

of giving," Mr. Moisan said.

Day One of the New Mother

Collective Drive was also a

"Rewards Day" for Homefield

employees, in which they are allowed

to dress down in recognition

of efforts they have made in

the credit union's ongoing "quest

for the best" push.

UniBank, Millbury Federal

Credit Union, the Chamber and

the Whitin Community Center

are also all drop-off sites for the

drive. Donations will be distributed

to local food pantries and

nonprofit community agencies

serving new mothers in the

Blackstone Valley.

In the case of the banks and

credit unions, donations are being

accepted at all branches. All

of the banks and credit unions

participating are active on the

giving-back-to-community front.

Individuals and families that

want to donate an item not listed

among those that are being accepted

for the New Mother Collection

Drive are asked to email

administrator@blackstonevalley.

org or to call 508-234-9090.

Pat Hurton notes that the

Women's Success Network is

always looking for new members

as a way for women to expand

their business opportunities

through access to prominent

speakers, educational workshops

and networking social events.

February and March are busy

months for the Blackstone Valley

Chamber.

On Friday, February 10th at

10:30 a.m. there will be a ribboncutting

ceremony for Spicy

Water Distillery at 108 Elm St.

in Millbury. The new distillery

specializes in creating unique

handcrafted flavor experiences

with such offerings as Caribbeaninspired

rum, gluten-free vodka,

a variety of gins and an American

agave spirit.

A "Love Your Legislator"

breakfast at Galliford's Restaurant

& Tavern at Southwick's

Zoo in Mendon will occur, appropriately

enough, on Valentine's

Day—Tuesday, February

Reg. $ 399

Color, travel, may apply.

NOW $ 299. 00

SAVE

$100

WITH AD

We are

fully licensed

& Insured

Experienced Adult Day Health Program

NEW & USED PARTS

serving your community since 1985

Full service marine general repair, maintenance & sales for all boating needs

Family Owned and Operated

Proven and reliable partner in assisting

families with their individual situations

Offering Skilled Nursing, Personal Care,

Case Management, Recreational

Programming, and Transportation Services

in a secure facility.

Adult Day Health Program serving your community

Family Owned and Operated

10 Cudworth Road • Webster, MA 01570

TESTIMONIAL: "When my mother's dementia progressed

508-949-3598

to the point that she was no longer able to live by herself;

I was in desperate www.accorddaycenter.com

need of help and found it with the folks

at Accord."

--Marcia T

14th—as a salute to the region's

legislative delegation. The event

will give attendees a chance to

ask questions about pending bills

in the Massachusetts House and

Senate and other action taking

place on Beacon Hill.

Then on Saturday, March 25th,

the Chamber's annual Home and

Community Expo returns for the

twenty-third time at the Northbridge

High School Field House.

Contact Rod Lee at

rodlee.1963@gmail.com or 774-

232-2999.

Pictured from left: Karl Moisan, Jen Marble,

Stephanie Antaya, Maureen Wojnar, Julie

Tripp and Kelly Benoit prepare to accept

donations at Homefield Credit Union in

Grafton on February 1st as the Women's

Success Network's month-long New Mother

Collective Drive kicks off.

L&D MOBILE MARINE

LAND and DOCKSIDE

website: lndmobilemarine.wixsite.com/mysite

email: lndmobilemarine@gmail.com

phone: 774-321-9000

10% OFF Parts & Services

Stay healthy, socialize, make friends!

Structured Programming

Cognitive and gross motor recreational programming including:

Baking Club, Bowling League, Live Entertainment

For Spring/Summer: Garden Club

(With coupon)

Exp. 4/15/23

•Reliable Partner Assisting Families •Recreation

TESTIMONIAL: •Offering Skilled

"When

Nursing

my mother's dementia •Homey, progressed Fun & Secure to the point that

she was no longer able to live by herself; I was in desperate need of help and

•Personal Care

•Nutrition and Transportation Services

found it with the folks at Accord.

-Marcia T

•Case Management

•We Follow CDC/MA COVID-19 Guidelines

10 Cudworth Road, Webster, MA 01570

508-949-3598

www.accorddaycenter.com
---
4 The Blackstone Valley Xpress • www.theblackstonevalleyxpress.com • February 10, 2023

PLEASANT VALLEY

continued from page 1

surprise to people who have followed

Mr. O'Brien's work as a

commercial property owner and

development, which has been

extensive throughout the region.

Galaxy has completed projects

totaling $300 million and 500,000

square feet in the last ten years.

Such national name enterprises

as Price Chopper, Walgreens,

Chili's, Kohl's, Advance Auto,

Tractor Supply, Panera Bread,

Bank of America, Domino's, Five

Guys, Great Clips, Planet Fitness

and Verizon "have been the

beneficiaries of projects built by

Galaxy from the ground up," Mr.

O'Brien has pointed out.

The 57,000-square-foot Market

32 at Pleasant Valley Crossing

opened in October of 2015 and

was quickly followed by the

arrival of Five Guys, Verizon,

Starbucks, UniBank and Q-Nails.

Other stores have since set up

shop at Pleasant Valley Crossing,

making the complex second only

to The Shoppes at Blackstone

Valley in Millbury as a prime

retail destination on the highway

connecting Worcester and Providence.

With the acquisition of Pleasant

Valley Country Club, Mr.

O'Brien and Mr. Kunkel are

investing in an eighteen-hole

golf course and banquet facility

that has a storied history in

the Blackstone Valley. "PV"

has hosted thirty-two PGA Tour

events and thirteen LPGA Tour

events, the most recent being an

LPGA Tour stop in 1999. Such

illustrious golfing personalities as

Ben Hogan, Sam Snead, Arnold

Palmer, Jack Nicklaus, Phil Mickelson

and Kathy Whitworth have

played there.

Mr. O'Brien and Mr. Kunkel

have expressed a determination

to restore PV to its former glory,

but they have made no commitment

to trying to attract another

professional tournament to the

club. Their immediate focus is

to improve the course and the

clubhouse.

Mr. Kunkel has been described

as an accomplished golfer and he

was a member of Pleasant Valley

for fifteen years before joining

Quinnatisset CC in Thompson,

Connecticut.

In that sense he would appear

to be a perfect successor as an

owner of the club to John Magill

Sr., who also belonged to PV

for many years before building

Highfields Golf and Country Club

in Grafton in 2002. Mr. Magill

bought PV from Bank of New

England at a foreclosure auction

at the club in November of 2010

for $5 million. Mr. Magill died in

2012. His son Jay Magill and Jay

Magill's daughter Beth Shropshire

managed PV and Highfields.

Pleasant Valley Country Club

has long been a go-to facility for

the Blackstone Valley Chamber

of Commerce, particularly for

the Chamber's annual meeting;

it has also been a popular choice

for weddings with its manicured,

scenic grounds and spacious

ballroom.

Contact Rod Lee at

rodlee.1963@gmail.com or 774-

232-2999.

Lydia Taft House

Short-Term Rehab

Exceptional

Getting back to your active life is your goal and ours too.

The Lydia Taft House is professionally staffed and equipped to

provide you with Exceptional Medical & Rehabilitation Therapy

between Hospital & Home.

60 Quaker Hwy (Rt 146 A) Uxbridge, MA

www.rehabassociates.com/lydiataft

Long Term Care

(508)278-9500

Medicare/Medicaid

Certified
---
I've been DECA-fied, and proud of it

February 10, 2023 • www.theblackstonevalleyxpress.com • The Blackstone Valley Xpress 5

BY JANET STOICA

Last year, a teacher I know in

my local school system asked

me to be a judge at a competition

for high school students at

the DCU Center in Worcester. I

enjoyed that competition so much

that I enrolled as a judge again this

year for the January 12th activity.

The event, entitled DECA

("Distributive Education Clubs of

America") District 7 Competition,

involves students who prepare

business presentations while in

groups of two. They are given their

assignment after they have arrived

at the competition venue and must

use their prep time wisely teamcollaborating

to not only prepare

their marketing techniques but also

to practice their public-speaking

skills. The students are bussed in

from high schools as far as Palmer

to Grafton and all towns in-between.

Judges are teachers, sales

reps, managers, lawyers, and every

profession in-between.

The judges are seated in various

large conference rooms awaiting

pairs of student presenters who

must use presentation standards

established by DECA. Each presentation

involves a scenario for

marketing a product or service.

These young women and men in

attendance are dressed in business

attire such as suits, business

dresses, or jackets and ties. Do

teenagers really dress like this? Is

this for real? Yes, it most definitely

is….seeing is believing, and immediately

gives us judges a refreshingly

excellent first impression of our

future leaders of tomorrow. Most

of these high schoolers are in their

junior or senior years but a few are

CHARRON

Tree Quality Timely Service!

BELLINGHAM, MA

508-883-8823

FREE ESTIMATES • FULLY INSURED

KEVIN LEMIRE, OWNER

All employees are covered under Workers' Comp Ins.

also freshmen and sophomores. I

must give a large amount of credit

to the freshmen and sophomores

for their ability to qualify for this

district event.

Once formal introductions are

made by the students to the judges,

RESIDENTIAL & COMMERCIAL

• Tree Removal

• Pruning/Trimming

• Storm Damage

• Land Clearing

• Stump Grinding

CharronTreeService.com

much like that in real life if one

were presenting an idea/product

to a business, the students have up

to 15 minutes to make their pitch.

They review what they are about

to present for their marketing

goals and then dive into the salient

points of their presentation. One

student will begin the presentation

and hand off the next section to

their partner. After their address,

judges ask the team prepared questions

and listen intently to their responses.

Students are then thanked

for their time while judges, using

an e-tablet or laptop, must then

score the students on a scale of 1-8

(with 8 being the high score) on

various aspects of their presentation

skills. Judges' comments are

also encouraged and appreciated

for the benefit of student review.

I was blown away, once again, by

the professionalism and imaginations

of these future leaders of our

country. Not only were they exact

and extremely proficient in their

presentations but their courtesy

to one another as they finished

each piece of their report was truly

exceptional. Their parent(s) and/or

caregiver(s) are to be commended

for their teenager's manners and

mindset. Their instructors are to

be praised for their coaching skills

assisting our future leaders to stay

on course and to the point. I mean,

these students were extraordinary,

they were stupendous, they were

rock stars! Of course I'm impressed

and you would be too after

seeing, reading, and hearing too

much negative behavior that seems

to permeate our society these days.

Listening to the words and

watching the behavior of all the

young men and women at the

DECA competition will remain

with me for months to come. I was

astounded by their competence,

their mannerisms, and their style.

I have truly been DECA-fied and

hope to continue judging at this

most important event which will

always serve to rejuvenate my faith

in our best and brightest younger

generation. "Knowledge is power.

Information is liberating. Education

is the premise of progress, in

every society, in every family." Kofi

Annan

Contact Janet at jstoica@TheYankeeXpress.com

430 Main St., Oxford, MA

We repair all makes and models of Garage Doors and

Electric Openers

- Commercial and Residential -

Sales • Service • Installation

800-605-9030 508-987-8600

www.countrysidedoors.com email: countrysidedoors@aol.com

ADVANCED

GUTTER SYSTEMS, INC.

WINTER REPAIRS

Shore Up Your Gutters for Winter

• Carpentry • Roofing • Siding Repairs

• Aluminum Seamless Gutters

• Copper Gutters • Gutter Guard

Installations

• Repairs

• Cleaning

www.gutters-downspouts.com

• Ice Dam Removal

• Roof Snow Shoveling

• Replacement Windows

• House Cleanouts

• Handyman Services

(508) 278-2202

FULLY INSURED • FREE ESTIMATES • RESIDENTIAL & COMMERCIAL

10% OFF ANY JOB *

*With this ad. Cannot be combined with other offers

BOOK A DETAIL ON LINE!

MICKEYSCARWASH.COM

508-917-8363

WINTER SPECIAL

10% OFF

All Details

Renew your home's appeal

with a new garage door.

Many new styles and colors

to choose from.

Visit our display by appointment

MASS. REG.#128580

CSL #104402
---
6 The Blackstone Valley Xpress • www.theblackstonevalleyxpress.com • February 10, 2023

Luminescence

Psychic Readings

Intuitive Tarot • Photo Scan

Available in 30, 45 & 60 minute phone sessions

Luminescencepasthemirror@proton.me

Liberate Your Property

Liberate Your Property

National Heritage Area Act

extends life of the Corridor

With the full support of the

Congressional delegations

from Massachusetts and

Rhode Island, Senate Bill 1942,

known as the National Heritage

Area Act, was approved by Congress

and sent to President Biden

for his signature. The bill passed

the House on December 22 by a

bipartisan vote of 326 yes and 95

no.

Thanks to the leadership of

Congressman Jim McGovern,

who chairs the House Rules Committee,

no Democrat voted against

the measure, and a majority of

Republican House members supported

the bill.

A day earlier, the bill was

approved unanimously in the

U.S. Senate, with Sen. Jack Reed

of Rhode Island leading the

four senators who represent the

Blackstone River Valley National

Heritage Corridor (BHC).

The bill requires a standard

for the designation of National

Heritage Areas. It also establishes

a National Heritage Area System

through which the Department of

the Interior may furnish technical

and financial assistance to

local coordinating entities, such

as Blackstone Heritage Corridor

Inc., to support the establishment,

development and continuity of

National Heritage Areas.

REMOVAL REMOVAL OF OF OF BRUSH, BRUSH, BRIARS, BRAMBLES, VINES,

The Blackstone River Valley

UNWANTED SAPLINGS, DEAD TREES, LOGS, STUMPS, National Heritage Corridor, which

OVERGROWN WEEDS & GRASS!

spans twenty-five communities

OVERGROWN WEEDS GRASS!

from Worcester to Providence,

• BRUSH • BRUSH CUTTING

• • FIELD MOWING

was established in 1986 and

• PROPERTY • • BRUSH CUTTING CLEARING

• • MATERIAL FIELD MOWING HAULING

recently observed its thirty-sixth

• TRAIL • • PROPERTY TRAIL GROOMING

CLEARING • • EQUIPMENT MATERIAL HAULING TRANSPORT

birthday. While the passage of

• STUMP • STUMP • • TRAIL GRINDING

GROOMING

• GRAVEL/MULCH EQUIPMENT TRANSPORT DELIVERY

S.1942 continues to make BHC

eligible for federal funding, appropriations

for the Corridor have

• STUMP GRINDING

• GRAVEL/MULCH DELIVERY

DAN KASANOVICH HAULING RECOVERY LLC

DAN KASANOVICH HAULING & RECOVERY LLC

declined in recent years.

NORTHBRIDGE, MA

NORTHBRIDGE, MA

There are currently fifty-five

DAN CALL KASANOVICH / TEXT: 774-280-1691 HAULING OR & VISIT RECOVERY US AT LLC

National Heritage Areas across

CALL

NORTHBRIDGE,

WWW.DKHAUL.COM

/ TEXT: 774-280-1691 OR VISIT US AT

MA

the U.S. and four others in Massachusetts—Essex,

Freedom's

WWW.DKHAUL.COM

CALL / TEXT: 774-280-1691 OR VISIT US AT

WWW.DKHAUL.COM QUALITY BUILDING MATERIALS

QUALITY BUILDING MATERIALS

FOR ALL YOUR NEW CONSTRUCTION AND REMODELING NEEDS!

PROFESSIONAL SERVICE • FREE DELIVERY • ESTIMATING

FOR ALL YOUR NEW CONSTRUCTION Lumber & Plywood AND • Windows REMODELING • Doors • Millwork • Roofing • Insulation NEEDS

• Decking

Rail Systems • Siding • Hardwood • Fasteners • and Much More!

PROFESSIONAL SERVICE • FREE DELIVERY • ESTIMATING

Lumber & Plywood • Windows • Doors • Millwork • Roofing • Insulation •

Decking • Rail Systems • Siding • Hardwood • Fasteners • and Much More!

Family Owned And Operated Since 1952

124 Main St., Millbury

Family Owned And Operated Since 1952.

124 Main St., Millbury

cslumberco.com •• 508-865-4822

508-865-4288

Mon.-Fri. - Fri. 7:30am-3pm a.m. - 5 p.m. • Sat. • Sat. 7:30am-noon

a.m. - Noon

Matt Villamaino and Tansy Remiszewski of the Massachusetts Department of Conservation

and Recreation (DCR) registered about two hundred people for a First Day Hike from the River

Bend Farm Visitor Center on Oak St. in Uxbridge to Stanley Woolen Mill, on January 1. First

Day Hikes were taking place across the Commonwealth, Ms. Remisewski said, "from the Blue

Hills to the Berkshires."

HOMEOWNERS

WELCOME!

VISIT US FOR YOUR NEXT PROJECT!

Way, The Last Green Valley and

the Upper Housatonic. With the

passage of S.1942, forty-five

NHAs have been extended for

fifteen years, through September

30, 2037, seven new NHAs were

designated, and robust protection

for private property rights was

included.

The Blackstone River, the

spine of the Corridor, is so much

cleaner today than it has been in

many years, with dramatic reductions

in pollution. Paddlers now

have seventeen put-ins to access

the scenic beauty of the river. The

well-used Blackstone River Bikeway/Greenway

between Worcester

and Providence is nearly half

complete. BHC Inc. is coordinating

efforts in both states to finish

the project. These natural byways

are tremendous assets to the

quality of life in the communities

of the Blackstone Valley. BHC's

many programs provide paddling

and biking experiences for people

of all ages and abilities.

BHC tells an unmatched

story of cultural evolution in

partnership with dozens of local

organizations and communities.

Through wayfinding signs, interpretive

panels, brochures, exhibits

and five heritage centers, BHC

CORRIDOR

continued on page 8
---
February 10, 2023 • www.theblackstonevalleyxpress.com • The Blackstone Valley Xpress 7

Can You Plan for an Unplanned Retirement?

Mark Freeman

FINANCIAL FOCUS

Many people plan to take an

early retirement, so when that

day arrives, they're ready for it.

But what if you were to face an

unplanned retirement? Would

you be prepared to deal with the

financial issues?

It's something worth thinking

about, because any number

of factors — illness, a spouse's

illness, downsizing, other issues

— could lead to an abrupt departure

from the workforce. But

taking action while you're still

working may help you make the

transition easier on yourself.

Your first move, of course,

should be to at least consider

the possibility of having to retire

earlier than you planned. You

can then move on to some concrete

steps, possibly including

the following.

Build an emergency fund. Under

any circumstances, it's a good

idea to build an emergency fund

— but it's especially important

if you want to prepare for an

unforeseen retirement. Generally

speaking, your emergency

fund should contain three to

six months' worth of living expenses,

with the money kept in

a liquid, low-risk account. But

if you suspect an earlier-thananticipated

retirement may be

in your future, and you have

some time to prepare for it, you

should consider an emergency

fund that contains a full year's

worth of expenses.

Consider your portfolio's asset allocation.

If you're concerned about

an unexpected retirement, you

may want to consider the equities

allocation in your portfolio.

If you think you may need to

tap into your portfolio sooner

than you expected, you may

not want to be over-exposed to

investments most vulnerable

to market volatility. However,

these are the same investments

that offer you the most growth

potential — which you'll need

to help stay ahead of inflation.

So, look for an investment balance

that's appropriate for your

needs. As part of this positioning,

you may want to shift some

assets into income-producing

vehicles, while also adding to the

"cash" portion of your portfolio

to boost your liquidity.

Evaluate your Social Security options.

An unplanned retirement

may cause you to consider taking

Social Security earlier than you

had planned. You can start taking

Social Security when you're

62, but your monthly benefits will

be up to 30% lower than if you

had waited until your full retirement

age, which is likely between

66 and 67. If you have sufficient

income through other sources,

you may be able to delay taking

Social Security until your checks

will be bigger — but of course,

if you need the money, waiting

may not be an option.

Address your health care needs. If

you take an unplanned retirement,

and you have employersponsored

health insurance,

you'll have to look for alternatives.

You might be able to get

extended coverage from your

employer, but this could be

quite expensive. Of course,

if you're already 65, you can

get on Medicare, but if you're

younger, you might be able to

get coverage under your spouse's

plan. If that's not an option, you

may want to explore one of the

health care exchanges created

by the Affordable Care Act.

To learn more about these exchanges,

visit healthcare.gov.

Taking an unexpected retirement

can certainly be challenging

– but the more prepared you

are, the better your outcomes

are likely to be.

If you would like to discuss

your personal situation with a

financial advisor contact:

Mark Freeman

Edward Jones Financial Advisor

77 West Main Street,

Hopkinton, MA

508-293-4017

Mark.Freeman@edwardjones.com

Sponsored articles are submitted by our

advertisers. The advertiser is solely responsible

for the content of this article.

GET NOTICED! Contact Bill at 774-289-5564 or by email at bcronan@theyankeexpress.com

to learn how you can reach 153,0000 households and businesses each month!

Presenting Sponsor

23 rd

ANNUAL

February 14, 2023 | 7:30am-9:15am

Galliford's Restaurant & Tavern, Southwick Zoo

2 Southwick Street, Mendon MA

Join the BVCC and your legislators for a delectable breakfast at the cozy and

rustic, Galliford's Restaurant & Tavern in Mendon. This networking event will give

business owners and the community the opportunity to meet and hear directly

from our local dignitaries that represent the Blackstone Valley. Learn and have

the chance to ask questions about upcoming bills, what's in store for 2023, and

other legislative updates. We look forward to seeing you there!

Members: $45

Future Members: $55

RSVP By February 3, 2023

SATURDAY

MARCH 25th

10:00AM

- 2:00PM

NORTHBRIDGE

HIGH SCHOOL

427 Linwood Ave

Whitinsville, MA

Enjoy a fun day out with the entire family,

discovering the best that the Blackstone

Valley has to offer.

Small businesses from all over the Valley

will display their unique services and

products. Walk away with tons of free

goodies, enter our famous scavenger hunt

to win "The Golden Egg" plus many other

prizes! Sample some chowder and cast your

vote for "Best in the Valley" at the Chowder

Festival. Be sure to check out the live

performances going on throughout the day.

We can't wait to see you there!

$3

FREE Admission with ticket or

bring a non-perishable food item

to benefit Peace of Bread!

There's something

for everyone!

Chowder Festival

Local Businesses

Activities

Music/Entertainment

Demos/Mascots

Access free digital

tickets here!

Presenting Sponsor

www.blackstonevalley.org/events

Interested In Being An Exhibitor Or Sponsor, please contact

Liz O'Neil, Director of Programs/Events and Membership

loneil@blackstonevalley.org or 508.234.9090 ext 102

www.BlackstoneValley.org
---
8 The Blackstone Valley Xpress • www.theblackstonevalleyxpress.com • February 10, 2023

AP Mandella Landscaping

STUMP GRINDING

Chip Removal • LOAM & SEED

Free

Estimates

Fully

Insured

Small

Backhoe

Services

Call Anthony @ 508-340-1640 • Auburn, MA

Touch of Class

13 Mendon St., Uxbridge, MA

508-278-5040

Residential & Commercial Electrical Services

Tuesday

is Senior Day

$

12

HAIRCUTS

Steve Guilliani, Master Barber

HOURS

Closed Sun. & Mon.; Tues.- Fri. 9:30-5; Sat. 7:30-12:30

DEADY

ELECTRIC

Inc.

Call (508) 655-4470

ralphdeady@gmail.com

RALPH J.

DEADY

Master Electrician

Licensed

& Insured

Sherborn, MA

Grafton, MA

Lie. #E 33048

Lie. #A 13710

CORRIDOR

continued from page 6

recognized the past and points the

region to the future.

BHC was a driving force

behind the creation of the

Blackstone River Valley National

Historical Park, one of the

country's newest national parks.

This unique park celebrates the

story of innovation that literally

changed how people worked and

lived from the earliest days of the

nation to the present. BHC manages

the Park's award-winning

Volunteers-in-Parks program and

is the only federally-designated

partner to the new Park, which

is based at the Old Slater Mill

National Historic Landmark in

Pawtucket, Rhode Island.

To learn more about BHC, visit

blackstoneheritagecorridor.org.

BLACKSTONE SECTION OF TRUNKLINE

TRAIL UP NEXT

The Baker-Polito Administration

announced just before departing

office that the Massachusetts Department

of Conservation and Recreation

(DCR) will break ground

on the Blackstone section of the

Southern New England Trunkline

Trail (SNETT) this spring.

The project is estimated to take

approximately three years to complete.

The $11.3 million project

runs from the Saint Paul Street

Bridge in the town of Blackstone

to the Massachusetts/Rhode Island

state border and is the final half

mile of an a roughly 4.2-mile section

of DCR's Blackstone River

Greenway.

Additionally, this section of

the Greenway is critical to the

connection with Rhode Island's

Blackstone River Bikeway and

also provides a regional link to

Douglas and the state of Connecticut

through the SNETT.

GREAT BACKYARD BIRD COUNT SET

Get your binoculars ready! The

Blackstone River Valley National

Heritage Corridor and Blackstone

River Valley National Historical

Park invite all interested residents

to participate in the Great Backyard

Bird Count. This event starts

Friday, February 17 and ends on

Monday, February 20.

There are multiple ways to share

your bird sightings:

• Tag your photos on social medial

with the hashtag #BRVBirds.

• Email your photos to birding@

blackstoneheritagecorridor.org.

• Share your eBird checklist

with BirdingtheBlackstone.

Learn more about this worldwide

initiative and how to participate

at BirdCount.org.

NATURE EXPLORATION WALKS AND

MORE

Save the dates of Saturday,

February 18 and Wednesday,

February 22 for Nature Exploration

Walks with Ranger Allison

of the Blackstone River Valley

National Historical Park and Molly

Cardoza. Watch for info on social

media, the Park's events calendar

and in the Park's next newsletter.

Also, Maple Sugar Days returns

on Saturday, February 25 and

Sunday, February 26 at River Bend

Farm, 287 Oak St., Uxbridge

A Bark, Branches and Buds

Winter Tree and Shrub ID Walk

will be held on Saturday, March

25 from 10:00 .m. to noon at the

Blackstone River State Park, 1075

Lower River Road, Lincoln, Rhode

Island.

On Sunday, February 5, Slater

Mill will be featured on "Treasures

Inside the Museum," a production

of Rhode Island PBS. Tune in at

7:00 p.m. EST.

From Rhode Island PBS:

"Slater Mill in Pawtucket, RI is

recognized as the birthplace of the

Industrial Revolution. In this episode,

learn more about the people

who made the area what it was

and how the machines changed the

face of manufacturing everywhere.

Plus, discover what makes some

of the machines on exhibit so rare,

and examine some of the artifacts

from the 1890 Cotton Centennial.

Learn more at www.ripbs.org.
---
February 10, 2023 • www.theblackstonevalleyxpress.com • The Blackstone Valley Xpress 9

'Cupid Cabins' bring Valentine's

Day to senior citizens

BY CHRISTINE GUANIPA

Join local businesses as they seek

to bless our seniors this February

with their give-back event,

called "Project Be My Valentine."

Little Man Handbags, 110

Church St., Whitinsville, invites the

general public to stop in the shop

and fill out some Valentine's cards,

which will then be distributed to

local senior centers. This free event

is being sponsored by the Women

of Massachusetts Engagement

Network.

We are calling participating

local businesses that will have

Valentine's on hand in their shops

"Cupid Cabins." These businesses

in addition to Little Man Handbags

include all of the following in the

Blackstone Valley and beyond:

Herbs Make Scents (Mendon);

Ashland Reiki Center (Ashland);

Purely You Aesthetics, Janine's

Jewlery, Grapevine, Bird & Bear

Collective and The Candy Cottage

(all from Holliston); Gracefully

Restored (Hopkinton); White Belle

Home (Upton); Rustic Fair & Co.

(Hopedale); Ocean Dreams Market

(Sherborn) and Fiori & Fern

(Franklin).

The Women of Massachusetts

Engagement Network W.O.M.E.N.)

was founded on the premises that

we ignite inspiration in our community

when we showcase people

doing amazing things. When this

was started in 2019, the group was

committed to hosting NO COST

events for women to gather and

network. W.O.M.E.N. has hosted

many events in Hopkinton and

Milford as well as over Zoom during

COVID. The three co-founders

are executives for Massachusettsbased

technology companies and

started this organization as a way

to give back to the community.

They are passionate about helping

women at all places in their lives to

thrive and be seen.

Valentines are available through

February 13.

Little Man Handbags is open

Wedneday-Friday 10 a.m. to 5

p.m. and Saturdays from 10 a.m.

to 2 p.m.

Now

accepting

yard waste

Seasonal Cleaning?

We Offer Curbside Pick Up

Or Bring Your Items to Our Transfer Station.

CONTAINER RENTALS

10, 15, 20, 30, 50 YARDS

"Locally Owned & Operated Since 1980"

Roll Offs • Small Demolition • Commercial

Bulk Clean Up • Dumpsters • Transfer Station

House Cleanouts

Tax Preparation

& Financial Services

for Individuals, Small Businesses & Corporations

Tax Preparation • Tax Planning • Life Insurance • Annuities • Notary Public Services

As your trusted partner in success, CTFS is large

enough to offer a full range of professional services

at a fair price, but small enough to give you the

individual attention that you deserve. Call us today

for more information.

(508) 381-3715 • www.ctandfs.com

MENTION THIS AD & SAVE $25

You're ready

to take action.

And so are we. Introducing NOW

Loan Solutions from Dean Bank.

Don't delay your goals because of high interest rates.

NOW Loan Solutions combines our expert lending team

and our customizable solutions to provide loans that

make sense—and make things happen—NOW. Paying less

interest on student debt. Making home improvements.

Buying your dream home. You don't have to wait.

Let's start NOW. Call us

or visit deanbank.com

to get started.

deanbank.com • (508) 528-0088

Member FDIC Member DIF NMLS#412095
---
10 The Blackstone Valley Xpress • www.theblackstonevalleyxpress.com • February 10, 2023

Puzzle Pals is an intergenerational hit at Plummer Place

Plummer Place, home of the

Northbridge Senior Center,

recently hosted an intergenerational

program called

Compare our CD Rates

Bank-issued, FDIC-insured

6-month

4.50

9-month

4.60

1-year

4.75

Call or visit your local financial advisor today.

Frank Randall

Financial Advisor

1097 Pleasant St Suite E

Worcester, MA 01602-1248

508-459-0140

Puzzle Pals for older adults in the

community and members of local

Daisy Troop #65224.

The event was spearheaded

% APY*

% APY*

% APY*

FDI-1867L-A © 2022 EDWARD D. JONES & CO., L.P. ALL RIGHTS RESERVED. AECSPAD

> edwardjones.com | Member SIPC

* Annual Percentage Yield (APY) effective 01/31/2023. CDs offered by Edward Jones are bank-issued and

FDIC-insured up to $250,000 (principal and interest accrued but not yet paid) per depositor, per insured

depository institution, for each account ownership category. Please visit www.fdic.gov or contact your financial

advisor for additional information. Subject to availability and price change. CD values are subject to interest rate

risk such that when interest rates rise, the prices of CDs can decrease. If CDs are sold prior to maturity, the

investor can lose principal value. FDIC insurance does not cover losses in market value. Early withdrawal may

not be permitted. Yields quoted are net of all commissions. CDs require the distribution of interest and do not

allow interest to compound. CDs offered through Edward Jones are issued by banks and thrifts nationwide. All

CDs sold by Edward Jones are registered with the Depository Trust Corp. (DTC).

by Amy Cowen, program and

volunteer coordinator at Plummer

Place, and Krista Kugler, Dasly

Troop leader. Each Puzzle Pal

participant was asked to decorate

a puzzle piece with items they

enjoyed most or liked doing in

and around town.

Puzzle Pal participants then

came together for a reception

at Plummer Place to meet one

another and talk about how they

are all individual people like the

puzzle pieces but that together

they make one wonderful community.

"This was a fabulous program,"

Ms. Cowen said. "We were

thrilled to be able to host this

noteworthy program that connected

different generations."

Common themes across the

generations and their puzzle

pieces included a love of reading,

math, friends, playgrounds and

family.

Lori Gannon, local author and

a participant, said "I loved our

Puzzle Pal event! It was a joy to

see the young Daisies and the

older women come together to

discuss our shared experiences

about what makes our community

special. Each individual testimony

and decorated puzzle piece blended

together, forming a beautiful

whole picture of Northbridge as a

beloved community."

Daisy Troop #65224 members and senior citizens took part in "a fabulous" Puzzle Pal program

at Plummer Place, recently.

At the end of the event, Ms.

Gannon offered autographed

copies of her book Leona's Gift to

each member of the Daisy Troop.

Plummer Place thanks the

Friends of Northbridge Elders

(FINE) for sponsoring this event.

For more information about

Plummer Place and its special

programs and activities, call Amy

at 508-234-2002.

For more information about

Daisy Troop #65224, call Krista at

508-654-5041.

For more information about

Leona's Gift, contact Lori at Ggannon@charter.net.

Exceptional Outpatient Rehabilitation

Getting back to your active life is your goal and ours too.

Our Physical Therapists are professionally trained and equipped to provide you

with Exceptional Outpatient Post-Surgical Rehabilitation Therapy.

Located at 60 Quaker Hwy (RT 146A) Uxbridge, MA 01569

www.rehabassociates.com/uxbridgeorthopedic

(508) 278-7810
---
Thank you for

voting us 2 time

GOLD winner

Introducing your neighborhood consultant, Jeff Richards - 14 year resident of

Douglas as well as a combined 12 years in Uxbridge and Northbridge!

February 10, 2023 • www.theblackstonevalleyxpress.com • The Blackstone Valley Xpress 11

WCC announces first-ever Community Photo Contest

The Whitin Community Center

is excited to announce its

first-ever "Community Photo

Contest" in honor of the facility's

100th anniversary!

Using the prompt "What does

community look like to you?," participants

are urged to share their best

photos that celebrate community in

the Blackstone Valley. The WCC's

Community Photo Contest is accepting

submissions through February

24th. There will be winners in

the Kids, Amateur, and Professional

categories, as well as a "Community

Choice" winner and recipients of

several special judges awards. There

is no entry fee, although donations

to fund a display for the winning

photographs are accepted; click

the "Donate" button at the top of

the WCC homepage and select the

photo contest from the campaign

drop-down menu. Get creative, and

remember that community comes in

all different forms!

Submissions will be accepted

online and in person. Email the submission

form and one photograph

in digital JPG format to Submissions@OurGym.org

by February

24th; send a separate email for each

different entry, including the photograph

and a new submission form.

In person submissions can be turned

in at the WCC Member Services

Desk along with a printed submission

form. Photographs submitted

without submission forms will not

be considered in judging. Submission

forms and a detailed contest

description can be found online at

https://www.whitincommunitycenter.com/programs/events/.

Winners in the Kids, Amateur,

and Professional categories will each

win four discounted tickets to the

Boston Museum of Fine Art, a gift

card to a Boston restaurant, and

WCC 100th anniversary merchandise.

The Community Choice

winner and special award recipients

will receive WCC 100th anniversary

merchandise. All entrants will have

the opportunity to be featured in

WCC promotional materials, social

media, and in the WCC 100th Anniversary

Gala photo display!

The WCC's Community Photo

Contest is being launched to celebrate

the 100th anniversary of the

Whitin Community Center, a nonprofit

501(c)(3) organization, that is

committed to the health and wellbeing

of individuals and families

and to building a strong community

in the Blackstone Valley. The Whitin

Community Center has been serving

the Blackstone Valley for 100

years offering social, recreational,

educational, and outreach programs

that bring community members of

all ages and backgrounds together.

The Whitin Community Center is

committed to enhancing the health

and well-being of individuals and

families and building a strong community

in the Blackstone Valley. The

Whitin Community Center is the

Blackstone Valley's most complete

Fully Licensed

& Insured MA

Serving all of New England

•Roofing

•Siding

•Skylights

•Gutters

•Chimney

•Windows

FREE ESTIMATES

@shineconstructioninc

family and recreation center with

two swimming pools, a gym, fitness

center, early learning programs,

summer camps and a seven and a

half acre park. For more information

call 508.234.8184 or visit www.

WhitinCommunityCenter.com.

www.shineconstructioninc.com

RI Reg #: 4175

HIC #: 190392

(508) 278-3300

Family owned and operated since 1954

Fuels

• Heating Oil

• Propane

• Diesel

• Bagged Coal

Installations

• Oil & propane heating

systems and water heaters

• Oil to propane

conversions

Programs

• Flexible pricing and

budget programs

• Ask about our Veteran,

Military, Police and Fire

discount

Service

• Emergency

service 24-7

• Oil & gas fired

equipment

Be Sure to Ask About our New Customer Program

FREE: 100 gallons of home heating oil or propane*

FREE: $ 100 Account credit towards your first tune-up or service plan*

*APPLIES TO WHOLE HOUSE HEAT CUSTOMERS ONLY. ASK FOR DETAILS.

*New automatic delivery customers only. Offer ends the last day of the month.

800-649-5949

jeffrichards@medwayoil.com

Give us a call today! 800-649-5949

www.medwayoilpropane.com
---
12 The Blackstone Valley Xpress • www.theblackstonevalleyxpress.com • February 10, 2023

Sweeten Up Your Valentine with a visit to...

• Handmade Specialty Fudge • Over 20 Flavors • Gift Baskets

Pre-orders or Walk-ins• Available in Gift Boxes or Party Platters

H

H

The Fudge Lady

Handmade Specialty Fudge

Gift certificates available

TheFudgeLadyUxbridge@gmail.com

11 So. Main Street, Uxbridge, MA • (508) 446-2518

Don't Miss Out On The Sounds Of The New Year!

Booklovers' Gourmet

to host special

mid-winter concert

Booklovers' Gourmet's

reputation as a bastion

for artists of all kinds will

take another leap forward on

poetic lyrics and down-to-earth

persona.

Their music reflects the

experiences of factory workers,

Have you been putting off taking

care of your hearing, tinnitus or

hearing aids?

Make this Winter a fresh start.

WE ARE HERE TO HELP!

www.hearjoyaudiology.com

for online booking

HEAR JOY IS AN

INDEPENDENT PRACTICE

DID YOUR LOCAL OIL COMPANY SELL OUT?

DON'T BE LEFT IN THE

The Webster folk duo Raianne Richards and Mark Mandeville.

Saturday, February 11 when

the Webster-based married duo

Mark Mandeville and Raianne

Richards perform a variety of

folk songs from 7:00 to 8:30 p.m.

in "an intimate listening-room

setting."

Booklovers' Gourmet is located

at 72 E. Main St. in Webster.

Doors open at 6:30 p.m. for

the show and general-admission

tickets are limited. Call 508-949-

6232 or email deb@bookloversgourmet.com

to reserve a spot.

Beverages and snacks will be

available.

Mark and Raianne have

produced more than seventeen

albums and toured regularly in

the U.S. and Canada.

Attendees of the concert

will get to known the couple

through their vocal harmonies,

teachers, community organizers

and natives of post-industrial

mill towns in Massachusetts.

Evident in their work are memories

of days gone by and the toils

of history, in such songs as "The

Old Machine" and "Winds of

Change."

They will utilize the guitar,

harmonica, ukele, penny whistle,

electric bass and possibly clarinet

in delivering songs that are

musically uplifting and spiritually

captivating.

Home to new and used books,

gifts and jewelry, journals, a café,

author appearances, exhibitions,

poetry readings and the like,

Booklovers' Gourmet has earned

its place as a favorite stop for

aficionados of art and literature.

Economy Canvas & Awning Co.

Pool Cover

Repairs

Over 34 years of service

in the community

Retractable & Stationary Awnings

Boat & Truck Covers and

Related Products

• Full Awning Service -

Installation, Removal & Cleaning

• Manufacture &

Repair All Canvas Products

115 Hamilton St., Southbridge, MA

508-765-5921

www.EconomyCanvasAndAwning.com
---
February 10, 2023 • www.theblackstonevalleyxpress.com • The Blackstone Valley Xpress 13

LuLu's moves to new home, with the same flair for unique

BY ROD LEE

After four years as an anchor

tenant in the Baker Building

at 68 Church in downtown

Whitinsville, Heather Glode of

LuLu's Jewelry & Gifts has a new

Heather Glode, owner of LuLu's Gifts & Jewelry, is settling into the

store's new home, on Providence Road.

address, and she could not be

happier.

LuLu's took up residence in

a storefront in the strip mall on

the north side of the Whitinsville

Plaza a few weeks ago. There, her

shop joins such established operations

as King Jade

and Postal Center

USA, with the

Reunion Tap &

Table restaurant

about to join the

mix around Valentine's

Day.

Reunion Tap

& Table will be

an extension of a

popular familyrun

restaurant in

Grafton (see The

Feisty Fork column

in this issue

of the Blackstone

Valley Xpress

for more about

Reunion).

The smile on

Ms. Glode's face

the morning of

February 1st had

as much to do

with the prospects

of success

at the location on

Providence Road

as it did with the sunshine showering

the windows of her store.

"Visibility and parking," she

said, of her main motivations

for moving from what has long

been considered the heart of the

Whitinsville business district.

"It's a pretty happening little

strip mall," she said. "The space is

smaller than what I had but I was

able to cram everything in."

Ms. Glode had actually looked

at the main part of the Whitinsville

Plaza as a future home for

LuLu's, "pre-pandemic."

She will be missed on Church

Street, not only as one of the

quirkiest retailers around, but also

as a strong promoter and supporter

of Shop Small 01588.

The good news is that she

remains in the same zip code,

and with the same dedication

to offering unusual giftware and

jewelry, and for standing with

community—as evidenced, for

instance, by a recent donation to

the Northbridge Middle School's

International Club event.

A quirky approach coupled

with a sense of humor have been

key ingredients for LuLu's from

Goods

Primitive

146 Mendon Street

Uxbridge, MA

(508) 278-2700

Use Your Gift Cards From T he Holidays!

•Home & Garden

• Antiques to Farmhouse

•Village Paint

• Primitives & Country

•Candles • Handmades

Hours: Thurs.-Sun. 10 a.m.-5 p.m.

email us on

the outset.

Current hours are Monday-Friday

from 10:00 a.m. to 6:00 p.m.

and Saturdays from 10:00 a.m. to

4:00 p.m.

Her inventory including crystal

gems and jewelry is better than

ever.

"I'm all grown up," she says.

Visit lulusgiftsco.com for more

information.

Contact Rod Lee at rodlee.1963@

gmail.com or 774-232-2999.

It's not too late

to find something

special for that

special someone for

Valentine's Day.

St. Patrick's Day

is just

around the

corner so

come find

your

Pot of Gold
---
14 The Blackstone Valley Xpress • www.theblackstonevalleyxpress.com • February 10, 2023

GREGORY'S

restaurant & pizzaria

303 Main Street, Douglas, MA

508-476-2552

ONLY

Location is

Douglas, MA

ORDER ONLINE

at www.gregorys-restaurant.com

or you could use Gregory's restaurant app

New England

Steak and Seafood

Casual Elegant Dining and Banquets

PRIME RIB AND STEAKS -Prepared over our open pit-

FRESH SEAFOOD & LIVE LOBSTERS

CHICKEN & PASTA DISHES

APPETIZERS • SALADS • SOUPS

COMBINATION DINNERS • KIDS VALUE MEALS (12 & UNDER)

TRY OUR FAMOUS Cinnamon Rolls & Chowder

Lunch: Wed-Thurs-Fri Open 11:30am Dinner: Daily 3:00pm to close • Sunday Noon to close - Closed Tuesdays

Serving this area with the finest steak and seafood for over 65 years

Reunion Tap & Table

ready for opening in

Whitinsville

BY ROD LEE

Shawn Briggs was literally putting

the finishing touches on a

shelf behind the bar of the new

Reunion Tap & Table restaurant in

a section of the Whitinsville Plaza

on the morning of February 1st: a

coat of black paint.

Taking up a spot formerly

occupied by Jube's that had been

Shawn Briggs, Josh Briggs, Sargon

Hanna and Paul Apkarian are

all principals in the operation.

GALLIFORD'S SUNDAY BRUNCH IS A

LAVISH SMORGASBORD

It may be wintertime and Southwick's

Zoo in Mendon is closed at

the moment but Galliford's Restaurant

is going strong with lunch

and dinner and most recently with

508-478-0871 • 11 Uxbridge Rd. ~ Rt. 16 Mendon

See Our Menu on our websitewww.nesteakandseafood.com or on Facebook

George's Surf 'n Turf

Serving the Best from Land 'n Sea

George's Surf &Turf

IS OPENING

Wed., March 1st

Spring's just around the corner and so are we!

We're located on Route 16 at the Redwood in Mendon.

Our order window is open Mon.-Sat. at 11am and Sundays at noon.

For take-out orders or more info., call 508-473-2125

OPEN 7 DAYS A WEEK

Serving:

•Haddock

•Shrimp

•Scallops

•Whole Clams

•Clam Strips

•Clam Cakes

AT THE REDWOOD DRIVE-IN • Route 16, Mendon

•Chicken Fingers

•Onion Rings

•Fries

•Burgers

•Hot Dogs

•New England Clam Chowder

•Manhattan Clam Chowder

•Lobster Rolls

•Ice Cream

....and more!

FREE Order of Onion Rings

on Any Rainy Day*

*WITH ANY PURCHASE & THIS AD

ASK ABOUT OUR

DAILY SPECIALS

including our daily Vegetarian Special

For Healthy Hearts

we use only

100% unsalted

cholesterol-free

vegetable oil.

It's

that time

of year

again!

Shawn Briggs, with Paul Apkarian, left, is anxious to open the doors of the new Reunion Tap

& Table restaurant in the Whitinsville Plaza.

vacant for a while, Reunion Tap

& Table has been months in the

making, with a complete rebuild of

the premises undertaken and now

finished.

"We'll be opening next week,"

Mr. Briggs, one of the partners,

said. "The day we get our occupancy

permit, we'll be open the

next day."

Reunion Tap & Table is well

known for its signature restaurant

in Grafton; this one, though

slightly smaller, is cut along the

same lines. It will offer lunch

Friday, Saturday and Sunday and

dinner every day for starters. Plans

are for takeout pizza too.

"We're just waiting for a delivery

from Sunshine Sign," Mr. Briggs

said. A banner has been strung

across the front of the restaurant in

the meantime.

a reintroduction of its popular

"Sunday Brunch in Style at Galliford's"—through

April 9th.

"Oh my gosh, great," Chelsea

Daniels, restaurant manager at

Galliford's, said on January 29th, in

assessing response so far, just before

the start of the brunch, which

runs from 10:00 a.m. to 2:00 p.m.

The buffet features "something

for everyone" including savory

breakfast dishes, creative twists on

traditional favorites, "our popular

Omelet Station, Carving Station,

Waffle Station, Millionaire Cinnamon

Rolls, Lox, Crème Brulee

French Toast, Braised Chicken

Marsala, Parmesan Pesto Salmon,

Eggs Benedict and so much more.

Reservations are recommended.

Call 508-928-0928 or go to www.

gallifords.com.

Submit your restaurant news to

Rod Lee at rodlee.1963@gmail.com.
---
February 10, 2023 • www.theblackstonevalleyxpress.com • The Blackstone Valley Xpress 15

Happenings!

2156 or email parishoffice@stpeterrockdale.org

to purchase tickets or for more

information.

FEBRUARY 11-12

• The Grafton Public Library, 35 Grafton

Common, is hosting a Book Sale from 10:00

a.m. to 4:00 p.m. on Saturday and from

noon to 2:00 p.m. on Sunday.

Night," in which the author describes growing

up in an Africa that no longer exists,

training and breeding race horses, flying

mail to Sudan and being the first woman to

fly the Atlantic, east to west. Copies of the

book will be available. All are welcome.

WEDNESDAY, FEBRUARY 15

• Enjoy a BVT buffet breakfast that includes

waffles, pancakes, bacon, sausage, home

friends, scrambled eggs and toast, 65 Pleasant

St., Upton. Cost is $7.50 per person plus

HAPPENINGS!

continued on page 16

NOTE: Community bulletin board-type items

are welcome for inclusion in the Happenings!

section of the Xpress newspapers. Please

allow enough lead time for publication.

Email your calendar or event notice to

rodlee.1963@gmail.com.

THROUGH FEBRUARY 24

• ValleyCAST, the arts and culture arm

of Open Sky Community Services, is

partnering with the New England Sculptors

Association for the second annual Inside

and Out Exhibition. Seventeen sculptors

from around New England have created

over thirty works that will be on display in

the Spaulding R. Aldrich Heritage Gallery,

50 Douglas Road, Whitinsville, and outside

on the grounds of the Whitin Mill complex

at the same address. The inside exhibit

SATURDAY, FEBRUARY 11

• Enjoy an evening of live music with the

Webster duo Mark Mandeville and Raianna

Richards at Booklovers' Gourmet, 72 E. Main

St., Webster. Doors open at 6:30 p.m. The

show starts at 7:00. Email deb@bookloversgourmet.com

or call 508-949-2322 to

reserve your seat.

SUNDAY, FEBRUARY 12

• "The Hanoi Hilton POW Experience Exhibit"

opens at the American Heritage Museum,

568 Main St., Hudson, fifty years after

American POWs release from the prison that

became synonymous with the Vietnam War.

There, hundreds of American aviators shot

down over North Vietnam were subjected

to torture, isolation and malnutrition

while housed in squalid cells during years

of captivity. The AHM has built a lasting

Taking

Reservations

for

Valentines Day

Japanese Hibachi Steakhouse

900 Victory Hwy., Suite 3, North Smithfield, RI

401-597-0885 • www.yamafujiri.com

$

10 00 OFF

With purchase of $65 or more with this coupon.

Not valid with any other offers. One coupon per purchase. Excludes tax. Exp. 3/31/23

Yama Fuji - No. Smithfield

Open Tues.-Sun. Noon to 9 pm

Gift Certificates Available

Sushi Bar • Full Bar Lounge

COIN SHOW

EVERY 3 RD WEDNESDAY

MONTHLY COIN SHOW

February 15, 2023

3-8 p.m.

FREE APPRAISALS - BRING YOUR COINS

Dealers selling & buying U.S. and Foreign Coins, Currency, Gold,

Silver, Tokens, Medals & Other Collectibles.

At VFW Post 1385, 16 Cross Rd., Uxbridge, MA 01569

FREE ADMISSION (door prize) • Contact Mike (774) 280-4333

SEASONAL

DRINK SPECIALS!

The notorious Hóa Ló Prison—the Hanoi Hilton, where American POWs were held during

the Vietnam War—is highlighted with a new immersive exhibit at the American Heritage

Museum in Hudson. Visit www.americanheritagemuseum.org for more information.

New to the Pacific War Exhibit!

SBD-5 Dauntless Dive-Bomber

opened with a wine and cheese reception

on Friday, January 13th. The public is

encouraged to attend the closing reception,

which will include announcement of three

People's Choice Awards, on Friday, February

24th from 5:30 to 7:30 p.m. Voting ends at

the end of the day on Friday, February 17th

and the exhibit will end right after the closing

ceremony on February 24th. For more

information visit opensky.org. To schedule

a visit to the gallery, call 508-234-6232 or

email Cristi.Collari@openskycs.org.

SATURDAY, FEBRUARY 11

• St. Peter Parish, 39 Church Ave., Northbridge,

is hosting a Ham Dinner starting at

5:30 .m. in the Parish Hall. Tickets are $17

per dinner, with salad and dessert included.

To-go meals are available for pickup at 5:00

p.m. and all orders must be purchased in

advance. "Pay it forward" and buy an extra

dinner and it will be delivered to someone

in need in the community. Call 508-234-

tribute to these POWS with a reconstruction

of the last two remaining original cells that

held Americans, first-hand accounts of their

ordeal and interactive displays.

www.americanheritagemuseum.org

• The Uxbridge Historical Society will present

"Uxbridge: Crossroads of the Underground

Railroad" at 2:00 p.m. at the former

Uxbridge Unitarian Church, Rt. 122, with

narration from notable town historians.

Presenters will reveal how Uxbridge residents

ran stations along the Underground

Railroad, opened schools to teach those

seeking freedom to read and write and

became leaders in the national anti-slavery

movement. Refreshments will be served. All

are welcome.

TUESDAY, FEBRUARY 14

• The Intrepid Readers of the Simon Fairfield

Public Library, 290 Main St., Douglas, will

discuss Beryl Markham's "West with the

Scan QR to see

website.

568 Main Street

Hudson, MA (978) 562-9182

www.AmericanHeritageMuseum.org

Open: Wed. - Sun., 10 AM to 5 PM
---
16 The Blackstone Valley Xpress • www.theblackstonevalleyxpress.com • February 10, 2023

HAPPENINGS!

continued from page 15

gratuity. Doors open at 8:30 p.m. Sign up on

the main office no later than February 1st.

421 Pulaski Blv

Bellingham, MA 02019

774-460-6084

This is a self-drive, self-pay program.

THURSDAY, FEBRUARY 16

• A "Women's Health Forum with Dr. Maggie

Lunch & Learn" program will be held at the

Northbridge Senior Center, 20 Highland

St., Whitinsville, from 11:30 to 12:30 p.m.

Lifestyle choices impact the aging process.

Come and learn about diet, nutrition,

exercise, cognitive activity and social engagement

for older adults. Space is limited.

Priority will be given to those who have

CALLING ALL DOG LOVERS!

Led by

Debbie Kiernan,

Certified

K9 Nose Work®

Instructor

ReleafCenter1@gmail.com

K-9 NOSE WORK

LIVE DEMO

Saturday, February 18th

(snow date 2/25)

Open Sky Community Services

Singh Performance Center

60 Douglas Rd.

Whitinsville, MA

Admission: $5 cash

Questions? Contact:

Dana.Chalberg@openskycs.org

2:30pm - 4:30pm

If snow date must be used, an update will be made by 5pm on Fri. 2/17 at: openskycs.org/k9

CURBSIDE PICKUP OR YOU CAN COME IN!

375 Putnam Pike

Smithfield, RI 02917

401-757-6872

www.myCBDreleafcenter.com

not yet attended one of Dr. Maggie's health

forums. Sign up with Amy Wednesday-

Friday to attend.

FRIDAY, FEBRUARY 17

• Samuel Slater's Restaurant at Indian

Ranch, 200 Gore Road, Webster, present a

night of comedy featuring Steve Sweeney

with Graig Murphy and Chris D, 6:30-9:30

p.m. This is a 21-plus event. Go to www.

samuelslaters.com or call 508-943-1639 for

more details.

TUESDAY, FEBRUARY 21

• "Take a Hike" with the Plummer Place

Walking Club, 10:00 a.m., weather permitting.

Call the Northbridge Senior Center, 20

Highland St., Whitinsville, at 508-234-2002

for locations.

WEDNESDAY, FEBRUARY 22

• "The Violin Kat," music by Violinist

Kathryn Haddad, will be presented at the

Northbridge Senior Center, 20 Highland St.,

Whitinsville, from 1:00 to2:00 p.m. Kat is

an eclectic freelance violinist based in the

Worcester area. She has performed to many

crowds. Light refreshments will be served.

Sign up at the main office.

THURSDAY, FEBRUARY 23

• A CPR, AED and Epipen Training Class will

be held at the Northbridge Senior Center,

20 Highland St., Whitinsville, from 9:00

a.m. to noon. Instructor Scott Celikbas from

the Northbridge Fire Department will train

participants in these important lifesaving

techniques. A heart-saver certification will

be awarded at the end of the course. The

cost is $55 per person, check or cash due to

the instructor on the day of training. Sign

up at the main office.

SATURDAY, FEBRUARY 25

• Ice cutting expert Ken Ethier will present

his popular program describing the methods

and tools used to harvest ice from lakes

and ponds two centuries ago, when ice was

the only way to keep things cool. His onehour

talk will be held 11 a.m. at the Samuel

Slater Experience museum in Webster.

Ethier will demonstrate ice harvesting techniques

with his own collection of antique

tools, the often-dangerous scoring

and cutting on the ice field and describe the

transport of harvested ice to ice houses for

storage and delivery to peoples' homes.

This free program is sponsored in part by a

grant from the Webster Cultural Council. To

register, email admin@samuelslaterexperience.org

or call 508-461-2955.

TUESDAY, APRIL 4

• The Sutton Historical Society welcomes

Joe Iamartino of the Thompson Historical

Society for a talk, "The Nipmuc Lithic Trail,"

at the First Congregational Church, 307

Boston Road, Sutton, at 7 p.m. Visit suttonhistoricalsociety.org

for further info.

TUESDAY, MAY 9

•The Sutton Historical Society welcomes

Carol Crossed curator of the Susan B. Anthony

Birthplace Museum, bot a talk, "Vintage

Tweets: A Book of Suffrage Era Postcards," at

the First Congregational Church, 307 Boston

Road, Sutton, at 7 p.m. Visit suttonhistoricalsociety.org

for further info.

TUESDAY, SEPTEMBER 5

• The Sutton Historical Society welcomes

Andrew Noone, author of "Bathsheba

Spooner: A Revolutionary Murder Conspiracy,"

at the First Congregational Church,

307 Boston Road, Sutton, at 7 p.m. Visit

suttonhistoricalsociety.org for further info.

TUESDAY, NOVEMBER 7

• The Sutton Historical Society welcomes

Mark Savois of the Thompson Historical

Society for the presentation "The Mass

15th of the Civil war and Wilder Holbrook,

Sutton," at the First Congregational Church,

307 Boston Road, at 7 p.m. Visit suttonhistoricalsociety.org

for further info.

Discounts Available for

Seniors & Veterans

New Location!

32 Hastings Street

Mendon, MA

508-278-9924

& Truck Trailer Repair

HOURS:

MON–SAT,

10AM–7PM;

SUNDAY,

11AM–4PM

421 Pulaski Blvd,

Bellingham, MA 02019

Visit Today!

"CBD" stands for cannabidiol. It is a non-intoxicating

cannabinoid found in cannabis.

https://weedmaps.com/learn/dictionary/cbd

MONEY-SAVING COUPON!

MENTION THIS AD & RECEIVE

10% OFF

YOUR NEXT PURCHASE!

774-460-6084 Limited time offer; not valid with any other offers.

MA & ISA Certified

Full Circle

Insect and disease diagnosis

and treatment #16339

Specimen and ornamental

tree and shrub care

Since 1989

& Truck Trailer Repair

508-278-9924

T∙R∙E∙E C∙A∙R∙E

Dwight A. Bristowe

Office: 508-476-3258

Cell: 508-523-9631

www.FullCircleTreeCare.com
---
February 10, 2023 • www.theblackstonevalleyxpress.com • The Blackstone Valley Xpress 17

S.A.F.E grant funds OK'd for local fire departments

Former Governor Charlie Baker

and Secretary of Public

Safety and Security Terrence

Reidy recently announced that

FY23 grant funds for the Student

Awareness of Fire Education

(S.A.F.E.) and Senior SAFE

Programs have been awarded to

two hundred sixty-six fire departments

across Massachusetts.

These programs promote fire

and life safety education for

children and older adults who are

most vulnerable to burns, injury,

and death from fire and related

hazards.

"Funding programs that keep

the Commonwealth's most vulnerable

safe during emergencies

is one of the best investments we

can make," said Senator Michael

Moore (D-Millbury). "I'm

pleased to hear that SAFE programs

have received funding in

every town in my district. I'd like

to thank my colleagues for their

diligent work in funding important

programs like this, as well

as the fire departments across the

Commonwealth for their work

keeping their communities safe."

"Congratulations to the

Shrewsbury and Westborough

Fire Departments," said Representative

Hannah Kane (R-

Shrewsbury). "These important

grant programs enable local fire

education for children and older

adults and will help to keep our

communities safe. I am grateful

to our local first responders for

their selfless work and know how

helpful these education programs

are to Shrewsbury and Westborough

residents."

"S.A.F.E. is a shining example

of a successful and valuable

program that the Commonwealth

provides to its citizens," stated

Representative David Muradian

Jr. (R-Grafton). "Teaching

children, and now seniors, two of

our more vulnerable populations,

how to handle emergency situations

with less anxiety will help

keep all members of the community

safe. I know that these funds

will surely go to good use within

our community."

The grants awarded to the

towns contained within the

Second Worcester District are as

follows:

AUBURN FIRE

RESCUE DEPARTMENT

S.A.F.E Grant: $4,381

Senior SAFE Grant: $2,277

GRAFTON FIRE DEPARTMENT

S.A.F.E Grant: $4,381

Senior SAFE Grant: $2,277

LEICESTER FIRE

DEPARTMENT

S.A.F.E Grant: $3,781

Senior SAFE Grant: $2,077

MILLBURY FIRE

DEPARTMENT

S.A.F.E Grant: $3,781

Senior SAFE Grant: $2,077

NORTHBRIDGE FIRE

DEPARTMENT

S.A.F.E Grant: $4,381

Senior SAFE Grant: $2,277

SHREWSBURY FIRE

DEPARTMENT

S.A.F.E Grant: $5,481

Senior SAFE Grant: $2,477

UPTON FIRE DEPARTMENT

S.A.F.E Grant: $3,781

Senior SAFE Grant: $2,077

WORCESTER FIRE

DEPARTMENT

S.A.F.E Grant: $10,481

Senior SAFE Grant: $2,877

The S.A.F.E. program was first

funded in FY1996 and has since

correlated with a decline of about

80% in Massachusetts child fire

fatalities and the longest period

without a child fire death in the

history of the Commonwealth.

The Senior SAFE program was

launched in FY14 to provide

Massachusetts' seniors with

the knowledge and tools to live

safely.

4

Gift Certificates Available

15 North Main St., Bellingham, MA 02019

www.chamberlainpines.com

(508) 966-2187 chamberlainpines@gmail.com

Visit our

Showroom at

1 Providence Lane

in Whitinsville

~ Lodging ~

~ Daycare ~

~ Grooming ~

~ Training ~

~ Pet Supplies ~

NorEasterRoofing.com

172 Pond Street

508-NOR-EAST • 508-667-3278

Uxbridge, MA 01569

Owner Rob Chaille

Hours:

Mon.-Thurs. 6:30am to 6pm

Fri. 9:30am-4pm

Closed for lunch 12-1pm

Sat. 8am to noon

Sun. 5pm to 6pm only

139 Upton St. (Rt. 140), Grafton, Ma 01519

Phone: 508-839-1757 Fax: 508-839-1736

Grafton@GibsonsNaturalPet.com

www.GibsonsNaturalPet.com
---
18 The Blackstone Valley Xpress • www.theblackstonevalleyxpress.com • February 10, 2023

BY AMY PALUMBO-LECLAIRE

There's something about Luke

that has us talking. We can't

put our finger on exactly what

has us so crazy in love with him.

Perhaps my son says it best. "He

has an aura." Truth. His personality

is full of innocence and curiosity,

fragrance, and flaw. I've never

met a puppy quite like him. He's

about to celebrate his first birthday.

I couldn't help but reflect on

traits that have earned him a few

nicknames.

PROFESSOR LUKE

Luke is a Watcher and a Thinker.

He's the first pup I've owned who

adores sitting on the front steps

to watch what's happening in the

neighborhood.

He's a

thoughtful

observer,

seemingly

ahead

of his

time for

a puppy.

Amid

his research, he's drawn conclusions

about who he will and will

not accept. Chest puffed out, he

sits regally on those steps, a giant

teddy bear on the look-out. There

he has made dog friends and human

friends. His tail senses good

and bad vibes. Fortunately, he's

experienced more of the former.

He wears his love for others in a

kind, "bear cub" expression. I've

watched his nose twitch while a

LIVING WITH LUKE

amyleclaire@hotmail.com

The multiple-personality aura of Luke Valentino

serious mouth breaks open to a

casual smile every time a guest

arrives. "Hi! My name is Luke

Valentino." He lowers his head and

wiggles, humbled by the goodness

of Dog People, who happen to be

one of the more understanding

breeds, I've found. I trust my dog's

instincts.

"Hi Luke!" Known for his

columns and charisma, Luke has

become popular in the neighborhood.

"You wanna' play in my

yard?" Dog walkers make their

way onto our lawn. Luke can barely

believe his luck. His tail wags.

He fights to restrain his joy (not

wanting to come on too strong)

but his love for people and the

various dogs that extend from

people, explodes on that very step.

"I'm so excited that you're here! I

want you to know, I'm well trained.

I have my moments, but for the

most part, I know how to behave."

The owner approves of Luke.

Professor-style, he lifts his head,

and the two dogs exchange sniffs.

"Are you a dog? I'm a dog. Are you

a boy? I'm a boy. Are you nice? I'm

nice." Trust established, the owner

unclips the leash and—BAM—two

dogs rumble in my front yard.

I used to worry about Luke

amid spontaneous play. What if the

dog is more experienced? Overly

aggressive? "I'll take you down if

you keep it up." I've since watched

my pup take a cheap shot at a loose

collar. Needless to say; I'm over it.

Still, watching my pup develop the

realization that not every dog likes

him, or wants to play with him, is

hard for a Dog Mom. He once approached

a unique dog couple at the

dog park. The dogs entered together,

side by side. They were obviously

tight and their owners, also best

friends, stated the obvious. "These

two are boyfriend and girlfriend."

Luke, nevertheless, didn't

understand the history or intimate

nature of the long-term dog relationship.

He trotted over to their

side and used his famous shoulder

move to greet them. "Wanna'

play?" Boyfriend snarled and

shunned my pup. "Get away from

my girlfriend!! Just go away!" His

growl was aggressive. Luke turned

away from the dogs and joined me

at the park bench. "Someone's having

a bad hair day." I felt bad for my

pup. He sees the best in every dog,

despite the feeling not always being

mutual. "It's okay, Luke. You're a

good boy. They're be another dog

to play with."

My concern faded upon watching

him take a stand for bad

behavior on future playdates. "I

DON'T LIKE YOU ANYWAY!"

I've seen him bark back in the face

of a hater.

"Let it go, Luke." My pup's ego

was bruised.

"YOU'RE UGLY and SO ISN'T

YOUR MOTHER!!"

"Luke!" My pup's temper has

warranted another nickname.

LUKEY V

Lukey V is the side of Luke

known to show some sass—the

"bark at me and I'll bark back

louder" side, the Valentino (Italian)

side that was suspicious of our front

yard snowman. "You're cold and

you're still and you don't belong

here!" My son built the snowman

with love, but Luke refused to accept

him. He barked, backed away,

and snapped his head around, as

though paranoid of the snowman's

next move. "Mess with me and I will

destroy you, Frozen Man."

"Luke, be nice. The snowman

can be here," I pleaded with

my gangster pup. "He's a phony,

Momma." He gazed up at me, then

back at the Snowman. "He's pretending

to be a person, but he's full

of cold air. Look at the Stiff. I've

seen his type." Days passed. January

rain beat down on an innocent

snowman

who somehow

had

caused bad

blood on

our front

lawn. He

melted. He

slouched.

He aged.

Worse,

Lukey V lifted his leg and peed on

his bottom ball.

POOPY LUKEY

Puppies poop a lot, exposing a

more vulnerable side to their character.

Luke is no exception. Our

puppy slept in a comfortable crate

until the age of six months, when

he outgrew a bed designed to look

like a piece of furniture. I lined it

with a plush mattress and blankets.

It was beautiful. Still, my husband

and I heard our growing puppy

jostle and struggle to try and get

comfortable through the night.

We could have purchased an extra

-large crate but, instead, came to

the same conclusion. "Luke needs

to move around and sleep comfortably.

Let's give him a chance to

sleep outside of the crate."

We were both on eggs that first

night. We gated the stairs and

shut the bathroom door. Luke had

the entire downstairs to himself.

We also left the crate door open,

should he want to go back in. Was

he ready for his own apartment?

What if he chewed on table legs?

Teared apart the shag carpet? There

were so many unknowns. Despite

our fears, I entered our kitchen in

the morning to find him curled up

beneath the kitchen table. Of all

places he could have slept, he chose

the confines of an enclosed area,

a cave of sorts. "What a good boy

you are, Luke!"

Weeks passed and Luke became

more liberated to try out new

sleeping spaces. He slept on his

plush bed by the bay window. He

slept by the front door. He toggled

between spots. Then, to our

surprise, he pooped on the dining

room carpet.

"Ohhhh Luke. What happened?"

Suspicious of his own accident, he

inspected the mound with a stiff

sniff. "How did my poop get in the

house?" He couldn't help it. Nevertheless,

the odor was horrible. I

gagged, cracked a window, and began

the unfun process of cleaning

poop from an expendable area rug.

My mind traced back through his

diet. Admittedly, he had some junk

food at a friend's house the night

before, bones said to be "all natural'

but they all claim such. He had also

been chewing on rained-on sticks

drenched in bacteria. Both ingestions,

I knew, were a culprit to his

maturing digestive system. Poor

Luke. He can't hop onto a toilet

when a bad stomachache strikes.

I forgave my pup. Then I bagged

his poop and threw it outside for

him to see. "Poopy goes outside." I

treated the stain with a small army

of toxins. Digestion issues (and

diarrhea) are not uncommon for

puppies. He watched me scour the

carpet, head over paws, as though

to say, "I'm sorry, Momma. I know

my poopy is stinky."

Luke's stools hardened with

each passing day. He became more

"regular "with clean eating, a close

monitor on snacks (and sticks),

and mounds of freshly cooked

white rice. My family celebrated

progress. "Lukey did poopies

outside!" We visited the spot on the

rug for gentle reminders. "Noooo."

I stretched out the word and

kneeled to a spot overly fragrant.

"Lukey does poopy outside." He

glanced up at me then looked away.

"Can we move on, please?"

BABY LUKE

Baby Luke emerged, suitably,

when my pup was about eight

weeks old. I'd cradle him in my

LUKE

continued on page 19
---
February 10, 2023 • www.theblackstonevalleyxpress.com • The Blackstone Valley Xpress 19

REAL ESTATE

Where will you go if you sell?

You have options

BY MARK

MARZEOTTI

There are

plenty

of good

reasons

you might

be ready to

move. No

matter your

reasons,

before you

list your current

house,

you need to

consider where you'll go next.

In today's market, it makes sense

to explore all your options. That includes

both homes that have been

lived in before as well as newly

built ones. To help you decide

which is right for you, let's compare

the benefits of each. Regardless

of which option you choose to

explore, working with a trusted

Realtor throughout the process is

essential.

First, let's look at the benefits of

purchasing a newly constructed

home. With a brand-new house,

you'll be able to:

1. Build your dream home. If

you build a home from the ground

up, you'll have the option to select

the custom features you want,

including appliances, finishes,

landscaping, layout, and more.

Building means customizing, instead

of wishing your home had a

certain kind of flooring, a sunroom

or some other special feature, you'll

LUKE

continued from page 18

arms like a baby so that he could

gaze into my eyes, then chew on a

dangling sweatshirt tassel. The habit

continued as he grew, and even

until he reached a stocky sixty-five

pounds. Baby Luke doesn't realize

he doesn't qualify for the standard

of a lap dog. I return home from

teaching Zumba classes to find him

ready and waiting for our special

routine in the family room. "Let's

do Baby Luke!" He hovers about

Over 30 years

in Business

Denise and

Bill Jones

be able to tailor the property to

your exact needs. You also won't

be limited to a specific location or

neighborhood.

2. Take advantage of builder

concessions. In today's market, a

lot of home builders are working

hard to sell their current inventory

before they add more to their

mix. That means many of them are

offering concessions and are more

willing to negotiate with buyers.

That could work to your advantage

in the process.

3. Minimize home repairs. Many

builders offer a warranty, so you'll

have peace of mind on unlikely

repairs. Plus, you won't have as

many little improvement projects

to tackle. If something goes wrong

with your new home, not only are

there likely some manufacturer

warranties in place, but many

builders also include additional

home warranties.

4. Take advantage of energy

efficiency. When building a home,

you can choose brand-new, energyefficient

options to help lower your

utility costs, protect the environment,

and reduce your carbon

footprint.

Now, let's compare those to the

perks that come with buying an

existing home. With a pre-existing

home, you can:

1. Explore a wider variety of

home styles and floorplans. With

decades of homes to choose from,

my gym bags and winter clothes,

holding me to it. I collapse to the

floor and maneuver Baby Luke

WWW.TLCPETHAVEN.COM

Dog and Cat

Grooming & Boarding

Luxury Suites Available

Doggie Daycare

In-Home Services Available

PET HAVEN & Mobile Groom-In-Vans

68 US Route 146, Sutton MA • 508-865-3180

you'll have a broader range of

floorplans and designs available.

2. Appreciate that lived-in

charm. The character of older

homes is hard to reproduce. If you

value timeless craftsmanship or

design elements, you may prefer an

existing home.

3. Join an established neighborhood.

Existing homes give you

the option to get to know the

neighborhood, community, or

traffic patterns before you commit.

Plus, they have more developed

landscaping and trees, which can

give you additional privacy and

curb appeal.

4. Move in faster. If you have a

short timeframe to move or you

just don't want the process to take

several months while your home

is under construction, buying an

existing home might make sense

for you. When thinking about

where you'll go after you sell your

house, remember your options. As

you start your search, think about

what's most important to you. By

working with a trusted Realtor, you

can be confident you're making the

most educated, informed decision.

If you have questions about the

options in your area, meet with a

team member of marzeottigroup.

net, call 617-519-1871 or a local

real estate professional to discuss

what's available and what's right

for you.

onto my lap. He licks my neck and

face. We cuddle like a pair of honeymooners,

and I think to myself,

"Of all of my puppy's sides, this just

might be my favorite."

Write to me at amyleclaire@

hotmail.com

Visit Luke on Instagram @livingwithlukevalentino

154 Riverlin St.

Millbury, Ma. 01527

508-865-8155

• Grooming

• Daycare

• Boarding

by Kelly Hauk

Laurie Sullivan

Mark Marzeotti REALTOR

Mark

Mark

Marzeotti

Marzeotti

Maribeth RealtorMarzeotti

BrokerAssociate/GRI/SRES

Realtor

43 East Main Street

Webster, MA 01570

Office: 508.943.4333

Fax: 860.935.5624

Cell: 508.525.0611

Web: hope2own.com

Email: lsullivan@hope2own.com

Laurie Sullivan

Realtor

REALTOR ®

Licensed in MA Licensed & CT in MA & CT

REAL ESTATE ON REAL THE ESTATE RISE! ON THE RISE!

BEST OF CENTRAL MASS

Best Pet Groomer 2016 & 2017

ADVANTAGE 1

ADVANTAGE

ADVANTAGE

1

1

25 Union Street, 4th Floor

25 Union Street, 4th Floor

Worcester, MA 01608

Worcester, MA 01608

Mark Mark 617-519-1871

Mark

617-519-1871

Marzeotti Maribeth MLMarzeotti@gmail.com

Marzeotti

MLMarzeotti@gmail.com

Realtor Marzeotti www.MarzeottiGroup.com

Realtor

www.MarzeottiGroup.com

Realtor

Victoria Virgilio • 774-696-4120

Victoria.Virgilio@commonmoves.com

VictoriaVirgilioRealtor.com

A member of the franchise system of BHH Affliliates, LLC.

43 East Main St., Webster

Office: 508.943.4333

Fax: 860.935.5624

Cell: 508.525.0611

Web: hope2own.com

Email: lsullivan@hope2own.com

25 Union Street, 4th Floor

Worcester, MA 01608

617-519-1871

MLMarzeotti@gmail.com

www.MarzeottiGroup.com

Looking to fall in love with a new home? I can help.

www.barknbubblesmillbury.com

SM

BERKSHIRE

HATHAWAY

HomeServices

Commonwealth

Real Estate

13 Cook Street,

E. Douglas, MA

508-476-2278

www.SochiasOil.com

FUEL OIL - PROPANE - KEROSENE

SALES • SERVICE • INSTALLATION

Heating - Air Conditioning • 24 Hour Burner Service

Serving: WHITINSVILLE, UXBRIDGE, DOUGLAS, SUTTON, MILLVILLE, MENDON, UPTON,

MILLBURY, WEBSTER, GRAFTON, OXFORD, DUDLEY, HOPEDALE
---
BACKUP POWER,

20 The Blackstone Valley Xpress • www.theblackstonevalleyxpress.com • February 10, 2023

BACKUP POWER,

FOR EVERY ADDRESS.

Now there's a reliable KOHLER ® generator to fit

every home. From 6 to 150 kW, our generators have

compact footprints that fit comfortably on your lot.

Whatever the size of your home, we're with you.

From engines to generators, we give the world power.

CONTACT US TODAY FOR YOUR

FREE ESTIMATE!

Visit our Showroom:

230 Church St, Suite B, Whitinsville, MA 01588
---
February 10, 2023 • www.theblackstonevalleyxpress.com • The Blackstone Valley Xpress 21

THE CAR DOCTOR

Reloading Sirius; storing a hybrid battery, long-term

BY JOHN PAUL

Q.I have

a 2012

Toyota

Sienna minivan,

this past

March we

drove to Florida

in another

car leaving the

Toyota in the

driveway for

three weeks. The day after we returned,

I went to start the Toyota

but it wouldn't. I then called AAA

and a tech came and replaced

the battery. Using the car later, I

turned on the factory radio which

is AM/FM and Sirius, but the

Sirius wouldn't load and read out

"no signal." Is it possible the radio

was damaged from exchanging

the battery? Please advise as I have

called Toyota, who wants $2500

to replace it but no one can give

me a definitive answer to what is

wrong.

what happens is

the radio loses its memory

A.Generally,

when the battery fully

discharges. I would start by calling

SXM and see if they can restart

(send a refresh signal) the radio

signal from their end. I had a very

similar issue (no signal) with a

very used vehicle I purchased,

after confirming the antenna was

okay, I called SXM and after about

45 minutes on the phone and

multiple attempts the radio came

to life.

Q.

I

but I can't get a straight

am going to buy a new

2023 Toyota RAV4 soon,

answer to a question from any of

the dealers I've talked to. I will

be storing the vehicle for about

half the year, every year. It can be

connected to a battery tender, but

it will not be started or driven. I've

done this with my gas-powered

vehicles without issues. My question

is, would this kind of storage

degrade a hybrid battery? Should I

stick with the gas-powered model?

has a bit of a vague

answer to this, stating that

A.Toyota

the traction battery should

be left in a 20-80 percent state of

charge, but other than that doesn't

mention long term storage. Based

on my conversations with hybrid

vehicles owners who do something

similar, I would say that the

battery pack should be okay. Out

of curiosity I also checked the recommendations

from the all-electric

Tesla and was a bit surprised

to read, If the weather is extreme,

whether it's extremely cold or hot

and you cannot park in an isolated

area and are going away for more

than two weeks, then you may

want to consider a different mode

of transportation. If the car battery

is drained completely, it could

lead to battery damage since the

car can no longer keep the batteries

at an ideal temperature and it'll

no longer be able to protect itself

from harsh weather.

a snowbird and is it

best to leave that vehicle

Q.

I'm

in summer heat in Florida

or northeast winter cold. Is there

any difference between storing a

hybrid or any car in heat or cold?

are challenges with

both. The summer Florida

A.There

heat, humidity, heavy rain

and hurricanes versus winter cold,

snow slush and blizzards. The

summer heat/humidity can mildew

the interior and age the tires

and paint as well as shorten the

battery life. The bitter winter cold

can cause body seals to harden

and crack. I have left a car outside

(under a cover) in both Florida

heat and Massachusetts winter

and I found the hot weather to be

slightly less detrimental to the car

overall.

brand qualifies as a

"quality" fuel additive? I

Q.What

have seen you mention this

but have never named a brand(s).

My second question is how often

should it be added? My other

question is how long have you

been helping people with your

column and radio program, and

hopefully you are not retiring

anytime soon.

A.I have had the best results

with Techron fuel additive,

which came with the

very first fuel injected Corvette.

The other product which I like,

is from Lucas. Both of these are

simple pour-in products and

work. For me I use these products

more sparingly than the directions,

about twice per year. I also

when I can use gasoline with more

cleaning additives which help

keep injectors and combustion

chambers clean (www.toptiergas.

com). I am in my 38th year at

AAA and started a column in our

own publication which expanded

to live chats and placement in

several newspapers and websites.

I hosted my first radio program

about 30 years ago and have been

on the air almost continually since

then (now on Sunday morning at

11 on 95.9 WATD). I don't think

I'm going anywhere soon.

a 2016, Subaru

Legacy with about 47,500

Q.I have

miles. I have always kept

it in good shape, and it runs well.

For the past couple of months,

I have sporadically been having

problems getting the key out of

the ignition switch when I shut

the car off. At first, I started the

car again, moved it and then tried

again. This worked sometimes.

Lately, I just turn the key to the

on position without starting the

car and then try again. Sometimes

I have to do this several times.

I took the car to a transmission

shop and the said there doesn't

seem to be any problems with the

linkage or neutral switch to (whatever

that is).

has had some

issues with the shifter, I

A.Subaru

would go to the dealer

and have them reference technical

service bulletin 16-112-18R.

John Paul is AAA Northeast's

Car Doctor. He has over forty years'

experience and is an ASE-certified

master technician. He will answer

readers' questions each week. Email

your questions to jpaul@aaanortheast.com.

Follow John on Twitter

@johnfpaul and friend him on

Facebook mrjohnfpaul.

TRANSMISSION SPECIALISTS

& AUTOMOTIVE SERVICES

(508) 476-3926

jpaul@aaanortheast.com

U-KNIGHTED

AUTO & TRUCK REPAIR

"We perform all your car care needs"

45 East Hartford Ave., Uxbridge

508-526-3169

Custom Exhaust Experts

•Engines •Transmissions • Tires •Oil Changes

• Brakes •Converters •Welding & Fabrication Services

• Brakes

• Tires

• Shocks

• Exhaust

• Alignments

• Tune-Ups

• All General

Repairs

Specializing in Transmissions

Classic Car

Service and Repair

151 Davis St., Douglas MA

Located 1.5 miles off of Route 146

(508) 476-3926

exit 6 on Route 16 in Douglas

KearnS

K

COLLISION Repair

FREE ESTIMATES • QUALITY SERVICE

1734 Providence Rd., Northbridge, MA•508-234-5211

Thomas F. Colonair Jr.

www.kearnscollision.com

Let us help you against winter's assault on your car!

Professional Car Cleaning

Motorcycles & Boats

Now offering Ceramic Coating

Now Offering

Ceramic Coating

218 Worcester St., N. Grafton

774-272-0815

shineitup2@yahoo.com

catacchio

AUTO

DETAIL

Bloem's Auto Repair

Prayer

Our Father, who art in heaven, hallowed be thy name,

thy kingdom come, thy will be done on earth as it is in

Heaven. Give us this day, our daily bread, and forgive

us our trespasses as we forgive those who trespass

against us, and lead us not into temptation, but deliver

us from evil (intention), Amen.

If you pray three times a day, three consecutive

days, you will receive your intention, no matter how

impossible it may seem. Praise and Thanksgiving

please the Heart of God. Believer

Diagnostics • Tires • Brakes • Batteries • Oil Changes • Tune-Ups

Quality Pre-Owned Vehicles Now Available!

WE DO IT ALL

Total Car Care!

194 N. Main St.

Uxbridge, MA 01569

508-278-4302
---
22 The Blackstone Valley Xpress • www.theblackstonevalleyxpress.com • February 10, 2023

SPORTS

Uxbridge boys look for consistency—and wins

BY CHRISTOPHER TREMBLAY,

STAFF SPORTS WRITER

It wasn't a bad season, but it was

one in which the Uxbridge boys

basketball team wished could

have gone better. The Spartans finished

the regular season just above

.500 with a 10-9 record, earning

themselves a spot in the Division 4

State Tournament. Uxbridge took

out Bay Path (58-37) in the opening

round but was sent home after

a loss to Burke 65-46.

Coach Ryan Hippert and his

Spartan squad are looking for better

results this winter, especially

when it comes to the tournament.

"We have a tougher schedule

hoping that it will prepare us for

the long run. Playing those type of

teams during the regular season

gets you ready for the tournament,

but you still need the wins," the

Uxbridge coach said. "With the

new ranking system to get into

the tournament you want to play

tougher teams, but we also want to

qualify for the Clark Tournament;

40 teams can apply but only 16

make the cut."

Uxbridge has a lot of athletes

COMPLETE AUTO GLASS SPE-

CIALISTS

• Chip & Crack Repair

• Windshield Replacement

• FREE Mobile Service

MOBILE AUTO GLASS SPECIALIST

Insurance Company Preferred Shop.

• Certified technicians to your location

• Foreign & domestic auto, truck, bus,

motor home, windows & sunroofs

• Construction equipment, heavy duty vehicles

• Fabrication of flat glass

• Vehicles equipped with convertible or vinyl roof

returning from last year's team and

according to the coach, they had

a good summer preparing for this

year's season. At the time of this

writing the Spartans were once

again hovering just above .500,

having played some strong teams

in an up and down season. Hippert

was confident that his hard-working

team would be back on track

for the remainder of the season.

Senior co-captains—shooting

guard Drew Gniadek and

point guard Troy Spencer—will

be the guiding force for a Spartan

team that wants to succeed. After

averaging about 12 points a game

last season, Gniadek, who has been

on the team since his sophomore

campaign, has raised his scoring to

18 points per contest thus far this

year.

"We're still looking for another

scorer to step up and compliment

Drew," Hippert said. "Scoring,

which is our biggest problem.

We've had guys step up here and

there but are looking for consistency

game in and game out."

Another point guard, junior Kellen

LaChapelle, is not one who will

load up on the offensive stats but

201 W. Main Street, Dudley, MA 01571

800-479-7697 • 508-949-1327

Monday-Friday 8am to 5pm • Saturday 8am to 12pm

Visit Us at roysautoglass.net

The Uxbridge High boys basketball team; and some recent game action (photos submitted by Coach Hippert).

is one of the team's unsung heroes.

The junior is a great defender who

does a lot of the dirty work for

the Spartans and his hustle and

effort are among the tops on the

team. Junior Ethan McCusker

finds himself in the same unsung

hero category as LaChapelle. The

6'3" center, who has been with the

• In-shop service • Free mobile service

• Saturday service

• Free pick-up and delivery within a 10 mile radius

• Quality workmanship guaranteed

• Customer safety and satisfaction is our first priority

• Servicing customers for over 25 years

team since his freshman year, is not

only a great shooter but he is also a

great shot blocker and has a lot of

potential.

The fifth starter is of rotating

value. Hippert has three athletes

that he can start depending on

the opposition and the situational

game plan. Finding time in that

fifth spot have been junior Andrew

Blood, sophomore Colin Spencer

and senior Jack Trask. Hippert has

said he will continue to change the

lineup around, looking to see what

works.

Blood is a football player who

works hard and plays tough like a

forward, while Trask is a big kid

(6'3" 270 lbs.) and at times is the

most dominate payer on the court.

Only a sophomore, Spencer had

a 21-point performance, where

he knocked down 6 3's, earlier in

the season. He has shown flashes,

but currently finds himself on the

bench due to an injury.

Senior Dan Doherty will see

some action for Uxbridge on the

court as a role player. He is a solid

defender who puts in the work

and although he didn't see a lot of

minutes last year he may get the

opportunity this season.

During the Milford Holiday

Tournament the Spartans had

a good performance in the first

round and with their win went up

against the host, a Division 1 team,

for the championship. Although

the Spartans were able to stay close

during the first half, Milford eventually

wore them down. Despite

the loss, Hippert liked what he saw

in his team as it went up against a

team from an upper division.

As is the case year after year,

Hippert is hoping that his squad

can qualify for the State as well as

the Clark Tournament in addition

to capturing the SWCL B league

Title.

"Our schedule has been tough so

far, but we knew coming into the

season that it was going to be," the

coach said. "Right now, we are far

from our goals, but we have plenty

of games still ahead of us to make

things right."

Landscape & Masonry Materials

2677 Broncos Highway. Nasonville, RI

401-769-4286

Ice Melt • Shovels and Snow Stakes • Bulk Loam

• Mulch • Stone • Fertilizers • Grass Seed • Drainage Pipe

• Fire Pits • Bluestone • PA Fieldstone • Granite • Flagstone

• Cobblestone • Palletized Stone • Wood Pellets

• Chimney Supplies • Concrete & Mason Sand

• Concrete & Mortar Products • UniLock Pavers and Walls

Monday - Friday 7am - 4pm

Delivery

Available

Homeowners

& Contractors

Welcome!

GET

NOTICED!

Contact Bill at

774-289-5564

or by email at

bcronan@

theyankeexpress.com

to learn how you can reach

153,0000 households and

businesses each month!
---
February 10, 2023 • www.theblackstonevalleyxpress.com • The Blackstone Valley Xpress 23

TALES FROM BEYOND

tomdagostino.com

Dudleytown-Part 1: Demons, evil spirits, foreboding horrors

BY THOMAS D'AGOSTINO

A

deserted settlement deep in

the woods of western Connecticut

has been the subject

of writings, short stories and even

movies. Owlsbury was once the

more common name for what we

today call Dudleytown. The abandoned

settlement is said to harbor

demons, evil spirits, negative energy,

and a host of other foreboding

horrors that have caused people to

either shun the area, or at present,

risk being arrested while searching

for the now forbidden ghost

town. There are many narratives

regarding the area and the negative

energy that abounds within. Many

have sworn to the old tales while

others brush them off as legends

created to scare the meek.

Dudleytown is nestled on a

plateau in the middle of three

mountains and a hill. The original

owner, Thomas Griffis, took deed

to the area in 1738. Abiel and

Barzillai Dudley, both soldiers in

the French and Indian War, took

title to a parcel of land in 1747, "on

the road from the meeting house

to Mr. Griffis." This would soon

become known as Dudleytown.

The Dudley family was said to have

brought a family curse over from

England where several of their

ancestors were executed for various

plots against the government.

At one point thirty-five families

called Dudleytown their home.

Names like Carter, Jones, Tanner,

Dibble, Rogers and others unknowingly

made history by settling

in the small town. The chief product

was charcoal, for the area was

heavily wooded.

It cannot be precisely discerned

when the horror stories about

Dudleytown began to circulate.

The 1938 Federal Writer's Project

book on Connecticut gives the

abandoned village but a small

paragraph within its pages and not

much more. It mentions the trail

where hikers traverse to "the dead

end and mystery of Dark Entry...no

other road, other than a pack horse

trail ever penetrated this forbidding

region."

The writer continues;

"Tradition tells of a man, who

with his wife, built a cabin in this

wilderness. After an absence of two

days, in which he tramped to the

village for supplies, he returned

to find his wife a raving maniac,

driven mad by some terrifying

experience which she was never

able to relate."

The narrative most likely concerns

Dr. William Clarke and his

wife. The doctor bought a piece

of land in Dudleytown and built

a cabin as a summer retreat. He

became one of the founders of the

Dark Entry Forest Association,

a group of people who bought

land in and around Dudleytown

to preserve the former settlement

and woods around it. The entry in

the book also states that there are

graves deep in the woods of those

who have gone in and died of starvation

or an accident. The writer

refers to the place as Dark Entry or

Owlsbury but never once mentions

it as Dudleytown. The term

Dark Entry referred to a forty foot

tunnel that ran from the road to

the cellar of a home. Unfortunately,

both are long gone but the name

has stayed on, creating ominous

visions for those who read of the

lost town.

One very famous account is that

of Richard Brophy, the last inhabitant

of Dudleytown. Brophy left his

land in 1901 after his house burned

to the ground. Before that, his sons

disappeared after they were caught

stealing sleigh robes, and his wife

died of consumption shortly after.

It is alleged that the man showed

up at the local tavern half insane

and jabbering about half man-half

animal cloven hoof beasts chasing

him off his property. After that, he

was never heard from again.

People suffered strange calamities

while living in the cursed

village. One of the Dudley brothers

was found hacked to death near

his home, another mysteriously fell

from a ladder, one more died while

visiting a neighbor's home. These

and many more were attributed

to the curse and the demons, both

visible and invisible that were said

to inhabit the land.

Tales of people going insane

ran rampant. Abiel Dudley was

one of those who went mad, but

he also was about ninety years old

when he was considered feeble of

mind. William Tanner was another

Dudleytowner who was considered

to have become feeble-minded. He

lived to be one hundred and four

years old. Several other accounts

tell of Dudleytowners going mad

after witnessing what they called

wild half human beasts. Dr. William

Clarke's wife was another

as previously stated, but records

indicate she died in a New York

hospital from a physical illness.

Part II next month.

CAPITOL SIDING &

HOME IMPROVEMENT COMPANY, INC.

Custom Exteriors • Vinyl Siding • Roofing

Replacement Windows • Seamless Gutters

MARK SARKISIAN, JR.

markjr@capitolsiding.com

www.capitolsiding.com

30 Auburn Street

Auburn, MA 01501

Tel 508-832-5981

Fax (508) 832-0464

See an Expert in Cosmetic Dentistry

Jason R. Tubo, DMD, MAGD - Master of the Academy of General Dentistry

Advanced Cosmetic Bonding | Minimally Invasive Dentistry

Completely Digital Treatment (NO impressions!)

Single-tooth implants | Full-mouth reconstruction

Computer-Guided Surgery | 3D Cone-Beam X-ray

Crowns | Veneers | Advanced Esthetics

(508) 234-8107

12 Prospect Street

Whitinsville, MA

www.DrTubo.com

Real People. Real Results.

See more of Jen's case and more

REAL Before and After cases

actually done by Dr. Jason Tubo at

www.DrTubo.com .

Finding yourself a little addicted

to Dr. Tubo's Before and Afters?

See them when they're brand new

Follow Dr. Tubo on Instagram:

@dr.jasontubo
---
24 The Blackstone Valley Xpress • www.theblackstonevalleyxpress.com • February 10, 2023

FOR ALL YOUR FUEL NEEDS

NEW BOILER INSTALLS

• Crown Boilers

• Williamson Furnaces

• Oil Tank Installs

Central air conditioning

and ductless mini splits

ALL NEW

INSTALLS COME WITH

A 3 YEAR PARTS

AND LABOR WARRANTY,

AS WELL AS THE

MANUFACTURERS

WARRANTY.

We do NOT

Sell Biofuel!

Which will help prevent

system breakdowns.

HELP WANTED -

Class B CDL driver with air brake, tanker and hazmat

endorsements. Must have DOT Medical Card.

THERE'S A SMARTER

WAY TO HEAT ANY

ROOM THIS WINTER.

Heat the rooms you live in …

without wasting energy on

the rooms you don't.

Uses 25-50% less energy

to heat your home.

Employs allergen filtration

to reduce germs, bacteria

and viruses.

Provides year-round

comfort that keeps you

cool in the summer too.

Requires no ductwork,

so installation is quick

and easy.

A Full Service Oil Company

24-Hour Emergency Service

WWW.LMTOIL.COM • WE DO ONLINE ORDERING

© 2013 Mitsubishi Electric

© 2015 Mitsubishi Electric

Choose Morrissette & Son as your installer, and receive:

-Upgraded Diamond Dealer Parts & Compressor Warranty to 12 years

(from standard 5 years parts/7 years on compressor)

-Finance through MassSave with 0% HeatLoan

-Rebates through MassSave & MassCEC (MassCEC rebates expire 3/20/19!)

-Extended Labor Warranty Available

-Highly Trained Technicians with Installation & Service

Looking to replace your electric heat? Ask us about HUGE

rebate opportunities through MassSave!

AMERICA'S #1

SELLING BRAND OF

DUCTLESS

Contact us today for a no cost

in-home assessment!

HAPPY

HOUR

AT SAMUEL SLATER'S RESTAURANT

1/2 PRICE APPS

WEDNESDAYS & THURSDAYS (4PM-6PM)

**ONE PER PERSON MAX. CANNOT BE COMBINED WITH OTHER

OFFERS OR SPECIAL EVENTS. PORTIONS MAY VARY.

BAR

$5 BEER • $6 WINE • $7 COCKTAIL

THESE PRICES ARE ALWAYS AVAILABLE. BAR OPTIONS ARE ROTATING.

15 & 20 Yard dumpster rentals delivered & picked up

$195 month for standard restroom

$175 month for cold water sink

Call 508-476-1500

15 yard up to 2 ton $450 - 7 day rental

20 yard up to 3 ton $550 - 7 day rental

14 West Street, Douglas, MA 01516

www.benscontainerandrubbish.com

*Additional charges may apply for delivery beyond our service area or if weight of debris exceeds the ton limit.

Surcharges may also apply for hazardous waste removal of construction materials.

UPCOMING EVENTS

THE DELOREANS: 7 PIECES

OF BRASS KICKIN' 70'S & 80'S

FEBRUARY 11 8:30PM

COMEDY NIGHT AT SLATER'S

WITH STEVE SWEENEY PLUS GUESTS

GRAIG MURPHY AND CHRIS D

FEBRUARY 17 7:30PM

WINTER CHARCUTERIE BOARD

PAINT & SIP

FEBRUARY 22 6PM-8PM

JON STETSON: PSYCHIC MIND-

BLOWING COMEDY SHOW WITH

AMERICA'S MASTER MENTALIST

FEBRUARY 25 7:30PM

MUSIC WITH CROSSFIRE

MARCH 11 8:30PM

ST. PADDY'S DAY O'STRAVAGANZA

COMEDY NIGHT

FEATURING MIKE DONOVAN

PLUS GUEST SEAN SULLIVAN

HOSTED BY DAVE RATTIGAN

MARCH 17 7:30PM

JOANNA

THE PSYCHIC MEDIUM

MARCH 31 7:00PM

RESTAURANT HOURS:

WEDNESDAY - FRIDAY: 4PM-9PM | SATURDAY: 12PM-9PM | SUNDAY: 12PM-8PM

OVERLOOKING WEBSTER LAKE • 200 GORE ROAD, WEBSTER, MA

TICKETS & RESERVATIONS AT WWW.SAMUELSLATERS.COM