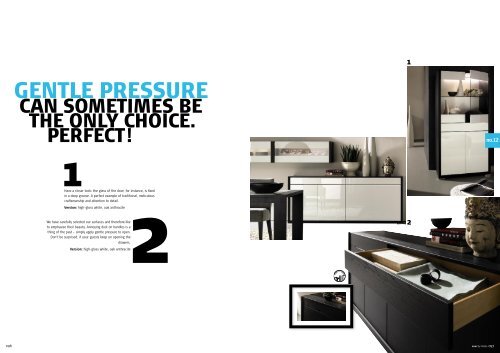 now! no.12 magazine (PDF) - InnoShop now! no.12 magazine (PDF) - InnoShop
GENTLE PRESSURE

CAN SOMETIMES BE

THE ONLY CHOICE.

PERFECT!

Have a closer look: the glass of the door, for instance, is fi xed

in a deep groove. A perfect example of traditional, meticulous

craftsmanship and attention to detail.

Version: high-gloss white, oak anthracite

We have carefully selected our surfaces and therefore like

to emphasise their beauty. Annoying dust on handles is a

thing of the past – simply apply gentle pressure to open.

Don't be surprised, if your guests keep on opening the

drawers.

Version: high-gloss white, oak anthracite

096 now! by hülsta 097

1

2
More magazines by this user