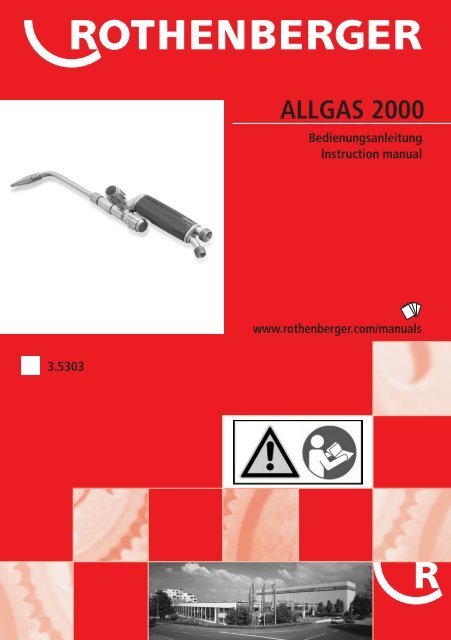 ALLGAS 2000 - Rothenberger South Africa
ALLGAS 2000 - Rothenberger South Africa
ALLGAS 2000 - Rothenberger South Africa
SHOW MORE
SHOW LESS
Create successful ePaper yourself
Turn your PDF publications into a flip-book with our unique Google optimized e-Paper software.
3.5303

ALLGAS 2000

Bedienungsanleitung

Instruction manual

www.rothenberger.com/manuals
---
A OVERVIEW

B CONNECTING

9

B

11 5

28

1

19

18

16

F

17

15

13

7

3

5

26

C

2

E

D

13

6

A

12

14

10

27

14

8

4

25

6
---
DEUTSCH Seite 2

Bedienungsanleitung bitte lesen und aufbewahren! Nicht wegwerfen!

Bei Schäden durch Bedienungsfehler erlischt die Garantie! Technische Änderungen vorbehalten!

ENGLISH page 4

Please read and retain these directions for use. Do not throw them away! The warranty does not cover

damage caused by incorrect use of the equipment! Subject to technical modifications!

1
---
2

Technische Daten

Schweißeinsatz

Nr.

Sauerstoff Acetylen Sauerstoff Propan

Bereich

mm bar bar bar bar

1 0,2 - 1

2 1- 2

3 2 - 3

4 3 - 5

5 4 - 5

Übersicht Abb. A

0,8

-

1,2

0,1

-

0,3

0,8

-

1,2

A Handgriff D Sauerstoff-Nadelventil

B Schweißdüse E Einstellventil für Brenngas

0,3

-

0,5

C Schweißdüsen-Halter / Schlüssel F Mischrohr

Bedienung

Anschließen des Brenners:

Schließen Sie den Brenner mit einem nach EN 559 zugelassenen Schlauch an den Druckregler an oder an

einen zentralen Gasanschluss. Sichern Sie den Anschluss mit Schlauchklemmen. Wenn Sie eine undichte

Stelle vermuten, überprüfen Sie dies mit Seifenlauge.

Anzünden und Regeln des Brenners: (Verwenden Sie die Ventile des Brenners)

Hinweis: Der Brenner arbeitet nach dem Düsennadelprinzip. Die folgende Methode für das

Anzünden des Brenners sollte deshalb übernommen werden.

Um die Betriebssicherheit zu gewährleisten, sollten passende Flammenrückschlagsicherungen

eingebaut werden.

Schweißen, Hartlöten, Anwärmen, etc.:

1. Setzen Sie einen geeigneten Schweißaufsatz auf den Handgriff des Brenners. Überprüfen Sie, ob der

Konus am Ende des Aufsatzes intakt ist.

2. Schließen Sie beide Ventile (D und E) am Handgriff.

3. Wenn der Regler mit einem Nadelventil ausgestattet ist, sollte dieses geöffnet werden. Stellen Sie den

empfohlenen Arbeitsdruck am Druckregler ein. Das gleiche gilt auch für den Anschlusspunkt, wenn

eine zentrale Gasversorgung benutzt wird.

4. Öffnen Sie das Sauerstoff-Nadelventil (D) am Handgriff und lassen Sie das Gas die Schläuche für kurze

Zeit reinigen. Lange Schläuche und kleine Schweißdüsen benötigen eine längere Reinigungszeit.

Behalten Sie einen geringen Gasfluss bei.

5. Öffnen Sie das Brenngasventil (E) am Handgriff des Brenners und lassen Sie das Gas für kurze Zeit

strömen. Reinigen Sie die Schläuche wie oben beschrieben.

6. Zünden Sie den Brenner an.

7. Regulieren Sie die Größe und Art der Flamme mit den Ventilen (D und E) am Handgriff. Der Brenner ist

jetzt betriebsbereit.

Löschen der Flamme: Schweißen, Hartlöten, Anwärmen, etc.

Schließen Sie zuerst das Brenngasventil (E) am Handgriff und dann das Sauerstoffventil (D).

DEUTSCH
---
Wartung

Halten Sie den Brenner sauber. Fetten Sie keine Teile ein. Öl oder Fett können in Verbindung mit

Sauerstoff explosiv sein.

Falls erforderlich, reinigen Sie die Bohrungen des Anwärm- und Schweißzubehörs mit der mitgelieferten

Reinigungsnadel. Drücken Sie diese vorsichtig in die Bohrungen hinein und ziehen Sie die Nadel heraus,

ohne sie zu verdrehen.

Wenn das Anschlussende des Anwärm- und Schweißzubehörs beschädigt ist, kann dieses repariert werden,

indem man das Anschlussende auf eine glatte Oberfläche legt und es mit einem feinen Schmirgelpapier

poliert.

Sie erhalten Hilfe von einem Service-Mitarbeiter, wenn Reparaturen notwendig sind.

Anschlüsse (Abb. B)

1 Flaschenventil für Brenngas 13 Brenngasschlauch

2 Flaschenventil für Sauerstoff 14 Sauerstoffschlauch

3 Flaschendruckminderer für Brenngas 15 Griffstück

4 Flaschendruckminderer für Sauerstoff 16 Einstellventil für Brenngas

5 Stellschraube für Brenngas 17 Einstellventil für Sauerstoff

6 Stellschraube für Sauerstoff 18 Anschlussmutter

7 Ausgangsventil für Brenngas 19 Schweiß-, Löt- oder Anwärmsatz

8 Ausgangsventil für Sauerstoff 25 Flammenrückschlagsicherung für

Sauerstoff

9 Entnahmeventil für Brenngas 26 Flammenrückschlagsicherung für

Brenngas

10 Entnahmeventil für Sauerstoff 27 Entnahmestellenrückschlagsicherung für

Sauerstoff

11 Entnahmestellendruckminderer für

28 Entnahmestellenrückschlagsicherung für

Brenngas

Brenngas

12 Entnahmestellendruckminderer für

Sauerstoff

Zubehör

Geeignetes Zubehör und ein Bestellformular finden Sie ab Seite 6.

Entsorgung

Teile des Gerätes sind Wertstoffe und können der Wiederverwertung zugeführt werden. Hierfür stehen

zugelassene und zertifizierte Verwerterbetriebe zur Verfügung. Zur umweltverträglichen Entsorgung der

nicht verwertbaren Teile (z.B. Elektronikschrott) befragen Sie bitte Ihre zuständige Abfallbehörde.

DEUTSCH

3
---
4

Technical data

No

.

Range

mm

1 0,2 - 1

2 1- 2

3 2 - 3

4 3 - 5

5 4 - 5

Overview Fig. A

Welding insert

Oxygen Acetylen

e

Oxygen Propane

bar bar bar bar

0,8

-

1,2

0,1

-

0,3

0,8

-

1,2

A Handle D Needle valve for oxygen

B Welding tip E Valve for fuel gas

0,3

-

0,5

C Nozzle holder F Mixing tube

Operating

Connecting the torch:

Connect the torch to the cylinder regulators or with a central gas supply to the supply points with the

approved hose according to EN 559. Secure the connection with hose clamps. If leakage is suspected, check

using soapy water.

Lighting and regulating the torches: (using the valves on the torch)

Note: The torch works on the needle injector principle and the following method of

lighting it should therefore be adopted.

In order to assure safety, appropriate flashback arrestors should be installed.

Welding, brazing, heating, etc.:

1. Put an appropriate welding or heating attachment into the handle of the torch. Check that the cone at

the end of the attachment is intact.

2. Close both valves (D and E) on the handle.

3. If the regulator is fitted with a needle valve, this should be opened. Set the recommended working

pressure by using the regulator's pressure adjusting screw. The same applies to supply points if a gas

pipeline is used.

4. Open the oxygen needle valve (D) on the handle and allow the gas to purge the hoses for a short time.

Long hoses and small welding nozzles require a longer purge time. Maintain a small gas flow.

5. Open the torch fuel gas valve (E) on the handle and allow the gas to flow for a short time. Purge as

above.

6. Light the torch.

7. Regulate the size and type of flame with the valves (D and E) on the handle. The torch is now ready for

use.

Extinguishing the flame: Welding, brazing, heating, etc.

First close the fuel gas valve (E) on the handle and then the oxygen valve (D).

Maintenance

ENGLISH
---
Keep the torch clean. Do not grease any parts. Oil or grease can be explosive when in contact

with oxygen.

If necessary clean the holes of the welding or heating attachments with the cleaning needles supplied. Push

these carefully in and out without twisting. Spiral drills steel wires, etc.

If the outlet end of the welding or heating attachment is damaged, it may be repaired by polishing

perpendicularly with a fine emery cloth laid on a flat surface.

Obtain help from a sevice engineer if repairs are necessary.

Connecting (Fig. B)

1 Cylinder valve for fuel gas 13 Fuel gas hose

2 Cylinder valve for oxygen 14 Oxygen hose

3 Cylinder pressure regulator for fuel gas 15 Torch handle

4 Cylinder pressure regulator for oxygen 16 Adjustment valve for fuel gas

5 Pressure adjusting valve fuel gas 17 Adjustment needle valve for oxygen

6 Pressure adjusting valve for oxygen 18 Connection nut

7 Shut-off valve for fuel gas 19 Welding, heating or brazing attachment

8 Shut-off valve for oxygen 25 Regulator mounted flashback arrestor for

a single cylinder for oxygen

9 Tapping point valve for fuel gas 26 Regulator mounted flashback arrestor for

a single cylinder for fuel gas

10 Tapping point valve for oxygen 27 Tapping point flashback arrestor for

oxygen

11 Tapping point pressure regulatorf or fuel 28 Tapping point flashback arrestor for fuel

gas

gas

12 Tapping point pressure regulator for

oxygen

Accessories

The relevant accessories and an order form can be found from page 6 onwards.

Disposal

Components of the unit are recyclable material and should be put to recycling. For this purpose registered

and certified recycling companies are available. For an environmentalfriendly disposal of the non-recyclable

parts (e.g. electronic waste) please contact your local waste disposal authority.

ENGLISH

5
---
6

OPTIONAL

3.5304 3.5305 Ø 0,2 mm 3.5313 Gr.1

3.5306 Ø 1-2 mm 3.5314 Gr.2

3.5307 Ø 2-3 mm

3.5308 Ø 3-4 mm

3.5309 Ø 4-5,0 mm

3.5315

3.5311

3.2073 SW 14 x 19 3.5312

3.2079

3.5319

3.5221 2,5 m

3.2077
---
Zubehör und Ersatzteile / Accessories and spare parts

Bestellen Sie Ihre Zubehör- und Ersatzteile bei Ihrem Fachhändler

Order your accessories and spare parts from your specialist retailer

oder bei unserer Hotline Service After Sales

or from our Service After Sales hotline

Tel. : +49 6195 / 99 52-14

Fax : +49 6195 / 99 52-15

Kunde / Anschrift

Customer / address

Kunden Nr. /

customer no.

Bestell Nr. /

Order no.

Ansprechpartner

Contact person

Tel.:

Ihre Bestellung

Your order

Artikel Nr. /

Article no.

Menge /

Quantity

OPTIONAL

Bezeichnung /

Description

Stempel / Stamp

Preis /

Price

Datum / Date Unterschrift / Signature

7
---
8

Notes
---
Notes

9
---
Germany

Headquarters

Australia

Austria

Belgium

Brazil

Bulgaria

China

Czech

Republic

Denmark

France

Greece

Hungary

India

Ireland

ROTHENBERGER Worldwide

ROTHENBERGER AG

Industriestraße 7 • D-65779 Kelkheim/Germany

Tel.+49(0)6195/800-1•Fax+49(0)6195/74422

verkauf@rothenberger.com • www.rothenberger.com

ROTHENBERGER Produktion GmbH

Lilienthalstraße 71 - 87 • D-37235 Hessisch-Lichtenau

Tel.+49(0)5602/9394-0• Fax+49(0)5602/939436

ROTHENBERGER Werkzeuge GmbH

Industriestraße 7 • D-65779 Kelkheim/Germany

Tel.+49(0)6195/800-1•Fax+49(0)6195/74422

verkauf@rothenberger.com

ROTHENBERGER Australia Pty. Ltd.

Unit 12 • 5 Hudson Avenue • Castle Hill • N.S.W. 2154

Tel.+612/98997577•Fax+612/98997677

rothenberger@rothenberger.com.au

www.rothenberger.com.au

ROTHENBERGER Werkzeuge- und Maschinen

Handelsgesellschaft m.b.H.

Gewerbeparkstraße 9 • A-5081 Anif near Salzburg

Tel.+43(0)6246/72091-45•Fax+43(0)6246/72091-15

service@rothenberger.at • www.rothenberger.at

ROTHENBERGER Benelux bvba

Antwerpsesteenweg 59 • B-2630 Aartselaar

Tel.+32(0)3/8772277•Fax+32(0)3/8770394

info@rothenberger.be

ROTHENBERGER do Brasil Ltda.

Rua marinho de Carvalho, No. 72 - Vila Marina

09921-005 Diadema - Sao Paulo - Brazil

Tel.+5511/404447-48•Fax+5511/404450-51

vendas@rothenberger.com.br • www.rothenberger.com.br

ROTHENBERGER Bulgaria GmbH

Boul. Sitniakovo 79 • BG-1111 Sofia

Tel.+359/29461459•Fax+359/29461205

info@rothenberger.bg • www.rothenberger.bg

SHANGHAI ROTHENBERGER I/E CO., LTD

No. 199 Jiugan Road, Sijing Town,

Songjiang District, Shanghai, (201601) China

Tel.+8621/57617688•+8621/57617959

Fax +8621/57626062•office@rothenberger.cn

ROTHENBERGER CZ, náøadí a stroje, spol. s.r.o.

Vinohradská 100 (1710) • CZ-130 00 Praha 3

Tel.+4202/71730183•Fax+4202/67310187

info@rothenberger.cz • www.rothenberger.cz

ROTHENBERGER Scandinavia A/S

Fåborgvej 8 • DK-9220 Aalborg Øst

Tel.+4598/157566•Fax+4598/156823

roscan@rothenberger.dk

ROTHENBERGER France S.A.

24, rue des Drapiers, BP 45033 • F-57071 Metz Cedex 3

Tel.+333/87749292•Fax+333/87749403

info-fr@rothenberger.com

ROTHENBERGER Hellas S.A.

249 Syngrou Avenue • GR-171 22 Nea Smyrni, Athens

Tel.+30210/9407302•Fax+30210/9407322

ro-he@otenet.gr

ROTHENBERGER Hungary Kft.

Gubacsi út 26 • H-1097 Budapest

Tel.+361/347-5040•Fax+361/347-5059

mail@rothenberger.hu

ROTHENBERGER India Private Limited

B-1/D-5,Ground Floor

Mohan Cooperative Industrial Estate,

Mathura Road, New Delhi 110044

Tel.+9111/51699040,51699050•Fax+9111/51699030

contactus@rothenbergerindia.com

ROTHENBERGER Ireland Ltd.

Bay N. 119, Shannon Industrial Estate

IRL-Shannon, Co. Clare

Tel.+35361/472188•Fax+35361/472436

rothenb@iol.ie

Italy

Japan

Mexico

Netherlands

Poland

Portugal

Singapore

South Africa

Spain

Switzerland

Turkey

ROTHENBERGER Italiana s.r.l.

Via Reiss Romoli 17/19 • I-20019 Settimo Milanese

Tel.+3902/3350601•Fax+3902/33500151

rothenberger@rothenberger.it • www.rothenberger.it

Rothenberger S.A. Sucursal México

Bosques de Duraznos No. 69-1006

Col. Bosques de las Lomas • México D.F. 11700

Tel.+5255/5596-8498

Fax+5255/2634-2555

ROTHENBERGER Nederland bv

Postbus 45 • NL-5120 AA Rijen

Tel.+31(0)161/293579•Fax+31(0)161/293908

info@rothenberger.nl • www.rothenberger.nl

ROTHENBERGER Polska Sp.z.o.o.

ul. Cyklamenów 1 • PL-04-798 Warszawa

Tel.+4822/6127701•Fax+4822/6127295

biuro@rothenberger.pl • www.rothenberger.pl

SUPER-EGO TOOLS FERRAMENTAS, S.A.

Apartado 62 - 2894-909 Alcochete - PORTUGAL

Tel.+351/919306400•Fax+351/212340394

sul.pt@rothenberger.es

ROTHENBERGER TOOLS (FE) PTE LTD

147 Thyrwhitt Road

Singapore 207561

Tel. + 65 / 6296 - 2031 • Fax + 65 / 6296 - 4031

rfareast@singnet.com.sg • www.rothenberger.com.sg

ROTHENBERGER-TOOLS SA (PTY) Ltd.

P.O. Box 4360 • Edenvale 1610

165 Vanderbijl Street, Meadowdale Germiston

Gauteng (Johannesburg), South Africa

Tel.+2711/3729633•Fax+2711/3729632

info@rothenberger-tools.co.za

ROTHENBERGER S.A.

Ctra. Durango-Elorrio, Km 2•E-48220 Abadiano (Vizcaya)

(P.O. Box) 117 • E-48200 Durango (Vizcaya)

Tel.+3494/6210100•Fax+3494/6210131

export@rothenberger.es • www.rothenberger.es

ROTHENBERGER Schweiz AG

Herostr. 9•CH-8048 Zürich

Tel. + 41 (0) 44 / 435 30 30 • Fax + 41 (0) 44 / 401 06 08

info@rothenberger-werkzeuge.ch

ROTHENBERGER Tes. Alet ve Mak. San. Tic. Ltd. Sti.

Poyraz Sok. No.: 20/3 - Detay Is Merkezi

TR-34722 Kadiköy-Istanbul

Tel. + 90 / 216 449 24 85 pbx • Fax + 90 / 216 449 24 87

rothenberger@rothenberger.com.tr

ROTHENBERGER UK Limited

2, Kingsthorne Park, Henson Way,

Kettering • GB-Northants NN16 8PX

Tel.+441536/310300•Fax+441536/310600

info@rothenberger.co.uk

ROTHENBERGER USA LLC

4455 Boeing Drive, USA-Rockford, IL 61109

Tel.+1/8153977070•Fax+1/8153978289

www.rothenberger-usa.com

ROTHENBERGER USA Inc.

Western Regional Office • USA-955 Monterey Pass Road

Monterey Park, CA 91754

Tel.+1323/2681381•Fax+1323/260497

ROTHENBERGER Agency

OLMAX

2-y Verkhny Mikhailovsky pr-d, 9 build.2

115419 Moscow

Tel. + 7 / 09 57 92 59 44 Fax + 7 / 09 57 92 59 46

olmax@olmax.ru • www.olmax.ru

Service Hotline +49 (0) 61 95-99 52-12

www.rothenberger.com

UK

USA

Russia

ROTHENBERGER Japan CO. Ltd.

Shin Yokohama Dani Center • Bldg. 10F

3-19-5 Shin Yokohama, Kohoku-Ku

222-0033 Yokohama Japan

Tel. +8145/4710961 • Fax +8145/4729845

9.0253/05.06/F&E