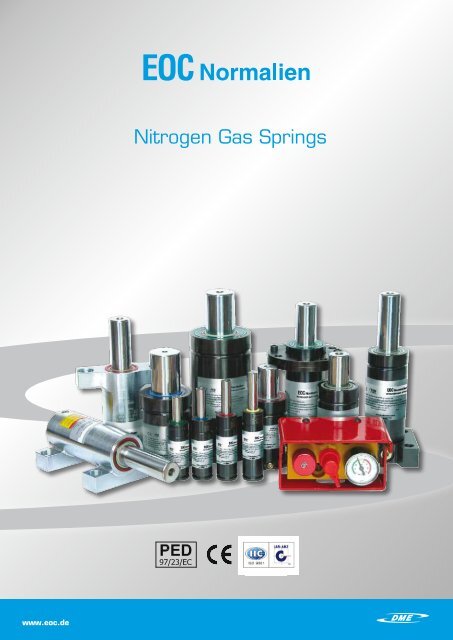 View catalog (pdf) - DME
View catalog (pdf) - DME
View catalog (pdf) - DME
SHOW MORE
SHOW LESS
Create successful ePaper yourself
Turn your PDF publications into a flip-book with our unique Google optimized e-Paper software.
www.eoc.de

Nitrogen Gas Springs

NITROGEN
---
W

W W

W

W

W

W

Singapore

W

United States

WWW W WW

W

WW

W WW

W

W

W W

W

WW

W W

WW

W

W

WWW

W

W

DME:

a blend of manufacturing,

outsourcing and strategic partners

W W

WWW W

W

W

W

W

W

W

W

Belgium

W

W
---
W

W

W

W

W

W

India

W

W

W

W

China

W

The DME offer

Global service & distribution

DME, a global company, operating in over 100

countries worldwide. From automobiles and appliances

to milk jugs and toothbrushes, DME technologies

and services help the world's leading

companies make your favorite products.

Success in today's global market starts with the

best product, at the best price, in the required time

frame. To achieve this, DME provides customers

with the best blend of manufacturing, outsourcing

and strategic partners, managed to be delivered

right on time anywhere in the world using

contemporary, sophisticated techniques.
---
DME's commitment:

to be an essential resource

to customers around the globe
---
The DME offer

Always the right support

Customers of mold technologies face unprec-

edented demands for speed, cost reduction and

performance. Every day, they are pressed to find

new ways to do more with less. They need a provider

with the resources to contribute to their success,

every step of the way.

Almost seven decades ago, DME revolutionized

the industry with its innovation in standard mold

base. Since then, we have built upon our expertise

to develop and offer the industry's most comprehensive

portfolio of injection molding supplies.
---
Runnerless

Solutions

Molds &

Components

Surface

Finishing
---
The DME offer

Top quality products - at lower costs

We deliver a variety of mold components available

in all regional standards. Thousands of high

performance, off-the-shelf and engineered solutions

let our customers spend more time on valuable

cavity work. Along with a comprehensive line

of equipment and supplies, we provide the high

quality products you need to speed up assembly

and simplify operations.

Only DME can provide customers with the world-

wide resources required to compete in the mar-

kets of Injection Molds & Components, Hot

and Cold Runner Technologies as well as in Die

Set Molds & Components or Surface Finishing

Technologies.

Our products:

designed to make molds

work more efficiently
---
DME NITROGEN GAS SPRING

All DME products are accurately manufactured with equipments of high precision

such as CNC, M/C, etc., and have passed several trial tests of over one million

strokes under SPM80 condition. DME looks forward to a big contribution

to the die set industry by developing the TSP series which is compacter than

existing gas springs.

Quality Assurance

DME gas springs come with a two-year warranty from date of shipping from

the warehouse or one million strokes. Every troubleshooting service and (or)

exchange of parts during this term is free. Also, should any critical defects arise

after the two-year guarantee period, the products shall be replaced free of

charge.

Maintenance

DME gas springs are manufactured based on a simple structure , which requires

no repairthroughout their lifetime. DME gas springs that are damaged

during operations after use can be easily repaired by simply replacing the

damaged parts . In addition, adequate load can be specified by directly adjusting

the pressure on site.

Fast Delivery

In order to ensure fast deliveries and support parts for A/S, DME is equipped

with requirements such as procurements of load testing facilities , gas charging

facilities and a comprehensiveinventory for all spare parts. We also carry

sufficient stock for certain models to minimize lead-timeand to reduce deadlock

in production. Models that are out of stock can be delivered within 7 days.

However, this lead-time varies according to quantity and location.

Notice

• Although there is a tap of M6 or M8 on top of the piston rod for assembly and a

disassembly, this should not be used to fix the gas springs or for any connecting

devices.

• During the installation, please ensure that there is about 1mm of margin space

between the contact surface and the upper part of the piston rods, Also, there

is no need for pre - pressure because the initial pressure is strong enough. Any

increase of pre-pressure can damage the molds.

• DME gas springs must be used as is. Do not cut or grind the upper part of the

piston rods or grind the lower part of the gas springs, as it is dangerous. Any

change on the gas spring can shorten its life and cause a malfunction.

• When installing the springs, please ensure that the bottom surface of the

springs touch the mold to absorb the load of gas spring. However, when assembling

with mounts, there should be space between the mount and the

bottom surface of the mold. This is to prevent the mold from breaking should

heavy load breaks the mount.

22/03/2011
---
22/03/2011

GAS

SPRING

*MODEL

*NAME

*PAGE

*TSL SERIES

*GAS SPRING

*P58~73

*HB10.CB4.CB12

*DISTRIBUTION BLOCK

*P77

*CHARGING DATA

*FITTING

*P81

*CHARGING

*ACCESSARIES

*P86

*TSP SERIES

*GAS SPRING

*P8~31

*PAN3

*CONTROL PANEL

*P74

*COMPACT FITTING

*FITTING

*P78

*ACCUMULATOR

* PRESSURE DISPERSION TANK

*P82

*REPAIR TOOL

*TOOLS

*P87

*TSM SERIES

*GAS SPRING

*P32~47

*PAN6

*CONTROL PANEL

*P75

*GF FITTING

*FITTING

*P79

*HOSE MANUAL

*FITTING

*P83

CHANGE

*PIPING CHANGE PROCEDURE

*GAS SPRING

*P88

Content

*TSS SERIES

*GAS SPRING

*P48~57

*PSS

*MULTI PANEL

*P76

*VF FITTING

*FITTING

*P80

*FITTING EXAMPLE I,II

*FITTING

*P84~85

TECHNICAL

DATA

*TECHNICAL DATA

*GAS SPRING

*P89~90

www.eoc.de - 1
---
Gas Springs

Info

2 - www.eoc.de

Installation and operation

When installing the DME gas spring, the piston rods of the gas springs must be installed parallel to the operation

direction and vertical to the installation ground. Failure to do so will result in the generation of odd load and abrasion

of piston rods, bearings, and seals etc., which will reduce the life span of the gas spring.

To prevent damage to the gas spring and to maximize its life span, please allow 10% margin to the standard stroke to

reduce shock that is caused by the compression of gas. The margin can prevent damage on the gas spring when the

piston rod touches the bottom surface and shortening a lifespan due to the impact by maximum gas pressure.

Warning

With gas spring fully charged with high pressure gas, non-compliance with this warning may lead to accidents ,

product damages , malfunctions , etc . Before using the spring , make sure to fully understand and observe the

warning below.

22/03/2011
---
22/03/2011

Model

Gas Springs

EOC gas springs are available from 500N to 100,000N of initial force and from 10mm to 300mm of stroke.

Depending on total length, EOC Normalien gas springs provide a wide range to choose from TSP , TSM , TSS and

TOSS GAS SPRING

TSL series, and they are easy to use in small molds.

Also, EOC Normalien gas springs are available for self contained type, individually used as an independent gas spring,

and fitting system type, multiple gas springs that is connected by pipes to adjust gas pressure simultaneously for

each gas spring. Conversion between those two types is possible.

Recharging and discharging are simple and pressure can be adjusted easily.

The maximum gas pressure for each model can be 150~180 bar.

Info

System types

Self-contained type

Already charged when shipped, it can be easily used, as it does not need extra space for installation of other parts. It may

be discharged and recharged with a maximum charging pressure of 150~180 bar.

Self-contained type

Hoses connect with a few gas springs together and each gas spring can be simultaneously charged

and discharged. They are easily handled during operations as the control panel controls pressure for each gas spring. The

maximum charging pressure is 150 bar.

www.eoc.de - 3
---
Gas Spring Technology

Info

PED

97/23/EC

1. SYSTEM

As EOC Normalien GAS SPRINGS are produced

and controlled by a system of international

standard. Quality places as PED , ( European

pressurized Module A1 ), ISO (Quality control

system) and CE (Product Certificate).

2. Product Line-up

EOC Normalien gas springs provide a wide

range to choose from 4 kinds of standards (TSP,

TSM, TSS and TSL series), and more than 1,700

models are available.

3. Product Assessment

EOC Normalien Gas springs are exported to

more than 30 countries and plans to expand

our market abroad with a solid quality, fast

delivery and good service.

4. Warranty

All EOC Normalien gas springs come with a

two-year warranty form date of loading from

the warehouse or 0.3 ~ 1 million strokes,

depending on model.

4 - www.eoc.de

Certificate Status

DUST RING

STOP RING

CARTRIDGE

ROD SEAL

O' RING

STOP RING

CARTRIDGE

O' RING

GUIDE BUSH

ROD SEAL

WEAR RING

PISTON

PLUG

O' RING

VALVE

O' RING

PISTON ROD

VALVE

TSM, TSS, TSL

TSP

PISTON ROD

PLUG

DUST SEAL

DUST RING

CYLINDER

DUST SEAL

CYLINDER

GUIDE BUSH

22/03/2011
---
22/03/2011

Application Examples

www.eoc.de - 5
---
TSP Series

www.eoc.de

NITROGEN

22/03/2011
---
22/03/2011

XG0170 MOUNT XC0170 MOUNT

20.5

25

7

XP0170 MOUNT

25

10

32

Ø45

32

Ø45

2 × Ø7

2 × Ø7

7

TSP0170 Mounts

21.5

SHINWEON S&T CO.,LTD.

9

TSP0170 Mounts

30

25 12

Ø45

4 × Ø7

www.eoc.de - 9
---
TSM Series

www.eoc.de

NITROGEN

22/03/2011
---
TSS Series

www.eoc.de

NITROGEN

22/03/2011
---
TSL Series

www.eoc.de

NITROGEN

22/03/2011
---
Accumulator

※ The formula for pressure ratio of EOC Accumulator

System is seen on page 89.

HOW TO SPECIFY

ACCUMULATOR USE EXAMPLE

80 - www.eoc.de

ACCUMULATOR

PORT ADAPTOR

GF118

STRAIGHT SWIVEL

HF100

HOSE

HO104

ACCUMULATOR + FITTING CONNECTION

8 x G 1/8

HOW TO SPECIFY

TAN

Accumulator Specification

PORT ADAPTOR

GF118

2 PORT USE

NITROGEN GAS SPRING

PRESSURE DISTRIBUTION TANK

By connection with fitting system, EOC ACCUMULATOR

keeps constant pressure level by minimize the difference

between initial pressure and final pressure.

DESCRIPTION VOLUME

㎤

TAN050-25

TAN050-50

TAN050-75

TAN080-25

TAN080-50

TAN080-75

TAN125-25

TAN125-50

TAN125-75

TAN210-25

TAN210-50

HOSE

HO104

STRAIGHT SWIVEL

HF100

4 PORT USE

22/03/2011
---
Charging Accessories

KARRYKRIMP ASSEMBLING TOOL

HK8201 MARK10

Standard) HK8201 Standard) MARK10

ㆍHO104 Hose & Swivel hose adaptor presses

ㆍKARRYKRIMP can combine HO104 Hose &

Swivel hose adaptor Hose.

GAS BOOSTERS HOSE ASSEMBLY

S86JN GCH100(Length:3m)

Standard) S86JN Standard) GCH100

ㆍGas booster increases gas pressure

ratio to user's setting during charging gas of

fitting

Pressure ratio (30:1)

HOSE SCISSORS PRESSURE TESTER

HS10 PT118 (G1/8 type)

PT716 (7/16 type)

Standard) HS10 Standard) PT118

CHARGING COUPLING CHARGING PLUG

VC55 VC1118 (G 1/8)

VC11716 (7/16)

Standard) VC55 Standard) VC1118

84 - www.eoc.de

ㆍHO055 Hose & Straight Swivel presses

ㆍAssembling tool can combine HO055 Hose

and Straight Swivel.

ㆍIt is easy to carry, so suitable for moving

around work place.

ㆍCharging Hose System

ㆍHose Cutter ㆍCross Pressure Tester

ㆍPortable pressure tester is used for controlling

and charging pressure of self contained type.

ㆍPlease select correct model which fits to product.

ㆍCharging Female Coupling

ㆍIt combined with charging plug to charge gas.

ㆍCharging Male Plug

ㆍIt combined with charging coupling to charge gas.

22/03/2011
---
22/03/2011

COMPACT LOAD CELL DIGITAL LOAD CELL

CLC

DLE10

Standard

Standard) CLC1500 Standard) DLE10

ㆍGas pressure gauge

ㆍIt measures accurate pressure by placing

on product.

ㆍPlease select correct model which fits to product

ㆍUnit

- bar (0~350)

- Mpa (0~35)

VALVE TIGHTEN TOOL VALVE CONTROL TOOL

VTT26R

VCT06(M6 type)

VCT18(G 1/8 type)

Standard) VTT26R Standard) VCT06

ㆍTorque Driver

ㆍUsed for assembly or disassembly

of valve.

ㆍAvoiding break a valve by Over Torque.

STOPRING REMOVAL TOOL T-REMOVAL TOOL

SRT42 (0350~4200)

TRT06(M6 type)

SRT50 (5000~10000)

TRT08 (M8 type)

Standard) SRT42 Standard) TRT06

ㆍUsed to remove gas during disassembly

gas spring.

ㆍStopring can be removed by stopring

removal tool after using valve control tool.

ㆍPlease select correct model which fits product.

PRESSURE GAUGE VALVE

GAU350

CV100

Standard) GAU350 Standard) CV100

ㆍCompact Pressure Gauge

ㆍUnit

- bar (0~350)

- Mpa (0~35)

Repair Tools

ㆍDigital load checking gauge

ㆍIt measures load by placing gas spring

on the gauge.

ㆍLoad Range

- 0 ~ 10t (0 ~1 00kN)

ㆍGas Control Tool

ㆍUsed for exhausting gas during disassembly

gas spring.

ㆍPlease select correct model which fits product.

ㆍGas Spring Disassembly Tool

ㆍSequence

① Remove the gas to valve control tools

② Remove the ring by using the Stopring Removal Tool.

③ Isolates the Rod Ass'y from the cylinder using the

T-Removal Tool.

ㆍPlease select correct model which fits product.

ㆍCheck Valve

ㆍWhen you change fitting system type gas spring

to self-contained type, you can assemble or

disassemble with valve tighten tool.

www.eoc.de - 85
---
22/03/2011

Model

TSP0170

TSP0320

TSP0350

TSP0500

TSP0750

TSP1000

TSP1500

TSP2400

TSP4200

TSP6600

TSP9500

Model

TSS0750

TSS1500

TSS3000

TSS5000

TSP Series TSM Series

XTRA HIGH POWER COMPACT TYPE

Info

Ex.MODEL TSP1000 X 050 Ex.MODEL TSM0750 X 050

Stroke

(mm)

Rod

Φ(mm)

Cylinder

Φ(mm)

Initial

Force (N)

Stroke

(mm)

Rod

Φ(mm)

TSS Series TSL Series

TSS STANDARD ISO STANDARD

Ex.MODEL TSS0750 X 050 Ex.MODEL TSL0750 X 050

Stroke

(mm)

Rod

Φ(mm)

Cylinder

Φ(mm)

Initial

Force (N)

Model

TSM0150

TSM0300

TSM0500

TSM0750

TSM1500

TSM3000

TSM5000

Model

TSL0500

TSL0750

TSL1500

TSL3000

TSL50000

TSL75000

TSL10000

Stroke

(mm)

Rod

Φ(mm)

Cylinder

Φ(mm)

Cylinder

Φ(mm)

Initial

Force (N)

Initial

Force (N)

www.eoc.de - 89
---
90 - www.eoc.de
---
1. CONCLUSION OF CONTRACT - APPLICATION

The contract is validly entered into and the order is accepted after written

confirmation by seller. These sales conditions apply to the exclusion of any

other terms or conditions, unless expressly accepted in writing beforehand

by the vendor.

Seller has 30 (thirty) days since the reception of the order to accept or to

refuse it. During this period, buyer shall not withdraw his order.

Absence of any written confirmation of the order shall only be interpreted

as being an implicit acceptance in case of performance of the order by seller.

2. PAYMENT

Unless otherwise agreed in writing, invoices are payable in the stated

currency within 30 (thirty) days after invoice date to the-bank designated

by seller. Transfer charges are for account of buyer.

If buyer does not pay within this term, seller shall automatically have ipso

jure and without any prior formal notice, the right to charge legal interest

plus 2 % from due date of the invoice. Moreover, in case of late payment,

a fixed indemnity corresponding to 10 % of the payable amount shall

automatically be due from the first day following the due date, without

prejudice to seller's right to prove higher damage and ask for corresponding

indemnity. Should payment be in foreign currency, seller has the right to

adapt the foreign currency in case of depreciation-of this foreign currency

in regard of the euro.

Should payment of the delivered goods be in instalments, the non-payment

of one of the instalments gives seller the right to terminate the contract. The

payments, which were done until then, shall remain property of seller as

indemnity, without prejudice to the right to claim further damages or to the

right to require the performance of the contract.

Payment of advance shall not give buyer the right to terminate the contract

upon reimbursement of the paid advance, If payment is done by bill of

exchange or check, payment is deemed satisfied only when the bill of

exchange or the check is honoured.

Place of payment is always Mechelen even if payment is done with bill of

exchange.

3. RETENTION OF TITLE

Delivered goods remain property of seller until full payment has been

received by seller. The sale of an unpaid item by buyer to a third party

results in automatic assignment of the debt due by the third party to buyer,

inclusively the retention of title, to seller. Seller has then the authority to

take any necessary means in order to validly assign towards the third party.

Seller may retake unpaid goods at any time and he may inform any client

and/or any subcontractor of buyer about the fact that seller is and remains

the only owner of the concerned goods until full payment.

The purchaser undertakes to carefully keep the goods that have not been

paid for, and undertakes not to pledge them or use them in any other way

as a guarantee or security. The purchaser shall inform third parties who may

apply any security rights over his assets (such as, but not limited to, the

lessor of the premises occupied by the purchaser) that the products are and

shall remain the property of the vendor until full payment of all sums owed

by the purchaser to the vendor, and in the event of an attachment

or other measures taken by third parties that apply to products for which full

payment has not yet been made the purchaser undertakes to immediately

inform the vendor of this to enable him to apply his rights.

4. RISKS

Notwithstanding the preceding provisions, the risk transfers to buyer as

soon as he has the goods at his disposal.

5. DISPATCHING OF INSIGNIFICANT VALUE

Each dispatch of less than € 50 will be increased with costs of payments andmay,

at sellers option, be sent cash on delivery (COD).

6. PRICE OFFERS AND PRICE LISTS

Price offers and price lists are without obligation and are subject to change

without any previous notice.

Any information released by seller is delivered in good faith and seller shall

not be responsible for the choice of material and goods.

7. PRICE AND DISPATCHING

All prices are ex works. Transportation, duties and taxes for account of buyer,

unless seller's previous and express written specification to the contrary.

Seller shall send goods by the fastest and most economic way at the risks

of buyer. Goods may be insured by seller at buyer's option, the insurance

premiums are for buyer. Seller is not responsible for the choice of packing.

GENERAL CONDITIONS OF SALE DME EUROPE

8. DELIVERY

Date of delivery is the date when the goods are ready for inspection at the

indicated place. Place of origin is Mechelen, Belgium, or any other place

indicated by seller. Seller is not responsible for any late delivery, except

those delays due to his own fault or gross negligence.

9. RETURNING OF GOODS

No goods can be returned without seller's previous, express and written

consent. If buyer commits an error in ordering, the retaking of goods is

possible only for inventory standard items. Goods must be returned within 15

(fifteen) days after invoice date and all goods must be in original conditions,'

all costs of transport are for buyer, as well as insurance and repacking costs.

Special-order goods, marked or used items are non-returnable.

10. DEFECTS

Seller warrants defects in material and/or workmanship. Warranty is limited

to the replacement or repair, at seller's option, of any merchandise found

defective during 1 month. This warranty does not include defects due to

buyer's fault or to abnormal use, bad maintenance, imperfect installation,

buyer's inadequate repair, unforeseeable circumstances or in case changes

were brought to material without previous and express written approval of

seller.

Notice of conspicuous defects must be given to seller by registered letter

sent within 10 (ten) working days following date of delivery.

Notice of hidden defects must be given to seller by registered letter with

in 10 (ten) working days after date of discovery, and in any case, within a

10-month term following date of delivery.

Seller is not responsible for any damage and in particular salary and material

costs, losses, loss of profit or loss of a chance incurred by buyer, unless it is

demonstrated that defect is due to seller's gross or intentional fault. If seller

is responsible for defect, seller has the right either to terminate the contract

and to pay back all the invoiced prices or to replace the delivered product

within a reasonable term. If goods for repair must be transported, costs and

risks of this transport are for buyer.

In case seller is responsible for any damage, this will be limited to the

foreseeable damage with a maximum amount corresponding to the

amount of the product's invoiced price.

Should a third party lodge a claim against seller to obtain payment of an

indemnity for a damage for which seller is not responsible in accordance

with the present conditions or for a higher amount than the one seller is

responsible for, buyer will warrant seller against those claims.

11. DESCRIPTION

Only product descriptions used in seller's latest literature and

correspondence with buyer, are binding for description of goods.

Buyer is responsible for using items in conformity with all regulations,

including but not limited to, the safety regulations in force at the place of

use.

12. SPECIFIC ORDERS

For the performance of a special work, the project signed by buyer is

binding to the extent it has been accepted by seller.

For the performance of such work, special conditions may be required.

In case of any inconsistency between general conditions and special

conditions, the special conditions shall apply. Should special conditions be

unclear, they shall be interpreted in light of the general conditions.

13. ACT OF GOD

Seller shall not pay any damage for non-performance or late performance

of his undertakings due to Act of God. Act of God includes in particular and

without being limited thereto, strike, lock-out, and the non-performance by

seller's suppliers of their undertakings.

14. VALIDITY AND INDIVIDUAL CLAUSES

If one or more provisions of these present general conditions are held to be

invalid, the remaining provisions will continue to be valid and enforceable,

and parties will agree upon other provisions having an economic effect that

corresponds closest to the economic effect of the invalid provision(s).

15. WAIVER

In case seller does not exercise one of his rights in accordance with the

present conditions, this shall not be interpreted as a waiver of these rights.

16. APPLICABLE LAW – COMPETENT COURTS

This sales contract will be governed by Belgian law. The competent court

is the Commercial Court of Mechelen, without prejudice to seller's right to

introduce the case before another competent court.
---
©2010 DME Europe Industriepark Noord G1, B-2800 Mechelen , Belgium - Trade Register Mechelen, VAT BE 0456.932.455.

All rights reserved. No part of this publication may be reproduced without the prior permission in writing of DME Europe.

Content subject to change without prior notice. Terms and conditions of sale see www.dmeeu.com

Your contact:

DME Europe

Industriepark Noord G1

2800 Mechelen - Belgium

Tel.: +32 15 21 50 11

Fax: +32 15 40 51 11

dme_europe@dmeeu.com

BE

Tel. : +32 15 21 50 21

Fax : +32 15 40 51 21

dme_benelux@dmeeu.com

CZ

Tel.: 800 142 451 - 571 616 320

Fax: 800 142 450 - 571 611 996

dme_cz@dmeeu.com

DE

Tel. : +49 (0)2351 437 0

0800 664 82 50 - Toll free

Fax : +49 (0)2351 437 220

0800 664 82 51 - Toll free

dme_normalien@dmeeu.com

ES

Tel.: 900 900 342 - Toll free

Fax: 900 900 343 - Toll free

expulsores_girona@dmeeu.com

Export

Tel. : +32 15 21 50 17

Fax : +32 15 40 51 17

dme_export@dmeeu.com

FR

Tel.: +33 1 49 93 92 23

Fax: +33 1 49 93 92 22

dme_france@dmeeu.com

NL

Tel. : +31 (0)2065 45 571

Fax : +31 (0)2065 45 572

dme_benelux@dmeeu.com

PL

Tel. : +800 331 1312

Fax : +800 331 1313

dme_polska@dmeeu.com

PT

Tel.: 800 207 900 - Toll free

Fax: 800 207 901 - Toll free

expulsores_girona@dmeeu.com

RO

Tel. : 0800 833 370 - Toll free

Fax : 0800 833 371 - Toll free

dme_export@dmeeu.com

SK

Tel.: 0800 142 451 -

+420 571 616 320

Fax: 0800 142 450 -

+420 571 611 996

dme_cz@dmeeu.com

UK

Tel.: +44 2071 3300 37

Fax: +44 2071 3300 36

dme_uk@dmeeu.com