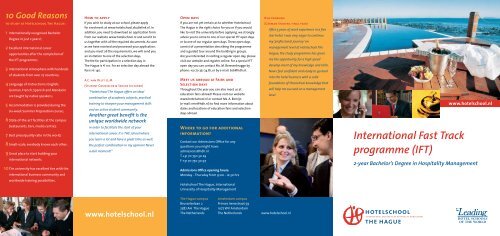 International Fast Track programme (IFT) - Hotelschool The Hague
International Fast Track programme (IFT) - Hotelschool The Hague
International Fast Track programme (IFT) - Hotelschool The Hague
SHOW MORE
SHOW LESS
Create successful ePaper yourself
Turn your PDF publications into a flip-book with our unique Google optimized e-Paper software.
10 Good Reasons

to study at Hotelschool The Hague:

1 Internationally recognised Bachelor

Degree in just 2 years!;

2 Excellent international career

opportunities after the completion of

the IFT programme;

3 International atmosphere with hundreds

of students from over 27 countries;

4 Language of instruction is English;

German, French, Spanish and Mandarin

are taught by native speakers;

5 Accommodation is provided during the

six-week Summer Preparation course;

6 State-of-the-art facilities at the campus

(restaurants, bars, media centre);

7 Best price/quality ratio in the world;

8 Small-scale, everbody knows each other;

9 Great place to start building your

international network;

10 The university has excellent ties with the

international business community and

worldwide training possibilities.

How to apply

If you wish to study at our school, please apply

for enrolment at www.hotelschool.studielink.nl. In

addition, you need to download an application form

from our website www.hotelschool.nl and send it to

us together with all the required documents. As soon

as we have received and processed your application,

and you meet all the requirements, we will send you

an invitation to one of the selection days.

The fee for participation in a selection day in

The Hague is € 110. For an selection day abroad the

fee is € 140.

A.C. van Delft LL.M

(Student Counselor & Senior Lecturer)

"Hotelschool The Hague offers an ideal

combination of academic subjects, practical

training to sharpen your management skills

and an active student community.

Another great benefit is the

unique worldwide network

in order to facilitate the start of your

international career. It is THE school where

you learn a lot and have a great time as well,

the perfect combination in my opinion! Never

a dull moment!"

www.hotelschool.nl

Open days

If you are not yet certain as to whether Hotelschool

The Hague is the right choice for you or if you would

like to visit the university before applying, we strongly

advise you to come to one of our special IFT open days

or to one of our regular open days. These open days

consist of a presentation describing the programme

and a guided tour around the building in groups.

Are you interested in visiting a regular open day, please

visit our website and register online. For a special IFT

open day you can contact Ms. M. Berssenbrugge by

phone: +31 70 351 24 81, or by e-mail: bsb@hdh.nl.

Meet us abroad at Fairs and

Selection days

Throughout the year you can also meet us at

education fairs abroad! Please visit our website

www.hotelschool.nl or contact Ms. A. Romijn

(e-mail: rmn@hdh.nl) to find more information about

dates and locations of education fairs and selection

days abroad.

Where to go for additional

information?

Contact our Admissions Office for any

questions you might have:

admissions@hdh.nl

T +31 70 750 30 29

F +31 70 750 30 97

Admissions Office opening hours:

Monday - Thursday from 9:00 - 12:30 hrs

Hotelschool The Hague, International

University of Hospitality Management

The Hague campus

Brusselselaan 2

2587 AH The Hague

The Netherlands

Amsterdam campus

Prinses Irenestraat 59

1077 WV Amsterdam

The Netherlands www.hotelschool.nl

Rike Erdbrink

(German Student, final year)

After 3 years of work experience in a five

star hotel, I was very eager to continue

my 'professional journey' on

management level at Hotelschool The

Hague; the study programme has given

me the opportunity for a high speed

develop-ment of my knowledge and skills.

Now I feel confident and ready to go back

into the hotel business with a solid

foundation of theoretical knowledge that

will help me succeed on a management

level.

International Fast Track

programme (IFT)

www.hotelschool.nl

2-year Bachelor's Degree in Hospitality Management
---
Take the fast lane!

Join our International

Fast Track programme

Who are we?

Hotelschool The Hague, International University of Hospitality Management, founded in 1929, is the

second oldest and largest international hotel management university in the world. The accreditation

organisation of the Netherlands and Flanders (NVAO) has accredited our two-year Bachelor Degree

programme, which is internationally renowned for its innovative concept of 'entrepreneurial learning'.

Hotelschool The Hague is a member of the Leading Hotel Schools of the World (LHSW); an association of

top hotel schools in the world.

>

Hotelschool The Hague is a centre

of excellence in hotel management

education; we are among the top 3

international hotel schools in the world.

Many of our former students belong to

the world's top-level hotel managers. We

are a small-scale, business-oriented and

international university with two campuses

and a total of approximately 200 employees

and 1900 students. Over 20% of our staff

members and 50% of our students have an

international background.

The curriculum, which consists of three

different phases, combines theory with

practical training which is made possible

through the Hotelschool's excellent ties

with the business community and its

global network of more than 250 renowned

practical training companies.

International Fast Track

programme (IFT)

Our special International Fast Track

programme is offered at our campus in

Caterer and Hotelkeeper

(UK's leading hospitality magazine, August 2006)

"Hotelschool The Hague is one of the big three international centers

of hotel education. It is recognized around the world as

beacon of excellence and has turned out many of the world's

top-level hotel managers".

The Hague. In the near future it will also

be offered at our Amsterdam campus. The

International Fast Track (IFT) programme

allows students with a previous qualification

in hospitality studies to follow a short twoyear

version of the Bachelor's programme,

enabling them to build on and enhance their

management skills.

Currently our IFT programme is taught in The

Hague, the political capital of the Netherlands

and the city where the Queen of The

Netherlands has her residence. The university

is located in the residential area of The

Hague, at a stone's throw from the fishing

port of Scheveningen, stretches of beaches

and dunes, lively nightlife and a multitude of

museums and galleries. Fast Track students

stay in the Skotel, the Training & Study Hotel

of the Hotelschool, during the six-week

Summer Preparation course.

Programme structure

The International Fast Track programme

starts with an adaptation phase comprising a

six-week Summer Preparation course starting

mid July. Year 1 and 2 are a compilation of

the regular programme. The final six months

are spent on a management placement. Our

system of entrepreneurial learning gives the

student responsibility for his own learning

process and involves individual study, group

work, case studies and assignments, and the

unique programme for the development of

practical management skills.

What are your career options

after graduation?

The two-year International Fast

Track programme (IFT) results in the

internationally recognised 'Bachelor

Degree Business Administration in Hotel

Management' (BBA.HM). Students who have

finished the programme, can look forward

to a successful career with excellent and

diverse opportunities. Our students find

employment shortly after graduating, many

even just before they have graduated! You

will find our graduates in leading positions

in the hospitality management business, but

also in related industries such as catering,

events, retail, consultancy, banking and

industry suppliers.

Hotelschool The Hague also offers a one-year

international Master's Degree programme.

This programme, in conjunction with the

Erasmus University of Rotterdam, offers

the best of both worlds: state-of-the-art

knowledge of the Business Administration

Faculty of Erasmus University and

Hotelschool The Hague's specialised

knowledge of the hospitality industry.

Admission requirements

Hotelschool The Hague accepts applications

for the IFT programme throughout the

entire year. In order to select the best and

most motivated students, there is a selection

procedure. We strongly advise you to apply

before March.

Costs (EU/EEA citizens)*

The costs of the IFT programme are approximately (All costs are subject to change):

Summer Preparation course: € 2.495 (including accommodation)

Year 1: € 2.750 (excluding accommodation)

Year 2: € 2.750 (excluding accommodation)

Total costs: € 7.995 (excluding books)

* Non-EU/EEA citizens please contact Admissions Office for cost overview

Dutch applicants

Dutch applicants must have successfully

completed a Hotelschool at secondary level:

the 'Horeca Ondernemer/Manager' degree

with the following requirements:

1. A final grade of 7 or higher for Business

Plan /Basic Management/Operational

Management.

2. A sufficient English test result of one of the

following tests:

• TOEFL test (minimum score 80 internet

based and 550 paper based)

• IELTS test (minimum score 6.5)

• Cambridge Certificate of Proficiency

(any pass grade)

• Cambridge Certificate of Advanced

English (grade A, B or C)

• Cambridge First Certificate (grade A)

Foreign applicants

Foreign applicants need to have a secondary

school diploma, allowing them to go to

university (or German 'Fachhochschule') in

their own country, plus a diploma of a course

in hospitality of at least two years full-time.

In addition applicants must show proficiency

in English. Those who have followed at least

two years full-time education with English as

the language of instruction in the preceeding

three calendar years, are deemed to have

fulfilled this requirement. Those applicants

to whom this does not apply, must submit

sufficient scores of one of the following tests:

• TOEFL test (minimum score 80 internet

based and 550 paper based)

• IELTS test (minum score 6,5)

• Cambridge Certificate of Proficiency (any

pass grade)

• Cambridge Certificate of Advanced English

(grade A, B or C)

• Cambridge First Certificate (grade A)

Selection day (assessment)

A selection day entails an assessment,

consisting of the following parts:

• interview with a lecturer

• interview with a representative of the

industry

• interview with a student

• group assignment

International Fast Track (IFT) - Programme structure

Hospitality performance

'Doing the existing well'

6 weeks year 1 year 2

Accommodation in Skotel Own accommodation Own accommodation

• Languages

• Craft Skills Internship (0,5 year)

6 weeks

0,5 year

Tactical hospitality management

'Improving the existing'

International Hospitality

International Business

International Management

• Languages

• Optionals

2 years (including the Management internship)

Strategic hospitality management

'Searching for new combinations'

• Optionals

• Management internship (0,5 year)