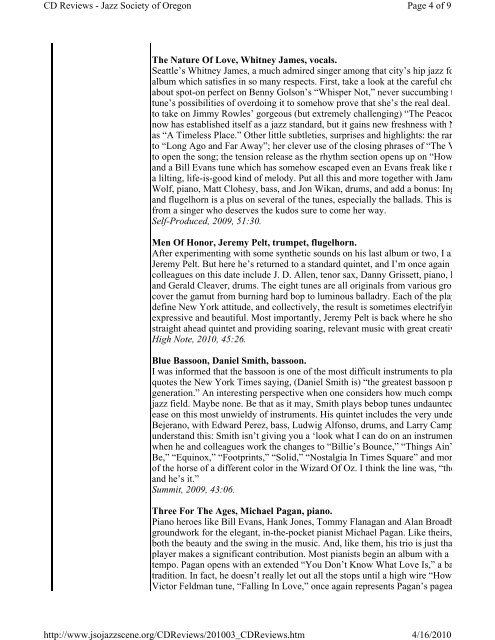 CD Reviews - March 2010 by George Fendel, and ... - Whitney James
CD Reviews - March 2010 by George Fendel, and ... - Whitney James
CD Reviews - March 2010 by George Fendel, and ... - Whitney James
SHOW MORE
SHOW LESS
You also want an ePaper? Increase the reach of your titles
YUMPU automatically turns print PDFs into web optimized ePapers that Google loves.
CD Reviews - Jazz Society of Oregon

Page 4 of 9

The Nature Of Love, Whitney James, vocals.

Seattle's Whitney James, a much admired singer among that city's hip jazz fo

album which satisfies in so many respects. First, take a look at the careful cho

about spot-on perfect on Benny Golson's "Whisper Not," never succumbing t

tune's possibilities of overdoing it to somehow prove that she's the real deal.

to take on Jimmy Rowles' gorgeous (but extremely challenging) "The Peacoc

now has established itself as a jazz standard, but it gains new freshness with N

as "A Timeless Place." Other little subtleties, surprises and highlights: the rar

to "Long Ago and Far Away"; her clever use of the closing phrases of "The V

to open the song; the tension release as the rhythm section opens up on "How

and a Bill Evans tune which has somehow escaped even an Evans freak like m

a lilting, life-is-good kind of melody. Put all this and more together with Jame

Wolf, piano, Matt Clohesy, bass, and Jon Wikan, drums, and add a bonus: Ing

and flugelhorn is a plus on several of the tunes, especially the ballads. This is

from a singer who deserves the kudos sure to come her way.

Self-Produced, 2009, 51:30.

Men Of Honor, Jeremy Pelt, trumpet, flugelhorn.

After experimenting with some synthetic sounds on his last album or two, I al

Jeremy Pelt. But here he's returned to a standard quintet, and I'm once again

colleagues on this date include J. D. Allen, tenor sax, Danny Grissett, piano, D

and Gerald Cleaver, drums. The eight tunes are all originals from various gro

cover the gamut from burning hard bop to luminous balladry. Each of the play

define New York attitude, and collectively, the result is sometimes electrifyin

expressive and beautiful. Most importantly, Jeremy Pelt is back where he sho

straight ahead quintet and providing soaring, relevant music with great creativ

High Note, 2010, 45:26.

Blue Bassoon, Daniel Smith, bassoon.

I was informed that the bassoon is one of the most difficult instruments to pla

quotes the New York Times saying, (Daniel Smith is) "the greatest bassoon p

generation." An interesting perspective when one considers how much compe

jazz field. Maybe none. Be that as it may, Smith plays bebop tunes undaunted

ease on this most unwieldy of instruments. His quintet includes the very unde

Bejerano, with Edward Perez, bass, Ludwig Alfonso, drums, and Larry Camp

understand this: Smith isn't giving you a 'look what I can do on an instrumen

when he and colleagues work the changes to "Billie's Bounce," "Things Ain'

Be," "Equinox," "Footprints," "Solid," "Nostalgia In Times Square" and mor

of the horse of a different color in the Wizard Of Oz. I think the line was, "the

and he's it."

Summit, 2009, 43:06.

Three For The Ages, Michael Pagan, piano.

Piano heroes like Bill Evans, Hank Jones, Tommy Flanagan and Alan Broadb

groundwork for the elegant, in-the-pocket pianist Michael Pagan. Like theirs,

both the beauty and the swing in the music. And, like them, his trio is just tha

player makes a significant contribution. Most pianists begin an album with a

tempo. Pagan opens with an extended "You Don't Know What Love Is," a ba

tradition. In fact, he doesn't really let out all the stops until a high wire "How

Victor Feldman tune, "Falling In Love," once again represents Pagan's pagea

http://www.jsojazzscene.org/CDReviews/201003_CDReviews.htm

4/16/2010