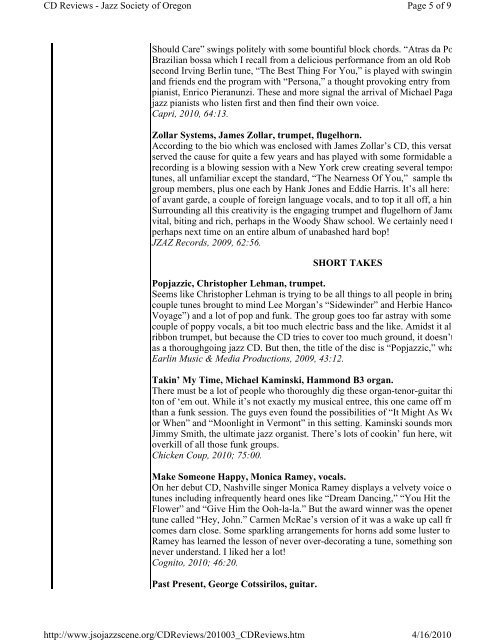 CD Reviews - March 2010 by George Fendel, and ... - Whitney James
CD Reviews - March 2010 by George Fendel, and ... - Whitney James
CD Reviews - March 2010 by George Fendel, and ... - Whitney James
SHOW MORE
SHOW LESS
Create successful ePaper yourself
Turn your PDF publications into a flip-book with our unique Google optimized e-Paper software.
CD Reviews - Jazz Society of Oregon

Should Care" swings politely with some bountiful block chords. "Atras da Po

Brazilian bossa which I recall from a delicious performance from an old Rob

second Irving Berlin tune, "The Best Thing For You," is played with swingin

and friends end the program with "Persona," a thought provoking entry from

pianist, Enrico Pieranunzi. These and more signal the arrival of Michael Paga

jazz pianists who listen first and then find their own voice.

Capri, 2010, 64:13.

Zollar Systems, James Zollar, trumpet, flugelhorn.

According to the bio which was enclosed with James Zollar's CD, this versat

served the cause for quite a few years and has played with some formidable a

recording is a blowing session with a New York crew creating several tempos

tunes, all unfamiliar except the standard, "The Nearness Of You," sample the

group members, plus one each by Hank Jones and Eddie Harris. It's all here:

of avant garde, a couple of foreign language vocals, and to top it all off, a hin

Surrounding all this creativity is the engaging trumpet and flugelhorn of Jame

vital, biting and rich, perhaps in the Woody Shaw school. We certainly need t

perhaps next time on an entire album of unabashed hard bop!

JZAZ Records, 2009, 62:56.

SHORT TAKES

Popjazzic, Christopher Lehman, trumpet.

Seems like Christopher Lehman is trying to be all things to all people in bring

couple tunes brought to mind Lee Morgan's "Sidewinder" and Herbie Hancoc

Voyage") and a lot of pop and funk. The group goes too far astray with some

couple of poppy vocals, a bit too much electric bass and the like. Amidst it al

ribbon trumpet, but because the CD tries to cover too much ground, it doesn't

as a thoroughgoing jazz CD. But then, the title of the disc is "Popjazzic," wha

Earlin Music & Media Productions, 2009, 43:12.

Takin' My Time, Michael Kaminski, Hammond B3 organ.

There must be a lot of people who thoroughly dig these organ-tenor-guitar thi

ton of 'em out. While it's not exactly my musical entree, this one came off m

than a funk session. The guys even found the possibilities of "It Might As We

or When" and "Moonlight in Vermont" in this setting. Kaminski sounds more

Jimmy Smith, the ultimate jazz organist. There's lots of cookin' fun here, wit

overkill of all those funk groups.

Chicken Coup, 2010; 75:00.

Make Someone Happy, Monica Ramey, vocals.

On her debut CD, Nashville singer Monica Ramey displays a velvety voice o

tunes including infrequently heard ones like "Dream Dancing," "You Hit the

Flower" and "Give Him the Ooh-la-la." But the award winner was the opener

tune called "Hey, John." Carmen McRae's version of it was a wake up call fr

comes darn close. Some sparkling arrangements for horns add some luster to

Ramey has learned the lesson of never over-decorating a tune, something som

never understand. I liked her a lot!

Cognito, 2010; 46:20.

Past Present, George Cotssirilos, guitar.

http://www.jsojazzscene.org/CDReviews/201003_CDReviews.htm

Page 5 of 9

4/16/2010