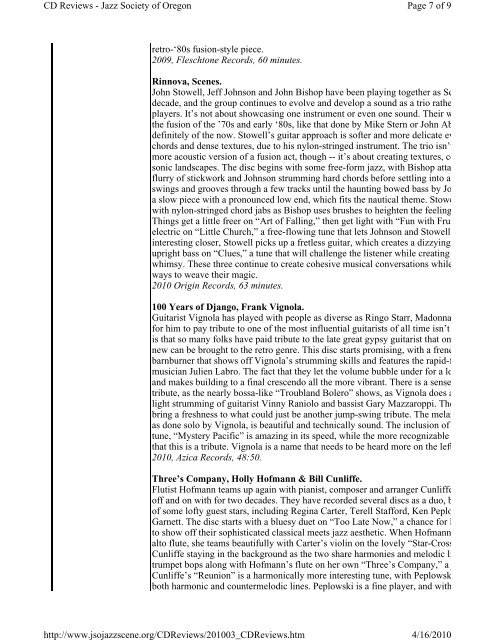 CD Reviews - March 2010 by George Fendel, and ... - Whitney James
CD Reviews - March 2010 by George Fendel, and ... - Whitney James
CD Reviews - March 2010 by George Fendel, and ... - Whitney James
SHOW MORE
SHOW LESS
You also want an ePaper? Increase the reach of your titles
YUMPU automatically turns print PDFs into web optimized ePapers that Google loves.
CD Reviews - Jazz Society of Oregon

retro-'80s fusion-style piece.

2009, Fleschtone Records, 60 minutes.

Page 7 of 9

Rinnova, Scenes.

John Stowell, Jeff Johnson and John Bishop have been playing together as Sc

decade, and the group continues to evolve and develop a sound as a trio rathe

players. It's not about showcasing one instrument or even one sound. Their w

the fusion of the '70s and early '80s, like that done by Mike Stern or John Ab

definitely of the now. Stowell's guitar approach is softer and more delicate ev

chords and dense textures, due to his nylon-stringed instrument. The trio isn't

more acoustic version of a fusion act, though -- it's about creating textures, co

sonic landscapes. The disc begins with some free-form jazz, with Bishop atta

flurry of stickwork and Johnson strumming hard chords before settling into a

swings and grooves through a few tracks until the haunting bowed bass by Jo

a slow piece with a pronounced low end, which fits the nautical theme. Stowe

with nylon-stringed chord jabs as Bishop uses brushes to heighten the feeling

Things get a little freer on "Art of Falling," then get light with "Fun with Frui

electric on "Little Church," a free-flowing tune that lets Johnson and Stowell

interesting closer, Stowell picks up a fretless guitar, which creates a dizzying

upright bass on "Clues," a tune that will challenge the listener while creating

whimsy. These three continue to create cohesive musical conversations while

ways to weave their magic.

2010 Origin Records, 63 minutes.

100 Years of Django, Frank Vignola.

Guitarist Vignola has played with people as diverse as Ringo Starr, Madonna

for him to pay tribute to one of the most influential guitarists of all time isn't

is that so many folks have paid tribute to the late great gypsy guitarist that on

new can be brought to the retro genre. This disc starts promising, with a frene

barnburner that shows off Vignola's strumming skills and features the rapid-f

musician Julien Labro. The fact that they let the volume bubble under for a lo

and makes building to a final crescendo all the more vibrant. There is a sense

tribute, as the nearly bossa-like "Troubland Bolero" shows, as Vignola does a

light strumming of guitarist Vinny Raniolo and bassist Gary Mazzaroppi. The

bring a freshness to what could just be another jump-swing tribute. The melan

as done solo by Vignola, is beautiful and technically sound. The inclusion of

tune, "Mystery Pacific" is amazing in its speed, while the more recognizable

that this is a tribute. Vignola is a name that needs to be heard more on the left

2010, Azica Records, 48:50.

Three's Company, Holly Hofmann & Bill Cunliffe.

Flutist Hofmann teams up again with pianist, composer and arranger Cunliffe

off and on with for two decades. They have recorded several discs as a duo, b

of some lofty guest stars, including Regina Carter, Terell Stafford, Ken Peplo

Garnett. The disc starts with a bluesy duet on "Too Late Now," a chance for H

to show off their sophisticated classical meets jazz aesthetic. When Hofmann

alto flute, she teams beautifully with Carter's violin on the lovely "Star-Cross

Cunliffe staying in the background as the two share harmonies and melodic li

trumpet bops along with Hofmann's flute on her own "Three's Company," a j

Cunliffe's "Reunion" is a harmonically more interesting tune, with Peplowsk

both harmonic and countermelodic lines. Peplowski is a fine player, and with

http://www.jsojazzscene.org/CDReviews/201003_CDReviews.htm

4/16/2010