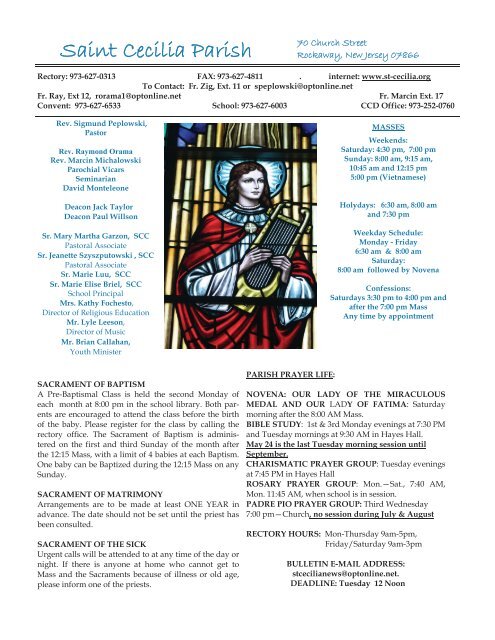 Saint Cecilia Parish - St. Cecilia Roman Catholic Church
Saint Cecilia Parish - St. Cecilia Roman Catholic Church
Saint Cecilia Parish - St. Cecilia Roman Catholic Church
SHOW MORE
SHOW LESS
You also want an ePaper? Increase the reach of your titles
YUMPU automatically turns print PDFs into web optimized ePapers that Google loves.
Saint Cecilia Parish

Rev. Sigmund Peplowski,

Pastor

Rev. Raymond Orama

Rev. Marcin Michalowski

Parochial Vicars

Seminarian

David Monteleone

Deacon Jack Taylor

Deacon Paul Willson

Sr. Mary Martha Garzon, SCC

Pastoral Associate

Sr. Jeanette Szyszputowski , SCC

Pastoral Associate

Sr. Marie Luu, SCC

Sr. Marie Elise Briel, SCC

School Principal

Mrs. Kathy Fochesto,

Director of Religious Education

Mr. Lyle Leeson,

Director of Music

Mr. Brian Callahan,

Youth Minister

70 Church Street

Rockaway, New Jersey 07866

Rectory: 973-627-0313 FAX: 973-627-4811 . internet: www.st-cecilia.org

To Contact: Fr. Zig, Ext. 11 or speplowski@optonline.net

Fr. Ray, Ext 12, rorama1@optonline.net Fr. Marcin Ext. 17

Convent: 973-627-6533 School: 973-627-6003 CCD Office: 973-252-0760

SACRAMENT OF BAPTISM

A Pre-Baptismal Class is held the second Monday of

each month at 8:00 pm in the school library. Both parents

are encouraged to attend the class before the birth

of the baby. Please register for the class by calling the

rectory office. The Sacrament of Baptism is administered

on the first and third Sunday of the month after

the 12:15 Mass, with a limit of 4 babies at each Baptism.

One baby can be Baptized during the 12:15 Mass on any

Sunday.

SACRAMENT OF MATRIMONY

Arrangements are to be made at least ONE YEAR in

advance. The date should not be set until the priest has

been consulted.

SACRAMENT OF THE SICK

Urgent calls will be attended to at any time of the day or

night. If there is anyone at home who cannot get to

Mass and the Sacraments because of illness or old age,

please inform one of the priests.

PARISH PRAYER LIFE:

MASSES

Weekends:

Saturday: 4:30 pm, 7:00 pm

Sunday: 8:00 am, 9:15 am,

10:45 am and 12:15 pm

5:00 pm (Vietnamese)

Holydays: 6:30 am, 8:00 am

and 7:30 pm

Weekday Schedule:

Monday - Friday

6:30 am & 8:00 am

Saturday:

8:00 am followed by Novena

Confessions:

Saturdays 3:30 pm to 4:00 pm and

after the 7:00 pm Mass

Any time by appointment

NOVENA: OUR LADY OF THE MIRACULOUS

MEDAL AND OUR LADY OF FATIMA: Saturday

morning after the 8:00 AM Mass.

BIBLE STUDY: 1st & 3rd Monday evenings at 7:30 PM

and Tuesday mornings at 9:30 AM in Hayes Hall.

May 24 is the last Tuesday morning session until

September.

CHARISMATIC PRAYER GROUP: Tuesday evenings

at 7:45 PM in Hayes Hall

ROSARY PRAYER GROUP: Mon.—Sat., 7:40 AM,

Mon. 11:45 AM, when school is in session.

PADRE PIO PRAYER GROUP: Third Wednesday

7:00 pm—Church, no session during July & August

RECTORY HOURS: Mon-Thursday 9am-5pm,

Friday/Saturday 9am-3pm

BULLETIN E-MAIL ADDRESS:

stcecilianews@optonline.net.

DEADLINE: Tuesday 12 Noon
---
Page 2 July, 10 2011 Fifteenth Sunday in Ordinary Time

MASS INTENTIONS FOR THE WEEK

ST. CECILIA PARISH

MONDAY—July 11, Saint Benedict, abbot

6:30 am The People of the Parish

8:00 am Eugene Sylvester r/b Jeanne O'Carroll

TUESDAY— July 12,

6:30 am Holy Souls in Purgatory

8:00 am Vocations

WEDNESDAY– July 13, Saint Henry

6:30 am The Pope's Intentions

8:00 am The People of the Parish

THURSDAY–July 14

6:30 am Holy Souls in Purgatory

8:00 am Joseph H. Lusardi

r/b sons, Robert & Harry Lusardi

FRIDAY - July 15, Saint Bonaventure, bishop and doctor

of the Church

6:30 am The People of the Parish

8:00 am John & Margaret Holleran

SATURDAY—July 16, Our Lady of Mount Carmel, BVM

8:00 am The People of the Parish

SUNDAY- July 17, Sixteenth Sunday in Ordinary Time

4:30 pm Bud Struble, Wife, Agnes

Margaret Hiolland r/b The Florance Family

7:00 pm James Donofrio

r/b Michael & Judy Kelly & Family

8:00 am Generosa Alvarez r/b Malou Alvarez

James Donofrio r/b Diane Milo

9:15 am Ruth Marotta r/b Norma King

Tony Ginard r/b The Mannion Family

10:45 am Esther Maioran r/b The Maioran Family

Sal Pelaia r/b his Wife, Lois

12:15 pm Frank Gasparovic r/b his Wife & Children

Loss of My Loved Ones r/b Kathleen Jones

YOUR PRAYERS ARE REQUESTED FOR

THE BENEFACTORS OF OUR CHURCH,

OUR PARTNER CHURCH, ST. GEORGE IN

PATERSON, AND FOR THE SICK OF THE

PARISH:

Kristin Belgrave, Paul Moscoso, Eileen Sutherland,

Maryann Hughes, Charles Passarella, Ryan Steidl, Dian

Hamadyk. Elizabeth McGowan, Jeffrey Jerz, John Daly,

Peggy Eileen Miars, Ray Kennedy, Richard Corcoran,

Adam Rosowicz, Lorraine Gerber, Kathy Wagner,

Madison Rose Leslie, Kelly Harty, Norman Rodriquez,

Demetrius Barbee, Lucille Bardi, John Brinkman, Jr.

and Frances Finn.

TITHING UPDATE

Pastor's Thank you.

STEWARDSHIP:

"God stays on the surface until we allow Him to penetrate and

change our lives with His love. We must not forget to thank our

good and loving Father for communicating to us through His life

and His love the desire and ability to do good through the grace

that empowers us. And thanks also to our faithful parishioners

for their generous response to that grace."

Fr. Zig

Sunday Collection, July 3, 2011 $12,616.00

Sunday Collection, June 4, 2010 $13,646.91

THE WORD OF GOD

Here are the readings for next Sunday

Wisdom 12:13, 16-19 Psalm 86:5-6, 9-10, 15-16

Romans 8: 26-27 Matthew 13:14-43 or 13:24-30

ALTAR FLOWER MEMORIAL: The flowers placed by the

Tabernacle can be donated to remember that special birthday or

anniversary or to honor a loved one living or deceased. The

intention will be printed in the bulletin. $25.00 per arrangement.

Interested? Call the rectory at 973-627-0313.

The people of St. Cecilia Parish are asked to pray for the following

people serving our country in the armed services:Pvt

USMC, Diego Usma, Major Glenn E. Martinez, Sgt. Brian

Whalen, General Raymond Odierno, Capt. Anthony Odierno,

Cpl. Kong V. Nguyen, Cpl. Jim Van Valen, LCPL Anthony

Eresman, Sgt. Paul J. Willson, PFC Cano

Janeth, Sgt. Bob Autrey, Col. William Paliwada, Sgt

1st Class (E7) Sam Colon, PFC Marylyn Rivera-

Sachez, Cpl. Edward C. Thompson, PFC Mellissa

Corbo, Major Kevin M. Nash, Lt. Amy Cronin, Major

John L. Medeiros, Jr., Sgt. Daniel Healy, Marine Keith

Leitner, Capt. Martin L. Robbins, Sgt. Spencer Lopez, PFC

Taryn Kemp, Jeffrey Braunhausen, E7 Joseph Grimsey, LTC

Brian Bosworth, Bill Maloney, Greg Bloete, Gian Carlo

Bruzzese, Spc. Christopher Little, PFC Brittany Martindell,

Capt. Adam T. Lusardi, T4 Matthew Fitzgerald, SA Justin C.

White, Matthew & Daniel Rosica, Pvt. Benjamin Kehoe,

Mark Leonard, Sr. Armn. Ashley Valetta, Sgt. John Wisnofsky,

LCpl. T.J. Finn, Sean Killeen 1st Class Airman, Sgt. Kristopher

Faber, Spc. 4 John Pietrowski, Spc. 5 Connor Sauve, 2

Lt. Vincent Presto, Airman First Class William Kussler and

LTJG James Mirance, USN. We ask God the Father of us all,

through the intercession of St. Michael the Archangel, to protect

all the men and women in our Armed Forces, to bless them

in their efforts toward bringing peace and justice to our world.

May they be brought back safely to those they love.

580-St. Cecilia
---
Page 3 July 10, 2011 Fifteenth Sunday in Ordinary Time

Dear Friends,

PARISH EVENTS

Sister Jeanette and I want to thank Father Zig for the beautiful

farewell party that he provided for us, and to also thank

all the wonderful parishioners and school families who came

to say "Good-bye." We received so much love, many gifts

and promises of prayers at that time and the days that followed.

It would be impossible for us to thank each of you

adequately for all we received. I hope you don't mind this

general thank you. Our gratitude is sincere. Our love for all

of you is real. We will never forget your kindness. We will

keep you close in heart and prayer as we spend our remaining

days in Holy Family Convent in Danville, Pennsylvania.

Ever yours in grateful love,

Sister Marie Elise Briel, SCC

and Sister Jeanette Szyszputoski, SCC

NEEDED ! ! !

Teacher for Wednesday afternoon CCD class. We are

missing a first grade teacher on Wednesday afternoon.

If you have a lot of love and a little bit of time we

can use your help. Call Kathy Fochesto at 973-252-

0760. Please come and share God's Blessings with

our young people.

CYO BASKETBALL SIGNUPS

St. Cecilia CYO will have signups for the 2011-2012 season

on August 4 and August 11, 2011 from 7-8pm, and

after each Mass on August 7 and August 14, 2011, in St.

Cecilia Gym. The registration fee is $85. Players who

are new to St. Cecilia CYO will need to provide a copy

of their baptismal certificate. Volunteer coaches are

needed as well. Please contact Mark Kelly with any

questions at 973-586-0849 or markkelly76@yahoo.com

A FAMILY PERSPECTIVE

By Bud Ozar

Can you say "I have testified Jesus is the Son of god? If

you aren't talking about Jesus in your family, you aren't

testifying. If you are not walking your talk, your children

will see your words as meaningless.

PARISH PICNIC—Save the Date! The Parish Picnic

will be held on September 18, starting with the 12:15 pm

Mass being celebrated at Fireman's Field, Beach Street. It

is always good food and fun for everyone. If you are interested

in helping with the picnic, please contact the rectory.

See you There!

PRE-BAPTISMAL CLASS will be held on Monday,

July 11, at 8:00 pm in the school library. Please

call the rectory office at 973-627-0313 to register.

PRE-CANA 2011 Please save the date when St. Cecilia and

Sacred Heart parishes will hold the next Pre-Cana session on

November 5, 2011 from 8:00 am till 5:00 pm. Please get a

registration form from the rectory if you plan to get married

in 2011/2012.

OUR MUSIC PROGRAM: The Adult Choir sings at the

10:45 am Mass on Sunday, the Contemporary Group sings at

the 9:15 am Mass on Sundays. All rehearse on Thursdays.

New members are welcome and should speak to our Music

Director, Lyle Leeson, after Mass.

NEW PARISHIONERS

St. Cecilia Parish welcomes new parishioners to register

at any time. Please call the Rectory at 973-627-0313.

We welcome, through Holy Baptism, the following

new members of our church family:

Claire Elizabeth Linnell

Marie Samantha Linnell

Logan Parker Vichengrad

Ana Martinez O'Dowd

Liliana Svea Jones

Ashleigh Elizabeth Steinbrenner

Madeline Rose Thumser

ALL ORGANIZATIONS

SCHOOL EVENTS, ETC.

CHURCH CALENDAR

July 16, 8:30 am

Hayes Hall

Please join us for a meeting to schedule upcoming

events that need to be on the Parish Calendar.

If you have any questions, please call 973-627-0313..

Soup Kitchen could become extinct!

We are in need of volunteer cooks and for someone to

take over the responsibility of coordinating the cooks

and servers once a month. Please contact Marilou at

973-983-1076 or mhahn510@optonline.net

Thank you.

580-St. Cecilia
---
Page 4 July 10, 2011 Fifteenth Sunday in Ordinary Time

DIOCESAN & COMMUNITY NEWS

4th ANNUAL FOOD & MUSIC

FESTIVAL AT THE UKRAINIAN CENTER

60 North Jefferson Road, Whippany

Sunday, July 10 12:30 - 5:00 pm

Tasty ethnic treats - kielbasi, pierogies,

kapusta, kugel, stuffed cabbage, kolach!

Live music - fun for the whole family

Rain or Shine - all events indoors

973-585-7175

Troubled Marriage?

See www.helpourmarriage.com or

www.Retrouvaille.org to find a Catholic-based program

open to people of all faiths.

The next NJ/NY weekend:

July 22-24

Marriott Hotel,

Route 10 Whippany/Cedar Knolls, NJ.

For registration please call: (732) 457-0959.

Quo Vadis Days, a discernment retreat for young

men ages 15-25, will take place this year from August

24-27, at the Sacred Heart Center in Newton. Please

see Father Zig for details and registration.

Catholic Charities, announces its annual summer cocktail

party and concert hosted by Peggy Cofrancesco at her

"ranch" in Sparta. The cocktail party, catered by The

Brownstone, and the concert featuring the songs of Dorothy

Fields with Father Ed Lambro and friends will be

held on Saturday evening, July 30, 2011 beginning at 6:30

pm. Reservations can be made for $75.00 per person by

calling Ruth Saginario in the Catholic Charities Development

Office at 973-777-8818 x 257.

We are online: www.st-cecilia.org

SILVER AND GOLD WEDDING ANNIVERSARY

MASS

Couples, were you married in 1961 or 1986? You are

warmly invited to celebrate your 25 th or 50 th Wedding

Anniversary with the Church of Paterson. Bishop

Serratelli will be the main celebrant at Mass at Assumption

of the Blessed Virgin Mary Church, Morristown

on

Sunday, October 30, 2011 at 2:30pm.

Arrangements can be made by contacting the parish

office. Application forms are available through

Wednesday, October 5, 2011. A confirmation letter will

be sent from the Diocesan Center once your application

has been processed. Bring family and friends to

attend this joyous event with you.

Be a sign of hope with your

NJ "Choose Life" Plate!

Will you join the Caravan of Life and Love by putting

a "Choose Life" license plate on your car? This

beautiful life-saving plate was finally approved in

New Jersey and is enthusiastically supported by

the bishops of New Jersey and the New Jersey

Catholic Conference! Your annual donation of just

$25 per plate supports all of New Jersey's Pregnancy

Centers and Maternity Homes that help

women "choose life" and consider adoption as a loving

and courageous choice for an unwanted pregnancy.

Please call Damon Owens at 1-888-

NJCHOOSE-LIFE (1-888-652-4667) or go online

to www.NJChoose-Life.org to request an application

for the New Jersey "Choose Life" plate.

Thank you for putting "Children First" (CF) in New

Jersey!

580-St. Cecilia
---
Page 5 July 10, 2011 Fifteenth Sunday in Ordinary Time

EVENTS OF THE WEEK

Sunday, July 10

6:00 pm Bible Camp Begins

Monday, July 11

6:00 pm Bible Camp

8:00 pm Baptismal Catechesis

(School Library)

Tuesday, July 12

6:00 pm Bible Camp

7:30 pm Charismatic Prayer Group

(Hayes Hall)

Wednesday, July 13

6:00 pm Bible Camp

Thursday, July 14

6:00 pm Bible Camp Mass (Church)

7:00 pm Bagpipers (Hayes Hall)

Friday, July 15

Saturday, July 16

8:30 am Parish Calendar Meeting

(Hayes Hall)

Sunday, July 17

ST. CECILIA SENIORS NEWS AND EVENTS

July 12— Mount Airy Lodge $20.00

$35.00 back in slots

August 8—Lafayette Village—Lunch & Entertainment

$42.00 pp Bus, Menu, Open Bar (12-3pm)

September 18-23 (Sunday-Friday) 6 Days/5 Nights

Caribbean Hotel, Wildwood Crest, NJ

Includes: Breakfast, Most Lunches, Dinners, Transportation,

Lodging & Side Trips. Double $485.00,

Single $535.00, Deposit of $50.00 on sign up.

September 6—Meeting

September 27—Meeting

SCHOOL NEWS

MEET N GREET

MRS. ANN MITCHELL

ST. CECILIA SCHOOL'S

NEW PRINCIPAL

JULY 9 & 10

AFTER ALL MASSES

IN HAYES HALL

580-St. Cecilia
---
Page 6 July 10, 2011 Fifteenth Sunday in Ordinary Time

Dear Parishioners,

On this 15 th Sunday in Ordinary Time the Evangelist Matthew shares with us a parable the Lord Jesus told His disciples

regarding the word of God and its reception among people. Those who welcome the word produce a rich harvest

of goodness because of their faith. The Lord uses other examples in speaking of those who reject the word and

those who for whom the word is not a priority. The word of God does not take root in such persons. Rather, faith is

the rich soil which is needed for God's word to grow and bear fruit for eternal life.

We are a people of faith but at times this faith becomes weak and sterile. Our Lord said, "…one who hears the word and

receives it at once with joy. But he has no root and lasts only for a time. When some tribulation or persecution comes because of

the word, he immediately falls away." We need to cultivate the faith we share with prayer and good works. These tools

help us in strengthening our spirituality so that God's all powerful word may bud forth in our everyday life.

As a people of faith we are united to one another through the mystery of Baptism and by our membership in the parish

community. I take this opportunity to remind you that a member of the parish is one who has registered with

Saint Cecilia's and receives the weekly offering envelopes which support our parish. I pray that all those who worship

with us will become registered members of Saint Cecilia Parish. Parish registration makes us strong and enables

us to produce the fruits Christ demands of His followers. I implore you: if you are not registered with the parish, if

you do not receive mailings from the parish and the Sunday offering envelopes, PLEASE REGISTER AS SOON AS

POSSIBLE AND DON'T DELAY. We need you to join us in God's field to produce a rich harvest for the kingdom of

heaven.

Our BIBLE CAMP begins this evening and will meet each evening until the conclusion on Thursday. It's our annual

summer Bible program for the children of St. Cecilia Parish and Sacred Heart of Jesus Parish. It's a wonderful opportunity

for parents to support their children's continued faith formation. I am proud of the parents who guide their

children to participate in this event and others like it which are offered throughout the year. Such parents are tending

the field of these young hearts to receive God's word with joy and expectation. Your reward will be great and a

plentiful harvest awaits you!

Italy is beautiful but I am happy to be home with you!

Father Zig

ST. BONAVENTURE

July 15, Bishop and Doctor of the Church

St. Bonaventure, widely known as "The Seraphic Doctor," was born at Bagnorea in Tuscany, in 1221. He was originally called John but received

the name of Bonaventure in consequence of an exclamation of St. Francis of Assisi, when, in response to the pleading o f the child's mother, the

Saint prayed for John's recovery from a dangerous illness, and, foreseeing the future greatness of the little John, cried out, "O buona ventura"—

O good fortune!

At the age of twenty-two St. Bonaventure entered the Franciscan Order. Having made his vows, he was sent to Paris to complete his studies under

the celebrated doctor Alexander of Hales, an Englishman and a Franciscan. After the latter's death he continued his course under his successor,

John of Rochelle. In Paris he became the intimate friend of the great St. Thomas Aquinas. He received the degree of Doctor, together with St.

Thomas Aquinas, ceding to his friend, against the latter's inclination, the honor of having it first conferred upon him. Like St. Thomas, he enjoyed

the friendship of the holy King, St. Louis

At the age of thirty-five he was chosen General of his Order and restored a perfect calm where peace had been disturbed by internal dissensions.

He did much for his Order and composed the life of St. Francis. He also assisted at the translation of the relics of St. Anthony of Padua. He was

nominated Archbishop of York by Pope clement IV, but he begged not to be forced to accept that dignity. Gregory X obliged him to take upon

himself a greater one, that of Cardinal and Bishop of Albano, one of the six suffragan Sees of Rome. Before his death he abdicated his office of

General of the Franciscan Order. He died while he was assisting at the Second Council of Lyons, on July 15, 1274, and was canonized in 1482 by

Pope Sixtus IV.

PRAYER: Almighty God, today we celebrate the heavenly birt6hday of St. Bonaventure, Your Bishop. Les us benefit by his wonderful teaching and always be

inspired by his burning charity. Amen.

Taken from, Lives of the Saints, Catholic Booking Publishing Company, 1999 New Jersey

580-St. Cecilia