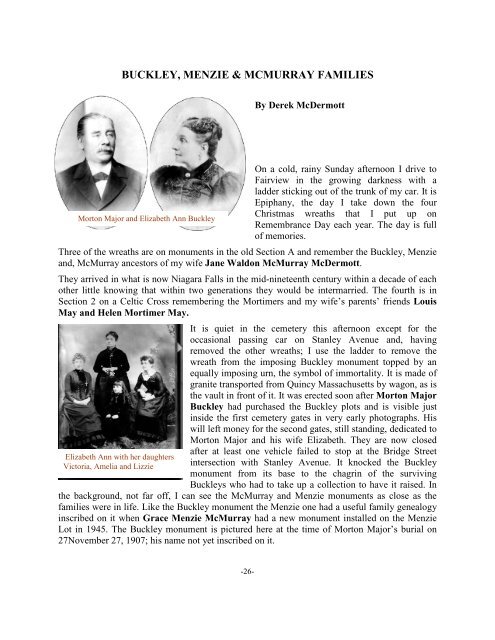 Buckley, Menzie and McMurray Families - Niagara Falls, Ontario ...
Buckley, Menzie and McMurray Families - Niagara Falls, Ontario ...
Buckley, Menzie and McMurray Families - Niagara Falls, Ontario ...
SHOW MORE
SHOW LESS
You also want an ePaper? Increase the reach of your titles
YUMPU automatically turns print PDFs into web optimized ePapers that Google loves.
BUCKLEY, MENZIE & MCMURRAY FAMILIES

Morton Major and Elizabeth Ann Buckley

By Derek McDermott

On a cold, rainy Sunday afternoon I drive to

Fairview in the growing darkness with a

ladder sticking out of the trunk of my car. It is

Epiphany, the day I take down the four

Christmas wreaths that I put up on

Remembrance Day each year. The day is full

of memories.

Three of the wreaths are on monuments in the old Section A and remember the Buckley, Menzie

and, McMurray ancestors of my wife Jane Waldon McMurray McDermott.

They arrived in what is now Niagara Falls in the mid-nineteenth century within a decade of each

other little knowing that within two generations they would be intermarried. The fourth is in

Section 2 on a Celtic Cross remembering the Mortimers and my wife's parents' friends Louis

May and Helen Mortimer May.

Elizabeth Ann with her daughters

Victoria, Amelia and Lizzie

It is quiet in the cemetery this afternoon except for the

occasional passing car on Stanley Avenue and, having

removed the other wreaths; I use the ladder to remove the

wreath from the imposing Buckley monument topped by an

equally imposing urn, the symbol of immortality. It is made of

granite transported from Quincy Massachusetts by wagon, as is

the vault in front of it. It was erected soon after Morton Major

Buckley had purchased the Buckley plots and is visible just

inside the first cemetery gates in very early photographs. His

will left money for the second gates, still standing, dedicated to

Morton Major and his wife Elizabeth. They are now closed

after at least one vehicle failed to stop at the Bridge Street

intersection with Stanley Avenue. It knocked the Buckley

monument from its base to the chagrin of the surviving

Buckleys who had to take up a collection to have it raised. In

the background, not far off, I can see the McMurray and Menzie monuments as close as the

families were in life. Like the Buckley monument the Menzie one had a useful family genealogy

inscribed on it when Grace Menzie McMurray had a new monument installed on the Menzie

Lot in 1945. The Buckley monument is pictured here at the time of Morton Major's burial on

27November 27, 1907; his name not yet inscribed on it.

-26-
---
Morton Major Buckley (1830 – 1907)

sellers into

MM. Buckley burial 27 Nov. 1907

The first Buckley bookstore

Much has been written about Morton Major

and the Buckley family as it was large and

active in business and politics in the

community in the second half of the 19 th

century. His interests in business had to do

with real estate and he laid out what was the

first subdivision in the city in what became

Buckley Avenue. He owned a block on Queen

Street when business gradually moved from

Erie Avenue that is still remembered by some

as the 'Buckley Block'. He encouraged those

sons, not working in the hotel, in a number of

business enterprises, Morton Havelock's

furniture store, Arthur's photography studio,

Charles' pool hall, and Wright's bookstore

carrying on the Buckley tradition of book

sellers into the 20 th century. An early photo of the Buckley Bookstore, taken about 1900, when it

was still located on Bridge Street, shows Wright's son Howard, later Dr. Buckley, between Will

Hamilton's two daughters Audrey and Gladys. Audrey died at 20 in 1913 and Gladys was to

marry Eric Stuart who had been badly wounded in action at Vimy Ridge and carried on the

Hamilton Travel business on Zimmerman Avenue after Will's retirement.

-27-

.
---
Morton Major had contacts with other businesses through his daughters. Lizzie was married to

Will Hamilton, and Amelia married into the Mears family and the coal business.

He was chairman of the cemetery committee in 1883, purchased the

land for it and involved in its interesting design with the surveyor John

Robinson. Morton was Mayor of the Town of Niagara Falls in 1888

when this large oil painting portrait of him that now hangs in the home

of his great granddaughter Jane Waldon McMurray McDermott was

completed.

He served on the School Board; he was a

frequent writer of editorials in local papers

on issues of the day with a strongly British

slant, and saved these in a large scrap book.

Morton erected and inscribed the monument

just months before his own death, in

November 1907, to mark the first burial in

Fairview cemetery of one Thomas

Whittaker on July 20, 1883. Morton gave the land for the Morrison

Street Methodist Church and gave gladly of his time and wealth to the

community that had been so good to him, his wife and his family over

the forty years or so that they had lived there.

The Buckley family came from the village of Radcliffe now swallowed up in the urban sprawl of

Manchester, Lancashire having moved north from London at some point during the Industrial

Revolution into a setting illustrated by Elizabeth Gaskell in her novel North and South.

Flyleaf 1730 MM. Buckley book

When Morton Major's father, Phillip Buckley, died prematurely

in 1849 after his mill burned, he sailed to Philadelphia on his own

to live with his Morton grandparents. He met and married

Elizabeth Ann Wood there in 1852, the year his mother and

seven siblings followed on the 'Wyoming'. There he and his

younger brother Mark Arthur began a bookselling business

carrying on a family tradition going back at least four generations

to Samuel Buckley's printing and bookselling business at Amen

Corner in London in the early decades of the 18 th century made

famous by the publication of Addison and Steele's Spectator. A

Buckley genealogy is recorded in Morton Major's hand in 1891

in the Flyleaf of one of Sam Buckley's publications entitled A

Pastoral Letter of the Bishop of London, Amen Corner, 1730.

-28-

The Whittaker Monument
---
The Woods were natives of Birmingham, married in London, immigrated to New York in 1827

and then moved to Toronto in 1831. Elizabeth Ann was born the next year on Colborne Street

near the present King Edward Hotel.

Philip and Sarah Morton Buckley c. 1845

Elizabeth's father Charles was a well known taxidermist and written up at length in the

Philadelphia Newspapers at the time of his death from work related poisoning. Perhaps

concerned by the growing Political unrest in Upper Canada which led to the 'Upper Canada

Rebellion' of 1837 he took his family to Philadelphia in 1835. Oddly enough and probably

because of political unrest again, the American Civil War and 'The Trent Affair', Elizabeth Ann

returned to Canada with her husband in 1861 with their only surviving child George Eli on what

would have been a four week journey. They purchased a farm in Stamford Township across from

St. John's Church on what is now the North West corner of St. Paul's Avenue and O'Neil Street

and Morton Major opened a general store which catered to the Village of Stamford.

Morton's brother, Mark Arthur Buckley, moved to Windsor, Nova Scotia where he published

the first Newspaper. He then moved to Halifax where he ran a stationery and bookstore for

several years before he decided to move to Santa Cruz, California for health reasons. Morton

Major kept a wonderful diary of his rail trip to visit him there which I have read but was lent to a

family member and on his death was sadly lost. On his return he wrote a number of critiques of

the USA comparing it somewhat unfavorably to 'British' Canada in the local papers. Another

brother Samuel Morton moved to Richmond, Indiana.

In 1865 seeing opportunities in the new Town of Clifton, brought about by the arrival of the

Great Western Railway in 1853, he sold his property to the Rose family and moved there. The

Rose's operated greenhouses there for three generations and then sold the property to the

Morgan's. He built the Albion Hotel strategically between the Great Western's new Clifton

Railway Station and the Michigan Central Station at the corner of Queen Street, calling it 'the

hotel in Clifton most convenient for the traveler'. Soon after he purchased a triangular lot at the

corner of River Road and Cataract Avenue and built a house on it which he named 'Park Villa'.

The photo depicts a hitching post and a step for a coach captured at the edge of the road. He and

his wife are seated on either side of the door with their son Wright and unidentified daughters in

the wings. The child on the step may well be Charles' daughter Ethel Rose who was raised by

her Buckley grandparents when her mother Rose Louise died at her birth. She was later to marry

Charles Vandersluys, follow him to the Great War and die in the great influenza outbreak of

1918. Charles then married Eva Dobbie on his return. Charles Buckley remarried Will

Hamilton's sister, Mary, and the son from that marriage, Jerome Hamilton Buckley, went on

to be one of the great scholars at Harvard and Chairman of the English Department.

-29-
---
Front of Elizabeth's two sided

brooch, with Morton verso

John Mears, of the Mears' Coal Company behind the old Roseberg's store was a grandson of

Morton Major's and after renting out part of Park Villa sold it and the property. It was torn down

and two motels are now located there. He later built the low rise apartment building on Murray

Street and named it 'Park Villa' in memory of the lost Buckley home. Morton Major and

Elizabeth are remembered among other things by two stained glass windows now in St. Andrews

United Church on Morrison Street, Niagara Falls, and by the old Buckley gates dedicated to

them both at Fairview Cemetery.

A front view of the Buckley home Park Villa c.1885 with Mr. and Mrs. Buckley seated on either side of the porch

and their son Wright to the left of his mother. Two unidentified women stand on the left and right. The time period

is defined by the horse hitching post and coach step on the edge of what was to become River Road.
---
The Buckley Family Pre 1887 when William Pitt died, Charles back row left,

Arthur front row left and Wright Howarth front row right. Twins William Pitt

and Philip Morton, George Eli, and Morton Havelock make up the other sons

surrounding their father. Victoria, Amelia and Lizzie the daughters are seated

around their mother Elizabeth Ann.

Will Hamilton home and the Morton Havelock Buckley Home, side by side on Huron Avenue.

Morton Havelock was the owner of the well known furniture store specializing in fine furniture. His

home is now designated a heritage building in the Queen Ann style.

-31-

Wright Buckley and Family, Lillian centre left

The Wright Buckley Home, Welland Avenue

Arthur Buckley with his wife Jenny Townsend

and son Arthur Jr.

The Arthur Buckley Home

Philip Buckley and family Xmas 1901
---
Postscript

Major Morton Buckley's interest in Fairview Cemetery was both public and personal. As an

active citizen and businessman in the rapidly growing Town of Clifton in the 1860's and 70's,

he saw the need for a town cemetery apart from the cemeteries attached to local churches, such

Anglican churches as All Saints, St. Johns, Holy Trinity, and Drummond Hill and Stamford

Presbyterian where most citizens traditionally had been buried. Lundy's Lane was a Methodist

Church cemetery until the Township of Stamford acquired it in 1934. His interest in this project

led to his appointment as Chairman of the Cemetery Committee in 1883 and the creation of

Fairview now 125 years ago.

Behind this public interest however were more personal ones. He wanted a burial place for

members of his large family where he could erect a monument appropriate for what he must have

seen as his status in the community. Erie Avenue in the Town of Clifton, after all had, for a time

been humorously labeled 'Buckleyville' as so many Buckley businesses were located there. So,

when the cemetery opened, he purchased a large lot just inside the old front gates. He had a

monument erected with a vault in front of appropriate size and had the family genealogy

inscribed on it. It looked directly down Bridge Street over open fields towards the growing Town

of Niagara Falls and 'Park Villa' his home on the river.

Ethel Rose and Charles Vandersluys

There was another reason even more personal known only to

a few, his desire to bring back the children Elizabeth and he

had lost and buried elsewhere, including Albert Edward

who died in 1859 far away in Philadelphia, and have them

buried with them in the family plot. John Herman died at

two in 1867 and Eli Philip in infancy in 1872, before

Fairview was opened. Ethel Rose, the grandchild they loved

most having raised her from childhood when her mother died, they could not get back. She died

in the great flu epidemic of 1918 in England waiting faithfully for her husband to come back

from the battlefields of the Great War. The epitaph on William Pitt's grave written in 1887

speaks for all of these: "His sun set when it was yet day."

-32-
---
Part Two – MENZIE & McMURRAY FAMILIES

William John (Will) and Grace McMurray

If the Buckleys were active and prominent in the community, the McMurrays and Menzies were

quiet and self-effacing. The McMurray and Menzie monuments significantly stand close together

and not far from the Buckley Monument in Section A of Fairview, and it was the union of these

two families that linked them to the Buckleys.

William, the first McMurray his descendents know of, arrived in the Town of Elgin earlier than

the Buckleys and somewhere about the same time as the Menzies and the Great Western

Railway. Family lore suggests he came from County Cavan in Ireland and worked as a

conductor. He met and married Eliza in September 1859 in St. Andrew's Presbyterian Church.

Her last name is not recorded on the monument at Fairview as is too often the case with wives,

and the early records of St. Andrew's in its transitional period to a United Church in 1925 fell

into disorder. One family member believes it was King. Other members

of his family settled in Detroit and Kenosha in the United States from the

records of old photo albums.

Eliza King

William and Eliza lived on

Bridge Street not far from

the new Clifton Railway

Station. They had four

children, three of whom

lived into adulthood.

Andrew and Louise Menzie

The son William John was best known in the town

and later city of Niagara Falls. He graduated from

the Belleville Business College and some time

after his return opened a Hardware store with Mr.

Cole. The store was located on Park Street and by chance behind Buckley's Albion Hotel. In the

photo Mr. Cole is on the right and Mr. McMurray behind the stove. Mr. Carter's delivery wagon

stands ready in the shade.
---
About this time he met the youngest child of Andrew and Louisa Menzie, Grace Greenwood

Menzie who had just graduated from the Wesleyan Ladies' College in Hamilton. The occasion in

the studio photo below is uncertain but a young Grace

Greenwood Menzie is seated in front on the left and

William John McMurray beside her.

The Menzie's came from Wampsville in the Oneida,

New York area to Stamford Township in 1850

purchasing a large tract of land and building a house

fronting on what is now Menzie Street

It is not clear why Andrew left New York State. Perhaps the death of his first wife Juliett Warren

in 1844 had something to do with it. He had remarried

Louise Ratnour and they arrived with three children, Myron,

the son of his first wife, Eugene and Rosco. They had six

other children over the years, the youngest Grace and

touchingly he named his first daughter Juliett (Etta) after his

first wife. Myron returned to New York State to enlist on

the Federal side at the outbreak of the Civil War in 1860

and survived to be buried in Fairview at the young age of

forty four in 1886, perhaps from the toll of the war.

Five of the nine children married but only Grace and Etta are recorded as having children. Etta

married Dr.Emmett Pyle but their only child Jennie Louise, died at thirteen in 1890.

Records on the Menzies are scarce. The burial book at Fairview under 'Occupation' defines

Andrew as 'Gentleman' which suggests he was a man of means and may have been a speculator

of real estate in his purchase of land in Stamford. He seems to have earned money by selling off

lots as The Town of Clifton and then the Town of Niagara Falls expanded to the west along

Bridge Street until the original large property shrunk to its present size. His daughter Grace still

held mortgages into the late 1940's which may well have been on parts of that property.

-34-

The Menzie House Menzie Street
---
Dr. Emmett Pyle (1846-1918) and Juliett (Etta) Menzie Pyle (1853-1918)

The McMurray River Road House

William McMurray married Grace Menzie in

1893 in St. Andrews Church. As a wedding.

present he had the house on River Road built for

her captured here in a promotion photo for the

Electric Railway that made the circle form

Niagara Falls to Lewiston, Queenston and back to

the Table Rock.

It was here that her three sons, Norman Andrew,

William John (Jack), and Eugene Menzie were

born and later her granddaughter Jane Waldon

McMurray.

At some point after 1905 William John left the Cole McMurray business and was appointed

Treasurer of the newly incorporated City of Niagara Falls and served in that position with his

loyal assistant Miss Hopkins until his death in 1925. His interests were simple: the finances of

Boys from the Chinese community after Bible Class at St.

Andrews

A Gift
---
The three wee laddies l-r

Menzie Jack and Norman

the growing city and St. Andrews Church where he and his Grace sang in

the choir and afternoon Sunday School classes he initiated for the children

in the Chinese community. He used a Cantonese-English Bible which lay

in the attic of the River Road house for years after his death and then

somehow disappeared. The purpose of these classes was to teach the

children the Bible but also English and he was very proud of the children

and their progress. Their parents were very grateful for his work and

against his wishes insisted on giving him gifts like the Chinese brass

folding table now owned by his granddaughter Jane.

If Grace was a driving force in the Menzie family managing her father's

property after his death she was also a driving force in her own family

particularly directing the lives of her three sons whom she was very proud

of her three wee Laddies as she called them -shown in this photo taken in

front of the River Road house about 1914. From left to right they are Eugene Menzie, William

John (Jack), and Norman Andrew. Norman was encouraged to enter the ministry but first he

joined the Canadian Army and was stationed in Brighton from 1917 until the war ended and did

not see action. He graduated from the Union Theological Seminary in New York City in 1921

and was a youth minister at the Dutch Reformed Church there for two years before moving to St.

Andrews Church in Ville St. Laurent, Quebec. He had married Grace Smeaton from Niagara

Falls and his mother's pleasure from all of this was suddenly upset by her husband's death and

then when she learned almost at the same time that Norman had voted for Union in 1925 and was

returning in 1929 to Niagara Falls to minister to the Kitchener Street Methodist Church, later

Kitchener Street United Church where he had married Grace Smeaton. His mother left St.

Andrews and moved to Drummond Hill which rejected Union, and spoke of herself as a

'Continuing Presbyterian'.

Jack was more circumspect. He took his mother's advice and studied

Medicine. He was married to an English girl Margaret (Babs) Redwood

in 1928 by his brother far away in his brother's United Church in

Montreal and then moved to Bronxville, NY to set up a medical

practice.

It was the youngest son Eugene Menzie named for one of her favorite

brothers that gave her the biggest problems. He was his mother's son

she soon discovered. He graduated from Niagara Falls Collegiate

Institute not eighteen yet and agreed reluctantly to go into medicine.

He is one of the 15 shown in graduating class photo in the spring of

1921.

Menzie finished Pre-Med at the University of Toronto and moved on to

McGill and then in his last year gathered the courage to tell his mother

he hated medicine, had never liked it and was coming home. He was

the only one now left as Norman had moved on to Danforth Street

Marion, Babs and Jack c.1931

-36-
---
United in Toronto and then back to Montreal and Jack was in Bronxville. Menzie wanted to

stay in Niagara Falls and start an insurance business.

He had another reason for wanting to come home. He had met Lillian Buckley first in Simcoe

Street School when they were children and she was living on Welland Avenue, now Chrysler

Avenue. When he moved on to high school before her being very clever he had the maid at the

River Road house who was in her class act as a go-between to carry love letters between them.

They were in high school together briefly and then her mother died in 1919 and her father

Wright Buckley sent her to Branksome Hall girls' school in Toronto and they did not see much

of each other though they wrote. By the time she had graduated and come home he had left for

the University of Toronto. They continued to write each other and see each other on weekends

from time to time and then his father died and he came home and they could spend time together.

Lillian Buckley and Menzie McMurray

Her father loved camping, hunting and fishing as did almost all of the Buckleys. He had lost the

two outside fingers on his right hand when a shogun discharged as he climbed a fence and she

had never noticed it until after her mother's death and he asked her on a Saturday evening to cut

the two fingers off a new pair of grey church gloves. He was embarrassed when she asked why

NFCI Graduating class 1921, Menzie fifth from the right

-37-

Menzie, Jane and Molly 1940
---
and fell into silence. He was not at all sure that this clever young McMurray from a rather staid

Presbyterian family was right for her. When Menzie opened E.M McMurray Insurance on Main

Street and Lillian persisted, her father gave in and they were married in 1927 in what was then

the Morrison Street United Church, the church Morton Major had given land for when the

Morrison Street Methodist Church was being planned. Their wedding reception at the old Clifton

Hotel before it burned down was one of the social events of the season.

Menzie and Lillian bought a house at the corner of Mouland Avenue and Lundy's lane and their

first child Mary Louise (Molly) was born there in 1929 just before the great Depression

deepened and they like so many others had to give it up and go to live with parents. They went to

live in the River Road house with Grace. Buckleys, Menzies and McMurrays were living under

one roof.

.

Menzie, Lillian, Jane and Molly, River Road house garden c. 1955

-38-
---
Postscript

Grace Menzie McMurray now in her seventies, Eugene Menzie her youngest McMurray son, her

Buckley daughter-in-law Lillian and their two children, Mary Louise (Molly) and Jane Waldon

managed to compromise though Grace was as independent as always. She refused day help when

she broke her hip and the girls got along without a dog. She had been presented with a life

membership to the Woman's Missionary Society by the Hamilton Presbytery. She enjoyed visits

for her cousin Maud Parkhurst, 'aunt Maud, to the family, a Menzie still living in Wampsville in

the Onieda area, and continued to invite church friends such as the Reverend Barber's widow to

Sunday dinner until her death in October 1952, a

month after her oldest granddaughter Mary

Louise's wedding. It was a mild fall that year and

in her last days holding a late summer rose in her

hand she sat in the front sun room of the old house

which her husband had built for her all those years

ago when she was hardly older than a girl. She

spoke of those Sundays when she and Will

walked from their house over cow paths out to the

Menzie house still in the country then to visit her

mother after whom her newly married

granddaughter was named. That she had had Will

buried with the Menzies revealed much about her

and she was buried with him there beside the

Menzie monument she had proudly designed.

Norman, Menzie, Etta and Will McMurray

Norman, Menzie, Etta and Will

When her oldest son Norman died years later in

Etobicoke where he was serving as Associate

Pastor of Humber Valley United Church an

elderly Chinese gentleman appeared at the service. He was a doctor from Montreal and had seen

the Obituary of the Reverend McMurray in the Globe and Mail and felt obligated to attend and

pay his respects as Norman's father William John had taught his father English at St. Andrews

Church Sunday School in Niagara Falls. Norman's youngest son Ian earlier had met Ed Chung

another son of one of the Sunday School students and they had become close friends over the

years. Norman, his wife Grace Smeaton, and oldest son Norman Jr. are buried in Fairview,

Section 2. Ian lives with his family in California.

In Memory of my father-in-law Menzie McMurray With thanks to Gerry Sweezey, staff Fairview Cemetery Office,

my sister-in-law Gail Woodruff, Audrea Frizell, granddaughter of George Eli Buckley, Eric Stuart who bequeathed

the Hamilton photo albums to me, and most of all to my mother-in-law Lillian Buckley McMurray who saved the

McMurray and Buckley photo albums and bequeathed them to Jane and I with other Buckley artifacts.

Derek McDermott, husband of Jane Waldon McMurray. September 23, 2008

-39-
---
-40-