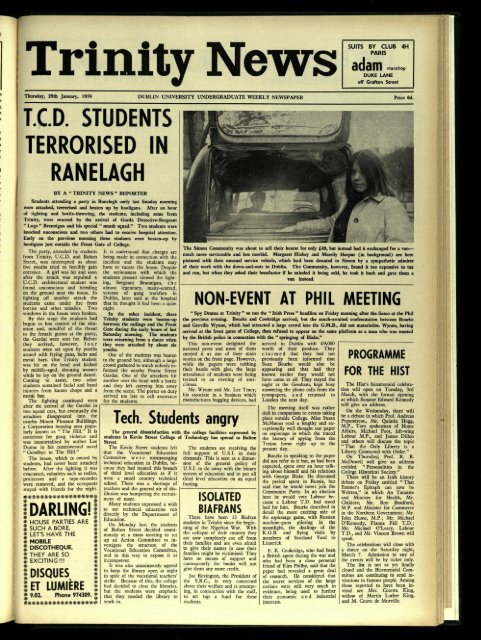 tcd students terrorised in ranelagh - Trinity News Archive
tcd students terrorised in ranelagh - Trinity News Archive
tcd students terrorised in ranelagh - Trinity News Archive
SHOW MORE
SHOW LESS
You also want an ePaper? Increase the reach of your titles
YUMPU automatically turns print PDFs into web optimized ePapers that Google loves.
SUITS BY CLUB 4H

PARIS

adam manshop

DUKE LANE

off Gr'~on Street

Thursday, 29th January, 1970 DUBLIN UNIVERSITY UNDERGRADUATE WEEKLY NEWSPAPER Price 6d.

T.C.D. STUDENTS

TERRORISED IN

RANELAGH

BY A "TRINITY NEWS" REPORTER

Students attending a party in Ranelagh early last Sunday morning

=~ were attacked, terrorised and beaten up by hooligans. After an hour

of fighting and bottle-throwing, the students, including some from

Trinity, were rescued by the arrival of Garda Detective-Sergeant

i "Lugs" Brannigan and his special "smash squad." Two students were

knocked unconscious and two others had to receive hospital attention.

Early on the previous morning three students were beaten-up by

hooligans just outside the Front Gate of College.

The party, attended by students It is understood that charges are

from Trinity, U.C.D. and Bokon being made in connection with the

Street, was interrupted as about incident and the students may

The Simon Community was about to sell their hearse for only £40, but instead had it exchanged for a vanmuch

more serviceable and less morbid. Margaret Hickey and Merrily Harpur (in background) are here

pictured with their unusual service vehicle, which had been donated to Simon by a sympathetic admirer

five youths tried to forcibly gain have to vacate the house. Despite of their work with the down-and-outs in Dublin. The Community, however, found it too expensive to tax

entrance. A girl was hit and soon

after the attack was repulsed a

U.C.D. architectural student was

the seriousness with which the

students present viewed the fighting,

Sergeant Brannigan, t h e

and run, but when they asked their benefactor if he minded it being sold, he took it back and gave them a

van instead.

found unconscious and bleeding almost legendary, many-scarred,

on the ground near the house. In

fighting off another attack the

students came under fire from

veteran of gang warefare in

Dublin, later said at the hospital

that he thought it had been a quiet NON-EVENT AT PHIL MEETING

bottles and other missiles. Two night.

windows in the house were broken. In the other incident, three "Spy Drama at Trinity" so ran the "Irish Press" headline on Friday morning after the fiasco at the Phll

By this stage the students had Trinity stuctents were beaten-up the previous evening. Bourke and Cookridge arrived, but the much-awaited confrontation between Bourke

begun to lose control of the situ- between the railings and the Front and Greville Wynne, which had attracted a large crowd into the G.M.B., did not materialise. Wynne, having

ation and, mindful of the threat Gate during the early hours of last

to the female guests at the party,

arrived at the front gates of College, then refused to appear on the same platform as a man who was wanted

Saturday morning. The students

the Gardai were sent for. Before were returning from a dance when by the British police in connection with the " springing of Blake."

they arrived, however, four they were attacked by about six This non-event delighted the arrived in Dublin with £9,000

students were set upon by youths youths.

national press and most of them worth of their produce. They

armed with frying pans, belts and One of the students was beaten carried it as one of their main claimed that they had not

metal bars. One Trinity student to the ground but, although a large stories on the front page. However, previously been informed that PROGRAMME

was hit on the head and kicked crowd gathered to watch nobody in- while the papers were rubbing Sean Bourke would also be

by middle-aged, shouting women formed the nearby Pearse Street their hands with glee, the large appearing and that had they

while he lay on the ground dazed. Gardai. One of the attackers hit attendance of students were being known earlier they would not FOR THE HIST

Coming to assist, two other another over the head with a bottle treated to an evening of anti- have come at all. They stayed the

students sustained facial and hand and they left carrying him away climax.

night at the Gresham, kept busy The Hist's bicentennial celebra-

injuries from karate chops and a from the scene. The porter on duty Mr. Wynne and Mr. Lee Tracy, answering the phone calls from the tion will open on Tuesday, 3rd

metal bar.

arrived too late to call assistance his associate in a business which newspapers, a n d returned to March, with the formal opening

The fighting continued even for the students.

manufactures bugging devices, had London the next day.

at which Senator Edward Kennedy

after the arrival of the Gardai in

will give an address.

The meeting itself was rather

two squad cars, but eventually the

dull in comparison to events taking

On the Wednesday, there will

attackers disappeared into the

nearby Mount Pleasant Buildings, Tech. Students angry

place outside College. Miss Susan

be a debate in which Prof. Andreas

McManus read a lengthy and ex-

Papandreou, Mr. Quintin Hogg,

a Corporation housing area popuceptionally

well thought out paper

M.P., Tory spokesman of Home

larly known as "The Hill." It is The general dissatisfaction with the college facilities expressed by

Affairs, Michael Foot, left-wing

on espionage in which she traced

notorious for gang violence and students in Kevin Street College of Technology has spread to Bolton the history of spying from the Labour M.P., and James Dillon

was immortalised by author Lee Street.

Trojan horse right up to the

and others will discuss the topic

Dunne in his controversial novel The Kevin Street students felt The students are receiving the present day.

"That the Only Liberty is a

" Goodbye to The Hill."

that the Vocational Education full support of U.S.I. in their

Liberty Connected with Order."

The house, which is owned by Committee w e r e mismanaging demands. This is seen as a dimen-

Bourke in speaking to the paper On Thursday, Prof. R. B.

students, had never been attacked technical education in Dublin, besion of the general policy of did not refer to it but, as had been McDowell will give an address

before. After the fighting it was cause they had treated this branch U.S.I. to do away with the binary expected, spent over an hour talk- entitled "Personalities in the

evacuated, valuables such as radios, of third level education as if it system of education and to put all ing about himself and his relations College Historical Society."

projectors and a tape-recorder were a small country technical third level education on an equal

with George Blake. He discussed There will be an Irish history

were removed, and the occupants school. There was a shortage of footing.

¯ the period spent in Russia, but debate on Friday entitled "That

stayed with friends for the night. teachers and the general air of dis-

said that he would never join the Emmet's Epitaph can now be

illusion was hampering the recruit-

Communist Party. In an election Written," in which An Tanaiste

ment of more.

ISOLATED

here he would vote Labour be- and Minister for Health, Mr.

Many students expressed a wish

cause a Labour T.D. had stood Childers; Mr. Roy Bradford,

to see technical education run

bail for him. Bourke described in M.P. and Minister for Commerce

DARLING! directly by the Departmeent of BIAFRANS

detail the more exciting side of in the Northern Government; Mr.

Education.

There have been 13 Biafran the espionage game, with Russian John Hume, M.P.; Mr. Michael

HOUSE PARTIES ARE

On Monday last, the students students in Trinity since the begin- machine-guns glinting in the O'Kennedy, Fianna Frill T.D.;

SUCH A BORE.

of Bolton Street decided unanining

of the Nigerian War. With moonlight, the dealings of the Mr. Michael O'Leary, Labour

LET'S HAVE THE

mously at a mass meeting to set

the collapse of their country they K.G.B. and flying visits by T.D., and Mr. Vincent Brown will

MOBILE

up an Action Committee to in- are now completely cut off from members of Scotland Yard to speak.

vestigate the structure of the their families and are even afraid Limerick.

The celebrations will close with

DISCOTHEQUE

Vocational Education Committee,

to give their names in case their

THEY ARE SO

and in this way to expose it as families might be victimised. They

E. K. Cookridge, who had been a dance on the Saturday night,

EXCITING !!!

incompetent.

have no means of support and

a British agent during the war and March 7. Admission to any of

It was also unanimously agreed consequently the banks will not

who had been a close personal the events will be by ticket only.

to keep the library open at night give them any more credit.

friend of Kim Philby, said that the The list is not as yet finally

paper had revealed a great deal closed and the Bicentennial Com-

: DISQUES

in spite of the vocational teachers' Joe Revington, the President of of research. He considered that mittee are continuing to send in-

strike. Because of this, the college the S.R.C., is very concerned the secret services of the large vitations to famous people. Among

had decided to close the libraries, about their welfare and is attempt- nations were still very much in those reported to have been in-

:ET LUMIERE . but the students were emphatic ing, in conjunction with the staff, evidence, being used to further vited are Mrs. Coretta King,

9.02. Phone 974309. that they needed the library to to set tup a fund for these their economic a n d industrial widow of Martin Luther King,

work in.

students.

interests.

and M. Couve de Murville.
---
!:ii/ i

i

1

"'L

.!

i~!i

! ,it;

F,

i'.

, :!

"

i!~i! :

: /L

,

;~!ii

s.

PAGE TWO

THE BIAFRAN PLIGHT

A Political Analysis

A hundred years ago the area in Africa known as Biafra had never been heard of in an Ireland which

was then recovering from= a similar unsuccessful Republican rising. The people here now recognise Biafra

as the name which appears beneath the repulsive pictures of starving children. There are few Irish people

who do not feel a deep sympathy for these victims of war, and they have proved it by giving very

generously to the various charities collecting for Biafra~ Having given money however, the vast maijority

of them immediately stop thinking about it because to them it is just another war between the ' blacks '

or the 'wogs '. To a great extent they give because of a strong relation built up between Ireland and

Nigeria by the thousands of Irish missionaries who are and have been working out there for many

years. There was however a violent war which went on for two and a half years and explanation of it

must be given before an opinion on the future of the country.

In the late 19th century the

Great Powers of Western Europe

literally divided up the uncolonised

parts of Africa with a ruler.

Nigeria was given to the British

and the present borders were

settled. The missionaries who

moved in after the colonial establishment

concentrated on the more

coastal areas so that the previously

backward peoples like the Ibos

were able with education and training

to develop faster than the less

effected and originally more

developed Hausa Islamic peoples

of the North.

The new industrial era saw the

great industrial companies (the

new imperialists) investing in the

more accessible coastal regions, and

the Ibo people grew richer and

spread out over Nigeria. The rest

of the story is well known; the

coup d'etat by Ibo officers, their

overthrow and massacre, withdrawal

to their homeland, Ojukwu's

declaration of an independent

Biafra and its eventual destruction

by Nigerian forces. The aftermath

is no different than most wars

where a strategic blockade has

been used~starvation, raping and

looting by the victorious army.

The Press accounts from the area

vary as to the intensity of the

starvation but there is no denying

its existence.

The conduct of the various

interested groups is worth studying.

The British under Wilson

have right from the start given the

Lagos government its full support

in arms and supplies. The reason,

if a bit simplified, is that Wilson

in attempting to build his new

technological society has increased

the power and influence of the

large British International firms,

so that when one of them such as

B.P. feels its interests threatened,

he has no alternative but to back

them up. The Irish government

with a foreign oil storage depot

at Whiddy Island can do little else

but follow suit. Federalism might

be nearer than many people would

like to think.

The French supported Biafra

because a united Nigeria might

pose an economic counterweight

to her influence over the countries

of North Africa, which ties in with

her support for the Arabs against

the Israelis. There are more Arabs

to buy French products than there

are Israelis. The Portuguese and

South Africans supported Biafra

largely because dissension among

African peoples delays their

destruction.

The Russians gave Nigeria

support because they wanted to

gain greater influence over a part

of the world where their dominance

is being challenged by the Chinese

who support the Biafrans.

The Biafran War was an example

of the new nationalism

which is breaking down the

synthetic boundaries set up by the

imperial powers so many years

ago. The new international companies

undoubtedly find it convenient

that the present boundaries

remain as the " countries " then

remain weak, divided and more

amieniable to exploitation,, and

continually fighting among themselves.

Ireland itself is a victim of

the same sort of exploitation.

Today Biafra is crushed, its

leaders have died, or have been

forced to flee, and its people are

starving. The Lagos government

want to impose a 12 state system

to try and prevent the nationalist

spirit from growing. They were

obviously given a few lessons from

their British and Russian advisers

straight back from the Six Counties

and Czechoslovakia.

However a war which lasted

2½ years must have created a

national spirit which the Nigerians

will have difficulty in destroying,

and while they're doing it, British

oil companies will be sucking the

two nations dry. They might

indeed succeed but this new

nation (not a tribe~unless the

Irish, Dutch, Finnish, Belgians,

etc., etc. are also tribes) will

always try periodically to gain its

independence.

Ireland and Biafra have a great

deal more in common than Irish

missionaries.

ROGER COLE.

LONELY

STUDENTS

VIOLENT?

Mr. Van Straubenzee, a British

Conservative M.P. and Front

Bench spokesman on Education,

addressed the 1964 Committee, the

Trinity Right Wing group, last

Friday evening. Mr. Van

Straubenzee outlined the findings

of a Tory inquiry into student

involvement in higher education.

He maintained that many of

the student problems were due to

a lack of ability on behalf of the

institutions to recruit staff, the

lack of communication between

staff and student and the use of

force to suppress contrary viewpoints.

A surprising finding of the

inquiry, was that unrest can be

caused by students having to live

on their own in lodgings. Isolation

creates pychological problems leading

to alienation and subsequent

dissatisfaction with the status quo.

As a solution, the students in some

universities in England are planning

and building their own form of

communal accommodation. This

pioneer scheme, according to Mr.

Van Straubenzee, is proving to be

successful and is more economical

than any other scheme. Van

Straubenzee criticised student

unions and said that they should

safeguard minority interests.

Van Straubenzee is Hon. Secretary

of the Confederation of Conservative

Students which has a

greater membership than all its

opponents put together. It is

interesting to note that the 1964

Committee in College, the citadel

of ~traditional English Toryism,

claims to have more members than

any other political organisation in

Trinity.

BLOOD TRANSFUSION

MOBILE UNIT

AT

EXAMINATION HALL

TRINITY NEWS ~ Thursday, January, 29th, 1970

DONNACH

A CHAMPION

After 6 years at the top of Irish

swimming, Donnach O'Dea finds

himself, at the age of 21, aiming

at his last main objective, the

European Games to be held in

Barcelona this summer. Donnach,

a second-year Business Studies

student, feels that the sport now

holds little for him, and it is time

to hand over the reins to the upand-coming

youngsters such as

Chalky White, who has already

beaten him over 800 and 1500

metres.

Having rejected two offers of

scholarships to the United States~

"I didn't fancy being obliged to

devote myself too much to swimming,

with the possibility of .deciding

too late that this wasn't for

me "~he was put in the awkward

position of having to take his

exams just before setting off for

the Mexico Olympics in 1968, but

he still thinks that the Games were

the most exciting event of his

swimming career.

Irish swimming, he says, suffers

from the continual bickering

between the four Provinces, and

from the lack of facilities to topclass

swimmers. Being naturally

lazy in training, Donnach needs a

lot of competition to push him to

Monday 26th to Friday 30th January

10.30 a.m. to 12.30 p.m. and 2.00 p.m. to 5.00 p.m.

GIVE LIFE

O'DEA :

IN COLLEGE

his best, a prerequisite which is

very hard to find in this country.

The social life of the College

Swimming Club is rather poor,

and in Ireland as a whole, he

finds that the girls, who have

always been of particular interest

to him, are now much too young,

making him feel rather " out of

it". Being the son of Siobhan

McKenna has helped him in two

ways: he disliked being known as

the son of a famous mother, and

this encouraged him to try to make

a name for himself. As well as this,

he was never forced to miss any

opportunities due to a lack of

financial support.

Swimming has taken Donnach

to Spain, Austria, Belgiurn

Norway, and of course Mexico, as

well as all over the British Isles,

artd in what may well be his last

year at the top, he is Irish freestyle

champion over 100, 200,

400, 800, and 1500 metres, and

butterfly champion at 100 and

200 metres. There is little doubt

that with improved facilities and

increased financial backing Trinity

can produce more swimmers like

him and ensure that promising

18-year-olds do not seek a better

future elsewhere.

~ ~iii~i: I

¯ i~ i

David Vipond and Anne-Marie McCall, now Chairman of the Academic

Freedom Committee, seen on the Dining Hall steps during their mass

democracy meeting last Friday.

A FUNDAMENTAL DIFFERENCE

The case of David Vipond, ex-chairman of the Academic Freedom

Committee, has been causing much speculation in the more informed

spheres of College and it is expected that more controversy will be

aroused before the case is finally and satisfactoirly settled. Many

people believe however that there can now never be an outcome

even remotely acceptable to the people concerned.

The background to the case is

well known culminating in

Vipond's being summoned to

appear before the Disciplinary

Committee on a charge of obstructing

a college Professor, Wilson,

in proper conduct of his duties.

Vipond however is claiming that

the College authorities are attempting

to divorce the issues involved

by trying him on a " criminal"

charge while avoiding what the

A.F.C. declare is the more important

issue~that of the nonrelease

of examination papers for

open discussion.

Everyone in College awaits with

interest the final outcome because

the affair does not now merely

concern whether or not one individual

student did or did not

assault a Professor, but now the

whole validity and strength of the

College's system is being brought

under scrutiny as the A.F.C. continue

their campaign. Whether or

not it will weather the storm is

a question on which opinions are

sharply divided.
---
1970

zh is

mtry.

)llege

pOOl',

~, he

have

Eerest

3ung,

it of

bhan

two

:n as

and

make

this,

any

k of

Lnach

ium

o, as

Isles,

last

free-

200,

and

and

[oubt

and

'inity

like

ising

.etter

emic

mass

dora

reed

Pl be

4any

ome

se is

in

to

nary

ructlson,

Kies.

that

mptflved

hal "

the

imnon-

; for

with

:ausc

erely

innot

the

I the

,ught

con-

'r or

is

are

TRINITY NEWS--Thursday, January 29th, 1970

A SCRAI 'YARD SUCCESS

Last Saturday night in Festival Chairman Tim Breene's room there was mass jubilation and hysteria,

tipsy exhaustion and relief. By popular demand the French play was due to have its third performance

on the Sunday night, but already the verdict was safe, the money was counted, the congratulations

overwhelming. The 1970 D.U.M.L.S. Drama Festival was a total success. We focus on the Spanish play

in this column, not because it was any more rewarding than the others but because it was racy and exceptional,

an impressively ambitious production.

Absurd is a term which, whether

Martin Esslin likes it or not,

seems to have stuck to the theatre

of Ionesco, Adamov, Becket and

other writers of the '50's. Arraba

denies the possible influence of

these writers on his first plays, if

there were any foreign influences

he suggests we turn to Lewis

Carroll :

" Then you should say what you

mean" the March Hare went on.

"I do " Alice hastily replied "at

least--at least I mean what I say

--that's the same thing you know."

With similar naivety the characters

of El Cementerio de Automdviles,

from Emanu, whose life parodies

that of Christ, the compassionate

Dilia, to the imbecile athletes, all

make Alice's mistake and are unaware

of the contradictions of their

speech and behaviour.

The balance between laughter

and tears in Arrabal's theatre is

then precarious: on Wednesday

night the pace of the Spanish production

was rather hurried in one

or two places and some good lines

were casually lost in the quick

succession of comic incidents. But

having said this, the next words

must be of praise, for although

there is serious content (the events

leading to the death of Emanu),

this production conveys the hilarity

which is essential to the theatre

of Arrabal, who rejects the more

thoughtful postures of metaphysical

dilemma.

Rosamund Hill and Nick Caffrey

were well cast as Lasca and

Tosido, resisting the temptations

to play this up at the expense of

dramatic tension, perhaps most

successfully when the exhausted

Athlete persuades .his formidable

trainer to spend the night with him

in the Scrapyard-cum hotel.

Judy McKinney as Dilia, the

willing chamber-maid and Stephen

Navin (who also produced the

play) as Emanu the trumpeter,

both gave good performances and

were well supported by David

Wells-Cole as Milos, Michael

Today's

graduates

shape

tomorrow's

railways

Opportunities for top-class

graduates as traffic managers,

engineers, planners, accountants,

scientists and estate managers.

Ask your Appointments Board

about careers in British Rail

and meet our representative.

when he visits your University,

or write for details to :

Director of

Management Development,

British Railways Board,

222 Marylebone Road,

London, NWl.

British Rail}

Tavet, as Tope and Kevin Doyle,

speaking mute Spanish, as Foder.

The Spanish play required

imaginative sound effects and an

unconventional set. But as with it

none of the other plays were

seriously hampered by the limitations

of Players Theatre. Lack of

space behind stage was a constant

headache for Directors and Stage

Managers; props and flats had to

be improvised and disguised;

there was barely enough time

between the afternoon and evening

performances to re-arrange sets

and lights; but the back-stage

people managed and this was surely

a source of confidence for the

actors themselves.

The English play, Boucicault's

melodrama, "Arrah-na-Pogue ",

set in the depths of rebel-torn

Wicklow, was a rousing hit with

the audience. It played to three

packed auditoriums during the

week.

Complete with a hissed-at

villian, a hero and heroine who did

PAGE THREE

A scene from the English play in the drama festival of the Modern

Languages Society. The play, "Arah-na-Pogue," by Boucicault, was

enjoyed by the audiences with its melodramatic romps.

no wrong, this ingenious Boucicault

romp had a richness all of its own.

The caricatures, the sentimentality

and the crowd scenes were

effectively overdone. The costumes

and the colour completed this

entertaining if one dimensional

tableau.

The French play, Sarte's " Les

Mains Sales " was long. It lasted

over three hours. Some said it

wasn't a wise choice, others said

it was impossible. But the standard

of the acting was so high and

the direction so competent that it

emerged as a subtle and professional

presentation of a great

play.

FLIP SIDE

FROLIC

" THE FLIP SIDE "

An aspect of drama which is too

often overlooked is that of modern

comedy-cum-farce. Unfortunately,

in letting it lie by the wayside,

critics are hastening its decline,

and consequently, the standard of

material has fallen.

The current Eblana presentation,

for me, is a sign of the times.

Doubtless it was intended as a gay,

amusing little frolic--a modern

Love's Labour Lost in the South

Downs. Yet the writers, Hugh and

Margaret Williams, seem to have

gone a little off their target somewhere.

Perhaps they would have

done better to glean the script of

some annoying theatrical cliches,

and, in general, to introduce more

originality to the text. The subject

suffered from its own limitations;

the comedy of a week-end's wifeswopping

would surely be better

appreciated in a half-hour T.V.

show rather than in an auditorium.

This production, however, was

able to stretch the play to its

maximum potential. Competently

directed by Brian MacLochlainn of

R.T.E., it was instilled with a

crisp, lively atmosphere, and the

actors were allowed plenty of

latitude of expression. Maureen

ToM as the vivacious Amercanised

blonde, must be congratulated on

leading the pace with unflagging

energy. Perhaps one fault in the

acting may have been that her

author husband was slightly overplayed.

In general, however, this was a

most successful performance.

BILL ELLIS.

"Der Oftentliche Anklager ",

yet another play that portrays the

French Revolution as a sadistic

game of musical chairs" played to

an appreciative audience. The

German was competent, the

mannerisms sufficiently affected

and the play was not spoilt by

certain historical obscurities and

inaccuracies.

The short Italian farce,

Goldoni's "La Locandiera" played

to relatively small houses--which

was a pity because the comic

facial expressions and the careful

direction did justice to the play

and gave the audience plenty of

laughs.

WITTY

BITCHINESS

" STAIRCASE"

Charlie (Rex Harrison) and

Harry (Richard Burton) are two

ageing homosexual hairdressers

who have lived together for years.

They share with Harry's bed-wetting

mother an apartment above

their Barber's Shop. Charlie and

Harry try to cover the emptiness

of their lives with a witty bitchiness

and a wild humour in their

verbal sparring. Charlie is the

more sarcastic, Harry the gentler,

the more resigned.

The humour leaves a bitter

after-taste and the sadness deepens

into nausea. Here are two freak

natures marooned in despair,

longing for and fearing a life away

from one another though they have

only each other in the world.

The deeper significance and the

wider applications of their situation

are there for the individual to

solve or ignore. Stanley Donen

and Charles Dyer have converted

the latter's play into a wickedly

brilliant film.

RITCHIE HENDRIKS

NEW YEAR EXHIBITION

The New Year Exhibition at the

Ritchie Hendricks Gallery is one

of the most comprehensive to

have appeared in Dublin. Just over

eighty picturesmit covers artists

as widely separated in style and

presentation as Noreen Rice and

Alexandra Wejchert and included

Sonja Landweer, Colin Middleton

and Tom Gou.lding.

,,,

,. ' ~:

:, , !

: . ;

,, .

i

. . .

', i

,' ~,

~:,,:

,?,

,,

, .

,' ;~

,1[ '

'(

¯ ,

,

..
---
:,si:

,4

$;

,ii ¯

14

i

o

,,i

¯,!f

ii,

.!

/,

:.2

i; '

7~

PAGE FOUR

FOR THE ADAPTABLE

FEMALE CHAMELEON

What arbitrary power is it that

blows the changing wind of

fashion? What whimsical mind

decides the latest shape, size and

colour of that adaprtable chamelon

---woman? Nobody seems to

know. Nobody knew it in the

mid--40's when hem,lines plum,

meted from knee length to midcalf.

Manufacturers sprung the

New Look on the world and it

was adopted almost overnight by

even the most conservative. Shops

and wholesalers stocked with the

old short versions went bankrupt.

Such sudden changes are no

longer allowed, but the shops

can still be caught out with the

wrong clothes. The m axi revolu-

tion this winter was quite unplanned

by the manufacturers,

who had thought that the long

coats would only be worn by a

few daring extravagants. The extreme

cold affected the scene in

a way that nobody had envisaged

--the maxi was IN. Shops who

buy for a season were badly hitonly

Selfridges was able to cope

unperturbed with the situation,

for they change their stock more

frequently and are better prepared

for sudden changes.

On the whole, however, the

manufacturers can predict with a

fair degree of accuracy what the

ELEG/~EE BOUTIOUE

33 LOWER LEESON ST.

STUDENT DISCOUNT 2½%

Phone 63337

'TATTERS'

WILL DESIGN AND MAKE

DRESSES FOR YOU

at

90 ST. STEPHEN~ GREEN

(near University Church)

..... ~ M m

prevailing trends will be. Ireland

has to copy England, for though

France is supposed to be the seat

of high fashion, it is English manufacturers

who have the greatest

influence on the masses.

The style for Spring and

Summer '70 will contain a strong

gypsy, peasant look in dresses and

separates.

For Autumn, the mini coat is

dead. The Midi is in, mid calf

or half knee-cap, with narrow top,

wider at the hem, belted or cut at

the waist. The coat ,dress is again

important. Suits are not strong

story, though there are three main

influences, (a) long skirt with

tunic jacket, (b) long skirt with

blouson jacket and (c) short skirt

with long jacket. Trouser suits are

right in. Knitwear is casual, with

a longer line and close fitting.

The fabrics are moving away

from the dry, crisp look and going

softer~Jersey will be very important.

The colours are changing~

the past three years was a period

of soft, muted colours and for the

next three years they will be more

towards lighter cold colours.

Tweed is right out and it is

mainly the U.S.A. who keep the

Irish tweed industry with a market

for classic, well cut tweeds for the

over 30s~

Romantic

Revival in

Jewellery

You may have seen in Grafton

Street the unassuming showcase

of the Market Ireland shop~in it

is one of the few displays of

modem design I have found to

delight me in Dublin. There are

designs which reflect the fluid

beauty of the past, such as the ring

illustrated which combines the

celtic spiral with the delicate

butterfly design of Art Nouveau,

and the stark beauty of Vincent

Meehan's design "moon-landing "

which speaks for itself. Personally

my favourite designer for them is

John Fenn, who produces delicately

beautiful jewellery in a timeless

romantic theme. It is represented

in the illustration by the simply

Pampered Belle

Boutique

86 TERENURE ROAD NORTH

(Prop. Judy Reidy)

CONTINENTAL SEPARATES

TROUSER SUITS

CAT SUITS

BRAND NEW STOCKS EVERY TWO WEEKS

REASONABLE PRICES

Open till 8 p.m. Phone 906033

A selection

of styles

Richard Lewis' clothes can be

divided into two separate looks.

For daytime a streamlined look.

Spare cut tunics and cigarette end

trousers in jersey with contrasting

yokes and panels. For evening a

much more romantic look. Soft

fluid materials like crepes, lawns,

silk, jersey and voiles. Tiny

pintucked bodices with full sweeping

skirts.

Sleeves are interesting, everything

from old world leg o'mutton

sleeves to the more modern pirate

and bishop. Clothes are aimed at

the young go ahead girl with more

taste than money. Prices are from

five guineas upwards.

Whether you are a swinging

chick or a more mature pullet, you

will find clothes that will make you

look and feel elegant at Dublin's

newest boutique~Elegance. Selective

buying in the Irish, English

MARKET

IRELAND x:

and Continental markets has resulted

in a wide range of fashion

especially designed and exclusive

to this newest fashion centre.

Prices are as varied as the range

and scale down from a fifty guinea~" :

cocktail suit which can be rinsed

out, to lovely little mini-style

dresses from around £5.

Elegance boutique aim rather to ..........

follow trends than to set them.

Her clothes are expensive well cut

fabrics catering for the client with

money who wants stylish wellmade

clothes that are above all~

original.

WOOLLENS :

TRINITY NEWS--Thursday, January 29th, 1970

You may not be well acquainted

with the Dublin Woollen Company

of Metal Bridge corner, but

they have a large selection of long .....

scarves, tam sets, Aran crochet ..... ..........

and mohair, tweed ponchos and a

variety of hand-knitted clothes. If

you have any headgear problems

call on the Dublin Woollen :

Company.

I, Ring by John Fenn--Amazite stone in silver, £11 7s. 6d. II, John

Ferm--Opal in silver, 5 gns. 111, Nickle silver bracelet by Patrick

McMahon. IV, Ring by Vincent Mehen--"Moon Landing"~Amethyst

in silver. V, Zodiac ring in silver by Frida Bulmenberg g5 10s. 0d.

beautiful silver and opal ring their birth sign, there's a fascinatbased

on the classic oval with ing and highly original range of

silver beading and the romantic zodiac rings and cuff-links designed

fantasy of silver and suitably exotic by Frida Bulmenberg an ex-South

stone--an Amazite from the African Swede who has a studio

Amazon---of a pale luminous in Dublin. The zodiac designs are

green, wrought in relief in heavy solid

When you cannot afford pure silver. The rings cost £5 10s. 0d.

hall-marked silver there is an and the cuff-links 7 guineas.

interesting range in nickle silver Market Ireland's showcase in

inscribed with heavy medieval Grafton Street is one to watch~

lettering like some strange runic inside there is a whole range of

message, individually designed goods besides

For astrological actdicts and jewellery.

anyone who fancies a finely N.B. There is a stock-taking

wrought heavy silver ring with sale of Donegal tweeds this week.

RICHARD LEWIS BOUTIQUE

120 LflWEB BAfifillT STREET.

TEL: 63567

OPEN 9.30--6.30

DUBLIN WOOLLEN COMPANY

LARGE SELECTION OF LONG SCARVES

AND TAM SETS

ARAN CROCHET, AND NO'HAIR

ALSO TWEED PONCHOS AND

VARIETY OF HAND KNITTED GEAR

Metal Bridge Corner

Trouser suit in grain leatk~tfimm

The attractive appearance of su~ and I

hardwearing qualities, have captur~the wa

conservative, while young or enterp~ng desi

to make it the most popular matefl0f the

I was astonished to see the wide .~n look

range of really exciting designs ~ut I

in suede and leather which are ~0uld lo

being brought out now by Suedes faw wha

of Ireland, a team of young people ihe sued

all in their twenties with unerring tresses

fashion sense and original ideas. I~nd reall

They have caught on to the new ~me grc

jungle suede which is now very .~een,

popular in England. This mottled frice of

suede has been made into trouser i ~,

stats," coats, skirts and jaciCelain,,..~t/z ¯ ts men a rz'

tastefully trimmed with p I

leather. It comes in Jumbo grey,(~d wai

blue, and three shades of brown.~omen's

Among the most strikin~ of their ~eav

leather s~;tvhe~SessaTo t?e:n~e~.~!eq:272,

leather a

leather maxi-coats, fringed skir~: Suede,,

and tops, and studded bornber~lers a

jackets. Real snake skin was used ~ublin c

most successfully to trim suede t0 not

dresses, which coutd be worn alone ~ey are

or over trousers~suede and leather hy enq~

The Look f!the 7

Suedes '! Ir(

WICKL0 STI;

I
---
Irain

TRINITY NEWS--Thursday, January 29th, 1970 PAGE FIVE

e irimmed with patent.

l

J

ice of st~ and leather, and their practical

; eaptur~the wardrobes of even the most

~r enterping designers are doing their best

ar mated.0f the 70's.

ae wide ,~ look very smart and attractive,

designs ~t I did not realise that they

ich are '~'uld look actually pretty until I

Suedes ~v¢ what are surely the answer to

, people ~e suede-lovers' dream, exquisite

merring ~esses in soft, washable suede

[ ideas. !d really pretty colours, pale blue,

~ze new me green, beige, red and dark

.w very ~en, for the very reasonable

mottled ~ce of about £15.

trouser Men too are catered for here

jackets, ~th a wide range of coats, jackets

plain

~o grey, M waistcoats, which, like the

brown. ~omen's clothes, will be made to

of their ~asure in the colour and material

~et-look ~quested.

skirts,

d skirts Suedes of Ireland are wholebomber

alers and supply the leading

ras used ~ublin clothes shops. Though they

1 suede0 not sell direct to customers

rn alone!ey are always glad to answer

t leather ~y enquiries.

_

,ok iahe 70's by

clreland

2LO STREET

Shoes with A BIRD'S-EYE

the

Wet Look

This year, according to the

fashion pundits, the "wet look" is

the big thing in shoes. The best

selection of this latest look can be

seen in the "Caimar" range at

Connolly's of Grafton Street.

These shoes come in crushed

patent, with a soft, supple texture,

and there are shapes alzd colours

to suit every tastemand foot.

White is the colour for shoes

this Spring and if you shy away

from plain dazzling white patent,

there are many two-tone designs to

choose from~white and navy, red

and white and, very daring, blue

and yellow. This last one looks

very well on. The brown and white

patent shoes are a change from the

muddy browns of yesterday, and

look much more interesting than

black and white.

In this " anything-goes " fashion

era, there are no definite rules

for shoe style though the new midi

length skirt will call for a higher

heel. In the "Caimar" range,

heels vary from almost flat to three

inches. Comfort, as well as fashion,

is important here, and even the

highest heels are quite thick. One

of the newest designs has a tripledecker

heel, in two colours.

There's a good deal of trimmings~small,

neat buckles, chains,

straps and lots of beading. Platform

soles are coming back, but

with interesting colours and styling,

they bear no relation to the

hideous sandals of the thirties.

TATTERS

Tatters of the Green design and

make clothes, so if you have little

confidence in your dressmaking

ability Tatters will be able to

answer any questions you may

wish to ask.

VIEW

Boutiques combine young trendy

clothes with young trendy decor.

Their success lies in their determination

to provide their customers

with original stylish clothes at a

price they can afford in an

ambiance which reflects the

individuality of the designer.

Boutiques which design and manufacture

their own clothes, like

Elegance, Basement and Richard

Lewis fill the gap left by Irish

manufacturers who continue to produce

very conservative styles, sure

of their captive market, but uninterested

in taking the risk of expanding

into the "mod" image.

This leaves shops who are interested

in providing something

different from the conventional

mass-produced styles with the

choice of buying their stocks in

England or designing and manufacturing

their own. Boutiques are

an innovation which, with their

great popularity, are obviously

satisfying a great demand.

From Richard Lewis.

Vithin a hundred yards

o/the bottom o/ Gra/ton

Street there are

great centres o/ in/luenceon

young Irishwomen.

The other one Is

Trinity

:..., :.............

Judy Reidy in a lurex cat-suit, £9 19s. 6d. Mary McCambridge in a

brown and white dress of herringbone tweed with matching sleeveless

coat, I0 gns.

Caring to Cater

For those girls who want something slightly different, oF good

quality and at reasonable prices, a visit to the Pampered Belle Boutique

is well worth the effort of a bus-ride out to Terenure.

Judy Reidy opened it last John Craig French blouses, smart

summer and since then she has had little jersey and gaberdine skirts

great success which she attributes and trousers. She has a wide range

to the fact that she has bought of dresses and indoor trouser suits,

things which people can't get in and Twiggy and Mary Quant

Dublin. By visiting London every tights in crochet, lace and various

six weeks, Judy is able to get hold crazy patterns. One of the many

of the very latest fashions which things waiting at the customs

are not otherwise likely to appear which should be in this week are

in Ireland.

Huggermuggers, matching knee

Though Judy buys from socks and long scarves for only

England, three years spent on the 26/- the set. Judy admires Suedes

continent have given her a taste of Ireland and stocks their most

for a continental flavour which is exciting designs. Sometimes she

reflected in some of her super manages to find original French

separates for Spring--long, fitted samples in leather and suede which

Shetland cardigans and sweaters, they import to copy.

(onnOLLV

6RHFTOn STREET.DUBLIn

, ,!',i ~
---
PAGE SIX

EXCELLENT

CHOICE IN

LEFT BANK

The Left Bank Boutique on

Baggot St. has one of the most

interesting selections of women's

fashions in town. You are immediately

attracted by the decor and

arrangement of the boutique. There

are cubic ornaments, well angled

posters and window dressing to

attract the h e s i t a n t windowshopper.

In a nutshell the boutique

is as perfectly constructed and

arranged as one would humanly

expect. Lush~but not too lush

French music ensures that the

shopper feels completely involved

and excited by the surroundings.

Now for the clothes; There is

an excellent choice of casual

trousers in herringbone and bright

colours from 79/11. Also a speci.'ality

is evening gowns in saun

and silk made by Left Bank, in

pink, white, turquoise and flowery

patterns from £15. I noticed a

beautiful torex culotte dress retailing

at 15 gns. Trouser suits

reflect English styles and of course

the top can be worn as dresses,

this being up to individual imagination.

There is a wide selection of

delicately short skirts made by

the boutique and John Craig

Blouses and shetland pullovers by

John Craig which are in a modern

style but display a quiet manner.

There are new fur-lined coats in

synthetic leather at 23 gns.

The wet look wears very well.

Also mini suits in the same

material at 18 gns, the advantage

FOR A PERFECT

EVENING

If you want things to turn out

perfectly for a ball or special

dinner party~Peter Jansen of

Pembroke Street will give you that

extra efficient service and extra

quality that is often frustrating

to obtain these days. For only

16/6 you receive exclusive evening

wear consisting of a suit and bow

tie the quality of which is so high

that it defies comparison. Obviously

a visit to Peter Jansen will solve

all your evening wear problems.

Woodrow's window at night.

being that you can wipe the

material with a damp cloth. No

cleaning is necessary and the

material doesn't stain.

There are white Pourelle minidresses

with hoods at £9~£10 and

Left Bank of course make a wide

selection of other types of dresses.

They are very short with designs

for varying tastes.

Feminine crochet hats and

crushed velvet skirts and dresses

will be in stock soon for those who

are tempted to wait. There are

suede and leather belts, also ones

made from beads which look very

nice over jumpers.

Spring trends will favour trouser

suits, P.V.C. coats and of course

the Wet Look.

This Boutique is worth a visit

and the selection offered, service

and interesting set-up will ensure

further visits.

TRINITY NEWS~Thursday, January 29th, 1970

MODERN MALE CLOTHES

AT M()DERATE PRICES

Situated near O'Connell Bridge House is one of the few men's

clothing shops situated close to College which caters for more tastes

than the average tailor.

You can find double breasted

suits made from Swedish Terylene

~worsted light weight cloth made

to measure retailing from £25,

also double breasted navy blazers

in blue made in Swedish lightweight

cloth which clean well and

keep their shape perfectly from

14 gns. An ever present commodity

of course is Donegal tweed jackets

from 10 gns. In Knitwear,

Woodrow of D'Olier Street

specialise in the Glenabbey

shetland brand and shetland mini

style crewnecks in red from 52/6.

In head gear, midicaps are sold

in green, honey, black and blue

at 21/-, also Sherlock Holmes

caps at 45/- and Harrier caps with

ear flaps at 37/6.

Gannex coats are an excellent

buy as are Norfolk type leather

jackets which are Borg lined.

There are wide belts in natural

leather also in suede from 27/6.

One of Woodrow's specialities

are fashion shirts by Ben Sherman,

broad striped, pinstriped or corduroy

from 59/6. Also marvellous

shirts by Tern, Rochester, Hardy

Amies, Mekay, Roccola, Peter

England, Van Heusen and Aertex,

and for the quality diner or ballgoer,

Dress shirts from 59/6 to

£7 10s. 6d. and cummerbunds in

black, blue, wine and lavender.

Also excellent gifts can be

purchased ranging from handkerchieves

to hand knitted Aran

sweaters at 7 gns. depending upon

BOUTIQUE

OPEN TILL 8.15 EACH EVENING

Trendy Maxis with Your Teeny Minis and Evening

Gowns and Wet Looks and Frillys and in fact

Everything

At 31 UPPER BAGGOT STREET

WOODROW

THE FASHION SHOP

FOR

OOOOOOOOO0

BE~ SHERMAN SHIRTS

FLAIR--LI~E TRHUSERS

OOOOOOOOO0

Special £tuden t Discou n t

D'OLIER STREET

your pocket. As an after thought

you can find ski jackets with hoods.

My impression is that clothes at

Woodrow are inexpensive for the

quality sold with an excellent and

friendly service. Compared with

other leading men's fashion clothing

shops, Woodrow has an exciting

selection of modern clothes both

for young and old to suit all

incomes. Bargains can be had in

the sale which will soon be ending.

It is firmly in touch with present

and established trends in men's

fashion and is worth a visit.

For n.odern styles

and excellent taste

Hortons of 18/19 Wicklow St.

are one of Dublin's oldest-established

and most renowned men's

tailors and outfitters. Established

since 1908 in their Burberry House

headquarters they have become

synonymous through the decades

with good taste, superb quality and

traditional craftsmanship in all

spheres of men's wear. To-day

Horton's famous expertise ~s

focused on the modern man's

sartorial needs. Their tailoring

department will make-to-measure

suits, jackets, slacks or overcoats

in whatever styles customers

demand, using the world's finest

cloths and endowing every garment

with the superlative finish that is

Horton's alone. Their ready-towear

department has a wide selection

of suits, sports jackets, slacks

and overcoats to suit every taste,

while on their ground floor is an

impressive array of shirts, knitwear,

socks, ties, hats, and gloves.

Horton's motto is "Fine Clothes

for Men" and it is a dictum they

truly live up to. For modem styling

and impeccable taste the welldressed

male to-day must be a

regular Hortons client.

PETER JANSEN

EXCLUSIVE EVENING WEAR

STUDENT RATE, 16[6 (Suit plus Bow Tie)

JANSEN HOUSE

3 LR. PEMBROKE ST., DUBLIN 2. Phone 64261[2

"and, naturally, 1 .get

all my clothes from

HORTONS

Fine clothes for men

18/19 Wicklow Street, Dublin
---
TRINITY NEWS uThursday, January 29th, 1970

BASKETBALL

Trinity lose heavily

in Belfast Match

After heayily defeating St. John Bosco in a home league match on

Friday night and registering their highest score o[ the season in the

process, Trinity travelled to Belfast on Saturday with high hopes of

overcoming the challenge of Belfast

Unfortunately, Trinity did not

recapture their form of the night

before and were well beaten by a

spirited Celtic team. From the

start of the game Trinity were

slow and unsure of themselves and

on many occasions were easily

beaten for the ball by a much more

lively opposition. Perhaps this can

be attributed to the after-effects

of the previous night's match, in

which case it does not augur too

well for the Intervarsity Tournament

this week-end in Galway.

RUGBY

BILLY McCOMBE

WINS MATCH

WITH

DROP GOAL

Trinity, 3; Bective, 0

F i e I d i n g four substitutes,

Trinity were made to struggle to

win this match at Donnybrook on

Saturday. On a quagmire of a

pitch and in a steady drizzle,

Trinity were forced to adopt

kick-and-rush t a c t i c s, which

obviously suited t h e heav.ier

pack.

With the Trinity forwards coming

out on equal terms with their

heavier opponents, Cox at scrumhalf

was able to give the backs a

lot of good ball, and Bective's

attacks were thwarted by some

astute kicking by McCombe and

fierce tackling by the backs. The

nearest either side came to a score

was when Poole, taking the ball

on the burst from McCombe, was

stopped just short of the line.

The pattern of the second half

was similar to that of the first,

with the scoring chances coming

mostly from defensive errors

rather than from constructive

moves. The winning score came

about 15 minutes from the end

when McCombe dropped a fine

goal with what was by then a very

heavy ball. Bective pressed

strongly in the closing minutes, but

Trinity emerged worthy winners.

Greene & Co.

New and Secondhand

BOOKSELLERS

16 CLARE STREET

MITCHELLS

Celtic in the National Cup.

The two teams typified the

different approaches to the game

shown by Northern and Southern

teams. Celtic were more efficient

if less spectacular and on the day

their direct methods paid off, with

the result that by the time Trinity

had adapted themselves to combat

these tactics it was too late to

pull back Celtic's considerable

half-time lead. They can have no

complaints about the final result,

which may well put them out of

the running for the National Cup

for another year.

The ladies' team also travelled

to Belfast and in a friendly match

they easily defeated a team from

Stranmills Training College. Both

the men's and ladies' team will be

in action in Galway this week-end

and they must both be considered

to have a good chance of bringing

back the Irish Universities' Cup

Scores in column five.

Linnemann (No. 66) shields the ball during a Trinity attack in the

match against St. John Bosco.

LAST MINUTE EQUALISER

TRINITY, 3; U.C.D., 3

U.C.D. gained a rather fortunate point in their Leinster Senior League match with Trinity in College

Park on Sunday. They scored their equaliser with almost the last kick of the second half, which for reasons

better known to the referee lasted for 55 minutes. The first half, which for equally obscure reasons lasted

only 40 minutes, was very tight, after Finucane had given Trinity the lead in the fifth minute when he headed

in a cross from Wherry.

U.C.D.'s centreforward, O'Donnell,

put the ball wide from the

penalty-spot, after Smyth had

brought him down inside the area.

In the second half, Trinity seemed

content to hold on to their narrow

lead, but U.C.D. got back on level

terms when their outside-right

scored with an overhead kick 15

minutes into the half. Fitzsimons

put Trinity ahead again shortly

afterwards with an opportunist

goal from a glancing header by

Shields, but the opposition did not

let up and equalised for the second

time with a tremendous 30-yard

drive from the inside-right in the

75th minute.

Fitzsimons scored his second

goal after a four-man movement to

put the home side into a 3-2 lead,

but just as it seemed that Trinity

were going to gain their third win

in a row against their archopponents

a defensive slip gave

U.C.D. a last ditch equaliser.

Shields, Sharpe and Macauley

were outstanding for Trinity, but

the absence of Christie, Millen,

Bleakley and McCombe weakened

the team considerably.

The Club's junior teams

suffered mixed fortunes at the

week-end; Goldsmith did well to

beat Ardmore 3-2 in a hard-

THINKING OF GIVING A COCKTAIL PARTY?

WHY NOT PHONE 62377 AND ASK FOR OUR HELP.

WE SUPPLY EVERYTHING ON A 'SALE AND RETURN'

BASIS AND THERE IS NO CHARGE FOR OUR GLASSES

OR THE FRIENDLY SERVICE YOU RECEIVE.

KILDARE STREET, DUBLIN !

fought match, while a penalty by

Sheehy gave Regent victory

against Earlsfort. Moyne took a

3-0 lead against Pegasus, but then

managed to lose 9-4; Lecky lost

4-0 at home to Bolton Street

Engineers¯ Highlight of the week,

however, was Mick Mullagh's hattrick

for the 2nd XI against

Talbot Utd. when Trinity won

3-1. Regent and Goldsmith have

been the most successful teams this

GOLF

Trinity defeated U.C.C. by 9

games to 3 in Cork last Friday¯

Despite p o o r conditions, the

visitors gained a 3-1 lead in the

foursomes in the morning, Elliott

and Black being the only pair to

lose. In the afternoon the team

consolidated their lead by winning

the singles 6-2, with victories by

Black, Coates, Myerscough, Lewis,

Bernstein and Sands. The convincing

margin of this win makes

Trinity firm favourites for the

Colours match against U.C.D. in

February, as the latter could only

manage to halve their match with

U.C.C. recently. On Saturday, the

match against Cork G.C. was

abandoned because of bad weather

5-~ 2 ! with the score ~- z for Cork.

BORED BY THE BUTTERY BAR ?

season, the latter having dropped

only two points and the former

three. There is hope that Trinity

can emulate last year's feat and

win both the Colleges' League and

the Colleges' Cup, the holders

being Moyne and Goldsmith,

respectively.

HORSE RACING

LORD FORD (Nigel Herdman)

Last year at Kempton, Reg

Akehurst pulled off a major

double with Marshal Who and

Rabble Rouser. This week-end I

am taking a chance in relying on

this small stable again at Kempton.

On Friday he has MARSHAL

WHO in the 2.0, LARVOTTO in

the 3.30 and POTASH in the 4.0.

On Saturday, RABBLE ROUSER

takes on the best, including

Persian War in the 2.30, and with

conditions at last to his liking he

may make his second "killing" on

this course. Others this week-end

are: COUNTER CHARGE

(3.30), SMOOTH DEALER

(4.0), and ALPHAEUS (4.30)

to-day at Gowran Park, with

BOWGEENO (3.0, Kempton,

Friday), and FRENCH TAN

(5.0, Baldoyle, Saturday).

SUFFOLI HOUSE

IS ONLY A HUNDRED YARDS FROM FRONT GATE IN

SUFFOLK STREET

HOCKEY

PAGE SEVEN

EASY VICTORY

FOR TRINITY

Trinity, 3; St. Ita's, 0

Trinity gained a convincing 3-0

victory over St. Ita's at Santry on

Saturday to complete a league

double over these opponents. The

result was never in doubt, although

Trinity did not go ahead until five

minutes before half-time, when

Alan Rowe netted.

The pace and skill of the home

forward line were too much for

the opposition and but for an excellent

performance by the St.

Ita's goalkeeper the score would

have been much higher. The

Trinity half-back line totally

dominated midfield, supplying the

forwards with a very good service,

from which Findlater and Rowe

added two more goals in the

second half.

All in all, this was a very good

display by Trinity with every man

playing his part, but with the

intervarsity championship for the

Mauritius Cup only three weeks

away, Trinity must not become

complacent about their performance.

The set pieces, frees and

corners leave much to be desired;

too often the frees are taken too

hastily and possession is lost.

This team has however the

ability to beat Queen's and U.C.D.,

but only after an intensive training

programme and one suspects

that the drilling of the team is not

up to the standard of former years.

RESULTS

RUGBY

1st XV, 3; Bective Rangers, 0.

2nd XV, 33; C.Y.M., 0.

3rd XV, 14; C.Y.M., 0.

SOCCER

1st XI, 3; U.C.D., 3.

Tnd XI, 3; Talbot Utd., 1.

Goldsmith, 3; Ardmore, 2.

Regent, 1; Earlsfort, 0.

Lecky, 0; Bolton St. Engineers, 4.

Moyne, 4; Pegasus, 9.

SQUASH

Trinity, 1; St. Stephen's Green, 4.

BASKETBALL

Men's

Trinity, 78; St. John Bosco, 55.

Trinity, 47; Belfast Celtic, 71.

Ladies

Trinity, 31; Strandmillis, 13.

Royal Dublin Society

FORTHCOMING CONCERTS

FEBRUARY 2nd

P. Badura-Skoda

Piano

FEBRUARY 9th

Trio Von Der Goltz

Piano, Violin, 'Cello

FEBRUARY 16th

Parrenin Quartet

Violins, Viola, 'Cello

FEBRUARY 23rd

Hamburg Chamber Orchestra

Orchestral Concerts

3 p.m. and 8 p.m.

VISITORS' TICKETS 7/-

STUDENTS' TICKETS 2/-

:i,~

i~ ¸

~i~i , ~:

::, ?i

~ ii!

¯ I

1!';

!z,

¯

i ! ,

'(

, ,
---
PAGE EIGHT

Filial Obedience? The scene in Bogside last August.

Morality of War

There was an unusually large number at the Theological Society's

meeting in the G.M.B. on Monday night to hear Peter Tarleton's address

on "War and Peace." The large attendance was probably due to the

expected arrival of Bernadette De~lin, but, in fact, she had not con-

firmed her acceptance and did not arrive.

The debate, although purporting

to be general, quickly developed

into an argument about the

morality of violence in the North.

Peter Tarleton criticised t h e

various Churches for their adherence

to irrelevant doctrines

while avoiding the more basic

elements of Christianity. He also

criticised the Civil Rights Movement

in the North for preaching

non-violence while in fact training

for it.

Alan Mathews disagreed with

Mr. Tarleton in his analysis of

man as a force which is struggling

between good and evil, and disagreed

with the presumption of

society based on this, which would

logically be the idea of "improving

ourselves, and that peace

would be secured if everybody reformed

themselves." This did not

take into account the position of

those who profited from the

present situation. Mr. Mathews

said that violence in society was

caused by the conflict of various

class conflicts rather than the

struggle of each individual man

between good and evil.

A Canadian Internationalist

stood up and declared that the

debate was an insult, as it was just

an academic debate and had no

relation to the real work. She then

left, urging those who wanted to

i

CHRISTY~3

Gentlemen's Hair Stylists

] Lincoln Place, Tel.: 67014

& 3 Shantalla Rd., Beaumont

PARTY?

VARIED SELECTION

WINES, BEERS, SPIRITS

Moderate Prices

Glasses loaned.

BYRNE'S

WINE SHOP

90 LR. MOUNT STREET

open each night till |0.30

continue a " serious discussion"

with her to join her somewhere

else.

Paddy Doherty of the Bogside

Detente Committee then spoke;

he thought that the decision of a

part of Ireland to remain with

Britain 50 years ago was the

greatest disaster in modern Irish

history. He felt that partition was

the great stumbling block to good

relations between I r i s h and

British, Catholic and Protestant.

He felt that there was just as much

violence in four people living in

one room as there was in war, and

that similar methods should be

used to alleviate the problem. He

thought that violence could be

justified, and he had himself encouraged

his four sons to throw

petrol bombs in Derry. He urged

all those in attendance to become

involved in society, as only in this

way could they change it.

|

H

O~'~mm~m~

Visit

WANTON

DESTRUCTION

OF GEORGIAN

DUBLIN

Last Thursday a meeting,

chaired by Roger Cole, who is one

of the students in occupation in

Hume Street, and Chairman of the

Labour Party in College, was held

in College to discuss the situation

in Hume Street. Akhough only

about 35 attended, all who came

seemed to be very well informed

of the events.

Dr. Garrett FitzGerald, the

T.D. for the constituency, congratulated

the students on their

stand on Hume Street and

thought that they had definitely

accomplished something by their

occupation. He deplored the fact

that Georgian Dublin was being

destroyed, but it is significant that

the emphasis seems to have

switched from preserving Georgian

Dublin to increasing the amount

of accommodation available in the

city.

Mr. Uins~ann Macroin, an

architect and town planner, who

is writing a book entitled "The

Desecration of Dublin," stressed

that in the last ten years or so the

Housing Regulation Bills that had

been passed have made it easier

to take over property in Dublin

and evict the occupants. The

pattern is of such a strong type

that it seems to be a definite

Government policy.

Michael Farrell, Chairman of

the Dublin Housing Action Committee,

stated that the house

occupied by students was suitable

for living accommodation. The

houses that have been knocked

down in the area were occupied

up to 1965, when the occupants

were bribed into leaving. Mr.

Macroin valued the property at

about £130,000, which is considerably

less than the price asked by

the Green Property Company,

which now owns the property.

Bryson Ltd.

3 CHURCH LANE

GOWNS, HOODS

HAND-TAILORED SUITS

ISRAEL -- EASTER VACATION

Jet Flights, 23 March to 28 April, £32 Single

20 Days Kibbutz, 3 Day March & Flights 65 gns.

Comprehensive Programmes for Students

HOSTS LTD., 50 Victoria St., London S.W.1. Tel. 01-222-6263

Lunches at Leisure in the

ELIZ

No. 6 DALLY

FROM 12.30 p.m. -- 2 p.m.

SOUP ~ APPLES ~ CHEESE

MOONEYS BARS

THE COLLEGE MOONEY

College Street

SIGN OF THE ZODIAC

Grafton Mooney

Harry Street

i

TRINITY NEWS~Thursday, January 29th, 1970

UNDERLYING VIOLENCE

Dublin has always been infamous as a notoriously violent city, but

events over the week-end have emphasised this reputation. Slogans have

appeared on walls in all parts of the city---cryptic danbings which are

related to a re-escalation of gang violence in Dublin. The Gardai will

not officially admit to the existence of open mass warfare, but have said

that forces of Gardai have been called out to deal with disturbances

involving large numbers of people. Students have been beaten up in the

past, but for the first time we have evidence of the dangers which ~ace

young persons here and these dangers are made greater by the fact that

many of the students from Trinity speak with a different accent and come

from a different background from the majority of those who are likely

to create violence.

Plans hav.e been put forward for a student hostel in the Marshalsea

Barracks off Thomas Street in the area known as the Coombe--Iong

recognised as one of the roughest sections of Dublin. The idea was

greeted with a euphoric surge of enthusiasm as talk of students integrating

fully into society circulated among the student innovators and

the Liberties Association (an organisation of the more respectable and

enlightened inhabitants of the Coombe).

Ideas of this nature are all very well in theory, but few students

would be willing to be the first to move into areas which are for the

great part hostile to them for fear of experiencing hostility of a similar

nature to that experienced by quite a few Trinity students in the early

hours of Sunday morning. Now surely the supporters of the Marshalsea

must recognise their plan in the light of the violent reality of the

situation.

AVOID DISAPPOINTMENT

There have been two instances during the past week of distinguished

persons who had been invited to speak at meetings of College societies

failing to appear. On both these occasions very large numbers of

students had turned up at the meetings mainly in order to hear these

celebrities speak. Both meetings had been publicised in College to

ensure large attendanecs and attract potential members for the societies

concerned.

It must be admitted that the officers of the Phil and of the Theo

were surprised and annoyed that their guests failed to appear, but in

future they and officers of all other societies in Trinity must both inform

their guests of the full list of other people invited to address the meeting.

Then before publicising the list of distinguished visitors they should

receive a written and definite letter of acceptance, so that anyone

attending the meeting can he assured of hearing the people that they

have arrived expressly to hear.

. STAFF LIST

Editor: TED OLIVER; Asst. Editor, Cohn O'Keefe; Advertising:

D. Wain-Heapy; Business: David Casey; News: Paul Tansey; Arts:

Ken Hagan; Photos: Dave Sholdice; Assistant News: David Giles;

Secretary: Caroline Atkinson. STAFF: Mary Punch, Clodagh O'Brien,

Sheena Crummie, Christine Coleman, Donal Donovan, David Murphy,

Edward Andrews, Merrily Harpur, Terry Patterson, Frank Bannister,

Michael Barry, Desmond Coles, Garry Young, Bill Ellis, Rory Heneghan,

Chris. Havers, Slim Lowry, John Quigley, Carole Power, Justin Whitehorn,

Mike Grenham, Tim Longworth, Vere Wyrme-Jones.

THE PHIL TONIGHT

"J. M. Synge"

BY PADDY LYONS, Sch.

D.V.'s: Siobhan HcKenna, Dr. Oliver Edwards,

Prof. T. R. Henn

TEA 7.45 p.m.

STUDENTS REPRESENTATIVE

COUNCIL

OPEN 10a.m.- 5p.m.

MONDAY -- FRIDAY

BOTTOM FLOOR No. 5

TRAVEL- STATIHNARY

FELT PENS -- BIBBS

Published by " Trinity News," 6 Trinity College, Dublin, and printed by the Brunswick Press Ltd., 179 Pear~e St., in the Parish of St. Hark, Dublin. All national advertising contracted by Achievement University Publications

Hartins Bank Chambers, 261 Hanningham Lane, Bradford. Tel.: 48211/3

Thu

i

A

will

Max

duri

tacU

Irel.

peol

the

via

worl

-f

Lai

COUI

to I

sam

talk

t all

visi~

tour

My

Pha

meE

You

ing

tion

Lie~

Hoi

vill~

Lai

chal

Le ~

the

Wo~

that

of

,C

B