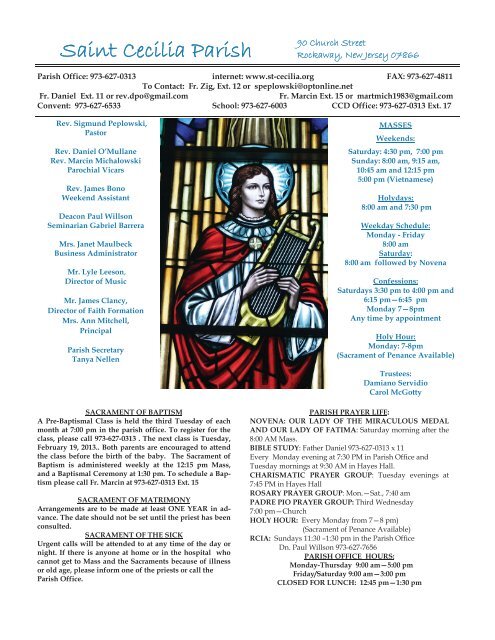 Saint Cecilia Parish - St. Cecilia Roman Catholic Church
Saint Cecilia Parish - St. Cecilia Roman Catholic Church
Saint Cecilia Parish - St. Cecilia Roman Catholic Church
SHOW MORE
SHOW LESS
Create successful ePaper yourself
Turn your PDF publications into a flip-book with our unique Google optimized e-Paper software.
Saint Cecilia Parish

Rev. Sigmund Peplowski,

Pastor

Rev. Daniel O'Mullane

Rev. Marcin Michalowski

Parochial Vicars

Rev. James Bono

Weekend Assistant

Deacon Paul Willson

Seminarian Gabriel Barrera

Mrs. Janet Maulbeck

Business Administrator

Mr. Lyle Leeson,

Director of Music

Mr. James Clancy,

Director of Faith Formation

Mrs. Ann Mitchell,

Principal

Parish Secretary

Tanya Nellen

90 Church Street

Rockaway, New Jersey 07866

Parish Office: 973-627-0313 internet: www.st-cecilia.org FAX: 973-627-4811

To Contact: Fr. Zig, Ext. 12 or speplowski@optonline.net

Fr. Daniel Ext. 11 or rev.dpo@gmail.com Fr. Marcin Ext. 15 or martmich1983@gmail.com

Convent: 973-627-6533 School: 973-627-6003 CCD Office: 973-627-0313 Ext. 17

SACRAMENT OF BAPTISM

A Pre-Baptismal Class is held the third Tuesday of each

month at 7:00 pm in the parish office. To register for the

class, please call 973-627-0313 . The next class is Tuesday,

February 19, 2013.. Both parents are encouraged to attend

the class before the birth of the baby. The Sacrament of

Baptism is administered weekly at the 12:15 pm Mass,

and a Baptismal Ceremony at 1:30 pm. To schedule a Baptism

please call Fr. Marcin at 973-627-0313 Ext. 15

SACRAMENT OF MATRIMONY

Arrangements are to be made at least ONE YEAR in advance.

The date should not be set until the priest has been

consulted.

SACRAMENT OF THE SICK

Urgent calls will be attended to at any time of the day or

night. If there is anyone at home or in the hospital who

cannot get to Mass and the Sacraments because of illness

or old age, please inform one of the priests or call the

Parish Office.

MASSES

Weekends:

Saturday: 4:30 pm, 7:00 pm

Sunday: 8:00 am, 9:15 am,

10:45 am and 12:15 pm

5:00 pm (Vietnamese)

Holydays:

8:00 am and 7:30 pm

Weekday Schedule:

Monday - Friday

8:00 am

Saturday:

8:00 am followed by Novena

Confessions:

Saturdays 3:30 pm to 4:00 pm and

6:15 pm—6:45 pm

Monday 7—8pm

Any time by appointment

Holy Hour:

Monday: 7-8pm

(Sacrament of Penance Available)

Trustees:

Damiano Servidio

Carol McGotty

PARISH PRAYER LIFE:

NOVENA: OUR LADY OF THE MIRACULOUS MEDAL

AND OUR LADY OF FATIMA: Saturday morning after the

8:00 AM Mass.

BIBLE STUDY: Father Daniel 973-627-0313 x 11

Every Monday evening at 7:30 PM in Parish Office and

Tuesday mornings at 9:30 AM in Hayes Hall.

CHARISMATIC PRAYER GROUP: Tuesday evenings at

7:45 PM in Hayes Hall

ROSARY PRAYER GROUP: Mon.—Sat., 7:40 am

PADRE PIO PRAYER GROUP: Third Wednesday

7:00 pm—Church

HOLY HOUR: Every Monday from 7—8 pm)

(Sacrament of Penance Available)

RCIA: Sundays 11:30 –1:30 pm in the Parish Office

Dn. Paul Willson 973-627-7656

PARISH OFFICE HOURS:

Monday-Thursday 9:00 am—5:00 pm

Friday/Saturday 9:00 am—3:00 pm

CLOSED FOR LUNCH: 12:45 pm—1:30 pm
---
Page 2 January 27, 2013 The Third Sunday in Ordinary Time

MONDAY— January 28, Saint Thomas Aquinas, Priest and

Doctor of the church

8:00 am The Holy Souls in Purgatory

TUESDAY— January 29,

8:00 am Anna Kurcin r/b Stephen Reynolds & Family

WEDNESDAY– January 30,

8:00 am Stella Paluba r/b Stella & Henry Rychlicki

THURSDAY, January 31, Saint John Bosco, Priest

8:00 am Michele Monteleone r/b Dn. David Monteleone

FRIDAY- February 1

8:00 am Domenico Tilli r/b Alex & Lynda Oricchio

Dolores Haltigan r/b Tom Haltigan & Family

SATURDAY—February 2, The Presentation of the Lord

8:00 am James Riccio, Sr. r/b Catherine Haynes

Olga Demarco r/b Philomena Hric

SUNDAY, February 3, The Fourth Sunday in Ordinary

Time

4:30 pm In Loving Memory, Rose Ann Rodriquez

r/b Norman Rodriquez, Michele & Fred Olex

Robert Kopet r/b The Havron Family

7:00 pm Albert Cerniauskas r/b Lois Paliukaitis

Stanley & Frances Paliukaitis, Beloved Parents

r/b daughter, Lois

8:00 am Silvio, Filomena, Anthony & Carol Taglienti

r/b Adelina Velocci

Dorothy Doerr/b Elaine Dominkowitz

9:15 am Arthur Marotta r/b Norma King

Joan Riker r/b Helene & Spencer

10:45 am Mario Netta r/b The Marmara Family

Jack Lombardo r/b Catherine Haynes

12:15 pm Olga DeMarco r/b The Kuhlmey Family

ParishPay

Have you thought about automating your giving?

No more writing checks!

You decide the amount & the frequency.

Sign up today for automatic contributions to

St. Cecilia's.

Go to the Parish Pay link at st-cecilia.org

Betty Golden, Kate Darlington, John Brinkman

Jr., Linda Kirby, Jake Michael Miraldi, Scott

Bornemann, Rosemary Woodring, Emily

Fischer, William T. Cousins, Sharon Augenti,

Sean Nolan, Peg Norman, Paul Moscoso,

Eileen Sutherland, Maryann Hughes, Charles

Passarella, Dian Hamadyk, Jeffrey Jerz, Peggy Eileen Miars,

Ray Kennedy, Richard Corcoran, Adam Rosowicz, Lorraine

Gerber Madison Rose Leslie, Kelly Harty, Norman Rodriquez,

Demetrius Barbee, Lucille Bardi, and Frances Finn.

ST. CECILIA CHURC COLLECTION GOALS

2012/2013

Week Ending - January 6, 2013

Collection—Checks $ 8,766.25

Collection– Cash $ 3,131.00

ParishPay Electronic Giving $ 1,742.42

Total Weekly Collection $13,639.67

Yearly Collection Goal (BUDGET) $803,400.00

Weekly Goal $ 15,450.00

Weekly Collection Surplus (Deficit) $ (1810.35)

Year To Date Surplus (Deficit) $ 2,954.24

THE WORD OF GOD

Here are the readings for next Sunday

Jeremiah 1:4-5, 17-19 Psalms 71:1-6, 15-17

1 Corinthians 12:31-13:13 or 13:4-13 Luke 4:21-30

FIRST FRIDAY COMMUNION CALLS – A priest will be

making "First Friday" visits to those who are homebound. The

visits will be made by a priest who will distribute Holy Communion.

He will also be available for the sacraments of penance

and anointing of the sick. Please call the parish office at

973.627.0313 to register your name for this monthly visit by a

priest.

The people of St. Cecilia Parish are asked to pray

for the following people serving our country in

the armed services:

2nd Lt. Kelley E. Robbins, Pvt USMC, Diego

Usma, Major Glenn E. Martinez, Sgt. Brian

Whalen, General Raymond Odierno, Capt. Anthony Odierno,

Cpl. Kong V. Nguyen, Cpl. Jim Van Valen, LCPL Anthony

Eresman, Sgt. Paul J. Willson, PFC Cano Janeth, Sgt.

Bob Autrey, Col. William Paliwada, Sgt 1st Class (E7) Sam

Colon, PFC Marylyn Rivera-Sachez, Cpl. Edward C. Thompson,

PFC Mellissa Corbo, Major Kevin M. Nash, Lt. Amy

Cronin, Lt. Col. John L. Medeiros, Jr., Sgt. Daniel Healy, Marine

Keith Leitner, Sgt. Spencer Lopez, PFC Taryn Kemp,

Jeffrey Braunhausen, E7 Joseph Grimsey, LTC Brian Bosworth,

Bill Maloney, Greg Bloete, Gian Carlo Bruzzese, Spc.

Christopher Little, PFC Brittany Martindell, Capt. Adam T.

Lusardi, T4 Matthew Fitzgerald, SA Justin C. White, Matthew

& Daniel Rosica, Mark Leonard, Sr. Armn. Ashley Valetta,

Sgt. John Wisnofsky, Cpl. T.J. Finn, Sean Killeen 1st

Class Airman, Sgt. Kristopher Faber, Capt. Vincent Presto,

and Airman First Class William Kussler . We ask God the

Father of us all, through the intercession of St. Michael the

Archangel, to protect all the men and women in our Armed

Forces, to bless them in their efforts toward bringing peace and

justice to our world. May they be brought back safely to those

they love.

580-St. Cecilia
---
Page 3

January 27, 2013 The Third Sunday in Ordinary Time

PARISH EVENTS

Bereavement Support Group Series

St. Cecilia's Bereavement Support Ministry invites those, who

have suffered a loss and who are grieving, to a journey towards

healing. A series of nine weekly sessions will begin on

Thursday evening, February 21 st , 2013 from 6:30 PM – 9:00

PM, at the Parish Office, 90 Church Street (the brick building

to the left of the Church); Rockaway, NJ 07866.

This group is lead by trained facilitators certified by the National

Catholic Ministry to the Bereaved and the Family Life

Office of the Archdiocese of Newark. We pray that in this

informative environment, you will find understanding, suggestions

for coping, practical help, people who care, and

friendship.

Please contact Joan Landry Haltigan at (973) 586-0185 or

Tom Haltigan at (973) 900-0661 for additional information

and to register. Advanced registration is required at your

earliest convenience, but no later than February 18 th , 2013.

The series will be limited to ten members.

There is no charge for this series. Confidentially will be observed

at all times and sharing is optional.

Light refreshments will be served.

The Soup Kitchen Volunteers are looking for a few more helpers.

If you enjoy cooking or being a server we need you. We

especially have an opening for Men who are available between

10:00am and 12:30pm to help lift heavy trays of food. Please

contact Pattie Fitzgerald at 973-625-0841 for more details.

SICK/HOMEBOUND

Anyone who is sick, homebound, hospitalized or in a nursing

home and would like to receive a visit, Holy communion, or

the Sacrament of Reconciliation or Anointing of the Sick,

please contact Sr. Sophia Marie at the Parish Office.

973-627-90313 Ext. 16

Renew Your Marriage Vows!

Where: St. Cecilia Church

When: Saturday, Feb. 9th,

during 4:30 PM mass

Immediately following mass, come to Hayes Hall for an in‐

formal wine & cheese reception

hosted by the St. Monica Guild.

No registration required. Please join us!

Any questions, call Lee Ann @ 973‐627‐5222.

So what's your story?

Why did you want to be a priest / nun?

Have you ever wanted to ask these questions? Come join us

this Thursday Jan 31 st from 7:00 – 8:00 pm

in Hayes Hall to find out more. We will be

continuing our Year of Faith sessions with

an intimate panel discussion with several

priests and religious sisters. Come and see

what moved them to answer God's call and

also what can we all do to encourage vocation

to the priesthood and religious life.

No registration or long term commitment is required and all

are welcome. Light refreshments will be served and everyone

who comes will be entered into our weekly door prize

drawing. For more information please contact the parish

office or stcecilia.faithformation@gmail.com.

Do you have gifts to purchase for

ANY OCCASION?

Including birthdays, anniversaries,

baby on the way, graduation, "thank you"…

Please consider purchasing gift cards (Scrips) from St. Cecilia

School. Local retailers sell gift cards to the school at a discount,

you purchase the card for face value and the school

keeps the difference as revenue. You earn money for our

school without spending a single additional penny. Many

popular retailers like Visa, American Express, Starbucks,

The Gap, Home Depot, Target, Walmart, Dunkin Donuts,

Toys R Us, Shell and Sunoco participate in the Scrip program

and offer the same gift certificates you would buy at

the store.

For a list of gift cards please visit:

www.shopwithscrip.com

All orders are processed on Mondays at 10 am and will be

ready for pickup on Thursday.

If you have any questions regarding the Scrip program,

please do not hesitate to call Lisa Armonaitis 973-627-0313

X13 or e-mail at larmonaitis@mac.com.

ST. CECILIA SENIOR CLUB NEWS AND EVENTS

January 29— 5th Tuesday Meeting

11:00 am—Set Up

12:00 pm—Meeting Begins

CASINO TRIPS:

February 12—Mt. Airy

Cost $20.00

Call Naomi 973-625-0819

580-St. Cecilia
---
Page 4 January 27, 2013 The Third Sunday in Ordinary Time

Save the Date!

Mark your calendars for the following events sponsored

by the St. Monica Guild:

Saturday, 3/16, @ 5 to 7 PM in Hayes Hall –

Corned Beef & Cabbage Eat-in or Take-out

Saturday, 4/26 – 2nd Annual Parish Garage Sale

Details will be provided in future bulletins.

A Family Perspective by Bud Ozar

In today's gospel Jesus was "praised by all" except at home

in Nazareth where the "eyes of all were intently on him."

Acceptance can be hard to find at home due to unreal EX-

PECTATIONS. Jesus challenges us to "proclaim liberty" to

anyone "oppressed" or "captive' by our EXPECTATIONS.

DIOCESAN & COMMUNITY NEWS

Denville Knights of Columbus Council #3359

Weekend Retreat at Loyola Retreat House, Morristown,

NJ

February 1, (Friday) 5:00 pm to February 3, (Sunday)

2:00pm

If you are interested in attending this retreat, please contact

one of the Knights listed: Gene Kelly 973-625-1399,

Charlie Hernando 862=209-8251, Charles Conklin 973-580

-0555 or call Loyola Directly 973-539-0740 for any questions

you might have or for additional information. You

can also visit on line at www.loyola.org.

Help make an international student's dream come true to

visit America; share your time and treasure; become a host

family. Education First, EF.com needs host families during

June 26-July 16 and July 31-August 20. Students are in

classes M_F 8:30—5:30. You receive a stipend of $250/

student/session. Contact Mary 973-387-5801 or

mary.ramsden@ef.com or www.ef.com/host/morristown

to learn more.

EVA'S VILLAGE SEEKS VOLUNTEER DOCTORS,

NURSES AND DENTISTS

The medical and dental clinic of Eva's Village provides free

primary care and oral health care to the homeless and poor. The

clinic is volunteer-run and cares for more than 2,700 unique

patients each year. We are currently in need of licensed and

insured medical and dental volunteers to ensure that our most

vulnerable populations receive the care that they need. If interested

and available for a few hours a week, please contact Jennifer

Doherty, Volunteer Coordinator, at 973.523.6220 or via

email at Jennifer.Doherty@evasvillage.org.

Celebrate Consecrated Life

with Bishop Arthur Serratelli, S.T.D., S.S.L., D.D.

Diocese of Paterson

Evening Prayer

Sunday, February 10, 2013, at 4:00 P.M.

Saint Philip the Apostle Church

797 Valley Road, Clifton

Light reception to follow

8th Annual DIVINE MERCY Conference

Date: March 1, 2013

Time: 9:00 am—5: 30 pm

Cost $55.00

Box Lunch $9.00

Location: Cardinal Spellman H.S., Bronx, New York

To register: 1-800-462-7426 - or -

Www.thedevinemercy.org/Bronx

For additional information see brochures in the vestibule.

Optional Bus Transportation from selected locations—

$15.00 per person,

VISIT THE DOMINICAN COLLEGE

OPEN HOUSE

When: Saturday, Feb 2, 1013

Where: Dominican College, Hennessey Center

Time: 1 pm to 3pm

Take a tour of our campus, meet faculty and students, discuss

financial aid, learn about our Honors program and our very

generous scholarship program. It's just 15 minutes from the

Tappan Zee Bridge.

ST. PAUL INSIDE THE WALLS

Couple's Prayer: Growing Closer to God Together

Prayer, for married and engaged couples, should be

simple, natural, and intimate. In these sessions you will

experience the power, beauty, and unity that prayer can

produce as couples develop closer relationships with

God and each other. Presented by Eniola Honsberger.

Madison, Fridays, February 15 and 22, March 1, 8,

15, and 22 from 7:00-8:30 p.m.

580-St. Cecilia
---
Page 5

January 27, 2013 The Third Sunday in Ordinary Time

Monday, January 28

4:30 pm CYO Basketball (Gym)

7:00 pm Holy Hour (Church)

7:30 pm Bible Study (Parish Office)

Tuesday, January 29

9:30 am Bible Study (Hayes Hall)

11:00 am Senior Set Up (Hayes Hall)

12:00 pm Senior Meeting Begins

4:30 pm CYO Basketball (Gym)

6:30 pm Bible Study (Parish Office)

7:45 pm Charismatic Prayer Group )Hayes Hall)

Wednesday, January 30

4:30 pm CYO Basketball (Gym)

Thursday, January 31

9:30 am Mommy Bible Study (Parish Office)

4:30 pm CYO Basketball (Gym)

7:00 pm Year or Faith Gathering (Hayes Hall)

Friday, February 1, First Friday

8:00 am School M & M Bingo (Hayes Hall)

4:30 pm CYO Basketball (Gym)

Saturday February 2

FOOD COLLECTION

BLOOD PRESSURE SCREENING

8:00 am CYO Basketball (Gym)

Sunday February 3

FOOD COLLECTION

BLOOD PRESSURE SCREENING

9:15 am Children's Liturgy of the Word

10:15 am Choir Practice

11:45 am RCIA

5:30 pm Family Rosary

(Suchon Hall-Sacred Heart)

GIFT

CARDS

MORE CHOICES AVAILABLE!

GIFT CARDS– AFTER ALL MASSES

Thank you to the parishioners and school

families who have been supportive of our

Gift Card sales..

If more people participate, I cannot even imagine how much

more we could help the School

without any added cost to the buyer.

Once you start using the cards, you will realize

the benefits too.

For your convenience, gift cards are sold

at the Parish Office and school offices during

normal working hours.

The following are available all of the time,

for immediate sales:

SHOPRITE, STOP & SHOP, A & P, HOME DEPOT

KOHLS, & SUSSEX MEAT PACKING,

DUNKIN DONUTS, STARBUCKS,PANERA, TARGET, WAL-

MART, CRACKER BARREL

SCHOOL NEWS

St. Cecilia School will launch

their annual Catholic Schools

Week celebration by hosting

an Open House on Sunday,

January 27 th, 2013 from 10:00

a.m. to 12:30 p.m. The Open

House event will include

tours of classrooms and other

facilities and an opportunity

to meet the faculty and principal and learn about St.

Cecilia School's offerings for students and families.

All are welcome and light refreshments will be

served. Additional events and activities for students

will take place during the week of January 28 th at the

school.

St. Cecilia School is a Catholic elementary school offering

a comprehensive pre-K through 8 th grade faith

-based education delivered by certified teachers. St.

Cecilia's faculty delivers a strong academic curriculum

consisting of all core subjects as well as such special

subject areas as Technology, Physical Education,

Music, Art, Spanish, and Library. Technology is integrated

into all areas of the curriculum through the

use of SMART Boards in every classroom. A high

level of individualized attention is offered, meeting

the needs of students at all learning levels. St. Cecilia

School offers half day and full day pre-k and full day

kindergarten. Before Care and an After School program

are available to students in pre-k through

eighth grade.

For more information, please contact

Mrs. Ann Mitchell at (973) 627-6003.

St. Cecilia School Gertrude Hawk Candy Bar Sale

Please help Support St. Cecilia School, and purchase

a Chocolate bar for only 1.00 each!!!!!

All proceeds of the sale will benefit

St. Cecilia's students.

January 26 4:30 Mass

January 27 9:15, 10:45 and 12:15 Masses

St. Cecilia School 2013 Calendar Raffle

St. Cecilia School of Rockaway is currently

selling their 2013 Calendar Raffle

tickets. The cost of a ticket is $10.00 and are available

for sale at all January Masses . Each ticket has 18

chances to win. Even if your ticket is pulled it will be reentered

into the next drawing so you have more than one

chance to win. Total prizes are $5000. Not a bad investment

for only $10.00! All proceeds raised will benefit St. Cecilia

School. Our first drawing will be February 1 st and runs

weekly through to May 31 st .

580-St. Cecilia
---
Page 6

January 27, 2013 The Third Sunday in Ordinary Time

Dear Parishioners,

We celebrate the Lord's Day on this Third Sunday in Ordinary Time. The Gospel

passage which is proclaimed in our liturgical assembly is from the first chapter of the

Gospel of Luke. This year in the Sunday lectionary (the book of scripture readings) is

cycle C from which the Gospel of Luke is read. In today's Gospel periscope we find the words of the

Evangelist being addressed to "the most excellent Theophilus." Scripture scholars have a number of theories of who

this might be. In this passage the evangelist gives his reason for writing, "…so that you may realize the certainty of the

teachings you have received." Indeed, the Holy Gospel is the teaching of our God and Savior, Jesus Christ.

The Gospel is the daily companion for those enrolled in Catholic schools. Today across our nation we begin

CATHOLIC SCHOOLS WEEK, the annual celebration of Catholic education. Catholic schools have been on the forefront

of preparing tomorrow's leaders with a solid education in math, the sciences, the humanities and much more.

Each day this scholastic work is accompanied by the teaching of the Lord Jesus so that our young people are being

formed by virtues and characteristics which are absent in other academic environments. This formation is truly

"holistic", the entire person is being shaped by the things of earth and those of heaven.

The continued growth and success of our parish school depends upon YOU! I ask that, if your child does not attend

our school, you consider enrolling him/her in our great school. Please call our principal, Mrs. Annie Mitchell for information

and a tour. Also, help us in our advertisement of the school. Your good witness is the best marketing tool

we have! Lastly, thank you for your donation in today's second collection which benefits our school. God bless you

and please consider remembering our school as you prepare your last will and testament.

Hopefully from heaven you will be able to see the blessings which our parish school receives

as a result of your faith and generosity.

SUPPORTING CATHOLIC SCHOOLS IS PARTNERING WITH THE GOSPEL!

God bless you,

Father Zig

ST. ANGELA MERICI, Virgin

January 27

Born in 1474 at Desenzano on the shore of Lake Garda, Italy, St. Angela Merci became a tertiary of St. Francis

at fifteen years of age. In a vision God revealed to her that she would establish a "company" to promote the

welfare of souls. At Desenzano she established a school for the instruction of young girls and a second school

at Bescia. She gathered around her twelve religious companions and founded the Ursulines at Brescia.

St. Angela was of a reflective bent and possibly the first to grasp the changed role of women in the society

transformed by the Renaissance. She envisaged that those who joined her would remain in the world but devote

themselves to every type of corporal and spiritual work of mercy, with special emphasis on education.

However, her idea of education was very different from that of a convent school. She preferred to send her followers to reach

girls in their own families. Through this she hoped to effect an improvement in social conditions. For it was her belief that

"disorder in society is the result of disorder in the family:" Her idea of a religious order of women without distinctive habit and

without solemn vows and enclosure was also in advance of her times—although her Order was obliged to adopt the canonical

safeguards then required of all nuns.

On November 25,1535, the solemn canonical institution of the company of St. Ursula took place in the4 Oratory of the Piazza del

Duomo. As a patron, St. Angela chose St. Ursula because every since here martyrdom, St. Ursula was regarded as the ideal type

of Christian virginity.

In the year of her death 1540, it was estimated that at least half the town of Brescia was Lutheran or Calvinist. However, the

schools of the Ursulines did their share in strengthening and extending Catholicism and in safeguarding Italy from what we now

term "modern unbelief." she was canonized in 1807 by Pope Pius VII.

PRAYER: Lord, let St. Angela never cease commending us to Your kindness. By ways imitating her charity and prudence may we succeed in

keeping Your teachings and preserving good morals. Amen

Taken from, Lives of the Saints, Catholic Booking Publishing Company, 1999 New Jersey

580-St. Cecilia