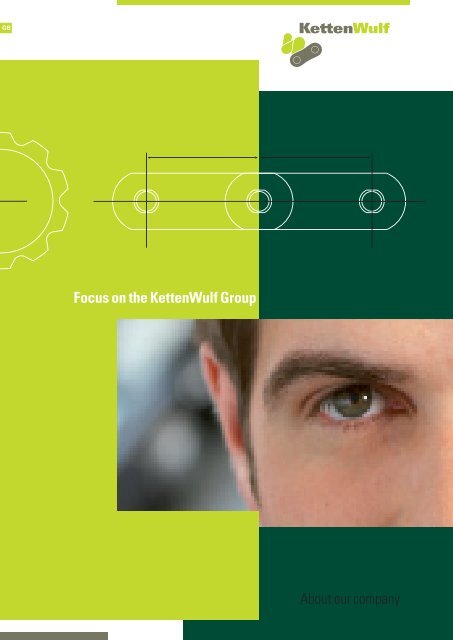 KettenWulf roller chains - KettenWulf Betriebs GmbH
KettenWulf roller chains - KettenWulf Betriebs GmbH
KettenWulf roller chains - KettenWulf Betriebs GmbH
SHOW MORE
SHOW LESS
You also want an ePaper? Increase the reach of your titles
YUMPU automatically turns print PDFs into web optimized ePapers that Google loves.
GB

Focus on the KettenWulf Group

About our company
---
Contents

04 KettenWulf worldwide

06

Partners to industry

08 KettenWulf conveyor chains

10 KettenWulf roller chains

12 KettenWulf sprockets

14 KettenWulf components and special parts

16 What we can do to assist you

18 Industrial applications

22 Our production at a glance

26 Research and development

30 Quality management

From left to right: Ansgar Wulf, Julia Wulf, Tobias Wulf
---
KettenWulf – trustworthy and reliable

KettenWulf: A name which has been synonymous with superior product quality

in the manufacturing of chains and sprockets for more than 85 years. A name

also signifying customer focus, reliable product quality, service and improved

customer profitability. With this in mind, we concentrate our attention on those

factors which are relevant for both current and potential customers – and it is

these factors that form the basis for all our activities.

Trust in technology: In our world-wide production and quality management,

we have always placed great importance on the use of leading-edge technology.

Providing the best possible quality to our customers is an integral part of our

company's commitment, and we employ state-of-the-art machines, tools and

production methods to achieve this goal.

Quality by intelligence: Our staff is our capital, representing our company

in all phases of our interaction with you, the customer. Our sales engineers

are flexible and are always ready to give their very best to meet your needs.

We put our creativity and our staff's dedication at your disposal in developing

tailor-made solutions for your company. We are only satisfied with our work

if you are fully satisfied, too.

Clients first: Anyone who has had business with our company will know how

seriously we take this phrase. We do not see your questions and requests as

problems, but as a challenge. We are there for you whenever you need us –

always and at any time. We will convince you of the efficiency and reliability

of our products over and over again by meeting your requirements. We consistantly

review our range of services and products to ensure that our customers'.

Our aim is to always give our best for you.

Profitability and result oriented: Each project you work on with us will always be

an appreciable investment in improvement.

This gives you security of investment and costs – another good reason for

placing your trust in a business relationship with our company – a relationship

intended to last.

Günter Wulf

President
---
|4

KettenWulf global

The main factory in

Kückelheim not only

houses the company

headquarters, but also

the KettenWulf Engineering

Centre. Here

we provide worldwide

support for customers

in all technical issues.

Kückelheim, with a production

area of 30,000

square metres and a

staff of roughly 550, is

the largest production

facility of the worldwide

KettenWulf Group.

KettenWulf was founded in Kückelheim, Germany,

in 1925. Thanks to powerful economic growth in

the second half of the 20th century, the company

developed from a small sized factory into a leading

producer of chains and sprockets.

Today, the KettenWulf Group, with production

facilities in Europe and Asia, is a market leader

and one of Europe's largest producers of conveyor

chains, roller chains and sprockets. More than 1200

employees develop, produce and market tailor-made

conveyor and drive engineering solutions all around

the globe.

KettenWulf production

facility in Sieperting,

Germany
---
The KettenWulf Group worldwide

For over 85 years, KettenWulf, as an expanding

global company, has stood for quality, reliability

and flexibility. More than 1200 employees develop,

produce and market customized solutions in the field

of conveying and drive technology at ten locations

across Europe, America and Asia. All around the

globe, KettenWulf is your strategic partner when

it comes to delivering optimal product quality.

Be it the Sauerland, Hangzhou, Atlanta or Pune –

as an international company with worldwide operations,

our employees are always at your service to

meet your unique business needs and to provide you

with industry leading technical support.

Trust, loyalty and commitment – these values are

what KettenWulf stands for. As a medium-sized,

family-run company, cultivating a strong, personalized

partnership with both our customers and suppliers

is our highest priority.

Top Left: Our central

European storage

and sales facility in

Ghent, Belgium

Top Right: Production

and sales facility

Ferlach, Austria

Middel Right: Production

and sales facility

in Atlanta, USA

Bottom Right: The

Chinese production

and sales facility in

Hangzhou

|5
---
|6

Partners to industry

We are partners to all

sectors of industry.

For example: in the

steel production. Our

conveyor chains move

multi-ton steel coils at a

temperature of 1,000° C

precisely and reliably

through the various

production stages.

KettenWulf as a developer and manufacturer of

chains and sprockets provides tailor-made solutions

in the conveyor and drive engineering sector.

Since the individual requirements of every customer

are different, KettenWulf provides customized

product solutions for all industries.

Our engineers and technicians develop special chain

systems, adapted to suit specific environmental

conditions.

Production and management processes certified

in accordance with DIN EN ISO 9001:2008, together

with the ›KettenWulf Competence Center‹ in

Kückelheim, ensure that KettenWulf's high quality

standards are adhered to all around the world. Specialist

engineers at the Competence Center offer

their expert knowledge for our top-class product

developments world-wide.
---
Conveyor chains, roller chains, sprockets

and components

Almost every industry benefits from our knowledge.

Wherever things need to be moved, conveyor or drive

technology is involved. We commit our expertise and

more than 85 years of experience to the development

of high-quality products in order to enhance product

performance and service life.

|7
---
|8

KettenWulf conveyor chains

Low-maintenance and

lubrication-free chains

provide economical and

ecological advantages

as well as cost reduction

in the service and

maintenance sector.

This illustration shows

an example of lubrication-free

technology for

the escalator industry.

KettenWulf is a leading manufacturer of high-quality

conveyor and transport chains. Our chains are

used in a broad range of applications in a wide variety

of industries – from automotive production, bulk

material handling conveyors to woodworking the

wood industrie.

Since the individual requirements of our customers

are different, KettenWulf develops specialied conveyor

and transport chains, adapted and optimized

to suit your specific requirements.
---
Figure 1:

Chain for the

cement industry

Figure 2:

Conveyor chain for

paint shop in automotive

production

Figure 3:

Galle chain for

dams and locks

Figure 4:

Double-strand chain

for paper roll transport

Figure 5:

Conveyor chain for

roller coaster

Figure 6:

Step chain for

escalators

Figure 7:

Conveyor chain for

final assembly in the

automotive industry

Figure 8:

Steel mill chain for

coil transport

Tailor-made precision for all industries

KettenWulf develops and manufactures special conveyor

and transport chains of all types and sizes, for

applications in all industrial sectors. We also manufacture

standard chains to DIN, ISO and ANSI specifications.

Our product range includes galle chains,

draw-bench chains, block chains, lantern pinion,

lifting chains and hinged gear racks for waterway

locks and weirs.

1 2

3 4

5 6

7 8

|9
---
|10

KettenWulf – your

partner for high

quality roller chains.

KettenWulf roller chains

From applications in various industrial production

plants to the use in agricultural machinery – Ketten-

Wulf offers the ideal roller chain for your particular

requirements.

Whether you want to use a chain subjected to continuous

stresses or with a high resistibility against

temperature changes and corrosion – KettenWulf

always has the perfect solution. We offer an extensive

range of roller chains in all sizes for a wide

variety of applications. We offer you roller chains

according to DIN and international standards.
---
Figure 1:

Hollow-pin chain

Figure 2:

Sharp-top roller chain

Figure 3:

Leaf chain

Quality ensuring maximum service life

Figure 4:

KettenWulf roller chain

with straight link plates

Figure 5:

Polymer block chain

Figure 6:

Roller chain for sensitive

product handling

Figure 7:

X-ring roller chain

Figure 8:

BS-HP hollow-pin chain

High performance roller chains and bush chains for

drive and conveyor systems are available from stock.

Every day new solutions are successfully developed for

special applications.

1 2

3 4

5 6

7 8

|11
---
|12

KettenWulf sprockets

KettenWulf produces

sprockets in various

dimensions and

designs according to

customer requirements.

Sprockets are a crucial factor in the efficiency and

service life of any chain system. For this reason,

we at KettenWulf manufacture our own sprockets,

since chain and sprockets from one source ensure

maximum operational hours.

Besides sprockets in all DIN/ ISO/ ANSI standard

pitches and tooth forms, our product range includes

tailored solutions with optimum tooth shapes and

sprocket sizes. Whether you need sprockets of highgrade

material, special heat treatment or indictionhardened

teeth – KettenWulf always has the right

solution for you.
---
Figure 1:

Sprocket with detachable

tooth gaps

Figure 2:

Double sprocket with

intermediate gaps

Figure 3:

Triple sprocket

Figure 4:

Sprocket with intermediate

gaps and

lightening holes

Figure 5:

Sprocket with

saw toothing

Figure 6:

Pinion sprocket

Figure 7:

Sprocket with segmented

rim

Figure 8:

Sprocket with patented

noise dampening

system

Optimum tooth designs for all chain types

For all chains, KettenWulf also provides the matching

sprockets. Besides sprockets with toothing acc.

to DIN standards, we can also manufacture sprockets

with optimized tooth forms and milled surfaces.

Sprockets made of high-grade materials, heattreated

and with induction hardened teeth are part

of our standard production program.

1 2

3 4

5 6

7 8

Our production range includes all sprocket designs

such as sprocket with one-sided hubs and sprockets

with two-sided hubs, split-type sprockets with

detachable tooth segments or tooth gaps, shear-pin

sprockets, pinion sprockets or sprockets with our

patented noise dampening system.

|13
---
|14

Drive shaft for the

escalator industry

KettenWulf components and special parts

As a leader in conveyor and drive technology,

KettenWulf has established itself as a supplier of

special components. Apart from manufacturing

drive and tail shafts, we also mount complete drive

shaft systems consisting of axle, sprockets and

bearings. These shafts are completely assembled

at our factory and delivered to our customers as a

ready-to-install package.Special parts such as planetary

axles or gear cover are further examples of our

vast product range.
---
Individual solutions for special key industries

Figure 1:

Completely mounted

drive shaft

Figure 2:

Axle for large planetary

gears

Figure 3:

Cover for large

planetary gears

Figure 4:

Drive shaft for hydraulic

engineering

Figure 5:

Drive shaft for hydraulic

engineering

Figure 6:

Tail shaft for the

bulk material handling

industry

Figure 7:

Pinion rack

We always stay on the cutting edge of our business.

As a result, we take advantage of our vast experience

and in-depth expertise that we have gained

throughout the years to promote new, promising

industries. This enabled us to advance into new

markets such as the renewable energy industry.

Likewise, we are able to offer our customers this

extensive know-how so as to develop a product

solution perfectly geared to meet their individual

requirements.

1

3

5

7

2

4

6

|15
---
|16

Do you have any

questions regarding

state-of-the-art conveyor

and drive technology

and are you looking for

a partner with a worldwide

organization

network to assist and

support your projects?

Then do not hesitate to

contact us – we consider

technical advice

and related services

to be an essential

part of our work. Our

experienced engineers

and technical staff are

always available to

answer your questions.

What we can do to assist you

Our work is characterized by expertise, experience,

efficiency and a high degree of commitment. Our

products ensure your long-term, sustainable success.

And for this reason, we offer you the use of

our services from the very start, making us a reliable

partner for your conveyor and drive engineering

needs.
---
Development, production, installation, after-sales

KettenWulf combines a whole range of highly-specialized

fields of expertise to support your projects.

We have efficiently networked individual services to

achieve the very best solutions for your products:

» Development: We develop and design the best

possible conveyor and drive engineering solutions

corresponding to your needs and requirements.

» Production: We use state-of-the-art technology to

manufacture special conveyor chains, drive chains

and sprockets for you.

» Installation: If you wish, our reliable and trustworthy

partners can handle your on-site installation

work.

» After-sales: Upon request, we can inspect and

check the condition of your chains and sprockets

with respect to their functional capability and

remaining service life.

|17
---
|18

Industrial applications

Chains for the escalator

industry: London,

Madrid, Lisbon, Prague,

Budapest, New York

and St. Petersburg – our

escalator and moving

walk-way chains move

billions of passengers.

Our conveyor chains, roller chains and sprockets are

used all over the world. Innovative developments,

high quality materials and manufacturing precision

are what make the difference. That is why many

well-known manufacturers from all sectors put their

trust in KettenWulf's products and services. These

include manufacturers of:

» escalators

» bulk material handling equipment

» automobiles and parts

» steelworks equipment

» weir and floodgate equipment

» timber handling and woodworking equipment

» papermaking and handling equipment

» insulating material equipment

» amusement park industry

» packaging material industry

» foodstuff industry
---
Products for all industries – worldwide

Chains for the steel

industry: From slat

conveyor for transporting

ore and scrap

metal right up to wire

cooling chains for wire

production processes,

our chains are used in

virtually all steel and

iron industry processes.

Chains for bulk material

handling industry:

Whether is it coarse or

fine grained material,

corrosive or abrasive,

or even if it is hot - KettenWulf

always has

the right solution.

Chains for the timber

and woodworking

industry: From the

transportation and

debarking of logs,

via sawing line, to

palletizing boards

and plates, it is

impossible to imagine

wood processing with-

out conveyor and

roller chains.

|19
---
|20

Chains for the automotive

industry: High

production standards

call for reliable and

powerful means of

production. Ketten-

Wulf supplies special

chains, tailor-made

to suit individual

production stages.

Products for all industries worldwide

For decades notable vehicle manufacturers have utilized

KettenWulf drive and conveyor systems. OEMs

trust KettenWulf, because we understand the needs

and requirements of the automotive industry.

KettenWulf combines the expertise of each department,

from Research & Development, to Production

and Assembly, in order to provide the best product

tailored to your individual transport and conveying

needs. Through our extensive experience and knowledge

gathered from working with the automotive

industry, we can provide innovative, economical and

ecologically responsible chain solutions. Our customers

are already benefitting from the use of our low

maintenance and lube free technologies.
---
Chains for dams and

locks: KettenWulf also

offers maintenance-free

technology solutions

for use in the worst

conceivable conditions,

thus reducing maintenance

and operating

costs and ensuring

compliance with

strict environmental

protection regulations.

Chains for the

paper industry: In this

industry, chains are

used in conveyors for

recycled paper, for

mechanical shredding

of logs and for the

transport of paper rolls.

Chains for the insulating

material industry:

Our chains have outstanding

service life,

even under the most

extreme of conditions.

|21
---
|22

CNC lathes are used

to produce parts

of our chains with

utmost precision.

Our production at a glance

We deliver only the best quality products. To ensure

this, we use only the most modern machines and

manufacturing methods. Furthermore, our quality

management and R&D department are engaged in

the constant enhancement of our product quality.

To ensure the continuous high quality of our products

at all levels, practically all the individual parts

of our chain products are made in-house by our own

staff.
---
Quality certified in accordance with DIN EN ISO 9001:2008

Customer satisfaction and confidence are the

corner stones of KettenWulf's policy. To ensure

constant high product quality, KettenWulf has

obtained certification to prove the compliance of

its quality management system with the strict

requirements of DIN EN ISO 9001:2008.

Laser cutting: KettenWulf utilizes on laser-cutting

technology for the production of link plates, which

require extreme precision. It also makes the production

of plate components with complex contours

possible.

In order to meet our customers' quality demands

and ensure long product service life, we have implemented

quality management procedures in all production

and management processes. From incoming

goods inspection to final testing and inspection, we

take the utmost care to supply only the very best

quality products to our customers.

Heat treatment: We use two different heat treatment

processes for the components of our chains

and sprockets – case-hardening and induction hardening.

With these processes, we create chain links

with greater friction resistance. Induction hardened

sprockets reduce the wear in the tooth gaps, thus

ensuring optimum interaction of chains and sprockets

over longer periods.

|23
---
|24

Quality in all production processes

Mechanical processing: KettenWulf uses only the

latest CNC technology in the mechanical processing

sector. This makes it possible not only to turn

bushings, pins and rollers, but also mill link plates,

sprocket teeth and pitch borings. Variable designs

are no problem at all, thus enabling us to meet

special customer requirements. To ensure a perfect

fit, KettenWulf uses precision grinding machines

for all bushes, pins and rollers to achieve very tight

tolerances.

Welding technology: All welding is carried out by

our own welding division. State-of-the-art MIG and

MAG processes are used here for production. In order

to ensure constant high quality, we use partially

automated and fully-automated welding equipment

to manufacture our products.
---
Punching: Modern punching technology allows

continuous production of link plates and attachments.

At KettenWulf, we produce our own

punching tools. Using special production methods

we can ensure a very high pitch accuracy of our

chains. Shot peening of link plates and attachments

ensures further quality improvement.

Metal-forming: To bend attachment link plates or

attachment angles, the bending zones of the work

piece are initially heated up through induction. This

prevents bending cracks and considerably increases

the service life of the link plates.

|25

Final assembly: During the last production

step the individual components

of the chain are assembled by

hydraulically operated presses.

After the final inspection, the products

are shipped to the customers.
---
|26

Research and development

With the aid of extensive

tests on our own

test benches, our R&D

department has been

able to develop two

major technologies for

producing low-maintenance

and lubrication-free

chains. We can

provide lubrication-free

chains of either sealed

or non-sealed designs

to suit various ambient

conditions and environmental

influences.

Our large and well-equipped testing laboratory

carries out the following basic examinations and

tests on a regular basis:

» Service life testing of chain components

» Ability to withstand aggressive media

» Roller wear testing

» High-temperature testing

» Fatigue strength testing of chain components
---
Figure 1:

Low-maintenance bush

conveyor chain with

patented gasket seal

Figure 2:

Lubrication-free bush

conveyor chain

Figure 3:

Lubrication-free

bush conveyor

chain with patented

sealing system

Figure 4:

Sandwich sealing

system for lubricationfree

chain joints

Low-maintenance and lubrication-free chain technology

We have developed various sealing systems particularly

for chains operating in abrasive or corrosive

media. These sealing systems protect the chain

joints against any kind of damaging, external influences

which can enter the chain joint. This ensures

a good lubrication of the chain joints over a long period

of time. Therefore, the service life of the chain

1

3 4

increases considerably at a simultaneous reduction

of the relubrication intervals and the costs incurred,

e.g. costs for the lubricant, its disposal and relubrication

costs. Please contact us for further information

about possible areas of operation for low-maintenance

chain technology.

2

|27
---
|28

Figure 1 and 2:

Sprocket with patented

noise dampening

system

Figure 3 and 4:

Sprocket with special,

round noise dampers

Figure 5 and 6:

Sprocket with special

rectangular

noise dampers

Sprockets with noise dampening system

The noise that occurs while the chain engages into

the sprocket is oftentimes disturbing and annoying.

To decrease this noise efficiently and to improve

the working conditions, KettenWulf has developed

different noise dampening systems. These systems

see to it that the chain joints are smoothly guided

into the tooth gap, which leads to a considerable

noise reduction. The selection of the most suitable

1

3

5

noise dampening system depends on the respective

application.

2

4

6
---
Innovation in chain and sprocket technology

Innovations in the

conveyor chain sector:

Lubrication-free chains

with sealed or nonsealed

bearing designs.

Over the past many years, there has been a strong

increase in the demand for low-maintenance and lubrication-free

chains. More and more customers are

choosing chains of this type, mainly out of economic

and ecological considerations. The advantages

are obvious, as the use of low-maintenance and

lubrication-free chains greatly due to maintenance

and service costs.

Since in most cases,post-installation lubrication is

no longer necessary in many applications, the possibility

of subsequent lubrication and maintenance

faults is thus eliminated.

Polygon compensation

Driving wheel

Polygon wheel

Output wheel

Conveyor sprocket

KettenWulf has developed a variety of seals for

chains for use in special environmental conditions.

These seals prevent the entrance of dirt and fluids,

thus ensuring good lubrication of the parts over longer

periods. This can not only increase the service

life considerably, it also lowers the frequen-

cy of re-lubrication in comparison to earlier designs.

KettenWulf also offers special chain designs which

need very little, if any, lubrication. Depending on the

requirements, either lubrication-free chains with

sealed or non-sealed bearing designs are used.

Using our patented polygon compensation system

we offer you the option of reducing the polygon effect

caused by the fluctuations of the effective pitch

circle diameter.

You have the option

» to reduce the polygon effect at the same required

space for drive and deflection and the same pitch

» to use a larger pitch at the same required space

for drive and deflection and thereby saving costs

» to reduce the required space for drive and deflection

by reducing the number of teeth (min. Z=6)

Please contact us for further information.

|29
---
|30

The high frequency

pulsator measures

the fatigue strength

of materials, components

or chains.

Breaking load tests of

up to 3000kN can be

carried out in our vast

testing laboratory.

Quality management

By means of spectral

analysis the alloying

components of the raw

materials are analyzed.

From the first inspection of the raw material to the

final inspection of the finished product: every production

process at KettenWulf is subject to a consistent

and thorough quality assurance. We inspect important

product properties such as wear behaviour, fatigue

strength or breaking load by using state-of-theart

testing equipment and techniques. For instance,

fatigue strength is measured by means of a high frequency

pulsator; breaking load tests of up to 3000kN,

hardness testing to HRC, HV and HB, spectral analysis

or Charpy impact tests can be carried out.
---
For further information please visit our website at www.kettenwulf.com or request the following

company brochures:

» Chains and sprockets for the bulk material handling industry

» Chains and sprockets for the automotive industry

» Chains and sprockets for the steel and aluminium industries

» Chains and sprockets for the wood industry

» KettenWulf conveyor chains and sprockets

» KettenWulf roller chains
---
Contacts worldwide

KettenWulf Betriebs GmbH

Zum Hohenstein 15

D-59889 Eslohe-Kückelheim

Germany

T + 49.(0) 2973.801-0

F + 49.(0)2973.801-2296

service@kettenwulf.com

KettenWulf Betriebs GmbH

Export Branch Office

Am Fallturm 5, Gebäude 2

D-28359 Bremen

Germany

T + 49.(0) 421.696 939 0

F + 49.(0)421.696 939 49

export@kettenwulf.com

KettenWulf GmbH

Division Ferlacher Förderketten

A-9163 Unterbergen 25

Austria

T + 43.(0)4227.25 27

F + 43.(0)4227.35 94

austria@kettenwulf.com

KettenWulf NV

Division Dyna Chains

Venecoweg 20A - De Prijkels E17

B-9810 Nazareth

Belgium

T + 32.(0) 9.243 73 73

F + 32.(0) 9.221 56 03

belgium@kettenwulf.com

KettenWulf France SAS

10 rue du Château

59100 Roubaix

France

T + 33.(0) 328. 33 28 19

F + 33.(0) 328. 33 28 16

france@kettenwulf.com

Hangzhou Wulf Chain Co. Ltd.

40 Tangning Road, Yunhe Town

Yuhang District

311102 Hangzhou

P.R. China

T + 86.(0)571.861 899 00

F + 86.(0)571.861 899 50

info@wulfchain.com.cn

KettenWulf USA, L.P.

The Woodlands at Riverside

8110 Troon Circle SW, Suite 170

Austell, GA 30168-7852

USA

T +1.678.433 0210

F +1.678.433 0215

usa@kettenwulf.com

KettenWulf

Representative Office Poland

ul. Ogrodowa 34 B\ 4

PL-65-001 Zielona Góra

Poland

T + 48.(0)68.325 43 37

F + 48.(0)68.325 43 37

poland@kettenwulf.com

KettenWulf

Representative Office Japan

Monoh 4-chome, 14-13

Minoh-shi

Osaka 562-0001

Japan

T +81.72.796 24 24

F +81.72.722 20 99

japan@kettenwulf.com

KettenWulf

Indian Liaison Office

"Shalan", 377, Sector 24,

Lokmanya Tilak Road

Near Bank of Maharashtra,

Pradhikaran, Nigdi

Pune-411004

India

T/F +91 20 2765 2302

M +91 98 9050 3164

india@kettenwulf.com

Photos: Erik Hinz, Münster; KettenWulf, Kückelheim; Michael Gehrig, Lennestadt; Michael Meschede, Kaufungen

Due to steady technological progress, all of the product information and technical specifications in this catalogue are subject to

change. The use and applicability of these technical specifications is incumbent on your own responsibility.

Also, we disclaim any errors due to misprints or other causes. Reprints, in whole or in part, require the written approval by KettenWulf.