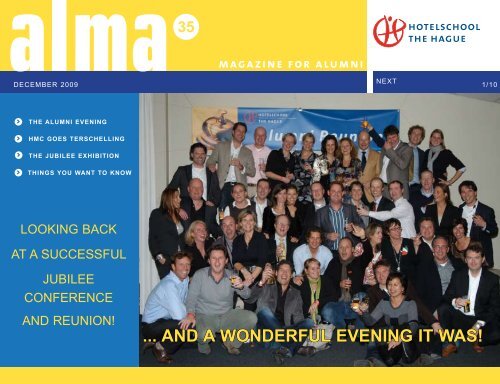 ... AND A WONDERFUL EVENING IT WAS! - Hotelschool The Hague
... AND A WONDERFUL EVENING IT WAS! - Hotelschool The Hague
... AND A WONDERFUL EVENING IT WAS! - Hotelschool The Hague
SHOW MORE
SHOW LESS
Create successful ePaper yourself
Turn your PDF publications into a flip-book with our unique Google optimized e-Paper software.
NExT

DECEmBER SEpTEmBER 2009 2007 hOmE pREvIOUS / NExT

1/10 1/7

THE ALUMNI EVENING

HMc GOES TERScHELLING

THE JUbILEE ExHIbITION

THINGS yOU WANT TO kNOW

LOOKING BACK

AT A SUCCESSFUL

JUBILEE

CONFERENCE

AND REUNION!

35

... AND A WONDERFUL EVENING IT WAS!
---
35

DECEmBER FEBRUARy DECEmBER 2008 2009

hOmE pREvIOUS / NExT

2/10 2/9

80 years Hotelschool:

the Jubilee conference

hotelschool The

hague's 80th Jubilee

was successfully

celebrated with an

international conference

about the future of the

hospitality industry.

Wim Dooge and Jozias van Aartsen, Mayor of

The Hague

The Steigenberger Kurhaus hotel was the

location for the international Jubilee conference

celebrating the 80th anniversary of hotelschool

The hague on Friday 13 November. more than

300 guests were present at the conference, of

which the theme was "The hospitality Industry

in 2029".

many renowned entrepreneurs and managers from the international

hospitality industry were present, several of them former students

of the hotelschool. They spoke about their vision for the future of

the hospitality industry from different perspectives, approaching the

theme from their own particular expertise. The emphasis was on

hospitality from both a historical and a future perspective with the

speakers examining current trends and expectations in the industry.

In addition to the interesting speeches, the conference offered

the participants a unique opportunity to meet with others from the

national hotel business, from hotel management education and

from the international hospitality sector.

The conference was opened by Wim Dooge, Chairman of the

Board of Directors of hotelschool The hague.

Frank heemskerk, minister of Foreign Trade was the first

to take the stage with his presentation about "Leisure and

business guests in holland in 2029".

he is convinced that by the year 2029, the year of its 100th

anniversary, hotelschool The hague, even more than

now, will be a platform for innovative and highly qualified

education.

The next speaker was Guido van Woerkom, managing

Director of the ANWB (the Dutch Automobile and Tourism

Association) and also Chairman of hotelschool The hague's

Board of Trustees. his presentation included an appeal,

as part of the preparations for bidding for the Olympic

Games in The Netherlands in 2028, to excel in the role of

excellent hosts and surprise critics at home and abroad by

the welcome they receive in the hospitality sector in The Sir Rocco Forte

Netherlands.

Sir Rocco Forte, Chairman and CEO of the exclusive hotel chain 'The Rocco Forte Collection', made his

first appearance in The Netherlands with his views for building luxury hotels for the next 20 years.

Other speakers were Terri Eastaff (vice president hR InterContinental hotels Group), Sue hale (vice

president Organizational Development hilton) and Roeland vos (1982, president EAmE Starwood

hotels & Resorts Worldwide), Bartel Geleijnse (1988, Commercial Director Avenance Netherlands),

James mennekens and paul Geraeds (1986, both from Center parcs Europe), Caro van Eekelen (1987),

managing Director Accor the Netherlands) and

pieter Timmers (1983, manager van Der valk

Breukelen) and the mayor of The hague, Jozias

van Aartsen.

Each of them foresaw a continuing growth in

the dynamic hospitality sector and stressed the

importance of good hotel management education

in order to be able to continue to fulfill the

increasing demand for well-educated managers.

Ewout Cassee, Spiros Gropas and Roeland Vos

They congratulated hotelschool The hague with

its 80th anniversary and expressed their wish to

continue their association with the school.

The day ended with drinks and of course,

networking!
---
FEBRUARy DECEmBER 2008 2009

THE

JUbILEE

ExHIbITION

On Wednesday 25 November

2009, the Jubilee Exhibition in

Hotelschool The Hague was

officially opened.

25 35

The exhibition, mainly consisting

of old menus and other interesting

properties of mr G. Geenemans, Mrs Geenemans opens the exhibition while her son Jan holds the ribbon

Jan Geeneman's (1968) father, was

opened by Jan Geeneman's mother, Mrs N. Geenemans-Sommeling.

Mr G. Geenemans was a well-known figure within the hospitality industry.

The items that are to be admired in the school are all a gift to Hotelschool The Hague.

Among other things there are recommendation letters, menus, photo's and diplomas.

In 2010 the exhibition items will be moved to Hotelschool's Amsterdam branch.

hOmE pREvIOUS / NExT

Hospitality Management club

turns 15!

With a smashing 3-day programme in September,

hotelschool's hospitality management Club celebrated

its 15th anniversary.

Reason why also the partners were invited, which

made the occasion even more festive.

The ritzy island of Terschelling was the destination

of a lovely mixed group, including hmC award winners

Lisette Rienstra (2006) and Ceriel Sinkeldam

(2009).

The programme was varied, but the anchor was the fabulous Sandton paal 8 'hotel aan Zee' of our

member Rogier Braakman (1999). Imagine the chef of this deluxe hotel welcoming our group for cocktails

at sunset in the dunes near the hotel. my wife Naomi remarked it reminded her of a reception in the

Dubai dessert she once experienced. Then another champagne reception in a penthouse suite with 360º

view, followed by a four course anniversary dinner in restaurant De Grië.

A private bus was available to take the die-hards to hoorn, for a live performance of popular Dutch singer

hessel. Everybody closed him and his daughter Tess in their hearts, while Sasha Jacobs (1976), maudi

van Ommen (1981) and Duco van Ommen (1980) completed the performance on stage.

The next day even more hmC members joined and the educative aspects, traditional for the hmC, where

on the programme. We smoked fresh mackerel in an old oil drum, enjoyed forest mushroom soup in the

open field, learned about the history of Terschelling cranberries, but not after our appetite was aroused

by sea rafting and blo-karting.

Then another sunset gourmet barbecue at the beach, the return trip on our private yacht mS petra,

watching seals after a 36 knots ride on two high-speed survival vessels and hmC president Erik muller

(1977) and his 'side-kick' marijn

Neelen (1999) could proudly

look back at a successful, action

packed, sunny long weekend.

Life of an hmC member is great!

Lorens Keip

(photo's by Sacha Jacobs)
---
01 25 35

FEBRUARy DECEmBER SEpTEmBER

DECEmBER

2008 2009

2009

2007 hOmE pREvIOUS / NExT

3/10 3/7

Some things never change!

25 years ago, martin voskamp (1980) and marian Kouw (1981) got married.

Being General manager with hilton International, martin took his wife and kids to all continents wherever hilton needed him. The family

lived in Australia, Ethiopia, holland and Turkey and nowadays they live in Kenya, where martin is General manager of the hilton Nairobi.

Despite the fact that they lived abroad most of their lives, the voskamp family always kept in touch with their friends who very often, also

live abroad. This Summer, when marian and martin decided to celebrate their 25 th wedding anniversary in their Dutch garden in Capelle

Ardine Sijbers, Peer Sijbers (1982), Ronnie van der Wiel (1977), Erik Bary (1977), Marjan Voskamp (1981), Han Prins and Martin Voskamp (1980)

aan den IJssel, many of their friends came over to participate in this special day.

Apart from their contemporaries, there were lots of other former students of hotelschool The hague present that day: the catering was

done by Antoine van den Oever (2002) and his wife Astrid van den Boogaardt (2004) who both run van Den Oever Events and even the

black brigade consisted mainly of hotelschool students.

One of them even turned out to be the son of one of martin's class mates!

It was a very nice day and a bit of a hotelschool reunion!

Something we can all be proud of!

Last week, while parking my car near the school, a road worker asked me:

'Sir, what do I have to do to be admitted to this school?'

That was a moment I – again – realized how special our Institute is.

An Institute that, by the way, is struggling through one of the hardest years

in my time as president of the school. how come?

Because we are thoroughly renewing the curriculum, developing the 2nd phase, still lecturing the old curriculum next to the new one, changing

the study rhythm from five times eight weeks to four times ten weeks and

streamlining the processes of the back office as well.

This is a great number of changes for a relatively small organization.

The pressure on both students and members of staff has been huge in

2009.

But fortunately there is positive news: the second group of students that

has now experienced the 1st phase is considerably more satisfied than the

guinea pigs who went through it the first time.

We expect that the trimester rhythm will bring much more peace in the

organization. And the processes of streamlining the back office appear to

have had a positive effect.

As soon as we have finished developing and implementing the new

curriculum I am convinced that we will have one of the most revolutionary

hotel management programmes in the world: an integrated approach to the

hotel business, an inter-cultural view of the issues within the branch and a

well thought-out melting pot of theoretical education and practical skills.

And isn't that something that we all can be very proud of!

It is my pleasure to wish you lovely Christmas holidays and a sparkling

2010!

Wim Dooge

president Board of Directors
---
01 25 35

FEBRUARy DECEmBER SEpTEmBER DECEmBER 2008 2009 2007 hOmE pREvIOUS / NExT

4/10 4/7

13 November 2009, Hotelschool

Jubilee Alumni Evening: an

impression!

On Friday Evening, 13 November 2009,

directly following the Jubilee Conference

in the Steigenberger Kurhaus,

hotelschool The hague opened its

doors for all former students. This traditional

Alumni Evening turned out to be a

very crowded one!

About 550 alumni celebrated their reunion

with old friends and class mates.

Food and Beverage was extremely good: oysters, champagne, cheese, luxurious breads,

all sorts of whisky, wines, liqueurs and - of course - lots of beer.

Marian Reuland, Ruud Reuland, Wim Dooge, Clemens Berendsen and Jaap Funnekotter
---
FEBRUARy DECEmBER 2008 2009

25 35

In memoriam:

Marja van Drimmelen- Versloot

We are deeply shocked and saddened by the

sudden death of our esteemed colleague, Marja van

Drimmelen- Versloot.

She passed away on 16 November 2009 at the age of

63.

On Friday evening, 13 November, only a few days

before she died, she attended the Alumni Evening and

enjoyed every minute of it!

Typically marja, she recognized all former students

present, immediately knew their names and could

even mention details about their study period at

hotelschool The hague.

Who could foresee that talking to her that evening was

actually a farewell for ever.

marja worked for hotelschool The hague since 15 August 1984 as lecturer of Financial management. It

was only recently that we celebrated her 25-year jubilee at our school.

She was known as an inspired, enthusiastic lecturer, who not only loved her profession, but who was

especially fond of her students. We shall miss her enthusiasm and commitment tremendously.

During a special ceremony in a packed auditorium of hotelschool the hague, mr Clemens Berendsen

read a poem, written by Charles hendry Brent, American priest and poet from the 19 th century.

The poem is printed on the right column of this page.

What is dying?

hOmE pREvIOUS / NExT

I am standing on the sea shore,

A ship sails in the morning breeze and starts for the ocean.

She is an object of beauty and I stand watching her

Till at last she fades on the horizon and someone at my side says:

"She is gone."

Gone! Where?

Gone from my sight - that is all.

She is just as large in the masts, hull and spars as she was when I saw her.

And just as able to bear her load of living freight to its destination.

The diminished size and total loss of sight is in me,

not in her.

And just at the moment when someone at my side says,

"She is gone",

There are others who are watching her coming, and other voices take up a glad

shout:

"There she comes"

- and that is dying.

An horizon is just the limit of our sight.

5/10
---
01 35

DECEmBER SEpTEmBER DECEmBER 2009 2007 hOmE pREvIOUS / NExT NExT

6/10 6/7

IMPORTANT:

A REQUEST FROM THE DUTcH

MINISTRy OF EcONOMIc AFFAIRS:

Recently, the Dutch Miinistry of Economic Affairs has developed the "Dutch Alumni

and Business Society" (DABS).

The DABS wants to help Dutch alumni with their career abroad and also show

future students that the various studies in the Netherlands can lead to many career

opportunities abroad.

In order to be able to do this, the Ministry requests all alumni who live and work

abroad (for either a shorter or longer period), to contact the local Dutch Embassy.

The Dutch Embassy organises lots of business activities and therefore wishes to

invite alumni as well.

So: are you working abroad? Visit the Dutch Embassy, register and take advantage

of the opportunities the Embassy offers!

1957-1959 GOT

TOGEThER AGAIN!

"half a century ago, we all said farewell

to hotelschool The hague. It was

wonderful to celebrate this event,

although it was not the first time that the

class of 1957-1959 got reunited.

The party was realized thanks to the

support of hotelschool The hague and

various companies that we worked with

in the past fifty years.

As soon as we meet again, the old well-known

atmosphere is back. We celebrated our reunion with

a lovely dinner at the Rotterdam hilton. The dinner

was served by students of hotelschool The hague.

All present enjoyed it immensely and it was hard to

say good bye at the end of the evening."

max Gosselaar

Tough Times in 2009, breaking News for 2010

All during 2009 the number of travellers dwindled and the ones who still came had less money in their pockets. In

hotel terms – lower occupancy and lower rates, too. Across Europe it meant Revpar will be down approx. 28% with

rates down 22%.

Last Thursday, in Berlin, I spent the night at the holiday Inn Express in downtown Stresemannstrasse for 58 euros,

including an excellent breakfast buffet. The rooms were just a couple of years old, roomy and comfortable. If you take

vAT/BTW out and the breakfast, they must have a very minimal gross profit – if any.

During the next two days I was staying at the Grand hyatt Berlin – a different kind of koek, as we Dutch say! I think it

is the best business hotel in Germany and I was glad to hear from Gm Fred huerst (who is also overseeing the other

German speaking hyatts) that the hotel is doing relatively well.

So, what can you do in the sense of 'sticking your finger in the dike'?

'The main thing is to make the customer's stay as pleasant as possible and show our appreciation to every single

guest', one marketing manager wrote.

A week earlier, in Sofia, Bulgaria's capital, I discovered by coincidence that the largest five-star hotel there, the

Zografski Kempinski, is in the skilled hands of former student Stefan Schwind. he was on a business trip to Spain,

but I hope we will meet in 2010.

As I still am teaching about cross-cultural differences to last-year students (mainly the hofstede book), my eye was

drawn to a column about one particular difference in a Bulgarian newspaper for foreigners.

It described experiences of a guy coming back to Bulgaria after many years in the States. pointing at several luxury

SUv's, parked outside a nightclub in Sofia he said: "In America, if you drive such a car then you must be a housewife

with at least two kids" – wondering what all these housewives were doing in the nightclub.

To avoid further misunderstanding, it was quickly explained to him that in Bulgaria these cars were driven by people

who want to flaunt their newly-acquired wealth (sounds familiar…).

Anyway, let me end 2009 and start 2010 by BREAKING NEWS!

The times of 'only one hyatt room in the Netherlands' (at our own hotel in Zwolsestraat) will soon be over.

A medium-sized hyatt will be built starting next year by converting an existing building between two canals in

Amsterdam! Dutch architect marcel Wanders is involved (who finished work on a spectacular Bonn, Germany hotel

this year) which means it will be different from any other hotel in Amsterdam.

hyatt will use its new 'Andaz' brand for the hotel – the second one in Europe after London.

For me, it means that, with such a project, at least some people see light at the end of the tunnel!

For those who celebrate with fireworks: careful with your fingers and all other extremities!

And for all of you: sunshine and happiness for 2010!

Arnoud C. van Delft, LL.m.

dft@hdh.nl
---
DECEmBER 2009

35

The first Hospitality Open!

Machteld Korenhof (2002), Jurjan Braakhekke (2005) and Derk Rijntjes (2004) had talked about it

for a long time: a golf tournament for Hotelschool alumni!

And after long hours of discussing, drinking and eating, the date was finally set: 17 October 2009.

Sharing a similar background and also

a sport is a unique feeling. And on 17

October, 42 Hotelschool alumni came

together at Golfcourse 'Sluispolder' in

Alkmaar, where manager and alumna

Renate Roeleveld (1997) welcomed them

all. The weather was wonderful and

the many sponsors graciously supplied

the lovely prices: driving a BMW for a

weekend, spending a weekend in a hotel,

dinner for two, 1,5 liter Bacardi and even a

week at the Buddy Dive Resort in Bonaire!

Derk Rijntujes, Machteld Korenhof and Jurjan Braakhekke

It was a huge success and Machteld, Jurjan and Derk are determined to organize another tournament

in 2010!

We will keep you informed!

Tim van Rijn, Machteld Korenhof, Esther Speijer, Derk Rijntjes, Ronald Schouten, Ramon Duijkers and Jasper Reijn

Things you want

to know

cLIMbING THE STAIRS

caro van Eekelen (1987), managing Director

Accor hotels & Resorts, the Netherlands

Caro had several management positions with

Golden Tulip International and Disneyland Resort

Paris. In 2007 she became Director of Operations

at Adagio in Paris, a joint venture of Accor

and Pierre & Vacances. She succeeded Peter

Verhoeven

Peter Verhoeven (1992), managing Director

Accor hotels & Resorts

Peter started his career in operational positions

at Goldne Tulip International in Africa and

at Gran Dorado (nowadays Center Parcs) in

the Netherlands. He became Director Business

Solutions at Disneyland Resort in Paris and

later went to the United Kingdom where he

worked at Avis as Director of Sales for Europe,

Africa, Middle East and Asia. In 2007 Peter

became Managing Director Accor Hopsitality, the

Netherlands

Mechteld bergsma (1989), Communications

Director Airbus Americas, U.S.A.

Thomas van der blom (2008), Cost

Controller Avila Beach hotel, Curacao

Linda van bielder (2005), Sales manager

Grand hyatt Dubai

Alejandro Suarez Larrinaga (2002), Corporate

Distribution Channels manager, Nh hotels

headquarters, madrid, Spain

hOmE pREvIOUS / NExT

Eyal Nathans (2008), Assistant Director F&B,

mamilla hotel Jerusalem, Israel

Arun Venugopalan (2007), Four Seasons Resort,

Langkawi, malaysia

Marcel Schonenberg (1988), manager 'Beurs

van Berlage' Amsterdam

Mark van der Weide (2004), manager health and

Care, Sodexo

Marlies van den Hout (2004), Director

Operations hilton Garden Inn, Atlanta, U.S.A.

Anka Jacobs (1993), Lecturer Export marketing,

Saxion IJsselland

Michiel de kloet (2008), Welcome Desk Agent,

W Barcelona, Spain

bart Westerhout (1984), General manager

Swissôtel Talinn, Estland

Laura Olsthoorn (2004) and Jeroen de Haard

(2004), Directors/Owners Restaurant Bij De

haard, voorburg (see: www.bijdehaard.nl)

Jorrit Gerritsma (2003), Food and Beverage

Director Six Senses hideaway Zighy Bay, Oman.

Six Senses hideaway Zighy Bay is located on the

northern musandam peninsula in the Sultanate of

Oman. The setting of the indigenous village style

accommodations and private marina is dramatic,

with mountains on one side and a 1.6-kilometer

sandy beach at Zighy Bay, on the other side.

Wendy de Jongh (1996), Owner massage

Centre "Lena".

After graduation, Wendy went to Scotland. But

after four years, she felt there was more besides

hospitality. Back in the Netherlands, she studied

7/10
---
FEBRUARy DECEmBER 2008 2009

Wendy de Jongh

25 35

Practical Philosophy and got into contact with

Reiki. She passed her first grade Reiki and

travelled through India for a while.

Her affection for spirituality grew even more and

after a course Ayurvedisch Massage and a course

NLP (Neuro Linguistic Programming), she finally

decides to start her own Massage Centre.

Olivier Smit (2002), head marketing &

Communication Unicef The Netherlands.

As head of the Department, Olivier is responsible

for the marketing, Fund Raising, Sales and

Communication of Unicef. Olivier has lots of

experience in several positions at ABN AmRO,

in The Netherlands and abroad. First as Direct

Channel marketing manager, later as Corporate

Sponsorship manager at the head office. Abroad,

Olivier was vice president Brand & marketing

Communications at LaSalle Bank in Chicago

and head of Sponsoring at the Royal Bank of

Scotland.

Ricco de blank (1992), CEO hotel Division, Sun

hung Kai properties, hong Kong

Sun hung Kai properties was publicly listed in

1972 and is now one of the largest property

companies in hong Kong. It specializes in

premium-quality residential and commercial

projects for sale and investment. The Group

employs more than 31,500 people; has in-house

expertise in land acquisition, architecture,

construction, engineering and property

management that allows it to maintain stringent

cost controls, while still adhering to the highest

standards of quality.

The Group's core business is the development of

property for sale and investment. The Group also

has complementary operations in the property

related fields such as hotels, financial services,

insurance and property management.

Jacob de Graaff (2000), Director/Owner

'hotelvrijmibo' (network organization for everyone

working in the hospitality industry),

'hotelprofessional' (recruitment and selection

within the hotel industry) and 'hotelinmotion'

(hotel consultancy/interim management).

Dave Overeem (2008), Centre manager Regus

Rotterdam City Centre

Onno Schreurs (2006) Director/Owner 'Schreurs

and Bierman', www.diningcity.com for Shanghai

Rogier cammaert (2006), Export Director

Chevalier International printers

Jeanet van Erp (2000), Senior Business

Controller Delta Lloyd Group

Jeroen Quint (2001), Director Food & Beverage,

The palmyra Resort, montego Bay, Jamaica

Ralph Melis (2005), Contracts manager

Destinations of the World (www.dotw.com) Dubai

Sarah Lamberth (2006), Account manager Client

Services Springer miller Europe

Roderick Smith (2002), General manager park

Inn palace Southend-on-Sea, U,K.

Roderick joined Rezidor as Meeting & Events

Coordinator at the Radisson SAS Amsterdam

Airport and transferred to the Regional Office

in U.K. in 2003 as Regional Sales Coordinator

based at the Radisson SAS Manchester Airport.

Beginning of 2004, he moved to the position of

Sales Executive at the Radisson SAS Manchester

Airport and was promoted to Sales Manager at

the same property 9 months later.

In August 2006, Roderick took on the role of

Director of Sales as well as Revenue manager at

the park Inn Dundalk in Ireland and was appointed

Executive Assistant manager of this hotel a

year later. In march 2008, Roderick was promoted

to his first General manager position at the park

Inn Shannon Airport in Ireland, which has been

his most recent position.

Lara Regnault (1997), head Sales and

Operations 'Nederlands Scheepvaartmuseum'

Amsterdam

Marteyne van Well (1987), General manager

of the multi-award-winning Soneva Gili by Six

Senses, maldives.

In het new role, she will focus on the day to day

operations of the resort and will report directly to

the Managing Director of the Maldives.

Marteyne most recently held the position of

Spa Director at Six Senses Spa at Sharq

Village & Spa in Doha, Qatar. She brings an

extensive knowledge of the hospitality industry

to Six Senses, with two decades of hospitality

experience in internationally acclaimed 5-star

luxury hotels across locations including the

French Alps, Marrakech, New York, the Bahamas,

Los Angeles, Washington DC and London.

hOmE pREvIOUS / NExT

SEEN THE LIGHT OF LIFE

Erin, daughter of Theo Ocks (1997)

mijntje, daughter of bardo Schutz (1996)

Obbe, son of Pauline de Jonquiere (2001)

Emmi, daughter of Marieke Penninga (1991)

micah, son of cynthia boekee (1998)

8/10
---
FEBRUARy DECEmBER 2008 2009

Teun, son of Eva Jacobson (1991)

25 35

Juliette, daughter of Wendy Ritt (1998) and

Remco Groen (1997)

Sophia, daughter of Willem Arend both (1993)

Thijn, son of Eveline Rijntjes-de Jongh (2004)

and Derk Rijntjes (2004)

Lucas, son of caroline de Zwart (2008)

Jet, daughter of barbara Zandbergen (1996)

Enzo, son of Gabor Fähmel (2002)

Filippa, daughter of Jannicke henschien (2000)

and Jeroen van der Berge (2000)

Lulu, daughter of cyrille carreon

pepijn, son of Pom Zwart (2000)

Santino, son of caroline de la Fuente (2001) and

Jip Olieroock (2000)

Kick, son of Nicole Vening-de Waal (1996)

merel, daughter of Marlies kromjong (2001) and

Hendrik Wassenaar (1995)

Rinse, son of barbar de Vries (2001)

Leonore, daughter of cynthia Veerman (2003)

and Guido de Jongh (2002)

Gijs, son of Astrid Donia (2002) and Merlijn

Lammersen (2003)

Froukje, daughter of karin Horree (2006) and

Eduard kelderhuis (2004)

Emma, daughter of Irene Schunselaar (2005)

Floris, son of Ralph Melis (2005)

hOmE pREvIOUS / NExT

Joep and Janna, karlijn Waeijen's children

(2000)

PASSED AWAy

Sem Jessurum Lobo (born 1925), former

lecturer Business Organzation

Marja van Drimmelen, Senior Lecturer Financial

management

MARRIED

Marie catrien Vermeer (2006) and Paul

Nagelkerken (2006)

Irving Waas (2000) and yvette hijmans

9/10
---
FEBRUARy DECEmBER 2008 2009

25 35

Marcia Raijmakers (2003) and menno Touber

caroline Schilt (2006) and Thomas Dinkla

(2004)

Nicolas Houwert (2001) and Ingrid Larsen

pieter Boot (2002) and machella van vliet

Drinks and snacks in Jan Tabak

On every 1st Friday of the month, alumni of

hotelschool The hague, working and living in ''t

Gooi', come together for drinks and snacks.

The initiator, Gregor christiaans (1993),

emphasizes that it is only about drinks and

snacks, and not about tours, lectures, speakers or

any other activities!

Without further notice, the venue is Jan Tabak in

Bussum.

And even if you do not live in 't Gooi, but just

happen to be in the neighborhood: you are most

welcome as from 19.30!

hOmE pREvIOUS / NExT

Colophon Editors: drs Wim Dooge and Marit Berssenbrugge

10/10