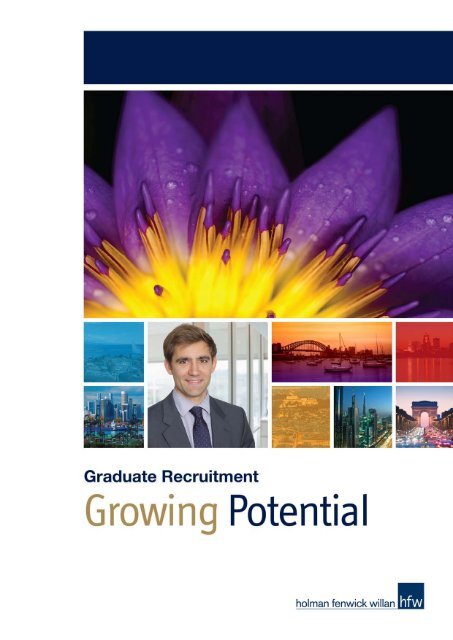 Graduate Recruitment brochure - Holman Fenwick Willan
Graduate Recruitment brochure - Holman Fenwick Willan
Graduate Recruitment brochure - Holman Fenwick Willan
SHOW MORE
SHOW LESS
You also want an ePaper? Increase the reach of your titles
YUMPU automatically turns print PDFs into web optimized ePapers that Google loves.
We believe that we are different at Holman Fenwick Willan and that we

offer something more personal in our legal service and in our training

contracts. We concentrate – as we have for more than 125 years – on

advising businesses engaged in international commerce.

In many ways we see ourselves as commercial advisers,

rather than as pure lawyers. We are, of course, legal experts

in our chosen fields of practice, but we use that expertise as

the foundation of the advice we provide, rather than as the

primary focus.

This is, however, not unique among commercial law firms.

What makes us different is our core industry and legal expertise,

and that the firm is full of enterprising and innovative lawyers.

Completing a training contract with us means working alongside

some of the most respected and talented lawyers in their field and

embracing opportunities, where Trainees are valued as individuals

and encouraged to become Partners.

Our goal is to help you develop as a skilled and confident lawyer.

Your training contract therefore involves workshops, direct

client contact and skills training which support the hands-on

responsible work you will do.

Given that we recruit a small number of Trainees annually in

London, we ensure that each individual is both valued and well

trained. We give you our full attention. Your personal contribution

makes a real difference.

Richard Crump, Senior Partner
---
■ HFW OFFICE ■ ALLIANCE OFFICE

GLOBAL OPPORTUNITIES

You will join our team of over 450 lawyers working from offices in

São Paulo, London, Paris, Rouen, Brussels, Geneva, Piraeus, Dubai,

Singapore, Hong Kong, Shanghai, Melbourne, Sydney and Perth serving

clients based throughout the world.

All our offices, including our two alliance offices in Abu Dhabi

and Riyadh, are located in important centres of international

commerce. Working in such an international environment

introduces you to a wide variety of legal systems from an early

stage and shows the importance of choosing a favourable legal

jurisdiction in which to bring or defend actions.

By completing a training contract at HFW you will have access

to global work and opportunities. The majority of our Trainees

will spend a seat in one of our international offices. Recently

Trainees have completed seats in Brussels, Paris, Piraeus,

Geneva, Dubai, Hong Kong, Singapore, Melbourne and Sydney.

Client secondments are a popular option and even when you

are working in London, a training contract with Holman Fenwick

Willan offers opportunities for travel.

Our international perspective is reflected in the languages used in

the firm. In the London office alone, members of the firm speak

over 40 languages.

HFW Graduate Recruitment: Growing Potential 1
---
WHAT WE DO

We have concentrated the development of our capabilities and the growth

of our expertise on a limited number of sectors fundamental to the way

international commerce works, ensuring we continue to offer clients

in-depth industry knowledge coupled with leading legal advice.

Shipping

Space

Ports & Terminals

Superyachts

Mining

2 HFW Graduate Recruitment: Growing Potential

Travel, Cruise

& Leisure

Logistics

Aviation

Lawyers for

international

commerce

Insurance &

Construction, Engineering

Reinsurance

& Infrastructure

Commodities

Financial Institutions

Energy
---
Aviation

We have a broad based practice advising insurers, banks,

manufacturers and support providers, airlines, owners, operators,

passengers and freight forwarders on a range of issues including

regulatory and competition issues, operations, claims and liability

disputes, and the financing and structuring of principal aviation

transactions. Our experienced casualty investigators also provide

emergency response services.

Construction, Engineering & Infrastructure

Our construction and engineering practice covers both contentious

and non-contentious matters with clients across the entire spectrum of

the construction industry, from international/domestic main contractors

and governmental bodies and developers to subcontractors and

suppliers. We act for a broad range of clients worldwide, including

developers, owners, project companies, oil and gas companies, power

generation companies, shipyards, manufacturers, contractors, insurers,

professionals and specialist sub-contractors.

Commodities

We act across the spectrum of the international sale of goods including

soft commodities, oil and gas, coal and steel, and non-ferrous and

precious metals. Our worldwide clients include multinational energy

and chemical companies, coal and metal traders, soft commodity

trading houses, trade finance banks, governments and their agencies,

brokers, insurers and trade associations. We have many years'

experience of dispute resolution in commodity matters, and have been

involved in leading cases in the law of commodities.

Energy

We have expertise at every stage of the energy chain, from exploration

and production, storage and transportation, LNG, refining, trading

and sale of oil and gas to electricity generation, energy management,

renewables and carbon trading. We advise oil companies, service

contractors and insurers on a range of issues affecting the way

business is conducted and have an emergency response team who are

experienced in advising on all aspects of any casualties or disasters

that may occur.

Financial Institutions

Our practice has developed to encompass all manner of domestic and

international banks and other financial institutions. Our experience

ranges from infrastructure and project finance, ship and aviation

finance and leasing to Islamic finance, trade finance and private

equity. We regularly advise on disputes arising from trade and asset

finance, complex accounting issues, investment fraud and financial

instruments, and restructuring and insolvency issues.

Insurance & Reinsurance

We provide a range of dispute resolution, transactional and regulatory

services including policy defence and coverage work, reinsurance

recoveries, subrogation, finality solutions, setting-up new ventures,

product development, drafting and distribution, and run-off and closing

down discontinued ventures. Our clients include insurance companies,

captives, insurance intermediaries and other agencies, managing and

members' agencies at Lloyd's, and run-off service providers.

Logistics

We act for buyers and providers of logistics services, as well as the

insurance sector, on a range of insured and commercial disputes

arising out of logistics operations. We also draft and negotiate

agreements for the procurement and provision of logistics services,

negotiate bespoke contracts and advise on the risks and insurance

requirements arising out of logistics services. We have in-depth

knowledge of the international conventions applicable to ocean, road,

rail and air carriage and also of the standard conditions commonly

used to govern logistics services.

Mining

We advise on mergers & acquisitions, projects, construction and

development of terminals and storage facilities, trade and structured

finance, insurance, physical trading, derivatives and sale and purchase

arrangements, regulatory and EU issues and transportation, as well

as advising on any disputes that may arise anywhere in the world.

Our clients include producers, traders, financiers and insurers in the

business of selling, trading and financing mining and minerals.

Ports & Terminals

One of the largest teams specialising in legal matters relating to

the development and operation of national and international ports

and terminals. Our clients include leading global port and terminal

operators, international shipping lines, national port authorities,

investment funds, foreign governments, harbour and coastal towage

companies, transport and logistics companies, supply chain managers,

infrastructure support development specialists, civil and maintenance

work providers, contractors, consultants, commodities trading

companies, banks and financial institutions, and insurance providers.

We have been involved in ports & terminals projects in more than 45

locations globally, including China, India, the Middle East, Africa and

South America, as well as in the UK and other European countries.

Shipping

We are long-standing specialist advisers to the international shipping

sector. We understand how the market works, both from the

perspective of underwriters and Clubs, and that of their clients and

shipowning members. Our admiralty and casualty response practice

advises on any situation that may arise, from collisions, explosions

and piracy, to total loss and wreck removal. We advise on all forms of

shipping contracts, ship and transport-related disputes, ship finance,

corporate matters and marine insurance.

Space

We provide advice and legal representation to the space industry

and to its insurers and reinsurers on all matters arising out of

product supply, launch, in-orbit and other risks. We understand the

usual contracting principles and regulation of the industry and are

experienced with ITAR. We have been chosen to advise on some of the

largest insurance matters the industry has seen.

Superyachts

Our market leading superyachts practice draws together a team

of expert international lawyers who have in-depth technical and

commercial knowledge of this specialist sector. Our clients come from

across the sector and include builders, designers, owners, banks and

financial institutions, charterers, brokers and insurers.

Travel, Cruise & Leisure

Our practice includes advising on shipping and travel law, regulatory

compliance, company/commercial matters, dispute resolution, health

& safety, crisis management, IT/IP and data protection. Specific areas

of expertise include vessel and vessel operation agreements, M&A

and JVs, IP and IT, regulatory cruise ship advice, employment, crewing

and passenger disputes, corporate and regulatory issues, ATOL and

CAA licensing, aircraft charter and sub-charter agreements. Our

clients include cruise companies, shipowning groups, P&I Clubs, ship

management companies and holiday companies.

HFW Graduate Recruitment: Growing Potential 3
---
WHO ARE WE LOOKING FOR?

We encourage students from all disciplines to apply. Recent Trainees have

studied subjects as diverse as music and engineering or, following

graduation, have worked in areas as varied as the Lloyd's market, the

shipping industry, banking and engineering. We welcome people who are

becoming lawyers as a second career.

We are looking for Trainees with entrepreneurial spirit and

commercial acumen, who are hungry for success and have an

innovative approach to solving complex legal problems. If you

enjoy challenge, are driven, and have an outgoing personality,

then we would like to hear from you. As many of you apply

before you know your final degree mark, your first and second

year results should demonstrate that you are on course for a

Nazim Alom (1st Year Trainee)

Degree: Law at University of Greenwich

Seats: Corporate, Projects & Finance; Trade & Energy

"At HFW it is usual to work closely with Associates

and Partners on transactions and it is this

aspect of my training contract which I find most

rewarding."

4 HFW Graduate Recruitment: Growing Potential

good upper second. Languages are an advantage, as we are an

international firm with multilingual clients. We also value highly

your ability to understand complex financial or technical issues.

Our clients range from individual businesses to multinational

corporate blue chip companies, so we look for well rounded

individuals to reflect our commitment to our broad spectrum

of clients.

What has been the most rewarding aspect of your training

contract to-date?

Sitting with a senior Partner in the Corporate, Projects & Finance

department gave me the opportunity to be involved in a range of

transactions from the beginning of my training contract. During the

first week of my first seat, I was involved in a transaction in which

our client was interested in acquiring two software development

companies via two separate share purchase agreements.

The transaction was challenging as our client was a Singapore-

based company which specialised in making investments in

information technology companies and they were particularly

keen to close the deal as soon as possible. My very first task was

to review two online databases with a view to downloading all

documents exchanged as part of due diligence. This meant I had

to review each document and extract key information or points of

concern and then draft individual due diligence reports so that the

client was able to ascertain the key features of the transaction.

What made this task particularly rewarding was the fact that I was

working closely with the Associate and I had the opportunity to

be involved in all aspects of the transaction from the very outset.

Working closely with the Associate enabled me to develop my

knowledge of the key features of a share purchase transaction

and to contribute at all levels. At HFW it is usual to work closely

with Associates and Partners on transactions and it is this aspect

of my training contract which I find most rewarding.

Due to the nature of six month seats, it is not usually possible

to be a part of a transaction or case from inception through

to completion. I was however able to be involved on this

transaction through to completion. I am now in the Trade &

Energy department and continue to enjoy working closely with

Associates and Partners on the cases that I am involved with.
---
Guy Robson (1st Year Trainee)

Degree: Geography at Edinburgh University

Seats: Aerospace

What are you most enjoying about your current seat?

I am currently in my first seat in the Aerospace department,

after coming from a non-law background. It is one of the smaller

departments in the firm and this has a number of advantages.

I have been able to interact and work with all of the different

Partners in the team, which has provided me with a great variety

of work. I have also enjoyed being challenged and pushed by

being given a lot of responsibility. I have interacted with clients

and participated in meetings, drafted important documents and

liaised with other solicitors in relation to disputes.

The department's particular areas of expertise that I have been

involved in include aviation liability and dispute resolution.

Much of my work has been in relation to advising insurance

clients on contractual limits of liability and exposures and giving

practical advice to airlines for their insurers. An example of

this is a passenger being injured whilst on a flight and claiming

compensation against the airline. We investigate the claim, handle

the procedural aspects and advise the airline's insurer on their

liability.

The aviation claims that arise vary in size and I have been

able to take on a suitable level of responsibility for a number

of the smaller claims. I have liaised with the other side in

several claims, drafted instructions to counsel and helped to

prepare for a hearing to set aside a default judgment. My most

interesting assignment to-date involves complex litigation in a

product integrity dispute. The dispute centres around whether

an aircraft engine functioned properly and was fit for purpose.

Understanding the technical aspects of this particular case has

been a challenging and interesting experience.

Taïs Jost (2nd Year Trainee)

Degree: Law with French Law at LSE

Seats: Shipping & Transport; Geneva; Insurance & Reinsurance

What attracted you to HFW and how has the training contract

lived up to your expectations?

When applying for vacation schemes and training contracts,

I knew that I wanted a firm where I could gain experience of

contentious work in a multi-jurisdictional context. HFW attracted

me precisely because of its expertise in litigation, arbitration and

dispute resolution, and its international outlook. The fact that

HFW Trainees have the opportunity to spend six months in an

overseas office also encouraged me to apply. During my vacation

scheme, I saw that many of the firm's lawyers had had industry

experiences outside of law prior to joining the firm, and I felt that

this not only made the firm diverse, but also added value to the

legal services being offered. Having grown up in several different

countries and continents, I also felt that HFW was a place were I

would really be able to contribute and grow as a lawyer.

My first two seats so far have been in Shipping & Transport

(London) and in Trade & Energy (Geneva), and I am now delving

into the world of Insurance & Reinsurance. Since starting my

training in September 2011, I have had the chance to work

on interesting cases, within solid teams that have supported

my learning whilst at the same time encouraging me to take

on increasing responsibility. From my seats to-date, I have

discovered that I very much enjoy interviewing witnesses, working

through the factual details that can be crucial to the case that

is being put together, and of course, attending hearings where I

have been involved in the preparation. The cases at HFW are real

and often affect our everyday lives, from the energy we consume,

to the various modes of transport that are employed to source the

commodities and goods that we buy, and to the natural disasters

we face. I am enjoying my training contract and the variety of

cases, and work that I have been involved in. I would recommend

the firm to anybody looking to gain overseas experience and

in-depth industry knowledge

during their training

contract.

HFW Graduate Recruitment: Growing Potential 5
---
DIVERSITY AND INCLUSIVITY

We promote a workplace where diversity is valued, where everyone has

the opportunity to contribute and fulfil their own potential. This in turn, we

believe, helps us to deliver the best service to our clients, and is central to

everything we do.

■ We are signatories of the Law Society's Diversity & Inclusion

Charter. The Charter is a public commitment to developing

and implementing best practice in equality, diversity and

inclusion.

■ We are members of Stonewall's Diversity Champions'

Programme, and attend the Law Society's Firms' Diversity

Forum.

■ We monitor all stages of our recruitment and promotion

processes to ensure that the criteria used are appropriate,

remove unintended bias and give everyone an equal chance.

■ Where possible, we facilitate flexible working for those with

care responsibilities.

■ We recognise that as an employer in the legal sector, we

have a responsibility to promote access to the profession

from all sectors of society. We support a number of initiatives

to encourage students from low income backgrounds to

consider law as a career.

■ We are signatories of PRIME, the work experience

commitment from the legal profession. Through this initiative,

we provide quality work experience for school-age students

across the UK from disadvantaged backgrounds.

CORPORATE SOCIAL RESPONSIBILITY

Our corporate social responsibility programme extends to:

6 HFW Graduate Recruitment: Growing Potential

■ Charitable programmes: On a global basis, the firm

supports ChildHope, an international charity which supports

programmes in Africa, Asia and South America that challenge

violence suffered by children and young people. In addition

to this, individual offices take part in a range of fundraising

activities for local charities working with their communities.

The firm also regularly donates to fundraising efforts in

response to some of the world's worst disasters.

■ Community programmes: The firm runs a number of

mentoring, literacy, language and art projects in local

communities, working with local schools and colleges

to encourage children and young adults to participate in

education in a way they may not previously have thought

about. We also support The Chauncy Maples Malawi Trust,

a charity set up to renovate the Chauncy Maples steamer

as a floating clinic on Lake Malawi, providing treatment for

diseases such as malaria, tuberculosis, measles and HIV/Aids.

■ All Trainees play an active role in pro bono and community

legal work. We offer advice, on a pro bono basis, to charities

and other not-for-profit organisations. For example, we

operate a weekly drop-in advice centre in a south London

borough staffed by Partners, Associates and Trainees.

■ Environment: In 2009 the firm joined Green500, a carbon

reduction scheme, pioneered by the Mayor of London. As a

result, the London office recycles 60% of its waste material.
---
Sarah Jane Thompson

(Associate – Hong Kong)

Degree: History at Cambridge University

Seats: Trade & Energy; Commercial Litigation; Corporate,

Projects & Finance; Shipping & Transport

Qualified: 2010

What is the most exciting aspect of your role?

One of the most fantastic things about working for HFW Hong

Kong is being able to see what we work on from the windows of

the office. International commerce is the lifeblood of most of the

world's major cities, but it's often tucked out of sight: in Hong

Kong's Victoria Harbour, which teems with ferries, helicopters,

cruise ships, yachts, tugs, cranes, lighters and barges at all times

of day and night, it's the star of the show. You simply can't escape

the fact that this city is and always has been a hub for trade and

transport, and I really enjoy working somewhere which feels so

closely connected with what we do.

Much of our work involves engaging with the practicalities of the

industries we serve – in my case, shipping and commodities.

That's one of the things I really like about my job: learning about

and dealing with real world problems, such as why coal might

start spontaneously combusting on the quayside or how a

vessel's steering gear can stop having any effect just as she's

coming into port. Here in Asia, we're often assisting clients with

these issues in real time, which provides great opportunities for

gaining the kind of in-depth industry knowledge that can really

help you provide clients with expert service, tailored to what they

genuinely need.

Outside of work, Hong Kong is simply a great place to live –

there's an incredible amount to explore beyond the central high

rises, shops and bars, including ancient temples, beautiful country

parks, floating fishing villages and (believe it or not) deserted

coves. I'm very glad I made the decision to come out here on

qualification, and I think the remarkable opportunities HFW offers

for working abroad deserve serious consideration by any Trainee.

Toby Savage

(Associate – Insurance & Reinsurance)

Degree: Theology & Religious Studies at Bristol University

Seats: Trade & Energy; Commercial Litigation; Corporate,

Projects & Finance; Insurance & Reinsurance

Qualified: 2006

What have been the highlights of your career to-date?

Travelling the world and experiencing new cultures has always

been a passion of mine. In that respect, I have been lucky that the

majority of the cases I have worked on during my career in the

Insurance & Reinsurance department in the firm's London office,

have involved an international element. This has allowed me to

travel to a number of other countries including Germany, Bermuda,

Iceland and Thailand. One of the highlights of my legal career

to-date arose on a recent case where we were instructed by a

group of reinsurer clients, together with the local insurer, in relation

to a claim by an international energy company in the Thai courts.

It quickly became clear that, unlike some other jurisdictions, the

time frame between the issuance of a claim form in the Thai courts

and the dates set down for the final hearing can be extremely

short! This meant that we only had a very short period of time

to work alongside local counsel to prepare our defence. This

involved travelling to Thailand to interview the witnesses as well

as preparing our client's evidence for disclosure under the Thai

court rules. Having had no previous experience of the Thai legal

system, it was a steep learning curve and a number of challenges

had to be overcome along the way. However, it ultimately proved

to be a very interesting and hugely rewarding experience. We

even managed to establish new law along the way, with the court

granting permission for the use of electronic disclosure for the

first time in the Thai courts! Being a very keen sportsman, I have

also been lucky enough to be involved in a number of HFW sports

teams, including rugby 7s, cricket and football. The highlight was

definitely travelling to Dubai to play for HFW's rugby 7s team in the

international invitation tournament. Other highlights have included

getting to the final of the annual Lloyd's Rugby 7's tournament, as

well as playing cricket for a client team at the renowned JP Getty's

estate against the Lloyd's of London Cricket Club and the Stock

Exchange Cricket Club.

HFW Graduate Recruitment: Growing Potential 7
---
YOUR DEVELOPMENT AND TRAINING

Our aim is to retain all Trainees on qualification, to develop your

career as an Associate and support your progress to partnership.

We have one of the highest retention rates in the City, and it is

for these reasons that we are highly selective in the recruitment

of our Trainee Solicitors. Each Trainee who joins us is assured an

outstanding training contract. You will do interesting, stretching

work, very often with an international element. You will have early

responsibility, under the supervision of an experienced lawyer.

We work to the highest standards and look to maintain and

enhance this through every hire that we make, and our Trainees

are no exception. Your training from day one will begin with a

tailored induction programme. You will be fully integrated into our

firm through face-to-face information sessions with Partners and

Associates, in addition to attending interactive workshops with

our business services departments and key players from our legal

areas of expertise.

You will have four six-month seats, sitting with a Partner or a

senior Associate. Typically three seats will be in litigation and one

in a non-contentious department. You may have the opportunity

to be seconded to one of our overseas offices, or to a client.

You will have the opportunity to join one of our pro bono

schemes. Trainees are important members of the team and

frequently enjoy participating in various activities within our CSR

programme, some of which include attending a Legal Aid Advice

"Drop-in" clinic in Morden and also assisting students from our

local borough, Tower Hamlets, to apply for university places

and training them with key business skills. We also encourage

our Trainees to get involved with out of office activities including

sports teams (football, netball, rugby, golf, cricket and sailing),

gym membership, quiz nights and staff parties.

We arrange regular assessment meetings with a Partner to

discuss your progress. We aim to ensure that your training is both

successful and enjoyable.

8 HFW Graduate Recruitment: Growing Potential

Adam Richardson

(Associate – Singapore)

Degree: Law & French at University of Surrey

Seats: Corporate, Projects & Finance; Trade & Energy; Insurance

& Reinsurance; Shipping & Transport

Qualified: 2010

What does a 'typical' day look like for you?

A 'typical' day in Singapore is quite difficult to define as the work

can vary significantly from one day to another. That is certainly

part of the appeal of working in this office. Having trained in the

London office and completed a year there post qualification

before moving abroad, I have found Singapore a great place to

work and gain experience, and an exciting place to live.

I tend to arrive in the office at 8.30am and check emails to see

what has happened overnight. Although most of our clients are

based in Asia, a lot of the work has some link back to Europe/

London so you really see the international element of the work

that HFW does.

As there are fewer lawyers in the international offices than in

London you tend to be given a lot of responsibility even at a

relatively junior level. Whilst that may sound daunting it is a

great way to gain a lot of experience and knowledge even over

a short period of time. Yesterday, I spent most of the morning

drafting correspondence and having phone calls with clients and

opponents in various arbitrations. In the late morning I also had

a meeting at a client's offices to advise on EU sanctions. Most

large international businesses, including HFW, have their offices

in the central business district (CBD) so face-to-face meetings are

commonplace and valued by clients.

Lunch is sacred for many in Singapore and whilst there are plenty

of high-end restaurants, we tend to head to the hawker centres

for delicious (and cheap!) local food. My afternoon was spent

reviewing documents and preparing advice on a new case for

a long-standing client of the firm. Another benefit of working in

Singapore is that the clients tend to be very dedicated to their

legal advisors and will send a variety of cases their way. We have

handled cases ranging from typical commodities disputes to

fraud investigations. My working day finished at around 7.30pm

with drinks at the firm's "local" – it's a friendly team and we

regularly get together in the evenings.

Outside of the office, there's a lot to do and see, including

restaurants, bars, shopping, parks, sports clubs, museums,

temples and even beaches. Most of South East Asia can also

be reached in a matter of hours so is not uncommon to see a

group of city workers dashing to the airport on a Friday night

for a weekend away. Given the rate at which HFW is growing

internationally and the broad range of international seats offered

to Trainees, I would recommend any Trainee to seriously consider

a seat, or even qualification, in one of the international offices.
---
Elinor Dautlich (Partner)

What is the most exciting part about being a Partner in your

practice area?

When I moved from my English degree and journalism into a

second career in law, I wanted to choose a sector that would

make the law exciting, and for me this was ships. I applied

to London law firms with a shipping focus and qualified into

transactional shipping at HFW in 1996. I describe myself as an

"owners' lawyer", looking after the commercial contracts which

a shipowner enters into (shipbuilding, sale & purchase, chartering

and ship repair), as well as financing arrangements, JVs and

ownership/leasing structures. No deal is ever quite the same, but

our task is to think laterally and make the deal happen.

I also work in the superyacht and business jet sectors, acting for

manufacturers, designers and owners. It's a slightly different skill

set as these are very personal assets rather than income earning

ones, and this changes the way commercial decisions are taken.

I had my two sons whilst an Associate and came back to work

full time thanks to support and flexibility from the firm. Ultimately,

it is about keeping the client happy rather than being in any

particular working environment and certainly that is a lot easier

with modern IT.

My best trips are to shipyards and I always carry flat shoes in my

briefcase in case there is time for a tour.

I was made a Partner in 2004. We are a growing firm, but still of

a size to take individual decisions as Partners across all the

offices. I spent time in our new Sydney office in 2010 and I got

stuck there visiting family as the volcanic ash hit Europe. The

office kitchen was full of bananas and beer, but there was plenty

of lawyering going on. I haven't made it to our Dubai office yet but

I did hear Bon Jovi in Abu Dhabi in the heat of a summer evening

a couple of years ago, between signing a yacht contract and a

late flight back to Europe.

It's hard work but never boring.

"I applied to London law firms with a shipping focus and qualified into transactional shipping at

HFW in 1996. I describe myself as an "owners' lawyer", looking after the commercial contracts which a

shipowner enters into (shipbuilding, sale & purchase, chartering and ship repair), as well as financing

arrangements, JVs and ownership/leasing structures. No deal is ever quite the same but our task is to

think laterally and make the deal happen."

HFW Graduate Recruitment: Growing Potential 9
---
Dimitri Vassos

(Office Head – Piraeus)

How has your career evolved as HFW has grown over

the years?

My first experience of HFW was during a summer placement in

the London office in 1991. The firm at the time had only a couple

of international offices and we hadn't opened our Greek office.

As a university student with a family-bred love for the sea, I was

looking to find a home for my career that would combine law and

ships on an international platform.

At the end of the placement I knew there would be no better

place for me to fulfil my plans. I was so inspired from this short

experience at Holmans that I then went on to do a two month

stint on a large bulk carrier on a voyage from South America to

the Baltic. Such practical experience made me reaffirm my wish

to become a shipping lawyer and proved invaluable later on in

my career. After completing my degree in London, I joined HFW

London as a Trainee and spent a total of seven years there.

Doing a mix of "wet" and "dry" shipping litigation was exactly

what I needed to become marketable to one of the firm's

international offices (and which by then had grown in number).

Despite an initial interest in Hong Kong, I thought that Greece was

probably my natural habitat. On transferring to the Piraeus office,

I had to do my national service in the Greek Navy. I served on a

minesweeper for a couple of months before moving to a

post ashore.

I quickly developed my own clients, mainly Greek based but also

from Turkey and the Near East. Since then, there has never been

a dull moment. A case that particularly stands out in my mind was

a deal between an Eastern European client and a Middle Eastern

government. We negotiated from a tent in the desert (blackberry

reception was an issue!), and I was introduced to the customs,

and culinary delicacies, of the local tribal leaders.

Working abroad has given me the opportunity to meet and work

with the actual shipowners. I have been able to develop strong

business relations with a significant number of them, some even

becoming friends. The feeling in this relatively small but extremely

powerful business community is quite unique. It has kept me

interested in my career and focussed throughout, as I felt I was

an integral part of it.

10 HFW Graduate Recruitment: Growing Potential

Despite Greece's economic woes in recent years, the maritime

and international business sectors in Greece are particularly

buoyant. To some extent, shipping is insulated from the rest of

the economy and with Greece being a leading maritime nation, its

shipowning community and satellite service providers (insurers,

banks, traders, brokers etc) operate with an air of professionalism

and advanced business standards.

Thanks to my English legal education and the training and

experience gained in the London office, my legal career has

rapidly evolved in this ever dynamic and burgeoning sector.

I became Partner about ten years ago, and the Piraeus Office

Head in 2007.

My work brings me back to London regularly, where I invariably

represent clients in arbitrations, High Court trials and mediations.

Maintaining an international career perspective whilst working

out of Greece in conditions very similar to London and taking

advantage of the local lifestyle provides an exciting life that most

people would wish for!

"Thanks to my English legal education and the

training and experience gained in the London

office, my legal career has rapidly evolved in this

ever dynamic and burgeoning sector. I became

Partner about ten years ago, and the Piraeus

Office Head in 2007."
---
Training Contracts

We encourage all of our Trainees to become future Partners.

That is why we recruit only a small number of Trainees.

Applications for training contracts open on 1 November and close

on 31 July. We recruit two years in advance.

For more information on how to apply please visit our website

at www.hfw.com

London Wall

Bank

King William St

Arthur St

King William St

Throgmorton Ave

Throgmorton St

Monument

Station

Monument St

Threadneedle St

Cornhill

River Thames

Blomfield St

Gracechurch St

Botolph Ln

Old Broad St

Fenchurch St

Philpot Ln

Wormwood St

Road Ln

St Mary-at-Hill

Lower Thames St

Liverpool

Street

Liverpool St

Bishopsgate

Leadenhall St

Lime St

Great Tower St

Idol Ln

St Mary Axe

Fenchurch Av

Minsing Ln

Bishopsgate

Leadenhall St

Fenchurch St

Dunster Ct

Bury Ct

Mark Ln

Byward St

London St

Lower Thames St

New St

Bevis Marks

Bury Ct

Heart St

Houndsditch

Fenchurch

Street Station

Seething Ln

Middlesex St

Creechurch Ln

Castle St

Mitre St

Aldgate

Lloyd's Ave

Pepys St

Tower Hill Terrace

Vacation Schemes

Our vacation schemes are open to undergraduates and those

who have graduated or are at work.

You will work on real cases as they unfold, assisting our

Partners and Associates, as well as participating in workshops

and social events.

Becoming a lawyer at Holman Fenwick Willan is not "run of the

mill", so it is often very helpful for you to experience life with us at

first hand and for us to get to know you better.

Applications for vacation schemes open on 1 November and

close on 14 February.

How to apply

Application for vacation schemes and training contracts is by

way of our on-line application form. Please visit our website

at www.hfw.com/careers for further details and to apply.

Open days

We run open days during the year to enable you to experience

our firm first-hand and meet our Trainees, Associates and

Partners. Please see our website for dates and details on how to

apply for an open day.

Harrow Pl

Duke's Pl

Crutched Friars

Cooper's Row

Trinity Square

Jewry St

Aldgate

Holman Fenwick Willan

Crosswall

Gravel Ln

Vine St

Tower

Hill

Middlesex St

St Botolph St

Aldgate High St

Minories

Vine St Crescent

Tower Hill

Goodman's Yard

Minories

Castle St

Goulston St

Little Somerset

Havdon St

Portsoken St

Commercial St

Aldgate

East

Mansell St

Tower

Gateway

Station (DLR)

Mansell St

Whitechapel High St

W tenter St

Braham St

N tenter St

Drum St

E tenter St

Scarborough St

S Tenter St

Prescot St

Buckle St

Alie St

Leman St

Royal Mint St Cable St

HFW Graduate Recruitment: Growing Potential 11

Dock St
---
INTERNATIONAL OFFICES

United Kingdom

Friary Court, 65 Crutched Friars

London EC3N 2AE, United Kingdom

T: +44 (0)20 7264 8000

F: +44 (0)20 7264 8888

France - Paris

65 rue d'Anjou

75008 Paris, France

T: +33 1 44 94 40 50

F: +33 1 42 65 46 25

France - Rouen

47 avenue Gustave Flaubert

76000 Rouen, France

T: +33 2 32 08 18 60

F: +33 2 35 89 90 54

Belgium

Blue Tower, Avenue Louise 326

Box 19 B-1050 Brussels, Belgium

T: +32 2 643 3400

F: +32 2 643 3488

Switzerland

6th Floor

Cours de Rive 13-15

1204 Geneva, Switzerland

T: +41 (0)22 322 4800

F: +41 (0)22 322 4888

Greece

6th Floor, 83 Akti Miaouli & Flessa Street

185 38 Piraeus, Greece

T: +30 211 189 3500

F: +30 210 429 3118

Kingdom of Saudi Arabia

In association with Allazzam Law Office

Tahlia Street, Tahlia Trading Center 2

First Floor Office 105P.O.

Box 250532, Riyadh 11391, Saudi Arabia

T: +966 1 288 6679 or +966 50 6193143

F: +966 1 288 6697

Abu Dhabi

In association with Salem Al Maddfa

Advocates

Blue Tower, 6th Floor Suite 601

Al Khaleefa St, PO Box 42914

Abu Dhabi, UAE

T: +971 (0)262 66880

F: +971 (0)262 66033

12 HFW Graduate Recruitment: Growing Potential

Dubai

Level 8, Barclays Building

Emaar Square, Sheikh Zayed Road

PO Box 53934

Dubai, United Arab Emirates

T: +971 4 423 0555

F: +971 4 425 7941

Hong Kong

15th Floor, Tower One

Lippo Centre, 89 Queensway

Admiralty, Hong Kong

T: +852 3983 7788

F: +852 3983 7766

People's Republic of China

Room 901, China Insurance Building

166 East Lu Jia Zui Road, Pudong

Shanghai, 200120, China

T: +86 21 2080 1000

F: +86 21 2080 1177

Singapore

3 Church Street, #19-03 Samsung Hub

Singapore 049483

T: +65 6534 0195

F: +65 6534 5864

Australia - Sydney

Level 29, 201 Elizabeth Street

Sydney, NSW 2000, Australia

T: +61 (0)2 9320 4600

F: +61 (0)2 9320 4666

Australia - Melbourne

Level 41, Bourke Place, 600 Bourke Street

Melbourne, Victoria 3000, Australia

T: +61 (0)3 8601 4500

F: +61 (0)3 8601 4555

Australia - Perth

Level 19, Alluvion

58 Mounts Bay Road, Perth

WA 6000, Australia

T: +61 (0)8 9422 4700

F: +61 (0)8 9422 4777

Brazil - São Paulo

Av. Paulista, 1337 - 21°, Andar - cj.211

Bela Vista - São Paulo - SP

CEP 01311-200, Brazil

T: +55 (11) 3179 2900

F: +55 (11) 3179 2914