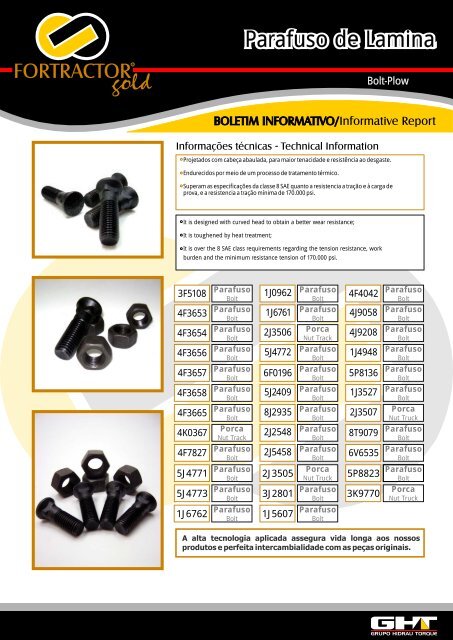 Parafuso de lâmina Parafuso de Lamina

Bolt-Plow

Projetados com cabeça abaulada, para maior tenacidade e resistência ao desgaste.

Endurecidos por meio de um processo de tratamento térmico.

Superam as especificações da classe 8 SAE quanto a resistencia a tração e à carga de

prova, e a resistencia a tração mínima de 170.000 psi.

It is designed with curved head to obtain a better wear resistance;

It is toughened by heat treatment;

It is over the 8 SAE class requirements regarding the tension resistance, work

burden and the minimum resistance tension of 170.000 psi.

3F5108

4F3653

4F3654

4F3656

4F3657

4F3658

4F3665

4K0367

4F7827

5J4771

5J4773

1J6762

Parafuso

Bolt

Parafuso

Bolt

Parafuso

Bolt

Parafuso

Bolt

Parafuso

Bolt

Parafuso

Bolt

Parafuso

Bolt

Porca

Nut Track

Parafuso

Bolt

Parafuso

Bolt

Parafuso

Bolt

Parafuso

Bolt

1J0962

1J6761

2J3506

5J4772

6F0196

5J2409

8J2935

2J2548

2J5458

2J3505

3J2801

1J5607

Parafuso

Bolt

Parafuso

Bolt

Porca

Nut Track

Parafuso

Bolt

Parafuso

Bolt

Parafuso

Bolt

Parafuso

Bolt

Parafuso

Bolt

Parafuso

Bolt

Porca

Nut Truck

Parafuso

Bolt

Parafuso

Bolt

4F4042

4J9058

4J9208

1J4948

5P8136

1J3527

2J3507

8T9079

6V6535

5P8823

3K9770

Parafuso

Bolt

Parafuso

Bolt

Parafuso

Bolt

Parafuso

Bolt

Parafuso

Bolt

Parafuso

Bolt

Porca

Nut Truck

Parafuso

Bolt

Parafuso

Bolt

Parafuso

Bolt

Porca

Nut Truck
---
Número da Peça Medida Maquina Porca

4F3653

4F3654

3F5108

4F3656

4F3657

4F3658

4F3665

5/8 X 1 3/4 L

5/8 X 2 L

5/8 X 2 1/4 L

5/8 X 2 1/2 L

5/8 X 2 3/4 L

5/8 X 3 L

5/8 X 3 1/2 L

D4,120,416

4K0367

4F7827

5J4773

5J4771

1J6762

1J0962

1J6761

3/4 X 2 1/4 L

3/4 X 2 1/2 L

3/4 X 2 3/4 L

3/4 X 3 1/8 L

3/4 X 4 1/4 L

3/4 X 4 5/8 L

D5,D6,120

2J3506

5J4772

6F0196

5J2409

8J2935

2J2548

2J5458

7/8 X 2 1/2 L

7/8 X 2 3/4 L

7/8 X 3 L

7/8 X 3 1/4 L

7/8 X 3 1/2 L

7/8 X 4 1/4 L

D7F,D8H

2J3505

3J2801

1J5607

4F4042

4J9058

4J9208

1J4948

5P8136

1J3527

1 X 2 1/2 L

1 X 2 3/4 L

1 X 3 L

1 X 3 1/4 L

1 X 3 1/2 L

1 X 3 3/4 L

1 X 4 L

1 X 4 1/2 L

D8R,D8K,930,966,924,

924,621,631

2J3507

8T9079

6V6535

5P8823

1 1/4 X 3 3/8 L

1 1/4 X 3 3/4 L

1 1/4 X 4 1/8 L

924F,938,950G

3K9770
More magazines by this user