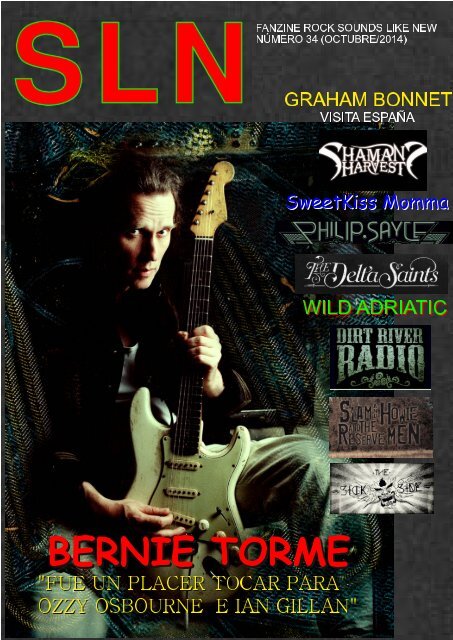 SOUNDS LIKE NEW Nº 34
¡¡¡NUEVO!!! SOUNDS LIKE NEW Nº 34
EN PORTADA, ENTREVISTA EXCLUSIVA CON EL GRAN BERNIE TORME. ENTREVISTAS CON PHILIP SAYCE, SHAMAN´S HARVEST, SWEETKISS MOMMA, THE DELTA SAINTS, WILD ADRIATIC, SLAM AND HOWIE, DIRT RIVER RADIO Y THE SICK SIDE. ESPECIAL GRAHAM BONNET, ANTE LA VISITA DEL MAGO DE LA VOZ. ADEMÁS DE LAS HABITUALES SECCIONES.

MENUDA SORPRESA LA DE ESTE GRUPO. DESDE UNA BASE DE SOUTHERN ROCK INFLUIDA

POR LOS GRANDES CLÁSICOS DE LOS 90 HAN FACTURADO UNO DE LOS DISCO DEL AÑO,

UNA AUTÉNTICA MARAVILLA TITULADA A RECKONING IS COMING, CON UNA

PERSONALIDAD PROPIA MUY ACENTUADA. NOS PUSIMOS EN CONTACTO CON SU

CANTANTE JEFF HAMMEL PARA HABLAR DE SU PASADO, PRESENTE Y FUTURO.
---
DISCO DE OCTUBRE
More magazines by this user