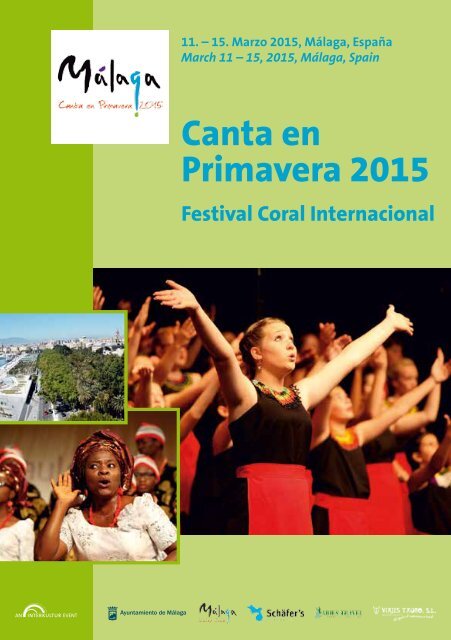 Canta en Primavera 2015 - Program Book
CANTA EN PRIMAVERA – Sing in Spring! After the outstanding success of the event "Canta al mar" in Calella (Catalonia) we would like to invite you today to join in our next event in Spain. This new INTERKULTUR Festival welcomes interested choirs to the south of the country and to the Andalusian capital Málaga. When in March the major part of Europe remains in hibernation we present a spring festival in one of Spain's most appealing areas. Spring in Málaga, does not only mean nature's spring awakening but also represents an allegory for the many-voiced singing of choirs from all over the world.
CANTA EN PRIMAVERA – Sing in Spring! After the outstanding success of the event "Canta al mar" in Calella (Catalonia) we would like to invite you today to join in our next event in Spain. This new INTERKULTUR Festival welcomes interested choirs to the south of the country and to the Andalusian capital Málaga. When in March the major part of Europe remains in hibernation we present a spring festival in one of Spain's most appealing areas. Spring in Málaga, does not only mean nature's spring awakening but also represents an allegory for the many-voiced singing of choirs from all over the world.
SHOW MORE
SHOW LESS
Create successful ePaper yourself
Turn your PDF publications into a flip-book with our unique Google optimized e-Paper software.
11. – 15. Marzo 2015, Málaga, EspañaMarch 11 – 15, 2015, Málaga, SpainCanta enPrimavera 2015Festival Coral Internacional
---
3Canta en Primavera2015Festival Coral Internacional11. – 15. Marzo 2015, Málaga, EspañaMarch 11 – 15, 2015, Málaga, SpainOrganizador / OrganizerINTERKULTURen colaboración con / in cooperation withAyuntamiento Málaga, Áreas de Cultura y TurismoViajes Tauro S.L.Abies TravelPresidente de INTERKULTUR / President INTERKULTURGünter Titsch (Alemania/Germany)Comité artístico / Artistic CommitteeProf. Dr. Ralf Eisenbeiß (Alemania/Germany), directorAntonio del Pino (España/Spain)Fred Sjöberg (Suecia/Sweden)Christian Ljunggren (Suecia/Sweden)Johan Rooze (Países Bajos/Netherlands)Assoc. Prof. Romāns Vanags (Letonia/Latvia)Comité organizador / Organizing CommitteeJavier Hernandez Rodriguez (España/Spain)Sabine Fuss (España/Spain), Project Management Spain – Viajes TauroStefanie Schreiber (Alemania/Germany), Project Coordinator INTERKULTURINTERKULTUR BoardGünter Titsch (Alemania/Germany)Wang Qin (China)Stefan Bohländer (Alemania/Germany)Prof. Dr. Ralf Eisenbeiß (Alemania/Germany)
---
5Índice de contenidos /Table of ContentPágina / PageOrganizador / Organizer 3Índice de contenidos / Table of Content 5Países participantes / Participating Countries 6Saludos / Greetings 8• Günter Titsch, Presidente de INTERKULTUR / President INTERKULTUR• Francisco de la Torre Prados, Alcalde de Málaga / Mayor of MálagaSobre INTERKULTUR / About INTERKULTUR 14• Un puente hacia el encuentro / … Connecting BridgesSobre Málaga / About Málaga 22Comité artístico y jurado / Artistic Committee and Jury 32• Directores artísticos / Artistic Directors• Miembros del jurado / Jury MembersPrograma / Schedule 40Competición / Competition 46• Lugares de celebración del evento / VenuesCoros / Choirs 60Créditos de las fotografías / Photo Credits 70Mapa del centro de la ciudad / Map of the City Center 72Imprenta & Equipo / Imprint & Team 74
---
6Países participantes /Participating CountriesEslovenia /SloveniaPolonia /PolandEspaña / SpainPortugalEstados Unidos deAmérica / United Statesof AmericaRusia /RussiaEstoniaSuecia /SwedenItalia /ItalyTurquía /TurkeyNamibia
---
SALUDOSGREETINGS9
---
10Günter TitschPresidente de INTERKULTUR /President INTERKULTUREstimados amigos,Bienvenidos a la segunda edición del FestivalCoral Internacional "Canta en primavera 2015",celebrado en Málaga. Estamos encantados derecibiros en esta hermosa ciudad andaluza yesperamos que paséis unos días maravillosos,disfrutando de los diferentes encuentros, de lamúsica y de la alegría de vivir, tan típica del sur.Coros de todos los rincones del mundo hanmostrado un gran interés en visitar la zona delMediterráneo, especialmente, España. Es porello que INTERKULTUR ha dedicado sus esfuerzosa hacer realidad los deseos de los diferentescoros. Durante los últimos años, hemos organizadodiversos eventos en Calella y Málaga quehan gozado de un gran éxito y han perduradoen el recuerdo. El hecho de que estemos por segundavez en Málaga es prueba fehaciente denuestra dedicación.Málaga, la vibrante ciudad de la Costa del Sol,es el lugar ideal para celebrar un encuentro coralen primavera. Escenarios excepcionales, iglesiasimpresionantes, un clima suave y la intensa vidaque se respira en las plazas y en los cientos derestaurantes del centro de la ciudad, aportan unambiente único a nuestro festival.Tenemos por delante un año de festivales llenode emociones. En 2015 organizaremos otrascompeticiones de menores y mayores proporcionesen Austria, Italia, Alemania, Grecia, Españay Vietnam. Dichas competiciones continuaránperfilando e imprimiendo carácter a losfestivales de INTERKULTUR. Además, con mirasa un futuro más lejano, estamos preparándonospara la novena edición de los Juegos CoralesMundiales (World Choir Games) en Sochi, en lazona del mar Negro, que tendrá lugar en julio de2016. Pero, volviendo al festival «Canta en primavera2015» que actualmente celebramos enMálaga, querría desearos muchos éxitos y experienciasinolvidables.Una vez más me gustaría mostraros mi más cordialagradecimiento a todos aquellos que habéiscontribuido al éxito de este acontecimiento convuestro trabajo incondicional. Mi gratitud vatambién dirigida a todos los que habéis colaboradoen la realización de este evento.Günter TitschPresidente de INTERKULTUR
---
11Dear friends,welcome to the 2 nd Festival Coral International"Canta en primavera 2015" in Málaga. Wecordially welcome you to this wonderful city inAndalusia and are looking forward to wonderfuldays full of encounters, music and southernsavoir vivre.Choirs from all over the world have expresseda huge interest in visiting the Mediterraneanarea and especially Spain and INTERKULTUR istaking care to realise the choirs' desires. Duringthe last years we have been organising somevery successful events in Calella and Málagawhich resulted in lasting memories. And thefact that we are here in Málaga already for thesecond time is proof of our efforts.Málaga, the vibrant city at the Costa del Sol isthe ideal place for a choral meeting in spring.Outstanding venues, impressive churches, agentle climate and the pulsating life at squaresand hundreds of downtown restaurants add aunique flair to our festival.An exciting year of choir festivals lies ahead ofus. In 2015 we will organise further small andlarge competitions in Austria, Italy, Germany,Greece, Spain and Vietnam, which will continueto shape our INTERKULTUR festivals. And inthe long run we are already getting preparedfor the 9th World Choir Games in Sochi at theBlack Sea, which will take place in July 2016.But first of all I would like to wish you a lot ofsuccess and wonderful, lasting experiences at"Canta en Primavera 2015" in Málaga.And I would like to give once again my cordialthanks to all those who contributed to theevent's success with their unfailing work. Mygratitude also goes to all those who supportedthe realisation of this event.Günter TitschPresident INTERKULTUR
---
12Francisco de la Torre PradosAlcalde de Málaga /Mayor of MalagaSituada en el extremo oeste del mar Mediterráneo,Málaga ha sido históricamente la puerta deentrada a Andalucía. De origen fenicio, por la ciudadhan pasado romanos y árabes para ser hoyuna de las metrópolis más dinámicas de Españay el motor económico de la comunidad autónomaandaluza.La última década ha supuesto el despegue dela ciudad como destino turístico, siempre conla cultura como principal reclamo de esta transformación.La concentración de la mayor partede la oferta turística y monumental en el CentroHistórico y la progresiva peatonalización de suscalles más emblemáticas permiten al turistauna cómoda y fácil visita, callejeando en buscade los santuarios de la gastronomía local, o simplementedisfrutar del carácter afable y abiertode los malagueños.Junto al legado monumental procedente delpaso de diferentes culturas durante tres milaños, la ciudad que vio nacer el genio de Picassose ha ido dotando de un conjunto de equipamientosculturales que han hecho de la capitalde la Costa del Sol uno de los destinos turísticosculturales más demandados de toda España ycon mayor proyección en toda Europa.El Museo Picasso Málaga, el Centro de Arte Contemporáneo,el Museo Carmen Thyssen o el MuseoAutomovilístico son algunas de las joyas dela nada despreciable oferta museística de la ciudad,que tiene ya casi una treintena de museostemáticos. Y este año 2015 abrirán también suspuertas el Centre Pompidou Málaga y la coleccióndel Museo Estatal Ruso de San Petersburgo,que, sin duda, contribuirán a reforzar el papel deMálaga como una de las ciudades más dinámicasde España culturalmente hablando.En este contexto de efervescencia cultural, nuestraciudad celebra, por segundo año consecutivo,el Festival Internacional de Coros 'Málagacanta en Primavera', que reunirá a agrupacionescorales de los cinco continentes. Los participantesen este encuentro van a tener la oportunidadde comprobar, una vez más, cómo toda la ciudadse vuelca para que esta cita, que pretendemosconvertir en un nuevo referente de la primaveramalagueña, sea todo un éxito.Nuestra ciudad es, además, pródiga en escenariosen los que disfrutar de la música. La Catedral,el Teatro Echegaray, tantas iglesias históricas,van a ser testigo de las actuaciones detantas corales llegadas de todo el mundo. Comoalcalde de Málaga, quiero aprovechar la oportunidadque me ofrece esta publicación paradesearles una feliz estancia en nuestra ciudad yque disfruten de todos los atractivos que Málagales pone a su disposición. Sean bienvenidos.Francisco de la Torre PradosAlcalde de Málaga
---
13Málaga, located on the far west side of the MediterraneanSea, has been historically regardedas the gateway to Andalusia. It has a Phoenicianorigin, many Roman and Arab people havebeen living here and nowadays it is one of themost dynamic cities in Spain and the economicdriver in the Andalusian autonomous community.In the last decade, there has been a boom inthis city as a tourist destination; culture hasbeen the main attraction to tourists. The factthat the main tourist and monumental offeris concentrated in the historical centre and theincreasing pedestrianization of the most importantstreets allow tourists a comfortableand easy visit. Therefore, tourists can wanderthrough the streets to see local bars or they cansimply enjoy the pleasant atmosphere of thecitizens.With the monumental legacy throughout thedifferent cultures for three thousand years,the city where the genius Picasso was born,has achieved a wide range of cultural featureswhich have turned the capital of the Costa delSol into one of the most demanded culturaltourism destinations in Europe and with thelargest future projection in all of Europe.The Museo Picasso Málaga, the Centro de ArteContemporáneo, the Museo Carmen Thyssenor the Museo Automovilístico are some of themuseum treasures which this city offers; it hasalmost thirty themed museums. Furthermore,the Centre Pompidou Málaga, the Museo EstatalRuso de San Petersburgo and the Museo deMálaga (Bellas Artes y Arqueológico) in La Aduanawill be inaugurated this year 2015. Theywill reinforce the cultural role of Málaga as oneof the most dynamic cities in Spain.In this cultural context, our city is holding, forthe second consecutive year, the InternationalFestival of Choirs "Canta en Primavera", whichwill gather choral groups of five continents. Theparticipants will have the opportunity to proveonce again, how all the inhabitants participateto make sure that this festival will be very successful.Furthermore, our city has many places whereyou can enjoy music. The Cathedral, the Echegaraytheatre and many historic churches aregoing to be witnesses to the international performances.As the Mayor of Málaga, I want totake the opportunity to wish you a pleasantstay in our city and enjoy all the attractionsthat Málaga offers you. Welcome to Málaga.Francisco de la Torre PradosMayor of Málaga
---
SOBRE INTERKULTURABOUT INTERKULTUR15
---
16Un puente hacia el encuentroCon la primera competición coral internacional disputada en Budapest en 1988, se inició una delas mayores y más exitosas series de eventos culturales celebradas en Europa. Desde aquel tiempohasta ahora, las series de eventos organizadas por INTERKULTUR han llegado a ser conocidas entodo el mundo gracias a su alto nivel artístico y organizativo. INTERKULTUR se ha convertido en unnuevo concepto para los amantes de la música coral, y sus competiciones gozan de una crecienteafluencia internacional.La responsable de organizar estos eventos es la asociación sin ánimo de lucro, INTERKULTUR, quetiene su sede en Alemania. Hasta la fecha, el mayor éxito cosechado por esta asociación ha sido elde llevar el antiguo concepto de competición olímpica al mundo de la música coral. Las OlimpiadasCorales celebradas en el año 2000 en Linz (Austria) marcaron el inicio del movimiento olímpicocoral, que continuó consolidándose en 2002 en Busan (Corea) y en 2004 en Bremen (Alemania),siguiendo con su exitosa trayectoria como "Word Choir Games" en 2006 en Xiamén (China), en2008 en Graz (Austria) y en 2010 en Shaoxing (China). En julio de 2012 los World Choir Games secelebraron por primera vez en el continente americano, más concretamente en Cincinnati, Ohio.En Julio de 2014 se celebraron los World Choir Games en Riga, Letonia y fueron con 27.000 participanteshasta la fecha, los más grandes celebrados en la Historia de unas Olimpiadas Corales. En2016 se celebraran en la ciudad Olímpica Sochi, en Rusia.Un nuevo hito dentro de la historia deINTERKULTUR lo marcó la introducción del Campeonato Mundial de Coros. El primer Mundial seconvocó en 2009 en la provincia de Gyeongnam (República de Corea), y en de 2011, Graz (Austria)tuvo el honor de disputar el Campeonato Mundial de Coros Juveniles. La segunda edición de estaversión Europea de los World Choir Games tendrá lugar en Magdeburgo en Julio de 2015.La ideaDurante este tiempo, INTERKULTUR se ha convertido en el símbolo de una idea artística única, queofrece un nuevo enfoque a la puesta en práctica de las competiciones corales, ya que, mientrasque en los tradicionales certámenes corales de renombre únicamente se le permitía la participacióna la élite internacional, las competiciones de INTERKULTUR están abiertas a todos los corosaficionados, tengan éstos experiencia o no en este tipo de certámenes. Todos aquellos coros, noimporta su procedencia, que estén interesados en adquirir experiencia en competiciones y festivalesinternacionales, pueden medirse con otros coros, dentro del nivel que se corresponda con surendimiento artístico.
---
17El comité artístico no sólo centra su atención en la calidad, sino también en la presencia de la mayordiversidad posible de coros en todas las competiciones. A este nuevo concepto de competiciónle han surgido numerosos imitadores en las últimas décadas. Con la idea de organizar los WordChoir Games, que se celebran cada dos años, INTERKULTUR ha conseguido darle un nuevo impulsoy una nueva perspectiva a la escena coral nacional e internacional.El concepto pedagógicoLos eventos de INTERKULTUR no se limitan a ser meras competiciones y festivales corales internacionales,sino que le deben su nivel de competencia en la materia a una rica oferta pedagógicaque se centra en conseguir el rendimiento continuado de los coros participantes.En las rondas orientativas, por ejemplo, los coros tienen la oportunidad de trabajar codo a codocon el jurado internacional y de recibir consejos sobre su nivel de rendimiento e información relevantedesde el punto de vista pedagógico y artístico, además de sugerencias sobre cómo interpretarla obra escogida. En relación con estas convenciones, también se ofrecen numerosas jornadasespecializadas, seminarios para directores corales, retratos de las figuras de los compositores yconferencias. Los conciertos de la amistad y los conciertos en los que todos cantamos juntos fortalecenel gran impacto emocional de los encuentros corales organizados por INTERKULTUR.El sello de calidadDesde hace más de 20 años, MUSICA MUNDI® lleva siendo el sello de calidad exclusivo de todos loseventos organizados por INTERKULTUR. Desde la primera competición organizada por INTERKUL-TUR, que tuvo lugar en Budapest en 1988, el sistema de evaluación sobre el que se fundamentantodas las competiciones de INTERKULTUR ha estado en continuo proceso de mejora y perfeccionamiento.MUSICA MUNDI® garantiza así condiciones adecuadas para que todas las competicionesresulten equiparables, marcando estándares básicos dentro del mundo de la música coral.Las competicionesExisten varias categorías, divididas en distintos grados de dificultad, para todos los tipos y nivelesde coros, con o sin necesidad de interpretar obras obligatorias. Se ofrece un ambiente único, buenascondiciones competitivas, intensos contactos artísticos, diversos programas orientativos ytalleres, además de la oportunidad de practicar con artistas internacionales. Más de 200 expertosy destacados directores corales, venidos de todos los rincones del mundo, garantizan un alto nivelde especialización en todas las competiciones organizadas por INTERKULTUR.El sistema de evaluaciónEn las competiciones de INTERKULTUR, el jurado otorga diplomas de oro, plata y bronce en 10 nivelesdistintos, mientras que en los World Choir Games y en los Campeonatos Mundiales de Coros seotorgan medallas de bronce, plata y oro, siempre siguiendo el sistema de evaluación de MUSICAMUNDI®. En cada categoría se elige a un vencedor o a un campeón y los logros destacados recibenpremios especiales. En algunas competiciones existe una competición complementaria para losganadores de las distintas categorías en la que se elige al ganador del "gran premio", es decir, alganador general de la competición.
---
19… Connecting BridgesThe first INTERKULTUR International Choir Competition in Budapest, held in 1988, was the start of oneof the largest and most successful series of cultural events in Europe. The INTERKULTUR Event Series hasmeanwhile become known throughout the world for its high artistic and organizational standardsand as a concept for the choirs and choir enthusiasts worldwide. These events are organized by INTER-KULTUR, a non-profit organization based in Germany.INTERKULTUR´s biggest success to date was to bring the antique Olympic idea to the choral community.The Choir Olympics 2000 in Linz, Austria were the beginning of a Choir Olympic movement, withsubsequent events in Busan, Republic of Korea in 2002, and Bremen, Germany in 2004. This successcontinued as the "World Choir Games" in Xiamen, China in 2006, Graz, Austria in 2008, Shaoxing,China in 2010, and Cincinnati, USA in 2012. In 2014, the World Choir Games were held in Riga, Latviaand marked the biggest event in the history of the choir Olympic idea attracting 27,000 participants.In 2016, the World Choir Games will come to the Olympic city of Sochi in Russia.Another milestone in the history of INTERKULTUR was to establish a World Championship for choirs.The first World Choir Championships debuted in 2009 in the Province of Gyeongnam, Republic ofKorea, followed by the World Choir Championships for Youth and Young Adults in July 2011 in Graz,Austria. Graz again was the host city for an INTERKULTUR event: The first European Choir Games andthe "Songs of Spirit Festival" were held in July 2013. The second edition of this European version of theWorld Choir Games will be held in Magdeburg, Germany in July 2015.The IdeaINTERKULTUR has become the symbol for an unique artistic idea, consisting of a new interpretationconcerning the execution of choir festivals. In comparison to traditional meritorious choir competitionsthat only invite international elite choirs to take part; the INTERKULTUR competitions are open toall non-professional choirs. Choirs from all over the world, interested in gaining international festivaland competition experience, can compete according to their level of artistic achievement. The ArtisticCommittee puts emphasis on the presence of the highest level of choral performers as well as on thepresence of the greatest diversity of choirs in all competitions. This new type of competition has beencopied by numerous organizations in the past two decades. With the idea to organize the World ChoirGames, formerly known as "Choir Olympics" biennially, INTERKULTUR has opened a door to new impulsesand perspectives for the national and international choral movement.The Quality SealFor more than 20 years, MUSICA MUNDI® has been the exclusive quality seal for all INTERKULTURevents worldwide. The evaluation system on which all INTERKULTUR competitions are based on sincethe first event in Budapest in 1988 has been improved continuously. MUSICA MUNDI® ensures comparabilityamong all events, a smooth organization and has set standards in the world of choral music.
---
20The CompetitionsThere are various categories for all types and levels of choirs in different degrees of difficulty, with or withoutcompulsory pieces. The competitions offer good competitive conditions, valuable artistic contacts,various workshops and seminars, as well as practice opportunities with international performers. Morethan 200 experts and leading choirmasters from all over the world guarantee a high level of expertisein all INTERKULTUR events.Evaluation SystemThe jury awards Bronze, Silver, and Gold Diplomas on 10 levels at INTERKULTUR competitions alongwith Bronze, Silver and Gold Medals at the World Choir Games and World Choir Championships, accordingto the MUSICA MUNDI® evaluation system. In each category, a winner or champion is determinedand outstanding achievements are honored with special prizes. In some competitions there is a grandprize competition of the category winners which determines the overall winner of the competition.The Pedagogical ConceptINTERKULTUR events are not just competitions and international choir festivals. Choirs are able toreceive feedback from various pedagogical offerings. In evaluation rounds, choirs have the chance towork with international jury members and gain advice on their current level of achievement, receiveproficient pedagogical and artistic information and obtain suggestions as to how to interpret the chosenpiece. Choirs may also attend workshops and seminars along with participation in Friendship andCelebration Concerts which allow international choirs to interact with choirs of the host city duringINTERKULTUR events.Locations of Festivals and CompetitionsTo date, INTERKULTUR events have taken place in Austria, Czech Republic, Germany, Hungary, Indonesia,Israel, Italy, Malaysia, Malta, People's Republic of China, Republic of Korea, Spain, Sweden, USA,Vietnam and Serbia. In 2015 also Greece will fill a gap on the map of INTERKULTUR events.The ParticipantsIn total, more than 7,700 choirs with roughly 350,000 active singers from 100 countries have takenpart in the INTERKULTUR competitions to date. An interesting note is that more than half of the participantshave been children and youth up to 25 years of age.Means of SupportIn accordance with its statutes, INTERKULTUR supports the following activities:• International music festivals and choir competitions whose goal is to bring together choirs fromdifferent regions of the world and encourage international collaboration through mutual respect,as well as to contribute to cultural exchange and understanding among nations• Children and youth choirs even from financially challenged countries• Non-professional choirs that focus on the growth of youth development• Young, talented choirmasters, young musicians and singers through the support of scholarship awards• Specific sponsorship opportunitiesEuropean Culture AwardINTERKULTUR was awarded the 2006 European Culture Award, by former German Minister of ForeignAffairs, Hans Dietrich Genscher and presented by KulturForum Europa, for its activities on behalf ofunderstanding between peoples and furtherance of common European thinking in the field of culture.
---
Scan QR code and get moreinformation21
---
SOBRE MÁLAGAABOUT MÁLAGA23
---
24Sobre Málaga / About MálagaIntroducciónDe origen fenicio, puerta de entrada desde el Mediterráneo a Andalucía. Poblada por romanos yárabes, es en la actualidad, una de las metrópolis más dinámicas de España y motor económico deAndalucía.Las infraestructuras de comunicación de las que está equipada la ciudad; Aeropuerto, Puerto y terminalportuaria, alta velocidad y red de carreteras, han permitido que Málaga sea el centro intermodalde comunicaciones de la región.Acariciada por un clima subtropical-mediterráneo, presume de tener una temperatura media anualde 18ºC y aunque es la sexta ciudad más poblada de España, Málaga aún conserva el encanto de lasciudades del sur, capaz de seducir al visitante.La última década ha supuesto el despegue de la ciudad como destino turístico en los segmentos deturismo de ciudad, turismo idiomático, turismo de cruceros y turismo congresual y de incentivos.Destino eminentemente cultural con una planta hotelera de las más modernas de España, próximaa las 10000 camas.La concentración de la oferta turística en su Centro Histórico, corazón de la ciudad y su progresivapeatonalización, permiten al visitante una cómoda y fácil visita, callejear en busca de los santuariosde la gastronomía local o simplemente disfrutar del carácter afable y abierto del malagueño.Junto al legado monumental procedente del paso de diferentes pueblos y culturas durante 3.000años, la ciudad que vio nacer al genio de Picasso, se ha ido dotando de un conjunto de equipamientosculturales que han hecho de la Capital de la Costa del Sol uno de los destinos turísticos culturalesde más proyección internacional y más demandados de España.El centro de Málaga además concentra la oferta de ocio y cultura, donde se pueden combinar visitasmonumentales y visitas a museos con la gastronomía tradicional y moderna, y compras en las mejoresboutiques y los pequeños comercios locales.MonumentalEl centro histórico de Málaga es capaz de ofrecer al visitante un viaje a través de los siglos en unasola jornada, gracias a una herencia patrimonial única en Europa. Rodeado por plazas emblemáticasy calles con historia, por aromas y colores, en la ciudad de Picasso el visitante puede sumergirse enla magia del legado árabe que ofrecen los monumentos de La Alcazaba y el Castillo de Gibralfaro,contemplar la majestuosa Catedral y sus hermosos jardines y admirar los restos conservados delTeatro Romano. La peatonalización de gran parte del centro histórico ha mejorado la comodidad delvisitante, ya que el recorrido a pie de un monumento a otro no lleva más de diez minutos.Arte y PicassoLa ciudad de Málaga es arte y cultura, pero sobre todo es la cuna del genio Pablo Ruiz Picasso. En laFundación Picasso – Museo Casa Natal se puede contemplar una exquisita colección de cerámicasy bocetos del artista. Además, el Museo Picasso de Málaga expone la mayor colección privada del
---
25mundo, que engloba de forma permanente más de 200 obras que recorren todas las etapas y períodosartísticos de la fascinante obra de Picasso.También cada año podrá disfrutar del "Octubre Picasiano", mes en el cual se conmemorará el nacimientode Picasso a través de diferente exposiciones de arte, ciclos de conferencias, festivales demúsica, simposios y celebraciones populares.Málaga ofrece además, a través de la ruta picassiana, algunos de los rincones más influyentes en laobra y vida del artista, como la Plaza de la Merced, la Iglesia de Santiago, la Antigua Escuela de BellasArtes (hoy día Ateneo Málaga) y la Plaza de Toros de la Malagueta.MuseosCon un total de treinta y cinco museos temáticos, veinte de ellos localizados en el centro de la ciudad,la diversidad museística de Málaga es una experiencia única para el visitante. El fascinante MuseoCarmen Thyssen Málaga alberga 230 obras de pintura costumbrista española del XIX. El originalMuseo Automovilístico de Málaga una colección de 86 coches clásicos. Único en Andalucía, el Museodel Vidrio y Cristal alberga colecciones de cristal de Bohemia y China del siglo XVII. El Museo del Vinode Málaga y el Museo de Costumbres y Artes Populares, entre otros, son referentes culturales ineludibles.Para los amantes del arte moderno, el Centro de Arte Contemporáneo y el Museo Municipalde Málaga ofrecen algunas de las obras y tendencias de los artistas más importantes del mundo.Además, la apertura inminente de los nuevos museos "Centre Pompidou Málaga" y "Colección delMuseo Ruso, San Petersburgo/Málaga" reforzarán el posicionamiento internacional de la ciudad deMálaga como uno de los destinos culturales más demandados. Pero todavía nos quedan más museosque visitar!NaturalezaSi quiere cambiar de aires y disfrutar de la tranquilidad y pureza de los parajes naturales de nuestraciudad, puede visitar el Parque Natural de los Montes de Málaga. Situado a tan sólo cinco kilómetros,en los Montes de Málaga podrá encontrar restaurantes y ventas representantes de excepción de lacocina tradicional y rural malagueña. En el Aula de las Contadoras, un cortijo del siglo XVIII, podráentrar en contacto con la naturaleza de manera activa. Y si quiere disfrutar de un ambiente másexótico y tropical, puede visitar la joya de Málaga: el Jardín Botánico-Histórico de la Concepción,uno de los jardines tropicales más hermoso e importante de toda Europa. El recorrido constituye unauténtico espectáculo y su visita inolvidable.
---
26GastronomíaDescubra nuestra deliciosa oferta de restauración. Desde la cocina tradicional con su "pescaíto frito"hasta la más exclusiva cocina de autor. La dieta mediterránea en su máxima expresión, donde elpescado es el rey y la tapa su reina en un mundo de variantes, todo ello acompañado por los vinosde la tierra.Disfrute de todo ello en cualquiera de los restaurantes y bares de tapas del centro histórico y La Malagueta,o en los chiringuitos del Paseo Marítimo de Pedregalejo-El Palo y Paseo Marítimo de AntonioMachado. Además pasear por cualquiera de los Paseos Marítimos de Málaga es un auténtico lujo ytomar el sol en sus playas, en cualquier estación del año, algo increíble, pero cierto.Por otro lado, también podrá degustar la gastronomía singular del Parque Natural de Los Montes deMálaga, en plena naturaleza. A lo largo de la carretera de Los Montes o Carretera de Colmenar (A-7000) se encuentran una serie de restaurantes conocidos popularmente como ventas, que formanhoy una zona culinaria diferenciada de la ciudad, tanto por su localización como por su especialización.Málaga, una ciudad para comprar.Málaga es, sin lugar a dudas, una ciudad ecléctica apta para todos los gustos y donde puede desarrollarsecualquier actividad. Por ejemplo, Málaga se convierte en una ciudad idónea en la que poderdisfrutar de una jornada de compras mientras se pasea por el centro histórico. Por excelencia, la callede compras en Málaga es la calle Larios, siendo la calle Nueva o la calle Granada otras de las dosarterias principales. Sus aceras se encuentran repletas de establecimientos para todos los gustos ynecesidades donde se pueden encontrar galerías de arte, cualquier tipo de local comercial y bulliciosastabernas para tapear o picar. Pero también puede optar por hacer sus compras en los modernoscentros comerciales o grandes almacenes.
---
27Eventos en MálagaMálaga es una ciudad vibrante, gracias a un intenso calendario de eventos culturales, lúdicos y deportivosque se suceden de forma regular durante todo el año, convirtiéndose en el perfecto complementode ocio para los amantes del citybreak. De obligado cumplimiento son la Semana Santa,el Festival de Málaga de Cine Español, la Noche en Blanco y la Feria de Málaga, los cuatro grandesacontecimientos permanentes en la ciudad. Otros eventos deportivos y culturales también formanparte del calendario de forma permanente como el Octubre Picassiano; la Temporada de la OrquestaFilarmónica de Málaga; el Festival Internacional de Jazz; el Carnaval de Málaga; Terral, Festival deVerano; y los partidos de fútbol y baloncesto de los equipos locales de primer nivel europeo.ConectividadUna ciudad con unas modernas infraestructuras en comunicación y servicios. Una ciudad a la quees más fácil, cómodo y rápido llegar con las conexiones del AVE, la segunda pista del aeropuerto ola Estación Marítima. Una ciudad, en definitiva, que ha tomado el pulso al siglo XXI y que no estádispuesta a perdérselo.• Línea de Alta Velocidad AVEConexión con las principales capitales españolas a través de la Línea de Alta Velocidad. Ciudadescomo Madrid, Barcelona, Sevilla, Córdoba, Valencia, etc. están ahora a pocas horas desde la capitalde la Costa del Sol.• Conexiones aéreas con más de 30 países.Más de 100 destinos aéreos y más de 60 compañías aéreas convierten el aeropuerto internacionalde Málaga en uno de los más importantes de España.• CrucerosMálaga tiene una de las instalaciones cruceristas más modernas de Europa, siendo la 2ª ciudadmás importante de la península en cuanto al número de cruceros que atracan en su renovado puertocada año. Desde el barco se divisa a corta distancia la ciudad de Málaga, con la imponenteCatedral y el Parque Natural Montes de Málaga recortado contra el azul del cielo, una postal incomparableque saluda a todo crucerista al descender desde la pasarela.Para más información www.malagaturismo.com*****IntroductionFounded by the Phoenicians and later home to both Roman and Arabic settlers, Málaga is the gatewaybetween the Mediterranean Sea and Andalusia. Today, the city is one of Spain's most dynamic metropolisesand the driving force behind the Andalusian economy.Málaga's transport infrastructure -airport, port and shipping terminals, high-speed train service andmotorway network- have enabled the city to establish itself as the intermodal travel capital of theentire region.Blessed with a subtropical Mediterranean climate and an average yearly temperature of 18ºC, Málagahas managed to retain all of the southern Spanish charm that so delights the visitor in spite of beingSpain's sixth most populous city.The past decade has seen the city really flourish as a tourist destination for those in search of sightsee-
---
28ing holidays, language courses, cruises and congress and incentive trips. Málaga is teeming with cultureand boasts one of the most modern hotel infrastructures in Spain, with a capacity of almost 10,000 beds.The wealth of locations of touristic interest which can be found in the historical centre of Málaga, combinedwith the progressive pedestrianisation of this area of the city, means that visitors will find everythingthey could possibly wish for close at hand as they stroll the streets in search of delightful havens servinglocal cuisine or simply enjoy the affable, friendly nature of the Málaga people.In addition to boasting a monumental heritage shaped by the presence of numerous peoples and culturesover the past 3,000 years, Picasso's home town has added a series of new cultural attractions that havefirmly consolidated the capital of the Costa del Sol as one of the leading lights on the international sceneas far as cultural tourism is concerned, as well as making the city one of Spain's most sought-after holidaydestinations.The centre of Málaga is also home to most of the city's cultural and leisure facilities, enabling the touristto combine sightseeing and museum visits with traditional and modern cuisine and shopping in both thefinest boutiques and small local stores alike.MonumentalMálaga's historical centre offers the chance to travel back centuries in time in just one day thanks to apatrimonial heritage unrivalled anywhere in Europe. Surrounded by smells, colours, famous squares andstreets crammed with history, the visitor to Picasso's home town can experience the magic of Málaga'sArabic legacy in the shape of the Alcazaba Fortress and Gibralfaro Castle, marvel at the majestic Cathedraland its delightful gardens, and admire the well-preserved remains of the Roman Theatre. The pedestrianizationof much of the old town centre has made it much more convenient to get around, with just aten-minute walk separating one monument from another.Art and PicassoMálaga is a city of art and culture. First and foremost, however, Málaga is the home of Pablo Picasso,and both the Picasso Foundation-Birthplace Museum and the Málaga Picasso Museum itself are home toauthentic exhibits representative of all of the artist's different stages and periods. The Picasso Foundation-Birthplace Museum is home to a delightful collection of the artist's pottery and drawings, while at theMálaga Picasso Museum itself is the largest private collection in the world on show, a permanent displaycomprising over 200 exhibits spanning all of the artistic stages and periods that make up Picasso's fascinatinglegacy of works.Visitors to Málaga will also enjoy the Picasso Route, a tour of some of the locations that most influencedthe artist's life and work, such as the Plaza de la Merced, Santiago Church, the former School of Fine Arts(now home to the Málaga Athenaeum) and Malagueta Bullring.MuseumsWith a total of thirty-five theme-based exhibition centres, twenty of which are situated in the city centre,the variety of museums to be found in Málaga add up to a truly unique experience for the visitor. Thefascinating Málaga Carmen Thyssen Museum is home to 230 examples of 19th-century Spanish genrepainting. The unusual Automobile Museum of Málaga boasts a collection of 86 classic cars. On display atthe Holy Week Museum are a series of objects used in the Easter processions and other ornamental itemsdonated by the city's religious societies. The Glass Museum, the only one of its kind in Andalusia, housesdisplays of 17th century Bohemian and Chinese glass. The Málaga Wine Museum and the Museum of PopularArts and Customs, among others, are showcases for local culture that should not be missed. Lovers ofmodern art can appreciate the works and trends of some of the world's leading artists at the ContemporaryArt Centre and Málaga Municipal Museum. Furthermore, the imminent opening of the new museum
---
29"Centre Pompidou Málaga" and "Collection of the Russian Museum, St. Petersburg / Málaga" strengthenthe international position of the city of Malaga as one of the most popular cultural destinations. But stillthere are more museums to visit!NatureIf you fancy a change of scenery and the chance to enjoy some fresh air and tranquillity, then the MálagaMountains Nature park is the place for you to go. Located just five kilometres from the city itself, theMálaga mountains are home to country restaurants specialising in traditional and rural Málaga fare.At El Aula de las Contadoras, an 18 th -century farm, you can enjoy a hands-on encounter with nature,while if you're looking for something more exotic and tropical, you should pay a visit to the jewel inMálaga's crown, La Concepción Botanical-Historical Gardens, one of Europe's finest and most beautiful.A visit to this most spectacular of settings is never to be forgotten.CuisineSample the delicious array of culinary delights, ranging from traditional fare featuring the local speciality,fried fish, to exclusive signature cuisine. This is the Mediterranean diet par excellence, where fishand tapas reign supreme in a varied kingdom of dishes that can be enjoyed with a selection of localwines.ShoppingMálaga is without doubt an eclectic city that suits all tastes and provides the ideal setting for all mannerof pursuits. It will come as no surprise, then, that it is also the perfect place in which to combine aday's shopping with a stroll through the town's historical centre. Málaga's flagship shopping street isCalle Larios, closely followed by Calle Nueva and Calle Granada. The pavements of these central thoroughfaresare crammed with establishments guaranteed to satisfy all tastes and requirements, includingart galleries, shops of every description and lively bars in which to enjoy a tapa or snack.
---
30Events in MálagaMálaga is a vibrant city with a bulging calendar of cultural, leisure and sports events distributed evenlythroughout the year to provide the perfect complement for lovers of city breaks. Not to be missed are theHoly Week, the Málaga Spanish Film Festival, the Museum All-Nighter and Málaga Fair, the city's four keyregular events. These are accompanied each year by a number of other events of a sporting and culturalnature such as a series of concerts at the Málaga Auditorium, a classical music season featuring the city'sPhilharmonic Orchestra, the International Jazz Festival and Málaga Carnival, not to mention numerousmatches involving Málaga's football and basketball teams, which are among the best in Europe.Cruises in MálagaFrom the ship, the city of Málaga is visible just a short distance away, the impressive Cathedral and MálagaMountains Nature Park standing out against the blue sky to create the incomparable scene that greetscruise passengers as they descend the gangway. Málaga's cruise facilities are among the most modernin Europe: two new passenger terminals covering an area of 16,082 m 2 which can cater for up to 8,000passengers at a time stationed in the harbour itself and a limitless number of stopover visitors, a smallmarina, ample mooring space, a magnificent leisure, restaurant and entertainment complex in the modernDock One and a pleasant area in which to stroll or relax in Dock Two. The port is linked to the rest ofthe city by "El Palmeral de las Sorpresas", a palm tree esplanade which leads to the shops and landmarks inthe heart of Málaga itself and is also home to a modern terminal equipped to handle vessels of up to 201metres in length, as well as embarkation and disembarkation for up to 200 passengers and 500 passengersin transit. The city boasts a wealth of attractions for stopover tourists and those just passing throughalike: History, museums and monuments, Arabic baths, authentic Flamenco, bars serving a wide varietyof delicious tapas, active and nature holidays, botanical gardens. leisure and shopping facilities, first-classaccommodation and excellent connections with the rest of Málaga province and the whole of Andalusia– all against a backdrop of warm local hospitality and the finest climate in Europe.Hotels in MálagaThe city of Málaga is home to almost 10,000 hotel beds, mostly in 5, 4 and 3-star establishments. Thesemodern facilities are characterised by their central location at the heart of Málaga, their functionality andtheir versatility, which enables them to provide everything clients and visitors could possibly require, beit state-of-the-art technology and conference rooms, proximity to the city's main cultural attractions, awelcoming atmosphere, top-quality service or even the delicious cuisine that tends to figure high on thelist of those who come to Málaga in pursuit of culture and leisure.TransportOver 100 air destinations and more than 60 airlines make Málaga Airport one of the most important inSpain.• AVE High-Speed RailwayThe High-Speed Railway network offers links to Spain's major provincial capitals. Cities such as Madrid,Barcelona, Seville, Cordoba and Zaragoza are just a few hours journey away from the capital of theCosta del Sol.• RailwayWith the Spanish Railway Network you can get from Málaga to anywhere in Spain.• National Road NetworkA series of roads and motorways link Málaga with the rest of Spain's provinces.For further information www.malagaturismo.com
---
the31
---
COMITÉ ARTÍSTICO Y JURADOARTISTIC COMMITTEE AND JURY33
---
34Alemania / GermanyRalf EisenbeißDirector artístico de INTERKULTUR /Artistic Director of INTERKULTURRalf Eisenbeiß nació en 1952 en Zeulenroda.Después de la secundaria, estudió Pedagogía,filología alemana y musicología en la Facultadde Pedagogía de Zwickau, Alemania. Recibiósu doctorado en 1979. Del 1978 al 1981 estudiódirección coral y de orquesta en la Academiade Música "Franz Liszt" en Weimar.Debido a que ya obtuvo el titulo de directorcoral y de canto coral, en 1987 la Facultad dePedagogía de Zwickau le concedió la maestríaen música. Fue director del coro de esta institución,que fue conocida en el país y en elextranjero en las competiciones nacionales einternacionales y ganó numerosos premios.Además de un amplio repertorio de una literaturea capella de diferentes épocas y obrassinfónico-corales que estaban en el programa.Ralf Eisenbeiß fue profesor en el seminario demaestro de capilla central en Berlín y realizenumerosos seminarios en el mismo lugar.Muchas veces es invitado para ejercer de directorde coral en Alemania y en el extranjero.Lleva más de 20 años siendo el directorartístico para INTERKULTUR. Fundó el concursointernacional coral Robert Schumann enZwickau y es co-fundador de los World ChoirGames. Hasta ahora ha tenido la responsabilidadartística de unas 100 competicionesinternacionales en Alemania, Italia, Corea,Indonesia, China, Austria, España, los EE.UU. yotros países. Ralf Eisenbeiß a ejercido a menudocomo jurado de concursos corales nacionalese internacionales en el mundo.Ralf Eisenbeiß was born in 1952 in Zeulenroda.After his secondary school examination he studiedpedagogy, German philology and musicaleducation. He received his PhD in 1979 at thePedagogical University of Zwickau. From 1978to 1981, he studied choir and orchestra conductingat the Franz Liszt Conservatory in Weimar.Ralf Eisenbeiß was working as the director ofthe choral department at the Pedagogical Universityin Zwickau and appointed professor forchoir conducting and choral singing in 1987.He was conductor of the renowned PedagogicalUniversity Zwickau Choir. With his choir heperformed a wide repertoire of compositionsfor a cappella choirs and with orchestra, too.Under his direction the choir won numerousprizes at national and international choir competitions.Ralf Eisenbeiß was lecturer at thecentral seminar for choral conductors in Berlinand organised numerous workshops himself.He often appears as guest conductor at homeand abroad. Since more than 20 years he worksas artistic director of INTERKULTUR. Ralf Eisenbeißis founder of the Int. Robert SchumannChoir Competition in Zwickau and one of thefounders of the World Choir Games. Since 1992he was responsible for about hundred internationalcompetitions of INTERKULTUR in Germany,Italy, Korea, Indonesia, China, Austria, Spain,USA and other countries. Ralf Eisenbeiß is veryoften invited as a juror in national and otherinternational choir competitions all over theworld.
---
35España / SpainAntonio del PinoDirector artístico de Canta en Primavera 2015 &Miembro del jurado / Artistic Director of Canta enPrimavera 2015 & Jury MemberAntonio del Pino es licenciado por la Facultadde Teologia de Granada y titulado en Viola yOrgano por el Conservatorio de Malaga, habiendorealizado ademas numerosos cursos deespecializacion en interpretacion organistica,especialmente del repertorio espanol antiguo,con los mas destacados especialistas tantonacionales como internacionales como porejemplo Monserrat Torrent y Roberto Fresco.En la actualidad, dirige el coro de Catedralde Malaga, en la que desempena al mismotiempo el cargo de Organista 2o. En el ArchivoCapitular de Musica realiza ademas una interesantelabor de investigacion para diversosProyectos de Investigacion Musical, fruto delos cuales ha catalogado el repertorio en usodurante el siglo XX y ha puesto en valor la figurade Juan B. Cansino Antolinez, compository organista malagueno.Recientemente, ha perfeccionado sus estudiosmusicales en el Pontificio Instituto Ambrosianode Musica Sacra de Milan (Italia)donde realizo estudios de postgrado con unMaster en Canto Gregoriano y sus respectivasdisciplinas de Paleografia, Semiologia, Modalidade Interpretacion.En este mismo curso academico ha defendidosu tesis magistral titulada "Influencia aquitanaen los cantorales de Canto Llano de laCatedral de Malaga"; ademas, fruto de estainquietud por la monodia liturgica fonda y dirigeel coro "Voces Capituli" especializado eneste tipo de repertorio.Antonio del Pino is a graduate on Theologyof the Faculty of Granada and furthermorein Viola and Organ from the Conservatory ofMàlaga. Meanwhile del Pino has specialized inorgan performance, especially the ancientSpanish repertoire, in several courses taughtby outstanding national and international experts,such as Montserrat Torrent and RobertoFresco.Currently Antonio del Pino conducts the MálagaCathedral choir, for which at the same timehe is the second organist. As a result of hismusical research projects at Music ChapterArchive, del Pino catalogued the repertoire inuse during the 20 th century and has valued thefigure of composer and organist Juan B. AntolinezCasino.Just recently Antonio del Pino has continuedhis musical studies at the Pontifical AmbrosianInstitute of Sacred Music and graduated witha Master in Gregorian Chant and its disciplinespaleography, semiology, modality and interpretation.Subsequently to his master thesis "AquitanianInfluence on the Library of Plaint Chant of theCathedral of Málaga" del Pino founded andconducts the choir "Voices Capituli", which hasspecialized in this particular repertoire.
---
36Suecia / SwedenFred SjöbergDirector artístico de Canta en Primavera 2015/Artistic Director of Canta en Primavera 2015Fred Sjoberg, nacido en 1953, es un cantantede culto y director de coro en la Real Academiade Musica de Estocolmo y Orebro. Entre otros,ha estudiado con el Profa. Solwig Grippe, elProf. Eric Ericson y el Prof. Helmuth Rilling. Hasido el primer director que ha dirigido a tresgrandes coros juveniles internacionales comoWorld Youth Choir (1991 y 2005), la WorldChamber Choir (1993) y el European YouthChoir (1999). Cuando comenzo en la organizacionsueca para los coros jovenes "UngiKor"fue elegido primer presidente. En el 2000 fuenombrado "Director del Ano" en Suecia por laSCDA (Asociacion de Directores de Coro de Suecia)y en 2001, galardonado con la medallaJohannes Norrby por un servicio excepcional yel desarrollo de la vida coral Sueca.Des del 1997 hasta el 2004 fue director delproyecto musical "Notes for Millions". Y Desde2000 hasta 2004 fue tambien director musicaldel Centro de Coral Sueco, asi comodirector artistico del Lund Festival Coral Internacional2005-2006.Actualmente, desde 2009 es Director Musicaldel Centro de Coral Internacional en Orebro.Fred Sjoberg ha sido Vicepresidente de EuropaCantat, asi como Presidente de la Comisionde Musica de Europa Cantat y actualmente esconsejero directivo de la IFCM.Es miembro del Consejo de INTERKULTUR yademás desde 2014 también pertenece al ComitéArtístico de INTERKULTUR.Fred Sjöberg, born 1953, is an educated singerand choral conductor at the Royal Academy ofMusic in Stockholm and Örebro. Among othershe has studied with Prof. Solwig Grippe, Prof.Eric Ericson and Prof. Helmuth Rilling. He hasbeen the first conductor to conduct the threemajor international youth choirs as WorldYouth Choir (1991 and 2005), World ChamberChoir (1993) and European Youth Choir (1999).When the Swedish organization for youngchoirs "UngiKör" started he was elected as theirfirst president. In 2000 he was appointed asthe "Conductor of the Year" in Sweden by SCDA(Swedish Choral Directors Association) appointedwith the Johannes Norrby Medallion foroutstanding and 2001 service and developmentto the Swedish Choral Life.From 1997 to 2004 he was the Music Directorand conductor of the project "Notes for Millions".From 2000 to 2004 he was also MusicDirector of the Swedish Choral Centre as wellas Artistic Director for Lund International ChoralFestival from 2005 to 2006. Since 2009 he isMusic Director of Swedish International ChoralCentre in Örebro. Fred Sjöberg has been VicePresident of Europa Cantat as well as Presidentof the Music Commission of Europa Cantat andhas also been Vice President of IFCM.He is Council Member of INTERKULTUR andfrom 2014 he is also on the Artistic Directoriumof INTERKULTUR.
---
37Noruega / NorwayTove Ramlo-YstadMiembro del jurado / Jury MemberTove Ramlo-Ystad recibió formación como cantantey directora orquestal y cuenta con untítulo de Máster expedido por la UniversidadNoruega de Ciencia y Tecnología de Trondheim.Entre sus profesores y mentores de direcciónorquestal figuran Stefan Sköld, Anders Eby yMogens Dahl. Esta artista lleva dirigiendo alcoro femenino "Cantus" desde sus inicios, en1986. Dicho coro no sólo cuenta con un enormereconocimiento, sino que ha ganado diferentescompeticiones y es famoso por su característicosonido nórdico. Esta fama aumentó aún más elaño pasado, cuando Disney le pidió al coro quecantase en su película de animación "Frozen".Anteriormente, esta artista trabajó como directorade coros como el Trønderkor, la AgrupaciónVocal de Trondheim y el Coro Masculino Hauka.En la actualidad dedica parte importante de suexperiencia y conocimientos a tutorizar y guiara directores noveles. Tove Ramlo-Ystad trabajacomo directora musical en la Asociación CoralNoruega y desde allí centra sus esfuerzos endesarrollar sistemas de enseñanza que ayudena los directores de este país escandinavo.Tove Ramlo-Ystad es una de las directoras coralesmás reconocidas en Noruega. Cuenta conuna gran fama y la describen como una inspiración,por lo que recibe numerosas invitacionespara actuar como directora invitada. Además,con frecuencia colabora como miembro del juradoen distintas competiciones corales internacionales.Tove Ramlo-Ystad is educated as a singer andconductor with a Master Degree from theNorwegian University of Science and Technology,Trondheim.Her teachers and mentors in conducting havebeen Stefan Sköld, Anders Eby and MogensDahl.She has conducted the female choir Cantussince their beginning in 1986. Cantus hasreceived a lot of attention, won several competitionsand is known for their Nordic sound– even more this last year, when Disney wantedCantus to sing in their animation movie'Frozen'.Earlier Tove Ramlo-Ystad has been the conductorof Trønderkor, Trondheim Vocal Ensembleand Hauka Male Choir. Now her experienceis often used as a mentor for youngerconductors.Tove Ramlo-Ystad is one of Norway's mostacknowledged choir conductors. She is a verypopular and inspiring guest conductor andshe is frequently used as an adjudicator in internationalchoir competitions.Furthermore Tove Ramlo-Ystad is working forthe Norwegian Choral Association as a musicdirector, where developing education systemsfor conductors in Norway is a main issue.
---
38Letonia / LatviaRomāns VanagsMiembro del jurado / Jury MemberRomāns Vanags, graduado en la universidadespecializada de música Emils Darzins' y en elDepartamento Coral y Dirección de Orquestade el conservatorio estatal de letonia Jazeps Vitols'en Riga. Ha recibido un diploma en direccióncoral y pedagogía musical. Además estudiódirección para orquesta sinfónica. En 2003, Vanagsrecibió la maestría profesional en música.Su labor profesional se centra en la realizacióny la pedagogía. Ha sido el director titular delcoro los profesores "Vanema" desde 1984-2004y desde 1990, ha sido el director principal delcoro femenino de Universidad de Letonia "Minjona". Desde 1987, ha sido Director Titular yArtístico de Jā zeps Mediņš coro de niños de laescuela de música y ha trabajado con la Medins,Colegio de Música Sinfónica Jā zeps de 1.990 a1.993. De 1987 a 1994, Vanags trabajó en laAcademia de Música de Letonia en Riga comoprofesor de dirección coral y como el directordel coro de la academia. Desde 2005, Vanagses el jefe del Departamento de Realización.También ha sido nombrado como uno de losprincipales directores del Festival de la Canciónde Letonia y el Festival de la canción de juventud.Desde 2004, Vanags es el presidente de laComisión Nacional de Letonia para la UNESCOsobre el Cantar de Letonia y el Festival de Danza,y desde 2008, es también miembro del ConsejoCoral Mundial en World Choir Games DEINTERKULTUR. En 2008 Romans Vanags recibióla más alta condecoración civil en Letonia – laOrden de Tres estrellas.Romāns Vanags is a graduate of Emils Darzins'specialized music college and of the Departmentof Choir and Orchestra Conducting of JazepsVitols' Latvian State Conservatory in Riga.He has received a diploma in choir conductingand in music pedagogy. In addition he studiedsymphonic orchestra conducting. In 2003,Vanagsreceived the professional master's degreein music. His professional work is focused onconducting and pedagogy. He has been theChief Conductor of the teachers' choir "Vanema"from 1984 to 2004 and since 1990, hehas been the principal Conductor of the LatvianUniversity female choir "Minjona". Since1987, he has been Chief Conductor and ArtisticDirector of Jā zeps Mediņš Music School boys`choir and has worked with the Jā zeps MediņšMusic College Symphonic Orchestra from 1990to 1993. From 1987 to 1994, Vanags was employedat the Latvian Music Academy in Rigaas professor of choir conducting and as theconductor of the academy choir. Since 2005,he is the head of the Conducting Department.Vanags has been appointed as one of the chiefconductors of the Latvian Song Festival and theYouth Song Festival. Since 2004, Vanags is thechairman of the Latvian National Commissionfor UNESCO on the Latvian Song and DanceFestival, and since 2008, he is also a memberof the World Choir Council at INTERKULTUR'SWorld Choir Games. In 2008 Romans Vanagsreceived the highest civil decoration in Latvia –the Three Star Order.
---
PROGRAMASCHEDULE41
---
42Programa / ScheduleMIÉRCOLES / WEDNESDAY, 11.03.2015Teatro Romano de Málaga17:00 hPasacalles por el centro urbano de Málaga / Choir parade through the inner cityPlaza de la Constitución17:30 hBienvenida oficial a las Corales / Official welcoming of the choirs• Neidudekoor Kurekell, Estonia• Collegiate A Cappella Choir of MSLU "Musica Linguae", Rusia / RussiaSala María Cristina21:00 hInauguración del Festival Canta en Primavera 2015 /Opening Concert of Canta en Primavera 2015• Brunnsbo Musikklassers Flickkör, Suecia / Sweden• Femme Vocale Namibia, Namibia• Roane State Community College Concert Choir, USA• Mešani Mladinski Pevski Zbor Šolskega Centra Celje, Eslovenia / SloveniaJUEVES / THURSDAY, 12.03.2015Teatro Echegaray14:00 h – 14:45 hCompetición en categoría B1 – Coros mixtos, nivel de dificultad II /Competition in category B1 – Mixed choirs, difficulty level II15:00 h – 16:00 hCompetición en categoría F – Folclore / Competition in category F – Folklore
---
43Iglesia del Sagrado Corazón20:30 hConcierto Sacro / Church Concert• Coral Vila Forte, Portugal• Children's Choir Istok and Vocal-choral ensemble "Istok", Rusia / Russia• Helsingborgs Motettkör, Suecia / Sweden• Mešani Mladinski Pevski Zbor Šolskega Centra Celje, Eslovenia / SloveniaVIERNES / FRIDAY, 13.03.2015Teatro Echegaray11:00 h – 12:30 hCompetición en categoría G – Coros infantiles y juveniles /Competition in category G – Children's and youth choirsIglesia del Sagrado Corazón15:30 h – 16:15 hCompetición en categoría S – Música coral sacra /Competition in category S – Sacred choir music16:25 h – 17:25 hCompetición en categoría C – Coro de kamara /Competition in category C – Chamber choirs17:25 h – 18:00 hCompetición en categoría A2 – Coros masculinos, nivel de dificultad I /Competition in category A2 – Male choirs, difficulty level ISanta Iglesia Catedral Basílica de la Encarnación19:00 hConcerto Sacro / Church Concert• Voces Capituli, España / Spain• Collegiate A Cappella Choir of MSLU "Musica Linguae", Rusia / Russia• Neidudekoor Kurekell, Estonia• Chor Kameralny Towarzystwa H. Wieniawskiego, Poznan, Polonia / Poland• Coro Polifonico di Ruda, Italia / Italy
---
44SÁBADO / SATURDAY, 14.03.2015Plaza de la Constitución12:00 hConcierto Amistoso / Friendship Concert• Vocal-choral ensemble "Istok", Rusia / Russia• Istanbul FMV Ayazağa Isik Schools Choir, Turquía / Turkey• Roane State Community College Celebration Singers, USA• Collegiate A Cappella Choir of MSLU "Musica Linguae", Rusia / Russia• Femme Vocale Namibia, Namibia17:00 hConcierto Amistoso / Friendship Concert• FMV Ayazaga Isik School Teachers Vocal Group, Turquía / Turkey• Brunnsbo Musikklassers Flickkör, Suecia / Sweden• Roane State Community College Concert Choir, USA• Helsingborgs Motettkör, Suecia / SwedenSala María Cristina21:00 hConcierto de Clausura y Ceremonia de la entrega de Premios /Closing Concert and Award Ceremony
---
COMPETICIÓNCOMPETITION47
---
48Lugares de celebración del evento / VenuesIglesia del Sagrado CorazónLa Iglesia del Sagrado Corazón está situadaen el centro histórico de Málaga. Esta iglesiade estilo neogótico fue construida en el año1920, siguiendo las directrices del famosoarquitecto Fernando Guerrero Strachan. Parasu construcción, el mencionado arquitecto seinspiró en las catedrales de Toledo y Burgos.La iglesia, que cuenta con dos torres divididaspor un hermoso rosetón en su centro, fue unencargo de la Orden de los Jesuitas. Dicha iglesiaserá escenario tanto de las competicionesde las categorías S, C y A como del conciertocoral.The Iglesia del Sagrado Corazón (Church of theSacred Heart) is located in the historic centerof Málaga. It was built in 1920 in neo-Gothicstyle by plans of the famous architect FernandoGuerrero Strachan. He was inspired by thecathedrals of Toledo and Burgos. The churchhas two towers with a beautiful rose windowin the center and was commissioned by theJesuits. The competition in categories SacredChoir Music, Chamber Choirs and Male Choirswill take place in the church as well as a choirconcert.
---
49Plaza de la ConstituciónLa Plaza de la Constitución es la antigua PlazaMayor y el lugar de encuentro y esparcimientopolítico por excelencia de la ciudad. Duranteel período nazarí, dicha plaza representaba unlugar emblemático conocido como Plaza de lasCuatro Calles o Plaza Pública. En 1812, esta plazafue rebautizada con el nombre de "Plaza de laConstitución". Desafortunadamente, varios desus edificios fueron destruidos con la desamortizaciónsufrida en el siglo XIX, aunque todavíase pueden contemplar en sus inmediaciones elantiguo Colegio Jesuita y la Casa del Consulado.Este maravilloso enclave será testigo de la celebracióndel acto oficial de bienvenida y de algunosde los conciertos de la amistad.The Plaza de la Constitución (ConstitutionSquare) is the old Plaza Mayor and the publicand political space of the city par excellence.During the Nasrid period it was a main squareknown as the Plaza de las Cuatro Calles (Squareof the Four Streets) or Plaza Pública (PublicSquare). It was renamed Plaza de la Constituciónin 1812. Unfortunately several buildingswere destroyed with the seizure in the 19thcentury, but you can still see the Old Jesuit Collegeand the House of the Consulate surroundingthe place. The Official Welcoming and somefriendship concerts will take place at the Plazade la Constitución.
---
50Sala María CristinaLa Sala de Conciertos "Sala María Cristina" (antiguoConservatorio "María Cristina") fue construidaen el siglo XV y constituye un lugar únicoy muy conocido dentro del panorama musicalespañol gracias a sus condiciones acústicas. Ensus comienzos, dicha sala albergó el Conventofranciscano de San Luis y, posteriormente, en elsiglo XIX, fue el Conservatorio Real "María Cristina"el que recibió cobijo bajo sus muros. Una veztrasladado el conservatorio, el edificio quedóabandonado hasta el año 1975 cuando la Cajade Ahorros de Ronda (actual Unicaja) adquirióel edificio y lo remodeló. En el año 2009, la Sala"María Cristina" reabrió sus puertas como salade conciertos.The Concert Hall "Sala María Cristina" (formerRoyal Conservatory María Cristina), built in the15 th century is unique and famous for its acousticsin the Spanish music scene. In his earlydays it housed the Franciscan convent of SanLuis. Later, in the 19 th century, the Royal ConservatoryMaría Cristina got into the house. Afterthe transfer of the conservatory the buildingwas abandoned until 1975 when Caja de Ahorrosde Ronda (now Unicaja) aquired the buildingand remodeled it. In 2009 the Sala MaríaCristina was reopened as a concert hall. TheOpening Concert, the Closing Concert and theAward Ceremony of Canta en Primavera will becelebrated here.
---
51Teatro EchegarayEl Teatro Echegaray, que fue remodelado entrelos años 2001 y 2009, era el antiguo cine.En la actualidad, dicho teatro complementaal Teatro Cervantes y puede acoger hasta 300espectadores. Parte de la remodelación se llevóa cabo con objeto de adaptar el espacio adiferentes tipos de espectáculos de modo que,en la actualidad, el "peine" y la maquinaria escénicacubren todo el teatro. Los espectadorestienen la posibilidad, incluso, de reclinar losasientos. El Teatro Echegaray será el escenarioelegido para celebrar las competiciones correspondientesa las categorías B, F y G.The Teatro Echegaray is a former cinema thatwas remodeled from 2001 to 2009. It nowcomplements the Teatro Cervantes and canhold 300 spectators. A part of the remodelingwas to enable the adaptability of space for differenttypes of shows so that now the "comb"and the stage machinery cover the entire theaterand you have the possibility to retract theseats. The Teatro Echegeray will host the competitionsin the categories Children's and YouthChoirs, Mixed Choirs, Folklore.
---
52Santa Iglesia Catedral Basílica de la EncarnaciónLa catedral Nuestra Señora de la Encarnación oSanta Iglesia Catedral Basílica de la Encarnaciónse conoce en Málaga sencillamente como "LaCatedral". Fue construida entre 1528 y 1782 cercadel emplazamiento de la primitiva mezquitay constituye hoy por hoy uno de los mejores exponentesde la arquitectura religiosa españolade la Edad Moderna. La escasez de fondos impidióa finales del s. XVIII culminar su procesoconstructivo, permaneciendo desde entoncescon la característica ausencia de una de las dostorres proyectadas, lo que le ha valido el sobrenombrede "La Manquita". Su decoración interiorpertenece a los estilos renacentista y barroco.El coro capitular, cuya sillería está tallada enmadera de caoba y cedro, fue diseñado por LuisOrtiz de Vargas y completado, tras la muerte deéste, por Pedro de Mena y Medrano en el s. XVII.El conjunto se completa con dos magníficos órganoscon más de 4000 tubos cada uno. Se tratade los más grandes órganos barrocos españolesque se existen en la actualidad. Uno de los conciertossacros tendrá lugar en la catedral.The Cathedral "Nuestra Señora de la Encarnación"(Our Lady of Incarnation) or "Santa IglesiaCatedral Basílica de la Encarnación" is in Málagasimply known as "The Cathedral". It wasbuilt between 1528 and 1782 near the site of aformer mosque and is one of the best examplesof Spanish religious art. Lack of funds it is missingone tower which has led to the name "LaManquita" (The one-armed Lady). The interiorhas influences of the Renaissance and Baroquestyles. The choir stalls of mahogany and cedarwoodwere designed by Luis Ortiz and after hisdead finished by Pedro de Mena. Furthermorethe Cathedral has two magnificent organswith more than 4,000 pipes; they're rare andbeautiful examples of 18 th century musical instruments.One of the church concerts will take place inthe Cathedral.
---
53Competición / CompetitionJUEVES, 12. MARZO 2015 / THURSDAY, MARCH 12, 2015Teatro Echegaray14:00 hCompetición en categoría B1 – Coros mixtos, nivel 2 de dificultadCompetition in category B1 – Mixed choirs, difficulty level II1 FMV AYAZAGA ISIK SCHOOL TEACHERS VOCAL GROUPIstanbul, TurkeyDirector / Conductor: Serap Çaldiran ErsoyPrograma / Program:• Wolfgang Amadeus Mozart: Lacrimosa• Ahnmet Adnan Saygun: Yunus Empre Oratorio• Astor Piazzola: Libertango2 CHOR KAMERALNY TOWARZYSTWA H. WIENIAWSKIEGO, POZNANPoznań, PolandDirector / Conductor: Katarzyna MatelskaPrograma / Program:• Orlando di Lasso: Matona mia cara• George Gershwin: Oh, Lady be good• Romuald Twardowski: O radości3 HELSINGBORGS MOTETTKÖRHelsingborg, SwedenDirector / Conductor: Ilze Stala StegöPrograma / Program:• Ola Gjeilo: Ubi caritas• Trad. Scotland, arr. Jonathan Quick: Loch Lomond• Trad. Sweden, arr. Hugio Alfvén: Och jungfrun hon går i ringenJUEVES / THURSDAY, 12.03.2015
---
54Teatro Echegaray15:00 hCompetición en categoría F – FolcloreCompetition in category F – Folklore1 ROANE STATE COMMUNITY COLLEGE CONCERT CHOIRHarriman, TN, USADirector / Conductor: Brenda LuggiePrograma / Program:• Stephen Foster, arr. Dick Bolks: Nelly Bly• Philip M. Young: I Love to Tell the Story• Stephen Foster, arr. Larry Shackley: If You've Only Got a Moustache• Trad. Spiritual, arr. André Thomas: Keep Your Lamps!• Jeffrey L. Ames: Rejoice!2 CORO POLIFONICO DI RUDARuda, ItalyDirector / Conductor: Fabiana NoroPrograma / Program:• Daniele Zanettovich: Lidrîs d'amôrJUEVES / THURSDAY, 12.03.20153 NEIDUDEKOOR KUREKELLTartu, EstoniaDirector / Conductor: Maide VilvePrograma / Program:• Trad. Estonia: Kiigel Kartlik• Veljo Tormis: RingmängulaulKitsas KiikLüpsiloits• Trad. Estonia, arr. Seadnud H. Hindpere: Viire Takka4 FEMME VOCALE NAMIBIAWindhoek, NamibiaDirector / Conductor: Fanie DorflingPrograma / Program:• Trad. South Africa: Ukuthula (Zulu)• Trad. Namibia: MeguruTate wetuKaana kameme• Trad. South Africa: Malibongwe
---
55VIERNES, 13. MARZO 2015 / FRIDAY, MARCH 13, 2015Teatro Echegaray11:00 hCompetición en categoría G1 – Coros infantiles hasta los 16 añosCompetition in category G1 – Children's choirs up to 16 years1 CHILDREN'S CHOIR ISTOKSt. Petersburg, RussiaDirector / Conductor: Angela ZingarenkoPrograma / Program:• Znamenniy Raspev: S nami Bog• Trad. Ireland, arr. E. Timoeva: Irish Lullaby• Nancy Hill Cobb: Hodie2 ISTANBUL FMV AYAZAĞA ISIK SCHOOLS CHOIRIstanbul, TurkeyDirector / Conductor: Serap Çaldiran ErsoyPrograma / Program:• Bruno Coulais: Caresse sur l'océan• Anonymus, arr. Ahmet Adnan Saygun: Ya vuz geliyor• Trad. Spain, arr. Norman Luboff: A la nanita nanaVIERNES / FRIDAY, 13.03.2015
---
56VIERNES / FRIDAY, 13.03.2015Teatro Echegaray11:30 hCompetición en categoría G2 – Coros juveniles de voces igualesCompetition in category G2 – Youth choirs of equal voices1 NEIDUDEKOOR KUREKELLTartu, EstoniaDirector / Conductor: Maide VilvePrograma / Program:• Urmas Sisask: Ood armastusele• Galina Grigorjeva: Slava• Mia Makaroff: Butterfly2 BRUNNSBO MUSIKKLASSERS FLICKKÖRGöteborg, SwedenDirector / Conductor: Kicki Rosén BejstamPrograma / Program:• Lynn Williams: Festive Allelujah• Susanna Lindmark: Zaga Zing• Javier Busto: Salve ReginaTeatro Echegaray12:00 hCompetición en categoría G3 – Coros juveniles de voces mixtasCompetition in category G3 – Youth choirs of mixed voices1 MEŠANI MLADINSKI PEVSKI ZBOR ŠOLSKEGA CENTRA CELJECelje, SloveniaDirector / Conductor: Andreja OcvirkPrograma / Program:• Jacobus Gallus: En ego campana• Radovan Gobec: Ne ouri, ne sejáj• Rosephanye Powell: Non nobis, Domine
---
57Iglesia del Sagrado Corazón15:30 hCompetición en categoría S – Coros música sacraCompetition in category S – Sacred choir music1 FEMME VOCALE NAMIBIAWindhoek, NamibiaDirector / Conductor: Fanie DorflingPrograma / Program:• Aleksandr Taneev: Otshe nash• Stephen Leek: Agnus Dei• Johannes Brahms: Regina coeli2 CORO POLIFONICO DI RUDARuda, ItalyDirector / Conductor: Fabiana NoroPrograma / Program:• Pavel Chesnokov: Spaséniye sodélal• Ambrož Čopi: De Maria virigine: No. 1 Totus tuus• Eric Whitacre: Lux aurumque3 CHOR KAMERALNY TOWARZYSTWA H. WIENIAWSKIEGO, POZNANPoznań, PolandDirector / Conductor: Katarzyna MatelskaPrograma / Program:• Antonio Lotti: Miserere• Trad. America, arr. William L. Dawson:Soon ah Will be Done wi' de Trouble of dis worl'• Andrzej Koszewski: Zdrowaś królewno wyborna (Ave Magnificent Princess)VIERNES / FRIDAY, 13.03.2015
---
58Iglesia del Sagrado Corazón16:25 hCompetición en categoría C1 – Coros de kamara, voces igualesCompetition in category C1 – Chamber choirs, equal voices1 FEMME VOCALE NAMIBIAWindhoek, NamibiaDirector / Conductor: Fanie DorflingPrograma / Program:• Trad. Namibia, arr. Fanni Dorfling: Ti Mama• Angel Embil: Quitate de la esquina• Greg Jasperse: Voice Dance• Jule Styne, arr. Carsten Gerlitz: Diamonds are a Girl's Best Friend• Petar Lyondev: Kafal sviriIglesia del Sagrado Corazón16:45 hCompetición en categoría C2 – Coros de kamara, voces mixtasCompetition in category C2 – Chamber choirs, mixed voicesVIERNES / FRIDAY, 13.03.20151 COLLEGIATE A CAPPELLA CHOIR OF MSLU "MUSICA LINGUAE"Moscow, RussiaDirector / Conductor: Olga DubovskayaPrograma / Program:• Trad. Russia: Chas da po chasu• José Ruíz Gasch: Paloma mensajera• Dmitry Smirnov: Val's pri svechah• Yuri Falik: Neznakomka• Anders Edenroth: Chili con carne2 ROANE STATE COMMUNITY COLLEGE CELEBRATION SINGERSHarriman, USADirector / Conductor: Brenda LuggiePrograma / Program:• Trad. America, arr. Russell Mauldin & Josh McPheeters:This World Is Not My Home• Javier Busto: Ave Maria• Susan LaBarr: Now Touch the Air Softly• William Billings, arr. Michael Burkhardt: Our Father, Who in Heaven Art• Vince Guaraldi, arr. Philip Kern: Linus and Lucy
---
59Iglesia del Sagrado Corazón17:25 hCompetición en categoría A2 – Coros masculinos, nivel 1 de dificultadCompetition in category A2 – Male choirs, difficulty level I1 CORO POLIFONICO DI RUDARuda, ItalyDirector / Conductor: Fabiana NoroPrograma / Program:• Gioacchino Rossini: Preghiera• Javier Busto: A tu lado• Kentaro Sato: Arbor Mundi - No. 1 Expergísci• Richard Strauss: TraumlichtVIERNES / FRIDAY, 13.03.2015
---
COROSCHOIRS61
---
62MEŠANI MLADINSKI PEVSKI ZBOR ŠOLSKEGA CENTRA CELJECelje, Eslovenia / SloveniaFundado / Founded: 1976G3Director / Conductor: Andreja OcvirkVOCES CAPITULIMálaga, España / SpainFESTIVALDirector / Conductor: Antonio del Pino
---
63ROANE STATE COMMUNITY COLLEGE CONCERT CHOIRHarriman, Tennessee, Estados Unidos de América / United States of AmericaFundado / Founded: 1972Director / Conductor: Brenda LuggieFROANE STATE COMMUNITY COLLEGE CELEBRATION SINGERSHarriman, Tennessee, Estados Unidos de América / United States of AmericaFundado / Founded: 1972C2Director / Conductor: Brenda Luggie
---
64NEIDUDEKOOR KUREKELLTartu, EstoniaF/G2Director / Conductor: Maide VilveCORO POLIFONICO DI RUDARuda, Italia / ItalyFundado / Founded: 1945A2/F/SDirector / Conductor: Fabiana Noro
---
65FEMME VOCALE NAMIBIAWindhoek, NamibiaFundado / Founded: 2011C1/F/SDirector / Conductor: Fanie DorflingCHOR KAMERALNY TOWARZYSTWA H. WIENIAWSKIEGO, POZNANPoznań, Polonia / PolandFundado / Founded: 1987B1/SDirector / Conductor: Katarzyna Matelska
---
66CORAL VILA FORTEPorto de Mós, PortugalFESTIVALDirector / Conductor: Flávio Ulisses CardosoCOLLEGIATE A CAPPELLA CHOIR OF MSLU "MUSICA LINGUAE"Moscow, Rusia / RussiaFundado / Founded: 2000C2Director / Conductor: Olga Dubovskaya
---
67CHILDREN'S CHOIR ISTOKSt. Petersburg, Rusia / RussiaFundado / Founded: 2000G1Director / Conductor: Angela ZingarenkoVOCAL-CHORAL ENSEMBLE "ISTOK"St. Petersburg, Rusia / RussiaFundado / Founded: 2010FESTIVALDirector / Conductor: Elena Pavlova
---
68HELSINGBORGS MOTETTKÖRHelsingborg, Suecia / SwedenB1Director / Conductor: Ilze Stala StegöBRUNNSBO MUSIKKLASSERS FLICKKÖRGöteborg, Suecia / SwedenFundado / Founded: 1988G2Director / Conductor: Kicki Rosén Bejstam
---
69ISTANBUL FMV AYAZAĞA ISIK SCHOOLS CHOIRIstanbul, Turquìa / TurkeyFundado / Founded: 2000G1Director / Conductor: Serap Çaldiran ErsoyFMV AYAZAGA ISIK SCHOOL TEACHERS VOCAL GROUPIstanbul, Turquìa / TurkeyFundado / Founded: 2001B1Director / Conductor: Serap Çaldiran Ersoy
---
70Créditos de las fotografías / Photo CreditsPortada/front page:izquierda/left: © Area de Turismo del Ayuntamiento de Málaga (Arriba/top),© Studi43 (Abajo/below), derecha/right: © Studi43Saludos/Greetings:Página/Page 8/9: © Studi43Página/Page 10/12: Todos los retratos fueron suministrados por las personas correspondientes,ya sea privados o por su oficina / All portraits were supplied by the correspondingpeople either privately or through their officeSobre INTERKULTUR / About INTERKULTUR: Página / Page 14/15: © Studi43Sobre Málaga/About Málaga:Página/Page 22/23: © Area de Turismo del Ayuntamiento de MálagaPágina/Page 25/26/29: © Area de Turismo del Ayuntamiento de MálagaComité artístico y Jurado/Artistic Committee and Jury:Página/Page 32/33: © Studi43Página/Page: 34 – 38: Todos los retratos fueron suministrados por las personas correspondientes,ya sea privados o por su oficina / All portraits were supplied by the correspondingpeople either privately or through their officePrograma/Schedule:Página/Page 40/41: © Studi43Página/Page 44: © Studi43Competición/Competition:Página/Page 46/47: © Studi43Página/Page 48: © Studi43Página/Page 49 – 52: © Area de Turismo del Ayuntamiento de MálagaPágina/Page 55/57/59: © Studi43Coros/Choirs:Página/Page 60/61: © Studi43Página/Page 62-69: Todos los retratos fueron suministrados por las personas correspondientes,ya sea privados o por su oficina / All portraits were supplied by the correspondingpeople either privately or through their officeMapa del centro de la ciudad/Map of the City Center:Página/Page 72/73: © Area de Turismo del Ayuntamiento de MálagaContraportada/back page:izquierda/left: © Studi43derecho/right: © Studi43
---
Scan QR code and get moreinformation71
---
72Mapa del centro de la ciudad / Map of the City Center
---
74Imprenta & Equipo / Imprint & TeamORGANIZADOR / ORGANIZEROrganizador a efectos legales / Organizer according to law is the Interkultur ManagementGmbH (Platz der Einheit 1, 60327 Frankfurt, Germany - Registered at AG Frankfurt, HRB 77821 -represented by Günter Titsch, President INTERKULTUR).EQUIPO / TEAMINTERKULTUROficina de organización / Festival Office: Stefanie Schreiber, Elisabeth StockmannDepartmento de informática, resultados / IT, results: Sebastian Ferstl, Andreas KirdjakinFestión en el scenario / Stage Management: Christiane Blöcher, Edlira KetaViajes TauroDirector del proyecto / Project Manager: Sabine FussCoordinación / Coordination: Marc Moreno, Joan HernandezDepartemento de reservas / Booking: Katrin RocaLocutor / Moderator: Marina KaudaschAbies TravelCoordinación/ Coordination: Rosa DiazLogística / Logistics: Carmen GutierrezDepartemento de reservas / Booking: Gemma MontoyaAyuntamiento de Málaga: Áreas de Cultura y TurismoCONTACTO / CONTACTFestival Officec/o Oficina de Turismo, "Casita del Jardinero"Avenida Cervantes No. 1, 29016 MálagaPhone: +34 677 162 484mail@interkultur.comIMPRESSUM / IMPRINTEditor / Editors: Prof. Dr. Ralf Eisenbeiß, Stefanie SchreiberTraducción / Translation: Saray Castillo Pérez, SkoposTraduceDiseño / Graphic Design: Ina Irmisch, Appelt Mediendesign GmbH, Werdau, GermanyImprenta / Print: flyeralarm S.L.PRECIO / PRICE5,- €
---
Canta en Primavera –Festival Coral InternacionalRuhberg 135463 Fernwald (Frankfurt/Main) GermanyPhone: +49 (0)6404 69749-25Fax: +49 (0)6404 69749-29mail@interkultur.comwww.interkultur.com