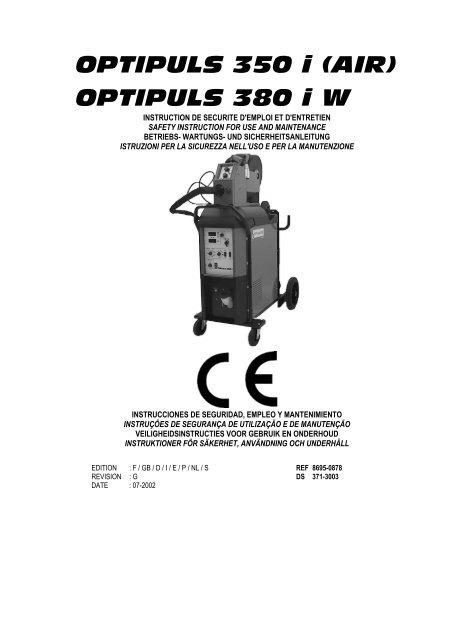 OPTIPULS 350 i (AIR) OPTIPULS 380 i W
OPTIPULS 350 i (AIR) OPTIPULS 380 i W
OPTIPULS 350 i (AIR) OPTIPULS 380 i W
SHOW MORE
SHOW LESS
Create successful ePaper yourself
Turn your PDF publications into a flip-book with our unique Google optimized e-Paper software.
OPTIPULS 350 i (AIR)OPTIPULS 380 i WINSTRUCTION DE SECURITE D'EMPLOI ET D'ENTRETIENSAFETY INSTRUCTION FOR USE AND MAINTENANCEBETRIEBS- WARTUNGS- UND SICHERHEITSANLEITUNGISTRUZIONI PER LA SICUREZZA NELL'USO E PER LA MANUTENZIONEINSTRUCCIONES DE SEGURIDAD, EMPLEO Y MANTENIMIENTOINSTRUÇÕES DE SEGURANÇA DE UTILIZAÇÃO E DE MANUTENÇÃOVEILIGHEIDSINSTRUCTIES VOOR GEBRUIK EN ONDERHOUDINSTRUKTIONER FÖR SÄKERHET, ANVÄNDNING OCH UNDERHÅLLEDITION : F / GB / D / I / E / P / NL / S REF 8695-0878REVISION : G DS 371-3003DATE : 07-2002
---
Le soudage à l'arc et le coupage plasma peuvent être dangereux pourl'opérateur et les personnes se trouvant à proximité de l'air de travail. Lire lemanuel d'utilisation.Arc welding and plasma cutting may be dangerous for the operator andpersons close to the work area. Read the operating manual.Das Lichtbogenschweißen und das Plasmaschneiden können für denBenutzer und für Personen, die sich in der Nähe des Arbeitsbereichs aufhalten,gefährlich sein. Das Benutzerhandbuch durchlesen.La saldatura con arco e il taglio plasma possono essere pericolosi perl'operatore e le persone che si trovano in prossimità della zona di lavoro.Leggere le istruzioni per l'uso.La soldadura por arco y el corte plasma pueden ser peligrosos para eloperador y las personas que se encuentran cerca del área de trabajo. Leer elmanual de utilización.A soldadura a arco e o corte a plasma podem ser perigosos para o operador epara as pessoas que se encontrem próximo da zona de trabalho. Ler o manualde utilização.Booglassen en plasmasnijden kunnen gevaarlijk zijn voor de operator ende mensen in de omgeving van de werkzone. Lees de gebruiksaanwijzing.Bågsvetsning och plasmaskärning kan innebära faror för operatören ochde personer som befinner sig i närheten av arbetsområdet. Läsanvändarmanualen.Buesvejsning og plasma skæring kan være farligt for operatøren og personer,som befinder sig i nærheden af arbejdsområdet. Læs brugsanvisningen.
---
SUMARIOCONSIGNAS DE SEGURIDAD.................................................................................. 41A - INFORMACIONES GENERALES ........................................................................ 461. PRESENTACIÓN DE LA INSTALACIÓN ....................................................... 462. COMPOSICIÓN DE LA INSTALACIÓN.......................................................... 463. DESCRIPCIÓN DE LA CARA FRONTAL....................................................... 474. DESCRIPCIÓN DE LA CARA FRONTAL DEVANADERA............................. 475. OPCIONES...................................................................................................... 476. CARACTERÍSTICAS TÉCNICAS DEL OPTIPULS 350 i / 380 i w................. 477. CARACTERÍSTICAS TÉCNICAS DE LA DEVANADERA ............................. 488. CARACTERÍSTICAS TÉCNICAS DEL GRUPO DE REFRIGERACIÓN ....... 48B - PUESTA EN SERVICIO........................................................................................ 491. DESEMBALAJE DE LA INSTALACIÓN ......................................................... 492. CONEXIÓN DEL HAZ DE LA DEVANADERA ............................................... 493. CONEXIÓN ELÉCTRICA A LA RED .............................................................. 494. CONEXIÓN DE LA TORCHA ......................................................................... 49C - INSTRUCCIONES DE UTILIZACIÓN................................................................... 501. ELECCIÓN DEL HILO DE SOLDADURA....................................................... 502. CARGA DE LA BOBINA DE HILO .................................................................. 513. PUESTA EN MARCHA Y AJUSTES .............................................................. 514. UTILIZACIÓN DEL GENERADOR PARA SOLDADURA CON ELECTRODOREVESTIDO........................................................................................................ 515. UTILIZACIÓN DEL GENERADOR PARA SOLADURA MIG-MAG ................ 516. ELECCIÓN DE LOS CICLOS DE SOLDADURA ........................................... 527. CAMBIO DE LAS PIEZAS DE DESGASTE.................................................... 538. CONFIGURACIÓN AVANZADA DEL GENERADOR.................................... 539. CONFIGURACIÓN MUY AVANZADA DEL GENERADOR ........................... 5610. INFORMACIONES COMPLEMENTARIAS .................................................. 57D - MANTENIMIENTO ................................................................................................ 581. PIEZAS DE RECAMBIO ................................................................................. 582. PROCEDIMIENTO DE REPARACIÓN........................................................... 58ESQUEMAS ELÉCTRICOS E ILUSTRACIONES ..................................................... 79ÍNDICERECOMENDAÇÕES DE SEGURANÇA ....................................................................41A - INFORMATIONS GENERALES ...........................................................................461. APRESENTAÇÃO DA INSTALAÇÃO .............................................................462. COMPOSIÇÃO DA INSTALAÇÃO..................................................................463. DESCRIÇÃO DO PAINEL DIANTEIRO ..........................................................474. DESCRIÇÃO DO PAINEL DIANTEIRO DO ALIMENTADOR DE FIO ...........475. OPÇÕES..........................................................................................................476. ESPECIFICAÇÕES TÉCNICAS DO OPTIPULS 350 i / 380 i w.....................477. ESPECIFICAÇÕES TÉCNICAS DO ALIMENTADOR DE FIO.......................488. CARACTERÍSTICAS TÉCNICAS DO GRUPO DE REGRIGERAÇÃO..........48B - COLOCAÇÃO EM SERVIÇO ...............................................................................491. DESEMBALAGEM DA INSTALAÇÃO ............................................................492. LIGAÇÃO DO FEIXE DE LIGAÇÃO DO ALIMENTADOR DE FIO.................493. LIGAÇÃO ELÉCTRICA À REDE.....................................................................494. LIGAÇÃO DA TOCHA .....................................................................................49C - INSTRUÇÕES DE UTILIZAÇÃO ..........................................................................501. ESCOLHA DO FIO DE SOLDADURA ............................................................502. CARREGAMENTO DA BOBINE DE FIO........................................................513. LIGAÇÃO E REGULAÇÕES ...........................................................................514. UTILIZAÇÃO DO GERADOR PARA A SOLDADURA COM ELÉCTRODOREVESTIDO ........................................................................................................515. UTILIZAÇÃO DO GERADOR PARA A SOLDADURA MIG-MAG ..................516. ESCOLHA DOS CICLOS DE SOLDADURA ..................................................527. MUDANÇA DAS PEÇAS DE DESGASTE......................................................538. CONFIGURAÇÃO AVANÇADA DO GERADOR ...........................................539. CONFIGURAÇÃO MUITO AVANÇADA DO GERADOR................................5610. INFORMAÇÕES COMPLEMENTARES .......................................................57D - MANUTENÇÃO.....................................................................................................581. PEÇAS SOBRESSELENTES .........................................................................582. PROCEDIMENTO DE REPARAÇÃO .............................................................58ESQUEMAS ELÉCTRICOS E ILUSTRAÇÕES .........................................................79INHOUDVEILIGHEIDSINSTRUCTIE........................................................................................ 60A - ALGEMENE INFORMATIE................................................................................... 651. VOORSTELLING VAN DE INSTALLATIE ...................................................... 652. SAMENSTELLING VAN DE INSTALLATIE.................................................... 653. BESCHRIJVING FRONTPANEEL.................................................................. 664. BESCHRIJVING FRONTPANEEL HASPELAAR ........................................... 665. OPTIES ........................................................................................................... 666. TECHNISCHE SPECIFICATIES OPTIPULS 350 i / 380 i w .......................... 667. TECHNISCHE SPECIFICATIES HASPELAAR.............................................. 678. TECHNISCHE KENMERKEN VAN DE KOELGROEP................................... 67B - OPSTARTEN ........................................................................................................ 681. VERPAKKING VERWIJDEREN...................................................................... 682. AANSLUITING VAN DE HASPELBUNDEL.................................................... 683. ELEKTRISCHE AANSLUITING OP DE HOOFDLEIDING ............................. 684. AANSLUITING VAN DE TOORTS.................................................................. 68C - GEBRUIKSAANWIJZINGEN................................................................................ 691. LASDRAAD KIEZEN ....................................................................................... 692. DRAADSPOEL VERVANGEN ........................................................................ 703. OPSTARTEN EN AFSTELLEN....................................................................... 704. GEBRUIK VAN DE GENERATOR VOOR HET LASSEN MET BEKLEDEELEKTRODE....................................................................................................... 705. GENERATOR GEBRUIKEN VOOR MIG-MAG LASSEN............................... 706. LASCYCLI KIEZEN ......................................................................................... 717. ONDERDELEN VERVANGEN........................................................................ 728. GEAVANCEERDE CONFIGURATIE GENERATOR..................................... 729. ERG GEAVANCEERDE CONFIGURATIE GENERATOR............................. 7510. BIJKOMENDE INFORMATIE........................................................................ 76D - ONDERHOUD ....................................................................................................... 771. WISSELSTUKKEN.......................................................................................... 772. PROBLEMEN & OPLOSSINGEN ................................................................... 77ELEKTRISCH SCHEMA'S EN ILLUSTRATIE........................................................... 79INNEHÅLLSFÖRTECKNINGSÄKERHETSINSTRUKTIONER.................................................................................60A - ALLMÄN INFORMATION .....................................................................................651. BESKRIVNING AV installationEN ...................................................................652. SVETSMASKINENS OLIKA DELAR...............................................................653. BESKRIVNING AV FRAMSIDAN....................................................................664. BESKRIVNING AV FRAMSIDAN HASPELN..................................................665. EXTRAUTRUSTNING .....................................................................................666. OPTIPULS 350 i / 380 i w TEKNISKA DATA..................................................667. MATARVERKETS TEKNISKA DATA..............................................................678. TEKNISKA SPECIFIKATIONER OM KYLAGGREGAT..................................67B - IGÅNGSÄTTNING.................................................................................................681. UPPACKNING .................................................................................................682. ANSLUTNING AV MATARVERKSKABELN ...................................................683. ElANSLUTNING TILL NÄTET .........................................................................684. ANSLUTNING AV SVETSPISTOLEN.............................................................68C - INSTRUKTIONER FÖR ANVÄNDNING...............................................................691. VAL AV SVETSTRÅD .....................................................................................692. TRÅDBYTE......................................................................................................703. START OCH INSTÄLLNINGAR ......................................................................704. ANVÄNDNING AV STRÖMKÄLLAN FÖR SVETSNING MEDRÖRELEKTRODER ............................................................................................705. ANVÄNDNING AV STRÖMKÄLLAN FÖR MIG-MAG SVETSNING...............706. VAL AV SVETSFÖRLOPP ..............................................................................717. BYTA FÖRBRUKNINGSDELAR .....................................................................728. AVANCERAD KONFIGURERING AV STRÖMKÄLLAN................................729. MYCKET AVANCERAD KONFIGURERING AV STRÖMKÄLLAN ................7510. KOMPLETTERANDE INFORMATION..........................................................76D – UNDERHÅLL........................................................................................................771. RESERVDELAR ..............................................................................................772. REPARATION .................................................................................................77ELSHEMAN OCH ILLUSTRATIONER......................................................................792 OPTIPULS 350 I / OPTIPULS 380 I W
---
CONSIGNES DE SECURITELa SAF vous remercie de la confiance que vous lui avez accordée en acquérant cetappareil qui vous donnera entière satisfaction si vous respectez ses conditionsd'emploi et d'entretien.Cet appareil ou cette installation a été construit dans le strict respect des DirectivesEuropéennes Basses-tensions (73/23/CEE) et CEM (89/336/CEE), ceci parl'application des normes respectives EN 60974-1 (règles de sécurité pour le matérielélectrique, Partie 1 : source de courant de soudage) et EN 50199 (CompatibilitéElectromagnétique CEM). (Norme produite pour le soudage à l'arc).La pollution électromagnétique des équipements électriques est pour une grande partdue au rayonnement du câblage de l'installation. En cas de problème de proximitéentre appareils électriques, veuillez dans ce cas vous rapprocher de la SAF quiexaminera les cas particuliers.ATTENTION : la SAF est dégagée de toute responsabilité en cas demodification, d'adjonction de composants ou de sous ensembles, oud'une quelconque transformation de l'appareil ou de l'installation, effectuépar le client ou par un tiers, sans un accord préalable spécifique écrit parla SAF elle-même.Les matériels objet de la présente instruction peuvent, associés à d'autres éléments,constituer une "machine" qui tombe alors dans le champ d'application de la directiveeuropéenne 91/368/CEE définissant les exigences essentielles de santé et desécurité : (reprise dans le code du travail français Art. L233-5 Décrets du29.12.1992). La SAF ne peut être tenue responsable pour toute associationd'éléments qui ne serait pas de son fait.Pour votre sécurité, nous vous indiquons ci-après une liste non limitative derecommandations ou obligations dont une partie importante figure dans le code du travail.La SAF vous remercie de bien vouloir lui transmettre toute anomalie que vousconstateriez dans la rédaction de cette instruction.Vous devez impérativement lire les pages de sécurité ci-aprèsavant la mise en service de votre installation :1. sécurité électrique (cf. page 3)2. sécurité contre les fumées, les vapeurs, les gaz nocifs et toxiques (cf.page 4)3. sécurité contre les rayonnements lumineux (cf. page 5)4. sécurité contre le bruit (cf. page 5)5. sécurité contre le feu (cf. page 6)6. sécurité d'emploi des gaz (cf. page 6)7. sécurité du personnel (cf. page 7)SAFETY INSTRUCTIONSSAF thanks you for the trust that you place in our company by purchasing thisequipment which will provide you with complete satisfaction if you comply with itsconditions for use and maintenance.This equipment was built in the strictest compliance with Low-Voltage EuropeanDirectives (73/23/CEE) and CEM (89/336/CEE), through application of the respectivestandards EN 60974-1 (Safety Rules for Electric Equipment, Part 1: WeldingCurrent Source) and EN 50199 (Electromagnetic Compatibility CEM). (Standardsproduced for arc welding).Electromagnetic pollution of electric equipment is largely due to radiation from theinstallation wiring. In case of problems, contact SAF which will examine special cases.CAUTION: SAF declines all responsibility in case of modification,addition of components or subassemblies, or any transformationof the equipment carried out by the customer or a third-party,without prior specific written agreement from SAF.The equipment, subject of these instructions, when combined with other items, mayconstitute a "machine", which then comes under the scope of application of EuropeanDirective 91/368/CEE defining the essential requirements for health and safety:(included in the French Labor Regulations, Art. L233-5 Decrees dated December29 th 1992). SAF may not be held liable for any combination of items which it has notrecommended.For your safety, we are providing below, a non-exhaustive list of recommendations orobligations, a substantial part of which is included in the Labor Regulations.SAF would ask you to advise it of any anomaly that you may note in the preparation ofthis notice.It is absolutely essential that you read the following safetypagesbefore starting up your welding-set :1. electric safety (see page 3)2. protection from smoke, vapors, harmful and toxic gases (see page 4)3. protection from luminous radiation (see page 5)4. protection from noise (see page 5)5. protection from fire (see page 6)6. safety in the use of gases (see page 6)7. safety of persons (see page 7)ATTENTION : un générateur de soudage/coupage ne doit êtreutilisé que pour la fonction à laquelle il a été destiné. Il ne doit êtreen aucun cas utilisé, notamment pour le rechargement desbatteries, décongélation des conduits d'eau, chauffage de locauxpar adjonction de résistances, etc...CAUTION: a welding/cutting power-source must be used only forthe function for which it is intended. In no case may it be used,especially to recharge batteries, unfreeze water pipes, heatpremises through the addition of resistors, and so forth...1. SECURITE ELECTRIQUE (DECRET 88-1056 DU 14-11-88) (BRANCHEMENT, ENTRETIEN, DEPANNAGE)/ ELECTRIC SAFETY (DECREE 88-1056 DATED NOVEMBER 14 TH 1988)(CONNECTION, MAINTENANCE, TROUBLESHOOTING)Les interventions faites sur les installations électriques doivent être confiées à despersonnes qualifiées pour les effectuer.Par personnes qualifiées, on entend des spécialistes qui, grâce à leur formationtechnique, sont en état de percevoir les dangers provenant du soudage et del'électricité.a) Branchement sur le réseau des sources de courant desoudage / coupagea.1) Avant de raccorder votre appareil, vous devez vérifier que : le compteur, le dispositif de protection contre les surintensités et les courtcircuits,les socles et fiches des prises et l'installation électrique, sontcompatibles avec sa puissance maximale et sa tension d'alimentation (cf.les plaques signalétiques) et conformes aux normes et réglementations envigueur ;a.2) Le branchement, monophasé ou triphasé avec terre, se fait via la protectiond'un dispositif à courant différentiel-résiduel de moyenne ou haute sensibilité(disjoncteur différentiel ; sensibilité comprise entre 1 A et 30 mA ) : si le câble est branché à poste fixe, la terre, si elle est prévue, ne doit jamais êtrecoupée par le dispositif de protection contre les chocs électriques ; son interrupteur, s'il existe, est sur la position "ARRET" ;Servicing operations carried out on electric installations must be entrusted to personsqualified to perform them.By qualified persons is meant specialists who, as a result of their technical training,are capable of recognizing dangers resulting from welding and electricity.a) Connecting the welding/cutting current sources to the mainsa.1) Before connecting your equipment, you must check that: the meter, the protection device against excess currents and short-circuits, theconnector sockets and plugs of the outlets and electric installation are compatiblewith its maximum power and its supply voltage (see the constructor's nameplates),and comply with applicable standards and regulations ;a.2) Connection, single-phase or three-phase with ground, is carried out via theprotection of a differential-residual current device with medium or highsensitivity (differential circuit-breaker; sensitivity between 1 A and 30 mA ): if the wire is connected to a fixed station, the ground, if there is one, mustnever be cut off from electric shocks by the protection device; its switch, if there is one, is on the "OFF" position; le câble d'alimentation si il n'est pas fourni doit être du type "HAR USE" ; the power-supply cable , if it is not supplied, must be of the "HAR USE" type ;OPTIPULS 350 I / OPTIPULS 380 I W 3
---
votre circuit d'alimentation électrique doit être équipé d'un dispositif d'arrêtd'urgence, aisément reconnaissable et disposé de manière à être facilementet rapidement accessible. your electric power-supply circuit must be equipped with an emergencyshutdown device, which is easy to recognize and positioned so as to beeasily and quickly accessible.b) Poste de travail b) Work-stationLa mise en œuvre du soudage et coupage à l'arc implique le strict respect desconditions de sécurité vis-à-vis des courants électriques.Assurez vous qu'aucune pièce métallique accessible aux opérateurs et à leurs aidesne peut entrer en contact direct ou indirect avec un conducteur de phase ou le neutredu réseau d'alimentation.N'utilisez que des portes électrodes et torches parfaitement isolés.L'opérateur doit être isolé du sol et de la pièce à souder (gants, chaussures desécurité, vêtements secs, tablier de cuir, etc...).Branchez le câble de masse sur la pièce le plus près possible de la zone de soudageet de façon sûre (ceci afin d'assurer une bonne circulation du courant).Ne pas toucher simultanément le fil électrode (ou la buse) et la pièce.Lorsque les travaux de soudage doivent être effectués hors des conditions habituelleset normales de travail avec risque accru de choc électrique (ex : enceinte danslaquelle l'opérateur manque d'aisance) des précautions supplémentaires doivent êtreprises et notamment :Implementation of arc welding and cutting implies strict compliance with safetyconditions with respect to electric currents.Make sure that no metallic part accessible to operators and their assistants can come intodirect or indirect contact with a live wire or the neutral of the power-supply network.Use only electrode holders and torches which are perfectly insulated.The operator must be insulated from the ground-surface and the workpiece (gloves,safety shoes, dry clothes, leather apron, and so forth...).Connect the ground conductor to the part as close as possible to the welding area andin a secure manner (this is in order to ensure good current flow).Do not touch the electrode wire and the part (or the nozzle) simultaneously.When welding work has to be carried out outside the usual and normal working conditions withincreased risk of electric shock (for example: enclosure in which the operator finds it difficult tomaneuver) additional safety precautions must be taken, particularly: l'utilisation d'une source de courant de soudage/coupage marquée le renforcement de la protection individuelle. the use of a welding/cutting current source marked reinforcing of individual protection.c) Entretien / Dépannage c) Maintenance / TroubleshootingAvant toute vérification interne et réparation, vous devez vous assurer que l'appareilest séparé de l'installation électrique par consignation (on entend par consignation, unensemble d'opérations destinées à séparer et à maintenir l'appareil hors tension).Certains appareils sont munis d'un circuit d'amorçage HT.HF (signalé par une plaque).Vous ne devez jamais intervenir sur ce circuit (contacter la SAF pour touteintervention).Vous devez vérifier au moins tous les 6 mois le bon état d'isolement et les raccordements desappareils et accessoires électriques, tels que prises, câbles souples, gaines, connecteurs,prolongateurs, pinces de pièces, porte-électrodes ou torches...Les travaux d'entretien et de réparation des enveloppes et gaines isolantes doiventêtre effectuées minutieusement.Faites réparer par un spécialiste, ou mieux faites lui remplacer les pièces défectueuses.Vérifier périodiquement le bon serrage et la propreté des connections électriques.Voir plus loin le chapitre MAINTENANCE consacré plus particulièrement à l'entretienet au dépannage de votre matériel.Before any internal verifications and repair work, make sure that the equipment is separatedfrom the electric installation by electrical isolation (by electrical isolation is meant a group ofoperations designed to separate and keep the equipment de-energized).Some equipment has a HV.HF striking circuit (indicated by a plate). You must neverwork or perform servicing operations on this circuit (contact SAF for all servicingoperations).At least every six months, you must check the proper condition of the insulation andconnections of the electric equipment and accessories such as plugs, flexible wires,ducts, connectors, extension leads, part-holders, electrode-holders, or torches...Maintenance and repair work on the jackets and insulating ducts must be carried outextremely carefully.Have defective parts repaired by a specialist, or better still, have them replaced.Routinely check the proper tightening and cleanliness of the electric connections.See the MAINTENANCE section below, dealing in particular with maintenance andtroubleshooting on your equipment.2. SECURITE CONTRE LES FUMEES, LES VAPEURS, LES GAZ NOCIFS ET TOXIQUES/ PROTECTION FROM SMOKE, VAPORS, HARMFUL AND TOXIC GASESLes opérations de soudage et de coupage doivent être exécutées sur desemplacements convenablement aérés.Les émissions sous forme de gaz, fumées insalubres, gênantes ou dangereuses pourla santé des travailleurs, doivent être captées au fur et à mesure de leur production,au plus près de leur source d'émission et aussi efficacement que possible. (Art. R232-1-7 Décret 84-1093 du 7-12-84).Les capteurs de fumées doivent être reliés à un système d'aspiration de telle manièreque les éventuelles concentrations de polluants ne dépassent pas les valeurs limites.Nous vous recommandons de consulter le "Guide pratique de ventilation n°7 - ED 668",opération de soudage à l'arc de l'Institut National de Recherche et de Sécurité (INRS), danslequel figurent des méthodes de calculs et différents exemples pratiques d'application.La SAF vous propose toute une gamme de systèmes d'aspiration répondant à vos besoins. Cas particulier des solvants chlorés (utilisés pour nettoyer ou dégraisser) : les vapeurs de ces solvants, soumises au rayonnement d'un arc mêmeéloigné peuvent, dans certains cas, se transformer en gaz toxiques.Vérifier que les pièces à souder soient sèches. lorsqu'ils ne sont pas dans une enceinte étanche, l'usage de ces solvants està proscrire dans un endroit où jaillissent des arcs électriques.Welding and cutting operations must be carried out in areas which are suitablyventilated.Emissions in the form of gas or fumes which are harmful, disturbing or dangerous forthe health of workers, must be collected progressively as they are produced, and asclose to their source of emission and as efficiently as possible. (Art. R232-1-7 Decree84-1093 dated December 7 th 1984).Smoke sensors must be linked to a suction system so that any possibleconcentrations of pollutants do not exceed the limit values.We would recommend that you consult the "Practical Ventilation Guidelines n°7 -ED 668", arc welding operation, National Institute of Research and Safety (INRS), inwhich are given the calculation methods and various practical application examples.SAF proposes an entire range of suction systems corresponding to your needs. Special case of chlorinated solvents (used for cleaning or grease-removal): vapors from these solvents, subjected to radiation from an arc, even aremote one, can, in certain cases, be transformed into toxic gases.Check that the workpieces are dry. when they are not in an impermeable enclosure, the use of thesesolvents is to be prohibited in an area where there is electric arc jump.4 OPTIPULS 350 I / OPTIPULS 380 I W
---
3. SECURITE CONTRE LES RAYONNEMENTS LUMINEUX /PROTECTION FROM LUMINOUS RADIATIONIl est indispensable de vous protéger les yeux contre les coups d'arc (éblouissementde l'arc en lumière visible et les rayonnements infrarouge et ultraviolet).Le masque de soudage, sans ou avec casque, doit toujours être muni d'un filtreprotecteur dont l'échelon dépend de l'intensité du courant de l'arc de soudage (NormeEN 169).Le filtre coloré peut être protégé des chocs et projections par un verre transparentsitué sur la face avant du masque.En cas de remplacement du filtre, vous devez conserver les mêmes références(Numéro de l'échelon d'opacité).Les personnes, dans le voisinage de l'opérateur et à fortiori ses aides, doivent êtreprotégées par l'interposition d'écrans adaptés, de lunettes de protection anti-UV et sibesoin par un masque muni du filtre protecteur adapté. Tableau donnant le numéro d'échelon (1) et utilisation recommandée pour lesoudage à l'arc :It is absolutely essential that your protect your eyes from blinding glare (glare of arc invisible light and infrared and ultraviolet radiation).The welding mask, without or with helmet, must always be equipped with a protective filterwhose gradation depends on the welding arc current intensity (EN 169 Standard).The colored filter may be protected from impacts and spatter by means of atransparent glass located on the front of the mask.When you replace the filter, you must use the same references, (Opacity gradationnumber).Persons near the operator and necessarily his assistants, must be protected byinterposing adapted screens, anti-UV protective goggles and if necessary, by a maskequipped with the adapted protective filter. Table giving the gradation number (1) and recommended use for arcwelding:(1)- Selon les conditions d'utilisation, le numéro d'échelon immédiatement supérieurou le numéro d'échelon immédiatement inférieur peuvent être utilisés.(2)- L'expression "métaux lourds" couvre les aciers, les aciers alliés, le cuivre et sesalliages, etc...Note : les zones hachurées ci-dessus correspondent aux domaines où les procédésde soudage ne sont pas habituellement utilisés dans la pratique actuelle du soudage.4. SECURITE CONTRE LE BRUIT /PROTECTION FROM NOISE(1)- Depending on use-conditions, the immediately-higher gradation number or theimmediately-lower gradation number may be used.(2)- The expression " heavy metals " covers steels, alloyed steels, copper and itsalloys, and so forth...Note: the shaded areas above correspond to fields in which welding processes are notgenerally used in current welding practice.Le bruit émis par une machine de soudage ou de coupage dépend de plusieurs paramètres etnotamment : l'intensité de soudage/coupage, le procédé (MIG - MIG PULSE - TIG etc...) etl'environnement (locaux plus ou moins grand, réverbération des murs etc...).Le bruit à vide des générateurs de soudage/coupage de la SAF est en généralinférieur à 70 dB (A).L'émission sonore (niveau de pression acoustique) de ces générateurs peut, en soudage ouen coupage, dépasser 85 dB (A) au poste de travail.Il convient donc de vous assurer par des mesures appropriées sur le lieu de travail et dans lesconditions d'utilisation de travail, que la limite de 85 dB (A) n'est pas dépassée. En cas dedépassement l'opérateur doit être équipé de protections adaptées, tels que notammentcasques, bouchons d'oreilles, niveau antibruit, et être informé par une signalisation appropriée.La SAF vous propose toute une gamme d'équipements de protection répondant à vosbesoins.Noise emitted by a welding or cutting machine depends on several parameters, andparticularly: the welding/cutting intensity, the process (MIG - MIG PULSE - TIG and so forth...)and the environment (premises which or more or less spacious, reverberation from the walls,and so forth...)..The no-load noise from SAF welding/cutting power-sources is generally less than 70dB (A).The noise emission (acoustic pressure level) of these power-sources may, during welding orcutting, exceed 85 dB (A) at the work-station.One should therefore take appropriate measures in the workplace and under workingconditions, so that the limit of 85 dB (A) is not exceeded. Should this level be exceeded, theoperator must be equipped with adapted protective devices, such as, in particular, helmets,ear-plugs, anti-noise level, and be informed of this by appropriate signaling means.SAF proposes an entire range of protective equipment corresponding to yourrequirements.OPTIPULS 350 I / OPTIPULS 380 I W 5
---
5. SECURITE CONTRE LE FEU /PROTECTION FROM FIREEloignez les produits et les équipements inflammables de la zone de projectionsprovenant de l'arc, ou protégez-les.Ne pas souder ou couper à proximité de conduit d'aération, de conduite de gaz etautre installation pouvant propager le feu rapidement.En règle général, l'opérateur doit avoir un extincteur à proximité de lui. L'extincteurdevra être compatible avec le type de feu susceptible de se déclarer.Assurez-vous du bon positionnement de la connexion de masse. Un mauvais contactde celle-ci est susceptible d'entraîner un arc qui lui même pourrait entraîner unincendie.6. SECURITE D'EMPLOI DES GAZ /SAFETY IN THE USE OF GASESRemove inflammable products and equipment from the area where arc spatter mayoccur, or protect them.Do not weld or cut near a ventilation pipe, gas pipe or other installation which mightcause the fire to spread quickly.As a general rule, the operator should have a fire-extinguisher near him. The fireextinguishermust be compatible with the type of fire which may break out.Make sure of the proper positioning of the ground connection. If this has a faultycontact, it may cause an arc which itself could cause a fire.a) Consignes communes à l'ensemble des gaz a) Recommendations for all types of gasa.1) Risques encourusDe mauvaises conditions d'utilisation des gaz exposent l'utilisateur à deuxdangers principaux, en particulier en cas de travail en espace confiné : le danger d'asphyxie ou d'intoxication le danger d'incendie et d'explosiona.2.) Précautions à respecter Stockage sous forme comprimée en bouteillesConformez-vous aux consignes de sécurité données par lefournisseur de gaz et en particulier : les zones de stockage ou d'emploi doivent posséder unebonne ventilation, être suffisamment éloignées de la zone decoupage soudage et autres sources de chaleur, et être àl'abri d'un incident technique ; arrimez les bouteilles, évitez les chocs ; pas de chaleur excessive (> 50° C). Canalisations et tuyauteries vérifiez périodiquement l'étanchéité des canalisations fixesainsi que des tuyauteries en caoutchouc ; ne détectez jamais une fuite avec une flamme. Utilisez undétecteur approprié ou, à défaut de l'eau savonneuse et unpinceau ; utilisez des tuyaux de couleurs conventionnelles en fonctiondes gaz ; distribuez les gaz aux pressions recommandées sur lesnotices des matériels ; ne laissez pas traîner les tuyaux dans les ateliers ; ils risquentd'y être détériorés. Utilisation des appareils n'utilisez que des appareils conçus pour les gaz utilisés ; vérifiez que la bouteille et le détendeur correspondent bien augaz nécessaire pour le procédé ; ne graissez jamais les robinets, manoeuvrez-les avecdouceur ; détendeur :• n'oubliez pas de purger les robinets de bouteillesavant de raccorder le détendeur• assurez-vous que la vis de détente est desserréeavant le branchement sur la bouteille• vérifier bien le serrage du raccord de liaison avantd'ouvrir le robinet de bouteille• n'ouvrez ce dernier que lentement et d'unefraction de tour. en cas de fuite ne desserrez jamais un raccord souspression, fermez d'abord le robinet de bouteille. Travail en espace confiné(tels que notamment galeries,canalisations, pipe-line, cales de navire, puits, regards, caves, citernes,cuves, réservoirs, ballasts, silos, réacteurs)Des précautions particulières doivent être prises avant d'entreprendredes opérations de soudage dans ces enceintes où les dangersd'asphyxie-intoxication et d'incendie-explosion sont très importants.Une procédure de permis de travail définissant toutes les mesures desécurité doit être systématiquement mise sur pied.a.1) Risks incurredFaulty use of gas exposes the user to two main dangers, especially whenworking in confined spaces : the danger of asphyxiation or intoxication the danger of fire and of explosiona.2.) Precautionary measures to comply with Storage in compressed form in cylindersComply with the safety instructions given by the gas supplier andespecially: the storage or use areas must be properly ventilated andsufficiently distant from the cutting/welding area and othersources of heat, and not be susceptible to technical incidents; fasten the cylinders securely, avoid impacts; no excessive heat (> 50° C). Piping and tubing routinely check the impermeability of the fixed piping as wellas the rubber tubing; never use a flame to detect a leak. Use an appropriatedetector or, in the absence of this, use soapy water and abrush; use conventional colors for the pipes, according to thedifferent gases; distribute the gas at the pressures recommended on theequipment instructions; do not leave hoses lying about in the workshops; they may bedamaged. Use of the equipment use only equipment which is designed for the gas used; check that the cylinder and the pressure-reducing valvecorrespond to the gas necessary for the process; never lubricate the cocks, handle them gently; pressure-reducing valve:• do not forget to bleed the cylinder cocks beforeconnecting the pressure-reducing valve• make sure that the pressure-reducing screwis loosened before connection to the cylinder• check that the coupling is properly tightenedbefore opening the cylinder cock• open the latter very slowly, a fraction of a turn. in case of leak, never loosen a fitting under pressure; firstclose the cylinder cock. Work in confined spaces(such as, in particular, tunnels,piping, pipe-lines, ship holds, shafts, manholes, cellars, cisterns, vats,tanks, ballasts, silos, reactors)Special precautions must be taken before any welding operations inthese enclosures where the dangers of asphyxiation-intoxication andfire-explosion are very great.A work-permit procedure defining all the safety measures must besystematically implemented.6 OPTIPULS 350 I / OPTIPULS 380 I W
---
Veillez à ce qu'il y ait une ventilation adéquate en accordant uneattention particulière : à la sous-oxygénation à la sur-oxygénation aux excès de gaz combustible.a.3) Intervention à la suite d'un accidentEn cas de fuite non-enflammée : fermez l'arrivée du gaz n'utilisez ni flamme, ni appareil électrique dans la zone où lafuite s'est répandue.En cas de fuite enflammée : fermez l'arrivée de gaz si le robinet est accessible utilisez des extincteurs à poudre si la fuite ne peut être arrêtée, laissez brûler en refroidissantles bouteilles et les installations voisines.En cas d'asphyxie : ramener la victime au grand air commencer la respiration artificielle et appeler les secours.Make sure that there is adequate ventilation, paying special attentionto: to under-oxygenation to over-oxygenation to excesses of combustible gases.a.3) Actions subsequent to an accidentIn case of non-ignited leak: close the gas inlet do not use a flame, or electric equipment in the area wherethe leak has spread.In case of ignited leak: close the gas inlet if the cock is accessible use powder-type fire-extinguishers if the leak cannot be stopped, let it burn while cooling downthe cylinders and nearby installations.In case of asphyxiation: remove the victim into the open air start artificial respiration and summon help.b) Consignes supplémentaires pour certains gaz b) Additional recommendations for certain gasesb.1) Gaz et mélanges gazeux contenant moins de 20 % de CO2Si ces gaz ou mélanges prennent la place de l'oxygène dans l'air il y arisque d'asphyxie, une atmosphère contenant moins de 17 % d'oxygèneétant dangereuse (cf. ci-dessus paragraphe "Travail en espace confiné").b.2) Hydrogène et mélanges gazeux combustibles à base d'hydrogèneC'est un gaz très léger. En cas de fuite il s'accumule sous le plafond ou dans lescavités. Prévoir une ventilation aux endroits à risque.C'est un gaz inflammable. La flamme d'hydrogène est presque invisible :risques de brûlures.Les mélanges air / hydrogène et oxygène / hydrogène sont explosifs dansdes plages de proportions étendues : 4 à 74,5 % d'hydrogène dans l'air 4 à 94 % d'hydrogène dans l'oxygène.Stocker les bouteilles en plein air ou dans un local bien ventilé. Evitertoute fuite en limitant au minimum le nombre de raccords.L'hydrogène fragilise certains métaux : les aciers fortement alliés, lecuivre non désoxydé, le titane.Utilisez des aciers aux caractéristiques modérées et ayant une bonnerésilience ou du cuivre désoxydé.7. SECURITE DU PERSONNEL /SAFETY OF PERSONS L'opérateur doit toujours porter une protection isolante individuelle. Cette protection doit être maintenue sèche pour éviter les chocs électriques etpropres (pas de présence d'huile) pour éviter l'inflammation. Assurez-vous du bon état des équipements de protection et renouvelez-lesrégulièrement afin d'être parfaitement protégé. Garder les équipements de protections lors du refroidissement des soudures,car il peut y avoir projection de laitier ou de composants de scories. Consignes supplémentaires pour l'emploi du "Liquisaf" : le "Liquisaf" est un produit àbase de propylène glycol irritant pour la peau et les yeux. Il est recommandé de semunir de protections avant toute manipulation (gants et lunettes).b.1) Gas and gaseous mixtures containing less than 20 % CO2If these gases or mixtures take the place of the oxygen in the air, there isrisk of asphyxiation; an atmosphere containing less than 17 % oxygen isdangerous (see paragraph above, "Work in Confined Spaces").b.2) Hydrogen and combustibles gaseous mixtures with hydrogen basesThis is a very light gas. In case of leak, it accumulates under the ceiling or incavities. Provide ventilation at the places which are at risk.This is an inflammable gas. The hydrogen flame is almost invisible: risksof burns.Air / hydrogen and oxygen / hydrogen mixtures are explosive withinextended percentage ranges: 4 to 74.5 % hydrogen in the air 4 to 94 % hydrogen in oxygen.Store the cylinders in the open air or in well-ventilated premises. Avoidleaks by limiting the number of fittings as much as possible.Hydrogen makes certain metals brittle: highly-alloyed steels, unskilledcopper, titanium.Use steels with moderate characteristics and with good resilience or killedcopper. The operator must always wear individual insulating protection. This protection must be kept dry in order to avoid electric shocks - and clean(no presence of oil) to avoid inflammation. Make sure the equipment is in good condition and renew it regularly in order toensure complete protection. Protect the equipment when welds are cooling, since there may be projectionof slag or cinder components. Additional instructions for using "Liquisaf": "Liquisaf" is a product with a glycolpropylene base, irritating for the skin and eyes. It is recommended thatprotective items be worn when handling (gloves and glasses).OPTIPULS 350 I / OPTIPULS 380 I W 7
---
A - INFORMATIONS GENERALES A - GENERAL INFORMATION1. PRESENTATION DE L'INSTALLATION 1. PRESENTATION OF INSTALLATIONL'OPTIPULS i est une installation de soudage, permettant de travailler en MIG-MAGcourant lisse ou courant pulsé. Les réglages de la tension de soudage et de la vitessede fil sont continus.La technologie pour la source de puissance est du type ONDULEUR (transistors).L'ensemble de la machine est piloté par micro-contrôleur.Ces choix confèrent au générateur une souplesse d'emploi, une flexibilité etd'excellentes qualités d'amorçage et de soudage.The OPTIPULS i is a welding set enabling one to work in smooth current or pulsedcurrent MIG-MAG. The welding voltage and wire speed adjustments are continuous.Technology of the power source is the POWER CONVERTER ( transistor) type. Thewhole welding machine is micro-controller driven.These technologies make the power source easy to use, flexible and with excellentstriking and welding qualities.Les caractéristiques de l'OPTIPULS I lui permettent de : The OPTIPULS I' characteristics enable it to : souder à l'électrode enrobée ∅ 1.6mm à 6.3mm électrodes rutiles et basiques souder en MIG-MAG courant lisse short arc et spray arc de 30A à 350A souder en MIG courant pulsé dans toute la plage où ce mode detransfert est utile et ce à partir de 1 mm d'épaisseur de tôle dévider des fils de natures différentes fils massifs, acier, inox, aluminium fils fourrés avec ou sans laitier diamètres acceptés de 0.8mm à 1.6mm avoir le dévidage au poste de travail 3 longueurs de faisceau disponible en standard prérégler rapidement les paramètres de soudage grâce à l'OPTISystem visualiser clairement les paramètres de soudage. weld with covered electrode ∅ 1.6mm to 6.3mm rutile and basic electrodes weld in smooth current MIG-MAG short arc and spray arc from 30A to 350A weld in pulsed current MIG in the entire range where this transfermethod is of use, as of sheet-metal thickness of 1 mm feed wires of different types solid, steel, stainless steel wires cored wire with or without slag diameters accepted: from 0.8 mm to 1.6 mm have the wire-feed at the workstation 3 harness lengths available in standard version pre-adjust the welding parameters quickly using the OPTI System see the welding parameters clearly.2. COMPOSITION DE L'INSTALLATION 2. WELDING SET CONSTITUENT ITEMSLes installations package version eau faisceau 2 m (réf. 9160 1609) / faisceau 10 m(réf. 9160 1611), sont livrées prêtes à l'emploi et composées de ( voir dépliantFIGURE 1 à la fin de la notice) :The 2 m harness (ref. 9160 1609) / 10 m harness (ref. 9160 1611) water versionpackage sets are delivered ready to use, and are comprised of ( see fold-out,FIGURE 1 at the end of this notice) :1. la source de puissance avec câble primaire (longueur 5 mètres) intégrant : 1. the power supply source with primary cable (length: 5 meters) : un ensemble groupe de refroidissement de la torche un chariot équipé d'un support bouteille et d'anneaux d'élinguages des bras de rangement du faisceau et câbles pour la manutention a torch cooling unit assembly a trolley equipped with a cylinder support and slinging rings cable and harness storage-positioning arm for handling2. le dévidoir DV 34 i équipé : 2. the DV 34 i wire feed unit assembly : d'un faisceau gainé 2 m ou 10 m d'un chariot d'un cache bobine d'une platine de dévidage 4 galets d'une prise pour la connexion d'une commande à distance (en option) a jacketed harness 2 or 10 m a trolley a reel cover a 4-roller payout plate a socket for the remote control connection (option)3. un câble de masse (longueur 5 mètres) avec prise de masse montée 3. an earthing conductor (length 5 meters) with fitted earth connection des accessoires de dévidage pour fil acier et inox diamètre 1.0 et 1.2 mm wire feed accessories for steel and stainless steel wire diameter, 1.0 and1.2 mm4. une torche de soudage 4. a welding torchA - 8OPTIPULS 350 I / OPTIPULS 380 I W
---
3. DESCRIPTION DE LA FACE AVANT 3. FRONT PANEL DESCRIPTION( voir dépliant FIGURE 2 à la fin de la notice) (see fold-out FIGURE 2 at the end of the manual)Indicateur Courant / Vitesse fil / Epaisseur 1 Indicator Current / Wire speed / ThicknessSélecteur Courant / Vitesse fil / Epaisseur 2 Selector Current / Wire speed / ThicknessIndicateur de tension 3 Voltage indicatorMarche/Arrêt 4 On / OffSélecteur MIG MAG / PULSE / couple fil gaz 5 MIG MAG / PULSE / wire gas pair SelectorSélecteur diamètre de fil / Set Up / Electrode enrobée 6 Wire diameter / Set Up / Covered electrode SelectorSélecteur 2T/4T 7 2T/4T SelectorSélecteur synergie / manuel 8 Synergy / manual SelectorRéglage du dynamisme (self) en mode MIG MAG courant lisse 9 Dynamism adjustment (choke) in smooth current MIG MAG modeTémoin de maintien des derniers paramétrages de soudage 10 Indicator for maintaining last welding parameter-settings4. DESCRIPTION DE LA FACE AVANT DEVIDOIR 4. WIRE FEED UNIT FRONT PANEL DESCRIPTION( voir dépliant FIGURE 12 à la fin de la notice) (see fold-out FIGURE 12 at the end of the manual)Cache bobine 1 Spool coverRéglage vitesse de fil 2 Wire speed adjustmentRéglage longueur d'arc / Tension 3 Arc length / Voltage adjustmentRaccord de torche 4 Torch harness socketRoues dévidoir 5 WheelSélecteur commande à distance 6 Remote control switchSupport de torche 7 Torch holderConnecteur commande à distance 8 Remote control socketRaccord torche de circulation eau 9 Water hoses connectionSupport pied pivot (option) 10 Orientating support for wire feeder (option)5. OPTIONS 5. OPTIONS( voir dépliant FIGURE 13 à la fin de la notice) (see fold-out FIGURE 13 at the end of the manual)1. Commande à distance, réf. 9160-1067 1. Remote control, ref. 9160-10672. Pied Pivot, réf. 9160-1064 2. Pivot support, ref. 9160-10643. Bras d'élingage, réf. 9160-1061 3. Sling arm, ref. 9160-10614. OPTIBOX, réf. 9160-1068 4. OPTIBOX, réf. 9160-10686. CARACTERISTIQUES TECHNIQUES DESOPTIPULS 350I / 380I W6. TECHNICAL SPECIFICATIONS OF OPTIPULS 350 I /380 I WOPTIPULS iREF . 9160-1419 / 9160-1420PRIMAIRE MIG E.E. PRIMARYAlimentation primaire 3~ 400 V 400 V 3-phases primary power supplyCourant absorbé à 50% / 28,2 A Current consumption at 50%Courant absorbé à 60% 28 A 26,1 A Current consumption at 60%Courant absorbé à 100% 21,9 A 23,8 A Current consumption at 100%Fréquence 50/60 Hz 50/60 Hz FrequencyPuissance absorbée (50%) / 19,5 kVA Power consumption (50%)Puissance absorbée (60%) 19,4 kVA 18,1 kVA Power consumption (60%)Puissance absorbée (100%) 15,2 kVA 16,5 kVA Power consumption (100%)SECONDAIRESECONDARYTension à vide 86,3 V 86,3 V No-load voltageGamme de réglage 10 A – 350 A 10 A – 350 A Adjustment rangeFacteur de marche 50%Duty cycle 50 %(cycle de 10 mn) à 40°C / 350 A / 34 V(10 min cycle) at 40 °CFacteur de marche 60%Duty cycle 60 %(cycle de 10mn) à 40°C 350 A / 31,5 V 330 A / 33,2 V(10mn cycle) at 40 °CFacteur de marche 100%Duty cycle 100%300 A / 29 V 280 A / 31,2 V(cycle de 10mn) à 40°C(10mn cycle) at 40°CCâble de masse 5 m 70 mm 2 70 mm 2 Earth cable 5 mClasse de protection IP23 IP23 Protection classClasse d'isolation H H Isolation classNormes NF EN 60974-1 NF EN 60974-1 StandardDimensions (L x l x h) 1090 x 610 x 970 mm Dimensions (L x W x H)Poids net Version air / air version = 83 kg version eau / water version = 96 kgNet weightsans dévidoir / without wire feed unitPoids emballé Version air / air version = 92 kg version eau / water version = 110 kgPackaging weightsans dévidoir / without wire feed unitOPTIPULS 350 I / OPTIPULS 380 I W A - 9
---
Degrés de protection procurés par les enveloppesDegrees of protection provided by the coveringLettre codeCode letterIPProtection du matérielEquipment protectionPremier chiffreFirst numberDeuxième chiffreSecond number2 Contre la pénétration de corps solides étrangers de ∅ ≥ 12,5 mmAgainst the penetration of solid foreign bodies with ∅ ≥ 12,5 mm1 Contre la pénétration de gouttes d'eau verticales avec effets nuisiblesAgainst the penetration of vertical drops of water with harmful effects3 Contre la pénétration de pluie (inclinée jusqu'à 60° par rapport à la verticale) avec effets nuisiblesAgainst the penetration of rain (inclined up to 60° in relation to the vertical) with harmful effects7. CARACTERISTIQUES TECHNIQUES DU DEVIDOIR 7. WIRE FEED UNIT TECHNICAL SPECIFICATIONSPlatine double 4 galets / 4 rollers Twin plateVitesse de dévidage 1 ⇒ 20 m / mn Wire feed speedRégulateur vitesse fil Tachymétrique Tachometer Wire speed regulationRéglage du P.R Non No Post Retract adjustmentFils utilisables 0.8 ⇒ 1.6 mm Wire dia. usablePasse par un trou d'homme Oui (sans chariot) Yes (without trolley) Fit through a manholeConnexion torche « Type Européen » « European type » Torch connection8. CARACTERISTIQUES TECHNIQUES DU GROUPE DEREFROIDISSEMENT8. TECHNICAL SPECIFICATIONS OF COOLING UNITPompe 230V - 50/60Hz -0,23KW PumpVentilateur 230/400V - 50/60Hz FanIntensité absorbée 0.75 A Intensity consumptionPression max. 4,25 bars Max. pressureDébit max. 2.8 l/min. Max. flowATTENTION : ne pas utiliser l'eau du robinet.CAUTION : do not use tap water.A - 10OPTIPULS 350 I / OPTIPULS 380 I W
---
B - MISE EN SERVICE B - STARTING UP1. DEBALLAGE DE L'INSTALLATION 1. UNPACKING THE SET Retirer l'emballage qui entoure l'installation. Retirer la source de puissance de son socle en bois à l'aide d'élingues oud'un chariot élévateur. Remove the packaging covering the welding-set. Remove the power source from its wooden base using slings or a forklifttruck.ATTENTION : la stabilité de l'installation est assurée jusqu'à uneinclinaison de 10°.CAUTION : equipment stability is ensured up to an angle of 10°.2. RACCORDEMENT DU FAISCEAU DE DEVIDOIR 2. CONNECTION OF WIRE FEED HARNESSLe faisceau est composé : The harness is comprised of : de câbles de puissance, de commande de tuyaux d'eau (si version eau) et de gaz power and control cables water (if water version) and gas hosesIl se connecte à l'arrière du générateur : It connects at the rear of the power source :( voir dépliant FIGURE 3 à la fin de la notice) (see fold-out FIGURE 3 at the end of the manual)Raccorder le câble de puissance à la borne + ou – du générateur selon le fil de 1 Connect the power cable to the + or – terminal of the power source, depending on thesoudage utilisé (le cas général soudage fil acier en MIG MAG correspondgénéralement à la polarité + sur la torche)welding wire used (the general case of steel wire welding in MIG MAG generallycorresponds to the + polarity on the torch)Raccorder le câble de commande sur l'embase de la prise 2 Connect the control cable to the socket of plug(Version eau) Raccorder les tuyaux d'eau du circuit de refroidissement 3 (Water version) Connect the cooling circuit water hoses (fast-on connectors)(connecteurs rapides)Raccorder le tuyau de gaz au détendeur de la bouteille après l'avoir fixé à l'aidede sangle sur son supportConnect the gas hose to the cylinder pressure regulator after having fastened it to itssupport using strapArrimer le faisceau dans le collier prévu à cet effet 4 Secure the harness in the collar provided for this purpose3. RACCORDEMENT ELECTRIQUE AU RESEAU 3. ELECTRICAL CONNECTIONS TO THE MAINSL'OPTIPULS I est livré prêt à l'emploi : The OPTIPULS I is delivered ready to use : câble primaire branché dans le générateur (prise non livrée) couplage unique 400 V triphaséLes fréquences réseau acceptées sont 50 et 60 HzATTENTIONL'OPTIPULS I est un appareil de technologie ONDULEURTRIPHASE 400 V : les seuils d'acceptation du réseau sont de 400 V+ 10 % et 400V – 10 %Vérifier que la tension d'alimentation de votre réseau correspond bien auxcaractéristiques électriques de l'appareil avant de le connecter.Une fois ces opérations terminées, après avoir installé une prise sur le câble primaire,vous pouvez connecter la prise d'alimentation sur le réseau.L'alimentation doit être protégée par un dispositif de protection (fusible ou disjoncteur)de calibre correspondant aux consommations primaires(voir consommations dans le tableau page 9). primary cable connected in the power source (plug not supplied) 400 V three-phase unique couplingThe accepted mains frequencies are 50 and 60 HzWARNINGThe OPTIPULS I is a 400V THREE-PHASE POWER-INVERTERtechnology apparatus : the network acceptance thresholds are 400V + 10 % and 400V – 10 %Check that the power supply voltage of your network corresponds to the electricalcharacteristics of the apparatus before connecting it.Once these operations have been completed, and after having fitted a plug on theprimary cable, you can connect the power supply plug to the mains.The power supply must be protected by a safety device (fuse or circuit-breaker) with arating corresponding to the primary current requirements(see requirements on table page 9).4. RACCORDEMENT DE LA TORCHE 4. TORCH CONNECTIONLa torche de soudage MIG MAG se raccorde sur le dévidoir (connecteur européen).Les tuyaux d'eau se raccordent sous le dévidoir (version eau).Assurez-vous que votre torche soit bien équipée de pièces d'usure correspondantesau fil qui va être utilisé pour le soudage.Pour cela se reporter à la notice accompagnant la torche ( voir dépliant FIGURE7 à la fin de la notice).The MIG MAG welding torch connects to the wire feed unit (European connector). Thewater hoses connect under the wire-feed unit (water version).Make sure that your torch is properly provided with wear parts corresponding to thewire which is to be used for welding.Please look at the manual delivered with the torch ( see fold-out FIGURE 7 at theend of the manual).Le générateur est alors prêt à souder.The set is now ready to weld.OPTIPULS 350 I / OPTIPULS 380 I W B - 11
---
C - INSTRUCTIONS D'EMPLOI C - INSTRUCTIONS FOR USE1. CHOIX DU FIL DE SOUDAGE 1. CHOOSE THE WIREL'OPTIPULS I permet de travailler en MIG-MAG courant lisse ou avec un courantpulsé.Le métal à souder demande l'utilisation d'un fil de nature et de diamètre adaptés ainsique l'utilisation du gaz adéquat.The OPTIPULS I enables one to work in MIG-MAG with a continuous current or with apulsed current.The metal to be welded requires the use of wire of an adapted type and diameter, aswell as the use of the appropriate gas. Tableau des principaux fils et gaz utilisables : Table for main wires and gases usable :Fil / Wire Gaz / Gas ∅ (mm)Polarité torche RemarquesTorch polarity ObservationsAcier / Steel Nertalic 70S/70A ARCAL 14 /ATAL 5 / ARCAL 21 0.8 à/to 1.6+ Short arc1.0 à/to 1.6PulséAcier / Steel Nertalic 70S/70A CO2 0.8 à/to 1.6 + Short arcFil fourré rutile / Rutile cored wire SD 100 / SD 127 / SD 128/ CO2 / ATAL 5 / ARCAL 21 1.0 - 1.2 - 1.6 + Short arcSD 116Spray arcFil fourré basique / Basic cored wire SD 31 / SD400 ATAL 5 / CO2 ATAL 5 1.0 - 1.2 - 1.6 +Short arc- +Spray arcFil fourré sans laitier / Metal core SD 200 / SD 206 / SD 207 /ATAL 5Short arcSD 209ARCAL 21 1.0 - 1.2 - 1.6 +Spray arcInox plein / Stainless steel 308 - 309 - 316 NOXALIC 12 / ARCAL 12/CARGAL/ ARCAL1210.8 à/to 1.6 + Short arcPulséFil fourré inox / Stainless steel cored wire SD 650 / SD 652 / SD 654 ATAL 5 / CO2 1.0 - 1.2 - 1.6 + Short arcSpraySD Zn ATAL 5 / CARGAL 1.0 - 1.2 - 1.6 - Short arcSpray arcAluminium AG5 / AG3/AG4 / ALSI ARGON - ARGON/ HELIUM 1.0 - 1.2 - 1.6 + PulséShort arcSelon le métal d'apport utilisé, il peut être nécessaire d'inverser la polarité de latension appliquée au soudage.Cet ajustement se fait à l'arrière du générateur. Choix de la polarité de la tension de soudage ( voir dépliant FIGURE 4 àla fin de la notice) : Cas général : fil massif et fil fourré MIG-MAGPolarité - sur la pièce (prise de masse)Polarité + sur la torche Avec certains fils fourrés (basiques...)Polarité + sur la pièce (prise de masse)Polarité - sur la torcheDepending on the wire used, it may be necessary to reverse the voltage polarityapplied in welding.This adjustment is to be carried out at the rear of the power source. Changing the polarity of welding voltage (see fold-out FIGURE 4 at the endof the manual) : General use : for solid wire and flux cored wires MIG-MAGPolarity - on earth clampPolarity + on torch For some flux cored wires (basic...)Polarity + on earth clampPolarity - on torchLe gaz de soudage utilisé doit correspondre au cas d'application de soudage. Le The welding gas which is used must correspond to the welding application case. Thetableau ci-dessous indique les principaux cas et gaz utilisables avec les fils massifs. table below shows the main cases and gases which can be used with solid wires.Légende = très bon = bon = moyen Key = very good = good = averageAciers non alliés et faiblement alliés ARCAL 21 ARCAL 14 ATAL 5 A ATAL 5 TERAL 23 ELOXAL 35 Non-alloyed steels and low-alloyed steelsVitesse SpeedPénétration PenetrationProjections SpattersAspect AppearanceQualité du produit (1) Product quality (1)Nocivité fumées Fume noxiousnessCompacité CompactnessCaractéristique mécanique résilience Resilience mechanical characteristicAlliages légers et cuivreux ARCAL 1 ARCAL 31 ARCAL 32 ARGON NERTAL INARC 9 Light alloys and cuprous alloysPénétration PenetrationAspect AppearanceCompacité CompactnessQualité du produit (1) Product quality (1)Nocivité fumées Fume noxiousnessAciers inoxydables ARCAL 12 ARCAL 121 ARCAL 129 NOXALIC 12 Stainless steelsPénétration PenetrationAptitude au pulsé Aptitude to pulsed currentQualité du produit (1) Product quality (1)Aspect AppearanceVitesse Speed(1) qualité du produit : homogénéité, maîtrise des impuretés, traçabilité. (1) product quality : homogeneity, control of impurities, traceabilityC - 12OPTIPULS 350 I / OPTIPULS 380 I W
---
2. CHARGEMENT DE LA BOBINE DE FIL 2. CHANGING THE WIRE( voir dépliant FIGURE 5 à la fin de la notice) (see fold-out FIGURE 5 at the end of the manual)Le chargement de la bobine s'effectue comme suit (après avoir mis le générateur horstension) :Changing the reel is carried out as follows (after having turned the power supply off) :Ouvrir le cache bobineOpen the reel cover1. Dévisser l'écrou de l'axe de la bobine 1. Loosen the nut from the reel shaft2. Introduire la bobine sur l'axe 2. Put the reel on the shaft3. Revisser l'écrou sur l'axe 3. Screw the nut back on the shaft5. Abaisser les leviers pour libérer les contre-galets 5. Lower the levers in order to free the idler/backing rollers6. Introduire le fil par le guide fil d'entrée de platine 6. Insert the wire via the plate inlet wire guide7. Abaisser les contre-galets et remonter les leviers pour les immobiliser 7. Lower the idler/backing rollers and raise the levers back up in order toimmobilise them8. Ajuster la pression des contre-galets (environ –3) 8. Adjust the pressure of the idler/backing rollers (approximately –3)9. Appuyer sur le bouton poussoir d'avance rapide du fil situé sous la poignée dudévidoir, laisser dévider le fil dans la torche jusqu'à ce qu'il apparaisse au boutde celle-ci en sortie du tube contact.9. Press the wire fast advance pushbutton located under the wire-feed unithandle, let the wire feed in the torch until it appears at the end of the torch atthe tip.Si des pièces de la torche ou de la platine de dévidage doivent être adaptées à lanature de votre travail, voir le paragraphe "7. Changement des pièces d'usure" enpage 15.If torch items or wire feeding plate items have to be adapted to the kind of work you are doing,see paragraph "7. CHANGING THE WEAR " see on page 15.3. MISE EN MARCHE ET REGLAGES 3. STARTING UP AND ADJUSTMENTS Mise en marche : l'interrupteur général est situé sur la face avantdu générateur. La mise en fonctionnement se fait en basculant cetinterrupteur sur la position . Starting up : the main ON/OFF switch is located on the frontpanel of the power-source. This switch is used to start theunit up on position .4. UTILISATION DU GENERATEUR POUR LESOUDAGE A L'ELECTRODE ENROBEE4. USE OF POWER SOURCE FOR COVEREDELECTRODE WELDING( voir dépliant FIGURE 9 à la fin de la notice) (see fold-out FIGURE 9 at the end of the manual) Débrancher le câble de puissance du faisceau de dévidoir. Disconnect the power cable from the wire feed unit harness. Connecter le câble de masse et le câble de pince porte-électrode sur lesbornes de sortie de puissance du générateur. La polarité sera choisieselon le type d'électrode (voir indications sur le paquet d'électrodes). Connect the earth cable and the electrode-holder clamp cable on thepower output terminals of the power source. Polarity is to be selectedaccording to the type of electrode (see information on the electrodepacket). Choisir, sur la face avant, la position par le potentiomètre 3(figure 6 à la fin de la notice)Les autres boutons sont alors inactifs. On the front panel, select the position via potentiometer 3(Figure 6 at the end of this notice)The other buttons are then inactive.Dans ce mode, le courant de soudage est en permanence présentsur les bornes de sortie + et - du générateur.Régler l'intensité de soudage avec le bouton rouge du dévidoir en lisantla valeur sur l'afficheur supérieur.Prévoir 40A par millimètre de diamètre d'électrode pour les cas généraux.L 'afficheur supérieur indique la valeur du courant de soudage (pré-affichage),l'afficheur du bas indique la tension à vide.Puis en soudage, les indicateurs affichent les valeurs de courant et de tension desoudage.In this mode, the welding current is constantly present on thepower source + and - output terminals.Adjust the welding current with the red wire feed unit button by readingthe value on the top display-unit. Plan on 40A per millimeter of electrodediameter for general cases.The top display-unit shows the welding current adjustment value (pre-display);the bottom display-unit shows the no-load voltage.Then when welding, the indicators display the welding current and voltage values.Précision de la mesure d'intensité :± 7% ± 2APrécision de la mesure de tension :± 5% ± 0.4V5. UTILISATION DU GENERATEUR POUR LESOUDAGE MIG-MAGCurrent measurement accuracy :± 7% ± 2AVoltage measurement accuracy :± 5% ± 0.4V5. USE OF POWER SOURCE FOR MIG-MAGWELDING( voir dépliant FIGURE 6 à la fin de la notice) (see fold-out FIGURE 6 at the end of the manual) Connecter le câble de masse et le câble de puissance en fonction du typede fil choisi Connect the earth lead and the power cable according to the type of wireselected Choisir le procédé de soudage voulu avec le premier sélecteur de la faceavant : Select the required welding process with the first selector on the frontpanel : procédé MIG-MAG courant lisse pour les gaz mixtes (Argon-CO2) et FILFOURRE procédé PULSE pour les couples fil gaz FE ATAL 5 (82/18), FE ARCAL(21 ou 14), Cr ni (NOXALIC 12), Cr ni (ARCAL 12), smooth current MIG-MAG process for mixed gases (Argon-CO2) andCORED WIRE PULSE process for the gas wire pairs: FE ATAL 5 (82/18), FE ARCAL(21 or 14), Cr ni (NOXALIC 12), Cr ni (ARCAL 12,) AL mg (3 ; 5 ; 4,5),AL mg (3 ; 5 ; 4,5), AL si 5 (A5)AL si 5 (A5) Sélectionner le diamètre du fil de soudage : 0.8 mm à 1.6 mm Select the welding wire diameter : 0.8 mm to 1.6 mmOPTIPULS 350 I / OPTIPULS 380 I W C - 13
---
Choisir le cycle de soudage ou pour le MIG(voir explications sur les cycles page 14). Choisir le mode synergique ou manuel :• en mode manuel, le potentiomètre rouge règle la vitesse de fil, lepotentiomètre bleu la tension de soudage.• le mode synergique permet de trouver plus rapidement des paramètrescorrects pour le cas d'application considéré. En effet, la position milieu dubouton bleu de hauteur d'arc correspondra, dans ce mode, à un réglageoptimisé pour la vitesse de fil choisie (bouton rouge). Ce dernier est alors leseul réglage à modifier. Select the or welding cycle for MIG welding (seeexplanations on cycles, page 14). Select the or synergetic or manual mode :• in manual mode, the red potentiometer adjusts : the wire speed, the bluepotentiometer adjusts the welding voltage.• the synergetic mode enables one to locate the correct parameters for therelevant application more quickly. In fact, the middle position of the blue buttonat arc height will, in this mode, correspond to optimized adjustment for theselected wire speed (red button). The latter is then the only adjustment to bemodified. Assurez-vous que le sélecteur GENE ou CAD soit en position GENE Make sure that the GENE or CAD Selector is in GENE position Régler la vitesse de fil (bouton rouge sur le dévidoir). Adjust the wire speed (red button on the wire feed unit). Régler la tension de soudage (bouton bleu sur le dévidoir) ou lepositionner en position centrale. Adjust the welding voltage with the blue button on the wire feed unit or setit to central position.NOTA : Il est possible de connecter une commande à distance sur le dévidoir, dans cecas, basculer l'interrupteur repéré 6 (position située entre les deux boutons de réglagevitesse fil et hauteur d'arc sur le dévidoir). Les deux potentiomètres du dévidoirdeviennent alors inactifs. ( voir dépliant FIGURE 6 à la fin de la notice)Lorsque l'on débranche la CAD et que le commutateur repéré 6 est en position, lesconsignes soudage sur les afficheurs indiquent 000. Pour retrouver les réglagesbasculer l'interrupteur.Afin de faciliter le réglage et de le rendre plus fin, la plage de hauteur d'arc, accessibleavec le bouton bleu, est optimisée en fonction de la nature du gaz, du fil et dudiamètre de fil. La position centrale du bouton équivaut à un meilleur réglage du filchoisi.Il reste ensuite à affiner le réglage autour de la position milieu.Certains cas d'application (exemple : fil aluminium) peuvent nécessiter un décalageplus important par rapport à la position centrale du bouton bleu.L 'afficheur supérieur indique alors la valeur du réglage : de courant de soudage (pré-affichage), bouton 1 en position A de l'épaisseur des tôles à souder, bouton 1 en position – épaisseur de la vitesse de dévidage de fil en m/mn bouton 1 en m/mnL'afficheur du bas indique la tension de soudage.En soudage MIG MAG courant lisse, ajuster le potentiomètre 9 enposition milieu (pour une fusion plus dynamique tourner vers le mini -,pour une fusion plus douce tourner vers le maxi +NOTE : It is possible to connect a remote control to the wire feed unit; in this case,switch over Switch n° 6 (position between the two wire speed adjustment and archeight buttons on the wire feed unit). Both potentiometers of the wire feed unit thenbecome inactive. ( see fold-out FIGURE 6 at the end of this notice)When one disconnects the CAD and when Switch n° 6 is in position, the weldingsettings on the display units show 000. To return to the adjustments, switch the Switchback.To make this last adjustment easier and more fine, the arc length range, available withthe blue button, is optimised depending on gas, wire type and diameter. The middleposition of the button indicates the best adjustment corresponding to the wire used.It's the enough to fine tune the adjustment around this middle position.Some applications (example : aluminium wires) may need a more specialisedadjustment, furthest from the middle position of the blue button.The upper display-unit then shows the adjustment value : of welding current (pre-display), button 1 in position A of the thickness of the sheet metal to be welded, button 1 in position –thickness of the wire feed speed in m/mn, button 1 in m/mnThe bottom display-unit shows the welding voltage.In smooth current MIG MAG welding, set potentiometer 9 on the middleposition (for more dynamic melting, turn towards the min. -, for softermelting, turn towards the max. +6. CHOIX DES CYCLES DE SOUDAGE 6. WELDING CYCLES SELECTION( voir dépliant FIGURE 8 à la fin de la notice) (see fold-out FIGURE 8 at the end of the manual)1 PREGAZ / PREGAS 2 POST GAZ / POST GASEn MIG-MAG, l'appui sur la gâchette de la torche a des effets différents selon le cycle(ou le mode) de soudage utilisé. Le choix du cycle se fait par les boutons situés enface avant du générateur, en haut. Cycle 2 tempsIn MIG-MAG welding, pressing the trigger of the torch has different effects, dependingon the cycle or welding method used. The cycle is selected by means of the buttonslocated on the front panel of the power source, on the top area. 2-action cycleDans ce mode, l'appui sur la gâchette provoque le dévidage, le prégaz etl'établissement du courant de soudage. Lorsque l'on relâche la gâchette, lesoudage s'arrête. Cycle 4 tempsLe 1 er appui sur la gâchette enclenche le PRE-GAZ.Lorsque la gâchette est relâchée on démarre le soudage (dévidage + courant).Un nouvel appui stoppe le soudage mais le gaz continue de s'écouler.Le dernier relâchement de la gâchette stoppe le POST-GAZ.In this mode, pressing the trigger causes the wire feed, the pregas and theestablishment of the welding current. When the trigger is released, weldingstops. 4-action cyclePRE-GAS is activated the first time the trigger is pressed.When the trigger is released, welding starts up (wire feed + current).Pressing the trigger again stops the welding but the gas continues to flow.Releasing the trigger a final time stops the POST-GAS.C - 14OPTIPULS 350 I / OPTIPULS 380 I W
---
7. CHANGEMENT DES PIECES D'USURE 7. CHANGING THE WEAR PARTLes pièces d'usure du générateur et de la torche, dont le rôle est de guider et de faireavancer le fil de soudage, doivent être adaptées à la nature et au diamètre du fil desoudage utilisé.D'autre part, leur usure peut altérer les résultats soudage. Il est donc nécessaire deles remplacer.The expendable parts of the power-source and of the torch, whose role is to guide andadvance the welding wire, must be adapted to the type and diameter of the weldingwire used.On the other hand, their wear may affect the welding results. It will then be necessaryto replace them. Pièces d'usure de la platine de dévidage : Wire feed plate expendable parts :AcierNormal 0,6 9161-7001 9161-7001 9159-5735Steel 0,8 9161-7006 9161-7002 9161-7002 9159-5730Inox 1,0 9161-7015Stainlessmetallic 9161-7003 9161-7004 9161-7003steel 1,29161-7004CrNi9159-57311,6Alliages 1,0/1,2 9162-0199légers(plastic)Light alloyAluminium 1,2/1,6 9162-0200(plastic)9162-0188 9162-0201 9162-0188 9162-02039162-0189 9162-0202 9162-0189 9162-0204Fils fourrés 1,0 9159-57301,2 9161-70061,4 9161-7011 9161-7015 9161-7011 9159-5731Cored wire 1,6 metallic 9161-7012 9161-7017 9161-7012Pièces d'usure de la torche PROMIG 341 W ( voir dépliant FIGURE 7 à la finde la notice) :Torch expendable parts PROMIG 341 W (see fold-out FIGURE 7 at the end ofthe manual) :Tube contact 1 Tip Diffuseur 4 DiffuserBuse 2 Nozzle Conduit d'usure 5 Wearing conduitPince 3 Clamp Ecrou 6 Nut8. CONFIGURATION AVANCEE DU GENERATEUR 8. POWER SOURCE ADVANCED CONFIGURATIONCertains paramètres de fonctionnement du générateur sont configurables par unemanipulation très simple. Cette configuration se fait par accès au SETUP, sélectionnépar le potentiomètre 6 de la face avant. ( voir dépliant FIGURE 2 à la fin de lanotice)Assurez-vous que la prise de commande du dévidoir soit bien connectée à l'arrière dugénérateur.L'afficheur inférieur indique alors le premier message.PRG pré-gazL'afficheur supérieur indique la valeur que l'on souhaite régler (ex: 0,2 s). On peutalors changer les paramètres en appuyant sur la gâchette de la torche (il est possiblede faire défiler les paramètres dans les deux sens, pour cela, sélectionner le mode 2tsur la face avant pour incrémenter et le mode 4t pour décrémenter).Certain power source operating parameters can be easily configured. Thisconfiguration is carried out by accessing the SETUP; selected by potentiometer 6 onthe front panel. ( see fold-out FIGURE 2 at the end of this notice)Make sure that the wire feed unit control plug is properly connected at the rear of thepower source.The lower display unit then shows the first message.PRG pre-gasThe upper display unit shows the value that one wants to adjust (example: 0.2 s). Onecan then change the parameters by pressing the torch trigger (it is possible to scrollthe parameters in both directions; to do this, select mode 2t on the front panel in orderto go up, and mode 4t in order to go down).OPTIPULS 350 I / OPTIPULS 380 I W C - 15
---
Pré-gaz PRG Pre-gasRéglage usine 0.2sValeurs possibles de 0 à 1.0s par pas de 0.1sPlant setting 0.2sPossible values from 0 to 10s by pressing the torchtriggerAppuyer sur le bouton d'avance fil pour passer au paramètre suivant. Press the wire feed button to switch to the next parameter.Post-gaz POG Post-gasRéglage usine 0.5sValeurs possibles de 0 à 5.0s par pas de 0.5sPlant setting 0.5sPossible values from 0 to 5.0s by pressing the torchtriggerAppuyer sur le bouton d'avance fil pour passer au paramètre suivant. Press the wire feed button to switch to the next parameter.Anticollage (ou post retract ou burn back) Burn back control (or post retract)Réglage usine 0.07sValeurs possibles de 0 à 0.20s par pas de 0.01sPlant setting 0.07sPossible values from 0 to 0.20s by pressing the torchtriggerAppuyer sur le bouton d'avance fil pour passer au paramètre suivant. Press the wire feed button to switch to the next parameter.Intensité Hot Start Ihs Hot Start Intensity IhsRéglage usine 0 vRéglages possibles de – 70% à + 70% par pas de 1%Nota: si le temps est nul (= 0), il n'y aura pas de Hot StartPossibilité de changer la valeur de l'intensité pour optimiser le démarrage de l'arcPossibilité de régler en % la vitesse fil par rapport à la consigne VF.Plant setting 0 vAdjustments possible from – 70% to + 70% in steps of 1%Note: if the time is null (= 0), there will not be any Hot StartPossibility of changing the intensity value in order to optimise the arc start-upPossibility of adjusting the wire speed in % in relation to the VF settingAppuyer sur le bouton d'avance fil pour passer au paramètre suivant. Press the wire feed button to switch to the next parameter.Temps Hot Start tHs Hot Start time tHsRéglage usine 0sValeurs possibles de 0 à 10 s par pas de 0,1sPossibilité de changer le temps de Hot StartPlant setting 0sValues possible from 0 à 10 s in steps of 0.1sPossibility of changing the HotStart timeAppuyer sur le bouton d'avance fil pour passer au paramètre suivant. Press the wire feed button to switch to the next parameter.Temps d'évanouissement dSt Slope-down time dStRéglage usine 0sValeurs possibles de 0 à 5s par pas de 0,1sPlant setting: 0sValues possible from 0 to 5s, in steps of 0.1 sAppuyer sur le bouton d'avance fil pour passer au paramètre suivant. Press the wire feed button to switch to the next parameter.Ajustement de la tension de pulsation (réglage fin)UcRéglage usine 0 vValeurs possibles de – 10 v à + 10 v par pas de 0,3 vCe réglage permet pour le mode pulsé uniquement d'optimiser le détachement de lagoutte et d'obtenir une fusion parfaite.Cas d'ajustement : fils ou gaz peu courants, apparition de micro-projections en Cr niou grosses gouttes en alliage léger.Adjustment of pulsation voltage(fine adjustment) UcPlant setting: 0 vValues possible from – 10 v to + 10 v in steps of 0.3 vFor the pulsed mode only, this adjustment enables one to optimise the separation ofthe drop and to obtain perfect melting.Adjustment case : commonplace wires or gases, appearance of micro-spatter in Cr nior large drops in light alloy.Appuyer sur le bouton d'avance fil pour passer au paramètre suivant. Press the wire feed button to switch to the next parameter.C - 16OPTIPULS 350 I / OPTIPULS 380 I W
---
Commande du groupe de refroidissement GRE Cooling unit control GRERéglage usine « AUTO »Réglage possible « AUTO »: le groupe fonctionneautomatiquement pendant le soudage et en postsoudage« ON »: le groupe fonctionne en permanence« OFF »: le groupe est toujours à l'arrêtOU / OROU / ORPlant setting: « AUTO »Possible adjustment « AUTO »: the unit operatesautomatically during welding and in post-welding« ON »: the unit operates permanently« OFF »: the unit is stopped at all timesAppuyer sur le bouton d'avance fil pour passer au paramètre suivant. Press the wire feed button to switch to the next parameter.Compensation de longueur de faisceau FAI Harness length compensation FAIRéglage usine 0Réglages possibles de 0 à 50Plant setting: 0Values possible from 0 to 50Ce réglage doit rester à 0. This adjustmen must stay to 0.Appuyer sur le bouton d'avance fil pour passer au paramètre suivant. Press the wire feed button to switch to the next parameter.Choix du type de fil fourré FF1 Choice of type of cored wire – FF1Réglage usine FF1 FLC (Flux cored wire)Réglages possibles FF1 ou FF2 MtC (Metal cored wire)OU / ORPlant setting: FF1 FLC (Flux cored wire)Adjustments possible: FF1 or FF2 MtC (Metal coredwire)Ce choix permet de travailler avec du fil fourré avec laitier FF1 et sans laitier FF2This choice enables one to work with cored wire with FF1 slag and without FF2 slagAppuyer sur le bouton d'avance fil pour passer au paramètre suivant. Press the wire feed button to switch to the next parameter.L'afficheur supérieur indique alors « dyn » The upper display unit then shows « dyn »Réglage du dynamisme de fusion en SHORT-ARCRéglage usine: harRéglages possibles: har (hard, régime d'arc sec) ou sof(soft, réglage d'arc doux)OU / ORAdjustment of melting dynamism in SHORT-ARCPlant setting: harAdjustments possible: har (hard, dry arc regime) or sof(soft, soft arc adjustment)Appuyer sur le bouton d'avance fil pour terminer la configuration. Press the wire feed button to finish the configuration.Le poste est maintenant prêt à souder avec lesnouvelles configurations.Messages d'erreursLorsque l'appareil détecte un défaut, il cesse de fonctionner et indique la nature dudéfaut rencontré. Sécurité thermique poste : dépassement du facteur de marche poste encrassé Sécurité GRE (groupe de refroidissement torche) : vérifier le niveau de liquide de refroidissement vérifier si les tuyaux ne sont pas pincésThe welding set is now ready to weld with the newconfigurations.Error messagesWhen the apparatus detects a fault, it stops operating and shows the type of faultencountered. Welding set thermal safety : duty cycle overrun welding set fouled GRE safety (torch cooling unit) : check the cooling liquid level make sure the hoses are not pinchedOPTIPULS 350 I / OPTIPULS 380 I W C - 17
---
9. CONFIGURATION TRES AVANCEE DUGENERATEURCertains paramètres de fonctionnement du générateur ne sont pas accessiblesdirectement par le SETUP de face avant. Ces paramètres ne sont utilisables que pourdes cas de soudage très particulier. Nous avons donc choisi de ne pas les intégrerdans le SETUP de face avant afin de ne pas surcharger le menu.Cette configuration est accessible en :( voir dépliant FIGURE 10 à la fin de la notice)9. POWER SOURCE VERY ADVANCEDCONFIGURATIONSome of the operating parameters of the power source are not directly accessible viaSETUP on the front panel. These parameters can be used only in very special weldingcases. Therefore, we have decided not to integrate them in the front panel SETUP inorder not to overload the menu.This configuration is accessible at :( see fold-out FIGURE 10 at the end of this notice)1. Dévisser le panneau de face avant 1. Unscrew the panel on the front side2. Basculer le SWITCH n° 3 en position ON (Accès SETUP EXPERT autorisé) 2. Switch over SWITCH n° 3 to the ON position (Access SETUP EXPERTsur le circuit impriméauthorised) on the printed circuit3. Revisser le panneau de face avant 3. Screw the panel back onto the front side4. Sélectionner la position électrode enrobée sur la face avant 4. Select the covered electrode position on the front panel5. L'afficheur supérieur indique alors EE 5. The upper display unit then shows EEAppuyer sur le bouton d'avance fil pour passer au paramètre suivant. Press the wire feed button to switch to the next parameter.L'afficheur supérieur indique alors « UL » The upper display unit then shows « UL »Vitesse lente d'amorçage ON Striking slow speed ONRéglage usine: ONRéglages possibles : ON (avec vitesse lente) OFF (sansvitesse lente)OU / ORPlant setting: ONAdjustments possible : ON (with slow speed) OFF(without slow speed)Appuyer sur le bouton d'avance fil pour passer au paramètre suivant. Press the wire feed button to switch to the next parameter.Réglage d'évanouissement d'arc DSP Arc slope-down adjustment DSPRéglage usine 30%Nota: si le temps est nul (= 0), il n'y aura pas d'évanouissementRéglages possibles de 0 à 100% par pas de 1%Possibilité de régler en % le palier de vitesse fil par rapport à la consigne VFPlant setting 30%Note: if the time is null (= 0), there will not be any slopedownAdjustments possible from 0 to 100% in steps of 1%Possibility of adjusting the wire speed plateau in % in relation to the VF settingAppuyer sur le bouton d'avance fil pour passer au paramètre suivant. Press the wire feed button to switch to the next parameter.Tension de pulsation max UC Maximum pulsation voltage UCRéglage usine 0 vRéglages possibles de – 10 à + 10 v par pas de 0,3 vPossibilité de changer la tension de pulsationPlant setting 0 vAdjustments possible from – 10 to + 10 v in steps of 0.3vPossibility of changing the pulsation voltageAppuyer sur le bouton d'avance fil pour passer au paramètre suivant. Press the wire feed button to switch to the next parameter.Temps de pulsation TP Pulsation time TPRéglage usine 0 msRéglages possibles de – 1,00ms à + 1,00ms par pas de0,05msPossibilité de changer le temps de pulsationPlant setting 0 msAdjustments possible from – 1.00 ms to + 1.00 ms insteps of 0.05 msPossibility of changing the pulsation timeAppuyer sur le bouton d'avance fil pour passer au paramètre suivant. Press the wire feed button to switch to the next parameter.Courant de base Ib Basic current IbRéglage usine 0 ARéglages possibles de – 90 à + 90 A par pas de 1,6 APossibilité de changer le courant de base de la pulsationPlant setting 0 AAdjustments possible from – 90 to + 90 A in steps of 1.6APossibility of changing the pulsation basic currentAppuyer sur le bouton d'avance fil pour passer au paramètre suivant. Press the wire feed button to switch to the next parameter.C - 18OPTIPULS 350 I / OPTIPULS 380 I W
---
Défaut (paramètres d'origine usine)FACAppuyer sur la gâchette : apparition de GOAttendre l'apparition de ENDDefault (original plant parameters)FACPress the trigger : appearance of GOWait for the appearance of ENDOU / ORPossibilité de rétablir les paramètres usine des 2 SET UPPossibility of returning to the plant parameters of the 2 SET UP'sLe générateur est alors réinitialisé The welding set is now ready to weld with the newconfigurations.Appuyer sur le bouton d'avance fil pour terminer la configuration. Press the wire feed button to finish the configuration.10. INFORMATIONS COMPLEMENTAIRES 10. ADDITIONAL INFORMATION1. Bouton avance fil 1. Wire advance button Le bouton avance fil peut avoir deux fonctions différentes: The wire advance button may have two different functions: La fonction pre gaz est accessible par un appui bref (inférieur à 1s) sur lebouton dévidage et pour une durée de 7s. The gas purge function is accessible by pressing briefly (less than 1s) onthe wire feed button, and for a duration of 7s. La fonction dévidage est accessible par un appui continu sur le boutondévidage. The wire feed function is accessible by continuous pressure on the wirefeed button.2. Evanouissement 2. Slope-down En 2T: l'évanouissement démarre dès qu'on relâche la gâchette. On nepeut pas reprendre le soudage en appuyant sur la gâchette, il fautattendre la fin de l'évanouissement.En 4T: l'évanouissement démarre dès qu'on appuie de nouveau sur lagâchette. Il continuera et sera maintenu tant que la gâchette estenclenchée. Dès qu'on relâche la gâchette, on a le post-retrac et le postgaz.Si le temps d'évanouissement est nul lors de l'appui sur la gâchette,on arrête le moteur. On déclenche le post-retract et l'électrovanne resteouverte tant qu'on laisse la gâchette enclenchée.In 2T: slope-down starts up as soon as the trigger is released. Onecannot resume welding by pressing the trigger; it is necessary to wait forthe end of slope-down.In 4T: slope-down starts up as soon as the trigger is pressed again. It willcontinue and will be maintained as long as the trigger is held in. As soonas the trigger is released, one has post-retrac and post-gas. If the slopedowntime is null when the trigger is pressed, one stops the motor. Onetriggers the post-retract and the solenoid valve remains open as long asthe trigger remains held in.OPTIPULS 350 I / OPTIPULS 380 I W C - 19
---
D - MAINTENANCE D - MAINTENANCE1. PIECES DE RECHANGE 1. SPARE PARTS( voir dépliant FIGURE 2 et 11 à la fin de la notice) (see fold-out FIGURE 2 and 11 at the end of the manual)Rep. / REF.Item / REF. Désignation DescriptionRep. / REF.Item / REF. Désignation DescriptionOPTIPULS IFace avant Front panel 36 0036 6016 Raccord auto-obturant Self-blocking fitting4 0016 2073 Interrupteur Marche / Arrêt On/Off switch 37 0011 2025 Contacteur Contactor5 0023 6020 Bouton bleu Blue button 38 0020 1030 Support fusible Fuse holder7 0016 3029 Inverseur 2T / 4T 2T / 4T changeover switch 39 0020 0050 Fusible 2A 2A fuse8 0016 3029 Inverseur Manuel / Synergie Manual / Synergy changeover Carrosserie Bodyswitch 40 9160 8470 Brancard * Handle9 0023 6015 Bouton gris Grey button 41 9160 8460 Coiffe plastique Plastic cap11 9160 8506 Face avant complète Complete front panel 42 4086 9021 Roue arrière ∅ 300 Rear wheel ∅ 300Eléments internes Internal items 43 4086 9022 Roue avant ∅ 125 Front wheel ∅ 12520 9160 8428 Carte régulation Regulation card 9160 8711 Kit visserie Kit of fasteners21 0320 7330 Carte filtre secondaire Secondary filter card 9160 8453 Capot droit * Right hood *22 9160 8259 Carte filtre triphasée Three-phase filter card 9160 8455 Capot gauche * Left hood *23 9160 8527 Carte filtre auxiliaire Auxiliary filter card Dévidoir Wire feed unit24 9160 7815 Carte de commande Control card 9160 1013 Réglage de pression Pressure adjustment25 0017 1082 Transformateur auxiliaire 1 1 auxiliary transformer 9160 1021 Chape équipée gauche Left equipped cover26 0017 1047 Transformateur auxiliaire 2 2 auxiliary transformer 9160 1022 Chape équipée droite Right equipped cover27 9157 3031 Réservoir** Tank** 9160 1020 Pignon adaptateur Adapter pinion27 9000 0342 Réservoir*** Tank*** 9160 1019 Pignon principal Main pinion27 9000 0359 Bouchon*** Cap*** 9161 7014 Kit vis galet Roller screw kit28 9114 0884 Pompe Pump 9160 1018 Corps de platine Plate body29 0010 1536 Ventilateur (moteur) Fan (motor) 9160 7442 Moyeu axe de bobine Reel shaft hub for serial number30 9160 4481 Hélice Propeller 9160 1017 Groupe motoréducteur (GMR) Motor-reducing gear unit (GMR)31 9358 0521 Radiateur Radiator 0036 1025 Electrovanne 24V DC 24V DC solenoid valve32 0036 2007 Contrôleur de débit Flow controller33 0036 6100 Raccord filtre Filter connector34 0015 3036 Borne raccordement soudage Welding connection terminal35 9160 8710 Kit prise faisceau Harness socket kit* sur commande uniquement * on order only** Pour générateurs dont le matricule est < 5377 VO 332 ** Pour générators of which serial number is < 5377 VO 332*** Pour générateurs dont le matricule est ≥ 5377 VO 332 *** Pour générators of which serial number is ≥ 5377 VO 3322. PROCEDURE DE DEPANNAGE 2. DIAGNOSIS CHARTLes interventions faites sur les installations électriquesdoivent être confiées à des personnes qualifiées pour leseffectuer (voir chapitre CONSIGNES DE SECURITE).Servicing operations carried out on electric installationsmust be performed by persons qualified to do this kind ofwork (see SAFETY RECOMMENDATIONS section).CAUSES REMEDES CAUSES SOLUTIONSCOMMUTATEUR ARRET/MARCHE SUR 1 / LE POSTE NE DEMARRE PAS / LECONTACTEUR PRIMAIRE NE MONTE PAS / L'AFFICHEUR NE S'ALLUME PAS Raccordements électriques Carte régulation Commutateur M/A défectueux vérifier le raccordement primaire contrôler le fusible poste F1 poste contrôler l'état du contacteurprimaire K1 contrôler l'état du commutateurMarche/ArrêtCOMMUTATEUR ARRET/MARCHE SUR 1 / LE POSTE NE DEMARRE PAS / LECONTACTEUR PRIMAIRE NE MONTE PAS / L'AFFICHEUR S'ALLUME Raccordements électriques Connecteurs Carte filtre vérifier le raccordement primaire contrôler le fusible F2 poste vérifier le câblage de K1 vérifier le câblage de la carte filtreON/OFF SELECTOR SWITCH ON 1 / THE WELDING SET DOESN'T START /THE PRIMARY CONTACTOR DOESN'T COME UP / THE DISPLAY-UNIT DOESN'TCOME ON Electrical connections Regulation card On/Off selector switch defective check the primary connection verify F1 welding set fuse verify the state of K1 primarycontactor verify the state of the On/Offselector switchON/OFF SELECTOR SWITCH ON 1 / THE WELDING SET DOESN'T START /THE PRIMARY CONTACTOR DOESN'T COME UP / THE DISPLAY-UNITCOMES ON Electrical connections Connectors Filter card check the primary connection verify fuse F2 check wiring of K1 check wiring of filter cardD - 20 OPTIPULS 350 I / OPTIPULS 380 I W
---
COMMUTATEUR ARRET/MARCHE SUR 1 / LE POSTE DEMARRE / LECONTACTEUR PRIMAIRE MONTE / L'AFFICHEUR NE S'ALLUME PAS Câblage défectueux Connecteurs défectueux Carte régulation / Module faceavant vérifier la bretelle de liaison en faceavant vérifier les connecteurs B6, B9 contrôler les fusibles F2 et F3 sur carterégulation contrôler les alimentations +15, -15, et+5 volts si défaut alimentation changer la carte régulation;sinon appuyer sur avance fil: si dévidageOK changer le module face avant.APPUI SUR LA GACHETTE / PAS DE MESSAGE D'ERREUR A L'AFFICHEUR /LE MOTEUR DE DEVIDAGE NE TOURNE PAS / PAS DE TENSION A VIDE / LEPRE-AFFICHAGE FONCTIONNE Connecteurs défectueux Carte régulation vérifier les connecteurs J1, J2 et B9, B6 contrôler les fusibles F6 et F7 surcarte régulation si la Led L4 ne s'éteint pas: changerla carte régulationAPPUI SUR LA GACHETTE / PAS DE MESSAGE D'ERREUR A L'AFFICHEUR /LE MOTEUR DE DEVIDAGE NE TOURNE PAS / LE PRE-AFFICHAGEFONCTIONNE Connecteurs défectueux Carte régulation vérifier les connecteurs J1, J2 etB9, B13, B15 contrôler le fusible F7 sur carterégulation vérifier la consigne V.fil en PT 13mesurer la tension d'alimentationmoteur entre PT1 et PT18si pas de tension changer lacarte régulationsi tension environ 30V contrôler le moteurPAS DE MESSAGE D'ERREUR A L'AFFICHEUR / LE MOTEUR DE DEVIDAGETOURNE (ORDRE GACHETTE RECU) / LE PRE-AFFICHAGE FONCTIONNE /PAS D'AMORCAGE, PAS DE SOUDAGE Connecteurs défectueux Carte régulation Câblage Carte commande onduleur vérifier les connecteurs B2, B3, B9 si Led L5 allumée: changer lacarte régulation si Led L4 allumée: contrôler lecâblage de B3 vers shunt si Led L4 et L5 éteintes : vérifierles fusibles F1 et F2 sur la cartecommande onduleur vérifier les connecteurs B16 et B20de la carte commande onduleurPour toute intervention interne au générateur en dehors despoints cités précédemment: FAIRE APPEL A UN TECHNICIENON/OFF SELECTOR SWITCH ON 1 / THE WELDING SET STARTS UP / THEPRIMARY CONTACTOR COMES UP / THE DISPLAY-UNIT DOESN'T COMEON Wiring defective Connectors defective Regulation card / Front panelmodule check the jumper on front panel check connectors B6, B9 verify fuses F2 and F3 on regulationcard verify +15, -15, and +5 volt powersupplies if power supply fault changethe regulation card;otherwise, press wire feed: if wire-feedOK change the front panel module.TRIGGER PRESSED/ NO ERROR MESSAGE ON DISPLAY-UNIT / THE WIRE-FEED MOTOR DOESN'T WORK / NO NO-LOAD VOLTAGE / THE PRE-DISPLAY WORKS Connectors defective Regulation card check connectors J1, J2 and B9, B6 verify fuses F6 and F7 on regulationcard if LED L4 doesn't go out: change theregulation cardTRIGGER PRESSED/ NO ERROR MESSAGE ON DISPLAY-UNIT / THE WIRE-FEED MOTOR DOESN'T WORK / PRE-DISPLAY WORKS Connectors defective Regulation card check connectors J1, J2 and B9,B13, B15 verify fuse F7 on regulation card check V.fil setting at PT 13measure the motor power supplyvoltage between PT1 and PT18if no voltage change theregulation cardif voltage approximately 30V verify the motorNO ERROR MESSAGE ON DISPLAY-UNIT / THE WIRE-FEED MOTOR RUNS(TRIGGER ORDER RECEIVED) / THE PRE-DISPLAY WORKS / NO ARCING, NOWELDING Connectors defective Regulation card Wiring Power inverter control card check connectors B2, B3, B9 if LED L5 lit up: change theregulation card if LED L4 lit up: verify wiring of B3to shunt if LED L4 and L5 off : check fusesF1 and F2 on the power invertercontrol card check connectors B16 and B20 onthe power inverter control cardFor any servicing operations internal to the power-source outsidethe points mentioned previously: CALL IN A TECHNICIANOPTIPULS 350 I / OPTIPULS 380 I W D - 21
---
SICHERHEITSHINWEISESAF dankt Ihnen für das Vertrauen, das Sie durch den Kauf dieses Geräts beweisen,welches bei sachgemäßer Bedienung und Wartung zu Ihrer vollen Zufriedenheitfunktionieren wird.Dieses Gerät wurde unter strikter Einhaltung der Europäischen Richtlinien fürNiederspannung (73/23/CEE) und der elektromagnetischen Verträglichkeit (EMV)(89/336/CEE) gebaut, wobei die entsprechenden Normen EN 60974-1(Sicherheitsbestimmungen für elektrische Geräte, Teil 1: Stromversorgung fürSchweißgeräte) und EN 50199 (EMV) (Norm für Lichtbogenschweißen)berücksichtigt wurden.Elektromagnetische Störstrahlungen der Elektroaussüstungen entstehen zumeistdurch Interferenzfelder der Anlagenverkabelung.Bei zu naher Anordung derElektrogeäte untereinander die SAF kontaktieren, um die einzelnen Gegebenheiten zuanalysieren.ACHTUNG: SAF übernimmt keine Haftung bei Veränderung bzw.Hinzufügen von Komponenten oder Unterbaugruppen odersonstigen Modifikationen des Geräts durch den Kunden oder Dritteohne vorherige schriftliche Genehmigung der Firma SAF.Das in diesem Dokument beschriebene Material kann mit anderen Geräten kombiniertund somit Bestandteil einer automatischen Funktionseinheit werden, die derEuropäischen Norm 91/386/CEE unterliegt, welche die wichtigsten Gesundheits- undSicherheitsbestimmungen definiert. Für Funktionseinheiten, die nicht von SAFmontiert wurden, kann SAF nicht haftbar gemacht werden.Zu Ihrer Sicherheit folgt eine Liste von zum Teil gesetzlich verankerten Empfehlungenbzw. Vorschriften, die jedoch keinen Anspruch auf Vollständigkeit erhebt.Abschließend möchten wir Sie bitten, SAF über etwaige Unregelmäßigkeiten zuinformieren, die Ihnen bei der Lektüre dieses Dokuments auffallen.Bevor Sie Ihre Anlage in Betrieb nehmen, lesen Sie bitte unbedingt diefolgenden Sicherheitsinformationen :1. Elektrische Sicherheit (Siehe Seite 22)2. Schutz vor Rauch, Dämpfen und giftigen Gasen (Siehe Seite page 23)3. Schutz vor Lichtstrahlung (Siehe Seite page 24)4. Lärmschutz (Siehe Seite page 24)5. Brandschutz (Siehe Seite page 25)6. Sicherheit beim Umgang mit Gas (Siehe Seite page 25)7. Schutz der Person (Siehe Seite page 26)ACHTUNG: Der Schweiß-/Schneidgenerator darf nur zu demZweck verwendet werden, zu dem er konstruiert wurde. Er darfinsbesondere keinesfalls zum Laden von Batterien, Enteisen vonWasserleitungen, Heizen von Räumen unter Einsatz zusätzlicherWiderstände usw. verwendet werden.REGOLE DI SICUREZZALa SAF vi ringrazia della fiducia accordatale con l'acquisto di questo apparecchio chevi darà piena soddisfazione se rispettate le sue condizioni d'impiego e dimanutenzione.Questo apparecchio o questo impianto è stato costruito nello stretto rispetto delleDirettive Europee Bassa Tensione (73/23/CEE) e CEM (89/336/CEE), ciò mediantel'applicazione delle rispettive norme EN 60974-1 (regole di sicurezza per ilmateriale elettrico, Parte 1: sorgente di corrente di saldatura) ed EN 50199(Compatibilità Elettromagnetica CEM). (Norma emanata per la saldatura adarco).L'inquinamento elettromagnetico degli impianti elettrici è maggiormente dovuto allaradiazione del cablaggio dell'impianto. In caso di problema di vicinanza tra apparecchielettrici, vi preghiamo di contattare la SAF che esaminerà i casi particolari.ATTENZIONE: la SAF viene sollevata da qualsiasi responsabilitàin caso di modifica, di aggiunta di componenti o di sottoassiemi odi una qualsiasi trasformazione dell'apparecchio o dell'impianto,eseguita dal cliente o da terzi, senza l'accordo preventivospecifico e scritto della SAF stessa.I materiali oggetto delle presenti raccomandazioni possono, se associati con altrielementi, costituire una "macchina" che cade allora nel campo d'applicazione delladirettiva europea 91/368/CEE che definisce le esigenze essenziali in materia disalute e di sicurezza, (direttiva ripresa nella legislatione italiana). La SAF non puòessere considerata responsabile delle associazioni d'elementi che non siano stateeseguite da lei.Per la vostra sicurezza, vi indichiamo qui di seguito una lista non limitativa diraccomandazioni o obblighi.La SAF vi invita a trasmetterle ogni errore che potrete constatare nella redazione diqueste raccomandazioni.Dovete tassativamente leggere le seguenti pagine prima di mettere inservizio il vostro impianto :1. sicurezza elettrica (cf. pagina 22)2. sicurezza contro i fumi, i vapori, i gas nocivi e tossici (cf. pagina 23)3. sicurezza contro le radiazioni luminose (cf. pagina 24)4. sicurezza contro il rumore (cf. pagina 24)5. sicurezza contro il fuoco (cf. pagina 25)6. sicurezza d'impiego dei gas (cf. pagina 25)7. sicurezza del personale (cf. pagina 26)ATTENZIONE: un generatore di saldatura/taglio deve essereutilizzato soltanto per la funzione per la quale è stato progettato.Non deve in alcun caso essere utilizzato, tra l'altro, per la ricaricadelle batterie, lo scongelamento delle condotte d'acqua, ilriscaldamento di locali mediante aggiunta di resistenza, ecc...1. ELEKTRISCHE SICHERHEIT (ANSCHLUSS, WARTUNG, INSTANDSETZUNG) /SICUREZZA ELETTRICA (ALLACCIAMENTO, MANUTENZIONE, RIPARAZIONE)Eingriffe in elektrische Bauteile müssen stets von qualifizierten Personen durchgeführtwerden.Qualifizierte Personen sind Spezialisten, die aufgrund ihrer technischen Ausbildungmit den Gefahren des Elektroschweißens vertraut sind.Gli interventi fatti sugli impianti elettrici devono essere affidati a persone qualificateper eseguirli.Con il termine "persone qualificate", si intendono specialisti che, grazie alla loroformazione tecnica sono in grado di percepire i pericoli derivanti dalla saldatura edall'elettricità.a) Netzanschluß von Schweiß-/Schneidgeneratoren a) Allacciamento alla rete delle sorgenti di corrente disaldatura/taglioa.1) Bevor Sie Ihr Gerät am Netz anschließen, müssen Sie folgendes sicherstellen: Zähler, Schutzvorrichtung gegen Überlastspannung und Kurzschluß,Steckdosen und Stecker der Anschlüsse und elektrische Anlage müssen fürseine Spitzenleistung und Netzspannung ausgelegt sein (sieheTypenschilder) und den geltenden Normen und Vorschriften entsprechen.a.2) Der Anschluß (ein- bzw. dreiphasig mit Erdungsleiter) muß mit einerMittelwerts- oder Hochsensibilitäts- Differenzstrom-Schutzvorrichtungversehen sein (Schutzschalter mit Differenzstromauslöser, Sensibilitätzwischen 1 A und 30 mA). Wenn das Kabel an einer fest installierten Anlage angeschlossen ist, darfder Erdungsleiter, falls vorhanden, niemals durch die Schutzvorrichtunggegen Elektroschocks getrennt werden. Der Schalter, falls vorhanden, muß sich in Position "STOP" befinden. Das Netzkabel muß, falls nicht im Lieferumfang enthalten, vom Typ "HARUSE" sein.a.1) Prima di collegare il vostro apparecchio, dovete verificare che: il contattore, il dispositivo di protezione contro le sovraintensità ed icortocircuiti, le prese, le spine e l'impianto elettrico siano compatibili con lasua potenza massima e la sua tensione d'alimentazione (vedi targhesegnaletiche) e conformi alle norme e regolamentazioni in vigore;a.2) Il collegamento, monofase o trifase con terra, venga eseguito con la protezionedi un dispositivo a corrente differenziale-residua di media o alta intensità(interruttore differenziale; sensibilità compresa tra 1 A e 30 mA); se il cavo è collegato ad una stazione fissa, la terra, se è prevista, non devemai essere interrotta dal dispositivo di protezione contro le scosse elettriche; il suo interruttore, se esiste, sia in posizione "APERTO"; il cavo d'alimentazione, se non è fornito, sia del tipo "HAR USE";22 OPTIPULS 350 I / OPTIPULS 380 I W
---
Ihr Netzstromkreis muß mit einem gut erkennbaren und leicht bzw. schnellerreichbaren Notausschalter ausgerüstet sein.b) Arbeitsplatz b) Stazione di lavoroSchweiß- und Schneidbrennarbeiten erfordern die strikte Einhaltung derSicherheitsvoraussetzungen in bezug auf elektrischen Strom.Stellen Sie sicher, daß kein metallischer Gegenstand, mit dem der Benutzer bzw.dessen Assistenten in Berührung kommen können, direkten oder indirekten Kontaktzu einem Phasenleiter oder dem Nulleiter des Netzstromkreises bekommen kann.Verwenden Sie ausschließlich perfekt isolierte Elektrodenhalter und Brenner.Der Benutzer muß gegenüber dem Boden und dem Werkstück isoliert sein(Handschuhe, Sicherheitsschuhe, trockene Kleidung, Lederschürze usw.).Schließen Sie das Massekabel sicher und möglichst nahe der Schweißzone amWerkstück an (um einen guten Stromfluß zu gewährleisten).Berühren Sie niemals gleichzeitig den Schweißdraht (oder die Düse) und dasWerkstück.Wenn Schweißarbeiten unter außergewöhnlichen Bedingungen mit erhöhterBerührungsgefahr durchgeführt werden, (beispielsweise wenn der Benutzer inunbequemer Haltung arbeiten muß), müssen zusätzliche Schutzmaßnahmen ergriffenwerden, insbesondere: il vostro circuito d'alimentazione elettrica sia dotato di un dispositivo diarresto d'emergenza, facilmente riconoscibile e disposto in modo da esserefacilmente e rapidamente accessibile.La messa in opera della saldatura e del taglio ad arco implica lo stretto rispetto dellecondizioni di sicurezza per quanto riguarda le correnti elettriche.Assicuratevi che nessun pezzo metallico accessibile agli operatori ed ai loro assistentipossa entrare a contatto diretto o indiretto con un conduttore di fase o il neutro dellarete d'alimentazione.Utilizzate soltanto portaelettrodi e torce perfettamente isolati.L'operatore deve essere isolato dal suolo e dal pezzo da saldare (guanti, scarpe disicurezza, vestiti asciutti, grembiule di cuoio, ecc...).Collegate il cavo di massa al pezzo il più vicino possibile della zona di saldatura ed inmodo sicuro (ciò onde assicurare una buona circolazione della corrente).Non toccate contemporaneamente il filo elettrodo (o l'ugello) ed il pezzo.Quando i lavori di saldatura devono essere eseguiti fuori dalle normali ed abitualicondizioni di lavoro con un maggiore rischio di scossa elettrica, devono essere preseprecauzioni supplementari (es.: recinto nel quale l'operatore manca di spazio) ed inparticolare: Verwenden eines mit gekennzeichneten Schweiß-/Schneidgenerators l'utilizzo di una sorgente di corrente di saldatura/taglio contrassegnata Erhöhte Sicherheit der Person. il rinforzo della protezione individuale.c) Wartung / Instandsetzung c) Manutenzione/RiparazioneVor jeder Kontrolle bzw. Reparatur im Innern des Geräts müssen Sie sichvergewissern, daß das Gerät vorschriftsmäßig von der elektrischen Anlage getrenntist (vorschriftsmäßig bedeutet, daß alle zum Trennen und Warten im spannungsfreienZustand erforderlichen Operationen durchgeführt wurden).Manche Geräte sind mit einem HT.HF-Modul (auf Typenschild vermerkt) ausgerüstet.An diesem Modul dürfen Sie keine Arbeiten durchführen (wenden Sie sichgegebenenfalls an die Firma SAF).Prüfen Sie spätestens alle 6 Monate den Zustand der Isolierung und die Anschlüsseder elektrischen Bauteile wie Stecker, Anschlußkabel, Ummantelungen, Anschlüsse,Verlängerungen, Masseklemme, Elektrodenhalter, Brenner usw.Wartungs- und Reparaturarbeiten an isolierenden Hüllen und Ummantelungenmüssen äußerst gewissenhaft durchgeführt werden.Lassen Sie defekte Teile von einem Spezialisten reparieren oder besser nochauswechseln.Prüfen Sie die elektrischen Anschlüsse regelmäßig auf festen Sitz und Sauberkeit.Siehe außerdem das Kapitel WARTUNG weiter unten, in dem Wartung undInstandsetzung Ihres Materials eingehend beschrieben werden.2. SCHUTZ VOR RAUCH, DÄMPFEN UND GIFTIGEN GASEN /SICUREZZA CONTRO I FUMI, I VAPORI, I GAS NOCIVI E TOSSICIDie Schweiß- und Schneidarbeiten müssen an gut belüfteten Orten durchgeführtwerden.Emissionen in Form von gesundheitsschädlichen Gasen bzw. Rauch müssenwährend dem Entstehen möglichst nahe am Emissionsort und möglichst gründlichabgesaugt werden.Die Rauchfangvorrichtungen müssen in der Weise an ein Absaugsystemangeschlossen sein, daß bei eventuellen Gas- bzw. Rauchkonzentrationen dieGrenzwerte nicht überschritten werden.Wir empfehlen die Lektüre des Kapitels über Lichtbogenschweißen im "Guidepratique de ventilation n°7 - ED 668" (praktischer Leitfaden zur Belüftung),herausgegeben vom französischen Nationalen Institut für Forschung und Sicherheit(INRS), der Berechnungsmethoden und verschiedene praktischeAnwendungsbeispiele enthält.Die Firma SAF bietet verschiedene Absaugsysteme an, die auf Ihre Bedürfnissezugeschnitten sind. Besondere Bedingungen für chlorierte Lösungsmittel (werden alsReinigungsmittel oder zur Fettlösung verwendet): Die Dämpfe dieser Lösungsmittel können sich u.U. selbst in einigerEntfernung durch die Lichtbogenstrahlung in giftige Gase verwandeln. Diese Lösungsmittel dürfen nicht an Orten verwendet werden, woelektrische Funken sprühen können. Sie müssen stets in geschütztenRäumen aufbewahrt werden.Prima di qualsiasi verifica interna e riparazione, dovete assicurarvi che l'apparechiosia separato dall'impianto elettrico mediante interdizione (con il termine interdizione,si intende un insieme d'operazioni destinate a separare ed a mantenere l'apparecchiofuori tensione).Alcuni apparecchi sono dotati di un circuito d'innesco AT.AF (segnalato da una targa).Non dovrete mai intervenire su questo circuito (contattare la SAF per qualsiasiintervento).Dovete verificare almeno ogni 6 mesi il buono stato d'isolamento ed i collegamentidegli apparecchi e degli accessori elettrici, come prese, cavi flessibili, guaine,connettori, pinte portaelettrodi, dua massa, torce, etc....I lavori di manutenzione e di riparazione dei rivestimenti e delle guaine isolanti devonoessere eseguiti.Fate riparare da uno specialista, o meglio fategli sostituire i pezzi difettosi.Verificate periodicamente il corretto serraggio e la pulizia dei collegamenti elettrici.Consultate il capitolo MANUTENZIONE dedicato più particolarmente allamanutenzione e alla riparazione del vostro materialeLe operazioni di saldatura e di taglio devono essere eseguite in locali sufficientementeventilati.Le emissioni sotto forma di gas, fumi insalubri o pericolosi per la salute dei lavoratoridevono essere captate man mano che vengono prodotte, il più vicino possibile dellaloro sorgente d'emissione e il più efficacemente possibile. (alla legislatione italiana).I captatori di fumi devono essere collegati ad un sistema d'aspirazione in modo taleche le eventuali concentrazioni di inquinanti non superino i valori limiti.Vi raccomandiamo di consultare la "Guida pratica di ventilazione n°7 - ED 668",operazione di saldatura ad arco dell'Istituto Nazionale della Ricerca e della Sicurezza(INRS), nella quale figurano i metodi di calcolo e vari esempi pratici d'applicazione.La SAF vi propone tutta una gamma di sistemi di aspirazione che risponde alle vostreesigenze... Caso particolare dei solventi clorati (utilizzati per pulire o sgrassare): i vapori di questi solventi, sottoposti alla radiazione di un arco anchelontano possono, in alcuni casi, trasformarsi in gas tossici. Verificateche i pezzi da saldare siano asciutti. quando l'operatore non si trova in uno spazio ermetico, l'utilizzo diquesti solventi deve essere vietato in caso di presenza di archi elettrici.OPTIPULS 350 I / OPTIPULS 380 I W 23
---
3. SCHUTZ VOR LICHTSTRAHLUNG /SICUREZZA CONTRO LE RADIAZIONI LUMINOSEAchten Sie immer darauf, Ihre Augen vor dem Lichtbogen zu schützen (Blenden durchsichtbares Licht und durch Infrarot- bzw. Ultraviolettstrahlung).Der Schutzschild, mit oder ohne Helm, muß stets mit einem der Lichtbogenintensitätangepaßten Schutzfilter versehen sein (Norm EN 169).Der Farbfilter kann durch eine bruchsichere, transparente Glasscheibe gegen Schlägegeschützt werden, die vor dem Filter befestigt wird.Beim Auswechseln müssen Sie einen Filter derselben Qualität verwenden(Schutzstufe).Die in der Nähe des Benutzers arbeitenden Personen, insbesondere dessenAssistenten, müssen durch entsprechende Abschirmung, UV-undurchlässigeSchutzbrillen und gegebenenfalls durch einen Schutzschild mit erforderlichemSchutzfilter geschützt werden. Tabelle der Schutzstufen (1) und empfohlene Verwendung für dasLichtbogenschweißen:E' indispensabile proteggere i vostri occhi contro i colpi d'arco (abbagliamentodell'arco in luce visibile e radiazioni infrarosse ed ultraviolettte).La maschera di saldatura, con o senza casco, deve sempre essere dotata di un filtroprotettore il cui grado dipende dall'intensità della corrente dell'arco di saldatura(Norma EN 169).Il filtro colorato può essere protetto contro gli urti e le proiezioni mediante un vetrotrasparente situato sulla parte anteriore della maschera.In caso di sostituzione del filtro, dovete adottare gli stessi articoli (Numero del grado diopacità).Le persone, nelle vicinanze dell'operatore ed a maggior ragione i suoi assistenti,devono essere protette mediante interposizione di schermi adatti, di occhiali diprotezione anti-UV e se necessario con una maschera dotata del filtro protettoreadeguato. Tabella contenente il numero di grado (1) ed utilizzo raccomandato per lasaldatura ad arco:(1)- Je nach Arbeitsbedingung kann der nächst höhere bzw. nächst niedrigereSchutzstufe gewählt werden.(2)- Die Bezeichnung "Schwermetalle" bezieht sich auf Stahl, Stahllegierungen,Kupfer und Kupferlegierungen usw.Hinweis: Die schraffierten Felder der obenstehenden Tabelle kennzeichnen Bereiche,in denen derzeit normalerweise keine Schweißtechniken angewandt werden.(1)- Secondo le condizioni d'utilizzo, possono essere utilizzati il numero di gradoimmediatamente superiore o il numero di grado immediatamente inferiore.(2)- L'espressione "metalli pesanti" copre gli acciai, gli acciai legati, il rame e le sueleghe, ecc..Nota: le zone tratteggiate di cui sopra corrispondono ai campi dove i processi disaldatura non sono abitualemnte utilizzati nella pratica attuale della saldatura.4. LÄRMSCHUTZ /SICUREZZA CONTRO IL RUMOREDie Geräuschemissionen eines Schweiß- oder Schneidgeräts sind von verschiedenenFaktoren abhängig, insbesondere von der verwendeten Spannung, dem angewandtenVerfahren (MIG - MIG PULS - WIG usw.) und den Umgebungseigenschaften (Größedes Raums, Halligkeit usw.).Das Leerlaufgeräusch eines SAF-Schweiß-/Schneidgenerators liegt im allgemeinenunter 70dB (A).Die Geräuschemission (Schalldruck) dieser Generatoren kann beim Schneiden undSchweißen über 85 dB (A) am Arbeitsplatz liegen.Vergewissern Sie sich deshalb durch angemessene Maßnahmen am Arbeitsplatzunter den jeweiligen Arbeitsbedingungen, daß der Grenzwert von 85 dB (A) nichtüberschritten wird. Bei einer Überschreitung muß der Benutzer die erforderlichenSchutzmaßnahmen ergreifen wie: Tragen von Gehörschutz bzw. Ohrenstöpseln,Arbeiten in einer schallgehemmten Zone und Information durch entsprechendeKennzeichnung.Die Firma SAF bietet verschiedene Schutzausrüstungen an, die auf Ihre Bedürfnissezugeschnitten sind.Il rumore emesso da una macchina di saldatura e di taglio dipende da alcuni parametried in particolare: l'intensità di saldatura/taglio, il processo (MIG - MIG PULSE - TIGecc...) e l'ambiente (locali più o meno grandi, riverberazione delle pareti, ecc...).Il rumore a vuoto dei generatori di saldatura/taglio della SAF è di solito inferiore a70dB (A).L'emissione sonora (livello di pressione acustica) di questi generatori può, durante lasaldatura o il taglio, superatore i 85 dB (A) nella stazione di lavoro.Occorre pertanto assicurarsi che siano state prese misure adeguate sul luogo dilavoro e che nelle condizioni d'utilizzo e di lavoro il limite di 85 dB (A) non vengasuperato. In caso di superamento del limite in questione, l'operatore deve esseredotato di protezioni adeguate, come tra l'altro casco, tappi per le orecchie, ed essereinformato da una segnaletica adeguata.La SAF vi propone tutta una gamma di attrezzature di protezione che risponde allevostre esigenze.24 OPTIPULS 350 I / OPTIPULS 380 I W
---
5. BRANDSCHUTZ /SICUREZZA CONTRO IL FUOCOEntfernen Sie alle entflammbaren Gegenstände aus der Funkenzone des Lichtbogensoder schützen Sie diese.Schweißen bzw. schneiden Sie nicht in der Nähe einer Luft- oder Gaszufuhr bzw.anderer Installationen, die eine schnelle Ausbreitung von Feuer begünstigen.Normalerweise muß der Benutzer einen Feuerlöscher in seiner Nähe haben. DieserFeuerlöscher muß für die Art von Feuer geeignet sein, das entstehen könnte.Vergewissern Sie sich, daß die Masseklemme korrekt angebracht ist. Durchschlechten Kontakt können Lichtbogen entstehen, die ein Feuer auslösen könnten.Allontanate i prodotti e le attrezzature infiammabili dalla zona delle proiezioniprovenienti dall'arco e proteggeteli.Non saldate o tagliate a prossimità di una condotta d'aerazione, di una condotta di gase qualsasi installazione in grado di propagare il fuoco rapidamente.In linea di massima, l'operatore deve aver un estintore a portata di mano. L'estintoredovrà essere compatibile con il tipo di fuoco suscettibile di divampare.Assicuratevi del buon posizionamento del collegamento di massa. Un cattivo contattodi questa ultima è suscettibile di provocare un arco che potrebbe a sua volta esserel'origine di un incendio6. SICHERHEIT BEIM UMGANG MIT GAS /SICUREZZA D'IMPIEGO DEI GASa) Hinweise, die für alle Gase gelten a) Raccomandazioni comuni all'insieme dei gasa.1) RisikenUngünstige Umstände beim Umgang mit Gas setzen den Benutzer zweiHauptgefahren aus, besonders beim Arbeiten in geschlossenen Räumen: Erstickungs- oder Vergiftungsgefahr Feuer- und Explosionsgefahra.2.) Zwingende Vorsichtsmaßnahmen Aufbewahrung in komprimierter Form in FlaschenBeachten Sie die Hinweise des Gasherstellers und insbesonderefolgendes: Die Orte des Aufbewahrung und Verwendung müssen gutbelüftet sein, sich in ausreichender Entfernung zu Schweißbzw.Schneidarbeiten oder Wärmequellen befinden und ggü.technischen Störfällen geschützt sein. Binden Sie die Flaschen fest, und vermeiden Sie Stöße. Vermeiden Sie hohe Temperaturen (> 50° C). Leitungen und Schläuche Prüfen Sie regelmäßig die Dichtheit der fest angebrachtenLeitungen sowie der Gummischläuche. Suchen Sie undichte Stellen niemals mit Hilfe von Feuer.Verwenden Sie ein geeignetes Suchgerät oder ggf. Wasserund einen Pinsel. Verwenden Sie Schläuche der für die verschiedenen Gaseüblichen Farben. Regeln Sie den Druck der Gaszufuhr entsprechend denAnleitungen der jeweiligen Geräte. Lassen Sie die Schläuche nicht auf dem Boden liegen. Siekönnen sonst beschädigt werden. Verwendung der Geräte Verwenden Sie ausschließlich für das jeweilige Gasvorgesehene Geräte. Stellen Sie sicher, daß Flasche und Druckreduzierventil fürdas verwendete Gas vorgesehen sind. Schmieren Sie niemals die Gasarmaturen. Betätigen Sie sievorsichtig. Druckreduzierventil :• Reinigen Sie stets die Armaturen der Gasflaschen,bevor Sie das Druckreduzierventil anschließen.• Stellen Sie sicher, daß die Druckablaßschraube vordem Anbringen an der Flasche geöffnet ist.• Stellen Sie sicher, daß die Verbindung festist, bevor Sie den Gashahn der Flasche öffnen.• Öffnen Sie den Gashahn langsam um denBruchteil einer Umdrehung. Existiert eine undichte Stelle, schließen Sie den Gashahn derFlasche, und lösen Sie niemals eine Verbindung unter Druck. Arbeiten in geschlossenen Räumen (wie Tunnels, Kanalisation,Schiffsbäuche, Brunnen, Einstiegsluken, Keller, Zisternen, Zuber,Behälter, Wassertanks, Silos, Reaktoren usw.)a.1) Possibili rischiCattive condizioni d'utilizzo dei gas espongono l'utilizzatore a dueprincipali pericoli, in particolare in caso di lavoro in uno spazio ridotto: il pericolo di asfissia o di intossicazione il pericolo d'incendio e di esplozionea.2.) Precauzioni da rispettare Stoccaggio sotto forma compressa in bomboleConformatevi alle raccomandazioni date dal fornitore di gas ed inparticolare: le zone di stoccaggio o d'impiego devono possedere unabuona ventilazione, essere sufficientemente lontane dallazona di taglio/saldatura e dalle altre fonti di calore, ed essereal riparo da ogni incidente tecnico; fissate le bombole, evitate gli urti; nessun calore eccessivo (> 50° C). Canalizzazioni e tubature verificate periodicamente la tenuta stagna delle canalizzazionifisse nonché delle tubature in gomma; non rilevate mai una fuga con una fiamma. Utilizzate unrilevatore adeguato o, in mancanza dell'acqua insaponata edun pennello; utilizzate tubi dai colori convenzionali in funzione dei gas; distribuite i gas alle pressioni raccomandate nei manualid'istruzioni forniti con i materiali; non lasciate mai i tubi sparsi qua e la nelle officine; rischianodi deteriorarsi. Utilizzo degli apparecchi utilizzate soltanto apparecchi progettati per i gas utilizzati; verificate che la bombola ed il regolatore di pressionecorrispondano al gas necessario per il processo; non lubrificate mai i rubinetti, manovrateli delicatamente; regolatore di pressione:• non dimenticate mai di spurgare i rubinetti dellebombole prima di collegare il regolatore dipressione• verificate che la vite di regolazione sia allentataprima del collegamento alla bombola• verificate accuratamente il serraggio del raccordodi collegamento prima di aprire il rubinetto di unabombola• aprite il rubinetto in questione lentamente esoltanto di una frazione di giro in caso di fuga non allentate mai un raccordo sotto pressione,chiudete dapprima il rubinetto della bombola. Lavoro in uno spazio ridotto (per esempio: gallerie, canalizzazioni, pipeline,stiva di navi, pozzi, portelli di spia, cantine, cisterne, vasche,serbatoi, silos, reattori)OPTIPULS 350 I / OPTIPULS 380 I W 25
---
Bevor Schweißarbeiten in solchen geschlossenen Bereichen begonnenwerden, in denen erhöhte Erstickungs-, Vergiftungs-, Feuer- undExplosionsgefahr herrscht, müssen besondere Vorsichtsmaßnahmengetroffen werden.Es muß ein Arbeitsgenehmigungsverfahren systematisch erarbeitetwerden, das alle Sicherheitsvorkehrungen genau festlegt.Sorgen Sie für ausreichende Belüftung unter besonderer Beachtungfolgender Punkte: Sauerstoffmangel Sauerstoffüberschuß Überschuß an entflammbarem Gasa.3) UnfallmaßnahmenDevono essere adottate precauzioni particolari prima di eseguireoperazioni di saldatura in questi luophi dove i pericoli di asfissiaintossicazionee di incendio-esplozione sono molto elevati.Una procedura di permesso di lavoro che definisce tutte le misure disicurezza deve essere sistematicamente attuata.Fate attenzione a che vi sia un'adeguata ventilazione prestando unaparticolare attenzione: alla mancanza di ossigenazione all'eccesso di ossigenazione agli eccessi di gas combustibile.a.3) Intervento a seguito di un incidenteBei nicht entzündetem Gasaustritt: In caso di fuga senta fiamma : Schließen Sie die Gaszufuhr. chiudete l'alimentazione del gas Verwenden Sie dort, wo sich Gas ausgebreitet haben kannkein Feuer oder elektrische Geräte. non utilizzate né fiamma, né apparecchio elettrico nella zonadove la fuga si è sparsa.Bei entzündetem Gasaustritt: In caso di fuga con fiamma : Falls das Ventil erreicht werden kann, schließen Sie die chiudete l'alimentazione del gas se il rubinetto è accessibileGaszufuhr. Verwenden Sie Staublöscher. utilizzate estintori a polvere Wenn Sie die undichte Stelle nicht abdichten können, lassen se la fuga non può essere fermata, lasciate bruciareSie das Feuer brennen, während Sie die Flaschen und dieraffreddendo le bombole e gli impianti vicini.benachbarten Geräte kühlen.Bei schwerer Atemnot: Bringen Sie das Opfer an die frische Luft. Beginnen Sie mit künstlicher Beatmung und rufen Sie Hilfe.In caso di asfissia: portate la vittima all'aria aperta cominciate la respirazione artificiale e chiamate i soccorsi.b) Zusätzliche Hinweise für bestimmte Gase b) Raccomandazioni supplementari per alcuni gasb.1) Gase und Mischgase, die weniger als 20 % CO2 enthaltenWenn diese Gase oder Mischgase den Sauerstoff der Luft verdrängen,besteht Erstickungsgefahr. Ein Sauerstoffgehalt von weniger als 17 % inder Atemluft ist gefährlich (siehe obigen Abschnitt "Arbeiten ingeschlossenen Räumen").b.2) Wasserstoff und entflammbare Mischgase auf WasserstoffbasisDies ist ein sehr leichtes Gas. Im Falle einer Undichtheit wird sich derWasserstoff unter der Decke der Raumes ansammeln. Sorgen Sie für dieBelüftung der gefährdeten Bereiche.Dies ist ein entflammbares Gas. Eine Wasserstofflamme brennt fastunsichtbar. Verbrennungsgefahr.Sauerstoff/Wasserstoff-Gemische sind explosiv in unterschiedlichstenMischungsverhältnissen: 4 bis 74,5 % Wasserstoff in der Luft 4 bis 94 % Wasserstoff im SauerstoffLagern Sie die Gasflaschen im Freien oder in einem gut belüftetemRaum. Vermeiden Sie Gasaustritt durch Limitieren der maximalen Anzahlvon Verbindungen.Wasserstoff versprödet manche Metalle: hochlegierten Stahl,unberuhigtes Kupfer und Titan.Verwenden Sie Stähle mit durchschnittlichen Eigenschaften, die nichtverspröden oder beruhigtes Kupfer.b.1) Gas e miscele gassose contenenti meno di 20 % di CO2Se questi gas o miscele prendono il posto dell'ossigeno nell'aria, vi èrischio di asfissia, dato che un'atmosfera contenente meno di 17% diossigeno è pericolosa (vedi paragrafo precedente "Lavoro in spazioridotto").b.2) Idrogeno e miscele gassose combustibili a base di idrogenoE' un gas molto leggero. In caso di fuga, esso si accumula sotto il soffitto o nellecavità. Prevedere una ventilazione nei posti a rischio.E' un gas infammabile. La fiamma d'idrogeno è quasi invisibile: rischi diustioni.Le miscele aria / idrogeno ed ossigeno / idrogeno sono esplosive negliintervalli di proporzioni elevate: 4 - 74,5 % d'idrogeno nell'aria 4 - 94 % d'idrogeno nell'ossigenoConservate le bombole all'aria aperta o in un locale sufficientementeventilato. Evitate ogni fuga limitando al minimo il numero di raccordi.L'idrogeno fragilizza alcuni metalli: gli acciai fortemente legati, il rame nondisossidato, il titanio.Utilizzate acciai dalle caratteristiche moderate ed aventi una buonaresilienza o del rame disossidato.7. SCHUTZ DER PERSON /SICUREZZA DEL PERSONALE Der Benutzer muß stets mit isolierender Schutzausrüstung arbeiten. Diese Schutzausrüstung muß trocken sein, um Stromschläge zu verhindern.Außerdem muß sie sauber sein (keine Ölflecke), damit sie nicht Feuer fangenkann. Prüfen Sie den einwandfreien Zustand der Schutzausrüstung, und erneuernSie sie in regelmäßigen Abständen, um stets optimal geschützt sein. Legen Sie die Schutzausrüstung während der Abkühlung der Schweißstellennicht ab, da Schlackespritzer abspringen können. Zusatzinformationen zum Gebrauch von "Liquisaf": "Liquisaf" ist ein Mittel aufGlykol-Propylen-Basis, das Augen und Haut reizt. Beim Umgang mit diesemMittel sollten Sie sich stets entsprechend schützen (Schutzhandschuhe undSchutzbrille). L'operatore deve sempre indossare una protezione isolante individuale. Questa protezione deve essere mantenuta asciutta per evitare le scosseelettriche e pulita (nessuna presenza di olio) per evitare l'infiammazione Assicuratevi del buono stato delle attrezzature di protezione e sostituiteleregolarmente onde ottenere una perfetta protezione personale. Indossate le attrezzature di protezione durante il raffreddamento dellesaldature, perché vi possono essere proiezioni di scorie o di componenti discorie. Raccomandazioni supplementari per l'impiego del "Liquisaf": il "Liquisaf" è unprodotto a base di glicolo propilene irritante per la pelle e gli occhi. Siraccomanda di indossare attrezzature di protezione prima di qualsiasimanipolazione (guanti ed occhiali).26 OPTIPULS 350 I / OPTIPULS 380 I W
---
A - ALLGEMEINES A - INFORMAZIONI GENERALI1. PRÄSENTATION DER ANLAGE 1. PRESENTAZIONE DELL'IMPIANTODie OPTIPULS i ist eine Anlage, die zum MIG-MAG-Schweißen im Glattstrom- bzw.Pulsstromverfahren ausgelegt wurde. Die Regelung der Schweißparameter und derDrahtgeschwindigkeit erfolgt stufenlos.Die Erzeugung des Schweißstromes erfolgt mit Inverter-Technologie (Transistoren).Die Anlage wird durch ein Mikroprozessor gesteuert.Diese Technologien verleihen der Schweißanlage große Einsatzflexibilität beiausgezeichnetem Zünd- u. Schweißverhalten.L'OPTIPULS i è un impianto di saldatura che permette di lavorare in MIG-MAGcorrente liscia o pulsata. Le regolazioni della tensione di saldatura e della veloictà delfilo sono continue.La tecnologia adoperata per la sorgente di potenza è del tipo ONDULATORE(transistori). L'insieme della macchina viene pilotato da un microcontrollore.Queste scelte conferiscono al generatore una grande facilità d'impiego, una flessibilitàe eccellenti qualità di innesco e di saldatura.Die OPTIPULS i eignet sich für : Le caratteristiche dell OPTIPULS I gli permettono di :E-Hand Schweißen∅1.6mm bis 6,3mmRutil- u. basische ElektrodenMIG-MAG-Schweißen mit Glatt-Strom Kurzlichtbogen u. Sprühlichtbogen von 30 bis 350AMIG-Schweißen mit Pulsstrom über den gesamten Leistungsbereich,und zwar ab 1mm Blechdicke.Verwendung von unterschiedlichen SchweißdrähteMassiv-Drahtelektroden aus Stahl, Edelstahloder AluminiumFüll-Drahtelektroden mit oder ohne Schlacke∅ 0.8mm bis 1.6mmDrahtvorschub direkt am Schweißplatz3 Zwischenschlauchpaket-Längen zur VerfügungSchnelle Voreinstellung der Schweißparameter durch das OPTISystemsaldare con elettrodo rivestito∅ 1.6mm - 6.3mmeletrrodi rutili e basicisaldare in MIG-MAG corrente liscia short arc e spray arc da 30A a 350Asaldare in MIG corrente pulsata in tutto l'intervallo in cui questo mododi trasfeimento è utile e ciò a partire da 1 mm di spessore di lamierasvogere fili di varie nature fili massicci, acciaio, inox, alluminio fili animati,con o senza loppa diametri ammessi da 0.8 mm a 1.6 mmavere a disposizione lo svolgimento del filo sul posto di lavoro 3 lunghezze di fascio disponibili in versione standardpreimpostare rapidamente i parametri di saldatura grazie all'OPTISystem Klare Anzeige der Schweißparameter visualizzare chiaramente i parametri di saldatura.2. ANLAGENAUFBAU 2. COMPOSIZIONE DELL'IMPIANTODie Standard-Wassergekülte Ausführungen mit dem 2m- (Art.-Nr 9160 1609), 10mlangZwischenschlauchpaket (Art.-Nr 9160 1611) wird betriebsbereit geliefert und mitden folgendem ausgestattet (Siehe Datenblatt – ABB. 1 – am Schluss der AnleitungGli impianti package versione acqua fascio 2 m (codice 9160 1609) /fascio 10 m(codice 9160 1611) vengono forniti pronti per l'uso e composti da f (Vediopuscolo figura 1 alla fine delle istruzioni per l'uso) :1. Die Schweißstromquelle mit ∅ 4x2,5 mm 2 Primärkabel (5m lang) enthält : 1. la sorgente di alimentazione con cavo primario (lunghezza 5 metri) che integra : ein Kühlgerät zur Brennerkühlung un insieme gruppo di raffreddamento della torcia ein Fahrwagen mit Flaschenhalter und Kranösen un carrello dotato di un supporto bombola e di anelli di imbracatura Kabel- und Zwischenschlauchpaket-Halter. bracci di sistemazione del fascio e cavi per lamanutenzione2. Das DV34i Drahtvorschubgerät ist wie folgt ausgestattet : 2. lo svolgitore DV 34 i è dotato di : einem 2m oder 10m langen Zwischenschlauchpaket un fascio rivestito 2m o 10 m einem Fahrwagen un carrello einer Spulenabdeckung un copribobina einer 4-Rollen Drahtvorschubeinheit einer Anschlussbuchse für den Fernsteller (Option) una piastra di svolgimento 4 rotelle una presa per il collegamento di un comando a distanza (opzione)3. Das Werkstückkabel –5m lang– mit vormontierter Masse-Anschlussbuchse 3. un cavo di massa (lunghezza 5 metri) con presa di massa montata Zubehör für Drahtvorschub von Edelstahl Draht ∅1,0 und 1,2mm. accessori di svolgimento per filo acciaio e inox diametro 1,0 e 1,2 mm4. eine brenner-Schweiss 4. una torcia correnteOPTIPULS 350 I / OPTIPULS 380 I W A - 27
---
3. BESCHREIBUNG DER BEDIENELEMENTE 3. DESCRIZIONE DEL FRONTALE(Siehe Datenblatt – ABB. 2 – am Schluss der Anleitung)(Vedi opuscolo figura 2 alla fine delle istruzioni per l'uso)Anzeige Schweißstrom / Drahtgeschwindigkeit / Blechdicke 1 Indicatore Corrente / Velocità filo / SpessoreUmschalter für Anzeige Schweißstrom / Drahtgeschwindigkeit / Blechdicke 2 Selettore Corrente / Velocità filo / SpessoreAnzeige Schweißspannung 3 Indicatore di tensioneNetzschalter Ein / Aus 4 On / OffUmschalter MIG-MAG / PULS / Gas-Werkstoffkombination 5 Selettore MIG MAG / PULSE /coppia filo gasUmschalter Drahtdurchmesser / Set Up / Elektroden- Handschweißen 6 Selettore diametro di filo / Set Up / Elettrodo rivestitoUmschalter 2 Takt- / 4 Takt-Betrieb 7 Selettore 2T/4TUmschalter Synergie/Handbetrieb 8 Selettore sinergia / manualeEinstellung der Lichtbogendynamik (Drossel) im MAG Glattstrom Betrieb 9 Regolazione del dinamismo (self) in modo MIG-MAG corrente lisciaKontrollampe für die Speicherung der letzten Schweißparameter 10 Spia di mantenimento degli ultimi parametri di saldatura4. BESCHREIBUNG FRONTSEITEDRAHTVORSCHUBGERÄT(Siehe Datenblatt – ABB. 12 am Schluss der Anleitung)Spulengehäuse 1 Mascherina bobinaEinstellen Bogenlänge / Spannung 2 Regolazione della velocita di filo4. DESCRIZIONE DELLA FACCIATA TRAINAFILO(Vedi opuscolo figura 12 alla fine delle istruzioni per l'uso)Einstellung Lichtbogenhöhe / Schweißspannung 3 Regolazione lunghezza d'arco/ tensioneBrennerkupplung 4 Raccordo di torciaFahrwagen 5 Ruote trainafiloSchalter Fernsteuerung 6 Selettore comando a distanzaBrennerhalter 7 Supporto di torciaSteckverbinder Fernsteuerung 8 Connettore comando a distanzaBrennerkupplung Wasserzirkulation 9 Raccordo torcia circulazione acquaSchwenkbare Fußhalterung (Zubehör) 10 Supporto piede perno (Opzioni)5. ZUBEHÖR 5. OPZIONI(Siehe Datenblatt – ABB. 13 – am Schluss der Anleitung)(Vedi opuscolo figura 13 alla fine delle istruzioni per l'uso)1. Fernsteller, ref. 9160-1067 1. Controllo a distanza, cod. 9160-10672. Schwenkfuss, ref. 9160-1064 2. Piede perno, cod. 9160-10643. Hubarm, ref. 9160-1061 3. Braccio di imbracatura, cod. 9160-10614. OPTIBOX, ref. 9160-1068 4. OPTIBOX, cod. 9160-10686. TECHNISCHE DATEN STROMQUELLE OPTIPULS350 I / 380 I W6. CARATTERISTICHE TECNICHE DELL'OPTIPULS 350 I/ 380 I WOPTIPULS iREF/COD. 9160-1419 / 9160-1420PRIMÄR MIG E.E. PRIMARIOPrimär-Versorgung 3~ 400 V 400 V Alimentazione primaria trifaseAufnahmestrom bei 50% / 28,2 A Corrente assorbita 50%Aufnahmestrom bei 60% 28 A 26,1 A Corrente assorbita 60%Aufnahmestrom bei 100% 21,9 A 23,8 A Corrente assorbita 100%Frequenz 50/60 Hz 50/60 Hz FrequenzaAufnahmeleistung (50%) / 19,5 kVA Potenza assorbita (50%)Aufnahmeleistung (60%) 19,4 kVA 18,1 kVA Potenza assorbita (60%)Aufnahmeleistung (100%) 15,2 kVA 16,5 kVA Potenza assorbita (100%)SEKUNDÄRSECONDARIOLeerlaufspannung 86,3 V 86,3 V Tensione a vuotoRegelbereich 10 A – 350 A 10 A – 350 A Intervallo di regolazioneEinschaltdauer 50%Fattore di marcia 50 %(zyklus von 10 mn) to 40 °C / 350 A / 34 V(ciclo da 10 min) a 40 °CEinschaltdauer 60%Fattore di marcia 60 %(zyklus von 10 mn) to 40 °C 350 A / 31,5 V 330 A / 33,2 V(ciclo da 10 min) a 40 °CEinschaltdauer 100%Fattore di marcia 100%300 A / 29 V 280 A / 31,2 V(zyklus von 10 mn) to 40 °C(10mn cycle) at 40°CMassekabel 5 m 70 mm 2 70 mm 2 Cavo di massa 5 mSchutzart IP23 IP23 Classe di protezioneIsolationsklasse H H Classe di isolamentoNorm NF EN 60974-1 NF EN 60974-1 NormeAbmessungen (L x B x H) 1090 x 610 x 970 mm Stromquelle / non attrezzato Dimensioni (L x P x A)Netto Gewicht Luftgekuhlte / Versione aria = 83 kg Wassergekuhlte / Versione acqua = 96 kg Peso nettoohne Drahtvorschubgerät / senza svolgitoreGewicht verpackt Luftgekuhlte / Versione aria = 92 kg Wassergekuhlte / Versione acqua = 110 kg Peso imballatoohne Drahtvorschubgerät / senza svolgitoreA - 28 OPTIPULS 350 I / OPTIPULS 380 I W
---
Schutzgrade, die die Gehäuse bietenGradi di protezione assicurati dagli involucriBuchstabencodeLettera codiceIPSchutz des GerätsProtezione del materialeErste ZifferPrima cifraZweite ZifferSeconda cifra2 Gegen das Eindringen fester Fremdkörper mit einem ∅ ≥ 12,5 mmContro la penetrazione dei corpi solidi estranei con ∅ ≥ 12.5mm1 Gegen das Eindringen vertikaler, schädlicher WassertropfenContro la penetrazione di gocce d'acqua verticali con effetti nocivi3 Gegen das Eindringen von schädlichem Regen (mit Neigung von bis zu 60° im Verhältnis zurVertikalen)Contro la penetrazione di poggia (inclinata fino a 60° rispetto alla verticale) con effetti nocivi7. TECHNISCHE DATEN DRAHTVORSCHUBGERÄT 7. CARATTERISTICHE TECNICHE DELLO SVOLGITOREAntriebseinheit 4 Rollen / 4 rotelle Piastra doppiaDrahtvorschubgeschwindigkeit 1 ⇒ 20 m / mn Velocità di svolgimentoDrahtgeschwindigkeitsreglung Tacho-Regelung Tachimetrico Regolatore velocità filoDrahtrückbrand PR Einstellung Nein No Regolazione del P.RtVerwendbare Draht 0.8 ⇒ 1.6 mm Fili utilizzabiliMannlochgeeignet Ya (ohne Schlitten) si (senza carrello) Passata mediante passo d'uomoBrenner-Anschluss « Euro-Typ» «Tipo Europeo» Collegamento torcia8. TECHNISCHE SPEZIFIKATIONENKÜHLAGGREGATES8. CARATTERISTICHE TECNICHE DEL GRUPPO DIRAFFREDDAMENTOPPumpe 230V - 50/60HZ - 0.23KW PompaVentilator 230/400V - 50/60Hz VentilatoreAufnahintensität 0.75 A Intensita assorbitaMax. Druck 4.25 bars Pressione max.Max. Durchsatz 2.8 l/min Portata max.ACHTUNG : Kein Leitungswasser verwenden.ATTENZIONE : Non usare l'acqua del rubinetto.OPTIPULS 350 I / OPTIPULS 380 I W A - 29
---
B - INBETRIEBNAHME B - MESSA IN SERVIZI1. AUSPACKEN DER ANLAGE 1. DISIMBALLAGGIOKarton-Box vom Gerät abnehmen.Schweißstromquelle vom Holzsockel mit Hubseilen bzw. einemGabelstapler hochheben.Togliere l'imballaggio di protezione dell'impianto.Togliere la sorgente di alimentazione dalla sua palletta in legno permezzo di imbracature o di un carrello elevatore.ACHTUNG : Die Stabilität der Anlage wird bis zu einer Neigung von 10°gewährleistet.ATTENZIONE : La stabilità dell'installazione viene assicurata fino adun'inclinazione di 10°.2. ANSCHLUSS DES ZWISCHENSCHLAUCHPAKETES 2. COLLEGAMENTO DEL FASCIO DELLO SVOLGITOREDies enthält : Il fascio è composto da : Leistungs-und Steuerkabel sowie Wasser (Wassergekuhlte) und Gasschläuche cavi di potenza, di comando tubi acqua (per versione acqua), gasDas Zwischenschlauchpaket wird an der Rückseite des Generators angeschlossen : Esso viene collegato nella parte posteriore del generatore :(Siehe Datenblatt – ABB. 3– am Schluss der Anleitung (Vedi opuscolo figura 3 alla fine delle istruzioni per l'uso) :Leistungskabel an der + oder – Buchse der Anlage anschließen, je nach 1 Collegare il cavo di potenza al morsetto + o – del generatore a seconda del filodem ausgewählten Schweißdraht (im allgemeinen wird der Draht durch dendi saldatura utilizzato (ilcaso generale saldatura filo acciaio in MIG-MAG corrispondeBrenner an der + Buchse angeschlossen)generalmente alla polarità + sulla torcia)Steuerkabel an der Steckbuchse anschließen 2 Collegare il cavo di comando al basamento della presa(Wassergekuhlte) Wasserschläuche des Kühlkreises anschließen 3 (Versione acqua) Collegare i tubi acqua del circuito di raffreddamento (connettori rapidi)Gasschlauch am Druckminderventil der Flasche anschließen, nachdem diese aufCollegare il tubo di gas al regolatore di pressione della bombola dopo averlo fissatodem Halter mit dem Gurt befestigt wurdeper mezzo di una cinghia al suo supportoZwischenschlauchpaket an der dafür vorgesehenen Zugentlastung befestigen 4 Ancorare il fascio nell'apposito collare.3. NETZANSCHLUSS 3. COLLEGAMENTO ELETTRICO ALLA RETEDie OPTIPULS i wird geliefert : L'OPTIPULS i viene fornito pronto per l'uso : mit angeschlossenem Primärkabel mit 400V 3-phasige Werkschaltung (CE Version)Zulässige Netzfrequenzen : 50 und 60 HzACHTUNGDie Optipuls i ist eine 3-phasige 400V Anlage mit Inverter-Technologie deren Netz-Toleranz zwischen 400V + 10% und400V –10% liegt. cavo primario collegato al generatore (presa non fornita) accoppiamento unico 400 V trifaseLe frequenze rete ammesse sono 50 e 60 60 HzATTENZIONEL'OPTIPULS I è un apparecchio che si avvale della tecnologiaONDULATORE TRIFASE 400V: le soglie ammesse dalla rete sono400 V + 10 % e 400V – 10 %Überprüfen Sie vor dem Anschluss ob ihre Netzspannung mit der Betriebsspannungder Schweißanlage übereinstimmtNach Abschluß dieser Arbeiten – nachdem eine Verbindung am Primärkabel installiertwurde, können Sie den Versorgungsstecker am Netz anschließen.Die Installation und die Sicherheitseinrichtungen( Vorsich-erungen,ÜberspannungsundFehlerstrom- Schutzschalter)müssen für die Maximalleistung derSchweißstromquelle ausgelegt sein (siehe 28 Technischen Daten).Verificare che la tensione di alimentazione della vostra rete corrispondi allecaratteristiche elettriche prima di collegare l'apparecchio.Una volta ultimate queste operazioni e dopo avere montanto una presa sul cavoprimario, potete collegare la presa di alimentazione alla rete.L'alimentazione deve essere protetta da un dispositivo di protezione (fusibile ointerruttore) con un calibro corrispondente ai consumi primari(vedi consumi tabella pagina 28).4. BRENNERANSCHLUSS 4. COLLEGAMENTO DELLA TORCIADer MIG-Brenner wird an dem Drahtvorschubgerät angechlossen (euro Stecker). DieWasser Schläuche werden unten am Drahtvorschubgerät angeschlossen (furwassergekuhlte). Vergewissern Sie sich, dass der Brenner mit dem der Drahtstärkeund der Schweißaufgabe entsprechenden Verschleißteilen ausgerüstet ist.Hierfür sehen Sie in der Anleitung nach, die dem Schweißbrenner beiliegt ( sieheABBILDUNG 7 im Faltblatt am Ende der Anleitung).Die Schweißanlage ist nun betriebsbereit.La torcia di saldatura MIG MAG viene collegata allo svolgitore (connettore europeo).Le tubazioni dell'acqua vengono collegate sotto lo svolgitore (versione acqua).Assicurarsi che la torcia sia dotata dei pezzi d'dusura corrispondenti al filo utilizzatoper la saldatura.Si prega di consultare le istruzioni riguardandi la torcia (Vedi opuscolo figura 7alla fine delle istruzioni per l'uso) :Il generatore è quindi pronto per saldare.B - 30 OPTIPULS 350 I / OPTIPULS 380 I W
---
C - BETRIEBSANWEISUNG C - ISTRUZIONI PER L'USO1. AUSWAHL DES SCHWEISSDRAHTES 1. SCELTA DEL FILO DI SALDATURA/Die OPTIPULS i ermöglicht das MIG-MAG-Schweißen mit oder ohne Puls-Strom.Der verwendete Draht, der Durchmesser und sogar die Gassorte sind auf den zuschweißenden Werkstoff abzustimmen.L'OPTIPULS I permette di lavorare in MIG-MAG corrente liscia o pulsata.Il metallo da saldare richiede l'utilizzo di un filo di natura e di diametro adatti nonchél'utilizzo di un gas appropriato. Tabelle der wichtigsten Drahtsorten u. Gase : Tabella dei principali fili e gas utilizzabili :Draht / Filo Gas / Gas ∅ (mm)Brenner-PolaritätPolarità torciaAnmerkungenOsservazioniStahl / Acciaio Nertalic 70S/70A ARCAL 14 /ATAL 5 / ARCAL 21 0.8 bis/a 1.6+ Short arc1.0 bis/a 1.6PulsatoStahl / Steel Nertalic 70S/70A CO2 0.8 bis/a 1.6 + Short arcRutildraht, gefüllt / Filo animato rutile SD 100 / SD 127 / SD 128/ CO2 / ATAL 5 / ARCAL 21 1.0 - 1.2 - 1.6 + Short arcSD 116Spray arcBasischer Draht gefüllt / Filo animato basico SD 31 / SD400 ATAL 5 / CO2 ATAL 5 1.0 - 1.2 - 1.6 +Short arc- +Spray arcDraht gefüllt, schlackenfrei / Filo animato SD 200 / SD 206 / SD 207 /ATAL 5Short arcsenza loppaSD 209ARCAL 21 1.0 - 1.2 - 1.6 +Spray arcNirosta / Inox pieno 308 - 309 - 316 NOXALIC 12 / ARCAL 12/CARGAL/ ARCAL1210.8 bis/a 1.6 + Short arcPulsatoNirosta Draht gefüllt / Filo animato inox SD 650 / SD 652 / SD 654 ATAL 5 / CO2 1.0 - 1.2 - 1.6 + Short arcSpraySD Zn ATAL 5 / CARGAL 1.0 - 1.2 - 1.6 - Short arcSpray arcAluminium AG5 / AG3/AG4 / ALSI ARGON - ARGON/ HELIUM 1.0 - 1.2 - 1.6 + PulséShort arcJe nach verwendeter Drahtsorte muss ggf. die Polarität der SchweißspannungA seconda del metallo di apporto utilizzato, può essere necessario invertire la polaritàgeändert werden.della tensione applicata alla saldatura.Diese Einstellung erfolgt auf der Rückseite der Anlage.La regolazione in questione si fa nella parte posteriore del generatore. Auswahl der Schweißspannung-Polarität (Siehe Datenblatt – ABB. 4 –am Schluss der Anleitung) : Allgemein : MIG-MAG Massiv und FülldrahtelektrodenPolarität – am Werkstück (Erdungskabel)Polarität + am Brenner (Zwischenschlauchpaket) Bei einigen Fülldrähten (basische...)Polarität + am Werkstück (Erdungskabel)Polarität - am BrennerDas Schweißgas ist auf die Schweißart abzustimmen. Die wichtigsten Anwendungenu. Gase bei Verwendung von Volldraht sind in nachstehender Tabelle aufgeführt.Scelta della poliarità della tensione di saldatura (Vedi opuscolo figura4 alla fine delle istruzioni per l'uso) : Caso generale : filo massiccio e filo animato MIG-MAGPolarità – sul pezzo (presa di massa)Polarity + sulla torcia Con alcuni fili animati (basici...)Polarità + sul pezzo (presa di massa)Polarità – sulla torciaIl gas di saldatura utilizzato deve corrispondere al caso di applicazione di saldatura.La tabella di cui sotto riporta i principali casi e gas utilizzabili con fili massicci.Beschreibung = sehr gut = gut = mittel Didascalia = eccellente = buono = medioNicht legierte und niedriglegierte Stähle ARCAL 21 ARCAL 14 ATAL 5 A ATAL 5 TERAL 23 ELOXAL 35 Acciai non legati e debolmente legatiGeschwindigkeit VelocitàEinbrand PenetrationSpritzer ProiezioniAspekt AspettoProduktqualität (1) Qualità del prodotto (1)Rauchgasgiftigkeit Nocività fumiKompaktheit CompattezzaMechanische Zähigkeits-Charakteristika Caratteristica meccanica resilienzaLeichtlegierungen und Kupro- ARCAL 1 ARCAL 31 ARCAL 32 ARGON NERTAL INARC 9 Leghe leggere e ramoseLegierungenEinbrand PenetrazioneAspekt AspettoKompaktheit CompattezzaProduktqualität (1) Qualità del prodotto (1)Rauchgasgiftigkeit Nocività fumiNichtrostende Stähle ARCAL 12 ARCAL 121 ARCAL 129 NOXALIC 12 Acciai inossidabiliEinbrand PenetrazionePulsstromeignung Attitudine alla correntepulsataProduktqualität (1) Qualità del prodotto (1)Aspekt ApparenzaGeschwindigkeit Velocità(1) Produktqualität: Homogenität, Beherrschung der Verunreinigungsanteile,Verfolgbarkeit(1) qualità del prodotto omogeneità, controllo delle impurità, rintracciabilitàOPTIPULS 350 I / OPTIPULS 380 I W C - 31
---
2. AUSTAUSCH DER DRAHTSPULE 2. CARICAMENTO DELLA BOBINA DI FILO(Siehe Datenblatt – ABB. 5 – am Schluss der Anleitung)Schweißdraht-Wechsel wie folgt : (zuvor Stromquelle spannungslos schalten)(Vedi opuscolo figura 5 alla fine delle istruzioni per l'uso)Il cambio della bobina viene eseguito come segue (dopo avere messo il generatorefuori tensione)Die Spulenabdeckung öffnenAprire il copribobinar1. Die Mutter des Spulenbolzens lösen. 1. Allentare il dado dell'asse della bobina2. Den Bolzen in die Spule einbringen. 2. Introdurre la bobina sull'asset3. Die Mutter wieder auf den Bolzen schrauben. 3. Avvitare il dado sull'asset5. Die Hebel senken, um die Gegenrollen freizulegen. 5. Abbassare le leve per abbassare le controrotelle6. Den Draht in die Drahtführung am Eingang der Platine einführen. 6. Introdurre il filo dal guidafilo ingresso di piastra7. Die Gegenrollen absenken und die Hebel wieder montieren, um sie zu7. Abbassare le controrotelle e sollevare le leve per immobilizzarleblockieren.8. Den Druck der Gegenrollen einstellen (ca. –3). 8. Aggiustare la pressione delle controrotelle (circa –3)9. Den Druckknopf für den schnellen Drahtvorlauf betätigen, der sich unter demHaspelgriff befindet. Den Draht in den Schweißbrenner so lange abhaspelnlassen, bis der Draht am Ende des Brenners und am Ausgang des Kontaktrohrserscheint.9. Premere il pulsante di avanzamento rapido del filo situato sotto la manopoladello svolgitore, svolgere il filo nella torcia fino che esso appaia all'estremità diquesta ultima in uscita del tubo contatto.Wenn Teile des Schweißbrenners oder der Haspelplatine an die Art Ihrer Arbeitangepaßt werden müssen, siehe Abschnitt "7. Austausch von Verschleißteilen" aufSeite 34.Se pezzi della torcia o della piastra di svolgimento devono essere adatti allanatura del vostrolavoro, farrifeirmento al capitolo "7. Cambio pezzi di usura pagina 34.3. EINSCHALTEN UND EINSTELLARBEITEN 3. AVVIAMENTO E REGOLAZIONIEinschalten : Der Hauptschalter EIN/AUS befindetsich auf der Frontseite der Anlage. ZurInbetriebnahme den Schalter auf Positionstellen.Avviamento: l'interruttore generale è situato sulfrontale del generatore. L'avviamento si facapovolgendo detto interruttore in posizione .4. BEDIENUNG DER STROMQUELLE FÜR E-HANDSCHWEISSEN(Siehe Datenblatt – ABB. 9 – am Schluss der Anleitung)Schweißstromkabel des Zwischenschlauchpaketes an der Stromquelleabnehmen.Massekabel und Elektrodenhalter-Kabel an den Buchsen der Stromquelleanschließen. Auswahl der Polarität abhängig von verwendetem Elektrodentyp(siehe Angaben auf der Elektrodenpackung). E-Hand Schweißbetrieb am Wahlschalter Nr 6 auf der Frontseite auswählen –alle weiteren Schalter werden inaktiviert. ( ABB. 6 – am Schluss der Anleitung)In diesem Betrieb liegt der Schweißstrom permanent an denAusgangsbuchsen + und – der Anlage an. Schweißstrom mit dem roten Knopf am Drahtvorschubgerät einstellen –entsprechenden Wert an der oberen Anzeige (Voranzeige) ablesen. Dieuntere Anzeige gibt die Leerlaufspannung an. Im Allgemein werden 40 A promm-Elektrodedurchmesser vorgesehen.Die oberen Anzeige gibt dem Wert an der Umschalter (Voranzeige). Die untereAnzeige gibt die Leerlaufspannung an.Beim Schweißen geben die Anzeigen die Werte des Schweißstroms u. derSchweißspannung an.Schweißstrom-Meßgenauigkeit :± 7% ± 2ASpannungs-Meßgenauigkeit± 5% ± 0.4V5. BEDIENUNG DER STROMQUELLE FÜR MIG-MAGSCHWEISSEN(Siehe Datenblatt – ABB. 6 – am Schluss der Anleitung))Erdungskabel und Leistungskabel an die Leistungsbuchsen der Anlageanschließen.Gewünschtes Schweißverfahren am Umschalter Nr 5 auf der Frontseiteeinstellen. MIG-MAG Glattstrom für Mischgas (Argon-CO2) und Fülldraht Pulsstrom für die folgende Werkstoff/Gas Kombinationen: Stahl ATAL5(82/18), Stahl ARCAL (21 oder 14), CrNi NOXALIC 12, CrNi ARCAL12,AlMg (345), AlSi5 (A5)4. UTILIZZO DEL GENERATORE PER LA SALDATURACON ELETTRODO RIVESTITO(Vedi opuscolo figura 9 alla fine delle istruzioni per l'uso)Disconnettere il cavo di potenza dal fascio dello svolgitore. Connettere il cavo di massa e il cavo di pinza portalettrodo suimorsetti di uscita di potenza del generatore. La polarità verrà sceltasecondo il tipo di elettrodo (vedi indicazioni riportate sulla confezione deglielettrodi). Scegliere, sul frontale, la posizione – mediante il potenziometro 3(Figura 6 alla fine delle istruzioni per l'uso)Gli altri pulsanti sono inattivi.In questo modo, la corrente di saldatura è sempre presente suimorsetti di uscita + e – del generatore.Regolare l'intensità di saldatura con iltasto rosso dello svolgitoreleggendo il valore sul display superiore.Prevedere 40A per millimetro di diametro di eletrodo per i casi generali.Il display superiore indica il valore della corrente di saldatura (previsualizzazione), ildisplay inferiore indica la tensione a vuoto.Quindi durante la saldatura, gli indicatori visualizzano i valori di corrente di tensionedi saldatura.Precisione della misura di intensità:± 7% ± 2APrecisione della misura di tensione:± 5% ± 0.4V5. UTILIZZO DEL GENERATORE PER LA SALDATURAMIG-MAG(Vedi opuscolo figura 6 alla fine delle istruzioni per l'uso)Collegare il cavo di massa ed il cavo di potenza in funzione del tipo di filosceltoScegliere il procedimento di saldatura desiderato con il primo selettore delfrontale: procedimento t MIG-MAG corrente liscia per i gas misti (Argone -CO2)e FILO ANIMATO procedimento PULSATO per le coppie filo-gas: FE ATAL 5 (82/18), FEARCAL (21 or 14), Cr ni (NOXALIC 12), Cr ni (ARCAL 12,)AL mg (3 ; 5 ; 4,5), AL si 5 (A5)C - 32 OPTIPULS 350 I / OPTIPULS 380 I W
---
Schweißdrahtdurchmesser von 0,8 bis 1,6mm wählen Selezionare il diametro del filo di saldatura: 0.8 mm - 1.6 mm Schweißzyklus oder im MIG-Betrieb auf dem Umschlater Nr7 auswählen ( s. Erläuterungen der Schweißzyklen auf S. 33) Synergie-Betrieb oder Hand-Betrieb auf dem Umschalter Nr 8 auswählen:• Im Hand-Betrieb regelt der rote Knopf am Drahtvorschub-gerät dieDrahtgeschwindigkeit, der blaue Knopf die Schweißspannung.• Der Synergie-Betrieb ermöglicht eine rasche Einstellung der für diegewünschte Anwendungen korrekten Parameter. In diesem Betrieb wird mitdem blauen Knopf (Lichtbogenhöhenseinstellung) in Mittenposition dieLichtbogenhöhe optimiert – in Beziehung zur ausgewähltenDrahtgeschwindigkeit (roter Knopf). Einstellungen sollen daher nur an diesemroten Knopf vorgenommen werden Selezionare il ciclo di saldatura o per il MIG (vedispiegazioni sui cicli, pagina 33). Selezionare il modo sinergico o manuale:• in modo manuale, il potenziometro rosso regola : la veolcità di filo, ilpotenziometro blu la tensione di saldatura.• il modo simergico permette di trovare più rapidamente parametri coretti per ilcaso di applicazione considerato. Infatti, la posizione centraledel pulsante bludi altezza di arco corrisponderà, in questo modo, a una regolazioneottimizzata per la veliocità di filo scelta (pulsante rosso). Queata è quindil'unica regolazione da modificare. Umschalter Gerät/Fernsteller auf die Position Gerät stellen. Assicurarsi che il selettore GENE o CAD si trovi in posizione GENE Drahtgeschwindigkeit einstellen (roter Knopf auf dem Drahtvorschubgerät) Regolare la vleocità di filo (pulsante rosso sullo svolgitore). Schweißspannung mit dem blauen Knopf einstellen bzw. in Mittenpositionstellen (Opti-System Betrieb) Regolare la tensione di saldatura (pulsante blu sullo svolgiotre) oposizionare in posizione centrale.HINWEIS: Es ist auch möglich, einen Fernsteller anzuschließen. In diesem Fall wirdder Umschalter am Drahtvorschubgerät auf die Position gestellt. Die zweiPotentiometer am Drahtvorschubgerät werden wirkungslos. Wenn der Fernstellerabgenommen wird und der Umschalter noch auf der Position steht, betragen dieSchweiß-Sollwerte auf der Anzeigen 000. Für eine Anzeige der Schweißeinstellungenmuss die Position des Umschalters geändert werden. (Siehe Datenblatt – ABB. 6 –am Schluss der Anleitung)Wenn der A/D-Umsetzer abgetrennt wird und der Schalter mit der Markierung 6entsprechend positioniert ist, wird als Schweißanweisung auf den Anzeigen 000angezeigt. Für die erneute Anzeige der Einstellungen ist der Unterbrecher zu kippen.Zur erleichterten u. präziseren Einstellung wird der Einstellbereich der Lichtbogenhöhe– zugänglich über den blauen Knopf – in Abstimmung auf die Gasart, den Draht undDrahtdurchmesser optimiert. Die Mittenposition des Knopfes entspricht der bestenEinstellung für eine allgemeine Anwendung der gewählten Werkstoff/GasartKombination.Abschließend kann diese Grundeinstellung ausgehend von der Mittenposition feinabgestimmt werden.Bestimmte Anwendungen (z.B. Alu-Draht) erfordern u.U. eine höhere Verschiebung imVerhältnis zur Mittenposition des blauen Knopfes.Die obere Anzeige gibt nun den Einstellwert an für: den Schweißstrom (Voranzeige), Umschalter Nr 2 auf der Frontseite inPosition oder die Blechdicke, Umschalter Nr 2 in Pos. oder die Drahtgeschw., Umschalter Nr 2 in Pos.Die untere Anzeige gibt die Schweißspannung an. Beim MIG MAG Schweißen ohne Pulsstrom sollte das Potentiometer Nr 9in Mittenposition gestellt werden. Für mehr Dynamik soll man den Knopfnach – drehen, für ein weicheres Abschmelzverhalten soll man den Knopfnach + drehen.NOTA: E' possibile connettere un comando a distanza sullo svolgiotre, in questocaso, capovolgerel'interruttore contrassegnato 6 (posizione situata tra i due pulsantidi regolazione velocità filo ed altezza di arco sullo svolgitore). I due potenziometri dellosvolgitore diventano quindi inattivi. (Vedi opuscolo figura 6 alla fine delleistruzioni per l'uso)Quando si scollega il CAD e che il commutatore contrassegnato 6 si trovi in posizione,i parametri saldatura sui display indicano 000. Per ripristinare leregolazione,capovolgere l'interruttore.Onde facilitare laregolazione e rendere il filo più fine, l'intervallo di altezza d'arco,accessibilecon il pulsante blu, viene ottimizzato in funzione della natura del gas, delfilo e del diametro del filo. La posizione centrale del pulsante equivale a una miglioreregolazione del filo scelto.Rimane in seguito da affinare la regolazione attorno allaposizione centrale.Alcune applicazioni (esempio: filo alluminio) possono richiedere uno spostamento piùimportante rispetto alla posizione centrale del pulsante blu.Il dispaly superiore indica quindi il valore della regolazione: della corrente di saldatura (previsualizzazione), pulsante 1 in posizioneA dello spessore delle lamiere da saldare, pulsante 1 in posizione – spessore della velocità di svolgimento del filo in m/mn, pulsante 1 in m/mnIl dispaly inferiore indica latensione di saldatura.In saldatura MIG MAG corrente liscia, aggiustare il potenziometro 9 inposizione centrale (per una fusione più dinamica, ruotare verso il minimo- , per una fusione più delicata ruotare verso il massimo. +6. AUSWHAL DER SCHWEISSZYKLEN 6. SCELTA DEI CICLI DI SALDATURA(Siehe Datenblatt – ABB. 8 – am Schluss der Anleitung)(Vedi opuscolo figura 8 alla fine delle istruzioni per l'uso)1 PREGAZ / PREGAS 2 POST GAZ / POST GASIm MIG-MAG-Betrieb hat das Drücken des Brennerschalters verschiedeneIn modo MIG-MAG, la pressione del grilletto della torcia provoca effetti diversi aAuswirkungen – abhängig vom Zyklus oder dem verwendeten Schweißbetrieb. Die seconda del ciclo (o del modo) di saldatura utilizzato. La scelta del ciclo si fa a partireZyklusauswahl erfolgt mit dem Umschalter Nr.4 auf der Frontseite.dai pulsanti situati sul frontale del generatore, in alto. 2 Takt-Betrieb Ciclo 2 tempiIn diesem Betrieb schaltet das Drücken des Schalters den Drahtvorschub, dieGasvorströmung und den Schweißstrom ein. Bei Loslassen des Schalters wirdder Schweißvorgang unterbrochen. 4 Takt-BetriebIm 4-Takt-Betrieb schaltet das Drücken des Schalters die Gasvorströmungein. Beim Loslassen läuft der Schweißvorgang an (Drahtvorschub u.Schweißstrom).Erneutes Drücken unterbricht den Schweißvorgang – das Gas strömt jedochweiter aus. Wird der Brennerschalter losgelassen stoppt dieGasnachströmung.In questo modo, la pressione del grilletto provoca lo svolgimento, il pregas el'erogazione della corrente di saldatura. Quando il grilletto non viene piùpremuto, la saldatura si ferma. Ciclo 4 tempiLa 1a pressione del grilletto avvia il PREGAS.Quando il grilletto non viene più premuto la saldatura viene avviata(svolgimento + corrente).Una nuova pressione interrompe la saldatura ma il gas continua ad essereerogato. La mancata pressione del grilletto ferma il POSTGAS.OPTIPULS 350 I / OPTIPULS 380 I W C - 33
---
7. AUSTAUSCH DER VERSCHLEISSTEILE 7. CAMBI DEI PEZZI D'USURADie Verschleißteile des Drahtvorschubs u. Brenners – die die Führung u. denTransport des Drahtes gewährleisten – sind auf die Art u. den Durchmesser desverwendeten Schweißdrahtes anzupassen.Ein Verschleiß dieser Teile kann das Schweißergebnis nachteilig beeinflussen- diesesind daher ggf. auszutauschen.I pezzi di usura del generatore e della torcia, il cui ruolo è quello di guidare e di faravanzare il filo di saldatura, devono essere adatti alla natura e al diametro del filo disaldatura utilizzato.D'altra parte, la loro usura può alterare i risultati della saldatura.E' pertanto necessariosostituirli. Verschleißteile der Antriebseinheit : Pezzi d'usura della piastra di svolgimento :Normal-Stahl0,6 9161-7001 9161-7001 9159-5735Acciaio 0,8 9161-7006 9161-7002 9161-7002 9159-5730Edelstahl 1,0 9161-7015Acciaiometallic 9161-7003 9161-7004 9161-7003Inox 1,29161-7004CrNi9159-57311,6Leicht-LegierLegheleggereAluminio1,0/1,2 9162-0199(plastic)1,2/1,6 9162-0200(plastic)9162-0188 9162-0201 9162-0188 9162-02039162-0189 9162-0202 9162-0189 9162-0204Fülldraht 1,0 9159-57301,2 9161-70061,4 9161-7011 9161-7015 9161-7011 9159-5731Fili animati 1,6 metallic 9161-7012 9161-7017 9161-7012Verschleissteile des PROMIG 341 W-Brenners (Siehe Datenblatt – ABB .7 – amSchluss der Anleitung) :Pezzi di usura della torcia PROMIG 341 W (Vedi opuscolo figura 7 alla finedelle istruzioni per l'uso)Kontaktrohr 1 Tubo contatto Verbreiter 4 DiffusoreDüse 2 Ugello Drahtseele 5 Condotto di usuraZange 3 Pinza Mutter 6 Dado8. ERWEITERTE KONFIGURATION DER ANLAGE 8. CONFIGURAZIONE AVANZATA DEL GENERATOREBestimmte Generator-Funktionsparameter sind sehr leicht einstellbar. Eine solcheKonfiguration erfolgt durch Abrufen des SETUP-Programmes (Initialisierung): hierzuWahlschalter 6 an der Frontseite auf SETUP stellen. (Siehe Datenblatt – ABB.2–am Schluss der Anleitung)Vergewissern Sie sich, dass die Steuerleitung des Drahtvorschubgeräts fest an derRückseite der Anlage angeschlossen ist.Die obene Anzeige gibt nun die erste Meldung an.PRG GasvorströmungDie untere Anzeige gibt den Wert an, den man einstellen will. Zum Beispiel: 0,2 Sek.Man kann nun den Wert des Parameters mit Drücken des Brennerschalters ändern.(den Wert des Parameters kann man durch den 2Takt-/4Takt-Betrieb Umschaltererhöhen oder verringern. Im 2Takt-Betrieb wird beim Druck auf den Brennerschalterder Wert des Parameters erhöht. Im 4Takt-Betrieb wird der Wert verringert.Alcuni parametri di funzionamento del generatore sono configurabili mediante unamanipolazione molto semplice. Questa configurazione si fa mediante accesso alSETUP; selezionato dal potenziometro 6 del frontale. (Vedi opuscolo figura 2alla fine delle istruzioni per l'uso)Assicurarsi che la presa di comanda dello svolgitore sia collegata nella parte posterioredel generatore.Il display inferiore visualizza quindi il primo messaggio.PRG pregasIldisplay superiore indica il valore che si desdiera regolare (esempio: 0.2 s). Sipossono quindi cambiare i parametri premendo il grilletto della torcia (è possibilefarescorrere i parametri in entrambi i sensi; per fare ciò selezionare il modo 2t sul frontaleper incrementare ed il modo 4t per decrementare).C - 34 OPTIPULS 350 I / OPTIPULS 380 I W
---
Gasvorströmung PRG PregasWerkseinstellung 0,2 Sek.Zwischen 0 und 1 Sek. in Stufen von 0,1 Sek. einstellbarRegolazione fabbrica 0.2sValori possibili da 0 a 10s mediante gradini da 0,1 srUm zur nächsten Meldung zu gehen, muss der Taster amPremere il pulsante di avanzamento filosituato sotto lamanipola delloDrahtvorschubgerät gedrückt werden.svolgitore, per passare al parametro successivo.Gasnachströmung POG PostgasWerkseinstellung 0,5 SekZwischen 0 und 5 Sek. in Stufen von 0,5 Sek. einstellbarRegolazione fabbrica 0.5sValori possibili da 0 a 5.0s mediante gradini da 0,5 sUm zur nächsten Meldung zu gehen, muss der Taster amPremere il pulsante di avanzamento filoper passare al seguente parametroDrahtvorschubgerät gedrückt werden.successivo.Drahtrückbrand Antincollatura (o post-retract o burn-back)Werkseinstellung 0,07 SekZwischen 0 und 0,20 Sek. in Stufen von 0,01 Sek.einstellbarRegolazione fabbrica 0.07sValori possibili 0 - 0.20s mediante gradini da 0,01 sUm zur nächsten Meldung zu gehen, muss der Taster amPremere il pulsante di avanzamento filoper passare al parametroDrahtvorschubgerät gedrückt werden.successivo.Hot Start Strom Ihs Intensità di innesco IhsWerkseinstellung : 0 vZwischen –70% und +70% in Stufen von 1% einstellbarNota: wenn die Kraterfüllzeit 0 beträgt, gibt es dann keinHot StartMögliche Einstellung der Strom für einen optimierten Lichtbogen am AnfangMögliche Einstellung der Drahtgeschwindigkeit im Kraterfüller-BetriebRegolazione fabbrica 0 vRegolazioni possibili da – 70% a+ 70 % mediantegradini da 1%vNota Se iltempo è pari a zero (= 0), non visarà Hot StartPossibilità di modificare il valore di intensità d'innesco per ottimizzare l'avviamentodell'arco.Possibilità di regolaree in % il gradino di velocità filo rispetto al valore impostato VFUm zur nächsten Meldung zu gehen, muss der Taster amPremere il pulsante di avanzamento filoper passare al parametroDrahtvorschubgerät gedrückt werden.successivoHot Start Zeit tHs Tempo di Hot Start tHsWerkeinstellung : 0Werkseinstellung Zwischen 0 und 10 Sek.in Stufen von 0,1 Sek. einstellbarMögliche Einstellung der Hot Start ZeitRegolazione fabbrica 0sValori possibili da 0 a 10 s con gradini da 0.1sPossibilità di modificare il tempo di Hot StartUm zur nächsten Meldung zu gehen, muss der Taster amPremere il pulsante di avanzamento filoper passare al parametroDrahtvorschubgerät gedrückt werden.successivor.Kraterfüllerzeit dSt Tempo di fading dStWerkseinstellung 0 SekZwischen 0 und 5 Sek. in Stufen von 0,1 Sek. einstellbarRegolazione fabbrica 0sValori possibili 0 - 5s, mediante gradini da 0.1 sUm zur nächsten Meldung zu gehen, muss der Taster amPremere il pulsante di avanzamento filoper passare al parametroDrahtvorschubgerät gedrückt werden.successivo.Puls-Spannung Einstellung (Feineinstellung) Uc Regolazione della tensione di pulsazione(regolazione fine) UcWerkseinstellung 0VZwischen –10 and +10V in Stufen von 0,3V by instellbarRegolazione fabbrica: 0 vValori possibili da – 10 v a + 10 v con gradini da 0.3 vDiese Einstellung optimiert im Puls-Betrieb den Tropfenübergang und dient dazu, einperfektes Abshmelzverhalten zu erzielen.Einstellungsbeispiel: selten verwendete Gasart oder Werkstoff, Auftauchen von mikro-Spritzen bei CrNi oder großen Tropfen bei Aluminium.Questa regolazione permette per il modo pulsato soltanto di ottimizzare lo staccodella goccia e di ottenere una fusione perfetta.Caso di aggiustamento: fili o gas correnti, apparizione di microproiezioni in Cr-ni ogrosse gocce in lega leggeraUm zur nächsten Meldung zu gehen, muss der Taster amPremere il pulsante di avanzamento filoper passare al parametroDrahtvorschubgerät gedrückt werden.successivo.OPTIPULS 350 I / OPTIPULS 380 I W C - 35
---
Steuerung der Brennerkühlung GRE Comando del gruppo di raffreddamento – GREWerkseinstellung "Auto"Mögliche Einstellung: "Auto" die Kühlung funktioniertautomatisch während und nach dem Schweißen"On" die Kühlung íst dauernd eingeschaltet"Off" die Kühlung ist ausgeschaltetODER / OODER / ORegolazione fabbrica: « AUTO »Regolazione possibile « AUTO »:il gruppo funzionaautomaticamente durante lasaldatura ed in possaldatura« ON »: il gruppo funbziona in modo continuo« OFF »: ìil gruppo è sempre fermoUm zur nächsten Meldung zu gehen, muss der Taster amPremere il pulsante di avanzamento filoper passare al parametroDrahtvorschubgerät gedrückt werden.successivo.Kompensation der Zwischenschlauchpaketlänge FAICompensazione di lunghezza di fascio – FAIWerkseinstellung 0Zwischen 0 und 50 einstellbarRegolazione fabbrica 0Regolazioni possibili da 0 a 50Die Einstellung bleibt in 0. La regolazione è da 0.Um zur nächsten Meldung zu gehen, muss der Taster amPremere il pulsante di avanzamento filoper passare al parametroDrahtvorschubgerät gedrückt werden.successivo.Auswahl des Fülldraht-Types FF1 Scelta del tipo di filo animato – FF1Werkseinstellung FF1 FLC (Flux cored wire)Mögliche Einstellung FF1 oder FF2 MtC (Metal coredwire)ODER / ORegolazione fabbrica: FF1 FLC (Flux cored wire)Regolazioni possibili: FF1 o FF2 MtC (Metal cored wire)Diese Funktion ermöglicht das Schweißen von Fülldrähte mit (FF1) oder ohne (FF2)SchlackeQuesta scelta permette di lavorare con filo animato con loppa FF1 e senza loppa FF2Um zur nächsten Meldung zu gehen, muss der Tasteram DrahtvorschubgerätPremere il pulsante di avanzamento filoper passare al parametrogedrückt werden.successivo.Das obere Display bezeichnet « dyn » Il display superiore indica quindi « dyn »Auswahl der EinschleichfunktionWerkseinstellung: harMögliche Einstellung: har (hard, dry arc regime) oder sof(soft, Werseinstellung arc)ODER / ORegolazione del dinamismo di fusione in SHORT-ARCRegolazione fabbrica: harRegolazioni possibili: har (hard, dry arc regime) or sof(soft,regolazione di arco dolce)Um zur nächsten Meldung zu gehen, muss der Tasteram DrahtvorschubgerätPremere il pulsante di avanzamentoper terminare la configurazione.gedrückt werden.Die Anlage ist jetzt für das Schweißen mit der neuen Konfigurationenbetriebsbereit.Fehlermeldungen /Wenn die Anlage einen Defekt entdeckt, wird sie ausgeschaltet und die Art desDefektes angezeigt. Thermische Sicherung der Anlage : Einschaltdauer überschritten Verschmutztes Leistungsteil GRE Sicherung (Wasserkühlung des Brenners) Stand des Abkühlungsmittels überprüfen Vergewissern Sie sich, dass die Schläuche nicht geklemmtsind.Il posto è ora pronto a saldare con le nuoveconfigurazioni.Messaggi di erroreQuando l'apparecchio rileva un difetto, essa si ferma ed indica la natura del difettoriscontrato. Sicurezza termica posto : superamento del fattore di marcia posto intasato Sicurezza GRE (gruppo di raffreddamento torcia) controllare il livello di liquido di raffreddamento verificare che le tubazioni non siano schiacciateC - 36 OPTIPULS 350 I / OPTIPULS 380 I W
---
9. SPEZIELLE KONFIGURATION DER STROMQUELLE 9. CONFIGURAZIONE MOLTO AVANZATA DELGENERATOREBestimmte Funktionsparameter der Anlage sind nicht direkt durch das Set Up derFrontseite zugänglich. Diese Parameter werden nur für spezielleSchweißanwendungen genutzt. Um die Unkompliziertheit des EASY Setup-Menüs zuerhalten sind diese Parameter in einem speziellen Menü abgelegt.Zugänglich wird dieses Menü wie folgt :(Siehe Datenblatt – ABB. 10 – am Schluss der Anleitung))Alcuni parametri di funzionamento del generatore non sono accessibili direttamente dalSET UP del frontale. Questi parametri sono utilizzabili soltanto per casi di saldaturamolto particolari. Abbiamo pertanto scelto di non integrarli nel SETUP del frontale ondenon sovraccaricare il menu.Questa configurazione è accessibile in :(Vedi opuscolo figura 10 alla fine delle istruzioni per l'uso)1. Frontwand abschrauben 1. Allentare il pannello del frontale2. Dip-Switch 3 auf dem Print auf Position ON (Zugang EXPERT SETUP erlaubt)schalten2. Capovolgere lo SWITCH n.3 in posizione ON (Accesso SETUP EXPERTautorizzato) sul circuito stampato3. Frontseite wieder festschrauben 3. Riavvitare il pannello del frontale4. Position E-Handschweißen auf der Frontseite auswählen 4. Selezionare la posizione elettrodo rivestito sul frontalel5. Obere Anzeige zeigt nun "EE" an 5. Il display superiore indica quindi EEUm zur nächsten Meldung zu gehen, muss der Taster amPremere il pulsante di avanzamento filoper passare al parametroDrahtvorschubgerät gedrückt werden.successivoDas obere Displa bezeichnet « UL » Il display superiore indica quindi « UL »Einschleichen ON Velocità ridotta di innesco ONWerkseinstellung : ONMögliche Einstellung : ON (mit Einschleichen),OFF (ohne Einschleichen)ODER / ORegolazione fabbrica: ONRegolazioni possibili : ON (con velocità ridotta) OFF(senza velocità ridotta)Um zur nächsten Meldung zu gehen, muss der Taster amPremere il pulsante di avanzamento filoper passare al parametroDrahtvorschubgerät gedrückt werden.successivoKraterfüllung dSP Regolazione fading arco DSPWerkseinstellung : 30%Nota : wenn die Kraterfüllzeit 0 beträgt, gibt es dannkeine KraterfüllungMögliche Einstellung von 0 bis 100% in Stufen von 1%einstellbarMögliche Einstellung der Drahtgeschwindigkeit im Kraterfüller-BetriebRegolazione fabbrica 30%Nota : Se iltempo è pari a zero (= 0), non visarà alcunfadingRegolazioni possibili da 0 a 100% mediante gradini da1%Possibilità di regolaree in % il gradino di velocità filo rispetto al valore impostato VFUm zur nächsten Meldung zu gehen, muss der Taster amPremere il pulsante di avanzamento filoper passare al parametroDrahtvorschubgerät gedrückt werden.successivoMax. Puls-Spannung Uc Tensione di pulsazione max. UCWerkseinstellung : 0 vZwischen –10V und +10V in Stufen von 0,3V einstellbarMögliche Einstellung der Puls-SpannungRegolazione fabbrica 0 vRegolazioni possibili da – 10 a + 10 v con gradini di0.3 vPossibilità di cambiare latensione di pulsazioneUm zur nächsten Meldung zu gehen, muss der Taster amPremere il pulsante di avanzamento filoper passare al parametroDrahtvorschubgerät gedrückt werden.successivoPuls-Zeit TP Tempo di pulsazione TPWerkseinstellung : 0 msZwischen –1,00ms und +1,00ms in Stufen von 0,05mseinstellbarMögliche Einstellung der Puls-ZeitRegolazione fabbricazione 0 msAdjustments possible from – 1.00 ms to + 1.00 ms insteps of 0.05 msPossibility of changing the pulsation timeUm zur nächsten Meldung zu gehen, muss der Taster amPremere il pulsante di avanzamento filoper passare al parametroDrahtvorschubgerät gedrückt werden.successivoBasis-Strom Ib Basic current IbWerkseinstellung : 0 AZwischen –90A und +90A in Stufen von 1,6A einstellbarMögliche Einstellung von Basis-Stromes IbRegolazione fabbricazione 0 ARegolazioni possibili da – 90 a + 90 A mediante gradinida 1.6 APossibilità di cambiare lacorrente di base dell apulsazioneUm zur nächsten Meldung zu gehen, muss der Taster amPremere il pulsante di avanzamento filoper passare al parametroDrahtvorschubgerät gedrückt werden.successivoOPTIPULS 350 I / OPTIPULS 380 I W C - 37
---
GRUNDSTELLUNG (ursprüngliche Werksparameter) Difetto (parametri di origine fabbrica) FACBeim Druck auf dem Schalter erscheint GOFolgende Meldung End abwartenPremere il grilletto:comparsa di GOAspettare la comparsa di ENDODER / OWiederherstellung der Werksparameter für beide SETUPPossibility of returning to the plant parameters of the 2 SET UP'sDIE ANLAGE IST NUN WIEDERINITIALISIERT. Il generatore è quidni reinizializzatoUm zur nächsten Meldung zu gehen, muss der Tasteram DrahtvorschubgerätPremere il pulsante di avanzamento filoper terminare laconfigurazione.gedrückt werden.10. ZUSÄTZLICHE INFORMATIONEN 10. ULTERIORI INFORMAZIONI1. Drahtvorschub Taster 1. Pulsante avanzamento filo Der Drahtvorschub-Taster hat zwei verschiedene Funktionen : Il pulsante avanzamento filo può avere due funzioni diverse : Die Entlüftungsfunktion der Gasleitung wird durch einen kurzen Druck(weniger als 1 Sek.) auf den Taster ausgelöst. Dies dauert 7 Sekunden. La funzione pregas è accessibile mediante una breve pressione(inferiore a1s) del pulsante svolgimento e per una durata di 7 s. Die Drahtvorschub-Funktion erfolgt durch einen kontinuierlichen Druckauf den Taster. La funzione svolgimento è accessibilemediante unapressione continuadel pulsante svolgimento.2. Kraterfüllung 2. Fading Im 2Takt-Betrieb : die Kraterfüllung beginnt, wenn der Schalterlosgelassen wird.Die Kraterfüllzeit muss abgewartet werden bevor einneuer Schweißvorgang gestartet werden kann.Im 4Takt-Betrieb : die Kraterfüllung beginnt, wenn der Schalter währenddes Schweißens gedrückt wird. Sie wirkt, so lange der Schaltergedrückt bleibt. Beim Loslassen fangen die Gasnachstömung und derDrahtrückbrand an.In 2T : ilfading inizia non appena non viene più premuto il grilletto. Nonpuò riavviare la saldatura premendo il grilletto; occorre aspettare la finedel fading.In 4T : il fading inizia non appena si preme di nuovo il grilletto. Essocontinuerà e verrà mantenuto fintantoché ilgrilleto sarà inserito. Nonappena il grilletto non viene più premuto,si ottengono il post-retrac e ilpost-gas. Se il tempo di fading è pari a zero al momentodellapressionedel grilletto, si ferma il motore. Si avvia il post-retract el'elettrovalvola rimane aperta fintantoche si lascia il grilletto inserito.C - 38 OPTIPULS 350 I / OPTIPULS 380 I W
---
D - WARTUNG D - MANUTENZIONE1. ERZATSTEILE 1. PEZZI DI RICAMBIO(Siehe Datenblatt – ABB. 2 und 11 – am Schluss der Anleitung)Rep. / Ref.Pos. / Cod. Bezeichnung Designazione(Vedi opuscolo figura 2 e 11 alla fine delle istruzioni per l'uso)Rep. / Ref.Pos / Cod.. Bezeichnung DesignazioneOPTIPULS IFrontseite Frontale 35 9160 8710 Kit Verbindung Bündel Kit presa fascio4 0016 2073 Ein / Aus Schalter Interruttore On/Off 36 0036 6016 Selbstdichtende Kupplung Raccordo autootturante5 0023 6020 Knopf blau Pulsante blu 37 0011 2025 Schütz Contattore7 0016 3029 Umkehrschalter 2T / 4T Invertitore 2T / 4T 38 0020 1030 Sicherungshalterung Supporto fusibile8 0016 3029 Umkehrschalter Manuell / Invertitore Manuale /Sinergia 39 0020 0050 Sicherung 2 A Fusibile 2ASynergie9 0023 6015 Knopf grau Gray button Aufbau Corpo11 9160 8506 Frontseite komplett Frontalecompleto 40 9160 8470 Längsträger * StangaElemente innen Elementi interni 41 9160 8460 Haube aus Kunststoff Riparo plastica20 9160 8428 Regelkarte Scheda regolazione 42 4086 9021 Hinterrad ∅ 300 Ruota posteriore ∅ 30021 0320 7330 Sekundärkarte Filter Carta filtor secondario 43 4086 9022 Vorderrad ∅ 125 Ruota anteriore ∅ 12522 9160 8259 Drehstromkarte Filter Carta filtro trifase 9160 8711 Satz Schrauben Kit viteria23 9160 8527 Hilfskarte Filter Carta filtro ausiliario 9160 8453 Abdeckung rechts * Cofano destro *24 9160 7815 Befehlskarte Carta di comando 9160 8455 Abdeckung links * Cofano sinistro*25 0017 1082 Hilfstransformator 1 Trasformatore ausiliarior 1 Haspel Svolgitore26 0017 1047 Hilfstransformator 2 Trasformatore ausiliarior 2 9160 1013 Druckregelung Regolazione di pressione27 9157 3031 Behälter** Serbatoio** 9160 1021 Haube links, bestückt Botola attrezzata sinistra27 9000 0342 Behälter*** Serbatoio*** 9160 1022 Haube rechts, bestückt Botola attrezzata destrar27 9000 0359 Verschluss*** Tappo*** 9160 1020 Adapterzahnrad Pignone adattaore28 9114 0884 Pumpe Pompa 9160 1019 Hauptzahnrad Pignone principale29 0010 1536 Lüfter (Motor) Ventilatore (motore) 9161 7014 Satz Schrauben Rolle Kit vite rotellat30 9160 4481 Schraube Elica 9160 1018 Platinenrumpf Corpo piastra31 9358 0521 Radiator Radiatore 9160 7442 Nabe Spulenbolzen Mozzo asse bobinar32 0036 2007 Durchflußwächter Controllore di portata 9160 1017 Reduziergetriebe (GMR) Gruppo motoriduttore (GMR)33 0036 6100 Filteranschluß Raccordo filtro 0036 1025 Magnetventil 24 V Gleichstrom Eletrrovalvola 24V DC34 0015 3036 Anschlußklemme Schweißen Morsetto collegamentosaldatural* nur auf Anfrage * su comando soltanto** Fur serial number < 5377 VO 332 ** Per n° di serie < 5377 VO 332*** Fur serial number ≥ 5377 VO 332 *** Per n° di serie ≥ 5377 VO 3322. FEHLERSUCHE 2. PROCEDURA DI RIPARAZIONEEingriffe auf den E-Anlagen dürfen nur durch qualifiziertesFachpersonal vorgenommen werden (Siehe Kap.SICHERHEITSBESTIMMUNGEN)Gli interventi eseguiti sugli impianti elettrici devono essereaffidati a persone qualificate (vedi capitoloRACCOMANDAZIONI DI SICUREZZA).URSACHEN ABHILFE CAUSE SOLUZIONIEIN/AUS-SCHALTER AUF "1" / GERÄT LÄUFT NICHT AN / PRIMÄRKREISLÄDT NICHT / ANZEIGE GEHT NICHT AN Elektrische Anschlüsse den Primäranschluß prüfenCOMMUTATORE ON/OFF SU 1H IL POSTO NON SI AVVIA/ILCONTATTOREPRIMARIO NON SALE/ILDISPLAY NON SI ACCENDE Collegamenti elettrici controllare il collegamento primario Regelkarte Ein/Aus Schalter defekt die Sicherung Posten F1 prüfen den Zustand des Primärschützes K1prüfen den Zustand des Ein/Aus SchaltersprüfenEIN/AUS SCHALTER AUF 1 / DER POSTEN STARTET NICHT / DERPRIMÄRSCHÜTZ STEIGT NICHT / DIE ANZEIGE GEHT AN Elektrische Anschlüsse Verbindungselemente Filterkarte den Primäranschluß prüfen die Sicherung F2 Posten prüfen die Verkabelung von K1 prüfen die Verkabelung der Filterkarteprüfen Scheda regolazione Commutatore On/Off difettoso verificare il fusibile posto – F1 posto verificare lo stato del contattoreprimario K1 verificare lo stato del commutatoreOn/OffCOMMUTATORE ON/OFF SU 1H/IL POSTO NON SI AVVIA/ILCONTATTOREPRIMARIO NON SALE/IL DISPLAY SI ACCENDE Collegamenti elettrici Connettori Scheda filtro verificare il collegamento primario verificare il fusibile F2 verificare il cabalggio di f K1 verificare il cablaggio della schedafiltroOPTIPULS 350 I / OPTIPULS 380 I W D - 39
---
EIN/AUS SCHALTER AUF 1 / DER POSTEN STARTET / DER PRIMÄRSCHÜTZSTEIGT / DIE ANZEIGE GEHT NICHT AN Verkabelung fehlerhaft Verbindungselemente fehlerhaft Regelkarte / Frontseitenmodul den Verbindungsanschluß an derFrontseite prüfen die Verbindungselemente B6 und B9prüfen die Sicherungen F2 und F3 an derRegelkarte prüfen die Versorgungen +15, -15, und +5 Vprüfen; wenn Versorgung fehlerhaft die Regelkarte austauschen;andernfalls auf Drahtvorlauf drücken:wenn Abhaspeln OK Frontseitenmodul austauschen.DRÜCKEN DES AUSLÖSERS / KEINE FEHLERMELDUNG AN DER ANZEIGE /DER LEERUNGSMOTOR DREHT NICHT / KEINE LEERLAUFSPANNUNG / DIEVORANZEIGE FUNKTIONIERT Verbindungselemente defekt Regelkarte die Verbindungselemente J1, J2 undB9, B6 prüfen die Sicherungen F6 und F7 an derRegelkarte prüfen wenn die LED L4 nicht erlischt: dieRegelkarte austauschenDRÜCKEN DES AUSLÖSERS / KEINE FEHLERMELDUNG AN DER ANZEIGE /DER LEERUNGSMOTOR DREHT NICHT / DIE VORANZEIGE FUNKTIONIERT Verbindungselemente defekt Regelkarte die Verbindungselemente J1, J2und B9, B13, B15 prüfen die Sicherung F7 an derRegelkarte prüfen die Anweisung V.Draht an PT 13prüfendie Motorversorgungs-spannungzwischen PT1 und PT18 prüfen;wenn keine Spannung vorhandendie Regelkarte austauschen;wenn Spannung ca. 30 V MotorprüfenKEINE FEHLERMELDUNG AN DER ANZEIGE / DER LEERUNGSMOTORLÄUFT (AUSLÖSERBEFEHL ERHALTEN) / DIE VORANZEIGE FUNKTIONIERT /KEIN ZÜNDEN, KEIN SCHWEISSEN Verbindungselemente defekt Regelkarte Verkabelung Befehlskarte Wechselrichter die Verbindungselemente B2, B3und B9 prüfen wenn LED L5 leuchtet: dieRegelkarte austauschen wenn LED L4 leuchtet: dieVerkabelung von B3 zum Shuntprüfen wenn LED L4 und L5 aus sind: dieSicherungen F1 und F2 an derBefehlskarte des Wechselrichtersprüfen die Verbindungselemente B16 undB20 der Befehlskarte desWechselrichters prüfenFür alle Arbeiten im Innern des Generators, die über dieobengenannten hinausgehen: EINEN TECHNIKER RUFENCOMMUTATORE ON/OFF SU H1 / IL POSTO SI AVVIA / ILCONTATTORERPIMARIO SALE / IL DISPLAY NON SI ACCENDE Cablaggio difettoso Connettori difettosi Scheda regolazione / Modulofrontale verificare la bretella di collegamentofrontalel verificare i connettori B6, B9 controllare i fusibili F2 e F3 sullaschedadi regolazione verificare le alimentazioni +15, -15, e +5volt se difetto alimentazione sostituzione della scheda regolazionealtrimenti premere su avanzamento filo:se svolgimento OK cambiare ilmodulo del frontale.PRESSIONE DEL GRILLETTO / NESSUN MESSAGGIO DI ERRORE SULDISPLAY / IL MOTORE DI SVOLGIMENTO NON GIRA / NESSUNA TENSIONEA VUOTO / LA PREVISUALIZZAZIONE FUNZIONA Connettori difettosi Scheda di regolazione verificare i connettori J1, J2 e B9,B6 verificare i fusibili F6 e F7 sullascheda di regolazione se il LED L4 non sispegne:sostituire la schedaregolazionePRESSIONE DEL GRILLETTO / NESSUN MESSAGGIO DI ERRORE SULDISPLAY / IL MOTORE DI SVOLGIMENTO NON GIRA / LAPREVISUALIZZAZIONE FUNZIONA Connettori difettosi Scheda di regolazione verificare connettori J1, J2 e B9,B13, B15 verificare fusibile F7 sulla schedadi regolazione verificare il valore preimpostatoV.filo in PT 13misurare la tensione dialimentazione motore tra PT1 ePT18nessuna tensione sostituire lascheda regolazionese tensione circa 30V verificareil motoreNESSUN MESSAGGIO DI ERRORE SUL DISPLAY / IL MOTORE DISVOLGIMENTO GIRA (ORDINE GRILLETTO RINCULO) / LAPREVISUALIZZAZIONE FUNZIONA Connettori difettosi Scheda di regolazione Cablaggio Scheda comando ondulatore verificare i connettori B2, B3, B9 se LED L5 acceso: sostituire lascheda regolazione se LED L4 acceso: verificare ilcablaggio di B3 verso shunt se LED L4 e L5 spenti verificare ifusibili F1 e F2 sulla schedacomando ondulatore verificare i connettori B16 e B20della scheda comando ondulatorePer ogni intervento interno sul generatore al di fuori dei punti dicui sopra, RIVOLGERSI A UN TECNICOD - 40 OPTIPULS 350 I / OPTIPULS 380 I W
---
CONSIGNAS DE SEGURIDADLa SAF le agradece su confianza al adquirir este aparato que le dará plenasatisfacción si respeta sus condiciones de empleo y de mantenimiento.Este aparato, o esta instalación, ha sido construido en estricto cumplimiento de lasDirectivas Europeas Bajas-tensiones (73/23/CEE) y CEM (89/336/CEE), mediantela aplicación de las respectivas normas EN 60974-1 (reglas de seguridad para elmaterial eléctrico, Parte 1: fuente de corriente de soldadura) y EN 50199(Compatibilidad Electromagnética CEM). (Norma producida para la soldadurapor arco).La contaminación electromagnética de los equipos eléctricos se debe en gran parte ala radiación del cableado de la instalación. En caso de problemas de proximidad entreaparatos eléctricos, póngase en contacto con la SAF, que examinará los casosparticulares.ATENCIÓN: La SAF no asumirá ninguna responsabilidad en casode modificación, añadido de componentes o subconjuntos o decualquier transformación del aparato o de la instalación efectuadapor el cliente o un tercero, sin un acuerdo previo específico y porescrito de la propia SAF.Los materiales objeto de la presente instrucción, asociados con otros elementos,pueden constituir una "máquina" que, en este caso, entra dentro del campo deaplicación de la directiva europea 91/368/CEE que define las principales exigenciasde salud y de seguridad: (contemplada en el código de trabajo francés Art. L233-5Decretos de 29.12.1992). La SAF no puede ser considerada responsable de ningunaasociación de elementos que no haya efectuado ella misma.Para su seguridad, a continuación le indicamos una lista no limitativa derecomendaciones u obligaciones de las que una parte importante figura en el Códigode Trabajo.La SAF le agradece que le comunique cualquier anomalía que observe en laredacción de estas instrucciones.Antes de poner en servicio su instalación debe leer imperativamente laspáginas de seguridad que figuran a continuación :1. seguridad eléctrica (véase la página 41)2. seguridad contra humos, vapores y gases nocivos y tóxicos (véase lapágina 42)3. seguridad contra las radiaciones luminosas (véase la página 43)4. seguridad contra el ruido (véase la página 43)5. seguridad contra el fuego (véase la página 44)6. seguridad de empleo de gases (véase la página 44)7. seguridad del personal (véase la página 45)RECOMENDAÇÕES DE SEGURANÇAA SAF agradece a confiança depositada ao adquirir este aparelho que lhe vai darinteira satisfação se respeitar as condições de utilização e de conservação.Este aparelho ou esta instalação foi construída dentro do perfeito respeito dasDirectivas Europeias Baixas-tensões (73/23/CEE) e CEM (89/336/CEE), através daaplicação das normas respectivas EN 60974-1 (regras de segurança relativamenteao material eléctrico, Parte 1 : fonte de corrente de soldadura) e EN 50199(Compatibilidade Electromagnética CEM). (Norma produzida para a soldadurapor arco).A poluição electromagnética dos equipamentos eléctricos é devida em grande parte àradiação da cablagem da instalação. Em caso de problemas de proximidade entreaparelhos eléctricos, neste caso, queira contactar a SAF para que esta possaexaminar os casos especiais..ATENÇÃO: a SAF declina qualquer responsabilidade no caso demodificação, de acrescento de componentes ou de subconjuntos,ou de qualquer outra transformação do aparelho ouda instalação, efectuada pelo cliente ou por terceiros, sem oacordo prévio específico escrito pela própria SAF.Os materiais objecto da presente instrução podem, associados a outros elementos,constituir uma "máquina" que entra então no campo de aplicação da directivaeuropeia 91/368/CEE que define as exigências essenciais de saúde e de segurança:(retomada no código do trabalho francês Art. L233-5 Decretos de 29.12.1992). ASAF não pode ser considerada responsável por qualquer associação de elementosque não seja efectuada por ela própria.Para a sua segurança, indicamos a seguir uma lista não limitativa de recomendaçõesou de obrigações das quais, uma parte importante figura no código do trabalho.A SAF agradece que lhe transmitam qualquer anomalia que tenham constatado naredacção destas instruções.Antes da colocação em serviço da sua instalação, deve lerobrigatoriamente as páginas de segurança que se encontram a seguir :1. segurança eléctrica (cf. página 41)2. segurança contra os fumos, vapores, gases nocivos e tóxicos (cf.página 42)3. segurança contra as radiações luminosas (cf. página 43)4. segurança contra o ruído (cf. página 43)5. segurança contra o fogo (cf. página 44)6. segurança de utilização dos gases (cf. página 44)7. segurança do pessoal (cf. página 45)ATENCIÓN : Un generador de soldadura/corte sólo debe serutilizado para la función a la que ha sido destinado. Especialmenteno debe utilizarse en ningún caso para la carga de baterías,descongelación de conductos de agua, calefacción de locales porañadido de resistencias, etc.ATENÇÃO: um gerador de soldadura/corte, só pode ser utilizadopara a função para a qual foi destinado. Nunca deve ser utilizadonomeadamente, para recarregar baterias, a descongelação decondutas de água, o aquecimento de locais acrescentandoresistências, etc...1. SEGURIDAD ELECTRICA (DECRETO 88-1056 DE 14-11-88) (CONEXION, MANTENIMIENTO, REPARACION)/ SEGURANÇA ELECTRICA (DECRETO 88-1056 DE 14-11-88) (LIGAÇÃO, CONSERVAÇÃO, REPARAÇÃO)Las intervenciones que se efectúen en las instalaciones eléctricas deben serconfiadas a personas cualificadas.Por personas cualificadas se entiende especialistas que, gracias a su formacióntécnica, están capacitados para percibir los peligros procedentes de la soldadura y dela electricidad.As intervenções efectuadas sobre as instalações eléctricas devem ser confiadas apessoas qualificadas para as efectuar.São consideradas pessoas qualificadas, os especialistas que, graças à formaçãotécnica recebida, têm a possibilidade de se aperceber dos perigos provenientes dasoldadura e da electricidade.a) Conexión a la red de las fuentes de corriente de soldadura / corte a) Ligação à rede das fontes de corrente de soldadura / cortea.1) Antes de conectar su aparato, debe verificar que: el contador, el dispositivo de protección contra las sobreintensidades y loscortacircuitos, las bases y clavijas de las tomas y la instalación eléctrica,son compatibles con su potencia máxima y su tensión de alimentación(véanse las placas de características) y conformes a las reglas y normativasen vigor.a.2) La conexión monofásica o trifásica con la tierra se efectúa a través de la protección deun dispositivo de corriente diferencial-residual de mediana o alta sensibilidad(disyuntor diferencial; sensibilidad comprendida entre 1 A y 30 mA ) : si el cable está conectado en un puesto fijo, la tierra, si ha sido prevista,nunca debe ser cortada por el dispositivo de protección contra lasdescargas eléctricas; el interruptor, si existe, debe estar en la posición "PARADA" ;a.1) Antes de ligar o seu aparelho, deve verificar se: o contador, o dispositivo de protecção contra as sobre intensidades e os curtocircuitos,as bases e as fichas das tomadas e a instalação eléctrica, sãocompatíveis com a potência máxima e a tensão de alimentação (conf. as placasde características) e conformes às normas e regulamentações em vigora.2) A ligação, monofásica ou trifásica com terra, faz-se através da protecção porum dispositivo de corrente diferencial-residual de média ou alta sensibilide(disjuntor diferencial: sensibilidade compreendida entre 1 A e 30 mA): se o cabo estiver ligado a um posto fixo, a terra, se for prevista, nunca deveser cortada pelo dispositivo de protecção contra os choques eléctricos; o interruptor, se existir, deve estar na posição "PARAGEM"; el cable de alimentación, si no ha sido suministrado, debe ser del tipo "HAR USE" ; o cabo de alimentação se não tiver sido fornecido, deve ser do tipo "HAR USE" ;OPTIPULS 350 I / OPTIPULS 380 I W 41
---
su circuito de alimentación eléctrica debe estar equipado de un dispositivode parada de urgencia, fácilmente reconocible y dispuesto de forma que seafácil y rápidamente accesible.b) Puesto de trabajo b) Posto de trabalhoLa utilización de la soldadura y corte por arco implica el estricto cumplimiento de lascondiciones de seguridad relativas a las corrientes eléctricas.Cerciórese de que ninguna pieza metálica accesible a los operadores y a susayudantes puede entrar en contacto directo e indirecto con un conductor de fase o elneutro de la red de alimentación.Utilice únicamente portaelectrodos y torchas perfectamente aislados.El operador debe estar aislado del suelo y de la pieza que va a soldar (guantes,calzado de seguridad, ropa seca, delantal de cuero, etc.).Conecte el cable de masa en la pieza lo más cerca posible de la zona de soldadura yde forma segura (para garantizar una correcta circulación de la corriente).No toque simultáneamente el hilo electrodo (o la boquilla) y la pieza.Cuando los trabajos de soldadura deben ser efectuados en condiciones que no sonlas habituales y normales de trabajo, con un mayor riesgo de descarga eléctrica (porej.: recinto en el que el operador carece de espacio suficiente), deben tomarseprecauciones suplementarias, en particular: utilización de una fuente de corriente de soldadura/corte marcada refuerzo de la protección individual. o circuito de alimentação eléctrica deve estar equipado com um dispositivode paragem de emergência, facilmente reconhecível e disposto de maneiraa ser facilmente e rapidamente acessível.A execução da soldadura e do corte por arco implica que as condições de segurançarelativamente às correntes eléctricas sejam respeitadas escrupulosamente.Certifique-se de que nenhuma peça metálica acessível aos operadores e respectivosajudantes possa entrar em contacto directo ou indirecto com um condutor de fase ouo neutro da rede de alimentação.Só utilize porta-eléctrodos e tochas perfeitamente isoladas.O operador deve estar isolado do solo e da peça a soldar (luvas, calçado desegurança, roupas secas, avental em cabedal, etc...).Ligue o cabo de massa à peça situada o mais próximo possível da zona de soldadurae de uma maneira segura (para garantir uma boa circulação da corrente).Não toque simultaneamente o fio eléctrodo (ou a ponteira) e a peça.c) Mantenimiento / Reparación c) Conservação / ReparaçãoAntes de cualquier verificación interna y reparación, debe cerciorarse de que elaparato está separado de la instalación eléctrica por consignación (se entiende porconsignación un conjunto de fijaciones destinadas a separar y mantener el aparatofuera de tensión).Ciertos aparatos están equipados de un circuito de cebado AT.AF (señalado por unaplaca). Nunca debe intervenir en este circuito (para cualquier intervención póngaseen contacto con la SAF).Cada 6 meses como máximo debe verificar el correcto estado de aislamiento y lasconexiones de los aparatos y accesorios eléctricos como tomas, cables flexibles, conductos,conectores, prolongadores, pinzas de piezas, portaelectrodos o torchas, etc.Los trabajos de mantenimiento y reparación de las cubiertas y conductos aislantesdeben efectuarse minuciosamente.Las reparaciones deben ser efectuadas por un especialista o, mejor aún, este últimodebe cambiar las piezas defectuosas.Verifique periódicamente el correcto apriete y la limpieza de las conexiones eléctricas.Véase más adelante el capítulo MANTENIMIENTO dedicado más especialmente almantenimiento y la reparación de su equipo.Quando os trabalhos de soldadura devem ser efectuados fora das condiçõeshabituais e normais de trabalho com riscos aumentados de choques eléctricos (ex.:lugares onde o operador tem falta de espaço) devem ser tomadas precauçõessuplementares e em especial as seguintes: a utilização de uma fonte de corrente de soldadura/corte marcada o refoço da protecção individual.Antes de qualquer verificação interna ou reparação, deve certificar-se que o aparelhoesteja separado da instalação eléctrica por consignação (por consignação, consideraseum conjunto de operações destinadas a separar e a manter o aparelho fora detensão).Alguns aparelhos estão equipados com um circuito de escorvamento HT.HF(assinalado por uma placa). Nunca deve intervir sobre este circuito (contactar aSAF para qualquer intervenção).Deve verificar pelo menos de 6 em 6 meses, se as isolações e as ligações dos aparelhos edos acessórios eléctricos tais como tomadas, cabos flexíveis, condutas, conectores,prolongadores, pinças de peças, porta-eléctrodos ou tochas estão em bom estado.Os trabalhos de conservação ou de reparação dos envelopes ou revestimentosisolantes devem ser efectuados minuciosamente.Faça efectuar a reparação por um especialista, ou ainda melhor faça substituir aspeças defeituosas..Verifique periodicamente que o aperto seja correcto e que as conexões eléctricasestejam limpas.Ver mais adiante o capítulo MANUTENÇÃO consagrado mais especialmente àconservação e às reparações do seu material.2. SEGURIDAD CONTRA HUMOS, VAPORES Y GASES NOCIVOSY TOXICOS /SEGURANÇA CONTRA OS FUMOS, OS VAPORES, OS GASES NOCIVOS E TOXICOSLas operaciones de soldadura y de corte deben efectuarse en lugaresconvenientemente ventilados.Las emisiones en forma de gas, humos insalubres, molestos o peligrosos para lasalud de los trabajadores deben ser captadas a medida de su producción, lo máscerca posible de su fuente de emisión y de la forma más eficaz. (Art. R232-1-7Decreto 84-1093 de 7-12-84).Los sensores de humos deben estar conectados a un sistema de aspiración para quelas eventuales concentraciones de contaminantes no sobrepasen los valores límite.Le recomendamos consulte la "Guía práctica de ventilación n°7 - ED 668",operación de soldadura por arco del Instituto Nacional de Investigación y deSeguridad (INRS), en la que figuran métodos de cálculos y diferentes ejemplosprácticos de aplicación.La SAF le propone una gama completa de sistemas de aspiración que responden atodas sus necesidades. Caso particular de los disolventes clorados (utilizados para limpiar odesengrasar): los vapores de estos disolventes, sometidos a la radiación de un arco,incluso alejado, pueden transformarse a veces en gases tóxicos.Verifique que las piezas que se van a soldar están secas. cuando no están en un recinto estanco, debe evitarse el uso de estos disolventes enun lugar en donde se produzcan arcos eléctricos.As operações de soldadura e de corte devem ser efectuadas em locaisconvenientemente arejados.As emissões sob a forma de gases, fumos insalubres, incomodativos ou perigosospara a saúde dos trabalhadores, devem ser captados à medida que são produzidos, omais próximo possível da fonte de emissão e de uma maneira tão eficiente quantopossível. (Art. R232-1-7 Decreto 84-1093 de 7-12-84).Os captores de fumos devem estar ligados a um sistema de aspiração, de talmaneira, que as eventuais concentrações de poluentes não ultrapassem os valoreslimites.Recomendamos que consulte o "Guia prático de ventilação n°7 - ED 668",operação de soldadura por arco do Instituto Nacional de Pesquisa e de Segurança(INRS), no qual figuram os métodos de cálculo e vários exemplos práticos deaplicação.A SAF propõe-lhe uma gama completa de sistemas de aspiração que responde àssuas necessidades. Caso particular dos solventes clorados (utilizados para limpar oudesengordurar): os vapores destes solventes, submetidos às radiações de um arco mesmoafastado, podem em alguns casos, transformar-se em gases tóxicos. Verificarque todas as peças que devem ser soldadas estejam secas. quando não estão num recinto estanque, a utilização destes solventesdeve ser proibida em lugares onde possam ser desencadeados arcoseléctricos.42 OPTIPULS 350 I / OPTIPULS 380 I W
---
3. SEGURIDAD CONTRA LAS RADIACIONES LUMINOSAS /SEGURANÇA CONTRA AS RADIAÇÕES LUMINOSASEs indispensable protegerse los ojos contra las descargas de arco (deslumbramientodel arco en luz visible y las radiaciones infrarroja y ultravioleta).La mascarilla de soldadura, con o sin casco, siempre debe estar equipada de un filtroprotector cuya escala depende de la intensidad de la corriente del arco de soldadura(Norma EN 169).El filtro coloreado puede ser protegido de las descargas y proyecciones por un cristaltransparente situado en la cara frontal de la mascarilla.En caso de cambio del filtro, debe conservar las mismas referencias (número de laescala de opacidad).Las personas que se encuentran en las inmediaciones del operador, y más aún susayudantes, deben protegerse mediante la interposición de pantallas adaptadas, gafasde protección anti-UV y, si fuera necesario, una mascarilla provista del filtro protectoradaptado. Cuadro que indica el número de escala (1) y utilización recomendada parala soldadura por arco :É indispensável proteger os olhos contra as descargas parasitas (encandeamento doarco em luz visível e as radiações infravermelhas e ultravioletas).A máscara de soldadura, sem ou com capacete, deve estar sempre equipada comum filtro protector cuja escala depende da intensidade de corrente do arco desoldadura (Norma EN 169).O filtro colorido pode estar protegido contra os choques e projecções por um vidrotransparente situado sobre a face dianteira da máscara.Em caso de substituição do filtro, deve conservar as mesmas referências (Número daescala de opacidade).As pessoas, que se encontrem na vizinhança do operador e sobretudo os ajudantes,devem estar protegidos através da interposição de visores adaptados, de óculos deprotecção anti-UV e em caso de necessidade através de uma máscara equipada comum filtro de protecção adaptado. Tabela dando o número de escala (1) e utilização recomendada para asoldadura por arco :(1)- Según las condiciones de utilización, puede emplearse el número de escalainmediatamente superior o inferior.(2)- La expresión "metales pesados" abarca los aceros, los aceros aleados, el cobre ysus aleaciones, etc.Nota : Las zonas sombreadas corresponden a los campos en los que habitualmenteno se utilizan los procedimientos de soldadura.(1)- Segundo as condições de utilização, podem-se utilizar o número de escalaimediatamente superior ou o numéro de escala imediatamente inferior.(2)- A espressão "metais pesados" abrange os aços, os aços ligados, o cobre e asligas respectivas, etc...Nota : as zonas em tracejado acima correspondendo às áreas ou aos processos desoldadura não são habitualmente utilizadas na prática actual da soldadura.4. SEGURIDAD CONTRA EL RUIDO /SEGURANÇA CONTRA O RUIDOEl ruido emitido por una máquina de soldadura o de corte depende de varios parámetros, enparticular : la intensidad de soldadura/corte, el procedimiento (MIG - MIG PULSADO - TIG,etc.) y el entorno (locales más o menos grandes, reverberación de los muros, etc.).Por lo general, el ruido en vacío de los generadores de soldadura/corte de la SAF esinferior a 70 dB (A).La emisión sonora (nivel de presión acústica) de estos generadores puede, en soldadura o encorte, superar 85 dB (A) al nivel del puesto de trabajo.Por tanto, es conveniente asegurarse, con las medidas apropiadas en el lugar de trabajo y enlas condiciones de utilización, de que no se sobrepasa el límite de 85 dB (A). En casocontrario, el operador debe equiparse de protecciones adaptadas como cascos, tapones paralos oídos, nivel antirruido, y ser informado mediante una señalización apropiada.La SAF le propone una gama completa de equipamientos de protección que respondea su necesidades.O ruído emitido pela máquina de soldadura ou de corte depende de vários parâmetros enomeadamente: da intensidade de soldadura/corte, do processo (MIG - MIG PULSE - TIGetc...) e do ambiente (locais mais ou menos grandes, reflexão dos muros etc...).O ruído a vazio dos geradores de soldadura/corte da SAF é geralmente inferior a70dB (A).A emissão sonora (nível de pressão acústica) destes geradores pode, em soldadura ou emcorte, ultrapassar 85 dB (A) no posto de trabalho.Convém portanto assegurar-se através de medidas apropriadas no local de trabalho e nascondições de utilização de trabalho, que o limite de 85 dB (A) não é ultrapassado. Em caso deultrapassagem o operador deve estar equipado de protecções adaptadas, tais comocapacetes, protecções para as orelhas, nível anti-ruído, e ser informado por uma sinalizaçãoapropriada.A SAFpropõe-lhe uma gama completa de equipamentos de protecção que responde atodas as suas necessidades.OPTIPULS 350 I / OPTIPULS 380 I W 43
---
5. SEGURIDAD CONTRA EL FUEGO /SEGURANÇA CONTRA O FOGOAleje los productos y los materiales inflamables de la zona de proyeccionesprocedentes del arco, o protéjalos.No suelde ni corte cerca de un conducto de ventilación, o conducto de gas, o decualquier otra instalación que pueda propagar el fuego rápidamente.Por regla general, el operador debe tener un extintor cerca de él. Éste deberá sercompatible con el tipo de fuego que pueda declararse.Compruebe que la conexión de masa está bien efectuada. Un contacto incorrectopuede provocar un arco que, a su vez, podría originar un incendio.Remove inflammable products and equipment from the area where arc spatter mayoccur, or protect them.Não se deve soldar ou cortar na proximidade de condutas de ventilação, de condutasde gás e outras instalações que possam propagar o fogo rapidamente.Em regra geral, o operador deve ter um extintor próximo dele. O extintor deve sercompatível com o tipo de fogo susceptível de se declarar.Certifique-se do posicionamento correcto da conexão de massa. Um mau contactodesta, pode provocar um arco que pode ele mesmo provocar um incêndio.6. SEGURIDAD DE EMPLEO DE LOS GASES /SEGURANÇA DE EMPREGO DOS GASESa) Consignas comunes al conjunto de los gases a) Recomendações comuns ao conjunto dos gasesa.1) RiesgosLa utilización de gases en condiciones incorrectas exponen al usuario aimportantes peligros, en particular en caso de trabajo en espacio confinado : peligro de asfixia o de intoxicación peligro de incendio y de explosióna.2.) Precauciones que hay que tomar Almacenamiento en forma comprimida en botellasRespete las consignas de seguridad indicadas por el proveedor degases, en particular: las zonas de almacenamiento o de empleo deben poseer unacorrecta ventilación, estar suficientemente alejadas de lazona de corte/soldadura y otras fuentes de calor y a cubiertode un incidente técnico; sujete las botellas y evite los golpes; no debe haber un calor excesivo (> 50°C). Canalizaciones y tuberías verifique periódicamente la estanqueidad de lascanalizaciones fijas, así como la de las tuberías de goma; no detecte nunca una fuga con una llama. Utilice un detectorapropiado o, en su defecto, agua jabonosa y un pincel; utilice tubos de colores convencionales en función de los gases; distribuya los gases a las presiones recomendadas en losmanuales de los equipos; no deje los tubos por el suelo en los talleres, ya que puedendeteriorarse. Utilización de los aparatos utilice únicamente aparatos diseñados para los gases que use; compruebe que la botella y el manorreductor corresponden algas necesario para el procedimiento; no engrase nunca las llaves y manipúlelas con cuidado; manorreductor:• no olvide purgar las llaves de las botellasantes de conectar el manorreductor• compruebe que el tornillo de descompresión estáaflojado antes de efectuar la conexión en la botella• verifique el apriete del racor de unión antes de abrir lallave de botella• abra la llave lentamente una fracción de vuelta. en caso de fuga no apriete nunca un racor a presión; cierreantes la llave de la botella. Trabajo en espacio confinado (en particular, galerías,canalizaciones, oleoductos, bodegas de barcos, pozos, conductos deinspección, bodegas, cisternas, cubas, depósitos, balastos, silos yreactores).Deben tomarse precauciones especiales antes de iniciar operacionesde soldadura en recintos en los que los peligros de asfixia-intoxicacióne incendio-explosión son muy importantes.Se deberá establecer sistemáticamente un procedimiento de permisode trabajo que defina todas las medidas de seguridad.a.1) Riscos corridosMás condições de utilização dos gases expõem o utilizador a dois perigosprincipais, especialmente no caso particular de trabalho em espaço restrito : o perigo de asfixia ou de intoxicação o perigo de incêndio e de explosãoa.2.) Precauções a respeitar Armazenamento sob a forma comprimida em garrafasConforme-se às recomendações de segurança dadas pelofornecedor de gás e especialmente: as zonas de armazenamento ou de utilização devem possuiruma boa ventilação, ser suficientementes afastadas da zonade corte soldadura e outras fontes de calor, e estar ao abrigode um incidente técnico; fixe as garrafas, evite os choques; evite o calor excessivo (> 50° C). Canalizações e tubagens verifique periodicamente a estanquecidade das canalizaçõesfixas assim como das tubagens em borracha; nunca utilize uma chama para detectar uma fuga. Utilize umdetector apropriado, ou então água de sabão e um pincel; utilize tubos de cores convencionais em função dos gases; distribua os gases às pressões recomendadas nas instruçõesdos materiais; não deixe ao abandono os tubos nas oficinas; eles podemser danificados. Utilização dos aparelhos só utilize aparelhos concebidos para os gases utilizados; verifique que a garrafa e o monorredutor correspondamefectivamente ao gás necessário para o processo; nunca lubrifique as torneiras, manipule-as com precaução; monorredutor:• não se esqueça de purgar as torneiras dasgarrafas antes de ligar o monorredutor• antes de ligar a garrafa, certifique-se que o parafuso deregulação está desapertado• antes de abrir a torneira da garrafa, verifique se oaperto da conexão é correto• esta última só deve ser aberta com lentidão e umafracção de volta. em caso de fuga não desaperte nunca uma conexão sobpressão, feche em primeiro lugar a torneira da garrafa. Trabalho em espaços reduzidos (tais como galerias, canalizações,pipe-lines, porões de navios, poços, aberturas, cisternas, cubas,reservatórios, balastros, silos, reactores, nomeadamente)Devem ser tomadas precauções especiais antes de empreenderoperações de soldadura em recintos onde o perigo de asfixiaintoxicaçãoe de incêndio-explosão são muito importantes.Um processo de autorização de trabalho que define todas as medidasde segurança deve ser sistematicamente estabelecido.44 OPTIPULS 350 I / OPTIPULS 380 I W
---
Compruebe que hay una ventilación adecuada prestando una atenciónespecial a: la suboxigenación la sobreoxigenación los excesos de gas combustible.a.3) Intervención después de un accidenteFaça o necessário para que haja uma ventilação adequada, prestandouma atenção muito especial: à sub-oxigenação à sobre-oxigenação aos excessos de gás combustível.a.3) Intervenção a seguir a um acidenteEn caso de fuga no inflamada : No caso de uma fuga não inflamada : cierre la llegada de gas feche a chagada de gás no utilice ni una llama ni un aparato eléctrico en la zona en laque se ha extendido la fuga. não utilize chama, nem aparelhos eléctricos na zona em quea fuga se propagou.En caso de fuga inflamada : No caso de fuga inflamada : cierre la llegada de gas si la llave es accesible feche a chegada de gás caso a torneira seja acessível utilice extintores de polvo utilize extintores a pó si no puede detener la fuga, deje quemar refrigerando lasbotellas y las instalaciones próximas. se a fuga não puder ser parada, deixar arder arrefecendo agarrafa e as instalações vizinhas.En caso de asfixia : No caso de asfixia : llevar a la víctima al aire libre levar a vítima para o ar livre hacerle la respiración artificial y llamar al servicio de socorro. começar a respiração artificial e chamar os socorros.b) Consignas suplementarias para ciertos gases b) Recomendações suplementares relativamente a algunsgasesb.1) Gases y mezclas gaseosas que contienen menos del 20% de CO2Si estos gases o mezclas ocupan el espacio del oxígeno en el aire, puedeproducirse asfixia, ya que una atmósfera que contiene menos del 17% deoxígeno es peligrosa (véase a continuación el apartado "Trabajo enespacio confinado").b.2) Hidrógeno y mezclas gaseosas combustibles a base de hidrógenoEs un gas muy ligero. En caso de fuga se acumula bajo el techo o en lascavidades. Prever una ventilación en los lugares de riesgo.Es un gas inflamable. La llama de hidrógeno es casi invisible : riesgos dequemaduras.Las mezclas aire/hidrógeno y oxígeno/hidrógeno son explosivas engamas de proporciones amplias: del 4 al 74,5% de hidrógeno en el aire del 4 al 94% de hidrógeno en el oxígeno.Almacenar las botellas al aire libre o en un local bien ventilado. Evitartoda fuga limitando al mínimo el numero de racores.El hidrógeno hace que ciertos metales sean más frágiles: los acerosfuertemente aleados, el cobre no desoxidulado y el titanio.Utilice aceros con características moderadas y que tengan una buenaresiliencia, o cobre desoxidulado.b.1) Gases e misturas gasosas contendo menos de 20 % de CO2Se estes gases ou misturas ocupam o lugar do oxigénio no ar há risco deasfixia, uma atmosfera contendo menos de 17% de oxigénio é perigosa(conf. o parágrafo acima "Trabalho em espaços reduzidos").b.2) Hidrogénio e misturas gasosas combustíveis à base de hidrogénioÉ um gás muito leve. No caso de fugas ela vai se acumlar sob o tecto e nascavidades. Prever uma ventilação nos lugares que apresentem riscos.É um gás inflamável. A chama do hidrogénio é quase invisível : risco dequeimaduras.As misturas ar / hidrogénio e oxigénio / hidrogénio são explosivas emáreas de proporções bastante largas: 4 a 74,5 % de hidrogénio no ar 4 a 94 % de hidrogénio no oxigénio.Armazenar as garrafas ao ar livre ou num local bem vantilado. Evitarqualquer fuga limitando ao mínimo a quantidade de conexões.O hidrogénio fragiliza alguns metais: os aços fortemente ligados, cobreoxidulado, o titânio.Utilize aços com características moderadas e que tenham uma boaresistência ao impacto ou cobre desoxidulado.7. SEGURIDAD DEL PERSONAL /SEGURANÇA DO PESSOAL El operador siempre debe llevar una protección aislante individual. Esta protección debe mantenerse seca, para evitar las descargas eléctricas, ylimpia (sin presencia de aceite) para evitar la inflamación. Compruebe que el estado de los equipos de protección es correcto yrenuévelos con regularidad para estar perfectamente protegido. Conserve los equipos de protección durante el enfriamiento de las soldaduras,ya que pueden producirse proyecciones de lechada o componentes deescorias. Consignas complementarias para la utilización del "Liquisaf": El "Liquisaf" esun producto a base de propileno glicol, irritante para la piel y los ojos. Serecomienda ponerse protecciones antes de cualquier manipulación (guantes ygafas). O operador deve ter sempre uma protecção isolante individual. Esta protecção deve ser mantida seca para evitar os choques eléctricos elimpa (ausência de óleo) para evitar a inflamação. Certifique-se que os esquipamentos de protecção se encontram em bomestado de conservação e renove-os com regularidade para estar perfeitamenteprotegido. Conservar os equipamentos de protecção durante o arrefecimento dassoldaduras, visto que pode haver projecções de escórias ou de componentesdas mesmas. Recomendações suplementares para a utilização do "Liquisaf": "Liquisaf" é umproduto à base de propileno glicol, irritante para a pele e para os olhos.Recomenda-se a utilização de equipamentos de protecção antes de qualquermanipulação (luvas e óculos).OPTIPULS 350 I / OPTIPULS 380 I W 45
---
A - INFORMACIONES GENERALESA - INFORMATIONS GENERALES1. PRESENTACIÓN DE LA INSTALACIÓN 1. APRESENTAÇÃO DA INSTALAÇÃOEl OPTIPULS i es una instalación de soldadura, que permite trabajar en MIG-MAGcorriente lisa o corriente pulsada. Los ajustes de la tensión de soldadura y develocidad del hilo son continuos.La tecnología para la fuente de potencia es del tipo ONDULADOR( transistores). Elconjunto de la máquina es pilotado por microcontrolador.Estas opciones confieren al generador versatilidad de empleo, flexibilidad yexcelentes calidades de cebado y de soldadura.O OPTIPULS i é uma instalação de soldadura, que permite trabalhar em MIG-MAGcorrente lisa ou corrente pulsada. As regulações da tensão de soldadura e avelocidade de alimentação de fio são contínuas.A tecnologia para a fonte de corrente é de tipo INVERSOR DE CORRENTE(transistores). O conjunto da máquina é comandada por um microcontrolador.Estas opções conferem ao gerador uma flexibilidade de utilização aliada àsexcelentes qualidades de escorvamento e de soldadura.Las características del OPTIPULS I Ie permiten : As características do OPTIPULS i permitem-lhe : soldar con electrodo revestido∅ de 1,6 mm a 6,3 mmelectrodos de rutilo y básicos soldar en MIG-MAG corriente lisashort arc y spray arc de 30 A a 350 A soldar en MIG corriente pulsada en toda la gama, en donde este modode transferencia es útil y a partir de 1 mm de espesor de chapa devanar hilos de diferente naturalezahilos macizos, acero inoxidable, aluminiohilos revestidos con o sin escoriadiámetros aceptados: de 0,8 mm a 1,6 mm disponer del devanado en el puesto de trabajo3 longitudes de haz disponibles en estándar preajustar rápidamente los parámetros de soldadura gracias al OPTISystem ver claramente los parámetros de soldadura soldar com eléctrodo revestido ∅ 1,6mm a 6,3mm eléctrodos rutilos e básicos soldar em MIG-MAG corrente lisa short arc e spray arc de 30A a 350A soldar em MIG corrente pulsada em toda a gama onde este modo detransferência é útil e isso a partir de 1 mm de espessura de chapa alimentar fios de vários tipos fios sólidos, aço, inoxidáveis, alumínio fios fluxados com ou sem escórias diâmetros aceites: de 0,8 mm a 1,6 mm ter a alimentação no posto de trabalho 3 comprimentos de feixes de ligação disponíveis em standard pré-regular rapidamente os parâmetros de soldadura graças ao OPTISystem visualizar nitidamente os programas de soldadura.2. COMPOSICIÓN DE LA INSTALACIÓN 2. COMPOSIÇÃO DA INSTALAÇÃOLas instalaciones package versión agua haz 2 m (ref. 9160 1609) / haz 10 m (ref.9160 1611) se entregan listas para el empleo y constan de (Ver el desplegablefigura 1 al final del manual)As instalações package versão agua feixe 2 m (ref. 9160 1609) / feixe 10 m (ref. 91601611), são fornecidas prontas para serem utilizadas e compreendem (Ver folhetoinformatio figura 1 no fim dos instruções)1. la fuente de potencia con el cable primario (longitud 5 metros), que integra : 1. a fonte de potência com cabo primário (5 m de comprimento) integrando: un conjunto grupo de refrigeración de la torcha um conjunto grupo de arrefecimento da tocha un carro equipado de un soporte botella y anillas de eslingado um carro equipado com um suporte de garrafa e anéis de transporte brazos para colocar el haz y cables para la manutención braços de arrumação do feixe de ligação e cabos para a manutenção2. la devanadera DV 34 i equipada: 2. o alimentador de fio DV 34 i equipado com: de un haz enfundado 2 ó 10 m um feixe de ligação revestido com 2 ou 10 m un carro um carro de transporte un cubrebobina uma tampa de bobine una pletina de devanado de 4 rodillos uma platina de alimentação com 4 roletes un toma para la conexión de un mando a distancia (opcional) uma tomada para a ligação de um comando remoto (opcional)3. un cable de masa (longitud: 5 metros) con toma de masa montada 3. um cabo de massa (5 metros de comprimento) com pinça de massa montada accesorios de devanado para hilos de acero y acero inoxidable, diámetro 1,0 y1,2 mm acessórios de alimentação para fio em aço e inox com um diâmetro de 1,0 e1,2 mm4. una torcha de soldadura 4. uma tocha de soldaduraA - 46 OPTIPULS 350 I / OPTIPULS 380 I W
---
3. DESCRIPCIÓN DE LA CARA FRONTAL 3. DESCRIÇÃO DO PAINEL DIANTEIRO(Ver el desplegable figura 2 al final del manual)(Ver folheto informatio figura 2 no fim dos instruções)Indicador Corriente / Velocidad hilo / Espesor 1 Indicador de Corrente / Velocidade de fio / EspessuraSelector de Corriente / Velocidad hilo / Espesor 2 Selector Corrente / Velocidade de fio / EspessuraIndicador de tensión 3 Indicador de voltagemMarcha / Parada 4 Início / ParagemSelector MIG MAG / PULSADO / par hilo gas 5 Selector MIG MAG / PULSE / binário fio gásSelector diámetro de hilo / Set Up / Electrodo revestido 6 Selector diâmetro de fio / Set Up / Eléctrodo revestidoSelector 2T/4T 7 Selector 2T/4TSelector sinergia / manual 8 Selector Sinergia / manualAjuste del dinamismo (self) en modo MIG MAG corriente lisa 9 Regulação do dinamismo (choke) em modo MIG MAG corrente lisaTestigo de mantenimiento de los últimos parámetros de soldadura 10 Indicador de manutenção dos últimos parâmetros de soldadura4. DESCRIPCIÓN DE LA CARA FRONTALDEVANADERA(Ver el desplegable figura 12 al final del manual)Tapa bobina 1 Tampa bobinaRegulacion velocidad hilo 2 Regulação velocidade fioRegulacion longitud arco/ tension 3 Regulação comprimento do arco/ tensãoRacor de torcha 4 Ligação de tochaRuedas devanadera 5 Rodas unidade alimentadora de fioSelector mando a distancia 6 Selector comando a distanciaSoporte de torcha 7 Suporte de tochaConector mando a distancia 8 Conector comando a distanciaRacor torcha circulation agua 9 Ligação tocha circulation aguaSoporte pie pivote (opcione) 10 Suporte pe pivot (opções)4. DESCRIÇÃO DO PAINEL DIANTEIRO DOALIMENTADOR DE FIO(Ver folheto informatio figura 12 no fim dos instruções)5. OPCIONES 5. OPÇÕES(Ver el desplegable figura 13 al final del manual)(Ver folheto informatio figura 13 no fim dos instruções)1. Mando a distancia, art. 9160-1067 1. Comando à distância, ref. 9160-10672. Pie pivote, art. 9160-1064 2. Pé rotativo, ref. 9160-10643. Brazo de eslingado, art. 9160-1061 3. Braço de suspensão, ref. 9160-10614. OPTIBOX, art. 9160-1068 4. OPTIBOX, ref. 9160-10686. CARACTERÍSTICAS TÉCNICAS DEL OPTIPULS 350I / 380 I W6. ESPECIFICAÇÕES TÉCNICAS DO OPTIPULS 350 I /380 I WOPTIPULS iART. / REF. 9160-1419 / 9160-1420PRIMARIO MIG E.E. PRIMÁRIOAlimentación primaria 3 ~ 400 V 400 V Alimentação primária 3 fasesCorriente absorbida al 50% / 28,2 A Corrente absorvida a 50%Corriente absorbida al 60% 28 A 26,1 A Corrente absorvida a 60%Corriente absorbida al 100% 21,9 A 23,8 A Corrente absorvida a 100%Frecuencia 50/60 Hz 50/60 Hz FrequênciaPotencia absorbida (50%) / 19,5 kVA Potência absorvida (50%)Potencia absorbida (60%) 19,4 kVA 18,1 kVA Potência absorvida (60%)Potencia absorbida (100%) 15,2 kVA 16,5 kVA Potência absorvida (100%)SECUNDARIOSECUNDÁRIOTensión en vacío 86,3 V 86,3 V Tensão em vazioGama de ajuste 10 A – 350 A 10 A – 350 A Gama de regulaçãoFactor de marcha al 50%Factor de marcha 50 %(ciclo de 10 min.) a 40°C / 350 A / 34 V(ciclo de 10 min) a 40 °CFactor de marcha al 60%Factor de marcha 60 %(ciclo de 10 min.) a 40°C 350 A / 31,5 V 330 A / 33,2 V(ciclo de 10 min) a 40 °CFactor de marcha al 100%Factor de marcha 100%300 A / 29 V 280 A / 31,2 V(ciclo de 10 min.) a 40°C(ciclo de 10 min) a 40°CCable de masa 5 m 70 mm 2 70 mm 2 Cabo de massa 5 mClase de protección IP23 IP23 Classe de protecçãoClase de aislamiento H H Classe de isolamentoNormas NF EN 60974-1 NF EN 60974-1 NormasDimensiones (Long. x Anch. x Alt.) 1090 x 610 x 970 nua mm Dimensões (C x L x A)Peso netoversión aira/ versão ar = 83 kg versión agua/ versão agua = 96 kgPeso líquidosin devanadera / sem alimentador de fioPeso embaladoversión aira/ versão ar = 92 kg versión agua/ versão agua = 110 kgsin devanadera / sem alimentador de fioPeso embaladoOPTIPULS 350 I / OPTIPULS 380 I W A - 47
---
Grados de protección proporcionados por las envolventesGraus de protecção proporcionados pelos invólucrosLetra códigoLetra códigoIPProtección del materialProtecção do materialPrimera cifraPrimeiro algarismoSegunda cifraSegundo algarismo2 Contra la penetración de cuerpos sólidos extraños de ∅ ≥ 12,5 mmContra a penetração dos corpos sólidos1 Contra la penetración de gotas de agua verticales con efectos perjudicialesContra a penetração das gotas de água verticais com efeitos nocivos3 Contra la penetración de lluvia (inclinada hasta 60° respecto al) con efectos perjudicialesContra a penetração de chuva (inclinada até 60° em relação à vertical) com efeitos nocivos7. CARACTERÍSTICAS TÉCNICAS DE LADEVANADERA7. ESPECIFICAÇÕES TÉCNICAS DO ALIMENTADORDE FIOPletina doble 4 rodillos / 4 roletes Platina duplaVelocidad de devanado 1 ⇒ 20 m / min. Velocidade da alimentaçãoRegulador velocidad hilo Tacométrico Taquimétrico Regulador velocidade fioAjuste del P.R No Não Regulação pós-retracçãoHilos utilizables 0.8 ⇒ 1.6 mm Fios utilizáveisPaso por un registro de inspección Sí (sin carro) Sim (sem carro) Passa por uma porta de visitaConexión torcha «Tipo europeo» « Tipo Europeu » Ligação tocha8. CARACTERÍSTICAS TÉCNICAS DEL GRUPO DEREFRIGERACIÓN8. CARACTERÍSTICAS TÉCNICAS DO GRUPO DEREGRIGERAÇÃOBomba 230V - 50/60HZ - 0.23KW BombaVentilador 230/400V - 50/60Hz VentiladorIntensidad absorbida 0.75 A Intensidade absorvidaPression max. 4.25 bars Pressão máximaCaudal máximo. 2.8 l/min Caudal máximoATENCIÓN : No utilizar agua del grifo.ATENÇÃO : Não utilize água da torneira.A - 48 OPTIPULS 350 I / OPTIPULS 380 I W
---
B - PUESTA EN SERVICIOB - COLOCAÇÃO EM SERVIÇO1. DESEMBALAJE DE LA INSTALACIÓN 1. DESEMBALAGEM DA INSTALAÇÃO Retirar el embalaje que rodea la instalación. Retirar a embalagem que cobre a instalação. Retirar la fuente de potencia de su base de madera por medio de eslingas ocon una carretilla elevadora. Retirar a fonte de potência da repectiva base de madeira com os ganchosou com uma empilhadeira.ATENCIÓN : La estabilidad de la instalación está garantizada hasta unainclinación de 10°.ATENÇÃO : A estabilidade da instalação é assegurada até umainclinação de 10°.2. CONEXIÓN DEL HAZ DE LA DEVANADERA 2. LIGAÇÃO DO FEIXE DE LIGAÇÃO DOALIMENTADOR DE FIOEl haz está formado por : O feixe de ligação compreende : cables de potencia y de mando cabos de potência, de comando tubos de agua (versión agua) y de gas tubos de água (versoa água) e de gásSe conecta en la parte trasera del generador:(Ver el desplegable figura 3 al final del manual)É ligado à parte traseira do gerador:(Ver folheto informatio figura 3 no fim dos instruções)Conectar el cable de potencia al borne + o – del generador, según el hilo de 1 Ligar o cabo de potência ao terminal + ou – de acordo com o fio de soldadurasoldadura utilizado (el caso general soldadura hilo de acero en MIG MAG suelecorresponder a la polaridad + en la torcha)utilizado (o caso geral soldadura fio de aço em MIG MAG corresponde geralmente àpolaridade + da tocha)Conectar el cable de mando en la base de la toma 2 Ligar o cabo de comando à base da tomada(versión agua) Conectar los tubos de agua del circuito de refrigeración (conectores rápidos) 3 (versoa água) Ligar os tubos de água do circuito de arrefecimento (ligadores rápidos)Conectar el tubo de gas al manorreductor de la botella después de haberlo fijadocon la correa sobre su soporteLigar o tubo de gás ao debitómetro da garrafa depois de o ter fixado com a ajuda dacorreia sobre o respectivo suporteFijar el haz en la abrazadera prevista con este objeto 4 Amarar o feixe de ligação ao colar previsto para esse efeito3. CONEXIÓN ELÉCTRICA A LA RED 3. LIGAÇÃO ELÉCTRICA À REDEEl OPTIPULS I es suministrado listo para el empleo : O OPTIPULS I é fornecido pronto para ser utilizado : cable primario conectado al generador (toma no suministrada) acoplamiento único 400 V trifásicoLas frecuencias red aceptadas son 50 y 60 HzATENCIÓN :EL OPTIPULS I es un aparato de tecnología ONDULADORTRIFÁSICO 400 V: los umbrales de aceptación de la red son de400 V +10% y 400 V –10%Antes de conectarlo, verificar que la tensión de alimentación de la red corresponde alas características eléctricas del aparato.Una vez terminadas estas operaciones y después de haber instalado una toma en elcable primario, puede conectar la toma de alimentación a la red.La alimentación debe estar protegida con un dispositivo de protección (fusible odisyuntor) que tenga un calibre correspondiente a los consumos primarios(ver los consumos en el cuadro de la página 47). com o cabo primário ligado no gerador (tomada não fornecida) acoplamento único em 400 V trifásicoAs frequências rede aceites são 50 e 60 HzATENÇÃO :O OPTIPULS I é um aparelho com uma tecnologia de tipoINVERSOR TRIFÁSICO 400V: os limiares de aceitação da redesão de 400 V + 10 % e 400V – 10 %Antes de ligar o aparelho à rede, verificar se esta corresponde efectivamente àscaracterísticas eléctricas do mesmo.Depois de ter terminado estas operações, após ter montado uma ficha sobre o caboprimário, pode ligar a ficha de alimentação à rede.A alimentação deve estar protegida com um dispositivo de protecção (fusível oudisjuntor) com um calibre correspondendo aos consumos primários(ver consumos no quadro da página 47).4. CONEXIÓN DE LA TORCHA 4. LIGAÇÃO DA TOCHALa torcha de soldadura MIG MAG se conecta a la devanadera (conector europeo).Los tubos de agua se conectan bajo la devanadera (versión agua).Compruebe que la torcha está equipada de las piezas de desgaste correspondientesal hilo que va a utilizar para la soldadura.Para ello, remítase a las instrucciones entregadas con la torcha (Ver eldesplegable figura 7 al final del manual).A tocha de soldadura MIG MAG liga-se ao alimentador(Ligador Europeu). Os tubos deágua ligam-se debaixo do alimentador (versoa água).Certifique-se que a sua tocha está efectivamente equipada com as peças de desgastecorrespondendo ao fio que vai ser utilizado para a soldadura.Para isso refira-se às instruções que acompanham a tocha (Ver folhetoinformatio figura 7 no fim dos instruções).A partir de este momento, el generador está listo para soldar.O gerador está pronto para soldar.OPTIPULS 350 I / OPTIPULS 380 I W B - 49
---
C - INSTRUCCIONES DE UTILIZACIÓN C - INSTRUÇÕES DE UTILIZAÇÃO1. ELECCIÓN DEL HILO DE SOLDADURA 1. ESCOLHA DO FIO DE SOLDADURAEl OPTIPULS I permite trabajar en MIG-MAG corriente lisa o con una corrientepulsada.El metal que se va a soldar requiere la utilización de un hilo de naturaleza y diámetroadaptados, así como un gas adecuado.O OPTIPULS I permite trabalhar em MIG-MAG corrente lisa ou com correntepulsada.O metal a soldar pede a utilização de um fio com um tipo e um diâmetro adaptadosassim como a utilização do gás adequado. Cuadro de los principales hilos y gases que se pueden utilizar : Quadro dos principais fios e gases utilizáveis :Hilo / Fio Gas / Gás ∅ (mm)PolaridadtorchaPolaridadetochaObservacionesObservações0.8 a/a 1.6+ Short arcAcero / Aço Nertalic 70S/70A ARCAL 14 /ATAL 5 / ARCAL 21 1.0 a/a 1.6PulsadoAcero / Aço Nertalic 70S/70A CO2 0.8 a/a 1.6 + Short arcHilo revestido rutilo / Fio fluxado rutilo SD 100 / SD 127 / SD 128/ CO2 / ATAL 5 / ARCAL 21 1.0 - 1.2 - 1.6 + Short arcSD 116Spray arcHilo revestido basico / Fio fluxado básico SD 31 / SD400 ATAL 5 / CO2 ATAL 5 1.0 - 1.2 - 1.6 +Short arc- +Spray arcHilo revestido sin escoria / Fio fluxado SD 200 / SD 206 / SD 207 /ATAL 5Short arcsem escóriasSD 209ARCAL 21 1.0 - 1.2 - 1.6 +Spray arcAcero inoxidable macizo / Aço inoxidável 308 - 309 - 316 NOXALIC 12 / ARCAL 12/CARGAL/ ARCAL121Hilo revestido acero inoxidable / Fiofluxado inoxidável0.8 a/a 1.6 + Short arcPulsadoSD 650 / SD 652 / SD 654 ATAL 5 / CO2 1.0 - 1.2 - 1.6 + Short arcSpraySD Zn ATAL 5 / CARGAL 1.0 - 1.2 - 1.6 - Short arcSpray arcAluminio / Alumínio AG5 / AG3/AG4 / ALSI ARGON - ARGON/ HELIUM 1.0 - 1.2 - 1.6 + PulsadoShort arcSegún el metal de aportación utilizado, puede ser necesario invertir la polaridad de latensión aplicada a la soldadura.Este ajuste se efectúa por la parte trasera del generador. Elección de la polaridad de la tensión de soldadura (Ver el desplegablefigura 4 al final del manual) : Caso general: hilo macizo e hilo revestido MIG-MAGPolaridad - en la pieza (toma de masa)Polaridad + en la torcha Con ciertos hilos revestidos (básicos…)Polaridad + en la pieza (toma de masa)Polaridad - en la torchaEl gas de soldadura utilizado debe corresponder al caso de aplicación de soldadura.El siguiente cuadro indica los principales casos y gases que se pueden utilizar con loshilos macizos.Segundo o metal de adição utilizado, pode ser que seja necessário inverter apolaridade da tensão aplicada à soldadura.Este ajustamento faz-se no painel traseiro do gerador. Escolha da polaridade da tensão de soldadura (Ver folheto informatiofigura 4 no fim dos instruções) :Caso geral: para fio sólido e fio fluxado MIG-MAGPolaridade - na peça (tomada de massa)Polaridade + na tochaCom alguns fios fluxados (básicos...)Polaridade + na peça (tomada de massa)Polaridad – na tochaO gás de soldadura utilizado deve corresponder ao caso da aplicação de soldadura.O quadro abaixo indica os principais casos e gases utilizáveis com os fios sólidos.Leyenda = muy bueno = bueno = mediano Legenda = muito bom = bom = médioAceros no aleados y débilmente aleados ARCAL 21 ARCAL 14 ATAL 5 A ATAL 5 TERAL 23 ELOXAL 35 Aços não ligados ou de fraca ligaVelocidad VelocidadePenetración PenetraçãoProyecciones ProjecçõesAspecto AspectoCalidad del producto (1) Qualidade do produto (1)Nocividad de los humos Nocividade dos fumosCompacidad CompacidadeCaracterística mecánica resiliencia Características mecânicas resiliênciaAleaciones ligeras y cúpricas ARCAL 1 ARCAL 31 ARCAL 32 ARGON NERTAL INARC 9 Ligas leves e de cobrePenetración PenetraçãoAspecto AspectoCompacidad CompacidadeCalidad del producto (1) Qualidade do produto (1)Nocividad de los humos Nocividade dos fumosAceros inoxidables ARCAL 12 ARCAL 121 ARCAL 129 NOXALIC 12 Aços inoxidáveisPenetración PenetraçãoAptitud para el pulsado Aptidão à correntepulsadaCalidad del producto (1) Qualidade do produto (1)Aspecto AspectoVelocidad Velocidade(1) calidad del producto: homogeneidad, control de las impurezas y trazabilidad (1) qualidade do produto: homogeneidade, controlo das impurezas, rastreabilidade.C - 50 OPTIPULS 350 I / OPTIPULS 380 I W
---
2. CARGA DE LA BOBINA DE HILO 2. CARREGAMENTO DA BOBINE DE FIO(Ver el desplegable figura 5 al final del manual)La carga de la bobina se efectúa de la siguiente forma (después de haber puesto elgenerador fuera de tensión) :(Ver folheto informatio figura 5 no fim dos instruções)O carregamento da bobine de fio de soldadura efectua-se como se indica a seguir(depois de ter desligado o gerador da corrente) :Abrir la tapa de la bobinaAbrir a tampa da bobine1. Desenroscar la tuerca del eje de la bobina 1. Desenroscar a porca do eixo da bobine2. Introducir la bobina en el eje 2. Introduzir a bobine de fio no eixo3. Enroscar la tuerca en el eje 3. Enroscar a porca no eixo5. Bajar las palancas para liberar los contrarrodillos 5. Baixar as alavancas para libertar os contra-roletes6. Introducir el hilo por el guiahilo de entrada de pletina 6. Introduzir o fio pelo guia fio de entrada da platina7. Bajar los contrarrodillos y subir las palancas para inmovilizarlos 7. Baixar os contra-roletes e voltar a subir as alavancas para os imobilizar8. Ajustar la presión de los contrarrodillos (aproximadamente –3) 8. Ajustar a pressão dos contra-roletes (cerca de -3)9. Pulsar el botón de avance rápido del hilo, situado bajo la empuñadura de ladevanadera; dejar devanar el hilo en la torcha hasta que aparezca en suextremo, en la salida del tubo de contacto9. Pressionar o botão de pressão de avanço rápido do fio situado na parte inferiordo punho do alimentador de fio, deixar o fio avançar na tocha até que apareçana saída do tubo de contacto.Si debe adaptar piezas de la torcha o de la pletina de devanado al tipo de trabajo, ver elapartado 7. "Cambio de las piezas de desgaste", en la página 53.Se existirem peças que devem ser adaptadas ao tipo do seu trabalho, vide parágrafo"7. MUDANÇA DAS PEÇAS " na página 53.3. PUESTA EN MARCHA Y AJUSTES 3. LIGAÇÃO E REGULAÇÕES Puesta en marcha : el interruptor general está situado en lacara frontal del generador. La puesta en funcionamiento seefectúa poniendo este interruptor en la posición . Ligação : O interruptor geral fica situado no painel dianteirodo gerador. A Ligação faz-se accionando este interruptorpara a posição .4. UTILIZACIÓN DEL GENERADOR PARASOLDADURA CON ELECTRODO REVESTIDO(Ver el desplegable figura 9 al final del manual)4. UTILIZAÇÃO DO GERADOR PARA A SOLDADURACOM ELÉCTRODO REVESTIDO(Ver folheto informatio figura 9 no fim dos instruções) Desconectar el cable de potencia del haz de la devanadera. Desligar o cabo de potência do feixe do alimentador de fio. Conectar el cable de masa y el cable de pinza portaelectrodo a los bornesde salida de potencia del generador. La polaridad deberá seleccionarsesegún el tipo de electrodo (ver las indicaciones en el paquete deelectrodos). Ligar o cabo de massa e o cabo de pinça porta-eléctrodo aosterminais de saída de potência do gerador. A polaridade será escolhidade acordo com o tipo de eléctrodo (ver as indicações no pacote deeléctrodos). En la cara frontal, seleccionar la posición con el potenciómetro 3(Figura 6, al final del manual)Entonces, los demás botones son inactivos. Escolher no painel dianteiro, a posição através do potenciómetro3 (Figura 6 no fim deste manual)Os outros botões ficam então inactivos.En este modo, la corriente de soldadura está presentepermanentemente en los bornes de salida + y - del generador.Neste modo, a corrente de soldadura fica em permanência nosterminais de saída + e – do gerador.Ajustar la intensidad de soldadura con el botón rojo de la devanadera,leyendo el valor en el visualizador superior. Prever 40 A por milímetro dediámetro de electrodo para los casos generales.El visualizador superior indica el valor de la corriente de soldadura (previsualización);y el visualizador inferior indica la tensión en vacío.Después, en soldadura, los indicadores visualizan los valores de corriente yde tensión de soldadura.Precisión de la medida de intensidad:± 7% ± 2 APrecisión de la medida de tensión:± 5% ± 0,4 V5. UTILIZACIÓN DEL GENERADOR PARA SOLADURAMIG-MAG(Ver el desplegable figura 6 al final del manual)Ajustar a intensidade de soldadura com o botão vermelho do alimentadorde fio lendo o valor no visor superior. Prever 40A por milímetro dediâmetro de eléctrodo relativamente aos casos gerais.O visor superior indica o valor da corrente de soldadura (pré-visualização), o visorinferior indicando a tensão em vazio.Depois, durante a soldadura, os indicadores visualizam os valores de corrente e detensão de soldadura.Precisão da medida de intensidade:± 7% ± 2APrecisão da medida de tensão:± 5% ± 0,4V5. UTILIZAÇÃO DO GERADOR PARA A SOLDADURAMIG-MAG(Ver folheto informatio figura 6 no fim dos instruções) Connectar el cable de masa y el cable de potencia en función del tipo de Ligar o cabo de massa e o cabo de potência em função do fio escolhidohilo seleccionado Seleccionar el procedimiento de soldadura con el primer selector de lacara frontal : Seleccionar o processo de soldadura escolhido com o primeiro selectordo painel dianteiro : procedimiento MIG-MAG corriente lisa para los gases mixtos (Argón-CO2) e HILO REVESTIDO processo MIG-MAG corrente lisa para os gases mistos (Árgon-CO2) eFIOS FLUXADOS procedimiento PULSADO para las parejas hilo gas FE ATAL 5 (82/18),FE ARCAL (21 ó 14), Cr Ni (NOXALIC 12), Cr Ni (ARCAL 12,)AL mg (3 ; 5 ; 4,5), AL si 5 (A5) processo PULSADO para os binários fio gás: FE ATAL 5 (82/18), FEARCAL (21 ou 14), Cr ni (NOXALIC 12), Cr ni (ARCAL 12,)AL mg (3 ; 5 ; 4,5), AL se 5 (A5) Seleccionar el diámetro del hilo de soldadura: de 0,8 a 1,6 mm Seleccionar o diâmetro do fio de soldadura: 0,8 mm a 1,6 mmOPTIPULS 350 I / OPTIPULS 380 I W C - 51
---
Seleccionar el ciclo de soldadura o para el MIG (verexplicaciones para los ciclos en la página 52). Seleccionar el modo sinérgico o manual :• en modo manual, el potenciómetro rojo regula : la velocidad de hilo, y elpotenciómetro azul, la tensión de soldadura;• el modo sinérgico permite encontrar más rápidamente parámetros correctospara el caso de aplicación correspondiente. En efecto, en este modo, laposición central del botón azul de altura de arco corresponderá a un ajusteoptimizado para la velocidad de hilo seleccionada (botón rojo). Este es el únicoajuste que se debe modificar. Seleccionar o ciclo de soldadura ou para a soldadura MIG(ver explicações sobre os ciclos na página 52). Seleccionar o modo sinérgico ou manual :• em modo manual, o potenciómetro vermelho regula : a velocidade de fio, opotenciómetro azul regula a tensão de soldadura.• o modo sinérgico permite encontrar mais rapidamente parâmetros correctospara o caso da aplicação considerada. Com efeito, a posição central do botãoazul de altura de arco corresponde, neste modo, a um ajustamento ideal paraa velocidade de fio escolhida (botão vermelho). Este último será então a únicaregulação a modificar. Verificar que el selector GENE o CAD está en la posición GENE Certifique-se que o selector GENE ou CAD esteja na posição GENE Ajustar la velocidad de hilo (botón rojo en la devanadera). Ajustar a velocidade de fio (botão vermelho no alimentador de fio). Ajustar la tensión de soldadura (botón azul en la devanadera) o ponerloen la posición central. Ajustar a tensão de soldadura (botão azul no alimentador de fio ouposicioná-lo na posição central.NOTA : Es posible conectar un mando a distancia en la devanadera, en cuyo caso sedebe girar el interruptor marcado 6 (posición situada entre los dos botones de ajustede la velocidad de hilo y de altura de arco en la devanadera). Los dos potenciómetrosde la devanadera se vuelven inactivos. (Ver el desplegable figura 6 al final delmanual)Cuando se desconecta la CAD y el conmutador marcado 6 está en posición, lasconsignas de soldadura en los visualizadores indican 000. Para volver a los ajustesanteriores, girar el interruptor.Con objeto de facilitar el ajuste y hacerlo más preciso, la gama de altura de arco,accesible con el botón azul, se optimiza en función de la naturaleza del gas, del hilo ydel diámetro del hilo. La posición central del botón equivale a un mejor ajuste del hiloseleccionado.Después, hay que afinar el ajuste en torno a la posición central.Ciertos casos de aplicación (por ejemplo: hilo de aluminio) pueden precisar un ajustemás especializado respecto a la posición central del botón azul.El visualizador superior indica entonces el valor del ajuste : de corriente de soldadura (previsualización), botón 1 en posición A el espesor de las chapas que se van a soldar, botón 1 en posición – espesor de la velocidad de devanado de hilo en m/min. botón 1 en m/min.El visualizador inferior indica la tensión de soldadura.En soldadura MIG MAG corriente lisa, ajustar el potenciómetro 9 enposición central (para una fusión más dinámica, girar hacia el mín.-; parauna fusión más suave, girar hacia el máx.+NOTA : É possível ligar o comando remoto no alimentador de fio, neste caso,accionar o interruptor nº 6 (posição situada entre os dois botões de regulação develocidade de fio e de altura de arco no alimentador de fio). Os dois potenciómetrosdo alimentador tornam-se então inactivos. (folheto informatio figura 6 no fimdos instruções)Quando se desliga a CAD (C.R.) e que o comutador nº 6 está na posição, asrecomendações de soldadura nos visores indicam 000. Para voltar às regulaçõesiniciais accionar o interruptor.Para facilitar a regulação e torná-la mais afinada, a gama de altura de arco, acessívelatravés do botão azul, é optimizada em função do tipo do gás, do fio e do diâmetrode fio. A posição central do botão indica a uma melhor regulação do fio utilizado.Basta em seguida afinar a regulação em volta da posição central.Algumas aplicações (fios em alumínio, por exemplo) podem ter necessidade de umdesfasamento mais importante em relação à posição central do botão azul.O visor superior indica então o valor da regulação : da corrente de soldadura (pré-visualização), botão 1 na posição A da espessura das chapas a soldar, botão 1 na posição – espessura da velocidade de alimentação de fio em m/min. botão 1 em m/min.O visor inferior indica a tensão de soldadura.Em soldadura MIG MAG corrente lisa, ajustar o potenciómetro 9 naposição central (para uma fusão mais dinâmica rodar para o mín. -, parauma fusão mais douce rodar para o máx. +6. ELECCIÓN DE LOS CICLOS DE SOLDADURA 6. ESCOLHA DOS CICLOS DE SOLDADURA(Ver el desplegable figura 8 al final del manual)1 PREGÁS / PRÉ-GÁS 2 POST GAZ / POSTGÁSEn MIG-MAG, el hecho de apretar el gatillo de la torcha tiene efectos diferentes segúnel ciclo (o el modo) de soldadura utilizado. La elección del ciclo se efectúa con losbotones situados en la parte superior de la cara frontal del generador. Ciclo 2 tiempos( Ver folheto informatio figura 8 no fim dos instruções)Em soldadura MIG-MAG, a pressão sobre o gatilho tem efeitos diferentes segundo ociclo (ou o modo) de soldadura utilizado. A escolha do ciclo faz-se por intermédio debotões situados no painel dianteiro do gerador, em cima: Ciclo 2 temposEn este modo, cuando se aprieta el gatillo comienza el devanado, el pregás yel establecimiento de la corriente de soldadura. Cuando se suelta el gatillo, lasoldadura se para. Ciclo 4 tiemposCuando se aprieta por 1ª vez el gatillo, se enclava el PREGÁS.Cuando se suelta el gatillo, se inicia la soldadura (devanado + corriente).Si se aprieta de nuevo el gatillo, se para la soldadura, pero el gas continuafluyendo.Cuando se suelta por última vez el gatillo, se para el POSTGÁS.Neste modo, a pressão sobre o gatilho provoca a alimentação de fio, o pré-gáse o estabelecimento da corrente de soldadura. Quando se larga o gatilho, asoldadura pára. Ciclo 4 temposA 1ª pressão sobre o gatilho activa o PRÉ-GÁS.Quando se larga o gatilho, a soldadura começa (alimentação de fio +corrente).Uma nova pressão pára a soldadura mas o gás continua a sair.Se se largar de novo o gatilho o ciclo PÓS-GÁS pára.C - 52 OPTIPULS 350 I / OPTIPULS 380 I W
---
7. CAMBIO DE LAS PIEZAS DE DESGASTE 7. MUDANÇA DAS PEÇAS DE DESGASTELas piezas de desgaste del generador y de la torcha, cuya misión es guiar y haceravanzar el hilo de soldadura, deben adaptarse a la naturaleza y al diámetro del hilo desoldadura utilizado.Por otra parte, su desgaste puede alterar los resultados de soldadura. Por tanto, esnecesario cambiarlas.As peças de desgaste do gerador e da tocha, cujo papel é guiar e fazer avançar o fiode soldadura, devem ser adaptadas ao tipo e ao diâmetro do fio de soldadurautilizado.Por outro lado, o desgaste pode modificar os resultados de soldadura. Devem serportanto substituídos. Piezas de desgaste de la pletina de devanado : Peças de desgaste da platina de alimentação :AceroNormal 0,6 9161-7001 9161-7001 9159-5735Aço 0,8 9161-7006 9161-7002 9161-7002 9159-5730Acero1,0 9161-7015InoxidableAçometálico / metallic 9161-7003 9161-7004 9161-7003Inoxidável 1,29161-7004CrNi1,6Aleacionesligeras 1,0/1,2 9162-0199(plástico / plastic)Ligas levesAluminioAluminium1,2/1,6 9162-0200(plástico / plastic)9159-57319162-0188 9162-0201 9162-0188 9162-02039162-0189 9162-0202 9162-0189 9162-0204Hilosrevestidos 1,0 9159-57301,2 9161-70061,4 9161-7011 9161-7015 9161-7011 9159-5731Fios fluxados 1,6 metálico / metallic 9161-7012 9161-7017 9161-7012Piezas de desgaste de la torcha PROMIG 341 W (Ver el desplegable figura 7 alfinal del manual)Peças de desgaste da tocha PROMIG 341 W ( Ver folheto informatio figura 7 nofim dos instruções)Tubo contacto 1 Tubo de contacto Difusor 4 DifusorBoquilla 2 Bocal Conducto de desgaste 5 Conduta de desgastePinza 3 Pinça Tuerca 6 Porca8. CONFIGURACIÓN AVANZADA DEL GENERADOR 8. CONFIGURAÇÃO AVANÇADA DO GERADORCiertos parámetros de funcionamiento del generador se configuran mediante unamanipulación muy sencilla, accediendo al SETUP, seleccionado con el potenciómetro6 de la cara frontal. (Ver el desplegable figura 2 al final del manual ). Verifiqueque la toma de mando de la devanadera está bien conectada a la parte trasera delgenerador.Entonces, el visualizador inferior presenta el primer mensaje.PRG pregásEl visualizador superior indica el valor que se desea ajustar (por ejemplo : 0,2 s).Entonces es posible cambiar los parámetros apretando el gatillo de la torcha (tambiénse pueden hacer avanzar los parámetros en ambos sentidos seleccionando el modo2t en la cara frontal, para incrementar, y el modo 4t para decrementar).Alguns parâmetros de funcionamento do gerador podem ser configurados medianteuma manipulação muito simples. Esta configuração faz-se através do acesso aoSETUP; seleccionado pelo potenciómetro nº 6 do painel dianteiro. (Ver folhetoinformatio figura 2 no fim dos instruções) . Certifique-se que a tomada de comandodo alimentador esteja correctamente ligada à parte traseira do gerador.O visor inferior indica então a primeira mensagem.PRG pré-gásO visor superior indica o valor que se deseja regular (exemplo: 0,2 s). Pode-se entãomudar os parâmetros pressionando o gatilho da tocha (é possível movimentar osparâmetros nos dois sentidos, para isso, seleccionar o modo 2t no painel dianteiropara incrementar e o modo 4t para decrementar).OPTIPULS 350 I / OPTIPULS 380 I W C - 53
---
PregásPré-gásAjuste de fábrica 0,2 sValores posibles de 0 a 10 s, por pasos de 0,1 sRegulações de fábrica 0,2sValores possíveis de 0 a 10s por passos de 0,1 sPulse el botón de avance hilo,situado en la empuñadura de la devanadera,Pressionar o botão de avanço de fiosituado no punho do alimentador depara pasar al parámetro siguiente.fio, para passar ao parâmetro seguinte.PostgásPós-gásAjuste de fábrica 0,5 sValores posibles de 0 a 5,0 s, por pasos de 0,5 sRegulações de fábrica 0,5sValores possíveis de 0 a 5,0s por passos de 0,5 sPulsar el botón de avance hilo para pasar al parámetro siguiente. Pressionar o botão de avanço de fio para passar ao parâmetro seguinte.Antipegado (o post retract o burn back) Anticolagem (ou post retract)Ajuste de fábrica 0,07 sValores posibles de 0 a 0,20 s, por pasos de 0,01 sRegulações de fábrica 0,07sValores possíveis de 0 a 0,20s por passos de 0,01 sPulsar el botón de avance hilo para pasar al parámetro siguiente. Pressionar o botão de avanço de fio para passar ao parâmetro seguinte.Hot Start intensidad Ihs Hot start intensidade IhsAjuste de fábrica 0 VAjustes posibles de –70% a +70%, por pasos de 1%Nota : Si el tiempo es nulo (= 0), no se producirá un HotStartPosibilidad de cambiar el valor de intensidad de cebado para optimizar el arranque delarcoPosibilidad de ajustar en % el límite de velocidad hilo respecto a la consigna VFRegulação de fábrica 0 vRegulações possíveis de – 70 % a + 70 % por passosde 1%Nota : se o tempo for nulo (= 0), não haverá nenhumadescida de Hot StartPossibilidade de mudar o valor da tensão de escorvamento para optimizar o arranquedo arcoPossibilidade de regular em % o limiar de velocidade fio em relação à recomendaçãoVFPulsar el botón de avance hilo para pasar al parámetro siguiente. Pressionar o botão de avanço de fio para passar ao parâmetro seguinte.Hot Start tiempo tHs Tempo de escorvamento tHsAjuste de fábrica 0 sValores posibles de 0 a 10 s, por pasos de 0,1 sPosibilidad de cambiar el tiempo de Hot StartRegulação de fábrica 0sRegulações possíveis de 0 a 10 s por passos de 0,1sPossibilidade de mudar o tempo de Hot startPulsar el botón de avance hilo para pasar al parámetro siguiente. Pressionar o botão de avanço de fio para passar ao parâmetro seguinte.Tiempo de desvanecimiento dSt Tempo de descida de corrente dStAjuste de fábrica : 0 sValores posibles de 0 a 5 s, por pasos de 0,1 sRegulações de fábrica : 0sValores possíveis de 0 a 5s, por passos de 0,1 sPulsar el botón de avance hilo para pasar al parámetro siguiente. Pressionar o botão de avanço de fio para passar ao parâmetro seguinte.Ajuste de la tensión de pulsación (ajuste fino) UcAjuste de fábrica : 0 VValores posibles de –10 v a +10 v, por pasos de 0,3 VEste ajuste permite, para el modo pulsado únicamente, optimizar la separación de lagota y obtener una fusión perfecta.Caso de ajuste : hilos o gas poco corrientes, aparición de microproyecciones en Cr Nio gotas grandes en aleación ligera.Ajustamento da tensão de pulsação (ajustamentofino) UcRegulações de fábrica : 0 vValores possíveis de – 10 v a + 10 v por passos de 0,3 vEsta regulação permite relativamente ao modo pulsado unicamente, optimizar aseparação da gota e obter uma fusão ideal.Caso de ajustamento : fios ou gases pouco correntes, aparecimento de microprojecçõesem Cr ni ou de grandes gotas em liga leve.Pulsar el botón de avance hilo para pasar al parámetro siguiente. Pressionar o botão de avanço de fio para passar ao parâmetro seguinte.C - 54 OPTIPULS 350 I / OPTIPULS 380 I W
---
Mando del grupo de refrigeración GRECooling unit control - GREAjuste de fábrica «AUTO»Ajuste posible «AUTO»: el grupo funcionaautomáticamente durante la soldadura y enpostsoldaduraON»: el grupo funciona permanentemente«OFF»: el grupo está paradoO / OUO / OURegulações de fábrica: « AUTO »Regulação possível « AUTO »: o grupo funcionaautomaticamente durante a soldadura e em póssoldadura« ON »: o grupo funciona em permanência« OFF »: o grupo está sempre paradoPulsar el botón de avance hilo para pasar al parámetro siguiente. Pressionar o botão de avanço de fio para passar ao parâmetro seguinte.Compensación de longitud de haz FAI Compensação de comprimento de feixe de ligação -FAIAjuste de fábrica 0Ajustes posibles de 0 a 50Regulações de fábrica: 0Valores possíveis de 0 a 50Este reglaje esta 0. A regulação faz é 0.Pulsar el botón de avance hilo para pasar al parámetro siguiente. Pressionar o botão de avanço de fio para passar ao parâmetro seguinte.Selección del tipo de hilo revestido FF1Escolha do fio fluxado – FF1Ajuste de fábrica FF1 FLC (Flux cored wire)Ajustes posibles FF1 o FF2 MtC (Metal cored wire)O / OURegulações de fábrica: FF1 FLC (Fio fluxado)Valores possíveis de: FF1 or FF2 MtC (Metal cored wire)Esta opción permite trabajar con hilo revestido con escoria FF1 y sin escoria FF2Esta escolha permite trabalhar com fio fluxado com escórias FF1 e sem escórias FF2Pulsar el botón de avance hilo para pasar al parámetro siguiente. Pressionar o botão de avanço de fio para passar ao parâmetro seguinte.El visualizador superior indica «dyn» O visor superior visualiza então « dyn »Ajuste del dinamismo de fusión en SHORT-ARCAjuste de fábrica: harAjustes posibles: har (hard, régimen de arco seco) o sof(soft, ajuste de arco suave)O / OURegulação do dinamismo de fusão em SHORT-ARCRegulação de fábrica: harRegulações possíveis: har (hard, regime arco seco) ousof (soft, regulação arco douce)Pulsar el botón de avance hilo para terminar la configuración. Pressionar o botão de avanço de fio para terminar a configuração.Ahora el equipo está listo para soldar con las nuevasconfiguraciones.Mensajes de errorO posto de soldadura está agora pronto para soldar com asnovas configurações.Mensagens de erroCuando el aparato detecta un fallo, deja de funcionar e indica la naturaleza del fallo. Quando o aparelho detecta uma falha, cessa de funcionar e indica o tipo de falhaencontrado. Seguridad térmica equipo : sobrepasamiento del factor de marcha equipo sucio Seguridad GRE (grupo de refrigeración torcha) : verificar el nivel del líquido de refrigeración verificar que los tubos no están pinzados Segurança térmica do posto de soldadura : ultrapassagem do factor de marcha posto de soldadura sujo Segurança GRE (grupo de arrefecimento tocha) : verificar o nível do líquido de arrefecimento verificar se os tubos não estão esmagadosOPTIPULS 350 I / OPTIPULS 380 I W C - 55
---
9. CONFIGURACIÓN MUY AVANZADA DELGENERADORAlgunos parámetros de funcionamiento del generador no son accesibles directamentecon el SETUP de la cara frontal. Estos parámetros sólo se pueden utilizar para casosde soldadura muy particulares. Por tanto, hemos decidido no integrarlos en el SETUPde la cara frontal, para no sobrecargar el menú.9. CONFIGURAÇÃO MUITO AVANÇADA DOGERADORAlguns parâmetros de funcionamento do gerador não são directamente acessíveispelo SETUP do painel dianteiro. Esses parâmetros só são utilizáveis para os casos desoldadura muito especiais. Escolhemos portanto a não integração dos mesmos noSETUP do painel dianteiro para não sobrecarregar o menu.Esta configuración es accesible en :(Ver el desplegable figura 10 al final del manual)Esta configuração é acessível com :((Ver folheto informatio figura 10 no fim dos instruções)1. Desatornillar el panel de la cara frontal 1. Desaparafusar o painel frontal2. Girar el SWITCH n° 3 a la posición ON (Acceso SETUP EXPERT autorizado) 2. Accionar o SWITCH n° 3 para a posição ON (Accesso SETUP EXPERTen el circuito impresoautorizado) no circuito imprimido3. Volver a atornillar el panel de la cara frontal 3. Reaparafusar o painel frontal4. Seleccionar la posición electrodo revestido en la cara frontal 4. Seleccionar a posição eléctrodo revestido no painel dianteiro5. El visualizador superior indica EE 5. O visor superior visualiza então EEPulsar el botón de avance hilo para pasar al parámetro siguiente. Pressionar o botão de avanço de fio para passar ao parâmetro seguinte.Entonces, el visualizador superior indica «UL» O visor superior marca então « UL »Velocidad lenta de cebado ON Velocidade de escorvamento lenta ONAjuste de fábrica: ONAjustes posibles: ON (con velocidad lenta) OFF (sinvelocidad lenta)O / OURegulação de fábrica: ONRegulações possíveis : ON (com velocidade lenta) OFF(sem velocidade lenta)Pulsar el botón de avance hilo para pasar al parámetro siguiente. Pressionar o botão de avanço de fio para passar ao parâmetro seguinte.Ajuste de desvanecimiento de arco DSP Regulação da descida de corrente DSPAjuste de fábrica 30%Nota: Si el tiempo es nulo (= 0), no se producirá undesvanecimientoAjustes posibles del 0 al 100% por pasos de 1%Posibilidad de ajustar en % el límite de velocidad hilo respecto a la consigna VFRegulação de fábrica 30%Nota: se o tempo for nulo (= 0), não haverá nenhumadescida de correnteRegulações possíveis de 0 a 100% por passos de 1%Possibilidade de regular em % o limiar de velocidade fio em relação à recomendaçãoVFPulsar el botón de avance hilo para pasar al parámetro siguiente. Pressionar o botão de avanço de fio para passar ao parâmetro seguinte.Tensión de pulsación máx. UC Tensão de pulsação máxima UCAjuste de fábrica 0 VAjustes posibles de –10 a +10 V por pasos de 0,3 VPosibilidad de cambiar la tensión de pulsaciónRegulação de fábrica 0 vRegulações possíveis de – 10 a + 10 v por passos de0,3 vPossibilidade de mudar a tensão de pulsaçãoPulsar el botón de avance hilo para pasar al parámetro siguiente. Pressionar o botão de avanço de fio para passar ao parâmetro seguinte.Tiempo de pulsación TP Tempo de pulsação TPAjuste de fábrica 0 msAjustes posibles de –1,00 ms a +1,00 ms, por pasos de0,05 msPosibilidad de cambiar el tiempo de pulsaciónRegulação de fábrica 0 msRegulações possíveis de – 1.00 ms a + 1.00 ms porpassos de 0,05 msPossibilidade de mudar o tempo de pulsaçãoPulsar el botón de avance hilo para pasar al parámetro siguiente. Pressionar o botão de avanço de fio para passar ao parâmetro seguinte.Corriente básica Ib Corrente de base IbAjuste de fábrica 0 AAjustes posibles de –90 a +90 A, por pasos de 1,6 APosibilidad de cambiar la corriente básica de la pulsaciónRegulação de fábrica 0 ARegulações possíveis de – 90 a + 90 A por passos de1,6 APossibilidade de mudar a corrente de base da pulsaçãoPulsar el botón de avance hilo para pasar al parámetro siguiente. Pressionar o botão de avanço de fio para passar ao parâmetro seguinte.C - 56 OPTIPULS 350 I / OPTIPULS 380 I W
---
Fallo (parámetros de origen fábrica) FAC Falhas (parâmetros originais de fábrica) FACApretar el gatillo: aparición de GOEsperar hasta que aparezca ENDPressionar o gatilho: surge GOEsperar o aparecimento de ENDO / OUPosibilidad de restablecer los parámetros de fábrica de los 2 SET UPPossibility of returning a the plant parameters of the 2 SET UP'sA partir de entonces, el generador está inicializado. O gerador é então pronto a funcionar com as novasconfigurações.Pulsar el botón de avance hilo para terminar la configuración. Pressionar o gatilho de avanço de fio para terminar a configuração.10. INFORMACIONES COMPLEMENTARIAS 10. INFORMAÇÕES COMPLEMENTARES1. Botón avance hilo 1. Botão de avanço de fio El botón avance hilo puede desempeñar dos funciones diferentes: O botão de avanço de fio pode ter duas funções diferentes: La función pregás es accesible mediante una pulsación breve (inferior a1 s) en el botón de devanado y para una duración de 7 s. A função pré-gás é acessível mediante uma breve pressão (inferior a1 s) sobre o botão de alimentação e por uma duração de 7 s. La función devanado es accesible mediante una pulsación continua delbotón de devanado. A função alimentação de fio é acessível mediante uma pressãocontínua sobre o botão de alimentação de fio.2. Desvanecimiento 2. Descida de corrente En 2T: el desvanecimiento comienza cuando se suelta el gatillo. No esposible reanudar la soldadura apretando el gatillo; hay que esperar elfin del desvanecimiento.En 4T: el desvanecimiento se inicia cuando se aprieta de nuevo elgatillo. Continuará y se mantendrá mientras el gatillo siga apretado.Cuando se suelta el gatillo se produce el post-retrac y el postgás. Si eltiempo de desvanecimiento es nulo cuando se aprieta el gatillo, elmotor se para. Mientras el gatillo permanezca apretado, se conecta elpost-retrac y la electroválvula se mantiene abierta.Em 2T : a descida de corrente começa desde que se larga o gatilho.Não se pode recomeçar a soldadura pressionando o gatilho, deve-seaguardar o fim da descida de corrente.Em 4T : a descida de corrente começa desde que se pressiona denovo o gatilho. Continua e será mantido enqanto o gatilho estiveraccionado. Desde que se largar o gatilho, temos o post-retract e o p-gás. Se o tempo de descida de corrente for nulo quando se pressionaro gatilho, o motor pára. O post-retract é accionado e a electroválvulafica aberta enquanto se deixar o gatilho accionado.OPTIPULS 350 I / OPTIPULS 380 I W C - 57
---
D - MANTENIMIENTO D - MANUTENÇÃO1. PIEZAS DE RECAMBIO 1. PEÇAS SOBRESSELENTES(Ver el desplegable figura 2 y 11 al final del manual)Indic. / REF.Item / REF. Designación Designação(Ver folheto informatio figura 2 e 11 no fim dos instruções)Indic. / REF.Item / REF. Designación DesignaçãoOPTIPULS ICara frontal Painel dianteiro 37 0011 2025 Contactor Contactor4 0016 2073 Interruptor Marcha / Parada Interruptor Início / Paragem 38 0020 1030 Soporte fusible Suporte fusível5 0023 6020 Botón azul Botão azul 39 0020 0050 Fusible 2 A Fusível 2A7 0016 3029 Inversor 2T / 4T Inversor 2T / 4T Carrocería Carroçaria8 0016 3029 Inversor Manual / Sinergia Inversor Manual / Sinergia 40 9160 8470 Soporte Suporte9 0023 6015 Botón gris Botão cinzento 41 9160 8460 Tapa de plástico Tampa de plástico11 9160 8506 Cara frontal completa Painel dianteiro completo 42 4086 9021 Rueda trasera ∅ 300 Roda traseira ∅ 300Elementos internos Elementos internos 43 4086 9022 Rueda delantera ∅ 125 Roda dianteira ∅ 12520 9160 8428 Tarjeta regulación Placa regulação 9160 8711 Kit tornillería Kit de parafusos e porcas21 0320 7330 Tarjeta filtro secundaria Placa filtro secundário 9160 8453 Tapa derecha * Capota direita *22 9160 8259 Tarjeta filtro trifásica Placa filtro trifásico 9160 8455 Tapa izquierda * Capota esquerda *23 9160 8527 Tarjeta filtro auxiliar Placa filtro auxiliar Devanadera Unidade de alimentação24 9160 7815 Tarjeta de mando Placa de comando de fio25 0017 1082 Transformador auxiliar Transformador auxiliar 9160 1013 Ajuste de presión Regulação da pressão26 0017 1047 Transformador auxiliar Transformador auxiliar 9160 1021 Horquilla equipada izquierda Chapa equipada esquerda27 9157 3031 Depósito** Reservatório** 9160 1022 Horquilla equipada derecha Chapa equipada direita27 9000 0342 Dépósito*** Reservatório*** 9160 1020 Piñón adaptador Carreto adaptador27 9000 0359 Tapón*** Tampão*** 9160 1019 Piñón principal Carreto principal28 9114 0884 Bomba Bomba 9161 7014 Kit tornillo rodillo Kit parafuso rolete29 0010 1536 Ventilador (motor) Ventilador (motor) 9160 1018 Cuerpo de pletina Corpo de platina30 9160 4481 Hélice Hélice 9160 7442 Cubo eje de bobina Cubo eixo de bobine31 9358 0521 Radiador Radiador 9160 1017 Grupo motorreductor (GMR) Grupo motorredutor (GMR)32 0036 2007 Controlador de caudal Controlador de fluxo 0036 1025 Electroválvula 24 V DC Electroválvula 24V DC33 0036 6100 Racor filtro União filtro34 0015 3036 Borne conexión soldadura Terminal ligação soldadura35 9160 8710 Kit toma haz Kit tomada de feixe de ligação36 0036 6016 Racor auto-obturante União auto-obturante* únicamente por pedido * unicamente mediante encomenda** Para n° de matricula < 5377 VO 332 ** Para n° de referência < 5377 VO 332*** Para n° de matricula ≥ 5377 VO 332 *** Para n° de referência ≥ 5377 VO 3322. PROCEDIMIENTO DE REPARACIÓN 2. PROCEDIMENTO DE REPARAÇÃOLas intervenciones efectuadas en las instalaciones eléctricasdeben ser confiadas a personas cualificadas (ver el capítuloCONSIGNAS DE SEGURIDAD).As intervenções efectuadas nas instalações eléctricas devemser confiadas a pessoas qualificadas para as efectuar (videcapítulo RECOMENDAÇÕES DE SEGURANÇA).CAUSAS SOLUCIONES CAUSAS SOLUÇÕESCONMUTADOR PARADA/MARCHA EN 1 / EL EQUIPO NO ARRANCA / ELCONTACTOR PRIMARIO NO SUBE / EL VISUALIZADOR NO SE ENCIENDE Conexiones eléctricas verificar la conexión primariaCOMUTADOR DE INÍCIO/PARAGEM EM 1 / O POSTO DE SOLDADURA NÃOARRANCA / O CONTACTOR PRIMÁRIO NÃO SOBE / O VISOR NÃO SE ACENDE Ligações eléctricas verificar a ligação primária Tarjeta regulación Conmutador M/P defectuoso controlar el fusible del equipo F1 controlar el estado del contactorprimario K1 controlar el estado del conmutadorMarcha/ParadaCONMUTADOR PARADA/MARCHA EN 1 / EL EQUIPO NO ARRANCA / ELCONTACTOR PRIMARIO NO SUBE / EL VISUALIZADOR SE ENCIENDE Conexiones eléctricas Conectores Tarjeta filtro verificar la conexión primaria verificar el fusible F2 verificar el cableado de K1 verificar el cableado de la tarjetafiltro Placa regulação Comutador Início / Paragemdefeituoso controlar o fusível do posto F1 controlar o estado do contactorprimário K1 controlar o estado do comutadorInício / ParagemCOMUTADOR DE INÍCIO/PARAGEM EM 1 / O POSTO DE SOLDADURA NÃOARRANCA / O CONTACTOR PRIMÁRIO NÃO SOBE / O VISOR ACENDE-SE Ligações eléctricas Conectores Placa filtro verificar a ligação primária controlar o fusível do posto F2 verificar a cablagem de K1 verificar a cablagem da placa filtroD - 58 OPTIPULS 350 I / OPTIPULS 380 I W
---
CONMUTADOR PARADA/MARCHA EN 1 / EL EQUIPO ARRANCA / ELCONTACTOR PRIMARIO SUBE / EL VISUALIZADOR NO SE ENCIENDE Cableado defectuoso Conectores defectuosos Tarjeta regulación / Módulo carafrontal verificar el tirante de unión en la carafrontal verificar los conectores B6, B9 controlar los fusibles F2 y F3 en latarjeta regulación controlar las alimentaciones +15, -15, y+5 V si fallo alimentación cambiar latarjeta regulaciónde lo contrario, pulsar el avance hilo: sidevanado OK cambiar el módulo dela cara frontal.GATILLO APRETADO / NO HAY MENSAJE DE ERROR EN EL VISUALIZADOR /EL MOTOR DE DEVANADO NO FUNCIONA / NO HAY TENSIÓN EN VACÍO / LAPREVISUALIZACIÓN FUNCIONA Conectores defectuosos Tarjeta regulación Verificar los conectores J1, J2 y B9,B6 Controlar los fusibles F6 y F7 en latarjeta regulación si el LED L4 no se apaga, cambiarla tarjeta de regulaciónGATILLO APRETADO / NO HAY MENSAJE DE ERROR EN EL VISUALIZADOR /EL MOTOR DE DEVANADO NO FUNCIONA / LA PREVISUALIZACIÓNFUNCIONA Conectores defectuosos Tarjeta regulación Verificar los conectores J1, J2 yB9, B13, B15 Controlar el fusible F7 en la tarjetaregulación verificar la consigna V hilo en PT13medir la tensión de alimentaciónmotor entre PT1 y PT18si no hay tensión cambiar latarjeta regulación si tensión aproximadamente 30 V controlar el motorNO HAY MENSAJE DE ERROR EN EL VISUALIZADOR / EL MOTOR DEDEVANADO FUNCIONA (ORDEN DE GATILLO RECIBIDA) / LAPREVISUALIZACIÓN FUNCIONA / NO HAY CEBADO, NO HAY SOLDADURA Conectores defectuosos Tarjeta regulación Cableado Tarjeta mando ondulador verificar los conectores B2, B3, B9 si el LED L5 está encendido:cambiar la tarjeta de regulación si el LED L4 está encendido:controlar el cableado de B3 haciashunt si el LED L4 y L5 están apagados:verificar los fusibles F1 y F2 en latarjeta mando ondulador verificar los conectores B16 y B20de la tarjeta mando onduladorPara cualquier intervención interna al generador aparte de lospuntos citados: RECURRIR A UN TÉCNICOCOMUTADOR DE INÍCIO/PARAGEM EM 1 / O POSTO DE SOLDADURAARRANCA / O CONTACTOR PRIMÁRIO SOBE / O VISOR NÃO SE ACENDE Cablagem defeituosa Conectores defeituosos Placa regulação / Módulo paineldianteiro verificar a ponte de ligação no paineldianteiro verificar os conectores B6, B9 controlar os fusíveis F2 e F3 na placa deregulação controlar as alimentações +15, -15, e +5volt se falha alimentação mudar aplaca de regulação;no caso contrário premir avanço de fio:se alimentação de fio OK mudar omódulo painel dianteiro.PRESSIONAR O GATILHO / AUSÊNCIA DE MENSAGEM DE ERRO NO VISOR/ O MOTOR DE ALIMENTAÇÃO DE FIO NÃO FUNCIONA / AUSÊNCIA DETENSÃO EM VAZIO / A PRÉ-VISUALIZAÇÃO FUNCIONA Conectores defeituosos Placa de regulação verificar os conectores J1, J2 e B9,B6 controlar os fusíveis F6 e F7 naplaca de regulação se o LED L4 não se apagar: mudara placa de regulaçãoPRESSIONAR O GATILHO / AUSÊNCIA DE MENSAGEM DE ERRO NO VISOR /O MOTOR DE ALIMENTAÇÃO DE FIO NÃO FUNCIONA / A PRÉ-VISUALIZAÇÃO FUNCIONA Conectores defeituosos Placa de regulação verificar os conectores J1, J2 e B9,B13, B15 controlar o fusível F7 na placa deregulação verificar a recomendação V.fil emPT 13medir a tensão de alimentaçãomotor entre PT1 e PT18se não houver tensão mudar aplaca de regulaçãose a tensão for de cerca de 30V controlar o motorAUSÊNCIA DE MENSAGEM DE ERRO NO VISOR / O MOTOR DEALIMENTAÇÃO DE FIO NÃO FUNCIONA (ORDEM DO GATILHO RECEBIDA) /A PRÉ-VISUALIZAÇÃO FUNCIONA / AUSÊNCIA DE ESCORVAMENTO,AUSÊNCIA DE SOLDADURA Conectores defeituosos Placa de regulação Cablagem Placa de comando inversor verificar os conectores B2, B3, B9 se o LED L5 estiver aceso: mudara placa de regulação se o LED L4 estiver aceso:controlar a cablagem de B3 para oshunt se os LED L4 e L5 estiveremapagados : verificar os fusíveis F1e F2 na placa de comando doinversor verificar os conectores B16 e B20da placa de comando do inversorPara qualquer intervenção interna no gerador fora dos pontosdescritos acima: CHAMAR UM TÉCNICOOPTIPULS 350 I / OPTIPULS 380 I W D - 59
---
VEILIGHEIDSINSTRUCTIESAF dankt u voor uw vertrouwen. U zult bijzonder tevreden zijn over dit toestel, zolangu alle veiligheids- en gebruiksvoorschriften respecteert.Dit toestel of deze installatie werd volledig gebouwd conform de Europese richtlijnenLaagspanning (73/23/EEG) en CEM (89/336/EEG) en dit in toepassing van derespectieve normen EN 60974-1 (veiligheidsregels voor elektrisch materiaal, Deel1 : lasstroombron) en EN 50199 (Elektromagnetische compatibiliteit CEM).(Norm uitgevaardigd voor het booglassen).Elektromagnetische storingen in elektrische toestellen zijn grotendeels te wijten aande straling van de kabels in de installatie. Ingeval elektrische apparaten te dicht bijelkaar staan, in dat geval neemt u contact op met SAF die bijzondere gevallen apartzal bekijken.WAARSCHUWING : SAF kan niet aansprakelijk gesteld worden in gevalvan wijzigingen aan of toevoeging van componenten of onderdelen, nochenige wijziging in het toestel of in de installatie uitgevoerd door de klant ofeen derde zonder specifiek voorafgaandelijk schriftelijk akkoord van SAFzelf.Het materiaal dat aan deze instructies is onderworpen kan in combinatie met andereelementen een "machine" vormen. Deze "machine" valt in dat geval onder hettoepassingsgebied van de Europese richtlijn 991/368/EEG tot bepaling van deessentiële gezondheids- en veiligheidsvoorschriften : (overgenomen uit het Fransearbeidswetboek art. L233-5. Decreten van 29/12/1992). SAF kan niet aansprakelijkworden gesteld voor enige verbinding van elementen die niet door haar werduitgevoerd.Voor uw eigen veiligheid vindt u hierachter een niet-beperkende lijst metaanbevelingen of verplichtingen. Een groot deel daarvan is opgenomen in hetarbeidswetboek.Stelt u vast dat bepaalde elementen niet helemaal kloppen in deze handleiding, dankunt u dit steeds aan SAF melden. Alvast bedankt.U leest verplicht de hiernavolgende artikels betreffende de veiligheid vóóru uw installatie in gebruik neemt :1. elektrische veiligheid (cf. pag. 60)2. veiligheidsmaatregelen tegen rook, dampen, schadelijke en giftigegassen (cf. pag. 61)3. veiligheidsmaatregelen tegen lichtstralen (cf. pag. 62)4. veiligheidsmaatregelen tegen geluidshinder (cf. pag. 62)5. veiligheidsmaatregelen tegen vuur tegen vuur (cf. pag. 63)6. veiligheidsmaatregelen bij het gebruik van gassen (cf. pag. 63)7. veiligheid voor het personeel (cf. pag. 64)WAARSCHUWING : een las/snijgenerator mag uitsluitend gebruiktworden voor het doel waarvoor hij is bestemd. Hij mag in geengeval gebruikt worden om batterijen op te laden, waterleidingen teontdooien, lokalen te verwarmen door toevoeging vanweerstanden, …SÄKERHETSINSTRUKTIONERSAF tackar dig för det förtroende som du visat oss genom att köpa denna apparatensom kommer att uppfylla alla dina förväntningar om du följer instruktionerna föranvändning och underhåll..Denna apparaten eller denna installationen har tillverkats i enlighet medEuropadirektiven för Låg-spänning (73/23/EEC) och CEM (89/336/EEC), dettagenom tillämpningen av respektive standarder EN 60974-1 (säkerhetsbestämmelserför elektriskt material, Del 1 : strömkälla för svestning) och EN 50199(Elektromagnetisk Kompatibilitet CEM). (Produktstandarder för bågsvetsning).Den elektromagnetiska föroreningen från den elektriska utrustningen berorhuvudsakligen på strålningen från installationens kablar. Vid problem p.g.a för småavstånd mellan elektriska. I ett sådant fall, var god ta kontakt med SAF somundersöker varje enskilt fall.OBS ! : SAF tar inte något ansvar för förändringar, tillägg avkomponenter eller delar, eller för en ombyggnad av apparateneller installationen som gjorts av kunden eller någon annan, utanföregående skriftligt specialtillstånd från SAF.Det material som berörs av dessa instruktioner kan i kombination med andra delarutgöra en "maskin" som i så fall ingår i tillämpningsområdet som bestäms aveuropadirektivet 91/368/EEC vilket definierar de viktigaste säkerhets- ochhälsokraven : (återges i den franska arbetsbalken « code du travail » Art. L233-5Förordningar av den 29.12.1992). SAF kan inte åta sig något ansvar för ensammansättning av delar som ej SAF beslutat.Av säkerhetsskäl lämnar vi härnedan en icke-begränsad lista med rekommendationeroch skyldigheter varav en stor del tas upp i arbetsbalken.Vi blir tacksamma om du informerar SAF om du upptäcker fel i följande beskrivningar.Du måste absolut läsa igenom följande säkerhetsinstruktionerinnan du startar maskinen :1. elektrisk säkerhet (cf. sida 60)2. säkerhetsåtgärder mot rök, ånga, giftiga och ohälsosamma gaser (seesida 61)3. säkerhetsåtgärder mot ljusstrålar (see sida 62)4. säkerhetsåtgärder mot buller (see sida 62)5. säkerhetsåtgärder mot eld (see sida 63)6. säkerhetsåtgärder vid användning av gaser (see sida 63)7. personalens säkerhet (see sida 64)OBS ! : en strömkälla för svetsning/skärning får endast användastill de arbetsuppgifter den är avsedd för. Den får aldrig användasför laddning av batterier, upptining av frusna rör, uppvärmning avrum genom anslutning av ledningsmotsånd, osv...1. ELEKTRISCHE VEILIGHEID (DECREET 88-1056 VAN 14-11-88) (AANSLUITING, ONDERHOUD, HERSTELLING)/ ELEKTRISK SÄKERHET (FÖRORDNING 88-1056 AV DEN 14-11-88) (ANSLUTNING, UNDERHÅLL,REPARATION)Herstellingen aan elektrische installaties mogen alleen worden toevertrouwd aanpersonen die daarvoor zijn bevoegd.Onder bevoegde personen verstaan we specialisten die, dankzij hun technischeopleiding, in staat zijn de gevaren gekoppeld aan laswerken en elektriciteit juist in teschatten.Allt ingrepp på elektriska installationer ska utföras av kvalificerade personer.Med kvalificerade personer avses specialister som, tack vare deras tekniskautbildning, känner till och kan upptäcka de faror svetsning och el medför.a) Lasstroom- en snijstroombronnen aansluiten op het net. a) Anslutning till nätet av strömkällor avsedda för svetsning /skärninga.1) Vóór u uw toestel aansluit op het net controleert u of : a.1) Innan du ansluter din apparat, se till att : de meter, de beschermingsinrichting tegen overspanning en kortsluitingen,de stopcontacten, de stekkers en de elektrische installatie compatibel zijnmet het maximaal vermogen en de netspanning (zie constructeursplaatjes)en beantwoorden aan de vigerende normen en reglementeringen.a.2) Het toestel wordt eenfasig of driefasig met aarding aangesloten middels eenbeveiligingsinrichting met reststroom/differentieel stroom van gemiddelde tothoge gevoeligheid (differentieeluitschakelaar ; gevoeligheid tussen 1 A en30mA ) : is de kabel aangesloten op een vaste werkpost, dan mag de aarding (als dieis voorzien) nooit worden uitgeschakeld door de beveiligingsinrichting tegenelektroshocks mätaren, skyddsanordningen mot överspänningar och kortslutningar,uttagens hylsor och stift och den elektriska installationen är kompatibla medapparatens maximala effekt och spänning (cf. anvisningsskyltarna) ochsvarar mot gällande standarder och bestämmelser ;a.2) Anslutningen, enfasig eller trefasig med jord, görs via skydd av en anordningmed differential-överbliven ström av hög eller medel känslighet (differentialtöverspänningsskydd ; känslighet mellan 1 A och 30 mA ) : om kabeln är ansluten till en fast apparat ska aldrig jorden, om den ärplanerad, frånkopplas av skyddsanordningen mot elektriska stötar ;60 OPTIPULS 350 I / OPTIPULS 380 I W
---
is er een schakelaar voorzien, dan moet die op "UIT" staan dess strömbrytare, om det finns en, ska stå på "ARRET" (STOPP) ; is de voedingskabel niet meegeleverd, dan moet die van het type "HAR om nätanslutningskabeln ej finns med ska den vara av typ "HAR USE" ;USE" zijn uw elektriciteitsnet moet zijn uitgerust met een makkelijk herkenbare din elektriska matningskrets ska vara utrustad med en anordning förnoodstop die zó is bevestigd dat iedereen er makkelijk en snel bij kan.nödstopp som lätt känns igen och som sitter på så vis att den snabbt och lättgår att använda.b) Werkpost b) MaskinenBooglassen en boogsnijden veronderstellen een strikte naleving van alleveiligheidsregels betreffende elektriciteit.Controleer of geen enkel stuk metaal dat voor de operator en z'n helpers bereikbaar isrechtstreeks of onrechtstreeks in contact kan komen met een fasegeleider of deneutraal van het elektriciteitsnet.Gebruik alleen elektrodehouders en toortsen die perfect zijn geïsoleerd.De operator mag niet rechtstreeks in contact staan met de grond of het werkstuk(handschoenen, veiligheidsschoenen, droge kleren, leren schort, …).Sluit de aardingskabel op een veilige manier en zo dicht mogelijk bij de laszone aanop het werkstuk (om een goeie circulatie van de stroom te garanderen).Raak nooit tegelijk de elektrodedraad (of de nozzle) en het werkstuk aan.Wanneer de laswerken moeten worden uitgevoerd buiten de gebruikelijke en normalewerkomstandigheden en het gevaar voor elektroshocks daardoor toeneemt (deoperator moet bijvoorbeeld in een enge ruimte werken), dan neemt u bijkomendevoorzorgsmaatregelen : gebruik een lasstroom- of snijstroombron aangeduid met voer de persoonlijke bescherming op.Igångsättningen av bågsvetsnings- eller skärningsarbetet kräver att du följer noggrantsamtliga säkerhetskrav vad beträffar elströmmmen.Se till att ingen metalldel som användaren eller dess medhjälpare kan nå kan komma idirekt eller indirekt kontakt med en fasledare eller den neutrala i strömnätet.Använd endast perfekt isolerade elektrodhållare och svetspistolerc) Onderhoud / Herstelling c) Underhåll / ReparationVóór interne controles en herstellingen, controleert u of het toestel niet is aangeslotenop de elektrische installatie (daarmee bedoelen we dat u een reeks bewerkingenuitvoert om het toestel af te zonderen en zonder spanning te zetten).Bepaalde toestellen zijn uitgerust met een boogvormingscircuit HT.HF (aangeduid meteen plaatje). U mag nooit aan dat circuit werken (neem contact op met SAF vooronderhoud of herstellingen).U controleert om de 6 maanden of de isolatie en aansluitingen van de elektrischetoestellen en toebehoren nog in orde zijn. Met toebehoren bedoelen we stekkers,soepele kabels, mantels, connectoren, verlengstukken, werkstukklemmen,elektrodehouders of toortsen,…Herstellingen aan of het onderhoud van de isolerende omhullingen en mantelsmoeten heel nauwkeurig gebeuren.Laat defecte stukken door een specialist herstellen, of beter nog, laat ze vervangen.Controleer regelmatig of de elektrische verbindingen goed zijn aangesloten en properzijn.Zie verder het hoofdstuk ONDERHOUD dat speciaal is gewijd aan het onderhoud ende herstellingen van uw materiaal.Användaren ska vara isolerad från marken och arbetsstycket som ska svetsas(handskar, skyddsskor, torra kläder, förkläde i läder, osv...).Fäst jordkabeln på arbetsstycket så nära svetsstället som möjligt och på ett säkert sätt(detta för att erhålla en bra strömcirkulation).Rör inte samtidigt på elektroden (eller kontaktmunstycket) och arbetsstycket.När svetsarbetet utförs i andra förhållanden än i vanliga och normalaarbetsförhållanden och med en ökad risk för elektriska stöter (t.ex : rum i vilketanvändaren saknar plats) ska extra försiktighetsåtgärder vidtas såsom : användning av en strömkälla för svetsning/skärning märkt större enskilt skydd.Före allt ingrepp inuti maskinen eller all reparation måste du kontrollera att maskineninte längre är ansluten till strömmen (genom en rad uppgifter avsedda för att kopplabort apparaten från den elektriska installationen och kvarhålla apparaten frånkopplad).Vissa apparater består av en HT.HF-tändningskrets (anges med en skylt). Du fåraldrig ingripa i denna krets (kontakta SAF för allt ingrepp).Du måste kontrollera åtminstone var 6:e månad isoleringens goda skick ochanslutningarna på samtliga apparater och elektriska tillbehör, såsom kontakter,slangar, höljen, anslutningsdon, förlängningssladdar, godsklämmor, elektrodhållareeller pistoler...Underhålls- och reparationsarbeten på isolerande höljen och kåpor ska utföras mycketförsiktigt.Låt reparationen utföras av en specialist, eller ännu bättre låt byta ut defekta delar.Kontrollera regelbundet att alla elektriska anslutningar är rena och sitter bra fast.Läs igenom längre fram kapitlet UNDERHÅLL som går närmare in på underhålls- ochreparationsarbeten på köpta material.2. VEILIGHEIDSMAATREGELEN TEGEN ROOK, DAMPEN, SCHADELIJKE EN GIFTIGE GASSEN/ SÄKERHETSÅTGÄRDER MOT RÖK, ÅNGA, GIFTIGA ELLER OHÄLSOSAMMA GASERLas- en snijwerken moeten worden uitgevoerd in voldoende verluchte ruimtes.Uitstoten van gassen, ongezonde of storende rook of rook die de gezondheid van dewerknemers in gevaar kan brengen moeten tijdens de productie zo doeltreffendmogelijk en zo dicht mogelijk bij de uitstotingsbron worden opgevangen. (Art. R232-1-7 Decreet 84-1093 van 7-12-84).Rookcaptoren moeten zó op een aanzuigsysteem worden aangesloten dat deeventuele vervuilende concentraties nooit de grenswaarden overstijgen We kunnen uaanraden de "Guide pratique de ventilation n°7 - ED 668", betreffende booglassenvan het Institut National de Recherche et de Sécurité (INRS) door te nemen. In dezegids vindt u berekeningsmethoden en verschillende praktische toepassingen.SAF biedt u een uitgebreid gamma aanzuigsystemen die zijn afgestemd op uwbehoeften.Svets- och skärningsarbeten ska utföras på tillräckligt luftiga ställen.Utsläpp i form av gas, ohälsosam rök, besvärande eller skadlig för arbetarnas hälsa,ska fångas upp undan för undan, så nära utsläppet som möjligt och på effektivastesätt. (Art. R232-1-7 Förordning 84-1093 av den 7-12-84).Vi rekommenderar att du läser igenom « Praktisk handbok om ventilation » n°7 -ED 668, bågsvetsningsarbete av Säkerhets- och Forskningsinstitutet l'InstitutNational de Recherche et de Sécurité (INRS), som innehåller beräkningsmetoder ocholika praktiska tillämpningsexempel..SAF erbjuder en hel serie uppsugningssystem som svarar mot dina behov.OPTIPULS 350 I / OPTIPULS 380 I W 61
---
Bijzondere opmerkingen i.v.m. chloorsolventen (gebruikt om schoon temaken of te ontvetten) : wanneer de dampen van dergelijke solventen in aanraking komen metde stralen van een (zelfs ver verwijderde) boog, kunnen ze zich inbepaalde gevallen omzetten in giftige gassen. Controleer daarom of dewerkstukken goed droog zijn. wanneer dergelijke solventen niet in een water- en luchtdicht recipiëntworden bewaard, moet het gebruik ervan worden vermeden in eenruimte waar elektrische bogen vonken afgeven. Ett speciellt fall : klorhaltiga lösningsmedel (som används för rengöringeller borttagning av fett och smörja) : ångan från dessa lösningsmedel kan, i vissa fall, om den utsätts förstrålningen av en båge även långt ifrån, omvandlas till giftig gas.Kontrollera att arbetsstyckena som ska svetsas är torra. Om de inte är på en tät plats bör dessa lösningsmedel ej användas dären elektrisk båge alstras..3. VEILIGHEIDSMAATREGELEN TEGEN LICHTSTRALEN /SÄKERHETSÅTGÄRDER MOT LJUSSTRÅLARU beschermt steeds uw ogen tegen boogflitsen (verblinding door zichtbaar licht eninfrarood- of ultravioletstralen veroorzaakt door de boog).Het lasmasker, met of zonder helm, moet steeds zijn voorzien van een beschermendefilter waarvan de graad afhankelijk is van de intensiteit van de lasstroom (Norm EN169).De kleurfilter kan tegen schokken en spatten beschermd worden dankzij doorzichtigglas dat op de voorkant van het masker zit.Wanneer u een filter vervangt, moet die filter aan dezelfde referenties voldoen (zelfdenummer van donkertegraad).Werknemers die in de buurt van de operator werken en vooral zijn assistenten moetenbeschermd worden door middel van aangepaste schermen, een UV-bril en indiennodig een masker met aangepaste beschermingsfilter dragen. Onderstaande tabel geeft de graadschaal (1) en het aanbevolen gebruikvoor lasboogwerken :Det är ytterst viktigt att skydda ögonen mot ljusbågen (bländning av synlig ljusbågesamt infraröd och ultraviolett strålning).Ansiktsmasken, med eller utan hjälm, ska alltid bestå av ett skyddsfilter varavskyddsnivån beror på svetsströmstyrkan (Standard EN 169).Ett färgat filter kan skyddas mot stötar och sprut genom ett genomskinligt skyddsglassom placeras på ansiktsmaskens framsida.Vid filterbyte ska du använda samma referenser (samma opacitetsnivå).De personer som befinner sig i närheten av användaren, och särskilt hansmedhjälpare, ska skyddas med lämpliga skärmar, anti-UV glasögon och, vid behov,med en ansiktsmask som består av ett lämpligt skyddsfilter Tabell som anger skyddsnivån (1) och rekommenderad användning förbågsvetsning :(1)- Naargelang de gebruiksomstandigheden kunt u ook het nummer gebruiken datnet boven of net onder het aanbevolen nummer ligt.(2)- De uitdrukking "zware metalen" slaat op staal, staallegeringen, koper enkoperlegeringen, …Noot : bovenstaande gearceerde zones stemmen overeen met toepassingsgebiedenwaarin lasprocédés niet gebruikelijk zijn.(1)- Beroende på användningsförhållandena kan skyddsnivån närmast under elleröver användas.(2)- Uttrycket "tungmetaller" täcker stål, stållegeringar, koppar och legeringar, osv...Obs ! : de streckade områdena härovan motsvarar de tillämpningsområden därvanliga svetsmetoder vanligtvis inte används..4. VEILIGHEIDSMAATREGELEN TEGEN GELUIDSHINDER /SÄKERHETSÅTGÄRDER MOT BULLERHet geluid dat een las- of snijmachine voortbrengt hangt af van verschillende criteria en meerbepaald : de las- of snijintensiteit, het procédé (MIG - IMPULSMIG - TIG, …) en de omgeving(klein of groot lokaal, terugkaatsing door de muren, …).Het leeggeluid van SAF snij- of lasgeneratoren bedraagt meestal minder dan 70 dB(A).Het geluid (niveau van de geluidsdruk) dat deze generatoren voortbrengen kan tijdens hetlassen of snijden meer dan 85 dB (A) bedragen bij de werkpost.U controleert dus aan de hand van aangepaste metingen op de werkplaats en onder degebruikelijke werkomstandigheden of het geluidsniveau nooit meer dan 85 dB (A) bedraagt.Ingeval het geluidsniveau hoger ligt, moet de operator de nodige bescherming dragen enmeer bepaald een helm, oordoppen of geluidsdoppen en moet hij met aangepasteaanduidingen worden voorgelicht.SAF biedt u een hele waaier producten die zijn afgestemd op uw behoeften.Bullret från svetsmaskiner och skärningsmaskiner beror på flera parametrar, bl.a : svets-/skärningsstyrkan, valda metod (MIG - PULSAD MIG - TIG osv...) och miljön (mer ellermindre stora lokaler, återkastning från väggarna, osv...).Bullret från SAFs strömkällor för svestning/skärning vid tomgång är i allmänhet lägreän 70 dB (A).Ljudutsändningen (ljudets trycknivå) från dessa strömkällor kan vid svestning eller skärningöverskrida 85 dB (A) brevid maskinen.Du bör därför se till att, genom att vidta lämpliga åtgärder på avsedda arbetsplats och förgällande arbetsförhållanden, inte 85 dB (A) -gränsen överskrids. Om denna ljudnivånöverskrids ska användaren utrustas med lämpligt skydd, såsom svetshjälm, hörselskydd, ochinformeras genom en lämplig skylt..SAF erbjuder en hel serie skyddsutrustningar som svarar mot dina behov.62 OPTIPULS 350 I / OPTIPULS 380 I W
---
5. VEILIGHEIDSMAATREGELEN TEGEN BRAND /SÄKERHETSÅTGÄRDER MOT ELDHou ontvlambare producten en inrichtingen ver uit de buurt van de vonkenvoortgebracht door de boog of bescherm ze tegen vonken.Nooit lassen of snijden in de buurt van een verluchtingsleiding, gasleiding of andereinstallaties die het vuur snel uitbreiding kunnen doen nemen.Algemeen moet de operator een brandblusapparaat binnen handbereik houden. Datapparaat moet zijn afgestemd op het type brand dat eventueel kan ontstaan.Controleer of de aarding goed is aangesloten. Een slecht aardingscontact kan eenboog doen ontstaan, waardoor dan weer brand kan ontstaan.Håll brännbara produkter eller utrustning långt ifrån bågens sprutområde, eller skyddadem.Svetsa ej och utför inga skärningsarbeten nära luftledningar, gasrör eller alla övrigainstallationer som snabbt kan sprida eld.Användaren bör alltid ha en eldsläckare nära till hands. Eldsläckaren måste passa dentyp av eldsvåda som kan inträffa.Se till att jordanslutningen sitter rätt. En dålig anslutning kan ge upphov till en bågesom i sin tur kan orsaka en eldsvåda.6. VEILIGHEIDSMAATREGELEN BIJ HET GEBRUIK VAN GAS /SÄKERHETSÅTGÄRDER VID ANVÄNDNING AV GASERa) Algemene voorschriften voor alle gassen a) Gemensamma rekommendationer för samtliga gasera.1) Risico'sWanneer gassen in verkeerde omstandigheden worden gebruikt, wordengebruikers aan twee belangrijke gevaren blootgesteld, vooral wanneer zein een besloten ruimte werken : gevaar voor verstikking of vergiftiging gevaar voor brand of ontploffinga.2.) Voorzorgsmaatregelen Geperst gas opslaan in flessenVolg de veiligheidsvoorschriften van uw leverancier en respecteervooral deze voorzorgsmaatregelen : de opslag- of gebruikszones moeten goed verlucht worden,ver genoeg verwijderd zijn van de snij- of laszones en anderewarmtebronnen en beveiligd zijn tegen technische ongevallena.1) Risker man utsätts förVid dåliga gasanvändningsförhållanden utsätts användaren för två storarisker, särskilt vid arbeten på en instängd plats : risk för kvävning eller förgiftning risk för brand och explosiona.2.) Försiktighetsåtgärder som bör respekteras Lagring i form av komprimerad gas i flaskorFölj de säkerhetsråd som lämnats av gasleverantören, och tänksärskilt på att : lagrings- och hanteringsplaserna ska bestå av en braventilation, ska vara tillräckligt långt ifrån svets- ochskärningsplatsen och övriga värmekällor, och ska vara välskyddade i händelse av ett tekniskt fel ;. sjor de flessen vast, vermijd schokken fäst flaskorna, undvik stötar ; voorkom hoge temperaturen (> 50° C). inte för hög värme (> 50° C). Leidingen en slangen controleer regelmatig of de vaste leidingen of rubberenslangen goed zijn afgedicht spoor een lek nooit op met een vlam. Gebruik eenaangepaste detector of anders zeepsop en een borsteltje gebruik buizen in conventionele kleuren die zijn afgestemd ophet gebruikte gas verspreid het gas onder de druk die staat aanbevolen op degebruiksaanwijzing laat geen leidingen rondslingeren in de werkplaats ; zekunnen beschadigd raken. Rör och slangar kontrollera regelbundet att fasta rören samt gummislangarnaär ordentligt täta ; sök aldrig efter läckage med hjälp av en låga. Använd enlämplig sensor eller vatten med tvål och en pensel ; använd traditionella slangfärger i förhållande till använda gas distribuera gaserna enligt de tryck som rekommenderas imaterialens handböcker ; lämna inte efter dig några slangar liggande på golvet iverkstaden ; de kan förstöras. Gebruik van toestellen Användning av apparaterna gebruik alleen toestellen die specifiek werden ontworpen voor använd endast de apparater som tillverkats speciellt för dehet gebruikte gasgaser du använder ; controleer of de fles en de reduceerklep specifiek zijn kontrollera att flaskan och reduceringsventilen verkligen ärafgestemd op het gebruikte gasanpassade till den gas du behöver använda för ditt arbete ; vet de kranen nooit in, draai ze zachtjes dicht of open smörj aldrig kranarna, hantera dem försiktigt ;. reduceerklep : reduceringsventil :• vergeet niet de kranen van de flessen te ontluchten• glöm inte att lufta kranarna på flaskorna innan duvóór u ze op de reduceerklep aansluit.ansluter reduceringsventilen.• controleer of de spanschroef werd losgedraaid vóór u• se till att reduceringsventilens skruv är lös innan dude fles aansluitkopplar på den på flaskan.• controleer of de verbindingsaansluiting goed is• kontrollera noggrant att anslutningen sitter åt innan duaangespannen vóór u de gaskraan opendraaitöppnar kranen på flaskan• draai de kraan voorzichtig open en slechts• öppna kranen sakta och stegvis.met één draaislag per keer doen zich lekken voor, maak dan nooit een aansluiting los vid läckage skruva aldrig upp en anslutning under tryck, stängterwijl die onder druk staat, draai eerst de kraan van de flesförst kranen på flaskan.dicht. Werken in enge ruimtes (zoals galerijen, leidingen, pipelines,scheepsruimen, putten, mangaten, kelders, tanks, reservoirs, ballasten,silo's, reactoren)U neemt bijzondere voorzorgen vóór u begint te lassen in ruimtes waarhet gevaar voor verstikking-vergiftiging of brand-ontploffing bijzonderhoog is.U stelt systematisch een procedure op met veiligheidsmaatregelen. Att arbeta på en instängd plats (såsom bl.a gångar, ledningar, pipelines,båtköl, brunnar, manhål, källare, behållare , tankar, reservoaer,ballaster, silos, reaktorer)Särskilda försiktighetsåtgärder ska tas innan ett svetsarbete sätts igångpå sådana platser då risken för kvävning-förgiftning och brandexplosionär mycket stor.Vid svetsning på sådana arbetsplatser måste man systematiskt gåigenom en arbetstillståndsprocedur som definierar samtligasäkerhetsåtgärder.OPTIPULS 350 I / OPTIPULS 380 I W 63
---
Zorg dat de ruimte voldoende gelucht kan worden en let daarbij vooralop het volgende : gebrek aan zuurstof teveel aan zuurstof teveel aan brandbaar gas.a.3) Ingreep na een ongevalSe till att ventilationen är tillämplig, och kontrollera extra noggrant :a.3) Ingrepp efter en olycka för låg syresättning för hög syresättning för mycket bränbar gas.In geval van een lek dat niet ontvlamt : Vid läckage utan eld : draai de gastoevoer dicht stäng gastillförseln gebruik geen vlammen noch elektrische toestellen in deruimte waar het lek zich heeft verspreid använd varken en låga eller en elektrisk apparat i områdetdär läckan spridits.In geval van een lek dat ontvlamt : Vid läckage som brinner : draai de gastoevoer dicht als dat mogelijk is stäng gastillförseln om du når kranen gebruik brandblusapparaten op basis van poeder använd en pulverbrandsläckare kan het lek niet gedicht worden, laat het gas dan opbrandenmaar hou de flessen en installaties in de buurt koel. om läckan inte kan stoppas, låt brinna samtidigt som du kylerned flaskorna och installationen brevidIn geval van verstikking : breng het slachtoffer naar buiten start de mond-aan-mondbeademing en roep hulp in.Vid kvävning bär ut personen i friska luften sätt igång med konstgjord andning och kalla på hjälp.b) Bijkomende voorzorgsmaatregelen voor bepaalde gassen b) Särskilda instruktioner för vissa gaserb.1) Gassen en gasmengsels met minder dan 20 % aan CO2Wanneer deze gassen of gasmengsels de plaats van de zuurstof in delucht innemen, dan dreigt er verstikkingsgevaar. Een atmosfeer metminder dan 17% zuurstof is reeds gevaarlijk (zie bovenstaande paragraaf"Werken in enge ruimtes").b.2) Waterstof en brandbare gasmengsels op basis van waterstof.Waterstof is een bijzonder licht gas. Zodra het ontsnapt hoopt het zich op onderhet plafond of in holtes. Voorzie voldoende ventilatie in risicoruimtes.Waterstof is ook een ontvlambaar gas. Waterstofvlammen zijn echternagenoeg onzichtbaar : gevaar voor brandwonden.Lucht-waterstofmengsels en zuurstof-waterstofmengsels zijn ontplofbaar binneneen zeer uiteenlopende verhouding : 4 tot 74,5 % waterstof in lucht 4 tot 94 % waterstof in zuurstof.Sla de flessen buiten op of in goed verluchte lokalen. Beperk het aantalaansluitingen om lekken maximaal te voorkomen.Waterstof tast bepaalde metalen aan : sterk gelegeerd staal, nietgedesoxydyleerdkoper.Gebruik staal met gematigde kenmerken en met een goede weerstand ofgebruik gedesoxyduleerd koperb.1) Gaser och blandgaser som innehåller mindre än 20 % CO2Om dessa gaser eller blandgaser tar upp syrets plats i luften finns riskenatt man kvävs eftersom det blir farligt när luften innehåller mindre än 17 %syre (cf. härovan paragraf "Att arbeta på en instängd plats").b.2) Väte och brännbara blandgaser som innehåller väteVäte är en mycket lätt gas. Vid läckage samlas gasen under taket och i små håloch springor. Planera en bra ventilation på riskplatserDet är en lättantändlig gas. Lågan från väte är nästan osynlig : risk förbrännskador.Blandningarna luft / väte och syre / väte är brandfarliga - risk för explosion- inom följande gränser : 4 till 74,5 % väte i luften 4 till 94 % väte i syret.Lagra flaskorna utomhus eller i en väl luftad lokal. Undvik läckage genomatt begränsa antalet anslutningar till så få som möjligt.Vätet försvagar vissa metaller : starkt legerade stål, icke avoxideradkoppar, titan.Använd stål med medel egenskaper och som har en bra stötsäkerhet elleranvänd avoxiderad koppar.7. VEILIGHEID VOOR HET PERSONEEL /PERSONALENS SÄKERHET De operator moet steeds een individuele isolerende bescherming dragen. De beschermende kleding moet altijd droog blijven om gevaar voorelektroshocks te vermijden en schoon blijven (geen olievlekken) om gevaarvoor ontvlamming te voorkomen. Controleer of de veiligheidsuitrusting altijd in goeie staat verkeert en vervangze regelmatig om een perfecte bescherming te garanderen. Hou de veiligheidsuitrusting ook aan terwijl de lassen afkoelen : gevaar voorslakkenprojectie. Bijkomende voorschriften voor het gebruik van de "Liquisaf" : de "Liquisaf" iseen product op basis van glycolpropyleen dat huid en ogen kan irriteren.Voorzie daarom de nodige bescherming bij elke keer u de "Liquisaf" gebruikt(handschoenen en bril). Användaren ska alltid ha ett eget isolerande skydd. Denna skyddsutrustning ska hållas torr, för att undvika elektriska stötar, ochren (ingen olja) för att undvika antändning. Se efter om skyddsutrustningen är i bra skick och byt ut den regelbundet så attdu alltid har bästa skydd. Behåll skyddsutrustningen på dig under svetsarnas nedkylningen då det kanstänka slagg eller slaggkomponenter. Extra rekommendationer för användning av "Liquisaf" : "Liquisaf" är en produktsom innehåller propylen glykol som är irriterande för huden och ögonen. Virekommenderar därför att använda en skyddsutrustning vid hantering(handskar och glasögon).64 OPTIPULS 350 I / OPTIPULS 380 I W
---
A - ALGEMENE INFORMATIE A - ALLMÄN INFORMATION1. VOORSTELLING VAN DE INSTALLATIE 1. BESKRIVNING AV INSTALLATIONENDe OPTIPULS i is een lasinstallatie waarmee u in MIG-MAG kunt werken metvlakstroom of met impulsstroom. De afstellingen voor de lasspanning en dedraadaanvoersnelheid zijn continu.De technologie voor de vermogensbron is van het convertortype (transistors). Devolledige machine wordt gestuurd door een microcontroller.Deze technologieën verschaffen de generator meer toepassingsmogelijkheden, eenbetere flexibiliteit en uitstekende boogvormings- en laskwaliteiten.OPTIPULS i ä en svetssats som möjliggör MIG-MAG svetsning med slät ström ellerpulsad ström. Inställningen av svetsspänningen och trådhastigheten är kontinuerliga.Strömkällans teknologi är av INVERTER-typ. Hela maskinen är mikrostyrd.Met de OPTIPULS I' kunt u : OPTIPULS I' egenskaper gör det möjligt att : lassen met beklede elektrode ∅ 1.6mm tot 6.3mm rutielelektrodes en basische elektrodes MIG-MAG-lassen met vlakstroom short arc en spray arc van 30A tot 350AMIG-lassen met impulsstroom binnen het hele bereik waarin dezetransfermethode bruikbaar is, vanaf een plaatdikte van 1 mm : verschillende soorten draad aanvoeren massieve draden, staal, roestvrij staal, aluminium gevulde draden met of zonder slakken geschikt voor diameters van 0.8mm tot 1.6mm de haspelaar bij het werkstation plaatsen standaard zijn 3 kabellengtes beschikbaar de lasparameters snel vooraf instellen dankzij het OPTI-systeem de lasparameters duidelijk aflezen.Dessa teknologier gör att strömkällan är lätt att använda, ger stor flexibilitet och högtändnings- och svetskvalitet. svetsa med rörelektroder ∅ 1.6mm till 6.3mm rutila och basiska elektroder MIG-MAG svetsa med slät ström short arc och spray arc från 30A till 350A MIG-svetsa med pulsad ström i hela området där dennaöverföringsmetod är bra att använda, från och med 1 mm tjock plåt mata olika sorters trådar solida, stål, rostfritt stål -trådar rörelektroder med eller utan slagg accepterade diametrar: från 0.8 mm till 1.6 mm ha matarverket vid arbetsposten 3 olika kabellängder finns i standardversion snabbt förinställa svetsparametrarna tack vare OPTI-systemet tydligt se svetsparametrarna.2. SAMENSTELLING VAN DE INSTALLATIE 2. SVETSMASKINENS OLIKA DELARDe standaardinstallatie in de water versie met kabel van 2 m (ref. 9160-1609) wordtgebruiksklaar geleverd en bevat: (Zie FIGUUR 1 onderaan de folder) :2 m kabel (ref. 9160 1609) / 10 m kabel (ref. 9160 1611) vatten version paketsatserlevereras färdiga att använda, och består av (Se utvikningsblad FIGUR 1 i slutetav notisen):1. een vermogensbron met primaire kabel (5 meter lang) : 1. strömkällan med primärkabel (längd: 5 meter) i vilken följande ingår : een koelgroepunit voor de toorts en kylaggregatenhet till svetspistol een wagentje uitgerust met de flessenhouder en hefringen en vagn utrustad med flaskhylla och lyftöglor de opbergarmen en kabels voor de handling Kabelförvaringsarmar för hantering2. de DV 34 i haspelaar uitgerust met: 2. DV 34 i matarverket bestående av : een bemantelde kabelbundel van 2 of 10 m en mantlad kabel 2 eller 10 m een wagentje en vagn een spoelafdekplaat ett bobinskydd een haspelplaat met 4 rollen en 4-rulles matningsplatta een stekker voor de aansluiting van de afstandsbediening (optioneel) ett uttag för fjärrkontrollanslutningen (extrautrustning)3. een aardingskabel (5 meter lang) met gemonteerde aardingsklem 3. en återledare (5 meter lång) med monterad jordkontakt haspeltoebehoren voor draden in staal en roestvrij staal met een diameter trådmatningstillbehör för trådar i stål och rostfritt stål av 1,0 och 1,2 mmvan 1.0 en 1.2 mmdiameter4. een lastoorts 4. en svetspistolOPTIPULS 350 I / OPTIPULS 380 I W A - 65
---
3. BESCHRIJVING FRONTPANEEL 3. BESKRIVNING AV FRAMSIDAN(Zie FIGUUR 2 onderaan de folder)(Se utvikningsblad FIGUR 2 i slutet av notisen)Aanduiding Stroom / Draadsnelheid / Dikte 1 Visning av Ström / Trådhastighet / TjocklekKeuzeknop Stroom / Draadsnelheid / Dikte 2 Ström / Trådhastighet / Tjocklek -väljareAanduiding spanning 3 Visning av SpänningAan / uit 4 På / AvKeuzeknop MIG MAG / IMPULS / koppel draad gas 5 Väljare MIG MAG / PULSAD / tråd gas kombinationKeuzeknop draaddiameter / set up / beklede elektrode 6 Väljare Tråddiameter / Set Up / RörelektroderKeuzeknop 2T/4T 7 2T/4T -väljareKeuzeknop synergie / handmatig 8 Synergi / manuell -väljareAfstelling dynamisme (smoorspoel) in MIG MAG of vlakstroom 9 Dynamikreglering (choke) i MIG MAG med slät strömControle laatst gebruikte lasinstellingen 10 Indikering för bevarande av sista svetsparametrarna4. BESCHRIJVING FRONTPANEEL HASPELAAR 4. BESKRIVNING AV FRAMSIDAN HASPELN(Zie FIGUUR 12 onderaan de folder)(Se utvikningsblad FIGUR 12 i slutet av notisen)Afdekking spoel 1 SpolskyddAfstelling draadsnelheid 2 Inställning av trådhastighetAfstelling lans boog/ spanning 3 Inställning båglängd / SpänningAnsluiting toort 4 SvetspistolkopplingWiel haspel 5 HaspelhjulSwitch afstandsbediening 6 Fjärrväljare – trådhastighetToortshouder 7 SvetspistolstödConnector afstandsbediening 8 Kontaktdon – fjärrkontrollAnsluiting toort water 9 Svetspistolkoppling för vattencirkulationHouder zwenkvoet (optie) 10 Stöd – vridben (tillval)5. OPTIES 5. TILLVAL(Zie FIGUUR 13 onderaan de folder)(Se utvikningsblad FIGUR 13 i slutet av notisen)2. Afstandsbediening, art. 9160-1067 5. Fjärrkontroll, ref. 9160-10676. Zwenkvoet, art. 9160-1064 5. Vridfot, ref. 9160-10647. Hefarm, art. 9160-1061 6. Slinglyftningsarm, ref. 9160-10618. OPTIBOX, art. 9160-1068 7. OPTIBOX, ref. 9160-10686. TECHNISCHE SPECIFICATIES OPTIPULS 350 I /6. OPTIPULS 350 I / 380 I W TEKNISKA DATA380 I WOPTIPULS iREF./REF. 9160-1419 / 9160-1420PRIMAIR MIG E.E.3-fasige stroomtoevoer 400 V 400 V 3-fas primär nätanslutningStroomverbruik op 50% / 28,2 A Förbrukad ström did 50%Stroomverbruik op 60% 28 A 26,1 A Förbrukad ström vid 60%Stroomverbruik op 100% 21,9 A 23,8 A Förbrukad ström vid 100%Frequentie 50/60 Hz 50/60 Hz FrekvensVermogensverbruik (50%) / 19,5 kVA Förbrukad effekt (50%)Vermogensverbruik (60%) 19,4 kVA 18,1 kVA Förbrukad effekt (60%)Vermogensverbruik (100%) 15,2 kVA 16,5 kVA Förbrukad effekt (100%)SECUNDAIRSEKUNDÄRNullastspanning 86,3 V 86,3 V TomgångsspänningAfstelbereik 10 A – 350 A 10 A – 350 A InställningsområdeWerkingsfactor 50% (cyclus van 10Intermittensfaktor 50 %min) op 40°C / 350 A / 34 V(10 min förlopp) vid 40 °CWerkingsfactor 60 % (cyclus van 10Intermittensfaktor 60 %min) op 40°C 350 A / 31,5 V 330 A / 33,2 V(10mn förlopp) vid 40 °CWerkingsfactor 100 % (cyclus vanIntermittensfaktor 100%10 min) op 40°C300 A / 29 V 280 A / 31,2 V(10mn förlopp) vid 40°CAardingskabel 5 m 70 mm 2 70 mm 2 5 m jordkabelBeveiligingsklasse IP23 IP23 SkyddsklassIsolatieklasse H H IsolationsklassNormen NF EN 60974-1 NF EN 60974-1 StandardAfmetingen (l x b x h) 1090 x 610 x 970 tom mm Dimensioner (L x B x H)Netto gewichtVersie Lucht / Vatten version = 83 kg Versie Water / Luftversion = 96 kgNettoviktzonder haspelaar / utan matarverkVerpakt gewichtVersie Lucht / Vatten version = 92 kg Versie Water / Luftversion = 110 kgzonder haspelaar / utan matarverkVikt med emballageA - 66 OPTIPULS 350 I / OPTIPULS 380 I W
---
Beschermingsgraad geboden door de omhulselsSkyddsgrader som uppnås med höljenaCodeletterBokstavskodIPBescherming van materiaalSkydd av utrustningenEerste cijferFörsta siffraTweede cijferAndra siffra2 Tegen de indringing van vreemde vaste voorwerpen van ∅ ≥ 12.5mmMot penetrering av fasta främmande objekt med Ø ≥ 12,5 mm1 Tegen de indringing van verticale waterdruppels met schadelijke gevolgenMot penetrering av vertikala vattendroppar med skadlig verkan3 Tegen de indringing van regen (schuin invallend tot 60° van de loodrechte stand) met schadelijkegevolgenMot penetrering av regnvatten (lutad upp till 60° i förhållande till vertikallinjen) med skadligaverkningar7. TECHNISCHE SPECIFICATIES HASPELAAR 7. MATARVERKETS TEKNISKA DATADubbele plaat 4 rollen / 4 rullar Dubbel plattaDraadaanvoersnelheid 1 ⇒ 20 m / mn Trådmatningshastighe tRegelaar voor de draadsnelheid Tachometer Takometer TrådhastighetsregleringAfstelling van de P.R. Nee Nej Post Retract regleringBruikbare draden 0.8 ⇒ 1.6 mm Användbara tråddiametrarPast in een mangat Ja (zonder wagentje) Ja (utan vagn) Gå igenom att mahhålAansluiting toorts "Europees type" « Europeisk typ » Svetspistolanslutning8. TECHNISCHE KENMERKEN VAN DE KOELGROEP 8. TEKNISKA SPECIFIKATIONER OM KYLAGGREGATPomp 230V - 50/60HZ - 0.23KW PumpVentilator 230/400V - 50/60Hz FläktIntensiteitverbruik 0.75 A Spanning absorberad effektMax. Druk 4.25 bars Max. TryckMax. Debiet 2.8 l/min Max flödeOPGELET : Geen leidingwater gebruiken.OBSERVERA : Använd inte kranvattnetOPTIPULS 350 I / OPTIPULS 380 I W A - 67
---
B - OPSTARTEN B - IGÅNGSÄTTNING1. VERPAKKING VERWIJDEREN 1. UPPACKNING Verwijder de verpakking die rond de installatie zit. Hef de generator van zijn houten pallet met behulp van de hefringen of eenvorkheftruck. Ta bort emballaget från svetsmaskinen. Ta bort strömkällan från träplattan med hjälp av remmar eller gaffeltruck.OPGELET : De stabiliteit van de installatie is verzekerd tot eenhellingsgraad van 10°.OBSERVERA : Utrustningens stabilitet garanteras upp till enlutning på 10°.2. AANSLUITING VAN DE HASPELBUNDEL 2. ANSLUTNING AV MATARVERKSKABELNDe bundel bestaat uit : Kabeln består : stroom- en bedieningskabels water-(versie water) en gasslangen av effekt- och styrkablar av vatten-( vatten version) och gasslangarAansluiten op de achterkant van de generator : Den kopplas bakpå strömkällan :(Zie FIGUUR 3 onderaan de folder)(Se utvikningsblad FIGUR 3 i slutet av notisen)Sluit de vermogenskabel aan op de + of -pool van de generator afhankelijk van 1 Anslut spänningskabeln till + eller – klämmorna på strömkällan beroende på användade gebruikte lasdraad (meestal stemt MIG-MAG lassen met staaldraad overeensvetstråd (det vanliga fallet MIG-MAG svetsning med ståltråd motsvarar i allmänhet +met de +pool op de toorts).polariteten på svetspistolen)Stop de bedieningskabel in de stekker. 2 Anslut kontrollkabeln på uttaget(Versie water) Sluit de waterslangen aan op het koelcircuit (snelconnectors) 3 (Vatten version) Anslut kylkretsens vattenslangar (snabbkopplingar)Sluit de gasslang aan op het drukventiel van de fles nadat u de fles met de riemAnslut gasslangen till tryckregulator på flaskan efter att ha fäst den med hjälp avheeft vastgesjord op zijn houder.remmen på avsedda plats3. ELEKTRISCHE AANSLUITING OP DEHOOFDLEIDINGKlem de bundel vast in de speciale klemring. 4 Fäst kabeln i ringen avsedd till detta.De OPTIPULS I wordt gebruiksklaar geleverd : OPTIPULS I levereras klar att användas :3. ELANSLUTNING TILL NÄTET primaire kabel aangesloten op de generator (stekker niet meegeleverd) primärkabel kopplad i strömkällan (ingen propp följer med) unieke driefasige 400 V koppeling 400 V trefaskopplingDe installatie aanvaardt frequenties van 50 en 60 Hz.Accepterade nätfrekvenserna är 50 och 60 Hz.OPGELETDe OPTIPULS I is een DRIEFASIGE 400V ondulator, deaanvaardbare stroomdrempels van de hoofdleiding bedragen 400 V+ 10 % en 400V – 10 %Controleer of de spanning op het netwerk overeenstemt met de elektrische kenmerkenvan het toestel vóór u het inschakelt.Na deze aanpassingen en nadat u een stekker op de primaire kabel monteerde, kuntu de voedingsstekker in het stopcontact steken.De stroomtoevoer moet beschermd worden met een beveiligingssysteem(smeltveiligheid of uitschakelaar) met een kaliber dat overeenstemt met het primaireverbruik (zie verbruik in de tabel op blz 66).VARNINGOPTIPULS I är en 400V TREFASIG apparat av INVERTERteknologi: nätets acceptanströsklar är på 400 V + 10 % och 400V– 10 %Kontrollera att nätspänningen verkligen motsvarar apparatens elektriska egenskaperinnan du kopplar den.När hela denna proceduren är färdig, och efter att ha monterat en kontakt påprimärkabeln, kan du sätta i nätkontakten.Nätmatningen måste skyddas med hjälp av en skyddsanordning (säkring elleröverspänningsskydd) vars kaliber motsvarar primärförbrukningen(se förbrukning i tabellen sida 66).4. AANSLUITING VAN DE TOORTS 4. ANSLUTNING AV SVETSPISTOLENSluit de MIG MAG lastoorts aan op de haspelaar (Europese connector).Sluit de waterslangen aan onder de haspelaar (versie water).Controleer of de toorts is uitgerust met de geschikte onderdelen voor de draad die uzal gebruiken.Lees de handleiding van de toorts (Zie FIGUUR 7 onderaan de folder).MIG MAG svetspistolen ansluts till matarverket (Europeisk kontakt). Vattenslangarnakopplas till matarverket (vatten version).Kontrollera att din svetspistol verkligen är utrustad med de förbrukningsdelar sommotsvarar den tråd du tänker använda för svetsarbetet.Titta i instruktionerna som medföljer svetspistolen (Se utvikningsblad FIGUR 7 islutet av notisen).De generator is nu lasklaar.Strömkällan är nu klar för användning.B - 68 OPTIPULS 350 I / OPTIPULS 380 I W
---
C - GEBRUIKSAANWIJZINGEN C - INSTRUKTIONER FÖR ANVÄNDNING1. LASDRAAD KIEZEN 1. VAL AV SVETSTRÅDMet de OPTIPULS I kunt u MIG-MAG-lassen met vlakstroom of impulsstroom.U moet het soort draad en de diameter afstemmen op het metaal dat u wilt lassen,maar ook het geschikte gas kiezen.OPTIPULS I gör det möjligt att arbeta i MIG-MAG med en kontinuerlig eller pulsadström.Metall som ska svetsas kräver användningen av rätt trådsort och –diameter samtanpassad gas. Tabel met belangrijkste bruikbare draden en gassen : Tabell över mest använda tråd –och gassorter :Draad / Tråd Gas / Gas ∅ (mm)toortspolariteitPolaritetsvetspistolOpmerkingenAnmärkningarStaal / Stål Nertalic 70S/70A ARCAL 14 /ATAL 5 / ARCAL 21 0.8 tot/till 1.61.0 tot/till 1.6+ Short arcPulsadStaal / Stål Nertalic 70S/70A CO2 0.8 tot/till 1.6 + Short arcGevulde rutieldraad / Rutil rörelektrod SD 100 / SD 127 / SD 128/ CO2 / ATAL 5 / ARCAL 21 1.0 - 1.2 - 1.6 + Short arcSD 116Spray arcGevulde basische draad / BasiskSD 31 / SD400 ATAL 5 / CO2 ATAL 5 1.0 - 1.2 - 1.6 +Short arcrörelektråd- +Spray arcGevulde draadzonder slakken /Rörelektrod utan slaggSD 200 / SD 206 / SD 207 /SD 209Volle inox / Rostfritt stål 308 - 309 - 316 NOXALIC 12 / ARCAL 12/CARGAL/ ARCAL121ATAL 5ARCAL 21 1.0 - 1.2 - 1.6 +Short arcSpray arc0.8 tot/till 1.6 + Short arcPulsadGevulde inox / Rostfri rörelektrod SD 650 / SD 652 / SD 654 ATAL 5 / CO2 1.0 - 1.2 - 1.6 + Short arcSpraySD Zn ATAL 5 / CARGAL 1.0 - 1.2 - 1.6 - Short arcSpray arcAluminium AG5 / AG3/AG4 / ALSI ARGON - ARGON/ HELIUM 1.0 - 1.2 - 1.6 + PulsadShort arcAfhankelijk van de draad die u gebruikt, moet u misschien de polariteit van delasspanning omkeren.U kunt die polariteit aanpassen op de achterkant van de generator. Keuze van de polariteit van de lasspanning (Zie FIGUUR 4 onderaan defolder) : Algemeen gebruik: staal en gevulde draad MIG-MAG-polariteit op het werkstuk (aardingsklem)+polariteit op de toorts Voor bepaalde gevulde draden (basisch...)+polariteit op het werkstuk (aardingsklem)-polariteit op de toortsHet gebruikte lasgas moet overeenstemmen met de lastoepassing. Onderstaandetabel toont de belangrijkste gevallen en de gassen die u met massieve draden kuntgebruiken.Beroende på använda tillsatsmateriel kan det vara nödvändigt att byta spänningenspolaritet som används vid svetsningen.Denna justering görs bakpå strömkällan. Val av för svetsspänningens polaritet (Se utvikningsblad FIGUR 4 i slutetav notisen) :Allmänt fall : för solida trådar och rörelektroder MIG-MAG- polaritet på arbetsstycket (jordkontakt)+ polaritet på svetspistolenMed vissa rörelektroder (basiska...)+ polaritet på arbetsstycket (jordkontakt)- polaritet på svetspistolenAnvända svetsgasen ska motsvara planerat svetsarbete. Tabellen härnedan anger devanligaste fallen och användbara gaser med solida trådar.Légende = erg goed = goed = middlematig Teckenförklaring = mycket god = god = medelNiet-gelegerd en licht gelegerd staal ARCAL 21 ARCAL 14 ATAL 5 A ATAL 5 TERAL 23 ELOXAL 35 Olegerade och svagt legerade stålSnelheid HastighetPenetratie InträngningSpatten SvetssprutUitzicht UtseendeProductkwaliteit (1) Produktkvalitet (1)Giftigheid van rook RökskadlighetCompactheid TäthetMechanisch kenmerk slagvastheid Mekansik egenskap elasticitetLichte en koperhoudendelegeringenARCAL 1 ARCAL 31 ARCAL 32 ARGON NERTAL INARC 9 Låglegeringar ochkopparlegeringarPenetratie InträngningUitzicht UtseendeCompactheid TäthetProductkwaliteit (1) Produktkvalitet (1)Giftigheid van rook RökskadlighetRoestvrij staal ARCAL 12 ARCAL 121 ARCAL 129 NOXALIC 12 Rostfria stålPenetratie InträngningGeschiktheid voor impulsstroom Lämplighet för pulsadProductkwaliteit (1) Produktkvalitet (1)Uitzicht UtseendeSnelheid Hastighet(1) productkwaliteit : homogeniteit, beheersing van onzuiverheden, naspeurbaarheid (1) produktkvalitet : homogenitet, kontroll av orenheter, spårbarhetOPTIPULS 350 I / OPTIPULS 380 I W C - 69
---
2. DRAADSPOEL VERVANGEN 2. TRÅDBYTE(Zie FIGUUR 5 onderaan de folder)(Se utvikningsblad FIGUR 5 i slutet av notisen)U kunt de spoel als volgt vervangen (nadat u de stroom uitschakelde): Byt bobin på följande sätt (efter att ha slagit ifrån strömkällan) :Maak de spoelafdekplaat openÖppna bobinskyddet1. Draai de moer van de spoelas los 1. Lossa muttern på bobinaxeln2. Zet de moer op de as 2. Sätt på boninen på axeln3. Draai de moer weer op de spoelas 3. Skruva tillbaka muttern på axeln5. Doe de hendels naar beneden om de tegenrollen vrij te zetten 5. Fäll ned hävarmarna för att frigöra mottrissorna6. Schuif de draad in de draadgeleider van de plaat. 6. För in tråden genom plattans inolppstrådledare7. Doe de tegenrollen naar beneden en doe de hendels weer omhoog om de tegenrollen vast te 7. Sänk mottrissorna och fäll upp hävarmarna så att de stabiliserasklemmen8. Pas de druk van de tegenrollen op de draad aan (ongeveer –3) 8. Justera mottrissornas tryck (ungefär –3)9. Druk op de sneldoorspoelknop net onder de greep van de haspel. Laat de draadin de toorts haspelen tot de draad er via de neus uitkomt.9. Tryck på tryckknappen för snabbt trådmatning som sitter undermatarverkshandtaget. Låt tråd matas igenom svetspistolen tills tråd sticker utfrån kontaktröret.Moet u onderdelen van de toorts of de haspelplaat aanpassen aan het soort lastoepassing,raadpleeg dan hoofdstuk 7 "Vervanging van onderdelen" op blz 72.Om delar på svetspistolen eller plattan måste anpassas till den sortens arbete som skautföras, se paragraf "7. Byta förbrukningsdelar" sida 72.3. OPSTARTEN EN AFSTELLEN 3. START OCH INSTÄLLNINGAR Opstarten : de hoofdschakelaar zit op het frontpaneel van degenerator. U zet de generator aan door deze schakelaar opte zetten. Start : huvudströmbrytaren sitter på strömkällans framsida.Du sätter igång maskinen genom att ställa strömbrytaren på.4. GEBRUIK VAN DE GENERATOR VOOR HETLASSEN MET BEKLEDE ELEKTRODE(Zie FIGUUR 9 onderaan de folder)4. ANVÄNDNING AV STRÖMKÄLLAN FÖRSVETSNING MED RÖRELEKTRODER(Se utvikningsblad FIGUR 9 i slutet av notisen) Koppel de stroomkabel los van de haspelbundel. Koppla bort effektkabeln från matarverkskabeln. Sluit de aardingskabel en de kabel van de elektrodehouder aan op devermogensuitgangklemmen van de generator. U kiest de polariteitnaargelang het type elektrode (zie instructies op het pakje elektrodes). Anslut återledaren och elektrodh elektrodhållare-klämma-kabeln tillströmkällans effekt-utgångsklämmor. Polariteten väljs alltefterelektrodsorten (se anvisningar på elektrodpaketet). Op het frontpaneel stelt u stand in op potentiometer 3(figuur 6 achteraan onderaan folder)De andere knoppen zijn nu inactief. Välj, på frontpanelen, läget med hjälp av potentiometern 3(Bild 6 i slutet av notisen)Övriga knappar blir då inaktiva.In deze modus zit er constant lasstroom op de + en -uitgangsklemmen van de generator.Regel de lasintensiteit met de rode knop van de haspelaar. De waardeziet u op de bovenste display.Voorzie 40A per millimeter van de elektrodediameter voor algemenetoepassingen.De bovenste display toont de afstelling van de lasstroom (weergave vooraf), deonderste display toont de nullastspanning.Tijdens het lassen tonen de displays de lasstroom en lasspanning.Precisie van de voltagemeting :± 7% ± 2APrecisie van de spanningsmeting :± 5% ± 0.4V5. GENERATOR GEBRUIKEN VOOR MIG-MAGLASSEN(Zie FIGUUR 6 onderaan de folder)Sluit de aardingskabel en stroomkabel aan, afhankelijk van de gekozendraadKies het lasprocédé met behulp van de eerste keuzeknop op hetfrontpaneel : vlakstroom MIG-MAG voor gemengde gassen (Argon-CO2) enGEVULDE DRAAD PULSE voor deze draad-gaskoppels: FE ATAL 5 (82/18), FE ARCAL (21of 14), Cr ni (NOXALIC 12), Cr ni (ARCAL 12,) AL mg (3 ; 5 ; 4,5),AL si 5 (A5)Med denna svetsmetod finns det alltid ström vid strömkällans +och - utgångsklämmor.Ställ in svetsströmstyrkan med hjälp av röda knappen på matarverket ochläs av värdena på övre displayen.Planera 40A per millimeter elektroddiameter för allmäna fall.Den övre displayen anger svetsströmsstyrkan (pre-display); den nedre displayenanger tomgångsspänningen.Under svetsning anger displayerna svetsströmstyrkan och svetsspänningen.Strömmätningens precision :± 7% ± 2ASpänningsmätningens precision :± 5% ± 0.4V5. ANVÄNDNING AV STRÖMKÄLLAN FÖR MIG-MAGSVETSNING(Se utvikningsblad FIGUR 6 i slutet av notisen)Anslut jordkabeln och effektkabeln så att det stämmer med valda tråd Välj önskad svetsmetod med hjälp av första väljaren på framsidan : MIG-MAG metod med slät ström för blandade gaser (Argon-CO2) ochRÖRELEKTRODER PULSAD metod för tråd-gas paren: FE ATAL 5 (82/18), FE ARCAL (21or 14), Cr ni (NOXALIC 12), Cr ni (ARCAL 12,) AL mg (3 ; 5 ; 4,5),AL si 5 (A5)C - 70 OPTIPULS 350 I / OPTIPULS 380 I W
---
Kies de diameter van de lasdraad: 0.8 mm tot 1.6 mm Välj svetstråddiameter: 0.8 mm till 1.6 mm Kies lascyclus of om in MIG te lassen (zie uitleg over de cycliop blz. 71). Kies de synergetische of handmatige modus :• in handmatige modus regelt de rode potentiometer : de draadsnelheid en deblauwe potentiometer regelt de lasspanning.• In de synergetische modus vindt u sneller de correcte parameters voor degewenste toepassing. De middenste stand van de blauwe knop stemt in dezemodus overeen met een optimale regeling voor de draadsnelheid die u op derode knop koos. Dus hoeft u alleen die laatste afstelling bij te regelen. Välj svetsförlopp eller för MIG-svetsning (seFörklaringar om svetsförlop på sida 71). Välj synergisk eller manuell metod :• i manuell metod reglerar den röda potentiometern : trådhastigheten, den blåapotentiometern svetsspänningen.• den synergiska metoden gör det möjligt att snabbare hitta rätta parametraranpassade till valda tillämpning. I denna metoden motsvarar mittenläget påden blåa knappen för båghöjd en optimerad inställning av valda trådhastighet(röd knapp). Det räcker alltså att justera den sista inställningen. Controleer of de keuzeknop GENE / CAD op GENE staat. Kontrollera att GENE eller CAD väljaren står på läget GENE Pas de draadsnelheid aan (rode knop op de haspel). Ställ in trådhastigheten (röd knapp på matareverket). Regel de lasspanning (blauwe knop op de haspel) of zet die op demiddenste stand. Ställ in svetsspänningen (blå knapp på matarverket) eller ställ in den påmittenläget.NOOT: u kunt desgewenst een afstandsbediening aansluiten op de haspelaar. In datgeval flipt u schakelaar nr. 6 om (tussen de twee regelknoppen voor de draadsnelheiden booghoogte op de haspelaar). De twee potentiometers van de haspelaar wordendan inactief (Zie FIGUUR 6 onderaan de folder)Wanneer u de afstandsbediening uitschakelt en schakelaar nr. 6 nog op de vorigestand staan, duiden de displays waarde 000 aan. Flip de schakelaar weer om als u deoorspronkelijke instellingen wilt herstellen.Om deze laatste afstelling makkelijker en fijner te maken, wordt de booghoogte(blauwe knop) geoptimaliseerd naargelang het soort gas, de draad en dedraaddiameter. De middenste stand van de knop is een betere regeling vooralgemene toepassingen van de gekozen draad.Daarna regelt u deze afstelling nog bij rond deze middenste stand.Voor bepaalde toepassingen (bijvoorbeeld: aluminium) moet u de blauwe knop watverder van de middenste stand zetten.De bovenste display toont nu de waarde van: de ingestelde lasstroom (weergave vooraf), knop 1 op stand A de ingestelde dikte, knop 1 op stand - dikte de ingestelde draadsnelheid in m/min., knop 1 op stand m/min.De onderste display toont de lasspanning.Vlakstroom MIG MAG lassen: zet potentiometer 9 op de middenste stand(voor een meer dynamische smelting op min. - zetten, voor een zachteresmelting op max. + zetten)OBS ! : Det går att koppla en fjärrkontroll på matarverket. Tryck i så fall på knapp nr 6(position mellan de två reglerknapparna för trådhastighet och båghöjd på matarverket).Båda potentiometrarna på matarverket blir då inaktiva. (Se utvikningsblad FIGUR6 i slutet av notisen)När man kopplar bort CADen och när knapp nr 6 är i position, visarsvetsinställningarna på displayerna 000. För att få tillbaka inställningarna, tryck påknappen.För att underlätta inställningen och göra den noggrannare är båghöjdområdet,tillgänglig med den blåa knappen, optimerad alltefter gassort, trådsort ochtråddiameter. Mittenläget på knappen motsvarar den bästa inställningen för valda tråd.Sedan räcker det att söka en noggrannare inställningen kring mittenläget.Vissa tillämpningar (till exempel : aluminiumtråd) kan kräva en större avvikelse frånmittenläget på blåa knappen.Den övre displayen anger då inställningsvärdet : på svetsströmmen (pre-display), knapp 1 i position A på tjockleken på plåt som ska svetsas, knapp 1 i position – tjocklek på trådmatningshastigheten i m/mn, knapp 1 i m/mnDen nedre displayen anger svetsspänningen.I MIG MAG-svetsning med slät ström, ställ in potentiometer 9 påmittenpositionen (för en mer dynamisk smältning, vrid mot min. -, för enmjukare smältning vrid mot max. +)6. LASCYCLI KIEZEN 6. VAL AV SVETSFÖRLOPP(Zie FIGUUR 8 onderaan de folder)(Se utvikningsblad FIGUR 8 i slutet av notisen)1 PREGAZ / GASFÖR-STRÖMNING 2 POST GAZ / GASEFTER-STRÖMNINGBij MIG-MAG-lassen heeft een druk op de toorts verschillende effecten naargelang delascyclus (of modus) die u gebruikt. U kiest de cyclus op de knoppen bovenaan op hetfrontpaneel van de generator. 2-takt cyclusI MIG-MAG svetsning ger intryckningen av avtryckaren olika resultat beroende påvalda svetsförlopp (eller –metod). Val av förlopp görs med hjälp av knapparna somsitter på strömkällans framsida, upptill. 2-takts förloppIn deze modus leidt een druk op de trekker tot haspeling, pregas en deopwekking van de lasstroom. Laat u de trekker los, dan stopt de lasfunctie 4-takt cyclusHet PREGAS wordt geactiveerd wanneer u de trekker de 1 ste keer indrukt. Laatu de trekker los, dan begint de lasfunctie (haspeling + stroom).Drukt u nog 'n keer op de trekker, dan stopt de lasfunctie maar het gas blijftstromen. Nog 'n laatste druk op de trekker en het POSTGAS stopt..I denna metoden, aktiverar intryckingen av avtryckaren trådmatningen,gasförströmningen och svetsströmmen. När man släpper avtryckaren stannarsvetsningen. 4-takts förloppEn första tryckning på avtryckaren aktiverar GASFÖRSTRÖMNINGEN.När avtryckaren släpps startar svetsningen (trådmatning + ström).En ny tryckning stoppar svetsningen men gasen fortsätter att flöda.När avtryckaren åter släpps stannar GASFÖRSTRÖMNINGEN.OPTIPULS 350 I / OPTIPULS 380 I W C - 71
---
7. ONDERDELEN VERVANGEN 7. BYTA FÖRBRUKNINGSDELARDe slijtstukken van de generator en de toorts, bedoeld om de lasdraad te geleiden enaan te voeren, moeten aangepast zijn aan de aard en de diameter van de gebruiktelasdraad.De slijtage van deze onderdelen kan de lasresultaten beïnvloeden. U moet ze dusvervangen.Strömkällans och svetspistolens förbrukningsdelar, vars roll är att styra och föra framsvetstråden, ska vara anpassade till använda trådsort och –diameter.Dessutom kan slitna förbrukningsdelar försämra svetsresultatet. Därför är det viktigt attbyta ut dem. Onderdelen van de haspelplaat : Trådmatningsplattans förbrukningsdelar :Staal0,6 9161-7001 9161-7001 9159-5735Stål 0,8 9161-7006 9161-7002 9161-7002 9159-5730Roestvrij 1,0 9161-7015staalRostfritt stålmetall 9161-7003 9161-7004 9161-70031,29161-7004CrNi1,69159-5731LichtelegeringenAluminium1,0/1,2 9162-0199(plast)9162-0188 9162-0201 9162-0188 9162-0203LåglegeringarAluminium1,2/1,6 9162-0200(plast)9162-0189 9162-0202 9162-0189 9162-0204Gevoerdedraad 1,0 9159-57301,2 9161-70061,4 9161-7011 9161-7015 9161-7011 9159-5731Rörelektroder1,6 metall 9161-7012 9161-7017 9161-7012Onderdelen van toorts PROMIG 341 W (Zie FIGUUR 7 onderaan de folder) :Förbrukningsdelar på PROMIG 341 W-svetspistolen (Se utvikningsblad FIGUR 7 islutet av notisen) :Contacttip 1 Kontaktrör Verdeler 4 DiffusörNozzle 2 Munstycke Slijtleiding 5 SlitinstasKlem 3 Klämma Moer 6 Mutter8. GEAVANCEERDE CONFIGURATIE GENERATOR 8. AVANCERAD KONFIGURERING AVSTRÖMKÄLLANBepaalde parameters van de generator kunt u heel eenvoudig instellen.U kunt het toestel configureren in SETUP door middel van potentiometer 6 op hetfrontpaneel. (Zie FIGUUR 2 onderaan de folder)Controleer of de stekker van de haspelaar is aangekoppeld op de achterkant van degenerator.De onderste display toont het eerste bericht.PRG pre-gasDe bovenste display toont de waarde die u wilt instellen (bijv.: 0;2 s). U kunt deparameters wijzigen met een druk op de trekker van de toorts (u kunt telkens naar devolgende of vorige parameter gaan: stel modus 2t in op het frontpaneel om naar devolgende te gaan en 4t voor de vorige).Vissa av strömkällans funktionsparametrar kan konfigureras på ett mycket enkelt sätt.Denna konfigurering görs genom åtkomst till SETUP, som väljs via potentiometer 6 påframsidan. (Se utvikningsblad FIGUR 2 i slutet av notisen))Kontrollera att matarverkskontrollkontakten är ordentligt ansluten på strömkällansbaksida.Den nedre displayen visar då det första meddelandetPRG gasförströmningDen övre displayen anger värdet som man önskar ställa in (t.ex : 0.2 s). Man kan dåbyta parametrarna genom att trycka på svetspistolens avtryckare (de går att spolaparametrarna åt båda hållen; välj i så fall 2t-metoden på framsidan för stigande värdenoch 4t för fallande).C - 72 OPTIPULS 350 I / OPTIPULS 380 I W
---
Pre-gas PRG Gasförströmning PRGFabrieksafstelling : 0.2sMogelijke waarden van 0 tot 1.0 s met een druk op detrekkerFabriksinställning : 0.2sMöjliga värden från 0 till 10s med steg på 0.1sDruk op de knop voor de draadaanvoer om naar de volgende parameter teTryck på tråmatningsknappen, som sitter under matarverkshandtaget, förgaan.att gå över till nästa parameter.Post-gas POG Gasefterströmning POGFabrieksafstelling : 0.5sMogelijke waarden van 0 tot 5.0 s met een druk op detrekkerFabriksinställning : 0.5sMöjliga värden från 0 till 5.0s, med steg på 0.5s, genomatt trycka på svetspistolens avtryckareDruk op de knop voor de draadaanvoer om naar de volgende parameter teTryck på tråmatningsknappenför att gå över till nästa parameter.gaan.Anti-kleef (of post retract of burn back) Antifastbränning (eller post retract)Fabrieksinstelling : 0.07sMogelijke waarden van 0 tot 5.0 s met een druk op detrekkerFabriksinställning : 0.07sMöjliga värden från 0 till 0.20s, med steg på 0.01s,genom att trycka på svetspistolens avtryckareDruk op de knop voor de draadaanvoerom naar de volgende parameter teTryck på tråmatningsknappenför att gå över till nästa parameter.gaan.Hot Start intensiteit Ihs Hot start spänning IhsFabrieksinstelling : 0 vMogelijke afstellingen van – 70 % tot + 70 % per 1%NOOT: als u nul (= 0) instelt, schakelt u de Hot Start.U kunt de waarde van de intensiteit bijregelen om de start van de boog teoptimaliseren.Mogelijkheid om de draadsnelheidsplateau in te stellen in % in verhouding tot de VFinstelling.Fabriksinställning : 0 vMöjliga inställningar från – 70% till + 70 % i steg på 1%Obs ! : om tiden är lika med noll (= 0), blir det ingen HotStartMöjligheten finns att ändra på spänningsvärdet för att optimera bågstartenMöjligt att reglera trådhastighetströskeln i % i förhållande till VF sättningenDruk op de knop voor de draadaanvoerom naar de volgende parameter teTryck på tråmatningsknappenför att gå över till nästa parameter.gaan.Hot Start tijd tHS Hot Start tids tHSFabrieksinstelling : 0sWaarden mogelijk van 0 tot 10 s per 0.1sMogelijkheid om de Hot Start wijzigenFabrilksinställning : 0sMöjliga värden från 0 till 10 s i steg på 0.1sMöjligheten finns att ändra Hot StartDruk op de knop voor de draadaanvoer om naar de volgende parameter teTryck på tråmatningsknappenför att gå över till nästa parameter.gaan.Fadingtijd dSt Slope-down tid dStFabrieksinstelling : 0sMogelijke waarden van 0 tot 5 s per 0,1 sFabriksinställning : 0sMöjliga värden från 0 till 5s, med steg på 0.1 sDruk op de knop voor de draadaanvoer om naar de volgende parameter teTryck på tråmatningsknappenför att gå över till nästa parameter.gaan.Aanpassing pulsspanning (fijne regeling) Uc Inställning av spänningspulsation(finjustering) UcFabrieksinstelling : 0 vMogelijke waarden van -10v tot +10v per 0,3 vFabriksinställning : 0 vMöjliga värden från – 10 v till + 10 v , med steg på 0.3 vMet deze afstelling kunt u in pulsmodus de afzet van de druppel optimaliseren vooreen perfecte versmelting.Aanpassing: weinig gebruikte draden of gassen: klein microspatten in Cr ni of grotedruppels in lichte legering.Denna reglering gör det möjligt för pulsad metod att optimera droppseparationen ochpå så vis erhålla en perfekt smältning. For the pulsed mode only, this adjustmentenables one to optimise the separation of the drop and to obtain perfect melting.Justeringsfall : ovanliga tråd- eller gassorter, uppkomsten av mikrosprut i Cr ni ellerstora droppar i låglegering.Druk op de knop voor de draadaanvoer om naar de volgende parameter tegaan.Tryck på tråmatningsknappenför att gå över till nästa parameter.OPTIPULS 350 I / OPTIPULS 380 I W C - 73
---
Bediening koelgroep GRE Kylaggregatkontroll GREFabrieksinstelling : "AUTO"Mogelijke instellingen: "AUTO": de groep functioneertautomatisch tijdens het lassen en het postlassen."ON": de groep functioneert ononderbroken."OFF": de groep is uitgeschakeld.OF / ELLEROF / ELLERFabriksinställning: « AUTO »Möjlig « AUTO » inställning : aggregatet fungerarautomatiskt under svetsningen och eftervärmningen« ON »: aggregatet fungerar permanent« OFF »: aggregatet är stoppat hela tidenDruk op de knop voor de draadaanvoer om naar de volgende parameter tegaan.Tryck på tråmatningsknappenför att gå över till nästa parameter.Compensatie van bundellengte FAI Kabellängdkompensation - FAIFabrieksinstelling : 0Instellingen mogelijk van 0 tot 50Fabriksinställning : 0Möjliga värden från 0 till 50U stelt deze waarde 0 Justeringen görs med 0.Druk op de knop voor de draadaanvoerom naar de volgende parameter teTryck på tråmatningsknappenför att gå över till nästa parameter.gaan.Keuze van het type gevulde draad FF1 Val av rörelektrodsort FF1Fabrieksinstelling: FF1 FLC (Flux cored wire)Mogelijke afstellingen: FF1 of FF2 MtC (Metal coredwire)OF / ELLERFabriksinställning: FF1 FLC (Flux cored wire)Möjliga inställningar : FF1 or FF2 MtC (Metal cored wire)Met deze instelling kunt u werken met gevulde draad met slak FF1 en zonder slak FF2Deeta val gör det möjligt att arbeta med rörelektrod med FF1 slagg och utan FF2 slaggDruk op de knop voor de draadaanvoerom naar de volgende parameter teTryck på tråmatningsknappenför att gå över till nästa parameter.gaan.Op de bovenste display staat nu "dyn" Den övre displayen anger då « dyn »Afstelling van het smeltdynamisme in SHORT-ARCFabrieksinstelling: harMogelijke afstellingen: har (hard, droog boogregime) ofsof (soft, zacht boogregime)OF / ELLERInställningen av smältningsdynamiken i SHORT-ARCFabriksinställning : harMöjliga inställningar: har (hard, dry arc regime) eller sof(soft, soft arc inställning)Druk op de knop voor de draadaanvoer om de configuratie te voltooien Tryck på tråmatningsknappen för att avsluta konfigureringen.De post is nu klaar om te lassen met de nieuwe configuraties. Svetsmaskinen är nu klar för att svetsa med de nyakonfigureringarna.FoutmeldingenZodra het apparaat een fout detecteert, schakelt het zichzelf uit en toont eenfoutmelding op de display. Thermische veiligheid post : werkingsfactor overschreden post vuil GRE veiligheid (koelgroep toorts) : controleer peil van koelvloeistof controleer of de slangen nergens geklemd zittenNär apparaten upptäcker ett fel, stannar den och anger vilket fel som inträffat. Svetsmaskinens termovakt : Överskriden intermittensfaktor Igensmutsad svetsmaskin Kylaggregatssäkerhet (kylaggregat till svetspistol) : Kontrollera nivån på kylvätskan Kontrollera att slangarna inte är klämdaFelmeddelandenC - 74 OPTIPULS 350 I / OPTIPULS 380 I W
---
9. ERG GEAVANCEERDE CONFIGURATIEGENERATORSommige parameters van de generator zijn niet rechtstreeks beschikbaar in de set-upop het frontpaneel. U kunt deze parameters alleen gebruiken voor heel bijzonderelasgevallen. Daarom zijn ze niet opgenomen in de set-up op het frontpaneel om ditprogramma niet onnodig te belasten.9. MYCKET AVANCERAD KONFIGURERING AVSTRÖMKÄLLANVissa av strömkällans parametrar är inte direkt tillgängliga via SETUP på framsidan.Dessa parametrar kan endast användas för mycket speciella svetsningsarbeten.Därför har vi bestämt att inte integrera dem i SETUP på framsidan för att inteöverbelasta menyn.Deze configuratie is als volgt beschikbaar :(Zie FIGUUR 10 onderaan de folder)Denna konfiguration är tillgänglig i :(Se utvikningsblad FIGUR 10 i slutet av notisen)1. Schroef het frontpaneel los 1. Skruva loss panelan på framsidan2. Zet schakelaar nr. 3 op ON (toegang SETUP EXPERT toegestaan) op hetprintcircuit.3. Schroef het frontpaneel weer vast. 3. Skruva tillbaka panelen på framsidan4. Selecteer de stand "beklede elektrode" op het frontpaneel. 4. Välj rörelektrodpositionen på framsidan5. Op de bovenste display staat nu EE 5. Den övre displayen visar då EE2. Tryck på SWITCH nr 3 till ON läget (Tillgång till SETUP EXPERT beviljad) påkretskortetDruk op de knop voor de draadaanvoerom naar de volgende parameter teTryck på tråmatningsknappenför att gå över till nästa parameter.gaan.Op de bovenste display staat nu "UL" Den övre displayen visar då « UL »Boogvorming trage snelheid ON Långsam tändningshastighet ONFabrieksinstelling: ONMogelijke afstellingen : ON (met trage snelheid) OFF(zonder trage snelheid)OF / ELLERFabriksinställning : ONMöjliga inställningar : ON (med långsam hastighet) OFF(utan långsam hastighet)Druk op de knop voor de draadaanvoerom naar de volgende parameter teTryck på tråmatningsknappenför att gå över till nästa parameter.gaan.Afstelling fadingtijd dSP Inställning av slope down dSPFabrieksinstelling 30%Noot: als u nul (= 0) instelt, schakelt u de fading uit.Mogelijke afstellingen van 0 tot 100% per 1%Mogelijkheid om de draadsnelheidsplateau in te stellen in % in verhouding tot de VFinstelling.Fabriksinställning 30%Obs ! : om tiden är lika med noll (= 0), blir det ingenslope-downMöjliga inställningar från 0 till 100% i steg på 1%Möjligt att reglera trådhastighetströskeln i % i förhållande till VF sättningenDruk op de knop voor de draadaanvoerom naar de volgende parameter teTryck på tråmatningsknappenför att gå över till nästa parameter.gaan.Maximale pulsspanning UC Maximal spänningspulsering UCFabrieksinstelling 0 vMogelijke afstellingen van – 10 tot + 10 v per 0.3 vMogelijkheid om de pulsspanning af te stellen.Fabriksinställning 0 vMöjliga inställningar från – 10 till + 10 v i steg på 0.3 vMöjligheten finns att ändra på spänningspulseringarDruk op de knop voor de draadaanvoerom naar de volgende parameter teTryck på tråmatningsknappenför att gå över till nästa parameter.gaan.Pulstijd TP Pulseringstid TPFabrieksinstelling 0 msMogelijke afstellingen van – 1.00 ms tot + 1.00 ms per0.05 msMogelijkheid om de pulstijd bij te regelen.Fabriksinställning 0 msMöjliga inställningar från – 1.00 ms till + 1.00 ms i stegpå 0.05 msMöjligt att ändra pulseringstidenDruk op de knop voor de draadaanvoerom naar de volgende parameter teTryck på tråmatningsknappenför att gå över till nästa parameter.gaan.Basisstroom Ib Basström IbFabrieksinstelling 0 AMogelijke afstellingen van – 90 tot + 90 A per 1.6 AMogelijkheid om de basisstroom bij te regelenFabriksinställning 0 AMöjliga inställningar från – 90 till + 90 A i steg på 1.6 AMöjligt att ändra på pulseringens basströmOPTIPULS 350 I / OPTIPULS 380 I W C - 75
---
Druk op de knop voor de draadaanvoerom naar de volgende parameter teTryck på tråmatningsknappenför att gå över till nästa parameter.gaan.Standaard (oorspronkelijke fabrieksinstellingen)FACDruk op de trekker: GO verschijnt.Wacht tot END verschijntFel (fabriksparametrar)FACTryck på avtryckaren : GO kommer uppVänta på att END kommer uppOF / ELLERMogelijkheid om de fabrieksinstellingen voor de 2 set-ups te herstellen.De post is nu klaar om te lassen met de nieuweconfiguraties.Möjligt att komma tillbaka till fabriksparametrarna för de 2 SET UP'sSvetsmaskinen är nu klar för att användas med de nyakonfigureringarna.Druk op de knop voor de draadaanvoer om de configuratie te voltooien. Tryck på tråmatningsknappen för att avsluta konfigureringen.10. BIJKOMENDE INFORMATIE 10. KOMPLETTERANDE INFORMATION1. Draadspoelknop 1. Trådmatningsknapp De draadspoelknop kan twee verschillende functies hebben Trådmatningsknappen kan ha två olika funktioner : De functie pregas is beschikbaar na een korte druk (minder dan 1 s) op dehaspelknop en voor een duur van 7 s. Gasförströmningsfunktionen erhålls genom en kort tryckning (kortare än1s) på trådmatningsknappen och för en period på 7s. De haspelfunctie is beschikbaar door middel van een continue druk op dehaspelknop Tråmatningsfunktiionen erhålls genom en kontinuerlig tryckning påtrådmatningsknappen.2. Fading 2. Slope-down In 2T: fading begint zodra u de trekker loslaat. U kunt onmiddellijk opnieuw I 2T: slope-down startar så fort man släpper avtryckaren. Man kan intelassen, u moet wachten tot de fading voltooid is.återuppta svetsningsarbetet genom att trycka på avtryckaren, man måsteIn 4T: fading begint zodra u weer op de trekker drukt. De fading blijftdoorgaan zolang u de trekker ingedrukt houdt. Zodra u de trekker loslaat,volgt de postretract en de postgas. Bedraagt de fadingtijd nul wanneer u opde trekker drukt, dan stopt u daarmee de motor. De postrectract start en deelektromagnetische klap blijft open zolang u de trekker ingedrukt houdt.vänta på att slope-down är färdig.I 4T: slope-down startar så fort man åter trycker på avtryckaren. Denfortsätter att pågå så länge avtryckaren är intryckt. Så fort man släpperavtryckaren får man post-retract och gasefterströmning. Om slope-down ärlika med noll När avtryckaren trycks in, stannar man motorn. Man sätterigång post-retract och magnetventilen stannar öppen så länge avtryckarenär intryckt.C - 76 OPTIPULS 350 I / OPTIPULS 380 I W
---
D - ONDERHOUD D – UNDERHÅLL1. WISSELSTUKKEN 1. RESERVDELAR(Zie FIGUUR 2 en 11 onderaan de folder)(Se utvikningsblad FIGUR 2 och 11 i slutet av notisen)Rep. / REF.mark. / REF. Omschrijving BenämningRep. / REF.mark. / REF Omschrijving BenämningOPTIPULS IFrontpaneel Frontpanel 36 0036 6016 Zelfblokkerende aansluiting Självblockeringsanslutning4 0016 2073 Aan / Uit – schakelaar På/Av knapp 37 0011 2025 Contactor Kontaktor5 0023 6020 Blauwe knop Blå knapp 38 0020 1030 Smeltzekeringspatroon Säkringshållare7 0016 3029 Wisselschakelaar 2T/4T 2T / 4T omkopplare 39 0020 0050 2A smeltzekering 2A säkring8 0016 3029 Wisselschakelaar Handmatig / Manuell / Synergi omkopplare Frame StommeSynergie 40 9160 8470 Draaghendel Handtag9 0023 6015 Grijze knop Grå knapp 41 9160 8460 Plastic deksel Plastkåpa11 9160 8506 Volledig frontpaneel Komplett frontpanel 42 4086 9021 Achterwiel ∅ 300 Bakhjul ∅ 300Interne elementen Invändiga komponenter 43 4086 9022 Voorwiel ∅ 125 Framhjul ∅ 12520 9160 8428 Regelkaart Regleringskort 9160 8711 Bevestigingskit Skruvsats21 0320 7330 Secundaire filterkaart Kort sekundärfilter 9160 8453 Rechterafdekkap * Höger lucka *22 9160 8259 Driefasige filterkaart Trefasigt kort 9160 8455 Linkerafdekkap * Vänster lucka *23 9160 8527 Hulpfilterkaart Kort hjälpfilter Haspelaar Matarverk24 9160 7815 Stuurkaart Kontrollkort 9160 1013 Drukregelaar Tryckreglering25 0017 1082 1 hulptransfo Hjälptransformator 1 9160 1021 Linkerwand met uitrusting Utrustad vänster kåpa26 0017 1047 2 hulptransfo Hjälptransformator 2 9160 1022 Rechterwand met uitrusting Utrustad höger kåpa27 9157 3031 Tank** Tank** 9160 1020 Tandwiel adaptor Transmissions drivhjul27 9000 0342 Tank*** Tank*** 9160 1019 Hoofdtandwiel27 9000 0359 Dop*** Propp*** 9161 7014 Schroevenkit voor rol28 9114 0884 Pomp Pump 9160 1018 Plaatlichaam Huvuddrivhjul29 0010 1536 Ventilator (motor) Fläkt (motor) 9160 7442 Naaf van spoelas Skruvsats matartrissa30 9160 4481 Propeller Skovel 9160 1017 Motorreductorgroep (GMR) Bobin31 9358 0521 Radiator Kylare 0036 1025 24V DC elektromagnetische Bobinaxelnav32 0036 2007 Debietcontrolesysteem Flödeskontroll klep Motorreducerenhet33 0036 6100 Filteraansluiting Filteranslutning 24V DC magnetventil34 0015 3036 Aansluitklem lasstuk Svetsanslutningsklämma35 9160 8710 Kit stekker bundel Sats kabelkontakt* alleen op bestelling * endast på beställning** Voor inschrijvingsnummer < 5377 VO 332 ** For registreringsnummer < 5377 VO 332*** Voor inschrijvingsnummer ≥ 5377 VO 332 *** For registreringsnummer ≥ 5377 VO 3322. PROBLEMEN & OPLOSSINGEN 2. REPARATIONOnderhoudswerken aan elektrische toestellen moetentoevertrouwd worden aan bevoegde technici (zie hoofdstukVEILIGHEIDSINSTRUCTIES).SAMTLIGA INGREPP PÅ ELEKTRISKA APPARATER SKAUTFÖRAS AV DÄRTILL KVALIFICERAD PERSONAL(se kapitel SÄKERHETSINSTRUKTIONER).OORZAKEN OPLOSSINGEN FEL ÅTGÄRDERAAN-UITSCHAKELAAR OP 1 / DE POST START NIET / DE PRIMAIRECONTACTOR KOMT NIET OMHOOG / DE DISPLAY SLAAT NIET AANPÅ/AV KNAPP PÅ 1 / SVETSMASKINEN STARTAR INTE /PRIMÄRKONTAKTORN GÅR INTE UPP / DISPLAYEN TÄNDS INTE Elektrische aansluitingen Regelkaart Aan-Uitschakelaar defect controleer de primaire aansluiting controleer de smeltveiligheid van depost (F1) controleer de staat van de primairecontactor K1 controleer de staat van de Aan-UitschakelaarAAN-UITSCHAKELAAR OP 1 / DE POST START NIET / DE PRIMAIRECONTACTOR KOMT NIET OMHOOG / DE DISPLAY SLAAT AAN Elektrische aansluitingen Connectors Filterkaart controleer de primaire aansluiting controleer smeltveiligheid F2 controleer bedrading van K1 controleer bedrading van filterkaart Elanslutningar Reglerkort Defekt på/av knapp Kontrollera primäranslutningen Kontrollera svetsmaskinen F1säkring Kontrollera skicket på K1primärkontaktorn Kontrollera skicket på På/AvknappenPÅ/AV KNAPP PÅ 1 / SVETSMASKINEN STARTAR INTE /PRIMÄRKONTAKTORN GÅR INTE UPP / DISPLAYEN TÄNDS Elanslutningar Kontaktdon Filterkort Kontrollera primäranslutningen Kontrollera svetsmaskinens F2säkring Kontrollera K1 kablar Kontrollera filterkortkopplingenOPTIPULS 350 I / OPTIPULS 380 I W D - 77
---
AAN-UITSCHAKELAAR OP 1 / DE POST START / DE PRIMAIRE CONTACTORKOMT OMHOOG / DE DISPLAY SLAAT NIET AAN Bekabeling defect Connectoren defect Regelkaart / Module frontpaneel controleer de jumper op hetfrontpaneel controleer de connectoren B6, B9 controleer de smeltveiligheden F2en F3 op de regelkaart controleer de voedingen +15, -15 en+5 Voltals fout in voeding regelkaartvervangenzoniet: draadaanvoerknop indrukken:als draadaanvoer OK is de moduleop het frontpaneel vervangen.TREKKER INGEDRUKT / GEEN FOUTMELDING OP DISPLAY / HASPELMOTORDRAAIT NIET / GEEN NULLASTSPANNING / DE WEERGAVE VOORAF WERKTPÅ/AV KNAPP PÅ 1 / SVETSMASKINEN STARTAR / PRIMÄRKONTAKTORNGÅR UPP / DISPLAYEN TÄNDS INTE Defekt kabelkoppling Defekta kontaktdon Reglerkort / Frontpanelmodul Kontrollera kopplingskabeln påframsidan Kontrollera kopplingar B6, B9 Kontrollera säkringar F2 och F3 påreglerkortet kontrollera +15, -15, och +5 volt matningom defekt matning byt ut reglerkortet;annars, tryck på trådmatningsknappen :om trådmatningen är OK byt ut frontpanelmodulen.INTRYCKT AVTRYCKARE / INGET FELMEDDELANDE PÅ DISPLAYEN /MATARVERKSMOTORN GÅR INTE / INGEN TOMGÅGSSPÄNNING /FÖRVISNINGEN FUNGERAR Connectoren defec Regelkaart controleer de connectoren J1, J2 enB9 en B6 controleer de smeltveiligheden F6en F7 op de regelkaart als LED L4 niet dooft: de regelkaartvervangen Defekta kontaktdon Reglerkort Kontrollera kontakter J1, J2 och B9,B6 Kontrollera säkringar F6 och F7 påreglerkortet om LED L4 inte slocknar : byt utreglerkortetTREKKER INGEDRUKT / GEEN FOUTMELDING OP DISPLAY /HASPELMOTOR DRAAIT NIET / DE WEERGAVE VOORAF WERKT Connectoren defect Regelkaart controleer de connectoren J1, J2en B9, B13 en B15 controleer smeltveiligheid F7 op deregelkaart controleer instelling"draadsnelheid" op PT 13meet de voedingsspanning van demotor tussen PT1 en PT18meet u geen spanning regelkaart vervangenmeet u een spanning van ong. 30V controleer de motorGEEN FOUTMELDING OP DISPLAY / HASPELMOTOR DRAAIT (OPDRACHTVAN TREKKER ONTVANGEN) / DE WEERGAVE VOORAF WERKT / GEENBOOGVORMING, GEEN LASFUNCTIE Connectoren defect Regelkaart Bedrading Stuurkaart ondulator controleer de connectoren B9, B2,B3 als LED L5 brandt: regelkaartvervangen als LED L4 brandt: controleer debedrading van B3 naar shunt als LED L4 en L5 niet branden:controleer smeltveiligheden F1 enF2 op stuurkaart ondulator controleer connectors B16 en B20op stuurkaart ondulatorVoor alle herstellingen aan de generator die hierboven nietstaan vermeld: ROEPT U ER EEN TECHNICUS BIJINTRYCKT AVTRYCKARE / INGET FELMEDDELANDE PÅ DISPLAYEN /MATARVERKSMOTORN GÅR INTE / FÖRVISNINGEN FUNGERAR Defekta kontaktdon Reglerkort Kontrollera kontakter J1, J2 ochB9, B13, B15 Kontrollera säkring F7 påreglerkortet kontrollera V.tråd sättningen på PT13mät motorspänningen mellan PT1och PT18om ingen spänning byt utreglerkortetom spänningen är c :a på 30V kontrollera motornINGET FELMEDDELANDE PÅ DISPLAYEN / MATARVERKSMOTORN GÅR(FÅTT AVTRYCKARORDER) / FÖRVISNINGEN FUNGERAR / INGENTÄNDNING, INGEN SVETSNING Defekta kontaktdon Reglerkort Kabelkoppling Inverter kontrollkort Kontrollera kontakter B2, B3, B9 om LED L5 är tänd : byt utreglerkortet om LED L4 är tänd : kontrollerakabelkopplingen på B3 mot shunt om LED L4 och L5 är släckta :kontrollera säkringar F1 och F2 påinverter kontrollkortet kontrollera kontakter B16 och B20på inverter kontrollkortetFör alla ingrepp inuti strömkällan förutom härovan beskrivnaåtgärder : RING EFTER EN TEKNIKERD - 78 OPTIPULS 350 I / OPTIPULS 380 I W
---
SCHEMAS ELECTRIQUES ET ILLUSTRATIONS ELECTRICAL DIAGRAMS AND FIGURESE-SCHALTBILDER UND ABBILDUNGEN SCHEMA ELETTRICO E DISEGNIESQUEMAS ELÉCTRICOS E ILUSTRACIONES ESQUEMAS ELÉCTRICOS E ILUSTRAÇÕESELEKTRISCH SCHEMA'S EN ILLUSTRATIE ELSHEMAN OCH ILLUSTRATIONERAFFICHAGE DISPLAY DISPLAY VISUALIZZAZIONE VISUALIZACION VISUALIZAÇÃO DISPLAY DISPLAYAVANCE FIL WIRE FEED DRAHTVORSCHUB AVANZAMENTO FILO AVANCE HILO ALIMENTAÇÃO FIO DRAADAANVOER TRÅDMATNINGCARTE FILTREAUXILIAIRECARTE FILTRETRIPHASÉEAUXILIARY FILTERCARDTHREE PHASES FILTER DREHSTROMKARTEFILTERHILFSKARTE FILTER SCHEDA FILTROAUSILIARIOSCHEDA FILTROTRIFASETARJETA FILTROAUXILIARTARJETA FILTROTRIFASICAPLACA FILTROAUXILIARPLACA FILTROTRIFÁSICOHULPFILTERKAART HJÄLPFILTERKORTDRIEFASIGEFILTERKAARTTREFASIGTFILTERKORTCARTE RÉGULATION DÉVIDAGEWIRE FEEDREGULATION CARDREGELKARTE LEEREN SCHEDA REGOLAZIONE SVOLGIMENTOTARJETA REGULACION DEVANADOPLACA REGULAÇÃO ALIMENTAÇÃO DE FIOHASPELREGELKAART REGLERKORTTRÅDMATNINGCHOIX FIL WIRE SELECTION MASSIVDRAHT SCELTA FILO ELECCION HILO SELECÇÃO FIO KEUZE DRAAD VAL AV TRÅDCOMMANDE REMOTE CONTROL STEUERUNG COMANDO MANDO COMANDO BEDIENING KONTROLLCOMMANDE ADISTANCEREMOTE CONTROL FERNSTELLER COMANDO A DISTANZA MANDO A DISTANCIA CONTROLE REMOTO AFSTANDSBEDIENING FJÄRRKONTROLLCOMMANDE GRE COOLING UNITCONTROLGRE BEFEHL COMANDO GRA COMANDO GRE COMANDO GRE BEDIENINGWATERKOELGROEPKONTROLLKYLAGGREGATCOUPLAGE PRINCIPAL MAIN COUPLING KOPPLUNG PRINCIPIO COPPIA ACOPLAMIENTO ACOPLAMENTO KOPPELING KOPPLINGCYCLE CYCLE ZYKLUS CICLO CICLO CICLO CYCLUS CYKELDÉBIT FLOW DURCHSATZ PORTATA CAUDAL FLUXO DEBIET FLÖDEELECTROVANNE GAS SOLENOID VALVE MAGNETVENTIL ELETTROVALVOLA ELECTROVALVULA ELECTROVALVULA ELEKTROMAGNETISCH E KLEPELEKTROMAGNETISKVENTILENTREE INPUT EINGÄNGE ENTRATA ENTRADA ENTRADA INGANG INGÅNG
---
ENTRÉE RACCORD 1 INPUT CONNECTOR 1 EINGANG ANSCHLUß 1 INGRESSO RACCORDO1ENTRADA RACOR 1 ENTRADA UNIÃO 1 INGANG AANSLUITING 1 INGÅNG ANSLUTNING 1GACHETTE TRIGGER BRENNERSCHALTER PULSANTE TORCIA GATILLO COMANDO GATILHO TREKKER AVTRYCKAREH. ARC ARC LENGHT LÄNGE LICHTBOGEN ALTEZZA ARCO ALTURA ARCO ALTURA DE ARCO HOOGTE BOOG BÅGHÖJDI BASE BASIC CURRENT I PULS I PULSANTE I PULS I PULSADO I IMPULS I PULSADMODULE SECONDAIRE DROITRIGHT SEC. MODULE SEKUNDÄRMODUL RECHTSMODULO SECONDARIO DESTROMODULO SECUNDARIO DERECHOMÓDULO SECUNDÁRIO DIREITOSECUNDAIRE MODULE RECHTSHÖGER SEKUNDÄRMODULMODULE SECONDAIRE GAUCHELEFT SEC. MODULE SEKUNDÄRMODUL LINKSMODULO SECONDARIO SINISTROMODULO SECUNDARIO IZQUIERDOMÓDULO SECUNDÁRIO ESQUERDOSECUNDAIRE MODULE LINKSVÄNSTER SEKUNDÄRMODULMOTEUR MOTOR MOTOR MOTORE MOTOR MOTOR MOTOR MOTORPASSAGE RUN DURCHFÜHRUNG PASSAGGIO PASO PASSAGEM DOORGANG PASSAGEPROCEDE PROCESS PROCESS PROCEDURA PROCESS PROCESS PROCÉDÉ PROCESSRACCORDEMENT GRE COOLING UNITCONNECTIONGRE ANSCHLUß COLLEGAMENTO GRA CONEXION GRE LIGAÇÃO GRE AANSLUITINGWATERKOELGROEPANSLUTNINGKYLAGGREGATRÉSERVOIR 1 TANK1 BEHÄLTER 1 SERBATOIO 1 DEPOSITO 1 RESERVATÓRIO 1 TANK 1 TANK 1SÉCURITÉ GRE SAFETY COOLING UNIT GRE SICHERHEIT SICUREZZA GRA SEGURIDAD GRE SEGURANÇA GRE VEILIGHEIDSÄKERHETWATERKOELGROEP KYLAGGREGATSECURITESAFETY VENTILATOR VENTILATORSICHER SICUREZZASEGURIDADSEGURANÇAVEILIGHEID SÄKERHETVENTILATEURHEITVENTILATOREVENTILADORVENTILADORSELF SELF SELF SELF SELF SELF SELF SELFSORTIE OUTPÜT AUSGÄNGE SALIDA SALIDA SAIDA UITGANG UTGÅNGSORTIE RACCORD 2 OUTPUT CONNECTOR 2 AUSGANG ANSCHLUß 2 USCITA RACCORDO 2 SALIDA RACOR 2 SAÍDA UNIÃO 2 UITGANG AANSLUITING UTGÅNG ANSLUTNING 2SOUS ENSEMBLE FACE AVANTSUBASSEMBLY FRONT PANELUNTEREINHEITFRONTSEITESOTTOASSIEMEFRONTALESUBCONJUNTO CARA FRONTALSUBCONJUNTO PAINEL DIANTEIROSUB-GEHEELFRONTPANEELUNDERENHETFRAMSIDAT PULSE PULSED DURING T PULS T PULSANTE T PULS T PULSADO T IMPULS T PULSADTACHYMETRE TACHY TACHY TACHY TACHY TACHY TACHY TACHYTORCHE TORCH BRENNER TORCIA TORCHA TOCHA TOORTS SKÄRPISTOLU PULSE PULSED VOLTAGE U PULS U PULSANTE U PULS U PULSADO U IMPULS U PULSADVENTILATEUR VENTILATOR VENTILATOR VENTILATORE VENTILADOR VENTILADOR VENTILATOR FLÅKT2
---
31242110365248794112311213 1140114627433343738/39422726432823222034353642 31 3029 38/3927 2843322521 2440126785439104132
---
41256MIG - MAG PULSEDMIXArFCWCo211Fe 82/18Fe 92/8AlSiCrNi 308CrNi 316AlMg0.81.01.21.6SETUPMIG-MAG2 3 4 5 947681OPTIPULS 350 I/380 IWINDICE DATE MOTIFC 21/06/02 Déplact couplage prim. Ta2380E5 devient 415E5 (alim.EV)B 07/12/00 Supp. Liaison fil 4B15 4B2A 29/02/02 Chgt.branchement B17: 10B17déplacé sur 8817F/GBEV. GAZGACHETTEGACHETTEAV. FILTACHY+ 10VH.ARCENERGIE0V12x0.75mm2NOIRBLEUMARRONRAC2SORTIERESV1ROUGESOUS-ENSEMBLE FACE AVANTF 9160 8506CARTE FACE AVANTF 9160 8505ROUGEECH1selfSEC1DEBITCHOIX FILCOMMUT.AFF.GNDREG.SELFSDAREG.SELFGNDSELECT.UPSCLSELECT.TPGNDSELECT.IBALIM. 230VALIM. 230VSECU GRESECU GRECDEGRECDEGRERACCORDEMENT GREENTREERAC1PROCEDEGND+ 15VPROCEDE+5VGND- 15VLECT.FILGNDSELECT.CYCLEGNDCARTE REGULATION DEVIDAGE24V AUX.24V AUX.24V MOT.24V MOT.AFFICHAGECDE PUISSANCEALIM. - 15VGNDALIM. + 15VSECURITESECURITE+ 15V17V0VCDE PUISSANCEALIM. - 15VGNDALIM. + 15VSECURITESECURITE17V0VTORE MESURECOURANT PRIMAIREPROTECTEURPONT SECONDAIREGND- SHUNT+ SHUNT-USOUD+USOUDCARTE DE COMMANDEF 9160 76620VCDE FIN DE CHARGE0V17VNOIRROUGECYCLEA DECONNECTERFer 24 passagesCARTE ALIMENTATIONF 9160 7929CARTE FILTREAUXILIAIREF 9160 8526MODULE PRIMAIREF 9160 7931Fer 14 passagesMOD. SECONDAIREDROIT F9160 7661CARTE FILTRE SECONDAIREF 0320 7329CARTE FILTRE TRIPHASEF 9160 8258MODULE PRIMAIREF 9160 7931MOD. SECONDAIREGAUCHE F9160 7664
---
22I8991 3MIG - MAG PULSEDI11.231.0Co21.60.8Fe 82/18Fe 92/8MIXSETUPCrNi 308CrNi 316ArFCWAlMgAlSi321.21.01.60.8SETUP54PROMIG 341 W4m 5m9910ACIERS INOXFILS FOURRESSTEEL STAINLESS STEELCOATED ELECTRODEACEROS ACERO INOXIDABLEHILOS REVESTIDOSAÇOS AÇOS INOXIDAVELSFIO FLUXADOSTÄHLE NIROSTAMANTEL-SCHWEISSDRAHTACCIAIO INOXFILI ANIMATISTAAL ROESTVRIJ STAALGEVULDE DRADENSTÅL ROSTFRITTRÖRELEKTRODALU 1.01 2 3 4 5 61.0 9159-5859 9149-1157 - - 9149-1243 9149-1244 9149-1245 9149-05531.2 9159-5860 9149-1157 - 9149-0567 9149-1246 9149-1247 9149-1248 9149-05531.6 9159-5862 9149-1157 - - 9149-1246 9149-1247 9159-1248 9149-05531.29159-58609159-58619149-11579149-1157----3m9149-12539149-12579149-12549149-1258--9149-03109149-031022 15431135657