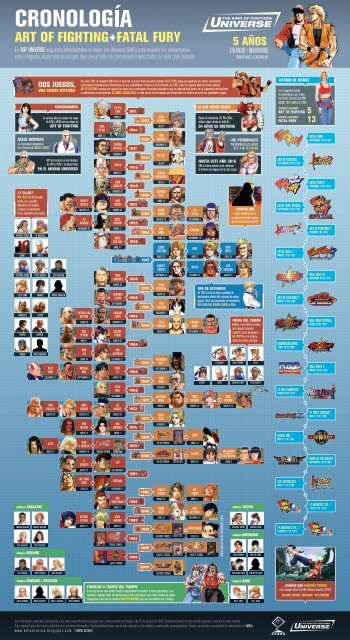 Cronología Art Of Fighting + Fatal Fury
En el año 1991 la compañía SNK lanza al mercado su primer título de peleas llamado Fatal Fury, juego que apostaría por ofrecer una historia y personajes relevantes para diferenciarse de sus competidores. Gracias al éxito obtenido, en 1992 crean su segundo título del mismo género, Art Of Fighting, entrega que seguiría las bases de su contraparte ofreciendo peleadores que se desarrollarían dentro de un argumento sobresaliente. A continuación te presentamos, en orden cronológico, a cada uno de los personajes que dieron vida a la historia de estos dos legendarios juegos.
5 AÑOS

CREANDO | INNOVANDO

FOMENTAMOS LA CULTURA KOF

FATAL FURY

NOVIEMBRE 19 DE 1991

1943

MR. BIG

JULIO 4

ART OF FIGHTING

SEPTIEMBRE 24 DE 1992

FATAL FURY 2

DICIEMBRE 10 DE 1992

FATAL FURY SPECIAL

SEPTIEMBRE 16 DE 1993

ART OF FIGHTING 2

FEBRERO 2 DE 1994

GRANT

WHITE

FATAL FURY 3

MARZO 27 DE 1995

TSUGUMI SENDO

TOUJI SAKATA

JEFF BOGARD

REAL BOUT FF

DICIEMBRE 20 DE 1995

LILLY KANE

MARKY

MARIE HEINLEIN

ART OF FIGHTING 3

MARZO 12 DE 1996

JACQUES D.

SILVER

REAL BOUT SPECIAL

ENERO 28 DE 1997

HANZO SHIRANUI

KIM

KAPHWAN

DICIEMBRE 21

DOMINATED MIND

JUNIO 25 DE 1998

REAL BOUT 2

MARZO 20 DE 1998

FF WILD AMBITION

ENERO 28 DE 1999

ANDY

BOGARD

AGOSTO 16

FF FIRST CONTACT

MAYO 27 DE 1999

BURIKI ONE

MAYO 21 DE 1999

MARK OF THE WOLVES

NOVIEMBRE 26 DE 1999

AOF ANTHOLOGY

MAYO 11 DE 2006

1985

1986

FAMILIA TODOH

FF ARCHIVES VOL. 1

JULIO 20 DE 2006

1989

FF ARCHIVES VOL. 2

FEBRERO 22 DE 2007
More magazines by this user