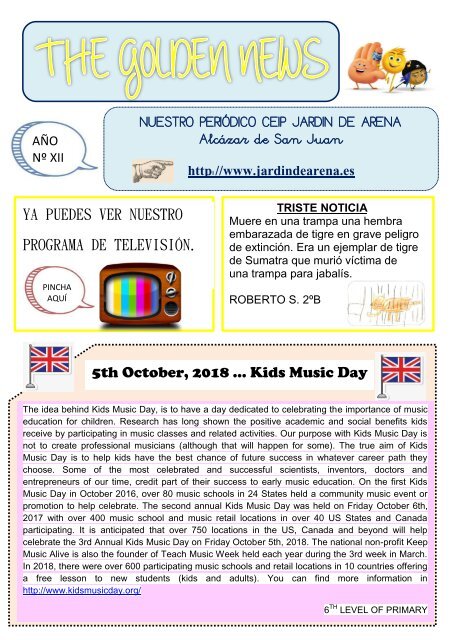 THE GOLDEN NEWS. Nº 03. 2018/2019
You also want an ePaper? Increase the reach of your titles
YUMPU automatically turns print PDFs into web optimized ePapers that Google loves.
AÑO

Nº XII

NUESTRO PERIÓDICO CEIP JARDIN DE ARENA

Alcázar de San Juan

http://www.jardindearena.es

YA PUEDES VER NUESTRO

PROGRAMA DE TELEVISIÓN.

PINCHA

AQUÍ

TRISTE NOTICIA

Muere en una trampa una hembra

embarazada de tigre en grave peligro

de extinción. Era un ejemplar de tigre

de Sumatra que murió víctima de

una trampa para jabalís.

ROBERTO S. 2ºB

5th October, 2018 ... Kids Music Day

The idea behind Kids Music Day, is to have a day dedicated to celebrating the importance of music

education for children. Research has long shown the positive academic and social benefits kids

receive by participating in music classes and related activities. Our purpose with Kids Music Day is

not to create professional musicians (although that will happen for some). The true aim of Kids

Music Day is to help kids have the best chance of future success in whatever career path they

choose. Some of the most celebrated and successful scientists, inventors, doctors and

entrepreneurs of our time, credit part of their success to early music education. On the first Kids

Music Day in October 2016, over 80 music schools in 24 States held a community music event or

promotion to help celebrate. The second annual Kids Music Day was held on Friday October 6th,

2017 with over 400 music school and music retail locations in over 40 US States and Canada

participating. It is anticipated that over 750 locations in the US, Canada and beyond will help

celebrate the 3rd Annual Kids Music Day on Friday October 5th, 2018. The national non-profit Keep

Music Alive is also the founder of Teach Music Week held each year during the 3rd week in March.

In 2018, there were over 600 participating music schools and retail locations in 10 countries offering

a free lesson to new students (kids and adults). You can find more information in

http://www.kidsmusicday.org/

6 TH LEVEL OF PRIMARY
---
RECETA DE COOKIES

INGREDIENTES;

Ingredientes 300 g de

harina

Ralladura de naranja

2 yemas de huevo

180 g de azúcar

1 zumo de naranja

150 g de mantequilla

1 sobre de levadura en polvo

ELABORACIÓN;

1º Derrite la mantequilla y mézclala en un bol con el azúcar.

2º Añade las yemas, la ralladura y el zumo. Sigue batiendo

hasta que se mezcle todo.

3º Añade la harina tamizada y la levadura poco a poco hasta

formar una masa.

4º Espolvorea harina una superficie lisa y trabaja la masa

hasta que tenga buena consistencia.

5º Déjala reposar 2 horas tapada con un paño.

6º Estira la masa con un rodillo y corta trocitos con forma de

galleta.

7º Coloca los trocitos en una bandeja de horno (precalentado

180 grados durante 15 minutos). Sepáralos un poco entre sí

para que no se junten al calentar.

8º Retira las cookies del horno cuando estén doradas

SOFÍA, DOMINGO Y SERGIO 5º A
---
Nuestras

noticias

CAMPAÑA DE VIGILANCIA DEL

CINTURÓN

La policía de Alcázar realizará controles

durante toda la semana para vigilar que

los ocupantes de los coches utilicen el

cinturón de seguridad Este dispositivo

salva miles de vidas cada año.

MAURO S. 2ºA

EXAMEN DE CORREOS

El domingo 30 de septiembre se celebró la

oposición de correos, se realizó en más de 30

ciudades a la vez y se presentaron más de

100000 personas para cubrir 2295 puestos. Mi

tío y muchos compañeros de mi madre se

presentaron en Ciudad Real. Ojalá que tengan

suerte.

EDURNE P. 2ºA

LA FOCA Y EL PULPO

Una foca lanzó un pulpo a una persona que

iba en kayak en Nueva Zelanda.

A la foca no le gustó que invadieran sus aguas

NATALIA 2ºB

ADIVINANZA;

"Un platito de avellanas que de día

se recogen y de noche se

desparrama" NAYARA 3ºB

ADIVINANZA;

¿Qué espejo aquél puede ser. Que

aunque le des mil porrazos, no lo

harás jamás pedazos? JAIME 3ºB

La maestra pregunta:

- Jaimito, ¿si en esta mano tengo ocho naranjas y en

esta otra seis naranjas? ¿Qué tengo?

- Unas manos enormes señorita.

SOFÍA 4º

- Profesora; ¿qué quiere decir WHY?:

- Por qué

- Por saberlo.

BLANCA 4º
---
CHIQUINEWS

Esta semana nos cuentan sus noticias los alumnos de

EDUCACIÓN INFANTIL

Hemos comenzado un nuevo proyecto, el cual trata sobre

EL CUERPO HUMANO.

Hemos recibido una carta de nuestra mascota llena de objetos que

hemos ido descubriendo y un muñeco herido al que pudimos curar

con los objetos de la caja.

Hemos dibujado la silueta de la figura humana y lo

hemos modelado con plastilina
---
PASATIEMPOS
---
PASATIEMPOS

Lleva el tractor a las uvas

LUCÍA 3ºA