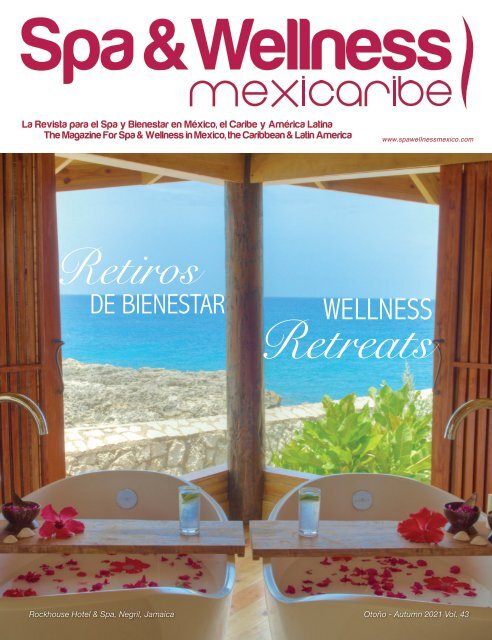 Spa & Wellness MexiCaribe 43 | Otoño 2021
Para entusiastas y profesionales de la industria del spa y bienestar. Proporcionamos información actualizada de las tendencias del spa a nivel nacional e internacional, así como noticias y eventos, productos y servicios, nuevos lanzamientos, experiencias de spa, oportunidades para establecer contactos y redes de comunicación, e información sobre la comunidad cada vez mayor de profesionales del spa en una industria creciente. Nuestra meta es reunir a la comunidad de profesionales del spa. Lee nuestros artículos y la revista en línea, responde los sondeos, encuentra proveedores y eventos, consulta la sección de contrataciones, añade imágenes en nuestra galería, sigue nuestro blog y únete a nuestras redes sociales en Facebook, Twitter y LinkedIn, sé parte de la comunidad del spa en México, El Caribe y América Latina.
Para entusiastas y profesionales de la industria del spa y bienestar. Proporcionamos información actualizada de las tendencias del spa a nivel nacional e internacional, así como noticias y eventos, productos y servicios, nuevos lanzamientos, experiencias de spa, oportunidades para establecer contactos y redes de comunicación, e información sobre la comunidad cada vez mayor de profesionales del spa en una industria creciente. Nuestra meta es reunir a la comunidad de profesionales del spa. Lee nuestros artículos y la revista en línea, responde los sondeos, encuentra proveedores y eventos, consulta la sección de contrataciones, añade imágenes en nuestra galería, sigue nuestro blog y únete a nuestras redes sociales en Facebook, Twitter y LinkedIn, sé parte de la comunidad del spa en México, El Caribe y América Latina.
SHOW MORE
SHOW LESS
You also want an ePaper? Increase the reach of your titles
YUMPU automatically turns print PDFs into web optimized ePapers that Google loves.
La Revista para el Spa y Bienestar en México, el Caribe y América Latina

The Magazine For Spa & Wellness in Mexico, the Caribbean & Latin America

www.spawellnessmexico.com

Retiros

DE BIENESTAR

WELLNESS

Retreats

Rockhouse Hotel & Spa, Negril, Jamaica Otoño - Autumn 2021 Vol. 43
---
Editada por / Publishing Company

Araspa Group S de R.L. de C.V.

Editora / Editor

Sara Jones

Coordinadora / Coordinator

Fabiola Amador Martell

Colaboradores / Contributors

Alejandra Ochoa

Cheryl Sott

Danielle Owen

Kevin Connelly

Eva Gonzalez Olmedo

Liliana Grajales

Michael Bruggeman

Natalie Pergar

Steve Spiro

Tara Grodjesk

Traducción / Translation

Virginia Quiroz

Fabiola Amador Martell

Diseño Impreso / Print Design

Araspa Group S. de R.L. de C.V.

Envío de artículos o

cobertura de productos a:

Submit an article

or request product coverage:

info@spawellnessmexico.com

Envío de noticias

para la industria del spa:

Submit news for spa industry:

info@spawellnessmexico.com

Contacto para

anunciar con nosotros:

To advertise with us contact:

info@spawellnessmexico.com

En Portada / Cover:

Rockhouse Hotel & Spa, Negril, Jamaica

ESP

Sara Jones

Editora / Editor

sara@spawellnessmexico.com

Habiendo asistido al Simposio de Bienes

Raíces y Comunidades de Bienestar del

Instituto Global del Bienestar (aunque

virtualmente) me quedo con una gran

sensación de emoción. Este sector está

creciendo a un ritmo increíble en todo el

mundo, sin embargo, aquí en América

Latina, donde estamos perfectamente

preparados para ofrecer opciones increíbles

para satisfacer la demanda y capitalizar esta

tendencia del mercado que sin duda llegó

para quedarse, nos estamos quedando atrás.

Esto significa que aún no se ha aprovechado

un enorme potencial, así que llenemos ese

vacío y animemos a nuestros residentes y

visitantes de todo el mundo a vivir 'bien'

en México, el Caribe y América Latina. Lee

más sobre las tendencias, la demanda y los

emocionantes desarrollos en la página 44.

Otro informe interesante: Bienestar, Salud y

Viajes 2030 destaca cuánto potencial tiene

nuestra región para atender a los viajeros de

spa y bienestar que buscan rejuvenecimiento,

desarrollo personal, transformación y escape.

Carta editorial

Editor's Letter

ENG

Having just attended the Global Wellness

Institute Wellness Real Estate and

Communities Symposium (albeit virtually)

I am left with such a feeling of excitement.

This sector is growing at an incredible

rate around the world, yet here in Latin

America, where we are perfectly poised to

offer incredible options to fill the demand

and capitalize on this market trend that

is certainly here to stay, we are lagging

behind. This means that enormous

potential is as yet untapped, so let's fill

that gap and encourage our own residents

and visitors from around the globe to live

'well' in Mexico, the Caribbean, and Latin

America. Read more about the trends,

demand, and exciting developments on

page 48.

Another compelling report: Wellness,

Health & Travel 2030 highlights just how

much potential our region has to cater

to spa and wellness travelers looking

for rejuvenation, self-development, and

transformation and escape.

A medida que los retiros de bienestar

continúan ganando impulso, echamos

un vistazo a las consideraciones más

importantes al planificarlos. También

presentamos dos estilos de retiros muy

distintos: Cartesiano, un innovador retiro de

lujo con todo incluido en Puebla, con equipos

de alta tecnología y un equipo de expertos

para anticipar cada necesidad y guiar tu

transformación de bienestar; y Respira Tu

Amor, un viaje de respiración, yoga y tantra

en la jungla para ayudarte a aprovechar tu

conexión energética contigo mismo y con los

demás.

As wellness retreats continue to gain

momentum, we take a look at the most

important considerations when planning.

We also feature two very distinct styles

of retreats; Cartesiano, a groundbreaking

luxury all-inclusive retreat stay in Puebla

with high-tech equipment and team of

experts to anticipate every need and

guide your wellness transformation,

and Respira Tu Amor, a jungle-based

breathwork, yoga, and tantra journey

to help you tap into your energetic

connection with yourself and others.

©2021 Araspa Group S de RL de CV Todos

los derechos reservados. Ninguna parte de

esta publicación puede ser reproducida sin

el consentimiento escrito de Spa & Wellness

MexiCaribe.

©2021 Araspa Group S de RL de CV All rights

reserved. No part of this periodical may be

reproduced without the written consent of Spa &

Wellness MexiCaribe.

Escanea el código QR

con tu smartphone

para suscribirte

Scan this QR Code with your

smartphone to subscribe

Síguenos en nuestras

redes sociales:

Follow us in our social media:
---
Contenido Contents Otoño - Autumn 2021

26 34

Presenta / Features

06

10

18

38

52

74

Una experiencia de bienestar

A wellness experience

26

34

54

58

Organiza un retiro de bienestar en

tu resort

Hosting A Wellness Retreat At Your

Resort

Ubicaciones para albergar tu retiro

Locations To Host Your Retreat

Bienestar, salud y viajes 2030

Wellness, Health & Travel 2030

Atendiendo la hiperpigmentación

Addressing Hyperpigmentation

Haloterapia y bienestar

respiratorio

Halotherapy & Respiratory Wellness

Talleres de maquillaje

Makeup Workshops

Cartesiano Urban Wellness Center

Puebla, México

Rockhouse Spa, Rockhouse Hotel

& Spa

Negril, Jamaica

Respira Tu Amor - Retiro

Riviera Maya, México

Spa Las Hadas, Las Hadas by

Brisas

Manzanillo, México

Comunidades de bienestar

Wellness Communities

62 Valle de los Senderos

San Miguel de Allende, México

Panel de Expertos

The Expert Panel

66

Preguntas y respuestas

Q & A

Productos / Products

60

68

72

Noticias y Lanzamientos

News and Launches

70

71

Eventos / Events

44

50

75

Lanzamientos / Launches

Noticias / News

Simposio de Bienes Raíces y

Comunidades de Bienestar

Wellness Real Estate and

Communities Symposium

Fin de semana mundial del

bienestar 2021

World Wellness Weekend 2021

Calendario / Calendar

Proveedores / Providers

76

Hidratantes de noche

Night Moisturizers

Exfoliantes y mascarillas

Exfoliators & Masks

Selección del editor

Editor's Choice

Directorio / Directory

6

54

38
---
5 aspectos para considerar al organizar un

retiro de bienestar en tu resort

Los retiros realmente han cobrado impulso y se han convertido cada vez más en

una forma para que los resorts fortalezcan sus ofertas de bienestar y promocionen

la marca como la marca de confianza para el bienestar. Los huéspedes están

buscando nuevas formas de combinar escapadas divertidas con opciones de

estilo de vida saludables. Un número creciente de viajeros está buscando retiros

para profundizar su compromiso con el bienestar, aprender nuevas prácticas y

expandir sus horizontes.

Como diseñadora y facilitadora experimentada de retiros de bienestar, recomiendo

estos consejos para garantizar el éxito de tu retiro:

1) ESTABLECE TUS INTENCIONES

Decide qué estilo de retiros quieres ofrecer y sus temas; mantente enfocado

en la intención, la experiencia de tus huéspedes y en el resultado y beneficios

que se llevarán. Intenta crear un mandala del retiro para que sepas visualmente

qué aspectos del bienestar incluye. Por ejemplo, aspectos físicos, mentales,

emocionales y energéticos, y a través de cuáles actividades.

2) EQUILIBRA ESTRUCTURA CON ESPACIO

La duración de tu retiro debe permitir que haya tiempo para impactar pero no

ser demasiado demandante. Los retiros más cortos son más fáciles de llenar, los

retiros más largos permiten una inmersión más profunda. Determina la duración

en función de tu mercado y crea actividades y experiencias atractivas. Recuerda

dejar espacio para la reflexión, tiempo para disfrutar del entorno y simplemente

para 'ser'; ¡no agendes en exceso!

3) IDENTIFICA TU TALENTO

¡Descubre las gemas ocultas dentro de tu equipo! Aprovecha los recursos locales

y considera presentadores invitados. No necesitas líderes famosos; necesitas

presentadores acreditados, talentosos, carismáticos y experimentados.

4) CADA PASO CUENTA

El retiro debe experimentarse a cada paso. Integra diferentes facetas de la

experiencia del resort, como alimentos y bebidas, actividades exclusivas de

tu destino, y obsequios en la habitación que complementen el programa. Los

detalles unen el tema del retiro y lo convierten en una experiencia cohesiva y

transformadora.

5) LLÉVALO A CASA

Los retiros más exitosos son los que no terminan. ¡Proporciona herramientas y

rituales de cuidado personal que los huéspedes puedan usar para extender la

experiencia y recrear algo de la magia! Integra rituales de baño, meditaciones,

prácticas de cuidado personal con aromaterapia y productos a base de plantas.

Los huéspedes adoptarán estas prácticas diarias como una parte vital de su

bienestar.

Por Tara Grodjesk

Fundadora de Tara Spa Therapy,

vicepresidente de Earthlite Spa and Wellness

www.taralivingwellness.com / www.earthlite.com

6
---
5 Things to Consider when Hosting a

Wellness Retreat at your Resort

Retreats have really gained momentum and have increasingly

become a way for resorts to strengthen wellness offerings and

promote the brand as a 'go to' for well-being. Guests are seeking

new ways to combine fun getaways with healthy lifestyle choices.

A growing number of travelers are looking into retreats to deepen

their commitment to well-being, learn new practices and expand

their horizons.

As a seasoned wellness retreat designer and facilitator, I recommend

these tips to ensure your retreat's success:

1) SET YOUR INTENTIONS

Decide which style of retreats you want to offer and their themes;

stay focused on the intention, the experience of your guests

and the outcome and benefits they will take away. Try creating a

retreat mandala so you can see visually what aspects of wellness

it includes. For example, physical, mental, emotional and energetic

aspects, and through which activities.

2) BALANCE STRUCTURE WITH SPACE

The length of your retreat should allow time to impact but not be too

demanding. Shorter retreats are easier to fill, longer retreats allow

for deeper immersion. Determine the length based on your market

and create engaging activities and experiences. Remember to allow

breathing room for reflection, time to enjoy the surroundings, and

just to 'be'; don't overschedule!

4) EVERY STEP COUNTS

The retreat should be experienced at every step. Integrate different

facets of the resort experience such as food and beverage, activities

unique to your destination, in room gifts that complement the

program. The details tie the retreat theme together and make it a

cohesive and transformative experience.

5) BRING IT HOME

The most successful retreats are ones that don't end. Provide tools

and self-care rituals that guests can use to extend the experience and

recreate some of the magic! Integrate bathing rituals, meditations,

self-care practices with aromatherapy and plant-based products.

Guests will embrace these daily practices as a vital part of their wellbeing.

By Tara Grodjesk

Founder Tara Spa Therapy, VP Earthlite Spa and Wellness

www.taralivingwellness.com / www.earthlite.com

3) IDENTIFY YOUR TALENT

Uncover the hidden gems within your team! Tap into local resources

and consider guest presenters. You don't need celebrity leaders;

you need credentialed, talented, charismatic and experienced

presenters.

www.spawellnessmexico.com 7
---
WATER or QUART

• WATER PACK: 4 WATE

• QUARTZ PACK: SPHERI

SIX SENSES SPA

DUBAI- UAE

7°

TILTING MOVEMENT

• 7° UP AND DOWN

HOTEL CHRISTOPHER

ST BARTH

ST BARTHELEMY FWI

LEMI BRAND CAN BE FOUND

IN OVER 100 COUNTRIES

WORLDWIDE
---
Z

R PILLOWS

CAL QUARTZ SAND

Since 1989

proud partners

of the Best Spas

in the world

SPA DREAM QUARTZ

"SAND TIDE MASSAGE"

CREATED IN COLLABORATION WITH JEAN-GUY DE GABRIAC, THE

UNIQUE SAND TIDE MASSAGE HAS BEEN EXCLUSIVELY DESIGNED FOR

LEMI'S SPA DREAM TABLE.
---
Ubicaciones para albergar tu retiro

Locations To Host Your Retreat

AMANSALA, TULUM, MÉXICO

ESP

Ubicado en el hermoso tramo de playa en Tulum, la propiedad ofrece cuatro shalas de yoga y

una gran variedad de habitaciones que se ajustan a todos los presupuestos. Los retiros incluyen

una deliciosa comida saludable, con la opción de añadir tratamientos de spa, una ceremonia de

Temazcal y tours para explorar los aspectos más destacados del área, pasear en bicicleta por

las ruinas mayas, practicar snorkel en un cenote de agua dulce o manejar hasta un pueblo maya

y escalar la pirámide de Cobá.

ENG

Set on the beautiful stretch of beach in Tulum, the property offers four yoga shalas and an

array of room types to suit every budget. Retreats include delicious healthy food with the

option to add spa treatments, a Temazcal ceremony and tours to explore the highlights of the

area; bike to the Mayan ruins, esnórquel in a freshwater cenote, or drive to a Mayan village

and climb the pyramid of Cobá.

www.amansala.com

ROAM YOGA & WELLNESS, ISLA SOLARTE,

ARCHIPIÉLAGO DE BOCAS DEL TORO, PANAMÁ

ESP

Este retiro de vida consciente abarca cuatro acres de jungla en

medio del mar Caribe. La propiedad es el hogar de un shala de

yoga construido de manera sostenible con impresionantes vistas

tanto del mar como de la jungla. La propiedad utiliza la energía

solar para la electricidad y el agua caliente, captación de lluvia y

un pozo séptico con sistema de filtrado. Los tratamientos de spa

y actividades como la sanación con sonido, lecciones de surf y

buceo pueden personalizar aún más cualquier retiro.

ENG

This conscious living retreat spans four acres of jungle in

the middle of the Caribbean Sea. The property is home to a

sustainably built yoga shala boasting breathtaking views of

both the jungle and the sea. The property utilizes solar energy

for electricity and hot water, rain catchment, and a septic

tank with filtering system. Spa treatments and activities such

as sound healing, surf lessons and scuba diving can further

personalize any retreat.

www.ontheroamyoga.com

10

www.spawellnessmexico.com
---
WWW.SUSANNROTTLOFF.COM
---
ISLA VERDE, ATITLÁN

SANTA CRUZ LA LAGUNA, GUATEMALA

ESP Un hotel boutique eco chic ubicado ENG An eco-chic boutique hotel

en un pueblo a ladera de la región

montañosa de Guatemala. Las

shalas de yoga de Isla Verde están

nestled in a hillside village on

the Guatemalan highlands, Isla

Verde's yoga shalas are designed

diseñadas para sumergir a los to immerse guests in the

huéspedes en el hermoso entorno

natural del lago y los volcanes.

gorgeous natural surroundings of

the lake and volcanoes.

La propiedad ofrece una variedad

de actividades en cualquiera de

las experiencias de retiro: masajes

y tratamientos de spa, caminatas

en los terrenos de la propiedad o

en los pueblos de los alrededores,

además de kayak y SUP boarding

en el lago.

The property offers a variety

of activities in any retreat

experience: massages and spa

treatments, hiking in the property

grounds or the surrounding

villages, and kayaking and SUP

boarding on the lake.

www.islaverdeatitlan.com

PLAYA VIVA, ACAPULCO,

MÉXICO

ESP Un hotel boutique sostenible ENG A sustainable boutique hotel

ubicado en las montañas de la

Sierra Madre Occidental, ofrece

la perfecta combinación de

hermosos alrededores con ecolujo.

Abarcando casi 200 acres, esta

locación todo incluido cuenta con

un estuario, un sitio arqueológico

azteca, santuario de tortugas,

bosque costero y un ecosistema de

manglares. Los huéspedes pueden

disfrutar de caminatas, buceo,

pesca en altamar, observación de

aves y kayak. Un menú de la granja

a la mesa satisface una variedad de

dietas y complementa la experiencia

del retiro. La propiedad también

incluye soporte de mercadotecnia,

logística amigable y hospitalidad

ecológica de lujo.

located on the western Sierra

Madre mountains offers

the perfect combination of

beautiful surroundings and

eco-luxury. Spanning almost

200 acres, this all-inclusive

location includes an estuary, an

Aztec archeological site, turtle

sanctuary, coastal forest, and a

mangrove ecosystem. Guests

can enjoy hiking, scuba diving,

deep-sea fishing, bird watching,

and kayaking. A farm-to-table

menu satisfies a variety of diets

and complements the retreat

experience. The property also

provides marketing support,

friendly logistics, and eco-luxury

hospitality.

www.playaviva.com

www.spawellnessmexico.com
---
The Britta

The Ultimate in Spa Luxury

High Level of Customization

Low Height

Zero Gravity

Jessica Wadley

studio.spatables.com

WhatsAPP: +1 717.659.7403
---
ESP

ENG

HARAMARA RETREAT

RIVIERA NAYARIT, MÉXICO

Ubicado en la costa de la Riviera Nayarit, cerca

al pueblo pesquero y surfero de Sayulita, este

exclusivo e íntimo resort a la orilla del mar ofrece

dos shalas de yoga, comedor al aire libre y una

terraza grande con una piscina infinita con agua

salada. La propiedad además es hogar de Larimar,

un centro de bienestar terapéutico al aire libre,

donde los huéspedes pueden disfrutar de una

variedad de servicios de spa para complementar

las actividades del retiro.

Located on the coast of Riviera Nayarit

near the fishing village and surfing town of

Sayulita, this exclusive and intimate seaside

yoga resort offers two yoga shalas, an openair

dining room, and a large terrace with a

saltwater infinity pool. The property is also

home to Larimar, an open-air therapeutic

wellness center, where guests can enjoy a

variety of spa services to complement the

retreat activities.

haramararetreat.com

ASHIYANA

ALTO PARAÍSO, BRASIL

ESP

Escondida en medio de un exuberante

bosque tropical montañoso, esta

propiedad de 15 hectáreas es rica en

algunas de las especies de flora y fauna

más diversas del planeta, Ashiyana

ofrece un shala de yoga donde las

clases fluyen junto con la exquisita

banda sonora de la madre naturaleza:

aves multivariadas, cigarras y el cercano

río Locquinhas.

Ashiyana ofrece terapias de bienestar

como masajes, pranayama,

renacimiento, meditación y manejo

del estilo de vida, para nutrir el

cuerpo de adentro hacia afuera. La

propiedad también brinda formación de

reconocimiento mundial para profesores

de yoga.

www.ashiyana.com

14

www.spawellnessmexico.com
---
THE SANCTUARY COSTA RICA,

CABUYA, COSTA RICA

ESP Ubicado en la exquisita Costa Rica,

este retiro de yoga construido

por yoguis veteranos ofrece a

ENG Located in luscious Costa Rica,

this yoga retreat built by veteran

yogis offers guests the chance

los huéspedes la oportunidad de to commune with nature,

comunicarse con la naturaleza, practice yoga, contemplate,

practicar yoga, contemplar, meditate, and detox. The

meditar y desintoxicarse. The Sanctuary Costa Rica offers spa

Sanctuary Costa Rica ofrece services, organic vegetarian,

servicios de spa, cocina orgánica

vegetariana, vegana y libre de

gluten, todo esto ubicado en un

vegan and gluten-free cuisine,

all located in a solar-powered

tropical modern zen jungle loft.

loft tropical moderno con estilo

de jungla zen y alimentado con

energía solar.

Para aquellos que buscan

organizar un retiro, se ofrece

asistencia personalizada,

desde el desarrollo de la visión

del retiro hasta estrategias de

mercadeo, coordinación de viajes

y excursiones grupales.

For those looking to host

a retreat, personalized

assistance is provided, from

the development of the retreat

vision to marketing strategies,

travel coordination, and group

excursions.

www.thesanctuarycostarica.com

ENG

ASHIYANA

ALTO PARAÍSO, BRASIL

Hidden amidst a lush, mountain

tropical forest, this 15-hectare

property is rich with some of

the most diverse flora and fauna

on the planet, Ashiyana offers

a yoga shala where classes

flow along to the exquisite

soundtrack of mother nature -

multivarious birds, cicadas and

the nearby Locquinhas River.

Ashiyana offers wellness

therapies such as massage,

pranayama,

rebirthing,

meditation and lifestyle

management, to nourish the

body inside out. The property

also offers globally recognized

yoga teacher training.

www.ashiyana.com

www.spawellnessmexico.com 15
---
Winning Partnerships =

Winning Guest Experiences

Changing your primary facial line can be challenging.

Creating a partnership with a skin care brand that

resonates with guests while simplifying spa operations

is a winning combination your team and guests can feel.

+
---
Nurturing

the Nurturers

When preparing for the 15th anniversary of the

prestigious Lodge at Woodloch -- a 500-acre

oasis in the Poconos Mountains of Pennsylvania,

spa director Nancy Deaton knew she wanted to make a big

splash for the momentous occasion. It was time to refresh

the product lineup and spa offerings. As any spa director

knows, this can be a daunting undertaking, considering the

many downstream implications -

esthetician and retail staff training,

retail shelf space, menu creation,

new marketing initiatives, sunsetting

existing brands while stocking new

products. In short, executing a

complete launch strategy and plan.

Having worked closely with Michael

Bruggeman, founder of Organic

Male OM4, Deaton was intrigued

when he confided in her about

his thoughts on a new innovative,

inclusive, Cosmos Organic certified

brand -- haia (Happy as I Am). After sharing the products

with her team and having a positive history with Bruggeman

and the OM4 family, Deaton knew her decision was clear.

"The organic certification aligns well with The Lodge at

Woodloch, but the entire brand ethos and the science-based

ingredients utilizing the best nature has to offer really won

us over," explained Deaton. "The haia line's multifunctional

wellness lifestyle focus - consolidating the arsenal of products

normally required to treat all skin conditions into 24 SKU's,

"

It makes an incredible

difference to have so

many resources and

such great support.

"

Nancy Deaton, Spa Director

The Lodge at Woodloch

makes it easy to train our estheticians and retail teams,

simplify operations and save money, " said Deaton, going

on to say: "Mike's team came out to meet with us to ease

the transition and work through the details." said Deaton.

Ruth Casella, Retail Manager, noted: "The condensed line

also makes for a clean retail space, and our guests are

no longer overwhelmed by too many choices. It's simple

to identify your skin needs and

navigate the collections to cocktail

a personalized solution for any

guest concern."

To support the new launch, haia

provided professional marketing

resources including photography,

and new customized videos to

introduce guests to the brand via

the website, treatment confirmation

email and point of sale using

scanable QR codes linked to

product educational content. "It

makes an incredible difference to have so many resources

and such great support from the haia team," remarked

Deaton.

Bruggeman adds, "I absolutely love Nancy, Ruth and the

entire Woodloch team. It is such an honor to partner with

a property dedicated to the same wellness ideals, not to

mention having both haia and Organic Male OM4 at one

of the nation's most awarded resorts."

haia offers a free trial kit to interested spas, at 877-677-3515 or haiawellness.com/freetrial
---
ESP

Health Tourism Worldwide trabajó estrechamente con la Wellness

Tourism Association, la International Medical Travel Journal y 41 expertos

internacionales de varios negocios de bienestar, spa, hospitalidad, viajes

de bienestar, atención médica y médicos. El reporte identifica tendencias

globales y regionales que los expertos prevén en viajes de bienestar

post COVID entre 2025 y 2030.

La investigación prestó atención a los detonantes que generan

demanda en viajes de bienestar. Los detonantes son la base de

cualquier decisión, y podemos ver una variedad que incluye fitness,

autorrecompensa, desestres/relajamiento, recargarse/rejuvenecer,

consentirse/complacerse, florecer, aprender, trascender, prevención/

sanación personal, desarrollo/superación personal, pertenencia o como

escape.

Spa & Wellness Mexicaribe tuvo el honor de ser invitada a participar por

nuestra región de México, el Caribe y América Latina.

www.htww.life

HTWWLife es un grupo internacional de asesoramiento e inteligencia

de la industria lanzada en 2012 por sus fundadores László Puczkó (PhD

MSc MA CMC) y Melanie Smith (PhD MSc MA).

ENG

Health Tourism Worldwide worked closely with the Wellness

Tourism Association, the International Medical Travel Journal, and

41 international experts from various wellness, spa, hospitality,

wellness travel, healthcare, and medical businesses. The report

identifies global and regional trends experts envision in wellness

travel by 2025-2030 post-COVID.

The research paid attention to the triggers that generate demand

for wellness travel. Triggers are the foundation of any decision, and

we see a variety such as fitness, self-reward, de-stress/relaxation,

recharge/rejuvenation, pampering/indulgence, flourishing, learning,

transcendence, prevention/self-healing, self-development/

improvement, belonging, escapism.

Spa & Wellness MexiCaribe was honored to be asked to participate

for our region of Mexico, the Caribbean and Latin America.

www.htww.life

HTWWLife is an international industry intelligence and advisory group

launched in 2012 by founders László Puczkó (PhD MSc MA CMC) and

Melanie Smith (PhD MSc MA).

18

www.spawellnessmexico.com
---
www.spawellnessmexico.com 19
---
22

www.spawellnessmexico.com
---
www.spawellnessmexico.com 23
---
24

www.spawellnessmexico.com
---
www.spawellnessmexico.com 25
---
un retiro

de bienestar

Cartesiano Urban

Wellness Center

Puebla, México

26

aribe

www.spawellnessmexico.com
---
Cartesiano Urban Wellness Center aspira a tocar el alma de cada

huésped que invierte su tiempo en los programas de retiro

personalizados de 4, 7, 14 y 21 noches. Marcando tendencia

en la industria del bienestar con la nueva dirección que ha tomado

desde que reabrió, Cartesiano, un exclusivo centro de bienestar de lujo

con todo incluido, y el primero de su tipo en México, da la bienvenida

a sus huéspedes en suites bellamente decoradas y renovadas de una

mansión colonial y fábrica de azulejos de los siglos XVI y XVII que fueron

restauradas, uniendo armoniosamente el estilo barroco español con las

influencias aztecas antiguas en el corazón de la encantadora ciudad

de Puebla. Con un elegante spa que cuenta con área de hidroterapia,

un piso completo de bienestar con la última tecnología de Gharieni,

espacios de yoga, sanación con sonido, breathwork, una impresionante

piscina en la azotea y un restaurante dedicado a la nutrición saludable

para alimentar el cuerpo y estimular la mente, todos los elementos están

en su lugar para que haya un cambio transformador. Sin embargo, la

magia de Cartesiano radica en su personal y en su dedicación a la

pasión elegida, a la coordinación y a la comunicación, asegurando que

la estancia de cada huésped fluya impecablemente y sin problemas,

con una atención excepcional a los detalles.

Previo a la llegada, los huéspedes son invitados a completar una

encuesta para identificar sus objetivos, además de recibir una llamada

de consulta con el médico del resort para asegurarse que el equipo

comprenda las preocupaciones de salud, desafíos, restricciones o

preferencias alimentarias, y pueda planificar en consecuencia. Al llegar,

un ritual de bienvenida que incluye una caminata meditativa y sanación

con sonido vibracional sienta la escena, permitiendo a los huéspedes

encontrar su centro, conectar su energía y crear una intención para su

estadía. Se ofrece a los huéspedes una selección de cuatro esencias de

aromaterapia personalizados para usar en su suite cada noche, y se les

enseña la técnica de respiración Cartesiano360 para oxigenar el cuerpo

y calmar la mente. Después de una consulta presencial con el médico,

se presenta a los huéspedes los siete pilares del bienestar: ritmo y

cronobiología, nutrición y conciencia, biofilia y naturaleza, vibración y

sonido, movimiento y danza, cultura y artes; y regeneración y vitalidad.

Se explica que los ritmos circadianos, fluctuaciones energéticas

naturales, ejercicio y hábitos alimenticios afectan nuestra salud y

bienestar en general. Cada programa de bienestar personalizado se

puede adaptar según sea necesario para incluir servicios adicionales

de acuerdo a los deseos del huésped.

Los tratamientos incluyen una amplia gama de servicios de spa,

tales como masaje rejuvenecedor del ritmo corporal para conectar y

equilibrar los chakras (centros de energía) del cuerpo, masaje barroco

para despertar y armonizar los dos hemisferios del cerebro, drenaje

linfático, reflexología, masaje de tejido profundo y más. Los tratamientos

corporales como el Bio-Tuning trabajan en la energía vibratoria del

cuerpo utilizando diapasones, el tratamiento con ventosas promueve

la circulación saludable de sangre y linfa, esencial para la curación; y

las envolturas y exfoliaciones corporales activan y energizan la piel. Las

experiencias únicas también incorporan la piscina de hidroterapia como

el masaje acuático con movimientos de agua estilo Janzu guiados por

un terapeuta y acompañados de cuencos tibetanos. Los tratamientos

faciales son personalizados por expertos según las necesidades de

cada huésped y pueden incluir técnicas de masaje lifting, la tecnología

de fotorrejuvenecimiento más reciente y una combinación de productos

exfoliantes y regeneradores, para el cuidado de la piel.

TECNOLOGÍA AVANZADA DE GHARIENI

Como la única propiedad en América Latina que alberga las cuatro

tecnologías de tratamiento de Gharieni, Cartesiano ha dedicado un

piso completo a esta zona de bienestar.

El mundialmente famoso MLX Quartz ofrece a los huéspedes una

relajación intensa y cálida mientras los masajes se realizan sobre una

cama de cristales de cuarzo calientes; ajustes de la mesa y vibraciones

sonoras de cuencos tibetanos, además de cromoterapia, ayudan a

crear un viaje completamente único.

El Welnamis (anteriormente SpaWave) utiliza ritmos binaurales emitidos

mediante auriculares con aislamiento de ruido para producir un estado

de relajación profunda, alentando al cerebro a entrar en estados theta

y delta donde la regeneración, la curación y la meditación ocurren. La

cama incluye un panel de agua caliente con cromoterapia y vibraciones

que fluyen en ondas por debajo del cuerpo, actuando específicamente

sobre sus chakras.

El MLX iDome, un tratamiento personal de sauna de infrarrojos lejanos,

infunde al cuerpo un calor profundo y penetrante para ayudar en la

recuperación del tejido muscular y aumentar el flujo sanguíneo a las

articulaciones y tendones mientras estimula el metabolismo, alivia la

inflamación y tonifica la piel.

El nuevo Celliss es un sillón de tratamiento con apariencia de 'era

espacial' que puede ofrecer vigorizantes masajes anticelulíticos y

adelgazantes, masajes deportivos, drenaje linfático y tratamientos

reafirmantes. La aspiración y percusión mecánicas estimulan la piel

y los tejidos subcutáneos activando el proceso de desintoxicación

natural del cuerpo.

www.spawellnessmexico.com 27
---
SONIDO, VIBRACIÓN Y RESPIRACIÓN

Cartesiano reúne una mezcla ecléctica de

profesionales expertos para ofrecer experiencias

únicas. Los patrones de respiración diseñados

para relajar y calmar la mente mientras se

oxigena el cuerpo son enseñados a cada

huésped y luego se fomentan durante la estancia

con recordatorios colocados en la habitación a

la hora de acostarse y controles programados

con el especialista de respiración. La sanación

con sonido es incorporada a varios servicios

con cuencos tibetanos, gongs y campanas

que acompañan los tratamientos, sesiones de

movimiento y meditaciones.

MEDITACIÓN, MOVIMIENTO Y ARTE

El mindfulness y los momentos de calma se

integran en la agenda durante toda la estadía y

alrededor de toda la propiedad. El laberinto de

meditación fue un momento memorable de calma

y reflexión, ya que la corta caminata meditativa

dentro y fuera del laberinto está acompañada

de notas suaves tocadas en el handpan y

guiadas por la voz de uno de los experimentados

expertos en bienestar de Cartesiano. El yoga y el

movimiento somático se incorporan diariamente

con una variedad de estilos incluyendo yoga

aéreo y yoga con cuerdas; que te permiten

suspenderte boca abajo para alargar la columna,

liberar tensión y aumentar el flujo sanguíneo

cerebral. Las sesiones de movimiento suelen

acompañarse de instrumentos musicales y

sanación con sonido vibracional.

El arte juega un papel importante en Cartesiano,

con innumerables esculturas e instalaciones

alrededor de los terrenos del hotel y murales

hechos con los azulejos auténticos que

originalmente albergaba el edificio del taller de

'talavera'. Las artes visuales se incorporan a la

agenda nocturna con proyecciones de la serie

Moving Art de Louie Schwartzberg en la sala de

cine. Puedes ver imágenes fascinantes de flores

abriendo, plantas brotando, cascadas corriendo

y paisajes en evolución desde la comodidad de

camastros reclinables bajo suaves mantas, la

manera perfecta de relajarse antes de dormir.

www.cartesiano360.com

Por Sara Jones,

Editora

28

www.spawellnessmexico.com
---
VERIFIEDWELLNESS

TECHNOLOGIES

BY GHARIENI

Body Contouring

Triple Detox

Therapy

Psammo Therapy

Aether Institute Prague, Czech Republic.

Sleep Therapy

The Johnstown Estate

Johnstownbridge, Ireland

100% TOUCHLESS TECHNOLOGIES

CAN BE COMBINED WITH YOUR REGULAR TREATMENTS!

La Butte aux Bois Lanaken, Belgium

2019 - 2021

www.gharieni.com
---
a wellness retreat

Cartesiano Urban

Wellness Center

Puebla, Mexico

Cartesiano Urban Wellness Center aims to touch the soul

of every guest that invests their time in the personalized

retreat programs of 4, 7, 14 and 21 nights. Making waves

in the wellness industry with the new direction it has taken since

reopening, Cartesiano, a unique luxury all-inclusive wellness

center, the first of its kind in Mexico, welcomes guests in beautifully

appointed suites refurbished from the 16th and 17th-century

colonial mansion and tile factory from which it was renovated, tying

together harmoniously Spanish Baroque style with ancient Aztec

influences in the heart of the charming city of Puebla. Boasting a

chic spa with hydrotherapy area, a complete wellness floor featuring

all the latest technology from Gharieni, yoga spaces, sound healing,

breathwork, a stunning rooftop pool, and a restaurant dedicated to

healthy nutrition to fuel the body and stimulate the mind, all the

elements are in place for transformational change to take place. The

magic of Cartesiano however, lies with its staff and their dedication

to their chosen passion, coordination and communication, ensuring

every guest's stay flows seamlessly and smoothly, with exceptional

attention to detail.

Prior to arrival, guests are invited to complete a survey to identify

their goals, in addition to a consultation call with the in-house doctor

to ensure the team understands any health concerns, challenges,

dietary restrictions or preferences, and can plan accordingly. On

arrival, a welcome ritual including a meditative walk and vibrational

sound healing sets the scene, enabling guests to find their center,

ground their energy and create an intention for their stay. Guests

are offered a selection of four custom aromatherapy scents for use

in their suite each evening and taught the Cartesiano360 breathing

technique to oxygenate the body and calm the mind. After an inperson

consultation with the doctor, guests are introduced to the

seven pillars of wellness: rhythm and chronobiology, nutrition

and consciousness, biophilia and nature, vibration and sound,

movement and dance, culture and arts, regeneration and vitality.

It is explained that circadian rhythms, natural energy fluctuations,

exercise and food habits which all affect our overall health and

wellness. Every bespoke wellness program can be adapted as

needed to include additional services as the guest wishes.

Treatments include a wide range of spa services such as massages

including Body Rhythm Rejuvenating Massage to connect and

balance the chakras (energy centers) of the body, Baroque

Massage to awaken and harmonize the two hemispheres of the

brain, lymphatic drainage, reflexology, deep tissue and more. Body

treatments such as Bio-Tuning work on the vibrational energy of

the body utilizing tuning forks, Cupping treatment promotes healthy

circulation of blood and lymph essential to healing, and body wraps

and exfoliations activate and energize the skin. Unique experiences

also incorporate the hydrotherapy pool such as the aquatic massage

with Janzu style water movements guided by a therapist and

accompanied by Tibetan bowls. Facials are expertly customized to

each guest's needs and may include lifting massage techniques,

the latest photorejuvenation technology, and a combination of

exfoliating and regenerating skin care products.

30

www.spawellnessmexico.com
---
ADVANCED TECHNOLOGY FROM GHARIENI

As the only property in Latin America to host all four of the Gharieni

treatment technologies, Cartesiano has dedicated an entire floor to

this wellness zone.

The world-famous MLX Quartz offers guests intense relaxation

and warmth as massages take place atop a bed of heated quartz

crystals, table adjustments and sound vibrations from Tibetan bowls

in addition to chromotherapy all help to create a completely unique

journey.

The Welnamis (formerly SpaWave) utilizes binaural beats delivered

via noise-canceling headphones to bring about a state of deep

relaxation encouraging the brain to enter theta and delta states

where regeneration, healing and meditation occur. The bed includes

a heated water panel with chromotherapy and vibrations that flow in

waves underneath the body acting specifically on the chakras of the

body.

The MLX iDome, a personal far infrared sauna treatment infuses the

body with deep penetrating heat to aid the recovery of muscle tissue

and increase blood flow to joints and tendons while stimulating the

metabolism, relieving inflammation, and invigorating the skin.

The brand new Celliss is a 'space-age' looking treatment chair that

can deliver invigorating anti-cellulite and slimming massages, sports

massage, lymphatic drainage and firming treatments. The mechanical

aspiration and percussion stimulates the skin and subcutaneous

tissues activating the body's natural detoxification process.

SOUND, VIBRATION AND BREATH

Cartesiano brings together an eclectic mix of expert practitioners to

deliver unique experiences. Breathing patterns designed to relax and

calm the mind while oxygenating the body are taught to each guest

and then encouraged throughout the stay with reminders placed in

the room at bedtime and check-ins scheduled with the breathwork

practitioner. Sound healing is incorporated into various services

with Tibetan bowls, gongs, and chimes accompanying treatments,

movement sessions, and meditations.

www.spawellnessmexico.com
---
MEDITATION, MOVEMENT AND ART

Mindfulness and moments of calm are built into the agenda throughout

the stay and all around the property. The Labyrinth meditation was a

memorable moment of calm and reflection as the short meditative

walk in and out of the labyrinth is accompanied by soft notes played

on the handpan and guided by the voice of one of Cartesiano's skilled

wellness practitioners. Yoga and somatic movement are included

every day with a variety of styles including aerial yoga and yoga with

ropes; suspend yourself upside down to elongate the spine, release

tension and increase cerebral blood flow. Movement sessions are

often accompanied by musical instruments and vibrational sound

healing.

Art plays an important role at Cartesiano with myriad sculptures and

installations around the hotel grounds and wall murals made of the

original tiles of the 'Talavera' workshop building it originally housed.

Visual arts are incorporated into the evening agenda with showings

of Louie Schwartzberg's Moving Art series in the cinema room.

Watch mesmerizing footage of flowers blooming, plants sprouting,

waterfalls rushing and evolving landscapes from the comfort of

reclining loungers under soft blankets, the perfect way to relax before

bedtime.

www.cartesiano360.com

By Sara Jones,

Editor

32
---
Organic Coconut Oil & Sustainable Tools

Travel Tube

Bamboo Dry Brush

Not Your Ordinary

Coconut Oil Jar

Organic Coconut

Oil Face + Body Wipes

AVAILABLE FOR RETAIL AMENITIES PROFESSIONAL SIZES

Tree to Oil in

48 Hours

Fresh organic coconuts are processed within 48 hours from harvest.

The oil is extracted within 2 hours from opening of the nuts. The

result is a water-like oil that has a mild and light aroma and taste.

Four (4) times More Antioxidants

Based on a recent ORAC test, our virgin coconut oil has 4,377 umol

TE/100g antioxidants while the average virgin coconut oil only has

1,070 umol TE/100g.

Phone: 1-855-96-COCONUT consciouscoconut.com orders@consciouscoconut.com

@consciouscoconut
---
una experiencia spa

Rockhouse Spa

Rockhouse Hotel & Spa

Negril, Jamaica

34

aribe

www.spawellnessmexico.com
---
Localizado en los acantilados de West End, a pocos kilómetros de

la famosa playa Seven Mile de Negril, Rockhouse Hotel and Spa

ofrece a sus huéspedes un refugio de lujo junto al mar con vistas

espectaculares del mar Caribe. Ocho acres de jardines tropicales están

entrelazados con senderos de piedra que serpentean entre la piscina

infinita y las villas de piedra con techo de paja. Las villas con vista al mar

son lo más destacado de Rockhouse debido a sus extensas áreas para

asolearse en los acantilados, muchas de ellas con entradas privadas

directamente al mar.

Mientras pasas por el spa, los letreros pintados a mano en los jardines

te recuerdan que 'mantengas las vibraciones en calma'. El spa en sí es

un pabellón modesto donde los masajes se realizan en uno de los tres

cuartos rodeados de una fuente de agua central. Opta por un 'masaje

en las rocas' en una de las dos cabañas junto al mar, ubicadas en lo alto

de un acantilado directamente sobre las aguas turquesas. Los visitantes

primerizos reciben un ritual de limpieza de pies complementario,

diseñado para sanar y vigorizar, comenzando de abajo hacia arriba.

Ya sea que desees desintoxicarte, liberar tensiones o relajarte de

tu masaje o ritual de baño, elige entre tres esencias de aromaterapia

caribeñas: rapto, liberación y restauración. Inspirados en el Caribe y

llenos de energía y vitalidad, estos ingredientes naturales son autóctonos

de la isla.

Entre los tratamientos más mágicos del Rockhouse Spa están los

rituales de baño. Estos rituales respetan el baño como un arte antiguo;

un proceso que es prominente entre muchas religiones y a través de la

historia. Un camino de madera te lleva de los cuartos de masaje hasta

el Bath house, escondido en un rincón detrás de los jardines. Cuando

entras al Bath house, te reciben dos bañeras de pie llenas de la mezcla

curativa de tu elección, cada una compuesta de botánicos únicos,

hierbas, especias, pétalos de flores y más. Una vez que te sumerges,

colocan una bandeja de madera a lo largo de la bañera, con frutas

frescas y un 'trago de bienestar' de raíz de jengibre, pimienta de cayena

y piña. Cuando se abren las puertas corredizas de madera, tu baño se

convierte en una experiencia aislada al aire libre, con vistas panorámicas

de los acantilados de brillantes aguas azules. Sumérgete por 30 minutos

mientras disfrutas de los alrededores antes de relajarte en la pacífica área

del jardín con una taza de té.

www.rockhouse.com

Por Danielle Owen

Editora associada

www.owentheglobe.com

www.spawellnessmexico.com 35
---
a spa experience

Rockhouse Spa

Rockhouse Hotel & Spa

Negril, Jamaica

Located on the West End Cliffs, just a few kilometers from

Negril's famous Seven Mile Beach, the Rockhouse Hotel and

Spa offers guests a luxury seaside retreat with spectacular

views over the Caribbean waters. Eight acres of tropical gardens

are laced with stone pathways winding between the cliffedge pool

to thatched-roof stone villas. The ocean view villas are the highlight

of Rockhouse due to their expansive cliffside sunbathing areas,

many with private entrances directly into the sea.

As you pass the spa, hand-painted signs in the gardens remind

you to 'keep the vibes calm'. The spa itself is a modest pavilion

where massages take place in one of three rooms circled around a

central water feature. Opt for a massage-on-the-rocks at one of the

two seaside, clifftop cabanas perched directly above the turquoise

waters. First-time visitors receive a complimentary cleansing foot

ritual, designed to heal and invigorate, starting from the bottom-up.

Whether you want to detoxify, release tension, or relax from your

massage or bathing ritual, choose between three Caribbean

aromatherapy essences: Rapture, Release, and Restore. Inspired

by the Caribbean and bursting with its vitality and energy, these

natural ingredients are indigenous to the island.

Among the most magical treatments at the Rockhouse Spa are

the bathing rituals. These bathing rituals respect bathing as an

ancient art; a process that's prominent amongst many religions and

throughout history. A wooden pathway leads you from the massage

rooms up to the Bath House, tucked in a corner behind the gardens.

As you walk into the Bath House, you're greeted by two standing

bathtubs, full of the healing concoction of your choice, each made

up of unique botanicals, herbs, spices, flower petals, and more.

Once submerged, a wooden tray is placed across the tub, topped

with fresh fruits alongside a 'wellness shot' of ginger root, cayenne

pepper, and pineapple. When the sliding wooden doors are opened,

your bath becomes a secluded, open-air experience with panoramic

views over the cliffs to the bright blue waters. Soak for 30-minutes

while enjoying the surroundings before relax in the peaceful garden

area with a cup of tea.

www.rockhouse.com

By Danielle Owen, Associated Editor

www.owentheglobe.com

36

www.spawellnessmexico.com
---
ESP

ATENDIENDO LA

HIPERPIGMENTACIÓN EN HOMBRES

Como profesionales de la industria spa, hemos visto bastantes de casos

de hiperpigmentación. Frecuentemente causados por exposición solar,

estos parches oscuros de melasma aparentemente aleatorios, pueden

ser una gran fuente de inseguridad. Mientras que en mujeres pueden

ser el resultado de cambios o desequilibrios hormonales, en hombres

usualmente resultan por exposición excesiva al sol. Los hombres tienen

el doble de probabilidades que las mujeres de exponerse a los dañinos

rayos ultravioleta, y es considerablemente menos probable que usen

protector solar.

¿Cómo difiere el tratamiento de hombres al de mujeres? ¿Sabías que

la piel de los hombres es aproximadamente 25% más gruesa que la

de mujeres, con más colágeno y elastina, y con glándulas sebáceas

más pequeñas? Teniendo esto en mente, un producto formulado

específicamente para hombres, estará diseñado con un tamaño

molecular menor para penetrar efectivamente.

¿Cómo llegamos a estos hombres? Aunque históricamente los spas

tienen una clientela sesgada por mujeres, no permitas que eso te detenga

en abordar los problemas de la piel en hombres. Puede que no logres

llegar directamente a los hombres con tu mercadotecnia, sin embargo,

está garantizado que las mujeres a quienes llegues tendrán pareja,

padre, hermano o amigo que podría beneficiarse de que abordemos este

y otros problemas de la piel.

La colección Organic Male OM4 Dry Skin utiliza ingredientes inhibidores

de la tirosinasa para atender la actividad inflamatoria subyacente que

resulta en hiperpigmentación, combinada con ingredientes como la raíz

de regaliz para iluminar y prevenir la formación o el agravamiento de las

manchas oscuras.

Por Michael Bruggeman

Fundador, Organic Male OM4

www.om4men.com

ENG

As spa industry professionals, we've seen our share of

hyperpigmentation cases. Most often caused by sun exposure,

these seemingly random dark patches of melasma can be a major

source of insecurity. While in women, melasma is often a result of

hormonal changes or imbalances, for men they are most often the

result of over-exposure to the sun. Men are twice as likely as women

to be exposed to damaging UV rays and considerably less likely to

use sunscreen.

How does treatment differ from men to women? Did you know that

men's skin is around 25% thicker than women's, with more collagen

and elastin and smaller sebaceous glands? With this in mind, a

product formulated specifically for men will be designed with a

smaller molecular size to penetrate effectively.

ADDRESSING HYPERPIGMENTATION

FOR MEN

significant other, father, brother, or male friend who could benefit

from addressing this and other skin concerns.

Organic Male OM4 Dry Skin collection utilizes tyrosinase-inhibiting

ingredients to address the underlying inflammatory activity that

results in hyperpigmentation combined with ingredients like licoriceroot

to brighten and prevent dark spots from forming or worsening.

By Michael Bruggeman

Founder, Organic Male OM4

www.om4men.com

How do we reach these men? While spas historically have a femaleskewed

clientele, don't let that stop you from addressing men's skin

issues. You may not be reaching men directly with your marketing,

however, it's guaranteed that the women you reach will have a

38
---
ESP

ENG

Tratando la

hiperpigmentación

de forma natural

La hiperpigmentación es una condición común causada por daño

solar, cambios hormonales, inflamación y envejecimiento. Aunque

puede ser complicado tratarla, puedes ayudar a tus clientes a

prevenir la hiperpigmentación y reducir su aspecto de forma segura

usando alternativas naturales en lugar de químicos agresivos como

la hidroquinona. Las alternativas naturales incluyen vitamina C, ácido

azelaico, papa africana, árbol de tara, raíz de regaliz y extracto de gayuba

para ayudar a igualar el tono de la piel y disminuir la apariencia de las

manchas oscuras. El tratamiento contra la hiperpigmentación debe ser

consistente para tener resultados, siendo esencial recomendar productos

para el cuidado en casa además de los tratamientos realizados en spas.

Por Natalie Pergar,

Entrenadora líder en el cuidado de la piel

Eminence Organic Skin Care

www.eminenceorganics.com

Treating

Hyperpigmentation

Naturally

Hyperpigmentation is a common condition that's caused by sun

damage, hormonal changes, inflammation, and aging. Though

it can be challenging to treat, you can help your clients prevent

and reduce the look of hyperpigmentation safely by using natural

alternatives to harsh chemicals such as hydroquinone. Natural

alternatives include vitamin C, azelaic acid, African potato, tara

tree, licorice root, bearberry extract to help even the skin tone

and diminish the appearance of dark spots. The treatment of

hyperpigmentation requires consistency in order to see results, so

it is essential to recommend home care products in addition to inperson

spa treatments.

By Natalie Pergar,

Lead Skin Care Trainer

Eminence Organic Skin Care

www.eminenceorganics.com

www.spawellnessmexico.com 39
---
PHYTOWHITE

Despigmentante Natural

Tratamiento de potente acción

aclarante & despigmentante

de origen vegetal

sin químicos irritantes.

Nanosomas de Vit.C, Uva Ursi &

Glycyrrhiza Glabra

Aclara manchas

Face & Body Care

Hipoalergénico

Unifica el tono de la piel

Uva Ursi

Glycyrrhiza Glabra

Nanospheres

NANOTECH

Vitamina

C

CDMX

LEON, GTO.

477-7903-214

GUADALAJARA, JAL.

333-1065-208

Parafango Spa

www.parafangospa.com
---
100 % Natural

Kits Envolventes Corporales

Los kits individuales by PARAFANGO SPA son tratamientos completos,

envasados y sellados en un sólo kit.

Dosificados con las porciones adecuadas de un tratamiento corporal,

mejorando el rendimiento del producto, evitando desperdiciarlo o contaminarlo.

Cada kit contiene todos los productos necesarios para poder aplicar un ritual

Spa o un tratamiento corporal completo.

Rituales Spa

Soothing, Hydrating & Relaxing

Frutos Rojos

Antioxidantes & Luminosidad

Aloe Vera After Sun

Chaya, Nopal & Calendula

Chocolat

Chocolaterapia

Baño Egipcio

Miel, Yogurt & Leche

Bouquet

Vinoterapia

Delizia de Avena

Piel Perfecta

Baño de Algas

Seaweed Wrap

Body Wrap

Envolturas Corporales

Aguacate Órganico

Lujo Natural para una Piel Perfecta

Modeling

Triple Modelador Liposomado

Fangoterapia

Herbal Tonificante

Vientre Plano

Modelador Intensivo

Vendas Frias

Modelante

Vendas Calientes

Modeladoras & Drenantes

Fangoterapia

Fucus Anti-Cell & Desintoxicante

Velo de Seda

Baño de Novia

Caribbean Sunset

Nutricion Duradera Antiox,

Vit. C & Vit. E

Champagne Cherry

Desintonxica & Revitaliza Antiox

Oriental Bambú

Renovacion Celular Anti-age

Coffee Slim

Relajante Hidratante

Podemos personalizar tu kit con el logo de tu empresa

55 5664-4192 55 8302 8050, Parafango Spa www.parafangospa.com
---
Tratando la

hiperpigmentación

con ácidos

La hiperpigmentación aparece como pecas, manchas causadas por

edad, sol, hormonas, factores internos (enfermedades), medicamentos,

cicatrices del acné e incluso por inflamación, lo que puede provocar

manchas oscuras. Este cambio en la piel, aunque no es peligroso,

puede ser estéticamente desagradable. La mejor forma de prevenirlos

es usando un protector solar como primera línea de defensa, además

de usar ácidos seguros y suaves. Las cremas eficaces para reducir las

manchas contienen un ácido (puede ser kójico, fitico, mandélico, ferúlico,

glicólico, málico, láctico, citrico, salicílico, o azeláico) y vitamina C, entre

otros, estos activos no irritan la piel y ayudan a emparejar y aclarar el tono

de la epidermis.

Los alfahidroxiácidos, mejor conocidos como AHAs, son compuestos

que se encuentran en la naturaleza y se obtienen principalmente de

frutas. El ácido glicólico es uno de los AHAs más usados en cosmética,

ya que su bajo peso molecular le da una mayor capacidad de penetración

y absorción; este ayuda ablandar el cemento celular, debilitando las

uniones intercelulares de la capa córnea lo que le permite:

• Aumentar la permeabilidad de la piel, ayudando a la penetración de

productos.

• Facilitar la exfoliación cutánea, acelerando el proceso de regeneración

tisular, promoviendo el surgimiento de células nuevas.

• Aumentar la biosíntesis del colágeno y elastina cutánea, mientras ayuda

a mantener la hidratación natural de la piel.

Por Eva Gonzales Olmedo,

Gerente de Desarrollo, Parafango Spa

www.parafangospa.com

Treating

Hyperpigmentation

with Acids

Hyperpigmentation appears as freckles, spots, caused by age, sun,

hormones, internal factors (diseases), medications, acne scars,

and even inflammation, which can all lead to dark spots. This skin

irregularity, while not dangerous, can be aesthetically unpleasant.

The best way to prevent them is by using sunscreen as the first line

of defense, in addition to the use of mild, safe acids. Creams effective

in reducing these blemishes will contain acid (such as kojic, phytic,

mandelic, ferulic, glycolic, malic, lactic, citric, salicylic, or azelaic) and

vitamin C, among others, these actives will not irritate the skin and will

help to even out and lighten the skin tone.

Alpha hydroxy acids, better known as AHAs, are compounds found in

nature and mainly obtained from fruits. Glycolic acid is one of the most

common AHAs in cosmetics, since its low molecular weight gives it a

greater penetration and absorption capacity; this helps to soften the

cellular cement, weakening the intercellular junctions of the stratum

corneum (horny layer) allowing it to:

• Increase the permeability of the skin, helping product penetration.

• Facilitate skin exfoliation, accelerating the tissue regeneration

process, promoting the emergence of new cells.

• Increase the biosynthesis of skin collagen and elastin, while helping

to maintain the skin's natural hydration.

By Eva Gonzales Olmedo

Development Manager

Parafango Spa

www.parafangospa.com

42
---
SIMPOSIO DE

BIENES RAÍCES Y

COMUNIDADES

DE BIENESTAR

El primer Simposio de Bienes Raíces y Comunidades de Bienestar del

Instituto Global del Bienestar se realizó el 28 de septiembre en Nueva

York, EE. UU. Los líderes de la industria se reunieron presencial y

virtualmente, mientras Susie Ellis, presidenta y CEO, dio la bienvenida a

expertos para compartir sus conocimientos.

La investigación más reciente: 'Dimensionando la economía inmobiliaria

del bienestar global: una mirada más allá del COVID-19'.

• El mercado global casi se duplicó en 3 años: de $148 mil

millones en 2017 a $275 mil millones en 2020. Un 22% de

crecimiento anual.

• Los bienes raíces de bienestar continuaron creciendo

incluso durante una disminución de la construcción en

general del 2.5% durante 2020.

• La planeación ahora incluye más de 2300 proyectos

alrededor del mundo y los bienes raíces de bienestar

están pasando de ser un lujo a ser una expectativa.

• Los consumidores están claramente dispuestos a pagar

más por bienes raíces de bienestar: de 10% a 25% más

de lo normal. ¡Actualmente hay una brecha entre oferta y

demanda!

Para aquellos en el extremo lujoso del espectro, la tecnología de bienestar

está cada vez más presente en casa: desde espejos inteligentes hasta

inodoros inteligentes. La generación más joven, sin embargo, no puede

costear precios dentro de la ciudad, pero prioriza el bienestar, trabaja desde

casa (o desde cualquier parte) y potenciará un segmento completo de los

bienes raíces de bienestar.

www.globalwellnessinstitute.org

Por Sara Jones

Editora

44

www.spawellnessmexico.com
---
Paul Scialla, CEO de Delos Living, destacó que más

del 90% de nuestras vidas normalmente transcurren en

interiores. Al reunir a doctores y arquitectos, el equipo

reconsideró el entorno construido; ¡la clase de activos

más grande del mundo (bienes raíces) combinada con

la industria de más rápido crecimiento del mundo

(bienestar) demostró ser una iniciativa empresarial

emocionante y valiosa!

Luego de décadas de planeación, las residencias en Rancho La Puerta, Tecate, México, apuntan a atender específicamente a su

grupo demográfico, primordialmente mujeres. Considerando la calidad del aire y alérgenos estacionales, contenido del agua y

niveles de cloro, entre otros. Alfredo Carvajal de Delos Living afirma "fuimos aconsejados por una firma consultora para bajar los

precios un 50%, el proyecto mantuvo la estructura de precios y durante la pandemia vendió más de 50 unidades, de 112". RLP

también ofrece propiedad fraccionada para que los residentes puedan pasar una parte del año ahí, sin el costo de la propiedad

completa. Roberto Arjona, CEO, dice "concéntrate en el propósito y crea bienes raíces de bienestar por las razones correctas, el

retorno de la inversión vendrá."

Joanna Frank, presidenta y CEO del

Center for Active Design mencionó: "la

demanda de edificios saludables ya no

necesita ser creada, debe satisfacerse".

Añadió "ahora se considera un riesgo

si sus activos inmobiliarios no están

optimizados para la salud."

Veronica Shreibeis Smith, CEO de

Vero Iconica, planteó la pregunta: ¿por

qué deberíamos replantear nuestras

suposiciones sobre arquitectura?

Llevando a la gente de la rutina al ritual,

los arquitectos crean la forma de vida

del residente. "Todo lo que valga la pena

integrar en tu vida diaria, merece un

espacio físico."

Las últimas tendencias:

• Inmersión en naturaleza y biofilia

• La vida en interiores y exteriores es ahora esencial

• Sistemas avanzados de filtración de agua y aire

• Desarrollos residenciales con instalaciones de spa de alta gama que compiten

con resorts de lujo

• Salas de meditación disponibles en edificios

• Cocinas colaborativas y estaciones comunitarias de preparación de jugos

• Concierges de bienestar que conectan a residentes con proveedores

• Opciones de propiedad fraccionada para desarrollos de viviendas

• Cambios en políticas públicas para fomentar opciones residenciales de

bienestar en las clases baja y media

• Los bienes raíces de bienestar están chocando con la sustentabilidad: se

necesitará hacer sacrificios y colaborar para un diseño más sostenible.

El Dr. Richard Carmona de Canyon Ranch

reitera que todos podemos reprogramar

nuestros genes a través de las decisiones que

tomamos en nuestra vida diaria. El entorno

construido normalmente no es óptimo para

nuestros genes. Desde un punto de vista

epigenético, podemos ver cómo esto afecta la

expresión génica; ¡el sistema inmunológico

funciona mejor cuando estamos felices!

www.globalwellnessinstitute.org

www.spawellnessmexico.com 45
---
New
---
New

New
---
WELLNESS

REAL ESTATE &

COMMUNITIES

SYMPOSIUM

The first-ever Global Wellness Institute Wellness

Real Estate and Communities Symposium was

held on Sept. 28th in New York, US. Industry

leaders gathered in person and online as Susie

Ellis, Chair and CEO, welcomed experts to share

their insight.

The latest research: 'Sizing the Global Wellness Real

Estate Economy: Looking Beyond COVID-19'.

• The global market nearly doubled in 3

years: $148 billion in 2017 to $275 billion in

2020. 22% annual growth.

• Wellness real estate continued

growing even during a decline of 2.5%

in overall construction during 2020.

• The pipeline now includes over 2300

projects around the world and wellness

real estate is moving from a luxury to

an expectation.

• Consumers are clearly willing to pay

more for wellness real estate: 10-25%

above the norm. There is currently a

supply/demand gap!

For those at the luxury end of the spectrum,

wellness tech is ever more present in the home:

from smart mirrors to smart toilets. The younger

generation, however, is often priced out of cities,

but prioritizes wellness, working from home (or

anywhere), and will power an entire segment of

wellness real estate.

www.globalwellnessinstitute.org

By Sara Jones, Editor

www.spawellnessmexico.com
---
Paul Scialla, CEO of Delos Living, highlighted that

up to 90% of our lives are typically spent indoors.

Bringing together doctors and architects, the team

reconsidered the built environment; the world's

largest asset class (real estate) combined with the

world's fastest-growing industry (wellness) proved to

be an exciting and worthwhile venture!

Decades in the planning, the residences at Rancho La Puerta, Tecate, Mexico, aim to cater specifically to their demographic,

primarily women. Considering air quality and seasonal allergens, water content and chlorine levels, etc. Alfredo Carvajal

of Delos Living states, "we were advised by a consulting firm to lower prices by 50%, the project maintained the pricing

structure and during the pandemic sold over 50 units, out of 112." RLP also offers fractional ownership so residents can

spend a portion of the year there without the cost of full ownership. Roberto Arjona, CEO, "focus on the purpose and create

wellness real estate for the right reasons, the return on investment will follow."

Joanna Frank, President & CEO,

Center for Active Design stated, "The

demand for healthy buildings no longer

needs to be created, it must be provided

for." She added, "it's now considered a

risk if your real estate assets are not

optimized for health."

Veronica Shreibeis Smith, CEO of

Vera Iconica posed the question, why

should we reframe our assumptions

of architecture? Moving people from

routine to ritual, architects create the

resident's way of life. "Anything that is

worth integrating into your daily life,

deserves a physical space."

The latest trends:

• Immersion in nature and biophilia

• Indoor/outdoor living is now essential

• Advanced air and water filtration systems

• Residential developments with high-end spa facilities that rival luxury

resorts

• Meditation rooms available in buildings

• Collaborative kitchens and communal juicing stations

• Wellness concierges connecting residents with providers

• Fractional ownership options for second home developments

• Public policy changes to encourage lower to middle-class wellness

residential options

• Wellness real estate is clashing with sustainability; there will need

to be some sacrifice and collaboration for design to become more

sustainable.

Dr. Richard Carmona of Canyon Ranch

reiterated that we all get to reprogram

our genes by the choices we make in our

everyday lives. The built environment

is typically not optimum for our genes.

From an epigenetic standpoint, we can

see how this affects gene expression; the

immune system works better when we are

happy!

www.globalwellnessinstitute.org

www.spawellnessmexico.com 49
---
2021

50

www.spawellnessmexico.com
---
É

Á

É

"El bienestar no es solo una decisión que tomas para mejorar tu salud mental y física,

es un acto de influencia para inspirar a los que te rodean a convertirse en la mejor versión de sí

mismos" - Jean-Guy de Gabriac

www.spawellnessmexico.com 51
---
HALOTERAPIA

Y BIENESTAR RESPIRATORIO

En los últimos 5 años, hemos visto un aumento lento y constante

en la apertura de instalaciones de terapia de sal/haloterapia, así

como a propiedades de spa y bienestar agregando haloterapia a sus

instalaciones existentes. Impulsadas ​por la pandemia, las personas

están preocupadas por su salud respiratoria, su higiene e inmunidad,

por lo que la terapia de sal tiene ahora una gran demanda. La industria

también está experimentando escasez de personal, por lo que

agregar experiencias de bienestar touchless que desarrollen sistemas

inmunológicos más saludables, es una excelente opción. Como dice

Tammy Pahel, vicepresidente de operaciones de spa y bienestar, Carillon

Resort, "la haloterapia se ha convertido en uno de los tratamientos más

buscados desde que hemos reabierto".

También vemos que la industria se está alejando de grandes cuevas y

salas de sal tradicionales, hacia recintos privados más pequeños. Las

personas no se sienten cómodas sentadas con otras 5 o 7 personas y

prefieren pagar sesiones privadas de 20 minutos. Otra tendencia es la

combinación de la haloterapia con diferentes modalidades populares,

como haloterapia con infrarrojo lejano y haloterapia con terapia de luz

roja. La 'Iniciativa de exploración de sal y haloterapia' del GWI acaba de

empezar una investigación sobre el impacto de la haloterapia en el covid

prolongado, a publicarse en 2022. ¡Los resultados iniciales son positivos

y alentadores!

La haloterapia y la importancia del bienestar respiratorio llegaron para

quedarse, y se han convertido en una necesidad para los negocios de

spa y bienestar. Los huéspedes de resort spa a menudo han estado

respirando 'aire de avión' durante horas, pudiendo estar expuestos a

alérgenos poco comunes. Los resorts pueden ofrecer a sus huéspedes

una breve experiencia de haloterapia a su llegada, seguida de sesiones

cada 3 o 4 días durante su estancia. En los spas de día, la comunidad

local puede beneficiarse del tratamiento de enfermedades respiratorias

crónicas y alergias estacionales, mientras que los atletas pueden mejorar

su rendimiento y recuperación, y el público en general puede impulsar

su inmunidad respiratoria. Los spas de día suelen ofrecer paquetes de

visitas múltiples de haloterapia o de tratamientos combinados como

parte de su menú de spa.

Por Steve Spiro, CEO Halotherapy Solutions

Presidente de la Iniciativa de Exploración de Sal y Haloterapia

del Instituto Global del Bienestar

www.halotherapysolutions.com / www.globalwellnessinstitute.org

52

www.spawellnessmexico.com
---
HALOTHERAPY

& RESPIRATORY WELLNESS

Over the last 5 years, we have seen a slow, and steady increase of

salt therapy/halotherapy facilities opening up, as well as spa and

wellness properties adding halotherapy to their existing facilities.

Driven by the pandemic, individuals are concerned about their

respiratory health, hygiene and immunity and salt therapy is now

in high demand. The industry is also experiencing a shortage of

staff, so adding touchless wellness experiences that build healthier

immune systems is a great option. As Tammy Pahel, VP Carillon

Resort, Spa & Wellness Operations says "Halotherapy has become

one of the most sought after treatments since we've reopened".

We also see the industry moving away from the traditional large

salt rooms and caves to smaller, private enclosures. People

don't feel comfortable sitting with 5-7 others, and prefer

to pay for private 20-minute sessions. Another

trend is the combination of halotherapy

with other popular modalities, such

as halotherapy with far infrared

and halotherapy with red

light therapy. The GWI

'Exploring Salt &

Halotherapy

Initiative' has just begun research on the impact of halotherapy on

long covid, to be published in 2022. Initial results are positive and

uplifting!

Halotherapy and the importance of respiratory wellness is here to

stay and has become a must have for spa and wellness businesses.

Resort spa guests have often been breathing 'airplane air' for hours

and may have been exposed to uncommon allergens. Resorts can

offer guests a short halotherapy experience on arrival, followed by

sessions every 3-4 days during their stay. In day spas, the local

community can benefit by treating chronic respiratory illnesses and

seasonal allergies while athletes can improve their performance and

recovery, and the general public can support their respiratory

immunity. Day spas typically offer multi-visit

halotherapy packages or combination

treatment packages as part

of their spa menu.

By Steve Spiro, CEO

Halotherapy Solutions

Chairman, Exploring Salt &

Halotherapy Initiative,

Global Wellness Institute

www.halotherapysolutions.com /

www.globalwellnessinstitute.org
---
Los retiros de bienestar 'Respira tu amor' involucran herramientas

antiguas y poderosas para conectar la energía espiritual. Este

retiro selvático de fin de semana ofrece una introducción a las

tres modalidades de breathwork, tantra y yoga.

Tras la presentación inicial a Mariposa, nuestra facilitadora,

comenzamos con una práctica de yoga para estimular el flujo

de energía a través de la columna, equilibrando los chakras.

Luego, los participantes comenzamos con ejercicios de conexión;

contacto visual, respiraciones conscientes alternadas, y dar y recibir

afirmaciones ayudaron a derribar barreras. Una meditación nos guió

a través del proceso de 'cortar el cordón' para liberar traumas de

la infancia/pasado y de relaciones previas, así como a dejar ir el

'equipaje emocional', seguido de un refrescante baño en un cenote

de agua dulce, una entrada sagrada al sistema de ríos subterráneos,

único en esta región de México.

un retiro

de bienestar

Respira tu amor

Riviera Maya,

México

www.instagram.com/luismovellanphoto

Dos aspectos destacados para mí fueron una intensa sesión de

breathwork que guió al grupo a través de patrones de respiración

holotrópica basados en la técnica SOMA Breath, añadiendo

movimientos de columna para hacer fluir la energía a través de los

chakras. La respiración holotrópica incorpora respiración profunda

intensa y sostener la respiración con y sin aire. Las retenciones de

respiración se vuelven más largas, causando efectos más intensos de

hormigueo en las extremidades, cambios de temperatura y el elusivo

estado meditativo de 'viaje astral' que indica una liberación de DMT

en el cerebro. La sesión de fotos al amanecer en el cenote dio paso a

otra experiencia única y memorable, el Angel Walk. A medida que los

participantes del retiro formamos dos líneas, cada persona tomó su

turno para caminar por el centro recibiendo afirmaciones del grupo:

¡una experiencia emocional intensa y poderosa para dejarte lleno de

amor y gratitud!

www.respiratuamor.com

Por Sara Jones, Editora

54
---
LA EXPERIENCIA DE UN PARTICIPANTE…

Tuve una relación increíblemente dañina con mi

energía sexual durante años, lo cual afectó mi salud

mental y mis relaciones. El breathwork me había

ayudado a salir de la depresión, y todo aquello

que involucrara trabajo interior, auto exploración

y reflexión estaba en mi radar. El grupo tenía una

gran energía y muchos de los ejercicios, incluyendo

contacto visual y la circulación de la energía, me

permitieron mirar a los demás y a mí mismo de

manera muy diferente. Por primera vez en años,

me sentí conectado con la inocencia que una vez

experimenté cuando era niño.

La forma en que Mariposa habló sobre la energía,

la ternura y la naturaleza humana creó un espacio

donde finalmente me sentí cómodo con mi

cuerpo. El retiro fue increíble, pero lo que sucedió

después cambió mi vida. Mi libido se desvaneció;

cuando veía a una mujer hermosa con su pareja,

ya no estaba pensando en ella sexualmente. En

cambio, comencé a sentir la felicidad que estaba

experimentando la pareja. Mi libido regresó, pero

algo fue diferente. Yo estaba presente. Por primera

vez en mi vida, no estaba pensando en nada más

que en la hermosa persona frente a mí, podía

mirarla a los ojos y no sentir nada más que felicidad

y amor. Mi enfoque en la sexualidad nunca será

el mismo; ahora puedo comenzar a conectarme

con los demás de una manera sana, apasionada

y poderosa.

Por Kevin Connelley

www.spawellnessmexico.com 55

aribe
---
Respira Tu Amor wellness retreats engage

ancient, powerful tools to connect spiritual

energy. This jungle-based weekend retreat

offers an introduction to the three modalities of

breathwork, tantra, and yoga.

After an initial introduction to Mariposa, our facilitator,

we commenced with a yoga practice to encourage

energy flow through the spine, balancing the chakras.

The participants then commenced with connection

exercises; eye-gazing, conscious alternated

breathing, and affirmation giving and receiving all

helped to break down barriers. A meditation guided us

through a 'cord-cutting' process to release childhood/

past trauma, previous relationships and to let go of

'emotional baggage', followed by a refreshing swim

in the freshwater cenote, a sacred opening to the

underground river system unique to this region of

Mexico.

Two highlights for me were an intense breathwork

session that guided the group through holotropic

breathing patterns based on the SOMA Breath

technique with the addition of spinal movements

to move energy through the chakras. Holotropic

breathing incorporates intense deep breathing and

breath-holds with and without air. Breath-holds

become longer, causing more intense effects of

tingling in the extremities, temperature changes, and

the elusive 'astral-voyage' meditative state indicative

of a DMT-release in the brain. The sunrise photoshoot

at the cenote gave way to the other uniquely

memorable experience, the Angel Walk. As retreat

participants formed two lines, each person took their

turn to walk through the center receiving affirmations

from the group - an intensely emotional and powerful

experience to leave you filled with love and gratitude!

www.respiratuamor.com

www.instagram.com/luismovellanphoto

By Sara Jones, Editor

a wellness retreat

Respira Tu Amor

Riviera Maya,

Mexico

ONE PARTICIPANT'S EXPERIENCE…

​I had an incredibly unhealthy relationship with

my sexual energy for years, it affected my

mental health and relationships. Breathwork

had helped me break out of depression and

anything involving inner-work, self-exploration

and reflection was on my radar. The group

had great energy, and many of the exercises,

including eye-gazing and energy circulation,

allowed me to look at others, and myself, very

differently. For the first time in years, I felt

connected to the innocence I once experienced

as a child.

The way Mariposa spoke about energy,

tenderness, and human nature created a space

where I finally felt comfortable with my body.

The retreat was amazing, but what happened

afterward was life-changing. My drive for sex

vanished; when I saw a beautiful woman with

her partner, I wasn't thinking about her sexually.

Instead, I began to feel the happiness the

couple was experiencing. My drive did return,

but something was different. I was present. For

the first time in my life, I wasn't thinking about

anything other than the beautiful person in

front of me, I could stare into her eyes and feel

nothing but happiness and love. My approach

to sexuality will never be the same; I can now

begin connecting with others in a healthy,

passionate, and powerful way.

By Kevin Connelley

www.spawellnessmexico.com
---
TIDES OF JOY

FESTIVE COLLECTION

ORGANIC | SUSTAINABLE | LUXURY

www.voya.ie / sales@voya.ie
---
una experiencia spa

Spa Las Hadas

Las Hadas by Brisas

Manzanillo, Colima,

México

U

bicado en la Bahía de Santiago en la ciudad portuaria de

Manzanillo, la arquitectura árabe y los pisos de mármol en Las

Hadas by Brisas evocan la sensación de estar en un pueblo

pintoresco con boutiques de lujo, plazas y callejuelas pintorescas, todo

parte del recinto del hotel.

Con instalaciones interiores de hidroterapia que incluyen sauna, baño de

vapor y jacuzzi, el Spa Las Hadas ofrece una variedad de experiencias

que comprenden tratamientos faciales, exfoliaciones corporales,

tratamientos ayurvédicos y servicios de modelado corporal, además

de viajes de spa como 'fuente de juventud' que incluye un masaje

anti-envejecimiento, tratamiento revitalizante de piernas y manicura;

y 'purificación' que consiste en exfoliación corporal, facial, masaje

de drenaje linfático y sala de vapor. Las terapias de spa han sido

influenciadas por culturas de todo el mundo, como el masaje ayurvédico

tonificante de la India, un tratamiento de purificación detox de velo de

rassoul nativo de Marruecos, o un Lomi Lomi, inspirado en las técnicas

tradicionales polinesias.

El spa mantiene la paleta blanca del resort, combinando una decoración

de bambú y piedra con música suave y aroma para una atmósfera

tranquila. Con una sala de tratamiento para parejas que también se puede

separar para acomodar dos servicios de spa individuales, el spa crea un

entorno privado, perfecto para una experiencia romántica. El ritual piel

de seda es el punto culminante del extenso menú del spa. Este ritual

de inspiración polinesia incluye una exfoliación corporal que incorpora

aceites de noni y monoi para una piel suave y sedosa, seguido de un

baño en el jacuzzi caliente para calmarse y relajarse. El viaje termina con

un masaje estilo Lomi Lomi, que proporciona la combinación perfecta de

aroma, flujo y presión para aliviar los músculos tensos. Spa Las Hadas

también ofrece un gimnasio y un salón de belleza para servicios de

cabello y uñas.

Las Hadas alberga uno de los restaurantes más exclusivos del puerto,

Legazpi. Al incorporar un diseño de inspiración mediterránea, brinda una

experiencia gastronómica elegante y romántica, los huéspedes disfrutan

de la exquisita cocina mediterránea, ¡casi se siente como si te hubieras

transportado a otra época! Las Hadas ofrece una variedad de actividades

de bienestar para disfrutar. Paddleboard, snorkel y kayak se ofrecen desde

la playa privada, así como buceo para principiantes y profesionales. Los

huéspedes pueden mejorar su juego de tenis en una de las diez canchas

disponibles en la propiedad, o jugar una partida en el campo de golf Las

Hadas diseñado por los renombrados arquitectos de golf Pete Dye y Roy

Dye. Los huéspedes también pueden visitar Marina Las Hadas, ubicada

justo al lado del hotel, para viajes de pesca o cenar junto al muelle.

www.lasbrisashotels.com.mx/manzanillo

Por Fabiola Amador Martell

Coordinadora, Spa & Wellness MexiCaribe

58

www.spawellnessmexico.com
---
a spa experience

Spa Las Hadas

Las Hadas by Brisas

Manzanillo, Colima,

Mexico

Nestled in Santiago's Bay in the port city of Manzanillo, the

Arabian architecture and marble floors at Las Hadas by

Brisas invoke a sense of being in a quaint town with upscale

boutiques, plazas and picturesque alleyways, all part of the hotel

grounds.

With indoor hydrotherapy facilities that include a sauna, steam room

and Jacuzzi, Spa Las Hadas offers a range of experiences including

facials, body scrubs, ayurveda treatments and body shaping

services in addition to spa journeys such as 'Fountain Of Youth'

including an anti-aging massage, a tired legs ritual and a manicure;

and 'Purification' consisting of a body scrub, facial, lymphatic

drainage massage and steam room. Spa therapies have been

influenced by cultures from around the world, such as the Tonifying

Ayurvedic massage from India, a Purifying Detox Treatment with

North African Rhassoul Poultice native to Morocco, or a Lomi Lomi,

inspired from Polynesian traditional techniques.

The spa maintains the white palette of the resort, combining

bamboo and stone decor with soft music and aroma for a tranquil

atmosphere. With a couples treatment room that can also be

separated to accommodate two single spa services, the spa

creates a private setting, perfect for a romantic experience. The

Silk Skin ritual is the highlight of the spa's extensive menu. This

Polynesian-inspired ritual includes a full body scrub incorporating

noni and monoi oils for silky soft skin, this is followed by a soak in

the hot Jacuzzi to calm and relax. The journey ends with a Lomi

Lomi style massage, providing the perfect combination of aroma,

flow, and pressure to relieve tight muscles. Spa Las Hadas also

offers a fitness center and beauty salon for hair and nail services.

Las Hadas is home to one of the most exclusive restaurants in

the port, Legazpi. Incorporating Mediterranean-inspired design, it

provides an elegant and romantic dining experience, guests enjoy

exquisite Mediterranean cuisine - it almost feels as though you have

been transported to another time! Las Hadas features a range of

on-site wellness activities to enjoy. Paddleboarding, snorkeling and

kayaking are all on offer from the private beach, as well as scuba

diving for beginners and professionals. Guests can improve their

tennis game on one of the ten courts available at the property, or

play a round at Las Hadas golf course designed by renowned golf

architects Pete Dye and Roy Dye. Guests can also visit Marina Las

Hadas, located just next to the hotel, for fishing trips, or to dine

along the pier.

www.lasbrisashotels.com.mx/manzanillo

By Fabiola Amador Martell

Coordinator, Spa & Wellness MexiCaribe

www.spawellnessmexico.com 59
---
5

De los mejores

Of the best

Hidratantes para noche

Night Moisturizers

CIRCADIA BY DR PUGLIESE

Nighttime Repair

THERAPY & ESSENCE LABORATORIOS

Crema Facial Relax Zen

Con células madre vegetales esta crema facial combate

el envejecimiento, promueve la regeneración celular y

cicatrización y mejora la apariencia de la piel, haciéndola

lucir más homogénea.

With plant stem cells, this facial cream fights aging,

promotes cell regeneration and healing, and improves

the appearance of the skin, making it look more

homogeneous.

Con tecnología avanzada de péptidos, vitaminas de

segunda generación, antioxidantes y vitamina A, esta

fórmula rejuvenece las células de la piel durante la noche y

aumenta la fuerza de la piel.

With advanced peptide technology, second generation

vitamins, antioxidants and vitamin A, this formula

rejuvenates skin cells overnight and increases skin

strength.

www.circadia.com

www.therapyandessence.com

MATIS PARIS

The Night

Con caviar francés y glucógeno marino, esta

fórmula rica en omega-3, proteínas, minerales

y vitaminas, aporta a la piel la energía que

necesita para potenciar su renovación.

With french caviar and marine glycogen,

this formula rich in omega-3, proteins,

minerals and vitamins, provides skin with

the energy it needs to boost its renewal.

www.matis-paris.com

VOYA ORGANIC BEAUTY

Dream Cream

Dream Crème trabaja para reponer y

rejuvenecer tu piel mientras duermes. Esta

crema reparadora de noche es rica en aceite

de argán y mezclada con extractos de algas y

baobab para nutrir la piel y dejar un maravilloso

brillo matutino.

Dream Crème works to replenish and

rejuvenate your skin during sleep. This

restorative night cream is rich in argan

oil and blended with extracts of algae

and baobab to nourish the skin, leaving a

marvellous morning glow.

www.voya.ie

LE MIEUX

Bio Cell Rejuvenating Cream

Una crema sedosa con ácido hialurónico que

atrae la humectación, péptidos reafirmantes y

aceite exótico de sacha inchi que suaviza la

apariencia de líneas de expresión y arrugas, y

intensifica la flexibilidad y elasticidad.

A silky cream with moisture-magnet

hyaluronic acid, skin-firming peptides, and

exotic sacha inchi oil smooths the look

of fine lines and wrinkles, and intensifies

suppleness and elasticity.

www.lemieuxskincare.com

60

www.spawellnessmexico.com
---
The spa and wellness

industry podcast:

Learn new skills, trends and

the latest industry news from

world-renowned experts

36 Immunocologie: Skincare Tips for a Healthy Microbiome

35 StarrCast: An Interview with Sara Jones by Lisa Starr

34 LEMI: Creating Innovative Spa Experiences

33 UCI: HR and 'The New Normal' in the Spa and Wellness Industry

32 VOYA: The Secrets behind Seaweed Skincare

31 Preparing for the Surge: The Inevitable Rise of Spas and Wellness Communities

30 Circadia: The Science of Circadian Rhythms

29 Hands-Free Treatments - More Results, More Wellness, Gharieni

28 Advanced spa equipment and therapist self-care with LEMI Group

27 Sanitización, cuidado y bienestar con Therapy & Essence Laboratorios

26 Energy Medicine in Spa and Wellness with Anna Bjurstam

25 SpaSoft: The Benefits of Spa Management Software with Theresa Hamberger

24 Women in Wellness with Julie Keller

23 The Magic of Seaweed with Emma Roberts of VOYA

22

21

20

19

18

17

LEMI: 30 Years of Comfort in the Spa Industry with Matteo Brusaferri

CBD: The Ingredient Shaping the Wellness, Spa and Skincare Industry with Emily Davis of Color Up Therapeutics

Del concepto a la operación: Cómo diseñar un spa único con Diana Mestre

Sonoterapia: sus beneficios y cómo integrarla a las experiencias spa con Roberto Méndez Gopar

El uso del mindfulness para contrarrestar el estrés con Ana Paula Domínguez

Cómo introducir y utilizar ácidos en tu spa con Tabita Erazo y Adriana Azura

www.spawellnessmexico.com/home-page/spacast

spawellnessmexico.com/spacast
---
comunidad de bienestar

Valle de Los Senderos

San Miguel de

Allende, México

Justo a las afueras de la ciudad de San Miguel de

Allende, declarada patrimonio de la humanidad

por UNESCO, se encuentra Valle de los Senderos;

una comunidad de bienestar que sumerge a sus

residentes en la naturaleza, alentandolos a acoger el

bienestar cultural, social y físico. Con aguas termales

en la propiedad y actividades al aire libre como yoga,

pista de obstáculos XTR, paddleboard y kayak, los

huéspedes fácilmente pueden disfrutar de un estilo de

vida activo. Los terrenos de la comunidad brindan el

escenario perfecto para largas caminatas y paseos en

bicicleta por la reserva ecológica, viñedos y lagos.

Tratamientos de spa pueden ser realizados en una de las

cabañas a orillas del lago; disfruta un masaje relajante

con CBD en la brisa vespertina, rodeado por sonidos

del agua y canto de aves. Locales y residentes además

pueden disfrutar los beneficios de la membresía del club

de playa Manaia Urban Oasis, con piscina natural y área

de juegos para niños, salón de negocios y restaurante.

www.vallelossenderos.com

Por Sara Jones,

Editora

62

www.spawellnessmexico.com
---
wellness community

Valle de Los Senderos

San Miguel de

Allende, Mexico

Just on the outskirts of the UNESCO world heritage city

of San Miguel de Allende, sits Valle De Los Senderos;

a wellness community that immerses residents in

nature, encouraging them to embrace cultural, social, and

physical wellness. With thermal springs on the property and

outdoor activities such as yoga, an XTR obstacle course,

paddleboarding, and kayaking, guests can easily enjoy an

active lifestyle. The community grounds also provide the

perfect setting for long walks and bicycle rides through the

ecological reserve, vineyards, and lakes.

Spa treatments can be taken in one of the lakeside cabañas;

enjoy a relaxing CBD massage in the afternoon breeze while

surrounded by the sounds of lapping water and bird calls.

Locals and residents can also enjoy membership benefits at

Manaia Urban Oasis beach club with a natural pool and kids

play area, business lounge and restaurant.

www.vallelossenderos.com

by Sara Jones

Editor

64

www.spawellnessmexico.com
---
Q&A Preguntas respuestas

y

Panel de

The Expe

ESP

ENG

¿Cómo podemos establecer un precio de mercado para nuestros servicios,

considerando a nuestros consumidores locales e internacionales?

How can we establish a market price for our services, considering our

local and international consumers?

Roosvelt Rojas

Dueño de la Clinica / Clinic Owner

Cuenca Rolfing

Cuenca, Ecuador

www.facebook.com/cuencarolfing

Cheryl Sott

VP Asset Management / Vicepresidente de Gestión de Activos

Trilogy Spa Holdings

www.tsh-spa.com

ESP

Una forma eficaz de aprovechar múltiples puntos de precio y

satisfacer a diferentes tipos de compradores es combinar una

variedad de tratamientos: una mezcla de tratamientos de lujo de

mayor precio y tratamientos 'económicos' más cortos, junto con

precios dinámicos. Por ejemplo, tus precios pueden incrementarse

20% más de lo habitual en tus 3 días con mayor ocupación. La alta

demanda exige un recargo. Contrariamente, reduce tus precios

en días lentos y con menor demanda. Tu cliente decide qué es lo

mejor para sí mismo y su billetera, mientras brindas transparencia y

coherencia en el servicio.

ENG

An effective way to leverage multiple price points and satisfy

different buyer types, is to combine treatment variety - a

mix of higher-priced luxury and shorter duration 'economy'

treatments - along with dynamic pricing. For example,

your prices might increase by 20% across the board on

your busiest 3 days. High demand commands a premium.

Conversely, decrease your prices on slower, lower demand

days. Your customer decides what's best for them and their

wallet, while you provide transparency and consistency of

service.

También puedes agregar un programa de último minuto con un gran

descuento, donde alertas a lugareños mediante mensajes de texto

para revender los espacios disponibles creados por inasistencias o

cancelaciones tardías. ¡Una estrategia de precios completa que tanto

a lugareños como a turistas les encantará!

You can also add a deep discount, 'last-minute program'

where you alert locals via text message to resell any available

slots created by no-shows or late cancelations. A complete

pricing strategy that both locals and tourists can love!

66

www.spawellnessmexico.com
---
aribe

Expertos

rt Panel

ESP

¿Cómo podemos comercializar exitosamente los tratamientos faciales y

corporales realizados con aparatología no invasiva en un resort spa de lujo, y

recuperar la inversión en poco tiempo?

ENG

How can we successfully market facial and body treatments with

non-invasive equipment in a luxury spa resort, and recover the investment

in a timely manner?

Laura Elena López Trujillo

Gerente de Spa y Centro Fitness / Spa & Fitness Manager

Spa Imagine

Garza Blanca Resort & Spa, Los Cabos, México

www.garzablancaresort.com

Liliana Dominguez-Grajales

Co Fundadora / Co-Founder

Southeast Spa Wellness Association / Spa Wellness Events

www.sespaa.com / www.spawellnessevents.com

ESP

Los spas resort, spas médicos y spas de día se están volviendo más

creativos al ofrecer servicios innovadores que dan resultados a través de

aparatología no invasiva. La clave para comercializar estos servicios en

los resorts puede ser compleja dado que la mayoría de los huéspedes se

alojan solo por pocos días.

A continuación encontrarás tres formas de asegurarte que generas

ingresos y creas un retorno de inversión.

1. Desarrolla promociones estratégicas

Conecta con tus huéspedes leales o locales y ofréceles precios reducidos

en los días hábiles más lentos para maximizar ingresos. Si sabes que los

lunes son lentos, ofrece un paquete que pueda ser usado en esos días.

ENG

Resort spas, med spas and day spas are getting creative

offering innovative services that deliver results via non-invasive

equipment. The key to marketing these services in resorts can be

tricky since most guests are 'in-house' for only a few days.

Here are three ways to ensure you are bringing in revenue and

creating ROI.

1. Develop Strategic Promotions

Connect with your loyal or local guests and offer reduced prices

for them on slower business days to maximize revenue. If you

know Mondays are slow, offer a package that can be used those

days.

2. Crea mini servicios que puedan llevarse a cabo de 30 a 45 minutos

Si tu spa ofrece crioterapia, por ejemplo, agrégala a un masaje o a

un tratamiento facial como complemento y con menor costo. Esto

proporciona valor para tu huésped e ingresos al resort.

2. Create mini services that can be done in 30 to 45 minutes

If your spa offers cryo-therapy for example, add this to a massage

or facial as an 'add-on' at a reduced cost. This provides value to

your guest and revenue to the resort.

3. Incentiva al personal

Incentiva a los empleados de la recepción y de las salas de tratamiento a

añadir estos servicios en la experiencia del huésped. Crea un 'menú de

complementos' que pueda adaptarse tanto a tratamientos faciales como

corporales.

3. Incentivize staff

Incentivize employees at the front desk and in the treatment rooms

to add these services to the guest experience. Create an 'add-on

menu' that can be adapted to both facials and body treatments.

www.spawellnessmexico.com 67
---
12

De los mejores

Of the best

Exfoliantes y Mascarillas

Exfoliators & Masks

EMINENCE ORGANIC SKIN CARE

Strawberry Rhubarb Dermafoliant

Este limpiador y exfoliante incluye polvo de arroz, y

ácidos láctico y salicílico para absorber la grasa

y eliminar las células muertas de la piel mientras

infunden antioxidantes en la piel.

This cleanser and exfoliant include rice powder,

and lactic and salicylic acids to absorb oil and

remove dead skin cells while infusing the skin with

antioxidants.

EMINENCE ORGANIC SKIN CARE

Strawberry Rhubarb Masque

Con ácido hialurónico apto para veganos, esta

mascarilla exfolia suavemente, reduce los signos

visibles del envejecimiento y reafirma y revitaliza la piel.

With vegan-friendly hyaluronic acid, this masque

gently exfoliates, reduces the visible signs of

aging, and firms and revitalizes the skin.

www.eminenceorganics.com

www.eminenceorganics.com

LE MIEUX

Beta Acid

Una solución a base de ácido salicílico con extractos

botánicos naturales para pieles propensas a

imperfecciones que elimina el exceso de grasa y

residuos que obstruyen los poros, mejora la apariencia

de cicatrices y decoloración.

An salicylic acid-based solution with natural

botanical extracts for blemish-prone skin to remove

excess oil and pore-clogging debris, improves the

look of scarring and discoloration.

LE MIEUX

Icy Revitalizing Mask

www.lemieuxskincare.com

Una mascarilla absorbente de arcilla verde francesa,

arcilla blanca amazónica y extractos botánicos exóticos

para eliminar toxinas, refinar los poros obstruidos y

reequilibrar la piel grasa o propensa a imperfecciones.

An oil-absorbing mask with french green clay,

Amazonian white clay and exotic botanical extracts

to draw out toxins, refine clogged pores and

rebalance oily or blemish-prone skin.

www.lemieuxskincare.com

THERAPY & ESSENCE LABORATORIOS

Mask Mousse Colágeno Y Elastina

Con proteínas de seda y ácido hialurónico esta suave

mascarilla nutre y regenera la piel al instante mientras

tonifica, borra las pequeñas líneas de expresión y

proporciona un efecto de resplandor al momento.

With silk proteins and hyaluronic acid, this gentle

mask instantly nourishes and regenerates the skin

while toning, erasing fine lines and providing an

instant glow effect.

www.therapyandessence.com

COLOR UP

Mushroom Madness

Facial Masque 100MG

CBD

Esta mezcla de hongos y cacao, rica

en polisacáridos, reduce la apariencia

de la piel inflamada mientras la hidrata

e ilumina.

This mushroom and cacao blend,

high in polysaccharides, reduces

the appearance of inflamed skin

while it moisturizes and brightens

the skin.

www.colorupco.com

68

www.spawellnessmexico.com
---
YON-KA PARIS

GLYCONIGHT 10% MASQUE

Esta mascarilla cremosa para dormir tiene ingredientes

naturales y orgánicos para reducir los signos

del envejecimiento y las arrugas, y amplificar la

luminiscencia de la piel.

This creamy sleep mask boasts natural and organic

ingredients to reduce the signs of aging and

wrinkles and amplify the luminescence of the skin.

www.yonka.com

KISSAI

Ducha Exfoliante

Con jojoba, cera de abeja y extractos de damiana,

té negro y makandi, este exfoliante revitaliza las

sensaciones de la piel y le brinda sedosidad e

hidratación, dejando un aroma irresistible.

With jojoba, beeswax and extracts of damiana,

black tea and makandi, this scrub revitalizes the

sensations of the skin and provides silkiness and

hydration, leaving an irresistible aroma.

www.kissai.com.mx

APOTHECA MIA

Mascarilla Exfoliante Piel de Nube,

Extracto y Óleo

Mascarilla exfoliante con caolín, aceites ozonizados de semilla

de uva y almendras; y extractos madre de perejil, arroz y

avena. El extracto madre de tepezcohute tiene propiedades

antimicrobianas, analgésicas y regenerativas, y pueden ser

incluidos a la mascarilla para realzar su actividad.

Exfoliating mask with kaolin, ozonated grapeseed and

almond oils; and parsley, rice and oatmeal mother extracts.

The tepezcohuite mother extract has antimicrobial,

analgesic and regenerative properties and can be added to

the mask to enhance its activity.

www.apothecamia.com

PURE FIJI

Guava Sugar Scrub

Cristales frescos de caña de azúcar eliminan suavemente

las células muertas de la piel, y una mezcla de aceite de

coco virgen prensado en frío y extractos de nueces exóticas

se combinan para nutrir y sellar la humedad para una piel

suave, tersa y luminosa.

Fresh sugar cane crystals gently buff away dead skin

cells, and a blend of cold-pressed virgin coconut oil

and exotic nut extracts combine to nourish and seal in

moisture for soft, smooth, and luminous skin.

www.purefiji.com / www.all4spas.com

SANARA SKINCARE

Bamboo Fiber & Mango Seed

Body Polish

Con fibra de bambú sostenible, extracto

de aloe, vitamina E y antioxidantes, este

exfoliante corporal elimina suavemente

las células muertas de la piel, y ayuda a

fortalecer y suavizar la piel.

With sustainable bamboo fiber, aloe

extract, vitamin E and antioxidants,

this body polish gently removes

dead skin cells, and helps to fortify

and soothe the skin.

www.sanaraskincare.com

THERAPY & ESSENCE

LABORATORIOS

Scrub Charcoal

Este fresco exfoliante en gel con carbón

activado, agua de coco y extractos de

carrizo, albahaca y té verde elimina

células muertas, disminuye la grasa e

impurezas y detoxifica la piel.

This fresh gel scrub with activated

charcoal, coconut water and extracts

of reed, basil and green tea, removes

dead skin cells, reduces oil and

impurities and detoxifies the skin.

www.therapyandessence.com

www.spawellnessmexico.com 69
---
Lanzamientos

Launches

ESP

ENG

LEMI LANZA BELLARIA, LA

CAMA DE TRATAMIENTO

EN EXTERIORES

Diseñada por LEMI para realizar tratamientos

de bienestar en ambientes exteriores, con total

seguridad. La cama Bellaria está equipada

con un colchón sin costuras, cuidadosamente

seleccionado para resistir la acción de agentes

externos: luz solar directa, agua y salinidad,

entre otros. Su base también es impermeable

y está diseñada para resistir agentes

externos. La cama Bellaria puede regularse

eléctricamente a través de un práctico

control a distancia que permite movimientos

de elevación y movimiento sincronizado de

las patas traseras, garantizando la máxima

comodidad para los huéspedes. Esta

cama está diseñada para colocarse sobre

superficies lisas y regulares, como terrazas o

pavimentos debajo de palapas.

LEMI LAUNCHES

BELLARIA, THE OUTDOOR

TREATMENT BED

Designed by LEMI to perform wellness

treatments in outdoor environments, in

total safety. The Bellaria bed is equipped

with a seamless mattress, carefully

selected to withstand the action of

external agents: direct sunlight, water, and

saltiness, among others. It's base is also

waterproof and designed to resist external

agents. The Bellaria bed is electrically

adjustable through a practical handset

control that allows lifting movements

and synchronized back-leg movement,

ensuring maximum comfort for guests.

This bed is designed to be placed on

smooth and regular surfaces such as

terraces or paving under gazebos.

ESP

ENG

APOTHECA MIA LANZA

RESERVA MADRE

La marca mexicana de cuidado de la piel

Apotheca Mia lanza la colección de lujo

Reserva Madre, exclusiva para spas de alta

hotelería. Esta colección está elaborada

a partir de una mezcla personalizada de

extractos madre de herbolaria y enriquecida

con ozono, aceites y aminoácidos esenciales,

colágeno, elastina, acido hialurónico,

vitaminas, nutrientes y antioxidantes que

potencializan sus efectos.

Enfocada en el cuidado de la piel y la salud,

esta colección prioriza la regeneración celular

y nutrición de la piel, usando ingredientes

locales y de alta calidad.

APOTHECA MIA

LAUNCHES RESERVA

MADRE

The Mexican skincare brand Apotheca

Mia launches the Reserva Madre luxury

collection, exclusively for high-end

spas. This collection is made from a

personalized blend of herbal extracts and

mother tinctures and enriched with ozone,

essential oils and amino acids, collagen,

elastin, hyaluronic acid, vitamins,

nutrients and antioxidants that enhance

their effects.

Focused on skin care and health, this

collection prioritizes cell regeneration and

skin nutrition, using local and high-quality

ingredients.

ESP

ENG

VOYA LANZA PILLOW

HEAVEN, UN SPRAY

RELAJANTE PARA DORMIR

El lujoso y relajante spray para dormir

de VOYA te envolverá en tranquilidad,

ayudándote a relajarte para una noche de

sueño reparador.

Esta fórmula natural se dispersa con tu

movimiento mientras duermes, por lo

que el aroma continúa durante la noche.

Las fragancias 100% naturales incluyen

manzanilla, vetiver, pachulí, lavandina

y lavanda para fomentar una relajación

profunda.

VOYA LAUNCHES PILLOW

HEAVEN, A RELAXING

SLEEP SPRAY

VOYA's luxuriously relaxing sleep spray

will envelop you in tranquility by helping

you unwind for a restful night's slumber.

This natural formulation disperses with

your sleep movement, so the scent

continues through the night.

100% natural fragrances include

camomile, vetiver, patchouli, lavandin, and

lavender to encourage deep relaxation.

www.lemigroup.it

www.apothecamia.com

www.voya.ie

70

www.spawellnessmexico.com
---
Noticias

News

ESP

ENG

RANCHO LA PUERTA

AÑADE CLÍNICA DE

MEDICINA ALTERNATIVA

El retiro de bienestar de México, Rancho

La Puerta, pronto ofrecerá tratamientos de

vanguardia, no disponibles anteriormente

fuera de la Unión Europea.

Rancho La Puerta formó una sociedad con

una entidad médica estadounidense que tiene

certificación, credibilidad y conocimientos

sobre medicina y procedimientos alternativos,

y abrirá una clínica de medicina alternativa in

site para tratar cualquier problema de salud

menor.

RANCHO LA PUERTA ADS

ALTERNATIVE MEDICINE

CLINIC

Mexico's wellness retreat Rancho La

Puerta will soon offer cutting-edge

treatments, previously unavailable outside

the European Union.

Rancho La Puerta formed a partnership

with a US medical entity that has

certification, credibility, and knowhow on

alternative medicine and procedures, and

will open an alternative medicine clinic

on-site to treat any minor health issues.

ESP

ENG

ZOËTRY WELLNESS & SPA

RESORTS EXPANDE SU

PORTAFOLIO

Apple Leisure Group ha ampliado el

portafolio de Zoëtry Wellness & Spa Resorts

con la inclusión de Zoëtry Casa Del Mar Los

Cabos, que se reabrirá en noviembre de

2021, y Zoëtry Marigot Bay St. Lucia (fecha

de reapertura por anunciar). La adición

de ambas propiedades expandirá Zoëtry

Wellness & Spa Resorts a siete propiedades

de marca.

Zoëtry Wellness & Spa Resorts alberga el

Thalasso Center & Spa, el primer centro

de talasoterapia certificado en América del

Norte.

ZOETRY WELLNESS & SPA

RESORTS EXPAND THEIR

PORTFOLIO

Apple Leisure Group has expanded the

Zoëtry Wellness & Spa Resorts portfolio,

with the inclusion of Zoëtry Casa Del Mar

Los Cabos, to be reopened in November

2021, and Zoëtry Marigot Bay St. Lucia

(reopening date to be announced). The

addition of both properties will expand the

Zoëtry Wellness & Spa Resorts to seven

branded properties.

Zoëtry Wellness & Spa Resorts is home

to the Thalasso Center & Spa, the first

certified thalassotherapy center in North

America.

ESP

ENG

GHARIENI COMPARTE

LOS RESULTADOS DE LA

INVESTIGACIÓN DEL MLX

I³DOME

Continuando su compromiso con el

bienestar verificado, Gharieni Group

anunció los resultados del estudio sobre los

beneficios comprobados del MLX I³Dome.

La investigación analiza cómo este concepto

de cama tecnológica reduce drásticamente

el período de recuperación de los músculos

después del ejercicio físico, mientras mejora

sustancialmente la sensación de bienestar

del individuo; disminuyendo el dolor muscular

y mejorando el pH sanguíneo y el bienestar.

Las tecnologías touchless de Gharieni

"pueden aumentar de manera eficiente

el capital de salud, tanto físico como

psicológico. El MLX I³Dome puede tener un

gran impacto en el mundo del bienestar" dijo

el Dr. Hausswirth.

GHARIENI SHARES MLX

I³DOME RESEARCH RESULTS

Continuing its commitment to Verified

Wellness, Gharieni Group announced

study results on the proven benefits of the

MLX I³Dome. The research looks at how

this technology concept bed dramatically

cuts the recovery period for muscles

after physical exercise while substantially

improving a sense of wellbeing for the

individual; decreasing muscle soreness,

and improving blood PH and wellbeing.

Gharieni's touchless technologies "can

efficiently increase one's health capital –

both physical and psychological. The MLX

I³Dome can have a major impact on the

world of wellbeing" said Dr. Hausswirth.

www.rancholapuerta.com

www.zoetryresorts.com

www.gharieni.com

www.spawellnessmexico.com 71
---
Selección Editorial

Editor's Choice

THERAPY & ESSENCE LABORATORIOS

Ampolleta Capilar

Concentrado de ingredientes naturales que ayudan a

controlar la producción de sebo y la resequedad del

cuero cabelludo, esta ampolleta fortalece el cabello y

estimula su crecimiento.

A natural ingredient concentrate to help control

sebum production and dry scalp, this ampoule

strengthens the hair and stimulates its growth.

www.therapyandessence.com

ECOBAMBÚ

Toalla Facial

Fabricadas con 100% algodón, esta toalla no suelta pelusa y permite

un ahorro significativo de agua y energía en los procesos de lavado y

secado de tu spa, casa u hotel.

Made with 100% cotton, this lint-free towel allows significant

savings in water and energy in the washing and drying processes

of your spa, home or hotel.

SANARA SKINCARE

Black Brazilian Clay Soap

www.ecobambu.com.mx

Esta barra de jabón hecha a mano, perfumada con la mezcla de aceite

esencial 'tranquila' de Sanara, que incluye aceites de naranja, lavanda,

ylang ylang y amyris, ayuda a eliminar las impurezas, equilibrar e

hidratar la piel.

SHANKARA

Timeless Kumkumadi Oil

Con 32 flores y hierbas profundamente nutritivas en

combinación con azafrán, loto y cúrcuma, este tónico

ligero para la piel nutre, rejuvenece y reafirma la piel

mientras reduce la decoloración y las imperfecciones.

This hand-made soap bar, scented with Sanara's 'tranquila'

essential oil blend including orange oils, lavender, ylang ylang

and amyris, helps to remove impurities, balance and moisturize

the skin.

www.sanaraskincare.com

With 32 deeply nourishing flowers and herbs in

combination with saffron, lotus and turmeric,

this light skin tonic nourishes, rejuvenates and

firms the skin while reducing discoloration and

blemishes.

COLOR UP

Butter Up Body Cream 200 mg CBG

Con una mezcla de manteca de karité,

cacao y semillas de mango, esta crema

corporal suaviza, nutre y protege la piel

de los agresores ambientales. Para pieles

secas a muy secas.

With a blend of shea butter, cocoa, and

mango seed, this body cream softens,

nourishes, and protects the skin from

environmental aggressors. For dry to

very dry skin.

www.colorupco.com

www.shankara.com

SOLEIL TOJOURS

Clean Conscious Set + Protect

Micro Mist SPF 30

Formulada con la protección ultravioleta de amplio

espectro más segura, esta micro bruma orgánica

incluye EcoSun Complex ® de Soleil Toujours, extractos

de aloe y de hoja de té verde e hialuronato de sodio para

ayudar a calmar e hidratar la piel y fijar el maquillaje.

Formulated with the safest sheer broad-spectrum

UV protection, this organic micro mist includes

Soleil Toujours' EcoSun Complex ® , aloe and green

tea leaf extracts, and sodium hyaluronate to help

calm and hydrate skin and set makeup.

www.soleiltoujours.com

72

www.spawellnessmexico.com
---
Evaluate Your Spa With

AraSpa Consulting

Mystery Shopper Service

• FULL REPORT PLUS POST EVALUATION MEETING

• EXPERIENCED PROFESSIONAL ASSESSORS WITH SPA OPERATIONS KNOWLEDGE

• STANDARDS OF ASSESSMENT AS PER SPA & WELLNESS MEXICARIBE SPA AWARDS

• CONTACT US NOW FOR A QUOTE

AraSpa@spawellnessmexico.com

AraSpa Consulting is a division of Araspa Group S. de R.L. de C.V.
---
Talleres de

maquillaje

Los talleres de maquillaje te ayudarán a conectar con tus huéspedes y

hacer crecer tu negocio salón o spa. Enseña nuevas técnicas, muestra

productos innovadores y aumentar tus ventas de maquillaje. Los

huéspedes pueden comprar productos de una forma más dinámica, arma

kits de maquillaje básicos, kits completos y sets de regalo con un precio

atractivo. ¡También puedes incluir productos en el costo de tu taller!

1. Análisis de piel

Enseña a tus huéspedes cómo identificar su tipo de piel y seleccionar los

productos adecuados. Los huéspedes aprenderán a realzar sus rasgos

faciales, difuminar las imperfecciones y descubrir qué es lo que más le

favorece al maquillarse.

2. Lecciones de maquillaje

Un taller personalizado permite un proceso de aprendizaje guiado

por profesionales, resolviendo dudas de manera individual, ya que

cada rostro es único. ¡Sé creativo y rompe la rutina! Enséñales a crear

maquillajes de día y de noche, los diferentes tipos de brochas y pinceles,

su desinfección y técnicas para una correcta aplicación de maquillaje.

3. Belleza limpia

Presenta marcas que ofrecen un mejor valor por dinero, que usan

ingredientes limpios: efectivos y producidos éticamente, con prácticas

de embalaje y manufacturación sostenibles. Invita a tus huéspedes a

unirse al movimiento de la belleza limpia, inspirándolas a usar productos

con ingredientes que no ponen en riesgo su salud.

Impulsa a tu equipo a mejorar sus habilidades e interactúa con tus

huéspedes mientras los ayudas a tomar las mejores decisiones para su

rutina de belleza y cuidado de la piel.

Por Alejandra Ochoa Wellness

www.alejandraochoa.com

74

www.spawellnessmexico.com
---
Makeup workshops will help you connect with your guests and

grow your spa or salon business. Teach new techniques, showcase

innovative products and boost your makeup sales. Guests can

purchase products in a more dynamic way; put together starter

makeup kits, complete kits and gift sets with attractive pricing.

You can also include products in the cost of the workshop!

Makeup

Workshops

1. Skin analysis

Teach guests how to identify their skin type and select the right

products. Guests will learn how to enhance their facial features,

blur imperfections and discover what suits them best when

applying makeup.

2. Makeup lessons

A personalized workshop allows the learning process to be guided

by professionals, and questions answered individually, since each

face is unique. Get creative and break the routine! Teach guests

to create day and night makeup looks, the use of different brush

types, their disinfection and techniques for correct makeup

application.

3. Clean beauty

Showcase brands that offer value for money, use clean ingredients

- effectively and ethically sourced, with sustainable packaging

and manufacturing practices. Invite your guests to join the clean

beauty movement, inspiring them to use products that do not put

their health at risk.

Empower your team to improve their skills and interact with guests

while helping them make the best decisions for their beauty and

skincare routine.

by Alejandra Ochoa Wellness

www.alejandraochoa.com

eventos

2021/2022

events

Fecha / Date Evento / Event Página web / Website Ubicación / Location

17.10.2021 - 18.10.2021

IECSC Florida

www.iecscflorida.com

Palm Beach, FL, United States

21.10.2021 - 23.10.2021

8TH Aesthetic & Anti-Aging

Medicine World Congress

www.amwc-la.com

Medellin Colombia

24.10.2021 - 26.10.2021

Expo Beauty Show

www.expobeautyshow.com

Cd. de México

19.11.2021 - 20.11.2021

Expo Spa Monterrey

expospa.com.mx

Tel Aviv, Israel

15.11.2021 - 18.11.2021

Global Wellness Summit

www.globalwellnesssummit.com

Monterrey, México

01.03.2022

Well Defined Women In

Wellness Summit

www.welldefined.com/women

Live Love Spa HQ, California

United States

27.03.2022 - 28.03.2022

Congreso Internacional de

Bienestar y Belleza

www.congresolatinousa.com

Houston, Texas, United States

02.05.2022 - 04.05.2022

ISPA Conference

www.experienceispa.com

Las Vegas, United States

www.spawellnessmexico.com 75
---
Directorio de Proveedores

Provider Directory

Proveedores Preferidos / Preferred Providers

All4Spas

Apotheca Mia

AraSpa Consulting

Book4Time

Conscious Coconut

Earthlite

Éminence Organic Skin Care

Gharieni

Kissai

LEMI

Cuidado de la piel / Skincare

Proveedores Mexicanos / Mexican Providers

Alejandra Ochoa

Angeluz Spa

Aromarterapia Esencial

AspidPro

Aveda Corporation

BIOBEL

Califorina Tan

Germaine de Capuccini S.A.

Gisele Delorme

Hannah Laroch

In & Out Beauty

Jabotiere

Jessica Cosmetics

Kinich

Kirel

Klytia

Laboratorios Tegor

Lucy Garden

Miguett

Milady

Natural Benefits

Naturales Ain Spa

Netzach

Pakua

Pevonia International, LLC

Phytomer México

Pilar del Ángel

PRICSA

Primavera

Revitalash

Satteva Wellness Group

Selvert

Simone Mahler París

Skin Concept

Sothys Mexico

Tecno Salud

Wellnie

YAMHFRAL

Zen-tir

www.all4spas.com

www.apothecamia.com

www.AraSpaConsulting.com

www.book4time.com

www.consciouscoconut.com

www.earthlite.com

www.eminenceorganics.com

www.gharieni.com

www.kissai.com.mx

www.lemigroup.it

www.alejandraochoa.com

www.angeluzboutiquespa.com

www.aromaterapiaesencial.com.mx

www.aspidpro.com

www.neill.mx

www.biobel.com.mx

www.californiatan.com.mx

www.germainedecapuccini.com.mx

www.gisele-delorme-mexico.net

www.hannalaroch.mx

www.inoutbeauty.mx

www.jabotiere.com

www.jessicacosmetics.com.mx

www.labkinich.com

www.institutokireispa.com

www.klytia.com

www.tegor.com.mx

www.lucygarden.com

www.miguettmexico.com

www.miladypro.com

www.naturalbenefits.com.mx/

www.naturalesainspa.com

www.netzach.com.mx

www.pakua.com.mx

www.pevoniamexico.com

www.phytomer.mx

www.pilardelangel.com.mx

www.pricsa.com.mx

www.primaveralife.com.mx

www.revitalashmexico.com

www.satteva.com

www.selvertmexico.com

www.simonemahlermexico.com

www.skinconcept.com.mx

www.sothys-mexico.com.mx

www.tecnosalud.com.mx

www.wellnie.com

www.yamhfral.com

www.zen-tir.com

Living Earth Crafts

Mestre & Mestre

Nectar Maya

Oakworks

OM4Men

Parafango

SoundSauna

Susann Rottloff

Therapy & Essence Laboratorios

University of California, Irvine

VOYA

Proveedores Internacionales / International Providers

Absolutely Natural

Academie Scientifique de Beaute

Actifirm

Ageless Aesthetics, Inc

Alchimie Forever

AROMA HERBAL d.o.o.

Aromatherapy Associates

Aveda Corporation

B. Kamins, Chemist

Babor Cosmetics America Corp.

Beauty Prophet, LLC

Biologique Recherche

Bion Skincare

Biotone Massage & Spa Products

Body Bliss

BODYCOFFEE

Bon Vital Products

Borghese Inc

Carita

Caswell-Massey

CBI Laboratories Inc.

Christina Cosmeceuticals

Clarins

ClariSea

Color Up

Comfort Zone USA

Control Corrective Skincare Systems

COOLA

Cosmedix

Dar `Tua Products inc.

Darphin

Decleor USA Inc.

Dermalogica

Dermastart

Dermophisiologique

Dr. Hauschka Skin Care, Inc.

Elemis

emerginC / Renature Skin Care

www.livingearthcrafts.com

www.mestre-spa-mestre.com

www.nectarmaya.com

www.spatables.com

www.om4men.com

www.parafangospa.com

www.soundsauna.me

www.susannrottloff.com

www.therapyandessence.com

www.uci.edu

www.voya.ie

www.absolutely-natural.com

www.AcademieBeaute.com

www.actifirm.com

www.agelessaestheticsmedspa.com

www.alchimie-forever.com

www.aroma-herbal.si

www.aromatherapyassociates.com

www.aveda.com

www.bkamins.com

www.babor.com

www.kneippUS.com

www.biologique-recherche.us

www.bionresearch.com

www.biotone.com

www.bodybliss.com

www.bodycoffee.com

www.bonvital.com

www.borghese.com

www.carita.com

www.caswellmassey.com

www.cbiskincare.com

www.christina-cosmeceuticals.com

int.clarins.com

www.clarisea.com

www.colorupco.com

www.comfortzone.it

www.controlcorrective.com

www.coolasuncare.com

www.cosmedix.com

www.dartua.com

www.darphin.com

www.decleor.com

www.dermalogica.com

www.dermastart.com

www.dermophisiologique.com

www.drhauschka.com

www.elemis.com

www.emerginc.com

76

www.spawellnessmexico.com
---
Directorio de Proveedores

Provider Directory

Cuidado de la piel / Skincare

Proveedores Internacionales / International Providers

Epicuren Discovery

Equibal Inc./Nufree

ESPA International (UK) Ltd.

Essie Cosmetics Ltd.

Eve Taylor (London) Limited

FarmHouse Fresh

G.M. Collin Skincare

Gehwol Foot Care

Gemology USA

Germaine de Capuccini S.A.

GiGi

GliSODin Skin Nutrients

gloProfessional

Glymed

Guinot USA/Lachman Imports Inc.

HerbaSway Spa and Beauty

Hunter Amenities International (Acqua)

Hygenic Corporation

Hylunia-Hymed

ilike organic skin care

Institut Esthederm

Intraceuticals

Issimo International

ISUN Alive & Ageless Skincare

Jan Marini Skin Research Inc.

Janssen Cosmetics

June Jacobs Spa Collection

Jurlique

HTI Collection, Ltd.

Kahina Giving Beauty

kaplanMD Inc.

KENMEN INC.

Kerstin Florian International

Kniepp

LaFlore

La Bella Donna

Lexli International Inc

Ligne St Barth

Lindi Skin

LJ LaRocca, Inc

L'Occitane en Provence

Luzern Labs, Inc.

Mama Mio

McEvoy Ranch

MD Skincare® by Dr. Dennis Gross

Microplane Personal Care

Murad Inc.

NEUMA

Norvell Skin Solutions

Natura Bisse International

OPI

www.epicuren.com

www.nufree.com

www.espaskincare.com

www.essie.com

www.eve-taylor.com

www.farmhousefreshgoods.com

www.gmcollin.com

www.gehwol-usa.com

www.gia.edu

www.germaine-de-capuccini.com

www.gigispa.com

www.glisodinskin.com

www.gloskinbeauty.com

www.glymedplus.com

www.guinot.com

www.herbasway.com

www.hunteramenities.com

www.biofreeze.com

www.hylunia.com

www.szepelet.com

www.esthederm.com

www.intraceuticals.com

www.issimo-usa.com

www.ISUNorganicskincare.com

www.janmarini.com

www.janssen-cosmetics.com

www.JuneJacobs.com

www.jurlique.com

www.hticollection.com

www.kahina-givingbeauty.com

www.kaplanmd.com

www.kenmen.com

www.kerstinflorian.com

www.kneipp.com

www.laflore.com

www.LabellaDonna.com

www.lexli.com

www.lignestbarth.com

www.lindiskin.com

www.laroccaskincare.com

www.loccitane.com

www.LuzernLabs.com

www.mamamio.com

www.mcevoyranch.com

www.drdennisgross.com

www.microplane.com

www.murad.com

www.neumabeauty.com

www.naturopathica.com

www.naturabisse.com

www.opi.com

OSEA

Oxygen Biotherapeutics

Parissa Laboratories Ltd.

Pevonia International, LLC

Phytomer Corporation

Pino

Prima Fleur Botanicals

PRIORI®

Pure Fiji

Ready Care Industries

Red Cherry Certified Organic Labs

Repechage

Romane Professional

Salt of the Earth LLC

Sanitas Skincare

Satin smooth

Shankara, Inc.

Shea Radiance

Shea Terra Organics

Skin 2 Skin Care

Skin Authority

SkinCeuticals

Sodashi

Somme Institute

Sonoma Lavender

Sothys USA Inc.

South Seas Skin Care

Spa de Soleil

Spa Elite

Spa Revolutions

SpaRitual

Spiller U.S.

Spongeables, LLC

Stogryn Sales Ltd.

StriVectin

Sundari

SunFX America, LLC

Supracor Inc.

SweetSpot Labs

Swiss Skin Repair, Inc.

TARA Spa Therapy Inc.

THALGO America

The Industry Source

Valmont

Wilma Schumann Skin Care Inc

YG Laboratories

Yon-Ka Paris

Yum Gourmet Skincare

Zents Body Care

Zephyr Pacific Distributors, Ltd

ZO Skin Health by Zein Obagi, MD

www.oseamalibu.com

www.oxybiomed.com

www.parissa.com

www.pevonia.com

www.phytomerusa.com

www.pinospa.com

www.primafleur.com

www.prioriskincare.com

www.purefiji.com

www.readycare.com

www.redcherrygroup.com

www.repechage.com

www.romanefragrances.com

www.saltearthspa.com

www.sanitas-skincare.com

www.SatinSmooth.com

www.shankara.com

www.shearadiance.com

www.sheaterraorganics.com

www.skin2skincare.com

www.skinauthority.com

www.skinceuticals.com

www.sodashi.com

www.sommeinstitute.com

www.sonomalavender.com

www.sothys-usa.com

www.southseasskincare.com

www.spadesoleil.com

www.spaelitemexico.com

www.SpaRev.com

www.sparitual.com

www.dr-spillercanada.com

www.spongelle.com

www.stogryn.ca

www.strivectin.com

www.sundari.com

www.sunfxamerica.com

www.supracor.com

www.sweetspotlabs.com

www.swissskinrepair.com

www.taraspa.com

www.Thalgo.com

www.tngworldwide.com

www.lamaisonvalmont.com

www.wilmaschumann.com

www.yglabs.com

www.YonKaUSA.com

www.yumskincare.com

www.zents.com

www.comodynes.net

www.zoskinhealth.com

www.spawellnessmexico.com 77
---
RAISE YOUR

VIBRATION

Sound healing music

with chakra balancing

frequencies for your

spa hydrotherapy areas

& treatment rooms

ROOT CHAKRA

RED - 396 HZ

LIBERATION

SHIFT FROM:

Anxiety, Grief, Guilt, and Fear

MOVE TOWARDS:

Stable, Comfortable, Patient, Grounded

ROOT CHAKRA

RED - 396 HZ

20 MINUTES

SACRAL CHAKRA

ORANGE - 417 HZ

20 MINUTES

SOLAR PLEXUS CHAKRA

YELLOW - 528 HZ

20 MINUTES

HEART CHAKRA

GREEN - 639 HZ

20 MINUTES

THROAT CHAKRA

BLUE - 741 HZ

20 MINUTES

THIRD EYE CHAKRA

INDIGO - 852 HZ

20 MINUTES

CROWN CHAKRA

VIOLET - 963 HZ

20 MINUTES

Available in 20 minute

and 180 minutes tracks.

soundsauna.me

CONTACT US